10 Best Beach Vacation Destinations in Europe
These spots offer the perfect beach day with a side of art, history and nightlife.
Europe is home to some of the world's most-celebrated seas — the Mediterranean, the Adriatic, the Aegean — and its cultural mosaic makes it a top choice for beach lovers looking to mix sun, fun, art, history and nightlife. Windsurf in the morning, visit ancient ruins in the afternoon, shop for the season's hottest beachwear before enjoying sunset cocktails and then partying until dawn. Sound good? Read on to discover the 10 best beach vacation destinations in Europe.
Mykonos, Greece
Few places do charm and decadence better than Mykonos. This sunny Greek island's calling cards are almost-anything-goes beaches (expect plenty of skin), Instagram-worthy Cycladic architecture (whitewashed buildings with brightly hued shutters and cascading flower boxes), 16th-century windmills (a must-see at sunset) and legendary discos and dance clubs in Mykonos Town. As for the beaches, check out Ornos Bay for pretty views and excellent windsurfing, chic Psarou for celebrity spotting and Paradise and Super Paradise for hedonistic sun-worshipping and dancing until sunrise.
Mallorca, Spain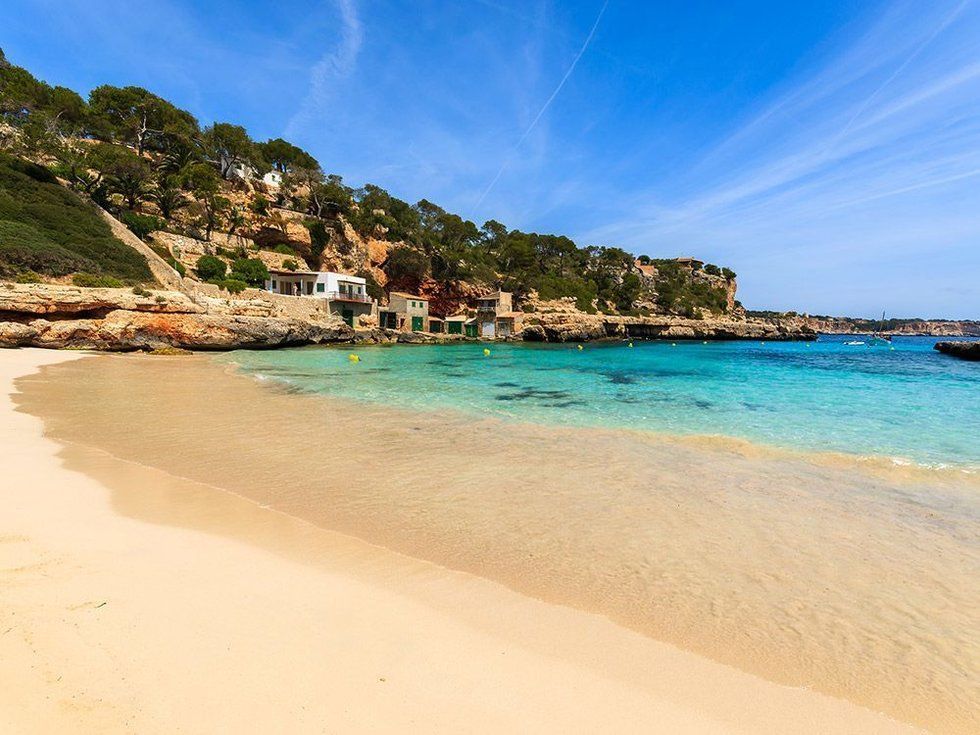 Mallorca, Spain
Shutterstock
This beautiful Mediterranean oasis, the largest of the Balearic Islands located off the east coast of Spain, is a hot spot for northern Europeans, who flock here in summer to enjoy long days of sunshine and fresh air. Once you get beyond the urban sprawl of the capital, Palma, mountainous, bay-fringed Mallorca delivers some of the region's most amazing azure water and soft-sand beaches — there are more than 250, from popular 3½-mile Playa de Muro to secluded Cala Mesquida. The view from the water is pretty incredible, too: centuries-old hilltop villages constructed of golden stone backed by peaceful olive groves and vineyards.
Hvar, Croatia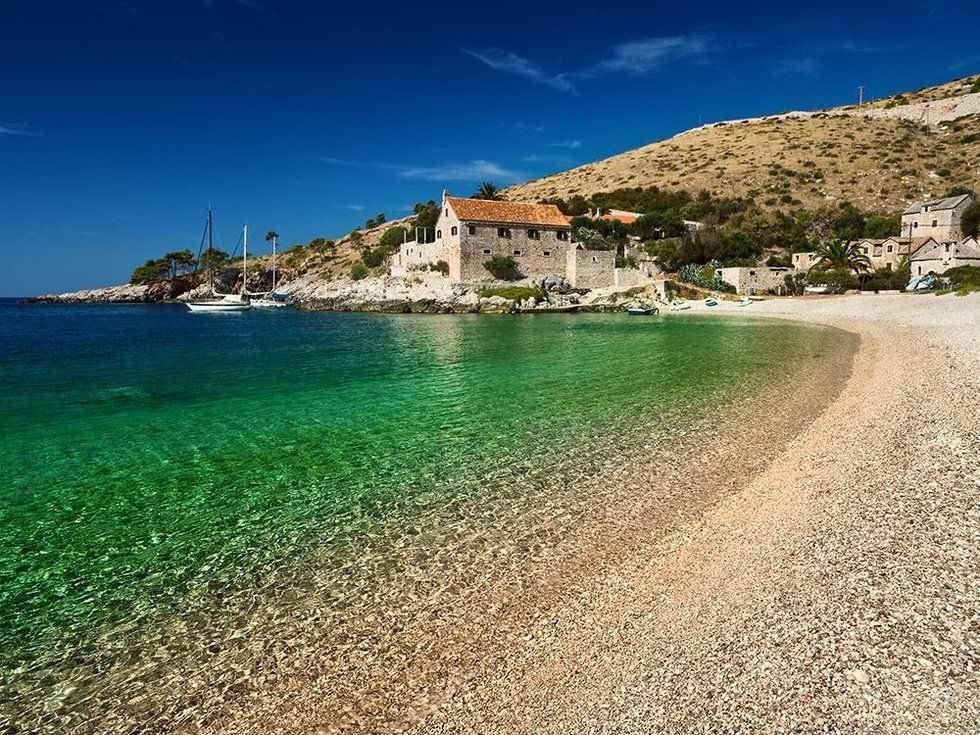 Hvar, Croatia
Shutterstock
In between swimming, sunning and windsurfing, visitors to this summer-resort island, located in the Adriatic off of Croatia's coast near Split, can tour a 13th-century fortress and cathedral, go wine tasting (if you haven't tried Croatian wine, you should) and in June and July, inhale the heavenly aroma of lavender, which grows in abundance here. Hvar's beaches are known for their intense scenic beauty — many are set in serene bays surrounded by cliffs and pine forests — and tempting options include Dubovica, Zavala and Ivan Dolac.
Saint-Malo, France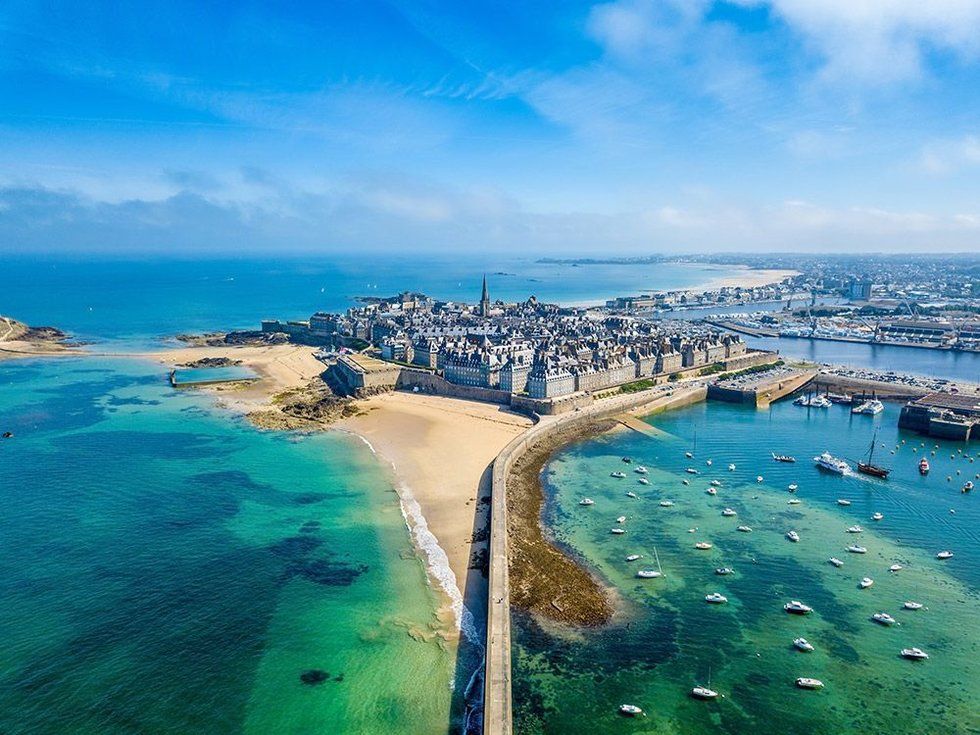 Saint-Malo, France
Shutterstock
If it's seaside drama you seek, consider Saint-Malo, a walled city in France's Brittany region where the cobblestone medieval streets of Old Town are surrounded by a series of sandy beaches, some of which are only walkable at low tide and offer access to rocky islands (timetables tell you when to visit). When the tide's high, tour the Cathedral of Saint-Vincent (constructed between the 12th and 17th centuries) and the city's landmark fortress with its four round towers. Or you can always kick back and relax on Plage du Sillon, a vast beach that stretches for almost 2 miles along the English Channel.
Ibiza, Spain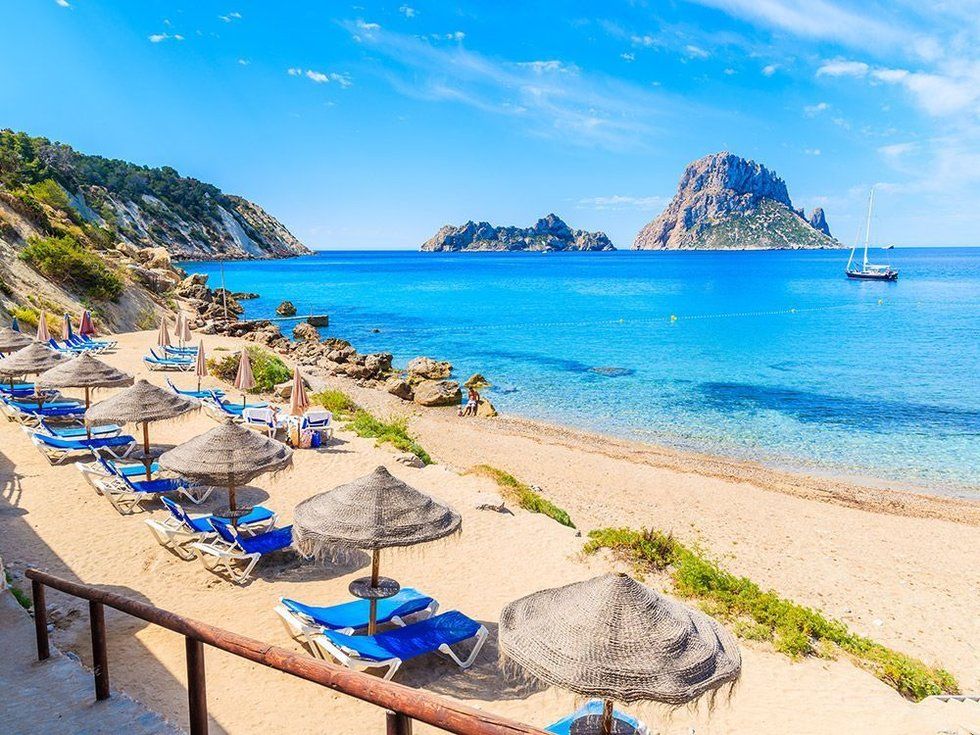 Ibiza, Spain
Shutterstock
It helps to be young to enjoy the 24/7 frenzy that is Ibiza — the wildest isle in the Med thanks to its world-famous clubs blasting dance music. Should you be awake when the sun's shining, top activities on Ibiza, which is also one of Spain's Balearic Islands, include music festivals, beach-going (Cala D'Hort has a view of the distinctive Es Vedra rock formation or hop over to neighboring island Formentera, known for its white sand) and scuba diving, since visibility here is superb.
Sicily, Italy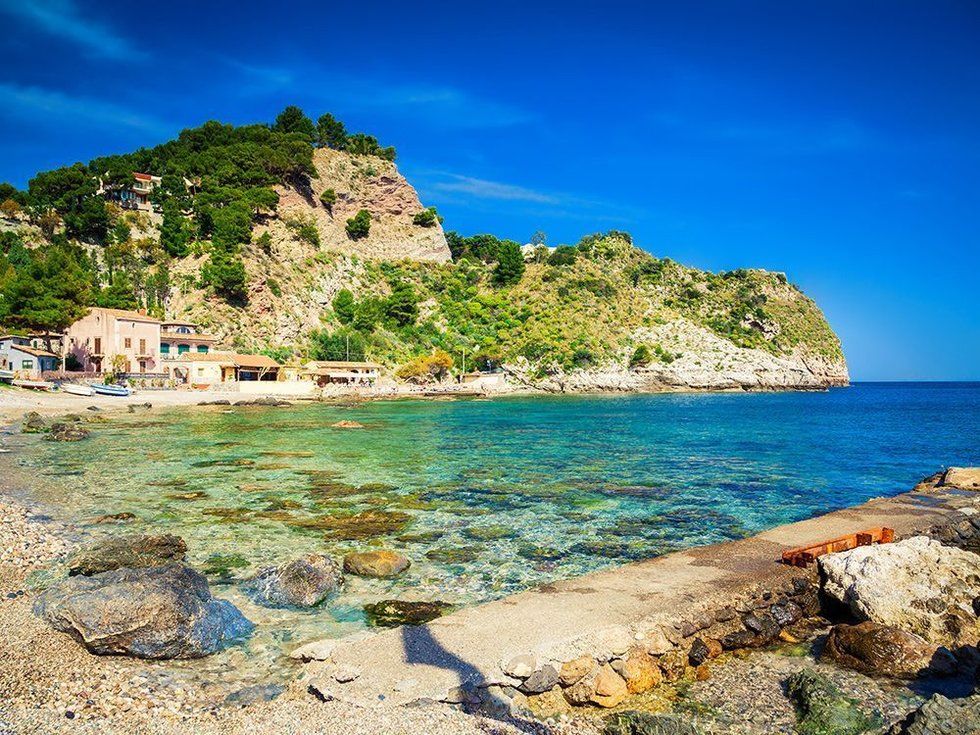 Sicily, Italy
Shutterstock
If you're a fan of old-school destinations — scenic, slow-paced and filled with tradition — you can't go wrong with Sicily. This Italian island, the largest in the Mediterranean, is home to stunning beaches, yummy treats such as ricotta-filled cannoli and meat-filled rice balls called arancini (both invented here) and ancient Greek and Roman ruins dating back several millennia. It also boasts Europe's most active volcano: Mt Etna. Book a beach resort for maximum access to sun and sand, or stay in charming hilltop Taormina and day trip to beaches such as Isola Bella or Giardini Naxos.
The Algarve, Portugal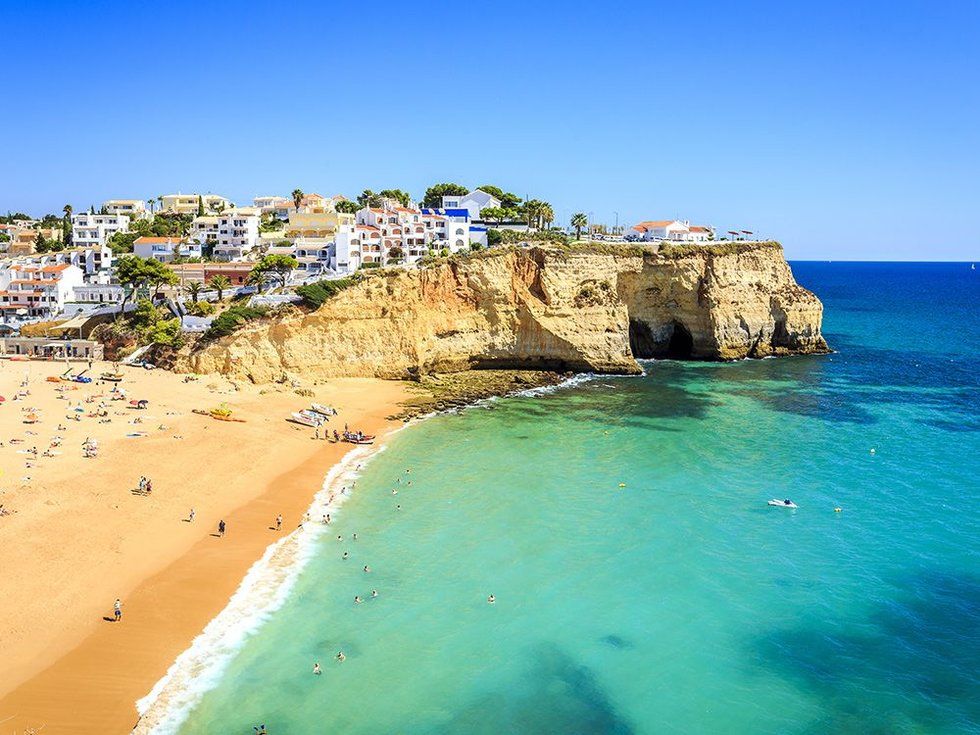 The Algarve, Portugal
Shutterstock
The hot Iberian sun shines along the southern coast of Portugal 300 days a year — and in summer, the region receives very little rain — so it's no surprise that the Algarve ranks among the top beach destinations in Europe. It's also incredibly pretty and quite affordable, with a variety of hotels, rental apartments and homes located in cities and villages stretching from Sagres in the east to Villa Real in the west. In between are more than 150 beaches, with Praia da Falésia near Albufeira, Praia da Camilo near Lagos and Praia da Marinha near Lagoa featuring photogenic limestone cliffs.
Crete, Greece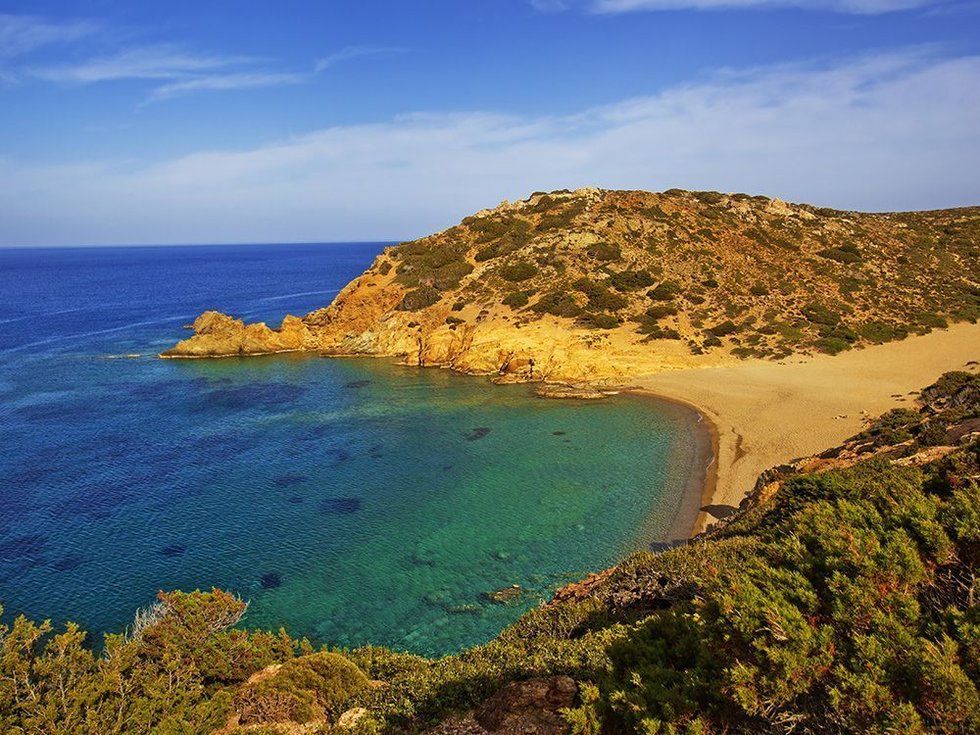 Crete, Greece
Shutterstock
As Greek Isles beaches go, Crete has some of the best. But Greece's largest island is also its most geologically diverse — so beaches here range from sweeping and tranquil to compact and crowded. For the former, head to Balos Lagoon near Kissamos on the west coast or Elafonisi Beach, also in western Crete, with its pink sand. For the latter, there's Vai Beach near Sitia in the northeast, which is backed by Europe's largest natural palm grove, and Matala Beach on the south coast, where you can follow your swim with a seafood lunch at a local taverna.
Cornwall, England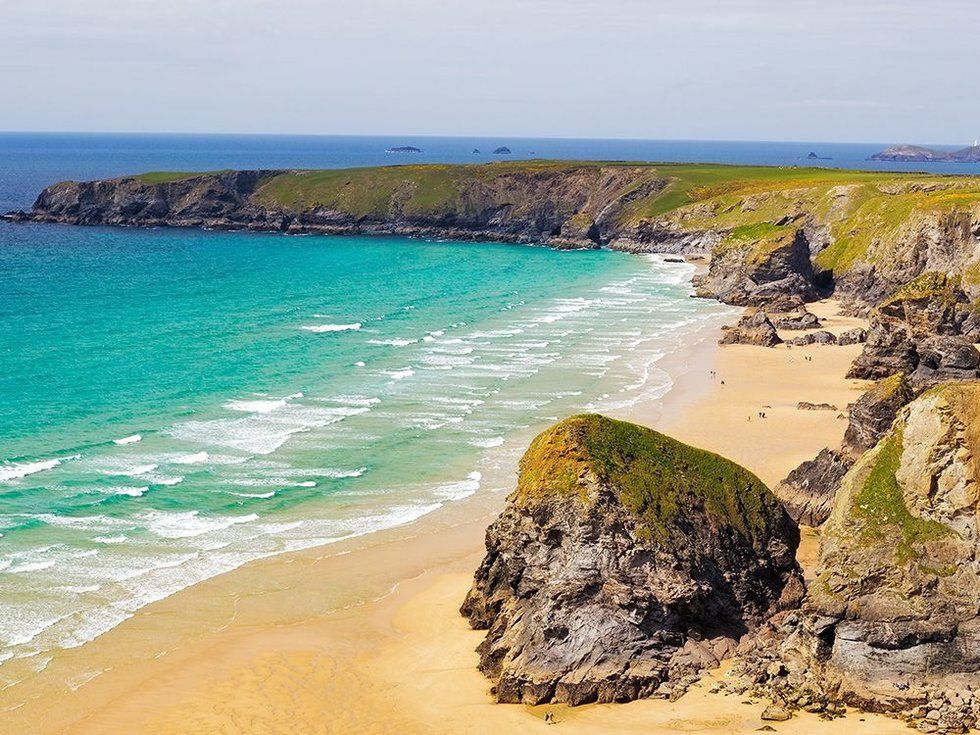 Cornwall, England
Shutterstock
There are hundreds of beaches along this rugged peninsula on the Atlantic in southwest England, some ideal for surfing, others for beachcombing and others for seaside shopping and dining. It's all incredibly wild and moody, the kind of setting that's equally inspiring to artists and adventure-lovers. For pure visual delight, it's hard to beat the beaches around St. Ives, especially Porthmeor, while Kynance Cove seduces at first sight with its unblemished natural beauty. Add in fishing villages such as Mevagissey and Polperro and you'll discover how Cornwall charms visitors with a raw authenticity that's ever harder to find these days.
Sardinia, Italy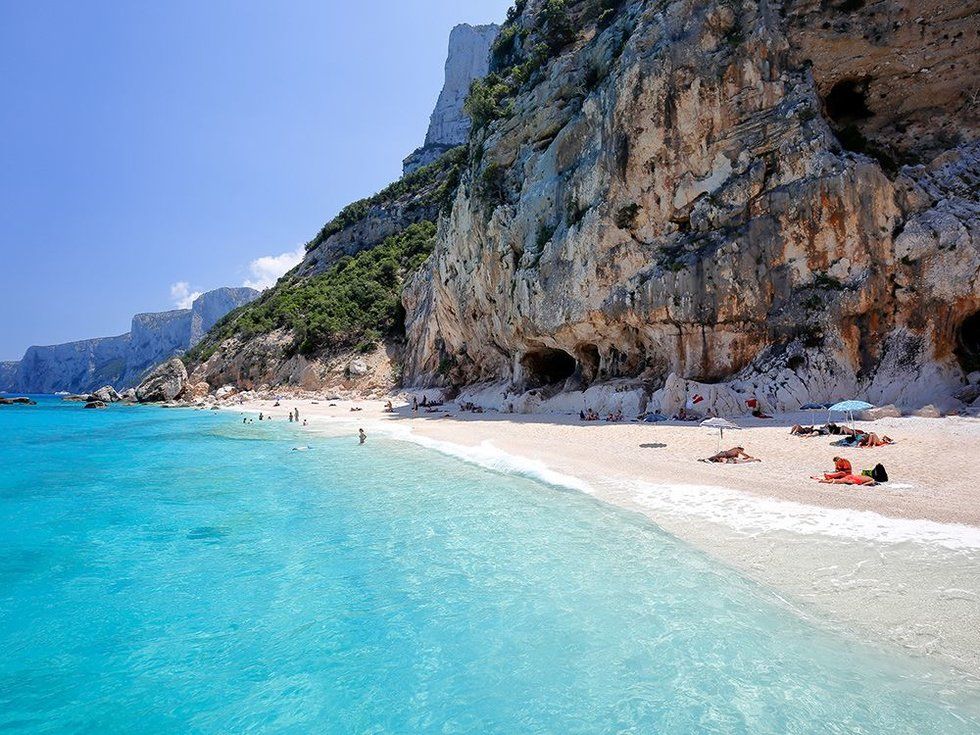 Sardinia, Italy
Shutterstock
On this vast Italian island, the second largest in the Mediterranean, it's possible to be a jetsetter or a backpacker, to step back in time while strolling tiny villages or channel the 21st-century while sunning on a modern mega-yacht, to visit ancient temples or enjoy the latest youth-enhancing spa treatment. Long celebrated for its talcum-soft beaches and clear aquamarine water, Sardinia's alluring Costa Smeralda has been a summer hot spot since the mid-1960s. Yet the island also has a harsh interior landscape that has shaped the local mindset and cuisine (fava beans, sheep's milk cheese and lamb with artichokes compete with seafood and pasta on many menus). But it's Sardinia's coastal beauty that has made it envied the world over.
This article was written by Donna Heiderstadt from Islands and was legally licensed through the NewsCred publisher network. Please direct all licensing questions to legal@newscred.com.
We're proud to launch a redesigned version of our United app to make it easier for customers with visual disabilities to manage all aspects of day-of travel, including check-in, viewing reservation details and flight status, bag tracking and more.
This latest version of our app is now available to both Android and iOS users, and it offers increased color contrast and more space between graphics. Furthermore, we have reorganized how information is displayed and announced to better integrate with screen reader technologies like VoiceOver and TalkBack, which are built into most handheld devices. By restructuring the way the information is organized on the app, screen readers are better able to convert text to audio in the proper, logical sequence, allowing customers to better understand and navigate the app.
"The parts of the travel experience that we all take for granted like checking luggage, getting your flight status and accessing a boarding pass can still be a challenge for someone with a visual disability," said EVP of Technology and Chief Digital Officer Linda Jojo. "These new accessibility enhancements are part of our continuing commitment to level the playing field, unlock all the customer benefits of our app and give people with disabilities more independence while traveling."
Senior Accessibility Analyst Ray Campbell is a member of United's digital team who's visually impaired and sits on the board of the American Council of the Blind. He played a key role in helping us redesign the app. He even put the app to the test as seen in this video.
"Optimizing mobile apps for tools such as VoiceOver and TalkBack has been a game changer, allowing people with visual disabilities to fully utilize smartphone technology in their daily lives," said Ray. "It's just as important for someone with a visual disability to easily access day-of-travel information and features as for any other customer. Improving the accessibility of the United app, helps us truly live out United's mission of caring for all customers."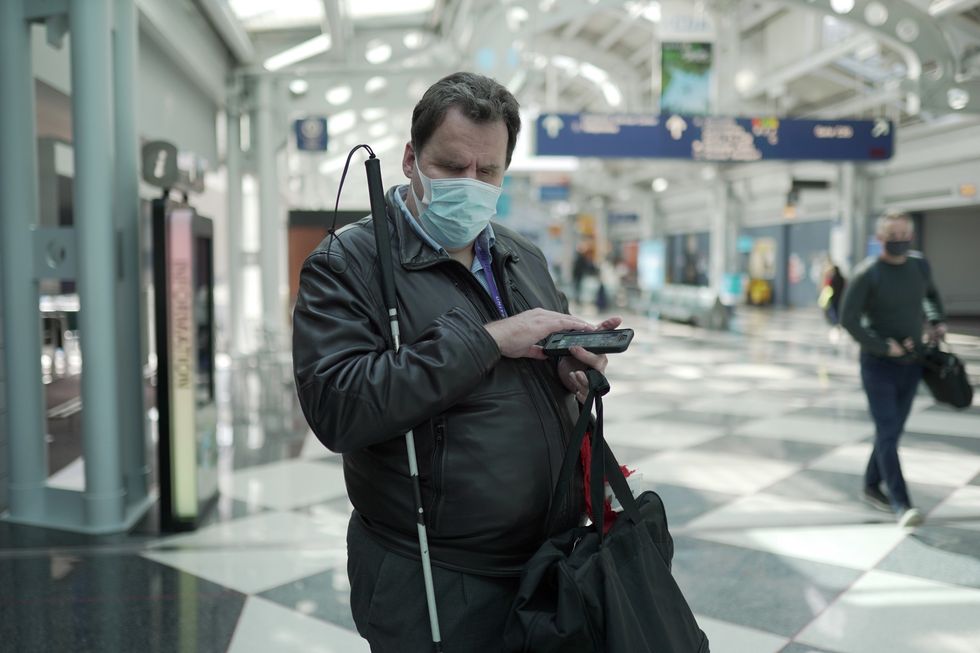 United's Senior Accessibility Analyst Ray Campbell using the mobile app at Chicago O'Hare International Airport.
Beyond the accessibility changes, our digital team enhanced the current offering while keeping the features that helped the app win a Webby People's Voice award in 2019.
For our MileagePlus® program members, the app now features a refreshed account experience for members to easily check balances, track Premier® progress, explore MileagePlus benefits, access past activity and more, all in one place.
The airline is also expanding a popular feature previously only accessible to MileagePlus members. Now, all 37 million customers who have the United app will see a contextualized home screen starting 48 hours before their flight which provides dynamic updates based on where a customer is in their travel journey. For example, customers can see the boarding status of their flight on their homescreen, access personal device entertainment onboard with one click, find a link to a map with gate-to-gate directions for connecting flights and click a quick access button to track any checked bags upon arrival.
We made slight tweaks to navigation based on customer feedback to make the app more intuitive, including making the bottom navigation persistent throughout the app. Another example is the "More" menu, which was reorganized and now contains the "Inbox" feature, which includes timely messages about boarding announcements, gate changes and other travel updates.
Customers will notice a new color palette that's consistent with the refreshed branding the airline debuted in 2019. United's digital team also made subtle design adjustments to make things more consistent and easier to find, like always using a purple bar to highlight the main call-to-action on a page and ensuring alerts and flight status icons appear the same way in every page on the app.
All of these changes are underpinned by a new back-end platform, which will ultimately make the app faster and more responsive.
The redesigned app is now available to download for iPhone®, iPad® and iPod touch® devices (as an iPhone app) and for Android devices.
Calling all AvGeeks and travelers! Take your next video call from a United Polaris® seat, the cockpit or cruising altitude with United-themed backgrounds for use on Zoom and Microsoft Teams.
Newly added to our collection is a background encouraging our employees and customers to vote. Our mission is to connect people and unite the world — and one of the most important ways to do that is to engage in the democratic process. No matter which party you support, we know our democracy will be stronger if you make your voice heard and vote.
So for your next meeting or catch up with friends and family, download the app to either your computer or mobile device to get started.
To use on Zoom:
Start here by downloading your favorite United image to your computer or mobile device. Just click "download" in the bottom left corner of the image.
Next go to your Zoom app (you'll need to download the app to access backgrounds) and click on the arrow to the right of your video camera icon in the bottom of the screen.
From here select, "choose virtual background" to upload your uniquely United photo.
To use on Microsoft Teams:
Start by downloading your favorite United image to your computer. Just click "download" in the bottom left corner of the image.

If you're using a PC, copy the image you want to use into this folder:

C:\[insert your device user name here]\AppData\Microsoft\Teams\Backgrounds\Uploads

If you're using a Mac copy the images to this folder on your computer:

/users/<username>/Library/Application Support/Microsoft/Teams/Backgrounds/Uploads

Once you start a Teams meeting, click the "…" in the menu bar and select "Show background effects" and your image should be there
Earlier this summer, we shone a light on our flagship partnership with Special Olympics and our commitment to the Inclusion Revolution. In that same story, we introduced you to our four Special Olympics Service Ambassadors, Daniel, Kyle, Lauren and Zinyra (Z), who, this month, celebrate one year working at Chicago O'Hare International Airport as part of the United family.
This groundbreaking, inclusive employment program took off as a part of our ongoing partnership with Special Olympics, a community relationship that employees across the company hold close to heart. The original 'UA4' (as they call themselves) have become an integral part of the United team serving customers at O'Hare Airport. Even from behind their masks, their wide smiles and effervescent spirit exude and bring life to the service culture of excellence we strive towards every day.
"The UA4 are more than just customer service ambassadors. They are shining examples of how inclusion, accessibility and equity can have monumental impacts on the culture and service of a business and community," said Customer Service Managing Director Jonna McGrath. "They have forever changed who we are as a company. While they often talk about how United and this opportunity has changed their lives, they have changed ours in more ways than we can count."
In the two years of partnership with Special Olympics, United employees have volunteered over 10,500 hours of service at events around the world and donated over $1.2 million worth of travel to the organization.
"This inclusive employment program is what community partnerships, like ours with Special Olympics, are all about: collaborating to identify areas where the needs of the community intersect with the cultural and business opportunity, then creating the infrastructure and programming to bring the two together," said Global Community Engagement Managing Director Suzi Cabo. "Through this program, our goal is to show other companies that when you put a committed effort and focus towards inclusion and breaking down barriers, you transform lives. I challenge other business around the world to follow our lead in joining the Inclusion Revolution."
Check out the video below to hear from our Special Olympics Service Ambassadors firsthand.
Scroll to top