10 must-see natural phenomena around the world
From the tropical paradise of Cook Island to the rolling greenery of the Scottish Highlands, your travel bucket list is ever expanding. But we suggest you add a little wiggle room in your itinerary for some of these you-have-to-see-it-to-believe-it sites. Pink lakes, sherbet-colored mountains and glowing beaches—this planet is an amazing place. But make plans to see these wonders soon, before they disappear. 
RELATED: The Best Places in the World to Go Snorkeling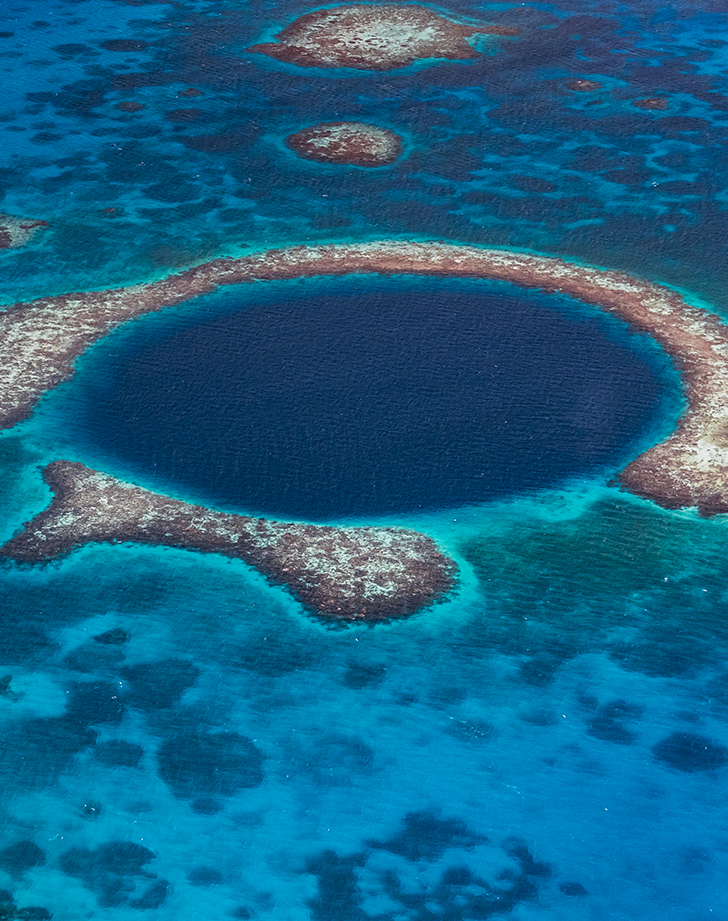 Mlenny/Getty Images
Great Blue Hole (Belize, City Belize)
If you couldn't tell by its name, the Great Blue Hole is a giant underwater hole in the middle of Lighthouse Reef, 73 miles off the coast of Belize. Technically, it's a sinkhole that formed as far back as 153,000 years ago, before sea levels were as high as they are today. After some glaciers danced around and melted, oceans rose and filled in the hole. The near-perfect circle is 1,043 feet in diameter and 407 feet deep, giving it a dark navy hue. Not only is the Great Blue Hole a World Heritage Site of UNESCO, but it was also one of Jacques Cousteau's top diving spots, so you know it's legit. You've got to be an expert scuba diver to actually go down into the hole, but snorkeling on its edges is allowed (and frankly offers more colorful scenes of fish and coral due to the sunlight). But, if you want the best view? Hop on a helicopter for a visually stunning flyover tour.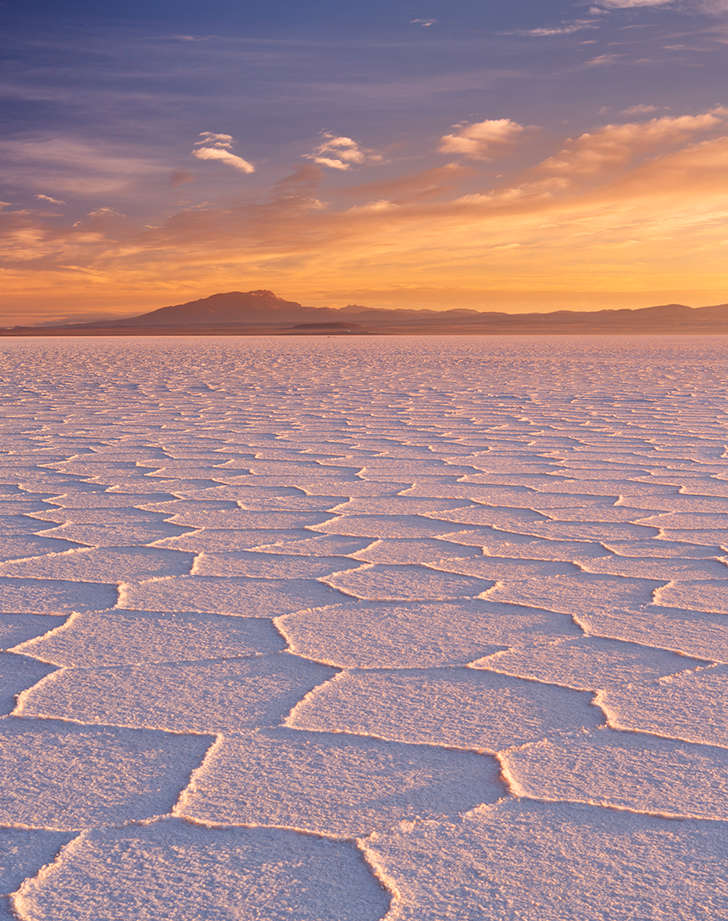 sara_winter/Getty Images
Salar De Uyuni (Potosí, Bolivia)
In the mood for something savory? How about 4,086 square miles of salt? That's how big Salar de Uyuni, the world's largest salt flat, is. Located in southwest Bolivia, near the Andes Mountains, this bright white, flat expanse looks like a desert but is actually a lake. Let us explain: Roughly 30,000 years ago, this area of South America was covered in a giant saltwater lake. When it evaporated, it left behind a thick, salty crust on the earth's surface. Today, the flat produces salt and half the world's lithium. During the rainy season (December through April), smaller surrounding lakes overflow and cover Salar De Uyuni in a thin, still layer of water that reflects the sky almost perfectly for a sublime optical illusion. If your goal is seeing as much of the flat as possible, head out during the drier season (May through November). Tours are available from starting points in both Chile and Bolivia. Just be sure to hydrate.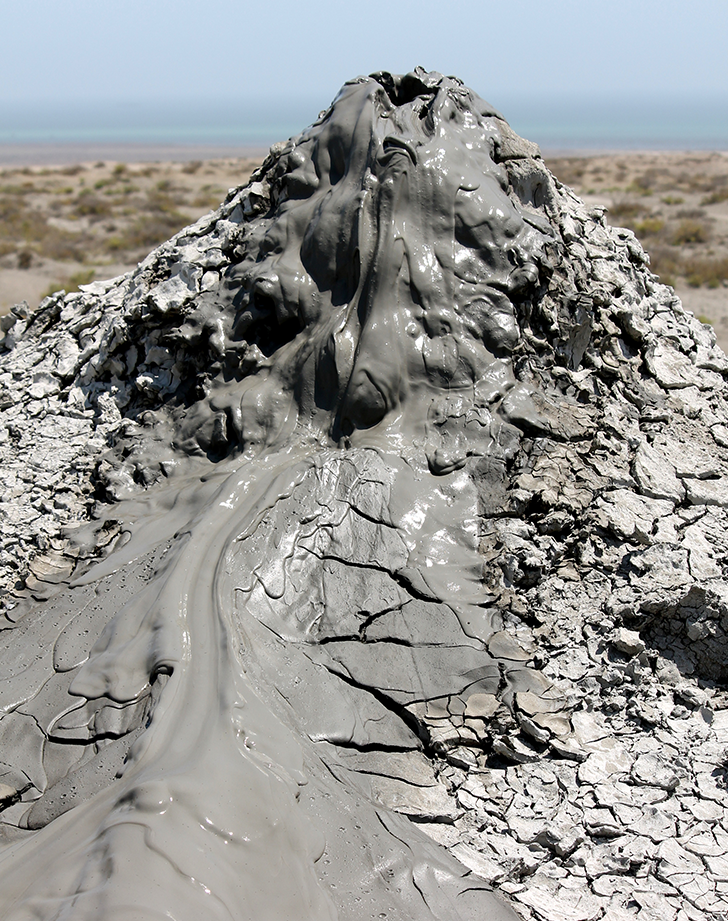 Ogringo/Getty Images
Mud Volcanoes (Azerbaijan)
Nestled between Eastern Europe and Western Asia is the Republic of Azerbaijan, home to hundreds of volcanoes that regularly spew goopy, gray mud. These short volcanoes (10 feet tall or so) dot the desert landscape throughout Gobustan National Park (another UNESCO World Heritage site) near the Caspian Sea. Since eruptions are caused by gases escaping through the earth instead of magma, the mud tends to be cool or even cold to the touch. Don't be afraid to join in if other visitors bathe in the mud, which has been used for skin and joint ailments and in pharmacology. Certainly not FDA-approved, but when in Azerbaijan, right?
RELATED: 5 Bioluminescent Beaches That Will Blow Your Mind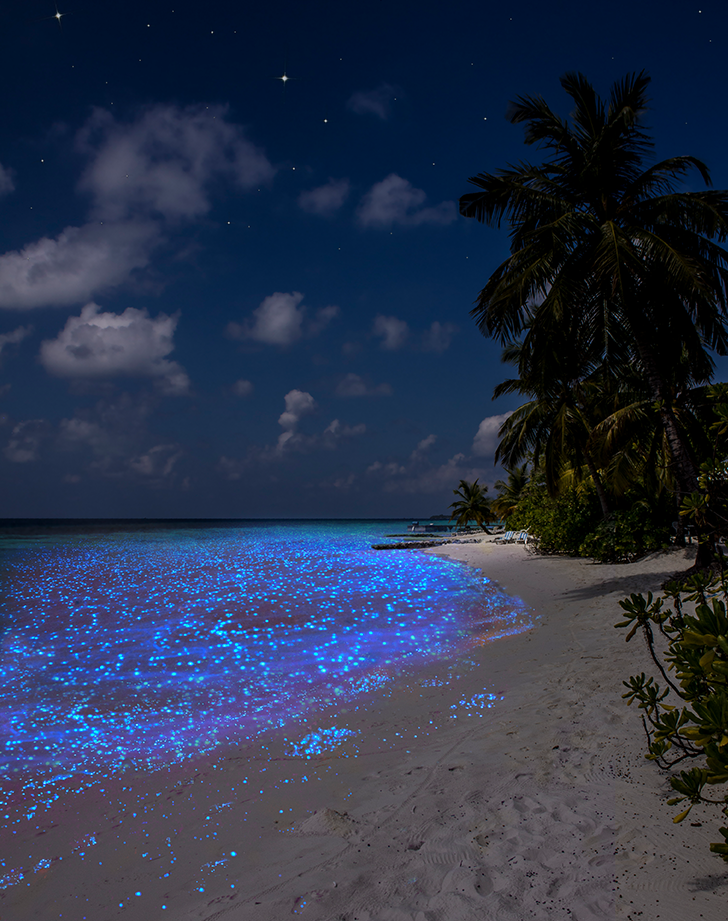 AtanasBozhikovNasko/Getty Images
Vaadhoo Island (Maldives)
After taking a dunk in Azerbaijan's volcanic mud, we recommend bathing in glow-in-the-dark ocean water on the tiny tropical island Vaadhoo. Visitors can see the ocean shores light up at night due to tiny phytoplankton in the water. These bioluminescent buggers emit a bright light when the water around them hits oxygen (aka, waves hitting the beach) as a defense against predators. Lucky for us, this creates a naturally occurring liquid glitter we can swim in. Consistently ranked one of the top vacation spots in the world, the Maldives is also increasing in popularity because it's sadly disappearing. About 100 of the 2,000 islands that make up the Maldives have eroded in recent years and water levels continue to chip away at many of them. Might be time to move this item up on your bucket list.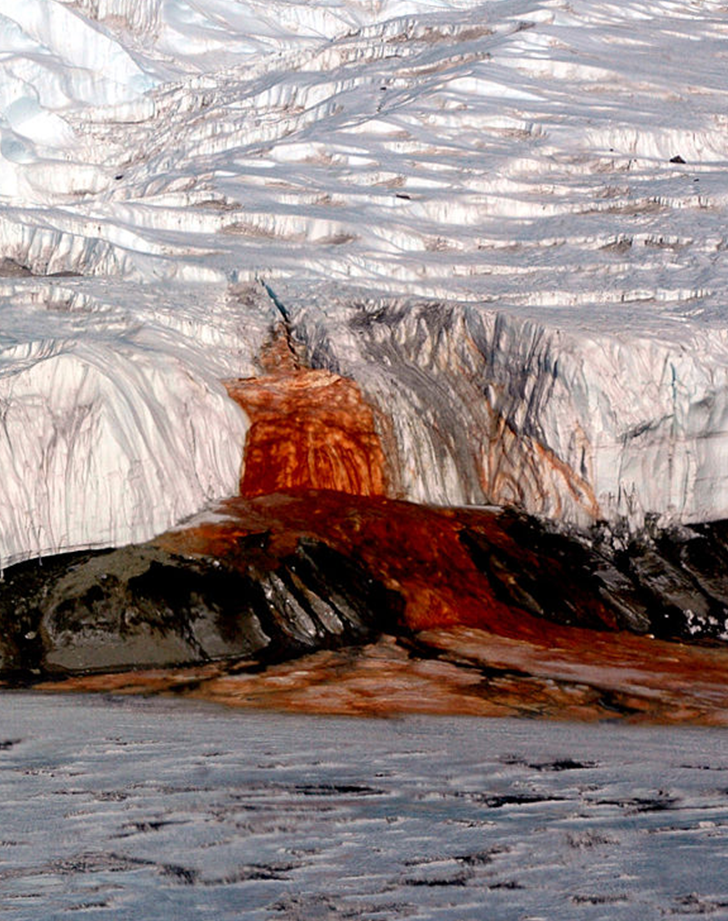 National Science Foundation/Peter Rejcek/Wikipedia
Blood Falls (Victoria Land, East Antarctica)
There are a bajillion beautiful waterfalls to see around the world before you die (or they dry up), but Blood Falls in east Antarctica is one of a kind for its blood-like, well, flow. Explorers discovered the red-hued river flowing off the Taylor Glacier in 1911, but it wasn't until last year that we figured why exactly the water was red. Turns out, there's iron in the water (from an underground lake) that oxidizes as it hits the air. It's tricky to get to Antarctica, yes, but certainly worth the trip to see this five-story-tall phenomenon in person.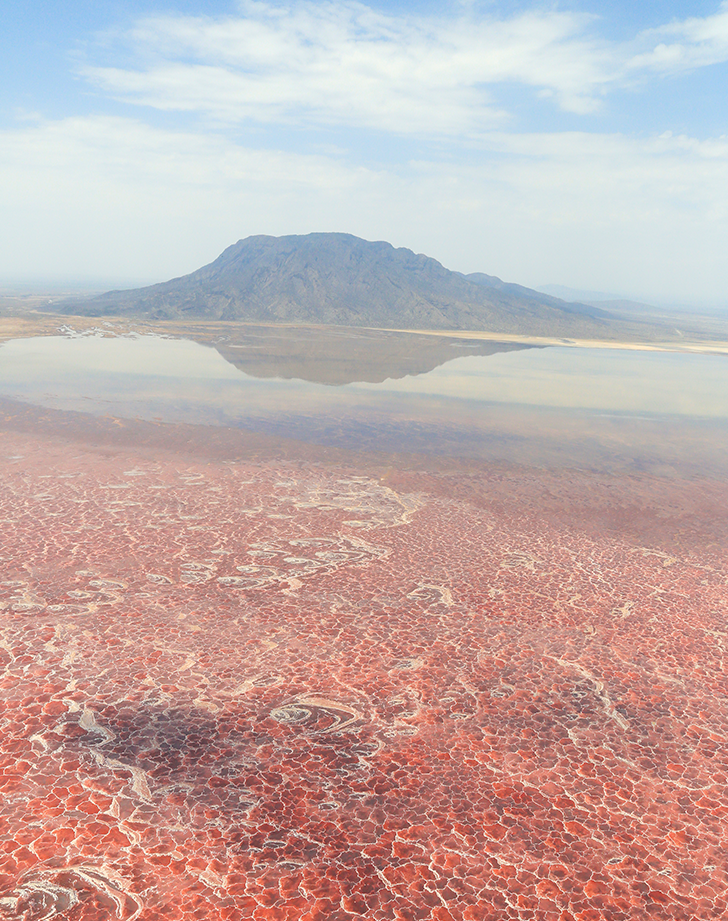 JordiStock/Getty Images
Lake Natron (Arusha, Tanzania)
If you're dying to see naturally occurring red water but aren't partial to Antarctica's chill, Lake Natron in Tanzania is a hot option. Salty water, high alkalinity and shallow depths pretty much make Lake Natron a warm pool of brine only microorganisms could love—and love it they do. During photosynthesis, the lake's microorganism population turns the water a bright reddish-orange. Since the lake is no fun for large African predators, the setting makes a perfect annual breeding ground for 2.5 million lesser flamingos, a species listed as "near threatened." So get there quickly. And kiss a flamingo for us.
RELATED: There's a Private Beach in Aruba Where You Can Actually Sunbathe with Flamingos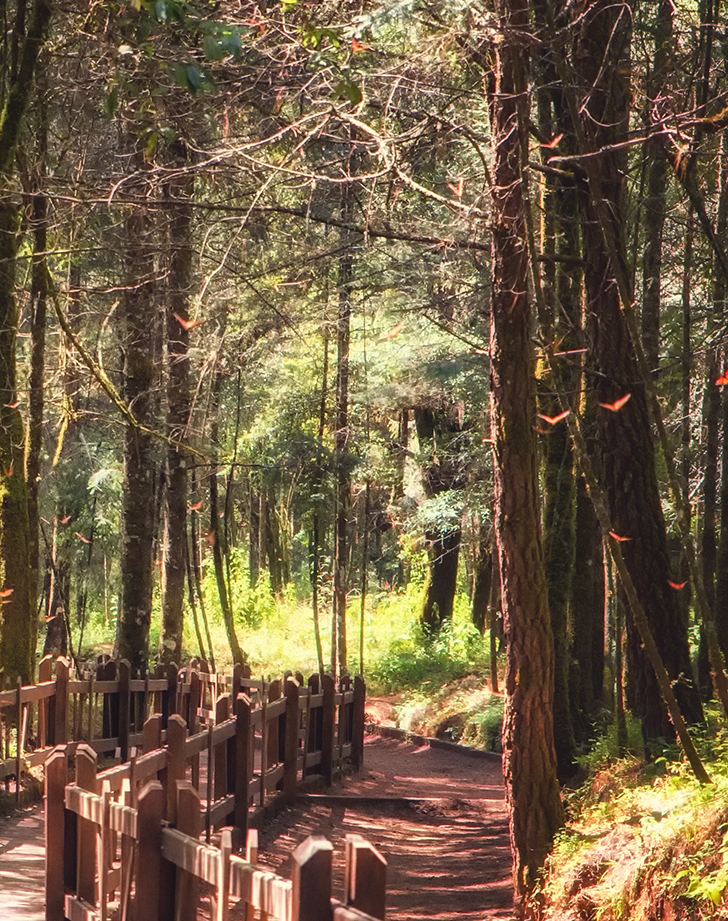 atosan/Getty Images
Monarch Butterfly Biosphere Reserve (Michoacán, Mexico)
This entry on our list isn't so much about a particular location as it is about what happens there. Every fall, monarch butterflies begin a 2,500-mile migration from Canada to Mexico. Over 100 million butterflies travel together, turning the skies orange and black, down through the U.S., before settling in central Mexico. Once they've reached hot spots like the Monarch Butterfly Biosphere Reserve, about 62 miles outside Mexico City, they nest, essentially taking over every square inch they can find. Pine trees literally sag with the weight of hundreds of butterflies latching onto branches. Visiting in January and February is best, when the populations are highest right before the butterflies head north in March. Fun fact: The monarchs that make it back to Canada in spring are the great-great-grandchildren of the butterflies that lived it up in Mexico over the winter. Unfortunately, the monarch population has dwindled significantly in the past 20 years, due in part to shrinking milkweed availability, the monarch's favorite food.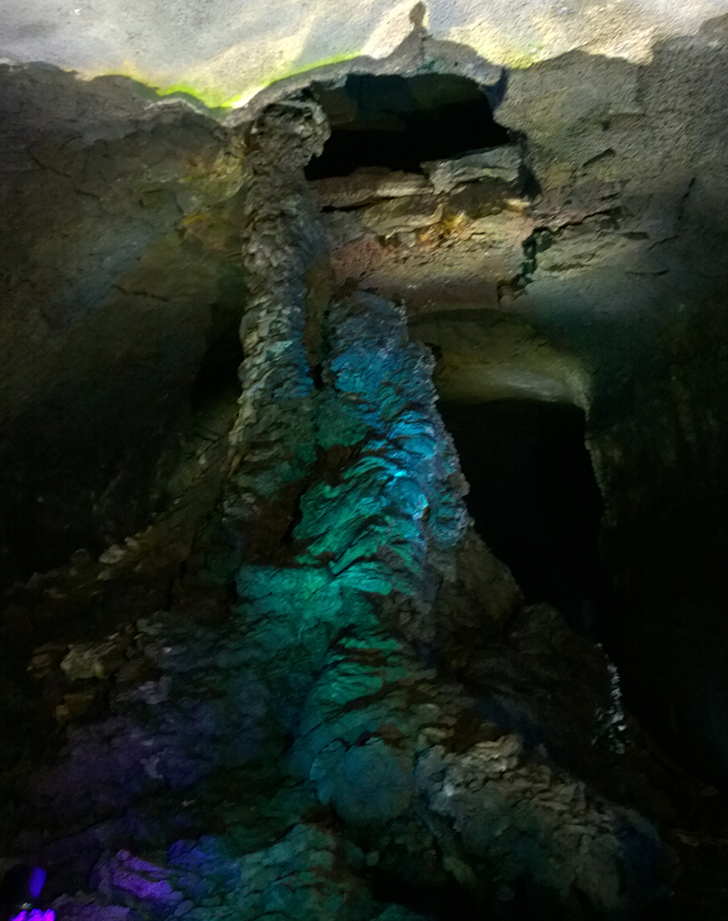 Stephan-Berlin/Getty Images
Jeju Volcanic Island and Lava Tubes (South Korea)
For spelunking enthusiasts, Jeju Island is a must-see. Located 80 miles off the southern tip of South Korea, the 1,147-square-foot island is essentially one big dormant volcano with hundreds of tinier volcanoes around it. Most notably, however, is the Geomunoreum Lava Tube System below Jeju's surface. An enormous system of 200 underground tunnels and caves formed by lava flows between 100,000 to 300,000 years ago provide ample space to pretend you're Lara Croft. Did we mention many of these caves have multiple levels? And there's a lake underground, too? With some of the longest—and largest—caves in the world, it's no surprise this is another UNESCO World Heritage Site on our list.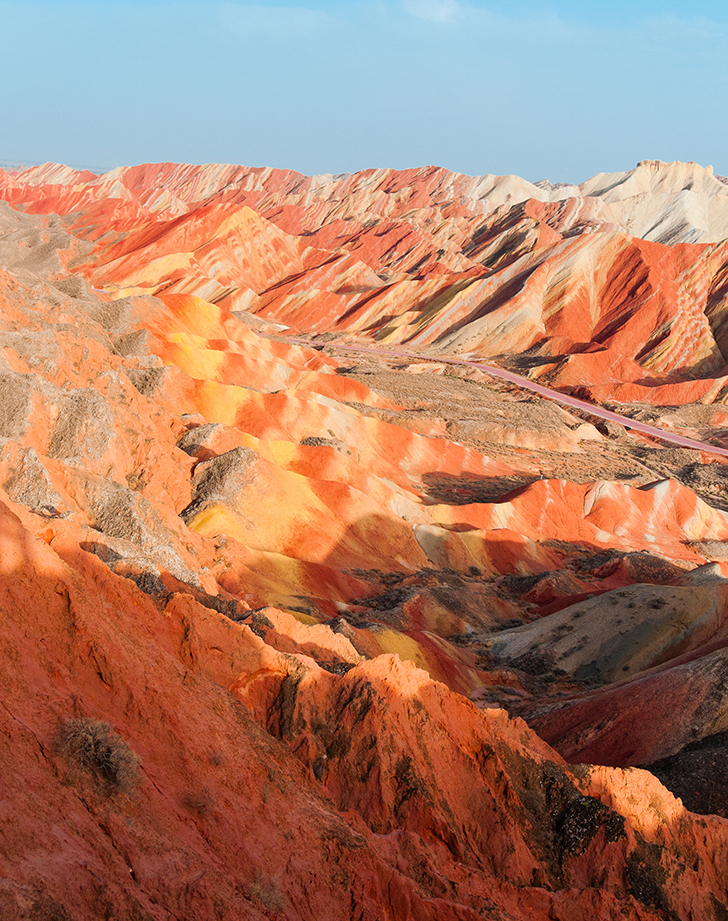 Ma Mingfei/Getty Images
Zhangye Danxia Landform Geological Park (Gansu, China)
There's really no other way to describe these mountains than as orange sherbet rocks. The Zhangye Danxia Landform Geological Park is mile after mile of brightly colored, striped hillside made of sandstone and mineral deposits. Formed over millions of years as tectonic plates shifted and pushed underlying rock to the earth's surface, this—you guessed it—UNESCO World Heritage Site is a lesson in both geology and art. Similar rainbow-colored mountains can be found in Peru, but this range in China's northern Gansu province is easier to hike and offers equally stunning views of red, orange, green and yellow stone. Visit between July and September for optimal sunshine and light.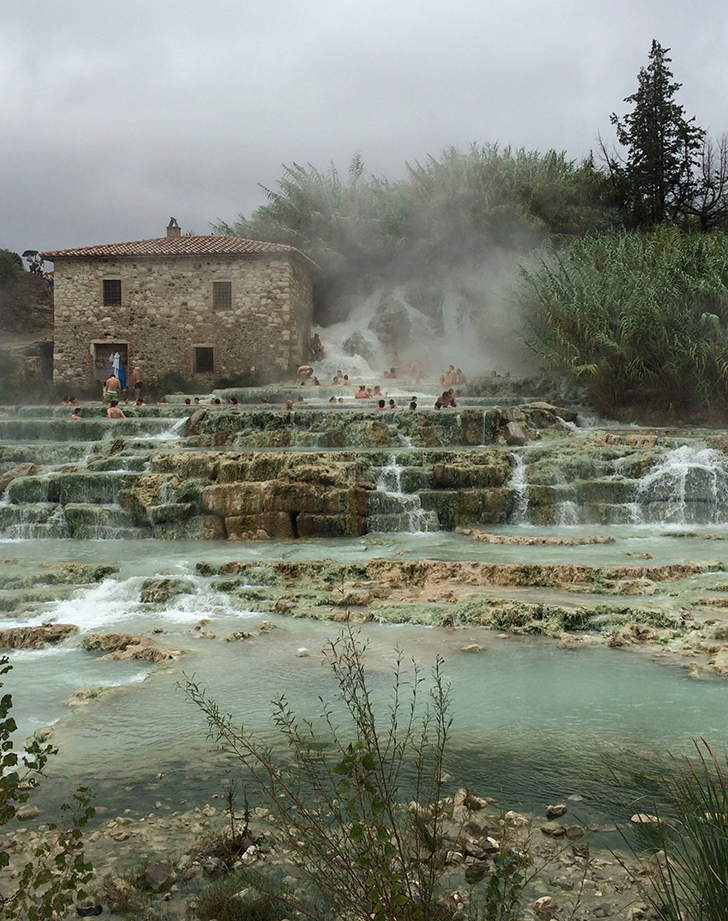 Federico Fioravanti/Getty Images
Cascate del Mulino (Saturnia, Italy)
Volcanic activity heats water below the earth's surface, creating either boiling geysers or calm, steamy, natural hot tubs. We'll take option #2. While there are many places to experience the soothing properties of hot springs (Blue Lagoon, Iceland; Khir Ganga, India; Champagne Pool, New Zealand), and we highly recommend you get to at least one in your lifetime, the Cascate del Mulino springs in Saturnia, Italy, caught our attention. Formed naturally by a sulphurous waterfall carving its way through rock, this sprawling landscape of pools clocks in at 98° F and is constantly flowing. The water is said to have healing properties thanks to sulfur and plankton swirling around. The best part? Cascate del Mulino is free to swim in and open 24/7. If you're in the mood for a more upscale Tuscan hot springs vacay, stay at the Terme di Saturnia, a spa and hotel situated closer to the hot springs' source.
This article was from PureWow and was legally licensed through the NewsCred publisher network. Please direct all licensing questions to legal@newscred.com.
We will continue building out our already expansive route network next year, adding flights to some attractive leisure destinations in the United States and the Caribbean.
Our hometown hub, Chicago O'Hare International Airport, will be the beneficiary of three of those new routes, which include Santa Barbara, California; Pasco, Washington; and Vail, Colorado. Rounding it out, United will add service from Denver to Nassau, Bahamas, and from Houston to Spokane, Washington. Tickets for all of these destinations are on sale now.
The Denver-Nassau route will begin on March 7, 2020, followed by Chicago-Santa Barbara, Chicago-Pasco, Chicago-Vail and Houston-Spokane on June 4. When that time comes, United will be the only airline offering nonstop service between Denver and Nassau and Chicago and Pasco.
All of these routes will open up a world of connection possibilities for customers living in each market. They'll also be scheduled to give flyers optimal arrival and departure time options. For instance, a passenger going from Chicago to Santa Barbara will have a flight option that departs O'Hare at 7:45 p.m. local time, arriving at Santa Barbara Airport at 10:30 p.m. That's ideal for business travelers.
"We want to offer customers the very best schedule, the best network and the most flight options in the industry," said Ankit Gupta, United's vice president of Domestic Network Planning.
The Boeing 737-800 aircraft will serve the Denver-Nassau route. Passengers going from Chicago to Santa Barbara and from Chicago to Vail will fly on the 737-700. United's 76-seat Embraer 175 aircraft, equipped with United First, Economy Plus and United Economy class seats, will operate on the Chicago-Pasco and Houston-Spokane routes.
You'll find flight times and additional details in the grid below. For more information and to book your tickets, visit
united.com
or download the United mobile app.
Depart

Arrive

Frequency

Duration

Chicago (ORD)

7:45 p.m.

Santa Barbara (SBA)

10:30 p.m.

Daily

Year-round

SBA

11:20 p.m.

ORD

5:20 a.m.

Daily

Year-round

ORD

8:00 p.m.

Pasco (PSC)

10:24 p.m.

Daily

Year-round

PSC

11:38 p.m.

ORD

5:20 a.m.

Daily

Year-round

ORD

4:00 p.m.

Vail/Eagle (EGE)

5:54 p.m.

Daily

Summer seasonal

(June 4 through September 6, 2020)

EGE

9:00 a.m.




ORD

12:45 p.m.

Daily

Summer seasonal

(June 4 through September 7, 2020)

Denver (DEN)

9:56 a.m.

Nassau (NAS)

4:00 p.m.

Once a week on Saturdays

Year-round

(with a break from mid-August through late-October)

NAS

11:37 a.m.

DEN

2:43 p.m.

Once a week on Saturdays

Year-round

(with a break from mid-August through late-October)

Houston (IAH)

9:32 p.m.

Spokane (GEG)

11:32 p.m.

Daily

Summer seasonal

(June 4 through August 17, 2020)

GEG

11:55 p.m.

IAH

6:17 a.m.

Daily

Summer seasonal

(June 4 through August 17, 2020)
Right now, around the world, brave members of America's armed forces are on duty, defending our freedom and upholding our values.
When not laser-focused on the mission at hand, they're looking forward to the day when their service to our nation is fulfilled and they can reunite with their families.
They are also imagining how they can use their hard-earned skills to build an exciting, rewarding and important career when they return home.
I want them to look no further than United Airlines.
That's why we are focused on recruiting, developing and championing veterans across our company, demonstrating to our returning women and men in uniform that United is the best possible place for them to put their training, knowledge, discipline and character to the noblest use.
They've developed their knowledge and skills in some of the worst of times. We hope they will use those skills to keep United performing at our best, all of the time.
That's why we are accelerating our efforts to onboard the best and the brightest, and substantially increasing our overall recruitment numbers each year.
We recently launched a new sponsorship program to support onboarding veterans into United and a new care package program to support deployed employees. It's one more reason why United continues to rank high - and rise higher - as a top workplace for veterans. In fact, we jumped 21 spots this year on Indeed.com's list of the top U.S workplaces for veterans. This is a testament to our increased recruiting efforts, as well as our efforts to create a culture where veterans feel valued and supported.
We use the special reach and resources of our global operations to partner with outstanding organizations. This is our way of stepping up and going the extra mile for all those who've stepped forward to answer our nation's call.
We do this year-round, and the month of November is no exception; however, it is exceptional, especially as we mark Veterans Day.
As we pay tribute to all Americans who have served in uniform and carried our flag into battle throughout our history, let's also keep our thoughts with the women and men who are serving around the world, now. They belong to a generation of post-9/11 veterans who've taken part in the longest sustained period of conflict in our history.

Never has so much been asked by so many of so few.... for so long. These heroes represent every color and creed. They are drawn from across the country and many immigrated to our shores.

They then freely choose to serve in the most distant and dangerous regions of the world, to protect democracy in its moments of maximum danger.
Wherever they serve - however they serve - whether they put on a uniform each day, or serve in ways which may never be fully known, these Americans wake up each morning willing to offer the "last full measure of devotion" on our behalf.
Every time they do so, they provide a stunning rebuke to the kinds of voices around the world who doubt freedom and democracy's ability to defend itself.
Unfortunately, we know there are those who seem to not understand – or say they do not - what it is that inspires a free people to step forward, willing to lay down their lives so that their country and fellow citizens might live.
But, we – who are both the wards and stewards of the democracy which has been preserved and handed down to us by veterans throughout our history – do understand.
We know that inciting fear and hatred of others is a source of weakness, not strength. And such divisive rhetoric can never inspire solidarity or sacrifice like love for others and love of country can.
It is this quality of devotion that we most honor in our veterans - those who have served, do serve and will serve.
On behalf of a grateful family of 96,000, thank you for your service.
Humbly,
Oscar
Each year around Veterans Day, Indeed, one of the world's largest job search engines, rates companies based on actual employee reviews to identify which ones offer the best opportunities and benefits for current and former U.S. military members. Our dramatic improvement in the rankings this year reflects a stronger commitment than ever before to actively recruiting, developing and nurturing veteran talent.
"We've spent a lot of time over the past 12 months looking for ways to better connect with our employees who served and attract new employees from the military ranks," said Global Catering Operations and Logistics Managing Director Ryan Melby, a U.S. Army veteran and the president of our United for Veterans business resource group.
"Our group is launching a mentorship program, for instance, where we'll assign existing employee-veterans to work with new hires who come to us from the armed forces. Having a friend and an ally like that, someone who can help you translate the skills you picked up in the military to what we do as a civilian company, is invaluable. That initiative is still in its infancy, but I'm really optimistic about what it can do for United and for our veteran population here."
Impressively, we were the only one of our industry peers to move up on the list, further evidence that we're on a good track as a company.
Scroll to top