10 must-see natural phenomena around the world
From the tropical paradise of Cook Island to the rolling greenery of the Scottish Highlands, your travel bucket list is ever expanding. But we suggest you add a little wiggle room in your itinerary for some of these you-have-to-see-it-to-believe-it sites. Pink lakes, sherbet-colored mountains and glowing beaches—this planet is an amazing place. But make plans to see these wonders soon, before they disappear. 
RELATED: The Best Places in the World to Go Snorkeling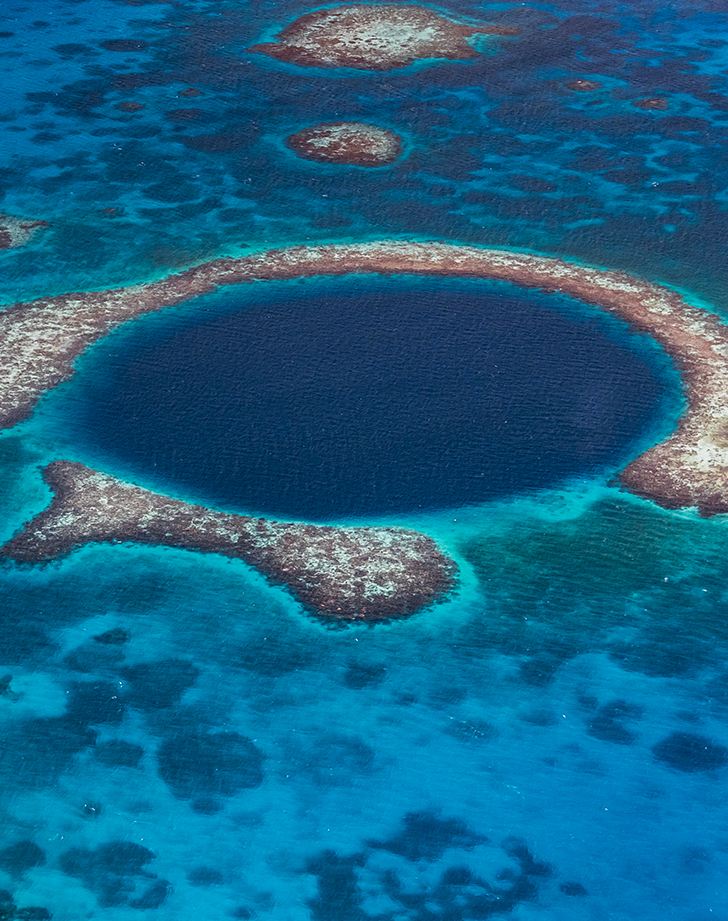 Mlenny/Getty Images
Great Blue Hole (Belize, City Belize)
If you couldn't tell by its name, the Great Blue Hole is a giant underwater hole in the middle of Lighthouse Reef, 73 miles off the coast of Belize. Technically, it's a sinkhole that formed as far back as 153,000 years ago, before sea levels were as high as they are today. After some glaciers danced around and melted, oceans rose and filled in the hole. The near-perfect circle is 1,043 feet in diameter and 407 feet deep, giving it a dark navy hue. Not only is the Great Blue Hole a World Heritage Site of UNESCO, but it was also one of Jacques Cousteau's top diving spots, so you know it's legit. You've got to be an expert scuba diver to actually go down into the hole, but snorkeling on its edges is allowed (and frankly offers more colorful scenes of fish and coral due to the sunlight). But, if you want the best view? Hop on a helicopter for a visually stunning flyover tour.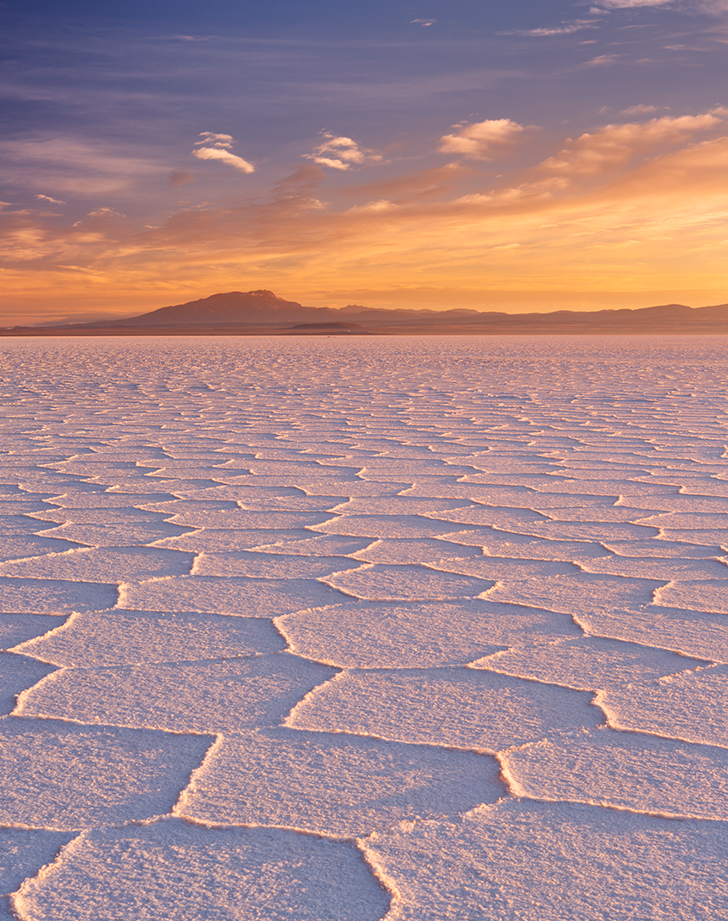 sara_winter/Getty Images
Salar De Uyuni (Potosí, Bolivia)
In the mood for something savory? How about 4,086 square miles of salt? That's how big Salar de Uyuni, the world's largest salt flat, is. Located in southwest Bolivia, near the Andes Mountains, this bright white, flat expanse looks like a desert but is actually a lake. Let us explain: Roughly 30,000 years ago, this area of South America was covered in a giant saltwater lake. When it evaporated, it left behind a thick, salty crust on the earth's surface. Today, the flat produces salt and half the world's lithium. During the rainy season (December through April), smaller surrounding lakes overflow and cover Salar De Uyuni in a thin, still layer of water that reflects the sky almost perfectly for a sublime optical illusion. If your goal is seeing as much of the flat as possible, head out during the drier season (May through November). Tours are available from starting points in both Chile and Bolivia. Just be sure to hydrate.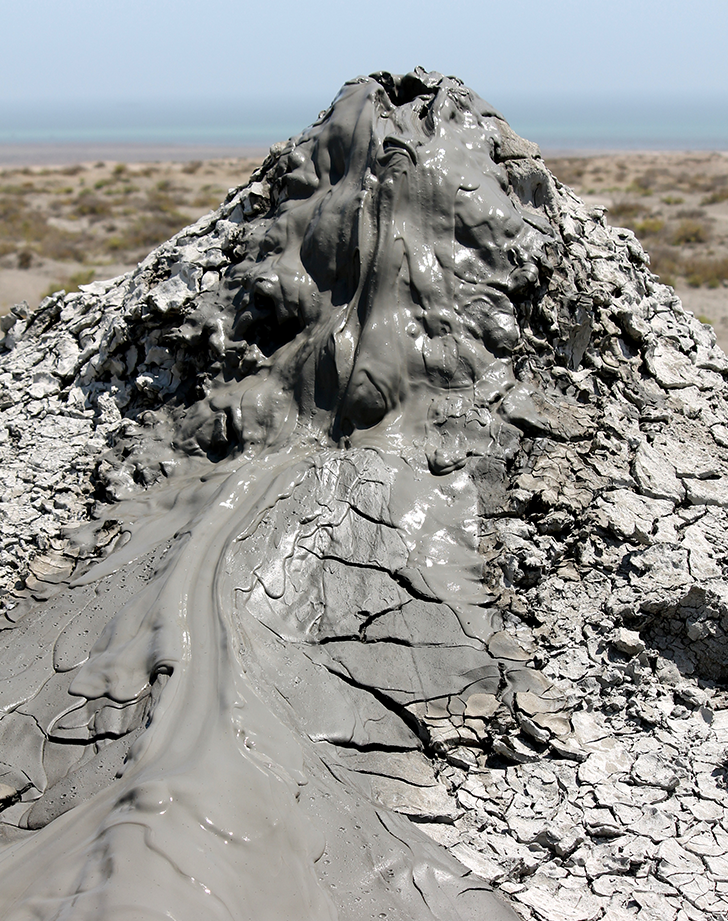 Ogringo/Getty Images
Mud Volcanoes (Azerbaijan)
Nestled between Eastern Europe and Western Asia is the Republic of Azerbaijan, home to hundreds of volcanoes that regularly spew goopy, gray mud. These short volcanoes (10 feet tall or so) dot the desert landscape throughout Gobustan National Park (another UNESCO World Heritage site) near the Caspian Sea. Since eruptions are caused by gases escaping through the earth instead of magma, the mud tends to be cool or even cold to the touch. Don't be afraid to join in if other visitors bathe in the mud, which has been used for skin and joint ailments and in pharmacology. Certainly not FDA-approved, but when in Azerbaijan, right?
RELATED: 5 Bioluminescent Beaches That Will Blow Your Mind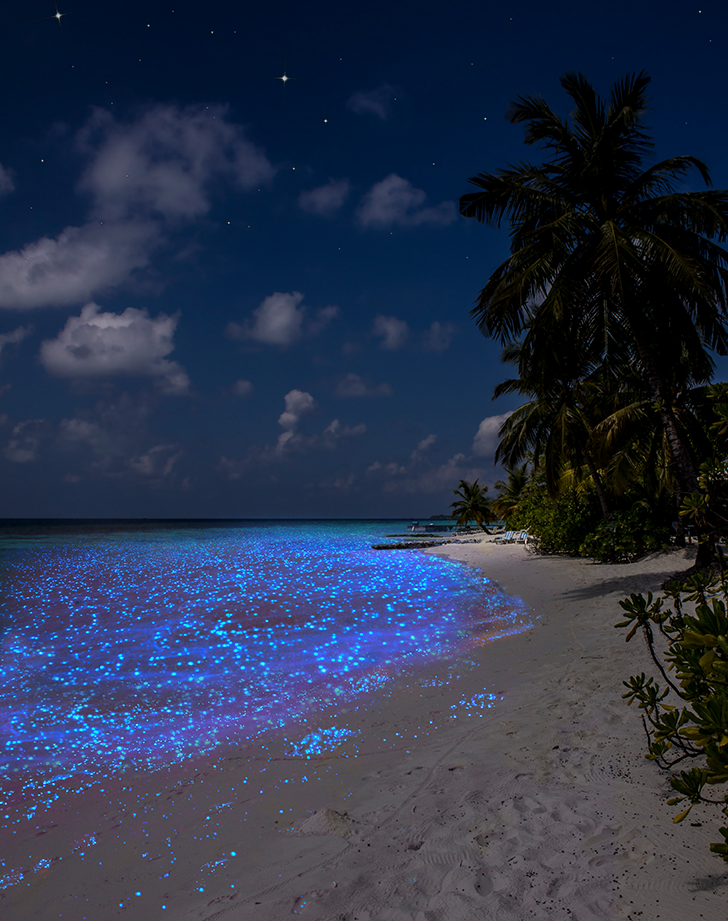 AtanasBozhikovNasko/Getty Images
Vaadhoo Island (Maldives)
After taking a dunk in Azerbaijan's volcanic mud, we recommend bathing in glow-in-the-dark ocean water on the tiny tropical island Vaadhoo. Visitors can see the ocean shores light up at night due to tiny phytoplankton in the water. These bioluminescent buggers emit a bright light when the water around them hits oxygen (aka, waves hitting the beach) as a defense against predators. Lucky for us, this creates a naturally occurring liquid glitter we can swim in. Consistently ranked one of the top vacation spots in the world, the Maldives is also increasing in popularity because it's sadly disappearing. About 100 of the 2,000 islands that make up the Maldives have eroded in recent years and water levels continue to chip away at many of them. Might be time to move this item up on your bucket list.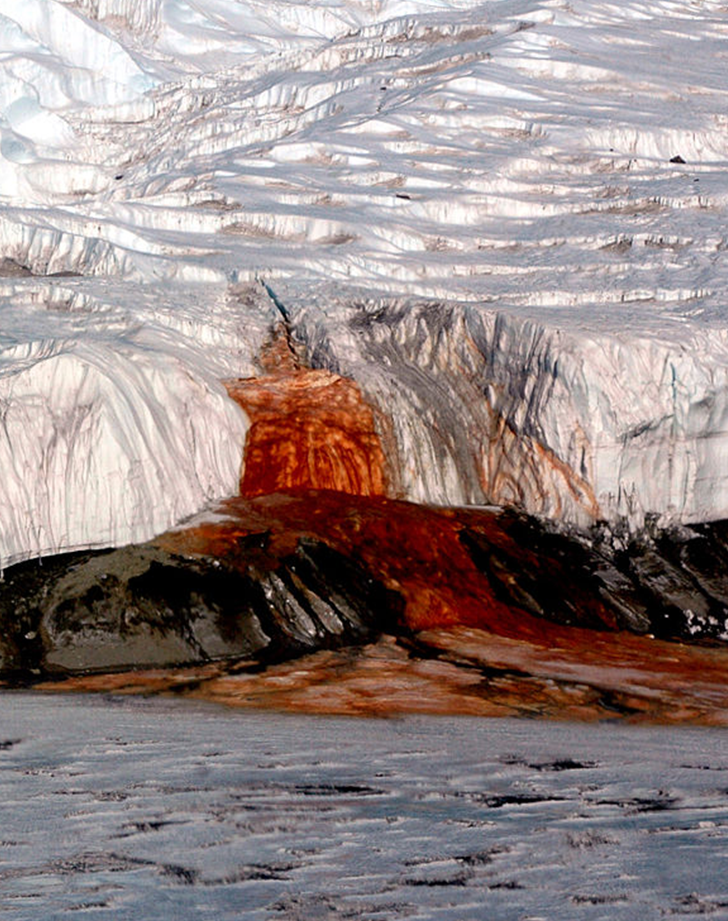 National Science Foundation/Peter Rejcek/Wikipedia
Blood Falls (Victoria Land, East Antarctica)
There are a bajillion beautiful waterfalls to see around the world before you die (or they dry up), but Blood Falls in east Antarctica is one of a kind for its blood-like, well, flow. Explorers discovered the red-hued river flowing off the Taylor Glacier in 1911, but it wasn't until last year that we figured why exactly the water was red. Turns out, there's iron in the water (from an underground lake) that oxidizes as it hits the air. It's tricky to get to Antarctica, yes, but certainly worth the trip to see this five-story-tall phenomenon in person.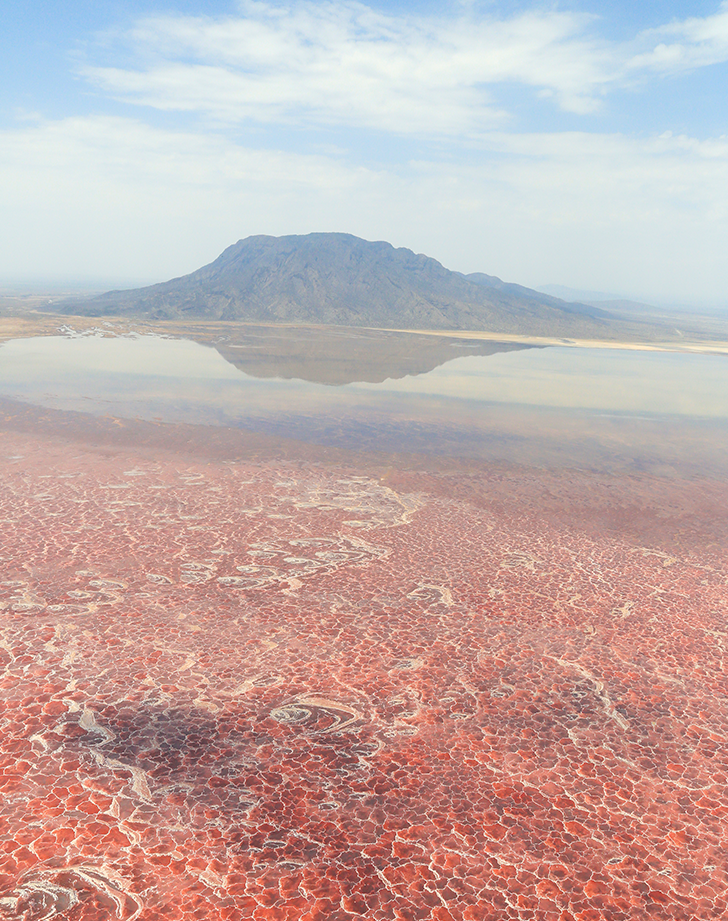 JordiStock/Getty Images
Lake Natron (Arusha, Tanzania)
If you're dying to see naturally occurring red water but aren't partial to Antarctica's chill, Lake Natron in Tanzania is a hot option. Salty water, high alkalinity and shallow depths pretty much make Lake Natron a warm pool of brine only microorganisms could love—and love it they do. During photosynthesis, the lake's microorganism population turns the water a bright reddish-orange. Since the lake is no fun for large African predators, the setting makes a perfect annual breeding ground for 2.5 million lesser flamingos, a species listed as "near threatened." So get there quickly. And kiss a flamingo for us.
RELATED: There's a Private Beach in Aruba Where You Can Actually Sunbathe with Flamingos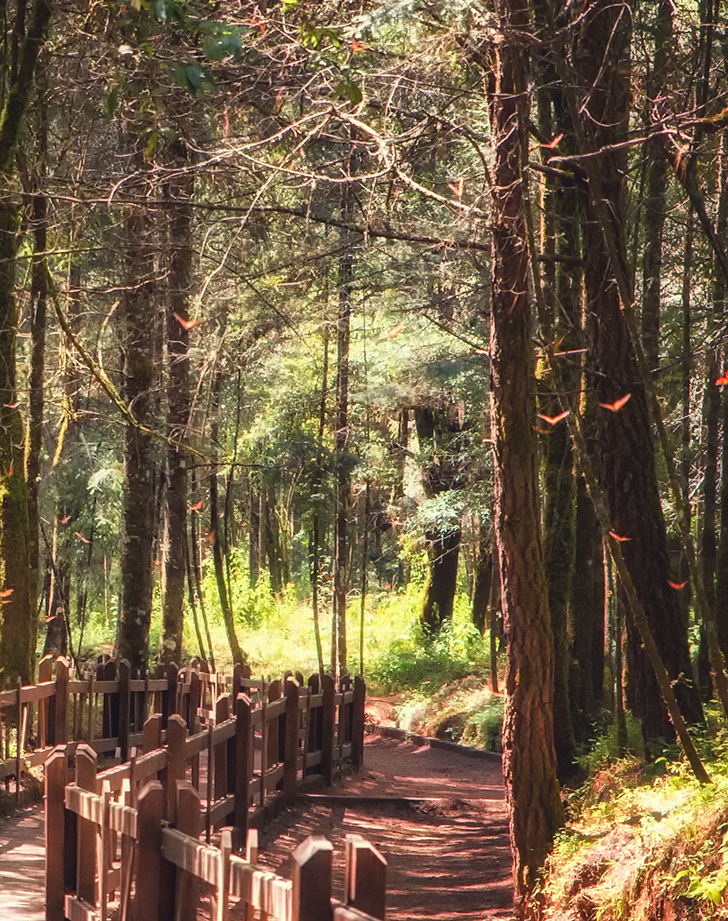 atosan/Getty Images
Monarch Butterfly Biosphere Reserve (Michoacán, Mexico)
This entry on our list isn't so much about a particular location as it is about what happens there. Every fall, monarch butterflies begin a 2,500-mile migration from Canada to Mexico. Over 100 million butterflies travel together, turning the skies orange and black, down through the U.S., before settling in central Mexico. Once they've reached hot spots like the Monarch Butterfly Biosphere Reserve, about 62 miles outside Mexico City, they nest, essentially taking over every square inch they can find. Pine trees literally sag with the weight of hundreds of butterflies latching onto branches. Visiting in January and February is best, when the populations are highest right before the butterflies head north in March. Fun fact: The monarchs that make it back to Canada in spring are the great-great-grandchildren of the butterflies that lived it up in Mexico over the winter. Unfortunately, the monarch population has dwindled significantly in the past 20 years, due in part to shrinking milkweed availability, the monarch's favorite food.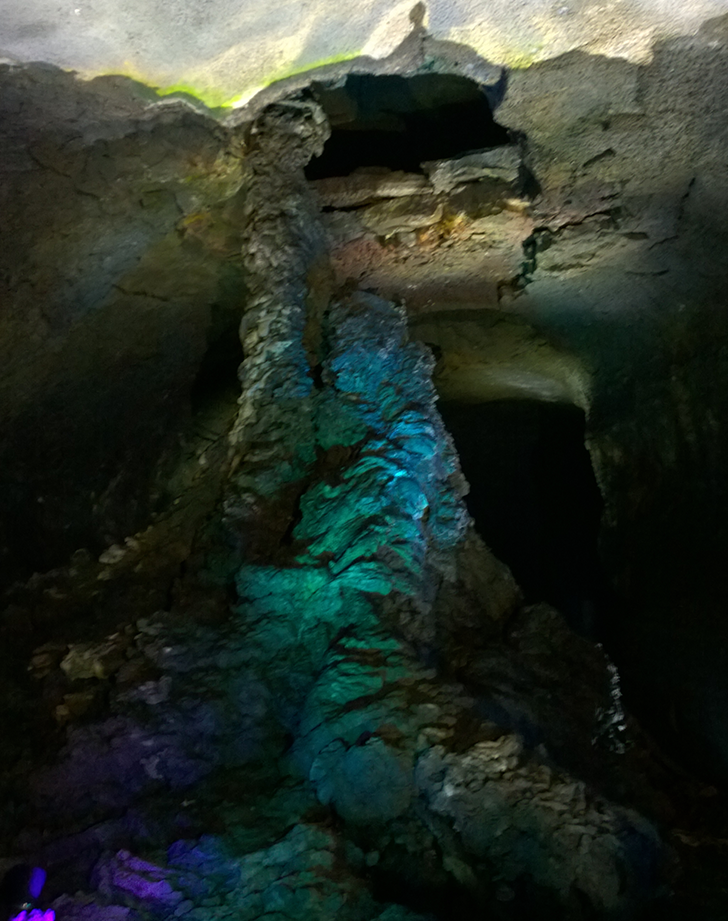 Stephan-Berlin/Getty Images
Jeju Volcanic Island and Lava Tubes (South Korea)
For spelunking enthusiasts, Jeju Island is a must-see. Located 80 miles off the southern tip of South Korea, the 1,147-square-foot island is essentially one big dormant volcano with hundreds of tinier volcanoes around it. Most notably, however, is the Geomunoreum Lava Tube System below Jeju's surface. An enormous system of 200 underground tunnels and caves formed by lava flows between 100,000 to 300,000 years ago provide ample space to pretend you're Lara Croft. Did we mention many of these caves have multiple levels? And there's a lake underground, too? With some of the longest—and largest—caves in the world, it's no surprise this is another UNESCO World Heritage Site on our list.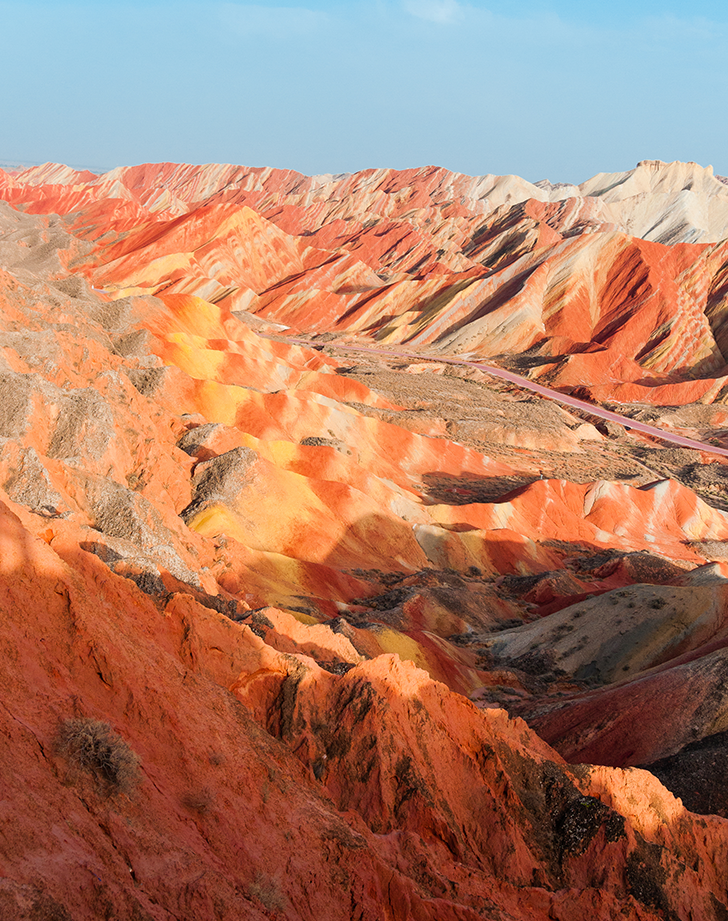 Ma Mingfei/Getty Images
Zhangye Danxia Landform Geological Park (Gansu, China)
There's really no other way to describe these mountains than as orange sherbet rocks. The Zhangye Danxia Landform Geological Park is mile after mile of brightly colored, striped hillside made of sandstone and mineral deposits. Formed over millions of years as tectonic plates shifted and pushed underlying rock to the earth's surface, this—you guessed it—UNESCO World Heritage Site is a lesson in both geology and art. Similar rainbow-colored mountains can be found in Peru, but this range in China's northern Gansu province is easier to hike and offers equally stunning views of red, orange, green and yellow stone. Visit between July and September for optimal sunshine and light.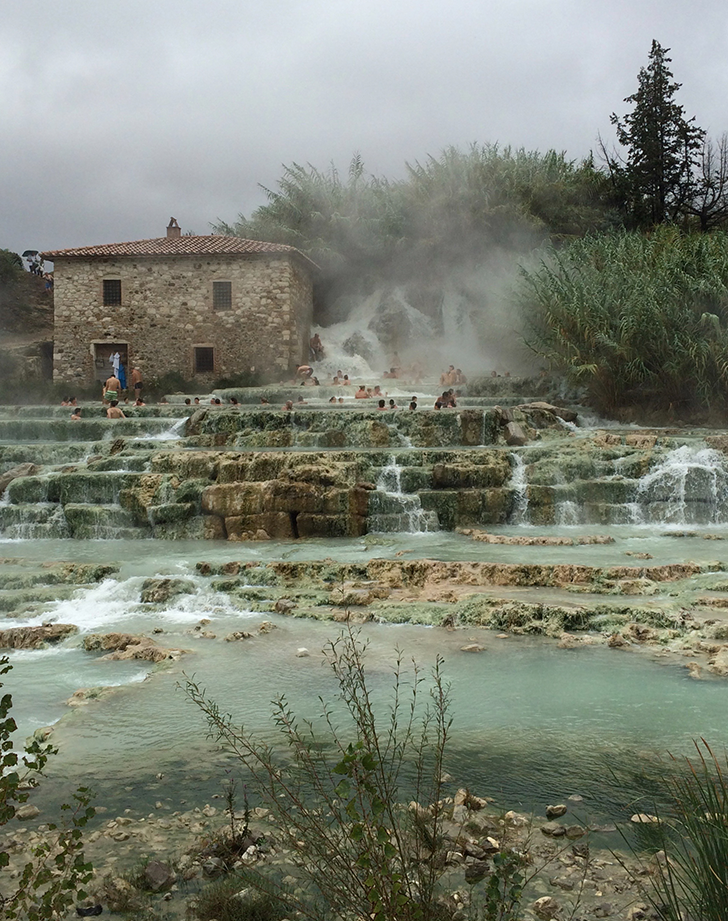 Federico Fioravanti/Getty Images
Cascate del Mulino (Saturnia, Italy)
Volcanic activity heats water below the earth's surface, creating either boiling geysers or calm, steamy, natural hot tubs. We'll take option #2. While there are many places to experience the soothing properties of hot springs (Blue Lagoon, Iceland; Khir Ganga, India; Champagne Pool, New Zealand), and we highly recommend you get to at least one in your lifetime, the Cascate del Mulino springs in Saturnia, Italy, caught our attention. Formed naturally by a sulphurous waterfall carving its way through rock, this sprawling landscape of pools clocks in at 98° F and is constantly flowing. The water is said to have healing properties thanks to sulfur and plankton swirling around. The best part? Cascate del Mulino is free to swim in and open 24/7. If you're in the mood for a more upscale Tuscan hot springs vacay, stay at the Terme di Saturnia, a spa and hotel situated closer to the hot springs' source.
This article was from PureWow and was legally licensed through the NewsCred publisher network. Please direct all licensing questions to legal@newscred.com.
Critical medical shipments – Check.
High-tech electronics – Check.
2.7 million pounds of lobster? Check.

While this year's holiday gatherings will look a little different, millions of people around the world will still carry on the tradition of celebrating the holidays with a meal.

As the appetite for different types of food from all over the world increases, so does the need for safe and reliable transport. Fish caught in the United Kingdom can depart at breakfast and arrive in Washington D.C. in time for dinner. Thanks to United Cargo's expansive network, we are longer constrained by global distance or the seasonality of a product,
United Cargo plays a big role in transporting shipments with a limited shelf life around the world. Packed in between the latest electronics from Asia and the hottest fashion items from Europe, our aircraft carry a variety of perishable shipments like flowers, fruit, meat and vegetables, where speed and careful handling keeps them fresh. Whether it's cherries from Washington State or vegetables from Peru, our temperature-controlled shipping processes and vast global network helps move these commodities all over the world.
While the holidays are an exceptionally busy time of year for shipping perishable items, United Cargo transports these critical goods for people all over the world year-round. Earlier this year, United Cargo moved nearly 190,000 pounds of fresh produce to Guam for the U.S. Department of Agriculture's Coronavirus Farm Assistance Program to support communities impacted by COVID-19. Additionally, with the holiday season here, we anticipate the cargo holds of our aircraft to be full of grocery store replenishments, including staples like turkey and ham, hitting shelves across the globe.
We take pride in our role to make sure perishables and produce arrive on time and at the peak of freshness. These products sustain, feed and nurture the world, and consumers around the globe depend on them every single day.
Since March 19, United has operated nearly 8,000 cargo-only flights, moving over 272 million pounds of cargo on those flights alone. United Cargo is proud of the role we play maintaining the global food supply chain and helping people access commodities from all over the globe.
Bon appetit!
With thousands of veteran and reservist employees at United, we are incredibly grateful for their dedication, courage and bravery. Not only do they serve our country, they also bring a standard of excellence and professionalism to work on a daily basis.
We are thrilled to celebrate and thank our veteran and reservist employees this Veterans Day. We asked a few of them to share stories from their experiences while enlisted. Read a few of them below!
Larry Ferrarini, ORD Lead Ramp Service
Tiffini Wilson, ORD Customer Service Representative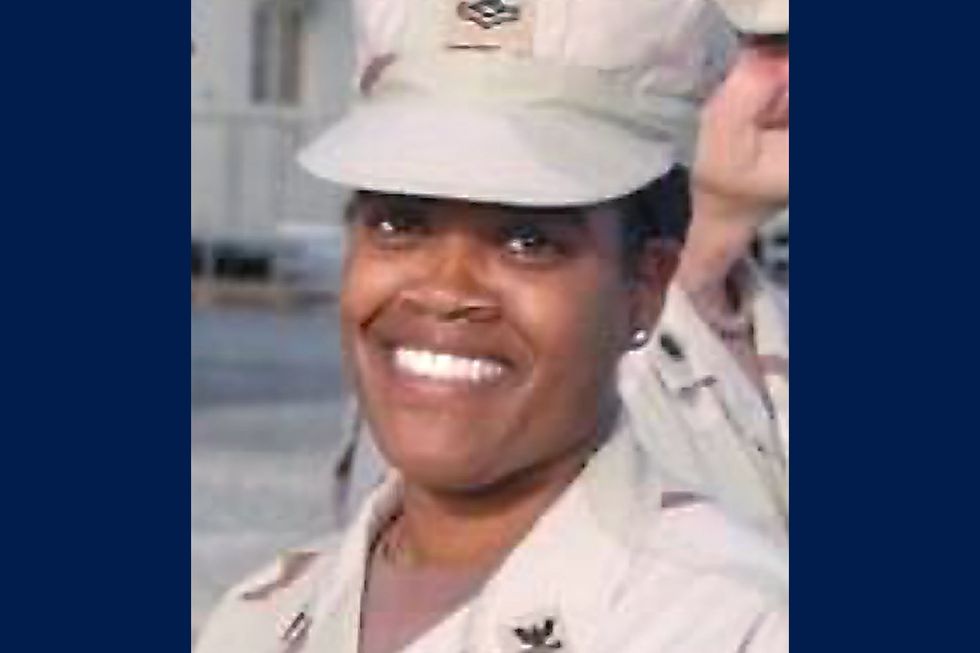 Tiffini served in the U.S. Navy Reserves from 1999 to 2013. She came from a military family and always knew she wanted to serve. In her experience, the Navy has a real sense of brotherhood and sisterhood. She feels proud that she is able to serve her country and other people get to stay home and feel safe.

Tiffini has worked at United for 24 years and feels grateful that her supervisors have always been supportive of her military service and flexible when she was deployed. She even received care packages from colleagues when she was serving in the Middle East. She has learned that being a leader is about listening, in the military and at United. She applies that mentality to when she is working with customers, as well. She says, "sometimes people are having a bad day and need to vent and be acknowledged."
Thank you for your service, Tiffini!
Terry Blake, DCA First Officer B767/B757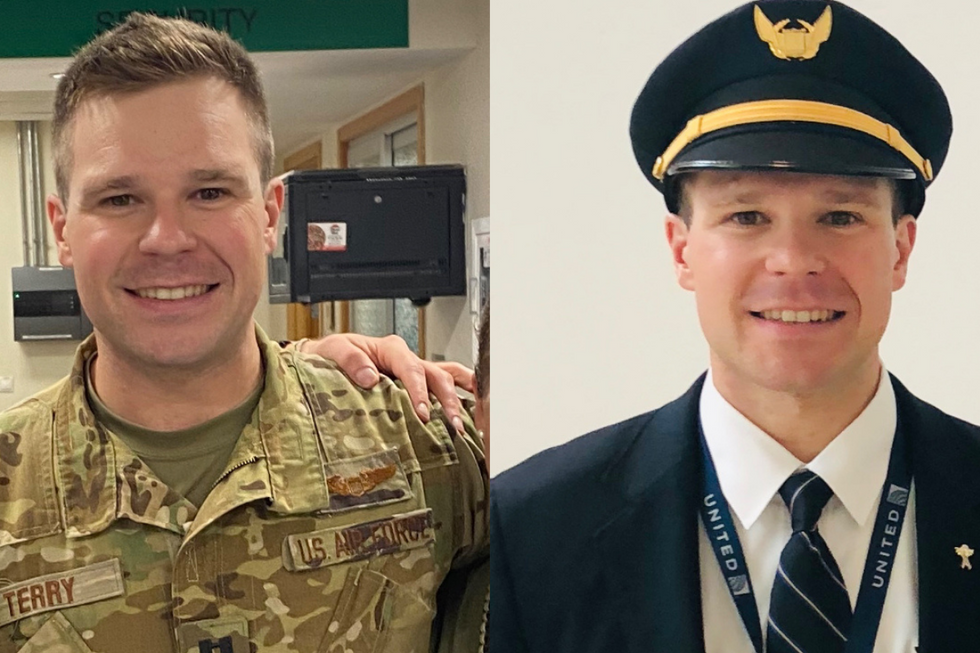 Terry joined the U.S. Air Force in 2014 and is currently serving. He says, "The military is a great career and I am proud that I have been given the opportunity to serve my country and the State of West Virginia." During his time in the service, he has been working aeromedical evacuation missions where he moves the critically wounded warriors from combat zones to hospitals in Europe and the U.S. He feels lucky to fly for United and work with many great people. He is proud to work alongside ALPA professional pilots and all the other employees at the company.

Thank you for your service, Terry!
Katherine McDonald, HR Partner Senior Manager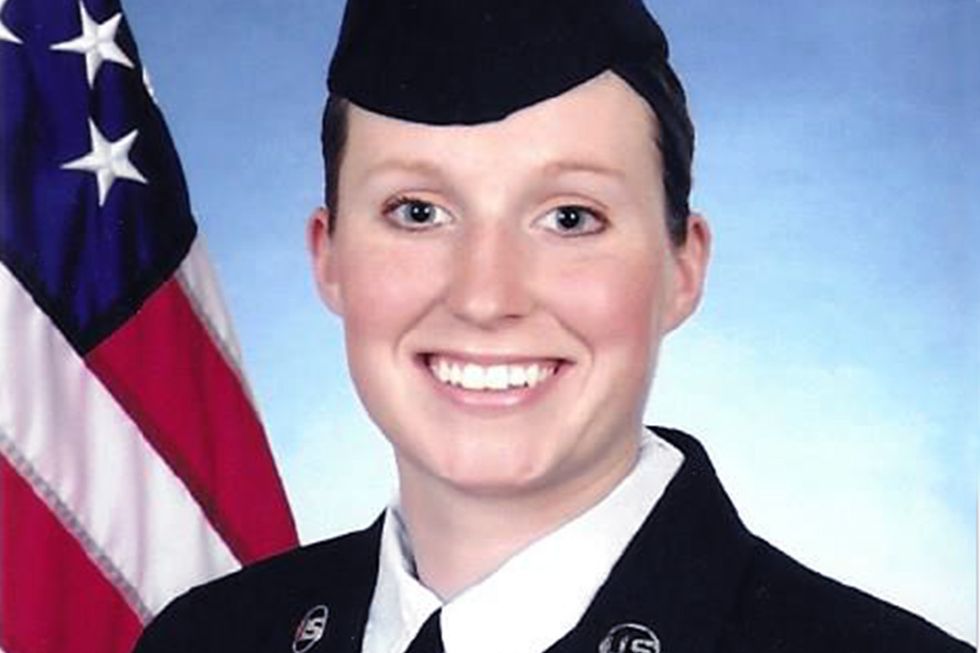 Katherine served six years in the Michigan Air National Guard and says, "For me, serving is a calling. It means serving this great nation and being ready when needed." She joined the military to belong and contribute to something bigger than herself. When she was applying for her job at United, she found information about the United4Veterans business resource group on the company website. This increased her desire to work for a company that she could bring her military experience to and be celebrated. "The inclusivity I feel at United makes me feel so valued, both as an employee and as a veteran. I am so grateful to work for a company that is committed to our military employees and customers."

Thank you for your service, Katherine!
Troy A. Engholm, DEN Ramp Service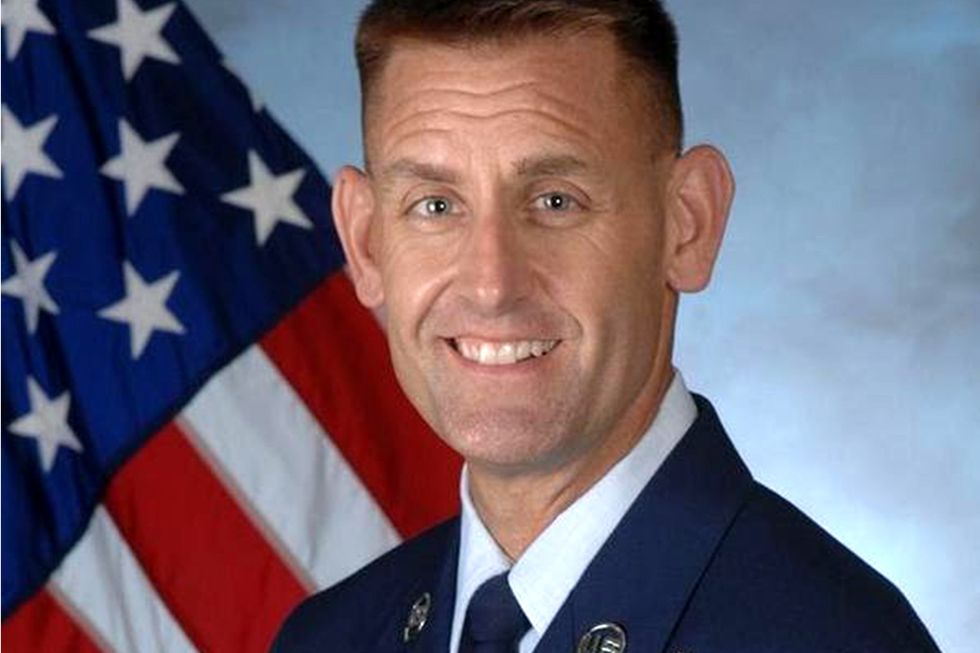 Troy served in the U.S. Air Force from 1983 to 2013. He says, "I loved serving 30+ years in our United States Air Force because it gave me a sense of accomplishment, satisfaction and pride to know that I was serving in the best Air Force, with the best professionals, the world has ever seen."

After serving, Troy joined United in 2015 and has loved it ever since. He believes this profession allows us to connect families together and provide a multitude of experiences for our customers. They get to see the world. The most rewarding part of his job is when he sees joy on a customer's face.
Thank you for your service, Troy!
Fred "Motown" Crowell, ORD Lead Ramp Service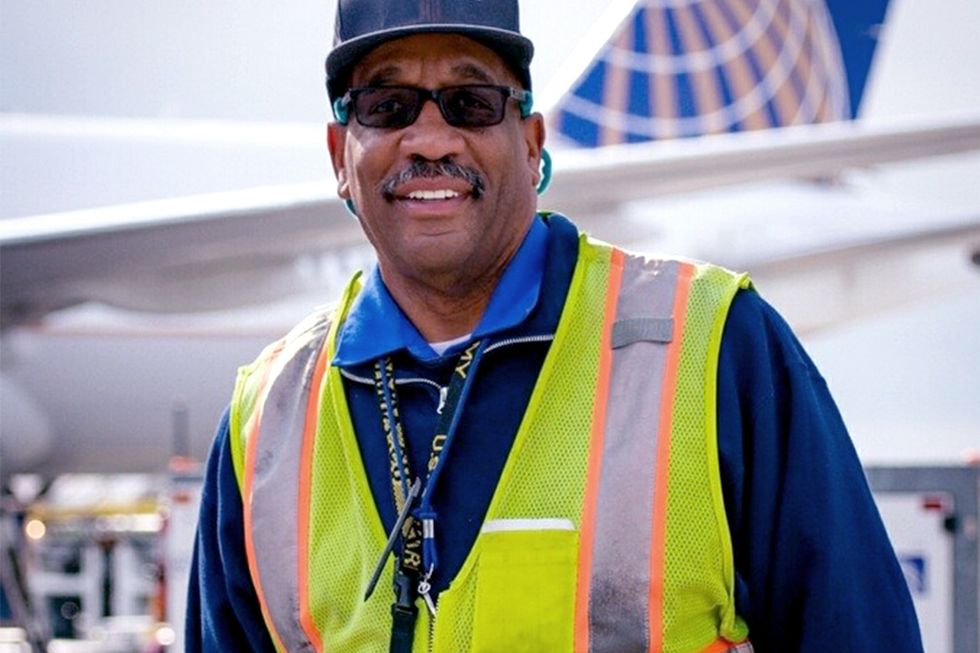 Motown served in the U.S. Army from 1969 to 1970. Motown grew up in Detroit and aspired to follow in his brother's footsteps by applying to a job at United. Just after he was hired, he was drafted to the Army and was on active duty in Vietnam. His unit was the first to invade Cambodia. His unit that served together still meet up every year in Washington D.C. at the Vietnam Memorial.

When he returned home, he returned to United and has been here for 53 years. Over the years, he's been able to travel with his family around the world and even take his wife back to Vietnam and show her where he was stationed.
Thank you for your service, Motown!
Garrett West, Regional Director Aircraft Maintenance ORD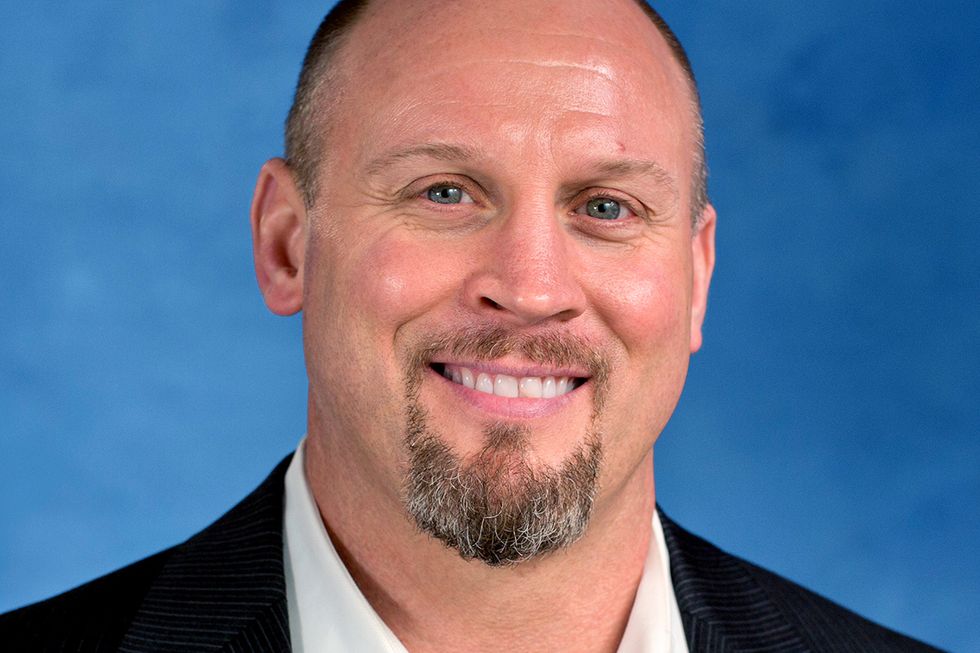 Garrett served in the U.S. Marines for 7 years and 1 year in active reserves. From childhood, he had always dreamed of becoming a United States Marine. He has been grateful to serve with many different people from all types of backgrounds. And, he has many fond memories and experiences of cruising the Mediterranean when he was part of the Marine Amphibious Ready Group. He says, "Having the honor to wear the EGA (the Marine emblem that includes an Eagle, Globe and Anchor) and to represent and serve our great nation is beyond words."

Garret began his career at United as a frontline technician and has worked to a Hub leader. He says, "As we all press on and continue to work through challenges, the tenacity of our employees across the board and working alongside so many dedicated people has done nothing but instill confidence in our future."
Thank you for your service, Garrett!
Pete DeLeon, ORD Lead Customer Service Representative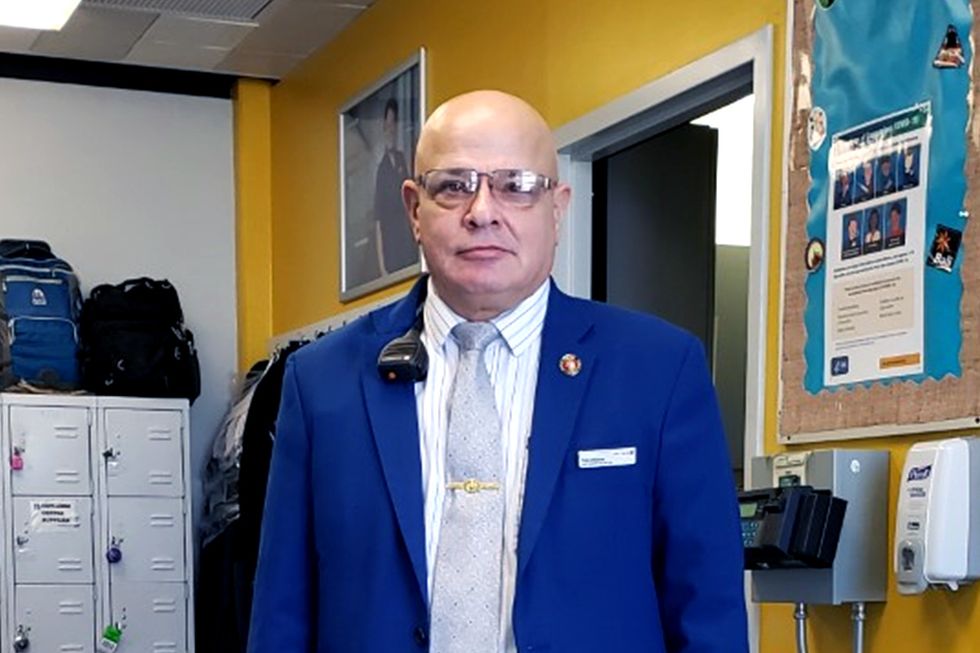 Pete served in the U.S. Marines from 1977 to 1984. He grew up in a military family and had a desire to join early on. During his time in the Marines, he traveled all over the world, including to the American Embassy in Cyprus; Lima, Peru and Okinawa, Japan. He has a great sense of pride for his time in the service and feels grateful that he could give back to his country.

After the Marines, Pete joined United 33 years ago. He has held many roles in various places across the system. First, he was a load planner in Miami, then moved to New Orleans where he was the chief coordinator during Hurricane Katrina. Pete says, "I thoroughly enjoy what I do on a daily basis, working with and assisting customers. I enjoy the people I work with I look forward to coming to work on a daily basis as every day is different at the airport."
He says the Marines taught him how to be professional, treat people with respect and to make quick decisions when necessary. He always goes the extra mile for customers and colleagues.
Thank you for your service, Pete!
Steve Driver, ORD Customer Service Representative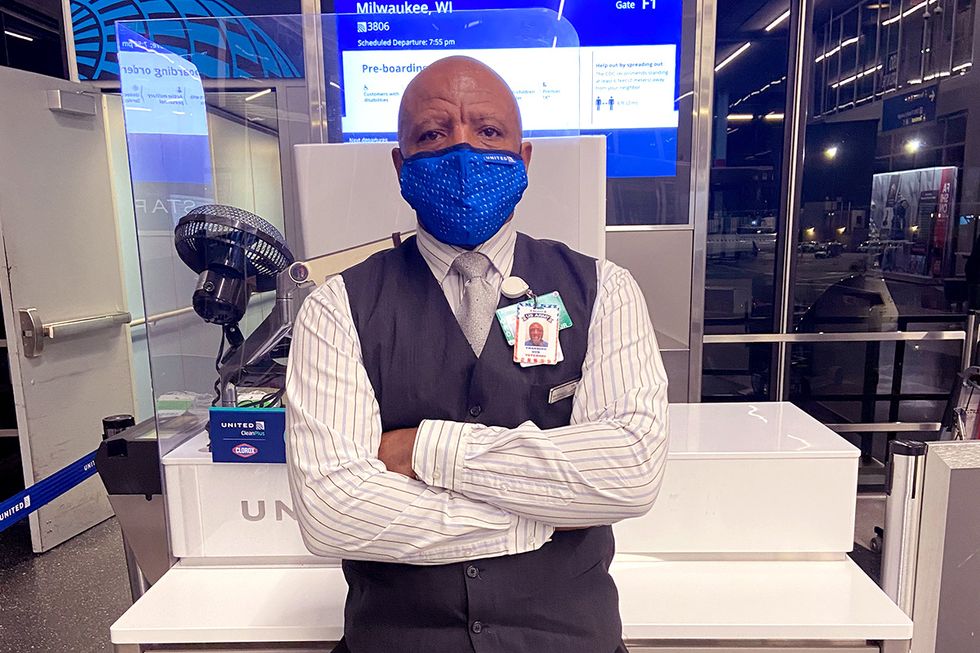 Steve served in the U.S. Army for 20 years from 1976 to 1996. He says, "It was my honor to serve my country. I was very proud to be a part of the U.S. Army and protecting my country. The camaraderie was amazing. The way my unit worked together to complete missions was not like anything I've ever been a part of before. Wearing the uniform gave all of use a sense of pride." He has worked with United for over 23 years and he describes his time as very rewarding. He enjoys working with his coworkers and learning about the industry every day.

Thank you for your service, Steve!
Jim Herrera, ORD Lead Customer Service Representative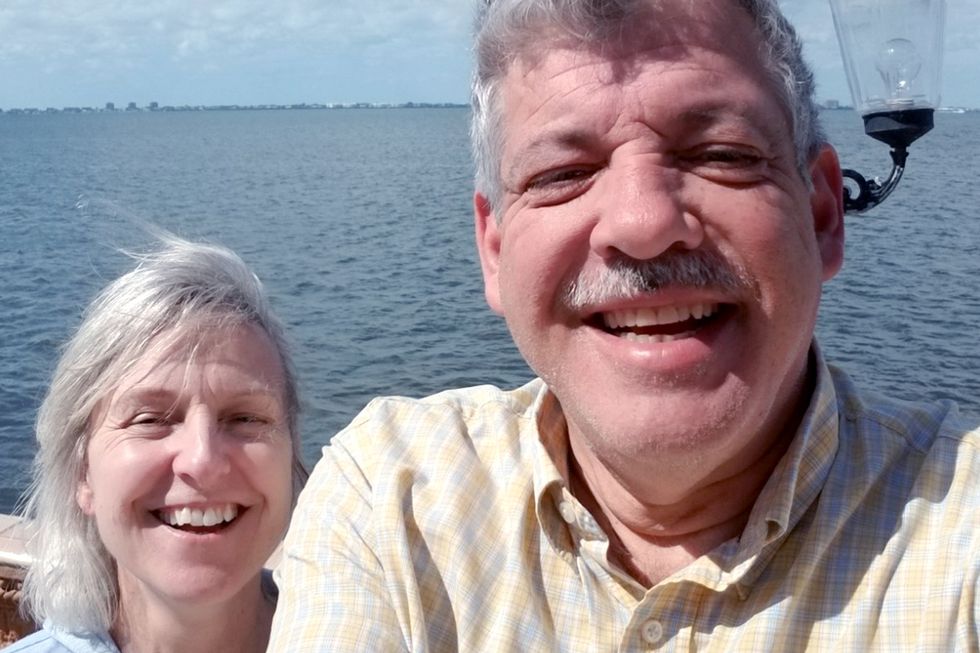 Jim Herrera served in the U.S. Marines Reserve from 1976 to 1985. Though he served after the Vietnam war, he saw the impact of that on his fellow veterans. Over time, he has seen a great shift in positive support for veterans and he is very grateful for that. He has been with Untied for over 42 years. He is grateful for the stability his career at United provides for him to do what he loves and raise his family.

Thank you for your service, Jim!
Session Martin, ORD Lead Customer Service Representative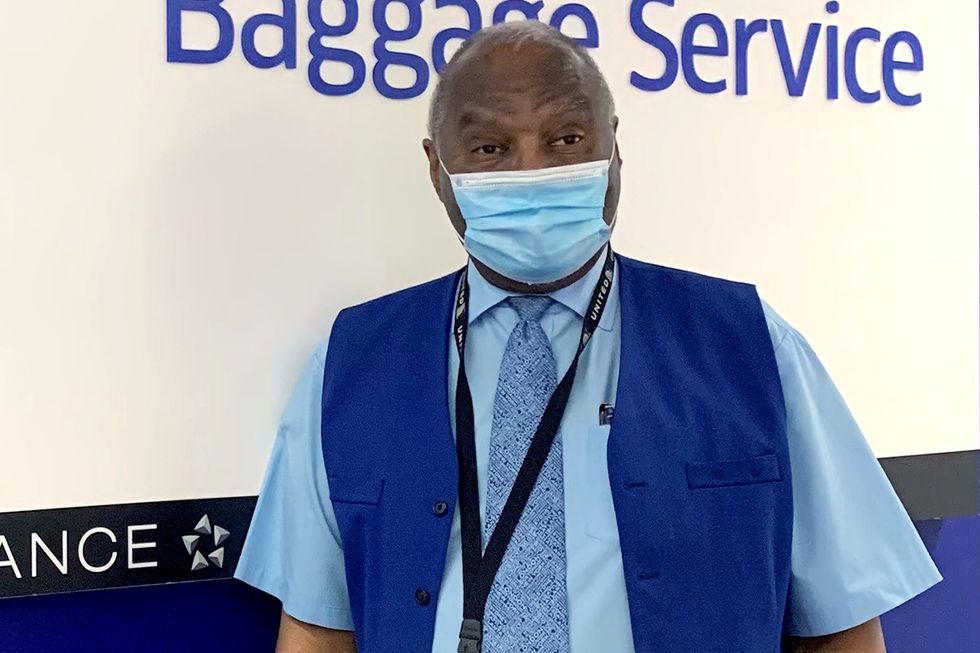 Session served in the U.S. Army for 3 years and 9 months. He says that his time in the service means everything to him. He is proud to have been part of the team and did his duty to preserve our lifestyle in America. "I feel like I owned that to my country. If I had to do it again, I absolutely would," says Session. Even after 51 years at United, Session still says he is having a good time, he enjoys coming to work every day. His favorite part is connecting with the customers and networking with people.

Thank you for your service, Session!
Troy VanderWeyden, DCA First Officer B777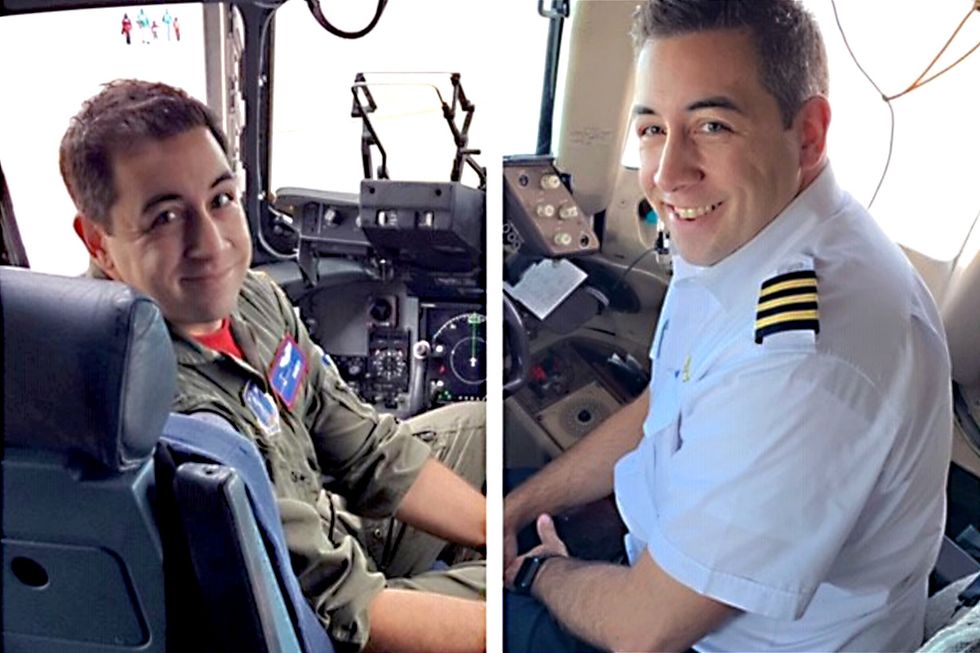 Troy has been flying the Air National Guard for the past 10 years. His missions include aeromedical evacuations, strategic delivery of troops and cargo across the globe, as well as humanitarian aid flights. Five years ago, his lifelong dream was fulfilled when he was hired by United. A special family connection is that his father is also a United pilot, Captain Alan VanderWeyden.

Troy shares, "United is extremely accommodating and appreciative of my and everyone's military obligations and offers endless support. The DCA Flight Operations has a strong relationship with the West Virginia Air National Guard and reflects highly on the Flight Operations folks and our personnel in the unit."
Thank you for your service, Troy!
Scott Kirby, CEO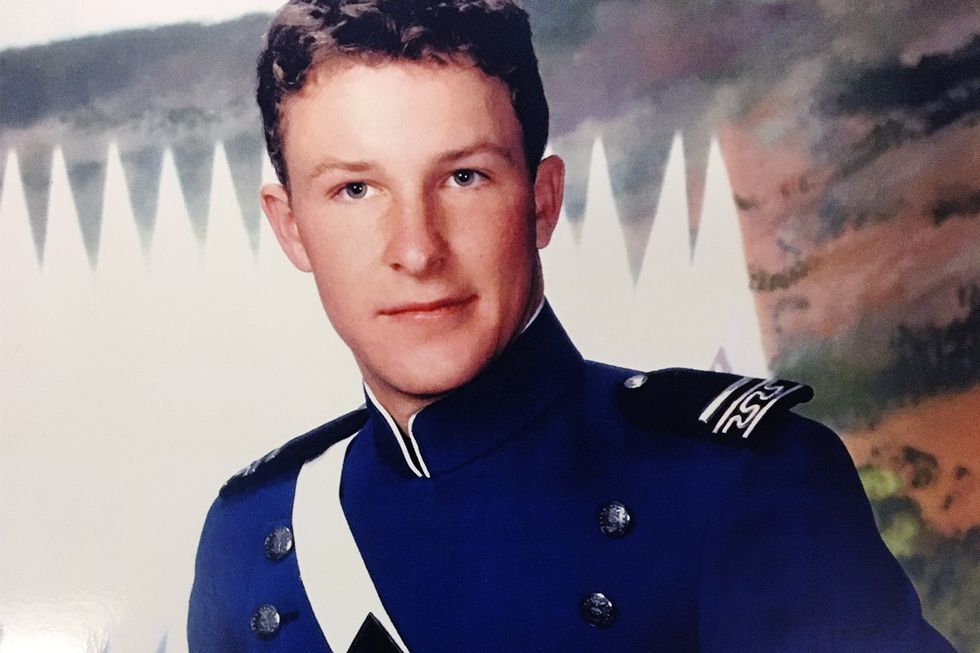 'No excuses.' Fellow U.S. Air Force Academy grads are familiar with a lesson in leadership that I still apply in my work today.

This simple saying teaches freshmen cadets to take responsibility in solving problems, no matter whose fault it is. At @United I see this mantra in action every single day. Not one United team member caused this current crisis, but we are all 100% focused on solving the impact it has had on our company. Veterans Day is the perfect reminder that the thousands of veterans at our company — including the colleagues in these photos — are part of that charge. It's an honor to have so many veterans in our ranks.
We're proud to launch a redesigned version of our United app to make it easier for customers with visual disabilities to manage all aspects of day-of travel, including check-in, viewing reservation details and flight status, bag tracking and more.
This latest version of our app is now available to both Android and iOS users, and it offers increased color contrast and more space between graphics. Furthermore, we have reorganized how information is displayed and announced to better integrate with screen reader technologies like VoiceOver and TalkBack, which are built into most handheld devices. By restructuring the way the information is organized on the app, screen readers are better able to convert text to audio in the proper, logical sequence, allowing customers to better understand and navigate the app.
"The parts of the travel experience that we all take for granted like checking luggage, getting your flight status and accessing a boarding pass can still be a challenge for someone with a visual disability," said EVP of Technology and Chief Digital Officer Linda Jojo. "These new accessibility enhancements are part of our continuing commitment to level the playing field, unlock all the customer benefits of our app and give people with disabilities more independence while traveling."
Senior Accessibility Analyst Ray Campbell is a member of United's digital team who's visually impaired and sits on the board of the American Council of the Blind. He played a key role in helping us redesign the app. He even put the app to the test as seen in this video.
"Optimizing mobile apps for tools such as VoiceOver and TalkBack has been a game changer, allowing people with visual disabilities to fully utilize smartphone technology in their daily lives," said Ray. "It's just as important for someone with a visual disability to easily access day-of-travel information and features as for any other customer. Improving the accessibility of the United app, helps us truly live out United's mission of caring for all customers."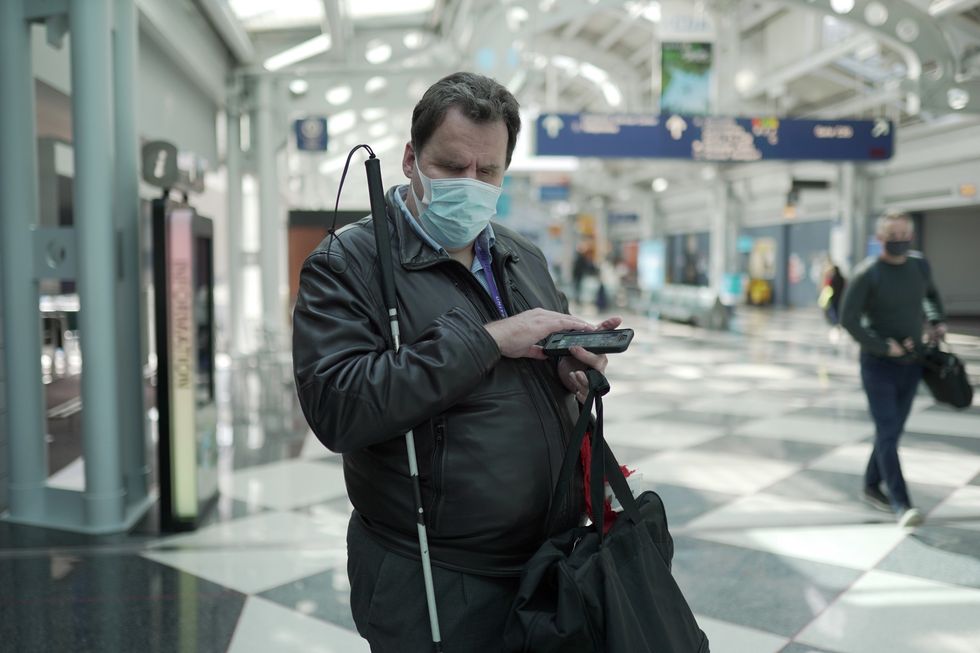 United's Senior Accessibility Analyst Ray Campbell using the mobile app at Chicago O'Hare International Airport.
Beyond the accessibility changes, our digital team enhanced the current offering while keeping the features that helped the app win a Webby People's Voice award in 2019.
For our MileagePlus® program members, the app now features a refreshed account experience for members to easily check balances, track Premier® progress, explore MileagePlus benefits, access past activity and more, all in one place.
The airline is also expanding a popular feature previously only accessible to MileagePlus members. Now, all 37 million customers who have the United app will see a contextualized home screen starting 48 hours before their flight which provides dynamic updates based on where a customer is in their travel journey. For example, customers can see the boarding status of their flight on their homescreen, access personal device entertainment onboard with one click, find a link to a map with gate-to-gate directions for connecting flights and click a quick access button to track any checked bags upon arrival.
We made slight tweaks to navigation based on customer feedback to make the app more intuitive, including making the bottom navigation persistent throughout the app. Another example is the "More" menu, which was reorganized and now contains the "Inbox" feature, which includes timely messages about boarding announcements, gate changes and other travel updates.
Customers will notice a new color palette that's consistent with the refreshed branding the airline debuted in 2019. United's digital team also made subtle design adjustments to make things more consistent and easier to find, like always using a purple bar to highlight the main call-to-action on a page and ensuring alerts and flight status icons appear the same way in every page on the app.
All of these changes are underpinned by a new back-end platform, which will ultimately make the app faster and more responsive.
The redesigned app is now available to download for iPhone®, iPad® and iPod touch® devices (as an iPhone app) and for Android devices.
Scroll to top