10 U.S. Islands that Feel Exotic
Want to escape to somewhere truly memorable? Here are the best island getaways without leaving the country.
As much as we all wish to see every corner of the globe, it can be a challenge to do it all with limited funds and vacation time. Luckily, the United States is diverse enough to offer an array of exotic locales — from golden beaches to volcanic islands — all on our own home turf. Here are our picks for the ten most exotic destinations that don't require a passport.
Dry Tortugas, Florida
Turquoise water, tons of green sea turtles and white-sand beaches with visibility seeming to stretch to forever. Sounds like the Caribbean, right? Wrong. The Dry Tortugas, 67 miles off Key West into the heart of the Gulf of Mexico, pack epic snorkeling alongside Southern stingrays, parrotfish and schools of Creole wrasse — all just a ferry or seaplane ride from the Conch Republic.
San Juan Islands, Washington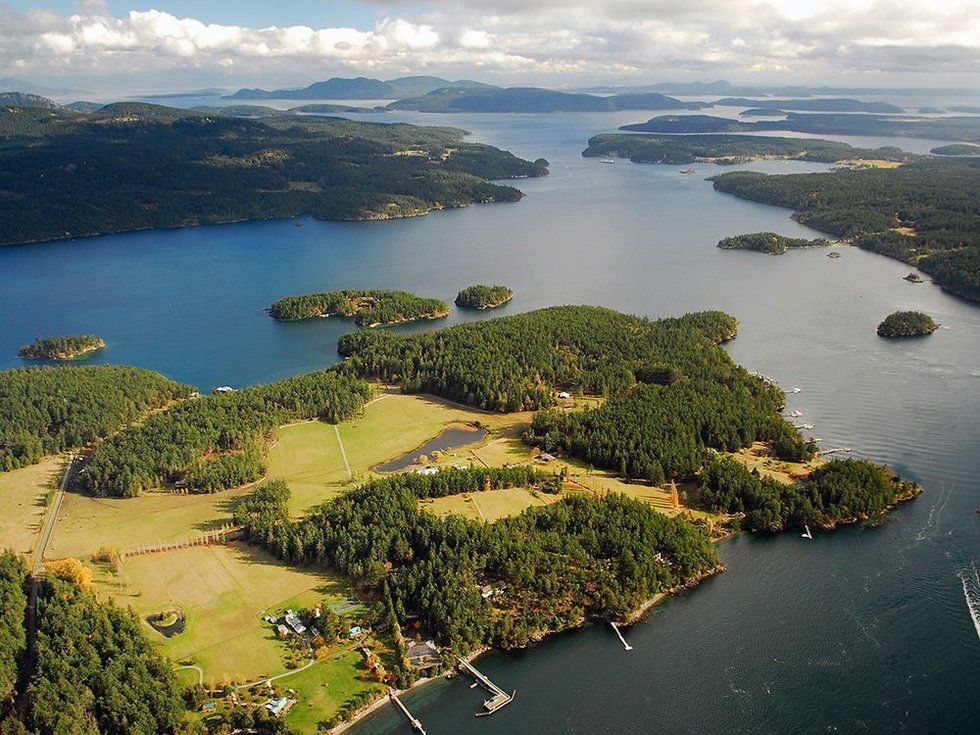 San Juan Islands, Washington
Shutterstock
With conifer forests thick along its coasts and a marine climate with cool summers and mild winters, the San Juan Islands of Washington state feel a lot like Norway. Both destinations are renowned for sea kayaking as well as whale-watching tours, and yet the San Juans are a three-hour drive — and a ferry hop — north of Seattle. Plus, with alpaca ranches and lavender farms covering the hillsides, the experience also includes a touch of Peru-meets-Provence.
Assateague Island, Maryland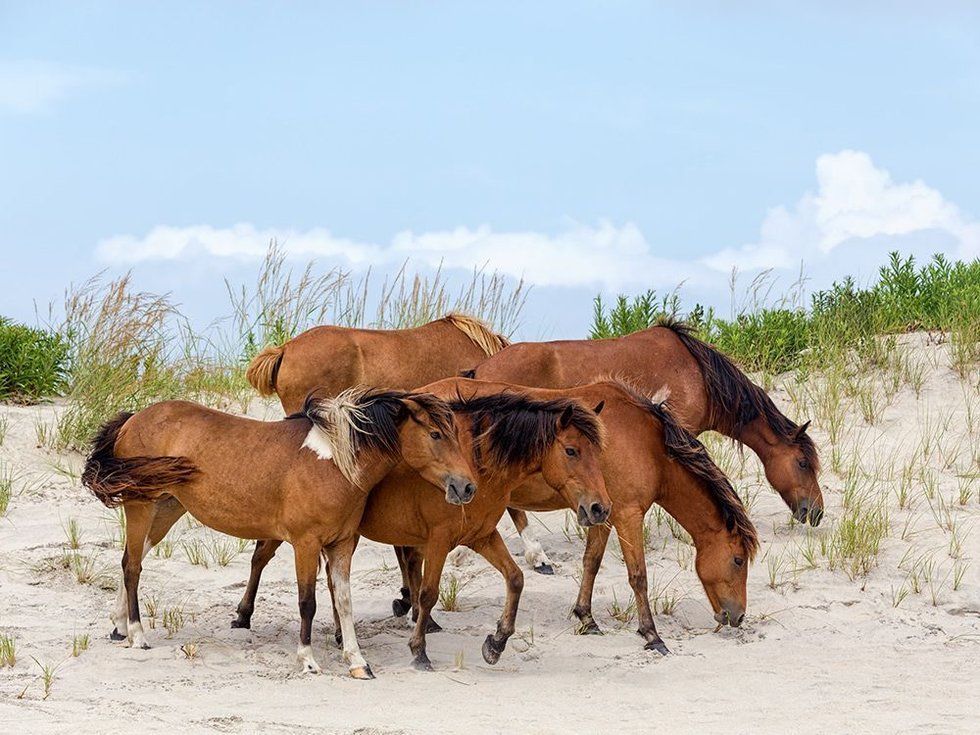 Assateague Island, Maryland
Shutterstock
Like Portugal's Soajo Mountain, Maryland's Assateague Island is home to wild horses — more than 150 in total. These feral ponies have free range of the beaches, marshes and forests. For the best viewing, try the Chincoteague National Wildlife Refuge's Wildlife Loop Road, a three-hour walk. For a more unique spectacle, time your visit with the annual pony swim, held every July, wherein a group who call themselves the saltwater cowboys wrangle up the horses, leading them on a swim across the Assateague Channel.
Sapelo Island, Georgia
The Spanish moss hanging from live oak branches gives Sapelo Island, Georgia, an only-in-the-Southeast feel, but its golden-sand beaches feel a bit like the islands off Queensland, Australia. Reach it only via boat: either the DNR ferry or private vessel. Once ashore, walk the hiking trails through dunes and maritime forests to encounter hundreds of bird species, including the Chachalaca bird — which otherwise requires birders to travel to either Mexico or Central America to cross off lists. Stay the night and you might even spot a bobcat.
Culebra, Puerto Rico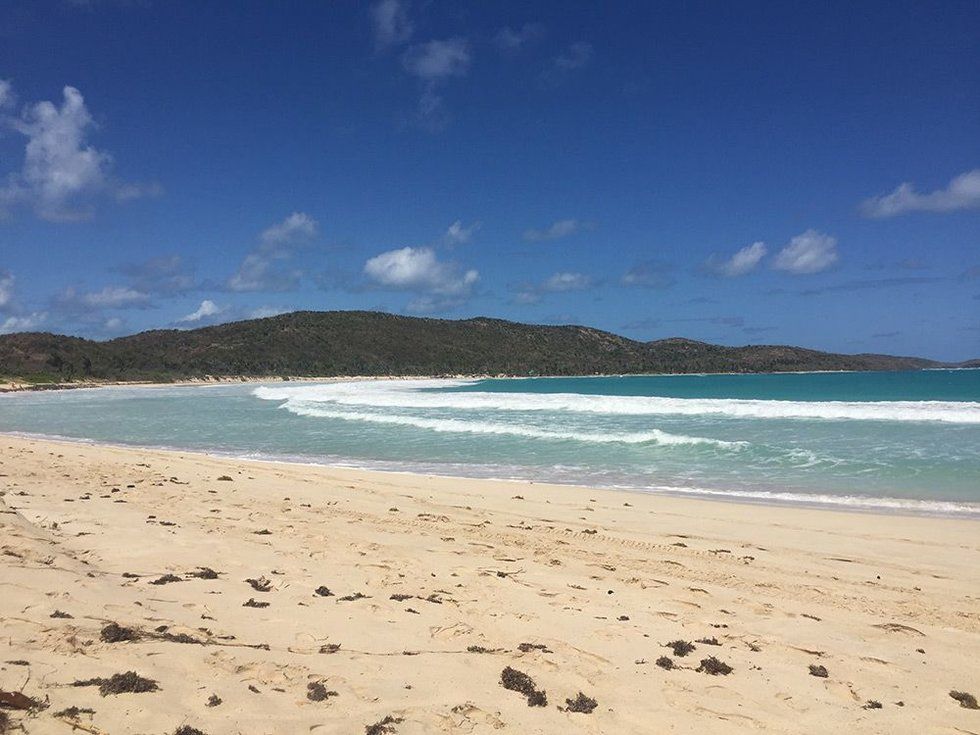 Culebra, Puerto Rico
Shutterstock
Culebra, a satellite island of Puerto Rico, is often referred to as one of the Spanish Virgin Islands, and for good reason. Its sugar sand beaches are mostly undeveloped, lending it the feel of Jost Van Dyke in the British Virgin Islands. Like the BVI, Culebra lacks any of the large, major hotel chains. Instead, it has a sleepy charm, appealing to those content to kayak, snorkel and beachcomb.
Kauai, Hawaii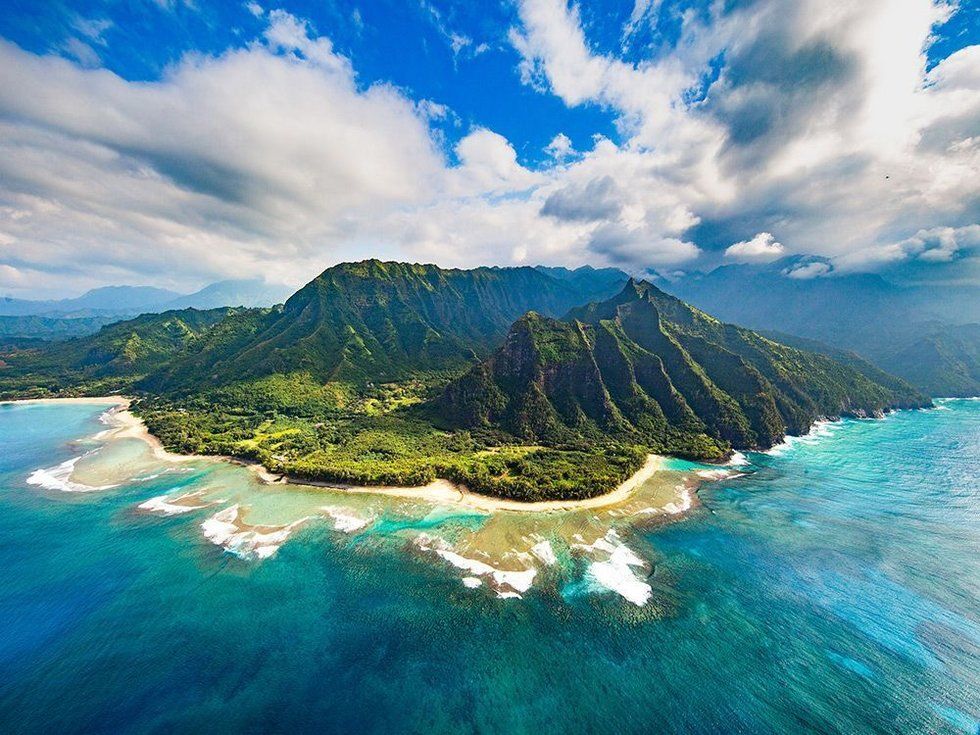 Kauai, Hawaii
Shutterstock
One of the wettest places on the planet, Kauai packs its mountains with unending greenery, punctuated by a dozen epic waterfalls. This makes it every bit as lush and exotic as Tahiti, but at a fraction of the flight time. Worth the splurge, a helicopter tour of the Na Pali Coast — where Jurassic Park was filmed — shows visitors more highlights than they could see in a week of hiking.
Elizabeth Islands, Massachusetts
Just south of Cape Cod lie the Elizabeth Islands of Massachusetts, including Penikese and Cuttyhunk, two of the only inhabited islands in the bunch not owned by the Forbes family. Cuttyhunk in particular still exudes British flavor, carried over from 1602, when it was the first British settlement on the new coast. Experience it at Avalon Inn, one of the few choices when overnighting. To see more of the neighboring isles, book a day cruise to explore beaches and see wild harbor, harp and gray seals.
Daufuskie Island, South Carolina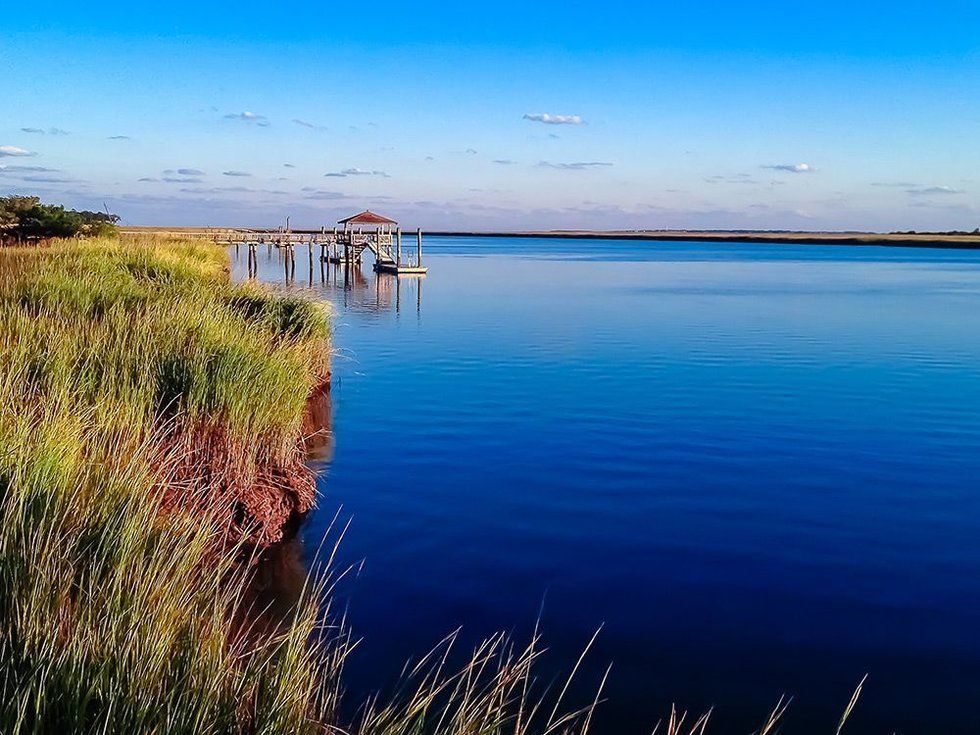 Daufuskie Island, South Carolina
Shutterstock
Daufuskie Island, South Carolina, is perhaps best known as the home of the Gullah people, a community of African Americans in the lowcountry who speak their own creole language called Geechee. To get a feel for the people and their culture, stop by the Historical Foundation to hear local stories and legends, as well as chat up the local guide, who's been on island for decades.
Cedar Key, Florida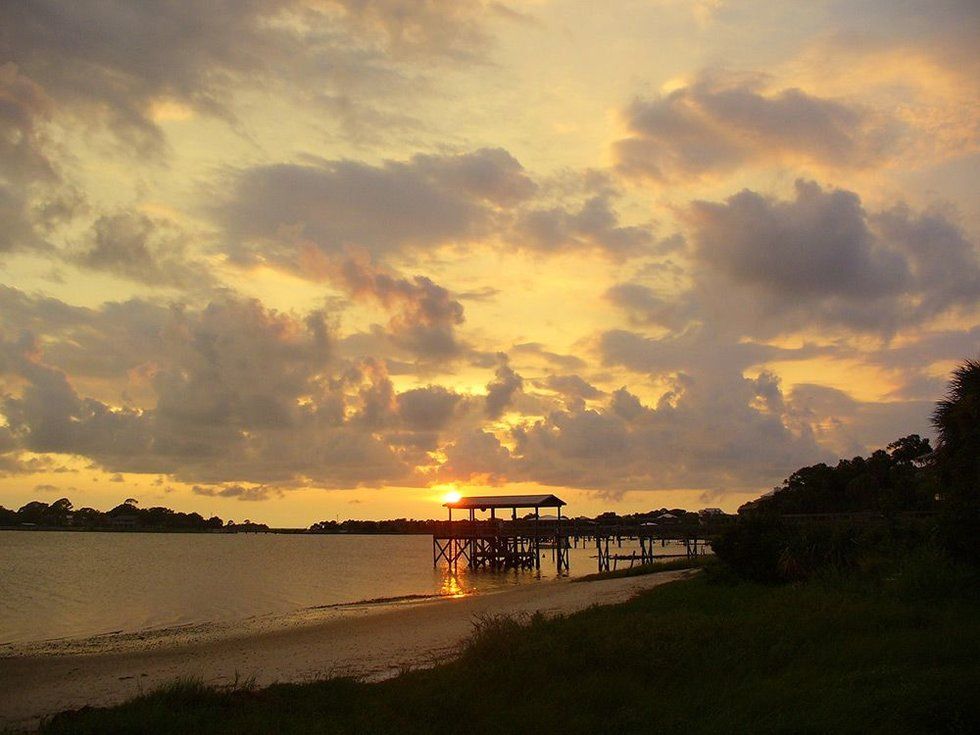 Cedar Key, Florida
Shutterstock
Over-water bars, weathered and leaning on stilts, give the fishing village of Cedar Key off Florida's Gulf Coast a back-in-time vibe, like that of Bocas del Toro, Panama. But, unlike Bocas, Cedar Key averages in the low and mid 80s, making for more pleasant conditions for sea kayaking, for which the area is renowned. The Suwannee River empties into the Gulf roughly 10 miles north of Cedar Key, and the sound separating the two is lined with uninhabited islands, perfect for any boaters to enjoy day picnics and exploring.
Aleutian Islands, Alaska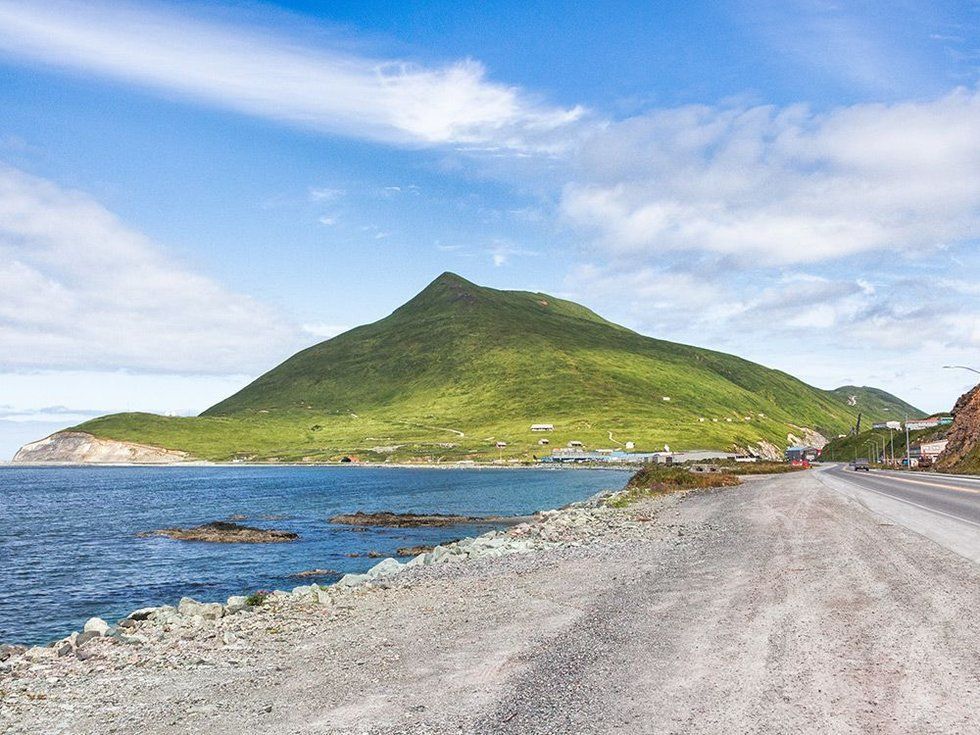 Aleutian Islands, Alaska
Shutterstock
Alaska's Aleutian Islands, a chain of 14 volcanic outposts that string out west of the state, remain one of the most remote places on the planet. Sea kayakers treasure the destination, willing to brave the inclement weather for chances to see grey, minke, orca, sperm and humpback whales, as well as walrus, seals and sea lions. From these islands, it's possible to view the Northern Lights year-round. For those who aren't into roughing it, know that there is lodging at places like the Grand Aleutian Hotel on Unalaska Island.
This article was written by Brooke Morton from Islands and was legally licensed through the NewsCred publisher network. Please direct all licensing questions to legal@newscred.com.
Our Marketing Inflight Entertainment and Connectivity team and Bridge, our Business Resource Group (BRG) for people with all abilities, partnered together to test and provide feedback on our award-winning seatback inflight entertainment (IFE) system.
Aptly named "Entertainment for all," our new seatback IFE system offers the an extensive suite of accessibility features, allowing for unassisted use by people of all visual, hearing, mobility and language abilities.
"It's nice to know that I can get on a plane and pick my favorite entertainment to enjoy, just like every customer," said Accessibility Senior Analyst and Developer and Bridge Chief of Staff Ray C., who is blind.
"As a deaf employee, the closed captioning availability on board our aircraft is something I value greatly," added Information Technology Analyst Greg O. "The new IFE further cements United's visibility within the deaf community and elsewhere. It makes me proud to be an employee."
Accessibility features of the new IFE include a text-to-speech option, explore by touch, customizable text size, screen magnification, color correction and inversion modes, and alternative navigation options for those unable to swipe or use a handset. For hearing-impaired and non-English-speaking passengers, customization options provide the ability for customers to be served content and receive inflight notifications based on their preferences and settings —with closed captions, with subtitles or in the language of their choice from the 15 languages supported. Our "Entertainment for all" system won the Crystal Cabin Award in 2019, and recently, the Dr. Margaret Pfanstiehl Research and Development Award for Audio Description by the American Council of the Blind.
"This really showed the benefits of partnering with BRGs in helping us improve products and services for our customers and employees," said Inflight Entertainment and Connectivity Senior Manager Corinne S. "Even though we have been recognized with awards for our IFE accessibility features, we are not resting on our laurels but continuing to work towards improving the inflight entertainment experience for all of our customers to ensure entertainment is available for all."
If your travels have taken you through Chicago O'Hare International Airport anytime since October 2019, you may have had a friendly, caring and jovial exchange with Daniel Smrokowski. Daniel is one of four Service Ambassadors thanks to our ongoing partnership with Special Olympics. This inaugural ambassador program aims to provide Special Olympic athletes employment opportunities within our operation, affording them a unique and meaningful career.
Since 2018, our partnership with Special Olympics has become one of United's most cherished relationships, going beyond the events we take part in and volunteer with. While the plane pull competitions, polar plunges, duck derbies and Special Olympics World Games and other events around the world are a big part of our involvement, the heart of this partnership lies with the athletes and individuals supported by Special Olympics. To advocate for their inclusion in every setting is one of our biggest honors, and we take great pride in the role we play in the organization's inclusion revolution.
Aiding in the success of Special Olympics' mission to create continuing opportunities for individuals with intellectual disabilities, throughout the two-year partnership, United has volunteered over 10,500 hours and donated over $1.2 million in travel to the organization. The impact of this partnership is felt at every level, both at Special Olympics and within our own ranks.
"The Inclusion Revolution campaign, led by our athletes, aims to end discrimination against people with intellectual disabilities. United Airlines has joined in our fight for inclusion, empowering our athletes with the skills needed to succeed and opportunities to contribute their abilities as leaders," said Special Olympics International Chairman Tim Shriver. "United Airlines believes that people with intellectual disabilities should be perceived as they really are: independent, world-class athletes, students, employees, neighbors, travelers, and leaders who contribute to make this world a better place."
Our Service Ambassador program is just one of the many ways Special Olympics has impacted not only our employees, but also our customers. "I see every day how our Service Ambassadors connect with our customers the moment they walk into the airport lobby," said Senior Customer Service Supervisor Steve Suchorabski. "They provide a warm, welcoming smile ad assist in any way they can. To see these young adults hold positions that a society once told them they couldn't is truly the most heartwarming part of my job," Steve continued.
"The opportunity to be a part of the United family means everything to me," Daniel said. "I feel so much pride showing up to work in a Special Olympics/United co-branded uniform, working among such a loving and supportive community. The relationship between these two organizations is truly helping to shape my future while letting me use my gifts of communicating and helping others. Hopefully, I can spend my entire career at United," Daniel added.
In honor of Special Olympics' Global Week of Inclusion in July, we're asking our employees, customers and partners to sign a pledge to #ChooseToInclude at jointherevolution.org/pledge.
And be sure to check out Daniel's podcast The Special Chronicles.

In collaboration with food-logistics company Commodity Forwarders Inc. (CFI), United moved nearly 190,000 pounds of fresh produce to Guam for the U.S. Department of Agriculture's Coronavirus Farm Assistance Program. This new program was created to provide critical support to consumers impacted by the COVID-19 global pandemic.
A variety of fresh fruits were transported from Los Angeles (LAX) to Guam (GUM) on United's newly introduced, non-stop cargo-only flight – a route added to meet cargo demand during the COVID-19 crisis. The fresh food was repacked in 10-pound cases in Los Angeles, prepared for departure at CFI's LAX location, and flown to GUM by the United team. Through this beneficial partnership between United and CFI, the perishable goods were kept cool during every step of the process and distributed as part of the food bank program in Guam.
"Everyone on our team has worked relentlessly during the pandemic to get critical goods to where they are needed most. Establishing a comprehensive network of cargo-only flights have allowed us to keep the supply chain moving even while passenger flight capacity has been reduced," said Regional Senior Manager of Cargo Sales, Marco Vezjak. "Knowing that we are able to help during these difficult times – in this case the Guam community – is our biggest reward and greatest motivation to keep moving forward."
United is proud to play a role in maintaining the global food supply chain and helping people access the supplies they need. Since March 19, United has operated over 4,000 cargo-only flights, moving over 130 million pounds of cargo.

Together, we are facing an unprecedented challenge. United Together, we rise to meet that challenge.
Learn more
United Airlines
united
Entertainment for all: the name of our award-winning seatback inflight entertainment system which allows for unassisted use by people of all visual, hearing, mobility and language abilities. See how our employees helped make it the world's most inclusive:
uafly.co/2PwtFRy
United Airlines
united
Next stop: paradise. 🤙 Our San Francisco – Tahiti service is back with flights departing 3x a week. See what travelers need to do before and during their stay in French Polynesia:
uafly.co/33tvK93
United Airlines
united
While electrostatic sprayers are used to disinfect aircraft cabins, the switches & touch screen displays in our flight decks use a different approach. See how ultraviolet C (UVC) lighting is being used to kill viruses that may reside on these sensitive components.
United Airlines
united
A travel waiver is in effect for the East Coast due to Tropical Storm Isaias. If you're traveling 8/4 - 8/5, you can change your flight at no cost on our mobile app, by direct messaging us here or calling 1-800-864-8331. Waiver:
uafly.co/Z04CmP
We Are United
weareunited
The mission of our BRG, Bridge, is to foster an environment where all United employees are able to achieve their maximum potential. Learn about how members of Bridge helped make our award-winning seatback IFE the world's most inclusive.
uafly.co/2PwtFRy
#BeingUnited
We Are United
weareunited
We've rolled out "Easy Chat" as the Flight Info app on Link devices at DCA, IAD, LAX, ORD and DEN with EWR, IAH and SFO coming this summer. This program offers increased connectivity and transparency between the
#BeingUnited
frontline to keep flights moving and on-time.
We Are United
weareunited
Our digital servicing team has developed an automated assistant to make it easier for our customers to learn about what to expect the next time they fly. Text "Clean" to FLYUA (35982) to give it a try!
We Are United
weareunited
Three-year-old Luna Mei was all smiles on her flight home after 212 days in a San Francisco hospital, thanks to her SFO-based FAs (and undercover angels 👼) Pamela R., Sharon S., Sonja B. and Stacey G. The quartet kept spirits high by singing songs, clapping and playing games.
Watch our most popular videos
Flying UCSF Medical Workers to New York
This is why we fly.
20 UCSF Health workers, who voluntarily set aside their own lives to help save lives, are on their way to New York City.
We are humbled by your selfless sacrifice.
Thank you.
#UnitedTogether #UCSFHeroes
A happy, Hollywood ending
This is the story of Jason and Shantel. You see, Jason and Shantel love each other very much. They also love traveling and they love the classic Adam Sandler film, The Wedding Singer.
It all began when Jason reached out to United's social media team, hoping for assistance with his upcoming plan to propose. Some phone calls and one borrowed guitar later, the stage was set for Jason. Put all that together, mix in some helpful United employees and, voila, you have a truly memorable marriage proposal. Congratulations to this fun-loving and happy couple, and here's to many more years of making beautiful music together.
A big thank you to Chicago-based flight attendants Donna W., Marie M., Karen J. and Mark K. for making this proposal come to life.
Copyright © 2020 United Airlines, Inc.
All rights reserved.
Indicates an external site that may or may not meet accessibility guidelines.
Scroll to top
Scroll to top