15 of the Most Iconic Beaches in the World
A lot of beaches are beautiful, beloved, even sublime. But these beaches are something more — distinct, unforgettable, legendary. In a word: iconic.
A lot of beaches are beautiful, beloved, even sublime. But these beaches are something more — distinct, unforgettable, legendary. In a word: iconic. From famous urban strands that bustle with activity to natural coastal wonders that dominate bucket lists, these 15 shorelines have that certain je ne sais quoi. See if you recognize them all.
Copacabana, Rio de Janeiro, Brazil
At Copacabana Beach, the people watching may be even more riveting than the scenery. Spy cariocas (native Rio residents) socializing, playing volleyball and sipping coconut water, all in requisite Brazilian swimwear. Celebs from Fred Astaire to Madonna have graced the circa-1923 Belmond Copacabana Palace hotel, set along Atlantica Avenue, with its wavy black-and-white mosaic design. Travel over Dec. 31 to witness the biggest party on the planet — the city's New Year's Eve celebration that draws more than 2 million people.
Santa Monica Beach, California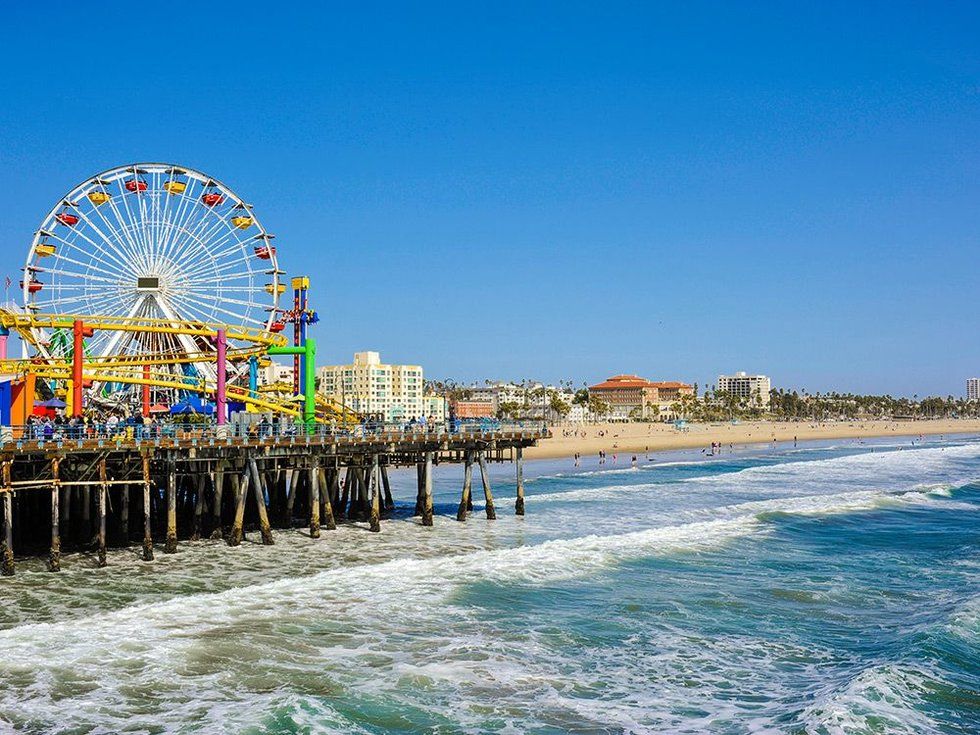 Santa Monica Beach, California
Shutterstock
Spanning 3.5 miles, Santa Monica Beach is where nostalgia meets California living. Along Ocean Front Walk, fitness enthusiasts take advantage of retro workout equipment, while the Marvin Braude Bike Trail hums with tanned skateboarders, rollerbladers and cyclists. Most recognizable is the circa-1909 pier, with its street performers, artists, historic carousel and solar-powered Ferris wheel. Book a room at Shutters on the Beach to be in the heart of the action.
South Beach, Miami, Florida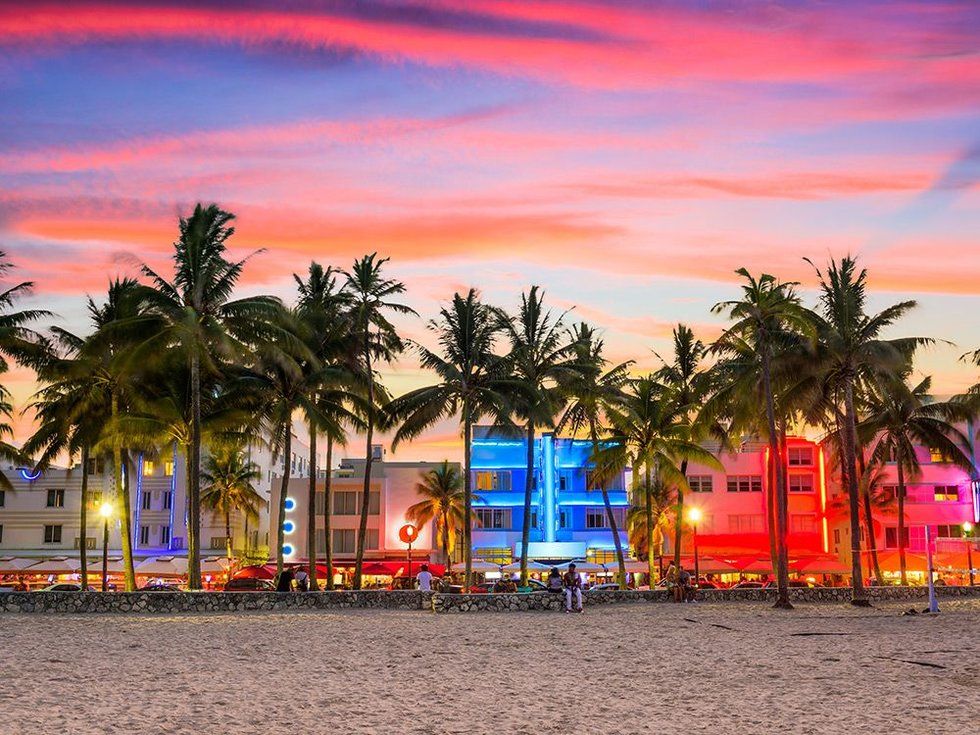 South Beach, Miami, Florida
Shutterstock
Glamorous hotels, clubs and restaurants converge in South Beach, but the American Riviera is most famous for its Art Deco vibe and 2 miles of white sand. Rack up Instagram likes by the 35 bright and funky lifeguard towers, and rent a DecoBike to explore the Art Deco Historic District's 800 landmarks built from 1923 to 1943. Called the grand dame of art deco design, The Raleigh hotel has been a hot spot since 1940.
Renaissance Island, Aruba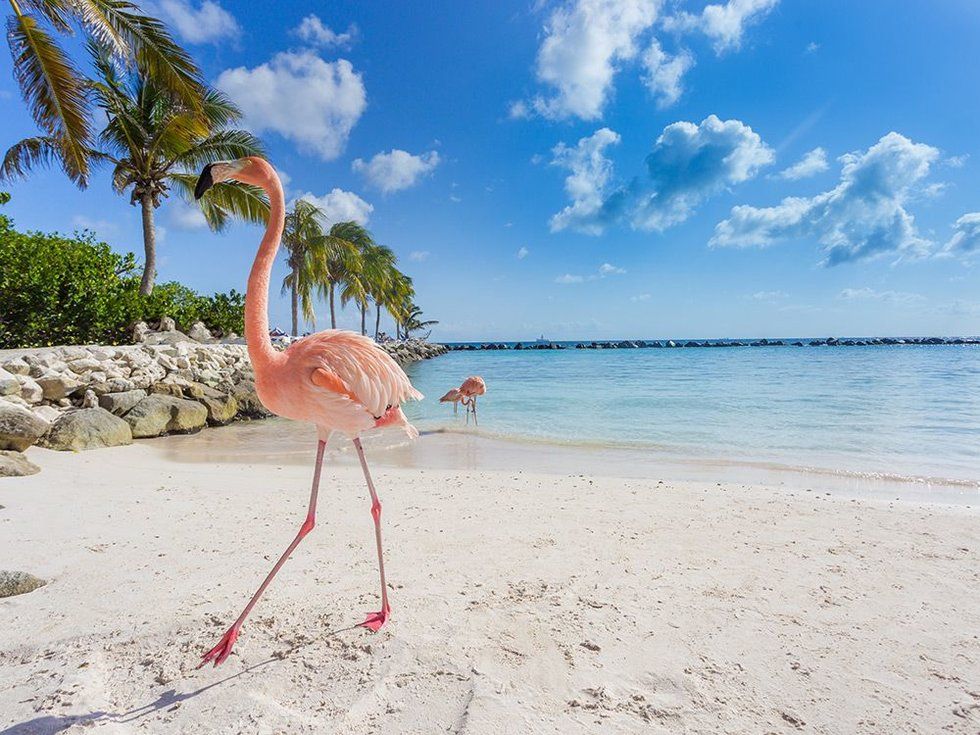 Renaissance Island, Aruba
Shutterstock
The Renaissance Aruba Resort & Casino's manmade private island is the only place in Aruba to take a selfie with a flamboyance of flamingos, who are happy to oblige in return for kibble from a vending machine (bring quarters). The island is open only to resort guests, though a limited number of day passes are sold each morning. Flamingo Beach is adults-only, but kids can spy sunbathing iguanas on Ren Island's family-friendly beach.
Waikiki, Honolulu, Hawaii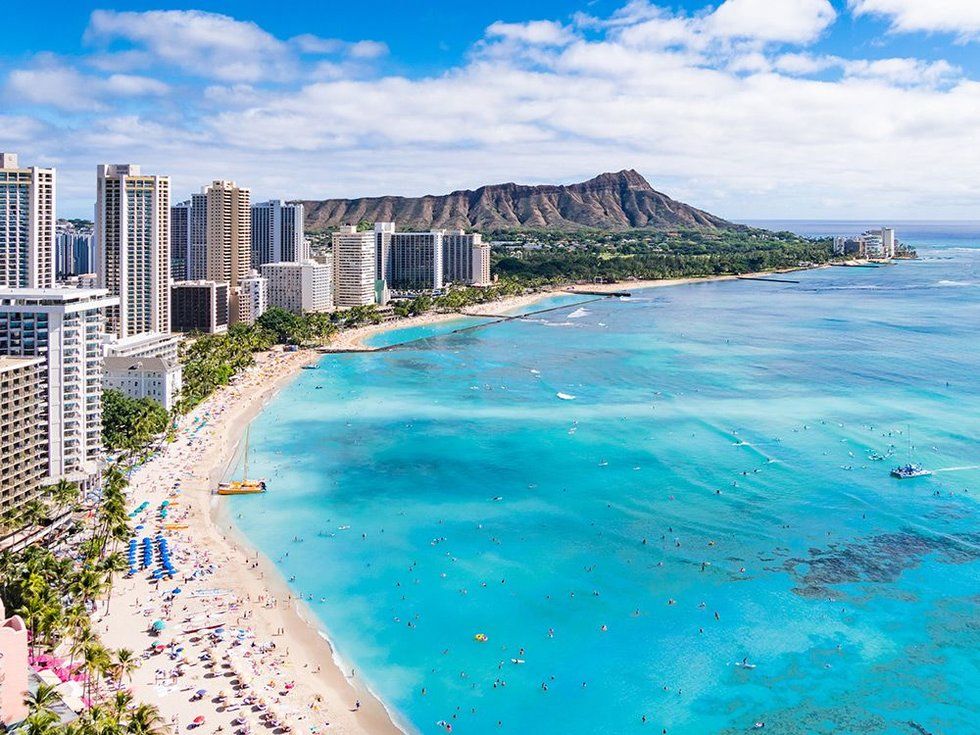 Waikiki, Honolulu, Hawaii
Shutterstock
In 1901, the Moana Surfrider resort opened on the south shore of Oahu, and Waikiki's status as a prime vacation spot was cemented. More than a century later, a multimillion-dollar refurbishment transformed Kuhio Beach and the Waikiki Beach Walk, an alfresco promenade that buzzes with live music, nightlife, restaurants and shops. Sample Hawaiian poke on almost every corner, hang 10 where Duke Kahanamoku surfed, and climb 300,000-year-old Diamond Head crater.
Navagio Beach, Zakynthos, Greece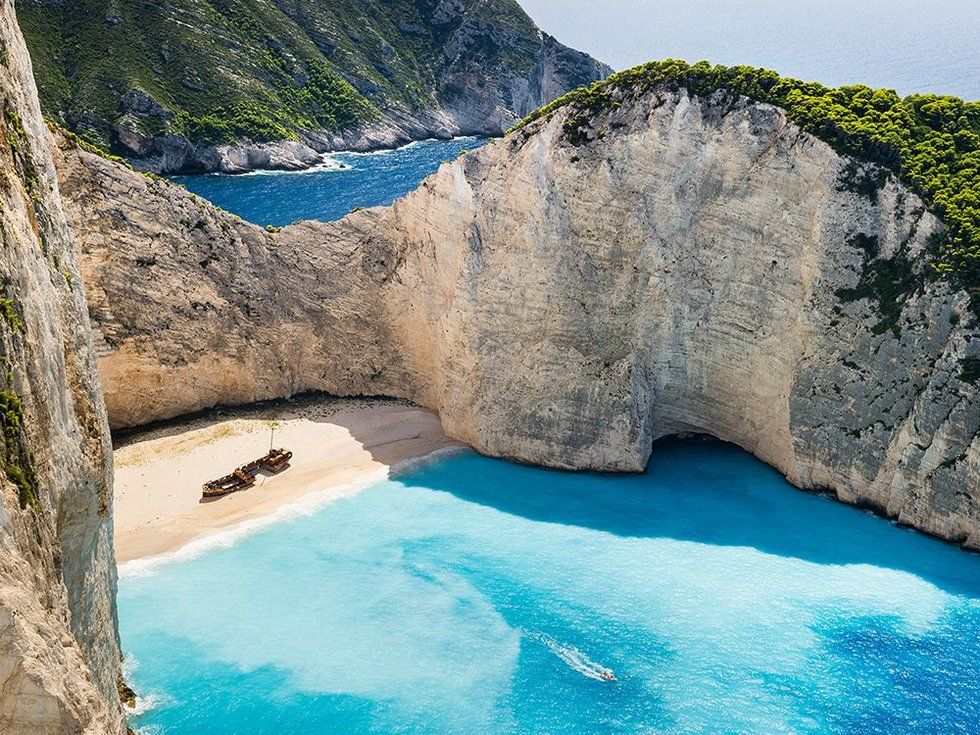 Navagio Beach, Zakynthos, Greece
Shutterstock
You've seen this photogenic bay on travel ads — now discover where it is: Navagio Beach, on the Ionian Isle of Zakynthos. Enclosed by limestone cliffs, the cove is also known as Shipwreck Beach thanks to the rusting vessel of the Panayiotis, which washed ashore here in 1982. Get the obligatory lofty photo from the viewpoint near the Anafonitria monastery. Potamitis Boat Trips offers tours to the beach, as well as windmill accommodations in the Skinari area.
Whitehaven Beach, Whitsunday Island, Australia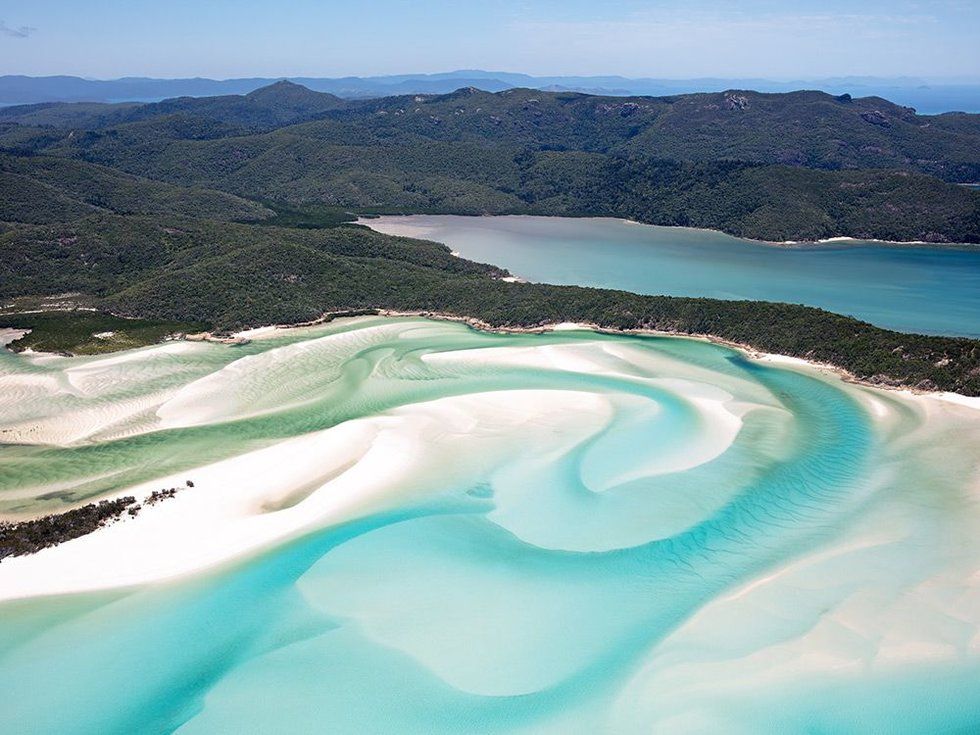 Whitehaven Beach, Whitsunday Island, Australia
Shutterstock
Preserved within Whitsunday Islands National Park on the Great Barrier Reef, Whitehaven Beach stretches for more than four miles. Its most recognizable section, Hill Inlet, dazzles observers with its multi-tinted turquoise water and bleach-white silica sand that shifts and swirls with the tides. Get a stellar view from the lookout at Tongue Point, or gawk from a helicopter with Hamilton Island Air. Nearby, Hamilton Island is home to several resorts, from luxury (Qualia) to value (Palm Terrace Hotel).
Maya Bay, Phi Phi Islands, Thailand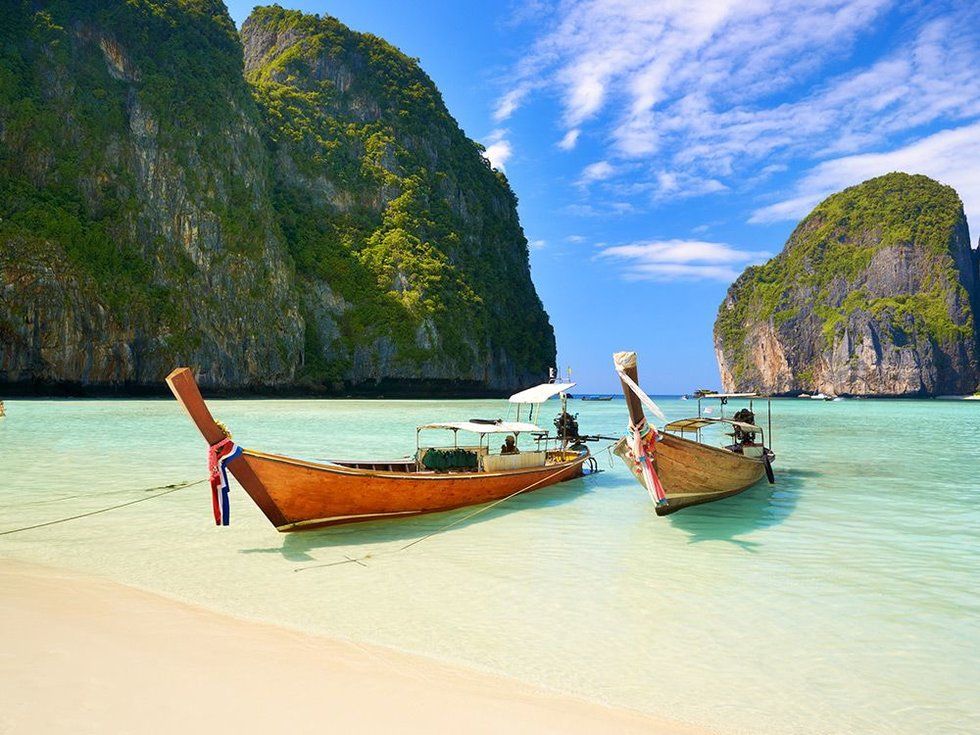 Maya Bay, Phi Phi Islands, Thailand
Shutterstock
Blasted onto the travel map after the release of the film, The Beach, in 2000, Maya Bay sees more tourists than it can literally handle. Thailand's Department of National Parks, Wildlife and Plant Conservation closed the beach for four months in 2018 for reef recovery, and when it reopens in September, visitors will be capped at 2,000 a day. Those who make the cut can ogle the famous sugar sand and 300-foot cliffs in person. The neighboring island of Phi Phi Don holds the Phi Phi Islands' only accommodations, including Zeavola's rustic-chic suites.
Trunk Bay, St. John, U.S. Virgin Islands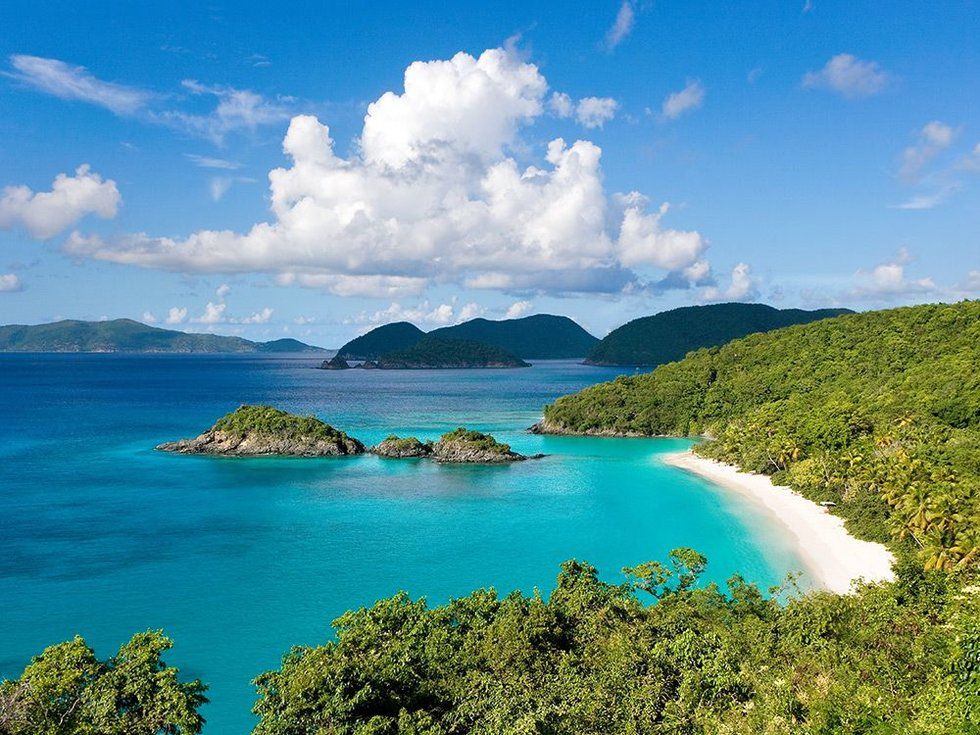 Trunk Bay, St. John, U.S. Virgin Islands
Shutterstock
Donated to the U.S. National Park Service by Laurence S. Rockefeller in 1956, Trunk Bay remains blissfully hotel-free. Visitors do, however, share the pristine beach with cruise passengers and schools of tropical fish, viewed along the 225-yard underwater snorkeling trail. Get the classic shot of Trunk Bay from the scenic overlook on North Shore Road. The island's two large full-service resorts remain closed after Hurricane Irma, so find a private vacation rental, or book a room at Gallows Point Resort.
The Baths, British Virgin Islands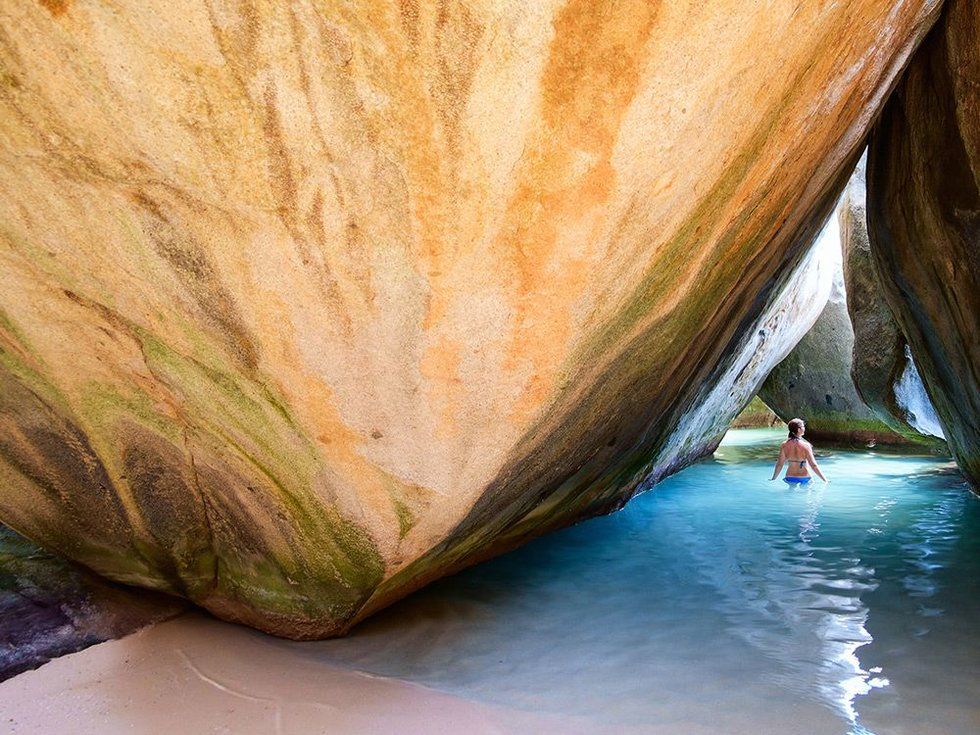 The Baths, British Virgin Islands
Shutterstock
It's practically impossible to take a bad photo at the Baths, a series of large granite boulders that decorate the southern shore of Virgin Gorda. Volcanic in origin, the famous rock formations create a magical trail of sheltered grottoes, pools and tunnels along the beach. The island was badly hit by Hurricane Irma in 2017, but the luxury resort community of Oil Nut Bay is open and accepting reservations.
Anse Source d'Argent, Seychelles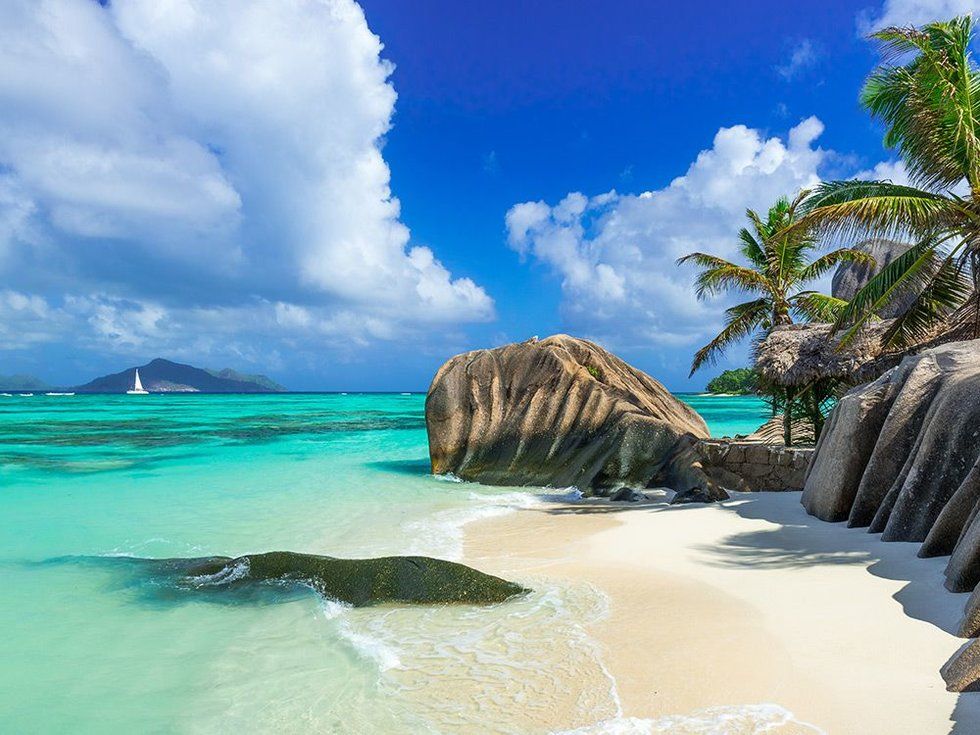 Anse Source d'Argent, Seychelles
Shutterstock
Once believed to be the Garden of Eden, the Seychelles are about as close as it gets to heaven on Earth. And with no airport, no resort chains, and bicycles in place of cars, the island of La Digue is particularly idyllic. Its best beach, Anse Source d'Argent, is the quintessential place to marvel at the destination's elephantine granite boulders. Reserve a budget guesthouse, or splurge on a luxury hideaway such as Le Domaine de l'Orangeraie Resort & Spa.
Tulum, Mexican Caribbean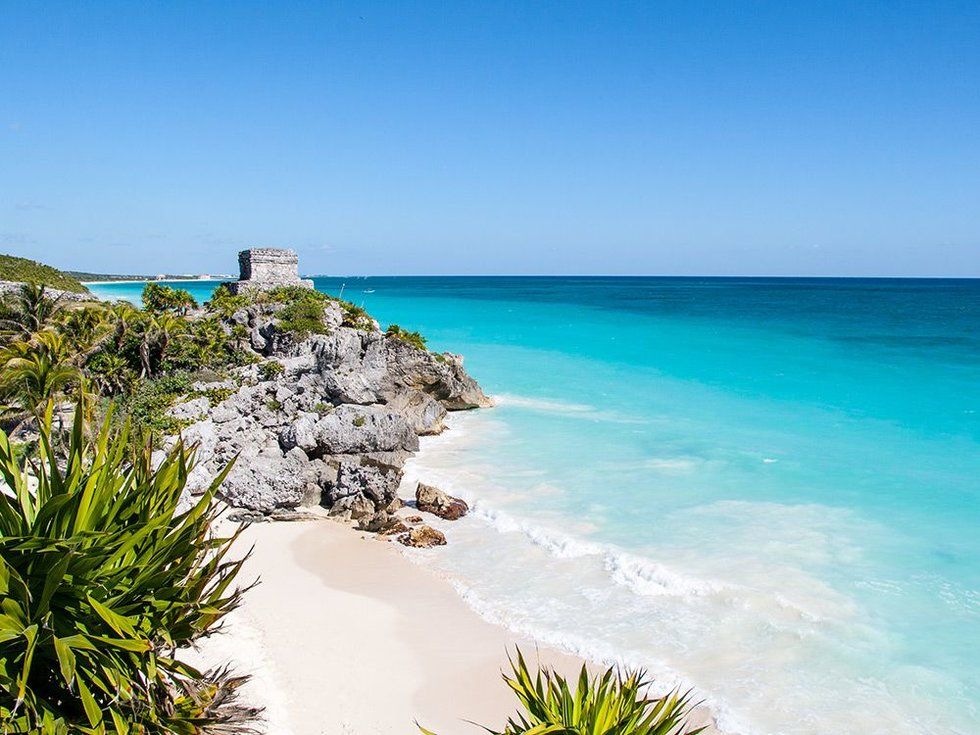 Tulum, Mexican Caribbean
Shutterstock
Not many tropical beaches can claim to have archeological ruins on their shores. A significant trading and religious center from the 11th to the 16th century, Tulum's famous Maya site is a major draw for tourists. After exploring the crumbling temples and other structures, cool off in the Caribbean Sea 40 feet below. Dreams Tulum Resort & Spa, just 10 minutes away, books tours directly through the hotel.
Spiaggia Grande, Positano, Italy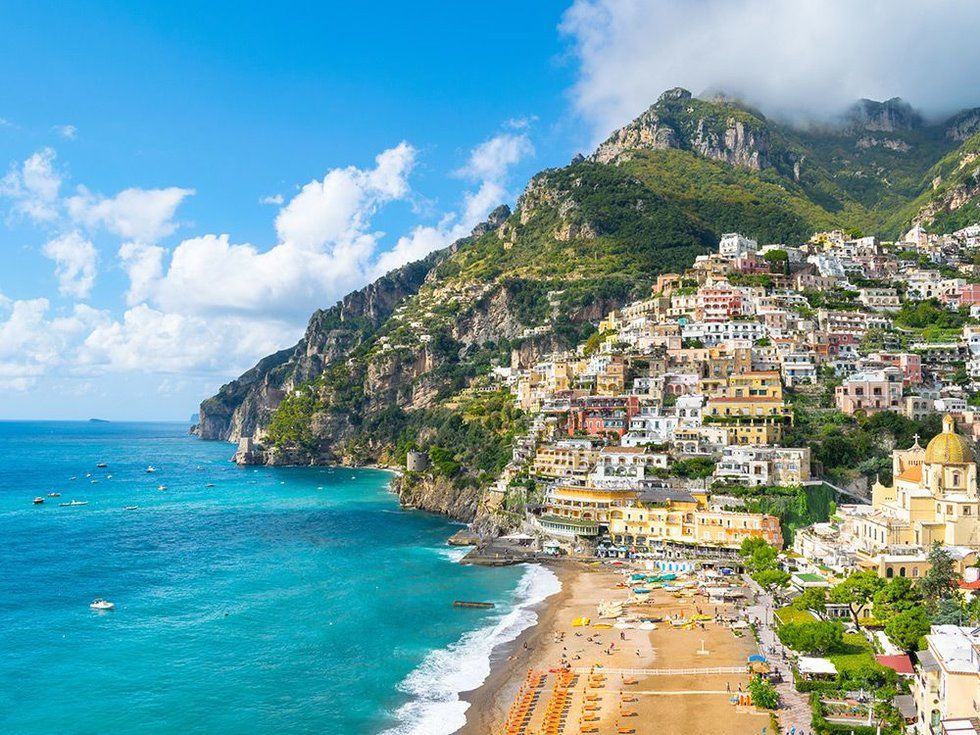 Spiaggia Grande, Positano, Italy
Shutterstock
With its spectacular backdrop of pastel-colored buildings climbing up the hillside, it's no wonder Positano, on the Amalfi Coast, is a magnet for celebrities like Gwyneth Paltrow and Denzel Washington. Nestled at the base is Spiaggia Grande, Positano's main beach, neatly lined with colorful umbrellas (which are available for rent). Soak in views of the bay from Le Sirenuse hotel, the poshest address in town.
Bondi Beach, Sydney, Australia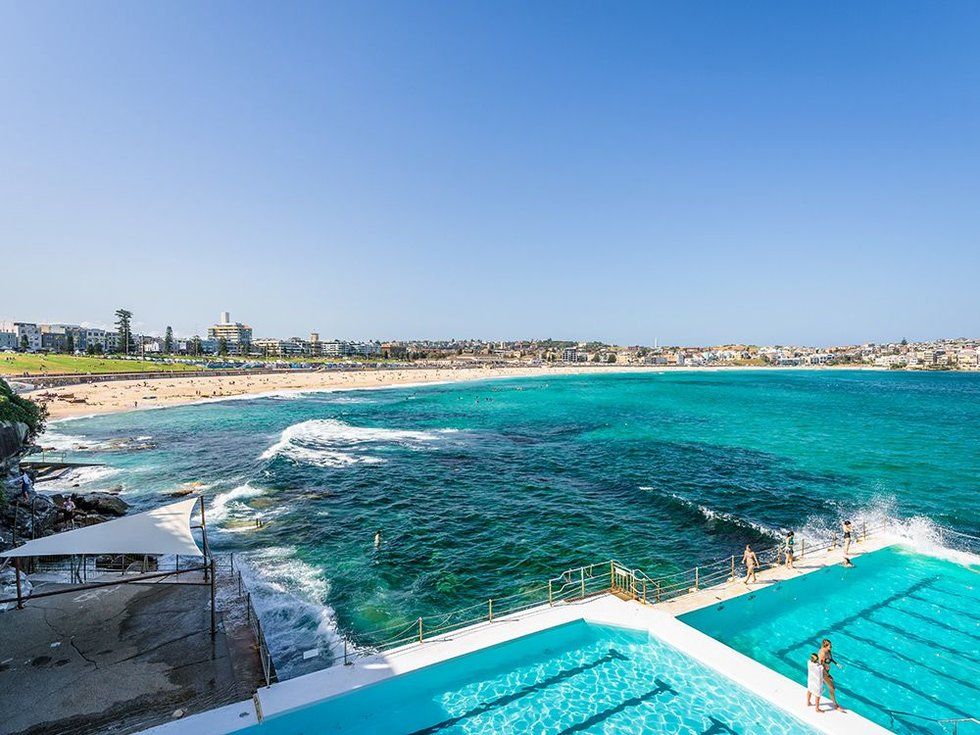 Bondi Beach, Sydney, Australia
Shutterstock
Thirty minutes from Sydney, laid-back Bondi Beach has something for everyone. Stroll the scenic Bondi to Coogee Coastal Walk. Eat like a hipster in a local restaurant along the Campbell Parade. Take a surf lesson. Browse the Saturday farmers market. Or swim in the famous Bondi Icebergs Pool, Australia's oldest swimming club. Retire to QT Bondi Beach, a luxury boutique hotel set just behind the Bondi Pavilion.
Bathsheba Beach, Barbados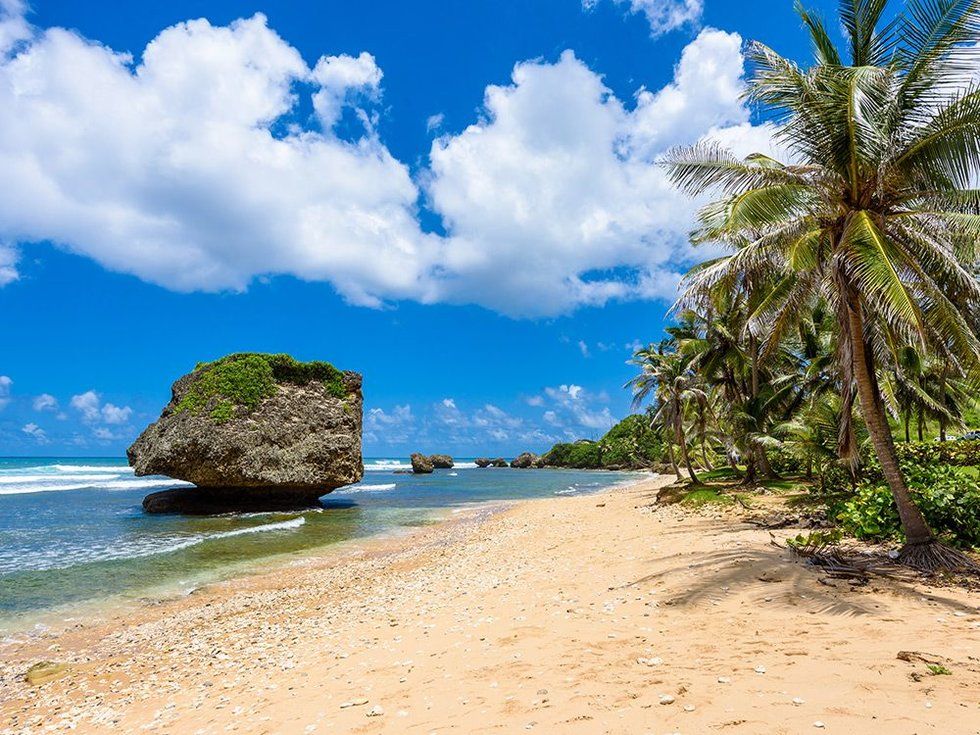 Bathsheba Beach, Barbados
Shutterstock
The Atlantic Ocean's erosive power is on full display at Bathsheba Beach, on Barbados' rugged east coast. Here, Mushroom Rock and other sea-sculpted coral formations rise dramatically from the frothy breakers, great for surfing (but not swimming). Sleep right next door at the family-owned Atlantis Inn, in operation since the 19th century.
This article was written by Erika Hueneke from Islands and was legally licensed through the NewsCred publisher network. Please direct all licensing questions to legal@newscred.com.
Critical medical shipments – Check.
High-tech electronics – Check.
2.7 million pounds of lobster? Check.

While this year's holiday gatherings will look a little different, millions of people around the world will still carry on the tradition of celebrating the holidays with a meal.

As the appetite for different types of food from all over the world increases, so does the need for safe and reliable transport. Fish caught in the United Kingdom can depart at breakfast and arrive in Washington D.C. in time for dinner. Thanks to United Cargo's expansive network, we are longer constrained by global distance or the seasonality of a product,
United Cargo plays a big role in transporting shipments with a limited shelf life around the world. Packed in between the latest electronics from Asia and the hottest fashion items from Europe, our aircraft carry a variety of perishable shipments like flowers, fruit, meat and vegetables, where speed and careful handling keeps them fresh. Whether it's cherries from Washington State or vegetables from Peru, our temperature-controlled shipping processes and vast global network helps move these commodities all over the world.
While the holidays are an exceptionally busy time of year for shipping perishable items, United Cargo transports these critical goods for people all over the world year-round. Earlier this year, United Cargo moved nearly 190,000 pounds of fresh produce to Guam for the U.S. Department of Agriculture's Coronavirus Farm Assistance Program to support communities impacted by COVID-19. Additionally, with the holiday season here, we anticipate the cargo holds of our aircraft to be full of grocery store replenishments, including staples like turkey and ham, hitting shelves across the globe.
We take pride in our role to make sure perishables and produce arrive on time and at the peak of freshness. These products sustain, feed and nurture the world, and consumers around the globe depend on them every single day.
Since March 19, United has operated nearly 8,000 cargo-only flights, moving over 272 million pounds of cargo on those flights alone. United Cargo is proud of the role we play maintaining the global food supply chain and helping people access commodities from all over the globe.
Bon appetit!
With thousands of veteran and reservist employees at United, we are incredibly grateful for their dedication, courage and bravery. Not only do they serve our country, they also bring a standard of excellence and professionalism to work on a daily basis.
We are thrilled to celebrate and thank our veteran and reservist employees this Veterans Day. We asked a few of them to share stories from their experiences while enlisted. Read a few of them below!
Larry Ferrarini, ORD Lead Ramp Service
Tiffini Wilson, ORD Customer Service Representative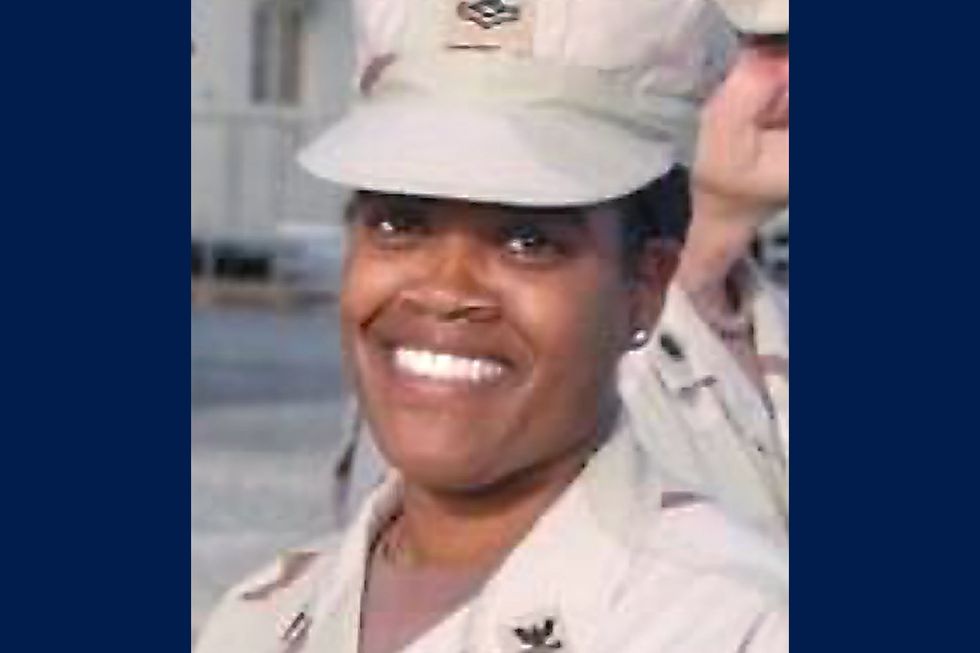 Tiffini served in the U.S. Navy Reserves from 1999 to 2013. She came from a military family and always knew she wanted to serve. In her experience, the Navy has a real sense of brotherhood and sisterhood. She feels proud that she is able to serve her country and other people get to stay home and feel safe.

Tiffini has worked at United for 24 years and feels grateful that her supervisors have always been supportive of her military service and flexible when she was deployed. She even received care packages from colleagues when she was serving in the Middle East. She has learned that being a leader is about listening, in the military and at United. She applies that mentality to when she is working with customers, as well. She says, "sometimes people are having a bad day and need to vent and be acknowledged."
Thank you for your service, Tiffini!
Terry Blake, DCA First Officer B767/B757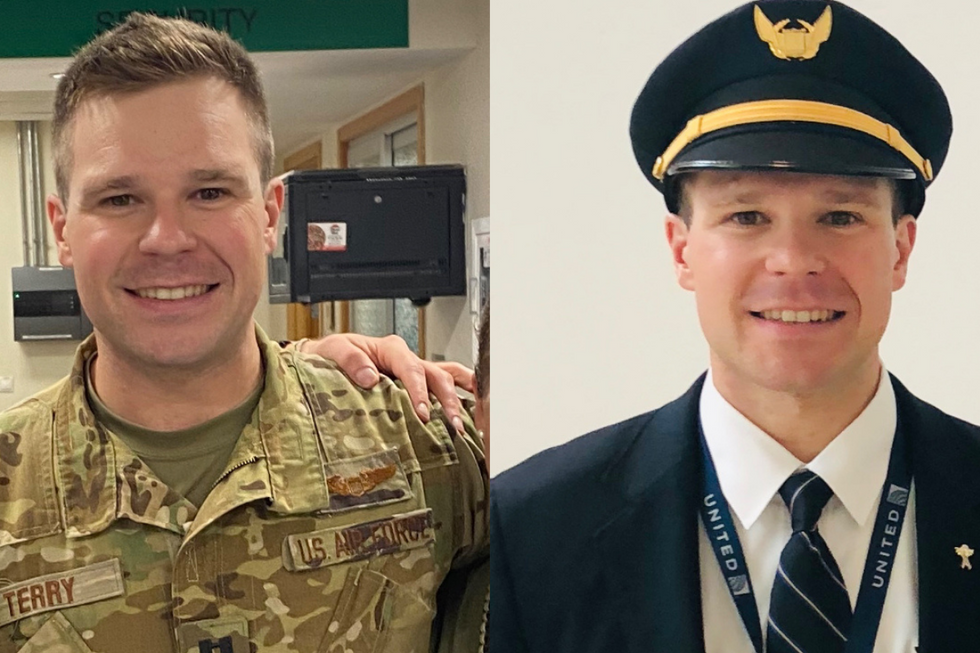 Terry joined the U.S. Air Force in 2014 and is currently serving. He says, "The military is a great career and I am proud that I have been given the opportunity to serve my country and the State of West Virginia." During his time in the service, he has been working aeromedical evacuation missions where he moves the critically wounded warriors from combat zones to hospitals in Europe and the U.S. He feels lucky to fly for United and work with many great people. He is proud to work alongside ALPA professional pilots and all the other employees at the company.

Thank you for your service, Terry!
Katherine McDonald, HR Partner Senior Manager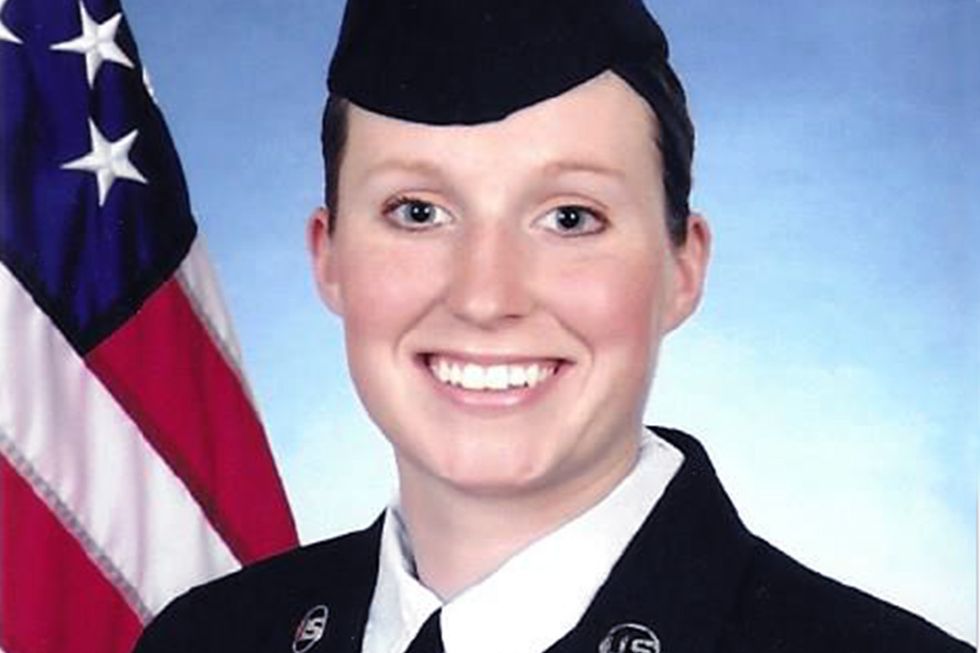 Katherine served six years in the Michigan Air National Guard and says, "For me, serving is a calling. It means serving this great nation and being ready when needed." She joined the military to belong and contribute to something bigger than herself. When she was applying for her job at United, she found information about the United4Veterans business resource group on the company website. This increased her desire to work for a company that she could bring her military experience to and be celebrated. "The inclusivity I feel at United makes me feel so valued, both as an employee and as a veteran. I am so grateful to work for a company that is committed to our military employees and customers."

Thank you for your service, Katherine!
Troy A. Engholm, DEN Ramp Service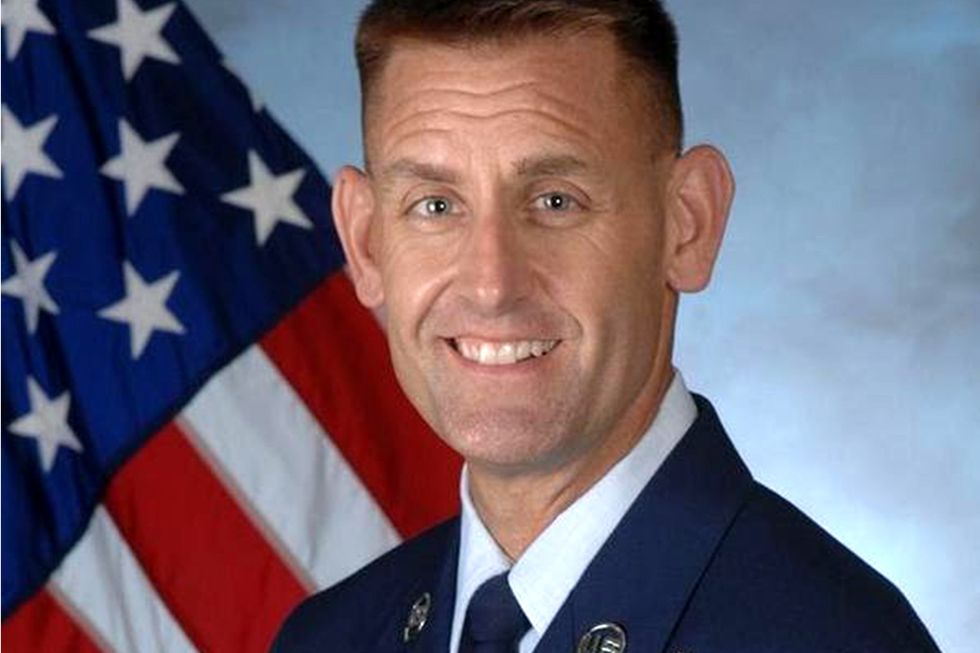 Troy served in the U.S. Air Force from 1983 to 2013. He says, "I loved serving 30+ years in our United States Air Force because it gave me a sense of accomplishment, satisfaction and pride to know that I was serving in the best Air Force, with the best professionals, the world has ever seen."

After serving, Troy joined United in 2015 and has loved it ever since. He believes this profession allows us to connect families together and provide a multitude of experiences for our customers. They get to see the world. The most rewarding part of his job is when he sees joy on a customer's face.
Thank you for your service, Troy!
Fred "Motown" Crowell, ORD Lead Ramp Service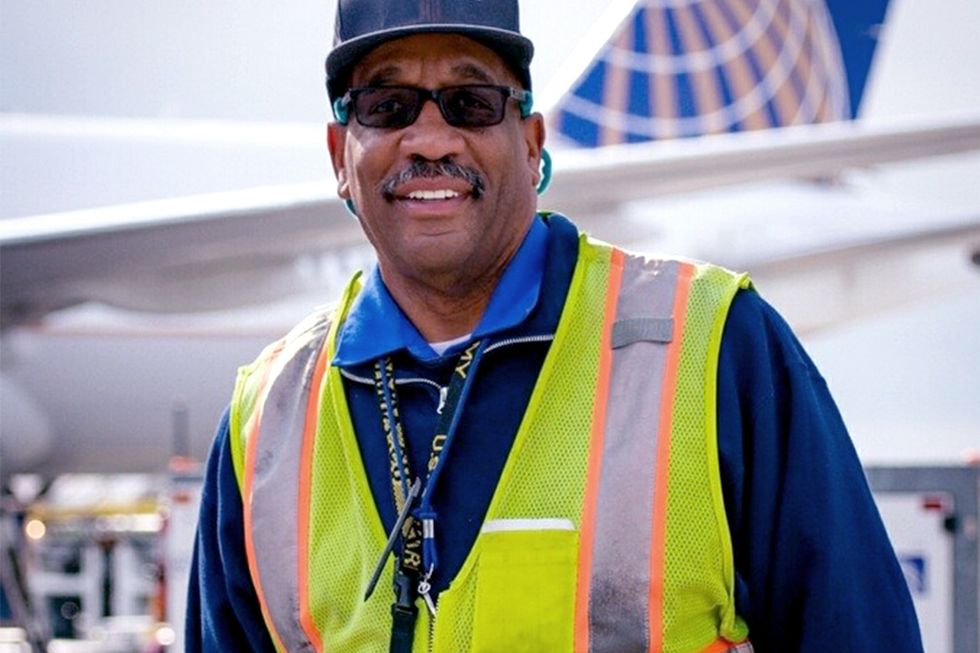 Motown served in the U.S. Army from 1969 to 1970. Motown grew up in Detroit and aspired to follow in his brother's footsteps by applying to a job at United. Just after he was hired, he was drafted to the Army and was on active duty in Vietnam. His unit was the first to invade Cambodia. His unit that served together still meet up every year in Washington D.C. at the Vietnam Memorial.

When he returned home, he returned to United and has been here for 53 years. Over the years, he's been able to travel with his family around the world and even take his wife back to Vietnam and show her where he was stationed.
Thank you for your service, Motown!
Garrett West, Regional Director Aircraft Maintenance ORD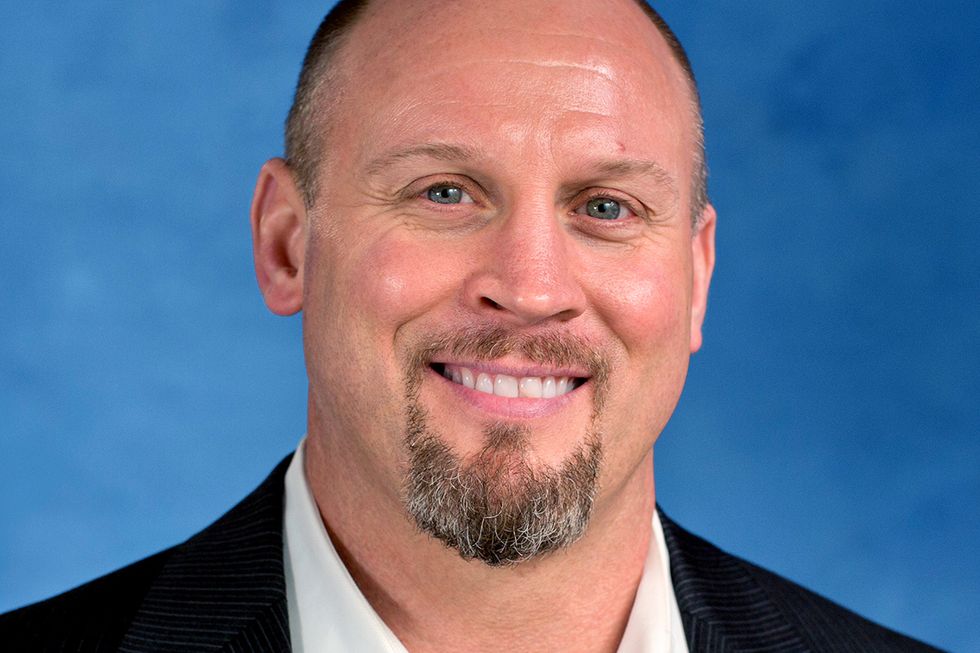 Garrett served in the U.S. Marines for 7 years and 1 year in active reserves. From childhood, he had always dreamed of becoming a United States Marine. He has been grateful to serve with many different people from all types of backgrounds. And, he has many fond memories and experiences of cruising the Mediterranean when he was part of the Marine Amphibious Ready Group. He says, "Having the honor to wear the EGA (the Marine emblem that includes an Eagle, Globe and Anchor) and to represent and serve our great nation is beyond words."

Garret began his career at United as a frontline technician and has worked to a Hub leader. He says, "As we all press on and continue to work through challenges, the tenacity of our employees across the board and working alongside so many dedicated people has done nothing but instill confidence in our future."
Thank you for your service, Garrett!
Pete DeLeon, ORD Lead Customer Service Representative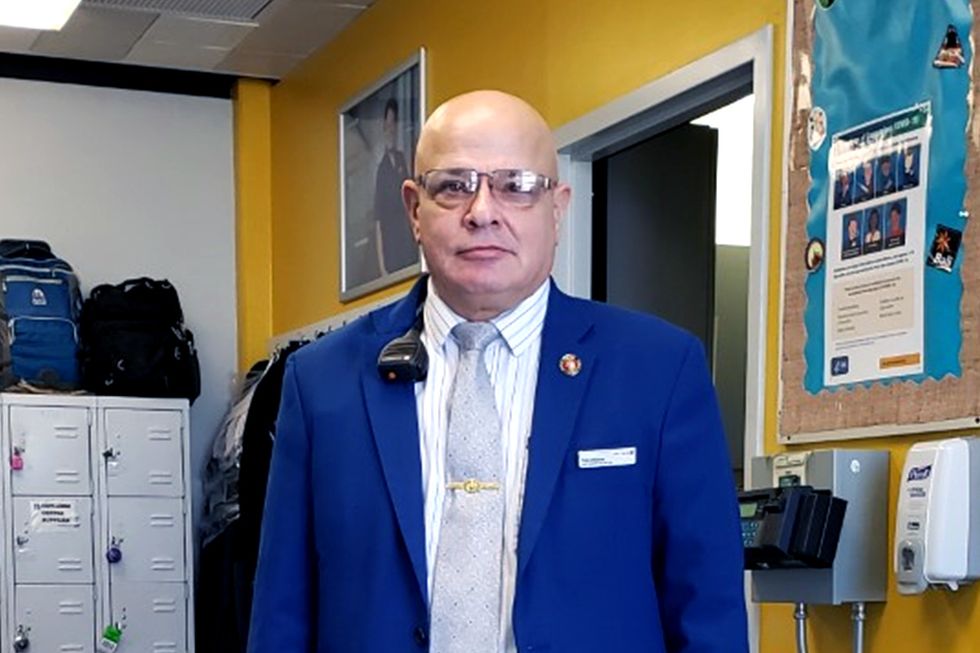 Pete served in the U.S. Marines from 1977 to 1984. He grew up in a military family and had a desire to join early on. During his time in the Marines, he traveled all over the world, including to the American Embassy in Cyprus; Lima, Peru and Okinawa, Japan. He has a great sense of pride for his time in the service and feels grateful that he could give back to his country.

After the Marines, Pete joined United 33 years ago. He has held many roles in various places across the system. First, he was a load planner in Miami, then moved to New Orleans where he was the chief coordinator during Hurricane Katrina. Pete says, "I thoroughly enjoy what I do on a daily basis, working with and assisting customers. I enjoy the people I work with I look forward to coming to work on a daily basis as every day is different at the airport."
He says the Marines taught him how to be professional, treat people with respect and to make quick decisions when necessary. He always goes the extra mile for customers and colleagues.
Thank you for your service, Pete!
Steve Driver, ORD Customer Service Representative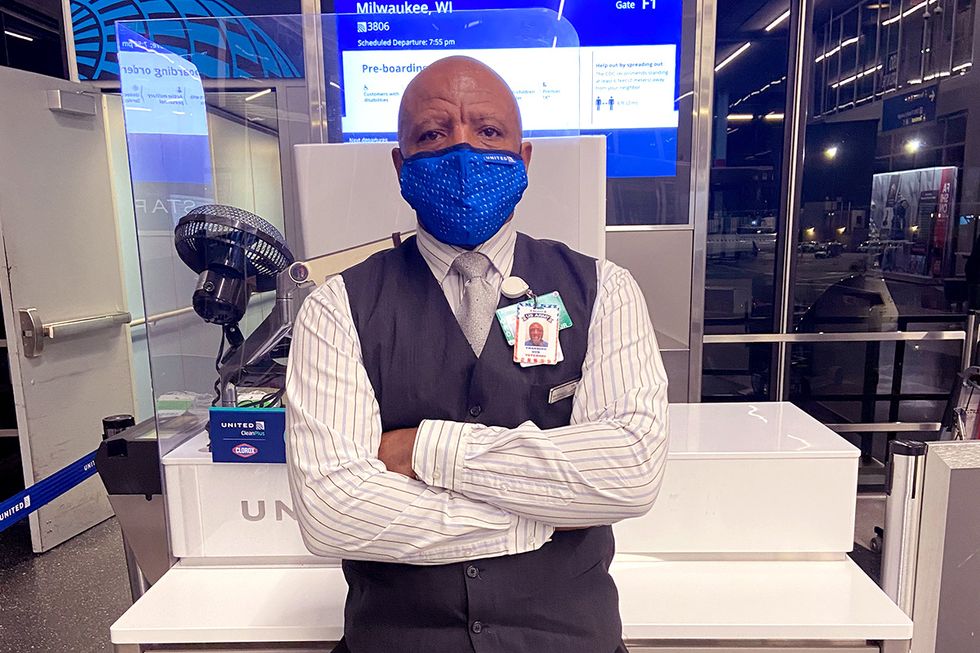 Steve served in the U.S. Army for 20 years from 1976 to 1996. He says, "It was my honor to serve my country. I was very proud to be a part of the U.S. Army and protecting my country. The camaraderie was amazing. The way my unit worked together to complete missions was not like anything I've ever been a part of before. Wearing the uniform gave all of use a sense of pride." He has worked with United for over 23 years and he describes his time as very rewarding. He enjoys working with his coworkers and learning about the industry every day.

Thank you for your service, Steve!
Jim Herrera, ORD Lead Customer Service Representative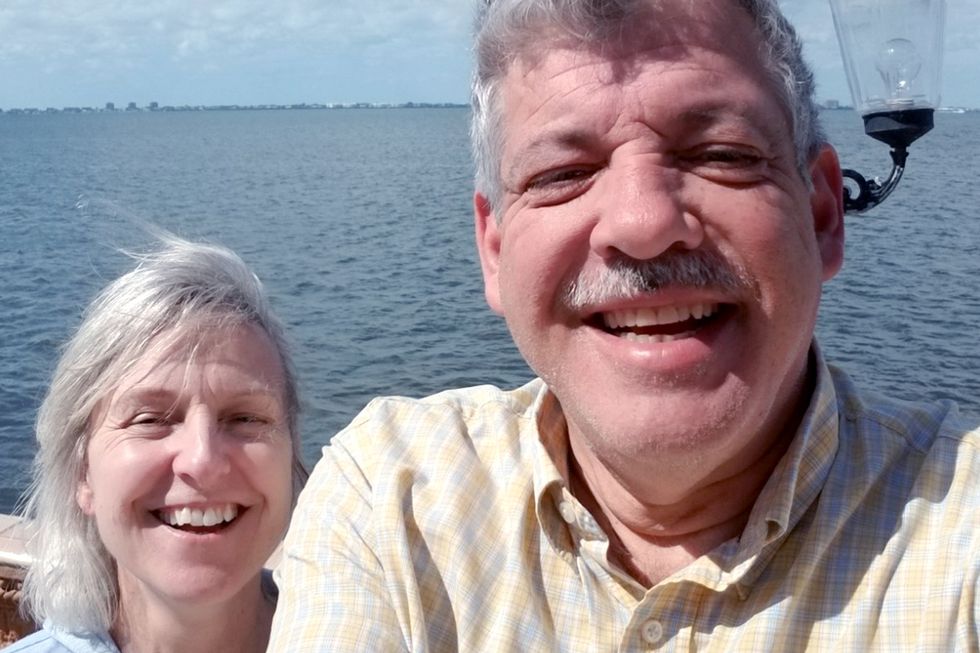 Jim Herrera served in the U.S. Marines Reserve from 1976 to 1985. Though he served after the Vietnam war, he saw the impact of that on his fellow veterans. Over time, he has seen a great shift in positive support for veterans and he is very grateful for that. He has been with Untied for over 42 years. He is grateful for the stability his career at United provides for him to do what he loves and raise his family.

Thank you for your service, Jim!
Session Martin, ORD Lead Customer Service Representative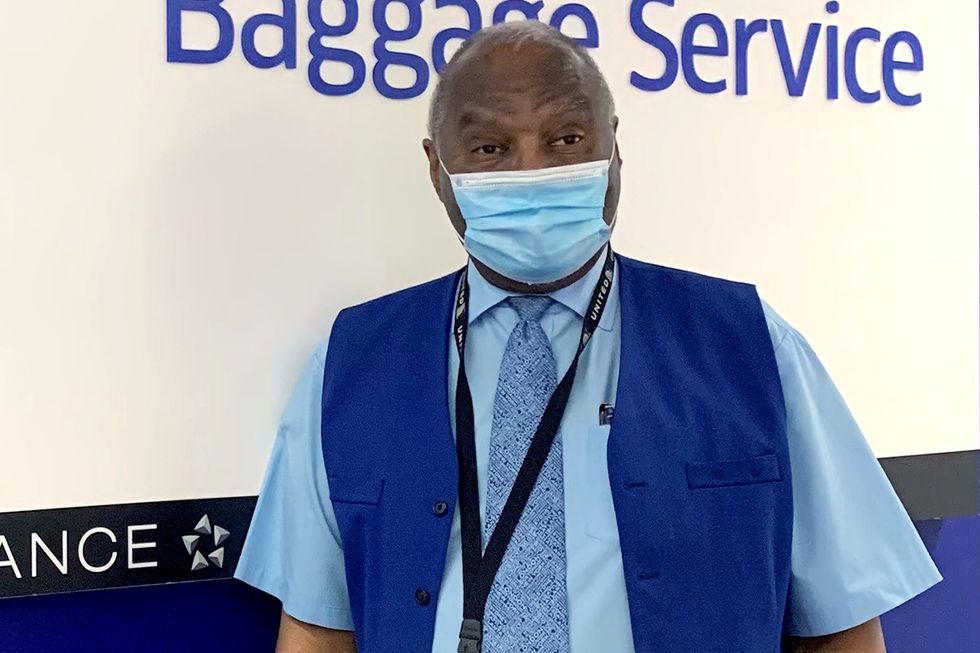 Session served in the U.S. Army for 3 years and 9 months. He says that his time in the service means everything to him. He is proud to have been part of the team and did his duty to preserve our lifestyle in America. "I feel like I owned that to my country. If I had to do it again, I absolutely would," says Session. Even after 51 years at United, Session still says he is having a good time, he enjoys coming to work every day. His favorite part is connecting with the customers and networking with people.

Thank you for your service, Session!
Troy VanderWeyden, DCA First Officer B777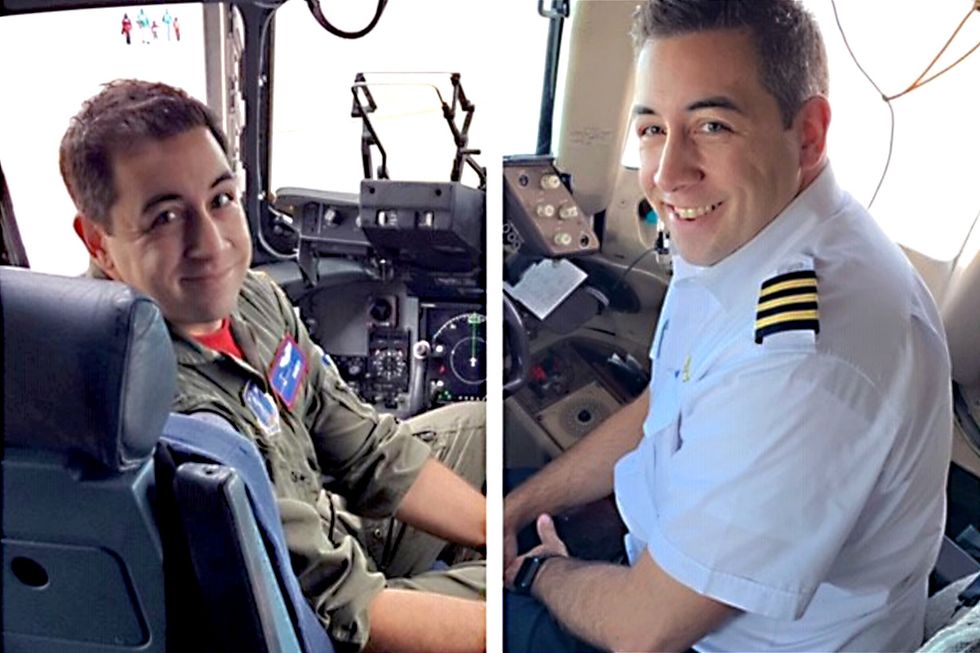 Troy has been flying the Air National Guard for the past 10 years. His missions include aeromedical evacuations, strategic delivery of troops and cargo across the globe, as well as humanitarian aid flights. Five years ago, his lifelong dream was fulfilled when he was hired by United. A special family connection is that his father is also a United pilot, Captain Alan VanderWeyden.

Troy shares, "United is extremely accommodating and appreciative of my and everyone's military obligations and offers endless support. The DCA Flight Operations has a strong relationship with the West Virginia Air National Guard and reflects highly on the Flight Operations folks and our personnel in the unit."
Thank you for your service, Troy!
Scott Kirby, CEO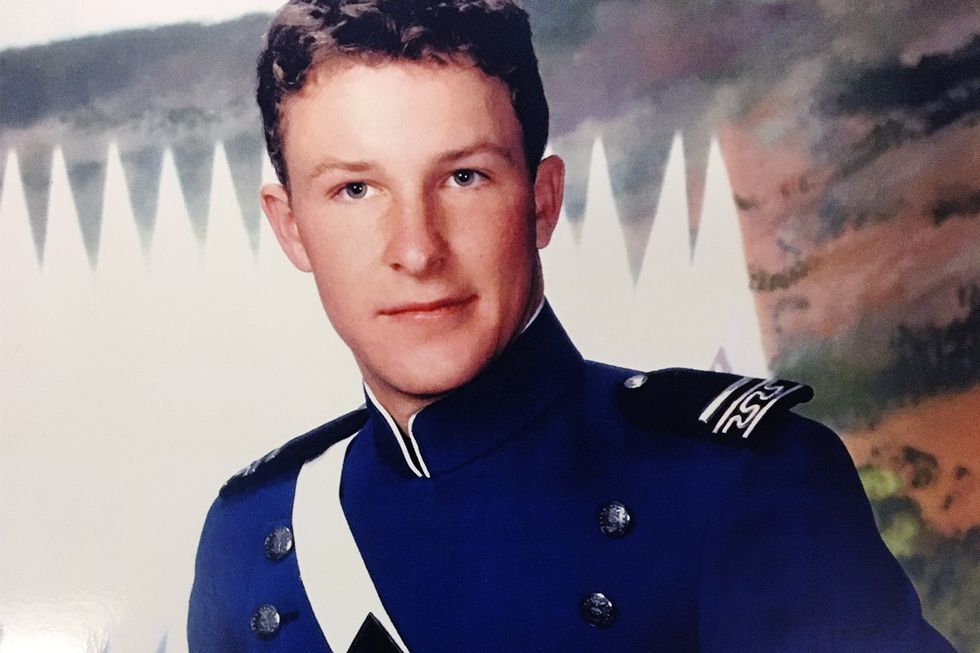 'No excuses.' Fellow U.S. Air Force Academy grads are familiar with a lesson in leadership that I still apply in my work today.

This simple saying teaches freshmen cadets to take responsibility in solving problems, no matter whose fault it is. At @United I see this mantra in action every single day. Not one United team member caused this current crisis, but we are all 100% focused on solving the impact it has had on our company. Veterans Day is the perfect reminder that the thousands of veterans at our company — including the colleagues in these photos — are part of that charge. It's an honor to have so many veterans in our ranks.
We're proud to launch a redesigned version of our United app to make it easier for customers with visual disabilities to manage all aspects of day-of travel, including check-in, viewing reservation details and flight status, bag tracking and more.
This latest version of our app is now available to both Android and iOS users, and it offers increased color contrast and more space between graphics. Furthermore, we have reorganized how information is displayed and announced to better integrate with screen reader technologies like VoiceOver and TalkBack, which are built into most handheld devices. By restructuring the way the information is organized on the app, screen readers are better able to convert text to audio in the proper, logical sequence, allowing customers to better understand and navigate the app.
"The parts of the travel experience that we all take for granted like checking luggage, getting your flight status and accessing a boarding pass can still be a challenge for someone with a visual disability," said EVP of Technology and Chief Digital Officer Linda Jojo. "These new accessibility enhancements are part of our continuing commitment to level the playing field, unlock all the customer benefits of our app and give people with disabilities more independence while traveling."
Senior Accessibility Analyst Ray Campbell is a member of United's digital team who's visually impaired and sits on the board of the American Council of the Blind. He played a key role in helping us redesign the app. He even put the app to the test as seen in this video.
"Optimizing mobile apps for tools such as VoiceOver and TalkBack has been a game changer, allowing people with visual disabilities to fully utilize smartphone technology in their daily lives," said Ray. "It's just as important for someone with a visual disability to easily access day-of-travel information and features as for any other customer. Improving the accessibility of the United app, helps us truly live out United's mission of caring for all customers."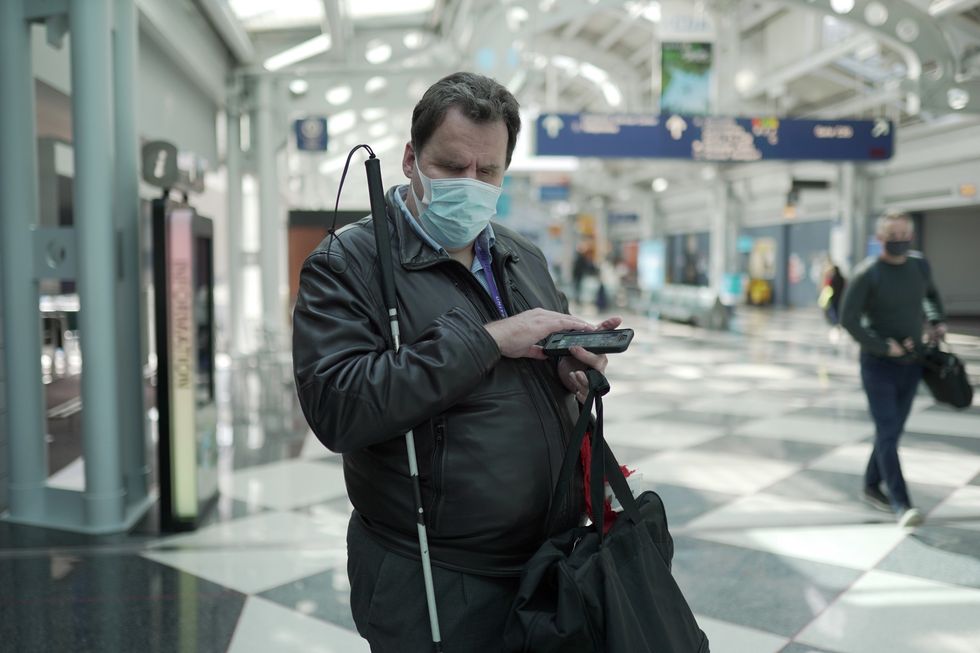 United's Senior Accessibility Analyst Ray Campbell using the mobile app at Chicago O'Hare International Airport.
Beyond the accessibility changes, our digital team enhanced the current offering while keeping the features that helped the app win a Webby People's Voice award in 2019.
For our MileagePlus® program members, the app now features a refreshed account experience for members to easily check balances, track Premier® progress, explore MileagePlus benefits, access past activity and more, all in one place.
The airline is also expanding a popular feature previously only accessible to MileagePlus members. Now, all 37 million customers who have the United app will see a contextualized home screen starting 48 hours before their flight which provides dynamic updates based on where a customer is in their travel journey. For example, customers can see the boarding status of their flight on their homescreen, access personal device entertainment onboard with one click, find a link to a map with gate-to-gate directions for connecting flights and click a quick access button to track any checked bags upon arrival.
We made slight tweaks to navigation based on customer feedback to make the app more intuitive, including making the bottom navigation persistent throughout the app. Another example is the "More" menu, which was reorganized and now contains the "Inbox" feature, which includes timely messages about boarding announcements, gate changes and other travel updates.
Customers will notice a new color palette that's consistent with the refreshed branding the airline debuted in 2019. United's digital team also made subtle design adjustments to make things more consistent and easier to find, like always using a purple bar to highlight the main call-to-action on a page and ensuring alerts and flight status icons appear the same way in every page on the app.
All of these changes are underpinned by a new back-end platform, which will ultimately make the app faster and more responsive.
The redesigned app is now available to download for iPhone®, iPad® and iPod touch® devices (as an iPhone app) and for Android devices.
Scroll to top