48 Hours in Boston: Where to Eat and Drink This Fall
When the leaves start changing colors, Boston stands out as one of the great cities to watch foliage turn from green to orange and gold. It's a sight best seen on foot, which means finding proper fuel is critical. Over the years, Cambridge and Boston have welcomed impressive new ventures from local chefs like Barbara Lynch, Joanne Chang and Matt Jennings, who've proven their skills at everything from concocting variations on traditional New England staples to building the city's reputation as a developing hub for creative cocktails. Catching foliage may be the reason for your visit, but there's nothing to ruin a good vacation like underwhelming meals and overpriced drinks. Here are the spots that won't let you down.
FRIDAY
To kick off any weekend trip to Boston, head to Alden & Harlow (40 Brattle St, Cambridge) for dinner. It's tucked away in a basement off the bustling Brattle Square, but once you're inside, you'll want to settle in for a while. A&H owns the innovative-preparations-of-vegetables game; there are very few places in the world that will make you as excited about broccoli, which they char and pile on top of a butternut squash hummus with crispy cashews. Chef Michael Scelfo's famed raw sugar pumpkin salad changes every autumn, and past variations have included jalapeños and Cotija cheese. Don't miss the pickled Verrill Farm corn pancakes with maple and shishito, either. If all those veggies have you craving red meat, A&H's "secret" burger has a cult following—but make sure to order early in the evening, because they run out.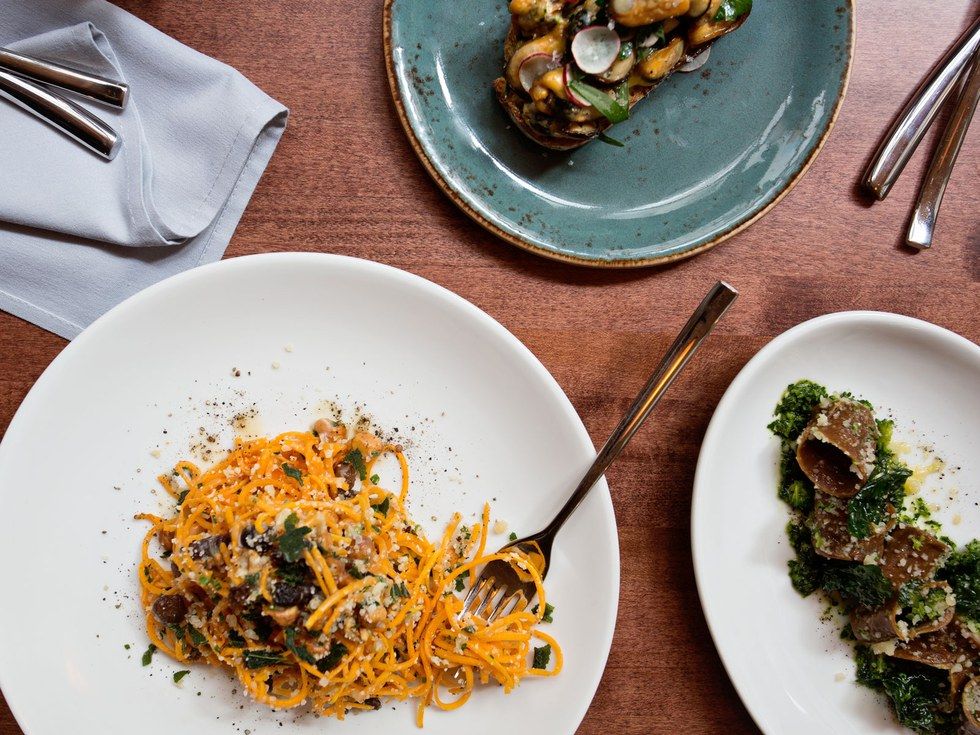 If you're staying around Harvard Square after dinner, you can't go wrong with Russell House Tavern (14 JFK St, Cambridge), beloved by Harvard faculty and of-age students alike. Their cocktail menu is expansive and ever-changing. For fall, try the 1836, which includes bourbon, rum and crème de cacao. Also, be warned: their fries are spectacular, and you might think you're ordering a plate to share, but you'll rethink that offer as soon as you dip into the tiny tub of aioli.
To venture further into Cambridge, hop on the Red Line just one stop to Central Square and check out Little Donkey (505 Mass Ave, Cambridge), which is always reassuringly packed. Order their rotating cocktail with tequila, St. Germain and Pacifico beer that comes served in a grapefruit, or the Bench Warmer, a tequila cocktail served in a pouch, Capri Sun-style. If you need some snacks to go with your drinks, Little Donkey rolls out a late-night eats menu between 11 p.m. and 12:30 a.m.; it includes edible cookie dough served on a beater with cacao chips.
SATURDAY
Before a long day of admiring the scenery across Cambridge and Boston, fuel up with a world-class brunch at Mamaleh's Delicatessen (15 Hampshire St, Cambridge.) Although it's only been open for a year, Mamaleh's has quickly become the darling of Cambridge. The decor is lifted straight out of the coziest diner from the town you grew up in, and the menu is packed with Jewish comfort foods, including matzo ball soup, latkes and bagels and lox. The kreplach, triangular little wontons filled with brisket and doused in chicken jus, are heavenly. You'll have to order a side of latkes to mop up the jus; these are not the kinds of fluids to waste.
With its imposing cement structures and businesses-only vibe, downtown Boston isn't exactly the liveliest part of town, but swing by to grab lunch at Townsman (120 Kingston St, Boston) Chef Matt Jennings is a native Bostonian, and he proudly shows off his roots in the grilled rabe with honey, crispy garlic and fermented chilies, as well as the roasted duck breast with flannel hash, pear butter and seared livers, a dish that may very well be the plated personification of a New England fall. Townsman is also one of the many Boston establishments that serves offerings from Mem Tea (196 Elm St, Cambridge), a local tea importer; the baked gaba oolong is a doughy, almost savory blend that seals off any hearty lunch or dinner. If you fall in love with Townsman's menu, chef Jennings' new cookbook Homegrown (out October 17) has recipes that reinvent New England favorites from steamed clams to pot roast.
After a day of walking across the city, Saturday night dinner must be filling and exciting enough to look forward to all day. That's where UNI (370 Commonwealth Avenue, Boston) comes in. Izakaya might not be the first thing that comes to mind when you think "fall," but with surprising dishes like the Shima Aji sashimi with smoked apple pie purée and pickled cranberries, and the barracuda nigiri with burnt ginger, pickled quince and pear ash, UNI is a stand-out for those looking to venture beyond the traditional definition of New England cuisine. Don't: miss the Korean rice cakes with kale oxtail, kimchee butter and gremolata. Do: let them make you a sake cocktail.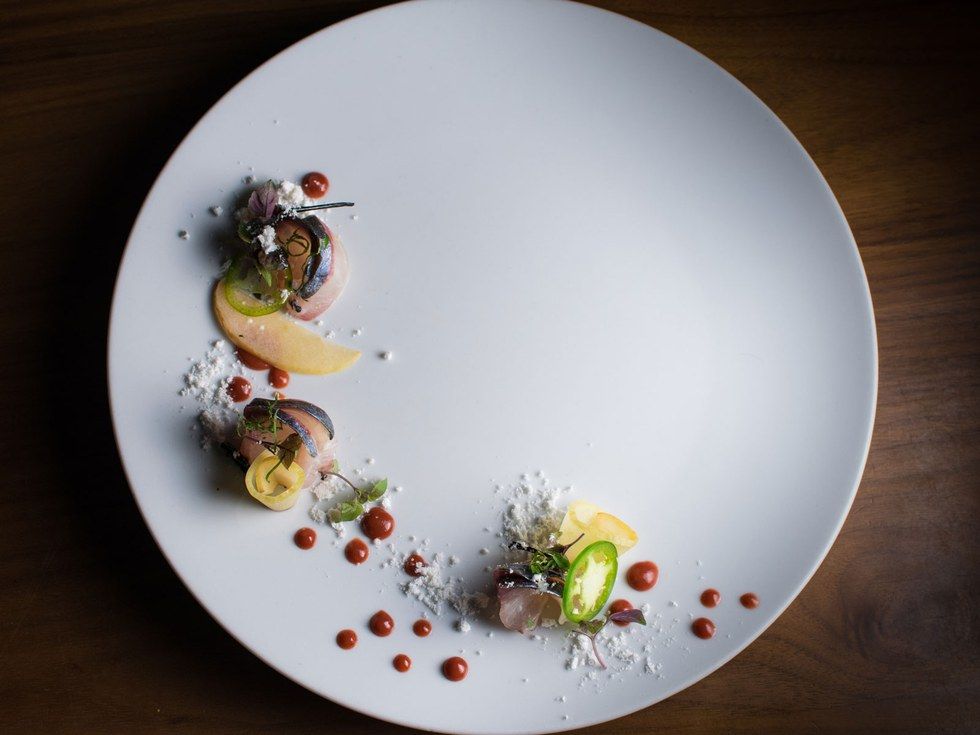 If you're craving a nightcap after UNI, hit up RUKA (505 Washington St, Boston), located in the heart of Downtown Crossing. Served in a champagne flute, the Peruvian Pearl includes shochu, bergamot and sparkling wine—it's so delicate and smooth that you'll suspect there's no alcohol in it, but there is … a lot. The salmon ceviche, with its layers of avocado, jalapeño potatoes and salmon (plus a convenient side of chips), is perfect for sharing with a group and soaking up all the cocktails you'll want to try once you've had the Peruvian Pearl. (The Sea and Smoke cocktail is brand new for fall: whiskey, yuzu, smoked tea and sake.)
SUNDAY
For your final brunch in Boston, try Tatte Bakery (70 Charles St, Boston) Owner Tzurit Or has five locations across Boston, Brookline and Cambridge (with two more on the way), and all of her locations are still packed every weekend morning and most weekdays. With good reason, you'll find the shakshuka with lamb meatballs and labneh on every other table, and you can't leave town without sharing their pastry basket, which will change how you think about brioche forever.
From Tatte, head to Saltie Girl (281 Dartmouth St, Boston), a Back Bay favorite that does New England seafood in a refreshingly unpretentious way. The small space doesn't take reservations, which means you'll probably be waiting for a bit. If you're trying to fit in as many stops as possible, pass the time by taking a quick ten-minute walk to Terra (800 Boylston St, Boston), Eataly Boston's brand new restaurant and bar. The highlight of their delightful cocktail menu is the Paper Plane, made with bourbon, Aperol, Amaro Nonino and lemon. When you get that call from Saltie Girl, rush back for the "salt and pepper" sweet bread nuggets with cauliflower and raisins, and add on the pan-roasted Nantucket Bay scallops served with pumpkin purée and pork jowl.
After sampling some of the best restaurants in Boston and their new offerings for fall, there's only one thing left to do: eat some excellent pasta. The North End is the city's most popular spot for Italian, and Pomodoro (351 Hanover St, Boston), with its warm service (by which we mean: complimentary crostini) and quaint atmosphere is a great finale to the weekend. Order the creamy mushroom rag with thick pappardelle, and remember to bring cash––they don't take cards.
Willing to travel even farther for the city's absolute best pasta? Giulia (1682 Mass Ave, Cambridge) between Harvard Square and Porter Square is worth the pilgrimage. The wild boar pappardelle and duck confit tortellini are impossible to choose between, so go with a friend and order both. The staff is so knowledgeable about wine pairings that you can't go wrong putting your fate in their hands. If you're thinking about burrata—of course you are—Giulia is the place to spring for that, too.
This article was written by Oset Babur from Food & Wine and was legally licensed through the NewsCred publisher network. Please direct all licensing questions to legal@newscred.com.
Right now, around the world, brave members of America's armed forces are on duty, defending our freedom and upholding our values.
When not laser-focused on the mission at hand, they're looking forward to the day when their service to our nation is fulfilled and they can reunite with their families.
They are also imagining how they can use their hard-earned skills to build an exciting, rewarding and important career when they return home.
I want them to look no further than United Airlines.
That's why we are focused on recruiting, developing and championing veterans across our company, demonstrating to our returning women and men in uniform that United is the best possible place for them to put their training, knowledge, discipline and character to the noblest use.
They've developed their knowledge and skills in some of the worst of times. We hope they will use those skills to keep United performing at our best, all of the time.
That's why we are accelerating our efforts to onboard the best and the brightest, and substantially increasing our overall recruitment numbers each year.
We recently launched a new sponsorship program to support onboarding veterans into United and a new care package program to support deployed employees. It's one more reason why United continues to rank high - and rise higher - as a top workplace for veterans. In fact, we jumped 21 spots this year on Indeed.com's list of the top U.S workplaces for veterans. This is a testament to our increased recruiting efforts, as well as our efforts to create a culture where veterans feel valued and supported.
We use the special reach and resources of our global operations to partner with outstanding organizations. This is our way of stepping up and going the extra mile for all those who've stepped forward to answer our nation's call.
We do this year-round, and the month of November is no exception; however, it is exceptional, especially as we mark Veterans Day.
As we pay tribute to all Americans who have served in uniform and carried our flag into battle throughout our history, let's also keep our thoughts with the women and men who are serving around the world, now. They belong to a generation of post-9/11 veterans who've taken part in the longest sustained period of conflict in our history.

Never has so much been asked by so many of so few.... for so long. These heroes represent every color and creed. They are drawn from across the country and many immigrated to our shores.

They then freely choose to serve in the most distant and dangerous regions of the world, to protect democracy in its moments of maximum danger.
Wherever they serve - however they serve - whether they put on a uniform each day, or serve in ways which may never be fully known, these Americans wake up each morning willing to offer the "last full measure of devotion" on our behalf.
Every time they do so, they provide a stunning rebuke to the kinds of voices around the world who doubt freedom and democracy's ability to defend itself.
Unfortunately, we know there are those who seem to not understand – or say they do not - what it is that inspires a free people to step forward, willing to lay down their lives so that their country and fellow citizens might live.
But, we – who are both the wards and stewards of the democracy which has been preserved and handed down to us by veterans throughout our history – do understand.
We know that inciting fear and hatred of others is a source of weakness, not strength. And such divisive rhetoric can never inspire solidarity or sacrifice like love for others and love of country can.
It is this quality of devotion that we most honor in our veterans - those who have served, do serve and will serve.
On behalf of a grateful family of 96,000, thank you for your service.
Humbly,
Oscar
Each year around Veterans Day, Indeed, one of the world's largest job search engines, rates companies based on actual employee reviews to identify which ones offer the best opportunities and benefits for current and former U.S. military members. Our dramatic improvement in the rankings this year reflects a stronger commitment than ever before to actively recruiting, developing and nurturing veteran talent.
"We've spent a lot of time over the past 12 months looking for ways to better connect with our employees who served and attract new employees from the military ranks," said Global Catering Operations and Logistics Managing Director Ryan Melby, a U.S. Army veteran and the president of our United for Veterans business resource group.
"Our group is launching a mentorship program, for instance, where we'll assign existing employee-veterans to work with new hires who come to us from the armed forces. Having a friend and an ally like that, someone who can help you translate the skills you picked up in the military to what we do as a civilian company, is invaluable. That initiative is still in its infancy, but I'm really optimistic about what it can do for United and for our veteran population here."
Impressively, we were the only one of our industry peers to move up on the list, further evidence that we're on a good track as a company.
The question of where David Ferrari was had haunted retired U.S. Army Sergeant Major Vincent Salceto for the better part of 66 years.
Rarely did a week go by that Salceto didn't think about his old friend. Often, he relived their last moments together in a recurring nightmare. In it, it's once again 1953 and Salceto and Ferrari are patrolling a valley in what is now North Korea. Suddenly, explosions shatter the silence and flares light up the night sky.
Crouching under a barrage of bullets, Salceto, the squad's leader, drags two of his men to safety, then he sees Ferrari lying face down on the ground. He runs out to help him, but he's too late. And that's when he always wakes up.
Italian Americans from opposite coasts – Salceto from Philadelphia, Ferrari from San Francisco – the two became close, almost like brothers, after being assigned to the same unit during the Korean War. When Ferrari died, it hit Salceto hard.
"After that, I never let anyone get close to me like I did with Dave," he says. "I couldn't; I didn't want to go through that again."
When the war ended, Salceto wanted to tell Ferrari's family how brave their son and brother had been in battle. Most of all, he wanted to salute his friend at his gravesite and give him a proper farewell.
For decades, though, Salceto had no luck finding his final resting place or locating any of his relatives. Then, in June of this year, he uncovered a clue that led him to the Italian Cemetary in Colma, California, where Ferrari is buried.
Within days, Salceto, who lives in Franklinville, New Jersey, was packed and sitting aboard United Flight 731 from Philadelphia to San Francisco with his wife, Amy, and daughter, Donna Decker, on his way to Colma. For such a meaningful trip, he even wore his Army dress uniform.
That's how San Francisco-based flight attendant Noreen Baldwin spotted him as he walked down the jet bridge to get on the plane.
"I saw him and said to the other crew members, 'Oh my goodness, look at this guy,'" she says. "I knew there had to be a story."
The two struck up a conversation and Salceto told Baldwin why he was traveling. She got emotional listening to him talk and made a point of fussing over him, making sure he and his family had everything they needed.
About halfway through the flight, Baldwin had an idea. She and her fellow crew members would write messages of encouragement to Salceto and invite his fellow passengers to do the same.
"We did it discreetly," says Baldwin. "I asked the customers if they saw the man in uniform, which most had, and asked them if they wanted to write a few words for him on a cocktail napkin. A lot of people did; families did it together, parents got their kids to write something. After the first few rows, I was so choked up that I could barely talk."
When Baldwin surprised Salceto with dozens of hand-written notes, he, too, was speechless. He laid the stack on his lap and read each one. At the same time, the pilots made an announcement about the veteran over the loud speaker, after which the customers on board burst into applause.
"It seems contrived, and I hate using the word organic, but that's what it was; it just happened," Baldwin says. "Mr. Salceto was so loveable and humble, and what he was doing was so incredible, it felt like the right thing to do. And you could tell he was touched."
On June 27, Salceto finally stood before Ferrari's grave and said that long-awaited goodbye. As a trumpeter played "Taps," he unpinned a medal from his jacket and laid it reverently on the headstone.
"I had gotten a Bronze Star for my actions [the night Ferrari died] with a 'V' for valor, and that was the medal I put on Dave's grave," says Salceto, pausing to fight back tears. "I thought he was more deserving of it than I was."
For the first time in years, Salceto felt at peace. His mission was accomplished.
Scroll to top