48 Hours in Boston: Where to Eat and Drink This Fall
When the leaves start changing colors, Boston stands out as one of the great cities to watch foliage turn from green to orange and gold. It's a sight best seen on foot, which means finding proper fuel is critical. Over the years, Cambridge and Boston have welcomed impressive new ventures from local chefs like Barbara Lynch, Joanne Chang and Matt Jennings, who've proven their skills at everything from concocting variations on traditional New England staples to building the city's reputation as a developing hub for creative cocktails. Catching foliage may be the reason for your visit, but there's nothing to ruin a good vacation like underwhelming meals and overpriced drinks. Here are the spots that won't let you down.
FRIDAY
To kick off any weekend trip to Boston, head to Alden & Harlow (40 Brattle St, Cambridge) for dinner. It's tucked away in a basement off the bustling Brattle Square, but once you're inside, you'll want to settle in for a while. A&H owns the innovative-preparations-of-vegetables game; there are very few places in the world that will make you as excited about broccoli, which they char and pile on top of a butternut squash hummus with crispy cashews. Chef Michael Scelfo's famed raw sugar pumpkin salad changes every autumn, and past variations have included jalapeños and Cotija cheese. Don't miss the pickled Verrill Farm corn pancakes with maple and shishito, either. If all those veggies have you craving red meat, A&H's "secret" burger has a cult following—but make sure to order early in the evening, because they run out.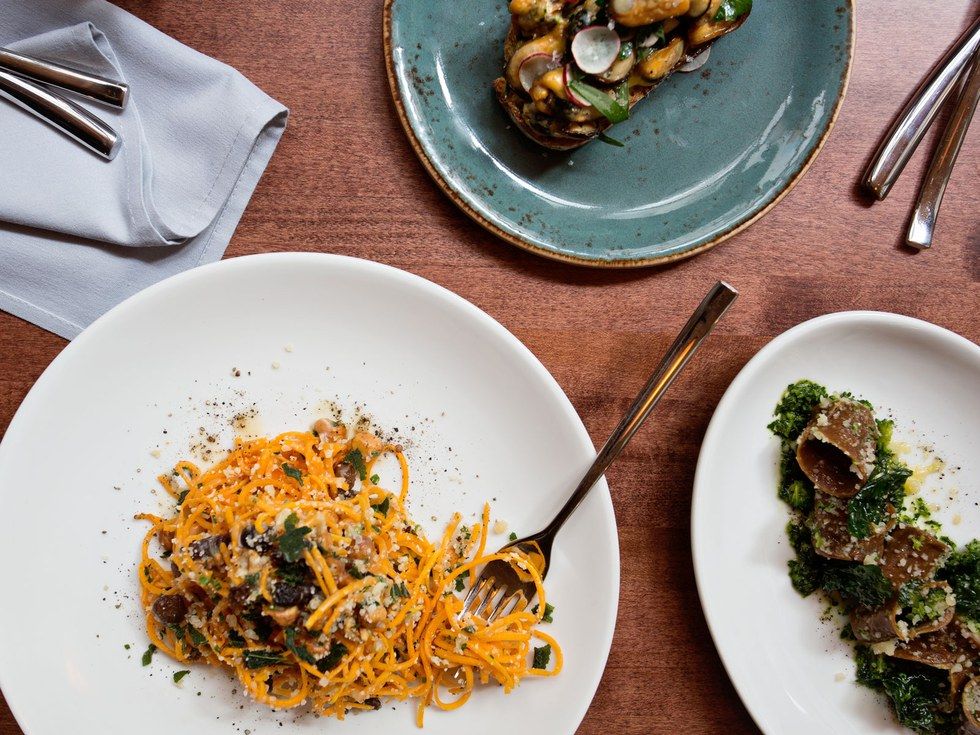 If you're staying around Harvard Square after dinner, you can't go wrong with Russell House Tavern (14 JFK St, Cambridge), beloved by Harvard faculty and of-age students alike. Their cocktail menu is expansive and ever-changing. For fall, try the 1836, which includes bourbon, rum and crème de cacao. Also, be warned: their fries are spectacular, and you might think you're ordering a plate to share, but you'll rethink that offer as soon as you dip into the tiny tub of aioli.
To venture further into Cambridge, hop on the Red Line just one stop to Central Square and check out Little Donkey (505 Mass Ave, Cambridge), which is always reassuringly packed. Order their rotating cocktail with tequila, St. Germain and Pacifico beer that comes served in a grapefruit, or the Bench Warmer, a tequila cocktail served in a pouch, Capri Sun-style. If you need some snacks to go with your drinks, Little Donkey rolls out a late-night eats menu between 11 p.m. and 12:30 a.m.; it includes edible cookie dough served on a beater with cacao chips.
SATURDAY
Before a long day of admiring the scenery across Cambridge and Boston, fuel up with a world-class brunch at Mamaleh's Delicatessen (15 Hampshire St, Cambridge.) Although it's only been open for a year, Mamaleh's has quickly become the darling of Cambridge. The decor is lifted straight out of the coziest diner from the town you grew up in, and the menu is packed with Jewish comfort foods, including matzo ball soup, latkes and bagels and lox. The kreplach, triangular little wontons filled with brisket and doused in chicken jus, are heavenly. You'll have to order a side of latkes to mop up the jus; these are not the kinds of fluids to waste.
With its imposing cement structures and businesses-only vibe, downtown Boston isn't exactly the liveliest part of town, but swing by to grab lunch at Townsman (120 Kingston St, Boston) Chef Matt Jennings is a native Bostonian, and he proudly shows off his roots in the grilled rabe with honey, crispy garlic and fermented chilies, as well as the roasted duck breast with flannel hash, pear butter and seared livers, a dish that may very well be the plated personification of a New England fall. Townsman is also one of the many Boston establishments that serves offerings from Mem Tea (196 Elm St, Cambridge), a local tea importer; the baked gaba oolong is a doughy, almost savory blend that seals off any hearty lunch or dinner. If you fall in love with Townsman's menu, chef Jennings' new cookbook Homegrown (out October 17) has recipes that reinvent New England favorites from steamed clams to pot roast.
After a day of walking across the city, Saturday night dinner must be filling and exciting enough to look forward to all day. That's where UNI (370 Commonwealth Avenue, Boston) comes in. Izakaya might not be the first thing that comes to mind when you think "fall," but with surprising dishes like the Shima Aji sashimi with smoked apple pie purée and pickled cranberries, and the barracuda nigiri with burnt ginger, pickled quince and pear ash, UNI is a stand-out for those looking to venture beyond the traditional definition of New England cuisine. Don't: miss the Korean rice cakes with kale oxtail, kimchee butter and gremolata. Do: let them make you a sake cocktail.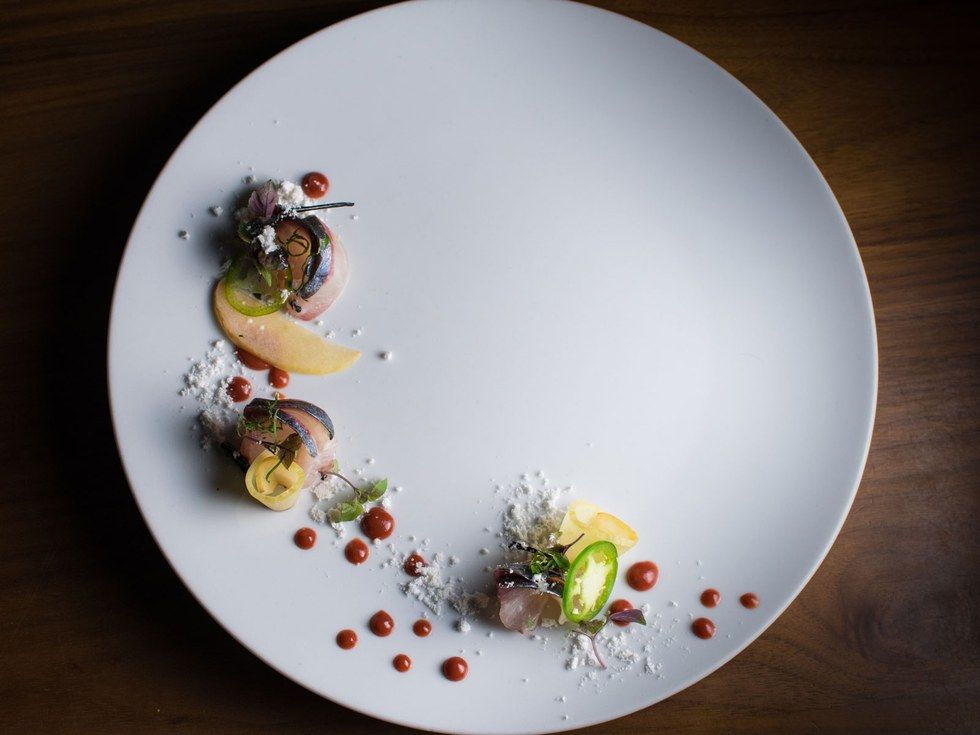 If you're craving a nightcap after UNI, hit up RUKA (505 Washington St, Boston), located in the heart of Downtown Crossing. Served in a champagne flute, the Peruvian Pearl includes shochu, bergamot and sparkling wine—it's so delicate and smooth that you'll suspect there's no alcohol in it, but there is … a lot. The salmon ceviche, with its layers of avocado, jalapeño potatoes and salmon (plus a convenient side of chips), is perfect for sharing with a group and soaking up all the cocktails you'll want to try once you've had the Peruvian Pearl. (The Sea and Smoke cocktail is brand new for fall: whiskey, yuzu, smoked tea and sake.)
SUNDAY
For your final brunch in Boston, try Tatte Bakery (70 Charles St, Boston) Owner Tzurit Or has five locations across Boston, Brookline and Cambridge (with two more on the way), and all of her locations are still packed every weekend morning and most weekdays. With good reason, you'll find the shakshuka with lamb meatballs and labneh on every other table, and you can't leave town without sharing their pastry basket, which will change how you think about brioche forever.
From Tatte, head to Saltie Girl (281 Dartmouth St, Boston), a Back Bay favorite that does New England seafood in a refreshingly unpretentious way. The small space doesn't take reservations, which means you'll probably be waiting for a bit. If you're trying to fit in as many stops as possible, pass the time by taking a quick ten-minute walk to Terra (800 Boylston St, Boston), Eataly Boston's brand new restaurant and bar. The highlight of their delightful cocktail menu is the Paper Plane, made with bourbon, Aperol, Amaro Nonino and lemon. When you get that call from Saltie Girl, rush back for the "salt and pepper" sweet bread nuggets with cauliflower and raisins, and add on the pan-roasted Nantucket Bay scallops served with pumpkin purée and pork jowl.
After sampling some of the best restaurants in Boston and their new offerings for fall, there's only one thing left to do: eat some excellent pasta. The North End is the city's most popular spot for Italian, and Pomodoro (351 Hanover St, Boston), with its warm service (by which we mean: complimentary crostini) and quaint atmosphere is a great finale to the weekend. Order the creamy mushroom rag with thick pappardelle, and remember to bring cash––they don't take cards.
Willing to travel even farther for the city's absolute best pasta? Giulia (1682 Mass Ave, Cambridge) between Harvard Square and Porter Square is worth the pilgrimage. The wild boar pappardelle and duck confit tortellini are impossible to choose between, so go with a friend and order both. The staff is so knowledgeable about wine pairings that you can't go wrong putting your fate in their hands. If you're thinking about burrata—of course you are—Giulia is the place to spring for that, too.
This article was written by Oset Babur from Food & Wine and was legally licensed through the NewsCred publisher network. Please direct all licensing questions to legal@newscred.com.
Calling all AvGeeks and travelers! Here's a fun way to take your next video call….from a United Polaris seat, the cockpit or cruising altitude. We're introducing United-themed backgrounds for use on Zoom, a video conferencing tool that many people are using to stay connected.
So for your next meeting or catch up with friends and family, download the app to either your computer or mobile device to get started. If you've already downloaded Zoom you can skip ahead to updating your background image (see instructions below).
Start here by downloading your favorite United image to your computer or mobile device. Just click "download" in the bottom left corner of the image.
Next go to your Zoom app (you'll need to download the app to access backgrounds) and click on the arrow to the right of your video camera icon in the bottom of the screen.
From here select, "choose virtual background" to upload your uniquely United photo.
When and where possible, we are working to repatriate travelers who are stranded abroad in the wake of the COVID-19 crisis. Our teams are working closely with government officials here in the U.S. as well as in other countries where flying has been restricted to gain the necessary approvals to operate service. In regions where government actions have barred international flying, we have coordinated with the the U.S. State Department and local government officials to re-instate some flights. Additionally, we have been operating several extra flights to countries in Central America and South America as we continue to play a role in connecting people and uniting the world.
We have operated more than 56 repatriation flights from Panama City, Guatemala City, Quito, Lima, San Pedro Sula, Tegucigalpa and Roatan, bringing nearly 8,000 people home. We will continue working with government officials to operate extra flights to Houston from Quito, San Pedro Sula, Tegucigalpa and from Lima to Washington Dulles and beginning April 5, we will begin operating multiple charter flights between Delhi and San Francisco. We continue to review more opportunities for flights between the United States and other countries to bring citizens home.
Video provided by the U.S. Embassy Ecuador of Americans returning home on United.

Additionally, our Customer Solutions and Recovery team is working with customers in the following markets to rebook them on flights back to the United States as capacity allows, either on our aircraft or on one of our airline partners' planes:

Quito, Ecuador
Managua, Nicaragua
Roatan, Honduras
San Pedro Sula, Honduras
Amsterdam
Brussels
Munich
Singapore
Tokyo-Haneda
Seoul, South Korea
Melbourne, Australia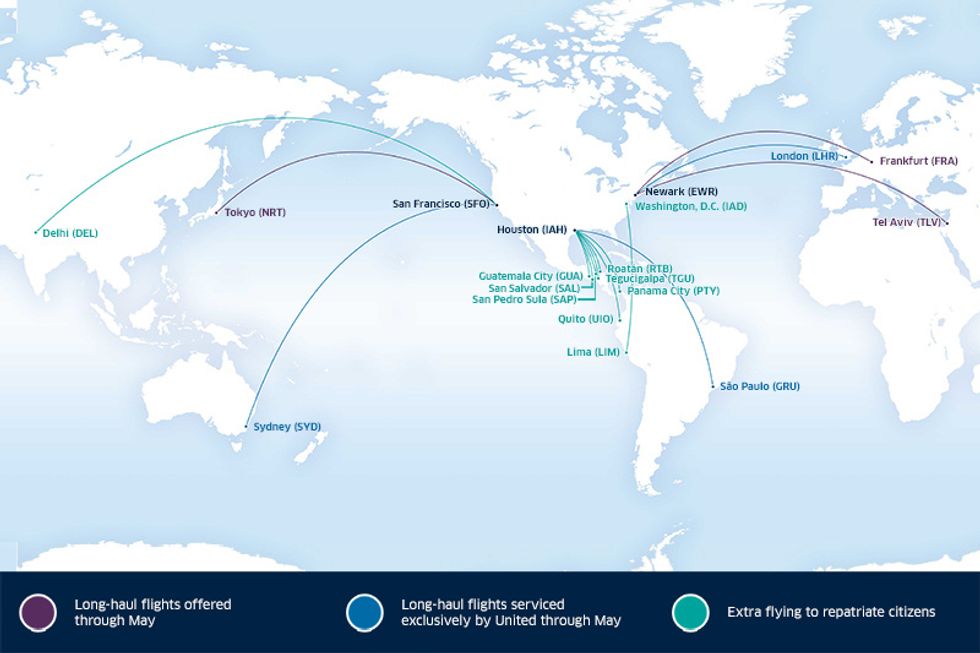 We also recently reinstated several international flights back into our schedule to support customers and essential businesses which depend on these routes. As a result, we will be the only airline to offer service between Newark/New York and London, San Francisco and Sydney, as well as Houston and São Paulo, Brazil.

In the midst of mobilizing our cargo operations, our teams at New York/Newark (EWR) and Jacksonville (JAX) stepped in to assist Roche Diagnostics with transporting a vital component for an instrument being used for COVID-19 testing.
The component was stuck at EWR en route to the Mayo Clinic in Florida after another airline's flights were cancelled. A Roche employee contacted us asking for help and, within a few hours, our teams had the piece loaded onto a Jacksonville-bound aircraft, with arrangements in place to deliver it to the Mayo Clinic.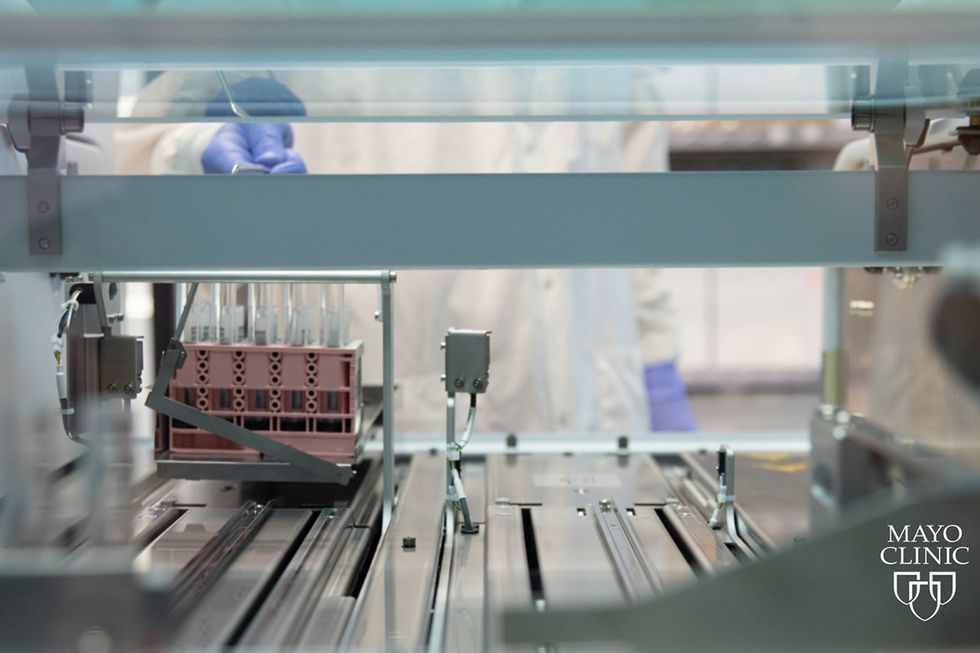 The item we shipped will allow the Mayo Clinic in Florida to process hundreds of COVID-19 tests per day. Mayo Clinic Laboratories has been on the front lines of increasing testing capacity to expedite caring for patients at this critical time and working to ease the burden being felt at test processing laboratories in a growing number of areas.

Together, we are facing an unprecedented challenge. United Together, we rise to meet that challenge.
Check out our newest destinations
United Airlines
united
We continue to work with government officials to bring Americans home. In addition to flights from Central & South America, we have charter flights planned from India. Learn more about our repatriation efforts in the wake of COVID-19 here:
uafly.co/3aExaOL
#UnitedTogether
United Airlines
united
When
@RocheDia
needed to ship a vital component of a COVID-19 testing unit from New Jersey to Florida, United Cargo jumped in to help. Read about how this part will allow
@MayoClinic
to process hundreds of tests per day for cases in the Southeastern U.S.
uafly.co/2UzOAGW
United Airlines
united
International schedule update: We know some people around the globe are displaced and still need to get home. We are reinstating some international flights over the next few days and will continue to fly six daily international flights through May.
uafly.co/3a5Dj6p
United Airlines
united
We have extended our change fee waiver to cover travel through May 31, 2020: - You can change or cancel your flight on
united.com
or through the app – a phone call is not required - For the latest on our commitment to your safety, visit
united.com/coronavirus
We Are United
weareunited
Shoutout to our operations team, who are working to properly park, maintain and store many aircraft in the
#BeingUnited
fleet. These aircraft are being housed across our seven hubs, maintenance facilities in CLE and MCO as well as at offsite facilities in New Mexico and Arizona.
We Are United
weareunited
Tomorrow, Oscar and Scott will host a companywide town hall to discuss the latest developments in managing the effects of the coronavirus (COVID-19). You can join the livestream event at 1:20 p.m. CT here:
uafly.co/39AV25m
We Are United
weareunited
Tomorrow, Oscar and Scott will host a companywide town hall to discuss the latest developments in managing the effects of the coronavirus (COVID-19). You can join the livestream event at 1:20 p.m. CT here:
uafly.co/39AV25m
.
Watch our most popular videos
Copyright © 2020 United Airlines, Inc.
All rights reserved.
Indicates an external site that may or may not meet accessibility guidelines.
Scroll to top
Scroll to top