48 Hours in Raleigh: Where to Eat and Drink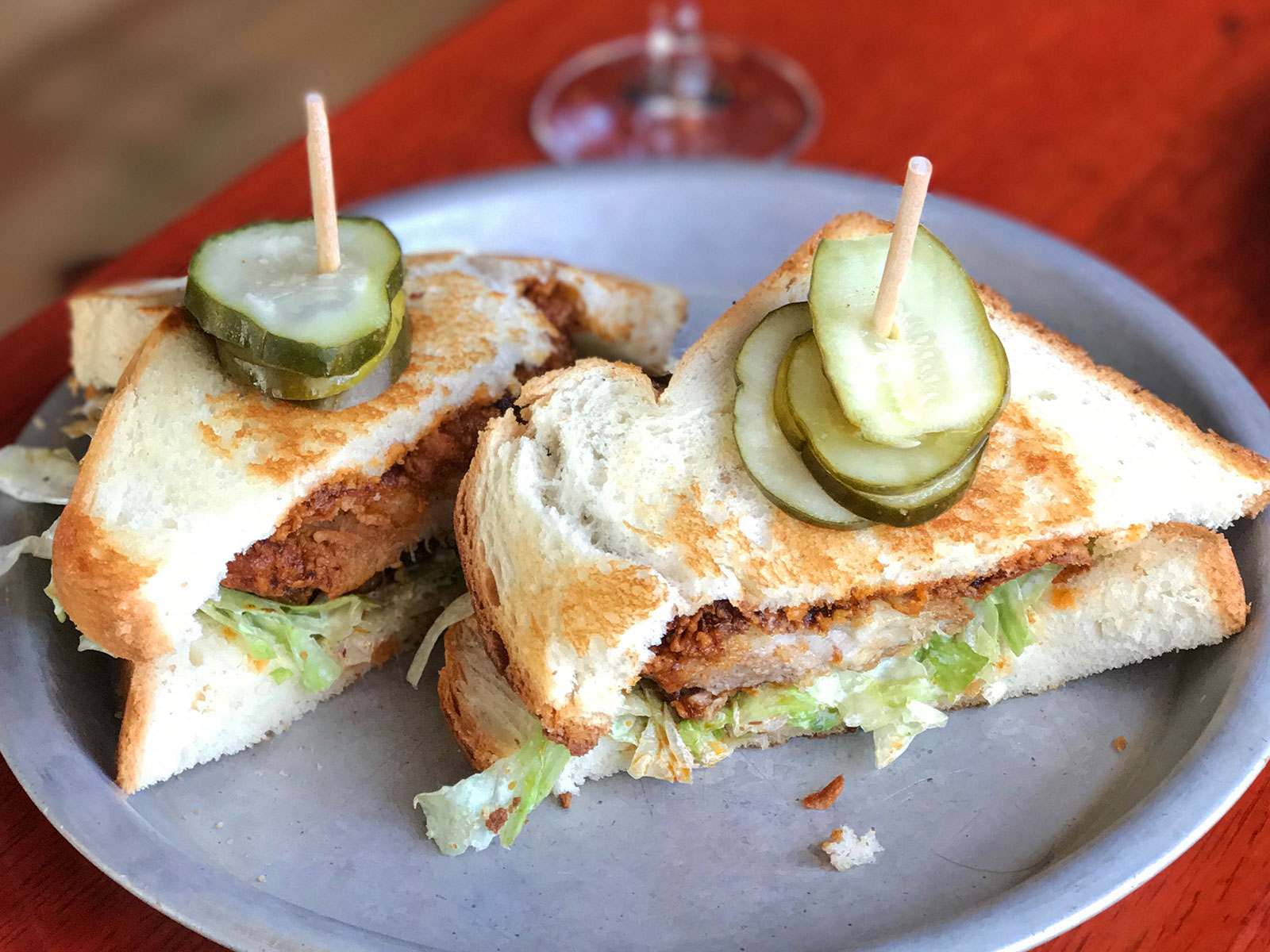 As North Carolina's capital city, Raleigh has it all: a thriving downtown, several notable music venues, sports teams for days, an exploding arts community and, as of late, a growing culinary scene that rivals its neighboring Southern cities—going way beyond shrimp and grits, biscuits and pimento cheese.
Most visitors tend to sandwich Raleigh and Durham into one area simply because of the airport's name, "Raleigh-Durham International Airport," but let it be known that Raleigh has a shining personality of its own—and quite frankly, some of the most notable chefs in the South who continue to pave the way. "It's such an amazing time for food in Raleigh," says chef Ashley Christensen. Poole's, Christensen's first restaurant situated in downtown, will celebrate its 10-year anniversary on December 13. "In that time, we've seen a real boom of new restaurants with unique perspectives that have really enriched our community," she adds. "It's been tremendously energizing as a chef. We used to look beyond Raleigh for inspiration—to big cities like New York or San Francisco—but these days we have so much to inspire us right within our own city."
If that's not enough to prompt a quick trip to Raleigh, well, here's a 48-hour eating and drinking guide that will.
Day one
With so many direct flights into RDU daily, you should have no problem arriving shortly after noon, if not earlier, to start the weekend off right. Head directly downtown for one reason only: Christensen's hyped fried chicken and a glass of Champagne at Beasley's Chicken + Honey (237 S Wilmington St.). Whatever you do, don't forget to order a side of pimento mac-n-cheese custard—it's worth every calorie consumed. Just around the corner is 42 & Lawrence (134 E Martin St.), a science lab-meets coffee shop, where a pick-me-up is in store. The draft latte, crafted with locally sourced milk, cold brew and house-made vanilla syrup, resembling the "creaminess of a milkshake," is all the rage—or sip on a refreshing coffee soda if the weather permits. A brisk stroll downtown is mandatory to survive the remainder of the day.
Brewery Bhavana (218 S Blount St.) is anything but an ordinary brewery. Co-Owner Van Nolintha and head brewery Patrick Woodson brought to life a beautiful space that serves as a brewery, dim sum restaurant, book store and flower shop, all in one. Sit at the gorgeous marble top bar and throw back a "Grove," the most delicious, cloudy Double IPA you'll ever taste. Order the scallion pancakes and don't share with anyone. Trust us, you'll want to slurp up every scoop of oxtail and bone marrow as you weep for joy (plus a few steamed buns and dumplngs). Nolintha also owns Bida Manda next door, one of the country's very few Laotian restaurants. If time allows, peek inside and order the best pina colada in the South. The secret? It's made with fresh juice and coconut cream.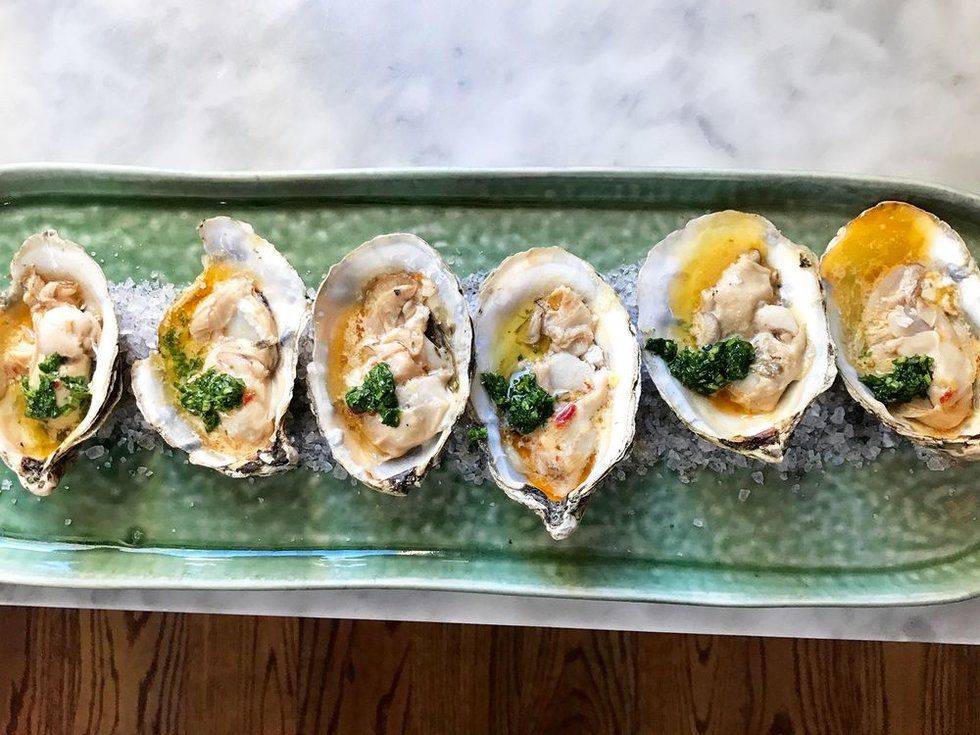 Once hunger strikes, make your way to Death & Taxes (105 W Hargett St.), Christensen's latest outpost with a focus on wood-fired cooking. Roasted oysters, grilled North Carolina fish and embered veggies will leave you feeling giddy inside. Watts & Ward (200 S Blount St.), a swanky underground speakeasy, is an exceptional place for a proper Negroni and jazz music after dinner. Andust down the street, Gallo Pelón Mezcaleria (106 S Wilmington St.), North Carolina's first mezcal-centric bar, offers an award-winning list of rare mezcals and an innovative cocktail list.
Day two
Look no further than Big Ed's (220 Wolfe St.), a downtown staple since 1989, for a quintessential Southern breakfast. Salt-cured country ham and red eye gravy served alongside fresh tomatoes, eggs and a mouthwatering homemade buttermilk biscuit is a combination you won't soon forget. On the sweeter side, hot cakes (pancakes) the "size of a hubcap" made with cake batter exist and are everything you'd imagine.
For beer geeks, spend some time getting hungry again while making your way through Raleigh Beer Garden's (614 Glenwood Ave.) entire room dedicated to North Carolina beers. If you're lucky, they may even have Foothills Brewing's Sexual Chocolate Imperial Stout, a beer that sells out in Winston-Salem the day it's released. And if the sun's out, the rooftop garden is the perfect place to throw back a few cold ones.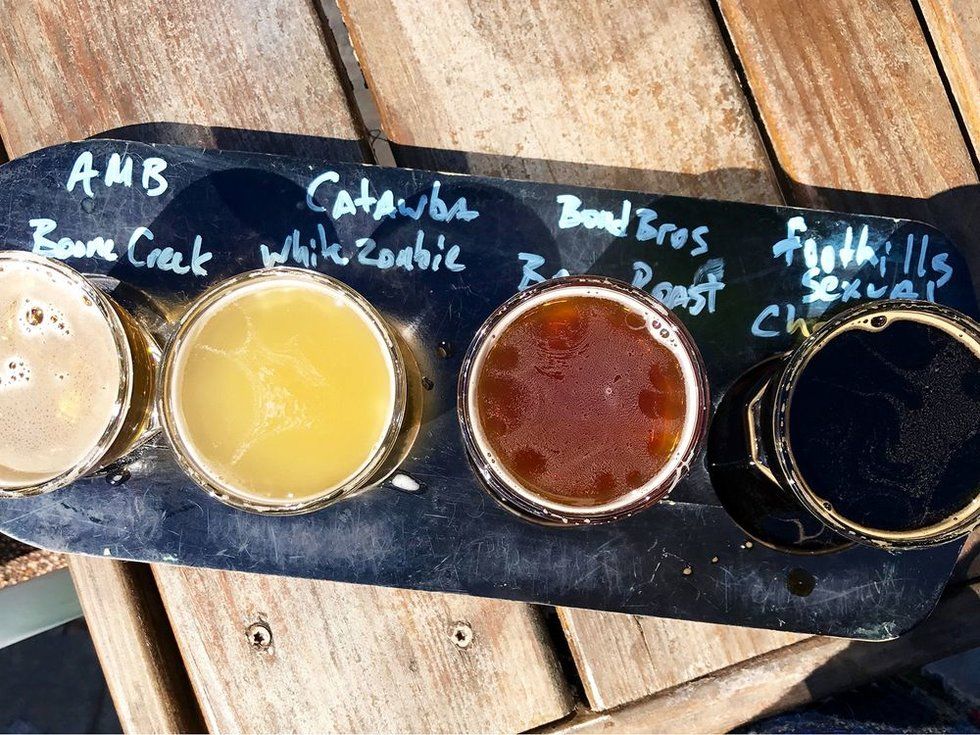 Tonight's dinner is a toss-up between Scott Crawford's Crawford and Son (618 N Person St.) and Steven Devereaux Greene's eight-course Kaiseki tasting menu at Herons (100 Woodland Pond Dr.). The decision making is simple; casual and cool or fine dining? We'll let you decide your dinner fate based on the below:
Scenario one. Venture to Raleigh's historic Oakwood neighborhood and post up at The Station (701 N Person St.), housed in an old Amoco gas station, for pre-dinner libations and a charcuterie board. Crawford & Son is just across the street, so mosey over when its time. Note that reservations are strongly recommended for this hotspot. Start with a "Lemongrass Gimlet" and order everything under the "raw" section. No, seriously, do this now. The Yukon potato chowder with crispy oysters and ham; Kabocha squash with mushrooms and farmers cheese; and cornbread pudding with onion marmalade and pecans showcase Crawford's seasonal and down-home approach to cooking. But save room for dessert, the olive oil cake with goat cheese is out of this world. Just next door, William & Company (616 N Person St.), specializing in locally sourced cocktails, will satisfy all post-dinner nightcap cravings.
Scenario two. Herons, located in the Umstead Hotel and Spa in neighboring Cary, is arguably one of the most immaculate dining experiences in all North Carolina. Executive chef Steven Devereaux Greene concocts whimsical, gastronomic bites that tell a story through taste and texture, so you'd be a fool not to explore his eight course Kaiseki menu. The 62-degree egg with grit chips and uni is a mainstay for obvious reasons, but each dish and presentation will delight and surprise every step of the way. Bonus: on the way to Herons, stop at La Farm Bakery (4248 NW Cary Pkwy.) to score a few of baker Lionel Vatinet's coveted white chocolate mini baguettes.
Day three
Rise and shine, as you've still got a few more spots to hit. Start strong with the "Pedro," a giant, fluffy biscuit filled with house made chorizo, egg, avocado, ranchero sauce and habanero cheddar from The Pharmacy Cafe (702 North Person St.), where you can also pick up your prescription drugs. It's wise to use the top portion of the biscuit as a vehicle for house made jams via the jam bar. Next, hit Videri Chocolate Factory (327 W. Davie St.) and sip on a frozen hot chocolate while shopping for the best edible souvenirs around.
A departure lunch at Garland (14 W Martin St.), helmed by James Beard Award-nominated chef and musician Cheetie Kumar, is a no-brainer. Sip on the "Dalai Palmer," Kumar's take on an Arnold Palmer, while noshing on flavorful warm hummus, a pork loin bahn mi and a spicy chili peanut cucumber salad. It's the most delicious and not-too-aggressive way to end any trip to Raleigh.
This article was written by Jenn Rice from Food & Wine and was legally licensed through the NewsCred publisher network. Please direct all licensing questions to legal@newscred.com.
On March 19, 2020, United operated its first flight carrying cargo without passengers on board. While the passenger cabin was empty, its cargo hold was completely full, carrying more than 29,000 pounds of commodities from Chicago O'Hare International Airport (ORD) to Frankfurt Airport (FRA).
A year later, United Cargo has operated more than 11,000 cargo-only flights carrying more than 570 million pounds of freight. To support the COVID-19 pandemic recovery efforts, United Cargo has also transported more than 113 million pounds of medical and pharmaceutical products on both cargo-only and passenger flights as well as approximately 10 million COVID-19 vaccines, providing global communities access to the items they have needed most.
"At the beginning of the pandemic, we knew we were uniquely positioned to utilize our widebody aircraft and our network to keep commodities moving, so we quickly mobilized various departments throughout the airline to launch a cargo-only network of flights that would keep commodities moving," said United Cargo President Jan Krems. "Thanks to those efforts, United Cargo has delivered millions of items to countries all around the world. We would not have been successful without the steadfast support of our employees, industry partners and our customers."
Since last March, United Cargo has transported almost 850 million pounds of freight on cargo-only and passenger flights. The airline will continue to monitor market trends adjust its cargo-only flight schedules to help ensure we are meeting our customer's evolving shipping needs.
Whether you haven't flown with us for a while or just need a quick refresher before your spring trip, read this list of tips to know before your flight and arrive at the airport travel-ready:
1. Download the United app for contactless bag check, travel assistance and more
Before your flight, download the United app to view your flight status, check in, sign up for flight notifications, locate departure gates, access our free personal device entertainment when available and more. We've also updated our app with new features that can make your trip a little safer, including contactless bag check.
Don't forget to use Agent on Demand for help with any and all questions you may have before your flight. This new capability is available at all our U.S. hub airports and allows you to use your own mobile device to contact a customer service agent via phone, video or chat to help with day-of-travel questions while you're at the airport. Learn more about Agent on Demand here.
2. Check out the Travel-Ready Center
Our Travel-Ready Center makes it easy to get a personalized overview of everything you need to do in preparation for your flight. Just enter your confirmation number or MileagePlus® number and you'll find detailed information on all the documents, tests and more that you'll need for your trip.
3. Read and sign the Ready-to-Fly checklist
Before completing check-in, all United travelers will need to read our Ready-to-Fly checklist and confirm that they understand and agree to our policies. These include:
Acknowledging that you haven't had any symptoms of COVID-19 in the last 14 days
Agreeing that you will not fly if you have tested positive for COVID-19 within the last 21 days
Confirming that you will follow all policies regarding face masks, social distancing and other health and safety measures we've adopted
4. Arrive early; avoid the stress
Airports can be busy, especially during peak travel periods like spring break season. The TSA advises arriving at the airport two hours before your flight for domestic travel and three hours for international travel in anticipation of long security lines. This can help ease the stress when navigating busy check-in areas, security lines and crowded boarding gates.
5. Get familiar with CleanPlus
United CleanPlus℠ is our commitment to delivering industry-leading cleanliness as we put health and safety at the forefront of your experience. We've teamed up with Clorox to redefine our cleaning and disinfection procedures and Cleveland Clinic to advise us on enhancing our cleaning and disinfection protocols, like:
Disinfecting high-touch areas on board and in the terminal
Using electrostatic spraying, Ultraviolet C lighting wands and more advanced measures to clean aircraft cabins before boarding
Redesigning our mobile app to allow for touchless check-in and contactless payment, along with enhanced travel assistance features
Implementing high-efficiency (HEPA) filters on our aircraft that completely recirculate cabin air every 2-3 minutes and remove 99.97% of airborne particles, including viruses and bacteria
Studies show COVID-19 exposure risk is minimal when air filtration systems and masks are in use, so you can rest assured that the steps we've taken to keep you safe truly make a difference.
6. Wear your mask
Federal law requires all travelers to wear a face mask in the airport, including customer service counters, airport lounges, gates and baggage claim, and on board during their entire flight. Make sure you review the requirements for face masks, including what an acceptable face mask looks like.
7. Get ready for a safer boarding process
To make boarding even safer, we now have travelers board their aircraft from back to front. At the gate, just listen for your row number to be called – we'll ask a few rows at a time to board, starting with the last row of the plane. This helps everyone maintain a safe distance from each other during boarding without slowing things down. As you step onto the plane, flight attendants will hand each passenger a sanitizing towelette, which you can use to wipe down your seat to ensure it's extra clean.
8. Pack smart
Before packing your bags, check to see what exactly you can carry on and what you should plan to check. You can also copy your confirmation number into our Baggage Calculator tool to learn about the bag allowance included with your reservation, as well as the cost of checking any additional bags.
9. Check your flight status, important notices and weather
Check the United app regularly for the latest updates on weather conditions, flight status, gate numbers and seat assignments. You can also visit our Important Notices page to find essential information and updates about travel waivers, international travel, TSA and security, airports and United Club locations.
10. Relax and enjoy your flight
Once you're on board, it's time to sit back and enjoy your flight. Our flight attendants will be happy to help you with anything else you need.
This week, we were honored to become the first U.S. airline to join the UNICEF Humanitarian Airfreight Initiative to combat the COVID-19 pandemic by transporting the vaccine and other critically needed supplies to underserved areas of the globe.
"We are committed to helping the global community in any way we can, and we all must work together to do our part to bring this health and humanitarian crisis to an end," said Director of Cargo Specialty Products Manu Jacobs.
We will leverage our expertise to transport these critical pharmaceutical and healthcare shipments around the world safely, efficiently and expediently. We are proud to partner with the United Nations to support this global effort and provide equitable access to COVID-19 vaccines.
Scroll to top