5 ways to pack smarter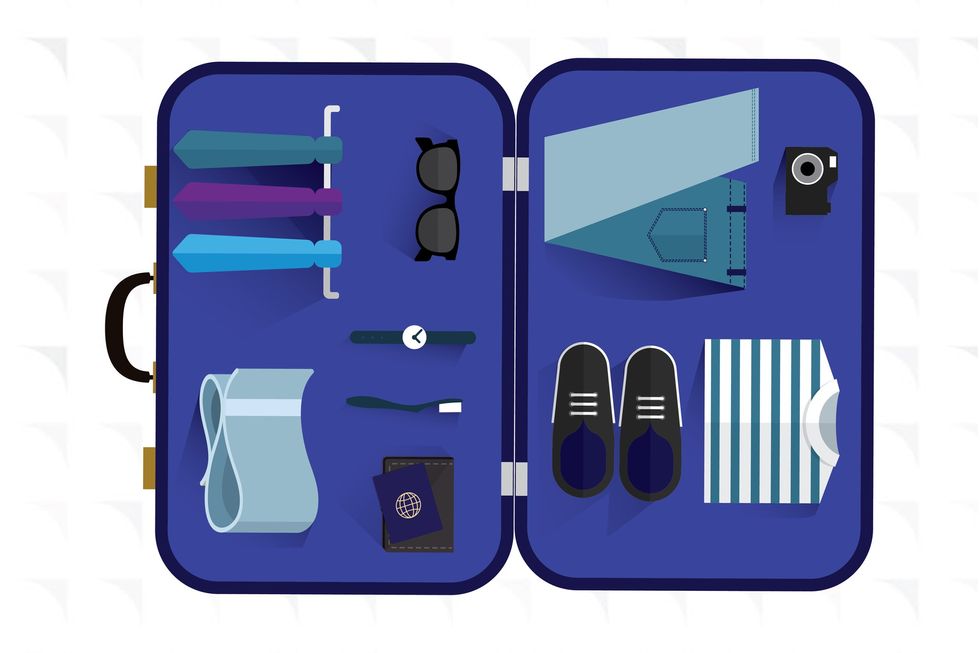 Going on a trip soon? Follow these packing tips so you can worry less about what to bring and focus more on what you'll be doing once you reach your destination.
1. Less is more
The pros know you can pack up to three weeks' worth of clothing and toiletries in a carry-on if you plan accordingly.
2. Don't fold — roll
Rolling clothing items saves space and allows you to see everything you packed with ease. Plus, your clothes are likely to have fewer wrinkles once you get to your destination.
3. Use every nook and cranny
Make use of every inch of space in your suitcase. For example, save space by stuffing rolled-up socks in your shoes.
4. Keep the important stuff close
Original travel documents such as visas and passports should be carried in a bag on your person while traveling. Make extra copies of these documents and stash them in your luggage just in case.
5. Mix and match
Triple the number of outfits you bring by packing pieces of clothing that can be rearranged and worn with one another. This goes for shoes and accessories, too.
For more helpful packing tips, visit our baggage information center.
Megan Hansen grabbed the hand bag under her seat, looking to put away her book. Instead, she found a gut-wrenching problem. Her engagement ring wasn't on her finger. Barely two months after her now-fiancé, Philip Walker, had placed it there, it was gone.
"I was an absolute wreck," Hansen says. "My parents, sister and her boyfriend were traveling with us and their support helped a lot, but I was pessimistic. It's a really nice diamond ring, so I thought there's no way someone would turn it in."
Making matters worse, after searching the United plane the group flew to John Wayne Airport to no avail, Walker admitted he hadn't insured the ring. Thursday was not exactly a magical start to a long weekend with family at Disneyland.
---
Cheryl Searle can illuminate an entire terminal with her infectious positivity and never-ending desire to put smiles on customers' faces. A senior supervisor for United Airlines at its Denver International airport, Searle was particularly chipper when she showed up to work, since she was planning to celebrate Valentine's Day by surprising customers with goody bags full of sweets.
A couple hours into the work day, a coworker told her about an engagement ring that'd been recovered near Gate 33. A missing item claim had been filed, a match found, and customer confirmed. The customer would be flying back to Denver on Sunday.
'Happy ending, but we can make it an even happier ending,' Searle thought to herself.
After getting the green light from her boss, Searle and customer service representative Nancy Swingle boarded the next United flight to Orange County, California to make a surprise Valentine's Day delivery.
---
Hansen woke up distraught Friday morning. She hadn't heard from anyone about the ring and she was convinced she'd never see it again. Her finger felt empty, so she googled potential replacements she could buy herself. Hansen's mother, sensing her daughter's heartbreak, bought a ring from the Disney store so that Megan could have something on her finger again.
That placeholder helped, and the family headed into Disneyland. While at the Star Wars: Galaxy's Edge area, Hansen got an incredibly uplifting call: her ring had been recovered at the Denver airport, and United would hold on to it for her to pick up on Sunday.
"United made my Valentine's Day," a relieved Hansen exclaimed. Shortly after, her fiancé's phone rang. Cheryl Searle was on the other end.
---
Everyone knew, except for Hansen. Even Mickey and Minnie Mouse. Searle and Swingle, with the help of Disneyland, Hansen's fiancé and her father, had devised a ring reunion plan for Friday night's fireworks show. Hansen and family arrived for the show and went directly to a VIP viewing area.
"Weird, but my Mom must have talked our way into here, since that's something she'd do," Hansen recalled thinking. A few minutes later, Searle and Swingle approached Hansen, in the shadow of Sleeping Beauty Castle. "I thought they were Disney employees," Hansen said. "I'm thinking to myself, 'Oh no, what did I lose now? Did I leave my wallet somewhere?'" Then Searle revealed a small box in her right hand.
"We know you are already in the happiest place on earth," Searle told her, "but we think we are about to make you just a little bit happier."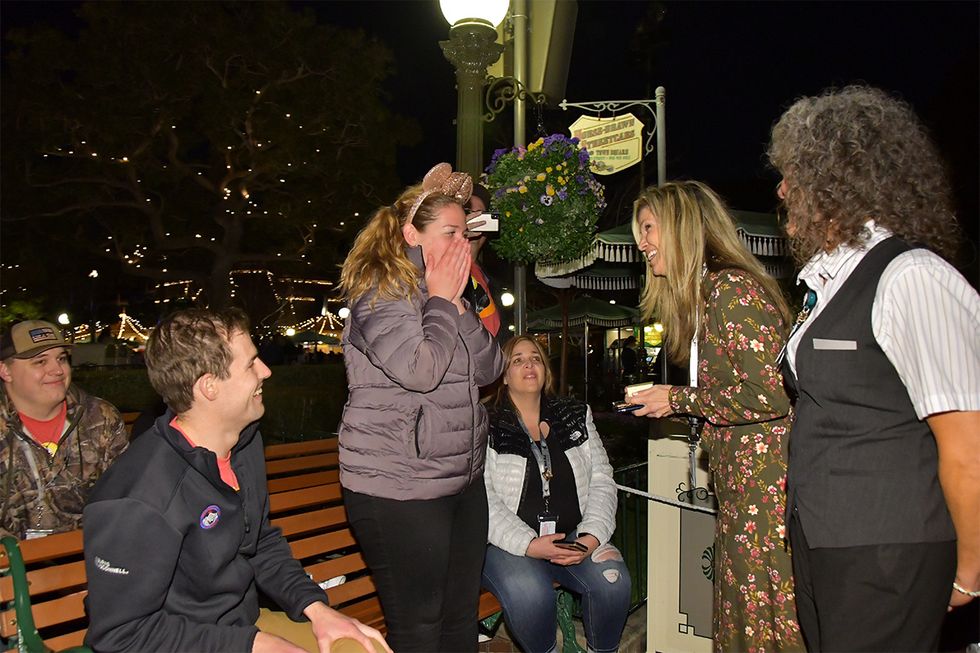 Cheryl and Nancy pictured with Megan and Phillip at Disneyland
Searle handed the ring to Walker, who got down on one knee and re-proposed. Those nearby cheered, thinking they'd just witnessed the couple get engaged. Disney arranged for Mickey and Minnie to pay the family a visit, too.

"I have so much gratitude for Cheryl, Nancy and everyone else at United who was involved with this truly surreal experience," Hansen said. "They took what was this highly stressful, awful moment in my life and turned it into a great experience and made me feel like I truly mattered. And that's special."
For Searle, Swingle and their United colleagues in Denver, it was mission accomplished.
"Customer Service is all about doing the right thing and taking care of our customers like we would want someone to take care of our own family," Searle said. "I felt utter pride knowing that her ring was home with her, where it belonged, especially on Valentine's Day.
"Seeing the reunion unfold, from the planning phases to the deployment, it gave all of us reason to believe in happy, fairytale endings. Dreams do come true."
This past December, we launched our first-ever nonstop service by a U.S carrier between New York/Newark and Cape Town. Here are some of the best spots to get the perfect 'gram.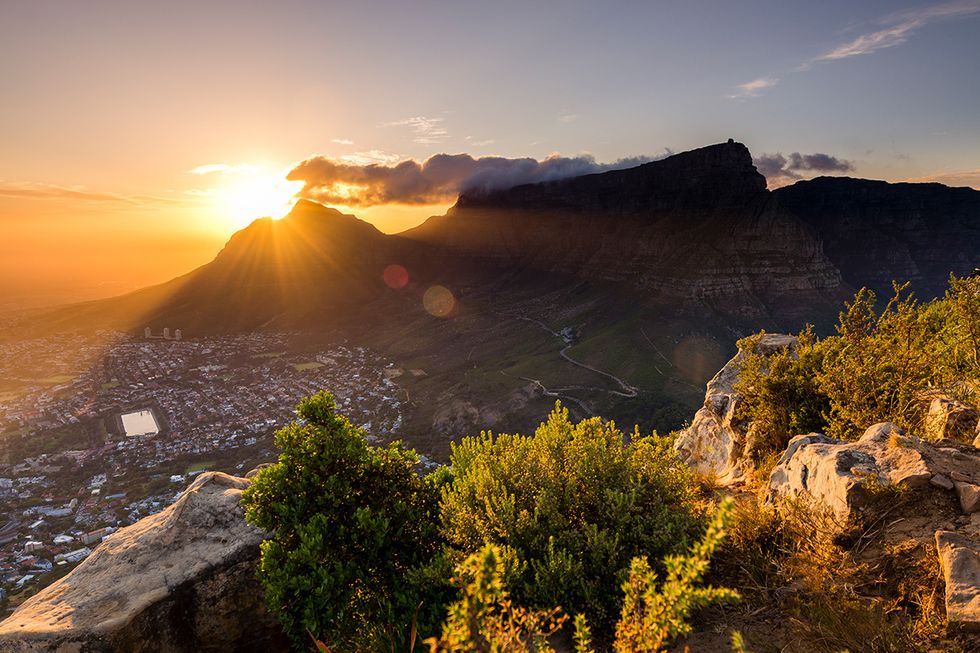 Cape Town and Signal Hill
Signal Hill

The views are stunning from Signal Hill, easily reached from downtown via car, tour bus, local bus or on foot. From this hilltop perch, you can gaze down at the city, Cape Town Stadium (home of the 2010 World Cup), Table Bay, the harbor and the ocean. Then look up to admire the rest of the mountains that comprise Table Mountain National Park, including iconic Lion's Head (Signal Hill is sometimes called Lion's Rump). Visit anytime, but especially at noon, when a cannon fires daily, or at sunset, when crowds gather to watch the sun disappear into the Atlantic.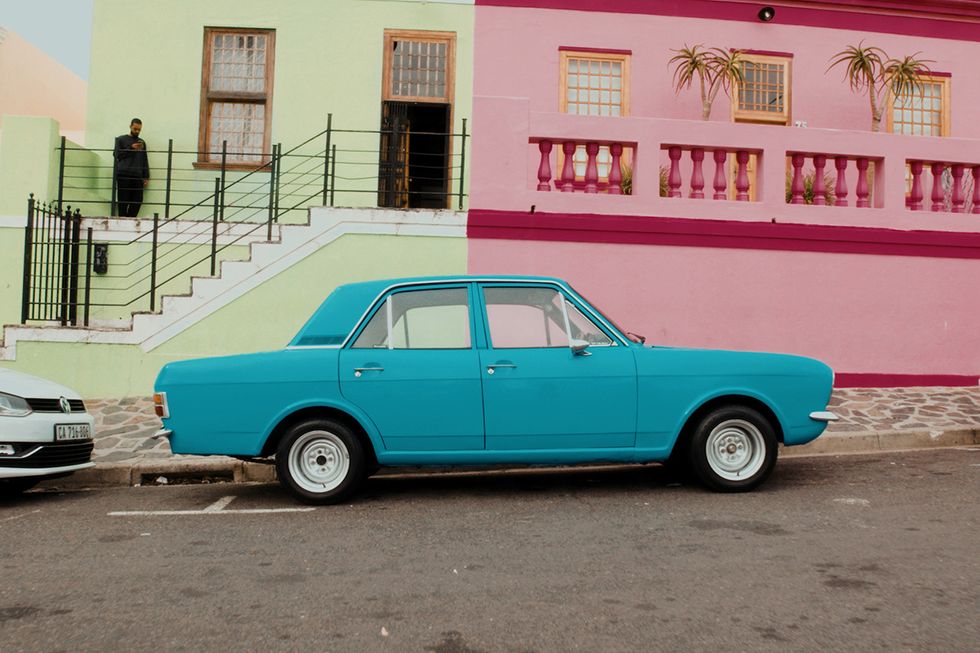 Cape Town Bo Kaap Colourful Historic Area
Bo-Kaap

Sandwiched between Signal Hill and downtown Cape Town, Bo-Kaap is known for its multicolored homes and its multicultural history. Also called the Malay Quarter for the many Malaysians brought in during the slave trade, the former township is lined with 18th-century homes, Muslim shrines, South Africa's first mosque, and a museum. As the largest concentration of pre-1850 buildings in South Africa, homes in Bo-Kaap are painted in a rainbow of colors along cobblestone streets — the perfect background for selfies.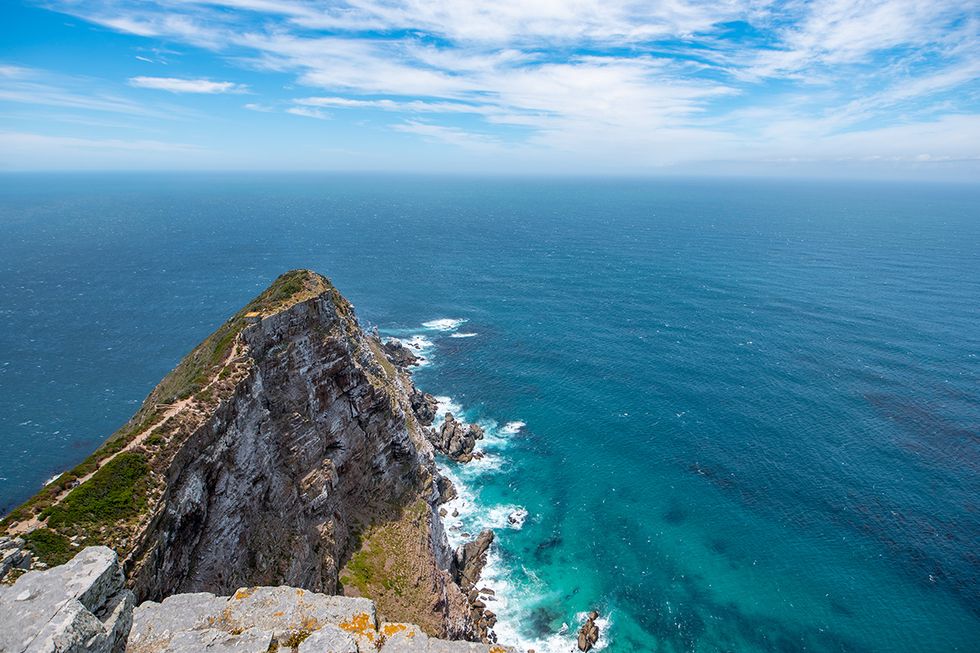 Cape of Good Hope, Cape Peninsula, South Africa
Cape of Good Hope

The Cape of Good Hope (aka Cape Point) on the southwestern tip of the African continent is a place of cliffs, crazy winds and crosscurrents that combine to create raucous waves on the Cape's beaches and rocky shoreline. The Cape is home to more than 1,000 plant species and animals, including ostriches and hundreds of wild baboons — and just offshore, dolphins and whales. The Cape is part of Table Mountain National Park and is a UNESCO World Heritage Site. It may be at the bottom of the world, but it's at the top of many must-see lists for Cape Town visitors.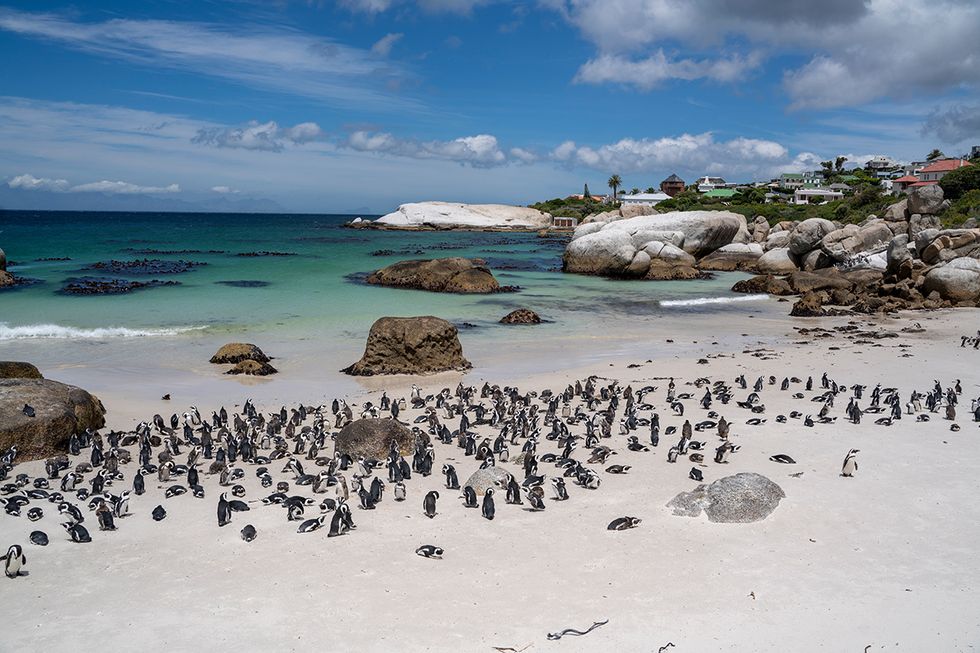 African penguins in Simon's Town at Boulder's Beach
Boulders Beach

Some of the estimated 2,500 African Penguins at Boulders Beach are so unafraid of human visitors that they waddle right up to them for a closeup — awww! — and let loose with the braying sound that inspired their former name, Jackass penguins. Even from the beach boardwalks, you can waddle plenty close to them. Few places on the planet offer a chance to see penguins without going to a zoo or bundling up for arctic cold, and it's a perfect rest stop on the stupid-scenic coastal drive from Cape Town to the Cape of Good Hope.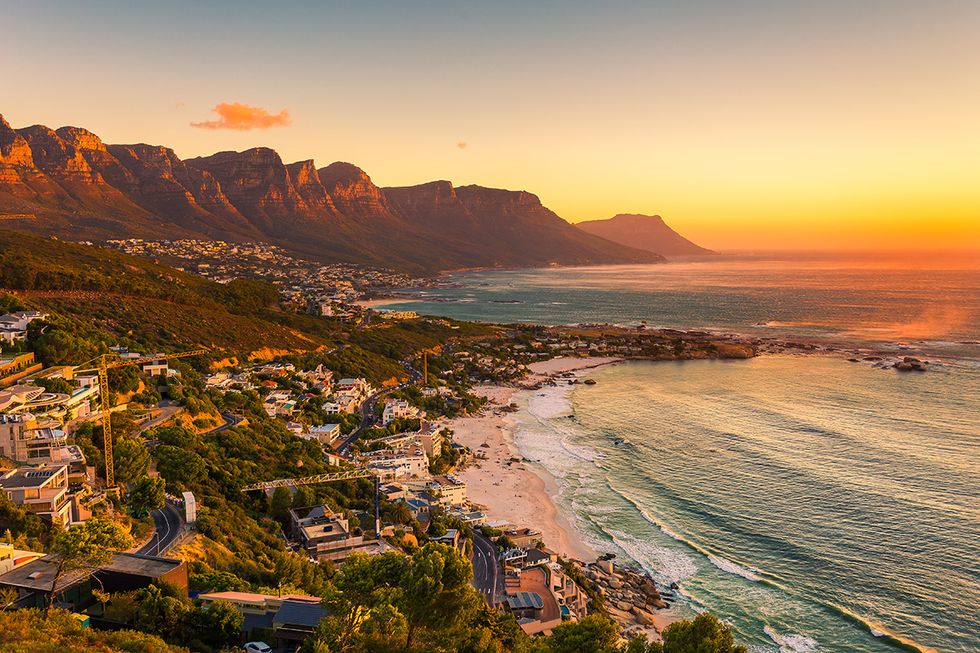 Clifton Beach at sunset
Clifton

Cape Town's affluent seaside suburb of Clifton offers some of the city's best spots for picnicking and picture-taking. Paths and narrow stairways lead you down from town to the sugar-sand beaches — four of them, each separated by large, climbable boulder piles — which have been ranked among the world's best. Each beach has its own constituency: surfers, families, students, and LGBT beachgoers.

If you go
Flight reservations can be made at united.com or on the United app for any of the three weekly nonstop flights between New York/Newark and Cape Town. Use MileagePlus® miles to reserve a hotel, rental car or both.
Carole Cary-Hopson, Newark Liberty International Airport Boeing 737 First Officer, remembers how it felt piloting her first United flight.
"Shivers" she recalled. "I felt as if this is what dreams are made of. Every single time I come to work, I feel that way."
"That way" was 14 years in the making for Carole. "What dreams are made of" dates back to her childhood in Pennsylvania and frequently visiting her grandma's home in south Jersey that was right by the Philadelphia airport.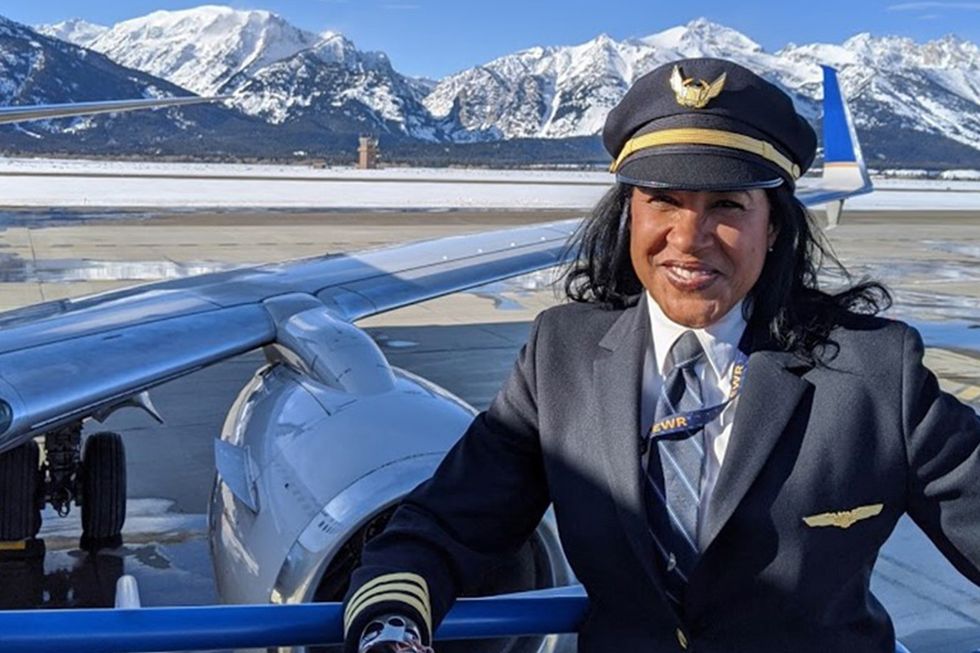 "We would go and lie in the grass by the airport and note the colors of the planes coming in and leaving, how many would come through at a time; we made graphs," said Carole. "I was fascinated by it."

As Carole grew up, she held on to that fascination, but an undergrad and master's degree later, she found herself successfully climbing her way up the corporate ladder, from the NFL to Footlocker. As her duties and roles continued to evolve and grow, Carole observed that she was always on an airplane. In fact, it was on a work trip where that observation and her life-long fascination came full circle.
"I was on a KLM flight and the pilot noticed me looking around and observing everything," she said. "So, he offered me the jumpseat and proceeded to teach me everything across the North Atlantic trip. It was then and there I realized, 'I can do this.' It all came together in my head."
Not long after that flight, Carole went on a date with a man who she now proudly calls her husband.
"I told him on that date, 'I have something to tell you and if you laugh at me about it, I'll never see you again,'" said Carole. Carole proceeded to tell him about her dream of becoming a pilot. A few weeks after that date, he handed her gift certificates to attend a flight school right outside of Manhattan.
From there, Carole moved roles in her corporate career once more, taking a job with L'Oreal where she socked away her paychecks to save up for flight school. In the meantime, she began to network in the aviation world, attending events through Women in Aviation and the Organization of Black Aerospace Professionals (OBAP). It was there she met her mentors, one being American Airlines Captain Jenny Beatty who handed her a mug of Bessie Coleman, the first woman of African-American and Native-American descent to hold a pilot's license.
"I stood on that crowded convention floor with Jenny and Bessie at that time and just bawled," said Carole. "I kept asking myself how I could be an Ivy League graduate and had never heard of her. At that moment, I wanted to do something with her story."
Thus, along with training, becoming a pilot and raising a family, Carole began writing a historical fiction book on Bessie, a woman who had to go to France to learn how to fly because no one would teach her in the U.S. Today, the book is near completion and once finished, 25% of the proceeds will go toward the Lt. Colonel Luke Weathers Flight Academy, an organization within OBAP that aims to grow and diversify the future pilot pipeline.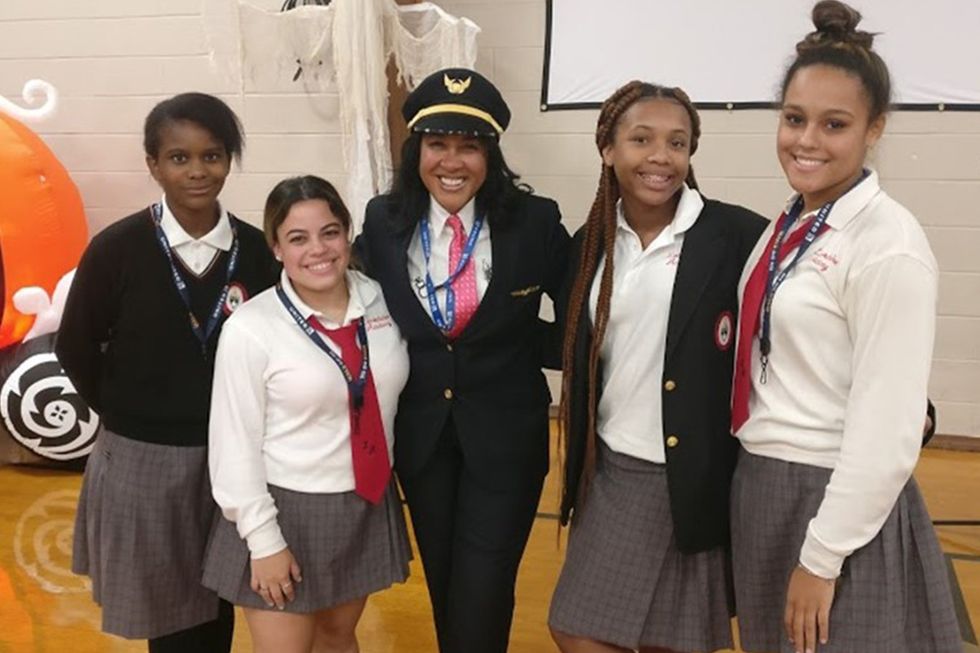 "I hope Bessie is smiling down and has forgiven me for taking so long on writing this book," said Carole. "She continues to provide me with guidance and being an example of determination. I know she would tell me to keep going and to not even dare to stop."

Well, as if Bessie already doesn't know, stopping doesn't seem to be in Carole's vocabulary.
"When you have a goal, there are a series of definitive steps," said Carole. "Each one is important and sometimes, they take many years to reach. But each one of those goals I had in the past were steps that got me to flying."
And Carole's next step?
"Continue to fly and finish Bessie's book," said Carole. "And once the book is finished, the goal is a movie and then sending 100 black women to flight school. With the numbers being only 1-2% African-American's flying, we need to fix that, and I intend to!"
Scroll to top