6 movies that will inspire you to travel
Films transport you to a different time and place as they tell their tales. Sometimes they take you to the last place on earth you'd ever want to be. But sometimes, the backdrop you're watching ends up overshadowing the leading stars. They make you pine to be right there, wherever 'there' may be, soaking up the sun or sucking up the culture.
In celebration of those moments, allow us to present six of the most awe-inspiring movie locations around the globe. Our selections may not necessarily be movies on your watch-list, but all 6 should have you reaching straight for your passport. Rest assured, you will not be disappointed.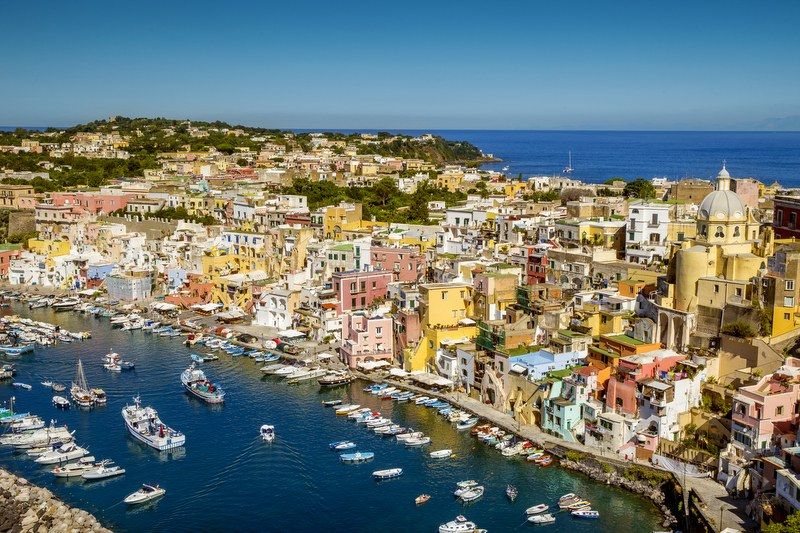 Eat Pray Love
Julia Roberts plays just-divorced Liz Gilbert, who leaves a failed marriage behind and heads off on a journey of rediscovery, jetting off to a number of picturesque locations around the globe that include Bali in Indonesia and Pataudi Palace in India.
Perhaps the most inspirational stop-off of them all, however, saw the 'Pretty Woman' star in Naples, heading to the most important pizzeria on the planet – L'Antica Pizzeria Da Michele
Touch down in Naples and head south along the coast to the unmissable tourist hot spots of Mount Vesuvius, Pompeii and Sorrento. And if you're up for a longer vacation, the Eternal City of Rome and its limitless attractions is within easy reach, a little more than an hour north of Naples. And you'll be able to get great pizza there, too.
Best time to go: Spring and autumn are traditionally the best times to visit Naples and its coast — it's warm but not yet as stiflingly hot as you can expect in July and August. March and October are typically quieter but can still offer some warmth.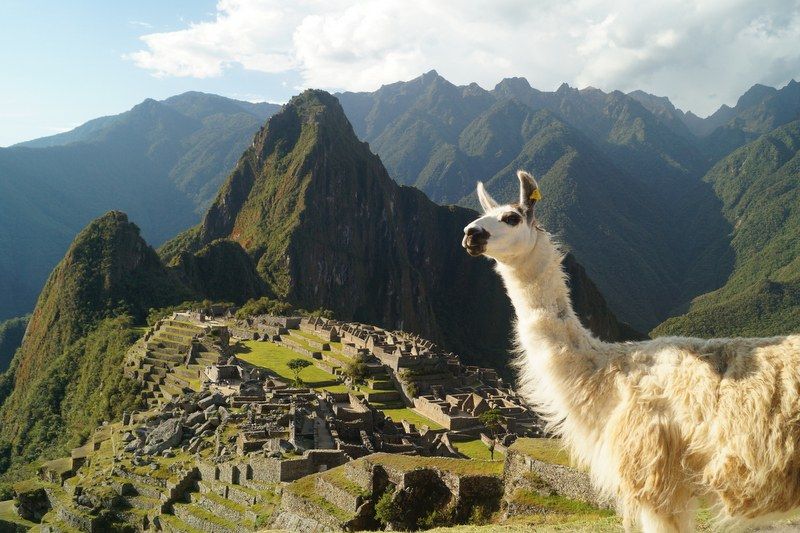 The Motorcycle Diaries
For the traveler with a serious sense of adventure, let the 2004 film of Che Guevara's legendary road trip be your inspiration. Set in 1952, eight years before the Cuban Revolution, we join Marxist revolutionary Ernesto 'Che' Guevara and boyhood amigo Alberto Granado as they travel 5,000 thousand miles into South America — from Argentina to Venezuela, heading up through Chile, Peru and Colombia.
Five-thousand miles is perhaps unrealistic, so it makes sense to cherry pick a few of the landmarks Guevara visited or passed and build your itinerary around them. Highlights are everywhere, from beautifully chaotic Buenos Aires early on, to the funicular railway at Valparaíso in Chile, and the barren but breathtaking Atacama Desert that stretches 621 miles from Chile into Peru.
Best of all, perhaps, is Machu Picchu, the legendary Inca citadel almost 8,000ft above sea level. The ascent and the altitude can be testing, but as the millions of tourists who make the pilgrimage every year will agree, it's worth every last step.

Best time to go: South America's summer is roughly November to February, its winter June to August. Peru and Machu Picchu are a year-round destination but be aware that January to March is its rainy season.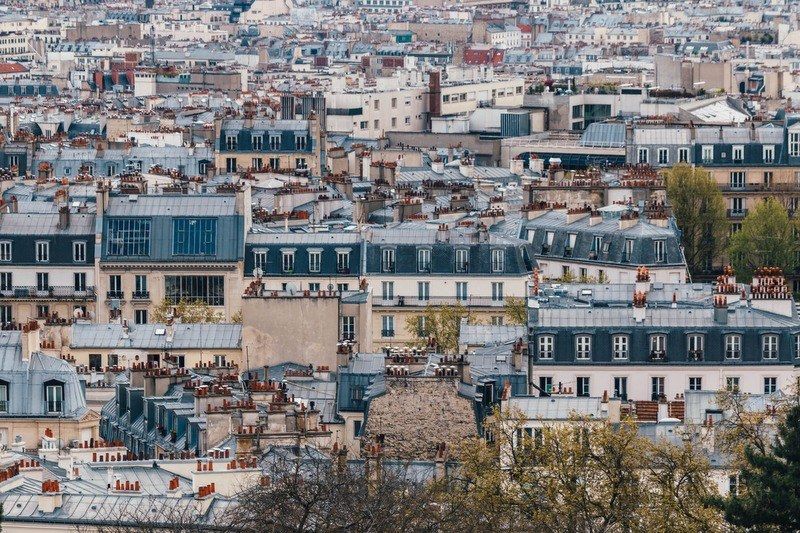 Before Sunrise/Before Sunset/Before Midnight
A handsome young Ethan Hawke (Jesse) and an attractive young Julie Delpy (Celine) meet on a train in Europe, and end up spending a single evening together in Vienna, surrounded by the culture of one of Europe's most aesthetic and educational cities.
Alas, they both know it will be their only night together. Until, nine years later, their paths cross again this time in Celine's home city of Paris, another of Europe's most essential destinations.
Eight years after that, in Before Midnight, the pair now have twin daughters and find themselves in rural Greece, still talking, analyzing and watching the sun set on their surroundings.
Richard Linklater's trilogy was rightly acclaimed for its ambition, subject and script, but the true star of each was the location. You couldn't help watch and wonder how much it would cost to head straight off to Vienna/Paris/Southern Peloponnese. If you've never made the journey, now's the time.

Best time to go: This being Europe, the weather is at its most reliable — i.e. hottest — in July and August, but the crowds and prices reflect that. Aim for slightly earlier (April, May) or slightly later (September, October) for cooler conditions and thinner crowds.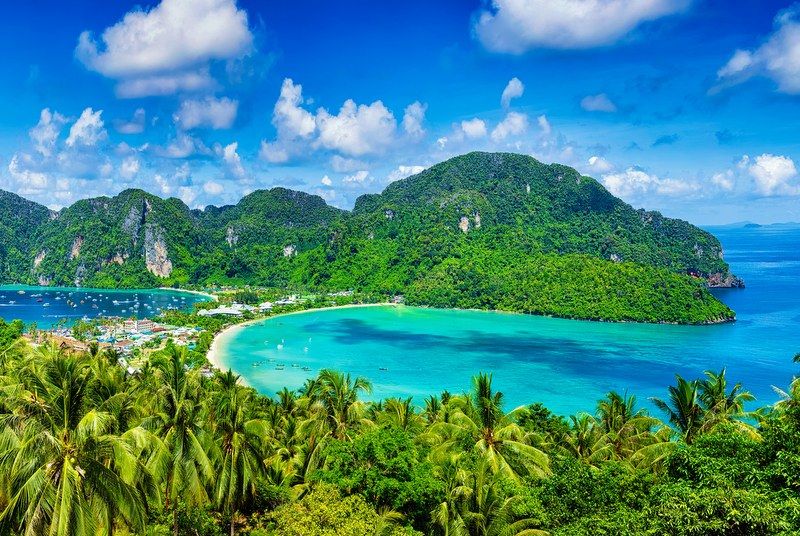 The Beach
Danny Boyle's movie adaptation of the gap-year classic saw a fresh-faced Leonardo DiCaprio running amok on the beaches and back tracks of an undiscovered Thailand — and reminded travelers the world over that 'The Land of Smiles' boasts many of the world's most beautiful beaches.

The location used was Maya Bay on Phi Phi Leh Island, close to Phuket — featuring a beach of pristine white sand and translucent sea, framed for the postcards by vast, impenetrable cliffs. Initially overrun with paradise-seeking tourists inspired by the movie and devastated by the 2004 tsunami, Phi Phi is back on its feet and once again insanely — but understandably — popular. It should be on the bucket list of every traveler seeking sun, sand and warm, clear waters.
However, should the crowds there prove too much, rest assured that in this part of Thailand, you're never more than a short boat ride away from another, more peaceful island and beach on which to unwind.
Best time to go: Phi Phi is a year-round destination but the best weather is from November to March, when humidity is at its lowest. September and October bring the highest chance of monsoon rain.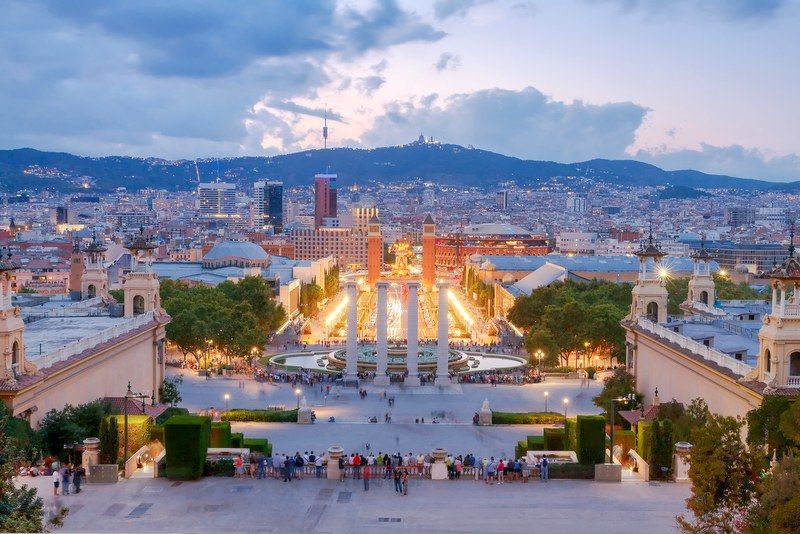 Vicky Cristina Barcelona
Woody Allen's red-blooded rom-com saw Rebecca Hall (Vicky) and Scarlett Johansson (Christina) spend the summer at the Catalan hideaway of Vicky's friends, where both fall for the Latin charms of Lothario Juan Antonio, played by Javier Bardem.
But the star of the film is none of the above – the Catalan capital steals the show. A whirlwind tour of the city's most beloved landmarks help progress the plot and should inspire any traveler to pay Barcelona a visit.
Once there, should you somehow exhaust the city's myriad attractions, you could do as the plot does and head further afield, to the likes of Faro de Avilés and the Church of Santa Maria del Naranco at Calle de Enrique de Osso. You won't, of course, because by that point Barcelona will have you firmly under its spell. But you could.

Best time to go: Barcelona is busy year-round, but crowds, prices and temperatures hit a peak in July and August. Late spring and early summer are better options — the city is a touch quieter but still enjoys warm temperatures.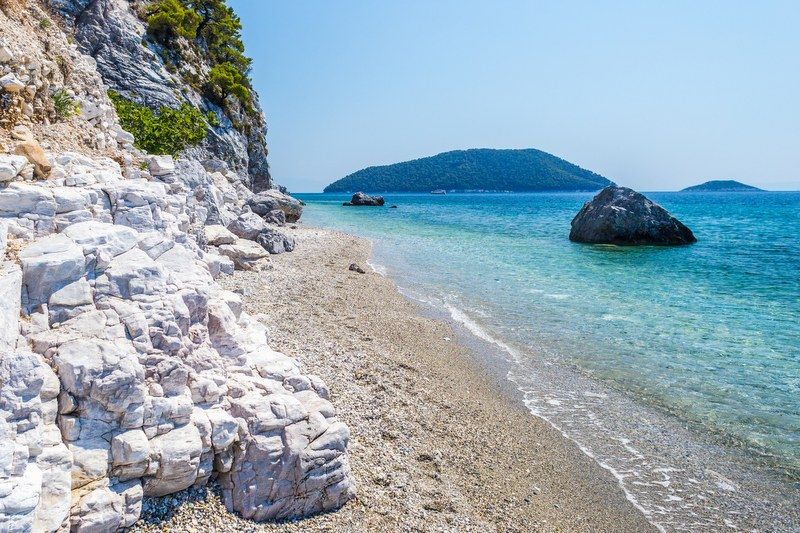 Mamma Mia!

What plot there is in the film version of the phenomenally successful stage show took second billing to the soundtrack of ABBA — the story is of a bride-to-be trying to find her real father, told using the hit tracks of the Swedish quartet. The real star of the movie though is the sun-drenched backdrop of Skopelos, a picture-postcard island that lent the movie many of its most memorable landmarks.
It was there too that the movie premiered in 2008, and the first sighting of the beautiful Agios Ioannis chapel received a louder cheer than the sight of Pierce Brosnan ripping off his shirt. "The world will see Skopelos now," chirped the mayor afterwards. "We are the Mamma Mia! Island."
The world has indeed seen Skopelos since then, with its beaches, tavernas, whitewashed villages and an altogether slower pace. Your life would be enriched by seeing and experiencing it too, at the earliest opportunity.
Best time to go: Skopelos' summers are hot and dry, its winters mild and wet. July and August are the hottest and busiest months, making the shoulder seasons of May and September a slightly quieter, mercifully cooler and generally better bet.


If you go
Visit united.com or use the United app to plan your getaway.
Right now, around the world, brave members of America's armed forces are on duty, defending our freedom and upholding our values.
When not laser-focused on the mission at hand, they're looking forward to the day when their service to our nation is fulfilled and they can reunite with their families.
They are also imagining how they can use their hard-earned skills to build an exciting, rewarding and important career when they return home.
I want them to look no further than United Airlines.
That's why we are focused on recruiting, developing and championing veterans across our company, demonstrating to our returning women and men in uniform that United is the best possible place for them to put their training, knowledge, discipline and character to the noblest use.
They've developed their knowledge and skills in some of the worst of times. We hope they will use those skills to keep United performing at our best, all of the time.
That's why we are accelerating our efforts to onboard the best and the brightest, and substantially increasing our overall recruitment numbers each year.
We recently launched a new sponsorship program to support onboarding veterans into United and a new care package program to support deployed employees. It's one more reason why United continues to rank high - and rise higher - as a top workplace for veterans. In fact, we jumped 21 spots this year on Indeed.com's list of the top U.S workplaces for veterans. This is a testament to our increased recruiting efforts, as well as our efforts to create a culture where veterans feel valued and supported.
We use the special reach and resources of our global operations to partner with outstanding organizations. This is our way of stepping up and going the extra mile for all those who've stepped forward to answer our nation's call.
We do this year-round, and the month of November is no exception; however, it is exceptional, especially as we mark Veterans Day.
As we pay tribute to all Americans who have served in uniform and carried our flag into battle throughout our history, let's also keep our thoughts with the women and men who are serving around the world, now. They belong to a generation of post-9/11 veterans who've taken part in the longest sustained period of conflict in our history.

Never has so much been asked by so many of so few.... for so long. These heroes represent every color and creed. They are drawn from across the country and many immigrated to our shores.

They then freely choose to serve in the most distant and dangerous regions of the world, to protect democracy in its moments of maximum danger.
Wherever they serve - however they serve - whether they put on a uniform each day, or serve in ways which may never be fully known, these Americans wake up each morning willing to offer the "last full measure of devotion" on our behalf.
Every time they do so, they provide a stunning rebuke to the kinds of voices around the world who doubt freedom and democracy's ability to defend itself.
Unfortunately, we know there are those who seem to not understand – or say they do not - what it is that inspires a free people to step forward, willing to lay down their lives so that their country and fellow citizens might live.
But, we – who are both the wards and stewards of the democracy which has been preserved and handed down to us by veterans throughout our history – do understand.
We know that inciting fear and hatred of others is a source of weakness, not strength. And such divisive rhetoric can never inspire solidarity or sacrifice like love for others and love of country can.
It is this quality of devotion that we most honor in our veterans - those who have served, do serve and will serve.
On behalf of a grateful family of 96,000, thank you for your service.
Humbly,
Oscar
Each year around Veterans Day, Indeed, one of the world's largest job search engines, rates companies based on actual employee reviews to identify which ones offer the best opportunities and benefits for current and former U.S. military members. Our dramatic improvement in the rankings this year reflects a stronger commitment than ever before to actively recruiting, developing and nurturing veteran talent.
"We've spent a lot of time over the past 12 months looking for ways to better connect with our employees who served and attract new employees from the military ranks," said Global Catering Operations and Logistics Managing Director Ryan Melby, a U.S. Army veteran and the president of our United for Veterans business resource group.
"Our group is launching a mentorship program, for instance, where we'll assign existing employee-veterans to work with new hires who come to us from the armed forces. Having a friend and an ally like that, someone who can help you translate the skills you picked up in the military to what we do as a civilian company, is invaluable. That initiative is still in its infancy, but I'm really optimistic about what it can do for United and for our veteran population here."
Impressively, we were the only one of our industry peers to move up on the list, further evidence that we're on a good track as a company.
The question of where David Ferrari was had haunted retired U.S. Army Sergeant Major Vincent Salceto for the better part of 66 years.
Rarely did a week go by that Salceto didn't think about his old friend. Often, he relived their last moments together in a recurring nightmare. In it, it's once again 1953 and Salceto and Ferrari are patrolling a valley in what is now North Korea. Suddenly, explosions shatter the silence and flares light up the night sky.
Crouching under a barrage of bullets, Salceto, the squad's leader, drags two of his men to safety, then he sees Ferrari lying face down on the ground. He runs out to help him, but he's too late. And that's when he always wakes up.
Italian Americans from opposite coasts – Salceto from Philadelphia, Ferrari from San Francisco – the two became close, almost like brothers, after being assigned to the same unit during the Korean War. When Ferrari died, it hit Salceto hard.
"After that, I never let anyone get close to me like I did with Dave," he says. "I couldn't; I didn't want to go through that again."
When the war ended, Salceto wanted to tell Ferrari's family how brave their son and brother had been in battle. Most of all, he wanted to salute his friend at his gravesite and give him a proper farewell.
For decades, though, Salceto had no luck finding his final resting place or locating any of his relatives. Then, in June of this year, he uncovered a clue that led him to the Italian Cemetary in Colma, California, where Ferrari is buried.
Within days, Salceto, who lives in Franklinville, New Jersey, was packed and sitting aboard United Flight 731 from Philadelphia to San Francisco with his wife, Amy, and daughter, Donna Decker, on his way to Colma. For such a meaningful trip, he even wore his Army dress uniform.
That's how San Francisco-based flight attendant Noreen Baldwin spotted him as he walked down the jet bridge to get on the plane.
"I saw him and said to the other crew members, 'Oh my goodness, look at this guy,'" she says. "I knew there had to be a story."
The two struck up a conversation and Salceto told Baldwin why he was traveling. She got emotional listening to him talk and made a point of fussing over him, making sure he and his family had everything they needed.
About halfway through the flight, Baldwin had an idea. She and her fellow crew members would write messages of encouragement to Salceto and invite his fellow passengers to do the same.
"We did it discreetly," says Baldwin. "I asked the customers if they saw the man in uniform, which most had, and asked them if they wanted to write a few words for him on a cocktail napkin. A lot of people did; families did it together, parents got their kids to write something. After the first few rows, I was so choked up that I could barely talk."
When Baldwin surprised Salceto with dozens of hand-written notes, he, too, was speechless. He laid the stack on his lap and read each one. At the same time, the pilots made an announcement about the veteran over the loud speaker, after which the customers on board burst into applause.
"It seems contrived, and I hate using the word organic, but that's what it was; it just happened," Baldwin says. "Mr. Salceto was so loveable and humble, and what he was doing was so incredible, it felt like the right thing to do. And you could tell he was touched."
On June 27, Salceto finally stood before Ferrari's grave and said that long-awaited goodbye. As a trumpeter played "Taps," he unpinned a medal from his jacket and laid it reverently on the headstone.
"I had gotten a Bronze Star for my actions [the night Ferrari died] with a 'V' for valor, and that was the medal I put on Dave's grave," says Salceto, pausing to fight back tears. "I thought he was more deserving of it than I was."
For the first time in years, Salceto felt at peace. His mission was accomplished.
Scroll to top