After Landing: San Francisco
After Landing is a travel guide series dedicated to bringing you insider tips and local recommendations on what to see and do in some of our favourite cities. Check back often for new destinations.
If you have visited San Francisco already, you will know of its charms. If you have not, then you absolutely should. To help you plan your trip, we have tapped into a few of our employees, the travel experts, to share insider tips and local recommendations on some of our favourite cities. First up, the City by the Bay.
Get to know the City by the Bay
Founded by seafaring Spaniards in the 18th century, the City by the Bay has lured settlers and visitors to its hills for centuries since. With a heady combination of the Californian climate, world-class cuisine and a carefree, cutting-edge culture, it is very easy to see why.
Your arrival
Heavy traffic and high taxi prices mean the quickest, easiest and cheapest way to cover the 13 miles from San Francisco International Airport to downtown is to take the Bay Area Rapid Transit (BART), a direct underground/monorail that leaves every 15 minutes and takes about 30 minutes.
Where to stay
While great quality and good value hotels are dotted all across the city, the greatest concentration can be found in three main locations: around the tourist mecca of Fisherman's Wharf, on all sides of the city's main shopping district of Union Square, and along the stretch of Lombard Street just north of Cow Hollow, heading west towards Presidio and the Golden Gate Bridge. All three have their merits, being close to many of the city's most popular attractions.
However, two other good neighbourhoods worth considering are in and around SoMa (South of Market) and Mission. Both combine excellent hotels with many of the city's best restaurants and bars, all within easy strolling distance.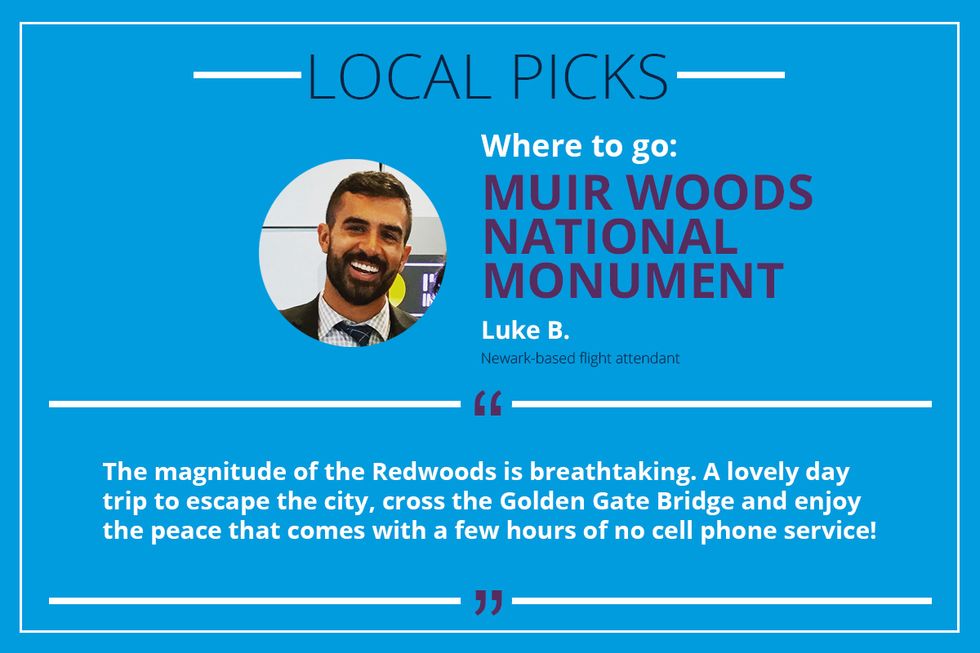 assets.rbl.ms
What to see and do
The following recommendations merely scratch the surface of what San Francisco has to offer, but they should definitely be on the itinerary of any first-time visitor.
The best way to cover ground in this hilly city, cable cars have been a feature since 1873 and were awarded national historic landmark status in 1964. They run on three lines, through many of the city's most popular neighbourhoods: North Beach, Fisherman's Wharf, Union Square, Nob Hill, Chinatown and Embarcadero. Before you get on, however, remember to buy a ticket.
'The most famous landmarks and attractions are all worth adding to your must-see list', says Christine U., Customer Service Lead. 'The sea lions at Pier 39, Fisherman's Wharf, the wonderfully winding Lombard Street, Chinatown… They are popular for a good reason'.
North Beach is another must-visit. Misleadingly, there is no beach there, but the Italian quarter is packed full of cafés, restaurants and hip stores. It is also close to Coit Tower, high on Telegraph Hill, which offers amazing Instagram-worthy views of the city, the bridges and the Bay.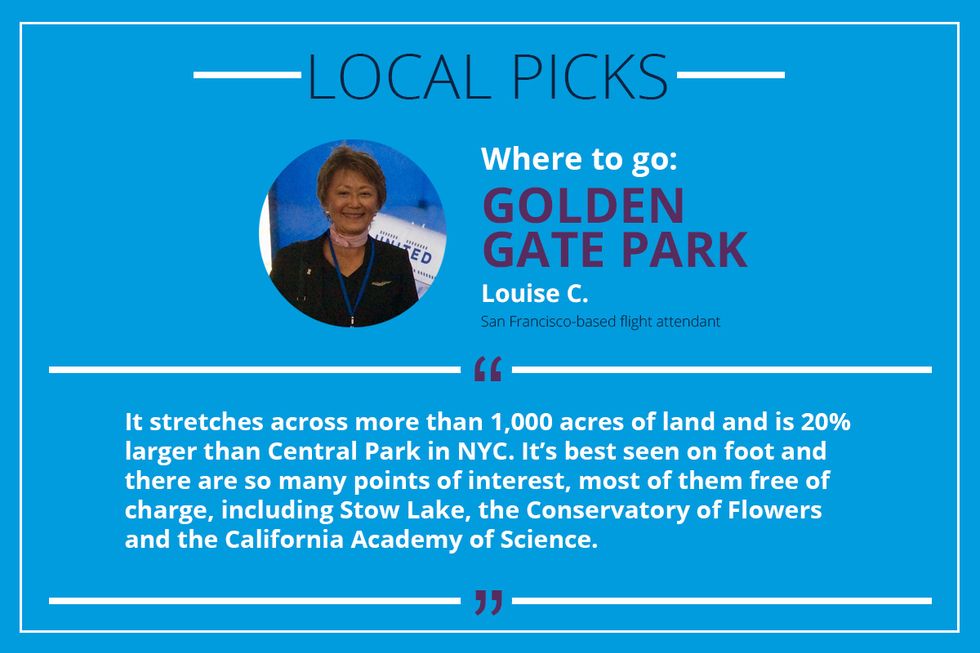 assets.rbl.ms
Access the park through Haight-Ashbury, the birthplace of America's counter-culture.
The aforementioned California Academy of Sciences is well worth visiting, especially for families. It houses an aquarium, a planetarium, a natural history museum and four-storey rainforest, all under one roof. If you need more, look no further than the San Francisco Museum of Modern Art, the de Young Museum, the Asian Art Museum and the Legion of Honor.
If you are after couture more than culture, make your way to Union Square, a mecca for serious shoppers. Major department stores and designer boutiques await, including the largest Bloomingdale's outside of New York City.
'A personal favourite that I accidentally discovered is the Walt Disney Family Museum in Presidio', says San Francisco-based flight attendant, Sean R. 'It houses many of the Disney family's heirlooms, many of them interactive and created by Disney Imagineers. It is an amazing and unmissable place'.
Cycling to Sausalito across the Golden Gate Bridge is another must-do experience. The Bridge stretches 1.7 miles across the Golden Gate and gives you amazing views across the bay, from Alcatraz to the city. You will get to explore Sausalito for a while before either cycling back or jumping on a boat back to the San Francisco Ferry Building. Another gem just across the Golden Gate Bridge is the Muir Woods National Monument. 'The magnitude of the Redwoods is breathtaking. A lovely day trip to escape the city, cross the Golden Gate Bridge and enjoy the peace that comes with a few hours of no mobile phone service', says Newark-based flight attendant, Luke B.
Finally, no visit to San Francisco can be complete without visiting the Rock: Alcatraz. Once home to some of America's most notorious criminals, the prison closed in the 1960s but is now open for cellhouse tours. Take an Alcatraz Cruises boat from Pier 33, but be sure to book ahead.
Where to eat and drink
In a city renowned for its gastronomic inventiveness, you will eat well wherever you roam. That said, there are certain culinary experiences that should be on the list of every first-time visitor to San Francisco.
Eating burritos in the Mission at Taqueria El Farolito or La Taqueria is a must. Though don't eat at both in the same visit, as they're on the large side. Head to Ferry Plaza Farmers Market, where local chefs shop for some of the city's freshest, finest produce. For seafood fans, head to the Fisherman's Wharf for the chowder served in a sourdough bread bowl at the legendary Boudin Bakery. Refuel with an espresso at Caffe Trieste, where Francis Ford Coppola wrote The Godfather, or with a cold glass of America's first craft beer, the local Anchor Steam. To stay ahead of the culinary curve, order a few slices of millionaire's bacon, just so you can say you have had it.
But, if you want three specific insider options, follow this advice:
'Ristorante Franchino on Columbus Avenue is a great family-run Italian restaurant you have to visit', says Cleveland-based Boeing 737 captain Gary B. 'The food and ambience are exceptional. I have made it my staple restaurant every time I have been in the city for the last 15-plus years, which tells you how good it is. Particularly the tiramisu!'
'One of my absolute favourites is The House in North Beach', says San Francisco-based flight attendant Rebecca M. 'The food is Asian American with simple, yummy ingredients. The sea bass is amazing, as are the deep fried salmon rolls'.
'Fish in Sausalito is worth the journey', says San Francisco-based flight attendant Mallory C.
'The drive (or cycle) over the Golden Gate Bridge is stunning, with the gorgeous San Francisco skyline behind you. Then you get to enjoy some of the freshest fish in the Bay Area, eaten on picnic tables and overlooking the marina in Sausalito. Don't leave without ordering the fish tacos. But be warned, Fish is cash only'.
San Francisco focus: Time to wine and dine
Two of America's—indeed the world's—greatest wine regions lie just north of San Francisco, in Napa Valley and Sonoma County. Ideally, you will be adding a couple of days on at the end of your visit to explore the vineyards at leisure. But if that is not possible, you don't even need to leave the city to experience the best grapes Northern California has to offer. A growing number of neighbourhood wine bars and tasting rooms bring the experience to you, offering the very best local vintages with small plates of seasonal bites. Fig & Thistle, Bluxome Street Winery and Tank18 are just three places getting it spectacularly right.
Best time to visit
While summer guarantees sun, it also brings the crowds and higher prices. The shoulder seasons of March to May and late August to November are still warm and slightly quieter, making excellent alternatives.
Getting there
United Airlines offers flights to San Francisco from many cities throughout the U.S. For more information and to book your trip, go to United.com or download our convenient United app.While you are there, share your adventures on social media with the hashtag #MyUnitedJourney.
We know people are taking a second look at their travel plans right now. If you're scheduled to travel March 10 – May 31, 2020 and would like to change your plans, there is no fee to do so, regardless of when you purchased your ticket or where you're traveling. This is in addition to our previous waiver, which waives all change fees – domestic and international – for tickets purchased March 3 – April 30, 2020. This is available for any of United's published nonrefundable fares. If you decide to cancel your flight, you can retain the value of your ticket to be applied to a new ticket without a fee. These electronic travel certificates are now valid for 24 months from the date they were issued. This includes all currently valid electronic certificates and all new ones issued on or after April 1, 2020. You might not see this policy change reflected everywhere right away – we appreciate your patience as we work to make that happen.
Eligible travelers on domestic flights and international tickets can request a refund on united.com or may call our contact centers if their flights have been severely adjusted or service to their destination suspended either due to government mandates or United schedule reductions related to COVID-19.
Certain tickets cannot be changed on united.com or the mobile app, including tickets booked through another airline (if the ticket receipt does not begin with 016). Please contact the original ticketing airline for changes.
Follow the steps below to stay up to date, change or cancel your flight.

Change your current flight:
On the united.com homepage, select "My Trips" and enter your flight information to retrieve your flight.
Select "Change flight" and then "Edit" to make the following changes:

Date of travel or destination
Add a flight
Remove a flight

Select "Continue" and choose a new flight option
Continue through booking to confirm your new flight
Note: The change fee will display as waived, but any difference in fare may apply.
Cancel your flight and rebook later:
On the united.com homepage, select "My Trips" and enter your reservation information to retrieve your flight
Select "Cancel flight"
Confirm flight cancellation
If you have future flight credit, when you return to the reservation, select "Use Future Flight Credit" to shop for new flights and apply the credit towards a new flight.
Canceling or changing an award flight:
When you select "Cancel flight," you will have the option to cancel your award reservation and redeposit the miles or to cancel your award reservation and use those miles for another trip in the future.
*We're currently experiencing heavy traffic to united.com. If you experience an error while trying to change or cancel your flight, please try again later.
Click through the slideshow below for more detailed instructions:
​Start on the United homepage: ​
User can select 'My Trips' on the homepage widget to find and retrieve their reservation.
When and where possible, we are working to repatriate travelers who are stranded abroad in the wake of the COVID-19 crisis. Our teams are working closely with government officials here in the U.S. as well as in other countries where flying has been restricted to gain the necessary approvals to operate service. In regions where government actions have barred international flying, we have coordinated with the the U.S. State Department and local government officials to re-instate some flights. Additionally, we have been operating several extra flights to countries in Central America and South America as we continue to play a role in connecting people and uniting the world.
We have operated more than 68 repatriation flights from Panama City, Guatemala City, Quito, Lima, San Pedro Sula, Tegucigalpa and Roatan, bringing nearly 9,200 people home. We will continue working with government officials to operate extra flights to Houston from Quito, San Pedro Sula, Tegucigalpa and from Lima to Washington Dulles and beginning April 5, we will begin operating multiple charter flights between Delhi and San Francisco. We continue to review more opportunities for flights between the United States and other countries to bring citizens home.
Video provided by the U.S. Embassy Ecuador of Americans returning home on United.

Additionally, our Customer Solutions and Recovery team is working with customers in the following markets to rebook them on flights back to the United States as capacity allows, either on our aircraft or on one of our airline partners' planes:

Quito, Ecuador
Managua, Nicaragua
Roatan, Honduras
San Pedro Sula, Honduras
Amsterdam
Brussels
Munich
Singapore
Tokyo-Haneda
Seoul, South Korea
Melbourne, Australia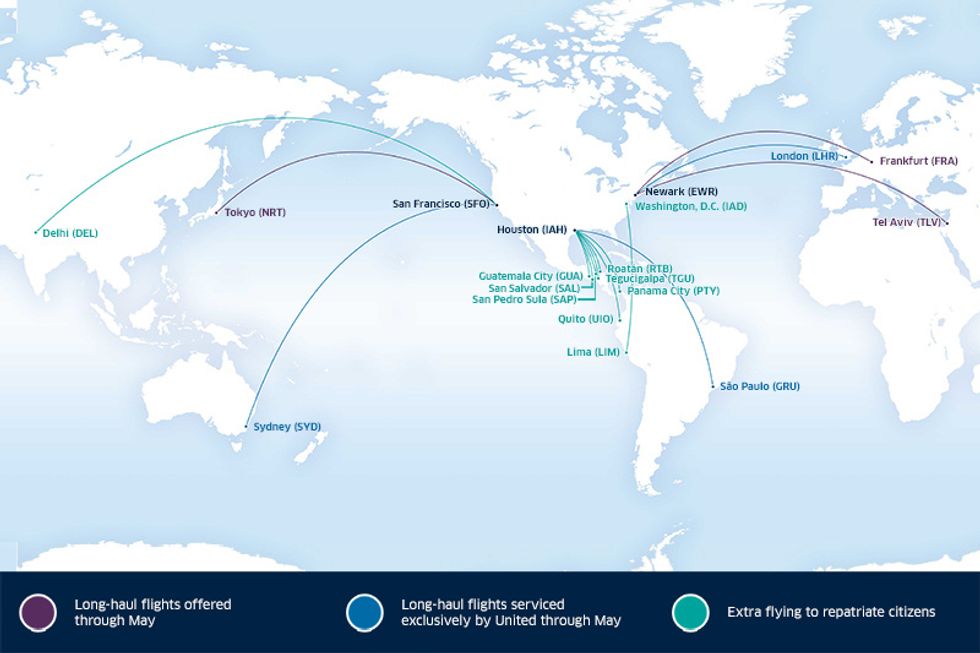 We also recently reinstated several international flights back into our schedule to support customers and essential businesses which depend on these routes. As a result, we will be the only airline to offer service between Newark/New York and London, San Francisco and Sydney, as well as Houston and São Paulo, Brazil.

Calling all AvGeeks and travelers! Here's a fun way to take your next video call….from a United Polaris® seat, the cockpit or cruising altitude. We're introducing United-themed backgrounds for use on Zoom, a video conferencing tool that many people are using to stay connected.
So for your next meeting or catch up with friends and family, download the app to either your computer or mobile device to get started. If you've already downloaded Zoom you can skip ahead to updating your background image (see instructions below).
Start here by downloading your favorite United image to your computer or mobile device. Just click "download" in the bottom left corner of the image.
Next go to your Zoom app (you'll need to download the app to access backgrounds) and click on the arrow to the right of your video camera icon in the bottom of the screen.
From here select, "choose virtual background" to upload your uniquely United photo.
Together, we are facing an unprecedented challenge. United Together, we rise to meet that challenge.
Check out our newest destinations
United Airlines
united
We continue to work with government officials to bring Americans home. In addition to flights from Central & South America, we have charter flights planned from India. Learn more about our repatriation efforts in the wake of COVID-19 here:
uafly.co/3aExaOL
#UnitedTogether
United Airlines
united
When
@RocheDia
needed to ship a vital component of a COVID-19 testing unit from New Jersey to Florida, United Cargo jumped in to help. Read about how this part will allow
@MayoClinic
to process hundreds of tests per day for cases in the Southeastern U.S.
uafly.co/2UzOAGW
United Airlines
united
International schedule update: We know some people around the globe are displaced and still need to get home. We are reinstating some international flights over the next few days and will continue to fly six daily international flights through May.
uafly.co/3a5Dj6p
United Airlines
united
We have extended our change fee waiver to cover travel through May 31, 2020: - You can change or cancel your flight on
united.com
or through the app – a phone call is not required - For the latest on our commitment to your safety, visit
united.com/coronavirus
We Are United
weareunited
Shoutout to our operations team, who are working to properly park, maintain and store many aircraft in the
#BeingUnited
fleet. These aircraft are being housed across our seven hubs, maintenance facilities in CLE and MCO as well as at offsite facilities in New Mexico and Arizona.
We Are United
weareunited
Tomorrow, Oscar and Scott will host a companywide town hall to discuss the latest developments in managing the effects of the coronavirus (COVID-19). You can join the livestream event at 1:20 p.m. CT here:
uafly.co/39AV25m
We Are United
weareunited
Tomorrow, Oscar and Scott will host a companywide town hall to discuss the latest developments in managing the effects of the coronavirus (COVID-19). You can join the livestream event at 1:20 p.m. CT here:
uafly.co/39AV25m
.
Watch our most popular videos
Copyright © 2020 United Airlines, Inc.
All rights reserved.
Indicates an external site that may or may not meet accessibility guidelines.
Scroll to top
Scroll to top