America's 10 best food cities
Whether we're picking a vacation spot or a new place to live, it's safe to say that we let our stomachs guide our decisions. We want a city with great regional dishes and innovative chefs, and, well, restaurants with character (an alfresco farmhouse table just does something to us). Here are our picks for America's ten best food cities, whether you're pondering a move, or just lunch.
New York, NY
Sure, sure, it's a no-brainer, but let's take a look at what you can actually order up in the Big Apple. For one thing, NYC has twice as many three-star Michelin-rated restaurants as any other American city. And on the other end of the spectrum, there's the $4.50 Recession Special at Gray's Papaya (two dogs and a soda) . And that's to say nothing of those New York-specific foods you just can't get anywhere else. We're looking at you, bagels and lox, pastrami sandwiches, pizza (real pizza, guys) and black-and-white cookies.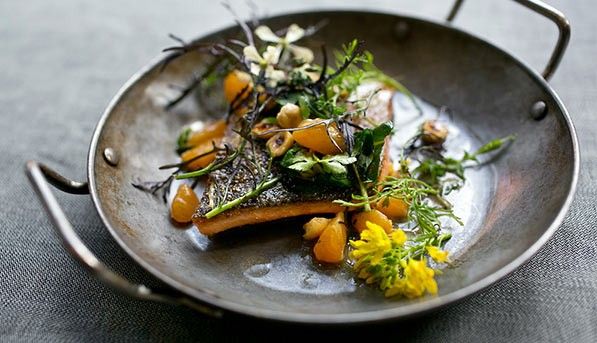 San Francisco, CA
It's hard to imagine a city more obsessed with food than San Francisco (and the surrounding Bay Area). It's the kind of place where $4 slices of toast are now the norm--and when slathered with cream cheese, black pepper and sea salt, like they are at The Mill, that's just fine by us. Iconic restaurants like Chez Panisse and Zuni Café helped define the American farm-to-table movement, and there are plenty of stellar newcomers following suit, such as The Progress (shaved romanesco salad with pig fries) and State Bird Provisions (crispy spiced quail with tart onions). Plus, if you live in SF you have a pretty fun neighbor: wine-guzzling Napa Valley.
Chicago, IL
Hot dogs loaded with pickles, peppers, mustard, tomato slices and celery salt. Deep-dish pizza so thick it might as well be a casserole. Chicago certainly does street food right.And if you're in the mood for something on a white tablecloth, try Rick Bayless's empire of authentic Mexican restaurants. Or maybe Alinea--Grant Achatz's palace of molecular gastronomy for a 16-course meal featuring dishes like hot potato, cold potato, black truffle and butter.
Los Angeles, CA
Turns out, L.A. is more than just wheatgrass shots at Juice Crafters after a hike through Laurel Canyon (though that is kind of a magical duo). It's also smoked-salmon pizza at Spago in Beverly Hills, chicken and waffles at Roscoe's and the best chopped salad of your life at La Scala (it was, after all, Marilyn Monroe's standing order).
New Orleans, LA
Welp, it's hard to know where to begin with New Orleans, a city unlike any other in America, where food is fundamental to nearly everything. The logical place, of course, is Café Du Monde, over a powdered-sugar beignet and a steaming cup of café au lait. Move on to Creole classics like jambalaya and gumbo, catfish po' boys, chargrilled oysters and anything cooked by John Besh.
Charleston, SC
Charleston may not be the biggest city on this list, but what it lacks in square mileage and population, it makes up for in grits. They do Southern staples right--from crispy fried chicken to tangy, mustard-sauced pulled pork (remember, barbecue in Charleston means pork down-home pit-cooked in mustard barbecue sauce). Then there are Sean Brock's restaurants Husk and McCrady's, where everything--save for the expansive wine lists--is locally grown in the South and prepared as an homage to traditional Southern cooking. Head 25 minutes downtown for steamed oysters and perfect sunsets at Bowens Island.
Portland, OR
Yes, you're right. The entire East Coast (or at least all of Brooklyn) has packed up and moved to Portland. Plopped down in the middle of verdant farmland, Portland has produce aplenty and knows what to do with it. Take Toro Bravo, where the kitchen dishes out tapas like marinated sheep's cheese with rose-petal harrisa and mint, made from local ingredients and given a Spanish twist. Plus, there's Pok Pok (some say it's the best Thai food in the country), Voodoo Donuts and enough artisanal coffee roasters to keep your food tour highly caffeinated.
Austin, TX
If we had to live on barbecue and tacos for the rest of our lives, we're pretty sure we'd be just fine. Austin is pretty much killing it on both of those fronts. Fans flock to Franklin's for brisket (after just a few hours in line) and The Salt Lick for sausage (and, well, more brisket). And while picking a favorite taco is like picking a favorite child, you certainly can't go wrong starting with ones stuffed with scrambled eggs and chorizo at El Primo.
Philadelphia, PA
Everyone knows the cheesesteak (Pat's? Geno's? Jim's?). Lesser known (but, dare we say, even tastier?) is the roast pork sandwich, dripping with melted provolone cheese and sautéed broccoli rabe. We recommend picking one up at Redding Terminal, the city's bustling food market, before moving on to fried chicken and doughnuts at Federal Donuts, and some transcendent hummus and Israeli salads at Zahav or Dizengoff. Diet starts tomorrow.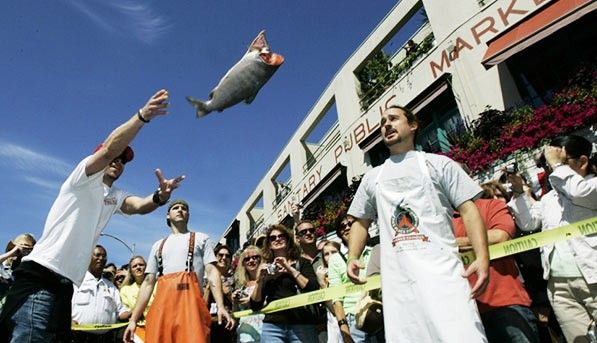 Seattle, WA
If fish throwing is one of your top tourist attractions, you get a spot on this list. Enough said.
This article was written by editor@purewow.com (PureWow) from PureWow and was legally licensed through the NewsCred publisher network.
On March 19, 2020, United operated its first flight carrying cargo without passengers on board. While the passenger cabin was empty, its cargo hold was completely full, carrying more than 29,000 pounds of commodities from Chicago O'Hare International Airport (ORD) to Frankfurt Airport (FRA).
A year later, United Cargo has operated more than 11,000 cargo-only flights carrying more than 570 million pounds of freight. To support the COVID-19 pandemic recovery efforts, United Cargo has also transported more than 113 million pounds of medical and pharmaceutical products on both cargo-only and passenger flights as well as approximately 10 million COVID-19 vaccines, providing global communities access to the items they have needed most.
"At the beginning of the pandemic, we knew we were uniquely positioned to utilize our widebody aircraft and our network to keep commodities moving, so we quickly mobilized various departments throughout the airline to launch a cargo-only network of flights that would keep commodities moving," said United Cargo President Jan Krems. "Thanks to those efforts, United Cargo has delivered millions of items to countries all around the world. We would not have been successful without the steadfast support of our employees, industry partners and our customers."
Since last March, United Cargo has transported almost 850 million pounds of freight on cargo-only and passenger flights. The airline will continue to monitor market trends adjust its cargo-only flight schedules to help ensure we are meeting our customer's evolving shipping needs.
Whether you haven't flown with us for a while or just need a quick refresher before your spring trip, read this list of tips to know before your flight and arrive at the airport travel-ready:
1. Download the United app for contactless bag check, travel assistance and more
Before your flight, download the United app to view your flight status, check in, sign up for flight notifications, locate departure gates, access our free personal device entertainment when available and more. We've also updated our app with new features that can make your trip a little safer, including contactless bag check.
Don't forget to use Agent on Demand for help with any and all questions you may have before your flight. This new capability is available at all our U.S. hub airports and allows you to use your own mobile device to contact a customer service agent via phone, video or chat to help with day-of-travel questions while you're at the airport. Learn more about Agent on Demand here.
2. Check out the Travel-Ready Center
Our Travel-Ready Center makes it easy to get a personalized overview of everything you need to do in preparation for your flight. Just enter your confirmation number or MileagePlus® number and you'll find detailed information on all the documents, tests and more that you'll need for your trip.
3. Read and sign the Ready-to-Fly checklist
Before completing check-in, all United travelers will need to read our Ready-to-Fly checklist and confirm that they understand and agree to our policies. These include:
Acknowledging that you haven't had any symptoms of COVID-19 in the last 14 days
Agreeing that you will not fly if you have tested positive for COVID-19 within the last 21 days
Confirming that you will follow all policies regarding face masks, social distancing and other health and safety measures we've adopted
4. Arrive early; avoid the stress
Airports can be busy, especially during peak travel periods like spring break season. The TSA advises arriving at the airport two hours before your flight for domestic travel and three hours for international travel in anticipation of long security lines. This can help ease the stress when navigating busy check-in areas, security lines and crowded boarding gates.
5. Get familiar with CleanPlus
United CleanPlus℠ is our commitment to delivering industry-leading cleanliness as we put health and safety at the forefront of your experience. We've teamed up with Clorox to redefine our cleaning and disinfection procedures and Cleveland Clinic to advise us on enhancing our cleaning and disinfection protocols, like:
Disinfecting high-touch areas on board and in the terminal
Using electrostatic spraying, Ultraviolet C lighting wands and more advanced measures to clean aircraft cabins before boarding
Redesigning our mobile app to allow for touchless check-in and contactless payment, along with enhanced travel assistance features
Implementing high-efficiency (HEPA) filters on our aircraft that completely recirculate cabin air every 2-3 minutes and remove 99.97% of airborne particles, including viruses and bacteria
Studies show COVID-19 exposure risk is minimal when air filtration systems and masks are in use, so you can rest assured that the steps we've taken to keep you safe truly make a difference.
6. Wear your mask
Federal law requires all travelers to wear a face mask in the airport, including customer service counters, airport lounges, gates and baggage claim, and on board during their entire flight. Make sure you review the requirements for face masks, including what an acceptable face mask looks like.
7. Get ready for a safer boarding process
To make boarding even safer, we now have travelers board their aircraft from back to front. At the gate, just listen for your row number to be called – we'll ask a few rows at a time to board, starting with the last row of the plane. This helps everyone maintain a safe distance from each other during boarding without slowing things down. As you step onto the plane, flight attendants will hand each passenger a sanitizing towelette, which you can use to wipe down your seat to ensure it's extra clean.
8. Pack smart
Before packing your bags, check to see what exactly you can carry on and what you should plan to check. You can also copy your confirmation number into our Baggage Calculator tool to learn about the bag allowance included with your reservation, as well as the cost of checking any additional bags.
9. Check your flight status, important notices and weather
Check the United app regularly for the latest updates on weather conditions, flight status, gate numbers and seat assignments. You can also visit our Important Notices page to find essential information and updates about travel waivers, international travel, TSA and security, airports and United Club locations.
10. Relax and enjoy your flight
Once you're on board, it's time to sit back and enjoy your flight. Our flight attendants will be happy to help you with anything else you need.
This week, we were honored to become the first U.S. airline to join the UNICEF Humanitarian Airfreight Initiative to combat the COVID-19 pandemic by transporting the vaccine and other critically needed supplies to underserved areas of the globe.
"We are committed to helping the global community in any way we can, and we all must work together to do our part to bring this health and humanitarian crisis to an end," said Director of Cargo Specialty Products Manu Jacobs.
We will leverage our expertise to transport these critical pharmaceutical and healthcare shipments around the world safely, efficiently and expediently. We are proud to partner with the United Nations to support this global effort and provide equitable access to COVID-19 vaccines.
Scroll to top