A pilot's once-in-a-lifetime adventure in Antarctica
Each week we profile one of our employee's adventures across the globe, featuring a new location. Follow along every week to learn more about their travel experiences.
By Houston-based 737 Captain Charles Scott Williams
Antarctica is a desolate, remote part of the planet that intrigued me, and with the help of Lindblad Expeditions-National Geographic, arrangements were made, and the trip was a go. Buenos Aires was the midpoint of a journey to the bottom of the world. From Buenos Aires, a charter flight took my wife and me to Ushuaia, Argentina, where we met our ship, the National Geographic Explorer, for the Drake Passage crossing to Antarctica. The reputation of rough seas across the Drake Passage preceded it and a conversation with my next door neighbor, a United States Navy veteran who had sailed this oceanic region in an aircraft carrier, didn't help ward off my apprehension of said rough seas. He told me of waves that equaled the height of his ship's flight deck. The Explorer, at 6,471 tons, is tiny in comparison to an aircraft carrier, and I envisioned bobbing like a cork on the rough seas of the Drake Passage. As it turned out, the seas provided wave heights of approximately 15 feet, which was an interesting ride, but the timing of the crossing was such that we crossed the majority of the Passage while we slept.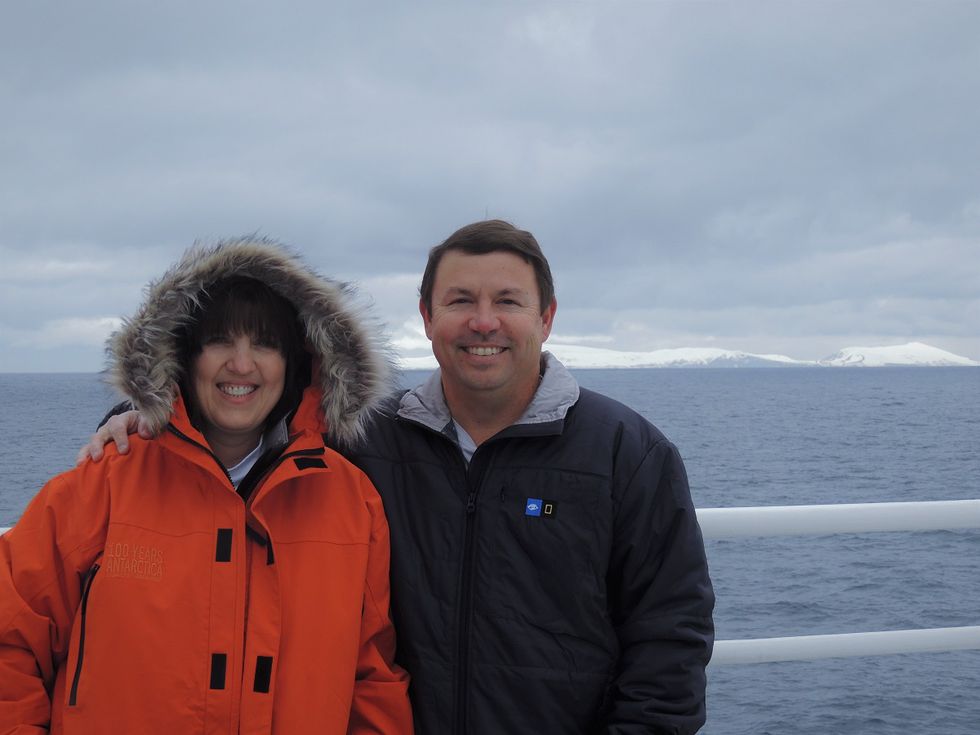 I awoke to bright sunshine and calm waters with icebergs floating all around. Like an excited child on Christmas morning, I lept from my bed and went to the window straight away as I woke up my wife to see this new world. Shortly thereafter, I realized that it was still only 3 a.m., as the sun shines in Antarctica for more than twenty-two hours per day during the Southern Hemisphere summer. The further south we sailed, the longer the sun kept us company. Soon we saw floating sheets of ice in the distance, adorned with black dots, that on closer inspection, turned out to be penguins. In the days to come, the ship would drop anchor and we would ride in small boats called Zodiacs from the Explorer to shore and back. Attire included life vests that we donned just as an executive wears a coat and tie to the office. As it was the 100th anniversary of Sir Ernest Henry Shackleton's voyage to Antarctica, we were given parkas with patches attached with Sir Shackleton's image. The mud room of the Explorer is the boarding point to the Zodiacs for trips to shore for hiking, and on our first foray ashore we geared up with waterproof boots, parkas with liners and gloves. Topping this all off was the life vest to add to the bulky clothing. It didn't take long waiting in the mud room to realize that this clothing makes you sweat quite readily if you are not outside in the cold Antarctic air. Upon landing, we hiked and saw thousands of nesting penguins with skua birds flying about looking for penguin eggs to steal. Penguins use stones to build their nests to protect the eggs and provide a structure while lying on the eggs to incubate them. One second of penguin inattention led to a skua bird flying off with the distracted penguin's egg.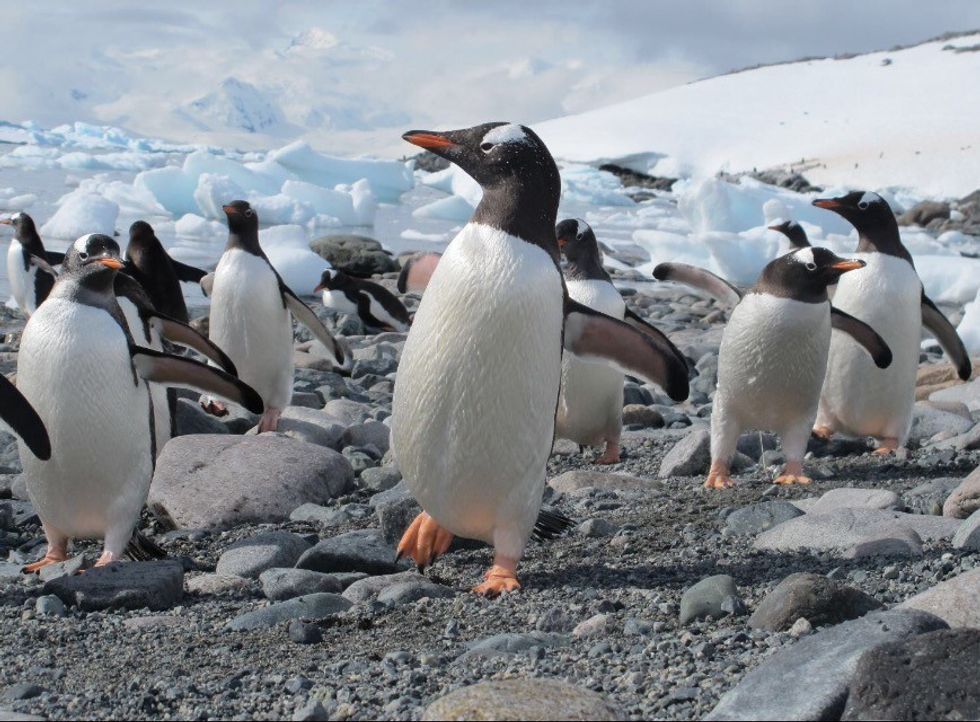 Nature can be cruel, but this is the harsh survival reality of Antarctica. The skua landed a few feet away, broke the egg and had lunch, while a penguin family will wait another season to begin again their quest to reproduce. Another day on the exploration was spent sailing in a Zodiac looking at the different ice formations and bergs floating in the waters. To see a massive block of floating ice crack into two pieces is impressive to say the least, as well as the sound of a section of glacier breaking off, which sends explosive echoes off the surrounding mountains. Thousands of tons of glacial ice hitting the water below sends out a huge propagation wave that ripples across the ocean surface. As we toured in the Zodiac, we came across a crab-eating seal that was sunning atop a small ice sheet. Later in our exploration, we saw a pod of killer whales, 100 meters off the bow.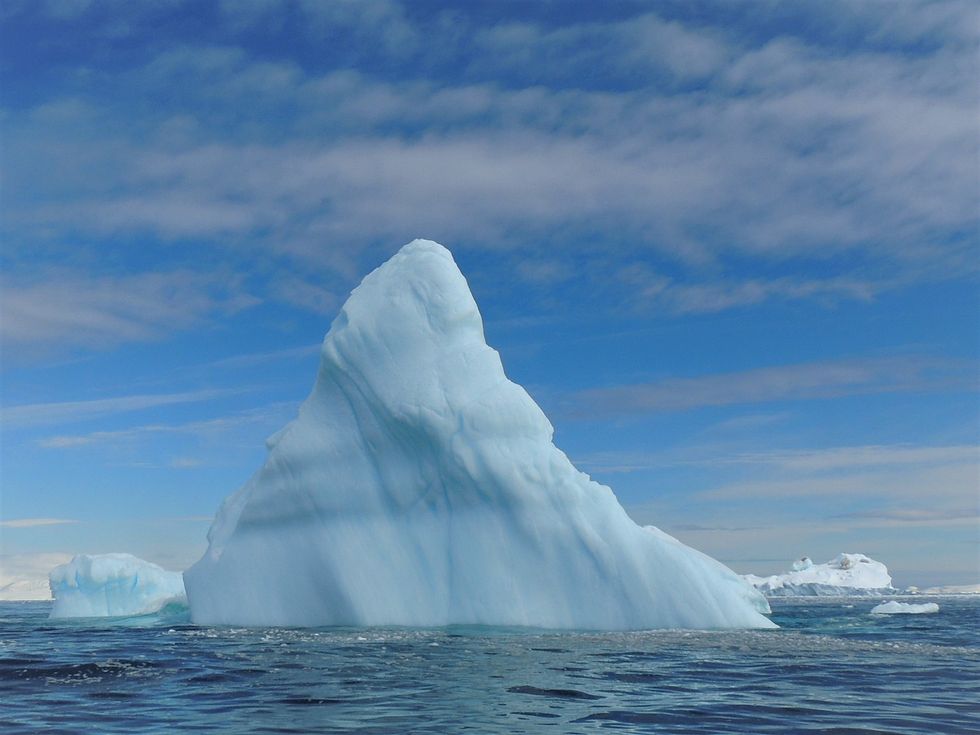 During the journey, I observed spectacular lenticular clouds above distant mountains that exceeded in size and structure those viewed in the Rocky Mountains in North America.
Our fellow passengers were people from all walks of life, many retired, making my wife I the second-youngest couple on the ship. One of our stops was Port Lockroy, a former English weather station from World War II. The tiny gift shop at the fort offered postcards that could be sent back to the U.S. via the Falkland Islands and then finally on to friends and relatives. The postal trip took our cards about three months! One of the unique qualities of the Explorer is that of limited ice-breaking capability. As we sailed slowly through ice-infested waters, the impact of smaller sheets of ice could be felt through the entire ship as the bow made contact and either moved the ice out of the way or split the ice in half, thus clearing the path for forward movement. On more than one occasion, the Explorer's bow was wedged into sea ice and after inspection, passengers were allowed to walk on "frozen ocean." In my past military service, I was based in Minot, North Dakota, and thought that I was at the end of the world. If you wanted to get away from it all, just go to Minot, and you'd nearly be there. After standing on frozen ocean at the bottom of the world in Antarctica, the relativity of getting away from it all was set to a much higher standard of desolation.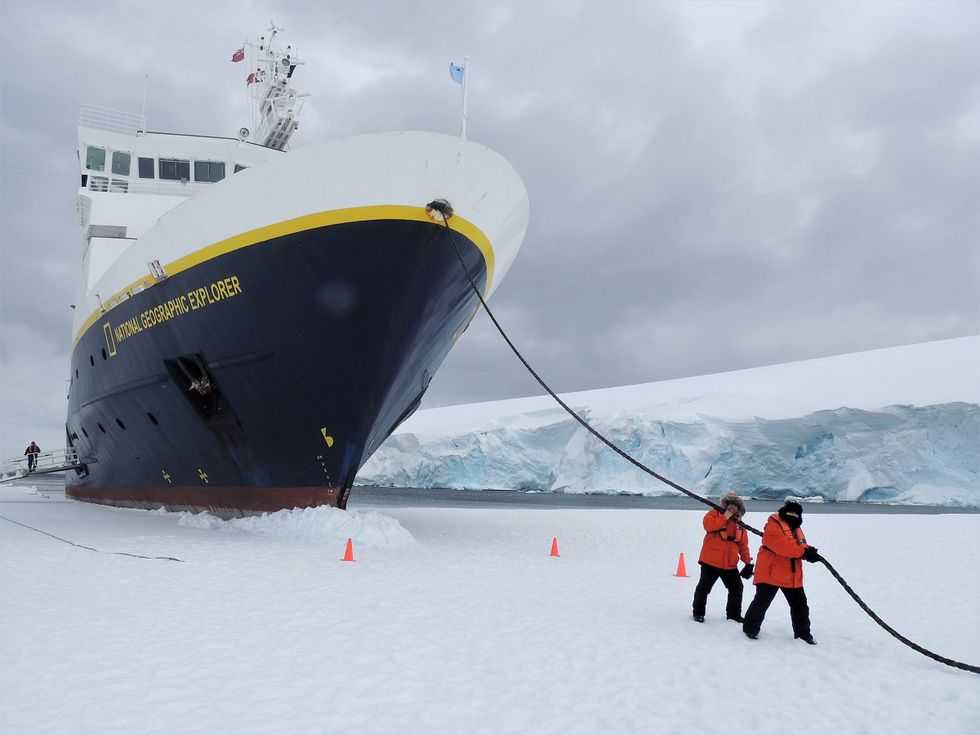 My waterproof boots and thick socks kept my feet warm, and the parka I wore did the same for my upper body. The cold air made my breath visible standing on the ice and taking it all in. I turned about slowly and peering into the empty distance, could hear only the blowing wind. That peaceful quiet magnified the remoteness and isolation of this special place. It's one thing to go to the edge of civilization for a peek, but I did so knowing that my "home away from home," the Explorer, was only about 200 meters away.
Although most folks consider Antarctica a lifeless place, to the contrary, Antarctica thrives with life that fights for survival every day. The life forms in Antarctica have adapted to the subzero temperatures and howling winds that plummet the chill factor much lower. One such life form is that of lichens, an orange growth that can be seen clinging to the rocks of the mountains that towered above. We were told that a sample of this was sent into the hard vacuum of space on a satellite and left for an extended period. Once retrieved, the lichens were still alive! Penguins "queue up," or stand in line to enter the water like paratroopers jammed together awaiting the green light that tells them to jump.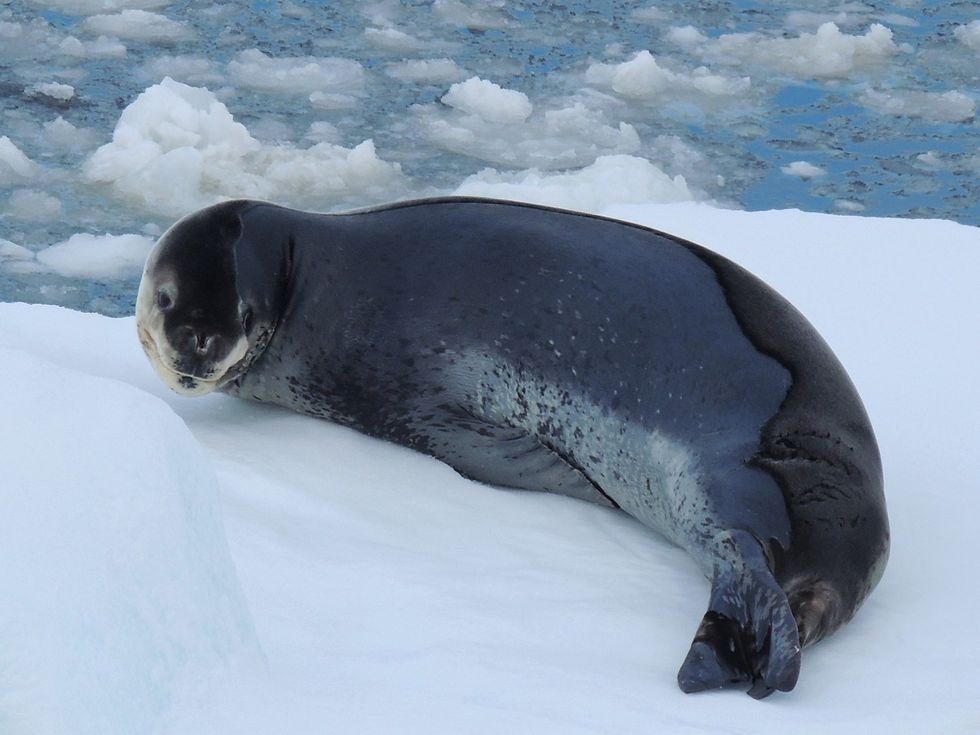 These Antarctic birds do so to increase their chance of survival should a crab-eating seal or other predator lie waiting beneath the water for their arrival. One after another, they dive from shore into the ocean to forage for food. Having snorkeled in The Galapagos Islands, I've seen the aquadynamic shape of a penguin zip past my dive mask and can attest to their rapid maneuverability and very capable velocity. These attributes are often called upon out of necessity to survive when a penguin is trying to "jink" away from or outrun a predator that is eyeing it as a meal.
For much of the trip, there was no, or very limited, communications with the rest of the planet. It was nice being "off line" and having no cell phone or computer beckoning my attention. This left one's focus on just being there and taking it all in. Time waits for no one, and, as the days passed, the time eventually came for us to set sail to the north for the roller coaster ride back across the Drake Passage. I stood on the fantail and took a last look aft as our compass was pointed north for Ushuaia and we left Antarctica in our wake. The light of the nighttime faded as we moved further north and back to the reality of our lives that had been held at bay briefly by the magic of Antarctica.
If your travels have taken you through Chicago O'Hare International Airport anytime since October 2019, you may have had a friendly, caring and jovial exchange with Daniel Smrokowski. Daniel is one of four Service Ambassadors thanks to our ongoing partnership with Special Olympics. This inaugural ambassador program aims to provide Special Olympic athletes employment opportunities within our operation, affording them a unique and meaningful career.
Since 2018, our partnership with Special Olympics has become one of United's most cherished relationships, going beyond the events we take part in and volunteer with. While the plane pull competitions, polar plunges, duck derbies and Special Olympics World Games and other events around the world are a big part of our involvement, the heart of this partnership lies with the athletes and individuals supported by Special Olympics. To advocate for their inclusion in every setting is one of our biggest honors, and we take great pride in the role we play in the organization's inclusion revolution.
Aiding in the success of Special Olympics' mission to create continuing opportunities for individuals with intellectual disabilities, throughout the two-year partnership, United has volunteered over 10,500 hours and donated over $1.2 million in travel to the organization. The impact of this partnership is felt at every level, both at Special Olympics and within our own ranks.
"The Inclusion Revolution campaign, led by our athletes, aims to end discrimination against people with intellectual disabilities. United Airlines has joined in our fight for inclusion, empowering our athletes with the skills needed to succeed and opportunities to contribute their abilities as leaders," said Special Olympics International Chairman Tim Shriver. "United Airlines believes that people with intellectual disabilities should be perceived as they really are: independent, world-class athletes, students, employees, neighbors, travelers, and leaders who contribute to make this world a better place."
Our Service Ambassador program is just one of the many ways Special Olympics has impacted not only our employees, but also our customers. "I see every day how our Service Ambassadors connect with our customers the moment they walk into the airport lobby," said Senior Customer Service Supervisor Steve Suchorabski. "They provide a warm, welcoming smile ad assist in any way they can. To see these young adults hold positions that a society once told them they couldn't is truly the most heartwarming part of my job," Steve continued.
"The opportunity to be a part of the United family means everything to me," Daniel said. "I feel so much pride showing up to work in a Special Olympics/United co-branded uniform, working among such a loving and supportive community. The relationship between these two organizations is truly helping to shape my future while letting me use my gifts of communicating and helping others. Hopefully, I can spend my entire career at United," Daniel added.
In honor of Special Olympics' Global Week of Inclusion in July, we're asking our employees, customers and partners to sign a pledge to #ChooseToInclude at jointherevolution.org/pledge.
And be sure to check out Daniel's podcast The Special Chronicles.

In collaboration with food-logistics company Commodity Forwarders Inc. (CFI), United moved nearly 190,000 pounds of fresh produce to Guam for the U.S. Department of Agriculture's Coronavirus Farm Assistance Program. This new program was created to provide critical support to consumers impacted by the COVID-19 global pandemic.
A variety of fresh fruits were transported from Los Angeles (LAX) to Guam (GUM) on United's newly introduced, non-stop cargo-only flight – a route added to meet cargo demand during the COVID-19 crisis. The fresh food was repacked in 10-pound cases in Los Angeles, prepared for departure at CFI's LAX location, and flown to GUM by the United team. Through this beneficial partnership between United and CFI, the perishable goods were kept cool during every step of the process and distributed as part of the food bank program in Guam.
"Everyone on our team has worked relentlessly during the pandemic to get critical goods to where they are needed most. Establishing a comprehensive network of cargo-only flights have allowed us to keep the supply chain moving even while passenger flight capacity has been reduced," said Regional Senior Manager of Cargo Sales, Marco Vezjak. "Knowing that we are able to help during these difficult times – in this case the Guam community – is our biggest reward and greatest motivation to keep moving forward."
United is proud to play a role in maintaining the global food supply chain and helping people access the supplies they need. Since March 19, United has operated over 4,000 cargo-only flights, moving over 130 million pounds of cargo.

Jessica Kimbrough, currently Labor Relations and Legal Strategy Managing Director, will take on the new role of Chief Diversity, Equity and Inclusion Officer Managing Director.
Jessica assumes this new and expanded position to focus on global inclusion and equity as part of our enhanced commitment to ensure best practices across the business to strengthen our culture.
In this role, Jessica will be responsible for helping United redefine our efforts on diversity, equity and inclusion – ensuring that our programs and approach are strategic, integrated and outcome-oriented, while we continue to build a culture that reflects our core values. She will report to Human Resources and Labor Relations EVP Kate Gebo.
"Jessica's appointment to this role is another critical step our executive team is taking to ensure diversity, equity and inclusion remains a top priority at United," said CEO Scott Kirby. "Given her drive, experience and commitment to champion collaboration and allyship among our employee business resource groups, she is uniquely qualified to take on this position and I look forward to working closely with her."
As Labor Relations and Legal Strategy Managing Director, Jessica worked closely with senior management to create and maintain positive labor relations among our unionized workforce, providing counsel on labor litigation, negotiations, contract administration, organizing issues and managing attorneys who represent United in labor relations. Previously, she served as Labor and Employment Counsel in our legal department.
Jessica has a passion for creating a pipeline of diverse lawyers and leaders, and was honored as one of Chicago Defender's "Women of Excellence" for excellence in her career and civic engagement in 2017. She currently serves as President of uIMPACT, our women's employee business resource group.
Jessica's new role is effective immediately.

Together, we are facing an unprecedented challenge. United Together, we rise to meet that challenge.
Learn more
United Airlines
united
We've issued a travel waiver for Charleston, Wilmington and Norfolk due to Hurricane Isaias. If you're traveling 8/3 - 8/4, you can change your flight at no cost on our mobile app, by direct messaging us or calling 1-800-864-8331. Waiver:
uafly.co/Z04CmP
United Airlines
united
Flights booked now through August 31 can be changed for free over the next 12 months to allow for additional flexibility. All existing travel can be changed without fees as well. See waiver for details:
uafly.co/2M9vgLC
United Airlines
united
Flights booked now through August 31 can be changed for free over the next 12 months to allow for additional flexibility. All existing travel can be changed without fees as well. See waiver for details:
uafly.co/2M9vgLC
United Airlines
united
Questions about what to expect next time you fly? Text "Clean" to FLYUA (35982) to learn how we're making every step of the travel journey safer for you.
United Airlines
united
Our High Efficiency Particulate Air (HEPA) filters recirculate the cabin air every 2-3 minutes helping make an aircraft a cleaner environment than restaurants, grocery stores and even some hospitals. Learn more ➡️
uafly.co/ReadyToFly
United Airlines
united
Today we honor the 30th anniversary of the Americans with Disabilities Act by reinforcing our commitment to continue to build a company and create customer experiences that advocate for people of all abilities.
#ADA30
We Are United
weareunited
Our digital servicing team has developed an automated assistant to make it easier for our customers to learn about what to expect the next time they fly. Text "Clean" to FLYUA (35982) to give it a try!
We Are United
weareunited
Three-year-old Luna Mei was all smiles on her flight home after 212 days in a San Francisco hospital, thanks to her SFO-based FAs (and undercover angels 👼) Pamela R., Sharon S., Sonja B. and Stacey G. The quartet kept spirits high by singing songs, clapping and playing games.
We Are United
weareunited
So long paper boarding passes, standby and upgrade travel are going touchless! If you've signed up for day-of-travel notifications, you'll now receive a text or email when your seat is assigned.
We Are United
weareunited
Our inaugural flight to Chicago from Toyko Haneda coincided with the annual Japanese celebration known as "Tanabata" or "Star Festival." The
#BeingUnited
team at HND placed their wishes on bamboo trees before the flight departed for ORD.
Watch our most popular videos
Flying UCSF Medical Workers to New York
This is why we fly.
20 UCSF Health workers, who voluntarily set aside their own lives to help save lives, are on their way to New York City.
We are humbled by your selfless sacrifice.
Thank you.
#UnitedTogether #UCSFHeroes
A happy, Hollywood ending
This is the story of Jason and Shantel. You see, Jason and Shantel love each other very much. They also love traveling and they love the classic Adam Sandler film, The Wedding Singer.
It all began when Jason reached out to United's social media team, hoping for assistance with his upcoming plan to propose. Some phone calls and one borrowed guitar later, the stage was set for Jason. Put all that together, mix in some helpful United employees and, voila, you have a truly memorable marriage proposal. Congratulations to this fun-loving and happy couple, and here's to many more years of making beautiful music together.
A big thank you to Chicago-based flight attendants Donna W., Marie M., Karen J. and Mark K. for making this proposal come to life.
Copyright © 2020 United Airlines, Inc.
All rights reserved.
Indicates an external site that may or may not meet accessibility guidelines.
Scroll to top
Scroll to top