Best Beach Resorts in the U.S. for Family Vacations
Wondering where to plan your family vacation this summer? We love these family-friendly beach resorts in the U.S.
Summer is here (hooray!), so it's time to start planning a beach vacation with the whole crew. Think digging your toes into the sand, searching for seashells, and diving headlong into frothy ocean surf. Not much can top days spent wearing flip-flops, snuggling with salty-haired kiddos, and simply enjoying laid-back seashore bliss. Here are our top beach resorts in the U.S. for family vacations.
Hotel Del Coronado – California
The grand dame of Coronado Island, the stunning, red-roofed Hotel Del Coronado serves up an elegant cocktail of Victorian seashore charm infused with bygone glamor. Set on a private stretch of Coronado Beach, the Del offers families countless seaside activities from biking along the Pacific coast to surf lessons, mermaid fitness classes (tail included!), beach bonfires and waterskiing. Days can be spent in laid-back coastal California style, lounging on the beach (games and gear are available to rent), enjoying the resort's gorgeous pools, or exploring the mecca of unique, onsite shops. Kidtopia, the resort's children's center, features a slew of ocean-themed DelVentures for kids ages 4 through 12, and spots like Spreckles Sweets and Treats and MooTime Creamery are favorites among the underage crowd.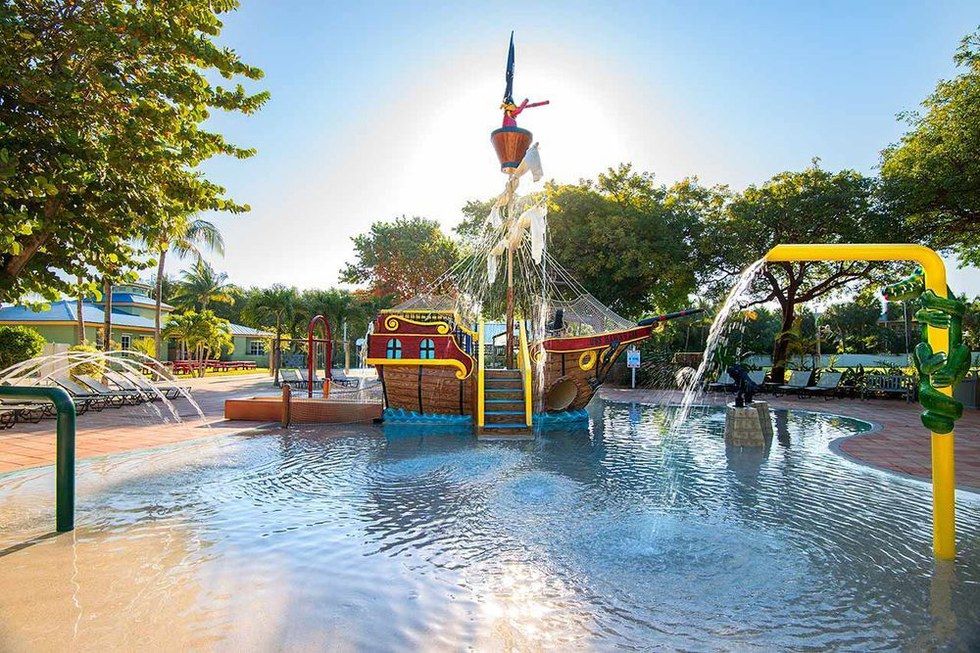 Hawks Cay Resort
Courtesy Hawks Cay Resort
Hawks Cay Resort – Florida Keys
Located at mile-marker 61, Hawks Cay Resort on Duck Key offers a perfect balance of fun and solitude amidst 60-acres of lush gardens, vibrant coral reef and the calm waters of the Atlantic Ocean and Gulf of Mexico. With its unique offerings, children will love the Coral Cay kids club, featuring crafts, scavenger hunts, snorkeling, and kids' nights out. Accommodations — which range from spacious family guestrooms to breezy, multi-bedroom villas with private lanais — are scattered throughout four distinct villages, each with its own inviting island ambience. The resort's onsite marina and Sundance Watersports entice guests with plenty of options to explore the sea including sunset cruises, fishing for local mahi, or kayaking to remote mangrove islets. Lounging with an umbrella-garnished cocktail by one of the resorts five pools, including the elaborate pirate-themed children's area and a private, ocean-fed, saltwater lagoon, is vacation at its best.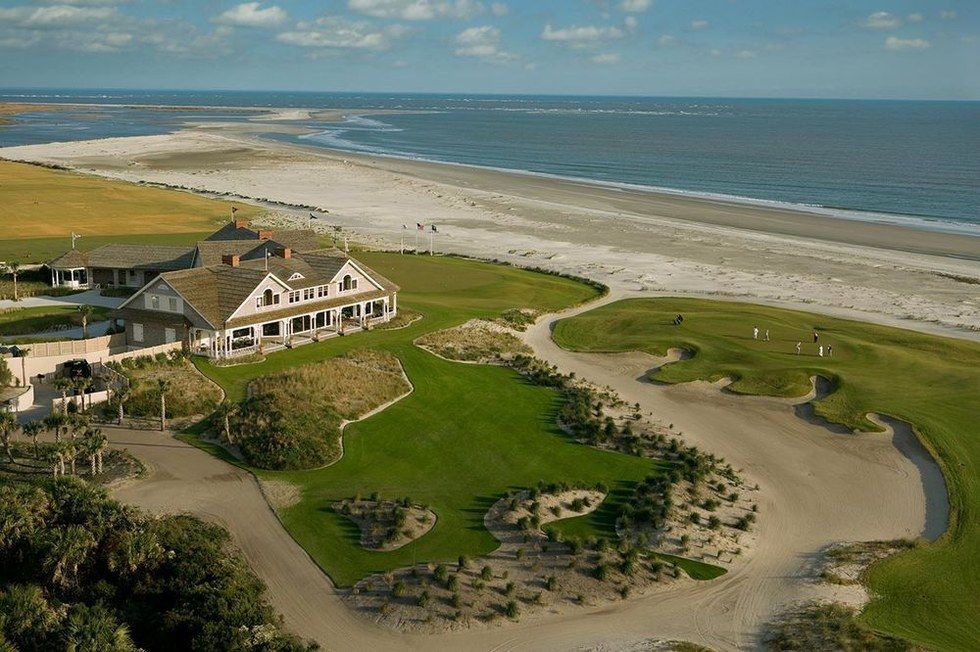 Kiawah Island Resort
Courtesy Kiawah Island Resort
Kiawah Island Resort – South Carolina
Families will find themselves immersed in low-country splendor the moment they drive down the oak-shaded lane that leads to the sublime Sanctuary Hotel on Kiawah Island. Perhaps best known for its five award winning golf courses, Kiawah Island Resort offers a wealth of indulgences beyond the links. The resort is truly breathtaking — a sweeping lawn bedecked by Adirondack chairs overlooks the ocean while verdant palms and plush loungers surround a sparkling saltwater pool. Just beyond the pool deck, a boardwalk leads to a 10-mile expanse of beach, perfect for bike riding or just whiling away the hours. Guests can find Night Heron Park, the resort's activity hub, a short drive from Sanctuary, which is home to the excellent Camp Kiawah kids' program, a fabulous children's pool complete with slides and splash areas, and the Heron Park Nature Center, which serves as the jumping off point for the resort's superior naturalist-led programs — favorites include boating excursions to secluded Sandy Point and wildlife paddling tours through the surrounding saltmarsh. Luxurious accommodations range from spacious guestrooms and suites in the Sanctuary to an enormous selection of villas and private homes spread throughout the resort's 10,000-acre island haven.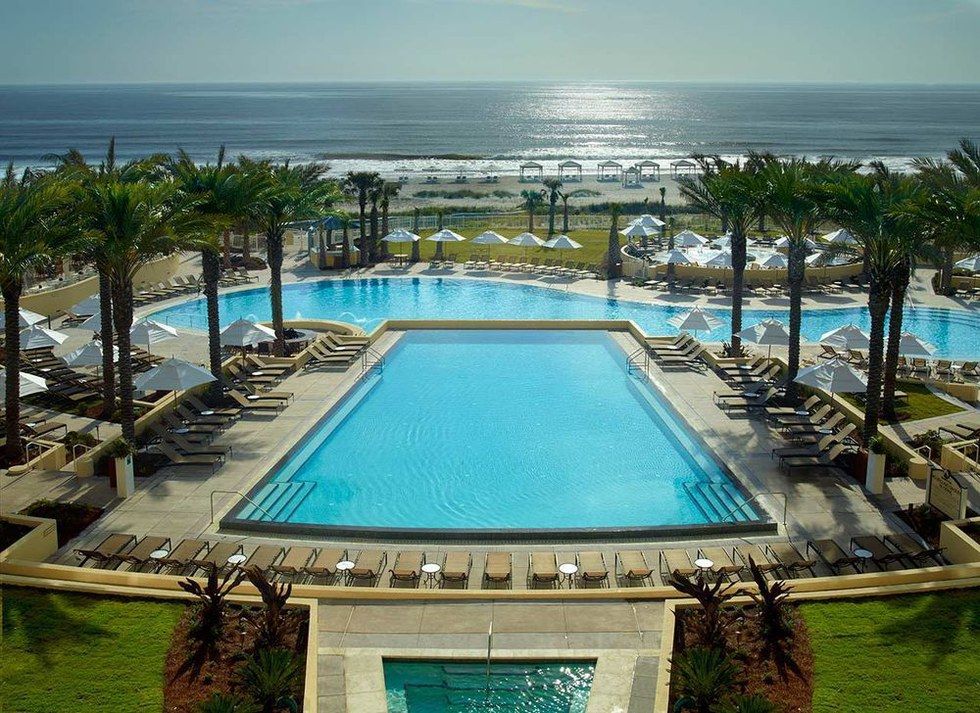 Omni Amelia Island Plantation Resort
Courtesy Omni Amelia Island Plantation Resort
Omni Amelia Island Plantation Resort – Florida
A world unto itself, the Omni Amelia Island Plantation Resort is the kind of place that, once you arrive, you'll never have to leave. Spread throughout 1,350-lush acres, visitors will find three golf courses, 23 Har-Tru tennis courts, a luxury spa, and the Shops of Amelia Island Plantation (home to a variety of charming eateries), Amelia's Wheels bike rentals, Heron's Cove Adventure Golf, and the Amelia Island Nature Center. The resort's centerpiece is the soaring 404-room oceanfront hotel, framed by lush palm trees, 3½ miles of private beach, and a spectacular pool area with restaurants, kids' activities, and even a tequila bar. Camp Amelia offers children ages 4 through 14 the chance to explore the resort through themed activities that encourage nature and science discovery, imaginative play, and camaraderie. Families will love the bright, ocean-inspired guestrooms and suites, most with balconies overlooking the beach and pools.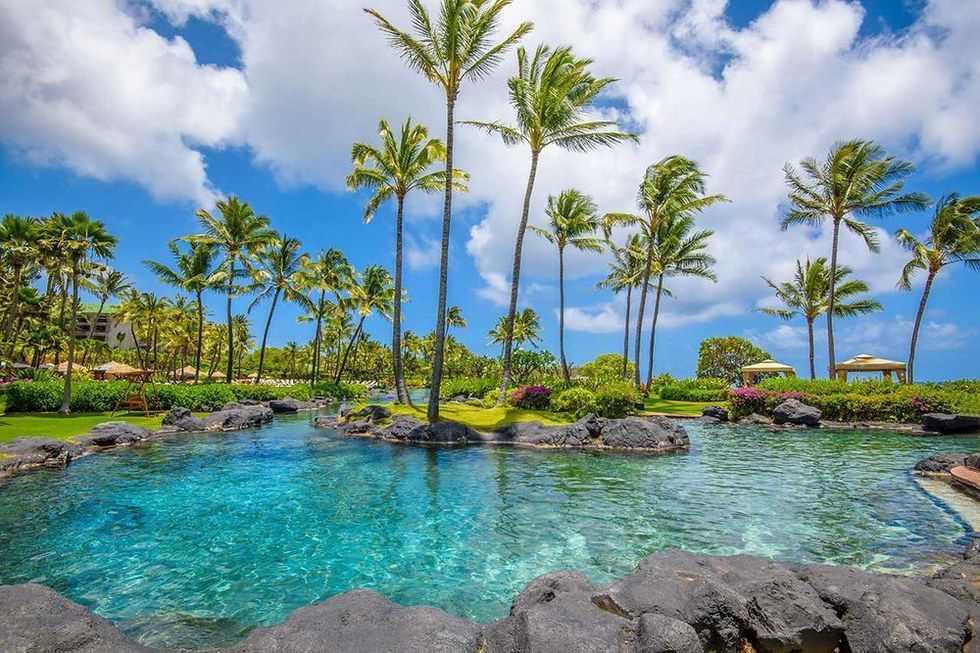 Grand Hyatt Kauai Resort and Spa
Courtesy Grand Hyatt Kauai Resort and Spa
Grand Hyatt Kauai Resort and Spa – Hawaii
Families will find the aloha spirit at the Grand Hyatt Kauai, with its lush, tropical grounds overlooking the gorgeous Pacific surf of Poipu Beach. The resort's pools, featuring slides, a lazy river, waterfalls, and hidden coves, and a 1½ acre saltwater lagoon are the stars of the show. Putting a native spin on the traditional kids' club, Camp Hyatt engages kids in Hawaiian culture with activities like palm-frond weaving, ukulele lessons, and time spent interacting with the resort's colorful parrots. In the resort's open-air atrium, complimentary fun includes lei making and hula lessons throughout the day. Don't miss the twice-weekly luau, which features a lavish Polynesian-style revue.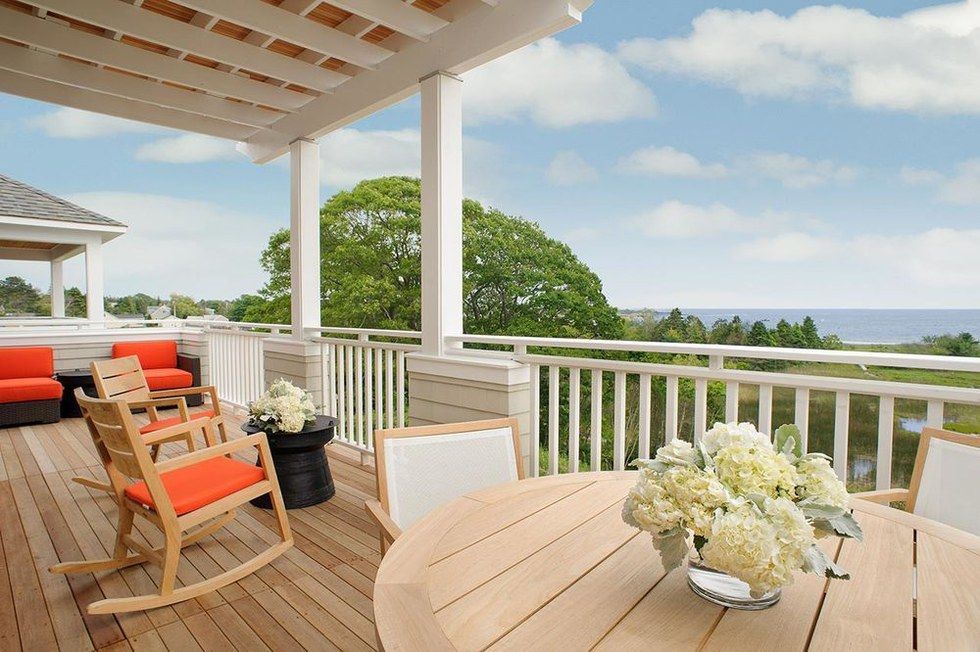 Inn by the Sea
Courtesy Inn by the Sea
Inn by the Sea – Maine
Overlooking the gentle surf and soft sand of Crescent Beach, Inn by the Sea combines eco-luxury with the rugged beauty and nautical charm of coastal Maine. Families take up residence in the Inn's sunny and spacious seaside suites and cottages, most with ocean views, kitchens or kitchenettes, and large furnished decks or balconies. Days are filled with old-fashioned seashore fun — grab beach cruisers and pedal out to one of the local lighthouses, enjoy a naturalist led beach walk, fly kites on the beach, or take a dip in the solar heated swimming pool. Kids will love juggling lessons or learning about Maine's marine ecosystems from an insect's perspective in the Bug's Life Garden tour. A great home base for exploring the maritime wonders of the historic Casco Bay area, the Inn's staff can arrange everything from lobster boat excursions to kayaking, visits to Casco Bay's islands, or tickets to a Portland Sea Dogs game.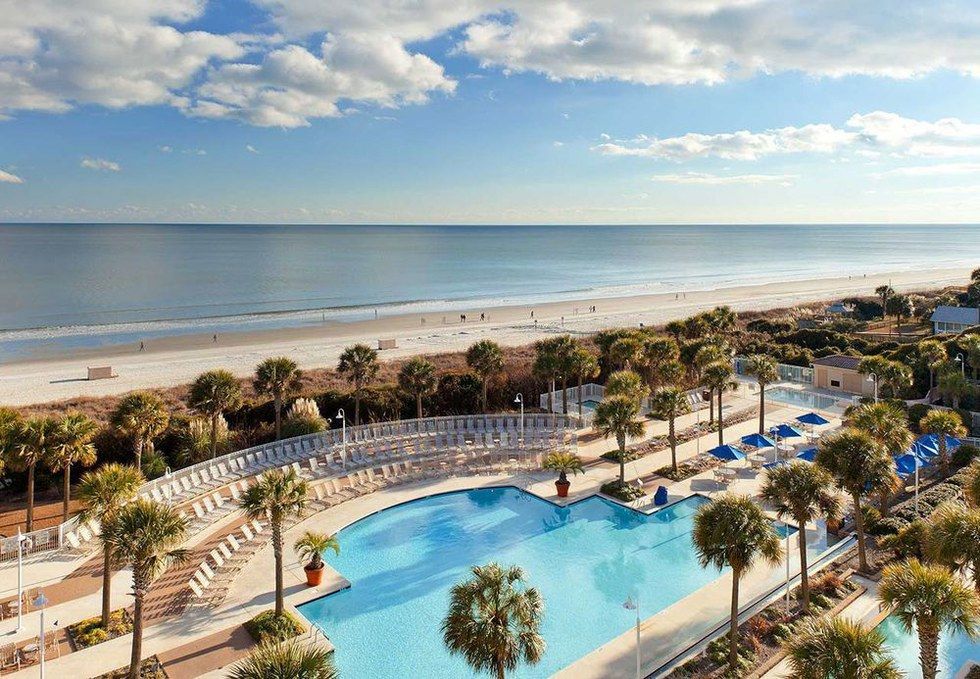 Marriott Resort and Spa at Grand Dunes
Courtesy Marriott Resort and Spa at Grand Dunes
Marriott Resort and Spa at Grand Dunes – South Carolina
Sometimes a beach destination with all the bells and whistles — think flashy boardwalk, super go-karts, and mini-golf on steroids — is just what the family needs. Enter Myrtle Beach, which encompasses all of the above and more. Set along a semi-private stretch of South Carolina's famed Grand Strand and its 60 pristine miles of Atlantic coastline, the best place for families to call home is the Marriott Resort and Spa at Grand Dunes. Though the hullaballoo of the "strip" remains close by, the luxe Marriott Grand Dunes offers blissful respite six miles north of the famed 14th Street Pier. Perks include freshly renovated guestrooms (opt for an ocean view with balcony), the Hibiscus Spa with a fun kids' menu, and a spectacular pool. Organized kids' activities are offered seasonally for a small fee and guests have privileges at several nearby golf courses.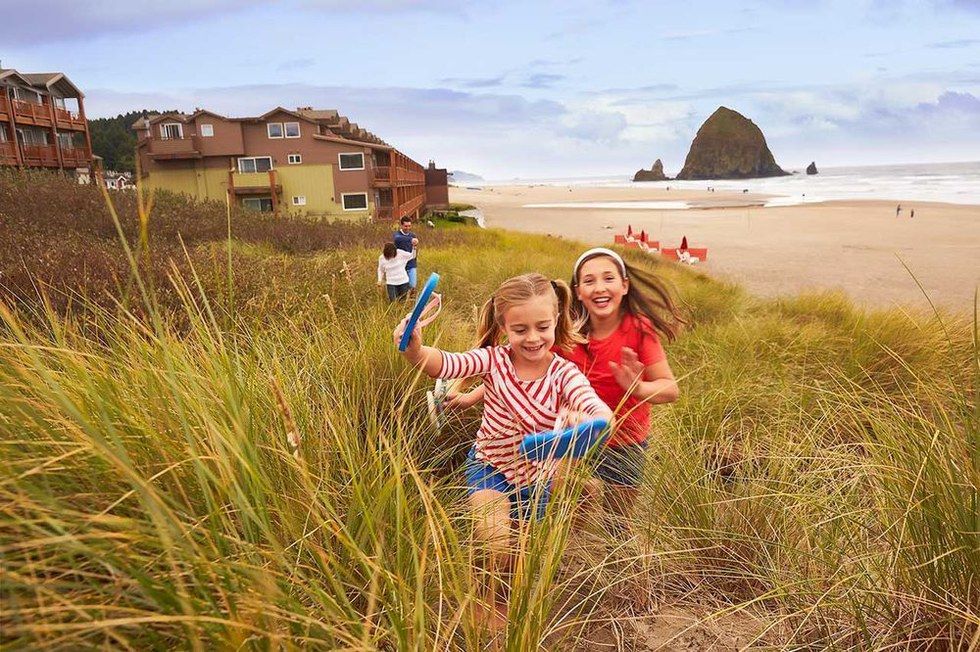 Surfsand Canon Beach
Courtesy Surfsand Canon Beach
Surfsand Canon Beach – Oregon
Old-school seaside charm awaits at Surfsand Resort, perched just a few steps from the edge of Canon Beach. Warm and welcoming, Surfsand is like summer camp for families, offering perks like an extensive DVD library for family movie nights, board games, bicycles and helmets, Saturday ice-cream socials, and in-room lanterns for beach walks beneath the stars. Just offshore, Haystack Rock, a local landmark, soars above the Pacific, while tide pools offer perfect places for kids to explore the underwater world. Parents will love the resort's complimentary cabana service, which provides beach umbrellas, kites, and sand toys. Surfsand's 95 guestrooms offer comfortably chic accommodations, with plush amenities like bathrobes for kids and adults, gas fireplaces and spacious balconies.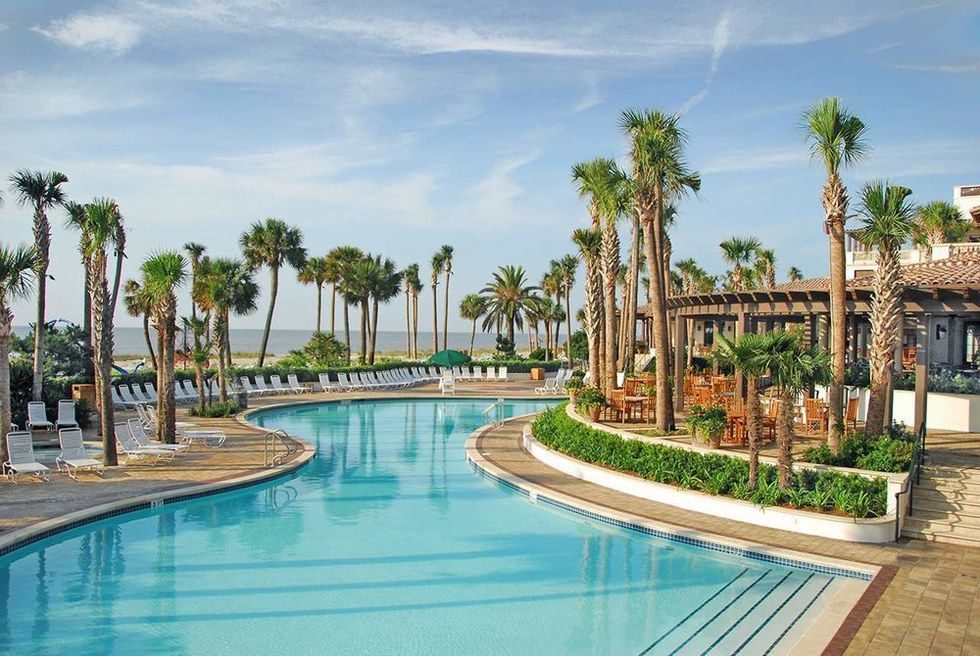 Sea Island
Courtesy Sea Island
Sea Island – Georgia
Take a step back in time to a bygone era of old-fashioned, southern charm on Sea Island, an alluring gem among Georgia's Golden Isles. Bordered by the Black Banks River to the west and 5 miles of dune-fringed Atlantic seashore to the east, the island is steeped in abundant history and pristine natural beauty. At the heart of the resort, the Mediterranean-inspired Cloister and adjacent Beach Club offer a variety of elegant guestrooms and suites — staying on the Beach Club side, with its easy access to the resort's beach and beautiful, meandering pool, is ideal for families. Pedal beneath moss-draped, antebellum oaks and learn about the island's ecology and history, paddleboard through tidal grasslands, grab a cone at Wonderland Sweet Shop, or join the resort's famous Bingo game. Camp Cloister, Sea Island's children's program, offers an array of engaging experiences with talented onsite naturalists and educators for younger guests.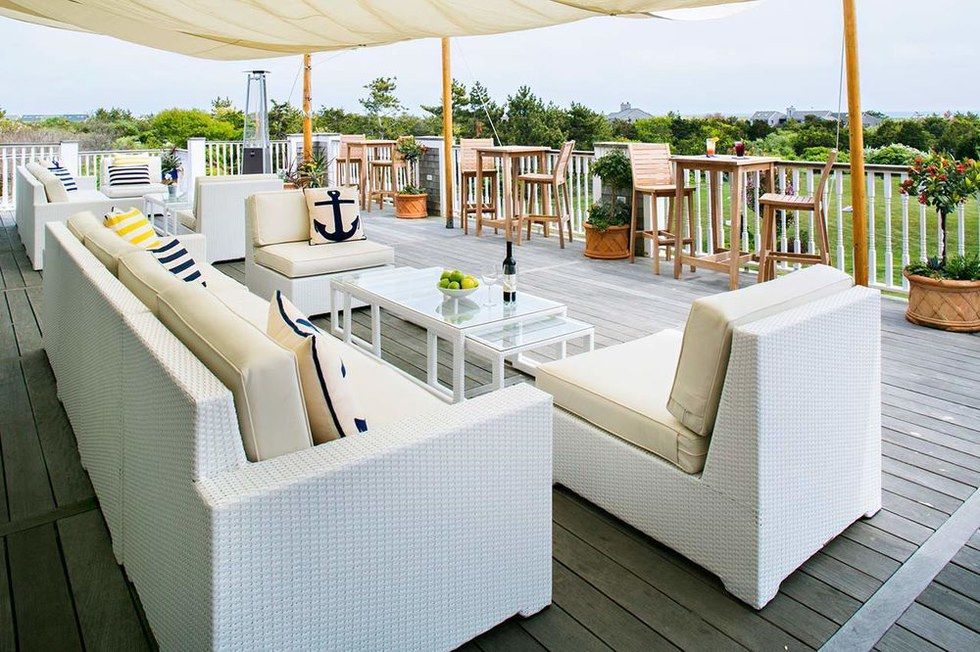 Winnetu Oceanside Resort
Courtesy Winnetu Oceanside Resort
Winnetu Oceanside Resort – Massachusetts
Family-owned by people who know what it's like to be parents, the folks at Winnetu Oceanside Resort truly know how to make a family vacation fun and relaxing. Perched along a gorgeous stretch of South Beach in Edgartown, the resort has handcrafted an imaginative menu of activities that keep kids of all ages running around outside, exploring the tides, visiting a nearby farm and building sandcastles. Teens ages 13 through 16 can join up with the local Martha's Vineyard Adventure Camp for kayaking, orienteering, and mountain biking. Beyond organized fun, families can bike, play classic lawn games, take a ride on an antique fire truck, and kick back at the resort's popular Wednesday evening clambake. For even more adventures, Winnetu's pre-arrival concierge will help plan outings to nearby Nantucket, island nature tours, or an in-room massage. Bright and breezy, the resort's suites and cottages are perfect for families of every size offering space for even large, multigenerational groups to spread out in comfort.
This article was written by Gina Vercesi from Islands and was legally licensed through the NewsCred publisher network. Please direct all licensing questions to legal@newscred.com.
In October 2019, we launched a first-of-its-kind airline miles donation platform, Miles on a Mission. In the inaugural year, MileagePlus members donated over 70 million miles, with United matching over 20 million miles, to 51 organizations. These miles have allowed for these organizations to do important, life-changing, life-saving work in the communities we serve around the globe.
Whether it's visiting friends and relatives, traveling for work or simply exploring a new corner of the world, we all have a reason as to why we fly. No matter the reason you fly, the miles you earn and donate help our Miles on a Mission partners soar. Take a look at how some of our partner organizations have put our MileagePlus Members' donations to work.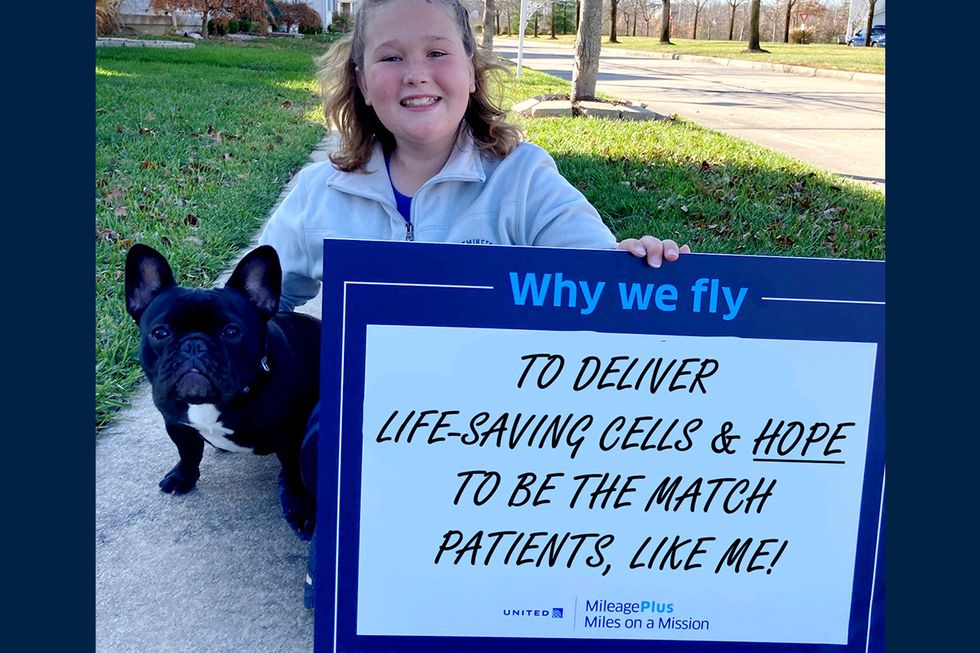 "To deliver life-saving cells and hope to Be the Match patients, like me!"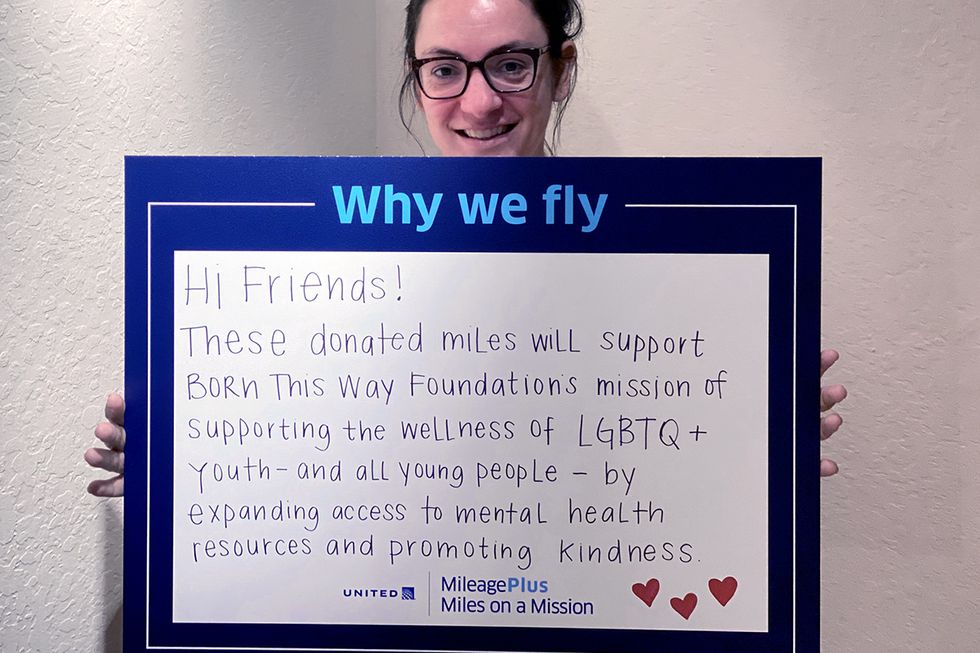 "These donated miles will support Born This Way Foundation's mission of supporting the wellness of LGBTQ+ youth — and all young people — by expanding access to mental health resources and promoting kindness."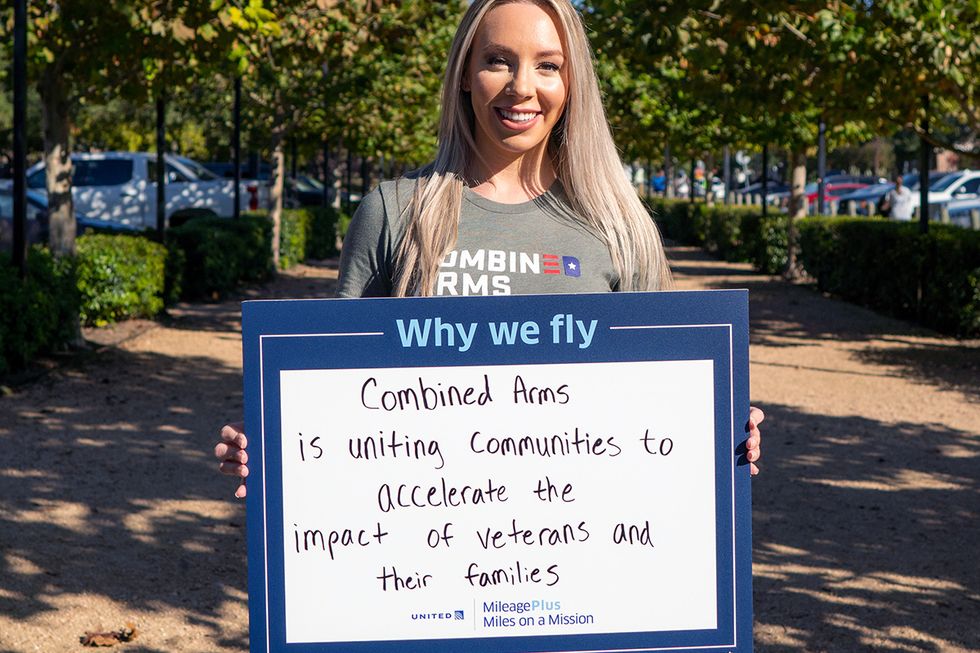 "Combined Arms is uniting communities to accelerate the impact of veterans and their families."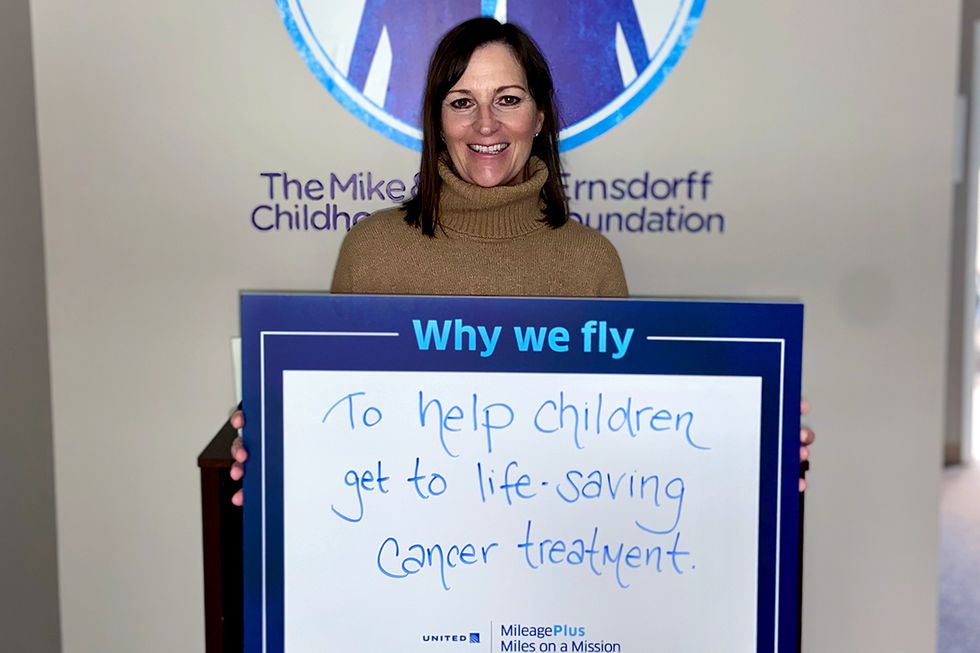 "To help children get to life-saving cancer treatment"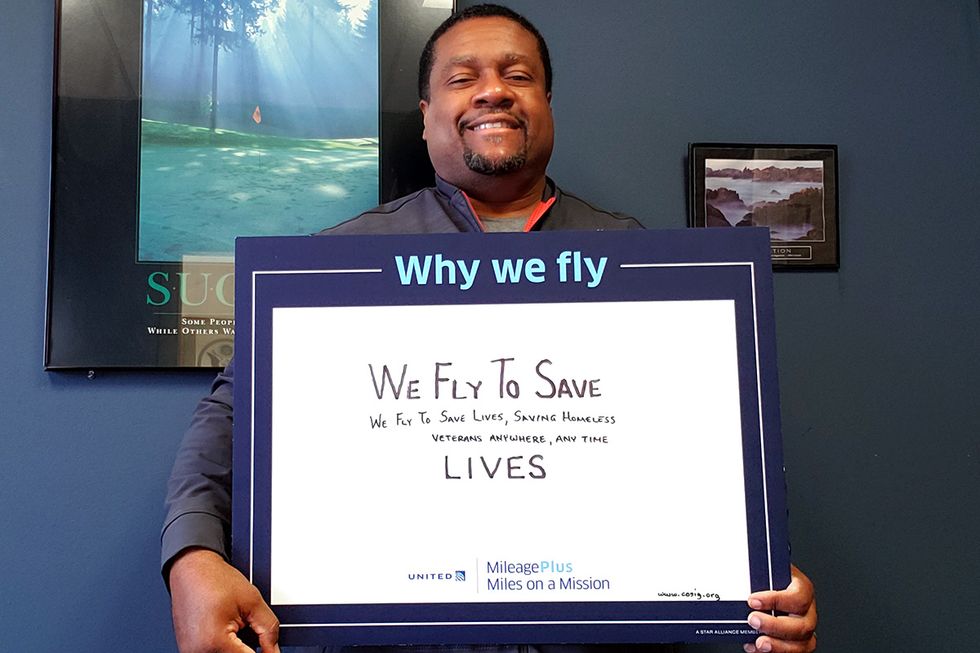 "We fly to save. We fly to save lives, saving homeless veterans anywhere, any time."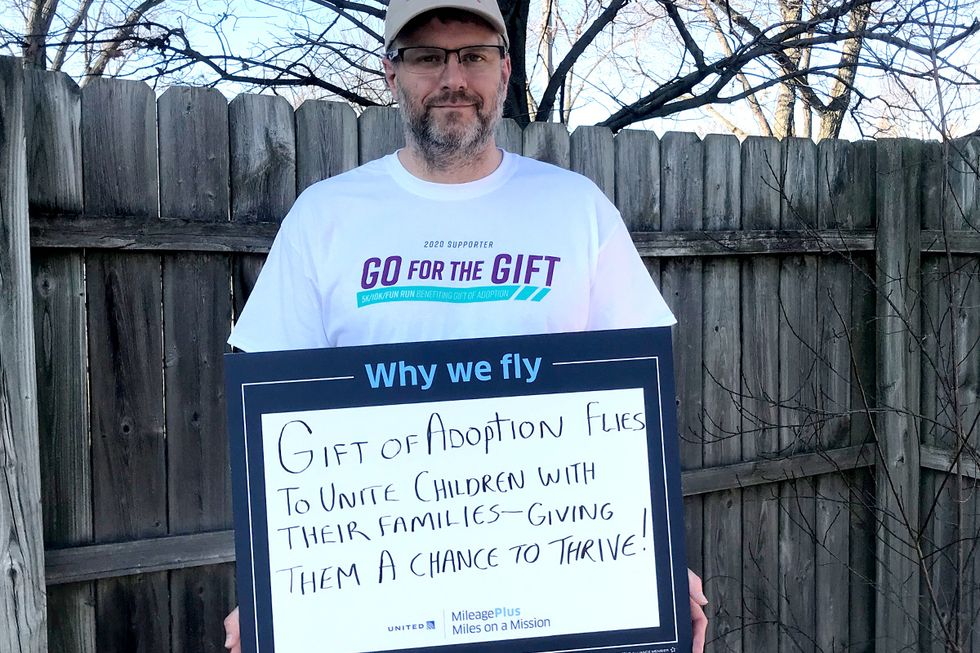 "Gift of Adoption flies to unite children with their families — giving them a chance to thrive!"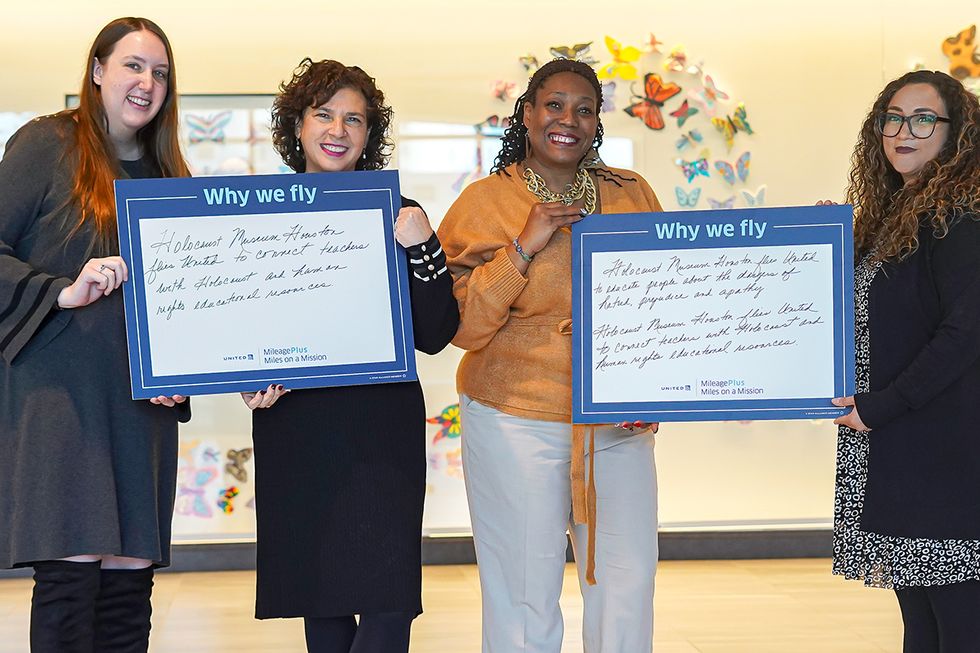 "Holocaust Museum Houston flies United to educate people about the dangers of hatred, prejudice and apathy. Holocaust Museum Houston flies United to connect teachers with Holocaust and human rights educational resources."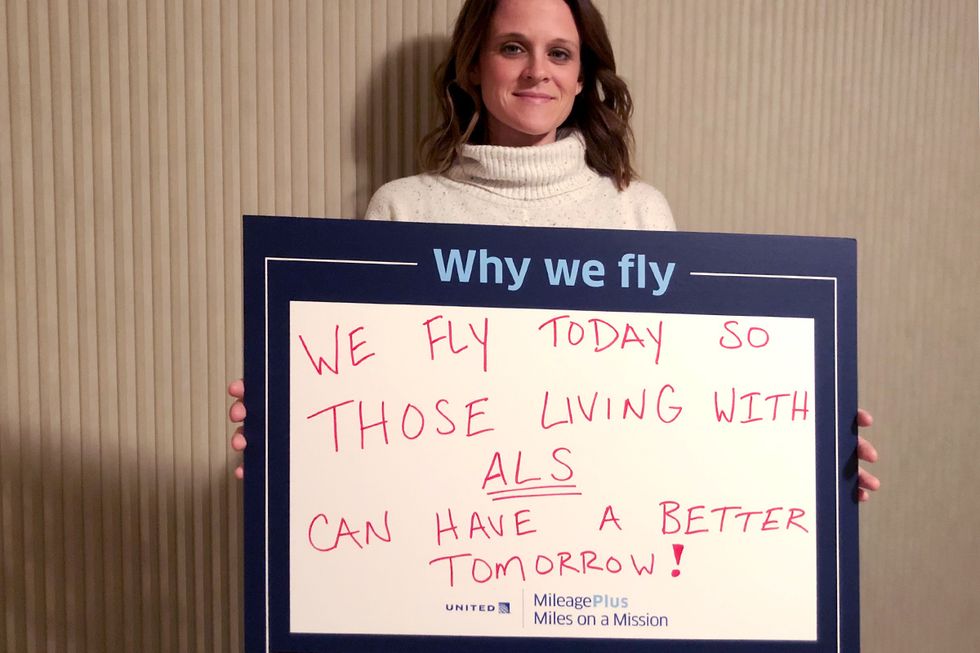 "We fly today so those living with ALS can have a better tomorrow."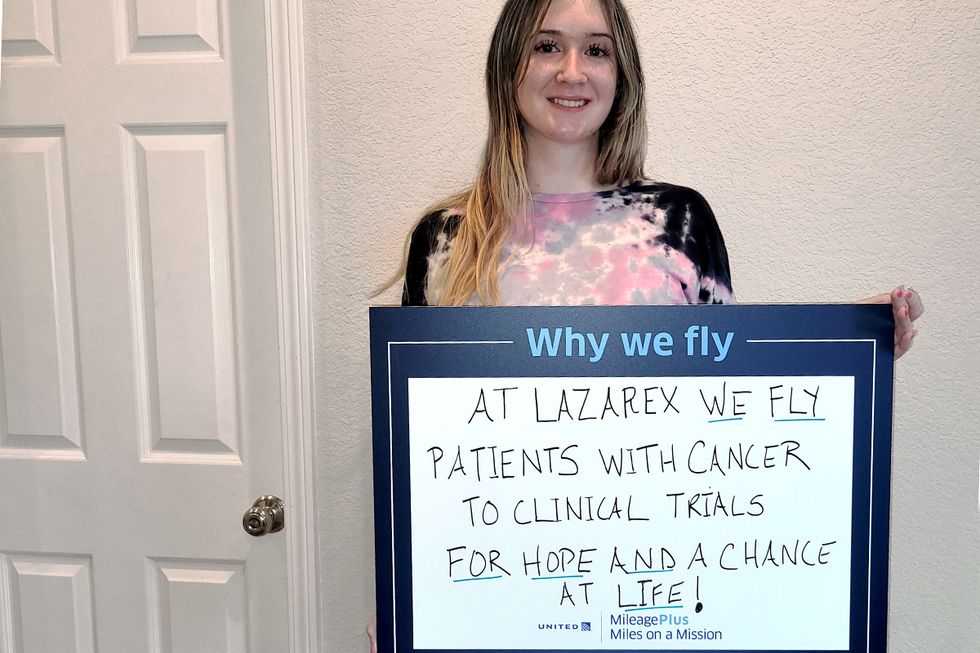 "At Lazarex we fly patients with cancer to clinical trials for hope and a chance at life!"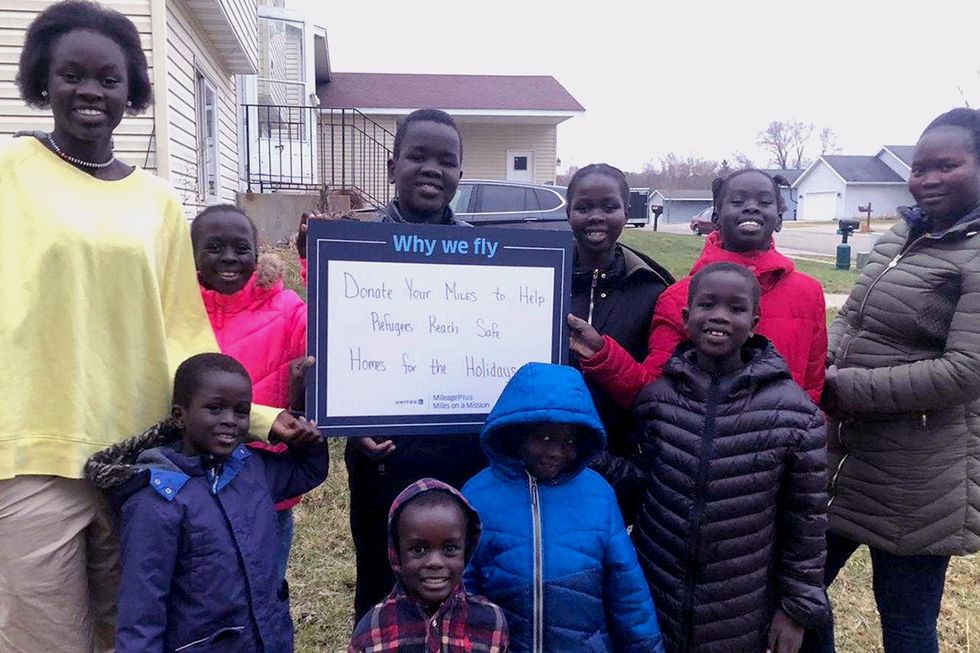 "Donate your miles to help refugees reach safe homes for the holidays."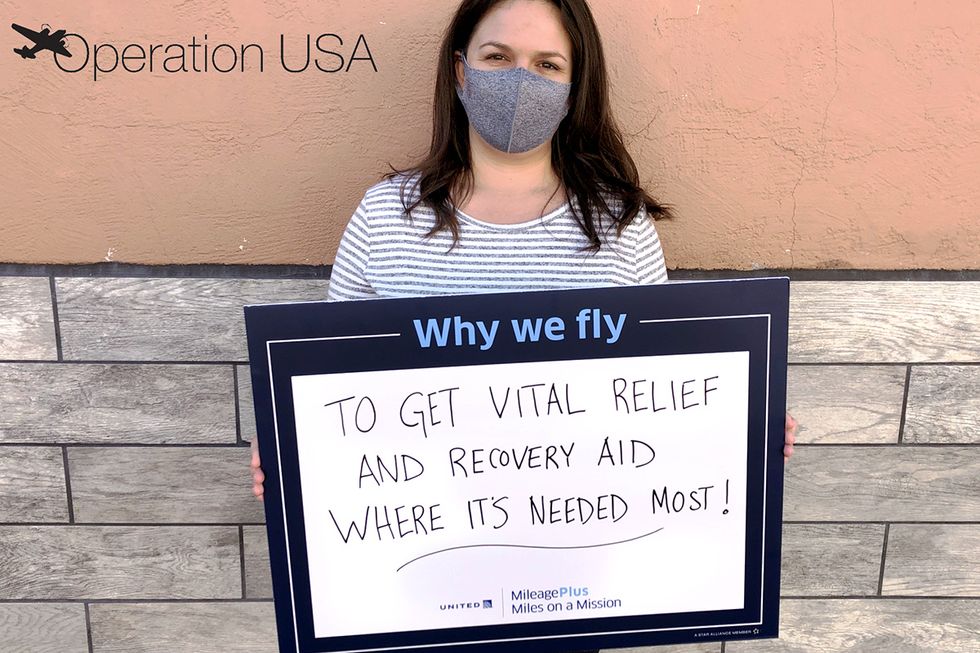 "To get vital relief and recovery aid where it's needed most!"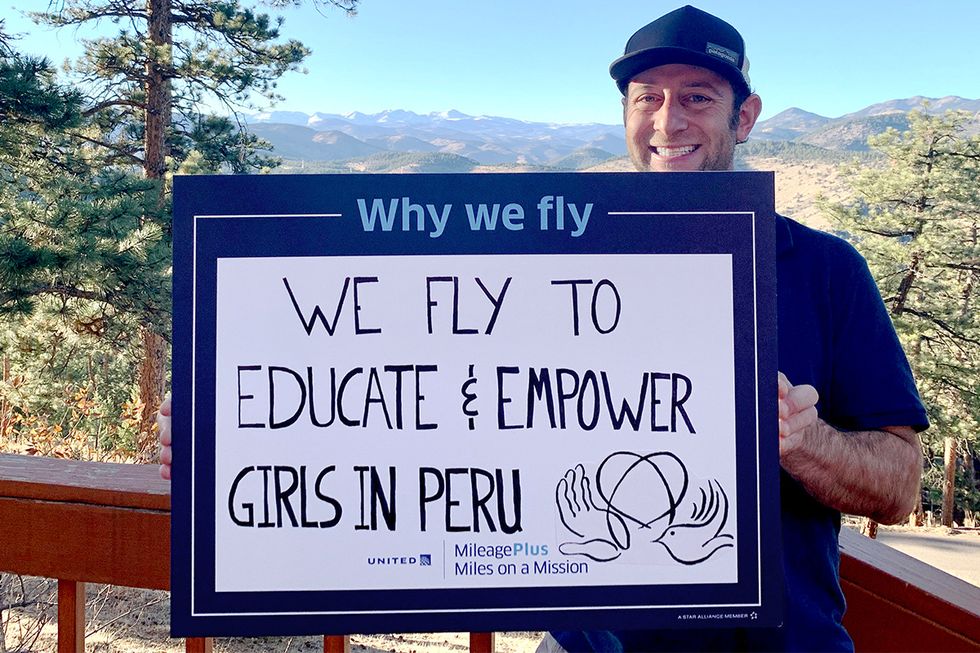 "We fly to educate and empower girls in Peru."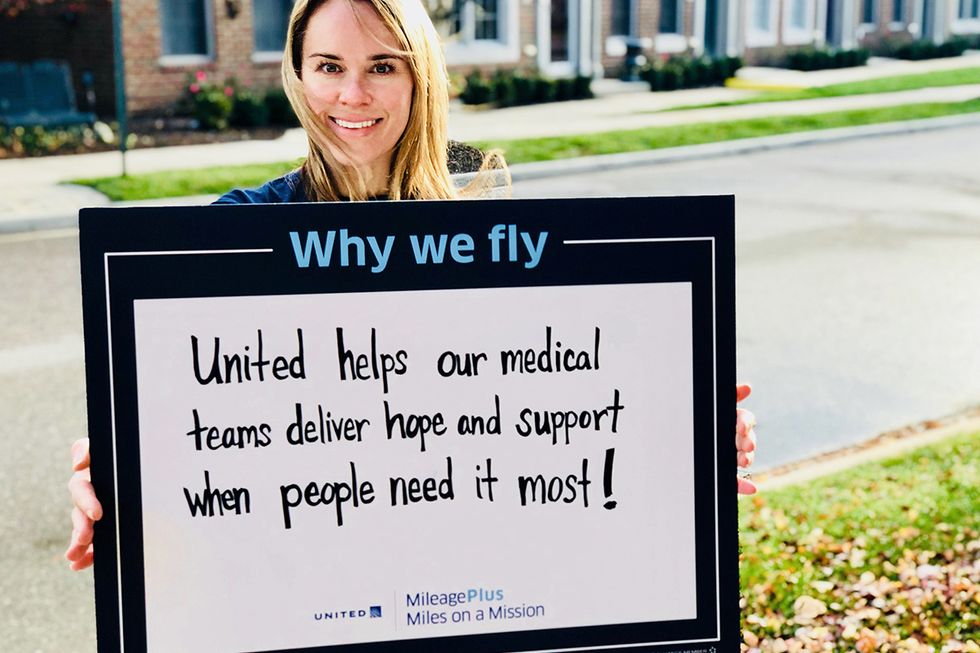 "United helps our medical teams deliver hope and support when people need it most!"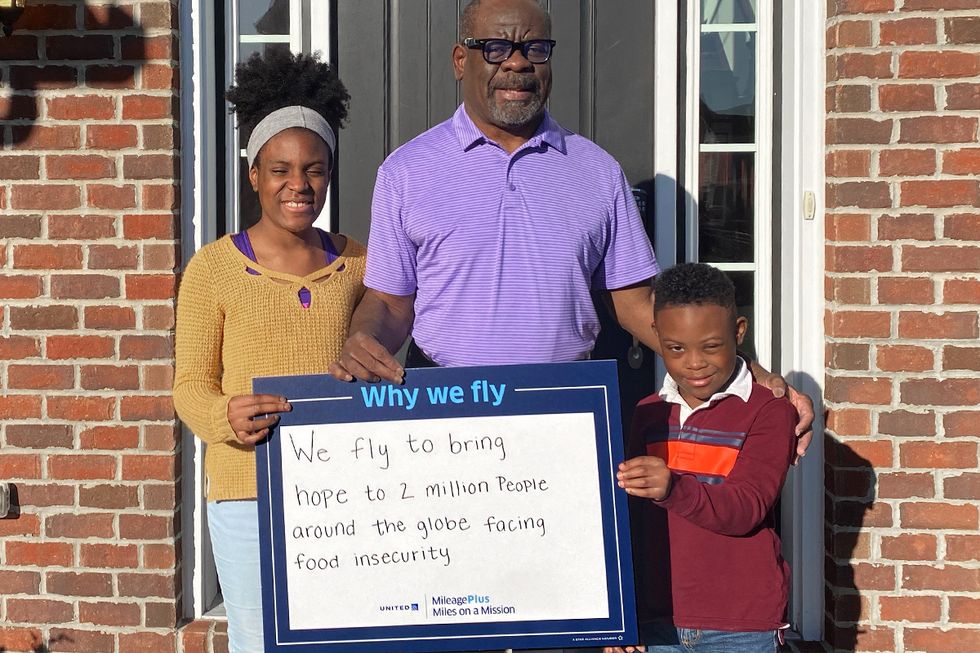 "We fly to bring hope to 2 million people around the globe facing food insecurity."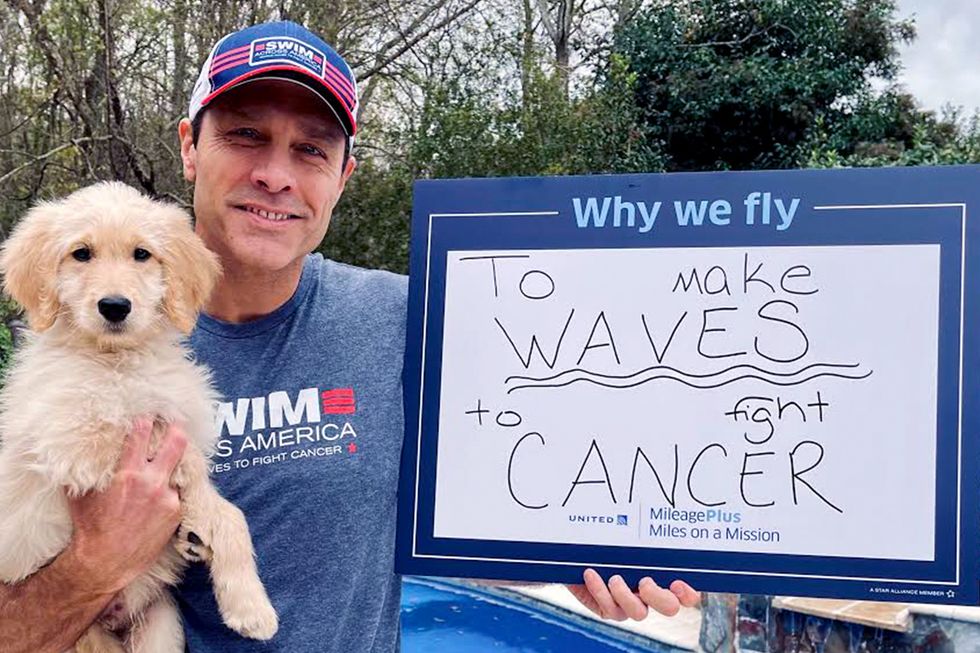 "To make waves to fight cancer."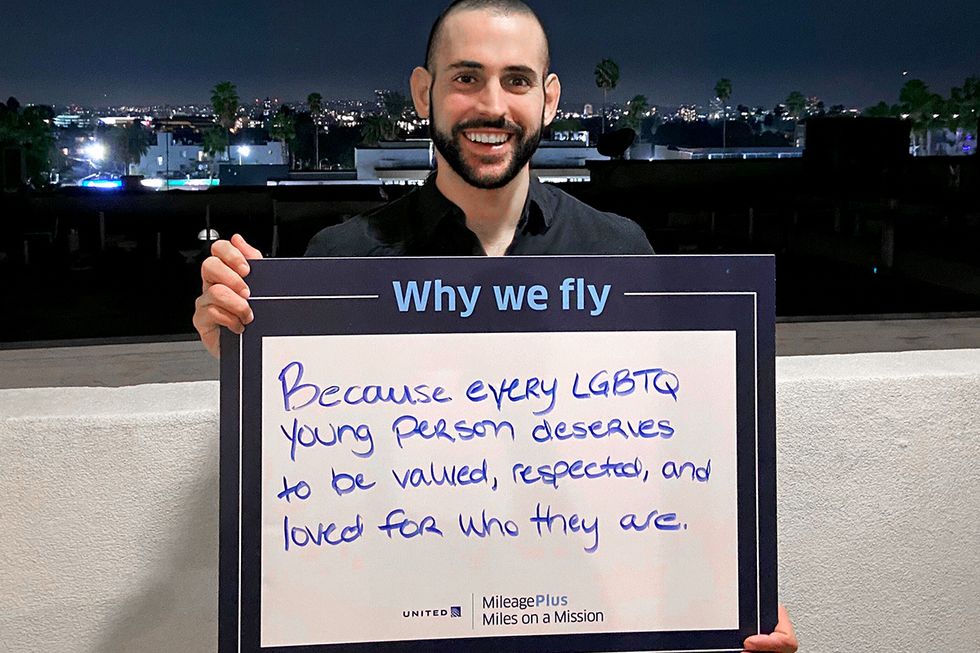 "Because every LGBTQ young person deserves to be valued, respected and loved for who they are."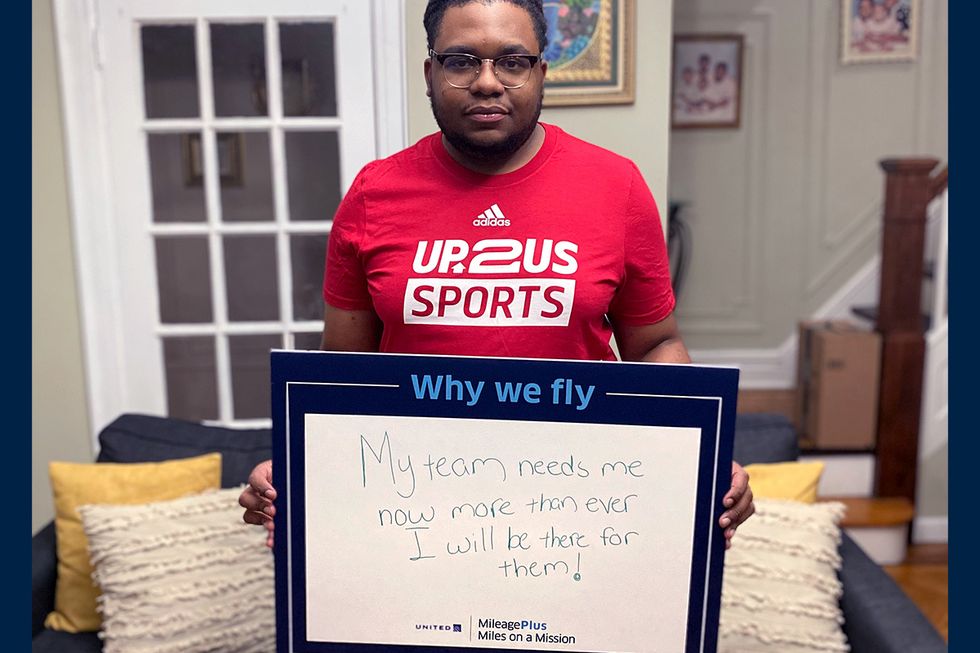 "My team needs me now more than ever. I will be there for them!"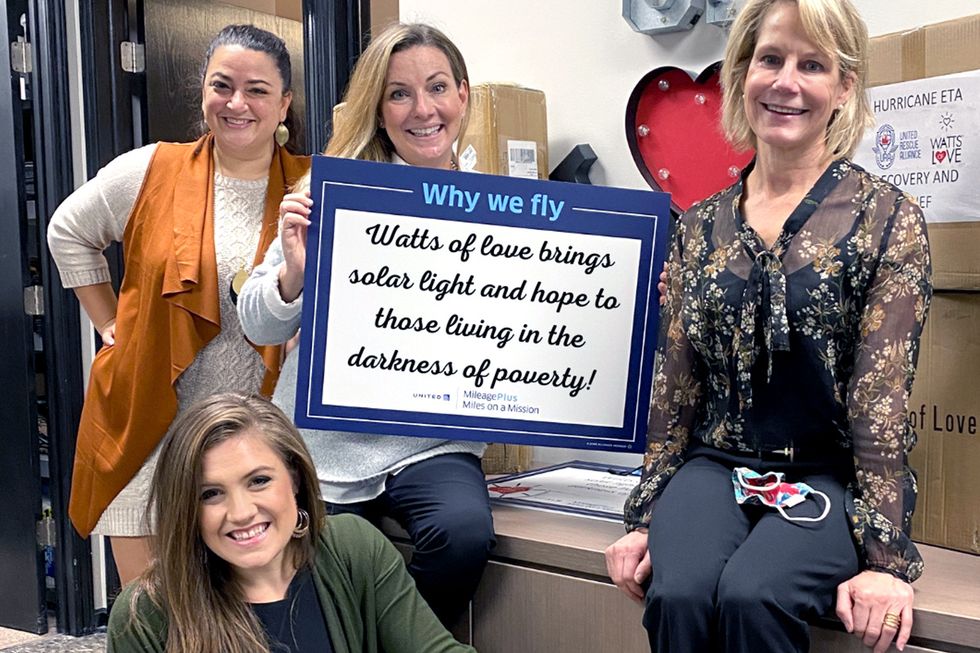 "Watts of Love brings solar light and hope to those living in the darkness of poverty!"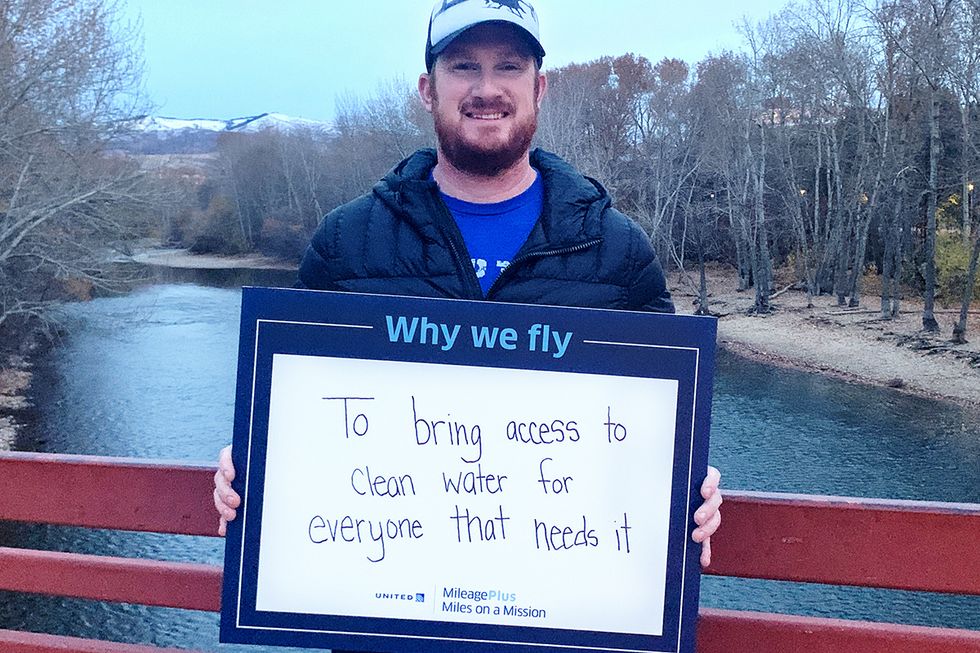 "To bring access to clean water for everyone that needs it."
Critical medical shipments – Check.
High-tech electronics – Check.
2.7 million pounds of lobster? Check.

While this year's holiday gatherings will look a little different, millions of people around the world will still carry on the tradition of celebrating the holidays with a meal.

As the appetite for different types of food from all over the world increases, so does the need for safe and reliable transport. Fish caught in the United Kingdom can depart at breakfast and arrive in Washington D.C. in time for dinner. Thanks to United Cargo's expansive network, we are longer constrained by global distance or the seasonality of a product,
United Cargo plays a big role in transporting shipments with a limited shelf life around the world. Packed in between the latest electronics from Asia and the hottest fashion items from Europe, our aircraft carry a variety of perishable shipments like flowers, fruit, meat and vegetables, where speed and careful handling keeps them fresh. Whether it's cherries from Washington State or vegetables from Peru, our temperature-controlled shipping processes and vast global network helps move these commodities all over the world.
While the holidays are an exceptionally busy time of year for shipping perishable items, United Cargo transports these critical goods for people all over the world year-round. Earlier this year, United Cargo moved nearly 190,000 pounds of fresh produce to Guam for the U.S. Department of Agriculture's Coronavirus Farm Assistance Program to support communities impacted by COVID-19. Additionally, with the holiday season here, we anticipate the cargo holds of our aircraft to be full of grocery store replenishments, including staples like turkey and ham, hitting shelves across the globe.
We take pride in our role to make sure perishables and produce arrive on time and at the peak of freshness. These products sustain, feed and nurture the world, and consumers around the globe depend on them every single day.
Since March 19, United has operated nearly 8,000 cargo-only flights, moving over 272 million pounds of cargo on those flights alone. United Cargo is proud of the role we play maintaining the global food supply chain and helping people access commodities from all over the globe.
Bon appetit!
With thousands of veteran and reservist employees at United, we are incredibly grateful for their dedication, courage and bravery. Not only do they serve our country, they also bring a standard of excellence and professionalism to work on a daily basis.
We are thrilled to celebrate and thank our veteran and reservist employees this Veterans Day. We asked a few of them to share stories from their experiences while enlisted. Read a few of them below!
Larry Ferrarini, ORD Lead Ramp Service
Tiffini Wilson, ORD Customer Service Representative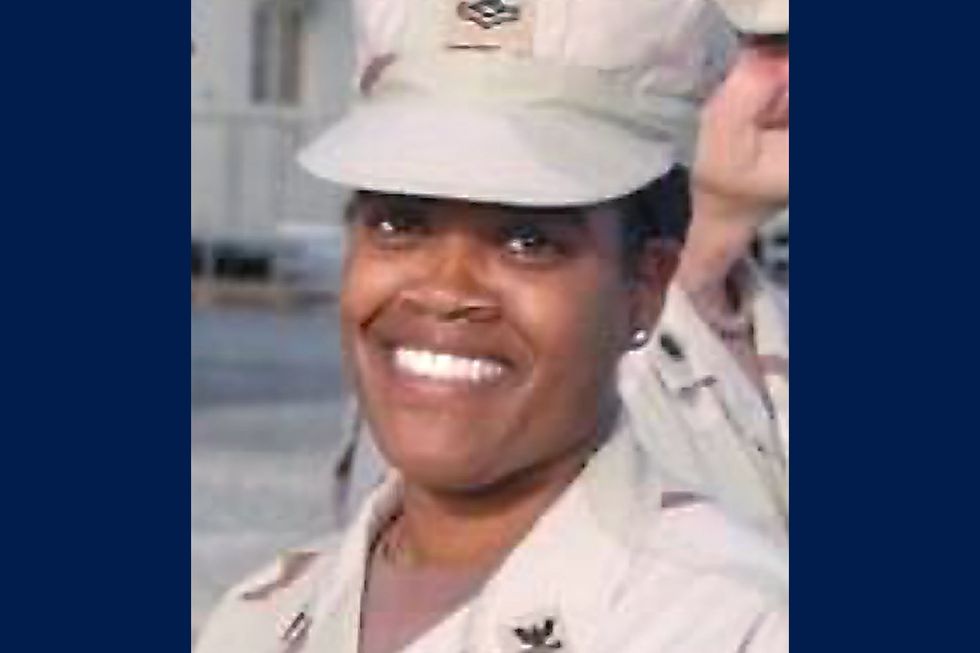 Tiffini served in the U.S. Navy Reserves from 1999 to 2013. She came from a military family and always knew she wanted to serve. In her experience, the Navy has a real sense of brotherhood and sisterhood. She feels proud that she is able to serve her country and other people get to stay home and feel safe.

Tiffini has worked at United for 24 years and feels grateful that her supervisors have always been supportive of her military service and flexible when she was deployed. She even received care packages from colleagues when she was serving in the Middle East. She has learned that being a leader is about listening, in the military and at United. She applies that mentality to when she is working with customers, as well. She says, "sometimes people are having a bad day and need to vent and be acknowledged."
Thank you for your service, Tiffini!
Terry Blake, DCA First Officer B767/B757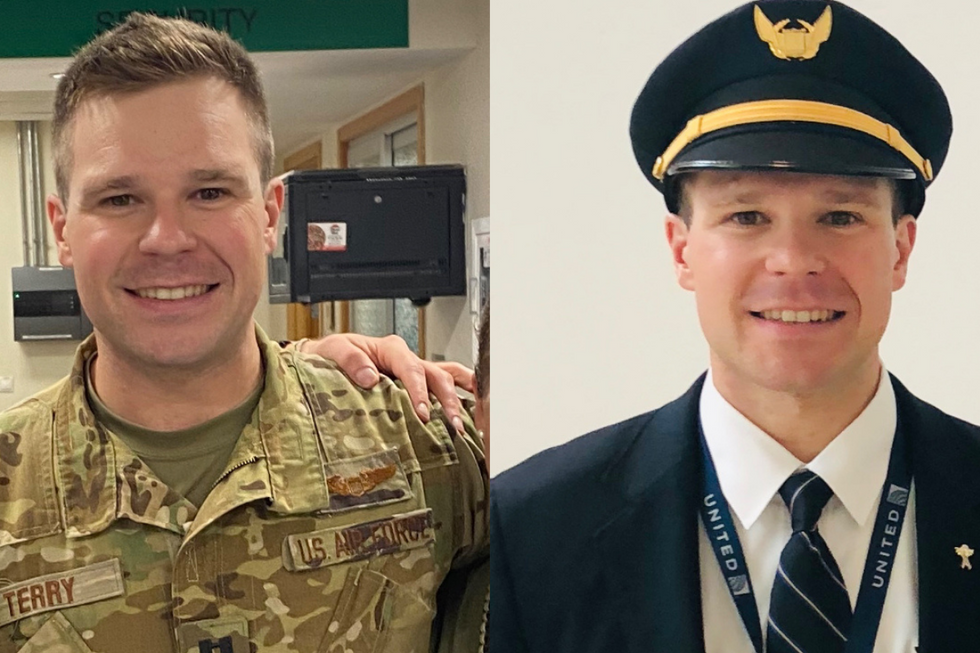 Terry joined the U.S. Air Force in 2014 and is currently serving. He says, "The military is a great career and I am proud that I have been given the opportunity to serve my country and the State of West Virginia." During his time in the service, he has been working aeromedical evacuation missions where he moves the critically wounded warriors from combat zones to hospitals in Europe and the U.S. He feels lucky to fly for United and work with many great people. He is proud to work alongside ALPA professional pilots and all the other employees at the company.

Thank you for your service, Terry!
Katherine McDonald, HR Partner Senior Manager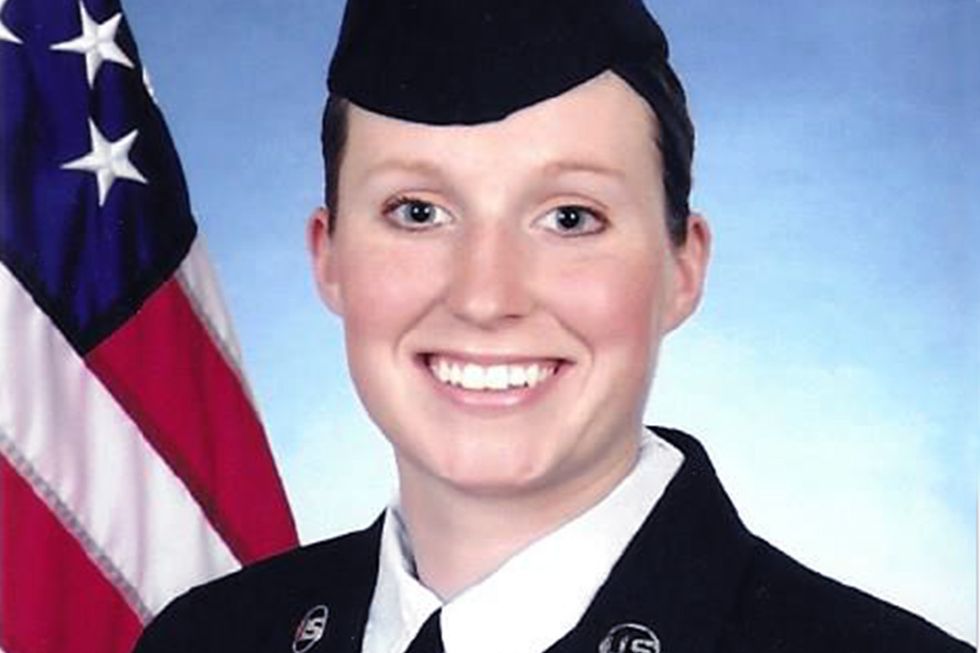 Katherine served six years in the Michigan Air National Guard and says, "For me, serving is a calling. It means serving this great nation and being ready when needed." She joined the military to belong and contribute to something bigger than herself. When she was applying for her job at United, she found information about the United4Veterans business resource group on the company website. This increased her desire to work for a company that she could bring her military experience to and be celebrated. "The inclusivity I feel at United makes me feel so valued, both as an employee and as a veteran. I am so grateful to work for a company that is committed to our military employees and customers."

Thank you for your service, Katherine!
Troy A. Engholm, DEN Ramp Service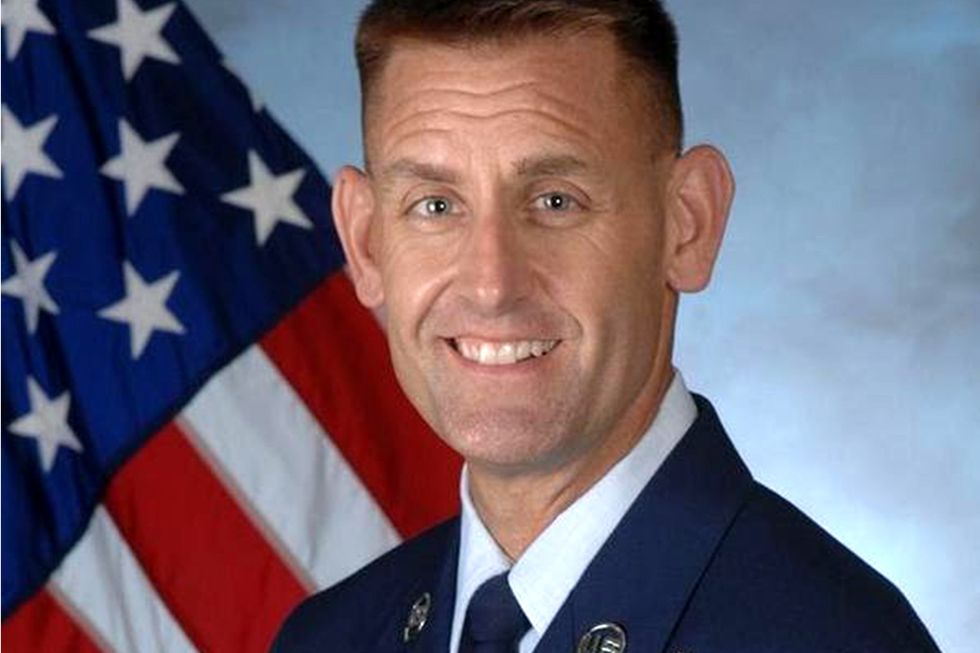 Troy served in the U.S. Air Force from 1983 to 2013. He says, "I loved serving 30+ years in our United States Air Force because it gave me a sense of accomplishment, satisfaction and pride to know that I was serving in the best Air Force, with the best professionals, the world has ever seen."

After serving, Troy joined United in 2015 and has loved it ever since. He believes this profession allows us to connect families together and provide a multitude of experiences for our customers. They get to see the world. The most rewarding part of his job is when he sees joy on a customer's face.
Thank you for your service, Troy!
Fred "Motown" Crowell, ORD Lead Ramp Service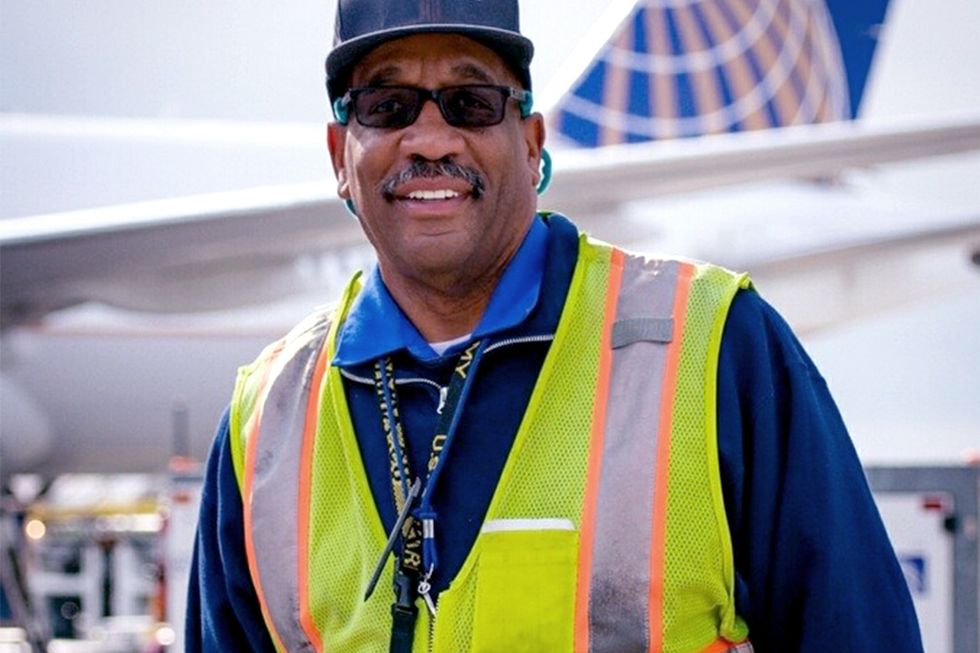 Motown served in the U.S. Army from 1969 to 1970. Motown grew up in Detroit and aspired to follow in his brother's footsteps by applying to a job at United. Just after he was hired, he was drafted to the Army and was on active duty in Vietnam. His unit was the first to invade Cambodia. His unit that served together still meet up every year in Washington D.C. at the Vietnam Memorial.

When he returned home, he returned to United and has been here for 53 years. Over the years, he's been able to travel with his family around the world and even take his wife back to Vietnam and show her where he was stationed.
Thank you for your service, Motown!
Garrett West, Regional Director Aircraft Maintenance ORD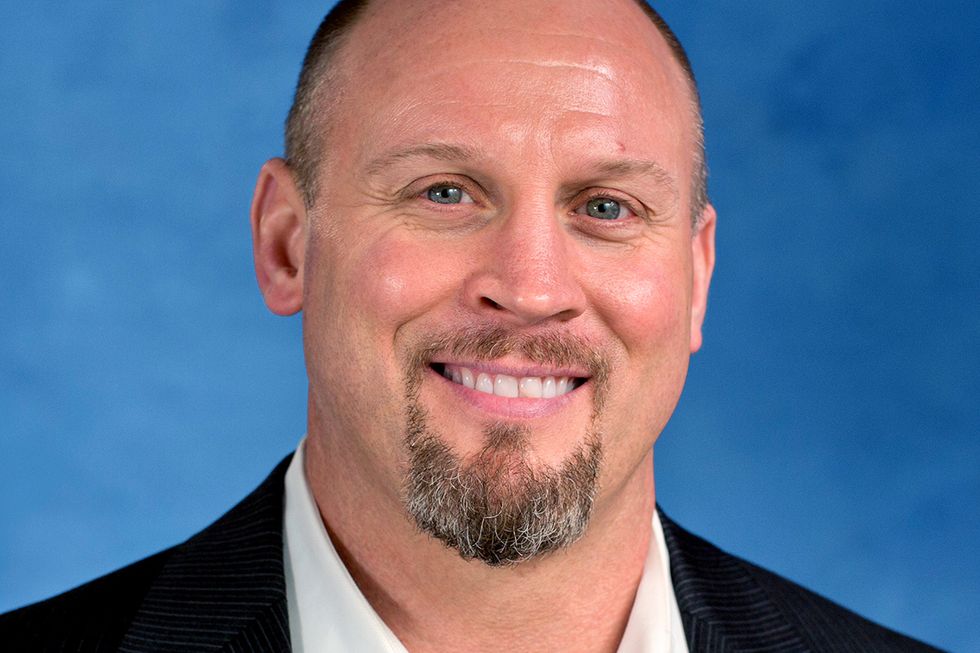 Garrett served in the U.S. Marines for 7 years and 1 year in active reserves. From childhood, he had always dreamed of becoming a United States Marine. He has been grateful to serve with many different people from all types of backgrounds. And, he has many fond memories and experiences of cruising the Mediterranean when he was part of the Marine Amphibious Ready Group. He says, "Having the honor to wear the EGA (the Marine emblem that includes an Eagle, Globe and Anchor) and to represent and serve our great nation is beyond words."

Garret began his career at United as a frontline technician and has worked to a Hub leader. He says, "As we all press on and continue to work through challenges, the tenacity of our employees across the board and working alongside so many dedicated people has done nothing but instill confidence in our future."
Thank you for your service, Garrett!
Pete DeLeon, ORD Lead Customer Service Representative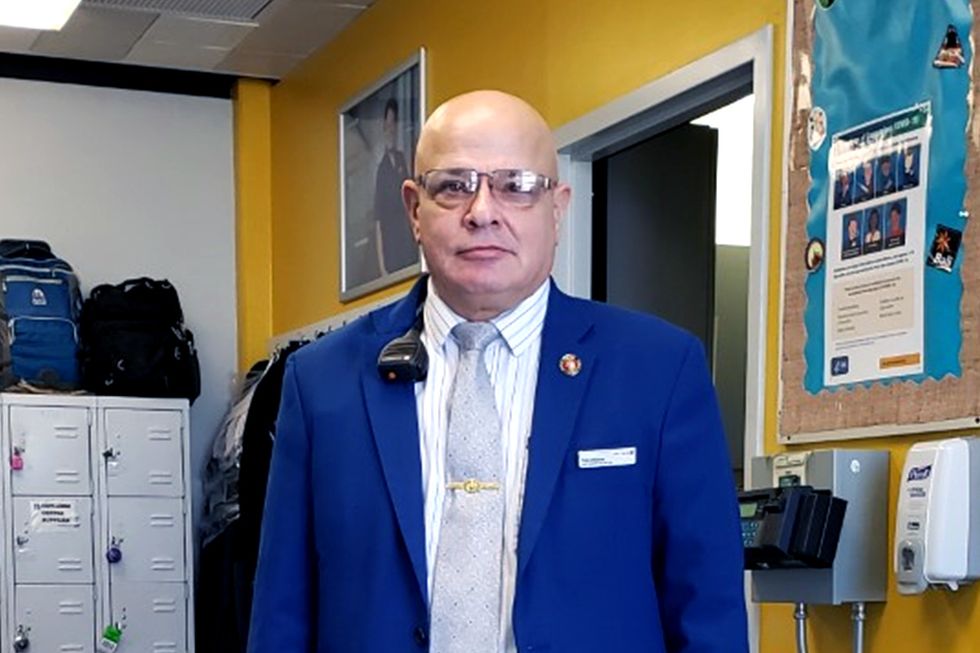 Pete served in the U.S. Marines from 1977 to 1984. He grew up in a military family and had a desire to join early on. During his time in the Marines, he traveled all over the world, including to the American Embassy in Cyprus; Lima, Peru and Okinawa, Japan. He has a great sense of pride for his time in the service and feels grateful that he could give back to his country.

After the Marines, Pete joined United 33 years ago. He has held many roles in various places across the system. First, he was a load planner in Miami, then moved to New Orleans where he was the chief coordinator during Hurricane Katrina. Pete says, "I thoroughly enjoy what I do on a daily basis, working with and assisting customers. I enjoy the people I work with I look forward to coming to work on a daily basis as every day is different at the airport."
He says the Marines taught him how to be professional, treat people with respect and to make quick decisions when necessary. He always goes the extra mile for customers and colleagues.
Thank you for your service, Pete!
Steve Driver, ORD Customer Service Representative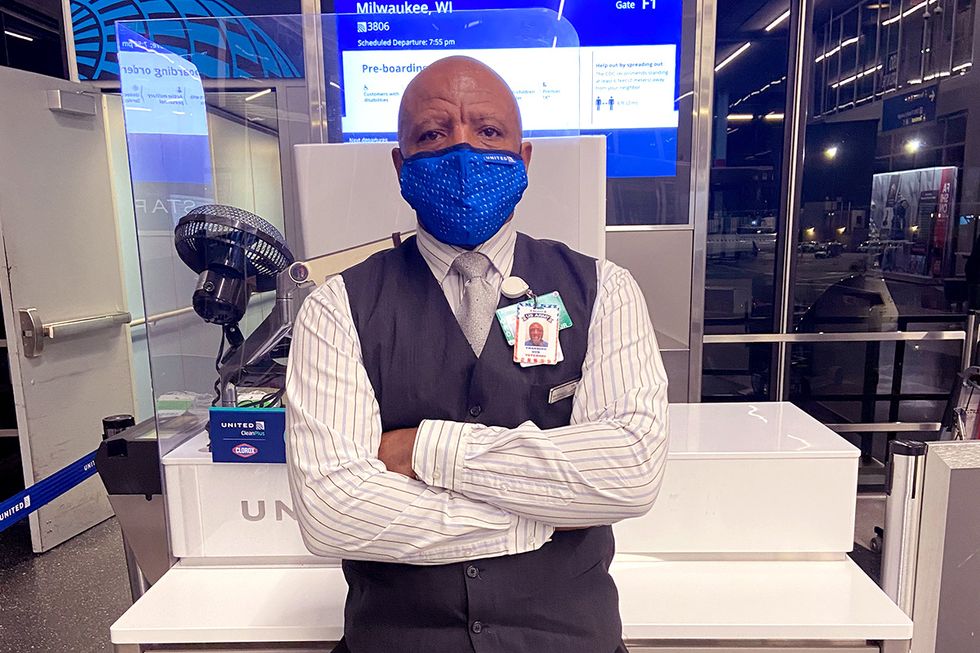 Steve served in the U.S. Army for 20 years from 1976 to 1996. He says, "It was my honor to serve my country. I was very proud to be a part of the U.S. Army and protecting my country. The camaraderie was amazing. The way my unit worked together to complete missions was not like anything I've ever been a part of before. Wearing the uniform gave all of use a sense of pride." He has worked with United for over 23 years and he describes his time as very rewarding. He enjoys working with his coworkers and learning about the industry every day.

Thank you for your service, Steve!
Jim Herrera, ORD Lead Customer Service Representative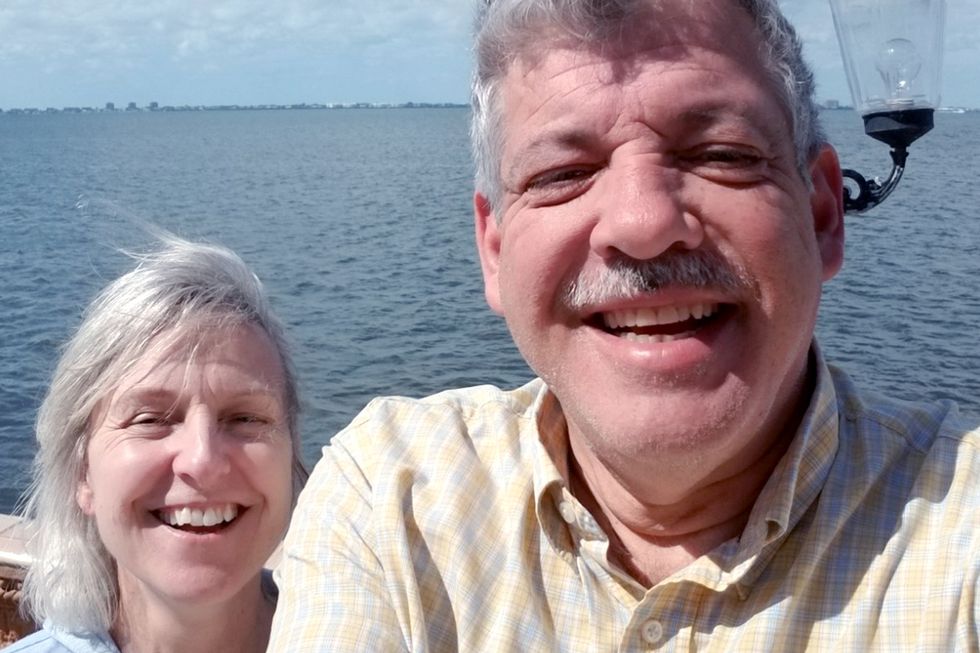 Jim Herrera served in the U.S. Marines Reserve from 1976 to 1985. Though he served after the Vietnam war, he saw the impact of that on his fellow veterans. Over time, he has seen a great shift in positive support for veterans and he is very grateful for that. He has been with Untied for over 42 years. He is grateful for the stability his career at United provides for him to do what he loves and raise his family.

Thank you for your service, Jim!
Session Martin, ORD Lead Customer Service Representative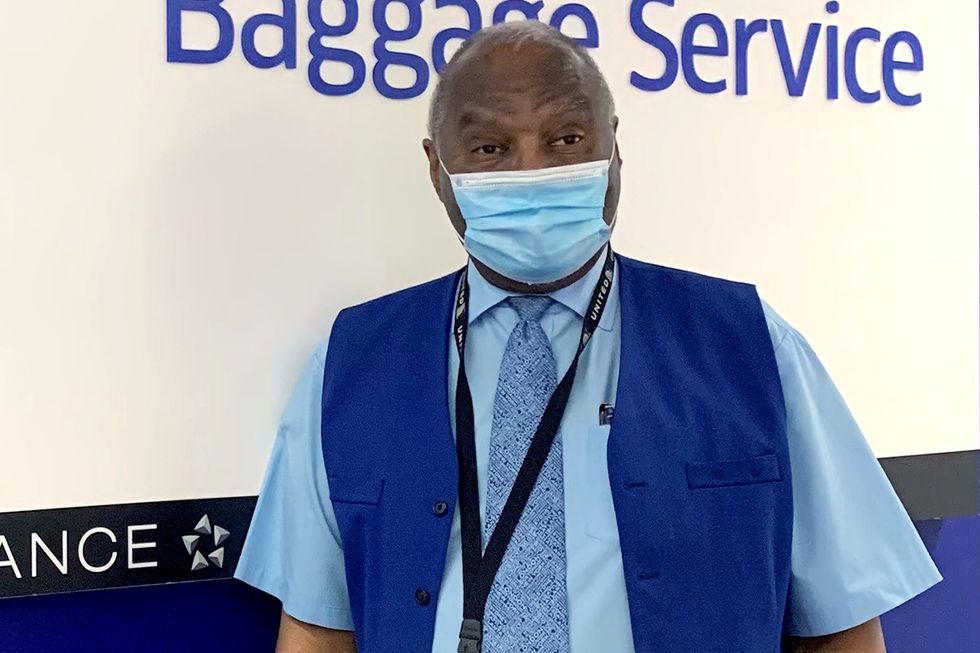 Session served in the U.S. Army for 3 years and 9 months. He says that his time in the service means everything to him. He is proud to have been part of the team and did his duty to preserve our lifestyle in America. "I feel like I owned that to my country. If I had to do it again, I absolutely would," says Session. Even after 51 years at United, Session still says he is having a good time, he enjoys coming to work every day. His favorite part is connecting with the customers and networking with people.

Thank you for your service, Session!
Troy VanderWeyden, DCA First Officer B777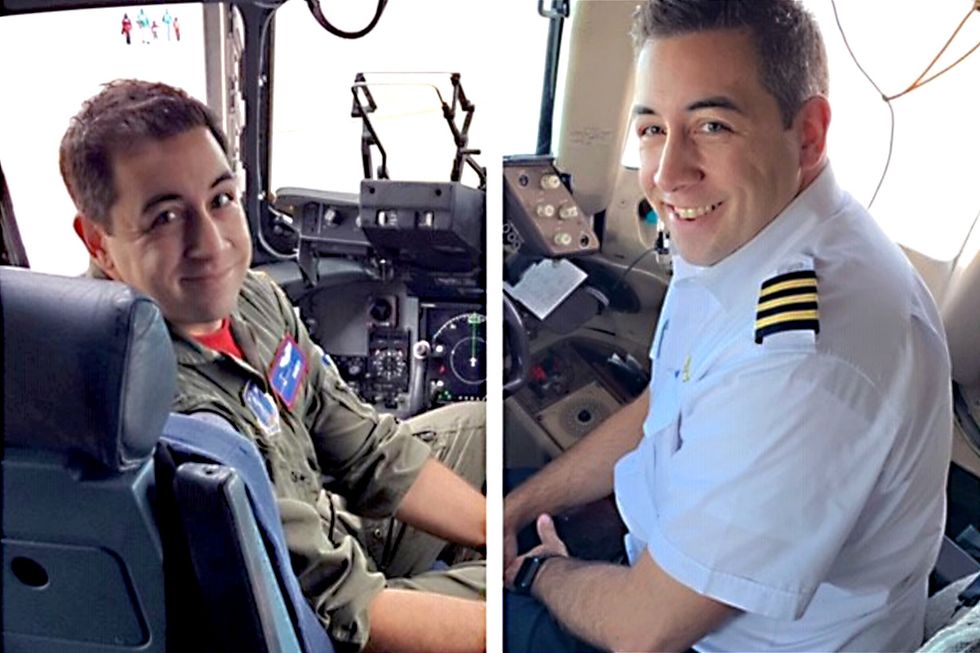 Troy has been flying the Air National Guard for the past 10 years. His missions include aeromedical evacuations, strategic delivery of troops and cargo across the globe, as well as humanitarian aid flights. Five years ago, his lifelong dream was fulfilled when he was hired by United. A special family connection is that his father is also a United pilot, Captain Alan VanderWeyden.

Troy shares, "United is extremely accommodating and appreciative of my and everyone's military obligations and offers endless support. The DCA Flight Operations has a strong relationship with the West Virginia Air National Guard and reflects highly on the Flight Operations folks and our personnel in the unit."
Thank you for your service, Troy!
Scott Kirby, CEO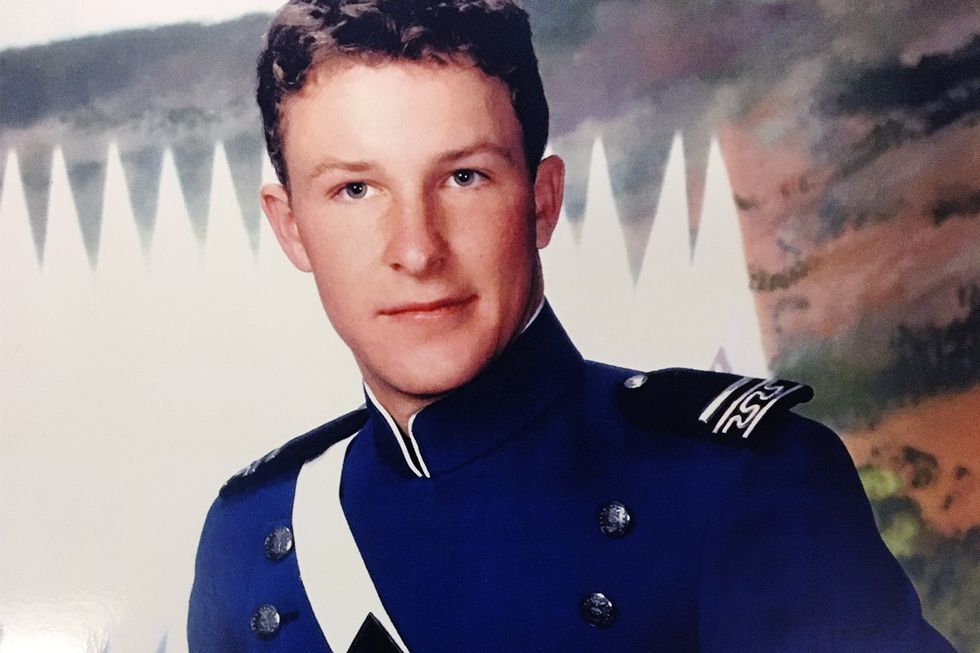 'No excuses.' Fellow U.S. Air Force Academy grads are familiar with a lesson in leadership that I still apply in my work today.

This simple saying teaches freshmen cadets to take responsibility in solving problems, no matter whose fault it is. At @United I see this mantra in action every single day. Not one United team member caused this current crisis, but we are all 100% focused on solving the impact it has had on our company. Veterans Day is the perfect reminder that the thousands of veterans at our company — including the colleagues in these photos — are part of that charge. It's an honor to have so many veterans in our ranks.
Scroll to top