Best Beaches in the World
It was a tough job to narrow them down, but these 20 beautiful beaches are the best in the world.
Trying to narrow down the best beaches in the world to only 20 incomparable strands wasn't easy. All corners of our amazing planet — from North America, where wide public expanses flank the Atlantic and Pacific coasts, to the Southern Hemisphere, where more intimate and exotic sands await — has an embarrassment of beautiful beaches. That said, some are just a bit more memorable and much more photogenic than others. A few are world famous (featured in a songs, movies and even a diet) while others are unsung gems. What unites them? That feeling of awe you get when you kick off your flip flops, throw down your beach towel and think, "Now this is paradise." Here is our list of the 20 best beaches in the world.
Camps Bay Beach – Cape Town, South Africa
For sheer drama, it's hard to beat this wide arc of sand located on the Atlantic just seven minutes from Cape Town. Backed by the craggy Twelve Apostles mountain range, Camps Bay is popular with the young, beautiful and successful who swim, surf, sip and shop (there's also a palm-lined promenade), especially on weekends and throughout the peak season from November to January. Enjoying a sundowner cocktail here is a must — as west-facing restaurants and bars offer superb views.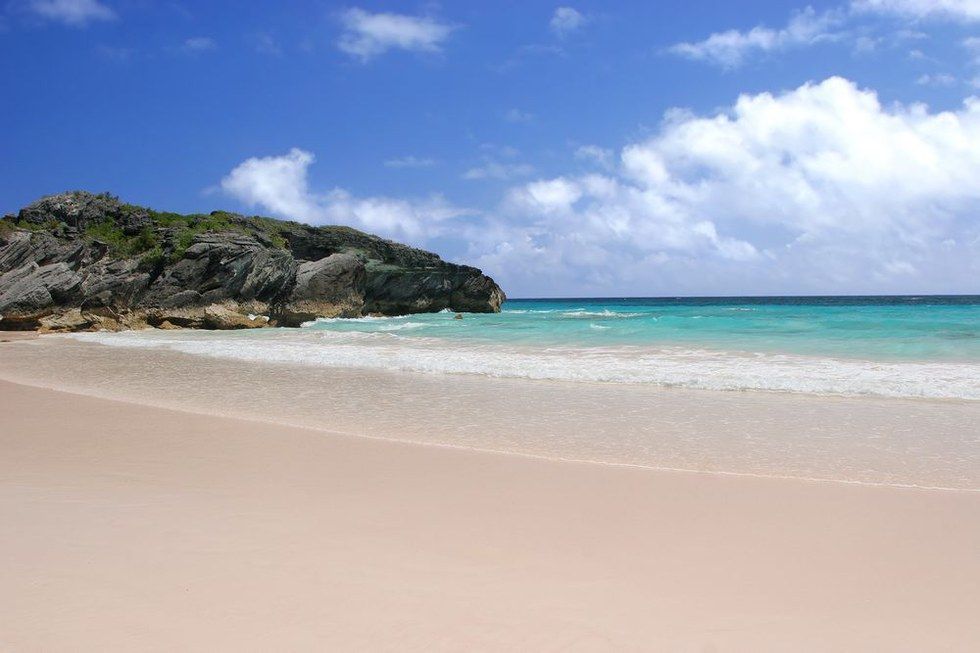 Horseshoe Bay Beach
Shutterstock
Horseshoe Bay Beach – Bermuda
Walking along Bermuda's famous crescent-shaped Horseshoe Bay Beach, or even on the cliff-top trails above it, is a sightseeing must. Named for the shape of its inviting bay, this scenic beach in Southampton parish is perfect for lazy sunning or playful splashing (you can rent towels, boogie boards and snorkel gear). During Bermuda's cooler months (November to March), Horseshoe Bay remains popular as visitors snap photos of its pale-pink sand and grab a cocktail and snacks at the on-site café. One caveat: Expect crowds when cruise ships are in port.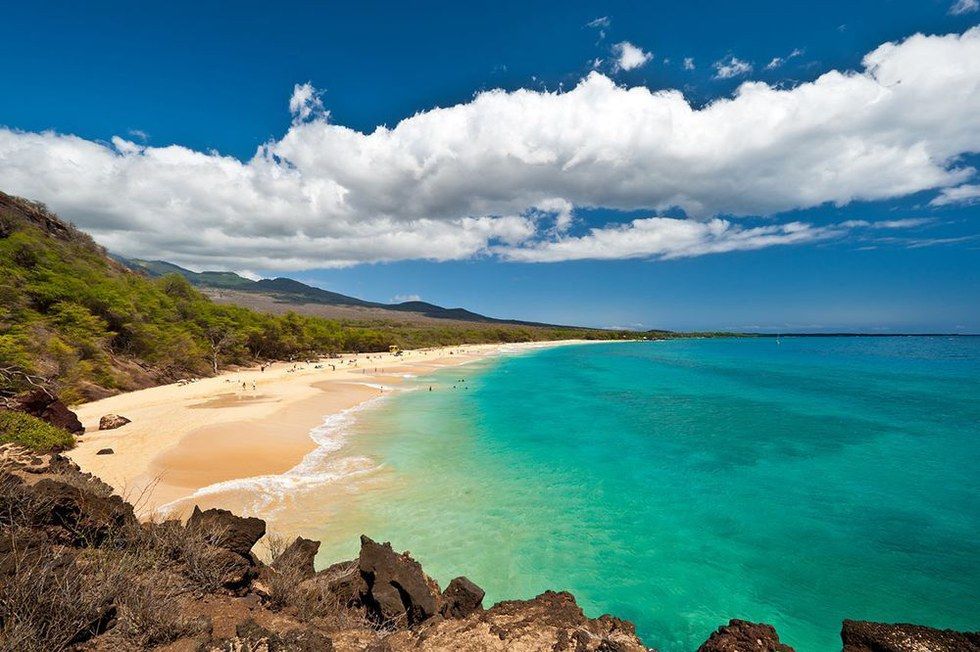 Makena Beach
Shutterstock
Makena Beach – Maui, Hawaii
Sometimes driving a bit further down the road is worth it. And on Maui that means passing by Kihei and Wailea beaches, where resort developments are abundant, and heading instead to Makena State Park. Nicknamed Big Beach, this super-photogenic, 1½ -mile stretch of golden sand is South Maui's largest and offers great views of Kahoolawe island and the Molokini Crater. The unpredictable shore break can be dangerous, however, so you'll need to heed the posted warnings at the lifeguard stations before deciding to swim. And when the surf is way up, pack a picnic, sit back and watch the expert boogie boarders at play.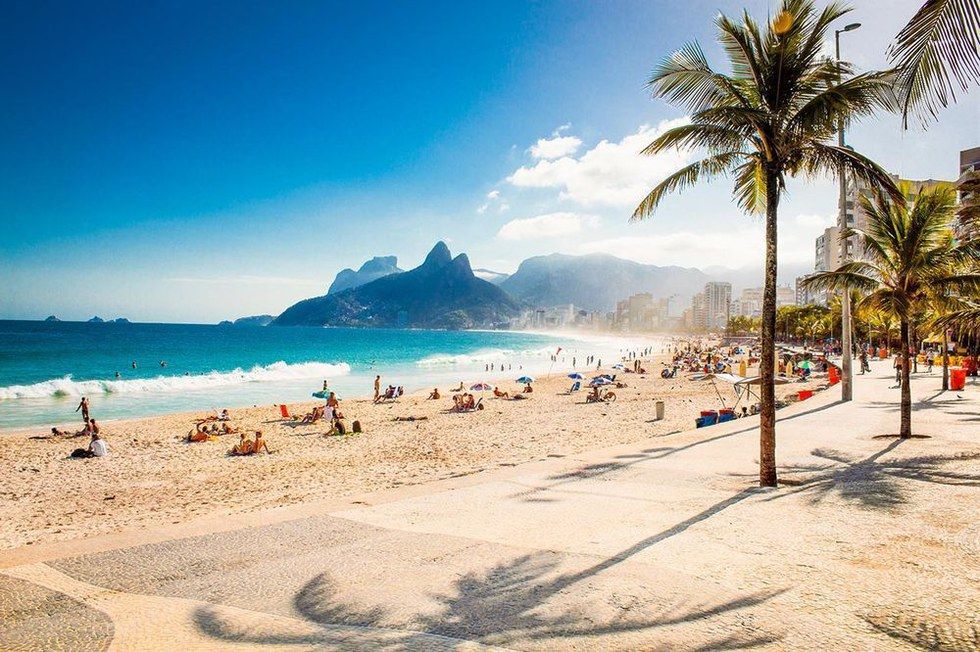 Ipanema Beach
Shutterstock
Ipanema Beach – Rio de Janeiro, Brazil
Rio de Janeiro boasts a pair of famous beaches, Iapanema and Copacabana, but it's the former — celebrated in the sexy 1960s bossa nova hit "The Girl from Ipanema" — that captivates visitors with its breathtaking views. The sand is pale gold and the landmark emerald peaks you'll find yourself gazing at for hours are known as "Two Brothers." Brazilians love to show off their toned bodies, so expect skimpy swimwear and lots of tanned skin. Be sure to leave wallets and valuables in your hotel safe: Despite their beauty, Rio's beaches are known to be frequented by petty thieves.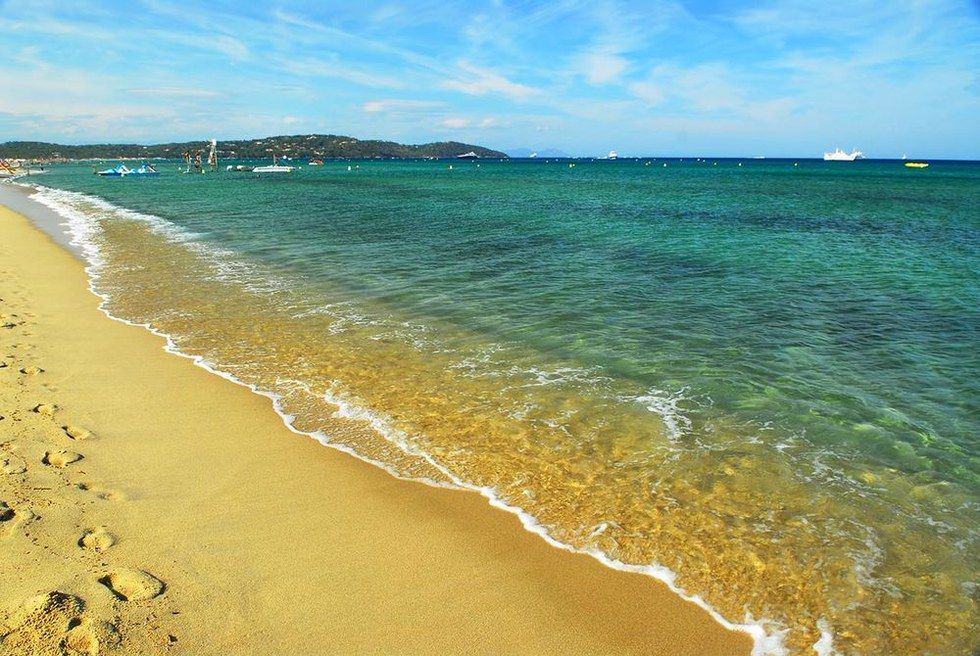 Pampelonne Beach
Shutterstock
Pampelonne Beach – Saint-Tropez, France
Beach clubs, big yachts and beautiful bodies (from Brigitte Bardot to David Beckham) all are synonymous with Saint-Tropez's most famous beach — put on the map by Bardot and her director husband Roger Vadim in the 1955 film And God Created Woman. Everything you'd expect to find on the French Riviera, from striped umbrellas and chaises to skimpy bikinis (tops are optional), are here in abundance, as are odes to excess such as convertible sports cars, designer sunglasses and champagne on ice. If your wallet can handle it, go ahead and soak up some joie de vivre.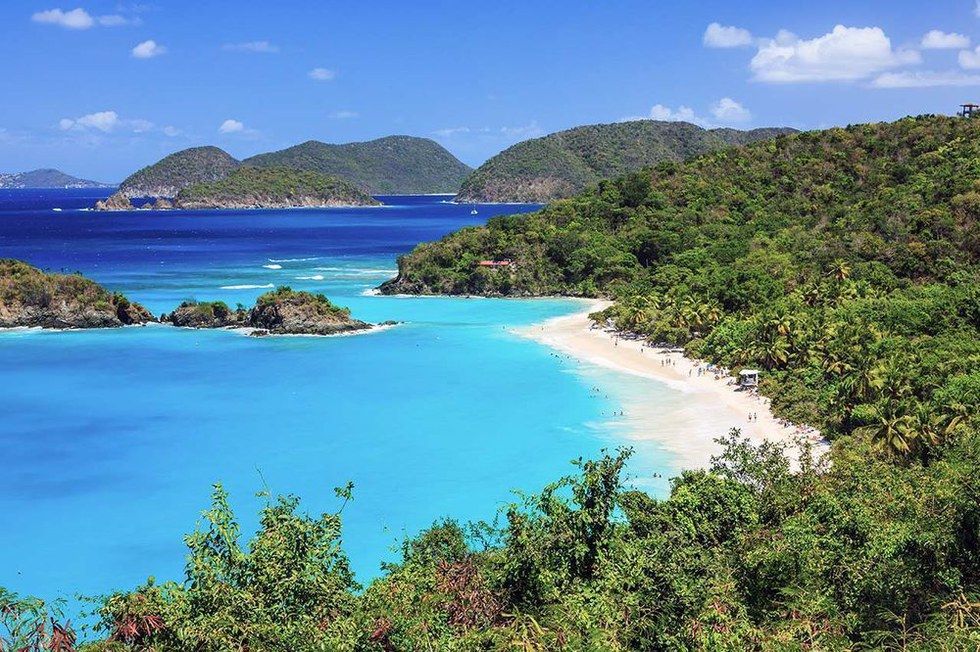 Trunk Bay Beach
Shutterstock
Trunk Bay Beach – St. John, U.S. Virgin Islands
Being able to wade into blissfully warm water, pull on your mask and fins, and snorkel — really snorkel amid abundant coral and Technicolor fish — is a big draw for any beach. The fact that this coconut palm-lined strand on low-key St. John ranks among the most beautiful (and most photographed) spots in the Caribbean is a bonus. As part of Virgin Islands National Park, Trunk Bay Beach offers access to a 225-yard underwater snorkeling trail (gear rentals are available), but plan for an early morning visit if you're seeking tranquility; this beach is popular with cruise ship passengers from neighboring St. Thomas.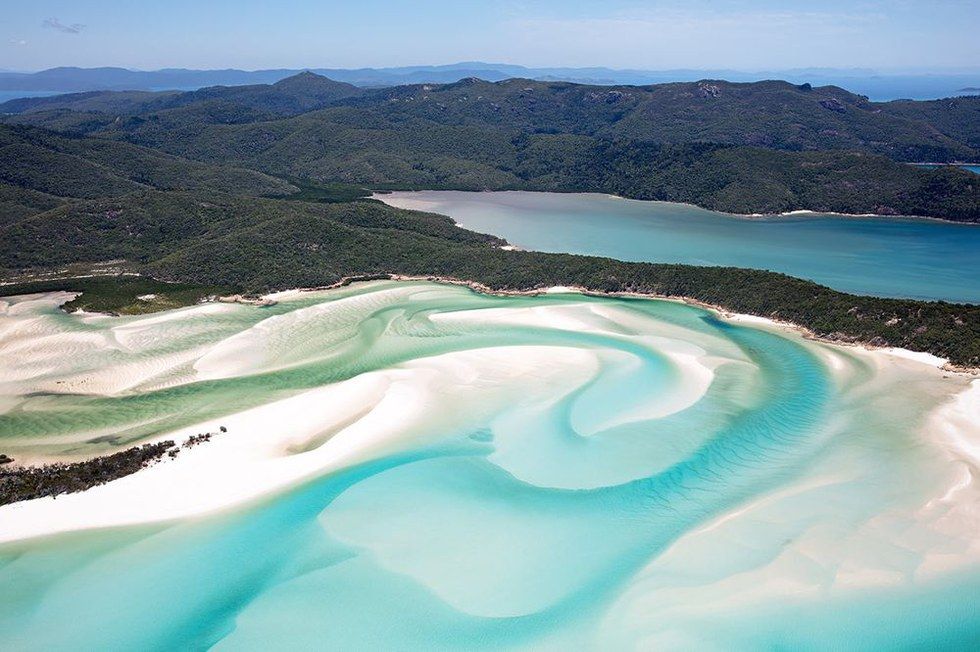 Whitehaven Beach
Shutterstock
Whitehaven Beach – Queensland, Australia
When Oprah Winfrey and Aussie chef Curtis Stone threw a beach barbeque during her 2011 Ultimate Australian Adventure, they did so on this sweeping, 4½-mile stretch of white silica sand in Queensland's Whitsunday islands. It's accessible solely by boat, seaplane or helicopter, so the approach is part of the experience — and the sight of this slender, jungle-backed beach along with Hill Inlet to the north, where tidal shifts create gargantuan sand art, is the definition of breathtaking.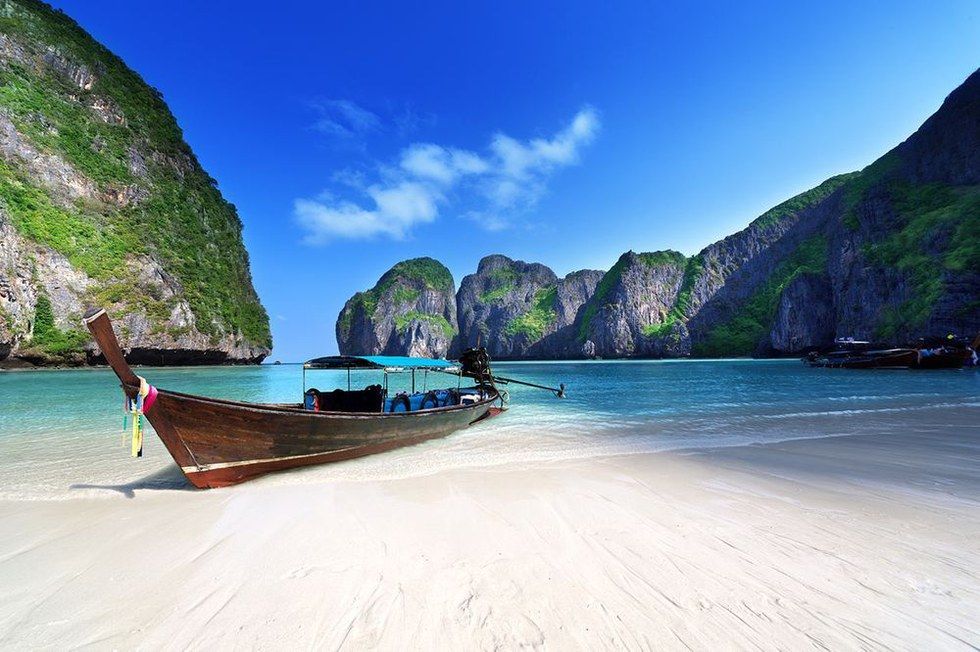 Maya Bay Beach
Shutterstock
Maya Bay Beach – Koh Phi Phi Leh, Thailand
If Maya Bay looks familiar that's because it had a starring role in the 2000 Leonardo DiCaprio movie The Beach. Sheltered at the end of a dramatic bay cradled by 300-foot cliffs on the southern Thailand island of Koh Phi Phi Leh, it's accessed via a day trip (often in a traditional wooden long tail boat) from neighboring Koh Phi Phi Don that includes a stop for snorkeling in surreally pale water. Everyone wants to see it, so Maya Bay does get crowded. For the best photo ops (sans the multitudes) visit in the early morning.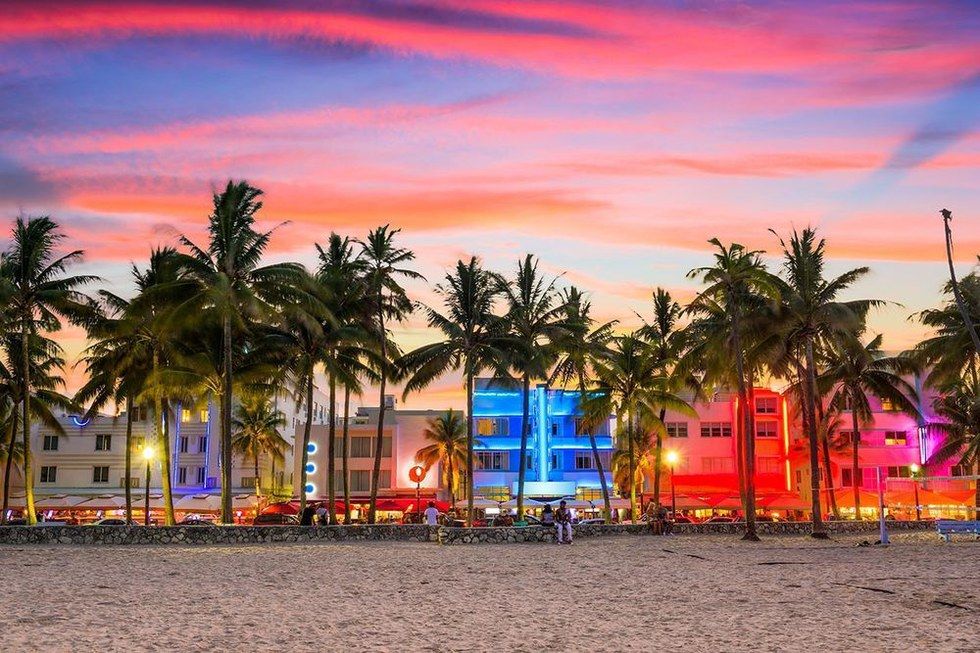 South Beach
Shutterstock
South Beach – Miami, Florida
The sand is soft and white — an ideal complement to the dazzling Art Deco skyline of Miami Beach — and the aquamarine water is warm and inviting. But what truly makes South Beach special is the never-ending parade of people: models and wannabes, athletes and artists, locals and tourists. As brilliant sunshine saturates the beach's quirky and colorful lifeguard stands, put on a pair of dark sunglasses and ogle on the sly. You'll spy barely-there bikinis and Speedos, brazen tattoos and more than a few bare breasts (all perfectly legal).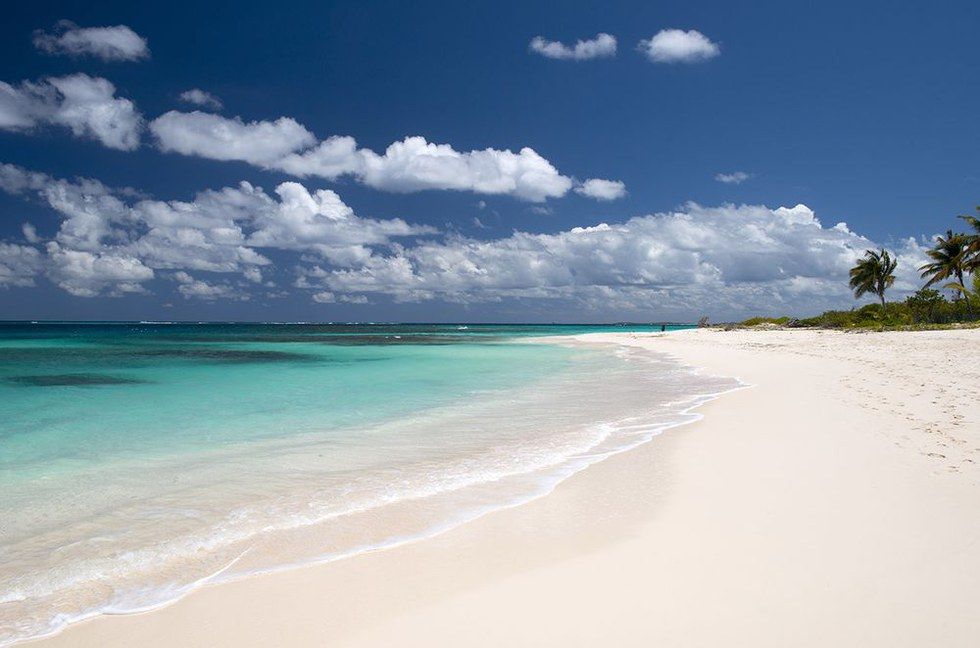 Shoal Bay East
Shutterstock
Shoal Bay East – Anguilla
Almost any of Anguilla's 33 sugar-white beaches could be on this list, but Shoal Bay East tops them all because of its ability to feel both social and secluded. At its heart, this strand is lined with locally-owned bars and restaurants that create a lively ambience — especially on weekends — as visitors enjoy upbeat Anguillan music, rum-laced libations, tasty seafood and barbecue and impromptu dips in the irresistibly clear turquoise sea. Walk the entire two miles and you'll round "the bend," a wide expanse of sand offering splendid views of both Upper Shoal Bay and Lower Shoal Bay.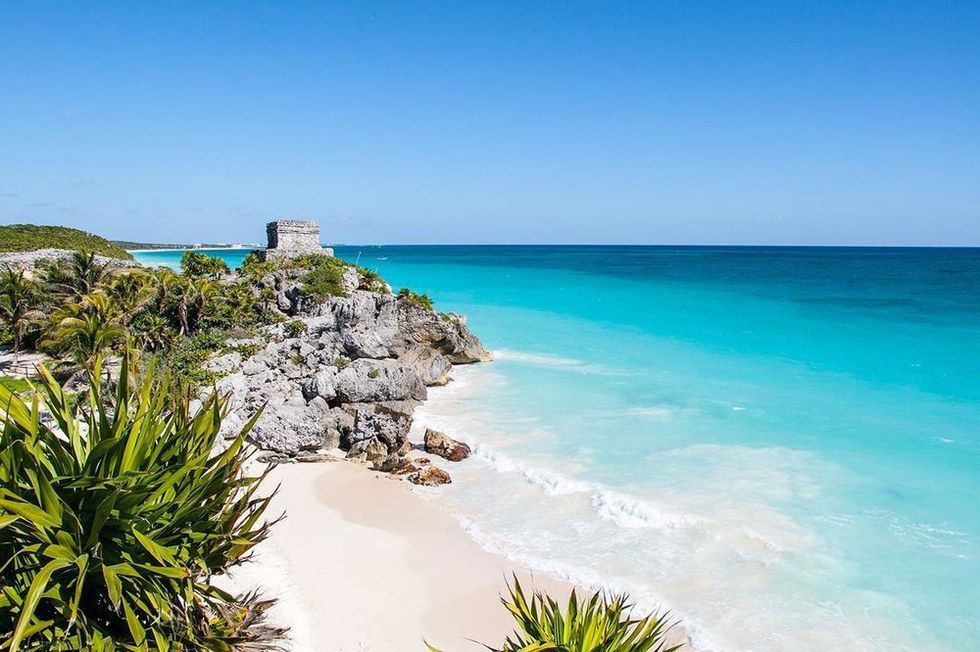 Beach Below the Ruins
Shutterstock
Beach Below the Ruins – Tulum, Mexico
How many beaches can claim to have a postcard-perfect view of 13th-century Mayan ruins? This one, located about 80 miles south of Cancun, can and it's the ideal spot to cool off after exploring the preserved structures of this ancient coastal city, among them the hulking cliff-top Castillo fortress. There are no facilities, so wear your bathing suit under your clothes and your reward will be gentle surf, vibrant blue-green sea and a memorable perspective on how the Mayans relaxed more than 700 years ago.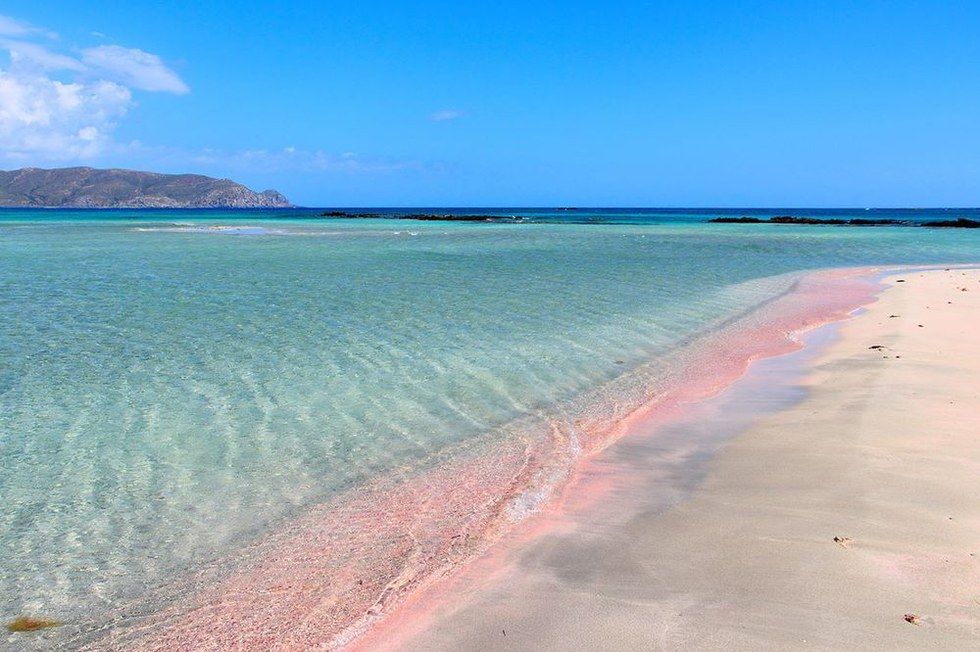 Elafonissi Beach
Shutterstock
Elafonissi Beach – Crete, Greece
What do you get when you mix a Greek island dotted with ancient windswept cedar trees and tides that create hundreds of rippled white and pink sand islets surrounded by shallow aquamarine lagoons? A true natural wonder. Set on a peninsula about 45 miles from the port of Chania on the southwestern coast of Crete, Elafonissi is accessed by wading through the sea. Visitors enjoy swimming and strolling, sunning and snacking (there are umbrellas, showers, food vendors and lifeguards on the eastern end). It's just one of those places that's so beyond ordinary it almost seems like a dream.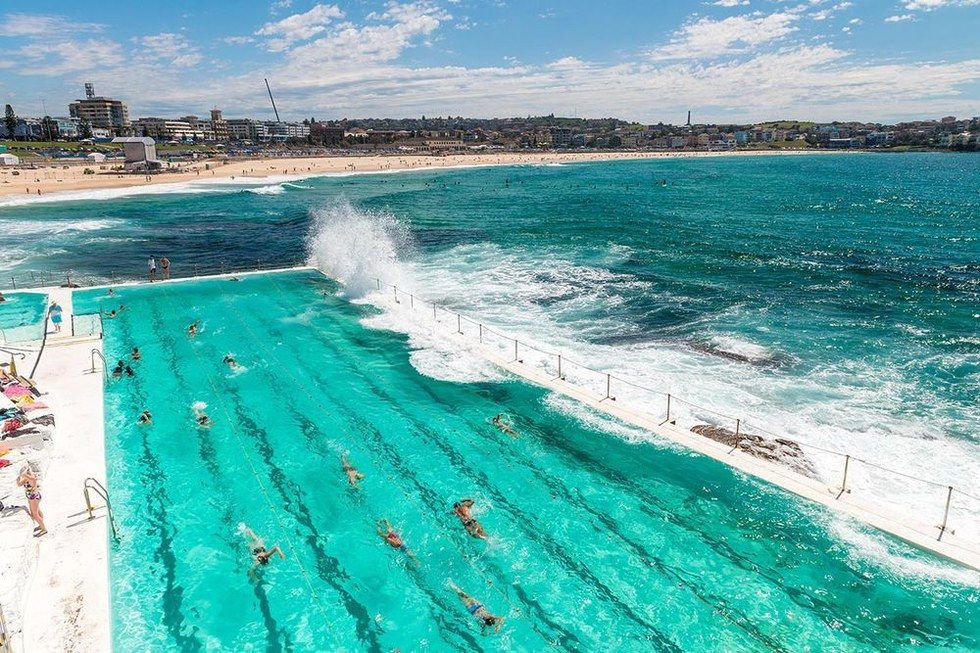 Bondi Beach
Shutterstock
Bondi Beach – Sydney, Australia
Before or after work, when Sydneysiders make time to to play, many head to this picturesque urban oasis just 6 miles from the downtown business district to swim, surf, soak up some sun and grab a flat white (like a latte but with less milk and more espresso). The beach, which curves for more than a ½ mile and is backed by boutique and cafe-lined Campbell Parade, is also home to the famed Bondi Icebergs pool and the starting point for a scenic coastal walk along sandstone cliffs to Bronte.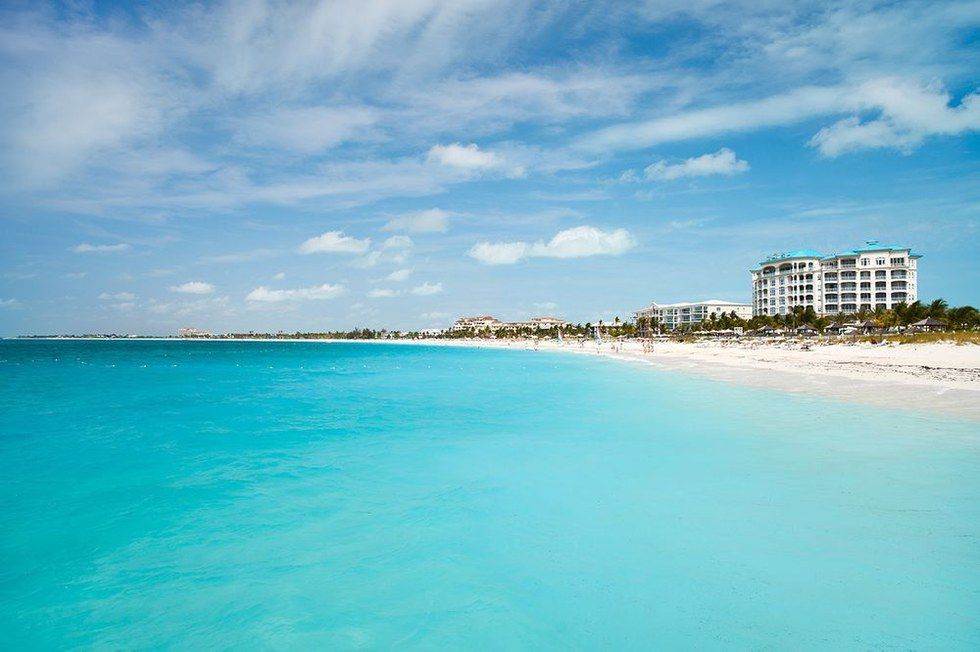 Grace Bay Beach
Shutterstock
Grace Bay Beach – Providenciales, Turks and Caicos
The pure white sand and clear turquoise water of the best-known bay on Providenciales are so sublime that dozens of resorts have opened here over the past two decades. And while that has made this curving 3-mile ribbon of sand a popular destination for travelers in search of upscale relaxation, there's plenty of room for everyone. Add in calm waters (thanks to a barrier reef about a mile offshore), ample watersports and chic sea-view bars and restaurants and Grace Bay Beach — named for Grace Jane Hutchings, the wife of a Turks and Caicos commissioner in the 1930s — is just about perfect.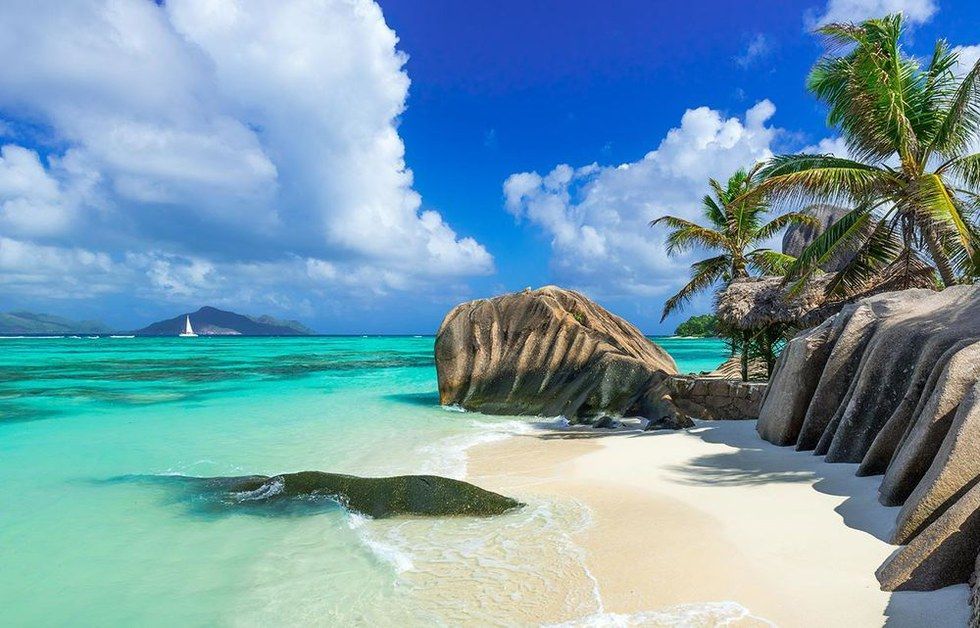 Anse Source d'Argent
Shutterstock
Anse Source d'Argent – Seychelles
Some beaches have an aura that's uniquely their own. Anse Source d'Argent, one of the most famous beaches in the Seychelles, grabs your full attention the moment you set eyes on it. Granite boulders, in swirling shapes Dr. Seuss might have imagined, and gently swaying palms jut up from soft white sand. Located on La Digue island, and lapped by the crystalline waters of the Indian Ocean, it faces west, so the sunsets are pretty awesome, too.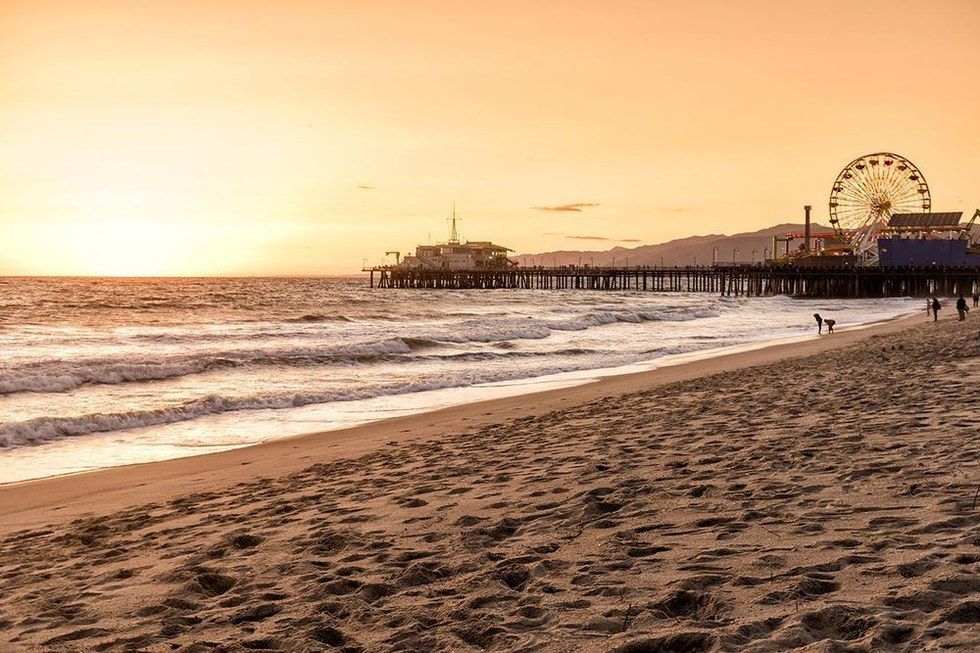 Santa Monica Beach
Shutterstock
Santa Monica Beach – Santa Monica, California
California's surf culture extends along its entire coastline, but nowhere does it comingle with land-based activities so enjoyably as on this vibrant stretch of sand due west of Los Angeles. With its circa-1909 pier — restored in the 1980s and now home to Pacific Park (with its solar-powered Ferris wheel) and a Trapeze School — as well as beachfront hotels, abundant dining options and 8½-mile jogging and biking path connecting to Venice Beach, Santa Monica ranks among the country's most entertaining urban beaches. And the sunsets are magical: searing displays of orange and magenta that seem to go on forever.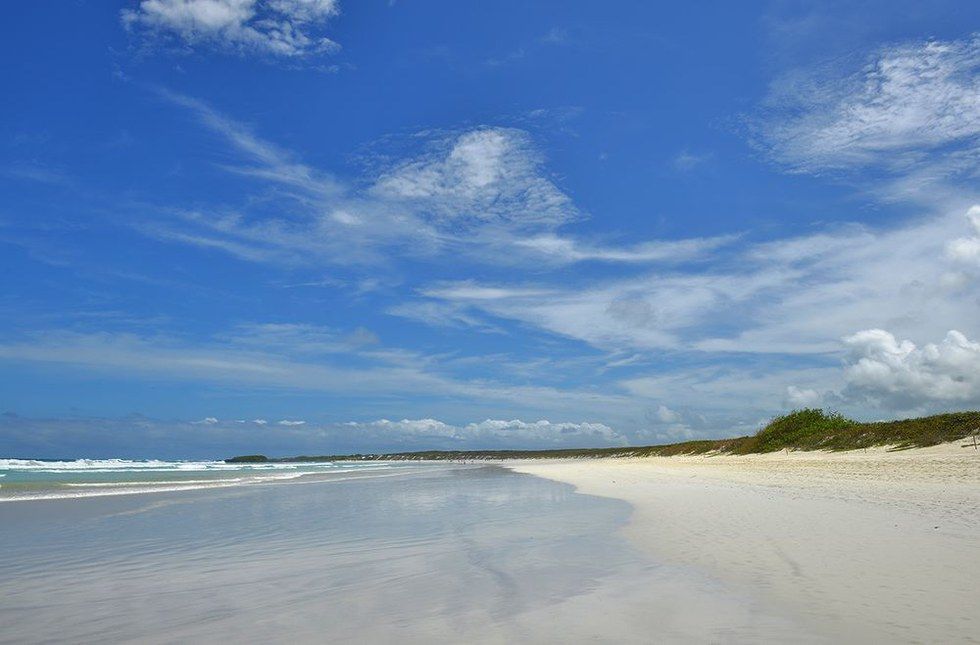 Tortuga Bay Beach
Shutterstock
Tortuga Bay Beach – Galapagos, Ecuador
Some beaches are just perfect for sunning — and you don't have to be a human to know that. Dozens of marine iguanas and small clusters of sea lions swim ashore to stretch out and catch some rays on this pristine arc of talcum-soft sand located on the southern coast of Santa Cruz island in the Galapagos. People can enjoy it, too, but we must walk a 1½-mile path to mingle (and pose) with these fearless creatures. You're also likely to spy sea turtles and bright-red Sally Light-Foot crabs in the surf and blue-footed boobies and frigate birds on land.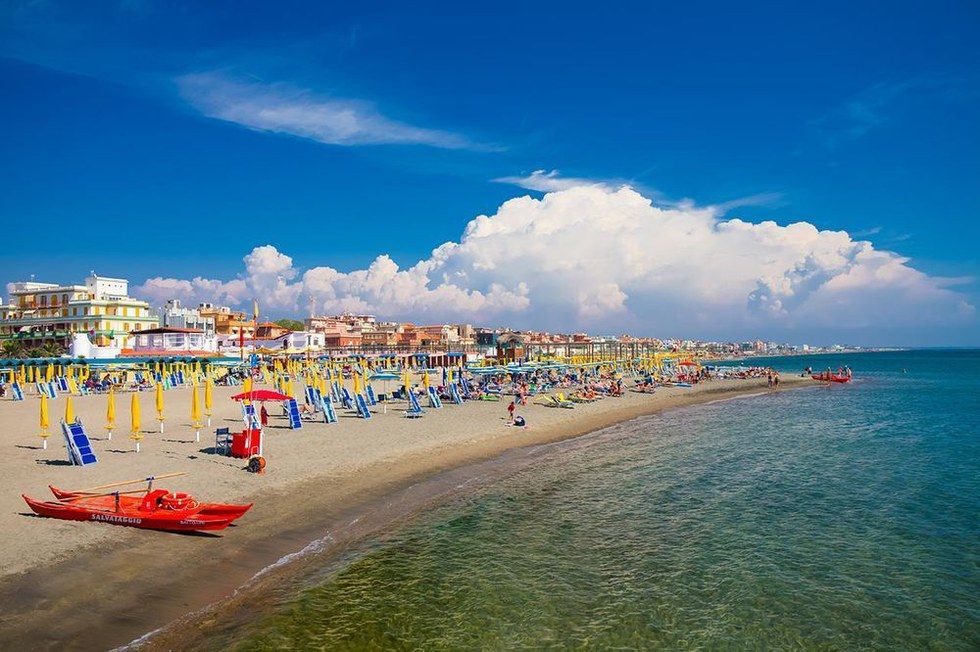 Lido Beach
Shutterstock
Lido Beach – Venice, Italy
Yes, Venice has a beach — and a pretty amazing one at that. The Lido di Venezia, open to the public and stretched out along a seven-mile sandbar facing the Adriatic Sea, is home in season (May to September) to regiments of umbrella-topped beach loungers, neat rows of wooden cabanas, and the historic Hotel Excelsior dating to 1908. Lido also hosts the annual Venice Film Festival (in early September), when A-listers arrive via sleek Riva motorboats and anyone can cross the lagoon via local vaporetto (water bus) to spy on the glamourous action.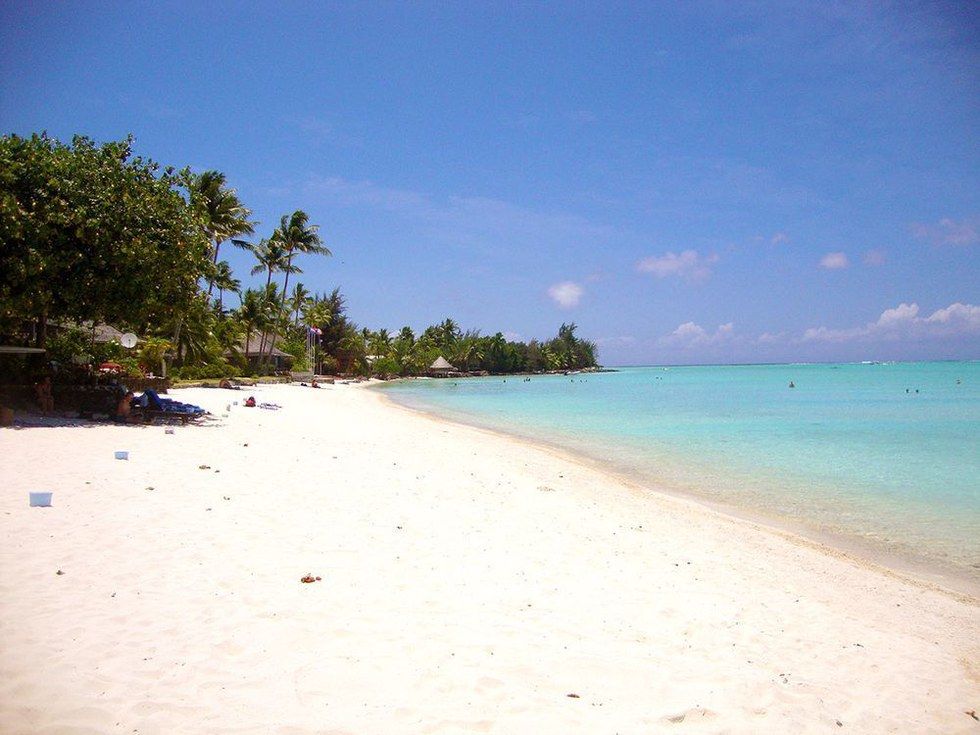 Matira Beach
Shutterstock
Matira Beach – Bora Bora, French Polynesia
The idyllic islands of French Polynesia — of which Bora Bora is the most storied — are home to thousands of beautiful beaches. But many are located on remote motus and atolls, or are part of upscale resorts without public access. Not Matira Beach, a curve of champagne-hued sand centrally located at Matira Point and offering access to the blue mosaic of Bora Bora lagoon. Sun and swim here — or take a spin on a circle-island Jet-Ski tour — and then enjoy lunch at one of Matira's locally owned snack shacks or at the InterContinental Le Moana Resort adjacent to the beach.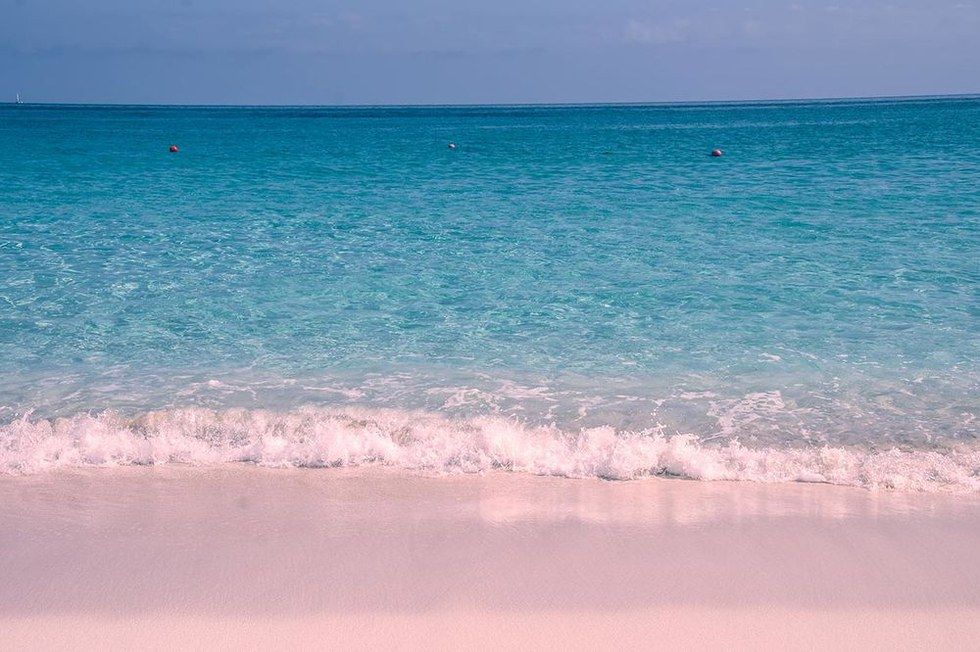 Pink Sands Beach
Shutterstock
Pink Sands Beach – Harbour Island, Bahamas
This Bahamian beach's name doesn't bend the truth one bit — the spot really boasts an amazing shade of pink sand thanks to the rosy-hued shells of tiny sea creatures called foraminifera — and the color is amplified by a backdrop of vivid teal water. Flat, wide and ideal for swimming, sunning or strolling, this 3-mile-long beach embodies the natural beauty of tiny Harbour Island where bikes and golf carts are the main modes of transport (neighboring Eleuthera is the gateway). When you're hungry, head for a seafront eatery (Sip Sip is a fave) and order the local specialty: conch fritters.
This article was written by Donna Heiderstadt from Islands and was legally licensed through the NewsCred publisher network. Please direct all licensing questions to legal@newscred.com.
If your travels have taken you through Chicago O'Hare International Airport anytime since October 2019, you may have had a friendly, caring and jovial exchange with Daniel Smrokowski. Daniel is one of four Service Ambassadors thanks to our ongoing partnership with Special Olympics. This inaugural ambassador program aims to provide Special Olympic athletes employment opportunities within our operation, affording them a unique and meaningful career.
Since 2018, our partnership with Special Olympics has become one of United's most cherished relationships, going beyond the events we take part in and volunteer with. While the plane pull competitions, polar plunges, duck derbies and Special Olympics World Games and other events around the world are a big part of our involvement, the heart of this partnership lies with the athletes and individuals supported by Special Olympics. To advocate for their inclusion in every setting is one of our biggest honors, and we take great pride in the role we play in the organization's inclusion revolution.
Aiding in the success of Special Olympics' mission to create continuing opportunities for individuals with intellectual disabilities, throughout the two-year partnership, United has volunteered over 10,500 hours and donated over $1.2 million in travel to the organization. The impact of this partnership is felt at every level, both at Special Olympics and within our own ranks.
"The Inclusion Revolution campaign, led by our athletes, aims to end discrimination against people with intellectual disabilities. United Airlines has joined in our fight for inclusion, empowering our athletes with the skills needed to succeed and opportunities to contribute their abilities as leaders," said Special Olympics International Chairman Tim Shriver. "United Airlines believes that people with intellectual disabilities should be perceived as they really are: independent, world-class athletes, students, employees, neighbors, travelers, and leaders who contribute to make this world a better place."
Our Service Ambassador program is just one of the many ways Special Olympics has impacted not only our employees, but also our customers. "I see every day how our Service Ambassadors connect with our customers the moment they walk into the airport lobby," said Senior Customer Service Supervisor Steve Suchorabski. "They provide a warm, welcoming smile ad assist in any way they can. To see these young adults hold positions that a society once told them they couldn't is truly the most heartwarming part of my job," Steve continued.
"The opportunity to be a part of the United family means everything to me," Daniel said. "I feel so much pride showing up to work in a Special Olympics/United co-branded uniform, working among such a loving and supportive community. The relationship between these two organizations is truly helping to shape my future while letting me use my gifts of communicating and helping others. Hopefully, I can spend my entire career at United," Daniel added.
In honor of Special Olympics' Global Week of Inclusion in July, we're asking our employees, customers and partners to sign a pledge to #ChooseToInclude at jointherevolution.org/pledge.
And be sure to check out Daniel's podcast The Special Chronicles.

In collaboration with food-logistics company Commodity Forwarders Inc. (CFI), United moved nearly 190,000 pounds of fresh produce to Guam for the U.S. Department of Agriculture's Coronavirus Farm Assistance Program. This new program was created to provide critical support to consumers impacted by the COVID-19 global pandemic.
A variety of fresh fruits were transported from Los Angeles (LAX) to Guam (GUM) on United's newly introduced, non-stop cargo-only flight – a route added to meet cargo demand during the COVID-19 crisis. The fresh food was repacked in 10-pound cases in Los Angeles, prepared for departure at CFI's LAX location, and flown to GUM by the United team. Through this beneficial partnership between United and CFI, the perishable goods were kept cool during every step of the process and distributed as part of the food bank program in Guam.
"Everyone on our team has worked relentlessly during the pandemic to get critical goods to where they are needed most. Establishing a comprehensive network of cargo-only flights have allowed us to keep the supply chain moving even while passenger flight capacity has been reduced," said Regional Senior Manager of Cargo Sales, Marco Vezjak. "Knowing that we are able to help during these difficult times – in this case the Guam community – is our biggest reward and greatest motivation to keep moving forward."
United is proud to play a role in maintaining the global food supply chain and helping people access the supplies they need. Since March 19, United has operated over 4,000 cargo-only flights, moving over 130 million pounds of cargo.

Jessica Kimbrough, currently Labor Relations and Legal Strategy Managing Director, will take on the new role of Chief Diversity, Equity and Inclusion Officer Managing Director.
Jessica assumes this new and expanded position to focus on global inclusion and equity as part of our enhanced commitment to ensure best practices across the business to strengthen our culture.
In this role, Jessica will be responsible for helping United redefine our efforts on diversity, equity and inclusion – ensuring that our programs and approach are strategic, integrated and outcome-oriented, while we continue to build a culture that reflects our core values. She will report to Human Resources and Labor Relations EVP Kate Gebo.
"Jessica's appointment to this role is another critical step our executive team is taking to ensure diversity, equity and inclusion remains a top priority at United," said CEO Scott Kirby. "Given her drive, experience and commitment to champion collaboration and allyship among our employee business resource groups, she is uniquely qualified to take on this position and I look forward to working closely with her."
As Labor Relations and Legal Strategy Managing Director, Jessica worked closely with senior management to create and maintain positive labor relations among our unionized workforce, providing counsel on labor litigation, negotiations, contract administration, organizing issues and managing attorneys who represent United in labor relations. Previously, she served as Labor and Employment Counsel in our legal department.
Jessica has a passion for creating a pipeline of diverse lawyers and leaders, and was honored as one of Chicago Defender's "Women of Excellence" for excellence in her career and civic engagement in 2017. She currently serves as President of uIMPACT, our women's employee business resource group.
Jessica's new role is effective immediately.

Together, we are facing an unprecedented challenge. United Together, we rise to meet that challenge.
Learn more
United Airlines
united
We've issued a travel waiver for Charleston, Wilmington and Norfolk due to Hurricane Isaias. If you're traveling 8/3 - 8/4, you can change your flight at no cost on our mobile app, by direct messaging us or calling 1-800-864-8331. Waiver:
uafly.co/Z04CmP
United Airlines
united
Flights booked now through August 31 can be changed for free over the next 12 months to allow for additional flexibility. All existing travel can be changed without fees as well. See waiver for details:
uafly.co/2M9vgLC
United Airlines
united
Flights booked now through August 31 can be changed for free over the next 12 months to allow for additional flexibility. All existing travel can be changed without fees as well. See waiver for details:
uafly.co/2M9vgLC
United Airlines
united
Questions about what to expect next time you fly? Text "Clean" to FLYUA (35982) to learn how we're making every step of the travel journey safer for you.
United Airlines
united
Our High Efficiency Particulate Air (HEPA) filters recirculate the cabin air every 2-3 minutes helping make an aircraft a cleaner environment than restaurants, grocery stores and even some hospitals. Learn more ➡️
uafly.co/ReadyToFly
United Airlines
united
Today we honor the 30th anniversary of the Americans with Disabilities Act by reinforcing our commitment to continue to build a company and create customer experiences that advocate for people of all abilities.
#ADA30
We Are United
weareunited
Our digital servicing team has developed an automated assistant to make it easier for our customers to learn about what to expect the next time they fly. Text "Clean" to FLYUA (35982) to give it a try!
We Are United
weareunited
Three-year-old Luna Mei was all smiles on her flight home after 212 days in a San Francisco hospital, thanks to her SFO-based FAs (and undercover angels 👼) Pamela R., Sharon S., Sonja B. and Stacey G. The quartet kept spirits high by singing songs, clapping and playing games.
We Are United
weareunited
So long paper boarding passes, standby and upgrade travel are going touchless! If you've signed up for day-of-travel notifications, you'll now receive a text or email when your seat is assigned.
We Are United
weareunited
Our inaugural flight to Chicago from Toyko Haneda coincided with the annual Japanese celebration known as "Tanabata" or "Star Festival." The
#BeingUnited
team at HND placed their wishes on bamboo trees before the flight departed for ORD.
Watch our most popular videos
Flying UCSF Medical Workers to New York
This is why we fly.
20 UCSF Health workers, who voluntarily set aside their own lives to help save lives, are on their way to New York City.
We are humbled by your selfless sacrifice.
Thank you.
#UnitedTogether #UCSFHeroes
A happy, Hollywood ending
This is the story of Jason and Shantel. You see, Jason and Shantel love each other very much. They also love traveling and they love the classic Adam Sandler film, The Wedding Singer.
It all began when Jason reached out to United's social media team, hoping for assistance with his upcoming plan to propose. Some phone calls and one borrowed guitar later, the stage was set for Jason. Put all that together, mix in some helpful United employees and, voila, you have a truly memorable marriage proposal. Congratulations to this fun-loving and happy couple, and here's to many more years of making beautiful music together.
A big thank you to Chicago-based flight attendants Donna W., Marie M., Karen J. and Mark K. for making this proposal come to life.
Copyright © 2020 United Airlines, Inc.
All rights reserved.
Indicates an external site that may or may not meet accessibility guidelines.
Scroll to top
Scroll to top