Best Places to Travel in July
Planning your summer vacation? Here's where to travel in July.
Summer vacation is in full swing and the best places to travel in July include festivals celebrating everything from flying kites to reggae to scuba diving. Oh, and dozens of Ernest Hemingway look-alikes running through in Key West.
Cayman Islands
Movie buffs looking for an excuse to visit the Caribbean should plan to attend the annual CayFilm Cayman International Film Festival. The four-day event, held at the Ritz-Carlton, Grand Cayman, was started to promote the Cayman Islands as a filming location. The schedule includes daily film screenings, Q&A sessions with filmmakers and panel discussions. The festival will also host a 48-Hour Film Project competition challenging local filmmakers to make a short film in just two days. The winning film will be announced at the festival's award ceremony and will compete against other films at Filmapalooza 2018 for the grand prize and the opportunity to be screened at the Cannes Film Festival in 2018.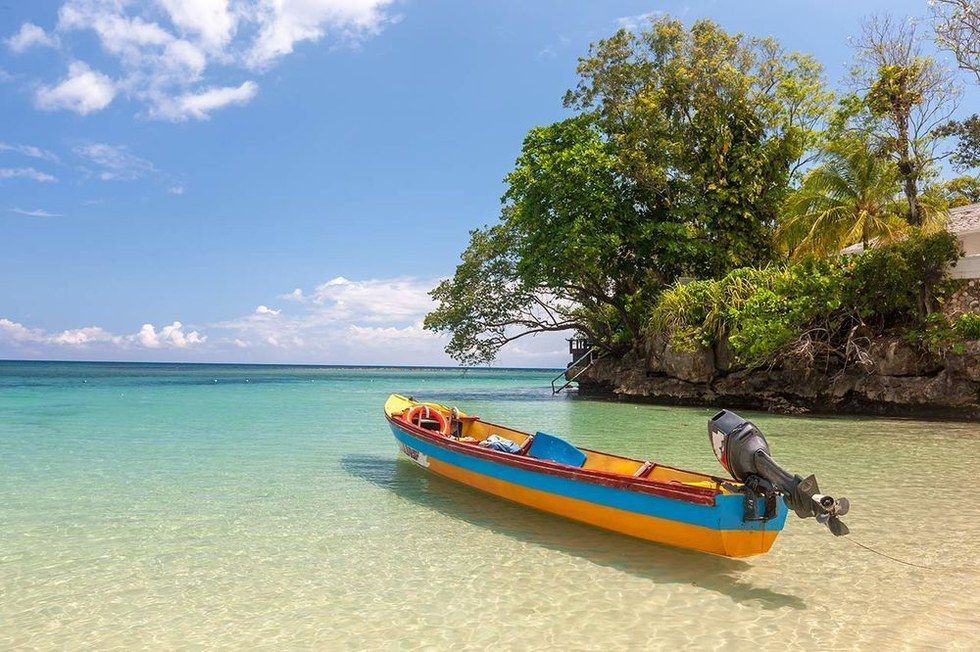 Fish boat on the beach of Jamaica
Shutterstock
Jamaica
One the island where reggae was invented, it only makes sense there would be an annual festival to celebrate it. Every July in Montego Bay, the Reggae Sumfest honors the homegrown music style with a weeklong festival. Headliners have included Jamaican artists like Damian "Junior Gong" Marley and Stephen Marley, Toots & the Maytals and The Mighty Diamonds, along with international artists like Sean Paul, Rihanna, Usher and 50 Cent. Can't make it in person? Watch the live stream, crank up the volume and have your own irie dance party.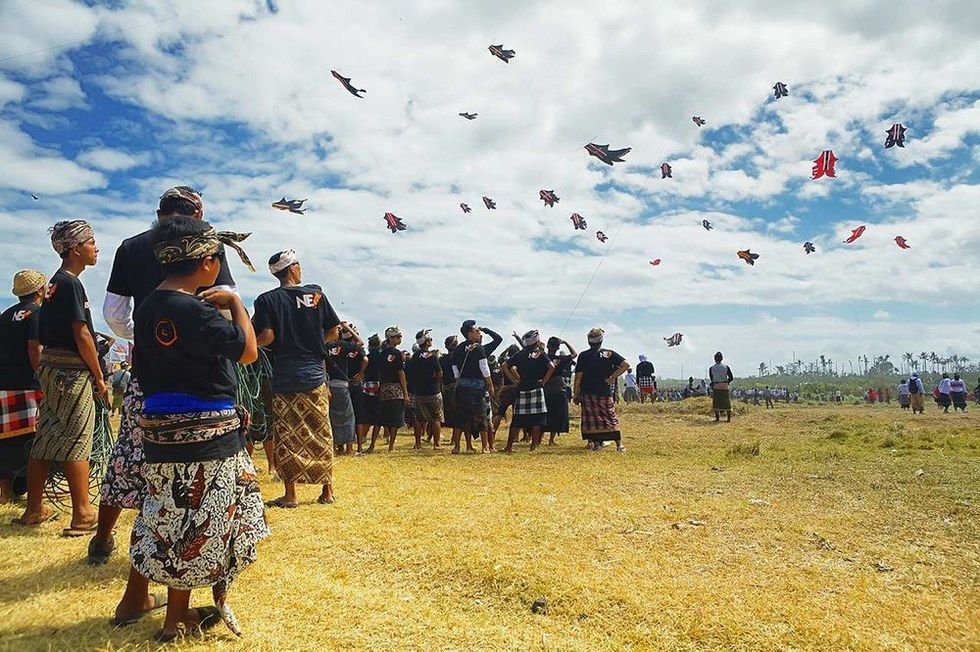 Bali Kite Festival on Padang Galak Beach
Shutterstock
Bali
It's windy season in Bali and the Balinese celebrate in style — with elaborate kites. See hundreds in the air at the annual Bali Kite Festival, held on Padang Galak Beach. These aren't your average kites from Mary Poppins: think 30-feet creations of dragons, octopuses, sharks, and even a gladiator in a horse-drawn carriage. Local villages spend months designing and building the kites, and the event is highly competitive. In Bali, kite-flying is believed to be a way to speak to the gods, and the festival started as a way to thank them for plentiful harvests and fertility.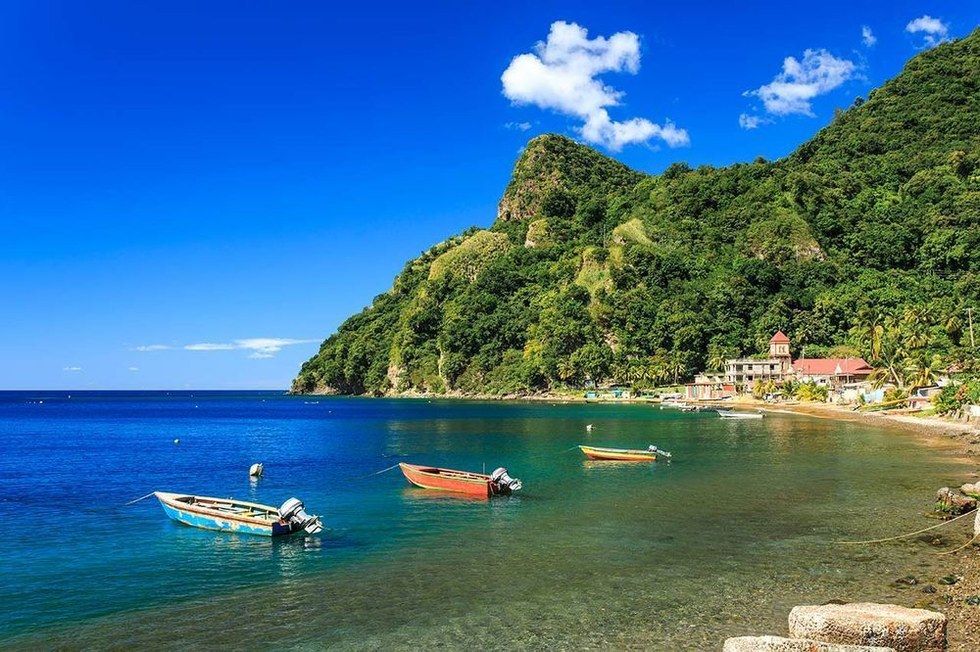 Boats on Soufriere Bay, Dominica
Shutterstock
Dominica
Hosted by the Dominica Watersports Association, Dive Fest is one of the longest-running scuba diving festivals in the Caribbean. Discounts are offered for reef diving and free in-pool training sessions, so all levels of divers can participate. The event is family-oriented, with kid-friendly activities like whale watching and a snorkel treasure hunt at Champagne Reef. Don't miss the Kubuli Canoe Race, where a team of four competes in traditional fishing boats.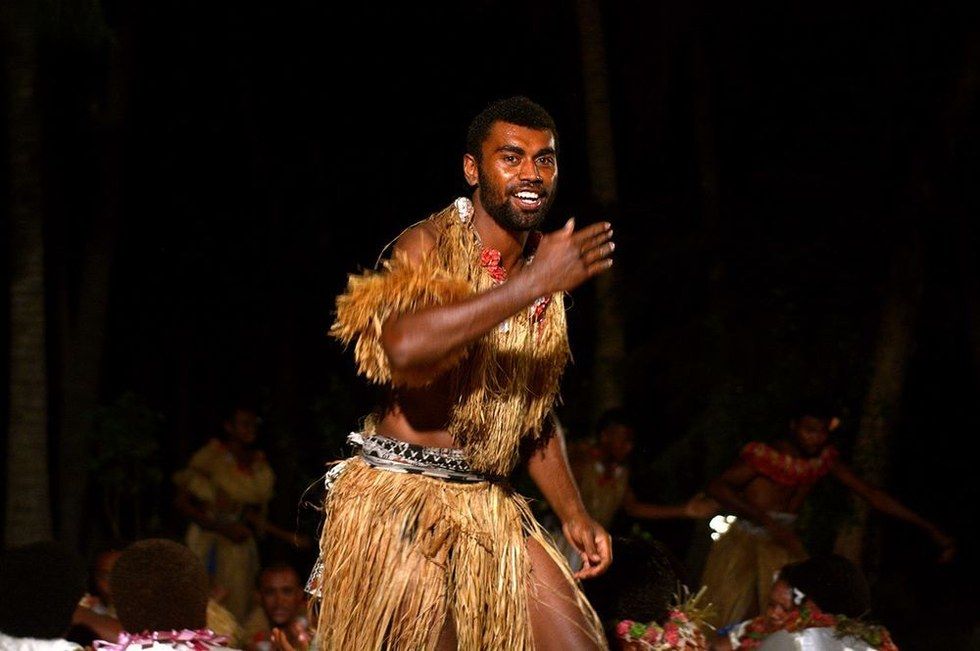 Fijian dancers perform the Meke Wesi (the spear dance)
Shutterstock
Fiji
If you've been to Fiji, you've probably heard a heartfelt "Bula!" greeting from a local. Similar to the Hawaiian aloha, bula can mean hello, goodbye, welcome and love. It also means life, which is why the annual Bula Festival celebrates Fijian culture. The weeklong event is held in both Koroivolu Park and Prince Charles Park in Nadi. Indulge in traditional Fijian food and enjoy parades, live music, a Pacific dance contest, a Bollywood-themed night commemorating the island's Indo-Fijian population and the crowning of Miss Bula.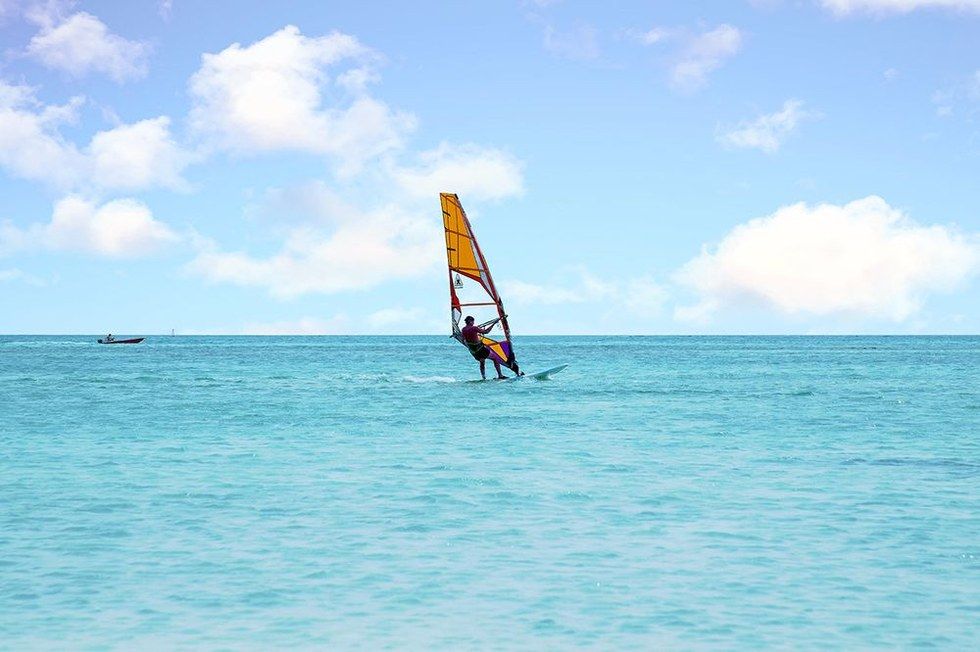 Windsurfer in Aruba
Shutterstock
Aruba
Extreme wind sports are popular in Aruba, thanks to the island's ever-present trade winds. At the Hi-Winds Tournament, amateur windsurfers and kite boarders from around the world get the chance to show off their top tricks. Competitors face off in slalom races, freestyle competitions and long-distance races. Catch all the action from Hadicurari Beach.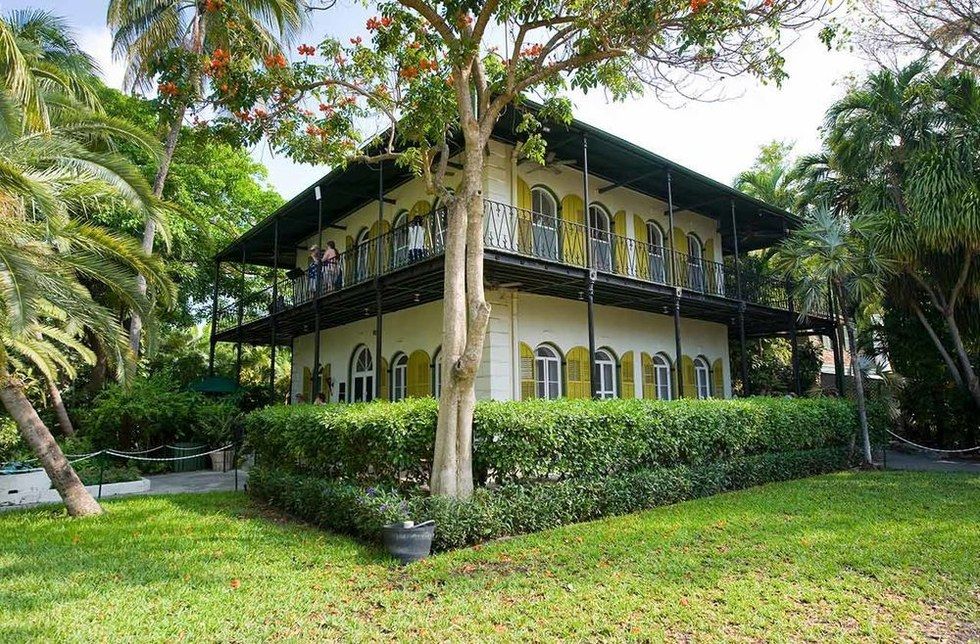 The Ernest Hemingway Home and Museum
Shutterstock
Florida Keys
Ernest Hemingway left his mark on Key West, and the island throws him a birthday every year. Hemingway Days is a weeklong festival to honor the author, with readings, book signings and a short story competition directed by Hemingway's granddaughter and author, Lorian Hemingway. One of the main events is a Hemingway look-alike contest, and the white-bearded "Papa" doppelgangers also take part in a mock running with the bulls, a nod to The Sun Also Rises. The Key West Marlin Tournament is also part of the festivities in memory of Hemingway's love for the sport.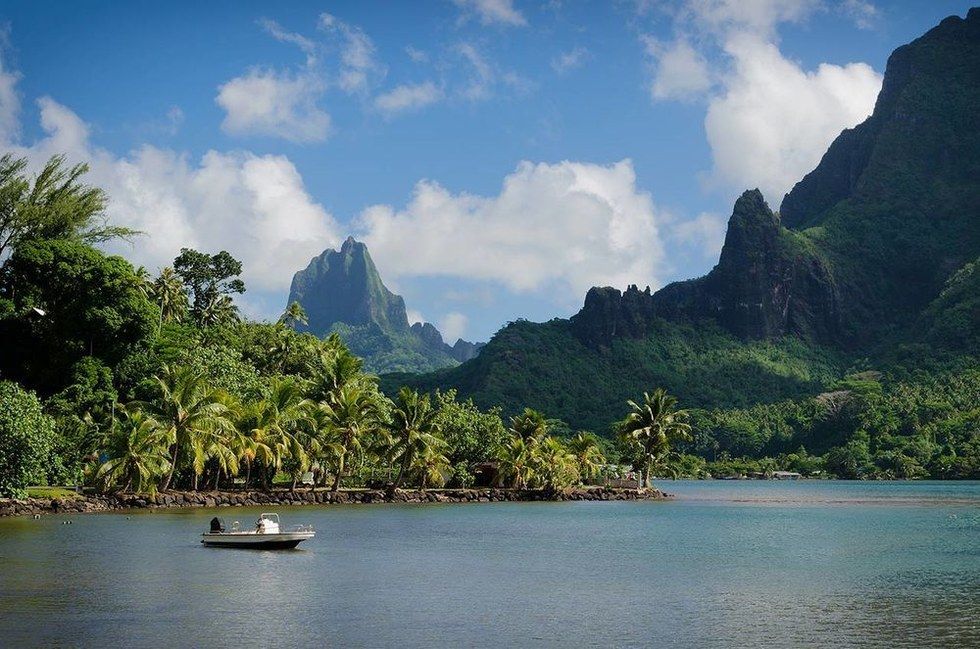 Boat on Cooks Bay, Tahiti
Shutterstock
Tahiti
What does the movie Footloose have in common with Tahiti? In the early 1800s, dancing was forbidden in the country — Christian missionaries viewed Tahitians' cultural dancing as vulgar. In the late 1800s, the locals gained back their right to dance when France incorporated the territory. This history, and the love for the artistic form of expression, is celebrated at Heiva I Tahiti, an annual festival held in Papeete. During the event, traditional Tahitian culture takes center stage with dance performances, sporting competitions (outrigger canoe races, a javelin-throwing contest), and an a cappella singing competition.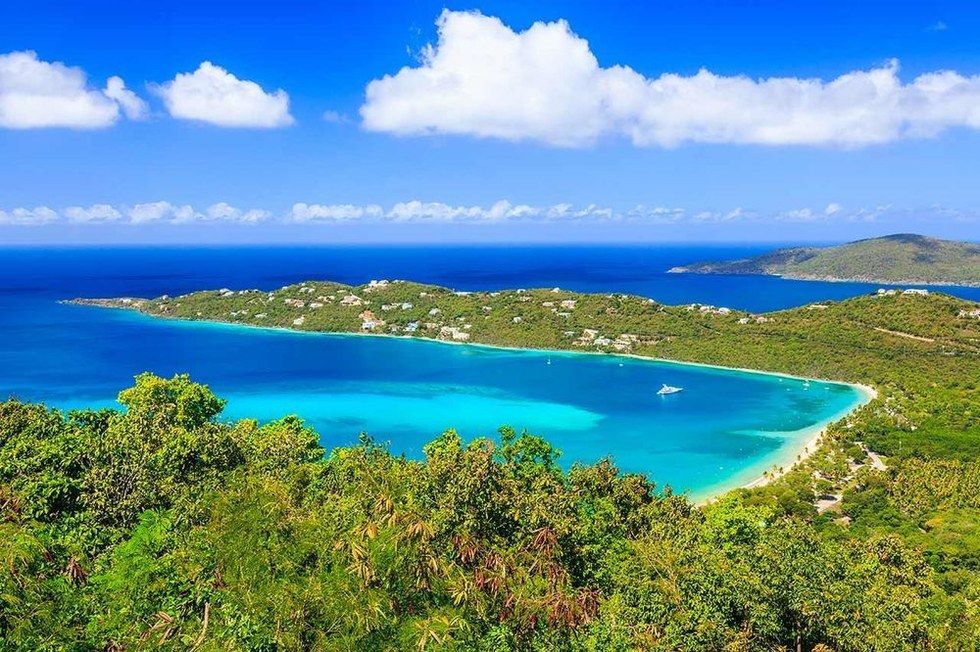 Magens Bay, St. Thomas
Shutterstock
St. Thomas
Bastille Day in the U.S. Virgin Islands? St. Thomas is home to a large community of French descendants who came to the island from St. Barths. The island celebrates the holiday with a number of celebrations, including the popular Bastille Day Kingfish Tournament. Between 50 and 100 boats compete from 5 a.m. to 12 p.m. for a chance to win up to $13,000 in prizes. Afterward, everyone heads to the beachside party and awards ceremony at Hull Bay Hideaway with performances by local bands.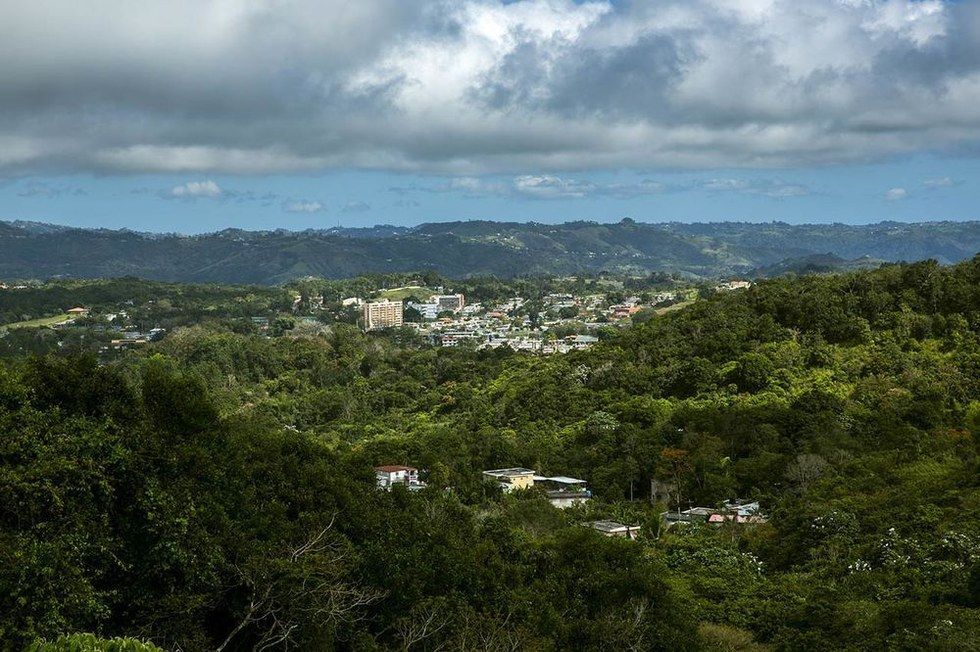 Aibonito, Puerto Rico
Shutterstock
Puerto Rico
Each year, the mountain town of Aibonito (about a 1½-hour drive from San Juan) hosts the largest plant show on the island. Known locally as the Festival de las Flores, the Aibonito Flower Festival pays homage to all things flora with rows of vendors selling plants and flowers: Anthophiles can browse orchids, heliconias, hibiscus, fruit trees and vegetable plants, to name a few. Grab an empanada from a food stall and listen to live music provided by local musicians.
This article was written by Darby Radcliff from Islands and was legally licensed through the NewsCred publisher network. Please direct all licensing questions to legal@newscred.com.
When and where possible, we are working to repatriate travelers who are stranded abroad in the wake of the COVID-19 crisis. Our teams are working closely with government officials here in the U.S. as well as in other countries where flying has been restricted to gain the necessary approvals to operate service. In regions where government actions have barred international flying, we have coordinated with the the U.S. State Department and local government officials to re-instate some flights. Additionally, we have been operating several extra flights to countries in Central America and South America as we continue to play a role in connecting people and uniting the world.
We have operated more than 85 repatriation flights from Panama City, Guatemala City, Quito, Lima, San Pedro Sula, Tegucigalpa and Roatan, bringing nearly 12,000 people home. We will continue working with government officials to operate extra flights to Houston from Quito, San Pedro Sula, Tegucigalpa and from Lima to Washington Dulles and beginning April 5, we will begin operating multiple charter flights between Delhi and San Francisco. We continue to review more opportunities for flights between the United States and other countries to bring citizens home.
Video provided by the U.S. Embassy Ecuador of Americans returning home on United.

Additionally, our Customer Solutions and Recovery team is working with customers in the following markets to rebook them on flights back to the United States as capacity allows, either on our aircraft or on one of our airline partners' planes:

Quito, Ecuador
Managua, Nicaragua
Roatan, Honduras
San Pedro Sula, Honduras
Amsterdam
Brussels
Munich
Singapore
Tokyo-Haneda
Seoul, South Korea
Melbourne, Australia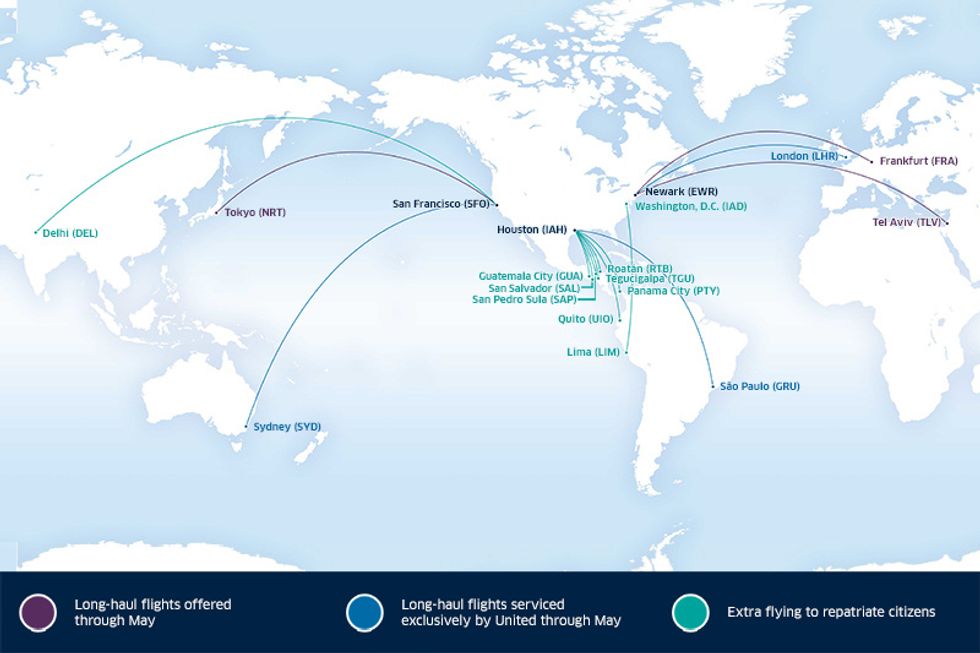 We also recently reinstated several international flights back into our schedule to support customers and essential businesses which depend on these routes. As a result, we will be the only airline to offer service between Newark/New York and London, San Francisco and Sydney, as well as Houston and São Paulo, Brazil.

Throughout these unprecedented times, we remain committed to doing what is right and fair for all of our MileagePlus® members and are pleased to share the steps we are taking to reciprocate the trust and loyalty that you have placed in United. These steps include not only Premier status updates, but also an extension of current memberships and subscriptions. The updates will happen automatically over the next few weeks — there's nothing you need to do.

The big news: If you have current 2020 Premier status, it will be extended to January 31, 2022. At a minimum, you will enjoy the same published status next year that you have today, up to and including Premier 1K®.
For the 2021 status year, United is reducing thresholds for Premier qualification by 50% for each status level, to make reaching an even higher tier easier. You'll still need a minimum of four flight segments on United or United Express®.
| | | | |
| --- | --- | --- | --- |
| 2021 status | Earn Premier qualifying flights | and PQP | … or meet a higher PQP goal |
| Silver | 6 | 2,000 | 2,500 |
| Gold | 12 | 4,000 | 5,000 |
| Platinum | 18 | 6,000 | 7,500 |
| 1K | 26 | 9,000 | 12,000 |
We're also doubling PQP for United Explorer cards and quadrupling PQP for the United Club cards.
At the same time that we're decreasing the published program's PQP requirements, via a promotion from May 1 – December 31, 2020, we're doubling (for United Explorer cards) or quadrupling (for United Club cards) the maximum number of PQP that Cardmembers can earn from card spending during 2020 to help achieve a higher level of status than you already have. More details to come later.
1K® and Platinum members, we're increasing your ability to upgrade by extending PlusPoints expiration dates by six months and expanding Skip Waitlist.
This means a six-month extension of any PlusPoints set to expire on or before January 31, 2021.
Last year we introduced Skip Waitlist on select flights as a benefit to 1K members, giving you more opportunities to confirm an upgrade request at the time of booking. This benefit will now be available for the rest of 2020 in a significantly expanded selection of long-haul international regions and will have expanded availability in 2021 as well.
We're extending all annual membership and subscription benefits by six months.
We want to make sure your benefits are still there when you're ready to start flying again. That's why we're extending purchased United Club℠ memberships purchased directly from United and purchased subscriptions for Economy Plus®, United Wi-Fi℠ and checked bags by six months. You should see this reflected in your MileagePlus account soon.
All electronic travel certificates now have 24 months to be used.
If your travel plans have been disrupted, and you have an electronic travel certificate from us for the value of your ticket, you now have two years from the date it was issued to book a new flight, as well as up to an additional 11 months to travel. This includes all currently valid and all new electronic travel certificates issued on or after April 1, 2020.
We have removed some redeposit fees for the rest of the year.
We are currently waiving all award redeposit fees for travel through end of May 2020.
We are now also waiving all redeposit fees for award ticket cancellations made more than 30 days before departure for the remainder of 2020.
Finally, we'll be making it easier to earn status in 2021 for the 2022 program year. We recognize that getting back to travel will occur at a different pace for different members. Keep an eye out for changes we will make to help you earn status in 2021 for 2022, as we'll share details later this year.
Over the years, you have placed your trust and loyalty in United, and we are honored to do the same for you. We are all in this together.
Status extension to January 31, 2022, applies to all members that met the published criteria of the MileagePlus program in 2019, status match associated with the United/Marriott Bonvoy partnership and status offered as part of a Sales nomination. Status granted from other programs and policies may not apply.
To help with the uncertainty around future travel — be it summer vacations, conferences, events and more — customers now have until April 30 to make changes to, or cancel, any travel they have booked through the end of the year without fees. This is in addition to existing waivers already in place which allow customers to change or cancel plans for travel through May 31.If you decide to cancel your flight, you can retain the value of your ticket to be applied to a new ticket without a fee. These electronic travel certificates are now valid for 24 months from the date they were issued. This includes all currently valid electronic certificates and all new ones issued on or after April 1, 2020. You might not see this policy change reflected everywhere right away – we appreciate your patience as we work to make that happen.
Eligible travelers on domestic flights and international tickets can request a refund on united.com or may call our contact centers if their flights have been severely adjusted or service to their destination suspended either due to government mandates or United schedule reductions related to COVID-19.
Certain tickets cannot be changed on united.com or the mobile app, including tickets booked through another airline (if the ticket receipt does not begin with 016). Please contact the original ticketing airline for changes.
Follow the steps below to stay up to date, change or cancel your flight.

Change your current flight:
On the united.com homepage, select "My Trips" and enter your flight information to retrieve your flight.
Select "Change flight" and then "Edit" to make the following changes:

Date of travel or destination
Add a flight
Remove a flight

Select "Continue" and choose a new flight option
Continue through booking to confirm your new flight
Note: The change fee will display as waived, but any difference in fare may apply.
Cancel your flight and rebook later:
On the united.com homepage, select "My Trips" and enter your reservation information to retrieve your flight
Select "Cancel flight"
Confirm flight cancellation
If you have future flight credit, when you return to the reservation, select "Use Future Flight Credit" to shop for new flights and apply the credit towards a new flight.
Canceling or changing an award flight:
When you select "Cancel flight," you will have the option to cancel your award reservation and redeposit the miles or to cancel your award reservation and use those miles for another trip in the future.
*We're currently experiencing heavy traffic to united.com. If you experience an error while trying to change or cancel your flight, please try again later.
Click through the slideshow below for more detailed instructions:
​Start on the United homepage: ​
User can select 'My Trips' on the homepage widget to find and retrieve their reservation.
Together, we are facing an unprecedented challenge. United Together, we rise to meet that challenge.
Check out our newest destinations
United Airlines
united
To help with uncertainty around future travel – summer vacations, conferences & more – customers have until 4/30 to make changes to, or cancel, any travel they have booked through the end of the year without fees. This is in addition to existing waivers:
uafly.co/2vmnkSk
United Airlines
united
This is what a charter flight, carrying 100% medical equipment, looks like. We've been flying millions of units of personal protective equipment (PPE) from China to help get supplies to frontline responders across the country.
#WorldHealthDay
#UnitedTogether
United Airlines
united
For 200 Australian citizens who have been stuck on cruise ships for the past few weeks, our flight crew was a welcome sight. We operated a special charter flight from SFO - MEL on Sunday night, reuniting these travelers with their home and their families.
#UnitedTogether
👏💙
United Airlines
united
We're extending current MileagePlus Premier status levels to January 31, 2022 and lowering thresholds for status to help you reach an even higher tier. Learn more about the other steps we're taking, like extending PlusPoints, to thank you for your loyalty:
uafly.co/2xVfvnm
United Airlines
united
If your travel plans have been disrupted, and you have an electronic travel certificate for the value of your ticket, you now have two years from the date it was issued to book a new flight + up to an additional 11 months to travel. Learn more:
uafly.co/2RbdgDq
We Are United
weareunited
Shoutout to our operations team, who are working to properly park, maintain and store many aircraft in the
#BeingUnited
fleet. These aircraft are being housed across our seven hubs, maintenance facilities in CLE and MCO as well as at offsite facilities in New Mexico and Arizona.
We Are United
weareunited
Tomorrow, Oscar and Scott will host a companywide town hall to discuss the latest developments in managing the effects of the coronavirus (COVID-19). You can join the livestream event at 1:20 p.m. CT here:
uafly.co/39AV25m
Watch our most popular videos
A happy, Hollywood ending
This is the story of Jason and Shantel. You see, Jason and Shantel love each other very much. They also love traveling and they love the classic Adam Sandler film, The Wedding Singer.
It all began when Jason reached out to United's social media team, hoping for assistance with his upcoming plan to propose. Some phone calls and one borrowed guitar later, the stage was set for Jason. Put all that together, mix in some helpful United employees and, voila, you have a truly memorable marriage proposal. Congratulations to this fun-loving and happy couple, and here's to many more years of making beautiful music together.
A big thank you to Chicago-based flight attendants Donna W., Marie M., Karen J. and Mark K. for making this proposal come to life.
Copyright © 2020 United Airlines, Inc.
All rights reserved.
Indicates an external site that may or may not meet accessibility guidelines.
Scroll to top
Scroll to top