Best Places to Travel in July
Planning your summer vacation? Here's where to travel in July.
Summer vacation is in full swing and the best places to travel in July include festivals celebrating everything from flying kites to reggae to scuba diving. Oh, and dozens of Ernest Hemingway look-alikes running through in Key West.
Cayman Islands
Movie buffs looking for an excuse to visit the Caribbean should plan to attend the annual CayFilm Cayman International Film Festival. The four-day event, held at the Ritz-Carlton, Grand Cayman, was started to promote the Cayman Islands as a filming location. The schedule includes daily film screenings, Q&A sessions with filmmakers and panel discussions. The festival will also host a 48-Hour Film Project competition challenging local filmmakers to make a short film in just two days. The winning film will be announced at the festival's award ceremony and will compete against other films at Filmapalooza 2018 for the grand prize and the opportunity to be screened at the Cannes Film Festival in 2018.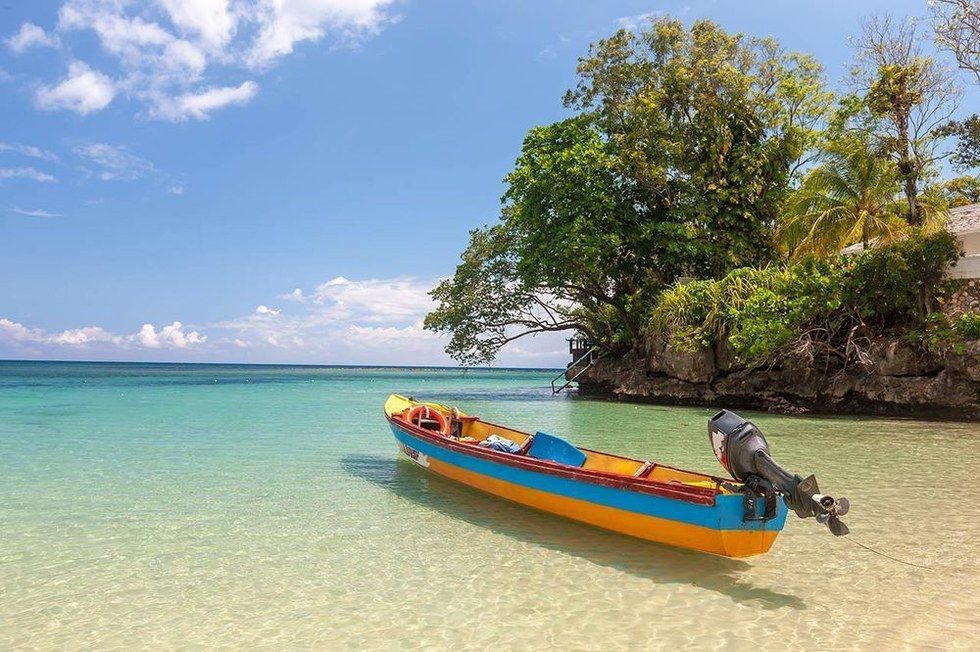 Fish boat on the beach of Jamaica
Shutterstock
Jamaica
One the island where reggae was invented, it only makes sense there would be an annual festival to celebrate it. Every July in Montego Bay, the Reggae Sumfest honors the homegrown music style with a weeklong festival. Headliners have included Jamaican artists like Damian "Junior Gong" Marley and Stephen Marley, Toots & the Maytals and The Mighty Diamonds, along with international artists like Sean Paul, Rihanna, Usher and 50 Cent. Can't make it in person? Watch the live stream, crank up the volume and have your own irie dance party.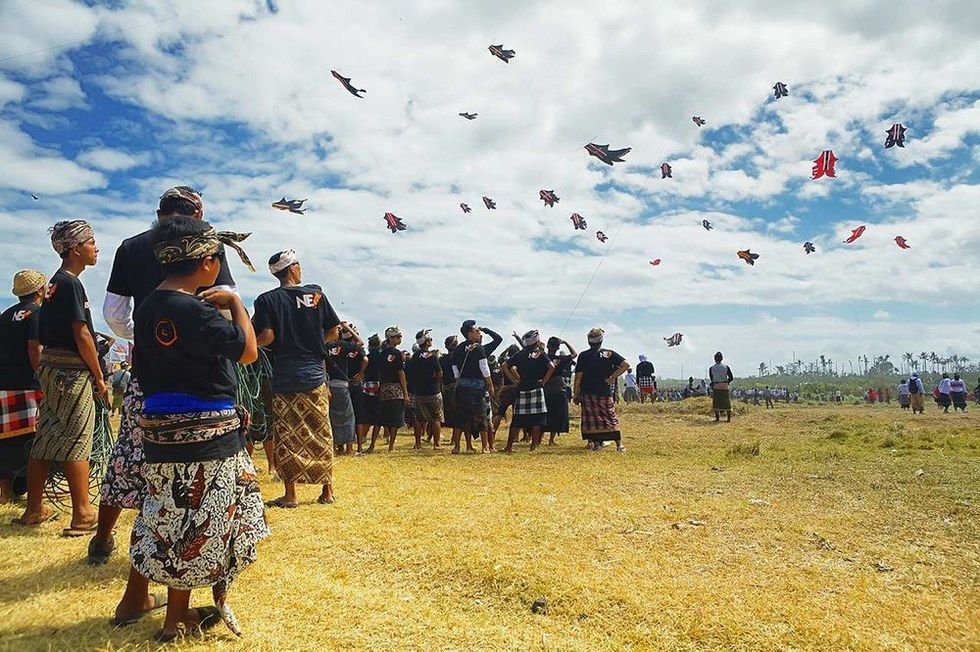 Bali Kite Festival on Padang Galak Beach
Shutterstock
Bali
It's windy season in Bali and the Balinese celebrate in style — with elaborate kites. See hundreds in the air at the annual Bali Kite Festival, held on Padang Galak Beach. These aren't your average kites from Mary Poppins: think 30-feet creations of dragons, octopuses, sharks, and even a gladiator in a horse-drawn carriage. Local villages spend months designing and building the kites, and the event is highly competitive. In Bali, kite-flying is believed to be a way to speak to the gods, and the festival started as a way to thank them for plentiful harvests and fertility.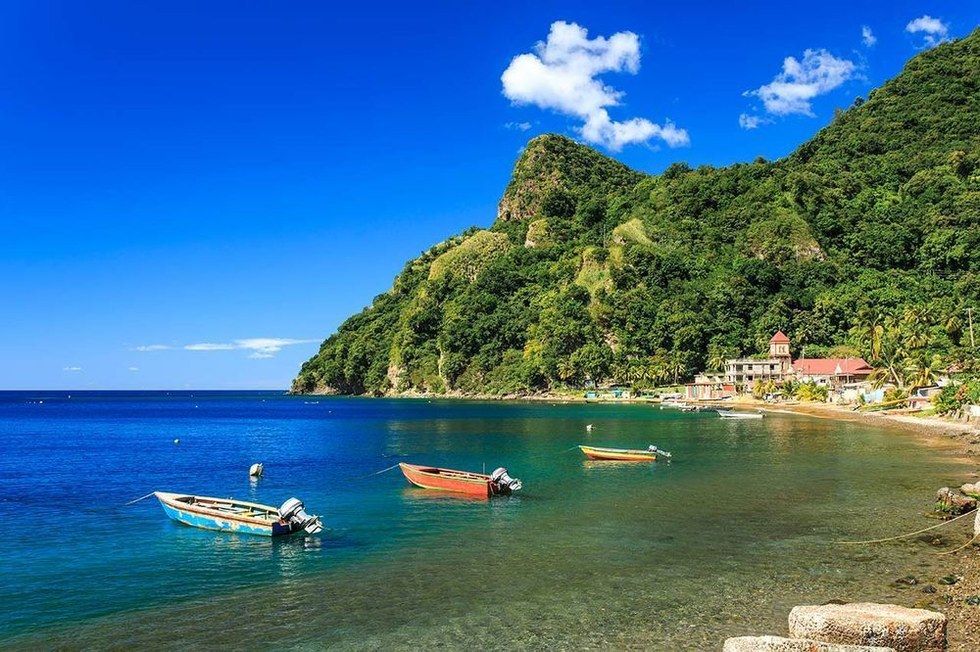 Boats on Soufriere Bay, Dominica
Shutterstock
Dominica
Hosted by the Dominica Watersports Association, Dive Fest is one of the longest-running scuba diving festivals in the Caribbean. Discounts are offered for reef diving and free in-pool training sessions, so all levels of divers can participate. The event is family-oriented, with kid-friendly activities like whale watching and a snorkel treasure hunt at Champagne Reef. Don't miss the Kubuli Canoe Race, where a team of four competes in traditional fishing boats.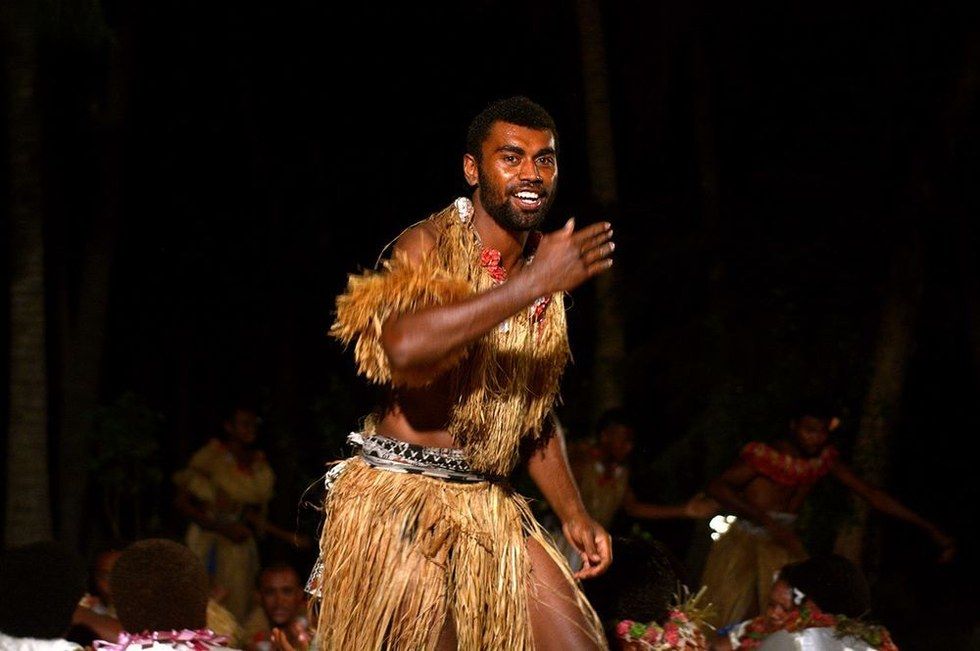 Fijian dancers perform the Meke Wesi (the spear dance)
Shutterstock
Fiji
If you've been to Fiji, you've probably heard a heartfelt "Bula!" greeting from a local. Similar to the Hawaiian aloha, bula can mean hello, goodbye, welcome and love. It also means life, which is why the annual Bula Festival celebrates Fijian culture. The weeklong event is held in both Koroivolu Park and Prince Charles Park in Nadi. Indulge in traditional Fijian food and enjoy parades, live music, a Pacific dance contest, a Bollywood-themed night commemorating the island's Indo-Fijian population and the crowning of Miss Bula.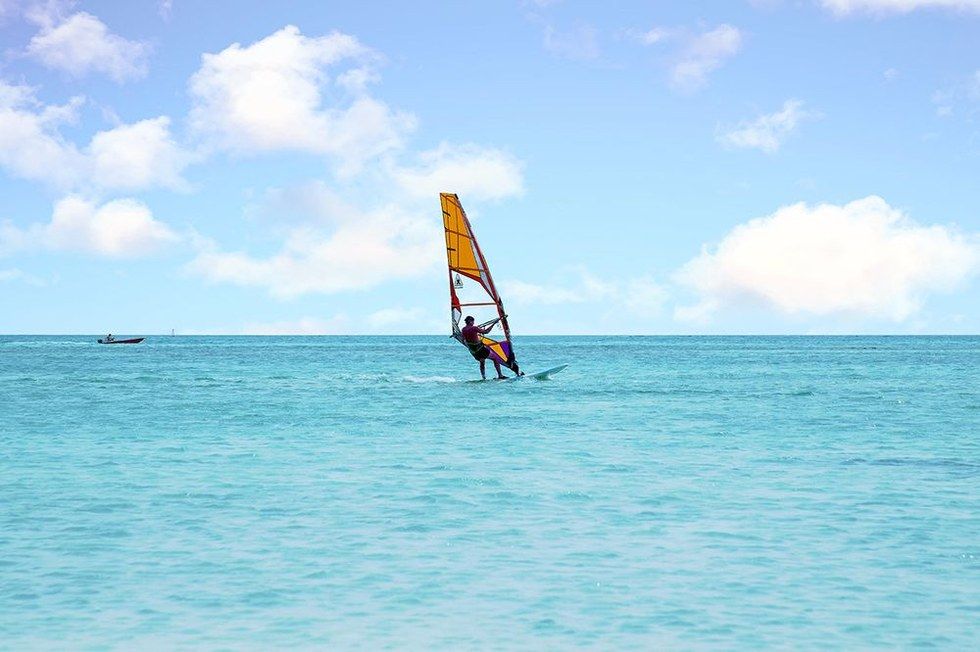 Windsurfer in Aruba
Shutterstock
Aruba
Extreme wind sports are popular in Aruba, thanks to the island's ever-present trade winds. At the Hi-Winds Tournament, amateur windsurfers and kite boarders from around the world get the chance to show off their top tricks. Competitors face off in slalom races, freestyle competitions and long-distance races. Catch all the action from Hadicurari Beach.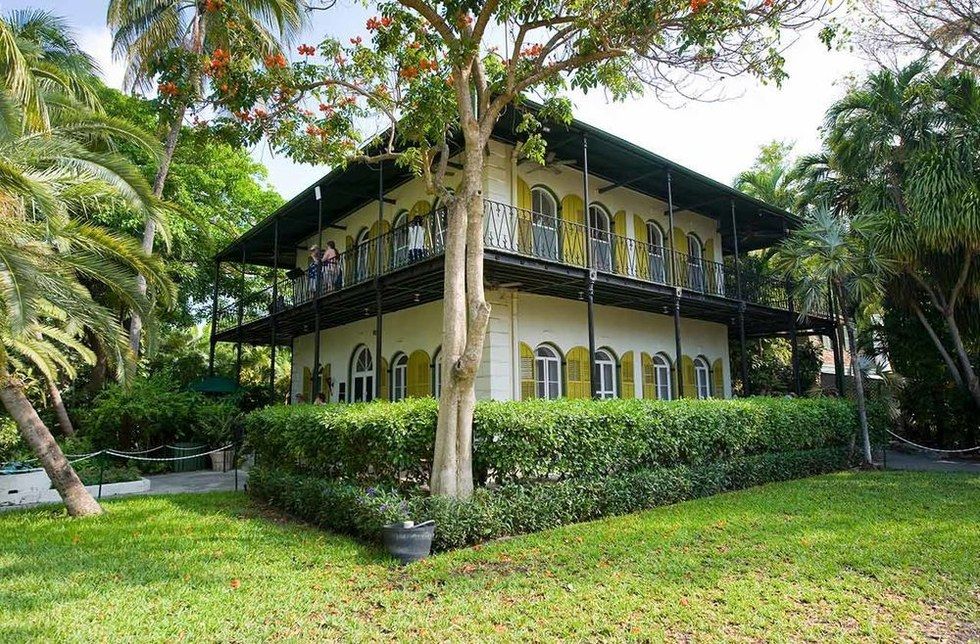 The Ernest Hemingway Home and Museum
Shutterstock
Florida Keys
Ernest Hemingway left his mark on Key West, and the island throws him a birthday every year. Hemingway Days is a weeklong festival to honor the author, with readings, book signings and a short story competition directed by Hemingway's granddaughter and author, Lorian Hemingway. One of the main events is a Hemingway look-alike contest, and the white-bearded "Papa" doppelgangers also take part in a mock running with the bulls, a nod to The Sun Also Rises. The Key West Marlin Tournament is also part of the festivities in memory of Hemingway's love for the sport.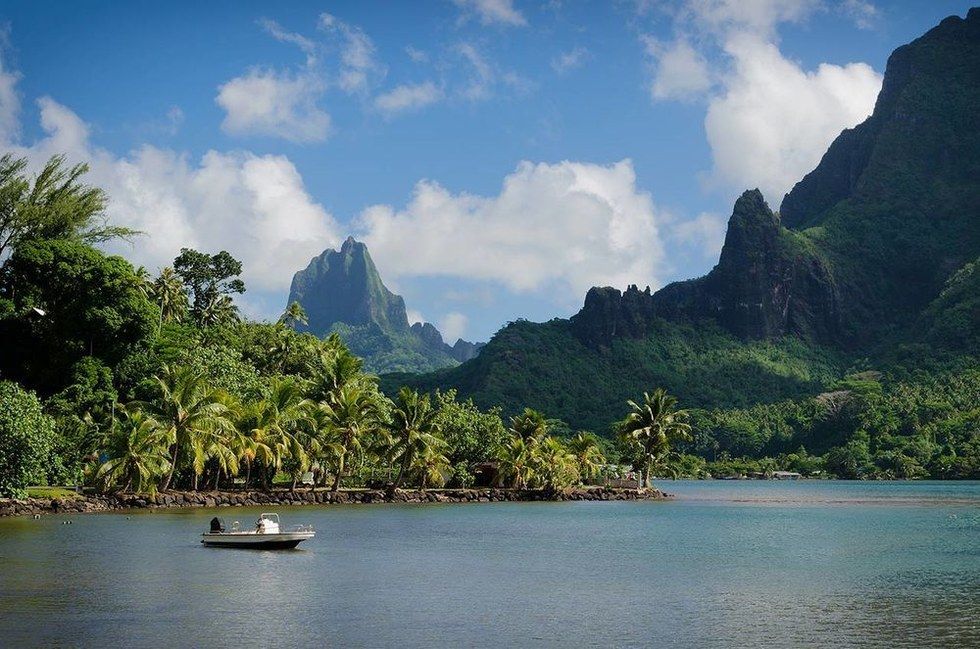 Boat on Cooks Bay, Tahiti
Shutterstock
Tahiti
What does the movie Footloose have in common with Tahiti? In the early 1800s, dancing was forbidden in the country — Christian missionaries viewed Tahitians' cultural dancing as vulgar. In the late 1800s, the locals gained back their right to dance when France incorporated the territory. This history, and the love for the artistic form of expression, is celebrated at Heiva I Tahiti, an annual festival held in Papeete. During the event, traditional Tahitian culture takes center stage with dance performances, sporting competitions (outrigger canoe races, a javelin-throwing contest), and an a cappella singing competition.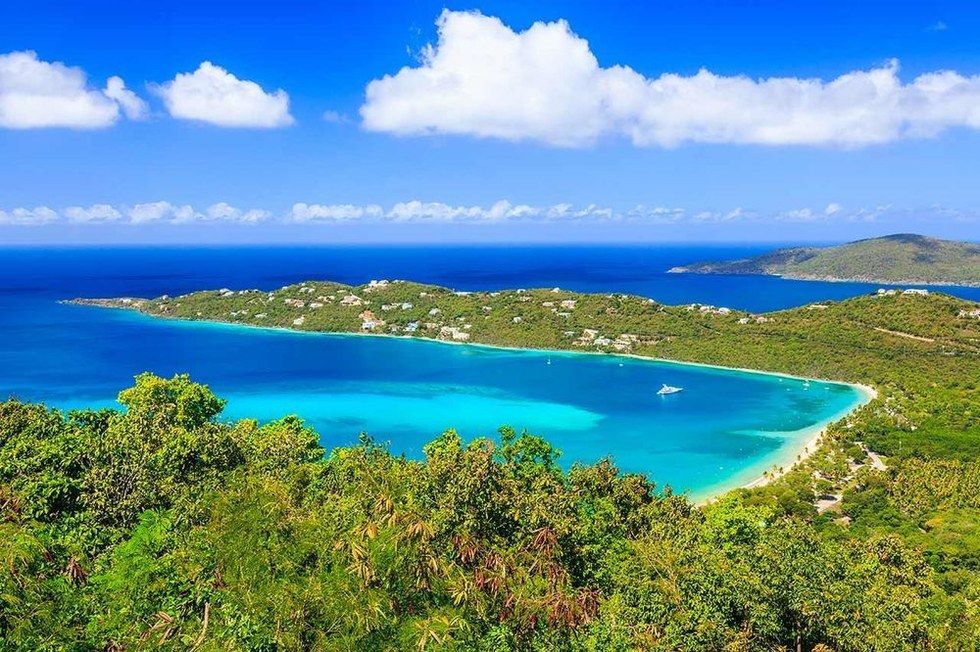 Magens Bay, St. Thomas
Shutterstock
St. Thomas
Bastille Day in the U.S. Virgin Islands? St. Thomas is home to a large community of French descendants who came to the island from St. Barths. The island celebrates the holiday with a number of celebrations, including the popular Bastille Day Kingfish Tournament. Between 50 and 100 boats compete from 5 a.m. to 12 p.m. for a chance to win up to $13,000 in prizes. Afterward, everyone heads to the beachside party and awards ceremony at Hull Bay Hideaway with performances by local bands.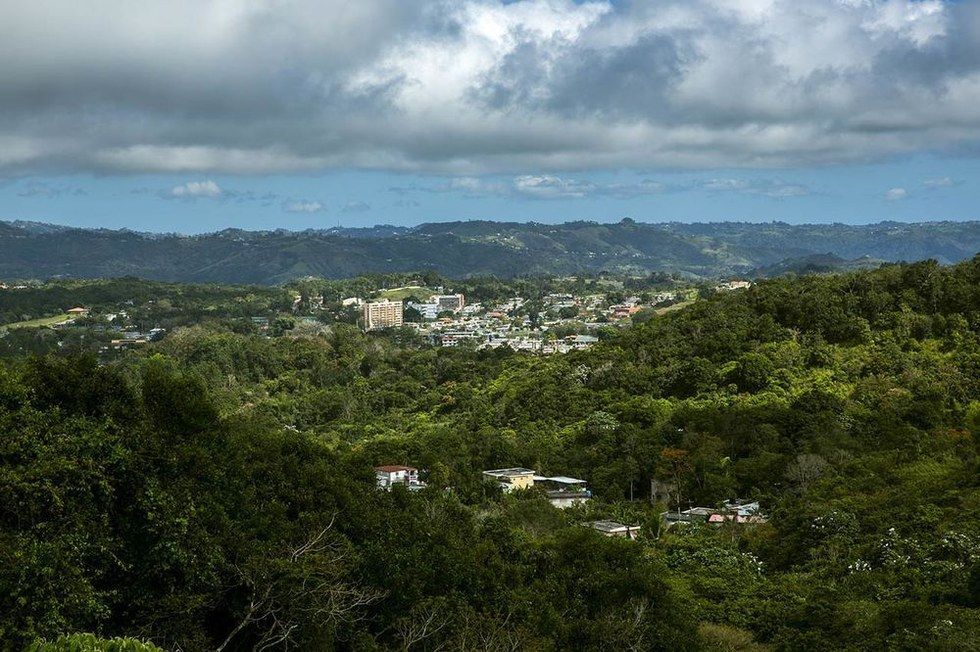 Aibonito, Puerto Rico
Shutterstock
Puerto Rico
Each year, the mountain town of Aibonito (about a 1½-hour drive from San Juan) hosts the largest plant show on the island. Known locally as the Festival de las Flores, the Aibonito Flower Festival pays homage to all things flora with rows of vendors selling plants and flowers: Anthophiles can browse orchids, heliconias, hibiscus, fruit trees and vegetable plants, to name a few. Grab an empanada from a food stall and listen to live music provided by local musicians.
This article was written by Darby Radcliff from Islands and was legally licensed through the NewsCred publisher network. Please direct all licensing questions to legal@newscred.com.
Our Marketing Inflight Entertainment and Connectivity team and Bridge, our Business Resource Group (BRG) for people with all abilities, partnered together to test and provide feedback on our award-winning seatback inflight entertainment (IFE) system.
Aptly named "Entertainment for all," our new seatback IFE system offers the an extensive suite of accessibility features, allowing for unassisted use by people of all visual, hearing, mobility and language abilities.
"It's nice to know that I can get on a plane and pick my favorite entertainment to enjoy, just like every customer," said Accessibility Senior Analyst and Developer and Bridge Chief of Staff Ray C., who is blind.
"As a deaf employee, the closed captioning availability on board our aircraft is something I value greatly," added Information Technology Analyst Greg O. "The new IFE further cements United's visibility within the deaf community and elsewhere. It makes me proud to be an employee."
Accessibility features of the new IFE include a text-to-speech option, explore by touch, customizable text size, screen magnification, color correction and inversion modes, and alternative navigation options for those unable to swipe or use a handset. For hearing-impaired and non-English-speaking passengers, customization options provide the ability for customers to be served content and receive inflight notifications based on their preferences and settings —with closed captions, with subtitles or in the language of their choice from the 15 languages supported. Our "Entertainment for all" system won the Crystal Cabin Award in 2019, and recently, the Dr. Margaret Pfanstiehl Research and Development Award for Audio Description by the American Council of the Blind.
"This really showed the benefits of partnering with BRGs in helping us improve products and services for our customers and employees," said Inflight Entertainment and Connectivity Senior Manager Corinne S. "Even though we have been recognized with awards for our IFE accessibility features, we are not resting on our laurels but continuing to work towards improving the inflight entertainment experience for all of our customers to ensure entertainment is available for all."
If your travels have taken you through Chicago O'Hare International Airport anytime since October 2019, you may have had a friendly, caring and jovial exchange with Daniel Smrokowski. Daniel is one of four Service Ambassadors thanks to our ongoing partnership with Special Olympics. This inaugural ambassador program aims to provide Special Olympic athletes employment opportunities within our operation, affording them a unique and meaningful career.
Since 2018, our partnership with Special Olympics has become one of United's most cherished relationships, going beyond the events we take part in and volunteer with. While the plane pull competitions, polar plunges, duck derbies and Special Olympics World Games and other events around the world are a big part of our involvement, the heart of this partnership lies with the athletes and individuals supported by Special Olympics. To advocate for their inclusion in every setting is one of our biggest honors, and we take great pride in the role we play in the organization's inclusion revolution.
Aiding in the success of Special Olympics' mission to create continuing opportunities for individuals with intellectual disabilities, throughout the two-year partnership, United has volunteered over 10,500 hours and donated over $1.2 million in travel to the organization. The impact of this partnership is felt at every level, both at Special Olympics and within our own ranks.
"The Inclusion Revolution campaign, led by our athletes, aims to end discrimination against people with intellectual disabilities. United Airlines has joined in our fight for inclusion, empowering our athletes with the skills needed to succeed and opportunities to contribute their abilities as leaders," said Special Olympics International Chairman Tim Shriver. "United Airlines believes that people with intellectual disabilities should be perceived as they really are: independent, world-class athletes, students, employees, neighbors, travelers, and leaders who contribute to make this world a better place."
Our Service Ambassador program is just one of the many ways Special Olympics has impacted not only our employees, but also our customers. "I see every day how our Service Ambassadors connect with our customers the moment they walk into the airport lobby," said Senior Customer Service Supervisor Steve Suchorabski. "They provide a warm, welcoming smile ad assist in any way they can. To see these young adults hold positions that a society once told them they couldn't is truly the most heartwarming part of my job," Steve continued.
"The opportunity to be a part of the United family means everything to me," Daniel said. "I feel so much pride showing up to work in a Special Olympics/United co-branded uniform, working among such a loving and supportive community. The relationship between these two organizations is truly helping to shape my future while letting me use my gifts of communicating and helping others. Hopefully, I can spend my entire career at United," Daniel added.
In honor of Special Olympics' Global Week of Inclusion in July, we're asking our employees, customers and partners to sign a pledge to #ChooseToInclude at jointherevolution.org/pledge.
And be sure to check out Daniel's podcast The Special Chronicles.

In collaboration with food-logistics company Commodity Forwarders Inc. (CFI), United moved nearly 190,000 pounds of fresh produce to Guam for the U.S. Department of Agriculture's Coronavirus Farm Assistance Program. This new program was created to provide critical support to consumers impacted by the COVID-19 global pandemic.
A variety of fresh fruits were transported from Los Angeles (LAX) to Guam (GUM) on United's newly introduced, non-stop cargo-only flight – a route added to meet cargo demand during the COVID-19 crisis. The fresh food was repacked in 10-pound cases in Los Angeles, prepared for departure at CFI's LAX location, and flown to GUM by the United team. Through this beneficial partnership between United and CFI, the perishable goods were kept cool during every step of the process and distributed as part of the food bank program in Guam.
"Everyone on our team has worked relentlessly during the pandemic to get critical goods to where they are needed most. Establishing a comprehensive network of cargo-only flights have allowed us to keep the supply chain moving even while passenger flight capacity has been reduced," said Regional Senior Manager of Cargo Sales, Marco Vezjak. "Knowing that we are able to help during these difficult times – in this case the Guam community – is our biggest reward and greatest motivation to keep moving forward."
United is proud to play a role in maintaining the global food supply chain and helping people access the supplies they need. Since March 19, United has operated over 4,000 cargo-only flights, moving over 130 million pounds of cargo.

Together, we are facing an unprecedented challenge. United Together, we rise to meet that challenge.
Learn more
United Airlines
united
Entertainment for all: the name of our award-winning seatback inflight entertainment system which allows for unassisted use by people of all visual, hearing, mobility and language abilities. See how our employees helped make it the world's most inclusive:
uafly.co/2PwtFRy
United Airlines
united
Next stop: paradise. 🤙 Our San Francisco – Tahiti service is back with flights departing 3x a week. See what travelers need to do before and during their stay in French Polynesia:
uafly.co/33tvK93
United Airlines
united
While electrostatic sprayers are used to disinfect aircraft cabins, the switches & touch screen displays in our flight decks use a different approach. See how ultraviolet C (UVC) lighting is being used to kill viruses that may reside on these sensitive components.
United Airlines
united
A travel waiver is in effect for the East Coast due to Tropical Storm Isaias. If you're traveling 8/4 - 8/5, you can change your flight at no cost on our mobile app, by direct messaging us here or calling 1-800-864-8331. Waiver:
uafly.co/Z04CmP
We Are United
weareunited
The mission of our BRG, Bridge, is to foster an environment where all United employees are able to achieve their maximum potential. Learn about how members of Bridge helped make our award-winning seatback IFE the world's most inclusive.
uafly.co/2PwtFRy
#BeingUnited
We Are United
weareunited
We've rolled out "Easy Chat" as the Flight Info app on Link devices at DCA, IAD, LAX, ORD and DEN with EWR, IAH and SFO coming this summer. This program offers increased connectivity and transparency between the
#BeingUnited
frontline to keep flights moving and on-time.
We Are United
weareunited
Our digital servicing team has developed an automated assistant to make it easier for our customers to learn about what to expect the next time they fly. Text "Clean" to FLYUA (35982) to give it a try!
We Are United
weareunited
Three-year-old Luna Mei was all smiles on her flight home after 212 days in a San Francisco hospital, thanks to her SFO-based FAs (and undercover angels 👼) Pamela R., Sharon S., Sonja B. and Stacey G. The quartet kept spirits high by singing songs, clapping and playing games.
Watch our most popular videos
Flying UCSF Medical Workers to New York
This is why we fly.
20 UCSF Health workers, who voluntarily set aside their own lives to help save lives, are on their way to New York City.
We are humbled by your selfless sacrifice.
Thank you.
#UnitedTogether #UCSFHeroes
A happy, Hollywood ending
This is the story of Jason and Shantel. You see, Jason and Shantel love each other very much. They also love traveling and they love the classic Adam Sandler film, The Wedding Singer.
It all began when Jason reached out to United's social media team, hoping for assistance with his upcoming plan to propose. Some phone calls and one borrowed guitar later, the stage was set for Jason. Put all that together, mix in some helpful United employees and, voila, you have a truly memorable marriage proposal. Congratulations to this fun-loving and happy couple, and here's to many more years of making beautiful music together.
A big thank you to Chicago-based flight attendants Donna W., Marie M., Karen J. and Mark K. for making this proposal come to life.
Copyright © 2020 United Airlines, Inc.
All rights reserved.
Indicates an external site that may or may not meet accessibility guidelines.
Scroll to top
Scroll to top