Exploring Newark Airport Terminal C
Updated on December 14, 2017
When we reimagined Terminal C at Newark Liberty International Airport, we wanted to create a place for travelers that offered food and experiences that were both inspiring and delicious. Here's a look at what's happening around Terminal C.
Wanderlust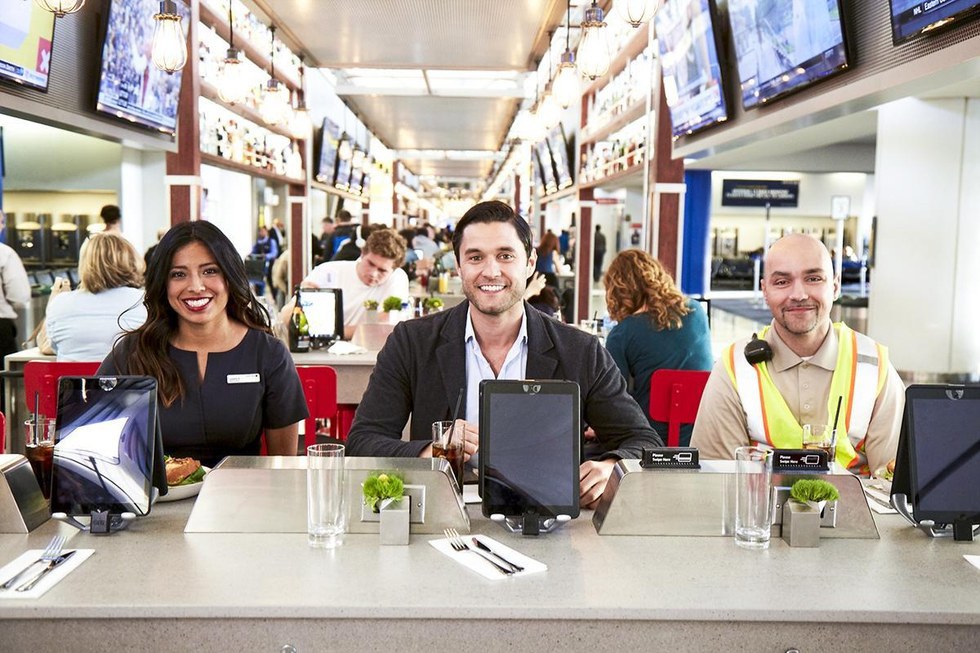 Phil grabs a bite with Catalina and John at Josh Capon's Wanderlust Burger Bar where the burger and beer options are endless. The fried pickles are a delicious and the bar stretches past several gates, making it a convenient stop. While you're there try the Truffle Burger, and if ordering the Bison Burger, we recommend getting the Tater Tot Poutine on the side — it's a crowd favorite. Complete your meal with a featured stout, ale, Belgium lager and more from an impressive beer list. You'll be raising a glass to your adventure in no time.
Check out the video below brought to you by Buzzfeed's Tasty to see how the Tater Tot Poutine is made. And if you're tempted to try it home, read on for the recipe.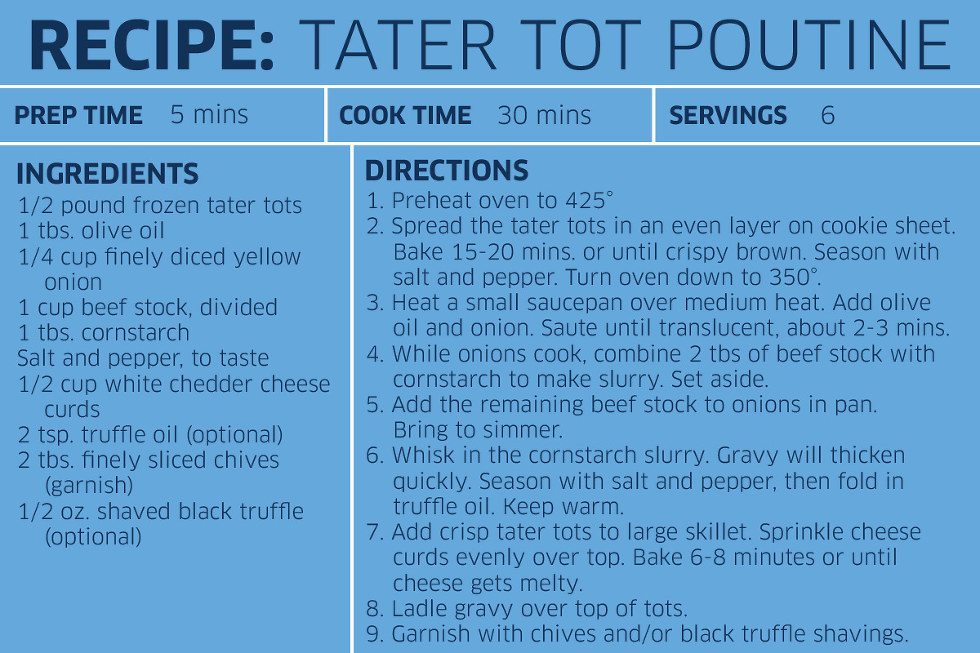 Tater Tot Poutine Recipe from Terminal C's Wanderlust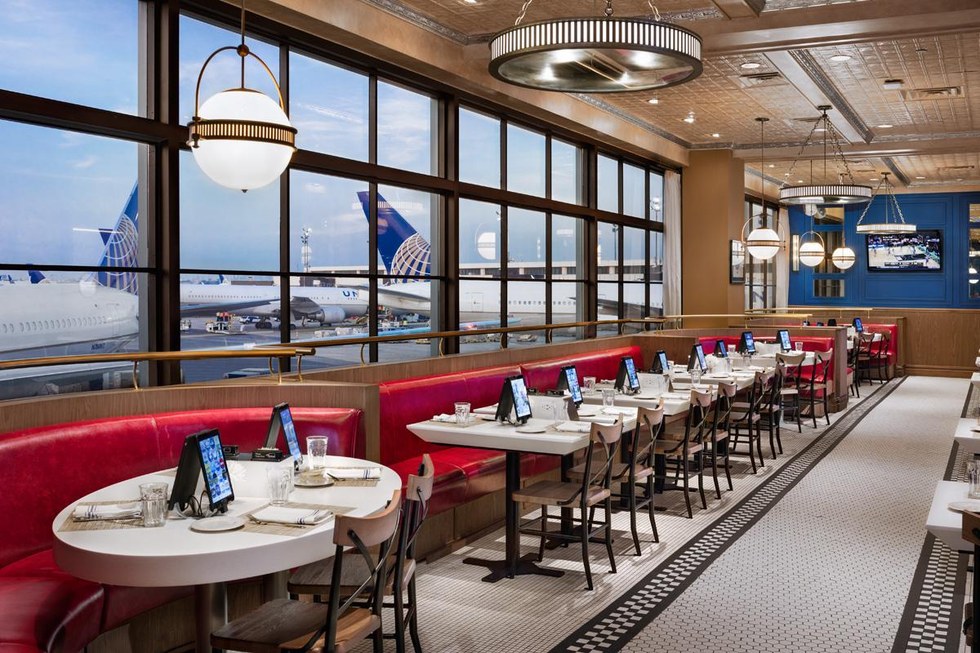 Saison by Chef Alain Ducasse
Saison
If it looks like we put a French Bistro in the middle of an airport, it's because we did. Relax before your flight with a meal at Saison. It's French food at it's finest, offering seafood, steaks, cheese plates and more. The steak tartare is prepared tableside with mustard, watercress, egg yolk and shallots; the crostini's are baked fresh daily from Balthazar in the heart of SoHo and don't forget about the croque monsieur, served with a creamy béchamel sauce, ham and a thick layer of melted gruyere cheese. If you're looking for a quick bite, try the onion soup gratinee or the seafood tower.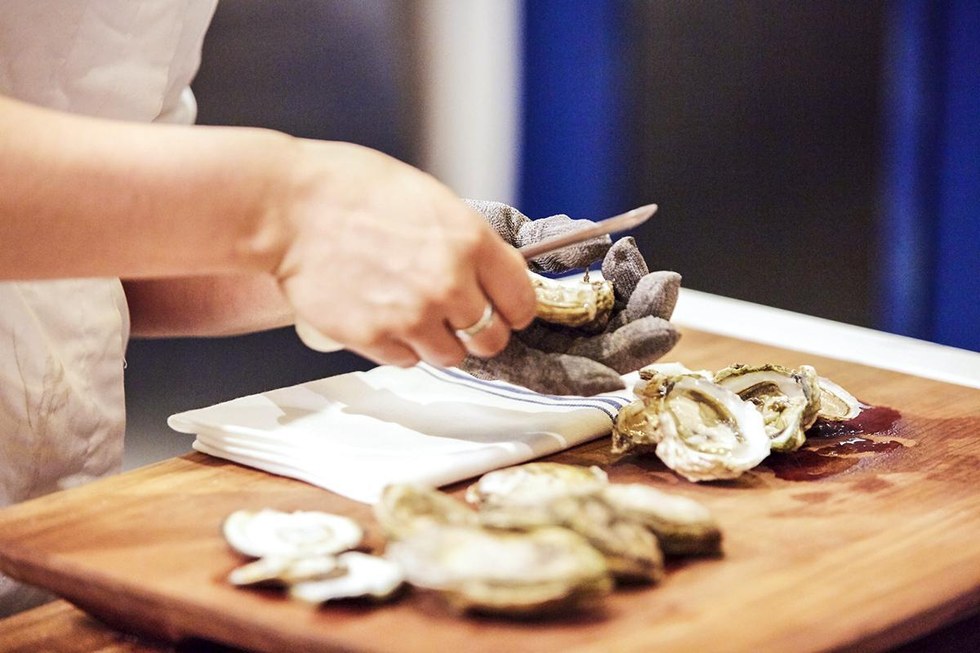 A chef shucks oysters at Saison
At Saison, seafood arrives daily and is never frozen. Ask your server where the Oysters are from that day to complete your meal with the perfect libation — a Sauvignon Blanc pairs perfectly with east coast oysters.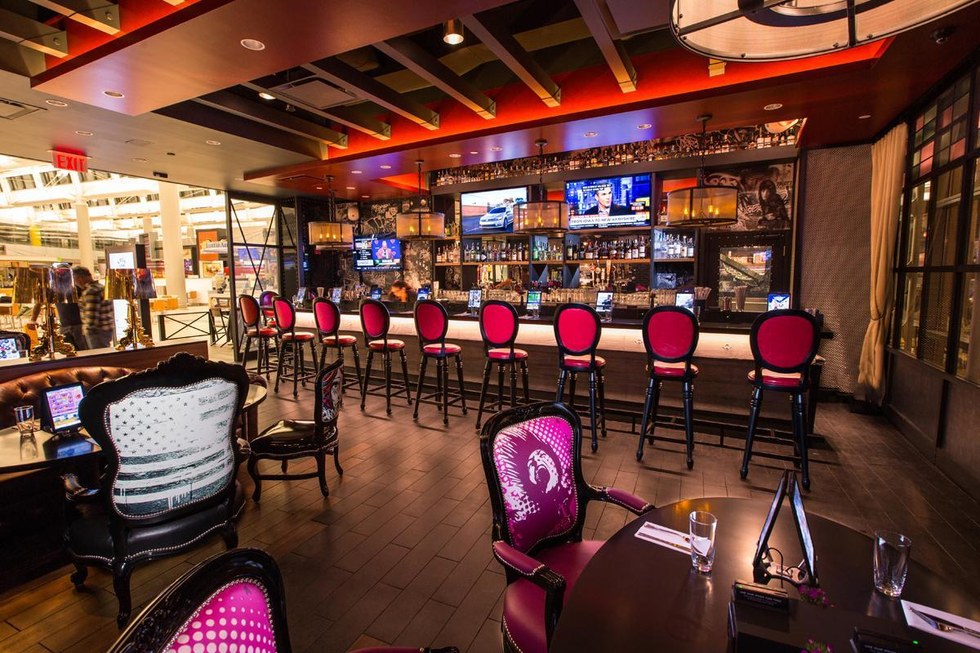 CGBG, an open-air beer garden at Newark's Terminal C
CGBG Lab
The birthplace of NYC's Rock, Folk and Punk music has found a new home in Terminal C. This open-air beer garden is a restaurant, bar and record shop, offering a classic American menu with burgers, hot dogs, prime rib, salads and wings. Love a good cocktail? Order yourself a "She's So Modern," made with Jim Beam, Amaretto and Orgeat. Don't be fooled by the name, the "Dirty Ashtray" is our favorite, a can of Tecate "dressed up" with a little salt, a little pepper and a lime wedge. If you're traveling on a Thursday, swing by for a bite and a little live music before your flight.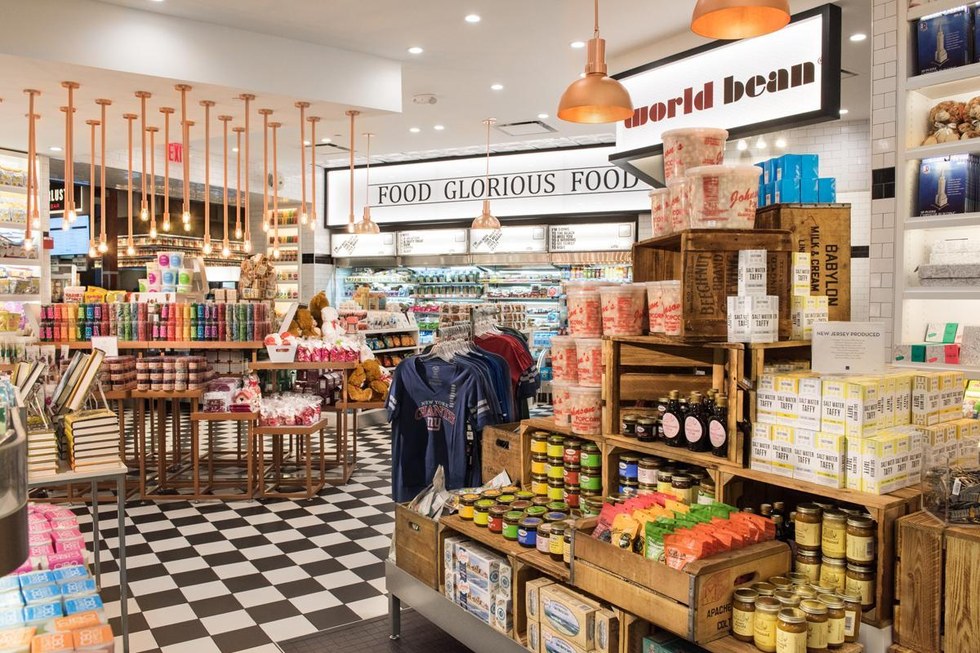 Grab a snack at CIBO Gourmet Express
CIBO Gourmet Express
Do a little shopping or pick up a snack before your flight at CIBO Gourmet Express, offering a uniquely curated assortment of readymade foods for the on-the-go traveler. CIBO Signature items change seasonally and are made with only the freshest and most flavorful ingredients. From freshly prepared sushi to health-conscious dining options that include organic, gluten-free, vegan and kosher selections.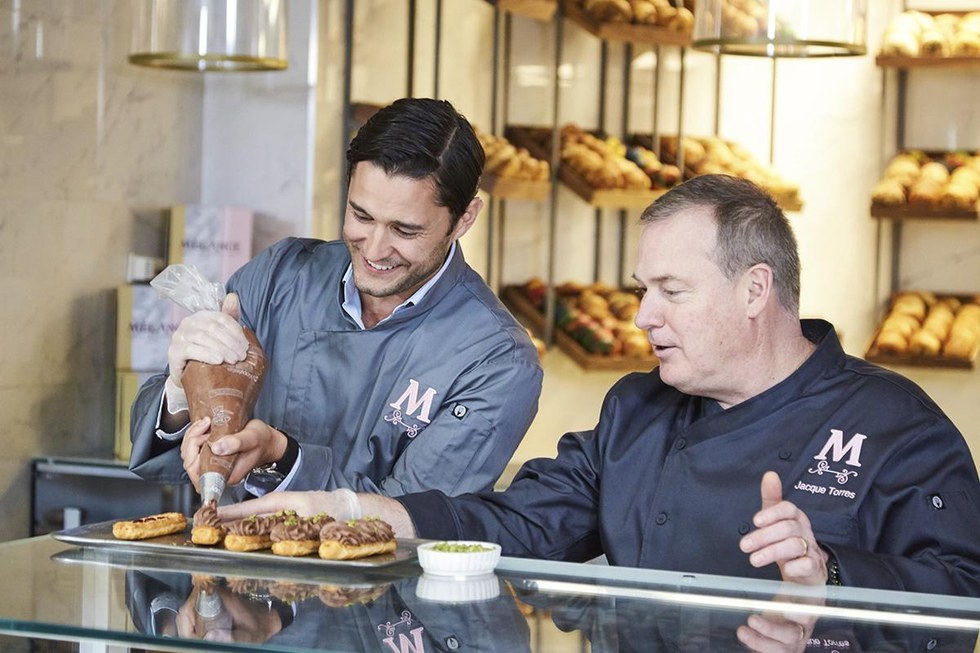 Mr. Chocolate himself, Chef Jacques Torres, shows Phil how to pipe an éclair
Mélange Bakery and Chocolaterie

James Beard award winner and Master Pastry Chef Jacques Torres, aka "Mr. Chocolate", is the mastermind behind Mélange Bakery and Chocolaterie. This unique bakery & café features a variety of breads, rolls and sweets, in addition to sandwiches and light entrees throughout the day. Everything here is made fresh daily, including the delicious macaroons.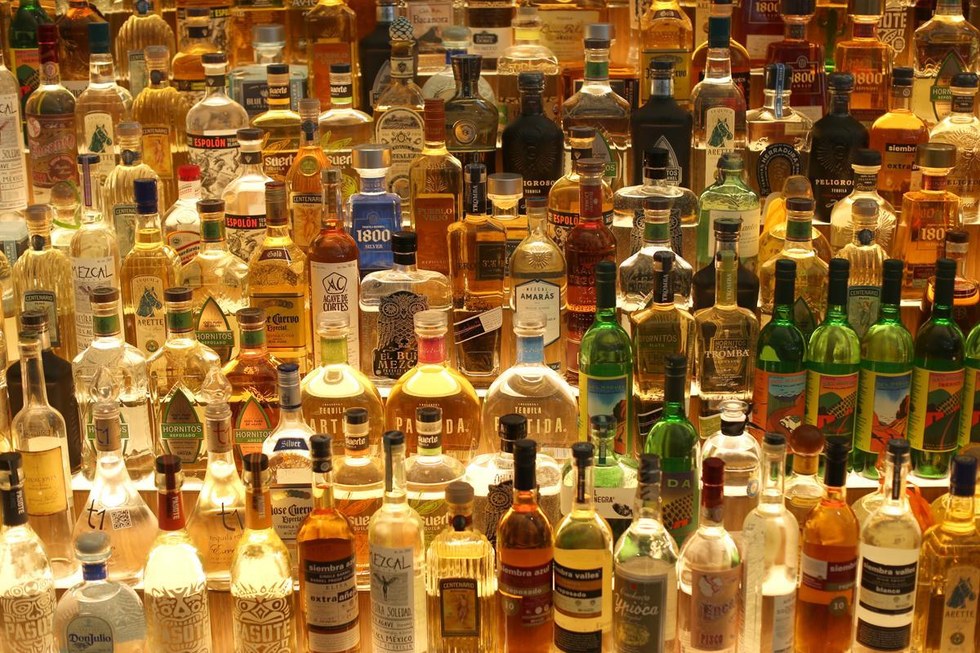 Choose from over 200 types of tequila at Tacquila
Tacquila
Tacos? Yes. Over 200 kinds of tequila? Yes, please. Featuring street tacos and a fully-stocked bar with 2,000+ bottles, chef Alex Stupak's newest restaurant is a foodie traveler's dream. The chicken, pork and duck tacos are a must-order but make sure you start your meal off with the the Veracruz shrimp cocktail. In the neighborhood for breakfast? There's a tequila sunrise and a breakfast burrito with your name on it. Tacquila is one of only two bars in the state that carries the highly coveted Clase Azul Ultra Anejo Tequila.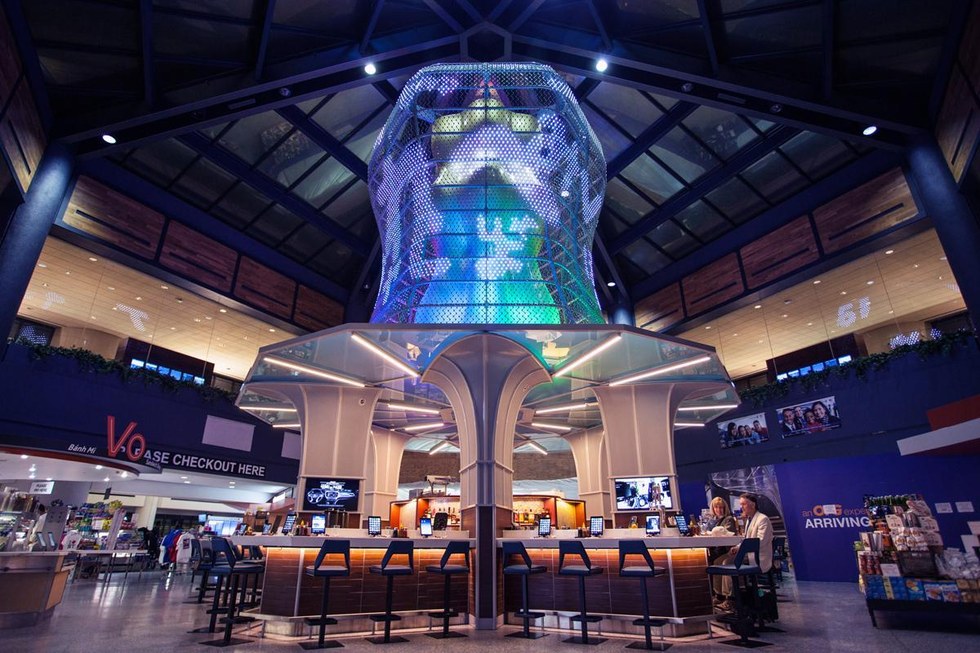 Enjoy grab-and-go food options at the Global Bazar
Global Bazar
The Global Bazar features grab-and-go food options and food stations — from Philly cheesesteaks, made with Pat LaFrieda meat, and Italian specialty foods to Vietnamese bahn mi sandwiches and freshly-made ramen noodles, the Global Bazar has everything your taste buds could want and more.
The next time you fly out of Newark Liberty International Airport, get there early to explore the many food options in Terminal C.