A family tree at LAX with many United branches
When Scott Calkins was a rookie ground service equipment (GSE) maintenance technician at Los Angeles International Airport in 1987, he carpooled with his father Jim, who at the time was a lead technician and had followed his own father, Fredrick, a longtime communications supervisor to work for United. Now, that three-generation United family has added a fourth. When Scott leaves his Santa Clarita home for work every day, his carpool companion is none other than his son Tristin, the newest technician in the shop where Scott now holds the lead position held by his father Jim who retired in 1998 after more than 37 years of service.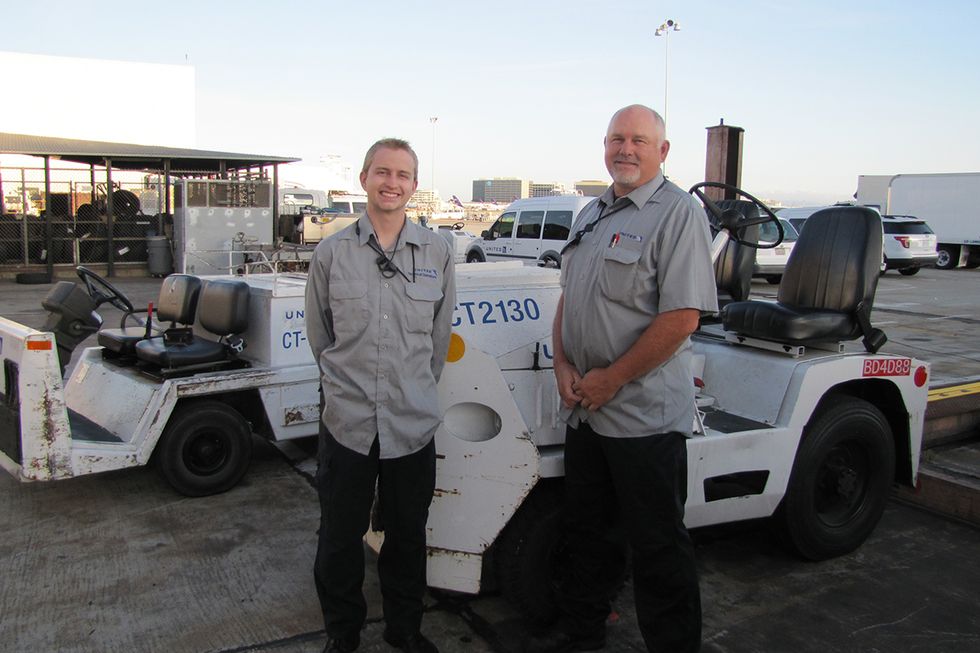 Tristin (left) and Scott Calkins (right) pictured above
Tristin joined the team last year in December, so the Calkins can now celebrate Father's Day with four generations of United employees. Tristin says he's already planning to encourage his two sons to pursue maintenance careers at United in Los Angeles.
"We have a history in this family of the men following in each other's footsteps," Scott said. "I know of quite a few multi-generational United families but don't know of any others with four generations in a row, and three in a row in the same shop, on the same shift no less."
When Jim retired he moved to Bishop, in the Owens Valley east of the Sierra Nevada range in California, and Tristin, then 1, and his family began regular visits that continue to this day. "It seemed like we were always fixing something or working on something or just going through grandpa's toolbox when I was growing up," Tristin said. "We also had to work on the boat on Friday if we wanted to go fishing on Saturday," Scott added.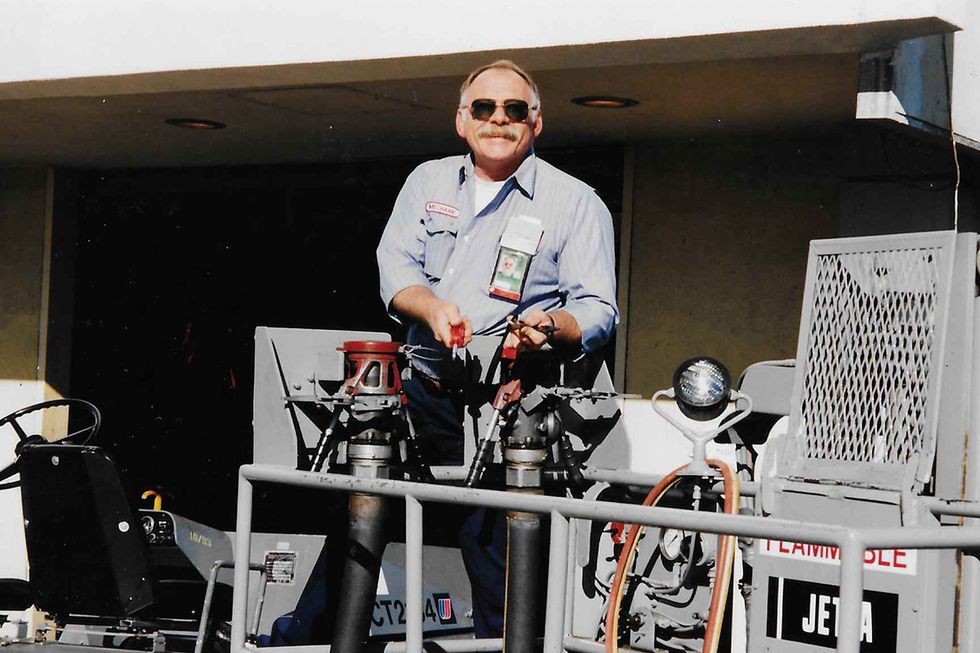 Jim Calkins pictured above
Tristin acquired his first automobile at 14, a 1968 Barracuda, and is now restoring a 1968 Ford Bronco (Scott's first car was his father's 1969 Bronco). In high school, Tristin and his best friend both dreamed of becoming police officers or a sheriff's deputy, but over time it became apparent to him that working on cars and other vehicles was his real gift. That passion led him to an automotive degree and eventually a job offer from United.
"Tristin is the only person I know of who went to college with a focus on becoming a GSE mechanic ," said Los Angeles International Airport and Region GSE Senior Manager James Keating, who also worked with Jim. "We have a lot to learn about Tristin, but I feel what we learn is going to be good!"
While working with a family member might create conflict in some families, that wasn't the case with the Calkins. "It helped in my case that I always had a great relationship with my father," Scott said. "Working for him was pretty simple — he expected me not to screw up and to be better and faster than everybody else," he laughs. For Tristin, "I think there is less pressure from the lead being my dad than there is from other people waiting around to see if the lead's son will make a lot of mistakes."
To minimize those opportunities, Scott teamed his son with veteran Technician Dave Legg on many projects, and all agree the relationship has been good for everyone. "Despite their age and experience differences, they're remarkably alike," Scott said. "They've got the same personality and approach to a problem, which is they want it to be done right and not halfway."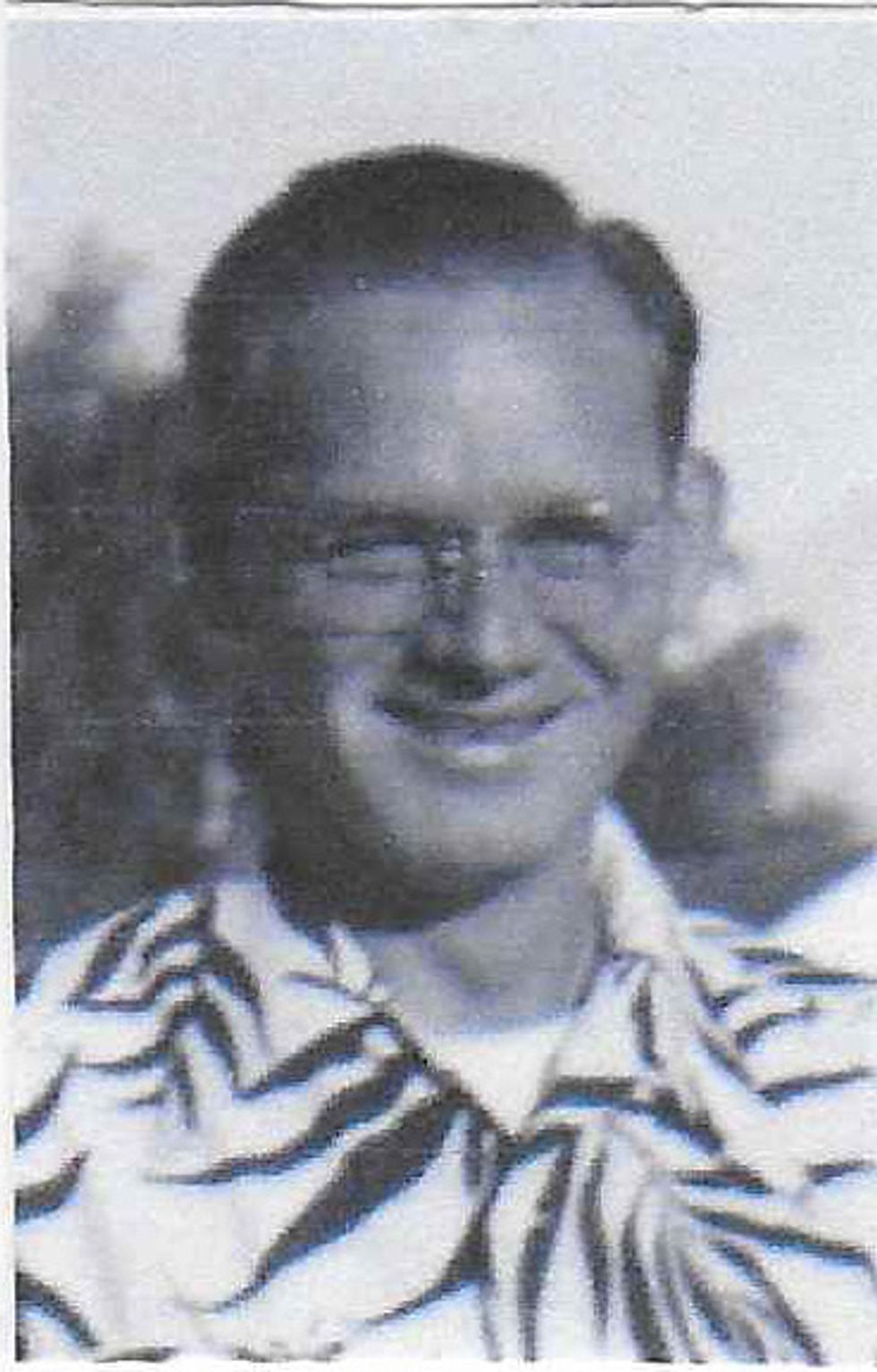 Fredrick Calkins pictured above
In addition to Fredrick, Jim, Scott and Tristin, the Calkins family tree has even more United branches. Tristin's maternal grandparents, Scott's in-laws, Dave and Olga Shaw, also worked many decades for United at Los Angeles International Airport — Dave in building maintenance and Olga as a secretary and later a customer service representative. Tristin also has several uncles, great-uncles and other extended family members with United service, in Seattle and San Francisco.
In addition to the career bloodline, the men also share a long and proud history of community service. Fredrick volunteered with the Boy Scouts and other organizations, Jim was a reserve with the L.A. County Sheriff's Department and, after retirement, served with the Big Pine Volunteer Fire Department. Scott spends much of his free time as a football coach at Saugus High School in Santa Clarita, and Tristin has recently joined him on the sidelines coaching cornerbacks. Working the overnight shift seems to agree with them. Neither the 30-year-veteran nor the rookie has any intention of bidding into daytime work.
"I wouldn't be surprised if I end up on it as long as my dad has," Tristin said. Both Scott and Tristin said they enjoyed the planned maintenance work that tends to take place overnight compared to the hectic unpredictability of much day shift work.
"I think Tristin was seven or eight years old before he even realized that I had a job," Scott said. "After all, I was there when he went to sleep at night and there again all day after he woke up. To him it must have seemed like I was always home."
Obviously, the youngster eventually figured it out and then emulated what his dad was doing. "Working the midnight shift doesn't seem unusual to me," Tristin said. "Just like being handy with tools and enjoying troubleshooting and fixing things, it all works for me too."
On March 19, 2020, United operated its first flight carrying cargo without passengers on board. While the passenger cabin was empty, its cargo hold was completely full, carrying more than 29,000 pounds of commodities from Chicago O'Hare International Airport (ORD) to Frankfurt Airport (FRA).
A year later, United Cargo has operated more than 11,000 cargo-only flights carrying more than 570 million pounds of freight. To support the COVID-19 pandemic recovery efforts, United Cargo has also transported more than 113 million pounds of medical and pharmaceutical products on both cargo-only and passenger flights as well as approximately 10 million COVID-19 vaccines, providing global communities access to the items they have needed most.
"At the beginning of the pandemic, we knew we were uniquely positioned to utilize our widebody aircraft and our network to keep commodities moving, so we quickly mobilized various departments throughout the airline to launch a cargo-only network of flights that would keep commodities moving," said United Cargo President Jan Krems. "Thanks to those efforts, United Cargo has delivered millions of items to countries all around the world. We would not have been successful without the steadfast support of our employees, industry partners and our customers."
Since last March, United Cargo has transported almost 850 million pounds of freight on cargo-only and passenger flights. The airline will continue to monitor market trends adjust its cargo-only flight schedules to help ensure we are meeting our customer's evolving shipping needs.
Whether you haven't flown with us for a while or just need a quick refresher before your spring trip, read this list of tips to know before your flight and arrive at the airport travel-ready:
1. Download the United app for contactless bag check, travel assistance and more
Before your flight, download the United app to view your flight status, check in, sign up for flight notifications, locate departure gates, access our free personal device entertainment when available and more. We've also updated our app with new features that can make your trip a little safer, including contactless bag check.
Don't forget to use Agent on Demand for help with any and all questions you may have before your flight. This new capability is available at all our U.S. hub airports and allows you to use your own mobile device to contact a customer service agent via phone, video or chat to help with day-of-travel questions while you're at the airport. Learn more about Agent on Demand here.
2. Check out the Travel-Ready Center
Our Travel-Ready Center makes it easy to get a personalized overview of everything you need to do in preparation for your flight. Just enter your confirmation number or MileagePlus® number and you'll find detailed information on all the documents, tests and more that you'll need for your trip.
3. Read and sign the Ready-to-Fly checklist
Before completing check-in, all United travelers will need to read our Ready-to-Fly checklist and confirm that they understand and agree to our policies. These include:
Acknowledging that you haven't had any symptoms of COVID-19 in the last 14 days
Agreeing that you will not fly if you have tested positive for COVID-19 within the last 21 days
Confirming that you will follow all policies regarding face masks, social distancing and other health and safety measures we've adopted
4. Arrive early; avoid the stress
Airports can be busy, especially during peak travel periods like spring break season. The TSA advises arriving at the airport two hours before your flight for domestic travel and three hours for international travel in anticipation of long security lines. This can help ease the stress when navigating busy check-in areas, security lines and crowded boarding gates.
5. Get familiar with CleanPlus
United CleanPlus℠ is our commitment to delivering industry-leading cleanliness as we put health and safety at the forefront of your experience. We've teamed up with Clorox to redefine our cleaning and disinfection procedures and Cleveland Clinic to advise us on enhancing our cleaning and disinfection protocols, like:
Disinfecting high-touch areas on board and in the terminal
Using electrostatic spraying, Ultraviolet C lighting wands and more advanced measures to clean aircraft cabins before boarding
Redesigning our mobile app to allow for touchless check-in and contactless payment, along with enhanced travel assistance features
Implementing high-efficiency (HEPA) filters on our aircraft that completely recirculate cabin air every 2-3 minutes and remove 99.97% of airborne particles, including viruses and bacteria
Studies show COVID-19 exposure risk is minimal when air filtration systems and masks are in use, so you can rest assured that the steps we've taken to keep you safe truly make a difference.
6. Wear your mask
Federal law requires all travelers to wear a face mask in the airport, including customer service counters, airport lounges, gates and baggage claim, and on board during their entire flight. Make sure you review the requirements for face masks, including what an acceptable face mask looks like.
7. Get ready for a safer boarding process
To make boarding even safer, we now have travelers board their aircraft from back to front. At the gate, just listen for your row number to be called – we'll ask a few rows at a time to board, starting with the last row of the plane. This helps everyone maintain a safe distance from each other during boarding without slowing things down. As you step onto the plane, flight attendants will hand each passenger a sanitizing towelette, which you can use to wipe down your seat to ensure it's extra clean.
8. Pack smart
Before packing your bags, check to see what exactly you can carry on and what you should plan to check. You can also copy your confirmation number into our Baggage Calculator tool to learn about the bag allowance included with your reservation, as well as the cost of checking any additional bags.
9. Check your flight status, important notices and weather
Check the United app regularly for the latest updates on weather conditions, flight status, gate numbers and seat assignments. You can also visit our Important Notices page to find essential information and updates about travel waivers, international travel, TSA and security, airports and United Club locations.
10. Relax and enjoy your flight
Once you're on board, it's time to sit back and enjoy your flight. Our flight attendants will be happy to help you with anything else you need.
This week, we were honored to become the first U.S. airline to join the UNICEF Humanitarian Airfreight Initiative to combat the COVID-19 pandemic by transporting the vaccine and other critically needed supplies to underserved areas of the globe.
"We are committed to helping the global community in any way we can, and we all must work together to do our part to bring this health and humanitarian crisis to an end," said Director of Cargo Specialty Products Manu Jacobs.
We will leverage our expertise to transport these critical pharmaceutical and healthcare shipments around the world safely, efficiently and expediently. We are proud to partner with the United Nations to support this global effort and provide equitable access to COVID-19 vaccines.
Scroll to top