Guam pulls together to fight cancer
As our 900 United employees based there can attest, Guam is a tight-knit community — just over 160,000 people on an island 30 miles long — and the community really pulls together to help one another.
"It seems as though everybody knows everybody on Guam, and unfortunately that also means we all know loved ones and friends and neighbors who are battling cancer or who passed away because of it," said International HR Manager Alethea Flores, co-captain of the volunteer effort behind the 12th annual United Plane Pull – "Towing the Line to Save Lives."
Alethea, her co-captain Micronesia Sales Senior Manager Paula Monk, and a cast of hundreds from all United departments and many business partners worked for months to prepare for June 24's event, which attracted 2,500 people to our maintenance hangar at Guam. A total of 43 teams took part, each getting two chances to pull a Boeing 737-800 12 feet down the ramp. United fielded four teams — one from Guam Ramp Service, another from Japan, one made up of employees from South China, and another from our United Express partner Cape Air.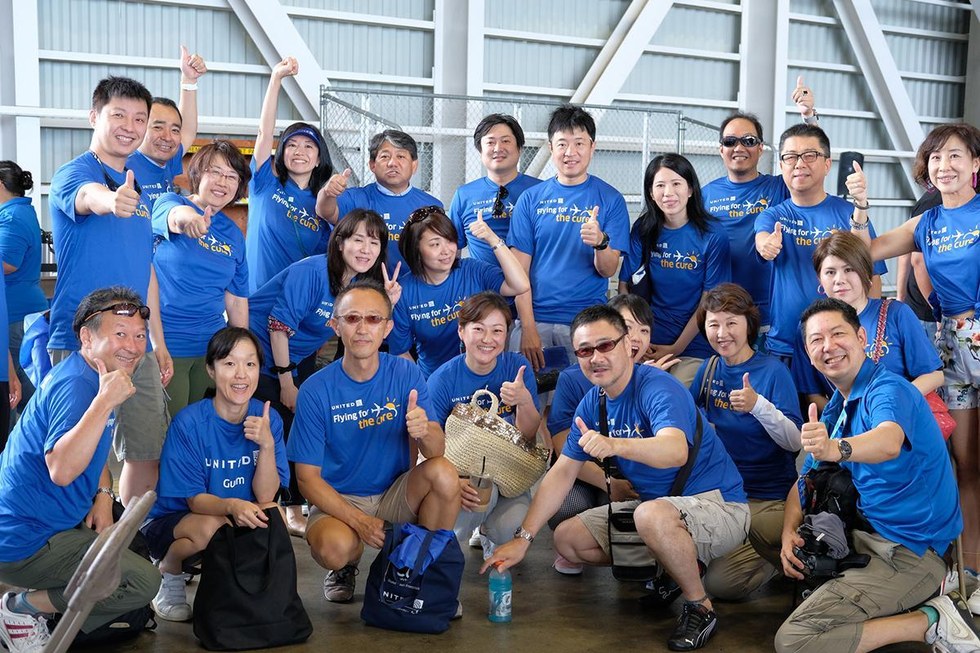 United Team Japan
The quickest time, 4.61 seconds, was posted by men's division team FD (Fire Department) All Stars sponsored by Moylan's NetCare. The fastest co-ed team was the Department of Defense Team 1 sponsored by DZSP 21, with a time of 4.66 seconds. The real heavy lifting, however, took much longer than seconds.
"Planning has been going on for months, and as usual the final weeks and days were hectic," Paula noted. "But we've got a lot of experience arranging these large community events, and we're fortunate on Guam to have so many who are willing to volunteer and put in all that extra time for a good cause."
The Tech Ops team that services Boeing 737s and 777s and provides field services for charters and special flights such as those to remote Western Pacific islands handled most of the logistics.
Because the hangar is the primary venue for the event, including the elaborate Opening Ceremonies with a full-blown Parade of Teams, aircraft that would normally be worked on there are relocated outside for a couple of days.
"This weekend we have another 737 that needs some sheet metal work done, and it can't wait, so I have a team that's working on that airplane right now over there in the hot sun," said Guam Maintenance Manager Rudy Capistrano, pointing to where the aircraft was parked. "They really deserve credit for that, and for missing out on all the fun everyone else is having."
The week prior to the event was particularly challenging for Tech Ops as it made preparations. Planners usually adjust the schedule so that the hangar is not needed during the event, but days before the event the crews were dealing with more aircraft out of service than usual. Thanks to teamwork and extra effort, the team was able to clear all the aircraft with the exception of the one needing the sheet metal work.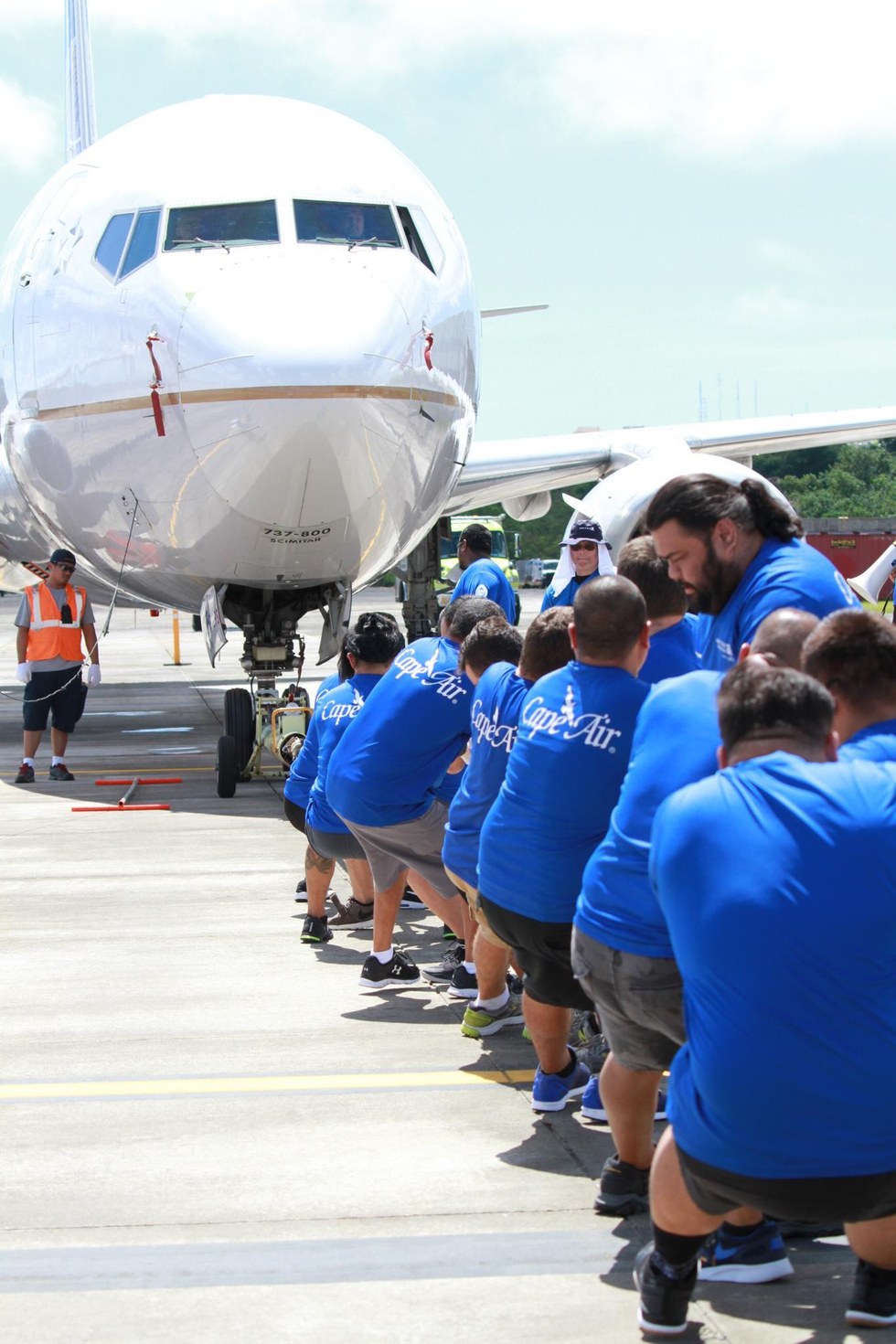 Cape Air team pulling
Tech Ops also provided employees to stand by the plane taking part in the plane pull: They were in the cockpit riding brakes, driving the tractor that repositioned the plane after each two pulls, and hooking and unhooking the tow ropes. We also had employees standing by to monitor the safety and security of the event, and two from our on-site clinic to provide first aid. Others kept the teams on schedule with military precision, as each went from check-in through briefing and safety reminders, posed in front of the 737 for team photos, did the pulls, then went back to the hangar to cheers from supporters.
Clarissa Perez, senior manager of our Guam Inflight base, served again as emcee of the event, keeping the crowd updated and entertained while results were posted in real time on a giant LED screen behind the stage. Local musicians and dancers performed, there were jump houses and other attractions for children and a wide array of refreshments.
Towing the Line to Save Lives raised at least $25,800 from pull team registrations; that figure will grow once raffle ticket and other sales are added. Proceeds are split 50/50 between the American Cancer Society and Guam Cancer Care.
"This is yet another example of why I enjoy living and working here so much," said 737 Captain Trond Einemo, who was supplying each 20-person team with gloves to wear while tugging at the heavy tow ropes. "People from all departments come out on this hot Saturday to support the community and we're all having a great time doing it."
Shout out to our team in Guam for using all their 💪 in the 12th annual Plane Pull to benefit @AmericanCancer and @GuamCancerCare! pic.twitter.com/oOcoSCHpBI
— We Are United (@weareunited) June 24, 2017