One fine day: San Diego
By Nick DeRenzo | Rhapsody, July 2017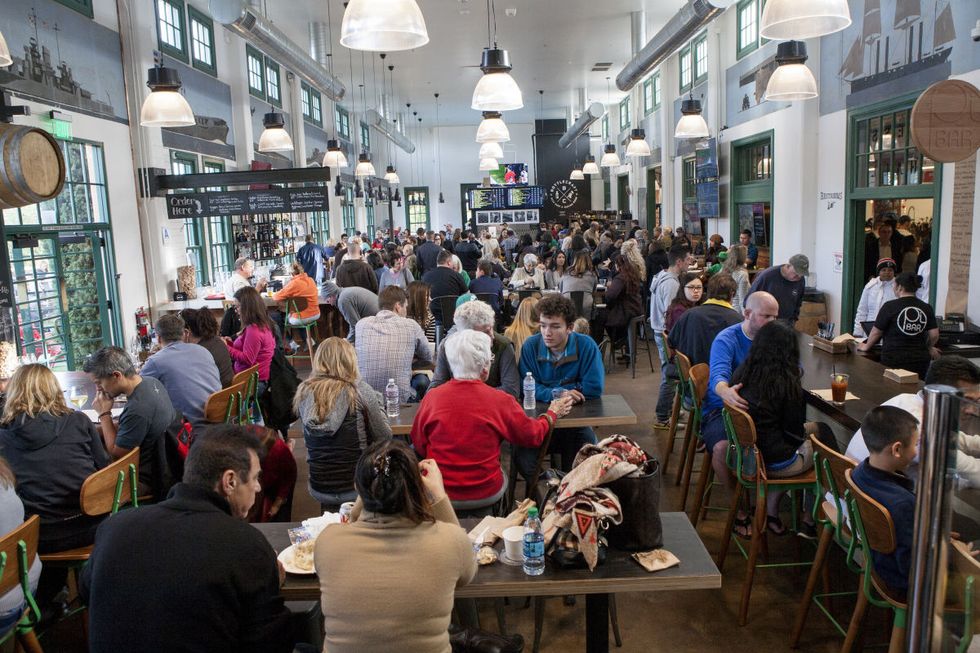 You're in town for business, but you have the day off. Go.
9 a.m. Forgot to pack a wet suit? Skip the coast's famous waves and instead begin your morning somewhere a bit more relaxing: Liberty Public Market, an artisanal food hall that opened last spring inside the former Naval Training Center, built in 1923. Stop by The WestBean Coffee Roasters for a Kryptonite (mint-infused coldbrew) and head to Pi Bar for chef Tim Kolanko's clever updates on the breakfast sandwich, like the Whiskey Tango, made with fried mortadella, hash browns, scrambled eggs, mozzarella, and ketchup. It's a far cry from mess-hall grub.

10:30 a.m. Now that you're fully fueled, take off for the San Diego Zoo (no, it's not just for kids). Channel a cheetah and sprint straight to the ultra-popular giant pandas, who hold the same pride of place (and crowd-gathering ability) as the Mona Lisa at the Louvre. The 100-acre zoo is hardly resting on its well-earned laurels: The $68 million Conrad Prebys Africa Rocks exhibit opened last month, replacing 1930s-era cages with a sweeping display of six habitats, including the Ethiopian highlands (featuring hamadryas baboons), the Madagascar forest (with honey badgers and lemurs), and the South African coastline (with beach-loving African penguins).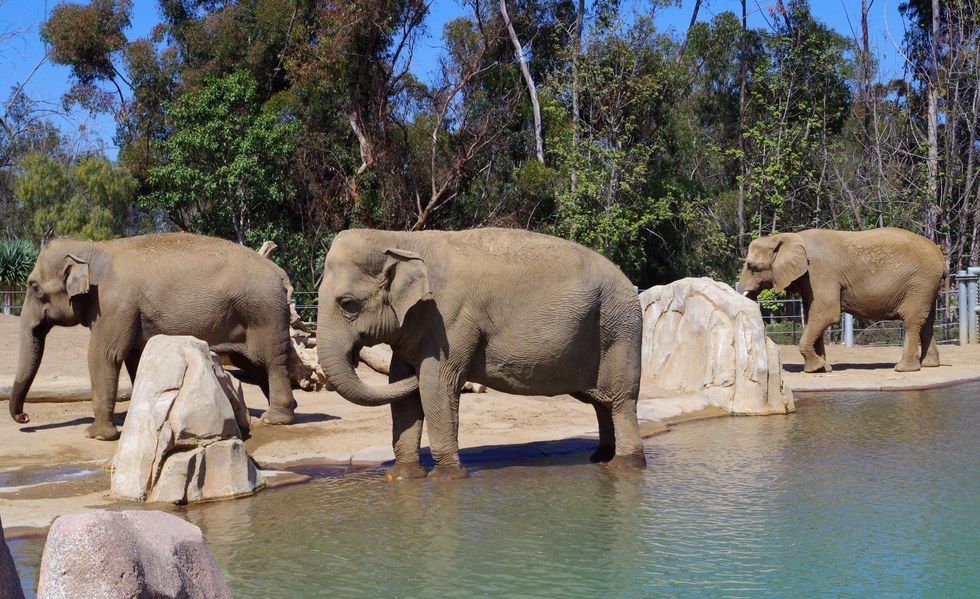 Elephants in the San Diego Zoo
1 p.m. For lunch, look toward the beaconlike 9-foot-tall rooster statue at Little Italy's The Crack Shack, an outdoor chicken-and-egg spot from Top Chef: All-Stars winner and James Beard Award nominee Richard Blais, who runs the city's most lauded fine-dining spot, Juniper & Ivy, just next door. Order schmaltz- fried fries and a Coop Deville, a fried chicken sandwich with pickled Fresno chilies, lime mayo, and napa cabbage on a brioche bun—and then overorder with the deviled eggs topped with French toast crumbles and candied bacon.
2:30 p.m. Grab a beer around the corner at the Little Italy outpost of Ballast Point Brewing Company, which serves as the brewery's research and development arm. While Ballast Point is rightfully lauded for its award-winning Sculpin IPA—which comes in pineapple, grapefruit, and habanero varieties—use this visit to sample some of the more out-there offerings, such as the Cinnamon Raisin Commodore American stout and the Red Velvet, a golden oatmeal stout flavored with chocolate and beets.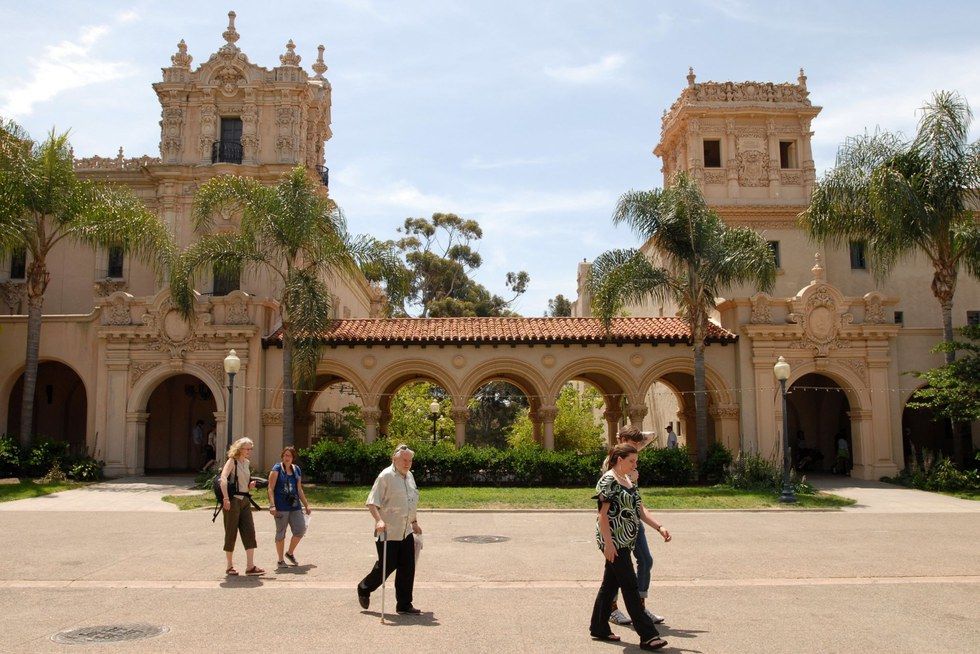 The entrance to Balboa Park
4 p.m. Head back to massive Balboa Park— home of the zoo—which, at 1,200 acres, ranks as North America's largest urban cultural park. Established in 1868, the park hosted both the 1915–16 Panama-California Exposition and the 1935–36 California Pacific International Exposition, which left behind so many ornate, Spanish Colonial Revival–style architectural landmarks that the park has been dubbed the Smithsonian of the West. Stroll the wide El Prado promenade and stop into the San Diego Museum of Man, housed in the blue and gold domed California Building and Tower.
7 p.m. Time to eat. Cab back over to Little Italy—Kettner Boulevard is San Diego's undisputed restaurant row for dinner at Herb & Wood, a sprawling, loftlike new restaurant by Top Chef finalist Brian Malarkey. The unfussy California-Mediterranean spot wears its two namesake ingredients on its stylish sleeve. Herbs crop up throughout Willem Van Leuven's produce-forward cocktail menu (try the dill-infused Gin and Cucumber), while wood-burning grills and ovens are the heart of the kitchen, adding char to dishes like Ibérico pork with apple mostarda and a decadent pizza topped with caramelized onions, Gruyère, escargot, and bone marrow. The unexpected showstopper, though, is the roasted baby carrots with cashew-sesame dukkah, Aleppo yogurt, and carrot-top pesto.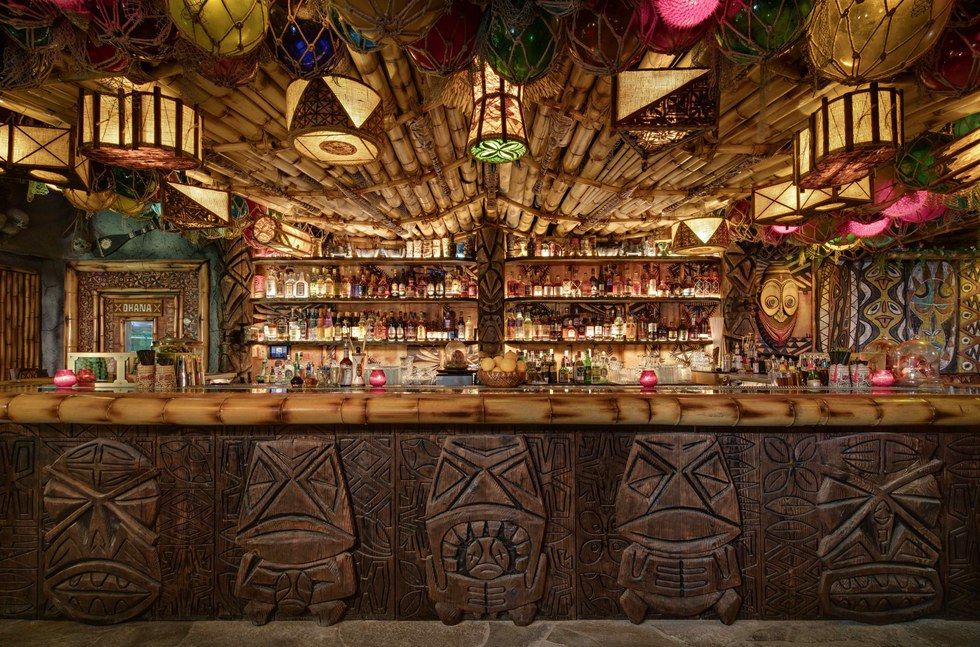 False Idol's tiki interior
9 p.m. Just down the street, duck inside False Idol, a new Polynesian-themed bar hidden through the walk-in freezer at Craft & Commerce cocktail bar—call it a tik-easy? Here, Martin Cate of San Francisco's Smuggler's Cove (currently number 29 on the World's 50 Best Bars list) brings his artfully curated South Seas kitsch to Southern California, in a space dripping with skulls, pufferfish, ropes, and colorful glass buoys. But despite the theme-park aesthetic—thunder claps and the bar rumbles when you order the shareable Alkala the Fierce—the cocktails are serious business, featuring a slew of rare and vintage rums and unique housemade cordials and orgeats.

10:30 p.m. Return to your hip crash pad at the Pendry Hotel, which opened in February as the first in a new urban chain by Montage Hotels & Resorts. While the surrounding Gaslamp Quarter historic district is a hub of Victorian-era architecture, the interiors here are all Mid-Century masculine, with blue plaid chaise lounges, leather headboards, and whimsical wall-paper that subtly pairs bunnies and surfers. You can count the former if you're having trouble sleeping or imagine that the latter are judging you for choosing a big breakfast sandwich over a big wave this morning. There's always tomorrow…
We're proud to launch a redesigned version of our United app to make it easier for customers with visual disabilities to manage all aspects of day-of travel, including check-in, viewing reservation details and flight status, bag tracking and more.
This latest version of our app is now available to both Android and iOS users, and it offers increased color contrast and more space between graphics. Furthermore, we have reorganized how information is displayed and announced to better integrate with screen reader technologies like VoiceOver and TalkBack, which are built into most handheld devices. By restructuring the way the information is organized on the app, screen readers are better able to convert text to audio in the proper, logical sequence, allowing customers to better understand and navigate the app.
"The parts of the travel experience that we all take for granted like checking luggage, getting your flight status and accessing a boarding pass can still be a challenge for someone with a visual disability," said EVP of Technology and Chief Digital Officer Linda Jojo. "These new accessibility enhancements are part of our continuing commitment to level the playing field, unlock all the customer benefits of our app and give people with disabilities more independence while traveling."
Senior Accessibility Analyst Ray Campbell is a member of United's digital team who's visually impaired and sits on the board of the American Council of the Blind. He played a key role in helping us redesign the app. He even put the app to the test as seen in this video.
"Optimizing mobile apps for tools such as VoiceOver and TalkBack has been a game changer, allowing people with visual disabilities to fully utilize smartphone technology in their daily lives," said Ray. "It's just as important for someone with a visual disability to easily access day-of-travel information and features as for any other customer. Improving the accessibility of the United app, helps us truly live out United's mission of caring for all customers."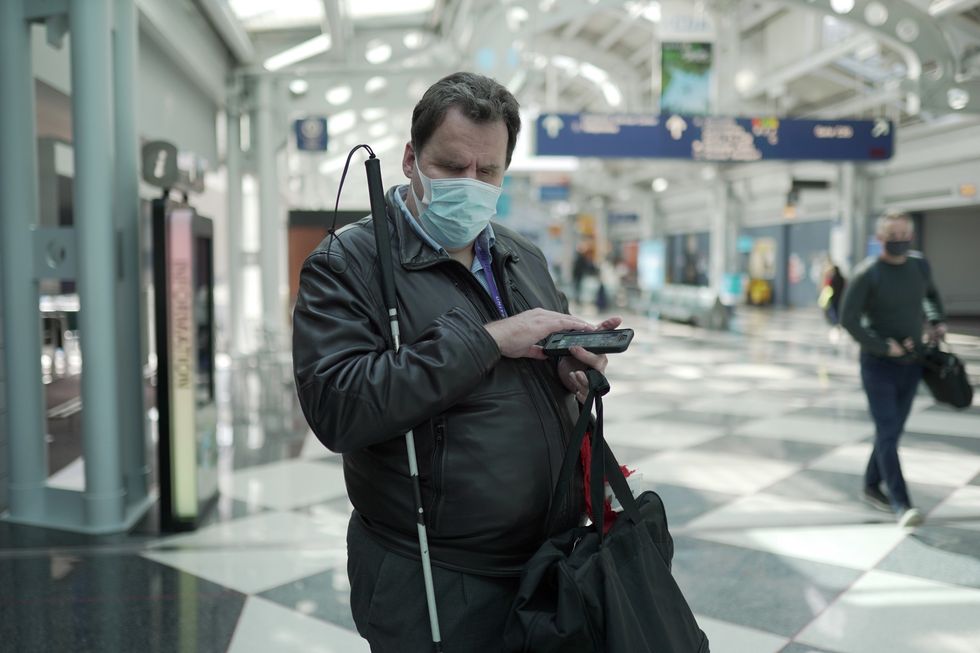 United's Senior Accessibility Analyst Ray Campbell using the mobile app at Chicago O'Hare International Airport.
Beyond the accessibility changes, our digital team enhanced the current offering while keeping the features that helped the app win a Webby People's Voice award in 2019.
For our MileagePlus® program members, the app now features a refreshed account experience for members to easily check balances, track Premier® progress, explore MileagePlus benefits, access past activity and more, all in one place.
The airline is also expanding a popular feature previously only accessible to MileagePlus members. Now, all 37 million customers who have the United app will see a contextualized home screen starting 48 hours before their flight which provides dynamic updates based on where a customer is in their travel journey. For example, customers can see the boarding status of their flight on their homescreen, access personal device entertainment onboard with one click, find a link to a map with gate-to-gate directions for connecting flights and click a quick access button to track any checked bags upon arrival.
We made slight tweaks to navigation based on customer feedback to make the app more intuitive, including making the bottom navigation persistent throughout the app. Another example is the "More" menu, which was reorganized and now contains the "Inbox" feature, which includes timely messages about boarding announcements, gate changes and other travel updates.
Customers will notice a new color palette that's consistent with the refreshed branding the airline debuted in 2019. United's digital team also made subtle design adjustments to make things more consistent and easier to find, like always using a purple bar to highlight the main call-to-action on a page and ensuring alerts and flight status icons appear the same way in every page on the app.
All of these changes are underpinned by a new back-end platform, which will ultimately make the app faster and more responsive.
The redesigned app is now available to download for iPhone®, iPad® and iPod touch® devices (as an iPhone app) and for Android devices.
Calling all AvGeeks and travelers! Take your next video call from a United Polaris® seat, the cockpit or cruising altitude with United-themed backgrounds for use on Zoom and Microsoft Teams.
Newly added to our collection is a background encouraging our employees and customers to vote. Our mission is to connect people and unite the world — and one of the most important ways to do that is to engage in the democratic process. No matter which party you support, we know our democracy will be stronger if you make your voice heard and vote.
So for your next meeting or catch up with friends and family, download the app to either your computer or mobile device to get started.
To use on Zoom:
Start here by downloading your favorite United image to your computer or mobile device. Just click "download" in the bottom left corner of the image.
Next go to your Zoom app (you'll need to download the app to access backgrounds) and click on the arrow to the right of your video camera icon in the bottom of the screen.
From here select, "choose virtual background" to upload your uniquely United photo.
To use on Microsoft Teams:
Start by downloading your favorite United image to your computer. Just click "download" in the bottom left corner of the image.

If you're using a PC, copy the image you want to use into this folder:

C:\[insert your device user name here]\AppData\Microsoft\Teams\Backgrounds\Uploads

If you're using a Mac copy the images to this folder on your computer:

/users/<username>/Library/Application Support/Microsoft/Teams/Backgrounds/Uploads

Once you start a Teams meeting, click the "…" in the menu bar and select "Show background effects" and your image should be there
Earlier this summer, we shone a light on our flagship partnership with Special Olympics and our commitment to the Inclusion Revolution. In that same story, we introduced you to our four Special Olympics Service Ambassadors, Daniel, Kyle, Lauren and Zinyra (Z), who, this month, celebrate one year working at Chicago O'Hare International Airport as part of the United family.
This groundbreaking, inclusive employment program took off as a part of our ongoing partnership with Special Olympics, a community relationship that employees across the company hold close to heart. The original 'UA4' (as they call themselves) have become an integral part of the United team serving customers at O'Hare Airport. Even from behind their masks, their wide smiles and effervescent spirit exude and bring life to the service culture of excellence we strive towards every day.
"The UA4 are more than just customer service ambassadors. They are shining examples of how inclusion, accessibility and equity can have monumental impacts on the culture and service of a business and community," said Customer Service Managing Director Jonna McGrath. "They have forever changed who we are as a company. While they often talk about how United and this opportunity has changed their lives, they have changed ours in more ways than we can count."
In the two years of partnership with Special Olympics, United employees have volunteered over 10,500 hours of service at events around the world and donated over $1.2 million worth of travel to the organization.
"This inclusive employment program is what community partnerships, like ours with Special Olympics, are all about: collaborating to identify areas where the needs of the community intersect with the cultural and business opportunity, then creating the infrastructure and programming to bring the two together," said Global Community Engagement Managing Director Suzi Cabo. "Through this program, our goal is to show other companies that when you put a committed effort and focus towards inclusion and breaking down barriers, you transform lives. I challenge other business around the world to follow our lead in joining the Inclusion Revolution."
Check out the video below to hear from our Special Olympics Service Ambassadors firsthand.
Scroll to top