Tale of two cities: Lisbon and Porto
The story of Portugal is a tale of two cities — the bustling capital and the northern jewel. Lisbon and Porto are two of Europe's most historic, romantic and often overlooked destinations. Smaller and more easily explored on foot than many of their European counterparts, both are essential stops on any itinerary. And given they are just a 50-minute flight apart, visiting both in a single vacation is not only possible, but highly recommended. To make the most out of your trip, here are the bare essentials to see and do in both cities. 
Lisbon
A city built on seven mighty hills, Lisbon looks down on the River Tagus and combines rambling cobbled streets with ancient ruins and some of Europe's most striking architecture. Add in an ever-growing number of restaurants, cafés and bars, you'll quickly realize that a couple of days in the Portuguese capital won't ever be enough. But here's what we'd suggest.
What to see
Head over to Baixa Pombalina, known simply as Baixa, the city's historic heart, and commercial center. Here, the bustling, pedestrian-friendly streets are home to an endless array of cafés, restaurants, souvenir stores and museums. Notably, in a city of hills, this area is remarkably flat.
While you're in Baixa, seek out Livraria Bertrand, the oldest continuously running bookshop in the world. Baixa is also home to the Elevador de Santa Justa, a wrought-iron elevator lift that has been transporting visitors from Baixa to the Largo do Carmo and the ruins of the Carmo church for more than a century.
A rail vehicle better known as a tram is an integral part of Lisbon life as is the historic yellow Remodelado carrying passengers up and down the city. The most scenic route of all is the E28, crossing the Alfama district and taking in many Lisbon landmarks on its 40-minute route, including Sé Cathedral — the city's oldest church.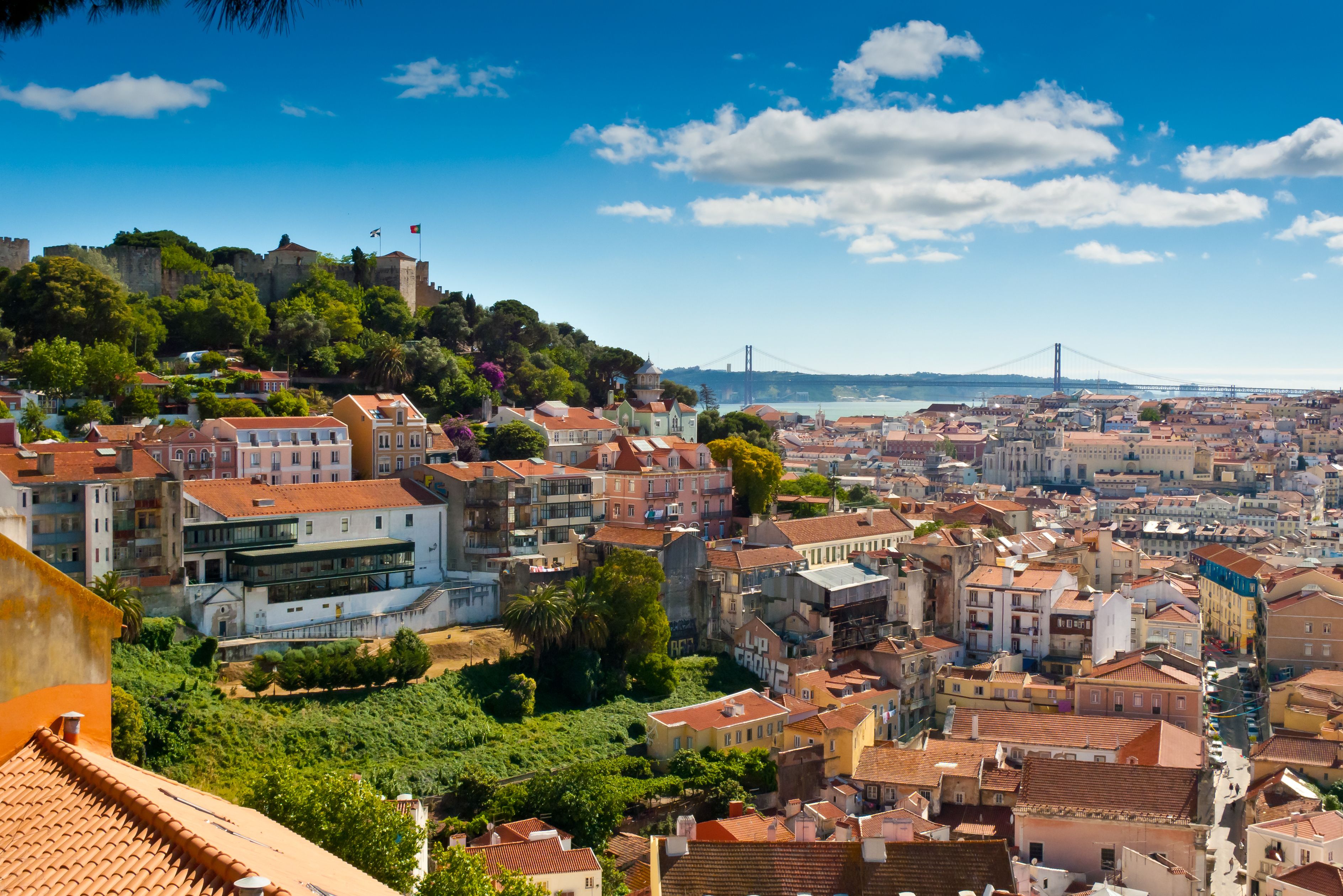 The imposing Castelo de São Jorge is perched on the highest hill in Alfama, but worth the effort it takes to reach it. The castle is open to visitors, and its views over the city and the River Tagus will soon be filling your phone. Known as the city's most ancient district, Alfama is also home to many of Lisbon's best souvenir shops and myriad tiny streets lined with bars and restaurants. In the most traditional of them, you'll hear and experience Fado, Portugal's soulful national soundtrack that is known as 'Lisbon's song'.
Next, visit the National Ancient Art Museum, located in Rua das Janelas Verdes. It's hard to know which is more impressive: the vast collection of artworks considered 'national treasures', or the magnificent gardens and restaurant overlooking the River Tagus.
What to eat & drink
Food and drink to suit every taste and budget are easily found in a city filled with cafés, bars and restaurants. One of the best neighborhoods to explore is Barrio Alto, sleepy by day but alive as night falls. However, to sample Lisbon's specialties, head to a pastelerias and order the ubiquitous pastel de nata (custard tart). The Manteigaria Fabrica de Pasteis de Nata in Baixa-Chiado serves one of the very best.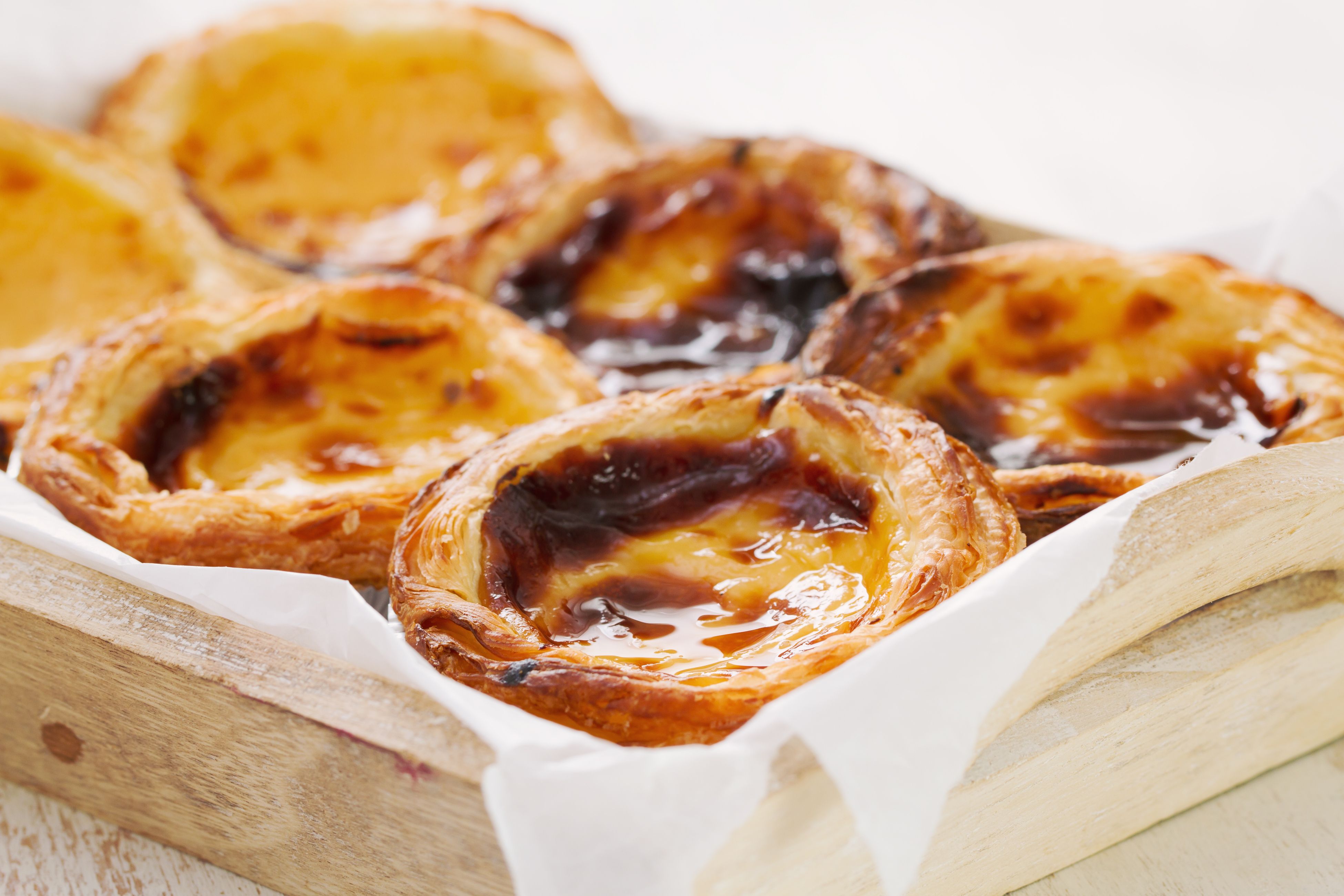 If that somehow doesn't appeal, visit the Padaria Portuguesa chain dotted throughout the city for coffee and the moist coconut-covered Pão de Deus (God's bread). One of Lisbon's most beloved drinks is ginjinha, a sweet cherry liqueur that originated in the city. The Ginjinha Espinheira is one of the city's most historic ginja bars, but by no means the only one.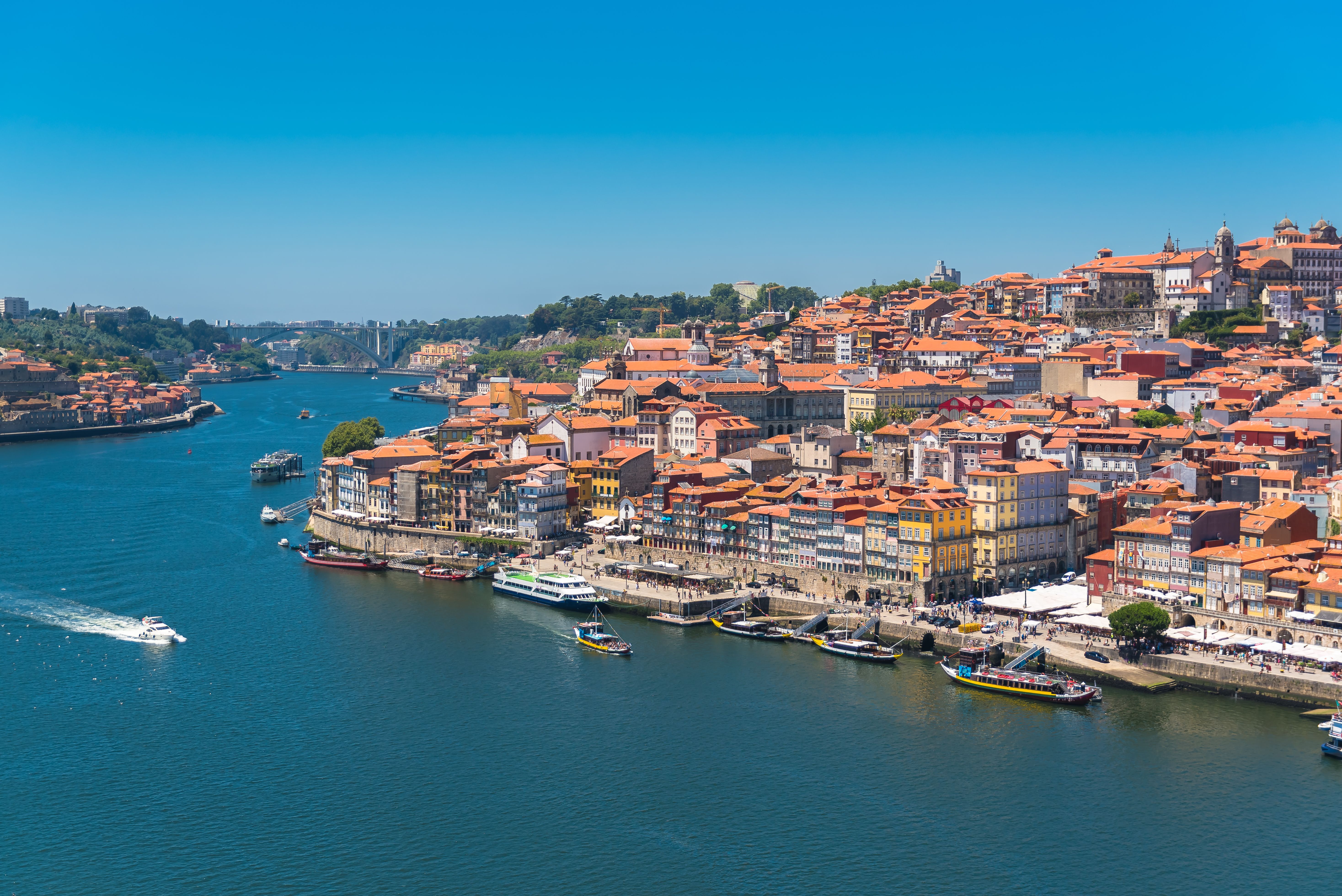 Porto
Portugal's second city is one of Europe's oldest, a hillside agglomeration overlooking the River Douro. Famed for its river and its port wine, the city is a maze of steep and narrow cobbled streets, picture-perfect plazas, grand cathedrals and churches. Smaller and even more manageable than Lisbon, your time here will pass in the blink of an eye. To make the most of your first visit, prioritize the following…
What to see
Porto's most artistic neighborhood is Rua Miguel Bombarda, home to a growing collection of galleries, bookstores, boutiques and cafés. One of the neighborhood's prized gems and most visited bookstores in the world is Livraria Lello which is more like a grand library and was also an influence on J.K. Rowling, who wrote the first few chapters of Harry Potter and the Sorcerer's Stone here, at the time when she lived in the city.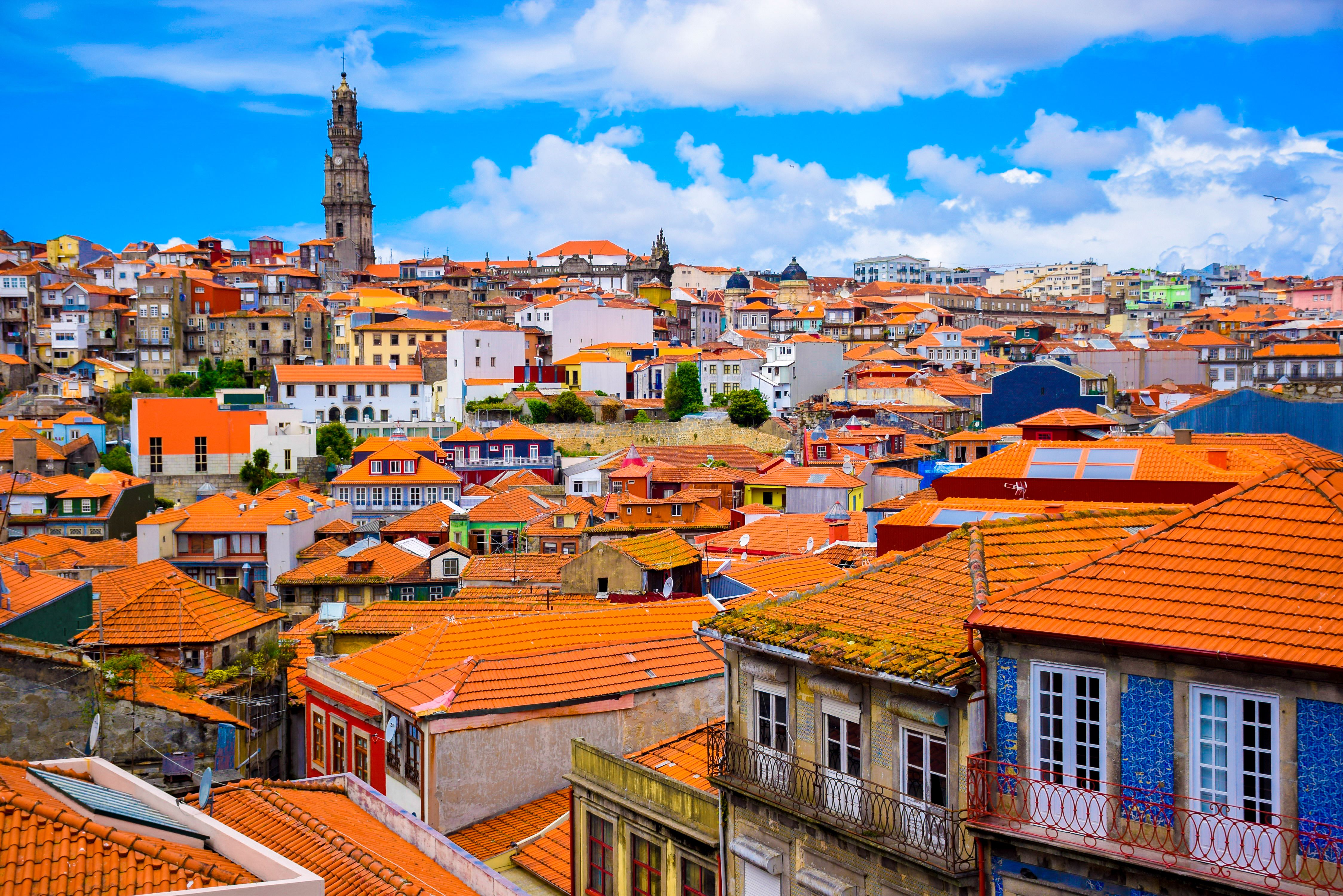 Next, make sure to add climbing the 255 steps up Torre de Clérigos (Clérigos Tower) to your to do list – it's one of the city's most important monuments and offers some of the best panoramic views of the city. Serralves Museum of Contemporary Art is also well worth visiting. It's home to around 4,000 works from the late 20th and 21st century, plus it's blessed with one of the city's most serene gardens.
The twin-towered cathedral, Sé do Porto is a Porto landmark, unmissable in every sense. Free to enter, you can pay $3.75 to enter the atmospheric 14th-century cloisters, which is money well spent. Enjoy the tranquil Jardins do Palácio de Cristal for picture-perfect views of Vila Nova de Gaia neighborhood and the Douro River. 
From the city center, jump aboard Tram 1 for a rickety ride down to the seafront in Foz do Douro in minutes. From there, take a boat tour on the Douro to see the city from a new angle –the Rabelo flatboats you ride on were once used to transport barrels of Porto wine and are now a symbol of the city.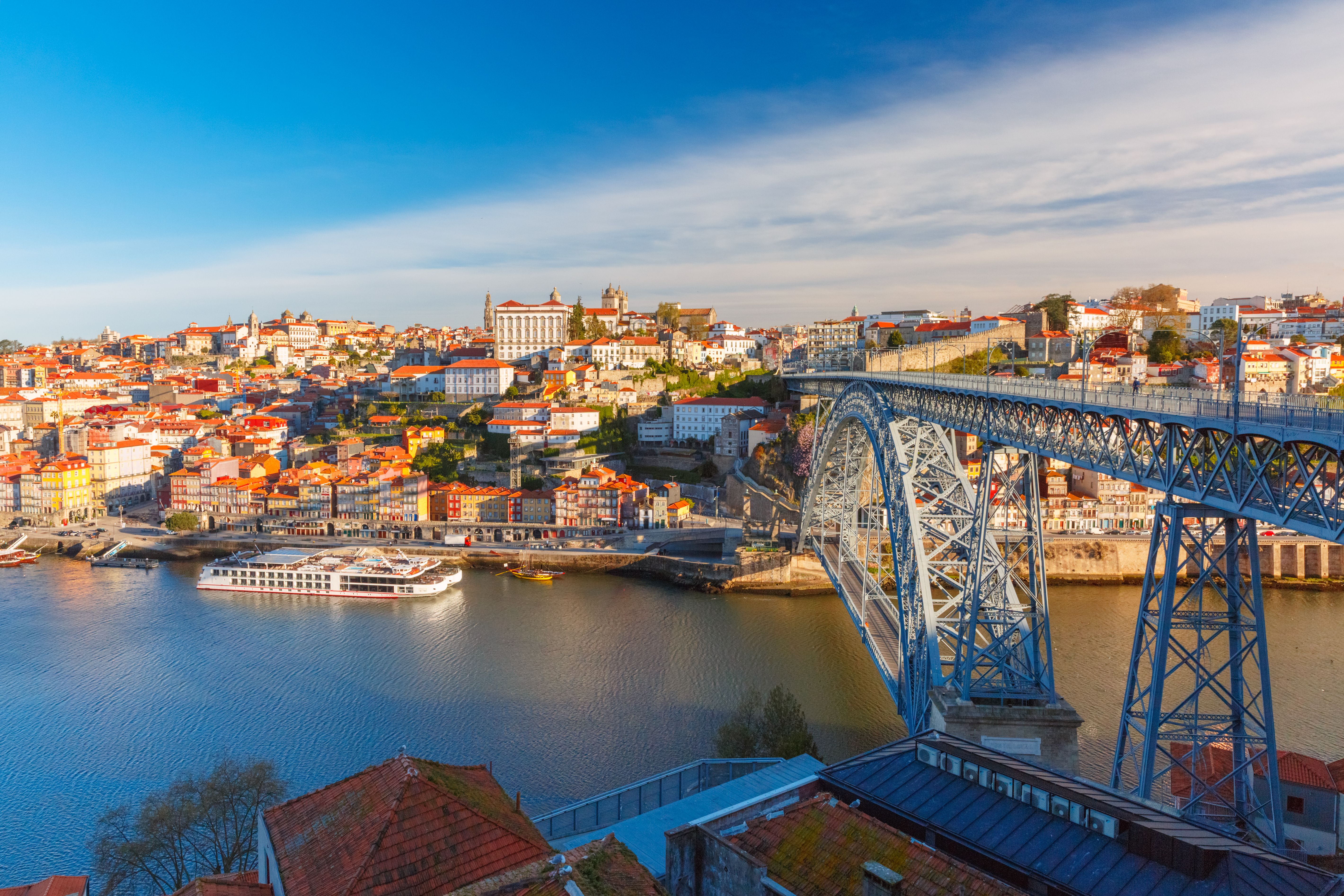 The multi-level bridge stretches from Porto's Ribeira section across the Douro to Vila Nova de Gaia. As confirmed by the ever-present tourist crowds, climbing the bridge to photograph the city is an essential stop. As you're heading across the river, drop in on Caves Ferreira, one of the oldest Port wine cellars in the city. Drink in the history with a glass of the city's signature drink.
What to eat & drink
Porto is a food lover's paradise with everything your taste buds desire. From food stalls to Michelin-starred restaurants, much of it with a strong emphasis on seafood. Avoid the overpriced cafés on the riverbank in Ribeira as far better value lies elsewhere. Local specialties you have to sample include, a multi-layered meat sandwich smothered in cheese and hot tomato sauce (try it at Café Santiago).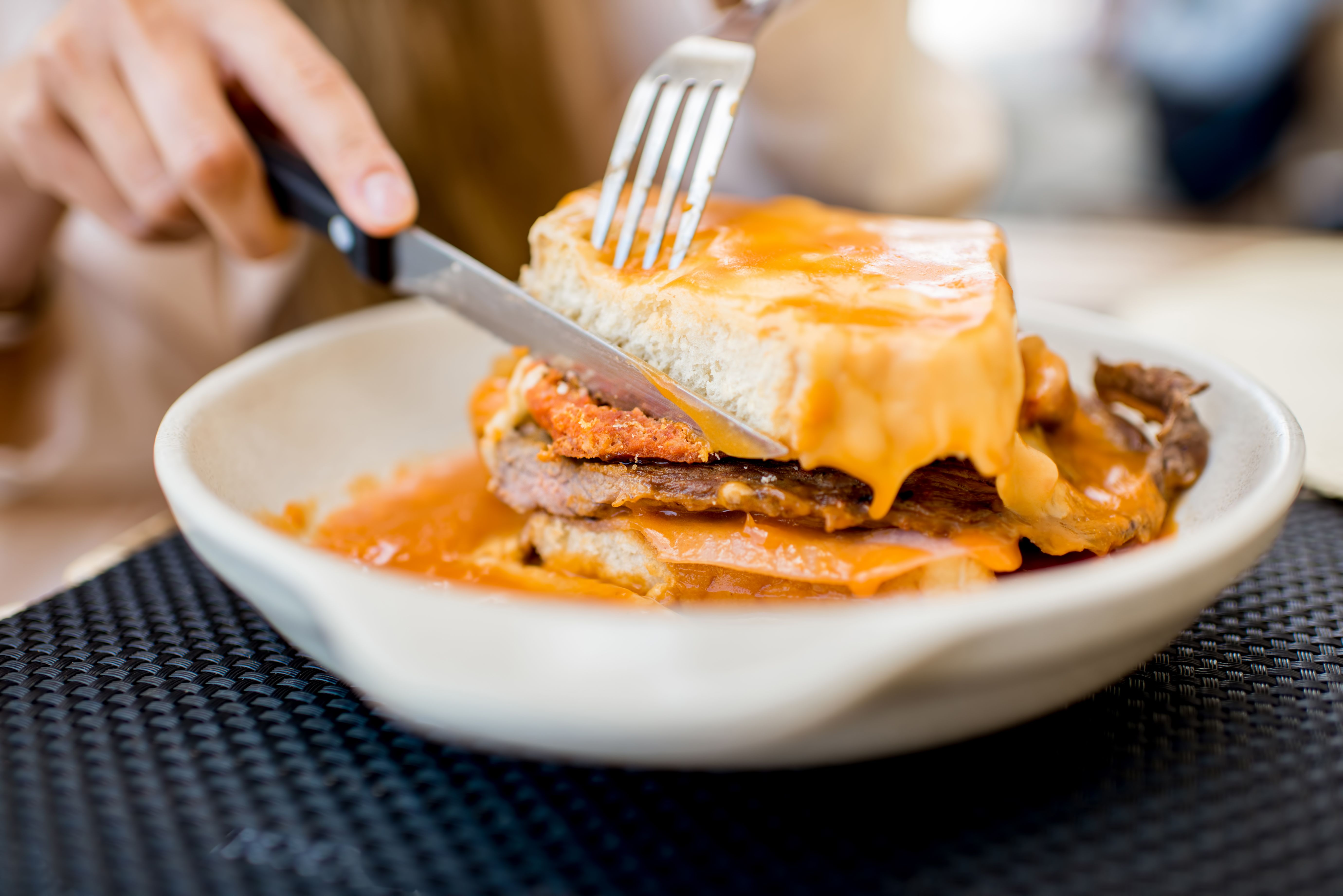 You may also want to try the Bolinhos de bacalhau (codfish potato fritters) at Cozinha da Amélia. And to really get to know the local flavors, seek out Tripas a Moda do Porto at Líder. This thick stew of tripe, sausage, white beans and spices is said to symbolize the famed generosity of the city. 
Whatever you eat, make sure to wash it down with a glass or two of port wine, for which the city is famous for — Espaço Porto Cruz is just one of many wine cellars well worth the visit.
If you go
United Airlines flies year-round to Lisbon from Newark International Airport and seasonally from Washington Dulles Airport beginning April 2018. We also will begin flying seasonally to Porto beginning May 2018 from Newark. For full details and to book, visit United.com or use the United app. Direct flights between the two cities are available through our Star Alliances partners with flight time approximately 50 minutes. 
On March 19, 2020, United operated its first flight carrying cargo without passengers on board. While the passenger cabin was empty, its cargo hold was completely full, carrying more than 29,000 pounds of commodities from Chicago O'Hare International Airport (ORD) to Frankfurt Airport (FRA).
A year later, United Cargo has operated more than 11,000 cargo-only flights carrying more than 570 million pounds of freight. To support the COVID-19 pandemic recovery efforts, United Cargo has also transported more than 113 million pounds of medical and pharmaceutical products on both cargo-only and passenger flights as well as approximately 10 million COVID-19 vaccines, providing global communities access to the items they have needed most.
"At the beginning of the pandemic, we knew we were uniquely positioned to utilize our widebody aircraft and our network to keep commodities moving, so we quickly mobilized various departments throughout the airline to launch a cargo-only network of flights that would keep commodities moving," said United Cargo President Jan Krems. "Thanks to those efforts, United Cargo has delivered millions of items to countries all around the world. We would not have been successful without the steadfast support of our employees, industry partners and our customers."
Since last March, United Cargo has transported almost 850 million pounds of freight on cargo-only and passenger flights. The airline will continue to monitor market trends adjust its cargo-only flight schedules to help ensure we are meeting our customer's evolving shipping needs.
Whether you haven't flown with us for a while or just need a quick refresher before your spring trip, read this list of tips to know before your flight and arrive at the airport travel-ready:
1. Download the United app for contactless bag check, travel assistance and more
Before your flight, download the United app to view your flight status, check in, sign up for flight notifications, locate departure gates, access our free personal device entertainment when available and more. We've also updated our app with new features that can make your trip a little safer, including contactless bag check.
Don't forget to use Agent on Demand for help with any and all questions you may have before your flight. This new capability is available at all our U.S. hub airports and allows you to use your own mobile device to contact a customer service agent via phone, video or chat to help with day-of-travel questions while you're at the airport. Learn more about Agent on Demand here.
2. Check out the Travel-Ready Center
Our Travel-Ready Center makes it easy to get a personalized overview of everything you need to do in preparation for your flight. Just enter your confirmation number or MileagePlus® number and you'll find detailed information on all the documents, tests and more that you'll need for your trip.
3. Read and sign the Ready-to-Fly checklist
Before completing check-in, all United travelers will need to read our Ready-to-Fly checklist and confirm that they understand and agree to our policies. These include:
Acknowledging that you haven't had any symptoms of COVID-19 in the last 14 days
Agreeing that you will not fly if you have tested positive for COVID-19 within the last 21 days
Confirming that you will follow all policies regarding face masks, social distancing and other health and safety measures we've adopted
4. Arrive early; avoid the stress
Airports can be busy, especially during peak travel periods like spring break season. The TSA advises arriving at the airport two hours before your flight for domestic travel and three hours for international travel in anticipation of long security lines. This can help ease the stress when navigating busy check-in areas, security lines and crowded boarding gates.
5. Get familiar with CleanPlus
United CleanPlus℠ is our commitment to delivering industry-leading cleanliness as we put health and safety at the forefront of your experience. We've teamed up with Clorox to redefine our cleaning and disinfection procedures and Cleveland Clinic to advise us on enhancing our cleaning and disinfection protocols, like:
Disinfecting high-touch areas on board and in the terminal
Using electrostatic spraying, Ultraviolet C lighting wands and more advanced measures to clean aircraft cabins before boarding
Redesigning our mobile app to allow for touchless check-in and contactless payment, along with enhanced travel assistance features
Implementing high-efficiency (HEPA) filters on our aircraft that completely recirculate cabin air every 2-3 minutes and remove 99.97% of airborne particles, including viruses and bacteria
Studies show COVID-19 exposure risk is minimal when air filtration systems and masks are in use, so you can rest assured that the steps we've taken to keep you safe truly make a difference.
6. Wear your mask
Federal law requires all travelers to wear a face mask in the airport, including customer service counters, airport lounges, gates and baggage claim, and on board during their entire flight. Make sure you review the requirements for face masks, including what an acceptable face mask looks like.
7. Get ready for a safer boarding process
To make boarding even safer, we now have travelers board their aircraft from back to front. At the gate, just listen for your row number to be called – we'll ask a few rows at a time to board, starting with the last row of the plane. This helps everyone maintain a safe distance from each other during boarding without slowing things down. As you step onto the plane, flight attendants will hand each passenger a sanitizing towelette, which you can use to wipe down your seat to ensure it's extra clean.
8. Pack smart
Before packing your bags, check to see what exactly you can carry on and what you should plan to check. You can also copy your confirmation number into our Baggage Calculator tool to learn about the bag allowance included with your reservation, as well as the cost of checking any additional bags.
9. Check your flight status, important notices and weather
Check the United app regularly for the latest updates on weather conditions, flight status, gate numbers and seat assignments. You can also visit our Important Notices page to find essential information and updates about travel waivers, international travel, TSA and security, airports and United Club locations.
10. Relax and enjoy your flight
Once you're on board, it's time to sit back and enjoy your flight. Our flight attendants will be happy to help you with anything else you need.
This week, we were honored to become the first U.S. airline to join the UNICEF Humanitarian Airfreight Initiative to combat the COVID-19 pandemic by transporting the vaccine and other critically needed supplies to underserved areas of the globe.
"We are committed to helping the global community in any way we can, and we all must work together to do our part to bring this health and humanitarian crisis to an end," said Director of Cargo Specialty Products Manu Jacobs.
We will leverage our expertise to transport these critical pharmaceutical and healthcare shipments around the world safely, efficiently and expediently. We are proud to partner with the United Nations to support this global effort and provide equitable access to COVID-19 vaccines.
Scroll to top