Team United
As we sit glued to our TVs watching the Rio 2016 Olympics, some members of the United family are watching the action a little closer. They have competed at the highest levels themselves and know well the incredible sacrifice and heart that it takes to represent their country. In fact, several of our employees are former athletes or have family members striving to make it to the Games.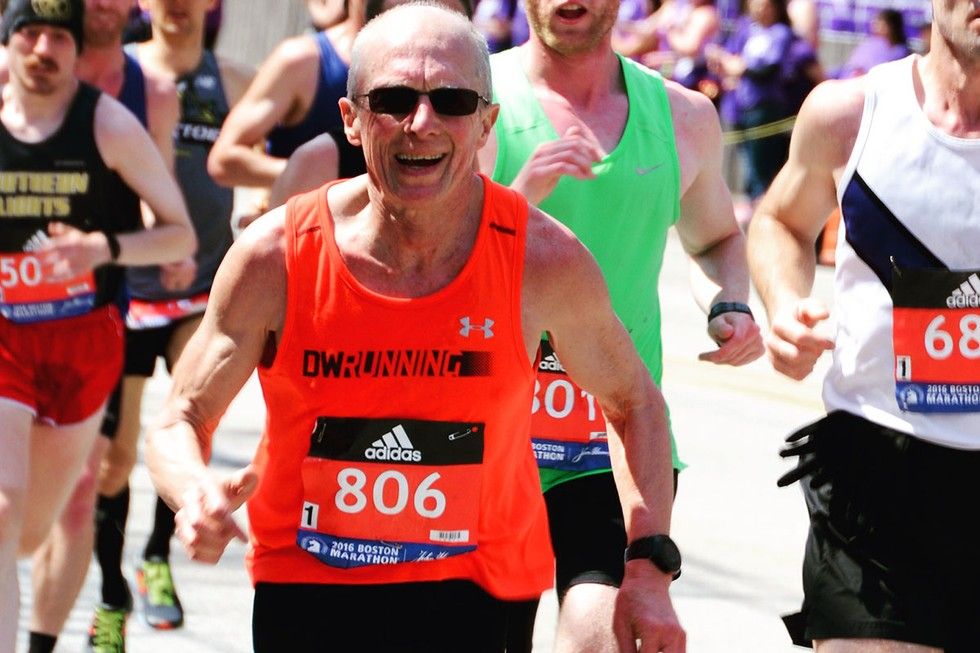 Captain Dave Walters
Chicago based 777 Captain Dave Walters
"I still enjoy following the Games as a spectator. I know what those guys are going through and I can empathize with the journey that they have traveled to get there because I've been on that journey, too," said Chicago based 777 Captain Dave Walters, who qualified for the 1988 U.S. Olympic Team Trials as a marathoner. After watching the 1972 Olympics, he immediately knew it was something that he wanted to pursue and he dedicated two decades of his life to get there. Job changes in the early 1980s forced him to scale back his training, so Dave didn't attempt to qualify for the 1980 or 1984 Games. But finally, in 1986 he qualified for the 1988 Trials. "When I got my qualifying time I had a smile on my face for weeks. That's as close as most people ever get to The Olympics. Making it into the Trials meant that I could give it my best shot, and that's all that I wanted."
The Trial race took place in Jersey City, New Jersey in April 1988 on a brutal course full of hills. Out of 130 participants, only the top three racers would qualify for the U.S. Olympic Team. Dave was the 126th seed. "On top of everything, I had a fever that day – I was on the verge of catching a flu. But, in spite of that, I still managed to finish 36th, and I was honored to be there."
His Olympic experience was the culmination of a lifetime of focus, dedication, motivation and discipline. "Just to make it to the Trials was a dream come true. It put an exclamation point on my athletic career," Dave said.
Remarkably, Dave still adheres to that focus and discipline, running between eight and twelve miles every day. In fact, last year he achieved the triple crown, winning his age group in the Chicago, New York and Boston marathons. "I still get the same kick out of running that I did in the '80s. It's not quite the 'knife fight' that it used to be," he said laughing, "but it's still competitive and I enjoy that."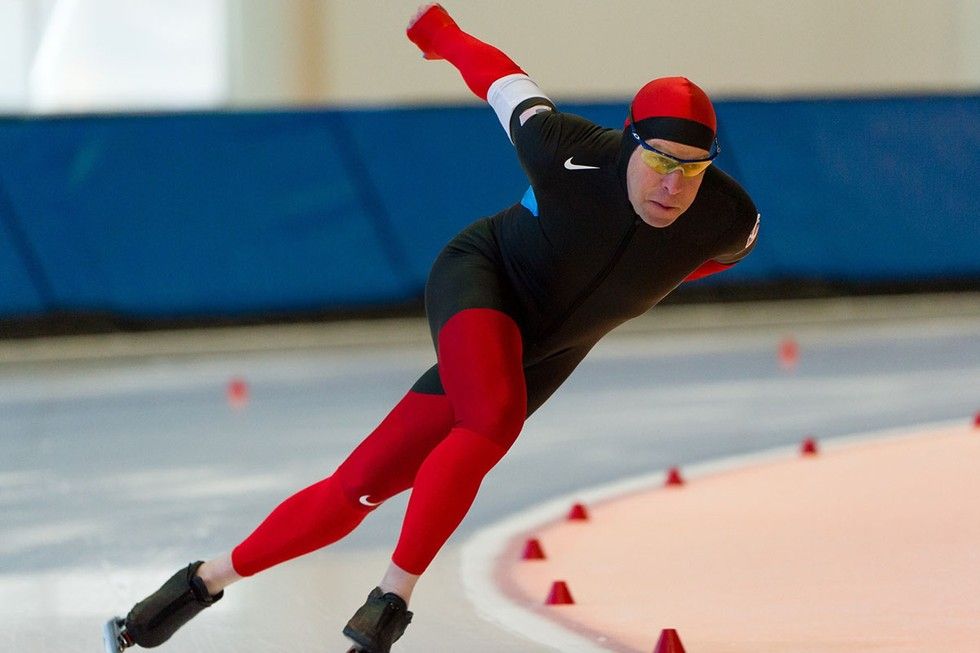 Captain Bruce Conner
Chicago based 747 Captain Bruce Conner
Pushing age 60, Chicago based 747 Captain Bruce Conner lives by a simple philosophy: try to do a little better today than you did yesterday. It's a philosophy that drives him in every aspect of his life and work, throughout his 31 years as a United pilot and his five decades as a world-class athlete.
"There's a common belief that as we get older, we get slower," Bruce said. "I want to break down that self-limiting mindset. It's more about having realistic goals." Bruce got into sports over 50 years ago as a gymnast alongside his brother, who would go on to become a three-time Olympian and two-time gold medalist in gymnastics. "After about two years, I realized that my little brother was a lot better than me, so I thought 'Maybe I'll find a different path,' and I turned my attention to speed skating."
That turned out to be a good choice. By the time he was a teenager, Bruce was a member of the U.S. National Team. In the fall of 1975 he traveled to Holland to train for the upcoming U.S. Olympic Team Trials for the 1976 Olympic Winter Games, but he experienced a setback. "I was skating well in Holland, but I was so motivated that I over-trained. By the time I went to the trials in December, my times were getting slower."
Bruce fell short at the trials and did not make the 1976 Team. It was a devastating blow and the disappointment subsequently led to him walk away from the sport. It wasn't until he reached his mid-twenties that he began to feel the pull of competition again, but in a slightly different way.
"I started running and competing in 5ks, 10ks, half marathons and triathlons," he said. "I really enjoyed it and it helped me maintain my fitness level. At age 40 I still competed in races, but I noticed that I was always just in the middle of the pack." That's when he decided to give skating one more shot.
He began commuting once a week between his home in Illinois to a rink in Milwaukee to train and participate in open races. When he made a trip to Calgary for a race at age 48, he realized, to his amazement, that he was faster than he had ever been. "When I got back home, I hired a coach and started taking it more seriously. Then I wondered if I could qualify for the U.S. Olympic Team Trials. I knew that if I skated a good race, I had a chance to be in the top 25 in the U.S."
He trained six days a week and qualified for the 2005 Trials with his times in the 500 and 1000 meter races. Four years later he did it again, with even faster qualifying times than he had previously skated. Bruce seemed to be getting better with age, and in 2013 he qualified for a fourth time – at age 57.
Bruce continues to compete and published a book called Faster as a Master, which details his life in speed skating and his philosophy of continual improvement.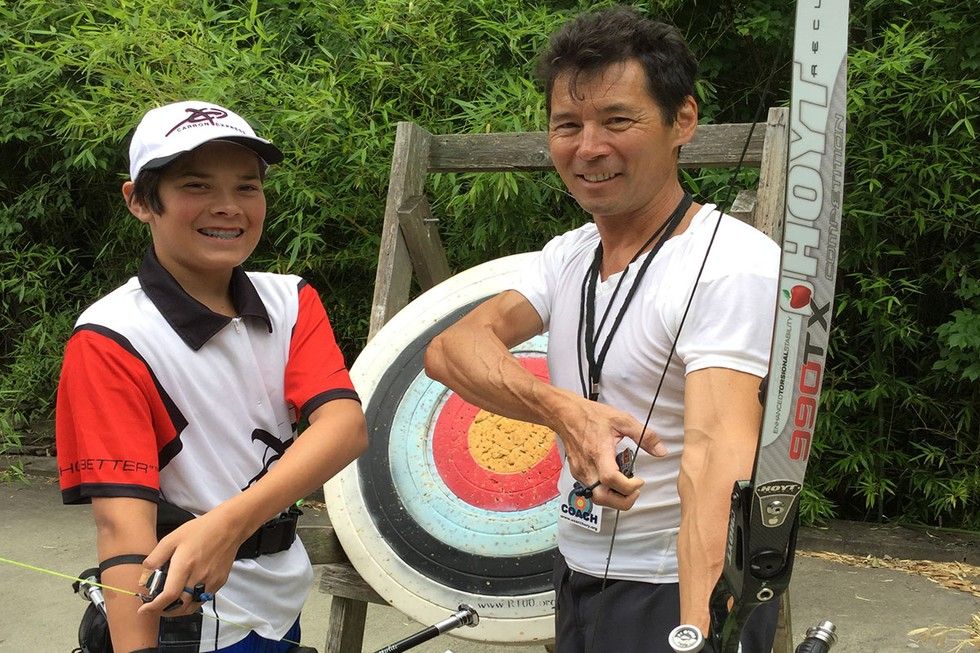 First Officer Joe Oka and son Peyton Oka
Chicago based 777 First Officer Joe Oka
It only took Chicago based 777 First Officer Joe Oka 45 years to discover that he possessed a unique talent. Now, he's using that ability to help youngsters pursue their Olympic dreams.
More than a decade ago, Joe — who has been a United pilot for 21 years — became a backyard archery enthusiast after a friend gave him his first bow and arrow set. When a city ordinance in his hometown of Fort Mitchell, Kentucky threatened to ban archery in neighborhoods, Joe became embroiled in local politics to save his newfound sport. While doing so, he met the man who changed his sporting life: Darrell Pace.
"When our town banned archery, I tried to fight city hall," Joe said. "In the course of that, I started working with Darrell. One day he said to me 'You're pretty good. Why don't you try competition archery?' and that's when I started taking it seriously."
To understand why Darrell's encouragement was so important, you have to understand who Darrell Pace is and what he means to the archery community. Darrell was called the world's greatest archer during his years as a competitor in the 1970s and 1980s, winning individual gold medals at both the 1976 and the 1984 Olympic Games. In 2011, he was declared the Men's Archer for the 20th Century by the International Archery Federation.
From that point forward Joe trained and competed tirelessly, even turning his attention toward coaching and starting a varsity archery program at a high school in Fort Mitchell, Kentucky. He worked out regularly at a local range and qualified for the 2012 U.S. Olympic Team Trials but said the experience taught him that archery at that level isn't a part-time hobby. "You really can't have a day job and compete with athletes of that caliber — for them, archery is their profession and their life." While he didn't make the U.S Olympic Team, he walked away from the trials with valuable insight that made him a much better coach.
As Joe's son Peyton grew older, he encouraged him to pick up a bow as well. Soon enough, Peyton was following in his dad's footsteps, winning the U.S. Nationals at age 11. Now Peyton is eyeing a spot on the U.S. National Team for the Tokyo 2020 Olympic Games . "He's working hard in his division," Joe said. "By the end of this year, he should be top 15 in the country."
It's been an interesting road for Joe and his family, hopefully one that ends up in Tokyo four years from now.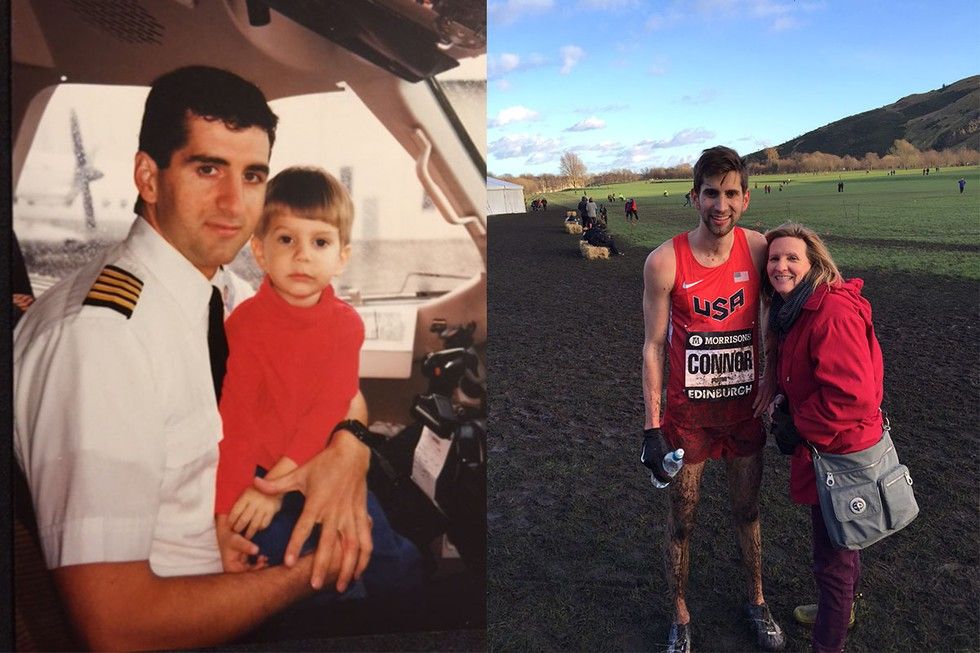 Captain Tom Connor and son Reed Connor
San Francisco based 787 Captain Tom Connor
We know the many miles that these competitors will have traveled by the time they touch down in Brazil, but perhaps no one knows that more so than San Francisco based 787 Captain Tom Connor. Tom has supported his son Reed, a distance runner, who competed for a spot on the U.S. Track and Field Team in Rio.
Tom and his wife Karla first noticed Reed's running abilities when they lived in Guam 20 years ago. At the time, he was only six years old but he was able to keep up with kids twice his age. "Part of the school curriculum was the President's Fitness Challenge, which included a running component. We watched all of the kids take off and when they came back around toward the finish line, Reed was right up front with the bigger kids. I thought he had cut through and I told him 'It's not okay to cut,' but he said 'Dad, I didn't. I ran the whole way.' I was shocked."
A few years later the Connor family moved to Houston where Reed continued his athletic endeavors on the basketball court. Then, a chance encounter with a track coach prior to his freshman year in high school changed all of that. "Reed was running with the basketball team, and Dan Green, head coach of the Woodlands High School track team noticed him. He told Reed 'If you run for me, everybody is going to know your name.'"
From that point on he excelled as a high school distance runner, culminating in a record-breaking run at the Nike Cross National Championship in 2008 After high school Reed competed for the University of Wisconsin-Madison where he achieved first-team All-Big Ten and All-American honors. Since graduating from UW, Reed continued running, averaging close to 100 miles each week, and qualified for the U.S. Olympic Team Trials in Eugene, Oregon. He ran a strong race in the 5000 meters but, unfortunately, fell just short of making the finals. Tom said that Reed was disappointed, but he was glad to have experienced the trials.
Reed's running career has taken the Connor family all over the country and the world. Thankfully, Tom is in the right business. "We couldn't have done it if I didn't work for United," said Tom. "We've been fortunate to have the chance to follow him around the world and cheer him on. Last year we were even able to go to Edinburgh, Scotland to watch him."
On March 19, 2020, United operated its first flight carrying cargo without passengers on board. While the passenger cabin was empty, its cargo hold was completely full, carrying more than 29,000 pounds of commodities from Chicago O'Hare International Airport (ORD) to Frankfurt Airport (FRA).
A year later, United Cargo has operated more than 11,000 cargo-only flights carrying more than 570 million pounds of freight. To support the COVID-19 pandemic recovery efforts, United Cargo has also transported more than 113 million pounds of medical and pharmaceutical products on both cargo-only and passenger flights as well as approximately 10 million COVID-19 vaccines, providing global communities access to the items they have needed most.
"At the beginning of the pandemic, we knew we were uniquely positioned to utilize our widebody aircraft and our network to keep commodities moving, so we quickly mobilized various departments throughout the airline to launch a cargo-only network of flights that would keep commodities moving," said United Cargo President Jan Krems. "Thanks to those efforts, United Cargo has delivered millions of items to countries all around the world. We would not have been successful without the steadfast support of our employees, industry partners and our customers."
Since last March, United Cargo has transported almost 850 million pounds of freight on cargo-only and passenger flights. The airline will continue to monitor market trends adjust its cargo-only flight schedules to help ensure we are meeting our customer's evolving shipping needs.
Whether you haven't flown with us for a while or just need a quick refresher before your spring trip, read this list of tips to know before your flight and arrive at the airport travel-ready:
1. Download the United app for contactless bag check, travel assistance and more
Before your flight, download the United app to view your flight status, check in, sign up for flight notifications, locate departure gates, access our free personal device entertainment when available and more. We've also updated our app with new features that can make your trip a little safer, including contactless bag check.
Don't forget to use Agent on Demand for help with any and all questions you may have before your flight. This new capability is available at all our U.S. hub airports and allows you to use your own mobile device to contact a customer service agent via phone, video or chat to help with day-of-travel questions while you're at the airport. Learn more about Agent on Demand here.
2. Check out the Travel-Ready Center
Our Travel-Ready Center makes it easy to get a personalized overview of everything you need to do in preparation for your flight. Just enter your confirmation number or MileagePlus® number and you'll find detailed information on all the documents, tests and more that you'll need for your trip.
3. Read and sign the Ready-to-Fly checklist
Before completing check-in, all United travelers will need to read our Ready-to-Fly checklist and confirm that they understand and agree to our policies. These include:
Acknowledging that you haven't had any symptoms of COVID-19 in the last 14 days
Agreeing that you will not fly if you have tested positive for COVID-19 within the last 21 days
Confirming that you will follow all policies regarding face masks, social distancing and other health and safety measures we've adopted
4. Arrive early; avoid the stress
Airports can be busy, especially during peak travel periods like spring break season. The TSA advises arriving at the airport two hours before your flight for domestic travel and three hours for international travel in anticipation of long security lines. This can help ease the stress when navigating busy check-in areas, security lines and crowded boarding gates.
5. Get familiar with CleanPlus
United CleanPlus℠ is our commitment to delivering industry-leading cleanliness as we put health and safety at the forefront of your experience. We've teamed up with Clorox to redefine our cleaning and disinfection procedures and Cleveland Clinic to advise us on enhancing our cleaning and disinfection protocols, like:
Disinfecting high-touch areas on board and in the terminal
Using electrostatic spraying, Ultraviolet C lighting wands and more advanced measures to clean aircraft cabins before boarding
Redesigning our mobile app to allow for touchless check-in and contactless payment, along with enhanced travel assistance features
Implementing high-efficiency (HEPA) filters on our aircraft that completely recirculate cabin air every 2-3 minutes and remove 99.97% of airborne particles, including viruses and bacteria
Studies show COVID-19 exposure risk is minimal when air filtration systems and masks are in use, so you can rest assured that the steps we've taken to keep you safe truly make a difference.
6. Wear your mask
Federal law requires all travelers to wear a face mask in the airport, including customer service counters, airport lounges, gates and baggage claim, and on board during their entire flight. Make sure you review the requirements for face masks, including what an acceptable face mask looks like.
7. Get ready for a safer boarding process
To make boarding even safer, we now have travelers board their aircraft from back to front. At the gate, just listen for your row number to be called – we'll ask a few rows at a time to board, starting with the last row of the plane. This helps everyone maintain a safe distance from each other during boarding without slowing things down. As you step onto the plane, flight attendants will hand each passenger a sanitizing towelette, which you can use to wipe down your seat to ensure it's extra clean.
8. Pack smart
Before packing your bags, check to see what exactly you can carry on and what you should plan to check. You can also copy your confirmation number into our Baggage Calculator tool to learn about the bag allowance included with your reservation, as well as the cost of checking any additional bags.
9. Check your flight status, important notices and weather
Check the United app regularly for the latest updates on weather conditions, flight status, gate numbers and seat assignments. You can also visit our Important Notices page to find essential information and updates about travel waivers, international travel, TSA and security, airports and United Club locations.
10. Relax and enjoy your flight
Once you're on board, it's time to sit back and enjoy your flight. Our flight attendants will be happy to help you with anything else you need.
This week, we were honored to become the first U.S. airline to join the UNICEF Humanitarian Airfreight Initiative to combat the COVID-19 pandemic by transporting the vaccine and other critically needed supplies to underserved areas of the globe.
"We are committed to helping the global community in any way we can, and we all must work together to do our part to bring this health and humanitarian crisis to an end," said Director of Cargo Specialty Products Manu Jacobs.
We will leverage our expertise to transport these critical pharmaceutical and healthcare shipments around the world safely, efficiently and expediently. We are proud to partner with the United Nations to support this global effort and provide equitable access to COVID-19 vaccines.
Scroll to top