Team United
As we sit glued to our TVs watching the Rio 2016 Olympics, some members of the United family are watching the action a little closer. They have competed at the highest levels themselves and know well the incredible sacrifice and heart that it takes to represent their country. In fact, several of our employees are former athletes or have family members striving to make it to the Games.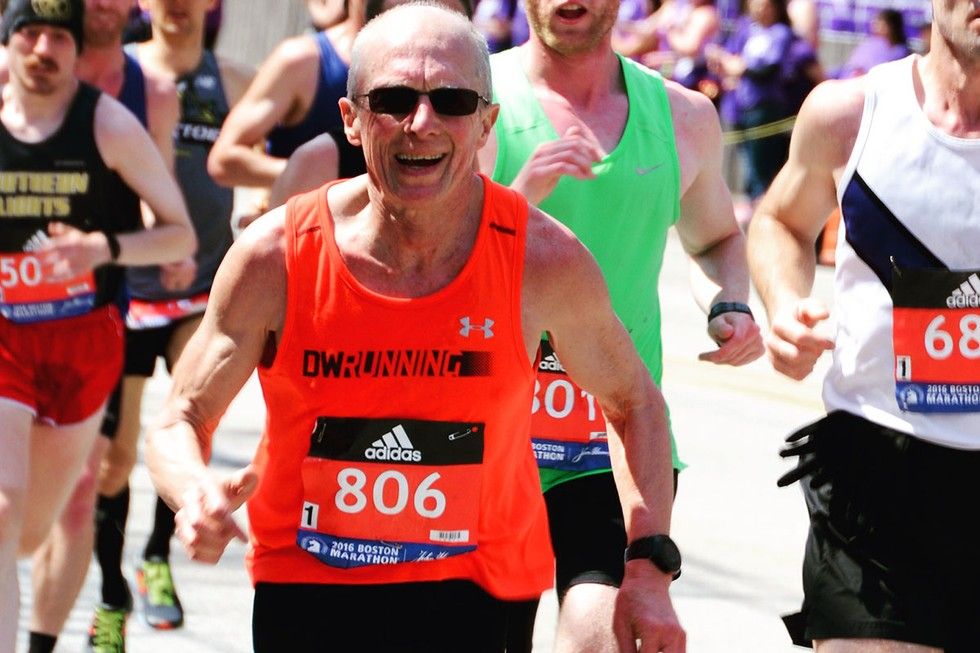 Captain Dave Walters
Chicago based 777 Captain Dave Walters
"I still enjoy following the Games as a spectator. I know what those guys are going through and I can empathize with the journey that they have traveled to get there because I've been on that journey, too," said Chicago based 777 Captain Dave Walters, who qualified for the 1988 U.S. Olympic Team Trials as a marathoner. After watching the 1972 Olympics, he immediately knew it was something that he wanted to pursue and he dedicated two decades of his life to get there. Job changes in the early 1980s forced him to scale back his training, so Dave didn't attempt to qualify for the 1980 or 1984 Games. But finally, in 1986 he qualified for the 1988 Trials. "When I got my qualifying time I had a smile on my face for weeks. That's as close as most people ever get to The Olympics. Making it into the Trials meant that I could give it my best shot, and that's all that I wanted."
The Trial race took place in Jersey City, New Jersey in April 1988 on a brutal course full of hills. Out of 130 participants, only the top three racers would qualify for the U.S. Olympic Team. Dave was the 126th seed. "On top of everything, I had a fever that day – I was on the verge of catching a flu. But, in spite of that, I still managed to finish 36th, and I was honored to be there."
His Olympic experience was the culmination of a lifetime of focus, dedication, motivation and discipline. "Just to make it to the Trials was a dream come true. It put an exclamation point on my athletic career," Dave said.
Remarkably, Dave still adheres to that focus and discipline, running between eight and twelve miles every day. In fact, last year he achieved the triple crown, winning his age group in the Chicago, New York and Boston marathons. "I still get the same kick out of running that I did in the '80s. It's not quite the 'knife fight' that it used to be," he said laughing, "but it's still competitive and I enjoy that."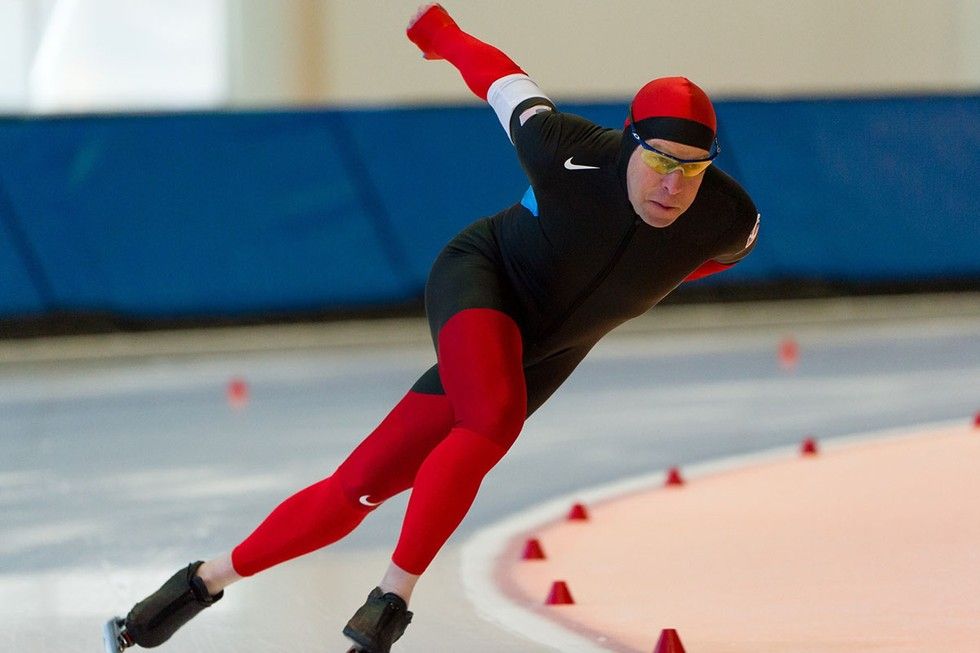 Captain Bruce Conner
Chicago based 747 Captain Bruce Conner
Pushing age 60, Chicago based 747 Captain Bruce Conner lives by a simple philosophy: try to do a little better today than you did yesterday. It's a philosophy that drives him in every aspect of his life and work, throughout his 31 years as a United pilot and his five decades as a world-class athlete.
"There's a common belief that as we get older, we get slower," Bruce said. "I want to break down that self-limiting mindset. It's more about having realistic goals." Bruce got into sports over 50 years ago as a gymnast alongside his brother, who would go on to become a three-time Olympian and two-time gold medalist in gymnastics. "After about two years, I realized that my little brother was a lot better than me, so I thought 'Maybe I'll find a different path,' and I turned my attention to speed skating."
That turned out to be a good choice. By the time he was a teenager, Bruce was a member of the U.S. National Team. In the fall of 1975 he traveled to Holland to train for the upcoming U.S. Olympic Team Trials for the 1976 Olympic Winter Games, but he experienced a setback. "I was skating well in Holland, but I was so motivated that I over-trained. By the time I went to the trials in December, my times were getting slower."
Bruce fell short at the trials and did not make the 1976 Team. It was a devastating blow and the disappointment subsequently led to him walk away from the sport. It wasn't until he reached his mid-twenties that he began to feel the pull of competition again, but in a slightly different way.
"I started running and competing in 5ks, 10ks, half marathons and triathlons," he said. "I really enjoyed it and it helped me maintain my fitness level. At age 40 I still competed in races, but I noticed that I was always just in the middle of the pack." That's when he decided to give skating one more shot.
He began commuting once a week between his home in Illinois to a rink in Milwaukee to train and participate in open races. When he made a trip to Calgary for a race at age 48, he realized, to his amazement, that he was faster than he had ever been. "When I got back home, I hired a coach and started taking it more seriously. Then I wondered if I could qualify for the U.S. Olympic Team Trials. I knew that if I skated a good race, I had a chance to be in the top 25 in the U.S."
He trained six days a week and qualified for the 2005 Trials with his times in the 500 and 1000 meter races. Four years later he did it again, with even faster qualifying times than he had previously skated. Bruce seemed to be getting better with age, and in 2013 he qualified for a fourth time – at age 57.
Bruce continues to compete and published a book called Faster as a Master, which details his life in speed skating and his philosophy of continual improvement.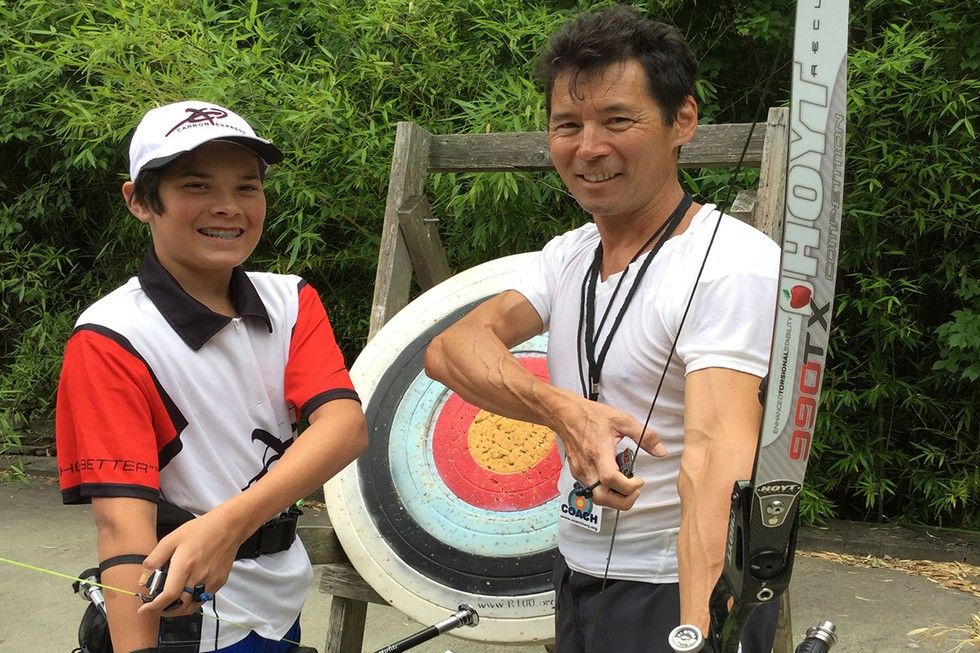 First Officer Joe Oka and son Peyton Oka
Chicago based 777 First Officer Joe Oka
It only took Chicago based 777 First Officer Joe Oka 45 years to discover that he possessed a unique talent. Now, he's using that ability to help youngsters pursue their Olympic dreams.
More than a decade ago, Joe — who has been a United pilot for 21 years — became a backyard archery enthusiast after a friend gave him his first bow and arrow set. When a city ordinance in his hometown of Fort Mitchell, Kentucky threatened to ban archery in neighborhoods, Joe became embroiled in local politics to save his newfound sport. While doing so, he met the man who changed his sporting life: Darrell Pace.
"When our town banned archery, I tried to fight city hall," Joe said. "In the course of that, I started working with Darrell. One day he said to me 'You're pretty good. Why don't you try competition archery?' and that's when I started taking it seriously."
To understand why Darrell's encouragement was so important, you have to understand who Darrell Pace is and what he means to the archery community. Darrell was called the world's greatest archer during his years as a competitor in the 1970s and 1980s, winning individual gold medals at both the 1976 and the 1984 Olympic Games. In 2011, he was declared the Men's Archer for the 20th Century by the International Archery Federation.
From that point forward Joe trained and competed tirelessly, even turning his attention toward coaching and starting a varsity archery program at a high school in Fort Mitchell, Kentucky. He worked out regularly at a local range and qualified for the 2012 U.S. Olympic Team Trials but said the experience taught him that archery at that level isn't a part-time hobby. "You really can't have a day job and compete with athletes of that caliber — for them, archery is their profession and their life." While he didn't make the U.S Olympic Team, he walked away from the trials with valuable insight that made him a much better coach.
As Joe's son Peyton grew older, he encouraged him to pick up a bow as well. Soon enough, Peyton was following in his dad's footsteps, winning the U.S. Nationals at age 11. Now Peyton is eyeing a spot on the U.S. National Team for the Tokyo 2020 Olympic Games . "He's working hard in his division," Joe said. "By the end of this year, he should be top 15 in the country."
It's been an interesting road for Joe and his family, hopefully one that ends up in Tokyo four years from now.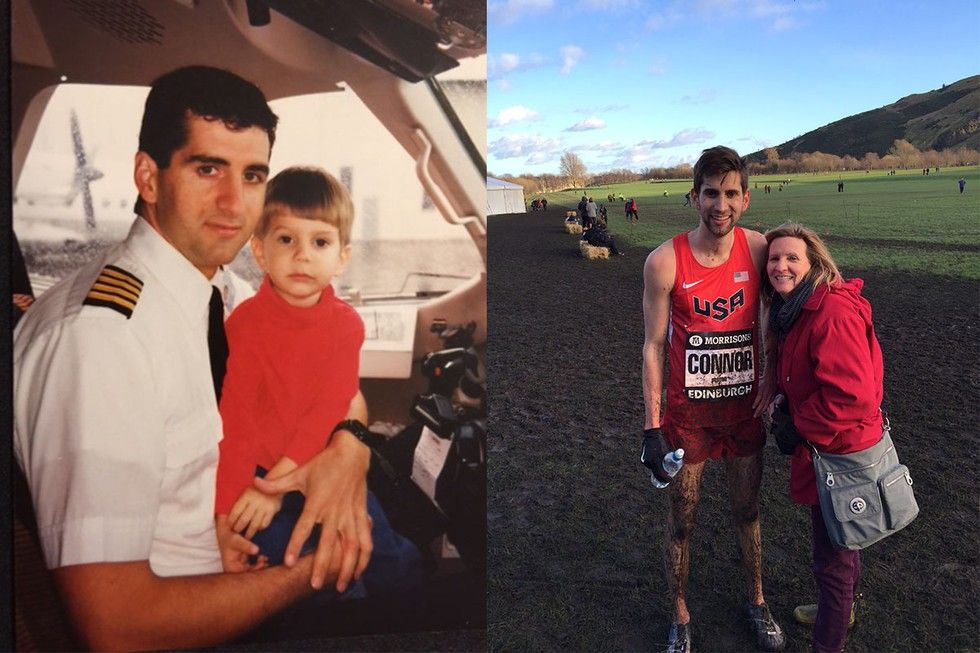 Captain Tom Connor and son Reed Connor
San Francisco based 787 Captain Tom Connor
We know the many miles that these competitors will have traveled by the time they touch down in Brazil, but perhaps no one knows that more so than San Francisco based 787 Captain Tom Connor. Tom has supported his son Reed, a distance runner, who competed for a spot on the U.S. Track and Field Team in Rio.
Tom and his wife Karla first noticed Reed's running abilities when they lived in Guam 20 years ago. At the time, he was only six years old but he was able to keep up with kids twice his age. "Part of the school curriculum was the President's Fitness Challenge, which included a running component. We watched all of the kids take off and when they came back around toward the finish line, Reed was right up front with the bigger kids. I thought he had cut through and I told him 'It's not okay to cut,' but he said 'Dad, I didn't. I ran the whole way.' I was shocked."
A few years later the Connor family moved to Houston where Reed continued his athletic endeavors on the basketball court. Then, a chance encounter with a track coach prior to his freshman year in high school changed all of that. "Reed was running with the basketball team, and Dan Green, head coach of the Woodlands High School track team noticed him. He told Reed 'If you run for me, everybody is going to know your name.'"
From that point on he excelled as a high school distance runner, culminating in a record-breaking run at the Nike Cross National Championship in 2008 After high school Reed competed for the University of Wisconsin-Madison where he achieved first-team All-Big Ten and All-American honors. Since graduating from UW, Reed continued running, averaging close to 100 miles each week, and qualified for the U.S. Olympic Team Trials in Eugene, Oregon. He ran a strong race in the 5000 meters but, unfortunately, fell just short of making the finals. Tom said that Reed was disappointed, but he was glad to have experienced the trials.
Reed's running career has taken the Connor family all over the country and the world. Thankfully, Tom is in the right business. "We couldn't have done it if I didn't work for United," said Tom. "We've been fortunate to have the chance to follow him around the world and cheer him on. Last year we were even able to go to Edinburgh, Scotland to watch him."
We know people are taking a second look at their travel plans right now. If you're scheduled to travel March 10 – May 31, 2020 and would like to change your plans, there is no fee to do so, regardless of when you purchased your ticket or where you're traveling. This is in addition to our previous waiver, which waives all change fees – domestic and international – for tickets purchased March 3 – April 30, 2020. This is available for any of United's published nonrefundable fares. If you decide to cancel your flight, you can retain the value of your ticket to be applied to a new ticket without a fee. These electronic travel certificates are now valid for 24 months from the date they were issued. This includes all currently valid electronic certificates and all new ones issued on or after April 1, 2020. You might not see this policy change reflected everywhere right away – we appreciate your patience as we work to make that happen.
Eligible travelers on domestic flights and international tickets can request a refund on united.com or may call our contact centers if their flights have been severely adjusted or service to their destination suspended either due to government mandates or United schedule reductions related to COVID-19.
Certain tickets cannot be changed on united.com or the mobile app, including tickets booked through another airline (if the ticket receipt does not begin with 016). Please contact the original ticketing airline for changes.
Follow the steps below to stay up to date, change or cancel your flight.

Change your current flight:
On the united.com homepage, select "My Trips" and enter your flight information to retrieve your flight.
Select "Change flight" and then "Edit" to make the following changes:

Date of travel or destination
Add a flight
Remove a flight

Select "Continue" and choose a new flight option
Continue through booking to confirm your new flight
Note: The change fee will display as waived, but any difference in fare may apply.
Cancel your flight and rebook later:
On the united.com homepage, select "My Trips" and enter your reservation information to retrieve your flight
Select "Cancel flight"
Confirm flight cancellation
If you have future flight credit, when you return to the reservation, select "Use Future Flight Credit" to shop for new flights and apply the credit towards a new flight.
Canceling or changing an award flight:
When you select "Cancel flight," you will have the option to cancel your award reservation and redeposit the miles or to cancel your award reservation and use those miles for another trip in the future.
*We're currently experiencing heavy traffic to united.com. If you experience an error while trying to change or cancel your flight, please try again later.
Click through the slideshow below for more detailed instructions:
​Start on the United homepage: ​
User can select 'My Trips' on the homepage widget to find and retrieve their reservation.
When and where possible, we are working to repatriate travelers who are stranded abroad in the wake of the COVID-19 crisis. Our teams are working closely with government officials here in the U.S. as well as in other countries where flying has been restricted to gain the necessary approvals to operate service. In regions where government actions have barred international flying, we have coordinated with the the U.S. State Department and local government officials to re-instate some flights. Additionally, we have been operating several extra flights to countries in Central America and South America as we continue to play a role in connecting people and uniting the world.
We have operated more than 68 repatriation flights from Panama City, Guatemala City, Quito, Lima, San Pedro Sula, Tegucigalpa and Roatan, bringing nearly 9,200 people home. We will continue working with government officials to operate extra flights to Houston from Quito, San Pedro Sula, Tegucigalpa and from Lima to Washington Dulles and beginning April 5, we will begin operating multiple charter flights between Delhi and San Francisco. We continue to review more opportunities for flights between the United States and other countries to bring citizens home.
Video provided by the U.S. Embassy Ecuador of Americans returning home on United.

Additionally, our Customer Solutions and Recovery team is working with customers in the following markets to rebook them on flights back to the United States as capacity allows, either on our aircraft or on one of our airline partners' planes:

Quito, Ecuador
Managua, Nicaragua
Roatan, Honduras
San Pedro Sula, Honduras
Amsterdam
Brussels
Munich
Singapore
Tokyo-Haneda
Seoul, South Korea
Melbourne, Australia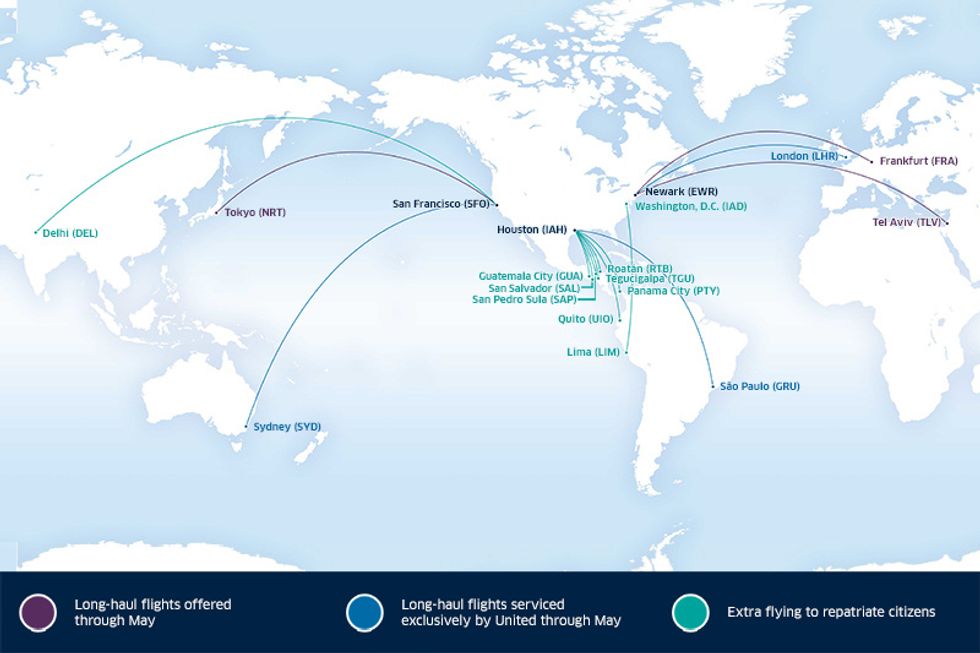 We also recently reinstated several international flights back into our schedule to support customers and essential businesses which depend on these routes. As a result, we will be the only airline to offer service between Newark/New York and London, San Francisco and Sydney, as well as Houston and São Paulo, Brazil.

Calling all AvGeeks and travelers! Here's a fun way to take your next video call….from a United Polaris® seat, the cockpit or cruising altitude. We're introducing United-themed backgrounds for use on Zoom, a video conferencing tool that many people are using to stay connected.
So for your next meeting or catch up with friends and family, download the app to either your computer or mobile device to get started. If you've already downloaded Zoom you can skip ahead to updating your background image (see instructions below).
Start here by downloading your favorite United image to your computer or mobile device. Just click "download" in the bottom left corner of the image.
Next go to your Zoom app (you'll need to download the app to access backgrounds) and click on the arrow to the right of your video camera icon in the bottom of the screen.
From here select, "choose virtual background" to upload your uniquely United photo.
Together, we are facing an unprecedented challenge. United Together, we rise to meet that challenge.
Check out our newest destinations
United Airlines
united
We continue to work with government officials to bring Americans home. In addition to flights from Central & South America, we have charter flights planned from India. Learn more about our repatriation efforts in the wake of COVID-19 here:
uafly.co/3aExaOL
#UnitedTogether
United Airlines
united
When
@RocheDia
needed to ship a vital component of a COVID-19 testing unit from New Jersey to Florida, United Cargo jumped in to help. Read about how this part will allow
@MayoClinic
to process hundreds of tests per day for cases in the Southeastern U.S.
uafly.co/2UzOAGW
United Airlines
united
International schedule update: We know some people around the globe are displaced and still need to get home. We are reinstating some international flights over the next few days and will continue to fly six daily international flights through May.
uafly.co/3a5Dj6p
United Airlines
united
We have extended our change fee waiver to cover travel through May 31, 2020: - You can change or cancel your flight on
united.com
or through the app – a phone call is not required - For the latest on our commitment to your safety, visit
united.com/coronavirus
We Are United
weareunited
Shoutout to our operations team, who are working to properly park, maintain and store many aircraft in the
#BeingUnited
fleet. These aircraft are being housed across our seven hubs, maintenance facilities in CLE and MCO as well as at offsite facilities in New Mexico and Arizona.
We Are United
weareunited
Tomorrow, Oscar and Scott will host a companywide town hall to discuss the latest developments in managing the effects of the coronavirus (COVID-19). You can join the livestream event at 1:20 p.m. CT here:
uafly.co/39AV25m
We Are United
weareunited
Tomorrow, Oscar and Scott will host a companywide town hall to discuss the latest developments in managing the effects of the coronavirus (COVID-19). You can join the livestream event at 1:20 p.m. CT here:
uafly.co/39AV25m
.
Watch our most popular videos
Copyright © 2020 United Airlines, Inc.
All rights reserved.
Indicates an external site that may or may not meet accessibility guidelines.
Scroll to top
Scroll to top