Things to Do in November in the U.S.
The holidays aren't quite here yet, but the festivities are in full swing. From food and wine to festivals and parades, here's where to get in the celebratory spirit in November.
Get Caffeinated in Philadelphia
Held at the Philadelphia Expo Center, the Coffee and Tea Festival is a highly caffeinated two-day event that brings together over 50 exhibitors from across the U.S. to flaunt their finest beverages. Treat your senses to enticing aromas, attend demonstrations, and sample delightful sweet and savory treats to pair with the impressive assortment of coffees and teas.
Attend the 'Wurst' Party in Texas
New Braunfels' Wurstfest is a unique combination of German culture and Texas twang. This 10-day feast serves up a smorgasbord of German sausages, potato pancakes, spaetzel, and more prepared by regional and local chefs. Enjoy the finest Alpine- and Bavarian-style beer and entertainment, carnival rides, and competitions.
(Your browser doesn't support iframe)
Shop for Art in Arizona
Nearly 500 artists, gourmet food and beer, and live entertainment make up this internationally recognized festival. Located in scenic Fountain Hills, Arizona, the festival boasts quality art by well-known artists in addition to works by local Native American artisans. Paintings, both oil and watercolor, pottery, jewelry, and unique Holiday-themed ornaments offer visitors an early jump on holiday shopping.
Related: 7 of the Best Arizona Resorts for Luxury Travelers
Eat Your Heart Out in Cleveland
Attention all foodies: The nation's largest consumer food and beverage event held in Cleveland, Ohio, has been living up to its name for over a decade. This culinary extravaganza features over 450 exhibiting companies and restaurants, fine food, wine, spirits, and beer tastings, live cooking demos, food trucks, and meet-and-greets with celebrity chefs.
Join the Parade in New York City
The magnificent Macy's Thanksgiving Day Parade is the official welcome to the holiday season in New York City. The largest parade in the world boasts 50-foot balloons, floats, cheerleaders, marching bands, Broadway performances, and more. Bringing up the rear of this magical event is none other than Santa Claus himself, complete with his reindeer and elves. Festivities continue at local restaurants around the city.
Related: The History of the Macy's Thanksgiving Day Parade
Celebrate Thanksgiving's Roots in Plymouth
Held in the birthplace of Thanksgiving — Plymouth, Massachusetts — history is re-enacted as Pilgrims, Native Americans, soldiers, patriots, and pioneers wander the streets. Step back in time on a tour of the historic waterfront, complete with Plymouth Rock and the Mayflower II. Experience a New England food festival and harvest market while enjoying patriotic live music.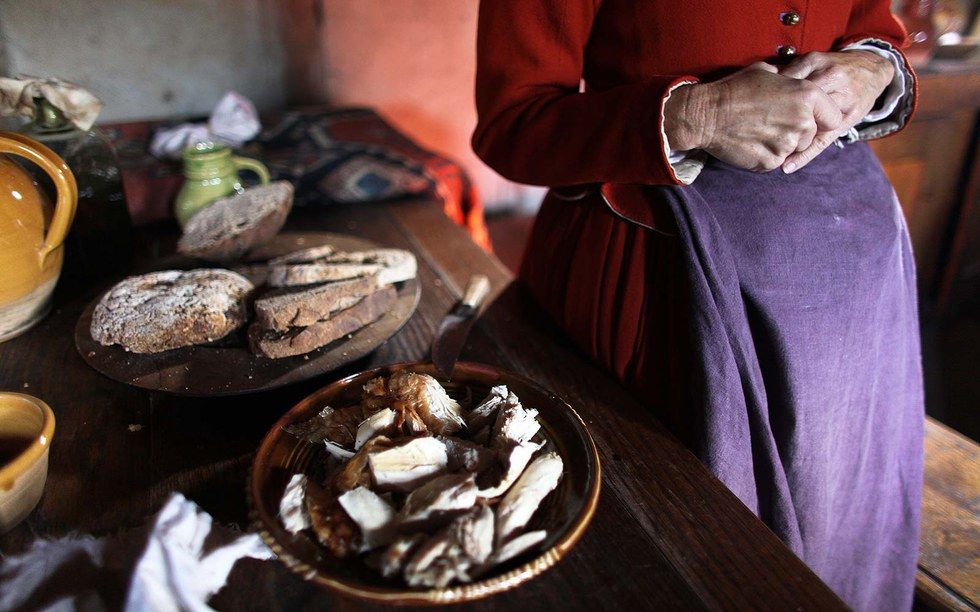 Get in the Christmas Spirit in Los Angeles
The inspiration for Gene Autry's classic song, "Here Comes Santa Claus," the Hollywood Christmas Parade is the star-studded extravaganza you would expect and then some. Pre-parade concerts, marching bands, glitzy floats, celebrities in convertibles, and Santa himself kick off the holiday shopping season L.A. style.
Related: How to Visit Santa Claus' Hometown This Winter
Run Through Time in Philadelphia
Literally race through history at the Philadelphia Marathon. Begin on tree-lined Benjamin Franklin Parkway, passing prominent landmarks including Independence Hall, Betsy Ross House, and Liberty Bell Center. Finish at the steps of the magnificent Philadelphia Museum of Art. There is also a Kids' Race, an 8-K, and a half-marathon.
Sip on Southern Charm in Savannah
Indulge in food, wine, and a double shot of southern charm in beautiful and historic Savannah, Georgia. Find yourself captivated by the picturesque coastal setting while experiencing seven days of gourmet dinners, exclusive tastings, master classes, and special events featuring a cast of celebrity chefs.
This article was written by Patricia Doherty from Travel & Leisure and was legally licensed through the NewsCred publisher network. Please direct all licensing questions to legal@newscred.com.
By working together and strengthening partnerships during these unprecedented times, our global community has overcome challenges and created solutions to keep the global supply chain moving. As COVID-19 continues to disrupt the shipping landscape, United and our industry partners have increasingly demonstrated our commitment to the mission of delivering critical medical supplies across the world.
United Cargo has partnered with DSV Air and Sea, a leading global logistics company, to transport important pharmaceutical materials to places all over the world. One of the items most critical during the current crisis is blood plasma.
Plasma is a fragile product that requires very careful handling. Frozen blood plasma must be kept at a very low, stable temperature of negative 20 degrees Celsius or less – no easy task considering it must be transported between trucks, warehouses and airplanes, all while moving through the climates of different countries. Fortunately, along with our well-developed operational procedures and oversight, temperature-controlled shipping containers from partners like va-Q-tec can help protect these sensitive blood plasma shipments from temperature changes.
A single TWINx shipping container from va-Q-tec can accommodate over 1,750 pounds of temperature-sensitive cargo. Every week, DSV delivers 20 TWINx containers, each one filled to capacity with human blood plasma, for loading onto a Boeing 787-9 for transport. The joint effort to move thousands of pounds of blood plasma demonstrates that despite the distance, challenges in moving temperature-sensitive cargo and COVID-19 obstacles, we continue to find creative solutions with the help of our strong partnerships.
United Cargo is proud to keep the commercial air bridges open between the U.S. and the rest of the world. Since March 19, we have operated over 3,200 cargo-only flights between six U.S. hubs and over 20 cities in Asia, Australia, Europe, South America, India, the Caribbean and the Middle East.
A message from UNITE, United Airlines Multicultural Business Resource Group
Fellow United team members –
Hello from the UNITE leadership team. While we communicate frequently with our 3,500 UNITE members, our platform doesn't typically extend to the entire United family, and we are grateful for the opportunity to share some of our thoughts with all of you.
Tomorrow is June 19. On this day in 1865, shortened long ago to "Juneteenth," Union soldiers arrived in Galveston, Texas, to announce that the Civil War had ended and all enslaved individuals were free. For many in the African-American community, particularly in the South, it is recognized as the official date slavery ended in the United States.
Still, despite the end of slavery, the Constitutional promise that "All men are created equal" would overlook the nation's Black citizens for decades to come. It wasn't until nearly a century later that the Civil Rights Act (1964) ended legal segregation and the Voting Rights Act (1965) protected voting rights for Black Americans. But while the nation has made progress, the killings of Ahmaud Arbery, Breonna Taylor and George Floyd have made it undeniably clear that we still have a lot of work to do to achieve racial parity and inclusion.
Two weeks ago, Scott and Brett hosted a virtual town hall and set an important example by taking a minute, as Brett said, "to lower my guard, take off my armor, and just talk to you. And talk to you straight from the heart."
Difficult conversations about race and equity are easy to avoid. But everyone needs to have these conversations – speaking honestly, listening patiently and understanding that others' experiences may be different from your own while still a valid reflection of some part of the American experience.
To support you as you consider these conversations, we wanted to share some resources from one of United's partners, The National Museum of African American History and Culture. The museum will host an all-day Virtual Juneteenth Celebration to recognize Juneteenth through presentations, stories, photographs and recipes. The museum also has a portal that United employees can access called Talking About Race, which provides tools and guidance for everyone to navigate conversations about race.
Our mission at UNITE is to foster an inclusive working environment for all of our employees. While we are hopeful and even encouraged by the widespread and diverse show of support for African Americans around the country – and at United - we encourage everyone to spend some time on Juneteenth reflecting on racial disparities that remain in our society and dedicating ourselves to the work that still must be done to fight systemic racism. By honoring how far we've come and honestly acknowledging how far we still must go, we believe United – and the incredible people who are the heart and soul of this airline - can play an important role in building a more fair and just world.
Thank you,
UNITE (United Airlines Multicultural Business Resource Group)
Leadership Team

We remain passionate about connecting the world safely
United CleanPlus SM is our commitment to putting health and safety at the forefront of your journey, with the goal of delivering an industry-leading standard of cleanliness. We're teaming up with Clorox to redefine our cleaning and disinfection procedures, and over the coming months, we'll roll out Clorox products across our U.S. airports, starting in select locations, to help support a healthy and safe environment, and to provide transparency and choice throughout the travel journey.
At the airport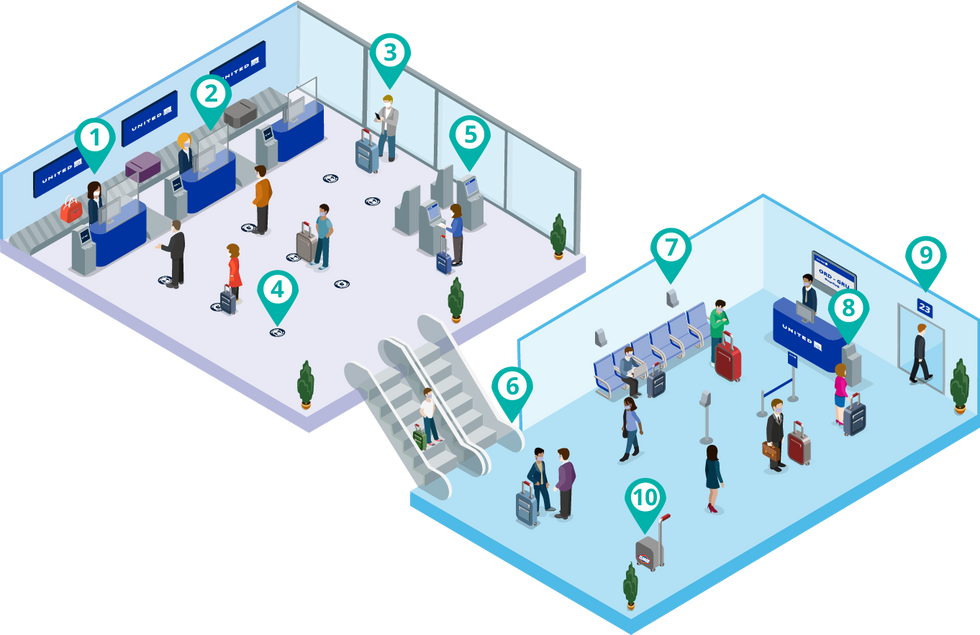 At check-in:

Implementing temperature checks for employees and flight attendants working at hub airports
Installing sneeze guards at check-in and

gate podiums

Encouraging use of the United app for contactless travel assistance and more
Promoting social distancing with floor decals to help customers stand 6 feet apart
Rolling out touchless check-in for customers with bags

At the gate:
Disinfecting high-touch areas such as door handles, handrails, elevator buttons, telephones and computers
Providing hand sanitizer and
disinfectant wipes
Allowing customers to self-scan

boarding passes

Boarding fewer customers at a time and, after

pre-boarding

, boarding from the back of the plane to the front to promote social distancing
Rolling out Clorox Total 360 Electrostatic Sprayers to disinfect in the airport
On our aircraft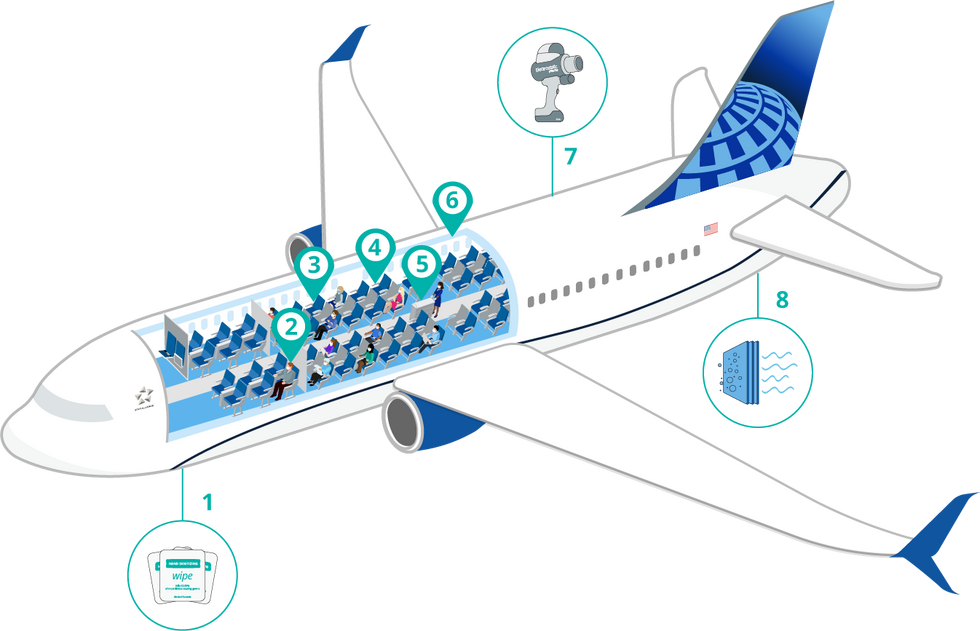 Providing individual hand sanitizer wipes

for customers

Requiring all customers and employees to wear a face covering and providing disposable face coverings for customers who need them
Providing onboard items like pillows and blankets upon request
Disinfecting high-touch areas, like tray tables and armrests, before boarding
Reducing contact between flight attendants and customers during snack and beverage service
Ensuring aircraft cleaning standards meet or exceed CDC guidelines
Using electrostatic spraying to disinfect aircraft
Using state-of-the-art, hospital-grade,

high-efficiency

(HEPA) filters to circulate air and remove 99.97% of airborne particles

The cabin recirculated air is exchanged

every 2-3

minutes

We're working closely with the experts at Cleveland Clinic to advise us on enhancing our cleaning and disinfection protocols for the safety of our employees and customers. Visit Cleveland Clinic's website to learn more about COVID-19.
Together, we are facing an unprecedented challenge. United Together, we rise to meet that challenge.
Learn more
United Airlines
united
Our NRT United Club team recently showed what
#BeingUnited
is all about when they donated food to the greater Narita Health Welfare Center. Take a look at the results of the collective efforts across our system here:
uafly.co/2YUtDbL
United Airlines
united
Flights booked now through July 31 can be changed for free over the next 12 months to allow for additional flexibility. All existing travel can be changed without fees as well. See waiver for details:
uafly.co/2M9vgLC
United Airlines
united
We fly proud year-round and we bring our true selves to work every day. Hear from LGBTQ individuals in our workforce, who've fought for a more inclusive world: Agents Analysts Flight Attendants Pilots Technicians Leaders They are who we are and we support them.
#UnitedPride
We Are United
weareunited
After years of planning, the new
#BeingUnited
catering kitchen at EWR is open. With over 190,000 square feet, it's 40% percent larger than the previous kitchen, sized to meet future demand through 2040.
Watch our most popular videos
Flying UCSF Medical Workers to New York
This is why we fly.
20 UCSF Health workers, who voluntarily set aside their own lives to help save lives, are on their way to New York City.
We are humbled by your selfless sacrifice.
Thank you.
#UnitedTogether #UCSFHeroes
A happy, Hollywood ending
This is the story of Jason and Shantel. You see, Jason and Shantel love each other very much. They also love traveling and they love the classic Adam Sandler film, The Wedding Singer.
It all began when Jason reached out to United's social media team, hoping for assistance with his upcoming plan to propose. Some phone calls and one borrowed guitar later, the stage was set for Jason. Put all that together, mix in some helpful United employees and, voila, you have a truly memorable marriage proposal. Congratulations to this fun-loving and happy couple, and here's to many more years of making beautiful music together.
A big thank you to Chicago-based flight attendants Donna W., Marie M., Karen J. and Mark K. for making this proposal come to life.
Copyright © 2020 United Airlines, Inc.
All rights reserved.
Indicates an external site that may or may not meet accessibility guidelines.
Scroll to top
Scroll to top