Three Perfect Days: Bogotá
Story by Janet Hawkins | Photography by Michael Hanson | Hemispheres, February 2014

From the green mountains that encircle the sprawling metropolis to its blossoming arts and entertainment offerings, Colombia's abidingly beautiful capital city is a place bursting with optimism, energy and life
Bogotá is used to being misunderstood. It's chilly, we hear, and a bit wet. It's true, the city gets a fair amount of rainfall and the mercury rarely climbs above 67 degrees Fahrenheit, but a shower here is as apt to last a few minutes as an afternoon, and the temperature rarely dips below the 60s. Plus, it's the weather that keeps the city green and fragrant.
There's also the misconception, a residue from cinematic crime capers and a history of news reports, that Bogotá is teeming with drug lords. No one would deny that this city of more than 8 million people has had its share of problems, but the crime risk today is pretty much on par with any major urban center. These days, Bogotá is as safe as London or New York.
As intensive public safety initiatives have transformed the city's streets, major redevelopment programs have further heightened Bogotá's appeal as a place to live and visit, helping the Colombian capital to reposition itself as a hotbed of art and architecture, hospitality and nightlife. You can see evidence of this in the leafy facade of its whimsical Bio Hotel, and in the couples sipping mojitos on the patios of upscale bars.
Walking around this vibrant city, you get the sense that even Bogotans are surprised at how much it has changed. Residents who ten years ago left to seek their fortunes elsewhere have returned, and there's a Sí, se puede air about the place that's infectious. Last summer, the city hosted the third annual Bogotá Wine & Food Festival, an opportunity to show chefs from around the world just how it's done in this cradle of diversity.
As it turns out, it's done very well.

DAY ONE | The shutters on the 15-foot windows are closed, the light on the trendy phone switched off, so your sensory input is limited to the brush of a silky duvet and the scent of old money. It's not a bad way to wake up. You hop out of bed and bring up the lights on a room that has a touch of "Downton Palacio" about it. The Orchids Hotel is one of Bogotá's most luxurious properties, and your Midsummer Night's Dream suite takes this to extremes. A butler in a morning coat pours your coffee, which you sip beneath a gilded ceiling before descending to the lobby in a glass elevator, passing a pebbled fountain and emerging into La Candelaria, the cultural nexus of Colombia's capital city.
Whitewashed walls running along the avenue outside are capped at either end with swaths of green—the Monserrate and Guadalupe peaks that shadow you throughout the city. You quickly become lost in a warren of pastel-painted streets lined with dinky shops and homes with doors polished to perfection.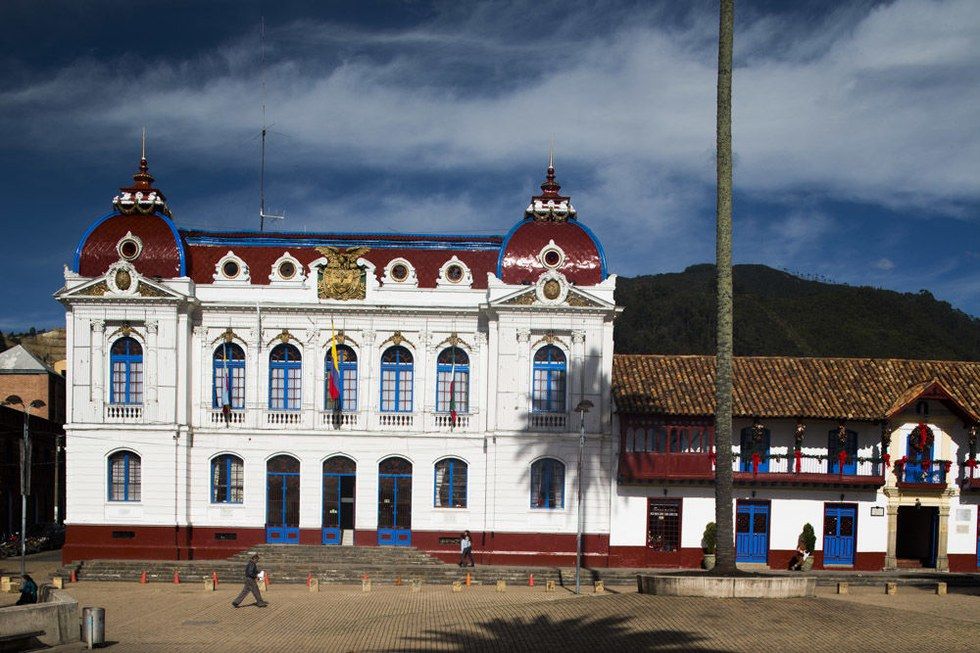 Zipaquirá City Hall
Eventually, you stumble across La Puerta Falsa, a tiny family restaurant that has served santafereña cuisine for seven generations. Inside, on a tight balcony above the kitchen, you sip hot chocolate with melted cheese, then grapple with a huge tamale, peeling back plantain leaves to reveal a fat chicken leg in the embrace of carrots, corn, rice, yellow peas and pork grease. Proprietor Mónica Sabogal says she sells 300 tamales, easily, during the week, and another 500 on weekends. You can taste why.
After a short plod you're in Plaza de Bolívar, an expansive square whose disparate architecture aims for grandeur and delivers a lesson in resilience. The neoclassical Palacio Liévano—a replacement for earlier structures destroyed by earthquake or fire—stands along the western side, flanked by the colonnaded Capitolio Nacional and the blocky Palacio de Justicia. "I was 13 when the previous building was leveled. Now, it's hard to imagine," a security guard tells you, referring to a 1985 battle between the army and a guerrilla group. You pass the Bolívar statue and sit on the steps of the Spanish colonial Catedral Primada, surrounded by a small army of pigeons.
Next, you brave the onslaught of articulated TransMilenio buses on the Carrera 7 roadway to find Iglesia de San Francisco, Bogotá's oldest church. Dating back to 1621, it doesn't look like much from the outside, but inside it's a golden cocoon, its congregants praying amid glorious carvings and dim stillness, the only sound the scritch-scritch of a woman hypnotically scrubbing the floor outside.
From here, you stroll through Parque Santander, with its skateboarders and dodgy benches, ending up at the Parque de los Periodistas, a timeworn public square near Universidad de los Andes. You're taken with a mural of three enormous ladybugs and a life-size bear close by. This area is renowned for its graffiti—there are said to be 3,000 street artists in Bogotá—and tours are devoted to the art. Later, you will book yourself a place on one.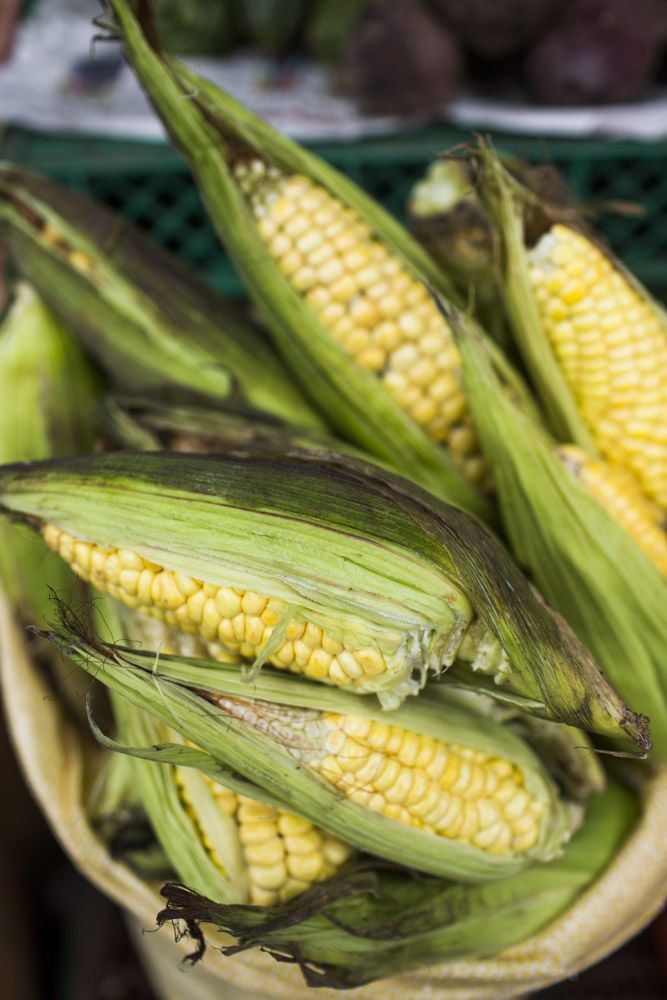 Corn at the Plaza de Mercado de Paloquemao
You're lunching across the way, at Sant Just Traiteur, a French café popular with the university crowd. Perched on a high stool, you watch owner-chef Eric Noirard toiling in the tiny open kitchen. You have the salmon, served on a bed of quinoa and beetroot, accompanied by roasted veggies. In true Gallic style, Noirard aims to marry flavor and nutrition in everything he creates, right down to the apple pie sprinkled with amaranth and topped with a dollop of vanilla and passion fruit ice cream.
Fortified, you head to the Museo del Oro to take in a few thousand years of precious metalwork by pre-Hispanic Colombians. There are 30,000 gold pieces on display here—from animal figures to breastplates—many of which were once regarded as expressions of the soul. One piece depicts a chieftain standing on a raft, ready to toss his riches into a lake as a harvest offering. The Spaniards, crazed with visions of El Dorado, unfortunately did untold damage retrieving such artifacts.
After a short cab ride back to the hotel and a refresher in your capacious bathroom, you head out to the nearby Macarena district, an area of trendy galleries and restaurants clustered around the Plaza de Toros de Santamaría, the city's striking but controversial bullfighting ring. The taxi makes its way along narrow streets, passing a series of illuminated tableaus—guitar-strumming troubadours, glass-clinking celebrants—so close you could almost reach out and touch them.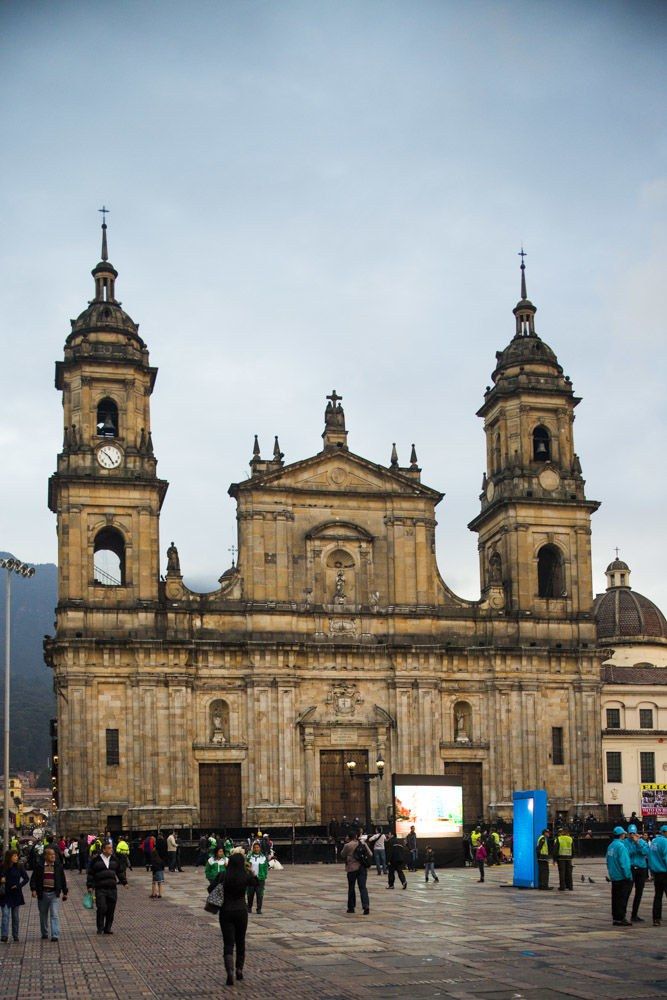 Sightseers check out La Plaza de Bolívar
You're dining at Donostia, a restaurant with exposed beams and whitewashed walls that sits at the forefront of the cocina de mercado ("market kitchen") movement here. You order hearty breads with a coulis of pepper and tomatoes, cheese ravioli with diced sausage, grilled octopus with paprika and rosemary potatoes and Catalan caramel cream, all accompanied by a couple of glasses of spectacularly good wine.
Your last stop is Quiebra Canto, a renowned salsa club near the hotel. Here you have your first taste of aguardiente, the sugarcane liquor with a light anise flavor that, as a bystander informs you, "will make you happy and want to dance." It does. After a while, the sensual strains of salsa give way to the Afro-Latin beats of a band whose 10 members swarm the stage and fill the room with marimba and clarinet, conga and rain stick. Many fist-pumps later, you head outside and point a cab in the direction of your gold-plated retreat, the streetlights seeming to dim as you pull away.
DAY TWO | With nearly 2,000 miles of coastline, thick jungles and fertile plains, Colombia is home to a dizzying array of species—many of them edible. So it's fitting that you start your day at the Plaza de Mercado de Paloquemao, Bogotá's bustling central marketplace. You head there with Andrei, your guide from ToursByLocals, to gape at swinging sides of beef, heaps of wide-eyed fish and stupefying quantities of fruit—spiky green guanabanas, bright orange lulos and luscious little uchuvas, perfect for snacking. You buy some for later.
Breakfast is at a modest counter in the middle of the marketplace. You examine containers of colorful liquids and pick jugo de mora—a heavenly blackberry juice—then order arepa con queso, a cornmeal flatbread stuffed with a traditional mild white cheese. Afterward, with a wave of his arm, Andrei signals that it's time you hit the road for the Catedral de Sal at Zipaquirá, 30 miles away.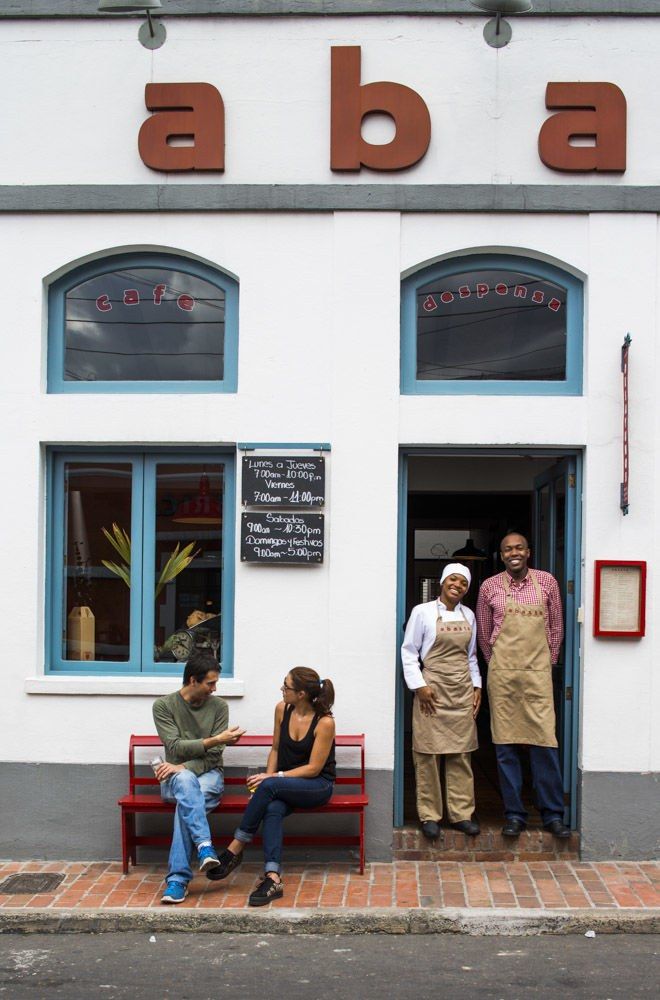 Friendly folks have a chat outside Abasto
The city gives way to verdant savanna hemmed in by hills. Soon, the car starts on a steep climb toward the storied salt cathedral. From the hilltop, you descend a concrete slope into dark passageways dug out of halite rock. The tunnels are lined with recesses bearing blue-lit crosses. After a while, you emerge into several cavernous, rough-hewn chambers filled with pews and religious carvings. Crystals of salt cascade down the walls, alongside pick and chisel marks. Created in the 1950s as a chapel for workers in adjacent salt mines, the cathedral was reengineered in the 1990s and now claims a top spot among Colombia's tourist attractions, drawing tens of thousands of visitors a month.
Under a warm sun, you descend from the hill into Zipaquirá, described by Gabriel García Márquez—who went to high school here—as a "frozen town." (Originally from the tropical coast, the author couldn't abide the cooler Bogotá climate.) In a central plaza bordered by white stucco, blue balconies and red roof tiles, you enter the towering 19th-century cathedral, whose intricate, domed interior is bursting with worshippers. A few old dogs lie on their sides in the aisles, enjoying mass along with the throng.
Heading back to Bogotá, you stop for lunch at Andrés Carnes de Res in Chía, a restaurant known for its flea-market décor and all-night dance parties. You sit beneath a metal cage that contains naked mannequins, inhaling the scent of sizzling steak. You choose the chicken kebab with onions, peppers and bacon-wrapped prunes, which comes with potatoes the size of grapes and three traditional sauces. You favor the picante, which you apply liberally. As an antidote, you order a Pony Malta, a soda with a deep molasses flavor so good you worry it might be habit-forming.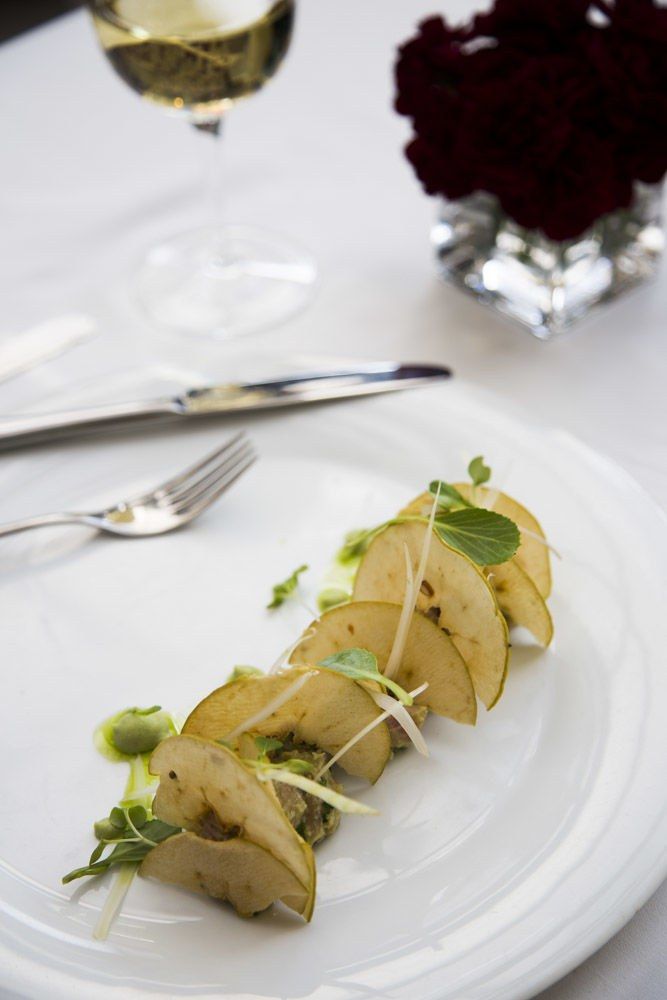 Smoked tuna with wasabi mayonnaise, avocado, fennel and dried apple at Matiz
It's midafternoon and drizzling as you reenter the city, but you decide to scale Monserrate anyway. You're dropped off in Candelaria and trek up the hill to a cable car station. A few minutes and a couple of ear pops later, you're at the summit. At 10,341 feet above sea level, Monserrate has its head in the clouds; they cling to the peaks and drift across the rooftops before tumbling down toward Bogotá, which extends in its entirety before you. You climb the steps to the monastery, whose sharp white spire keeps vigil over the city, and gaze for a while in wonder, the murmur of the wind and thescent of ozone lulling you perilously close to sleep.
The return to street level brings you back to your senses. You grab a cab and direct the driver to the B.O.G. Hotel, in the stylish Zona Rosa district, famed for its nightlife and swank malls. Bogotá's first Design Hotel, B.O.G. is a kind of geometric artwork, tinted with emerald and gold (a nod to the country's natural resources). Your room, with its muted tones and downy pillows, does not make it easy to embark on a night on the town, but you need to eat, which you'll be doing tonight at Central Cevichería, a 10-minute walk away.
A lively place of patios and wood accents, Central has a lot more up its sleeve than marinated raw fish. You have a grilled octopus salad, sea bass with yellow potatoes and creamy (yes, creamy) ceviche with sweet plantains, accompanied by plenty of mojitos and topped off with coconut flan. You have a look at the pretty little fish market next door before heading back to your hotel, seafood occupying your thoughts and your stomach, to swim into that pile of pillows.
DAY THREE | You present yourself at Taller de Té—an atelier/café in a converted 1950s garage on a quiet street in the Chapinero Alto district—with a bit of a groggy head (the altitude, you think). Owner Laura Cahnspeyer makes you a cup of coca tea, then warms an empanada stuffed with leeks, carrots and quinoa and serves it with olive oil and crushed chili, followed by more tea: milky Masala and complex Assam. You feel much better.
Having learned at the hands of the masters in Darjeeling, Cahnspeyer has dared to peddle tea in the land of Juan Valdez, and locals have been lapping it up. Formerly a pastry chef at the Four Seasons in London, she now works with Bogotá's trendiest bars and restaurants to concoct tea infusions for fruit drinks, cocktails and desserts. "Before I work with a restaurant," she says, "the owner has to come here and have tea with me."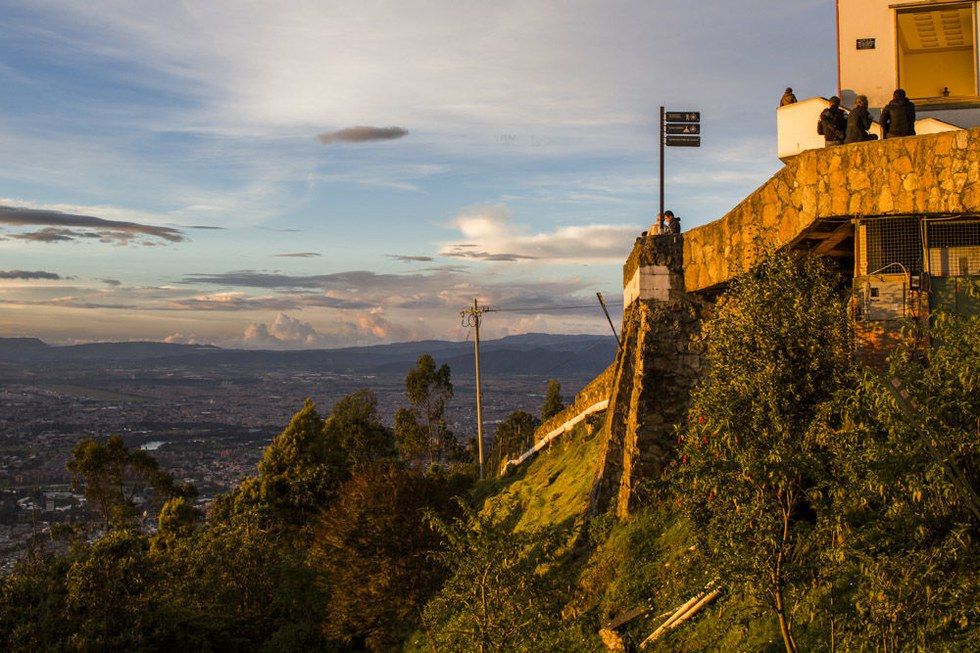 Mount Monserrate
Reluctantly, you relinquish your cup and cab it to Bogotá's Jardín Botánico José Celestino Mutis, nearly 20 acres of lush foliage near Parque Simon Bolívar. There are magnolia blossoms here the size of cabbages, elephantine palm trees, beds of lemongrass and mint and rue. It's a splendid place to rehabilitate, but you've reserved a spot on the Bogotá Graffiti Tour, which leaves from central Candelaria. You join a small cluster of backpackers and follow Aussie expat Christian Petersen, the tour's founder and an artist himself. "Street art in Bogotá is prohibited, not illegal," he says, describing a rather murky distinction that has nonetheless allowed the practice to thrive.
With Petersen leading the way, you wend your way up steep alleys and calles, passing the works of artists with names like Stinkfish and Toxicómano, along with bars, jewelry shops and tattoo parlors. At the top of one alley is the circular Plaza del Chorro de Quevedo, with its famous fountain, and the Callejón de las Brujas ("alley of witches") with its murals of many-eyed monsters and painted Madonnas. The group stops before a candy-colored work by Barcelona native Pez: a trio of wide-eyed, smiling backpackers in the forms of a rabbit, a reptile and a pig. Looking yourself and your fellow travelers over, you think he pretty much nailed it.
Suitably edified, you head north to Usaquén, an area of cobblestone streets and upscale shops that in previous times provided a rural backdrop for the haciendas of the rich. You're having lunch at Abasto, near the old plaza, a restaurant renowned for its elegant simplicity. You sip uchuva juice and order an antipasto of roasted vegetables and local cheeses, which includes paper-thin slices of zucchini and tiny onions caramelized with raw sugar. Before you leave, you visit the bodega in back and buy a jar of exotic fruit jam to take home.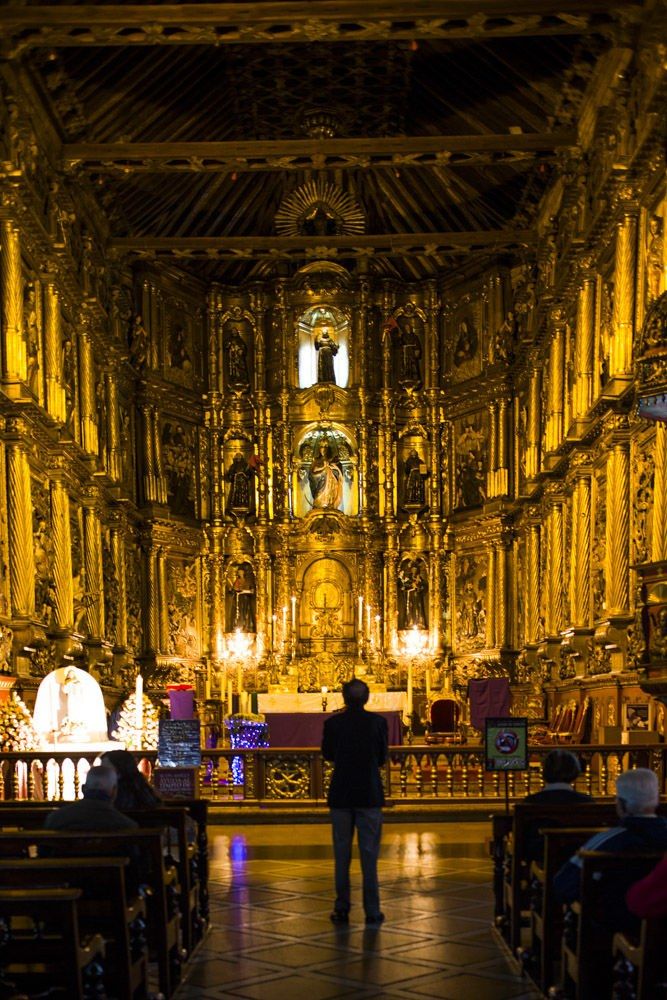 The magnificent interior of the Iglesia de San Francisco
Your next stop is the Hacienda Santa Barbara, an expansive mall housed partly in an old Spanish mansion. Your inner conquistador leads you to L.A. Cano, which sells fine reproductions of pre-Colombian jewelry. You also stop at Acuaró Arte & Artesanías, with its striped sombreros, and Colcraft, where exquisite Wayuu bags, crocheted by the tribe of that name from the arid North, employ a muted palette suited to modern wardrobes.
Next, you catch a cab to Calle 79b in Zona Rosa, a narrow street of antiques shops selling everything from large weathered doors to delicate crystal. You've come to see Bolívar Old Prints, with its profusion of musty maps and books and pricey Simon Bolívar prints, to which clerks Christelle and Camilo allow you to get dangerously close. They open a priceless book and let you touch its pages, thin as butterfly wings, and take you in the back to see a stunning, half-finished drawing of Bolívar by an artist of some renown. It's one of your favorite things in the whole city.
Tonight you're dining at Matiz, in the leafy, boutique-y neighborhood of Parque de la 93. You try the tasting menu of chef Nicolas Quintano, who introduces each course with a movie-star smile. There are little piles of sea scallops in garlic and chili, tuna tartare with plantain, caramelized carrot ravioli with warm pickled lemon, and short ribs that have been cooked for two days. The Shiraz and the Malbec are magnificent, but the small mounds of banana soufflé, jellied fruit and sherbets take you over the top, and you stumble a bit heading back to the hotel.
Before turning in, you nip up to the rooftop bar for a last look at the city. Warmed by the flames of gas heaters, bathed in the blue reflections of a long, sleek pool, you watch a smiling couple sip cocktails with Bogotá twinkling in the background, and get the sense that history may have finally made peace with this abiding, abidingly beautiful place.
Janet Hawkins is a New York–based writer, editor and teacher, and a frequent visitor to Colombia. She misses having a personal butler.
This article was from Rhapsody Magazine and was legally licensed through the NewsCred publisher network.
Around the web
Jessica Kimbrough, currently Labor Relations and Legal Strategy Managing Director, will take on the new role of Chief Diversity, Equity and Inclusion Officer Managing Director.
Jessica assumes this new and expanded position to focus on global inclusion and equity as part of our enhanced commitment to ensure best practices across the business to strengthen our culture.
In this role, Jessica will be responsible for helping United redefine our efforts on diversity, equity and inclusion – ensuring that our programs and approach are strategic, integrated and outcome-oriented, while we continue to build a culture that reflects our core values. She will report to Human Resources and Labor Relations EVP Kate Gebo.
"Jessica's appointment to this role is another critical step our executive team is taking to ensure diversity, equity and inclusion remains a top priority at United," said CEO Scott Kirby. "Given her drive, experience and commitment to champion collaboration and allyship among our employee business resource groups, she is uniquely qualified to take on this position and I look forward to working closely with her."
As Labor Relations and Legal Strategy Managing Director, Jessica worked closely with senior management to create and maintain positive labor relations among our unionized workforce, providing counsel on labor litigation, negotiations, contract administration, organizing issues and managing attorneys who represent United in labor relations. Previously, she served as Labor and Employment Counsel in our legal department.
Jessica has a passion for creating a pipeline of diverse lawyers and leaders, and was honored as one of Chicago Defender's "Women of Excellence" for excellence in her career and civic engagement in 2017. She currently serves as President of uIMPACT, our women's employee business resource group.
Jessica's new role is effective immediately.

By working together and strengthening partnerships during these unprecedented times, our global community has overcome challenges and created solutions to keep the global supply chain moving. As COVID-19 continues to disrupt the shipping landscape, United and our industry partners have increasingly demonstrated our commitment to the mission of delivering critical medical supplies across the world.
United Cargo has partnered with DSV Air and Sea, a leading global logistics company, to transport important pharmaceutical materials to places all over the world. One of the items most critical during the current crisis is blood plasma.
Plasma is a fragile product that requires very careful handling. Frozen blood plasma must be kept at a very low, stable temperature of negative 20 degrees Celsius or less – no easy task considering it must be transported between trucks, warehouses and airplanes, all while moving through the climates of different countries. Fortunately, along with our well-developed operational procedures and oversight, temperature-controlled shipping containers from partners like va-Q-tec can help protect these sensitive blood plasma shipments from temperature changes.
A single TWINx shipping container from va-Q-tec can accommodate over 1,750 pounds of temperature-sensitive cargo. Every week, DSV delivers 20 TWINx containers, each one filled to capacity with human blood plasma, for loading onto a Boeing 787-9 for transport. The joint effort to move thousands of pounds of blood plasma demonstrates that despite the distance, challenges in moving temperature-sensitive cargo and COVID-19 obstacles, we continue to find creative solutions with the help of our strong partnerships.
United Cargo is proud to keep the commercial air bridges open between the U.S. and the rest of the world. Since March 19, we have operated over 3,200 cargo-only flights between six U.S. hubs and over 20 cities in Asia, Australia, Europe, South America, India, the Caribbean and the Middle East.
A message from UNITE, United Airlines Multicultural Business Resource Group
Fellow United team members –
Hello from the UNITE leadership team. While we communicate frequently with our 3,500 UNITE members, our platform doesn't typically extend to the entire United family, and we are grateful for the opportunity to share some of our thoughts with all of you.
Tomorrow is June 19. On this day in 1865, shortened long ago to "Juneteenth," Union soldiers arrived in Galveston, Texas, to announce that the Civil War had ended and all enslaved individuals were free. For many in the African-American community, particularly in the South, it is recognized as the official date slavery ended in the United States.
Still, despite the end of slavery, the Constitutional promise that "All men are created equal" would overlook the nation's Black citizens for decades to come. It wasn't until nearly a century later that the Civil Rights Act (1964) ended legal segregation and the Voting Rights Act (1965) protected voting rights for Black Americans. But while the nation has made progress, the killings of Ahmaud Arbery, Breonna Taylor and George Floyd have made it undeniably clear that we still have a lot of work to do to achieve racial parity and inclusion.
Two weeks ago, Scott and Brett hosted a virtual town hall and set an important example by taking a minute, as Brett said, "to lower my guard, take off my armor, and just talk to you. And talk to you straight from the heart."
Difficult conversations about race and equity are easy to avoid. But everyone needs to have these conversations – speaking honestly, listening patiently and understanding that others' experiences may be different from your own while still a valid reflection of some part of the American experience.
To support you as you consider these conversations, we wanted to share some resources from one of United's partners, The National Museum of African American History and Culture. The museum will host an all-day Virtual Juneteenth Celebration to recognize Juneteenth through presentations, stories, photographs and recipes. The museum also has a portal that United employees can access called Talking About Race, which provides tools and guidance for everyone to navigate conversations about race.
Our mission at UNITE is to foster an inclusive working environment for all of our employees. While we are hopeful and even encouraged by the widespread and diverse show of support for African Americans around the country – and at United - we encourage everyone to spend some time on Juneteenth reflecting on racial disparities that remain in our society and dedicating ourselves to the work that still must be done to fight systemic racism. By honoring how far we've come and honestly acknowledging how far we still must go, we believe United – and the incredible people who are the heart and soul of this airline - can play an important role in building a more fair and just world.
Thank you,
UNITE (United Airlines Multicultural Business Resource Group)
Leadership Team
Together, we are facing an unprecedented challenge. United Together, we rise to meet that challenge.
Learn more
United Airlines
united
New route: Chicago - Tel Aviv Increased service: New York/Newark - Tel Aviv Welcome back: Washington Dulles - Tel Aviv We operate more nonstop service between 🇺🇸 and 🇮🇱 than any other U.S. airline. Learn more about our expanded September schedule:
uafly.co/2BDSXdq
United Airlines
united
Our NRT United Club team recently showed what
#BeingUnited
is all about when they donated food to the greater Narita Health Welfare Center. Take a look at the results of the collective efforts across our system here:
uafly.co/2YUtDbL
United Airlines
united
Flights booked now through July 31 can be changed for free over the next 12 months to allow for additional flexibility. All existing travel can be changed without fees as well. See waiver for details:
uafly.co/2M9vgLC
United Airlines
united
We fly proud year-round and we bring our true selves to work every day. Hear from LGBTQ individuals in our workforce, who've fought for a more inclusive world: Agents Analysts Flight Attendants Pilots Technicians Leaders They are who we are and we support them.
#UnitedPride
We Are United
weareunited
Our inaugural flight to Chicago from Toyko Haneda coincided with the annual Japanese celebration known as "Tanabata" or "Star Festival." The
#BeingUnited
team at HND placed their wishes on bamboo trees before the flight departed for ORD.
We Are United
weareunited
After years of planning, the new
#BeingUnited
catering kitchen at EWR is open. With over 190,000 square feet, it's 40% percent larger than the previous kitchen, sized to meet future demand through 2040.
Watch our most popular videos
Flying UCSF Medical Workers to New York
This is why we fly.
20 UCSF Health workers, who voluntarily set aside their own lives to help save lives, are on their way to New York City.
We are humbled by your selfless sacrifice.
Thank you.
#UnitedTogether #UCSFHeroes
A happy, Hollywood ending
This is the story of Jason and Shantel. You see, Jason and Shantel love each other very much. They also love traveling and they love the classic Adam Sandler film, The Wedding Singer.
It all began when Jason reached out to United's social media team, hoping for assistance with his upcoming plan to propose. Some phone calls and one borrowed guitar later, the stage was set for Jason. Put all that together, mix in some helpful United employees and, voila, you have a truly memorable marriage proposal. Congratulations to this fun-loving and happy couple, and here's to many more years of making beautiful music together.
A big thank you to Chicago-based flight attendants Donna W., Marie M., Karen J. and Mark K. for making this proposal come to life.
Copyright © 2020 United Airlines, Inc.
All rights reserved.
Indicates an external site that may or may not meet accessibility guidelines.
Scroll to top
Scroll to top