Three Perfect Days: Chengdu
Story by Benjamin Carlson | Photography by Algirdas Bakas | Hemispheres, June 2014
Chengdu has always been known for its easy, some might say lazy, pace of life. Even its nicknames connote a life of leisure: Brocade City, Hibiscus City, Perfect City. Migrants from Beijing and Shanghai quip that the locals don't so much walk as mosey.
Even as an infusion of government investment has caused the city to blossom into an economic powerhouse, drawing Fortune 500 companies deep into the misty mountains of Sichuan, Chengdu has retained its reputation for prizing the finer things in life. People here may work as hard as their brethren in China's frenetic eastern and southern metropolises, but they also make time to while away an afternoon drinking tea, playing mah-jongg or dancing in a park.
Chengdu is best known, however, for its food: the mouth-numbing peppercorns, the blood-red Sichuan hotpot, the streetside "little eats." It's also the kind of place where you can spend the afternoon having your chi retooled at a luxury spa and attend an indie rock show before turning in.
Welcome to the New China.
DAY ONE | Dawn seeps through the shades of your 40th-floor suite at the Ritz-Carlton. Opening them with the push of a button, you gaze out at the city. Below lies Tianfu Square, the heart of the provincial capital. To the north, Chengdu's rambling suburbs vanish into the enveloping fog. You peer through a telescope and see shadowy masses on the horizon, where the basin of Chengdu's valley rises into low hills.
The Ritz-Carlton takes inspiration from Sichuan culture, with a new-money spin. In your room, you sip tea in a calfskin armchair below a three-legged Ding sculpture—an ancient symbol of power and unity. From here, you head for the hotel's sunlit Club Lounge. You'll be plunging headfirst into Chengdu's fiery cuisine today, so you keep breakfast light: muesli, dragon fruit and salmon. Seduced by the lounge's stunning downtown panorama, you linger longer than you intended.
Young monk Long Chen plays ping-pong in Wenshu Temple;
Down below, you hail a taxi to take you to Wenshu Monastery, one of Chengdu's most lovingly preserved places of worship. After a short ride past broad Tianfu Square, presided over by a giant Mao statue, you arrive at the Tang dynasty (A.D. 618–907) temple. Alongside day-trippers and worshippers, you pass through a gate into a maze-like garden that takes you to the major shrine, Manjushri bell tower, which is surrounded by bonsai trees and people snapping smartphone pics. You watch a woman in a pink fur jacket bow four times before a dragon-footed urn, the newly blossomed cherry trees ringing with birdsong.
From here, you enter an inner courtyard where two young monks in robes volley a ping-pong ball under the gaze of an elder. When one hits the ball wide, disturbing an adjacent game of badminton, the stern elder leaps up, takes the paddle and begins spiking the ball at his young charge.
Outside, down a dusty alley ringing with the music of a busker playing a Chinese violin, you dart into a noodle shop famous across Chengdu as the place to sample a local specialty: tian shui mian, or sky-water noodles. The name of the eatery, Dongzi Kouzhang Lao'er Liangfen, literally means "Hole Gaping Mouth Second Son's Bean-Starch Noodles." It's a truly local joint, known for the boisterous social quality the Chinese call "hot noise."
You line up behind several old ladies in caps and slacks who squabble over stools at the communal wooden tables. As you place your order, the server behind the counter smiles and says, "Eat slowly!"—an expression that roughly corresponds to "Bon appétit!" You guzzle a bowl of thick-cut noodles in sweet sauce and chili—one of a dozen specialties any taxi driver will rattle off when asked about his favorite local dishes. At 6 yuan ($1) it's a delectable and impossibly cheap treat.
Sky–water noodles at Dongzi Kouzhang Lao'er Liangfen
You consider a second helping, but think better of it and head down neighboring Jinma Street for some antiques shopping. Beyond stalls selling old paper money and silver coins, there's a wide lot on which traders have spread blankets littered with Buddhist prayer beads, Maoist posters, marble lions, jade bangles, erotic paintings and abacuses strung together with wire. A vendor quotes you 100 yuan for a vintage magazine and you shake your head no.
Next, you continue down Jinma, passing a traditional Chinese medicine shop where a cat swishes its tail next to baskets of gnarled ginseng roots. Next door, old-timers lounge in creaking bamboo chairs and chew sunflower seeds. You weave around a family's mah-jongg table and hail a cab back to the hotel, where you have a very important appointment to make.
How better to spend an afternoon in China's relaxation capital than by having your yin and yang recalibrated at a luxury spa? For an hour, you enjoy a tea-themed therapeutic massage that claims to do just this. Then you have your scalp kneaded amid the fragrance of burning moxa herbs. By now you are feeling very relaxed, very balanced, and also a bit hungry. So you freshen up, waft through the hotel's marble lobby, then take a 10-minute cab ride south to Yunmen Emerald Conceptual Restaurant.
A panda at the Research Base of Giant Panda Breeding
Yunmen is known for serving imaginative cuisine, but it's no slouch in the décor department, either. You pass a magazine rack resembling a lamb and enter a private dining room, where a waiter brings Kobe beef with pulverized black truffle and a dish of salmon-papaya mousse accompanied by bubbling sour cream and dry ice. The food is tasty, but it's the presentation that wows you: a mango sliver arrives at your table in a hollow eggshell.
You end the evening at the Ritz-Carlton's Flair bar. From a perch on the 27th-floor terrace, you nibble seaweed-wrapped crackers and crispy red pepper. Your cocktail arrives: a concoction of chrysanthemum gin and hibiscus syrup garnished with an orchid. In the distance, the Sichuan TV tower—glowing blue, green and indigo in the misty Chengdu night—seems to be sending you a message: bed, bed, bed.
DAY TWO | No visit to Chengdu would be complete without pandas. To catch them, however, you need to rise early. Wakened by a call from your butler (heh), you take a brisk three-minute walk from the hotel to the Uno Mall, where you buy a large cup of joe and a warm blueberry muffin at the new Pacific Coffee—a popular Hong Kong chain reliable for the strength of its brew.
Feeling marginally less comatose, you take a taxi 40 minutes into the northern suburbs, home to some of the cutest animals on the planet. Though cab drivers here, as everywhere, make a habit of moaning about the traffic, Chengdu's expensively assembled infrastructure makes driving a breeze compared to the crushing congestion of cities like Beijing, and you arrive at your destination right on schedule.
Saturday tai chi practice in People's Park
With 80 percent of the world's 1,500 wild pandas living in Sichuan province's misty bamboo forests, the Chengdu Research Base of Giant Panda Breeding has established itself as one of the leading institutions of its kind. You arrive to the sound of distant peacocks hooting "Hello! Hello!" A woman at the information desk points you down a winding path. "Hurry!" she says, and you're about to discover why.
You come to an enclosure, a grove of arcing bamboo plants containing four pandas, who are just about to dig into breakfast. One tubby little fella sits on his haunches plucking bamboo and quietly munching. A baby panda lolls on a tree branch, seemingly unable to control its limbs. As it squirms, a male visitor shouts, "What are you trying to do?" Another cub rests in the crook of a ficus bough like a furry loaf of bread. "I've never seen them so active!" coos a woman.
Walking on, you enter the red panda enclosure, where the raccoon-size animals roam freely, coming so close to one woman that she scampers away, yelping, "I'm scared!" You crouch down, staying very still as the diminutive but big-clawed creature struts past your leg.
Thoroughly content, you head back to town, where you'll be eating at the century-old lunch spot Chen Mapo Tofu. Taking a seat beneath hanging red lanterns amid a clatter of chopsticks, you order liang mian (cold noodles) and one of Chengdu's signature dishes, mapo tofu. As you order, a nearby local man gives you an approving thumbs-up. The tofu comes to the table sizzling in an iron pot, smelling of spring onions and earthy peppercorns, accompanied by a pile of crushed Sichuan chilis. You order an extra bowl of rice.
A vendor prepares sweet steamed cakes
Reeling happily from the fire in your belly, you make a beeline for the delightfully boisterous People's Park, where throngs of locals are engaged in various activities: running, stretching, kite flying and even synchronized waltzing. To your right, you marvel at the scene of elderly parents seeking mates for their adult children. Like an analog OkCupid, they hawk sheets of paper advertising the heights, weights, blood types and Zodiac signs of their unmarried sons and daughters.
You stop at the park's Heming Tea House, which has a nice view of a small lake, and order a glass of jasmine blossom tea with rock sugar and dates. On impulse, you wave down one of the numerous roving ear cleaners, who goes to work on your canals with long metal tongs and cotton swabs. As the cleaner probes, you decide this is perhaps an experience you need to endure just once.
It's time to brush up on your local history, which you'll be doing at the Wuhou Shrine—famous for its monuments dating back to the Three Kingdoms period (A.D. 220–280). At the end of a gingko-lined promenade, you are greeted by a statue of a benevolent-looking Liu Bei, an ancient king, and the master strategist Zhuge Liang, who holds a feather fan and has frighteningly long fingernails.
From here, you enter Jinli Ancient Street, a winding, tourist-heavy thoroughfare lined with stalls selling Chengdu snacks (skewered quails and, for real, fried rabbit heads). The aroma of the aptly named stinky tofu drives you down an alleyway crammed with bars and coffee shops. Here, you slip into the popular restaurant Se Xiang Wei Little Eats for that most local of local snacks—dan dan mian, or "street vendor's noodles." You get a bowl of thin springy noodles served with chili, pickled onions and savory ground pork—a favorite across China. Mindful of your next stop, you leave some room.
Zi Fei garden in the afternoon
Dinnertime brings you to a new wing of the historic Jinjiang Hotel, where the Michelin-starred chef Christophe Dufossé offers haute French cuisine to spice-numbed local palates at Jinyue. Inside, smooth waiters greet you with "Bonsoir" and you settle down to an extraordinary dinner of codfish, creamed pumpkin and pear tart encased in a caramel-colored chocolate shell.
After bidding the waiters "Bonne nuit," you return to the Ritz-Carlton and pause for a post-dinner whiskey at the Lobby Lounge. As a local singer warbles Ella Fitzgerald covers, you look over at the distant hills and imagine, for a moment, that at the top of every one is a sleeping panda. You drink up and head off to the second hotel of your stay, the new Diaoyutai Boutique Hotel, where you too are soon asleep.
DAY THREE | You wake up in a sumptuous suite to a glorious view over Kuanzhai Alley, Chengdu's most beautiful and atmospheric street. Outside is a landscape of clay-tiled roofs and upturned eaves. It looks like a scene from the time of the Qing dynasty, and in a way it is—though heavily renovated, Kuanzhai preserves the atmosphere of the 18th century.
Yesterday's rich, spicy food is still very much with you, so you skip a sit-down breakfast and knock back a chocolate croissant from the in-house bakery. Munching, you pass through the Diaoyutai's courtyard—a fusion of sleek French design and classical Chinese flourishes—and head outside to hail a cab to take you to your first stop of the day, located 30 minutes away in Tianfu New District.
Sichuan opera at Shu Yun Li Yuan
Opened last summer, the New Century Global Center is billed as the largest building in the world. Glistening and curvaceous, it looks as though it should be the largest building on Mars. So large is the mall, in fact, it takes you 15 minutes just to locate an entrance. Eventually you find one and are immediately confronted by a dizzying array of amenities: a skating rink, a water park, an IMAX theater and a faux beach with a 500-foot cinematic sky.
You ride up a 200-foot escalator, arriving at the top in time to see a poodle lifting its leg on one of the mall's artificial palm trees. You cross a plexiglass bridge, upon which a bunch of teens tell each other to "Go on! Fall!" Others cling to the handrail and shuffle their feet across the transparent floor. A macho middle-aged man stamps on the plastic to show off for his friends.
Your senses thoroughly assaulted, you leave the mall and head south for a stroll through the serene Tiexiang Temple Riverfront, a model of attractive urban development that contrasts with the concrete apartment blocks that surround it. On the riverfront, you find A Thousand Plateaus Art Space, the hub of Chengdu's thriving contemporary art scene, where you take in the stunning paintings of Qi Lan, one of which alludes to Cézanne's famous haystack obsession with a flurry of chaotic brushwork.
For lunch, you return to the Diaoyutai, whose KZ Restaurant and Grill has tables in a sunlit courtyard, where you settle down for a meal of excellent sushi. The Filipino chef whips up wasabi two ways—runny and thick—and adds dashes of numbing spice to the tuna roll. Warned in advance to save room, you sample the Sichuan beef and chili loaf, a crispy and pungent bread best eaten with the red chili spread.
A Thousand Plateaus Art Space
Next, you return to Kuanzhai—meaning "broad and narrow"—Alley for deeper exploration. Hearing the clang of a hammer, you pause to watch a silversmith beat a bracelet on the sidewalk. Cantilevered roofs and vine-covered brick walls form a backdrop for vendors selling silks, opera masks, feather fans, shadow puppets and Zodiac figurines of rats, rabbits and snakes.
From here, you head to Shu Yun Li Yuan, the city's oldest tea-house theater, to take in a Sichuan opera. A waitress guides you to your seat and takes your order: a cup of green bamboo tea. Onstage, a woman in red robes plucks a lute as mist shrouds the stage. True to 18th-century tradition, the show includes such features as a bearded clown, women with peacock headdresses, elaborate dance routines, stylized masks and lots of falsetto singing. The show is mesmerizing and confusing in equal parts, and you thoroughly enjoy it.
Afterward, you make the short walk to Zi Fei, a restaurant specializing in dishes that allude to Chinese sayings, folklore and symbols. You enter through a long corridor lined with Zodiac-themed statues, then sit down to a meal that starts with an actual tree branch adorned with flowers made of savory dough, accompanied by beef and green beans. The waitress explains the dish's symbolism, but you are too busy being bemused to take it in. The food, incidentally, is delicious.
Jinli Ancient Street at night
It's your last evening in Chengdu, and you decide to go out with a bang. To do this, you head for the city's popular entertainment district, Lan Kwai Fong. Here, you duck into a low-key bar thick with cigarette smoke called the Nuremberg Germany Brewery. Onstage, a dreadlocked bass player is joined by a head-banging female singer who proceeds to belt out a grungy cover of Maroon 5's "This Love." Using a combination of hand gestures and grins, a trio of locals invites you to share their watermelon and mango platter, which strikes you as both weirdly random and very sweet.
Leaving the bar, you walk along the Brocade River, the surface of which reflects sweeping searchlight beams of blue and white. This makes you think: The restless search for the good life that consumes much of China seems different here, less furious, as if you don't have to look so hard. Near the hotel, you stop and chat with a man who says he plans to make a journey through Southwest China but keeps putting the trip off until tomorrow, tomorrow, tomorrow.
"I like being stuck in Chengdu," he says.
Benjamin Carlson, a Beijing-based writer, categorically denies that he smuggled a baby panda home in his suitcase.
This article was written by Benjamin Carlson from Rhapsody Magazine and was legally licensed through the NewsCred publisher network. Please direct all licensing questions to legal@newscred.com.
The latest updates for New York/New Jersey
Hard to believe spring is around the corner, and if you're like me that means starting to think about our family travel plans. Highlighted below are a few ways we are working hard to help make your journeys faster, easier and better in the months ahead.
Improving your experience at our airports
We're excited to move into the new Terminal B at LaGuardia later this year. This is a world-class state-of-the-art facility with fabulous local dining and shopping options such as District Market, Kingside, Shake Shack and FAO Schwarz. Our United Club℠ location will also now be located after security to help you comfortably settle in before your flight.

At Newark Airport, United and our partner, the Port Authority, are working together to improve your experience by adding more pods for nursing mothers; new, larger restrooms; and this summer, an expanded TSA checkpoint that shows expected wait times.
Growing our network and fleet

This summer, we are introducing new seasonal nonstop flights to Naples and Prague and offering the return of great destinations such as Nantucket, Massachusetts, and Rapid City, South Dakota, for an easy trip to the Badlands and Mt. Rushmore.

Additionally, through April, we'll continue to fly nonstop from Newark to Palm Springs. And on March 30, we'll begin flying our brand-new Boeing 787-10 Dreamliner to Dublin, Frankfurt and Tel Aviv, with Barcelona, Brussels and Paris routes to follow this summer.
Investing in our community
United has been serving the New York/New Jersey area for almost 100 years and giving back to our community continues to be a steadfast commitment from the United family. We are proud to announce new partnerships including the Intrepid Sea, Air & Space Museum in Manhattan, the Trevor Project, and the Aviation High School in Queens. This year we'll also continue cheer on runners as the official sponsor of the New York Half Marathon on Sunday, March 17, and are proud to have representatives from Special Olympics running alongside of United employees.
Newark is also featured as the Three Perfect Days destination in the latest issue of Hemispheres, so you can learn about great restaurants and cultural institutions that don't even require a flight to visit.
Thank you for choosing United

In Greater New York, we know you have many choices of carriers to fly, so from our family to yours — thank you. We appreciate your loyalty and welcome your feedback. Hearing from you is important to us, so please continue to send your thoughts and ideas to me at JillKaplan@united.com.

Arizona's outdoors in the spring
This may be the best time of year to visit Arizona — and not just for relaxing by the pool. Smart travelers flock to the state in May, June and July for hotel rates that are often lower than the peak-season rates paid by winter "snowbirds" from northern states. But resort bargains and swimming-pool temperatures aren't the only reasons to visit Arizona at this time. There are also plenty of outdoor opportunities to enjoy, as long as you choose the right activities, locations and time of day to get out.
Desert Dawn peak climbs
Residents of Phoenix and Tucson who like to get outdoors in late spring and early summer know they can best enjoy short hikes by rising early. The busiest time on the trails is before 8 a.m. The most popular hiking paths in Phoenix and Scottsdale climb iconic mid-city peaks, which span from the desert floor up to panoramic views at the top. The hikes up Camelback, Piestewa and Pinnacle Peaks are all wonderful, well-marked and popular — each taking less than two hours roundtrip. In Tucson, the best short hikes are in Sabino Canyon and Saguaro National Park on the outer rim of the city.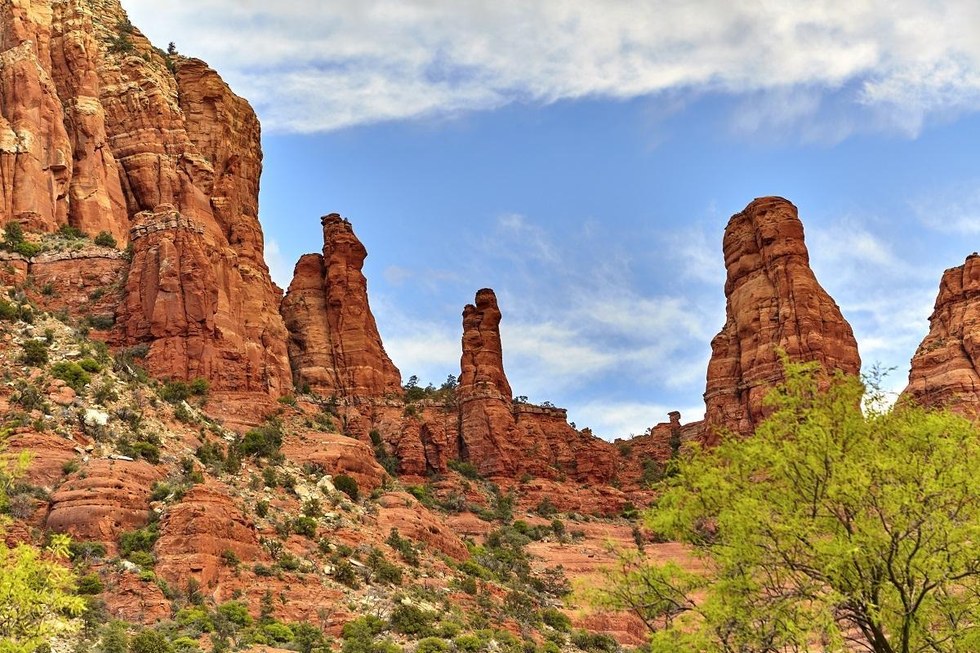 Hikes in the mountains

Phoenix and Tucson visitors who aren't early risers or who don't want to settle for short hikes can drive to spots where the temperatures and mountain vistas are similar to those in Colorado. Only a two-hour drive from Phoenix, you can head to Sedona, with an altitude of about 4,300 feet, or Flagstaff, with an altitude of about 6,900 feet, where the higher elevations mean much lower temperatures. Sedona has some of the world's most dramatic day hikes among its stunning red-rock formations, while Flagstaff offers mountain hikes that soar up to 12,600 feet, such as Humphries Peak Summit Trail. From Tucson, the usual triple-digit temps drop to the 60s during the twisting, 90-minute drive up 9,157-foot Mt. Lemmon. Trails through the sub-alpine forest await hikers at the summit.
Paddle the Verde River
Another good way to beat the Arizona heat is to get splashed by cool water — but not just in your resort pool. You can also take a dip in the Verde River in an inflatable kayak. Verde Adventures hosts guided trips down the river through the end of summer. You'll paddle through narrow limestone canyons and float past hardwood forests on the shallow river, which has plenty of tame rapids that are just adventurous enough to please both the thrill-seekers and the mild-adventurers. You can choose between a kid-friendly two-hour tubing trip or half-day inflatable kayak trip, or enjoy the Water to Wine Tour with an adult companion, which ends with a tasting at Alcantara Vineyards. You'll be driven the short distance to the river from Cottonwood or Clarkdale, both less than a two-hour drive from Phoenix.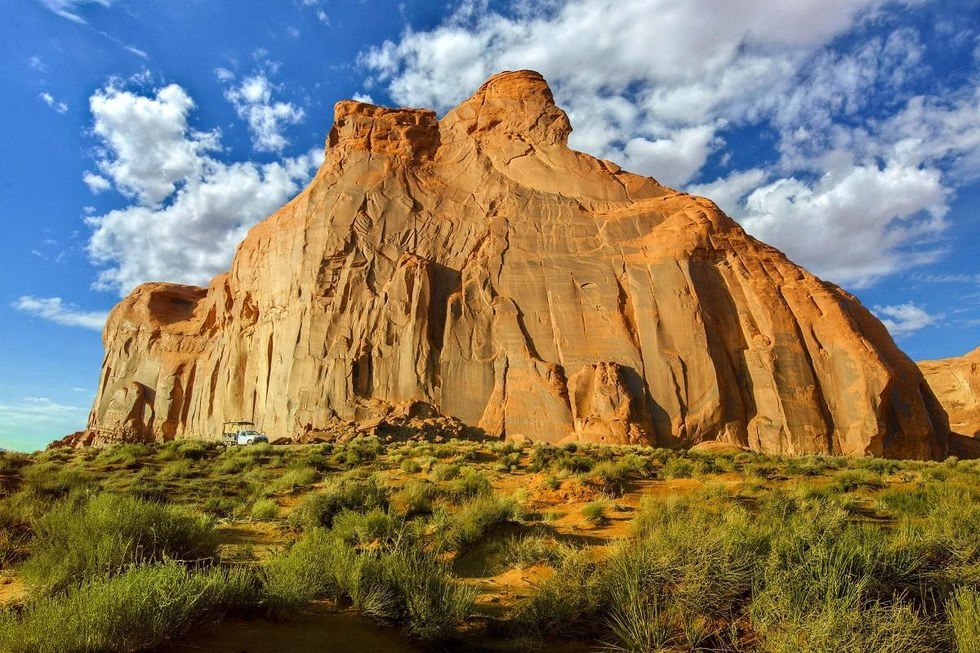 Jump in a Jeep

Following along the dusty dirt roads that rim the edges of Phoenix, Scottsdale, Tucson and Sedona, the Jeep tour is a classic option for visitors to Arizona. The 4x4 Jeep probably won't be air-conditioned, but the wind and Arizona's rich red earth will be in your hair. Less adventurous options include tours in enclosed Hummers or vans. After bumping along scenic back roads for miles, many Jeep tours offer a "cowboy cookout" at a pretty spot in the desert or mountains before you return to civilization. From Phoenix, Scottsdale or Tucson, most Jeep tours venture into the Sonoran Desert, while Sedona Jeep tours bring you up close to its renowned red-rock formations.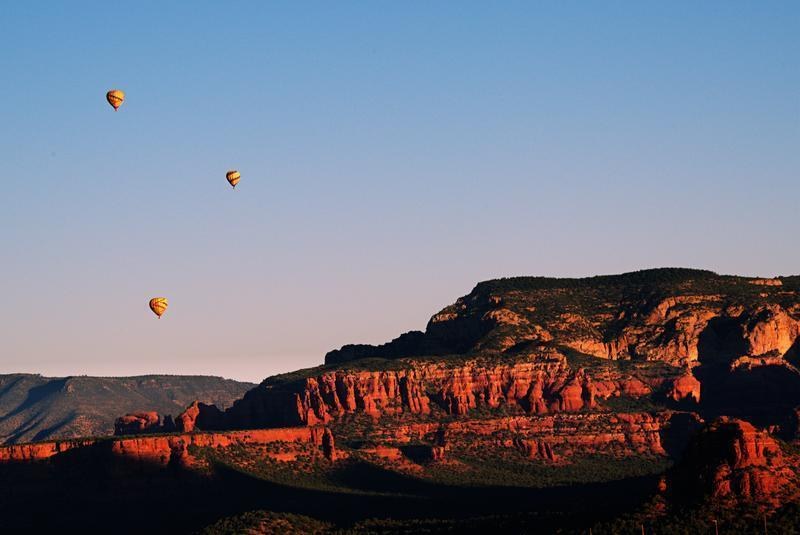 Up, up & away

Arizona's dry air makes it one of America's prime locations for hot air balloon rides. Colorful balloons lift off in the cool temperatures and low winds of sunrise from all over greater Phoenix, Scottsdale, Tucson and Sedona, often providing a champagne breakfast afterward. Some also offer sunset flights; one Phoenix company serves hors d'oeuvres from a gourmet restaurant after evening landings. Prevailing winds dictate whether you'll fly up to a mile high or close enough to the ground to spot desert wildlife, but regardless, it's a memorable bucket-list thrill.
If you go
United Airlines offers many daily flights to Phoenix and Tucson. Visit united.com or use the United app to plan your Arizona outdoor adventure getaway.
We follow the FAA's order to ground all Boeing 737 Max aircraft
Nothing is more important to us than the safety of our customers and employees. As we have said since Sunday, we have been in close contact with investigators as well as Boeing to share data and fully cooperate with regulatory authorities. We will comply with the FAA's order and will ground our 14 Boeing 737 MAX aircraft. We will remain in close contact with authorities as their investigation continues.
Since Sunday, we have been working diligently on contingency plans to prepare our fleet to minimize the impact to customers. Our Boeing 737 MAX aircraft account for roughly 40 flights a day and through a combination of spare aircraft and rebooking customers, we do not anticipate a significant operational impact as a result of this order. We will continue to work with our customers to help minimize any disruption to their travel plans.

We extend lease agreement at iconic Willis Tower in Chicago
Today, we announced that we will keep our current headquarters at the iconic Willis Tower in our hometown of Chicago while making investments to transform our current workspace and experience. Our new agreement extends our existing lease by five additional years to March 31, 2033.

Remaining at Willis Tower will allow us to completely reimagine the workspace from the bottom up. Over the coming months and years, we will redesign our workspace to allow employees to better collaborate, use the latest technology and interact with each other — all with the end goal of providing unmatched service to our front-line employees and customers. And today's announcement is part of our overall effort to improve workspaces and facilities across the system.As we begin the work to reimagine Willis Tower for our employees, a majority of the funding to transform the building is being made by the building's owner, The Blackstone Group. In addition, they are investing more than $500 million in the building for all tenants, which will transform it from the inside out that will deliver exciting new dining, fitness and retail options.
"As one of the city's largest private employers and its hometown airline, we are excited to deepen our roots here in Chicago while making the investments needed to reimagine the headquarters for our employees," said United Chief Executive Officer Oscar Munoz. "The investments we are making will help our employees provide unparalleled service to their front-line colleagues and to our customers as we continue to improve and realize our airline's full potential."
And as one of the most ideally situated buildings in the city, with easy access to all Chicago Transit Authority train lines and Union and Ogilvie Stations, as well as nearby bus stops, Willis Tower already provides distinct advantages and will remain attractive to future job seekers throughout the metropolitan region.
Weekend inspiration: Palm Springs
After a combined 60-plus years of living in cities with snowstorms and cold weather, this winter we decided it was time to pack away the parkas in exchange for a month of sun in Palm Springs.
And it was heaven. 70-degree days filled with morning swims, long walks without a jacket and joyful dogs running around the backyard. Working on murals throughout the valley in perfect drawing conditions was paradise for us, considering we were typically working in freezing weather with pale skin, chapped lips and cracking knuckles. We found our new January normal.
Our month in paradise consisted of many highlights, so if you're in town for a few days, here are some of our favorite spots.
Friday night
If you're looking to rent a place in Palm Springs, we recommend Relax Palm Spring on Airbnb. They have more than 60 rentals in the Coachella Valley area, and we loved the house we stayed in. Every single thing we needed was available on-site or just a phone call away with this professional vacation rental group.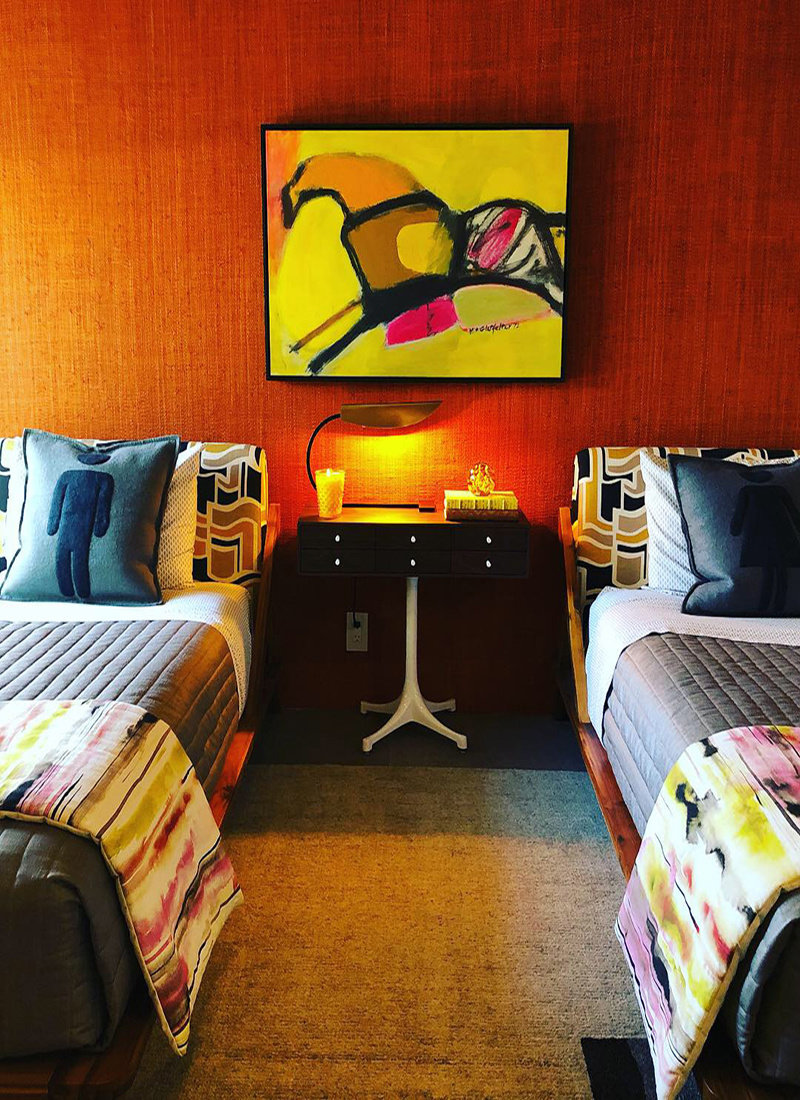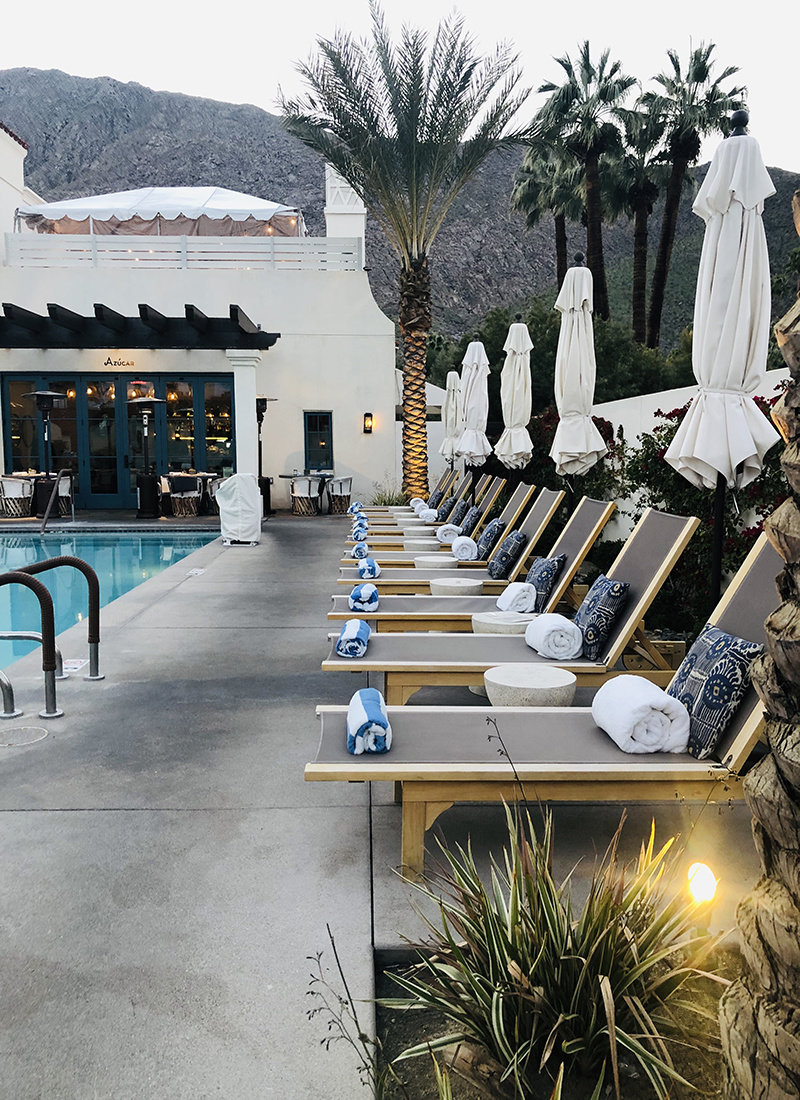 If you're looking to go the hotel route, we highly recommend The Colony Palms Hotel. This Spanish Colonial-style hotel features high-end casitas and a sweet hotel pool with stunning mountain views. La Serena Villas has a similar small-town feel with a wonderful restaurant attached. Further outside of the downtown area, Parker Palm Springs is a stylish and creatively fulfilling place to stay and play.
No matter where you stay, we recommend Azúcar for dinner (at La Serena Hotel). Make sure you get the watermelon appetizer, refreshing with bursts of sweet balsamic beads trickled over the top. You'll feel like a kid at the pool in summer all over again.
Saturday
Get up early and head to Palm Desert. Make your way over to Wilma & Frieda at The Gardens on El Paseo for one of the best breakfasts you'll find in the valley. The pastries are all excellent and homemade. The dishes are creative with items like "churro waffles" and "banana caramel French toast."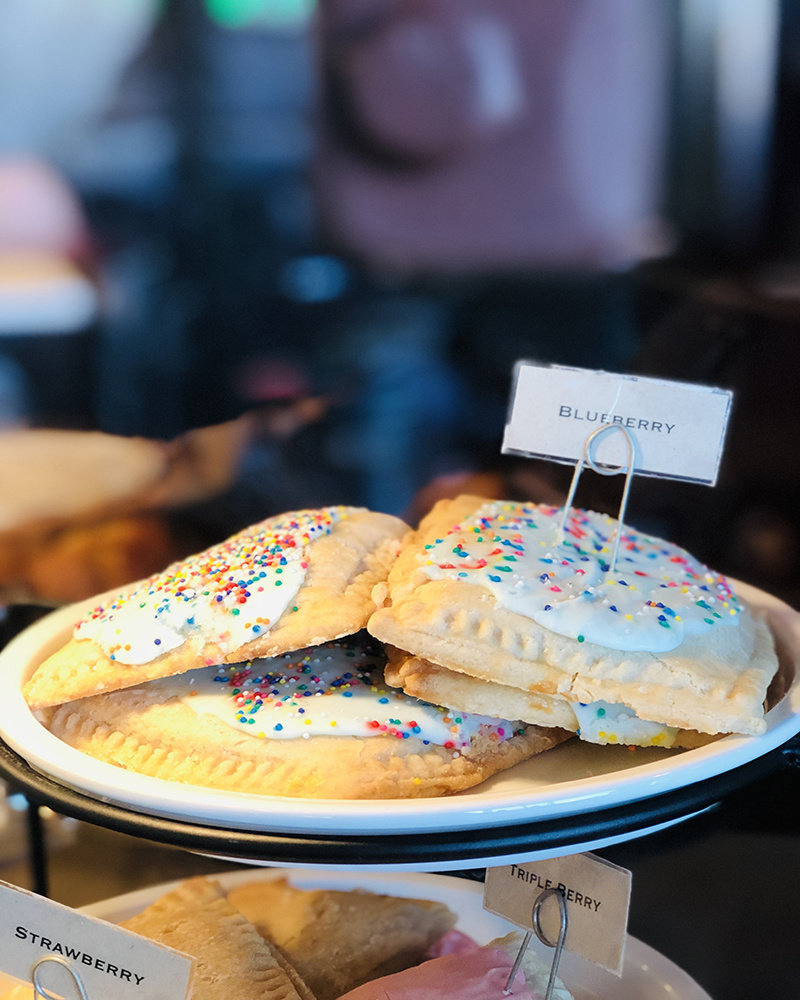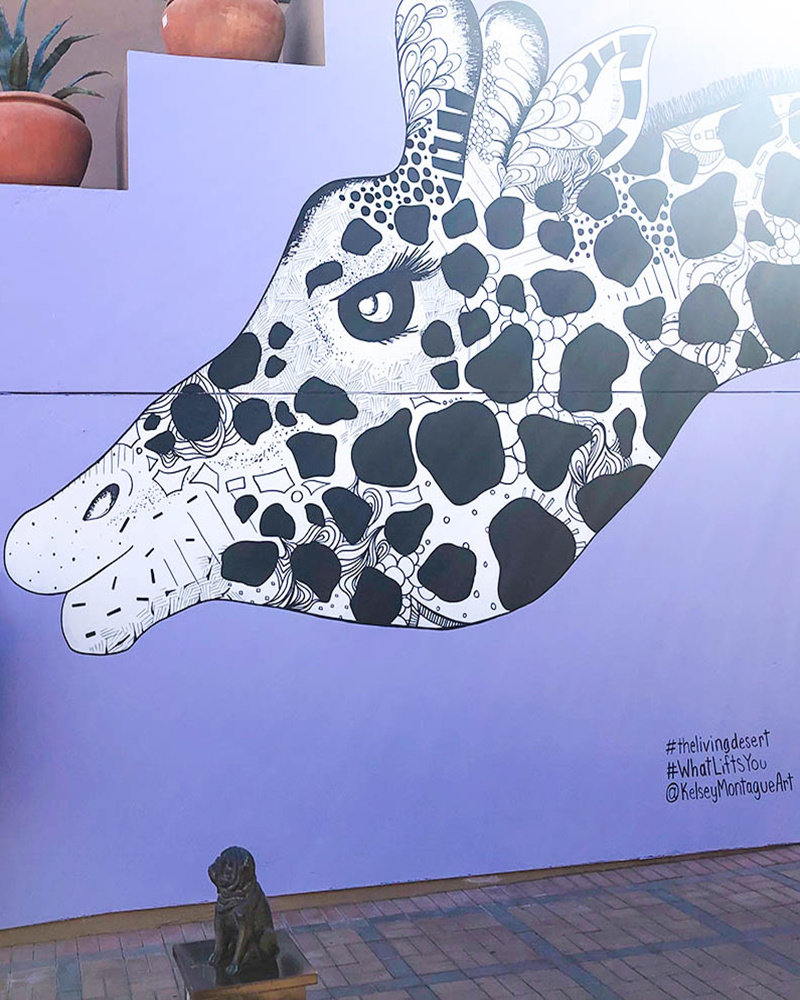 After breakfast, stop by Kelsey's giraffe mural at the Gardens on El Paseo (directions found here) to give her giraffe a kiss. Then drive up the highway to The Living Desert.
The Living Desert Zoo & Gardens is an incredibly well-designed zoo that takes advantage of the stunning desert scenery with every animal exhibit.
On your way back, stop for a sweet treat at the café at Shields Date Gardens for one of their legendary date shakes. Wander through the 1950's feeling diner and gift shop and into the 17-acre date garden. These shakes are a Palm Springs staple and worth every delicious calorie.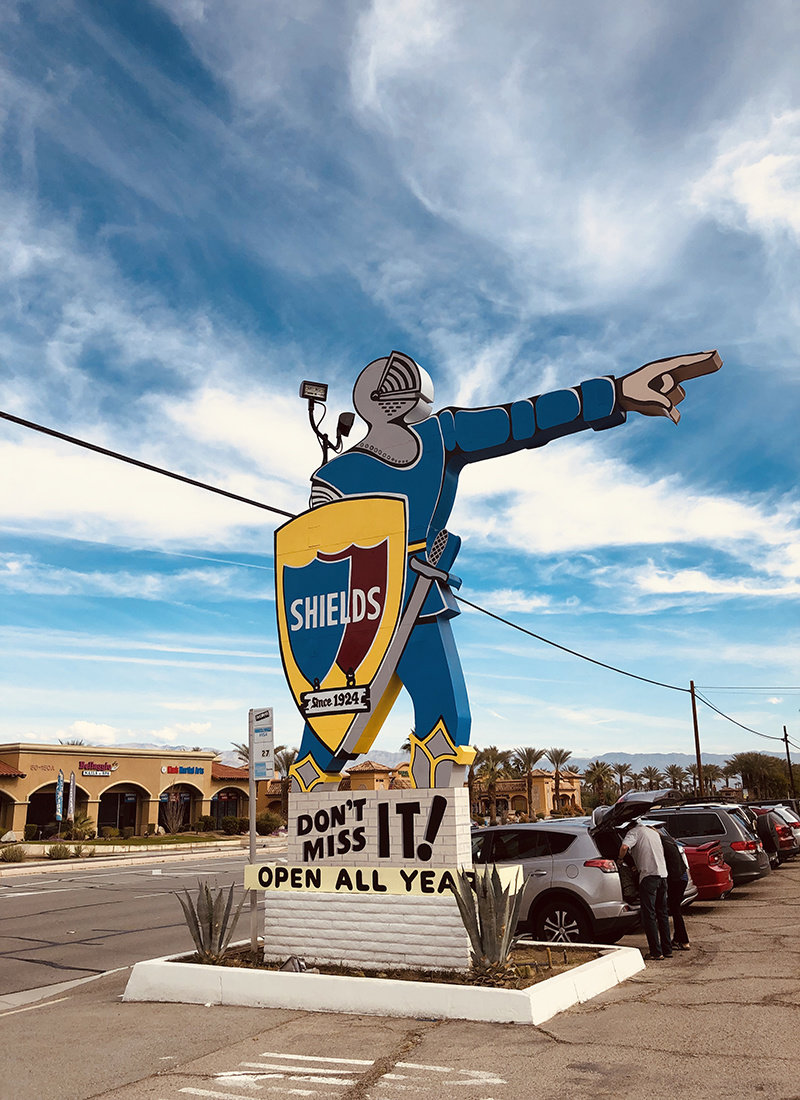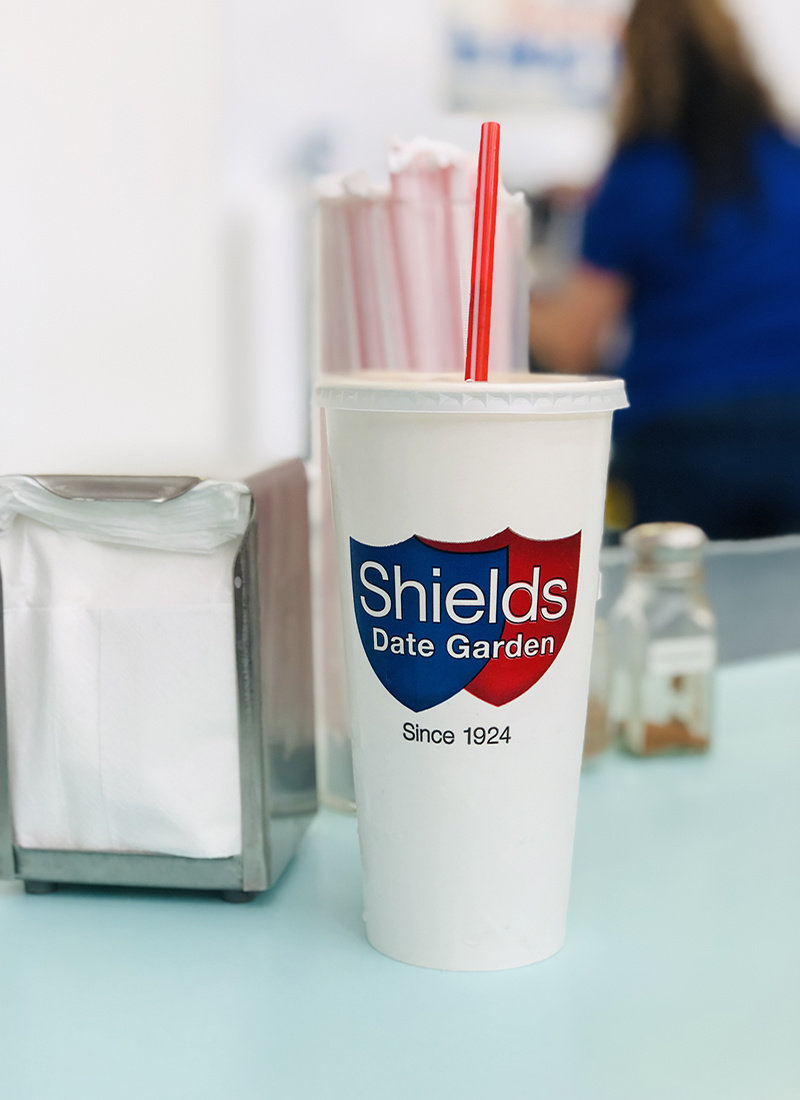 For lunch, wander around the hotel lobby at Parker Palm Springs to admire their excellent interior design decisions before heading into Norma's restaurant for an al fresco lunch.
If you have time, spend the afternoon at Joshua Tree National Park. The blend of Mojave and Colorado deserts results in a unique and stunning landscape. Begin your tour/hike at one of the visitor centers. From here, you can go on a relaxed half-day tour with a guide or head out on one of the 12 self-guiding nature trails.
Spend sunset here or head back downtown to enjoy the sunset at The Colony Palms Hotel's Restaurant, The Purple Palm, with a quality craft cocktail. After sunset, make your way to the popular Italian restaurant Birba for dinner. Birba boasts excellent pizzas with a wide variety of interesting toppings. Be sure to make reservations beforehand.
Sunday
Spend the day exploring Palm Springs. Go to Cheeky's for breakfast, but make sure to get there early, as a line forms before the doors even open. Their world-famous bacon flight is a must – it's unique and so tasty.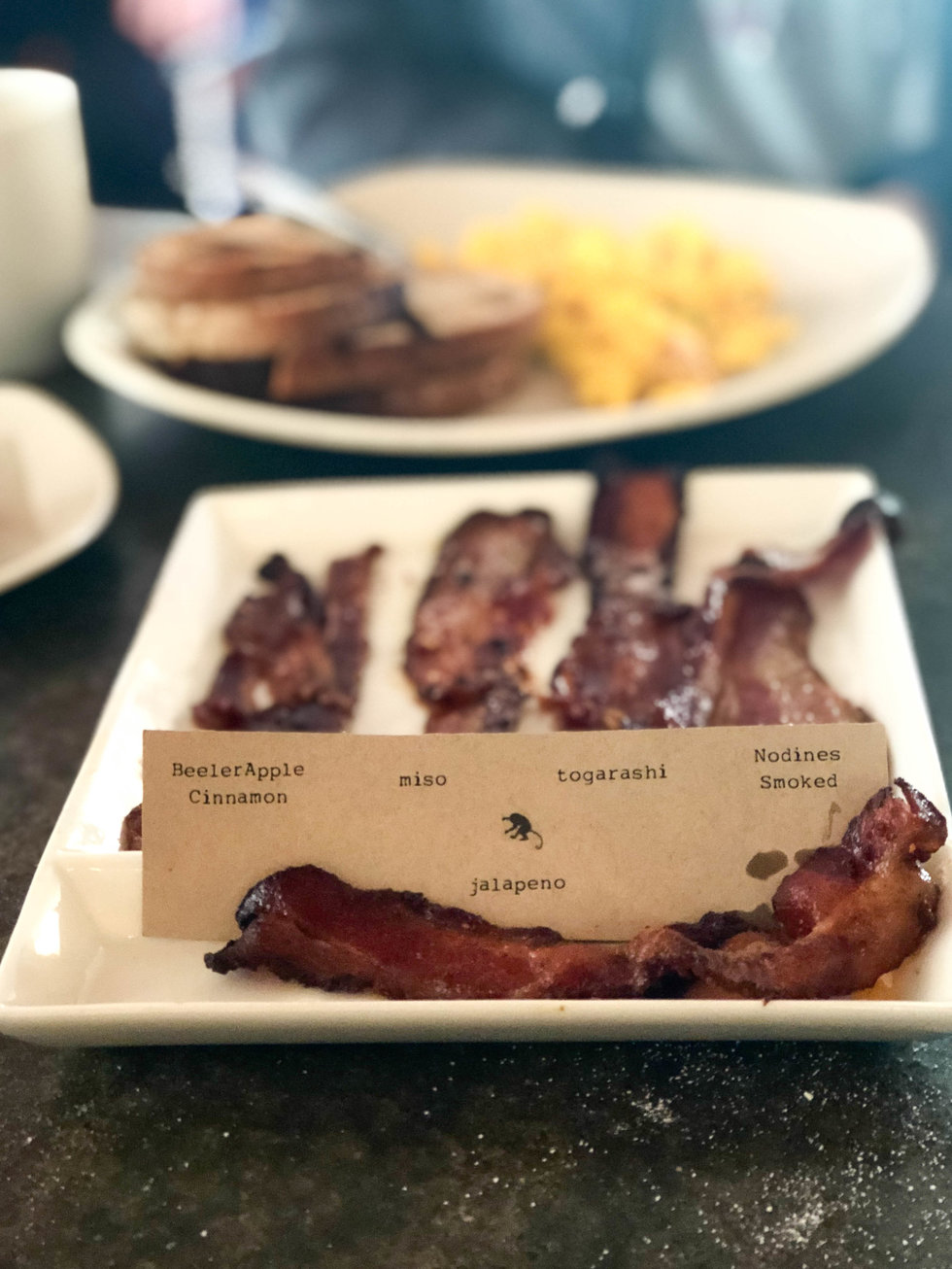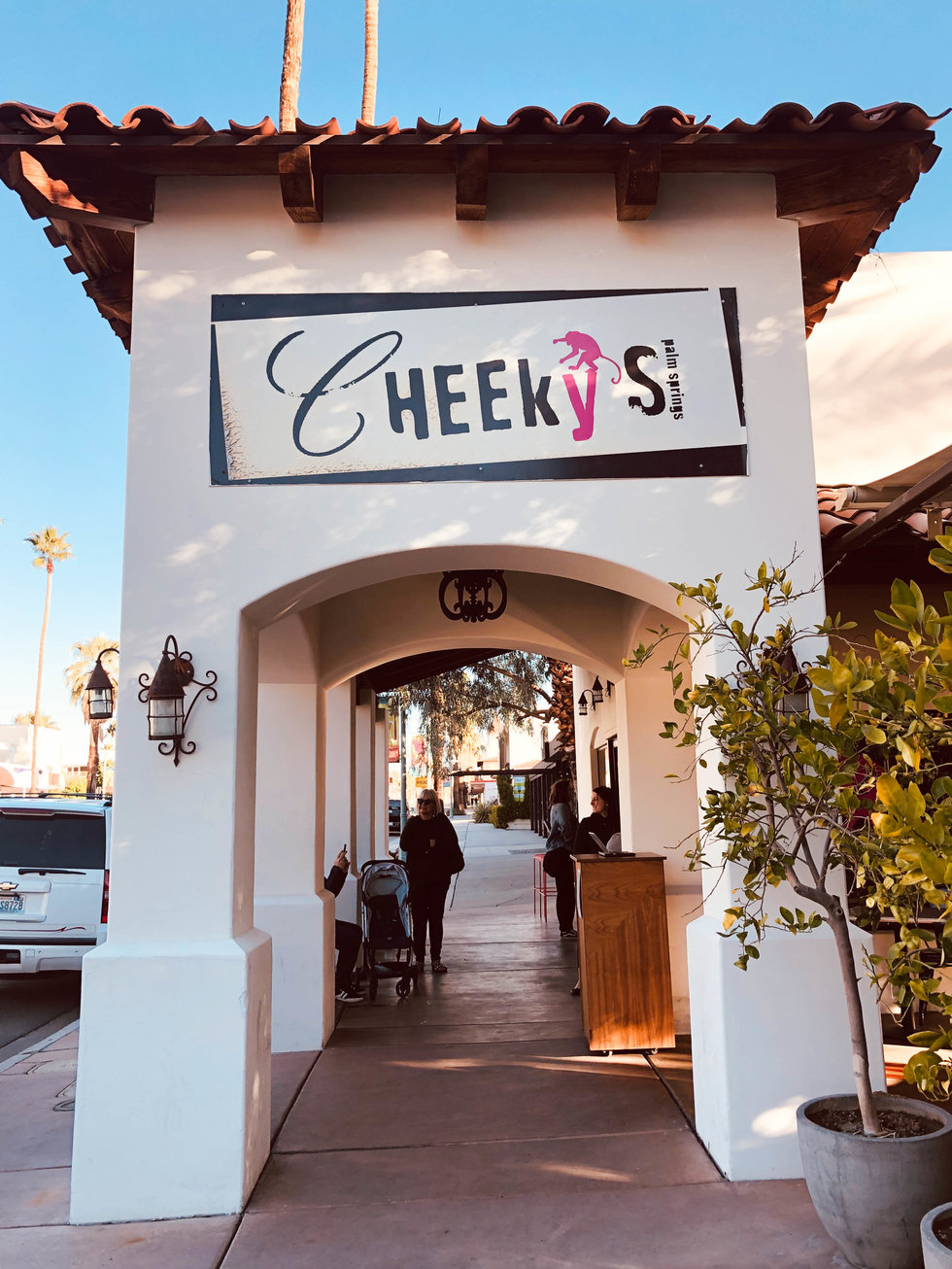 Palm Springs boasts an unbelievable amount of art experiences. Experiential art, art museums and mid-century Modern Design galore. If you can, try to visit Palm Springs during their Modernism week in February. Be sure to get tickets to their house events and tour some of the most breathtakingly beautifully designed houses. And if you're lucky, Desert X might be around during the same time and hunting for art installations throughout the valley, which would be quite the sight.
If a large art fair isn't happening while you're in Palm Springs, we highly recommend heading to the City of Coachella. Their downtown boasts some incredible murals and Kelsey was honored to join the ranks recently. Kelsey completed a pair of "What Lifts You" wings that are colorful and an ode to the Hispanic roots of the community on the side of City Hall.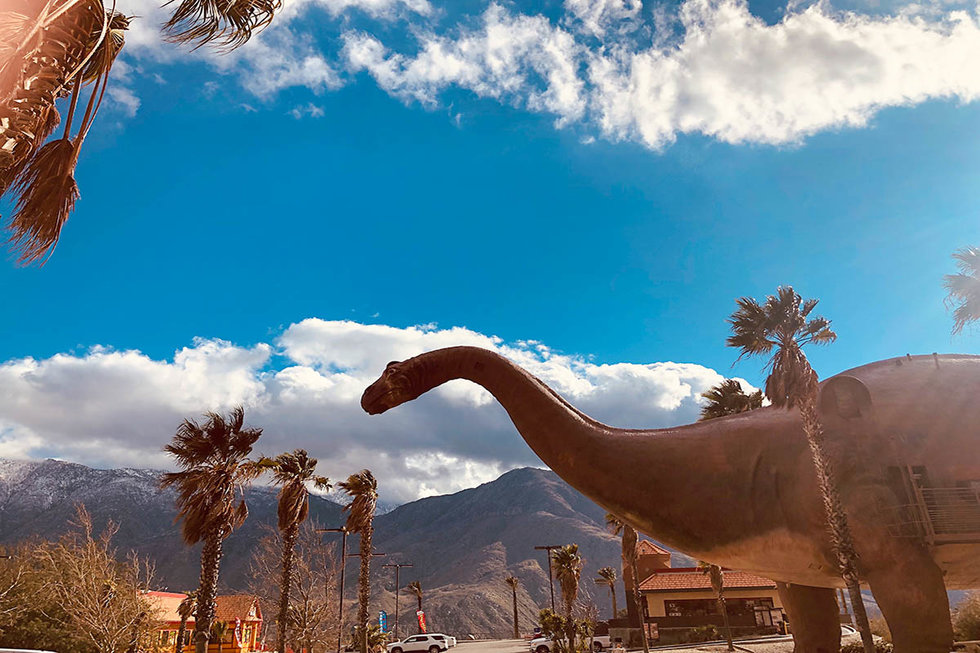 A trip to Palm Springs isn't complete without a picture with the Cabazon Dinosaurs. Made famous through their feature in movies like National Lampoon's Vacation and The Wizard – it's an Instagram-worthy stop.
For lunch, head back to downtown Palm Springs and enjoy a healthy meal at the charming restaurant Farm. Tucked into an interior courtyard, this restaurant feels like you've stepped into the French countryside. It's healthy, clean food even tastes like the South of France with their traditionally French dishes.
Walk off your lunch by exploring the boutiques in Downtown Palm Springs. These mid-century modern shops are not to be missed: A La Mod, Modernway, Vintage Oasis and The Frippery.
Complete your weekend with dinner at the chic Workshop Kitchen + Bar. Their wine cellar is massive and their waiters expertly trained. Trust them to find a new and different flavor for you – something you'll remember long after your weekend in Palm Springs.
Ode to a flight pioneer
With all she's seen and done over a century on this earth, some of Betty Stockard's fondest memories are of the years she spent slipping its surly bonds.
Seventy-seven birthdays have passed since she took to the skies for United as one of the first non-nurse flight attendants in our history, but you wouldn't know it talking with her today as she prepares to celebrate her 100th birthday. Betty's recollections of that time, when she was a 23-year-old searching for excitement and a life to call her own, are crystal clear, her stories conjuring a vivid, gorgeous image of the golden era of aviation.
Born near Kalispell, Montana, on May 16, 1919 as Elizabeth Jean Riley, becoming an aviation pioneer was the furthest thing from Betty's mind growing up. As she recalled, her only brushes with flight back then occurred when the occasional small airplane would appear in the sky above the family homestead. But following the attack on Pearl Harbor in December 1941, Betty, like most Americans, wanted to contribute to the war effort. She packed her bags, moved to Seattle and took an administrative job at the Boeing plant where thousands of bombers would soon roll off the assembly lines.
She had been there for about two months when she saw an item in the Seattle Times announcing United was looking for a new crop of flight attendants. For years, airlines had only hired nurses into those roles, but with more and more of them now needed in combat zones, that was no longer the case. Despite having never stepped foot on an airplane, Betty applied.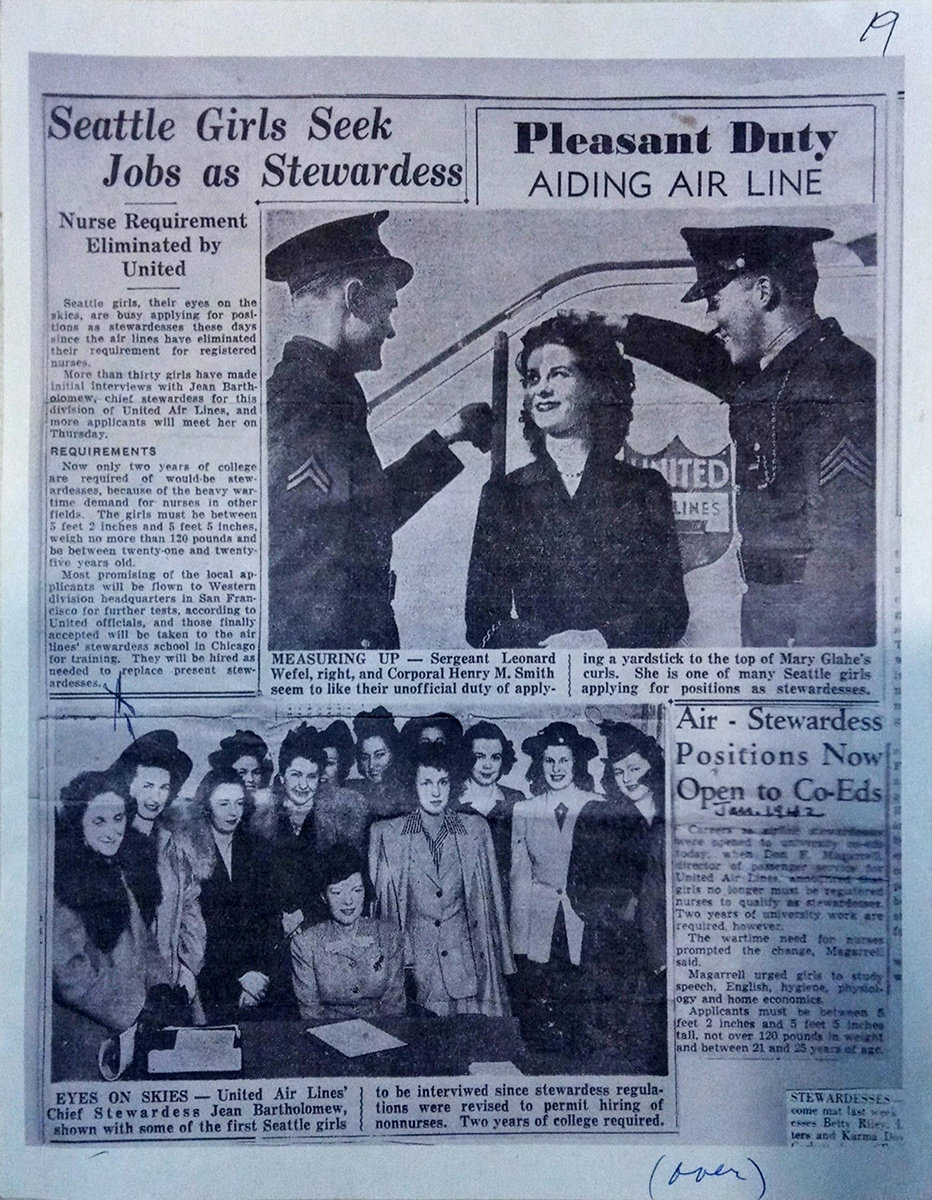 What followed was a whirlwind. After meeting with United personnel managers in Seattle, she took her first-ever flight for a second round of interviews in San Francisco. Two weeks later she received a telegram instructing her to report to Chicago, where she joined 24 other women from across the country for six weeks of intense training, heavy on first aid and safety.
"The instructors told us not to smile much because it was a serious job," remembered Betty. "They wanted us to maintain a professional attitude.
"But the stuff about not smiling didn't last long once I was on an airplane myself."
As Betty put it, being a stewardess in those days was nearly on par with being a movie star, and she often rubbed shoulders with celebrities and dignitaries, like First Lady Eleanor Roosevelt and silver screen idol Clark Gable, on her trips up and down the West Coast. But it wasn't all glitz and glamour and grins.
Flight attendants in the mid-1940s were just as busy serving their country as they were serving their customers. United flew many military men during World War II, and flight crews were responsible for looking after them. And, at least in Betty's case, those wartime duties included a little intrigue as well.
In the summer of 1945, after checking in for a flight from San Francisco to Seattle, her dispatcher told her that two men from the U.S. Army were waiting for her in the next room. They handed Betty a small, brown package and instructed her to pin it inside her jacket until she arrived in Seattle, where another Army representative would meet her. In the meantime, they warned, she was not to open the parcel or tell anyone she had it.
The aircraft landed in Seattle just after 2 a.m. and taxied to a dark corner of the airfield. There, a military man came on board, took the package, and promptly departed, leaving Betty to wonder what she had just been part of.
Secret missions aside, Betty was smitten with life in the air. She'll still tell you it was the best job in the world. Soon, though, she found herself equally smitten with a handsome former fighter pilot by the name of Ray Stockard, whom she met during a flight in 1946.
Ray was traversing the country interviewing for jobs with commercial airlines, and the two hit it off immediately, beginning a courtship shortly after. Betty adored Ray, but it was a bittersweet romance, for she knew if she got married she'd be trading one love for another since, at that time, stewardesses had to be single.
Alas, the heart wants what it wants, and Betty and Ray, who by that time was flying for Pan American, set a wedding date. Originally, they were to wed in May of 1947, but that spring, United announced it would begin service to Honolulu that summer. Betty talked Ray into briefly postponing the nuptials so that she could enjoy her last months as a flight attendant on the Hawaiian route.
"I hated giving up flying, but I knew I was making the right move," she said. "I was looking forward to the next chapter."
Fortunately, marrying a pilot meant she didn't have to walk away from the industry altogether. In the years that followed, she, Ray and their four children – Joe, Denise, Ed and Dick – traveled the world together. And while they did most of that flying on Pan Am, Betty never lost her soft spot for United, the airline where it all started. She still flies United, in fact, and still enjoys meeting flight attendants on her journeys, though she rarely, if ever, tells them about her past, preferring instead to ask them questions about themselves.
When you are lucky enough to get her talking about herself, though, she doesn't disappoint. Betty's stories are riveting, and she's been known to dispense a kernel of wisdom or two if pressed. So, what's the best advice she gives after 100 years of a rich, full life? Value education and relationships above all else, travel as much as possible, and be fearless in your pursuits.
"It's been such a good life," she said. "I couldn't have asked for a more interesting career. I still carry with me the memories of the people I met on airplanes and the places I went. If there's a lesson there, it's that you should get out and do things and not be afraid to try. By doing that, I've had one of the best lives ever."
Après 3 ways
Story by Nicholas DeRenzo | Hemispheres, November 2018
There's only one way to take the ski slopes: fast. But there are all sorts of approaches to post-powder R&R. Here, Hemispheres looks at a trio of America's favorite winter resorts and offers three methods to après-ski—glitzy, old-school, and family-style—at each. There's something for everyone in the "after"-life.
Telluride, Colorado
Tucked in a box canyon far from the hustle of Colorado's other ski resorts, highbrow yet rustic Telluride is two destinations in one. America's only free public-transportation gondola connects the Victorian mining town where Butch Cassidy robbed his first bank to the Alpine-style Mountain Village and its 2,000 acres of skiable terrain. You might bump into one of the many celebrities with vacation homes here (Oprah, Jerry Seinfeld), but play it cool: It's the Telluride way.
Luxe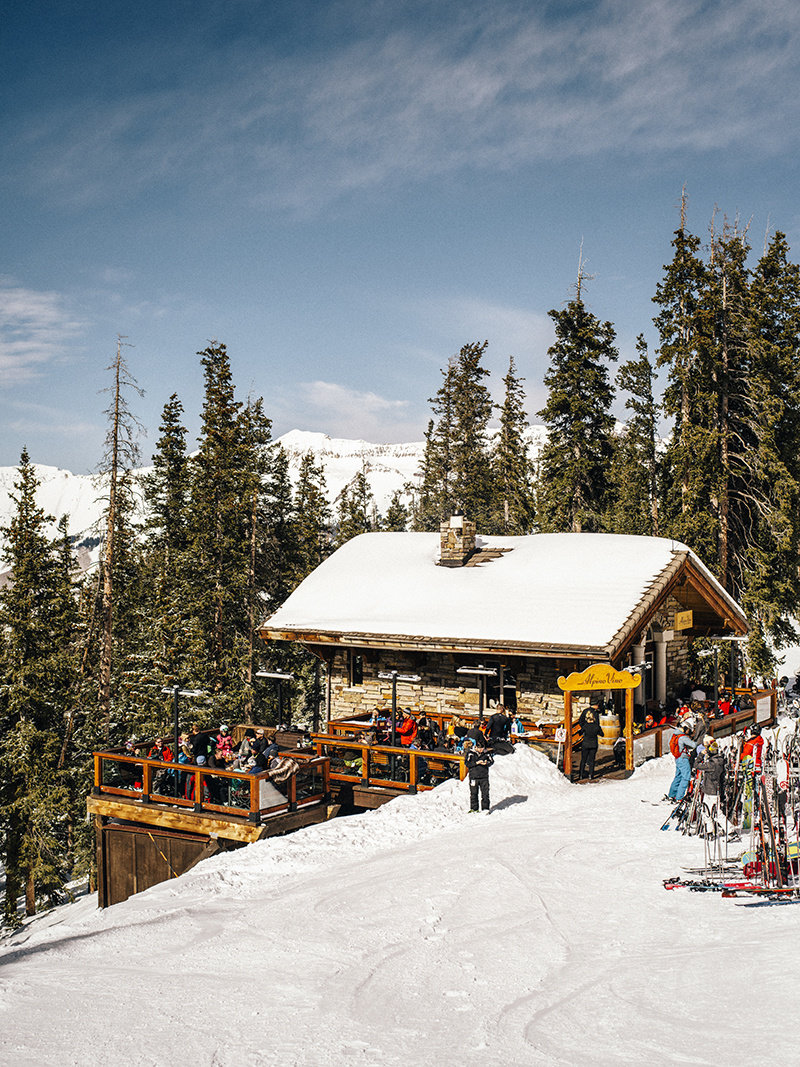 At 11,966 feet, the Dolomite hütte–inspired Alpino Vino is North America's highest restaurant. By day, the tiny wooden cottage is reachable on skis (it's a short glide downhill from the top of Lift 14); at night, heated snow-coaches whisk diners to a five-course Italian tasting menu experience, complete with the region's most impressive wine list. Go for a Brunello di Montalcino—the cellar contains bottles from nearly two dozen producers. Tasting menu $150, with $75 and $125 wine pairing options, tellurideskiresort.com
Classic

Down in town, belly up to the original 1897 mahogany and cherrywood bar at the New Sheridan Hotel saloon, one of the oldest watering holes in the West. The setting may inspire you to order a whiskey, but there's no better place to try the city's unofficial beverage, the Flatliner, made with vanilla vodka, Baileys, Kahlúa, and espresso. newsheridan.com
Family
A little red cabin near the base of the free gondola houses Taco Del Gnar, a delightfully grungy spot selling creative tacos like tempura avocado, housemade lamb sausage, smoked pork belly, and seared ahi tuna. Kids will love the queso blanco–topped tater tots, while parents can work their way through the list of local beers. gnarlytacos.com
Sun Valley, Idaho
Built on the edge of the mining town of Ketchum in 1936, Sun Valley was the world's first destination ski resort and the home of the first chairlift, which was derived from a device that had been used to load bananas onto rail cars. The mountain instantly began attracting the likes of Marilyn Monroe, Clint Eastwood, and Ernest Hemingway—a favorite adopted citizen who helped popularize the image of this valley as one of the West's great outdoorsy getaways.
Luxe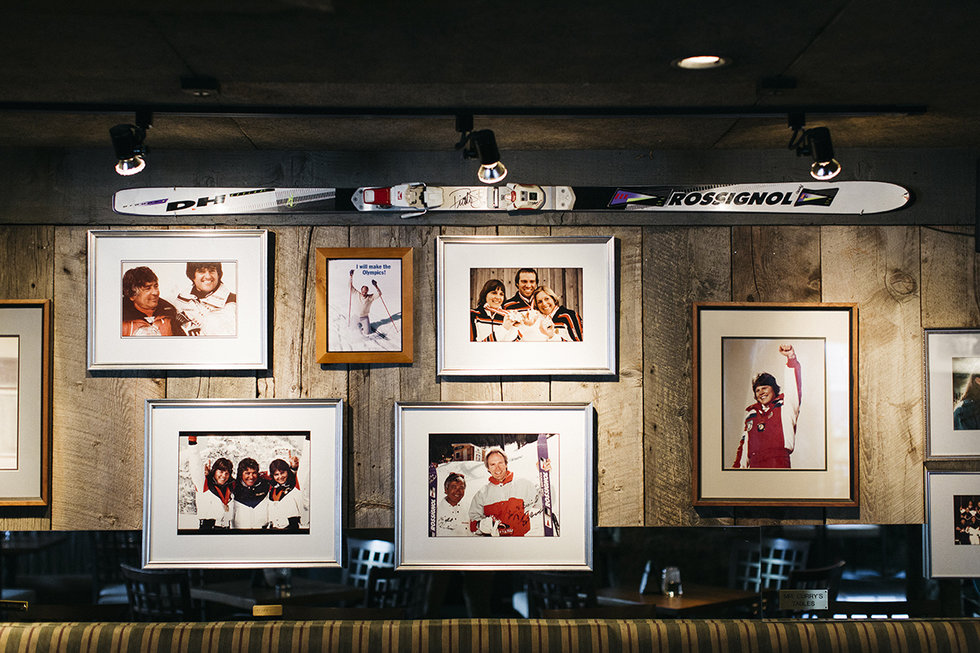 Papa Hemingway ate his last supper in 1961 at Michel's Christiania, a fine-dining (but verycomfortable) French restaurant in the heart of Ketchum where you can order classics like trout meunière and escargots bourguignonne. Chef-owner Michel Rudigoz is a former U.S. women's ski team coach, which explains all the memorabilia in the attached Olympic Bar. michelschristiania.com
Classic
There's nothing fancy about Grumpy's, a dive bar that turned 40 this year. Known for its 32-ounce beer schooners and hodge-podge decor (vintage beer can–lined walls, a prop dog from There's Something About Mary), the bar is a favorite among paparazzi-dodging stars like Bruce Springsteen, who has been known to sing a few tunes when he stops in. grumpyssunvalley.com
Family
Après-ski often means getting out of the cold ASAP, but for one of the valley's most memorable off-slope activities, you'll need to brave the chill a bit longer. The kids will love a Clydesdale-drawn sleigh ride to Trail Creek Cabin for hearty mountain staples such as buffalo tenderloin and ruby trout, plus German chocolate cake for dessert. sunvalley.com
Jackson Hole, Wyoming
Perched on the edge of Grand Teton National Park, Jackson Hole has always felt wild. Trappers used the term "hole" to describe the valley's vertigo-inducing sides, and the resort has used that geological feature to maximum effect. Dubbed "The Big One," the area boasts America's biggest vertical drop in ski terrain (more than 4,100 feet), as well as Corbet's Couloir, a legendarily deranged run that tops many ski-bum bucket lists.
Luxe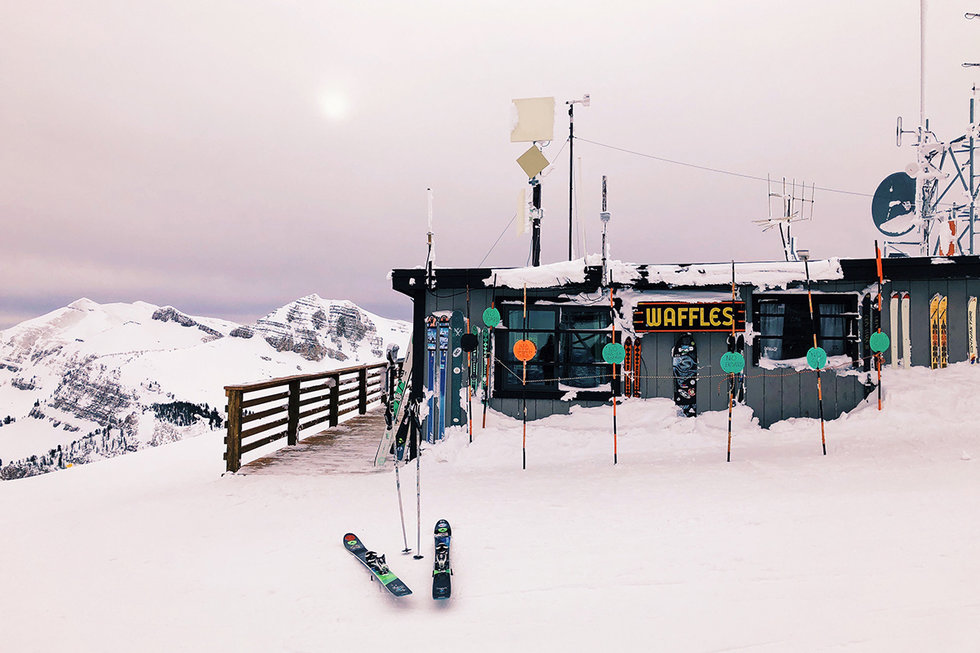 When skiers talk about a good powder day, some may be referring to the powdered sugar on the waffles at Corbet's Cabin. (Remember, après starts early when you're skiing with kids.) Located at 10,450 feet, atop Rendezvous Peak, this refueling station is reachable by the Aerial Tram and dishes out hot waffles in flavors like the Nutella-topped Italian, the lemon-glazed Englishman, and the peanut butter and smoked bacon–stacked Gateway. Parents can warm up faster by spiking their hot cocoa or coffee with Irish cream, whiskey, or schnapps. jacksonhole.com
Classic
Opened in 1967, the Mangy Moose saloon has attracted performers like Jason Aldean and Brandi Carlile. Grab a table under the antlered taxidermy for a buffalo fillet or trout and chips, paired with locally inspired cocktails (like the Huckleberry Cosmo) or the Tourist Trap, a "shot ski" with four shots of Fireball or Rumple Minze. mangymoose.com
Family
The newest member of chef Gavin Fine's aptly named Fine Dining Restaurant Group (which includes an ice cream parlor and craft butcher) is Hotel Terra's Bar Enoteca, a Mediterranean wine and cocktail bar that opened last fall. Small plates such as the wild game sausage and goat cassoulet are perfect for post-slope grazing. hotelterrajacksonhole.com
The day off: Silicon Beach
Story by Justin Goldman | Hemispheres, March 2019
Los Angeles's ongoing tech boom—which in the last few years has seen the building of Google and Yahoo! campuses on a parcel of Playa Vista that was once Howard Hughes's private airfield—has earned the Westside the nickname Silicon Beach. Got a day off in La La Land? Here's how to spend it on the beach.
8 a.m.
Opener: Courtesy of Shutters on the Beach; Above: Jakob Layman
Beat the line at Huckleberry Bakery and Cafe by getting to the Santa Monica institution right when it opens. You'll feel very West Coast if you order the organic quinoa and market vegetables bowl (made with ingredients from the renowned Santa Monica Farmers Market, just down the street), but if you want to treat yourself on your day off, opt for a stack of the café's signature pancakes.
10 a.m.
Duffy Archives, Courtesy of the Peter Fetterman Gallery
The Westside has long drawn an artsy crowd. Take in that vibe at Santa Monica's Bergamot Station, a former trolley stop and industrial warehouse that's now a complex of more than 20 galleries. Don't miss the photography at the Peter Fetterman Gallery (pictured above) or the modern and contemporary works at Latin American Masters.

12 p.m.
Courtesy of the Stronghold
Venice is SoCal's boho capital, and the ever-trendy Abbot Kinney Boulevard is its main commercial artery. Splurge on a Lewis Leathers motorcycle jacket at The Stronghold (pictured above) or a flower-print dress at Stone Cold Fox. Congratulations: Your credit card statement now rivals your student loans.
2 p.m.
Courtesy of Gjusta
Take a number at the über-hip deli and bakery Gjusta. Be prepared to wait a while before you order, and you'll need sharp elbows to fight for a seat on the patio, but the hassle is worth it for the tuna conserva sandwich.

4 p.m.
Head back to your hotel, Shutters on the Beach. Change into some sneakers and jog down to Muscle Beach to see some bodies that have clearly not been enjoying the food at Huckleberry or Gjusta, then beat a retreat to your balcony. Open your shutters (truth in advertising!) and watch the sun sink behind the Santa Monica Pier and into the Pacific.
7 p.m.
2016 Wonho Lee
Dinner is at one of the toughest tables in LA, Felix Trattoria, Esquire's best new restaurant in America for 2017. Chef Evan Funke cut his teeth at Spago, and now he cuts handmade pastas in a glass-enclosed kitchen at the north end of Abbot Kinney. Don't miss the perfectly al dente orecchiette with sausage sugo.

9 p.m.
Wonho Frank Lee
For a nightcap, take a seat on the patio at Makani, a new Korean-influenced spot on Venice's up-and-coming Rose Avenue. Try a Doctor Bird's Sour (rum, orgeat, bitters, and lemon) from the rum-centric cocktail list, plus—why not?—Manila clams with chile de árbol and wood-fired ciabatta slices. The only thing prettier than the fare on your table is the oh-so-SoCal crowd tippling around you.

We want to put women's art in the sky
Enter the #HerArtHere contest for a chance to design and paint a United plane.
Learn more
We're listening
Check out our newest destinations
United Airlines
united
3.14159 x 21.96 = about the number of days until we fly you direct to this pizza pie on our new New York/Newark - Naples route. 🍕🤤
#Math
#PiDay
United Airlines
united
We've issued a travel waiver for Chicago in advance of inclement weather. Our Reservations team is currently experiencing high volume. If you're traveling 3/14, you can change your flight at no cost on our mobile app or
united.com
. Waiver:
uafly.co/Z04CmP
United Airlines
united
We've issued a travel waiver for the Rocky Mountains and Great Plains due to a winter storm. If you're traveling 3/13, you can change your flight at no cost on our mobile app, by direct messaging us here or calling Reservations at 1-800-864-8331. Waiver:
uafly.co/Z04CmP
We Are United
weareunited
United was a major sponsor of the 30th Annual International Women in Aviation Conference that took place last week. Our team hosted initiatives for young women interested in the flight and technical operations fields and presented six scholarships to deserving female students.
We Are United
weareunited
We're not the only ones who love our new seatback IFE! After all of their hard work developing the new system, the Inflight Entertainment and Connectivity team has been recognized as a finalist for both the Crystal Cabin and Onboard Hospitality Awards in Hamburg.
Watch our most popular videos
Watch the new Big Metal Bird: Veterans
Neighbors, coworkers, parents, protectors, heroes. All of these labels and more encompass the men and women whose devotion to our country serves as the truest embodiment of the American spirit. We're talking about Veterans. Join host Phil Torres as he heads to our nation's capital to learn more about these heroes and to explore just how many United employees are veterans on this Big Metal Bird.
Copyright © 2019 United Airlines, Inc.
All rights reserved.
Indicates an external site that may or may not meet accessibility guidelines.
Scroll to top
Scroll to top