Three Perfect Days: Chengdu
Story by Benjamin Carlson | Photography by Algirdas Bakas | Hemispheres, June 2014
Chengdu has always been known for its easy, some might say lazy, pace of life. Even its nicknames connote a life of leisure: Brocade City, Hibiscus City, Perfect City. Migrants from Beijing and Shanghai quip that the locals don't so much walk as mosey.
Even as an infusion of government investment has caused the city to blossom into an economic powerhouse, drawing Fortune 500 companies deep into the misty mountains of Sichuan, Chengdu has retained its reputation for prizing the finer things in life. People here may work as hard as their brethren in China's frenetic eastern and southern metropolises, but they also make time to while away an afternoon drinking tea, playing mah-jongg or dancing in a park.
Chengdu is best known, however, for its food: the mouth-numbing peppercorns, the blood-red Sichuan hotpot, the streetside "little eats." It's also the kind of place where you can spend the afternoon having your chi retooled at a luxury spa and attend an indie rock show before turning in.
Welcome to the New China.

DAY ONE | Dawn seeps through the shades of your 40th-floor suite at the Ritz-Carlton. Opening them with the push of a button, you gaze out at the city. Below lies Tianfu Square, the heart of the provincial capital. To the north, Chengdu's rambling suburbs vanish into the enveloping fog. You peer through a telescope and see shadowy masses on the horizon, where the basin of Chengdu's valley rises into low hills.
The Ritz-Carlton takes inspiration from Sichuan culture, with a new-money spin. In your room, you sip tea in a calfskin armchair below a three-legged Ding sculpture—an ancient symbol of power and unity. From here, you head for the hotel's sunlit Club Lounge. You'll be plunging headfirst into Chengdu's fiery cuisine today, so you keep breakfast light: muesli, dragon fruit and salmon. Seduced by the lounge's stunning downtown panorama, you linger longer than you intended.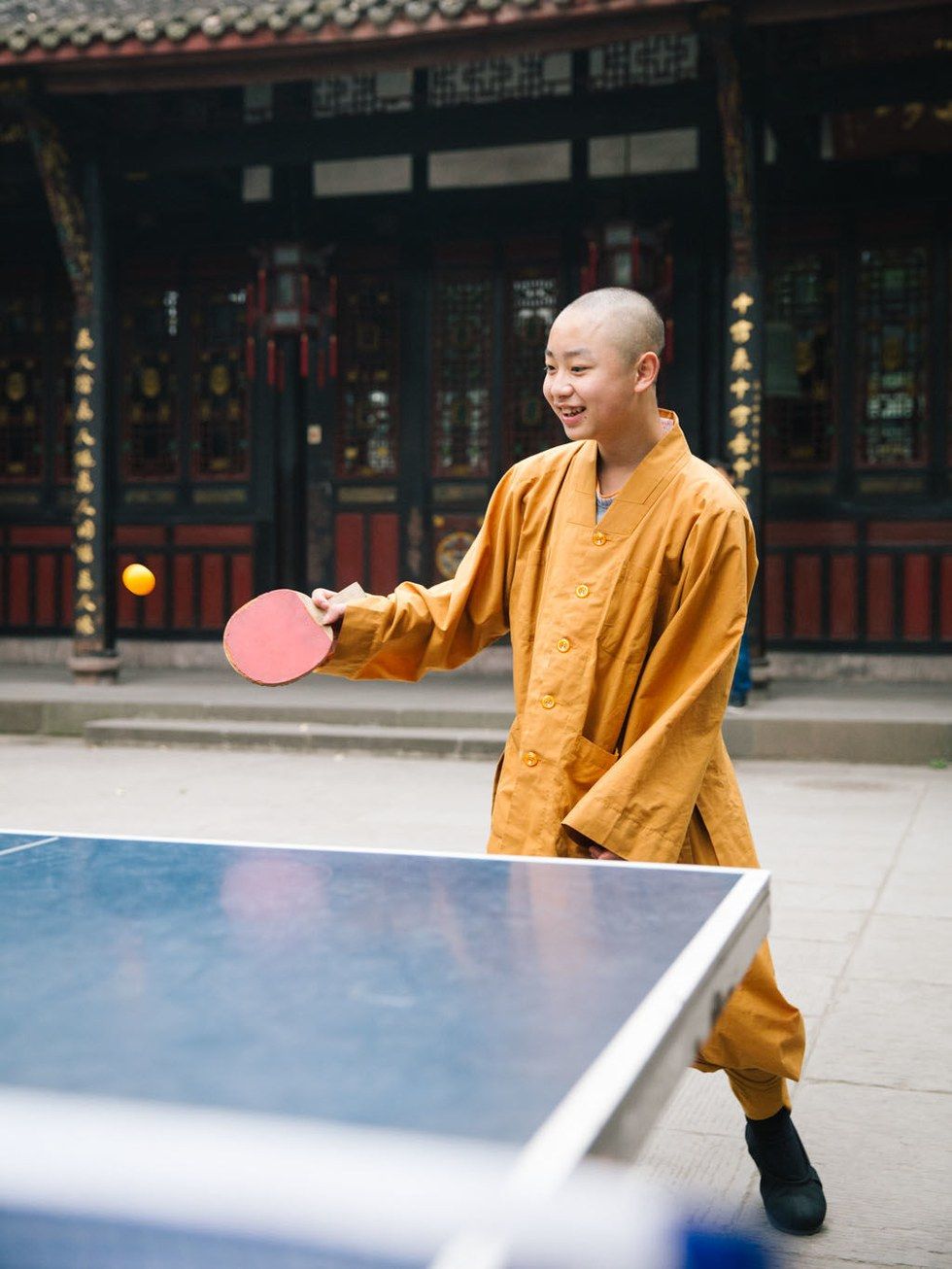 Young monk Long Chen plays ping-pong in Wenshu Temple;
Down below, you hail a taxi to take you to Wenshu Monastery, one of Chengdu's most lovingly preserved places of worship. After a short ride past broad Tianfu Square, presided over by a giant Mao statue, you arrive at the Tang dynasty (A.D. 618–907) temple. Alongside day-trippers and worshippers, you pass through a gate into a maze-like garden that takes you to the major shrine, Manjushri bell tower, which is surrounded by bonsai trees and people snapping smartphone pics. You watch a woman in a pink fur jacket bow four times before a dragon-footed urn, the newly blossomed cherry trees ringing with birdsong.
From here, you enter an inner courtyard where two young monks in robes volley a ping-pong ball under the gaze of an elder. When one hits the ball wide, disturbing an adjacent game of badminton, the stern elder leaps up, takes the paddle and begins spiking the ball at his young charge.
Outside, down a dusty alley ringing with the music of a busker playing a Chinese violin, you dart into a noodle shop famous across Chengdu as the place to sample a local specialty: tian shui mian, or sky-water noodles. The name of the eatery, Dongzi Kouzhang Lao'er Liangfen, literally means "Hole Gaping Mouth Second Son's Bean-Starch Noodles." It's a truly local joint, known for the boisterous social quality the Chinese call "hot noise."
You line up behind several old ladies in caps and slacks who squabble over stools at the communal wooden tables. As you place your order, the server behind the counter smiles and says, "Eat slowly!"—an expression that roughly corresponds to "Bon appétit!" You guzzle a bowl of thick-cut noodles in sweet sauce and chili—one of a dozen specialties any taxi driver will rattle off when asked about his favorite local dishes. At 6 yuan ($1) it's a delectable and impossibly cheap treat.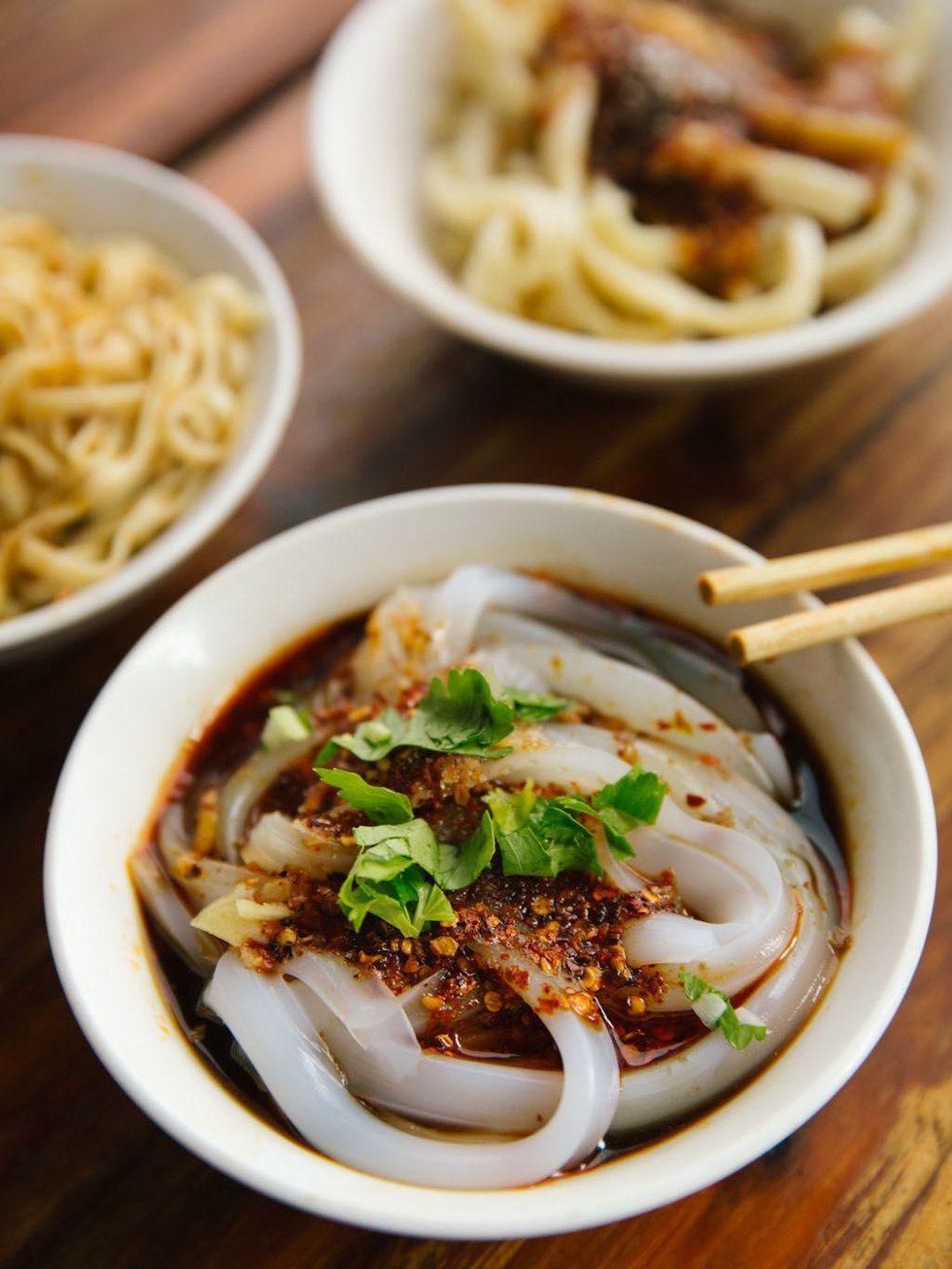 Sky–water noodles at Dongzi Kouzhang Lao'er Liangfen
You consider a second helping, but think better of it and head down neighboring Jinma Street for some antiques shopping. Beyond stalls selling old paper money and silver coins, there's a wide lot on which traders have spread blankets littered with Buddhist prayer beads, Maoist posters, marble lions, jade bangles, erotic paintings and abacuses strung together with wire. A vendor quotes you 100 yuan for a vintage magazine and you shake your head no.
Next, you continue down Jinma, passing a traditional Chinese medicine shop where a cat swishes its tail next to baskets of gnarled ginseng roots. Next door, old-timers lounge in creaking bamboo chairs and chew sunflower seeds. You weave around a family's mah-jongg table and hail a cab back to the hotel, where you have a very important appointment to make.
How better to spend an afternoon in China's relaxation capital than by having your yin and yang recalibrated at a luxury spa? For an hour, you enjoy a tea-themed therapeutic massage that claims to do just this. Then you have your scalp kneaded amid the fragrance of burning moxa herbs. By now you are feeling very relaxed, very balanced, and also a bit hungry. So you freshen up, waft through the hotel's marble lobby, then take a 10-minute cab ride south to Yunmen Emerald Conceptual Restaurant.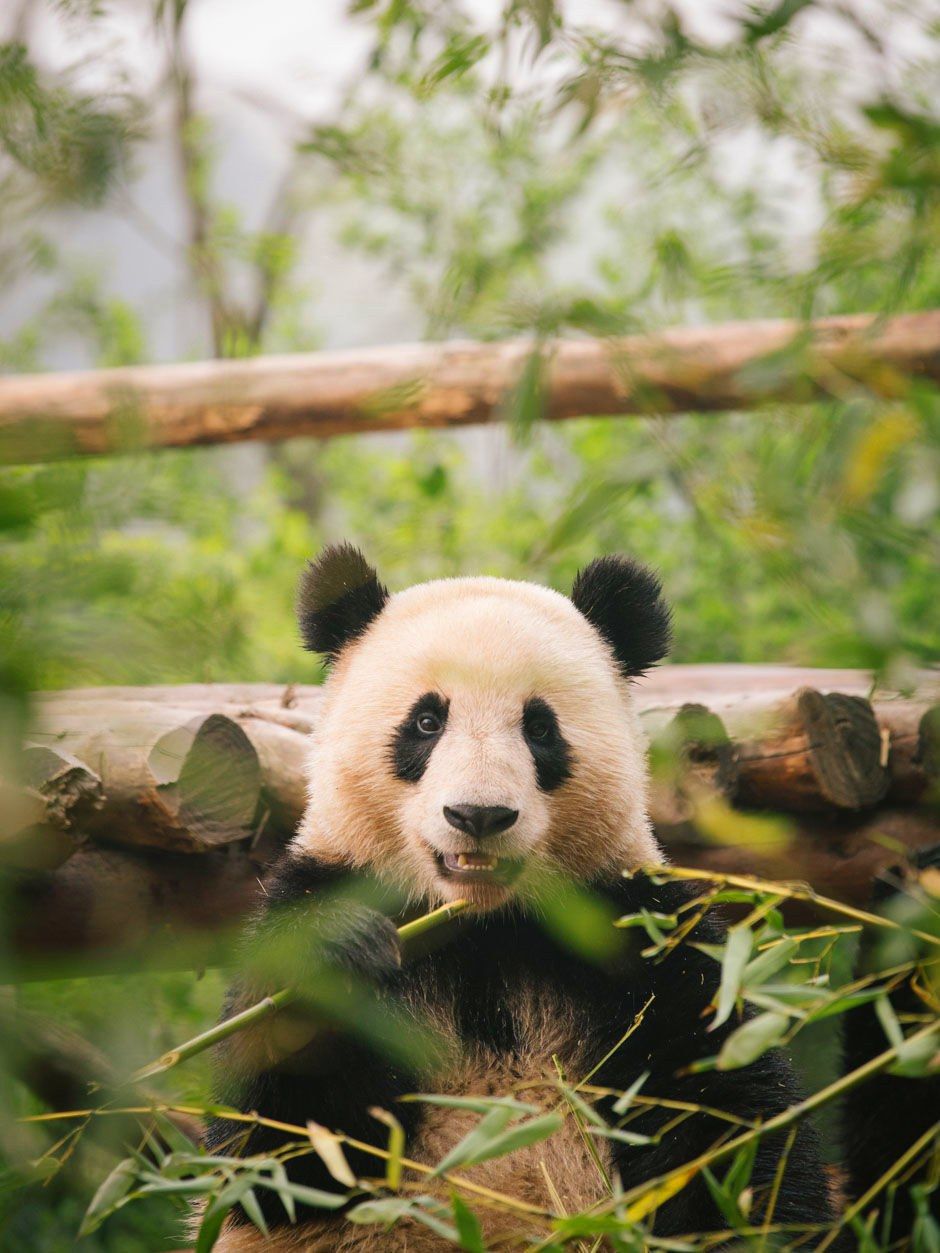 A panda at the Research Base of Giant Panda Breeding
Yunmen is known for serving imaginative cuisine, but it's no slouch in the décor department, either. You pass a magazine rack resembling a lamb and enter a private dining room, where a waiter brings Kobe beef with pulverized black truffle and a dish of salmon-papaya mousse accompanied by bubbling sour cream and dry ice. The food is tasty, but it's the presentation that wows you: a mango sliver arrives at your table in a hollow eggshell.
You end the evening at the Ritz-Carlton's Flair bar. From a perch on the 27th-floor terrace, you nibble seaweed-wrapped crackers and crispy red pepper. Your cocktail arrives: a concoction of chrysanthemum gin and hibiscus syrup garnished with an orchid. In the distance, the Sichuan TV tower—glowing blue, green and indigo in the misty Chengdu night—seems to be sending you a message: bed, bed, bed.
DAY TWO | No visit to Chengdu would be complete without pandas. To catch them, however, you need to rise early. Wakened by a call from your butler (heh), you take a brisk three-minute walk from the hotel to the Uno Mall, where you buy a large cup of joe and a warm blueberry muffin at the new Pacific Coffee—a popular Hong Kong chain reliable for the strength of its brew.
Feeling marginally less comatose, you take a taxi 40 minutes into the northern suburbs, home to some of the cutest animals on the planet. Though cab drivers here, as everywhere, make a habit of moaning about the traffic, Chengdu's expensively assembled infrastructure makes driving a breeze compared to the crushing congestion of cities like Beijing, and you arrive at your destination right on schedule.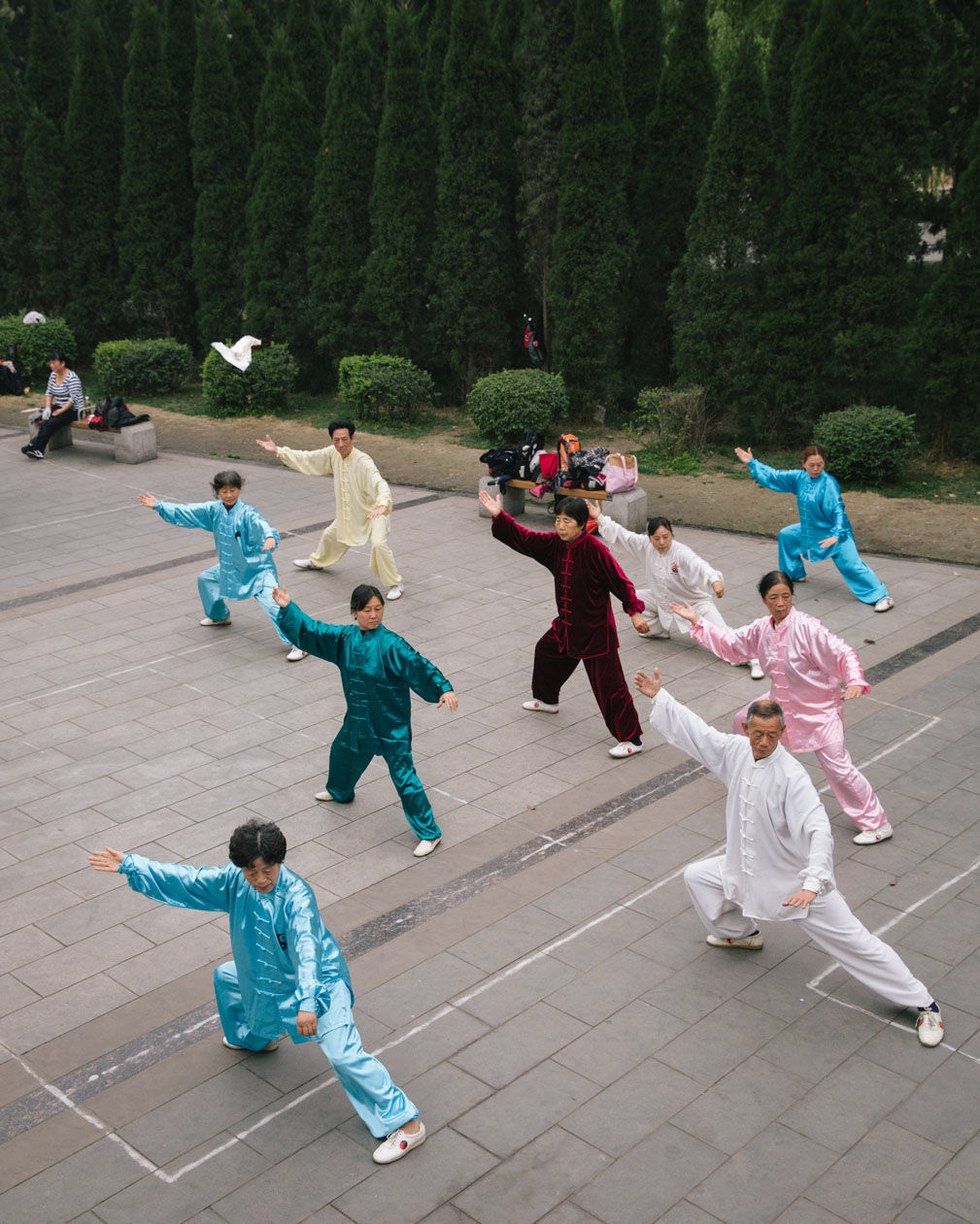 Saturday tai chi practice in People's Park
With 80 percent of the world's 1,500 wild pandas living in Sichuan province's misty bamboo forests, the Chengdu Research Base of Giant Panda Breeding has established itself as one of the leading institutions of its kind. You arrive to the sound of distant peacocks hooting "Hello! Hello!" A woman at the information desk points you down a winding path. "Hurry!" she says, and you're about to discover why.
You come to an enclosure, a grove of arcing bamboo plants containing four pandas, who are just about to dig into breakfast. One tubby little fella sits on his haunches plucking bamboo and quietly munching. A baby panda lolls on a tree branch, seemingly unable to control its limbs. As it squirms, a male visitor shouts, "What are you trying to do?" Another cub rests in the crook of a ficus bough like a furry loaf of bread. "I've never seen them so active!" coos a woman.
Walking on, you enter the red panda enclosure, where the raccoon-size animals roam freely, coming so close to one woman that she scampers away, yelping, "I'm scared!" You crouch down, staying very still as the diminutive but big-clawed creature struts past your leg.
Thoroughly content, you head back to town, where you'll be eating at the century-old lunch spot Chen Mapo Tofu. Taking a seat beneath hanging red lanterns amid a clatter of chopsticks, you order liang mian (cold noodles) and one of Chengdu's signature dishes, mapo tofu. As you order, a nearby local man gives you an approving thumbs-up. The tofu comes to the table sizzling in an iron pot, smelling of spring onions and earthy peppercorns, accompanied by a pile of crushed Sichuan chilis. You order an extra bowl of rice.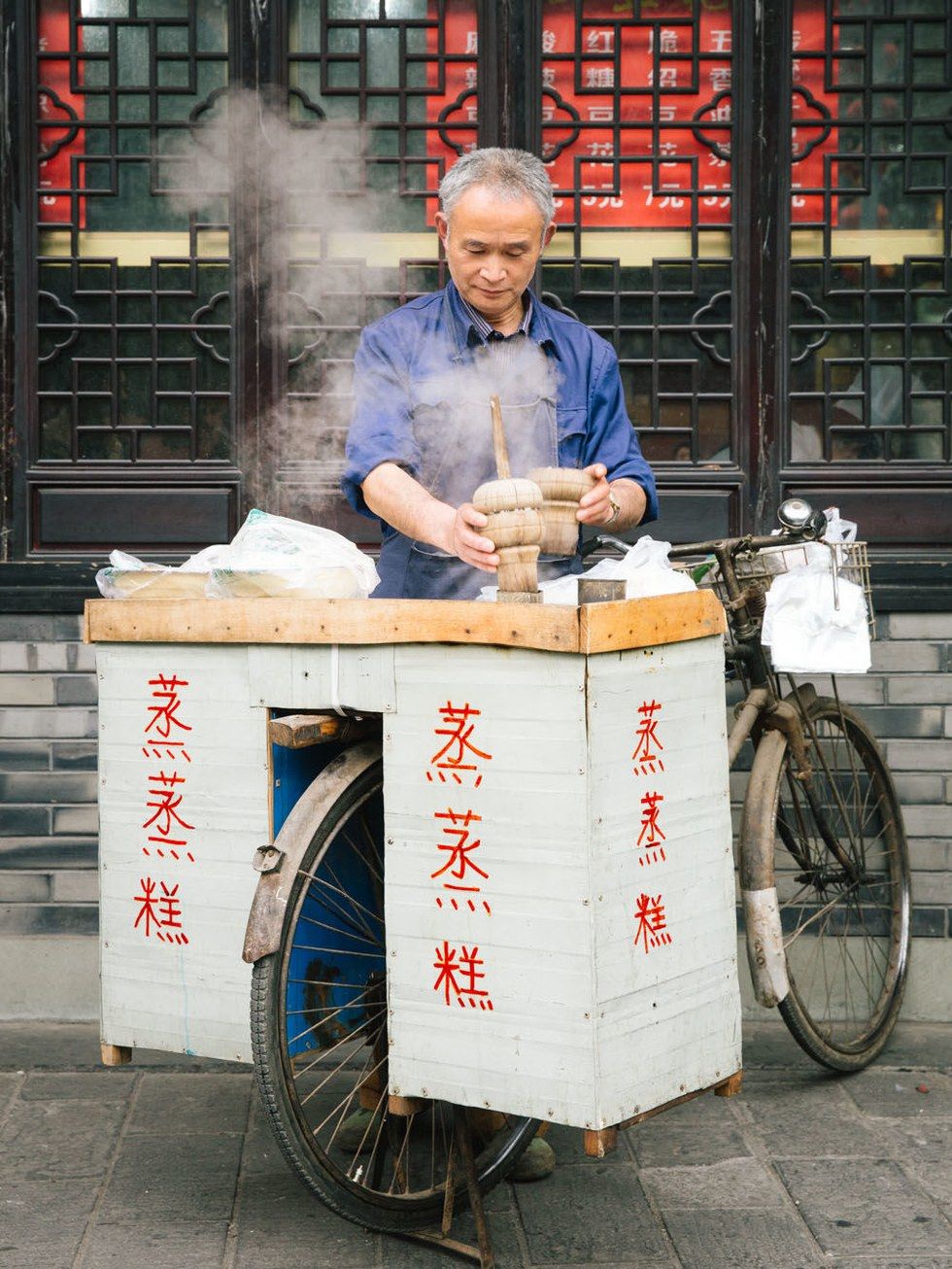 A vendor prepares sweet steamed cakes
Reeling happily from the fire in your belly, you make a beeline for the delightfully boisterous People's Park, where throngs of locals are engaged in various activities: running, stretching, kite flying and even synchronized waltzing. To your right, you marvel at the scene of elderly parents seeking mates for their adult children. Like an analog OkCupid, they hawk sheets of paper advertising the heights, weights, blood types and Zodiac signs of their unmarried sons and daughters.
You stop at the park's Heming Tea House, which has a nice view of a small lake, and order a glass of jasmine blossom tea with rock sugar and dates. On impulse, you wave down one of the numerous roving ear cleaners, who goes to work on your canals with long metal tongs and cotton swabs. As the cleaner probes, you decide this is perhaps an experience you need to endure just once.
It's time to brush up on your local history, which you'll be doing at the Wuhou Shrine—famous for its monuments dating back to the Three Kingdoms period (A.D. 220–280). At the end of a gingko-lined promenade, you are greeted by a statue of a benevolent-looking Liu Bei, an ancient king, and the master strategist Zhuge Liang, who holds a feather fan and has frighteningly long fingernails.
From here, you enter Jinli Ancient Street, a winding, tourist-heavy thoroughfare lined with stalls selling Chengdu snacks (skewered quails and, for real, fried rabbit heads). The aroma of the aptly named stinky tofu drives you down an alleyway crammed with bars and coffee shops. Here, you slip into the popular restaurant Se Xiang Wei Little Eats for that most local of local snacks—dan dan mian, or "street vendor's noodles." You get a bowl of thin springy noodles served with chili, pickled onions and savory ground pork—a favorite across China. Mindful of your next stop, you leave some room.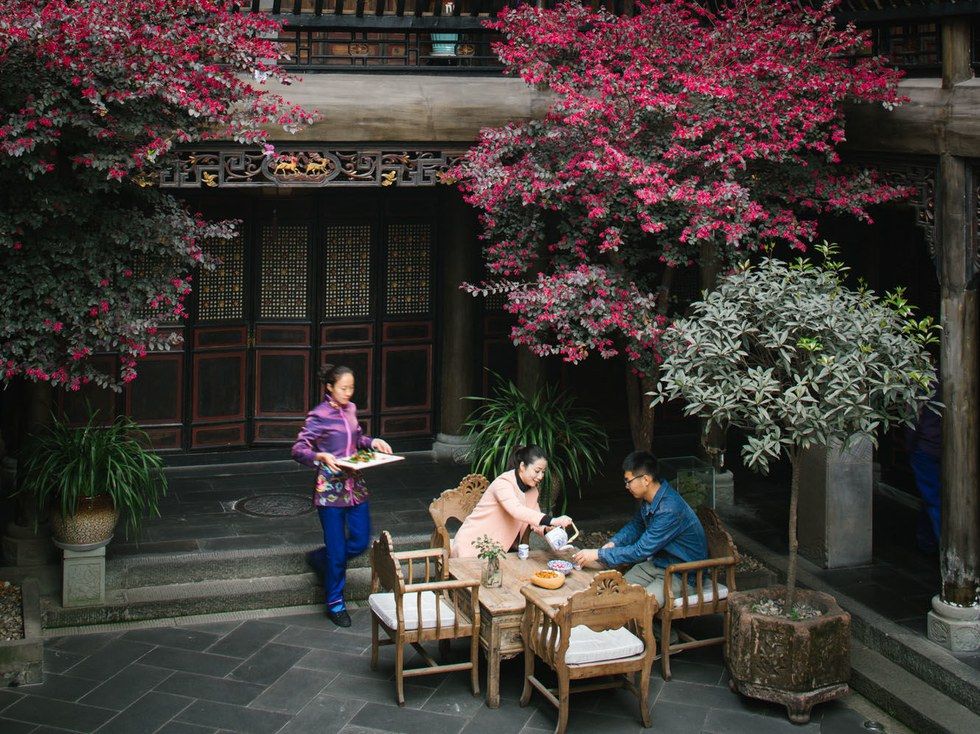 Zi Fei garden in the afternoon
Dinnertime brings you to a new wing of the historic Jinjiang Hotel, where the Michelin-starred chef Christophe Dufossé offers haute French cuisine to spice-numbed local palates at Jinyue. Inside, smooth waiters greet you with "Bonsoir" and you settle down to an extraordinary dinner of codfish, creamed pumpkin and pear tart encased in a caramel-colored chocolate shell.
After bidding the waiters "Bonne nuit," you return to the Ritz-Carlton and pause for a post-dinner whiskey at the Lobby Lounge. As a local singer warbles Ella Fitzgerald covers, you look over at the distant hills and imagine, for a moment, that at the top of every one is a sleeping panda. You drink up and head off to the second hotel of your stay, the new Diaoyutai Boutique Hotel, where you too are soon asleep.
DAY THREE | You wake up in a sumptuous suite to a glorious view over Kuanzhai Alley, Chengdu's most beautiful and atmospheric street. Outside is a landscape of clay-tiled roofs and upturned eaves. It looks like a scene from the time of the Qing dynasty, and in a way it is—though heavily renovated, Kuanzhai preserves the atmosphere of the 18th century.
Yesterday's rich, spicy food is still very much with you, so you skip a sit-down breakfast and knock back a chocolate croissant from the in-house bakery. Munching, you pass through the Diaoyutai's courtyard—a fusion of sleek French design and classical Chinese flourishes—and head outside to hail a cab to take you to your first stop of the day, located 30 minutes away in Tianfu New District.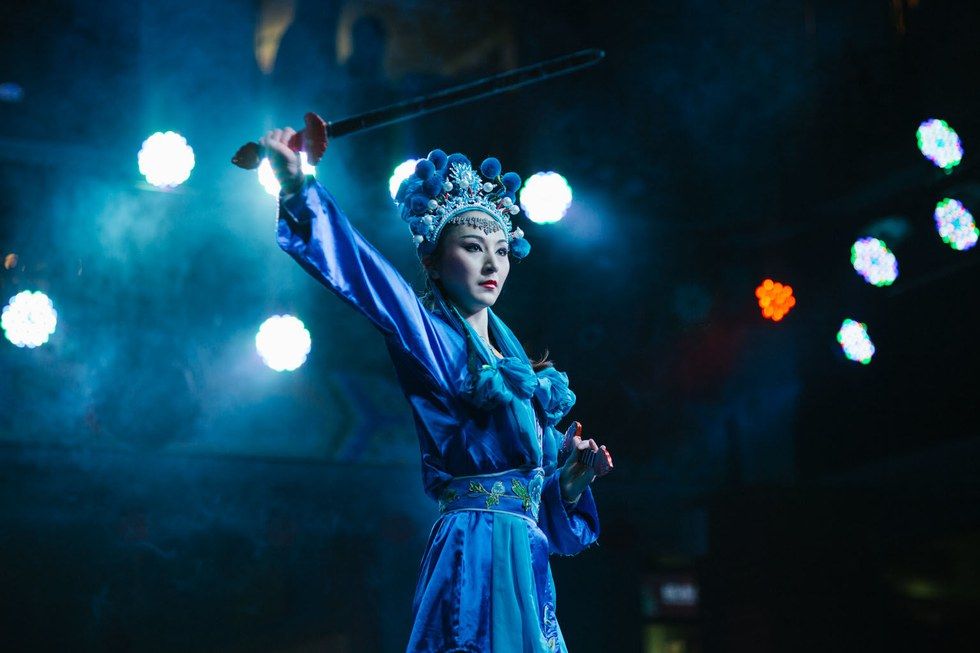 Sichuan opera at Shu Yun Li Yuan
Opened last summer, the New Century Global Center is billed as the largest building in the world. Glistening and curvaceous, it looks as though it should be the largest building on Mars. So large is the mall, in fact, it takes you 15 minutes just to locate an entrance. Eventually you find one and are immediately confronted by a dizzying array of amenities: a skating rink, a water park, an IMAX theater and a faux beach with a 500-foot cinematic sky.
You ride up a 200-foot escalator, arriving at the top in time to see a poodle lifting its leg on one of the mall's artificial palm trees. You cross a plexiglass bridge, upon which a bunch of teens tell each other to "Go on! Fall!" Others cling to the handrail and shuffle their feet across the transparent floor. A macho middle-aged man stamps on the plastic to show off for his friends.
Your senses thoroughly assaulted, you leave the mall and head south for a stroll through the serene Tiexiang Temple Riverfront, a model of attractive urban development that contrasts with the concrete apartment blocks that surround it. On the riverfront, you find A Thousand Plateaus Art Space, the hub of Chengdu's thriving contemporary art scene, where you take in the stunning paintings of Qi Lan, one of which alludes to Cézanne's famous haystack obsession with a flurry of chaotic brushwork.
For lunch, you return to the Diaoyutai, whose KZ Restaurant and Grill has tables in a sunlit courtyard, where you settle down for a meal of excellent sushi. The Filipino chef whips up wasabi two ways—runny and thick—and adds dashes of numbing spice to the tuna roll. Warned in advance to save room, you sample the Sichuan beef and chili loaf, a crispy and pungent bread best eaten with the red chili spread.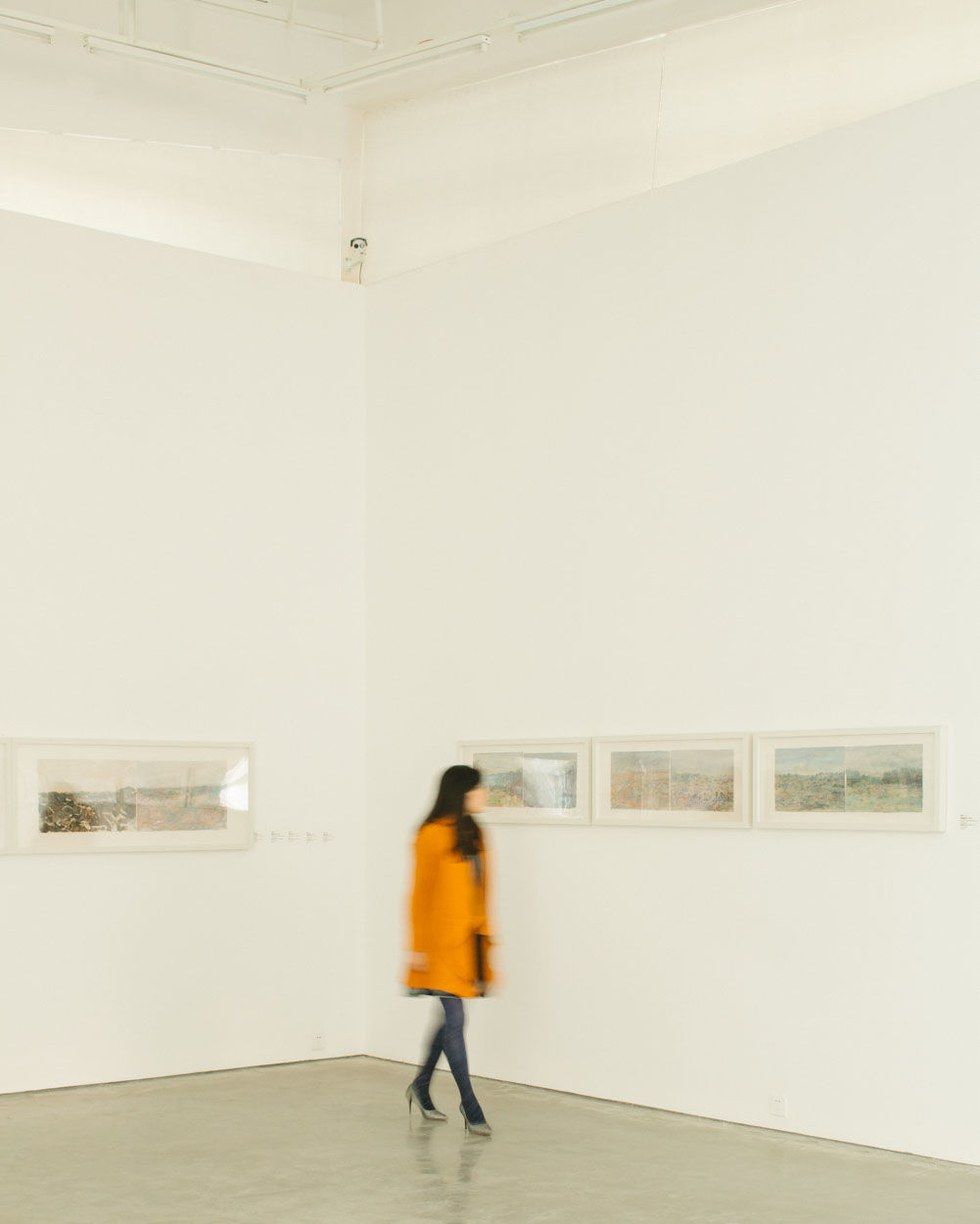 A Thousand Plateaus Art Space
Next, you return to Kuanzhai—meaning "broad and narrow"—Alley for deeper exploration. Hearing the clang of a hammer, you pause to watch a silversmith beat a bracelet on the sidewalk. Cantilevered roofs and vine-covered brick walls form a backdrop for vendors selling silks, opera masks, feather fans, shadow puppets and Zodiac figurines of rats, rabbits and snakes.
From here, you head to Shu Yun Li Yuan, the city's oldest tea-house theater, to take in a Sichuan opera. A waitress guides you to your seat and takes your order: a cup of green bamboo tea. Onstage, a woman in red robes plucks a lute as mist shrouds the stage. True to 18th-century tradition, the show includes such features as a bearded clown, women with peacock headdresses, elaborate dance routines, stylized masks and lots of falsetto singing. The show is mesmerizing and confusing in equal parts, and you thoroughly enjoy it.
Afterward, you make the short walk to Zi Fei, a restaurant specializing in dishes that allude to Chinese sayings, folklore and symbols. You enter through a long corridor lined with Zodiac-themed statues, then sit down to a meal that starts with an actual tree branch adorned with flowers made of savory dough, accompanied by beef and green beans. The waitress explains the dish's symbolism, but you are too busy being bemused to take it in. The food, incidentally, is delicious.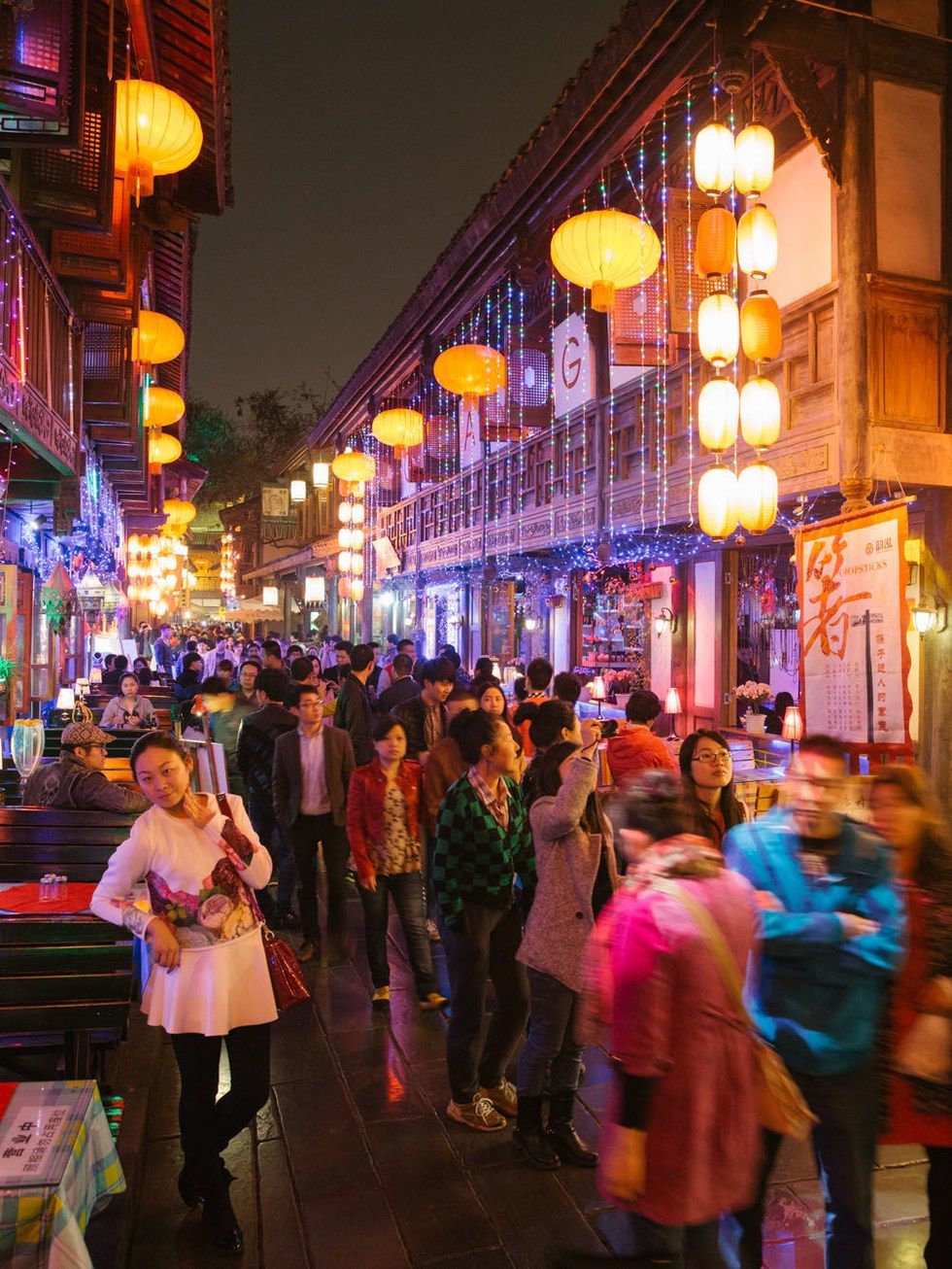 Jinli Ancient Street at night
It's your last evening in Chengdu, and you decide to go out with a bang. To do this, you head for the city's popular entertainment district, Lan Kwai Fong. Here, you duck into a low-key bar thick with cigarette smoke called the Nuremberg Germany Brewery. Onstage, a dreadlocked bass player is joined by a head-banging female singer who proceeds to belt out a grungy cover of Maroon 5's "This Love." Using a combination of hand gestures and grins, a trio of locals invites you to share their watermelon and mango platter, which strikes you as both weirdly random and very sweet.
Leaving the bar, you walk along the Brocade River, the surface of which reflects sweeping searchlight beams of blue and white. This makes you think: The restless search for the good life that consumes much of China seems different here, less furious, as if you don't have to look so hard. Near the hotel, you stop and chat with a man who says he plans to make a journey through Southwest China but keeps putting the trip off until tomorrow, tomorrow, tomorrow.
"I like being stuck in Chengdu," he says.
Benjamin Carlson, a Beijing-based writer, categorically denies that he smuggled a baby panda home in his suitcase.
This article was written by Benjamin Carlson from Rhapsody Magazine and was legally licensed through the NewsCred publisher network. Please direct all licensing questions to legal@newscred.com.
Earlier this summer, we shone a light on our flagship partnership with Special Olympics and our commitment to the Inclusion Revolution. In that same story, we introduced you to our four Special Olympics Service Ambassadors, Daniel, Kyle, Lauren and Zinyra (Z), who, this month, celebrate one year working at Chicago O'Hare International Airport as part of the United family.
This groundbreaking, inclusive employment program took off as a part of our ongoing partnership with Special Olympics, a community relationship that employees across the company hold close to heart. The original 'UA4' (as they call themselves) have become an integral part of the United team serving customers at O'Hare Airport. Even from behind their masks, their wide smiles and effervescent spirit exude and bring life to the service culture of excellence we strive towards every day.
"The UA4 are more than just customer service ambassadors. They are shining examples of how inclusion, accessibility and equity can have monumental impacts on the culture and service of a business and community," said Customer Service Managing Director Jonna McGrath. "They have forever changed who we are as a company. While they often talk about how United and this opportunity has changed their lives, they have changed ours in more ways than we can count."
In the two years of partnership with Special Olympics, United employees have volunteered over 10,500 hours of service at events around the world and donated over $1.2 million worth of travel to the organization.
"This inclusive employment program is what community partnerships, like ours with Special Olympics, are all about: collaborating to identify areas where the needs of the community intersect with the cultural and business opportunity, then creating the infrastructure and programming to bring the two together," said Global Community Engagement Managing Director Suzi Cabo. "Through this program, our goal is to show other companies that when you put a committed effort and focus towards inclusion and breaking down barriers, you transform lives. I challenge other business around the world to follow our lead in joining the Inclusion Revolution."
Check out the video below to hear from our Special Olympics Service Ambassadors firsthand.
We celebrate Hispanic Heritage Month from September 15 th through October 15th and take the time to recognize the important contributions of our colleagues of Hispanic descent in the United family.
This year, we hosted virtual events organized by our multicultural business resource group UNITE to celebrate Hispanic Heritage Month, covering topics ranging from immigration reform to Hispanic leadership. We're also taking a moment to highlight Latinx employees nominated by their peers for their contributions both at and outside of work.
These nominees have demonstrated leadership in their position and through their character. Take a moment to read their own words about how their background and heritage plays a role in the way they interact with customers, in how they support their colleagues and why it brings valuable perspective to their work.
Vania Wit – VP & Deputy Counsel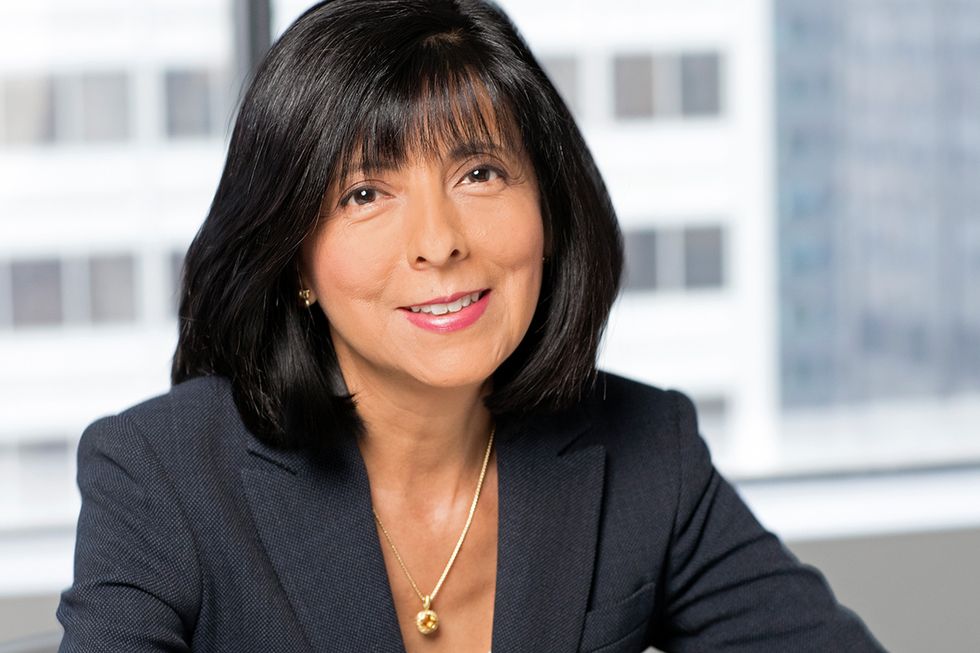 "I am the Vice President and Deputy General Counsel in the legal department. I am an attorney and have worked in the legal department for over 21 years and am currently responsible for a number of different legal areas – such as litigation, international, commercial and government contracts, labor, employment and benefits, antitrust. I have the privilege of working with a tremendous team of attorneys who are directly leading and managing these areas. One of the things I like most about my job is simply getting to know the backgrounds and personal stories that everyone has about their paths to United or their passion for the industry. Being the daughter of immigrants from South America and growing up in a family who relies heavily on air travel to connect us to our close family and friends is an integral part of my story and what drew me to this industry and this company."
Kayra Martinez – International Flight Attendant, FRA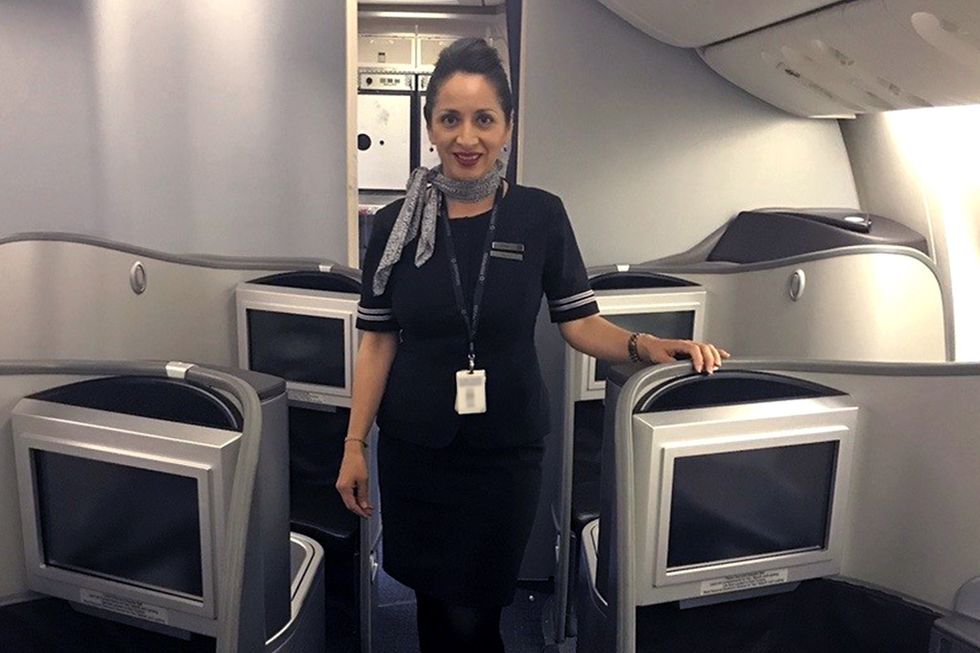 "I love that my work as a flight attendant brings me all over the world and allows me to connect with diverse people across the globe. Because of my Spanish heritage, I've been able to use my language as a way to connect with passengers, crew members and people from every nationality. In addition, my heritage gives me a very close connection to family, creating community and using inclusion as a way to bring people together. After transferring to Europe, I was able to study German, more Spanish, Italian and Arabic. Outside of work, I'm the director and founder of a nonprofit organization that empowers refugees through art. Hundreds of children and adults fleeing war-torn countries have found healing through my art workshops. These refugees are currently displaced in Greece. Their stunning paintings are then sold in art galleries and communities around the world, raising awareness and putting income directly into the hands of refugee artists."
Adriana Carmona – Program Manager, AO Regulatory Compliance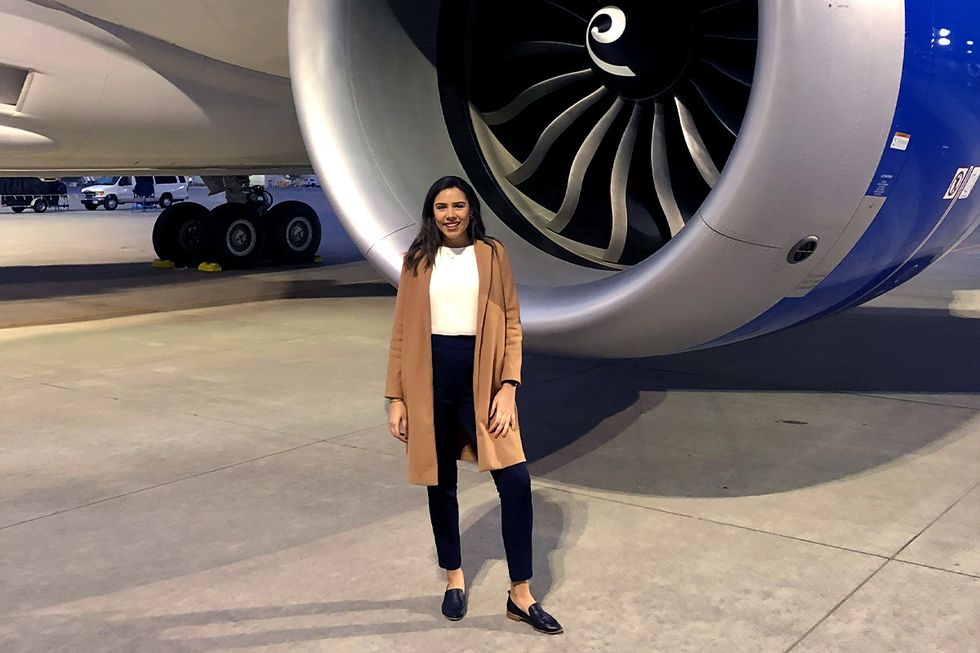 "I've been incredibly lucky to have amazing leaders during my time at United who have challenged me from day one to think outside the box, step out of my comfort zone and trusted me to own and deliver on the tasks assigned. I think this sense of ownership is largely shaped by my Latino background, which values responsibility, respect and accountability and taking full charge of what's in your control to be able to deliver accordingly."
Harry Cabrera – Assistant Manager, AO Customer Service, IAH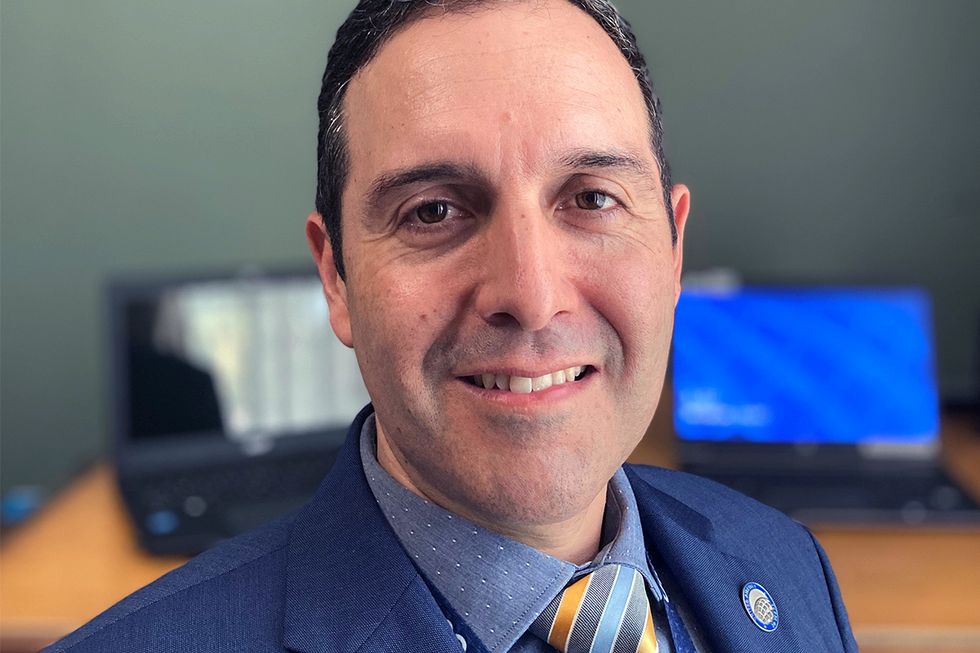 "My desire to help people is what drove me to start my career in Customer Service over two decades ago. Currently I provide support to our coworkers and customers at IAH , the gateway to Latin America and the Caribbean. As a Colombian native celebrating Hispanic Heritage Month, I'm proud to see the strength that my fellow Latinos forge every day at United Airlines. Family values are a cornerstone of the Latin community; I consider my coworkers to be part of my extended family. Mentor support throughout the years gave me the opportunity to grow professionally. The desire to do better and help others succeed is part of that heritage. I collaborate with our Latin American operations and create ways to improve performance. No matter what language you speak, the passion for what you do and being approachable makes the difference in any interaction."
Juciaria Meadows – Assistant Regional Manager, Cargo Sales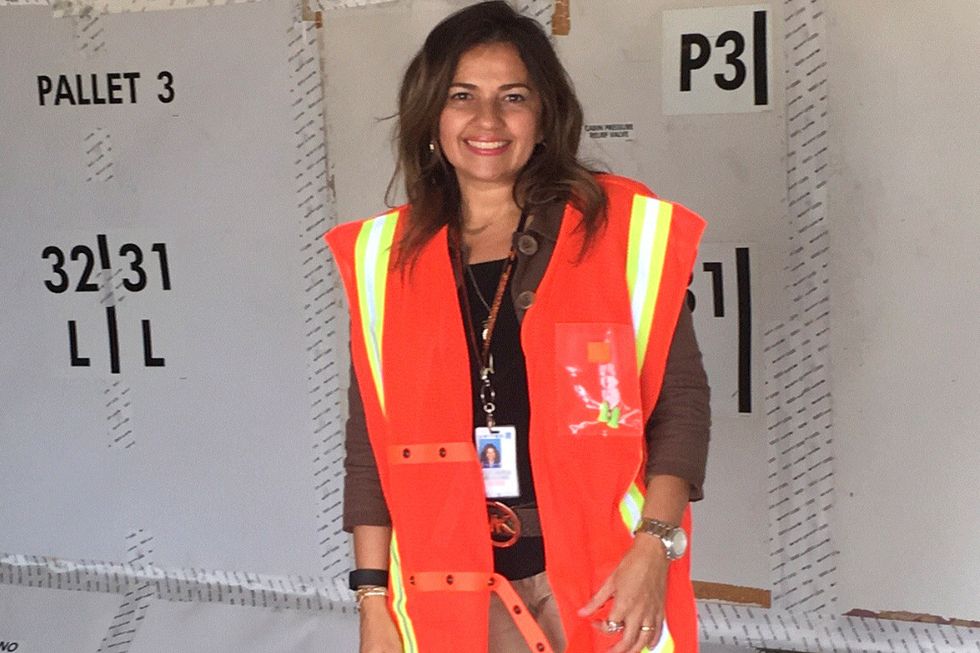 "During my 28-year career, I've worked across the system in various frontline and leadership roles in Reservations, Customer Service and Passenger Sales in Brazil. I moved to the U.S. in 2012 to work as an Account Executive for Cargo. It did not take too long for me to learn that boxes and containers have as much a voice as a passenger sitting in our aircraft. My job is to foster relationships with shippers, freight forwarders, cosignees, etc. and build strong partnerships in fair, trustworthy and caring ways where United Cargo will be their carrier of choice. That's where my background growing up in a Latino family plays an important role in my day-to-day interactions. I've done many wonderful sales trainings provided by United and my academic background , but none of them taught me more than watching my parents running their wholesale food warehouse. Developing exceptional relationships with their customers, they always treated them with trust and respect. They were successful business people with a big heart, creative, always adding a personal touch to their business relationships and I find myself doing the same. It's a lesson that is deep in my heart."
Shanell Arevalo – Customer Service Representative, DEN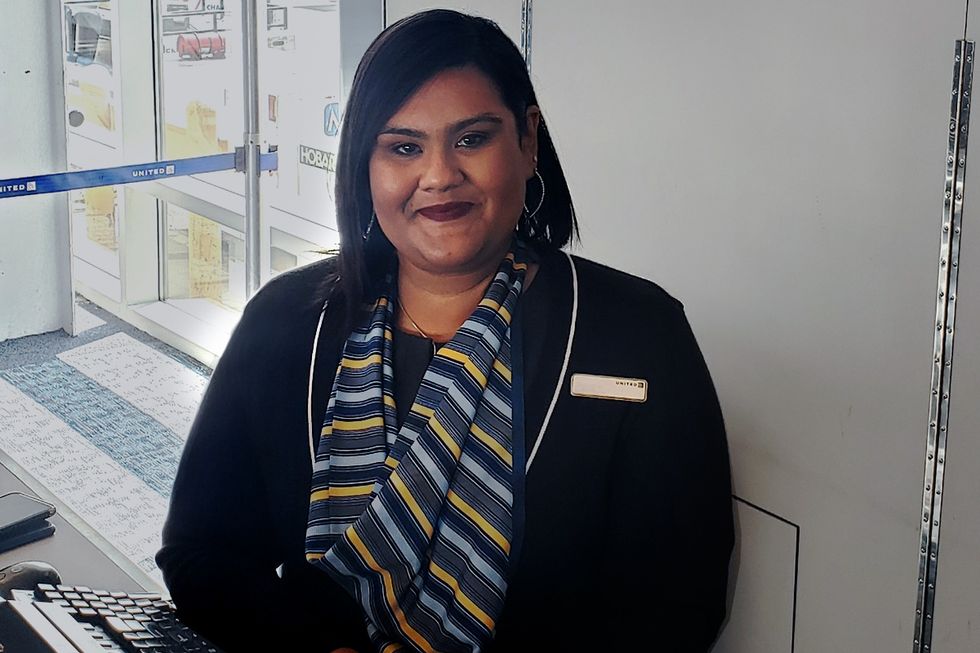 "I am Belizean and Salvadoran. At a young age my family moved to California from Belize. Although I grew up in the United States , one thing my parents taught me was to never forget the culture, values and principles I was raised on. This includes showing love, compassion, and respect to all people. We learned to put our best foot forward for any situation and always put our heart and mind into everything we do. In my position as a customer service agent, it's the difference of showing the love, compassion and respect to our passengers – to show that this is not just a job but rather a passion of genuinely caring for our people. Being Latina, we are raised to always take care of our family, and the way I take care of passengers is the way I would take care of my family. If there's one way I know I can make a difference with our Spanish speaking passengers, it's being able to speak the language. The glow that comes over a passenger's face when they realize there's someone who can speak Spanish is absolutely an indescribable feeling. With that glow comes comfort and joy. The small comfort they get from knowing someone can connect with them makes all the difference in their experience."
Even before the COVID-19 pandemic, United Cargo has supported a variety of customers within the healthcare industry for over 10 years. Three key solutions – TempControl, LifeGuard and QuickPak – protect the integrity of vital shipments such as precision medicine, pharmaceuticals, biologics, medical equipment and vaccines. By utilizing processes like temperature monitoring, thermodynamic management, and priority boarding and handling, United Cargo gives customers the peace of mind that their shipments will be protected throughout their journey.
With the global demand for tailored pharmaceutical solutions at an all-time high, we've made investments to help ensure we provide the most reliable air cargo options for cold chain shipping. In April this year, we became the first U.S. carrier to lease temperature-controlled shipping containers manufactured by DoKaSch Temperature Solutions. We continue to partner with state-of-the-art container providers to ensure we have options that meet our customers' ever-changing needs.
"Providing safe air cargo transport for essential shipments has been a top priority since the pandemic began. While the entire air cargo industry has had its challenges, I'm proud of how United Cargo has adapted and thrived despite a significant reduction in network capacity and supply," said United Cargo President Jan Krems. "We remain committed to helping our customers make it through the pandemic, as well as to doing everything we can to be prepared for the COVID-19 vaccine distribution when the time comes."
Our entire team continues to prioritize moving critical shipments as part of our commitment to supporting the global supply chain. We've assembled a COVID readiness task team to ensure we have the right people in place and are preparing our airports as we get ready for the industry-wide effort that comes next.
In cooperation with our partners all over the world, United Cargo has helped transport nearly 145 million pounds of medical supplies to aid in the fight against COVID-19, using a combination of cargo-only flights and passenger flig­hts. To date, United Cargo has operated more than 6,300 cargo-only flights and has transported more than 213 million pounds of cargo worldwide.
Scroll to top