Three Perfect Days: Chengdu
Story by Benjamin Carlson | Photography by Algirdas Bakas | Hemispheres, June 2014
Chengdu has always been known for its easy, some might say lazy, pace of life. Even its nicknames connote a life of leisure: Brocade City, Hibiscus City, Perfect City. Migrants from Beijing and Shanghai quip that the locals don't so much walk as mosey.
Even as an infusion of government investment has caused the city to blossom into an economic powerhouse, drawing Fortune 500 companies deep into the misty mountains of Sichuan, Chengdu has retained its reputation for prizing the finer things in life. People here may work as hard as their brethren in China's frenetic eastern and southern metropolises, but they also make time to while away an afternoon drinking tea, playing mah-jongg or dancing in a park.
Chengdu is best known, however, for its food: the mouth-numbing peppercorns, the blood-red Sichuan hotpot, the streetside "little eats." It's also the kind of place where you can spend the afternoon having your chi retooled at a luxury spa and attend an indie rock show before turning in.
Welcome to the New China.

DAY ONE | Dawn seeps through the shades of your 40th-floor suite at the Ritz-Carlton. Opening them with the push of a button, you gaze out at the city. Below lies Tianfu Square, the heart of the provincial capital. To the north, Chengdu's rambling suburbs vanish into the enveloping fog. You peer through a telescope and see shadowy masses on the horizon, where the basin of Chengdu's valley rises into low hills.
The Ritz-Carlton takes inspiration from Sichuan culture, with a new-money spin. In your room, you sip tea in a calfskin armchair below a three-legged Ding sculpture—an ancient symbol of power and unity. From here, you head for the hotel's sunlit Club Lounge. You'll be plunging headfirst into Chengdu's fiery cuisine today, so you keep breakfast light: muesli, dragon fruit and salmon. Seduced by the lounge's stunning downtown panorama, you linger longer than you intended.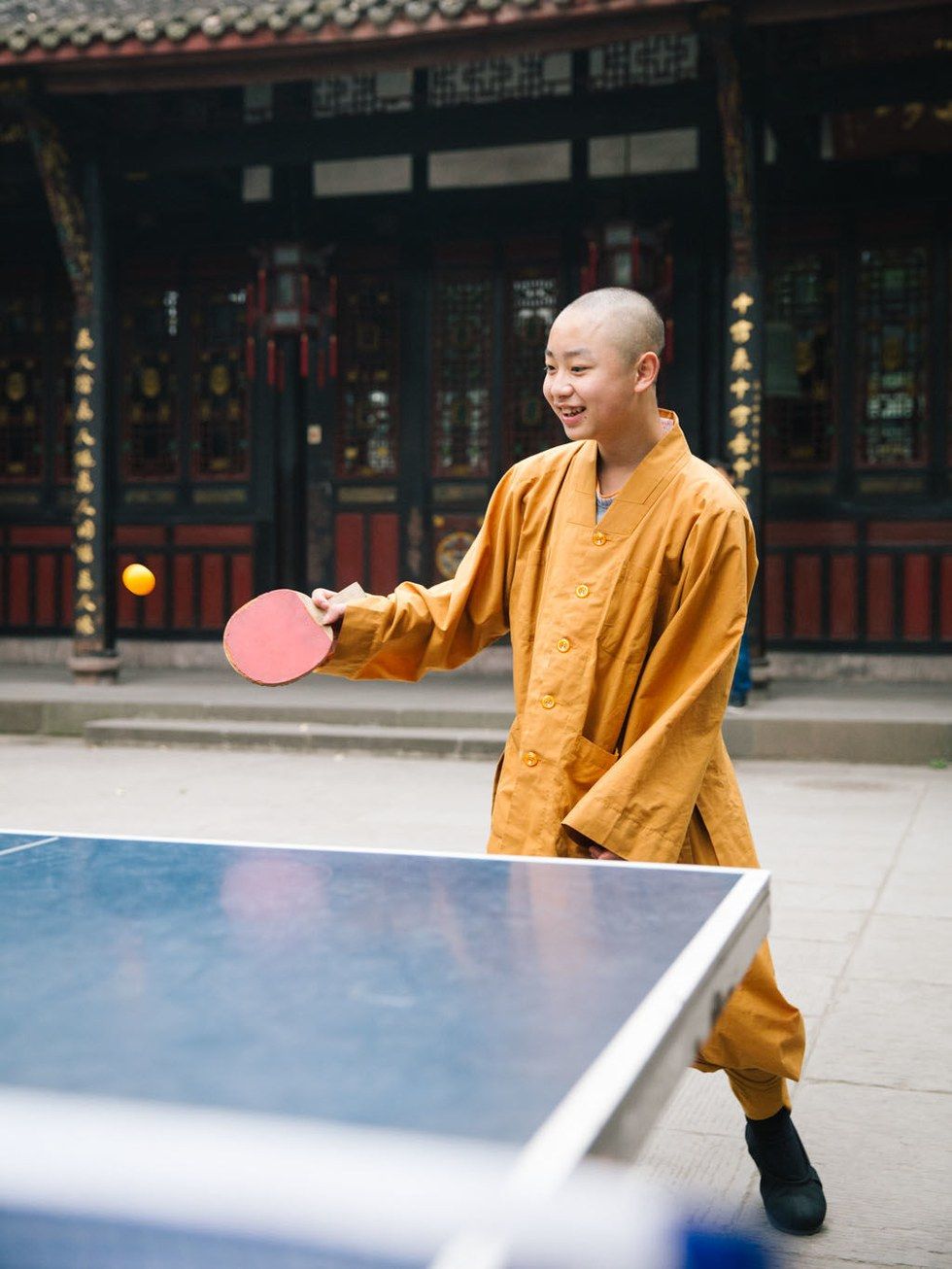 Young monk Long Chen plays ping-pong in Wenshu Temple;
Down below, you hail a taxi to take you to Wenshu Monastery, one of Chengdu's most lovingly preserved places of worship. After a short ride past broad Tianfu Square, presided over by a giant Mao statue, you arrive at the Tang dynasty (A.D. 618–907) temple. Alongside day-trippers and worshippers, you pass through a gate into a maze-like garden that takes you to the major shrine, Manjushri bell tower, which is surrounded by bonsai trees and people snapping smartphone pics. You watch a woman in a pink fur jacket bow four times before a dragon-footed urn, the newly blossomed cherry trees ringing with birdsong.
From here, you enter an inner courtyard where two young monks in robes volley a ping-pong ball under the gaze of an elder. When one hits the ball wide, disturbing an adjacent game of badminton, the stern elder leaps up, takes the paddle and begins spiking the ball at his young charge.
Outside, down a dusty alley ringing with the music of a busker playing a Chinese violin, you dart into a noodle shop famous across Chengdu as the place to sample a local specialty: tian shui mian, or sky-water noodles. The name of the eatery, Dongzi Kouzhang Lao'er Liangfen, literally means "Hole Gaping Mouth Second Son's Bean-Starch Noodles." It's a truly local joint, known for the boisterous social quality the Chinese call "hot noise."
You line up behind several old ladies in caps and slacks who squabble over stools at the communal wooden tables. As you place your order, the server behind the counter smiles and says, "Eat slowly!"—an expression that roughly corresponds to "Bon appétit!" You guzzle a bowl of thick-cut noodles in sweet sauce and chili—one of a dozen specialties any taxi driver will rattle off when asked about his favorite local dishes. At 6 yuan ($1) it's a delectable and impossibly cheap treat.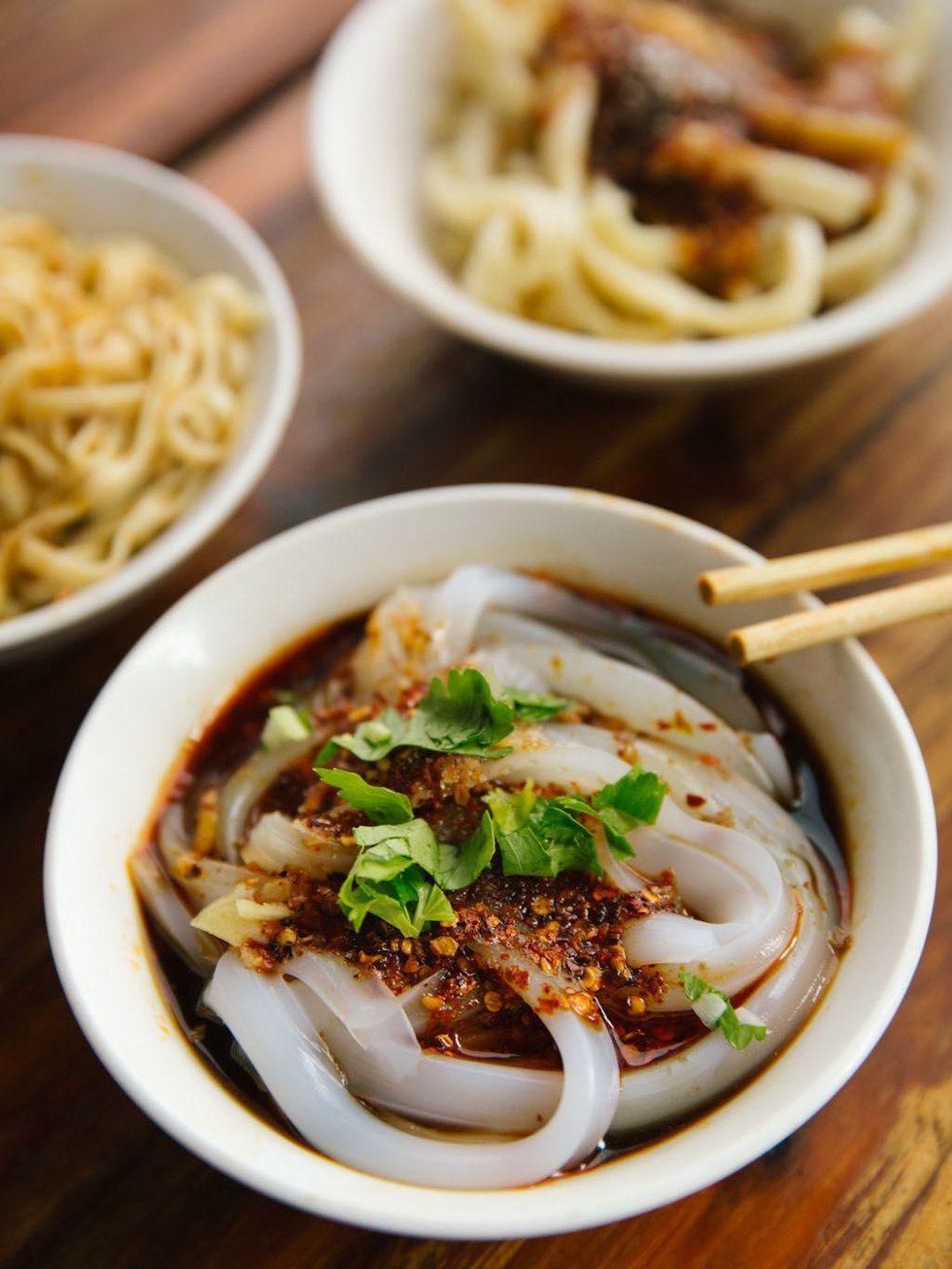 Sky–water noodles at Dongzi Kouzhang Lao'er Liangfen
You consider a second helping, but think better of it and head down neighboring Jinma Street for some antiques shopping. Beyond stalls selling old paper money and silver coins, there's a wide lot on which traders have spread blankets littered with Buddhist prayer beads, Maoist posters, marble lions, jade bangles, erotic paintings and abacuses strung together with wire. A vendor quotes you 100 yuan for a vintage magazine and you shake your head no.
Next, you continue down Jinma, passing a traditional Chinese medicine shop where a cat swishes its tail next to baskets of gnarled ginseng roots. Next door, old-timers lounge in creaking bamboo chairs and chew sunflower seeds. You weave around a family's mah-jongg table and hail a cab back to the hotel, where you have a very important appointment to make.
How better to spend an afternoon in China's relaxation capital than by having your yin and yang recalibrated at a luxury spa? For an hour, you enjoy a tea-themed therapeutic massage that claims to do just this. Then you have your scalp kneaded amid the fragrance of burning moxa herbs. By now you are feeling very relaxed, very balanced, and also a bit hungry. So you freshen up, waft through the hotel's marble lobby, then take a 10-minute cab ride south to Yunmen Emerald Conceptual Restaurant.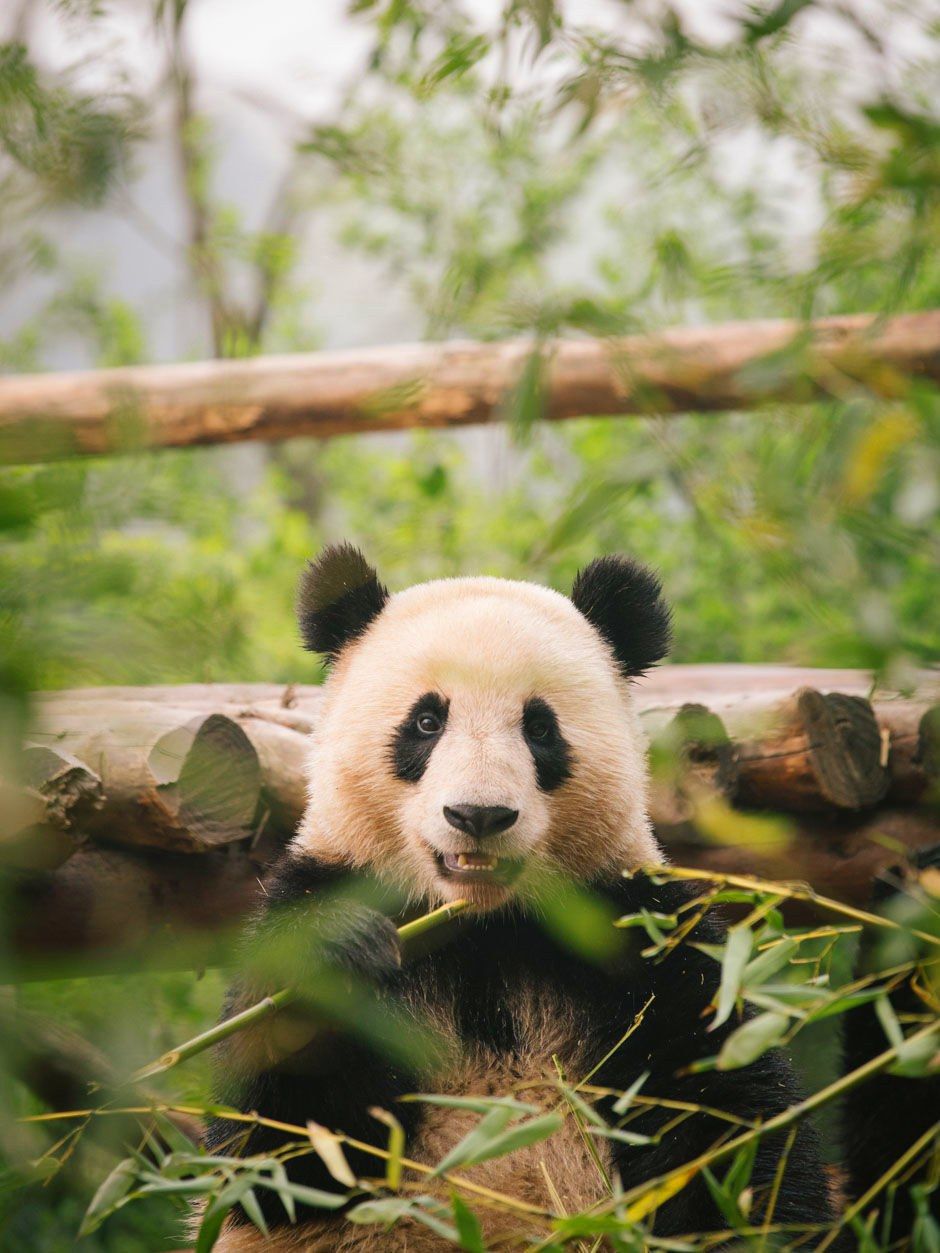 A panda at the Research Base of Giant Panda Breeding
Yunmen is known for serving imaginative cuisine, but it's no slouch in the décor department, either. You pass a magazine rack resembling a lamb and enter a private dining room, where a waiter brings Kobe beef with pulverized black truffle and a dish of salmon-papaya mousse accompanied by bubbling sour cream and dry ice. The food is tasty, but it's the presentation that wows you: a mango sliver arrives at your table in a hollow eggshell.
You end the evening at the Ritz-Carlton's Flair bar. From a perch on the 27th-floor terrace, you nibble seaweed-wrapped crackers and crispy red pepper. Your cocktail arrives: a concoction of chrysanthemum gin and hibiscus syrup garnished with an orchid. In the distance, the Sichuan TV tower—glowing blue, green and indigo in the misty Chengdu night—seems to be sending you a message: bed, bed, bed.
DAY TWO | No visit to Chengdu would be complete without pandas. To catch them, however, you need to rise early. Wakened by a call from your butler (heh), you take a brisk three-minute walk from the hotel to the Uno Mall, where you buy a large cup of joe and a warm blueberry muffin at the new Pacific Coffee—a popular Hong Kong chain reliable for the strength of its brew.
Feeling marginally less comatose, you take a taxi 40 minutes into the northern suburbs, home to some of the cutest animals on the planet. Though cab drivers here, as everywhere, make a habit of moaning about the traffic, Chengdu's expensively assembled infrastructure makes driving a breeze compared to the crushing congestion of cities like Beijing, and you arrive at your destination right on schedule.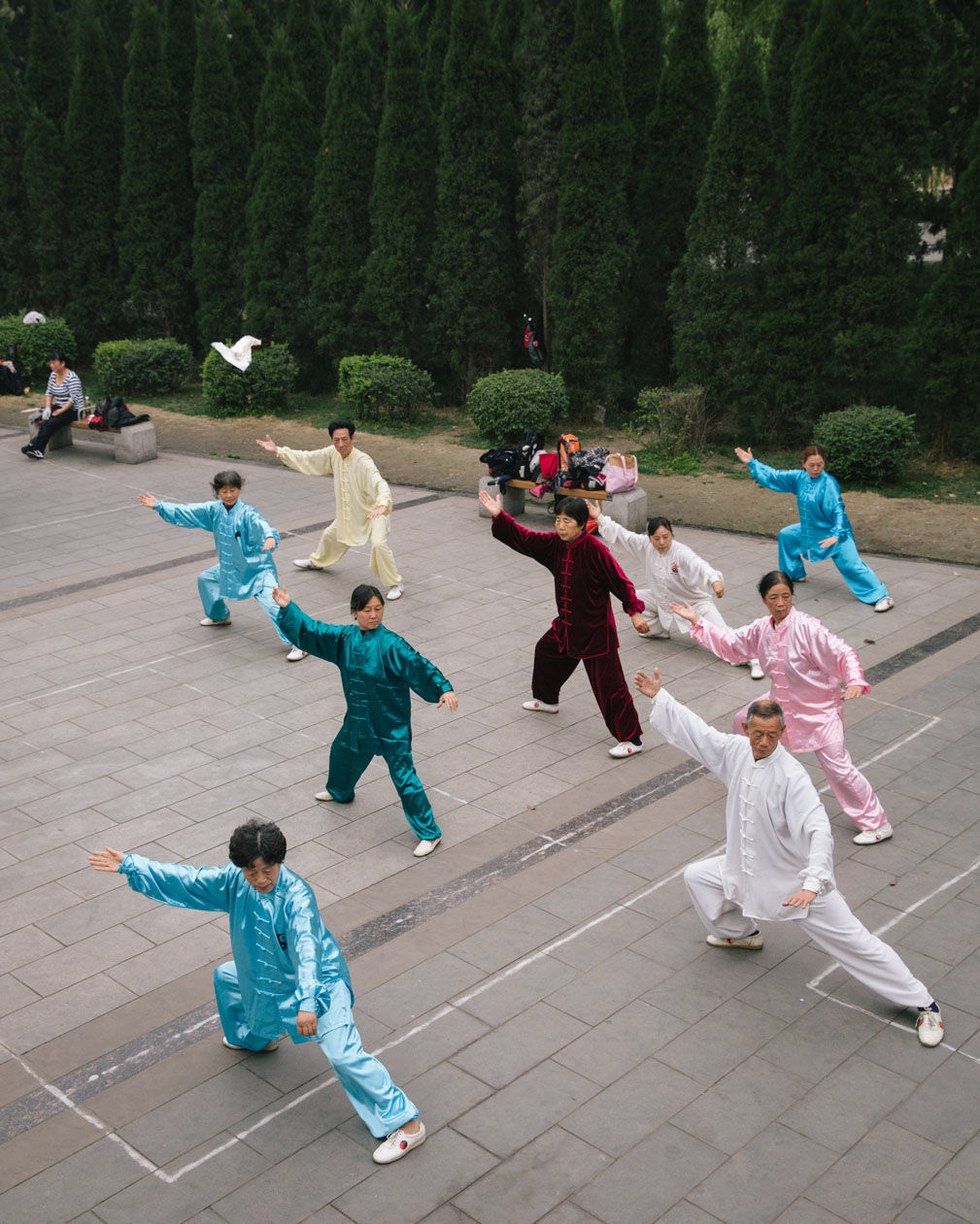 Saturday tai chi practice in People's Park
With 80 percent of the world's 1,500 wild pandas living in Sichuan province's misty bamboo forests, the Chengdu Research Base of Giant Panda Breeding has established itself as one of the leading institutions of its kind. You arrive to the sound of distant peacocks hooting "Hello! Hello!" A woman at the information desk points you down a winding path. "Hurry!" she says, and you're about to discover why.
You come to an enclosure, a grove of arcing bamboo plants containing four pandas, who are just about to dig into breakfast. One tubby little fella sits on his haunches plucking bamboo and quietly munching. A baby panda lolls on a tree branch, seemingly unable to control its limbs. As it squirms, a male visitor shouts, "What are you trying to do?" Another cub rests in the crook of a ficus bough like a furry loaf of bread. "I've never seen them so active!" coos a woman.
Walking on, you enter the red panda enclosure, where the raccoon-size animals roam freely, coming so close to one woman that she scampers away, yelping, "I'm scared!" You crouch down, staying very still as the diminutive but big-clawed creature struts past your leg.
Thoroughly content, you head back to town, where you'll be eating at the century-old lunch spot Chen Mapo Tofu. Taking a seat beneath hanging red lanterns amid a clatter of chopsticks, you order liang mian (cold noodles) and one of Chengdu's signature dishes, mapo tofu. As you order, a nearby local man gives you an approving thumbs-up. The tofu comes to the table sizzling in an iron pot, smelling of spring onions and earthy peppercorns, accompanied by a pile of crushed Sichuan chilis. You order an extra bowl of rice.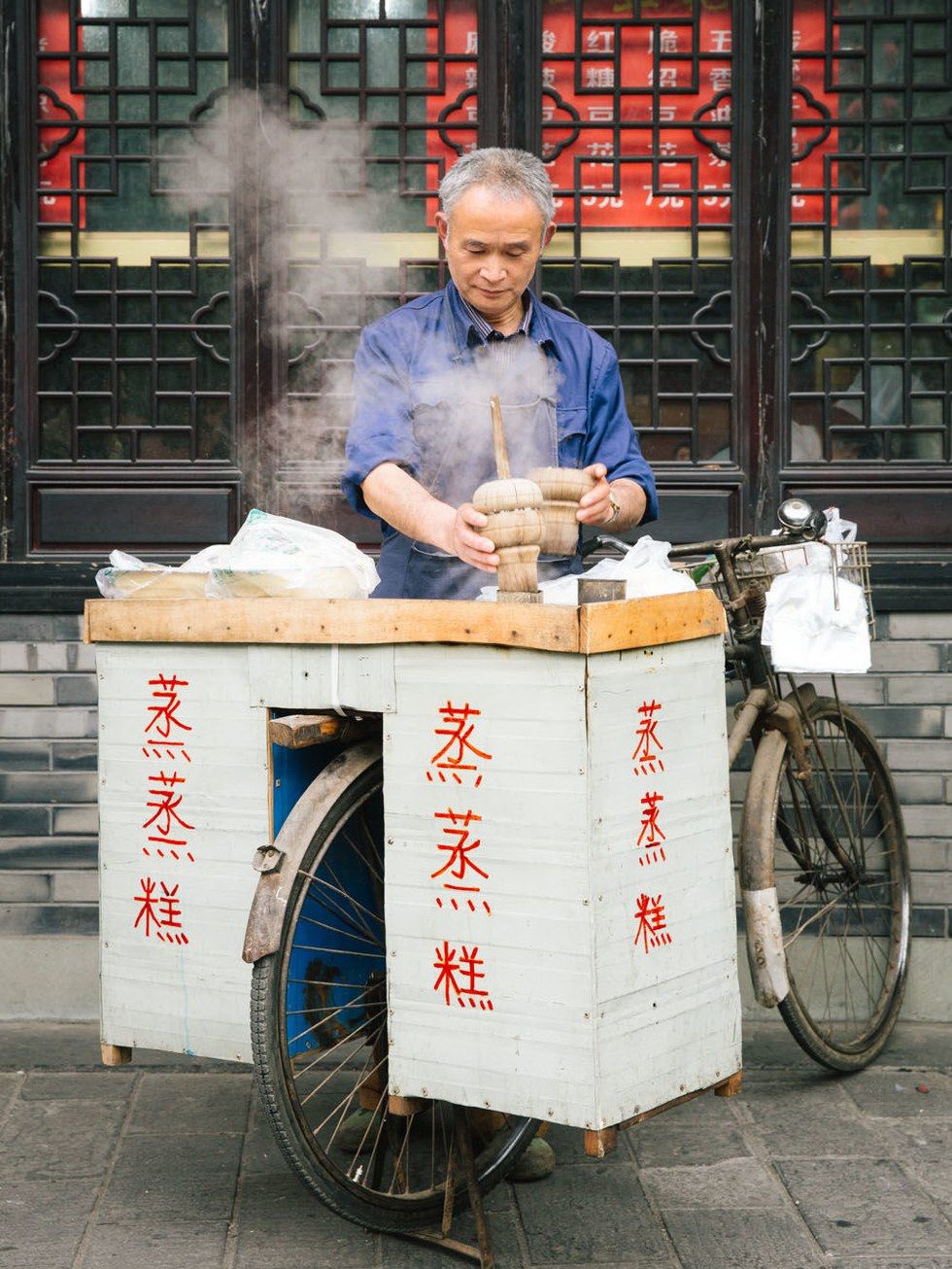 A vendor prepares sweet steamed cakes
Reeling happily from the fire in your belly, you make a beeline for the delightfully boisterous People's Park, where throngs of locals are engaged in various activities: running, stretching, kite flying and even synchronized waltzing. To your right, you marvel at the scene of elderly parents seeking mates for their adult children. Like an analog OkCupid, they hawk sheets of paper advertising the heights, weights, blood types and Zodiac signs of their unmarried sons and daughters.
You stop at the park's Heming Tea House, which has a nice view of a small lake, and order a glass of jasmine blossom tea with rock sugar and dates. On impulse, you wave down one of the numerous roving ear cleaners, who goes to work on your canals with long metal tongs and cotton swabs. As the cleaner probes, you decide this is perhaps an experience you need to endure just once.
It's time to brush up on your local history, which you'll be doing at the Wuhou Shrine—famous for its monuments dating back to the Three Kingdoms period (A.D. 220–280). At the end of a gingko-lined promenade, you are greeted by a statue of a benevolent-looking Liu Bei, an ancient king, and the master strategist Zhuge Liang, who holds a feather fan and has frighteningly long fingernails.
From here, you enter Jinli Ancient Street, a winding, tourist-heavy thoroughfare lined with stalls selling Chengdu snacks (skewered quails and, for real, fried rabbit heads). The aroma of the aptly named stinky tofu drives you down an alleyway crammed with bars and coffee shops. Here, you slip into the popular restaurant Se Xiang Wei Little Eats for that most local of local snacks—dan dan mian, or "street vendor's noodles." You get a bowl of thin springy noodles served with chili, pickled onions and savory ground pork—a favorite across China. Mindful of your next stop, you leave some room.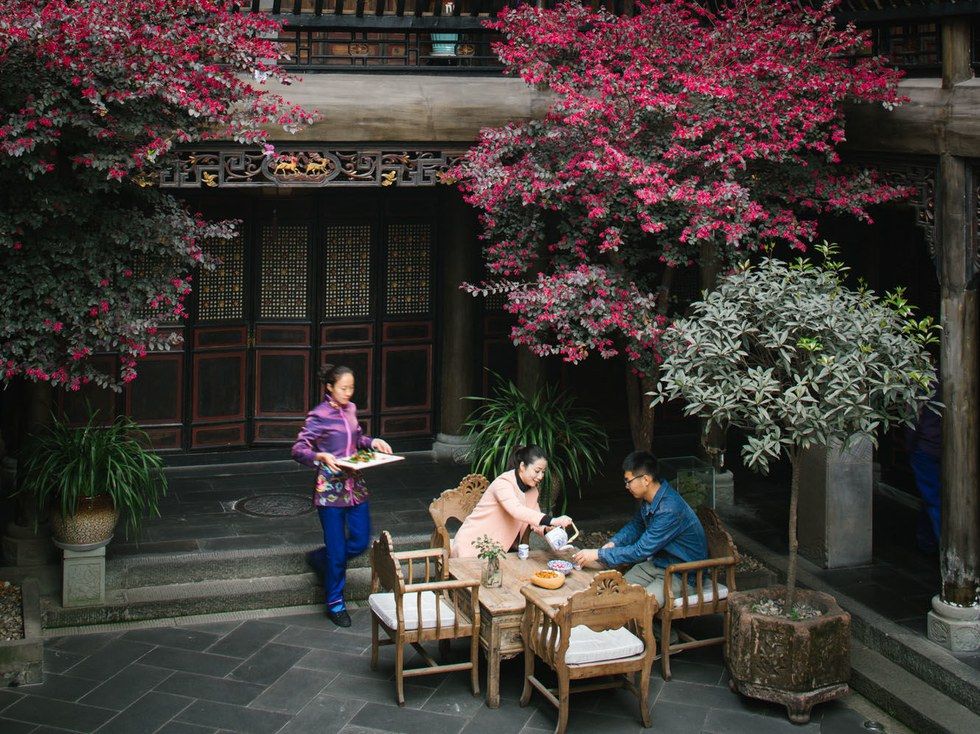 Zi Fei garden in the afternoon
Dinnertime brings you to a new wing of the historic Jinjiang Hotel, where the Michelin-starred chef Christophe Dufossé offers haute French cuisine to spice-numbed local palates at Jinyue. Inside, smooth waiters greet you with "Bonsoir" and you settle down to an extraordinary dinner of codfish, creamed pumpkin and pear tart encased in a caramel-colored chocolate shell.
After bidding the waiters "Bonne nuit," you return to the Ritz-Carlton and pause for a post-dinner whiskey at the Lobby Lounge. As a local singer warbles Ella Fitzgerald covers, you look over at the distant hills and imagine, for a moment, that at the top of every one is a sleeping panda. You drink up and head off to the second hotel of your stay, the new Diaoyutai Boutique Hotel, where you too are soon asleep.
DAY THREE | You wake up in a sumptuous suite to a glorious view over Kuanzhai Alley, Chengdu's most beautiful and atmospheric street. Outside is a landscape of clay-tiled roofs and upturned eaves. It looks like a scene from the time of the Qing dynasty, and in a way it is—though heavily renovated, Kuanzhai preserves the atmosphere of the 18th century.
Yesterday's rich, spicy food is still very much with you, so you skip a sit-down breakfast and knock back a chocolate croissant from the in-house bakery. Munching, you pass through the Diaoyutai's courtyard—a fusion of sleek French design and classical Chinese flourishes—and head outside to hail a cab to take you to your first stop of the day, located 30 minutes away in Tianfu New District.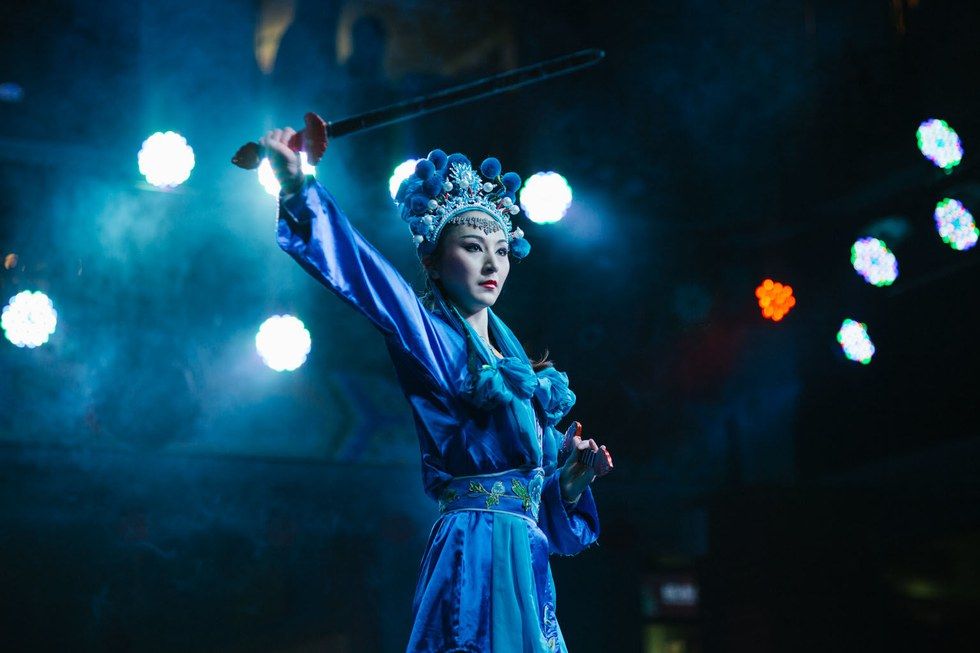 Sichuan opera at Shu Yun Li Yuan
Opened last summer, the New Century Global Center is billed as the largest building in the world. Glistening and curvaceous, it looks as though it should be the largest building on Mars. So large is the mall, in fact, it takes you 15 minutes just to locate an entrance. Eventually you find one and are immediately confronted by a dizzying array of amenities: a skating rink, a water park, an IMAX theater and a faux beach with a 500-foot cinematic sky.
You ride up a 200-foot escalator, arriving at the top in time to see a poodle lifting its leg on one of the mall's artificial palm trees. You cross a plexiglass bridge, upon which a bunch of teens tell each other to "Go on! Fall!" Others cling to the handrail and shuffle their feet across the transparent floor. A macho middle-aged man stamps on the plastic to show off for his friends.
Your senses thoroughly assaulted, you leave the mall and head south for a stroll through the serene Tiexiang Temple Riverfront, a model of attractive urban development that contrasts with the concrete apartment blocks that surround it. On the riverfront, you find A Thousand Plateaus Art Space, the hub of Chengdu's thriving contemporary art scene, where you take in the stunning paintings of Qi Lan, one of which alludes to Cézanne's famous haystack obsession with a flurry of chaotic brushwork.
For lunch, you return to the Diaoyutai, whose KZ Restaurant and Grill has tables in a sunlit courtyard, where you settle down for a meal of excellent sushi. The Filipino chef whips up wasabi two ways—runny and thick—and adds dashes of numbing spice to the tuna roll. Warned in advance to save room, you sample the Sichuan beef and chili loaf, a crispy and pungent bread best eaten with the red chili spread.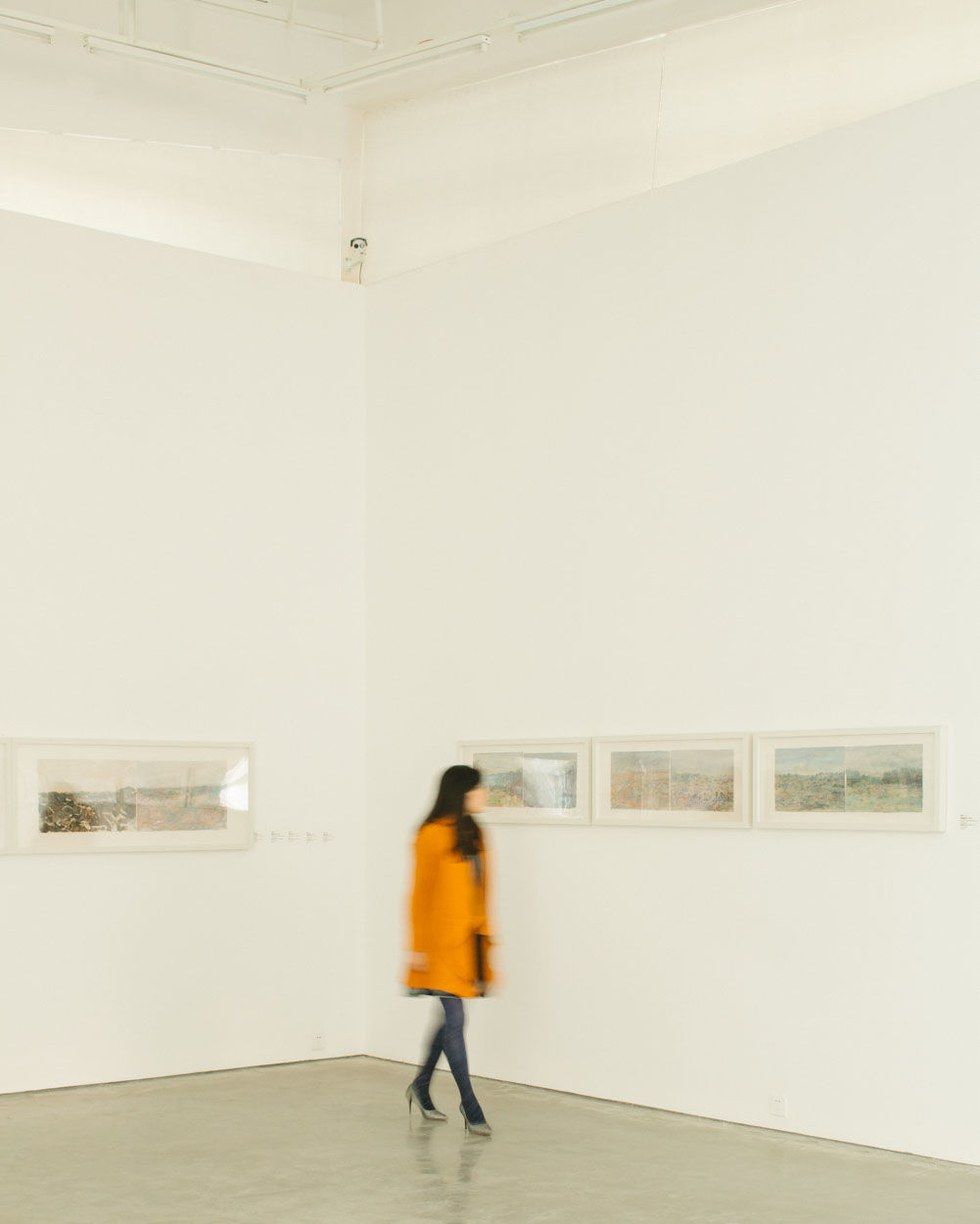 A Thousand Plateaus Art Space
Next, you return to Kuanzhai—meaning "broad and narrow"—Alley for deeper exploration. Hearing the clang of a hammer, you pause to watch a silversmith beat a bracelet on the sidewalk. Cantilevered roofs and vine-covered brick walls form a backdrop for vendors selling silks, opera masks, feather fans, shadow puppets and Zodiac figurines of rats, rabbits and snakes.
From here, you head to Shu Yun Li Yuan, the city's oldest tea-house theater, to take in a Sichuan opera. A waitress guides you to your seat and takes your order: a cup of green bamboo tea. Onstage, a woman in red robes plucks a lute as mist shrouds the stage. True to 18th-century tradition, the show includes such features as a bearded clown, women with peacock headdresses, elaborate dance routines, stylized masks and lots of falsetto singing. The show is mesmerizing and confusing in equal parts, and you thoroughly enjoy it.
Afterward, you make the short walk to Zi Fei, a restaurant specializing in dishes that allude to Chinese sayings, folklore and symbols. You enter through a long corridor lined with Zodiac-themed statues, then sit down to a meal that starts with an actual tree branch adorned with flowers made of savory dough, accompanied by beef and green beans. The waitress explains the dish's symbolism, but you are too busy being bemused to take it in. The food, incidentally, is delicious.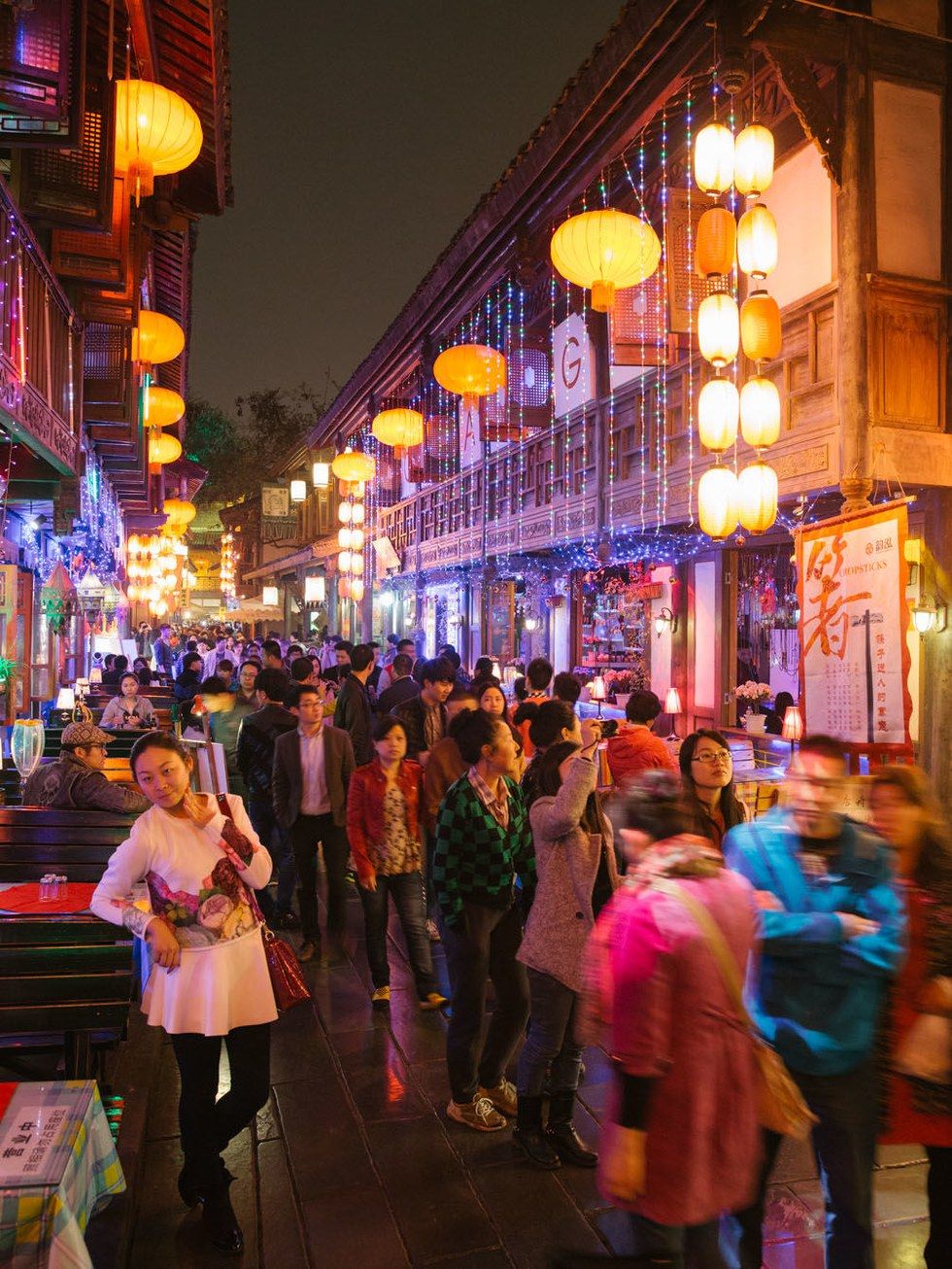 Jinli Ancient Street at night
It's your last evening in Chengdu, and you decide to go out with a bang. To do this, you head for the city's popular entertainment district, Lan Kwai Fong. Here, you duck into a low-key bar thick with cigarette smoke called the Nuremberg Germany Brewery. Onstage, a dreadlocked bass player is joined by a head-banging female singer who proceeds to belt out a grungy cover of Maroon 5's "This Love." Using a combination of hand gestures and grins, a trio of locals invites you to share their watermelon and mango platter, which strikes you as both weirdly random and very sweet.
Leaving the bar, you walk along the Brocade River, the surface of which reflects sweeping searchlight beams of blue and white. This makes you think: The restless search for the good life that consumes much of China seems different here, less furious, as if you don't have to look so hard. Near the hotel, you stop and chat with a man who says he plans to make a journey through Southwest China but keeps putting the trip off until tomorrow, tomorrow, tomorrow.
"I like being stuck in Chengdu," he says.
Benjamin Carlson, a Beijing-based writer, categorically denies that he smuggled a baby panda home in his suitcase.
This article was written by Benjamin Carlson from Rhapsody Magazine and was legally licensed through the NewsCred publisher network. Please direct all licensing questions to legal@newscred.com.
As a member in the tourism, travel and transportation industries, United offers a unique perspective into the economic and operational effects rippling across the U.S. To advocate United's efforts, and in anticipation of a bright future, New York/New Jersey President Jill Kaplan and California President Janet Lamkin have both been named to their states' respective governor's COVID-19 response task force committees.
Appointed by New Jersey Governor Phil Murphy, Jill joins the New Jersey Restart and Recovery Advisory Council ­— a group of business and municipal leaders tasked with planning to restart the state's economy.
"Serving on Governor Murphy's Restart & Advisory Council uniquely positions us in the epicenter of helping to restart state's economy by providing innovative ideas, sharing best practices and creative thinking to help ensure the rebuilding of New Jersey's economic vitality alongside notable business leaders," said Jill. "I'm honored to represent United Airlines and the transportation industry as a core building block to expediting the state's recovery."
United is the sixth largest company in the state and one of the largest essential businesses continuing to operate through this crisis, and as or advocate, Jill will share some of our best practices and lessons we're learning with the nine different committees through the customer and employee lens.
On the opposite coast, California Governor Gavin Newsom last month appointed Janet to his Task Force on Business and Jobs Recovery. Joining Janet at the table are former California governors, legislative leaders and CEOs and executives from numerous businesses with large stakes in the state, such as Apple and Disney. In addition to Janet's position on the task force, Janet is also serving on the Long-Term Jobs Recovery sub-committee and will advocate for industries suffering long-term ramifications of COVID-19 such as tourism, travel and entertainment.
"Being appointed to Governor Newsom's Task Force on Business and Jobs Recovery ensures that United is part of the important conversation and part of the plan to help California pave the way toward a fast, safe recovery of jobs," said Janet. "It is an honor to represent the only transportation business on the task force, and I look forward to working alongside a group of very distinguished leaders and focusing on innovative ways to rebuild the economy for our 40 million residents. This work will build on our partnership with the Governor to provide free flights for medical volunteers and having our employees call to check in on isolated older adults as part of the Social Bridging Project."
Pre-COVID, we transported 38 million passengers to, from and within California each year, and directly and indirectly supported tens of thousands of jobs, so the health and well-being of the industry is vital to the prosperity of the state.
As the only airline represented among each of these groups, Jill and Janet are working hard to ensure that our voices, as a company and industry, are heard, valued and utilized as a new chapter dawns on the horizon.
Hello. I'm Scott Kirby, the new CEO of United Airlines. I'm a proud Air Force Academy graduate and have spent my entire career in and around aviation, including the last four years as President of United.
While I had planned for my first communication with you to be about the meaningful investments we were making to the travel experience and our continued growth across the U.S. and expansion to exciting new destinations around the world, today, the situation rendered to us by the COVID-19 pandemic leads me to a different type of message.
First, I graciously and humbly thank you for your business. Now, more than ever, our customers' loyalty is so deeply appreciated by every member of the United family.
As essential workers, the men and women of our airline have been hard at work over the past two months to transport vital medical supplies and critical goods to places that need them most, to provide free travel to healthcare professionals and to help thousands of individuals repatriate to their home countries.
Safety has always been our top priority, and right now in the midst of an unprecedented crisis, it's our singular customer focus. We recognize that COVID-19 has brought cleanliness and hygiene standards to the front of your mind when making travel decisions. We're not leaving a single stone unturned in our pursuit to protect our customers and employees.
We are installing plexiglass in lobby and gate areas, we're using the same equipment used to clean hospitals to disinfect the interiors of our aircraft, all crew and customers on board are required to wear face mask coverings and we're taking the temperature of our employees before they start work.
But at United, we're not stopping there. We're teaming up with experts from Clorox and the Cleveland Clinic to set a new standard for cleanliness and healthy flying that we are calling United CleanPlus℠.
Clorox is working closely with us to improve how we disinfect common surfaces and provide our customers with amenities that support a healthy and safe environment.
Physicians and scientists at the Cleveland Clinic, will advise us on new technologies and approaches, assist in training development and create a rigorous quality assurance program. And, as scientists learn more about how to fight COVID-19, Cleveland Clinic experts will help us use those discoveries to quickly implement new ways to keep our customers safe.
While we may not know when this pandemic will subside, what we do know is that travel is so deeply woven into the fabric of our global culture. We all desire to visit family, dance at a friend's wedding, hug parents…and see the wonders of this beautiful world. No matter how sharp the picture quality – or how strong the WiFi signal – there's simply no substitute for being there – in person – to collaborate, celebrate, explore. We are confident that travel will return. And when it does, United Airlines will be ready to serve you again in the friendly skies.
Thank you. Be well. And I look forward to seeing you on board.

We remain passionate about connecting the world safely
United CleanPlus SM is our commitment to putting health and safety at the forefront of your journey, with the goal of delivering an industry-leading standard of cleanliness. We're teaming up with Clorox to redefine our cleaning and disinfection procedures, and over the coming months, we'll roll out Clorox products across our U.S. airports, starting in select locations, to help support a healthy and safe environment throughout your travel experience.
At the airport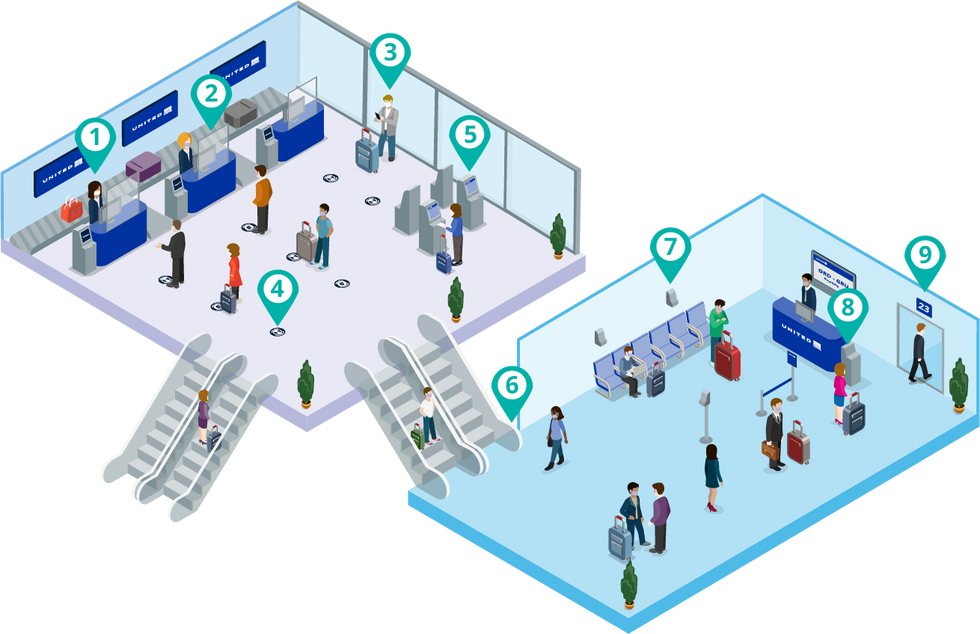 At check-in:

Implementing temperature checks for employees and flight attendants working at hub airports
Installing sneeze guards at check-in and

gate podiums

Encouraging use of the United app for contactless travel assistance and more
Promoting social distancing with floor decals to help customers stand 6 feet apart
Introducing touchless check-in for customers with bags

At the gate:
Disinfecting high-touch areas such as door handles, handrails, elevator buttons, telephones and computers
Providing hand sanitizer and
disinfectant wipes
Allowing customers to self-scan

boarding passes

Boarding fewer customers at a time and, after

pre-boarding

, boarding from the back of the plane to the front to promote social distancing
On our aircraft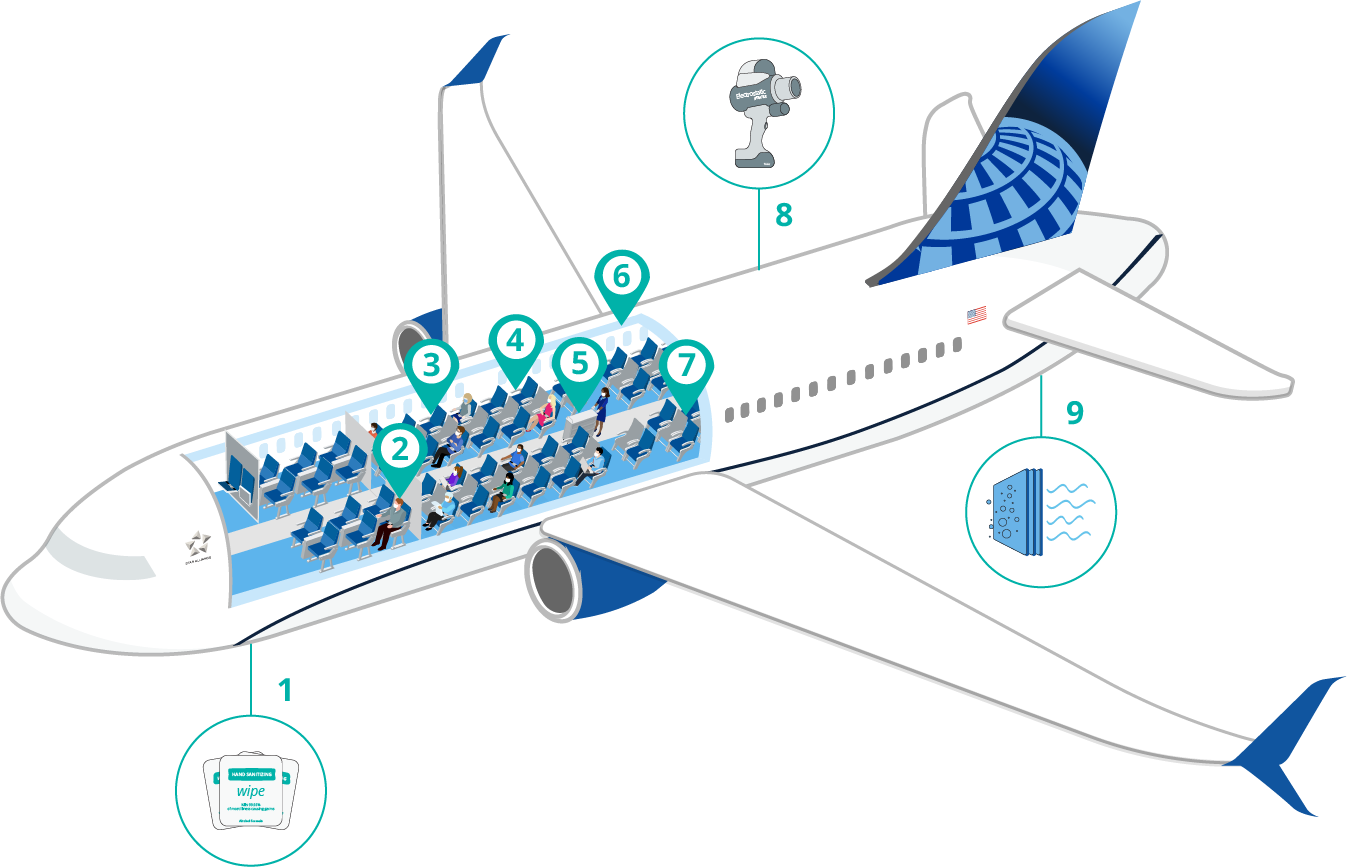 Providing individual hand sanitizer wipes

for customers

Requiring all customers and employees to wear a face covering and providing disposable face coverings for customers who need them
Temporarily removing onboard items like pillows, blankets and inflight magazines
Disinfecting high-touch areas, like tray tables and armrests, before boarding
Reducing contact between flight attendants and customers during snack and beverage service
Ensuring aircraft cleaning standards meet or exceed CDC guidelines
Applying social distancing to seating procedures when possible, including:

Limiting middle seat selection
Moving customers seated closely together
De-planing in groups of five rows at a time to reduce crowding

Using electrostatic spraying to disinfect aircraft, to be completed on all flights by mid-June
Using state-of-the-art, hospital-grade, high-efficiency (HEPA) filters to circulate air and remove up to 99.7% of airborne particles

We're working closely with the experts at Cleveland Clinic to advise us on enhancing our cleaning and disinfection protocols for the safety of our employees and customers. Visit Cleveland Clinic's website to learn more about COVID-19.
Together, we are facing an unprecedented challenge. United Together, we rise to meet that challenge.
Learn more
United Airlines
united
To allow for additional flexibility, flights booked now through June 30 can be changed for free over the next 12 months. All existing travel can be changed without fees as well. See waiver for details:
uafly.co/2M9vgLC
We Are United
weareunited
#AMTDay
is in honor of Charles Taylor, Wright Brothers' mechanic. The highest honor an aviation maintenance technician can receive is his namesake award. Congratulations, Garrick C. (HNL), Phil D., Bud G. and Benny G. (all SFO) who've received it in the past year.
#BeingUnited
We Are United
weareunited
United regional presidents Jill Kaplan and Janet Lamkin will join their states' respective governor's committees tasked with planning to restart the state's economy. Learn more about how they plan to help pave the way toward a fast, safe recovery of jobs.
uafly.co/2zjPrDI
We Are United
weareunited
Oscar, thank you for listening and learning as you traveled the system the past five years. We will carry the New Spirit of United with us as we respond and recover from this historic challenge --
#UnitedTogether
as we care for each other and serve our customers. 💙
#BeingUnited
Watch our most popular videos
Flying UCSF Medical Workers to New York
This is why we fly.
20 UCSF Health workers, who voluntarily set aside their own lives to help save lives, are on their way to New York City.
We are humbled by your selfless sacrifice.
Thank you.
#UnitedTogether #UCSFHeroes
A happy, Hollywood ending
This is the story of Jason and Shantel. You see, Jason and Shantel love each other very much. They also love traveling and they love the classic Adam Sandler film, The Wedding Singer.
It all began when Jason reached out to United's social media team, hoping for assistance with his upcoming plan to propose. Some phone calls and one borrowed guitar later, the stage was set for Jason. Put all that together, mix in some helpful United employees and, voila, you have a truly memorable marriage proposal. Congratulations to this fun-loving and happy couple, and here's to many more years of making beautiful music together.
A big thank you to Chicago-based flight attendants Donna W., Marie M., Karen J. and Mark K. for making this proposal come to life.
Copyright © 2020 United Airlines, Inc.
All rights reserved.
Indicates an external site that may or may not meet accessibility guidelines.
Scroll to top
Scroll to top