Three Perfect Days: Chengdu
Story by Benjamin Carlson | Photography by Algirdas Bakas | Hemispheres, June 2014
Chengdu has always been known for its easy, some might say lazy, pace of life. Even its nicknames connote a life of leisure: Brocade City, Hibiscus City, Perfect City. Migrants from Beijing and Shanghai quip that the locals don't so much walk as mosey.
Even as an infusion of government investment has caused the city to blossom into an economic powerhouse, drawing Fortune 500 companies deep into the misty mountains of Sichuan, Chengdu has retained its reputation for prizing the finer things in life. People here may work as hard as their brethren in China's frenetic eastern and southern metropolises, but they also make time to while away an afternoon drinking tea, playing mah-jongg or dancing in a park.
Chengdu is best known, however, for its food: the mouth-numbing peppercorns, the blood-red Sichuan hotpot, the streetside "little eats." It's also the kind of place where you can spend the afternoon having your chi retooled at a luxury spa and attend an indie rock show before turning in.
Welcome to the New China.

DAY ONE | Dawn seeps through the shades of your 40th-floor suite at the Ritz-Carlton. Opening them with the push of a button, you gaze out at the city. Below lies Tianfu Square, the heart of the provincial capital. To the north, Chengdu's rambling suburbs vanish into the enveloping fog. You peer through a telescope and see shadowy masses on the horizon, where the basin of Chengdu's valley rises into low hills.
The Ritz-Carlton takes inspiration from Sichuan culture, with a new-money spin. In your room, you sip tea in a calfskin armchair below a three-legged Ding sculpture—an ancient symbol of power and unity. From here, you head for the hotel's sunlit Club Lounge. You'll be plunging headfirst into Chengdu's fiery cuisine today, so you keep breakfast light: muesli, dragon fruit and salmon. Seduced by the lounge's stunning downtown panorama, you linger longer than you intended.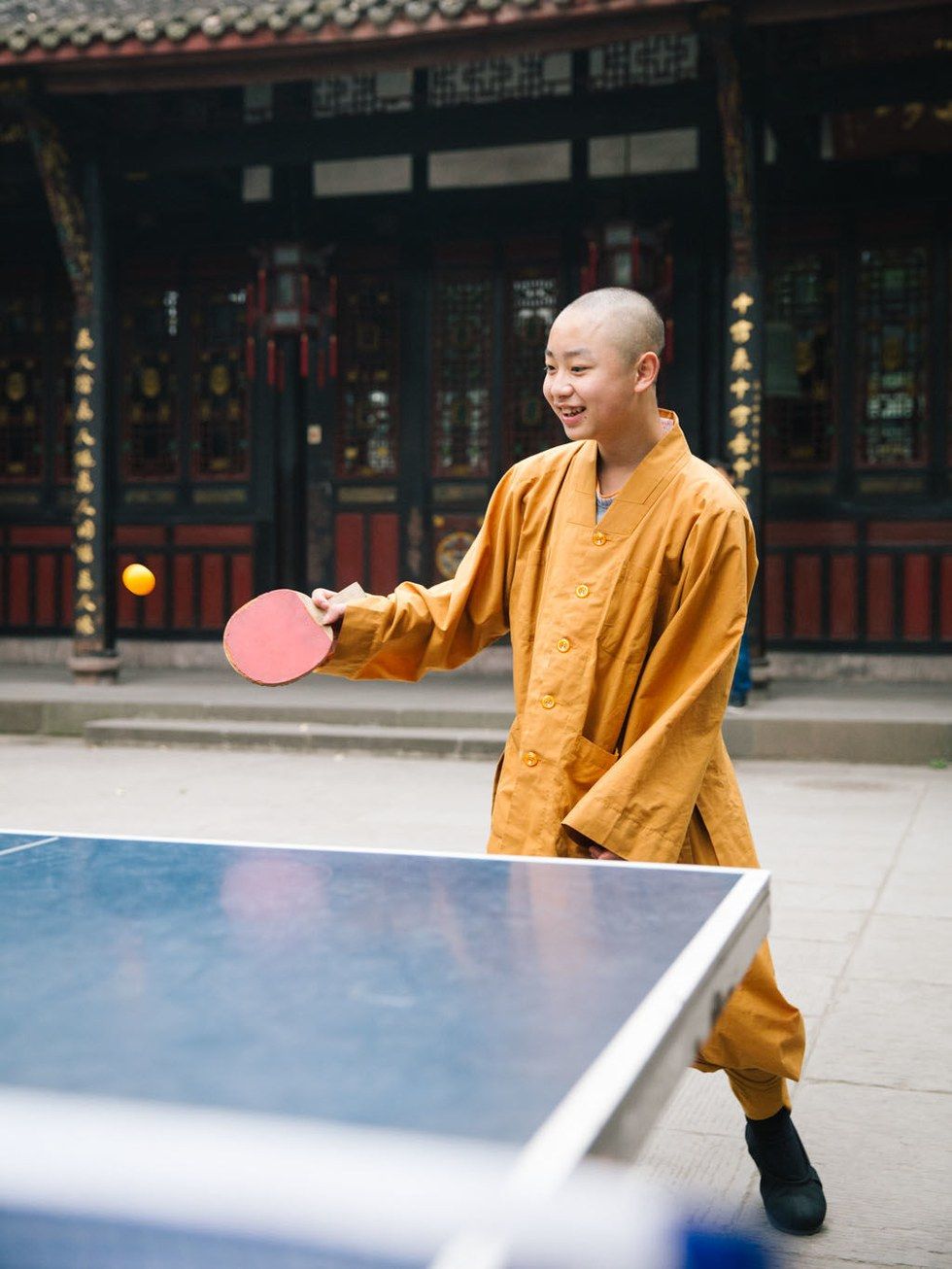 Young monk Long Chen plays ping-pong in Wenshu Temple;
Down below, you hail a taxi to take you to Wenshu Monastery, one of Chengdu's most lovingly preserved places of worship. After a short ride past broad Tianfu Square, presided over by a giant Mao statue, you arrive at the Tang dynasty (A.D. 618–907) temple. Alongside day-trippers and worshippers, you pass through a gate into a maze-like garden that takes you to the major shrine, Manjushri bell tower, which is surrounded by bonsai trees and people snapping smartphone pics. You watch a woman in a pink fur jacket bow four times before a dragon-footed urn, the newly blossomed cherry trees ringing with birdsong.
From here, you enter an inner courtyard where two young monks in robes volley a ping-pong ball under the gaze of an elder. When one hits the ball wide, disturbing an adjacent game of badminton, the stern elder leaps up, takes the paddle and begins spiking the ball at his young charge.
Outside, down a dusty alley ringing with the music of a busker playing a Chinese violin, you dart into a noodle shop famous across Chengdu as the place to sample a local specialty: tian shui mian, or sky-water noodles. The name of the eatery, Dongzi Kouzhang Lao'er Liangfen, literally means "Hole Gaping Mouth Second Son's Bean-Starch Noodles." It's a truly local joint, known for the boisterous social quality the Chinese call "hot noise."
You line up behind several old ladies in caps and slacks who squabble over stools at the communal wooden tables. As you place your order, the server behind the counter smiles and says, "Eat slowly!"—an expression that roughly corresponds to "Bon appétit!" You guzzle a bowl of thick-cut noodles in sweet sauce and chili—one of a dozen specialties any taxi driver will rattle off when asked about his favorite local dishes. At 6 yuan ($1) it's a delectable and impossibly cheap treat.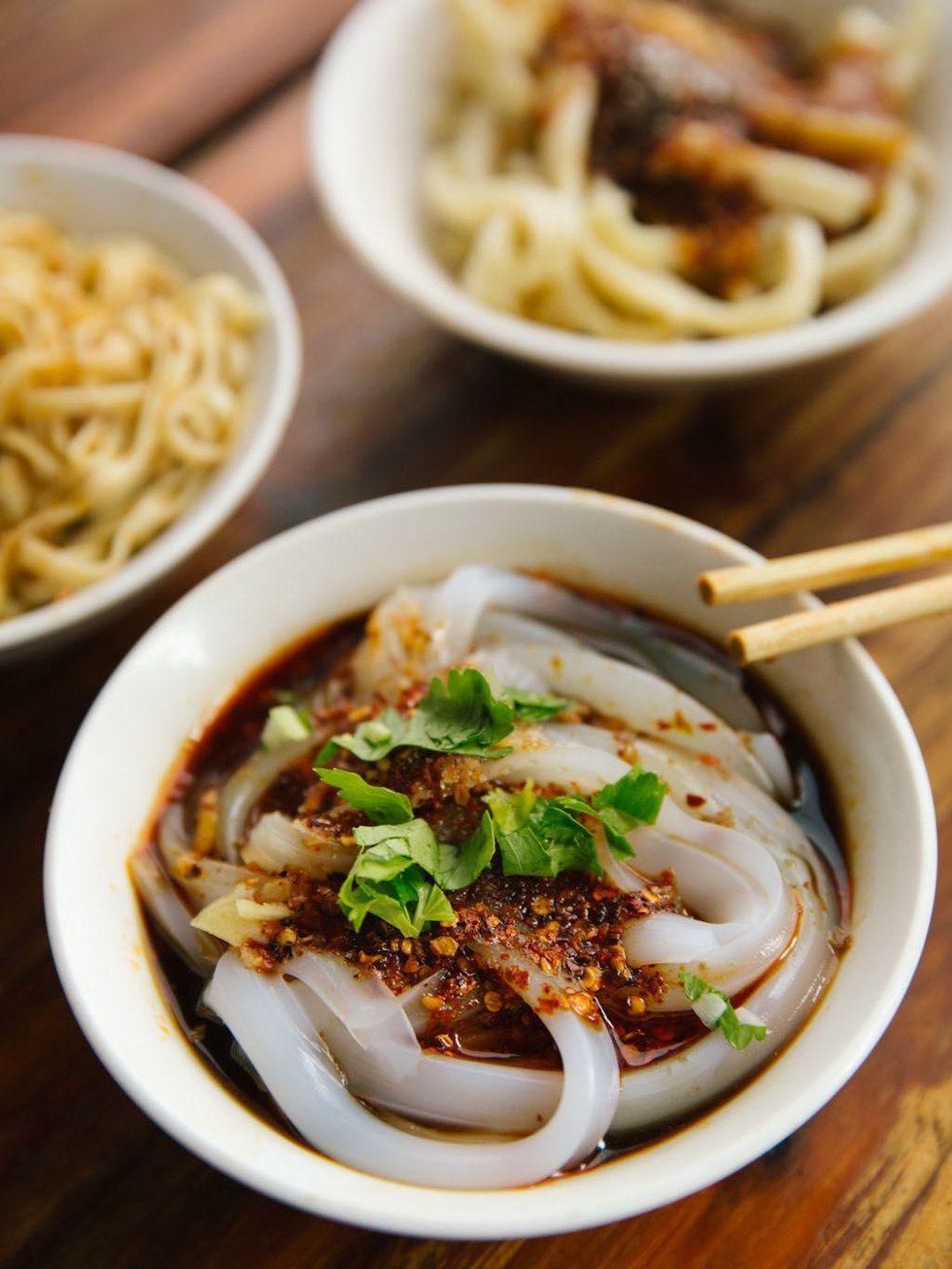 Sky–water noodles at Dongzi Kouzhang Lao'er Liangfen
You consider a second helping, but think better of it and head down neighboring Jinma Street for some antiques shopping. Beyond stalls selling old paper money and silver coins, there's a wide lot on which traders have spread blankets littered with Buddhist prayer beads, Maoist posters, marble lions, jade bangles, erotic paintings and abacuses strung together with wire. A vendor quotes you 100 yuan for a vintage magazine and you shake your head no.
Next, you continue down Jinma, passing a traditional Chinese medicine shop where a cat swishes its tail next to baskets of gnarled ginseng roots. Next door, old-timers lounge in creaking bamboo chairs and chew sunflower seeds. You weave around a family's mah-jongg table and hail a cab back to the hotel, where you have a very important appointment to make.
How better to spend an afternoon in China's relaxation capital than by having your yin and yang recalibrated at a luxury spa? For an hour, you enjoy a tea-themed therapeutic massage that claims to do just this. Then you have your scalp kneaded amid the fragrance of burning moxa herbs. By now you are feeling very relaxed, very balanced, and also a bit hungry. So you freshen up, waft through the hotel's marble lobby, then take a 10-minute cab ride south to Yunmen Emerald Conceptual Restaurant.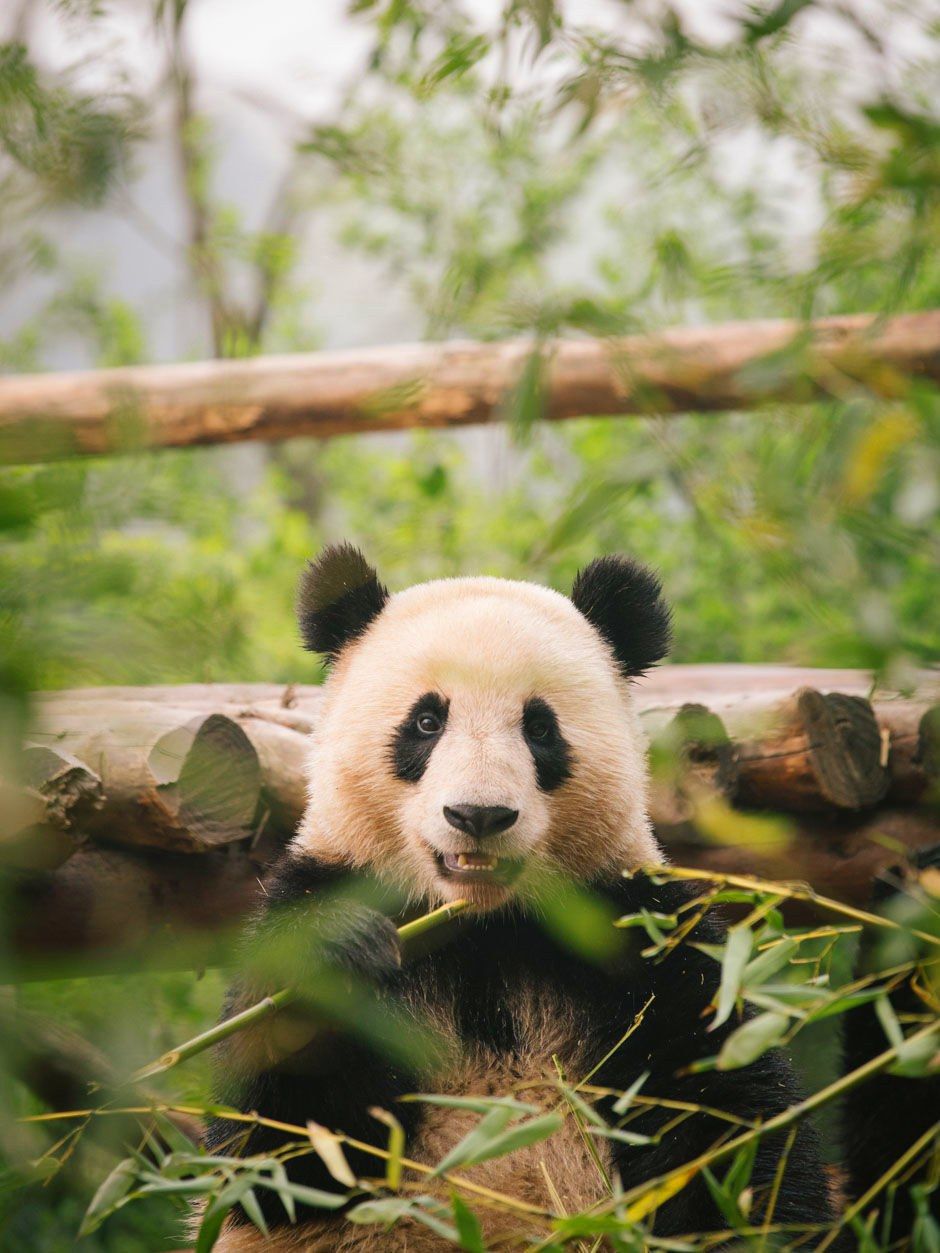 A panda at the Research Base of Giant Panda Breeding
Yunmen is known for serving imaginative cuisine, but it's no slouch in the décor department, either. You pass a magazine rack resembling a lamb and enter a private dining room, where a waiter brings Kobe beef with pulverized black truffle and a dish of salmon-papaya mousse accompanied by bubbling sour cream and dry ice. The food is tasty, but it's the presentation that wows you: a mango sliver arrives at your table in a hollow eggshell.
You end the evening at the Ritz-Carlton's Flair bar. From a perch on the 27th-floor terrace, you nibble seaweed-wrapped crackers and crispy red pepper. Your cocktail arrives: a concoction of chrysanthemum gin and hibiscus syrup garnished with an orchid. In the distance, the Sichuan TV tower—glowing blue, green and indigo in the misty Chengdu night—seems to be sending you a message: bed, bed, bed.
DAY TWO | No visit to Chengdu would be complete without pandas. To catch them, however, you need to rise early. Wakened by a call from your butler (heh), you take a brisk three-minute walk from the hotel to the Uno Mall, where you buy a large cup of joe and a warm blueberry muffin at the new Pacific Coffee—a popular Hong Kong chain reliable for the strength of its brew.
Feeling marginally less comatose, you take a taxi 40 minutes into the northern suburbs, home to some of the cutest animals on the planet. Though cab drivers here, as everywhere, make a habit of moaning about the traffic, Chengdu's expensively assembled infrastructure makes driving a breeze compared to the crushing congestion of cities like Beijing, and you arrive at your destination right on schedule.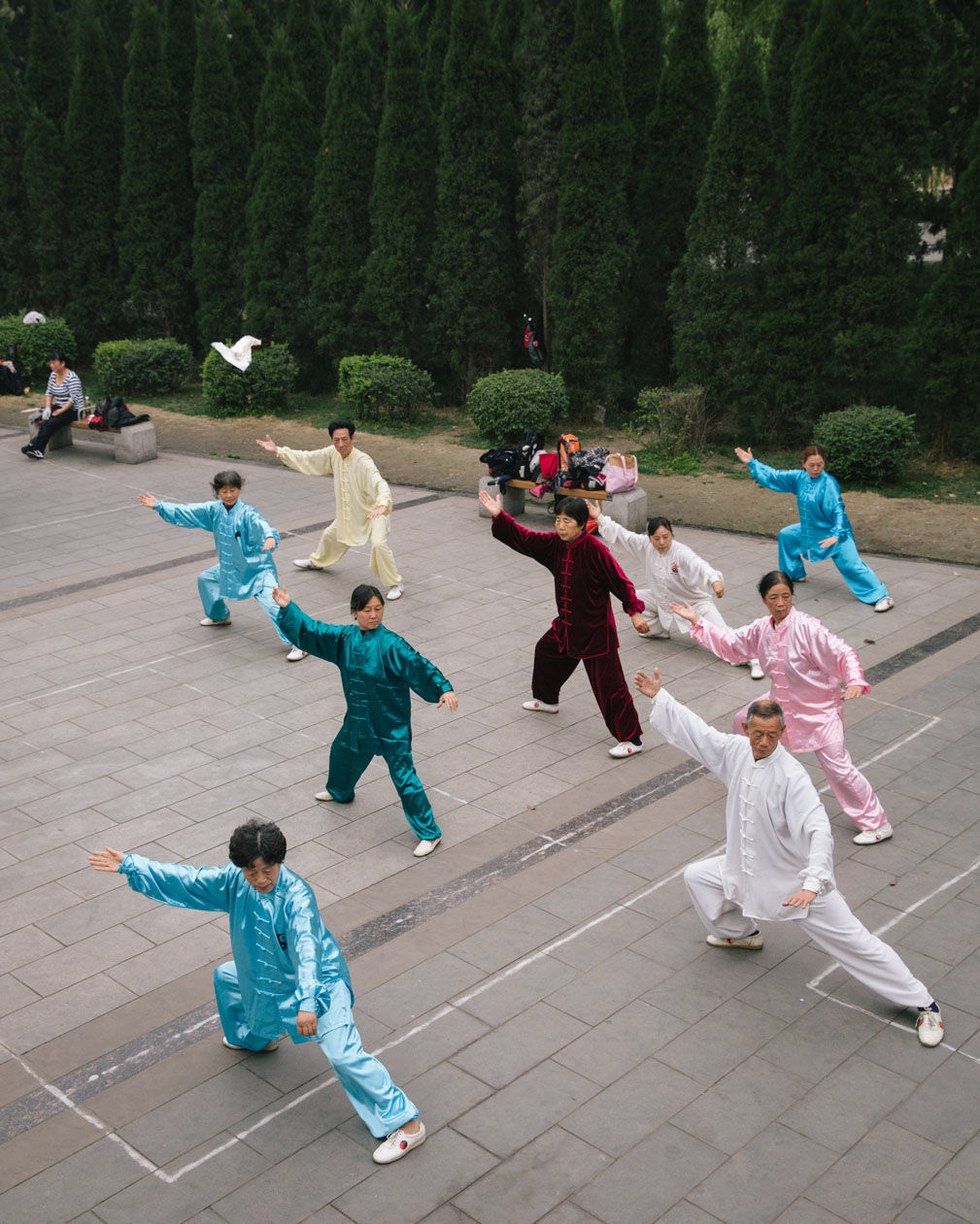 Saturday tai chi practice in People's Park
With 80 percent of the world's 1,500 wild pandas living in Sichuan province's misty bamboo forests, the Chengdu Research Base of Giant Panda Breeding has established itself as one of the leading institutions of its kind. You arrive to the sound of distant peacocks hooting "Hello! Hello!" A woman at the information desk points you down a winding path. "Hurry!" she says, and you're about to discover why.
You come to an enclosure, a grove of arcing bamboo plants containing four pandas, who are just about to dig into breakfast. One tubby little fella sits on his haunches plucking bamboo and quietly munching. A baby panda lolls on a tree branch, seemingly unable to control its limbs. As it squirms, a male visitor shouts, "What are you trying to do?" Another cub rests in the crook of a ficus bough like a furry loaf of bread. "I've never seen them so active!" coos a woman.
Walking on, you enter the red panda enclosure, where the raccoon-size animals roam freely, coming so close to one woman that she scampers away, yelping, "I'm scared!" You crouch down, staying very still as the diminutive but big-clawed creature struts past your leg.
Thoroughly content, you head back to town, where you'll be eating at the century-old lunch spot Chen Mapo Tofu. Taking a seat beneath hanging red lanterns amid a clatter of chopsticks, you order liang mian (cold noodles) and one of Chengdu's signature dishes, mapo tofu. As you order, a nearby local man gives you an approving thumbs-up. The tofu comes to the table sizzling in an iron pot, smelling of spring onions and earthy peppercorns, accompanied by a pile of crushed Sichuan chilis. You order an extra bowl of rice.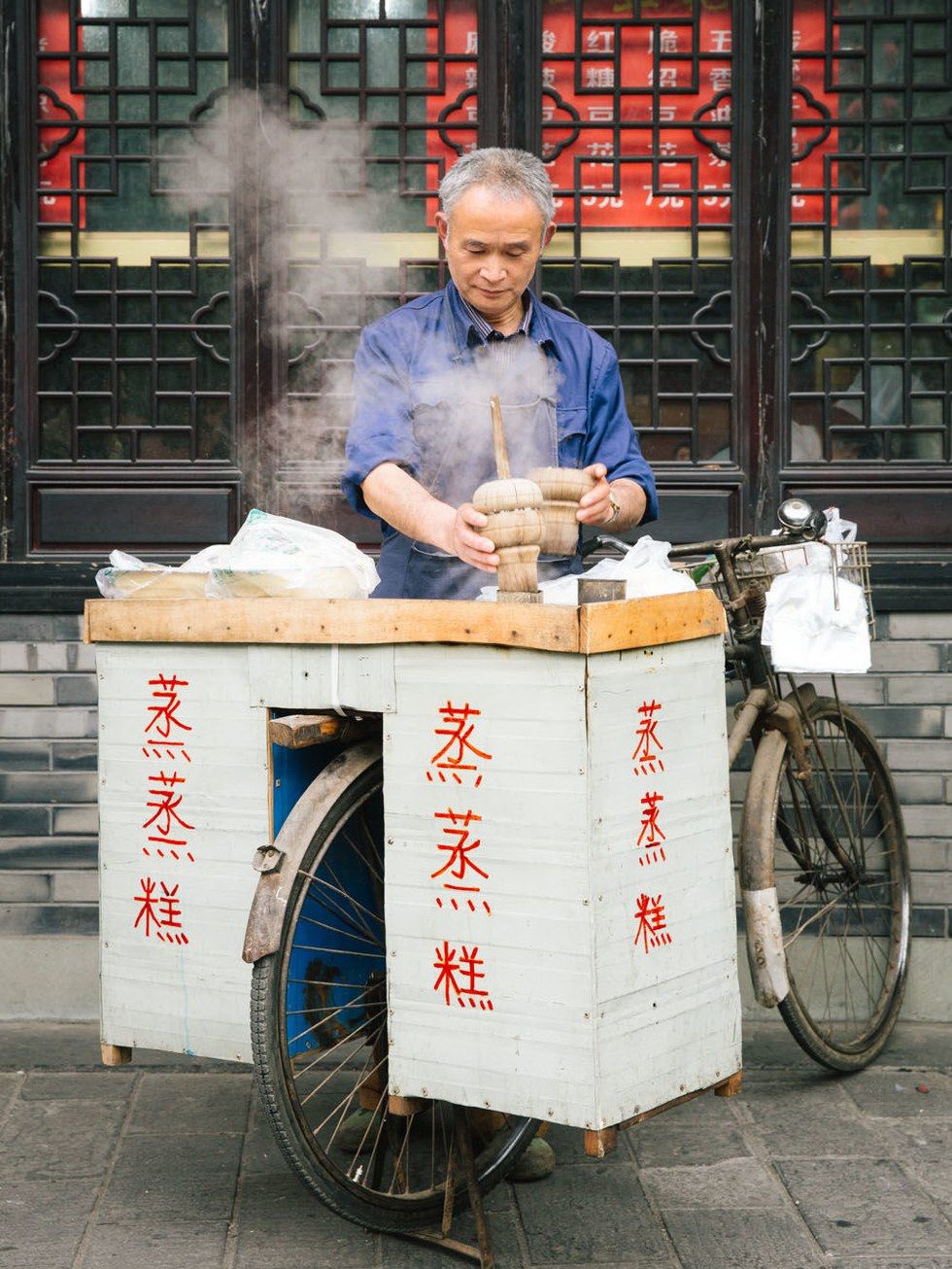 A vendor prepares sweet steamed cakes
Reeling happily from the fire in your belly, you make a beeline for the delightfully boisterous People's Park, where throngs of locals are engaged in various activities: running, stretching, kite flying and even synchronized waltzing. To your right, you marvel at the scene of elderly parents seeking mates for their adult children. Like an analog OkCupid, they hawk sheets of paper advertising the heights, weights, blood types and Zodiac signs of their unmarried sons and daughters.
You stop at the park's Heming Tea House, which has a nice view of a small lake, and order a glass of jasmine blossom tea with rock sugar and dates. On impulse, you wave down one of the numerous roving ear cleaners, who goes to work on your canals with long metal tongs and cotton swabs. As the cleaner probes, you decide this is perhaps an experience you need to endure just once.
It's time to brush up on your local history, which you'll be doing at the Wuhou Shrine—famous for its monuments dating back to the Three Kingdoms period (A.D. 220–280). At the end of a gingko-lined promenade, you are greeted by a statue of a benevolent-looking Liu Bei, an ancient king, and the master strategist Zhuge Liang, who holds a feather fan and has frighteningly long fingernails.
From here, you enter Jinli Ancient Street, a winding, tourist-heavy thoroughfare lined with stalls selling Chengdu snacks (skewered quails and, for real, fried rabbit heads). The aroma of the aptly named stinky tofu drives you down an alleyway crammed with bars and coffee shops. Here, you slip into the popular restaurant Se Xiang Wei Little Eats for that most local of local snacks—dan dan mian, or "street vendor's noodles." You get a bowl of thin springy noodles served with chili, pickled onions and savory ground pork—a favorite across China. Mindful of your next stop, you leave some room.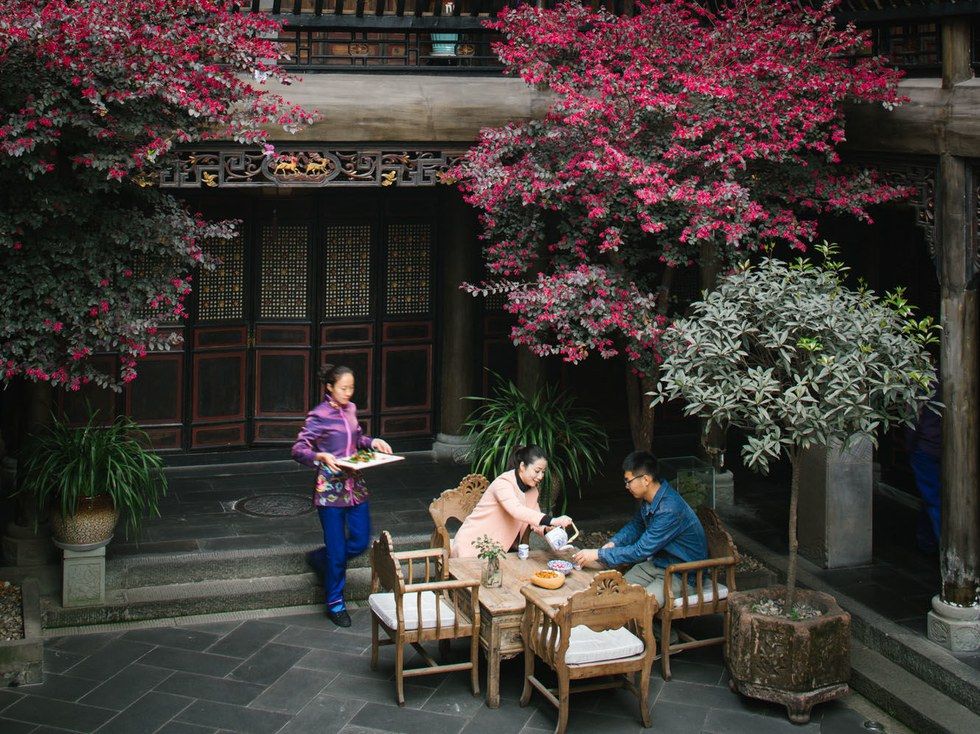 Zi Fei garden in the afternoon
Dinnertime brings you to a new wing of the historic Jinjiang Hotel, where the Michelin-starred chef Christophe Dufossé offers haute French cuisine to spice-numbed local palates at Jinyue. Inside, smooth waiters greet you with "Bonsoir" and you settle down to an extraordinary dinner of codfish, creamed pumpkin and pear tart encased in a caramel-colored chocolate shell.
After bidding the waiters "Bonne nuit," you return to the Ritz-Carlton and pause for a post-dinner whiskey at the Lobby Lounge. As a local singer warbles Ella Fitzgerald covers, you look over at the distant hills and imagine, for a moment, that at the top of every one is a sleeping panda. You drink up and head off to the second hotel of your stay, the new Diaoyutai Boutique Hotel, where you too are soon asleep.
DAY THREE | You wake up in a sumptuous suite to a glorious view over Kuanzhai Alley, Chengdu's most beautiful and atmospheric street. Outside is a landscape of clay-tiled roofs and upturned eaves. It looks like a scene from the time of the Qing dynasty, and in a way it is—though heavily renovated, Kuanzhai preserves the atmosphere of the 18th century.
Yesterday's rich, spicy food is still very much with you, so you skip a sit-down breakfast and knock back a chocolate croissant from the in-house bakery. Munching, you pass through the Diaoyutai's courtyard—a fusion of sleek French design and classical Chinese flourishes—and head outside to hail a cab to take you to your first stop of the day, located 30 minutes away in Tianfu New District.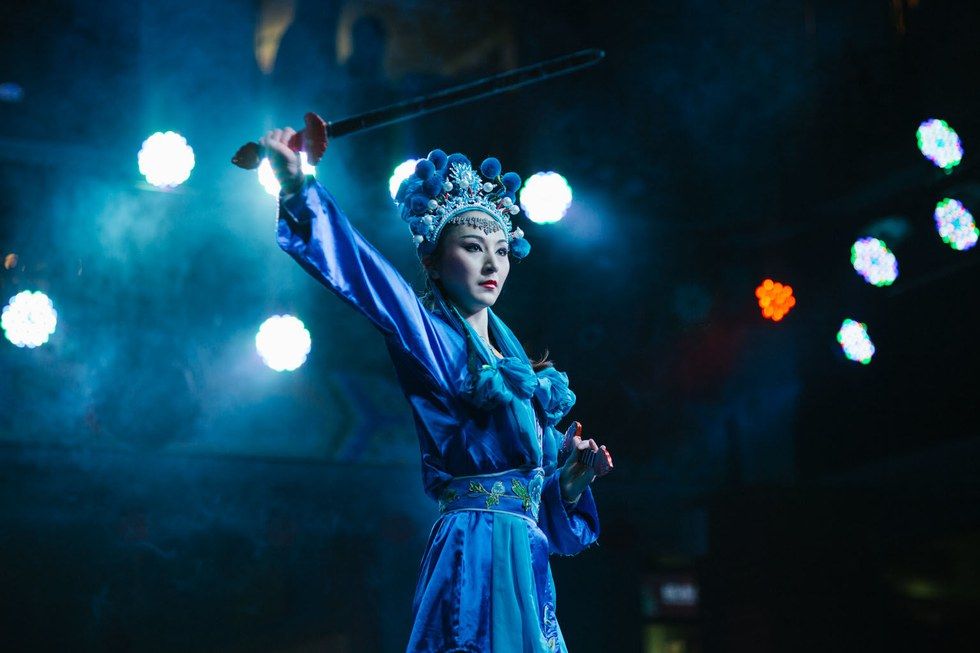 Sichuan opera at Shu Yun Li Yuan
Opened last summer, the New Century Global Center is billed as the largest building in the world. Glistening and curvaceous, it looks as though it should be the largest building on Mars. So large is the mall, in fact, it takes you 15 minutes just to locate an entrance. Eventually you find one and are immediately confronted by a dizzying array of amenities: a skating rink, a water park, an IMAX theater and a faux beach with a 500-foot cinematic sky.
You ride up a 200-foot escalator, arriving at the top in time to see a poodle lifting its leg on one of the mall's artificial palm trees. You cross a plexiglass bridge, upon which a bunch of teens tell each other to "Go on! Fall!" Others cling to the handrail and shuffle their feet across the transparent floor. A macho middle-aged man stamps on the plastic to show off for his friends.
Your senses thoroughly assaulted, you leave the mall and head south for a stroll through the serene Tiexiang Temple Riverfront, a model of attractive urban development that contrasts with the concrete apartment blocks that surround it. On the riverfront, you find A Thousand Plateaus Art Space, the hub of Chengdu's thriving contemporary art scene, where you take in the stunning paintings of Qi Lan, one of which alludes to Cézanne's famous haystack obsession with a flurry of chaotic brushwork.
For lunch, you return to the Diaoyutai, whose KZ Restaurant and Grill has tables in a sunlit courtyard, where you settle down for a meal of excellent sushi. The Filipino chef whips up wasabi two ways—runny and thick—and adds dashes of numbing spice to the tuna roll. Warned in advance to save room, you sample the Sichuan beef and chili loaf, a crispy and pungent bread best eaten with the red chili spread.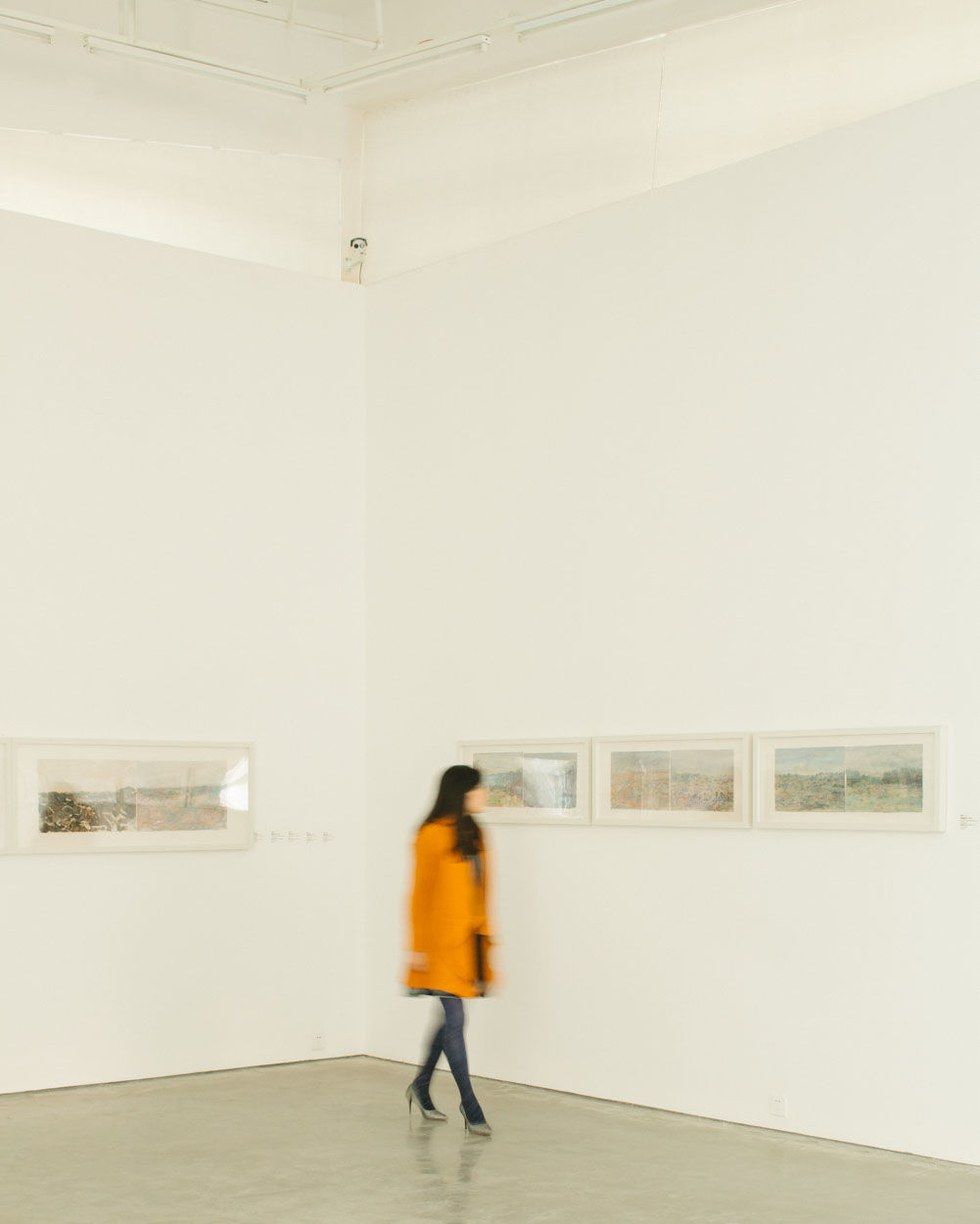 A Thousand Plateaus Art Space
Next, you return to Kuanzhai—meaning "broad and narrow"—Alley for deeper exploration. Hearing the clang of a hammer, you pause to watch a silversmith beat a bracelet on the sidewalk. Cantilevered roofs and vine-covered brick walls form a backdrop for vendors selling silks, opera masks, feather fans, shadow puppets and Zodiac figurines of rats, rabbits and snakes.
From here, you head to Shu Yun Li Yuan, the city's oldest tea-house theater, to take in a Sichuan opera. A waitress guides you to your seat and takes your order: a cup of green bamboo tea. Onstage, a woman in red robes plucks a lute as mist shrouds the stage. True to 18th-century tradition, the show includes such features as a bearded clown, women with peacock headdresses, elaborate dance routines, stylized masks and lots of falsetto singing. The show is mesmerizing and confusing in equal parts, and you thoroughly enjoy it.
Afterward, you make the short walk to Zi Fei, a restaurant specializing in dishes that allude to Chinese sayings, folklore and symbols. You enter through a long corridor lined with Zodiac-themed statues, then sit down to a meal that starts with an actual tree branch adorned with flowers made of savory dough, accompanied by beef and green beans. The waitress explains the dish's symbolism, but you are too busy being bemused to take it in. The food, incidentally, is delicious.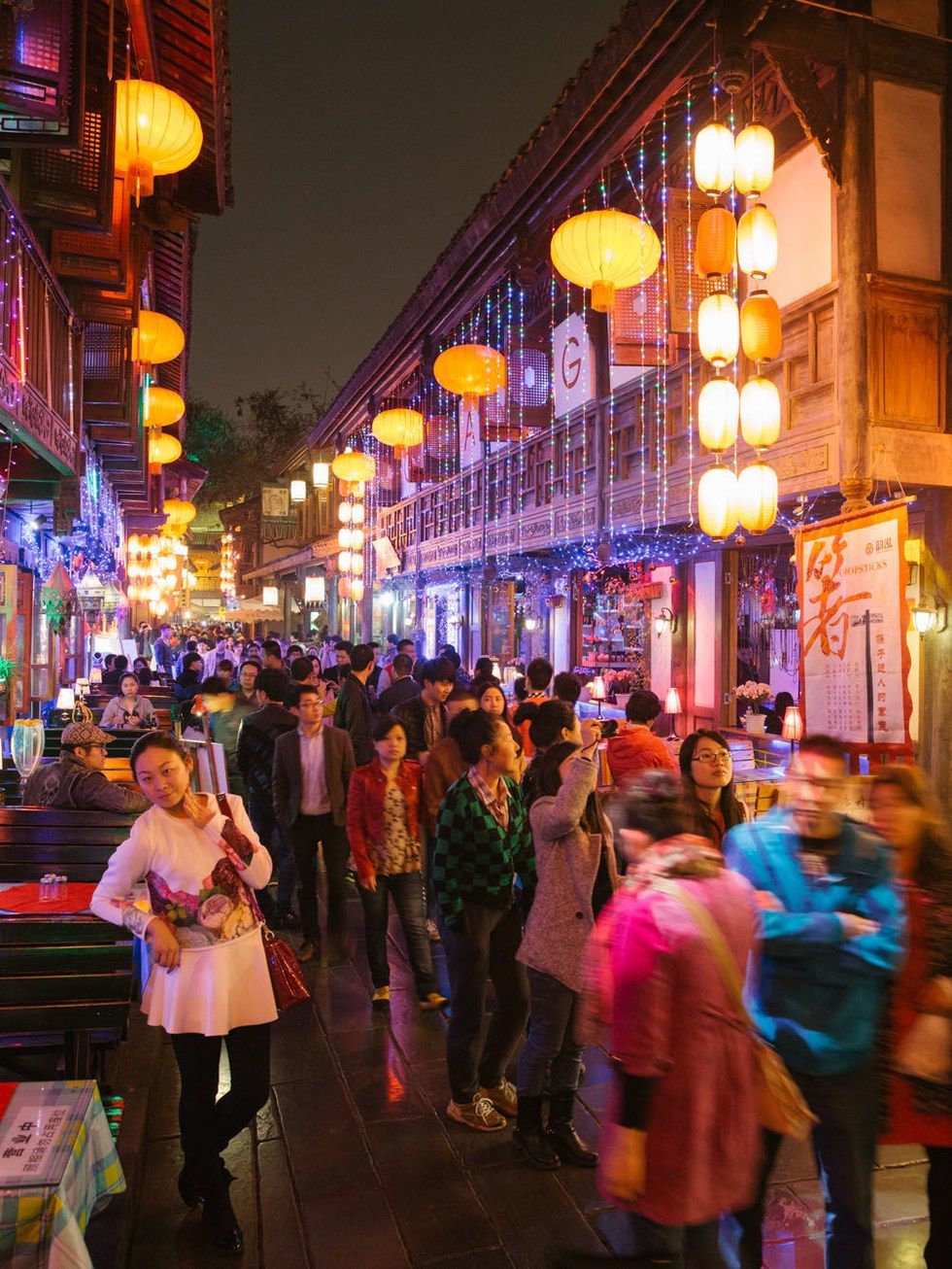 Jinli Ancient Street at night
It's your last evening in Chengdu, and you decide to go out with a bang. To do this, you head for the city's popular entertainment district, Lan Kwai Fong. Here, you duck into a low-key bar thick with cigarette smoke called the Nuremberg Germany Brewery. Onstage, a dreadlocked bass player is joined by a head-banging female singer who proceeds to belt out a grungy cover of Maroon 5's "This Love." Using a combination of hand gestures and grins, a trio of locals invites you to share their watermelon and mango platter, which strikes you as both weirdly random and very sweet.
Leaving the bar, you walk along the Brocade River, the surface of which reflects sweeping searchlight beams of blue and white. This makes you think: The restless search for the good life that consumes much of China seems different here, less furious, as if you don't have to look so hard. Near the hotel, you stop and chat with a man who says he plans to make a journey through Southwest China but keeps putting the trip off until tomorrow, tomorrow, tomorrow.
"I like being stuck in Chengdu," he says.
Benjamin Carlson, a Beijing-based writer, categorically denies that he smuggled a baby panda home in his suitcase.
This article was written by Benjamin Carlson from Rhapsody Magazine and was legally licensed through the NewsCred publisher network. Please direct all licensing questions to legal@newscred.com.
If your travels have taken you through Chicago O'Hare International Airport anytime since October 2019, you may have had a friendly, caring and jovial exchange with Daniel Smrokowski. Daniel is one of four Service Ambassadors thanks to our ongoing partnership with Special Olympics. This inaugural ambassador program aims to provide Special Olympic athletes employment opportunities within our operation, affording them a unique and meaningful career.
Since 2018, our partnership with Special Olympics has become one of United's most cherished relationships, going beyond the events we take part in and volunteer with. While the plane pull competitions, polar plunges, duck derbies and Special Olympics World Games and other events around the world are a big part of our involvement, the heart of this partnership lies with the athletes and individuals supported by Special Olympics. To advocate for their inclusion in every setting is one of our biggest honors, and we take great pride in the role we play in the organization's inclusion revolution.
Aiding in the success of Special Olympics' mission to create continuing opportunities for individuals with intellectual disabilities, throughout the two-year partnership, United has volunteered over 10,500 hours and donated over $1.2 million in travel to the organization. The impact of this partnership is felt at every level, both at Special Olympics and within our own ranks.
"The Inclusion Revolution campaign, led by our athletes, aims to end discrimination against people with intellectual disabilities. United Airlines has joined in our fight for inclusion, empowering our athletes with the skills needed to succeed and opportunities to contribute their abilities as leaders," said Special Olympics International Chairman Tim Shriver. "United Airlines believes that people with intellectual disabilities should be perceived as they really are: independent, world-class athletes, students, employees, neighbors, travelers, and leaders who contribute to make this world a better place."
Our Service Ambassador program is just one of the many ways Special Olympics has impacted not only our employees, but also our customers. "I see every day how our Service Ambassadors connect with our customers the moment they walk into the airport lobby," said Senior Customer Service Supervisor Steve Suchorabski. "They provide a warm, welcoming smile ad assist in any way they can. To see these young adults hold positions that a society once told them they couldn't is truly the most heartwarming part of my job," Steve continued.
"The opportunity to be a part of the United family means everything to me," Daniel said. "I feel so much pride showing up to work in a Special Olympics/United co-branded uniform, working among such a loving and supportive community. The relationship between these two organizations is truly helping to shape my future while letting me use my gifts of communicating and helping others. Hopefully, I can spend my entire career at United," Daniel added.
In honor of Special Olympics' Global Week of Inclusion in July, we're asking our employees, customers and partners to sign a pledge to #ChooseToInclude at jointherevolution.org/pledge.
And be sure to check out Daniel's podcast The Special Chronicles.

In collaboration with food-logistics company Commodity Forwarders Inc. (CFI), United moved nearly 190,000 pounds of fresh produce to Guam for the U.S. Department of Agriculture's Coronavirus Farm Assistance Program. This new program was created to provide critical support to consumers impacted by the COVID-19 global pandemic.
A variety of fresh fruits were transported from Los Angeles (LAX) to Guam (GUM) on United's newly introduced, non-stop cargo-only flight – a route added to meet cargo demand during the COVID-19 crisis. The fresh food was repacked in 10-pound cases in Los Angeles, prepared for departure at CFI's LAX location, and flown to GUM by the United team. Through this beneficial partnership between United and CFI, the perishable goods were kept cool during every step of the process and distributed as part of the food bank program in Guam.
"Everyone on our team has worked relentlessly during the pandemic to get critical goods to where they are needed most. Establishing a comprehensive network of cargo-only flights have allowed us to keep the supply chain moving even while passenger flight capacity has been reduced," said Regional Senior Manager of Cargo Sales, Marco Vezjak. "Knowing that we are able to help during these difficult times – in this case the Guam community – is our biggest reward and greatest motivation to keep moving forward."
United is proud to play a role in maintaining the global food supply chain and helping people access the supplies they need. Since March 19, United has operated over 4,000 cargo-only flights, moving over 130 million pounds of cargo.

Jessica Kimbrough, currently Labor Relations and Legal Strategy Managing Director, will take on the new role of Chief Diversity, Equity and Inclusion Officer Managing Director.
Jessica assumes this new and expanded position to focus on global inclusion and equity as part of our enhanced commitment to ensure best practices across the business to strengthen our culture.
In this role, Jessica will be responsible for helping United redefine our efforts on diversity, equity and inclusion – ensuring that our programs and approach are strategic, integrated and outcome-oriented, while we continue to build a culture that reflects our core values. She will report to Human Resources and Labor Relations EVP Kate Gebo.
"Jessica's appointment to this role is another critical step our executive team is taking to ensure diversity, equity and inclusion remains a top priority at United," said CEO Scott Kirby. "Given her drive, experience and commitment to champion collaboration and allyship among our employee business resource groups, she is uniquely qualified to take on this position and I look forward to working closely with her."
As Labor Relations and Legal Strategy Managing Director, Jessica worked closely with senior management to create and maintain positive labor relations among our unionized workforce, providing counsel on labor litigation, negotiations, contract administration, organizing issues and managing attorneys who represent United in labor relations. Previously, she served as Labor and Employment Counsel in our legal department.
Jessica has a passion for creating a pipeline of diverse lawyers and leaders, and was honored as one of Chicago Defender's "Women of Excellence" for excellence in her career and civic engagement in 2017. She currently serves as President of uIMPACT, our women's employee business resource group.
Jessica's new role is effective immediately.

Together, we are facing an unprecedented challenge. United Together, we rise to meet that challenge.
Learn more
United Airlines
united
We've issued a travel waiver for Charleston, Wilmington and Norfolk due to Hurricane Isaias. If you're traveling 8/3 - 8/4, you can change your flight at no cost on our mobile app, by direct messaging us or calling 1-800-864-8331. Waiver:
uafly.co/Z04CmP
United Airlines
united
Flights booked now through August 31 can be changed for free over the next 12 months to allow for additional flexibility. All existing travel can be changed without fees as well. See waiver for details:
uafly.co/2M9vgLC
United Airlines
united
Flights booked now through August 31 can be changed for free over the next 12 months to allow for additional flexibility. All existing travel can be changed without fees as well. See waiver for details:
uafly.co/2M9vgLC
United Airlines
united
Questions about what to expect next time you fly? Text "Clean" to FLYUA (35982) to learn how we're making every step of the travel journey safer for you.
United Airlines
united
Our High Efficiency Particulate Air (HEPA) filters recirculate the cabin air every 2-3 minutes helping make an aircraft a cleaner environment than restaurants, grocery stores and even some hospitals. Learn more ➡️
uafly.co/ReadyToFly
United Airlines
united
Today we honor the 30th anniversary of the Americans with Disabilities Act by reinforcing our commitment to continue to build a company and create customer experiences that advocate for people of all abilities.
#ADA30
We Are United
weareunited
Our digital servicing team has developed an automated assistant to make it easier for our customers to learn about what to expect the next time they fly. Text "Clean" to FLYUA (35982) to give it a try!
We Are United
weareunited
Three-year-old Luna Mei was all smiles on her flight home after 212 days in a San Francisco hospital, thanks to her SFO-based FAs (and undercover angels 👼) Pamela R., Sharon S., Sonja B. and Stacey G. The quartet kept spirits high by singing songs, clapping and playing games.
We Are United
weareunited
So long paper boarding passes, standby and upgrade travel are going touchless! If you've signed up for day-of-travel notifications, you'll now receive a text or email when your seat is assigned.
We Are United
weareunited
Our inaugural flight to Chicago from Toyko Haneda coincided with the annual Japanese celebration known as "Tanabata" or "Star Festival." The
#BeingUnited
team at HND placed their wishes on bamboo trees before the flight departed for ORD.
Watch our most popular videos
Flying UCSF Medical Workers to New York
This is why we fly.
20 UCSF Health workers, who voluntarily set aside their own lives to help save lives, are on their way to New York City.
We are humbled by your selfless sacrifice.
Thank you.
#UnitedTogether #UCSFHeroes
A happy, Hollywood ending
This is the story of Jason and Shantel. You see, Jason and Shantel love each other very much. They also love traveling and they love the classic Adam Sandler film, The Wedding Singer.
It all began when Jason reached out to United's social media team, hoping for assistance with his upcoming plan to propose. Some phone calls and one borrowed guitar later, the stage was set for Jason. Put all that together, mix in some helpful United employees and, voila, you have a truly memorable marriage proposal. Congratulations to this fun-loving and happy couple, and here's to many more years of making beautiful music together.
A big thank you to Chicago-based flight attendants Donna W., Marie M., Karen J. and Mark K. for making this proposal come to life.
Copyright © 2020 United Airlines, Inc.
All rights reserved.
Indicates an external site that may or may not meet accessibility guidelines.
Scroll to top
Scroll to top