Three Perfect Days: Edinburgh
Story by Chris Wright | Photography by Rahel Weiss | Hemispheres, August 2014
The Scottish capital's long and sometimes troubled history, along with its dramatic physical environment, has given rise to one of the world's most glorious cities. But who knew it was so much fun?
"Edinburgh," wrote the poet Hugh MacDiarmid, "is a mad god's dream." The line says a lot about this city—its impossible clutter of architectural splendor, the dense concentration of beauty it represents.
This beauty is, at times, brooding and melancholy, reflecting the violent religious and political upheavals Edinburgh has endured throughout its history, along with the fires, the plagues and—less dramatically but more reliably—the inclement weather.
Indeed, the very effort to build an Athens on this craggy shoulder of Scotland, with the wind whipping in from the Firth of Forth and the hard volcanic rock below, seems the kind of thing a mad god might do. Mad or not, Edinburgh has always been a center of brilliance—of invention, art, literature and thought. Recently, this tradition has expressed itself in the city's food scene (it has five Michelin-starred restaurants, second only to London in the U.K.) and its renowned cultural events (the Fringe and International festivals happen in August).
As for the people—well, they can be as steely as you'd expect in this environment, imbued with amused cynicism and maintaining a tight grip on their sense of independence. That said, if you ask a local for directions, you could well spend the next 15 minutes engaged in casual conversation.
So, yes, Edinburgh is a sublimely beautiful city. The surprise is how warm and charming it can be, how open and energetic. How fun.

DAY ONE | Few places can do rain like Edinburgh. From the window of your room at The Balmoral Hotel, you look out at a sheer wall of medieval tenements, their edges blurred by hanging clouds, and beyond these the gorse-mottled bulk of Arthur's Seat. Anywhere else, a morning like this would seem drab and uninviting, but in this town it works.
That said, you're staying at the Balmoral. The hotel has been operating here for 112 years, and the indulgent, unfussy luxury it has perfected during that time is not easily abandoned, especially when it's raining outside. So you flop back onto the bed for a minute or two, taking stock of the room's mint-green walls, floral prints and ... you're gone.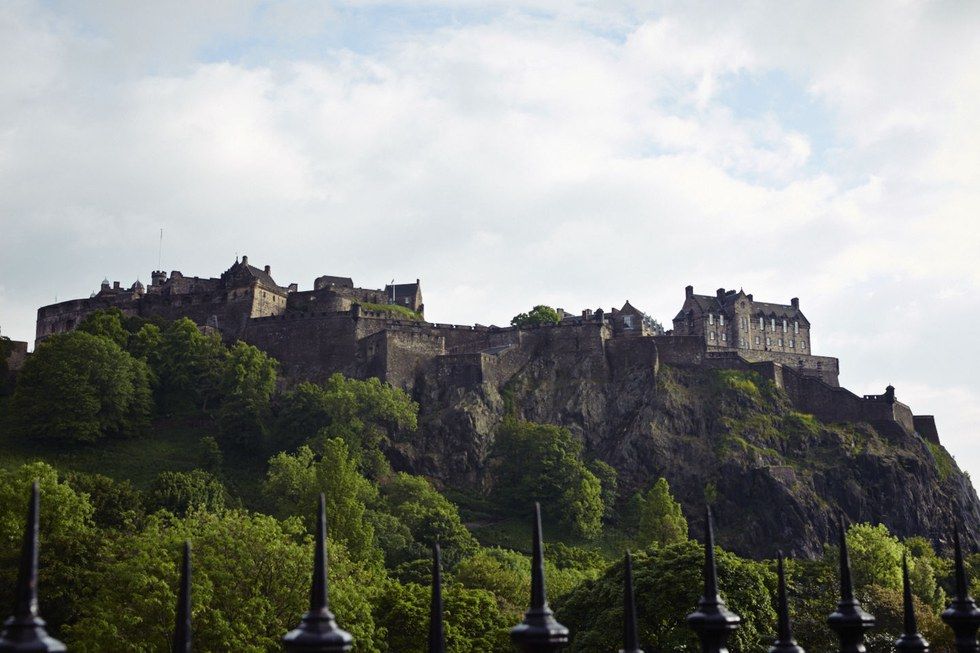 Edinburgh Castle looming over the city
You snap out of it and head downstairs, passing through the elegant Palm Court tearoom and into modish Hadrian's Brasserie for breakfast, where you opt to go the whole hog (literally): sausage, bacon, black pudding, etc. From here, you waddle out onto busy Princes Street, where you get your first taste of the architectural onslaught you'll face over the next few days. A left turn takes you west, into the medieval shambles of Old Town; a right leads to the orderly avenues of New Town, which was built in the 18th and 19th centuries, its neoclassical buildings and parks intended to serve as a relief from the teeming, chaotic warren to the south.
Together, the districts comprise a UNESCO World Heritage site, and both warrant first-stop status, but you opt to take a right, partly because New Town is where you'll be having lunch, but also because your pork-themed breakfast is making itself felt, and the area looks slightly less hilly.
You do a bit of window-shopping on George Street, then head one block south to Rose, which is narrower, a little rowdier and features a fiddler diddley-deeing below the orange bunting. You people-watch for a while, then pop into the Auld Hundred Pub for a sneaky pint of Deuchars IPA. After this, you continue through New Town's cobblestoned streets and geometric alleys, recharging your appetite for what promises to be a significant lunch.
The understated dining room at Restaurant Mark Greenaway belies the fanciful artistry of its food. Your eight-course meal includes a Scotch broth that's brought to the table bubbling up in a coffee percolator, and a deconstructed Eton mess, the elements of which are so precisely ordered that the dish amounts to a wisecrack. Thankfully, ingenuity doesn't come at the expense of taste—the crab cannelloni with smoked cauliflower custard is particularly good.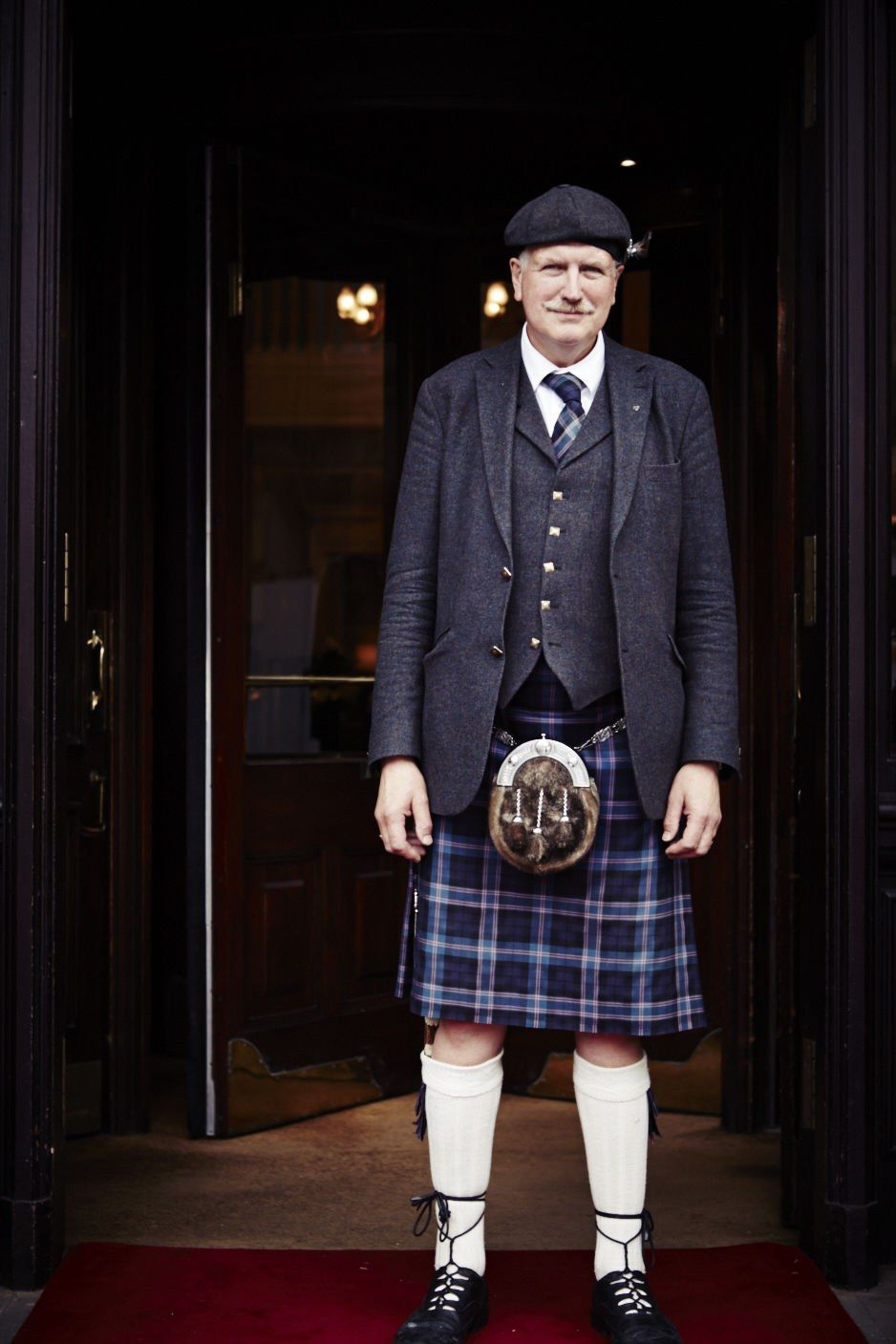 A doorman at The Balmoral Hotel
Your next stop is Edinburgh Castle, which has loomed over this city for nine centuries and which, you're pretty sure, is subject to a law stating that all visitors must include it on their itinerary. The sun makes an appearance, highlighting the city's cheerier side. You stroll through blossomy Princes Street Gardens, with a quick detour to look at the old masters in the Scottish National Gallery, before tackling the ascent of Castle Rock.
Edinburgh Castle is actually many castles, a hodgepodge of castles, a collaborative effort among a succession of regimes. The views up here are stunning, but it's the cloak-and-dagger stories that grip you—like the 15th-century "Black Dinner," at which a bull's head was served on a plate, a clear signal that things would not end with a cheese platter (bloody death ensued). At one point, moving along a passageway, you hear children's voices behind a heavy door. You rattle the latch and groan, eliciting a scream and the scuffling of little feet. Heh.
By the time you leave the castle, the blood is thudding in your feet. You zigzag down to Grassmarket and The Last Drop pub, so named for the gallows that once stood outside. The ghosts of the executed, you are told, are likely to be standing beside you at the bar. "Buy 'em a drink!" slurs an old guy propped in the corner, smiling craggily.
Dinner is at the nearby Timberyard, a fashionable whitewashed eatery known for dishing up fresh local ingredients with a twist. Your meal includes oysters in buttermilk, raw venison with burnt oak oil, duck (heart, neck, breast) and a chocolate concoction served with spiced breadcrumbs. The food is delightful, and it gives you the spike of energy needed for your last stop of the night.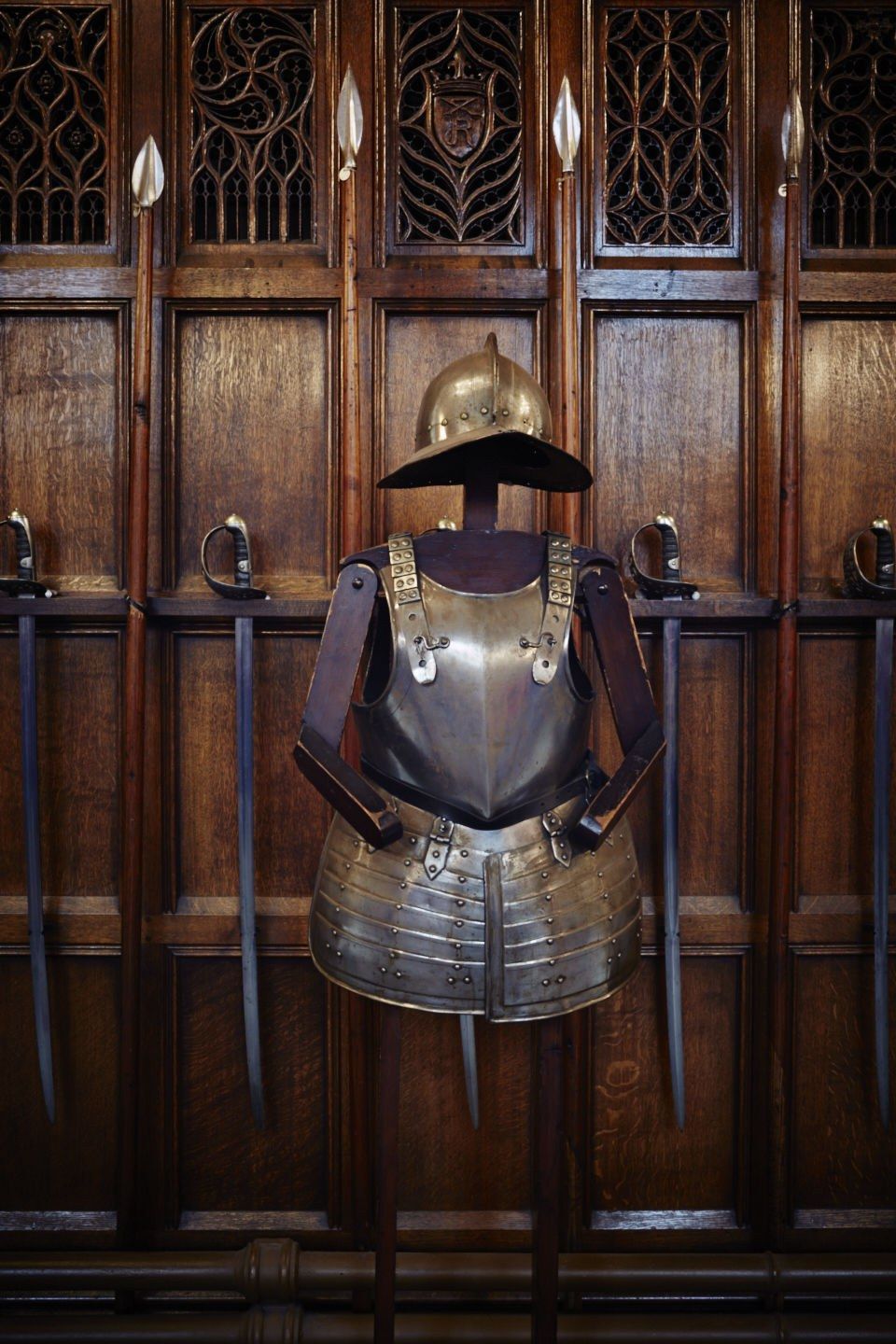 Weaponry at Edinburgh Castle
The Devil's Advocate, tucked away in an Old Town alleyway, is not an easy place to find in the dark. It's worth looking for, though. The bar has one of the city's more impressive whisky selections—more so given that its manager, Jack, is only 21 years old. You try a selection ranging from classics like Glendronach sherry cask to a rare peated BenRiach. "This," Jack says, raising his glass, "is a beautiful whisky."
It is a beautiful whisky. It's also a beautiful night. And it's a beautiful walk back to your beautiful hotel, your beautiful hotel room bathroom (which features a large, beautiful photograph of Sean Connery) and your exceptionally beautiful bed. Hic.
DAY TWO | You're feeling a bit ragged this morning when you set out to conquer the day. First, you pause to look up at the hotel, its Scottish baronial clock tower shadowing the train terminal (the clock set two minutes fast to fool tardy travelers), before strolling along Princes toward the enormous Scott Monument, whose jagged spires and buttresses call to mind a steampunk spaceship. From here, your eyes wander to the tumbling rooftops across the park.
Old Town appears to be growing out of the volcanic rock below. Its buildings—some 12 stories high, some much smaller—rise and fall with the undulations, creating, as Samuel Taylor Coleridge put it, an "alternation of height and depth." And everywhere you look there's a gargoyle, a column, a cupola, an oriel, a turret, a gable, a spire. As you gaze at the spectacle, a scruffy guy sidles up, presumably to ask for change. Instead, he says, "Building upon building upon building." Then he asks you for change.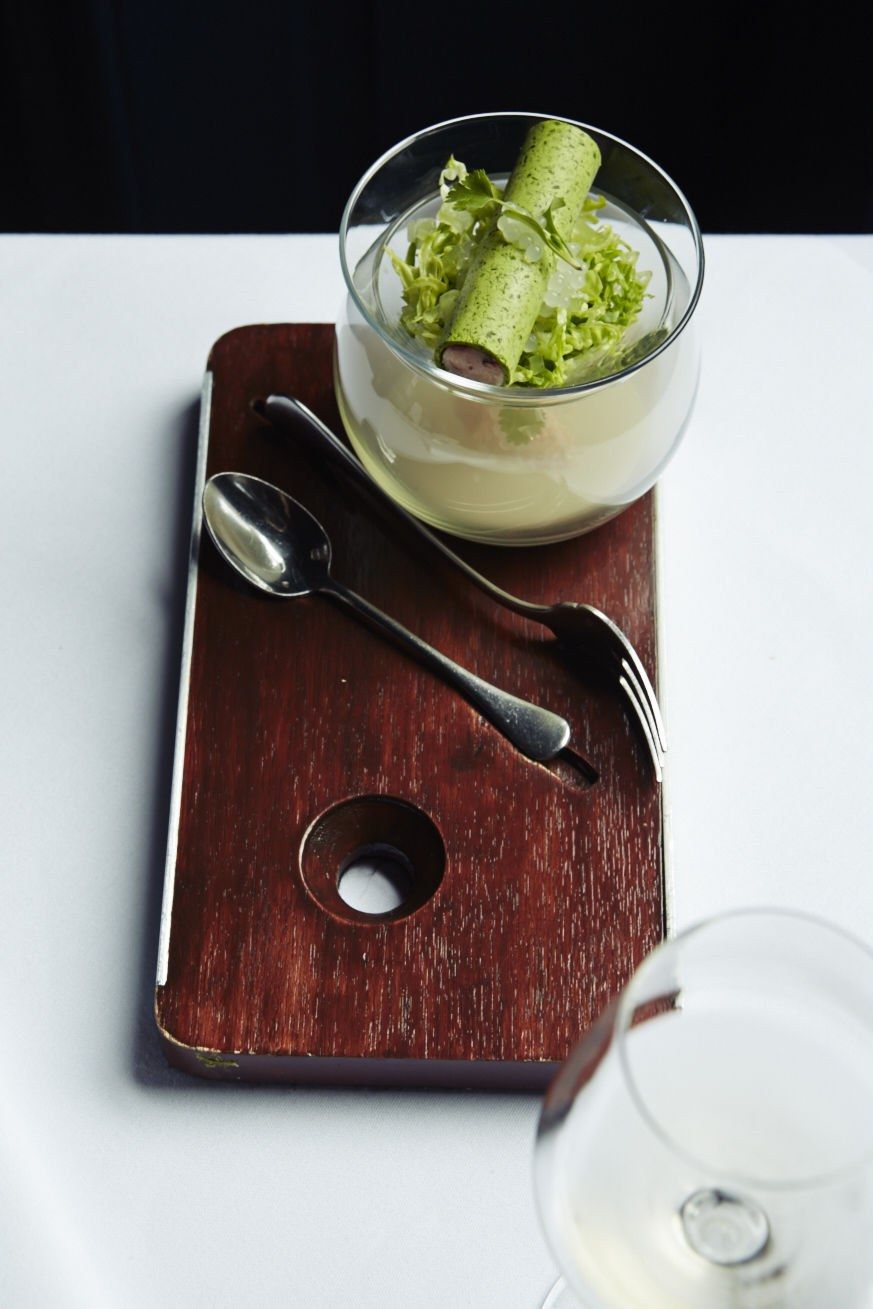 The crab cannelloni at Restaurant Mark Greenaway
You're having breakfast nearby, at The Pantry. You decide on the foraged East Lothian mushrooms on toast, with pancetta and a poached egg, washed down with a cup of good coffee, all of which revive you greatly. A short cab ride takes you back to the Balmoral, where an aromatherapy massage in the hotel's lush spa completes your recovery.
Walking down the Royal Mile, Old Town's main strip, your eye is drawn to an inscription above an alleyway: "Heave awa' chaps, I'm no' dead yet!" Later, you hear the story of a building that collapsed in this spot in the 1860s, killing dozens, and of the boy who emerged from the rubble days after they'd stopped hoping for survivors, uttering that defiant phrase.
Not far from here, you find your guide from Mercat Tours, who's taking you on a "Ghostly Underground" tour (see sidebar, page 72). "Edinburgh is a city of culture," he says. "It is also a city of foul weather and fouler villains." With this, he leads you into the Blair Street Underground Vaults, a sprawl of dank 18th-century chambers that once housed the dregs of Edinburgh society. Today, this "ulcer of criminality and sin" is said to be haunted by tortured spirits. You don't see any, but it's fun looking.
You pause for lunch at Blackfriars, a blink-and-you'd-miss-it eatery off the Royal Mile. The décor is minimal and the food is similarly stripped down. You have cured sea trout with apple and fennel, followed by a heaping bowl of cider-cooked mussels in a cream sauce, served with fries and washed down with a pint of Williams Scottish lager. Perfect.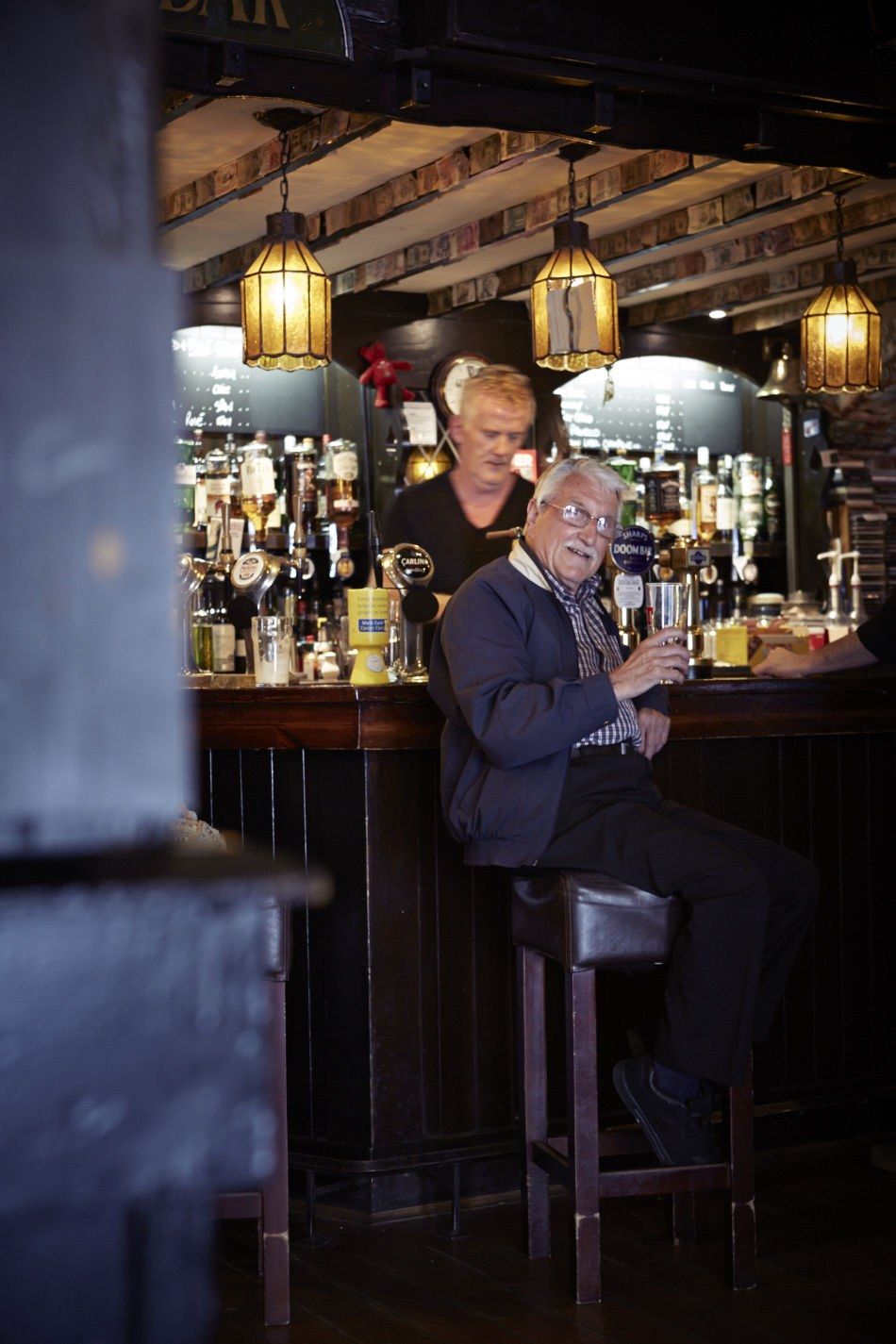 A sneaky pint at The Last Drop pub
Outside, the weather has turned again—but that's okay; it'll give you a chance to test your theory about Edinburgh looking better when it's wet. You stroll the Mile for a bit, ducking into the gift shops and a pub or two, then cab it to the base of Calton Hill, which rises 338 feet and is topped by two 19th-century landmarks—the acropolis-like National Monument and the towering Nelson Monument. The hill also has fantastic views of the city, and you try to bear this in mind as you trudge up it. At the top, you get lucky: The clouds part and you catch a glimpse of Edinburgh in all its glory, the rain-soaked rooftops and streets reflecting the sun's rays. Then the torrent resumes and you trudge down the other side, where you hope to find 21212, Paul Kitching's Michelin-starred restaurant.
The first thing you think as you step inside is "Roof!" This amenity, though, is soon overwhelmed by the décor—butterfly carpets, a circular leather couch, a classical fresco, a plexiglass chandelier. The menu here changes weekly, and the descriptions don't always make it easy to decipher what's in store (listed ingredients include "exotics" and "icky sticky"). "Chef doesn't write out the menus," a waitress tells you. "He draws pictures."
Kitching likes to play with flavors and textures—you can go from crunchy to squishy to smoky to sweet in the space of a mouthful. One of your many courses, the lamb curry (no rice), has chorizo, cubes of savory custard, currants, haggis chutney and a bunch of other stuff you can't identify, topped with razor-thin phyllo. It's a memorable meal, rounded off with one of the best cheese plates you've ever had.
You're set to check into Prestonfield House—a storied hotel located two miles away—but there's time for one more stop: Sandy Bells, a tiny folk pub on the edges of Old Town. You work your way to the bar, where an old guy tells you a long anecdote that, partly due to a trio of geezers twanging nearby and partly due to the man's impenetrable accent, is lost on you. Still, you're glad for the company. "Grill gamoor!" your new friend says as you leave. "A braglargh toosh!"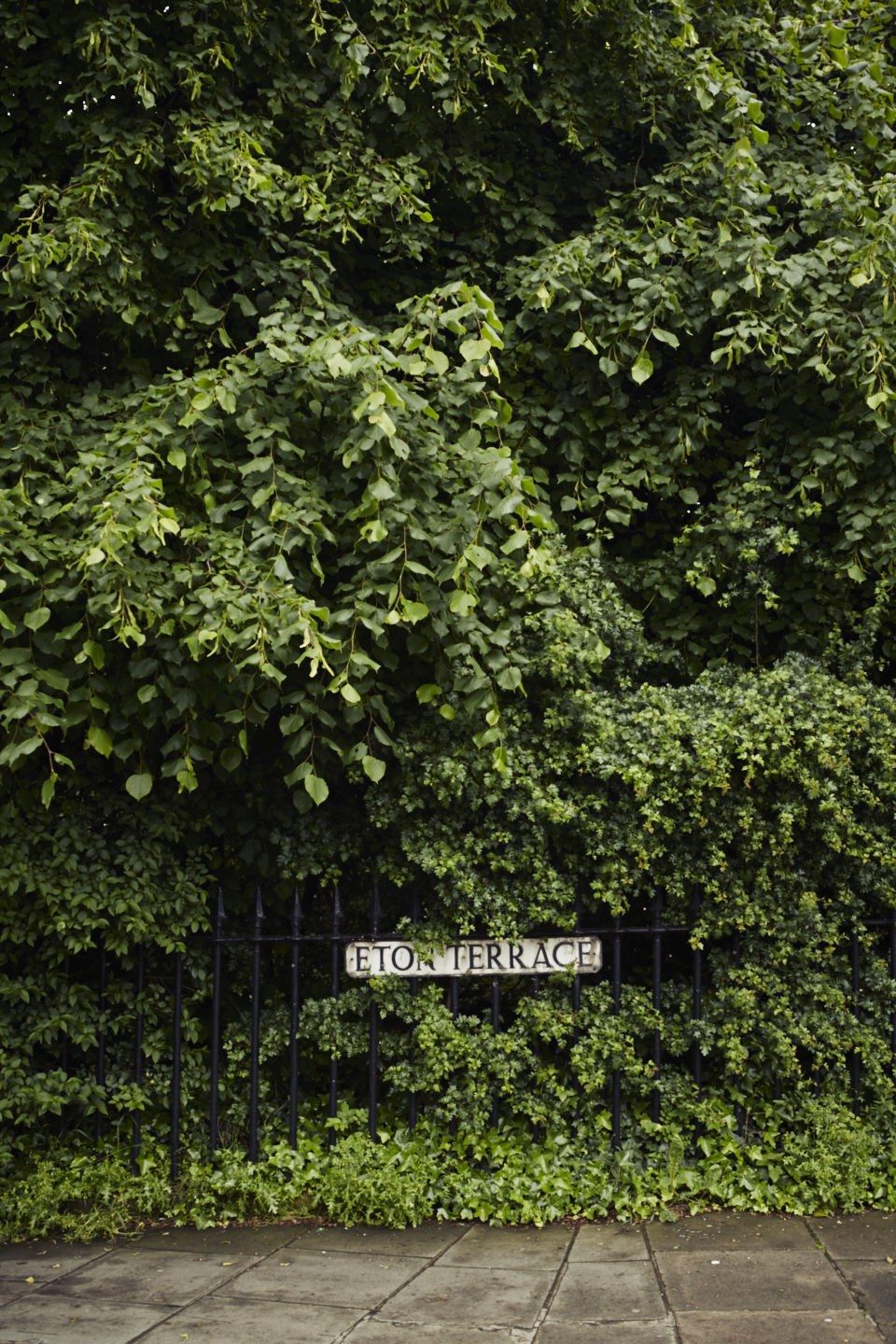 Leafy Stockbridge
DAY THREE | James Thomson, the owner of Prestonfield House, is not known for his restrained approach to interior design. You wake up on a huge, silvery sleigh bed surrounded by riotous ornamentation—gilt mirrors, oil paintings, leopard-print carpets, zebra-print cushions. There's a candlestick shaped like a stork standing on the back of a tortoise with the head of a lion. There's also a nice-looking bottle of champagne, courtesy of the management.
Beyond your window is a cultivated garden patrolled by peacocks, and a field with longhorn cattle. After a soak in the deep tub, you go in search of breakfast. If anything, the design is even busier in the hotel public spaces: red walls, bronze stags, black roses, colonial statues, a couch made out of antlers. You take a window seat in Rhubarb, the hotel's restaurant, with Arthur's Seat so close you could touch it, and order poached duck eggs with Ayrshire gammon on a potato scone, a newspaper on your lap. That's your morning taken care of.
It's sunny again, so you decide to walk through Holyrood Park, skirting the yellow-green hillsides of Arthur's Seat and Salisbury Crags and ending up at the Palace of Holyroodhouse, where the Queen stays when she's in town (it was once the home of Mary, Queen of Scots). The palace, parts of which date back nine centuries, has so many rooms you lose count. The décor is only slightly less opulent than that of the hotel.
Now it's a quick walk to the Royal Mile, and then the National Museum of Scotland, the Romanesque Revival masterpiece that houses everything from dinosaur bones to 1960s kitchen appliances. The interior is dominated by a massive iron-and-glass atrium, and the curatorial style is wonderfully eccentric (an antelope skull beside a steam engine beside a suit of armor). You could spend an entire day exploring this place.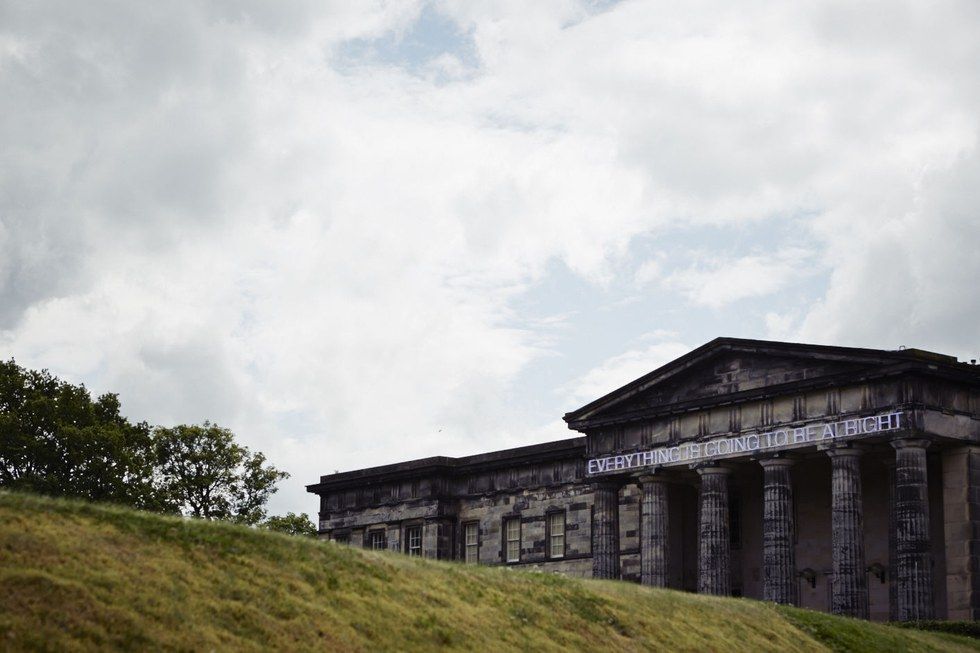 The neoclassical Scottish National Gallery holds an array of masterworks
But, things to do: Not far from here, up toward the castle, is The Witchery, the madly sumptuous hotel and restaurant owned (surprise) by James Thomson. You take a seat in the mock-medieval dining room and order the wild pigeon followed by a dozen fresh, plump Argyll oysters. "Have another dozen!" says the waitress when you tell her how lovely they were.
It's time for a closer look at the Mile and its endless network of side streets and alleys. In The Writers' Museum, on Lady Stair's Close, you spot a sign advising people to mind the 11th step, which is an inch or so higher than the others. The step was made that way on purpose, explains the clerk, to trip up potential intruders, but today it mainly trips up visitors. "No respect for the tourism industry," he says, rolling his eyes.
West Bow/Victoria Street, an arcing row of pink and green and blue facades, has some quirky little shops selling everything from squirting flowers (Aha Ha Ha) to local art (The Red Door Gallery) to a Robert Louis Stevenson first edition (The Old Town Bookshop). It's a welcome change from the parade of kilts and hipflasks up on the Mile.
The dominant structure on the Mile is St. Giles' Cathedral, with its massive crown spire. The oldest part of the building is said to date back to the ninth century, but, like so much of this city, it has been tinkered with over time, and is now a pastiche of crypts, Gothic arches and brilliant stained glass. As you enter, you encounter a stone angel who appears to be on the verge of tears. It is an exquisitely beautiful place, but not a cheery one.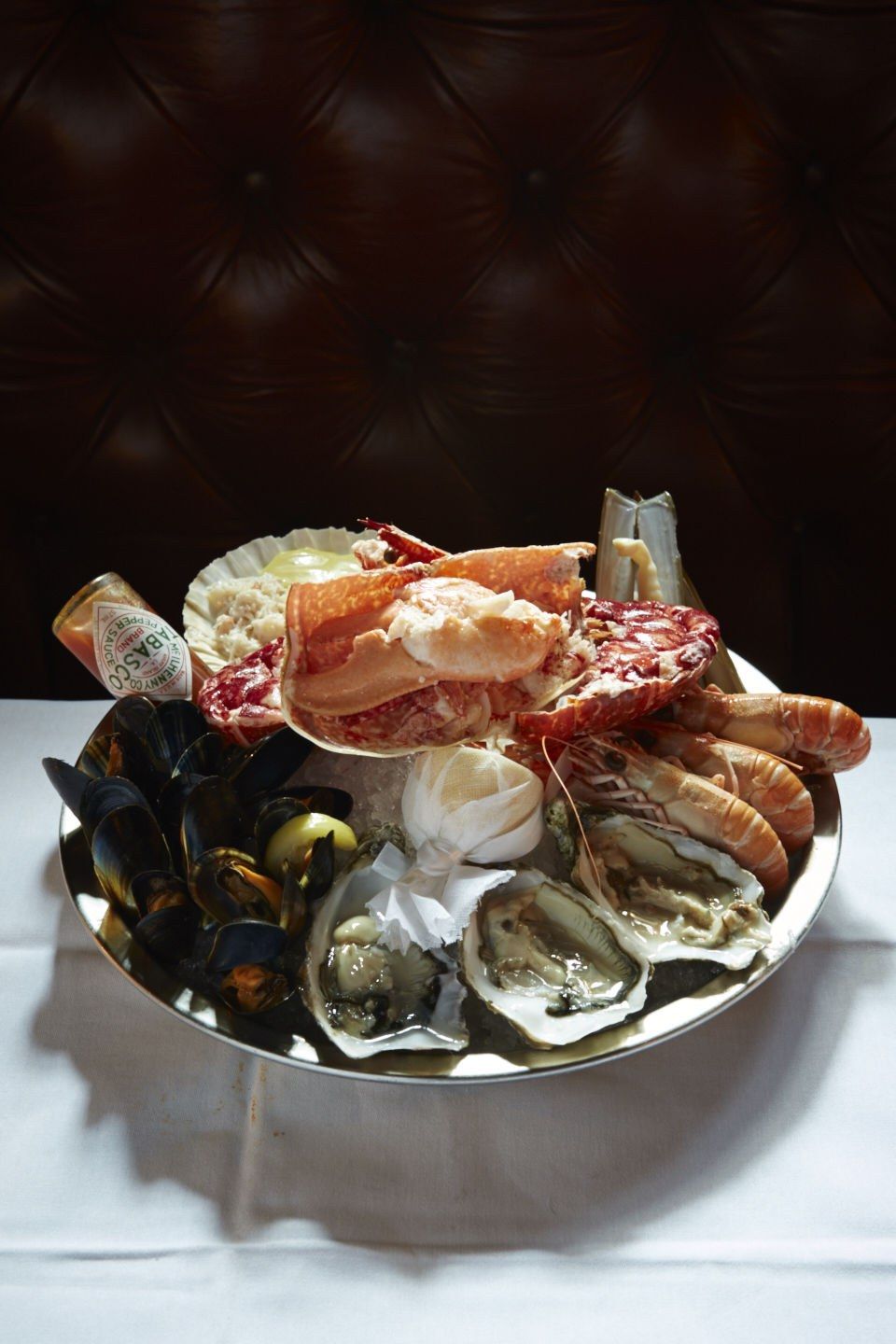 The Witchery offers fresh seafood in a mock-medieval setting
Your next stop is on the other end of the mood scale: The Lucky Liquor Co., in New Town. When you arrive, the bartenders are plating cupcakes and cookies—a surprise treat for their customers later on. The bar is known for its inventive cocktail list—you go for the Bloody Mary, in which the tomato sediment has been removed by a centrifuge. The resulting concoction, clear and served in a cocktail glass, is outrageously good. You order another.
Dinner tonight is at Aizle, a "neo-bistro" on the city's Southside. In a town enamored of envelope-pushing food, this place may take the envelope. The conceit is that, rather than a menu, you are given an ingredients list, with the words: "Expect to find some of these ingredients in tonight's dishes." Your list includes Orkney beef, apples, bee pollen, blood oranges and Clash Farm pork. Other than this, you have no idea.
As gimmicky as this seems, there is logic to it—the lack of a formal menu is meant to allow the chef to work with the freshest produce as it becomes available. And the food is hard to fault: beef tartare with beet, torched mackerel with leek, hogget (sheep meat) with bulgur. You leave the small restaurant pleasantly surprised.
You're tired, but not ready to bring Edinburgh to an end. So you make a final stop at the oddly Rococo music club The Voodoo Rooms, where you catch a set by former Black Crowes guitarist Marc Ford. During one Neil Young–style solo, you close your eyes and feel a tap on your elbow. "Just making sure you're alive," says a smiling woman with pixie hair and a drink in either hand. You smile back and assure her that you are, yes, very much so.
Hemispheres executive editor Chris Wright is ashamed that he didn't hike to the top of Arthur's Seat, and is including that on a to-do list for when he goes back.
This article was from Rhapsody Magazine and was legally licensed through the NewsCred publisher network.
When the pandemic began, United Cargo knew it would be critical to utilize its fleet, network and industry-leading pharmaceutical handling processes to transport a COVID-19 vaccine when the time came.
Connecting vaccines to the world: United responds to mass distribution effort
December 22, 2020
On November 27, United Airlines became the first commercial airline to safely deliver the first batch of Pfizer and BioNTech's COVID-19 vaccine into the U.S. thanks to a coordinated effort between United's cargo, safety, technical operations, flight operations, regulatory and legal teams.
Now as the entire shipping and logistics industry bands together to widely distribute vaccines, United is leveraging all of its flights, including cargo-only and those carrying passengers, to transport millions of vaccines to destinations throughout our network, including Honolulu, Guam and Saipan – the first of any carrier to do so.
"United's cargo service has helped safely deliver many essential goods during this pandemic, but there is no shipment that gives me more personal pride than helping bring this life-saving vaccine to our communities," said Jan Krems, United Cargo President. "While we still face a long road ahead the promise of a widely distributed vaccine gives us hope that we are one step closer to putting this pandemic behind us and moving forward together toward a brighter future."
And United is shipping more than just vaccines to help during the pandemic in keeping the lines of commerce flowing and goods getting to where they need to be. Since mid-March, United has operated 9,000 cargo-only flights carrying more than 435 million pounds of cargo. By using a combination of cargo-only flights and passenger flights, United Cargo has also transported 80 million pounds of medical supplies this year.
In coordination with our shipping and logistics partners, United will continue to distribute COVID-19 treatments to destinations throughout its network. The real heroes are the scientists who created these life-saving vaccines and the frontline workers who are not only administering them, but also helping care for and tend to those suffering from this virus. United is proud to do its part in helping to get this precious cargo to the people and communities who need them, and looks forward to doing our part in the months ahead.
United Cargo responds to COVID-19 challenges, prepares for what's next

September 30, 2020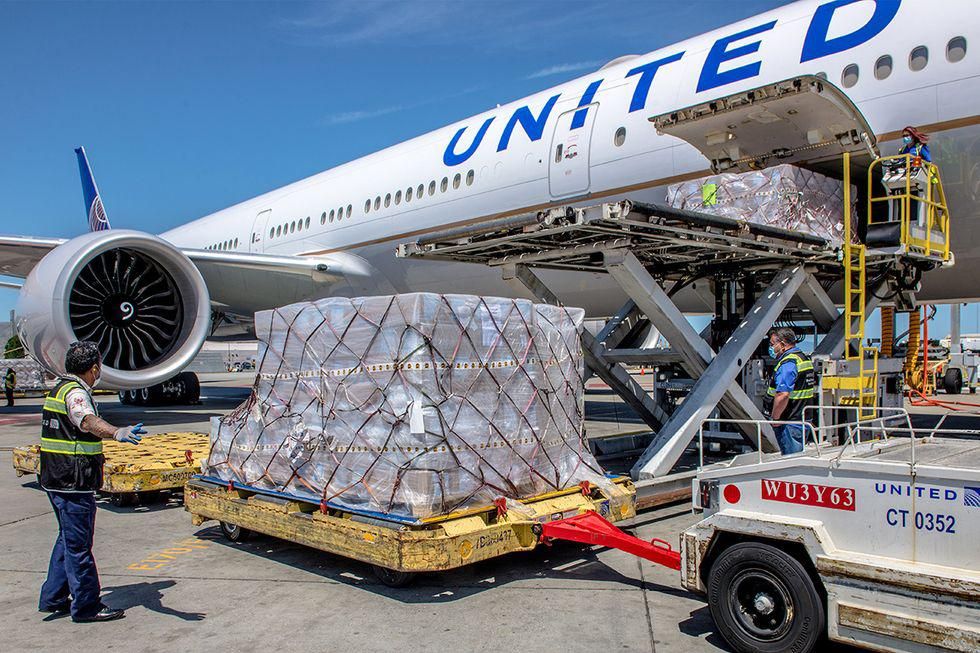 Even before the COVID-19 pandemic, United Cargo has supported a variety of customers within the healthcare industry for over 10 years. Three key solutions – TempControl, LifeGuard and QuickPak – protect the integrity of vital shipments such as precision medicine, pharmaceuticals, biologics, medical equipment and vaccines. By utilizing processes like temperature monitoring, thermodynamic management, and priority boarding and handling, United Cargo gives customers the peace of mind that their shipments will be protected throughout their journey.

With the global demand for tailored pharmaceutical solutions at an all-time high, we've made investments to help ensure we provide the most reliable air cargo options for cold chain shipping. In April this year, we became the first U.S. carrier to lease temperature-controlled shipping containers manufactured by DoKaSch Temperature Solutions. We continue to partner with state-of-the-art container providers to ensure we have options that meet our customers' ever-changing needs.
"Providing safe air cargo transport for essential shipments has been a top priority since the pandemic began. While the entire air cargo industry has had its challenges, I'm proud of how United Cargo has adapted and thrived despite a significant reduction in network capacity and supply," said United Cargo President Jan Krems. "We remain committed to helping our customers make it through the pandemic, as well as to doing everything we can to be prepared for the COVID-19 vaccine distribution when the time comes."
Our entire team continues to prioritize moving critical shipments as part of our commitment to supporting the global supply chain. We've assembled a COVID readiness task team to ensure we have the right people in place and are preparing our airports as we get ready for the industry-wide effort that comes next.
In cooperation with our partners all over the world, United Cargo has helped transport nearly 145 million pounds of medical supplies to aid in the fight against COVID-19, using a combination of cargo-only flights and passenger flig­hts. To date, United Cargo has operated more than 6,300 cargo-only flights and has transported more than 213 million pounds of cargo worldwide.
United Cargo responds to global needs, celebrates 5000th cargo-only flight

August 18, 2020
By Jan Krems, President, United Cargo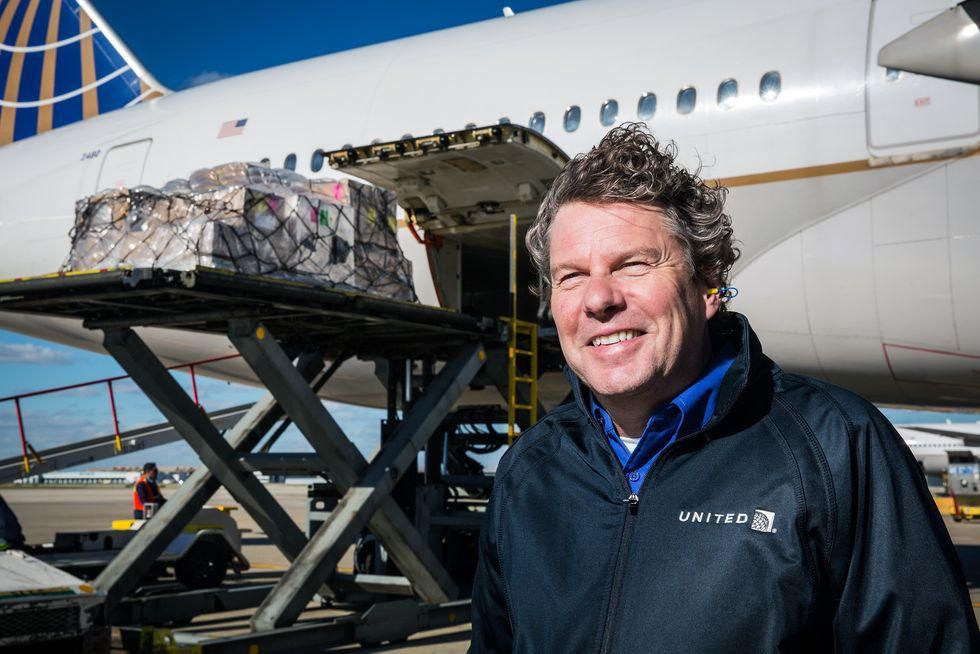 In mid-March, United took steps to manage the historic impact of COVID-19 and began flying a portion of our Boeing 777 and 787 fleets as dedicated cargo-only flights to transport air freight to and from U.S. hubs and key international business locations. More than ever, providing reliable cargo transportation was vitally important and I'm proud say our United Cargo team stepped up to support our customers.

Although we're facing the most challenging environment our industry has ever experienced, I'm very excited to celebrate a major milestone. Since March 19, United has operated over 5,000 cargo-only flights transporting nearly 170 million pounds of cargo on these flights alone. With an increased need to keep the global supply chain moving, and an even more urgent need for medical supplies, we knew we had to utilize our network capabilities and personnel to move vital shipments, such as medical kits, personal protective equipment (PPE), pharmaceuticals and medical equipment between U.S. hubs and key international destinations.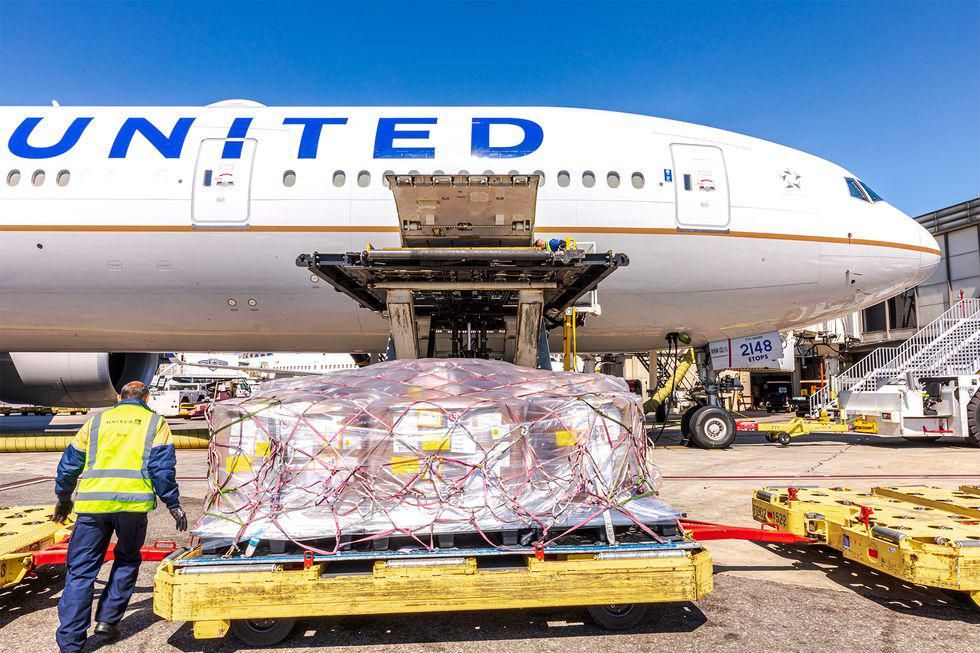 In cooperation with freight forwarders and partners all over the world, United Cargo helped transport more than 107 million pounds of medical supplies to aid in the fight against COVID-19 using a combination of cargo-only flights as well as passenger flights.

To keep military families connected, we increased the frequency of cargo-only flights between the U.S. and military bases in various parts of the world — including bases located in Guam, Kwajalein and several countries in Europe. We know how critically important it is for these families to stay connected, and I'm honored that we were able to utilize our network and our aircraft to fly nearly 3 million pounds of military supplies.
In collaboration with food-logistics company Commodity Forwarders Inc. (CFI), our cargo teams moved nearly 190,000 pounds of fresh produce to Guam for the U.S. Department of Agriculture's Coronavirus Farm Assistance Program. This new program was created to provide critical support to consumers impacted by the coronavirus pandemic.
United has played a critical role in keeping global supply chains stable during the pandemic as we deliver urgently needed goods around the world. These past few months have created challenges that I have never seen in my 30-plus years of experience working within the air cargo and freight forwarding industry. However, I'm proud of our teams for staying focused on our mission to provide high-quality service and to keep our customers connected with the goods they need most.
United Cargo and logistics partners keep critical medical shipments moving
July 02, 2020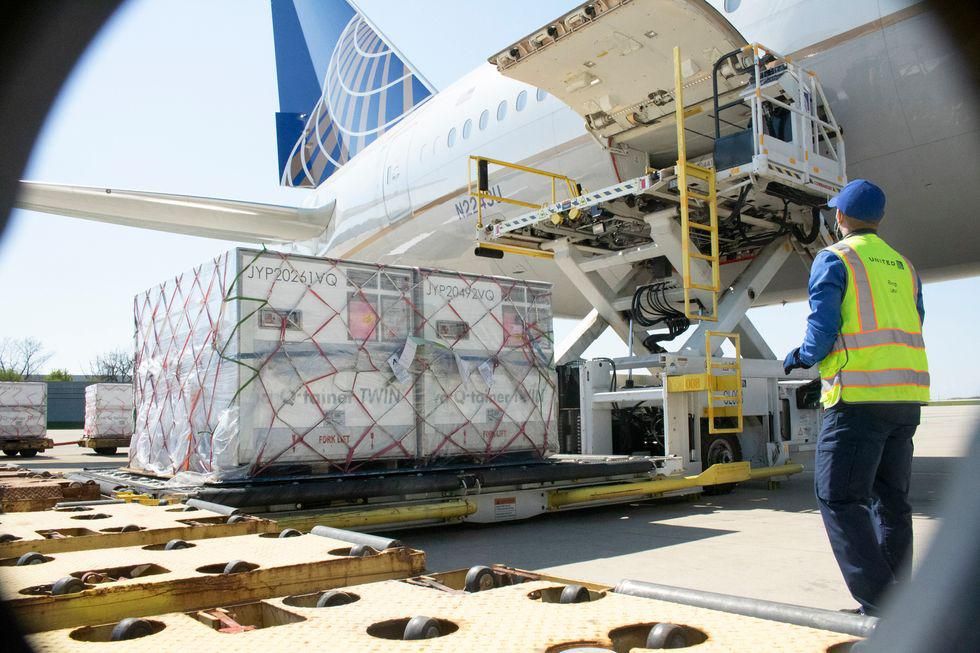 By working together and strengthening partnerships during these unprecedented times, our global community has overcome challenges and created solutions to keep the global supply chain moving. As COVID-19 continues to disrupt the shipping landscape, United and our industry partners have increasingly demonstrated our commitment to the mission of delivering critical medical supplies across the world.

United Cargo has partnered with DSV Air and Sea, a leading global logistics company, to transport important pharmaceutical materials to places all over the world. One of the items most critical during the current crisis is blood plasma.
Plasma is a fragile product that requires very careful handling. Frozen blood plasma must be kept at a very low, stable temperature of negative 20 degrees Celsius or less – no easy task considering it must be transported between trucks, warehouses and airplanes, all while moving through the climates of different countries. Fortunately, along with our well-developed operational procedures and oversight, temperature-controlled shipping containers from partners like va-Q-tec can help protect these sensitive blood plasma shipments from temperature changes.
A single TWINx shipping container from va-Q-tec can accommodate over 1,750 pounds of temperature-sensitive cargo. Every week, DSV delivers 20 TWINx containers, each one filled to capacity with human blood plasma, for loading onto a Boeing 787-9 for transport. The joint effort to move thousands of pounds of blood plasma demonstrates that despite the distance, challenges in moving temperature-sensitive cargo and COVID-19 obstacles, we continue to find creative solutions with the help of our strong partnerships.
United Cargo is proud to keep the commercial air bridges open between the U.S. and the rest of the world. Since March 19, we have operated over 3,200 cargo-only flights between six U.S. hubs and over 20 cities in Asia, Australia, Europe, South America, India, the Caribbean and the Middle East.
United further expands cargo-only operations to key international markets
June 9, 2020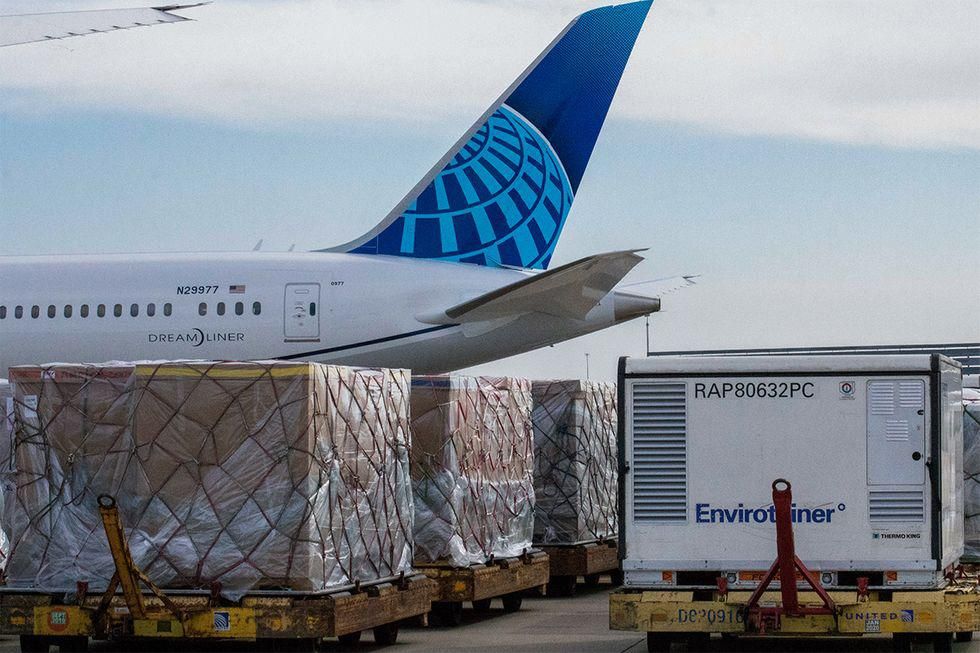 United has played a vital role in helping keep the global supply chains stable during the COVID-19 pandemic so urgently needed goods can get to the places that need them most.

In addition to current service from the U.S. to Asia, Australia, Europe, India, Latin America and the Middle East, we are proud to now offer cargo-only flights to key international markets including Dublin, Paris, Rome, Santiago and Zurich. These new routes will connect our freight customers and further extend our air cargo network throughout the world – for example connecting major pharmaceutical hubs in Europe and perishable markets in Latin America.
"Air cargo continues to be more important than ever," says United Cargo President Jan Krems. "This network expansion helps our customers continue to facilitate trade and contribute to global economic development and recovery. I'm proud of our team for mobilizing our cargo-only flights program that enables the shipment of critical goods that will support global economies."
Since we began our program March 19, we have completed more than 2,400 cargo-only flights, transporting over 77 million pounds of cargo. We have over 1,100 cargo-only flights scheduled for the month of June, operating between six U.S. hubs and over 20 cities all over the world.
United's first flight carrying cargo in-cabin takes off
May 13, 2020

United continues to keep supply chains moving and to meet the demand for critical shipments around the globe. Recently, United received approval from the Federal Aviation Administration (FAA) to carry cargo in approved storage areas in the passenger cabin.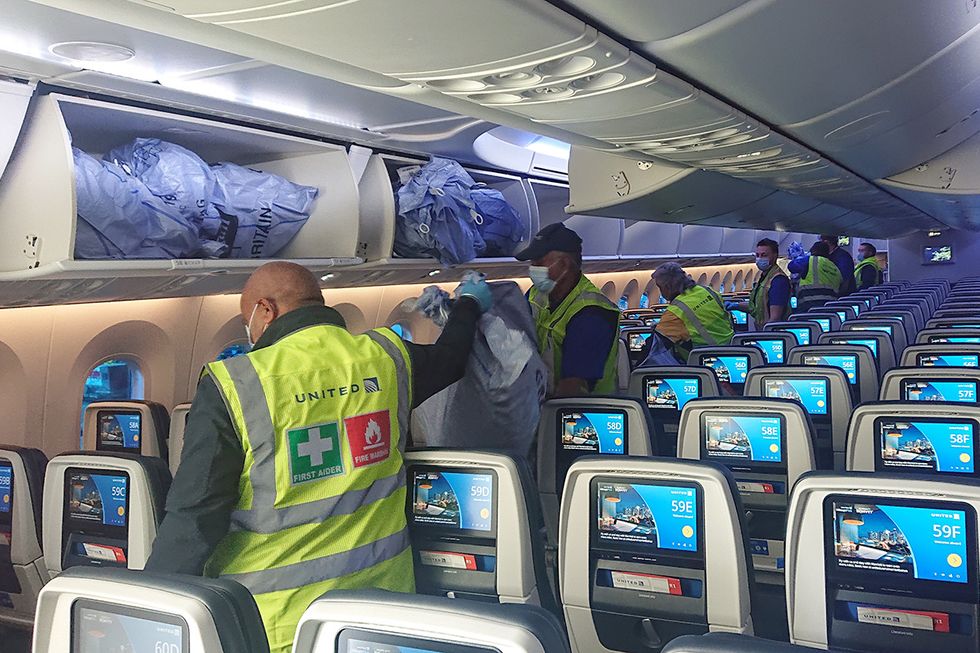 Our inaugural cargo-in-cabin flight flew from London (LHR) to Chicago (ORD) carrying over 4,200 pounds of mail in the passenger cabin, plus a full payload of freight in the belly of the aircraft. Initially, cargo-in-cabin shipments will be loaded on the 777 and 787 aircraft operating our cargo-only flights. We will continue to evaluate additional opportunities to use this space to meet the growing cargo demand.
"We send our sincere thanks to the FAA for working with our team to enable the transport of more critical goods on United's cargo-only flights," said Jan Krems, President of United Cargo. "By loading existing cabin storage areas with cargo and mail, we can move even more critical medical equipment, PPE, and other vital shipments the world needs to manage through the pandemic."

United's cargo-only network continues to expand in order to help bring vital shipments to the people that need it most. We're now offering service between six of our U.S. hubs and 18 airports worldwide: CTU, HKG, ICN, MEL, PEK, PVG, SIN, SYD and TPE in the Asia-Pacific; AMS, BOM, BRU, DUB, FRA, LHR, TLV and ZRH in EMEIA; and SJU in the Caribbean.
Since the start of its cargo-only flights program March 19, United has operated over 1,300 cargo-only flights transporting over 44 million pounds of cargo.
For more information, visit unitedcargo.com.
United expands cargo-only flights to additional global destinations
April 16, 2020
Getting vital goods, especially medical relief supplies, into the hands of the businesses and people who need them has never been more critically important. To meet the overwhelming demand, United began operating cargo-only flights on March 19. Since we began using Boeing 777 and 787 aircraft from United's passenger fleet for this purpose, we have operated over 400 flights carrying more than 6 million kilos of cargo.
"With the global community in need, we are doing everything we can to keep supply chains moving worldwide and support the battle against COVID-19," said United Cargo President Jan Krems. "We're proud to play an active role in connecting vital medical supplies like test kits and personal protective equipment with healthcare professionals around the world."
We are now operating more than 150 cargo-only flights per week between six of our U.S. hubs and 13 cities worldwide: CTU, HKG, PEK, PVG, SYD and TPE in the Asia Pacific; AMS, BRU, DUB, FRA and LHR in Europe; SJU in the Caribbean and TLV in the Middle East. We expect to add new cities soon and will continue to expand our cargo-only flights program.
Hub
Cargo-only flights operating through May
Chicago (ORD)
ORD - AMS (Amsterdam)
ORD - FRA (Frankfurt)
ORD - HKG (Hong Kong)
ORD - LHR (London)
ORD - NRT (Tokyo Narita) - PEK (Beijing)

Houston (IAH)
IAH - AMS (Amsterdam)
IAD - FRA (Frankfurt)
Los Angeles (LAX)
LAX - HKG (Hong Kong)
LAX - LHR (London Heathrow)
LAX - NRT (Tokyo Narita) - PVG (Shanghai)
LAX - SYD (Sydney)
New York/Newark (EWR)
EWR - AMS (Amsterdam)
EWR - FRA (Frankfurt)
EWR - LHR (London)
San Francisco (SFO)
SFO - AMS (Amsterdam)
SFO - NRT (Tokyo Narita) - PEK (Beijing)
SFO - NRT (Tokyo Narita) - PVG (Shanghai)
SFO - NRT (Tokyo Narita) - TPE (Taipei)
SFO - TLV (Tel Aviv)
SFO - SYD (Sydney)
Washington, D.C. (IAD)
IAD - BRU (Brussels)
IAD - DUB (Dublin)
IAD - FRA (Frankfurt)
IAD - NRT (Tokyo Narita) - PEK (Beijing)
IAD - SJU (San Juan)
Flight details are subject to change, for the most up-to-date schedules, please visit https://ual.unitedcargo.com/covid-updates.
Cargo-only flights support U.S. military and their families
March 30, 2020
We are helping to keep military families connected by increasing the frequency of cargo-only flights between the United States and military bases in various parts of the world — including Guam, Kwajalein, and several countries in Europe. Last week we began operating a minimum of 40 cargo-only flights weekly — using Boeing 777 and 787 aircraft to fly freight and mail to and from U.S. hubs and key international business and military locations.
We are going above and beyond to find creative ways to transport fresh food and produce, as well as basic essentials from the U.S. mainland to military and their families in Guam/Micronesia. On Saturday, March 28, we operated an exclusive cargo-only B777-300 charter to transport nearly 100,000 pounds of food essentials to Guam to support our troops.
In addition, we move mail year-round all over the world. In response to COVID-19, and in support of the military members and their families overseas, we implemented a charter network, transporting military mail to Frankfurt, which is then transported all over Europe and the Middle East. Since March 20, we have flown 30,000+ pounds of military mail every day between Chicago O'Hare (ORD) and Frankfurt (FRA). On the return flight from Frankfurt to Chicago, we have carried an average of 35,000 pounds of mail to help families stay connected.

"Keeping our military families connected with the goods they need, and keeping them connected with loved ones to feel a sense of home, is of critical importance. As a company that has long supported our military families and veterans, our teams are proud to mobilize to lend a hand." — United Cargo President Jan Krems.
Our cargo-only flights support customers, keep planes moving

March 22, 2020
We have begun flying a portion of our Boeing 777 and 787 fleet as dedicated cargo charter aircraft to transfer freight to and from U.S. hubs and key international business locations. The first of these freight-only flights departed on March 19 from Chicago O'Hare International Airport (ORD) to Frankfurt International Airport (FRA) with the cargo hold completely full, with more than 29,000 lbs. of goods.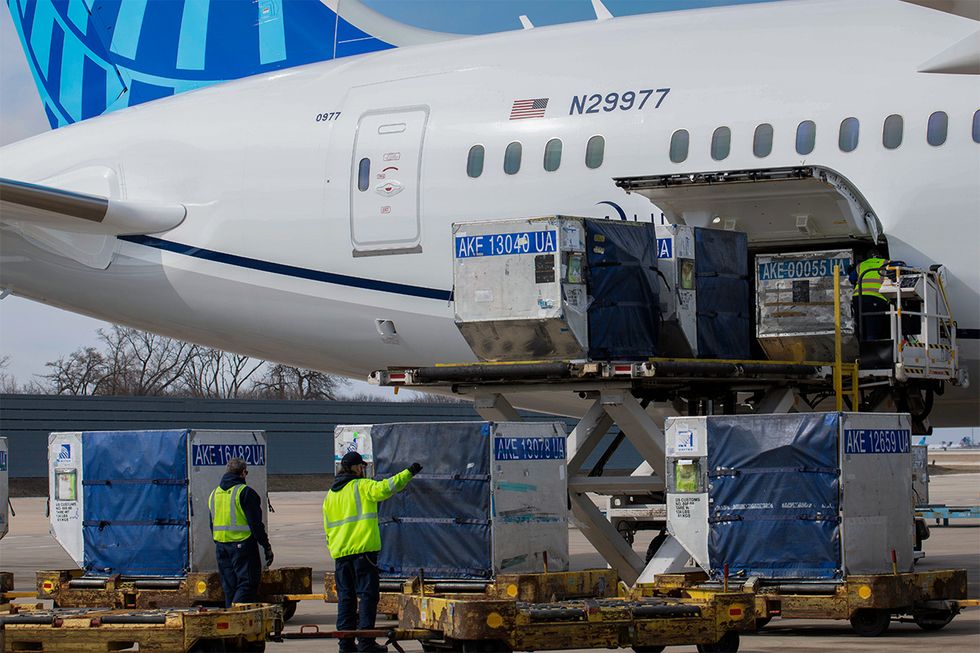 Getting critical goods into the hands of the businesses and people who need them most is extremely important right now. To support customers, employees and the global economy, we will initially operate a schedule of 40 cargo charters each week targeting international destinations and will continue to seek additional opportunities.

With coronavirus (COVID-19) creating an increased need to keep the global supply chain moving, we are utilizing our network capabilities and personnel to get vital shipments, such as medical supplies, to areas that need them most.
"Connecting products to people around the world is the United Cargo mission," said United Cargo President Jan Krems. "That role has never been more crucial than during the current crisis. Our team is working around the clock to provide innovative solutions for our customers and support the global community."
On average, we ship more than 1 billion pounds of cargo every year on behalf of domestic and international customers. For more information, visit unitedcargo.com.
Airline and its customers use crowdsourcing platform - Miles on a Mission - to donate more than 11 million miles for charities like the Thurgood Marshall College Fund, College to Congress and Compass to Care
CHICAGO, Dec. 1, 2020 /PRNewswire/ -- United is inviting MileagePlus members to give back on Giving Tuesday and throughout the holiday season by donating miles to nearly 40 non-profits through United Airlines' crowdsourcing platform, Miles on a Mission. Non-profits like Thurgood Marshall College Fund, College to Congress and Compass to Care are attempting to raise a total of more than 11 million miles to be used for travel for life-saving health care, continued education, humanitarian aid and more. United will match the first 125,000 miles raised for each of these organizations to help ensure they meet their goals.
"This year has posed unprecedented challenges for us all and has been especially devastating to some of the most vulnerable members within the communities we serve," said Suzi Cabo, managing director of global community engagement, United Airlines. "The need for charitable giving has not stopped during the pandemic, and neither has United. This Giving Tuesday marks an opportunity for us to all come together for the greater good and we are proud to provide a platform to support organizations with upcoming travel needs that will enable them to continue supporting the communities they serve."
The launch of these campaigns is part of United's ongoing Miles on a Mission program, which began in October 2019 and has raised more than 92 million miles to-date. Past campaigns have helped organizations travel children for life-saving medical treatment and unite parents with newly adopted children from foreign countries. Participating non-profits have 28-days to reach their mile raising goals through the platform.
The organizations that are raising miles in this campaign include:
College to Congress: The organization provides support including travel for disadvantaged college students who otherwise could not afford to intern in Washington, D.C.
Thurgood Marshall College Fund: This is the only national organization representing America's 47 publicly-supported Historically Black Colleges and Universities (HBCUs), and the nearly 300,000 students that attend them each year. The miles raised will cover the travel expenses to and from campus for students unable to afford them.
My Block, My Hood, My City: This organization provides underprivileged youth with an awareness of the world and opportunities beyond their neighborhood. Miles will be used to fund educational trips for Chicago youths to help them gain a greater understanding of the world outside of their comfort zones.
Compass to Care: The non-profit ensures all children, whose parents have a financial need, can access life-saving cancer treatment. Compass to Care is raising miles to fund travel to get children from their homes to hospitals for cancer treatment.
Luke's Wings: This organization is dedicated to the support of service members who have been wounded in battle. Raised miles will be used to purchase plane tickets for families to visit wounded soldiers recovering in Army medical centers.
Rainbow Railroad USA: The organization's mission is to help persecuted LGBTQI+ individuals around the world travel to safety as they seek a haven from persecution. Miles will support the organization's core Emergency Travel Support program.
This year, United's legal partner Kirkland & Ellis will also be donating $50,000 to My Block, My Hood, My City and the Thurgood Marshall College Fund. Other organizations launching campaigns on the platform include: Sisters of the Skies, Inc., Up2Us Sports, Airline Ambassadors International, Austin Smiles, AWS Foundation, Crazy Horse Memorial, FLYTE, Higher Orbits, Lily's Hope Foundation, Miles4Migrants, Support Utila Inc. and Watts of Love. MileagePlus members can also donate to United's 20 other existing partner charities including, Airlink, American Red Cross, Make-A-Wish, Shriners Hospitals; Clean the World, Special Olympics and more. To learn more or donate to these organizations, please visit donate.mileageplus.com.
Visit www.united.com/everyactioncounts to learn more about our pledge to put our people and planes to work for the greater good.
About United
United's shared purpose is "Connecting People. Uniting the World." For more information, visit united.com, follow @United on Twitter and Instagram or connect on Facebook. The common stock of United's parent, United Airlines Holdings, Inc., is traded on the Nasdaq under the symbol "UAL".

SOURCE United Airlines
For further information: United Airlines Worldwide Media Relations, +1-872-825-8640, media.relations@united.com

In October 2019, we launched a first-of-its-kind airline miles donation platform, Miles on a Mission. In the inaugural year, MileagePlus members donated over 70 million miles, with United matching over 20 million miles, to 51 organizations. These miles have allowed for these organizations to do important, life-changing, life-saving work in the communities we serve around the globe.
Whether it's visiting friends and relatives, traveling for work or simply exploring a new corner of the world, we all have a reason as to why we fly. No matter the reason you fly, the miles you earn and donate help our Miles on a Mission partners soar. Take a look at how some of our partner organizations have put our MileagePlus Members' donations to work.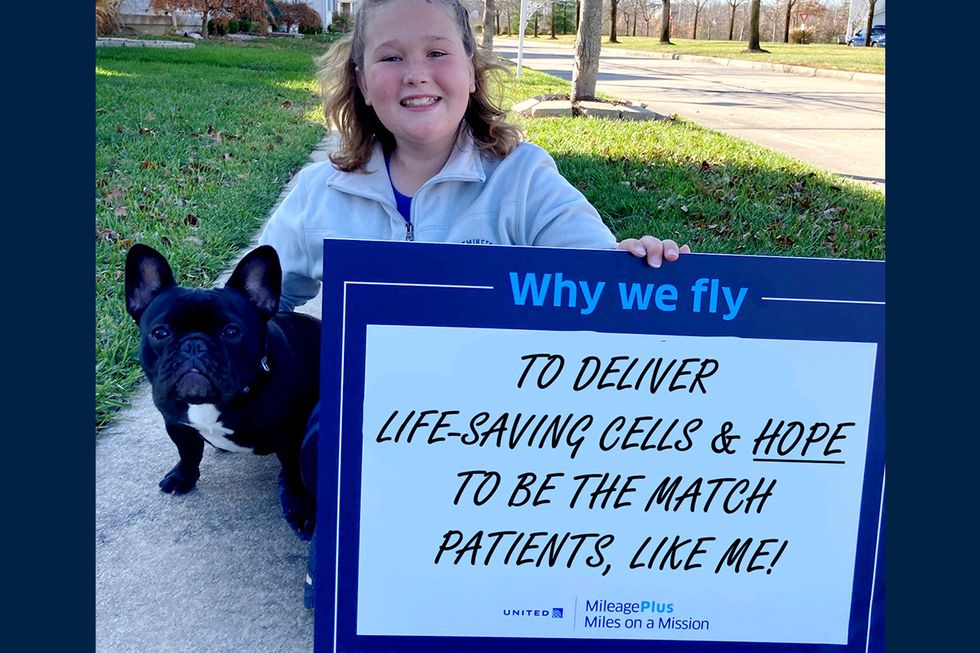 "To deliver life-saving cells and hope to Be the Match patients, like me!"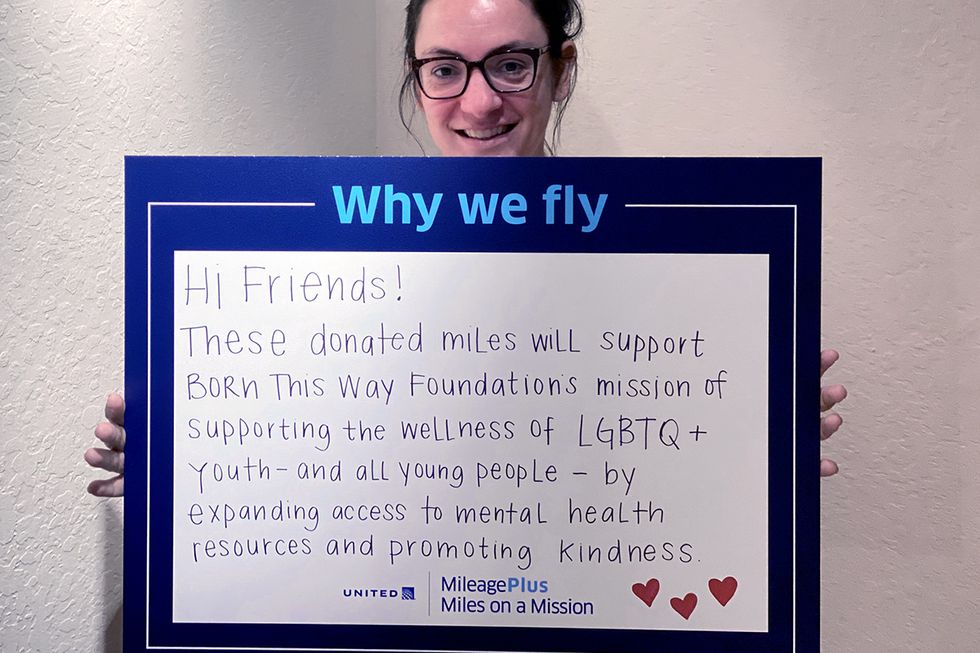 "These donated miles will support Born This Way Foundation's mission of supporting the wellness of LGBTQ+ youth — and all young people — by expanding access to mental health resources and promoting kindness."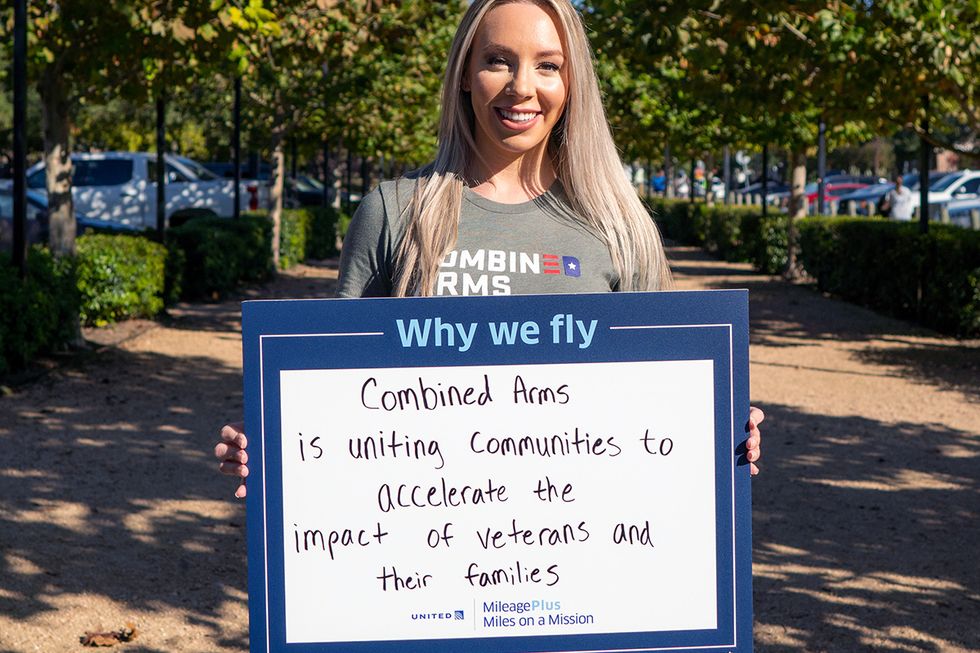 "Combined Arms is uniting communities to accelerate the impact of veterans and their families."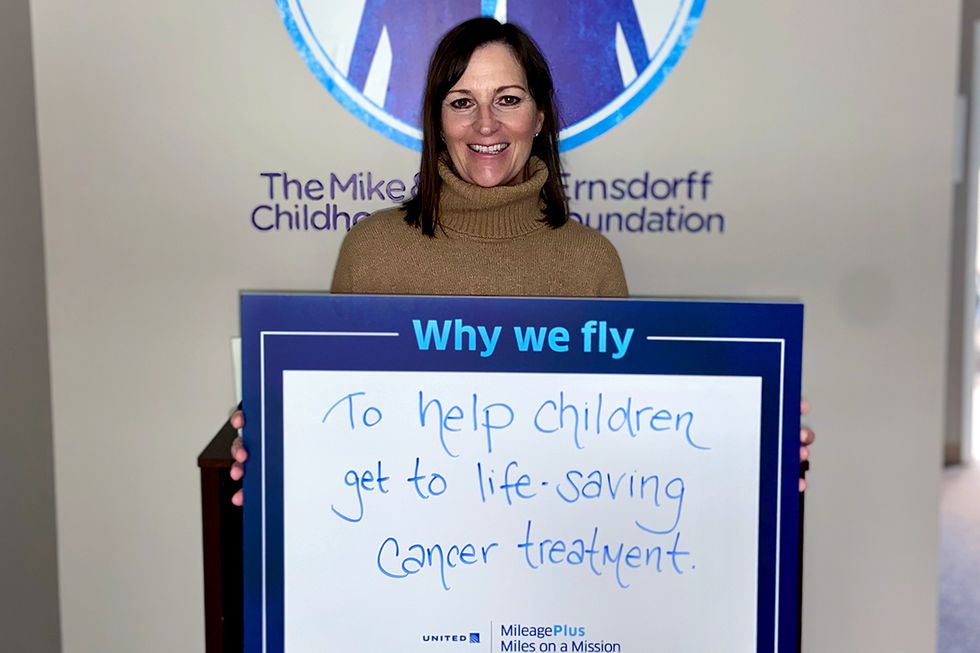 "To help children get to life-saving cancer treatment"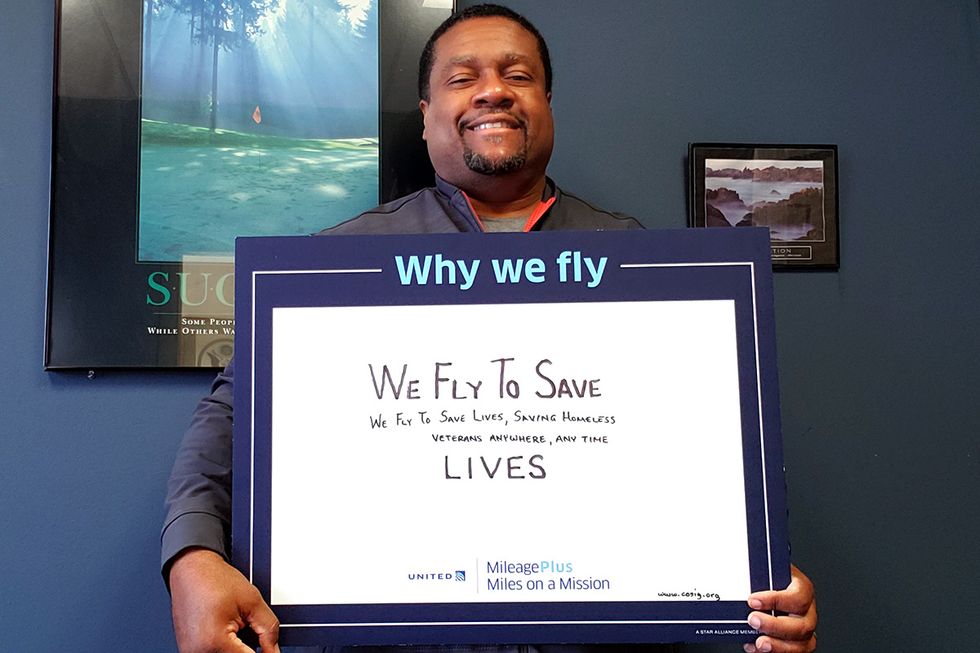 "We fly to save. We fly to save lives, saving homeless veterans anywhere, any time."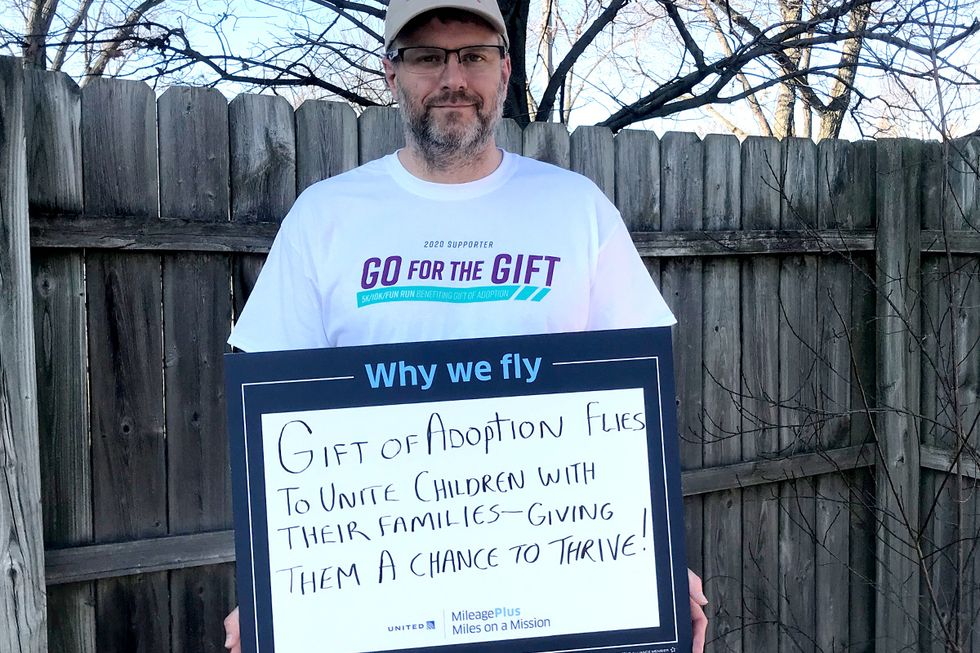 "Gift of Adoption flies to unite children with their families — giving them a chance to thrive!"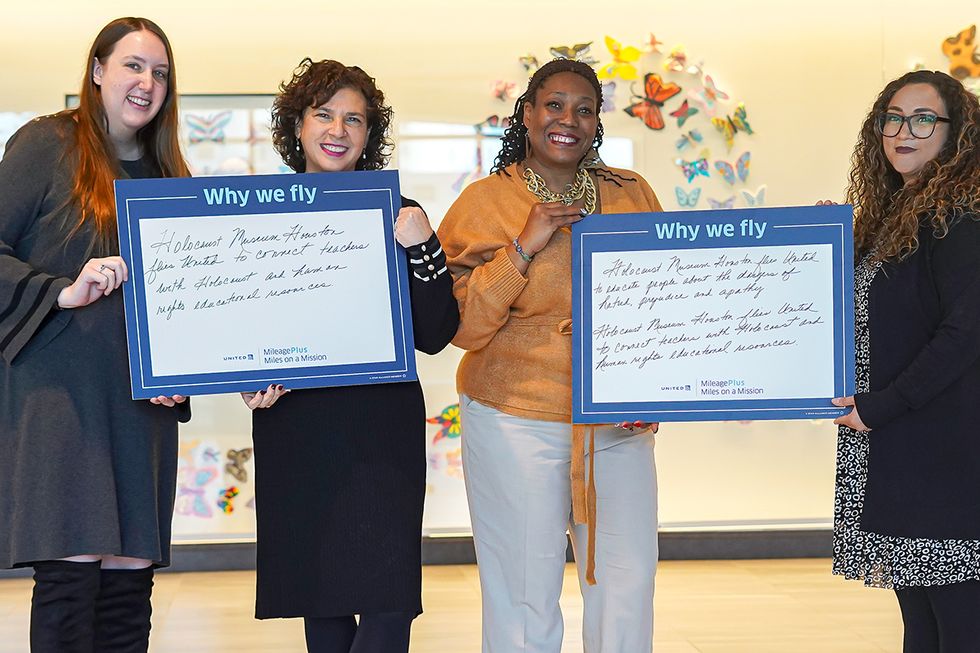 "Holocaust Museum Houston flies United to educate people about the dangers of hatred, prejudice and apathy. Holocaust Museum Houston flies United to connect teachers with Holocaust and human rights educational resources."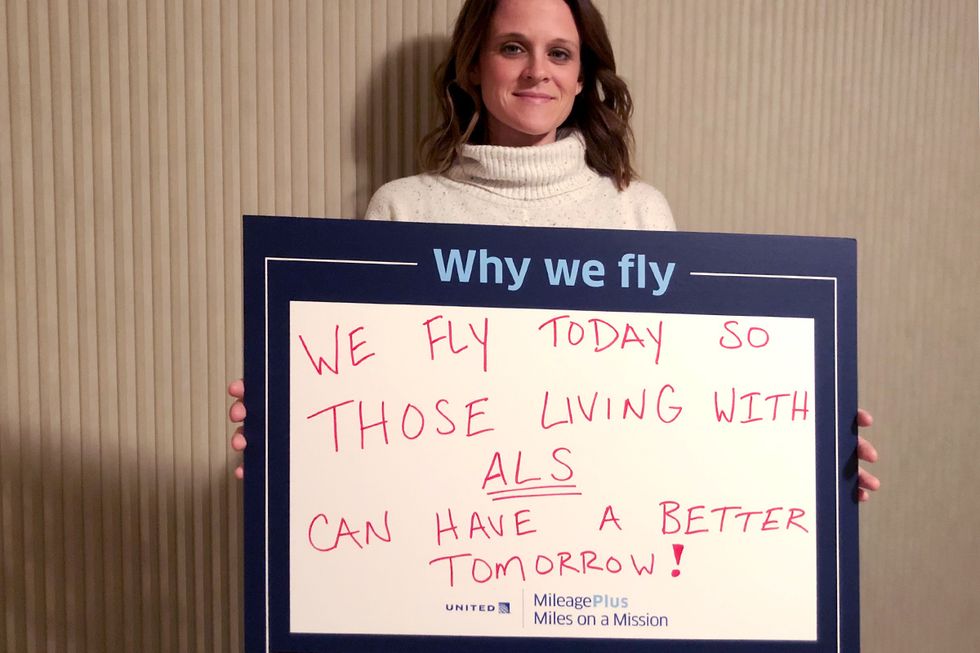 "We fly today so those living with ALS can have a better tomorrow."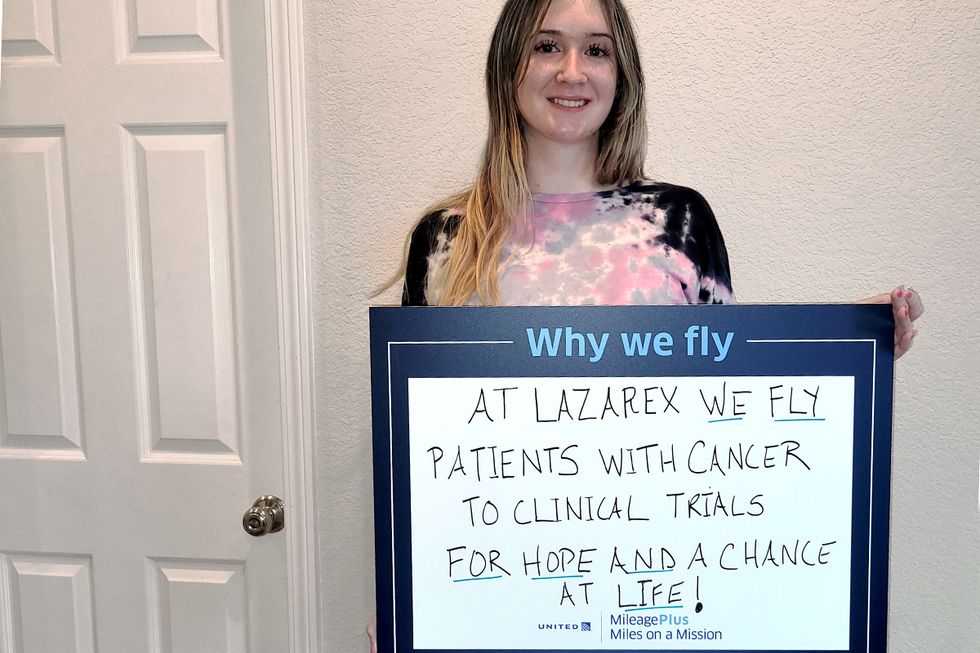 "At Lazarex we fly patients with cancer to clinical trials for hope and a chance at life!"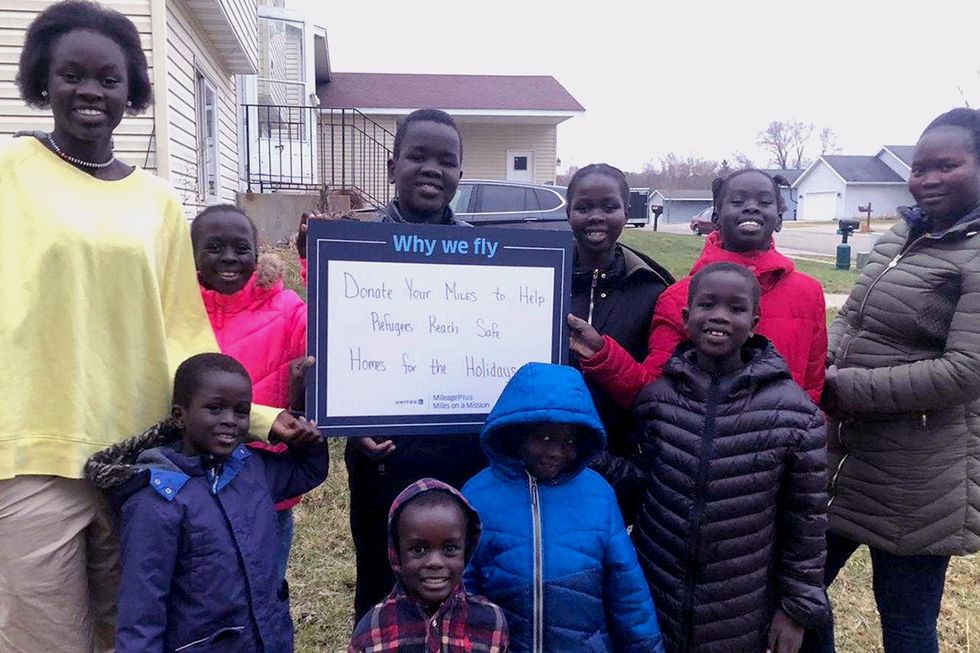 "Donate your miles to help refugees reach safe homes for the holidays."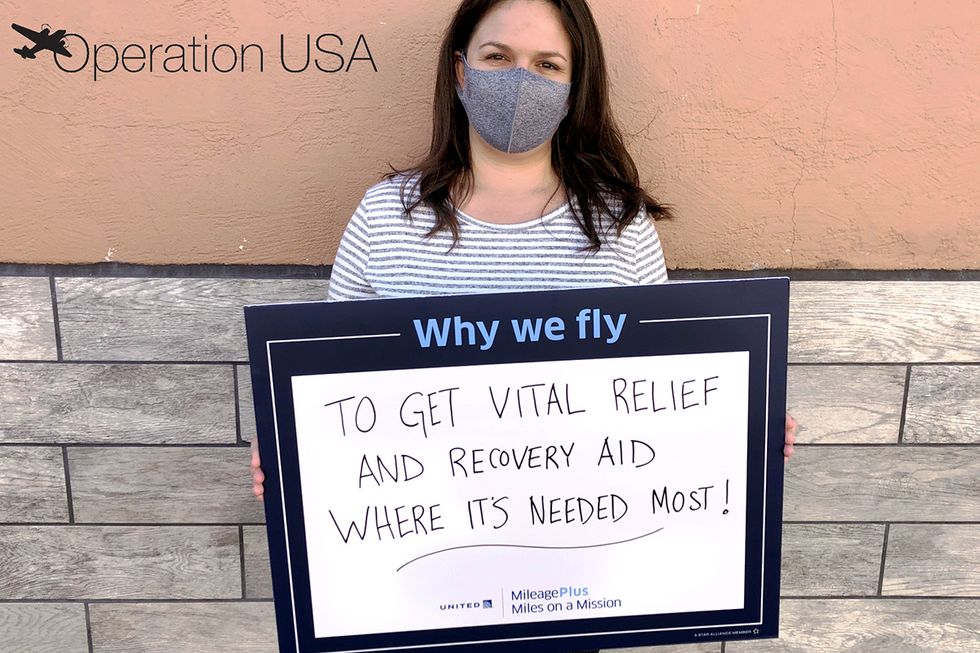 "To get vital relief and recovery aid where it's needed most!"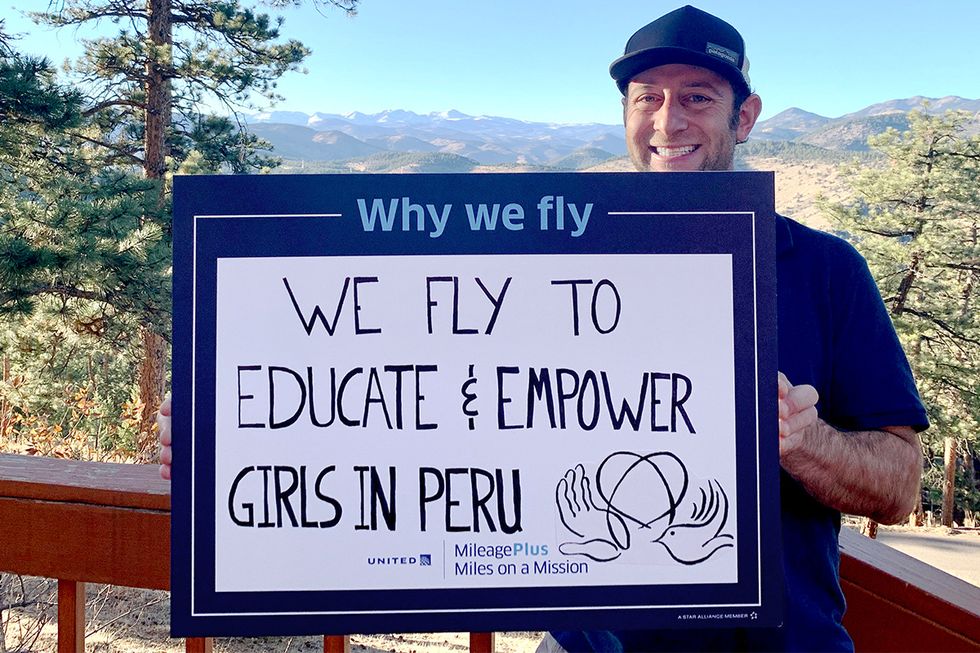 "We fly to educate and empower girls in Peru."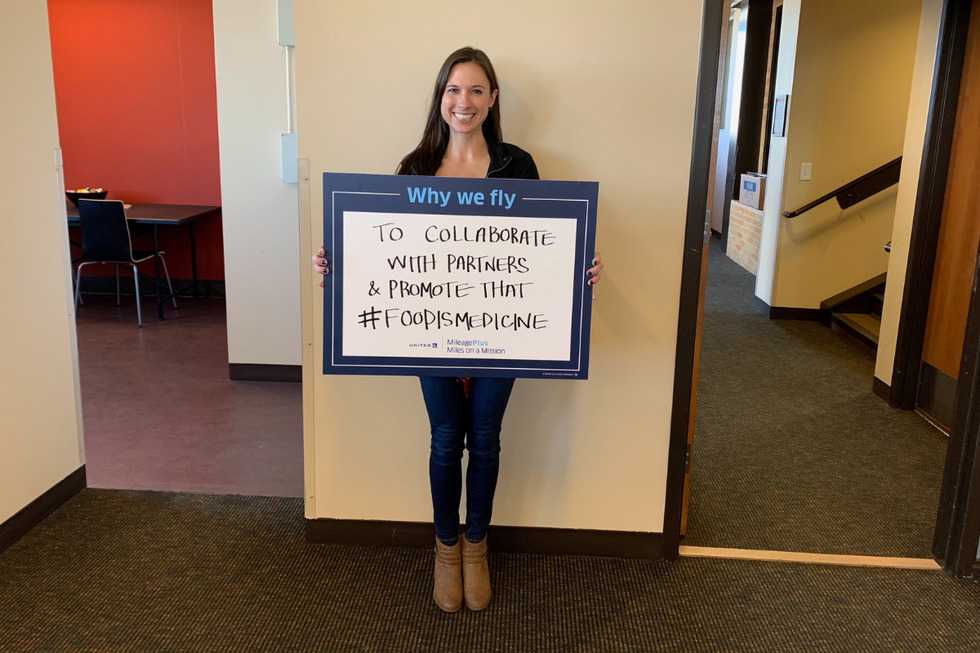 "To collaborate with partners & promote that #FoodIsMedicine"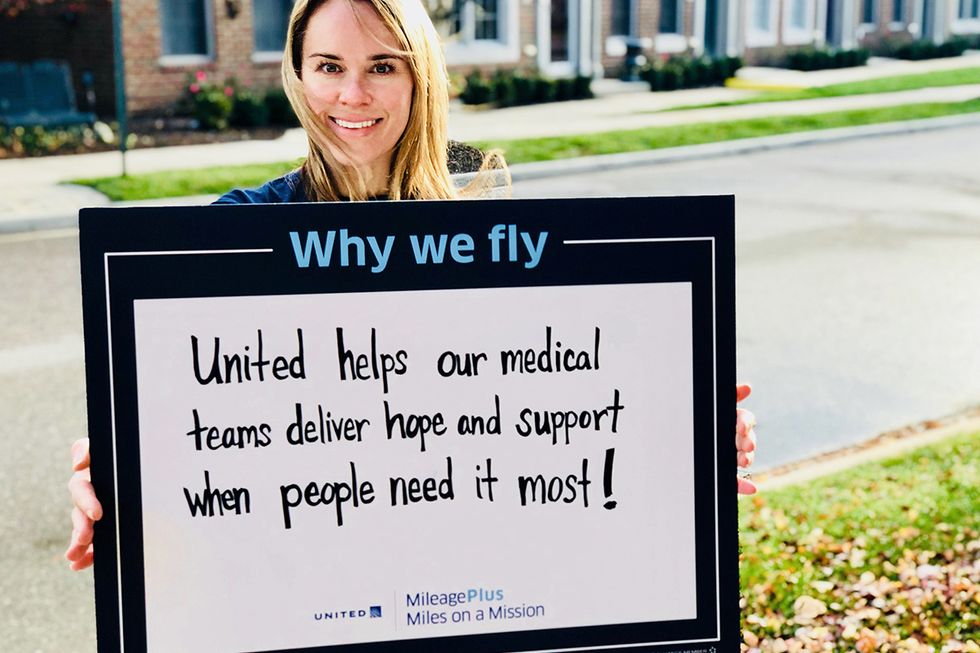 "United helps our medical teams deliver hope and support when people need it most!"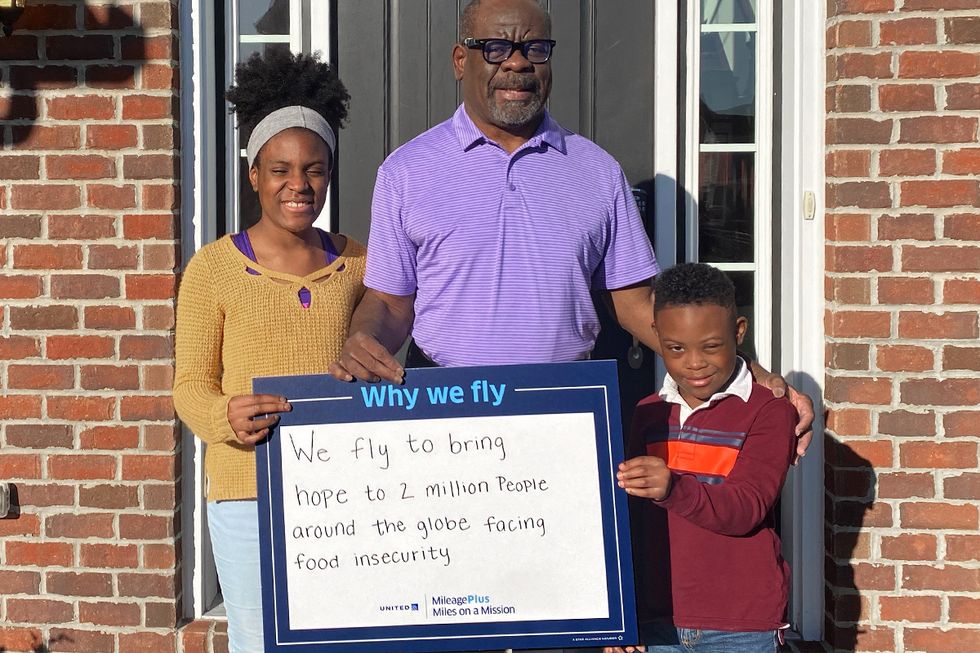 "We fly to bring hope to 2 million people around the globe facing food insecurity."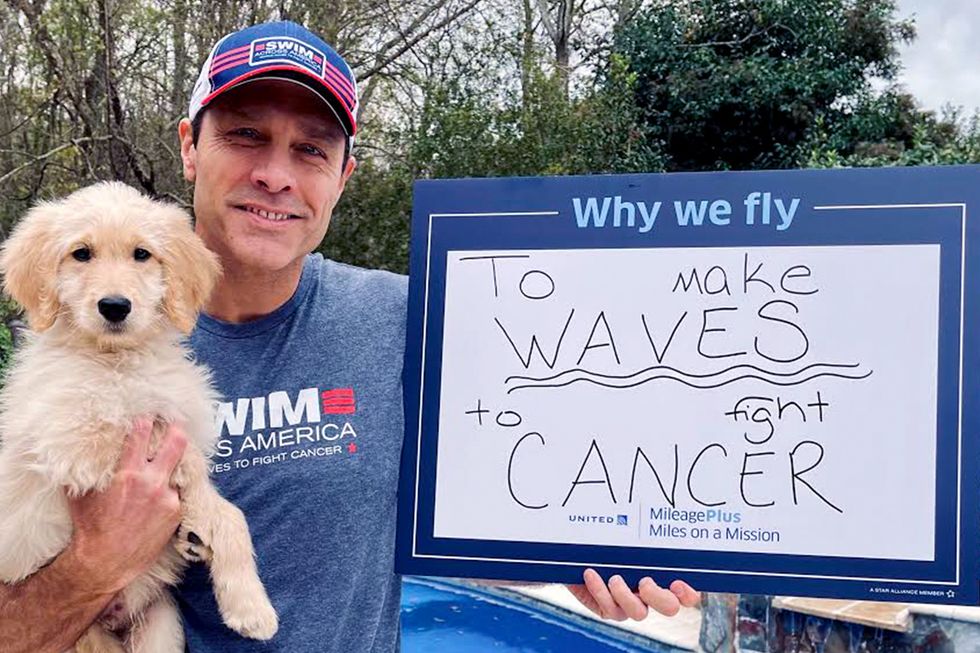 "To make waves to fight cancer."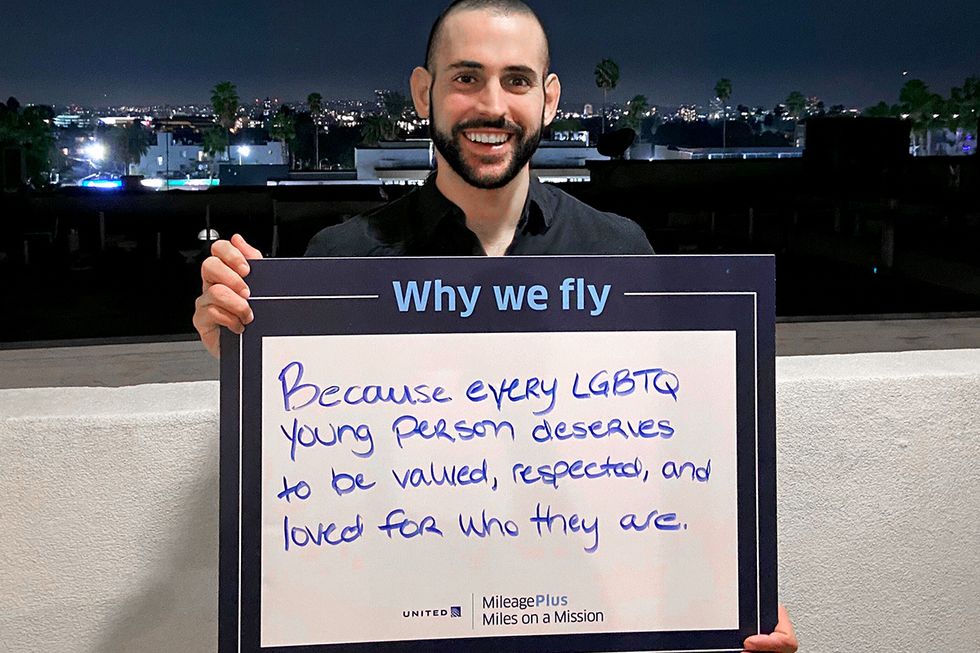 "Because every LGBTQ young person deserves to be valued, respected and loved for who they are."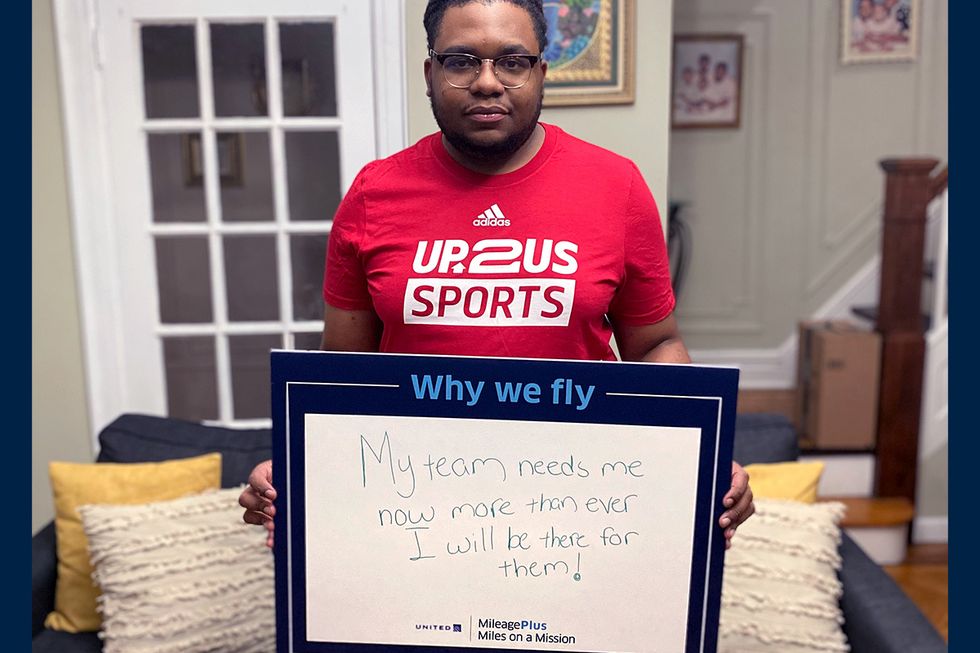 "My team needs me now more than ever. I will be there for them!"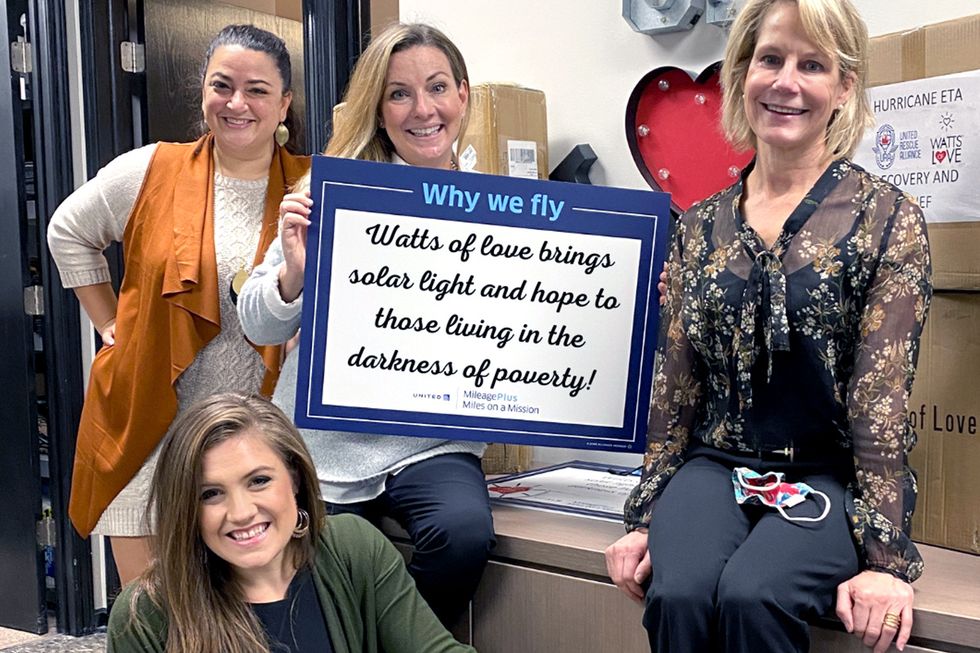 "Watts of Love brings solar light and hope to those living in the darkness of poverty!"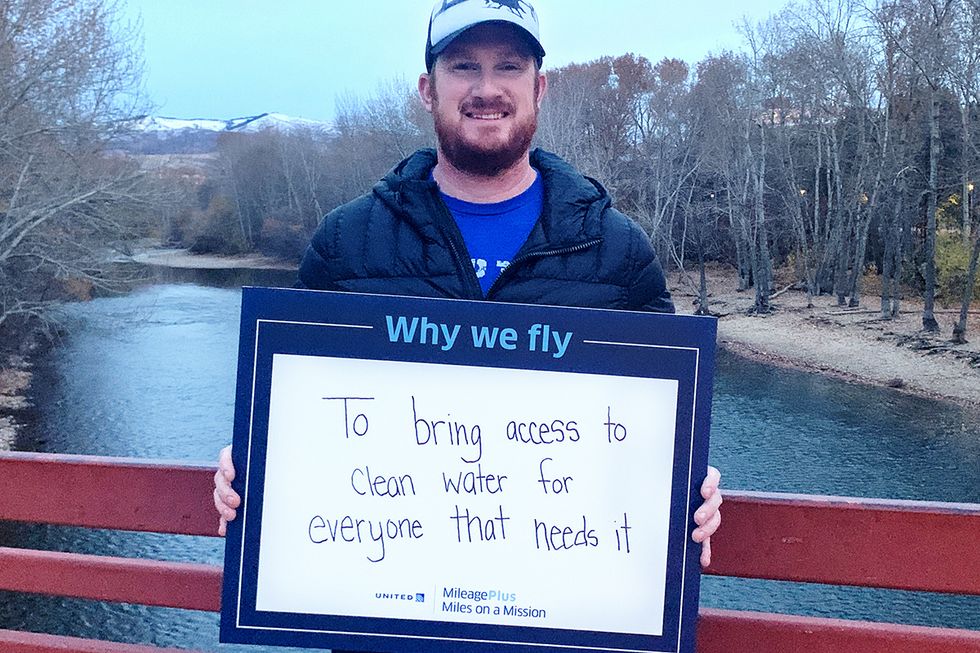 "To bring access to clean water for everyone that needs it."
Scroll to top