Three Perfect Days: Edinburgh
Story by Chris Wright | Photography by Rahel Weiss | Hemispheres, August 2014
The Scottish capital's long and sometimes troubled history, along with its dramatic physical environment, has given rise to one of the world's most glorious cities. But who knew it was so much fun?
"Edinburgh," wrote the poet Hugh MacDiarmid, "is a mad god's dream." The line says a lot about this city—its impossible clutter of architectural splendor, the dense concentration of beauty it represents.
This beauty is, at times, brooding and melancholy, reflecting the violent religious and political upheavals Edinburgh has endured throughout its history, along with the fires, the plagues and—less dramatically but more reliably—the inclement weather.
Indeed, the very effort to build an Athens on this craggy shoulder of Scotland, with the wind whipping in from the Firth of Forth and the hard volcanic rock below, seems the kind of thing a mad god might do. Mad or not, Edinburgh has always been a center of brilliance—of invention, art, literature and thought. Recently, this tradition has expressed itself in the city's food scene (it has five Michelin-starred restaurants, second only to London in the U.K.) and its renowned cultural events (the Fringe and International festivals happen in August).
As for the people—well, they can be as steely as you'd expect in this environment, imbued with amused cynicism and maintaining a tight grip on their sense of independence. That said, if you ask a local for directions, you could well spend the next 15 minutes engaged in casual conversation.
So, yes, Edinburgh is a sublimely beautiful city. The surprise is how warm and charming it can be, how open and energetic. How fun.

DAY ONE | Few places can do rain like Edinburgh. From the window of your room at The Balmoral Hotel, you look out at a sheer wall of medieval tenements, their edges blurred by hanging clouds, and beyond these the gorse-mottled bulk of Arthur's Seat. Anywhere else, a morning like this would seem drab and uninviting, but in this town it works.
That said, you're staying at the Balmoral. The hotel has been operating here for 112 years, and the indulgent, unfussy luxury it has perfected during that time is not easily abandoned, especially when it's raining outside. So you flop back onto the bed for a minute or two, taking stock of the room's mint-green walls, floral prints and ... you're gone.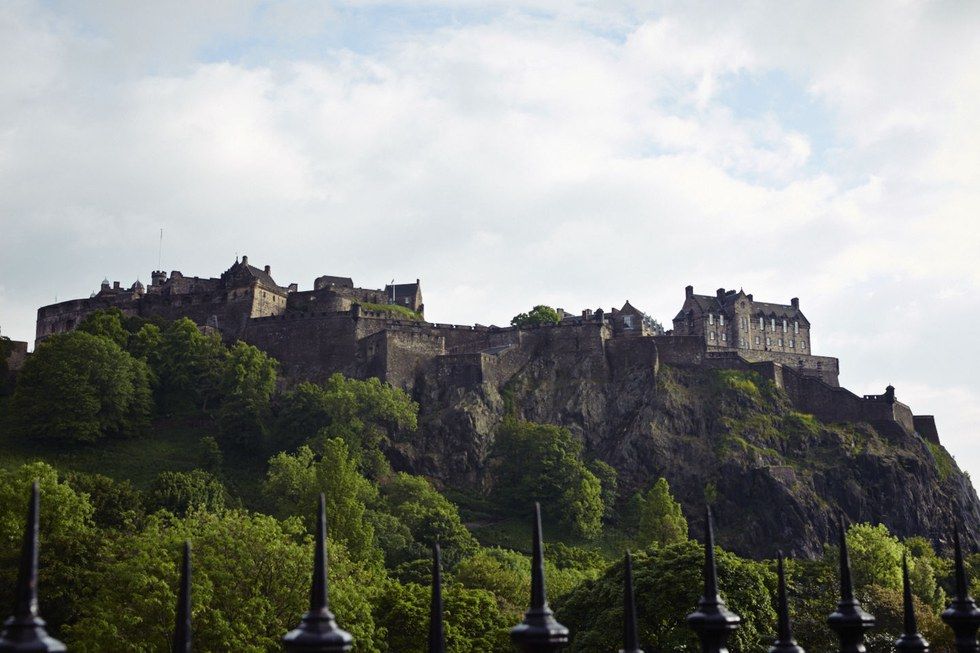 Edinburgh Castle looming over the city
You snap out of it and head downstairs, passing through the elegant Palm Court tearoom and into modish Hadrian's Brasserie for breakfast, where you opt to go the whole hog (literally): sausage, bacon, black pudding, etc. From here, you waddle out onto busy Princes Street, where you get your first taste of the architectural onslaught you'll face over the next few days. A left turn takes you west, into the medieval shambles of Old Town; a right leads to the orderly avenues of New Town, which was built in the 18th and 19th centuries, its neoclassical buildings and parks intended to serve as a relief from the teeming, chaotic warren to the south.
Together, the districts comprise a UNESCO World Heritage site, and both warrant first-stop status, but you opt to take a right, partly because New Town is where you'll be having lunch, but also because your pork-themed breakfast is making itself felt, and the area looks slightly less hilly.
You do a bit of window-shopping on George Street, then head one block south to Rose, which is narrower, a little rowdier and features a fiddler diddley-deeing below the orange bunting. You people-watch for a while, then pop into the Auld Hundred Pub for a sneaky pint of Deuchars IPA. After this, you continue through New Town's cobblestoned streets and geometric alleys, recharging your appetite for what promises to be a significant lunch.
The understated dining room at Restaurant Mark Greenaway belies the fanciful artistry of its food. Your eight-course meal includes a Scotch broth that's brought to the table bubbling up in a coffee percolator, and a deconstructed Eton mess, the elements of which are so precisely ordered that the dish amounts to a wisecrack. Thankfully, ingenuity doesn't come at the expense of taste—the crab cannelloni with smoked cauliflower custard is particularly good.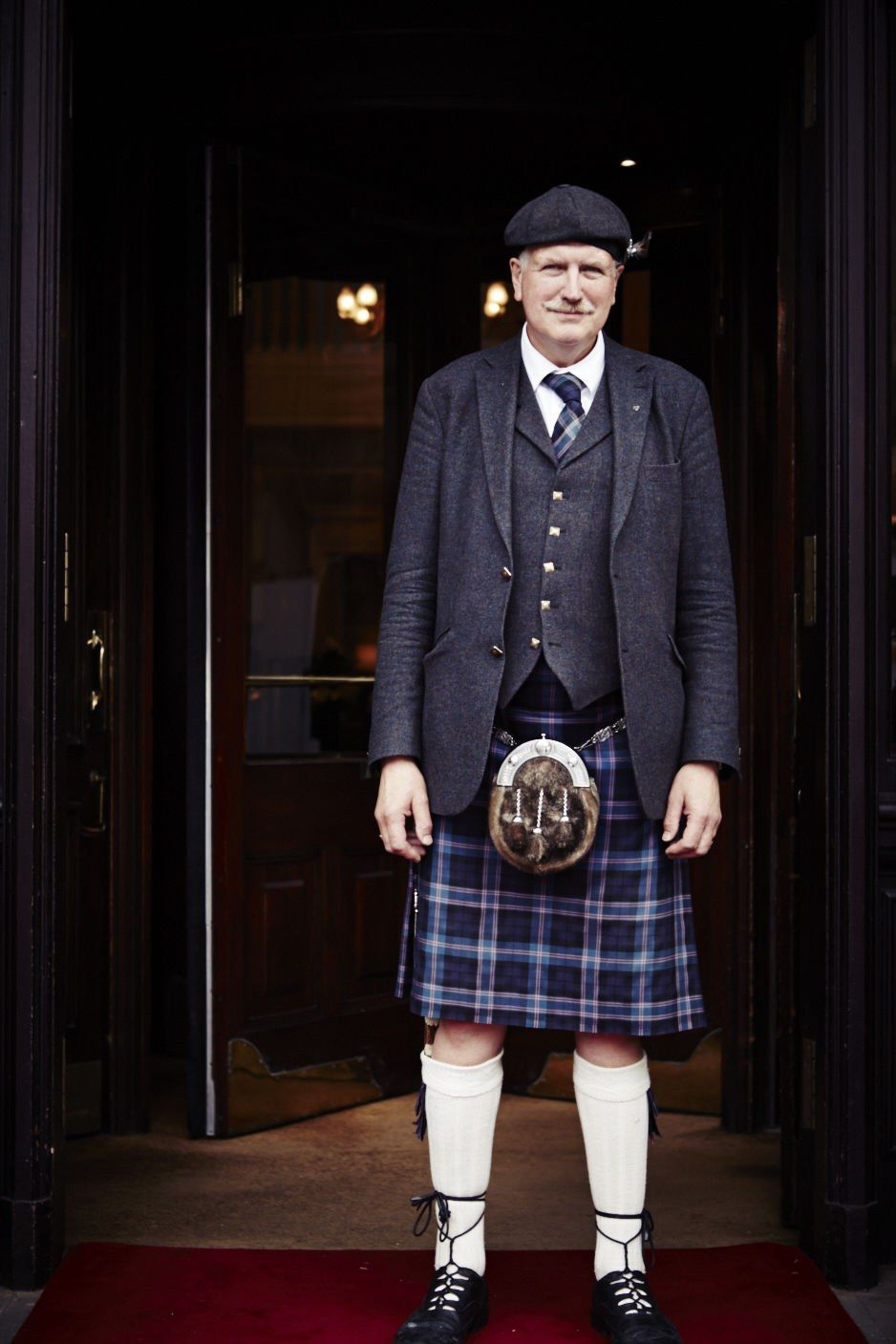 A doorman at The Balmoral Hotel
Your next stop is Edinburgh Castle, which has loomed over this city for nine centuries and which, you're pretty sure, is subject to a law stating that all visitors must include it on their itinerary. The sun makes an appearance, highlighting the city's cheerier side. You stroll through blossomy Princes Street Gardens, with a quick detour to look at the old masters in the Scottish National Gallery, before tackling the ascent of Castle Rock.
Edinburgh Castle is actually many castles, a hodgepodge of castles, a collaborative effort among a succession of regimes. The views up here are stunning, but it's the cloak-and-dagger stories that grip you—like the 15th-century "Black Dinner," at which a bull's head was served on a plate, a clear signal that things would not end with a cheese platter (bloody death ensued). At one point, moving along a passageway, you hear children's voices behind a heavy door. You rattle the latch and groan, eliciting a scream and the scuffling of little feet. Heh.
By the time you leave the castle, the blood is thudding in your feet. You zigzag down to Grassmarket and The Last Drop pub, so named for the gallows that once stood outside. The ghosts of the executed, you are told, are likely to be standing beside you at the bar. "Buy 'em a drink!" slurs an old guy propped in the corner, smiling craggily.
Dinner is at the nearby Timberyard, a fashionable whitewashed eatery known for dishing up fresh local ingredients with a twist. Your meal includes oysters in buttermilk, raw venison with burnt oak oil, duck (heart, neck, breast) and a chocolate concoction served with spiced breadcrumbs. The food is delightful, and it gives you the spike of energy needed for your last stop of the night.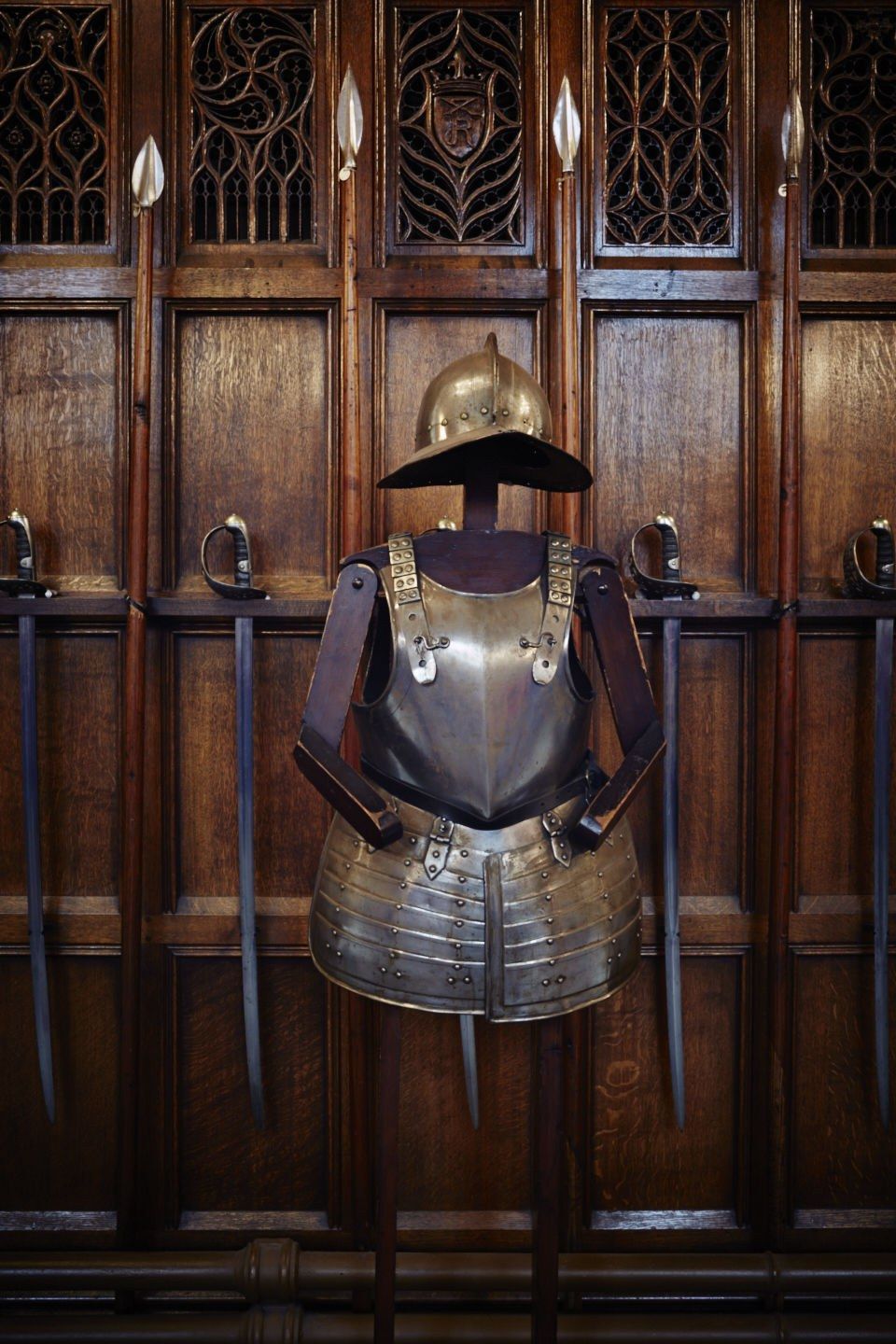 Weaponry at Edinburgh Castle
The Devil's Advocate, tucked away in an Old Town alleyway, is not an easy place to find in the dark. It's worth looking for, though. The bar has one of the city's more impressive whisky selections—more so given that its manager, Jack, is only 21 years old. You try a selection ranging from classics like Glendronach sherry cask to a rare peated BenRiach. "This," Jack says, raising his glass, "is a beautiful whisky."
It is a beautiful whisky. It's also a beautiful night. And it's a beautiful walk back to your beautiful hotel, your beautiful hotel room bathroom (which features a large, beautiful photograph of Sean Connery) and your exceptionally beautiful bed. Hic.
DAY TWO | You're feeling a bit ragged this morning when you set out to conquer the day. First, you pause to look up at the hotel, its Scottish baronial clock tower shadowing the train terminal (the clock set two minutes fast to fool tardy travelers), before strolling along Princes toward the enormous Scott Monument, whose jagged spires and buttresses call to mind a steampunk spaceship. From here, your eyes wander to the tumbling rooftops across the park.
Old Town appears to be growing out of the volcanic rock below. Its buildings—some 12 stories high, some much smaller—rise and fall with the undulations, creating, as Samuel Taylor Coleridge put it, an "alternation of height and depth." And everywhere you look there's a gargoyle, a column, a cupola, an oriel, a turret, a gable, a spire. As you gaze at the spectacle, a scruffy guy sidles up, presumably to ask for change. Instead, he says, "Building upon building upon building." Then he asks you for change.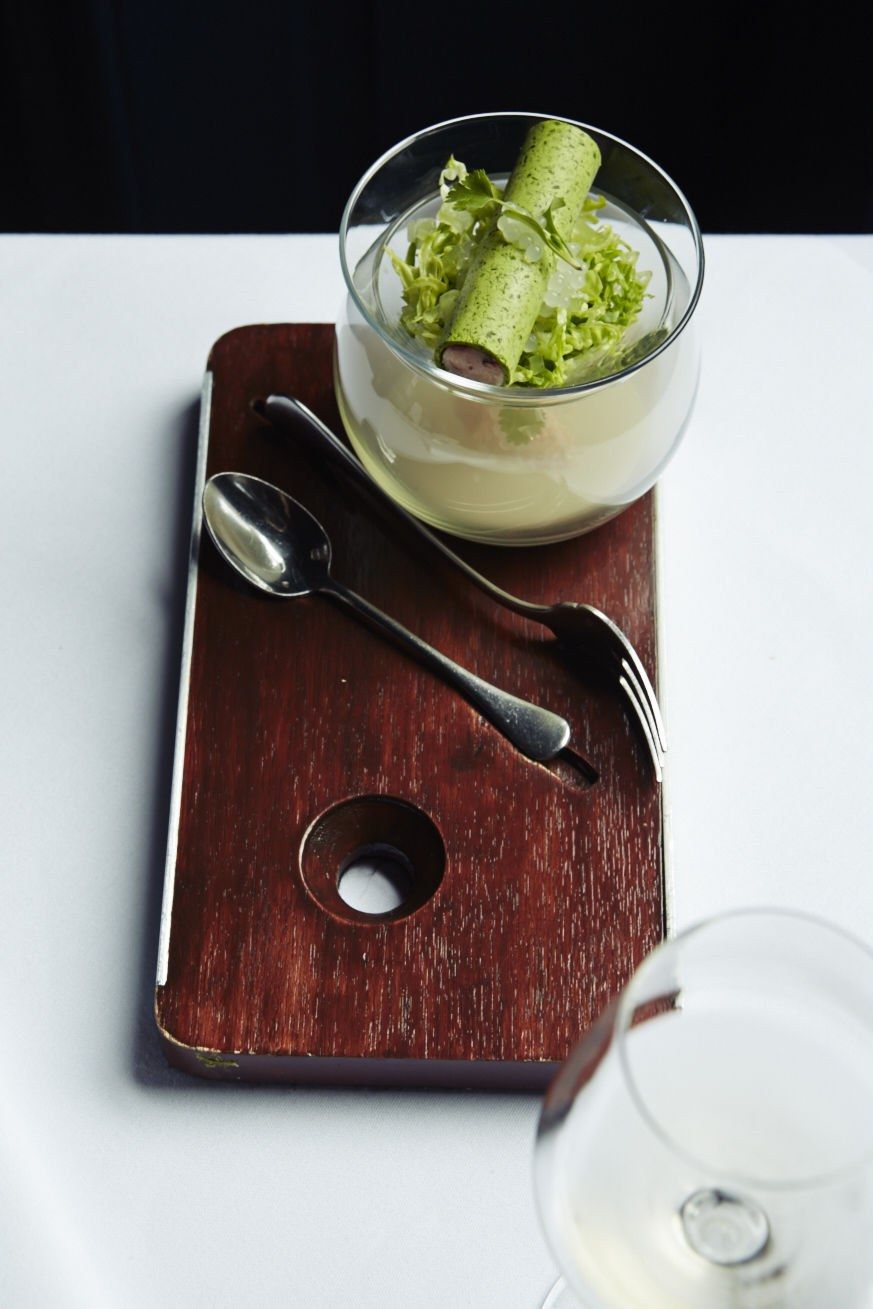 The crab cannelloni at Restaurant Mark Greenaway
You're having breakfast nearby, at The Pantry. You decide on the foraged East Lothian mushrooms on toast, with pancetta and a poached egg, washed down with a cup of good coffee, all of which revive you greatly. A short cab ride takes you back to the Balmoral, where an aromatherapy massage in the hotel's lush spa completes your recovery.
Walking down the Royal Mile, Old Town's main strip, your eye is drawn to an inscription above an alleyway: "Heave awa' chaps, I'm no' dead yet!" Later, you hear the story of a building that collapsed in this spot in the 1860s, killing dozens, and of the boy who emerged from the rubble days after they'd stopped hoping for survivors, uttering that defiant phrase.
Not far from here, you find your guide from Mercat Tours, who's taking you on a "Ghostly Underground" tour (see sidebar, page 72). "Edinburgh is a city of culture," he says. "It is also a city of foul weather and fouler villains." With this, he leads you into the Blair Street Underground Vaults, a sprawl of dank 18th-century chambers that once housed the dregs of Edinburgh society. Today, this "ulcer of criminality and sin" is said to be haunted by tortured spirits. You don't see any, but it's fun looking.
You pause for lunch at Blackfriars, a blink-and-you'd-miss-it eatery off the Royal Mile. The décor is minimal and the food is similarly stripped down. You have cured sea trout with apple and fennel, followed by a heaping bowl of cider-cooked mussels in a cream sauce, served with fries and washed down with a pint of Williams Scottish lager. Perfect.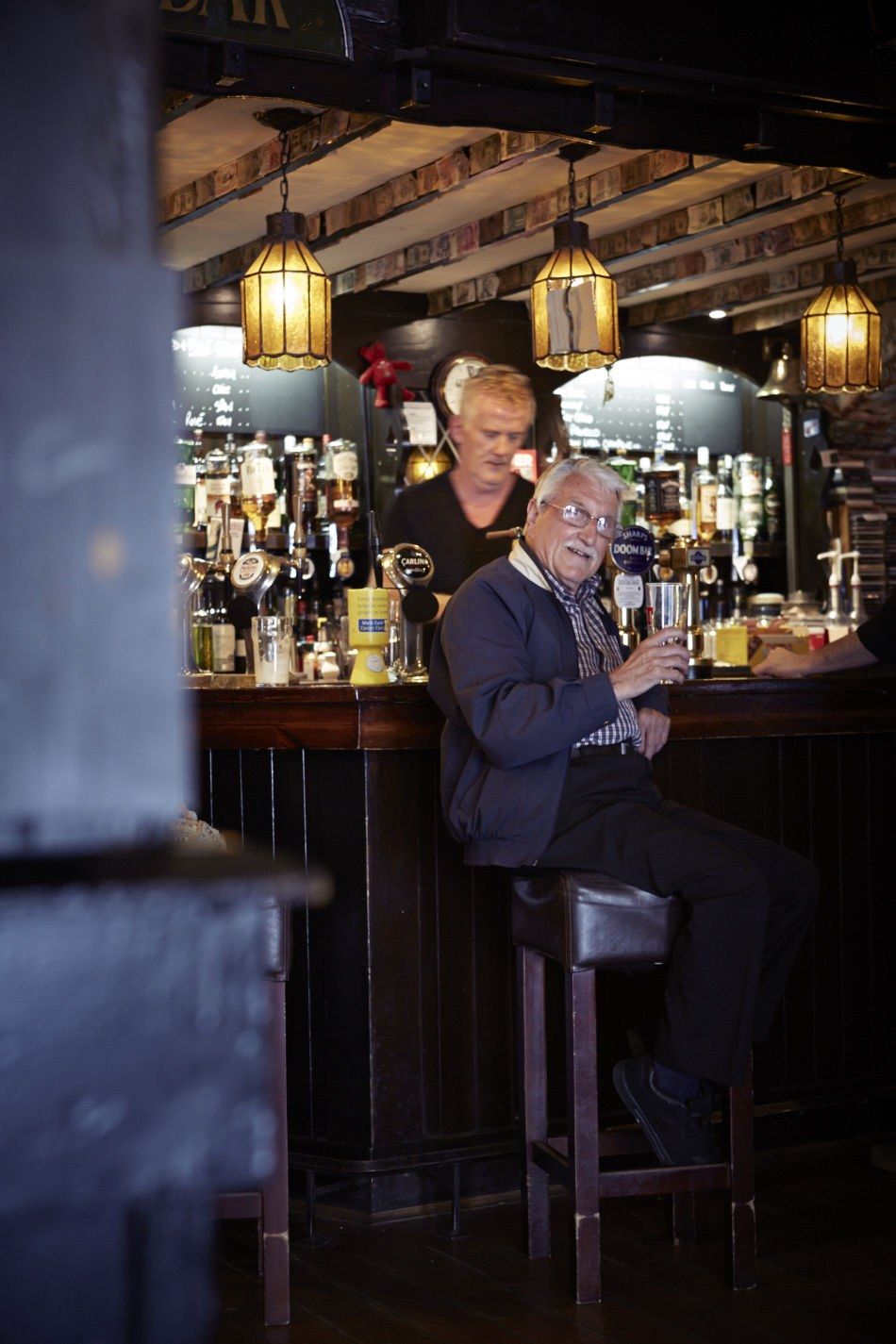 A sneaky pint at The Last Drop pub
Outside, the weather has turned again—but that's okay; it'll give you a chance to test your theory about Edinburgh looking better when it's wet. You stroll the Mile for a bit, ducking into the gift shops and a pub or two, then cab it to the base of Calton Hill, which rises 338 feet and is topped by two 19th-century landmarks—the acropolis-like National Monument and the towering Nelson Monument. The hill also has fantastic views of the city, and you try to bear this in mind as you trudge up it. At the top, you get lucky: The clouds part and you catch a glimpse of Edinburgh in all its glory, the rain-soaked rooftops and streets reflecting the sun's rays. Then the torrent resumes and you trudge down the other side, where you hope to find 21212, Paul Kitching's Michelin-starred restaurant.
The first thing you think as you step inside is "Roof!" This amenity, though, is soon overwhelmed by the décor—butterfly carpets, a circular leather couch, a classical fresco, a plexiglass chandelier. The menu here changes weekly, and the descriptions don't always make it easy to decipher what's in store (listed ingredients include "exotics" and "icky sticky"). "Chef doesn't write out the menus," a waitress tells you. "He draws pictures."
Kitching likes to play with flavors and textures—you can go from crunchy to squishy to smoky to sweet in the space of a mouthful. One of your many courses, the lamb curry (no rice), has chorizo, cubes of savory custard, currants, haggis chutney and a bunch of other stuff you can't identify, topped with razor-thin phyllo. It's a memorable meal, rounded off with one of the best cheese plates you've ever had.
You're set to check into Prestonfield House—a storied hotel located two miles away—but there's time for one more stop: Sandy Bells, a tiny folk pub on the edges of Old Town. You work your way to the bar, where an old guy tells you a long anecdote that, partly due to a trio of geezers twanging nearby and partly due to the man's impenetrable accent, is lost on you. Still, you're glad for the company. "Grill gamoor!" your new friend says as you leave. "A braglargh toosh!"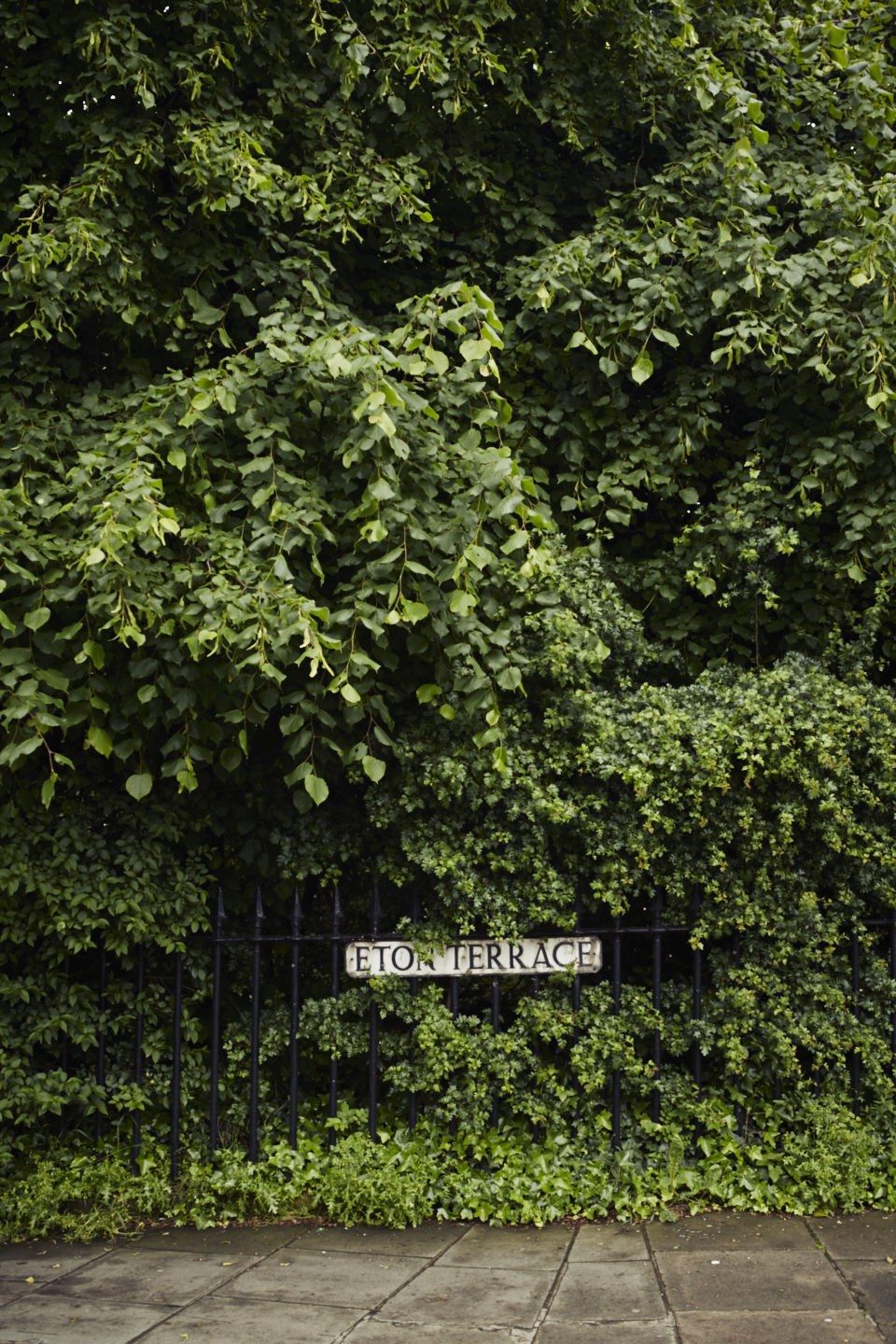 Leafy Stockbridge
DAY THREE | James Thomson, the owner of Prestonfield House, is not known for his restrained approach to interior design. You wake up on a huge, silvery sleigh bed surrounded by riotous ornamentation—gilt mirrors, oil paintings, leopard-print carpets, zebra-print cushions. There's a candlestick shaped like a stork standing on the back of a tortoise with the head of a lion. There's also a nice-looking bottle of champagne, courtesy of the management.
Beyond your window is a cultivated garden patrolled by peacocks, and a field with longhorn cattle. After a soak in the deep tub, you go in search of breakfast. If anything, the design is even busier in the hotel public spaces: red walls, bronze stags, black roses, colonial statues, a couch made out of antlers. You take a window seat in Rhubarb, the hotel's restaurant, with Arthur's Seat so close you could touch it, and order poached duck eggs with Ayrshire gammon on a potato scone, a newspaper on your lap. That's your morning taken care of.
It's sunny again, so you decide to walk through Holyrood Park, skirting the yellow-green hillsides of Arthur's Seat and Salisbury Crags and ending up at the Palace of Holyroodhouse, where the Queen stays when she's in town (it was once the home of Mary, Queen of Scots). The palace, parts of which date back nine centuries, has so many rooms you lose count. The décor is only slightly less opulent than that of the hotel.
Now it's a quick walk to the Royal Mile, and then the National Museum of Scotland, the Romanesque Revival masterpiece that houses everything from dinosaur bones to 1960s kitchen appliances. The interior is dominated by a massive iron-and-glass atrium, and the curatorial style is wonderfully eccentric (an antelope skull beside a steam engine beside a suit of armor). You could spend an entire day exploring this place.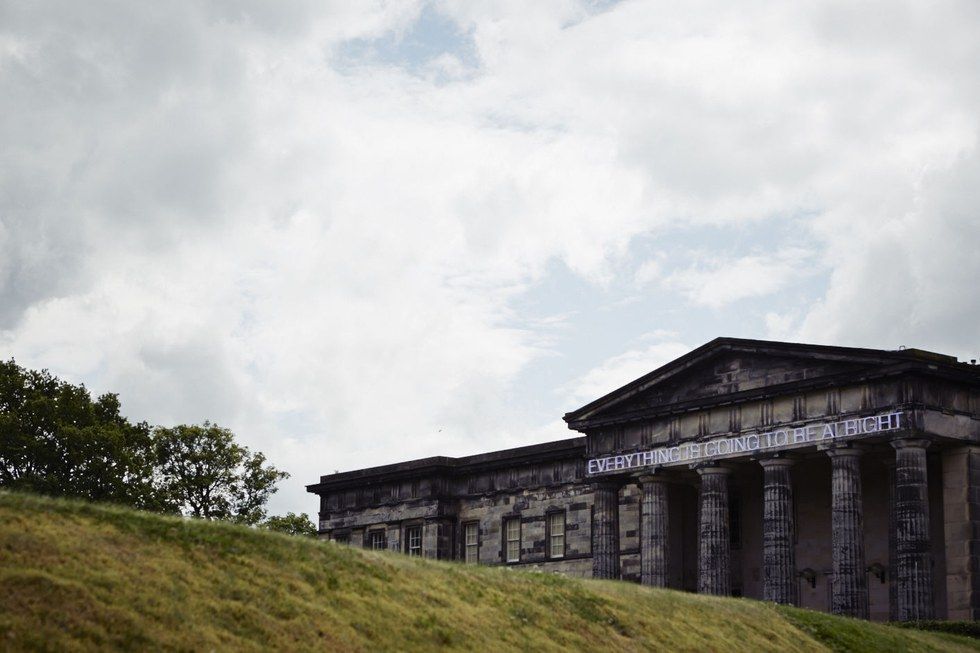 The neoclassical Scottish National Gallery holds an array of masterworks
But, things to do: Not far from here, up toward the castle, is The Witchery, the madly sumptuous hotel and restaurant owned (surprise) by James Thomson. You take a seat in the mock-medieval dining room and order the wild pigeon followed by a dozen fresh, plump Argyll oysters. "Have another dozen!" says the waitress when you tell her how lovely they were.
It's time for a closer look at the Mile and its endless network of side streets and alleys. In The Writers' Museum, on Lady Stair's Close, you spot a sign advising people to mind the 11th step, which is an inch or so higher than the others. The step was made that way on purpose, explains the clerk, to trip up potential intruders, but today it mainly trips up visitors. "No respect for the tourism industry," he says, rolling his eyes.
West Bow/Victoria Street, an arcing row of pink and green and blue facades, has some quirky little shops selling everything from squirting flowers (Aha Ha Ha) to local art (The Red Door Gallery) to a Robert Louis Stevenson first edition (The Old Town Bookshop). It's a welcome change from the parade of kilts and hipflasks up on the Mile.
The dominant structure on the Mile is St. Giles' Cathedral, with its massive crown spire. The oldest part of the building is said to date back to the ninth century, but, like so much of this city, it has been tinkered with over time, and is now a pastiche of crypts, Gothic arches and brilliant stained glass. As you enter, you encounter a stone angel who appears to be on the verge of tears. It is an exquisitely beautiful place, but not a cheery one.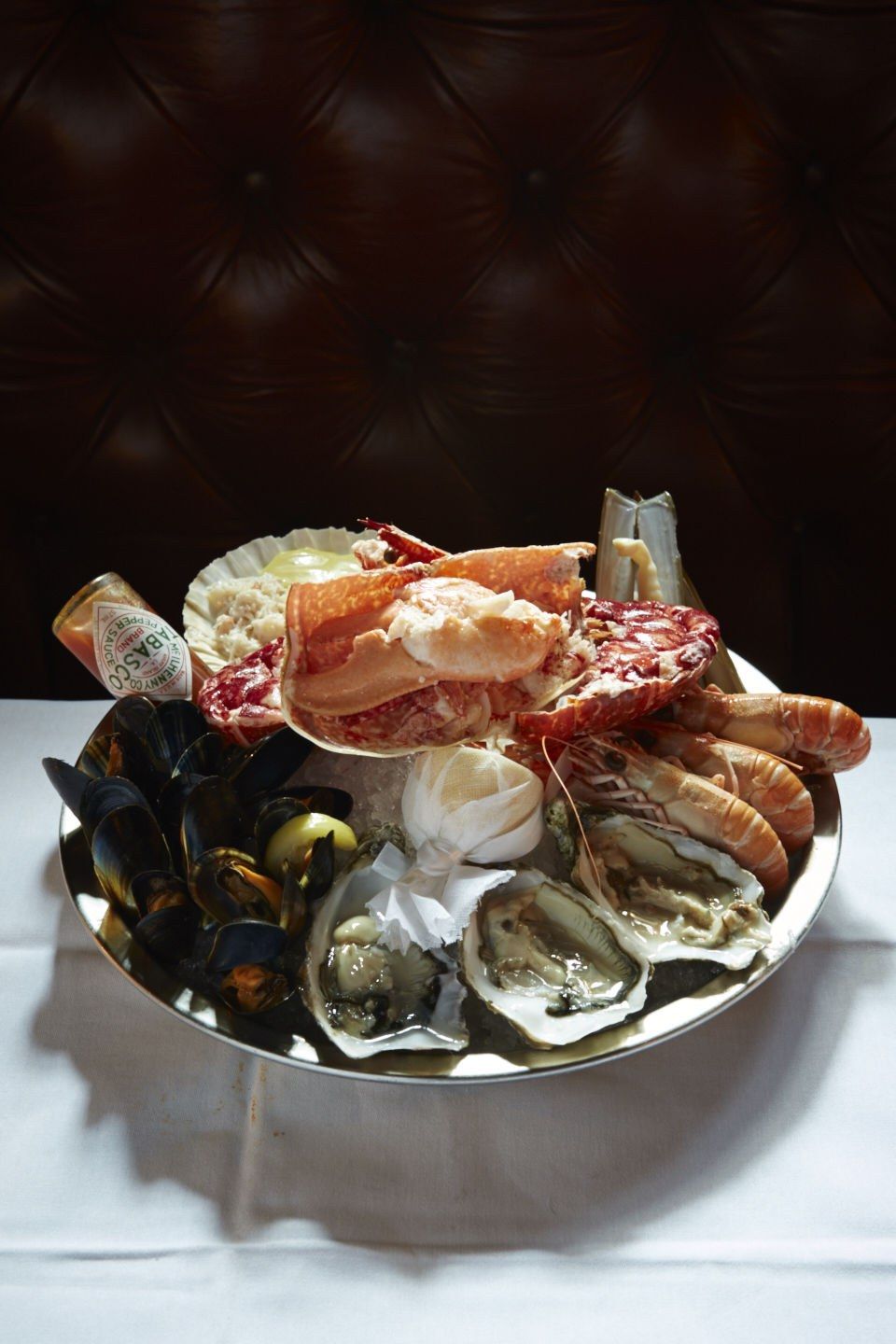 The Witchery offers fresh seafood in a mock-medieval setting
Your next stop is on the other end of the mood scale: The Lucky Liquor Co., in New Town. When you arrive, the bartenders are plating cupcakes and cookies—a surprise treat for their customers later on. The bar is known for its inventive cocktail list—you go for the Bloody Mary, in which the tomato sediment has been removed by a centrifuge. The resulting concoction, clear and served in a cocktail glass, is outrageously good. You order another.
Dinner tonight is at Aizle, a "neo-bistro" on the city's Southside. In a town enamored of envelope-pushing food, this place may take the envelope. The conceit is that, rather than a menu, you are given an ingredients list, with the words: "Expect to find some of these ingredients in tonight's dishes." Your list includes Orkney beef, apples, bee pollen, blood oranges and Clash Farm pork. Other than this, you have no idea.
As gimmicky as this seems, there is logic to it—the lack of a formal menu is meant to allow the chef to work with the freshest produce as it becomes available. And the food is hard to fault: beef tartare with beet, torched mackerel with leek, hogget (sheep meat) with bulgur. You leave the small restaurant pleasantly surprised.
You're tired, but not ready to bring Edinburgh to an end. So you make a final stop at the oddly Rococo music club The Voodoo Rooms, where you catch a set by former Black Crowes guitarist Marc Ford. During one Neil Young–style solo, you close your eyes and feel a tap on your elbow. "Just making sure you're alive," says a smiling woman with pixie hair and a drink in either hand. You smile back and assure her that you are, yes, very much so.
Hemispheres executive editor Chris Wright is ashamed that he didn't hike to the top of Arthur's Seat, and is including that on a to-do list for when he goes back.
This article was from Rhapsody Magazine and was legally licensed through the NewsCred publisher network.
We're proud to launch a redesigned version of our United app to make it easier for customers with visual disabilities to manage all aspects of day-of travel, including check-in, viewing reservation details and flight status, bag tracking and more.
This latest version of our app is now available to both Android and iOS users, and it offers increased color contrast and more space between graphics. Furthermore, we have reorganized how information is displayed and announced to better integrate with screen reader technologies like VoiceOver and TalkBack, which are built into most handheld devices. By restructuring the way the information is organized on the app, screen readers are better able to convert text to audio in the proper, logical sequence, allowing customers to better understand and navigate the app.
"The parts of the travel experience that we all take for granted like checking luggage, getting your flight status and accessing a boarding pass can still be a challenge for someone with a visual disability," said EVP of Technology and Chief Digital Officer Linda Jojo. "These new accessibility enhancements are part of our continuing commitment to level the playing field, unlock all the customer benefits of our app and give people with disabilities more independence while traveling."
Senior Accessibility Analyst Ray Campbell is a member of United's digital team who's visually impaired and sits on the board of the American Council of the Blind. He played a key role in helping us redesign the app. He even put the app to the test as seen in this video.
"Optimizing mobile apps for tools such as VoiceOver and TalkBack has been a game changer, allowing people with visual disabilities to fully utilize smartphone technology in their daily lives," said Ray. "It's just as important for someone with a visual disability to easily access day-of-travel information and features as for any other customer. Improving the accessibility of the United app, helps us truly live out United's mission of caring for all customers."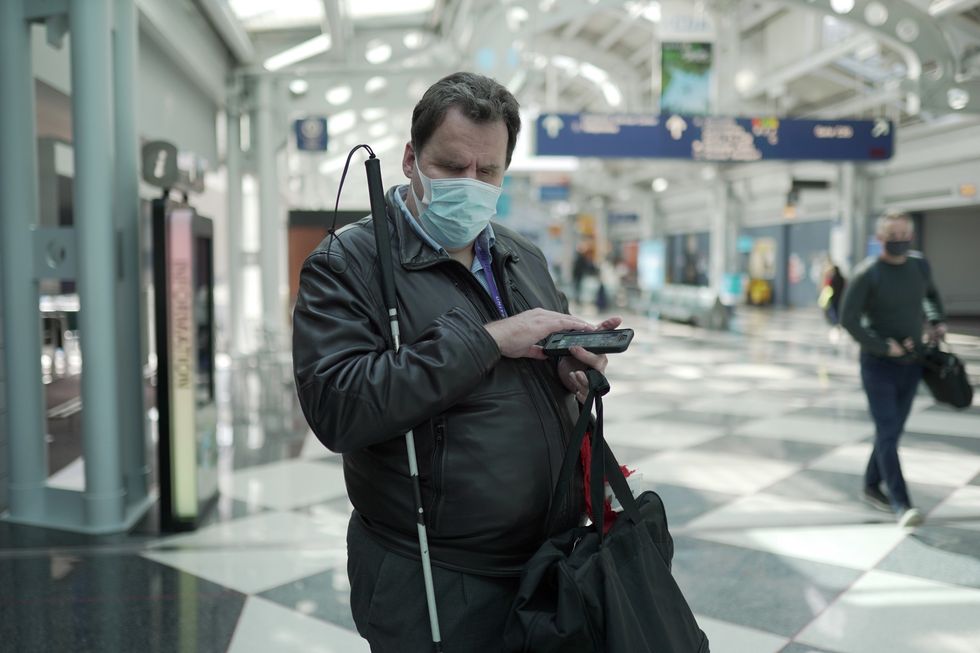 United's Senior Accessibility Analyst Ray Campbell using the mobile app at Chicago O'Hare International Airport.
Beyond the accessibility changes, our digital team enhanced the current offering while keeping the features that helped the app win a Webby People's Voice award in 2019.
For our MileagePlus® program members, the app now features a refreshed account experience for members to easily check balances, track Premier® progress, explore MileagePlus benefits, access past activity and more, all in one place.
The airline is also expanding a popular feature previously only accessible to MileagePlus members. Now, all 37 million customers who have the United app will see a contextualized home screen starting 48 hours before their flight which provides dynamic updates based on where a customer is in their travel journey. For example, customers can see the boarding status of their flight on their homescreen, access personal device entertainment onboard with one click, find a link to a map with gate-to-gate directions for connecting flights and click a quick access button to track any checked bags upon arrival.
We made slight tweaks to navigation based on customer feedback to make the app more intuitive, including making the bottom navigation persistent throughout the app. Another example is the "More" menu, which was reorganized and now contains the "Inbox" feature, which includes timely messages about boarding announcements, gate changes and other travel updates.
Customers will notice a new color palette that's consistent with the refreshed branding the airline debuted in 2019. United's digital team also made subtle design adjustments to make things more consistent and easier to find, like always using a purple bar to highlight the main call-to-action on a page and ensuring alerts and flight status icons appear the same way in every page on the app.
All of these changes are underpinned by a new back-end platform, which will ultimately make the app faster and more responsive.
The redesigned app is now available to download for iPhone®, iPad® and iPod touch® devices (as an iPhone app) and for Android devices.
Calling all AvGeeks and travelers! Take your next video call from a United Polaris® seat, the cockpit or cruising altitude with United-themed backgrounds for use on Zoom and Microsoft Teams.
Newly added to our collection is a background encouraging our employees and customers to vote. Our mission is to connect people and unite the world — and one of the most important ways to do that is to engage in the democratic process. No matter which party you support, we know our democracy will be stronger if you make your voice heard and vote.
So for your next meeting or catch up with friends and family, download the app to either your computer or mobile device to get started.
To use on Zoom:
Start here by downloading your favorite United image to your computer or mobile device. Just click "download" in the bottom left corner of the image.
Next go to your Zoom app (you'll need to download the app to access backgrounds) and click on the arrow to the right of your video camera icon in the bottom of the screen.
From here select, "choose virtual background" to upload your uniquely United photo.
To use on Microsoft Teams:
Start by downloading your favorite United image to your computer. Just click "download" in the bottom left corner of the image.

If you're using a PC, copy the image you want to use into this folder:

C:\[insert your device user name here]\AppData\Microsoft\Teams\Backgrounds\Uploads

If you're using a Mac copy the images to this folder on your computer:

/users/<username>/Library/Application Support/Microsoft/Teams/Backgrounds/Uploads

Once you start a Teams meeting, click the "…" in the menu bar and select "Show background effects" and your image should be there
Earlier this summer, we shone a light on our flagship partnership with Special Olympics and our commitment to the Inclusion Revolution. In that same story, we introduced you to our four Special Olympics Service Ambassadors, Daniel, Kyle, Lauren and Zinyra (Z), who, this month, celebrate one year working at Chicago O'Hare International Airport as part of the United family.
This groundbreaking, inclusive employment program took off as a part of our ongoing partnership with Special Olympics, a community relationship that employees across the company hold close to heart. The original 'UA4' (as they call themselves) have become an integral part of the United team serving customers at O'Hare Airport. Even from behind their masks, their wide smiles and effervescent spirit exude and bring life to the service culture of excellence we strive towards every day.
"The UA4 are more than just customer service ambassadors. They are shining examples of how inclusion, accessibility and equity can have monumental impacts on the culture and service of a business and community," said Customer Service Managing Director Jonna McGrath. "They have forever changed who we are as a company. While they often talk about how United and this opportunity has changed their lives, they have changed ours in more ways than we can count."
In the two years of partnership with Special Olympics, United employees have volunteered over 10,500 hours of service at events around the world and donated over $1.2 million worth of travel to the organization.
"This inclusive employment program is what community partnerships, like ours with Special Olympics, are all about: collaborating to identify areas where the needs of the community intersect with the cultural and business opportunity, then creating the infrastructure and programming to bring the two together," said Global Community Engagement Managing Director Suzi Cabo. "Through this program, our goal is to show other companies that when you put a committed effort and focus towards inclusion and breaking down barriers, you transform lives. I challenge other business around the world to follow our lead in joining the Inclusion Revolution."
Check out the video below to hear from our Special Olympics Service Ambassadors firsthand.
Scroll to top