Three Perfect Days: Finger Lakes
Story by Rohan Kamicheril | Photography by Ben Rosenzweig | Hemispheres, April 2014
Seen from above, the Finger Lakes look like claw marks on the landscape. The 11 glacial trenches occupy a relatively narrow corridor of central upstate New York, yet they have a far wider significance. The Iroquois believed they were of divine provenance. Farmers and loggers flocked to the area for the fertile land around their shores. The lakes are central to the region's identity and its economy. Everything here leads back to water.
The forces that shaped the Finger Lakes also endowed the region with a fierce natural beauty. The surrounding hills are split into innumerable gorges, with hidden waterfalls, secret swimming holes and enough scenic outcrops to keep a landscape painter occupied for a lifetime. The lakes themselves, some of the deepest in the U.S., are enchanting—made more so, perhaps, by the lush vineyards that surround them.
And there are plenty of rewards away from the water's edge, too. In addition to top-notch wineries, orchards dot the countryside, whose meadows burst with cattails, goldenrod and chicory. In summertime farmers markets abound, reflecting a resurgent interest in the bounty of the region. You can't throw a peach pit without hitting a local cheese maker, bread maker or small-batch seed-oil producer.
The region is also home to Cornell University, Ithaca College and Hobart and William Smith Colleges, a fact that lends its towns a youthful energy and ensures that the area's cultural attractions are as varied and impressive as its landscapes. It is this variety that makes the Finger Lakes such a wonderful place to be. There's always a sense that you're discovering something new, even if that something has been two million years in the making.

DAY ONE | You wake up late, despite the sun pouring through your balcony doors at La Tourelle Resort, a restored farmhouse property surrounded by sprawling lawns and orchards on a hill overlooking Ithaca. From the cumulous depths of your bed, you have a clear view of the high, wooded walls of Buttermilk Falls State Park, where you'll be spending your morning. First, you head downstairs to The Bistro for a breakfast of oatmeal-crusted French toast and two devilishly decadent Danishes—fortification for the hike you have planned.
The deep gorge trails of Buttermilk Falls are a few minutes' walk away, along paths winding past cataracts and slender, idling pools. Fractured shale walls beetle overhead, thick with gangly opportunistic weeds. You reach a deep, clear pool at the base of Buttermilk Falls and take the plunge. Reclining in the bracingly chilly water, you squint at the fierce sun overhead, the water thundering in your ears.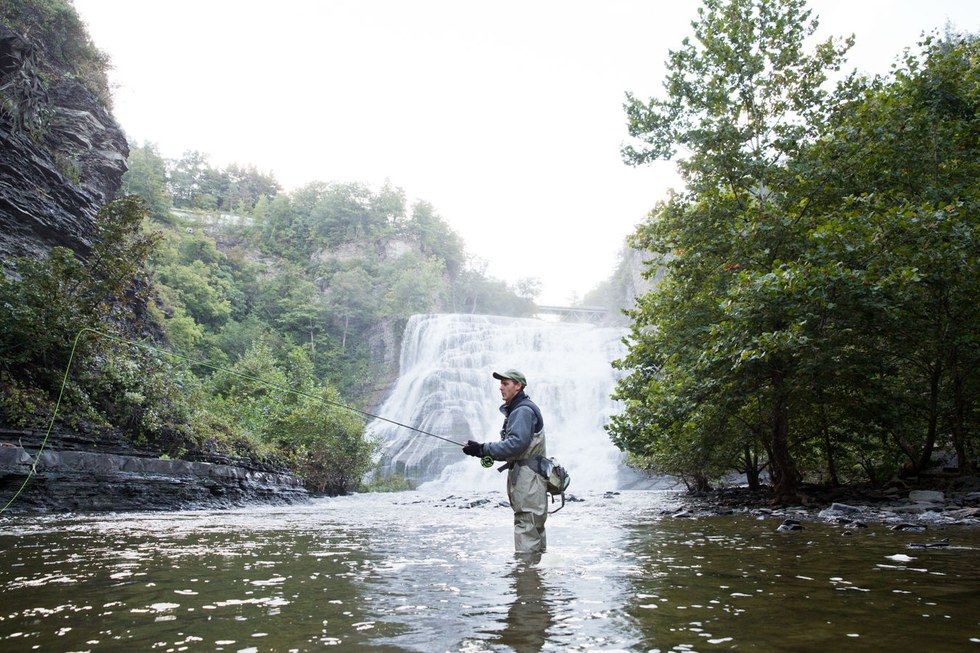 Fly fishing with Mark Moskal
After drying off in the sun, you walk over to Moosewood, the Ithaca restaurant famous for its local, vegetarian fare. In the airy blonde-wood dining room, you savor Asian rice salad and sun-gold squash soup and watch the boho regulars and Cornell academics chow down on their veggie burgers and '70s-style composed salads.
As a reward for your virtuous lunch, you order a brownie with a scoop of vanilla from the nearby Dennis' Homemade Ice Cream. Feeling a little hiked out, you take a short drive to Newman Overlook in the middle of the Cornell Plantations, the university's vast natural preserve, which houses an arboretum and a botanical garden. You enjoy the park from above, gazing out over the tufted treetop canopy while digging into your dessert.
Feeling jauntier now, you head back into town to visit the Johnson Museum of Art, home to one of the best university art collections in the U.S. You enter the hulking I.M. Pei building and head to the top floor, which has fine views of shimmering Cayuga Lake. From here, you work your way down through the sunny galleries, pausing before Giacometti's bronze "Walking Man II." "Look," says an old man to his wife, gesturing at the stooped, attenuated figure, "it's us earlier today!"
As the afternoon wears on, you head over to the Ithaca Beer Company, a popular brewery across the road from Buttermilk Falls State Park. You order a cold and bracingly bitter Excelsior! White Gold in the bustling tap room, then head outside to sit in a lawn chair and enjoy a more tranquil drinking experience. On surrounding lawns, fires burn in clay pits. Children run about, scrambling after the blinking fireflies. In a nearby field, head-high corn stalks rustle in the breeze.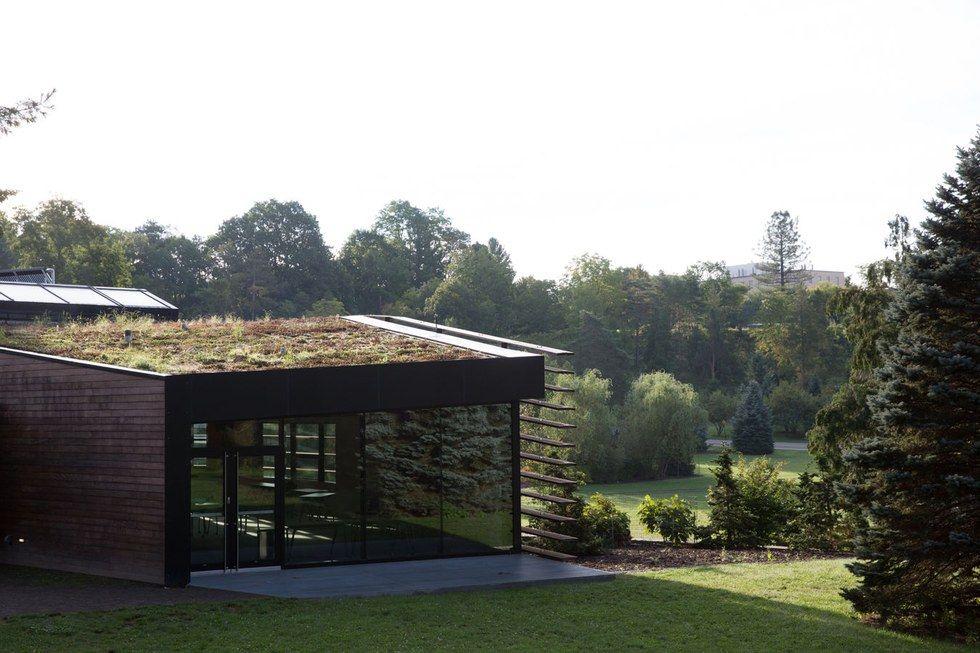 The botanical gardens at Cornell Plantations
It's hard to drag yourself away from all this, but dinner awaits at Hazelnut Kitchen in nearby Trumansburg. With its handsome vintage detail, the restaurant feels like a gleaming hand-tooled diorama. You sit at a bar near the galley kitchen and get down to the business of ordering. Your peach and arugula salad is ripe and peppery. The house-made pan-fried gnocchi, with fresh corn and a trembling poached egg, are tender, crisp and sweet. You take a spoon to your crème brûlée and it cracks like a hammer on plate glass. You can't possibly eat more than two bites, you think, then polish it off handily.
It's still on the early side when you get back to Ithaca, so you stop by Lot 10, a bar known for its excellent mixed drinks and eclectic roster of musical acts. To start, you order a Negroni (Beefeater gin, Campari, vermouth), which the bartender executes perfectly. As you swallow the last of your drink, Matt Riis, the bar's garrulous owner, convinces you to try a Pickleback—one part Jameson, one part pickle juice. "Sweet & Sour Dill or Spicy Asian?" he asks, already pouring out shots. You wish your college town had had a place like this.
It's getting late, and you're feeling a little, um, pickled, but you decide on one more stop before heading back to the hotel. So it is that, a few minutes later, you find yourself back at the Johnson Museum, standing on a lawn and gazing up at a balcony, upon which you can see Leo Villareal's "Cosmos" installation, its constellation of lights careening across the ceiling of the Mallin Sculpture Court, splitting and regrouping, a sea of nautiloids and fractals blooming and fading into the night sky.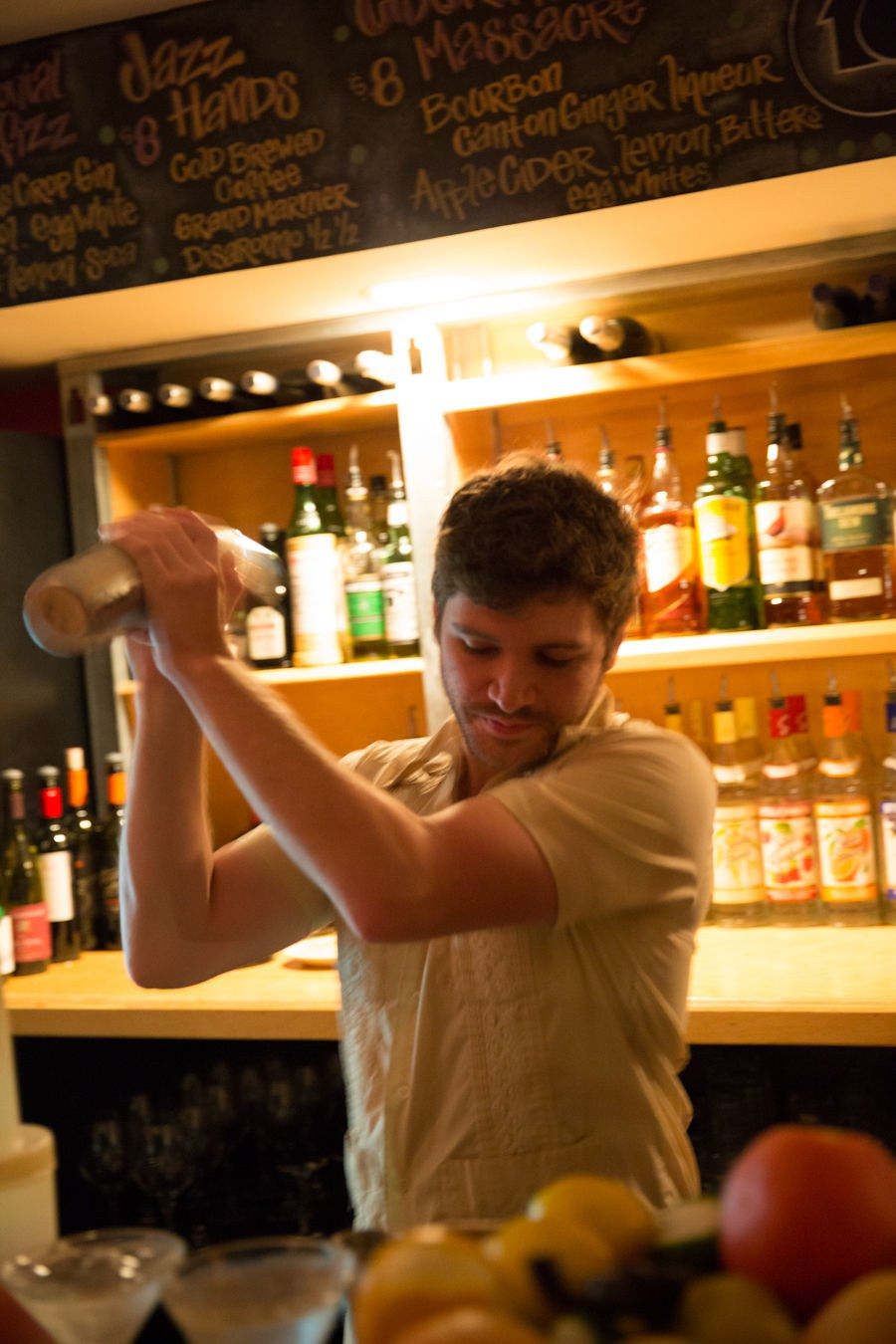 Mixing it up at Lot 10
DAY TWO | You wake up early and head to the open-air Ithaca Farmers Market, where you forage for breakfast among heaps of produce—nectarines like summer moons, garnet-colored beets, tangled mounds of peppers and beans. "Eat one, it won't kill you!" a farmer yells as you eyeball a bin of cherries. You pop two in your mouth and buy a pound to snack on. Next, you wolf down a num unsom ang, a sweet Cambodian rice cake, then a blueberry scone at the aptly named Fat Boy Bakery. Oh, and a quick hunk of poppy-seed cake from Veronika's Pastries. You were hungry.
Your next stop, a few miles up the west bank of Cayuga, is the sleek, angular Museum of the Earth, carved into a hillside above the lake. A 200-million-year-old Coelophysis dinosaur guards the entrance, beyond which, hanging from the ceiling, is the skeleton of a right whale. In one gallery you find a display recounting the glacial history of the area's imponderably deep lakes. In another, you encounter (no kidding) the official fossil of the state of New York: an immense sea scorpion, now thankfully extinct.
You leave the museum in a predatory mood, so you stop by Lively Run, a nearby goat cheese maker. The goats, listlessly chewing their hay in the barn, are too peaceable to pique your appetite, so you head into the tasting room, where you sample a briny Balkan-style feta and a creamy Cayuga blue before you continue on your way, primed for lunch.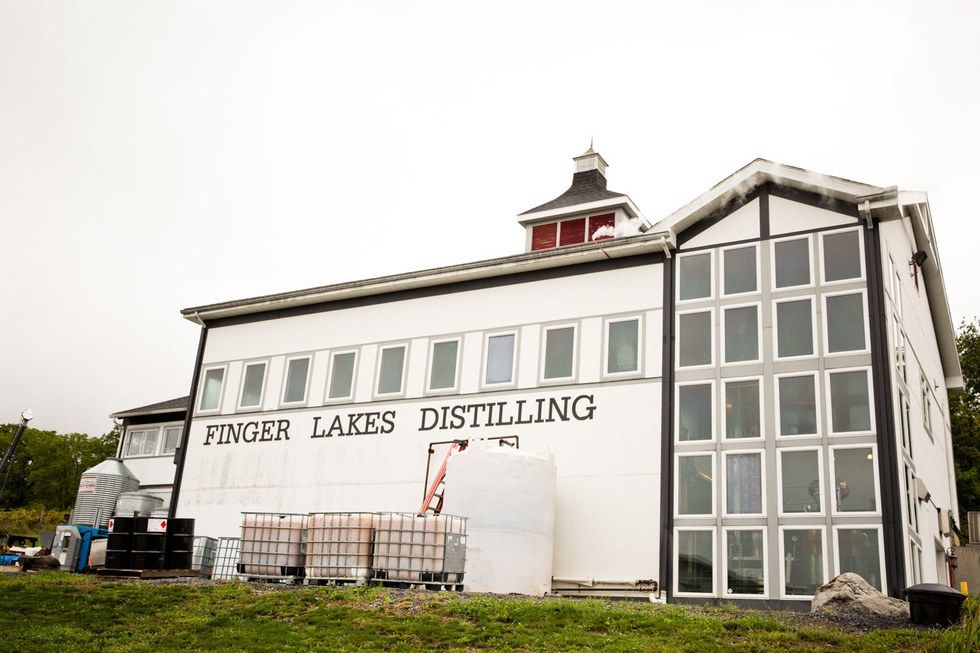 Finger Lakes Distilling
After a short drive west, the broad expanse of Seneca Lake comes into view. You stop at the Stonecat in Hector, a clapboard bistro overlooking the water, and claim a table under a shaggy willow tree. You dig into a pub plate of maple-juniper sausage, accompanied by a wild smear of peach-apricot chutney and a buttery wedge of Keeley's Across the Pond cheese, enjoying the dappled shade and gazing idly at the distant boats.
Your next stop is Watkins Glen, an idyllic hamlet at the lake's southern end, but first you duck into Finger Lakes Distilling in Burdett for a digestivo. Beyond the glass-walled tasting room you can see the Willy Wonka–style works, the gurgling vats and copper stills producing a clear trickle of high-proof spirits. You toss back a shot of the soon-to-be-released wheated bourbon, which disappears in a luxurious vapor. You buy a bottle and wish you had room for more.
You arrive in Watkins Glen and check into the Harbor Hotel, which sits astride the town's busy marina and looks out over Seneca Lake. The hotel's handsome fieldstone lobby is lined with Gilded Age photographs of the town. Your balcony has a wide view over the marina, where you spot your ride for the afternoon: the schooner True Love, rocking imperially in her slip. The boat's gleaming woodwork and clean lines seem unchanged from its star turn with Grace Kelly in High Society.
After a brief rest, you stroll down to the dock to meet Lawrence Hacker, the boat's captain. Lawrence looks the part—tan and tall and squinting against the sun. The rushing wind swells the sails, and the cobalt water parts in surging waves, sending a fine spray into the air. The boat scuds northward, passing rolling vineyards, stands of forest cover, rows of lakeside cabins. By the time you reach Hector Falls, the sun has begun to descend, and the towering face of the falls is bathed in golden light. Later, as the boat makes its way back to dock, its sails snapping in the wind, you think that you could get used to this.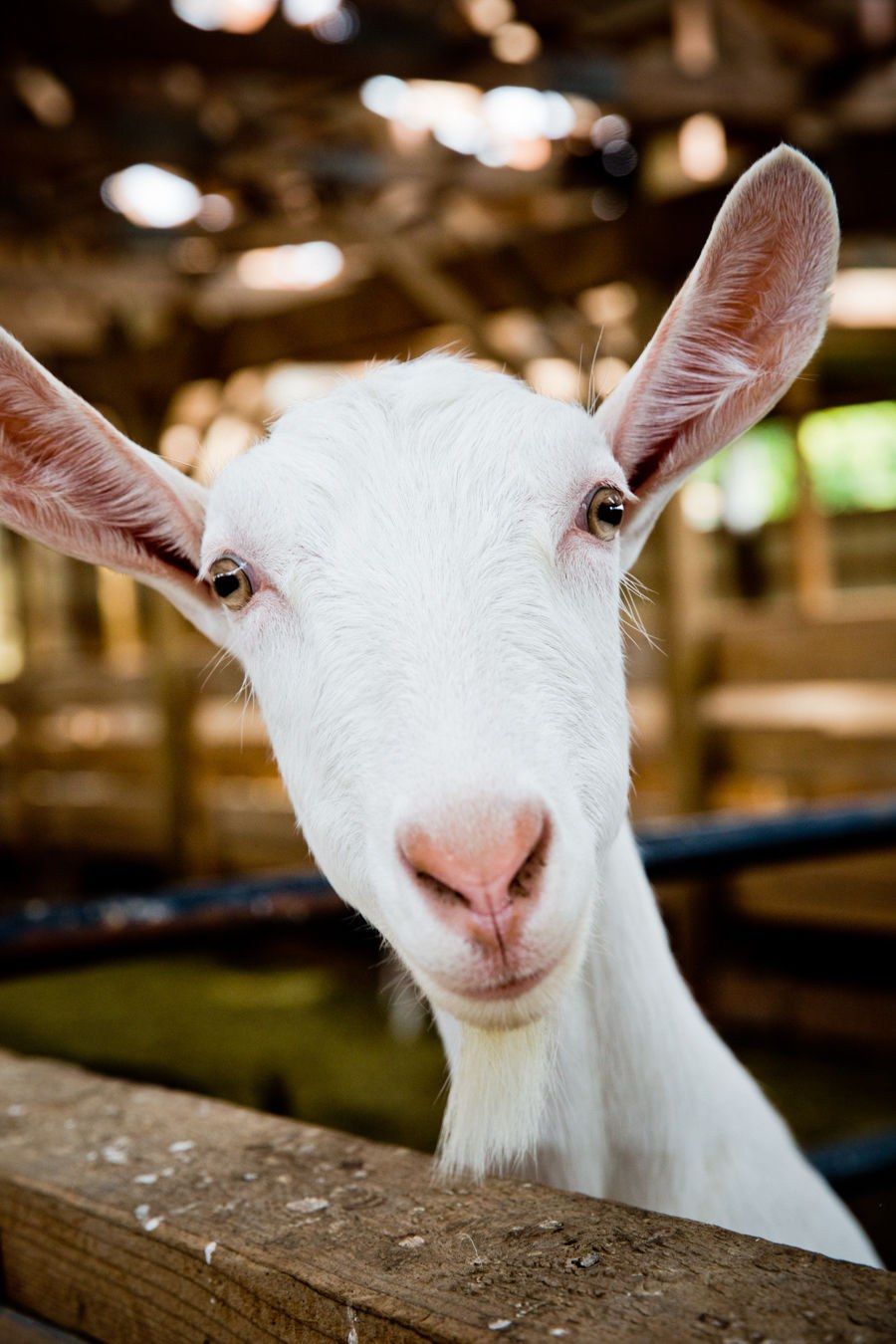 The animal responsible for the goat cheese at Lively Run
There's time for a sundowner before dinner, so you head for the Tavern Room at Seneca Lodge, a nearby cluster of A-frames and cabins. The bar's timber walls are hung with deer heads. You put a coin in the nickelodeon and order a mug of the house pale ale. Jack, one of the owners, regales you with snippets of local lore, at one point producing a finger, which, the story goes, once belonged to a regular. He lost it in a workshop accident, Jack says, so he had it bronzed and gave it to the bar as a gift. After this, he moves on to his favorite topic: birdwatching. "Barn swallows, they're all barn swallows," one of the regulars shouts across the bar, to loud laughter. You'd love to hear more, but your growling stomach has other ideas.
The bistro at Red Newt Cellars in Hector is serving a number of its older vintages tonight. You start with a heady 2008 Curry Creek Gewürtztraminer and a board of pickles and cheeses and meats. Your strip steak is both beautifully charred and blushingly rare. The accompanying freekeh and smoked shiitakes are grown-next-door fresh. Dessert is a silken chocolate chèvre cheesecake and a glass of aromatic, port-style Hellbender. This seems like a fitting end to the day.
The moon is high and bright as you drive back to Watkins Glen. The landscape, so green by day, is black, puddled with silver. Back at your hotel, you leave the balcony door open and drift off to the sound of the wind murmuring across the lake.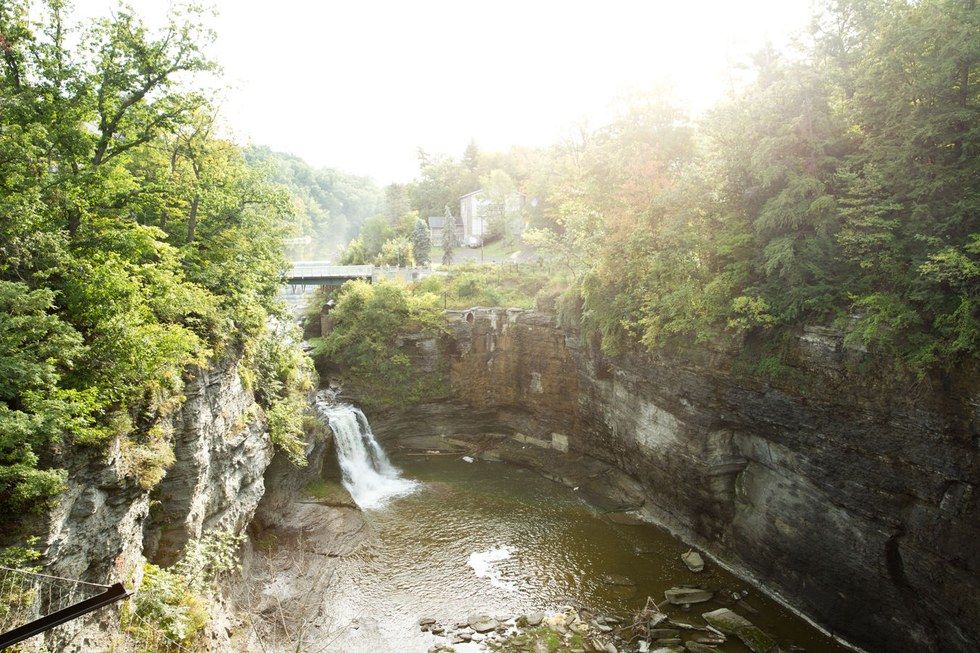 A waterfall on the Cornell Campus
DAY THREE | You're up with the birds today—or with the worms, because the plan is to spend the morning beefing up your outdoorsy credentials with a fly-fishing lesson. First, you grab a cup of coffee from the lobby and sip it on the hotel's outdoor patio, watching the swaying masts in the marina.
Soon, you're standing on the bank of Catharine Creek with Mark Moskal, a guide from local outfit Summit to Stream, trying unsuccessfully to tie a lure to your line. "This is a brown woolly bugger," he says, tying up a feathery fly. "This will pretty much catch fish all year." You practice your casting, successfully hooking some staghorn sumac and a low elm. "It's not a day of fly-fishing unless you snag at least one tree," Mark offers gamely. By the end of the session, you're stripping the fly-line along the running water like a pro—albeit one who fails to catch a single fish.
Next, you have another macho activity lined up at the Watkins Glen International racetrack, a few miles outside the town center, which allows drivers to test their mettle on its banked oval. Instead of Firebirds and muscle trucks, you arrive to find an orderly line of VW buses at the start line, driven by a group of Volkswagen aficionados who've come to take a tour of the course. "The hippies have landed!" shouts a wiry woman holding a clipboard, and then you're off, whizzing around the track in your rental, occasionally glimpsing the tootling Technicolor vans shuddering around a bend. You watch them dawdle over the checkered line and head outside for a different kind of drive.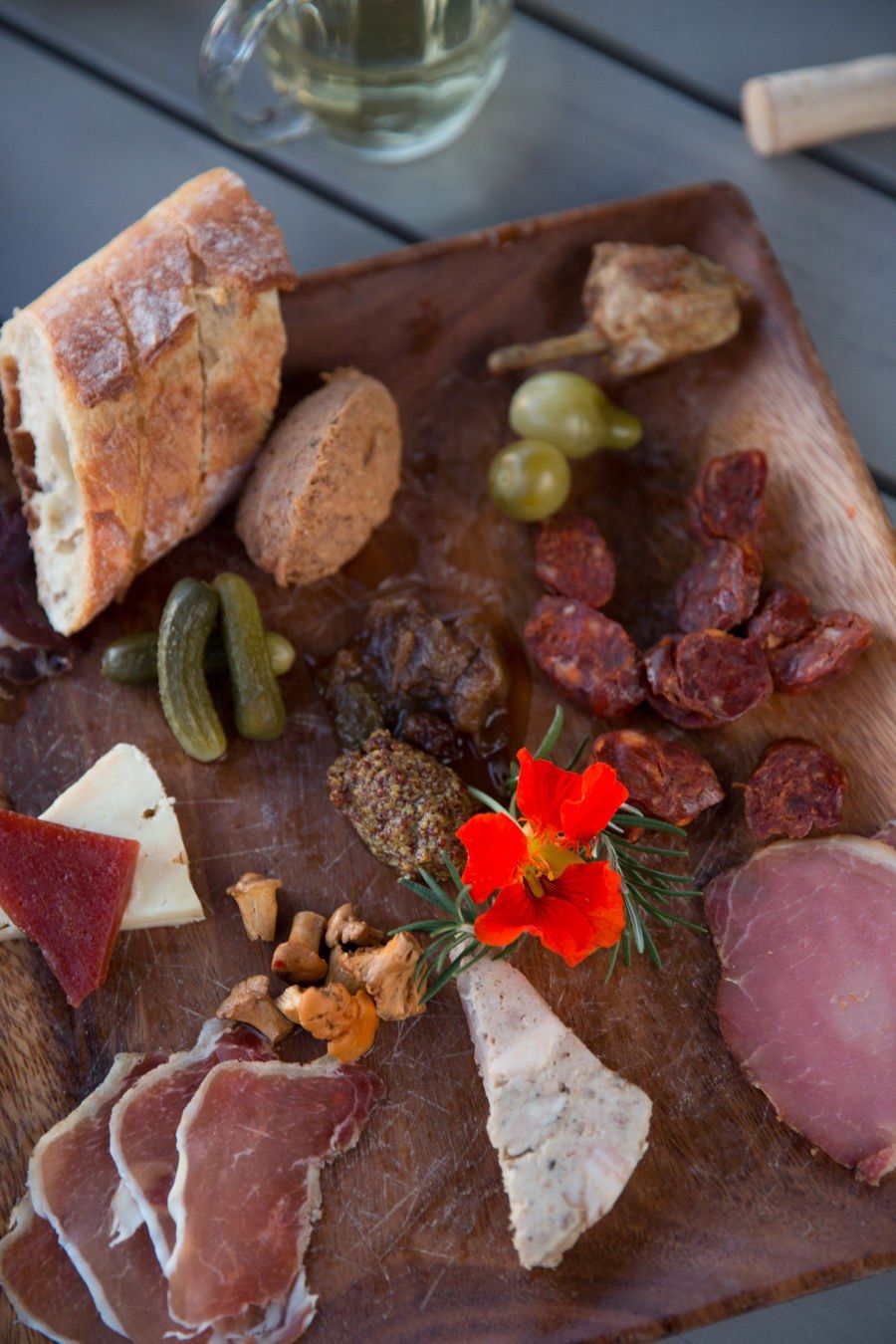 Meat and cheese platter at Dano's
You've decided to take a short and scenic road trip up the west side of Seneca Lake to the college town of Geneva. You stop along the way at the Windmill Farm & Craft Market, named for the full-size windmill twirling outside. Having chickened out of buying a Davy Crockett hat, you stop at a stall overseen by an ornery moustachioed man in a leather vest, from whom you purchase a lucky rabbit's foot. As you pay for the foot, you consider saying "Not so lucky for the rabbit!" but the man's expression persuades you to keep quiet.
You stop for lunch at the Red Dove Tavern, a gastropub in downtown Geneva, where you belly up to the bar and a heap of crisp fried chickpeas. The PEI oysters are shockingly good—a cool, briny jolt to your taste buds. You compliment co-owner Rune Hilt on the oysters. "I love my fryer as much as the next guy," he says with a shrug, "but you've got to just let some things be." You agree, and order another half dozen.
Back at the southern tip of Seneca, you set out on a late-afternoon hike through Watkins Glen State Park. The forest trails lead you through a kind of fairy-tale landscape, over stone bridges and behind waterfalls, snaking upward beneath glowing leaves. On the way down, you walk a narrow ridge, the less traveled route that skirts the gorge, and come across Greenwood Cemetery. You wander the grassy cliffside grounds for a while, contemplating the weatherworn 19th-century gravestones and grand mausoleums. Then the shadows lengthen and you resume your descent into town.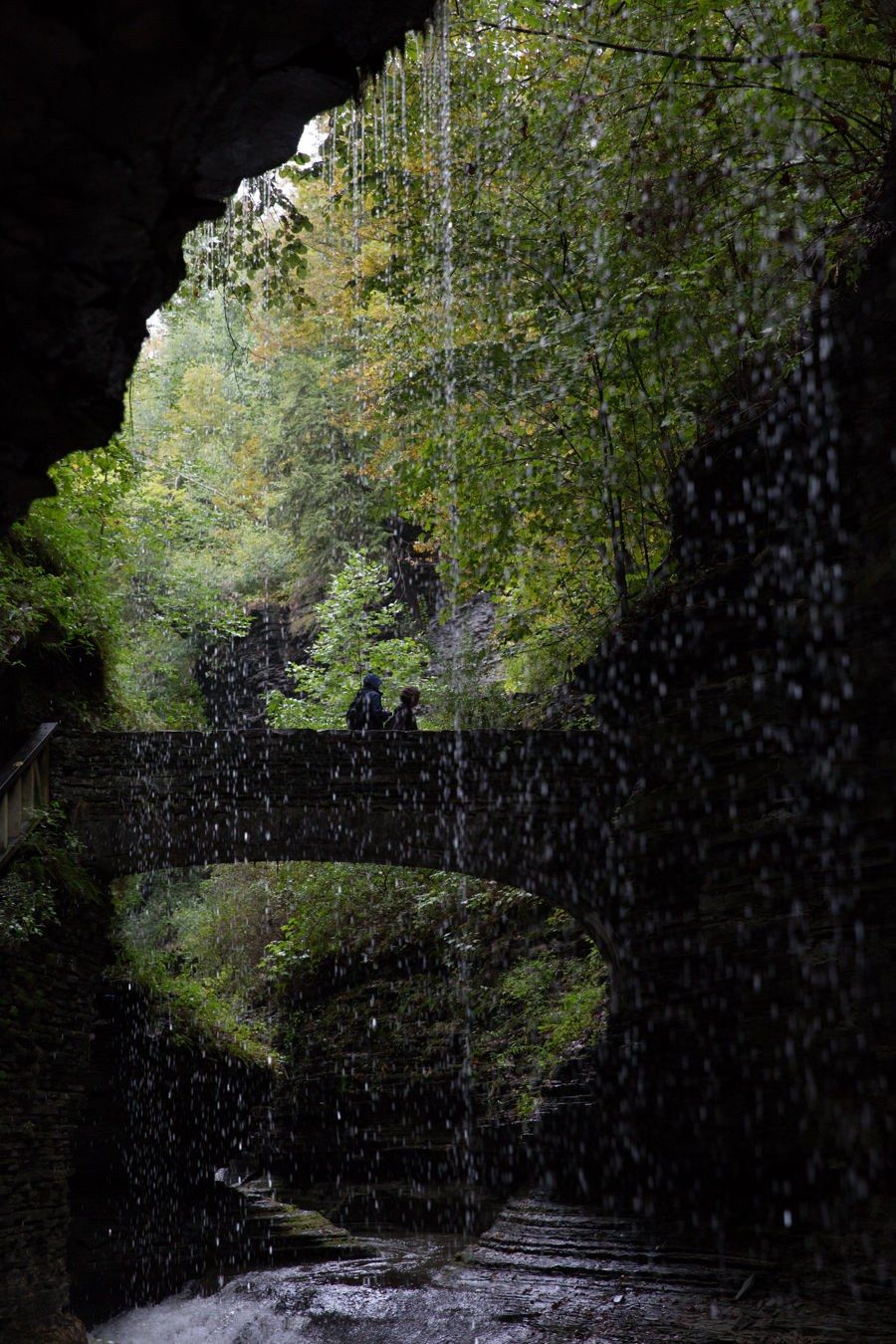 Fairy-tale landscapes at Watkins Glen State Park
From here you head for Lodi, 20 miles north of Watkins Glen, on the east side of the lake, and take a porch table at Dano's, a Viennese-style restaurant. Soon, the chef-owner (Dano, naturally) ambles by to tell you he's made some cheese from a small batch of sheep's milk he just received. "They have such small teats," he says, lamenting the paucity of milk a sheep gives. "You're lucky if you get a quarter-cup a day." He disappears into the kitchen and comes back with a bowl of Slovakian bryndzové halušky, a creamy mound of cheese-slicked spaetzle topped with caramelized onions and bacon. He also delivers a plate of sausage, unbidden, along with the observation, "I don't smoke cigarettes, so I have to smoke meat instead."
You take a long draft from your mug of local wine and a forkful of spaetzle and look out at a nearby stand of quince and apricot trees, and the glimmering lake beyond. A few waiters and diners have come outside to watch the sun go down. Its last rays have brought the shore into blazing relief—every fold and plot of land is lit bright, every hidden crevice momentarily revealed.
The teat thing is now the primary piece of sheep-related trivia in New York City–based writer Rohan Kamicheril's arsenal.
This article was written by Rohan Kamicheril from Rhapsody Magazine and was legally licensed through the NewsCred publisher network. Please direct all licensing questions to legal@newscred.com.
Around the web
When the pandemic began, United Cargo knew it would be critical to utilize its fleet, network and industry-leading pharmaceutical handling processes to transport a COVID-19 vaccine when the time came.
Connecting vaccines to the world: United responds to mass distribution effort
December 22, 2020
On November 27, United Airlines became the first commercial airline to safely deliver the first batch of Pfizer and BioNTech's COVID-19 vaccine into the U.S. thanks to a coordinated effort between United's cargo, safety, technical operations, flight operations, regulatory and legal teams.
Now as the entire shipping and logistics industry bands together to widely distribute vaccines, United is leveraging all of its flights, including cargo-only and those carrying passengers, to transport millions of vaccines to destinations throughout our network, including Honolulu, Guam and Saipan – the first of any carrier to do so.
"United's cargo service has helped safely deliver many essential goods during this pandemic, but there is no shipment that gives me more personal pride than helping bring this life-saving vaccine to our communities," said Jan Krems, United Cargo President. "While we still face a long road ahead the promise of a widely distributed vaccine gives us hope that we are one step closer to putting this pandemic behind us and moving forward together toward a brighter future."
And United is shipping more than just vaccines to help during the pandemic in keeping the lines of commerce flowing and goods getting to where they need to be. Since mid-March, United has operated 9,000 cargo-only flights carrying more than 435 million pounds of cargo. By using a combination of cargo-only flights and passenger flights, United Cargo has also transported 80 million pounds of medical supplies this year.
In coordination with our shipping and logistics partners, United will continue to distribute COVID-19 treatments to destinations throughout its network. The real heroes are the scientists who created these life-saving vaccines and the frontline workers who are not only administering them, but also helping care for and tend to those suffering from this virus. United is proud to do its part in helping to get this precious cargo to the people and communities who need them, and looks forward to doing our part in the months ahead.
United Cargo responds to COVID-19 challenges, prepares for what's next

September 30, 2020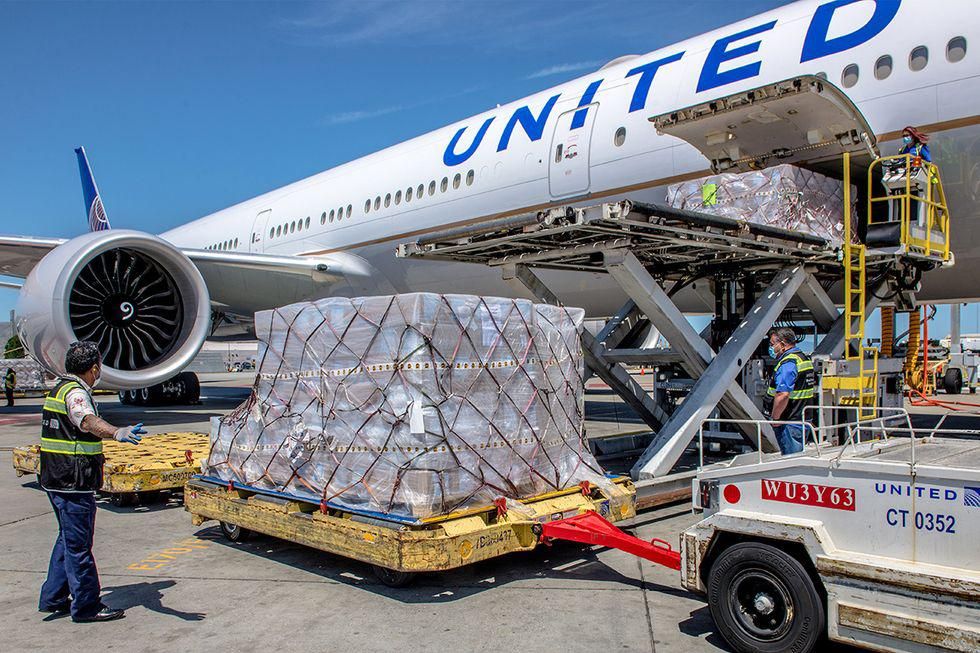 Even before the COVID-19 pandemic, United Cargo has supported a variety of customers within the healthcare industry for over 10 years. Three key solutions – TempControl, LifeGuard and QuickPak – protect the integrity of vital shipments such as precision medicine, pharmaceuticals, biologics, medical equipment and vaccines. By utilizing processes like temperature monitoring, thermodynamic management, and priority boarding and handling, United Cargo gives customers the peace of mind that their shipments will be protected throughout their journey.

With the global demand for tailored pharmaceutical solutions at an all-time high, we've made investments to help ensure we provide the most reliable air cargo options for cold chain shipping. In April this year, we became the first U.S. carrier to lease temperature-controlled shipping containers manufactured by DoKaSch Temperature Solutions. We continue to partner with state-of-the-art container providers to ensure we have options that meet our customers' ever-changing needs.
"Providing safe air cargo transport for essential shipments has been a top priority since the pandemic began. While the entire air cargo industry has had its challenges, I'm proud of how United Cargo has adapted and thrived despite a significant reduction in network capacity and supply," said United Cargo President Jan Krems. "We remain committed to helping our customers make it through the pandemic, as well as to doing everything we can to be prepared for the COVID-19 vaccine distribution when the time comes."
Our entire team continues to prioritize moving critical shipments as part of our commitment to supporting the global supply chain. We've assembled a COVID readiness task team to ensure we have the right people in place and are preparing our airports as we get ready for the industry-wide effort that comes next.
In cooperation with our partners all over the world, United Cargo has helped transport nearly 145 million pounds of medical supplies to aid in the fight against COVID-19, using a combination of cargo-only flights and passenger flig­hts. To date, United Cargo has operated more than 6,300 cargo-only flights and has transported more than 213 million pounds of cargo worldwide.
United Cargo responds to global needs, celebrates 5000th cargo-only flight

August 18, 2020
By Jan Krems, President, United Cargo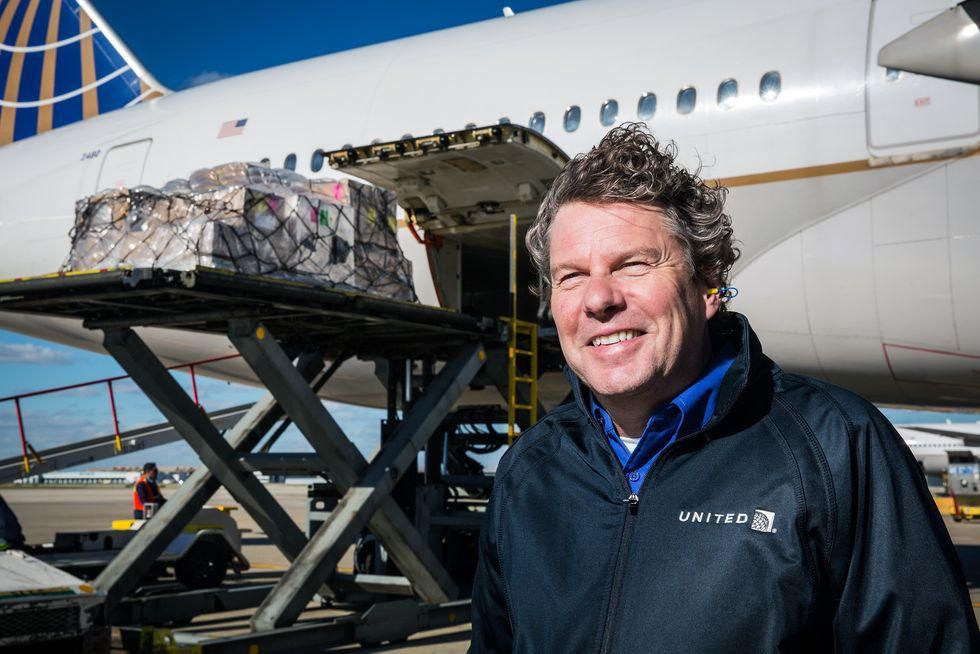 In mid-March, United took steps to manage the historic impact of COVID-19 and began flying a portion of our Boeing 777 and 787 fleets as dedicated cargo-only flights to transport air freight to and from U.S. hubs and key international business locations. More than ever, providing reliable cargo transportation was vitally important and I'm proud say our United Cargo team stepped up to support our customers.

Although we're facing the most challenging environment our industry has ever experienced, I'm very excited to celebrate a major milestone. Since March 19, United has operated over 5,000 cargo-only flights transporting nearly 170 million pounds of cargo on these flights alone. With an increased need to keep the global supply chain moving, and an even more urgent need for medical supplies, we knew we had to utilize our network capabilities and personnel to move vital shipments, such as medical kits, personal protective equipment (PPE), pharmaceuticals and medical equipment between U.S. hubs and key international destinations.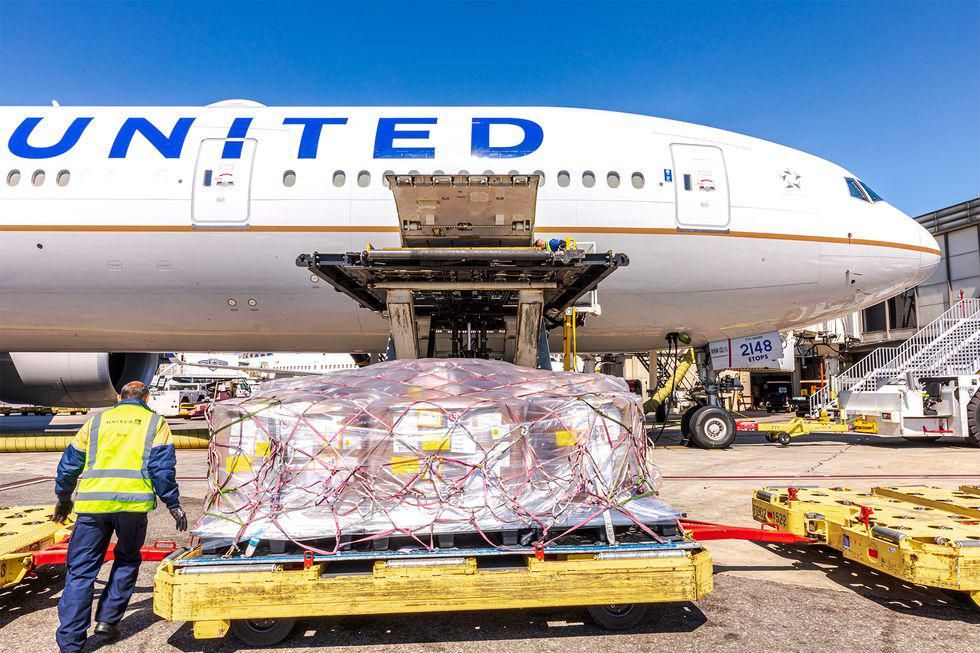 In cooperation with freight forwarders and partners all over the world, United Cargo helped transport more than 107 million pounds of medical supplies to aid in the fight against COVID-19 using a combination of cargo-only flights as well as passenger flights.

To keep military families connected, we increased the frequency of cargo-only flights between the U.S. and military bases in various parts of the world — including bases located in Guam, Kwajalein and several countries in Europe. We know how critically important it is for these families to stay connected, and I'm honored that we were able to utilize our network and our aircraft to fly nearly 3 million pounds of military supplies.
In collaboration with food-logistics company Commodity Forwarders Inc. (CFI), our cargo teams moved nearly 190,000 pounds of fresh produce to Guam for the U.S. Department of Agriculture's Coronavirus Farm Assistance Program. This new program was created to provide critical support to consumers impacted by the coronavirus pandemic.
United has played a critical role in keeping global supply chains stable during the pandemic as we deliver urgently needed goods around the world. These past few months have created challenges that I have never seen in my 30-plus years of experience working within the air cargo and freight forwarding industry. However, I'm proud of our teams for staying focused on our mission to provide high-quality service and to keep our customers connected with the goods they need most.
United Cargo and logistics partners keep critical medical shipments moving
July 02, 2020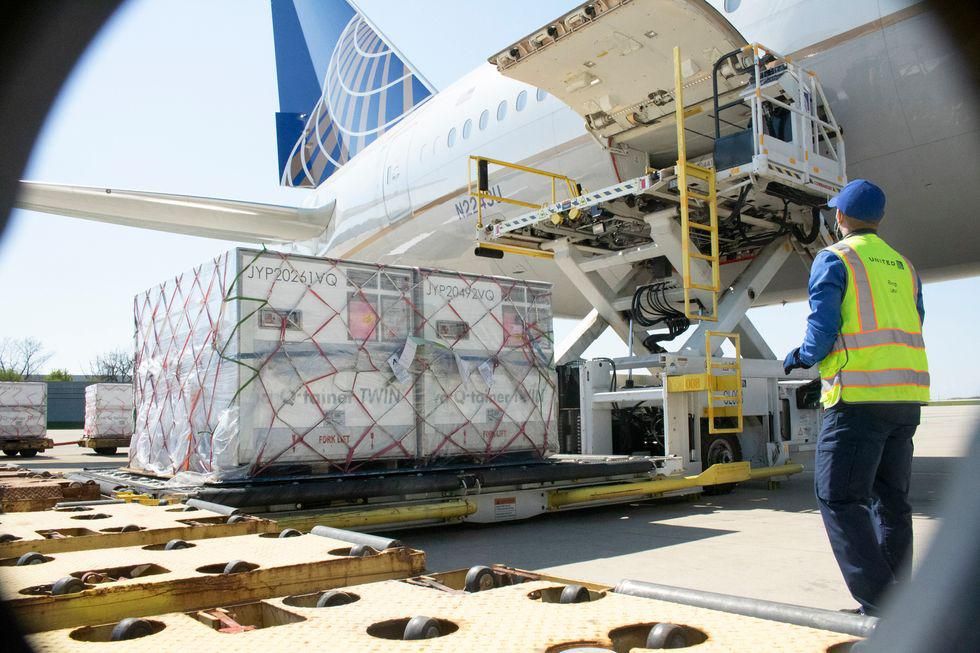 By working together and strengthening partnerships during these unprecedented times, our global community has overcome challenges and created solutions to keep the global supply chain moving. As COVID-19 continues to disrupt the shipping landscape, United and our industry partners have increasingly demonstrated our commitment to the mission of delivering critical medical supplies across the world.

United Cargo has partnered with DSV Air and Sea, a leading global logistics company, to transport important pharmaceutical materials to places all over the world. One of the items most critical during the current crisis is blood plasma.
Plasma is a fragile product that requires very careful handling. Frozen blood plasma must be kept at a very low, stable temperature of negative 20 degrees Celsius or less – no easy task considering it must be transported between trucks, warehouses and airplanes, all while moving through the climates of different countries. Fortunately, along with our well-developed operational procedures and oversight, temperature-controlled shipping containers from partners like va-Q-tec can help protect these sensitive blood plasma shipments from temperature changes.
A single TWINx shipping container from va-Q-tec can accommodate over 1,750 pounds of temperature-sensitive cargo. Every week, DSV delivers 20 TWINx containers, each one filled to capacity with human blood plasma, for loading onto a Boeing 787-9 for transport. The joint effort to move thousands of pounds of blood plasma demonstrates that despite the distance, challenges in moving temperature-sensitive cargo and COVID-19 obstacles, we continue to find creative solutions with the help of our strong partnerships.
United Cargo is proud to keep the commercial air bridges open between the U.S. and the rest of the world. Since March 19, we have operated over 3,200 cargo-only flights between six U.S. hubs and over 20 cities in Asia, Australia, Europe, South America, India, the Caribbean and the Middle East.
United further expands cargo-only operations to key international markets
June 9, 2020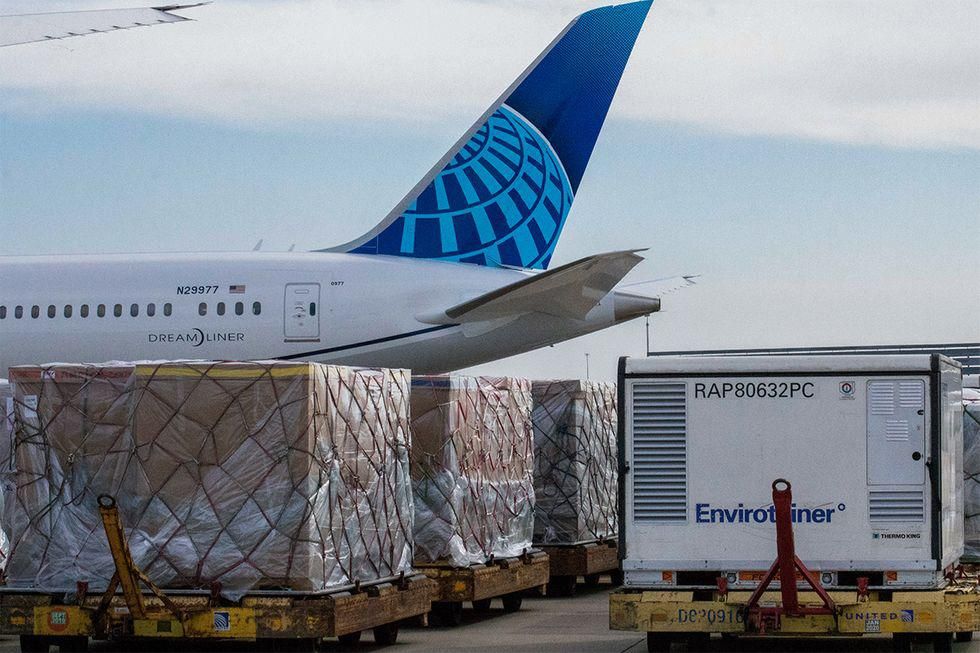 United has played a vital role in helping keep the global supply chains stable during the COVID-19 pandemic so urgently needed goods can get to the places that need them most.

In addition to current service from the U.S. to Asia, Australia, Europe, India, Latin America and the Middle East, we are proud to now offer cargo-only flights to key international markets including Dublin, Paris, Rome, Santiago and Zurich. These new routes will connect our freight customers and further extend our air cargo network throughout the world – for example connecting major pharmaceutical hubs in Europe and perishable markets in Latin America.
"Air cargo continues to be more important than ever," says United Cargo President Jan Krems. "This network expansion helps our customers continue to facilitate trade and contribute to global economic development and recovery. I'm proud of our team for mobilizing our cargo-only flights program that enables the shipment of critical goods that will support global economies."
Since we began our program March 19, we have completed more than 2,400 cargo-only flights, transporting over 77 million pounds of cargo. We have over 1,100 cargo-only flights scheduled for the month of June, operating between six U.S. hubs and over 20 cities all over the world.
United's first flight carrying cargo in-cabin takes off
May 13, 2020

United continues to keep supply chains moving and to meet the demand for critical shipments around the globe. Recently, United received approval from the Federal Aviation Administration (FAA) to carry cargo in approved storage areas in the passenger cabin.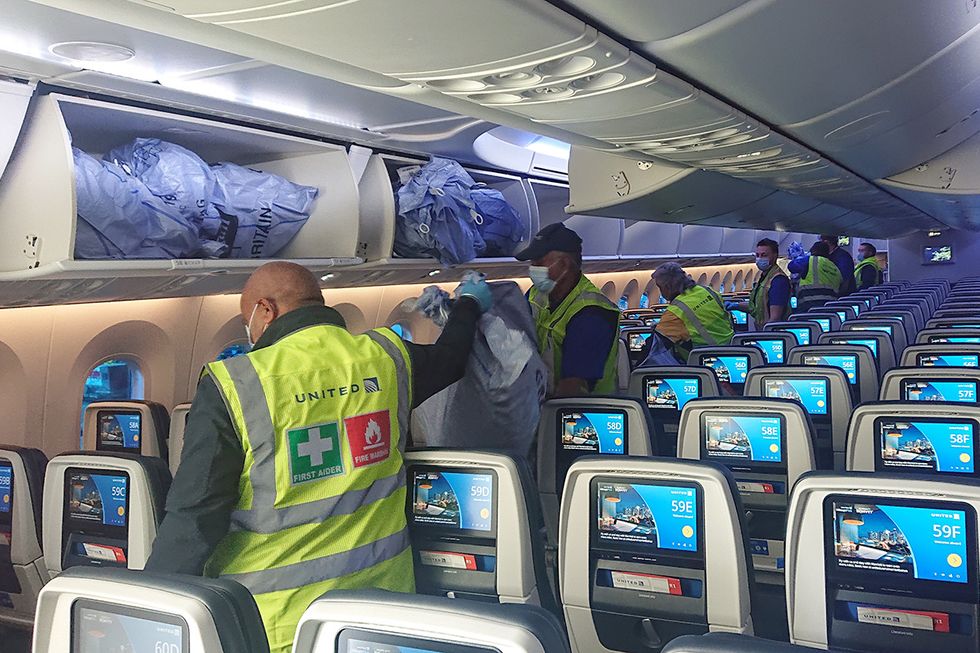 Our inaugural cargo-in-cabin flight flew from London (LHR) to Chicago (ORD) carrying over 4,200 pounds of mail in the passenger cabin, plus a full payload of freight in the belly of the aircraft. Initially, cargo-in-cabin shipments will be loaded on the 777 and 787 aircraft operating our cargo-only flights. We will continue to evaluate additional opportunities to use this space to meet the growing cargo demand.
"We send our sincere thanks to the FAA for working with our team to enable the transport of more critical goods on United's cargo-only flights," said Jan Krems, President of United Cargo. "By loading existing cabin storage areas with cargo and mail, we can move even more critical medical equipment, PPE, and other vital shipments the world needs to manage through the pandemic."

United's cargo-only network continues to expand in order to help bring vital shipments to the people that need it most. We're now offering service between six of our U.S. hubs and 18 airports worldwide: CTU, HKG, ICN, MEL, PEK, PVG, SIN, SYD and TPE in the Asia-Pacific; AMS, BOM, BRU, DUB, FRA, LHR, TLV and ZRH in EMEIA; and SJU in the Caribbean.
Since the start of its cargo-only flights program March 19, United has operated over 1,300 cargo-only flights transporting over 44 million pounds of cargo.
For more information, visit unitedcargo.com.
United expands cargo-only flights to additional global destinations
April 16, 2020
Getting vital goods, especially medical relief supplies, into the hands of the businesses and people who need them has never been more critically important. To meet the overwhelming demand, United began operating cargo-only flights on March 19. Since we began using Boeing 777 and 787 aircraft from United's passenger fleet for this purpose, we have operated over 400 flights carrying more than 6 million kilos of cargo.
"With the global community in need, we are doing everything we can to keep supply chains moving worldwide and support the battle against COVID-19," said United Cargo President Jan Krems. "We're proud to play an active role in connecting vital medical supplies like test kits and personal protective equipment with healthcare professionals around the world."
We are now operating more than 150 cargo-only flights per week between six of our U.S. hubs and 13 cities worldwide: CTU, HKG, PEK, PVG, SYD and TPE in the Asia Pacific; AMS, BRU, DUB, FRA and LHR in Europe; SJU in the Caribbean and TLV in the Middle East. We expect to add new cities soon and will continue to expand our cargo-only flights program.
Hub
Cargo-only flights operating through May
Chicago (ORD)
ORD - AMS (Amsterdam)
ORD - FRA (Frankfurt)
ORD - HKG (Hong Kong)
ORD - LHR (London)
ORD - NRT (Tokyo Narita) - PEK (Beijing)

Houston (IAH)
IAH - AMS (Amsterdam)
IAD - FRA (Frankfurt)
Los Angeles (LAX)
LAX - HKG (Hong Kong)
LAX - LHR (London Heathrow)
LAX - NRT (Tokyo Narita) - PVG (Shanghai)
LAX - SYD (Sydney)
New York/Newark (EWR)
EWR - AMS (Amsterdam)
EWR - FRA (Frankfurt)
EWR - LHR (London)
San Francisco (SFO)
SFO - AMS (Amsterdam)
SFO - NRT (Tokyo Narita) - PEK (Beijing)
SFO - NRT (Tokyo Narita) - PVG (Shanghai)
SFO - NRT (Tokyo Narita) - TPE (Taipei)
SFO - TLV (Tel Aviv)
SFO - SYD (Sydney)
Washington, D.C. (IAD)
IAD - BRU (Brussels)
IAD - DUB (Dublin)
IAD - FRA (Frankfurt)
IAD - NRT (Tokyo Narita) - PEK (Beijing)
IAD - SJU (San Juan)
Flight details are subject to change, for the most up-to-date schedules, please visit https://ual.unitedcargo.com/covid-updates.
Cargo-only flights support U.S. military and their families
March 30, 2020
We are helping to keep military families connected by increasing the frequency of cargo-only flights between the United States and military bases in various parts of the world — including Guam, Kwajalein, and several countries in Europe. Last week we began operating a minimum of 40 cargo-only flights weekly — using Boeing 777 and 787 aircraft to fly freight and mail to and from U.S. hubs and key international business and military locations.
We are going above and beyond to find creative ways to transport fresh food and produce, as well as basic essentials from the U.S. mainland to military and their families in Guam/Micronesia. On Saturday, March 28, we operated an exclusive cargo-only B777-300 charter to transport nearly 100,000 pounds of food essentials to Guam to support our troops.
In addition, we move mail year-round all over the world. In response to COVID-19, and in support of the military members and their families overseas, we implemented a charter network, transporting military mail to Frankfurt, which is then transported all over Europe and the Middle East. Since March 20, we have flown 30,000+ pounds of military mail every day between Chicago O'Hare (ORD) and Frankfurt (FRA). On the return flight from Frankfurt to Chicago, we have carried an average of 35,000 pounds of mail to help families stay connected.

"Keeping our military families connected with the goods they need, and keeping them connected with loved ones to feel a sense of home, is of critical importance. As a company that has long supported our military families and veterans, our teams are proud to mobilize to lend a hand." — United Cargo President Jan Krems.
Our cargo-only flights support customers, keep planes moving

March 22, 2020
We have begun flying a portion of our Boeing 777 and 787 fleet as dedicated cargo charter aircraft to transfer freight to and from U.S. hubs and key international business locations. The first of these freight-only flights departed on March 19 from Chicago O'Hare International Airport (ORD) to Frankfurt International Airport (FRA) with the cargo hold completely full, with more than 29,000 lbs. of goods.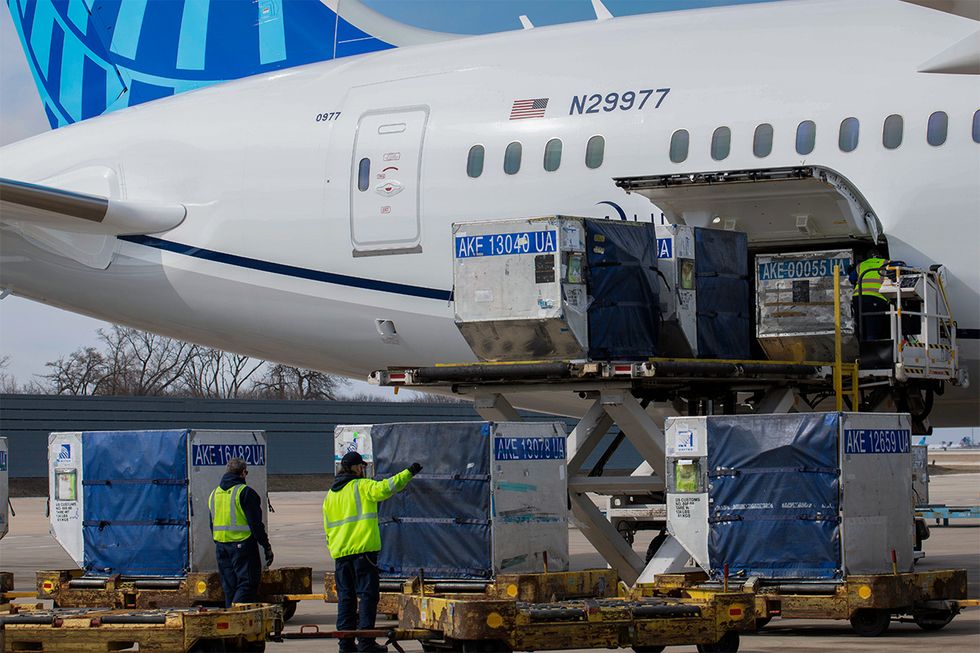 Getting critical goods into the hands of the businesses and people who need them most is extremely important right now. To support customers, employees and the global economy, we will initially operate a schedule of 40 cargo charters each week targeting international destinations and will continue to seek additional opportunities.

With coronavirus (COVID-19) creating an increased need to keep the global supply chain moving, we are utilizing our network capabilities and personnel to get vital shipments, such as medical supplies, to areas that need them most.
"Connecting products to people around the world is the United Cargo mission," said United Cargo President Jan Krems. "That role has never been more crucial than during the current crisis. Our team is working around the clock to provide innovative solutions for our customers and support the global community."
On average, we ship more than 1 billion pounds of cargo every year on behalf of domestic and international customers. For more information, visit unitedcargo.com.
Airline and its customers use crowdsourcing platform - Miles on a Mission - to donate more than 11 million miles for charities like the Thurgood Marshall College Fund, College to Congress and Compass to Care
CHICAGO, Dec. 1, 2020 /PRNewswire/ -- United is inviting MileagePlus members to give back on Giving Tuesday and throughout the holiday season by donating miles to nearly 40 non-profits through United Airlines' crowdsourcing platform, Miles on a Mission. Non-profits like Thurgood Marshall College Fund, College to Congress and Compass to Care are attempting to raise a total of more than 11 million miles to be used for travel for life-saving health care, continued education, humanitarian aid and more. United will match the first 125,000 miles raised for each of these organizations to help ensure they meet their goals.
"This year has posed unprecedented challenges for us all and has been especially devastating to some of the most vulnerable members within the communities we serve," said Suzi Cabo, managing director of global community engagement, United Airlines. "The need for charitable giving has not stopped during the pandemic, and neither has United. This Giving Tuesday marks an opportunity for us to all come together for the greater good and we are proud to provide a platform to support organizations with upcoming travel needs that will enable them to continue supporting the communities they serve."
The launch of these campaigns is part of United's ongoing Miles on a Mission program, which began in October 2019 and has raised more than 92 million miles to-date. Past campaigns have helped organizations travel children for life-saving medical treatment and unite parents with newly adopted children from foreign countries. Participating non-profits have 28-days to reach their mile raising goals through the platform.
The organizations that are raising miles in this campaign include:
College to Congress: The organization provides support including travel for disadvantaged college students who otherwise could not afford to intern in Washington, D.C.
Thurgood Marshall College Fund: This is the only national organization representing America's 47 publicly-supported Historically Black Colleges and Universities (HBCUs), and the nearly 300,000 students that attend them each year. The miles raised will cover the travel expenses to and from campus for students unable to afford them.
My Block, My Hood, My City: This organization provides underprivileged youth with an awareness of the world and opportunities beyond their neighborhood. Miles will be used to fund educational trips for Chicago youths to help them gain a greater understanding of the world outside of their comfort zones.
Compass to Care: The non-profit ensures all children, whose parents have a financial need, can access life-saving cancer treatment. Compass to Care is raising miles to fund travel to get children from their homes to hospitals for cancer treatment.
Luke's Wings: This organization is dedicated to the support of service members who have been wounded in battle. Raised miles will be used to purchase plane tickets for families to visit wounded soldiers recovering in Army medical centers.
Rainbow Railroad USA: The organization's mission is to help persecuted LGBTQI+ individuals around the world travel to safety as they seek a haven from persecution. Miles will support the organization's core Emergency Travel Support program.
This year, United's legal partner Kirkland & Ellis will also be donating $50,000 to My Block, My Hood, My City and the Thurgood Marshall College Fund. Other organizations launching campaigns on the platform include: Sisters of the Skies, Inc., Up2Us Sports, Airline Ambassadors International, Austin Smiles, AWS Foundation, Crazy Horse Memorial, FLYTE, Higher Orbits, Lily's Hope Foundation, Miles4Migrants, Support Utila Inc. and Watts of Love. MileagePlus members can also donate to United's 20 other existing partner charities including, Airlink, American Red Cross, Make-A-Wish, Shriners Hospitals; Clean the World, Special Olympics and more. To learn more or donate to these organizations, please visit donate.mileageplus.com.
Visit www.united.com/everyactioncounts to learn more about our pledge to put our people and planes to work for the greater good.
About United
United's shared purpose is "Connecting People. Uniting the World." For more information, visit united.com, follow @United on Twitter and Instagram or connect on Facebook. The common stock of United's parent, United Airlines Holdings, Inc., is traded on the Nasdaq under the symbol "UAL".

SOURCE United Airlines
For further information: United Airlines Worldwide Media Relations, +1-872-825-8640, media.relations@united.com

In October 2019, we launched a first-of-its-kind airline miles donation platform, Miles on a Mission. In the inaugural year, MileagePlus members donated over 70 million miles, with United matching over 20 million miles, to 51 organizations. These miles have allowed for these organizations to do important, life-changing, life-saving work in the communities we serve around the globe.
Whether it's visiting friends and relatives, traveling for work or simply exploring a new corner of the world, we all have a reason as to why we fly. No matter the reason you fly, the miles you earn and donate help our Miles on a Mission partners soar. Take a look at how some of our partner organizations have put our MileagePlus Members' donations to work.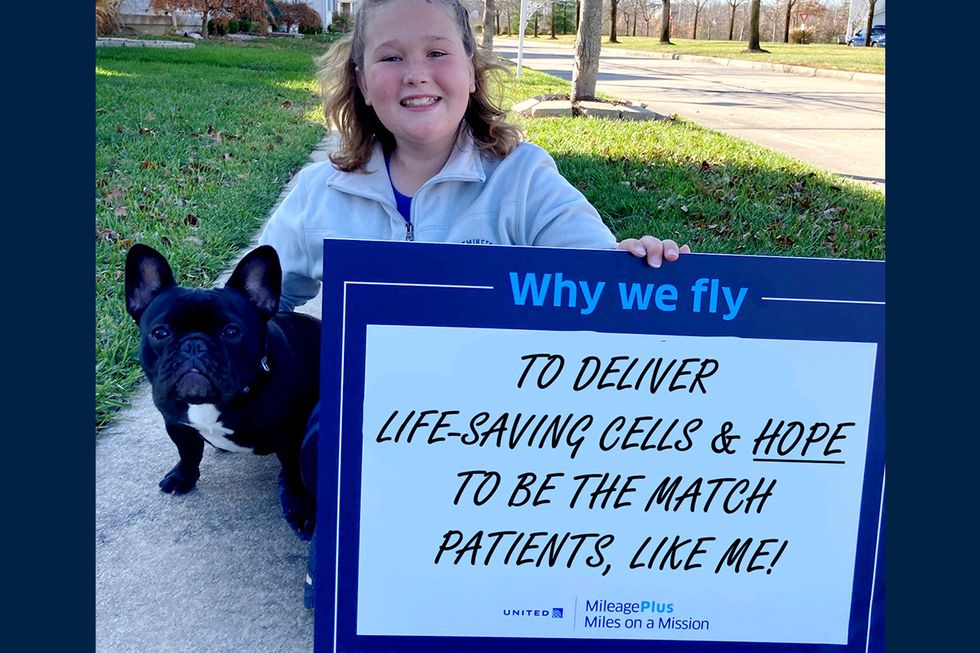 "To deliver life-saving cells and hope to Be the Match patients, like me!"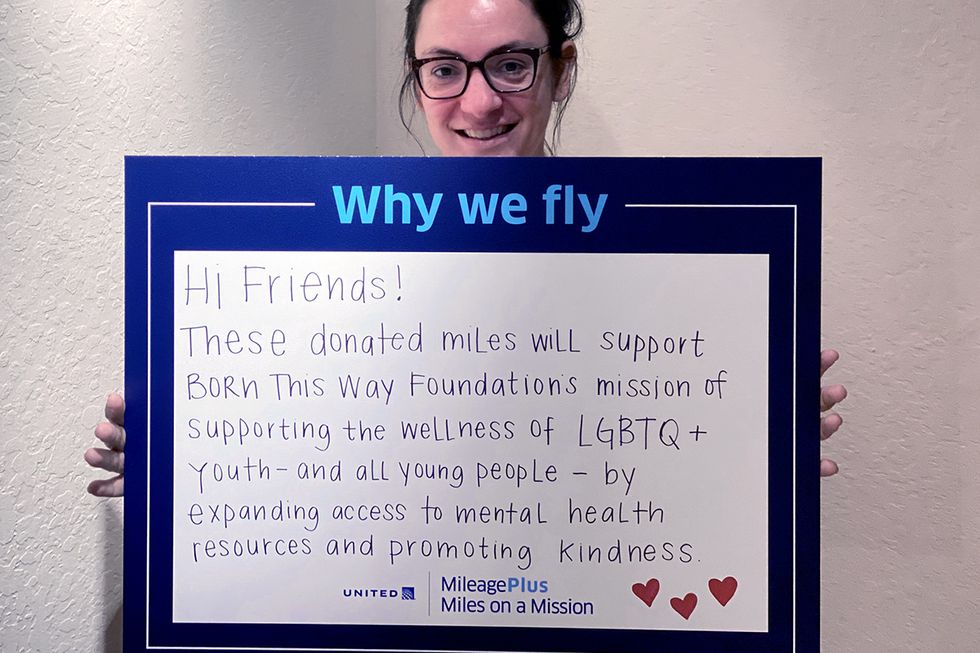 "These donated miles will support Born This Way Foundation's mission of supporting the wellness of LGBTQ+ youth — and all young people — by expanding access to mental health resources and promoting kindness."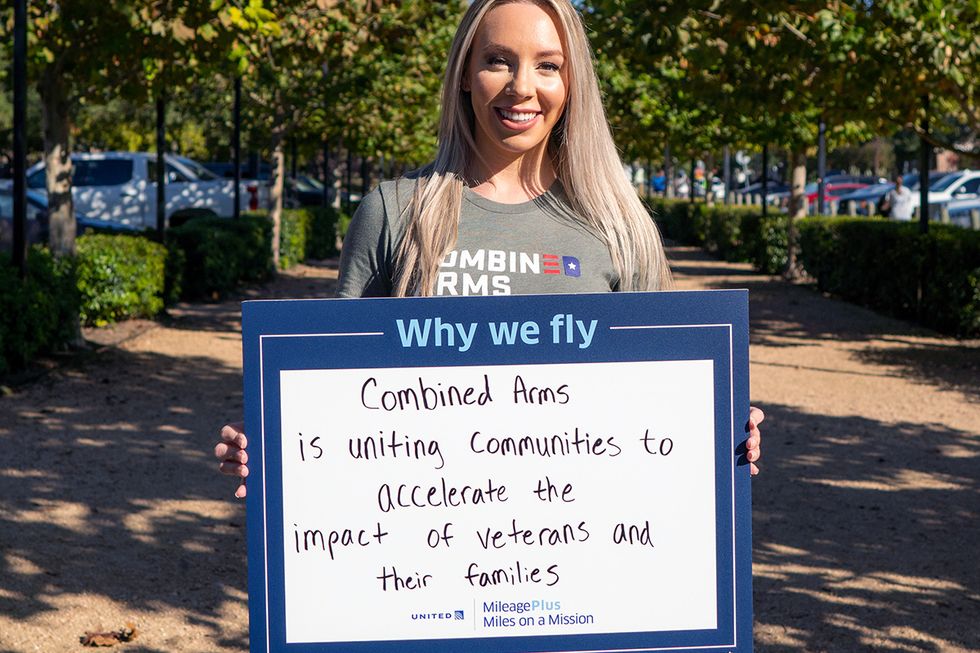 "Combined Arms is uniting communities to accelerate the impact of veterans and their families."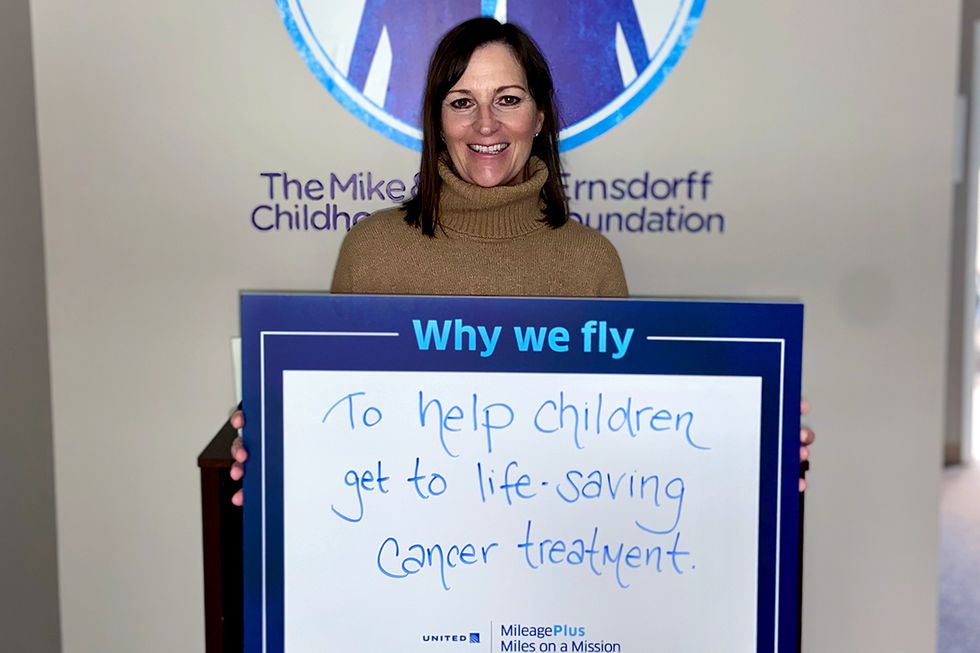 "To help children get to life-saving cancer treatment"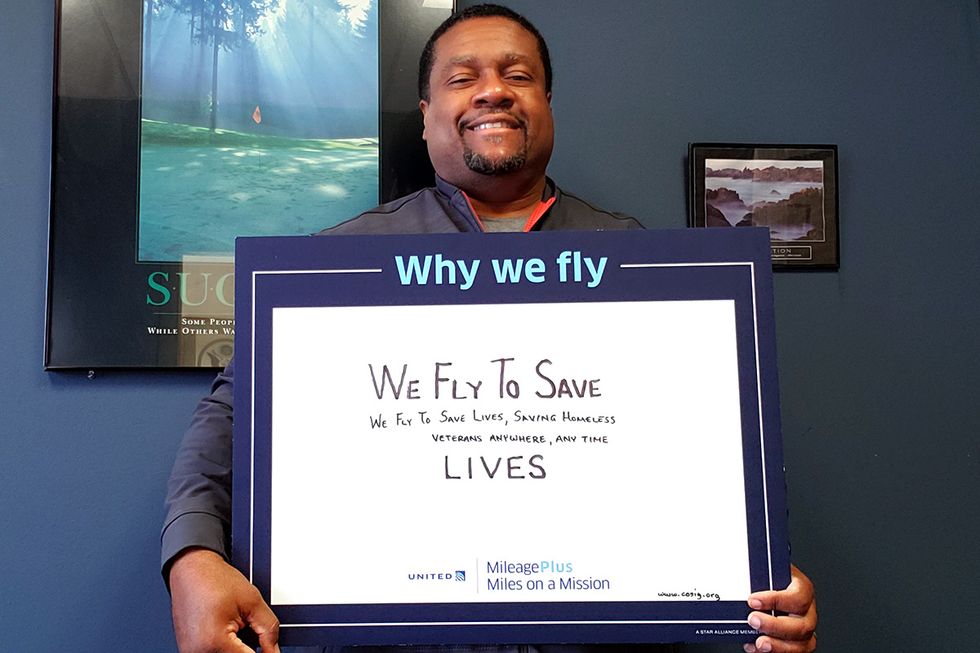 "We fly to save. We fly to save lives, saving homeless veterans anywhere, any time."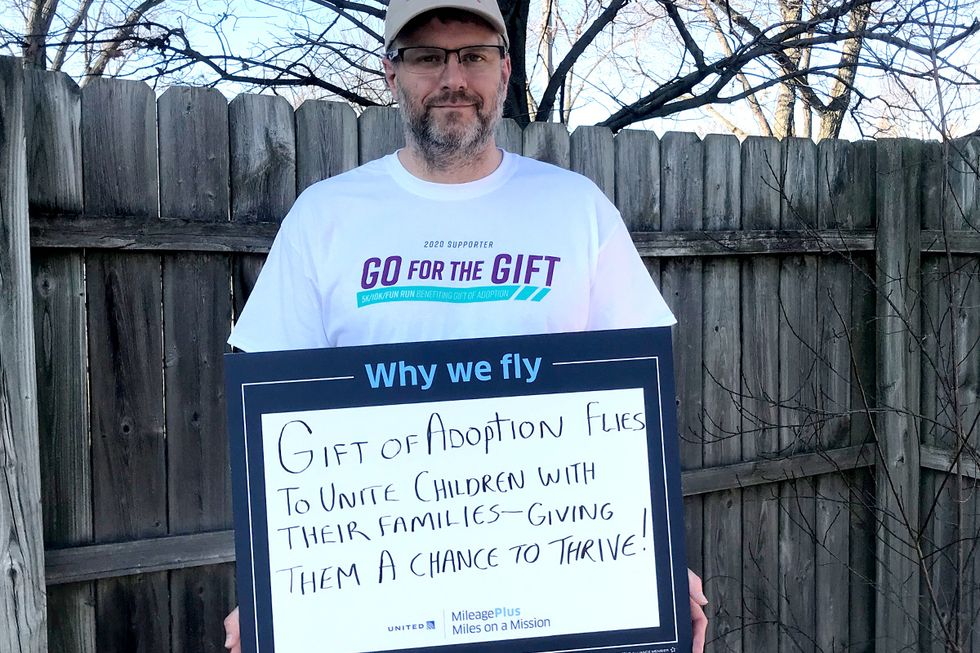 "Gift of Adoption flies to unite children with their families — giving them a chance to thrive!"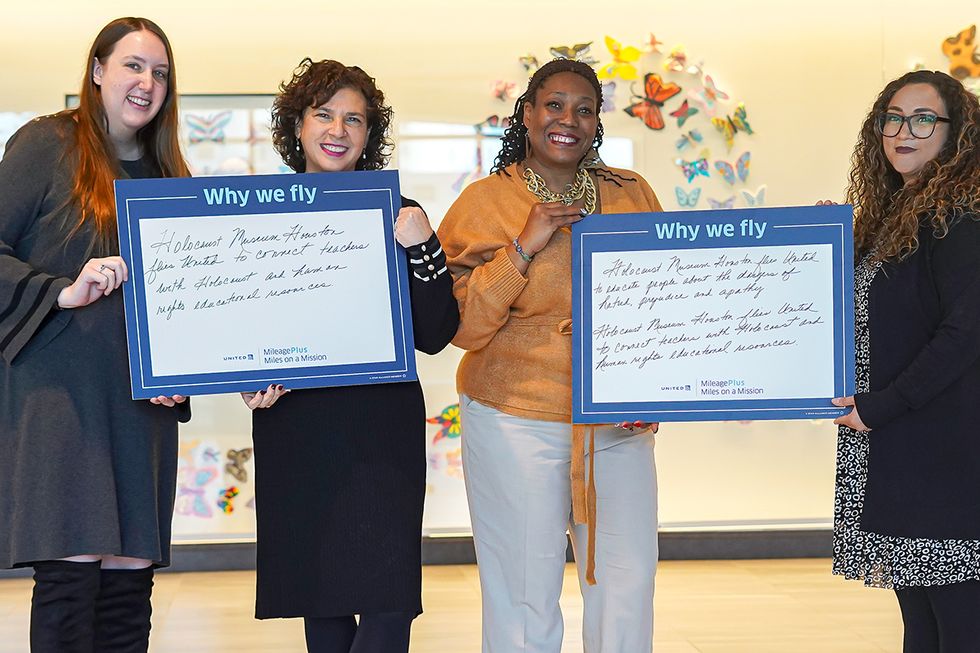 "Holocaust Museum Houston flies United to educate people about the dangers of hatred, prejudice and apathy. Holocaust Museum Houston flies United to connect teachers with Holocaust and human rights educational resources."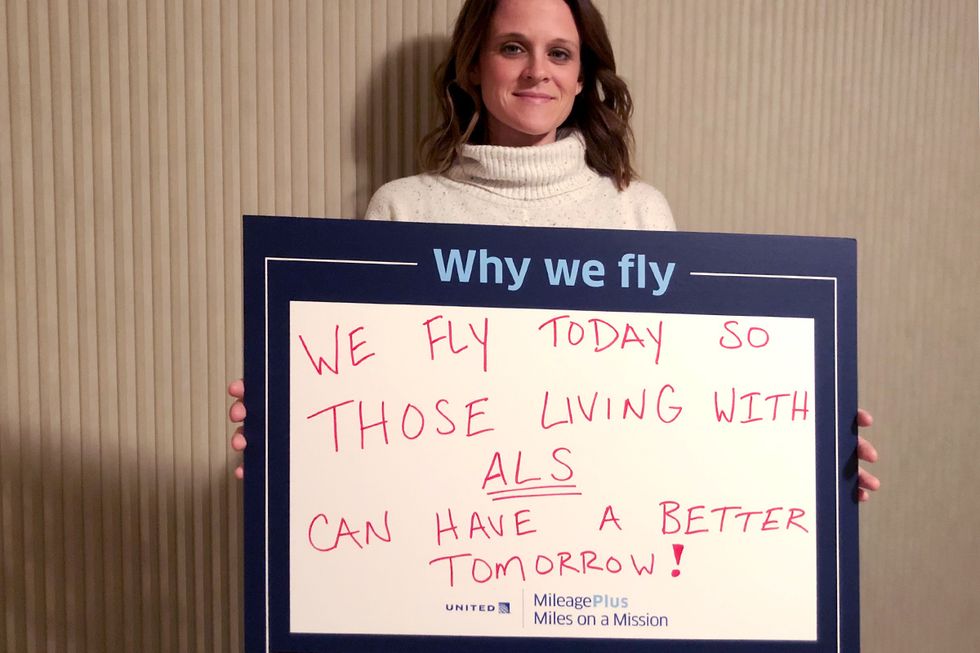 "We fly today so those living with ALS can have a better tomorrow."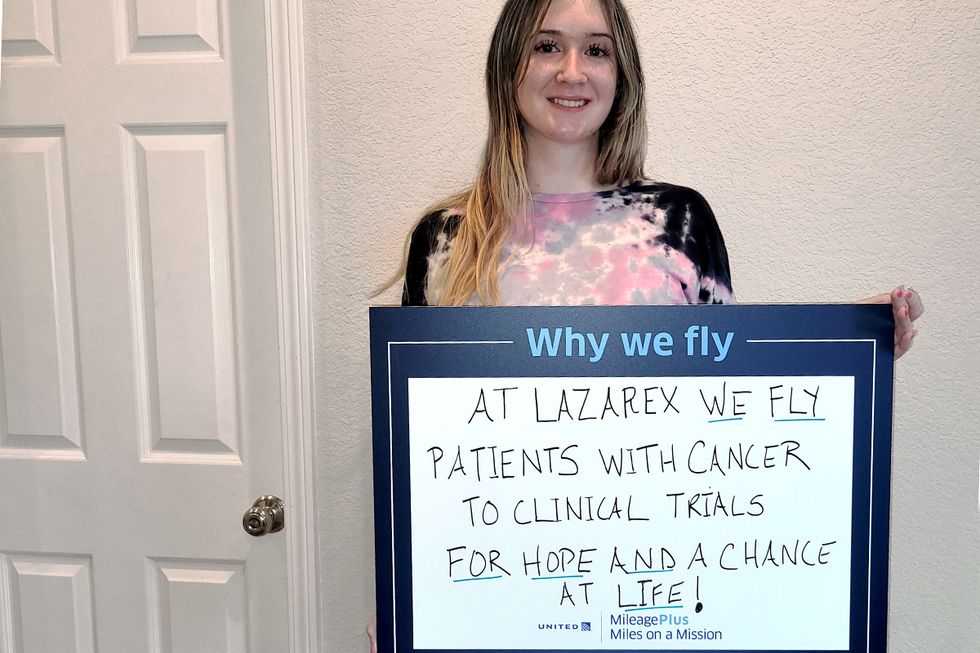 "At Lazarex we fly patients with cancer to clinical trials for hope and a chance at life!"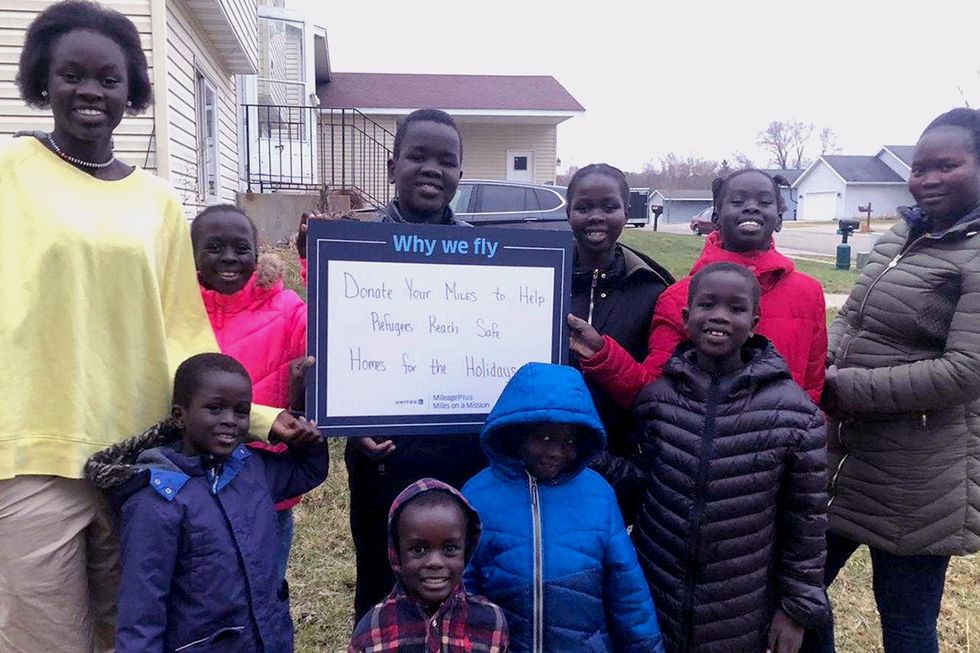 "Donate your miles to help refugees reach safe homes for the holidays."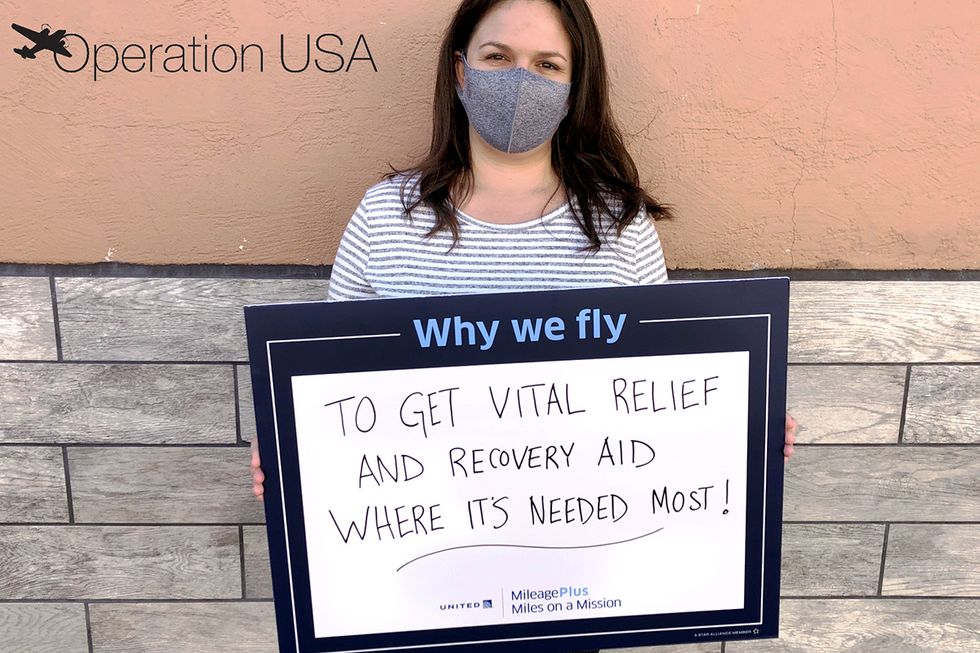 "To get vital relief and recovery aid where it's needed most!"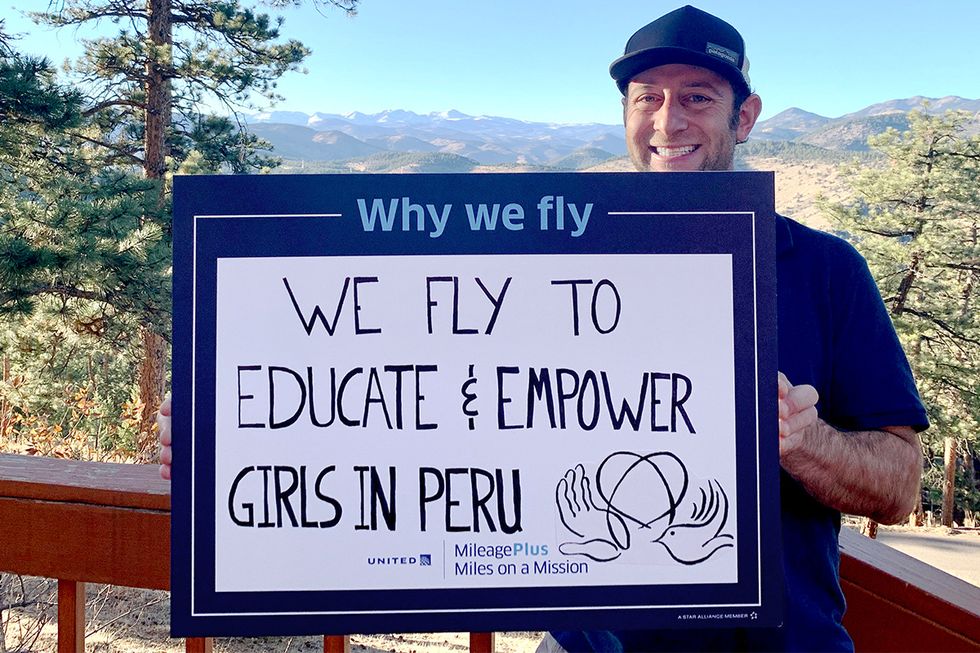 "We fly to educate and empower girls in Peru."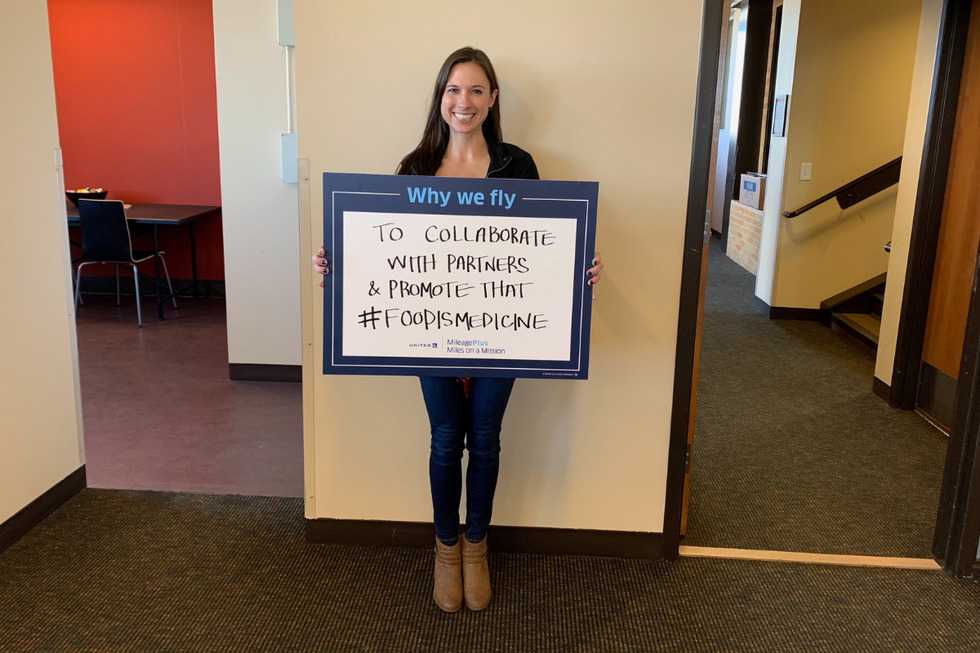 "To collaborate with partners & promote that #FoodIsMedicine"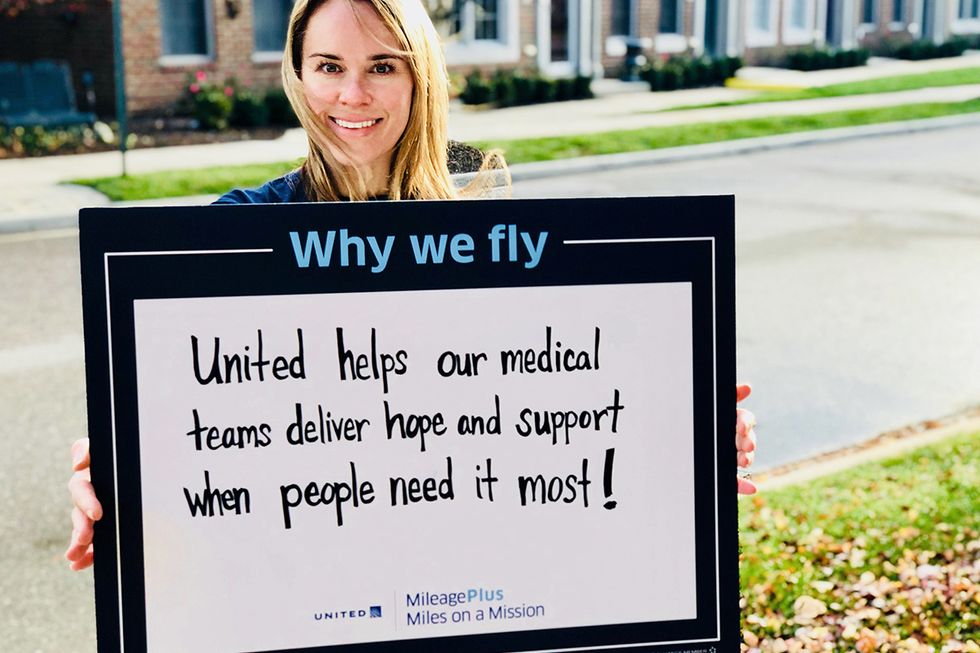 "United helps our medical teams deliver hope and support when people need it most!"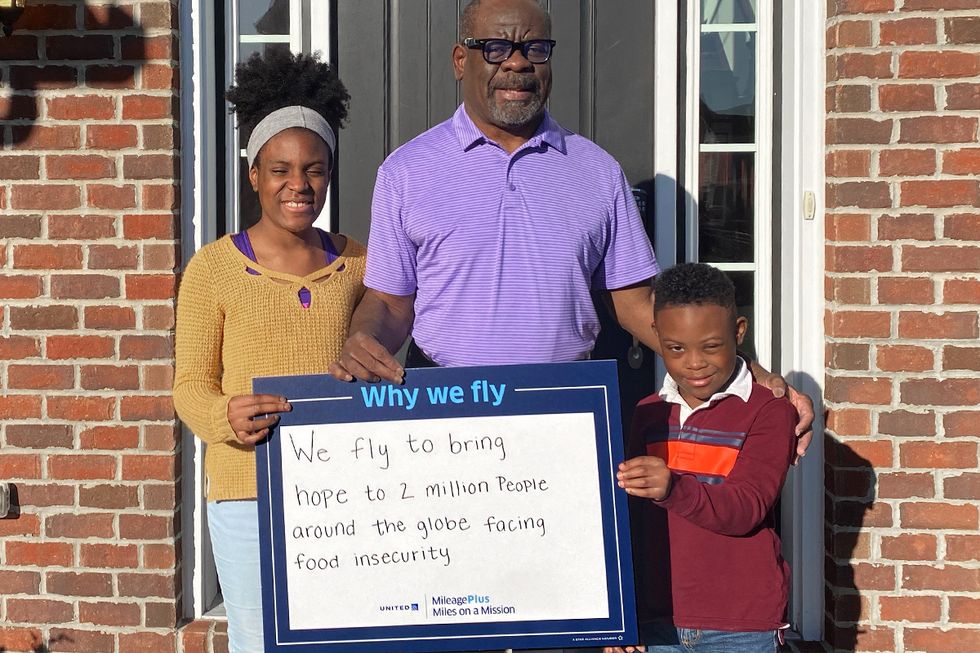 "We fly to bring hope to 2 million people around the globe facing food insecurity."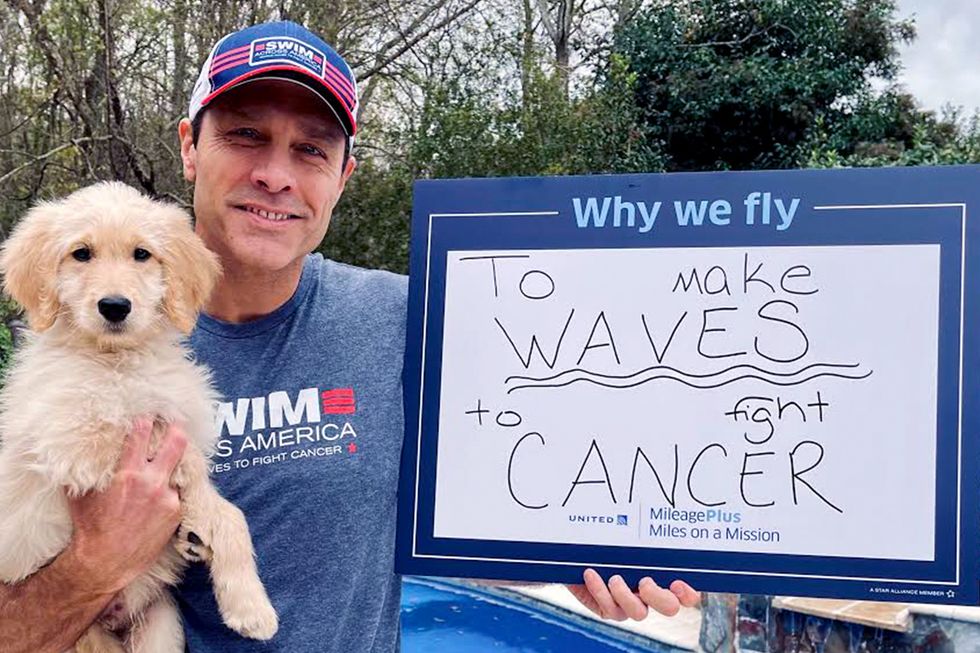 "To make waves to fight cancer."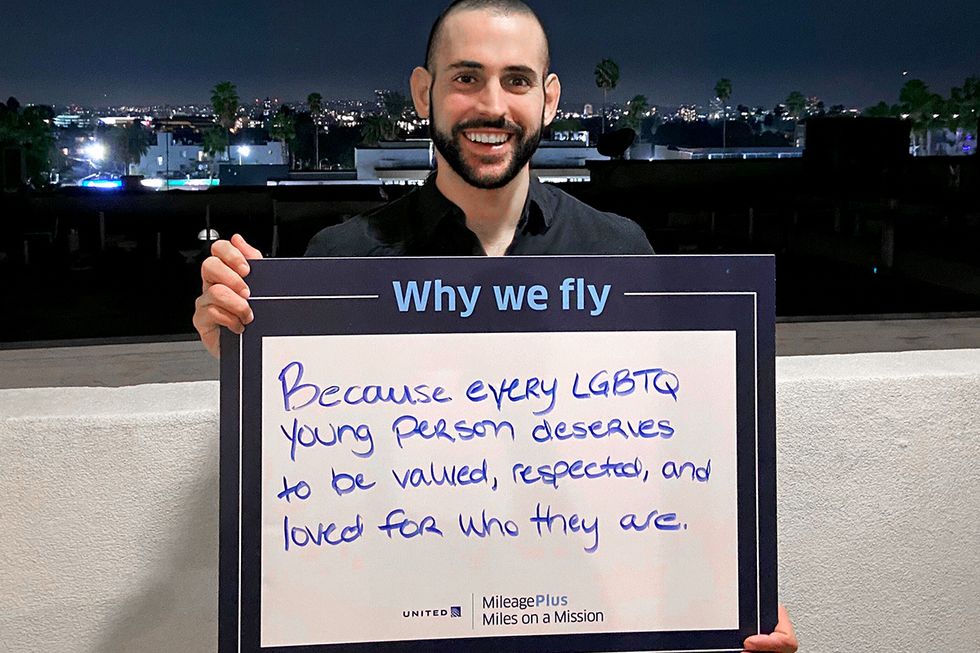 "Because every LGBTQ young person deserves to be valued, respected and loved for who they are."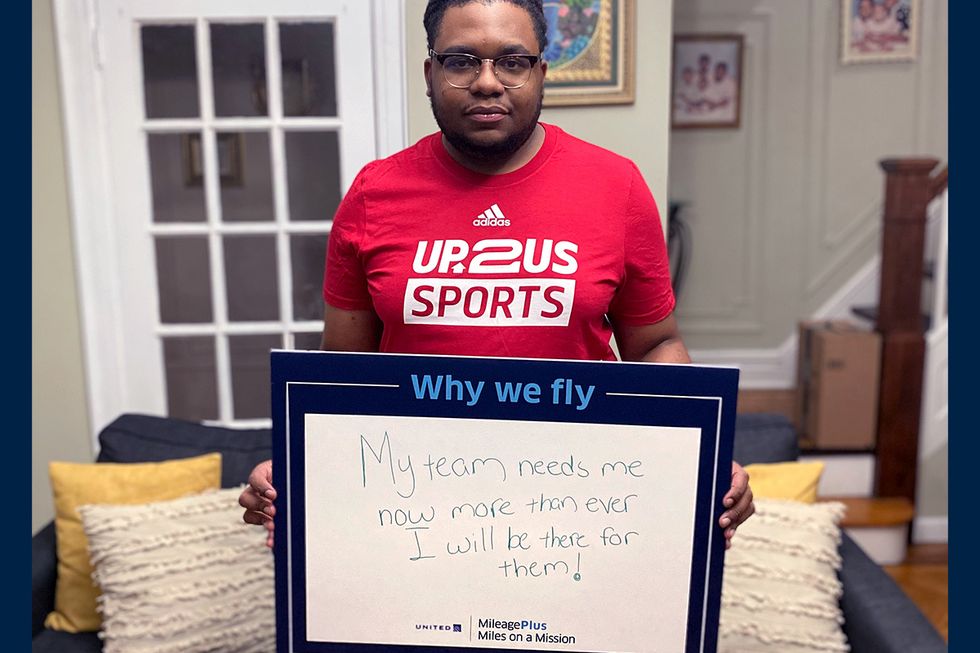 "My team needs me now more than ever. I will be there for them!"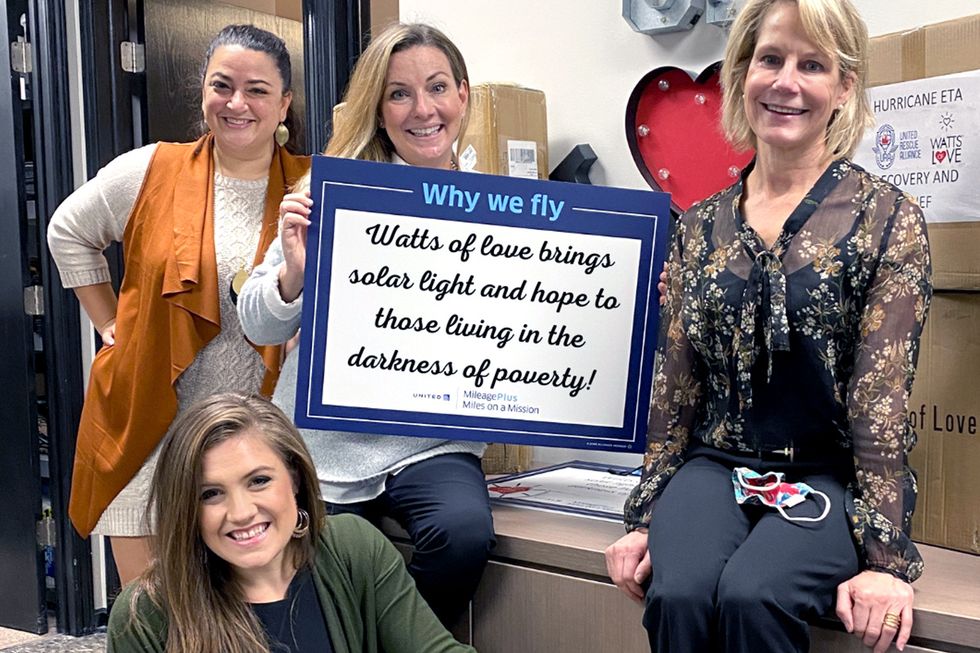 "Watts of Love brings solar light and hope to those living in the darkness of poverty!"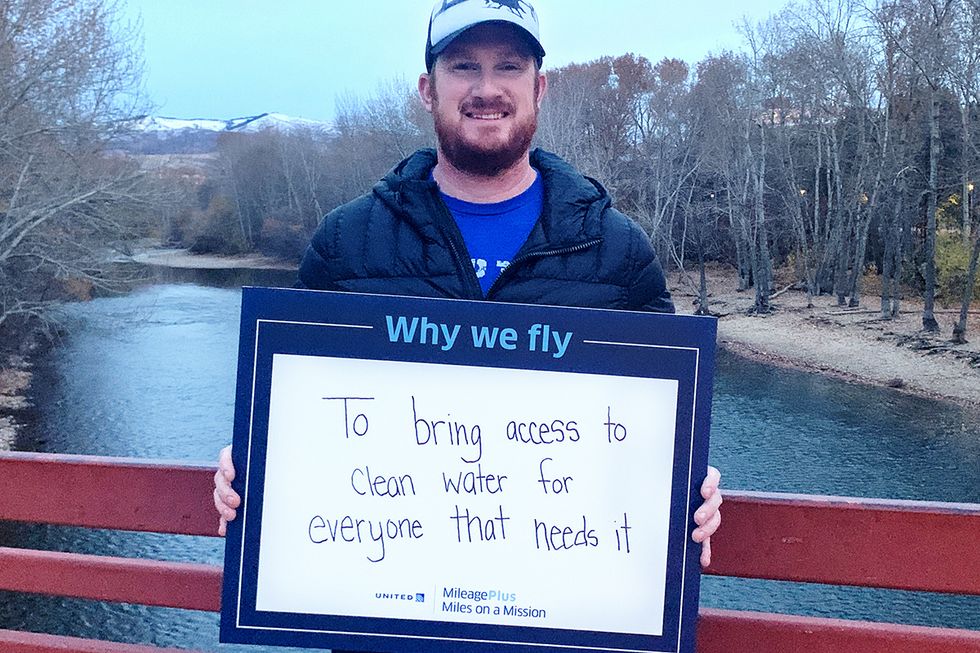 "To bring access to clean water for everyone that needs it."
Scroll to top