Three Perfect Days: Finger Lakes
Story by Rohan Kamicheril | Photography by Ben Rosenzweig | Hemispheres, April 2014
Seen from above, the Finger Lakes look like claw marks on the landscape. The 11 glacial trenches occupy a relatively narrow corridor of central upstate New York, yet they have a far wider significance. The Iroquois believed they were of divine provenance. Farmers and loggers flocked to the area for the fertile land around their shores. The lakes are central to the region's identity and its economy. Everything here leads back to water.
The forces that shaped the Finger Lakes also endowed the region with a fierce natural beauty. The surrounding hills are split into innumerable gorges, with hidden waterfalls, secret swimming holes and enough scenic outcrops to keep a landscape painter occupied for a lifetime. The lakes themselves, some of the deepest in the U.S., are enchanting—made more so, perhaps, by the lush vineyards that surround them.
And there are plenty of rewards away from the water's edge, too. In addition to top-notch wineries, orchards dot the countryside, whose meadows burst with cattails, goldenrod and chicory. In summertime farmers markets abound, reflecting a resurgent interest in the bounty of the region. You can't throw a peach pit without hitting a local cheese maker, bread maker or small-batch seed-oil producer.
The region is also home to Cornell University, Ithaca College and Hobart and William Smith Colleges, a fact that lends its towns a youthful energy and ensures that the area's cultural attractions are as varied and impressive as its landscapes. It is this variety that makes the Finger Lakes such a wonderful place to be. There's always a sense that you're discovering something new, even if that something has been two million years in the making.

DAY ONE | You wake up late, despite the sun pouring through your balcony doors at La Tourelle Resort, a restored farmhouse property surrounded by sprawling lawns and orchards on a hill overlooking Ithaca. From the cumulous depths of your bed, you have a clear view of the high, wooded walls of Buttermilk Falls State Park, where you'll be spending your morning. First, you head downstairs to The Bistro for a breakfast of oatmeal-crusted French toast and two devilishly decadent Danishes—fortification for the hike you have planned.
The deep gorge trails of Buttermilk Falls are a few minutes' walk away, along paths winding past cataracts and slender, idling pools. Fractured shale walls beetle overhead, thick with gangly opportunistic weeds. You reach a deep, clear pool at the base of Buttermilk Falls and take the plunge. Reclining in the bracingly chilly water, you squint at the fierce sun overhead, the water thundering in your ears.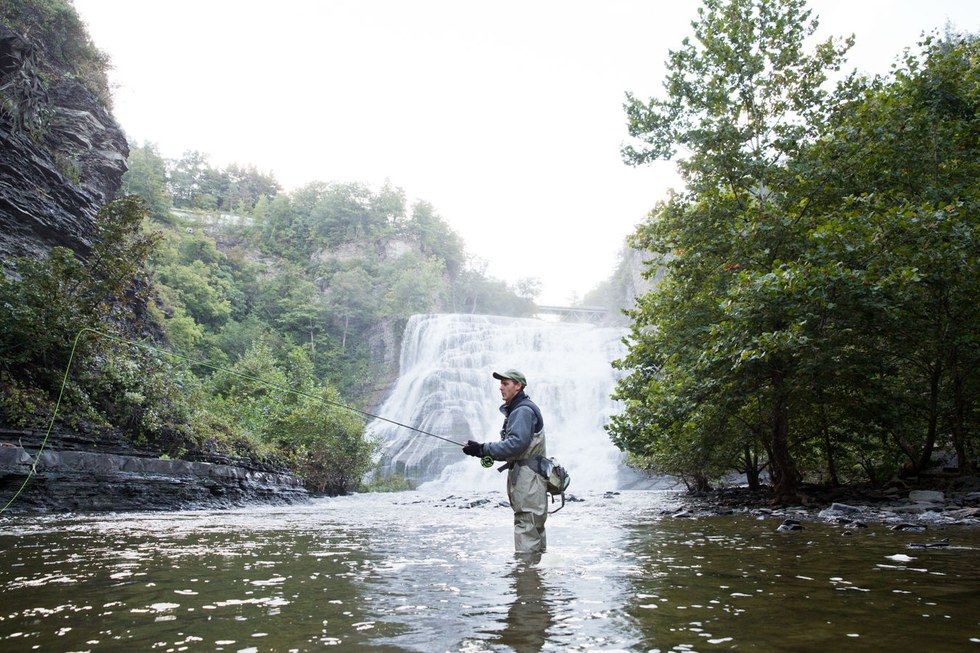 Fly fishing with Mark Moskal
After drying off in the sun, you walk over to Moosewood, the Ithaca restaurant famous for its local, vegetarian fare. In the airy blonde-wood dining room, you savor Asian rice salad and sun-gold squash soup and watch the boho regulars and Cornell academics chow down on their veggie burgers and '70s-style composed salads.
As a reward for your virtuous lunch, you order a brownie with a scoop of vanilla from the nearby Dennis' Homemade Ice Cream. Feeling a little hiked out, you take a short drive to Newman Overlook in the middle of the Cornell Plantations, the university's vast natural preserve, which houses an arboretum and a botanical garden. You enjoy the park from above, gazing out over the tufted treetop canopy while digging into your dessert.
Feeling jauntier now, you head back into town to visit the Johnson Museum of Art, home to one of the best university art collections in the U.S. You enter the hulking I.M. Pei building and head to the top floor, which has fine views of shimmering Cayuga Lake. From here, you work your way down through the sunny galleries, pausing before Giacometti's bronze "Walking Man II." "Look," says an old man to his wife, gesturing at the stooped, attenuated figure, "it's us earlier today!"
As the afternoon wears on, you head over to the Ithaca Beer Company, a popular brewery across the road from Buttermilk Falls State Park. You order a cold and bracingly bitter Excelsior! White Gold in the bustling tap room, then head outside to sit in a lawn chair and enjoy a more tranquil drinking experience. On surrounding lawns, fires burn in clay pits. Children run about, scrambling after the blinking fireflies. In a nearby field, head-high corn stalks rustle in the breeze.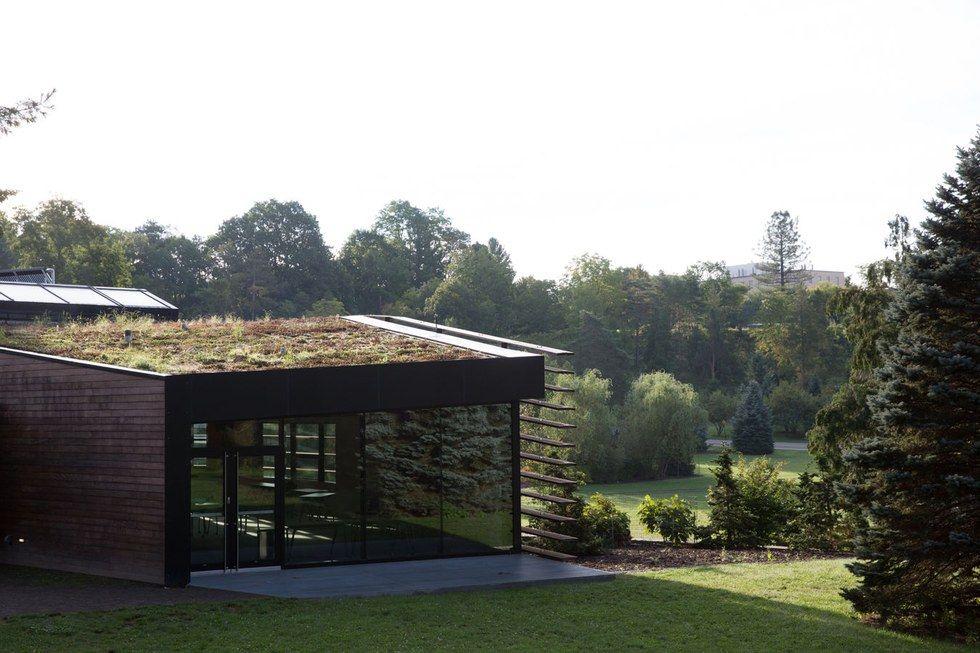 The botanical gardens at Cornell Plantations
It's hard to drag yourself away from all this, but dinner awaits at Hazelnut Kitchen in nearby Trumansburg. With its handsome vintage detail, the restaurant feels like a gleaming hand-tooled diorama. You sit at a bar near the galley kitchen and get down to the business of ordering. Your peach and arugula salad is ripe and peppery. The house-made pan-fried gnocchi, with fresh corn and a trembling poached egg, are tender, crisp and sweet. You take a spoon to your crème brûlée and it cracks like a hammer on plate glass. You can't possibly eat more than two bites, you think, then polish it off handily.
It's still on the early side when you get back to Ithaca, so you stop by Lot 10, a bar known for its excellent mixed drinks and eclectic roster of musical acts. To start, you order a Negroni (Beefeater gin, Campari, vermouth), which the bartender executes perfectly. As you swallow the last of your drink, Matt Riis, the bar's garrulous owner, convinces you to try a Pickleback—one part Jameson, one part pickle juice. "Sweet & Sour Dill or Spicy Asian?" he asks, already pouring out shots. You wish your college town had had a place like this.
It's getting late, and you're feeling a little, um, pickled, but you decide on one more stop before heading back to the hotel. So it is that, a few minutes later, you find yourself back at the Johnson Museum, standing on a lawn and gazing up at a balcony, upon which you can see Leo Villareal's "Cosmos" installation, its constellation of lights careening across the ceiling of the Mallin Sculpture Court, splitting and regrouping, a sea of nautiloids and fractals blooming and fading into the night sky.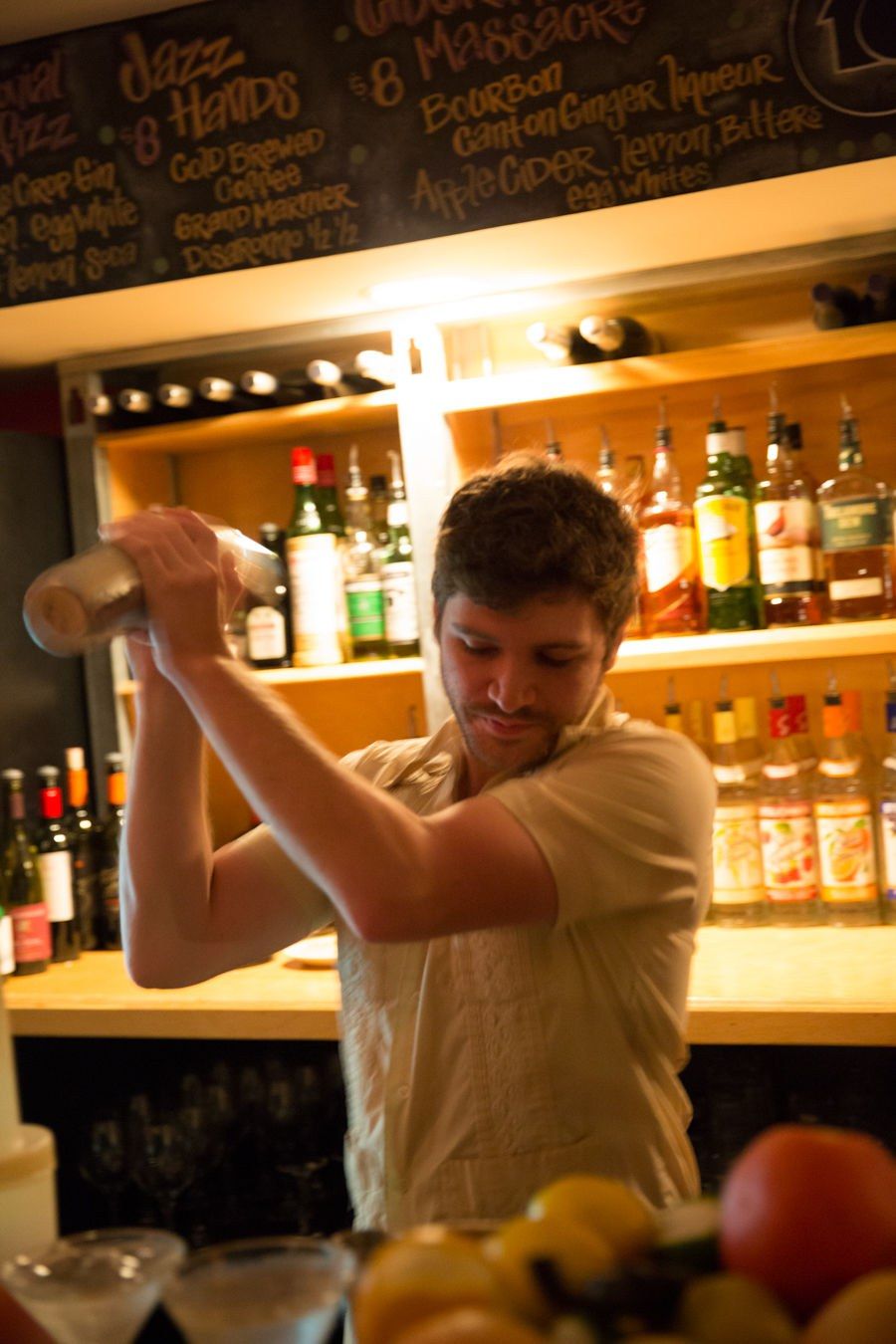 Mixing it up at Lot 10
DAY TWO | You wake up early and head to the open-air Ithaca Farmers Market, where you forage for breakfast among heaps of produce—nectarines like summer moons, garnet-colored beets, tangled mounds of peppers and beans. "Eat one, it won't kill you!" a farmer yells as you eyeball a bin of cherries. You pop two in your mouth and buy a pound to snack on. Next, you wolf down a num unsom ang, a sweet Cambodian rice cake, then a blueberry scone at the aptly named Fat Boy Bakery. Oh, and a quick hunk of poppy-seed cake from Veronika's Pastries. You were hungry.
Your next stop, a few miles up the west bank of Cayuga, is the sleek, angular Museum of the Earth, carved into a hillside above the lake. A 200-million-year-old Coelophysis dinosaur guards the entrance, beyond which, hanging from the ceiling, is the skeleton of a right whale. In one gallery you find a display recounting the glacial history of the area's imponderably deep lakes. In another, you encounter (no kidding) the official fossil of the state of New York: an immense sea scorpion, now thankfully extinct.
You leave the museum in a predatory mood, so you stop by Lively Run, a nearby goat cheese maker. The goats, listlessly chewing their hay in the barn, are too peaceable to pique your appetite, so you head into the tasting room, where you sample a briny Balkan-style feta and a creamy Cayuga blue before you continue on your way, primed for lunch.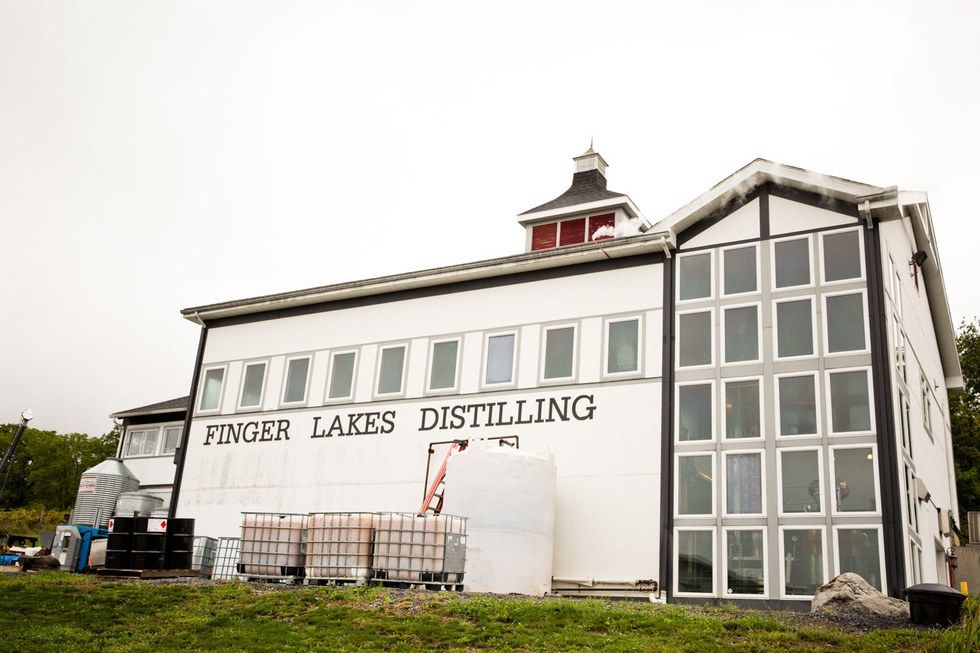 Finger Lakes Distilling
After a short drive west, the broad expanse of Seneca Lake comes into view. You stop at the Stonecat in Hector, a clapboard bistro overlooking the water, and claim a table under a shaggy willow tree. You dig into a pub plate of maple-juniper sausage, accompanied by a wild smear of peach-apricot chutney and a buttery wedge of Keeley's Across the Pond cheese, enjoying the dappled shade and gazing idly at the distant boats.
Your next stop is Watkins Glen, an idyllic hamlet at the lake's southern end, but first you duck into Finger Lakes Distilling in Burdett for a digestivo. Beyond the glass-walled tasting room you can see the Willy Wonka–style works, the gurgling vats and copper stills producing a clear trickle of high-proof spirits. You toss back a shot of the soon-to-be-released wheated bourbon, which disappears in a luxurious vapor. You buy a bottle and wish you had room for more.
You arrive in Watkins Glen and check into the Harbor Hotel, which sits astride the town's busy marina and looks out over Seneca Lake. The hotel's handsome fieldstone lobby is lined with Gilded Age photographs of the town. Your balcony has a wide view over the marina, where you spot your ride for the afternoon: the schooner True Love, rocking imperially in her slip. The boat's gleaming woodwork and clean lines seem unchanged from its star turn with Grace Kelly in High Society.
After a brief rest, you stroll down to the dock to meet Lawrence Hacker, the boat's captain. Lawrence looks the part—tan and tall and squinting against the sun. The rushing wind swells the sails, and the cobalt water parts in surging waves, sending a fine spray into the air. The boat scuds northward, passing rolling vineyards, stands of forest cover, rows of lakeside cabins. By the time you reach Hector Falls, the sun has begun to descend, and the towering face of the falls is bathed in golden light. Later, as the boat makes its way back to dock, its sails snapping in the wind, you think that you could get used to this.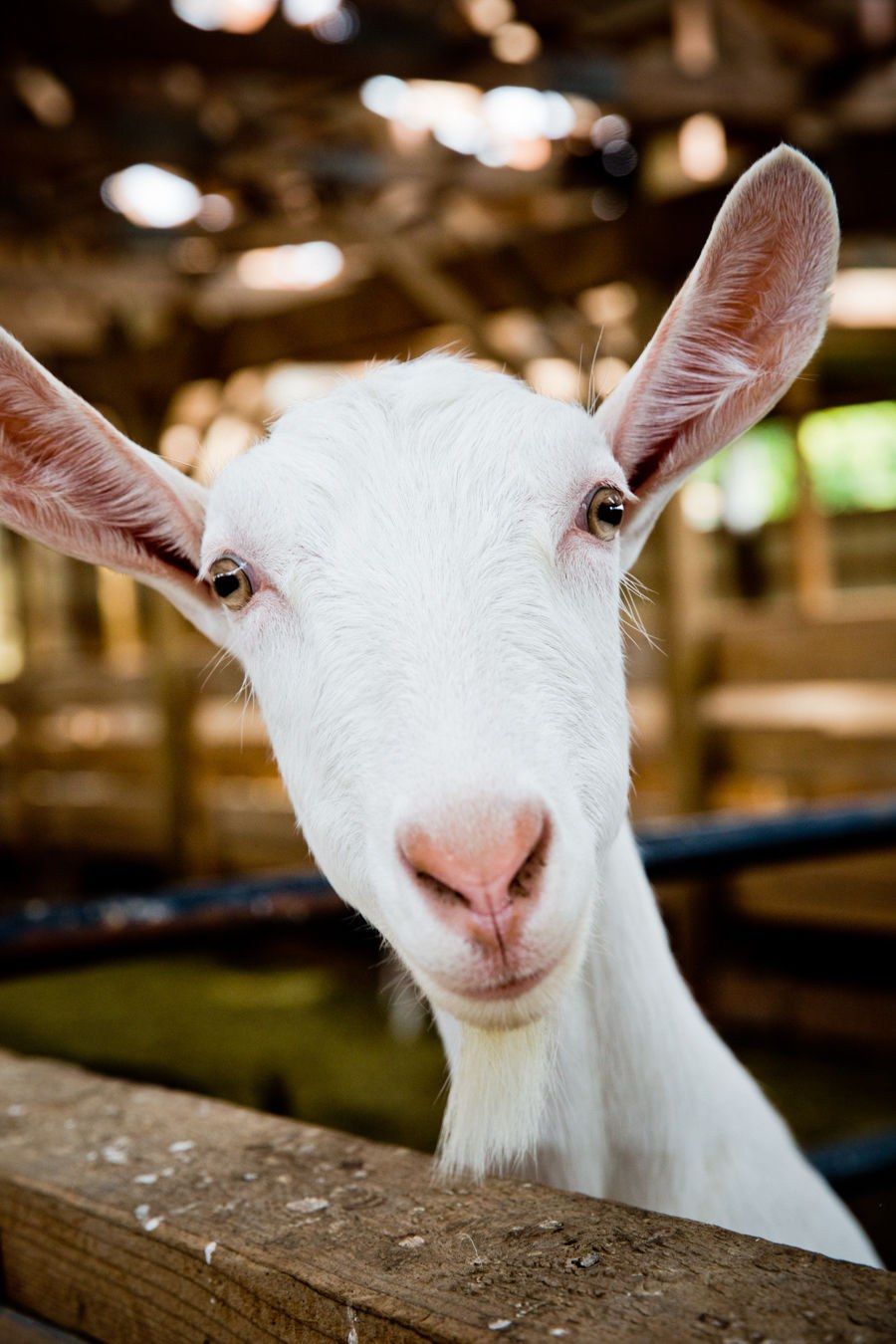 The animal responsible for the goat cheese at Lively Run
There's time for a sundowner before dinner, so you head for the Tavern Room at Seneca Lodge, a nearby cluster of A-frames and cabins. The bar's timber walls are hung with deer heads. You put a coin in the nickelodeon and order a mug of the house pale ale. Jack, one of the owners, regales you with snippets of local lore, at one point producing a finger, which, the story goes, once belonged to a regular. He lost it in a workshop accident, Jack says, so he had it bronzed and gave it to the bar as a gift. After this, he moves on to his favorite topic: birdwatching. "Barn swallows, they're all barn swallows," one of the regulars shouts across the bar, to loud laughter. You'd love to hear more, but your growling stomach has other ideas.
The bistro at Red Newt Cellars in Hector is serving a number of its older vintages tonight. You start with a heady 2008 Curry Creek Gewürtztraminer and a board of pickles and cheeses and meats. Your strip steak is both beautifully charred and blushingly rare. The accompanying freekeh and smoked shiitakes are grown-next-door fresh. Dessert is a silken chocolate chèvre cheesecake and a glass of aromatic, port-style Hellbender. This seems like a fitting end to the day.
The moon is high and bright as you drive back to Watkins Glen. The landscape, so green by day, is black, puddled with silver. Back at your hotel, you leave the balcony door open and drift off to the sound of the wind murmuring across the lake.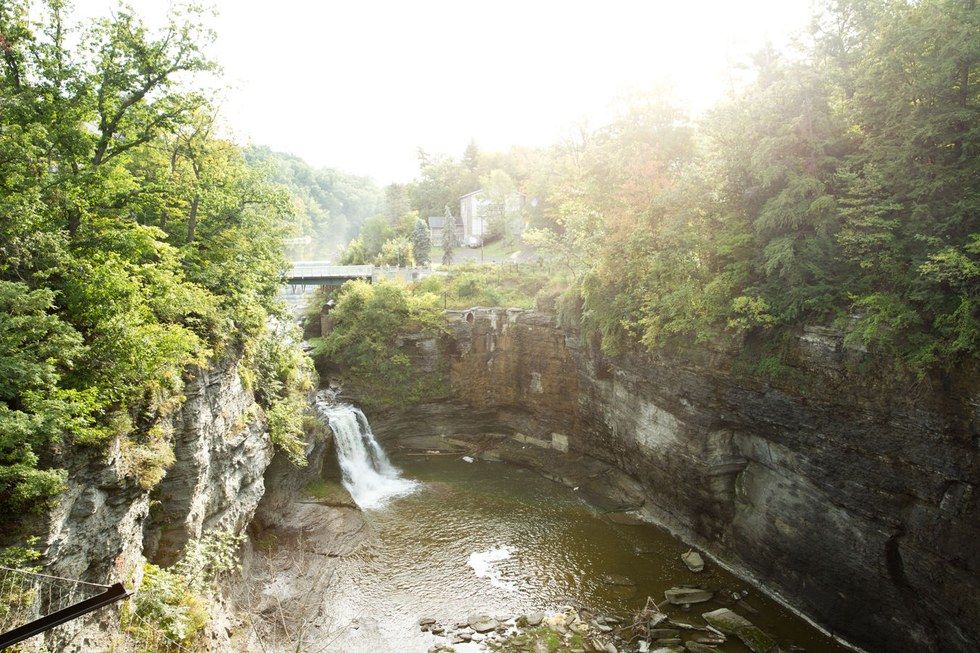 A waterfall on the Cornell Campus
DAY THREE | You're up with the birds today—or with the worms, because the plan is to spend the morning beefing up your outdoorsy credentials with a fly-fishing lesson. First, you grab a cup of coffee from the lobby and sip it on the hotel's outdoor patio, watching the swaying masts in the marina.
Soon, you're standing on the bank of Catharine Creek with Mark Moskal, a guide from local outfit Summit to Stream, trying unsuccessfully to tie a lure to your line. "This is a brown woolly bugger," he says, tying up a feathery fly. "This will pretty much catch fish all year." You practice your casting, successfully hooking some staghorn sumac and a low elm. "It's not a day of fly-fishing unless you snag at least one tree," Mark offers gamely. By the end of the session, you're stripping the fly-line along the running water like a pro—albeit one who fails to catch a single fish.
Next, you have another macho activity lined up at the Watkins Glen International racetrack, a few miles outside the town center, which allows drivers to test their mettle on its banked oval. Instead of Firebirds and muscle trucks, you arrive to find an orderly line of VW buses at the start line, driven by a group of Volkswagen aficionados who've come to take a tour of the course. "The hippies have landed!" shouts a wiry woman holding a clipboard, and then you're off, whizzing around the track in your rental, occasionally glimpsing the tootling Technicolor vans shuddering around a bend. You watch them dawdle over the checkered line and head outside for a different kind of drive.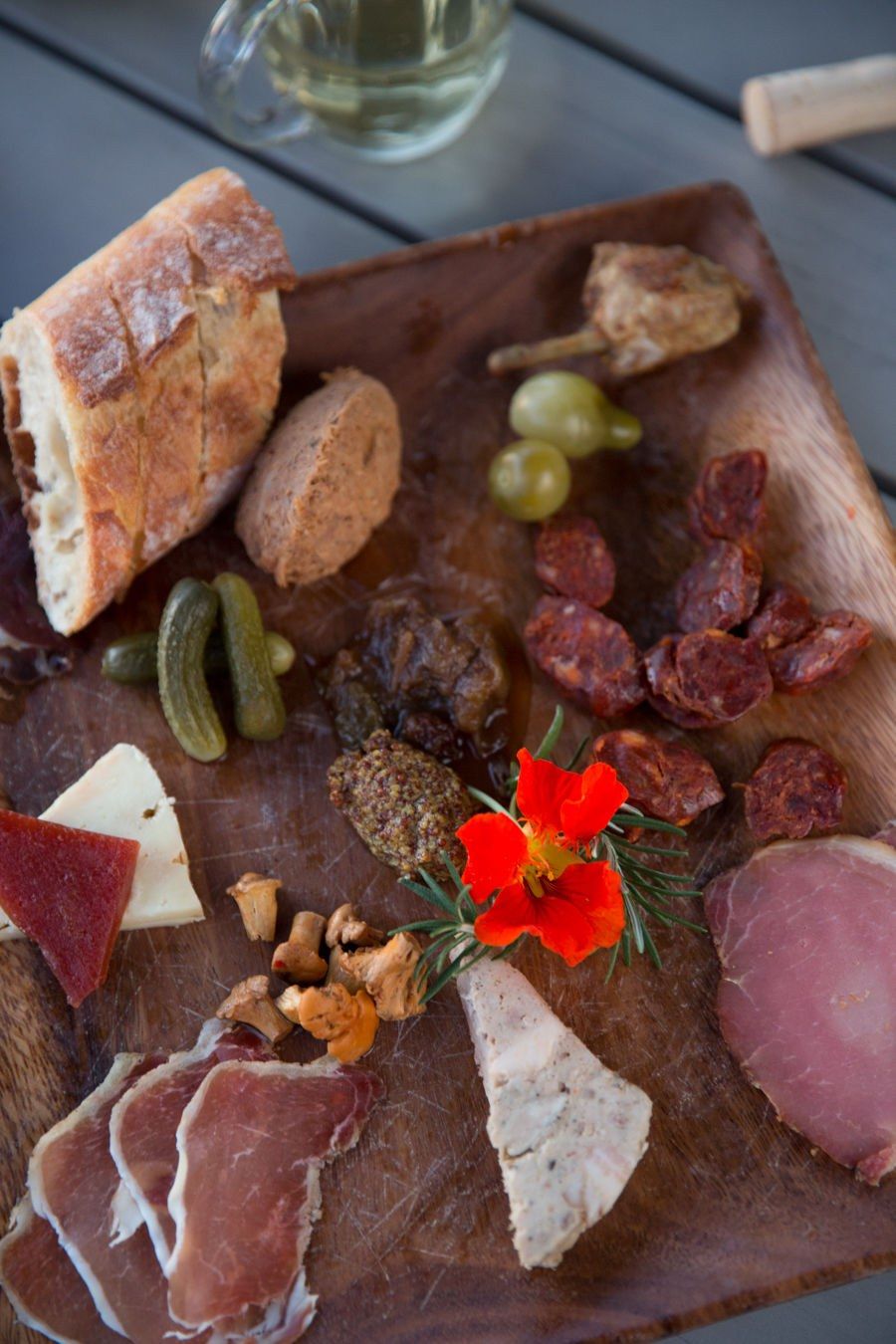 Meat and cheese platter at Dano's
You've decided to take a short and scenic road trip up the west side of Seneca Lake to the college town of Geneva. You stop along the way at the Windmill Farm & Craft Market, named for the full-size windmill twirling outside. Having chickened out of buying a Davy Crockett hat, you stop at a stall overseen by an ornery moustachioed man in a leather vest, from whom you purchase a lucky rabbit's foot. As you pay for the foot, you consider saying "Not so lucky for the rabbit!" but the man's expression persuades you to keep quiet.
You stop for lunch at the Red Dove Tavern, a gastropub in downtown Geneva, where you belly up to the bar and a heap of crisp fried chickpeas. The PEI oysters are shockingly good—a cool, briny jolt to your taste buds. You compliment co-owner Rune Hilt on the oysters. "I love my fryer as much as the next guy," he says with a shrug, "but you've got to just let some things be." You agree, and order another half dozen.
Back at the southern tip of Seneca, you set out on a late-afternoon hike through Watkins Glen State Park. The forest trails lead you through a kind of fairy-tale landscape, over stone bridges and behind waterfalls, snaking upward beneath glowing leaves. On the way down, you walk a narrow ridge, the less traveled route that skirts the gorge, and come across Greenwood Cemetery. You wander the grassy cliffside grounds for a while, contemplating the weatherworn 19th-century gravestones and grand mausoleums. Then the shadows lengthen and you resume your descent into town.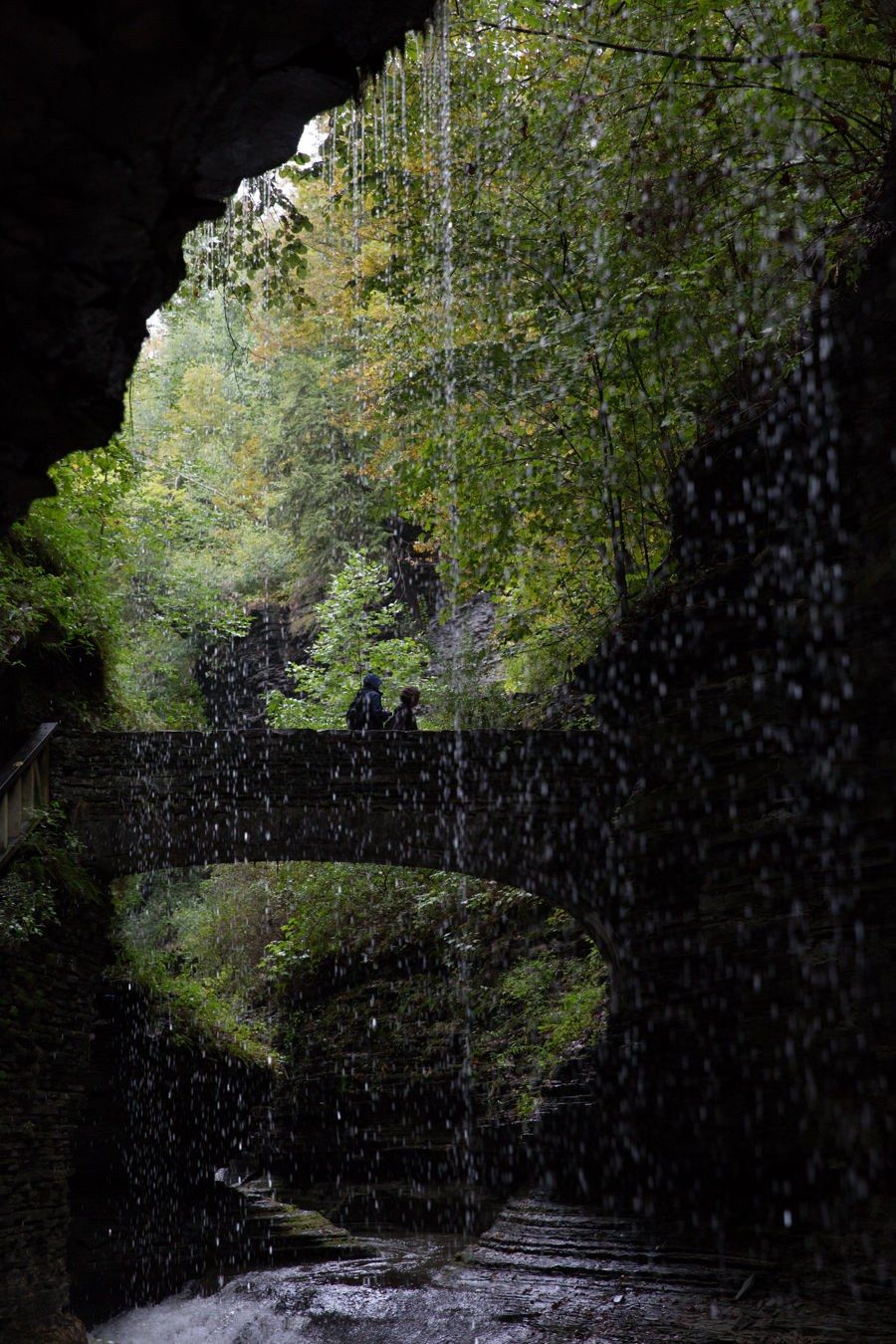 Fairy-tale landscapes at Watkins Glen State Park
From here you head for Lodi, 20 miles north of Watkins Glen, on the east side of the lake, and take a porch table at Dano's, a Viennese-style restaurant. Soon, the chef-owner (Dano, naturally) ambles by to tell you he's made some cheese from a small batch of sheep's milk he just received. "They have such small teats," he says, lamenting the paucity of milk a sheep gives. "You're lucky if you get a quarter-cup a day." He disappears into the kitchen and comes back with a bowl of Slovakian bryndzové halušky, a creamy mound of cheese-slicked spaetzle topped with caramelized onions and bacon. He also delivers a plate of sausage, unbidden, along with the observation, "I don't smoke cigarettes, so I have to smoke meat instead."
You take a long draft from your mug of local wine and a forkful of spaetzle and look out at a nearby stand of quince and apricot trees, and the glimmering lake beyond. A few waiters and diners have come outside to watch the sun go down. Its last rays have brought the shore into blazing relief—every fold and plot of land is lit bright, every hidden crevice momentarily revealed.
The teat thing is now the primary piece of sheep-related trivia in New York City–based writer Rohan Kamicheril's arsenal.
This article was written by Rohan Kamicheril from Rhapsody Magazine and was legally licensed through the NewsCred publisher network. Please direct all licensing questions to legal@newscred.com.
Around the web
On March 19, 2020, United operated its first flight carrying cargo without passengers on board. While the passenger cabin was empty, its cargo hold was completely full, carrying more than 29,000 pounds of commodities from Chicago O'Hare International Airport (ORD) to Frankfurt Airport (FRA).
A year later, United Cargo has operated more than 11,000 cargo-only flights carrying more than 570 million pounds of freight. To support the COVID-19 pandemic recovery efforts, United Cargo has also transported more than 113 million pounds of medical and pharmaceutical products on both cargo-only and passenger flights as well as approximately 10 million COVID-19 vaccines, providing global communities access to the items they have needed most.
"At the beginning of the pandemic, we knew we were uniquely positioned to utilize our widebody aircraft and our network to keep commodities moving, so we quickly mobilized various departments throughout the airline to launch a cargo-only network of flights that would keep commodities moving," said United Cargo President Jan Krems. "Thanks to those efforts, United Cargo has delivered millions of items to countries all around the world. We would not have been successful without the steadfast support of our employees, industry partners and our customers."
Since last March, United Cargo has transported almost 850 million pounds of freight on cargo-only and passenger flights. The airline will continue to monitor market trends adjust its cargo-only flight schedules to help ensure we are meeting our customer's evolving shipping needs.
Whether you haven't flown with us for a while or just need a quick refresher before your spring trip, read this list of tips to know before your flight and arrive at the airport travel-ready:
1. Download the United app for contactless bag check, travel assistance and more
Before your flight, download the United app to view your flight status, check in, sign up for flight notifications, locate departure gates, access our free personal device entertainment when available and more. We've also updated our app with new features that can make your trip a little safer, including contactless bag check.
Don't forget to use Agent on Demand for help with any and all questions you may have before your flight. This new capability is available at all our U.S. hub airports and allows you to use your own mobile device to contact a customer service agent via phone, video or chat to help with day-of-travel questions while you're at the airport. Learn more about Agent on Demand here.
2. Check out the Travel-Ready Center
Our Travel-Ready Center makes it easy to get a personalized overview of everything you need to do in preparation for your flight. Just enter your confirmation number or MileagePlus® number and you'll find detailed information on all the documents, tests and more that you'll need for your trip.
3. Read and sign the Ready-to-Fly checklist
Before completing check-in, all United travelers will need to read our Ready-to-Fly checklist and confirm that they understand and agree to our policies. These include:
Acknowledging that you haven't had any symptoms of COVID-19 in the last 14 days
Agreeing that you will not fly if you have tested positive for COVID-19 within the last 21 days
Confirming that you will follow all policies regarding face masks, social distancing and other health and safety measures we've adopted
4. Arrive early; avoid the stress
Airports can be busy, especially during peak travel periods like spring break season. The TSA advises arriving at the airport two hours before your flight for domestic travel and three hours for international travel in anticipation of long security lines. This can help ease the stress when navigating busy check-in areas, security lines and crowded boarding gates.
5. Get familiar with CleanPlus
United CleanPlus℠ is our commitment to delivering industry-leading cleanliness as we put health and safety at the forefront of your experience. We've teamed up with Clorox to redefine our cleaning and disinfection procedures and Cleveland Clinic to advise us on enhancing our cleaning and disinfection protocols, like:
Disinfecting high-touch areas on board and in the terminal
Using electrostatic spraying, Ultraviolet C lighting wands and more advanced measures to clean aircraft cabins before boarding
Redesigning our mobile app to allow for touchless check-in and contactless payment, along with enhanced travel assistance features
Implementing high-efficiency (HEPA) filters on our aircraft that completely recirculate cabin air every 2-3 minutes and remove 99.97% of airborne particles, including viruses and bacteria
Studies show COVID-19 exposure risk is minimal when air filtration systems and masks are in use, so you can rest assured that the steps we've taken to keep you safe truly make a difference.
6. Wear your mask
Federal law requires all travelers to wear a face mask in the airport, including customer service counters, airport lounges, gates and baggage claim, and on board during their entire flight. Make sure you review the requirements for face masks, including what an acceptable face mask looks like.
7. Get ready for a safer boarding process
To make boarding even safer, we now have travelers board their aircraft from back to front. At the gate, just listen for your row number to be called – we'll ask a few rows at a time to board, starting with the last row of the plane. This helps everyone maintain a safe distance from each other during boarding without slowing things down. As you step onto the plane, flight attendants will hand each passenger a sanitizing towelette, which you can use to wipe down your seat to ensure it's extra clean.
8. Pack smart
Before packing your bags, check to see what exactly you can carry on and what you should plan to check. You can also copy your confirmation number into our Baggage Calculator tool to learn about the bag allowance included with your reservation, as well as the cost of checking any additional bags.
9. Check your flight status, important notices and weather
Check the United app regularly for the latest updates on weather conditions, flight status, gate numbers and seat assignments. You can also visit our Important Notices page to find essential information and updates about travel waivers, international travel, TSA and security, airports and United Club locations.
10. Relax and enjoy your flight
Once you're on board, it's time to sit back and enjoy your flight. Our flight attendants will be happy to help you with anything else you need.
This week, we were honored to become the first U.S. airline to join the UNICEF Humanitarian Airfreight Initiative to combat the COVID-19 pandemic by transporting the vaccine and other critically needed supplies to underserved areas of the globe.
"We are committed to helping the global community in any way we can, and we all must work together to do our part to bring this health and humanitarian crisis to an end," said Director of Cargo Specialty Products Manu Jacobs.
We will leverage our expertise to transport these critical pharmaceutical and healthcare shipments around the world safely, efficiently and expediently. We are proud to partner with the United Nations to support this global effort and provide equitable access to COVID-19 vaccines.
Scroll to top