Three Perfect Days: Finger Lakes
Story by Rohan Kamicheril | Photography by Ben Rosenzweig | Hemispheres, April 2014
Seen from above, the Finger Lakes look like claw marks on the landscape. The 11 glacial trenches occupy a relatively narrow corridor of central upstate New York, yet they have a far wider significance. The Iroquois believed they were of divine provenance. Farmers and loggers flocked to the area for the fertile land around their shores. The lakes are central to the region's identity and its economy. Everything here leads back to water.
The forces that shaped the Finger Lakes also endowed the region with a fierce natural beauty. The surrounding hills are split into innumerable gorges, with hidden waterfalls, secret swimming holes and enough scenic outcrops to keep a landscape painter occupied for a lifetime. The lakes themselves, some of the deepest in the U.S., are enchanting—made more so, perhaps, by the lush vineyards that surround them.
And there are plenty of rewards away from the water's edge, too. In addition to top-notch wineries, orchards dot the countryside, whose meadows burst with cattails, goldenrod and chicory. In summertime farmers markets abound, reflecting a resurgent interest in the bounty of the region. You can't throw a peach pit without hitting a local cheese maker, bread maker or small-batch seed-oil producer.
The region is also home to Cornell University, Ithaca College and Hobart and William Smith Colleges, a fact that lends its towns a youthful energy and ensures that the area's cultural attractions are as varied and impressive as its landscapes. It is this variety that makes the Finger Lakes such a wonderful place to be. There's always a sense that you're discovering something new, even if that something has been two million years in the making.

DAY ONE | You wake up late, despite the sun pouring through your balcony doors at La Tourelle Resort, a restored farmhouse property surrounded by sprawling lawns and orchards on a hill overlooking Ithaca. From the cumulous depths of your bed, you have a clear view of the high, wooded walls of Buttermilk Falls State Park, where you'll be spending your morning. First, you head downstairs to The Bistro for a breakfast of oatmeal-crusted French toast and two devilishly decadent Danishes—fortification for the hike you have planned.
The deep gorge trails of Buttermilk Falls are a few minutes' walk away, along paths winding past cataracts and slender, idling pools. Fractured shale walls beetle overhead, thick with gangly opportunistic weeds. You reach a deep, clear pool at the base of Buttermilk Falls and take the plunge. Reclining in the bracingly chilly water, you squint at the fierce sun overhead, the water thundering in your ears.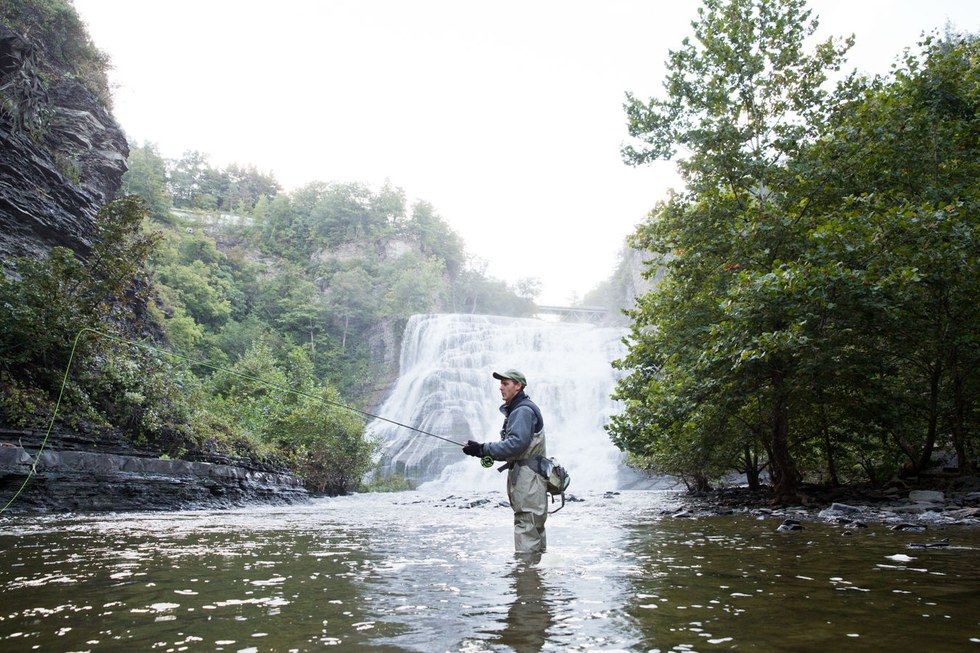 Fly fishing with Mark Moskal
After drying off in the sun, you walk over to Moosewood, the Ithaca restaurant famous for its local, vegetarian fare. In the airy blonde-wood dining room, you savor Asian rice salad and sun-gold squash soup and watch the boho regulars and Cornell academics chow down on their veggie burgers and '70s-style composed salads.
As a reward for your virtuous lunch, you order a brownie with a scoop of vanilla from the nearby Dennis' Homemade Ice Cream. Feeling a little hiked out, you take a short drive to Newman Overlook in the middle of the Cornell Plantations, the university's vast natural preserve, which houses an arboretum and a botanical garden. You enjoy the park from above, gazing out over the tufted treetop canopy while digging into your dessert.
Feeling jauntier now, you head back into town to visit the Johnson Museum of Art, home to one of the best university art collections in the U.S. You enter the hulking I.M. Pei building and head to the top floor, which has fine views of shimmering Cayuga Lake. From here, you work your way down through the sunny galleries, pausing before Giacometti's bronze "Walking Man II." "Look," says an old man to his wife, gesturing at the stooped, attenuated figure, "it's us earlier today!"
As the afternoon wears on, you head over to the Ithaca Beer Company, a popular brewery across the road from Buttermilk Falls State Park. You order a cold and bracingly bitter Excelsior! White Gold in the bustling tap room, then head outside to sit in a lawn chair and enjoy a more tranquil drinking experience. On surrounding lawns, fires burn in clay pits. Children run about, scrambling after the blinking fireflies. In a nearby field, head-high corn stalks rustle in the breeze.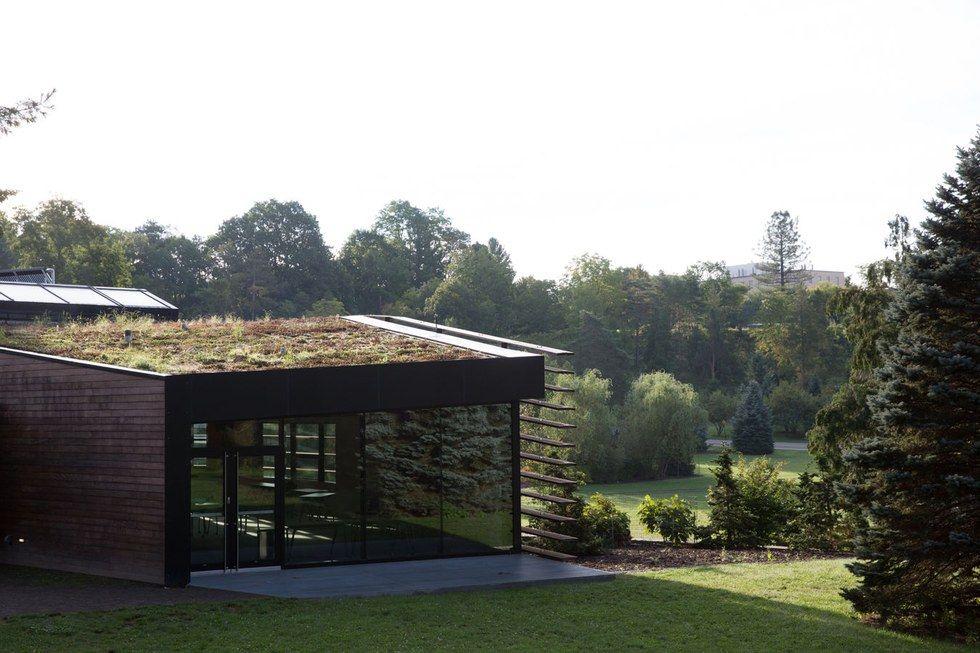 The botanical gardens at Cornell Plantations
It's hard to drag yourself away from all this, but dinner awaits at Hazelnut Kitchen in nearby Trumansburg. With its handsome vintage detail, the restaurant feels like a gleaming hand-tooled diorama. You sit at a bar near the galley kitchen and get down to the business of ordering. Your peach and arugula salad is ripe and peppery. The house-made pan-fried gnocchi, with fresh corn and a trembling poached egg, are tender, crisp and sweet. You take a spoon to your crème brûlée and it cracks like a hammer on plate glass. You can't possibly eat more than two bites, you think, then polish it off handily.
It's still on the early side when you get back to Ithaca, so you stop by Lot 10, a bar known for its excellent mixed drinks and eclectic roster of musical acts. To start, you order a Negroni (Beefeater gin, Campari, vermouth), which the bartender executes perfectly. As you swallow the last of your drink, Matt Riis, the bar's garrulous owner, convinces you to try a Pickleback—one part Jameson, one part pickle juice. "Sweet & Sour Dill or Spicy Asian?" he asks, already pouring out shots. You wish your college town had had a place like this.
It's getting late, and you're feeling a little, um, pickled, but you decide on one more stop before heading back to the hotel. So it is that, a few minutes later, you find yourself back at the Johnson Museum, standing on a lawn and gazing up at a balcony, upon which you can see Leo Villareal's "Cosmos" installation, its constellation of lights careening across the ceiling of the Mallin Sculpture Court, splitting and regrouping, a sea of nautiloids and fractals blooming and fading into the night sky.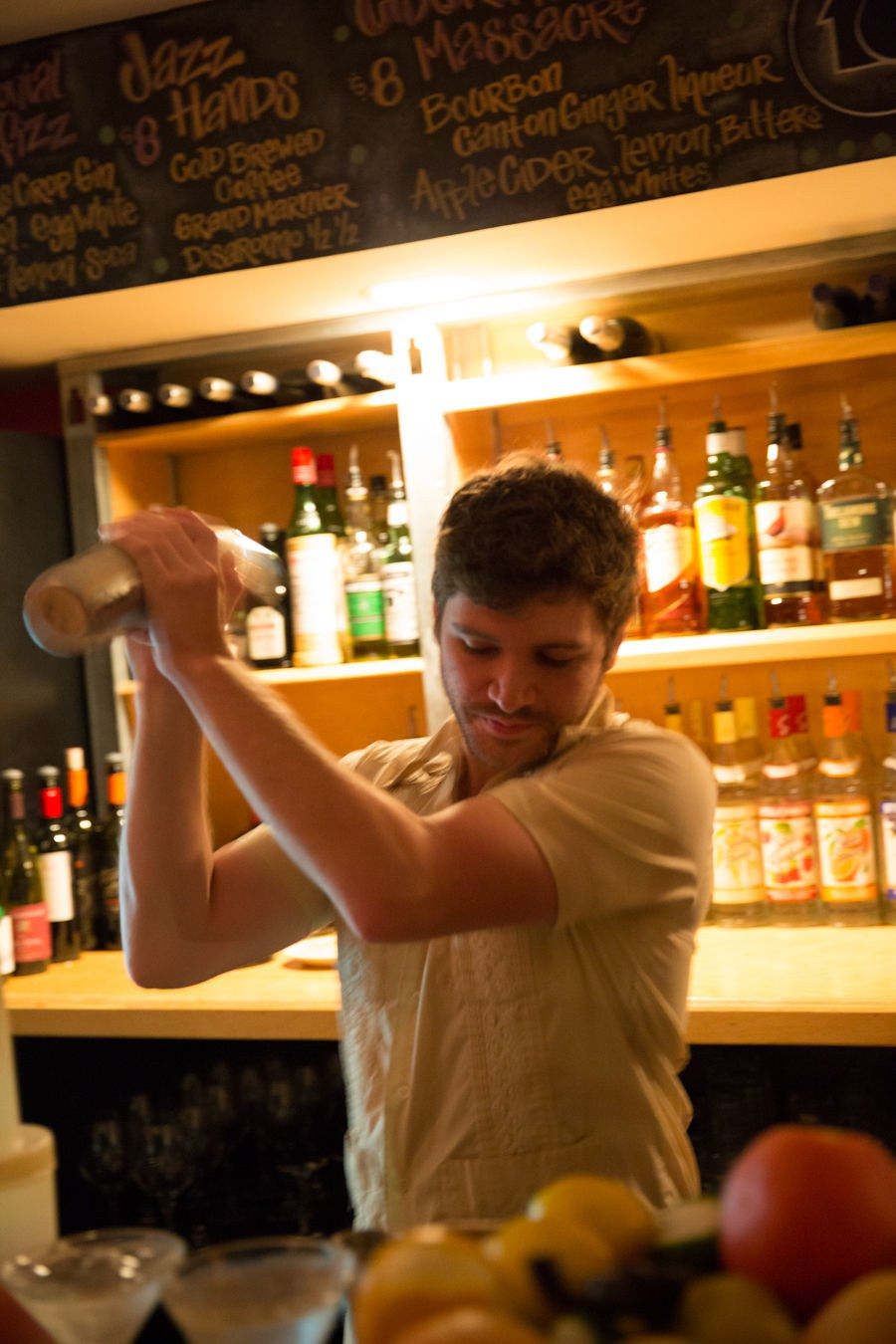 Mixing it up at Lot 10
DAY TWO | You wake up early and head to the open-air Ithaca Farmers Market, where you forage for breakfast among heaps of produce—nectarines like summer moons, garnet-colored beets, tangled mounds of peppers and beans. "Eat one, it won't kill you!" a farmer yells as you eyeball a bin of cherries. You pop two in your mouth and buy a pound to snack on. Next, you wolf down a num unsom ang, a sweet Cambodian rice cake, then a blueberry scone at the aptly named Fat Boy Bakery. Oh, and a quick hunk of poppy-seed cake from Veronika's Pastries. You were hungry.
Your next stop, a few miles up the west bank of Cayuga, is the sleek, angular Museum of the Earth, carved into a hillside above the lake. A 200-million-year-old Coelophysis dinosaur guards the entrance, beyond which, hanging from the ceiling, is the skeleton of a right whale. In one gallery you find a display recounting the glacial history of the area's imponderably deep lakes. In another, you encounter (no kidding) the official fossil of the state of New York: an immense sea scorpion, now thankfully extinct.
You leave the museum in a predatory mood, so you stop by Lively Run, a nearby goat cheese maker. The goats, listlessly chewing their hay in the barn, are too peaceable to pique your appetite, so you head into the tasting room, where you sample a briny Balkan-style feta and a creamy Cayuga blue before you continue on your way, primed for lunch.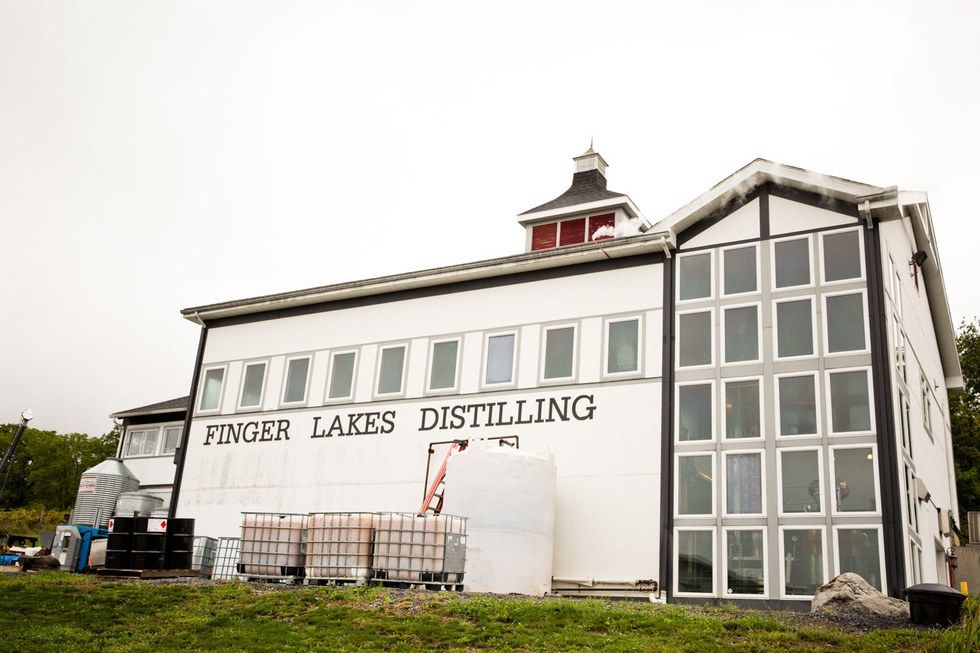 Finger Lakes Distilling
After a short drive west, the broad expanse of Seneca Lake comes into view. You stop at the Stonecat in Hector, a clapboard bistro overlooking the water, and claim a table under a shaggy willow tree. You dig into a pub plate of maple-juniper sausage, accompanied by a wild smear of peach-apricot chutney and a buttery wedge of Keeley's Across the Pond cheese, enjoying the dappled shade and gazing idly at the distant boats.
Your next stop is Watkins Glen, an idyllic hamlet at the lake's southern end, but first you duck into Finger Lakes Distilling in Burdett for a digestivo. Beyond the glass-walled tasting room you can see the Willy Wonka–style works, the gurgling vats and copper stills producing a clear trickle of high-proof spirits. You toss back a shot of the soon-to-be-released wheated bourbon, which disappears in a luxurious vapor. You buy a bottle and wish you had room for more.
You arrive in Watkins Glen and check into the Harbor Hotel, which sits astride the town's busy marina and looks out over Seneca Lake. The hotel's handsome fieldstone lobby is lined with Gilded Age photographs of the town. Your balcony has a wide view over the marina, where you spot your ride for the afternoon: the schooner True Love, rocking imperially in her slip. The boat's gleaming woodwork and clean lines seem unchanged from its star turn with Grace Kelly in High Society.
After a brief rest, you stroll down to the dock to meet Lawrence Hacker, the boat's captain. Lawrence looks the part—tan and tall and squinting against the sun. The rushing wind swells the sails, and the cobalt water parts in surging waves, sending a fine spray into the air. The boat scuds northward, passing rolling vineyards, stands of forest cover, rows of lakeside cabins. By the time you reach Hector Falls, the sun has begun to descend, and the towering face of the falls is bathed in golden light. Later, as the boat makes its way back to dock, its sails snapping in the wind, you think that you could get used to this.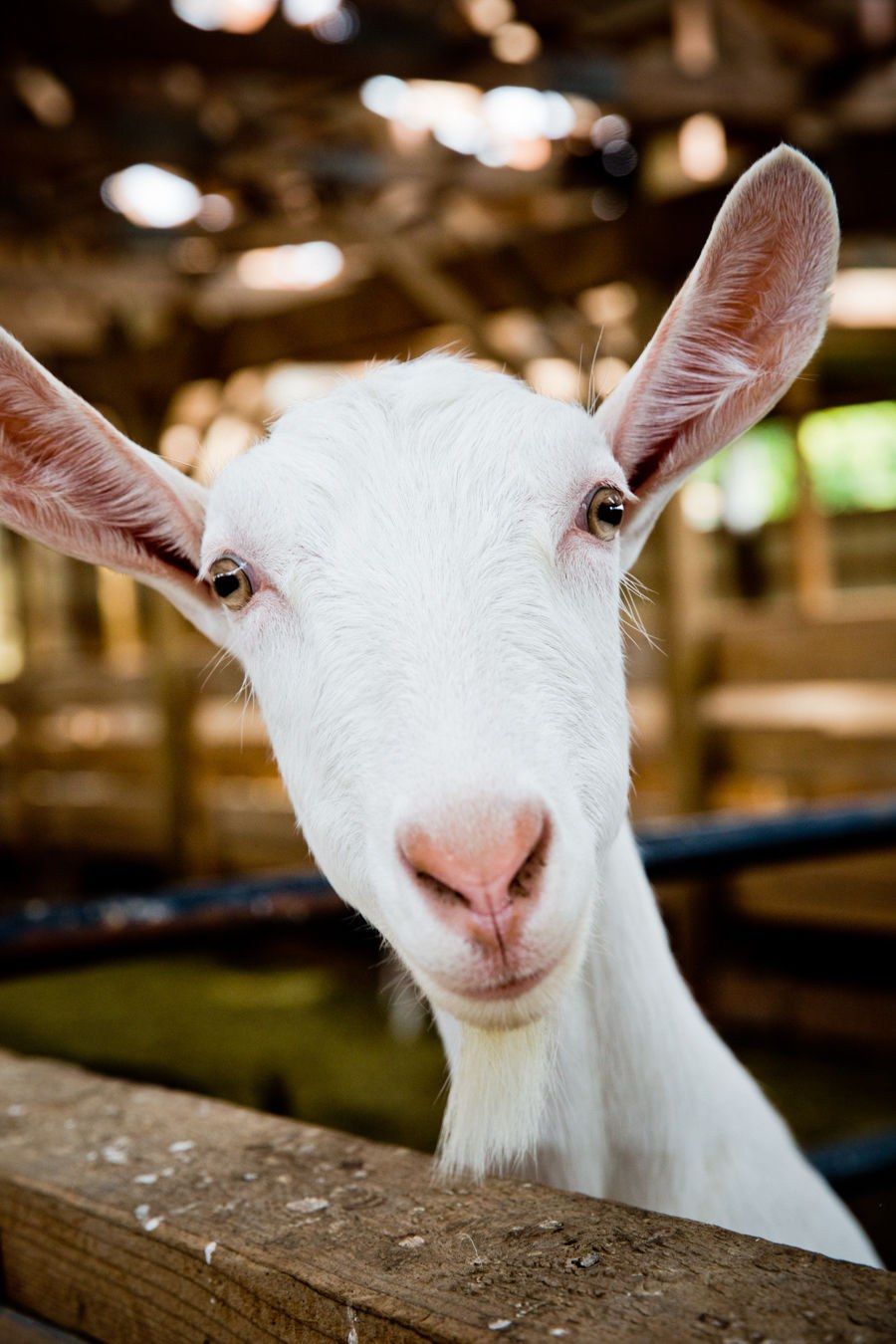 The animal responsible for the goat cheese at Lively Run
There's time for a sundowner before dinner, so you head for the Tavern Room at Seneca Lodge, a nearby cluster of A-frames and cabins. The bar's timber walls are hung with deer heads. You put a coin in the nickelodeon and order a mug of the house pale ale. Jack, one of the owners, regales you with snippets of local lore, at one point producing a finger, which, the story goes, once belonged to a regular. He lost it in a workshop accident, Jack says, so he had it bronzed and gave it to the bar as a gift. After this, he moves on to his favorite topic: birdwatching. "Barn swallows, they're all barn swallows," one of the regulars shouts across the bar, to loud laughter. You'd love to hear more, but your growling stomach has other ideas.
The bistro at Red Newt Cellars in Hector is serving a number of its older vintages tonight. You start with a heady 2008 Curry Creek Gewürtztraminer and a board of pickles and cheeses and meats. Your strip steak is both beautifully charred and blushingly rare. The accompanying freekeh and smoked shiitakes are grown-next-door fresh. Dessert is a silken chocolate chèvre cheesecake and a glass of aromatic, port-style Hellbender. This seems like a fitting end to the day.
The moon is high and bright as you drive back to Watkins Glen. The landscape, so green by day, is black, puddled with silver. Back at your hotel, you leave the balcony door open and drift off to the sound of the wind murmuring across the lake.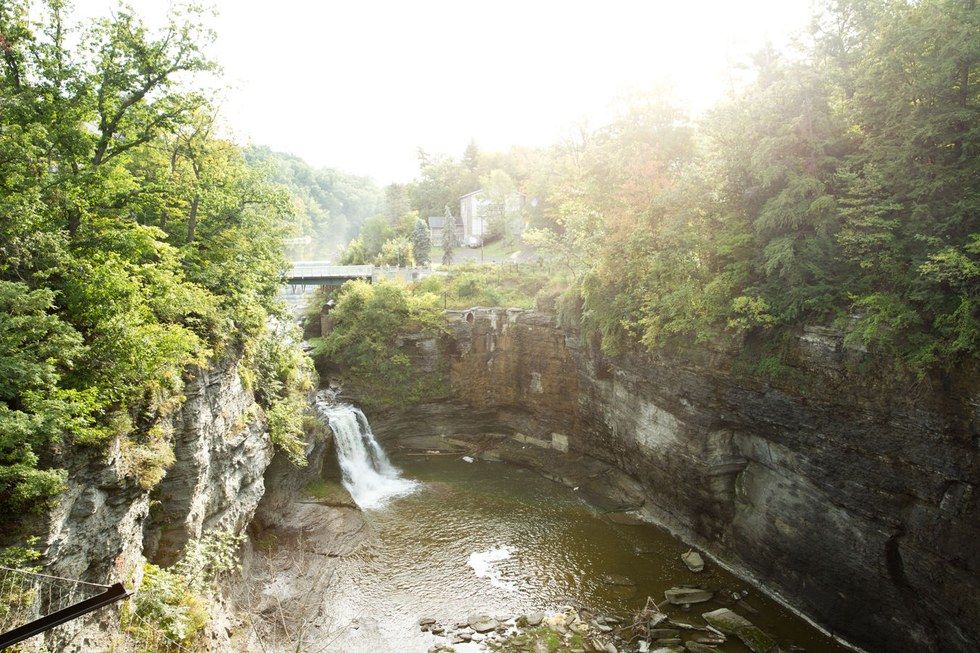 A waterfall on the Cornell Campus
DAY THREE | You're up with the birds today—or with the worms, because the plan is to spend the morning beefing up your outdoorsy credentials with a fly-fishing lesson. First, you grab a cup of coffee from the lobby and sip it on the hotel's outdoor patio, watching the swaying masts in the marina.
Soon, you're standing on the bank of Catharine Creek with Mark Moskal, a guide from local outfit Summit to Stream, trying unsuccessfully to tie a lure to your line. "This is a brown woolly bugger," he says, tying up a feathery fly. "This will pretty much catch fish all year." You practice your casting, successfully hooking some staghorn sumac and a low elm. "It's not a day of fly-fishing unless you snag at least one tree," Mark offers gamely. By the end of the session, you're stripping the fly-line along the running water like a pro—albeit one who fails to catch a single fish.
Next, you have another macho activity lined up at the Watkins Glen International racetrack, a few miles outside the town center, which allows drivers to test their mettle on its banked oval. Instead of Firebirds and muscle trucks, you arrive to find an orderly line of VW buses at the start line, driven by a group of Volkswagen aficionados who've come to take a tour of the course. "The hippies have landed!" shouts a wiry woman holding a clipboard, and then you're off, whizzing around the track in your rental, occasionally glimpsing the tootling Technicolor vans shuddering around a bend. You watch them dawdle over the checkered line and head outside for a different kind of drive.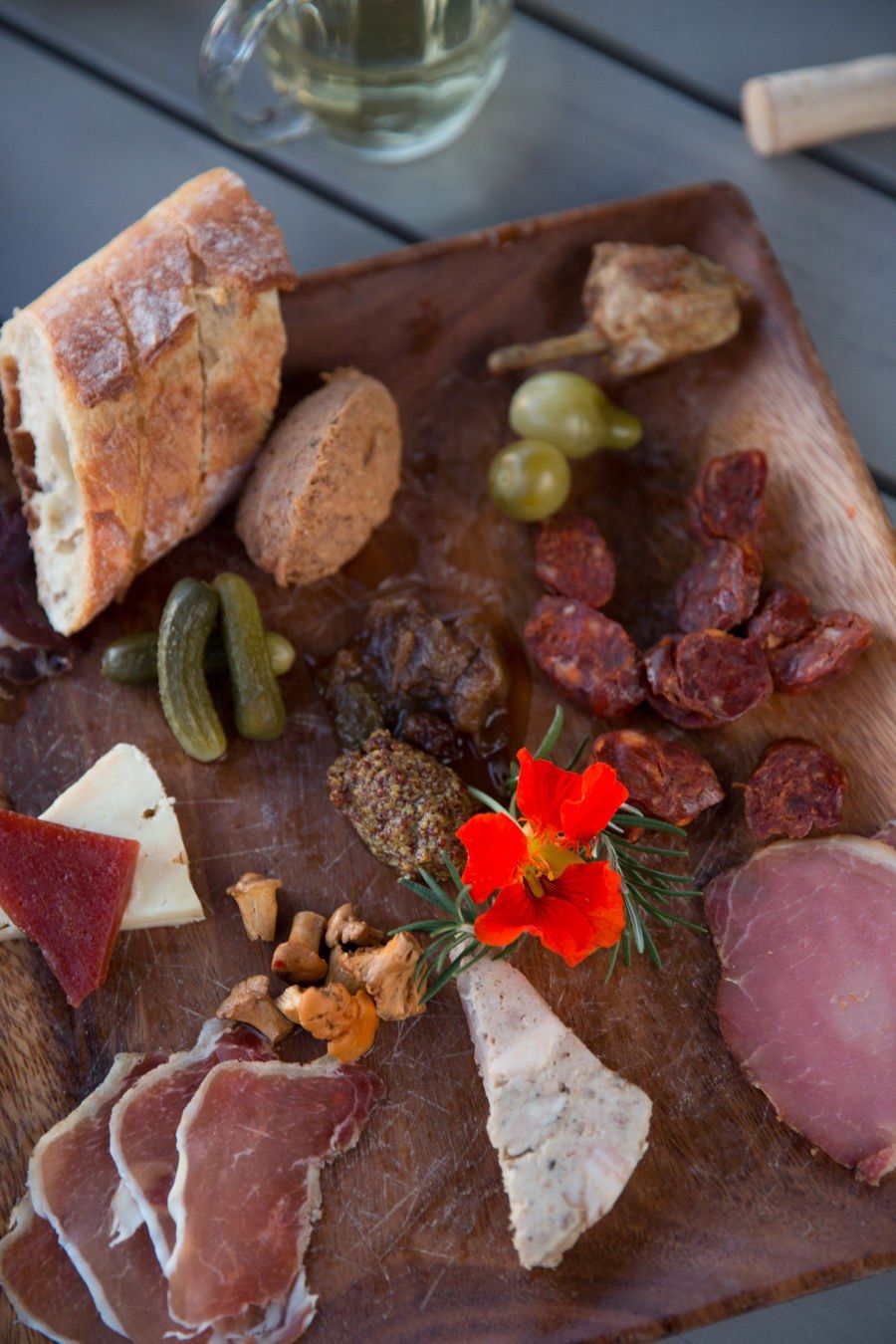 Meat and cheese platter at Dano's
You've decided to take a short and scenic road trip up the west side of Seneca Lake to the college town of Geneva. You stop along the way at the Windmill Farm & Craft Market, named for the full-size windmill twirling outside. Having chickened out of buying a Davy Crockett hat, you stop at a stall overseen by an ornery moustachioed man in a leather vest, from whom you purchase a lucky rabbit's foot. As you pay for the foot, you consider saying "Not so lucky for the rabbit!" but the man's expression persuades you to keep quiet.
You stop for lunch at the Red Dove Tavern, a gastropub in downtown Geneva, where you belly up to the bar and a heap of crisp fried chickpeas. The PEI oysters are shockingly good—a cool, briny jolt to your taste buds. You compliment co-owner Rune Hilt on the oysters. "I love my fryer as much as the next guy," he says with a shrug, "but you've got to just let some things be." You agree, and order another half dozen.
Back at the southern tip of Seneca, you set out on a late-afternoon hike through Watkins Glen State Park. The forest trails lead you through a kind of fairy-tale landscape, over stone bridges and behind waterfalls, snaking upward beneath glowing leaves. On the way down, you walk a narrow ridge, the less traveled route that skirts the gorge, and come across Greenwood Cemetery. You wander the grassy cliffside grounds for a while, contemplating the weatherworn 19th-century gravestones and grand mausoleums. Then the shadows lengthen and you resume your descent into town.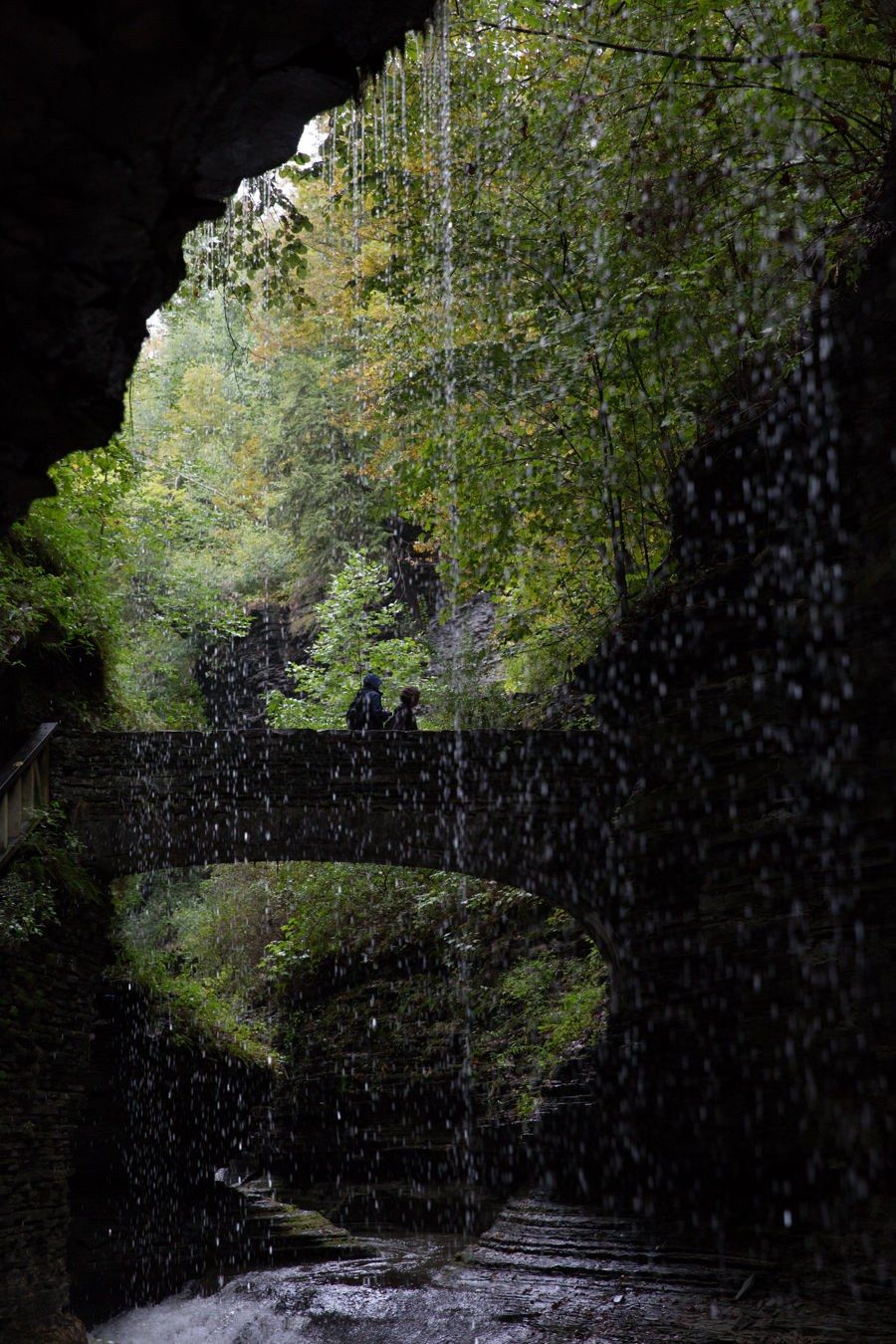 Fairy-tale landscapes at Watkins Glen State Park
From here you head for Lodi, 20 miles north of Watkins Glen, on the east side of the lake, and take a porch table at Dano's, a Viennese-style restaurant. Soon, the chef-owner (Dano, naturally) ambles by to tell you he's made some cheese from a small batch of sheep's milk he just received. "They have such small teats," he says, lamenting the paucity of milk a sheep gives. "You're lucky if you get a quarter-cup a day." He disappears into the kitchen and comes back with a bowl of Slovakian bryndzové halušky, a creamy mound of cheese-slicked spaetzle topped with caramelized onions and bacon. He also delivers a plate of sausage, unbidden, along with the observation, "I don't smoke cigarettes, so I have to smoke meat instead."
You take a long draft from your mug of local wine and a forkful of spaetzle and look out at a nearby stand of quince and apricot trees, and the glimmering lake beyond. A few waiters and diners have come outside to watch the sun go down. Its last rays have brought the shore into blazing relief—every fold and plot of land is lit bright, every hidden crevice momentarily revealed.
The teat thing is now the primary piece of sheep-related trivia in New York City–based writer Rohan Kamicheril's arsenal.
This article was written by Rohan Kamicheril from Rhapsody Magazine and was legally licensed through the NewsCred publisher network. Please direct all licensing questions to legal@newscred.com.
Around the web
From Sept. 15 through Oct. 15, the U.S. celebrates Hispanic Heritage Month, a chance to pay tribute to the history, culture and contributions that generations of Latinxs have paved to enrich U.S. history. It is also a reminder to celebrate our differences and spark difficult, yet important, conversations.
To kick off the month, UNITE, our multicultural business resource group for employees, did just that by hosting a panel discussion about the immigrant experience and what it means to be an immigrant in the U.S.
United Litigation and Managing Counsel Elizabeth Lopez, who is a pro bono immigration attorney, moderated the panel, and was joined by Ashley Huebner, Associate Director of Legal Services at the National Immigrant Justice Center (NIJC) and Magdalena Gonzalez, Program Manager, Leadership Development Programs at Hispanic Alliance for Career Enhancement. The three women shared their insights and personal stories, while addressing some misconceptions and highlighting the contributions of immigrants to our company and country.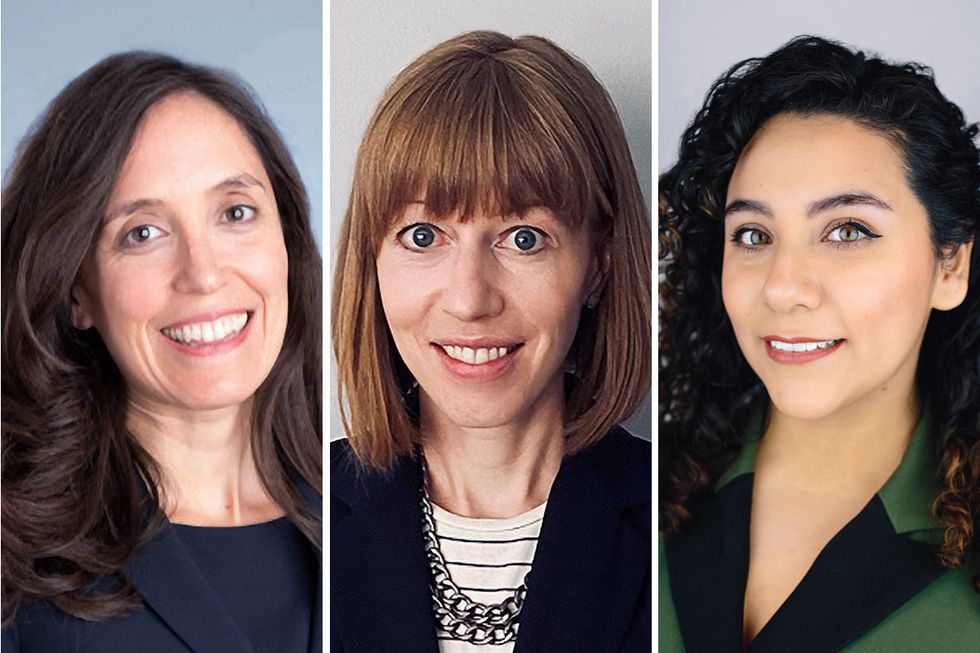 From left to right, Elizabeth Lopez, Ashely Huebner and Magdalena Gonzalez
"I started to notice that there were things I was scared of doing, that I needed to be cautious," said Magdalena while sharing her personal experience as a DACA (Deferred Action for Childhood Arrivals) recipient. "My friends, who a majority of them are citizens, did not need to worry about that. As I was able to see that, I realized that, 'oh, there's so many things that revolve around not just being a DACA recipient but revolve around being a person with an undocumented status here in the United States.'"

United maintains a close relationship with the NIJC. In May of 2019, United co-hosted an asylum clinic put on by the legal services organization, where several attorneys and legal professionals were trained on representing asylum-seeking applicants. At the end of the clinic, members of our legal department were assigned an asylum case through the NIJC.
Litigation Managing Counsel Elizabeth Lopez, Commercial Transactions Counsel Tiffany Jaspers, Global Compliance and Ethics Counsel Nancy Jacobson and Employment Litigation Senior Manager Dorothy Karpierz were partnered with attorneys from the law firm of McDermott Will & Emery to take on an immigration case of a mother of three from Honduras. Recently, after a years-long court battle, the legal team was victorious, changing the life of the woman and her family.
United is committed to connecting people and uniting the world. Whether you're an immigrant, a child of immigrants or simply want to learn more about the immigrant experience in the U.S., discussions like these, related to this hot-button issue, are important to have in order to understand the human lives behind it.
Your voice matters. Voting is one of the most influential civic activities we can engage in as Americans. At United, our mission is to connect people and unite the world — and one of the most important ways to do that is to engage in the democratic process. That's why we've long provided our employees with resources to help them get registered to vote.

This year, we're taking our support a step further as the official airline of the Commission on Presidential Debates (CPD). Since the start of the pandemic, we've overhauled our cleaning measures through a program we call United CleanPlusSM , and the CPD has placed their trust in United to fly Commission production staff to each of the four debates, starting with the first one on September 29, hosted by Cleveland Clinic and Case Western Reserve University.
Today, on National Voter Registration Day, we also want to make sure our customers have access to information about how to participate in the 2020 Election. Over the past several months, you've heard a lot from us about how the COVID-19 pandemic has changed air travel. We've learned that with some planning and extra effort, it's still possible — and safe. That's true of voting, too.
No matter which party you support or how you're planning to vote, we know our democracy will be stronger if you make your voice heard and make a plan to vote.
Best,
Brett J. Hart
President
United Airlines
Since its launch 20 years ago, Year Up, one of our critical needs grant recipients, has helped more than 10,000 young adults gain access to corporate business and technical experience at large companies like United while offering the invaluable perspectives they bring with them.
On Wednesday, the nonprofit inducted United into its Opportunity Hall of Fame – a selection that occurs once every five years.
Year Up's mission is to help close the opportunity divide by providing urban young adults with the skills, experience and support that will empower them to reach their potential through professional careers and higher education. Since 2018, our partnership has allowed talented student learners the opportunity to gain corporate business experience and technical skill training at the airline while bringing their unique perspectives to our United family and culture. One of those students is Emily Lopez, who graduated from the Year Up program in January 2019 and was hired to be part of the United family as an analyst in Revenue Management.
"I moved from Venezuela to the United States in July 2016 and being a young immigrant with no resources can be difficult to pursue a career in a new country," said Emily.
After learning about Year Up and ultimately being accepted into the program, Emily landed an internship with United, an opportunity she is very grateful for.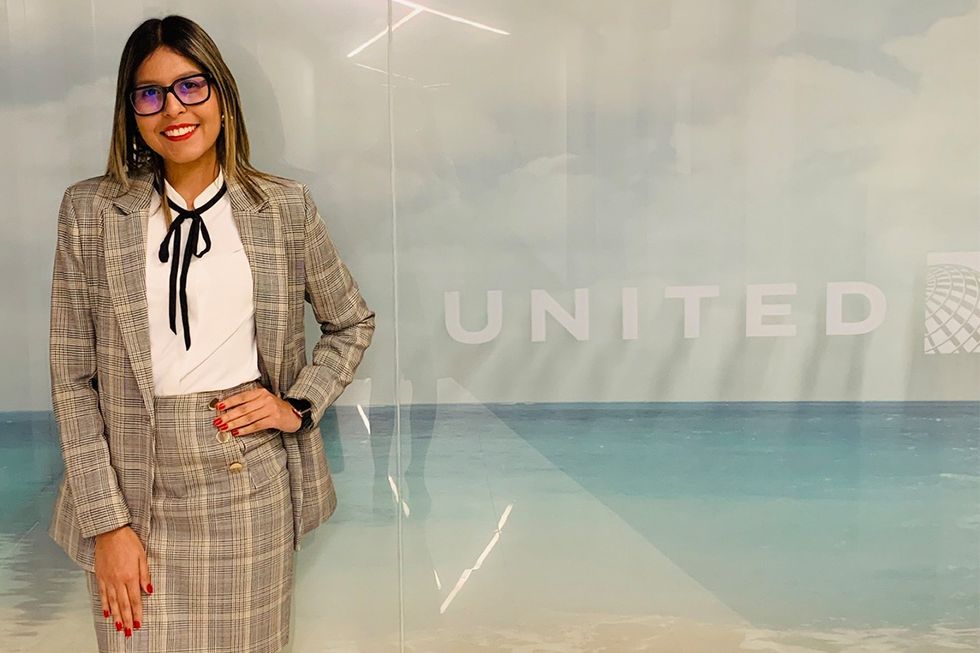 Emily Lopez - Analyst, Pricing & Revenue Management
"Feedback from my mentors, coaches and managers was key during my internship phase and helped me convert my internship at United to a full-time position. I am grateful for the opportunity United has provided me and my Year Up Alumni colleagues to keep building a professional career within the company. I am so excited to continue building a professional career with the company and to see United being inducted to Year Up's Hall of Fame. Let's continue closing the opportunity divide!" said Emily.
Although the coronavirus pandemic has made this year's partnership a bit more difficult, we continue to do our part to support the Year Up student learners. Last month, we surprised 145 graduates of this year's Year Up Chicago program with roundtrip tickets to pursue career and networking opportunities within the United States.
"I've been personally honored and inspired to be an advocate for Year Up since I joined United," said CEO Scott Kirby. "This program gives young people from challenged backgrounds an opportunity to get their foot in the door as interns at United. This year's graduates are entering a challenging job landscape, but we have one thing that can help: a route network that provides easy access to major business markets across the United States."
Scroll to top