Three Perfect Days: Finger Lakes
Story by Rohan Kamicheril | Photography by Ben Rosenzweig | Hemispheres, April 2014
Seen from above, the Finger Lakes look like claw marks on the landscape. The 11 glacial trenches occupy a relatively narrow corridor of central upstate New York, yet they have a far wider significance. The Iroquois believed they were of divine provenance. Farmers and loggers flocked to the area for the fertile land around their shores. The lakes are central to the region's identity and its economy. Everything here leads back to water.
The forces that shaped the Finger Lakes also endowed the region with a fierce natural beauty. The surrounding hills are split into innumerable gorges, with hidden waterfalls, secret swimming holes and enough scenic outcrops to keep a landscape painter occupied for a lifetime. The lakes themselves, some of the deepest in the U.S., are enchanting—made more so, perhaps, by the lush vineyards that surround them.
And there are plenty of rewards away from the water's edge, too. In addition to top-notch wineries, orchards dot the countryside, whose meadows burst with cattails, goldenrod and chicory. In summertime farmers markets abound, reflecting a resurgent interest in the bounty of the region. You can't throw a peach pit without hitting a local cheese maker, bread maker or small-batch seed-oil producer.
The region is also home to Cornell University, Ithaca College and Hobart and William Smith Colleges, a fact that lends its towns a youthful energy and ensures that the area's cultural attractions are as varied and impressive as its landscapes. It is this variety that makes the Finger Lakes such a wonderful place to be. There's always a sense that you're discovering something new, even if that something has been two million years in the making.

DAY ONE | You wake up late, despite the sun pouring through your balcony doors at La Tourelle Resort, a restored farmhouse property surrounded by sprawling lawns and orchards on a hill overlooking Ithaca. From the cumulous depths of your bed, you have a clear view of the high, wooded walls of Buttermilk Falls State Park, where you'll be spending your morning. First, you head downstairs to The Bistro for a breakfast of oatmeal-crusted French toast and two devilishly decadent Danishes—fortification for the hike you have planned.
The deep gorge trails of Buttermilk Falls are a few minutes' walk away, along paths winding past cataracts and slender, idling pools. Fractured shale walls beetle overhead, thick with gangly opportunistic weeds. You reach a deep, clear pool at the base of Buttermilk Falls and take the plunge. Reclining in the bracingly chilly water, you squint at the fierce sun overhead, the water thundering in your ears.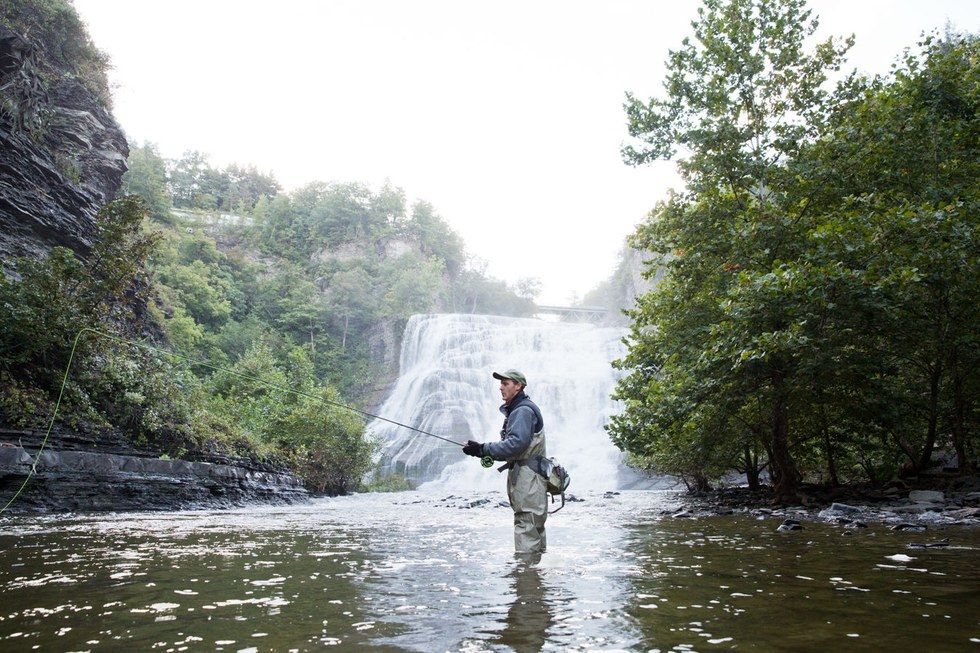 Fly fishing with Mark Moskal
After drying off in the sun, you walk over to Moosewood, the Ithaca restaurant famous for its local, vegetarian fare. In the airy blonde-wood dining room, you savor Asian rice salad and sun-gold squash soup and watch the boho regulars and Cornell academics chow down on their veggie burgers and '70s-style composed salads.
As a reward for your virtuous lunch, you order a brownie with a scoop of vanilla from the nearby Dennis' Homemade Ice Cream. Feeling a little hiked out, you take a short drive to Newman Overlook in the middle of the Cornell Plantations, the university's vast natural preserve, which houses an arboretum and a botanical garden. You enjoy the park from above, gazing out over the tufted treetop canopy while digging into your dessert.
Feeling jauntier now, you head back into town to visit the Johnson Museum of Art, home to one of the best university art collections in the U.S. You enter the hulking I.M. Pei building and head to the top floor, which has fine views of shimmering Cayuga Lake. From here, you work your way down through the sunny galleries, pausing before Giacometti's bronze "Walking Man II." "Look," says an old man to his wife, gesturing at the stooped, attenuated figure, "it's us earlier today!"
As the afternoon wears on, you head over to the Ithaca Beer Company, a popular brewery across the road from Buttermilk Falls State Park. You order a cold and bracingly bitter Excelsior! White Gold in the bustling tap room, then head outside to sit in a lawn chair and enjoy a more tranquil drinking experience. On surrounding lawns, fires burn in clay pits. Children run about, scrambling after the blinking fireflies. In a nearby field, head-high corn stalks rustle in the breeze.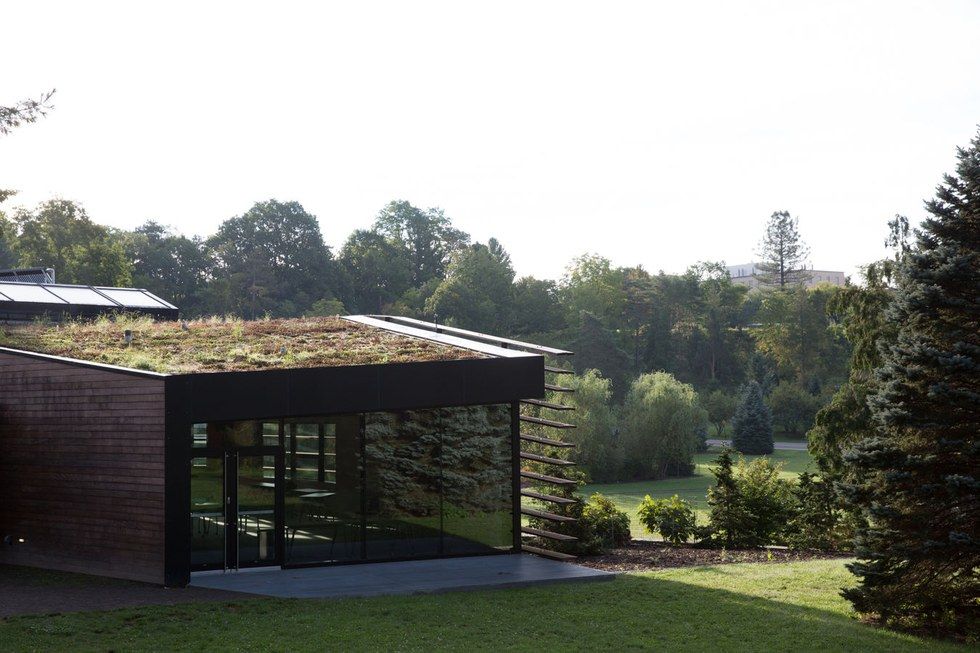 The botanical gardens at Cornell Plantations
It's hard to drag yourself away from all this, but dinner awaits at Hazelnut Kitchen in nearby Trumansburg. With its handsome vintage detail, the restaurant feels like a gleaming hand-tooled diorama. You sit at a bar near the galley kitchen and get down to the business of ordering. Your peach and arugula salad is ripe and peppery. The house-made pan-fried gnocchi, with fresh corn and a trembling poached egg, are tender, crisp and sweet. You take a spoon to your crème brûlée and it cracks like a hammer on plate glass. You can't possibly eat more than two bites, you think, then polish it off handily.
It's still on the early side when you get back to Ithaca, so you stop by Lot 10, a bar known for its excellent mixed drinks and eclectic roster of musical acts. To start, you order a Negroni (Beefeater gin, Campari, vermouth), which the bartender executes perfectly. As you swallow the last of your drink, Matt Riis, the bar's garrulous owner, convinces you to try a Pickleback—one part Jameson, one part pickle juice. "Sweet & Sour Dill or Spicy Asian?" he asks, already pouring out shots. You wish your college town had had a place like this.
It's getting late, and you're feeling a little, um, pickled, but you decide on one more stop before heading back to the hotel. So it is that, a few minutes later, you find yourself back at the Johnson Museum, standing on a lawn and gazing up at a balcony, upon which you can see Leo Villareal's "Cosmos" installation, its constellation of lights careening across the ceiling of the Mallin Sculpture Court, splitting and regrouping, a sea of nautiloids and fractals blooming and fading into the night sky.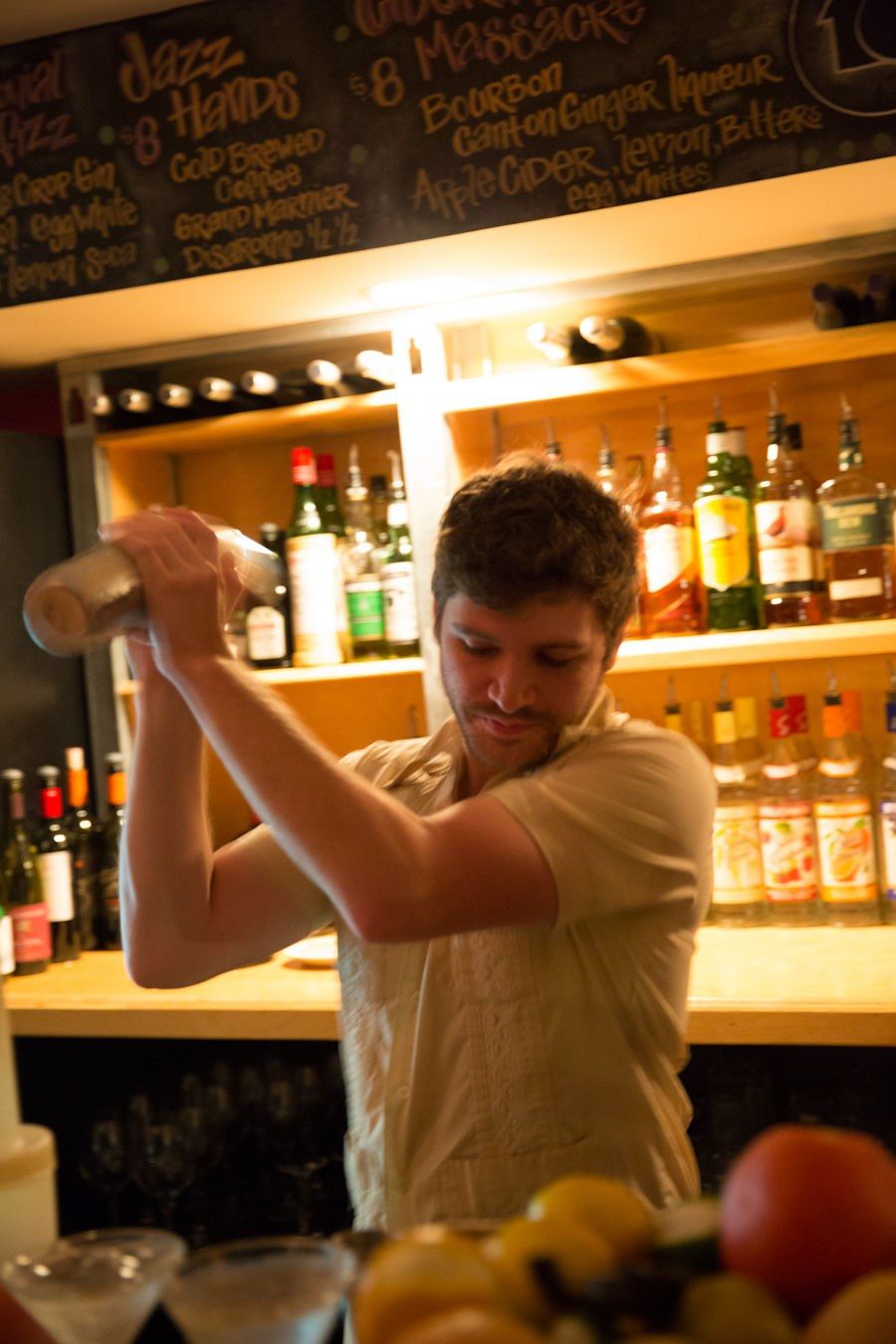 Mixing it up at Lot 10
DAY TWO | You wake up early and head to the open-air Ithaca Farmers Market, where you forage for breakfast among heaps of produce—nectarines like summer moons, garnet-colored beets, tangled mounds of peppers and beans. "Eat one, it won't kill you!" a farmer yells as you eyeball a bin of cherries. You pop two in your mouth and buy a pound to snack on. Next, you wolf down a num unsom ang, a sweet Cambodian rice cake, then a blueberry scone at the aptly named Fat Boy Bakery. Oh, and a quick hunk of poppy-seed cake from Veronika's Pastries. You were hungry.
Your next stop, a few miles up the west bank of Cayuga, is the sleek, angular Museum of the Earth, carved into a hillside above the lake. A 200-million-year-old Coelophysis dinosaur guards the entrance, beyond which, hanging from the ceiling, is the skeleton of a right whale. In one gallery you find a display recounting the glacial history of the area's imponderably deep lakes. In another, you encounter (no kidding) the official fossil of the state of New York: an immense sea scorpion, now thankfully extinct.
You leave the museum in a predatory mood, so you stop by Lively Run, a nearby goat cheese maker. The goats, listlessly chewing their hay in the barn, are too peaceable to pique your appetite, so you head into the tasting room, where you sample a briny Balkan-style feta and a creamy Cayuga blue before you continue on your way, primed for lunch.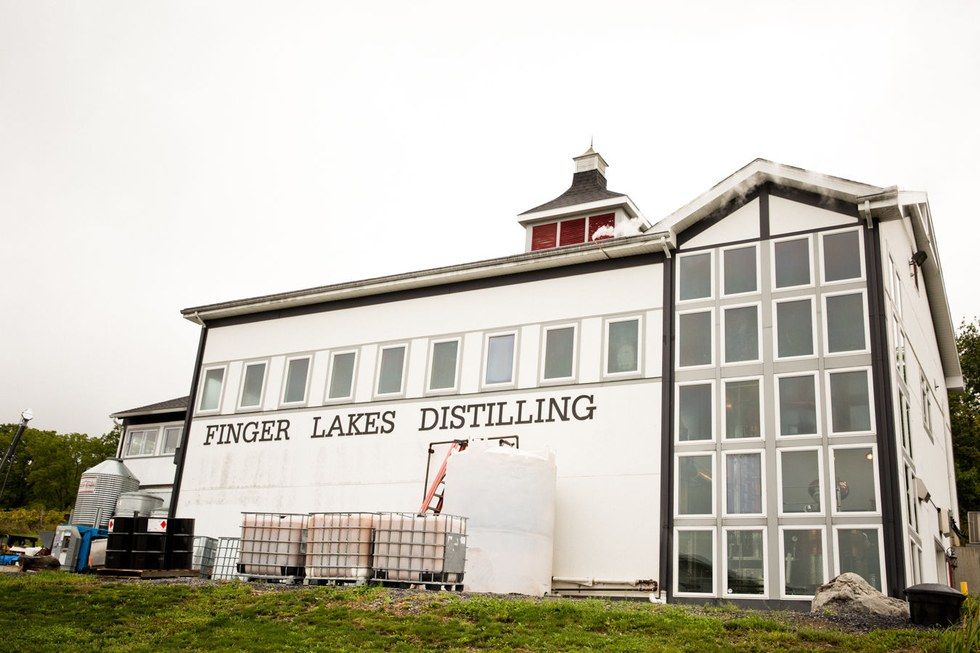 Finger Lakes Distilling
After a short drive west, the broad expanse of Seneca Lake comes into view. You stop at the Stonecat in Hector, a clapboard bistro overlooking the water, and claim a table under a shaggy willow tree. You dig into a pub plate of maple-juniper sausage, accompanied by a wild smear of peach-apricot chutney and a buttery wedge of Keeley's Across the Pond cheese, enjoying the dappled shade and gazing idly at the distant boats.
Your next stop is Watkins Glen, an idyllic hamlet at the lake's southern end, but first you duck into Finger Lakes Distilling in Burdett for a digestivo. Beyond the glass-walled tasting room you can see the Willy Wonka–style works, the gurgling vats and copper stills producing a clear trickle of high-proof spirits. You toss back a shot of the soon-to-be-released wheated bourbon, which disappears in a luxurious vapor. You buy a bottle and wish you had room for more.
You arrive in Watkins Glen and check into the Harbor Hotel, which sits astride the town's busy marina and looks out over Seneca Lake. The hotel's handsome fieldstone lobby is lined with Gilded Age photographs of the town. Your balcony has a wide view over the marina, where you spot your ride for the afternoon: the schooner True Love, rocking imperially in her slip. The boat's gleaming woodwork and clean lines seem unchanged from its star turn with Grace Kelly in High Society.
After a brief rest, you stroll down to the dock to meet Lawrence Hacker, the boat's captain. Lawrence looks the part—tan and tall and squinting against the sun. The rushing wind swells the sails, and the cobalt water parts in surging waves, sending a fine spray into the air. The boat scuds northward, passing rolling vineyards, stands of forest cover, rows of lakeside cabins. By the time you reach Hector Falls, the sun has begun to descend, and the towering face of the falls is bathed in golden light. Later, as the boat makes its way back to dock, its sails snapping in the wind, you think that you could get used to this.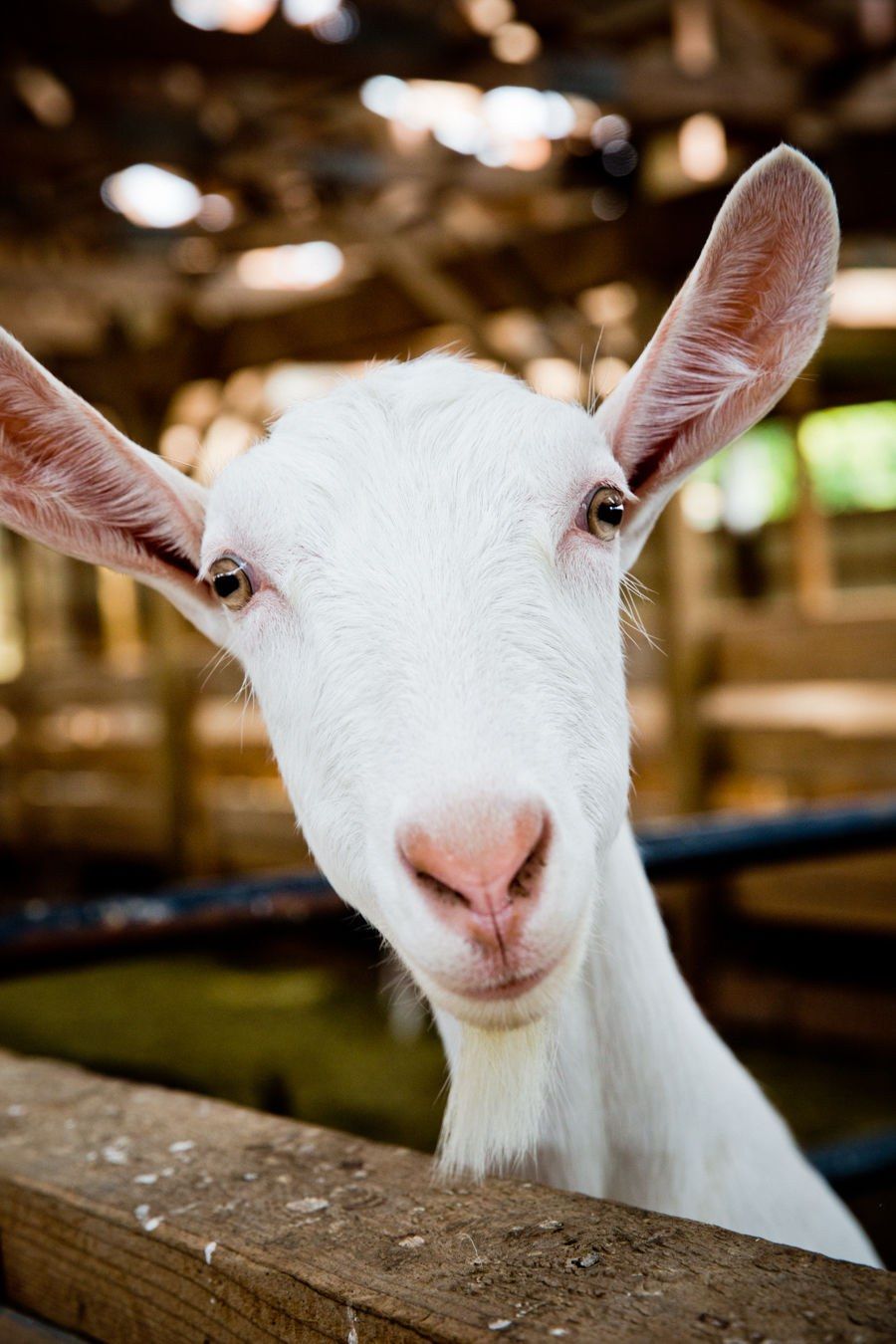 The animal responsible for the goat cheese at Lively Run
There's time for a sundowner before dinner, so you head for the Tavern Room at Seneca Lodge, a nearby cluster of A-frames and cabins. The bar's timber walls are hung with deer heads. You put a coin in the nickelodeon and order a mug of the house pale ale. Jack, one of the owners, regales you with snippets of local lore, at one point producing a finger, which, the story goes, once belonged to a regular. He lost it in a workshop accident, Jack says, so he had it bronzed and gave it to the bar as a gift. After this, he moves on to his favorite topic: birdwatching. "Barn swallows, they're all barn swallows," one of the regulars shouts across the bar, to loud laughter. You'd love to hear more, but your growling stomach has other ideas.
The bistro at Red Newt Cellars in Hector is serving a number of its older vintages tonight. You start with a heady 2008 Curry Creek Gewürtztraminer and a board of pickles and cheeses and meats. Your strip steak is both beautifully charred and blushingly rare. The accompanying freekeh and smoked shiitakes are grown-next-door fresh. Dessert is a silken chocolate chèvre cheesecake and a glass of aromatic, port-style Hellbender. This seems like a fitting end to the day.
The moon is high and bright as you drive back to Watkins Glen. The landscape, so green by day, is black, puddled with silver. Back at your hotel, you leave the balcony door open and drift off to the sound of the wind murmuring across the lake.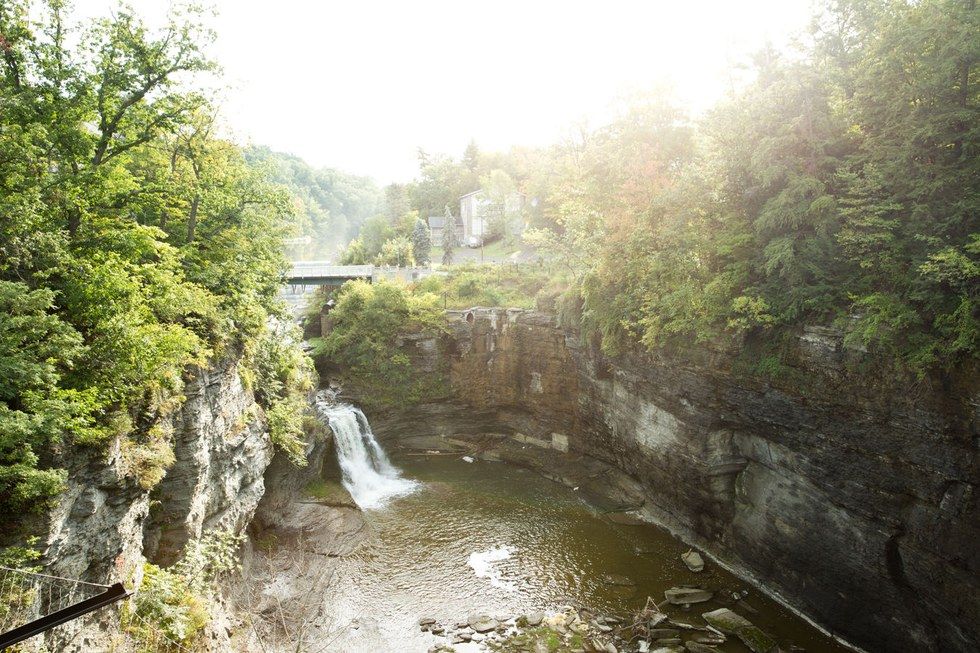 A waterfall on the Cornell Campus
DAY THREE | You're up with the birds today—or with the worms, because the plan is to spend the morning beefing up your outdoorsy credentials with a fly-fishing lesson. First, you grab a cup of coffee from the lobby and sip it on the hotel's outdoor patio, watching the swaying masts in the marina.
Soon, you're standing on the bank of Catharine Creek with Mark Moskal, a guide from local outfit Summit to Stream, trying unsuccessfully to tie a lure to your line. "This is a brown woolly bugger," he says, tying up a feathery fly. "This will pretty much catch fish all year." You practice your casting, successfully hooking some staghorn sumac and a low elm. "It's not a day of fly-fishing unless you snag at least one tree," Mark offers gamely. By the end of the session, you're stripping the fly-line along the running water like a pro—albeit one who fails to catch a single fish.
Next, you have another macho activity lined up at the Watkins Glen International racetrack, a few miles outside the town center, which allows drivers to test their mettle on its banked oval. Instead of Firebirds and muscle trucks, you arrive to find an orderly line of VW buses at the start line, driven by a group of Volkswagen aficionados who've come to take a tour of the course. "The hippies have landed!" shouts a wiry woman holding a clipboard, and then you're off, whizzing around the track in your rental, occasionally glimpsing the tootling Technicolor vans shuddering around a bend. You watch them dawdle over the checkered line and head outside for a different kind of drive.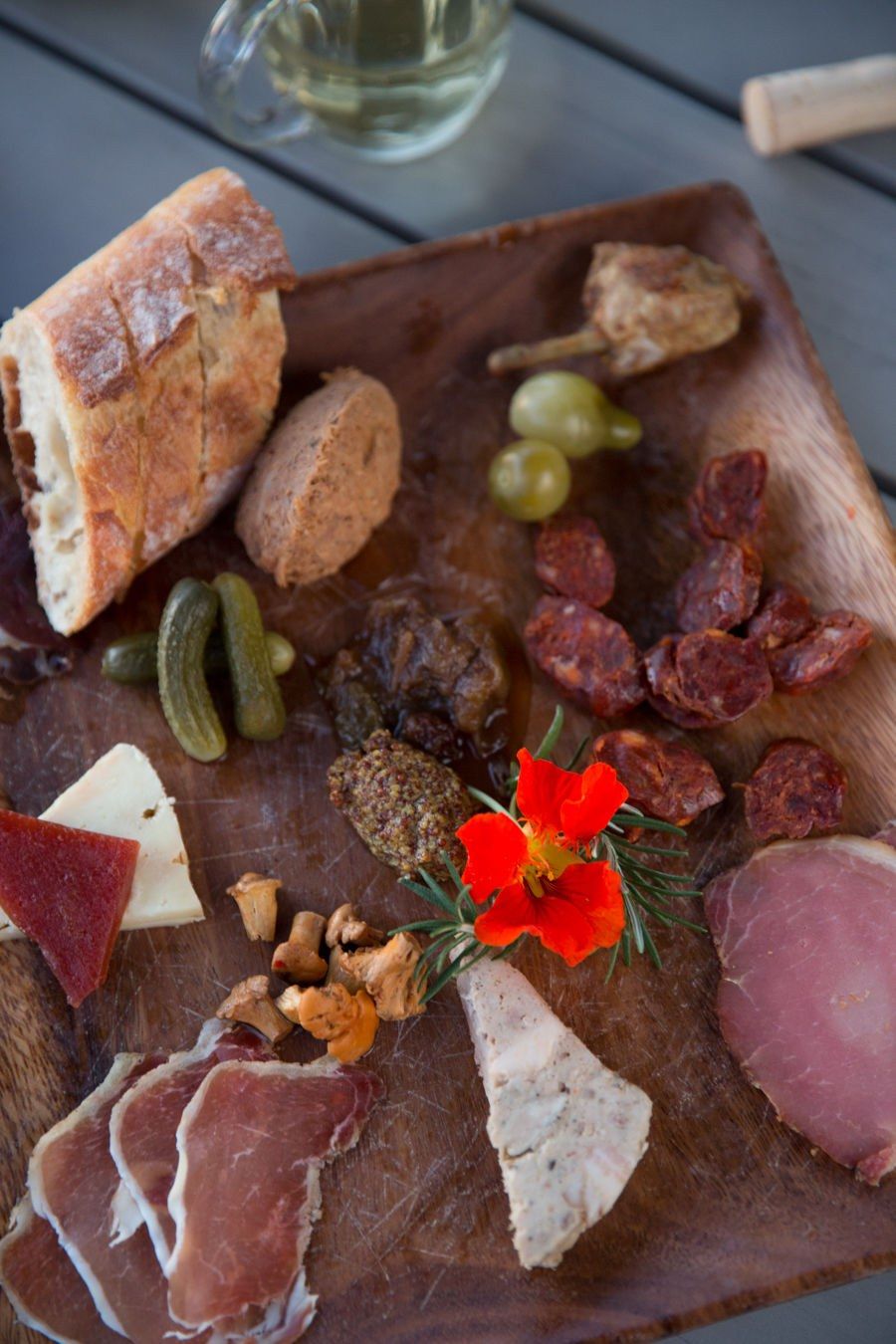 Meat and cheese platter at Dano's
You've decided to take a short and scenic road trip up the west side of Seneca Lake to the college town of Geneva. You stop along the way at the Windmill Farm & Craft Market, named for the full-size windmill twirling outside. Having chickened out of buying a Davy Crockett hat, you stop at a stall overseen by an ornery moustachioed man in a leather vest, from whom you purchase a lucky rabbit's foot. As you pay for the foot, you consider saying "Not so lucky for the rabbit!" but the man's expression persuades you to keep quiet.
You stop for lunch at the Red Dove Tavern, a gastropub in downtown Geneva, where you belly up to the bar and a heap of crisp fried chickpeas. The PEI oysters are shockingly good—a cool, briny jolt to your taste buds. You compliment co-owner Rune Hilt on the oysters. "I love my fryer as much as the next guy," he says with a shrug, "but you've got to just let some things be." You agree, and order another half dozen.
Back at the southern tip of Seneca, you set out on a late-afternoon hike through Watkins Glen State Park. The forest trails lead you through a kind of fairy-tale landscape, over stone bridges and behind waterfalls, snaking upward beneath glowing leaves. On the way down, you walk a narrow ridge, the less traveled route that skirts the gorge, and come across Greenwood Cemetery. You wander the grassy cliffside grounds for a while, contemplating the weatherworn 19th-century gravestones and grand mausoleums. Then the shadows lengthen and you resume your descent into town.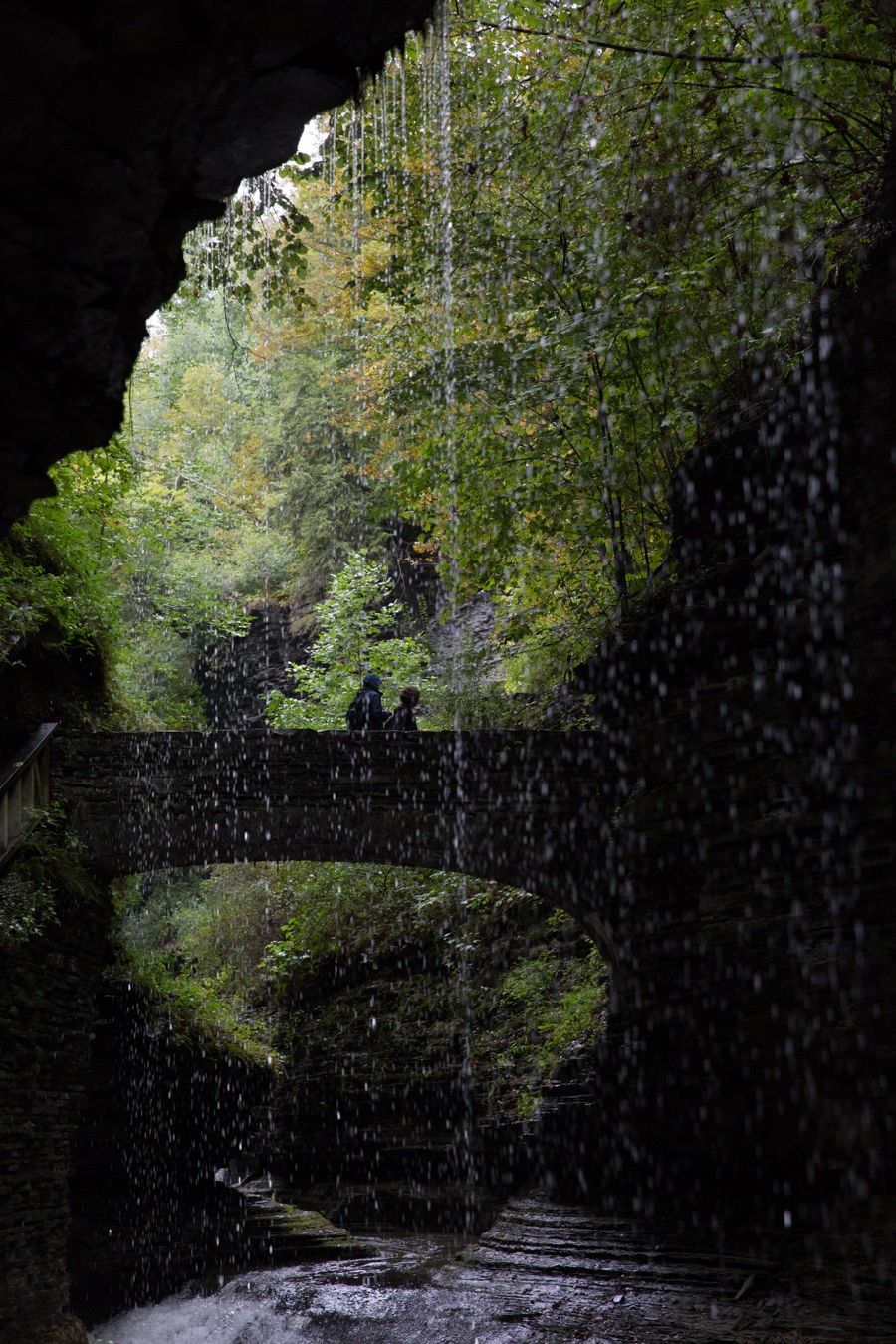 Fairy-tale landscapes at Watkins Glen State Park
From here you head for Lodi, 20 miles north of Watkins Glen, on the east side of the lake, and take a porch table at Dano's, a Viennese-style restaurant. Soon, the chef-owner (Dano, naturally) ambles by to tell you he's made some cheese from a small batch of sheep's milk he just received. "They have such small teats," he says, lamenting the paucity of milk a sheep gives. "You're lucky if you get a quarter-cup a day." He disappears into the kitchen and comes back with a bowl of Slovakian bryndzové halušky, a creamy mound of cheese-slicked spaetzle topped with caramelized onions and bacon. He also delivers a plate of sausage, unbidden, along with the observation, "I don't smoke cigarettes, so I have to smoke meat instead."
You take a long draft from your mug of local wine and a forkful of spaetzle and look out at a nearby stand of quince and apricot trees, and the glimmering lake beyond. A few waiters and diners have come outside to watch the sun go down. Its last rays have brought the shore into blazing relief—every fold and plot of land is lit bright, every hidden crevice momentarily revealed.
The teat thing is now the primary piece of sheep-related trivia in New York City–based writer Rohan Kamicheril's arsenal.
This article was written by Rohan Kamicheril from Rhapsody Magazine and was legally licensed through the NewsCred publisher network. Please direct all licensing questions to legal@newscred.com.
Around the web
Right now, around the world, brave members of America's armed forces are on duty, defending our freedom and upholding our values.
When not laser-focused on the mission at hand, they're looking forward to the day when their service to our nation is fulfilled and they can reunite with their families.
They are also imagining how they can use their hard-earned skills to build an exciting, rewarding and important career when they return home.
I want them to look no further than United Airlines.
That's why we are focused on recruiting, developing and championing veterans across our company, demonstrating to our returning women and men in uniform that United is the best possible place for them to put their training, knowledge, discipline and character to the noblest use.
They've developed their knowledge and skills in some of the worst of times. We hope they will use those skills to keep United performing at our best, all of the time.
That's why we are accelerating our efforts to onboard the best and the brightest, and substantially increasing our overall recruitment numbers each year.
We recently launched a new sponsorship program to support onboarding veterans into United and a new care package program to support deployed employees. It's one more reason why United continues to rank high - and rise higher - as a top workplace for veterans. In fact, we jumped 21 spots this year on Indeed.com's list of the top U.S workplaces for veterans. This is a testament to our increased recruiting efforts, as well as our efforts to create a culture where veterans feel valued and supported.
We use the special reach and resources of our global operations to partner with outstanding organizations. This is our way of stepping up and going the extra mile for all those who've stepped forward to answer our nation's call.
We do this year-round, and the month of November is no exception; however, it is exceptional, especially as we mark Veterans Day.
As we pay tribute to all Americans who have served in uniform and carried our flag into battle throughout our history, let's also keep our thoughts with the women and men who are serving around the world, now. They belong to a generation of post-9/11 veterans who've taken part in the longest sustained period of conflict in our history.

Never has so much been asked by so many of so few.... for so long. These heroes represent every color and creed. They are drawn from across the country and many immigrated to our shores.

They then freely choose to serve in the most distant and dangerous regions of the world, to protect democracy in its moments of maximum danger.
Wherever they serve - however they serve - whether they put on a uniform each day, or serve in ways which may never be fully known, these Americans wake up each morning willing to offer the "last full measure of devotion" on our behalf.
Every time they do so, they provide a stunning rebuke to the kinds of voices around the world who doubt freedom and democracy's ability to defend itself.
Unfortunately, we know there are those who seem to not understand – or say they do not - what it is that inspires a free people to step forward, willing to lay down their lives so that their country and fellow citizens might live.
But, we – who are both the wards and stewards of the democracy which has been preserved and handed down to us by veterans throughout our history – do understand.
We know that inciting fear and hatred of others is a source of weakness, not strength. And such divisive rhetoric can never inspire solidarity or sacrifice like love for others and love of country can.
It is this quality of devotion that we most honor in our veterans - those who have served, do serve and will serve.
On behalf of a grateful family of 96,000, thank you for your service.
Humbly,
Oscar
Each year around Veterans Day, Indeed, one of the world's largest job search engines, rates companies based on actual employee reviews to identify which ones offer the best opportunities and benefits for current and former U.S. military members. Our dramatic improvement in the rankings this year reflects a stronger commitment than ever before to actively recruiting, developing and nurturing veteran talent.
"We've spent a lot of time over the past 12 months looking for ways to better connect with our employees who served and attract new employees from the military ranks," said Global Catering Operations and Logistics Managing Director Ryan Melby, a U.S. Army veteran and the president of our United for Veterans business resource group.
"Our group is launching a mentorship program, for instance, where we'll assign existing employee-veterans to work with new hires who come to us from the armed forces. Having a friend and an ally like that, someone who can help you translate the skills you picked up in the military to what we do as a civilian company, is invaluable. That initiative is still in its infancy, but I'm really optimistic about what it can do for United and for our veteran population here."
Impressively, we were the only one of our industry peers to move up on the list, further evidence that we're on a good track as a company.
The question of where David Ferrari was had haunted retired U.S. Army Sergeant Major Vincent Salceto for the better part of 66 years.
Rarely did a week go by that Salceto didn't think about his old friend. Often, he relived their last moments together in a recurring nightmare. In it, it's once again 1953 and Salceto and Ferrari are patrolling a valley in what is now North Korea. Suddenly, explosions shatter the silence and flares light up the night sky.
Crouching under a barrage of bullets, Salceto, the squad's leader, drags two of his men to safety, then he sees Ferrari lying face down on the ground. He runs out to help him, but he's too late. And that's when he always wakes up.
Italian Americans from opposite coasts – Salceto from Philadelphia, Ferrari from San Francisco – the two became close, almost like brothers, after being assigned to the same unit during the Korean War. When Ferrari died, it hit Salceto hard.
"After that, I never let anyone get close to me like I did with Dave," he says. "I couldn't; I didn't want to go through that again."
When the war ended, Salceto wanted to tell Ferrari's family how brave their son and brother had been in battle. Most of all, he wanted to salute his friend at his gravesite and give him a proper farewell.
For decades, though, Salceto had no luck finding his final resting place or locating any of his relatives. Then, in June of this year, he uncovered a clue that led him to the Italian Cemetary in Colma, California, where Ferrari is buried.
Within days, Salceto, who lives in Franklinville, New Jersey, was packed and sitting aboard United Flight 731 from Philadelphia to San Francisco with his wife, Amy, and daughter, Donna Decker, on his way to Colma. For such a meaningful trip, he even wore his Army dress uniform.
That's how San Francisco-based flight attendant Noreen Baldwin spotted him as he walked down the jet bridge to get on the plane.
"I saw him and said to the other crew members, 'Oh my goodness, look at this guy,'" she says. "I knew there had to be a story."
The two struck up a conversation and Salceto told Baldwin why he was traveling. She got emotional listening to him talk and made a point of fussing over him, making sure he and his family had everything they needed.
About halfway through the flight, Baldwin had an idea. She and her fellow crew members would write messages of encouragement to Salceto and invite his fellow passengers to do the same.
"We did it discreetly," says Baldwin. "I asked the customers if they saw the man in uniform, which most had, and asked them if they wanted to write a few words for him on a cocktail napkin. A lot of people did; families did it together, parents got their kids to write something. After the first few rows, I was so choked up that I could barely talk."
When Baldwin surprised Salceto with dozens of hand-written notes, he, too, was speechless. He laid the stack on his lap and read each one. At the same time, the pilots made an announcement about the veteran over the loud speaker, after which the customers on board burst into applause.
"It seems contrived, and I hate using the word organic, but that's what it was; it just happened," Baldwin says. "Mr. Salceto was so loveable and humble, and what he was doing was so incredible, it felt like the right thing to do. And you could tell he was touched."
On June 27, Salceto finally stood before Ferrari's grave and said that long-awaited goodbye. As a trumpeter played "Taps," he unpinned a medal from his jacket and laid it reverently on the headstone.
"I had gotten a Bronze Star for my actions [the night Ferrari died] with a 'V' for valor, and that was the medal I put on Dave's grave," says Salceto, pausing to fight back tears. "I thought he was more deserving of it than I was."
For the first time in years, Salceto felt at peace. His mission was accomplished.
Scroll to top