Three Perfect Days: Guadalajara
Story by Justin Goldman | Photography by Alexis Lambrou and Jorge Garrido | Hemispheres, April 2016
From mariachi and tequila to contemporary art and gastronomy, Mexicoâs second city offers a tantalizing mix of traditional and modern culture

If Mexico City is the New York of Mexico, then Guadalajara is its Los Angeles—a sprawl of towns and neighborhoods that have been patched together into a metropolis of more than 4 million people. The Jalisco state capital also has perfect weather and a shockingly beautiful population, with a culture that combines modern refinement (art galleries and high-concept restaurants) and spirited tradition (mariachi and lucha libre). Speaking of spirited, Guadalajara also happens to be an hour away from the home of Mexico's most famous export: tequila. Whether you're looking for a cosmopolitan experience or a taste of old Mexico, the Tapatíos, as locals are known, will deliver in style.

In which Justin cranes his neck at macabre murals, experiences the passion of Mexican soccer fans, and eats at the bone church of restaurants
"It's the coldest day of the year," my cab driver says as we pull away from Guadalajara International Airport. "We're all freezing." I check my phone—it's 72 degrees. A half hour later, still shivering, he drops me at the Hotel Demetria, in the city's trendy Lafayette neighborhood. The Demetria is one of those places that is so architecturally incongruous that it somehow makes sense: a 1930s Mediterranean-style house with a concrete, steel, and glass tower tacked onto the back of it. I enter through a glass atrium, stepping across stone slabs set into a pool, like lily pads, and passing a cluster of Romanesque columns on the way to the elevator. In my suite, I find a white cereal bowl of a bathtub next to a picture window overlooking Avenida de la Paz. I'll be back for that tub.
First, I have an appointment. I stroll a few blocks to Palreal, an open-air coffee shop and restaurant where hummingbirds (called chuparosas, or rose suckers) flit among bougainvilleas. I spot contemporary artist Jose Dávila sitting on the patio sporting a blue blazer, circular glasses, and slicked-back hair. At his urging, I order the house special, lonche de pancita, a pork-belly sandwich messily topped with green tomatillo salsa and avocado. As I napkin salsa from my face, he tells me about Guadalajara's place in Mexico's cultural history.
"Mexico City, for obvious reasons, has always been the big center of it all, but there's always been a certain counterpart in Guadalajara," Dávila says. "In the '30s, at the time of the muralists, José Clemente Orozco was from Guadalajara. Luis Barragán, the famous architect, was from Guadalajara. Juan Rulfo, the writer, was from here. Even now, with the three famous Mexican directors in Hollywood—Iñárritu, Cuarón, and [Guillermo] del Toro—del Toro is from Guadalajara."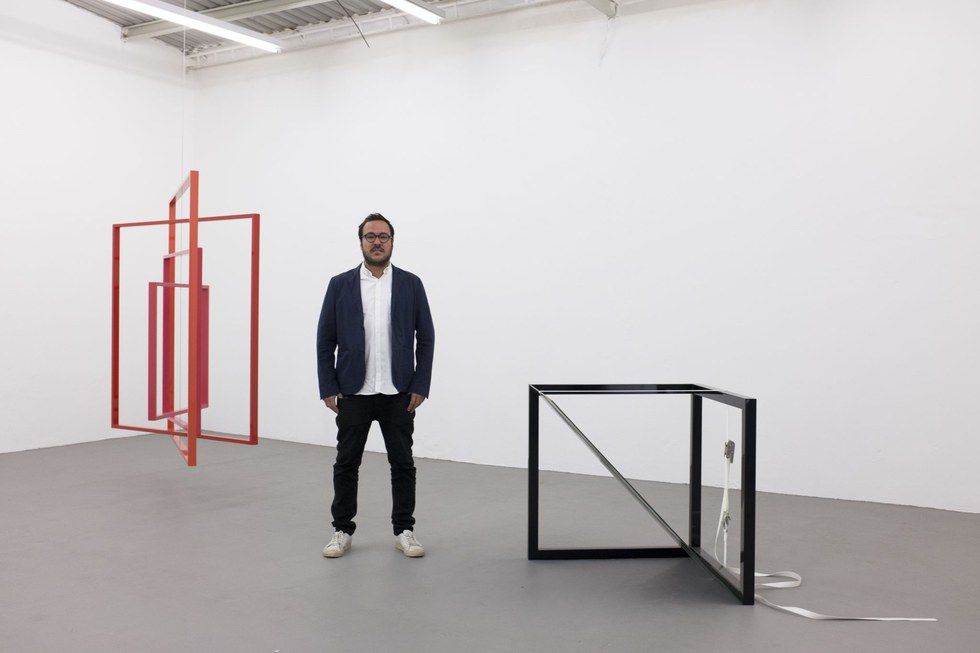 Jose Dávila, artist
After breakfast, Dávila takes me to his studio, a 10-minute drive (as in Los Angeles, access to a car here is essential) up the wide Avenida Federalismo to the appropriately named Colonia Artesanos. The studio, across a narrow street from a metalwork shop, is a multilevel marvel of abstract sculptures in various stages of completion, with several finished pieces—including a series of rotating metal squares hanging from the ceiling and a large pane of glass suspended from a steel frame—on display in an old wrestling gym. Later, as we say goodbye, I ask Dávila for a museum recommendation. "The Cabañas, where the paintings of Orozco are," he says, "is a must.
I take the short drive to the Centro Histórico and the nearly 200-year-old Hospicio Cabañas, a former orphanage with balustrades and pinnacles that reflect the palaces of France and Spain. Once the largest Spanish-built structure in the Americas, it is now a UNESCO World Heritage Site. Inside, I lean back to take in the macabre Orozco frescoes that adorn the ceilings and the sunlit dome. "This is like therapy for the neck," jokes my guide, Rubén, who explains that the murals depict scenes from Mexico's often violent past: Aztec sacrifices, a robotlike Hernán Cortés carrying a huge sword, Philip II bearing a bloody cross to represent the Mexican Inquisition.
"Guadalajara has been an artists' hub for 15, 20 years. Plenty of international artists around the world come to Guadalajara to produce work. Large works, small works, ceramics, metal, copper—you name it." —Jose Dávila
From here, I walk across the main square, Plaza Tapatía, to the Palacio de Gobierno to see more of Orozco's work. On the ceiling of the palace's stairwell looms a terrifying mural of Miguel Hidalgo (the leader of the Mexican Revolution) wielding a flame, surrounded on all sides by casualties of war.
I need some light after all that gloom, so I walk around the corner to sunny Plaza de Armas, where I settle under an ornate gazebo. Kids play by a fountain, old men in cowboy hats lounge under shade trees, and teenagers snap selfies. Across the street is the city's centerpiece, the Catedral de Guadalajara, a Spanish Renaissance church with twin neo-Gothic bell towers that was completed in 1618 (though it's been rebuilt several times due to earthquake damage). I step inside and watch from the rear as penitents knee-crawl down the long middle aisle toward the radiant stained glass windows in the gilded dome.
One more stop in the Centro: I enter Mercado San Juan de Dios, a three-story warren of stands selling jewelry, candy, mariachi suits, lucha libre masks, even caged birds, their songs mingling with the sounds of competitive commerce. Retailers hawk their wares aggressively here—witness the guy who lifts a horse saddle off a counter and shakes its leather tassels in my face.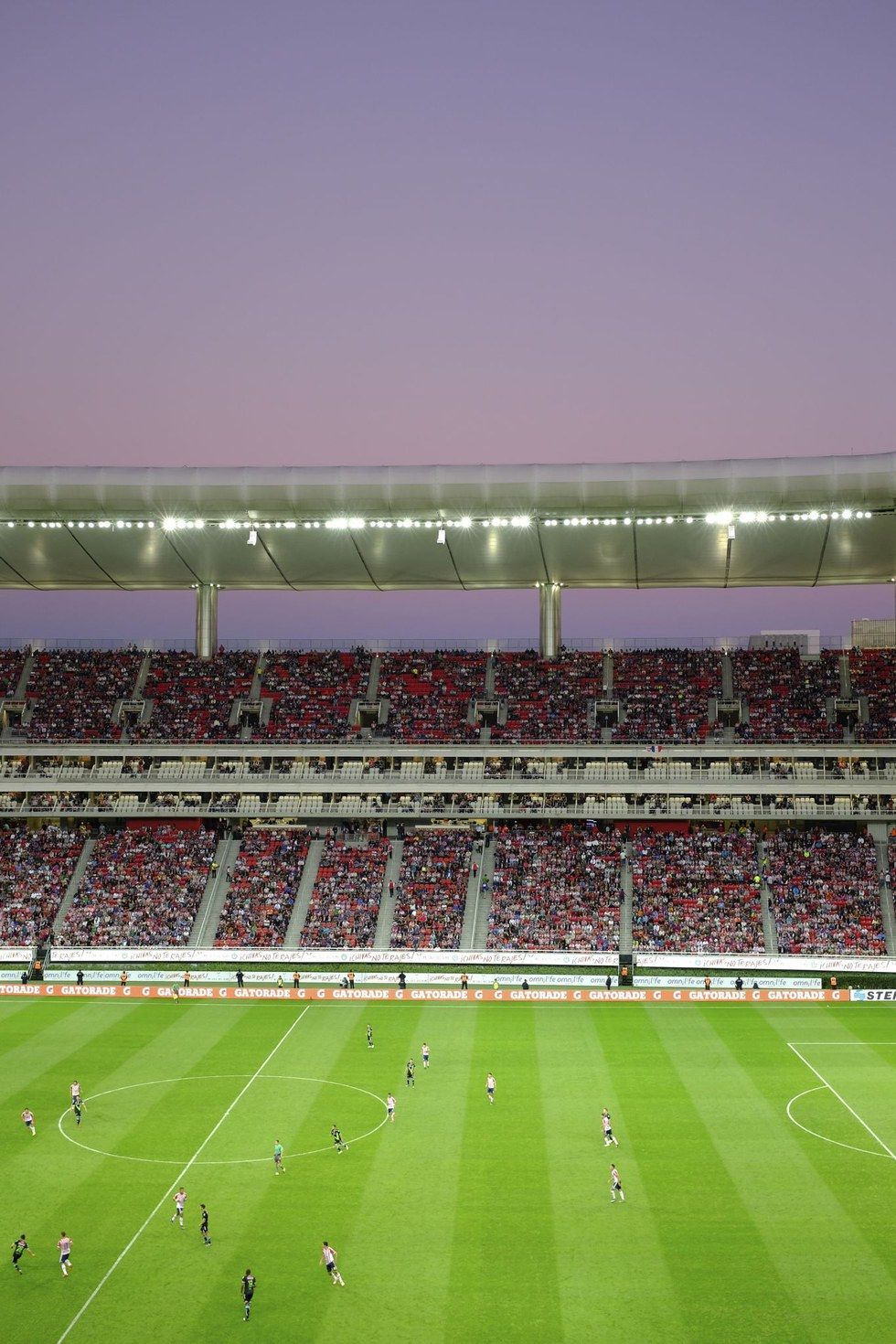 Chivas moves up the field at dusk
The market's second floor is a maze of taco stands, so many that I can't make a choice. So, in the classic fashion of the indecisive traveler, I go somewhere else. A short drive down Calzada Independencia leads me to one of Guadalajara's most pleasant areas, Las Nueve Esquinas (The Nine Corners), a tangle of cobblestone streets that's home to several restaurants proffering a Guadalajaran specialty: birria, or goat stew. I take a seat in the open-air, blue-tile Birrieria Las 9 Esquinas, where I watch a woman hand-press tortillas as I'm served a bowl of the spicy, hearty stew. The meat, spooned onto those tortillas and topped with creamy refried beans and fiery salsa, is divine. I finish it off with a sweet little egg custard called a jericalla.
Pleasantly stuffed, I head back to the city center for a quick digestif at Guadalajara's most venerable dive bar, La Fuente, sometimes called "The Bicycle Bar" due to its decorative centerpiece: a bike that a drunk patron abandoned here back in 1957, and which the owner then mounted on the wall. I kick back a couple of Pacificos and consider the bike, coated with 50 years of dust, trying not to think about all the things I've left in bars over the years.
Consider those chelas (beers) a tailgate of sorts, because my next stop is Estadio Omnilife, home to CD Guadalajara, or Chivas, Mexico's most popular soccer club, in part because it's the only team that exclusively fields home-grown players. I'm a sports fan, but the passion here is unlike anything I've ever seen. Behind one of the goals, supporters cram themselves into a standing-room-only section where they wave flags and chant throughout the game and jump all over each other in an orgy of thunderous joy when Chivas scores. Late in the game, when the opposing team scores to earn a tie, these fans also employ some of the most colorful profanity you'll hear in any language.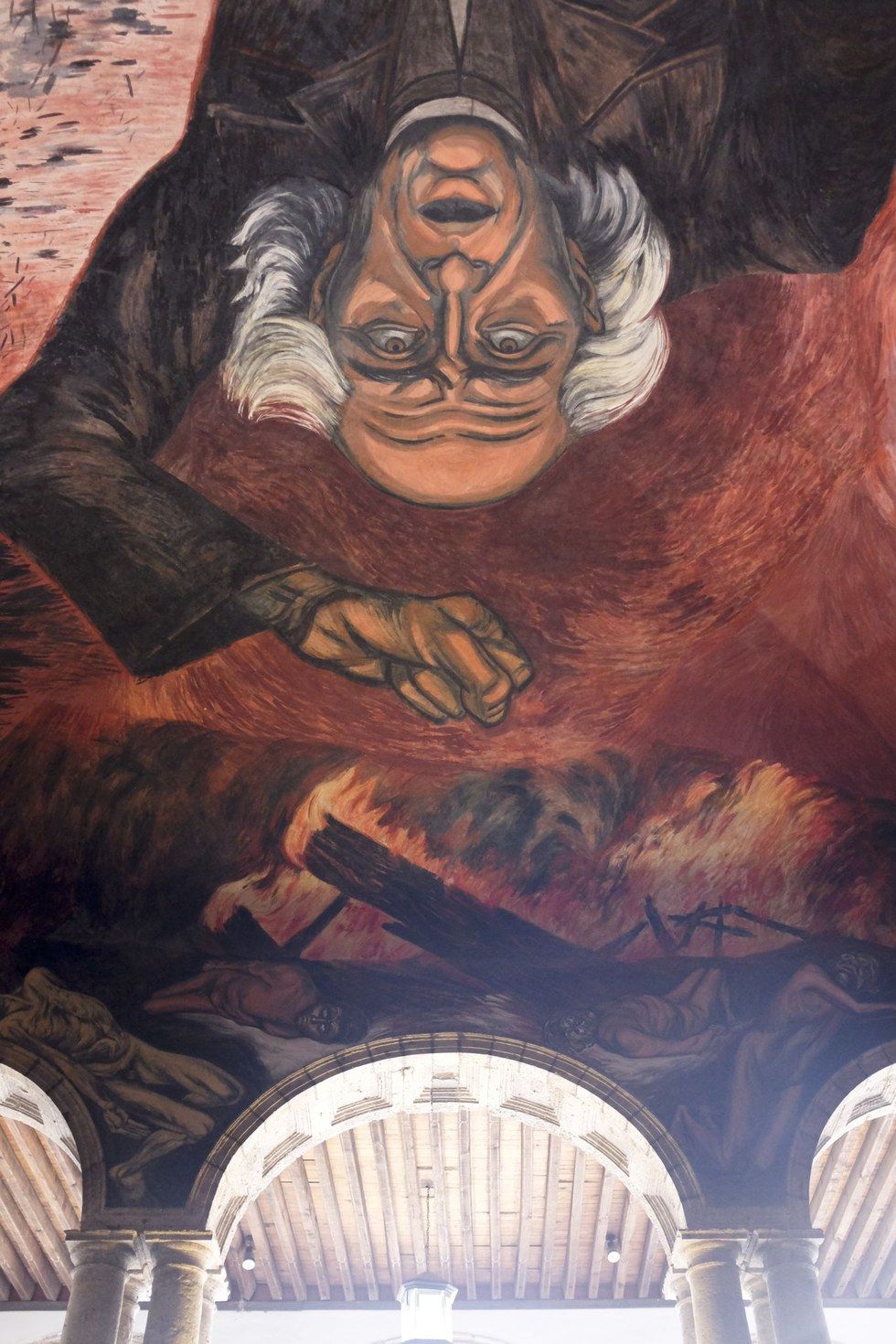 An Orozco mural at the Palacio de Gobierno
After crawling through an epic post-game traffic jam, I pop back into the Demetria to change clothes. A few blocks from here is Hueso (Spanish for "bone"), a two-year-old restaurant with an all-white interior that feels like a brightly lit version of a Gothic bone church, its walls cluttered with cow skulls and assorted animal bones. The food, served at a long communal table, is more, um, lively. Courses of seafood (scallop ceviche; mussels and shrimp in squid ink; gravlax with avocado sauce) and meat (rack of lamb with mole, short rib topped with thin-sliced roast beef) pair with an excellent Pies de Tierra red wine from Baja California.
"On the ceiling looms a terrifying mural of Miguel Hidalgo wielding a flame, surrounded by casualties of war."
After the meal, chef Alfonso Cadena—who, with his long hair, bandanna, and pointy goatee, has a Jim Morrison air about him—steps out of the open kitchen to say hello. "For me, 'bone' means flavor," he says. "The challenge was, how are we going to make the perception of something repulsive, like a skeleton, into something pretty? It was kind of risky for Guadalajara, which in some ways is very conservative. But you can find a lot of artists, musicians, architects, and I think it's an advantage to have a restaurant here, because I truly believe that Jalisco has this global connection. Jalisco talks about the Mexican culture itself."
By the end of the meal, I'm a little buzzed, more than a little full, and about ready for bed. My waiter has other ideas. He brings me a carajillo, a shot of espresso poured over a sweet Spanish liqueur, Licor 43, on the rocks. I'm suddenly light and bouncy on my feet, so I walk up Avenida Chapultepec and over to the Black Sheep, a popular bar affixed to a backpacker hostel on a small pedestrian plaza. After shooting a few games of pool, I take a seat on the streetside patio, where I sip Don Julio 70 and eavesdrop on the multilingual crowd around me, reflecting on chef Alfonso's words: There truly is a global spirit here.

In which Justin views mind-bending art, listens to an all-female mariachi band, and ducks flying lucha libre wrestler
I wake up feeling a bit crudo, as they say here. Fortunately, I've got a driver—I don't think I could handle the streetfight that is driving in a Mexican city today. Apprised of my condition, Vicente Rangel, of tour company Sin Fin de Servicios, takes me to the nearest Tortas Toño, a chain that serves the Tapatíos' favorite hangover cure: the torta ahogada, a pork or chicken sandwich on crusty French bread that you dress to your liking with nuclear reactor–level red chile sauce. In my enthusiasm for the life-restoring properties of capsaicin, I go a little overboard with the pepper sauce. Seeing me sweat, Vicente passes along another remedy: a mini Corona.
Revived, I ask Vicente to take me across town to Tonalá, a suburb on the southeast side of the city, to see its famed tianguis, or open-air market. The main thoroughfare, Tonaltecas, is lined with handicraft shops, and twice a week these shops put up booths on the sidewalk to show off their wares: wood carvings, glass sculptures, tequila sets, flowers, tacos at five for 10 pesos (less than 60 cents). The market stretches most of the length of the town and is even more crammed than the Mercado San Juan de Dios. I can't turn around without bumping into a hanging display of jewelry or a Jesus statue—my last collision causing a child riding on his father's shoulders to point and laugh.
Sensing that I'm not handling the human crunch all that well, Vicente leads me onto a side street, to Galeria Bernabe, a ceramics shop that makes hand-painted tableware (a 94-piece set takes three months to make and costs $12,000). As I browse, Vicente gleefully recaps the previous night's soccer match with Javier, one of the owners (they're fans of Atlas, Chivas's intracity rival). "I think I might be sick," Vicente tells me. "I'd rather see Chivas lose than Atlas win." As a Giants fan, I tell him, I feel the same about the Dodgers.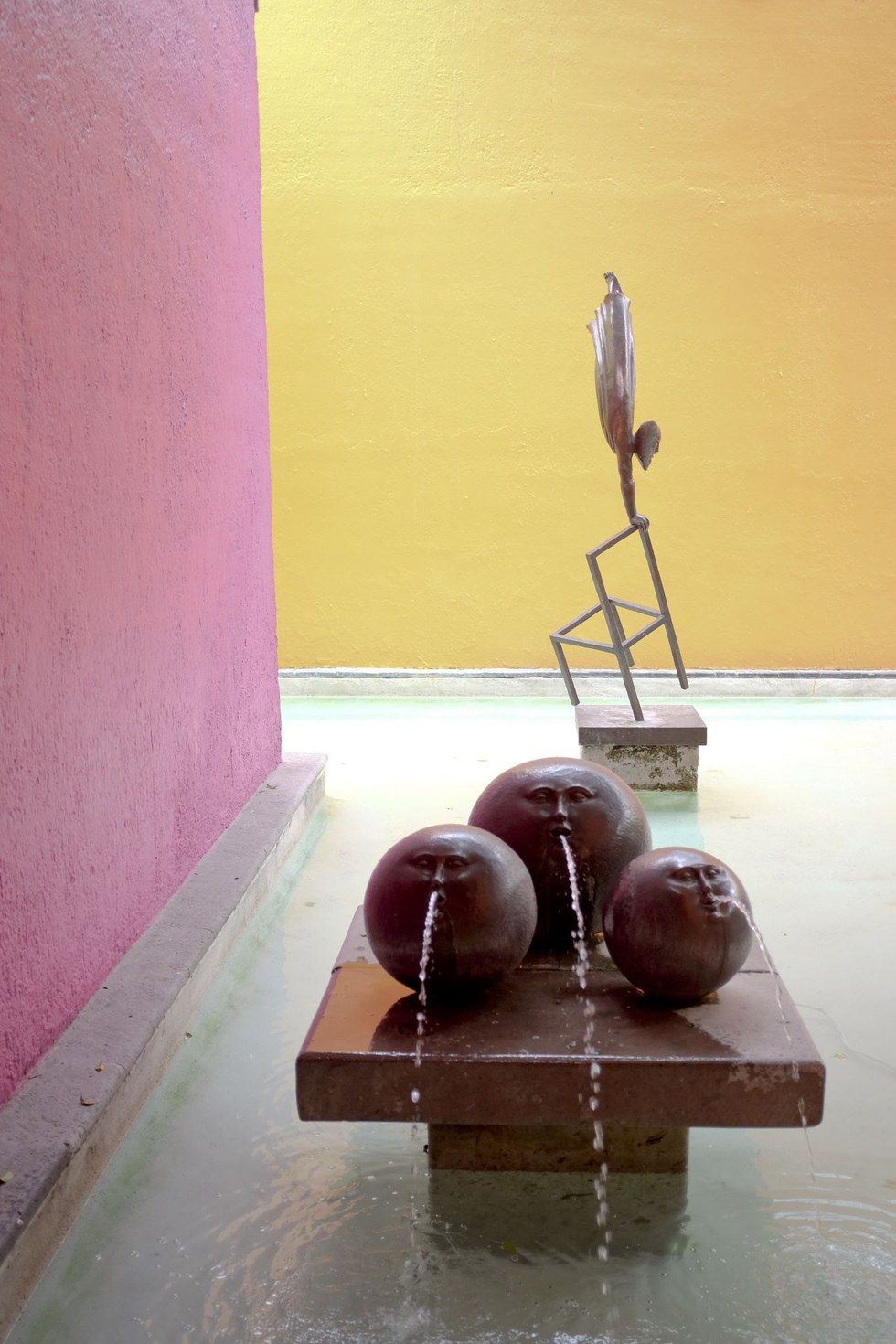 Sculptures at Galeria Sergio Bustamante in Tlaquepaque
From Tonalá, we head to the neighboring suburb of Tlaquepaque, which features an upscale pedestrian ramble of art galleries. We stroll Calle Independencia, stopping at Galeria Sergio Bustamante to marvel at the paintings and sculptures; with their triangular heads, oddly stretched features, and lurid colors, Bustamante's figures resemble characters from a Tim Burton nightmare. We also poke our heads into the Galeria Rodo Padilla, with its ceramic depictions of Mexican folk symbols, and Carlos & Albert, which features in its entryway a beautiful Día de los Muertos Catrina skeleton.
On the street in front of Restaurante El Patio, we encounter an all-female mariachi band playing to a crowd of photo-snapping tourists—some of whom pose amid the musicians midsong. We follow the band into El Patio and sit on the, um, patio as they serenade tables with songs ranging from the traditional "Malagueña" to a mariachified "New York, New York." Afterward, I buttonhole Mayra Casillas and ask her about becoming a mariachi.
"Mariachi is a fundamental part of our culture," she tells me. "When you hear a mariachi, you say, 'Mexico!' My uncles and my father liked to sing, and they gave me the love of Mexican music, but none of them studied it. I was the only one who became a musician."
Inspired by Casillas, we walk a few blocks up to El Parian, a large patio ringed with cantinas. We grab seats and watch as roving mariachis and música norteña (another form of Mexican folk music) players—I count at least 10 bands—go from table to table, singing for tips. After a few songs, I'm ready to order food, but Vicente stops me. He has something special in mind.
"This is not a fancy restaurant," he tells me as we head back across town, "but it's real Mexican seafood, like they make in Nayarit," his home state, Jalisco's neighbor to the north. After about 30 minutes, he pulls onto a small street in the suburb of Zapopan and parks next to El Zarandeao. The warehouselike space is utilitarian, but the food? ¡Dios mío! We start with cups of shrimp soup, then plow through a plate of tender ceviche topped with chunks of avocado, followed by shrimp empanadas, a fillet of fish smoked over an open fire, and finally a plate of grilled shrimp that we eat shell and all—without a doubt, the best camarones I have ever tasted.
After lunch, we head to the center of Zapopan, home to a couple of Guadalajara's signature attractions. We start at the 17th-century Basílica de Nuestra Señora de Zapopan, a huge, dual-towered church that looks more like a fortress than the convent that it was originally built to be. At the church gate, campesinos sell beaded jewelry, a simpler rendition of the mesmerizing beadwork inside the Museo Huichol, attached to the basilica. In the exhibit hall, I stop to consider a bright green-and-red frog—if I licked him, would I hallucinate? A stern look from an attendant discourages me from trying, so I scamper a couple of blocks away, to the Museo de Arte de Zapopan, a boundary-pushing museum for contemporary artists. At the moment it's exhibiting performance pieces by Czech artist Jiří Kovanda. My favorite is a video of Kovanda at London's Tate Modern offering a kiss to each passing patron.
There's been a lot of walking—and eating—so I'm ready for siesta. Vicente drops me back at the Demetria, where my plan is to grab a quick nap and then a soak in the tub before dinner. But when I lie down I feel myself sink deeper and deeper into my cloudlike bed, and by the time I wake, a bath is out of the question. Sigh.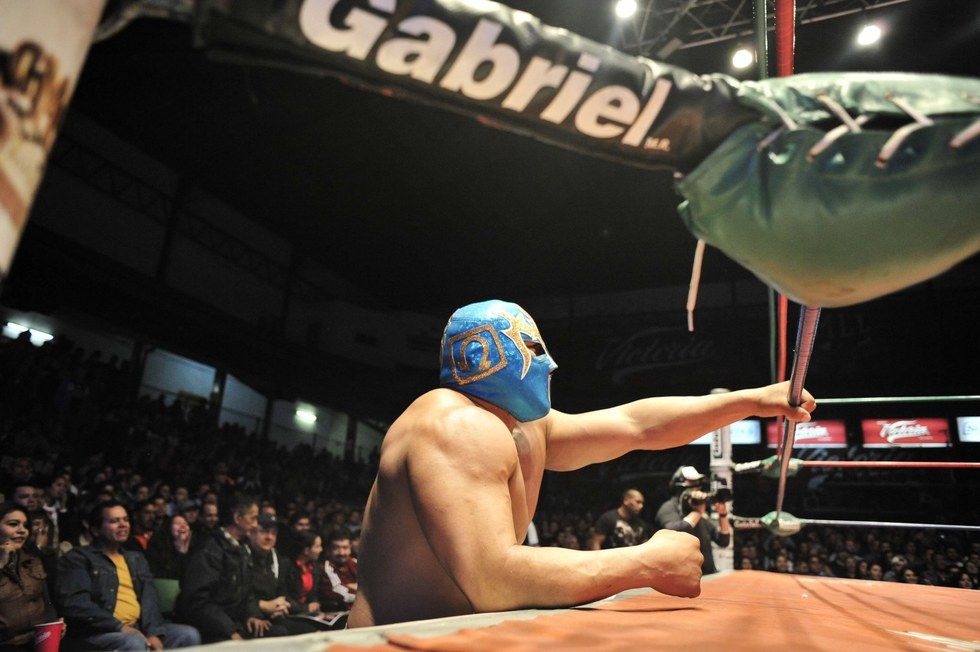 "Masked wrestlers hurl each other around as vendors prowl the crowd offering white pork skins and Coronas."
A short cab ride away, on a frontage road along the railroad tracks, is i Latina, one of Guadalajara's best-loved restaurants. The place has a sort of found-object decor—every wall painted a different color and bearing a different style of art, no two tables alike. The food too is eclectic. Appetizers include fried-shrimp-and-mango tacos served on thin slices of jicama instead of tortillas. For an entrée, I opt for duck confit terrine in a peanutty mole sauce, washed down with a tamarind margarita. Early in the meal, the room is relaxed, Dolly Parton's "Jolene" playing on the stereo, but by the time I'm finished, the place is filled with stylish people, and the music has switched to bumping David Bowie.
I could imagine a restaurant like i Latina in America, but my next destination could exist only in Mexico: the Arena Coliseo lucha libre ring. Lucha libre is a hopped-up version of the WWE, with far more rabid fans (the cheap seats are literally behind a chainlink fence). Masked wrestlers hurl each other around as vendors prowl the crowd offering white pork skins (no, thanks) and Coronas (yes, please). In some ways, it's a family environment—kids crowd the edge of the walkway to high-five the wrestlers—and in other ways, it's very much not. (To call the ring girls scantily clad would be an understatement, and spectators hurl insults that would make a Chivas fan blush.) At least once, a wrestler wades into the crowd to do battle with mask-wearing fans.
After the last match, the crowd pours out of the arena, a mass of humanity clogging the narrow street. Grinning men stop for photos with ring girls, smoke rises from mounds of carne asada on taco-stand grills, kids in brand-new lucha libre masks dash by, their parents close behind. It might not be the kind of scene you'd find in a guidebook, but this, right here, is Mexico.

In which Justin tours the world famous blue agave fields, tastes fine tequila, and dances past the break of dawn
I'm going to need a good base for today's activities, so I start at La Cafeteria, a popular brunch spot in a lovely old stucco house nestled among French mansions on Avenida Libertad. The specialty here is chilaquiles—nachos drowned in spicy tomato ranchero sauce and topped with crunchy chicharrón—which I devour as I sit on the shaded patio, enjoying the perfect morning weather.
Now I'm ready to get acquainted with the spirit of Mexico. Juan Pablo Ramírez, a guide for Jose Cuervo who goes by J.P., has agreed to take me and my friend Matt—an Angeleno in town on business—to the town of Tequila, an hour northwest of Guadalajara, for a tour of La Rojeña. The oldest distillery in the Americas, it has produced Cuervo tequila since 1758.
J.P., a former rock musician, grew up in Guadalajara but moved to Tequila because he liked the small-town feel. "Also, the tequila," he adds with a laugh. From Guadalajara, we take the historic Ruta del Tequila, passing the 9,580-foot Volcán de Tequila, roadside tequileros, and the sprawling, 145-year-old Herradura distillery in Amatitán. We descend into a valley, crossing railroad tracks where migrant laborers wait to jump the train to the States, and cut through fields of blue agave.
We pull onto one of the tracts, tires crunching on the parched, rocky soil. Between rows of spiky blue agave, sprouting waist-high from the earth like alien tentacles extricating themselves from shallow graves, we find Ismael Gama, a fourth-generation jimador who has worked these fields for nearly 50 years. He doffs his white cowboy hat, then selects a good-size agave plant—one with a piña, or pineapple-shaped heart, of about 130 pounds, which will produce about seven liters of tequila—and takes his machete to the leaves. In a matter of moments, he has uprooted the heart, which he splits so we can taste the fibrous, jicamalike center.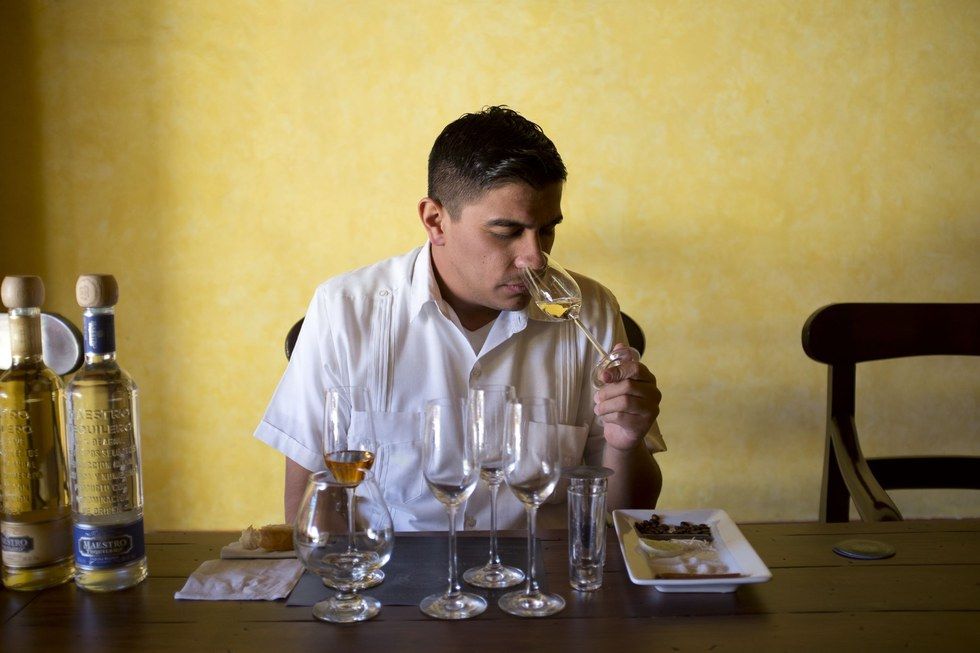 Juan Pablo Ramírez, guide, Jose Cuervo
We continue into Tequila, part of a UNESCO World Heritage site, over cobblestone streets, past an 18th-century church, to La Rojeña. J.P. leads us through the gates of the yellow-walled hacienda, past a tall statue of a black bird (cuervo is Spanish for "raven"), and into the production facility. All around are heaps of harvested piñas; the air is full of the sweet, bready smell of fermentation. By the stills, where the agave wine that's extracted from the plants is distilled into tequila, we stop to taste a 110-proof blanco, then continue into the barrel room, where we sample reposado (aged six months) and añejo (aged a year or more) tequilas to see how the wood mellows the agave and imparts oak and vanilla notes to the liquor.
"I like it in Tequila because it's a really calm life. It's not as fast as Guadalajara. It's growing a lot, but the essence of the town is still calm."—Juan Pablo Ramírez
"What I look for in tequila is the taste of the plant," J.P. says. "When I drink the añejos, I taste the wood, so I prefer the blancos."
Next, J.P. takes us down to the La Reserva de la Familia Cellar, home to bottles of 100-plus-year-old blancos and barrels of the three-to-seven-year-old Reserva, one of the world's finest liquors. ("It's the cognac of tequilas," J.P. says.) I ladle myself a glass straight from the barrel. "This must be what magic tastes like," I say to Matt. "This is the best thing that's ever happened to me," he replies.
Tour finished, we cross the plaza to La Antigua Casona, the main restaurant in Mundo Cuervo's Solar de las Ánimas hotel. After a much-needed three-course meal—a tuna-poke tostada with avocado sauce and cucumber, beef tenderloin in mole sauce, and a fluffy slice of chocolate cake—I feel as if I've reinfused some blood into all that tequila in my veins.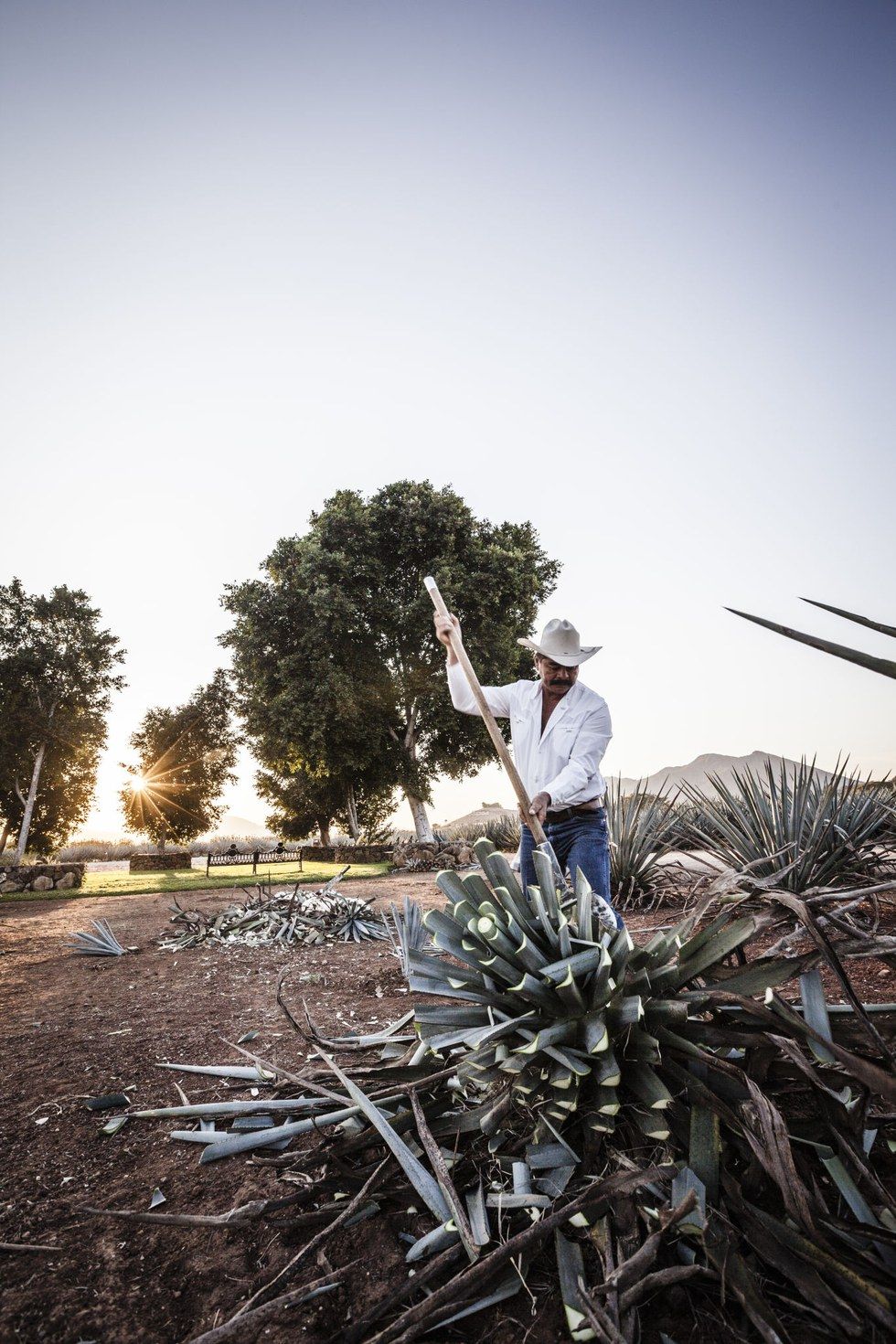 Jimador Ismael Gama uproots a blue agave to harvest the piña
After lunch, J.P. arranges for a friend to give us a ride back to the city. I'm still a bit bleary when I walk into the Demetria, but everything gets clear when I lock eyes on that tub. It's time. After a long soak and a quick snooze, I go upstairs to the hotel's rooftop pool and pass some time on a lounge chair looking down on the tree-lined streets of Lafayette and Chapultepec. A few laps to work up an appetite, and I'm ready for dinner.
A short cab ride brings me to the upscale Providencia neighborhood. I'm reuniting with Matt at La Tequila, a two-story brick restaurant that offers high-end takes on traditional Mexican fare—and lots of its namesake spirit, as evidenced by the bottles on the walls. We sit on the upstairs patio, where we watch a pickup soccer game going on across the street. The drink menu has 11 pages of tequilas, mezcals, and sotoles (another spirit distilled from agave), but that Cuervo Reserva was so good that we can't help but order it again. We're a little more adventurous with our appetizers: chapulines (chopped grasshoppers) and escamoles (ant larvae), which look like lentils and serve as a salty tortilla topping. For an entrée, Matt has a molcajete, a stone mortar filled with steak, shrimp, sausage, avocado, and nopal (cactus strips), while I opt for suckling pig that's been slow-roasted in dried chiles and pulque, a traditional fermented beverage.
"Spiky blue agaves sprout from the earth like alien tentacles extricating themselves from shallow graves."
It would be easy (and almost certainly advisable) to call it an evening, but it's my last night in Mexico, and I ain't going out like that. So: ¡Carajillos!
We hop a cab to Avenida de las Américas, a busy strip of shiny malls and office towers, disembarking at Evva, the city's trendiest club. Inside, the sounds of Ricky Martin, J. Lo, and Pitbull ("Pitbull's some kind of god here," Matt tells me) pump across the dance floor and the rooftop pool, causing insanely good-looking men and women—seriously, the most attractive people I've ever seen—to shake it. We find a table and watch through the neon light as waiters parade by bearing champagne in ice buckets, sparklers shooting into the air. A friendly local guy comes over and photobombs one of our selfies, then pours tequila in our mouths.
When the lights come on, we head down the escalator to find the sun creeping over the tops of the palm trees on the avenue. I turn to Matt, smile, and say, "Who's ready for a fourth perfect day?"
Hemispheres managing editor Justin Goldmanknew he would love Guadalajara—after all, his favorite hot sauce is Tapatío.
This article was from Rhapsody Magazine and was legally licensed through the NewsCred publisher network.
Around the web
On March 19, 2020, United operated its first flight carrying cargo without passengers on board. While the passenger cabin was empty, its cargo hold was completely full, carrying more than 29,000 pounds of commodities from Chicago O'Hare International Airport (ORD) to Frankfurt Airport (FRA).
A year later, United Cargo has operated more than 11,000 cargo-only flights carrying more than 570 million pounds of freight. To support the COVID-19 pandemic recovery efforts, United Cargo has also transported more than 113 million pounds of medical and pharmaceutical products on both cargo-only and passenger flights as well as approximately 10 million COVID-19 vaccines, providing global communities access to the items they have needed most.
"At the beginning of the pandemic, we knew we were uniquely positioned to utilize our widebody aircraft and our network to keep commodities moving, so we quickly mobilized various departments throughout the airline to launch a cargo-only network of flights that would keep commodities moving," said United Cargo President Jan Krems. "Thanks to those efforts, United Cargo has delivered millions of items to countries all around the world. We would not have been successful without the steadfast support of our employees, industry partners and our customers."
Since last March, United Cargo has transported almost 850 million pounds of freight on cargo-only and passenger flights. The airline will continue to monitor market trends adjust its cargo-only flight schedules to help ensure we are meeting our customer's evolving shipping needs.
Whether you haven't flown with us for a while or just need a quick refresher before your spring trip, read this list of tips to know before your flight and arrive at the airport travel-ready:
1. Download the United app for contactless bag check, travel assistance and more
Before your flight, download the United app to view your flight status, check in, sign up for flight notifications, locate departure gates, access our free personal device entertainment when available and more. We've also updated our app with new features that can make your trip a little safer, including contactless bag check.
Don't forget to use Agent on Demand for help with any and all questions you may have before your flight. This new capability is available at all our U.S. hub airports and allows you to use your own mobile device to contact a customer service agent via phone, video or chat to help with day-of-travel questions while you're at the airport. Learn more about Agent on Demand here.
2. Check out the Travel-Ready Center
Our Travel-Ready Center makes it easy to get a personalized overview of everything you need to do in preparation for your flight. Just enter your confirmation number or MileagePlus® number and you'll find detailed information on all the documents, tests and more that you'll need for your trip.
3. Read and sign the Ready-to-Fly checklist
Before completing check-in, all United travelers will need to read our Ready-to-Fly checklist and confirm that they understand and agree to our policies. These include:
Acknowledging that you haven't had any symptoms of COVID-19 in the last 14 days
Agreeing that you will not fly if you have tested positive for COVID-19 within the last 21 days
Confirming that you will follow all policies regarding face masks, social distancing and other health and safety measures we've adopted
4. Arrive early; avoid the stress
Airports can be busy, especially during peak travel periods like spring break season. The TSA advises arriving at the airport two hours before your flight for domestic travel and three hours for international travel in anticipation of long security lines. This can help ease the stress when navigating busy check-in areas, security lines and crowded boarding gates.
5. Get familiar with CleanPlus
United CleanPlus℠ is our commitment to delivering industry-leading cleanliness as we put health and safety at the forefront of your experience. We've teamed up with Clorox to redefine our cleaning and disinfection procedures and Cleveland Clinic to advise us on enhancing our cleaning and disinfection protocols, like:
Disinfecting high-touch areas on board and in the terminal
Using electrostatic spraying, Ultraviolet C lighting wands and more advanced measures to clean aircraft cabins before boarding
Redesigning our mobile app to allow for touchless check-in and contactless payment, along with enhanced travel assistance features
Implementing high-efficiency (HEPA) filters on our aircraft that completely recirculate cabin air every 2-3 minutes and remove 99.97% of airborne particles, including viruses and bacteria
Studies show COVID-19 exposure risk is minimal when air filtration systems and masks are in use, so you can rest assured that the steps we've taken to keep you safe truly make a difference.
6. Wear your mask
Federal law requires all travelers to wear a face mask in the airport, including customer service counters, airport lounges, gates and baggage claim, and on board during their entire flight. Make sure you review the requirements for face masks, including what an acceptable face mask looks like.
7. Get ready for a safer boarding process
To make boarding even safer, we now have travelers board their aircraft from back to front. At the gate, just listen for your row number to be called – we'll ask a few rows at a time to board, starting with the last row of the plane. This helps everyone maintain a safe distance from each other during boarding without slowing things down. As you step onto the plane, flight attendants will hand each passenger a sanitizing towelette, which you can use to wipe down your seat to ensure it's extra clean.
8. Pack smart
Before packing your bags, check to see what exactly you can carry on and what you should plan to check. You can also copy your confirmation number into our Baggage Calculator tool to learn about the bag allowance included with your reservation, as well as the cost of checking any additional bags.
9. Check your flight status, important notices and weather
Check the United app regularly for the latest updates on weather conditions, flight status, gate numbers and seat assignments. You can also visit our Important Notices page to find essential information and updates about travel waivers, international travel, TSA and security, airports and United Club locations.
10. Relax and enjoy your flight
Once you're on board, it's time to sit back and enjoy your flight. Our flight attendants will be happy to help you with anything else you need.
This week, we were honored to become the first U.S. airline to join the UNICEF Humanitarian Airfreight Initiative to combat the COVID-19 pandemic by transporting the vaccine and other critically needed supplies to underserved areas of the globe.
"We are committed to helping the global community in any way we can, and we all must work together to do our part to bring this health and humanitarian crisis to an end," said Director of Cargo Specialty Products Manu Jacobs.
We will leverage our expertise to transport these critical pharmaceutical and healthcare shipments around the world safely, efficiently and expediently. We are proud to partner with the United Nations to support this global effort and provide equitable access to COVID-19 vaccines.
Scroll to top