Three Perfect Days: Guatemala
Those who have heard anything about Guatemala are aware of its troubled history: the earthquakes and volcanic eruptions, the civil war that persisted from 1960 to 1996. But those who have actually been there know it to be something else: a place of extravagant beauty, soaring mountains, pristine lakes and dense jungle, dotted with archaeological treasures. Then there are the people, who are among the friendliest you'll meet anywhere. This may be a humble country, but the list of wonders it offers is truly something about which Guatemalans can boast.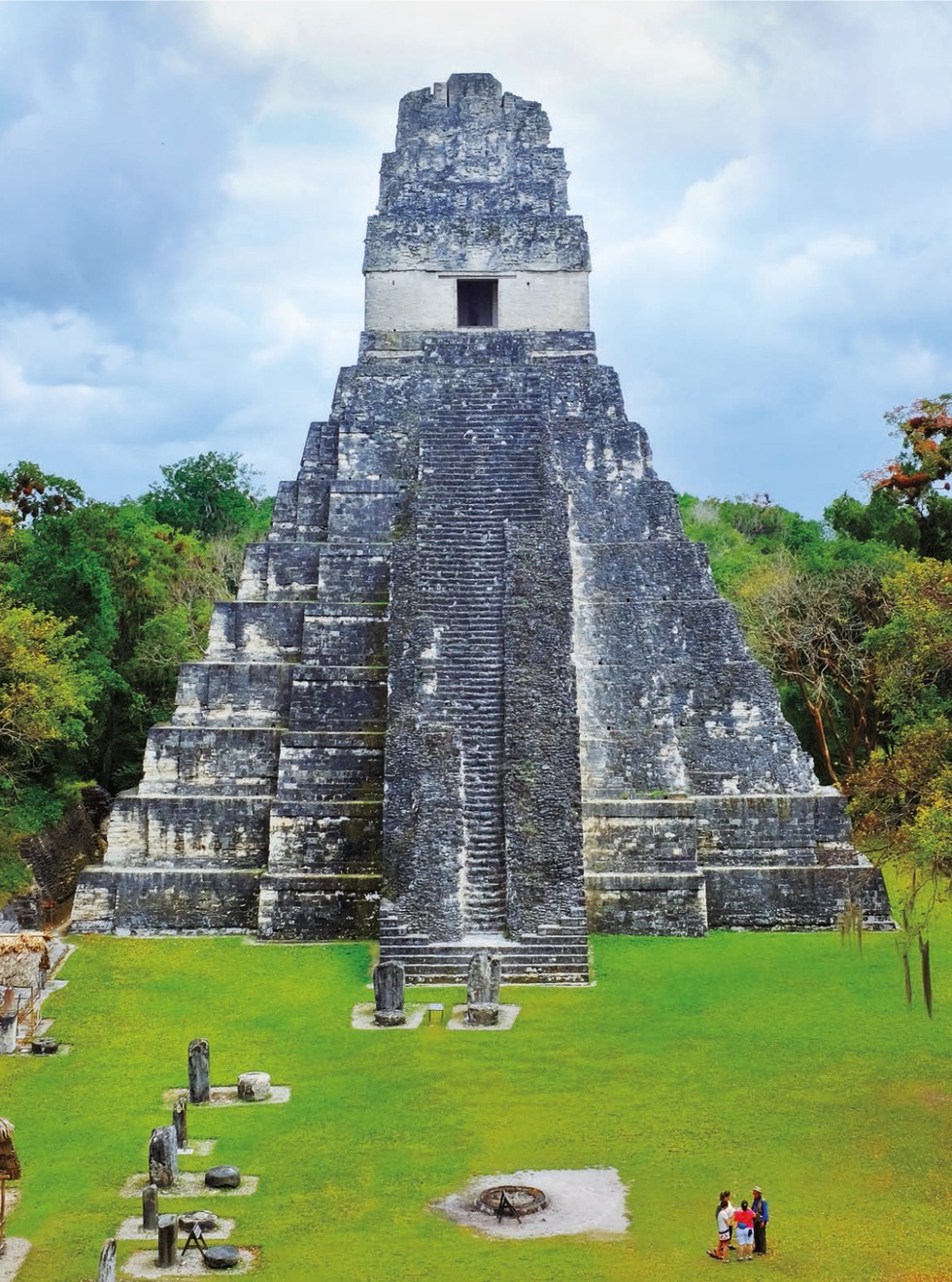 It's just after dawn, and I'm in the back seat of a car that's puttering along the east shore of Lago Petén Itzá, a massive lake in Petén, a tropical state in the northeastern corner of Guatemala, about 30 miles from the Mexican border. I'm munching on chile-lime peanuts as my guide, Eric García, gives me the rundown on Tikal National Park, the famed archaeological site that's also a part of the Maya Biosphere Reserve.
"This is one of nine sites in the world that UNESCO made a natural and cultural preserve," he says of the park. "NASA came here five years ago and took satellite pictures, and they discovered 2,000 archaeological sites in Petén alone."
García has reason to be proud. He comes from a small nearby village called Caoba (the Spanish name for the mahogany tree). Like many Guatemalans, he is of Mayan descent (his grandfather doesn't speak Spanish), and he occasionally supplements his narrative by pulling a small Mayan flute from his bag and playing a few notes.
"Tikal is the center of the Mayan world, like Mecca or the Vatican," he says. "Mayans would come to Tikal from smaller villages to celebrate ceremonies."
Just inside the park gate, García stops and points to the top of a ceiba tree, where black-brown birds with bright yellow tails are flitting and bickering around a bunch of teardrop-shaped nests.
"They're called Montezuma oropendola," he says, "for the gold tails and the way their nests hang."
After a half-hour drive down a tree-lined road, we begin our hike through the jungle, the thunderous calls of howler monkeys roaring overhead. We pause to watch a female spider monkey and her baby scamper across a bough, then make our way toward El Templo del Gran Jaguar, also known as Temple I. As we near the temple, we hear a frenzy of scratching—it's an anteater, halfway up a tree, tearing away the bark to get at a nest of termites. "That's a rare sight to see," García tells me.
We skirt the edges of the stepped, 154-foot pyramid and emerge into the Great Plaza, a broad clearing with stone ruins—dating back more than a thousand years—rising on all four sides.
Directly across from Temple I stands El Templo de las Máscaras, or Temple II, which I climb, eager to see the carved namesake masks at the top. The summit also affords stunning views of the surrounding ruins: the Central Acropolis, a crumbled palace complex where the city's elite lived, and the North Acropolis, a collection of burial chambers, the walls of which bear more stone masks representing Mayan gods.
Down a trail, surrounded by dense vegetation, are Temples III and IV—the latter the tallest in the park, at 213 feet. "We have a big conflict between ecologists and archaeologists," García explains as we make our way through the brush. "Ecologists say, 'Don't touch anything,' and archaeologists say, 'We want to discover more.' Of the 4,000 buildings that have been found here, only 15 percent have been restored."
I climb to the top of Temple IV and look out across miles of jungle canopy. George Lucas showed the Millennium Falcon cruising over this location in Star Wars, and the view is so spectacular that I can (mostly) quell my fear of the vertiginous height. I can also understand why some people think aliens built these temples; there's an otherworldly vibe up here.
As we hike back through the jungle, the skies open up in a torrential downpour. By the time we get to El Mesón, a restaurant near the park entrance, I'm drenched. We take a seat at a picnic table beneath a thatch roof, where we receive a delicious and hearty homestyle lunch of spicy grilled chicken and fluffy, buttery rice, with a dessert of cinnamon-laced stewed banana.
Fortunately, I came prepared for the precipitation—it's called a "rainforest" for a reason—and have a change of clothes in the car. I'm ready to get back into town and take a nap, but as we pass through the gate, García points out Canopy Tours Tikal. "Do you want to do the zipline?" he asks. I remember my dizziness atop Temple IV and say no. Then I think again. The rain has stopped. I'm on vacation. Why not? Minutes later I am screaming and flying, Superman-style, through the treetops. Fear of heights: conquered. Need for a nap: also conquered.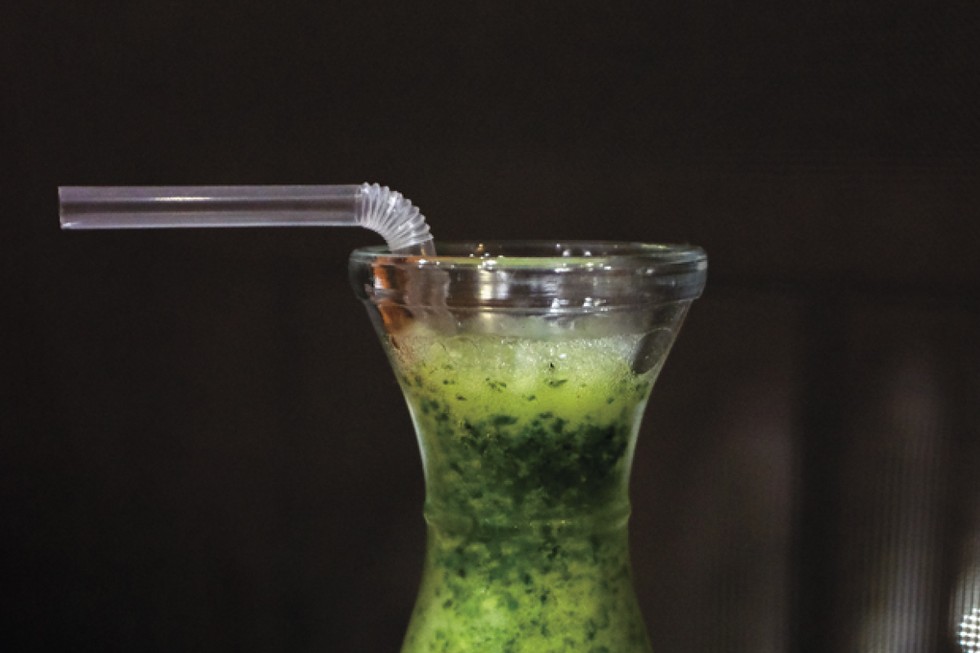 We drive for an hour or so to Flores, the capital of Petén, which occupies a small island in Lago Petén Itzá. We cross the bridge into town and García drops me off at the red-and-white, chalet-style Ramada Tikal, which opened last year on the sleepy waterfront. At check-in I'm given a glass of watermelon juice, which soothes my throat, still scratchy from jungle-sweat dehydration and zipline banshee wails. Just beyond the lobby I pass an indoor pool and head up to my room, which has a balcony overlooking the lake.
The view is great, but the sight of the bed is even better. I feel my need for a nap returning.
It's dark when I wake up, and I make my way down the road that rings the edge of the island to Raices Grill. I take a seat on the deck, which juts out over the lake, and order a plate of camarones al ajo, huge shrimp stuffed with garlic and served over grilled pineapple. Even at night it's tropically steamy here, and I fight back the heat with a few rounds of the national lager, Gallo, whiling away the evening by tossing crumbs of tortilla to the fish swarming around the boards.

I'm up before the sun in order to catch the hourlong flight from the nearby Flores airport to Guatemala City. By midmorning, I'm in a car and on the way to Antigua, one of the New World's great cultural landmarks. The UNESCO World Heritage Site and former capital of most of colonial Central America is a jumble of cobblestone streets, colorful houses and crumbled churches (due to a 1773 earthquake that destroyed most of the city). It also plays host to frequent, lively festivals.
I drop my bags at Mansión de la Luz, a seven-room boutique hotel that opened last year. The open courtyard looks like a setting from a García Marquez novel, with sprays of calla lilies, tile fountains, arched windows and mannequins dressed in Mayan garb. I head to the restaurant for a late breakfast with my friend Norman Raxón, a cheerful 29-year-old who works as a guide for the Guatemalan tourism agency. I get a desayuno típico: scrambled eggs laced with tomato and onion, black beans, fried plantains, cheese and a spoonful of cream. The salsa I ladle over my eggs is so ragingly picante that I frantically hail our waiter for a mint lemonade to douse my tastebuds.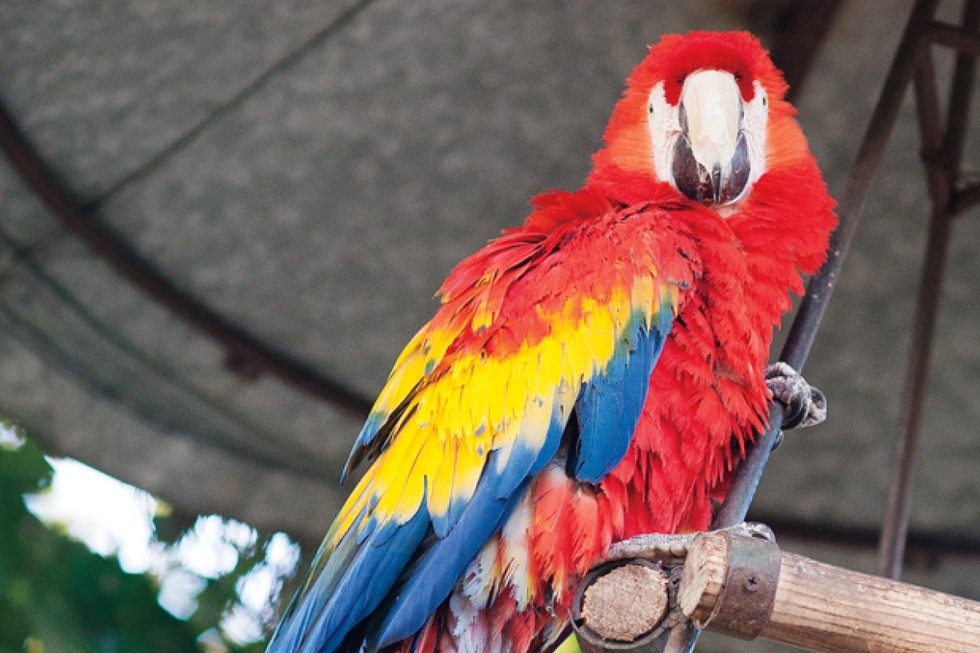 Now we're ready to tackle those cobblestones. We stroll down Tercera Calle, toward the town center, making a detour into Iglesia y Convento de Santo Domingo. A former monastery, founded in the 16th century, Santo Domingo still holds services, and it's also home to a museum—the highlight of which is an ancient crypt, its disintegrating tombs stacked like bunk beds—and a luxury hotel. We wander the courtyard, past bright macaws on perches hung from avocado trees, then find a candle shop in back, where we watch wax being hand-twisted into resplendent centerpieces.
We're barely able to walk another block before I'm hooked again, this time by the chocolatey smell wafting from ChocoMuseo. A fast-talking employee named Pablo leads us on a tour of the shop, complete with a brief history of chocolate, which, he tells us, started as a humble Mayan drink (chocolatl translates as "spicy bitter hot water") and became an increasingly valuable commodity. Mayans would trade more than 100,000 beans for a jaguar skin, while Europeans would later exchange just 100 beans for a human slave. Pablo punctuates his lesson with samples of candy and spicy tea that I can't help but accept, despite my recent, weighty breakfast.
We continue on across town—spanning the city on foot takes just 15 or 20 minutes—to meet a friend of Norman's, Fausto Sicán, a guide from the nearby village of San Juan del Obispo. "He knows everything about this city," Norman tells me. Sicán began leading tour groups as a kid to help pay for school. He studied law, but to be a student during Guatemala's violent civil war was a risky proposition, so he left school and now uses his considerable intellect to educate people like me.
"This city is considered the best expression of the Spanish presence in Guatemala," Sicán says. "My favorite place is the Convento de las Capuchinas. It's one of the most important places in the city. It was the last [major] building constructed here before the capital moved to Guatemala City."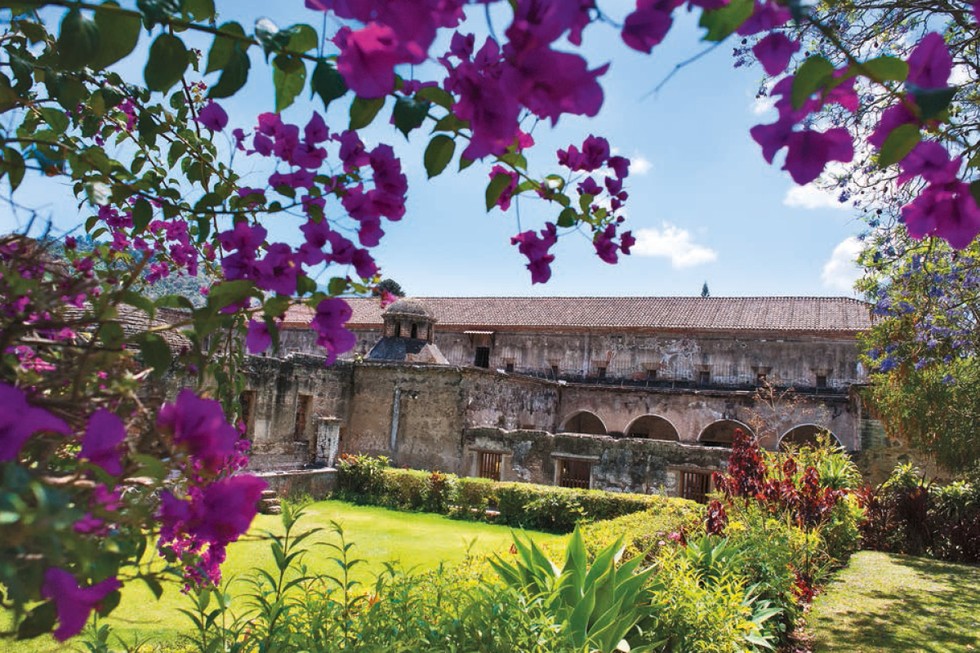 Sicán agrees to show us Capuchinas, a fortresslike, carved-stone convent that was consecrated in 1736. He leads us into the main hall, light streaming down from above, where a huge dome once rose, then through the sanctuary, where nuns would fast and flagellate themselves, and finally into a circular subterranean room. It's chilly down here, and with just two windows a little dark, but it's strangely peaceful. Standing in the slanting light, Norman nods at me. "This is the best place," he whispers.
This room, Sicán tells us, managed to escape the ravages of earthquakes, and there are many theories about what it was used for. "The best version," he says, "is that this is like the Gregorian places, where the people went to sing, thinking that their voices go directly to heaven." He demonstrates by walking around the perimeter of the room, singing in a deep voice that resonates throughout the chamber.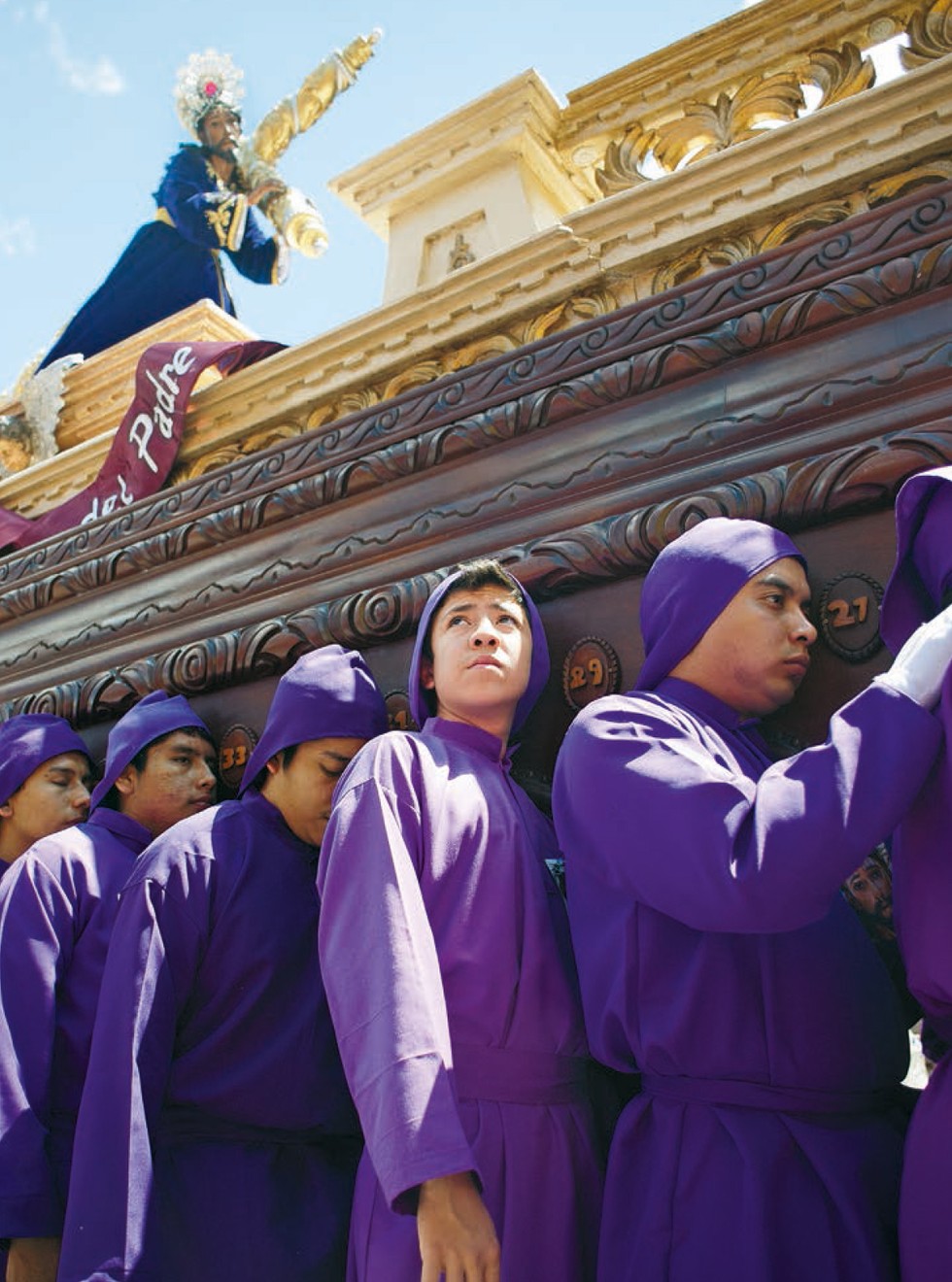 Before he leaves, Sicán tells us we should check out a religious procession happening in the adjacent village of Jocotenango. We take his advice, hailing one of the ubiquitous three-wheel tuk-tuks, and 10 bumpy minutes later we're stepping out into the central square of the village, which is like a smaller, less touristy version of Antigua.
The streets are decorated with colorful alfombras, or carpets, painstakingly pieced together from dyed sawdust and fruit. Over these decorations passes the procession. First come the cucuruchos, men in purple robes carrying a giant casket, atop which stands an effigy of Christ. A smaller casket for the Virgin Mary, borne by solemn teenage girls in black skirts, follows. The floats sway as the pallbearers, some weeping, rotate in and out. I'm not a religious man, but for a moment the sight is enough to make me wish I were.
Later, we walk back through the main square, scoping out the many food carts. Norman points to a grill, over which roasts an entire pig. It's time for another religious experience: We chow down on pork tacos topped with virulently spicy green salsa, then tuk-tuk it back down the hill to Antigua.
We alight in Parque Central, the city's main square, and stroll beneath a bursting purple bloom of jacaranda flowers, past canoodling couples, breakdancing teens, kids pushing wheelbarrows of peanuts for sale. We stop at the 450-year-old Iglesia de la Merced, whose Baroque detailing includes stucco carvings of saints and coffee plants on its dazzling yellow facade. We poke our heads inside—there's a service going on—then continue on to Quinta Avenida, a ramble of shops, bars and restaurants that the locals call "Arch Street" because it passes under the Arco de Santa Catalina, a 17th-century archway and bell tower. We stop in at Nim Po't Centro de Textiles Tradicionales, a cavernous shop filled with ceremonial masks, güipiles (traditional blouses) and immense circular kites that Guatemalans fly as part of their Dia de los Muertos celebration. I want to take one home, but it's not gonna fit in my carry-on.
We stop for dinner at Los Tres Tiempos, a bright blue restaurant that serves expertly executed Guatemalan standards. We sit amid bougainvilleas on the second-floor patio, listening to a pair of mariachis as we munch on fried sticks of Guatemalan chancol cheese and a ceviche of shrimp, fish, conch, octopus and avocado. For an entree, I order pepián, a soup of pork, rice, potato and carrots in a broth laced with tomato, chile, pumpkin and sesame.
Next, we hoof it across town for sundowners at the third-floor rooftop bar of Café Sky. Thanks to preservation regulations (and the fear of earthquakes) three stories is tall for Antigua, so we're blessed with views of Fuego, Agua and Acatenango, the three 12,000-plus-foot volcanoes that surround the city. As I sip a mint-heavy mojito, a puff of dark smoke rises from the top of the appropriately named Fuego. "That's a small one," Norman says. "A few weeks ago there was a big one that covered the city in ash."
On the way back to the hotel, we come across a guarded motorcade in front of the Santo Domingo. Apparently the president of Guatemala and the prime minister of Spain are meeting here. "Everyone who comes to Guatemala runs to Antigua," Norman observes. I can see why.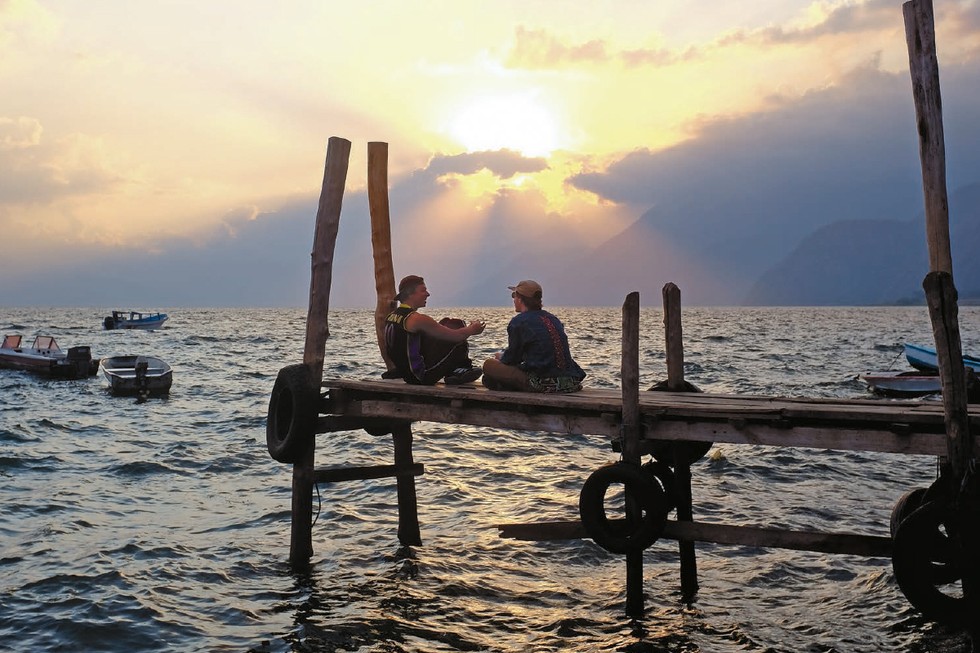 As i step out onto the courtyard balcony at Mansión de la Luz, the only clouds I see are a few white wisps skirting the peaks of Fuego and Acatenango. I feel a volcanic rumbling and look for more smoke from Fuego, but it's only my stomach, so I cross the courtyard to the hotel restaurant, where I eagerly order another desayuno típico, topping it off with a cup of strong Guatemalan coffee.
After breakfast, I meet Norman in the lobby. He's agreed to drive me the hour and a half to Lago de Atitlán, one of Central America's greatest natural wonders. "The lake is my favorite place in Guatemala," he tells me as we drive through a rocky mountain pass. Soon, a switchbacking road drops us into the lakeside town of Panajachel. Past the shops, restaurants and food carts of Calle Santander, we reach the Porta Hotel Del Lago. I drop my bags in my room and step out onto the balcony. Three huge volcanoes—Atitlán, Tolimán and San Pedro—rise from the flat blue surface of the lake, itself nearly a mile above sea level. I've got to get out on that water.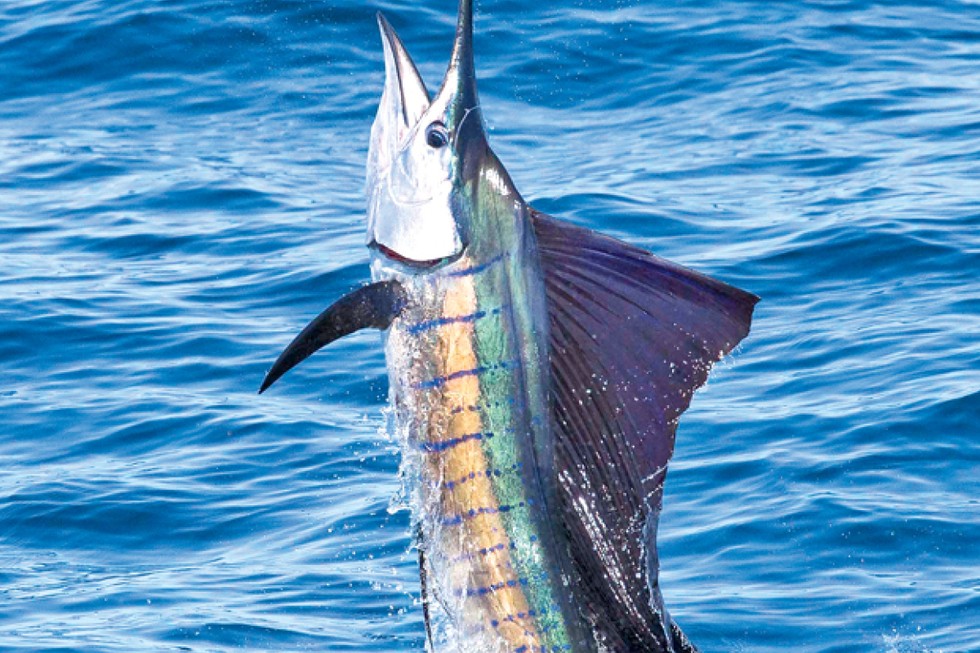 I walk down to the docks, where Norman has hired a motorboat to ferry us around the lake. We skip across the surface, curve around a fisherman, who waves at us from his small cayuco—the simple wooden canoe used by locals—and traverse a patch of improvised crab traps before pulling up to the docks of the village of San Juan la Laguna.
Up a steep incline from the docks, we find Galería de Arte Chiya y Creación Maya, run by local husband-and-wife artists Antonio Coché Mendoza and Angelina Quic. We step inside the gallery, its walls filled with vivid depictions of marketplaces painted from a bird's-eye perspective. Quic and Coché have taught the technique to many students over the years.
"I got the idea 24 years ago, at Cerro de la Cruz, while looking down from above the town," Quic says. "Then we took photos from a rooftop of children with baskets at a market, and started to make these paintings."
Coché, a self-taught artist who has been painting since age 10, leads me into a back room, where he hangs his own works, canvases bursting with fruit, Rivera-esque calla lilies and Mayan villagers. "I paint the life of the peasants that you see in the coffee plantations here," he tells me. "The streets, the lake. A little of everything."
After buying a couple of paintings, Norman and I continue up the street. At the top of the hill, we reach Asociación Ixoq Ajkeem Mujer Tejedora, a cooperative of local women who hand-weave textiles in traditional Mayan fashion.
Co-op member Catarina Méndez demonstrates how the cloth is spun, dyed and woven. It's about to get chilly again back in the States, so I pick up a marvelous new scarf.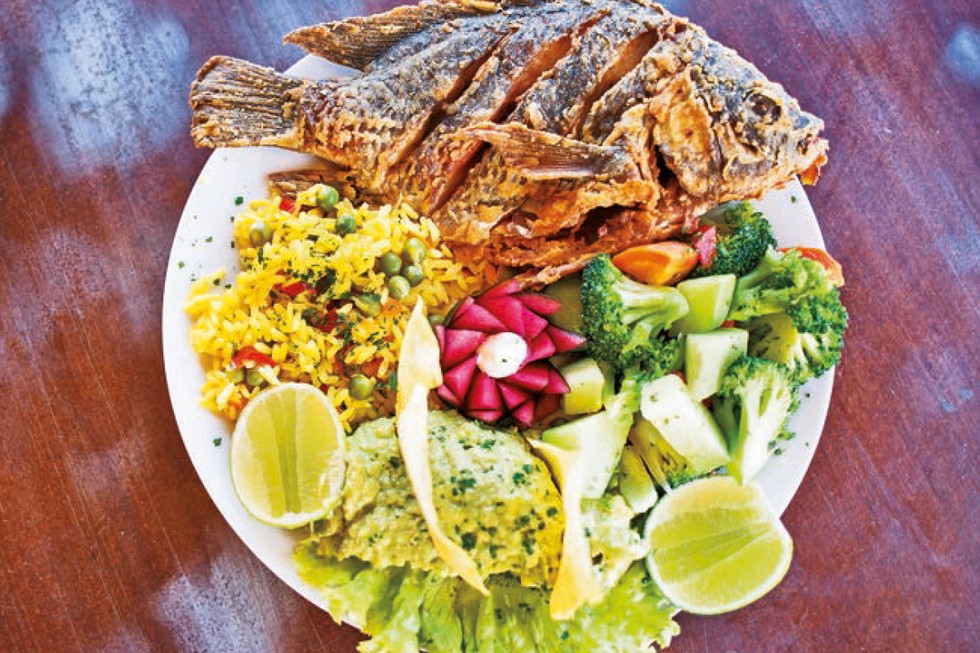 We head back to the boat and zip over to another lakeside town, Santiago Atitlán. We slog up another hill to Restaurante el Pescador, where we sit on a second-floor deck and watch the locals below: women in Mayan garb leading children by the hand, young men standing in the beds of moving pickup trucks. I order a fried whole mojarra fish, accompanied by rice, vegetables and a mountain of chips and guacamole.
After lunch, we walk through the plaza, stopping at the Iglesia Parroquial Santiago Apóstol. The plaques here offer a sobering reminder of Guatemala's turbulent past. The civil war was particularly brutal in this region, and the pastor, Father Stanley Rother, allowed many families to sleep in the church for safety. A death squad killed him for his kindness, but the grateful townspeople buried his heart in the church.
The late-afternoon wind is picking up and the lake is getting choppy, so we head for the boat and back to Panajachel. After docking, we follow a row of lakeside eateries and settle on the deck at Restaurante Los Cayucos, hanging out over the water, where we enjoy a couple of large Gallos and a platter of boquitas, tasty bites of tortilla, guacamole, steak and salsa. The waves are really rocking now, and Norman recalls a Mayan legend that explains why.
"A princess and a Tz'utujil man from the other side of the lake fell in love, but the Spaniards wanted the girl," he tells me. "So they tied a stone around the man's neck and threw him in the water. And then the princess took a cayuco, and she jumped in the water. And so every day, between 4 and 5 o'clock in the afternoon, people believe that the princess and the man dance together."
We knock back a few more Gallos, watching the waves dance, and then take a walk up Santander, where the taco carts are still doing a brisk trade. We cut left onto Calle Principal and up to Bar Circus, where we find a small dog sitting on the sidewalk out front. "We call that a cadejo," Norman says. "He's good luck. If you see a cadejo in front of a bar, he'll help you get home when you're drunk."
Our canine guardian follows us inside and sets up camp under our table, waiting for handouts. When a couple of guitar players take the stage, he jumps up and lies at their feet. The musicians take Latin rock requests from the crowd, and we split a pizza topped with salami, mushrooms and olives, with more than enough margaritas. As I drain the last of the tequila from my glass, the dog wanders back over, and I scratch his ear. "What do you think, cadejo? Time to go home?"
As if in answer, he springs up and dashes for the door. On to the next adventure.
Hemispheres managing editor Justin Goldman needs a full-time cadejo for all of his travels.
If you go
Come meet some of the friendliest residents and explore the many wanders Guatemala has to offer. Visit united.com or use the United app to book your trip.
Porto: Portugal's surprising second city
"Second cities" or those that rank #2 in population often surprise world travelers. And second doesn't mean second-rate. Porto is Portugal's second city — so off-the-radar that many world travelers haven't even heard of it. Yet, Porto and nearby spots in northern Portugal can be delightful destinations even if you don't visit the more well-known city of Lisbon.
Old city by day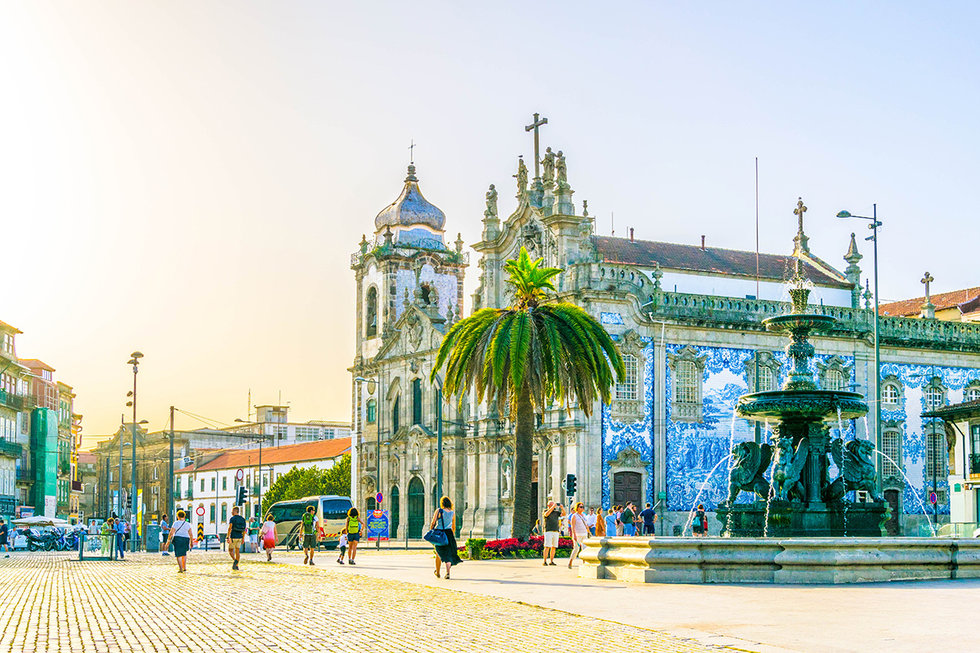 The best place to get oriented, as in most European cities, is in the old city center. Porto's Old City is so well-preserved that it's a UNESCO World Heritage Site. A 12th-century cathedral and the 15th-century Church of St. Francis, notable for interior wood carvings gilded by hundreds of pounds of gold, are mixed in with a rich collection of imposing granite, red-roofed Baroque buildings. Add 225 stairs and a stirring view to your walking tour by ascending the 250-foot-high Clérigos Church bell tower, built in 1754, which dominates the Porto skyline. Historic bridges over the Douro River and Soares dos Reis National Museum, an art museum housed in a palace, are also excellent sites to see.

Food and music by night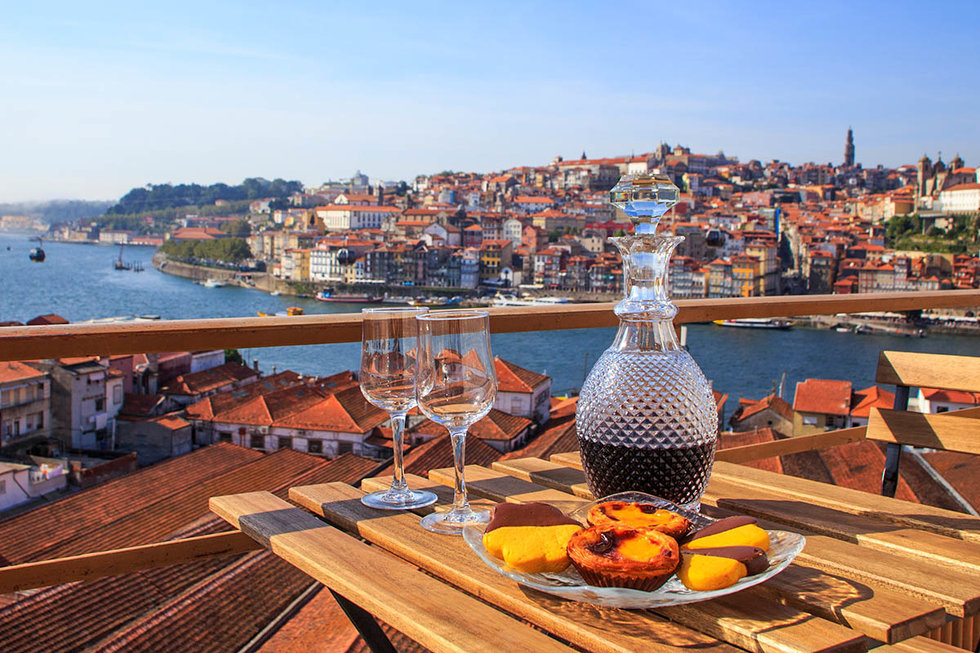 Porto's youthful population has turned it into a lively city after dark. You might start off the evening in the Old City at Abadia do Porto, a 1939 restaurant that serves traditional Portuguese dishes like roasted lamb and grilled octopus, or at Astoria, with its modern Portuguese fare served inside a former palace. Whether you choose a Portuguese, French or fusion restaurant, seafood is likely to be highlighted, drawing on Porto's proximity to the Atlantic and the Douro. Then, you can head to the large collection of bars and nightclubs in the nearby Galerias district, which includes Radio Bar, inside a former court building, and Gare, a disco in a tunnel that stays open until 6 a.m.
Head west to the beaches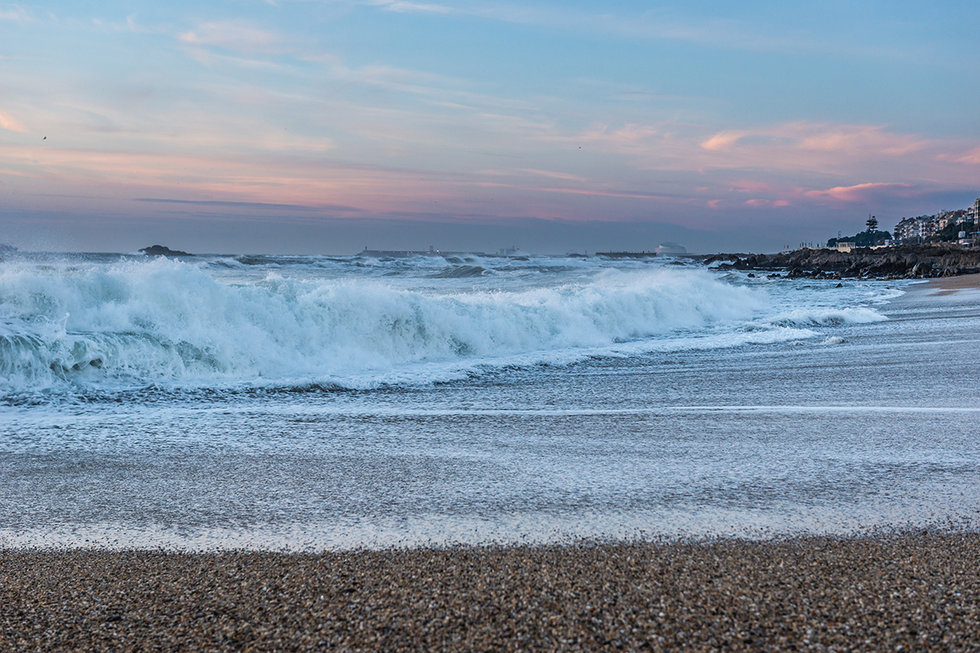 The closest Atlantic beaches to central Porto are at Foz do Douro (mouth of the Douro), just 20 minutes away by city bus. But why settle? In a rental car you can explore Atlantic beaches and beach towns that extend for hundreds of miles along Portugal's coastline. Two of the best are Foz do Minho, the nation's northernmost oceanic beach that's just across the Minho River from Spain, and Quiaios, a dune-fringed paradise of sand south of Porto. Many beaches in northern Portugal are cradled in coves protected by rocky promontories, similar to northern California and Oregon beaches.

Or east to the wine country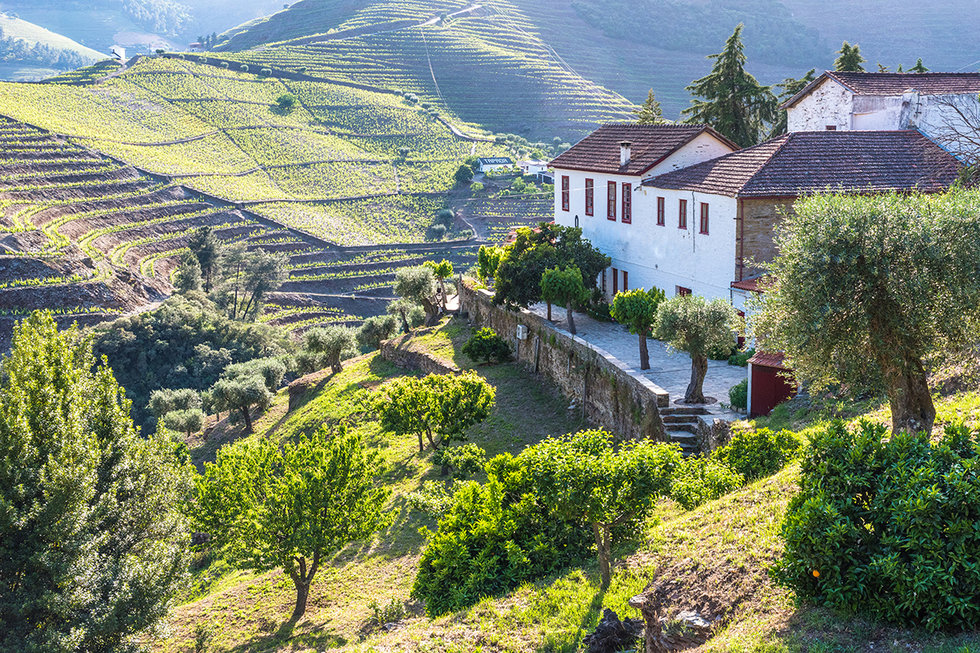 The Douro Valley wine region is another World Heritage Site and one of the world's best and most scenic wine regions. It's up the Douro River from Porto by boat or 90 minutes by road. Namesake port wines and other fortified wines are the region's signature beverages, which can be sampled at tasting rooms on the Douro along N-222, a wine road that's been called the world's most scenic drive. While you're in the area, check out the wine and anthropology museums in the wine towns and yet another World Heritage Site — Coa Valley Archaeological Park — known for its prehistoric rock carvings.
The basics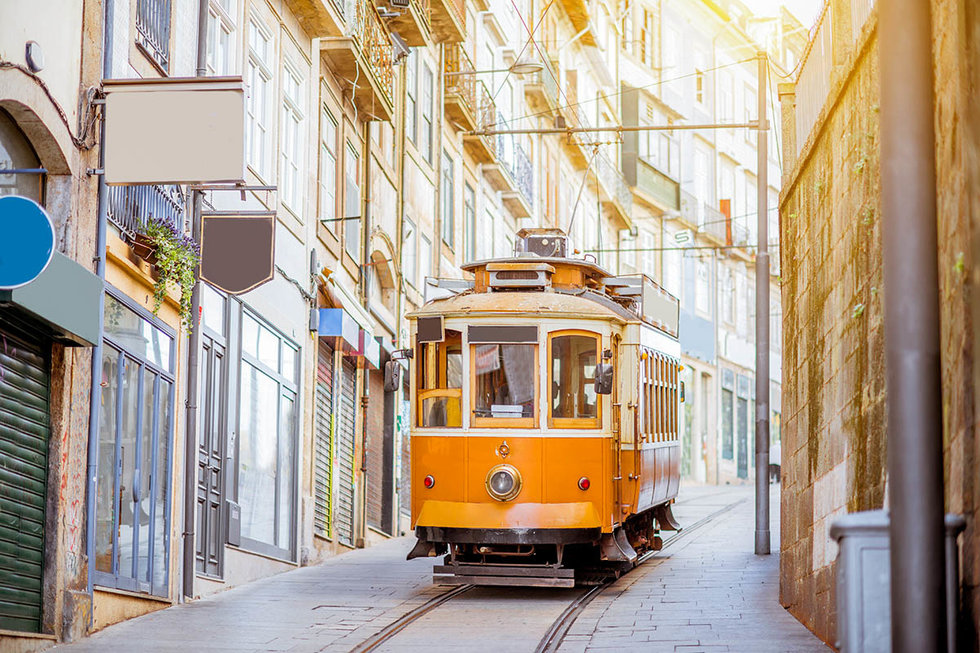 Portugal's Mediterranean climate and coastal breezes bless it with mild weather year round, as the average temperature ranges from 57 degrees (and rain) in January to 78 degrees (and a little rain) in August. Whenever you come, there's no need to learn Portuguese as English is spoken even more widely than elsewhere in Western Europe. Once you arrive, rent a car only if you don't mind ridiculous drivers. The trains are more relaxing — light-rail and subway trains crisscross the Porto area and funicular cable cars climb its steepest hills. There's even a scenic train that follows the Douro nearly to Spain, with a roundtrip fare of only about $30.
Getting there
Portugal requires that visitor passports don't expire until at least three months after the arrival date, so check that. Next, buy some Euros (for a great exchange rate) and reserve a flight. United Airlines flies nonstop from New York/Newark to Porto and MileagePlus® award miles can be redeemed to cover accommodations and Hertz rentals. Go to united.com or use the United app to plan your trip.

United 787-10 Dreamliner launch
Story was contributed by: Jennifer Lake | Photography: Alicia of Aesthetica
It was a typical Monday morning. I'm sitting at my desk at work, drinking coffee, reviewing my to-do list for the week. All around me, heels are clacking through the office and phones ring intermittently. However, this particular Monday morning was different. Ultimately, I would receive an offer from my favorite airline for a collaboration to participate in the United 787-10 Dreamliner launch from Los Angeles LAX to New York/Newark EWR. Read the full story here featured on Style Charade.
Fit for the runway: We begin testing new uniforms
Last year we announced new partnerships with Tracy Reese, Brooks Brothers and Carhartt — best-in-class fashion and apparel designers — to help reimagine uniforms for more than 70,000 of our employees. Focusing on high quality fabrics, improved breathability and overall enhanced fit, our goal is to design and develop a more cohesive collection that looks good, feels good and enables employees to perform at their best on behalf of our customers.
United employees can learn more on the uniform designs by visiting Flying Together.
An insider's guide to Boston
Boston is a pack-it-all-in kind of place. Founded in 1630, one of America's oldest cities does many things well. Boston's many claims to fame include many of America's oldest historic landmarks and one of its oldest ballparks. It's a destination for history buffs, culture vultures, foodies, sports fans, families and more. No matter who your travel companions are or what they're interested in, everyone will find something to pique their interest in Beantown.

Getting there & around town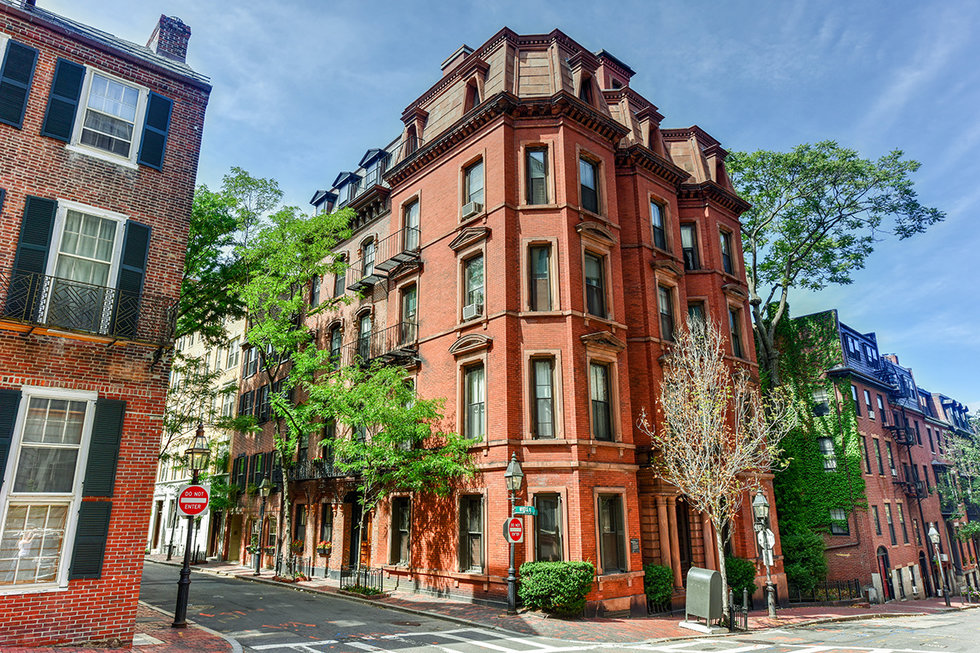 Fly direct to Boston's Logan International Airport (BOS) from many U.S. cities — visit united.com or use the United app to book your flight. Flights are 90 minutes from New York, two hours from Cleveland and five to six hours from California. From Logan International Airport, it's easy to hail a taxi, use ridesharing apps or take public transportation. If you want to take the scenic route, take a water taxi across Boston Harbor directly into downtown.
Downtown Boston is easy to navigate. It's walkable and taxis are plentiful. The MBTA, Boston's public transportation system, offers affordable access to Cambridge, many attractions and the suburbs. Keep in mind it's one of the oldest transportation systems in the country, so expect a few bumps. Because the city is dense, parking can be expensive or hard to find, so avoid driving if you can.
When to visit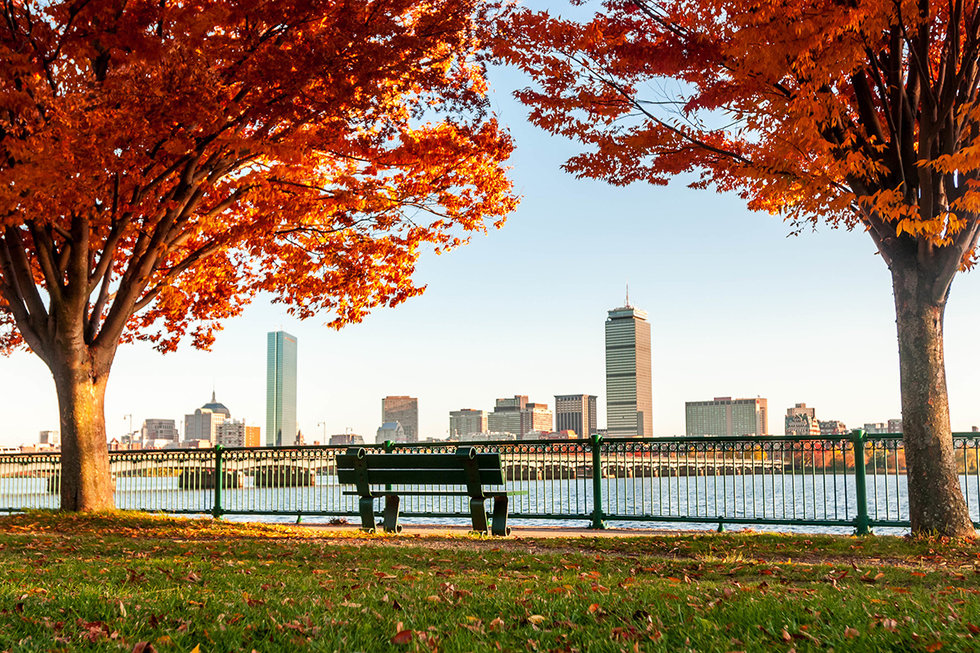 Summer and fall are the most popular seasons to visit. Summer is prime time to enjoy Boston's many parks, outdoor eateries, open-air concerts and baseball games at Fenway Park. Mild fall weather, beautiful autumn foliage and Halloween festivities in nearby Salem, Massachusetts make October one of Boston's busiest months. The city also sees an influx of visitors for the Boston Marathon in April. You'll find smaller crowds and more affordable prices in winter, but brace yourself for the cold.
What to do
There's so much to take in just by walking through Boston's cobblestoned streets. Downtown is quaint, compact and easy to explore by foot. The small city is packed with historic sites, New England's finest food, proud sports fans and friendly locals.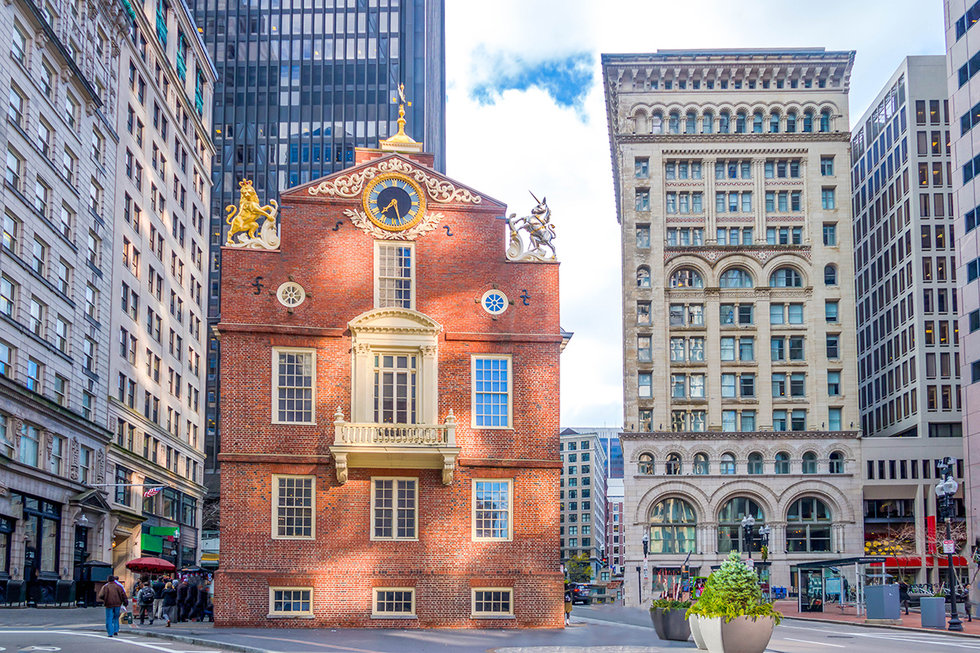 As the birthplace of the American Revolution, Boston's historic sites are an attraction in themselves. Walk the 2.5-mile Freedom Trail to visit 16 of them around the city, including Revolutionary-era museums, churches, buildings and an impressive warship. Faneuil Hall Marketplace is on the trail, too, and is one of Boston's top attractions, with plentiful shopping, dining and live music. Not much of a walker? Boston Duck Tours operate land-and-water historic tours on World War II-inspired vehicles, which transform from truck to boat mid-tour.
Many museums and sites are tucked along Boston Harbor. The waterfront is always bustling with activity year-round. The harborwalk is the perfect place to meander and explore without a strict agenda. Plan to visit a major attraction or two, but leave time to enjoy the scenery or to pop into a café for a coffee and sweet treat (award-winning Flour Bakery + Cafe is a local favorite).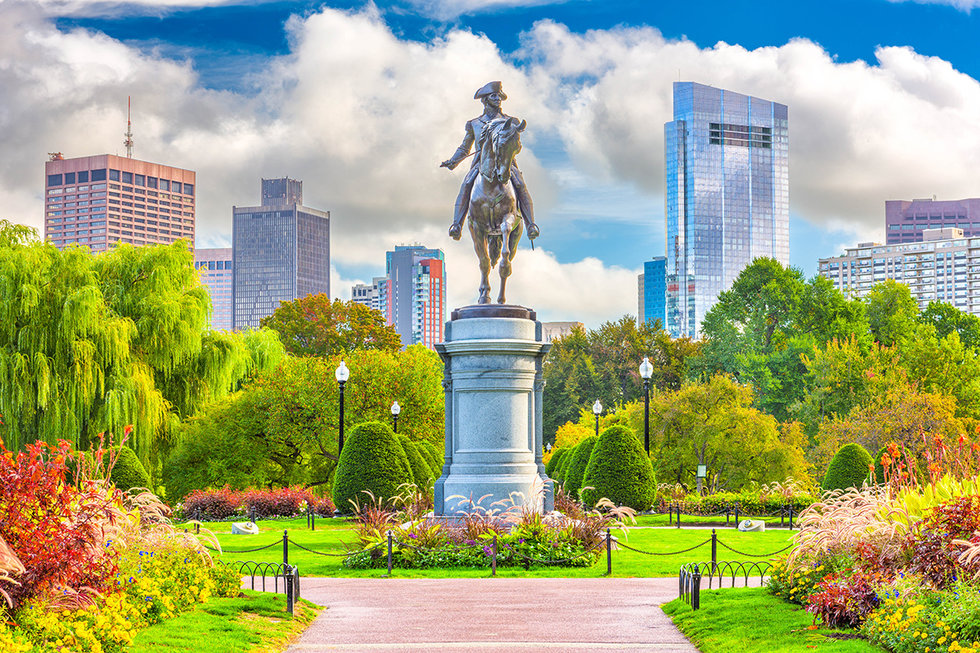 Deemed the "Athens of America," Boston boasts not only some of the country's oldest and most architecturally significant buildings, but also a thriving arts and culture scene. You could spend your entire trip touring its dozens of world-class museums. Take in classical music at the famous Boston Symphony Orchestra, or take a leisurely stroll through Boston Public Garden and Boston Common, the city's most well-known public parks. Riding the giant Swan Boats through the Public Garden lagoon is a kitschy, yet delightful experience, especially for kids.
What to eat
What must you absolutely eat in Boston? In short, everything. Long ago the city was nicknamed Beantown, allegedly after slow-cooked molasses baked beans served to sailors and traders. Today, Boston continues its reputation as a great eating city. From clam chowder to cannoli, the most popular dishes here are often hearty and decadent. Boston is also known for fresh lobster rolls, roast beef sandwiches and, of course, Boston cream pie.
Ask any Bostonian where to find "the best" of anything, and everyone will recommend a different spot. Cannoli from Mike's Pastry, Boston cream pie from Omni Parker House (where it was invented) and the roast beef 1000 sandwich from Cutty's frequently top the must-try lists. If you make it to a ball game at Fenway Park, Fenway Franks are a Boston staple.
Our role in 'Spider-Man™: Far From Home'
In Columbia Pictures upcoming release in association with Marvel Studios, "Spider-Man™: Far From Home," our web-slinging hero finds himself – yep, you guessed it – far from his home in New York City. And since flying is one of the few superpowers Spider-Man doesn't possess, we gave him a little help, meaning United is featured in the film.
The scenes of Peter Parker and his pals traveling to Europe take place on one of our Boeing 777s with the all-new United Polaris® business class, and several of our employees – including members of our Tech Ops, Inflight, Flight Operations and Airport Operations teams – served as actors and production support during shoots at New York/Newark (EWR) and London-Stansted (STN).
London-Heathrow (LHR) Customer Service Representative Manjit Heer and LHR Cargo Warehouse Operations Manager Richard Miller were background extras on board, and multiple flight attendants had a role, including San Francisco (SFO) Flight Attendant Tammy Harris.
"It was extremely surreal," said Tammy. "I was in my element because I was on the plane in uniform, but not really, because I'm not an actor."
Tammy said she hit her mark and delivered her line with gusto, and she's excited to see if she made the final cut when "Spider-Man™: Far From Home" hits worldwide theaters this summer.
"Hopefully, I'll have my two seconds of fame and all will be well," she joked.
Los Angeles (LAX) Aircraft Maintenance Supervisor Fernando Melendez is a veteran of several film shoots but said this one was his favorite. When the production went to London, he was one of five members of LAX Tech Ops who went over to look after our airplane and make adjustments to its interior based on the filmmaker's needs.
"When we parked the plane at Stanstead, there were lights and cameras surrounding us. It was like the plane was the star of the movie," he said. "Each day, we would work with the assistant director; he would go through and say, 'Okay, for this shoot we need these seats, or these panels removed,' so they could get the camera angles. Pretty much, the airplane was our responsibility; we opened it in the morning and closed it at night. We were the first ones there and the last ones to leave every day."
Fernando said the actors were all very gracious and engaging, and said the whole experience was fantastic from start to finish. It also earned him a little cooler cred with his 18-year-old son, who is a massive Marvel fan.
Leading up to the film's premiere this year, there will be plenty of ways for employees and customers to get into the Spidey spirit in anticipation of our cameo. Stay tuned for more details.
---
Peter Parker returns in "Spider-Man™: Far From Home," the next chapter of the Spider-Man™: Homecoming series! Our friendly neighborhood Super Hero decides to join his best friends Ned, MJ, and the rest of the gang on a European vacation. However, Peter's plan to leave super heroics behind for a few weeks are quickly scrapped when he begrudgingly agrees to help Nick Fury uncover the mystery of several elemental creature attacks, creating havoc across the continent!
Directed by Jon Watts, the film is written by Chris McKenna and Erik Sommers based on the Marvel Comic Book by Stan Lee and Steve Ditko. The film is produced by Kevin Feige and Amy Pascal. Louis D'Esposito, Victoria Alonso, Thomas M. Hammel, Eric Hauserman Carroll, Stan Lee, Avi Arad and Matt Tolmach serve as executive producers. The film stars Tom Holland, Samuel L. Jackson, Zendaya, Cobie Smulders, Jon Favreau, JB Smoove, Jacob Batalon, Martin Starr, with Marisa Tomei and Jake Gyllenhaal.
"Spider-Man™: Far From Home" makes its way to North American theaters on July 5, 2019.
What to expect from our improved app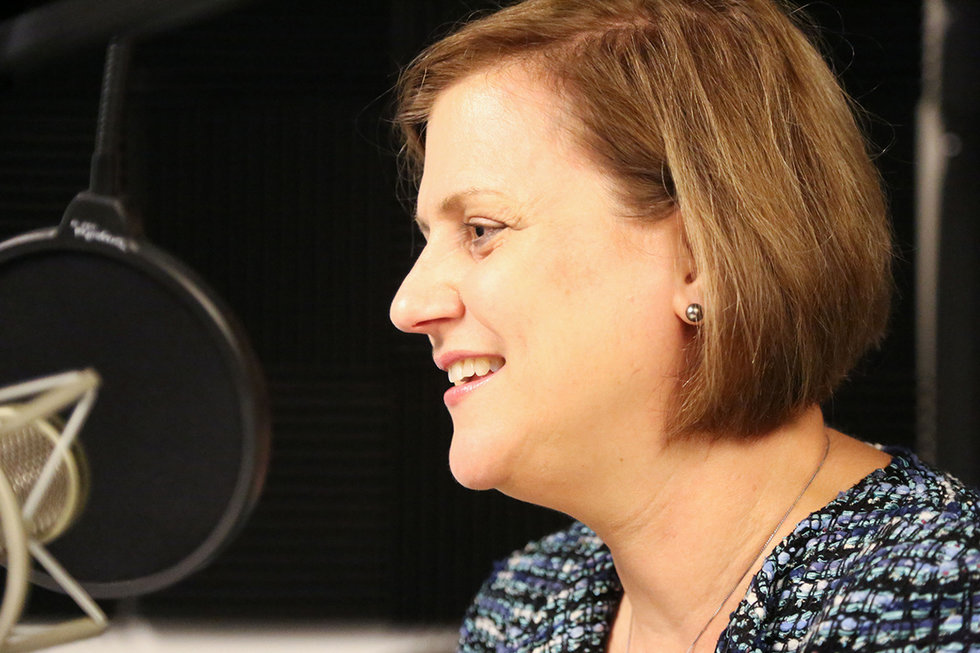 "Talking Points," host Brian Kelly, aka The Points Guy, is joined by Linda Jojo, Executive Vice President for Technology and Chief Digital Officer at United Airlines to discuss what passengers can expect from our improved app.
Read more about the improvements to the United app here.

20 million miles and counting...
On November 7, while flying from Newark Liberty International Airport to Los Angeles International Airport, United customer Tom Stuker made history when he reached 20 million miles flown on a single airline. We were fortunate enough to capture the milestone he reached with us.
To mark the special occasion, we hosted a celebration in Mr. Stuker's honor at the United Polaris lounge at O'Hare International Airport on Saturday. The celebration was delayed a couple of months, so Mr. Stuker could celebrate the event with his family.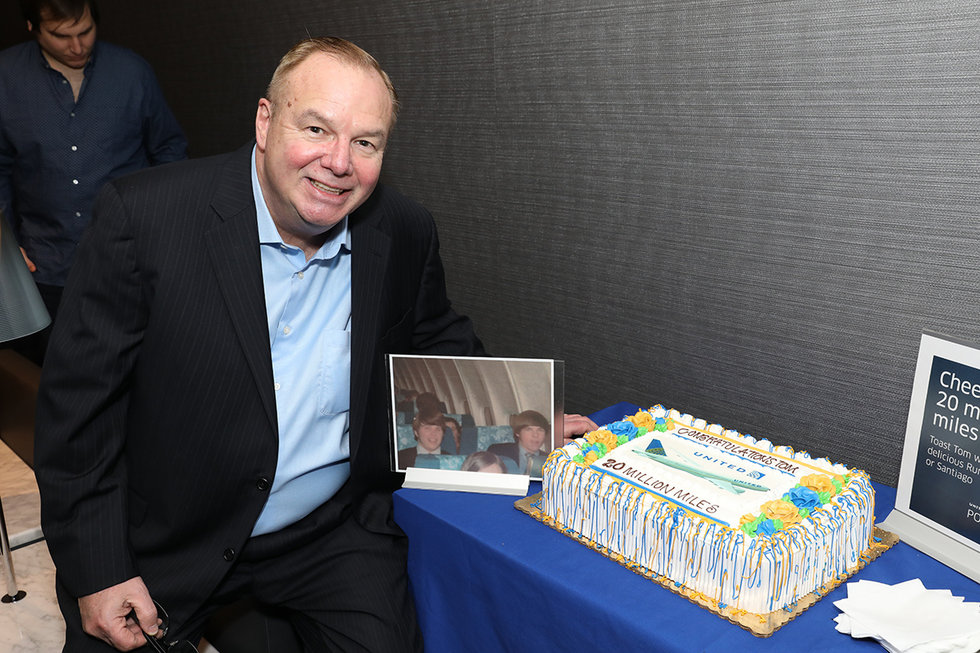 The party included a room full of employees, media members and Mr. Stuker's friends and family enjoying food, cocktails, stories and laughs. To thank him for his long-standing loyalty to United, we also presented Mr. Stuker with gifts made specially for him.
"United makes my dreams come true," Mr. Stuker said to the room full of people.
He also praised United's MileagePlus program, the United Polaris lounges across our system and Oscar's leadership of the airline but, most of all, he praised the service he receives from our employees.
"My favorite part of United is the people. United is such a big part of my life…you are a family to me," he said addressing the United employees. "It would take me days and days and days to say thank you in the right way to the right people. They all know me by now and know how much I care about them as people, how much I care about this airline and its success, and how much I care about the greatest leader this airline has ever had, Oscar."
Bora Bora: The most beautiful island in the world
Each week we will profile one of our employee's adventures across the globe, featuring a new location for every employee's story. Follow along every week to learn more about their travel experiences.
By Chicago-based United Club Customer Service Representative Amile Ribeiro.
They say beauty is in the eye of the beholder. I know it can be very subjective but, once you set your eyes on it, I'm sure you'll agree with me: Bora Bora is the most beautiful island in the world.
There are very few things that can get me out of bed early in the morning, and airplanes are one of those things. We were already in Tahiti and woke up at the crack of dawn to catch our quick flight to Bora Bora. After checking in at the airport and getting a quick breakfast, we headed over to the gate to line up for our flight. Air Tahiti has an open seating arrangement, and we wanted to make sure we got the best possible seats. We were able to secure two windows seats. Travel tip: Sit on the left side of the plane when landing in Bora Bora. We took off from Papeete and within minutes we were flying over Mo'orea. Then we flew around Ra'i ātea and Taha'a, and finally arrived in Bora Bora, the island that Polynesians call "First Born." Pora Pora is the actual local pronunciation, but the first explorers misunderstood it and 'Bora Bora' stuck. Though after setting foot on the island, I've come to call it "Paradise on Earth."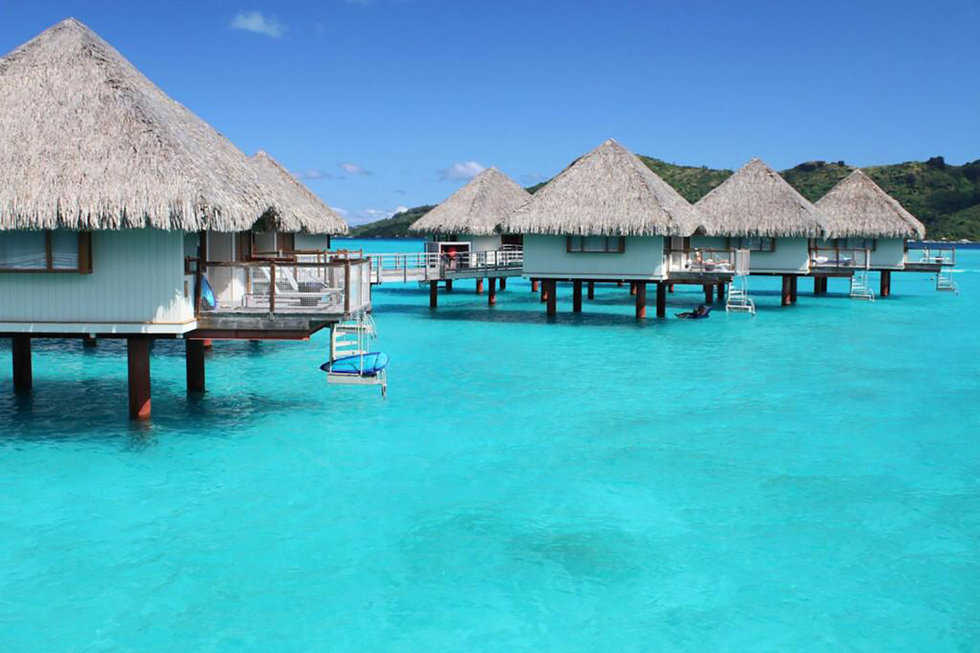 At the airport we were met by a representative of our resort, given flower leis and directed to our high-speed boat. I couldn't believe the color of the water; it was as if Paul Gauguin himself had painted it. After a thrilling ride, we reached our hotel's dock, where a local playing the ukulele welcomed us. We were then given a tour of the astonishing property and were taken by golf cart to our overwater bungalow. We have stayed in many beautiful properties around the world, but when we opened the door of our bungalow our jaws dropped. It is truly a one-of-a-kind experience that all should have at least once in their lifetimes. And worth every penny. The view of majestic Mount Otemanu is something right out of a fairy tale. After the sun set, the nighttime dance show was equally enchanting.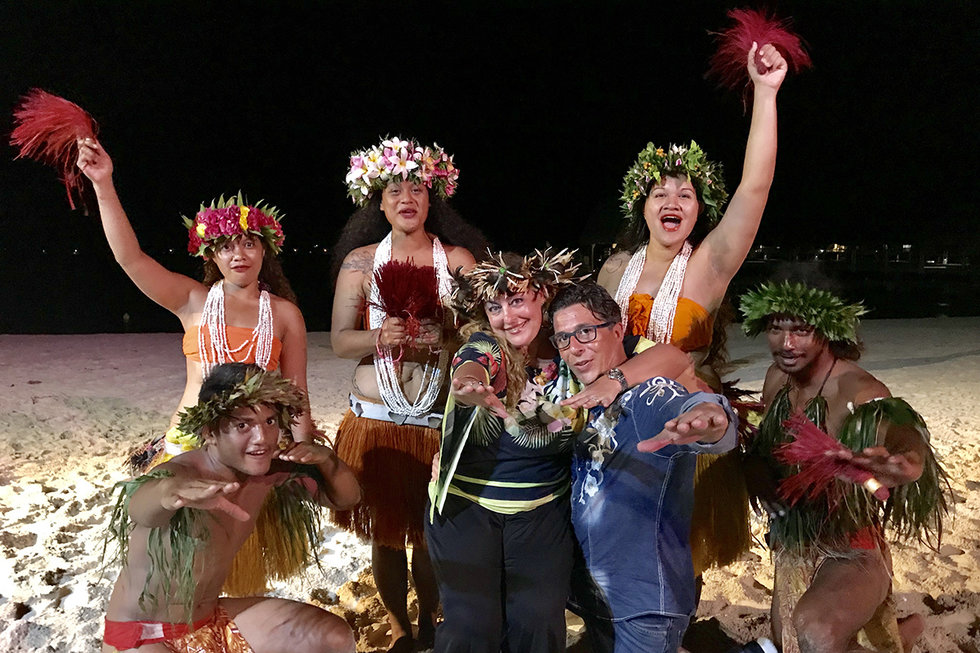 We had planned to be in Bora Bora during the final leg of the famous Hawaiki Nui Va'a canoe competition, which happens to be a major event in the cultural life of French Polynesia and has the reputation for being the toughest canoe race in the world. The center stage was at the island's most beautiful beach, Matira. We stood in awe as the winners reached the finish line after several hours (and days before that) of frantic paddling from island to island, showcasing the power of human strength and endurance. Besides being an incredible sporting challenge, it is also a colorful spectacle that filled the beach with flower-clad women and the air with the pulsating beat of drums. We were also able to celebrate and dance with them later that night at the local ball in Vaitape (Bora Bora's largest city). It was a marvelous way to get a deeper understanding of another culture!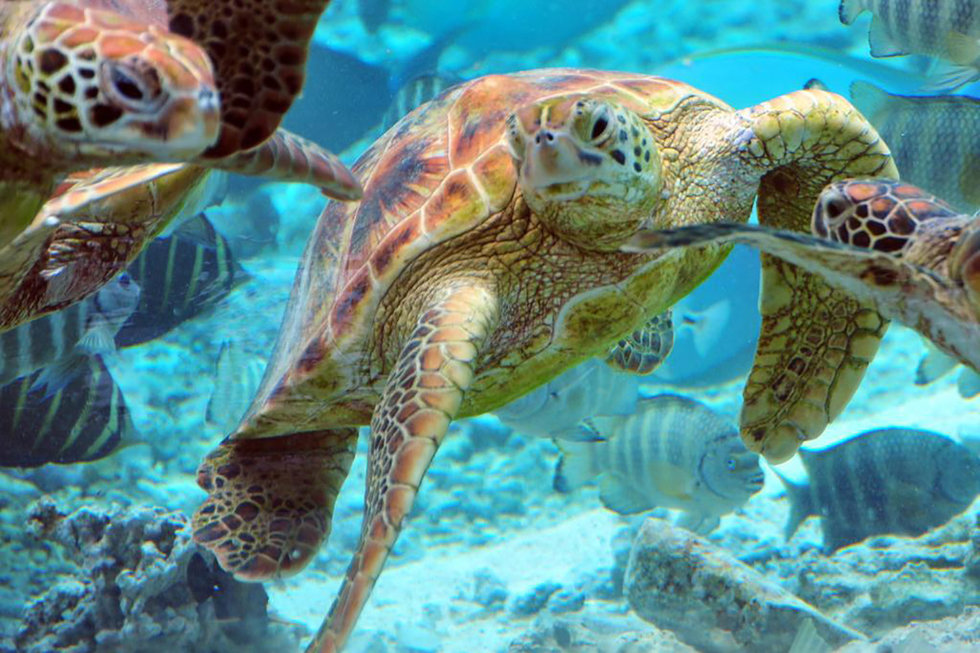 Besides having the time of our lives at the resort's infinity pools, inner lagoons and beach, we also went to the Turtle Center and had a chance to feed these amazing creatures while they're being rehabilitated to go back into open waters. From there, we took a boat tour of the main lagoon and went swimming with stingrays and sharks. Few things scare me in life, and sharks are on the very top of that short list, but I mustered the courage and what a thrill it was! To commemorate my bravery on the last day of our trip, I got my very first tattoo: a hammerhead shark. Polynesians believe that such sharks act as guardian angels to humans and protect us from the Great White. My husband got a Polynesian design that was custom made just for him, and it represents travel, freedom and courage. We also got a set of matching Polynesian wedding bands. Since the art of tattoo originated in Polynesia, this is the most enduring souvenir one can get from such an amazing culture, but I'm sure the memories of our trip will also stay with us forever!

Scroll to top