Three Perfect Days: Guatemala
Those who have heard anything about Guatemala are aware of its troubled history: the earthquakes and volcanic eruptions, the civil war that persisted from 1960 to 1996. But those who have actually been there know it to be something else: a place of extravagant beauty, soaring mountains, pristine lakes and dense jungle, dotted with archaeological treasures. Then there are the people, who are among the friendliest you'll meet anywhere. This may be a humble country, but the list of wonders it offers is truly something about which Guatemalans can boast.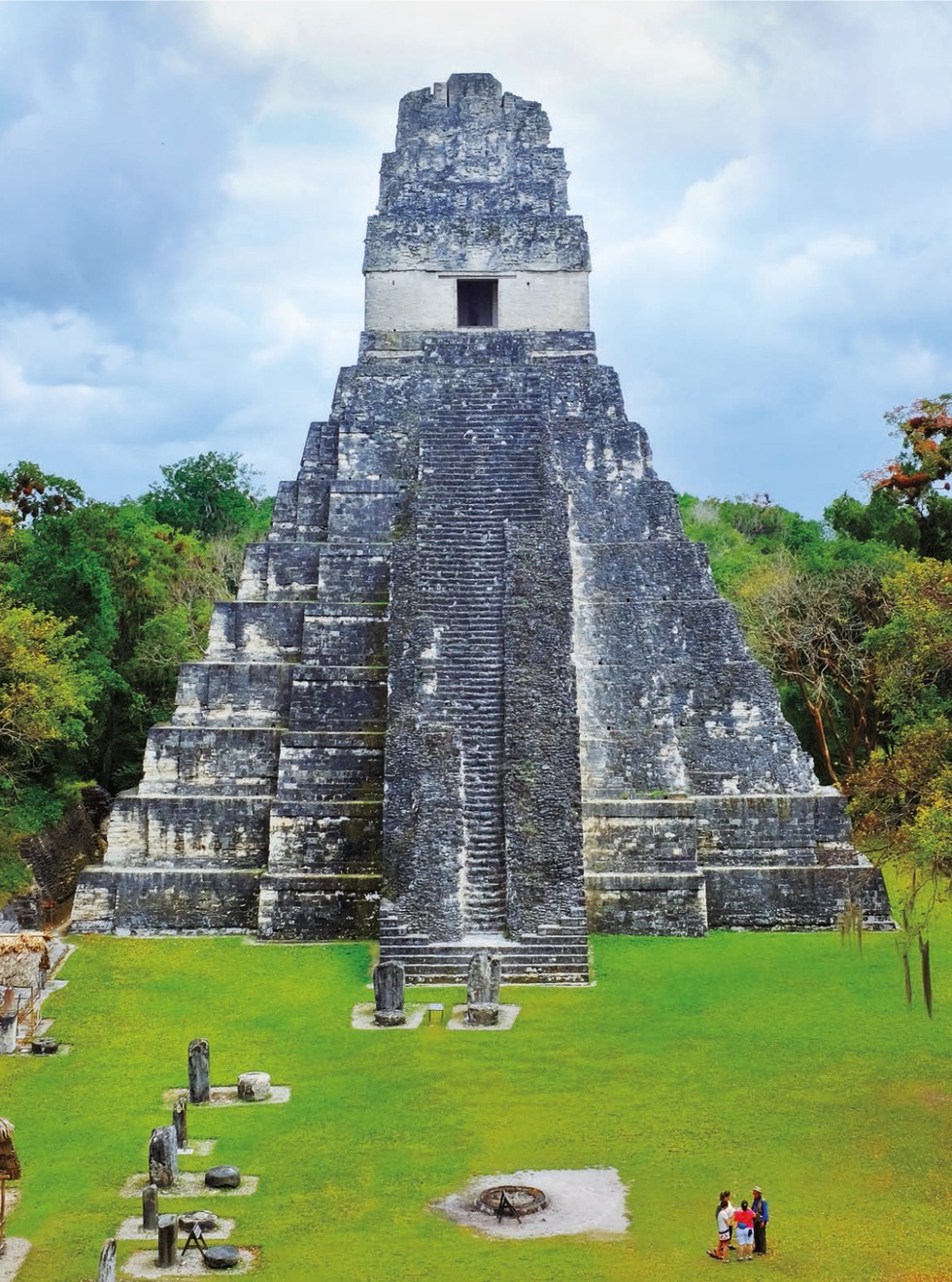 It's just after dawn, and I'm in the back seat of a car that's puttering along the east shore of Lago Petén Itzá, a massive lake in Petén, a tropical state in the northeastern corner of Guatemala, about 30 miles from the Mexican border. I'm munching on chile-lime peanuts as my guide, Eric García, gives me the rundown on Tikal National Park, the famed archaeological site that's also a part of the Maya Biosphere Reserve.
"This is one of nine sites in the world that UNESCO made a natural and cultural preserve," he says of the park. "NASA came here five years ago and took satellite pictures, and they discovered 2,000 archaeological sites in Petén alone."
García has reason to be proud. He comes from a small nearby village called Caoba (the Spanish name for the mahogany tree). Like many Guatemalans, he is of Mayan descent (his grandfather doesn't speak Spanish), and he occasionally supplements his narrative by pulling a small Mayan flute from his bag and playing a few notes.
"Tikal is the center of the Mayan world, like Mecca or the Vatican," he says. "Mayans would come to Tikal from smaller villages to celebrate ceremonies."
Just inside the park gate, García stops and points to the top of a ceiba tree, where black-brown birds with bright yellow tails are flitting and bickering around a bunch of teardrop-shaped nests.
"They're called Montezuma oropendola," he says, "for the gold tails and the way their nests hang."
After a half-hour drive down a tree-lined road, we begin our hike through the jungle, the thunderous calls of howler monkeys roaring overhead. We pause to watch a female spider monkey and her baby scamper across a bough, then make our way toward El Templo del Gran Jaguar, also known as Temple I. As we near the temple, we hear a frenzy of scratching—it's an anteater, halfway up a tree, tearing away the bark to get at a nest of termites. "That's a rare sight to see," García tells me.
We skirt the edges of the stepped, 154-foot pyramid and emerge into the Great Plaza, a broad clearing with stone ruins—dating back more than a thousand years—rising on all four sides.
Directly across from Temple I stands El Templo de las Máscaras, or Temple II, which I climb, eager to see the carved namesake masks at the top. The summit also affords stunning views of the surrounding ruins: the Central Acropolis, a crumbled palace complex where the city's elite lived, and the North Acropolis, a collection of burial chambers, the walls of which bear more stone masks representing Mayan gods.
Down a trail, surrounded by dense vegetation, are Temples III and IV—the latter the tallest in the park, at 213 feet. "We have a big conflict between ecologists and archaeologists," García explains as we make our way through the brush. "Ecologists say, 'Don't touch anything,' and archaeologists say, 'We want to discover more.' Of the 4,000 buildings that have been found here, only 15 percent have been restored."
I climb to the top of Temple IV and look out across miles of jungle canopy. George Lucas showed the Millennium Falcon cruising over this location in Star Wars, and the view is so spectacular that I can (mostly) quell my fear of the vertiginous height. I can also understand why some people think aliens built these temples; there's an otherworldly vibe up here.
As we hike back through the jungle, the skies open up in a torrential downpour. By the time we get to El Mesón, a restaurant near the park entrance, I'm drenched. We take a seat at a picnic table beneath a thatch roof, where we receive a delicious and hearty homestyle lunch of spicy grilled chicken and fluffy, buttery rice, with a dessert of cinnamon-laced stewed banana.
Fortunately, I came prepared for the precipitation—it's called a "rainforest" for a reason—and have a change of clothes in the car. I'm ready to get back into town and take a nap, but as we pass through the gate, García points out Canopy Tours Tikal. "Do you want to do the zipline?" he asks. I remember my dizziness atop Temple IV and say no. Then I think again. The rain has stopped. I'm on vacation. Why not? Minutes later I am screaming and flying, Superman-style, through the treetops. Fear of heights: conquered. Need for a nap: also conquered.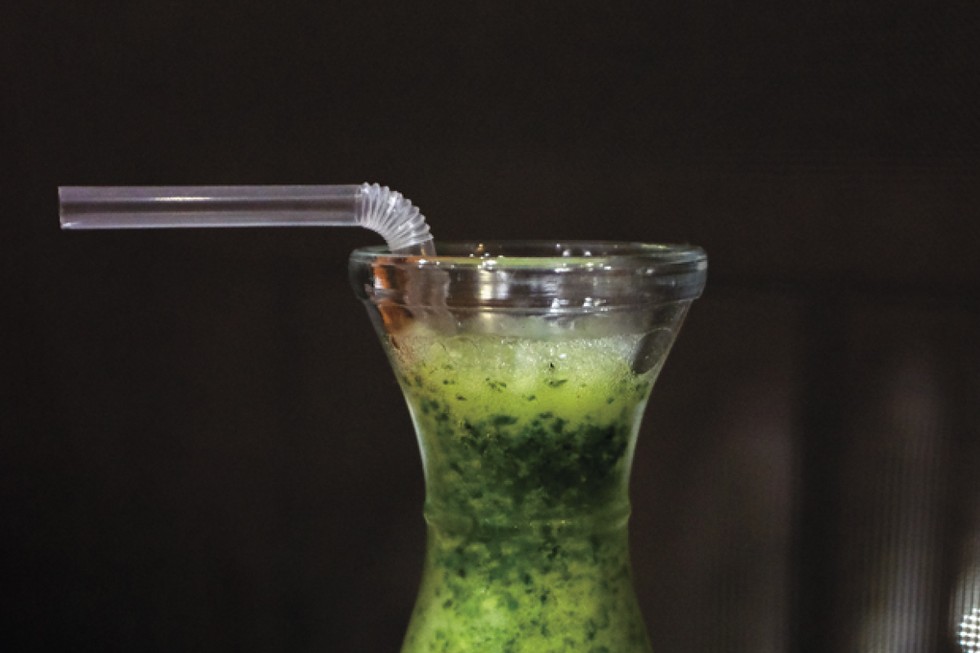 We drive for an hour or so to Flores, the capital of Petén, which occupies a small island in Lago Petén Itzá. We cross the bridge into town and García drops me off at the red-and-white, chalet-style Ramada Tikal, which opened last year on the sleepy waterfront. At check-in I'm given a glass of watermelon juice, which soothes my throat, still scratchy from jungle-sweat dehydration and zipline banshee wails. Just beyond the lobby I pass an indoor pool and head up to my room, which has a balcony overlooking the lake.
The view is great, but the sight of the bed is even better. I feel my need for a nap returning.
It's dark when I wake up, and I make my way down the road that rings the edge of the island to Raices Grill. I take a seat on the deck, which juts out over the lake, and order a plate of camarones al ajo, huge shrimp stuffed with garlic and served over grilled pineapple. Even at night it's tropically steamy here, and I fight back the heat with a few rounds of the national lager, Gallo, whiling away the evening by tossing crumbs of tortilla to the fish swarming around the boards.

I'm up before the sun in order to catch the hourlong flight from the nearby Flores airport to Guatemala City. By midmorning, I'm in a car and on the way to Antigua, one of the New World's great cultural landmarks. The UNESCO World Heritage Site and former capital of most of colonial Central America is a jumble of cobblestone streets, colorful houses and crumbled churches (due to a 1773 earthquake that destroyed most of the city). It also plays host to frequent, lively festivals.
I drop my bags at Mansión de la Luz, a seven-room boutique hotel that opened last year. The open courtyard looks like a setting from a García Marquez novel, with sprays of calla lilies, tile fountains, arched windows and mannequins dressed in Mayan garb. I head to the restaurant for a late breakfast with my friend Norman Raxón, a cheerful 29-year-old who works as a guide for the Guatemalan tourism agency. I get a desayuno típico: scrambled eggs laced with tomato and onion, black beans, fried plantains, cheese and a spoonful of cream. The salsa I ladle over my eggs is so ragingly picante that I frantically hail our waiter for a mint lemonade to douse my tastebuds.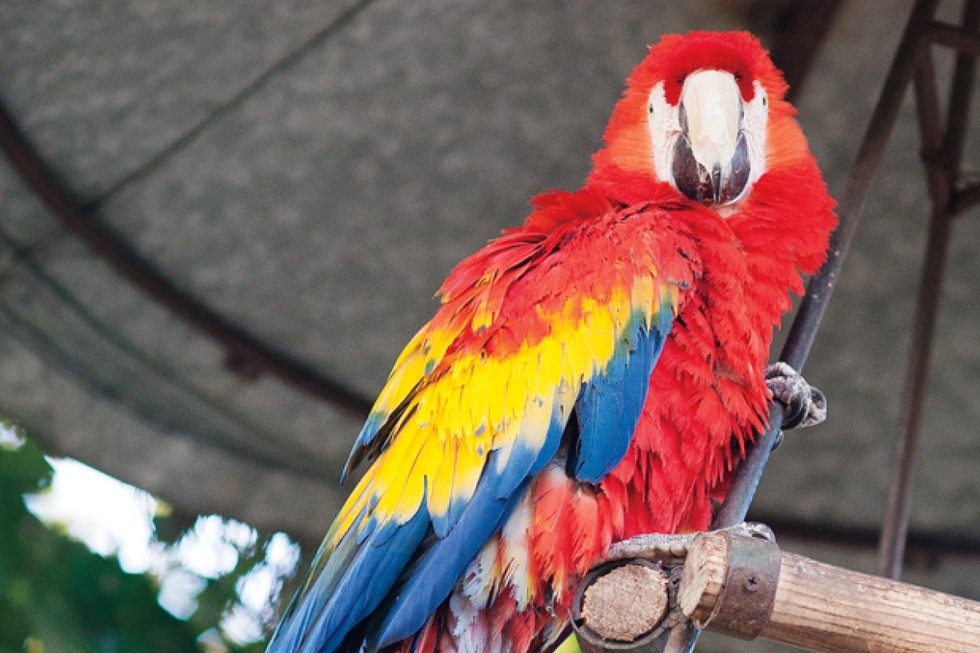 Now we're ready to tackle those cobblestones. We stroll down Tercera Calle, toward the town center, making a detour into Iglesia y Convento de Santo Domingo. A former monastery, founded in the 16th century, Santo Domingo still holds services, and it's also home to a museum—the highlight of which is an ancient crypt, its disintegrating tombs stacked like bunk beds—and a luxury hotel. We wander the courtyard, past bright macaws on perches hung from avocado trees, then find a candle shop in back, where we watch wax being hand-twisted into resplendent centerpieces.
We're barely able to walk another block before I'm hooked again, this time by the chocolatey smell wafting from ChocoMuseo. A fast-talking employee named Pablo leads us on a tour of the shop, complete with a brief history of chocolate, which, he tells us, started as a humble Mayan drink (chocolatl translates as "spicy bitter hot water") and became an increasingly valuable commodity. Mayans would trade more than 100,000 beans for a jaguar skin, while Europeans would later exchange just 100 beans for a human slave. Pablo punctuates his lesson with samples of candy and spicy tea that I can't help but accept, despite my recent, weighty breakfast.
We continue on across town—spanning the city on foot takes just 15 or 20 minutes—to meet a friend of Norman's, Fausto Sicán, a guide from the nearby village of San Juan del Obispo. "He knows everything about this city," Norman tells me. Sicán began leading tour groups as a kid to help pay for school. He studied law, but to be a student during Guatemala's violent civil war was a risky proposition, so he left school and now uses his considerable intellect to educate people like me.
"This city is considered the best expression of the Spanish presence in Guatemala," Sicán says. "My favorite place is the Convento de las Capuchinas. It's one of the most important places in the city. It was the last [major] building constructed here before the capital moved to Guatemala City."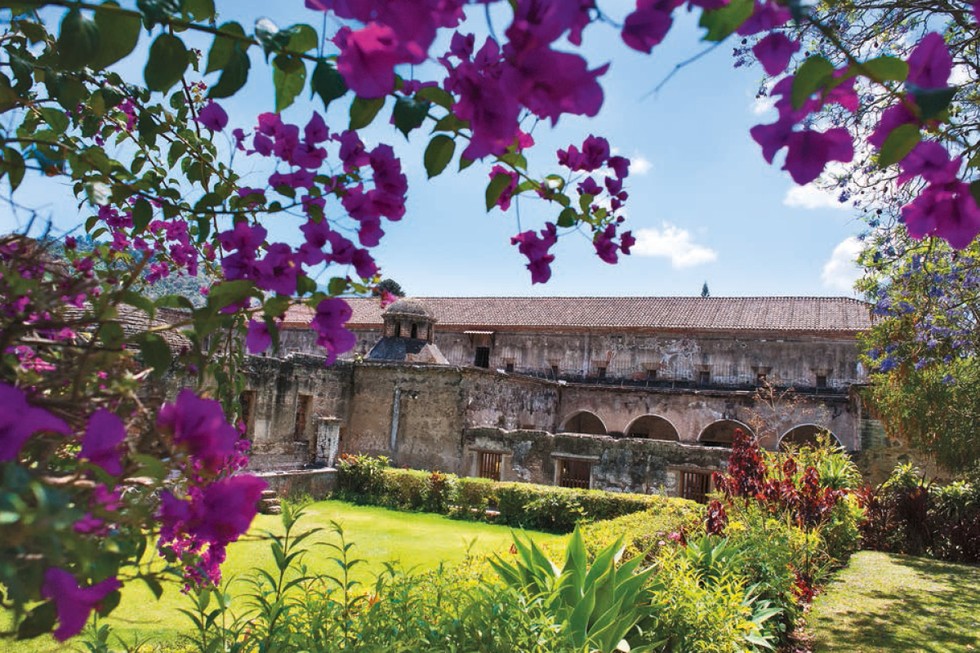 Sicán agrees to show us Capuchinas, a fortresslike, carved-stone convent that was consecrated in 1736. He leads us into the main hall, light streaming down from above, where a huge dome once rose, then through the sanctuary, where nuns would fast and flagellate themselves, and finally into a circular subterranean room. It's chilly down here, and with just two windows a little dark, but it's strangely peaceful. Standing in the slanting light, Norman nods at me. "This is the best place," he whispers.
This room, Sicán tells us, managed to escape the ravages of earthquakes, and there are many theories about what it was used for. "The best version," he says, "is that this is like the Gregorian places, where the people went to sing, thinking that their voices go directly to heaven." He demonstrates by walking around the perimeter of the room, singing in a deep voice that resonates throughout the chamber.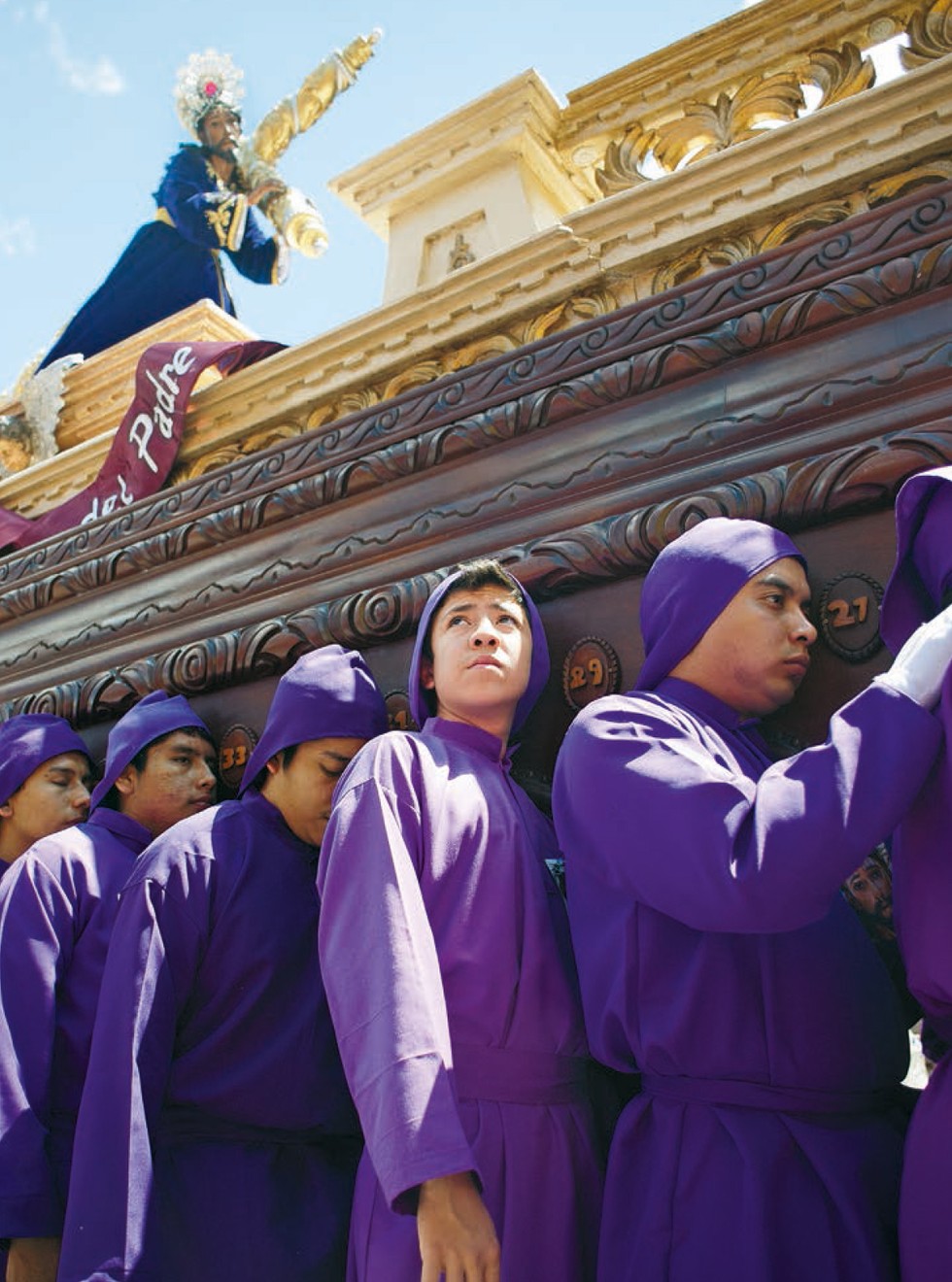 Before he leaves, Sicán tells us we should check out a religious procession happening in the adjacent village of Jocotenango. We take his advice, hailing one of the ubiquitous three-wheel tuk-tuks, and 10 bumpy minutes later we're stepping out into the central square of the village, which is like a smaller, less touristy version of Antigua.
The streets are decorated with colorful alfombras, or carpets, painstakingly pieced together from dyed sawdust and fruit. Over these decorations passes the procession. First come the cucuruchos, men in purple robes carrying a giant casket, atop which stands an effigy of Christ. A smaller casket for the Virgin Mary, borne by solemn teenage girls in black skirts, follows. The floats sway as the pallbearers, some weeping, rotate in and out. I'm not a religious man, but for a moment the sight is enough to make me wish I were.
Later, we walk back through the main square, scoping out the many food carts. Norman points to a grill, over which roasts an entire pig. It's time for another religious experience: We chow down on pork tacos topped with virulently spicy green salsa, then tuk-tuk it back down the hill to Antigua.
We alight in Parque Central, the city's main square, and stroll beneath a bursting purple bloom of jacaranda flowers, past canoodling couples, breakdancing teens, kids pushing wheelbarrows of peanuts for sale. We stop at the 450-year-old Iglesia de la Merced, whose Baroque detailing includes stucco carvings of saints and coffee plants on its dazzling yellow facade. We poke our heads inside—there's a service going on—then continue on to Quinta Avenida, a ramble of shops, bars and restaurants that the locals call "Arch Street" because it passes under the Arco de Santa Catalina, a 17th-century archway and bell tower. We stop in at Nim Po't Centro de Textiles Tradicionales, a cavernous shop filled with ceremonial masks, güipiles (traditional blouses) and immense circular kites that Guatemalans fly as part of their Dia de los Muertos celebration. I want to take one home, but it's not gonna fit in my carry-on.
We stop for dinner at Los Tres Tiempos, a bright blue restaurant that serves expertly executed Guatemalan standards. We sit amid bougainvilleas on the second-floor patio, listening to a pair of mariachis as we munch on fried sticks of Guatemalan chancol cheese and a ceviche of shrimp, fish, conch, octopus and avocado. For an entree, I order pepián, a soup of pork, rice, potato and carrots in a broth laced with tomato, chile, pumpkin and sesame.
Next, we hoof it across town for sundowners at the third-floor rooftop bar of Café Sky. Thanks to preservation regulations (and the fear of earthquakes) three stories is tall for Antigua, so we're blessed with views of Fuego, Agua and Acatenango, the three 12,000-plus-foot volcanoes that surround the city. As I sip a mint-heavy mojito, a puff of dark smoke rises from the top of the appropriately named Fuego. "That's a small one," Norman says. "A few weeks ago there was a big one that covered the city in ash."
On the way back to the hotel, we come across a guarded motorcade in front of the Santo Domingo. Apparently the president of Guatemala and the prime minister of Spain are meeting here. "Everyone who comes to Guatemala runs to Antigua," Norman observes. I can see why.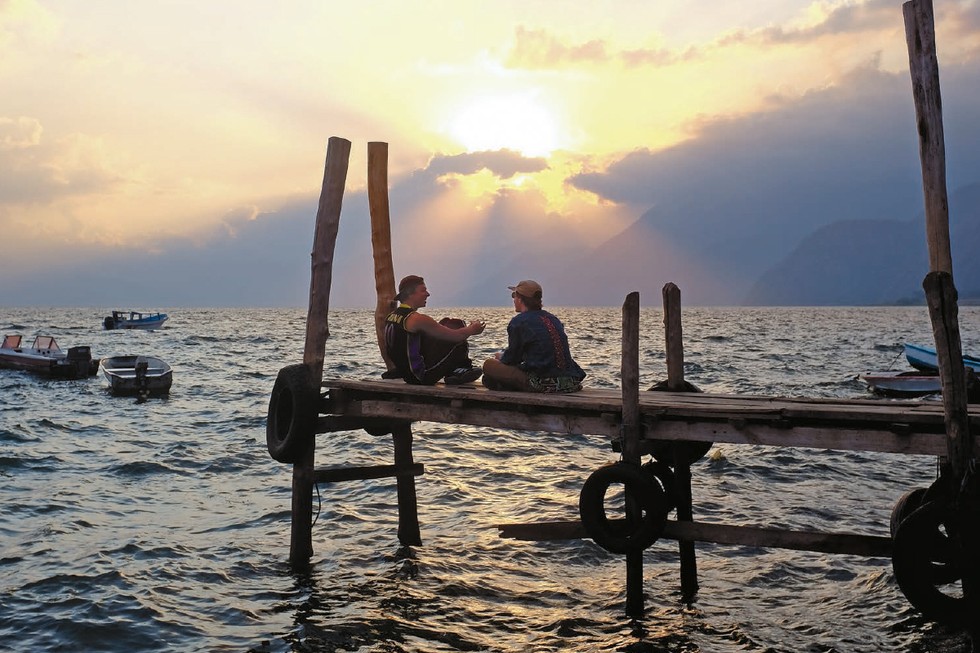 As i step out onto the courtyard balcony at Mansión de la Luz, the only clouds I see are a few white wisps skirting the peaks of Fuego and Acatenango. I feel a volcanic rumbling and look for more smoke from Fuego, but it's only my stomach, so I cross the courtyard to the hotel restaurant, where I eagerly order another desayuno típico, topping it off with a cup of strong Guatemalan coffee.
After breakfast, I meet Norman in the lobby. He's agreed to drive me the hour and a half to Lago de Atitlán, one of Central America's greatest natural wonders. "The lake is my favorite place in Guatemala," he tells me as we drive through a rocky mountain pass. Soon, a switchbacking road drops us into the lakeside town of Panajachel. Past the shops, restaurants and food carts of Calle Santander, we reach the Porta Hotel Del Lago. I drop my bags in my room and step out onto the balcony. Three huge volcanoes—Atitlán, Tolimán and San Pedro—rise from the flat blue surface of the lake, itself nearly a mile above sea level. I've got to get out on that water.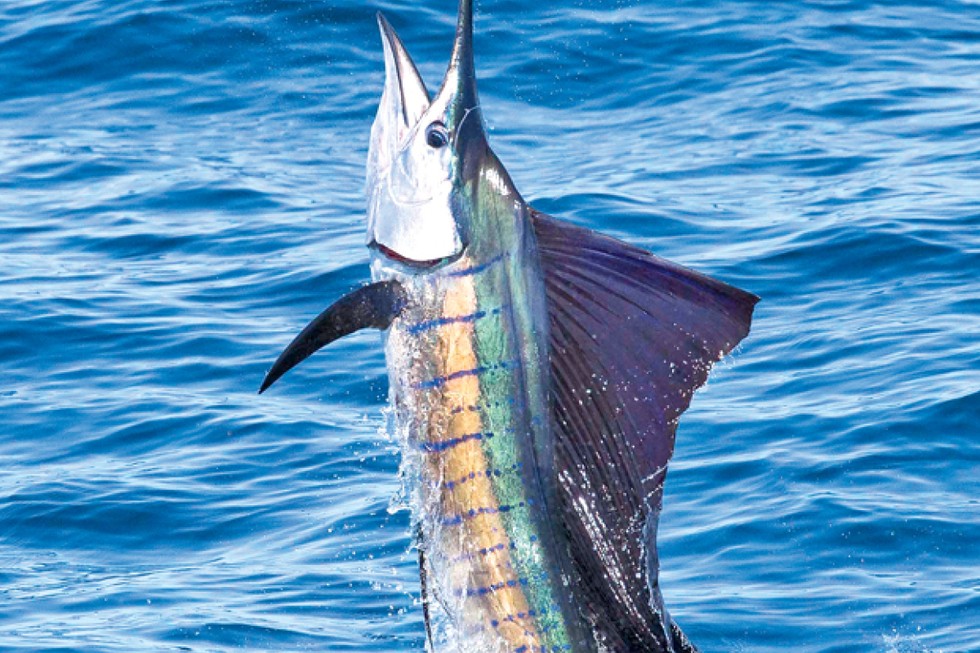 I walk down to the docks, where Norman has hired a motorboat to ferry us around the lake. We skip across the surface, curve around a fisherman, who waves at us from his small cayuco—the simple wooden canoe used by locals—and traverse a patch of improvised crab traps before pulling up to the docks of the village of San Juan la Laguna.
Up a steep incline from the docks, we find Galería de Arte Chiya y Creación Maya, run by local husband-and-wife artists Antonio Coché Mendoza and Angelina Quic. We step inside the gallery, its walls filled with vivid depictions of marketplaces painted from a bird's-eye perspective. Quic and Coché have taught the technique to many students over the years.
"I got the idea 24 years ago, at Cerro de la Cruz, while looking down from above the town," Quic says. "Then we took photos from a rooftop of children with baskets at a market, and started to make these paintings."
Coché, a self-taught artist who has been painting since age 10, leads me into a back room, where he hangs his own works, canvases bursting with fruit, Rivera-esque calla lilies and Mayan villagers. "I paint the life of the peasants that you see in the coffee plantations here," he tells me. "The streets, the lake. A little of everything."
After buying a couple of paintings, Norman and I continue up the street. At the top of the hill, we reach Asociación Ixoq Ajkeem Mujer Tejedora, a cooperative of local women who hand-weave textiles in traditional Mayan fashion.
Co-op member Catarina Méndez demonstrates how the cloth is spun, dyed and woven. It's about to get chilly again back in the States, so I pick up a marvelous new scarf.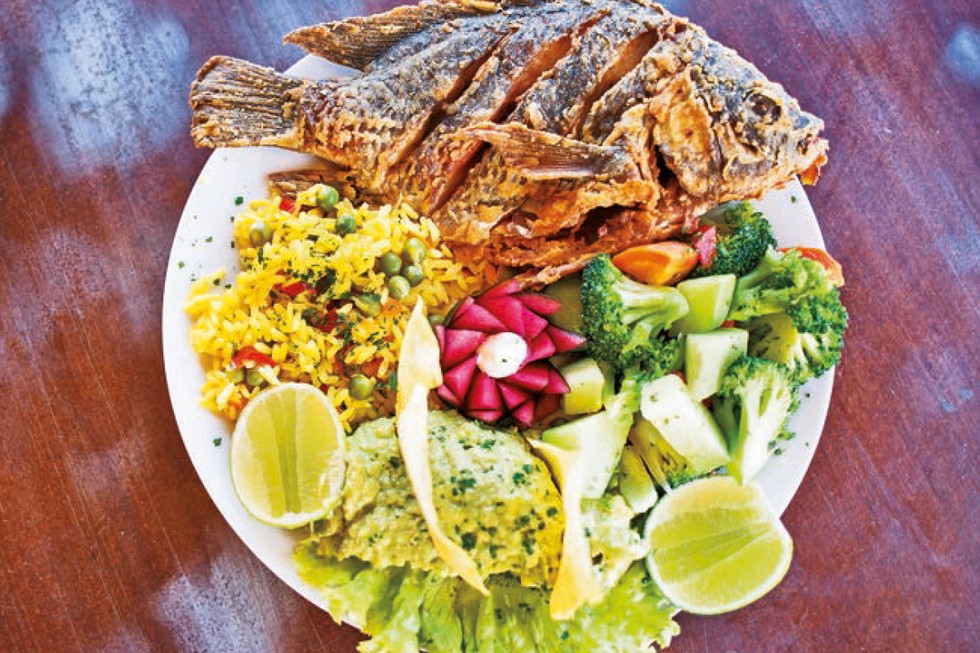 We head back to the boat and zip over to another lakeside town, Santiago Atitlán. We slog up another hill to Restaurante el Pescador, where we sit on a second-floor deck and watch the locals below: women in Mayan garb leading children by the hand, young men standing in the beds of moving pickup trucks. I order a fried whole mojarra fish, accompanied by rice, vegetables and a mountain of chips and guacamole.
After lunch, we walk through the plaza, stopping at the Iglesia Parroquial Santiago Apóstol. The plaques here offer a sobering reminder of Guatemala's turbulent past. The civil war was particularly brutal in this region, and the pastor, Father Stanley Rother, allowed many families to sleep in the church for safety. A death squad killed him for his kindness, but the grateful townspeople buried his heart in the church.
The late-afternoon wind is picking up and the lake is getting choppy, so we head for the boat and back to Panajachel. After docking, we follow a row of lakeside eateries and settle on the deck at Restaurante Los Cayucos, hanging out over the water, where we enjoy a couple of large Gallos and a platter of boquitas, tasty bites of tortilla, guacamole, steak and salsa. The waves are really rocking now, and Norman recalls a Mayan legend that explains why.
"A princess and a Tz'utujil man from the other side of the lake fell in love, but the Spaniards wanted the girl," he tells me. "So they tied a stone around the man's neck and threw him in the water. And then the princess took a cayuco, and she jumped in the water. And so every day, between 4 and 5 o'clock in the afternoon, people believe that the princess and the man dance together."
We knock back a few more Gallos, watching the waves dance, and then take a walk up Santander, where the taco carts are still doing a brisk trade. We cut left onto Calle Principal and up to Bar Circus, where we find a small dog sitting on the sidewalk out front. "We call that a cadejo," Norman says. "He's good luck. If you see a cadejo in front of a bar, he'll help you get home when you're drunk."
Our canine guardian follows us inside and sets up camp under our table, waiting for handouts. When a couple of guitar players take the stage, he jumps up and lies at their feet. The musicians take Latin rock requests from the crowd, and we split a pizza topped with salami, mushrooms and olives, with more than enough margaritas. As I drain the last of the tequila from my glass, the dog wanders back over, and I scratch his ear. "What do you think, cadejo? Time to go home?"
As if in answer, he springs up and dashes for the door. On to the next adventure.
Hemispheres managing editor Justin Goldman needs a full-time cadejo for all of his travels.
If you go
Come meet some of the friendliest residents and explore the many wanders Guatemala has to offer. Visit united.com or use the United app to book your trip.
Teaming up with the Chicago Urban League to bring students to China
For many, a visit to China is a once-in-a-lifetime trip that often falls on one's bucket list of destinations. But through a partnership with the Chicago Urban League, some Chicago high school students are checking this dream destination off their lists early.
The Chicago Urban League's annual Student Mission to China brought a group of high school students from Chicago-area schools, including Lindblom Math and Science, Urban Prep and Kenwood academies, to Beijing and Shanghai for an immersive, two-week trip. An extensive application and interview process helped the organization choose the students who would benefit most from the trip. While the trip is not directly tied to the students' school curriculum, the Chicago Urban League teaches prep courses leading up to the trip, and some of the students are independently studying Asian languages.
Many of the students are hoping to share their experience with family and friends from their communities that aren't able to participate in opportunities such as this one, said corporate and community affairs associate Marissa Warren. "Students are also excited about the chance to be submerged in a different culture for an extensive amount of time."
With one look at the students' itinerary, it's clear that the program truly does offer a complete immersion in Chinese culture. The itinerary includes a mix of landmarks, seminars and cultural activities. Students attend a tea art performance, learn how to make dumplings, practice Chinese calligraphy, painting, paper-cutting, and even play ping pong with local students. Seminar topics range from Chinese language to China's international policy. And no visit to China would be complete without trips to the Great Wall of China, Tiananmen Square and the Forbidden City.
Warren said that sponsoring the annual trip is a huge part of United's relationship with the Chicago Urban League. One of the pillars of the company's shared purpose is breaking down barriers and promoting inclusion, and through this trip, students are able to step out of their comfort zones and engage with people from different backgrounds and cultures.
United and Special Olympics
Taking inclusion to new heights
Our shared purpose is to connect people and unite the world — and no organization better embodies that principle than Special Olympics.
Learn more
Watch the new Big Metal Bird: Island Hopper
Five magnificent stops between Honolulu and Guam filled with spectacular scenery along the way, and then back again. Join Big Metal Bird host, Phil Torres, as he explores our unique Island Hopper route, and discovers what the route means to the people of Micronesia.
The Hemispheres guide to family vacations
Illustrations by Stacey Lamb | Hemispheres June 2018
Whether your kids dream of being superheroes, star athletes, or, yes, wizards, we've got the perfect family vacation — for them and for you.
If your kid wants to be Iron Man
Have a kid who thinks he can fly? Who shoots repulsor rays from his hands and jumps off the couch into pits of lava to save strangers (i.e., his stuffed animals) from danger? The new Marvel Day at Sea Cruise was designed for him.
Launched in late 2017, this five-day trip offers everything that's normally on a Disney Magic cruise—incredible stage shows, interactive dinners, a stop on Disney's private island, Castaway Cay—with a special all-Marvel day that will leave your kiddo shouting "Avengers assemble!" before passing out on his sleeper-sofa.
Aside from superhero meet-and-greets (smartly, tickets for the most popular characters are timed to avoid lines wrapping around the ship; also, moms, know this: Thor is very attractive), Marvel activities abound. Kids can head to the Oceaneer Club for tutorials with Thor, who teaches them how to wield their own Mjolnir for good, and Spider-Man, who shows how quick reflexes are the key to capturing bad guys. Artists offer budding comic-book illustrators Bob Ross–style lessons in how to draw Iron Man and his pals, and afterward, families can head to one of the movie theaters (plural) to catch a screening of the latest Marvel Studios flick (this year it was Black Panther; next year, maybe Captain Marvel?)
It all culminates in a grand live spectacular on the top deck that sees basically all the Avengers—yes, even Black Widow and Groot from Guardians of the Galaxy—battling Loki, Red Skull, and the Hydra agents to secure Stark Industries' new (and dangerous) power source. It's a clever, high-action show with acrobatics, choreographed fight scenes, and fireworks that will have you cheering louder than your kid. —Ellen Carpenter
The Digs:
Book a deluxe oceanview stateroom with a verandah—because verandah. Being able to sit outside and watch the whitecaps crash while recapping the day with a glass of wine (each adult is allowed to bring two bottles aboard—money saver!) is key once your little ones conk out.
The Feast:
In general, the food is great—crab legs and shrimp at the lunch buffet; beef Wellington at the Animator's Palate; even Hulk green bread on the Marvel day—but definitely do an adults-only dinner at Palo, a northern Italian restaurant offering superb antipasti, lobster pappardelle, Dover sole, and more. And be sure to get the Palo cocktail, made with pear vodka, limoncello, grappa, and prosecco.
If your kid wants to be Harry Potter

Have a kid who keeps a wand in his bookbag so he can keep trying the Accio spell? Who introduces himself by saying which house he's in? (Gryffindor, obviously.) Fly to London—preferably on Hagrid's motorcycle—where a surfeit of Harry Potter–themed activities await.
Your first task is to visit Warner Bros. Studios, Leavesden (20 miles outside London), where all eight of the Harry Potter films were made. Reservations are required, but once you're there, a docent leads you into the Great Hall, where you'll have hours to roam two sound stages and a back lot full of sets (Diagon Alley!), costumes (Hermione's Yule Ball gown!), props (the intricate 1:24 scale model of Hogwarts castle used for wide shots!), and interactive exhibits that reveal the films' secrets. You can also get your picture taken while riding a broomstick and sample the infamous butterbeer.
Back in the city, visit Platform 9 ¾ at King's Cross Station and other locations depicted in the films with Tours for Muggles, a two-and-a-half-hour walk that starts near London Bridge tube station. By night, head to the West End to take in Harry Potter and the Cursed Child, a two-part stage play based on an original story by J.K. Rowling, Jack Thorne, and John Tiffany. Finally, book a visit to Enigma Quests' School of Witchcraft & Wizardry, where adults and kids work in teams to solve puzzles and riddles to escape their rooms. "Graduates" don Hogwarts-style robes and receive calligraphy diplomas. —Kathryn Jessup
The Digs:
You'll want to book a Wizard Chamber at the Georgian House Hotel to form the foundation of your experience. These cozy suites are hidden behind bookcases and replicate Hogwarts dormitories in detail (cauldrons in the fireplaces, four-poster beds). Also magical: the full English breakfast, which will keep you fueled for hours.
The Feast:
You'll think you've walked into the Leaky Cauldron itself when you descend to Fleet Street's Ye Olde Cheshire Cheese, a family-friendly pub dating to 1667 that played host to Samuel Johnson and Charles Dickens. Kids will love the fish and chips—with mushy peas, of course—and you'll love having a proper pint.
If your kid wants to be Mikaela Shiffrin
Have a kid who collects trail maps and sleeps in her speed suit the night before every trip to the slopes? Who watches the weather incessantly for storm advisories and sets up gates in your backyard, planning her fastest lines?
Wax those skis and head to Colorado, home of Olympic gold medalist and World Cup Champion Mikaela Shiffrin. Earlier this year, the Centennial State native became an investor in Denver-based Alterra Mountain Company, which owns 12 year-round mountain destinations, including one of the best places for kids to learn and race: Steamboat.
Besides having terrain perfectly suited to kids—and the Steamboat Snowsports School to help them master it—the resort operates one of the largest recreational race facilities in the world. The Bashor Race Arena offers daily NASTAR (National Standard Race) events, which give kids of any age an opportunity to compete and compare scores. Top competitors are invited to the annual NASTAR National Championships, where winners earn medals like real Olympians. If that's not enough, racers here also have access to historic Howelsen Hill, the home of the Steamboat Springs Winter Sports Club, which has been helping Steamboat Springs produce the most Olympians of any town in the U.S. for more than 100 years. Better clear some shelf space for all those future medals… —Amiee White Beazley
The Digs:
One Steamboat Place, at the base of the Steamboat gondola, is made for families. A heated outdoor pool, three hot tubs, and a game room equipped with flatscreen TVs, pool tables, and shuffleboard courts ensure that the kids will be able to work off any energy left over from the slopes. Book your stay at the private residence club through Moving Mountains, which offers a hand-picked collection of spacious places.
The Feast:
Before hitting the slopes, fuel up at the Creekside Café in historic downtown Steamboat Springs. Try the Barn Burner—bacon, cheddar cheese, and scrambled eggs on a homemade biscuit smothered in sausage gravy—and pair it with a freshly pressed organic juice. Après-ski, head to Rex's American Bar & Grill, which serves "2 Handed" sand-wiches, brick oven pizzas, and some of the best fish tacos north of the border.
If your kid wants to be Kelly Slater
Have a kid who watches The Endless Summer weekly? Who practices popping up on the coffee table? Take your aspiring surfer where the mountains meet the sea, along the American Riviera.
In spite of recent wildfires and mudslides, the surf scene in Santa Barbara is thriving, and this city with a small-town feel is the perfect place to travel with a teen in search of waves.
"Surf schools and camps are the norm here, just like soccer and baseball," says Heather Hudson, a local surfer and director of the documentary series The Women and the Waves. The best is the Santa Barbara Surf School, which will outfit your kid with a wetsuit and board and select a beach tailored to his level of ability (Leadbetter Beach and Mondos are great for beginners). The school's guides could not be more prudent or more devoted to getting your youngster up on his board and having fun in the Pacific. One-on-one classes are $85, and though they last just an hour and a half, they will leave the kid exhausted. Afterward, let him catch his breath at Rincon Point, "the queen of the coast," and watch the pros catch waves that seem to never end.
Picking out his dream board is next. Head to the Funk Zone, a neighborhood packed with surf shops like Channel Islands, J7, and Beach House, to ogle boards crafted locally by some of the world's most famed shapers and, maybe best of all, share wipeout stories with the righteously tanned store clerks. —KJ
The Digs:
Check in to the new Hotel Californian, where a classic Santa Barbara Spanish exterior gives way to a modern Moorish interior with just a touch of youthful edge. Borrow the complimentary bicycles to explore the Waterfront district and then cool off in the rooftop pool.
The Feast:
Refuel after the lesson with salmon, ahi, or yellowtail poke bowls at Big Eye Raw Bar downtown, and have dinner at the hotel's fine-dining spot, Blackbird. End your meal with a dessert of goat cheese, blood orange sorbet, crispy quinoa, basil, and fennel pollen. It's gnarly—in the best way possible.
If your kid wants to be Robin Hood
Have a kid who's slick with a plastic sword? Who hits the bull's-eye on her Nerf archery set 9 out of 10 shots? Who's always surrounded by merry compatriots? Time to pay a visit to the home of "the world's first superhero."
Nottingham, a midsize city 110 miles north of London, is known for being the former haunt—possibly, maybe—of the world's most famous outlaw (who may or may not have existed). What is undeniably real is the moral at the heart of the mythology: It's OK to steal, as long as you take from the rich and give to the poor. Kids who challenge this premise are quickly corrected: "The laws he was fighting were unjust!" the men in tights will tell you.
At Nottingham Castle, see where the evil Sheriff once—possibly, maybe—imprisoned Robin. Just across the way is The Robin Hood Experience, a quirky attraction run by a faux Robin named Adam Greenwood. Wander a labyrinth of tiny rooms inhabited by various characters who tell tales of yore. On the way out, buy a mini longbow and a green outfit.
Next, take Ade Andrews's Robin Hood Town Tour—as much a theatrical performance as a historical overview. While tracing the line from bloodthirsty medieval ballads to the sanitized Hollywood version, Andrews is apt to twirl his sword in the air or toot his cow-horn trumpet.
Finally, take up bows and arrows—Robin's weapon of choice—at a lesson with the archery club Wilford Bowmen, where seasoned archers will show your tiny outlaw how to hit a (not very distant) target. Be sure to take a turn yourself, so she can laugh at your failure. —Chris Wright
The Digs:
Not only is the boutique Hart's Hotel within arrow's range of Nottingham Castle, part of it is built on the ramparts. Book one of the two suites so you have room to spread out and don your finest for a meal at the hotel's restaurant, one of the best spots in town.
The Feast:
If fine dining doesn't grab you, head to The Alchemist, which recently opened an outpost in a glorious Victorian building in downtown Nottingham. The food ranges from beet risotto to Moroccan lamb rump, neither of which was likely on the menu in Sherwood Forest.
If your kid wants to be Michelle Obama
Have a kid who spends her weekends volunteering at the Salvation Army? Who follows notable figures instead of her friends on Instagram? For a dose of history and hope, head to Washington, D.C.
Make your first stop the Smithsonian National Museum of African American History and Culture, which opened in 2016 and has been the hottest ticket in town ever since. The lower three floors are dedicated to History, from the slave trade to #BlackLivesMatter. It's a painful but necessary exhibit that displays slave shackles so small they must have been for a child, as well as murdered teen Emmett Till's coffin. Before heading upstairs to the more celebratory exhibitions in the Culture gallery, stop in the Contemplative Court, where a quote from Martin Luther King Jr. adorns the wall behind a waterfall fountain: "We are determined … to work and fight until justice runs down like water and righteousness like a mighty stream."
The Washington Monument stands mere yards from the museum, so afterward saunter over to the National Mall and think about how 200,000 people gathered there in 1963 to hear MLK speak about a new future. Next, catch a glimpse of that imagined future at the National Portrait Gallery, which unveiled the Obamas in February. The power of Kehinde Wiley's floral-encased depiction of Barack is impossible to deny. Finally, cab to another depiction of the Obamas that's a must-see for any aspiring Civil Rights leader: the mural at Ben's Chili Bowl, which also features Muhammad Ali, Harriet Tubman, and even Taraji P. Henson. Anyone, after all, can make a difference.—EC
The Digs:
The Hay-Adams is the stay for a kid who wants to be right in the action. (Sasha and Malia Obama slept here before calling the White House home.) From free cookies at check-in to loaner wellies on rainy days, the hotel puts its youngest guests first.
The Feast:
NMAAHC's Sweet Home Café invokes the African diaspora in foods like black-eyed-pea-and-corn empanadas. Later, head to the InterContintental at The Wharf's Kith/Kin, where chef Kwame Onwuachi mixes flavors from Nigeria, Jamaica, and New Orleans.
If your kid wants to be Willie Mays
Have a kid who asked for a subscription to MLB.TV as a birthday present? Who cracked every fence slat in your yard pitching imaginary games? Get your little seamhead close to the action without breaking the bank by heading to the Cactus League.
Each year, from late February through late March, 15 MLB teams prepare for the season at facilities located within a 47-mile radius of Phoenix. Here, there's no such thing as nosebleed seats, and a box of Cracker Jack won't set you back $10. The outfield lawn seats at Scottsdale Stadium offer a perfect vantage point for the game while also allowing younger kids to run around. Starting at only $10 a ticket, you'll pay a fraction of the admission at AT&T Park in San Francisco.
Games often sell out, so get tickets in advance, and look for family packages. There are also kid-themed days, such as at Peoria Sports Complex where on Sundays, kids 12 and under can stand with a player during the national anthem or announce who's stepping up to bat. At Sloan Park kids get "First-Timer Certificates" to memorialize their first Cactus League.
The Digs:
The Phoenician, a five-star resort in Scottsdale, offers six swimming pools, I.Fly trapeze lessons, and s'mores and stargazing at night. The Funicians Club gives parents a chance to hit the spa while kids explore the on-site cactus garden and play video games.
The Feast:
For great Mexican food, head to La Hacienda by Richard Sandoval, at the Fairmont Scottsdale Princess. The kids' menu will keep your little ones happy, while a custom tequila flight (there's a Tequila Goddess on staff) and guacamole made tableside will do the trick for you.
How traveling changed the course of our future
Travel is fatal to prejudice, bigotry, and narrow-mindedness…Mark Twain knew this, and anyone who travels and gets out of their comfort zone understands this same concept.
This is one of the reasons we love to travel — our perceptions and stereotypes are constantly being challenged. This is also probably why we've built a business that requires us to travel regularly — we create street art pieces in cities around the world.
But we weren't always like this. Our love of travel first began when our Mom took us backpacking through Europe for a month. At the time, we were both young teenagers who had never been out of the country. We carefully planned our outfits and fit them into one backpack each. Mom carried our Rick Steve's travel guide and off we went. We stayed in shabby hotels across the United Kingdom, France and Spain, visiting every museum we could find, eating every baguette, croissant and paella dish we could get our hands on, and loving every second of it.
We've been addicted to travel ever since.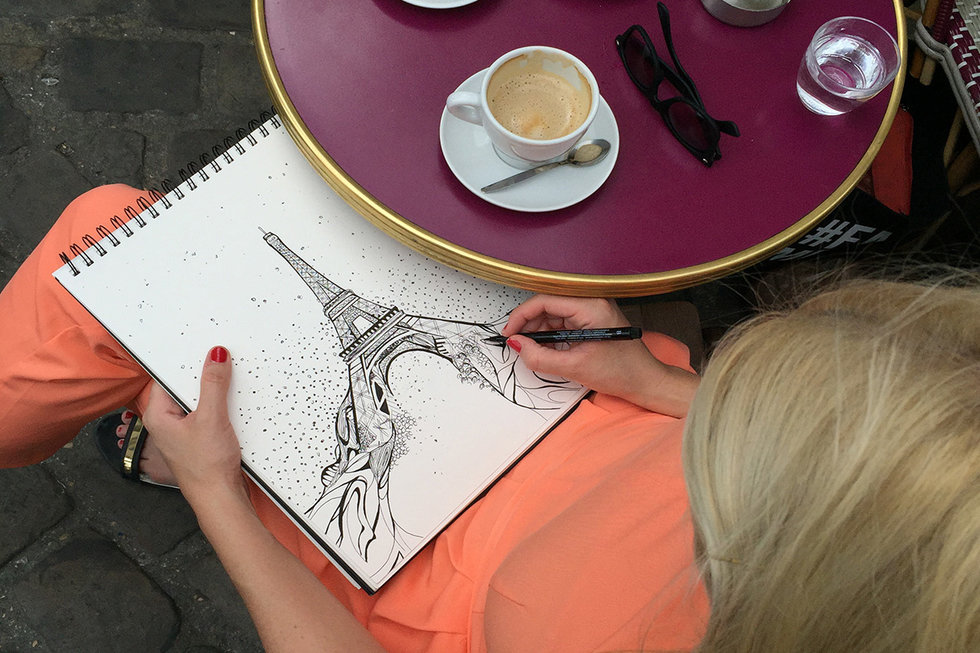 Kelsey sketches at a street cafe in Paris
I (Kelsey) fell so in love with London on that trip that I grew determined to study there. Fast forward to years later when I graduated from Richmond University in London. That trip changed the course of my life because I learned about and experienced street art during my studies in London. Courtney fell so in love with Paris that she learned French and graduated with a degree in comparative literature from the American University of Paris. That first trip changed the course of our lives forever and opened our eyes to how massive the world was. I don't think our Mom could have given us a better gift than that first trip abroad.
As adults who travel constantly we feel like a MileagePlus® membership is another important piece of the equation and something we've benefitted from tremendously over the years. The various United Club℠ locations are little refuges we escape to in busy and overwhelming airports. Being able to board early, getting upgraded and having nice flight attendants on long haul flights really can mean the difference between arriving well rested and having a good trip, or arriving tired and having a rough trip.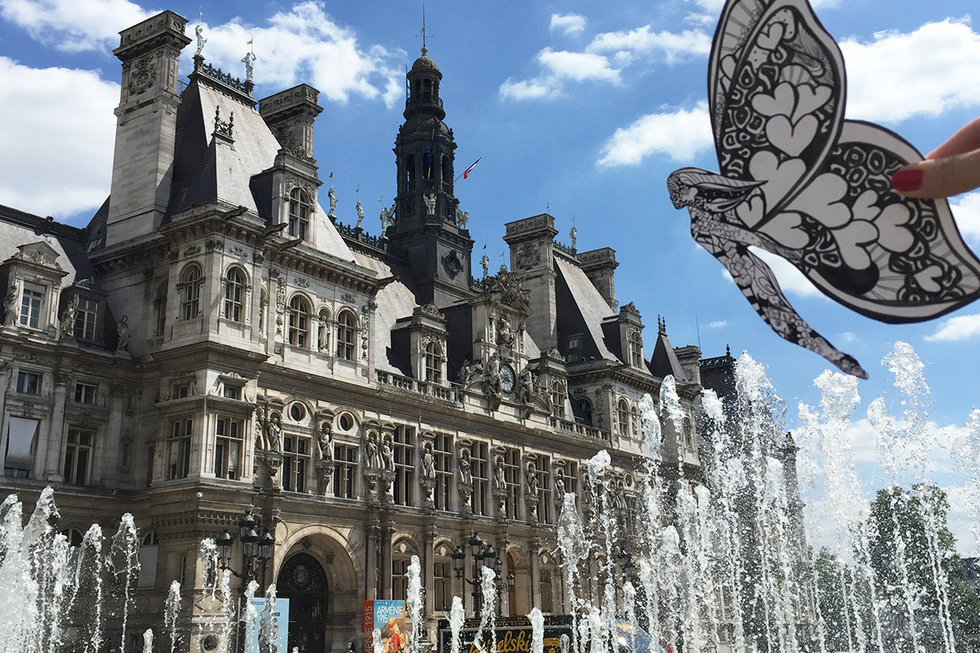 At the end of the day a company is all about the people in it and the kindness we have experienced on United flights has been wonderful. I remember once on a flight, one of our captains wrote a personal note thanking each passenger flying in United First® class for traveling on United. On another, a flight the attendant saw I was not feeling well and hunted down an Airborne (vitamin pack) for me. Still another flight attendant asked about my art (I was sketching on the plane) and when I explained what I do they committed to buying my coloring book. It's these connections that really make flying United so memorable for myself and my sister.
So if you're looking to give your child a gift, take them traveling. And if you're looking for a present for yourself, sign up to enjoy the benefits of a MileagePlus Membership. You won't regret either.
Join MileagePlus to start earning miles from the world's most rewarding loyalty program℠ and share your story with #UnitedJourney.
Welcome day brings employees and Special Olympics athletes together
As part of the weekend's festivities, our CEO, Oscar Munoz, joined a group of employees and retirees in greeting nearly 700 arriving athletes, coaches and volunteers at Seattle's Sea-Tac International Airport (SEA), as well as hundreds more at local light rail stations, all of which were decorated with our Special Olympics superhero campaign banners.
Oscar also had the honor of giving Special Olympics athlete Nikki Jones her first in person look at her superhero alter ego Lane Lightning, a moment that was captured on the video below.
Introducing a more personalized experience on united.com
Our united.com homepage is getting some big enhancements. Yesterday, we announced the launch of the new site, which will offer a more modern, user-friendly design, allowing users a more personalized digital experience.
Each one of our customers is unique and has different needs for his or her travel, and personalizing our digital offerings is just another step toward giving our customers the experience and the products that they ask for, said Digital Products and Analytics VP Praveen Sharma. "Our goal with this new homepage is to provide customers with a more seamless experience."
The new website will provide personalized content based on a customer's MileagePlus® status as well as upcoming, current or prior trips. It will also include a new display that will be fully responsive for optimal viewing on desktop and mobile devices. Later this year, the site will include a travel section that will provide customers with curated content from destinations United serves.
We began rolling out the new homepage in April and continued expanding it to more users while we added more functionality throughout the phased rollout. The site will be live to all customers in early August.
These efforts are part of our commitment to improve our customers' travel experience through every step of their journey. Earlier this year, we updated our mobile website, adding a more optimized display, additional flexibility to adjust flights throughout the site, Japanese language translations and more.
Our new homepage will also appear on our mobile website, creating a more seamless experience when customers are managing travel and bookings across multiple devices.
Transcending borders and languages in Tanzania
Story and photos by Davis Paul
I have been very fortunate to travel the world telling stories with a camera for the last decade. Being a United MileagePlus® member for many of those years has absolutely opened the world and eased my ability to get around. And, it enabled me to authentically document the way in which different people and cultures do life, which has now become an obsession. How can you make someone feel what you witnessed despite not being there?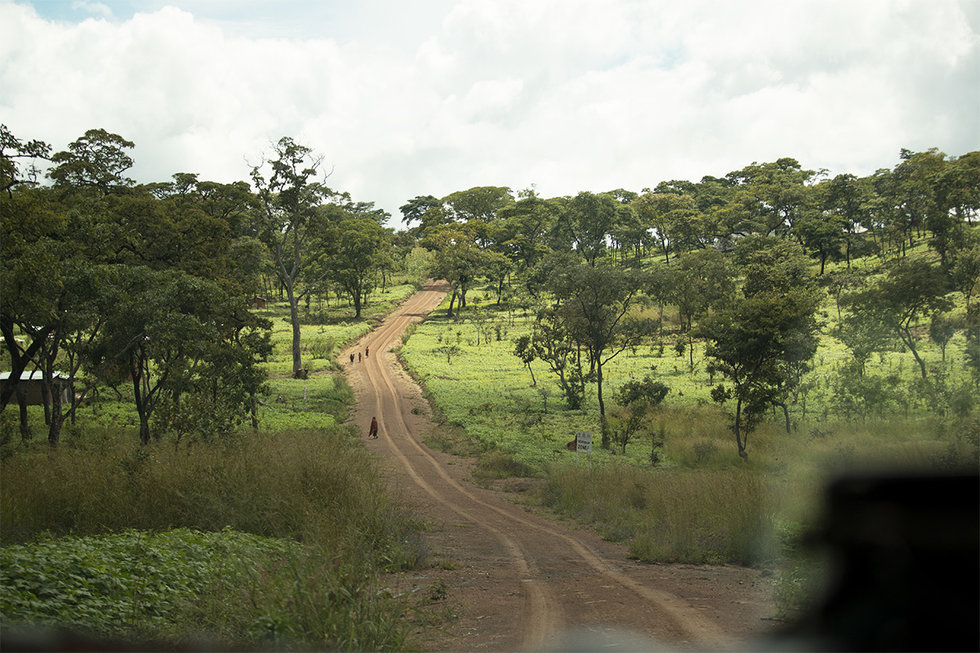 The world is full of amazing stories and incredible lessons that can transcend borders and languages. I believe every location is uniquely beautiful on it's own, we just need to see it for what it is and not in comparison to others. Bangladesh can be just as beautiful as Tahiti if we remove expectation and appreciate the uniqueness each location has to offer.

However, of all the trips I have ever taken, out of every project I have embarked on, from X Games to Real Madrid, there is one that hit me in a very different way. That was my trip to Tanzania to work on the border of Burundi out of two Refugee Camps. I was contracted to help train and build soccer programs within the camp as well as create content that would provide impactful insight into the circumstances taking place throughout the region as well as to connect the outside world with these amazing people fighting for their lives. I had zero preparation for the trip, having only booked my flight a week in advance. I had never traveled to Africa, let alone a refugee camp that couldn't be more difficult to get to. In fact, it was roughly 38 hours of travel by myself including having an 8 hour drive on something that barely resembled a road. Because it was so last minute, I actually wasn't able to secure a driver to take me to the town of Kibondo which meant once I landed, I had to find any local with a car who would be willing to take me the distance. Luckily, I found a man named Frankie who had a Toyota Corolla which consequently broke down within the first hour of our journey.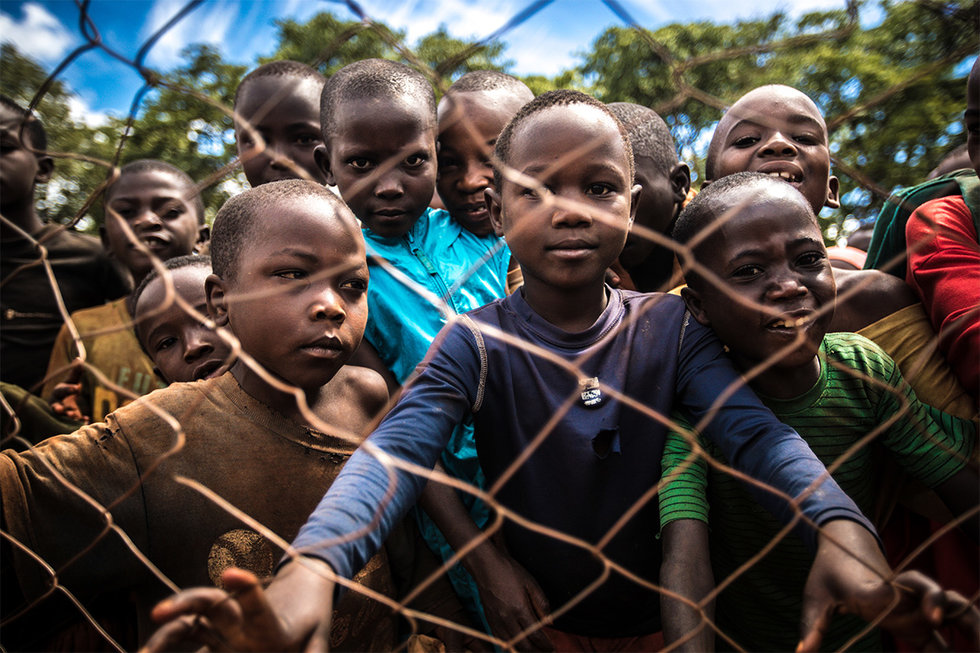 Once I arrived, I had never witnessed life in this manner. Hundreds of thousands of refugees all piled together within 2 square miles. Mud huts, tarps, tents, anything and everything to sustain life was being used. Almost everyone in this camp had lost a loved one to violence yet I had never seen so much hope and joy. It completely changed my perspective on life to live amongst these people for 3 weeks. I ate with them everyday in the camp, eating the local food with my hands. To hear their stories, to see how they live and to dream with them on the brighter future they all hope exists was truly humbling. I'll never forget the lessons I learned within this camp and from these people — their love and optimism despite having experienced unimaginable tragedy was uplifting. When I asked if there was one message I could bring back to the United States, they simply would say, "we just want people to know we exist". I hope that my time and efforts there at least provided that. Although I tried to make the biggest impact I could while there, it is safe to say I was the one impacted the most and I will be forever grateful for that. I just hope I can help in half of the way they helped me.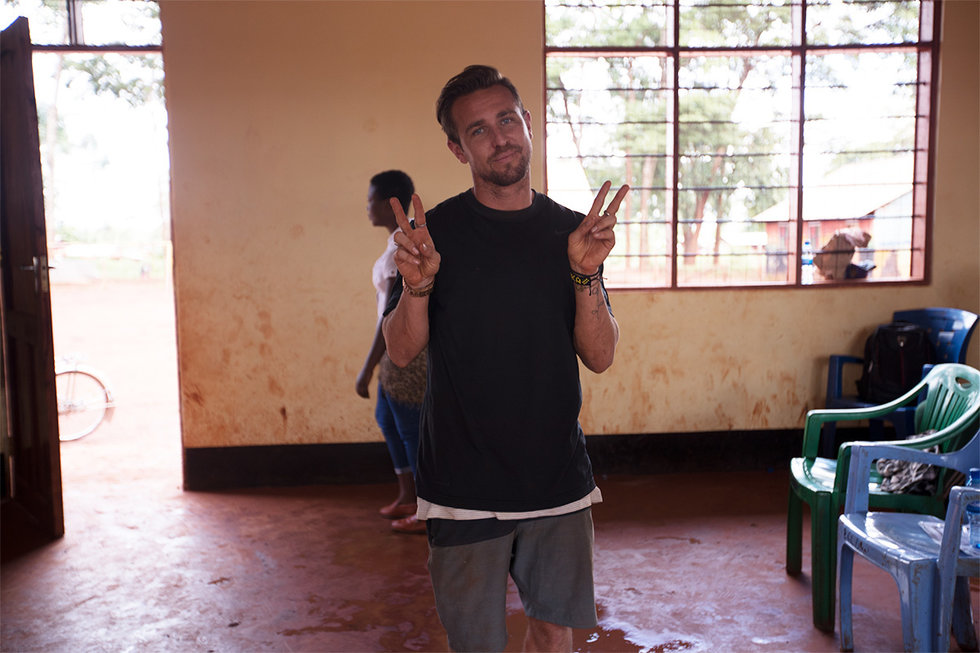 I'm never sure where the next story will exist, but I can guarantee you'll find me on the ground, always laughing with a camera in hand. Traveling is a gift that allows us insight into both our differences and similarities, and the more you travel, the more you realize we all share in the same struggles, same hopes and same dreams. I believe that despite bad things happening, the world is full of good — we just need to seek it in every situation.
Join MileagePlus to start earning miles from the world's most rewarding loyalty program℠ and share your story with #UnitedJourney.
How to experience the best of Prague in 3 days
Every bit as historic, as beautiful and as culturally enriching as the European heavyweights of Paris, London or Rome, Prague, the capital city of the Czech Republic has emerged over recent decades to be a jewel in the continent's crown.
The city escaped significant bomb damage during World War II and its historic center remains magnificently intact, with a maze of cobbled lanes, quiet courtyards, chic cafés and ancient chapels just waiting to be discovered. To see enough of the city, we suggest visiting for at least three days.
Getting into the city
Upon arrival, regular and reliable buses and trains will get you into the center of the city within 20 minutes. Unless you're heading outside of Prague, you shouldn't need to rent a car. The center of Prague is compact and easily to explore on foot, with excellent and cheap trams, buses and the subway if you don't want to walk.
Where to stay
Central Prague is broken down into 10 districts, with most visitors staying in Prague 1, the heart of the city. Here you have two good options: The Old Town or the Lesser Town – linked by Prague's most celebrated landmark, the Charles Bridge. The Old Town is at the heart of everything, full of historical sites, bars and restaurants but can be overpriced and often considered 'touristy' as a result. The Lesser Town is still close to the heart of everything but with a more tranquil atmosphere that's particularly good for families.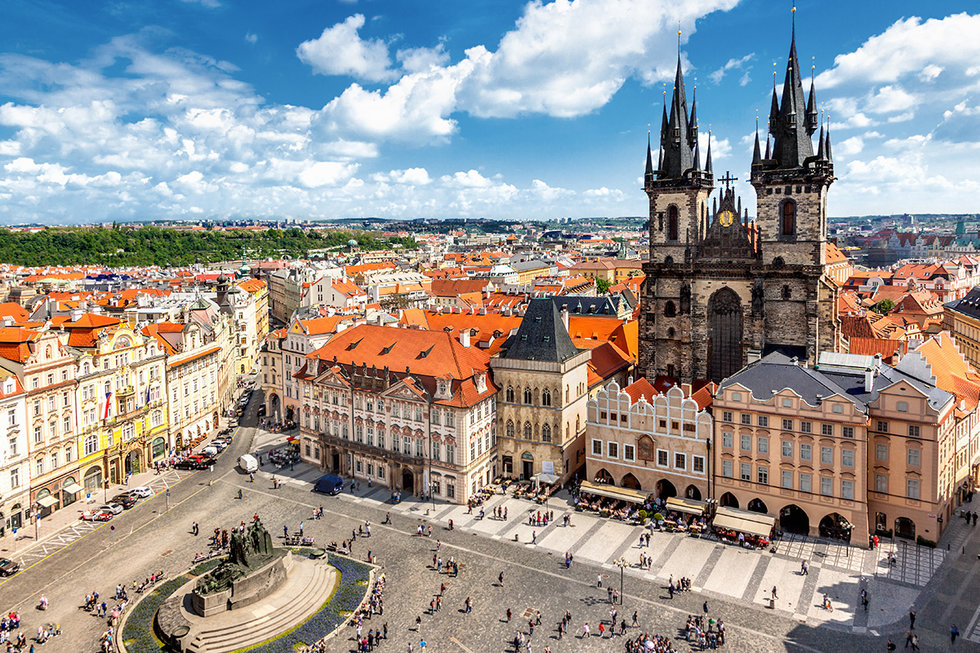 What to see
There's too much to see in a single visit, however, one of the absolute essentials has to be Prague Castle, which is literally unmissable. The largest castle complex in the world, it dates back to the 9th century and is also home to the presidential palace, the vast St. Vitus Cathedral and Golden Lane — an original 16th-century street of tiny cottages that was home to Franz Kafka. The lookout tower of St. Vitus Cathedral gives you a bird's eye view of the city, as does Petrin Lookout Tower at the top of Petrin Hill, which climbs 206 feet to look down on the city.
From there head to the Old Town Square, which is the medieval center of Prague, surrounded by cobbled streets awash with cafes and restaurants. It's home to the Old Town Hall and Astronomical Clock, the Rococo Kinsky Palace and the stunning Gothic Church of Our Lady before Týn. If you visit in December, it also hosts the city's largest Christmas market.
Also close by, Klementinum is a series of historic buildings worth visiting just to see what is arguably the most beautiful library in the world. If you're looking for a world-class collection of historical artifacts, minerals and zoological specimens, the National Museum ticks all of the boxes. It's located at the top of Wenceslas Square, which is not actually a square but a boulevard – and one of Prague's most popular shopping streets.
Kampa Island is a great alternative to the National Museum. Literally an island located beneath Charles Bridge, you'll find the museum of modern art, The John Lennon Wall and giant, slightly unnerving sculptures of crawling babies. Speaking of Charles Bridge, it is one of Prague's most popular and photographed sites for good reason. You'll no doubt use it to cross the Vltava River, but for the best photographs, visit at dawn, before the crowds arrive.
And if all this walking gets to be too much, see the city from a different perspective, floating gently down the Vltava on a river cruise.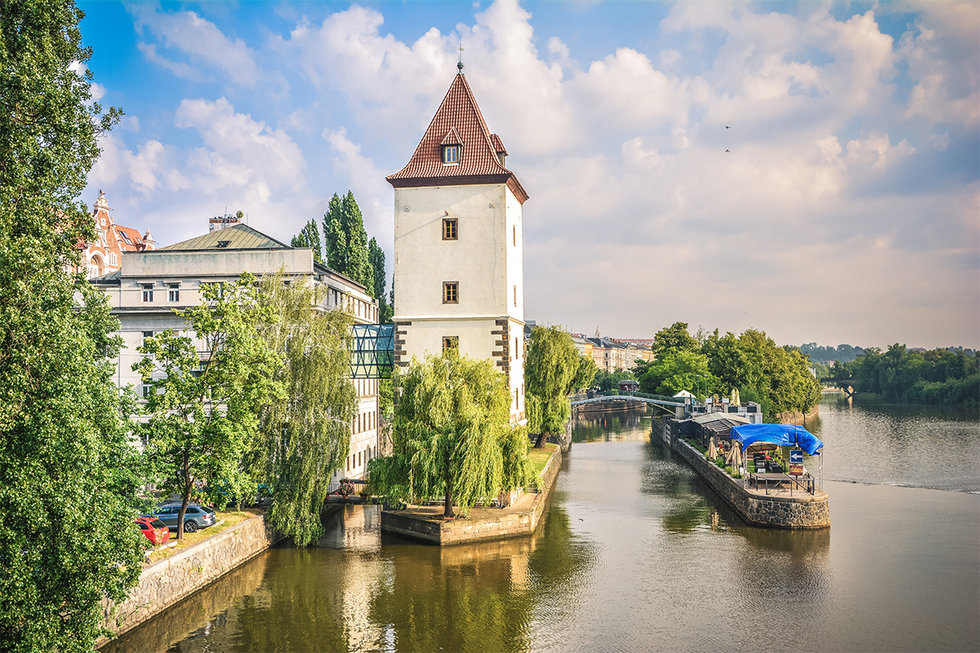 Where to eat
Restaurants to suit every taste and budget dot the center of Prague. Great breakfast options include Coffee Room, Mezi Srnky and the always-popular Café Savoy, which is also great for lunch or dinner.
In a city full of carnivores, the Real Meat Society's porchetta sandwich is a lunchtime highlight, Dish is a stylish little burger joint full of fashionable people, while Lokál Dlouhááá offers a beer hall feel and Czech classics of pork, sauerkraut and dumplings washed down with beer.
The city's only two Michelin-starred restaurants are Field and La Degustation Bohême Bourgeoise, the latter creating modern takes on old Czech recipes using the highest quality local produce. Both restaurants require a reservation. Highly recommended 'Bib Gourmand' restaurants within easy reach of Charles Bridge include Sansho, Divinis and Maso A Kobliha, where the salty caramel pie may elicit happy tears.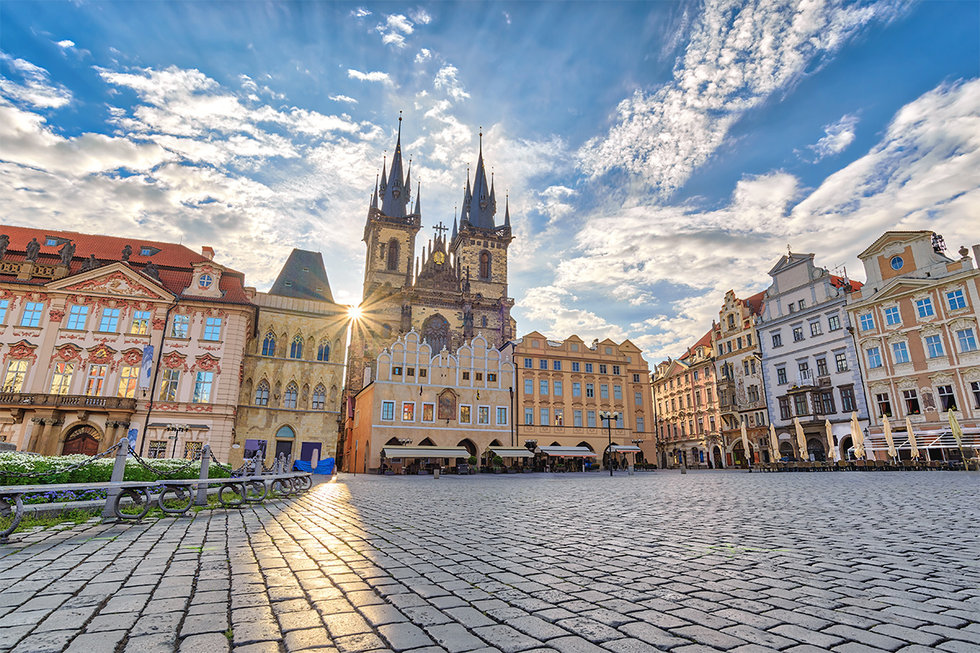 Where to drink
In the number one beer-drinking nation on the planet, the locals refer to it as 'Liquid bread.' Prague is home to many of the nation's finest bars and ale houses, many of which brew their own beers. Two of the most historic are U Zlateho Tygra, which President Clinton visited in 1994, and U Cerneho Vola, which stands in the shadow of the castle. Letná Beer Garden offers an outdoor setting where you can enjoy a beer and views of the Old Town below.
And keep an eye out for 'tankovna' – tank pubs – where the beer is not pasteurized, as most beers have to be to be transported around the globe. In tank pubs such as U Pinkasu, the beer is probably the freshest you'll ever taste. But if pilsner is not your preference, head to Hemingway Bar, one of the world's finest cocktail bars. You may have to wait in line as it is a popular with both locals and tourists alike, but it's well worth the wait.
When to go
Prague is the warmest and busiest during the summer months, from April until October and peak season starts in July through August. The longer nights of spring and summer will give you more time to explore, while the celebrated Beer Festival fills the city's Letná Park in May. Spring and autumn are generally quieter and can be less costly than the summer months. If you can cope with the colder temperatures and darker days, winter is a magical time to be in the city.
Getting there
United, together with many of its Star Alliance partner airlines, offers service from multiple cities in the U.S. to Prague. To explore all that Prague has to offer and to book your trip, visit united.com or use the United app.
Scroll to top