Three Perfect Days: Hangzhou
Story by Benjamin Carlson | Photography by Scott Turner | Hemispheres June 2017
Hangzhou is enchantingly two-faced: One side is a classic Chinese painting—all fog-wreathed hills and lyrical lagoons—and the other is a futurescape where cash is dead, luxury cars are everywhere, and the deliveryman is an internet entrepreneur. For centuries, the ancient city has represented an aesthetic ideal for the Chinese. Now, it is the country's e-commerce capital, with all the wealth and ramped-up cool that implies. Hangzhou today has the trappings of a global megalopolis and the temperament of a small town—which is about as happy a contradiction as a city can have.

In which Ben cycles through paradise, contemplates the benefits of being ruled by poets, and encounters his first virtual maître d'
So perfect are the waters of Hangzhou's West Lake that its name has become a byword for beauty. I awake minutes away from this jewel in the Four Seasons Hotel, an extremely agreeable update on the palaces of the Song dynasty. The day starts on my private terrace, with coffee and a green-tea scone, beside a glade of bamboo and plum blossoms. I sit and ponder an old Chinese idiom that says "Above there is heaven; below there is Hangzhou."
On my way out, a young woman at the front desk in a neon-green qipao dress offers me a bike. I cycle out of the hotel driveway and onto a winding road. The bicycle lane is already a clutter of colorful frames—fruits of the proliferation of local bike-sharing apps. To my left, electric buses zip silently by, carting tourists in caps and backpacks. After 10 minutes, the lake is visible through the trees: gray-green, wreathed by verdant hills.
The lake was formed more than a thousand years ago, when the Qiantang River delta became filled with silt, causing a small bay to become a freshwater lake. In the ninth century, the poet-governor Bai Juyi built a dyke, raised a causeway, and gave the body of water its name: Xihu, or West Lake. Over the thousand-plus years since, it has been expanded and elaborated by many hands, with bridges, gardens, and pagodas that have inspired generations of landscape architects across Asia.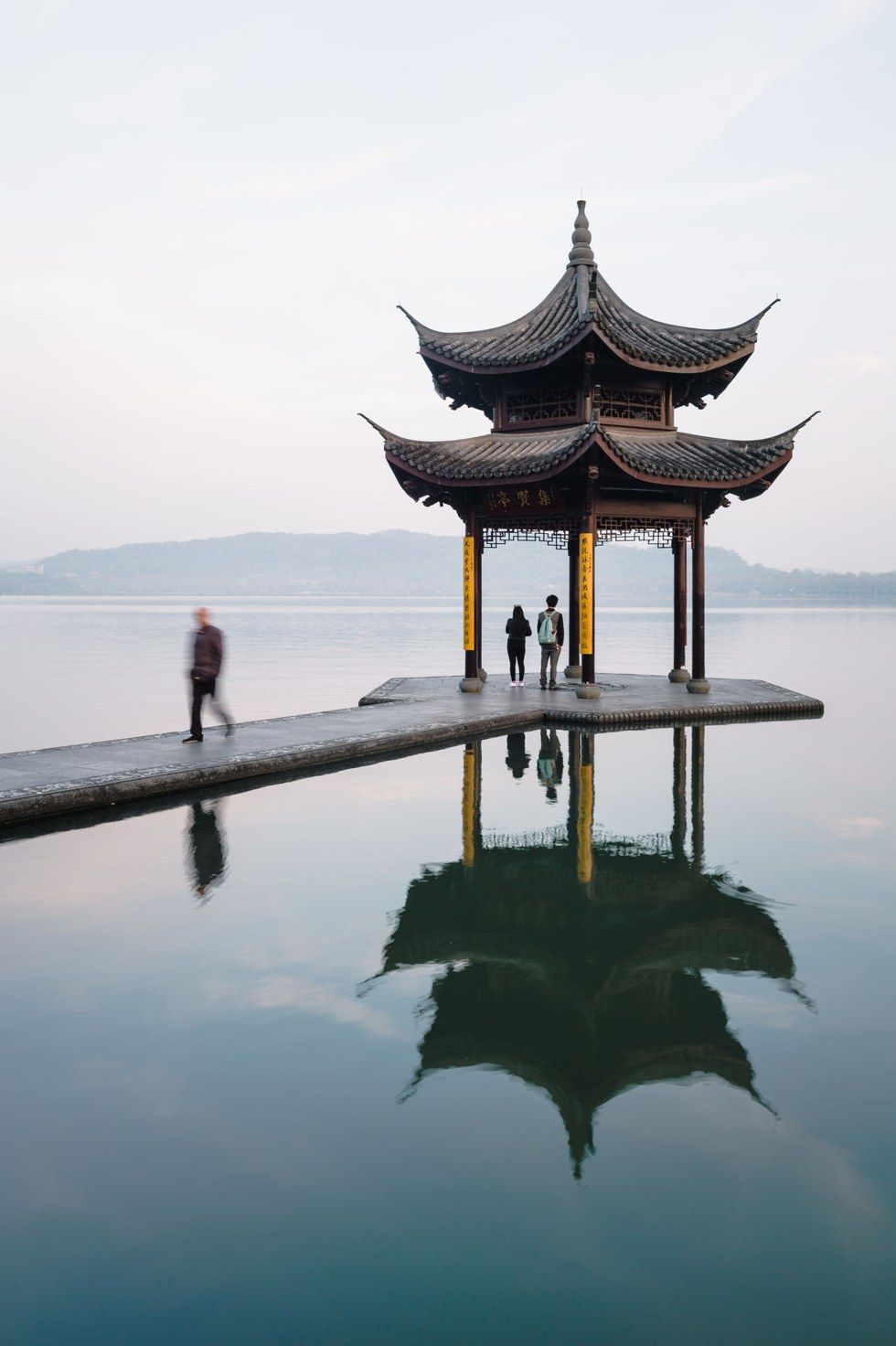 A West Lake pagoda
I ride up the lake's western perimeter, past the tomb of Su Xiaoxiao (a "famous sing-song girl" of the fifth century, says a sign), and cross the Bai Causeway. The poet's road is rolling and green; it makes me wonder how much nicer I-95 might be if Emily Dickinson had been involved.
After 10 minutes, I reach an island called Solitary Hill, named for the many scholars and poets who have taken refuge here. Now, it's busy with tourists and retirees doing odd exercises. I see a pair of old men vigorously clapping their hands behind their backs. A white-haired fellow flies by on in-line skates, singing and waving a yellow streamer. A grizzled cyclist blasts Beijing opera from a small speaker. An elderly unicyclist wobbles across the road.
I duck into a mossy courtyard, home to a museum of "epigraphy and sphragistics," the study of ancient seals and inscriptions. Nearby, stone stairs run to the top of Solitary Hill. I decide to climb and take in the view that inspired literati like Bai Juyi. I pant up the first set of stairs to a small landing, where a sign informs me that Su Dongpo—Hangzhou's other poet governor and the namesake of a delicious pork dish—compared the life of man to a goose's footprint in the snow. I pant farther upward. At the top, with the blue lake glinting and an oriole pecking a bamboo stalk, I am moved to construct a verse of my own.
Man's life
May be spent wondering
What's for lunch
Suddenly ravenous, I rush down the hill, hop on my bike, and race across the causeway, expertly avoiding selfie sticks as I go. Luckily, I have lunch plans close by: On the eastern side of the lake I'm meeting Jingjing Hong at the Green Tea restaurant, a chain specializing in Hangzhou staples.
Jingjing studied fashion in Shanghai, and she looks the part in hoop earrings and a black and pink sweater. A cofounder of a local English-language magazine, she has lived in the city for over a decade and witnessed its transformation from a second-tier backwater to a first-class destination. "Hangzhou is a really strange city," she says when she greets me at the crowded door. I soon see what she means. While the food at Green Tea is classic fare, everything else is newfangled. To book a table, I scan a barcode. A real-time monitoring app opens on my phone. There are 15 people in front of you, it says. Jingjing notes that this is typical Hangzhou: high-tech and trendy, but rooted in tradition. "I don't think there's any other city where in 15 minutes you can go from downtown to the tea fields," she says.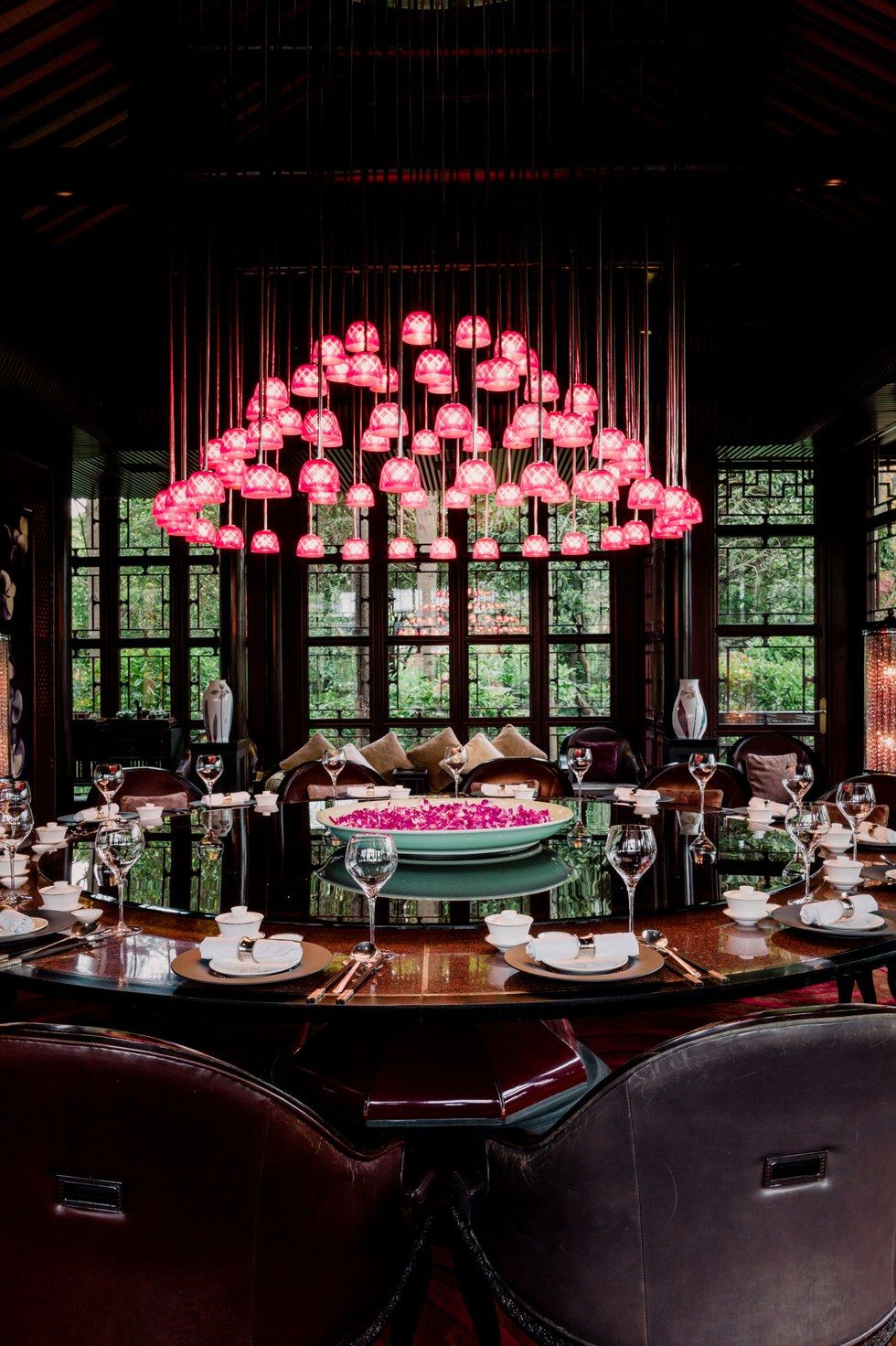 The dining room at the Four Seasons
My phone buzzes. There are five people in front of you. You are next! You are next!
The app tells me our table is on the fifth floor. I wave down a waitress and ask for a menu. She shakes her head and points to another barcode. I scan it and get an interactive menu. Jingjing helps me pick a few local favorites: green tea–roasted pork with crispy skin glazed in spices; tubular rice noodles in savory egg broth; shaved bamboo shoots with green beans. I send the order. A few minutes later, the dishes arrive. As we eat, Jingjing tells me about the mystifying fame and fortune of the city's vloggers, who livestream their days to hordes of fans. "I went to a birthday party for an internet celebrity. I didn't know who she was, but she was like a third-tier movie star."
At a nearby table, a very pale girl with long, sleek hair holds up her phone and gives a coquettish smile, tilting her head this way and that. I ask Jingjing where I should go tonight if I want to see more of Hangzhou's glamorous side. "Park Hyatt, Forty8," she says. "That's where the posh generation goes."
I pay with a tap of the phone and say goodbye. No cash, no menu, no problem.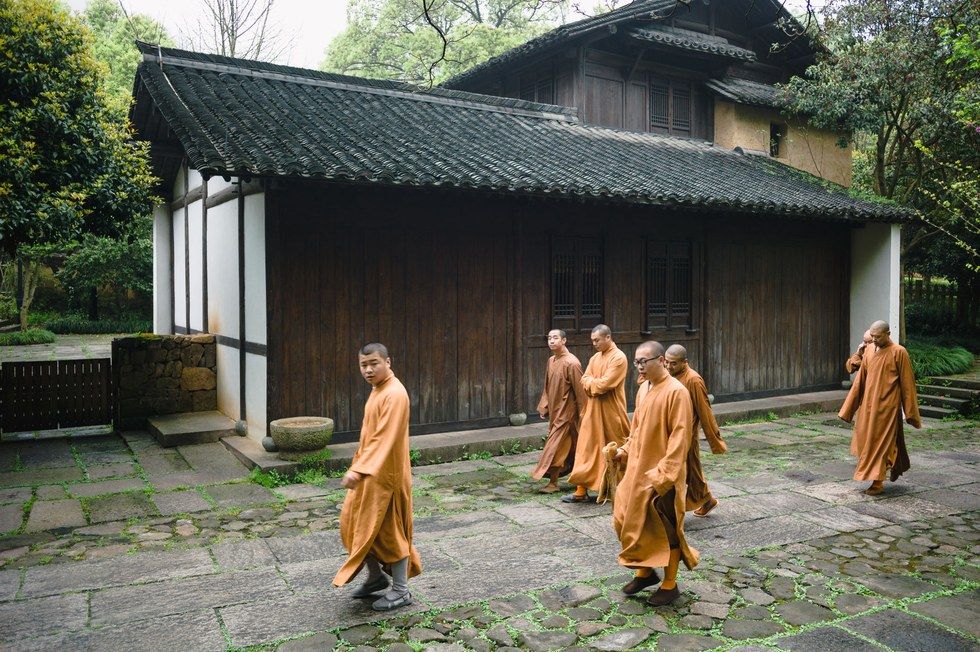 In the afternoon, I prowl the business district that runs along the bank of the Qiantang River. At a sculpture garden near the InterContinental, which resembles a giant golden candy apple, I follow tourists from statue to statue: a tower of fish, a girl with a cloud brassiere. A gang of middle-age men is particularly interested in a giant chair made of branches and twigs. "What is it?" A man grabs a leg and pulls. The chair doesn't budge.
"It's metal!" His friend reads a label on the base. "It's called 'Sitting Man.'"
"That's a man?"
"That's not a man," says a little girl walking by with her father.
I take a cab back to the Four Seasons and descend to the spa. My masseur, Peter, has a handshake like a catcher's mitt. Perfect. I
follow him down a cool, dark passage lined with channels of running water. I am reminded of the throne room of the Wizard of Oz. I lie down, and Peter begins squeezing my neck. There is a grinding sound.
"Your neck is bad."
"I know."
"Open your mouth."
"Why?"
"Just do."
I do. Peter leans down on a pressure point. Something unclenches.
"Oh!"
After washing up, I head to dinner at the hotel's celebrated restaurant, Jin Sha, where I dine in a private room. The waiter brings out a fine bottle of red from the highlands of Ningxia Province, and the chef sends out a parade of seafood courses: vermicelli and clams, marinated lobster with Sichuan peppercorns, bamboo shoot salad with fish roe, and a divine pork dish (named Dongpo, after the poet) with abalone in sweet soy sauce glaze. For dessert: Longjing tea-flavored cream pudding.
"Within walking distance of seven temples, Amanfayun has the air of a Tang dynasty hamlet."
I waddle out and hail a cab to the Forty8 at the Park Hyatt, per Jingjing's suggestion. In the whooshing elevator, my fellow ascendants are all outrageously elegant, though none appear to be livestreaming themselves. I find a spot at the mottled marble whiskey bar. Behind me is a glass-floor balcony that takes in a panorama from West Lake to the Qiantang River.
A jazz band does a sultry cover of "Just the Two of Us" as Hangzhou's hippest sip lychee cocktails. I order a single malt, then another. Soon, I am chatting up the jazz singer and her bass player during a break. They're new to the city—musicians from Montreal who've played hotels in Seoul, Dubai, Bangkok, Beijing. I offer to buy them a drink, but they decline.
"Time to play, man."
As the band retakes the stage, I grow sleepy looking down at the serpentine river, the golden orb of the InterCon, the brooding lake, and the mountains lurking somewhere in the dark.

In which Ben wakes up in the wild west, drinks his body weight in green tea, and discovers parallels between modern Hangzhou and 19th-century France
I am wakened early by a series of urgent squawks—egrets, perhaps, or cranes. I raise the bamboo blinds. Across the tea fields, on the far bank of a burbling stream, I see the real source of the racket: two slightly hysterical geese.
This is Amanfayun, a resort that's more village than conventional hotel. Spread over 35 acres in a valley just west of the lake—the wild west, as Jingjing called it—the property consists of 47 immaculately preserved tea cottages nestled in groves of osmanthus and camphor. Within walking distance of seven temples, the resort has the air of a Tang dynasty hamlet, but inside the brick-and-earth lodgings, the feel is contemporary luxury, with bronze Lefroy Brooks plumbing fixtures and bamboo furnishings, including a long daybed with a table for sampling Dragon Well tea plucked in the property's own fields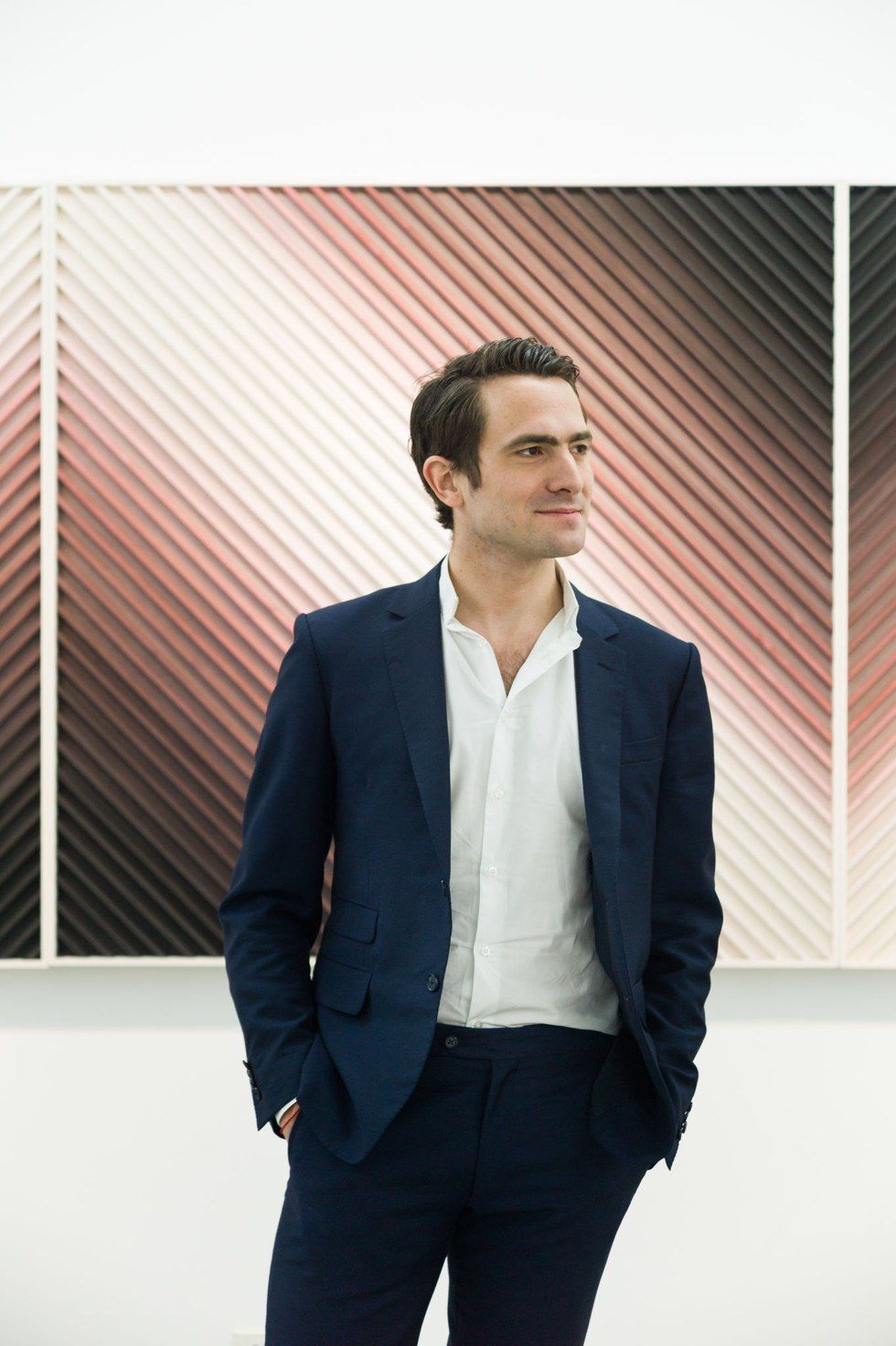 Olivier Hervet, gallerist
It's a fitting way to start the day, as I'll be biking to Longjing, which produces perhaps the most famous and coveted green tea in China. First, I head through the mist to fortify myself at the resort restaurant: a sumptuous spread of currant danish and mascarpone blueberry buttermilk pancakes.
As I walk along the quarter-mile trail to the street, a tree speaks to me: "Have a good day." I step back in alarm, until a valet in muted khaki manifests like a camouflaged agent. He and his compatriots are posted every hundred yards along the trail to guide visitors away from the private lodgings.
My first stop of the day is the National Tea Museum, which lies off a winding road among lush green fields and irrigation ponds lined by flowering cherry and magnolia trees. The small but excellent museum traces the origins of tea from its earliest cultivation in southwestern Sichuan province 3,000 years ago, when the trees stood 30 feet tall. Its leaves were eaten, drunk, and boiled in soup. In the Tang dynasty, monks embraced the drink because it allowed them to meditate all night. One room shows dazzling varieties: white, green, black, red, oolong. Some of these can be sampled at a tasting station.
I continue on toward the village. The road rises past burbling springs and rockeries garlanded with vines and moss. I stop to catch my breath at the Longjing Temple, where garrulous ladies play a card game called dou di zhu ("beat the landlord") at cane tables and sip from thermoses of green tea. I look around for a cup, but the soda vendor shrugs and points farther uphill.
"In some ways, Hangzhou is the most Chinese city in China. It has everything traditional Chinese culture has to offer—tea, art, temples, mountains, and lakes—next to the country's most innovative companies." -Olivier Hervet
At last, I arrive in Longjing village, and a second after I've parked my bike a petite old lady with a pixie cut and swift step taps me on the arm. "You want to try tea? Come to my sister's house." I follow her through a scattering of white-tiled farmhouses and tea shops dotting the misty hillsides. As we walk, she tells a story about dragons—or at least I think it's about dragons; her accent is thick. She leads me up a steep staircase to a red-brick house surrounded by green tea shrubs. Her sister sits me at a table and pours three tall glasses of tea.
"This one is last year's harvest, the cheapest. This one is good quality. And this one is fresh picked—the best." I drain all three glasses and she pours me another round. "Do you like them?" she asks. I tell her I do, and buy a tin of the good stuff.
The ride downhill is swift, and soon I reach the China Academy of Art, where I'm meeting gallerist Olivier Hervet for lunch. Impeccably dressed in a fitted blazer, Oxford shirt, and scarf, Hervet is easy to pick out of the crowd. The fact that he has brown hair and is French also helps.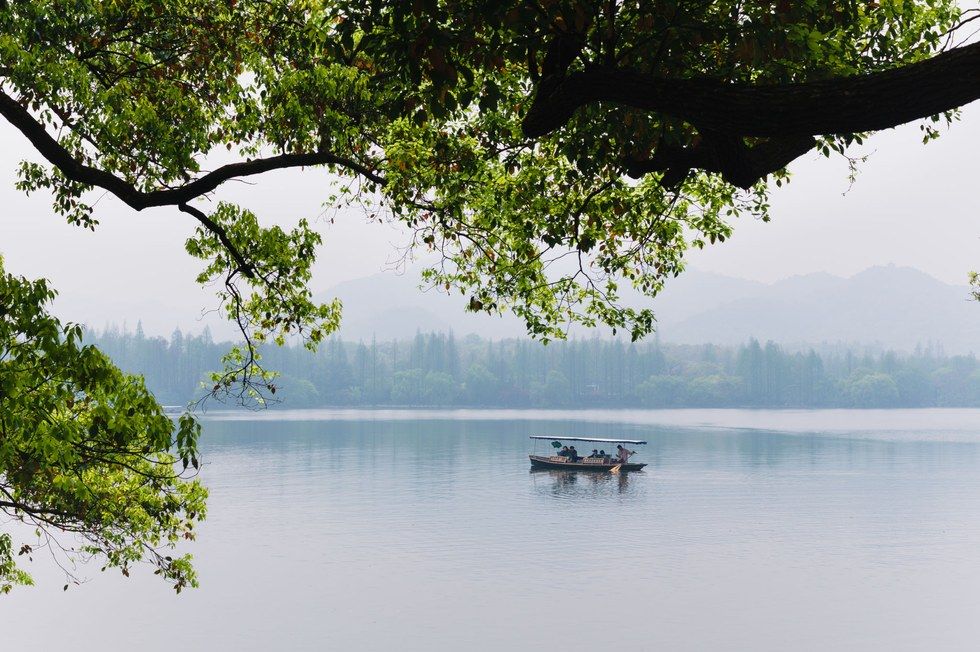 West Lake
"Here, this place is very nice," he says, leading me across the street to the Yuexiu Spring restaurant. We take a table by the window and start ordering: Dongpo pork, pork soup dumplings, and glass noodles in savory broth. A longtime resident of China, Hervet moved to Hangzhou in 2013 after touring the country scouting places to open a gallery. "We went through quite a few cities, and I must say, I fell for Hangzhou," he recalls. "The fact that it's an old cultural capital means they are much more sensitive to art."
After opening HDM Gallery, which focuses on contemporary Chinese art, he found his first client at the Academy's graduation exhibition. The artist's work sold out within two hours. "I think it's one of the most, if not the most sophisticated city in China," Hervet tells me, dipping a dumpling into rich sauce. "People are wealthy, but they don't flaunt it. They like Grand Cru, not monogrammed clothes." He stops short. "You don't eat cartilage?" He eyes a pile I've hidden under a napkin and, with panache, picks a morsel from the serving dish and pops it into his mouth.
After lunch, we wander among the Bauhaus-inspired buildings of the Academy. Hervet is a great champion of China's artists. He believes they are more dynamic, universal, and technically adept than their counterparts in the West. "Chinese painters are more idealistic. I won't say they don't care about money, but they don't care as much. The greatest art comes from countries in times of great social change. Look at the U.S. in the '60s, France during the time of Romanticism. Now, it's happening here."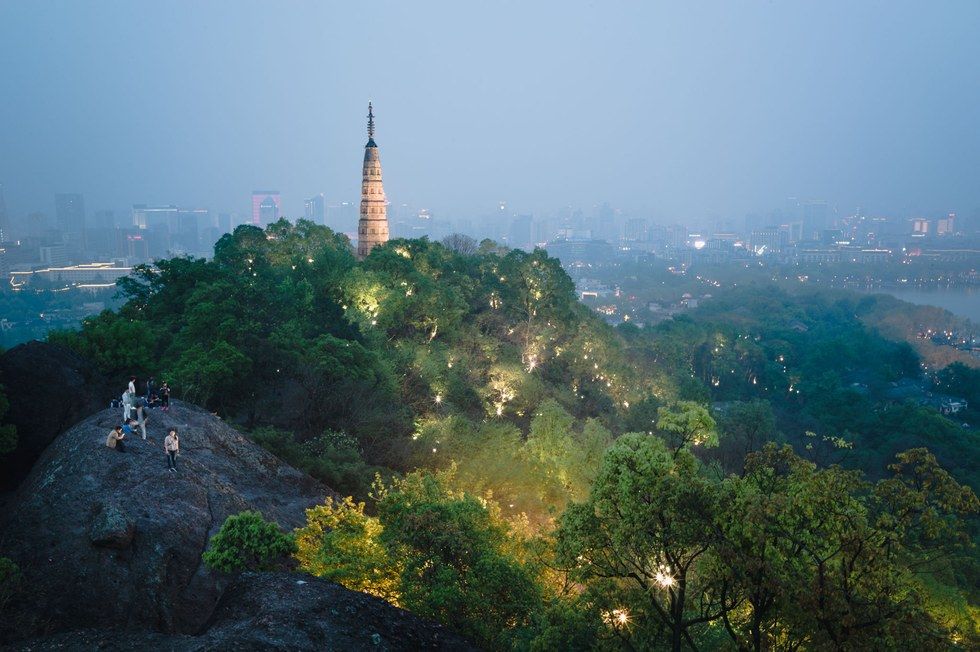 The view from the Baoshi Mountain Lookout
I say goodbye to Hervet and head for the nearby crafts gallery 101 West Lake, where I pick up a hand-painted, thimble-size china tea cup and flip it over to see the price: $100. I place it back gingerly.
Not far from here, in a park by the lake, 50 senior-citizen couples twirl in a grove of linden trees. A man sings through a tinny sound system while musicians scrape two-string erhu violins and bang woodblocks, and another, serious-faced man in pressed trousers claps his hands and stamps to demonstrate a tango step for a woman in a flowing skirt. "Watch how I do it. One, two, boom! One, two, boom!"
Farther along the shoreline, I see a woman in a wedding dress perched on a narrow railing over the water, her veil billowing in the stiff lake breeze. In the distance, a three-story-tall dragon-shaped boat floats menacingly behind a small junk.
For dinner tonight, I'm meeting longtime expat Tim More at La Pedrera, a popular Spanish restaurant inspired by and named after Antoni Gaudí's famous Barcelona building. (Its exterior is all tiled curves, mosaicked lizards, and undulating walls.) A serial entrepreneur, More has a shaved head, a lingering New York accent, and four cell phones. For 10 years, he owned and operated one of Hangzhou's most popular bars, before the government shut it during renovations for last year's G20bconference. Now, he runs an empire of
magazines that cover China's second-tier cities.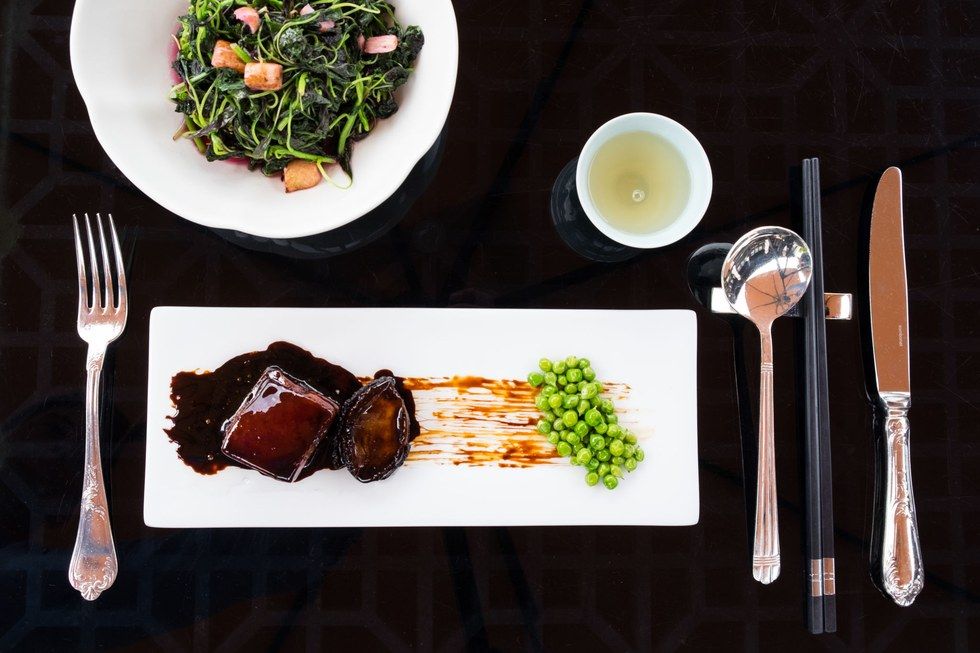 Dongpo pork at Jin Sha
We order a bottle of La Miranda Secastilla Garnacha Blanca, tapas of grilled foie gras and pineapple compote, beef and egg yolk tartare, pork neck, and a squid-ink paella with squid, razor clams, and Argentine king prawns. As we eat, More tells me his story, the Hangzhou chapter of which begins in 1994. I ask how Hangzhou has changed since then. He swallows a morsel, thinks a second, and stares. "It's gone from taking taxis everywhere to taking your own Ferrari. It's gone from people buying three beers for 10 yuan to people buying a cocktail for 80. It's gone from cheap hamburgers to stuff like this." He jiggles a cube of foie gras for emphasis.
After dinner, we walk through the drizzle to a nearby bistro-cum-bar, Provence. A mixed crowd of French- and English-speaking patrons leaps up to greet More. We sit at a corner table where two Americans are chatting. "I don't want to sound crazy, but I don't trust banks anymore," one of them says. He shows me a plastic card he's invented to store and spend Bitcoins. Not to be outdone, his companion pulls out a piece of whitish wood from his bag. "That's made from hemp. I invented it."
I gulp a mouthful of Merlot and try to think of things I've invented, but the conversation turns to other matters: African safaris, a stolen Ferrari, methods for shipping live Chesapeake crabs around the world in a chartered jet. "One shipment, and you'd be a millionaire," says the hemp-wood inventor. For me, the idea conjures images of thousands of little crabs wearing seat belts. Might be time to call it a night.

In which Ben flirts with local aunties, enjoys his umpteenth serving of Dongpo pork, and gets philosophical during a sax solo
I wake to the scent of lemongrass and incense. Last night, in a rare bout of post-bar foresight, I lit several of the candles and joss sticks provided in my room at the Banyan Tree Resort. The result is invigorating, even (ahem) sobering. I open the silk brocade curtains and see a stone bridge curving over green water. Falling back for a minute onto a lacquered divan, I somehow lose another half hour. In the restaurant, my breakfast—a tall glass of Prosecco paired with a heap of fried taro root—draws stares.
The resort, 15 minutes from the city center, is on the grounds of another natural wonder: the Xixi wetlands, China's first such national park. A 10-minute golf-cart ride takes me and a few other guests to the docks. Our party includes a young boy who drops his Mickey Mouse doll as we zip along, forcing us to stop. His mother notices me and instructs him to say hello to the foreigner. He does, and drops the doll again.
Upon arrival, we hire one of the dozen or so wood-bottomed boats that take tourists out on the water. A young guide points out birds native to the wetlands—egrets, doves, cranes—but her speaker is no match for a woman bellowing lunch plans into her phone. "Not Sichuanese!"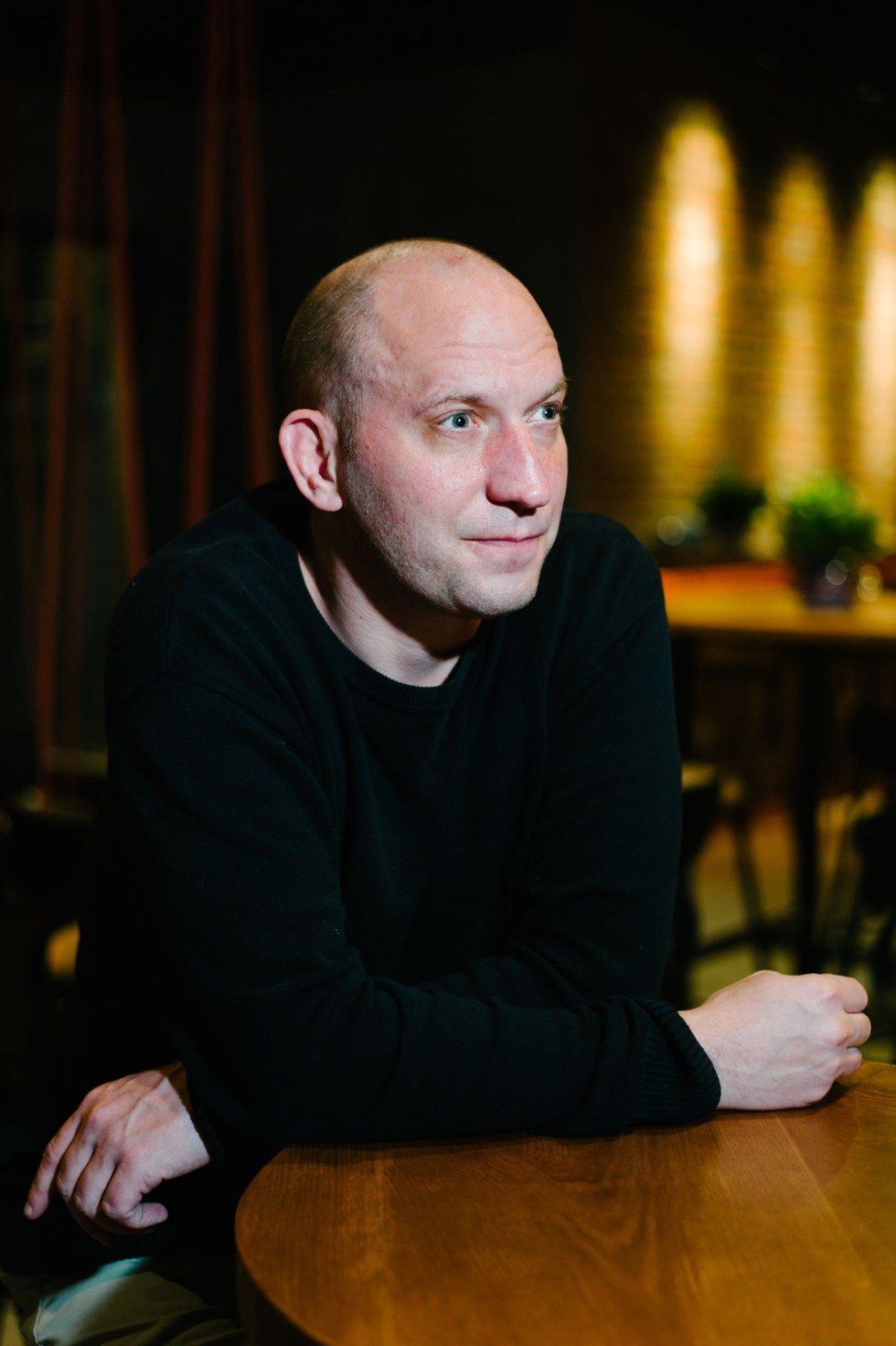 Tim More, publishing entrepreneur
The ride itself is more tranquil: White cranes flap languidly and disappear into thickets of bamboo and willow. Fishermen cast and reel their lines. Pink-black plum trees wink in the breeze. At the next stop, I get off and wander through an old silk-weaving village. When I return to the boat, the only seat left is with a retiree tour group from Henan province. I am easily 30 years younger than any other passenger.
My seatmate introduces herself as Ms. Guo. "We have been traveling for 400 days. We went to Shanghai, Korea, Japan…" Suddenly the passengers around me burst into deafening song: "Mao Zedong's Thought is the soul of the Chinese people!"
After the anthem's rousing conclusion, Ms. Guo asks whether I like China or America. When I tell her I like both, she grins and pats my knee. A passing auntie with a bouffant announces, "We all think you're cute!"
On the way out of the park, I eat a bowl of green-tea noodles in clear broth at a restaurant whose name translates as "Male-Female Park," and then catch a cab to Hefang Jie, an old-fashioned (but extensively renovated) boulevard. Vendors sell stinky tofu, coconut milk, and cucumber face masks. A mustached man plays a klezmer-style solo on a wooden instrument his sign identifies as a "Chinese saxophone." Nearby, an elderly couple wait patiently for their turn to sit on a gold-plated Buddha. "Hurry, sit down," the wife says, patting Buddha's thigh. In a nearby shop, two boys sing a lusty tune as they beat peanuts and corn syrup into a thick sheet. My phone rings.
"The Hangzhounese are like no other people I've met in China. Though I've been to 30 cities in the country, I can say that here, they all like their leisure time—not to mention their moneymaking time…" -Tim More
"Ben, do you know where to go?" The voice, deep like a radio host's, belongs to my dinner companion, Denis Xu. Fluent in English and French, Denis is a bon vivant and language teacher who instructs students over WeChat, China's most popular messaging app.
I take a cab to Little Southland Restaurant, on a narrow street of seafood eateries housed in elegantly refurbished industrial plants. Denis greets me upstairs. Wearing fatigues and combat boots, and with close-cropped hair, he has the look of an affable soldier. We enjoy a meal of "beggar's chicken" (a local dish in which the bird is wrapped and baked in clay), fermented fish, pork kidney and tofu, and yet more Dongpo pork. Afterward, Denis leads me and a group to 7 Club, an underground hangout with a wall covered in calligraphy. "My friend made that," he says. "Calligraphy painters make a lot of money now, selling over WeChat. They paint three an hour; one sells for 4,000 yuan ($580). That's good money."
We down our Tiger beers and head out to nearby You To Bar, a smoke-filled joint where a slender, goateed guitarist is belting out a ballad. The manager shakes Denis's hand and sends over a mini-keg of beer.
After that, time seems to swim. Denis tells stories about Tunisia; I am proposing a world of poet-governors. A saxophone player blasts a killer solo as lights slice through the swirling smoke. "This is the real, Chinese local place," Denis yells above the din, which is about as big a compliment as you can give in Hangzhou.
Benjamin Carlson, a Beijing-based writer, is seriously thinking about patenting his safety device for Chesapeake crabs.
Around the web
On March 19, 2020, United operated its first flight carrying cargo without passengers on board. While the passenger cabin was empty, its cargo hold was completely full, carrying more than 29,000 pounds of commodities from Chicago O'Hare International Airport (ORD) to Frankfurt Airport (FRA).
A year later, United Cargo has operated more than 11,000 cargo-only flights carrying more than 570 million pounds of freight. To support the COVID-19 pandemic recovery efforts, United Cargo has also transported more than 113 million pounds of medical and pharmaceutical products on both cargo-only and passenger flights as well as approximately 10 million COVID-19 vaccines, providing global communities access to the items they have needed most.
"At the beginning of the pandemic, we knew we were uniquely positioned to utilize our widebody aircraft and our network to keep commodities moving, so we quickly mobilized various departments throughout the airline to launch a cargo-only network of flights that would keep commodities moving," said United Cargo President Jan Krems. "Thanks to those efforts, United Cargo has delivered millions of items to countries all around the world. We would not have been successful without the steadfast support of our employees, industry partners and our customers."
Since last March, United Cargo has transported almost 850 million pounds of freight on cargo-only and passenger flights. The airline will continue to monitor market trends adjust its cargo-only flight schedules to help ensure we are meeting our customer's evolving shipping needs.
Whether you haven't flown with us for a while or just need a quick refresher before your spring trip, read this list of tips to know before your flight and arrive at the airport travel-ready:
1. Download the United app for contactless bag check, travel assistance and more
Before your flight, download the United app to view your flight status, check in, sign up for flight notifications, locate departure gates, access our free personal device entertainment when available and more. We've also updated our app with new features that can make your trip a little safer, including contactless bag check.
Don't forget to use Agent on Demand for help with any and all questions you may have before your flight. This new capability is available at all our U.S. hub airports and allows you to use your own mobile device to contact a customer service agent via phone, video or chat to help with day-of-travel questions while you're at the airport. Learn more about Agent on Demand here.
2. Check out the Travel-Ready Center
Our Travel-Ready Center makes it easy to get a personalized overview of everything you need to do in preparation for your flight. Just enter your confirmation number or MileagePlus® number and you'll find detailed information on all the documents, tests and more that you'll need for your trip.
3. Read and sign the Ready-to-Fly checklist
Before completing check-in, all United travelers will need to read our Ready-to-Fly checklist and confirm that they understand and agree to our policies. These include:
Acknowledging that you haven't had any symptoms of COVID-19 in the last 14 days
Agreeing that you will not fly if you have tested positive for COVID-19 within the last 21 days
Confirming that you will follow all policies regarding face masks, social distancing and other health and safety measures we've adopted
4. Arrive early; avoid the stress
Airports can be busy, especially during peak travel periods like spring break season. The TSA advises arriving at the airport two hours before your flight for domestic travel and three hours for international travel in anticipation of long security lines. This can help ease the stress when navigating busy check-in areas, security lines and crowded boarding gates.
5. Get familiar with CleanPlus
United CleanPlus℠ is our commitment to delivering industry-leading cleanliness as we put health and safety at the forefront of your experience. We've teamed up with Clorox to redefine our cleaning and disinfection procedures and Cleveland Clinic to advise us on enhancing our cleaning and disinfection protocols, like:
Disinfecting high-touch areas on board and in the terminal
Using electrostatic spraying, Ultraviolet C lighting wands and more advanced measures to clean aircraft cabins before boarding
Redesigning our mobile app to allow for touchless check-in and contactless payment, along with enhanced travel assistance features
Implementing high-efficiency (HEPA) filters on our aircraft that completely recirculate cabin air every 2-3 minutes and remove 99.97% of airborne particles, including viruses and bacteria
Studies show COVID-19 exposure risk is minimal when air filtration systems and masks are in use, so you can rest assured that the steps we've taken to keep you safe truly make a difference.
6. Wear your mask
Federal law requires all travelers to wear a face mask in the airport, including customer service counters, airport lounges, gates and baggage claim, and on board during their entire flight. Make sure you review the requirements for face masks, including what an acceptable face mask looks like.
7. Get ready for a safer boarding process
To make boarding even safer, we now have travelers board their aircraft from back to front. At the gate, just listen for your row number to be called – we'll ask a few rows at a time to board, starting with the last row of the plane. This helps everyone maintain a safe distance from each other during boarding without slowing things down. As you step onto the plane, flight attendants will hand each passenger a sanitizing towelette, which you can use to wipe down your seat to ensure it's extra clean.
8. Pack smart
Before packing your bags, check to see what exactly you can carry on and what you should plan to check. You can also copy your confirmation number into our Baggage Calculator tool to learn about the bag allowance included with your reservation, as well as the cost of checking any additional bags.
9. Check your flight status, important notices and weather
Check the United app regularly for the latest updates on weather conditions, flight status, gate numbers and seat assignments. You can also visit our Important Notices page to find essential information and updates about travel waivers, international travel, TSA and security, airports and United Club locations.
10. Relax and enjoy your flight
Once you're on board, it's time to sit back and enjoy your flight. Our flight attendants will be happy to help you with anything else you need.
This week, we were honored to become the first U.S. airline to join the UNICEF Humanitarian Airfreight Initiative to combat the COVID-19 pandemic by transporting the vaccine and other critically needed supplies to underserved areas of the globe.
"We are committed to helping the global community in any way we can, and we all must work together to do our part to bring this health and humanitarian crisis to an end," said Director of Cargo Specialty Products Manu Jacobs.
We will leverage our expertise to transport these critical pharmaceutical and healthcare shipments around the world safely, efficiently and expediently. We are proud to partner with the United Nations to support this global effort and provide equitable access to COVID-19 vaccines.
Scroll to top