Three Perfect Days: Ho Chi Minh City
Story by Cain Nunns | Photography by Christian Berg | Hemispheres, September 2015
Saigon (as the city is still known by locals) has had a tough life. Its buildings reflect the various cultures that have intruded over the centuries—Chinese, Cambodian, French, Japanese, American. Its history can read like a laundry list of wars. The city's troubled past, however, does not diminish the optimism of its people. This is especially true now, as the Vietnamese economy surges and Ho Chi Minh City finds itself in the midst of a massively ambitious urban renewal project. Yet, as Graham Greene understood, the quality that makes the place truly special is timeless—an almost mystical intensity that permeates "the colors, the taste, even the rain."

In which Cain experiences an architectural Reverie and wanders Saigon's markets and back alleys
Saigon (as the city is still known by locals) has had a tough life. Its buildings reflect the various cultures that have intruded over the centuries—Chinese, Cambodian, French, Japanese, American. Its history can read like a laundry list of wars. The city's troubled past, however, does not diminish the optimism of its people. This is especially true now, as the Vietnamese economy surges and Ho Chi Minh City finds itself in the midst of a massively ambitious urban renewal project. Yet, as Graham Greene understood, the quality that makes the place truly special is timeless—an almost mystical intensity that permeates "the colors, the taste, even the rain."
If anything sums up the transformation of Ho Chi Minh City, it's the Reverie Saigon. The hotel, which opened this year, occupies the upper 13 floors of a 39-story glassy block in District 1, an area where the French Colonial architecture is rapidly being overshadowed by a huddle of high-concept skyscrapers and shopping malls.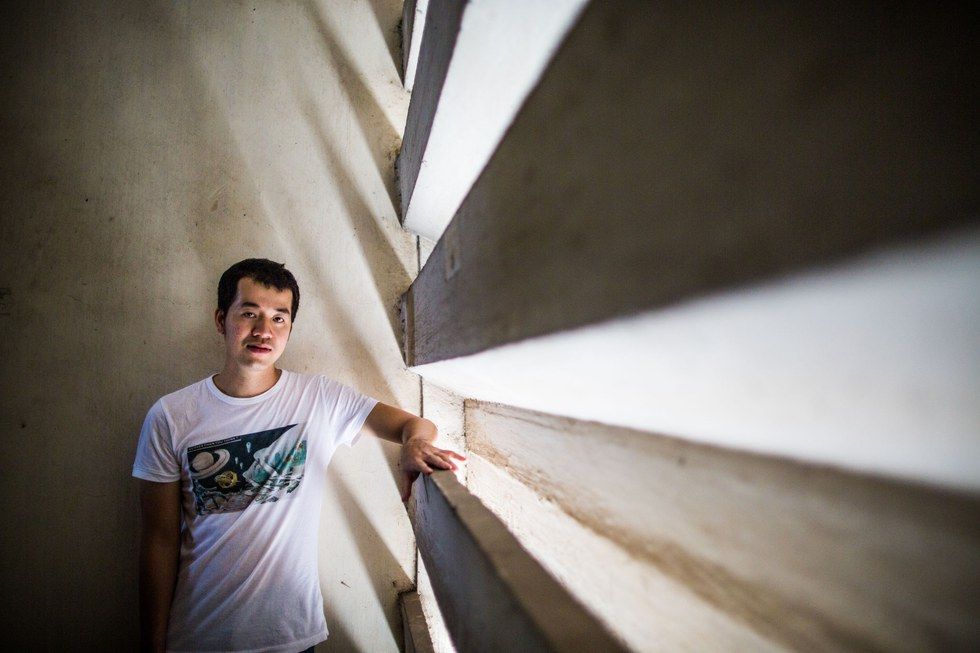 Trinh Dinh Le Minh, Filmmaker
The Reverie's interior, contrived by a consortium of Italian designers, is an emphatic expression of these changes, an almost surreal clamor of colors, textures and styles. In the florid reception area stands a large gold and emerald clock that the concierge informs me is worth about half a million dollars.
After a bowl of rich Vietnamese beef stew at a poolside table, I head out to find Nguyen Hue, a broad promenade flanked by French Colonial buildings, bars, boutiques and galleries. North of here is Lam Son Square, once the beating heart of French Indochina and now a shopping and selfie destination. It's noon, the time of day when the city begins to wilt, when the park benches are filled with snoozers and the locals pack the cafés in search of relief.
One of the more notable of these refuges is inside the Hotel Continental, a wicker-and-linen spot that has always drawn a motley crowd, from opium dealers to American journalists to British spies. Graham Greene was a regular there and used it as a backdrop for his novel The Quiet American. But I've opted instead for a tipple at Broma, a rooftop bar swarming with good-looking locals. Getting up there involves climbing a narrow, twisting staircase, and I'm sweating by the time I reach the top. Considerably more composed is Trinh Dinh Le Minh, a young filmmaker who recently returned from living in Austin, Texas. We sip Old Fashioneds and discuss My Apartment Block, Minh's documentary set in the building in which his parents live alongside a cast of colorful neighbors. The film found success at U.S. film festivals, but Minh insists that there's only one place he could have made it. "In America, I couldn't get 30 families to open up their lives for six months," he says. "But here, everybody said yes."
"I like the diversity and openness of this city. This is like New York, where we all gather—some to start a business or make money, all to follow their dreams." —Trinh Dinh Le Minh
I say goodbye to Minh and head off to take a look at the nearby home of the Ho Chi Minh City People's Committee, a government building dating from the early 20th century, with elaborate detailing and a multiturreted design that exemplifies the so-called Tropical Baroque style. From here, I make my way deeper into the city, past crumbling villas and sparkling offices, high-end watch shops and a guy selling knockoffs from a bamboo basket, past the pho woman, the xe om (motorcycle taxi) drivers dozing under banyan trees, the chattering money changers, the flower vendors and silk sellers.
I grab a café sua da, an intensely strong iced coffee with condensed milk, and sit on a bench outside Saigon Notre-Dame Cathedral, beside a statue of the Virgin Mary. Local lore has it that she once shed tears, luring the faithful from around the world to come experience the miracle. I touch the Holy Mother's cheek. Not a drop.
Constructed by the French in the 19th century using rose-colored bricks shipped from Marseille, the neo-Romanesque cathedral is the heart of the city's Catholic community. Today, its twin 200-foot bell towers provide a counterpoint to the city's bristling office towers and also offers shade to the shoeshine boy and the woman selling Hello Kitty balloons.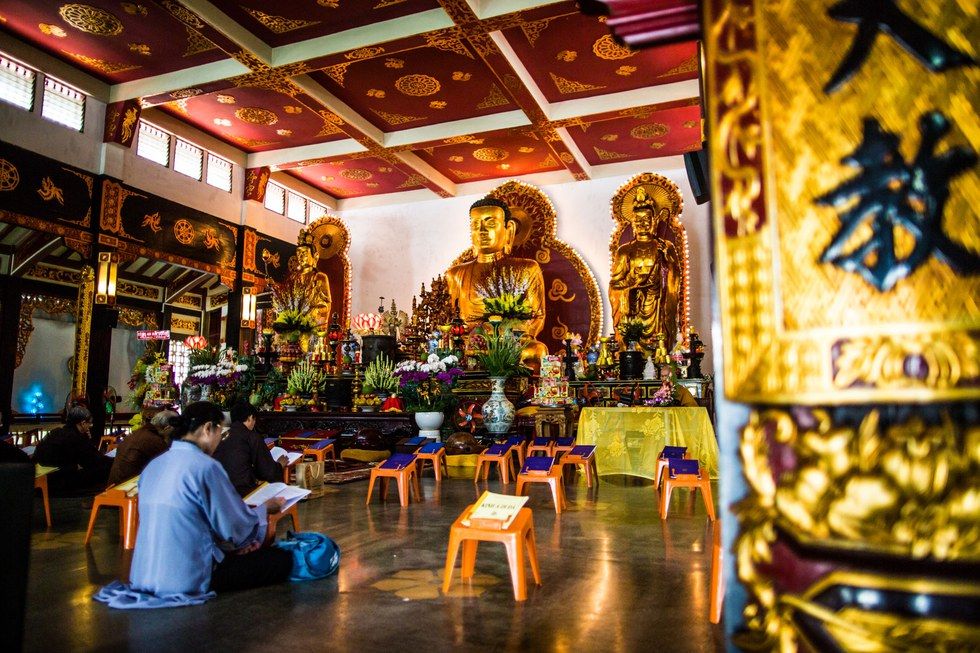 Solitude and splendor at the Vinh Nghiem Pagoda, the largest Buddhist temple in Saigon
I cross the street to the Saigon Central Post Office, entering a wrought-iron barrel-like interior that is unmistakably the work of Gustave Eiffel, whose influence is evident throughout Vietnam. At a long counter, I find Duong Van Ngo, an octogenarian former postal worker who volunteers as a translator, handwriting travelers' messages in a variety of languages. I hand him a postcard and ask if he'd write "The eagle has landed" in Vietnamese.
"That's it?" he says, sounding disappointed.
"Um, could you also write it in Russian? And French?"
"There you are, sir," he says a few seconds later, handing the postcard back to me with a smile.
Next, I head south to Ben Thành Market, a crush of handicraft vendors, souvenir sellers and snack hawkers. Droves of tourists move from stall to stall, haggling badly. The scents of jasmine and lemongrass fill the air. An elderly woman in a conical hat eyes me before I reach her stand. "Fruit?" she chirps, pronouncing it friiiiit?
Saigonese are obsessed with freshness. Two markets occur here daily, one for the lunch crowd, the other for dinner. I try a few perfectly juicy dragon eyes (the lychee-like longan). "Too old!" I say to the woman, clutching my stomach in a parody of pain. "Oi gioi oi! Dien!" ("Oh my God! Crazy!") she replies, swatting me with a long stick usually used to chase flies away.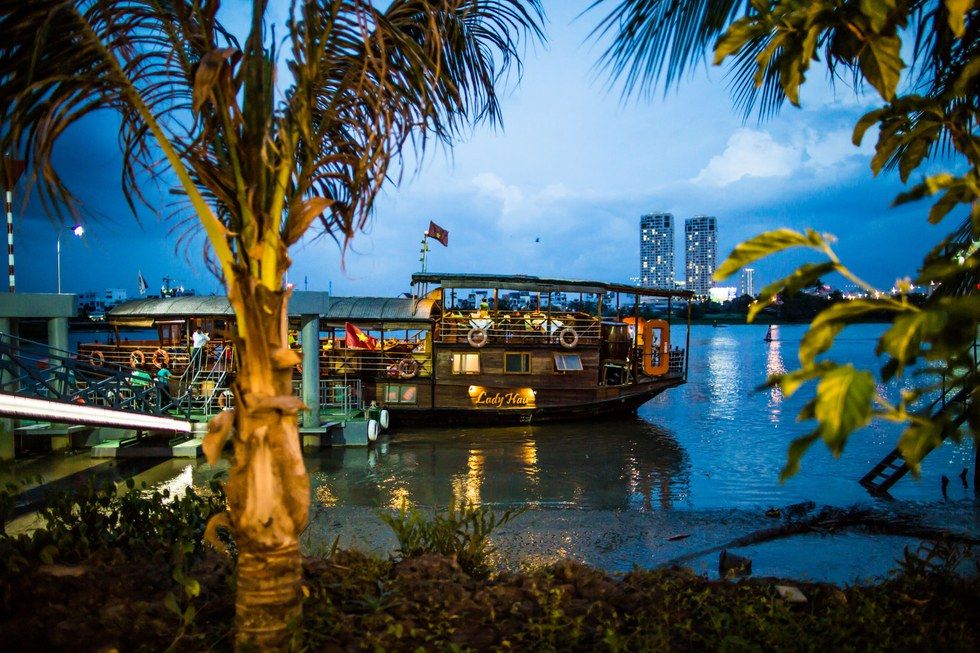 The Lady Hau, a restored rice barge, sails the Saigon River
I wave goodbye to the chuckling fruit seller and say hello to Duc, a xe om driver, who takes me to Quan An Ngon, a street food–themed restaurant located in a lemon-colored colonial building. I feast on excellent egg, shrimp, pork and bean-sprout pancakes; pounded shrimp hash on sugar cane; and water chestnut for dessert.
Just down the road I find the neoclassical Ho Chi Minh City Museum, a former governor's residence with grand ballrooms that now contain exhibits detailing Saigon's history. I wander among the old maps, typewriters used to punch out historical documents and dusty ceramics for a while, then head out to explore a bunch of decommissioned military equipment interspersed with six-foot Frosty the Tiger rubbish bins.
A short stroll west takes me to Independence Palace, a sprawling Brutalist edifice once described by The New York Times (improbably) as the sexiest building in Southeast Asia. The 19th-century residence became the home of South Vietnamese president Ngo Dinh Diem after the French left in the mid-'50s. In 1962, Diem's own air force bombed it, and before the palace was rebuilt, the president had been done in by other members of his armed forces.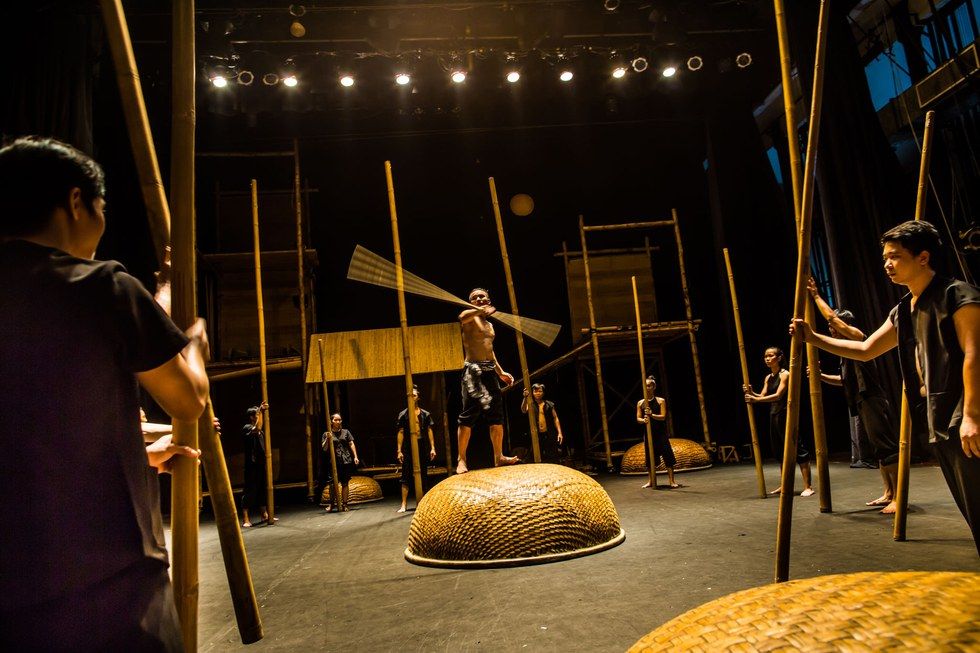 bánh xèo at Quan An Ngon
I tiptoe along the building's eerily quiet hallways, peering into barren conference halls and reception rooms decked out with shag carpets and horseshoe bars of the kind Sinatra used to lean against. Outside, beyond a rolling lawn, are the gates that were smashed by a North Vietnamese tank during the fall of Saigon, one of the most iconic images of what people here call "The American War."
At Minh's suggestion, I'm dining tonight at Pho Ha, in the shadow of the Bitexco Financial Tower. Built to represent a budding lotus—a signifier of purity, faithfulness and awakening, and the national flower of Vietnam—the building symbolizes Saigon's role as an engine of prosperity. We tuck into large amounts of chicken pho and sticky broken rice, serenaded by a group of young performers. Their leader, sporting a Mad Max hairdo, strums an acoustic guitar. "We are laid-back because Saigon's sun and rain allows everything to grow," Minh says, reclining in his chair. "It's always been an easier life in the south."

In which Cain goes café hopping and gets a taste of both Vietnam's tumultuous past and its soothing present
I make my way out of the Reverie and into a deluge—marble-sized raindrops fill the air with the musky scent of ozone. Out on Dong Khoi, the Golden Mile, a woman appears selling cheap umbrellas. I hem and haw over the selection. Snoopy? The "Channel" knockoff? I decide on a vivid yellow Pikachu number with a pink handle.
With as much dignity as I can muster, I take the short walk to the Au Parc café, where the Apple-user set flutters about, munching on sheep cheese. I sit at a table outside and order a goat cheese and arugula salad—a nod to the French influence here—and a banana shake. In the park across the street, barbers have hung mirrors on trees, and they're being put to use by a small crowd of girls clad in ao dai, Vietnam's silky national dress. "We love beauty pageants," my waitress says, watching as the girls line up to have their picture taken.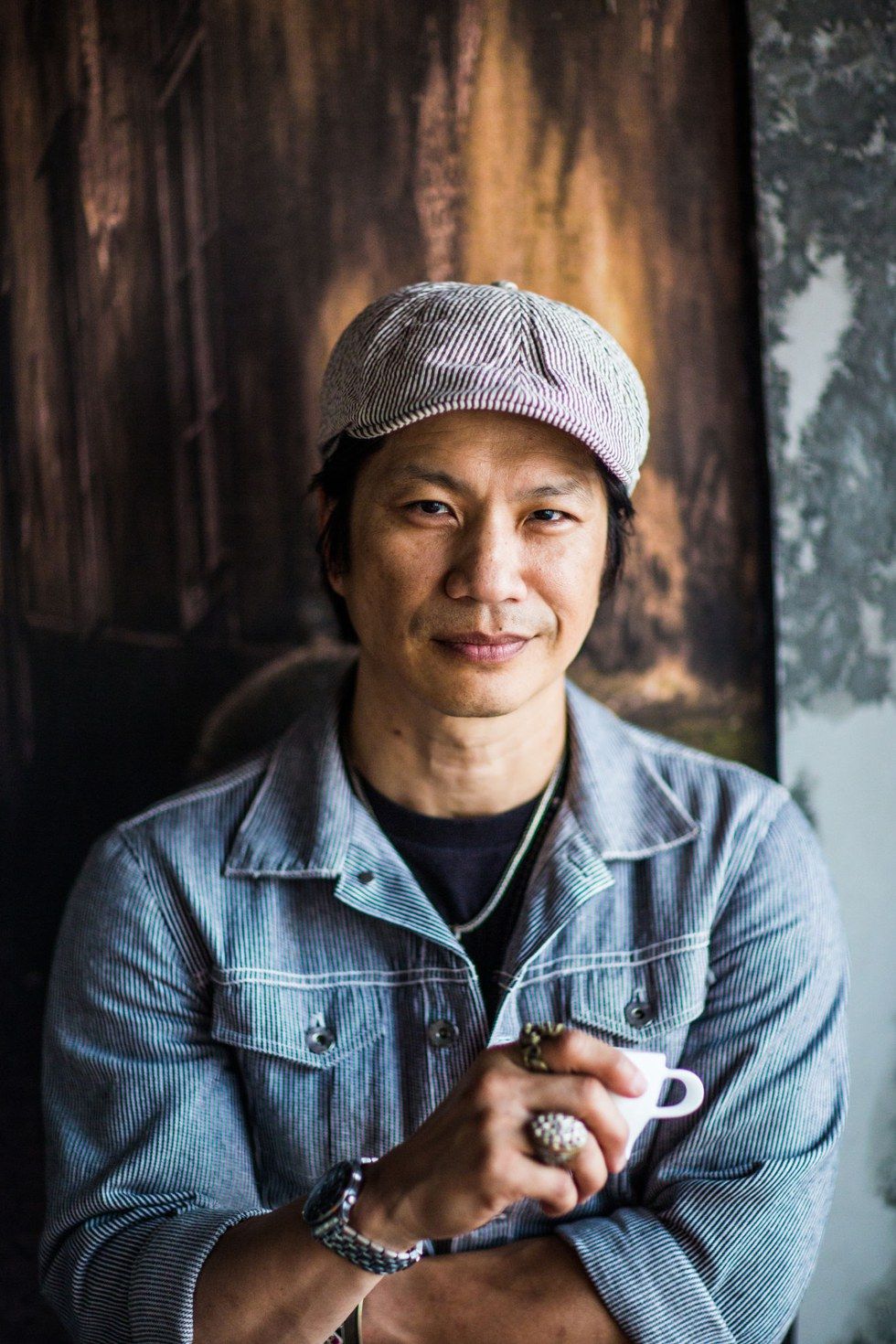 Dustin Nguyen, Actor
My next stop is the Catina Café, a coffee shop set above art galleries and silk shops on Dong Khoi. Dustin Nguyen, Johnny Depp's co-star on the '80s TV show "21 Jump Street," meets me on the balcony. "This is Saigon. Look out here," he says, gesturing at the street below. "The orange sellers and the rich—a mix of everything. There's no separation." To truly appreciate the city, he adds, you need to be in the thick of it. "It's a town that needs to be walked. You won't get anything in the back of a car."
Nguyen, whose family fled to America at the end of the war, in 1975, first returned about eight years ago, following a Hollywood career that included roles in Little Fish, with Cate Blanchett, and Oliver Stone's Heaven & Earth. "There is no glass ceiling in Vietnam," he says. "Here I write, produce, direct and act." Coming home also offered Nguyen the opportunity to rekindle an old flame. "You either love or hate Saigon, and I love it," he says. "There is an energy here that's hard to replicate."
We chat over coconut juice from the nut until Nguyen has to leave for a location scout on the coast. I grab a cab and head west to District 3, where leafy boulevards accommodate excellent eateries, restored colonials, hip new boutiques and an increasing number of tech startups looking for rents that are less crushing than in neighboring District 1.
"Saigon is like a child getting on its feet for the first time: Finding its steps but eager to show the world what it can do. There is a sense of focus on living now—A chaotic atmosphere that works through a resilience that has stood the test of time and hardship." —Dustin Nguyen
My first destination is the War Remnants Museum, a blocky, gunmetal gray building surrounded by jet fighters, Chinook helicopters and U.S. tanks. The exhibits inside include war photographs, weapons and a fine selection of reconstructed torture chambers. This, by the way, is the most visited museum in Vietnam.
From here, I walk a block northeast to Ly Club, a cream colonial mansion transformed into a fusion eatery that marries French techniques with local produce. On the redbrick patio there are water features, large linen parasols and diners in expensive aviators. Inside, sweeping arches, contemporary Vietnamese art and oversize armchairs create an air of opulence.
I'm here to meet an old friend, Ed Hollands, a software executive and on-and-off resident of the city. "I've never met people who live for the day more," he says of the Saigonese. "There is a toughness to these people, but there's also a celebration of life. This city is an open canvas. You can paint your own painting."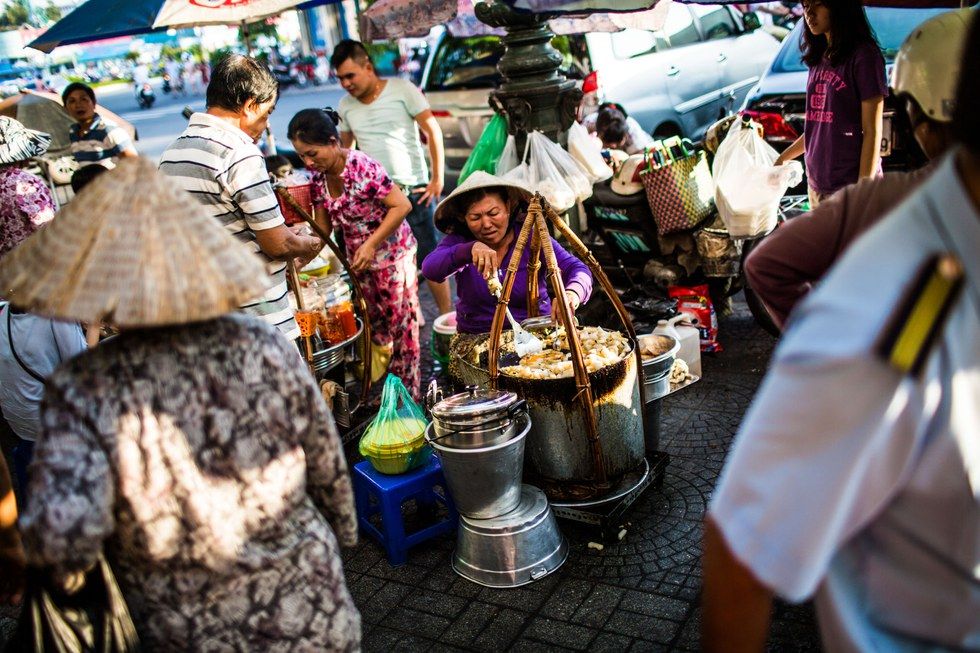 Street food vendors at Ben Thành Market
We dine on a Vietnamese tasting menu: sea bass salad with onion and basil; grilled spring chicken with honey sauce and deep-fried sticky rice; fried chive flowers and steamed banana cake; all washed down with a couple of perfectly chilled Argentine chardonnays.
Bloated and buzzed, we head northeast, down Dien Bien Phu, a considerably more sedate setting than its namesake battle, which drove the French out of Vietnam once and for all. Many of the city's streets are named after battles, or the people who fought them.
We walk through Le Van Tam Park, where we "borrow" badminton rackets from some kids playing without a net. Ed misses four shots in a row before raising his arms in triumph: "YES!" The kids ditch the game and bombard us with questions, which becomes a kind of game—one that requires Ed and me to concoct ever more absurd answers. "I'm from the moon." "I'm here to build a water park." "I'm a professional badminton player."
Finally the kids peel off, and Ed and I walk in silence to one of Saigon's most stunning and important locations: the Jade Emperor Pagoda, a century-old temple built to honor the Heavenly Grandfather, a benevolent immortal who holds dominion over gods and man.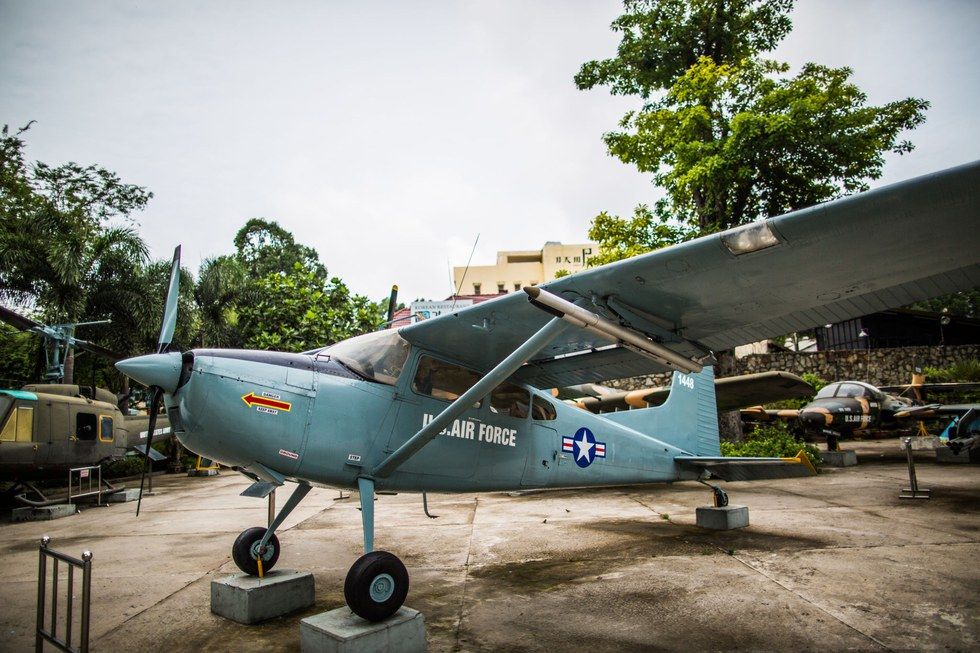 A fighter plane at the War Remnants Museum
We enter by the coral-pink gate, beneath rampant dragons and blue-green tiles. Inside, coils of incense hang in the air, lit by streams of sunshine. Buddha statues stand over offerings of beer, soda, mandarins and guavas. Cinnamon-robed monks glide around. Ed lights three incense sticks, touches them to his forehead and bows three times before depositing them in an urn. "Got a big deal coming up," he explains.
Back outside, we hop on a xe om and head toward Bach Dang Pier, where senior citizens practice tai chi at dawn and families fly kites during the day. We board the Lady Hau, a restored three-deck timber junk that once carried rice on the waterways from Saigon to Cambodia. Sipping cocktails, we snake up the Saigon River, past thatch-roofed houses shaded by mango, jackfruit and grapefruit trees. We skirt District 2, a wealthy neighborhood that houses international schools and expats on hefty expense accounts. It's also the planned site for a flashy new financial and entertainment district.
While devouring plates of fried chili fish with passion fruit sauce, rice pancakes and skewers of barbecued pork and pineapple, we watch the sun set and the city ready itself for another hectic round of nightlife. "Yep," says Ed through a mouthful of lotus salad. "Tough life."

In which Cain visits an art museum, an ancient pagoda and a bustling nightclub
I start the day with eggs Benedict at the InterContinental Hotel, then head out to Hai Ba Trung, a bustling shopping street festooned with streams of power lines. Every couple of steps I have to jump over a mat bearing knockoff Ray-Bans or dodge a woman selling peanuts, flowers or fruit from a bamboo basket. A few doglegs later, I'm at the Ho Chi Minh City Fine Arts Museum.
Housed in what used to be a wealthy Chinese trader's mansion, the museum has an ornate yellow facade, its entryway flanked by blue-green columns. Inside, I meet Sophie Hughes, a British expat who has had a hand in Saigon's burgeoning art scene for a few years and now runs Sophie's Art Tour.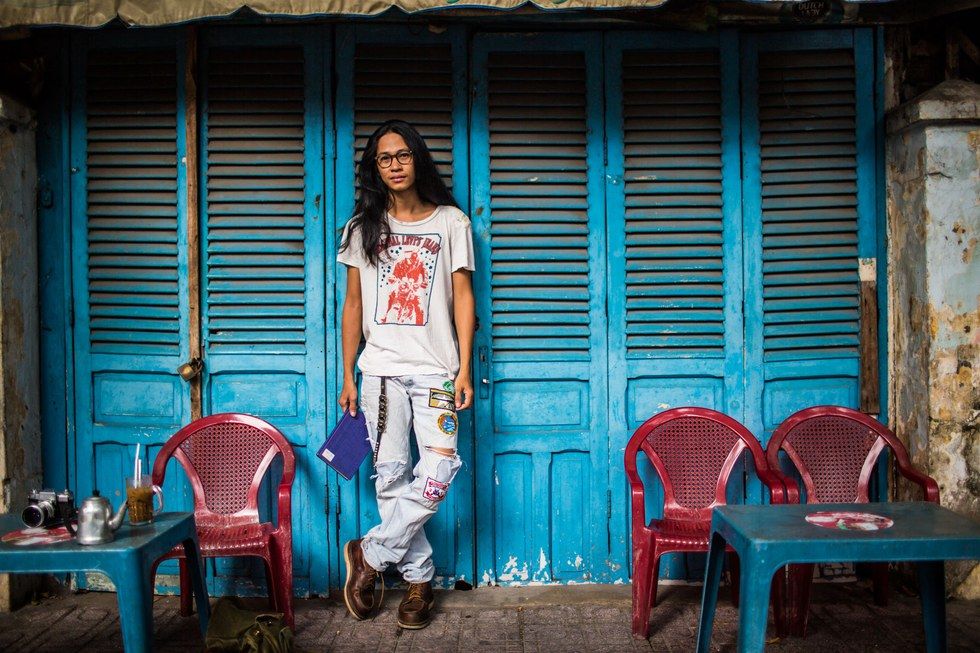 Nam Viet Hoang, Artist
As we file through the high-roofed halls, Hughes tells the stories behind early Vietnamese artists' use of oils and lacquer and how propaganda art was used by both sides during the war—but her job is complicated by my hangover. "There's a real edge to this city right now," Hughes says, amused by my condition. "It's like the Roaring '20s." We stand on a balcony for a while, gazing down on a courtyard containing two statues that are doubling as poles for a badminton net, before I mutter an apologetic goodbye and head outside for something to eat.
There are few cities in the world that can do street food like Saigon. For about $3, I get delicious bánh mì sandwiches and fresh pineapple juice, which I eat while sitting in a '70s-style lawn chair at a small plastic table. Soon, Nam Viet Hoang, a bespectacled artist with a flowing ponytail, pulls up on a Vespa. I jump on the bike and we zip down Hai Ba Trung and through District 3, slowing down to look at the electric pink Tan Dinh Cathedral, its huge jagged spires pranging the sky.
"Saigon is simplicity, a simple place, where I can live a simple life. I don't care about change and development. We hold on to some of the old values—that's why we still call it Saigon." —Nam Viet Hoang
We push on to Binh Tanh, a district peppered with auto repair shops, DVD stores and anonymous clothing boutiques. We cross a bridge over one of the area's refurbished canals, then pull into the nondescript alleyway 86, where we are served coffee by an old Chinese man, one of the city's few remaining streetside coffee pourers.
"Everybody is welcome here, " Viet says. "It's the country's most open place and always has been." To underscore his point, he gestures at the passing businessmen in fancy suits, schoolgirls reading manga comics, chatting women, 50-somethings in tennis outfits and the perpetually smiling Chinese coffee pourer.
Viet heads back to the city, and I grab a taxi to Tan Binh District, a gritty neighborhood that's home to the 271-year-old Giac Lam Pagoda. Visitors stroll around the temple's peaceful gardens or play Chinese chess in the courtyard, but the real highlight is the cemetery, each of its graves marked with a colorful, stylized mini-pagoda.
Dinner is back in District 1, at the Refinery, a trendy bar/restaurant located in a former opium factory (hence the poppy motif above its wooden doors). I have salmon carpaccio, followed by barbecued swordfish, parsley mash and roasted peppers. It's a simple meal, but they do simple so well here. I head out of the restaurant satisfied and happy.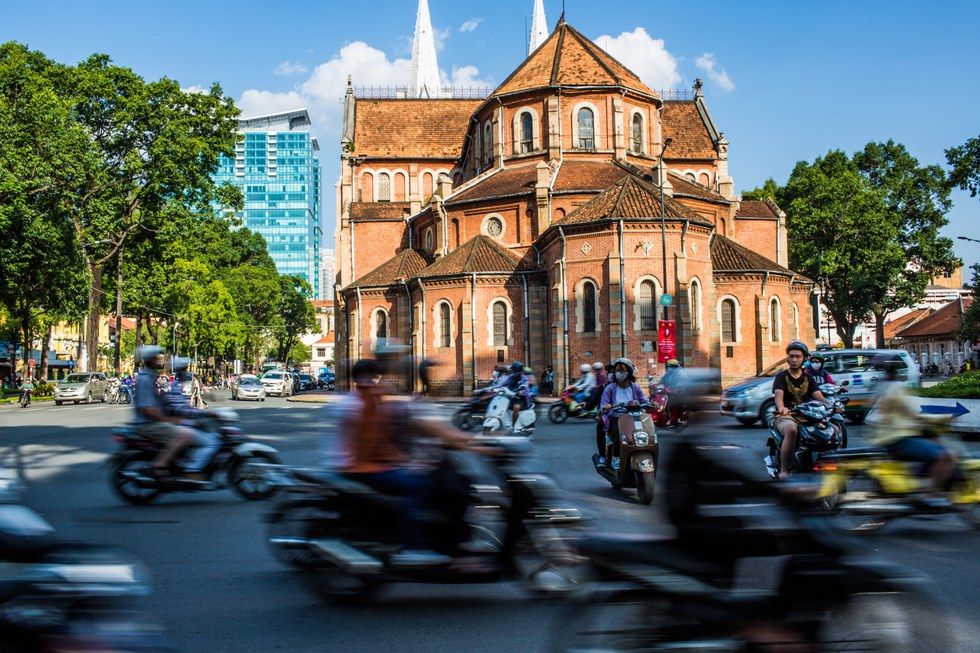 Midday traffic behind Saigon Notre-Dame Cathedral
Outside, teenagers straddle motorbikes while off-duty office girls crisscross between cafés. I pause before the Saigon Opera House, a compact, elegant structure built in 1897, now restored to near-mint condition. I pop inside to see the ÀÔ Show, an energetic, acrobatic performance that uses dance and bamboo props to explore Vietnam's history.
The show finishes to riotous applause. "Brilliant, just brilliant. Wasn't it?" says a robustly earnest American with copper hair and searching eyes. Before I can answer, an old food seller in pajamas appears from nowhere, handing me a custard apple on the house.
I end the night a few blocks from here, at Lush, a small nightclub decorated with anime prints. I stand on the wraparound balcony and watch the people below. The mood is celebratory, indicative of Saigon's economic surge, but also of this city in general. This is one of the things I love about Saigon—the smashmouth optimism, the sense that the past bears weight only to the extent that it doesn't interfere with today, or our anticipation of the days that will follow.
Freelance writer Cain Nunns attempted to follow in Graham Greene's footsteps, and he's still nursing a nice hangover.
This article was written by Cain Nunns from Rhapsody Magazine and was legally licensed through the NewsCred publisher network.
On March 19, 2020, United operated its first flight carrying cargo without passengers on board. While the passenger cabin was empty, its cargo hold was completely full, carrying more than 29,000 pounds of commodities from Chicago O'Hare International Airport (ORD) to Frankfurt Airport (FRA).
A year later, United Cargo has operated more than 11,000 cargo-only flights carrying more than 570 million pounds of freight. To support the COVID-19 pandemic recovery efforts, United Cargo has also transported more than 113 million pounds of medical and pharmaceutical products on both cargo-only and passenger flights as well as approximately 10 million COVID-19 vaccines, providing global communities access to the items they have needed most.
"At the beginning of the pandemic, we knew we were uniquely positioned to utilize our widebody aircraft and our network to keep commodities moving, so we quickly mobilized various departments throughout the airline to launch a cargo-only network of flights that would keep commodities moving," said United Cargo President Jan Krems. "Thanks to those efforts, United Cargo has delivered millions of items to countries all around the world. We would not have been successful without the steadfast support of our employees, industry partners and our customers."
Since last March, United Cargo has transported almost 850 million pounds of freight on cargo-only and passenger flights. The airline will continue to monitor market trends adjust its cargo-only flight schedules to help ensure we are meeting our customer's evolving shipping needs.
Whether you haven't flown with us for a while or just need a quick refresher before your spring trip, read this list of tips to know before your flight and arrive at the airport travel-ready:
1. Download the United app for contactless bag check, travel assistance and more
Before your flight, download the United app to view your flight status, check in, sign up for flight notifications, locate departure gates, access our free personal device entertainment when available and more. We've also updated our app with new features that can make your trip a little safer, including contactless bag check.
Don't forget to use Agent on Demand for help with any and all questions you may have before your flight. This new capability is available at all our U.S. hub airports and allows you to use your own mobile device to contact a customer service agent via phone, video or chat to help with day-of-travel questions while you're at the airport. Learn more about Agent on Demand here.
2. Check out the Travel-Ready Center
Our Travel-Ready Center makes it easy to get a personalized overview of everything you need to do in preparation for your flight. Just enter your confirmation number or MileagePlus® number and you'll find detailed information on all the documents, tests and more that you'll need for your trip.
3. Read and sign the Ready-to-Fly checklist
Before completing check-in, all United travelers will need to read our Ready-to-Fly checklist and confirm that they understand and agree to our policies. These include:
Acknowledging that you haven't had any symptoms of COVID-19 in the last 14 days
Agreeing that you will not fly if you have tested positive for COVID-19 within the last 21 days
Confirming that you will follow all policies regarding face masks, social distancing and other health and safety measures we've adopted
4. Arrive early; avoid the stress
Airports can be busy, especially during peak travel periods like spring break season. The TSA advises arriving at the airport two hours before your flight for domestic travel and three hours for international travel in anticipation of long security lines. This can help ease the stress when navigating busy check-in areas, security lines and crowded boarding gates.
5. Get familiar with CleanPlus
United CleanPlus℠ is our commitment to delivering industry-leading cleanliness as we put health and safety at the forefront of your experience. We've teamed up with Clorox to redefine our cleaning and disinfection procedures and Cleveland Clinic to advise us on enhancing our cleaning and disinfection protocols, like:
Disinfecting high-touch areas on board and in the terminal
Using electrostatic spraying, Ultraviolet C lighting wands and more advanced measures to clean aircraft cabins before boarding
Redesigning our mobile app to allow for touchless check-in and contactless payment, along with enhanced travel assistance features
Implementing high-efficiency (HEPA) filters on our aircraft that completely recirculate cabin air every 2-3 minutes and remove 99.97% of airborne particles, including viruses and bacteria
Studies show COVID-19 exposure risk is minimal when air filtration systems and masks are in use, so you can rest assured that the steps we've taken to keep you safe truly make a difference.
6. Wear your mask
Federal law requires all travelers to wear a face mask in the airport, including customer service counters, airport lounges, gates and baggage claim, and on board during their entire flight. Make sure you review the requirements for face masks, including what an acceptable face mask looks like.
7. Get ready for a safer boarding process
To make boarding even safer, we now have travelers board their aircraft from back to front. At the gate, just listen for your row number to be called – we'll ask a few rows at a time to board, starting with the last row of the plane. This helps everyone maintain a safe distance from each other during boarding without slowing things down. As you step onto the plane, flight attendants will hand each passenger a sanitizing towelette, which you can use to wipe down your seat to ensure it's extra clean.
8. Pack smart
Before packing your bags, check to see what exactly you can carry on and what you should plan to check. You can also copy your confirmation number into our Baggage Calculator tool to learn about the bag allowance included with your reservation, as well as the cost of checking any additional bags.
9. Check your flight status, important notices and weather
Check the United app regularly for the latest updates on weather conditions, flight status, gate numbers and seat assignments. You can also visit our Important Notices page to find essential information and updates about travel waivers, international travel, TSA and security, airports and United Club locations.
10. Relax and enjoy your flight
Once you're on board, it's time to sit back and enjoy your flight. Our flight attendants will be happy to help you with anything else you need.
This week, we were honored to become the first U.S. airline to join the UNICEF Humanitarian Airfreight Initiative to combat the COVID-19 pandemic by transporting the vaccine and other critically needed supplies to underserved areas of the globe.
"We are committed to helping the global community in any way we can, and we all must work together to do our part to bring this health and humanitarian crisis to an end," said Director of Cargo Specialty Products Manu Jacobs.
We will leverage our expertise to transport these critical pharmaceutical and healthcare shipments around the world safely, efficiently and expediently. We are proud to partner with the United Nations to support this global effort and provide equitable access to COVID-19 vaccines.
Scroll to top