Three Perfect Days: Lima
Story by Chris Wilson | Photography by Jessica Sample | Hemispheres, May 2014
Once a mere stopover on the way to the majestic Incan ruins of Machu Picchu, Lima has established itself as a fascinating destination in its own right. In part, the revival of this chaotic city of 8.6 million people can be summed up in a single word: food. The Peruvian capital is fast becoming the culinary crown jewel of South America, with world-class restaurants now as commonplace as shops selling alpaca scarves.
Peru's rich biodiversity and plentiful supply of fish, fruits, vegetables and herbs—plus a deep talent pool of local chefs—have made Lima's ascension to the top of the foodie chain inevitable, and have helped spark a significant surge in tourism. Whether it's the trendy bars of Miraflores, the chic galleries and shops of Barranco or the thrum of San Isidro's financial district, Lima has never been livelier.
It wasn't always this way. Peru's Shining Path guerrilla movement in the 1980s and '90s earned Lima an unsavory reputation. But, more recently, the city has been rebranded as a peaceful, accommodating modern metropolis on the rise—deservedly so. Besides its outstanding eats, Lima boasts astounding archaeological sites, top-notch cultural institutions and a vibrant nightlife scene.
That said, it's still just a short plane ride from here to Cuzco, the mountainous region that's home to Machu Picchu—perhaps the most stunning place on Earth and, as such, a required visit if you're nearby.

DAY ONE | You check in early at Hotel B, a restored 1914 mansion that opened last year in the boho-chic Barranco district. You're handed an oversize iron key and head upstairs to your funky suite, which happens to have a sculpture of an electric chair outside the door. You stow your bags and have an invigorating sweat in the private steam room, after which you're ready to face the day.
Having deposited your doorstop/key at the desk, you cross the street to Dédalo, a craft shop stocked with painted wooden chickens, stone pigs and cartoon-colorful Andean textiles. You have a quick browse and head toward the beaches along Barranco's Pacific coast, where wetsuited surfers paddle out to catch long, steady waves while paragliders drift below pillowy clouds.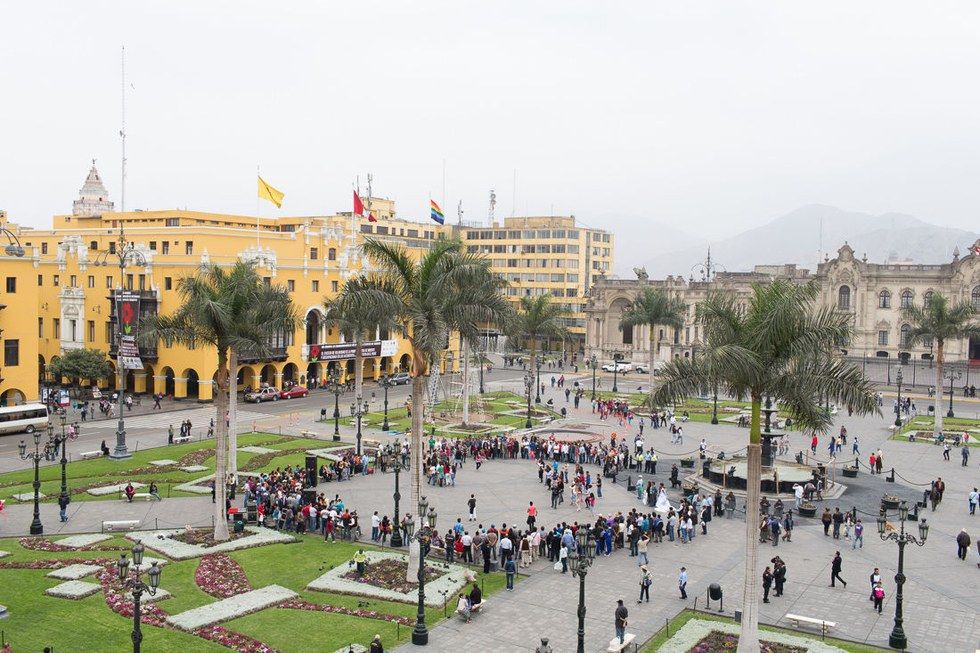 A street act works the crowd in Plaza Mayor
A stroll along the waterfront brings you to Second Home, local artist Victor Delfín's workplace and gallery. For 20 sol, or about $7, you're buzzed into a sculpture garden overrun by metal horses, lions and condors. African orange tulips litter the grass like deflated party balloons. A huge stone puma head spews water into a pool. Delfín murmurs hello as he touches up a canvas in a studio overlooking the ocean.
You continue your dreamy march across the Bridge of Sighs—a wooden walkway where, legend has it, you're supposed to hold your breath and make a wish before crossing—and stop by Mate, a museum owned by famed Peruvian fashion photographer Mario Testino. A gallery assistant hands you an iPod that guides you through a riotous Pop-Art retrospective featuring Keith Haring, Julian Schnabel, Richard Prince and Nate Lowman. Sipping espresso in the museum cafe's tranquil sliver of a courtyard, you mull your first important decision of the day: where to eat lunch?
You go with Sonia, a destination for rustic seafood in the nearby suburb of Chorrillos. Sitting under a bamboo canopy, you order wooden spoons heaped with mind-blowingly fresh ceviche, hunks of cured tuna known as "fisherman's ham," fat red crab claws crusted with Parmesan, phenomenal flounder in yellow chili sauce, and a dish of salted corn, all washed down with icy Pilsen Callao. As "My Way" plays softly in Spanish, owner Fredy Guardia sews a fishing net at a table under one of his many poems , which adorn the walls.
After this near-perfect meal, you drive to Pueblo Libre to visit Museo Larco, Lima's most intriguing and important museum. You walk up a path bursting with bougainvillea in red, lavender, orange, yellow and pale blue, while green parrots squawk from the trees and a friendly cat negotiates your ankles. The walkway leads to a sprawling succession of spaces containing 45,000 pieces of pre-Columbian art. It's one of only a few museums in the world with storage areas that are open to the public.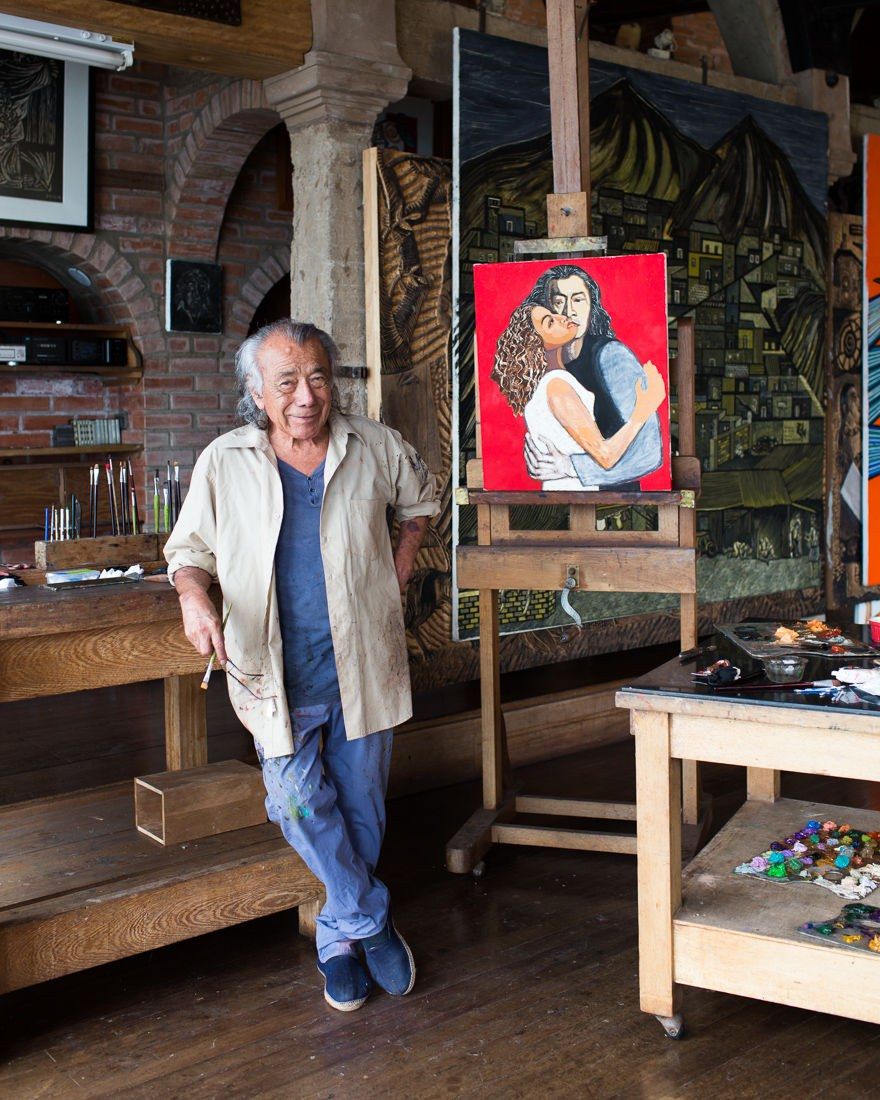 Victor Delfín puts the finishing touches on a canvas in his studio at Second Home
Among the artifacts on display here are ceremonial blood bowls and cracked human skulls from Incan trephination operations. If that seems a bit macabre, there is ample comic relief in the popular erotic pottery room. Here you find ancient Peruvian burial pots celebrating the art of contortionism. Many pots like these were destroyed by mortified conquistadors, which makes the exhibit as essential as it is entertaining. After a trip back to Hotel B to freshen up—and perhaps cleanse your psyche—it's time for dinner.
Tonight you're eating at Maido, Chef Mitsuharu Tsumura's temple of Nikkei cuisine, in Miraflores. The dishes come in waves: a classic usuzukuri with rock fish, ponzu, crispy garlic and tomatoes; a ceviche of mackerel, scallops, clams, smoked yellow pepper "tiger's milk" and avocado; foie gras "sushi" in eel sauce; breaded shrimp, avocado, cream cheese and chimichurri, finished tableside with a blowtorch; fried pejesapo sliders with tartar sauce on steamed buns; black cod marinated in miso and aji panca chili; and an impossibly tender Nitsuke braised short rib with fried rice. It's high-end Peruvian-Japanese comfort food at its finest, downed with plenty of sake and Sapporo beer and finished with an intense trio of chocolates.
You work off a small fraction of the calories consumed during a 10-minute waddle to La Emolienteria, a lively pisco bar in Miraflores. A DJ spins electronic dance music as youngsters nod rhythmically from Day-Glo stools fashioned from wheelbarrows. After a few puckeringly good Pisco Sours made with Pisco Portón, you cab it back to the hotel. A copy of Theodore Roethke's poem "The Waking" has been laid on your pillow: "I wake to sleep, and take my waking slow." You take that as a cue to knock off.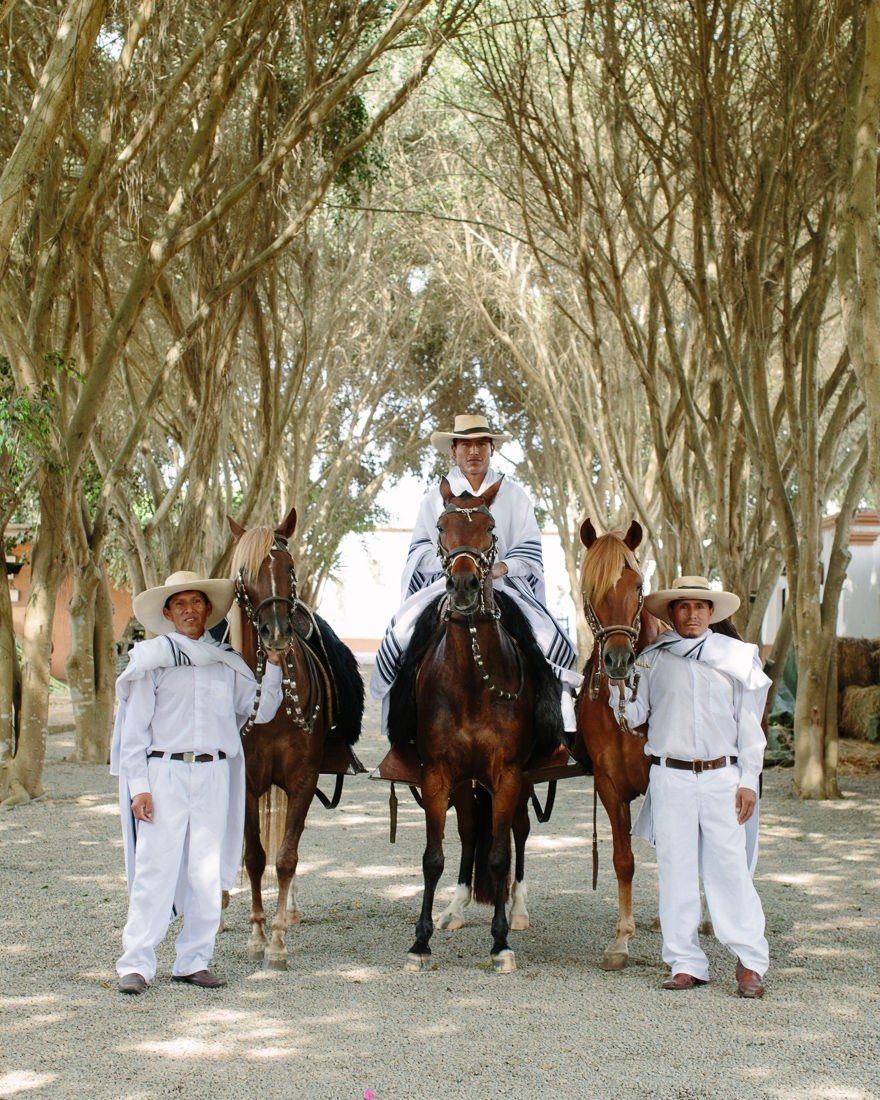 Three caballeros at Casa Hacienda Los Ficus
DAY TWO | You wake up feeling a little delicate, your condition accentuated by the knowledge that you're about to drive downtown. Navigating Peru's congested capital is a blend of white-knuckle drama and stop-start purgatory. After an eventful hour or so zipping through a snarl of cars, mopeds, taxis and buses, you arrive at Plaza Mayor, where breakfast awaits at the wonderfully old-timey Bar Cordano, right across the street from the heavily guarded Presidential Palace.
Inside the bar, a counterman makes exquisite butifarra sandwiches, slicing cold ham prepared two ways—glazed with sugary syrup or sprinkled with extra salt—then piled on a roll under salsa criolla (onions and lemon juice). It's as good a ham sandwich as you're likely to have, in Lima or anywhere else. You chase it with a strong coffee from the rickety Gaggia machine and then sample one of Bar Cordano's beautiful causas, classic Peruvian potato dishes displayed under glass like prize tarts in a Parisian bakery.
Revived, you wade through the crowds to tour the Church of San Francisco, a Spanish Baroque complex built in the mid-1500s, flattened by an earthquake a century later and reconsecrated in 1673. Inside, gazing upon Marcos Zapata's "Last Supper"—in which Jesus and his disciples dine on cuy, or roasted guinea pig—you are struck by the sobering thought that 75,000 bodies are interred in the church's cavernous stone catacombs. You hear a clicking noise, which could be someone taking pictures or a skeleton shifting in one of the crypts.
Next, you roll down the Old Pan-American Highway, past dusty roadside chicharrón stalls and flower shops in the Lurín Valley. Your destination is Casa Hacienda Los Ficus, a ranch owned by Fernando and Elsa Puga, who breed Peruvian Pasos—the "dancing" horses renowned for their ability to trot sideways. Luckily, you're in time for a show, which culminates in a steed prancing alongside a woman in traditional garb to the strains of piped-in marinera music. Later, you lounge on the hacienda's vast lawn, Pisco Sour in hand, and tuck into a rustic lunch of mashed white beans, potatoes and roast chicken.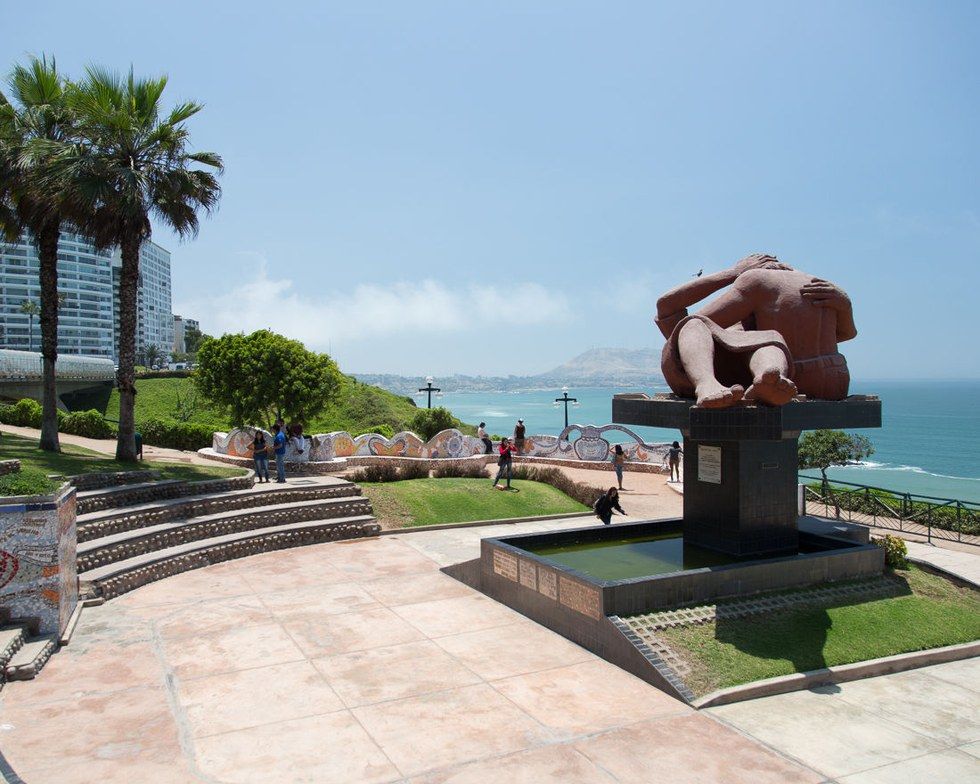 A Victor Delfín statue at El Parque del Amor
On the way back to Lima, you stop at the Pachacamac Ruins, about half an hour south of the city. You spend an unsettling hour looping around 18 pre-Incan pyramids that sit on a patch of earth so parched and unforgiving it could be on another planet. As if the landscape weren't forbidding enough, you learn that archaeologists recently uncovered a massive pre-Incan tomb here, which included 70 skeletons wearing false wooden heads, along with evidence of ritual human sacrifice. You snap a few pictures and beat a shuddering retreat.
After washing away the residue of sand and dread back at the hotel (and, unexpectedly, passing chimp expert Jane Goodall in the lobby), you head out for dinner: a nine-course extravaganza at Central Restaurante, a short drive away in Miraflores. You pull up to an unmarked cedar door flanked by two men in dark suits. You're ushered into the sleek, 80-seat restaurant and seated near the windowed kitchen run by revered chef Virgilio Martínez. The conceit behind the high-concept menu is a culinary voyage across four Peruvian terrains: sea, coast, Andes and Amazon.
The dishes appear rapidly, baffling in their complexity. Highlights include a sublime octopus, purple corn, olive and limón chili plate; a frozen potato puree dotted with cushuro, a fish roe–like bacteria from the Andes; raw river shrimp with Amazonian sacha inchi seeds; arapaima fish with hearts of palm; an 18-hour stewed lamb; and frozen huampo wood extract with Amazonian bahuaja nuts and a shot of maca tree sap. Each course is paired with a well-curated wine. What a trip.
It's late, but you decide to keep the party going with elixirs of questionable provenance at Ayahuasca in Barranco, a rambling, psychedelic-themed villa that is named after a powerful Amazonian hallucinogenic. You have one of their deceptively punchy fruit-infused pisco specials, then another, then maybe one more, then call it a night before those crazy wooden-headed skeletons start dancing again, man.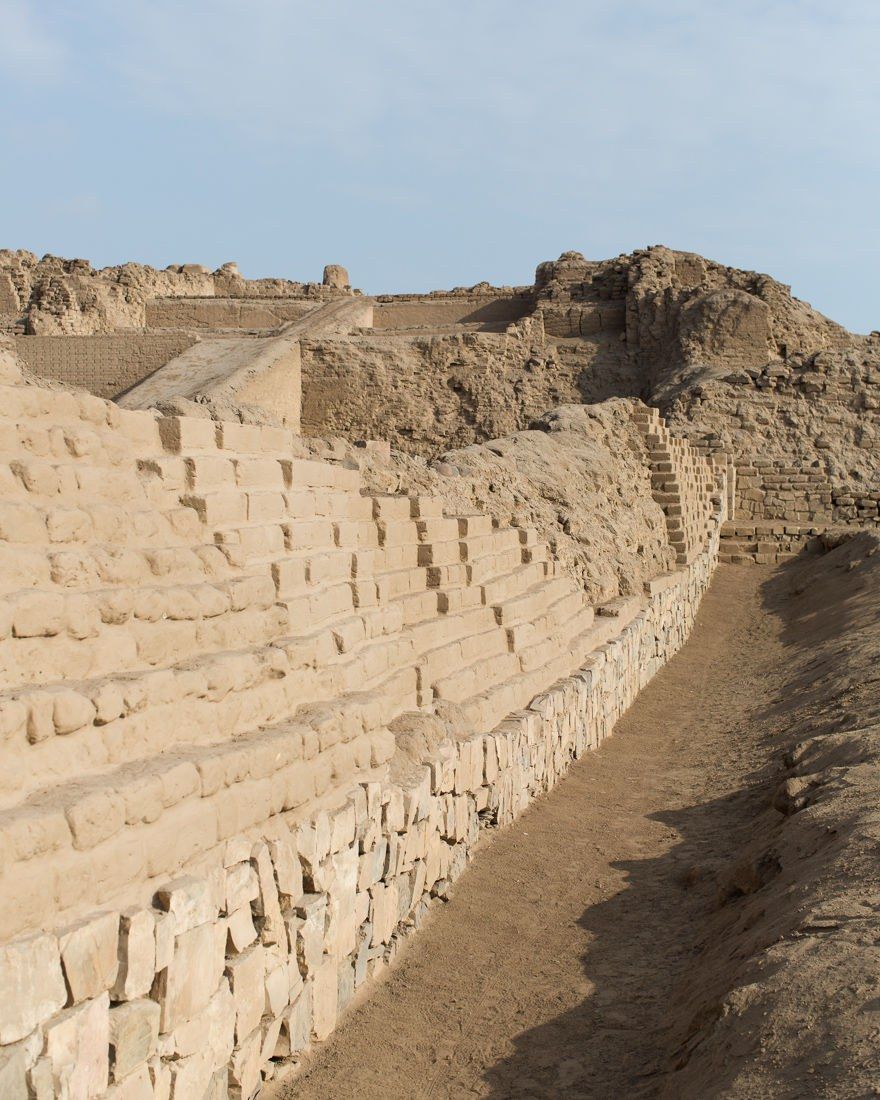 The Pachacamac ruins
DAY THREE | You have another long day of eating and imbibing ahead, so you refrain from overindulging in the butifarras, empanadas, pies, éclairs and tarts at La Espiga de Oro bakery down the block from Hotel B. Feeling unusually healthful, you swing by Las Delicias, a gem of a juice bar in Miraflores, and sample a fresh-squeezed guanábana and lucúma combo, one of dozens of fruity mixtures available.
Bursting with vigor (and, yes, empanadas) you visit the oceanside El Parque del Amor, where couples come to sit on cuddle-friendly benches and take in the view. Lacking a co-canoodler of your own, you read the whimsical love poems displayed beside the seats with furious concentration before focusing intently on a large sculpture of a smooching couple made by Victor Delfín (he whose garden you previously enjoyed).
Having lingered in the Park of Love for as long as is reasonable, you drive to Mercado Surquillo No. 1, a traditional Peruvian market cluttered with swinging sides of beef, whole pigs, exotic fruits and teetering plastic bags filled with coca leaves and dried hot peppers. As you zigzag among the stalls, your appetite starts to assert itself again.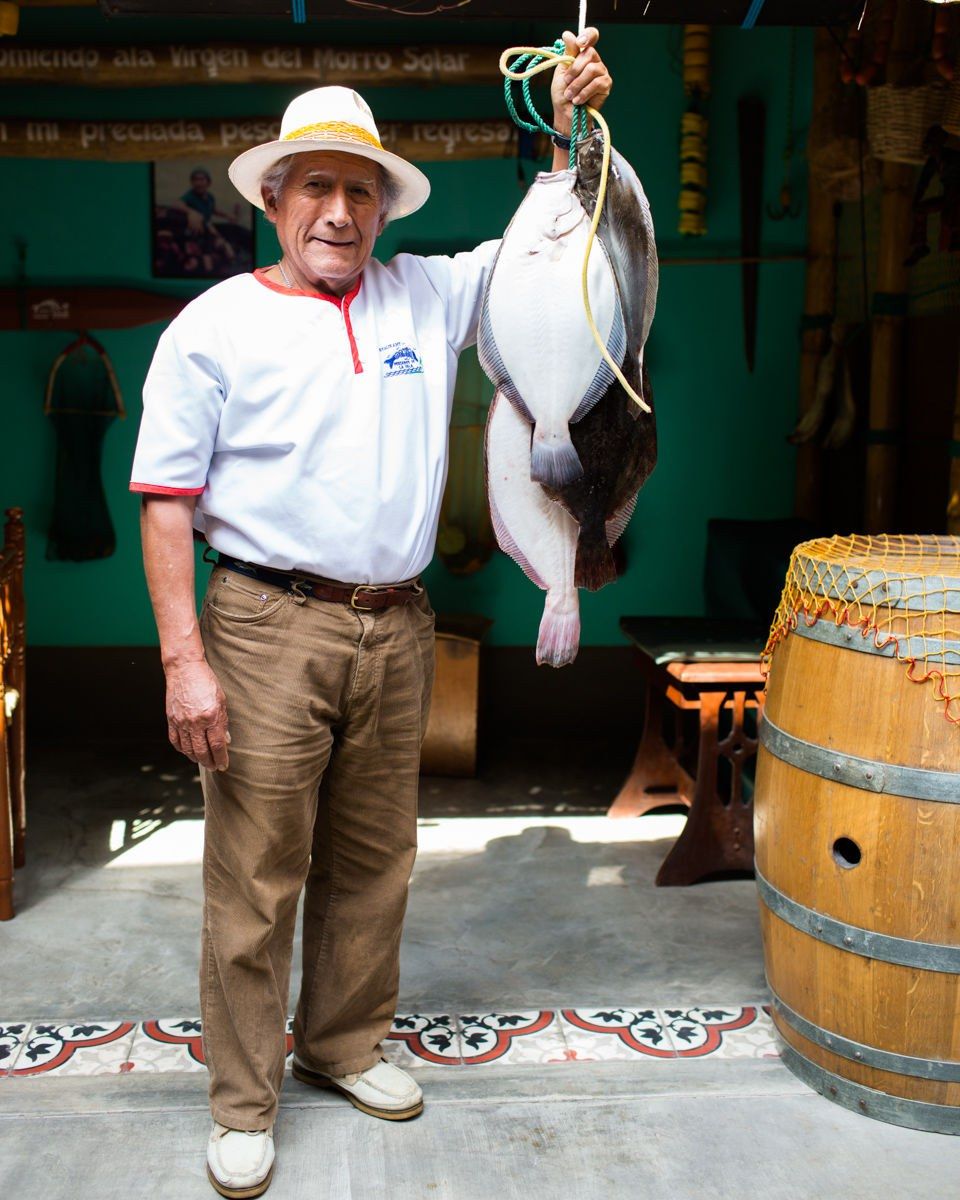 The freshest fish and crab stew at Sonia
Fittingly, your next stop is Chez Wong, a local institution set in the home of Chinese-Peruvian chef Javier Wong. Pulling up to the reservation-only, eight-table eatery tucked away in gritty La Victoria, you buzz an unmarked door and are led inside. There is no menu. Wong, in trademark flat cap and shades, serves everyone the same two-course meal: a Pacific flounder and octopus ceviche and a fish saltado, or stir-fry.
"Ceviche is the perfection of something simple," Wong says. You consider this bit of wisdom while inhaling a mound of his fresh and flavorful signature dish. The stir-fry consists of more flounder thrown into a sizzling wok with red bell pepper, bok choy and mushrooms in a pisco-spiked brown sauce. The dish may look like gloppy Chinese takeout, but it's astoundingly good. Wong, meanwhile, puffs a cigarette in his tiny kitchen as flames shoot from the pan, but no one seems to mind. It is, after all, his house.
Next, head to Bar Inglés, at the grand Country Club Hotel in San Isidro, where bartender Roberto Meléndez is renowned for mixing outrageously good Pisco Sours—he has been serving Peru's beloved national cocktail here since 1998. A frothy blend of pisco, lime juice, simple syrup and egg whites, the recipe for the Meléndez version was passed down to him by his bartender father, who served it to John Wayne at Lima's fabled Hotel Maury in the 1950s. "It's my responsibility," Meléndez says, "to maintain the drink's reputation."
A Pisco Sour or three later (who's counting?), you clear your head at Parque El Olívar in San Isidro, a rambling grove of more than 1,500 gnarled olive trees, many of which are over a century old. It's a calm, enchanting spot, and you spend a happy hour wandering around enjoying the sensation of having not a single thought in your head.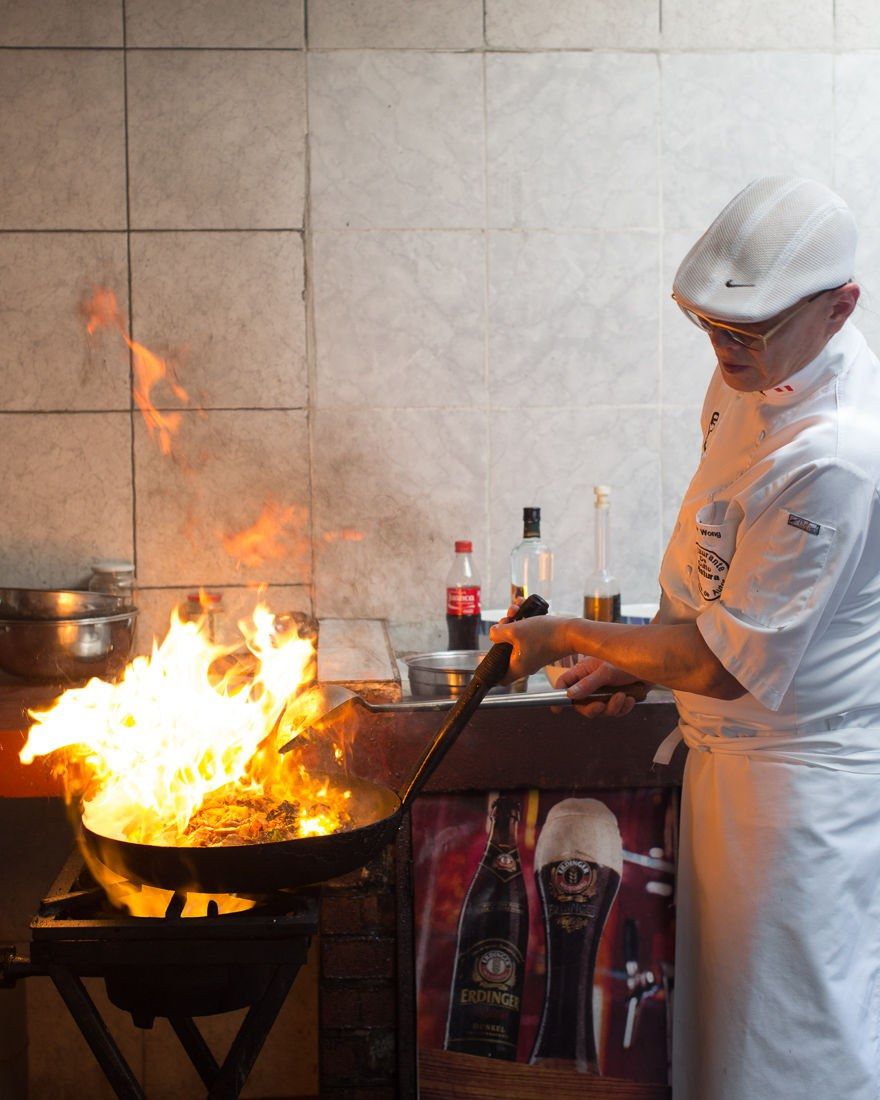 Chez Wong chef Javier Wong
From here, you prepare to indulge in one of Lima's more decadent dining experiences: the 24-course tasting dinner at Astrid & Gastón, in Miraflores. This four-hour feast is the keynote experience at Michelin-starred chef Gastón Acurio's flagship restaurant. The crystal chandeliers and moleskin-bound menu/historical narrative quickly set the tone. You're even given a CD of schmaltzy music that you can play later to evoke memories of your meal.
Moments after you are seated, a miniature steamer trunk is opened before you, revealing an array of edible morsels that include salted fish with mascarpone and a ham-and-fruit puff. Next comes alpaca tortellini, a guinea pig terrine, scallops in coral broth and Parmesan, yellow potato gnocchi, quail with corn … it goes on like this, over and over, each dish paired with a very good wine, making for one of the more pleasurable evenings you've spent.
Despite the risk of descending into a food-induced coma, you pluck up the energy for a final stop at El Sargento Pimienta, a barnlike club in Barranco where you can catch live shows by scruffy rock bands and jostle with mobs of Cusqueña-beer-swilling Limeños. The guys onstage, you are told, are a local outfit named Libido. They are loud.
Later, at the hotel, you find that an art-show party next door has spilled into the bar. Oh, go on, you think, why not? The bartender pours you a house special, a bracing G&T served in a small fishbowl, as a Spanish version of Nancy Sinatra's "Bang Bang" lulls you into a pleasing stupor.
That was fun, but you're happy to be up in your room, burying your head in a fat pillow. You think of Morrissey, the alt-pop idol who came to Lima last year and, in typical style, described the city as "my heart's lighthouse." Hmm, you think, and then you are gone.
Writer Chris Wilson hasn't had a Pisco Sour since he left Peru, but he's still seeing those dancing wooden-headed skeletons.
This article was written by Chris Wilson from Rhapsody Magazine and was legally licensed through the NewsCred publisher network. Please direct all licensing questions to legal@newscred.com.
Around the web
We're proud to launch a redesigned version of our United app to make it easier for customers with visual disabilities to manage all aspects of day-of travel, including check-in, viewing reservation details and flight status, bag tracking and more.
This latest version of our app is now available to both Android and iOS users, and it offers increased color contrast and more space between graphics. Furthermore, we have reorganized how information is displayed and announced to better integrate with screen reader technologies like VoiceOver and TalkBack, which are built into most handheld devices. By restructuring the way the information is organized on the app, screen readers are better able to convert text to audio in the proper, logical sequence, allowing customers to better understand and navigate the app.
"The parts of the travel experience that we all take for granted like checking luggage, getting your flight status and accessing a boarding pass can still be a challenge for someone with a visual disability," said EVP of Technology and Chief Digital Officer Linda Jojo. "These new accessibility enhancements are part of our continuing commitment to level the playing field, unlock all the customer benefits of our app and give people with disabilities more independence while traveling."
Senior Accessibility Analyst Ray Campbell is a member of United's digital team who's visually impaired and sits on the board of the American Council of the Blind. He played a key role in helping us redesign the app. He even put the app to the test as seen in this video.
"Optimizing mobile apps for tools such as VoiceOver and TalkBack has been a game changer, allowing people with visual disabilities to fully utilize smartphone technology in their daily lives," said Ray. "It's just as important for someone with a visual disability to easily access day-of-travel information and features as for any other customer. Improving the accessibility of the United app, helps us truly live out United's mission of caring for all customers."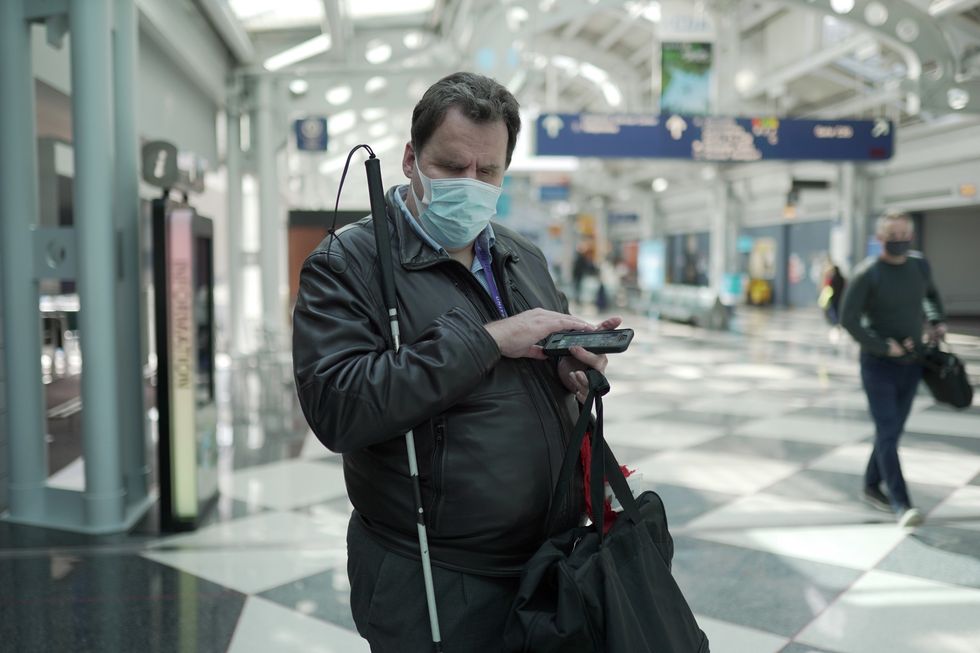 United's Senior Accessibility Analyst Ray Campbell using the mobile app at Chicago O'Hare International Airport.
Beyond the accessibility changes, our digital team enhanced the current offering while keeping the features that helped the app win a Webby People's Voice award in 2019.
For our MileagePlus® program members, the app now features a refreshed account experience for members to easily check balances, track Premier® progress, explore MileagePlus benefits, access past activity and more, all in one place.
The airline is also expanding a popular feature previously only accessible to MileagePlus members. Now, all 37 million customers who have the United app will see a contextualized home screen starting 48 hours before their flight which provides dynamic updates based on where a customer is in their travel journey. For example, customers can see the boarding status of their flight on their homescreen, access personal device entertainment onboard with one click, find a link to a map with gate-to-gate directions for connecting flights and click a quick access button to track any checked bags upon arrival.
We made slight tweaks to navigation based on customer feedback to make the app more intuitive, including making the bottom navigation persistent throughout the app. Another example is the "More" menu, which was reorganized and now contains the "Inbox" feature, which includes timely messages about boarding announcements, gate changes and other travel updates.
Customers will notice a new color palette that's consistent with the refreshed branding the airline debuted in 2019. United's digital team also made subtle design adjustments to make things more consistent and easier to find, like always using a purple bar to highlight the main call-to-action on a page and ensuring alerts and flight status icons appear the same way in every page on the app.
All of these changes are underpinned by a new back-end platform, which will ultimately make the app faster and more responsive.
The redesigned app is now available to download for iPhone®, iPad® and iPod touch® devices (as an iPhone app) and for Android devices.
Calling all AvGeeks and travelers! Take your next video call from a United Polaris® seat, the cockpit or cruising altitude with United-themed backgrounds for use on Zoom and Microsoft Teams.
Newly added to our collection is a background encouraging our employees and customers to vote. Our mission is to connect people and unite the world — and one of the most important ways to do that is to engage in the democratic process. No matter which party you support, we know our democracy will be stronger if you make your voice heard and vote.
So for your next meeting or catch up with friends and family, download the app to either your computer or mobile device to get started.
To use on Zoom:
Start here by downloading your favorite United image to your computer or mobile device. Just click "download" in the bottom left corner of the image.
Next go to your Zoom app (you'll need to download the app to access backgrounds) and click on the arrow to the right of your video camera icon in the bottom of the screen.
From here select, "choose virtual background" to upload your uniquely United photo.
To use on Microsoft Teams:
Start by downloading your favorite United image to your computer. Just click "download" in the bottom left corner of the image.

If you're using a PC, copy the image you want to use into this folder:

C:\[insert your device user name here]\AppData\Microsoft\Teams\Backgrounds\Uploads

If you're using a Mac copy the images to this folder on your computer:

/users/<username>/Library/Application Support/Microsoft/Teams/Backgrounds/Uploads

Once you start a Teams meeting, click the "…" in the menu bar and select "Show background effects" and your image should be there
Earlier this summer, we shone a light on our flagship partnership with Special Olympics and our commitment to the Inclusion Revolution. In that same story, we introduced you to our four Special Olympics Service Ambassadors, Daniel, Kyle, Lauren and Zinyra (Z), who, this month, celebrate one year working at Chicago O'Hare International Airport as part of the United family.
This groundbreaking, inclusive employment program took off as a part of our ongoing partnership with Special Olympics, a community relationship that employees across the company hold close to heart. The original 'UA4' (as they call themselves) have become an integral part of the United team serving customers at O'Hare Airport. Even from behind their masks, their wide smiles and effervescent spirit exude and bring life to the service culture of excellence we strive towards every day.
"The UA4 are more than just customer service ambassadors. They are shining examples of how inclusion, accessibility and equity can have monumental impacts on the culture and service of a business and community," said Customer Service Managing Director Jonna McGrath. "They have forever changed who we are as a company. While they often talk about how United and this opportunity has changed their lives, they have changed ours in more ways than we can count."
In the two years of partnership with Special Olympics, United employees have volunteered over 10,500 hours of service at events around the world and donated over $1.2 million worth of travel to the organization.
"This inclusive employment program is what community partnerships, like ours with Special Olympics, are all about: collaborating to identify areas where the needs of the community intersect with the cultural and business opportunity, then creating the infrastructure and programming to bring the two together," said Global Community Engagement Managing Director Suzi Cabo. "Through this program, our goal is to show other companies that when you put a committed effort and focus towards inclusion and breaking down barriers, you transform lives. I challenge other business around the world to follow our lead in joining the Inclusion Revolution."
Check out the video below to hear from our Special Olympics Service Ambassadors firsthand.
Scroll to top