Three Perfect Days: Louisville
Story by Amanda Petrusich | Photography by Sam Polcer | Hemispheres, January 2015
Louisville is best known for hosting the Kentucky Derby, famously dubbed "the most exciting two minutes in sports." When you're done with that, we've got a lot more to show you.
Hunter S. Thompson, a native of Louisville, once wrote an essay titled "The Kentucky Derby Is Decadent and Depraved," referring to the horse race that has been at the center of this city's social calendar for going on 140 years and is still its biggest claim to fame.
The Derby has been referred to as "the most exciting two minutes in sports," but the excitement that surrounds the event, and the city itself, is generally viewed as a fleeting, once-a-year thing. This, however, couldn't be further from the truth.
Louisville dates back to 1778, and its rich history is on prominent display year-round—in its architecture, its music, its cultural institutions. The city is home to 123 glorious parks, some designed by the great landscape architect Frederick Law Olmsted. In recent years, a thriving restaurant scene has emerged, combining innovation with down-home Southern cooking. The bars are hopping. The retailers do a roaring trade. And did we mention the bourbon?
Louisville also represents an unusual convergence of geography and culture. While there's no shortage of Southern charm here, there's enough Midwestern grit and East Coast ambition to keep things interesting—a city doesn't spawn people like Hunter S. Thompson by sticking exclusively to the Dixie schtick.
Even the irascible, distinctly un-sentimental Thompson, it seems, yearned for his hometown from time to time. "If I could think of a way to do it right now, I'd head back to Louisville," he once wrote, "and try to sink back as far as I could into the world that did its best to make me."

DAY ONE | In your recurring childhood fantasies about spending the night in a museum, you invariably ended up spooning a stuffed mink inside an old diorama. What you didn't envision was reclining in a Herman Miller chair wearing a fat bathrobe and smelling like a particularly fragrant grapefruit (thank you, Malin + Goetz soap). But that's what's in store for you at 21c, a contemporary art museum that doubles as a boutique hotel in downtown Louisville.
There is art everywhere here: in the rooms, in the lobby and in the airy galleries, which are free and open to the public. Many of the works are interactive, such as the projected installation "Text Rain," which allows those waiting for an elevator to kill time by grabbing at tumbling letters. Oddly, 21c is also home to a number of four-foot-tall red plastic penguins, which hover at the bar, gaze at artworks and appear unbidden in hallways.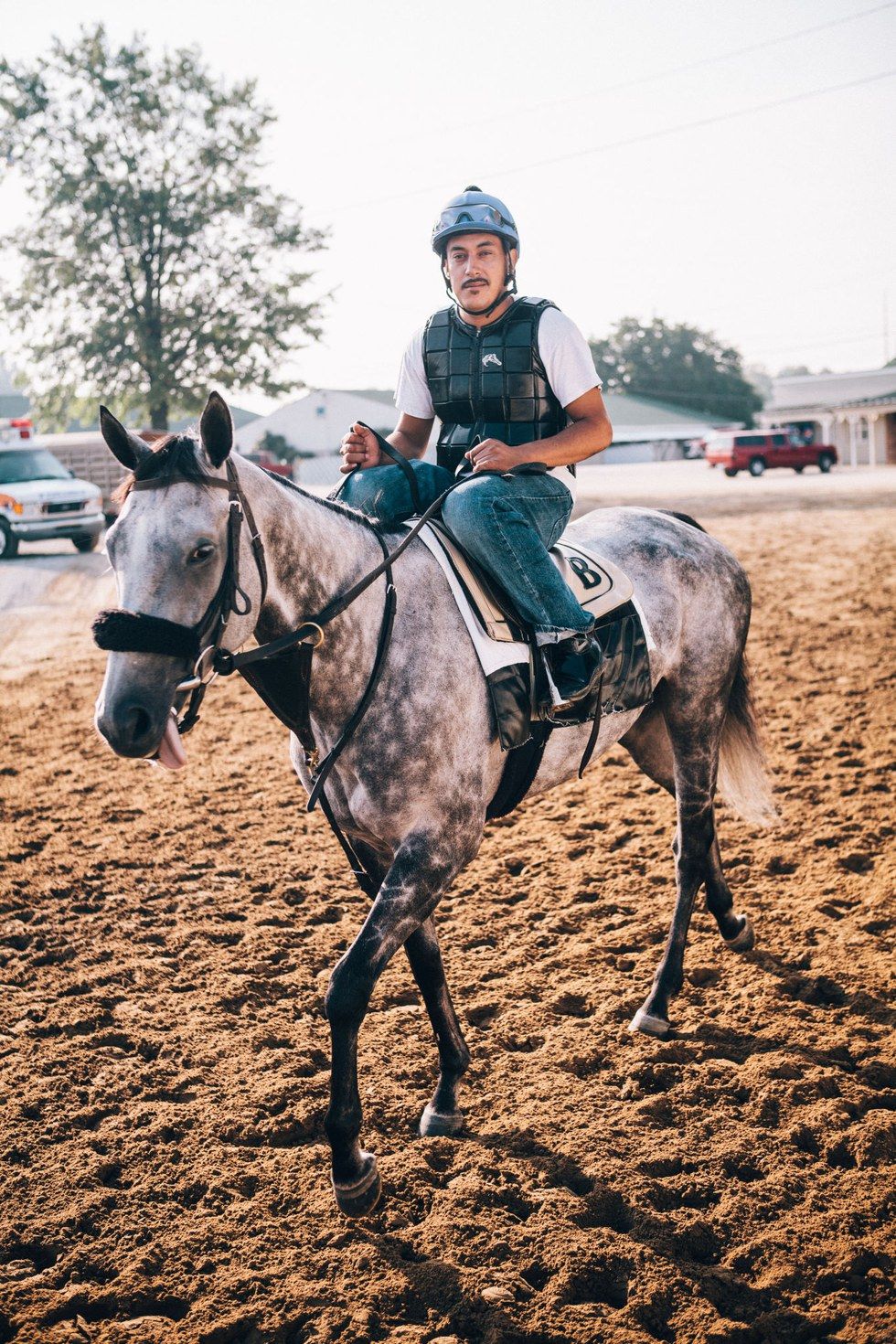 A jockey takes a horse through its paces at Churchill Downs
You'll be spending the morning getting to know a different kind of animal: thoroughbred horses, which in this town are a subject of devotion bordering on worship. Your first stop is Wagner's, a diner-cum-pharmacy across the street from Churchill Downs. Wagner's has been catering to the racing set since 1922, and its walls are littered with dusty photos of Derby winners, their necks draped with Kentucky roses. You take a booth and, on the recommendation of your fast-talking waitress, order Pam and Jack's Omelette, an imposing concoction of eggs, green pepper, onion, tomato, ham, bacon, sausage and two kinds of cheese. "You did good!" the waitress says, eyeing your half-finished plate.
You leave Wagner's wondering how a meal like that could possibly be deemed appropriate for a jockey, then lumber across Fourth Street to the Kentucky Derby Museum. After wandering around for all of 25 minutes, you decide you know enough about the subject to mount a mechanical steed and attempt to outpace two kids in a race simulator. You lose. Badly.
Next up is the adjacent Churchill Downs, where you've booked a "Barn and Backside" tour of the facilities. In the paddock, your guide pauses to describe the pandemonium of Derby weekend, when 80,000 revelers charge the infield to "picnic," a euphemism for drinking ungodly amounts of booze and placing bad bets. Dedicated infielders, you are told, bury leftover bottles on the grounds to retrieve the following May, a method of bourbon-aging you won't find in the guidebooks.
From here, you cab it to NuLu, a former industrial district that's now a tangle of storefronts, galleries and cafés catering to the city's artsy set. You settle in at Please and Thank You, an emerald-green coffeehouse and used-record store, and watch a bearded young man thumb through crates of vintage LPs, then order a toasted mozzarella and pesto sandwich, followed by the biggest chocolate chip cookie you've ever had. That riding career is looking unlikely.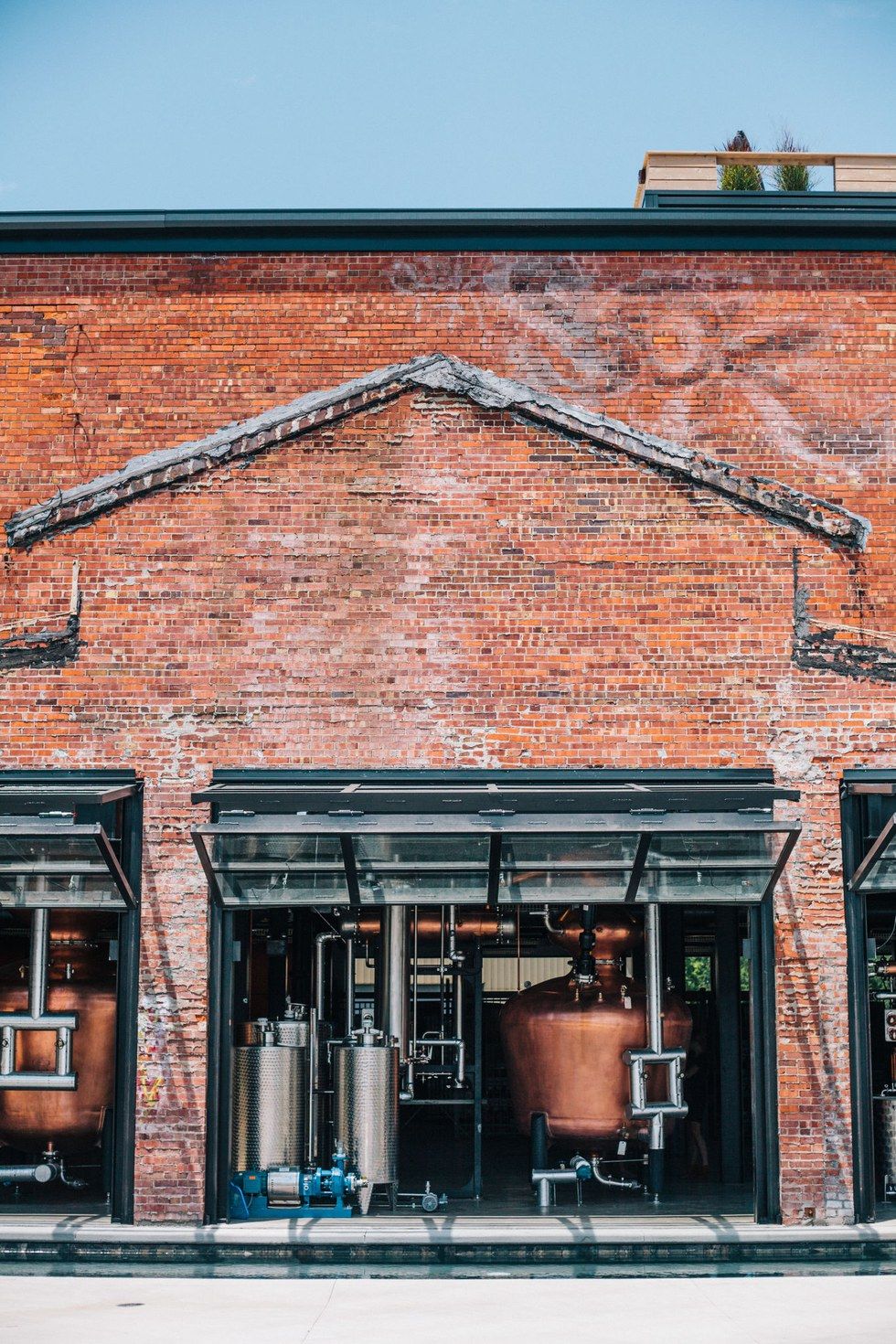 A convergence of the old and the new at the Copper & Kings distillery
Next, you stroll along Market Street, dipping in and out of shops, including Why Louisville, purveyor of more locally themed T-shirts than you could have ever imagined existed ("Gettin' Lucky in Kentucky!"). Watched by a life-size Colonel Sanders doll, you drop a couple of quarters into an old fortune-telling console, causing a mechanical gypsy to jerk around for a bit before the machine spits out a card reading, "You're Important."
It's close enough to cocktail hour, and this is Kentucky, so you head to nearby Decca, a bar and restaurant situated in a 19th-century row house. A tattooed bartender makes you an Old Fashioned, which you carry to a sunny garden. The people-watching here is supreme, but after your drink's gone (and it goes awfully fast) you follow the sound of live music coming from the Flea-Off Market, an outdoor bazaar in a nearby parking lot. You browse the tables, picking up an old Derby pennant from 1957 and a Kentucky Gentleman–branded whiskey decanter shaped like a Revolutionary War soldier. Bingo.
Dinner tonight is at Harvest, a popular restaurant that showcases the city's affinity for locally sourced food and that does much of the curing, smoking and preserving in-house. You order a couple of local specialties: burgoo (a thick stew of chicken, pork, turkey, potatoes, corn and heirloom tomatoes topped with pretzel croutons) and buttermilk fried chicken (doused with smoked peppercorn gravy and homemade hot sauce). It's not until you've finished both dishes that you realize your fruit-and-veg intake for the day has fallen somewhere between "nil" and "Was there a cherry in that Old Fashioned?" Ah well, there's always tomorrow.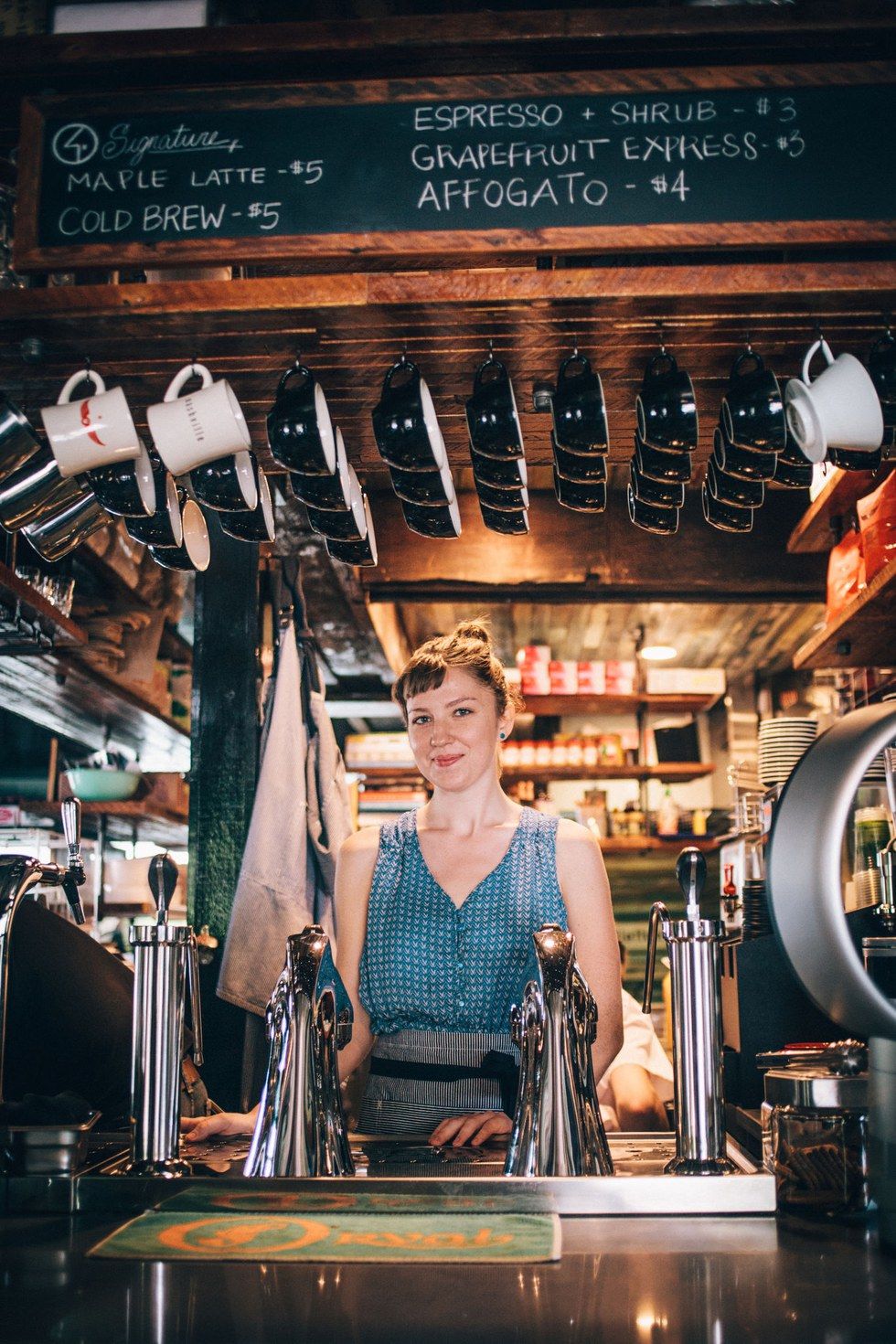 A barista at "beer and breakfast" spot Gralehaus
DAY TWO | You begin your day with a brief nod to healthy living, grabbing a bowl of granola at Atlantic No. 5, an airy breakfast spot not far from your hotel. You scrape your big enamel bowl clean and, feeling revived, walk to the Muhammad Ali Center, a multimedia museum devoted to the colorful, controversial life of Louisville's most famous son. Wandering the museum's halls, you happen across Ali's two-tone 1977 Rolls-Royce, which packs nearly as much punch as its owner. Next up is a quick round of computerized boxing, in which you are once again vanquished by schoolkids.
From here, you head over to J. Graham's Café at the storied Brown Hotel, whose English Renaissance design—hand-painted reliefs on the ceiling, ornate woodwork everywhere else—provides an elegant counterpoint to the gluttony you are about to engage in. You take a seat in the café and order a Hot Brown, an open-faced roast turkey sandwich served in a skillet with bacon and tomato and doused in a Mornay sauce. The sandwich was invented here in the 1920s, and your waiter tells you they dispense nearly 300 of them a week—800 during Derby week—which, by your calculation, adds up to about 13.2 gazillion calories.
Trying to get back on the healthy track, you head to Cherokee Park, a 400-acre expanse bordering the Highlands neighborhood, east of downtown. Frederick Law Olmsted designed this space in 1891 (18 of the city's parks are his), and like his other creations (New York's Central Park among them), Cherokee reflects Olmsted's belief that a large component of human happiness is access to open spaces. You happily walk the park's 2.4-mile loop, pausing atop Baringer Hill, known locally as "Dog Hill," to watch a couple of puppies wrestling in the grass.
Next, you're off to NuLu to grab a drink at the Haymarket Whiskey Bar, a pleasantly divey Market Street spot that has more than 100 bourbons on the menu. After a brief conference with the bartender—a sharp-tongued young woman in a spectacular pair of polka-dot pants—you order a Weller 12-year on the rocks. "Attagirl," the bartender says as you empty your glass.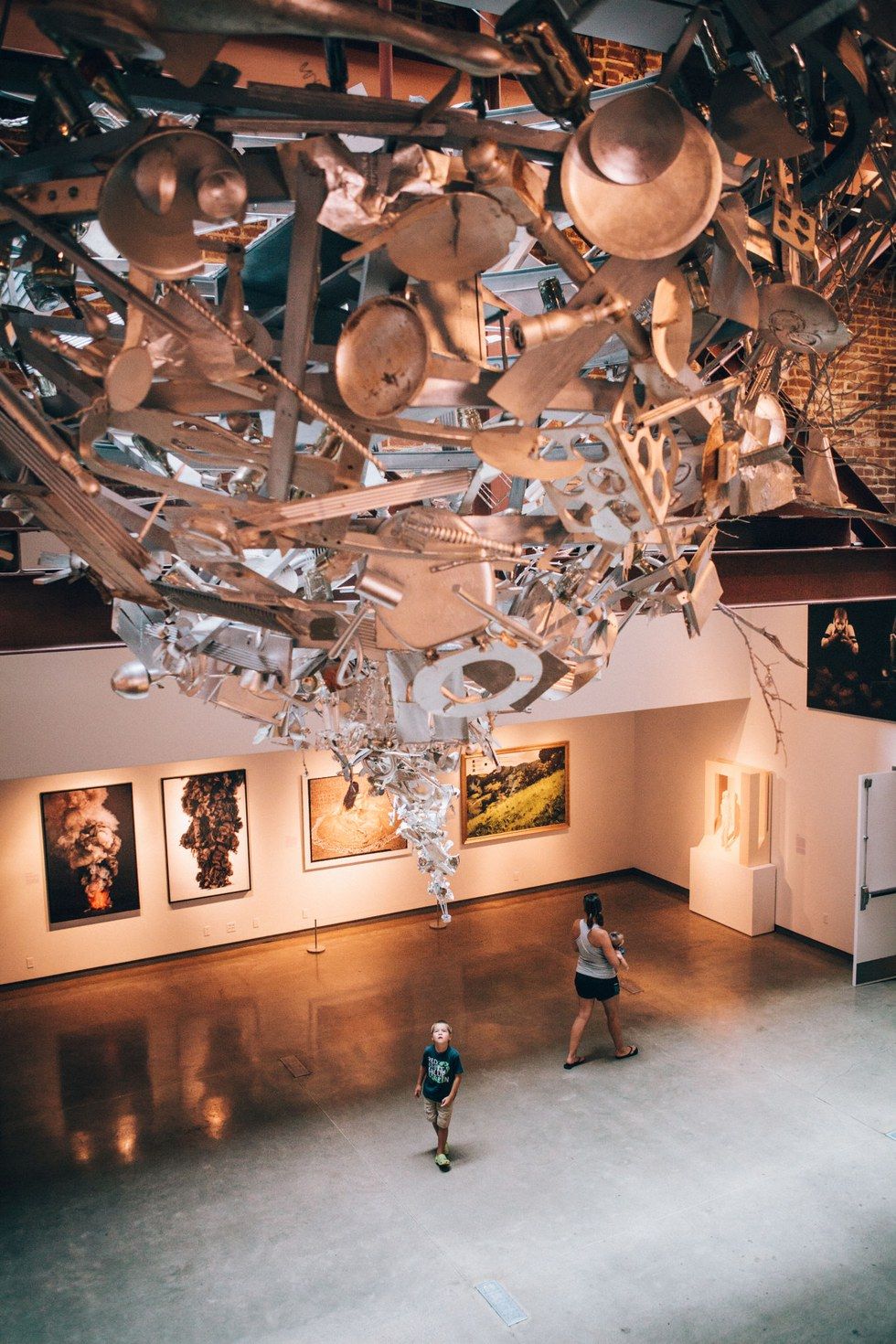 A gallery space at 21c, with Anne Peabody's "Wheel of Fortune" in the foreground
A short walk down the street, the small theater space Dreamland is screening rare silent films featuring vintage amateur footage of 1930s Louisville, set to a soundtrack of 78 rpm records. You arrive during a stretch of Derby coverage and, within moments, are utterly transported. The horses charge; spectators jump with joy or (silently) curse their luck. Afterward, out in the lot, a musician performs an acoustic set, plucking spare, lingering songs on his banjo while a rapt crowd gathers on the pavement.
Now it's time for culture of a different sort: dinner at MilkWood, the downtown eatery where Edward Lee—a veteran of "Top Chef" and "Iron Chef America"—serves Asian food with a Southern twist. The atmosphere is lively; the room is cozy, with exposed brick and an array of mounted antlers. You sip a Smoke and Pickle—Scotch, Pernod, pickle brine and mesquite—then order the organic pork burger, served with napa kimchi, a heap of thick cracklins, Havarti cheese and a rich remoulade. Lee stops by the table to tell you that he once ate this burger every day for three weeks. (He had to tell the kitchen to stop making it for him.) You finish the meal with sorghum and grits ice cream and, with some difficulty, make your way outside.
You get a little lost walking the three blocks back to your hotel and find yourself on the corner of Fourth and Walnut, reading a plaque commemorating an epiphany the Trappist monk and poet Thomas Merton had on this spot in 1958 ("There is no way of telling people that they are all walking around shining like the sun"). You wend your way back to 21c with this thought in your head, and it is still there when you collapse, perfectly exhausted, onto your bed.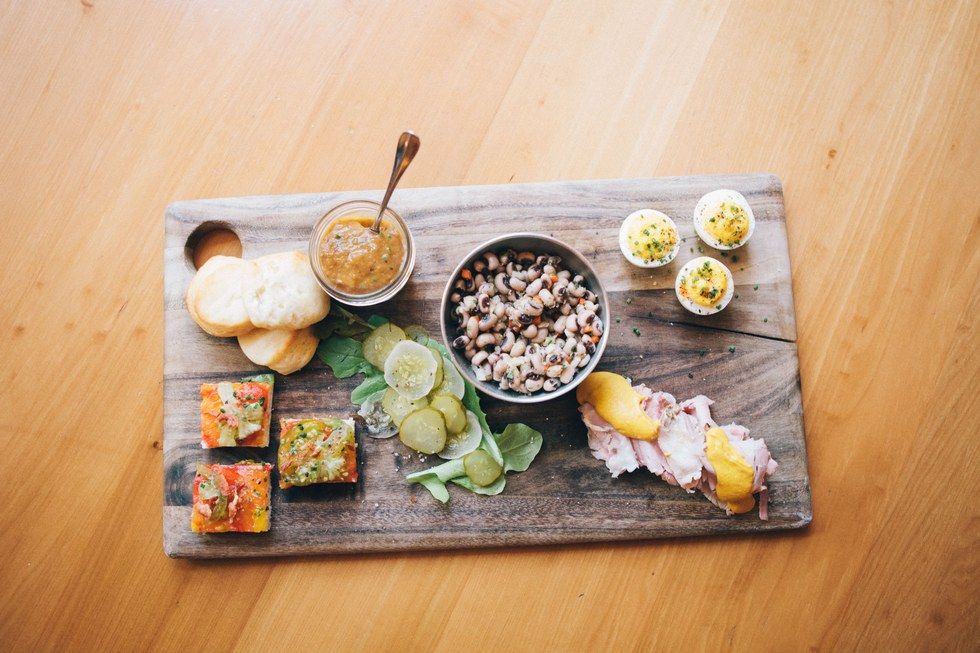 An appetizer platter at Proof on Main's Sunday Supper
DAY THREE | Your, ahem, healthy day behind you, you'll be spending much of this one sampling Kentucky's finest tipples. You pause in the 21c lobby to stare at Duke Riley's "Pigeon Loft," a work that consists of a wooden cage containing a bunch of homing pigeons, then head out to find the Gralehaus, a "beer and breakfast" spot in the Highlands where you'll prepare your stomach for the boozy day ahead.
Once there, you hop onto an industrial-looking stool (nearly everything seems to be repurposed) and order a biscuit with picnic ham, mustard, cheese and scrambled eggs. While you wait, you admire the large coolers lining the wall, packed with a Smithsonian-quality collection of microbrews. The Gralehaus has been open for less than a year, but it's already wildly popular with messy-haired locals, many of whom are in attendance this morning.
Stomach suitably lined, you take a cab to Copper & Kings in Butchertown. Louisville is a bourbon-centric city, of course, but the people at this distillery—which specializes in small-batch brandy, using traditional copper-pot distillation methods—are hoping there might be room for another spirit. Co-owner Joe Heron recommends you take yours on the rocks with a rub of citrus on the rim, which you do in the upstairs tasting room, watched over by framed portraits of rock stars, including Jim James of Louisville's own My Morning Jacket.
There's more tippling in store for you on Whiskey Row, a recently restored stretch of Main Street that was once the hub of Louisville's bourbon industry. You stop for a tasting at the Evan Williams Bourbon Experience, which requires that you take a crash course in such matters as corn ratios and optimum proofs. As far as you can tell, there are no wrong answers in bourbon analysis, although your guide does respond with a poor-you look when you holler "Wood!"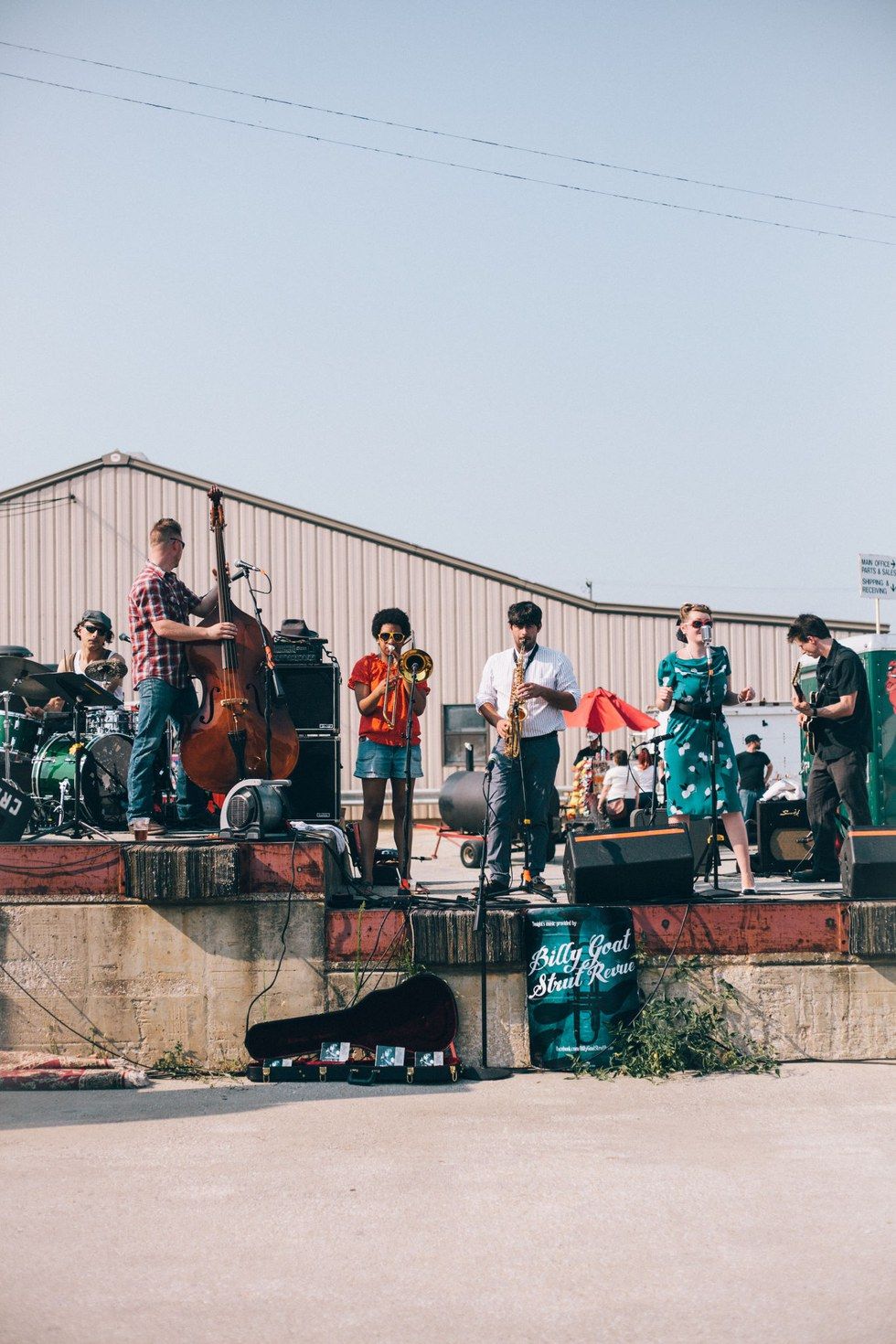 Billy Goat Strut Revue perform at the Flea-Off Market
Lunch is at Vietnam Kitchen, a local favorite in the Iroquois neighborhood. It doesn't look like much inside—wall-mounted televisions, linoleum tiles, a few wilted plants in the window—but you have been assured (by a woman at the next table) that there isn't a single disappointing dish in the house. You order pho tai (rice noodles in a delicious broth, topped with thinly sliced beef) and an avocado milkshake. The woman at the next table proves wise.
From here you'll be heading to Woodford Reserve, about an hour east of the city, near the sleepy little town of Versailles (pronounced "ver-sales"). Once you leave the interstate, the drive is sublime. This is horse country, all rolling green hills and expansive blue skies. Woodford is the oldest working bourbon distillery in the U.S., dating back to 1797. The grounds, with their mossy stone buildings and rows of oak barrels, have a medieval feel to them. The bourbon is sweet and smooth, tasting vaguely of young oak, vanilla and honeycomb (you're learning!). "Home, James!" you say to your driver as you leave, although, looking back, you're pretty sure his name was Paul.
Dinner tonight is at Proof on Main, 21c's artsy (of course) and ambitious eatery. On Sunday nights, it serves a market-dictated prix-fixe meal; you start yours with a platter of tapas-style appetizers, including biscuits with jalapeño-peach butter and deviled eggs with chive and ash. For a main course you have filet of hot Kentucky catfish with candied onions, ratatouille and fried potatoes with pickled peppers. By the time dessert arrives—Lime Dream Pie with coconut, chantilly and saltines—you are somewhere between satisfied and liable to explode.
Leaving the restaurant, you enter into a brief internal debate about how best to conclude your stay in Louisville. A stroll across the Big Four Bridge? A cruise on the Belle of Louisville steamboat? Or, um, maybe a bit more bourbon? That settled, you walk to the Seelbach Hotel and the Old Seelbach Bar, a favored haunt of F. Scott Fitzgerald when he was stationed at nearby Camp Taylor. You plunk your elbows on the intricate mahogany bar and order an Eagle Rare, neat, feeling at home among the other solo drinkers nursing whiskeys.
As you sip your drink you think of Fitzgerald's lovelorn millionaire in The Great Gatsby, for whom Louisville "was pervaded with a melancholy beauty" and for whom the city exerted an irresistible attraction, in much the way it did for Hunter S. Thompson, in much the way it does for anyone who has been lucky enough to call this place home.
Freelance writer Amanda Petrusich forgot to mark an X where she buried her bourbon at Churchill Downs.
This article was from Rhapsody Magazine and was legally licensed through the NewsCred publisher network.
Around the web

We're proud to launch a redesigned version of our United app to make it easier for customers with visual disabilities to manage all aspects of day-of travel, including check-in, viewing reservation details and flight status, bag tracking and more.
This latest version of our app is now available to both Android and iOS users, and it offers increased color contrast and more space between graphics. Furthermore, we have reorganized how information is displayed and announced to better integrate with screen reader technologies like VoiceOver and TalkBack, which are built into most handheld devices. By restructuring the way the information is organized on the app, screen readers are better able to convert text to audio in the proper, logical sequence, allowing customers to better understand and navigate the app.
"The parts of the travel experience that we all take for granted like checking luggage, getting your flight status and accessing a boarding pass can still be a challenge for someone with a visual disability," said EVP of Technology and Chief Digital Officer Linda Jojo. "These new accessibility enhancements are part of our continuing commitment to level the playing field, unlock all the customer benefits of our app and give people with disabilities more independence while traveling."
Senior Accessibility Analyst Ray Campbell is a member of United's digital team who's visually impaired and sits on the board of the American Council of the Blind. He played a key role in helping us redesign the app. He even put the app to the test as seen in this video.
"Optimizing mobile apps for tools such as VoiceOver and TalkBack has been a game changer, allowing people with visual disabilities to fully utilize smartphone technology in their daily lives," said Ray. "It's just as important for someone with a visual disability to easily access day-of-travel information and features as for any other customer. Improving the accessibility of the United app, helps us truly live out United's mission of caring for all customers."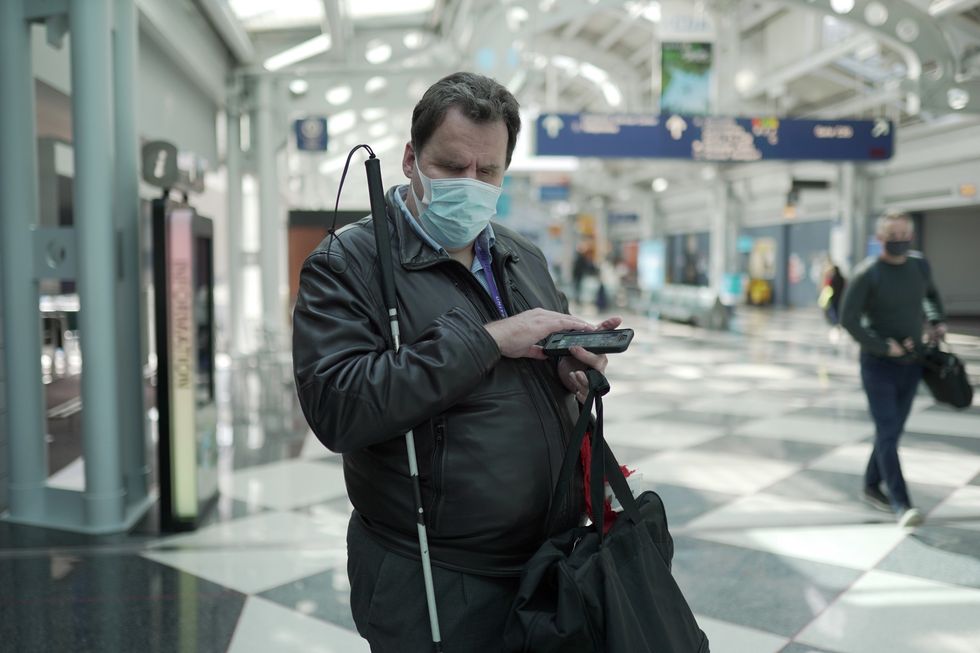 United's Senior Accessibility Analyst Ray Campbell using the mobile app at Chicago O'Hare International Airport.
Beyond the accessibility changes, our digital team enhanced the current offering while keeping the features that helped the app win a Webby People's Voice award in 2019.
For our MileagePlus® program members, the app now features a refreshed account experience for members to easily check balances, track Premier® progress, explore MileagePlus benefits, access past activity and more, all in one place.
The airline is also expanding a popular feature previously only accessible to MileagePlus members. Now, all 37 million customers who have the United app will see a contextualized home screen starting 48 hours before their flight which provides dynamic updates based on where a customer is in their travel journey. For example, customers can see the boarding status of their flight on their homescreen, access personal device entertainment onboard with one click, find a link to a map with gate-to-gate directions for connecting flights and click a quick access button to track any checked bags upon arrival.
We made slight tweaks to navigation based on customer feedback to make the app more intuitive, including making the bottom navigation persistent throughout the app. Another example is the "More" menu, which was reorganized and now contains the "Inbox" feature, which includes timely messages about boarding announcements, gate changes and other travel updates.
Customers will notice a new color palette that's consistent with the refreshed branding the airline debuted in 2019. United's digital team also made subtle design adjustments to make things more consistent and easier to find, like always using a purple bar to highlight the main call-to-action on a page and ensuring alerts and flight status icons appear the same way in every page on the app.
All of these changes are underpinned by a new back-end platform, which will ultimately make the app faster and more responsive.
The redesigned app is now available to download for iPhone®, iPad® and iPod touch® devices (as an iPhone app) and for Android devices.
Calling all AvGeeks and travelers! Take your next video call from a United Polaris® seat, the cockpit or cruising altitude with United-themed backgrounds for use on Zoom and Microsoft Teams.
Newly added to our collection is a background encouraging our employees and customers to vote. Our mission is to connect people and unite the world — and one of the most important ways to do that is to engage in the democratic process. No matter which party you support, we know our democracy will be stronger if you make your voice heard and vote.
So for your next meeting or catch up with friends and family, download the app to either your computer or mobile device to get started.
To use on Zoom:
Start here by downloading your favorite United image to your computer or mobile device. Just click "download" in the bottom left corner of the image.
Next go to your Zoom app (you'll need to download the app to access backgrounds) and click on the arrow to the right of your video camera icon in the bottom of the screen.
From here select, "choose virtual background" to upload your uniquely United photo.
To use on Microsoft Teams:
Start by downloading your favorite United image to your computer. Just click "download" in the bottom left corner of the image.

If you're using a PC, copy the image you want to use into this folder:

C:\[insert your device user name here]\AppData\Microsoft\Teams\Backgrounds\Uploads

If you're using a Mac copy the images to this folder on your computer:

/users/<username>/Library/Application Support/Microsoft/Teams/Backgrounds/Uploads

Once you start a Teams meeting, click the "…" in the menu bar and select "Show background effects" and your image should be there
Earlier this summer, we shone a light on our flagship partnership with Special Olympics and our commitment to the Inclusion Revolution. In that same story, we introduced you to our four Special Olympics Service Ambassadors, Daniel, Kyle, Lauren and Zinyra (Z), who, this month, celebrate one year working at Chicago O'Hare International Airport as part of the United family.
This groundbreaking, inclusive employment program took off as a part of our ongoing partnership with Special Olympics, a community relationship that employees across the company hold close to heart. The original 'UA4' (as they call themselves) have become an integral part of the United team serving customers at O'Hare Airport. Even from behind their masks, their wide smiles and effervescent spirit exude and bring life to the service culture of excellence we strive towards every day.
"The UA4 are more than just customer service ambassadors. They are shining examples of how inclusion, accessibility and equity can have monumental impacts on the culture and service of a business and community," said Customer Service Managing Director Jonna McGrath. "They have forever changed who we are as a company. While they often talk about how United and this opportunity has changed their lives, they have changed ours in more ways than we can count."
In the two years of partnership with Special Olympics, United employees have volunteered over 10,500 hours of service at events around the world and donated over $1.2 million worth of travel to the organization.
"This inclusive employment program is what community partnerships, like ours with Special Olympics, are all about: collaborating to identify areas where the needs of the community intersect with the cultural and business opportunity, then creating the infrastructure and programming to bring the two together," said Global Community Engagement Managing Director Suzi Cabo. "Through this program, our goal is to show other companies that when you put a committed effort and focus towards inclusion and breaking down barriers, you transform lives. I challenge other business around the world to follow our lead in joining the Inclusion Revolution."
Check out the video below to hear from our Special Olympics Service Ambassadors firsthand.
Scroll to top