Three Perfect Days: Maui
Story by Jade Bremner | Photography by Marco Argüello | Hemispheres, February 2017
This year marks 70 years of service to Hawaii and to celebrate we are increasing service on 11 routes connecting the continental U.S. and Hawaii, offering our customers more flights between the mainland and the Hawaiian Islands than any other carrier. Beginning December 20, we will increase service from our hubs in Chicago, Denver, Los Angeles and San Francisco to Hawaii. We will continue operating our daily nonstop service to Honolulu from all of our seven domestic hubs in Chicago, Denver, Houston, Los Angeles, New York/Newark, San Francisco, Washington, D.C., plus Guam and Tokyo.
Nothing can really prepare you for your first look at the West Maui Mountains. Jurassic Park may have been filmed on Oahu and Kauai, but it's not hard to imagine a pterodactyl soaring above this range's steep, pleated hillsides, or a diplodocus munching on the dense jungle trees in the distance. There are also hidden beaches, brimming coral reefs, volcanic rock formations, and virgin forests. But Hawaii's second-largest island has more to offer than natural beauty: There are hippies, aspiring chefs, and one of the best surf scenes in the world, too.

Maui also has a rich spiritual and social history. The old town of Lahaina was once the political capital of the Kingdom of Hawaii, and the island itself, riddled with sacred sites, is named after the demigod who, according to myth, formed the Hawaiian archipelago, and who is said to have caught the sun to slow it down. Once you've seen a sunset here, that's a feat you'll believe to be true.

In which Jade goes downhill fast, meets a big wave lover, and learns who caught her dinner at Mama's Fish House
When you think of hotels in Maui, you think one word: beach. For my first night here, I've gone against the grain, opting instead for a mountainside suite at Relais & Châteaux's Hotel Wailea. I wake up amid coral and limestone walls, oak flooring, tribal-patterned furnishings, and Hawaiian ohia woodwork, all of which gives me the impression I fell asleep outside. The actual outside, as viewed from my private balcony, is even prettier: tropical gardens and the ostentatiously blue ocean beyond.This morning, I'm heading for the hills with guide Mark Werner-Gillium, who works for local tour company Maui Downhill. Wearing wind pants and Oakley sunglasses, he pulls up in a van to take me to the base of Haleakala ("House of the Sun") Volcano, the island's highest peak. After an hour or so of lurching left and right on squiggly roads, Werner-Gillium points the van upward. At 10,000 feet, we pass through the clouds and emerge into a desolate, freezing lunar landscape.Looking around, it's easy to see why Haleakala has spiritual significance—Hawaiian legend holds that the summit was home to the grandmother of demigod Māui—and odd to think that only an hour away, back on Earth, people are browning themselves on the beach. Before I can ponder this more fully, Werner-Gillium jumps onto his bike and instructs me to follow. His company, after all, is not called Maui Downhill for nothing.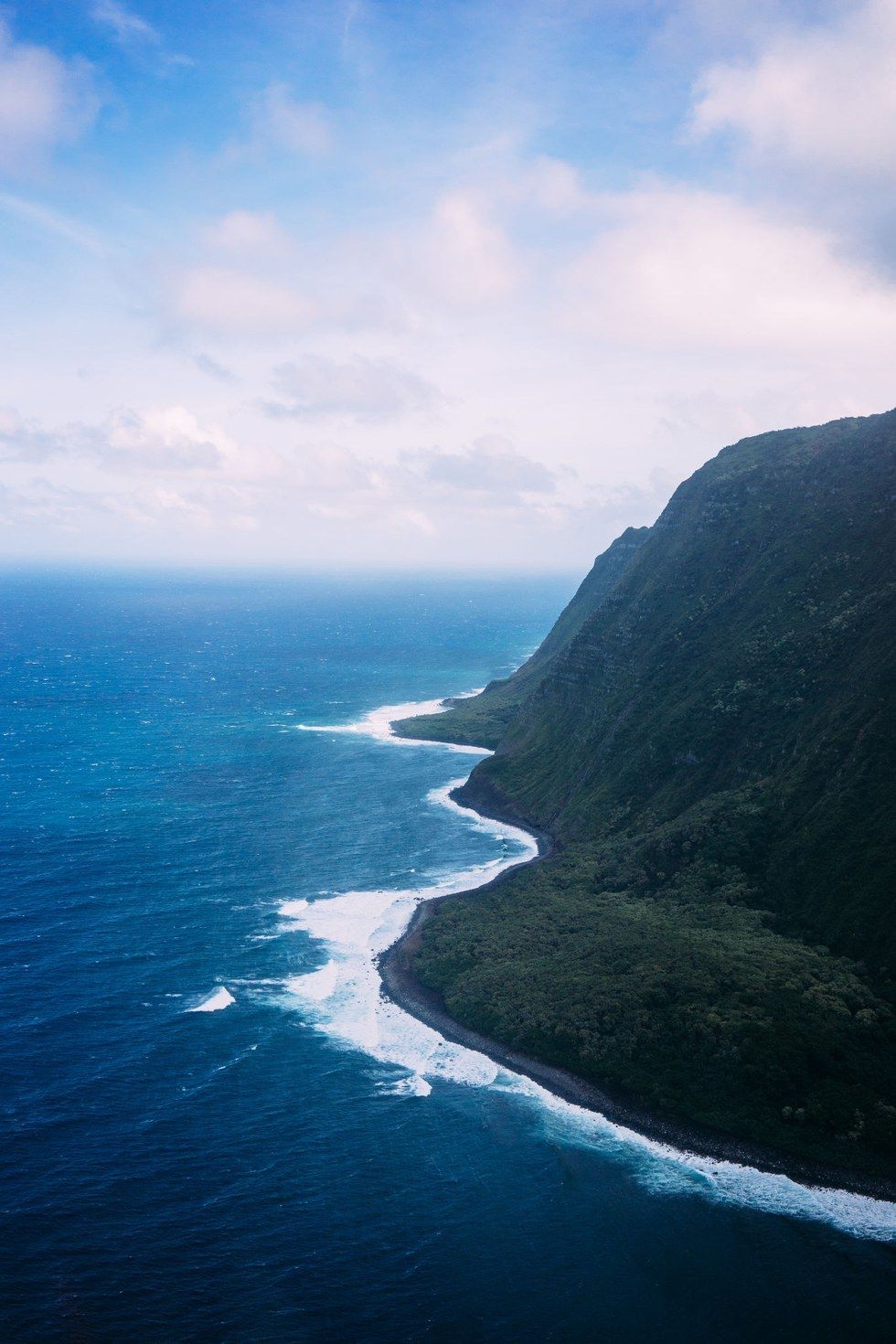 Maui coastline
Nanoseconds later, I'm on a bike, pushing 20 mph on the steep mountainside. My hands are alabaster from gripping the handlebars, my jacket cracks in the wind, and my view of the lavender fields whipping past is largely obscured by the Darth Vader–style biker's helmet I've been given "for safety." "Follow me like a bull!" hollers Werner-Gillium cryptically, followed by "Breathe it all in!" He's referring to the fragrance of pine and eucalyptus that engulfs us as we enter a thick forest. It is indeed a wonderful aroma, but I can't help feeling that "Try not to hit a tree!" would have been more useful advice.Half an hour later, having safely reached the base of the mountain, Werner-Gillium offers to take me to Kama Hele Café, a colorful food truck in the village of Haliimaile that's his favorite breakfast spot. (It better be: His wife, Andrea, is the chef.) Beneath a canopy of small umbrellas next to a pineapple plantation, we dig into island-style French toast made with sweet Hawaiian bread, candied walnuts, and maple syrup. "That's the fastest I've gone on that stretch," says Werner-Gillium, who's still glowing from the ride. "That road can be pretty gnarly."There's more gnarliness ahead, as star surfer Kai Lenny has invited me to his home just outside the former farming settlement of Paia, on the island's north shore. I arrive 15 minutes later at the designer beach house, where Lenny greets me in the surfer uniform—board shorts and a T-shirt. Sitting on the patio we talk about—what else?—surfing.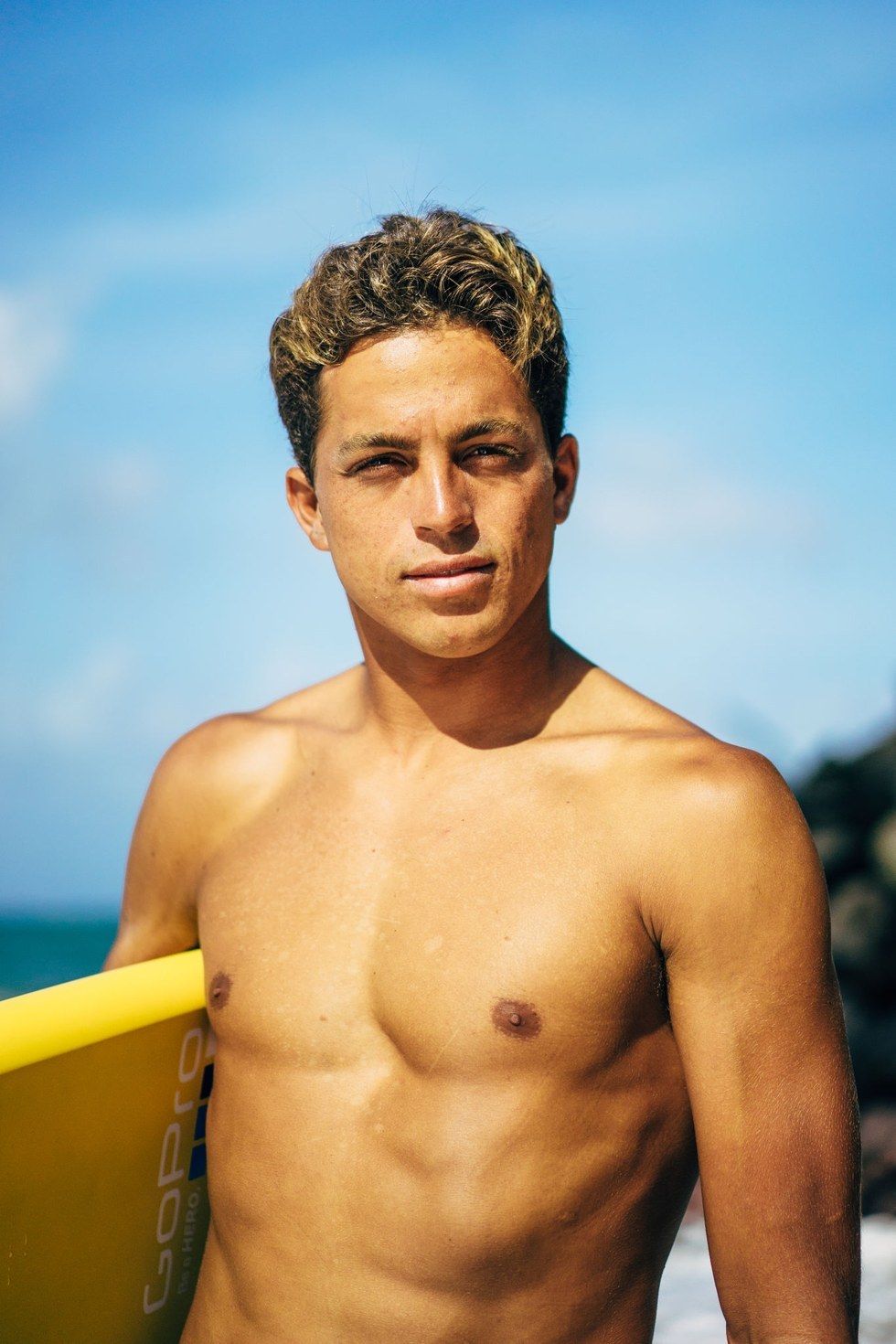 Kai Lenny, professional surfer
"In the ocean-sports world, this is Hollywood," says Lenny, who grew up here, next to a town of cute rainbow-colored storefronts, and who has been surfing since he was 4 years old. His favorite break, located 20 minutes away, is known as Jaws, a "moving mountain" that can rise to 80 feet. Jaws is rideable only around five or six days a year, but when it's on, it makes the news. Kids play hooky from school, and extreme-sporty types fly in to watch it crash. "It feels like a world championship event," Lenny says.
We drive a few minutes to a blustery two-mile stretch of sand named Spreckelsville Beach, where Lenny's been training all week for the Stand Up World Series Finals (which he later goes on to win). He says going out onto the water attunes him to the world in a completely different way. "I become a lot more aware of what's going on around me. It forces me to use survival instincts in a society where you don't have to use any of them."The sun ripples the air, distorting the kitesurfers shredding the turquoise water. We walk for a while, then head for lunch at the legendary Mama's Fish House, a few minutes away, on Kuau Cove in Paia. Mama's is booked up for weeks, but all Lenny has to do is make a call. I'm presented with a sweet-smelling purple lei as I enter the restaurant, which has a fine view of the water.

"It's like going to church every time I go out on the water. I find my rhythm, my center, and realize what's important and what's not." —Kai Lenny
"Mama's is probably the best fish restaurant in the world," Lenny says. "Fishermen go out every day and then come straight to Mama's with their catch." (The menu matches each dish with the name of the man who caught it.) I order melt-in-your-mouth ceviche made with opakapaka fish (caught by Kalae Hickcox), Tahitian lime, chili, and kula persimmon. Next up is mahi-mahi stuffed with crab and baked in a macadamia-nut crust. Lenny insists I save room for the Kuau chocolate pie, which is a very good call. I say goodbye to Lenny and head south, from Paia to Kihei, a half-hour drive that takes me through the interior and past the only remaining sugar mill in Hawaii. There's a treacly smell in the air, and thick smoke drifts incongruously over a backdrop of lush mountains. I'm observing the prelude to a historical moment: Roughly 200 years after the introduction of sugarcane production here, the mill is only months from being shut down, leaving behind no trace other than the Alexander & Baldwin Sugar Museum, located in the old plantation manager's house. Behind the old mill, off a dirt track, is the sleepy sugarcane village of Puunene. The sparsely populated community is a kind of time capsule, a look at local life as it would have been 100 years ago. I visit the small Puunene Bookstore, which has been open for decades. After a rummage through dusty aisles stacked with hundreds of books that sell for a quarter apiece, I leave with a bargain: a rare 1970s guide to surfing .I stop for pizza and a neon-bright Endless Summer happy-hour cocktail at the low-key South Shore Tiki Lounge in Kihei, before catching another timeless local sight. In Maui, it is traditional at sundown to grab a drink, settle into a beach chair, and, joined by various dog walkers and waylaid commuters, witness one of nature's blockbuster shows. I pick a spot in Cove Beach Park and watch as pink brushstrokes appear on a blazing canvas, only just resisting the urge to applaud.

In which Jade stumbles across a clothing-optional drumming session, snorkels in a submerged crater, and samples sushi-style Spam
"Shark! Shark!"I've just arrived at Molokini, a snorkeling site in a crater, two and a half miles from the island's southern harbor. I woke up at dawn and, after a flavorful yogurt-filled papaya breakfast at the beachside Kihei Caffe, jumped aboard the Pride of Maui, captained by Jason Correll. What could possibly go wrong?" Don't worry, snorkelers never see sharks—they're always swimming behind you," Correll joked on the way here. Visibility in the warm waters around Maui is world-class, reaching up to 300 feet in the spot where we sit now, which accommodates 250-odd species of marine life. These include aggressive tiger sharks and unaggressive whitetip reef sharks. Right now, I'm hoping it's the latter."Shark!" I look behind me. Nothing but a few tropical fish. Then, 15 feet to my left, I spot a baby whitetip idly skimming the seabed. I bravely follow the sharkling for a bit, then turn my attention to other species, which are so bright and varied they make my head spin: Moorish idol fish, rainbow butterflyfish, pencil-thin trumpet fish, plump parrotfish. At a nearby spot named Coral Gardens, a two-foot Hawaiian green turtle surfaces, takes a big gulp of air, then dives to the security of a mini coral cave.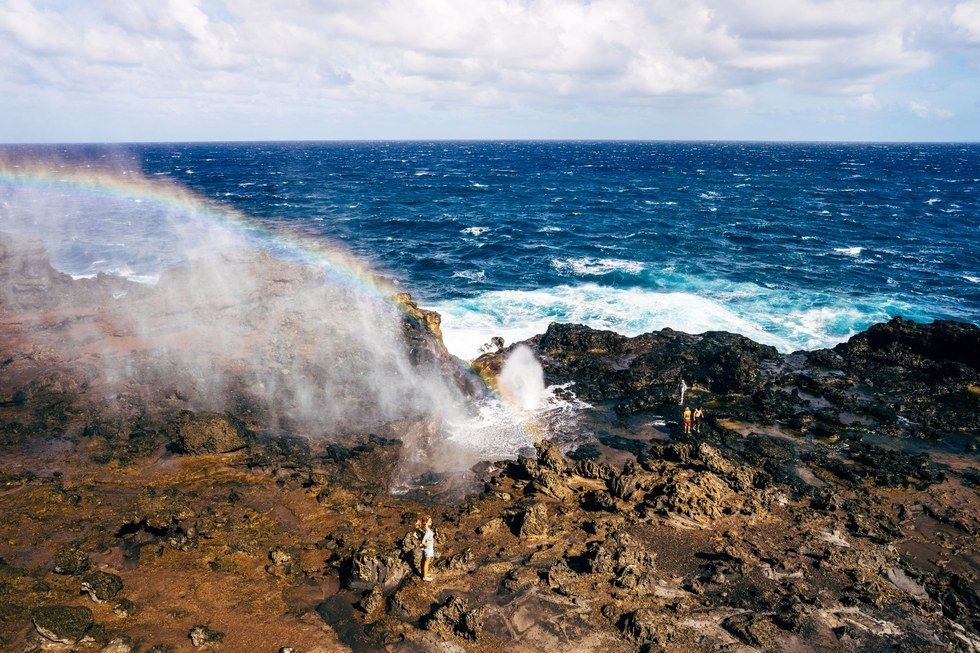 The Nakalele Blowhole
Back in Kihei, I meet chef Travis Morrin at his Three's Bar & Grill, which serves Pacific Rim, Hawaiian, and Southwestern cuisine. I start with a platter of hurricane fries—Morrin's take on the local custom of eating popcorn with Japanese furikake rice seasoning. Hawaiian poké is known the world over, but Morrin is interested in more obscure local food customs, many of which stem from immigrant communities. "You go to any good local place, and it's not a specific style of cuisine," he says. "It's a culmination of a melting pot of cultures over generations."To demonstrate, Morrin invites me to climb (literally) into his menacing monster truck. Our destination is a nearby gas station, where we pick up a $2 Spam musubi (Spam and rice wrapped in nori seaweed). The cheap, long-lasting processed meat became popular here during World War II and was later adapted by the Japanese community into this handheld snack. In the giant vehicle, I unwrap the musubi and bite into it. The Spam, flavored with teriyaki, is warm, rubbery, salty—and weirdly delicious. For dessert, we have traditional shave ice from Ululani's, a roadside hole-in-the-wall with picnic tables. "It's a great business model; someone actually found a way of selling frozen water," Morrin says as we join a line 10 people deep. I go for a No Ka Oi ("the best"), a tooth-tingling mixture of coconut, mango, and passion fruit.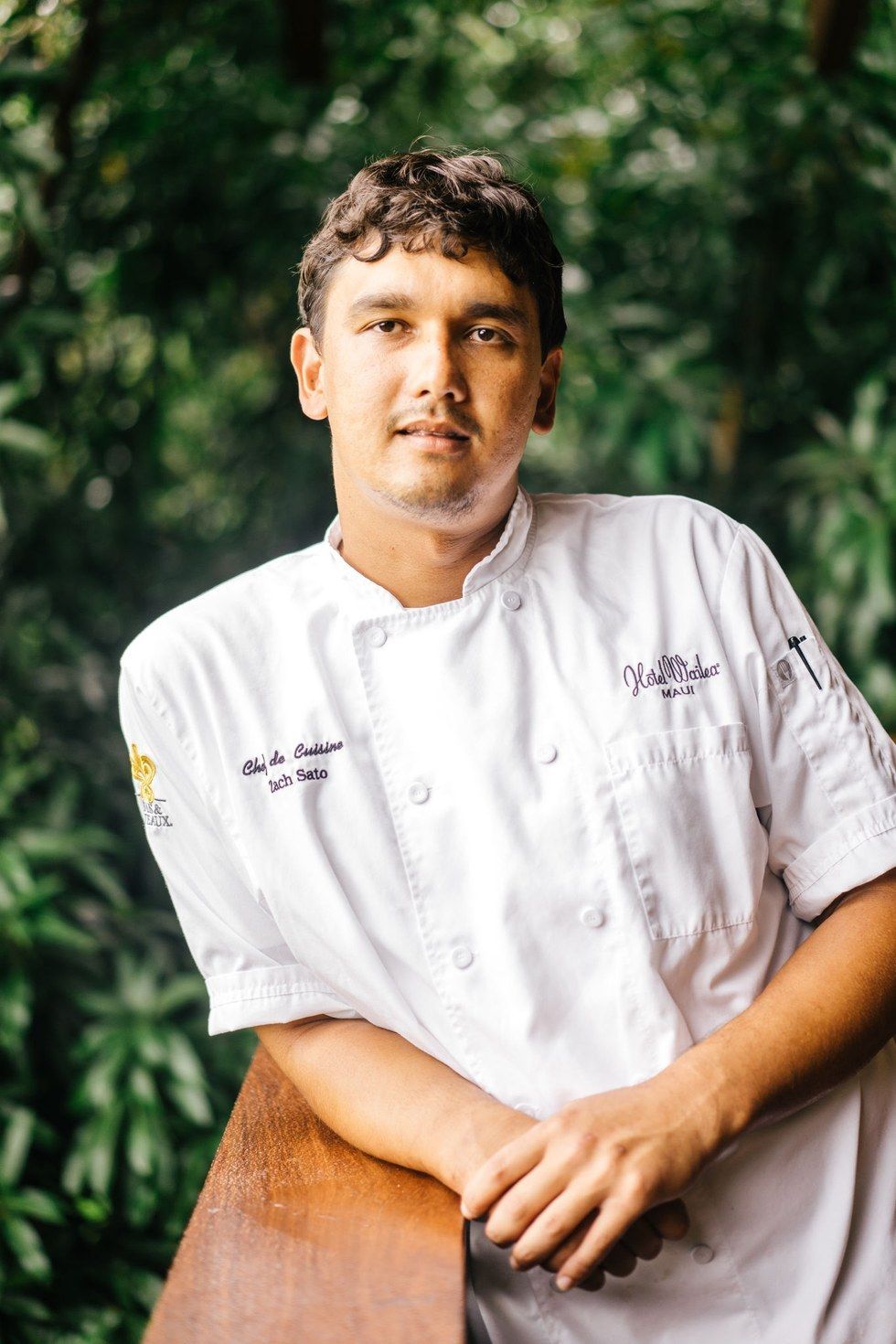 Zach Sato, Chef de Cuisine, The Restaurant at Hotel Wailea
As we eat our ice, Morrin lets me in on another local secret: Sunday sunset at Little Beach in Wailea. "Every Sunday is different, depending on who shows up," he says. "It could be the best night of your life." Intrigued, I order an Uber. My driver smiles when I tell her where I'm headed, which strikes me as odd. Wailea is mainly known for its luxury resorts, but a 20-minute drive takes you to an entirely different place. Sheltered by a rocky outcrop, Little Beach is one of those hidden patches of sand that you dream about. Across the water, you can see the island of Kahoolawe and Molokini crater, where I met that turtle earlier. Over the years, this spot has attracted hippies and sundry art types, and as I walk along the sandy path I hear the faint sound of bongos. A man with dreadlocks and a tie-dye T-shirt wanders past; another has a CND-sign necklace. Moments later, I spot a dozen or so people with various percussion instruments, none of them wearing any clothes.
"Grown here, not flown here. It's important to serve food relative to where you are." —Zach Sato
As the sun goes down, the tempo picks up, and the revelers clap, whoop, and dance. "Would you like a go?" asks a woman brandishing a Hula-Hoop. I have a twirl or two, but give up when I realize my movements could be mistaken for a seizure. As darkness descends, a man lights a fire stick and twists it in time with the beat. As much as I'd love to carry on with the clothing-optional percussionists, I've got a reservation at the considerably more sedate Restaurant at Hotel Wailea. Once I'm seated, I meet chef de cuisine Zach Sato, a rising star whose motto is "grown here, not flown here" and who readily admits to coveting a Michelin star. "It's possible," he says. "We're doing some really cool stuff." His European-style menu places an emphasis on local produce, with small area farms and orchards among his suppliers. "It's important to serve food relative to where you are," he says. I order the Tamimi Farms tomatoes with burrata, pickled shallot, and kale oil to start, followed by prime tenderloin circled with pomme puree, corn, and sea bean salsa verde. Both are delicious. Back in my suite, I sit on the balcony and look out onto the tiki-lit garden. Everything is silent, save for some strangely melodic crickets. I'm not sure if it's bongos or the tune from Jaws looping in my head, but I'm smiling as I drift off to sleep.

In which Jade gets a pterodactyl's-eye view of west Maui, meets penguins, and learns how the stars can lead the way to paradise
"Shark!" I mean, "Helicopter!" The chopper rattles and clatters as we swoop over a bright green canyon in West Maui. Below us, waterfalls tumble down cliffs; before us, rain spatters the windscreen. "I love this weather," says Air Maui pilot Dylan Dacus, who likens flying a helicopter to "riding a motorcycle in the sky." He looks at my expression and smiles. "Feel free to use the Aloha [sick] bags!" We head north, flying over the coastal Kahekili Highway, one of Maui's most spectacular and perilous drives, and then the Nakalele Blowhole, which, obligingly, spouts as we pass. We cut west and cross the Pailolo Channel to Molokai, "the Friendly Island," skirting the Kalaupapa Cliffs—the tallest sea cliffs in the world at 3,300 feet. There's an eerie feeling about this beautiful place. The peninsula was once a leper colony where at least 8,000 Hawaiians were exiled (and legally declared dead) between 1866 and 1969. Some remained, and today Molokai is home to around 8,000 residents.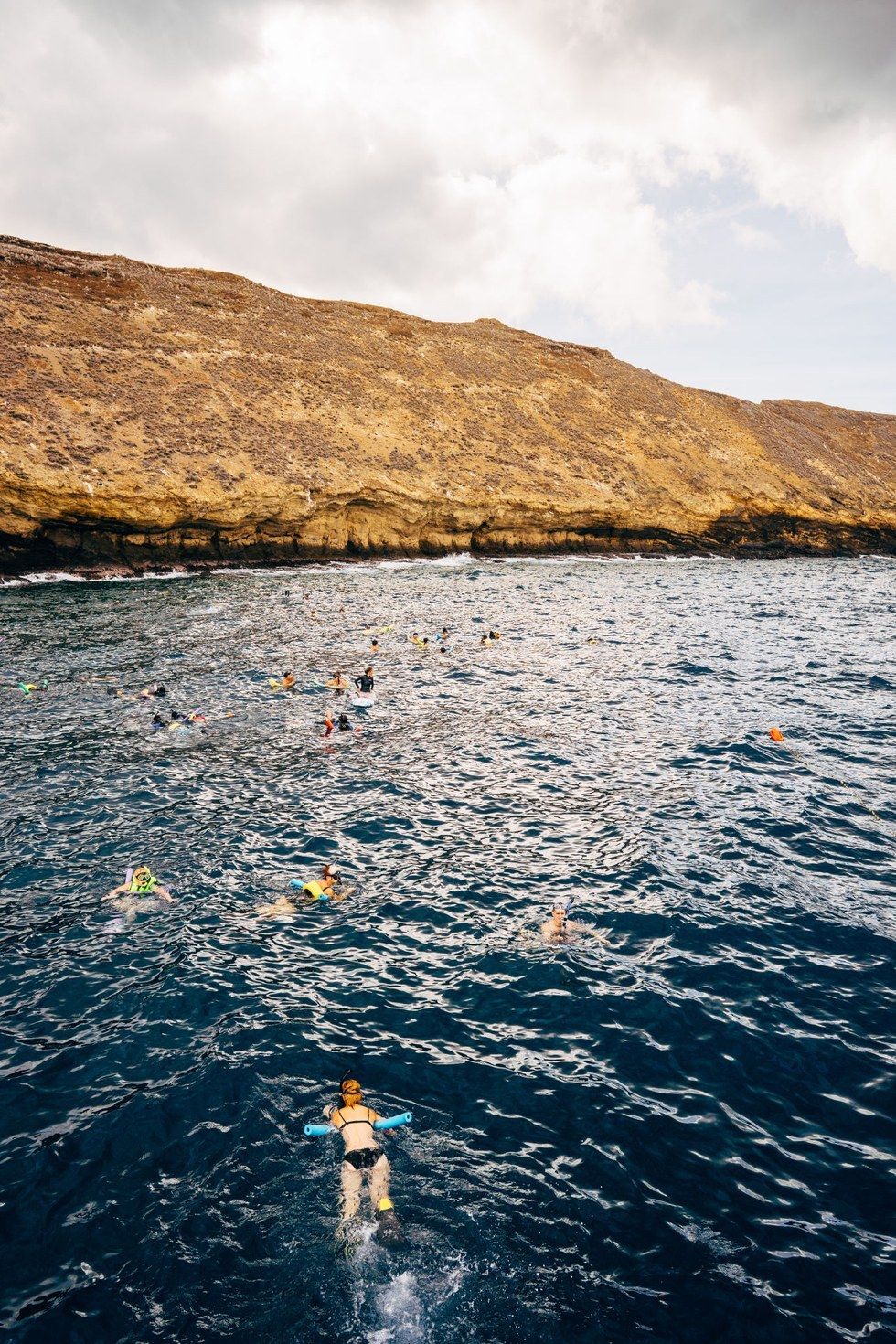 Snorkelers at Molokini Crater
After a thrilling landing at Kahului Heliport, I go in search of food. One of last night's drummers insisted that I try a food truck next to Kahului Harbor, home of "the best shrimp in the world." I'm not convinced as I pull onto the dirt shoulder, next to a plain white truck emblazoned with "Geste Shrimp." The menu is simple—hot dogs or shrimp in four flavors: Hawaiian scampi, lemon pepper, hot and spicy, and spicy pineapple. My hot and spicy shrimp arrive on a Styrofoam tray, alongside crab salad and a scoop of rice. "Word of advice: don't eat them in your car," says a man in line. He's right—it's a messy process—so I sit by the waterside and eat. The world's best shrimp? I don't know, but it's got to be up there. My next stop is the front desk at the Hyatt Regency Maui Resort and Spa, on Kaanapali Beach, at the island's northwestern tip. The lobby is so big it could be an airport terminal. There are palm trees growing in the center of the atrium, plus a pool with African black-footed penguins in it. I wander through the hotel's enchanting grounds, past a flamingo lake, waterfalls, and a hot pool filled with Champagne-sipping guests. It's all very inviting, but tonight I'm set for a different kind of uplifting experience. In the lobby, I meet Faafetai Tialino. "Aloha! Aloha!" he says, resplendent in an elaborately patterned shirt. For 30 years, Tialino has been part of the traditional luau dance-and-dinner outfit Drums of the Pacific. When he was younger, he did the show's finale, the dangerous fire knife dance. "I would look out to the crowd, and people would be hiding behind their hands," he says of his old routine. "If I ever got burned, I knew the audience got their money's worth." Now he plays drums.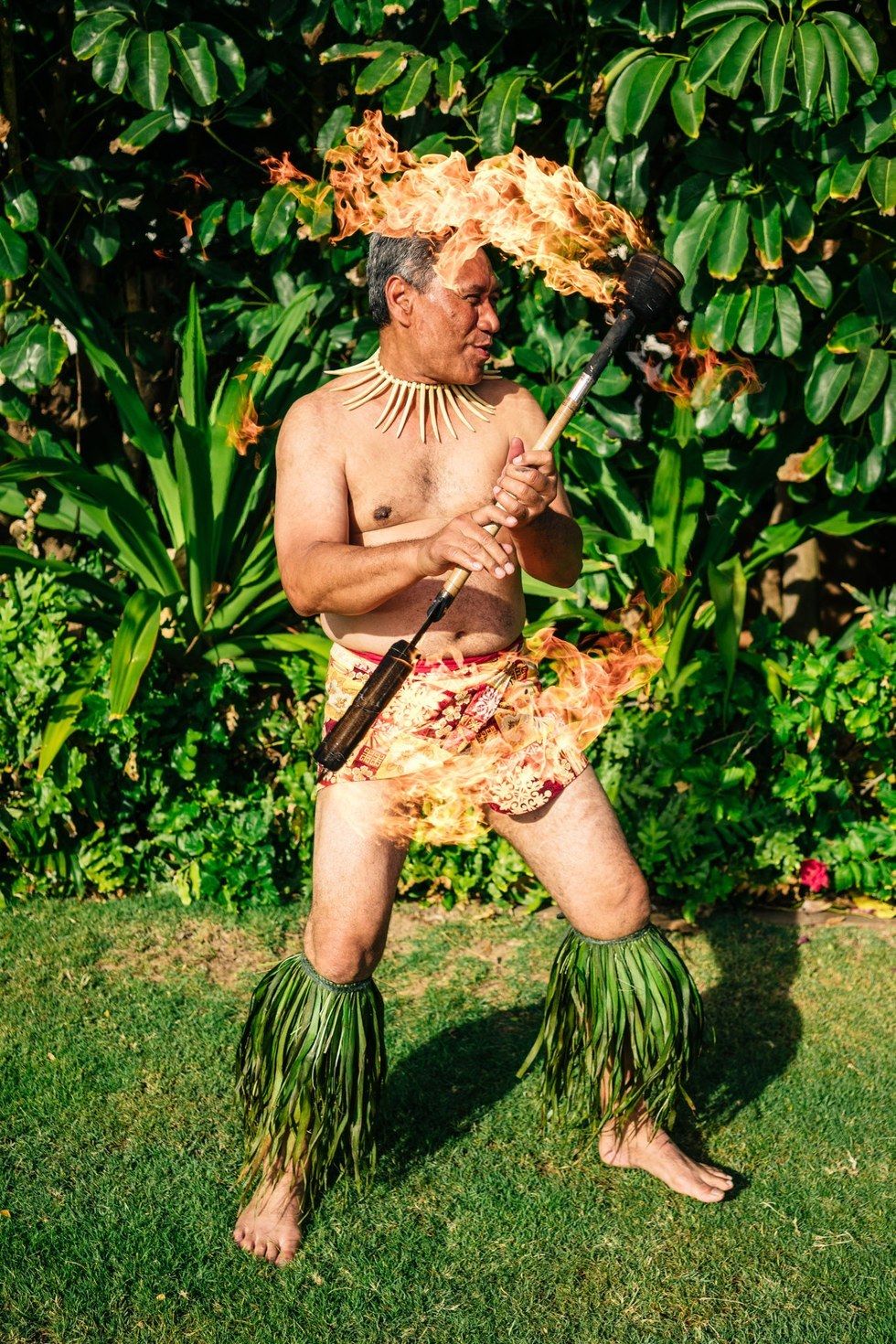 While a luau could be seen as one of the more touristy things to do on Maui, it does offer a glimpse into Polynesian culture and cuisine. As Tialino leads me to my communal table, a smiling woman offers me a pink lei. Over the next three hours, I watch dances from the Hawaiian, Samoan, Tahitian, Tongan, and Maori cultures. My meal consists of poi, starchy taro root paste; lomi lomi salmon, cured raw fish mixed in a salsa; and kalua pig, a whole hog baked in the ground for hours. "Family is very important to Polynesians," Tialino tells me as the evening winds down. "The luau is when the family gets together. It's a celebration of life." I wander off into the dark. Maui is a never-ending vision of beauty, but you should look up every now and then. Situated so close to the equator, the island is one of the best places on Earth for stargazing—you can see 80 of the 88 constellations from here. Consequently, the Hyatt has a Director of Astronomy, Edward Mahoney, who has promised to take me on a Tour of the Stars. We meet in the lobby, then take the elevator nine flights up to the very dark roof. Good thing I'm a trusting person.
"A lot of people measure themselves with money and success, but in Polynesia, and especially here in Hawaii, family and how you treat each other is very important." —Faafetai Tialino, fire dancer, Hyatt Regency Maui Resort and Spa
We stop at a terrace stocked with various pieces of astronomical equipment, including a 14-inch reflector telescope. "When I was 7 years old, Sputnik, the very first satellite, was launched, and that's when my treehouse became an observatory," Mahoney says. "I've been in love with the sky ever since." We admire Saturn's rings, and then the orange glowing orb of Mars, millions of miles away. "It would be fascinating to go to Mars to check out the tunnels," he says with a small sigh. "I think that's where we'll find life—in lava tubes under the ground."As we move from star to planet, planet to star, Mahoney tells me of the Polynesians who first navigated their way to Hawaii centuries ago. "They used straw mats, into which they wove pieces of coral representing the islands," he says. "Then they'd have another straw mat representing the stars. They would pull one mat over the other and tell the young sailors which stars go over which island." I search the sky in silence, thinking of mats and coral and the people who patched these things together, and how strangely simple finding paradise turned out to be.
Lonely Planet author and former Time Out editor Jade Bremner now has a lifelong association between large waves, small sharks, and loosey-goosey bongo players.
Canada's largest city spreads out along the northwestern shore of Lake Ontario, and it's a dynamic, multicultural and inclusive experience like almost no other place on earth. Not only is Toronto a thriving living city,it's also become one of the world's truly must-visit destinations. Regularly ranked as one of the greatest places to live, Toronto is the cultural center of the country and home to the biggest events, the most pro sports and the greatest concentration of theaters and restaurants.
Recent decades have seen regular multi-million-dollar upgrades to the city's public spaces, with a slew of great museums, iconic architecture and the redevelopment of the now glittering lakefront adding to the city's appeal.

Add in an ever-growing number of world-class hotels, upbeat nightlife that runs from dusk until dawn and a vibrant and diverse culinary scene influenced by the eclectic makeup of the city's people. Bright and bustling, cosmopolitan and cultured, unpredictable and energetic, Toronto has become one of the greatest cities on earth.
What you see and where you go will depend on the length of your stay. A week is good, longer is better. But even a long weekend will give you a taste of 'The Six' — one of the city's many nicknames, reworked recently as 'The 6ix' by one of its most famous sons, Drake.

However long you stay, you can't hope to see it all. So, consider what follows a starting point for your first visit…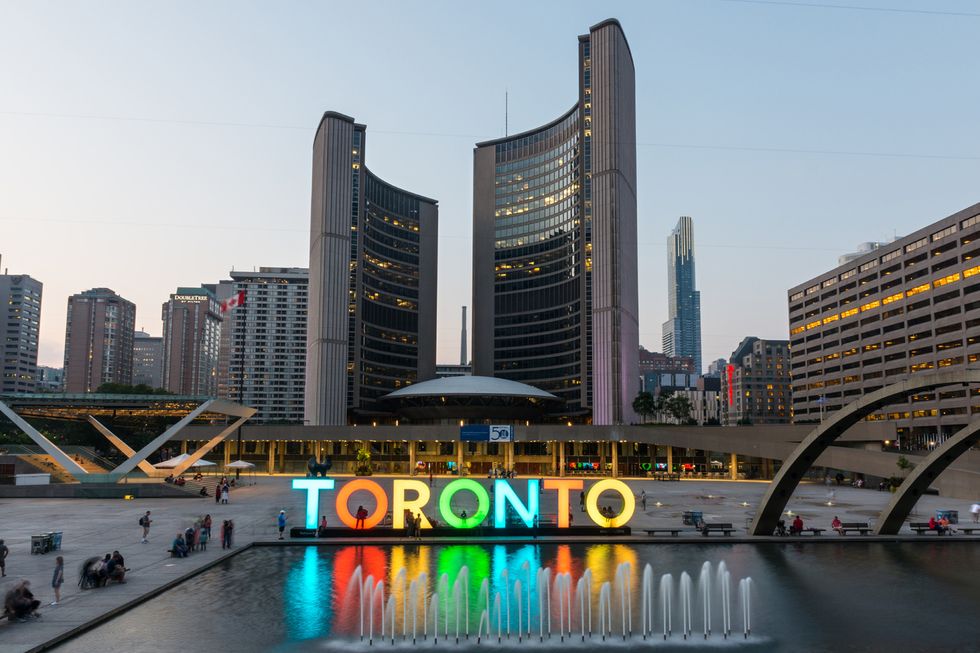 City Hall, Toronto
The checklist sites

No visit to The Six can be considered complete without ticking off several of Toronto's true heavyweight sights. All of the following are in or within easy reach of the city's compact, walk-able and very vibrant center.
The CN Tower is unmissable in every sense, a vast freestanding spire that looks down upon the city and takes its place as one of the 'Seven Wonders of the Modern World'. Head up for the city's best 360-degree views, or get your heart racing on the EdgeWalk — a journey around the circumference of the tower's main pod, 116 stories high and tethered by a harness.

Back on solid ground, Ripley's Aquarium is almost right next door to the CN Tower and is home to 16,000 aquatic animals and the Dangerous Lagoon. A moving sidewalk that whisks you through a long tunnel surrounded by sharks and stingrays is guaranteed to make your heart race all over again.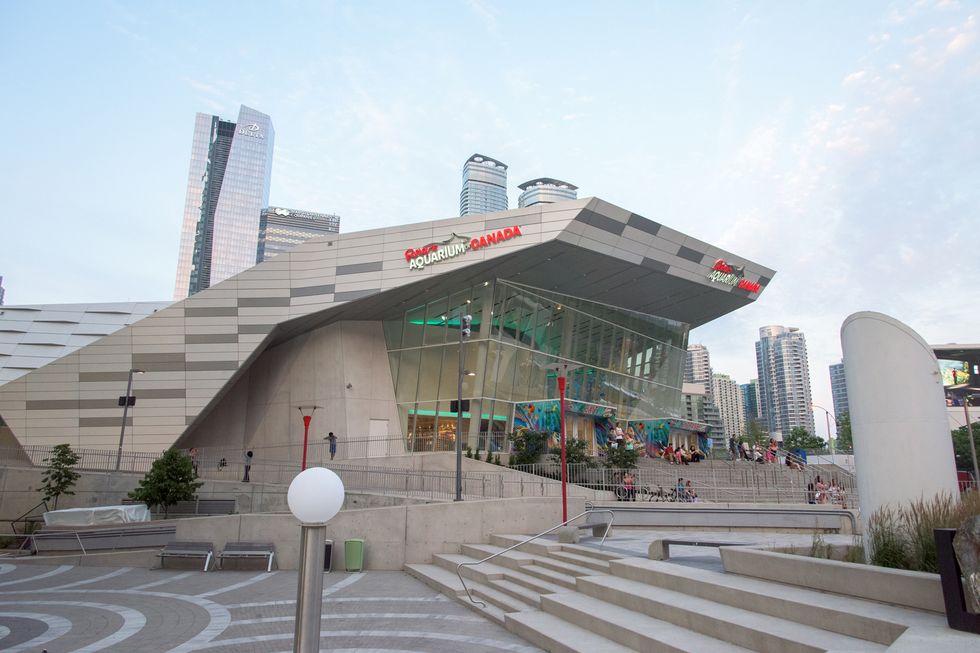 Ripleys Aquarium
Also close to the CN Tower is the Rogers Center, home to Canada's only baseball team, the Toronto Blue Jays. Visit on game day for the full experience, or take the stadium tour to go behind the scenes and through closed doors.

In a city of so many museums and galleries, the Royal Ontario Museum stands out. Not just because it's home to a world-class collection of 13 million artworks, cultural objects and natural history specimens, but as much because it hosts exciting Friday night events that include dance, drink and top DJs.

Two other must ticks include the Art Gallery of Ontario, which houses 95,000 works of art and is free for visitors under 25, and the Hockey Hall of Fame, which taps into Canada's national obsession in stunning depth.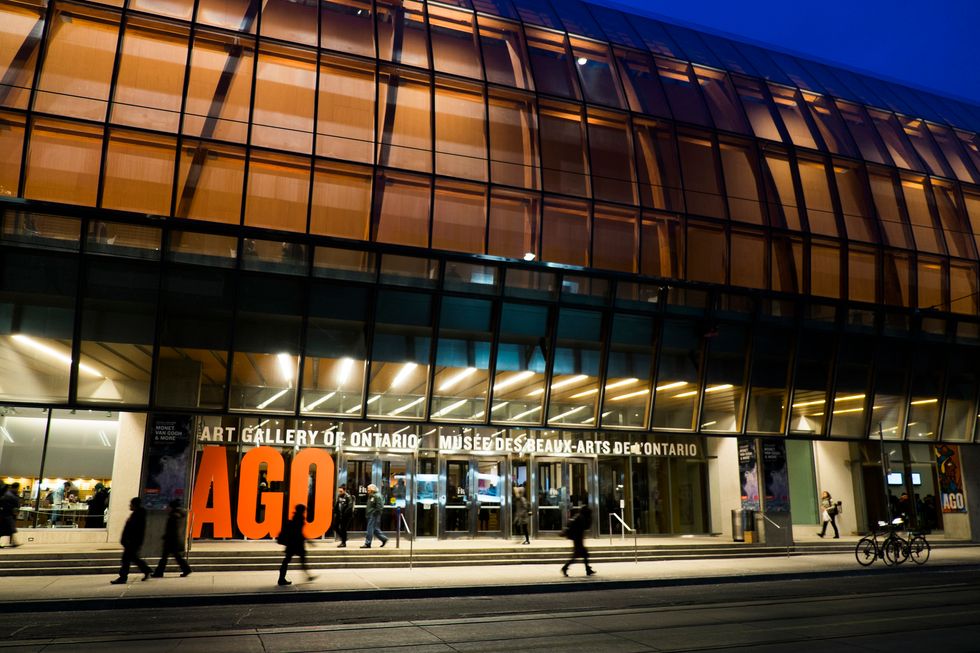 Art Gallery of Ontario
Casa Loma is a must-visit Gothic castle in the heart of the city. North America's only castle is filled with artworks and treasures from Canada and beyond, but its big pull is the network of hidden tunnels to explore as they stretch out beneath the city.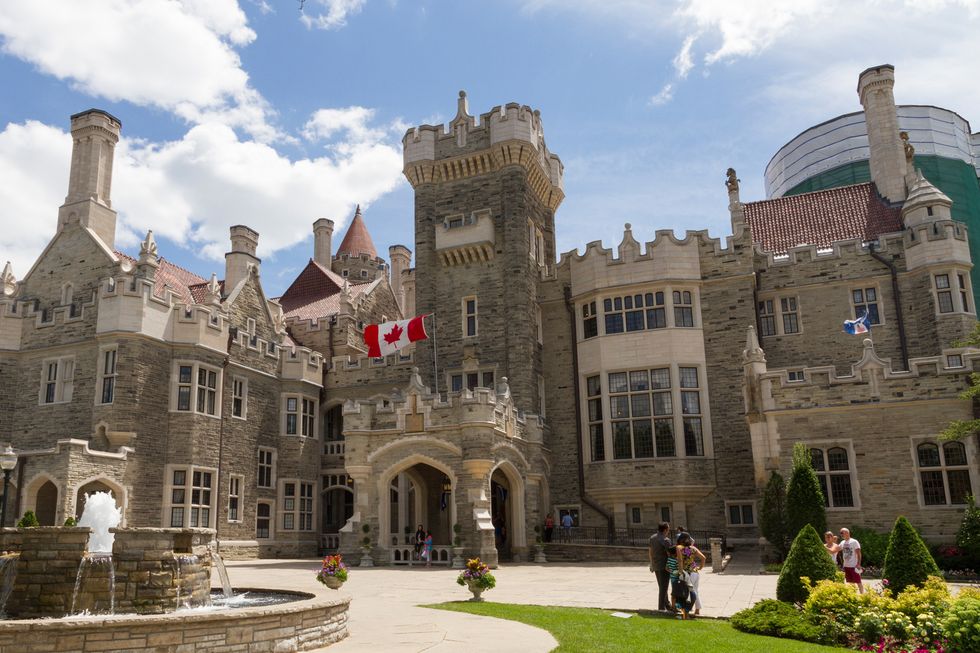 Casa Loma
Toronto's multi-cultural makeup is visible all across the city but reflected best in its remarkable culinary scene (see Where to eat and drink). The city's 'fresh and local' mantra is perfectly showcased at St. Lawrence Market, one of the world's greatest food experiences. Pay it a visit and grab a peameal bacon sandwich — a Canadian staple invented in Toronto and now considered the city's signature dish.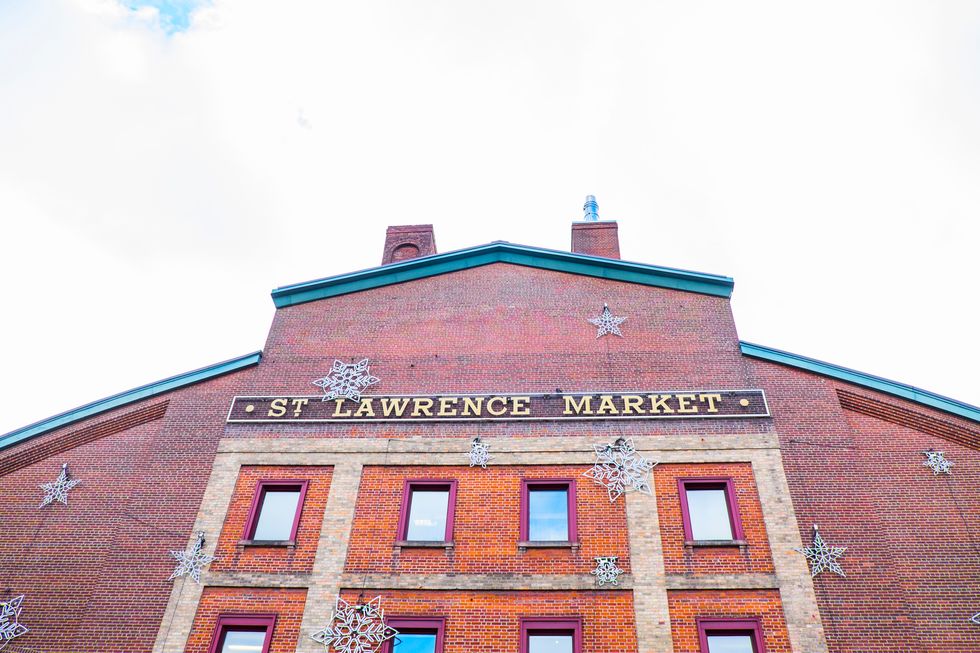 St. Lawrence Market
Afterwards, walk off the calories by wandering the historic cobblestone and car-free Distillery District. Once a vast whiskey distillery and an important spot during prohibition, historians mention that even Al Capone would visit the Distillery to load alcohol destined for the States[9] . This iconic landmark now distils creativity within the 19th century buildings now home to hip restaurants, bars, independent boutique stores, galleries and theaters. Visit in December for the Toronto Christmas Market.

Finally, don't even think about returning home without having had a picture taken with your head poking through an 'O' of the multicolored, 3D Toronto sign at City Hall — the most Insta-worthy location in a city of so many. You'll need to head there early in the morning to avoid the crowds.

If you stay long enough, take a ferry and hop across to Toronto Islands, a chain of 15 small islands in Lake Ontario just south of the mainland. They're home to beaches, a theme park and a breathtaking view of the city's skyline and will very happily fill a full day of your stay.
The bucket list
You absolutely cannot leave Toronto without having witnessed the power of the Niagara Falls and its hypnotic mist up close. Trying to visit the Falls from the States is a trip on its own, but it's almost non-optional when you're less than two hours away in Toronto. Take the trip, buy the T-shirt and tick off one of the world's must-see sights.
Explore like a local
Away from the sleek, gleaming towers of downtown lie many of Toronto's less obvious but no less essential attractions. West Queen West is Toronto's hippest neighborhood and artistic heart, a one-mile strip of very chic galleries, stores, restaurants and boutique hotels. Kensington Market is a fantastically chaotic neighborhood and perhaps the best example of the city's famous multiculturalism. It's not a market as the name implies, but a collection of independent shops, vintage boutiques, art spaces, cafés, bars and restaurants from every corner of the globe.
The Bata Shoe Museum is one of the city's quirkiest collections, an unexpectedly fascinating exhibit that retraces the 4,500-year history of footwear. And as you wander the city, you can't fail to notice that Toronto's walls are alive with graffiti. Take a free 90-minute walking tour through the back alleys of Queen Street West and down Graffiti Alley to gain a better understanding of the city's street art scene. If you visit during the sunnier months, escape the hustle by heading just east of the center to High Park, the green heart of the city where forests, walking trails, picnic spots and even a zoo await you. Ideal to unwind after a long day of urban adventures.
The essentials
When to go With the sun shining, May through October is a great time to visit, but the city is alive through all four seasons. The Spring and Autumn months are ideal as the humidity and visitor numbers are lighter, while Toronto comes alive through the colder months through a wide array of winter celebrations. One of the most spectacular is the Aurora Winter Festival, a six-week celebration that sees the Ontario Place, West Island transformed into four mystical worlds. Whichever season you choose, plan to stay for at least five nights to get a true flavor of the city.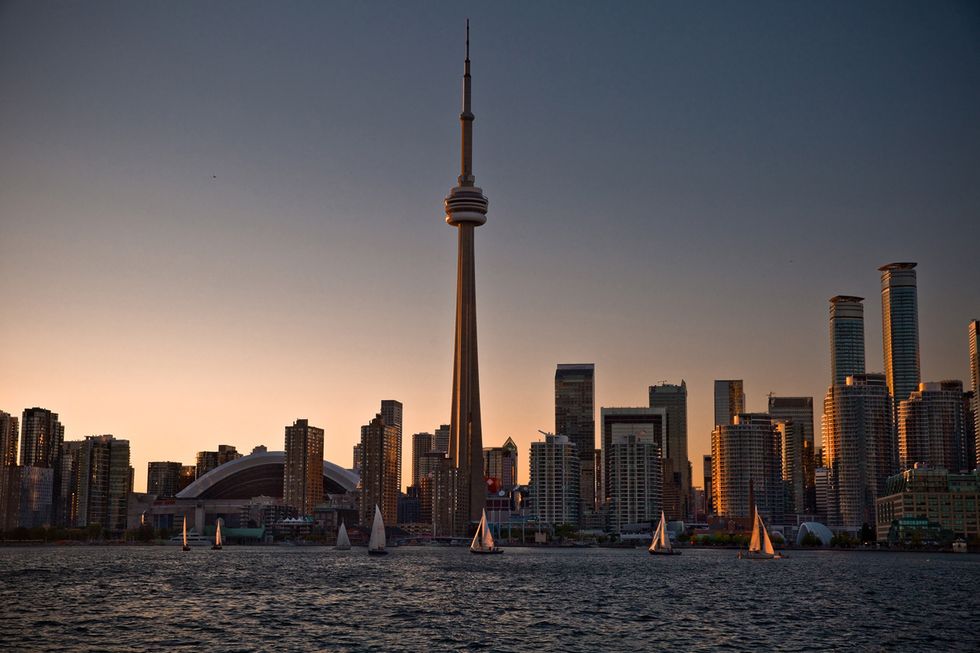 Toronto skyline view
Where to stay To be at the heart of most of the attractions you'll want to see, aim for downtown. One of the best options is the Marriott City Center, not only because it's located right next to the CN Tower but also because it's attached to the iconic Rogers Center where the Toronto Blue Jays play and countless concerts and popular events are held.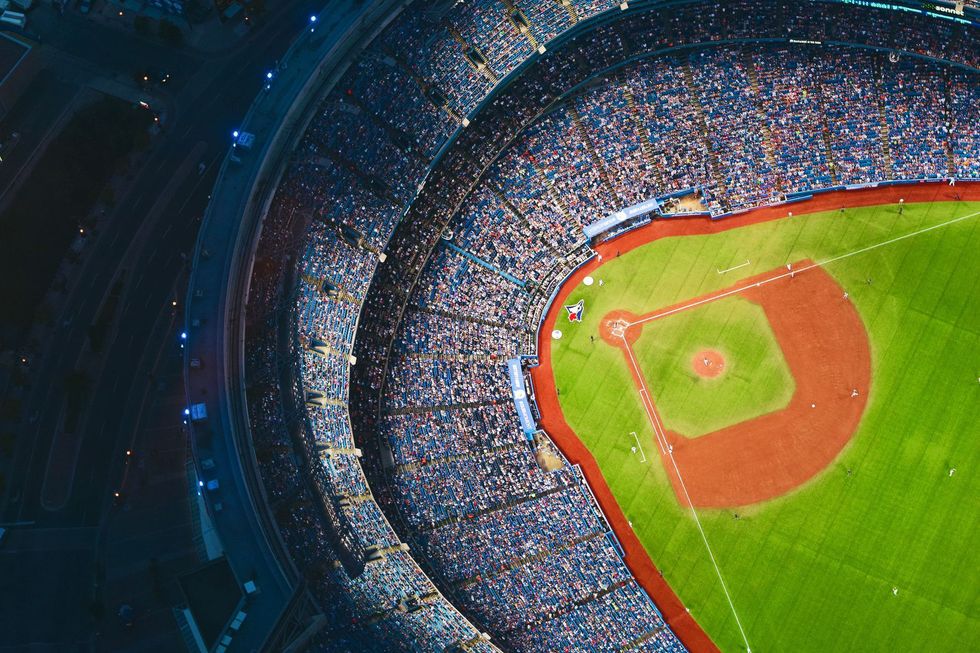 Toronto Blue Jay stadium
Opt for a Stadium room and you'll look out onto the field. If you want to experience Toronto's non-stop nightlife, the Entertainment District is the place to be. If you're looking for a luxury experience, discover Canada's first St. Regis hotel in the heart of downtown.

Where to eat and drink Nowhere is Toronto's incredible diversity more evident than in its food scene — taste Toronto and you're tasting the world. The city is brimming with restaurants and cafés serving everything from high-end fine dining to comfort food from an informal neighborhood joint — plus every option imaginable in between.

For fine dining, consider Alo, Canis and Edulis. Book a table at Canoe, Lavelle, The One Eighty or 360 at the CN Tower and you're guaranteeing a view as spectacular as the food. Or experience the city's remarkable fusion food at DaiLo (French-Cantonese), El Catrin (Mexican-French) and the unexpected mashup of Rasta Pasta (Jamaican-Italian).
The above suggestions don't even scratch the surface of a food scene to rival any city on earth, with options to suit every taste and any budget.
How to get around Toronto is perfect to explore on foot or via a growing network of cycle routes. For a quicker journey, buy a Presto card to use the TTC, Toronto's subway, streetcar and bus system.

How to get there Fly into Toronto Pearson International Airport (YYZ) with United and you're around 15 miles west of the city center. The most comfortable route in is via the Union Pearson Express, which runs every 15 minutes and gets you downtown in 25 minutes ($13).The TTC is a cheaper option at under $5, but it can take an hour and a half and involves a number of transfers, while a taxi will take around 30 minutes and cost $45.
United flies to Toronto from numerous U.S. cities including our Hub city locations. Book your trip via united.com or by downloading the United app.



Following the devastating wildfires in Australia and powerful earthquakes that shook Puerto Rico last week, we're taking action to make a global impact through our international partnerships as well as nonprofit organizations Afya Foundation and ADRA (Adventist Development and Relief Agency).
Helping Puerto Rico recover from earthquakes
Last week, Puerto Rico was hit with a 5.2 magnitude earthquake, following a 6.4 magnitude earthquake it experienced just days before. The island has been experiencing hundreds of smaller quakes during the past few weeks.
These earthquakes destroyed crucial infrastructure and left 4,000 people sleeping outside or in shelters after losing their homes. We've donated $50,000 to our partner charity organization Airlink and through them, we've helped transport disaster relief experts and medical supplies for residents, as well as tents and blankets for those who have lost their homes. Funding will go towards organizations within Airlink's partner network, which includes Habitat for Humanity, Mercy Corps and Americares, to help with relief efforts and long-term recovery.
Australian wildfire relief efforts

Our efforts to help Australia have inspired others to make their own positive impact. In addition to teaming up with Ellen DeGeneres to donate $250,000 and launching a fundraising campaign with GlobalGiving to benefit those impacted by the devastating wildfires in the country known for its open spaces and wildlife, our cargo team is helping to send more than 600 pounds of medical supplies to treat injured animals in the region.
Helping us send these supplies is the Afya Foundation, a New York-based nonprofit that seeks to improve global health by collecting surplus medical supplies and delivering them to parts of the world where they are most needed. Through Airlink, the Afya Foundation will send more than $18,000 worth of materials that will be used to treat animals injured in the Australian fires.
These medical supplies will fly to Melbourne (MEL) and delivered to The Rescue Collective. This Australian organization is currently focused on treating the massive population of wildlife, such as koalas, kangaroos, and birds, that have had their habitats destroyed by the recent wildfires. The supplies being sent include wound dressings, gloves, catheters, syringes and other items that are unused but would otherwise be disposed of.
By working together, we can continue to make a global impact and help those affected by natural disasters to rebuild and restore their lives
Australia needs our help as wildfires continue to devastate the continent that's beloved by locals and travelers alike. In times like these, the world gets a little smaller and we all have a responsibility to do what we can.
On Monday, The Ellen DeGeneres Show announced a campaign to raise $5 million to aid in relief efforts. When we heard about Ellen's effort, we immediately reached out to see how we could help.
Today, we're committing $250,000 toward Ellen's campaign so we can offer support now and help with rebuilding. For more on The Ellen DeGeneres Show efforts and to donate yourself, you can visit www.gofundme.com/f/ellenaustraliafund
We're also matching donations made to the Australian Wildfire Relief Fund, created by GlobalGiving's Disaster Recovery Network. This fund will support immediate relief efforts for people impacted by the fires in the form of emergency supplies like food, water and medicine. Funds will also go toward long-term recovery assistance, helping residents recover and rebuild. United will match up to $50,000 USD in donations, and MileagePlus® members who donate $50 or more will receive up to 1,000 award miles from United. Donate to GlobalGiving.
Please note: Donations made toward GlobalGiving's fund are only eligible for the MileagePlus miles match.
In addition to helping with fundraising, we're staying in touch with our employees and customers in Australia. Together, we'll help keep Australia a beautiful place to live and visit in the years to come.
Scroll to top