Three Perfect Days: Maui
Story by Jade Bremner | Photography by Marco Argüello | Hemispheres, February 2017
This year marks 70 years of service to Hawaii and to celebrate we are increasing service on 11 routes connecting the continental U.S. and Hawaii, offering our customers more flights between the mainland and the Hawaiian Islands than any other carrier. Beginning December 20, we will increase service from our hubs in Chicago, Denver, Los Angeles and San Francisco to Hawaii. We will continue operating our daily nonstop service to Honolulu from all of our seven domestic hubs in Chicago, Denver, Houston, Los Angeles, New York/Newark, San Francisco, Washington, D.C., plus Guam and Tokyo.
Nothing can really prepare you for your first look at the West Maui Mountains. Jurassic Park may have been filmed on Oahu and Kauai, but it's not hard to imagine a pterodactyl soaring above this range's steep, pleated hillsides, or a diplodocus munching on the dense jungle trees in the distance. There are also hidden beaches, brimming coral reefs, volcanic rock formations, and virgin forests. But Hawaii's second-largest island has more to offer than natural beauty: There are hippies, aspiring chefs, and one of the best surf scenes in the world, too.

Maui also has a rich spiritual and social history. The old town of Lahaina was once the political capital of the Kingdom of Hawaii, and the island itself, riddled with sacred sites, is named after the demigod who, according to myth, formed the Hawaiian archipelago, and who is said to have caught the sun to slow it down. Once you've seen a sunset here, that's a feat you'll believe to be true.

In which Jade goes downhill fast, meets a big wave lover, and learns who caught her dinner at Mama's Fish House
When you think of hotels in Maui, you think one word: beach. For my first night here, I've gone against the grain, opting instead for a mountainside suite at Relais & Châteaux's Hotel Wailea. I wake up amid coral and limestone walls, oak flooring, tribal-patterned furnishings, and Hawaiian ohia woodwork, all of which gives me the impression I fell asleep outside. The actual outside, as viewed from my private balcony, is even prettier: tropical gardens and the ostentatiously blue ocean beyond.This morning, I'm heading for the hills with guide Mark Werner-Gillium, who works for local tour company Maui Downhill. Wearing wind pants and Oakley sunglasses, he pulls up in a van to take me to the base of Haleakala ("House of the Sun") Volcano, the island's highest peak. After an hour or so of lurching left and right on squiggly roads, Werner-Gillium points the van upward. At 10,000 feet, we pass through the clouds and emerge into a desolate, freezing lunar landscape.Looking around, it's easy to see why Haleakala has spiritual significance—Hawaiian legend holds that the summit was home to the grandmother of demigod Māui—and odd to think that only an hour away, back on Earth, people are browning themselves on the beach. Before I can ponder this more fully, Werner-Gillium jumps onto his bike and instructs me to follow. His company, after all, is not called Maui Downhill for nothing.
Maui coastline
Nanoseconds later, I'm on a bike, pushing 20 mph on the steep mountainside. My hands are alabaster from gripping the handlebars, my jacket cracks in the wind, and my view of the lavender fields whipping past is largely obscured by the Darth Vader–style biker's helmet I've been given "for safety." "Follow me like a bull!" hollers Werner-Gillium cryptically, followed by "Breathe it all in!" He's referring to the fragrance of pine and eucalyptus that engulfs us as we enter a thick forest. It is indeed a wonderful aroma, but I can't help feeling that "Try not to hit a tree!" would have been more useful advice.Half an hour later, having safely reached the base of the mountain, Werner-Gillium offers to take me to Kama Hele Café, a colorful food truck in the village of Haliimaile that's his favorite breakfast spot. (It better be: His wife, Andrea, is the chef.) Beneath a canopy of small umbrellas next to a pineapple plantation, we dig into island-style French toast made with sweet Hawaiian bread, candied walnuts, and maple syrup. "That's the fastest I've gone on that stretch," says Werner-Gillium, who's still glowing from the ride. "That road can be pretty gnarly."There's more gnarliness ahead, as star surfer Kai Lenny has invited me to his home just outside the former farming settlement of Paia, on the island's north shore. I arrive 15 minutes later at the designer beach house, where Lenny greets me in the surfer uniform—board shorts and a T-shirt. Sitting on the patio we talk about—what else?—surfing.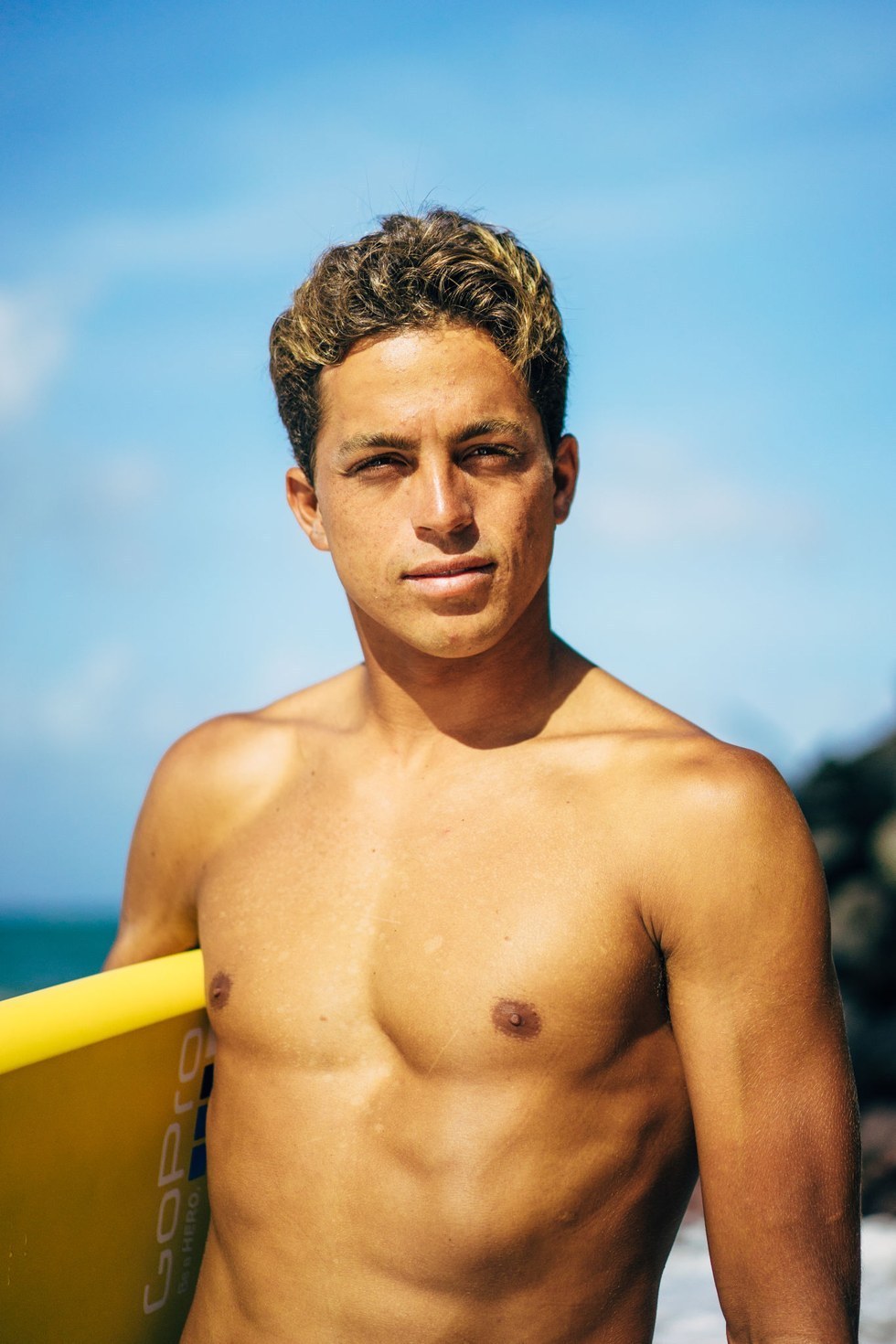 Kai Lenny, professional surfer
"In the ocean-sports world, this is Hollywood," says Lenny, who grew up here, next to a town of cute rainbow-colored storefronts, and who has been surfing since he was 4 years old. His favorite break, located 20 minutes away, is known as Jaws, a "moving mountain" that can rise to 80 feet. Jaws is rideable only around five or six days a year, but when it's on, it makes the news. Kids play hooky from school, and extreme-sporty types fly in to watch it crash. "It feels like a world championship event," Lenny says.
We drive a few minutes to a blustery two-mile stretch of sand named Spreckelsville Beach, where Lenny's been training all week for the Stand Up World Series Finals (which he later goes on to win). He says going out onto the water attunes him to the world in a completely different way. "I become a lot more aware of what's going on around me. It forces me to use survival instincts in a society where you don't have to use any of them."The sun ripples the air, distorting the kitesurfers shredding the turquoise water. We walk for a while, then head for lunch at the legendary Mama's Fish House, a few minutes away, on Kuau Cove in Paia. Mama's is booked up for weeks, but all Lenny has to do is make a call. I'm presented with a sweet-smelling purple lei as I enter the restaurant, which has a fine view of the water.

"It's like going to church every time I go out on the water. I find my rhythm, my center, and realize what's important and what's not." —Kai Lenny
"Mama's is probably the best fish restaurant in the world," Lenny says. "Fishermen go out every day and then come straight to Mama's with their catch." (The menu matches each dish with the name of the man who caught it.) I order melt-in-your-mouth ceviche made with opakapaka fish (caught by Kalae Hickcox), Tahitian lime, chili, and kula persimmon. Next up is mahi-mahi stuffed with crab and baked in a macadamia-nut crust. Lenny insists I save room for the Kuau chocolate pie, which is a very good call. I say goodbye to Lenny and head south, from Paia to Kihei, a half-hour drive that takes me through the interior and past the only remaining sugar mill in Hawaii. There's a treacly smell in the air, and thick smoke drifts incongruously over a backdrop of lush mountains. I'm observing the prelude to a historical moment: Roughly 200 years after the introduction of sugarcane production here, the mill is only months from being shut down, leaving behind no trace other than the Alexander & Baldwin Sugar Museum, located in the old plantation manager's house. Behind the old mill, off a dirt track, is the sleepy sugarcane village of Puunene. The sparsely populated community is a kind of time capsule, a look at local life as it would have been 100 years ago. I visit the small Puunene Bookstore, which has been open for decades. After a rummage through dusty aisles stacked with hundreds of books that sell for a quarter apiece, I leave with a bargain: a rare 1970s guide to surfing .I stop for pizza and a neon-bright Endless Summer happy-hour cocktail at the low-key South Shore Tiki Lounge in Kihei, before catching another timeless local sight. In Maui, it is traditional at sundown to grab a drink, settle into a beach chair, and, joined by various dog walkers and waylaid commuters, witness one of nature's blockbuster shows. I pick a spot in Cove Beach Park and watch as pink brushstrokes appear on a blazing canvas, only just resisting the urge to applaud.

In which Jade stumbles across a clothing-optional drumming session, snorkels in a submerged crater, and samples sushi-style Spam
"Shark! Shark!"I've just arrived at Molokini, a snorkeling site in a crater, two and a half miles from the island's southern harbor. I woke up at dawn and, after a flavorful yogurt-filled papaya breakfast at the beachside Kihei Caffe, jumped aboard the Pride of Maui, captained by Jason Correll. What could possibly go wrong?" Don't worry, snorkelers never see sharks—they're always swimming behind you," Correll joked on the way here. Visibility in the warm waters around Maui is world-class, reaching up to 300 feet in the spot where we sit now, which accommodates 250-odd species of marine life. These include aggressive tiger sharks and unaggressive whitetip reef sharks. Right now, I'm hoping it's the latter."Shark!" I look behind me. Nothing but a few tropical fish. Then, 15 feet to my left, I spot a baby whitetip idly skimming the seabed. I bravely follow the sharkling for a bit, then turn my attention to other species, which are so bright and varied they make my head spin: Moorish idol fish, rainbow butterflyfish, pencil-thin trumpet fish, plump parrotfish. At a nearby spot named Coral Gardens, a two-foot Hawaiian green turtle surfaces, takes a big gulp of air, then dives to the security of a mini coral cave.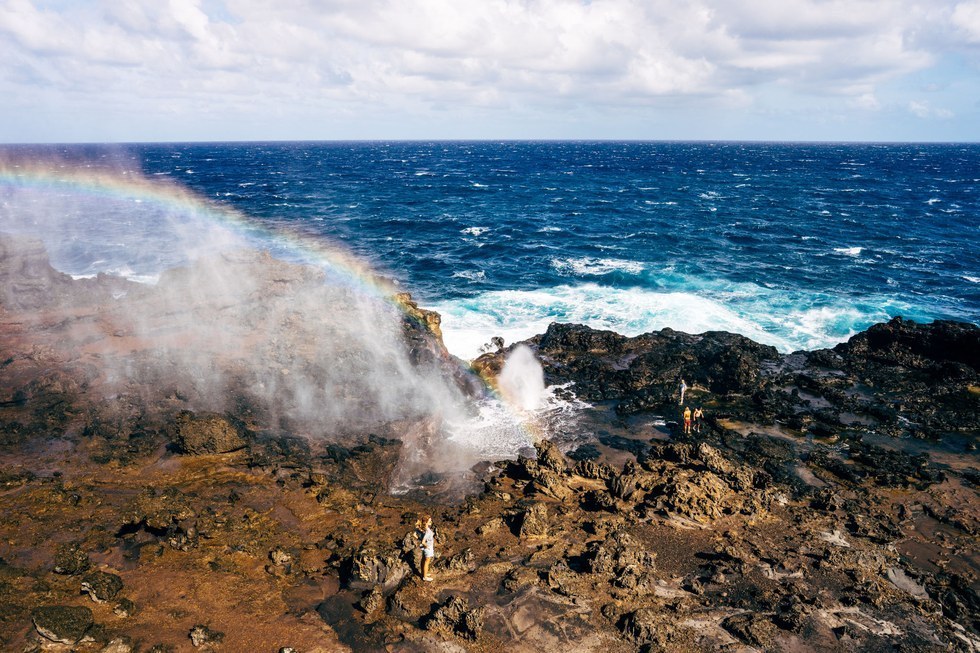 The Nakalele Blowhole
Back in Kihei, I meet chef Travis Morrin at his Three's Bar & Grill, which serves Pacific Rim, Hawaiian, and Southwestern cuisine. I start with a platter of hurricane fries—Morrin's take on the local custom of eating popcorn with Japanese furikake rice seasoning. Hawaiian poké is known the world over, but Morrin is interested in more obscure local food customs, many of which stem from immigrant communities. "You go to any good local place, and it's not a specific style of cuisine," he says. "It's a culmination of a melting pot of cultures over generations."To demonstrate, Morrin invites me to climb (literally) into his menacing monster truck. Our destination is a nearby gas station, where we pick up a $2 Spam musubi (Spam and rice wrapped in nori seaweed). The cheap, long-lasting processed meat became popular here during World War II and was later adapted by the Japanese community into this handheld snack. In the giant vehicle, I unwrap the musubi and bite into it. The Spam, flavored with teriyaki, is warm, rubbery, salty—and weirdly delicious. For dessert, we have traditional shave ice from Ululani's, a roadside hole-in-the-wall with picnic tables. "It's a great business model; someone actually found a way of selling frozen water," Morrin says as we join a line 10 people deep. I go for a No Ka Oi ("the best"), a tooth-tingling mixture of coconut, mango, and passion fruit.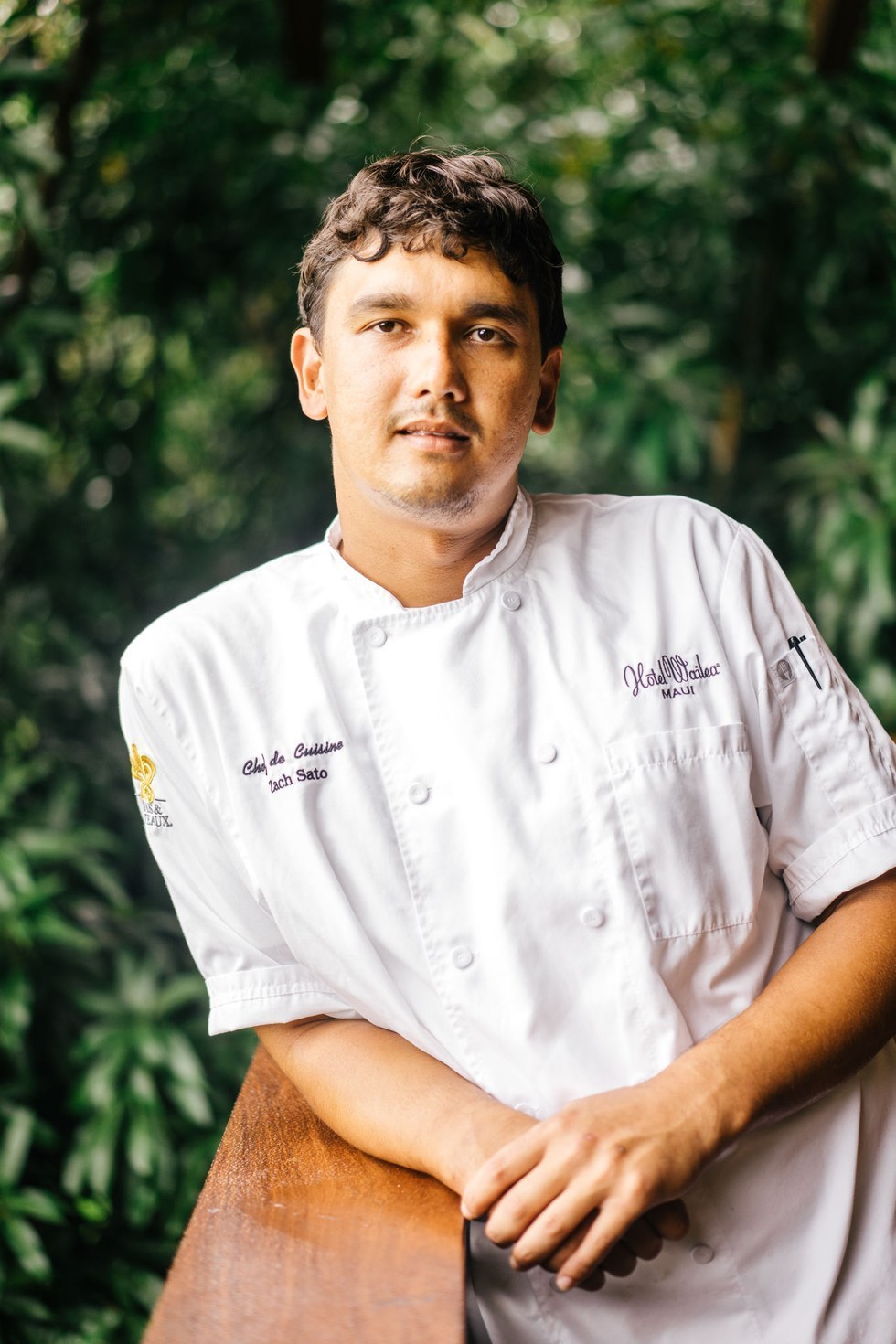 Zach Sato, Chef de Cuisine, The Restaurant at Hotel Wailea
As we eat our ice, Morrin lets me in on another local secret: Sunday sunset at Little Beach in Wailea. "Every Sunday is different, depending on who shows up," he says. "It could be the best night of your life." Intrigued, I order an Uber. My driver smiles when I tell her where I'm headed, which strikes me as odd. Wailea is mainly known for its luxury resorts, but a 20-minute drive takes you to an entirely different place. Sheltered by a rocky outcrop, Little Beach is one of those hidden patches of sand that you dream about. Across the water, you can see the island of Kahoolawe and Molokini crater, where I met that turtle earlier. Over the years, this spot has attracted hippies and sundry art types, and as I walk along the sandy path I hear the faint sound of bongos. A man with dreadlocks and a tie-dye T-shirt wanders past; another has a CND-sign necklace. Moments later, I spot a dozen or so people with various percussion instruments, none of them wearing any clothes.
"Grown here, not flown here. It's important to serve food relative to where you are." —Zach Sato
As the sun goes down, the tempo picks up, and the revelers clap, whoop, and dance. "Would you like a go?" asks a woman brandishing a Hula-Hoop. I have a twirl or two, but give up when I realize my movements could be mistaken for a seizure. As darkness descends, a man lights a fire stick and twists it in time with the beat. As much as I'd love to carry on with the clothing-optional percussionists, I've got a reservation at the considerably more sedate Restaurant at Hotel Wailea. Once I'm seated, I meet chef de cuisine Zach Sato, a rising star whose motto is "grown here, not flown here" and who readily admits to coveting a Michelin star. "It's possible," he says. "We're doing some really cool stuff." His European-style menu places an emphasis on local produce, with small area farms and orchards among his suppliers. "It's important to serve food relative to where you are," he says. I order the Tamimi Farms tomatoes with burrata, pickled shallot, and kale oil to start, followed by prime tenderloin circled with pomme puree, corn, and sea bean salsa verde. Both are delicious. Back in my suite, I sit on the balcony and look out onto the tiki-lit garden. Everything is silent, save for some strangely melodic crickets. I'm not sure if it's bongos or the tune from Jaws looping in my head, but I'm smiling as I drift off to sleep.

In which Jade gets a pterodactyl's-eye view of west Maui, meets penguins, and learns how the stars can lead the way to paradise
"Shark!" I mean, "Helicopter!" The chopper rattles and clatters as we swoop over a bright green canyon in West Maui. Below us, waterfalls tumble down cliffs; before us, rain spatters the windscreen. "I love this weather," says Air Maui pilot Dylan Dacus, who likens flying a helicopter to "riding a motorcycle in the sky." He looks at my expression and smiles. "Feel free to use the Aloha [sick] bags!" We head north, flying over the coastal Kahekili Highway, one of Maui's most spectacular and perilous drives, and then the Nakalele Blowhole, which, obligingly, spouts as we pass. We cut west and cross the Pailolo Channel to Molokai, "the Friendly Island," skirting the Kalaupapa Cliffs—the tallest sea cliffs in the world at 3,300 feet. There's an eerie feeling about this beautiful place. The peninsula was once a leper colony where at least 8,000 Hawaiians were exiled (and legally declared dead) between 1866 and 1969. Some remained, and today Molokai is home to around 8,000 residents.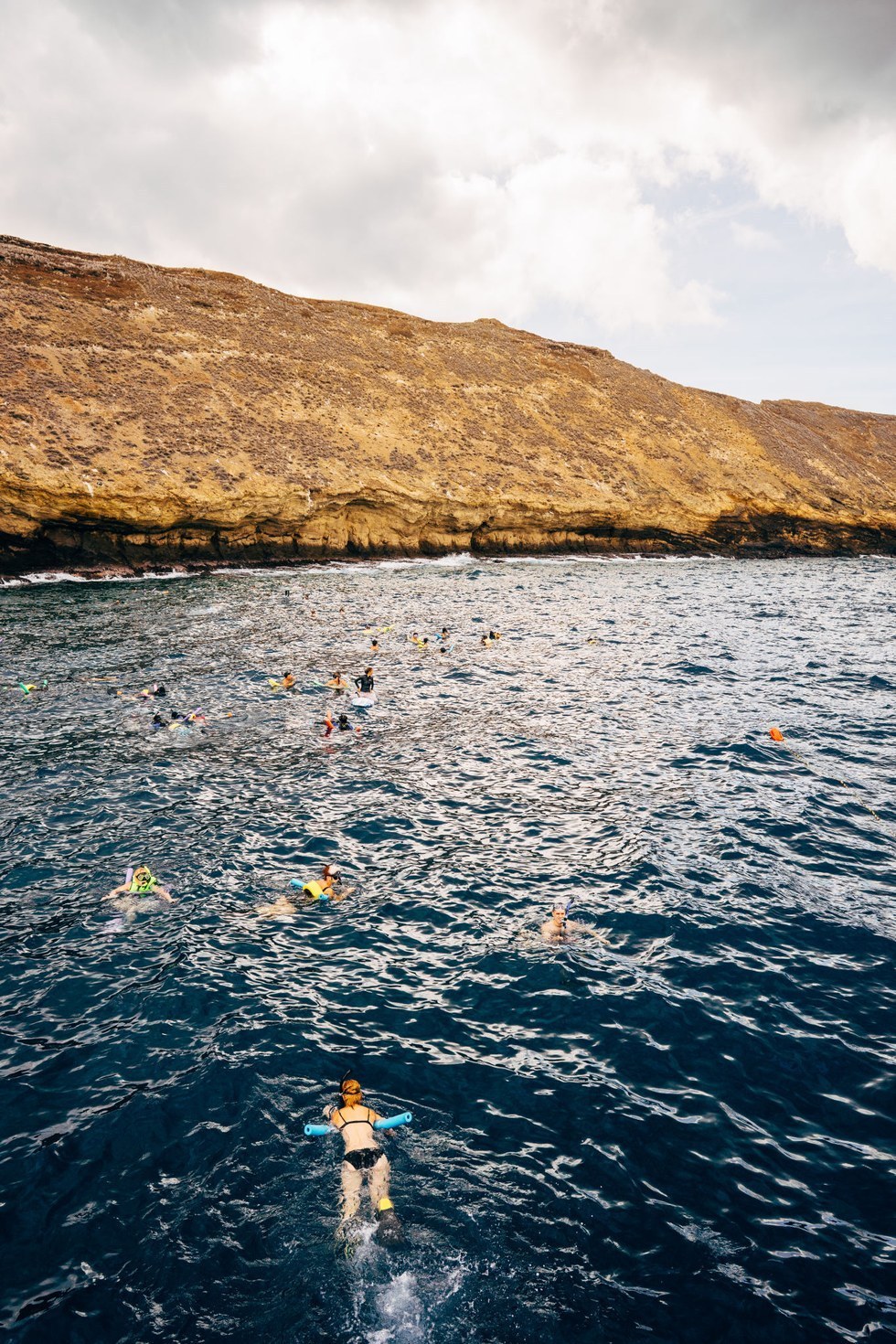 Snorkelers at Molokini Crater
After a thrilling landing at Kahului Heliport, I go in search of food. One of last night's drummers insisted that I try a food truck next to Kahului Harbor, home of "the best shrimp in the world." I'm not convinced as I pull onto the dirt shoulder, next to a plain white truck emblazoned with "Geste Shrimp." The menu is simple—hot dogs or shrimp in four flavors: Hawaiian scampi, lemon pepper, hot and spicy, and spicy pineapple. My hot and spicy shrimp arrive on a Styrofoam tray, alongside crab salad and a scoop of rice. "Word of advice: don't eat them in your car," says a man in line. He's right—it's a messy process—so I sit by the waterside and eat. The world's best shrimp? I don't know, but it's got to be up there. My next stop is the front desk at the Hyatt Regency Maui Resort and Spa, on Kaanapali Beach, at the island's northwestern tip. The lobby is so big it could be an airport terminal. There are palm trees growing in the center of the atrium, plus a pool with African black-footed penguins in it. I wander through the hotel's enchanting grounds, past a flamingo lake, waterfalls, and a hot pool filled with Champagne-sipping guests. It's all very inviting, but tonight I'm set for a different kind of uplifting experience. In the lobby, I meet Faafetai Tialino. "Aloha! Aloha!" he says, resplendent in an elaborately patterned shirt. For 30 years, Tialino has been part of the traditional luau dance-and-dinner outfit Drums of the Pacific. When he was younger, he did the show's finale, the dangerous fire knife dance. "I would look out to the crowd, and people would be hiding behind their hands," he says of his old routine. "If I ever got burned, I knew the audience got their money's worth." Now he plays drums.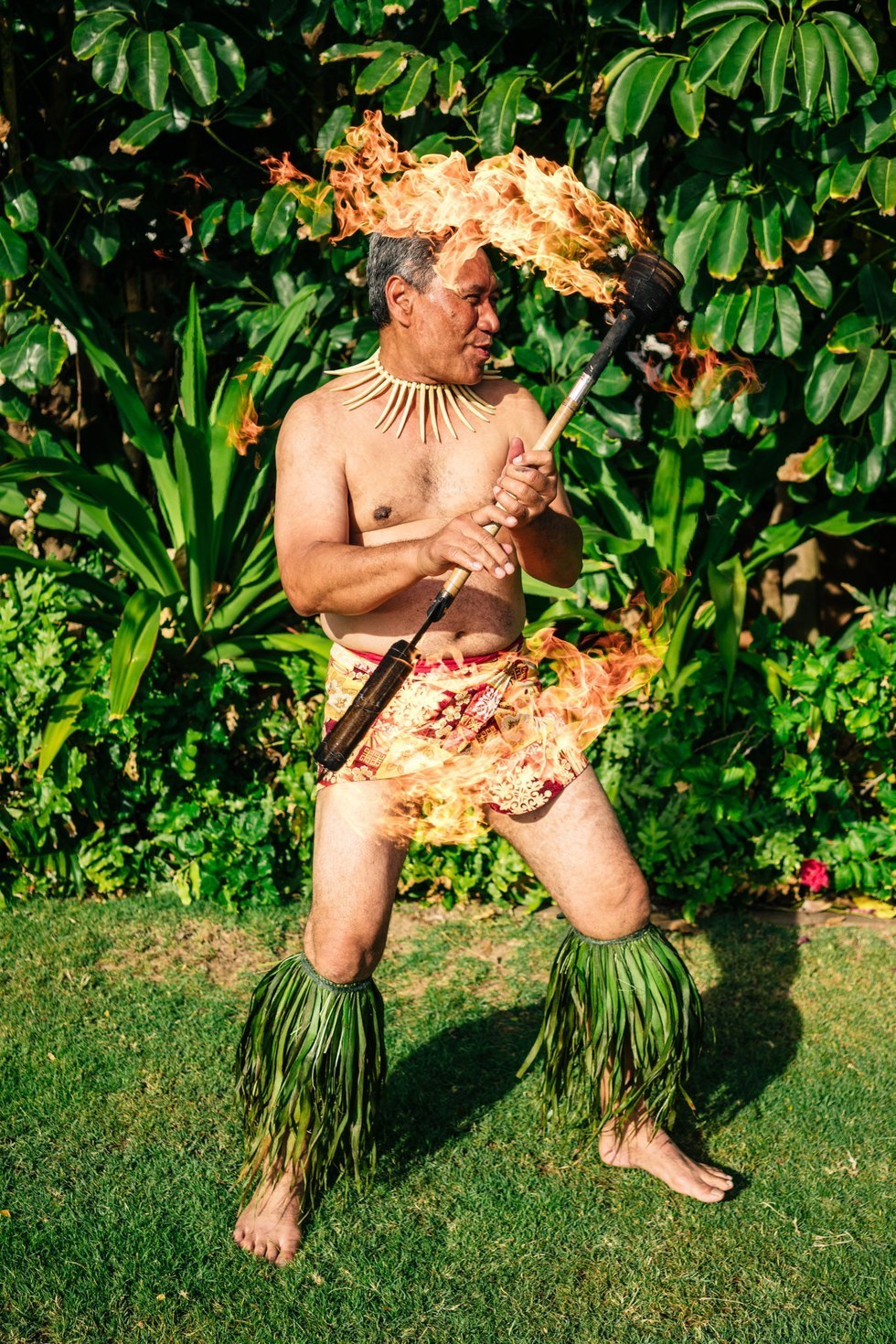 While a luau could be seen as one of the more touristy things to do on Maui, it does offer a glimpse into Polynesian culture and cuisine. As Tialino leads me to my communal table, a smiling woman offers me a pink lei. Over the next three hours, I watch dances from the Hawaiian, Samoan, Tahitian, Tongan, and Maori cultures. My meal consists of poi, starchy taro root paste; lomi lomi salmon, cured raw fish mixed in a salsa; and kalua pig, a whole hog baked in the ground for hours. "Family is very important to Polynesians," Tialino tells me as the evening winds down. "The luau is when the family gets together. It's a celebration of life." I wander off into the dark. Maui is a never-ending vision of beauty, but you should look up every now and then. Situated so close to the equator, the island is one of the best places on Earth for stargazing—you can see 80 of the 88 constellations from here. Consequently, the Hyatt has a Director of Astronomy, Edward Mahoney, who has promised to take me on a Tour of the Stars. We meet in the lobby, then take the elevator nine flights up to the very dark roof. Good thing I'm a trusting person.
"A lot of people measure themselves with money and success, but in Polynesia, and especially here in Hawaii, family and how you treat each other is very important." —Faafetai Tialino, fire dancer, Hyatt Regency Maui Resort and Spa
We stop at a terrace stocked with various pieces of astronomical equipment, including a 14-inch reflector telescope. "When I was 7 years old, Sputnik, the very first satellite, was launched, and that's when my treehouse became an observatory," Mahoney says. "I've been in love with the sky ever since." We admire Saturn's rings, and then the orange glowing orb of Mars, millions of miles away. "It would be fascinating to go to Mars to check out the tunnels," he says with a small sigh. "I think that's where we'll find life—in lava tubes under the ground."As we move from star to planet, planet to star, Mahoney tells me of the Polynesians who first navigated their way to Hawaii centuries ago. "They used straw mats, into which they wove pieces of coral representing the islands," he says. "Then they'd have another straw mat representing the stars. They would pull one mat over the other and tell the young sailors which stars go over which island." I search the sky in silence, thinking of mats and coral and the people who patched these things together, and how strangely simple finding paradise turned out to be.
Lonely Planet author and former Time Out editor Jade Bremner now has a lifelong association between large waves, small sharks, and loosey-goosey bongo players.
Farm-to-table in Guanacaste, Costa Rica
Each week we will profile one of our employee's adventures across the globe, featuring a new location for every employee's story. Follow along every week to learn more about their travel experiences.
By Manager - Creative Project Management Robin Olsen
Fifteen years ago, I volunteered on an organic farm in the Galápagos Islands. The farm was in the beginning stages, so I helped with prepping the land and maintaining the few crops that were growing. Unfortunately, I wasn't able to see the farm fully cultivated by the time I left. When my husband and I decided to travel to Costa Rica this year, I came across La Senda organic farm, where you can arrange a tour and have a farm-to-table dinner experience, and I knew that I needed to add it into our itinerary. Finally, I was going to see a fully operating organic farm, and I was so excited.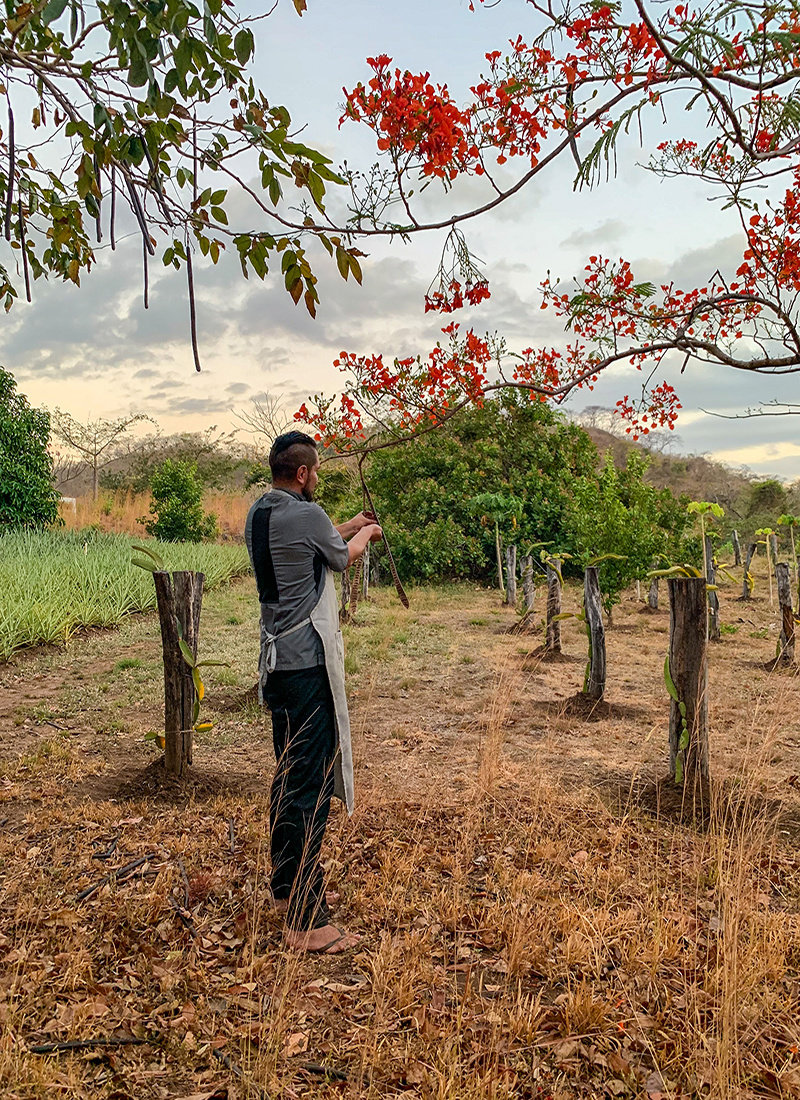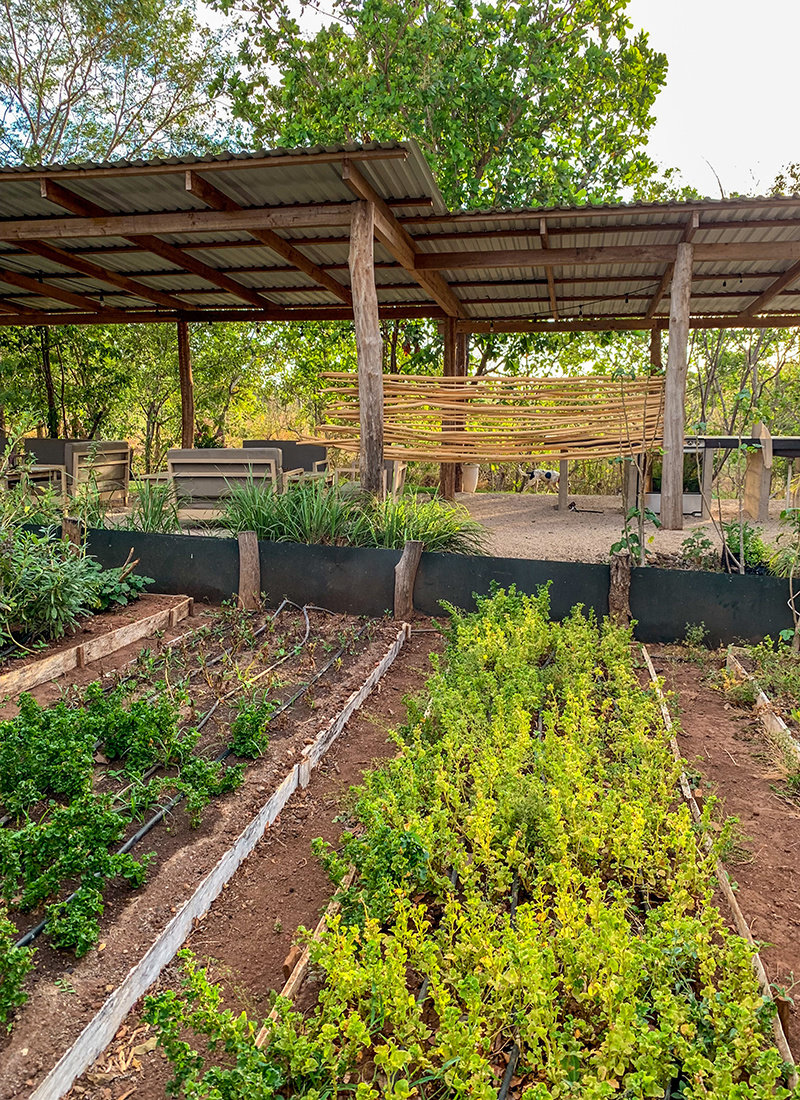 We were picked up at Cala Luna hotel in Playa Langosta and drove 30 minutes to Santa Cruz to La Senda farm. The owners of the hotel started the farm two years ago with the intent of building a sustainable, organic farm that would help employ local families. The tour started with walking around the property and having the chef and sous-chef explain what all the plants, trees, vegetables and fruits were, how long it took to grow them, how to maintain them, and he even showed us what we would be eating for dinner later that day. It's a sensory tour, where you are able to taste, smell and feel the various herbs, plants and fruits. We were shown papaya, pineapples, hibiscus flowers, cocoa beans, a variety of lettuce, vegetables and cashews. The chef wanted to cook the food as true to the taste as possible to bring out the natural flavors. The mission behind the farm is to feed people healthy food while also educating them on organic farming and sustainability. Everyone who works on the farm truly believes in this mission, including the chef giving us the tour, who said he took great pleasure in his role at the farm.
The tour was fantastic, and I was reminded of how much work goes into prepping land and maintaining crops. The farm has had two years of a trial-and-error period to determine which crops could thrive in the environment. The crops each require different nutrients in the soil and need to be rotated to reduce soil erosion, increase soil fertility and increase crop yield. Instead of using pesticides and chemicals, they use natural methods like growing plants that naturally fend off insects. After the tour, we were brought to an outdoor candlelit table, where we were served dinner overlooking the farm. We could taste how fresh and to-the-source the food is. Needless to say, the food was incredible, and we were very satisfied.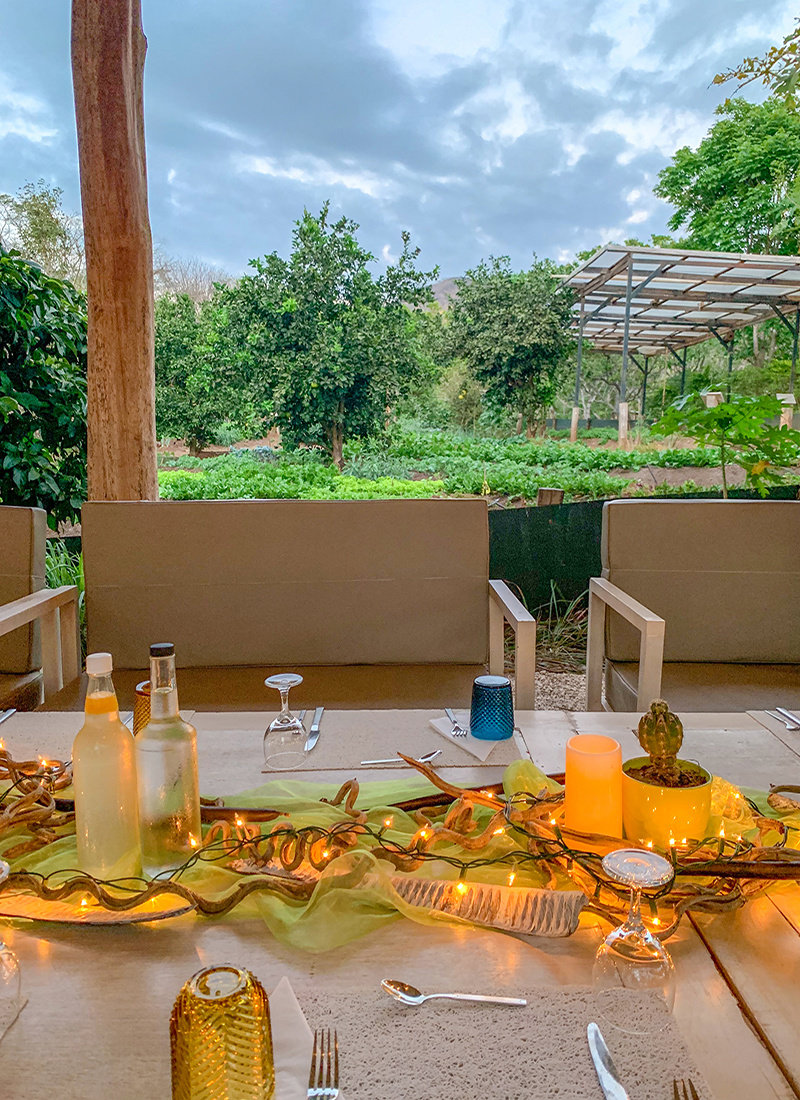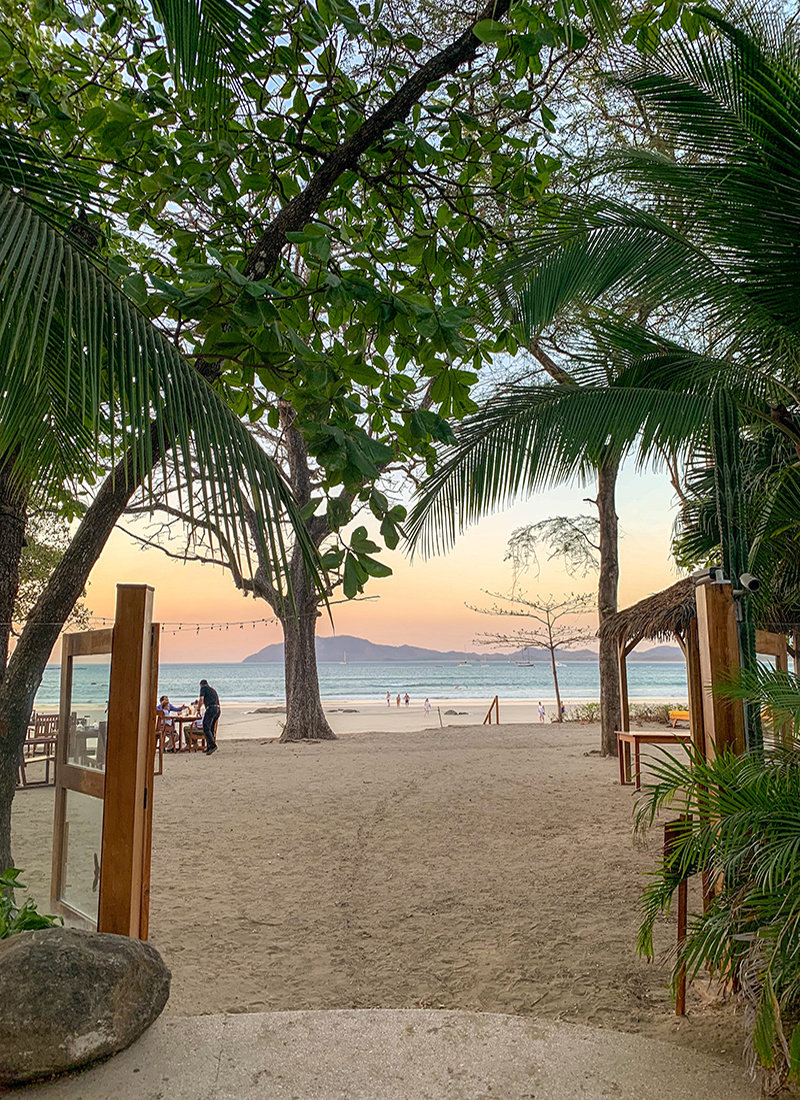 The next day we went to El Barco restaurant at the Capitan Suizo hotel in Playa Tamarindo. Like Cala Luna, this hotel also started an organic farm nearby. Although the restaurant is not yet fully 100 percent organic, the owners are very focused on achieving that goal. Currently, they use fresh and organic ingredients from their garden whenever possible. Like at Cala Luna, they also don't use any pesticides in maintaining the property. The property is also a sanctuary for wildlife, including iguanas and howler monkeys, which you can come face-to-face with while eating at the restaurant, as they are free to roam throughout the property. The view from our table looked out into the Pacific Ocean – perfect for watching a beautiful sunset.

The restaurant is only a five-minute walk to downtown Tamarindo. Guanacaste, the province where Tamarindo is located, has beautiful beaches, is known for great surfing and attracts surfers from all around the world.
The hotels in the area offer numerous outdoor activities, like horseback riding, surf lessons, yoga, fishing, scuba diving, snorkeling, sailing, golf, kayaking, zip lining and more. The hotels can also arrange day tours to volcanos, national parks, the rain and cloud forests and even to Nicaragua.
I highly recommend visiting this region of Costa Rica. Whether you're looking to experience an eco-adventure or just relax, the adventures are truly never ending.
From near paralyzation to 7-minute miles
Twelve years ago, Dylan Batz couldn't walk or talk. A seizure when he was in the eighth grade robbed him of those motor skills and hospitalized him for two months.
His mom, Denver-based United 737 Captain Suzanne Batz, didn't know if he'd ever walk again.
No one could've predicted what happened next.
Dylan got out of the hospital, eventually re-learning how to walk and talk. Through Special Olympics, he became an avid runner. He hasn't stopped since, having run three marathons and, this past weekend, completing the United Airlines NYC Half Marathon in 1:40. Watch his inspirational story above.
Discover Hilton Head Island
Voted America's favorite island for a reason, Hilton Head has everything you need for the ultimate escape from the real world. Enjoy easy days on one of the many beaches, at one of the world-class golf courses and tennis courts, learning about the rich history or simply adapting to the leisure-paced lifestyle of the locals. The Lowcountry region in South Carolina has something for everyone.
Welcome to Hilton Head.
The basics
The best time to visit and getting around the city
Thanks to its location, it's hard to choose a bad time to visit Hilton Head. Though if you visit in April-May or September-October, you'll notice fewer crowds and temperatures averaging in the mid-70s and 80s. In the spring, the water sport rentals will have just opened for the season, from parasailing to kayaking. If you visit in April, you may be able to catch the RBC Heritage PGA golf tournament. Hilton Head doesn't have your typical fall weather, making it a great time to visit. Summer weather lingers so you can still swim. Because the leaf colors don't change, you can enjoy instead an array of fall colors in the sunset each night.
The only drawback of visiting during the late summer and fall months is hurricane season. Hurricanes and tropical storms rarely hit the island, but they tend to be close enough that the island experiences some rain. If you're visiting around this time, be sure to pack a raincoat.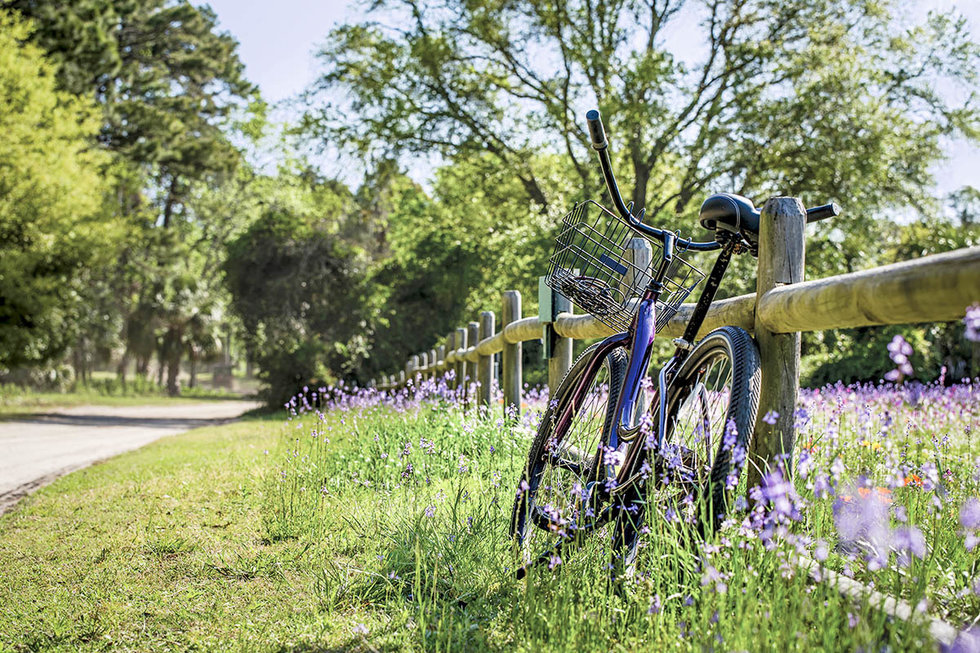 Getting around the city:
The island may be small, but it's still scattered enough that you'll want to bike or drive while exploring the town. There's little to no public transportation. Thanks to its renewed emphasis on environmental tourism, you're sure to notice plenty of bikers and the new bike paths that trace the island. You can rent a bike for around $30 a week. Another option is renting a car. Most attractions are spread out, so having your own car will offer you the most convenience.
Experiences
The town's main attractions are the pristine beaches, golf, with 24 world-class golf courses, and the vibrant history — with the environment at the center of everything.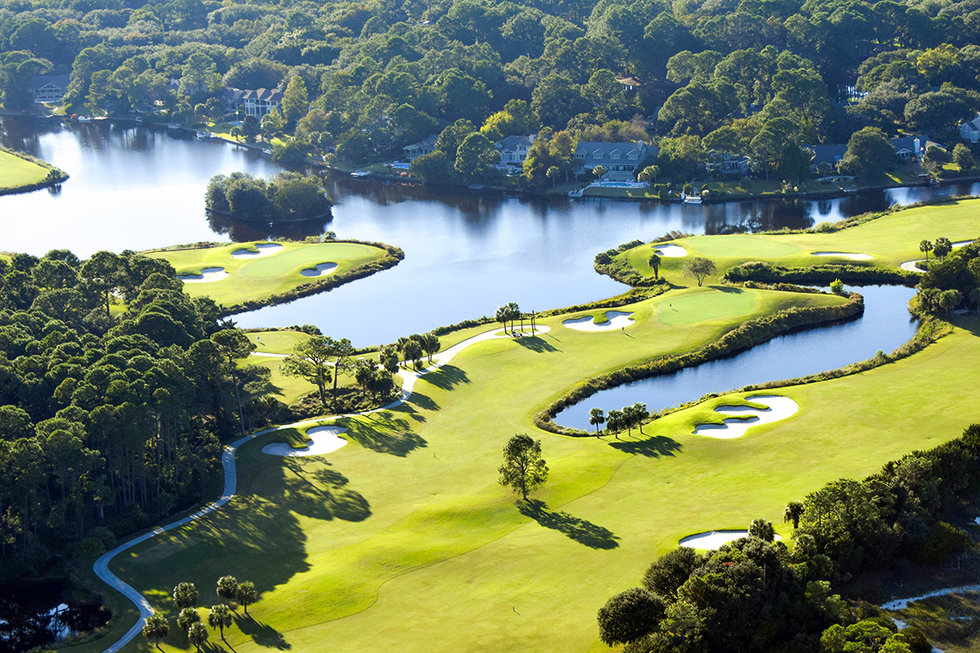 Twelve miles of beaches makes Hilton Head an ideal destination for anyone looking to relax in the sand. One of the most popular beaches is Coligny Beach Park, due to its location and the multiple beach bars that line the water. If you're looking for beaches that are a little less touristy and more secluded, make your way over to Adler Lane or Burkes Beach.
This island is a golfer's paradise, which is why many flock to here to tee off and test out their skills on one of the many championship courses. If golf isn't your sport, perfect your backhand at one of the 350 tennis courts on the island instead.
If you're looking to do a little more than relax on the beach or play a round of golf, spend the day in the charming Harbour Town. Visit the 90-foot red-and-white striped lighthouse that offers incredible views of the water and town from the top. And if you have the time, head over to the marina and embark on a dolphin viewing tour.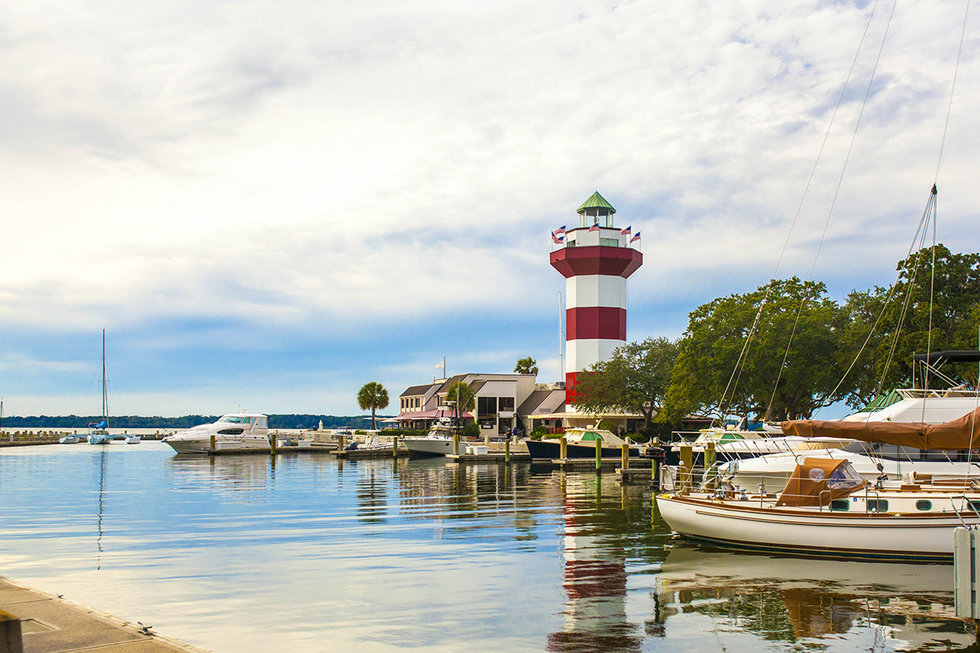 Learn more about the South Carolina's Lowcountry at the Coastal Discovery Museum. Here you'll gain an understanding of the region's history and interesting ecology. Wander through the butterfly enclosure, take a tour to learn about the marine life or visit the wild horses of the island left by Spaniards many centuries ago. Those who also love to explore and experience wildlife first hand should visit Pinckney Island National Wildlife Refuge, about a half mile from Hilton Head.
Food & drinks
Being on the water, it makes sense that seafood is a staple item for restaurants in this town. From high end dining to local favorites, you'll have plenty of restaurants to choose from. If you're looking to enjoy a nice dinner on the water at sunset, check out Old Oyster Factory, Hudson's Seafood House on the Docks and ELA's. With a contemporary feel, live music and a chic bar, this award-winning restaurant in Shelter Cove Harbour is perfect for a casual dinner or a romantic evening out. No table disappoints at Hudson's because they all offer incredible views of Port Royal Sound. By employing one of the only two remaining fishing fleets on Hilton Head, you're guaranteed fresh seafood truly brought from sea to table. Many of these restaurants on the water can book up quickly so be sure to make reservations in advance.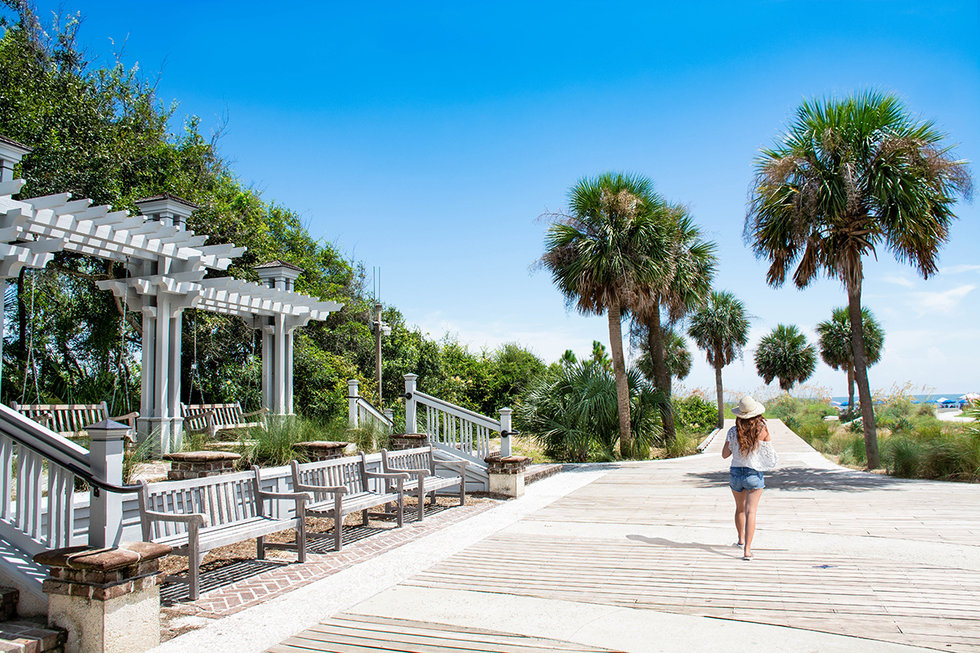 Don't forget to try some of the local favorite dining spots either. If you're looking for Lowcountry-inspired cuisine and incredible seafood, head over to Skull Creek Boathouse, an open air restaurant with an extensive wine and cocktail menu – perfect for a long, relaxing dinner. You'll enjoy an exquisite view and an even better dining experience. The Salty Dog Café is a must when it comes to the Hilton Head food scene. Here you'll have an authentic dining experience with fresh seafood and a family-friendly atmosphere.
Getting there
Book a flight from multiple U.S. cities to Hilton Head Island Airport (HHH), which is right on the island and only approximately 5 miles from all of the Island resorts. To book your trip visit united.com or download the United app.
The latest updates for New York/New Jersey
Hard to believe spring is around the corner, and if you're like me that means starting to think about our family travel plans. Highlighted below are a few ways we are working hard to help make your journeys faster, easier and better in the months ahead.
Improving your experience at our airports
We're excited to move into the new Terminal B at LaGuardia later this year. This is a world-class state-of-the-art facility with fabulous local dining and shopping options such as District Market, Kingside, Shake Shack and FAO Schwarz. Our United Club℠ location will also now be located after security to help you comfortably settle in before your flight.

At Newark Airport, United and our partner, the Port Authority, are working together to improve your experience by adding more pods for nursing mothers; new, larger restrooms; and this summer, an expanded TSA checkpoint that shows expected wait times.
Growing our network and fleet

This summer, we are introducing new seasonal nonstop flights to Naples and Prague and offering the return of great destinations such as Nantucket, Massachusetts, and Rapid City, South Dakota, for an easy trip to the Badlands and Mt. Rushmore.

Additionally, through April, we'll continue to fly nonstop from Newark to Palm Springs. And on March 30, we'll begin flying our brand-new Boeing 787-10 Dreamliner to Dublin, Frankfurt and Tel Aviv, with Barcelona, Brussels and Paris routes to follow this summer.
Investing in our community
United has been serving the New York/New Jersey area for almost 100 years and giving back to our community continues to be a steadfast commitment from the United family. We are proud to announce new partnerships including the Intrepid Sea, Air & Space Museum in Manhattan, the Trevor Project, and the Aviation High School in Queens. This year we'll also continue cheer on runners as the official sponsor of the New York Half Marathon on Sunday, March 17, and are proud to have representatives from Special Olympics running alongside of United employees.
Newark is also featured as the Three Perfect Days destination in the latest issue of Hemispheres, so you can learn about great restaurants and cultural institutions that don't even require a flight to visit.
Thank you for choosing United

In Greater New York, we know you have many choices of carriers to fly, so from our family to yours — thank you. We appreciate your loyalty and welcome your feedback. Hearing from you is important to us, so please continue to send your thoughts and ideas to me at JillKaplan@united.com.

Arizona's outdoors in the spring
This may be the best time of year to visit Arizona — and not just for relaxing by the pool. Smart travelers flock to the state in May, June and July for hotel rates that are often lower than the peak-season rates paid by winter "snowbirds" from northern states. But resort bargains and swimming-pool temperatures aren't the only reasons to visit Arizona at this time. There are also plenty of outdoor opportunities to enjoy, as long as you choose the right activities, locations and time of day to get out.
Desert Dawn peak climbs
Residents of Phoenix and Tucson who like to get outdoors in late spring and early summer know they can best enjoy short hikes by rising early. The busiest time on the trails is before 8 a.m. The most popular hiking paths in Phoenix and Scottsdale climb iconic mid-city peaks, which span from the desert floor up to panoramic views at the top. The hikes up Camelback, Piestewa and Pinnacle Peaks are all wonderful, well-marked and popular — each taking less than two hours roundtrip. In Tucson, the best short hikes are in Sabino Canyon and Saguaro National Park on the outer rim of the city.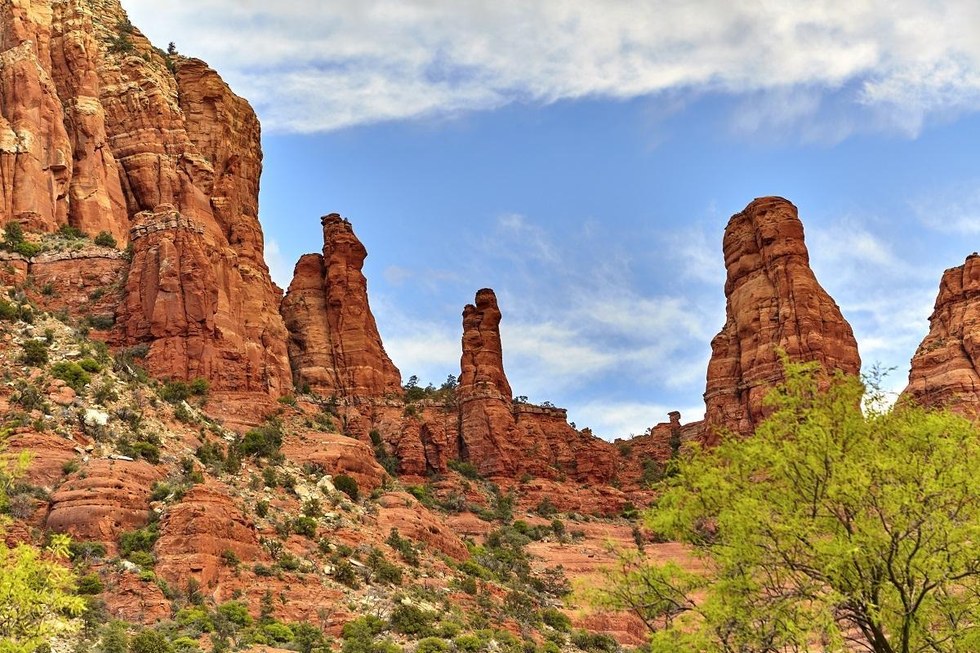 Hikes in the mountains

Phoenix and Tucson visitors who aren't early risers or who don't want to settle for short hikes can drive to spots where the temperatures and mountain vistas are similar to those in Colorado. Only a two-hour drive from Phoenix, you can head to Sedona, with an altitude of about 4,300 feet, or Flagstaff, with an altitude of about 6,900 feet, where the higher elevations mean much lower temperatures. Sedona has some of the world's most dramatic day hikes among its stunning red-rock formations, while Flagstaff offers mountain hikes that soar up to 12,600 feet, such as Humphries Peak Summit Trail. From Tucson, the usual triple-digit temps drop to the 60s during the twisting, 90-minute drive up 9,157-foot Mt. Lemmon. Trails through the sub-alpine forest await hikers at the summit.
Paddle the Verde River
Another good way to beat the Arizona heat is to get splashed by cool water — but not just in your resort pool. You can also take a dip in the Verde River in an inflatable kayak. Verde Adventures hosts guided trips down the river through the end of summer. You'll paddle through narrow limestone canyons and float past hardwood forests on the shallow river, which has plenty of tame rapids that are just adventurous enough to please both the thrill-seekers and the mild-adventurers. You can choose between a kid-friendly two-hour tubing trip or half-day inflatable kayak trip, or enjoy the Water to Wine Tour with an adult companion, which ends with a tasting at Alcantara Vineyards. You'll be driven the short distance to the river from Cottonwood or Clarkdale, both less than a two-hour drive from Phoenix.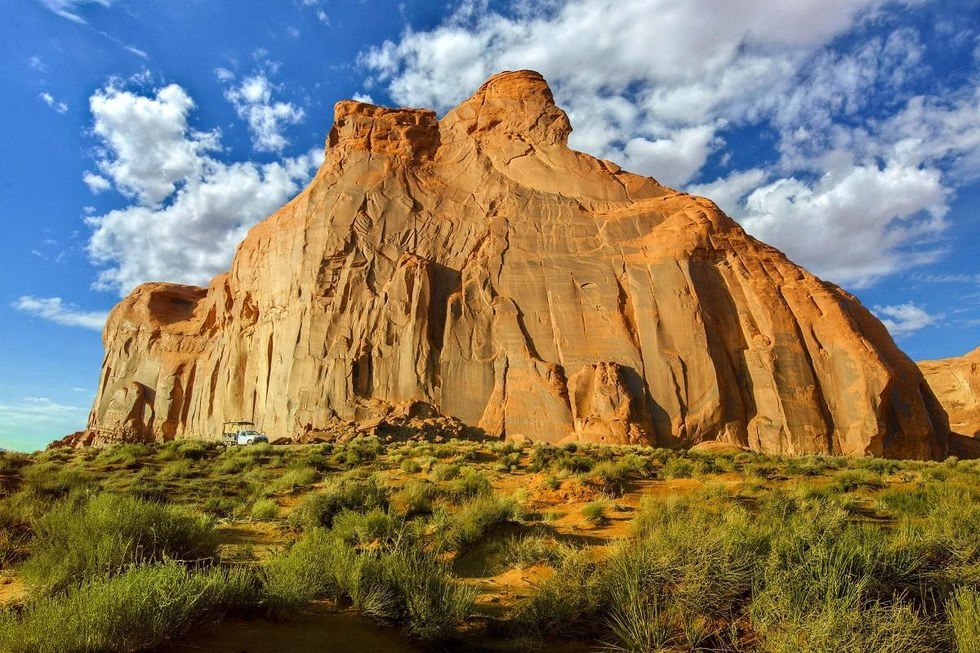 Jump in a Jeep

Following along the dusty dirt roads that rim the edges of Phoenix, Scottsdale, Tucson and Sedona, the Jeep tour is a classic option for visitors to Arizona. The 4x4 Jeep probably won't be air-conditioned, but the wind and Arizona's rich red earth will be in your hair. Less adventurous options include tours in enclosed Hummers or vans. After bumping along scenic back roads for miles, many Jeep tours offer a "cowboy cookout" at a pretty spot in the desert or mountains before you return to civilization. From Phoenix, Scottsdale or Tucson, most Jeep tours venture into the Sonoran Desert, while Sedona Jeep tours bring you up close to its renowned red-rock formations.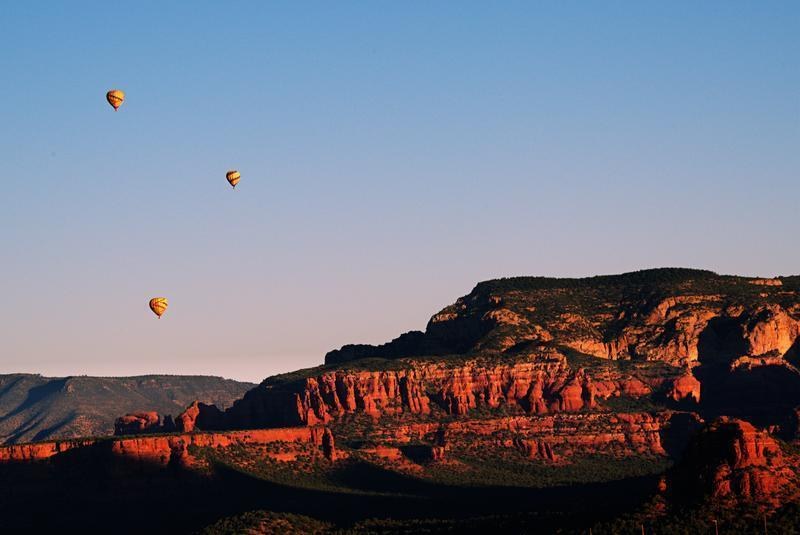 Up, up & away

Arizona's dry air makes it one of America's prime locations for hot air balloon rides. Colorful balloons lift off in the cool temperatures and low winds of sunrise from all over greater Phoenix, Scottsdale, Tucson and Sedona, often providing a champagne breakfast afterward. Some also offer sunset flights; one Phoenix company serves hors d'oeuvres from a gourmet restaurant after evening landings. Prevailing winds dictate whether you'll fly up to a mile high or close enough to the ground to spot desert wildlife, but regardless, it's a memorable bucket-list thrill.
If you go
United Airlines offers many daily flights to Phoenix and Tucson. Visit united.com or use the United app to plan your Arizona outdoor adventure getaway.
We follow the FAA's order to ground all Boeing 737 Max aircraft
Nothing is more important to us than the safety of our customers and employees. As we have said since Sunday, we have been in close contact with investigators as well as Boeing to share data and fully cooperate with regulatory authorities. We will comply with the FAA's order and will ground our 14 Boeing 737 MAX aircraft. We will remain in close contact with authorities as their investigation continues.
Since Sunday, we have been working diligently on contingency plans to prepare our fleet to minimize the impact to customers. Our Boeing 737 MAX aircraft account for roughly 40 flights a day and through a combination of spare aircraft and rebooking customers, we do not anticipate a significant operational impact as a result of this order. We will continue to work with our customers to help minimize any disruption to their travel plans.

We extend lease agreement at iconic Willis Tower in Chicago
Today, we announced that we will keep our current headquarters at the iconic Willis Tower in our hometown of Chicago while making investments to transform our current workspace and experience. Our new agreement extends our existing lease by five additional years to March 31, 2033.

Remaining at Willis Tower will allow us to completely reimagine the workspace from the bottom up. Over the coming months and years, we will redesign our workspace to allow employees to better collaborate, use the latest technology and interact with each other — all with the end goal of providing unmatched service to our front-line employees and customers. And today's announcement is part of our overall effort to improve workspaces and facilities across the system.As we begin the work to reimagine Willis Tower for our employees, a majority of the funding to transform the building is being made by the building's owner, The Blackstone Group. In addition, they are investing more than $500 million in the building for all tenants, which will transform it from the inside out that will deliver exciting new dining, fitness and retail options.
"As one of the city's largest private employers and its hometown airline, we are excited to deepen our roots here in Chicago while making the investments needed to reimagine the headquarters for our employees," said United Chief Executive Officer Oscar Munoz. "The investments we are making will help our employees provide unparalleled service to their front-line colleagues and to our customers as we continue to improve and realize our airline's full potential."
And as one of the most ideally situated buildings in the city, with easy access to all Chicago Transit Authority train lines and Union and Ogilvie Stations, as well as nearby bus stops, Willis Tower already provides distinct advantages and will remain attractive to future job seekers throughout the metropolitan region.
Weekend inspiration: Palm Springs
After a combined 60-plus years of living in cities with snowstorms and cold weather, this winter we decided it was time to pack away the parkas in exchange for a month of sun in Palm Springs.
And it was heaven. 70-degree days filled with morning swims, long walks without a jacket and joyful dogs running around the backyard. Working on murals throughout the valley in perfect drawing conditions was paradise for us, considering we were typically working in freezing weather with pale skin, chapped lips and cracking knuckles. We found our new January normal.
Our month in paradise consisted of many highlights, so if you're in town for a few days, here are some of our favorite spots.
Friday night
If you're looking to rent a place in Palm Springs, we recommend Relax Palm Spring on Airbnb. They have more than 60 rentals in the Coachella Valley area, and we loved the house we stayed in. Every single thing we needed was available on-site or just a phone call away with this professional vacation rental group.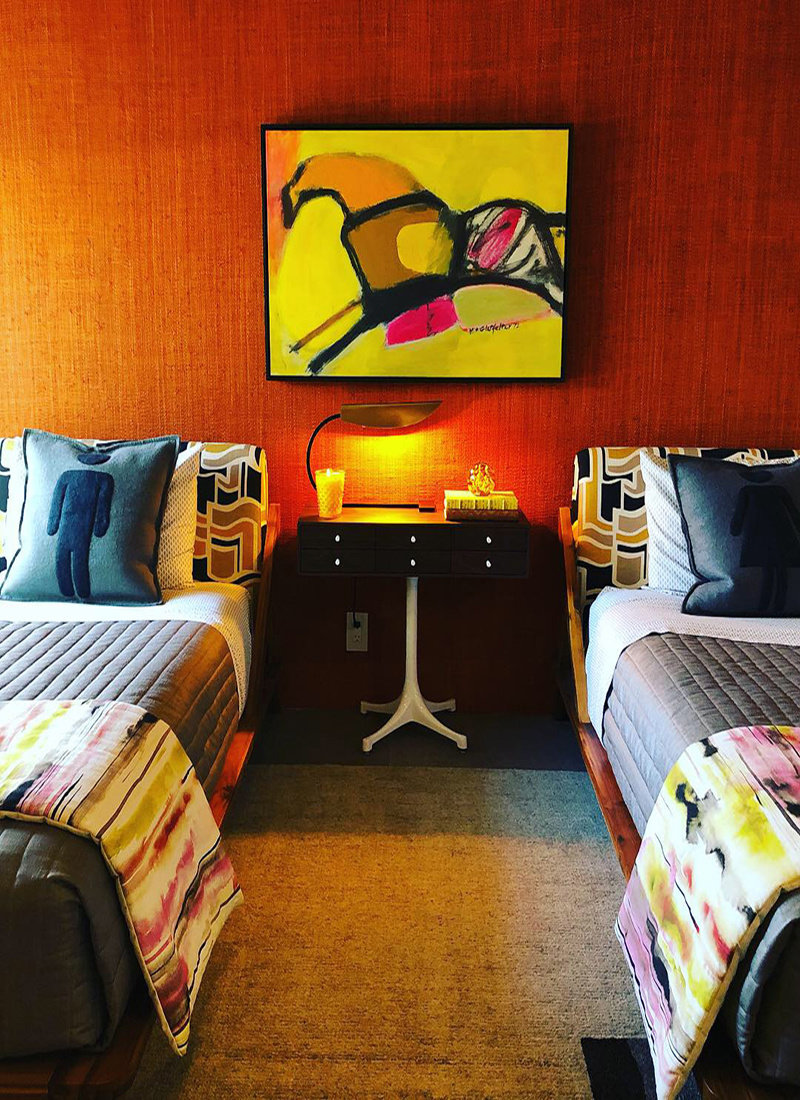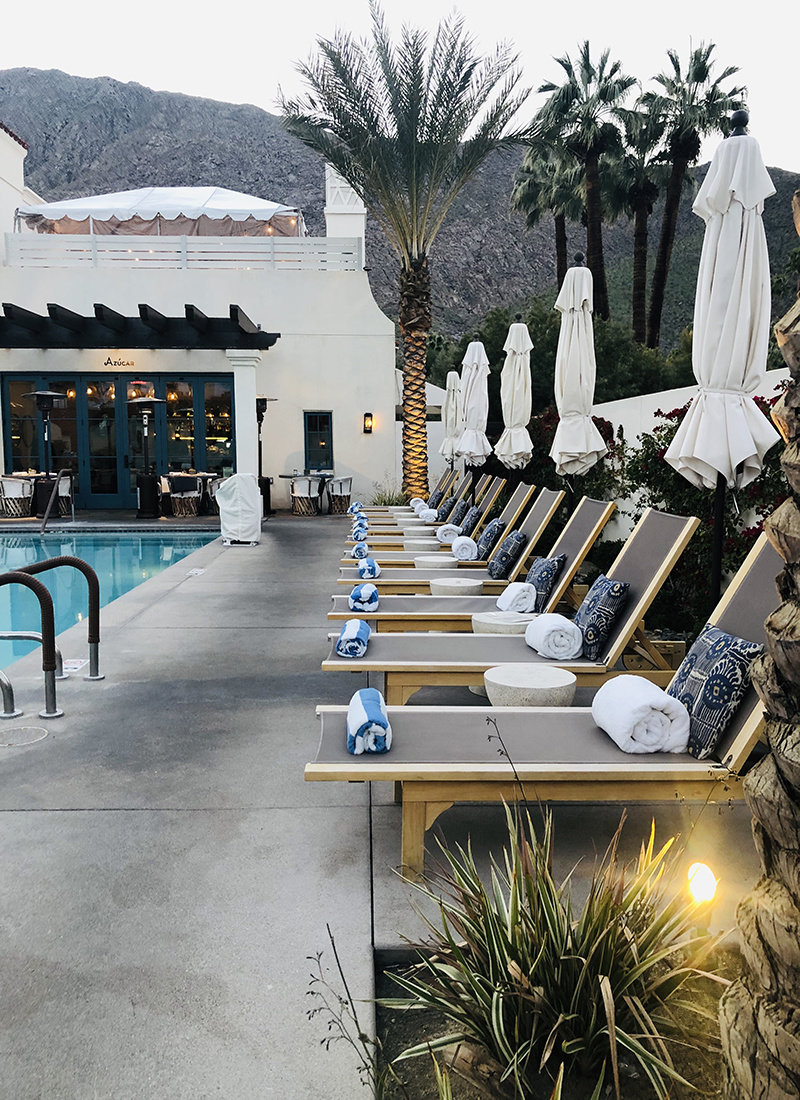 If you're looking to go the hotel route, we highly recommend The Colony Palms Hotel. This Spanish Colonial-style hotel features high-end casitas and a sweet hotel pool with stunning mountain views. La Serena Villas has a similar small-town feel with a wonderful restaurant attached. Further outside of the downtown area, Parker Palm Springs is a stylish and creatively fulfilling place to stay and play.
No matter where you stay, we recommend Azúcar for dinner (at La Serena Hotel). Make sure you get the watermelon appetizer, refreshing with bursts of sweet balsamic beads trickled over the top. You'll feel like a kid at the pool in summer all over again.
Saturday
Get up early and head to Palm Desert. Make your way over to Wilma & Frieda at The Gardens on El Paseo for one of the best breakfasts you'll find in the valley. The pastries are all excellent and homemade. The dishes are creative with items like "churro waffles" and "banana caramel French toast."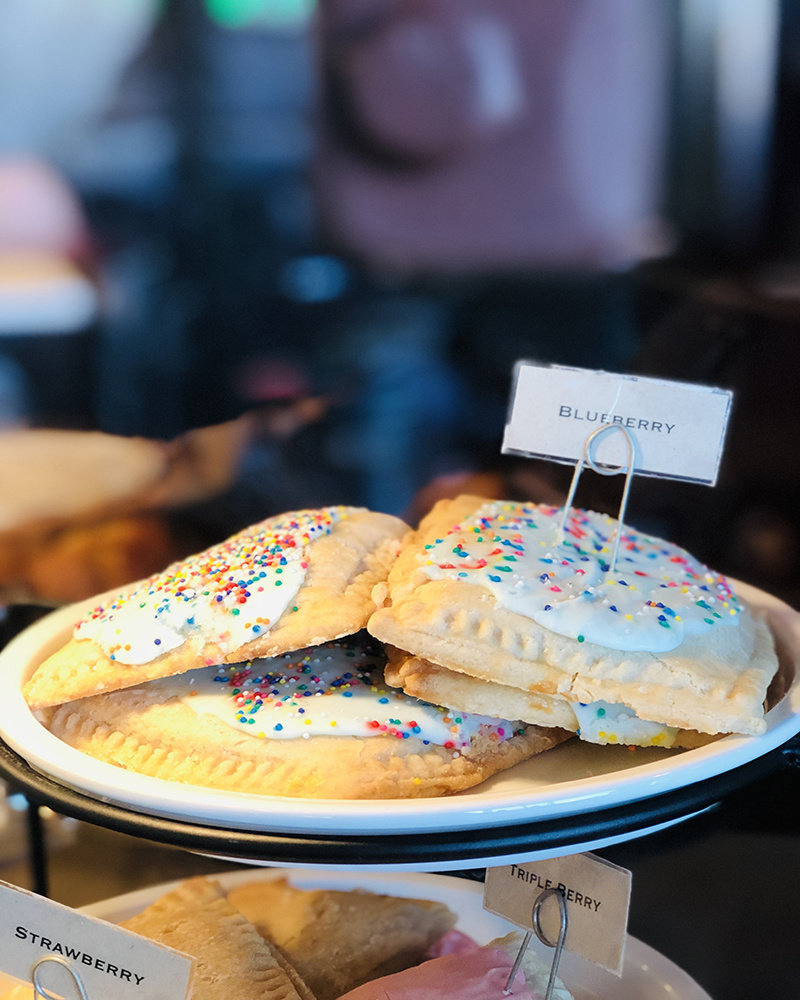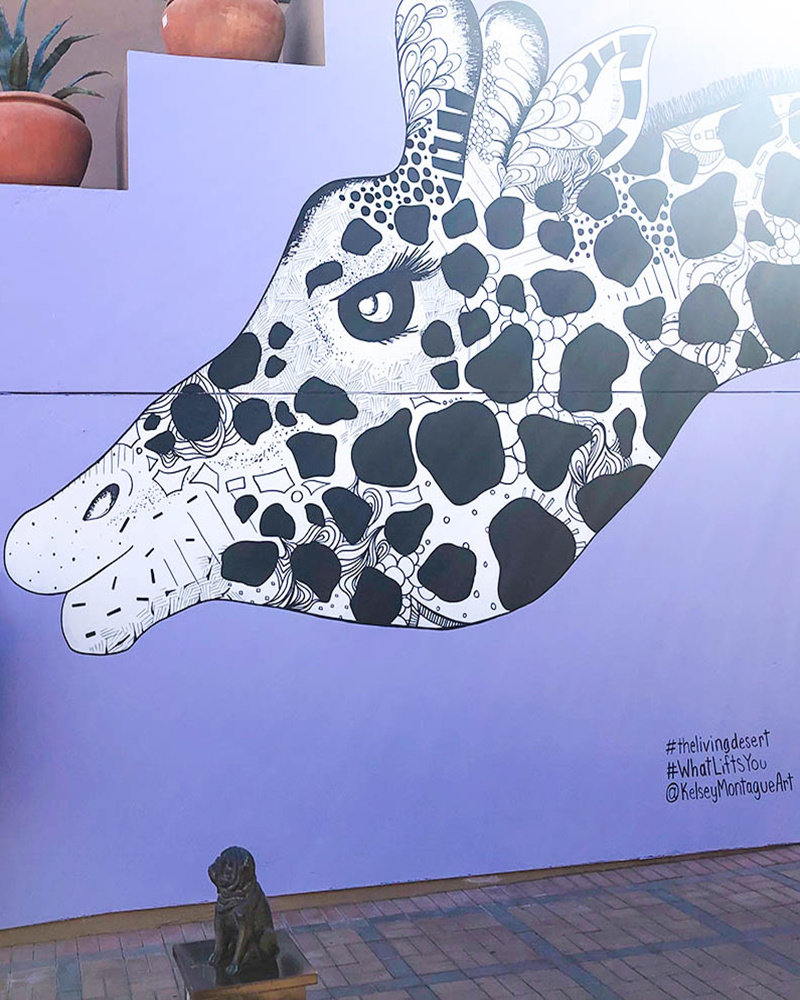 After breakfast, stop by Kelsey's giraffe mural at the Gardens on El Paseo (directions found here) to give her giraffe a kiss. Then drive up the highway to The Living Desert.
The Living Desert Zoo & Gardens is an incredibly well-designed zoo that takes advantage of the stunning desert scenery with every animal exhibit.
On your way back, stop for a sweet treat at the café at Shields Date Gardens for one of their legendary date shakes. Wander through the 1950's feeling diner and gift shop and into the 17-acre date garden. These shakes are a Palm Springs staple and worth every delicious calorie.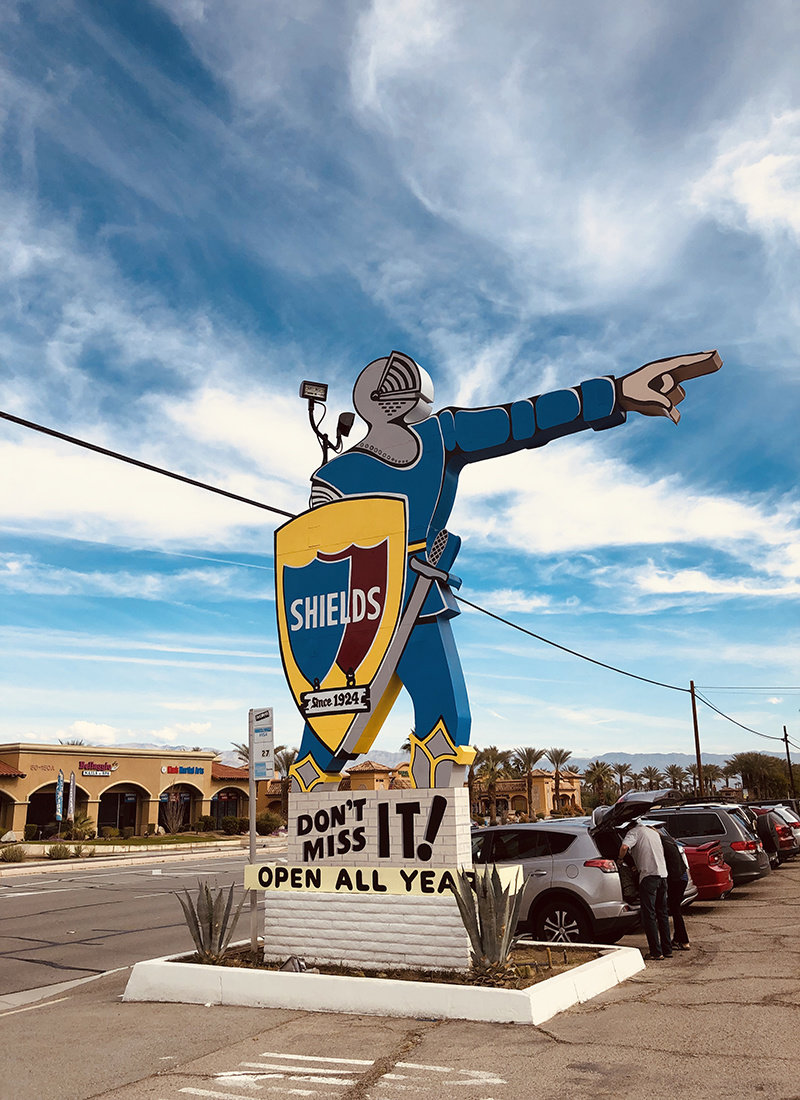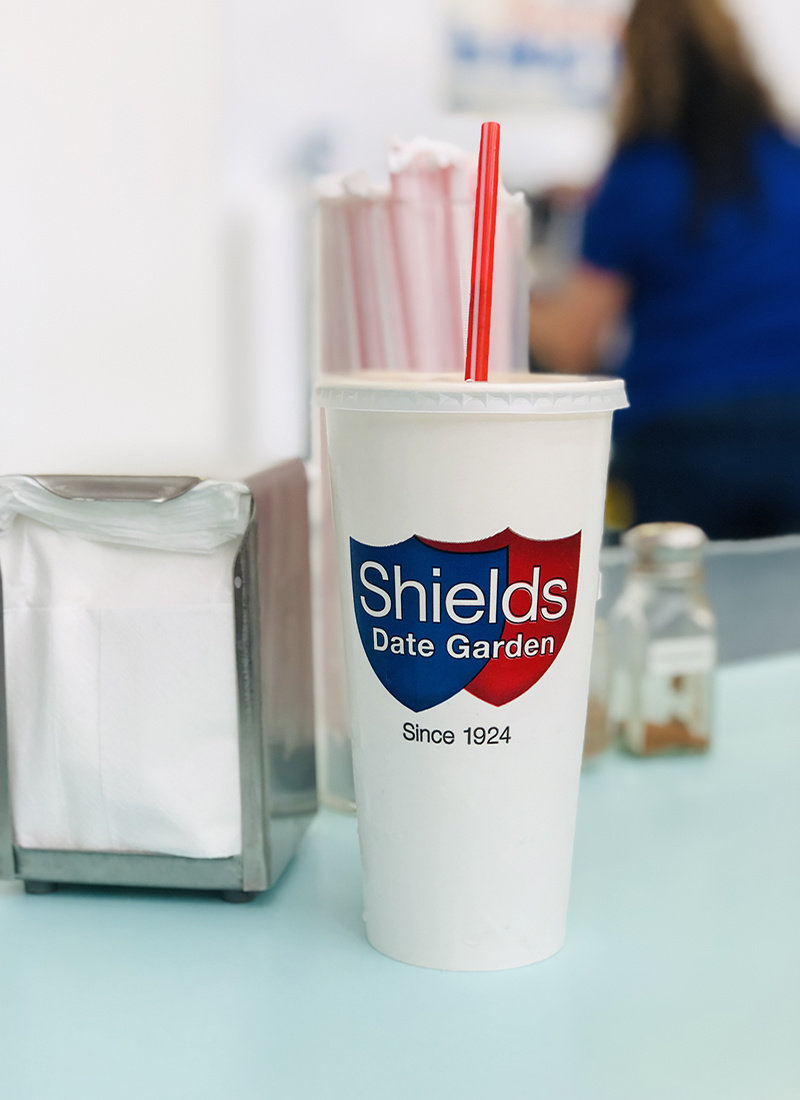 For lunch, wander around the hotel lobby at Parker Palm Springs to admire their excellent interior design decisions before heading into Norma's restaurant for an al fresco lunch.
If you have time, spend the afternoon at Joshua Tree National Park. The blend of Mojave and Colorado deserts results in a unique and stunning landscape. Begin your tour/hike at one of the visitor centers. From here, you can go on a relaxed half-day tour with a guide or head out on one of the 12 self-guiding nature trails.
Spend sunset here or head back downtown to enjoy the sunset at The Colony Palms Hotel's Restaurant, The Purple Palm, with a quality craft cocktail. After sunset, make your way to the popular Italian restaurant Birba for dinner. Birba boasts excellent pizzas with a wide variety of interesting toppings. Be sure to make reservations beforehand.
Sunday
Spend the day exploring Palm Springs. Go to Cheeky's for breakfast, but make sure to get there early, as a line forms before the doors even open. Their world-famous bacon flight is a must – it's unique and so tasty.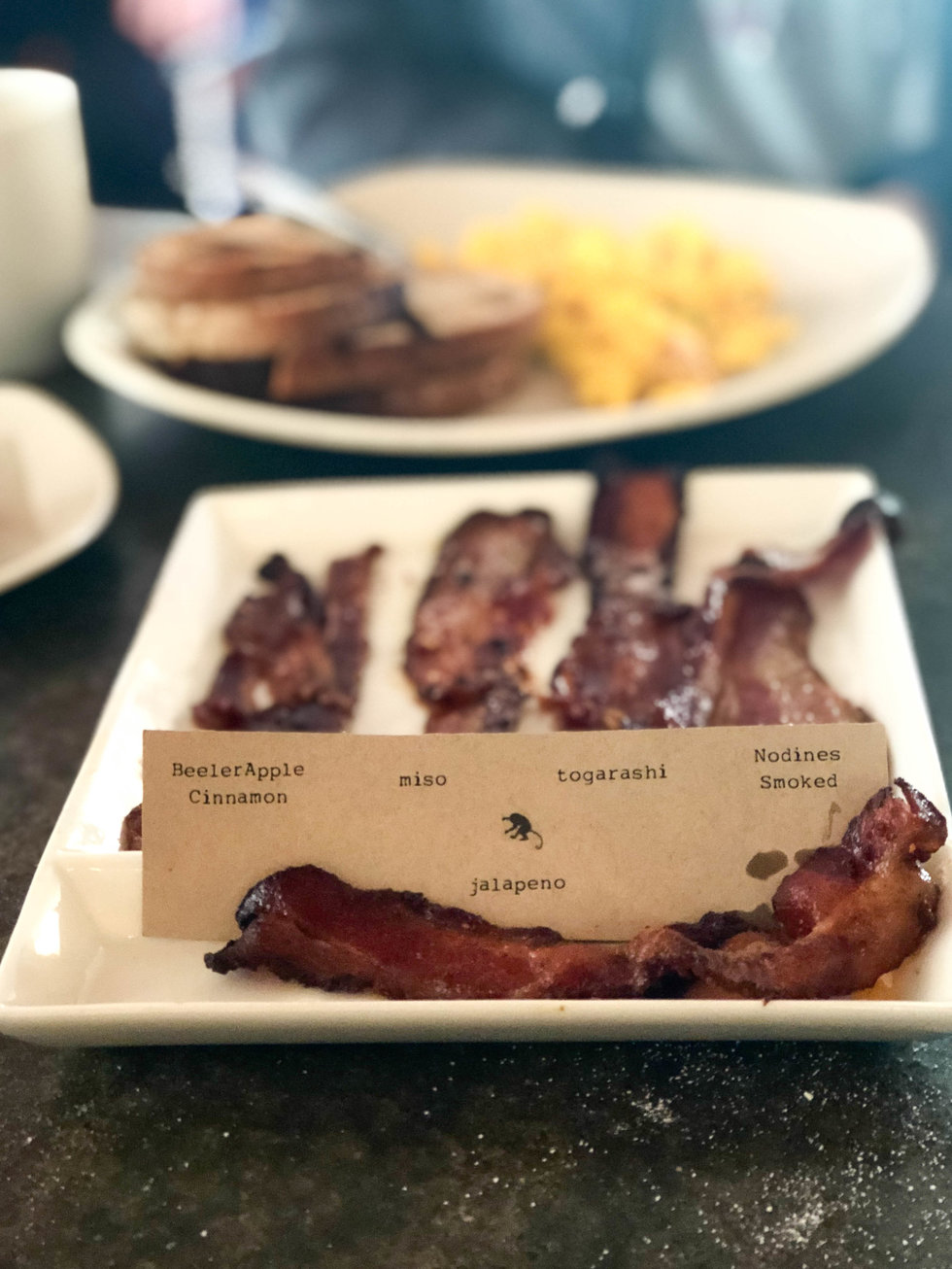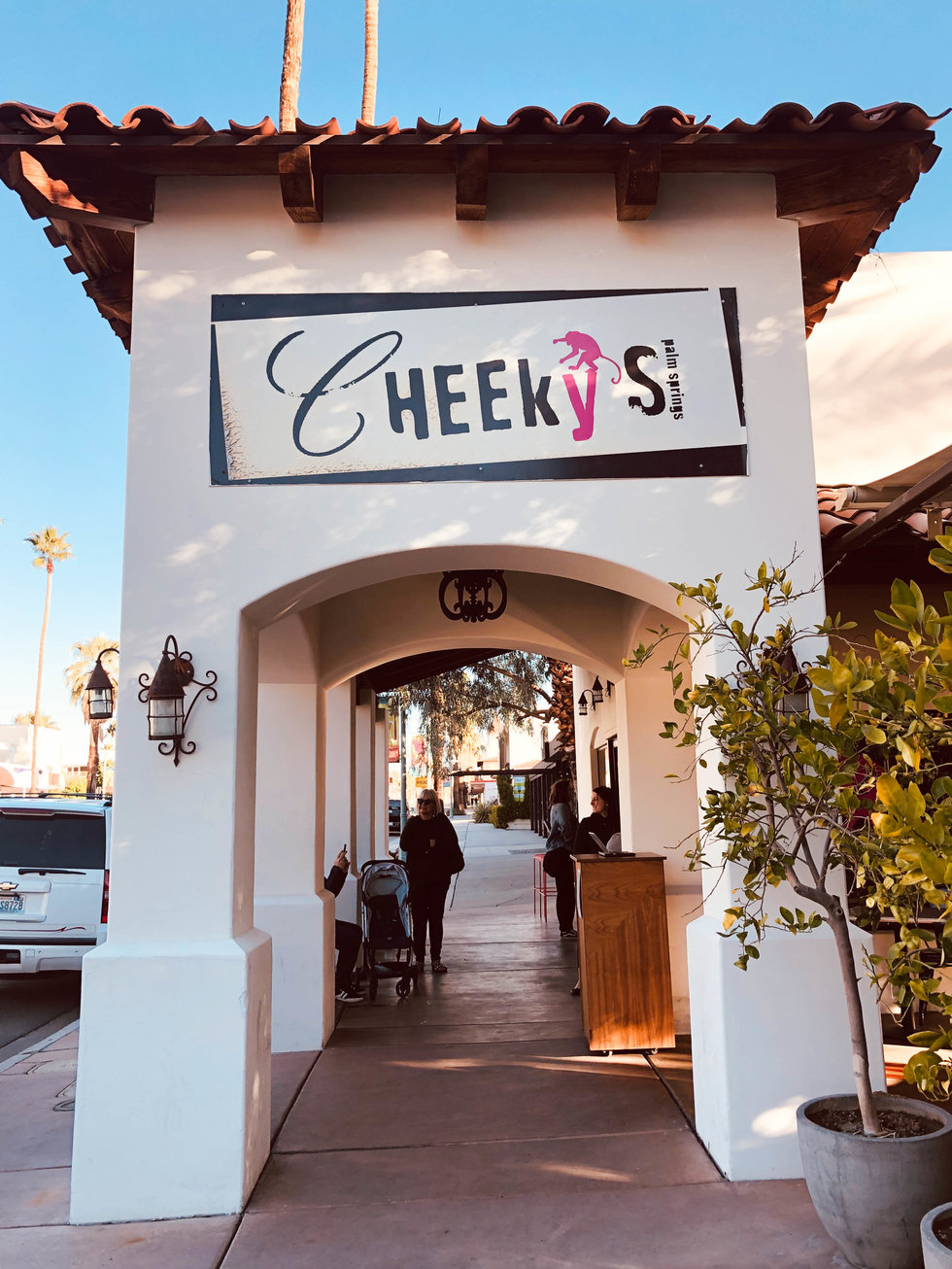 Palm Springs boasts an unbelievable amount of art experiences. Experiential art, art museums and mid-century Modern Design galore. If you can, try to visit Palm Springs during their Modernism week in February. Be sure to get tickets to their house events and tour some of the most breathtakingly beautifully designed houses. And if you're lucky, Desert X might be around during the same time and hunting for art installations throughout the valley, which would be quite the sight.
If a large art fair isn't happening while you're in Palm Springs, we highly recommend heading to the City of Coachella. Their downtown boasts some incredible murals and Kelsey was honored to join the ranks recently. Kelsey completed a pair of "What Lifts You" wings that are colorful and an ode to the Hispanic roots of the community on the side of City Hall.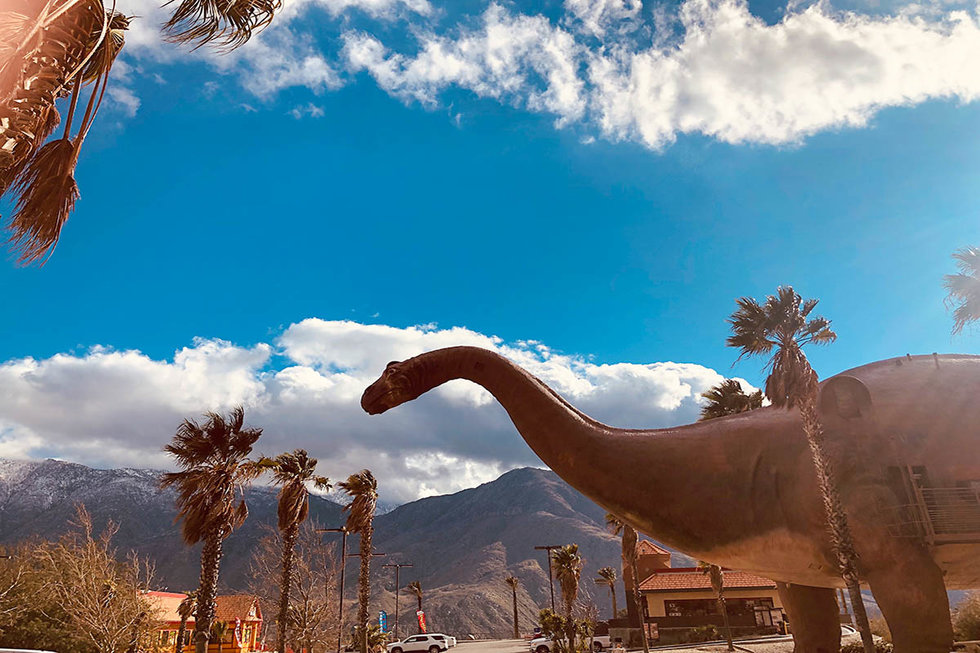 A trip to Palm Springs isn't complete without a picture with the Cabazon Dinosaurs. Made famous through their feature in movies like National Lampoon's Vacation and The Wizard – it's an Instagram-worthy stop.
For lunch, head back to downtown Palm Springs and enjoy a healthy meal at the charming restaurant Farm. Tucked into an interior courtyard, this restaurant feels like you've stepped into the French countryside. It's healthy, clean food even tastes like the South of France with their traditionally French dishes.
Walk off your lunch by exploring the boutiques in Downtown Palm Springs. These mid-century modern shops are not to be missed: A La Mod, Modernway, Vintage Oasis and The Frippery.
Complete your weekend with dinner at the chic Workshop Kitchen + Bar. Their wine cellar is massive and their waiters expertly trained. Trust them to find a new and different flavor for you – something you'll remember long after your weekend in Palm Springs.
Scroll to top