Three Perfect Days: Maui
Story by Jade Bremner | Photography by Marco Argüello | Hemispheres, February 2017
This year marks 70 years of service to Hawaii and to celebrate we are increasing service on 11 routes connecting the continental U.S. and Hawaii, offering our customers more flights between the mainland and the Hawaiian Islands than any other carrier. Beginning December 20, we will increase service from our hubs in Chicago, Denver, Los Angeles and San Francisco to Hawaii. We will continue operating our daily nonstop service to Honolulu from all of our seven domestic hubs in Chicago, Denver, Houston, Los Angeles, New York/Newark, San Francisco, Washington, D.C., plus Guam and Tokyo.
Nothing can really prepare you for your first look at the West Maui Mountains. Jurassic Park may have been filmed on Oahu and Kauai, but it's not hard to imagine a pterodactyl soaring above this range's steep, pleated hillsides, or a diplodocus munching on the dense jungle trees in the distance. There are also hidden beaches, brimming coral reefs, volcanic rock formations, and virgin forests. But Hawaii's second-largest island has more to offer than natural beauty: There are hippies, aspiring chefs, and one of the best surf scenes in the world, too.

Maui also has a rich spiritual and social history. The old town of Lahaina was once the political capital of the Kingdom of Hawaii, and the island itself, riddled with sacred sites, is named after the demigod who, according to myth, formed the Hawaiian archipelago, and who is said to have caught the sun to slow it down. Once you've seen a sunset here, that's a feat you'll believe to be true.

In which Jade goes downhill fast, meets a big wave lover, and learns who caught her dinner at Mama's Fish House
When you think of hotels in Maui, you think one word: beach. For my first night here, I've gone against the grain, opting instead for a mountainside suite at Relais & Châteaux's Hotel Wailea. I wake up amid coral and limestone walls, oak flooring, tribal-patterned furnishings, and Hawaiian ohia woodwork, all of which gives me the impression I fell asleep outside. The actual outside, as viewed from my private balcony, is even prettier: tropical gardens and the ostentatiously blue ocean beyond.This morning, I'm heading for the hills with guide Mark Werner-Gillium, who works for local tour company Maui Downhill. Wearing wind pants and Oakley sunglasses, he pulls up in a van to take me to the base of Haleakala ("House of the Sun") Volcano, the island's highest peak. After an hour or so of lurching left and right on squiggly roads, Werner-Gillium points the van upward. At 10,000 feet, we pass through the clouds and emerge into a desolate, freezing lunar landscape.Looking around, it's easy to see why Haleakala has spiritual significance—Hawaiian legend holds that the summit was home to the grandmother of demigod Māui—and odd to think that only an hour away, back on Earth, people are browning themselves on the beach. Before I can ponder this more fully, Werner-Gillium jumps onto his bike and instructs me to follow. His company, after all, is not called Maui Downhill for nothing.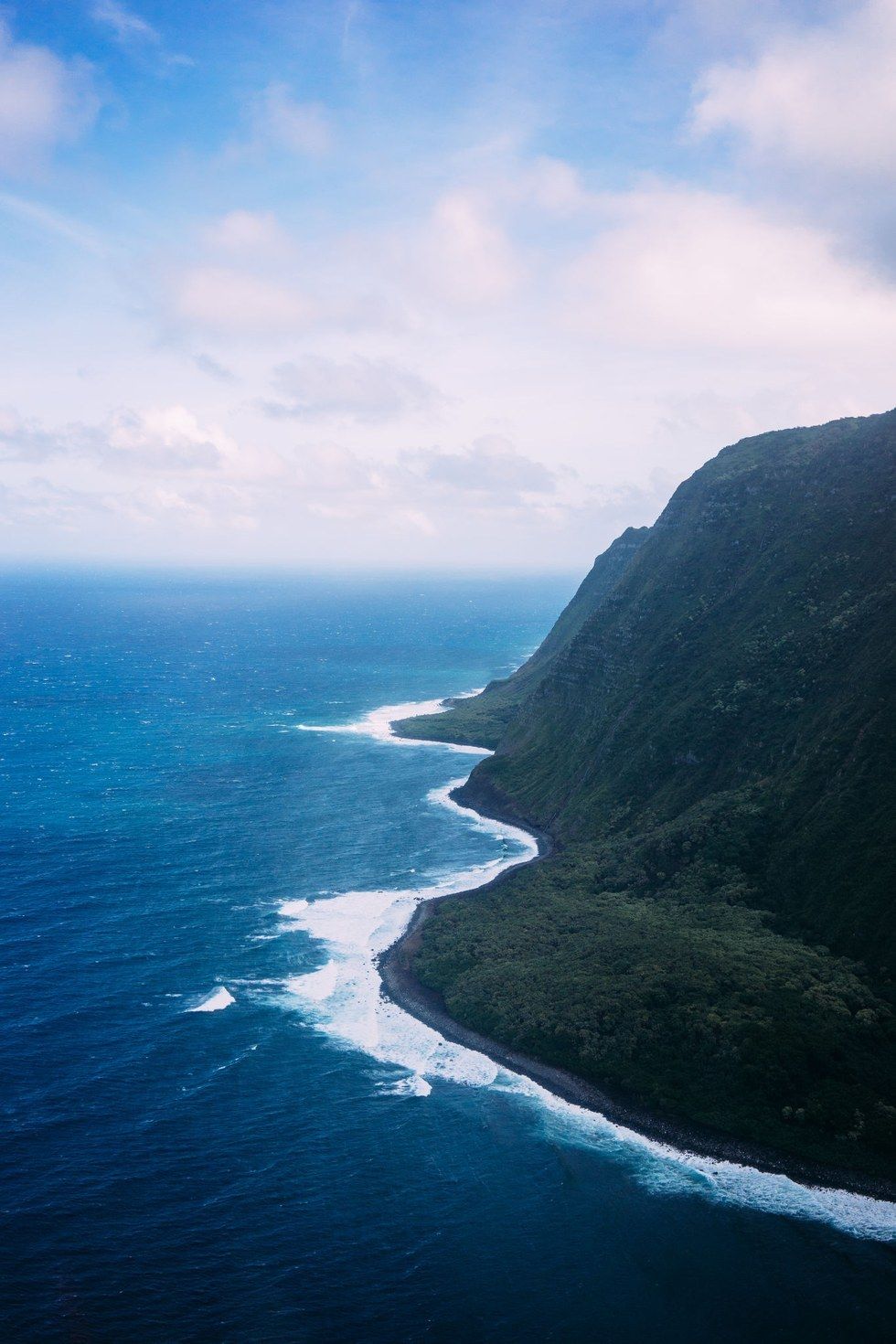 Maui coastline
Nanoseconds later, I'm on a bike, pushing 20 mph on the steep mountainside. My hands are alabaster from gripping the handlebars, my jacket cracks in the wind, and my view of the lavender fields whipping past is largely obscured by the Darth Vader–style biker's helmet I've been given "for safety." "Follow me like a bull!" hollers Werner-Gillium cryptically, followed by "Breathe it all in!" He's referring to the fragrance of pine and eucalyptus that engulfs us as we enter a thick forest. It is indeed a wonderful aroma, but I can't help feeling that "Try not to hit a tree!" would have been more useful advice.Half an hour later, having safely reached the base of the mountain, Werner-Gillium offers to take me to Kama Hele Café, a colorful food truck in the village of Haliimaile that's his favorite breakfast spot. (It better be: His wife, Andrea, is the chef.) Beneath a canopy of small umbrellas next to a pineapple plantation, we dig into island-style French toast made with sweet Hawaiian bread, candied walnuts, and maple syrup. "That's the fastest I've gone on that stretch," says Werner-Gillium, who's still glowing from the ride. "That road can be pretty gnarly."There's more gnarliness ahead, as star surfer Kai Lenny has invited me to his home just outside the former farming settlement of Paia, on the island's north shore. I arrive 15 minutes later at the designer beach house, where Lenny greets me in the surfer uniform—board shorts and a T-shirt. Sitting on the patio we talk about—what else?—surfing.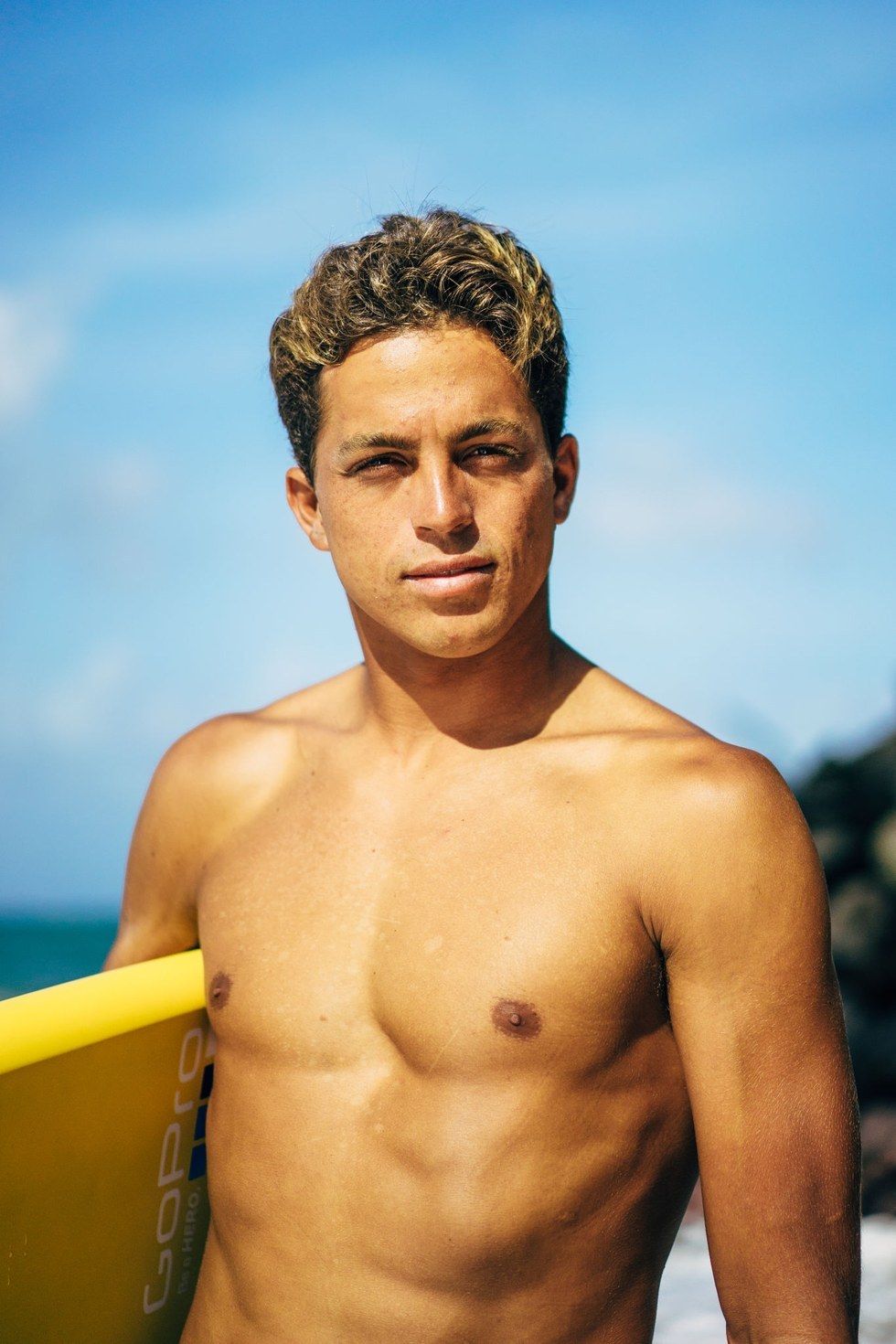 Kai Lenny, professional surfer
"In the ocean-sports world, this is Hollywood," says Lenny, who grew up here, next to a town of cute rainbow-colored storefronts, and who has been surfing since he was 4 years old. His favorite break, located 20 minutes away, is known as Jaws, a "moving mountain" that can rise to 80 feet. Jaws is rideable only around five or six days a year, but when it's on, it makes the news. Kids play hooky from school, and extreme-sporty types fly in to watch it crash. "It feels like a world championship event," Lenny says.
We drive a few minutes to a blustery two-mile stretch of sand named Spreckelsville Beach, where Lenny's been training all week for the Stand Up World Series Finals (which he later goes on to win). He says going out onto the water attunes him to the world in a completely different way. "I become a lot more aware of what's going on around me. It forces me to use survival instincts in a society where you don't have to use any of them."The sun ripples the air, distorting the kitesurfers shredding the turquoise water. We walk for a while, then head for lunch at the legendary Mama's Fish House, a few minutes away, on Kuau Cove in Paia. Mama's is booked up for weeks, but all Lenny has to do is make a call. I'm presented with a sweet-smelling purple lei as I enter the restaurant, which has a fine view of the water.

"It's like going to church every time I go out on the water. I find my rhythm, my center, and realize what's important and what's not." —Kai Lenny
"Mama's is probably the best fish restaurant in the world," Lenny says. "Fishermen go out every day and then come straight to Mama's with their catch." (The menu matches each dish with the name of the man who caught it.) I order melt-in-your-mouth ceviche made with opakapaka fish (caught by Kalae Hickcox), Tahitian lime, chili, and kula persimmon. Next up is mahi-mahi stuffed with crab and baked in a macadamia-nut crust. Lenny insists I save room for the Kuau chocolate pie, which is a very good call. I say goodbye to Lenny and head south, from Paia to Kihei, a half-hour drive that takes me through the interior and past the only remaining sugar mill in Hawaii. There's a treacly smell in the air, and thick smoke drifts incongruously over a backdrop of lush mountains. I'm observing the prelude to a historical moment: Roughly 200 years after the introduction of sugarcane production here, the mill is only months from being shut down, leaving behind no trace other than the Alexander & Baldwin Sugar Museum, located in the old plantation manager's house. Behind the old mill, off a dirt track, is the sleepy sugarcane village of Puunene. The sparsely populated community is a kind of time capsule, a look at local life as it would have been 100 years ago. I visit the small Puunene Bookstore, which has been open for decades. After a rummage through dusty aisles stacked with hundreds of books that sell for a quarter apiece, I leave with a bargain: a rare 1970s guide to surfing .I stop for pizza and a neon-bright Endless Summer happy-hour cocktail at the low-key South Shore Tiki Lounge in Kihei, before catching another timeless local sight. In Maui, it is traditional at sundown to grab a drink, settle into a beach chair, and, joined by various dog walkers and waylaid commuters, witness one of nature's blockbuster shows. I pick a spot in Cove Beach Park and watch as pink brushstrokes appear on a blazing canvas, only just resisting the urge to applaud.

In which Jade stumbles across a clothing-optional drumming session, snorkels in a submerged crater, and samples sushi-style Spam
"Shark! Shark!"I've just arrived at Molokini, a snorkeling site in a crater, two and a half miles from the island's southern harbor. I woke up at dawn and, after a flavorful yogurt-filled papaya breakfast at the beachside Kihei Caffe, jumped aboard the Pride of Maui, captained by Jason Correll. What could possibly go wrong?" Don't worry, snorkelers never see sharks—they're always swimming behind you," Correll joked on the way here. Visibility in the warm waters around Maui is world-class, reaching up to 300 feet in the spot where we sit now, which accommodates 250-odd species of marine life. These include aggressive tiger sharks and unaggressive whitetip reef sharks. Right now, I'm hoping it's the latter."Shark!" I look behind me. Nothing but a few tropical fish. Then, 15 feet to my left, I spot a baby whitetip idly skimming the seabed. I bravely follow the sharkling for a bit, then turn my attention to other species, which are so bright and varied they make my head spin: Moorish idol fish, rainbow butterflyfish, pencil-thin trumpet fish, plump parrotfish. At a nearby spot named Coral Gardens, a two-foot Hawaiian green turtle surfaces, takes a big gulp of air, then dives to the security of a mini coral cave.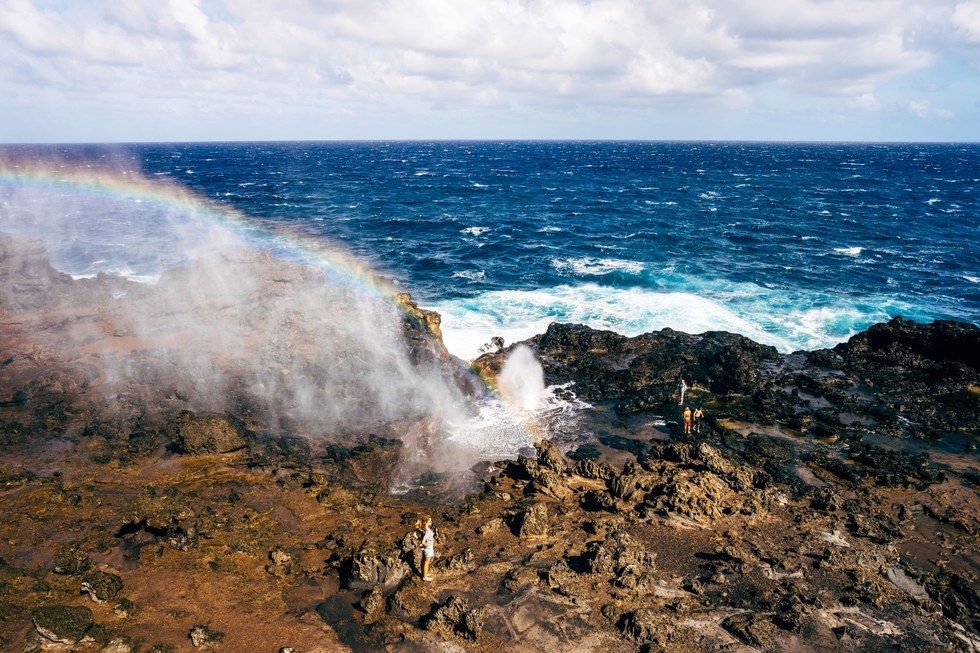 The Nakalele Blowhole
Back in Kihei, I meet chef Travis Morrin at his Three's Bar & Grill, which serves Pacific Rim, Hawaiian, and Southwestern cuisine. I start with a platter of hurricane fries—Morrin's take on the local custom of eating popcorn with Japanese furikake rice seasoning. Hawaiian poké is known the world over, but Morrin is interested in more obscure local food customs, many of which stem from immigrant communities. "You go to any good local place, and it's not a specific style of cuisine," he says. "It's a culmination of a melting pot of cultures over generations."To demonstrate, Morrin invites me to climb (literally) into his menacing monster truck. Our destination is a nearby gas station, where we pick up a $2 Spam musubi (Spam and rice wrapped in nori seaweed). The cheap, long-lasting processed meat became popular here during World War II and was later adapted by the Japanese community into this handheld snack. In the giant vehicle, I unwrap the musubi and bite into it. The Spam, flavored with teriyaki, is warm, rubbery, salty—and weirdly delicious. For dessert, we have traditional shave ice from Ululani's, a roadside hole-in-the-wall with picnic tables. "It's a great business model; someone actually found a way of selling frozen water," Morrin says as we join a line 10 people deep. I go for a No Ka Oi ("the best"), a tooth-tingling mixture of coconut, mango, and passion fruit.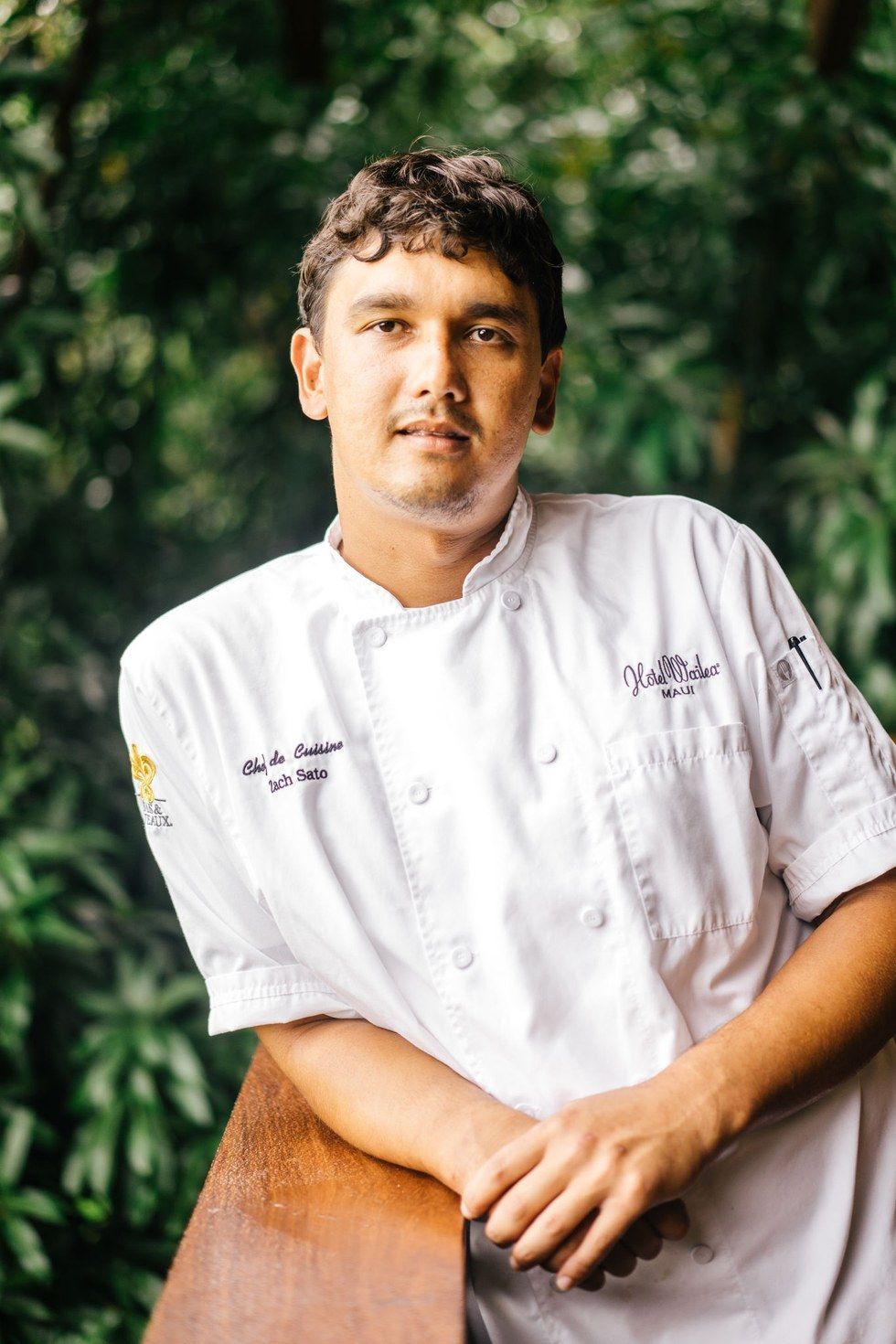 Zach Sato, Chef de Cuisine, The Restaurant at Hotel Wailea
As we eat our ice, Morrin lets me in on another local secret: Sunday sunset at Little Beach in Wailea. "Every Sunday is different, depending on who shows up," he says. "It could be the best night of your life." Intrigued, I order an Uber. My driver smiles when I tell her where I'm headed, which strikes me as odd. Wailea is mainly known for its luxury resorts, but a 20-minute drive takes you to an entirely different place. Sheltered by a rocky outcrop, Little Beach is one of those hidden patches of sand that you dream about. Across the water, you can see the island of Kahoolawe and Molokini crater, where I met that turtle earlier. Over the years, this spot has attracted hippies and sundry art types, and as I walk along the sandy path I hear the faint sound of bongos. A man with dreadlocks and a tie-dye T-shirt wanders past; another has a CND-sign necklace. Moments later, I spot a dozen or so people with various percussion instruments, none of them wearing any clothes.
"Grown here, not flown here. It's important to serve food relative to where you are." —Zach Sato
As the sun goes down, the tempo picks up, and the revelers clap, whoop, and dance. "Would you like a go?" asks a woman brandishing a Hula-Hoop. I have a twirl or two, but give up when I realize my movements could be mistaken for a seizure. As darkness descends, a man lights a fire stick and twists it in time with the beat. As much as I'd love to carry on with the clothing-optional percussionists, I've got a reservation at the considerably more sedate Restaurant at Hotel Wailea. Once I'm seated, I meet chef de cuisine Zach Sato, a rising star whose motto is "grown here, not flown here" and who readily admits to coveting a Michelin star. "It's possible," he says. "We're doing some really cool stuff." His European-style menu places an emphasis on local produce, with small area farms and orchards among his suppliers. "It's important to serve food relative to where you are," he says. I order the Tamimi Farms tomatoes with burrata, pickled shallot, and kale oil to start, followed by prime tenderloin circled with pomme puree, corn, and sea bean salsa verde. Both are delicious. Back in my suite, I sit on the balcony and look out onto the tiki-lit garden. Everything is silent, save for some strangely melodic crickets. I'm not sure if it's bongos or the tune from Jaws looping in my head, but I'm smiling as I drift off to sleep.

In which Jade gets a pterodactyl's-eye view of west Maui, meets penguins, and learns how the stars can lead the way to paradise
"Shark!" I mean, "Helicopter!" The chopper rattles and clatters as we swoop over a bright green canyon in West Maui. Below us, waterfalls tumble down cliffs; before us, rain spatters the windscreen. "I love this weather," says Air Maui pilot Dylan Dacus, who likens flying a helicopter to "riding a motorcycle in the sky." He looks at my expression and smiles. "Feel free to use the Aloha [sick] bags!" We head north, flying over the coastal Kahekili Highway, one of Maui's most spectacular and perilous drives, and then the Nakalele Blowhole, which, obligingly, spouts as we pass. We cut west and cross the Pailolo Channel to Molokai, "the Friendly Island," skirting the Kalaupapa Cliffs—the tallest sea cliffs in the world at 3,300 feet. There's an eerie feeling about this beautiful place. The peninsula was once a leper colony where at least 8,000 Hawaiians were exiled (and legally declared dead) between 1866 and 1969. Some remained, and today Molokai is home to around 8,000 residents.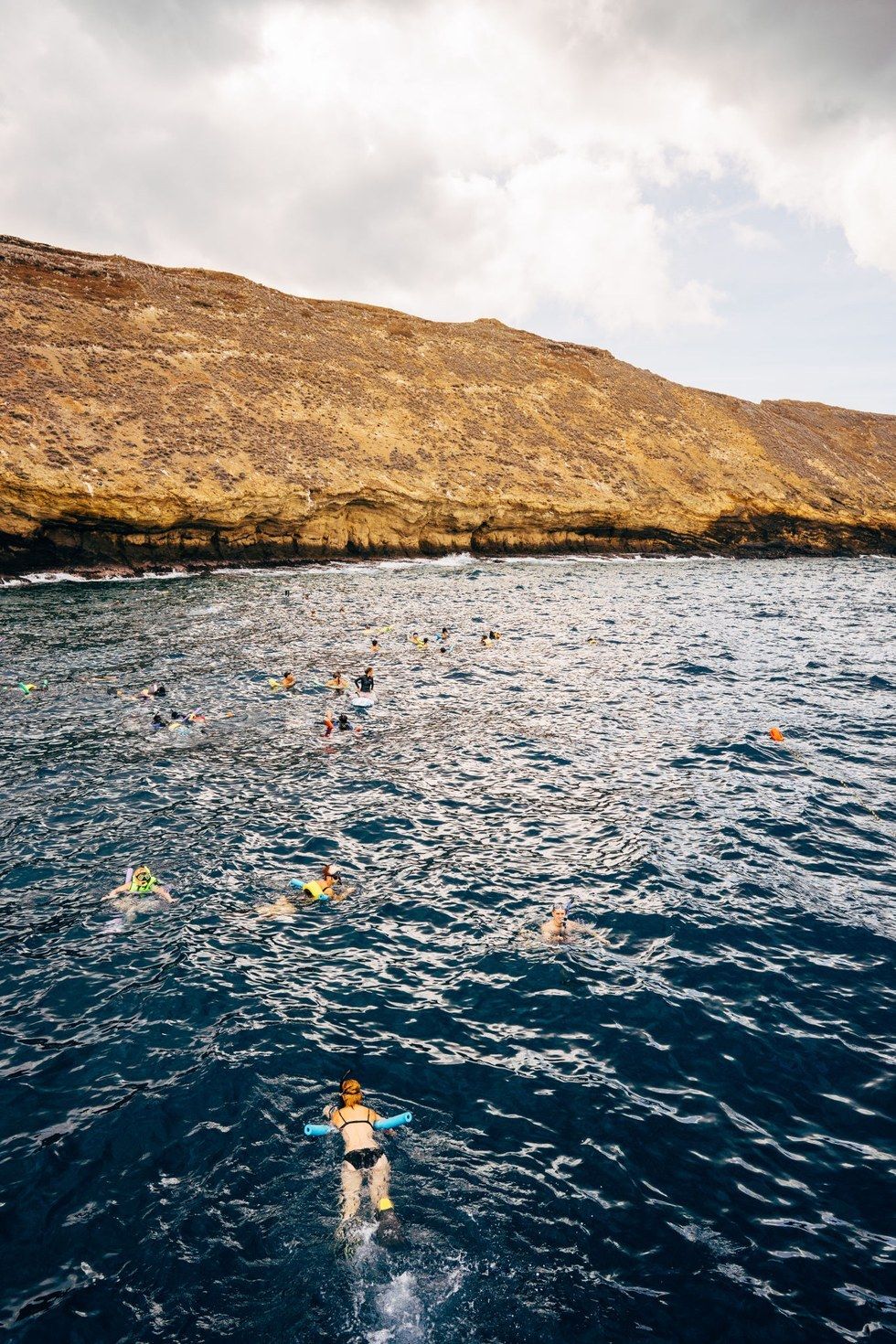 Snorkelers at Molokini Crater
After a thrilling landing at Kahului Heliport, I go in search of food. One of last night's drummers insisted that I try a food truck next to Kahului Harbor, home of "the best shrimp in the world." I'm not convinced as I pull onto the dirt shoulder, next to a plain white truck emblazoned with "Geste Shrimp." The menu is simple—hot dogs or shrimp in four flavors: Hawaiian scampi, lemon pepper, hot and spicy, and spicy pineapple. My hot and spicy shrimp arrive on a Styrofoam tray, alongside crab salad and a scoop of rice. "Word of advice: don't eat them in your car," says a man in line. He's right—it's a messy process—so I sit by the waterside and eat. The world's best shrimp? I don't know, but it's got to be up there. My next stop is the front desk at the Hyatt Regency Maui Resort and Spa, on Kaanapali Beach, at the island's northwestern tip. The lobby is so big it could be an airport terminal. There are palm trees growing in the center of the atrium, plus a pool with African black-footed penguins in it. I wander through the hotel's enchanting grounds, past a flamingo lake, waterfalls, and a hot pool filled with Champagne-sipping guests. It's all very inviting, but tonight I'm set for a different kind of uplifting experience. In the lobby, I meet Faafetai Tialino. "Aloha! Aloha!" he says, resplendent in an elaborately patterned shirt. For 30 years, Tialino has been part of the traditional luau dance-and-dinner outfit Drums of the Pacific. When he was younger, he did the show's finale, the dangerous fire knife dance. "I would look out to the crowd, and people would be hiding behind their hands," he says of his old routine. "If I ever got burned, I knew the audience got their money's worth." Now he plays drums.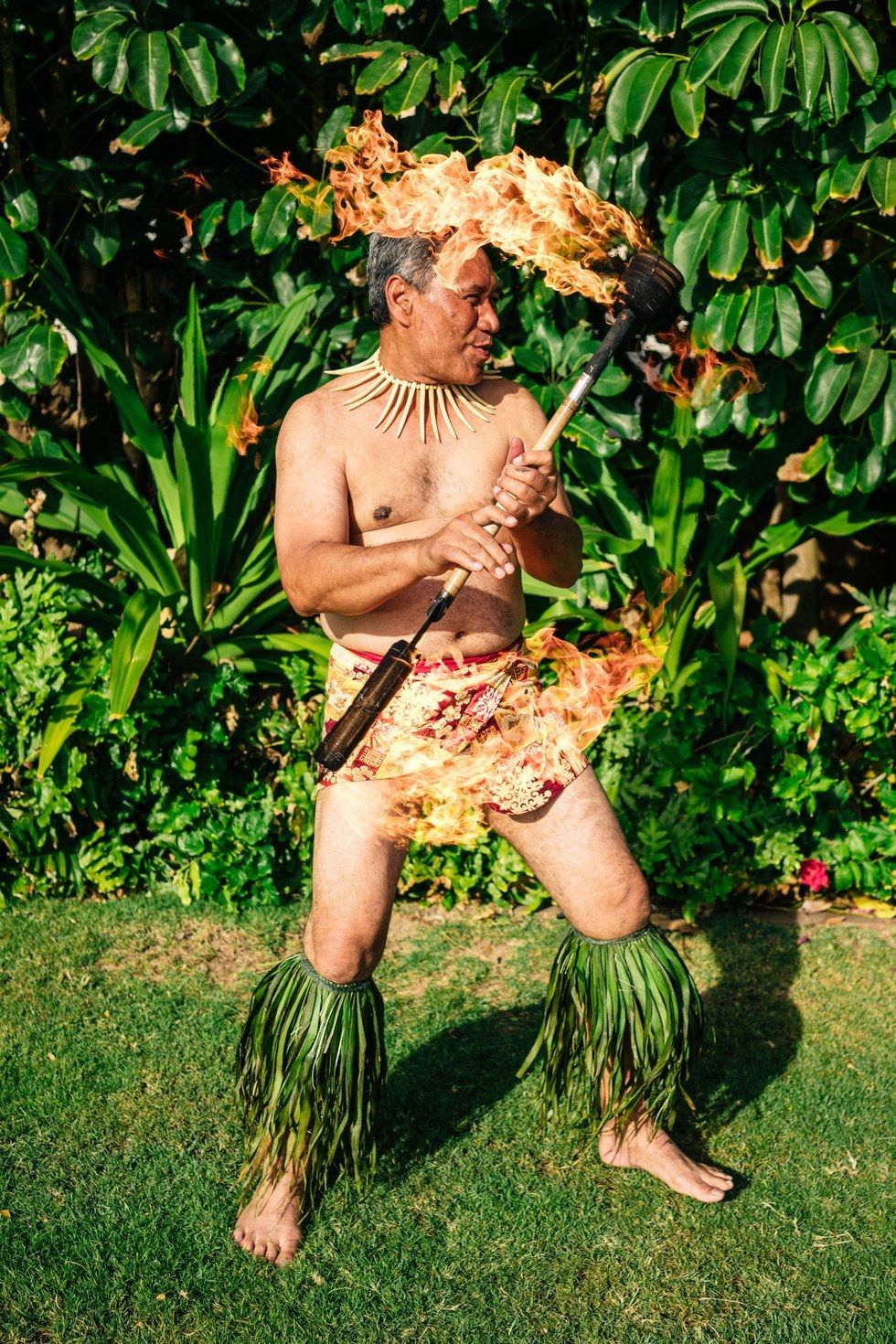 While a luau could be seen as one of the more touristy things to do on Maui, it does offer a glimpse into Polynesian culture and cuisine. As Tialino leads me to my communal table, a smiling woman offers me a pink lei. Over the next three hours, I watch dances from the Hawaiian, Samoan, Tahitian, Tongan, and Maori cultures. My meal consists of poi, starchy taro root paste; lomi lomi salmon, cured raw fish mixed in a salsa; and kalua pig, a whole hog baked in the ground for hours. "Family is very important to Polynesians," Tialino tells me as the evening winds down. "The luau is when the family gets together. It's a celebration of life." I wander off into the dark. Maui is a never-ending vision of beauty, but you should look up every now and then. Situated so close to the equator, the island is one of the best places on Earth for stargazing—you can see 80 of the 88 constellations from here. Consequently, the Hyatt has a Director of Astronomy, Edward Mahoney, who has promised to take me on a Tour of the Stars. We meet in the lobby, then take the elevator nine flights up to the very dark roof. Good thing I'm a trusting person.
"A lot of people measure themselves with money and success, but in Polynesia, and especially here in Hawaii, family and how you treat each other is very important." —Faafetai Tialino, fire dancer, Hyatt Regency Maui Resort and Spa
We stop at a terrace stocked with various pieces of astronomical equipment, including a 14-inch reflector telescope. "When I was 7 years old, Sputnik, the very first satellite, was launched, and that's when my treehouse became an observatory," Mahoney says. "I've been in love with the sky ever since." We admire Saturn's rings, and then the orange glowing orb of Mars, millions of miles away. "It would be fascinating to go to Mars to check out the tunnels," he says with a small sigh. "I think that's where we'll find life—in lava tubes under the ground."As we move from star to planet, planet to star, Mahoney tells me of the Polynesians who first navigated their way to Hawaii centuries ago. "They used straw mats, into which they wove pieces of coral representing the islands," he says. "Then they'd have another straw mat representing the stars. They would pull one mat over the other and tell the young sailors which stars go over which island." I search the sky in silence, thinking of mats and coral and the people who patched these things together, and how strangely simple finding paradise turned out to be.
Lonely Planet author and former Time Out editor Jade Bremner now has a lifelong association between large waves, small sharks, and loosey-goosey bongo players.
Right now, around the world, brave members of America's armed forces are on duty, defending our freedom and upholding our values.
When not laser-focused on the mission at hand, they're looking forward to the day when their service to our nation is fulfilled and they can reunite with their families.
They are also imagining how they can use their hard-earned skills to build an exciting, rewarding and important career when they return home.
I want them to look no further than United Airlines.
That's why we are focused on recruiting, developing and championing veterans across our company, demonstrating to our returning women and men in uniform that United is the best possible place for them to put their training, knowledge, discipline and character to the noblest use.
They've developed their knowledge and skills in some of the worst of times. We hope they will use those skills to keep United performing at our best, all of the time.
That's why we are accelerating our efforts to onboard the best and the brightest, and substantially increasing our overall recruitment numbers each year.
We recently launched a new sponsorship program to support onboarding veterans into United and a new care package program to support deployed employees. It's one more reason why United continues to rank high - and rise higher - as a top workplace for veterans. In fact, we jumped 21 spots this year on Indeed.com's list of the top U.S workplaces for veterans. This is a testament to our increased recruiting efforts, as well as our efforts to create a culture where veterans feel valued and supported.
We use the special reach and resources of our global operations to partner with outstanding organizations. This is our way of stepping up and going the extra mile for all those who've stepped forward to answer our nation's call.
We do this year-round, and the month of November is no exception; however, it is exceptional, especially as we mark Veterans Day.
As we pay tribute to all Americans who have served in uniform and carried our flag into battle throughout our history, let's also keep our thoughts with the women and men who are serving around the world, now. They belong to a generation of post-9/11 veterans who've taken part in the longest sustained period of conflict in our history.

Never has so much been asked by so many of so few.... for so long. These heroes represent every color and creed. They are drawn from across the country and many immigrated to our shores.

They then freely choose to serve in the most distant and dangerous regions of the world, to protect democracy in its moments of maximum danger.
Wherever they serve - however they serve - whether they put on a uniform each day, or serve in ways which may never be fully known, these Americans wake up each morning willing to offer the "last full measure of devotion" on our behalf.
Every time they do so, they provide a stunning rebuke to the kinds of voices around the world who doubt freedom and democracy's ability to defend itself.
Unfortunately, we know there are those who seem to not understand – or say they do not - what it is that inspires a free people to step forward, willing to lay down their lives so that their country and fellow citizens might live.
But, we – who are both the wards and stewards of the democracy which has been preserved and handed down to us by veterans throughout our history – do understand.
We know that inciting fear and hatred of others is a source of weakness, not strength. And such divisive rhetoric can never inspire solidarity or sacrifice like love for others and love of country can.
It is this quality of devotion that we most honor in our veterans - those who have served, do serve and will serve.
On behalf of a grateful family of 96,000, thank you for your service.
Humbly,
Oscar
Each year around Veterans Day, Indeed, one of the world's largest job search engines, rates companies based on actual employee reviews to identify which ones offer the best opportunities and benefits for current and former U.S. military members. Our dramatic improvement in the rankings this year reflects a stronger commitment than ever before to actively recruiting, developing and nurturing veteran talent.
"We've spent a lot of time over the past 12 months looking for ways to better connect with our employees who served and attract new employees from the military ranks," said Global Catering Operations and Logistics Managing Director Ryan Melby, a U.S. Army veteran and the president of our United for Veterans business resource group.
"Our group is launching a mentorship program, for instance, where we'll assign existing employee-veterans to work with new hires who come to us from the armed forces. Having a friend and an ally like that, someone who can help you translate the skills you picked up in the military to what we do as a civilian company, is invaluable. That initiative is still in its infancy, but I'm really optimistic about what it can do for United and for our veteran population here."
Impressively, we were the only one of our industry peers to move up on the list, further evidence that we're on a good track as a company.
The question of where David Ferrari was had haunted retired U.S. Army Sergeant Major Vincent Salceto for the better part of 66 years.
Rarely did a week go by that Salceto didn't think about his old friend. Often, he relived their last moments together in a recurring nightmare. In it, it's once again 1953 and Salceto and Ferrari are patrolling a valley in what is now North Korea. Suddenly, explosions shatter the silence and flares light up the night sky.
Crouching under a barrage of bullets, Salceto, the squad's leader, drags two of his men to safety, then he sees Ferrari lying face down on the ground. He runs out to help him, but he's too late. And that's when he always wakes up.
Italian Americans from opposite coasts – Salceto from Philadelphia, Ferrari from San Francisco – the two became close, almost like brothers, after being assigned to the same unit during the Korean War. When Ferrari died, it hit Salceto hard.
"After that, I never let anyone get close to me like I did with Dave," he says. "I couldn't; I didn't want to go through that again."
When the war ended, Salceto wanted to tell Ferrari's family how brave their son and brother had been in battle. Most of all, he wanted to salute his friend at his gravesite and give him a proper farewell.
For decades, though, Salceto had no luck finding his final resting place or locating any of his relatives. Then, in June of this year, he uncovered a clue that led him to the Italian Cemetary in Colma, California, where Ferrari is buried.
Within days, Salceto, who lives in Franklinville, New Jersey, was packed and sitting aboard United Flight 731 from Philadelphia to San Francisco with his wife, Amy, and daughter, Donna Decker, on his way to Colma. For such a meaningful trip, he even wore his Army dress uniform.
That's how San Francisco-based flight attendant Noreen Baldwin spotted him as he walked down the jet bridge to get on the plane.
"I saw him and said to the other crew members, 'Oh my goodness, look at this guy,'" she says. "I knew there had to be a story."
The two struck up a conversation and Salceto told Baldwin why he was traveling. She got emotional listening to him talk and made a point of fussing over him, making sure he and his family had everything they needed.
About halfway through the flight, Baldwin had an idea. She and her fellow crew members would write messages of encouragement to Salceto and invite his fellow passengers to do the same.
"We did it discreetly," says Baldwin. "I asked the customers if they saw the man in uniform, which most had, and asked them if they wanted to write a few words for him on a cocktail napkin. A lot of people did; families did it together, parents got their kids to write something. After the first few rows, I was so choked up that I could barely talk."
When Baldwin surprised Salceto with dozens of hand-written notes, he, too, was speechless. He laid the stack on his lap and read each one. At the same time, the pilots made an announcement about the veteran over the loud speaker, after which the customers on board burst into applause.
"It seems contrived, and I hate using the word organic, but that's what it was; it just happened," Baldwin says. "Mr. Salceto was so loveable and humble, and what he was doing was so incredible, it felt like the right thing to do. And you could tell he was touched."
On June 27, Salceto finally stood before Ferrari's grave and said that long-awaited goodbye. As a trumpeter played "Taps," he unpinned a medal from his jacket and laid it reverently on the headstone.
"I had gotten a Bronze Star for my actions [the night Ferrari died] with a 'V' for valor, and that was the medal I put on Dave's grave," says Salceto, pausing to fight back tears. "I thought he was more deserving of it than I was."
For the first time in years, Salceto felt at peace. His mission was accomplished.
Scroll to top