Three Perfect Days: Melbourne
Story by Jacqueline Detwiler | Photography by Mark Roper | Hemispheres, October 2014
Some cities, like dogs rolling over for a belly rub, give themselves up to you at once. These are places that clamor for your attention—the hip and the new announce their presence in sidewalk tables and neon signs, while terms like "biggest" and "best" are liberally conferred. Artier and more enigmatic than its shining sister city Sydney, Melbourne is not this kind of city.
After traveling to Australia in 1895, Mark Twain said that the country is "the most beautiful of lies ... full of surprises, and adventures, the incongruities, and contradictions, and incredibilities; but they are all true." In Melbourne, this sense of wonder is best represented by the city's apparently endless maze of alleys (or laneways), which would be seamy and uninviting were they not bursting with art, eateries, retailers and a theatrical lust for life.
A night out in Melbourne can have you in a fake gymnasium drinking a cocktail out of a syringe, or driving in a car with a snorkel protruding from its hood. There are dessert-themed hotels, forest-themed desserts and animals that don't even make sense. You can tell from the moment you arrive that some of the best stories of your life will come from here. You can only hope that people will believe them.

DAY ONE | The problem with waking up in the Flinders King Suite at the Adelphi Hotel—a "dessert-themed" property with dangling couches and zigzag floor patterns—is that every day the staff refills a glass bucket with free candy. It sits there as you shower. It sits there while you peer out at Flinders Lane through the warehouse-style windows. Here's the thing about this candy: You can tuck it behind the loveseat or under the desk, but you will eat it eventually. "Fine," you say, popping a handful of confectionary into your mouth, "what's a half dozen Honeycomb Clonkers before breakfast?"
Before the candy can make a second stand, you ride the elevator down to the lobby. You have plans to spend the morning exploring Melbourne's prime dining and entertainment area, the Central Business District (or CBD), which is right outside your door. To find a proper breakfast, you'll need to look for the scrum of trendy locals jockeying for a table in front of The Hardware Société. You secure an alfresco perch and merrily dip hunks of bread drizzled with olive oil into a pot of baked eggs with chorizo and manchego cheese. Your iced coffee comes with ice cream, a spoon and a straw covered in polka dots. By the end, you feel like a kid at a malt shop, only much more caffeinated.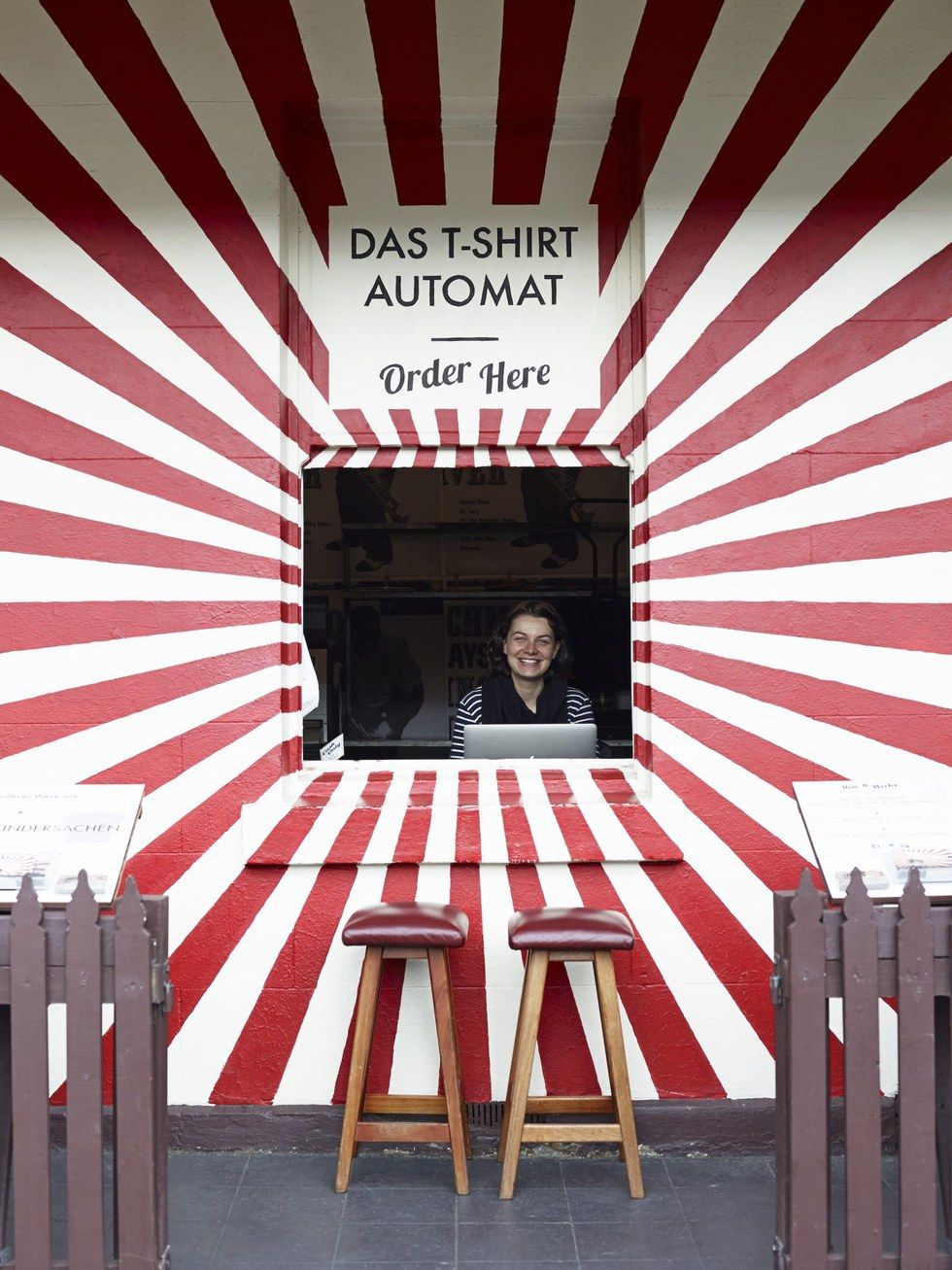 Service with a smile at Das T-Shirt Automat
Buzzing, you head off to explore the city's squiggle of alleys with the help of Michael Fikaris, an artist, illustrator and guide for Melbourne Street Art Tours, who knows the local street art scene so well he may have been born with a can of spray paint in his hand. He leads you through the labyrinth, leaning over balconies and darting across streets to point out his favorite bits—little characters made of repurposed garbage and affixed to telephone poles; cell phones painted gray and pasted to the curb. "There's a French artist, Invader," Fikaris says, indicating a small alien made out of colored tiles. "He came to Melbourne and put these all over the city. Now that you know about them, you'll see them everywhere."
After three hours of this, your legs are screaming, so you hop a tram to Brunswick Street in Fitzroy, one of two excruciatingly hip enclaves northeast of the CBD, and take an elevator a few floors up to Naked in the Sky, the rooftop bar at the Basque tapas joint Naked for Satan. From here, you can look out across Fitzroy and Collingwood—both blocky and pastel and broken only by the periodic spikes of church spires. You contemplate the view over indulgent appetizers—cheese and walnut croquettes with quince aioli, a fried soft-shell crab in red pepper sauce, roasted figs with goat's milk curd—and a sprightly Cascade Bright Ale, brewed in Tasmania.
The afternoon stretches away from you in the way that lazy rooftop afternoons tend to, and you only reluctantly abandon your post to poke around the area's many bookshops, clothing stores and galleries, one of which prominently displays an AC/DC-themed kimono surrounded by crosses. Inspired by your street art tour earlier, you pick up a hoodie with a picture of a crying lemon, courtesy of Das T-Shirt Automat, a storefront that will print the shirt of your choice in four minutes.
From here, it's a short jaunt to Saint Crispin, a pleasantly unadorned boîte in Collingwood whose lighthearted vibe belies an impressive menu. Your dinner starts with a "snack"—a bite of cantaloupe sprinkled with powdered breadcrumbs cooked in jam, a seaweed rice cracker topped with whipped taramasalata (Greek-style carp roe). The meal continues through a dish of marron with vegetables, pickled mushrooms and herb puree that's so artfully composed it could be a watercolor. Having never heard of a marron before, you inquire about the main ingredient.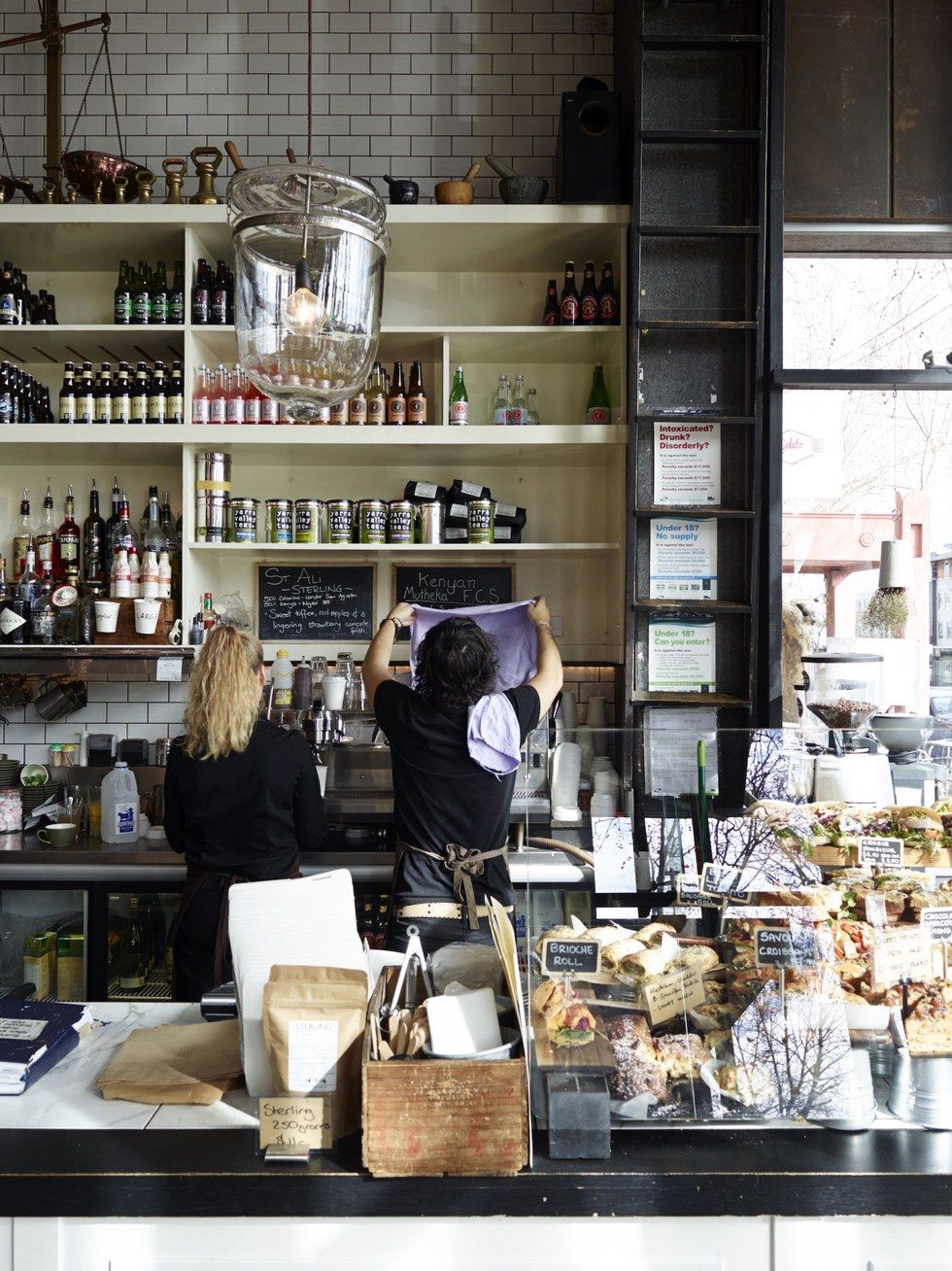 The Fitzrovia Deli's healthy, farm-fresh fare is perfect fuel for a stroll at the nearby St. Kilda Pier
"It's like a cross between a yabby and a …" the bartender pauses at the quizzical look on your face. "Do you know what a yabby is?"
By way of an extended conversation involving at least four kinds of shellfish, you learn that marron is a sort of freshwater crayfish indigenous to Western Australia, and that it's mighty tasty. The next course requires less explanation: pork so crispy you have to fight your neighbors for the cracklings, served with blood plums, baby fennel and mustard.
After dinner, you're too stuffed to walk, so you float back to the Adelphi via cab. "Hey," you note, as the car starts to cover some of the same ground as your art tour, "there's one of those Space Invader things!"
DAY TWO | Despite being a buzzing, avant-garde city in its own right, Melbourne is not immune to the Brooklynophilia sweeping the globe. You stop for a New York–inspired breakfast of a lox and dill cream cheese bagel at Bowery to Williamsburg to see how the Aussies do your native nosh. (Pretty accurately, it turns out.)
Bagel in hand, you head off to the Shrine of Remembrance, a World War I memorial that looks like a cross between an Aztec pyramid and a Greek temple, flanked by Italian cypress trees. Inside, light from a chink in the ceiling illuminates the word "love" in the phrase "Greater love hath no man," which is inscribed on a memorial stone set in the floor. The chink is situated so that this effect only occurs (naturally, at least) once a year: at 11 a.m. on November 11, the time and date of the armistice. Today, through the use of artificial light, visitors can see it every half hour.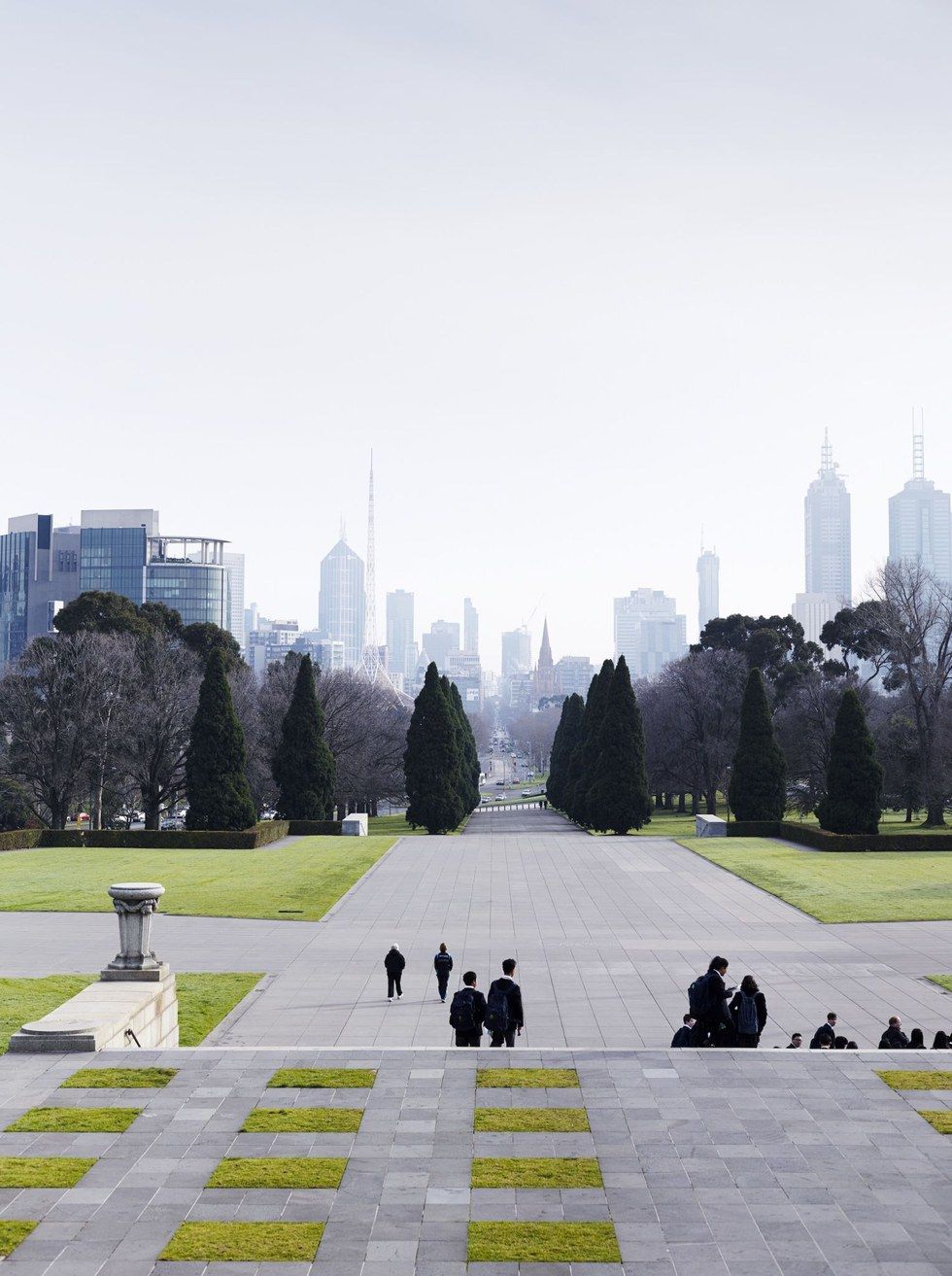 Tranquility prevails at the Shrine of Remembrance
It's a five-minute stroll to your next stop, the exquisite Royal Botanic Gardens, where you've signed up for an Aboriginal Heritage Walk. It begins when your guide, Charles Solomon, builds a fire so you can waft sweet-smelling smoke onto yourself—a traditional aboriginal welcoming gesture. Next, Solomon leads you through the greenery, explaining the traditional uses of plants like kangaroo apple (food, when treated to remove poisons), foambark (fishing aid) and tea tree leaves (antiseptic).
The walk ends with a cup of lemon myrtle tea, which provides a refreshing segue to lunch. It's a perfect beach day, so you tram it toward the bayside suburb of St. Kilda, hopping off near Fitzrovia, a homey farm-to-table deli. The plate that appears before you contains charred corn, avocado, quinoa, black-eyed pea and pomelo salad with cilantro and minted yogurt dressing and chorizo. You dispatch it handily and, feeling healthier than you probably are, take a stroll down to St. Kilda Pier, where you while away the afternoon watching a parade of fit-looking locals stroll down the beach.
After a quick shower at your hotel, it's back to the laneways, which seem more promising and more foreboding in the dark. In a dim room with metal mesh chandeliers that remind you of Warhol's "Silver Clouds," you find Tonka, the newest outpost from the much-lauded Adam D'Sylva. Tonka specializes in high-concept Indian food, a neglected culinary pigeonhole if ever there was one. You order a lamb curry with roasted coconut and cardamom, which arrives with naan in a bag, and a small pile of smoked trout with coconut, chili, pomelo and kaffir lime, which you wrap in a betel leaf and eat like a taco. This last bit, delightfully sour in the way of Filipino food, is inspired.
It's deep evening now, and everyone's a little loopy. You make friends with a local winemaker and his girlfriend in the line for the elevator at Curtin House, a nightlife version of an office tower. Every time the elevator stops, there's something new to see: A restaurant, a dance hall, a restaurant, a bar, a bar, a bar. As you bounce between floors like video-game characters, your new buddies suggest that you visit the Yarra Valley tomorrow and check out the winery. You suggest that they hang out with you tonight and show you around Melbourne's best bars. A deal is struck.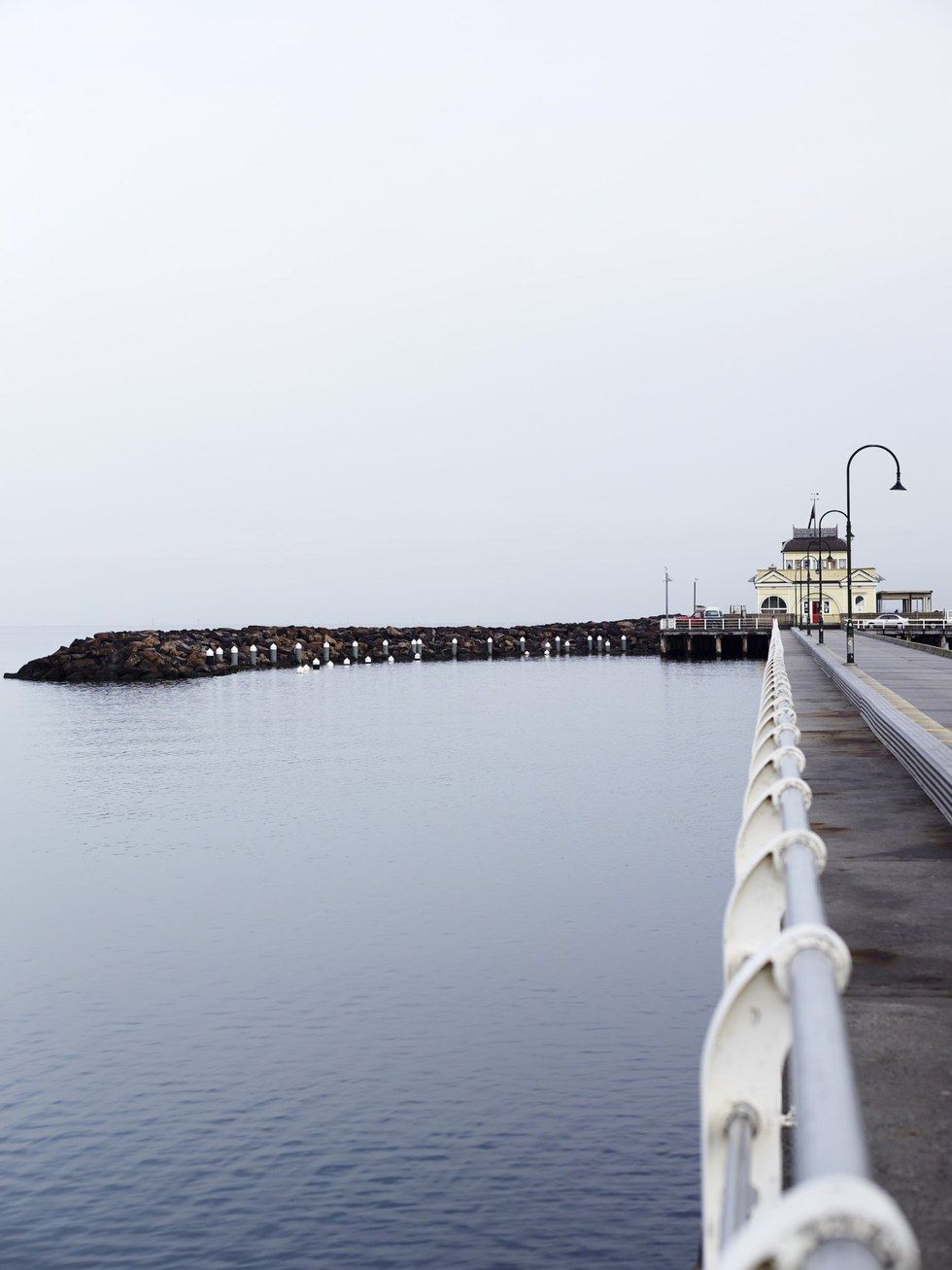 St. Kilda Pier, with its famed Pavilion
After several hours, you find yourselves dancing next to a palm tree at Workshop, an art space that serves coffee in the morning and hosts local bands and DJs at night. Unbelievably, you are hungry, so as dawn approaches, you and your assembled coterie stop off for meat pies at Pie Face, a chain that seems to be on every street corner. Later still, miniature pie in hand, you have a standoff with your room's candy jar and, having been soundly defeated, go to bed.
DAY THREE | You may have been tipsy enough to eat a pie with a face on it last night, but you don't make idle promises. So after breakfast at the hotel's Om Nom dessert bar and restaurant—banana bread with vanilla mascarpone cream, a passion fruit–poached banana, vanilla ice cream and caramel syrup—you hire a driver to take you to the Yarra Valley wine region, located about an hour northeast of the city. As opposed to the sweltering Barossa Valley in South Australia, which is known for fruity shirazes and heavy cabernets, the more temperate Yarra Valley produces pinot noirs and sparkling varieties, which you intend to taste.
You've been told by friends that if you don't snap a picture of a kangaroo while in Australia, you're not to come home. Luckily, Healesville Sanctuary, a zoo and animal refuge in the valley, is home to dozens of photogenic red and gray kangaroos—along with wallabies, wombats, koalas, dingoes,Tasmanian devils, platypuses and all manner of colorful birds. Given the heat, you're surprised to find most of the animals capering in their enclosures; only the wombats are sleeping ("They do that a lot," says a park attendant). Even the koalas are having a romp, climbing on each other's backs and heads on their way to better perches.
Watching the koalas munch eucalyptus leaves makes you crave salad, so you have your driver stop at Innocent Bystander, the glass-walled restaurant at Giant Steps Winery, where you order a pseudo-niçoise, with anchovies, green beans, potatoes, olives and an implausibly breaded soft-boiled egg, alongside a brisk rosé and a plate of thick truffle and parmesan frites.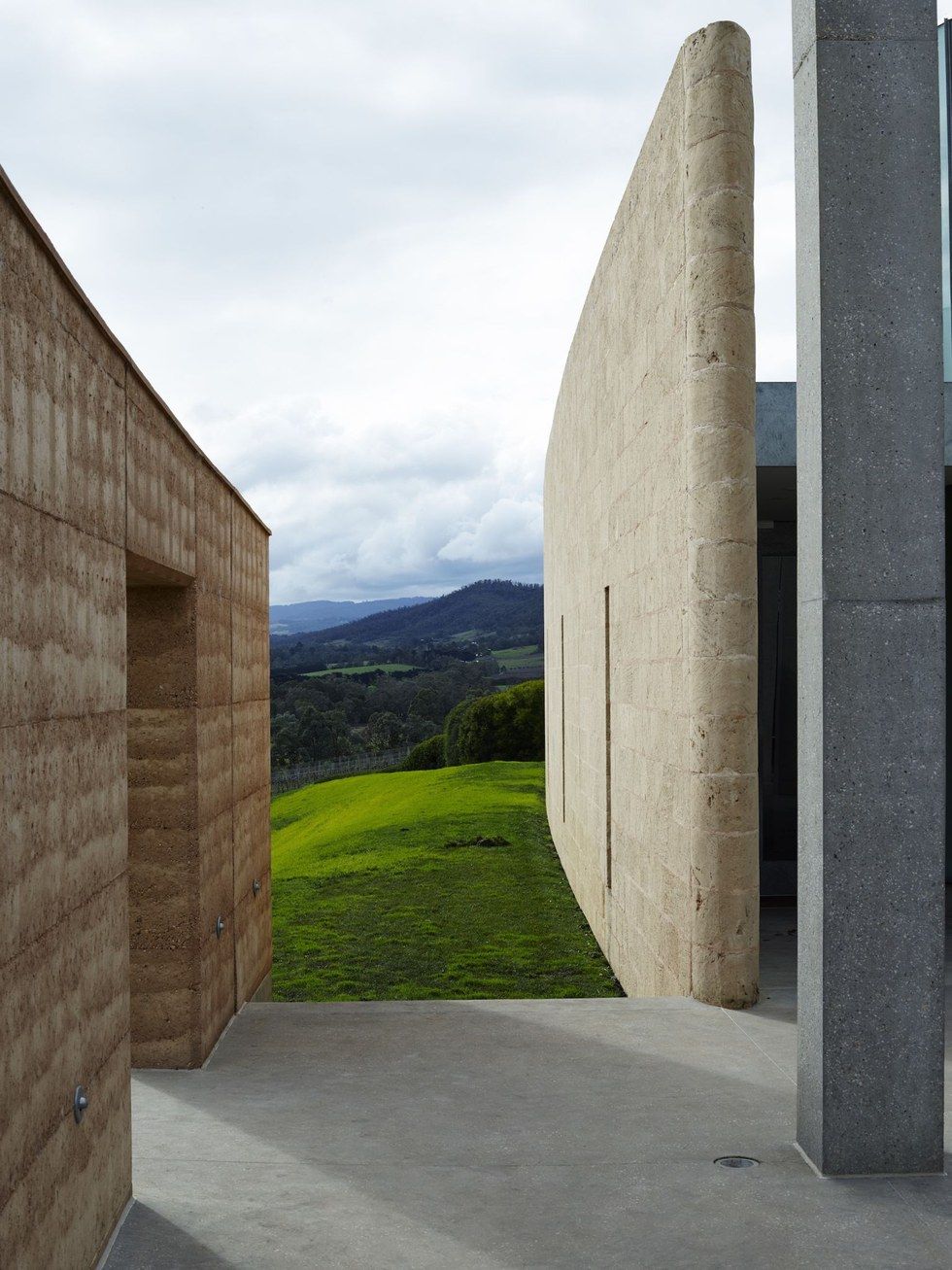 Marr park is tucked between the Central Business District and the Yarra River
Now it's time to fulfill some promises. At Yering Station, you find your buddy from last night driving a forklift before the purple panorama of the Dandenong mountain range. What a place to work! By the time you air-kiss goodbye, your hands are full of bottles you're not sure how you'll pack. You also stop at TarraWarra Estate, where you stroll among the vines, breathing in the scent of steaming fruit. There's an art gallery on the grounds, inside which you fall in love with a painting of a gruff bushman surrounded by parrots.
The ride back flashes by and you emerge sleepily in front of your hotel. What you need is an invigorating dinner, and you're in for one. Back in the CBD, a short walk west, you are swept up to the 55th floor of a perfectly ordinary-looking office building and released into Vue de Monde, a succession of dark rooms bordered by windows. White neon lights on the walls echo the twinkling city below and the stars above, and there are so many mirrors that you get lost on your way to the bathroom. Twice.
Your table is set with an array of rocks and twigs that morph into knife stands, plates, a mortar and pestle. Your meal includes perfectly flaky fried barramundi collar with lemon myrtle salt, followed by a pine mushroom with figs that tastes the way a forest smells. There's plenty of red wine, and plenty of white. Dessert is a eucalyptus ice cream that reminds you of a better, creamier Vicks VapoRub.
By the end, you feel like Alice in Wonderland—loosed from the earth and not entirely sure which way is which. You can be certain only that you are somewhere in Melbourne's hidden otherworld, where everything is more than it seems.
Former Hemispheres senior editor Jacqueline Detwiler has never actually tried to eat Vicks VapoRub, but she did sniff it really intensely once.
This article was written by Jacqueline Detwiler from Rhapsody Magazine and was legally licensed through the NewsCred publisher network. Please direct all licensing questions to legal@newscred.com.
Our Marketing Inflight Entertainment and Connectivity team and Bridge, our Business Resource Group (BRG) for people with all abilities, partnered together to test and provide feedback on our award-winning seatback inflight entertainment (IFE) system.
Aptly named "Entertainment for all," our new seatback IFE system offers the an extensive suite of accessibility features, allowing for unassisted use by people of all visual, hearing, mobility and language abilities.
"It's nice to know that I can get on a plane and pick my favorite entertainment to enjoy, just like every customer," said Accessibility Senior Analyst and Developer and Bridge Chief of Staff Ray C., who is blind.
"As a deaf employee, the closed captioning availability on board our aircraft is something I value greatly," added Information Technology Analyst Greg O. "The new IFE further cements United's visibility within the deaf community and elsewhere. It makes me proud to be an employee."
Accessibility features of the new IFE include a text-to-speech option, explore by touch, customizable text size, screen magnification, color correction and inversion modes, and alternative navigation options for those unable to swipe or use a handset. For hearing-impaired and non-English-speaking passengers, customization options provide the ability for customers to be served content and receive inflight notifications based on their preferences and settings —with closed captions, with subtitles or in the language of their choice from the 15 languages supported. Our "Entertainment for all" system won the Crystal Cabin Award in 2019, and recently, the Dr. Margaret Pfanstiehl Research and Development Award for Audio Description by the American Council of the Blind.
"This really showed the benefits of partnering with BRGs in helping us improve products and services for our customers and employees," said Inflight Entertainment and Connectivity Senior Manager Corinne S. "Even though we have been recognized with awards for our IFE accessibility features, we are not resting on our laurels but continuing to work towards improving the inflight entertainment experience for all of our customers to ensure entertainment is available for all."
If your travels have taken you through Chicago O'Hare International Airport anytime since October 2019, you may have had a friendly, caring and jovial exchange with Daniel Smrokowski. Daniel is one of four Service Ambassadors thanks to our ongoing partnership with Special Olympics. This inaugural ambassador program aims to provide Special Olympic athletes employment opportunities within our operation, affording them a unique and meaningful career.
Since 2018, our partnership with Special Olympics has become one of United's most cherished relationships, going beyond the events we take part in and volunteer with. While the plane pull competitions, polar plunges, duck derbies and Special Olympics World Games and other events around the world are a big part of our involvement, the heart of this partnership lies with the athletes and individuals supported by Special Olympics. To advocate for their inclusion in every setting is one of our biggest honors, and we take great pride in the role we play in the organization's inclusion revolution.
Aiding in the success of Special Olympics' mission to create continuing opportunities for individuals with intellectual disabilities, throughout the two-year partnership, United has volunteered over 10,500 hours and donated over $1.2 million in travel to the organization. The impact of this partnership is felt at every level, both at Special Olympics and within our own ranks.
"The Inclusion Revolution campaign, led by our athletes, aims to end discrimination against people with intellectual disabilities. United Airlines has joined in our fight for inclusion, empowering our athletes with the skills needed to succeed and opportunities to contribute their abilities as leaders," said Special Olympics International Chairman Tim Shriver. "United Airlines believes that people with intellectual disabilities should be perceived as they really are: independent, world-class athletes, students, employees, neighbors, travelers, and leaders who contribute to make this world a better place."
Our Service Ambassador program is just one of the many ways Special Olympics has impacted not only our employees, but also our customers. "I see every day how our Service Ambassadors connect with our customers the moment they walk into the airport lobby," said Senior Customer Service Supervisor Steve Suchorabski. "They provide a warm, welcoming smile ad assist in any way they can. To see these young adults hold positions that a society once told them they couldn't is truly the most heartwarming part of my job," Steve continued.
"The opportunity to be a part of the United family means everything to me," Daniel said. "I feel so much pride showing up to work in a Special Olympics/United co-branded uniform, working among such a loving and supportive community. The relationship between these two organizations is truly helping to shape my future while letting me use my gifts of communicating and helping others. Hopefully, I can spend my entire career at United," Daniel added.
In honor of Special Olympics' Global Week of Inclusion in July, we're asking our employees, customers and partners to sign a pledge to #ChooseToInclude at jointherevolution.org/pledge.
And be sure to check out Daniel's podcast The Special Chronicles.

In collaboration with food-logistics company Commodity Forwarders Inc. (CFI), United moved nearly 190,000 pounds of fresh produce to Guam for the U.S. Department of Agriculture's Coronavirus Farm Assistance Program. This new program was created to provide critical support to consumers impacted by the COVID-19 global pandemic.
A variety of fresh fruits were transported from Los Angeles (LAX) to Guam (GUM) on United's newly introduced, non-stop cargo-only flight – a route added to meet cargo demand during the COVID-19 crisis. The fresh food was repacked in 10-pound cases in Los Angeles, prepared for departure at CFI's LAX location, and flown to GUM by the United team. Through this beneficial partnership between United and CFI, the perishable goods were kept cool during every step of the process and distributed as part of the food bank program in Guam.
"Everyone on our team has worked relentlessly during the pandemic to get critical goods to where they are needed most. Establishing a comprehensive network of cargo-only flights have allowed us to keep the supply chain moving even while passenger flight capacity has been reduced," said Regional Senior Manager of Cargo Sales, Marco Vezjak. "Knowing that we are able to help during these difficult times – in this case the Guam community – is our biggest reward and greatest motivation to keep moving forward."
United is proud to play a role in maintaining the global food supply chain and helping people access the supplies they need. Since March 19, United has operated over 4,000 cargo-only flights, moving over 130 million pounds of cargo.

Together, we are facing an unprecedented challenge. United Together, we rise to meet that challenge.
Learn more
United Airlines
united
While electrostatic sprayers are used to disinfect aircraft cabins, the switches & touch screen displays in our flight decks use a different approach. See how ultraviolet C (UVC) lighting is being used to kill viruses that may reside on these sensitive components.
United Airlines
united
A travel waiver is in effect for the East Coast due to Tropical Storm Isaias. If you're traveling 8/4 - 8/5, you can change your flight at no cost on our mobile app, by direct messaging us here or calling 1-800-864-8331. Waiver:
uafly.co/Z04CmP
United Airlines
united
We've issued a travel waiver for Charleston, Wilmington and Norfolk due to Hurricane Isaias. If you're traveling 8/3 - 8/4, you can change your flight at no cost on our mobile app, by direct messaging us or calling 1-800-864-8331. Waiver:
uafly.co/Z04CmP
United Airlines
united
Flights booked now through August 31 can be changed for free over the next 12 months to allow for additional flexibility. All existing travel can be changed without fees as well. See waiver for details:
uafly.co/2M9vgLC
We Are United
weareunited
We've rolled out "Easy Chat" as the Flight Info app on Link devices at DCA, IAD, LAX, ORD and DEN with EWR, IAH and SFO coming this summer. This program offers increased connectivity and transparency between the
#BeingUnited
frontline to keep flights moving and on-time.
We Are United
weareunited
Our digital servicing team has developed an automated assistant to make it easier for our customers to learn about what to expect the next time they fly. Text "Clean" to FLYUA (35982) to give it a try!
We Are United
weareunited
Three-year-old Luna Mei was all smiles on her flight home after 212 days in a San Francisco hospital, thanks to her SFO-based FAs (and undercover angels 👼) Pamela R., Sharon S., Sonja B. and Stacey G. The quartet kept spirits high by singing songs, clapping and playing games.
We Are United
weareunited
So long paper boarding passes, standby and upgrade travel are going touchless! If you've signed up for day-of-travel notifications, you'll now receive a text or email when your seat is assigned.
We Are United
weareunited
Our inaugural flight to Chicago from Toyko Haneda coincided with the annual Japanese celebration known as "Tanabata" or "Star Festival." The
#BeingUnited
team at HND placed their wishes on bamboo trees before the flight departed for ORD.
Watch our most popular videos
Flying UCSF Medical Workers to New York
This is why we fly.
20 UCSF Health workers, who voluntarily set aside their own lives to help save lives, are on their way to New York City.
We are humbled by your selfless sacrifice.
Thank you.
#UnitedTogether #UCSFHeroes
A happy, Hollywood ending
This is the story of Jason and Shantel. You see, Jason and Shantel love each other very much. They also love traveling and they love the classic Adam Sandler film, The Wedding Singer.
It all began when Jason reached out to United's social media team, hoping for assistance with his upcoming plan to propose. Some phone calls and one borrowed guitar later, the stage was set for Jason. Put all that together, mix in some helpful United employees and, voila, you have a truly memorable marriage proposal. Congratulations to this fun-loving and happy couple, and here's to many more years of making beautiful music together.
A big thank you to Chicago-based flight attendants Donna W., Marie M., Karen J. and Mark K. for making this proposal come to life.
Copyright © 2020 United Airlines, Inc.
All rights reserved.
Indicates an external site that may or may not meet accessibility guidelines.
Scroll to top
Scroll to top