Three Perfect Days: Melbourne
Story by Jacqueline Detwiler | Photography by Mark Roper | Hemispheres, October 2014
Some cities, like dogs rolling over for a belly rub, give themselves up to you at once. These are places that clamor for your attention—the hip and the new announce their presence in sidewalk tables and neon signs, while terms like "biggest" and "best" are liberally conferred. Artier and more enigmatic than its shining sister city Sydney, Melbourne is not this kind of city.
After traveling to Australia in 1895, Mark Twain said that the country is "the most beautiful of lies ... full of surprises, and adventures, the incongruities, and contradictions, and incredibilities; but they are all true." In Melbourne, this sense of wonder is best represented by the city's apparently endless maze of alleys (or laneways), which would be seamy and uninviting were they not bursting with art, eateries, retailers and a theatrical lust for life.
A night out in Melbourne can have you in a fake gymnasium drinking a cocktail out of a syringe, or driving in a car with a snorkel protruding from its hood. There are dessert-themed hotels, forest-themed desserts and animals that don't even make sense. You can tell from the moment you arrive that some of the best stories of your life will come from here. You can only hope that people will believe them.

DAY ONE | The problem with waking up in the Flinders King Suite at the Adelphi Hotel—a "dessert-themed" property with dangling couches and zigzag floor patterns—is that every day the staff refills a glass bucket with free candy. It sits there as you shower. It sits there while you peer out at Flinders Lane through the warehouse-style windows. Here's the thing about this candy: You can tuck it behind the loveseat or under the desk, but you will eat it eventually. "Fine," you say, popping a handful of confectionary into your mouth, "what's a half dozen Honeycomb Clonkers before breakfast?"
Before the candy can make a second stand, you ride the elevator down to the lobby. You have plans to spend the morning exploring Melbourne's prime dining and entertainment area, the Central Business District (or CBD), which is right outside your door. To find a proper breakfast, you'll need to look for the scrum of trendy locals jockeying for a table in front of The Hardware Société. You secure an alfresco perch and merrily dip hunks of bread drizzled with olive oil into a pot of baked eggs with chorizo and manchego cheese. Your iced coffee comes with ice cream, a spoon and a straw covered in polka dots. By the end, you feel like a kid at a malt shop, only much more caffeinated.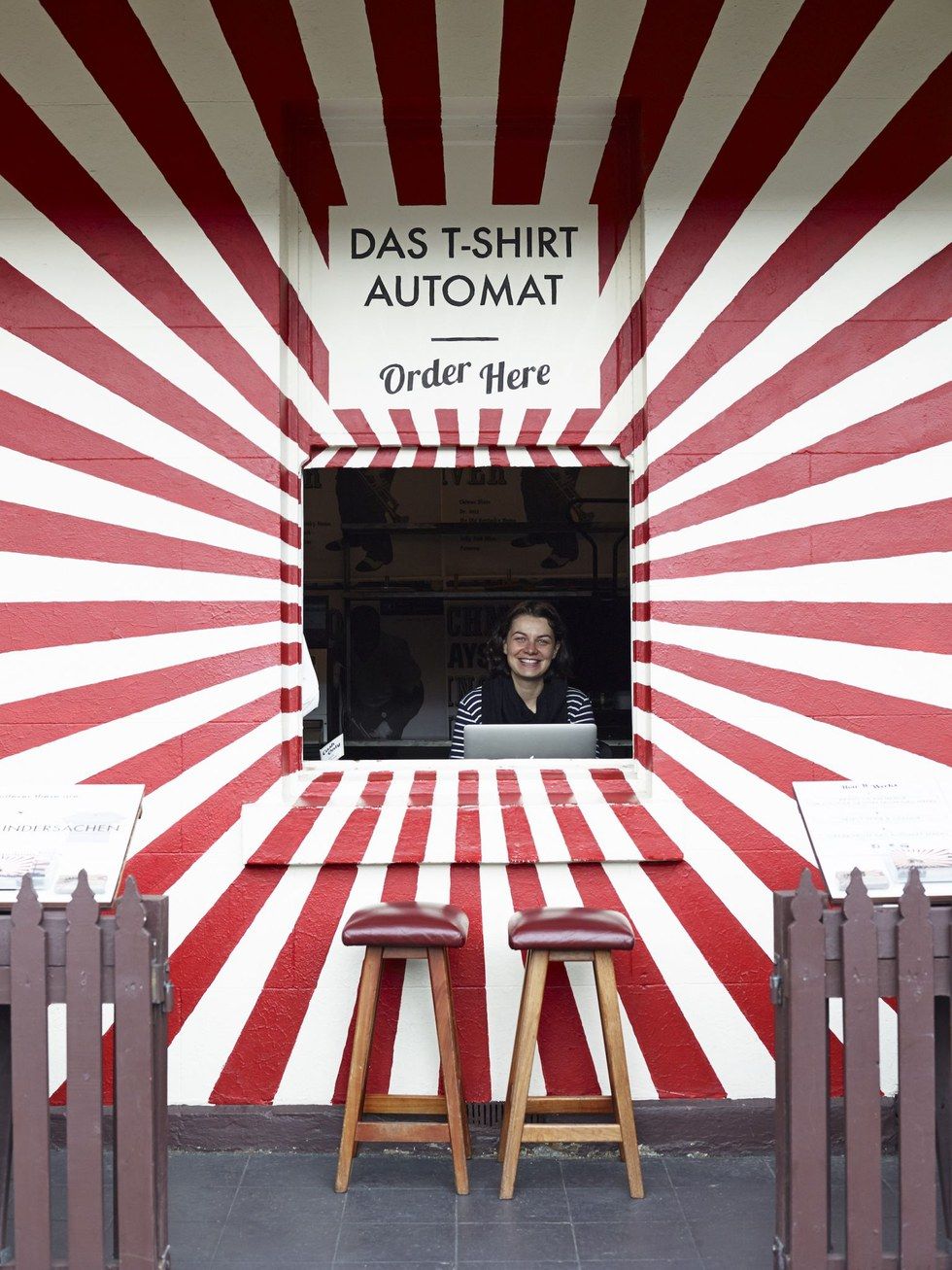 Service with a smile at Das T-Shirt Automat
Buzzing, you head off to explore the city's squiggle of alleys with the help of Michael Fikaris, an artist, illustrator and guide for Melbourne Street Art Tours, who knows the local street art scene so well he may have been born with a can of spray paint in his hand. He leads you through the labyrinth, leaning over balconies and darting across streets to point out his favorite bits—little characters made of repurposed garbage and affixed to telephone poles; cell phones painted gray and pasted to the curb. "There's a French artist, Invader," Fikaris says, indicating a small alien made out of colored tiles. "He came to Melbourne and put these all over the city. Now that you know about them, you'll see them everywhere."
After three hours of this, your legs are screaming, so you hop a tram to Brunswick Street in Fitzroy, one of two excruciatingly hip enclaves northeast of the CBD, and take an elevator a few floors up to Naked in the Sky, the rooftop bar at the Basque tapas joint Naked for Satan. From here, you can look out across Fitzroy and Collingwood—both blocky and pastel and broken only by the periodic spikes of church spires. You contemplate the view over indulgent appetizers—cheese and walnut croquettes with quince aioli, a fried soft-shell crab in red pepper sauce, roasted figs with goat's milk curd—and a sprightly Cascade Bright Ale, brewed in Tasmania.
The afternoon stretches away from you in the way that lazy rooftop afternoons tend to, and you only reluctantly abandon your post to poke around the area's many bookshops, clothing stores and galleries, one of which prominently displays an AC/DC-themed kimono surrounded by crosses. Inspired by your street art tour earlier, you pick up a hoodie with a picture of a crying lemon, courtesy of Das T-Shirt Automat, a storefront that will print the shirt of your choice in four minutes.
From here, it's a short jaunt to Saint Crispin, a pleasantly unadorned boîte in Collingwood whose lighthearted vibe belies an impressive menu. Your dinner starts with a "snack"—a bite of cantaloupe sprinkled with powdered breadcrumbs cooked in jam, a seaweed rice cracker topped with whipped taramasalata (Greek-style carp roe). The meal continues through a dish of marron with vegetables, pickled mushrooms and herb puree that's so artfully composed it could be a watercolor. Having never heard of a marron before, you inquire about the main ingredient.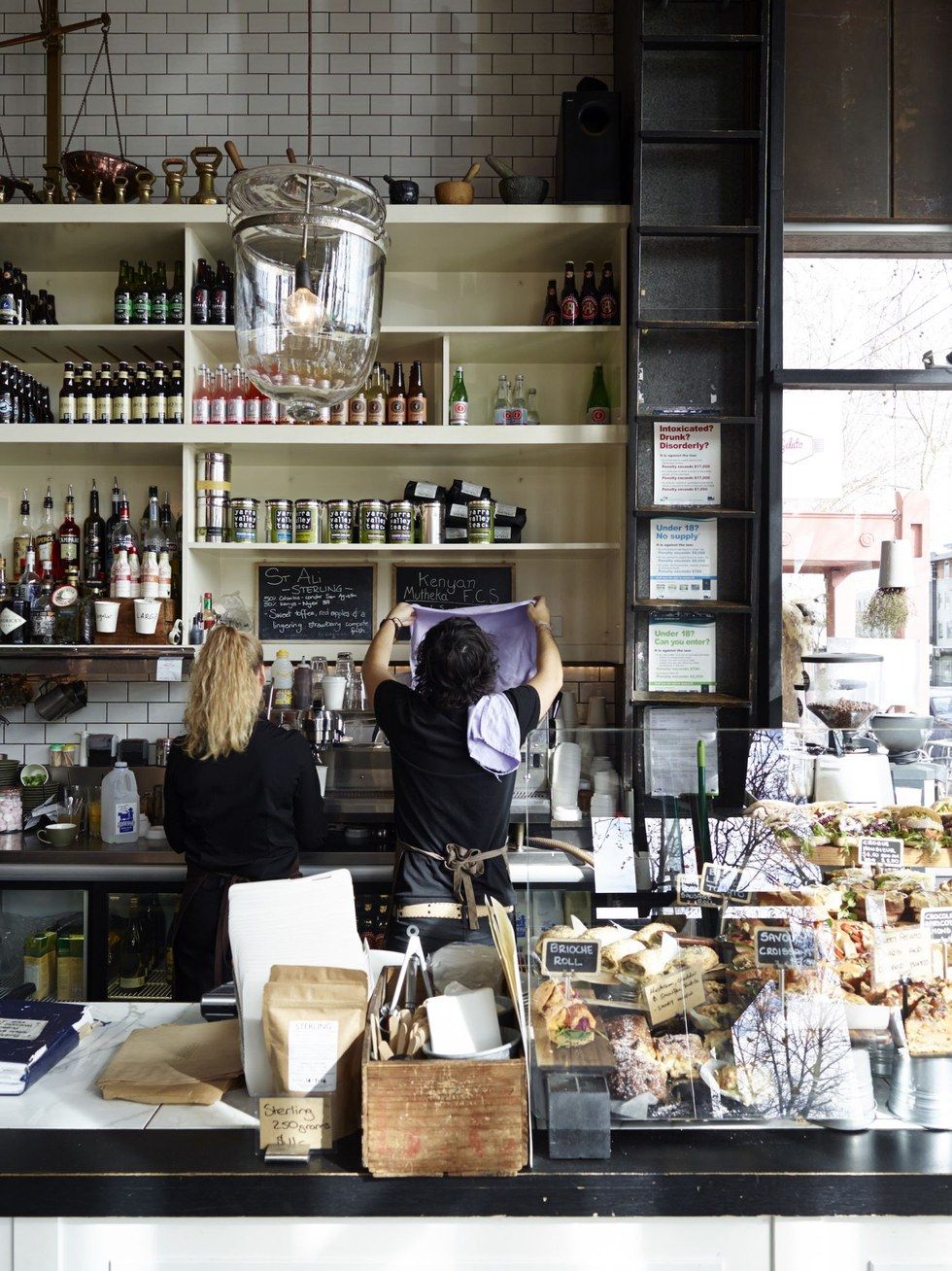 The Fitzrovia Deli's healthy, farm-fresh fare is perfect fuel for a stroll at the nearby St. Kilda Pier
"It's like a cross between a yabby and a …" the bartender pauses at the quizzical look on your face. "Do you know what a yabby is?"
By way of an extended conversation involving at least four kinds of shellfish, you learn that marron is a sort of freshwater crayfish indigenous to Western Australia, and that it's mighty tasty. The next course requires less explanation: pork so crispy you have to fight your neighbors for the cracklings, served with blood plums, baby fennel and mustard.
After dinner, you're too stuffed to walk, so you float back to the Adelphi via cab. "Hey," you note, as the car starts to cover some of the same ground as your art tour, "there's one of those Space Invader things!"
DAY TWO | Despite being a buzzing, avant-garde city in its own right, Melbourne is not immune to the Brooklynophilia sweeping the globe. You stop for a New York–inspired breakfast of a lox and dill cream cheese bagel at Bowery to Williamsburg to see how the Aussies do your native nosh. (Pretty accurately, it turns out.)
Bagel in hand, you head off to the Shrine of Remembrance, a World War I memorial that looks like a cross between an Aztec pyramid and a Greek temple, flanked by Italian cypress trees. Inside, light from a chink in the ceiling illuminates the word "love" in the phrase "Greater love hath no man," which is inscribed on a memorial stone set in the floor. The chink is situated so that this effect only occurs (naturally, at least) once a year: at 11 a.m. on November 11, the time and date of the armistice. Today, through the use of artificial light, visitors can see it every half hour.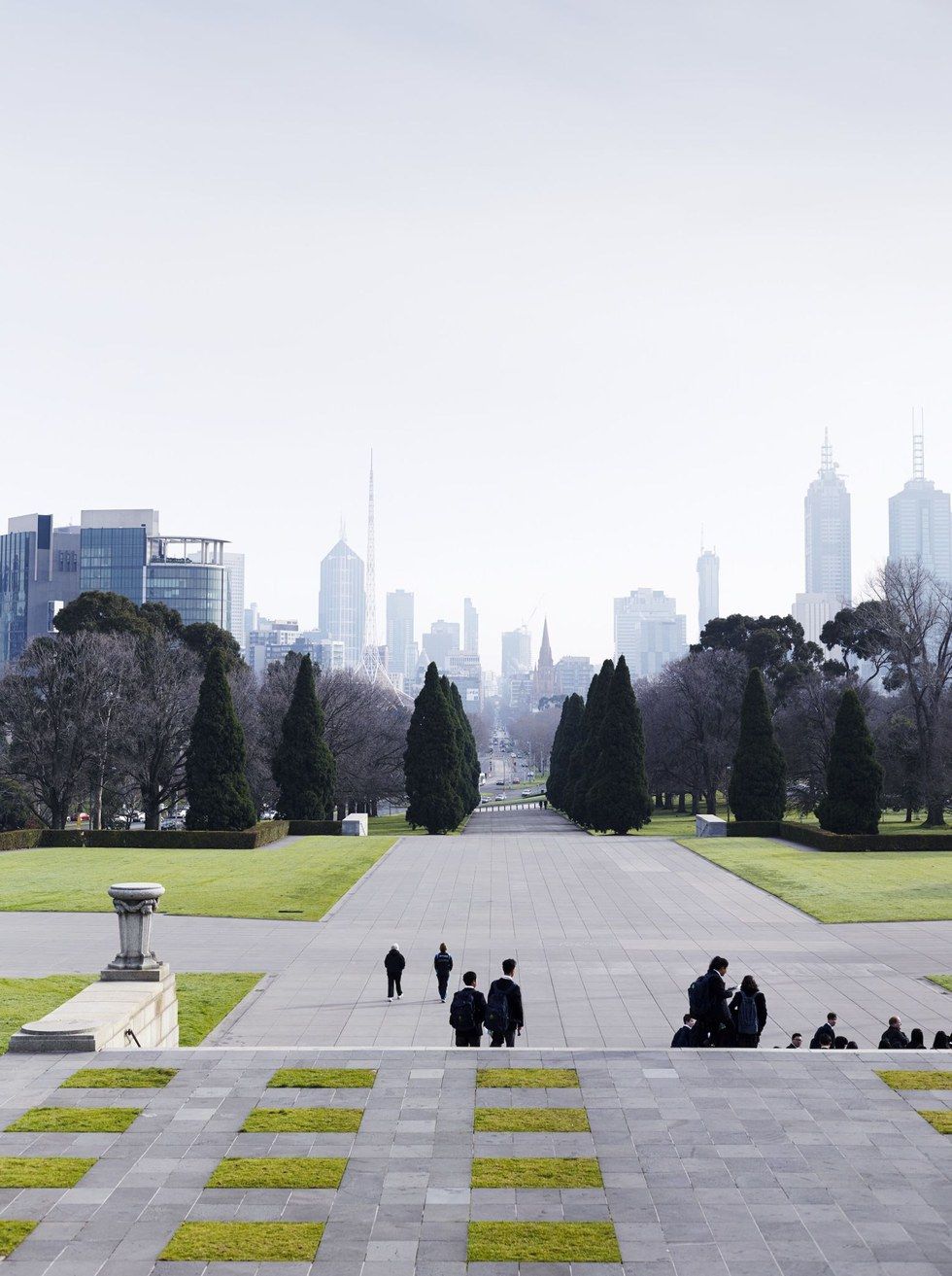 Tranquility prevails at the Shrine of Remembrance
It's a five-minute stroll to your next stop, the exquisite Royal Botanic Gardens, where you've signed up for an Aboriginal Heritage Walk. It begins when your guide, Charles Solomon, builds a fire so you can waft sweet-smelling smoke onto yourself—a traditional aboriginal welcoming gesture. Next, Solomon leads you through the greenery, explaining the traditional uses of plants like kangaroo apple (food, when treated to remove poisons), foambark (fishing aid) and tea tree leaves (antiseptic).
The walk ends with a cup of lemon myrtle tea, which provides a refreshing segue to lunch. It's a perfect beach day, so you tram it toward the bayside suburb of St. Kilda, hopping off near Fitzrovia, a homey farm-to-table deli. The plate that appears before you contains charred corn, avocado, quinoa, black-eyed pea and pomelo salad with cilantro and minted yogurt dressing and chorizo. You dispatch it handily and, feeling healthier than you probably are, take a stroll down to St. Kilda Pier, where you while away the afternoon watching a parade of fit-looking locals stroll down the beach.
After a quick shower at your hotel, it's back to the laneways, which seem more promising and more foreboding in the dark. In a dim room with metal mesh chandeliers that remind you of Warhol's "Silver Clouds," you find Tonka, the newest outpost from the much-lauded Adam D'Sylva. Tonka specializes in high-concept Indian food, a neglected culinary pigeonhole if ever there was one. You order a lamb curry with roasted coconut and cardamom, which arrives with naan in a bag, and a small pile of smoked trout with coconut, chili, pomelo and kaffir lime, which you wrap in a betel leaf and eat like a taco. This last bit, delightfully sour in the way of Filipino food, is inspired.
It's deep evening now, and everyone's a little loopy. You make friends with a local winemaker and his girlfriend in the line for the elevator at Curtin House, a nightlife version of an office tower. Every time the elevator stops, there's something new to see: A restaurant, a dance hall, a restaurant, a bar, a bar, a bar. As you bounce between floors like video-game characters, your new buddies suggest that you visit the Yarra Valley tomorrow and check out the winery. You suggest that they hang out with you tonight and show you around Melbourne's best bars. A deal is struck.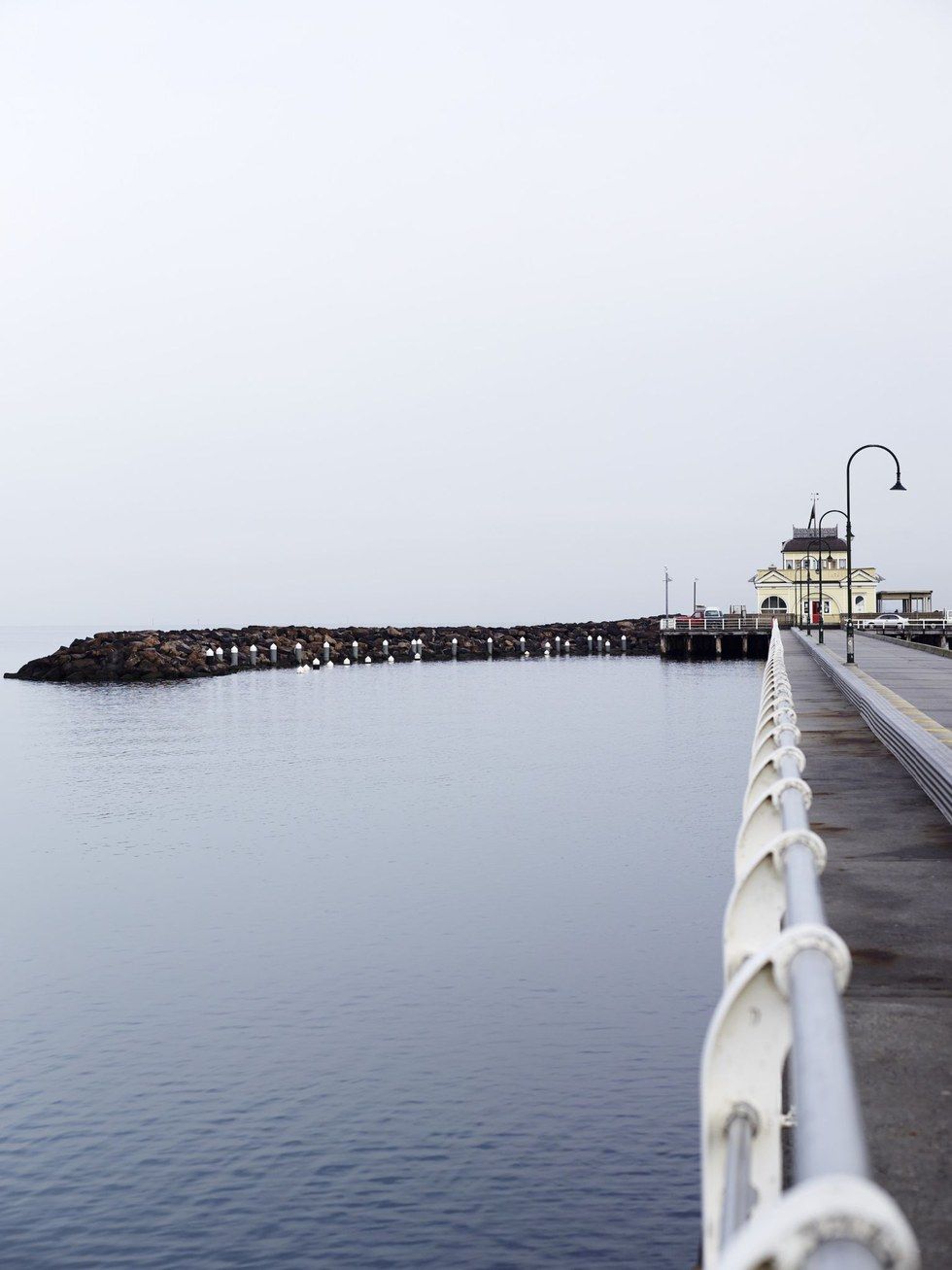 St. Kilda Pier, with its famed Pavilion
After several hours, you find yourselves dancing next to a palm tree at Workshop, an art space that serves coffee in the morning and hosts local bands and DJs at night. Unbelievably, you are hungry, so as dawn approaches, you and your assembled coterie stop off for meat pies at Pie Face, a chain that seems to be on every street corner. Later still, miniature pie in hand, you have a standoff with your room's candy jar and, having been soundly defeated, go to bed.
DAY THREE | You may have been tipsy enough to eat a pie with a face on it last night, but you don't make idle promises. So after breakfast at the hotel's Om Nom dessert bar and restaurant—banana bread with vanilla mascarpone cream, a passion fruit–poached banana, vanilla ice cream and caramel syrup—you hire a driver to take you to the Yarra Valley wine region, located about an hour northeast of the city. As opposed to the sweltering Barossa Valley in South Australia, which is known for fruity shirazes and heavy cabernets, the more temperate Yarra Valley produces pinot noirs and sparkling varieties, which you intend to taste.
You've been told by friends that if you don't snap a picture of a kangaroo while in Australia, you're not to come home. Luckily, Healesville Sanctuary, a zoo and animal refuge in the valley, is home to dozens of photogenic red and gray kangaroos—along with wallabies, wombats, koalas, dingoes,Tasmanian devils, platypuses and all manner of colorful birds. Given the heat, you're surprised to find most of the animals capering in their enclosures; only the wombats are sleeping ("They do that a lot," says a park attendant). Even the koalas are having a romp, climbing on each other's backs and heads on their way to better perches.
Watching the koalas munch eucalyptus leaves makes you crave salad, so you have your driver stop at Innocent Bystander, the glass-walled restaurant at Giant Steps Winery, where you order a pseudo-niçoise, with anchovies, green beans, potatoes, olives and an implausibly breaded soft-boiled egg, alongside a brisk rosé and a plate of thick truffle and parmesan frites.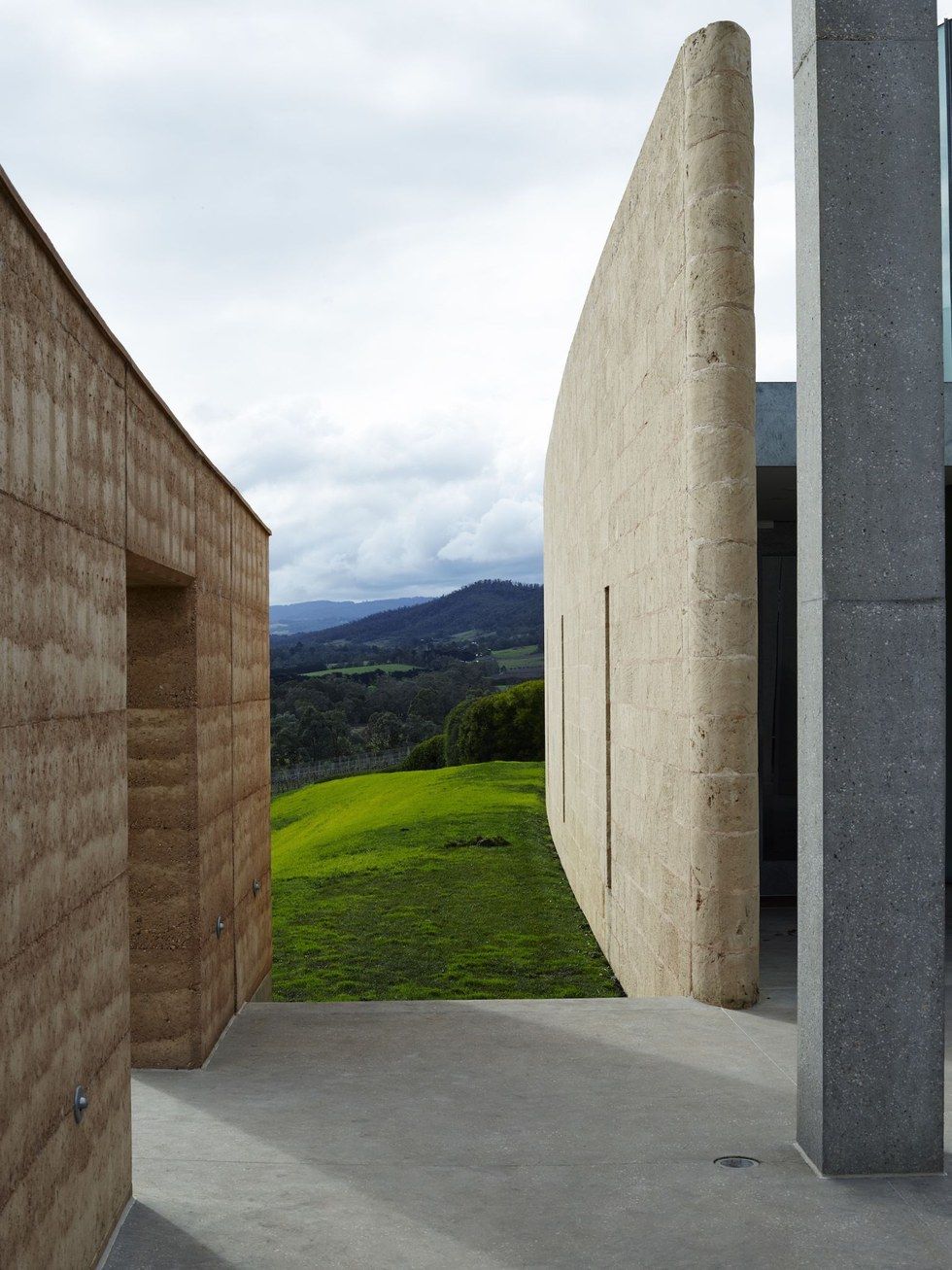 Marr park is tucked between the Central Business District and the Yarra River
Now it's time to fulfill some promises. At Yering Station, you find your buddy from last night driving a forklift before the purple panorama of the Dandenong mountain range. What a place to work! By the time you air-kiss goodbye, your hands are full of bottles you're not sure how you'll pack. You also stop at TarraWarra Estate, where you stroll among the vines, breathing in the scent of steaming fruit. There's an art gallery on the grounds, inside which you fall in love with a painting of a gruff bushman surrounded by parrots.
The ride back flashes by and you emerge sleepily in front of your hotel. What you need is an invigorating dinner, and you're in for one. Back in the CBD, a short walk west, you are swept up to the 55th floor of a perfectly ordinary-looking office building and released into Vue de Monde, a succession of dark rooms bordered by windows. White neon lights on the walls echo the twinkling city below and the stars above, and there are so many mirrors that you get lost on your way to the bathroom. Twice.
Your table is set with an array of rocks and twigs that morph into knife stands, plates, a mortar and pestle. Your meal includes perfectly flaky fried barramundi collar with lemon myrtle salt, followed by a pine mushroom with figs that tastes the way a forest smells. There's plenty of red wine, and plenty of white. Dessert is a eucalyptus ice cream that reminds you of a better, creamier Vicks VapoRub.
By the end, you feel like Alice in Wonderland—loosed from the earth and not entirely sure which way is which. You can be certain only that you are somewhere in Melbourne's hidden otherworld, where everything is more than it seems.
Former Hemispheres senior editor Jacqueline Detwiler has never actually tried to eat Vicks VapoRub, but she did sniff it really intensely once.
This article was written by Jacqueline Detwiler from Rhapsody Magazine and was legally licensed through the NewsCred publisher network. Please direct all licensing questions to legal@newscred.com.
Right now, around the world, brave members of America's armed forces are on duty, defending our freedom and upholding our values.
When not laser-focused on the mission at hand, they're looking forward to the day when their service to our nation is fulfilled and they can reunite with their families.
They are also imagining how they can use their hard-earned skills to build an exciting, rewarding and important career when they return home.
I want them to look no further than United Airlines.
That's why we are focused on recruiting, developing and championing veterans across our company, demonstrating to our returning women and men in uniform that United is the best possible place for them to put their training, knowledge, discipline and character to the noblest use.
They've developed their knowledge and skills in some of the worst of times. We hope they will use those skills to keep United performing at our best, all of the time.
That's why we are accelerating our efforts to onboard the best and the brightest, and substantially increasing our overall recruitment numbers each year.
We recently launched a new sponsorship program to support onboarding veterans into United and a new care package program to support deployed employees. It's one more reason why United continues to rank high - and rise higher - as a top workplace for veterans. In fact, we jumped 21 spots this year on Indeed.com's list of the top U.S workplaces for veterans. This is a testament to our increased recruiting efforts, as well as our efforts to create a culture where veterans feel valued and supported.
We use the special reach and resources of our global operations to partner with outstanding organizations. This is our way of stepping up and going the extra mile for all those who've stepped forward to answer our nation's call.
We do this year-round, and the month of November is no exception; however, it is exceptional, especially as we mark Veterans Day.
As we pay tribute to all Americans who have served in uniform and carried our flag into battle throughout our history, let's also keep our thoughts with the women and men who are serving around the world, now. They belong to a generation of post-9/11 veterans who've taken part in the longest sustained period of conflict in our history.

Never has so much been asked by so many of so few.... for so long. These heroes represent every color and creed. They are drawn from across the country and many immigrated to our shores.

They then freely choose to serve in the most distant and dangerous regions of the world, to protect democracy in its moments of maximum danger.
Wherever they serve - however they serve - whether they put on a uniform each day, or serve in ways which may never be fully known, these Americans wake up each morning willing to offer the "last full measure of devotion" on our behalf.
Every time they do so, they provide a stunning rebuke to the kinds of voices around the world who doubt freedom and democracy's ability to defend itself.
Unfortunately, we know there are those who seem to not understand – or say they do not - what it is that inspires a free people to step forward, willing to lay down their lives so that their country and fellow citizens might live.
But, we – who are both the wards and stewards of the democracy which has been preserved and handed down to us by veterans throughout our history – do understand.
We know that inciting fear and hatred of others is a source of weakness, not strength. And such divisive rhetoric can never inspire solidarity or sacrifice like love for others and love of country can.
It is this quality of devotion that we most honor in our veterans - those who have served, do serve and will serve.
On behalf of a grateful family of 96,000, thank you for your service.
Humbly,
Oscar
Each year around Veterans Day, Indeed, one of the world's largest job search engines, rates companies based on actual employee reviews to identify which ones offer the best opportunities and benefits for current and former U.S. military members. Our dramatic improvement in the rankings this year reflects a stronger commitment than ever before to actively recruiting, developing and nurturing veteran talent.
"We've spent a lot of time over the past 12 months looking for ways to better connect with our employees who served and attract new employees from the military ranks," said Global Catering Operations and Logistics Managing Director Ryan Melby, a U.S. Army veteran and the president of our United for Veterans business resource group.
"Our group is launching a mentorship program, for instance, where we'll assign existing employee-veterans to work with new hires who come to us from the armed forces. Having a friend and an ally like that, someone who can help you translate the skills you picked up in the military to what we do as a civilian company, is invaluable. That initiative is still in its infancy, but I'm really optimistic about what it can do for United and for our veteran population here."
Impressively, we were the only one of our industry peers to move up on the list, further evidence that we're on a good track as a company.
The question of where David Ferrari was had haunted retired U.S. Army Sergeant Major Vincent Salceto for the better part of 66 years.
Rarely did a week go by that Salceto didn't think about his old friend. Often, he relived their last moments together in a recurring nightmare. In it, it's once again 1953 and Salceto and Ferrari are patrolling a valley in what is now North Korea. Suddenly, explosions shatter the silence and flares light up the night sky.
Crouching under a barrage of bullets, Salceto, the squad's leader, drags two of his men to safety, then he sees Ferrari lying face down on the ground. He runs out to help him, but he's too late. And that's when he always wakes up.
Italian Americans from opposite coasts – Salceto from Philadelphia, Ferrari from San Francisco – the two became close, almost like brothers, after being assigned to the same unit during the Korean War. When Ferrari died, it hit Salceto hard.
"After that, I never let anyone get close to me like I did with Dave," he says. "I couldn't; I didn't want to go through that again."
When the war ended, Salceto wanted to tell Ferrari's family how brave their son and brother had been in battle. Most of all, he wanted to salute his friend at his gravesite and give him a proper farewell.
For decades, though, Salceto had no luck finding his final resting place or locating any of his relatives. Then, in June of this year, he uncovered a clue that led him to the Italian Cemetary in Colma, California, where Ferrari is buried.
Within days, Salceto, who lives in Franklinville, New Jersey, was packed and sitting aboard United Flight 731 from Philadelphia to San Francisco with his wife, Amy, and daughter, Donna Decker, on his way to Colma. For such a meaningful trip, he even wore his Army dress uniform.
That's how San Francisco-based flight attendant Noreen Baldwin spotted him as he walked down the jet bridge to get on the plane.
"I saw him and said to the other crew members, 'Oh my goodness, look at this guy,'" she says. "I knew there had to be a story."
The two struck up a conversation and Salceto told Baldwin why he was traveling. She got emotional listening to him talk and made a point of fussing over him, making sure he and his family had everything they needed.
About halfway through the flight, Baldwin had an idea. She and her fellow crew members would write messages of encouragement to Salceto and invite his fellow passengers to do the same.
"We did it discreetly," says Baldwin. "I asked the customers if they saw the man in uniform, which most had, and asked them if they wanted to write a few words for him on a cocktail napkin. A lot of people did; families did it together, parents got their kids to write something. After the first few rows, I was so choked up that I could barely talk."
When Baldwin surprised Salceto with dozens of hand-written notes, he, too, was speechless. He laid the stack on his lap and read each one. At the same time, the pilots made an announcement about the veteran over the loud speaker, after which the customers on board burst into applause.
"It seems contrived, and I hate using the word organic, but that's what it was; it just happened," Baldwin says. "Mr. Salceto was so loveable and humble, and what he was doing was so incredible, it felt like the right thing to do. And you could tell he was touched."
On June 27, Salceto finally stood before Ferrari's grave and said that long-awaited goodbye. As a trumpeter played "Taps," he unpinned a medal from his jacket and laid it reverently on the headstone.
"I had gotten a Bronze Star for my actions [the night Ferrari died] with a 'V' for valor, and that was the medal I put on Dave's grave," says Salceto, pausing to fight back tears. "I thought he was more deserving of it than I was."
For the first time in years, Salceto felt at peace. His mission was accomplished.
Scroll to top