Three Perfect Days: Memphis
Story by Justin Goldman | Photography by Dave Anderson | Hemispheres, June 2015
Memphis is, in some ways, a city of ghosts. Its most famous attraction, Graceland, was the home of Elvis Presley, and the place where he died. The city is scarred by the assassination of Dr. Martin Luther King Jr. and the subsequent white flight that left downtown deserted for years. Yet, for a place that could be haunted by its past, this city is full of life. It's the cradle of America's musical civilization, the birthplace of rock 'n' roll and soul, and revitalized Beale Street is once again bursting with the blues. The rich culinary scene proves that Memphians' tastes extend beyond barbecue. And the people here live up to their reputation for Southern hospitality. Memphis is America's most underrated city, and it's on the come up.
In which Justin marches with ducks and goes on a musical pilgrimage fueled by the best fried chicken in America
I wake in a spacious suite at the Peabody Memphis, slip on a robe, which is embroidered with ducks, fluff my pillow, also decorated with ducks, then shower and dry myself with a towel that's emblazoned with ducks. I think they're trying to tell me something.
As the elevator door opens on the ornate, marble-columned lobby, I find myself in a madhouse. Hundreds of people jostle alongside a red carpet leading from the elevator to a nearby fountain. The hero's welcome isn't for me: It's for the famous Peabody Ducks, who roost in a $200,000 "mansion" on the roof of the hotel and march to the fountain in the morning and back in the evening, a tradition that dates back more than 70 years.
John Doyle, Executive director, Memphis Rock 'n' Soul Museum (with Lawrence "Boo" Mitchell, manager, Royal Studios, left)
"The ducks know they're the stars, and that every human being in that lobby is here to see them march," says Anthony Petrina, the hotel's red-jacketed "Duckmaster," after leading the line of birds along the carpet. "They've waddled through every little bit of fabric [of history] that Memphis has had."
Feeling rather, uh, peckish, I take a 15-minute stroll across downtown to the Arcade Restaurant, a bright diner that dates back almost a hundred years. I slide into a booth across from John Doyle, executive director of the Memphis Rock 'n' Soul Museum and the Memphis Music Hall of Fame, who has agreed to give me an introduction to the city's musical history—once I've tried an order of the Arcade's grilled sweet potato pancakes, a perfectly crisp, sweet way to start the day.
From here, Doyle and I head back into the heart of downtown, the intersection of Beale Street and Highway 61 (the famous "Blues Highway") to visit the Rock 'n' Soul Museum. The exhibits detail how the call-and-response and sing-along songs of Southern sharecroppers—black and white—grew into country and the blues, which along with gospel collided in Memphis to form two quintessentially American musical forms: rock 'n' roll and, later, soul.
"Memphis is embracing its small-town—almost Austin, Texas—gritty side. We've preserved a lot of buildings and haven't necessarily torn things down. People think this is the coolest damn city in the world." —John Doyle
"Rock 'n' Soul is a great starting point for the Memphis music pilgrimage," Doyle says. "So many folks come here, and they do the Graceland thing and see the jumpsuits and the gold records, but this lays out the whole basis of rock 'n' roll." The audio tour features songs from pioneers like Jimmie Rodgers, and the exhibit includes items like Jerry Lee Lewis' flower-embossed stage costume
Memphis is a small city, but getting around without a car can be a trial. So Doyle and I take my rental a few minutes southeast to Royal Studios, an old movie house that was converted into a studio in the 1950s. It was here that the legendary Willie Mitchell ran Hi Records, where Al Green recorded many of his hits. "The studio's still a studio," Doyle says, pointing at a wall bearing the signatures of artists who have recorded here recently, including RZA, Robert Plant and Bruno Mars, who laid down tracks for "Uptown Funk" here last year. "It's exactly the way Willie Mitchell left it."
Lawrence "Boo" Mitchell, Willie's mellow (but extremely busy) grandson, who now runs the studio, gives us a tour. He stomps on the same Coca-Cola crate Green's guitarist, Teenie Hodges, used in 1972 to count off time at the beginning of "Love and Happiness." He also breaks out a set of electric bongos and plays the beat of "I Can't Stand the Rain," sending the haunting, metronomic riff echoing through the studio. "Once people get here and look at the room and feel the energy, they're like, OK, we get it," Mitchell says.
The Arcade, Memphis' oldest restaurant
Fittingly, lunch today is at another soulful local institution: Gus's Fried Chicken. The line here stretches around the block, pretty much all the time, and once I've tried the food, I know why. This is the best chicken in America, the meat perfectly tender and juicy, the breading a flawless blend of spicy, crispy and greasy. You could fry a Marine's boot in that batter and I'd ask for seconds.
After lunch, I say goodbye to Doyle and continue my musical journey, starting at the famous Sun Studio. My guide here, a perky young woman named Coco, explains how, in 1951, studio founder Sam Phillips recorded Ike Turner playing a guitar through a busted amp stuffed with newspaper to get the distorted sound that would become a hallmark of rock, then leads us into the room where Elvis recorded his first hit, "That's All Right," in 1954. The tour group circles around the King's microphone, eyes wide, like pilgrims before the cross. "I've seen people do strange things with that microphone," Coco says.
I'm feeling all shook up—and ready for more—so I drive to the Soulsville neighborhood and the Stax Museum, another old cinema that once housed the Stax recording studio. Stepping out of the car, I'm greeted by speakers blaring Sam & Dave's 1966 hit "Hold On, I'm Comin'." Inside, I learn how the studio became the hub of "Soulsville, USA," an integrated institution in a segregated city and home base for artists including Otis Redding and Isaac Hayes. There's so much music in the gallery—Tina Turner belting out "Proud Mary," the driving bass and Hammond organ on "Green Onions"—that I practically dance through the museum.
A few minutes from here is one of Midtown's hippest neighborhoods, Cooper-Young. I park the car and wander for a while, perusing Goner Records and Burke's Book Store, before grabbing a seat at the Beauty Shop for dinner. Owner Karen Carrier opened the restaurant in a defunct beauty shop—legend has it Priscilla Presley got her hair done here—and the fixtures include converted hairdressing chairs. I pause at the sight of sugar and spice duck breast on the menu, remembering the Peabody Ducks, but the perfectly prepared dish defeats any lingering guilt.
Good advice at Gus's Fried Chicken
At the restaurant bar, I start chatting with Allison Lawyer and Angie Johnson, a pair of Memphians out celebrating Allison's birthday. "I'm about to get off, and my band is playing next door," says a passing waitress. "I'll put you on the list." We finish our drinks and move over to Bar DKDC, where the waitress's band, Marcella & Her Lovers, gets a young, diverse crowd shaking to soul-inflected rock tunes, including a funky cover of "It's My Party."
We watch the band for a bit, then head to Mollie Fontaine Lounge, a cocktail bar (also owned by Carrier) that occupies a gorgeous red mansion in historic Victorian Village. The bar is packed with 20-somethings sipping cocktails and bobbing to the sounds of a DJ spinning upstairs. "I painted these stairwells," Allison says as we make our way to the high-ceilinged second floor. "One day I was here by myself, working, and the stereo upstairs just came on. I can't explain it." I'm not one for ghost stories, but in this city and this building, why not?
In which Justin visits Memphis' most amusing landmark—and then its saddest one
I'm feeling a bit fragile this morning, but if there's one thing that can cure the brewer's flu, it's a classic Southern breakfast. A few blocks up from the Peabody, on Court Square, I duff into the Blue Plate Cafe, where the cheesy scrambled eggs, buttery grits, flaky biscuits and peppery gravy engage in an artery-hardening competition.
Having discovered the redemptive power of fatty food, I shoot down Elvis Presley Boulevard, to Graceland. After a lengthy wait on the other side of the street (make reservations, y'all), I'm waved onto a tour bus that's driven through a gate and up a hill to the mansion, which Elvis bought in 1957 and where he died 20 years later. The most striking thing about the property is that it's actually not that big, and the rooms, while opulent enough, aren't all that impressive by today's "MTV Cribs" standard. Still, it's a marvelous monument to kitsch—the collection of spangly jumpsuits alone is worth the price of admission.
Aram Goudsouzian, Chair of the Department of History, University of Memphis
From here, it's a 15-minute drive back downtown, where I drop my car at the Peabody and cross the street to Charlie Vergo's Rendezvous, Memphis' best-known barbecue joint. Sitting at a red-and-white-checked table in the subterranean dining room, I order pork ribs and inspect the schwag hanging from the ceiling—decrepit clarinets, snowshoes, football helmets. "You've got a pretty good view," my waiter says, grinning as he sets the plate down. The ribs are dusty with dry rub, and as I add spicy barbecue sauce, I note that my only utensil is a plastic spoon for the beans and the tangy mustard-and-vinegar slaw. So … this is gonna get messy. Not that I'm complaining, as I strip the meat from the bone.
Next, it's time to visit one of America's most somber historical sites. Just off South Main Street stands the Lorraine Motel, where Dr. Martin Luther King Jr. was assassinated in 1968. In front of the building—now home to the National Civil Rights Museum—I meet Aram Goudsouzian, a history professor at the University of Memphis and author of Down to the Crossroads, a book about James Meredith's 1966 March Against Fear.
Goudsouzian and I walk through the museum—which reopened last year after an extensive renovation—pausing inside a 1950s-era bus, in which there sits a statue of Rosa Parks, still refusing to cede her seat to a white passenger, an act of defiance that launched the 1955 Montgomery Bus Boycott. There's also a vintage Woolworth lunch counter, a replica of the one where students initiated anti-segregation sit-ins in Greensboro, North Carolina, in 1960. Then there's the room in which Dr. King was staying when he was killed. It looks so mundane—a basic, unadorned room—and that, somehow, adds to its power.
"Memphis has a very palpable personality that's sort of half gritty but half charming. It is like nowhere else in America. To me, it's one of those iconic American places, like New Orleans or … I don't even know where else." —Aram Goudsouzian
"For years, I lived in a condo that looked right down on the Lorraine Motel," says Goudsouzian, a Boston native who's been in Memphis for more than a decade. "The history just sort of spills out here. It feels like part of you. Martin Luther King is like a ghost that hangs over Memphis. He's an inspiration, but also his assassination has become the great tragedy of the nation and of Memphis' story."
I leave Goudsouzian and head back across town to Hog & Hominy. Owned by Memphis natives Michael Hudman and Andrew Ticer, the restaurant is renowned for its fusion of Southern and Italian cuisines. My fast-talking waitress, Jenna, runs me through the menu. "If you like spicy food, and you're an adventurous eater, the sweetbreads are great," she says. I'm barely able to nod before she zips off, returning shortly with the sweetbreads, served in jalapeño vinaigrette, and a The Wry Is Cast cocktail, made with moonshine and mezcal. For an entree I have the wood-oven Thunderbird! Forty Twice! pizza (the name comes from a song about Thunderbird wine), topped with pepperoni and Calabrese salami and drizzled with honey. If that's not decadent enough, I cap it off with a slice of peanut butter pie, which, with its bottom layer of banana, would have made Elvis happy. "I have a hard time keeping them in," the chef, Lee Mitchell, says of the pie. "If I make a hundred of them, we sell a hundred."
After dinner, I make like Jenna and zip back downtown to see the Memphis Grizzlies. The "Grit and Grind Grizz" have become a unifying point for this basketball-mad, blue-collar city. There are a few Memphis touches to the game experience: The nachos come topped with barbecued pork, and the halftime entertainment is a jumping set from house band Black Rock Revival. The crowd goes nuts in the second quarter when swingman Tony Allen gets a steal and a breakaway layup, but sadly the Grizz have run into the best team in the NBA, the Golden State Warriors, and they fall 103-83.
On this 1950s-era bus at the National Civil Rights Museum, white passengers stand for Rosa Parks
Outside, I join the disappointed masses on neon-lit Beale Street. With me are Chelsea Chandler and Eric Hasseltine, both of whom cover the Grizzlies for local radio. Music blares from the doorways of Silky O'Sullivan's, the Rum Boogie Café and B.B. King's Blues Club, but we have another Memphis institution in mind. A few blocks away, on South Main Street, stands the city's best dive bar, Earnestine & Hazel's. Named for two sisters who ran a café out of the building in the 1950s and '60s—where they catered to musicians like Ray Charles and Aretha Franklin—the bar has an in-house ghost and a jukebox that Eric describes as "the best in America." Then there's the Soul Burger, a simple, perfect bite of late-night grease.
As we sip cheap beer and munch on our patties, I ask Chelsea, who's also a singer, what her favorite Memphis tune is. "Probably 'Sittin' on the Dock of the Bay,'" she says. "It's perfect." Moments later, we hear Otis Redding in the air. "They say the jukebox starts on its own and plays records that aren't there," Chelsea says. "That could be Earnestine and Hazel coming back," our bartender chips in. "I believe it," Eric replies. "I've come up here and the hair stood up on the back of my neck, and not because it was cold."
Seeking spirits of a different kind, we hop a cab over to Paula & Raiford's, a smoky, neon-lit disco that Chelsea calls "a club for people who don't like clubs." The music here tends toward Michael Jackson, and the Rubik's Cube dance floor has me looking for John Travolta. There's also a drum kit and an, um, exercise pole that are available to anyone brave enough to jump on them. I am not that brave. And I need my bed.

In which Justin eats at every restaurant in Memphis and strikes out with a Southern belle
In need of a kick start, I hop in the car and drive out to Porcellino's, a café and artisanal butcher shop that's owned by the Hog & Hominy duo Hudman and Ticer (the two eateries share a parking lot). This may be the city's premier purveyor of meat, but I'm more interested in the nitro-pumped, cold-brew coffee, which has the texture of a creamy stout. I'm joined by Felicia Suzanne Willett, an Arkansas native and New Orleans–trained chef who owns Felicia Suzanne's, a restaurant she opened in the city's then-blighted downtown 13 years ago. Since then, she's become both a mainstay of and evangelist for the Memphis food scene. As I dig into a kimchi-brined-chicken biscuit topped with spicy honey and Sriracha, she tells me about the local food scene.
"[Hudman and Ticer] are the 'it' guys right now, and I love what they're doing," she says. "As far as the restaurant community goes, it's like, the more the merrier. We go to dinner together. We go to each other's restaurants. We send people to each other's restaurants. We love each other."
Felicia Suzanne Willett, Chef/Owner, Felicia Suzanne's
Willett then proceeds to take me on an impromptu culinary tour of east Memphis. Summer Avenue, an unglamorous stretch of strip malls between downtown and the freeway, doesn't seem like the sort of place a gourmand would gravitate to, but Willett has a favorite spot on seemingly every block: Lotus, Bryant's Breakfast, Taqueria Los Picosos. "It's not celebrity chefs," she says. "It's mom-and-pops. It's real life." We stop at Elwood's Shack, where Willett orders me a brisket sandwich. "Not a lot of the barbecue places do beef," she says. "Wait 'til you taste it."
Are we done eating yet? No! Our next stop is Muddy's Bake Shop, because if I'm in the South, I'm having as much pie as possible. "I love her pecan pie," Willett says of owner Kat Gordon. "I think we should have a piece of the pecan. And the chocolate chess. You should have one of each." Who am I to argue?
"People would come to Memphis, and for so long all it was was barbecue. When someone asks, 'What's your best barbecue place?' I go, 'How much time do you have?' But it's a great community, and we have such a great food scene. You'd need a month to go everywhere." —Felicia Suzanne Willett
I could use something to wash down all this food, so we head for the city center, stopping at the Wiseacre Brewing Co., a converted warehouse next to the railroad tracks on a revitalized stretch of Broad Avenue. The space is packed, the crowd spilling onto the sunny deck. At the bar, I strike up a conversation with a young Memphian named Ellen. I tell her I like her accent, and she replies, "You have an accent too." What do I sound like? "A Yankee." With a sigh, I take my amazingly named beer, the Gotta Get Up to Get Down coffee milk stout, back out to the patio.
From here, Willett steers me past Overton Park—"Everyone loves to go to the zoo and see the pandas"—and back downtown, where I drop her off with a promise to meet later for dinner. I consider going back to see those pandas, but decide instead to walk off my multistop brunch along the river. It's just a short stroll down the hill to the Mississippi, the east bank of which is lined with pretty parks, each filled with people enjoying the late afternoon sun. I pause briefly before a statue of Confederate President Jefferson Davis—another ghost of Memphis' past—then turn my attention once more to the perfect, cloudless blue sky.
The Delta humidity has done its job, so I head back to the Peabody for a quick shower, then stroll up the Main Street pedestrian mall to Felicia Suzanne's, where Willett, seeing that her first attempt to kill me with culinary kindness was unsuccessful, tries again. I work through a smoked salmon deviled egg; a bite-size BLFGT (bacon, lettuce and fried green tomato) sandwich; fried gulf oysters over grits with Louisiana barbecue sauce; short ribs with gnocchi and bourbon cream sauce; and a white chocolate coconut bread pudding with buttermilk brown sugar ice cream. If I gotta go, I'd be hard-pressed to do better for a last meal.
After dinner, I pop around the corner to the Madison Hotel and take an elevator up to the rooftop bar, the Twilight Sky Terrace, where a young and chatty crowd takes in the sweeping view of the Mighty Mississip. As the sun sinks in the west, the M-shaped arches of the Hernando de Soto Bridge light up, and I head out into the night, the words of the Tom T. Hall classic in my head: "You go where your heart wants to go. That's how I got to Memphis."
Hemispheres managing editor and house guitarist Justin Goldman has only one Memphis regret: He didn't have time to take the Gibson factory tour.
This article was written by Justin Goldman from Rhapsody Magazine and was legally licensed through the NewsCred publisher network.
Best aviation-inspired museums to visit
With National Aviation Day right around the corner (August 19), a great way to celebrate is by visiting an aviation-themed museum. Many of the museums have hands-on, interactive exhibits —and some even have retired airplanes you can visit. Below are seven museums to visit this Aviation Day and beyond.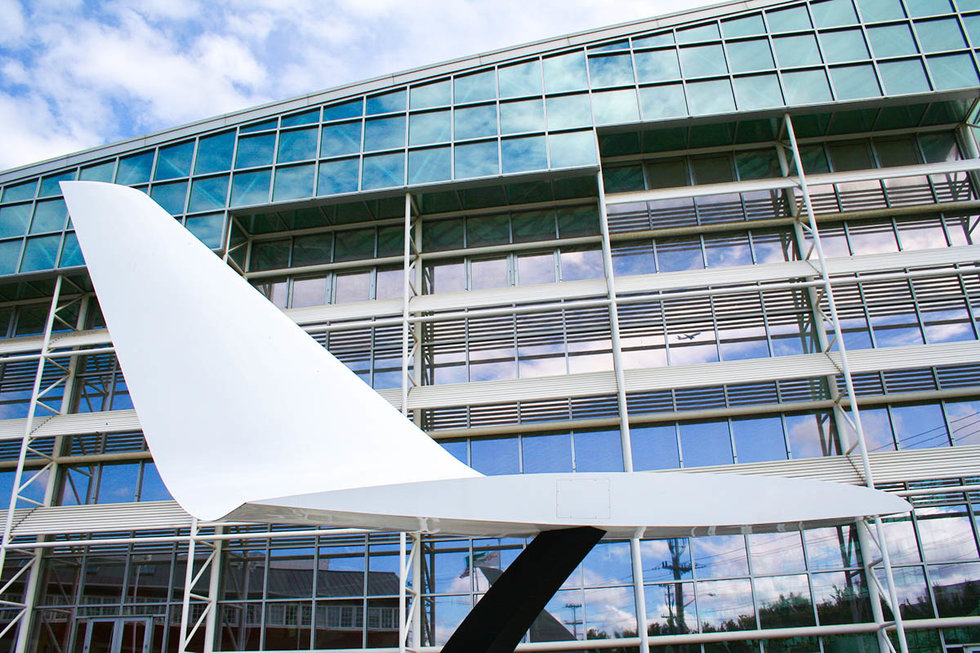 Seattle, Washington

The Museum of Flight in Seattle bills itself as the largest independent, nonprofit air and space museum in the world. The museum's 20 acres is home to more than 160 significant aircraft and spacecraft, including the world's first fighter plane, the first jet Air Force One and the Boeing 787 Dreamliner. It's also one of a handful of museums in the world that has a Concorde supersonic jet on display —located in its British Airways livery. The campus also includes the original Boeing factory, the NASA Space Shuttle Trainer and the only exhibit to house the original rocket engines used to launch Apollo astronauts to the moon. Additional activities include flight simulators that make you feel as if you're flying an airplane, a 3D movie theater and an aircraft exhibit that includes the world's only presentation of the first Boeing 727, 737 and 747 jets.
Tucson, Arizona
The Pima Air & Space Museum in Tucson boasts 2,600 acres and is one of the largest non-government funded aviation and space museums in the world. It features more than 350 historical aircraft, from a Wright Flyer to a Boeing 787 Dreamliner. Visitors can take an hour-long tram tour narrated by experienced docents who share stories about the planes' significance and personal stories of service. There are bus tours of its aircraft boneyard, home to more than 4,000 military and federal government aircraft. If decide you want to participate in the tour while visiting the museum, it's recommended that you make a reservation 10 business days ahead of time.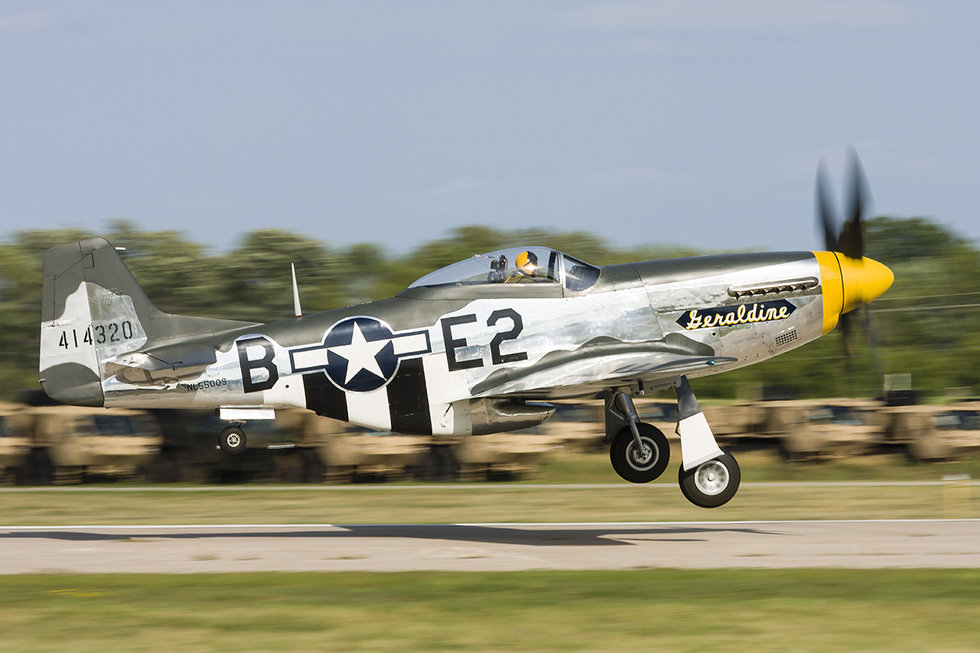 Oshkosh, Wisconsin
Each year, Oshkosh attracts nearly 500,000 spectators to what is considered the largest airshow in the world — EAA AirVenture. But if you can't make this annual event in July, you can still visit the EAA AirVenture Museum year-round. While there, check out the museum's display of more than 200 historic aircraft — aircraft like the 1918 Curtiss JN-4D 'Jenny', a 1945 Chance-Vought F4U-4 Corsair and a 1930 Cessna CG-2 Glider. For attractions, visit the Eagle Hangar, a tribute to World War II aviation. And lastly, make sure to take a ride in a vintage 1929 Travel Air E-4000 open-cockpit biplane located at Pioneer Airport.
Palm Springs, California
Named by CNN as one of the best aviation museums, the Palm Springs Air Museum is one of the few that actually allow visitors to go inside aircraft to explore the exhibits. It features 59 aircraft from World War II, the Korean War and the Vietnam War. Aircraft include a Boeing B-17 Flying Fortress, an F-14A Tomcat and even a Russian MiG-21+. Take a ride in aircraft like the P-51 Mustang, the iconic plane flown by the Tuskegee Airmen in World War II. The museum is also home to permanent and temporary exhibits, artifacts, artwork and a library.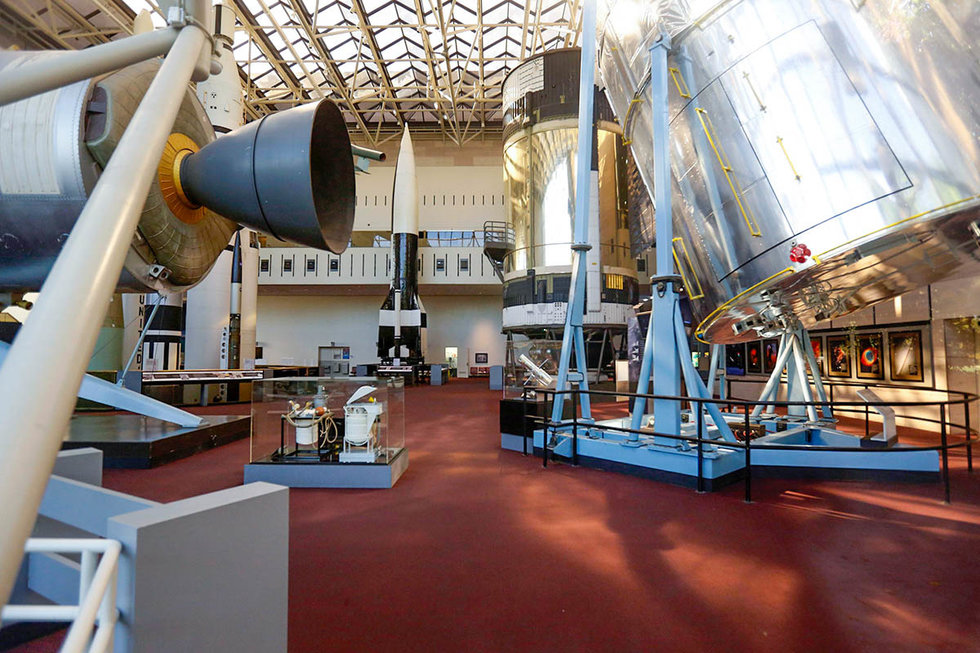 Washington, D.C.
The National Smithsonian Air & Space Museum has two outposts — the original building in downtown D.C. and the more than 100-acre Steven F. Udvar-Hazy Center facility near Washington Dulles International Airport. The downtown location has aircraft like the Bell X-1 flown by Chuck Yeager when he first broke the sound barrier, an Airbus A320 flight deck simulator and the forward fuselage of a Boeing 747 jumbo jet, along with the popular "How Things Fly" exhibit.
The Udvar-Hazy center has thousands of aviation and space artifacts on display, including a Lockheed SR-71 Blackbird, an Air France Concorde, the Space Shuttle Discovery and the Boeing 367-80 — the prototype for the Boeing 707 and America's first commercial jet airliner. There's also the Airbus IMAX® Theater and the Donald D. Engen Observation Tower, which gives you a 360-degree bird's-eye view of Washington Dulles International Airport and the surrounding area.
Denver, Colorado
The Wings Over the Rockies Air & Space Museum is located on a portion of land that used to be Lowry Air Force Base, a technical training center until it closed in 1994. The museum is home to aircraft including a Boeing B-52 Stratofortress, a Cessna O-2 Skymaster and even a Star Wars X-Wing Starfighter. The brand-new Boeing Blue Sky Aviation Gallery at Centennial Airport is phase one of the museum's second location that will focus on the present and future of aerospace. It offers interactive exhibits, the latest in general aviation technology and the chance to fly realistic Red Bird simulators as well as tours of the airfield.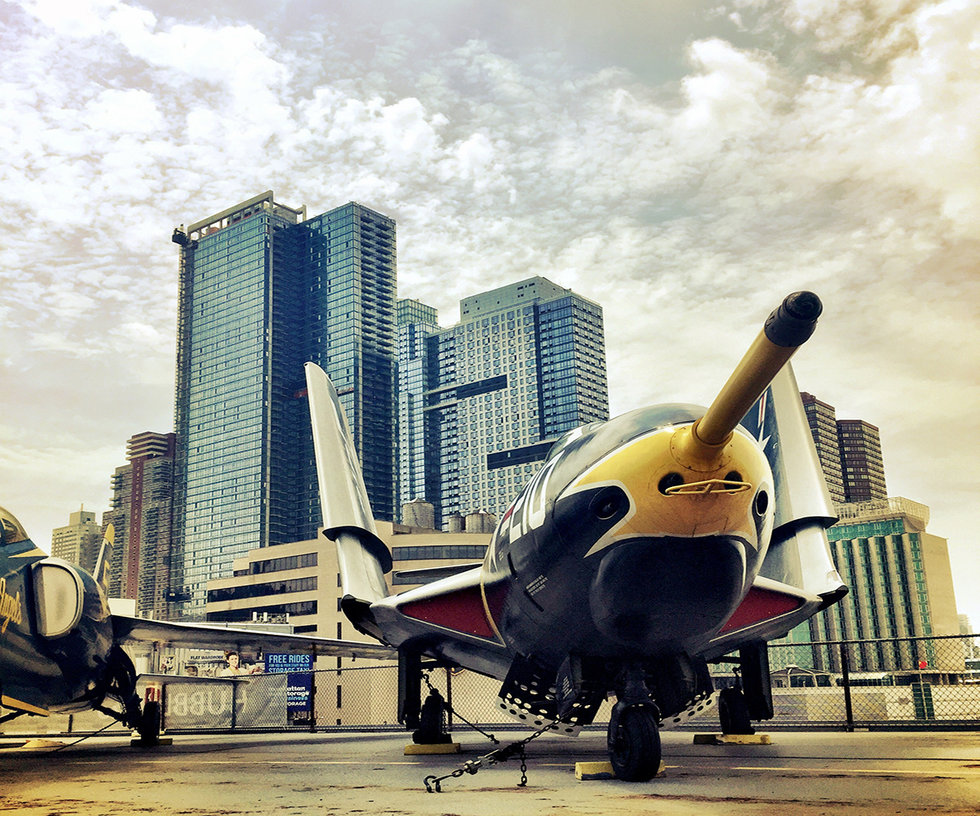 New York, New York
The Intrepid Sea, Air & Space Museum complex in New York is located on a World War II aircraft carrier. Among its many exhibits are Enterprise, the prototype of NASA's Space Shuttle and a Harrier fighter jet. It also includes the British Airways Concorde that made the world's speed record for passenger airliners in 1996 when it flew from New York to London in 2 hours, 52 minutes and 59 seconds. Before leaving, make sure to check out the 4D aircraft simulator, something you won't want to miss.
Getting there
United flies to most of the destinations above, including Denver, New York, Palm Springs, Seattle, Tucson and Washington, D.C. You can fly into neighboring Appleton, Wisconsin, to visit Oshkosh. Visit united.com or use the United app to plan your aviation-themed museum trip.
United and Special Olympics
Taking inclusion to new heights
Our shared purpose is to connect people and unite the world — and no organization better embodies that principle than Special Olympics.
Learn more
Weekend inspiration: Savannah
The key to visiting Savannah in the summer? Planning outdoor and indoor activities, so you can enjoy all of the treasures this charming Southern city has to offer. If you only have a few days to spend here, it is even more important to plan your time and itinerary carefully. Luckily, we've gathered the best of the best to visit in historic Savannah with carefully planned air-conditioned stops along the way. Put on your walking shoes, grab some sunscreen and get ready to explore.
Day 1
Before your trip, make sure to make reservations for dinner at The Olde Pink House restaurant in advance. Adjacent to the Planters Inn, this popular spot has been serving Southern food at it's finest at one of Savannah's oldest mansions. While there, make sure you order the fried chicken — voted one of the best in Savannah and it does not disappoint. The braised pork shank is also a must-try. From there walk over to Leopold's Ice Cream. Choose a fancy pre-made ice cream or create your own treat. A Savannah tradition, this shop has been serving the best ice cream in Savannah since 1919.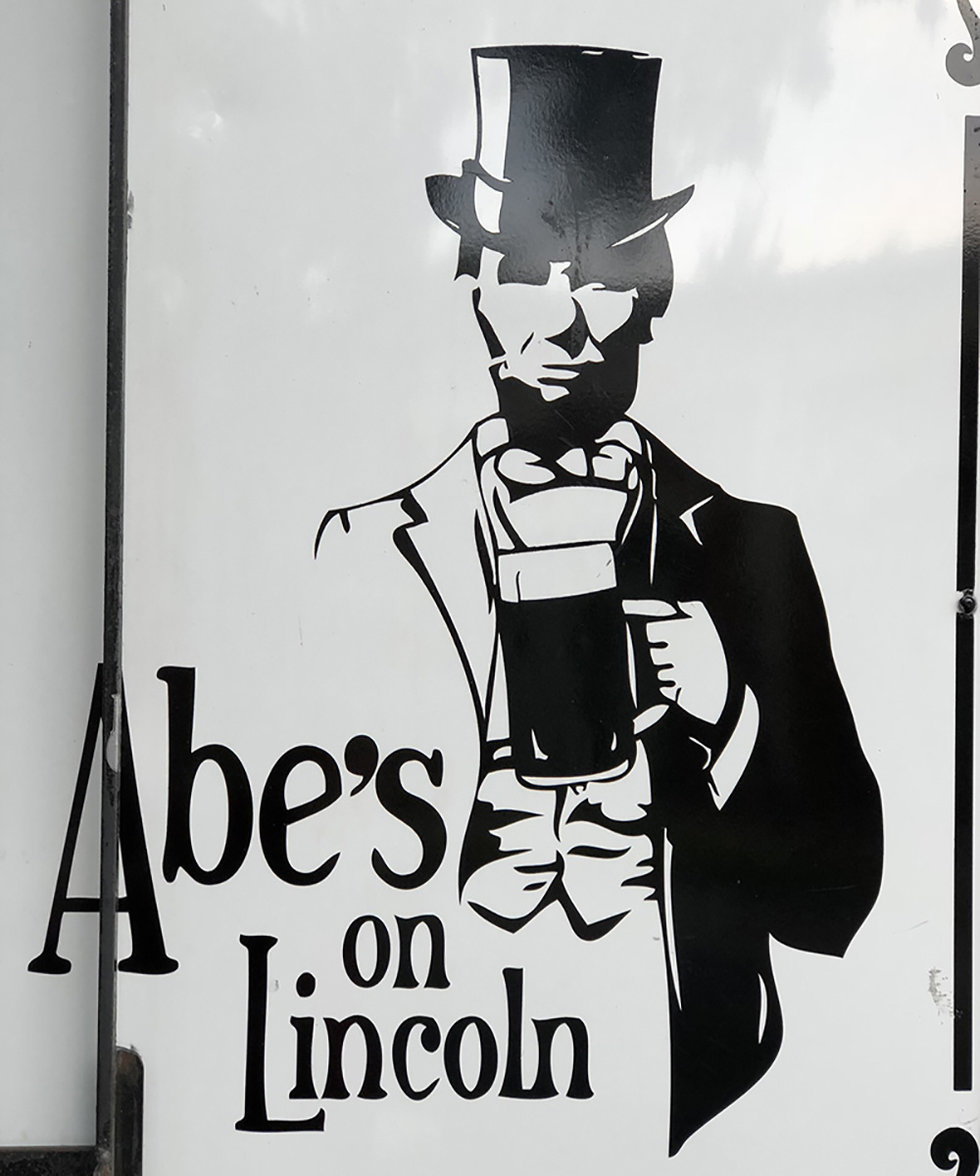 Abe's on Lincoln | Photo credit: Kelsey + Courtney Montague
If you're looking for a dive bar instead of ice cream, drop in to Abe's on Lincoln. Create your own artistic rendition of Abraham Lincoln on your napkin, and your creation might end up on the ceiling where other patrons' artwork is displayed.
Day 2
The next morning get started before the crowds and visit the Waving Girl Statue. This statue commemorates Florence Martus who (from 1887-1931) became the unofficial 'greeter' of Savannah and waved at every ship that came into port. From there head down River Street to Huey's on the river for beignets and their potato casserole. Don't worry about the calories, you will walk them off.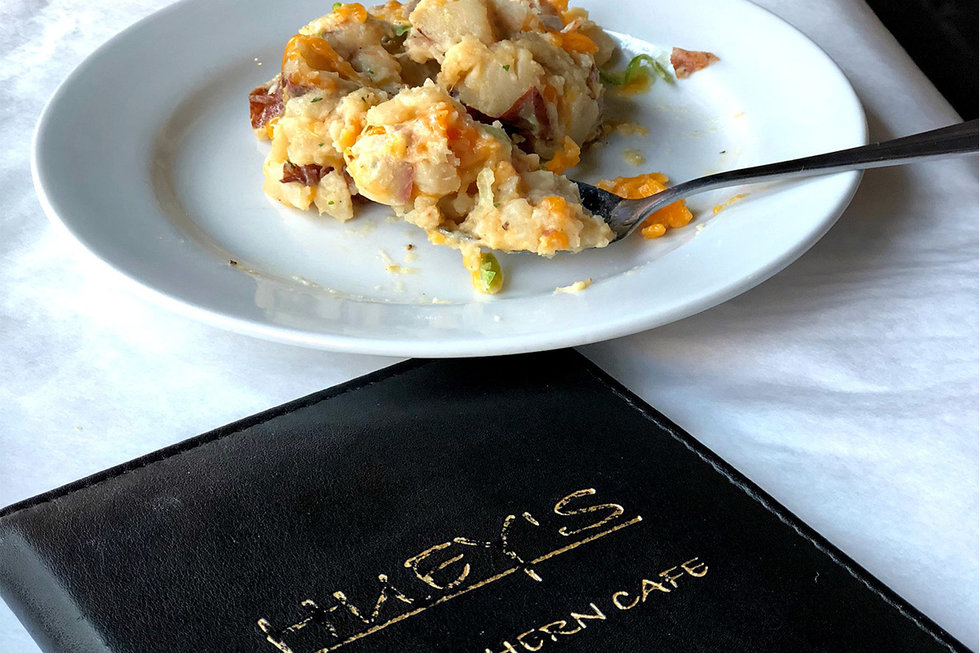 The potato salad at Hueys on the river
Photo credit: Kelsey + Courtney Montague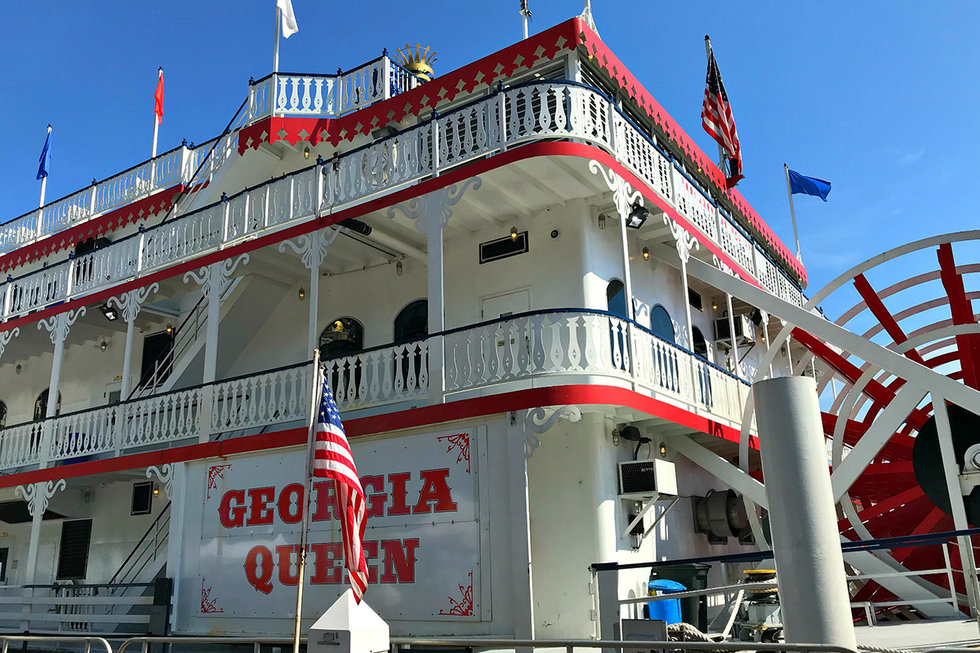 The Georgia Queen on River Street
Photo credit: Kelsey + Courtney Montague
After Huey's, stop by the Savannah Bee Company and sign up for a mead tasting. For just a few dollars you will get to taste all sorts of variations and flavors from all over the country. Interestingly mead, created from fermenting honey, is one of the oldest alcohols in human history. Evidence of mead in clay pots dates back to 7000 BC. After you've had a few sips of mead and tasted the honeycomb, head out for a bit of shopping. We recommend Broughton Street, especially 24e and the Paris Market.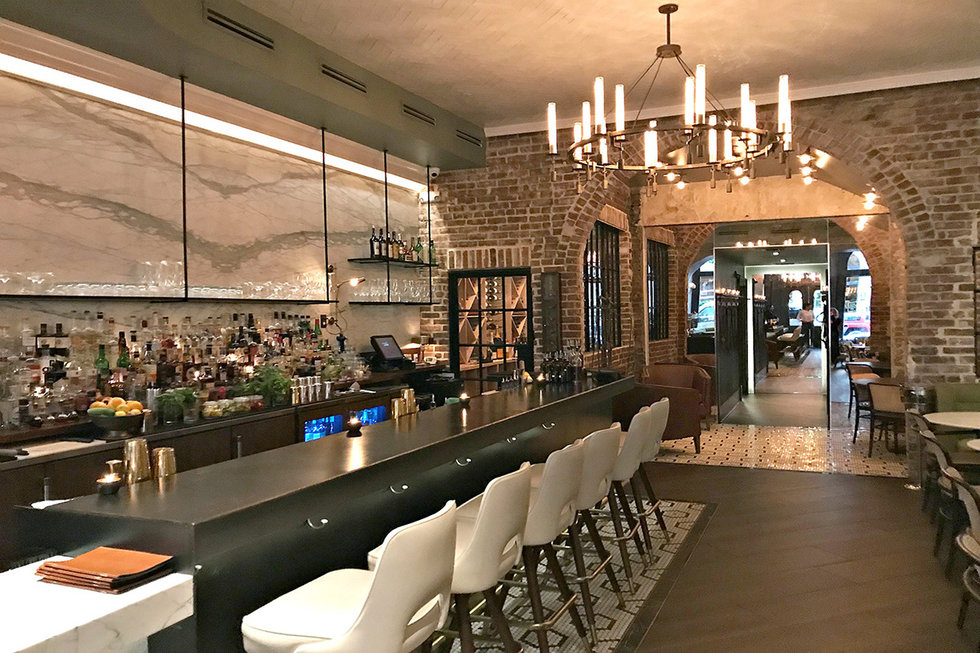 The Artillery restaurant | Photo credit: Kelsey + Courtney Montague
Stop by Juliet Gordon Lowe's birthplace (Girl Scout's founder) to see when the next tour is and make a reservation. Go to Husk for lunch while you wait. Husk, founded by James Beard award-winning chef Sean Brock, uses local ingredients in his ever-changing, scrumptious menu. After your tour of Ms. Lowe's home, put on your finest and head over to Artillery for a fancy cocktail and then on to The Collins Quarter Restaurant.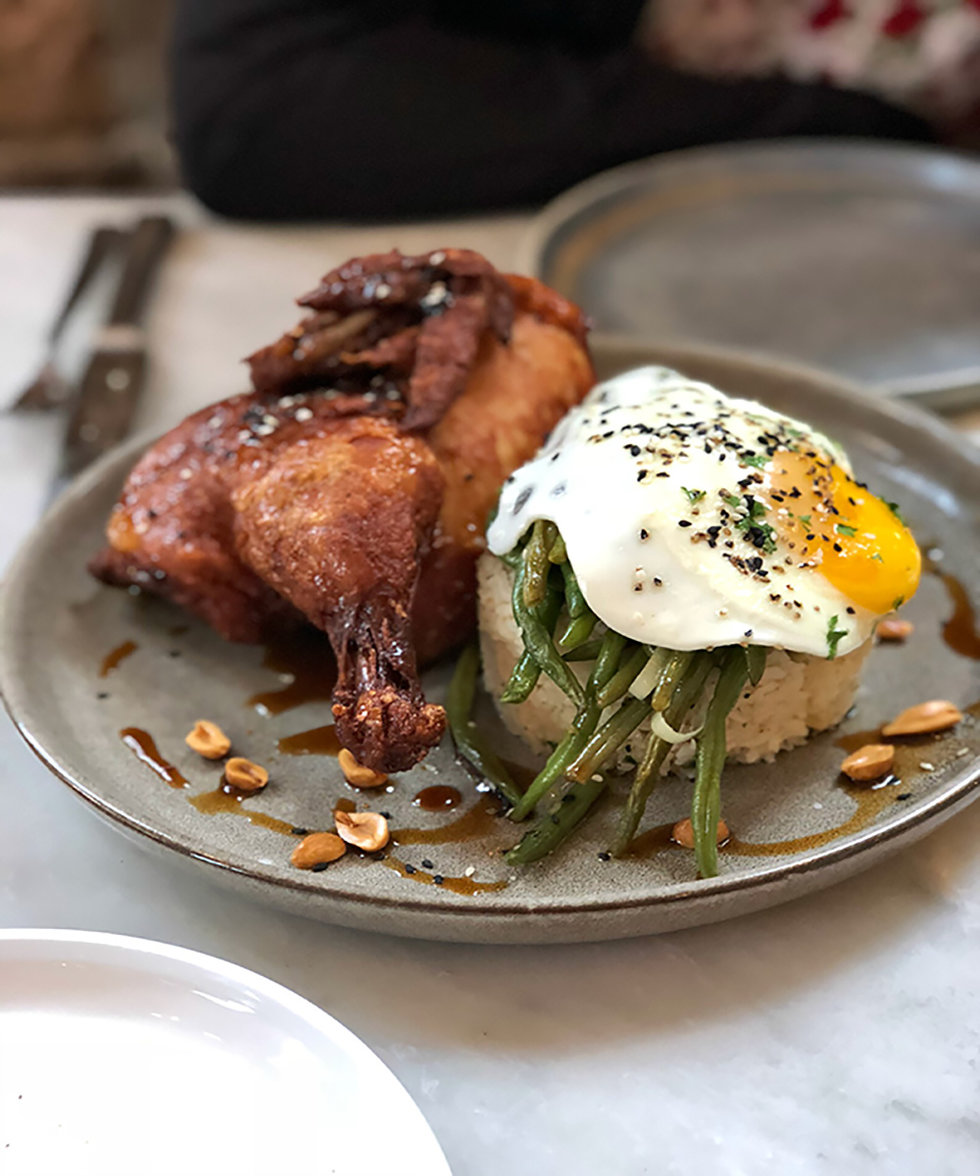 Collins Quarter restaurant | Photo credit: Kelsey + Courtney Montague
The Collins Quarter restaurant is an Australian take on Southern food and is exquisite. Get the hot chicken — it's delicious. Wander over to Chippewa Square after dinner where the movie Forrest Gump was filmed. The exact bench he sat on for the movie is no longer there, but everything else in the park is the same. Nearby on Bull street is another boutique, Red Clover, you should stop at if you're in the market for a gorgeous new frock. End the evening with dessert at Chocolate by Adam Turoni. Adam's shop feels like you stepped into wonderland, complete with a grass floor and bookshelves full of delicious treats.
All that's left is to head home full of southern food and southern hospitality.
P.S. If you have a few extra hours rent a car and go see the Wormsloe Plantation. The entrance will take your breath away. Also check out the Bonaventure Cemetery where poets, revolutionaries and the founders of Savannah have ornate gravestones in a picturesque, photo-worthy setting.
How to prepare for your child's first flight
Traveling can be stressful at times, even when you're flying solo. But imagine what a child must feel, especially as they prepare to take their first flight. The key to any successful first flight is to take a cue from the Girl Scouts motto: be prepared. I'm a mother who started traveling the world with her child since she was 10 days old. So if you're planning your child's first flight soon, read on for my helpful tips to make your child's first flight a success.
Before the flight
Make sure to choose your seats as soon as you book your flight. Since restrooms are usually located at the back of the plane — and also near the front of the cabin, depending on the aircraft — you may want to choose seats near those areas so you won't have to go far if you and your child need the restroom or you need to change your baby's diaper. Additionally, children oftentimes enjoy looking out the window during a flight, so you may want to opt for a window seat so they can see other planes, a busy tarmac or clouds once you're up in the air.
Most airlines, including United, allow a child under the age of two to sit on a parent's lap. But if it fits within your budget, you could consider buying them their own seat and, depending on the child's age, bringing a government-approved child seat for them to use in the purchased seat. This allows you and your child to travel more safely and comfortably, and can help create a better sense of security for your child if they're used to the child seat you bring along.
Make sure to prepare your kids prior to the flight. Although airplanes can be exciting, they can also be scary for kids at first. Take time to explain what to expect during your journey, from the time they arrive at the airport until the plane lands at your destination. You can tell them about the kinds of people they will meet, such as gate agents, flight attendants and pilots, and the different events that occur, like boarding, the flight attendants' safety message and the sound of the aircraft engine during takeoff. This way they can enjoy identifying the people and events that make up their first flight.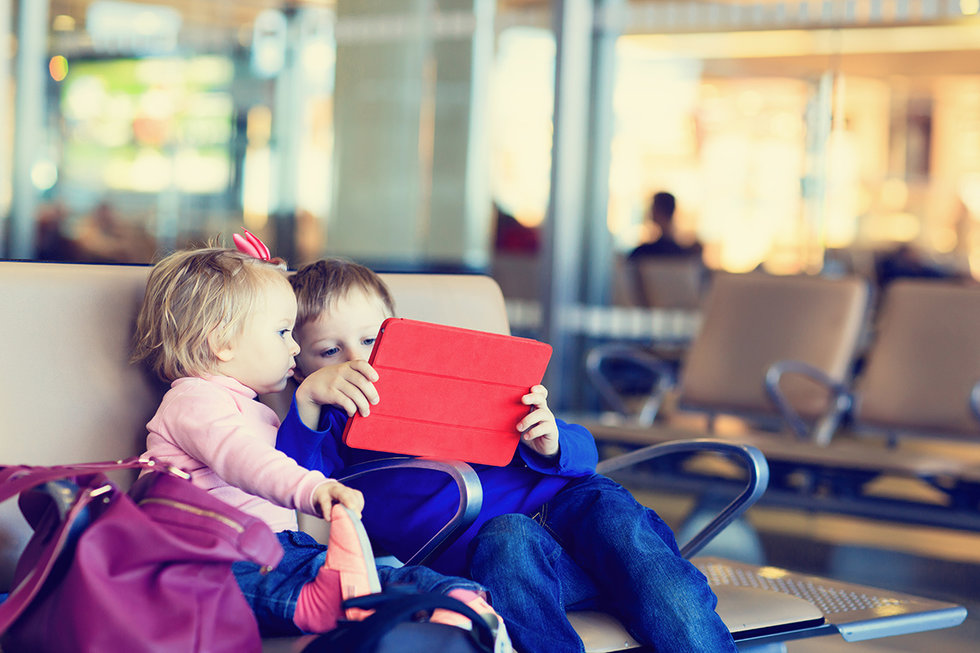 At the airport
To avoid any unnecessary stress, print your boarding passes or download them to your mobile device before arriving at the airport. Also plan to check your baggage as soon as you get to the airport so you don't have to worry about carrying along extra gear.
You can check with the Transportation Security Administration (TSA) if you're unsure about what's allowed past security checkpoints, but baby formula, breast milk, food and medications aren't subject to the 3.4 ounce liquid restriction, so you're able to bring larger amounts of those items with you. Just make sure to let TSA officers know right away that you're carrying those items so you're not slowed down during the screening process.
After you've made it through security and are waiting at the gate, make sure your children have entertainment to keep them occupied while you wait. While most flights offer entertainment, there may be times when the inflight entertainment is not available, so bring toys, games, a tablet, coloring books or whatever it takes to keep them occupied and happy during a flight. If you're traveling with babies or toddlers, be sure to double check your diaper bag and make sure it has clothing, baby wipes, lotion, toys and extra bottles. Also, pack a favorite blanket and pillow for inflight naps.
You'll also want to carry various snacks, such as sandwiches, fruit, nuts, crackers or popcorn, and account for possible delays because food options may be limited. It's also a good idea to pack empty sippy cups or water bottles to fill up with inflight beverages.
On board the flight
When it's time to board your flight, you can take advantage of United's policy that allows families with children two and younger to pre-board. This will give you that much-needed time to stow your items and get you and your children in your seats so you're comfortable and ready for your flight.
By request, strollers can be checked at the gate at no additional cost. Before boarding starts, simply ask the gate agent to put a baggage tag on the stroller and you can leave it at the bottom of the jet bridge as you board the plane. When you get to your destination, your stroller will be waiting for you on the jet bridge after you exit the plane.
Once you're on board and settled, it helps to have a bottle on hand during takeoff and landing because it can help alleviate ear pressure for babies and toddlers. For older children, tell them what's about to happen and encourage them to look out the window to see what's going on before take-off. While in the air, create easy access to all the things you need to keep your children entertained and happy, and before you know it, you'll be on the ground again in no time. With just a little preparation, flying for the first time can be an exciting experience for both you and your child.
United heroes: Saving the life of a newborn
Pediatrician Elizabeth Triche was so touched by how our employees went above and beyond to transport her critical ill newborn patient from Saipan to Guam then Honolulu to San Francisco and from there to their final destination of San Diego, that on July 27, she wrote the heartfelt note below to CEO Oscar Munoz and President Scott Kirby.
"Mr. Munoz and Mr. Kirby,
I am writing to give you my greatest gratitude for running a company that just did everything possible, every step of the way, to allow us to get our critically ill newborn with a fatal heart defect to life-saving emergency specialty care in San Diego.
Geoff Larson [Customer Service De-escalation Senior Manager] had given me his cellphone number one month ago and said to call if we ever needed any help getting patients to critical care. When I did call 3 days ago, he burst into action. We exchanged at least 10 emails and phone calls over the next 36 hours as he opened seats on fully booked flights, got us cleared to use oxygen (a process that usually delays our exit by 48-72 hours), and called on colleagues to make sure that all of our "special handling needs" in the airports were met. He emailed me as our first (of 4) flights arrived, letting me know that he was available to help with any glitches.
In Honolulu they held everyone on the plane so that we could get TSA and customs clearance first, gate side, avoiding our having to carry a sick baby in a car seat through an entire airport to customs. Helpers met us at each destination as gate agents from our departing cities warned the gate agents at our next arrival destination that we would need a wheelchair and help with bags.
Finally, as we were 30 minutes from our final destination, the pilot of United Flight 284 on 7/26/2018 from SFO to SAN called me up to the front of the plane to chat, as [there was] fog in San Diego. He wanted to know if the baby would be adversely affected if he [diverted] the flight to LA to refuel. We truly appreciated his taking our patient into account.
Ultimately, we arrived in San Diego without any major mishaps, and our newborn is currently undergoing definitive treatment for his condition.
Mr. Larson and his colleagues at United helped to save a life yesterday, as this baby may not have survived to make the flights had we had to wait for an open seat. Now that he has gotten to care, he will likely have a great chance at a normal life.
I just wanted everyone know that there are truly compassionate, dedicated people working for your organization."
We fly Australian firefighters to wildfires
As parts of Oregon and California continue to battle blazing wildfires that have already consumed thousands of acres of land, we stepped up to help and flew a group of Australian firefighters to Boise, Idaho, over the weekend.
We created an extra section to fly a group of firefighters from all over Australia to Los Angeles International Airport, where they departed on a flight to Boise, Idaho on August 4.
Australia/New Zealand Contingent Field Liaison Officer Barry James explained that firefighters were selected to come help based on their qualifications, and they're all proud to support their fellow firefighters in the United States.
"We're flying to Boise for a couple of days of training and then we'll be splitting up. Some of us are going to Northern California and the rest are going to Oregon for a six-week deployment," explained Officer James, who flew United for the first time, but said it won't be his last. "It was an awesome, awesome experience; it was really hospitable," he added.
Our Los Angeles based employees and crews made sure the firefighters felt their appreciation by giving them a special welcoming message in the gate area, where they thanked them for their hard work.
"It was such an incredible honor for us at LAX to meet and fly these men and women, who are sacrificing their time and putting their lives on the line to help us battle the wildfire devastation in this part of the country," said LAX Station Operations Control Manager Maggie Ronan. "The crew in general was just outstanding. They were all so honored to fly this group and felt it was amazing that United built the extra section for their journey. There was a very special energy felt on the flight as we closed up to send them off to BOI."


We're teaming up with leading disaster relief organizations to provide aid to those impacted by the California wildfires. We will match up to $50,000 in total donations made to our charitable partners, Airlink, American Red Cross, Americares, North Coast Opportunities and Shasta Regional Community Foundation. For more information and to make a donation California Wildfire relief efforts, visit our CrowdRise fundraising campaign.

Lots of sweat, lots of on-time departures: Summer on the ramp
It's 10:30 in the morning and the temperature gauge already reads 89 degrees. The Texan summer sun beams down from above. Heat waves emanate from the ground. Sweat glistens atop Ron Davis's shiny, bald head.

This isn't bad at all, Davis says. "I played high school football. Two-a-day practices? Those were hot. Some of the really hot days out here? Those feel more like three-a-day practices. We got it easy today."
A few gates down, employees revel in the "relief" that this weather feels like compared to the prior week.
"This is nothing," quips Tom Saavedra.
"A few clouds up there and a bit of a breeze – it's our lucky day," Leroy Taylor chimes in, a wide smile on his face.
Air temperature nearing 90 degrees. Tarmac temperature eclipsing 100 degrees most everywhere you step. 10:30 in the morning. And this is "easy". Welcome to life as a United ramp service employee at Houston's George Bush International Airport (IAH) in the summer.
United isoperating more than 500 flights out of Houston each day this summer, and thanks in part to the hard work of our ramp service employees, more flights have left Houston on time this summer than any prior summer.
How? Hydration and nutrition have played huge roles.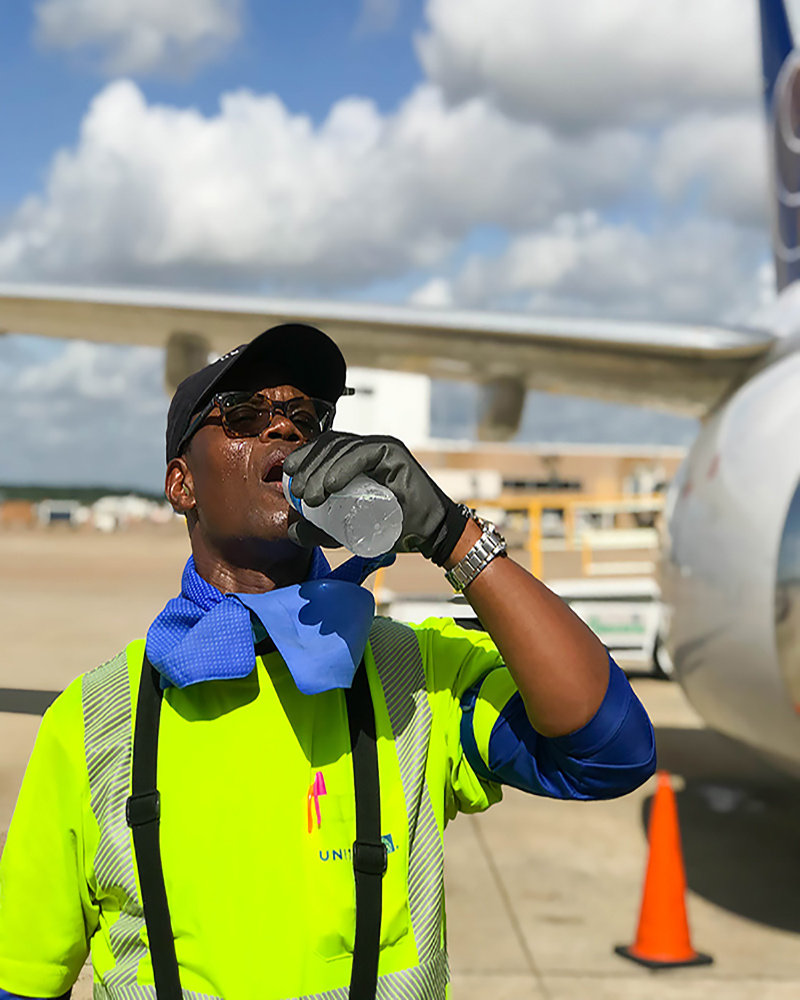 Posters with hydration reminders adorn the walls of ramp break rooms and hallways. It's the first topic of every meeting. Regular reminders are sent out over the group's radio system.
Employees have a flight schedule to keep, but as leaders, we have to provide them with the tools to do their job, says Gary Snead, a United supervisor based at IAH. "That includes keeping them fit to work in the summer heat."
And provide they do. Here are the resources deployed in an average summer month on the ramp in Houston:
Over 10,000 bags of ice, totaling more than 100,000 pounds of ice.
313, 5-gallon water coolers refilled at least four times per day.
An athletic trainer on site.
One day a month, the IAH ramp holds a fruit & hydration day, where supervisors distribute over 1,000 pieces of fruit to our sun-soaked employees.
1,000+ cooling towels distributed.
10 misting tents
The increased focus on hydration has helped increase productivity, and it's also resulted in a record-low number of heat-related illnesses among employees.
You take care of the employees, Snead says, "and the employees will take care of your operation."
That's proved true around the world, as we have flown more customers this summer than ever before, all while topping our competition in on-time departures in recent months. Our 13,000+ ramp service employees have played a huge role in that.
Summer heat? It's been beat.
Top 7 things to experience when visiting Las Vegas
When picturing Las Vegas, you probably see shimmering lights, felt-covered poker tables and the ecstatic sound of slot machines. But the truth is that the city offers visitors far more to experience than just gambling and excess. Located on the edge of the vast Mojave Desert, this uniquely American destination is constantly reinventing itself with every passing day, which makes it an ideal vacation spot for virtually every type of traveler. To help you get the most from your next trip to Vegas, here are seven attractions in and around the city that you won't want to miss.
The Neon Museum
Since 1996, this magical outdoor art gallery has collected hundreds of old and discarded neon signs from the Las Vegas strip and displayed them for visitors on a 2-acre plot of land. With so much colorful history available to see, it's no wonder that the Neon Museum is one of the city's top Instagram spots. Though new signs are constantly being acquired and refurbished, many date back to the glory days of the 1950s, when Vegas icons like Frank Sinatra, Dean Martin and Sammy Davis Jr. were the entertainment headlines at the casinos.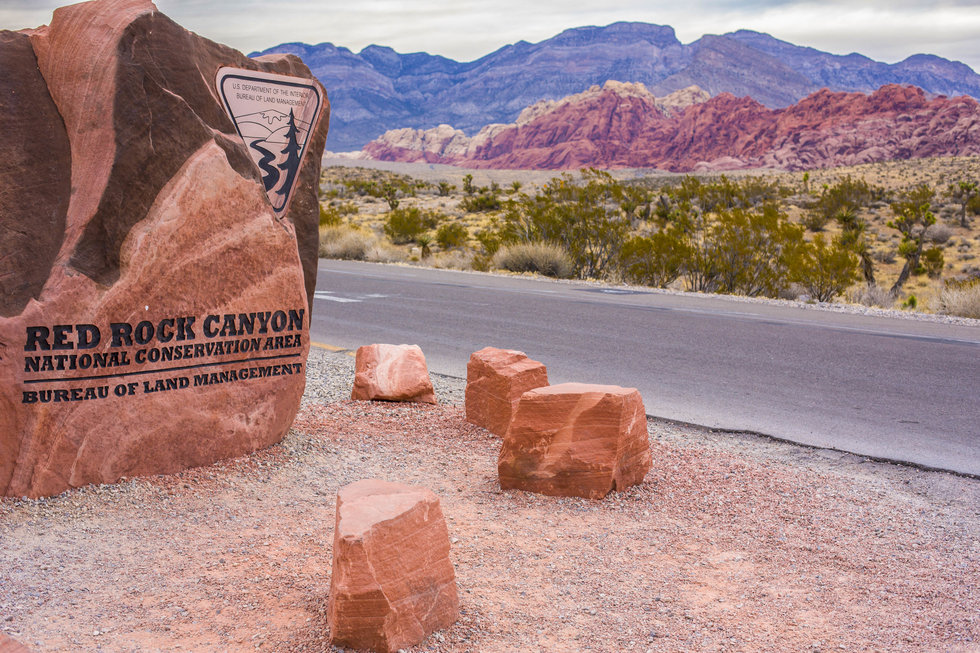 Red Rock Canyon
This stunning nature preserve is just a 15-mile drive west of Las Vegas, and is the perfect place to experience all the scenic beauty that Nevada has to offer. Red Rock Canyon features 26 clearly marked hiking trails, indoor and outdoor conservation exhibits and a plethora of majestic wildlife and desert flora to view. There's even a picturesque waterfall, so bring your camera along with your sunscreen and bottled water. A variety of educational programs are held each month, including a popular "Bats in Our Belfry" presentation in which rangers take visitors on a bat sightseeing tour of the canyon.
The Mob Museum
Because the birth of Las Vegas is intricately connected with organized crime, this fascinating museum is a must-visit for anyone who wants to understand how a dry Nevada desert became a worldwide symbol of glitz and glamour. Filled with amazing artifacts, vintage photos and life-size recreations of some of the city's most infamous residents, the Mob Museum focuses on both the gangsters who built Las Vegas and the law enforcement heroes who pursued them. A rotating collection of exhibits brings the town's colorful history to life in a way that no movie or book could ever hope to duplicate.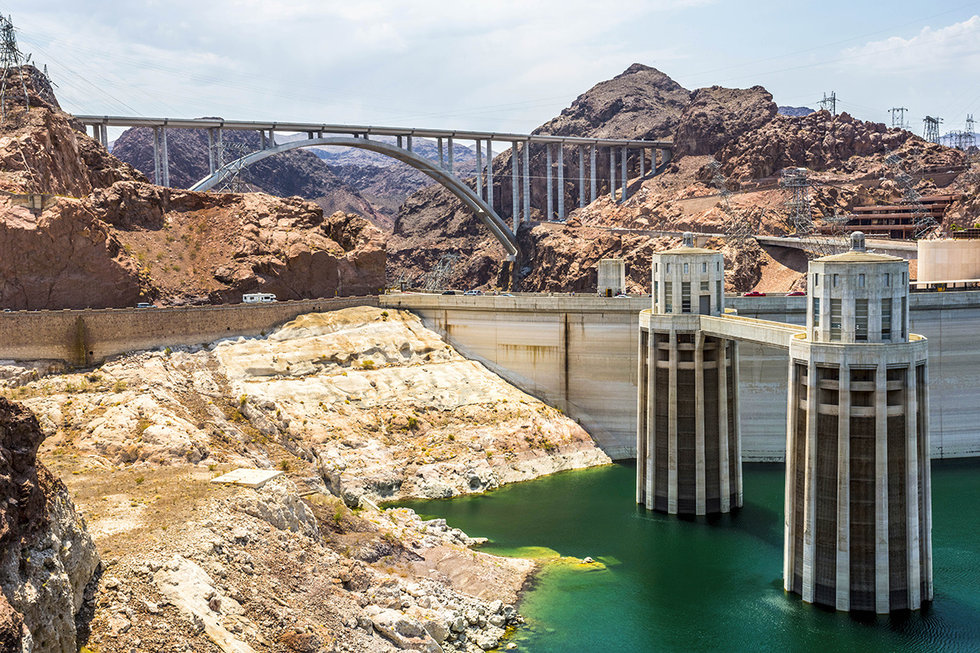 The Hoover Dam
A monument to man's industrial spirit and a marvel of American engineering, the spectacular Hoover Dam is located less than an hour's drive from Las Vegas — and it's truly an unforgettable sight to behold. Tours of the 726-foot-tall dam are highly encouraged and will fascinate young and old alike. While you're in the area, why not spend some time cruising the beautiful waters of nearby Lake Mead, which was created by the dam itself. Boat tours are available all week long from several locations around the lake, so advanced reservations are not needed.
Dig This Last Vegas
Are you visiting Las Vegas with children? If so, then this one-of-a-kind experience should definitely be on your travel itinerary. Dig This Last Vegas lets you and your kids drive and safely operate heavy duty construction equipment like bulldozers and excavators on a massive outdoor playground in the heart of the city. Anyone who grew up with toy tractors and plastic earth-moving machines can now climb behind the wheel and try them for real. With the help of trained instructors, kids as young as 8 years old can make their dreams of operating a genuine Caterpillar D5 bulldozer come true at this hands-on attraction site.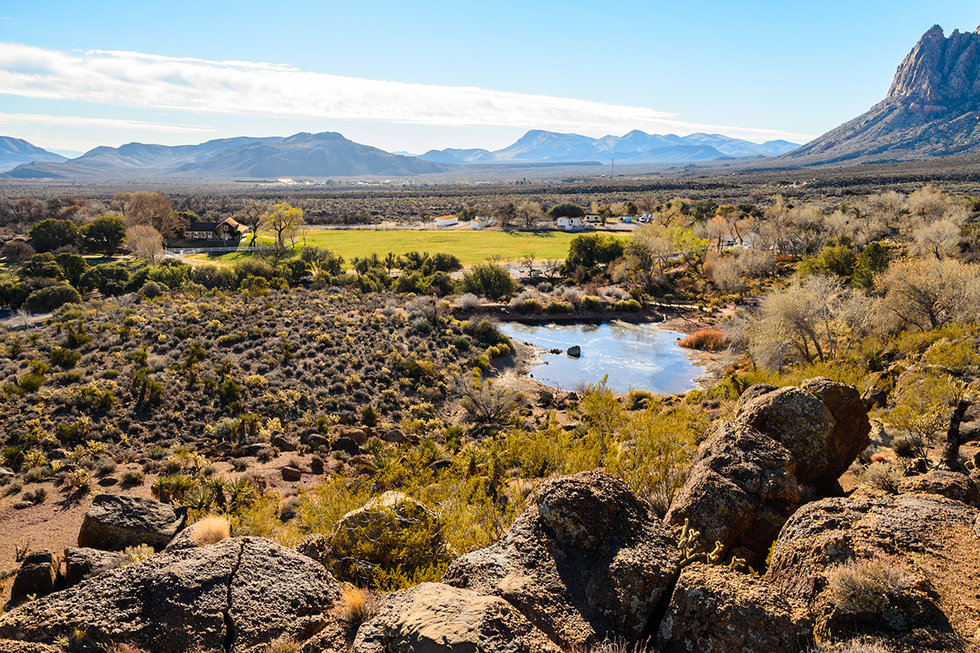 Spring Mountain Ranch
This Nevada state park is a relatively short drive from downtown Las Vegas and will instantly transport you back to the region's historic past. The perfectly preserved old west-style ranch is an excellent place for an afternoon picnic when you need a break from the hustle and bustle of the casinos. Thanks to the lush green surroundings and man-made lake, the temperature at Spring Mountain is noticeably cooler than you might expect of the hot Nevada climate. Explore further as gentle hiking trails allow you to stretch your legs in comfort while you navigate some of the loveliest scenery in the entire state.
Lotus of Siam
Widely considered to be one of the best Thai restaurants in the United States, Lotus of Siam earned its prestigious James Beard Award the hard way; by serving incredibly delicious Northern Thai dishes every day for the past 19 years. Owner and head chef Saipin Chutima recently opened a second location in Las Vegas, which means you'll have no trouble making reservations while you're in town. Considering that top foodie magazines like Gourmet, Saveur and Bon Appétit have praised this restaurant's incredible dishes for almost two decades, you'd be wise to book a table in advance. Try their crispy rice salad with house-made pork sausage for a flavor that will make your taste buds sing.
Getting there
When you're ready to experience the fun and excitement of Las Vegas, book your flight at united.com or by using the convenient United app, and share your story on social media with the #UnitedJourney hashtag.

The 8 most underrated American road trips
You've gotten your kicks on Route 66. You've wound through Highway 1. So how do you take another quintessential American summer vacation without repeating yourself? Good thing this country is not lacking in incredible vistas and varied landscapes—trust us: there is so much more than purple mountains majesty and amber waves of grain (although, those aren't so bad themselves). From badlands to waterfalls, here are eight American road trips to consider.
RELATED: 10 Waterparks Worth Traveling for
RondaKimbrow/Getty Images
Top of the Rockies Scenic Byway, Colorado
This western road trip through and around the Rocky Mountains has three separate routes that converge in Leadville, Colorado (the highest incorporated town in the country at 10,152 feet above sea level). There's no rule against traversing all three, especially since each is pretty short (82 miles total). First, take in the five enormous mountains surrounding Leadville, two of which are the tallest in the state. Head up through Tennessee Pass and cross the Continental Divide to reach the majestic town of Minturn for incredible fields of wildflowers. The route through Independence Pass toward Aspen has unbelievable views of the Rockies and Twin Lakes. Driving along the Arkansas River through Fremont Pass to Copper Mountain is ideal for spotting ranches, old mines and—fingers crossed—some Colorado wildlife.
FilippoBacci/Getty Images
Overseas Highway, Florida
You do not need a boat to enjoy the Florida Keys, and we can prove it. The Overseas Highway is one of the most unique roads in the country, as it basically island hops along Florida's hottest vacay spots like Islamorada (home of the Florida Brewing Company) and Marathon (home of Long Key State Park). The Seven-Mile Bridge is a highlight nestled into the 113-mile trip, so make sure to cross during the day for sprawling views of turquoise water and boaters galore. Other fun pit stops: Swim with dolphins at the Dolphin Research Center in Grassy Key, snorkel with sea critters at John Pennekamp Coral Reef State Park and pose for a selfie at Southernmost Point Buoy, the farthest south you can get on the continental U.S.
Jason W Lacey/Getty Images
Columbia River Highway, Oregon
This stretch of highway was the first of its kind to be officially declared a National Historic Landmark, and it's easy to see why. Set out from Troutdale, Oregon, and immediately you'll see the gorgeous Columbia River Gorge. Get ready for a roller-coaster decent as you roll into Crown Point—the 600-foot drop toward the Columbia River is designed specifically for road trippers as it curves and winds through lush green forests. There are at least six notable waterfalls you'll pass along the way; step out at Multnomah Falls for a pic of its stunning bridge. Once you hit the town of Mosier, consider trekking through a tunnel of lava rock on the Mark O. Hatfield Trailhead. The road officially ends after roughly 70 miles at The Dalles, conveniently close to the Sunshine Mill Winery. Treat yourself to a glass of the wildly popular Nirvana, a white blend with touches of honey and melon.
Bobbushphoto /Getty Images
Hana Coast Highway, Hawaii
While Hawaii's island of Maui is a hot destination for tropical romance, the Hana Coast Highway is not for the faint of heart. The road is affectionately called the "Divorce Highway" in honor of its precarious turns and proximity to the edges of tall cliffs. That said, the frequent waterfalls, black sand beaches and eucalyptus trees along the country's lengthiest rainforest highway make the trip totally worth the adrenaline rush. Though it's only 52 miles, the 25-miles-per-hour speed limit (with blind spots and one-lane bridges galore; this is a very good thing) makes it a two- to three-hour trip. But we have a feeling you'll happily take your time—the views from Kahului to Hana are beyond breathtaking.
Scott_Walton/Getty Images
Trail of the Ancients Scenic Byway, New Mexico
If you're in the mood for dry heat and history up close, the Trail of the Ancients Scenic Byway is calling. West of Albuquerque is Chaco Canyon, an important ceremonial site for the Pueblo peoples between 850 and 1250 A.D. After taking in the incredible expanse of the canyon, drive south through the towns of Crownpoint and Grants toward the El Morro National Monument. Ogle the 2,000 or so signatures weary travelers have carved into the sandstone over centuries. Continue east through the Zuni Reservation to Zuni Pueblo, an arts community still practicing ancestral traditions and ways of life. Cap off this winding 360-mile desert tour in Farmington, where you can see Aztec Ruins National Monument and Salmon Ruins, both of which date back to the 1050s.
AndrewKrav/Getty Images
The Black Hills and Badlands, South Dakota
Together, the Black Hills and Badlands National Park in South Dakota offer 5 million acres of grassland, forest and rock formations. Might we recommend not hitting it all in one day? Instead, start out on the Badlands Loop State Scenic Byway near the town of Interior. Check out the millions-year-old (literally) jagged geographic deposits before heading north to Spearfish Canyon, home of sky-high pink limestone and gorgeous waterfalls. Meander down through Black Hills National Forest to check out Crazy Horse Memorial, Custer State Park and (drumroll, please) Mount Rushmore. Set aside a few days for the entire 232-mile journey because you'll probably find yourself either driving slowly to take it all in or stopping the car every few miles to hike or swim.
NickJKelly/Getty Images
North Shore Scenic Drive, Minnesota
For a truly otherworldly experience, drive along the coast of the biggest freshwater lake in the world: Lake Superior. The northern Minnesota gem means ample opportunity to really get away from civilization. (Heading off the beaten path into the Boundary Waters just north of the coastline leaves you with no cell service, almost complete solitude and a chance to catch the northern lights!) Start your drive in Duluth and head north, scoping out the many lighthouses dotting the rocky coastline on your right and the distant Sawtooth Mountains on your left. Everywhere else is covered in pine and birch trees—and crawling with wildlife. Beaches pop up along the 142-mile ride, although Lake Superior is notoriously chilly, reaching 65 degrees Fahrenheit max during the hottest months of the year. But, in the height of summer, this might be exactly the cool-down you need.
Holcy/Getty Images
Rangeley Lakes National Scenic Byway, Maine
For the ultimate, rugged New England road trip, you must drive the Rangeley Lakes National Scenic Byway. On the western side of the state, near New Hampshire, the lake is flanked by Rangeley Lake State Park and rolling hills of trees, flowers and wildlife. Start at Smalls Falls, and let the Appalachian Mountain ridgeline be your guide on this 36-mile tour. The route is straightforward but provides sights of everything from lakes and rivers to valleys and farmland. Swift River and Mooselookmeguntic Lake (who named this lake?) are outstanding photo ops. Summer is always a good time to visit when it comes to temps, but come autumn, the bright colors pop along this route, and might just be worth a second trip.
RELATED: The Most Serene Spot in Every Single State
This article was from PureWow and was legally licensed through the NewsCred publisher network. Please direct all licensing questions to legal@newscred.com.
Scroll to top