Three Perfect Days: Mexico City
Story by Nicholas DeRenzo | Photography by Lindsay Lauckner Gundlock | Hemispheres January 2017
Mexico City is a place defined by its muchness. With its 21.2 million people, the Ciudad de Mexico—or CDMX, as it's been known since early last year, after an official rebranding retired the familiar DF moniker—is part of the Western Hemisphere's largest metropolitan area. It's older than you might expect (founded in 1325 as Tenochtitlán), and higher (a lung-busting altitude of 7,382 feet), and more cultured (150 museums and counting, one of the highest totals in the world). It's also richer, posher, busier, tastier. Yet, despite its many superlatives, Mexico City has had to contend with a host of unflattering misconceptions. To put it bluntly, CDMX comes with a lot of baggage. But, in a weird way, that reputation—the good, the bad, the ugly—works in its favor. Once you leave your preconceptions at the door, you're confronted with a city that ranks among the world's greats—and one that has still somehow managed to stay under the radar.

In which Nicholas considers the weight of gold, marvels at a churrero at work, and goes on a spirited tour of Mexican booze
I wake up in Mexico City feeling like royalty, and with good reason: My hotel, the Downtown Mexico, occupies the 17th-century Palacio de los Condes de Miravalle, in the thrumming colonial Centro Histórico. Its minimalist decor (angular blond wood furnishings, leather sling chairs) does wonders for the cavernous, bare-stone rooms, which once housed counts and countesses.

The capital is such a delightfully confusing jumble—of old and new, of rich and poor, of highbrow and lowbrow—that I need someone to help me put it all in context. Who better to work through these complexities than a poet? I'm scheduled to meet writer Tatiana Lipkes, who runs the indie publishing house Mangos de Hacha, for breakfast at Restaurante El Cardenal, which has been going strong two cobblestone blocks away since 1969.
"It's a traditional thing to come here for breakfast," Lipkes says. "It has always been the same." She darts through the sidewalk-clogging crowd to put our name in at the hostess stand.
With a half hour to kill, we wander through the nearby Zócalo, the city's historic central square and the former main plaza of the Mexica (or, as the Europeans called them, Aztec) metropolis of Tenochtitlán—at its peak, the biggest city in the pre-Columbian Americas. The plaza's northeastern corner is dominated by the archaeological site surrounding the Aztecs' main pyramid, the Templo Mayor—a thrilling bit of history, sure, but also a somber reminder of all that was lost during the conquest.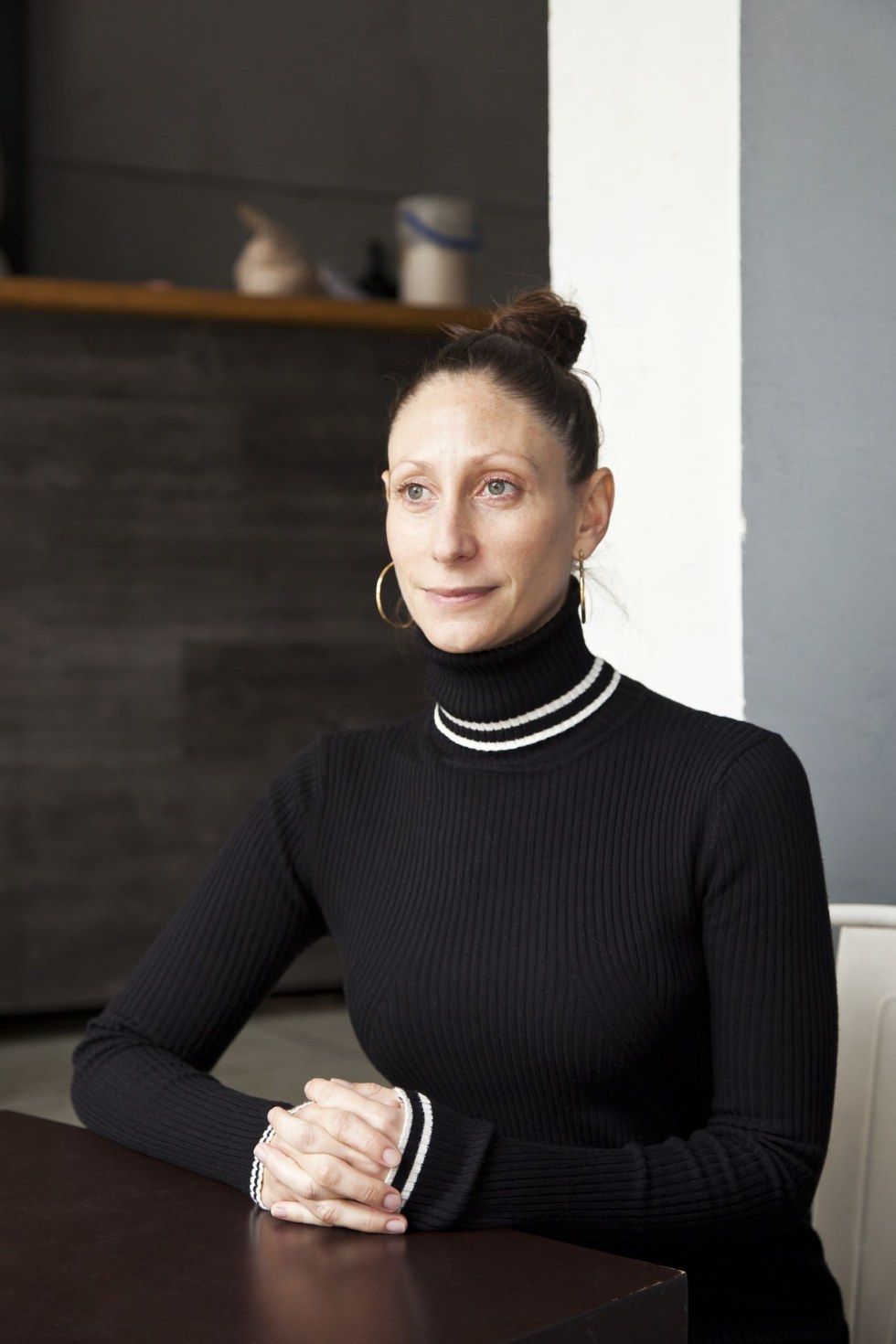 Tatiana Lipkes, poet and publisher, Mangos de Hacha
We pass the city's Baroque and Neoclassical Catedral Metropolitana, the largest in the Americas, which began construction in 1573, nearly 50 years before the Mayflower set sail. The building is sinking and tilting, due in part to soft soil, but I can't help wondering if the truckloads of gold and carved wood and marble inside aren't also doing their part to weigh it down.

I ask Lipkes, who's of French-Ukrainian heritage, what she finds most inspiring about her hometown. "I love the contrast that you see," she says. "He's Mexican"—she gestures to an indigenous man with a darker complexion—"I'm Mexican. You could be Mexican. It makes everything richer and richer."
Back at El Cardenal, we order chocolate con leche and chilaquiles con pollo, a skillet of deliciously soupy chicken, tortilla chips, and salsa verde. There are so many tables of multigenerational Mexican families that I feel as if I've wandered into a quinceañera.
After breakfast, Lipkes and I stroll east through the old town and then along Avenida Juárez, past the Palacio de Bellas Artes. The Art Deco–meets–Art Nouveau "cathedral of art" is topped with an orange and yellow cupola that calls to mind the sunrise, and its interiors contain fine modernist murals from masters including Diego Rivera, José Clemente Orozco, and David Alfaro Siqueiros.
"I've been living here my whole life, and I always get lost. Mexico City is so big that I discover new places every day—in my own neighborhood, even." — Tatiana Lipkes
As we skirt the Alameda Central park, we pass a couple holding hands and staring into each other's eyes. I give Lipkes a what's-this-all-about look, and she says, matter-of-factly, that it's probably just a man seeking help from his witch—something of a spiritual tune-up.
I raise an eyebrow, and Lipkes laughingly explains: "There's a huge pre-Hispanic culture of witchcraft here. Everybody has a witch. Everybody knows someone that can read your hands or cards. Every Mexican has gone to make a limpia [a spiritual cleansing ritual], with eggs and chants and herbs. It's something from your grandmother that you pass along. Of course you do it. It's a cultural code."
We continue along Avenida Juárez to the copper-domed Monumento a la Revolución, the world's tallest triumphal arch at 220 feet and the final resting place of revolutionaries including Pancho Villa. "I just went up the first time in my life the other day," Lipkes says as we stare up at the glass elevator shaft that rises from the middle of the arch like a straw.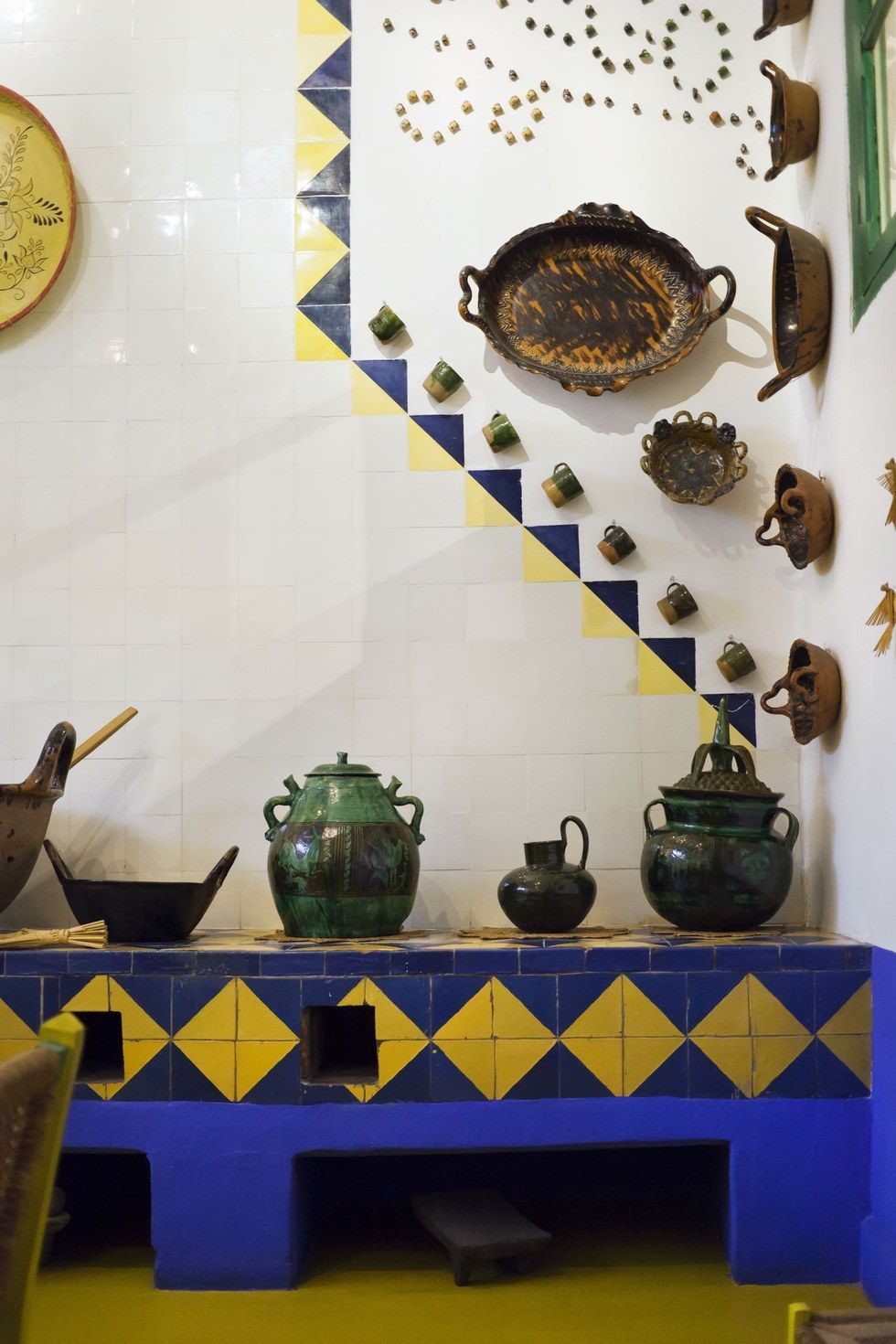 The atrium of the Condesa DF hotel
"I'm afraid of heights," I admit.

"Me too," she says, grimacing.
We huddle looking at the elevator floor as we ascend, but we gain some kind of adrenaline-fueled confidence as we look out over the colonial eaves and glass-and-steel highrises. "When you come from Mexico City, nothing is really strange to you," Lipkes says, pointing out where different neighborhoods (or colonias) are located. "Downtown here is like Kolkata. Roma is like Europe. Santa Fe is like suburban Houston. You live with this schizophrenia. That's what I love about this city."
Back on solid ground, we soothe our nerves with a quick beer on the plaza at the hip Crisanta, Cervecería Garage. My Reliquia de Cortés Noche Triste Ale de Maíz Azúl, brewed right here in Mexico City with blue corn, tastes faintly like a tortilla.
I say goodbye to Lipkes and retrace Avenida Juárez, then follow the scent of frying dough down Eje Central Lázaro Cárdenas to Churrería El Moro, a churro spot founded in 1935 by Spaniard Francisco Iriarte. In the window, a churrero squeezes long spirals of dough into a fryer with monastic concentration before snipping them into manageable commas. I flag down one of the waitresses, who wear matching white aprons and bonnets, and order churros with chocolate español—they're sweet, thick, and gloriously unhealthy.
From here, I hop in a cab and head to an institution of a different sort: the Museo Nacional de Antropología. We pass El Ángel—the 22-foot-tall, gleaming gold angel atop El Monumento a la Independencia—and continue down the grand Paseo de la Reforma, a Champs-Élysées-inspired boulevard commissioned in the 1860s by Emperor Maximilian I to connect the historic center with his royal palace in the forested park Chapultepec.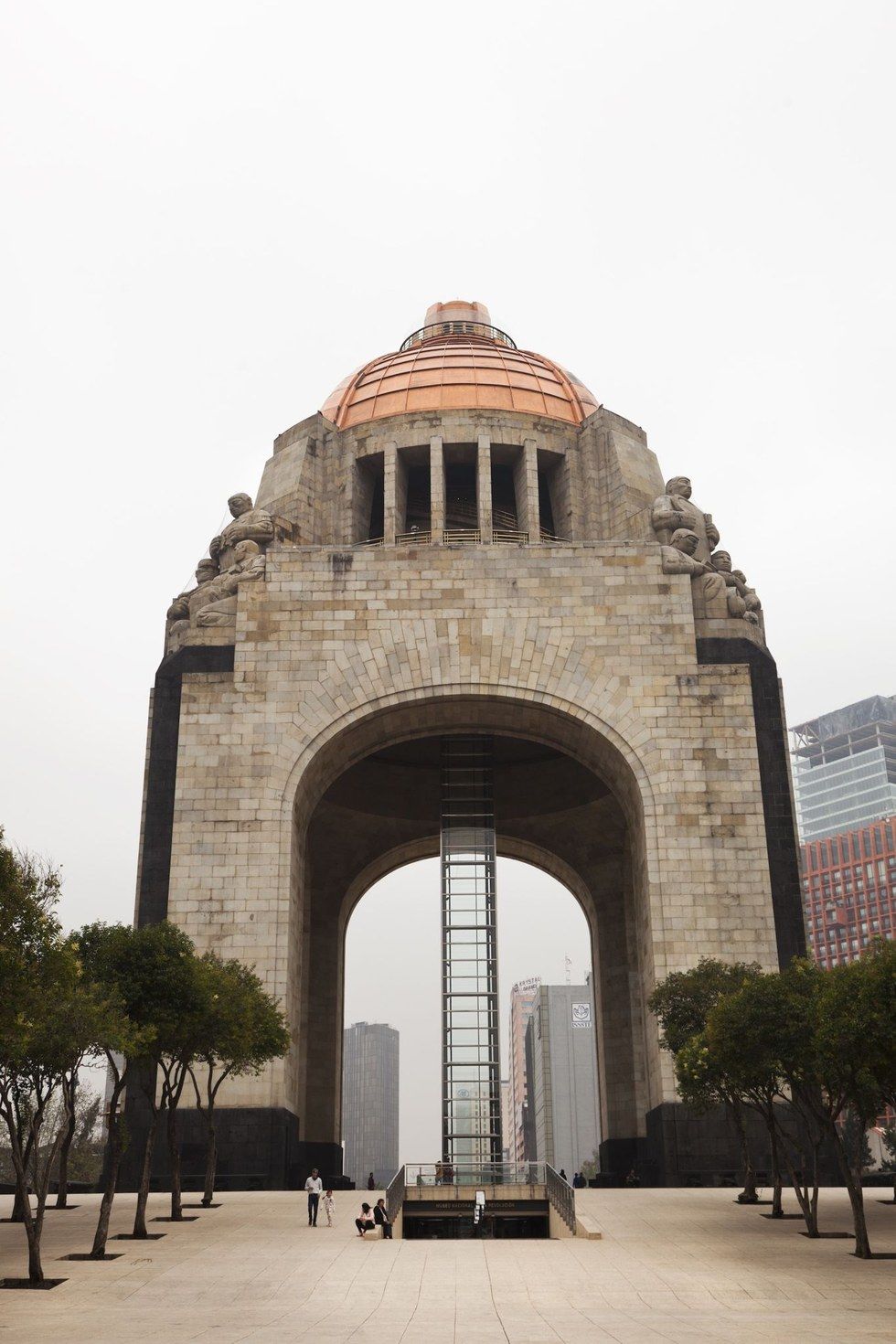 The Monumento a la Revolución
Named for the Nahuatl word for "grasshopper's hill," Chapultepec, the so-called "lungs" of Mexico City, is the Western Hemisphere's largest urban green space, roughly double the size of New York's Central Park. Its centerpiece, the anthropology museum, is the country's most visited museum, popular with visitors and locals alike. As I enter, two mariachi guitarists in full regalia drop off their instruments at the coat check.

The space is as overwhelming as the Met or the Louvre, with an open courtyard centered on the famous "umbrella"—a 2,000-ton slab of concrete supported by a single pillar. The halls brim with pre-Columbian treasures, such as 25-ton Olmec carved stone heads and Mayan temple artifacts, but like the Louvre, with its Mona Lisa, there's one must-visit artifact. All paths here lead to the back gallery, dedicated to the Aztecs and, in pride of place, the Piedra del Sol (the Stone of the Sun), a nearly 12-foot-tall disc-shaped basalt tablet that was discovered under the Zócalo in 1790. For years, it was thought to be a solar calendar, but archaeologists now believe it was a sacrificial altar. The stone conjures feelings of unease, but also appreciation: We're standing atop the Ancient Rome of the Americas.
I head back to Centro for dinner at the candlelit sister restaurant of the renowned Bósforo mezcal bar. "We don't have a name," says my waiter as he delivers a basket of blue corn tostadas, cooked on the comal (griddle) out front. "They usually just call us 'el restaurante al lado del Bósforo.'" The restaurant next to Bósforo.
I use the charred crisps to scoop up guacamole with chapulines, or grasshoppers, which are as nutty and inoffensive as sesame seeds on a bagel, and follow them up with a complex yet homey rabbit in peanut mole. To pair with the meal, I go on a tour of regional Mexican spirits: mezcal, tequila's smokier cousin; sotol, a grassy liquor distilled from the desert spoon plant; and pulque, a viscous kombucha-like drink made from agave sap. I don't know if Mexicans have their own rhymes about mixing drinks (sotol before mezcal, you'll be OK, pal...), but I'm glad that my bed at the Downtown Mexico is only a few blocks away.

In which Nicholas breakfasts with a rock star, drops in at Frida's house, and snacks on ant eggs
After the colonial scrum of the Centro Histórico, the nearby district of Polanco feels like a different city entirely—as posh and polished as Vienna or Milan. This morning, I'm moving my bags over to the design-forward Habita Hotel, which opened in 2000 and helped establish Mexico City as an international art and design capital. Clad in a seaglass-green sheath, the Habita fits in seamlessly with the walled-off celebrity compounds and luxury boutiques on swanky Avenida Presidente Masaryk—Mexico City's Fifth Avenue, named for Czechoslovakia's progressive first president, Tomáš Garrigue Masaryk (coincidentally, the subject of my undergraduate thesis).

While it may be easy to see Polanco merely as a playground for the rich and famous, some of that outsize wealth is actually being put to good use. To the north, in an area now dubbed Nuevo Polanco, cultural institutions sprout like weeds. Museo Soumaya, opened in 2011, is billionaire Carlos Slim's vanity project, a blobby cartoon anvil of a building covered in aluminum hexagons that catch the light, while its younger neighbor, the sawtooth-roofed Museo Júmex, houses the contemporary art collection of a Mexican juice and nectar mogul.
After passing by the museums, I head across town to a little Italian spot called Trattoria della Casa Nuova in the charming colonial district of San Ángel. I'm set to meet rocker Diego Solórzano, the frontman of indie band Rey Pila (Spanish for "King Battery," a phrase from a Basquiat painting), who have opened for Maroon 5 and the Strokes. (They're currently recording an album with Julian Casablancas.)
The facade of the Condesa DF hotel
"This is the last rock 'n' roll town—or so I've heard," Solórzano says as he orders us two cazuelas petit cluny, molten casseroles of melty cheese, ham, and tomato sauce, which we sop up with hunks of baguette. "When we tour, we see it in every town: They package style and feed it to you very easily. But this town, with its ups and downs, it's really unique. It really has something special going on."

We finish up and drive 10 minutes south, to the campus of the Universidad Nacional Autónoma de México, which was named a UNESCO World Heritage Site in 2007 for its profusion of modern architectural icons. Just past the looming Modernist slab of the Museo Universitario Arte Contemporáneo—which Solórzano assures me is more "progressive, chill, and forward-thinking" than Slim's attention-grabbing Soumaya—we head out into university land that, dotted with massive sculptural installations such as Mathias Goeritz's 66-foot-tall Corona del Pedregal, is almost postapocalyptic in its wildness.
"This is the volcanic rock area, a natural reserve," says Solórzano. "It's got a different vibe from the rest of town." We reach the grandest of the sculptures, the monumental Espacio Escultórico, a ring of 64 concrete wedges jutting out of a field of tezontle volcanic rock, cacti, and wildflowers. "A lot of smart, cool people come here," Solórzano says, gesturing to hipsters snapping selfies and clambering up the tilted monoliths as if this were some Brutalist playground. "It could be Berlin."
We continue on to the main campus, where academic buildings call to mind ancient temples, and walls are decorated with the works of master muralists such as Rivera and Siqueiros. "The architecture is very intense, right?" Solórzano says. "It feels like a pyramid. It's a history that we are a part of. I don't mean to sound patriotic, but that's just how it is! You feel a special moment when you see it."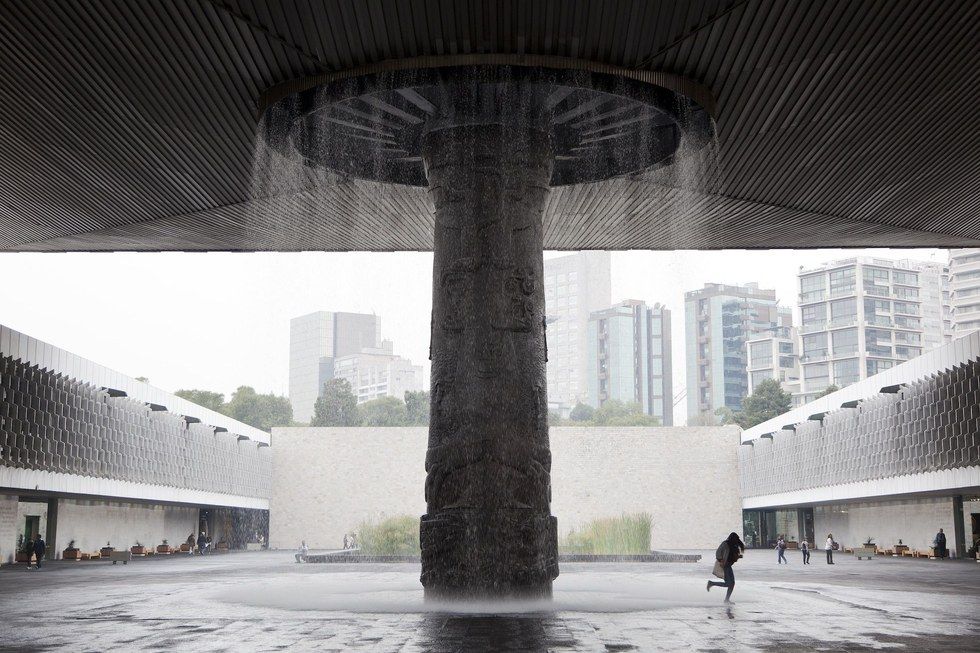 The "umbrella" at the Museo Nacional de Antropología
The campus's dramatic centerpiece is the Biblioteca Central, a giant building covered in colored stone mosaics by Juan O'Gorman; it bears an uncanny resemblance to a boombox. (Note: It opened in 1956, roughly two decades before the boombox's invention.)

I've worked up an appetite, so I say goodbye to Solórzano and taxi over to Super Tacos Chupacabras, a no-frills spot under a highway overpass (look for the sign with the snarling face of the mythical "goat-sucker") that's known for its namesake taco—a mix of beef, pork, and chorizo said to contain 127 ingredients. From here, it's a quick amble through the villagelike streets of the Coyoacán district to the Museo Frida Kahlo, which occupies La Casa Azul, the vivid blue bungalow where Kahlo was born, lived with Diego Rivera, and died in 1954.
"When you come from Mexico City, nothing is really strange to you. You live with this schizophrenia."
Viewing Kahlo's paintings, it's easy to see why people fall so hard for her. She's a bit like a pop star (though she'd hate the comparison): high on big emotions, brash, accessibly poetic, with the fiercest eyebrows in the game. While the paintings on view are great, the museum's true heart lies in the almost too intimate personal effects: her red-boot-clad prosthetic leg, a body cast decorated with a hammer and sickle, colorful dresses inspired by the matriarchal Tehuana people, the toad-shaped urn holding her ashes. (She called Rivera her "toad-frog.")
After stopping for a selfie with a cat posing on a backyard pyramid Kahlo and Rivera built to display pre-Hispanic art, I venture farther into Coyoacán and grab an icy paleta from the 66-year-old Gloria Helados y Paletas ice cream shop. I choose mamey, a tropical fruit that tastes quite a bit like sweet potato pie, then wander through Plaza Hidalgo, from which conquistador Hernán Cortés brutally ruled his empire in the 1520s, and the Jardín del Centenario, which features a fountain with two bronze coyotes. Apart from the "free wifi" signs affixed to the lampposts, it's easy to imagine Kahlo walking these streets.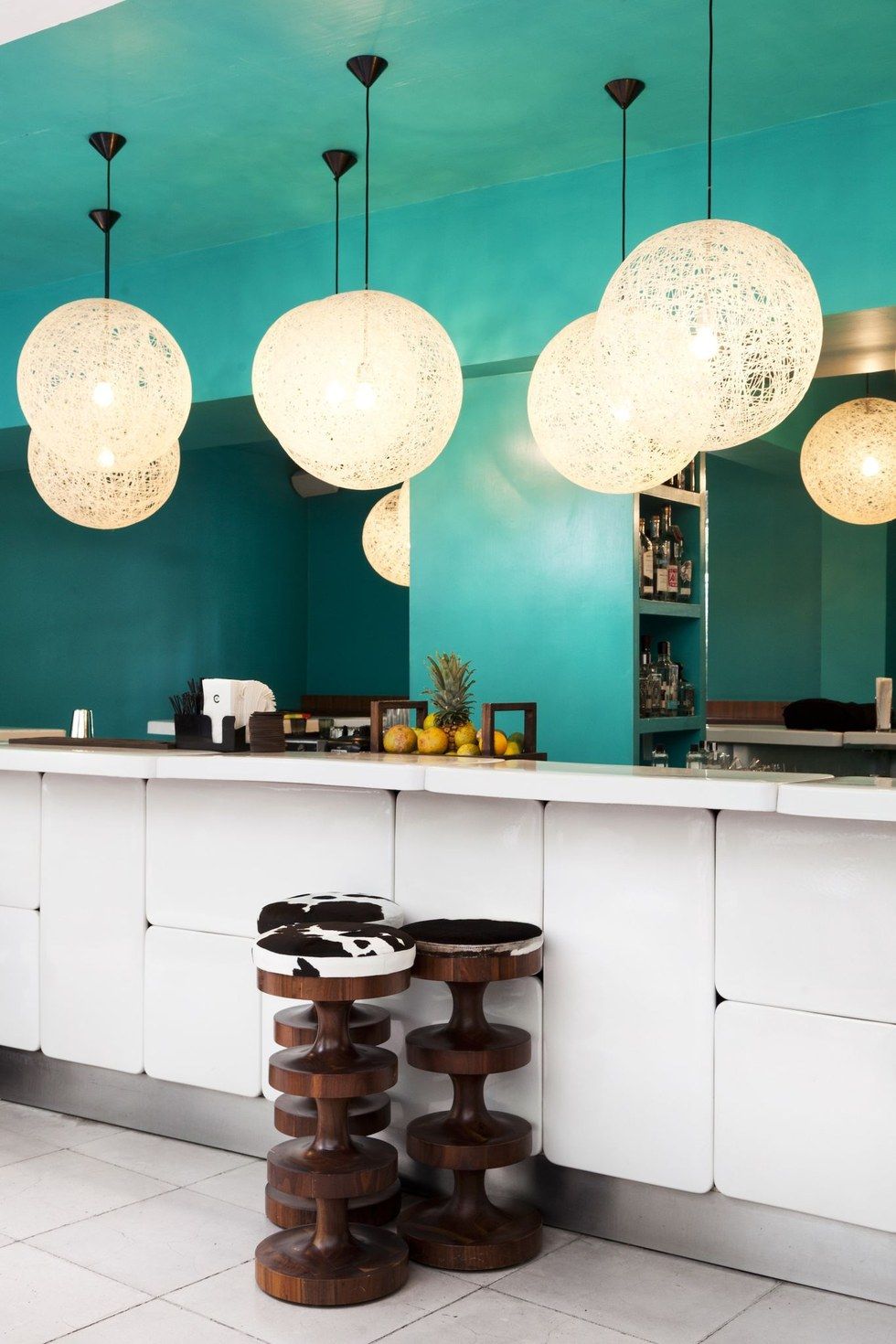 The lobby of the Condesa DF
For dinner, I'm heading back to Polanco, where I've managed to score a seat at one of North America's most in-demand spots, Quintonil, which was recently ranked No. 12 on the World's 50 Best Restaurants list. Chef Jorge Vallejo, who got his start at the neighborhood's other game-changing restaurant, Pujol, has a light, fresh touch, as evidenced by a tasting menu that includes cactus ceviche with beet and seaweed, squash blossoms with sweet shrimp, sea bass with pineapple and chipotle, turkey in cacao-husk-scented recado negro (a Mayan precursor to mole), and charred avocado tartare with escamoles—the cottage-cheesy larvae of ants harvested from agave roots. It's better than it sounds.

From the world's 12th-best restaurant, I stroll a few blocks to Licoreria Limantour, a cocktail den that in October was ranked a measly No. 13 on Drinks International's 2016 World's 50 Best Bars list. I'm slumming it a bit, but I can't help but relish my nightcap, the Villa de Santa Maria, made with Hennessy VS, Pedro Ximénez sherry, Campari, cherry, and cola—served, as Mayan hipsters have done it for centuries (?)—in a hollowed-out cacao pod.

In which Nicholas sips natural wines, daydreams about his future apartment, and sees the future of Mexican cuisine
I start my morning with an ego boost: At Lalo!, an airy bistro in the hip Roma Norte district, my seat is directly underneath a cartoon octopus by Belgian street artist Dave de Rop, with a speech bubble calling me guapa, or "pretty girl." Hey, I'll take it. I have a guava-pistachio croissant and a catcher's-mitt-size torta de lechón, a pork sandwich that's even more pleasing than the compliment.
Bright, youthful Lalo! fits in perfectly with the new spirit of Mexico City, which is epitomized by increasingly fashionable neighborhoods like Roma Norte and neighboring La Condesa, where I'm staying for the night. The Condesa DF hotel occupies a flatiron-shaped building with a chic triangular atrium and courtyard on a genteel tree-lined street. In these transitioning districts, crumbling old estates are being converted into concept stores and artisanal food halls, and hot interior designers are opening trendy coffee shops and boutiques.
On Plaza Río de Janeiro, which is centered on a bronze replica of Michelangelo's David, I stop into Arróniz Arte Contemporáneo to meet Gustavo Arróniz, who opened his gallery here a decade ago. Like much of the neighborhood, the street calls to mind the more bohemian stretches of Paris or Madrid.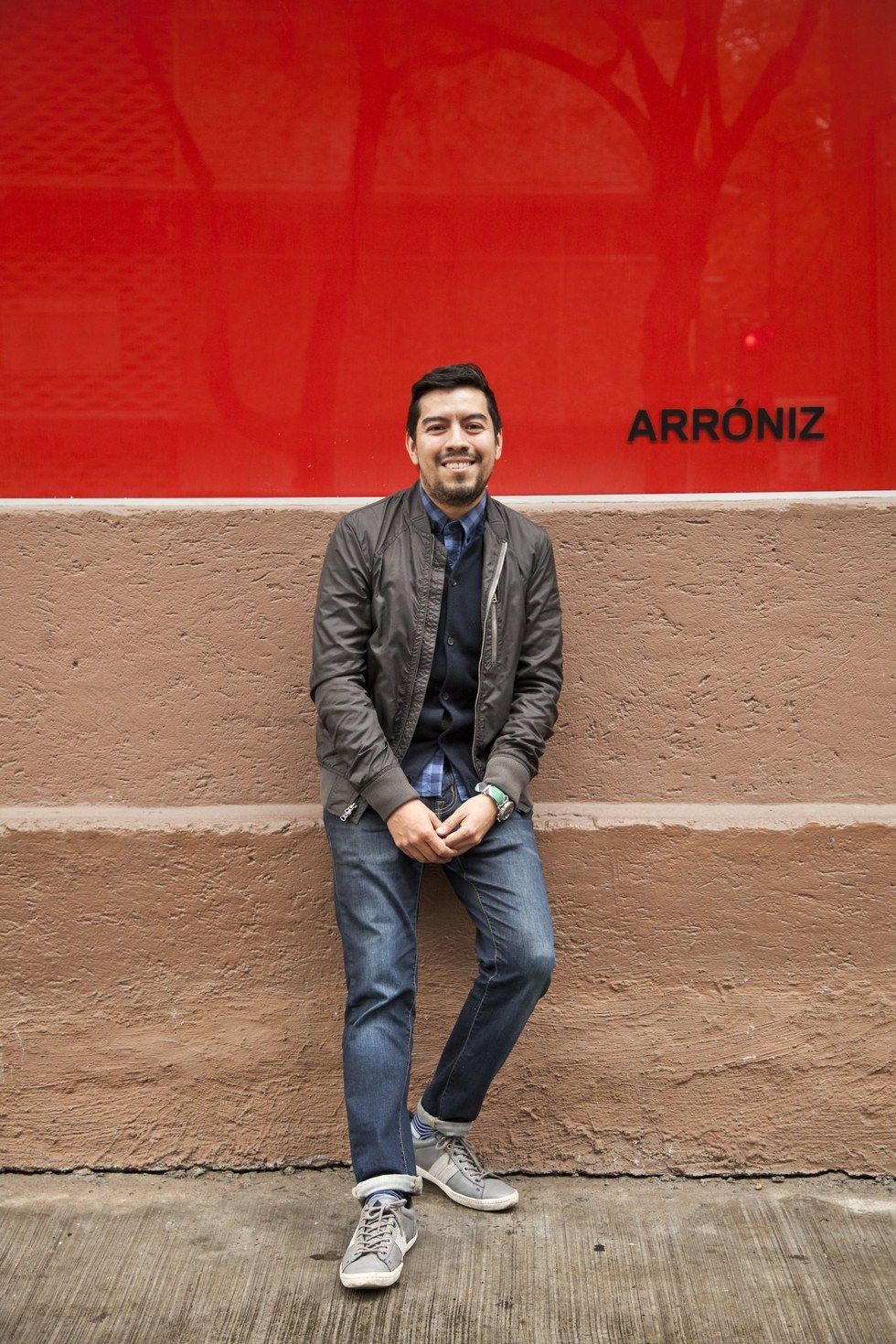 Gustavo Arróniz, gallerist and owner, Arróniz Arte Contemporáneo
"We focus on my generation of Latin American artists, artists between 30 and 40," Arróniz says of his gallery. The current show is made up of installations by Colombian artist Icaro Zorbar, whose nostalgic musings include two record players reaching their arms out across the void to play each other's vinyls and a cassette-tape ribbon sounding eerie melodies as it blows through an electric fan. The show strikes me as poignant and poetic.

Outside, as we pass a succession of Porfirian buildings (a late 19th-century, Paris-inspired architectural style that combined Art Nouveau and Neoclassical motifs, named for the president at the time, Porfirio Díaz), Arróniz comments on Roma Norte's changing face. "This area in the '70s was super, super hard and dangerous," he says. "With gentrification, you have good things and bad things. We're losing the old spaces more and more, but you can still find the mix. These spaces," he gestures at a new condominium squeezed between aging facades, "are just eating them up."
We stop into the stylish Tierra Garat café for a chiltepín fría, a spicy iced chocolate drink made with allspice, achiote, and pequín chilies. Arróniz points across the street at a facade with an exposed patch of bricks, uncovered perhaps during the devastating 1985 earthquake, or simply in the inevitable settling of foundations (this whole city, after all, was built atop a lake).
"Contrast is everywhere—it's a word that defines Mexico City. In this area, you never lose inspiration." —Gustavo Arróniz
"What I love about Mexico City is that, of course, I find art everywhere," Arróniz says. "Unintentional details, like those bricks, look great. This idea of living the passage of time is very in vogue now. It comes from the Japanese idea of wabi-sabi, the beauty of objects in the passing of time."
For lunch, Arróniz drives us five minutes to the neighboring colonia of Juárez, which is fast becoming the capital's next great neighborhood thanks to forward-thinking spots like wine bar Amaya. We order an assortment of Tijuana-raised chef Jair Téllez's light contemporary Baja Californian snacks, such as scallop ceviche and beef tartare with sardines, caper mayo, and crunchy potatoes, as our waitress schools us in the basics of natural wines, which are produced without chemicals and with minimal intervention. We sip Bichi, which is produced at Téllez's family vineyard, about an hour outside of Tijuana, and boasts a yeasty, sour-beer-like funk. "It's almost better not to think of this as wine," she says. "You're expressing a lot more of the terroir, the soil, the water, the altitude, capturing natural yeast out in the environment. It's kind of spiritual in a way."
Inspired by the city's artsier side, I take a 20-minute car ride south, to the edge of Chapultepec, where I join an intimate tour of the house and studio of the late Mexican architect Luís Barragán, who won the second-ever Pritzker Prize in 1980. (You might also recognize his name from a recent New Yorker article about a contemporary conceptual artist who had Barragán's ashes compressed into a diamond, which she then tried to exchange for access to an architectural historian's private archives. Yikes.)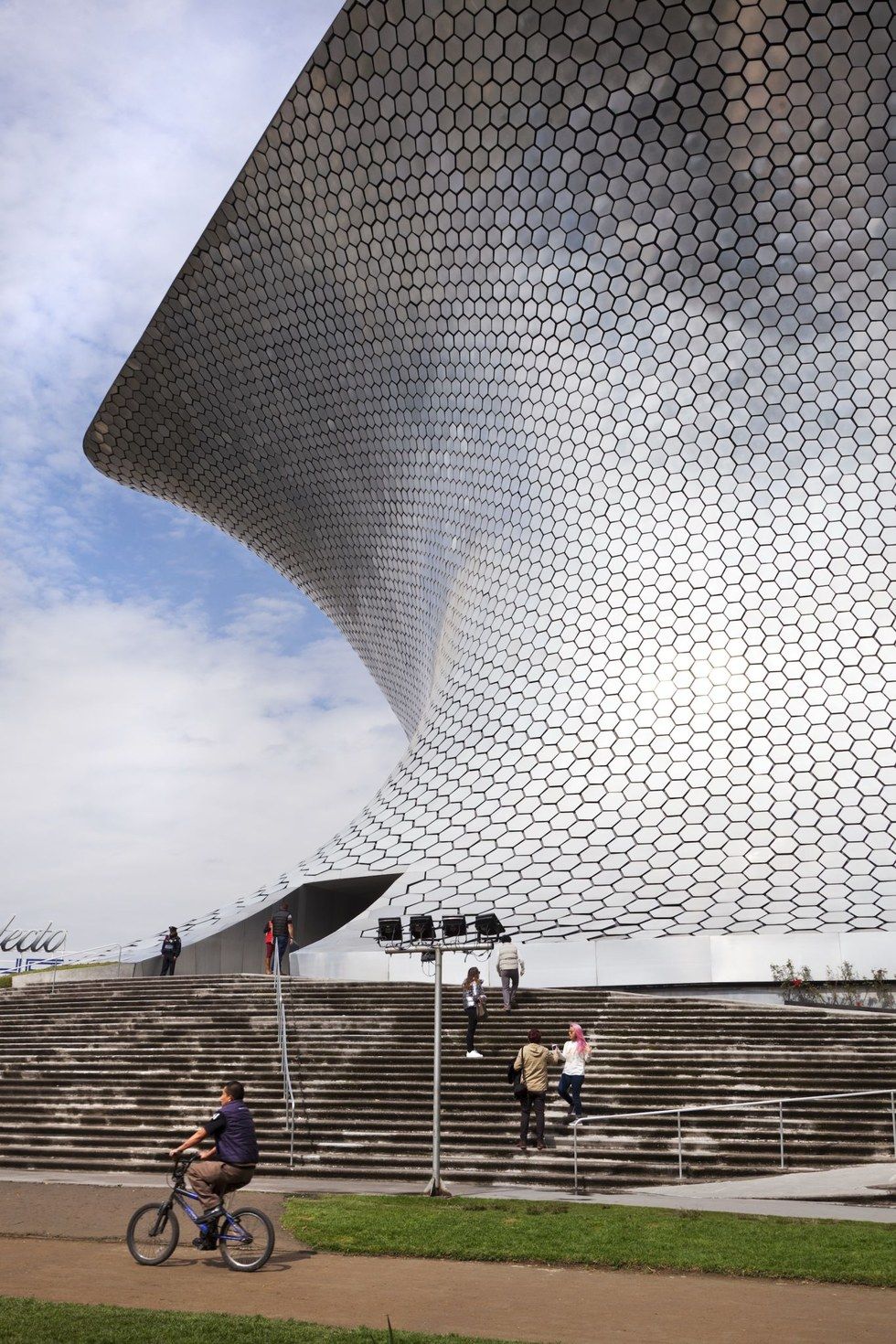 The aluminum facade of the Museo Soumaya
Appointments are a must here, and rightfully so: No room in Barragán's garden-facing urban retreat, finished in 1948, can hold more than a small huddle of guests at a time. The Modernist masterpiece's interiors—an ascetic blend of Mediterranean, pre-Hispanic, and North African influences—contain some of his most recognizable motifs: Catholic icons, horse statues, mirrored balls, cantilevered stairways to nowhere (they make good bookshelves), and peaceful Moroccan water features. But perhaps his favorite tool in the design box is the simplest: light. Sunlight streams through yellow glass, gilding an entire room. It bounces off a single bright pink wall and paints the space. It drapes corners in moody chiaroscuro shadows. This brush with Mexican architecture makes me daydream about south-of-the-border real estate. How do you say pied-à-terre en español?

Back in Roma Norte, I'm set to have dinner at Nudo Negro, a new restaurant from chefs Daniel Ovadía and Salvador Orozco. I begin with a walk up the staircase to the mezzanine open kitchen. The entire staff shouts "¡Buenas noches!" in unison and then makes me an amuse bouche of a duck skin gordita with fresh cheese, Sriracha, ancho and guajillo chilies, and cinnamon—quite a production for a single bite of food.
"We want people to remember their history, because in this city, it's easy to forget."
I head back downstairs for an onslaught of dishes that remix Mexican flavors using international preparations inspired by Ovadía's world travels: creamy pig's-head pozole appears in a xiaolongbao soup dumpling; wasabi mayo and Indonesian sambal liven up a chargrilled oyster topped with crispy beef shoulder and bone marrow; Michoacán-style mole tops a grilled octopus yaki onigiri.
"With Nudo Negro, we wanted to break everything," says Ovadía over a tabletop grill with Mexican Wagyu beef searing on a bed of smoldering avocado leaves, like some nouveau take on a fajita. "At the beginning, everybody thought I was betraying Mexico by combining, say, mole with something Chinese or Vietnamese. We used to cook for the critics—now we're cooking for ourselves and the customers." It's not lost on me that Queen's "I Want to Break Free" is playing over the stereo.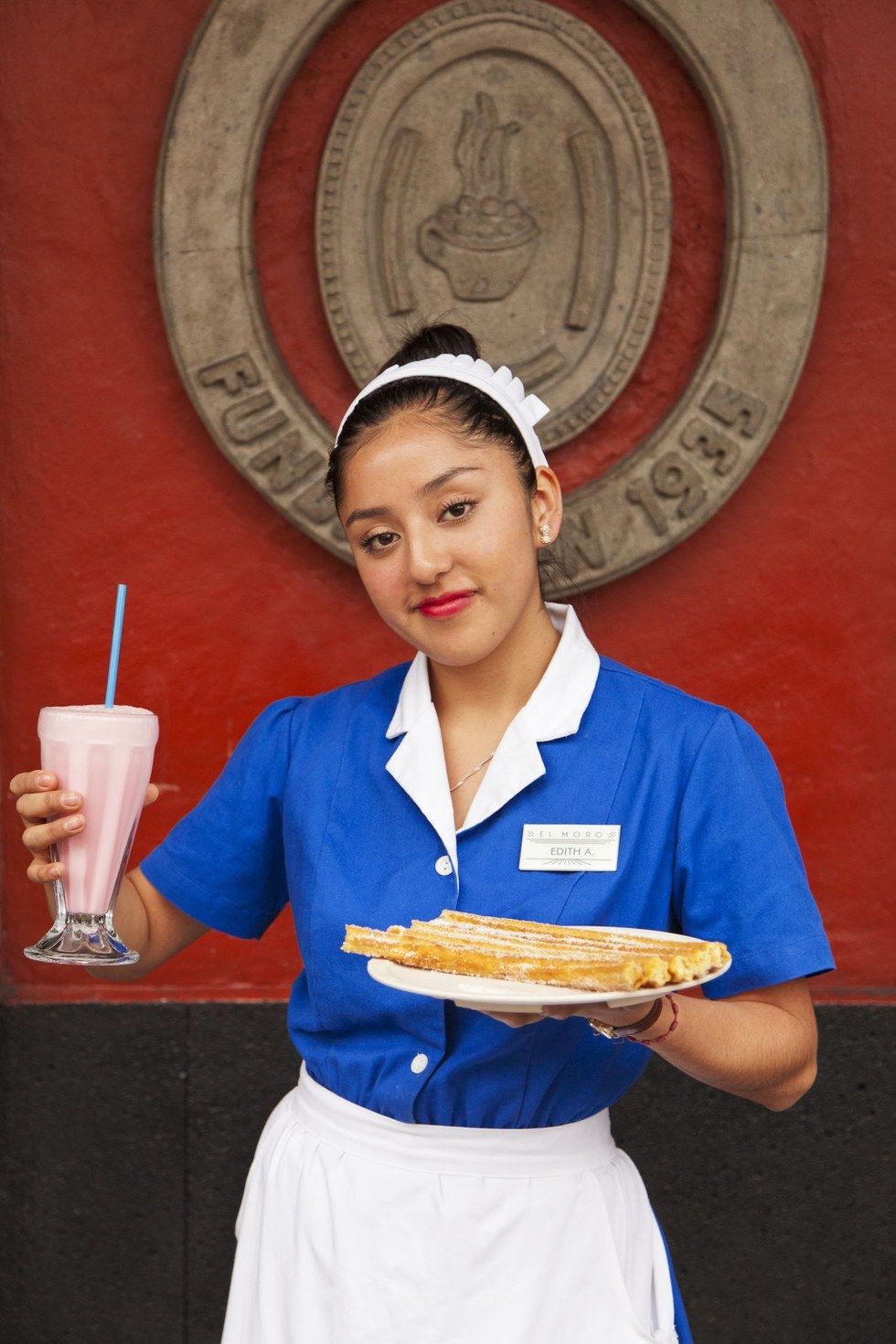 A waitress at Churrería El Moro
After dinner, I work off the dozen or so forms of carbs—which also included Buffalo-style pig ears, oxtail bao buns, and duck, almond milk, and oyster mushroom dumplings—with a 15-minute walk north to Juárez. The unmarked subterranean Xaman Bar, recently ranked the best-designed bar in the Americas, is an ode to ancient shamanic culture. Upon entering, I face a sleek cabinet of curiosities—bonsais, terrariums, mummified baby crocodiles. The air is thick with the smoke of thyme, cinnamon, and rosemary, as bartenders shake and stir cocktails made with chilacayote squash, copal tree resin, oregano-like epazote, and sal de gusano (Oaxacan agave worm salt), served in hand-carved onyx cups or hollow gourds. Over my El Curandero—mezcal, dry curaçao, Aperol, lemon juice, fresh cilantro, agave syrup, tonic, and Tajín chili salt—I strike up a conversation with Indian-French bartender Abyshan Karuna.

"We want people to remember their history," he says, "because in this city, it's easy to forget." This old-meets-new vibe seems to seep into every facet of contemporary Mexican culture, and this bar perfectly captures that ethos: looking backward at its rich pre-Hispanic history, looking outward at global trends, looking inward at what makes Mexico City and its people tick. I'm a bit moved by it all. Or maybe that's just the mezcal talking.
Hemispheres executive editor Nicholas DeRenzo is still catching his breath from walking around in the super-high Mexico City altitude.
Around the web
Canada's largest city spreads out along the northwestern shore of Lake Ontario, and it's a dynamic, multicultural and inclusive experience like almost no other place on earth. Not only is Toronto a thriving living city,it's also become one of the world's truly must-visit destinations. Regularly ranked as one of the greatest places to live, Toronto is the cultural center of the country and home to the biggest events, the most pro sports and the greatest concentration of theaters and restaurants.
Recent decades have seen regular multi-million-dollar upgrades to the city's public spaces, with a slew of great museums, iconic architecture and the redevelopment of the now glittering lakefront adding to the city's appeal.

Add in an ever-growing number of world-class hotels, upbeat nightlife that runs from dusk until dawn and a vibrant and diverse culinary scene influenced by the eclectic makeup of the city's people. Bright and bustling, cosmopolitan and cultured, unpredictable and energetic, Toronto has become one of the greatest cities on earth.
What you see and where you go will depend on the length of your stay. A week is good, longer is better. But even a long weekend will give you a taste of 'The Six' — one of the city's many nicknames, reworked recently as 'The 6ix' by one of its most famous sons, Drake.

However long you stay, you can't hope to see it all. So, consider what follows a starting point for your first visit…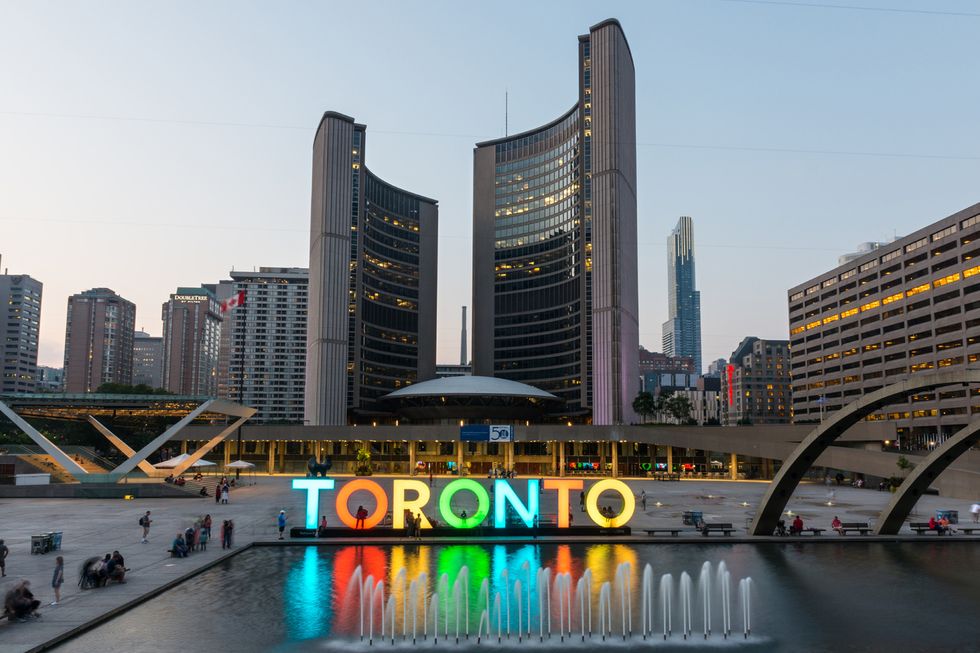 City Hall, Toronto
The checklist sites

No visit to The Six can be considered complete without ticking off several of Toronto's true heavyweight sights. All of the following are in or within easy reach of the city's compact, walk-able and very vibrant center.
The CN Tower is unmissable in every sense, a vast freestanding spire that looks down upon the city and takes its place as one of the 'Seven Wonders of the Modern World'. Head up for the city's best 360-degree views, or get your heart racing on the EdgeWalk — a journey around the circumference of the tower's main pod, 116 stories high and tethered by a harness.

Back on solid ground, Ripley's Aquarium is almost right next door to the CN Tower and is home to 16,000 aquatic animals and the Dangerous Lagoon. A moving sidewalk that whisks you through a long tunnel surrounded by sharks and stingrays is guaranteed to make your heart race all over again.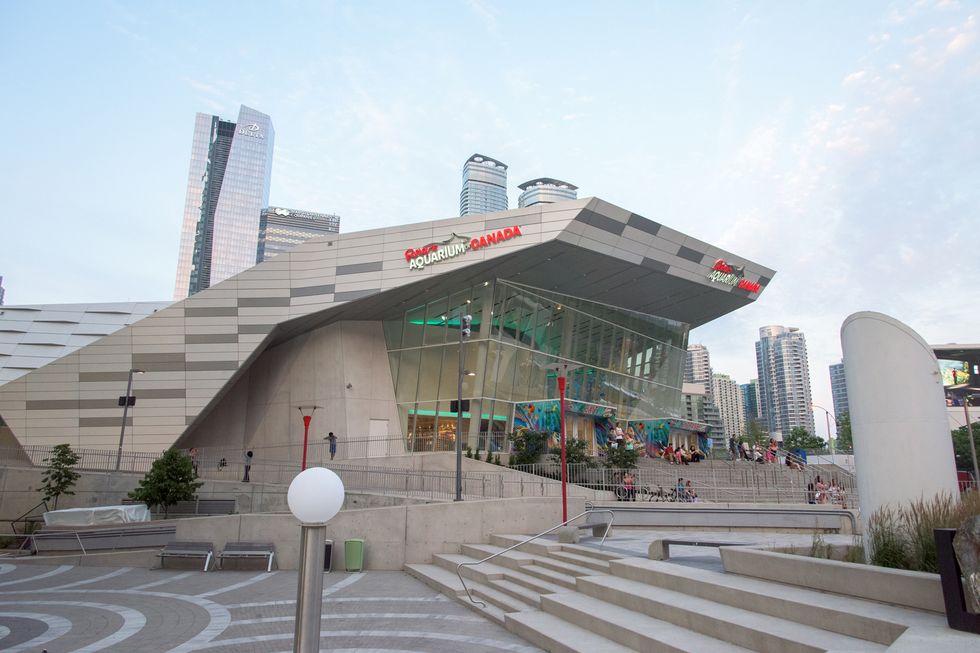 Ripleys Aquarium
Also close to the CN Tower is the Rogers Center, home to Canada's only baseball team, the Toronto Blue Jays. Visit on game day for the full experience, or take the stadium tour to go behind the scenes and through closed doors.

In a city of so many museums and galleries, the Royal Ontario Museum stands out. Not just because it's home to a world-class collection of 13 million artworks, cultural objects and natural history specimens, but as much because it hosts exciting Friday night events that include dance, drink and top DJs.

Two other must ticks include the Art Gallery of Ontario, which houses 95,000 works of art and is free for visitors under 25, and the Hockey Hall of Fame, which taps into Canada's national obsession in stunning depth.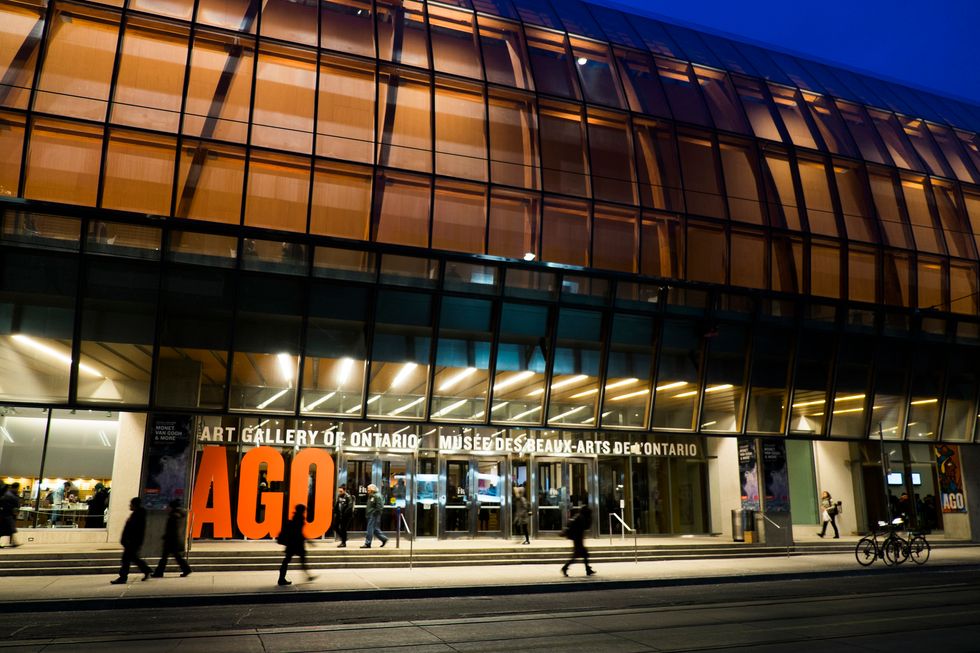 Art Gallery of Ontario
Casa Loma is a must-visit Gothic castle in the heart of the city. North America's only castle is filled with artworks and treasures from Canada and beyond, but its big pull is the network of hidden tunnels to explore as they stretch out beneath the city.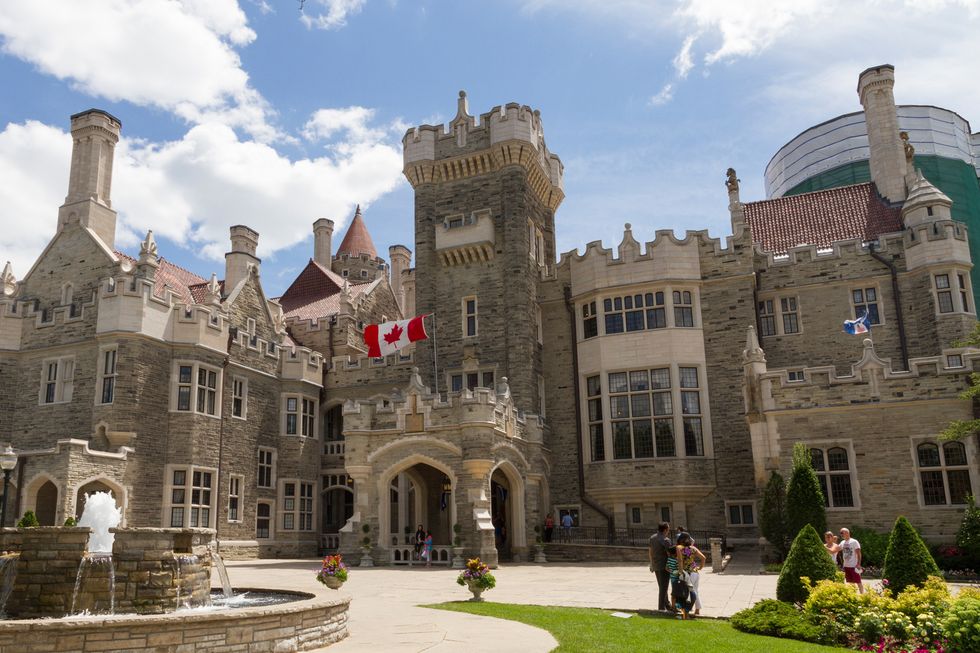 Casa Loma
Toronto's multi-cultural makeup is visible all across the city but reflected best in its remarkable culinary scene (see Where to eat and drink). The city's 'fresh and local' mantra is perfectly showcased at St. Lawrence Market, one of the world's greatest food experiences. Pay it a visit and grab a peameal bacon sandwich — a Canadian staple invented in Toronto and now considered the city's signature dish.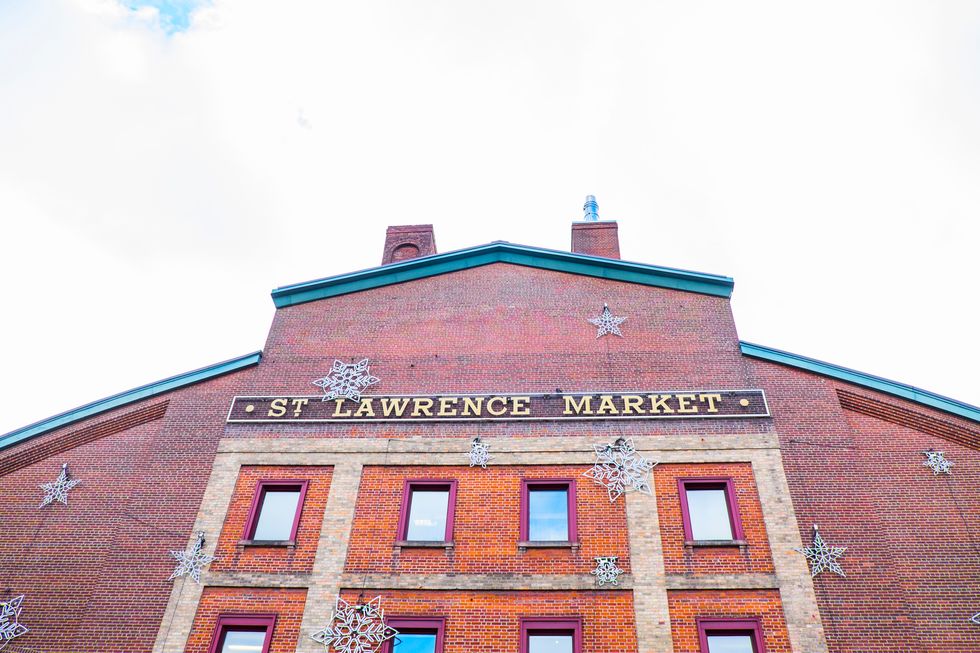 St. Lawrence Market
Afterwards, walk off the calories by wandering the historic cobblestone and car-free Distillery District. Once a vast whiskey distillery and an important spot during prohibition, historians mention that even Al Capone would visit the Distillery to load alcohol destined for the States[9] . This iconic landmark now distils creativity within the 19th century buildings now home to hip restaurants, bars, independent boutique stores, galleries and theaters. Visit in December for the Toronto Christmas Market.

Finally, don't even think about returning home without having had a picture taken with your head poking through an 'O' of the multicolored, 3D Toronto sign at City Hall — the most Insta-worthy location in a city of so many. You'll need to head there early in the morning to avoid the crowds.

If you stay long enough, take a ferry and hop across to Toronto Islands, a chain of 15 small islands in Lake Ontario just south of the mainland. They're home to beaches, a theme park and a breathtaking view of the city's skyline and will very happily fill a full day of your stay.
The bucket list
You absolutely cannot leave Toronto without having witnessed the power of the Niagara Falls and its hypnotic mist up close. Trying to visit the Falls from the States is a trip on its own, but it's almost non-optional when you're less than two hours away in Toronto. Take the trip, buy the T-shirt and tick off one of the world's must-see sights.
Explore like a local
Away from the sleek, gleaming towers of downtown lie many of Toronto's less obvious but no less essential attractions. West Queen West is Toronto's hippest neighborhood and artistic heart, a one-mile strip of very chic galleries, stores, restaurants and boutique hotels. Kensington Market is a fantastically chaotic neighborhood and perhaps the best example of the city's famous multiculturalism. It's not a market as the name implies, but a collection of independent shops, vintage boutiques, art spaces, cafés, bars and restaurants from every corner of the globe.
The Bata Shoe Museum is one of the city's quirkiest collections, an unexpectedly fascinating exhibit that retraces the 4,500-year history of footwear. And as you wander the city, you can't fail to notice that Toronto's walls are alive with graffiti. Take a free 90-minute walking tour through the back alleys of Queen Street West and down Graffiti Alley to gain a better understanding of the city's street art scene. If you visit during the sunnier months, escape the hustle by heading just east of the center to High Park, the green heart of the city where forests, walking trails, picnic spots and even a zoo await you. Ideal to unwind after a long day of urban adventures.
The essentials
When to go With the sun shining, May through October is a great time to visit, but the city is alive through all four seasons. The Spring and Autumn months are ideal as the humidity and visitor numbers are lighter, while Toronto comes alive through the colder months through a wide array of winter celebrations. One of the most spectacular is the Aurora Winter Festival, a six-week celebration that sees the Ontario Place, West Island transformed into four mystical worlds. Whichever season you choose, plan to stay for at least five nights to get a true flavor of the city.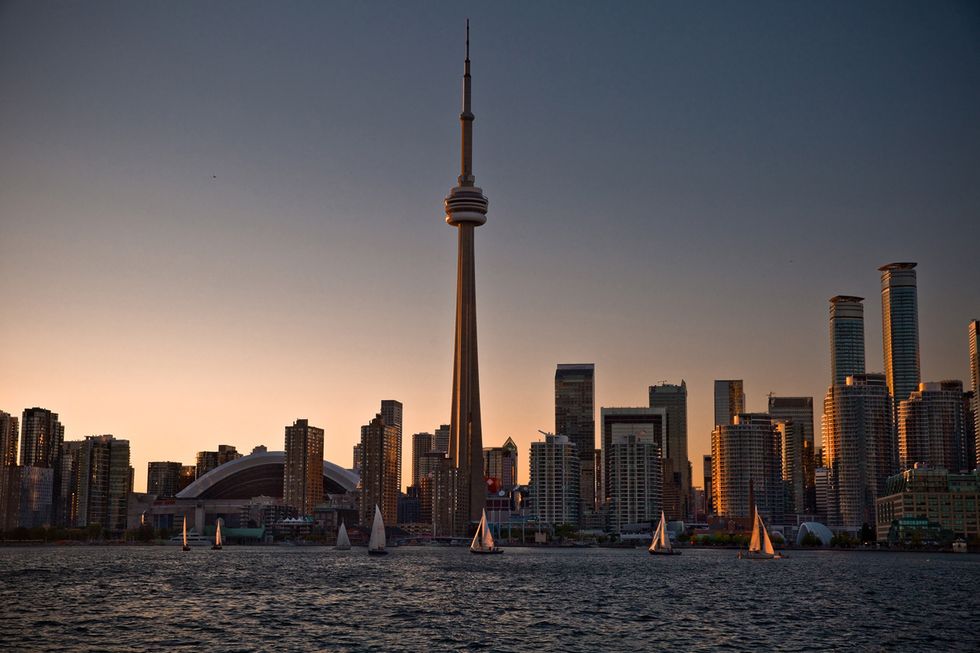 Toronto skyline view
Where to stay To be at the heart of most of the attractions you'll want to see, aim for downtown. One of the best options is the Marriott City Center, not only because it's located right next to the CN Tower but also because it's attached to the iconic Rogers Center where the Toronto Blue Jays play and countless concerts and popular events are held.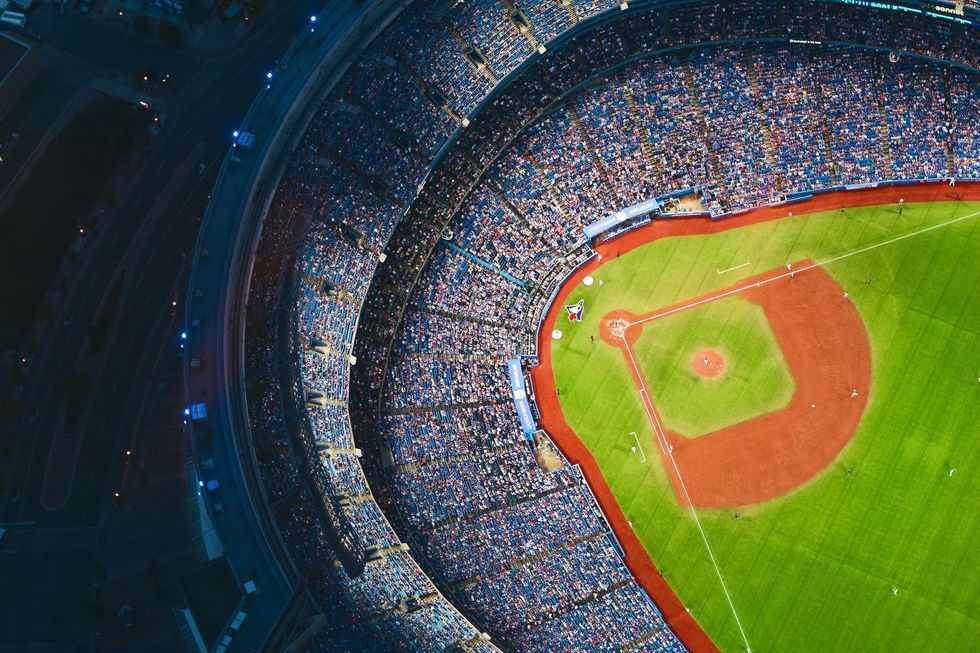 Toronto Blue Jay stadium
Opt for a Stadium room and you'll look out onto the field. If you want to experience Toronto's non-stop nightlife, the Entertainment District is the place to be. If you're looking for a luxury experience, discover Canada's first St. Regis hotel in the heart of downtown.

Where to eat and drink Nowhere is Toronto's incredible diversity more evident than in its food scene — taste Toronto and you're tasting the world. The city is brimming with restaurants and cafés serving everything from high-end fine dining to comfort food from an informal neighborhood joint — plus every option imaginable in between.

For fine dining, consider Alo, Canis and Edulis. Book a table at Canoe, Lavelle, The One Eighty or 360 at the CN Tower and you're guaranteeing a view as spectacular as the food. Or experience the city's remarkable fusion food at DaiLo (French-Cantonese), El Catrin (Mexican-French) and the unexpected mashup of Rasta Pasta (Jamaican-Italian).
The above suggestions don't even scratch the surface of a food scene to rival any city on earth, with options to suit every taste and any budget.
How to get around Toronto is perfect to explore on foot or via a growing network of cycle routes. For a quicker journey, buy a Presto card to use the TTC, Toronto's subway, streetcar and bus system.

How to get there Fly into Toronto Pearson International Airport (YYZ) with United and you're around 15 miles west of the city center. The most comfortable route in is via the Union Pearson Express, which runs every 15 minutes and gets you downtown in 25 minutes ($13).The TTC is a cheaper option at under $5, but it can take an hour and a half and involves a number of transfers, while a taxi will take around 30 minutes and cost $45.
United flies to Toronto from numerous U.S. cities including our Hub city locations. Book your trip via united.com or by downloading the United app.



Following the devastating wildfires in Australia and powerful earthquakes that shook Puerto Rico last week, we're taking action to make a global impact through our international partnerships as well as nonprofit organizations Afya Foundation and ADRA (Adventist Development and Relief Agency).
Helping Puerto Rico recover from earthquakes
Last week, Puerto Rico was hit with a 5.2 magnitude earthquake, following a 6.4 magnitude earthquake it experienced just days before. The island has been experiencing hundreds of smaller quakes during the past few weeks.
These earthquakes destroyed crucial infrastructure and left 4,000 people sleeping outside or in shelters after losing their homes. We've donated $50,000 to our partner charity organization Airlink and through them, we've helped transport disaster relief experts and medical supplies for residents, as well as tents and blankets for those who have lost their homes. Funding will go towards organizations within Airlink's partner network, which includes Habitat for Humanity, Mercy Corps and Americares, to help with relief efforts and long-term recovery.
Australian wildfire relief efforts

Our efforts to help Australia have inspired others to make their own positive impact. In addition to teaming up with Ellen DeGeneres to donate $250,000 and launching a fundraising campaign with GlobalGiving to benefit those impacted by the devastating wildfires in the country known for its open spaces and wildlife, our cargo team is helping to send more than 600 pounds of medical supplies to treat injured animals in the region.
Helping us send these supplies is the Afya Foundation, a New York-based nonprofit that seeks to improve global health by collecting surplus medical supplies and delivering them to parts of the world where they are most needed. Through Airlink, the Afya Foundation will send more than $18,000 worth of materials that will be used to treat animals injured in the Australian fires.
These medical supplies will fly to Melbourne (MEL) and delivered to The Rescue Collective. This Australian organization is currently focused on treating the massive population of wildlife, such as koalas, kangaroos, and birds, that have had their habitats destroyed by the recent wildfires. The supplies being sent include wound dressings, gloves, catheters, syringes and other items that are unused but would otherwise be disposed of.
By working together, we can continue to make a global impact and help those affected by natural disasters to rebuild and restore their lives
Australia needs our help as wildfires continue to devastate the continent that's beloved by locals and travelers alike. In times like these, the world gets a little smaller and we all have a responsibility to do what we can.
On Monday, The Ellen DeGeneres Show announced a campaign to raise $5 million to aid in relief efforts. When we heard about Ellen's effort, we immediately reached out to see how we could help.
Today, we're committing $250,000 toward Ellen's campaign so we can offer support now and help with rebuilding. For more on The Ellen DeGeneres Show efforts and to donate yourself, you can visit www.gofundme.com/f/ellenaustraliafund
We're also matching donations made to the Australian Wildfire Relief Fund, created by GlobalGiving's Disaster Recovery Network. This fund will support immediate relief efforts for people impacted by the fires in the form of emergency supplies like food, water and medicine. Funds will also go toward long-term recovery assistance, helping residents recover and rebuild. United will match up to $50,000 USD in donations, and MileagePlus® members who donate $50 or more will receive up to 1,000 award miles from United. Donate to GlobalGiving.
Please note: Donations made toward GlobalGiving's fund are only eligible for the MileagePlus miles match.
In addition to helping with fundraising, we're staying in touch with our employees and customers in Australia. Together, we'll help keep Australia a beautiful place to live and visit in the years to come.
Scroll to top