Three Perfect Days: Mexico City
Story by Nicholas DeRenzo | Photography by Lindsay Lauckner Gundlock | Hemispheres January 2017
Mexico City is a place defined by its muchness. With its 21.2 million people, the Ciudad de Mexico—or CDMX, as it's been known since early last year, after an official rebranding retired the familiar DF moniker—is part of the Western Hemisphere's largest metropolitan area. It's older than you might expect (founded in 1325 as Tenochtitlán), and higher (a lung-busting altitude of 7,382 feet), and more cultured (150 museums and counting, one of the highest totals in the world). It's also richer, posher, busier, tastier. Yet, despite its many superlatives, Mexico City has had to contend with a host of unflattering misconceptions. To put it bluntly, CDMX comes with a lot of baggage. But, in a weird way, that reputation—the good, the bad, the ugly—works in its favor. Once you leave your preconceptions at the door, you're confronted with a city that ranks among the world's greats—and one that has still somehow managed to stay under the radar.
In which Nicholas considers the weight of gold, marvels at a churrero at work, and goes on a spirited tour of Mexican booze
I wake up in Mexico City feeling like royalty, and with good reason: My hotel, the Downtown Mexico, occupies the 17th-century Palacio de los Condes de Miravalle, in the thrumming colonial Centro Histórico. Its minimalist decor (angular blond wood furnishings, leather sling chairs) does wonders for the cavernous, bare-stone rooms, which once housed counts and countesses.

The capital is such a delightfully confusing jumble—of old and new, of rich and poor, of highbrow and lowbrow—that I need someone to help me put it all in context. Who better to work through these complexities than a poet? I'm scheduled to meet writer Tatiana Lipkes, who runs the indie publishing house Mangos de Hacha, for breakfast at Restaurante El Cardenal, which has been going strong two cobblestone blocks away since 1969.
"It's a traditional thing to come here for breakfast," Lipkes says. "It has always been the same." She darts through the sidewalk-clogging crowd to put our name in at the hostess stand.
With a half hour to kill, we wander through the nearby Zócalo, the city's historic central square and the former main plaza of the Mexica (or, as the Europeans called them, Aztec) metropolis of Tenochtitlán—at its peak, the biggest city in the pre-Columbian Americas. The plaza's northeastern corner is dominated by the archaeological site surrounding the Aztecs' main pyramid, the Templo Mayor—a thrilling bit of history, sure, but also a somber reminder of all that was lost during the conquest.
Tatiana Lipkes, poet and publisher, Mangos de Hacha
We pass the city's Baroque and Neoclassical Catedral Metropolitana, the largest in the Americas, which began construction in 1573, nearly 50 years before the Mayflower set sail. The building is sinking and tilting, due in part to soft soil, but I can't help wondering if the truckloads of gold and carved wood and marble inside aren't also doing their part to weigh it down.

I ask Lipkes, who's of French-Ukrainian heritage, what she finds most inspiring about her hometown. "I love the contrast that you see," she says. "He's Mexican"—she gestures to an indigenous man with a darker complexion—"I'm Mexican. You could be Mexican. It makes everything richer and richer."
Back at El Cardenal, we order chocolate con leche and chilaquiles con pollo, a skillet of deliciously soupy chicken, tortilla chips, and salsa verde. There are so many tables of multigenerational Mexican families that I feel as if I've wandered into a quinceañera.
After breakfast, Lipkes and I stroll east through the old town and then along Avenida Juárez, past the Palacio de Bellas Artes. The Art Deco–meets–Art Nouveau "cathedral of art" is topped with an orange and yellow cupola that calls to mind the sunrise, and its interiors contain fine modernist murals from masters including Diego Rivera, José Clemente Orozco, and David Alfaro Siqueiros.
"I've been living here my whole life, and I always get lost. Mexico City is so big that I discover new places every day—in my own neighborhood, even." — Tatiana Lipkes
As we skirt the Alameda Central park, we pass a couple holding hands and staring into each other's eyes. I give Lipkes a what's-this-all-about look, and she says, matter-of-factly, that it's probably just a man seeking help from his witch—something of a spiritual tune-up.
I raise an eyebrow, and Lipkes laughingly explains: "There's a huge pre-Hispanic culture of witchcraft here. Everybody has a witch. Everybody knows someone that can read your hands or cards. Every Mexican has gone to make a limpia [a spiritual cleansing ritual], with eggs and chants and herbs. It's something from your grandmother that you pass along. Of course you do it. It's a cultural code."
We continue along Avenida Juárez to the copper-domed Monumento a la Revolución, the world's tallest triumphal arch at 220 feet and the final resting place of revolutionaries including Pancho Villa. "I just went up the first time in my life the other day," Lipkes says as we stare up at the glass elevator shaft that rises from the middle of the arch like a straw.
The atrium of the Condesa DF hotel
"I'm afraid of heights," I admit.

"Me too," she says, grimacing.
We huddle looking at the elevator floor as we ascend, but we gain some kind of adrenaline-fueled confidence as we look out over the colonial eaves and glass-and-steel highrises. "When you come from Mexico City, nothing is really strange to you," Lipkes says, pointing out where different neighborhoods (or colonias) are located. "Downtown here is like Kolkata. Roma is like Europe. Santa Fe is like suburban Houston. You live with this schizophrenia. That's what I love about this city."
Back on solid ground, we soothe our nerves with a quick beer on the plaza at the hip Crisanta, Cervecería Garage. My Reliquia de Cortés Noche Triste Ale de Maíz Azúl, brewed right here in Mexico City with blue corn, tastes faintly like a tortilla.
I say goodbye to Lipkes and retrace Avenida Juárez, then follow the scent of frying dough down Eje Central Lázaro Cárdenas to Churrería El Moro, a churro spot founded in 1935 by Spaniard Francisco Iriarte. In the window, a churrero squeezes long spirals of dough into a fryer with monastic concentration before snipping them into manageable commas. I flag down one of the waitresses, who wear matching white aprons and bonnets, and order churros with chocolate español—they're sweet, thick, and gloriously unhealthy.
From here, I hop in a cab and head to an institution of a different sort: the Museo Nacional de Antropología. We pass El Ángel—the 22-foot-tall, gleaming gold angel atop El Monumento a la Independencia—and continue down the grand Paseo de la Reforma, a Champs-Élysées-inspired boulevard commissioned in the 1860s by Emperor Maximilian I to connect the historic center with his royal palace in the forested park Chapultepec.
The Monumento a la Revolución
Named for the Nahuatl word for "grasshopper's hill," Chapultepec, the so-called "lungs" of Mexico City, is the Western Hemisphere's largest urban green space, roughly double the size of New York's Central Park. Its centerpiece, the anthropology museum, is the country's most visited museum, popular with visitors and locals alike. As I enter, two mariachi guitarists in full regalia drop off their instruments at the coat check.

The space is as overwhelming as the Met or the Louvre, with an open courtyard centered on the famous "umbrella"—a 2,000-ton slab of concrete supported by a single pillar. The halls brim with pre-Columbian treasures, such as 25-ton Olmec carved stone heads and Mayan temple artifacts, but like the Louvre, with its Mona Lisa, there's one must-visit artifact. All paths here lead to the back gallery, dedicated to the Aztecs and, in pride of place, the Piedra del Sol (the Stone of the Sun), a nearly 12-foot-tall disc-shaped basalt tablet that was discovered under the Zócalo in 1790. For years, it was thought to be a solar calendar, but archaeologists now believe it was a sacrificial altar. The stone conjures feelings of unease, but also appreciation: We're standing atop the Ancient Rome of the Americas.
I head back to Centro for dinner at the candlelit sister restaurant of the renowned Bósforo mezcal bar. "We don't have a name," says my waiter as he delivers a basket of blue corn tostadas, cooked on the comal (griddle) out front. "They usually just call us 'el restaurante al lado del Bósforo.'" The restaurant next to Bósforo.
I use the charred crisps to scoop up guacamole with chapulines, or grasshoppers, which are as nutty and inoffensive as sesame seeds on a bagel, and follow them up with a complex yet homey rabbit in peanut mole. To pair with the meal, I go on a tour of regional Mexican spirits: mezcal, tequila's smokier cousin; sotol, a grassy liquor distilled from the desert spoon plant; and pulque, a viscous kombucha-like drink made from agave sap. I don't know if Mexicans have their own rhymes about mixing drinks (sotol before mezcal, you'll be OK, pal...), but I'm glad that my bed at the Downtown Mexico is only a few blocks away.
In which Nicholas breakfasts with a rock star, drops in at Frida's house, and snacks on ant eggs
After the colonial scrum of the Centro Histórico, the nearby district of Polanco feels like a different city entirely—as posh and polished as Vienna or Milan. This morning, I'm moving my bags over to the design-forward Habita Hotel, which opened in 2000 and helped establish Mexico City as an international art and design capital. Clad in a seaglass-green sheath, the Habita fits in seamlessly with the walled-off celebrity compounds and luxury boutiques on swanky Avenida Presidente Masaryk—Mexico City's Fifth Avenue, named for Czechoslovakia's progressive first president, Tomáš Garrigue Masaryk (coincidentally, the subject of my undergraduate thesis).

While it may be easy to see Polanco merely as a playground for the rich and famous, some of that outsize wealth is actually being put to good use. To the north, in an area now dubbed Nuevo Polanco, cultural institutions sprout like weeds. Museo Soumaya, opened in 2011, is billionaire Carlos Slim's vanity project, a blobby cartoon anvil of a building covered in aluminum hexagons that catch the light, while its younger neighbor, the sawtooth-roofed Museo Júmex, houses the contemporary art collection of a Mexican juice and nectar mogul.
After passing by the museums, I head across town to a little Italian spot called Trattoria della Casa Nuova in the charming colonial district of San Ángel. I'm set to meet rocker Diego Solórzano, the frontman of indie band Rey Pila (Spanish for "King Battery," a phrase from a Basquiat painting), who have opened for Maroon 5 and the Strokes. (They're currently recording an album with Julian Casablancas.)
The facade of the Condesa DF hotel
"This is the last rock 'n' roll town—or so I've heard," Solórzano says as he orders us two cazuelas petit cluny, molten casseroles of melty cheese, ham, and tomato sauce, which we sop up with hunks of baguette. "When we tour, we see it in every town: They package style and feed it to you very easily. But this town, with its ups and downs, it's really unique. It really has something special going on."

We finish up and drive 10 minutes south, to the campus of the Universidad Nacional Autónoma de México, which was named a UNESCO World Heritage Site in 2007 for its profusion of modern architectural icons. Just past the looming Modernist slab of the Museo Universitario Arte Contemporáneo—which Solórzano assures me is more "progressive, chill, and forward-thinking" than Slim's attention-grabbing Soumaya—we head out into university land that, dotted with massive sculptural installations such as Mathias Goeritz's 66-foot-tall Corona del Pedregal, is almost postapocalyptic in its wildness.
"This is the volcanic rock area, a natural reserve," says Solórzano. "It's got a different vibe from the rest of town." We reach the grandest of the sculptures, the monumental Espacio Escultórico, a ring of 64 concrete wedges jutting out of a field of tezontle volcanic rock, cacti, and wildflowers. "A lot of smart, cool people come here," Solórzano says, gesturing to hipsters snapping selfies and clambering up the tilted monoliths as if this were some Brutalist playground. "It could be Berlin."
We continue on to the main campus, where academic buildings call to mind ancient temples, and walls are decorated with the works of master muralists such as Rivera and Siqueiros. "The architecture is very intense, right?" Solórzano says. "It feels like a pyramid. It's a history that we are a part of. I don't mean to sound patriotic, but that's just how it is! You feel a special moment when you see it."
The "umbrella" at the Museo Nacional de Antropología
The campus's dramatic centerpiece is the Biblioteca Central, a giant building covered in colored stone mosaics by Juan O'Gorman; it bears an uncanny resemblance to a boombox. (Note: It opened in 1956, roughly two decades before the boombox's invention.)

I've worked up an appetite, so I say goodbye to Solórzano and taxi over to Super Tacos Chupacabras, a no-frills spot under a highway overpass (look for the sign with the snarling face of the mythical "goat-sucker") that's known for its namesake taco—a mix of beef, pork, and chorizo said to contain 127 ingredients. From here, it's a quick amble through the villagelike streets of the Coyoacán district to the Museo Frida Kahlo, which occupies La Casa Azul, the vivid blue bungalow where Kahlo was born, lived with Diego Rivera, and died in 1954.
"When you come from Mexico City, nothing is really strange to you. You live with this schizophrenia."
Viewing Kahlo's paintings, it's easy to see why people fall so hard for her. She's a bit like a pop star (though she'd hate the comparison): high on big emotions, brash, accessibly poetic, with the fiercest eyebrows in the game. While the paintings on view are great, the museum's true heart lies in the almost too intimate personal effects: her red-boot-clad prosthetic leg, a body cast decorated with a hammer and sickle, colorful dresses inspired by the matriarchal Tehuana people, the toad-shaped urn holding her ashes. (She called Rivera her "toad-frog.")
After stopping for a selfie with a cat posing on a backyard pyramid Kahlo and Rivera built to display pre-Hispanic art, I venture farther into Coyoacán and grab an icy paleta from the 66-year-old Gloria Helados y Paletas ice cream shop. I choose mamey, a tropical fruit that tastes quite a bit like sweet potato pie, then wander through Plaza Hidalgo, from which conquistador Hernán Cortés brutally ruled his empire in the 1520s, and the Jardín del Centenario, which features a fountain with two bronze coyotes. Apart from the "free wifi" signs affixed to the lampposts, it's easy to imagine Kahlo walking these streets.
The lobby of the Condesa DF
For dinner, I'm heading back to Polanco, where I've managed to score a seat at one of North America's most in-demand spots, Quintonil, which was recently ranked No. 12 on the World's 50 Best Restaurants list. Chef Jorge Vallejo, who got his start at the neighborhood's other game-changing restaurant, Pujol, has a light, fresh touch, as evidenced by a tasting menu that includes cactus ceviche with beet and seaweed, squash blossoms with sweet shrimp, sea bass with pineapple and chipotle, turkey in cacao-husk-scented recado negro (a Mayan precursor to mole), and charred avocado tartare with escamoles—the cottage-cheesy larvae of ants harvested from agave roots. It's better than it sounds.

From the world's 12th-best restaurant, I stroll a few blocks to Licoreria Limantour, a cocktail den that in October was ranked a measly No. 13 on Drinks International's 2016 World's 50 Best Bars list. I'm slumming it a bit, but I can't help but relish my nightcap, the Villa de Santa Maria, made with Hennessy VS, Pedro Ximénez sherry, Campari, cherry, and cola—served, as Mayan hipsters have done it for centuries (?)—in a hollowed-out cacao pod.
In which Nicholas sips natural wines, daydreams about his future apartment, and sees the future of Mexican cuisine
I start my morning with an ego boost: At Lalo!, an airy bistro in the hip Roma Norte district, my seat is directly underneath a cartoon octopus by Belgian street artist Dave de Rop, with a speech bubble calling me guapa, or "pretty girl." Hey, I'll take it. I have a guava-pistachio croissant and a catcher's-mitt-size torta de lechón, a pork sandwich that's even more pleasing than the compliment.
Bright, youthful Lalo! fits in perfectly with the new spirit of Mexico City, which is epitomized by increasingly fashionable neighborhoods like Roma Norte and neighboring La Condesa, where I'm staying for the night. The Condesa DF hotel occupies a flatiron-shaped building with a chic triangular atrium and courtyard on a genteel tree-lined street. In these transitioning districts, crumbling old estates are being converted into concept stores and artisanal food halls, and hot interior designers are opening trendy coffee shops and boutiques.
On Plaza Río de Janeiro, which is centered on a bronze replica of Michelangelo's David, I stop into Arróniz Arte Contemporáneo to meet Gustavo Arróniz, who opened his gallery here a decade ago. Like much of the neighborhood, the street calls to mind the more bohemian stretches of Paris or Madrid.
Gustavo Arróniz, gallerist and owner, Arróniz Arte Contemporáneo
"We focus on my generation of Latin American artists, artists between 30 and 40," Arróniz says of his gallery. The current show is made up of installations by Colombian artist Icaro Zorbar, whose nostalgic musings include two record players reaching their arms out across the void to play each other's vinyls and a cassette-tape ribbon sounding eerie melodies as it blows through an electric fan. The show strikes me as poignant and poetic.

Outside, as we pass a succession of Porfirian buildings (a late 19th-century, Paris-inspired architectural style that combined Art Nouveau and Neoclassical motifs, named for the president at the time, Porfirio Díaz), Arróniz comments on Roma Norte's changing face. "This area in the '70s was super, super hard and dangerous," he says. "With gentrification, you have good things and bad things. We're losing the old spaces more and more, but you can still find the mix. These spaces," he gestures at a new condominium squeezed between aging facades, "are just eating them up."
We stop into the stylish Tierra Garat café for a chiltepín fría, a spicy iced chocolate drink made with allspice, achiote, and pequín chilies. Arróniz points across the street at a facade with an exposed patch of bricks, uncovered perhaps during the devastating 1985 earthquake, or simply in the inevitable settling of foundations (this whole city, after all, was built atop a lake).
"Contrast is everywhere—it's a word that defines Mexico City. In this area, you never lose inspiration." —Gustavo Arróniz
"What I love about Mexico City is that, of course, I find art everywhere," Arróniz says. "Unintentional details, like those bricks, look great. This idea of living the passage of time is very in vogue now. It comes from the Japanese idea of wabi-sabi, the beauty of objects in the passing of time."
For lunch, Arróniz drives us five minutes to the neighboring colonia of Juárez, which is fast becoming the capital's next great neighborhood thanks to forward-thinking spots like wine bar Amaya. We order an assortment of Tijuana-raised chef Jair Téllez's light contemporary Baja Californian snacks, such as scallop ceviche and beef tartare with sardines, caper mayo, and crunchy potatoes, as our waitress schools us in the basics of natural wines, which are produced without chemicals and with minimal intervention. We sip Bichi, which is produced at Téllez's family vineyard, about an hour outside of Tijuana, and boasts a yeasty, sour-beer-like funk. "It's almost better not to think of this as wine," she says. "You're expressing a lot more of the terroir, the soil, the water, the altitude, capturing natural yeast out in the environment. It's kind of spiritual in a way."
Inspired by the city's artsier side, I take a 20-minute car ride south, to the edge of Chapultepec, where I join an intimate tour of the house and studio of the late Mexican architect Luís Barragán, who won the second-ever Pritzker Prize in 1980. (You might also recognize his name from a recent New Yorker article about a contemporary conceptual artist who had Barragán's ashes compressed into a diamond, which she then tried to exchange for access to an architectural historian's private archives. Yikes.)
The aluminum facade of the Museo Soumaya
Appointments are a must here, and rightfully so: No room in Barragán's garden-facing urban retreat, finished in 1948, can hold more than a small huddle of guests at a time. The Modernist masterpiece's interiors—an ascetic blend of Mediterranean, pre-Hispanic, and North African influences—contain some of his most recognizable motifs: Catholic icons, horse statues, mirrored balls, cantilevered stairways to nowhere (they make good bookshelves), and peaceful Moroccan water features. But perhaps his favorite tool in the design box is the simplest: light. Sunlight streams through yellow glass, gilding an entire room. It bounces off a single bright pink wall and paints the space. It drapes corners in moody chiaroscuro shadows. This brush with Mexican architecture makes me daydream about south-of-the-border real estate. How do you say pied-à-terre en español?

Back in Roma Norte, I'm set to have dinner at Nudo Negro, a new restaurant from chefs Daniel Ovadía and Salvador Orozco. I begin with a walk up the staircase to the mezzanine open kitchen. The entire staff shouts "¡Buenas noches!" in unison and then makes me an amuse bouche of a duck skin gordita with fresh cheese, Sriracha, ancho and guajillo chilies, and cinnamon—quite a production for a single bite of food.
"We want people to remember their history, because in this city, it's easy to forget."
I head back downstairs for an onslaught of dishes that remix Mexican flavors using international preparations inspired by Ovadía's world travels: creamy pig's-head pozole appears in a xiaolongbao soup dumpling; wasabi mayo and Indonesian sambal liven up a chargrilled oyster topped with crispy beef shoulder and bone marrow; Michoacán-style mole tops a grilled octopus yaki onigiri.
"With Nudo Negro, we wanted to break everything," says Ovadía over a tabletop grill with Mexican Wagyu beef searing on a bed of smoldering avocado leaves, like some nouveau take on a fajita. "At the beginning, everybody thought I was betraying Mexico by combining, say, mole with something Chinese or Vietnamese. We used to cook for the critics—now we're cooking for ourselves and the customers." It's not lost on me that Queen's "I Want to Break Free" is playing over the stereo.
A waitress at Churrería El Moro
After dinner, I work off the dozen or so forms of carbs—which also included Buffalo-style pig ears, oxtail bao buns, and duck, almond milk, and oyster mushroom dumplings—with a 15-minute walk north to Juárez. The unmarked subterranean Xaman Bar, recently ranked the best-designed bar in the Americas, is an ode to ancient shamanic culture. Upon entering, I face a sleek cabinet of curiosities—bonsais, terrariums, mummified baby crocodiles. The air is thick with the smoke of thyme, cinnamon, and rosemary, as bartenders shake and stir cocktails made with chilacayote squash, copal tree resin, oregano-like epazote, and sal de gusano (Oaxacan agave worm salt), served in hand-carved onyx cups or hollow gourds. Over my El Curandero—mezcal, dry curaçao, Aperol, lemon juice, fresh cilantro, agave syrup, tonic, and Tajín chili salt—I strike up a conversation with Indian-French bartender Abyshan Karuna.

"We want people to remember their history," he says, "because in this city, it's easy to forget." This old-meets-new vibe seems to seep into every facet of contemporary Mexican culture, and this bar perfectly captures that ethos: looking backward at its rich pre-Hispanic history, looking outward at global trends, looking inward at what makes Mexico City and its people tick. I'm a bit moved by it all. Or maybe that's just the mezcal talking.
Hemispheres executive editor Nicholas DeRenzo is still catching his breath from walking around in the super-high Mexico City altitude.
Around the web
The latest updates for New York/New Jersey
Hard to believe spring is around the corner, and if you're like me that means starting to think about our family travel plans. Highlighted below are a few ways we are working hard to help make your journeys faster, easier and better in the months ahead.
Improving your experience at our airports
We're excited to move into the new Terminal B at LaGuardia later this year. This is a world-class state-of-the-art facility with fabulous local dining and shopping options such as District Market, Kingside, Shake Shack and FAO Schwarz. Our United Club℠ location will also now be located after security to help you comfortably settle in before your flight.

At Newark Airport, United and our partner, the Port Authority, are working together to improve your experience by adding more pods for nursing mothers; new, larger restrooms; and this summer, an expanded TSA checkpoint that shows expected wait times.
Growing our network and fleet

This summer, we are introducing new seasonal nonstop flights to Naples and Prague and offering the return of great destinations such as Nantucket, Massachusetts, and Rapid City, South Dakota, for an easy trip to the Badlands and Mt. Rushmore.

Additionally, through April, we'll continue to fly nonstop from Newark to Palm Springs. And on March 30, we'll begin flying our brand-new Boeing 787-10 Dreamliner to Dublin, Frankfurt and Tel Aviv, with Barcelona, Brussels and Paris routes to follow this summer.
Investing in our community
United has been serving the New York/New Jersey area for almost 100 years and giving back to our community continues to be a steadfast commitment from the United family. We are proud to announce new partnerships including the Intrepid Sea, Air & Space Museum in Manhattan, the Trevor Project, and the Aviation High School in Queens. This year we'll also continue cheer on runners as the official sponsor of the New York Half Marathon on Sunday, March 17, and are proud to have representatives from Special Olympics running alongside of United employees.
Newark is also featured as the Three Perfect Days destination in the latest issue of Hemispheres, so you can learn about great restaurants and cultural institutions that don't even require a flight to visit.
Thank you for choosing United

In Greater New York, we know you have many choices of carriers to fly, so from our family to yours — thank you. We appreciate your loyalty and welcome your feedback. Hearing from you is important to us, so please continue to send your thoughts and ideas to me at JillKaplan@united.com.

Arizona's outdoors in the spring
This may be the best time of year to visit Arizona — and not just for relaxing by the pool. Smart travelers flock to the state in May, June and July for hotel rates that are often lower than the peak-season rates paid by winter "snowbirds" from northern states. But resort bargains and swimming-pool temperatures aren't the only reasons to visit Arizona at this time. There are also plenty of outdoor opportunities to enjoy, as long as you choose the right activities, locations and time of day to get out.
Desert Dawn peak climbs
Residents of Phoenix and Tucson who like to get outdoors in late spring and early summer know they can best enjoy short hikes by rising early. The busiest time on the trails is before 8 a.m. The most popular hiking paths in Phoenix and Scottsdale climb iconic mid-city peaks, which span from the desert floor up to panoramic views at the top. The hikes up Camelback, Piestewa and Pinnacle Peaks are all wonderful, well-marked and popular — each taking less than two hours roundtrip. In Tucson, the best short hikes are in Sabino Canyon and Saguaro National Park on the outer rim of the city.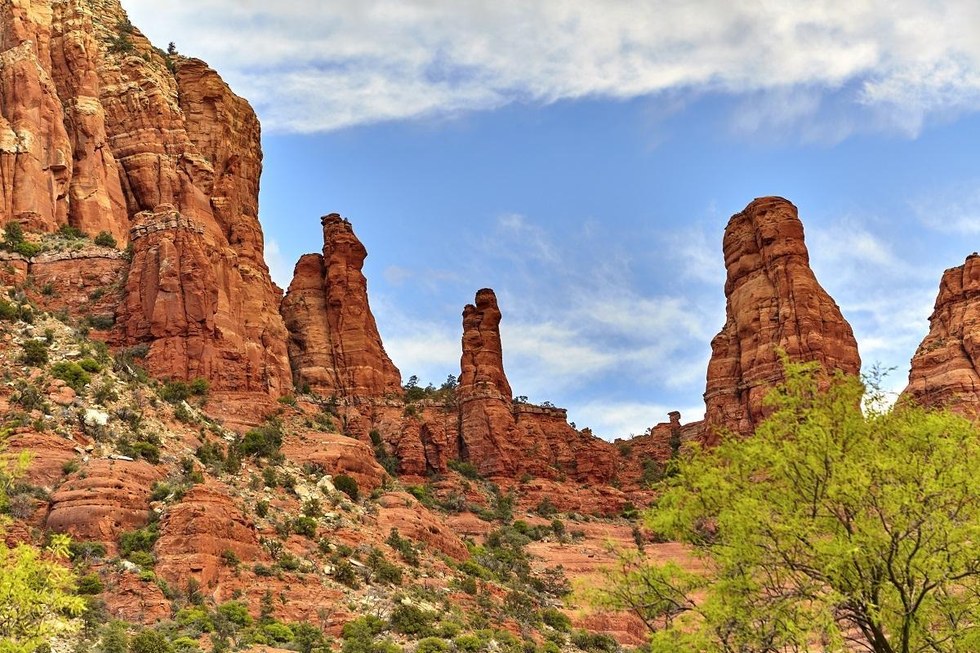 Hikes in the mountains

Phoenix and Tucson visitors who aren't early risers or who don't want to settle for short hikes can drive to spots where the temperatures and mountain vistas are similar to those in Colorado. Only a two-hour drive from Phoenix, you can head to Sedona, with an altitude of about 4,300 feet, or Flagstaff, with an altitude of about 6,900 feet, where the higher elevations mean much lower temperatures. Sedona has some of the world's most dramatic day hikes among its stunning red-rock formations, while Flagstaff offers mountain hikes that soar up to 12,600 feet, such as Humphries Peak Summit Trail. From Tucson, the usual triple-digit temps drop to the 60s during the twisting, 90-minute drive up 9,157-foot Mt. Lemmon. Trails through the sub-alpine forest await hikers at the summit.
Paddle the Verde River
Another good way to beat the Arizona heat is to get splashed by cool water — but not just in your resort pool. You can also take a dip in the Verde River in an inflatable kayak. Verde Adventures hosts guided trips down the river through the end of summer. You'll paddle through narrow limestone canyons and float past hardwood forests on the shallow river, which has plenty of tame rapids that are just adventurous enough to please both the thrill-seekers and the mild-adventurers. You can choose between a kid-friendly two-hour tubing trip or half-day inflatable kayak trip, or enjoy the Water to Wine Tour with an adult companion, which ends with a tasting at Alcantara Vineyards. You'll be driven the short distance to the river from Cottonwood or Clarkdale, both less than a two-hour drive from Phoenix.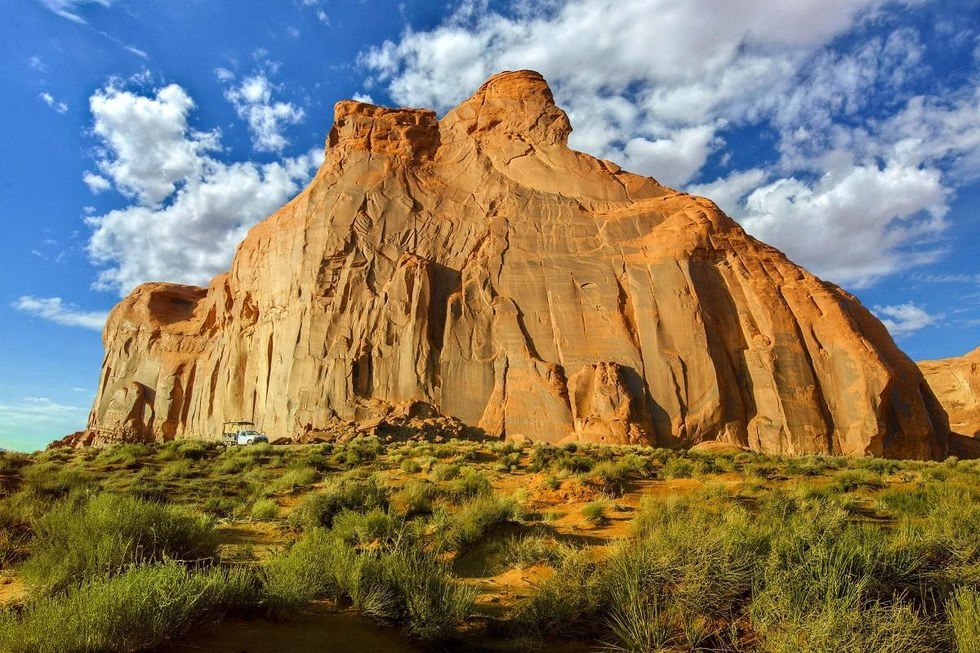 Jump in a Jeep

Following along the dusty dirt roads that rim the edges of Phoenix, Scottsdale, Tucson and Sedona, the Jeep tour is a classic option for visitors to Arizona. The 4x4 Jeep probably won't be air-conditioned, but the wind and Arizona's rich red earth will be in your hair. Less adventurous options include tours in enclosed Hummers or vans. After bumping along scenic back roads for miles, many Jeep tours offer a "cowboy cookout" at a pretty spot in the desert or mountains before you return to civilization. From Phoenix, Scottsdale or Tucson, most Jeep tours venture into the Sonoran Desert, while Sedona Jeep tours bring you up close to its renowned red-rock formations.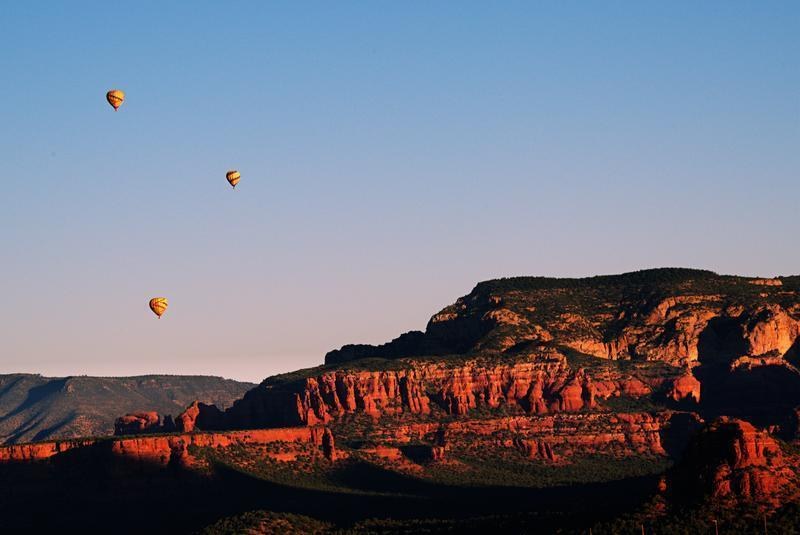 Up, up & away

Arizona's dry air makes it one of America's prime locations for hot air balloon rides. Colorful balloons lift off in the cool temperatures and low winds of sunrise from all over greater Phoenix, Scottsdale, Tucson and Sedona, often providing a champagne breakfast afterward. Some also offer sunset flights; one Phoenix company serves hors d'oeuvres from a gourmet restaurant after evening landings. Prevailing winds dictate whether you'll fly up to a mile high or close enough to the ground to spot desert wildlife, but regardless, it's a memorable bucket-list thrill.
If you go
United Airlines offers many daily flights to Phoenix and Tucson. Visit united.com or use the United app to plan your Arizona outdoor adventure getaway.
We follow the FAA's order to ground all Boeing 737 Max aircraft
Nothing is more important to us than the safety of our customers and employees. As we have said since Sunday, we have been in close contact with investigators as well as Boeing to share data and fully cooperate with regulatory authorities. We will comply with the FAA's order and will ground our 14 Boeing 737 MAX aircraft. We will remain in close contact with authorities as their investigation continues.
Since Sunday, we have been working diligently on contingency plans to prepare our fleet to minimize the impact to customers. Our Boeing 737 MAX aircraft account for roughly 40 flights a day and through a combination of spare aircraft and rebooking customers, we do not anticipate a significant operational impact as a result of this order. We will continue to work with our customers to help minimize any disruption to their travel plans.

We extend lease agreement at iconic Willis Tower in Chicago
Today, we announced that we will keep our current headquarters at the iconic Willis Tower in our hometown of Chicago while making investments to transform our current workspace and experience. Our new agreement extends our existing lease by five additional years to March 31, 2033.

Remaining at Willis Tower will allow us to completely reimagine the workspace from the bottom up. Over the coming months and years, we will redesign our workspace to allow employees to better collaborate, use the latest technology and interact with each other — all with the end goal of providing unmatched service to our front-line employees and customers. And today's announcement is part of our overall effort to improve workspaces and facilities across the system.As we begin the work to reimagine Willis Tower for our employees, a majority of the funding to transform the building is being made by the building's owner, The Blackstone Group. In addition, they are investing more than $500 million in the building for all tenants, which will transform it from the inside out that will deliver exciting new dining, fitness and retail options.
"As one of the city's largest private employers and its hometown airline, we are excited to deepen our roots here in Chicago while making the investments needed to reimagine the headquarters for our employees," said United Chief Executive Officer Oscar Munoz. "The investments we are making will help our employees provide unparalleled service to their front-line colleagues and to our customers as we continue to improve and realize our airline's full potential."
And as one of the most ideally situated buildings in the city, with easy access to all Chicago Transit Authority train lines and Union and Ogilvie Stations, as well as nearby bus stops, Willis Tower already provides distinct advantages and will remain attractive to future job seekers throughout the metropolitan region.
Weekend inspiration: Palm Springs
After a combined 60-plus years of living in cities with snowstorms and cold weather, this winter we decided it was time to pack away the parkas in exchange for a month of sun in Palm Springs.
And it was heaven. 70-degree days filled with morning swims, long walks without a jacket and joyful dogs running around the backyard. Working on murals throughout the valley in perfect drawing conditions was paradise for us, considering we were typically working in freezing weather with pale skin, chapped lips and cracking knuckles. We found our new January normal.
Our month in paradise consisted of many highlights, so if you're in town for a few days, here are some of our favorite spots.
Friday night
If you're looking to rent a place in Palm Springs, we recommend Relax Palm Spring on Airbnb. They have more than 60 rentals in the Coachella Valley area, and we loved the house we stayed in. Every single thing we needed was available on-site or just a phone call away with this professional vacation rental group.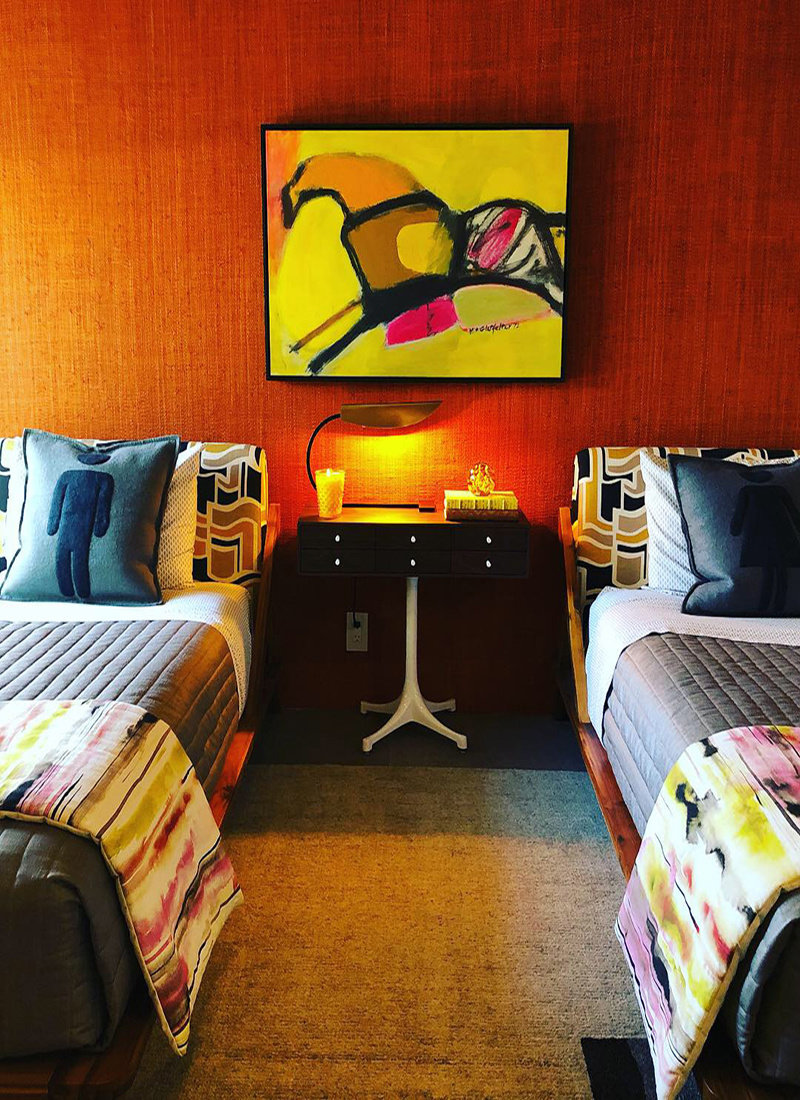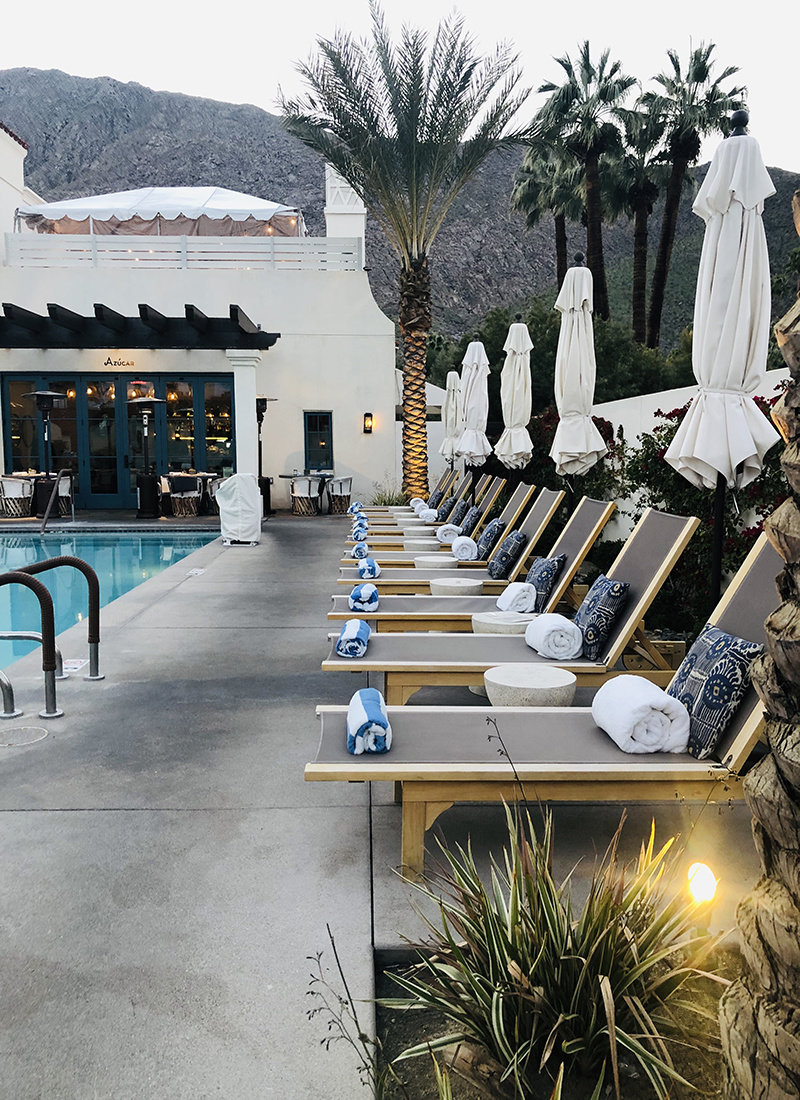 If you're looking to go the hotel route, we highly recommend The Colony Palms Hotel. This Spanish Colonial-style hotel features high-end casitas and a sweet hotel pool with stunning mountain views. La Serena Villas has a similar small-town feel with a wonderful restaurant attached. Further outside of the downtown area, Parker Palm Springs is a stylish and creatively fulfilling place to stay and play.
No matter where you stay, we recommend Azúcar for dinner (at La Serena Hotel). Make sure you get the watermelon appetizer, refreshing with bursts of sweet balsamic beads trickled over the top. You'll feel like a kid at the pool in summer all over again.
Saturday
Get up early and head to Palm Desert. Make your way over to Wilma & Frieda at The Gardens on El Paseo for one of the best breakfasts you'll find in the valley. The pastries are all excellent and homemade. The dishes are creative with items like "churro waffles" and "banana caramel French toast."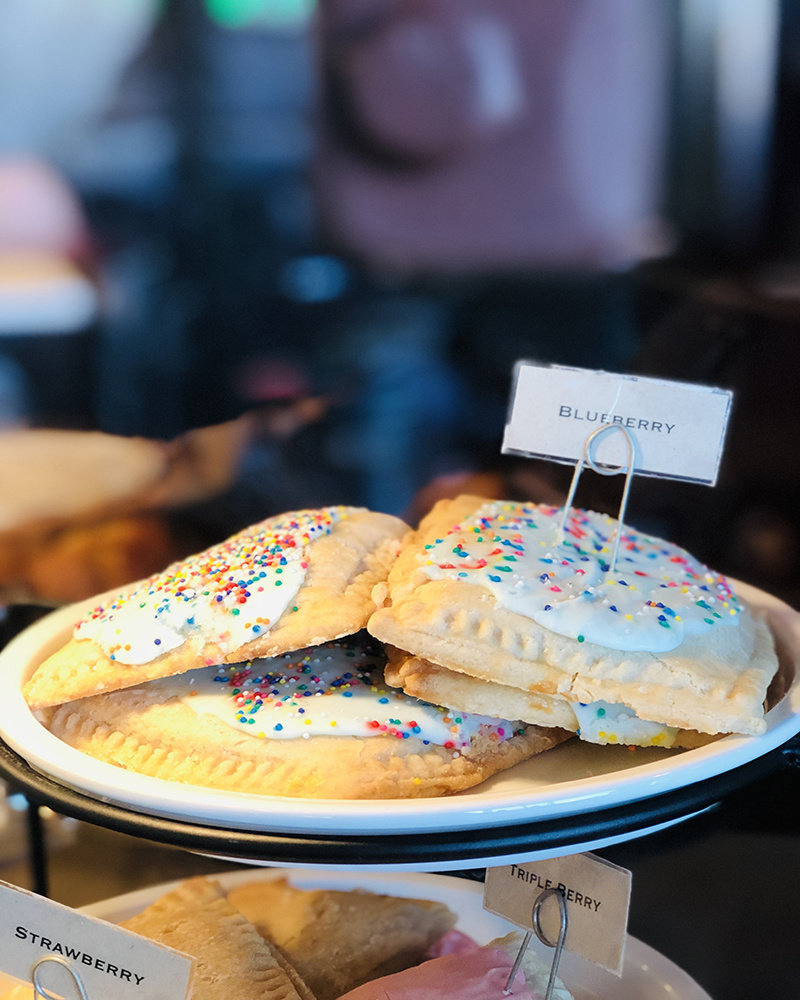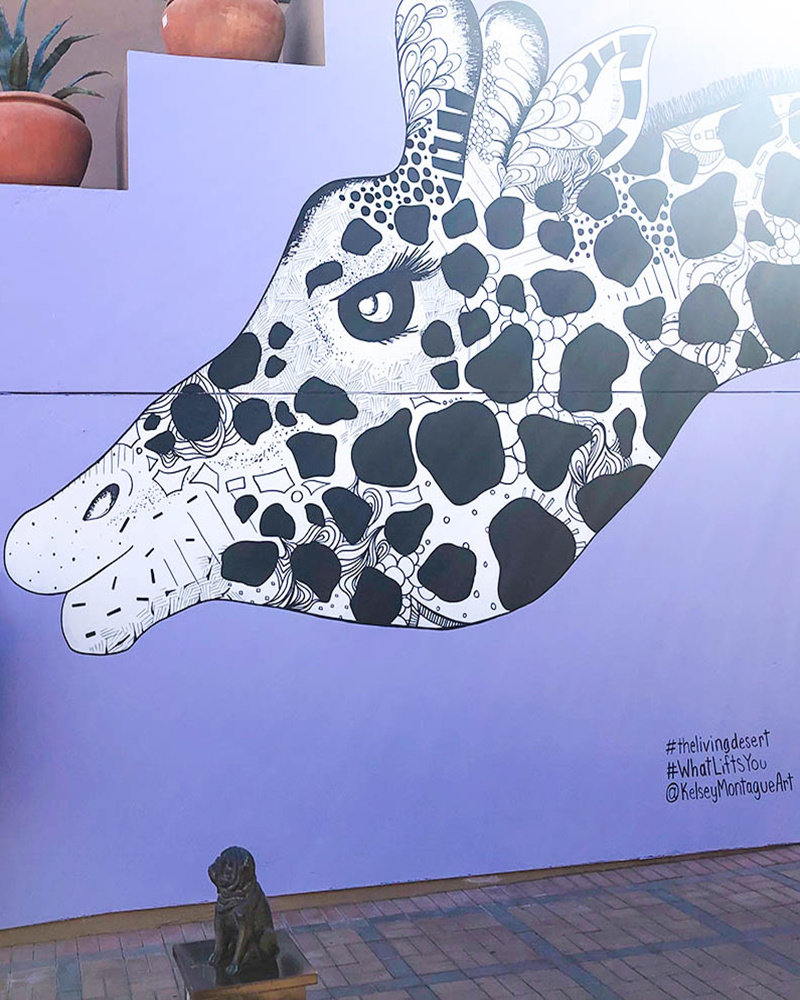 After breakfast, stop by Kelsey's giraffe mural at the Gardens on El Paseo (directions found here) to give her giraffe a kiss. Then drive up the highway to The Living Desert.
The Living Desert Zoo & Gardens is an incredibly well-designed zoo that takes advantage of the stunning desert scenery with every animal exhibit.
On your way back, stop for a sweet treat at the café at Shields Date Gardens for one of their legendary date shakes. Wander through the 1950's feeling diner and gift shop and into the 17-acre date garden. These shakes are a Palm Springs staple and worth every delicious calorie.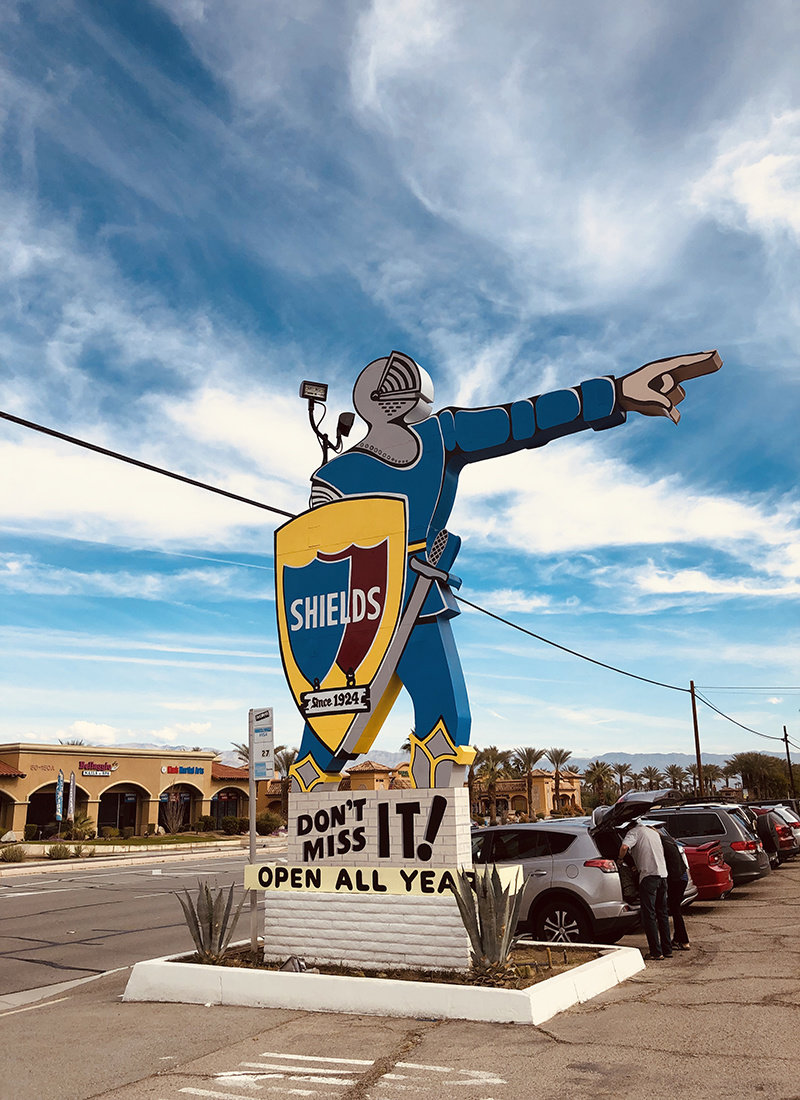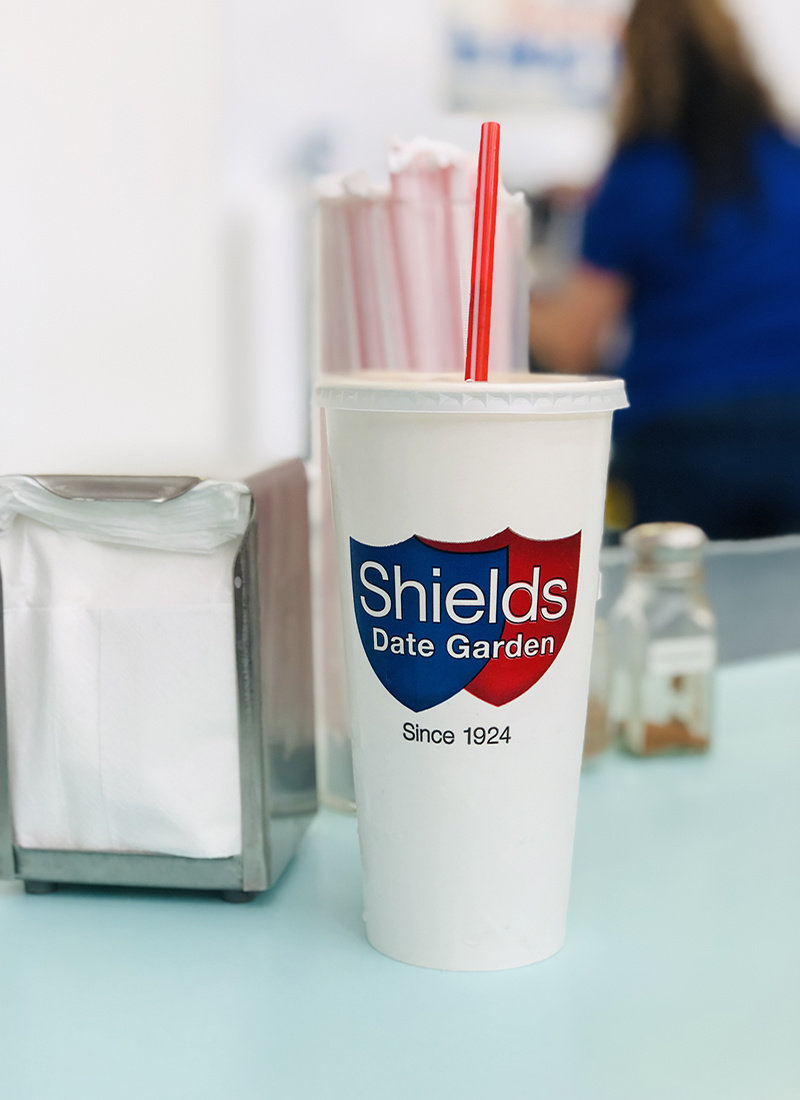 For lunch, wander around the hotel lobby at Parker Palm Springs to admire their excellent interior design decisions before heading into Norma's restaurant for an al fresco lunch.
If you have time, spend the afternoon at Joshua Tree National Park. The blend of Mojave and Colorado deserts results in a unique and stunning landscape. Begin your tour/hike at one of the visitor centers. From here, you can go on a relaxed half-day tour with a guide or head out on one of the 12 self-guiding nature trails.
Spend sunset here or head back downtown to enjoy the sunset at The Colony Palms Hotel's Restaurant, The Purple Palm, with a quality craft cocktail. After sunset, make your way to the popular Italian restaurant Birba for dinner. Birba boasts excellent pizzas with a wide variety of interesting toppings. Be sure to make reservations beforehand.
Sunday
Spend the day exploring Palm Springs. Go to Cheeky's for breakfast, but make sure to get there early, as a line forms before the doors even open. Their world-famous bacon flight is a must – it's unique and so tasty.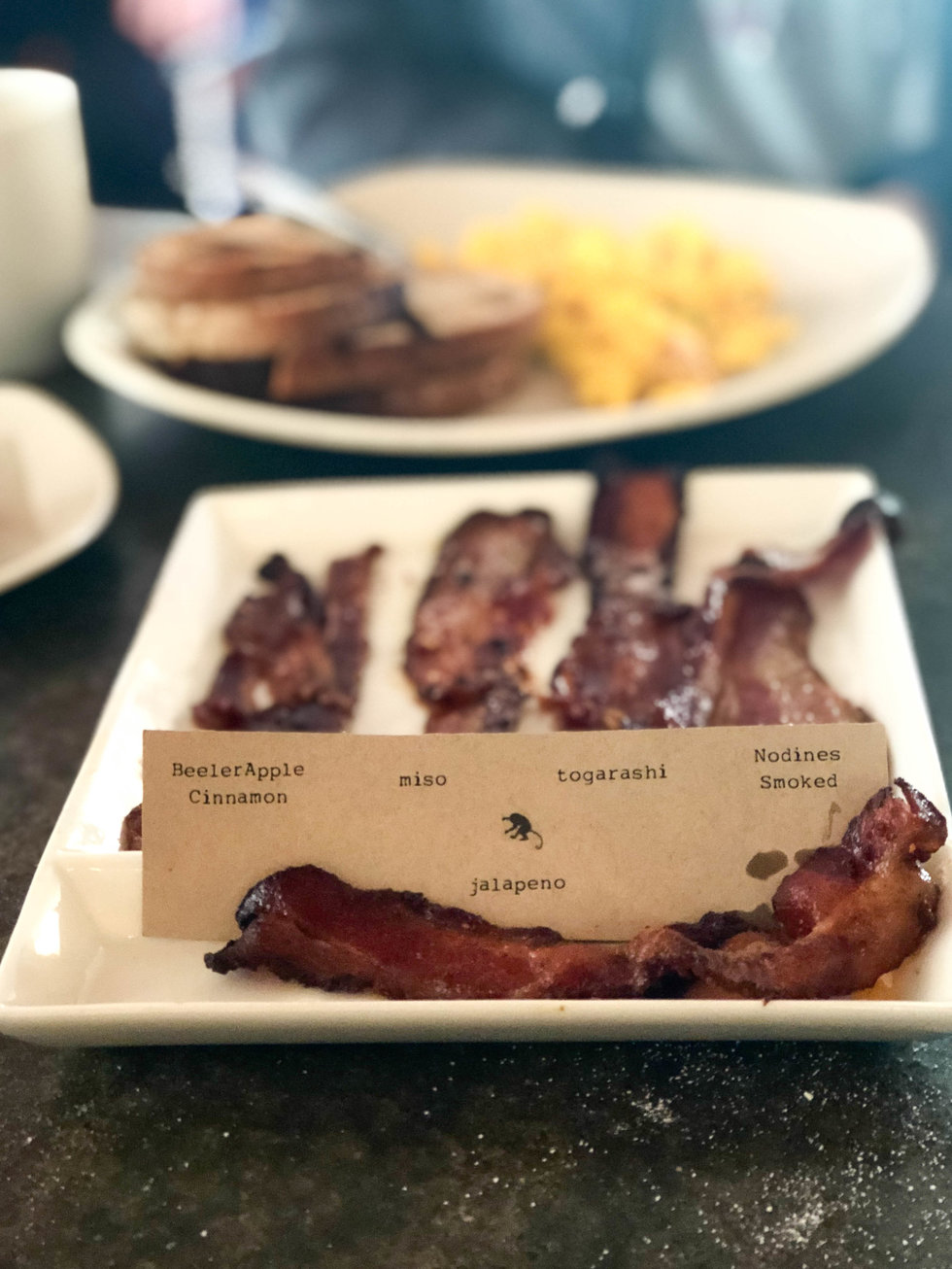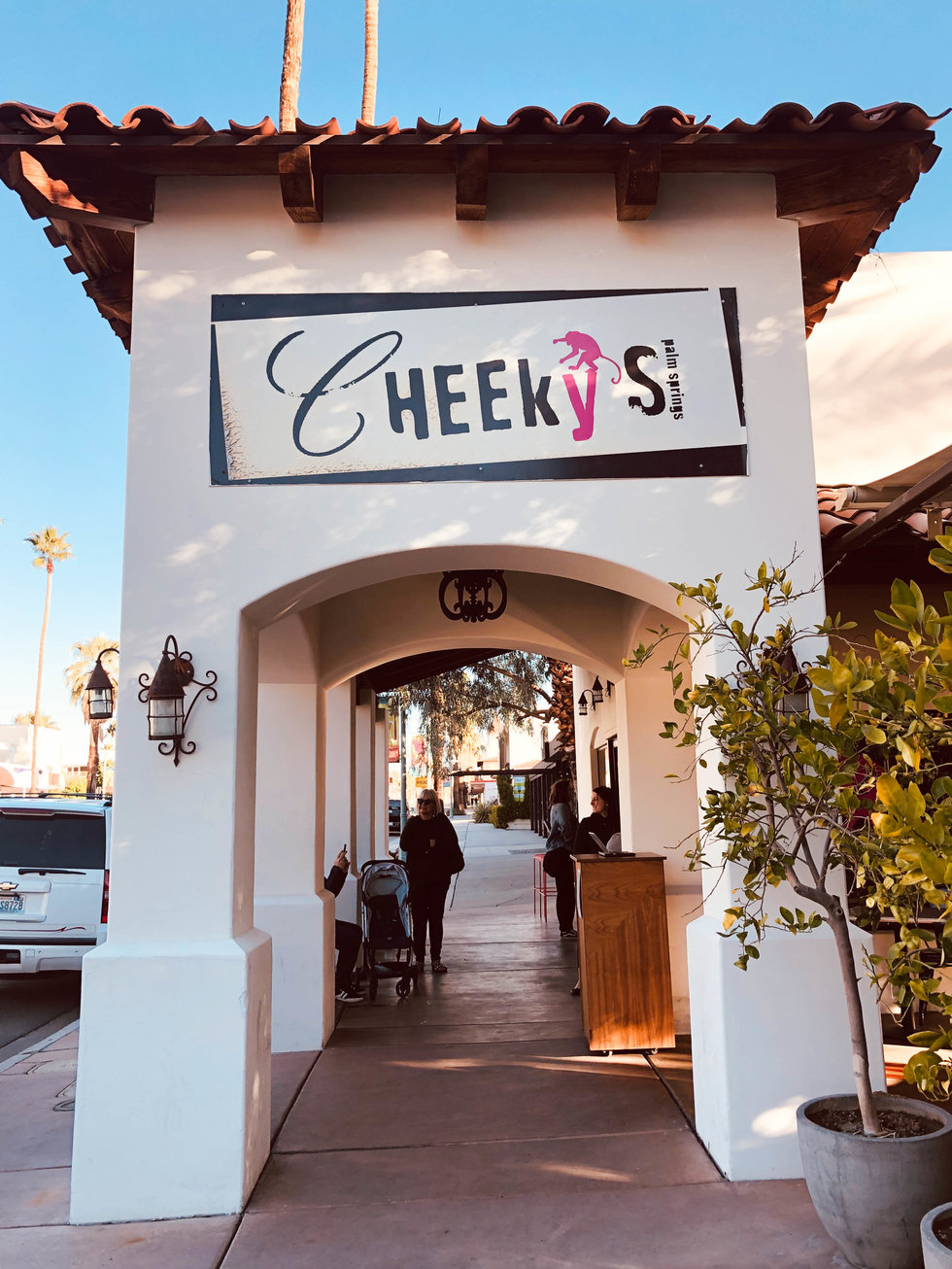 Palm Springs boasts an unbelievable amount of art experiences. Experiential art, art museums and mid-century Modern Design galore. If you can, try to visit Palm Springs during their Modernism week in February. Be sure to get tickets to their house events and tour some of the most breathtakingly beautifully designed houses. And if you're lucky, Desert X might be around during the same time and hunting for art installations throughout the valley, which would be quite the sight.
If a large art fair isn't happening while you're in Palm Springs, we highly recommend heading to the City of Coachella. Their downtown boasts some incredible murals and Kelsey was honored to join the ranks recently. Kelsey completed a pair of "What Lifts You" wings that are colorful and an ode to the Hispanic roots of the community on the side of City Hall.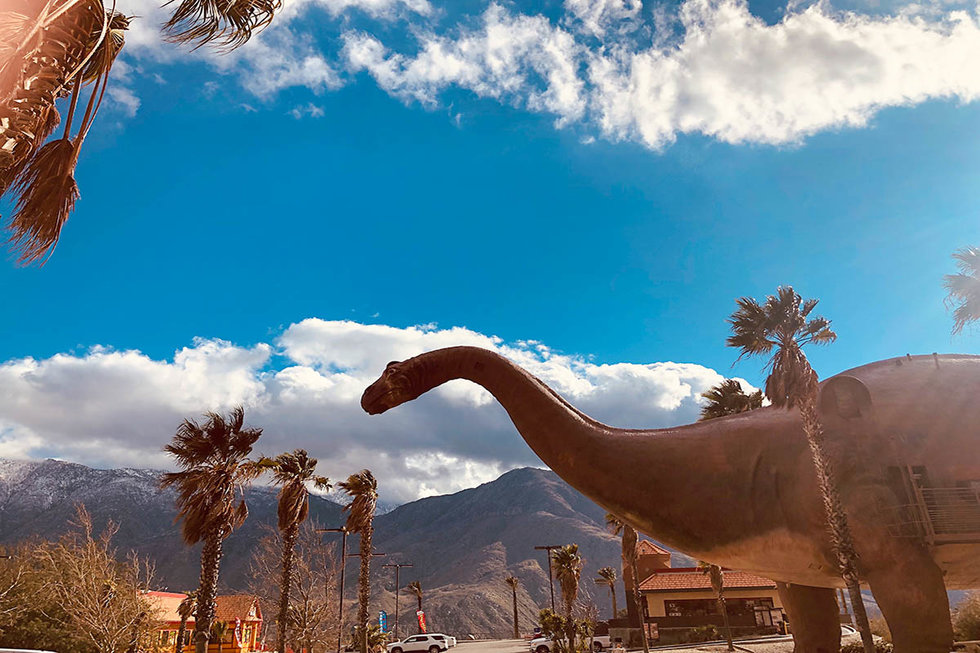 A trip to Palm Springs isn't complete without a picture with the Cabazon Dinosaurs. Made famous through their feature in movies like National Lampoon's Vacation and The Wizard – it's an Instagram-worthy stop.
For lunch, head back to downtown Palm Springs and enjoy a healthy meal at the charming restaurant Farm. Tucked into an interior courtyard, this restaurant feels like you've stepped into the French countryside. It's healthy, clean food even tastes like the South of France with their traditionally French dishes.
Walk off your lunch by exploring the boutiques in Downtown Palm Springs. These mid-century modern shops are not to be missed: A La Mod, Modernway, Vintage Oasis and The Frippery.
Complete your weekend with dinner at the chic Workshop Kitchen + Bar. Their wine cellar is massive and their waiters expertly trained. Trust them to find a new and different flavor for you – something you'll remember long after your weekend in Palm Springs.
Ode to a flight pioneer
With all she's seen and done over a century on this earth, some of Betty Stockard's fondest memories are of the years she spent slipping its surly bonds.
Seventy-seven birthdays have passed since she took to the skies for United as one of the first non-nurse flight attendants in our history, but you wouldn't know it talking with her today as she prepares to celebrate her 100th birthday. Betty's recollections of that time, when she was a 23-year-old searching for excitement and a life to call her own, are crystal clear, her stories conjuring a vivid, gorgeous image of the golden era of aviation.
Born near Kalispell, Montana, on May 16, 1919 as Elizabeth Jean Riley, becoming an aviation pioneer was the furthest thing from Betty's mind growing up. As she recalled, her only brushes with flight back then occurred when the occasional small airplane would appear in the sky above the family homestead. But following the attack on Pearl Harbor in December 1941, Betty, like most Americans, wanted to contribute to the war effort. She packed her bags, moved to Seattle and took an administrative job at the Boeing plant where thousands of bombers would soon roll off the assembly lines.
She had been there for about two months when she saw an item in the Seattle Times announcing United was looking for a new crop of flight attendants. For years, airlines had only hired nurses into those roles, but with more and more of them now needed in combat zones, that was no longer the case. Despite having never stepped foot on an airplane, Betty applied.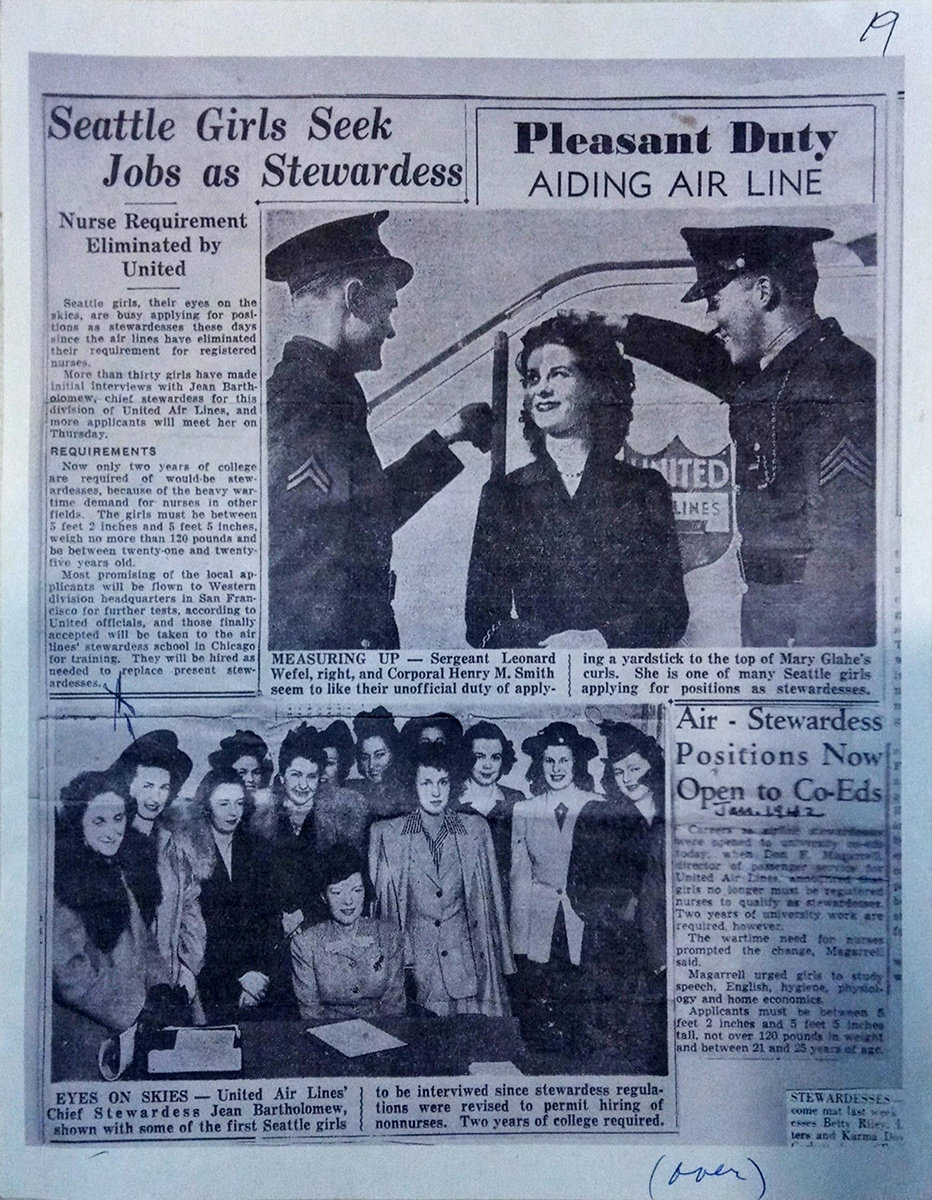 What followed was a whirlwind. After meeting with United personnel managers in Seattle, she took her first-ever flight for a second round of interviews in San Francisco. Two weeks later she received a telegram instructing her to report to Chicago, where she joined 24 other women from across the country for six weeks of intense training, heavy on first aid and safety.
"The instructors told us not to smile much because it was a serious job," remembered Betty. "They wanted us to maintain a professional attitude.
"But the stuff about not smiling didn't last long once I was on an airplane myself."
As Betty put it, being a stewardess in those days was nearly on par with being a movie star, and she often rubbed shoulders with celebrities and dignitaries, like First Lady Eleanor Roosevelt and silver screen idol Clark Gable, on her trips up and down the West Coast. But it wasn't all glitz and glamour and grins.
Flight attendants in the mid-1940s were just as busy serving their country as they were serving their customers. United flew many military men during World War II, and flight crews were responsible for looking after them. And, at least in Betty's case, those wartime duties included a little intrigue as well.
In the summer of 1945, after checking in for a flight from San Francisco to Seattle, her dispatcher told her that two men from the U.S. Army were waiting for her in the next room. They handed Betty a small, brown package and instructed her to pin it inside her jacket until she arrived in Seattle, where another Army representative would meet her. In the meantime, they warned, she was not to open the parcel or tell anyone she had it.
The aircraft landed in Seattle just after 2 a.m. and taxied to a dark corner of the airfield. There, a military man came on board, took the package, and promptly departed, leaving Betty to wonder what she had just been part of.
Secret missions aside, Betty was smitten with life in the air. She'll still tell you it was the best job in the world. Soon, though, she found herself equally smitten with a handsome former fighter pilot by the name of Ray Stockard, whom she met during a flight in 1946.
Ray was traversing the country interviewing for jobs with commercial airlines, and the two hit it off immediately, beginning a courtship shortly after. Betty adored Ray, but it was a bittersweet romance, for she knew if she got married she'd be trading one love for another since, at that time, stewardesses had to be single.
Alas, the heart wants what it wants, and Betty and Ray, who by that time was flying for Pan American, set a wedding date. Originally, they were to wed in May of 1947, but that spring, United announced it would begin service to Honolulu that summer. Betty talked Ray into briefly postponing the nuptials so that she could enjoy her last months as a flight attendant on the Hawaiian route.
"I hated giving up flying, but I knew I was making the right move," she said. "I was looking forward to the next chapter."
Fortunately, marrying a pilot meant she didn't have to walk away from the industry altogether. In the years that followed, she, Ray and their four children – Joe, Denise, Ed and Dick – traveled the world together. And while they did most of that flying on Pan Am, Betty never lost her soft spot for United, the airline where it all started. She still flies United, in fact, and still enjoys meeting flight attendants on her journeys, though she rarely, if ever, tells them about her past, preferring instead to ask them questions about themselves.
When you are lucky enough to get her talking about herself, though, she doesn't disappoint. Betty's stories are riveting, and she's been known to dispense a kernel of wisdom or two if pressed. So, what's the best advice she gives after 100 years of a rich, full life? Value education and relationships above all else, travel as much as possible, and be fearless in your pursuits.
"It's been such a good life," she said. "I couldn't have asked for a more interesting career. I still carry with me the memories of the people I met on airplanes and the places I went. If there's a lesson there, it's that you should get out and do things and not be afraid to try. By doing that, I've had one of the best lives ever."
Après 3 ways
Story by Nicholas DeRenzo | Hemispheres, November 2018
There's only one way to take the ski slopes: fast. But there are all sorts of approaches to post-powder R&R. Here, Hemispheres looks at a trio of America's favorite winter resorts and offers three methods to après-ski—glitzy, old-school, and family-style—at each. There's something for everyone in the "after"-life.
Telluride, Colorado
Tucked in a box canyon far from the hustle of Colorado's other ski resorts, highbrow yet rustic Telluride is two destinations in one. America's only free public-transportation gondola connects the Victorian mining town where Butch Cassidy robbed his first bank to the Alpine-style Mountain Village and its 2,000 acres of skiable terrain. You might bump into one of the many celebrities with vacation homes here (Oprah, Jerry Seinfeld), but play it cool: It's the Telluride way.
Luxe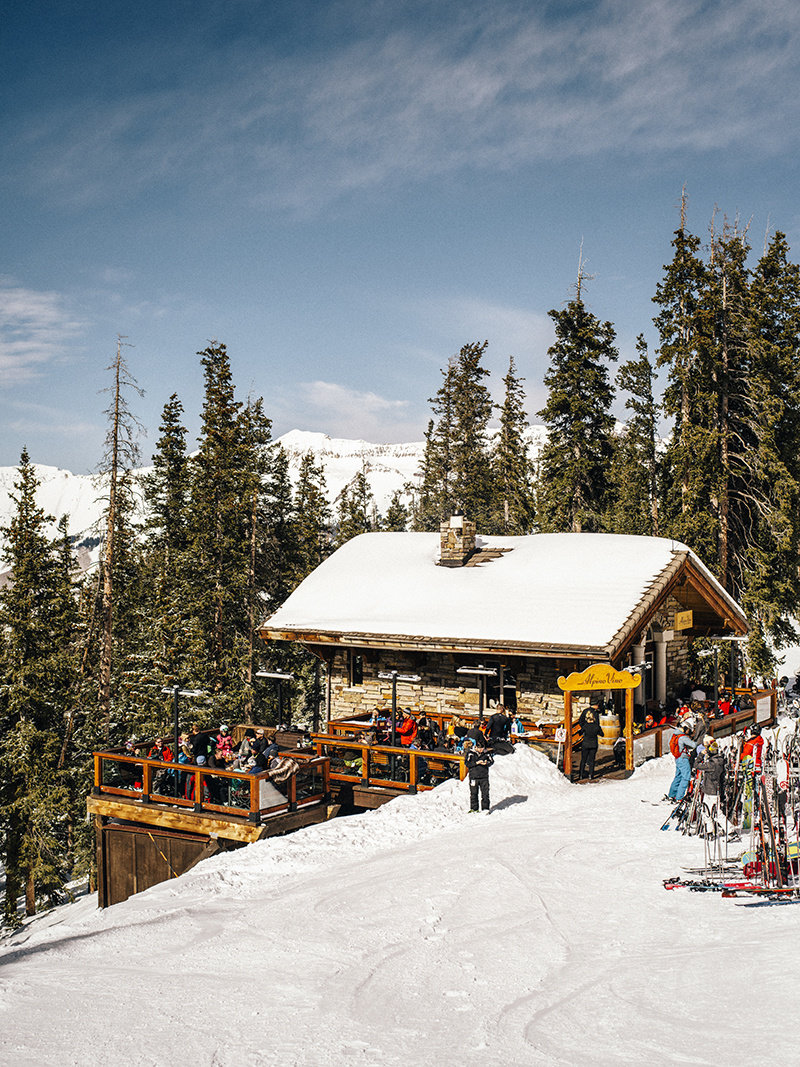 At 11,966 feet, the Dolomite hütte–inspired Alpino Vino is North America's highest restaurant. By day, the tiny wooden cottage is reachable on skis (it's a short glide downhill from the top of Lift 14); at night, heated snow-coaches whisk diners to a five-course Italian tasting menu experience, complete with the region's most impressive wine list. Go for a Brunello di Montalcino—the cellar contains bottles from nearly two dozen producers. Tasting menu $150, with $75 and $125 wine pairing options, tellurideskiresort.com
Classic

Down in town, belly up to the original 1897 mahogany and cherrywood bar at the New Sheridan Hotel saloon, one of the oldest watering holes in the West. The setting may inspire you to order a whiskey, but there's no better place to try the city's unofficial beverage, the Flatliner, made with vanilla vodka, Baileys, Kahlúa, and espresso. newsheridan.com
Family
A little red cabin near the base of the free gondola houses Taco Del Gnar, a delightfully grungy spot selling creative tacos like tempura avocado, housemade lamb sausage, smoked pork belly, and seared ahi tuna. Kids will love the queso blanco–topped tater tots, while parents can work their way through the list of local beers. gnarlytacos.com
Sun Valley, Idaho
Built on the edge of the mining town of Ketchum in 1936, Sun Valley was the world's first destination ski resort and the home of the first chairlift, which was derived from a device that had been used to load bananas onto rail cars. The mountain instantly began attracting the likes of Marilyn Monroe, Clint Eastwood, and Ernest Hemingway—a favorite adopted citizen who helped popularize the image of this valley as one of the West's great outdoorsy getaways.
Luxe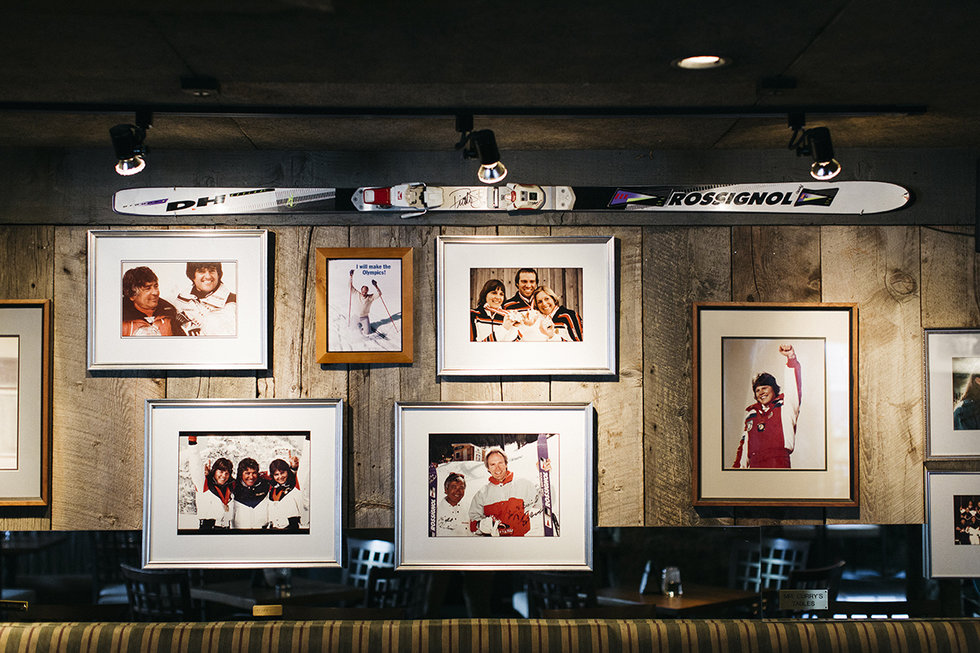 Papa Hemingway ate his last supper in 1961 at Michel's Christiania, a fine-dining (but verycomfortable) French restaurant in the heart of Ketchum where you can order classics like trout meunière and escargots bourguignonne. Chef-owner Michel Rudigoz is a former U.S. women's ski team coach, which explains all the memorabilia in the attached Olympic Bar. michelschristiania.com
Classic
There's nothing fancy about Grumpy's, a dive bar that turned 40 this year. Known for its 32-ounce beer schooners and hodge-podge decor (vintage beer can–lined walls, a prop dog from There's Something About Mary), the bar is a favorite among paparazzi-dodging stars like Bruce Springsteen, who has been known to sing a few tunes when he stops in. grumpyssunvalley.com
Family
Après-ski often means getting out of the cold ASAP, but for one of the valley's most memorable off-slope activities, you'll need to brave the chill a bit longer. The kids will love a Clydesdale-drawn sleigh ride to Trail Creek Cabin for hearty mountain staples such as buffalo tenderloin and ruby trout, plus German chocolate cake for dessert. sunvalley.com
Jackson Hole, Wyoming
Perched on the edge of Grand Teton National Park, Jackson Hole has always felt wild. Trappers used the term "hole" to describe the valley's vertigo-inducing sides, and the resort has used that geological feature to maximum effect. Dubbed "The Big One," the area boasts America's biggest vertical drop in ski terrain (more than 4,100 feet), as well as Corbet's Couloir, a legendarily deranged run that tops many ski-bum bucket lists.
Luxe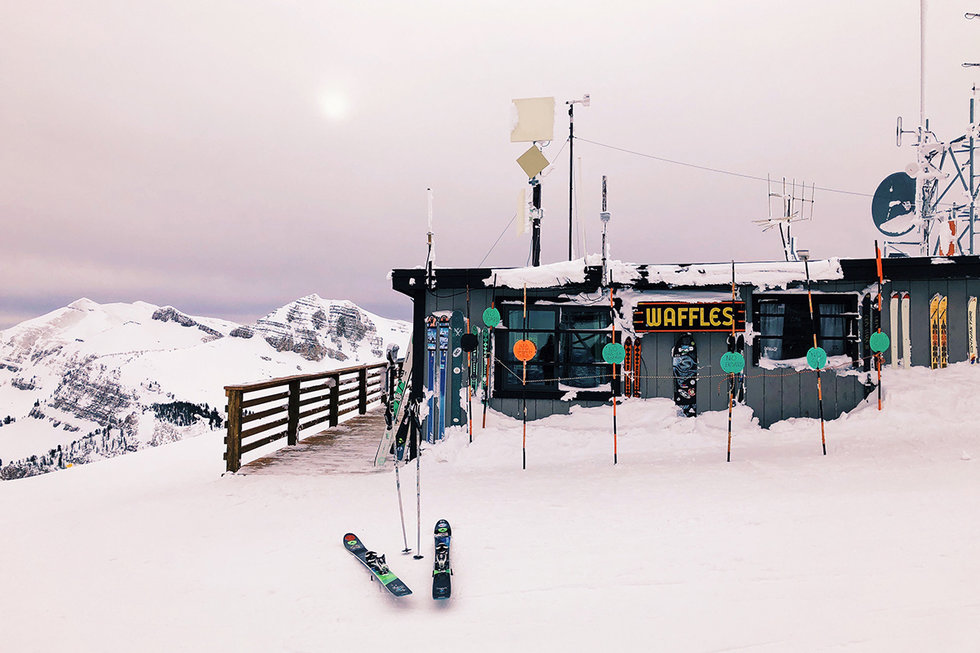 When skiers talk about a good powder day, some may be referring to the powdered sugar on the waffles at Corbet's Cabin. (Remember, après starts early when you're skiing with kids.) Located at 10,450 feet, atop Rendezvous Peak, this refueling station is reachable by the Aerial Tram and dishes out hot waffles in flavors like the Nutella-topped Italian, the lemon-glazed Englishman, and the peanut butter and smoked bacon–stacked Gateway. Parents can warm up faster by spiking their hot cocoa or coffee with Irish cream, whiskey, or schnapps. jacksonhole.com
Classic
Opened in 1967, the Mangy Moose saloon has attracted performers like Jason Aldean and Brandi Carlile. Grab a table under the antlered taxidermy for a buffalo fillet or trout and chips, paired with locally inspired cocktails (like the Huckleberry Cosmo) or the Tourist Trap, a "shot ski" with four shots of Fireball or Rumple Minze. mangymoose.com
Family
The newest member of chef Gavin Fine's aptly named Fine Dining Restaurant Group (which includes an ice cream parlor and craft butcher) is Hotel Terra's Bar Enoteca, a Mediterranean wine and cocktail bar that opened last fall. Small plates such as the wild game sausage and goat cassoulet are perfect for post-slope grazing. hotelterrajacksonhole.com
The day off: Silicon Beach
Story by Justin Goldman | Hemispheres, March 2019
Los Angeles's ongoing tech boom—which in the last few years has seen the building of Google and Yahoo! campuses on a parcel of Playa Vista that was once Howard Hughes's private airfield—has earned the Westside the nickname Silicon Beach. Got a day off in La La Land? Here's how to spend it on the beach.
8 a.m.
Opener: Courtesy of Shutters on the Beach; Above: Jakob Layman
Beat the line at Huckleberry Bakery and Cafe by getting to the Santa Monica institution right when it opens. You'll feel very West Coast if you order the organic quinoa and market vegetables bowl (made with ingredients from the renowned Santa Monica Farmers Market, just down the street), but if you want to treat yourself on your day off, opt for a stack of the café's signature pancakes.
10 a.m.
Duffy Archives, Courtesy of the Peter Fetterman Gallery
The Westside has long drawn an artsy crowd. Take in that vibe at Santa Monica's Bergamot Station, a former trolley stop and industrial warehouse that's now a complex of more than 20 galleries. Don't miss the photography at the Peter Fetterman Gallery (pictured above) or the modern and contemporary works at Latin American Masters.

12 p.m.
Courtesy of the Stronghold
Venice is SoCal's boho capital, and the ever-trendy Abbot Kinney Boulevard is its main commercial artery. Splurge on a Lewis Leathers motorcycle jacket at The Stronghold (pictured above) or a flower-print dress at Stone Cold Fox. Congratulations: Your credit card statement now rivals your student loans.
2 p.m.
Courtesy of Gjusta
Take a number at the über-hip deli and bakery Gjusta. Be prepared to wait a while before you order, and you'll need sharp elbows to fight for a seat on the patio, but the hassle is worth it for the tuna conserva sandwich.

4 p.m.
Head back to your hotel, Shutters on the Beach. Change into some sneakers and jog down to Muscle Beach to see some bodies that have clearly not been enjoying the food at Huckleberry or Gjusta, then beat a retreat to your balcony. Open your shutters (truth in advertising!) and watch the sun sink behind the Santa Monica Pier and into the Pacific.
7 p.m.
2016 Wonho Lee
Dinner is at one of the toughest tables in LA, Felix Trattoria, Esquire's best new restaurant in America for 2017. Chef Evan Funke cut his teeth at Spago, and now he cuts handmade pastas in a glass-enclosed kitchen at the north end of Abbot Kinney. Don't miss the perfectly al dente orecchiette with sausage sugo.

9 p.m.
Wonho Frank Lee
For a nightcap, take a seat on the patio at Makani, a new Korean-influenced spot on Venice's up-and-coming Rose Avenue. Try a Doctor Bird's Sour (rum, orgeat, bitters, and lemon) from the rum-centric cocktail list, plus—why not?—Manila clams with chile de árbol and wood-fired ciabatta slices. The only thing prettier than the fare on your table is the oh-so-SoCal crowd tippling around you.

We want to put women's art in the sky
Enter the #HerArtHere contest for a chance to design and paint a United plane.
Learn more
We're listening
Check out our newest destinations
United Airlines
united
3.14159 x 21.96 = about the number of days until we fly you direct to this pizza pie on our new New York/Newark - Naples route. 🍕🤤
#Math
#PiDay
United Airlines
united
We've issued a travel waiver for Chicago in advance of inclement weather. Our Reservations team is currently experiencing high volume. If you're traveling 3/14, you can change your flight at no cost on our mobile app or
united.com
. Waiver:
uafly.co/Z04CmP
United Airlines
united
We've issued a travel waiver for the Rocky Mountains and Great Plains due to a winter storm. If you're traveling 3/13, you can change your flight at no cost on our mobile app, by direct messaging us here or calling Reservations at 1-800-864-8331. Waiver:
uafly.co/Z04CmP
We Are United
weareunited
United was a major sponsor of the 30th Annual International Women in Aviation Conference that took place last week. Our team hosted initiatives for young women interested in the flight and technical operations fields and presented six scholarships to deserving female students.
We Are United
weareunited
We're not the only ones who love our new seatback IFE! After all of their hard work developing the new system, the Inflight Entertainment and Connectivity team has been recognized as a finalist for both the Crystal Cabin and Onboard Hospitality Awards in Hamburg.
Watch our most popular videos
Watch the new Big Metal Bird: Veterans
Neighbors, coworkers, parents, protectors, heroes. All of these labels and more encompass the men and women whose devotion to our country serves as the truest embodiment of the American spirit. We're talking about Veterans. Join host Phil Torres as he heads to our nation's capital to learn more about these heroes and to explore just how many United employees are veterans on this Big Metal Bird.
Copyright © 2019 United Airlines, Inc.
All rights reserved.
Indicates an external site that may or may not meet accessibility guidelines.
Scroll to top
Scroll to top