Three Perfect Days: Montana
Story by Jacob Baynham | Photography by Brad Torchia | Hemispheres, August 2017
Montana is a story best told outside. It's a place where people measure the worth of their weekends by the mud on their boots. Those who were born here know what they have. Those who visit will dream about finding a way to stay. But no one is indecisive about living in Montana. If you're here, you're all in. You're outside and getting up early, as Norman Maclean wrote in A River Runs Through It, "to see as much of the Lord's daylight as is given to us."

In which Jacob drinks espresso with a pop star, does some vicarious surfing, and fulfills his dream of owning—ok, renting—a 1986 VW Van

I'm standing 620 feet above Missoula, beside a giant white "M" branded onto a mountainside. Fifteen thousand years ago, I'd have been underwater. During the last ice age, a glacier dammed the Clark Fork River, creating a lake that was 2,000 feet deep and larger than Delaware. Beavers the size of grizzlies roamed its banks. Then the dam broke and flushed the lake out to the Pacific. I'm looking down at the aftermath, which is now the midsize college town where I live.
The sun hasn't quite crested Mount Sentinel behind me, but it's light enough to see the maple-lined streets and the Clark Fork unspooling through town. Somewhere to my right, in the shadow of Mount Jumbo, is my house. It feels good to linger in the cool air and listen to the meadowlarks, but few moments are as heavy with possibility as a Montana summer sunrise. So when the University of Montana clock tower chimes the hour below, I'm already jogging down the switchbacks toward another kind of pick-me-up.
I find it at Drum Coffee, a new café owned by John Wicks, the drummer for the indie-pop band Fitz and the Tantrums. Wicks's wife, Jenna, grew up in Missoula, and after the couple had kids they moved here from Southern California. He's tall, with thick-framed glasses and a peacoat with notebooks in the breast pocket. Over a café cortado, he tells me how Montana won his heart.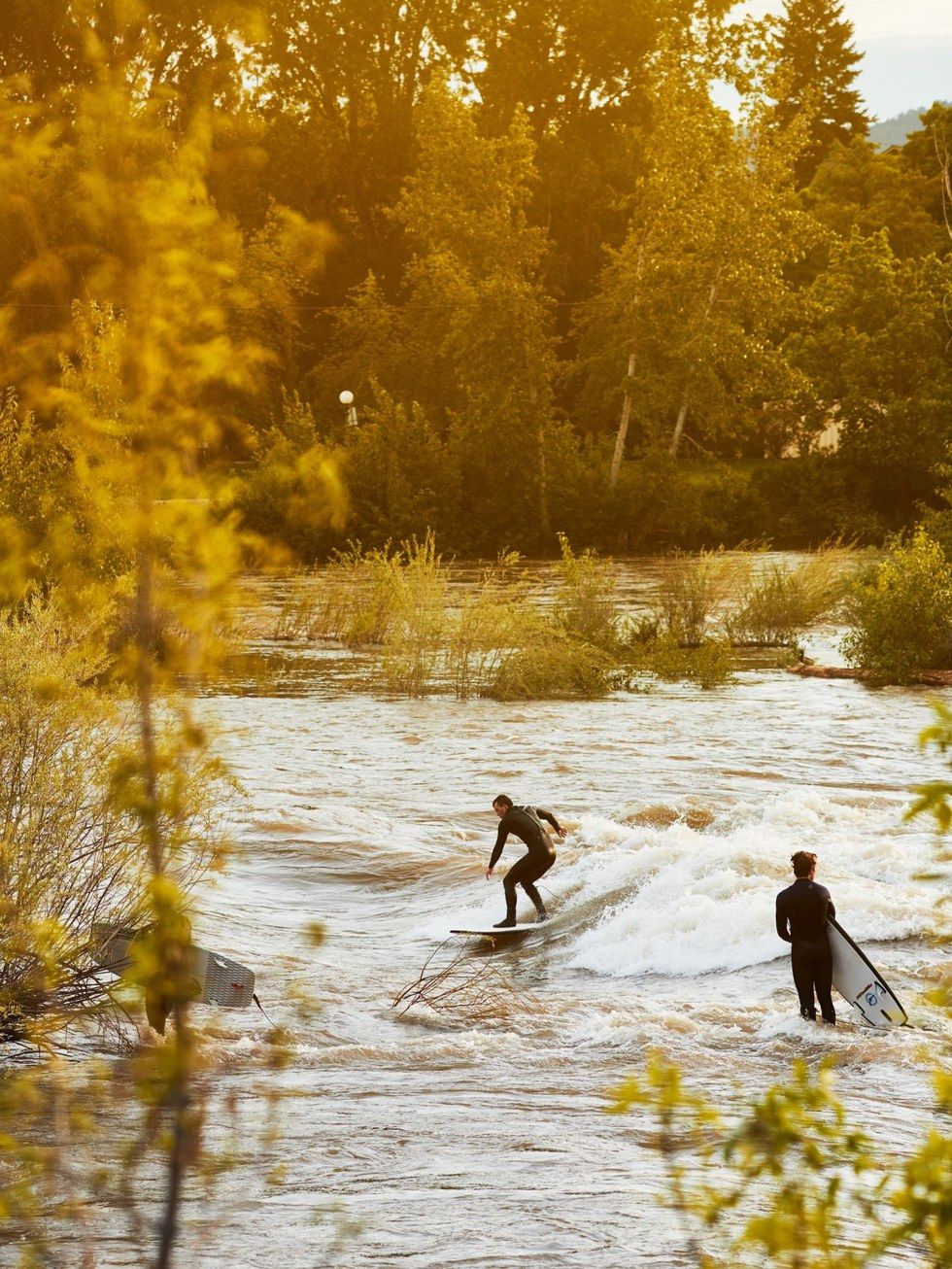 Surfers on the rushing Clark Fork River
"In Los Angeles, I got the sense that people were trying to make their lives as easy as possible," he says. "That's not a goal here. People want to see the benefit of their hard work. I really love that about this place."
Before he moved here, Wicks felt jaded, toiling away in a cutthroat industry. But now, when he's not on tour, he spends his days managing the café, giving drum lessons to kids, and running up the mountains behind his house. "The topography of this place plays a part in the humility here," he says. "These mountains don't care what you do. They're going to be here when you're gone. That plays a big part in people's priorities."
One of my immediate priorities is brunch at Scotty's Table, an Art Deco–inflected bistro downtown. I order a burger made from cattle that graze a pasture along the Bitterroot River, south of town. It's topped with a farm-fresh egg and bacon, and it's a tribute to sustainable beef.
From here, I cut through Caras Park to the Clark Fork, where surfers are playing in a standing wave. The river is high and brown, but the surfers are out anyway, paddling furiously into the froth, then springing to their feet, suspended by the roaring current. I feel a vicarious thrill.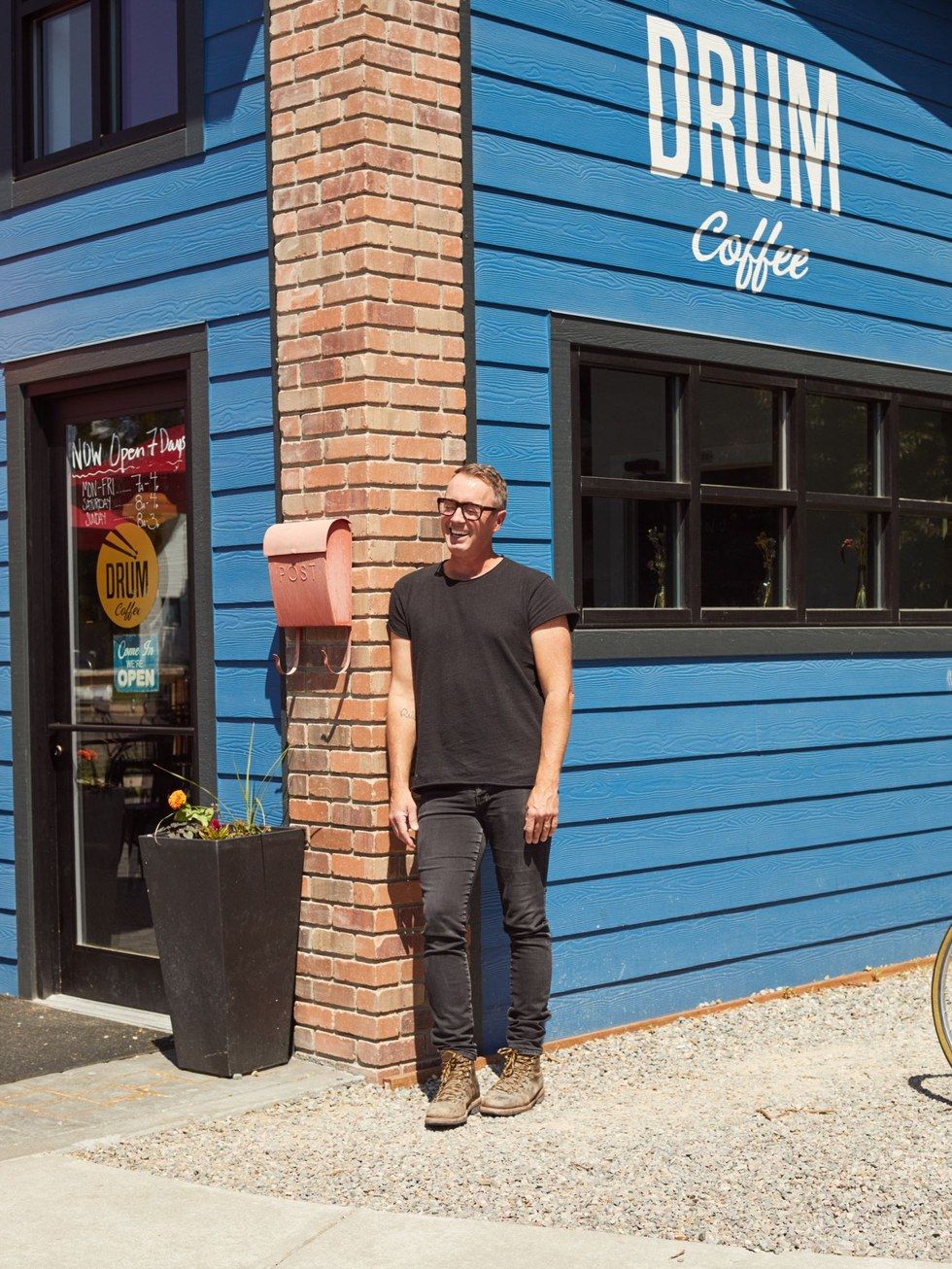 John Wicks, musician
A hundred yards upstream is the Clark Fork Farmers Market, where locals wander among stalls bearing homemade jellies, morel mushrooms, beeswax lip balm, and kombucha. At Ninja Mike's breakfast stall, a man in a mechanic's jumpsuit works the griddle, flipping egg sandwiches to old-school hip-hop. Farther down, a sandy-haired kid in a Nirvana sweatshirt strums Green Day on an unplugged Stratocaster.
The day is getting on. I've spent weeks planning these three days, but I'm most excited about the driving, which I've arranged to do in a 1986 Volkswagen Westfalia Weekender Camper—a personal dream. I collect one at the airport from Dragonflyvans, where Scott Quinnett introduces me to a van he calls Lizard King—named both for Jim Morrison and for the lizard that was living in the engine when he bought it. The vehicle has a beige interior, the aerodynamics of a brick, and no power steering. I'm smitten.
Quinnett walks me through Lizard King's particularities (take hills slowly) and hands me the keys. "I can almost guarantee you a blast," he says with a smile. The van purrs to life, and I crank its large steering wheel homeward to pick up my family.
"Montana is one of the few places where the far right and the far left coexist and want the same thing: to preserve what's here." —John Wicks
A few notes on my family: My wife, Hilly, gave birth to our second son, Julian, three weeks ago. Our other son, Theo, is 3. But Hilly is a fourth-generation Montanan, and game for adventure. So is our 10-year-old niece, Salome, who's along for the ride. We pile into the van and head to Tagliare Deli for sandwiches, all of which are named after rock bands—I order the Megadeth, with spicy capicola, soppressata, and mozzarella. We roll out of town through a notch in the hills on Highway 93.
Our next stop is for candy, at Hummingbird Toys and Treats in Arlee, on the Flathead Indian Reservation about 30 miles north. The Hummingbird is a local fixture that sells 60 varieties of black licorice from around the world, and there is much deliberation before we can set off again.
Scarcely 10 minutes up the road is another mandatory stop: the Windmill Village Bakery in Ravalli, where owner Nancy Martin sells fresh doughnuts the way her mother made them. She chops one up for Salome and Theo, and hands me one on a square of wax paper. It's warm, soft as a marshmallow, and gone in a few savage bites.
Martin was born and raised in Montana. "When you live somewhere else, people don't like you until you give them a reason to," she says. "In Montana, people like you until you give them a reason not to. And you can't beat the scenery. The day we crest that hill and don't gasp, we need to reboot, because something's off the rails."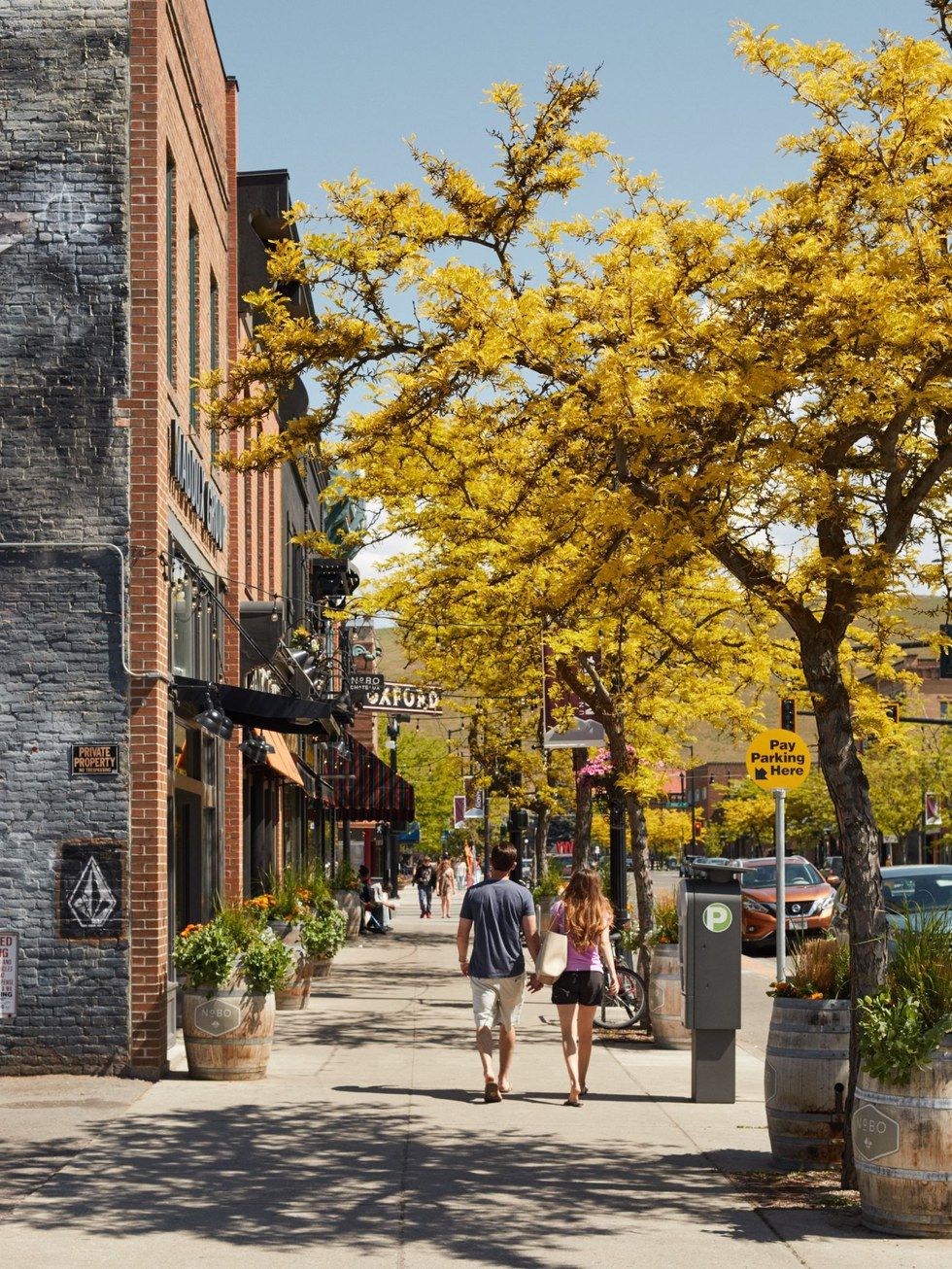 Strolling North Higgins Ave. in downtown Missoula
She's referring to Ravalli Hill, and when we crest it, minutes later, we do gasp, as always. The Mission Mountains rise straight from the valley floor here, a blue-green wall of peaks. They're distractingly beautiful.
We drive beneath them to Polson, a small town where the trees outnumber the houses on the shore of Flathead Lake, the largest freshwater lake in the West and one of the cleanest in the country. We travel up the west shore, past cherry orchards, to Tamarack Brewery in Lakeside (our lodgings are nearby, and I'm ready for a drink).
We sip our way through a comprehensive flight of beers and nibble on fish and chips. Everyone's tired. The West Shore State Park campground beckons. We pull into the site and I pop the top of Lizard King while Salome builds a fire. We can see blue water through the trees below us and snow on the mountains beyond. The campground is quiet.
At 10 o'clock, it's still light. Salome and Theo are asleep in the upper bunk; Hilly, Julian, and I are stretched out below. I go to sleep thinking there's no place I'd rather be.

In which Jacob cooks a campfire breakfast, boats to a lake island, and cycles to the sun in Glacier National Park
All right, the night wasn't total bliss. Hilly elbowed me awake to say, "You're doing that breathing thing again." The kids were restless. But by 6:30 the birds are singing, and I'm rested enough to slide open the van door.
Lizard King makes camping almost effortless. I pull a propane burner from the cupboard, along with a kettle and a French press. Minutes later, I hand Hilly a cup of coffee, and she hands me Julian, to burp. Salome and Theo help me cook eggs and sausages on the fire.
After breakfast, we walk down to the lake, which is lined with moss-green rocks and clumps of purple flowers. The sun is warm, and I decide to take a dip. It's a brief one. This lake used to be a glacier, and it hasn't warmed much since.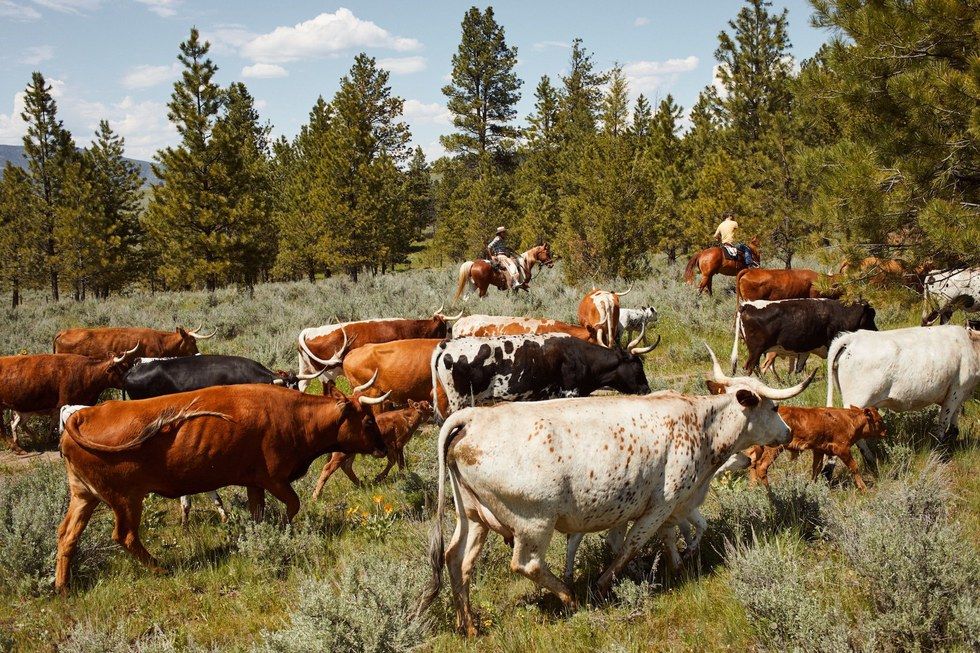 Amy Grout, the Flathead Lake State Park manager, has offered to take me to Wild Horse Island, a 2,163-acre park and the largest island in the lake. The Salish and Kootenai used to swim their best horses out to the island, to foil thieves. It's still home to five wild horses, about 100 bighorn sheep, 50 mule deer, and a handful of coyotes—plus a black bear and a mountain lion that swam out there.
While my family plays on the shore, I wobble aboard Grout's motorboat, alongside a middle-aged couple named JoAnn and Glenn, who spend their summer weekends as volunteer guides. They're the sort of intense, competent types who can wield a phrase like "Drop the stern anchor." I fasten my life vest, happy they're aboard.
Grout steers away from the dock and points the bow toward Wild Horse. "This is a little gem of Montana," she says. "It's a pretty special place." Waves splash against the aluminum hull, and after some engine trouble—an opportunity for JoAnn and Glenn to cheerfully connect the backup motor—we make landfall.
JoAnn and Glenn stay with the boat as I follow Grout up the hillside. We wade through a knee-deep, bright yellow sea of arrowleaf balsamroot. Grout has short chestnut hair and the disposition of someone who gets paid to do what she loves. She still remembers her first visit to the Flathead. "I fell in love with it," she says. "It was like the valley where I lived in Alaska. I was 13 years old, and I told my parents, 'I'm going to live here one day.'"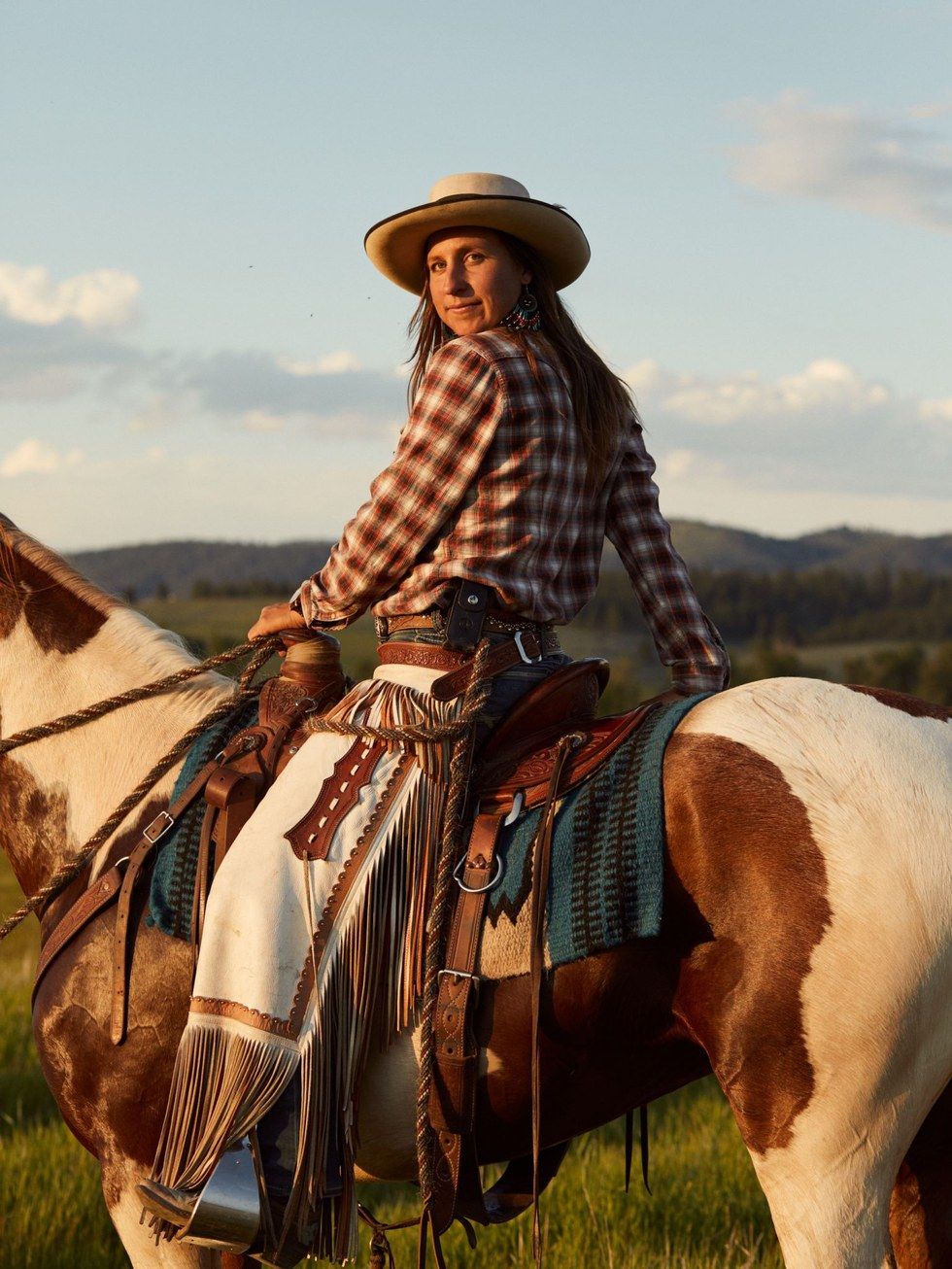 Jackie Kecskes, cattle wrangler
She leads me past a century-old homestead and an abandoned apple orchard. The trail is redolent of horse dung, but we don't see the horses. Grout does spot a giant bighorn sheep through her binoculars on a ridge above us. "That's a world-class ram," she says. Four others filter out of the trees around it.
We finally drop back down to the shore through a glade of old ponderosas that smell of butterscotch. "This is where I was meant to be," Grout says. "I love the landscape and the people. Montanans, we're hardy. We'll do anything to help someone out. We can be very stubborn, but we love the place we live."
Back on the mainland, I rejoin my family to continue our caravan northward, past the strip malls of Kalispell and the lumber mill in Columbia Falls. In the town of Hungry Horse (population 757), we pull over at Willows' HuckleberryLand, a roadside gift shop that's said to serve the area's best huckleberry milkshake.
Inside, Buddy Willows himself is behind the counter, eating a buffalo burger. He's surrounded by shelves of huckleberry everything—honey, syrup, jam, barbecue sauce. "We use Montana huckleberries," he announces. "I'd say they have about 15 to 20 percent more twang." He hands me a copy of his self-published autobiography, The Wild and Crazy Buddy Willows. It's not a dull read.
"You get the beauty of a state like Colorado—the big mountains and the beautiful forested areas—but without the huge population. You don't feel crowded." —Jackie Kecskes
We leave with a lunch of huckleberry shakes and huckleberry pie—don't judge—and drive 10 miles to the entrance of Glacier National Park, where we all go quiet at the view of the peaks rising behind Lake McDonald. Two mule deer cross the road in front of us.
Soon, we're checking in at the Lake McDonald Lodge, a chalet on the north shore that was built as a hunting lodge in 1913. The lobby has a stone fireplace, cedar beams, and game animals mounted on the walls. Lampshades decorated with Native American pictographs hang from the ceiling. Outside, a colony of ground squirrels scurry and chirp. "People call them whistle pigs," a lodge employee tells me. "They own the property. We don't."
It's time to leave the family again, as I'm not sure the kids would enjoy my next adventure: a steep bike climb up the Going-to-the-Sun Road, on which the winter's 80-foot snowdrifts aren't fully cleared until midsummer. Tyler Schmittel, of Glacier Guides, arrives to accompany me. We get off to an awkward start when I ask him if the bearded man tattooed on his leg is Fidel Castro. "It's Edward Abbey," he replies. "The writer and conservationist."
On that note, we start pedaling. Schmittel recently cycled from Los Angeles to Guatemala City, so he's not at all out of breath as he reels off the names of the wildflowers we pass. The white trillium look like fallen stars on the forest floor.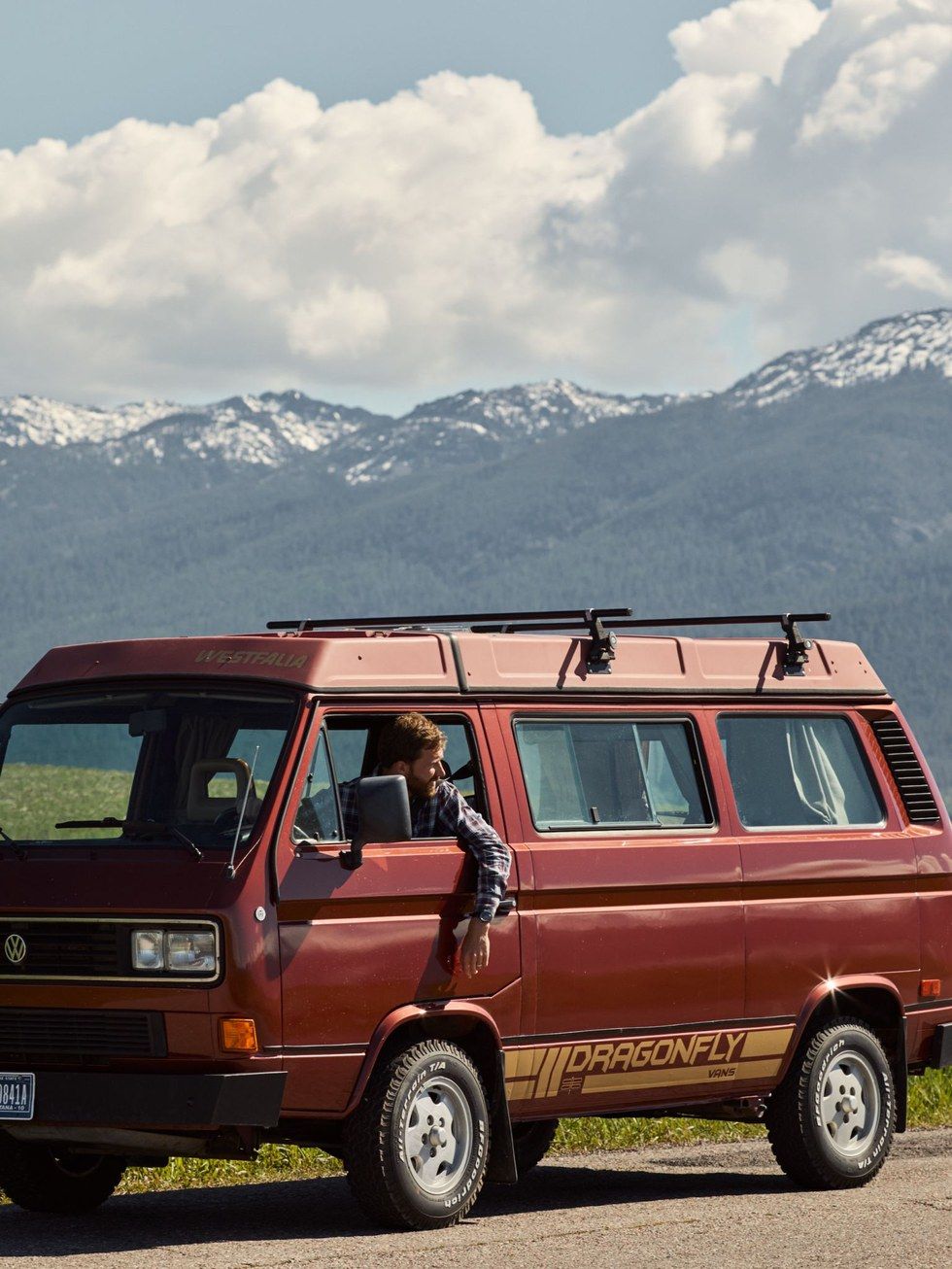 The author in his beloved VW van
We climb and weave alongside McDonald Creek, which is an otherworldly shade of blue. "It gets that color from glacial silt," Schmittel says. We pass two piles of bear scat on the road. I notice my guide keeps a can of bear spray in his bike's water bottle holder.
We're surrounded by mountains, some of them giant domes of snow, others sheer rock faces that fall from their ridgelines like the cheek of an ax. We stop at Haystack Creek, a lovely spot a few miles from the pass. But looking around at what the Blackfeet call the Backbone of the World, it's hard not to feel sad. In the mid-1800s, there were about 150 glaciers here. Now there are 26. Some scientists project that within 15 years they will all be gone.
Later, back at the lodge, I meet up with my family, who spent the day walking the Trail of the Cedars. With a broad view of shimmering Lake McDonald, we dine on smoked Columbia River steelhead and tender local lamb smothered in a fennel demi-glaze. I wash mine down with a locally brewed Going to the Sun IPA, which only seems fitting.
As a woman plays "Edelweiss" on the piano, Theo passes out over his fruit plate. Salome informs Hilly and me that edelweiss is a white wildflower that grows in Switzerland. She's an uncommonly bright kid. Maybe someday she'll figure out what to do about the glaciers.

In which Jacob frustrates an intelligent horse, glamps on the Blackfoot River, and lands a memorable brown trout
After a huckleberry pancake breakfast (rich in antioxidants!), we decide there's time for a 5-mile hike to Avalanche Lake. Marsha, at the front desk, tells us a grizzly sow and two cubs were on the trail recently, so we pack bear spray, although we'll soon learn that Theo melting down over a lollipop is an equally effective deterrent.
The trail is well traveled. When I stop to take a picture of Theo and Salome in a hollowed-out tree, a lady walks by and says, "We have that same photo with our daughters, 20 years ago!"
At the lake, people eat granola bars and gawk at the enormous picture postcard in front of them. In the center of it all is a waterfall that begins at Sperry Glacier and crashes hundreds of feet down the mountain, too far away to be heard.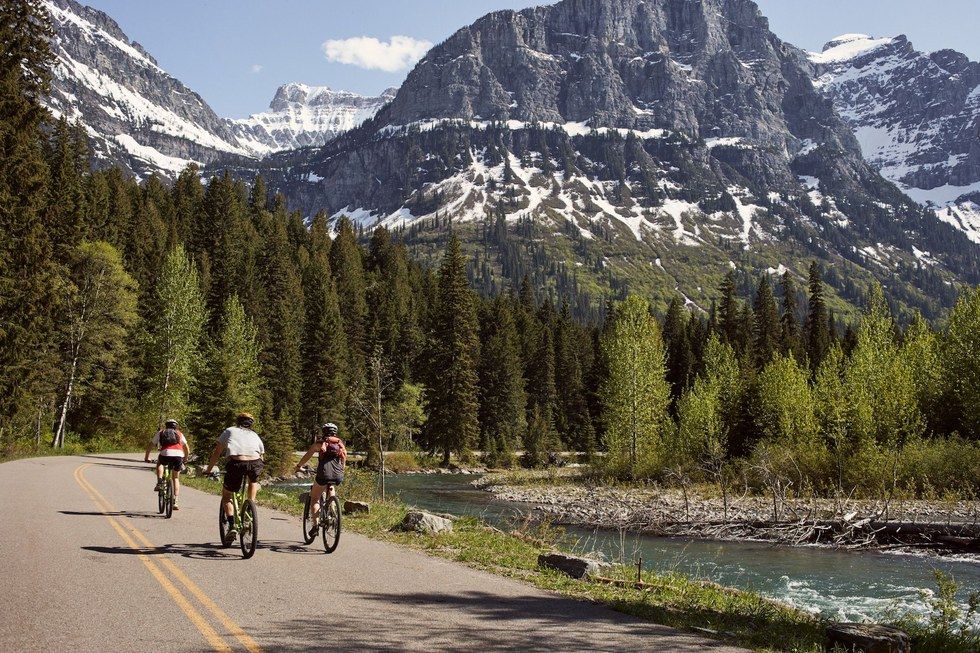 We have more driving to do. Back in Lizard King, we exit Glacier and follow the verdant Seeley Valley down the backside of the Mission Mountains. Two hours later, we enter another, wider valley, where we find The Resort at Paws Up, a dude ranch on the Blackfoot River. We check in and are led to the River Camp, where we'll spend the night in a canvas tent. Paws Up claims to have invented the term "glamping," and I wouldn't argue. We are met at the tent by two butlers, who look more like outdoor sportswear models than coat-and-tails types. One of them points out a bald eagle's nest overhead. We're also shown the pavilion, where we'll dine, and the fire pit, where we can toast gourmet s'mores afterward.
My first activity is a cattle drive. In a wide meadow, I meet wrangler Jackie Kecskes, resplendent in white leather chaps and with an elk-antler knife on her belt. She introduces me to my horse, a tall paint named Kid. We set off through the sagebrush with three other wranglers, and Kecskes talks me through the basics: A tap of the heels makes a horse walk; pulling the reins makes him stop; pressure on his right side makes him turn left, and vice versa.
"I always say, you work with a horse the way you work with a man," she says. "You know the outcome you want to achieve, but it has to be their idea, otherwise it won't stick." I recognize the principle from parenting.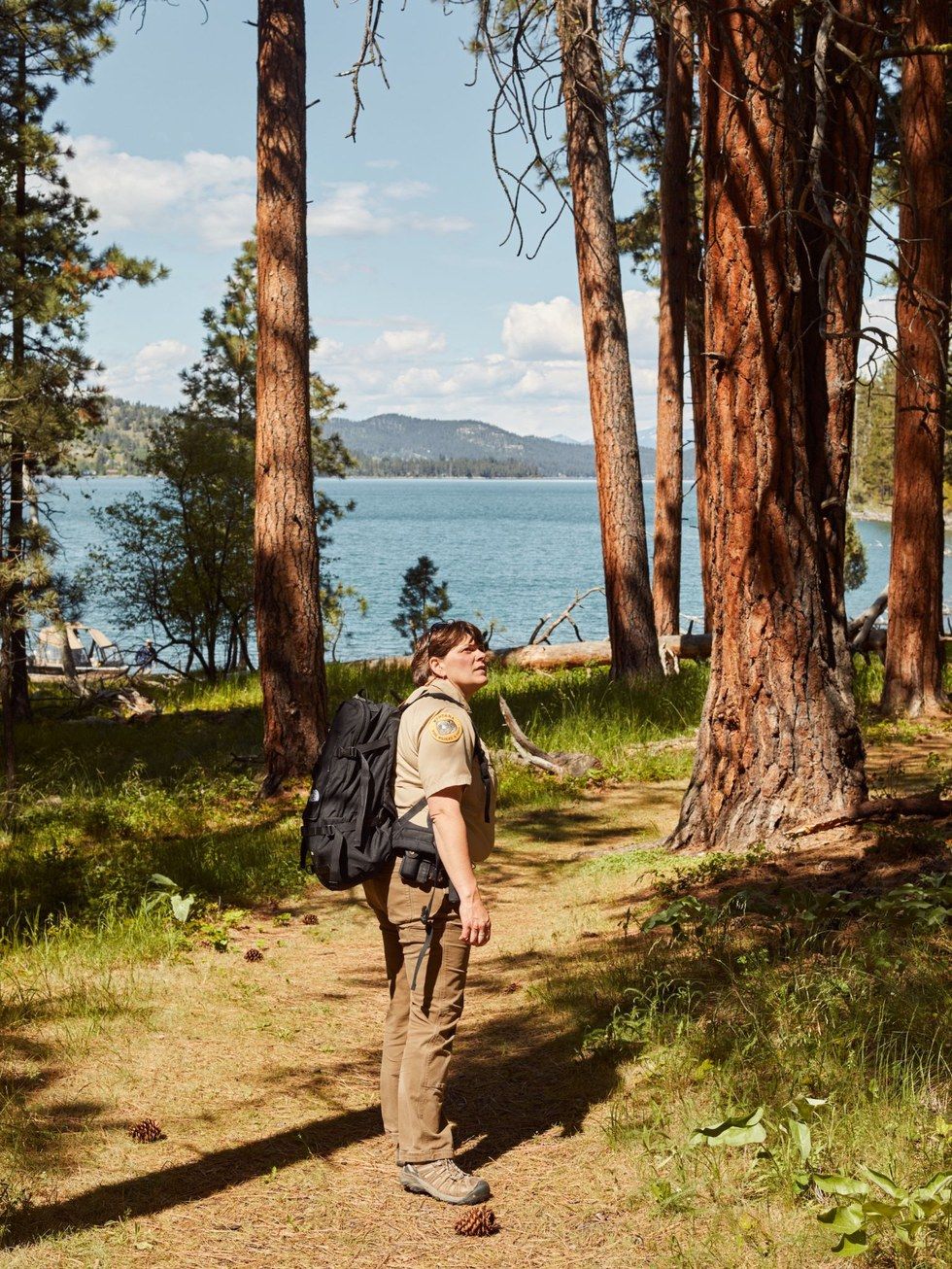 Amy Grout, state park manager
As we reach the cow pen, the animals look up as if to say, "Oh no, this again?" Kecskes swings open the gate, and I try to help the other wranglers herd the cows toward her. But I keep messing up my turn signals, applying pressure with the wrong foot. Kid is confused. Then he seems to realize I'm inept and takes the lead. Evidently, he knows the outcome he wants to achieve.
Kecskes developed a love for horses in California when her parents let her adopt a half-blind pony at age 5. She came to Montana via Colorado and never wants to leave. "I love the pace of things here," she says. "We still brand our cattle on horseback, and the local sheriff comes out because he's handy on a horse."
By now we've driven the cows to an open pasture. The wranglers teach me how to cut a cow from the herd, as real cowboys do. I find it's a lot like parallel parking, except the curb keeps moving to join the other curbs, and my car has lost respect for me. I manage it once or twice, and then we drive the cows back to the pen. It's not exactly Lonesome Dove, but I've got a little swagger as Kid walks me back to the stable.
"I've stopped to help people fix a flat on the side of the road, and they'll try to pay me. I say, 'No. This is who we are in Montana. This is what we do.'" —Amy Grout
We have some time before my next activity, so I watch the kids while Hilly—who, let's not forget, gave birth three weeks ago—gets a massage. She does this at Spa Town, a row of white tents on the forest's edge that looks like a place a soldier might have convalesced after a Civil War battle (or where a mother might convalesce after a postpartum road trip with three children). As the masseuse kneads the knots from her back, she listens to a whistle pig nibble on the tent. There's no escaping nature out here—it's an immersive experience.
With Hilly suitably relaxed, I head out for some fly fishing with Jason Much, a friendly Midwesterner with a man-bun and Muck Boots. Much came out to Montana six years ago to fish for fun, and now he makes a living doing it. "The rivers brought me here, and I think they're keeping me here," he says as we drive to the boat launch.
The Blackfoot is running high with snowmelt, and I don't expect great fishing. But Much knows a few slower spots. He hands me a rod rigged with a big streamer and pushes off the raft. Now and then, he offers guidance. "Try in that slack water," he says, or, "That's brown town in there!"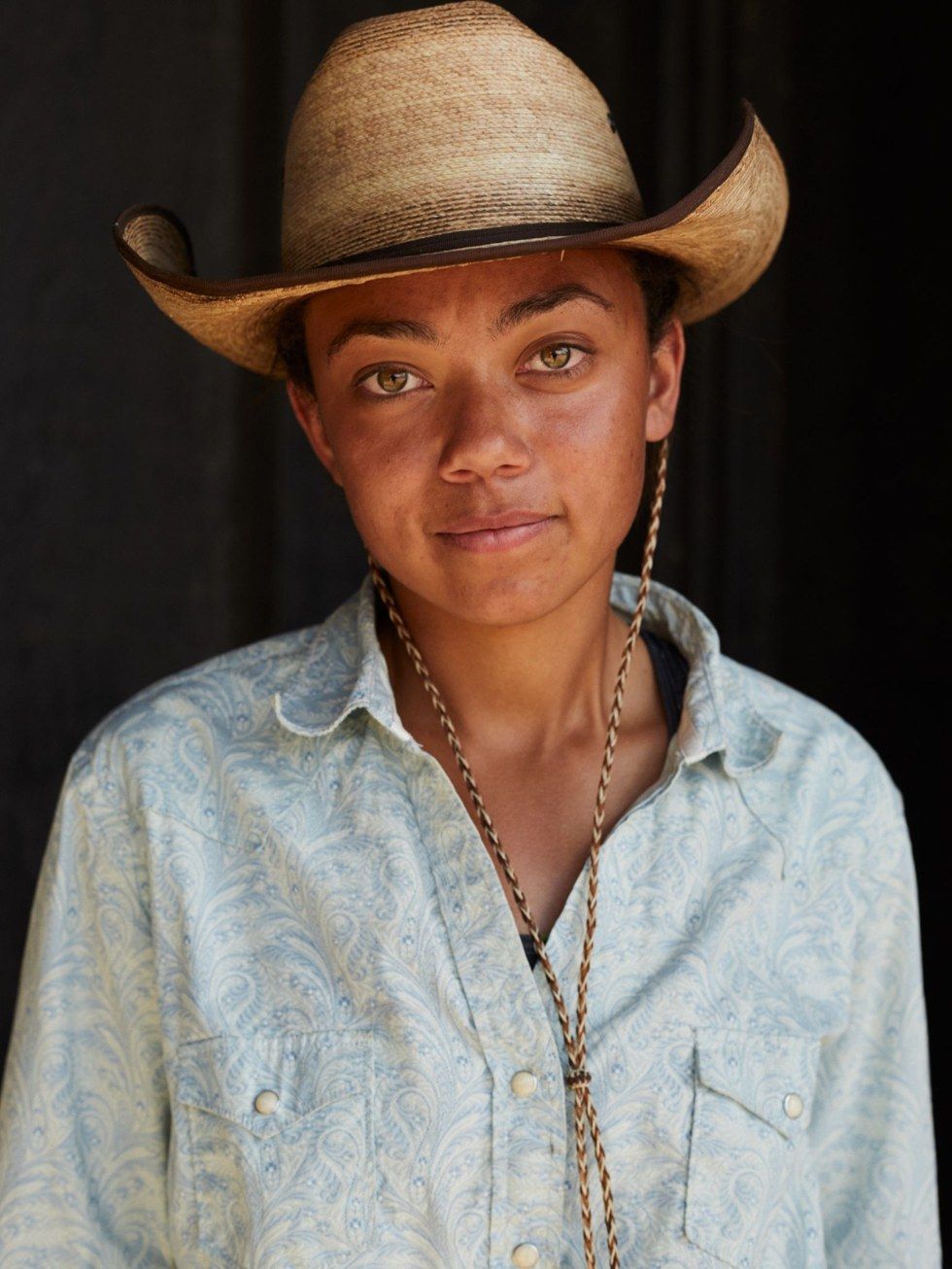 A cattle wrangler at Paws Up
He's right. Suddenly there's a tug on the line and a swirl of yellow. I've fished long enough to know that it's a big brown trout. Slowly, I work it toward the boat, and Much slides his net underneath. And then he lifts from the water one of the finest fish I have ever seen. It's a golden slab of a trout, with black spots and a hooked jaw. Its tail is reddish and the size of my palm. I ease the hook from its mouth and it swims powerfully away. Much lets out an open-mouthed laugh.
Around the corner we see a pair of geese with goslings and a sandhill crane stepping through the reeds. Much is explaining his theory of the philosophical progression of fly fishing. First, you just want to catch a fish on a fly. Then, you want lots of fish. After a while, you want to catch the biggest fish. "The final stage," he says, "is when you want to catch the most difficult. That's when you start to see the soul in a fish."
We're in fast water now, aloft on the waves as swallows hawk
mayflies over our heads. We fall silent, and the only noise is the creak of the oarlocks, the rushing water, and the clap of ducks taking flight. Tall ponderosas lean toward the river from both banks like crossed swords at a naval wedding. In places, a cliff rises from the water, the rocks mottled with lichen in shades of purple, orange,
and gray. The sky gets all the credit, but everything's bigger in Montana—the mountains, the trout, the sheer sense of being.
Our tent is a mile downstream. There will be a cold beer there, and a fire. We'll eat dinner outside, and afterward we'll climb
into heated beds within earshot of the river.
"Did you catch anything?" Hilly will ask.
"Yes," I'll say. "I did."
Missoula-based writer Jacob Baynham likes to compare owning a VW van to owning a boat, although his wife reminds him that he has never owned either.

When the pandemic began, United Cargo knew it would be critical to utilize its fleet, network and industry-leading pharmaceutical handling processes to transport a COVID-19 vaccine when the time came.
Connecting vaccines to the world: United responds to mass distribution effort
December 22, 2020
On November 27, United Airlines became the first commercial airline to safely deliver the first batch of Pfizer and BioNTech's COVID-19 vaccine into the U.S. thanks to a coordinated effort between United's cargo, safety, technical operations, flight operations, regulatory and legal teams.
Now as the entire shipping and logistics industry bands together to widely distribute vaccines, United is leveraging all of its flights, including cargo-only and those carrying passengers, to transport millions of vaccines to destinations throughout our network, including Honolulu, Guam and Saipan – the first of any carrier to do so.
"United's cargo service has helped safely deliver many essential goods during this pandemic, but there is no shipment that gives me more personal pride than helping bring this life-saving vaccine to our communities," said Jan Krems, United Cargo President. "While we still face a long road ahead the promise of a widely distributed vaccine gives us hope that we are one step closer to putting this pandemic behind us and moving forward together toward a brighter future."
And United is shipping more than just vaccines to help during the pandemic in keeping the lines of commerce flowing and goods getting to where they need to be. Since mid-March, United has operated 9,000 cargo-only flights carrying more than 435 million pounds of cargo. By using a combination of cargo-only flights and passenger flights, United Cargo has also transported 80 million pounds of medical supplies this year.
In coordination with our shipping and logistics partners, United will continue to distribute COVID-19 treatments to destinations throughout its network. The real heroes are the scientists who created these life-saving vaccines and the frontline workers who are not only administering them, but also helping care for and tend to those suffering from this virus. United is proud to do its part in helping to get this precious cargo to the people and communities who need them, and looks forward to doing our part in the months ahead.
United Cargo responds to COVID-19 challenges, prepares for what's next

September 30, 2020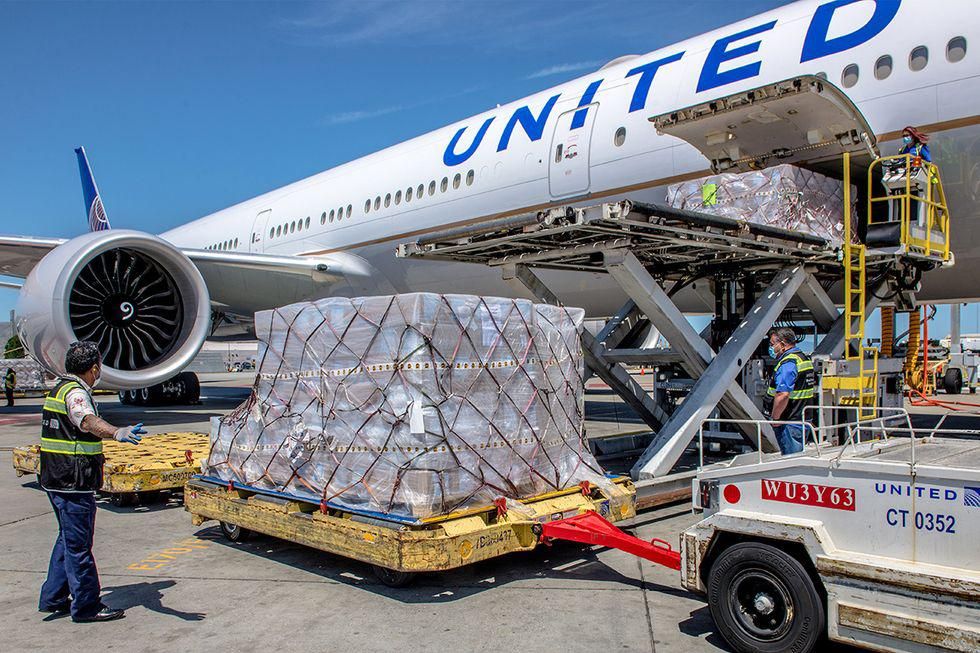 Even before the COVID-19 pandemic, United Cargo has supported a variety of customers within the healthcare industry for over 10 years. Three key solutions – TempControl, LifeGuard and QuickPak – protect the integrity of vital shipments such as precision medicine, pharmaceuticals, biologics, medical equipment and vaccines. By utilizing processes like temperature monitoring, thermodynamic management, and priority boarding and handling, United Cargo gives customers the peace of mind that their shipments will be protected throughout their journey.

With the global demand for tailored pharmaceutical solutions at an all-time high, we've made investments to help ensure we provide the most reliable air cargo options for cold chain shipping. In April this year, we became the first U.S. carrier to lease temperature-controlled shipping containers manufactured by DoKaSch Temperature Solutions. We continue to partner with state-of-the-art container providers to ensure we have options that meet our customers' ever-changing needs.
"Providing safe air cargo transport for essential shipments has been a top priority since the pandemic began. While the entire air cargo industry has had its challenges, I'm proud of how United Cargo has adapted and thrived despite a significant reduction in network capacity and supply," said United Cargo President Jan Krems. "We remain committed to helping our customers make it through the pandemic, as well as to doing everything we can to be prepared for the COVID-19 vaccine distribution when the time comes."
Our entire team continues to prioritize moving critical shipments as part of our commitment to supporting the global supply chain. We've assembled a COVID readiness task team to ensure we have the right people in place and are preparing our airports as we get ready for the industry-wide effort that comes next.
In cooperation with our partners all over the world, United Cargo has helped transport nearly 145 million pounds of medical supplies to aid in the fight against COVID-19, using a combination of cargo-only flights and passenger flig­hts. To date, United Cargo has operated more than 6,300 cargo-only flights and has transported more than 213 million pounds of cargo worldwide.
United Cargo responds to global needs, celebrates 5000th cargo-only flight

August 18, 2020
By Jan Krems, President, United Cargo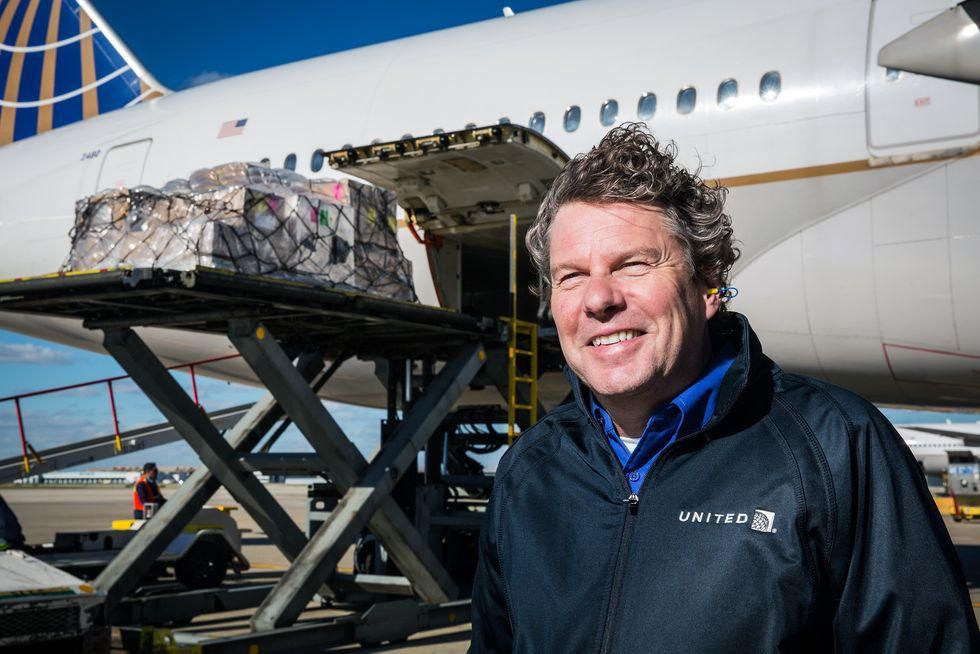 In mid-March, United took steps to manage the historic impact of COVID-19 and began flying a portion of our Boeing 777 and 787 fleets as dedicated cargo-only flights to transport air freight to and from U.S. hubs and key international business locations. More than ever, providing reliable cargo transportation was vitally important and I'm proud say our United Cargo team stepped up to support our customers.

Although we're facing the most challenging environment our industry has ever experienced, I'm very excited to celebrate a major milestone. Since March 19, United has operated over 5,000 cargo-only flights transporting nearly 170 million pounds of cargo on these flights alone. With an increased need to keep the global supply chain moving, and an even more urgent need for medical supplies, we knew we had to utilize our network capabilities and personnel to move vital shipments, such as medical kits, personal protective equipment (PPE), pharmaceuticals and medical equipment between U.S. hubs and key international destinations.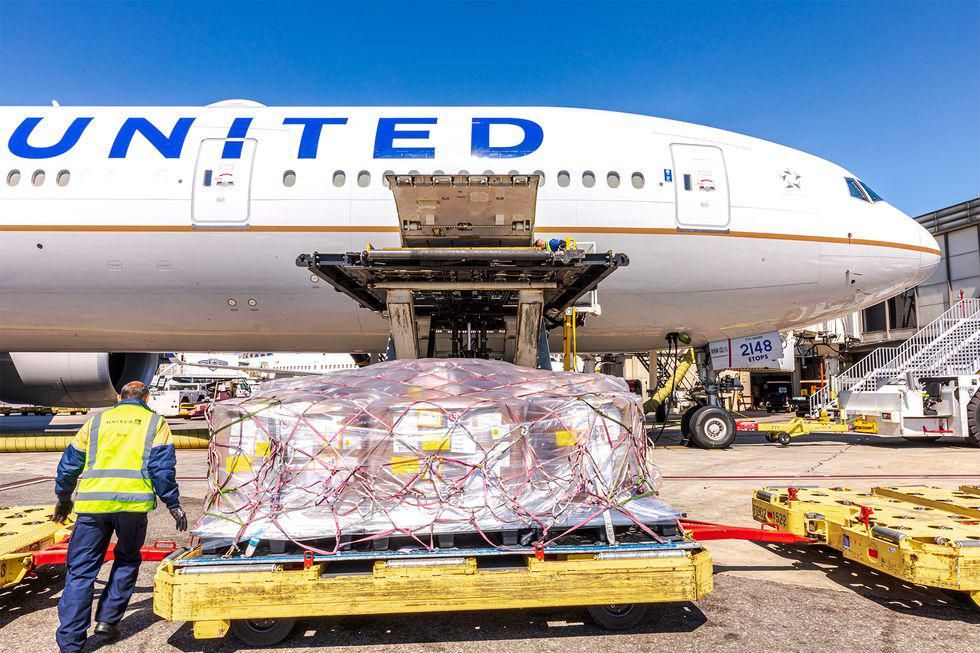 In cooperation with freight forwarders and partners all over the world, United Cargo helped transport more than 107 million pounds of medical supplies to aid in the fight against COVID-19 using a combination of cargo-only flights as well as passenger flights.

To keep military families connected, we increased the frequency of cargo-only flights between the U.S. and military bases in various parts of the world — including bases located in Guam, Kwajalein and several countries in Europe. We know how critically important it is for these families to stay connected, and I'm honored that we were able to utilize our network and our aircraft to fly nearly 3 million pounds of military supplies.
In collaboration with food-logistics company Commodity Forwarders Inc. (CFI), our cargo teams moved nearly 190,000 pounds of fresh produce to Guam for the U.S. Department of Agriculture's Coronavirus Farm Assistance Program. This new program was created to provide critical support to consumers impacted by the coronavirus pandemic.
United has played a critical role in keeping global supply chains stable during the pandemic as we deliver urgently needed goods around the world. These past few months have created challenges that I have never seen in my 30-plus years of experience working within the air cargo and freight forwarding industry. However, I'm proud of our teams for staying focused on our mission to provide high-quality service and to keep our customers connected with the goods they need most.
United Cargo and logistics partners keep critical medical shipments moving
July 02, 2020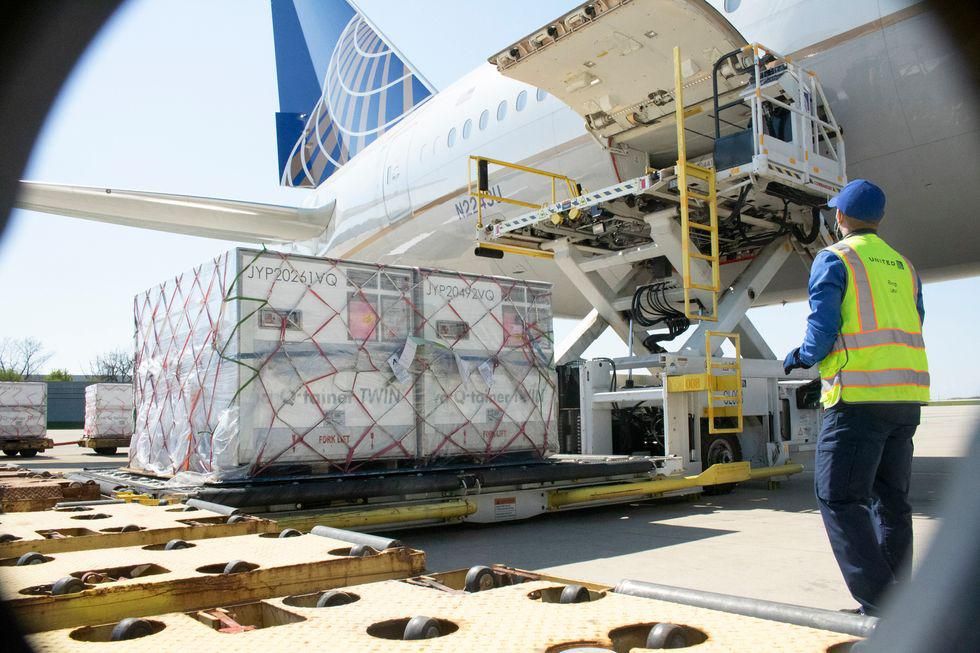 By working together and strengthening partnerships during these unprecedented times, our global community has overcome challenges and created solutions to keep the global supply chain moving. As COVID-19 continues to disrupt the shipping landscape, United and our industry partners have increasingly demonstrated our commitment to the mission of delivering critical medical supplies across the world.

United Cargo has partnered with DSV Air and Sea, a leading global logistics company, to transport important pharmaceutical materials to places all over the world. One of the items most critical during the current crisis is blood plasma.
Plasma is a fragile product that requires very careful handling. Frozen blood plasma must be kept at a very low, stable temperature of negative 20 degrees Celsius or less – no easy task considering it must be transported between trucks, warehouses and airplanes, all while moving through the climates of different countries. Fortunately, along with our well-developed operational procedures and oversight, temperature-controlled shipping containers from partners like va-Q-tec can help protect these sensitive blood plasma shipments from temperature changes.
A single TWINx shipping container from va-Q-tec can accommodate over 1,750 pounds of temperature-sensitive cargo. Every week, DSV delivers 20 TWINx containers, each one filled to capacity with human blood plasma, for loading onto a Boeing 787-9 for transport. The joint effort to move thousands of pounds of blood plasma demonstrates that despite the distance, challenges in moving temperature-sensitive cargo and COVID-19 obstacles, we continue to find creative solutions with the help of our strong partnerships.
United Cargo is proud to keep the commercial air bridges open between the U.S. and the rest of the world. Since March 19, we have operated over 3,200 cargo-only flights between six U.S. hubs and over 20 cities in Asia, Australia, Europe, South America, India, the Caribbean and the Middle East.
United further expands cargo-only operations to key international markets
June 9, 2020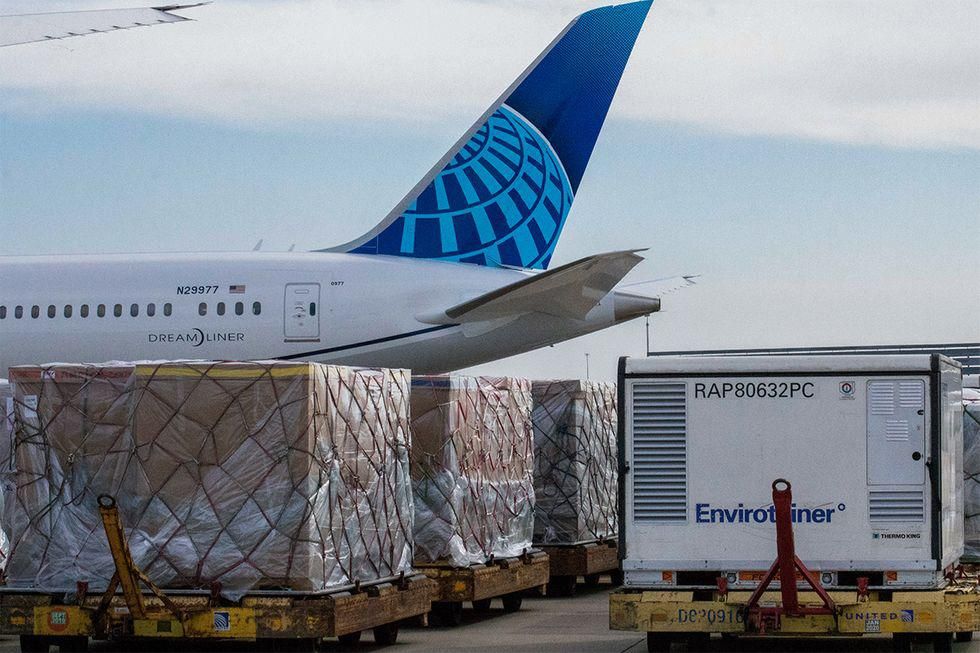 United has played a vital role in helping keep the global supply chains stable during the COVID-19 pandemic so urgently needed goods can get to the places that need them most.

In addition to current service from the U.S. to Asia, Australia, Europe, India, Latin America and the Middle East, we are proud to now offer cargo-only flights to key international markets including Dublin, Paris, Rome, Santiago and Zurich. These new routes will connect our freight customers and further extend our air cargo network throughout the world – for example connecting major pharmaceutical hubs in Europe and perishable markets in Latin America.
"Air cargo continues to be more important than ever," says United Cargo President Jan Krems. "This network expansion helps our customers continue to facilitate trade and contribute to global economic development and recovery. I'm proud of our team for mobilizing our cargo-only flights program that enables the shipment of critical goods that will support global economies."
Since we began our program March 19, we have completed more than 2,400 cargo-only flights, transporting over 77 million pounds of cargo. We have over 1,100 cargo-only flights scheduled for the month of June, operating between six U.S. hubs and over 20 cities all over the world.
United's first flight carrying cargo in-cabin takes off
May 13, 2020

United continues to keep supply chains moving and to meet the demand for critical shipments around the globe. Recently, United received approval from the Federal Aviation Administration (FAA) to carry cargo in approved storage areas in the passenger cabin.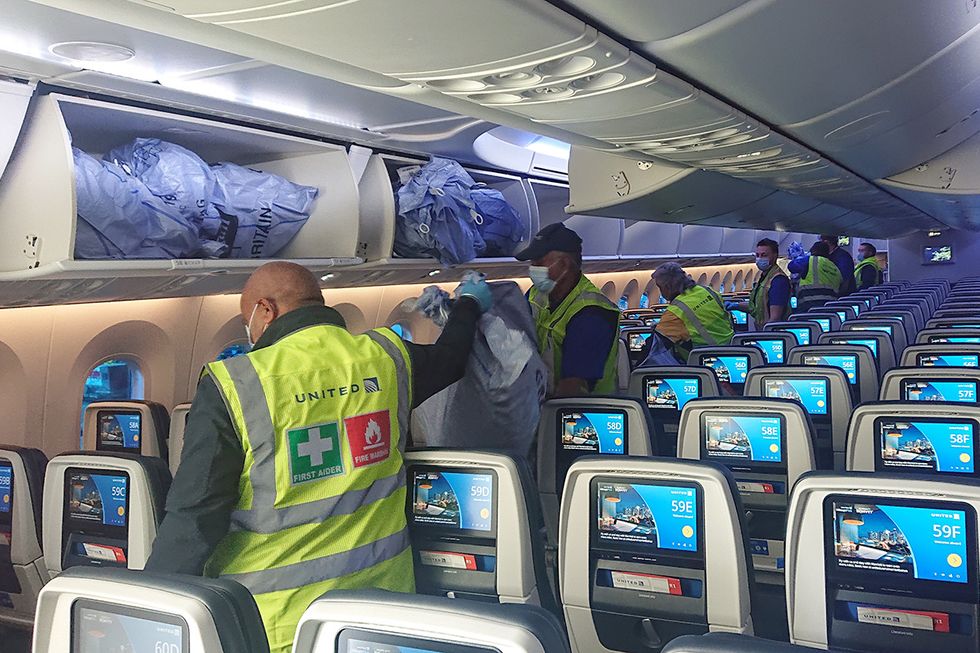 Our inaugural cargo-in-cabin flight flew from London (LHR) to Chicago (ORD) carrying over 4,200 pounds of mail in the passenger cabin, plus a full payload of freight in the belly of the aircraft. Initially, cargo-in-cabin shipments will be loaded on the 777 and 787 aircraft operating our cargo-only flights. We will continue to evaluate additional opportunities to use this space to meet the growing cargo demand.
"We send our sincere thanks to the FAA for working with our team to enable the transport of more critical goods on United's cargo-only flights," said Jan Krems, President of United Cargo. "By loading existing cabin storage areas with cargo and mail, we can move even more critical medical equipment, PPE, and other vital shipments the world needs to manage through the pandemic."

United's cargo-only network continues to expand in order to help bring vital shipments to the people that need it most. We're now offering service between six of our U.S. hubs and 18 airports worldwide: CTU, HKG, ICN, MEL, PEK, PVG, SIN, SYD and TPE in the Asia-Pacific; AMS, BOM, BRU, DUB, FRA, LHR, TLV and ZRH in EMEIA; and SJU in the Caribbean.
Since the start of its cargo-only flights program March 19, United has operated over 1,300 cargo-only flights transporting over 44 million pounds of cargo.
For more information, visit unitedcargo.com.
United expands cargo-only flights to additional global destinations
April 16, 2020
Getting vital goods, especially medical relief supplies, into the hands of the businesses and people who need them has never been more critically important. To meet the overwhelming demand, United began operating cargo-only flights on March 19. Since we began using Boeing 777 and 787 aircraft from United's passenger fleet for this purpose, we have operated over 400 flights carrying more than 6 million kilos of cargo.
"With the global community in need, we are doing everything we can to keep supply chains moving worldwide and support the battle against COVID-19," said United Cargo President Jan Krems. "We're proud to play an active role in connecting vital medical supplies like test kits and personal protective equipment with healthcare professionals around the world."
We are now operating more than 150 cargo-only flights per week between six of our U.S. hubs and 13 cities worldwide: CTU, HKG, PEK, PVG, SYD and TPE in the Asia Pacific; AMS, BRU, DUB, FRA and LHR in Europe; SJU in the Caribbean and TLV in the Middle East. We expect to add new cities soon and will continue to expand our cargo-only flights program.
Hub
Cargo-only flights operating through May
Chicago (ORD)
ORD - AMS (Amsterdam)
ORD - FRA (Frankfurt)
ORD - HKG (Hong Kong)
ORD - LHR (London)
ORD - NRT (Tokyo Narita) - PEK (Beijing)

Houston (IAH)
IAH - AMS (Amsterdam)
IAD - FRA (Frankfurt)
Los Angeles (LAX)
LAX - HKG (Hong Kong)
LAX - LHR (London Heathrow)
LAX - NRT (Tokyo Narita) - PVG (Shanghai)
LAX - SYD (Sydney)
New York/Newark (EWR)
EWR - AMS (Amsterdam)
EWR - FRA (Frankfurt)
EWR - LHR (London)
San Francisco (SFO)
SFO - AMS (Amsterdam)
SFO - NRT (Tokyo Narita) - PEK (Beijing)
SFO - NRT (Tokyo Narita) - PVG (Shanghai)
SFO - NRT (Tokyo Narita) - TPE (Taipei)
SFO - TLV (Tel Aviv)
SFO - SYD (Sydney)
Washington, D.C. (IAD)
IAD - BRU (Brussels)
IAD - DUB (Dublin)
IAD - FRA (Frankfurt)
IAD - NRT (Tokyo Narita) - PEK (Beijing)
IAD - SJU (San Juan)
Flight details are subject to change, for the most up-to-date schedules, please visit https://ual.unitedcargo.com/covid-updates.
Cargo-only flights support U.S. military and their families
March 30, 2020
We are helping to keep military families connected by increasing the frequency of cargo-only flights between the United States and military bases in various parts of the world — including Guam, Kwajalein, and several countries in Europe. Last week we began operating a minimum of 40 cargo-only flights weekly — using Boeing 777 and 787 aircraft to fly freight and mail to and from U.S. hubs and key international business and military locations.
We are going above and beyond to find creative ways to transport fresh food and produce, as well as basic essentials from the U.S. mainland to military and their families in Guam/Micronesia. On Saturday, March 28, we operated an exclusive cargo-only B777-300 charter to transport nearly 100,000 pounds of food essentials to Guam to support our troops.
In addition, we move mail year-round all over the world. In response to COVID-19, and in support of the military members and their families overseas, we implemented a charter network, transporting military mail to Frankfurt, which is then transported all over Europe and the Middle East. Since March 20, we have flown 30,000+ pounds of military mail every day between Chicago O'Hare (ORD) and Frankfurt (FRA). On the return flight from Frankfurt to Chicago, we have carried an average of 35,000 pounds of mail to help families stay connected.

"Keeping our military families connected with the goods they need, and keeping them connected with loved ones to feel a sense of home, is of critical importance. As a company that has long supported our military families and veterans, our teams are proud to mobilize to lend a hand." — United Cargo President Jan Krems.
Our cargo-only flights support customers, keep planes moving

March 22, 2020
We have begun flying a portion of our Boeing 777 and 787 fleet as dedicated cargo charter aircraft to transfer freight to and from U.S. hubs and key international business locations. The first of these freight-only flights departed on March 19 from Chicago O'Hare International Airport (ORD) to Frankfurt International Airport (FRA) with the cargo hold completely full, with more than 29,000 lbs. of goods.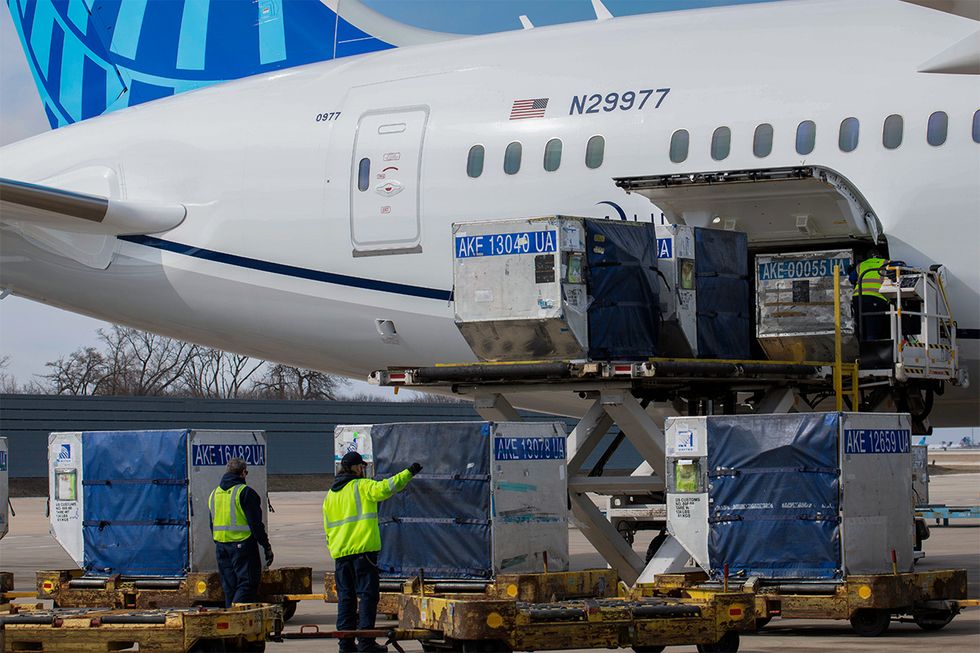 Getting critical goods into the hands of the businesses and people who need them most is extremely important right now. To support customers, employees and the global economy, we will initially operate a schedule of 40 cargo charters each week targeting international destinations and will continue to seek additional opportunities.

With coronavirus (COVID-19) creating an increased need to keep the global supply chain moving, we are utilizing our network capabilities and personnel to get vital shipments, such as medical supplies, to areas that need them most.
"Connecting products to people around the world is the United Cargo mission," said United Cargo President Jan Krems. "That role has never been more crucial than during the current crisis. Our team is working around the clock to provide innovative solutions for our customers and support the global community."
On average, we ship more than 1 billion pounds of cargo every year on behalf of domestic and international customers. For more information, visit unitedcargo.com.
Airline and its customers use crowdsourcing platform - Miles on a Mission - to donate more than 11 million miles for charities like the Thurgood Marshall College Fund, College to Congress and Compass to Care
CHICAGO, Dec. 1, 2020 /PRNewswire/ -- United is inviting MileagePlus members to give back on Giving Tuesday and throughout the holiday season by donating miles to nearly 40 non-profits through United Airlines' crowdsourcing platform, Miles on a Mission. Non-profits like Thurgood Marshall College Fund, College to Congress and Compass to Care are attempting to raise a total of more than 11 million miles to be used for travel for life-saving health care, continued education, humanitarian aid and more. United will match the first 125,000 miles raised for each of these organizations to help ensure they meet their goals.
"This year has posed unprecedented challenges for us all and has been especially devastating to some of the most vulnerable members within the communities we serve," said Suzi Cabo, managing director of global community engagement, United Airlines. "The need for charitable giving has not stopped during the pandemic, and neither has United. This Giving Tuesday marks an opportunity for us to all come together for the greater good and we are proud to provide a platform to support organizations with upcoming travel needs that will enable them to continue supporting the communities they serve."
The launch of these campaigns is part of United's ongoing Miles on a Mission program, which began in October 2019 and has raised more than 92 million miles to-date. Past campaigns have helped organizations travel children for life-saving medical treatment and unite parents with newly adopted children from foreign countries. Participating non-profits have 28-days to reach their mile raising goals through the platform.
The organizations that are raising miles in this campaign include:
College to Congress: The organization provides support including travel for disadvantaged college students who otherwise could not afford to intern in Washington, D.C.
Thurgood Marshall College Fund: This is the only national organization representing America's 47 publicly-supported Historically Black Colleges and Universities (HBCUs), and the nearly 300,000 students that attend them each year. The miles raised will cover the travel expenses to and from campus for students unable to afford them.
My Block, My Hood, My City: This organization provides underprivileged youth with an awareness of the world and opportunities beyond their neighborhood. Miles will be used to fund educational trips for Chicago youths to help them gain a greater understanding of the world outside of their comfort zones.
Compass to Care: The non-profit ensures all children, whose parents have a financial need, can access life-saving cancer treatment. Compass to Care is raising miles to fund travel to get children from their homes to hospitals for cancer treatment.
Luke's Wings: This organization is dedicated to the support of service members who have been wounded in battle. Raised miles will be used to purchase plane tickets for families to visit wounded soldiers recovering in Army medical centers.
Rainbow Railroad USA: The organization's mission is to help persecuted LGBTQI+ individuals around the world travel to safety as they seek a haven from persecution. Miles will support the organization's core Emergency Travel Support program.
This year, United's legal partner Kirkland & Ellis will also be donating $50,000 to My Block, My Hood, My City and the Thurgood Marshall College Fund. Other organizations launching campaigns on the platform include: Sisters of the Skies, Inc., Up2Us Sports, Airline Ambassadors International, Austin Smiles, AWS Foundation, Crazy Horse Memorial, FLYTE, Higher Orbits, Lily's Hope Foundation, Miles4Migrants, Support Utila Inc. and Watts of Love. MileagePlus members can also donate to United's 20 other existing partner charities including, Airlink, American Red Cross, Make-A-Wish, Shriners Hospitals; Clean the World, Special Olympics and more. To learn more or donate to these organizations, please visit donate.mileageplus.com.
Visit www.united.com/everyactioncounts to learn more about our pledge to put our people and planes to work for the greater good.
About United
United's shared purpose is "Connecting People. Uniting the World." For more information, visit united.com, follow @United on Twitter and Instagram or connect on Facebook. The common stock of United's parent, United Airlines Holdings, Inc., is traded on the Nasdaq under the symbol "UAL".

SOURCE United Airlines
For further information: United Airlines Worldwide Media Relations, +1-872-825-8640, media.relations@united.com

In October 2019, we launched a first-of-its-kind airline miles donation platform, Miles on a Mission. In the inaugural year, MileagePlus members donated over 70 million miles, with United matching over 20 million miles, to 51 organizations. These miles have allowed for these organizations to do important, life-changing, life-saving work in the communities we serve around the globe.
Whether it's visiting friends and relatives, traveling for work or simply exploring a new corner of the world, we all have a reason as to why we fly. No matter the reason you fly, the miles you earn and donate help our Miles on a Mission partners soar. Take a look at how some of our partner organizations have put our MileagePlus Members' donations to work.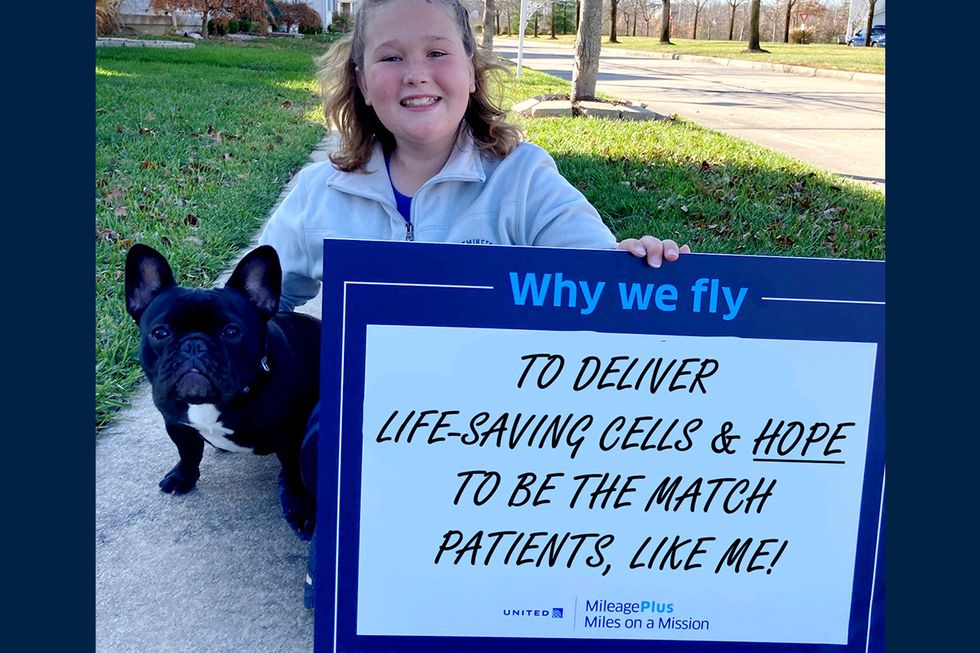 "To deliver life-saving cells and hope to Be the Match patients, like me!"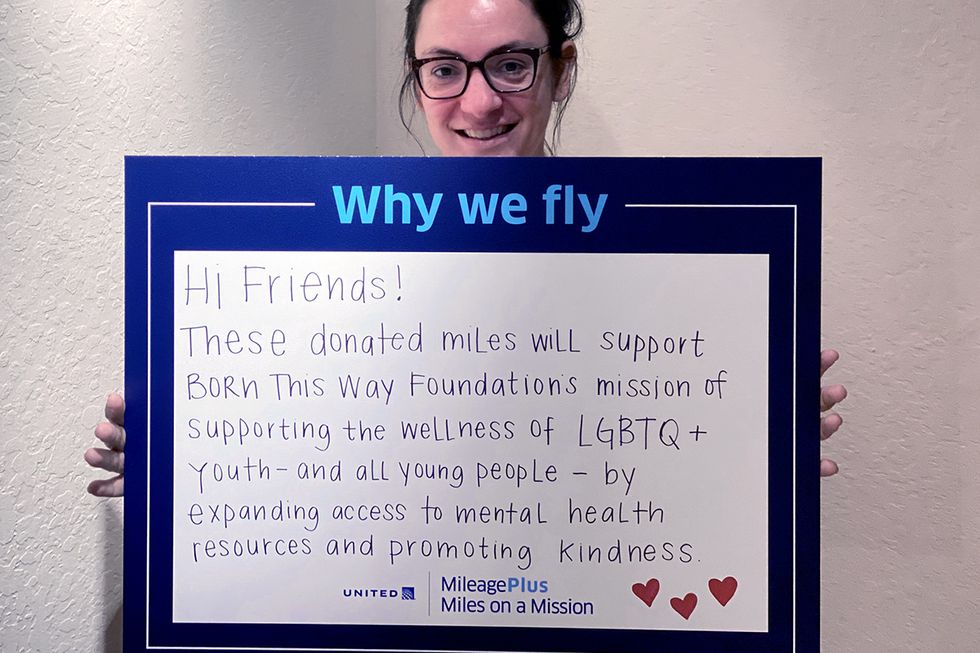 "These donated miles will support Born This Way Foundation's mission of supporting the wellness of LGBTQ+ youth — and all young people — by expanding access to mental health resources and promoting kindness."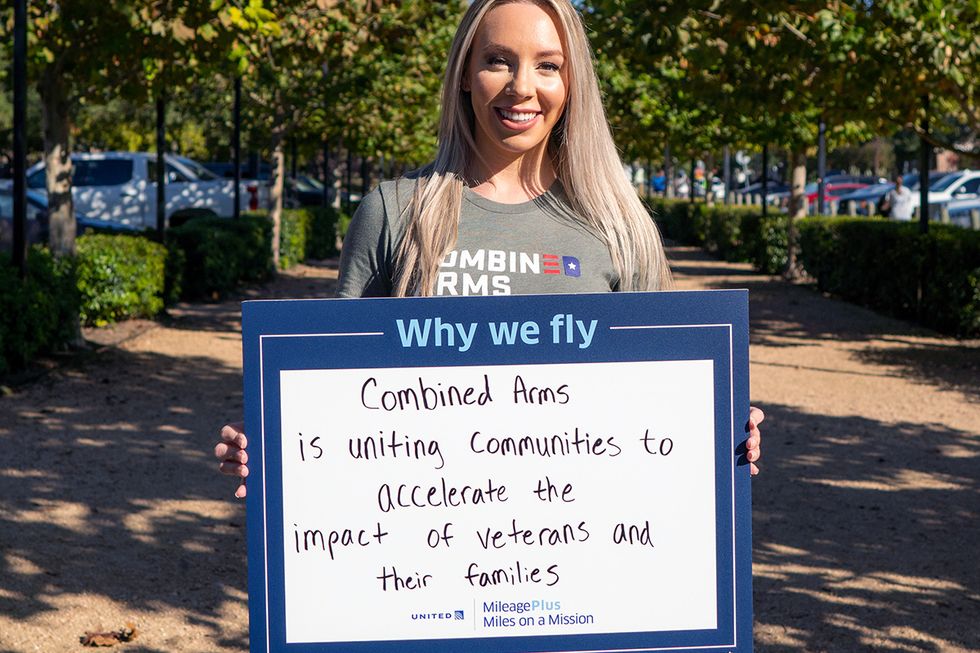 "Combined Arms is uniting communities to accelerate the impact of veterans and their families."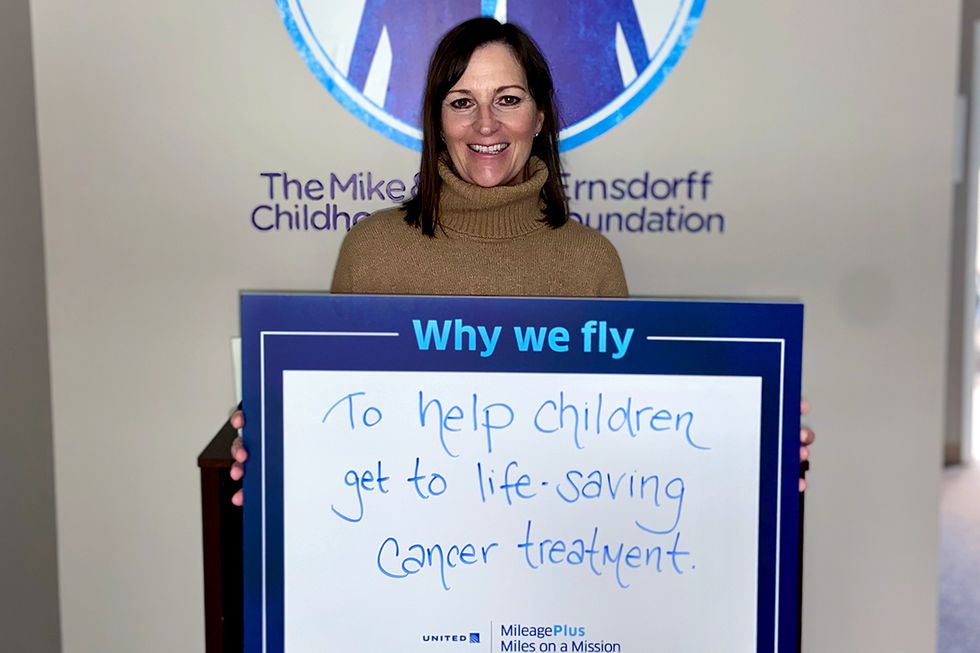 "To help children get to life-saving cancer treatment"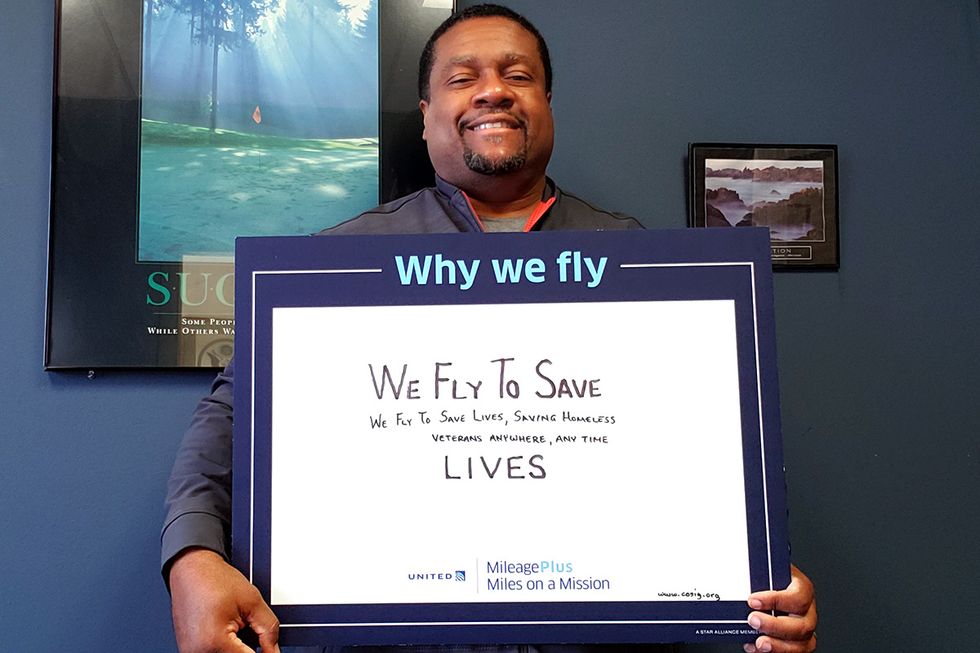 "We fly to save. We fly to save lives, saving homeless veterans anywhere, any time."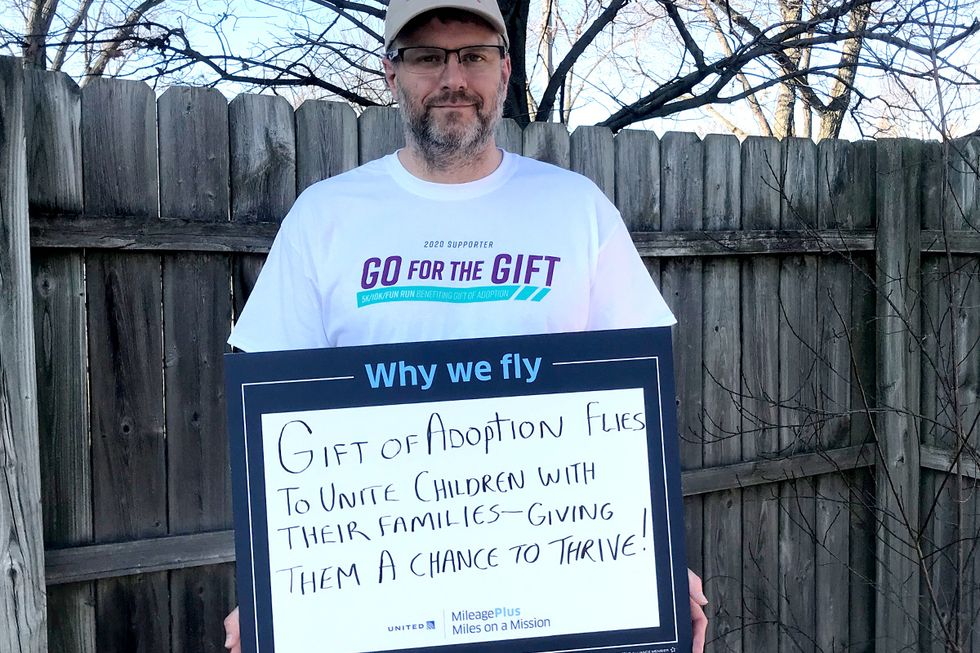 "Gift of Adoption flies to unite children with their families — giving them a chance to thrive!"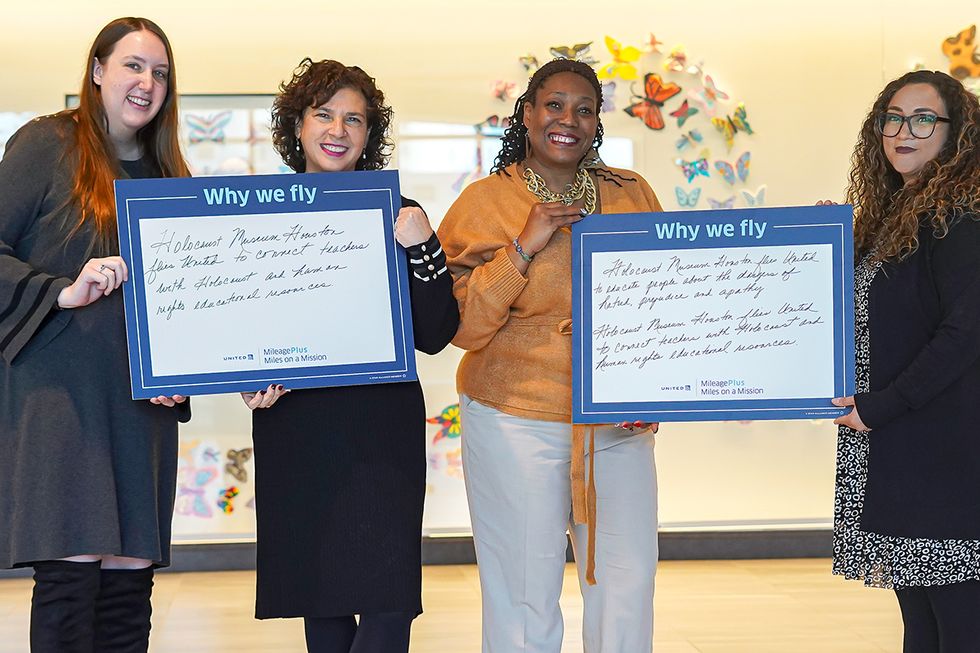 "Holocaust Museum Houston flies United to educate people about the dangers of hatred, prejudice and apathy. Holocaust Museum Houston flies United to connect teachers with Holocaust and human rights educational resources."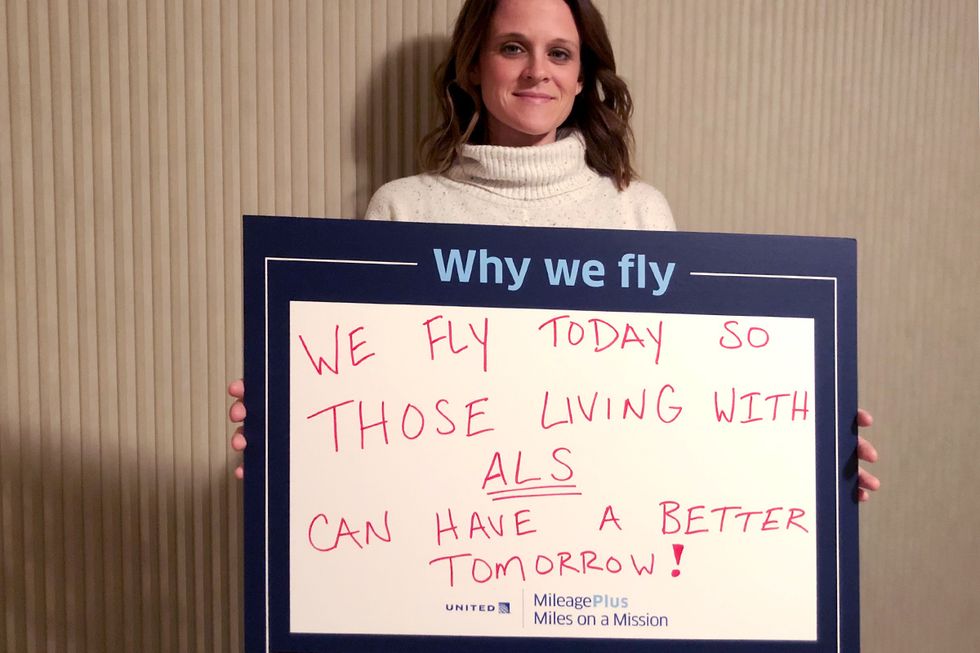 "We fly today so those living with ALS can have a better tomorrow."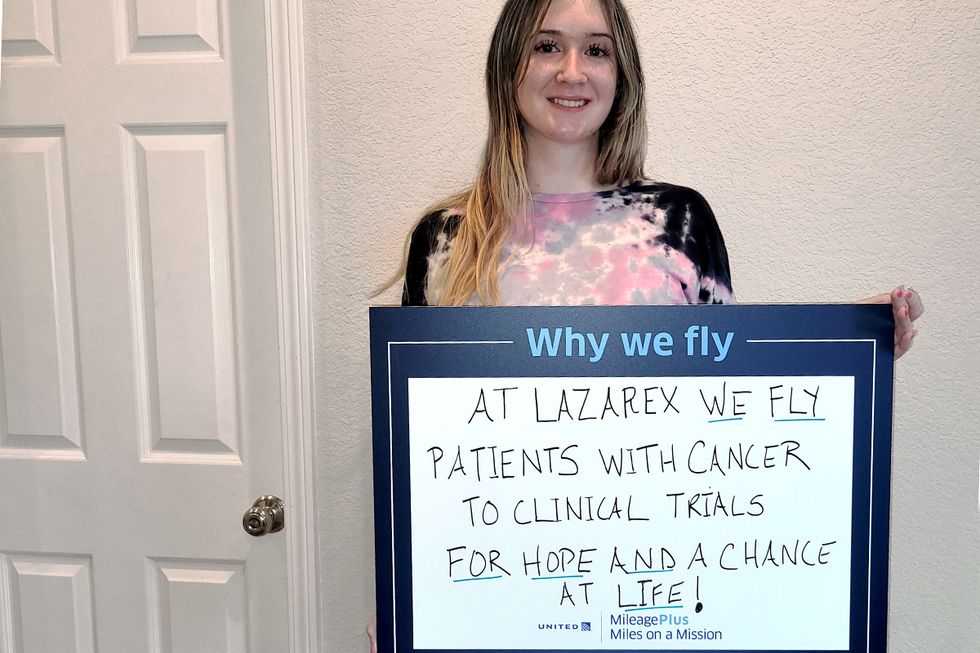 "At Lazarex we fly patients with cancer to clinical trials for hope and a chance at life!"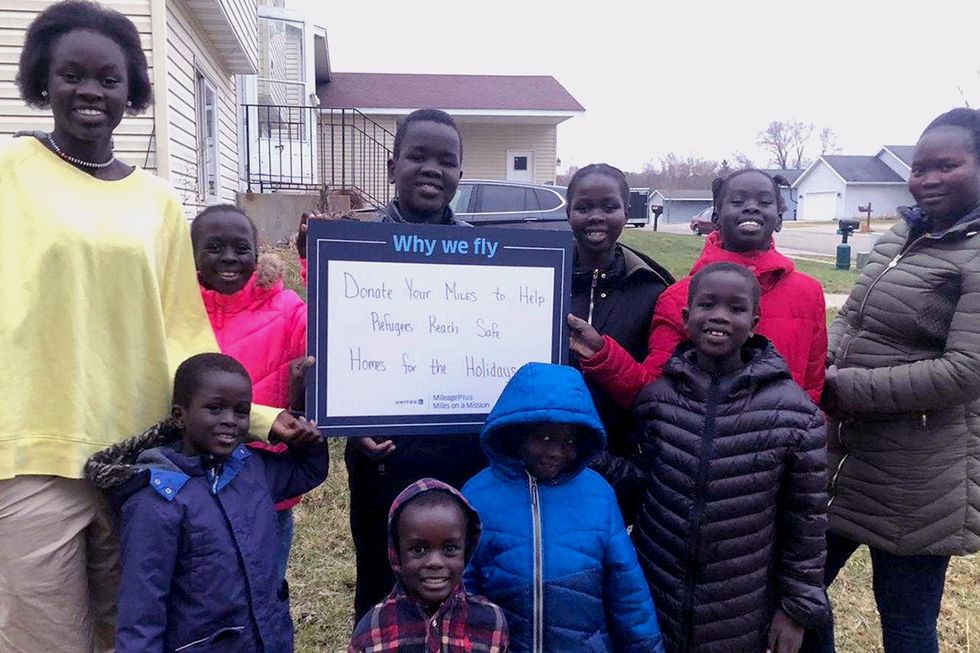 "Donate your miles to help refugees reach safe homes for the holidays."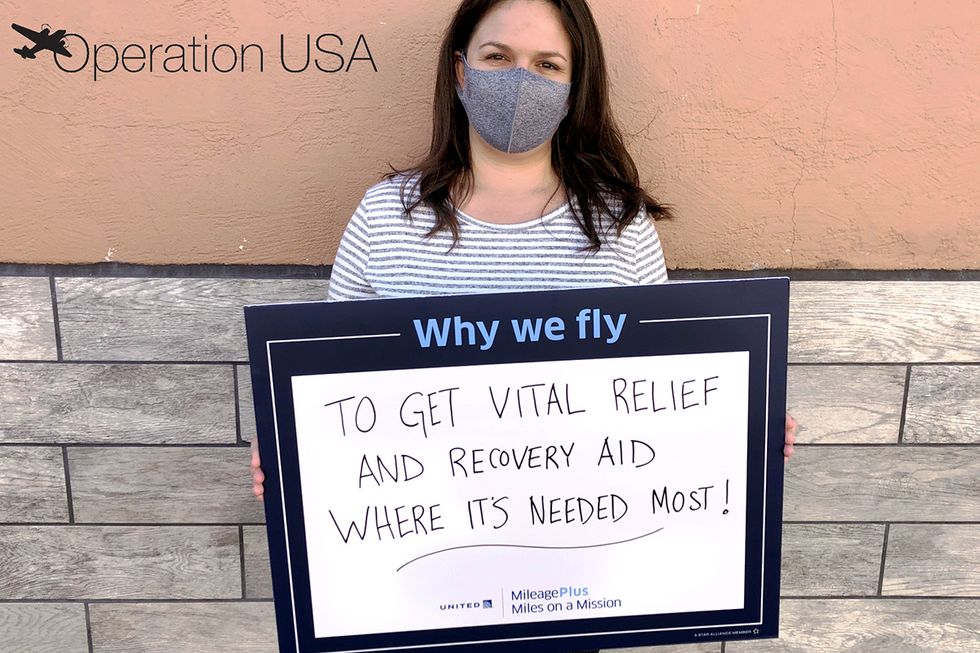 "To get vital relief and recovery aid where it's needed most!"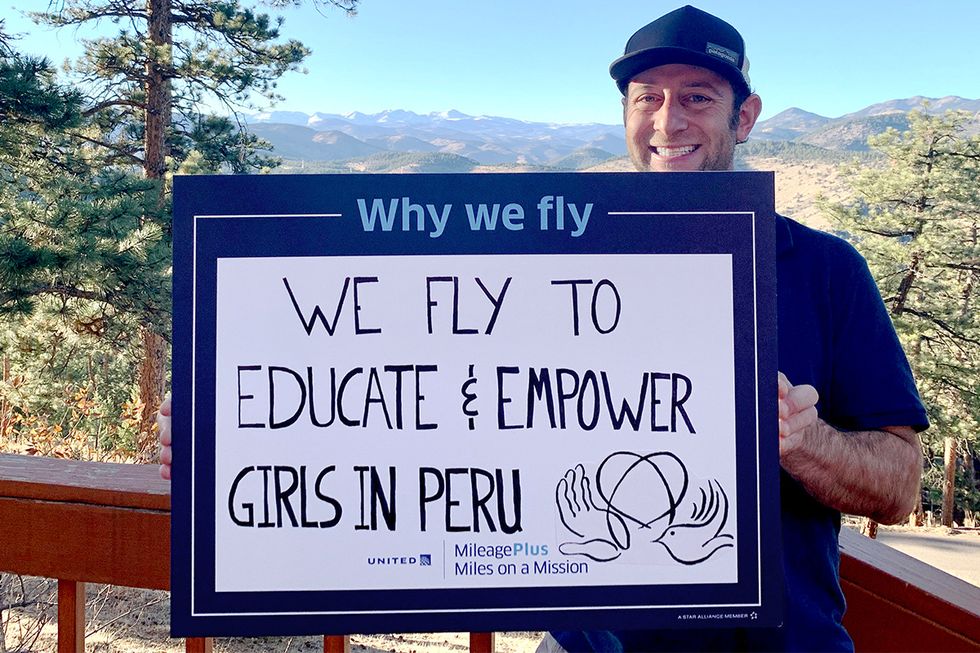 "We fly to educate and empower girls in Peru."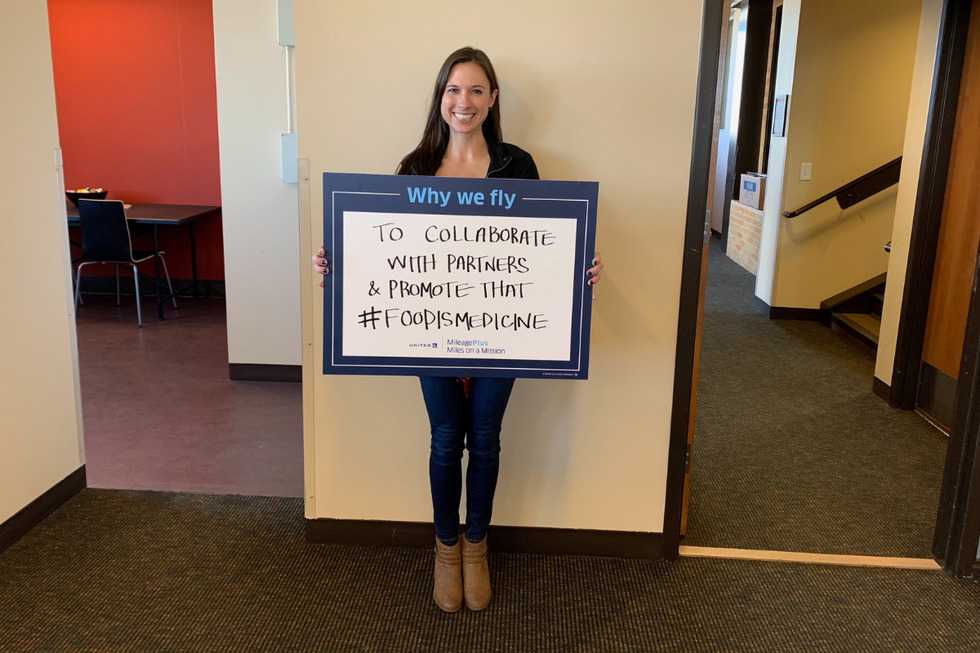 "To collaborate with partners & promote that #FoodIsMedicine"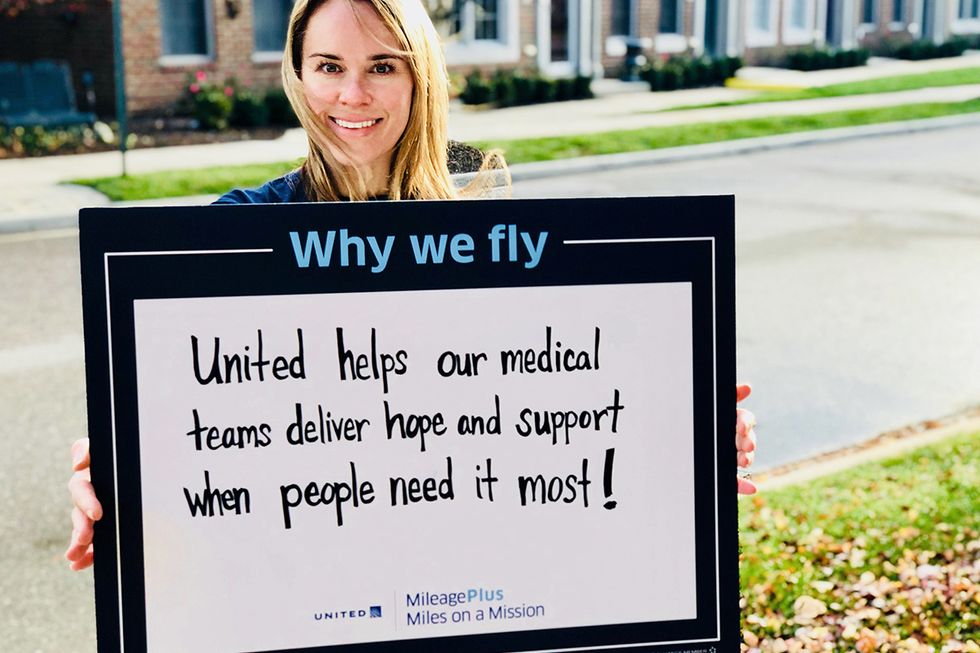 "United helps our medical teams deliver hope and support when people need it most!"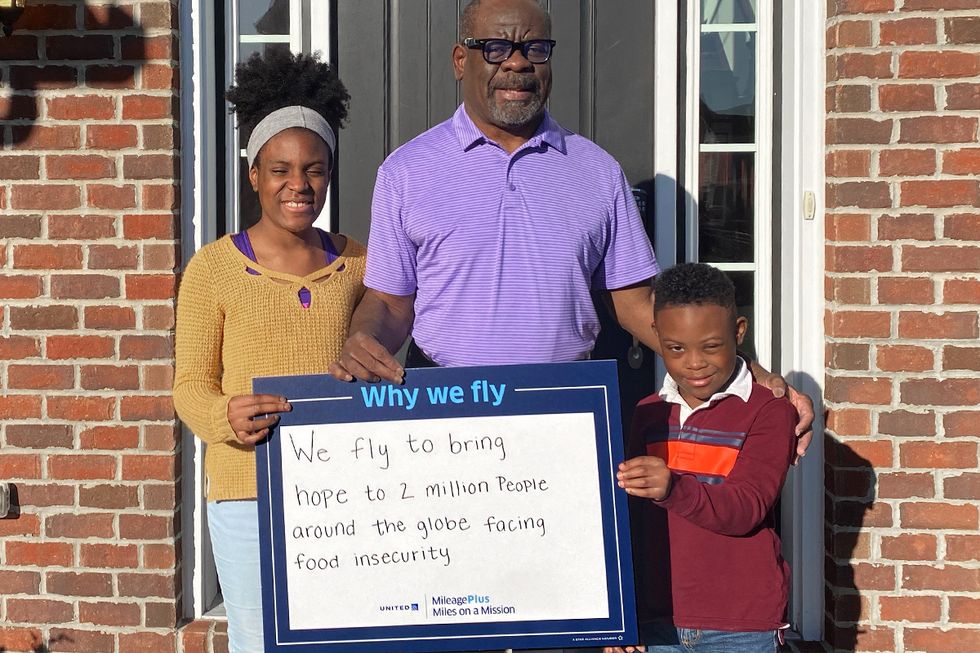 "We fly to bring hope to 2 million people around the globe facing food insecurity."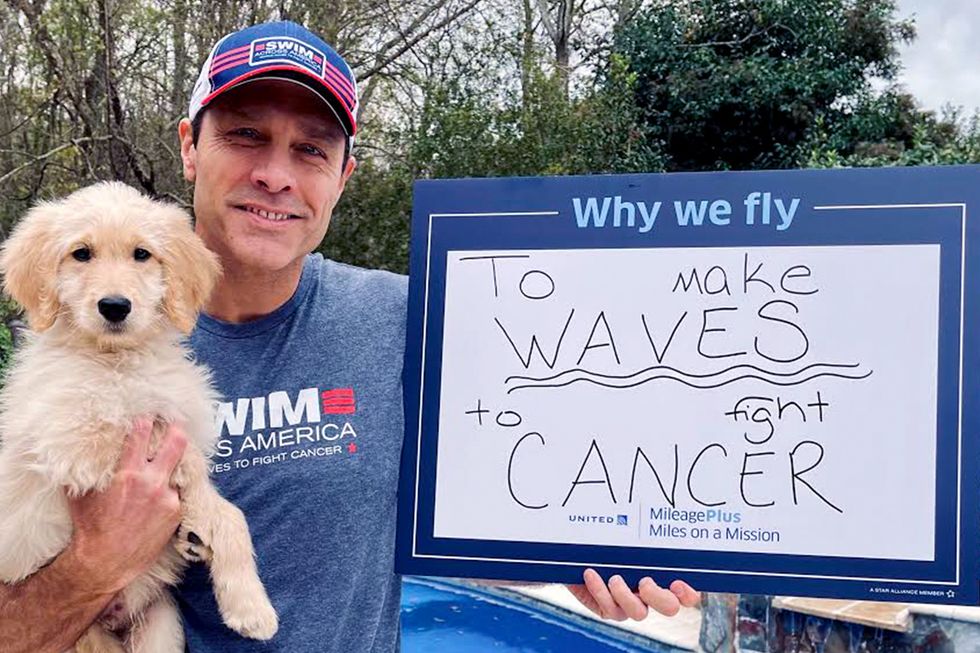 "To make waves to fight cancer."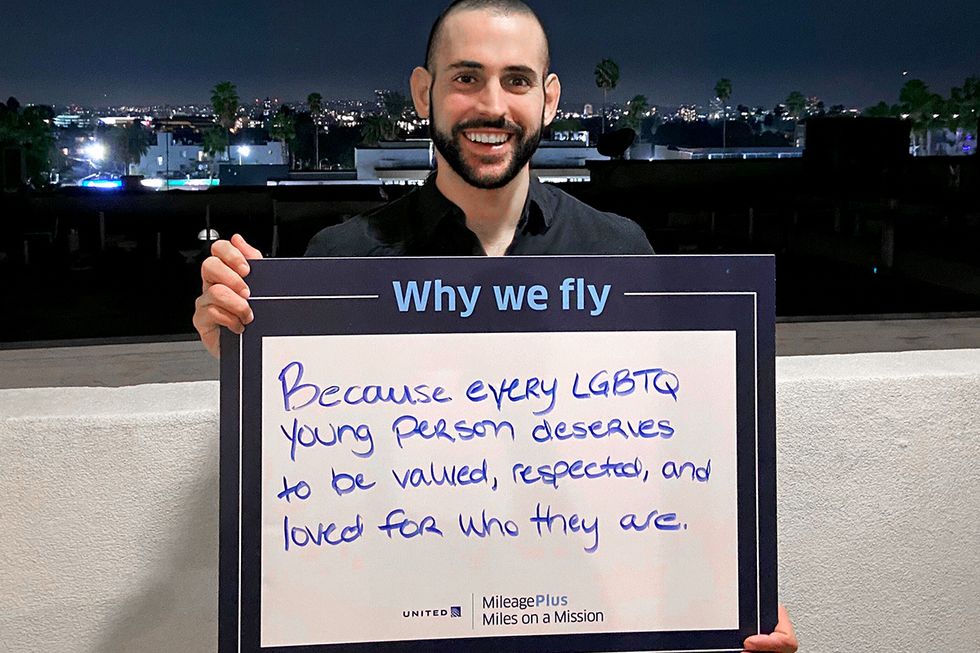 "Because every LGBTQ young person deserves to be valued, respected and loved for who they are."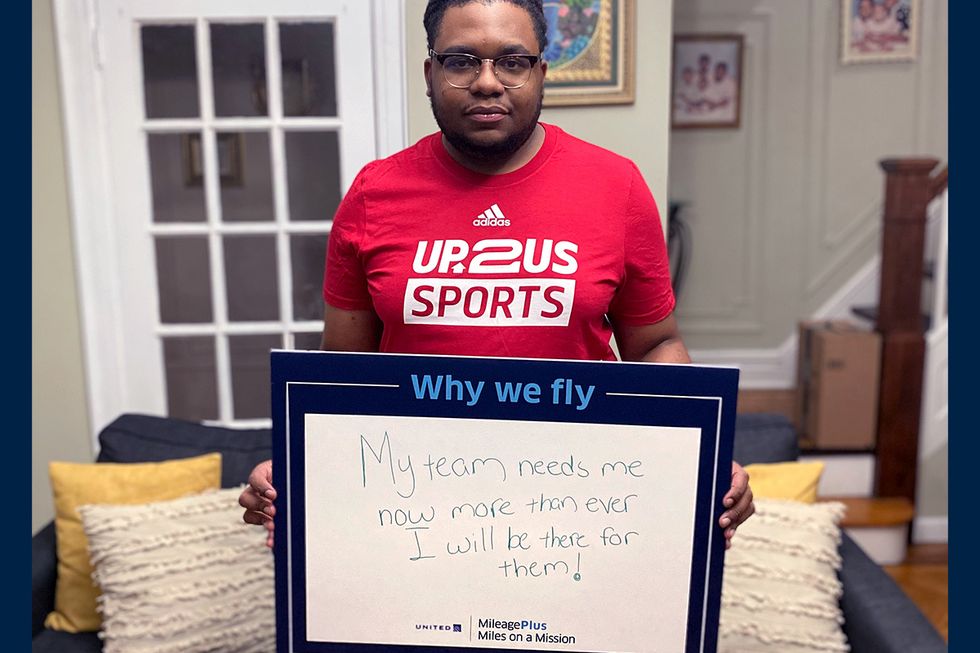 "My team needs me now more than ever. I will be there for them!"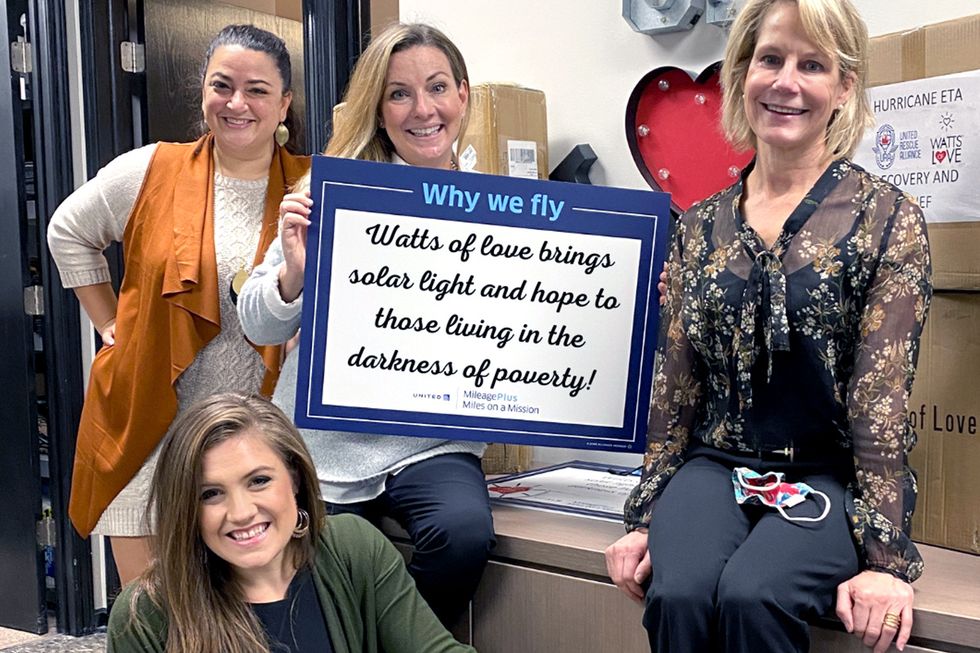 "Watts of Love brings solar light and hope to those living in the darkness of poverty!"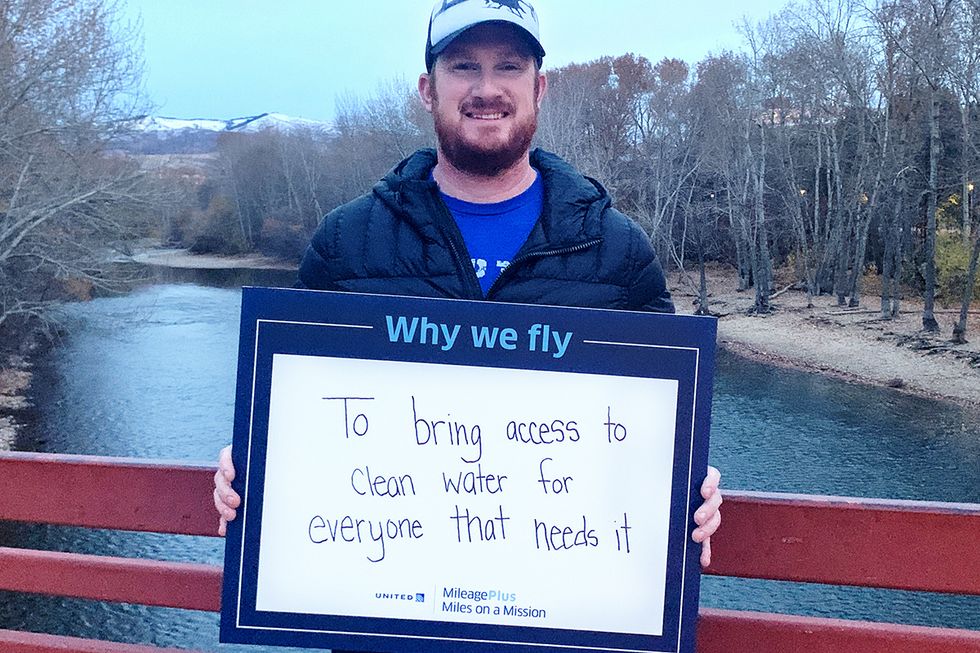 "To bring access to clean water for everyone that needs it."
Scroll to top