Three Perfect Days: Montana
Story by Jacob Baynham | Photography by Brad Torchia | Hemispheres, August 2017
Montana is a story best told outside. It's a place where people measure the worth of their weekends by the mud on their boots. Those who were born here know what they have. Those who visit will dream about finding a way to stay. But no one is indecisive about living in Montana. If you're here, you're all in. You're outside and getting up early, as Norman Maclean wrote in A River Runs Through It, "to see as much of the Lord's daylight as is given to us."

In which Jacob drinks espresso with a pop star, does some vicarious surfing, and fulfills his dream of owning—ok, renting—a 1986 VW Van

I'm standing 620 feet above Missoula, beside a giant white "M" branded onto a mountainside. Fifteen thousand years ago, I'd have been underwater. During the last ice age, a glacier dammed the Clark Fork River, creating a lake that was 2,000 feet deep and larger than Delaware. Beavers the size of grizzlies roamed its banks. Then the dam broke and flushed the lake out to the Pacific. I'm looking down at the aftermath, which is now the midsize college town where I live.
The sun hasn't quite crested Mount Sentinel behind me, but it's light enough to see the maple-lined streets and the Clark Fork unspooling through town. Somewhere to my right, in the shadow of Mount Jumbo, is my house. It feels good to linger in the cool air and listen to the meadowlarks, but few moments are as heavy with possibility as a Montana summer sunrise. So when the University of Montana clock tower chimes the hour below, I'm already jogging down the switchbacks toward another kind of pick-me-up.
I find it at Drum Coffee, a new café owned by John Wicks, the drummer for the indie-pop band Fitz and the Tantrums. Wicks's wife, Jenna, grew up in Missoula, and after the couple had kids they moved here from Southern California. He's tall, with thick-framed glasses and a peacoat with notebooks in the breast pocket. Over a café cortado, he tells me how Montana won his heart.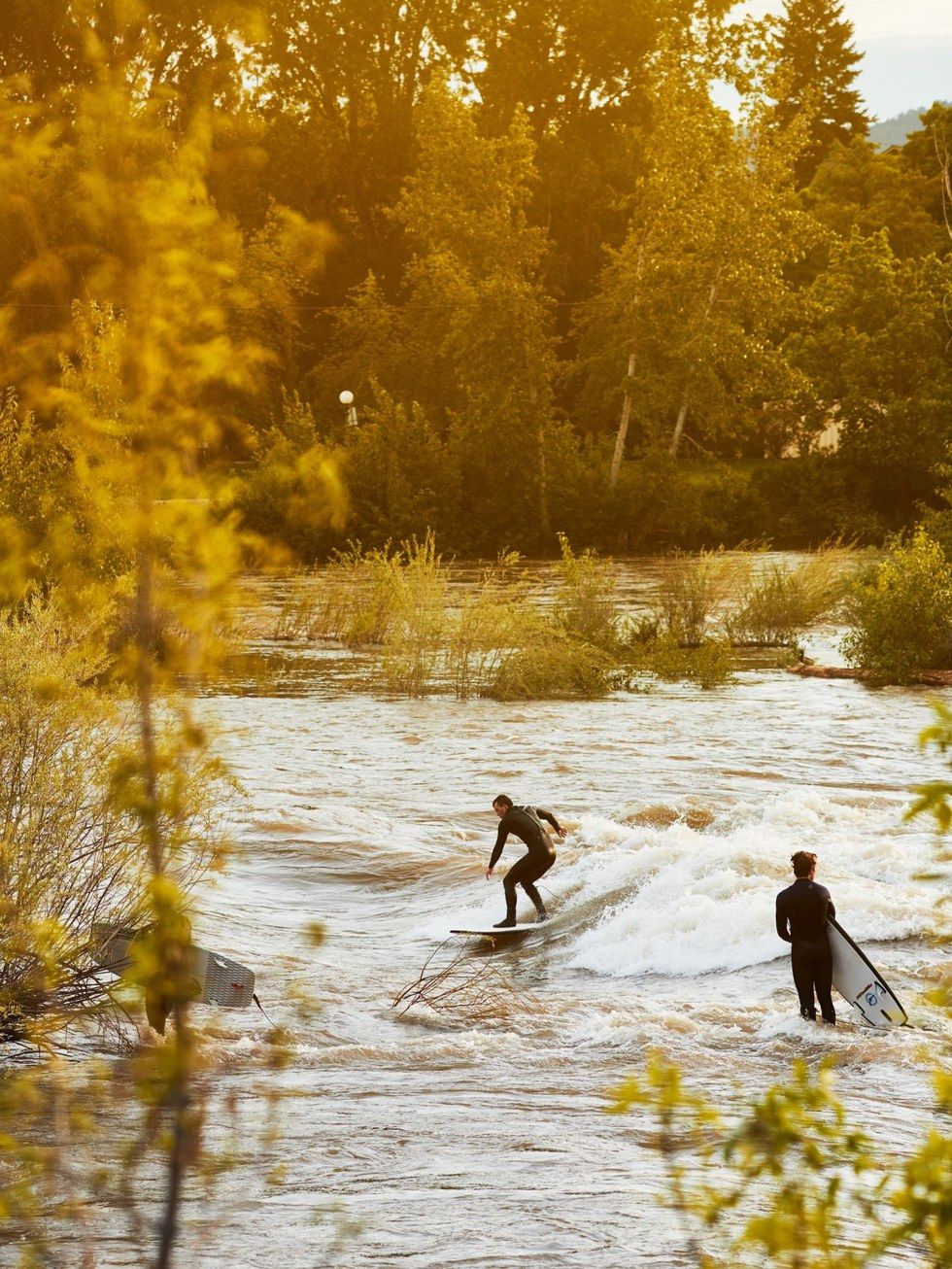 Surfers on the rushing Clark Fork River
"In Los Angeles, I got the sense that people were trying to make their lives as easy as possible," he says. "That's not a goal here. People want to see the benefit of their hard work. I really love that about this place."
Before he moved here, Wicks felt jaded, toiling away in a cutthroat industry. But now, when he's not on tour, he spends his days managing the café, giving drum lessons to kids, and running up the mountains behind his house. "The topography of this place plays a part in the humility here," he says. "These mountains don't care what you do. They're going to be here when you're gone. That plays a big part in people's priorities."
One of my immediate priorities is brunch at Scotty's Table, an Art Deco–inflected bistro downtown. I order a burger made from cattle that graze a pasture along the Bitterroot River, south of town. It's topped with a farm-fresh egg and bacon, and it's a tribute to sustainable beef.
From here, I cut through Caras Park to the Clark Fork, where surfers are playing in a standing wave. The river is high and brown, but the surfers are out anyway, paddling furiously into the froth, then springing to their feet, suspended by the roaring current. I feel a vicarious thrill.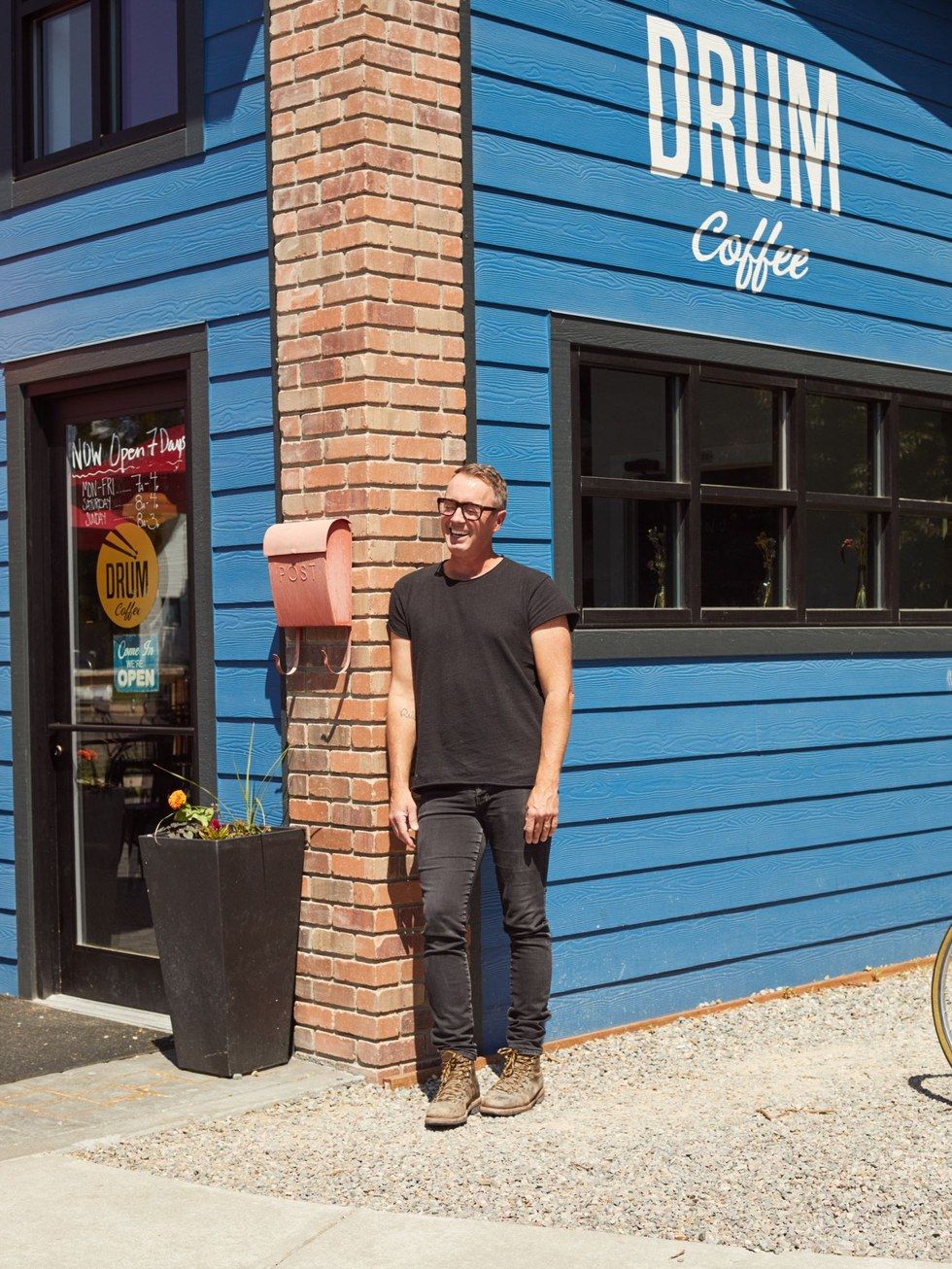 John Wicks, musician
A hundred yards upstream is the Clark Fork Farmers Market, where locals wander among stalls bearing homemade jellies, morel mushrooms, beeswax lip balm, and kombucha. At Ninja Mike's breakfast stall, a man in a mechanic's jumpsuit works the griddle, flipping egg sandwiches to old-school hip-hop. Farther down, a sandy-haired kid in a Nirvana sweatshirt strums Green Day on an unplugged Stratocaster.
The day is getting on. I've spent weeks planning these three days, but I'm most excited about the driving, which I've arranged to do in a 1986 Volkswagen Westfalia Weekender Camper—a personal dream. I collect one at the airport from Dragonflyvans, where Scott Quinnett introduces me to a van he calls Lizard King—named both for Jim Morrison and for the lizard that was living in the engine when he bought it. The vehicle has a beige interior, the aerodynamics of a brick, and no power steering. I'm smitten.
Quinnett walks me through Lizard King's particularities (take hills slowly) and hands me the keys. "I can almost guarantee you a blast," he says with a smile. The van purrs to life, and I crank its large steering wheel homeward to pick up my family.
"Montana is one of the few places where the far right and the far left coexist and want the same thing: to preserve what's here." —John Wicks
A few notes on my family: My wife, Hilly, gave birth to our second son, Julian, three weeks ago. Our other son, Theo, is 3. But Hilly is a fourth-generation Montanan, and game for adventure. So is our 10-year-old niece, Salome, who's along for the ride. We pile into the van and head to Tagliare Deli for sandwiches, all of which are named after rock bands—I order the Megadeth, with spicy capicola, soppressata, and mozzarella. We roll out of town through a notch in the hills on Highway 93.
Our next stop is for candy, at Hummingbird Toys and Treats in Arlee, on the Flathead Indian Reservation about 30 miles north. The Hummingbird is a local fixture that sells 60 varieties of black licorice from around the world, and there is much deliberation before we can set off again.
Scarcely 10 minutes up the road is another mandatory stop: the Windmill Village Bakery in Ravalli, where owner Nancy Martin sells fresh doughnuts the way her mother made them. She chops one up for Salome and Theo, and hands me one on a square of wax paper. It's warm, soft as a marshmallow, and gone in a few savage bites.
Martin was born and raised in Montana. "When you live somewhere else, people don't like you until you give them a reason to," she says. "In Montana, people like you until you give them a reason not to. And you can't beat the scenery. The day we crest that hill and don't gasp, we need to reboot, because something's off the rails."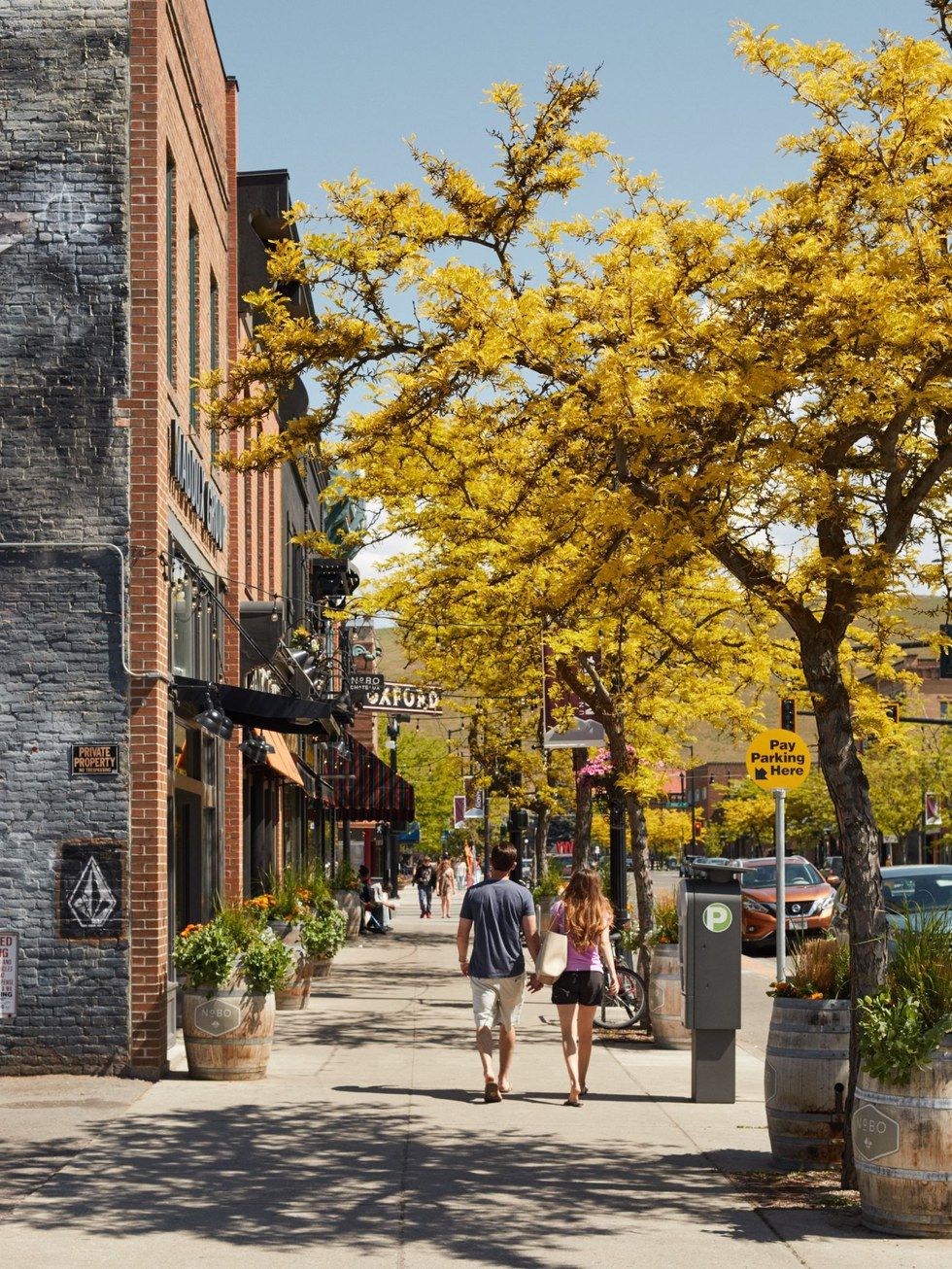 Strolling North Higgins Ave. in downtown Missoula
She's referring to Ravalli Hill, and when we crest it, minutes later, we do gasp, as always. The Mission Mountains rise straight from the valley floor here, a blue-green wall of peaks. They're distractingly beautiful.
We drive beneath them to Polson, a small town where the trees outnumber the houses on the shore of Flathead Lake, the largest freshwater lake in the West and one of the cleanest in the country. We travel up the west shore, past cherry orchards, to Tamarack Brewery in Lakeside (our lodgings are nearby, and I'm ready for a drink).
We sip our way through a comprehensive flight of beers and nibble on fish and chips. Everyone's tired. The West Shore State Park campground beckons. We pull into the site and I pop the top of Lizard King while Salome builds a fire. We can see blue water through the trees below us and snow on the mountains beyond. The campground is quiet.
At 10 o'clock, it's still light. Salome and Theo are asleep in the upper bunk; Hilly, Julian, and I are stretched out below. I go to sleep thinking there's no place I'd rather be.

In which Jacob cooks a campfire breakfast, boats to a lake island, and cycles to the sun in Glacier National Park
All right, the night wasn't total bliss. Hilly elbowed me awake to say, "You're doing that breathing thing again." The kids were restless. But by 6:30 the birds are singing, and I'm rested enough to slide open the van door.
Lizard King makes camping almost effortless. I pull a propane burner from the cupboard, along with a kettle and a French press. Minutes later, I hand Hilly a cup of coffee, and she hands me Julian, to burp. Salome and Theo help me cook eggs and sausages on the fire.
After breakfast, we walk down to the lake, which is lined with moss-green rocks and clumps of purple flowers. The sun is warm, and I decide to take a dip. It's a brief one. This lake used to be a glacier, and it hasn't warmed much since.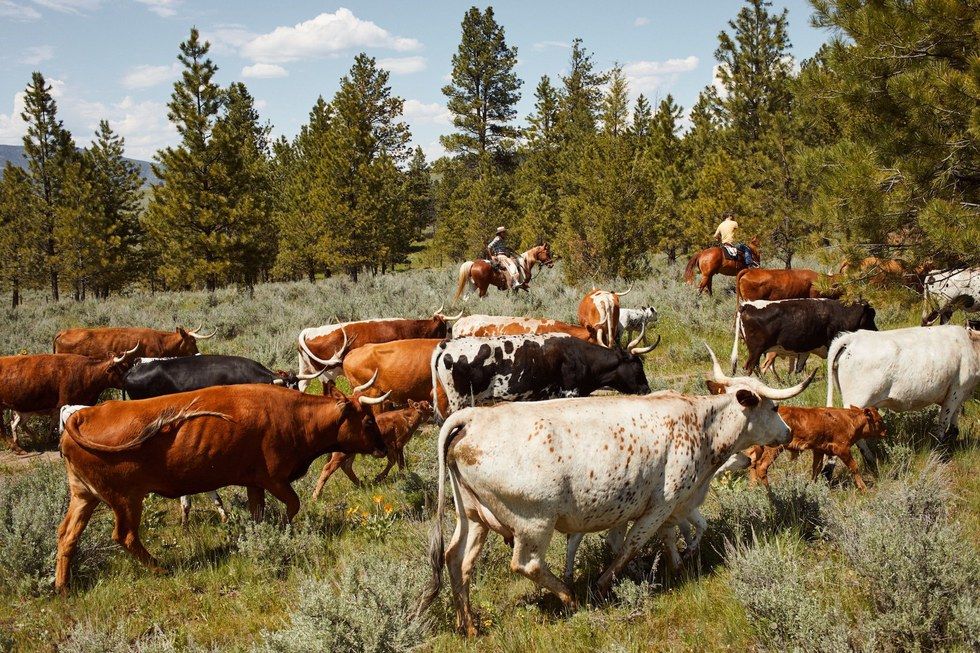 Amy Grout, the Flathead Lake State Park manager, has offered to take me to Wild Horse Island, a 2,163-acre park and the largest island in the lake. The Salish and Kootenai used to swim their best horses out to the island, to foil thieves. It's still home to five wild horses, about 100 bighorn sheep, 50 mule deer, and a handful of coyotes—plus a black bear and a mountain lion that swam out there.
While my family plays on the shore, I wobble aboard Grout's motorboat, alongside a middle-aged couple named JoAnn and Glenn, who spend their summer weekends as volunteer guides. They're the sort of intense, competent types who can wield a phrase like "Drop the stern anchor." I fasten my life vest, happy they're aboard.
Grout steers away from the dock and points the bow toward Wild Horse. "This is a little gem of Montana," she says. "It's a pretty special place." Waves splash against the aluminum hull, and after some engine trouble—an opportunity for JoAnn and Glenn to cheerfully connect the backup motor—we make landfall.
JoAnn and Glenn stay with the boat as I follow Grout up the hillside. We wade through a knee-deep, bright yellow sea of arrowleaf balsamroot. Grout has short chestnut hair and the disposition of someone who gets paid to do what she loves. She still remembers her first visit to the Flathead. "I fell in love with it," she says. "It was like the valley where I lived in Alaska. I was 13 years old, and I told my parents, 'I'm going to live here one day.'"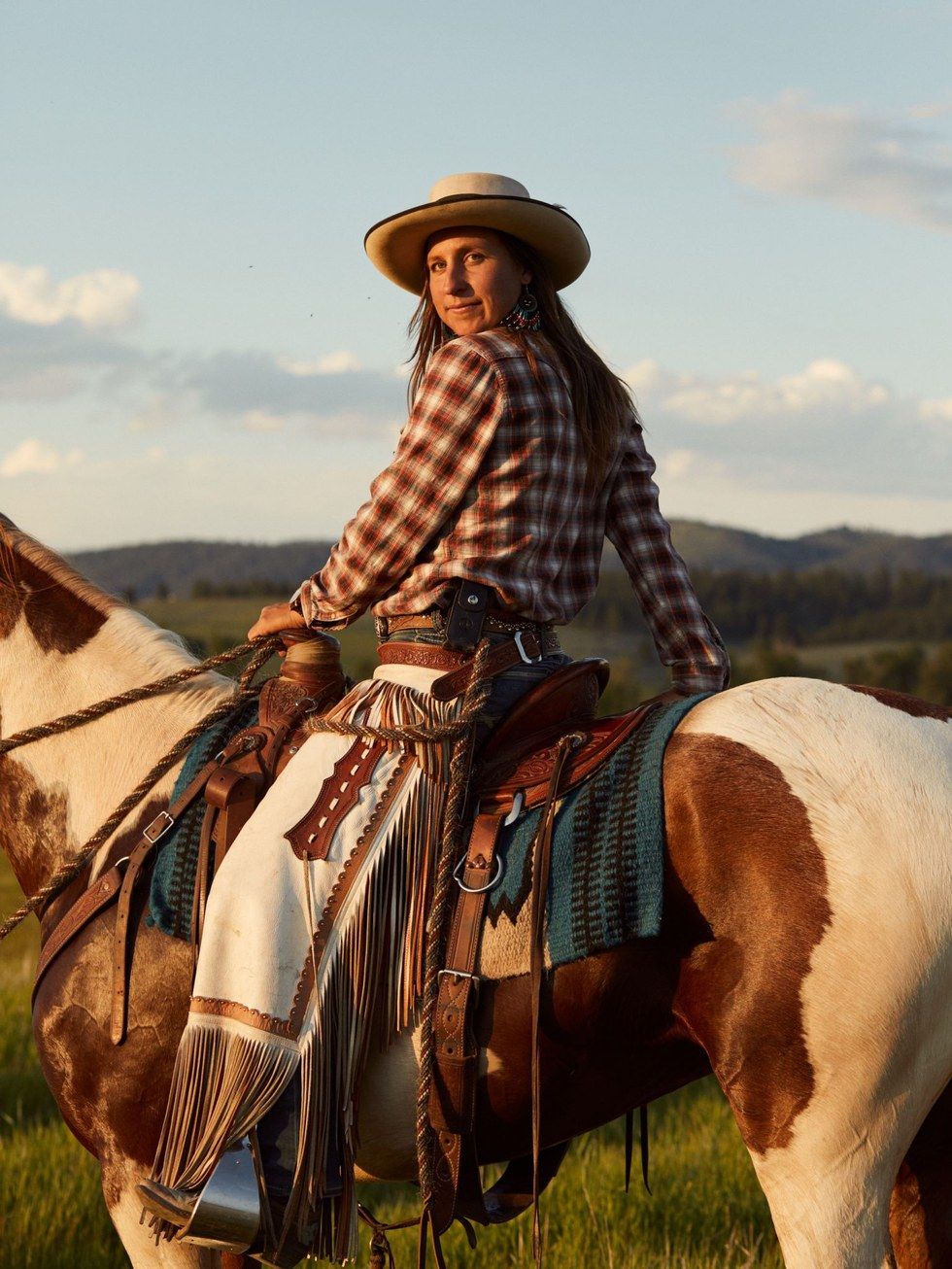 Jackie Kecskes, cattle wrangler
She leads me past a century-old homestead and an abandoned apple orchard. The trail is redolent of horse dung, but we don't see the horses. Grout does spot a giant bighorn sheep through her binoculars on a ridge above us. "That's a world-class ram," she says. Four others filter out of the trees around it.
We finally drop back down to the shore through a glade of old ponderosas that smell of butterscotch. "This is where I was meant to be," Grout says. "I love the landscape and the people. Montanans, we're hardy. We'll do anything to help someone out. We can be very stubborn, but we love the place we live."
Back on the mainland, I rejoin my family to continue our caravan northward, past the strip malls of Kalispell and the lumber mill in Columbia Falls. In the town of Hungry Horse (population 757), we pull over at Willows' HuckleberryLand, a roadside gift shop that's said to serve the area's best huckleberry milkshake.
Inside, Buddy Willows himself is behind the counter, eating a buffalo burger. He's surrounded by shelves of huckleberry everything—honey, syrup, jam, barbecue sauce. "We use Montana huckleberries," he announces. "I'd say they have about 15 to 20 percent more twang." He hands me a copy of his self-published autobiography, The Wild and Crazy Buddy Willows. It's not a dull read.
"You get the beauty of a state like Colorado—the big mountains and the beautiful forested areas—but without the huge population. You don't feel crowded." —Jackie Kecskes
We leave with a lunch of huckleberry shakes and huckleberry pie—don't judge—and drive 10 miles to the entrance of Glacier National Park, where we all go quiet at the view of the peaks rising behind Lake McDonald. Two mule deer cross the road in front of us.
Soon, we're checking in at the Lake McDonald Lodge, a chalet on the north shore that was built as a hunting lodge in 1913. The lobby has a stone fireplace, cedar beams, and game animals mounted on the walls. Lampshades decorated with Native American pictographs hang from the ceiling. Outside, a colony of ground squirrels scurry and chirp. "People call them whistle pigs," a lodge employee tells me. "They own the property. We don't."
It's time to leave the family again, as I'm not sure the kids would enjoy my next adventure: a steep bike climb up the Going-to-the-Sun Road, on which the winter's 80-foot snowdrifts aren't fully cleared until midsummer. Tyler Schmittel, of Glacier Guides, arrives to accompany me. We get off to an awkward start when I ask him if the bearded man tattooed on his leg is Fidel Castro. "It's Edward Abbey," he replies. "The writer and conservationist."
On that note, we start pedaling. Schmittel recently cycled from Los Angeles to Guatemala City, so he's not at all out of breath as he reels off the names of the wildflowers we pass. The white trillium look like fallen stars on the forest floor.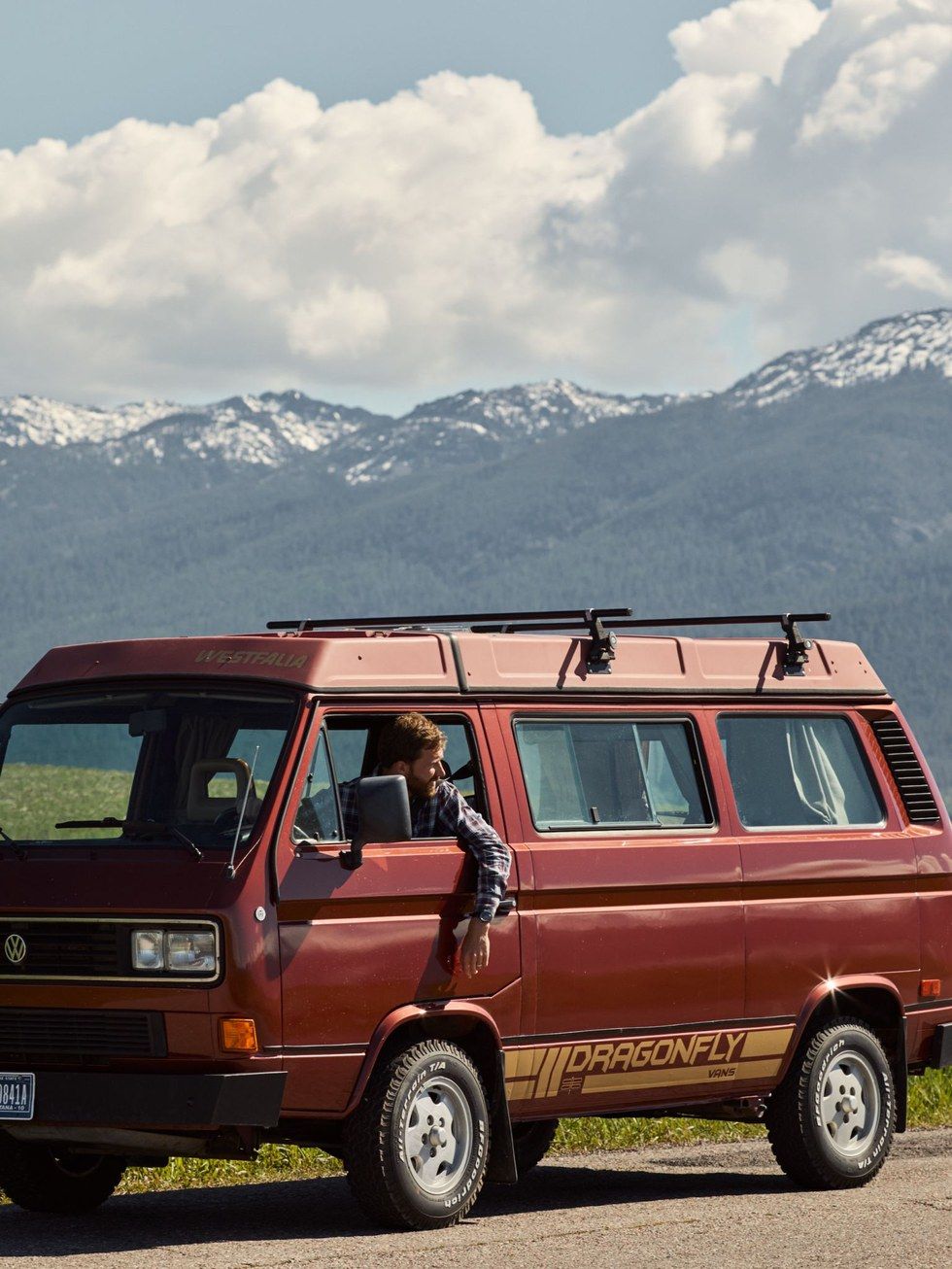 The author in his beloved VW van
We climb and weave alongside McDonald Creek, which is an otherworldly shade of blue. "It gets that color from glacial silt," Schmittel says. We pass two piles of bear scat on the road. I notice my guide keeps a can of bear spray in his bike's water bottle holder.
We're surrounded by mountains, some of them giant domes of snow, others sheer rock faces that fall from their ridgelines like the cheek of an ax. We stop at Haystack Creek, a lovely spot a few miles from the pass. But looking around at what the Blackfeet call the Backbone of the World, it's hard not to feel sad. In the mid-1800s, there were about 150 glaciers here. Now there are 26. Some scientists project that within 15 years they will all be gone.
Later, back at the lodge, I meet up with my family, who spent the day walking the Trail of the Cedars. With a broad view of shimmering Lake McDonald, we dine on smoked Columbia River steelhead and tender local lamb smothered in a fennel demi-glaze. I wash mine down with a locally brewed Going to the Sun IPA, which only seems fitting.
As a woman plays "Edelweiss" on the piano, Theo passes out over his fruit plate. Salome informs Hilly and me that edelweiss is a white wildflower that grows in Switzerland. She's an uncommonly bright kid. Maybe someday she'll figure out what to do about the glaciers.

In which Jacob frustrates an intelligent horse, glamps on the Blackfoot River, and lands a memorable brown trout
After a huckleberry pancake breakfast (rich in antioxidants!), we decide there's time for a 5-mile hike to Avalanche Lake. Marsha, at the front desk, tells us a grizzly sow and two cubs were on the trail recently, so we pack bear spray, although we'll soon learn that Theo melting down over a lollipop is an equally effective deterrent.
The trail is well traveled. When I stop to take a picture of Theo and Salome in a hollowed-out tree, a lady walks by and says, "We have that same photo with our daughters, 20 years ago!"
At the lake, people eat granola bars and gawk at the enormous picture postcard in front of them. In the center of it all is a waterfall that begins at Sperry Glacier and crashes hundreds of feet down the mountain, too far away to be heard.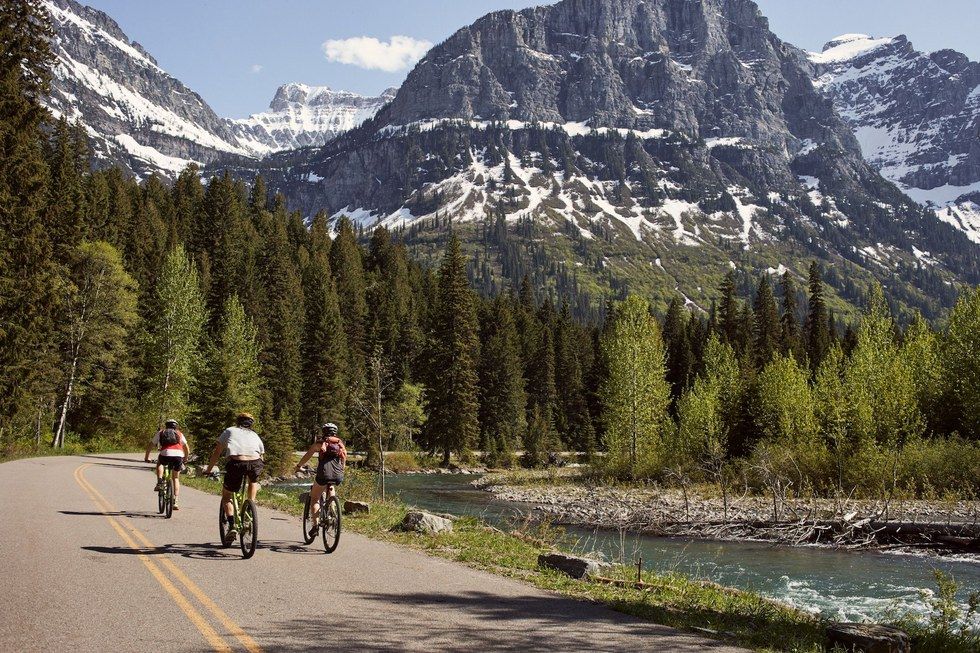 We have more driving to do. Back in Lizard King, we exit Glacier and follow the verdant Seeley Valley down the backside of the Mission Mountains. Two hours later, we enter another, wider valley, where we find The Resort at Paws Up, a dude ranch on the Blackfoot River. We check in and are led to the River Camp, where we'll spend the night in a canvas tent. Paws Up claims to have invented the term "glamping," and I wouldn't argue. We are met at the tent by two butlers, who look more like outdoor sportswear models than coat-and-tails types. One of them points out a bald eagle's nest overhead. We're also shown the pavilion, where we'll dine, and the fire pit, where we can toast gourmet s'mores afterward.
My first activity is a cattle drive. In a wide meadow, I meet wrangler Jackie Kecskes, resplendent in white leather chaps and with an elk-antler knife on her belt. She introduces me to my horse, a tall paint named Kid. We set off through the sagebrush with three other wranglers, and Kecskes talks me through the basics: A tap of the heels makes a horse walk; pulling the reins makes him stop; pressure on his right side makes him turn left, and vice versa.
"I always say, you work with a horse the way you work with a man," she says. "You know the outcome you want to achieve, but it has to be their idea, otherwise it won't stick." I recognize the principle from parenting.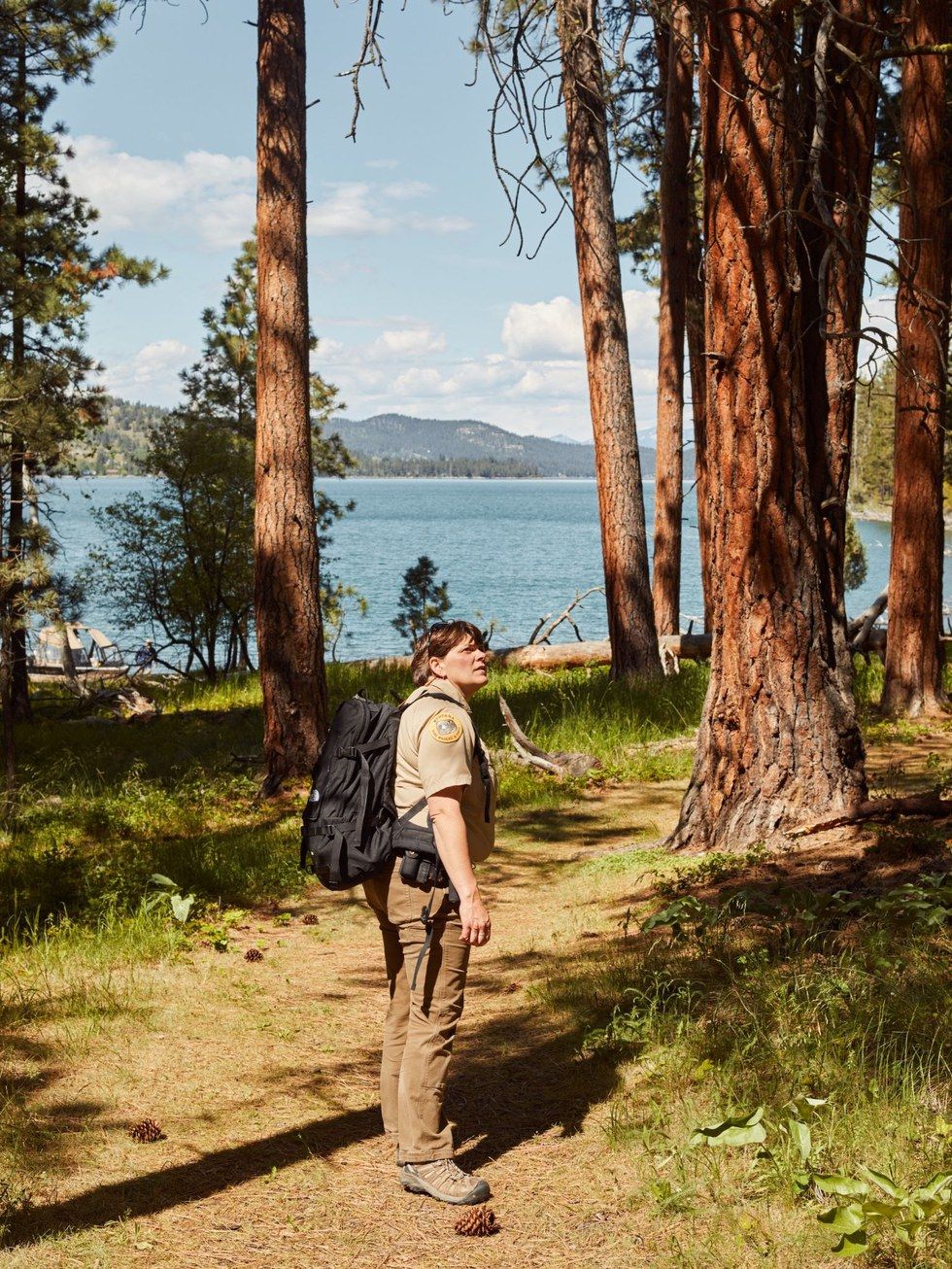 Amy Grout, state park manager
As we reach the cow pen, the animals look up as if to say, "Oh no, this again?" Kecskes swings open the gate, and I try to help the other wranglers herd the cows toward her. But I keep messing up my turn signals, applying pressure with the wrong foot. Kid is confused. Then he seems to realize I'm inept and takes the lead. Evidently, he knows the outcome he wants to achieve.
Kecskes developed a love for horses in California when her parents let her adopt a half-blind pony at age 5. She came to Montana via Colorado and never wants to leave. "I love the pace of things here," she says. "We still brand our cattle on horseback, and the local sheriff comes out because he's handy on a horse."
By now we've driven the cows to an open pasture. The wranglers teach me how to cut a cow from the herd, as real cowboys do. I find it's a lot like parallel parking, except the curb keeps moving to join the other curbs, and my car has lost respect for me. I manage it once or twice, and then we drive the cows back to the pen. It's not exactly Lonesome Dove, but I've got a little swagger as Kid walks me back to the stable.
"I've stopped to help people fix a flat on the side of the road, and they'll try to pay me. I say, 'No. This is who we are in Montana. This is what we do.'" —Amy Grout
We have some time before my next activity, so I watch the kids while Hilly—who, let's not forget, gave birth three weeks ago—gets a massage. She does this at Spa Town, a row of white tents on the forest's edge that looks like a place a soldier might have convalesced after a Civil War battle (or where a mother might convalesce after a postpartum road trip with three children). As the masseuse kneads the knots from her back, she listens to a whistle pig nibble on the tent. There's no escaping nature out here—it's an immersive experience.
With Hilly suitably relaxed, I head out for some fly fishing with Jason Much, a friendly Midwesterner with a man-bun and Muck Boots. Much came out to Montana six years ago to fish for fun, and now he makes a living doing it. "The rivers brought me here, and I think they're keeping me here," he says as we drive to the boat launch.
The Blackfoot is running high with snowmelt, and I don't expect great fishing. But Much knows a few slower spots. He hands me a rod rigged with a big streamer and pushes off the raft. Now and then, he offers guidance. "Try in that slack water," he says, or, "That's brown town in there!"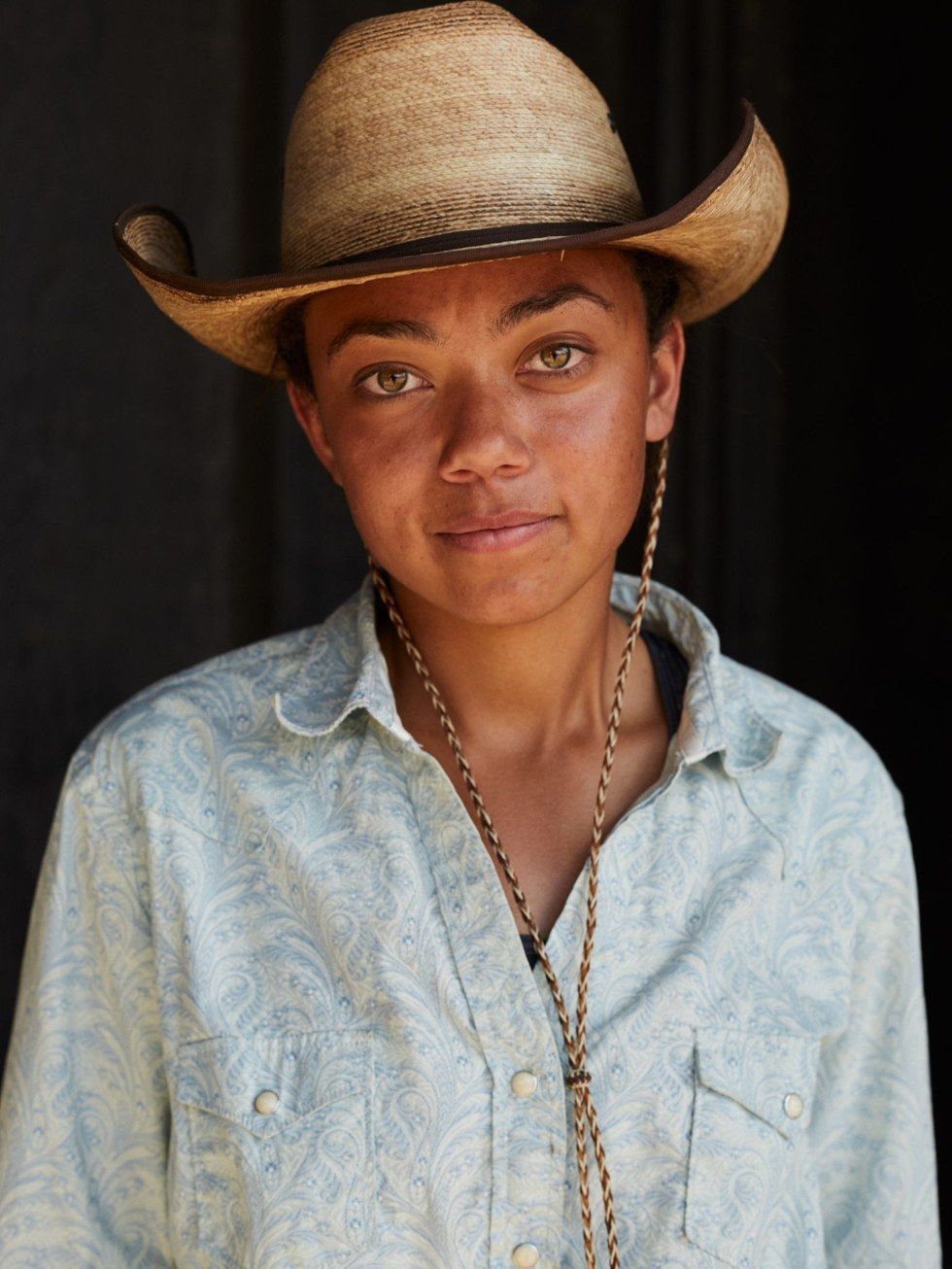 A cattle wrangler at Paws Up
He's right. Suddenly there's a tug on the line and a swirl of yellow. I've fished long enough to know that it's a big brown trout. Slowly, I work it toward the boat, and Much slides his net underneath. And then he lifts from the water one of the finest fish I have ever seen. It's a golden slab of a trout, with black spots and a hooked jaw. Its tail is reddish and the size of my palm. I ease the hook from its mouth and it swims powerfully away. Much lets out an open-mouthed laugh.
Around the corner we see a pair of geese with goslings and a sandhill crane stepping through the reeds. Much is explaining his theory of the philosophical progression of fly fishing. First, you just want to catch a fish on a fly. Then, you want lots of fish. After a while, you want to catch the biggest fish. "The final stage," he says, "is when you want to catch the most difficult. That's when you start to see the soul in a fish."
We're in fast water now, aloft on the waves as swallows hawk
mayflies over our heads. We fall silent, and the only noise is the creak of the oarlocks, the rushing water, and the clap of ducks taking flight. Tall ponderosas lean toward the river from both banks like crossed swords at a naval wedding. In places, a cliff rises from the water, the rocks mottled with lichen in shades of purple, orange,
and gray. The sky gets all the credit, but everything's bigger in Montana—the mountains, the trout, the sheer sense of being.
Our tent is a mile downstream. There will be a cold beer there, and a fire. We'll eat dinner outside, and afterward we'll climb
into heated beds within earshot of the river.
"Did you catch anything?" Hilly will ask.
"Yes," I'll say. "I did."
Missoula-based writer Jacob Baynham likes to compare owning a VW van to owning a boat, although his wife reminds him that he has never owned either.

Grand prize winners live in Bradenton, FL; Cleveland, OH; Goodyear, AZ; Oakland, CA and San Francisco, CA
CHICAGO, July 29, 2021 /PRNewswire/ -- United Airlines today announced the five lucky grand prize winners of its "Your Shot to Fly" sweepstakes, who will each get to fly anywhere in the world United flies with a companion over the course of the next year. The winners of the "Your Shot to Fly" sweepstakes are:
Ashley Cronkhite from Bradenton, FL
Robert Simicak from Cleveland, OH
Sean Husmoe from Goodyear, AZ
Lauren Aldredge from Oakland CA
Lauren M. from San Francisco, CA
The sweepstakes was in support of the Biden administration's ongoing national effort to encourage more people to get their COVID-19 vaccination and encouraged United's MileagePlus® loyalty members to upload their vaccine records to United. In less than a month, more than one million MileagePlus members uploaded their vaccine cards to the United app and website for a shot to win one of the grand prizes. In June the airline awarded 30 first prize winners with a pair of roundtrip tickets anywhere United flies.
"We were proud to do our part to encourage more Americans to get their shot and were thrilled by the overwhelming response we received. This prize clearly struck an emotional chord with our customers, as the opportunity to travel and connect with people and places that matter most is something that clearly has been missed during the pandemic," said United's CEO, Scott Kirby. "I'd like to extend my personal gratitude to everyone who entered the sweepstakes and more importantly, made the decision to get vaccinated."
United is the only U.S. airline to offer its own one-stop-shop where customers can conveniently get "travel-ready" by uploading and storing their COVID-19 test results and vaccination records directly through the airline's website and award-winning mobile app with the Travel-Ready Center. The airline's easy-to-use travel tool enables customers to reduce stress and save valuable time at the airport right from the palm of their hand.
All of the grand prize winners are already starting to plan out the adventures they and their families will have in the upcoming year thanks to United. Ashley Cronkhite is an advertising professional who began working at a grocery store during the pandemic. She plans to travel to European destinations including Ireland and Italy with her best friend – her mom. Robert Simicak plans to travel to national parks around the U.S. with his wife, who is a frontline healthcare worker in Cleveland. Lauren Aldredge will experience her first time flying in a premium cabin and will be traveling to celebrate her 30th birthday with her partner. Sean Husmoe plans to travel with his wife and daughters to check off the final two continents that they have not yet visited, including South America and Antarctica. Lauren M. plans to travel with her family, including a trip to Tahiti with her husband.
The rest of United's customers will have no shortage of opportunities to plan long-awaited getaways of their own, as the airline has continued to grow its schedule in response to increased travel demand. Since May, the airline has launched new flights to Greece, Iceland, South Africa, Ghana and Croatia, and has resumed service as countries like Italy, Portugal, Spain and France re-opened to vaccinated travelers or travelers with a negative COVID test. For those planning to stay closer to home, United is adding nearly 150 flights to warm-weather destinations across the U.S, just in time for the winter holiday season.
Travel-Ready Center
Since its launch, United customers have been able to easily access testing or vaccine requirements needed for travel destinations, upload country specific required forms, completed testing results and vaccination records as well as have them verified, all within United's award-winning mobile app and website with the Travel-Ready Center. The Travel-Ready Center is an industry-leading digital platform that offers customers the ability to choose from thousands of COVID-19 testing providers across the country, book appointments and receive confirmation whether their test results meet their destination's requirements. Once requirements are validated, customers will see a status indicator informing them that they are "travel-ready" and receive their mobile boarding pass. United is the only airline that offers its customers these services as part of an integrated experience within its own app and website. The airline was also the first to set up an easy way for international travelers to bring a CDC-approved test with them, self-administer while abroad, and return home through an innovative collaboration with Abbott.
Mileage Plus: A 40-Year Legacy
United introduced its MileagePlus loyalty program in 1981 and over the past four decades, it has continued to be a leading airline loyalty program, with a number of industry-first innovations designed to enhance the travel experience for members. United added its Premier® program in 1983 and then its first loyalty credit card in 1987. More recently, in 2019, United announced that MileagePlus award miles never expire, and introduced PlusPoints for MileagePlus Premier members, giving customers more flexibility in how they choose to fly. United has also proudly worked together with MileagePlus members to contribute to the communities it serves, most notably donating 3.4 billion miles to charity organizations since 2003.
MileagePlus was named the 2020 Best Frequent Flyer Program by Global Traveler for the 17th consecutive year and was recently recognized as the Best Overall Frequent Flyer program by WalletHub.
About United
United's shared purpose is "Connecting People. Uniting the World." For more information, visit united.com, follow @United on Twitter and Instagram or connect on Facebook. The common stock of United's parent, United Airlines Holdings, Inc., is traded on the Nasdaq under the symbol "UAL".

SOURCE United Airlines
For further information: United Airlines Worldwide Media Relations, +1-872-825-8640, media.relations@united.com
New pre-order option builds on the airline's contactless payment technology and is another example of the customer experience transformation underway at United
CHICAGO, July 28, 2021 /PRNewswire/ -- Starting today on select flights, all United customers – no matter what cabin of service they're flying in – can use the airline's award-winning mobile app and website to pre-order meals, snacks and beverages up to five days before they're scheduled to travel. United is the first and only U.S. airline to offer economy customers the option to pre-order snacks and beverages, a reflection of the customer experience transformation underway at the airline.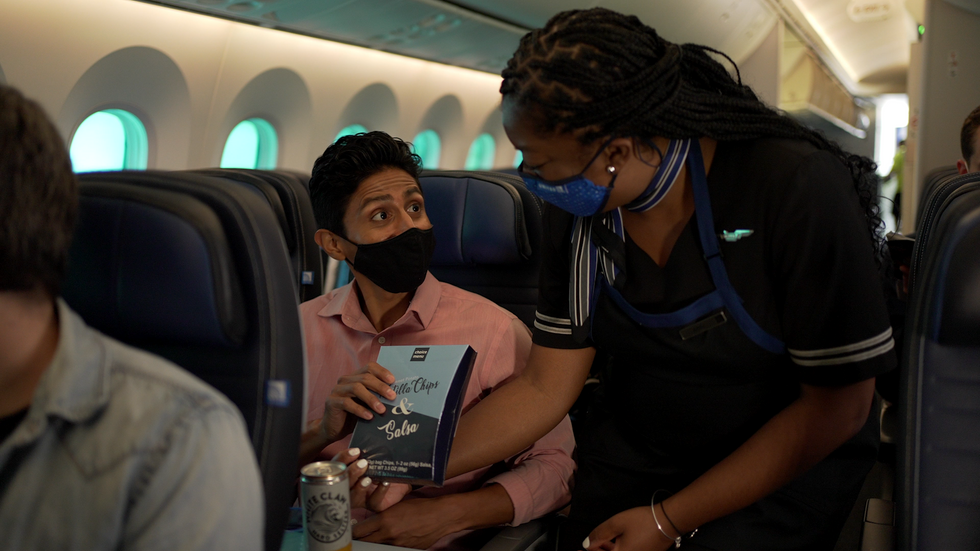 United's pre-order technology is an extension of the airline's contactless payment platform that allows customers to store payment information in a digital wallet. United's pre-order option is now available on select flights departing from Chicago to Orange County, CA Sacramento, CA and San Diego, and will expand to all flights over 1,500 miles by early fall.
"Our new pre-order option reflects the customer experience transformation taking place at United – customers in our economy cabins will have an easy, convenient way to choose their snack or drink, and our flight attendants can move through the cabin faster, delivering more personalized service," said Toby Enqvist, chief customer officer for United. "This new feature also builds on our existing contactless payment technology, which has enabled us to safely resume our inflight food and beverage program on select flights."
How It Works
Five days prior to departure, customers will see an option in the Reservation Details section of the United app or on United.com to pre-order food and beverage items available for their specific flight. Customers will also receive an email notifying them when pre-order is available.
In economy cabins, customers can pre-order snacks and beverages from United's buy-on-board menu. They will be asked to enter their credit card information but will not be charged until the items are served to them onboard.
In premium cabins, customers can select their meal option directly from the United app or website. Once they make their selection, they will get a receipt emailed to them.
About United's Contactless Payment Technology
For customers looking to purchase drinks and snack items while onboard, United's contactless payment platform allows them to store their payment information in a digital wallet on the United app and on United.com prior to departure.
Once in flight, customers can access a menu to view available items either on the United app or in Hemispheres® magazine.
Rather than handing the flight attendant a credit card, the flight attendant will ask for the customer's name and seat to confirm the card on file.
Once confirmed, customers will receive their products and the card on file will be charged.
About United's Newly Enhanced Buy-On-Board Menu
United recently unveiled its refreshed buy-on-board menu, which includes a wide variety of food and beverage offerings including:
Adult Beverage Options: Mango White Claw®; red, white and sparkling wine, and new beer options such as Breckenridge Brewery Juice Drop Hazy IPA and Michelob ULTRA®.
Three New Snack Boxes: A Tapas snack box with European-inspired offerings; a Takeoff snack box with high-protein options; a Recline snack box with movie theater themed treats.
A la Carte Snack Options: Including chips, dips, trail mix and chocolate-covered dried fruit.
New Domestic Premium Cabin Menu Items
United also introduced brand-new meal offerings to customers seated in domestic premium cabins on flights over 1,500 miles and hub-to-hub flights over 800 miles.
The enhanced meal service includes a choice of entrees – including fresher options like egg scramble with plant-based chorizo and grilled chicken breast with orzo and lemon basil pesto – sides and dessert.
United has also teamed with Eli's Cheesecake to create a uniquely United chocolate pie flavor called "Pie in the Sky."
The meals will be served on one tray, with items individually wrapped, to limit person-to-person contact and further the safety of our employees and customers.
United's pre-order technology is available beginning July 28 for flights departing on or after August 2. The technology will initially be available on flights from Chicago O'Hare International Airport to San Diego International Airport, Sacramento International Airport, Orange County's John Wayne Airport and Honolulu's Daniel K. Inouye International Airport.
For information on snacks available, United's contactless payment technology and FAQs, visit United.com/snacktime.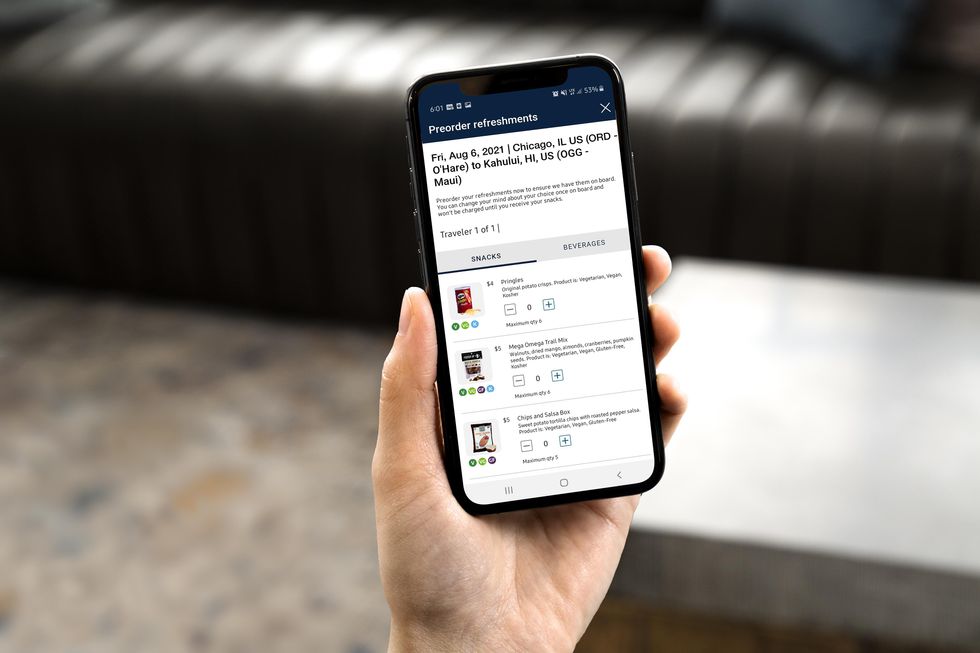 About United
United's shared purpose is "Connecting People. Uniting the World." For more information, visit united.com, follow @United on Twitter and Instagram or connect on Facebook. The common stock of UAL is traded on the Nasdaq under the symbol "UAL".

SOURCE United Airlines
For further information: United Airlines Worldwide Media Relations, +1-872-825-8640, media.relations@united.com
In August, United is adding a second daily flight from Washington, D.C. to London
CHICAGO, July 28, 2021 /PRNewswire/ -- With today's announcement of England reopening to fully vaccinated travelers from the U.S. beginning Aug 2, United Airlines is making it easier for business and leisure customers to jet across the pond with the addition of flights to London. In August, United will have six daily flights between the U.S. and London, including a second daily flight from Washington, D.C. and increasing service from Houston to daily. United looks forward to resuming additional London service in the coming months as well as launching new nonstop service between Boston and London. Customers traveling to England must be fully vaccinated in the U.S. with vaccines that have been approved by the FDA and must take a test before departure as well as a PCR test within the first two days of arrival. Passengers vaccinated in the U.S. will also need to complete a passenger locator form prior to traveling to England and provide proof of U.S. residency.
United is the only U.S. airline to offer its own one-stop-shop where customers can conveniently get "travel-ready" by uploading and storing their COVID-19 test results and vaccination records directly through the airline's website and award-winning mobile app with the Travel-Ready Center. The airline's easy-to-use travel tool enables customers to reduce stress and save valuable time at the airport right from the palm of their hand. United also announced a new collaboration with Abbott and became the first U.S. carrier to set up an easy way for international travelers to bring a CDC-approved test with them, self-administer while abroad, and return home.
"Today's announcement is yet another major milestone in recovering from the COVID-19 pandemic with the opening of one of the most important markets from the U.S." said Patrick Quayle, vice president of international network and alliances at United. "United has demonstrated that we can operate flights between the U.S. and England safely and we are eager to help rebuild these economies by facilitating business and leisure travel."
United in England
United has provided service to London Heathrow for nearly 30 years and over the course of the pandemic has maintained continuous service between the U.S. and London. In August, United is increasing its service from Houston to London from five times weekly to daily and adding a second daily flight from Washington, D.C. United will continue operating daily flights to London from Chicago, New York/Newark, San Francisco. The airline plans to continue offering these six daily flights in September.
United flies to more European destinations than any other U.S. carrier, and is welcoming back customers on more than 30 daily flights to 16 destinations in Europe this summer. The carrier has expanded its service to Europe including new routes to Dubrovnik, Croatia; Reykjavik, Iceland and Athens, Greece. All of these flights are available for purchase on united.com. To see the full list of reopened countries where United is flying visit united.com/reopen. Customers should review local country requirements before they travel.
Committed to Ensuring a Safe Journey
United is committed to putting health and safety at the forefront of every customer's journey, with the goal of delivering an industry-leading standard of cleanliness through its United CleanPlus SM program. United has teamed up with Clorox and Cleveland Clinic to redefine cleaning and health safety procedures from check-in to landing and has implemented more than a dozen new policies, protocols and innovations designed with the safety of customers and employees in mind. To manage entry requirements in different destinations, and find places to get tests, customer can visit Travel Ready Center on United's app and website.
About United
United's shared purpose is "Connecting People. Uniting the World." For more information, visit united.com, follow @United on Twitter and Instagram or connect on Facebook. The common stock of UAL is traded on the Nasdaq under the symbol "UAL".

SOURCE United Airlines
For further information: United Airlines Worldwide Media Relations, +1-872-825-8640, media.relations@united.com
Scroll to top