Three Perfect Days: Montana
Story by Jacob Baynham | Photography by Brad Torchia | Hemispheres, August 2017
Montana is a story best told outside. It's a place where people measure the worth of their weekends by the mud on their boots. Those who were born here know what they have. Those who visit will dream about finding a way to stay. But no one is indecisive about living in Montana. If you're here, you're all in. You're outside and getting up early, as Norman Maclean wrote in A River Runs Through It, "to see as much of the Lord's daylight as is given to us."
In which Jacob drinks espresso with a pop star, does some vicarious surfing, and fulfills his dream of owning—ok, renting—a 1986 VW Van

I'm standing 620 feet above Missoula, beside a giant white "M" branded onto a mountainside. Fifteen thousand years ago, I'd have been underwater. During the last ice age, a glacier dammed the Clark Fork River, creating a lake that was 2,000 feet deep and larger than Delaware. Beavers the size of grizzlies roamed its banks. Then the dam broke and flushed the lake out to the Pacific. I'm looking down at the aftermath, which is now the midsize college town where I live.
The sun hasn't quite crested Mount Sentinel behind me, but it's light enough to see the maple-lined streets and the Clark Fork unspooling through town. Somewhere to my right, in the shadow of Mount Jumbo, is my house. It feels good to linger in the cool air and listen to the meadowlarks, but few moments are as heavy with possibility as a Montana summer sunrise. So when the University of Montana clock tower chimes the hour below, I'm already jogging down the switchbacks toward another kind of pick-me-up.
I find it at Drum Coffee, a new café owned by John Wicks, the drummer for the indie-pop band Fitz and the Tantrums. Wicks's wife, Jenna, grew up in Missoula, and after the couple had kids they moved here from Southern California. He's tall, with thick-framed glasses and a peacoat with notebooks in the breast pocket. Over a café cortado, he tells me how Montana won his heart.
Surfers on the rushing Clark Fork River
"In Los Angeles, I got the sense that people were trying to make their lives as easy as possible," he says. "That's not a goal here. People want to see the benefit of their hard work. I really love that about this place."
Before he moved here, Wicks felt jaded, toiling away in a cutthroat industry. But now, when he's not on tour, he spends his days managing the café, giving drum lessons to kids, and running up the mountains behind his house. "The topography of this place plays a part in the humility here," he says. "These mountains don't care what you do. They're going to be here when you're gone. That plays a big part in people's priorities."
One of my immediate priorities is brunch at Scotty's Table, an Art Deco–inflected bistro downtown. I order a burger made from cattle that graze a pasture along the Bitterroot River, south of town. It's topped with a farm-fresh egg and bacon, and it's a tribute to sustainable beef.
From here, I cut through Caras Park to the Clark Fork, where surfers are playing in a standing wave. The river is high and brown, but the surfers are out anyway, paddling furiously into the froth, then springing to their feet, suspended by the roaring current. I feel a vicarious thrill.
John Wicks, musician
A hundred yards upstream is the Clark Fork Farmers Market, where locals wander among stalls bearing homemade jellies, morel mushrooms, beeswax lip balm, and kombucha. At Ninja Mike's breakfast stall, a man in a mechanic's jumpsuit works the griddle, flipping egg sandwiches to old-school hip-hop. Farther down, a sandy-haired kid in a Nirvana sweatshirt strums Green Day on an unplugged Stratocaster.
The day is getting on. I've spent weeks planning these three days, but I'm most excited about the driving, which I've arranged to do in a 1986 Volkswagen Westfalia Weekender Camper—a personal dream. I collect one at the airport from Dragonflyvans, where Scott Quinnett introduces me to a van he calls Lizard King—named both for Jim Morrison and for the lizard that was living in the engine when he bought it. The vehicle has a beige interior, the aerodynamics of a brick, and no power steering. I'm smitten.
Quinnett walks me through Lizard King's particularities (take hills slowly) and hands me the keys. "I can almost guarantee you a blast," he says with a smile. The van purrs to life, and I crank its large steering wheel homeward to pick up my family.
"Montana is one of the few places where the far right and the far left coexist and want the same thing: to preserve what's here." —John Wicks
A few notes on my family: My wife, Hilly, gave birth to our second son, Julian, three weeks ago. Our other son, Theo, is 3. But Hilly is a fourth-generation Montanan, and game for adventure. So is our 10-year-old niece, Salome, who's along for the ride. We pile into the van and head to Tagliare Deli for sandwiches, all of which are named after rock bands—I order the Megadeth, with spicy capicola, soppressata, and mozzarella. We roll out of town through a notch in the hills on Highway 93.
Our next stop is for candy, at Hummingbird Toys and Treats in Arlee, on the Flathead Indian Reservation about 30 miles north. The Hummingbird is a local fixture that sells 60 varieties of black licorice from around the world, and there is much deliberation before we can set off again.
Scarcely 10 minutes up the road is another mandatory stop: the Windmill Village Bakery in Ravalli, where owner Nancy Martin sells fresh doughnuts the way her mother made them. She chops one up for Salome and Theo, and hands me one on a square of wax paper. It's warm, soft as a marshmallow, and gone in a few savage bites.
Martin was born and raised in Montana. "When you live somewhere else, people don't like you until you give them a reason to," she says. "In Montana, people like you until you give them a reason not to. And you can't beat the scenery. The day we crest that hill and don't gasp, we need to reboot, because something's off the rails."
Strolling North Higgins Ave. in downtown Missoula
She's referring to Ravalli Hill, and when we crest it, minutes later, we do gasp, as always. The Mission Mountains rise straight from the valley floor here, a blue-green wall of peaks. They're distractingly beautiful.
We drive beneath them to Polson, a small town where the trees outnumber the houses on the shore of Flathead Lake, the largest freshwater lake in the West and one of the cleanest in the country. We travel up the west shore, past cherry orchards, to Tamarack Brewery in Lakeside (our lodgings are nearby, and I'm ready for a drink).
We sip our way through a comprehensive flight of beers and nibble on fish and chips. Everyone's tired. The West Shore State Park campground beckons. We pull into the site and I pop the top of Lizard King while Salome builds a fire. We can see blue water through the trees below us and snow on the mountains beyond. The campground is quiet.
At 10 o'clock, it's still light. Salome and Theo are asleep in the upper bunk; Hilly, Julian, and I are stretched out below. I go to sleep thinking there's no place I'd rather be.
In which Jacob cooks a campfire breakfast, boats to a lake island, and cycles to the sun in Glacier National Park
All right, the night wasn't total bliss. Hilly elbowed me awake to say, "You're doing that breathing thing again." The kids were restless. But by 6:30 the birds are singing, and I'm rested enough to slide open the van door.
Lizard King makes camping almost effortless. I pull a propane burner from the cupboard, along with a kettle and a French press. Minutes later, I hand Hilly a cup of coffee, and she hands me Julian, to burp. Salome and Theo help me cook eggs and sausages on the fire.
After breakfast, we walk down to the lake, which is lined with moss-green rocks and clumps of purple flowers. The sun is warm, and I decide to take a dip. It's a brief one. This lake used to be a glacier, and it hasn't warmed much since.
Amy Grout, the Flathead Lake State Park manager, has offered to take me to Wild Horse Island, a 2,163-acre park and the largest island in the lake. The Salish and Kootenai used to swim their best horses out to the island, to foil thieves. It's still home to five wild horses, about 100 bighorn sheep, 50 mule deer, and a handful of coyotes—plus a black bear and a mountain lion that swam out there.
While my family plays on the shore, I wobble aboard Grout's motorboat, alongside a middle-aged couple named JoAnn and Glenn, who spend their summer weekends as volunteer guides. They're the sort of intense, competent types who can wield a phrase like "Drop the stern anchor." I fasten my life vest, happy they're aboard.
Grout steers away from the dock and points the bow toward Wild Horse. "This is a little gem of Montana," she says. "It's a pretty special place." Waves splash against the aluminum hull, and after some engine trouble—an opportunity for JoAnn and Glenn to cheerfully connect the backup motor—we make landfall.
JoAnn and Glenn stay with the boat as I follow Grout up the hillside. We wade through a knee-deep, bright yellow sea of arrowleaf balsamroot. Grout has short chestnut hair and the disposition of someone who gets paid to do what she loves. She still remembers her first visit to the Flathead. "I fell in love with it," she says. "It was like the valley where I lived in Alaska. I was 13 years old, and I told my parents, 'I'm going to live here one day.'"
Jackie Kecskes, cattle wrangler
She leads me past a century-old homestead and an abandoned apple orchard. The trail is redolent of horse dung, but we don't see the horses. Grout does spot a giant bighorn sheep through her binoculars on a ridge above us. "That's a world-class ram," she says. Four others filter out of the trees around it.
We finally drop back down to the shore through a glade of old ponderosas that smell of butterscotch. "This is where I was meant to be," Grout says. "I love the landscape and the people. Montanans, we're hardy. We'll do anything to help someone out. We can be very stubborn, but we love the place we live."
Back on the mainland, I rejoin my family to continue our caravan northward, past the strip malls of Kalispell and the lumber mill in Columbia Falls. In the town of Hungry Horse (population 757), we pull over at Willows' HuckleberryLand, a roadside gift shop that's said to serve the area's best huckleberry milkshake.
Inside, Buddy Willows himself is behind the counter, eating a buffalo burger. He's surrounded by shelves of huckleberry everything—honey, syrup, jam, barbecue sauce. "We use Montana huckleberries," he announces. "I'd say they have about 15 to 20 percent more twang." He hands me a copy of his self-published autobiography, The Wild and Crazy Buddy Willows. It's not a dull read.
"You get the beauty of a state like Colorado—the big mountains and the beautiful forested areas—but without the huge population. You don't feel crowded." —Jackie Kecskes
We leave with a lunch of huckleberry shakes and huckleberry pie—don't judge—and drive 10 miles to the entrance of Glacier National Park, where we all go quiet at the view of the peaks rising behind Lake McDonald. Two mule deer cross the road in front of us.
Soon, we're checking in at the Lake McDonald Lodge, a chalet on the north shore that was built as a hunting lodge in 1913. The lobby has a stone fireplace, cedar beams, and game animals mounted on the walls. Lampshades decorated with Native American pictographs hang from the ceiling. Outside, a colony of ground squirrels scurry and chirp. "People call them whistle pigs," a lodge employee tells me. "They own the property. We don't."
It's time to leave the family again, as I'm not sure the kids would enjoy my next adventure: a steep bike climb up the Going-to-the-Sun Road, on which the winter's 80-foot snowdrifts aren't fully cleared until midsummer. Tyler Schmittel, of Glacier Guides, arrives to accompany me. We get off to an awkward start when I ask him if the bearded man tattooed on his leg is Fidel Castro. "It's Edward Abbey," he replies. "The writer and conservationist."
On that note, we start pedaling. Schmittel recently cycled from Los Angeles to Guatemala City, so he's not at all out of breath as he reels off the names of the wildflowers we pass. The white trillium look like fallen stars on the forest floor.
The author in his beloved VW van
We climb and weave alongside McDonald Creek, which is an otherworldly shade of blue. "It gets that color from glacial silt," Schmittel says. We pass two piles of bear scat on the road. I notice my guide keeps a can of bear spray in his bike's water bottle holder.
We're surrounded by mountains, some of them giant domes of snow, others sheer rock faces that fall from their ridgelines like the cheek of an ax. We stop at Haystack Creek, a lovely spot a few miles from the pass. But looking around at what the Blackfeet call the Backbone of the World, it's hard not to feel sad. In the mid-1800s, there were about 150 glaciers here. Now there are 26. Some scientists project that within 15 years they will all be gone.
Later, back at the lodge, I meet up with my family, who spent the day walking the Trail of the Cedars. With a broad view of shimmering Lake McDonald, we dine on smoked Columbia River steelhead and tender local lamb smothered in a fennel demi-glaze. I wash mine down with a locally brewed Going to the Sun IPA, which only seems fitting.
As a woman plays "Edelweiss" on the piano, Theo passes out over his fruit plate. Salome informs Hilly and me that edelweiss is a white wildflower that grows in Switzerland. She's an uncommonly bright kid. Maybe someday she'll figure out what to do about the glaciers.
In which Jacob frustrates an intelligent horse, glamps on the Blackfoot River, and lands a memorable brown trout
After a huckleberry pancake breakfast (rich in antioxidants!), we decide there's time for a 5-mile hike to Avalanche Lake. Marsha, at the front desk, tells us a grizzly sow and two cubs were on the trail recently, so we pack bear spray, although we'll soon learn that Theo melting down over a lollipop is an equally effective deterrent.
The trail is well traveled. When I stop to take a picture of Theo and Salome in a hollowed-out tree, a lady walks by and says, "We have that same photo with our daughters, 20 years ago!"
At the lake, people eat granola bars and gawk at the enormous picture postcard in front of them. In the center of it all is a waterfall that begins at Sperry Glacier and crashes hundreds of feet down the mountain, too far away to be heard.
We have more driving to do. Back in Lizard King, we exit Glacier and follow the verdant Seeley Valley down the backside of the Mission Mountains. Two hours later, we enter another, wider valley, where we find The Resort at Paws Up, a dude ranch on the Blackfoot River. We check in and are led to the River Camp, where we'll spend the night in a canvas tent. Paws Up claims to have invented the term "glamping," and I wouldn't argue. We are met at the tent by two butlers, who look more like outdoor sportswear models than coat-and-tails types. One of them points out a bald eagle's nest overhead. We're also shown the pavilion, where we'll dine, and the fire pit, where we can toast gourmet s'mores afterward.
My first activity is a cattle drive. In a wide meadow, I meet wrangler Jackie Kecskes, resplendent in white leather chaps and with an elk-antler knife on her belt. She introduces me to my horse, a tall paint named Kid. We set off through the sagebrush with three other wranglers, and Kecskes talks me through the basics: A tap of the heels makes a horse walk; pulling the reins makes him stop; pressure on his right side makes him turn left, and vice versa.
"I always say, you work with a horse the way you work with a man," she says. "You know the outcome you want to achieve, but it has to be their idea, otherwise it won't stick." I recognize the principle from parenting.
Amy Grout, state park manager
As we reach the cow pen, the animals look up as if to say, "Oh no, this again?" Kecskes swings open the gate, and I try to help the other wranglers herd the cows toward her. But I keep messing up my turn signals, applying pressure with the wrong foot. Kid is confused. Then he seems to realize I'm inept and takes the lead. Evidently, he knows the outcome he wants to achieve.
Kecskes developed a love for horses in California when her parents let her adopt a half-blind pony at age 5. She came to Montana via Colorado and never wants to leave. "I love the pace of things here," she says. "We still brand our cattle on horseback, and the local sheriff comes out because he's handy on a horse."
By now we've driven the cows to an open pasture. The wranglers teach me how to cut a cow from the herd, as real cowboys do. I find it's a lot like parallel parking, except the curb keeps moving to join the other curbs, and my car has lost respect for me. I manage it once or twice, and then we drive the cows back to the pen. It's not exactly Lonesome Dove, but I've got a little swagger as Kid walks me back to the stable.
"I've stopped to help people fix a flat on the side of the road, and they'll try to pay me. I say, 'No. This is who we are in Montana. This is what we do.'" —Amy Grout
We have some time before my next activity, so I watch the kids while Hilly—who, let's not forget, gave birth three weeks ago—gets a massage. She does this at Spa Town, a row of white tents on the forest's edge that looks like a place a soldier might have convalesced after a Civil War battle (or where a mother might convalesce after a postpartum road trip with three children). As the masseuse kneads the knots from her back, she listens to a whistle pig nibble on the tent. There's no escaping nature out here—it's an immersive experience.
With Hilly suitably relaxed, I head out for some fly fishing with Jason Much, a friendly Midwesterner with a man-bun and Muck Boots. Much came out to Montana six years ago to fish for fun, and now he makes a living doing it. "The rivers brought me here, and I think they're keeping me here," he says as we drive to the boat launch.
The Blackfoot is running high with snowmelt, and I don't expect great fishing. But Much knows a few slower spots. He hands me a rod rigged with a big streamer and pushes off the raft. Now and then, he offers guidance. "Try in that slack water," he says, or, "That's brown town in there!"
A cattle wrangler at Paws Up
He's right. Suddenly there's a tug on the line and a swirl of yellow. I've fished long enough to know that it's a big brown trout. Slowly, I work it toward the boat, and Much slides his net underneath. And then he lifts from the water one of the finest fish I have ever seen. It's a golden slab of a trout, with black spots and a hooked jaw. Its tail is reddish and the size of my palm. I ease the hook from its mouth and it swims powerfully away. Much lets out an open-mouthed laugh.
Around the corner we see a pair of geese with goslings and a sandhill crane stepping through the reeds. Much is explaining his theory of the philosophical progression of fly fishing. First, you just want to catch a fish on a fly. Then, you want lots of fish. After a while, you want to catch the biggest fish. "The final stage," he says, "is when you want to catch the most difficult. That's when you start to see the soul in a fish."
We're in fast water now, aloft on the waves as swallows hawk
mayflies over our heads. We fall silent, and the only noise is the creak of the oarlocks, the rushing water, and the clap of ducks taking flight. Tall ponderosas lean toward the river from both banks like crossed swords at a naval wedding. In places, a cliff rises from the water, the rocks mottled with lichen in shades of purple, orange,
and gray. The sky gets all the credit, but everything's bigger in Montana—the mountains, the trout, the sheer sense of being.
Our tent is a mile downstream. There will be a cold beer there, and a fire. We'll eat dinner outside, and afterward we'll climb
into heated beds within earshot of the river.
"Did you catch anything?" Hilly will ask.
"Yes," I'll say. "I did."
Missoula-based writer Jacob Baynham likes to compare owning a VW van to owning a boat, although his wife reminds him that he has never owned either.

How traveling changed the course of our future
Travel is fatal to prejudice, bigotry, and narrow-mindedness…Mark Twain knew this, and anyone who travels and gets out of their comfort zone understands this same concept.
This is one of the reasons we love to travel — our perceptions and stereotypes are constantly being challenged. This is also probably why we've built a business that requires us to travel regularly — we create street art pieces in cities around the world.
But we weren't always like this. Our love of travel first began when our Mom took us backpacking through Europe for a month. At the time, we were both young teenagers who had never been out of the country. We carefully planned our outfits and fit them into one backpack each. Mom carried our Rick Steve's travel guide and off we went. We stayed in shabby hotels across the United Kingdom, France and Spain, visiting every museum we could find, eating every baguette, croissant and paella dish we could get our hands on, and loving every second of it.
We've been addicted to travel ever since.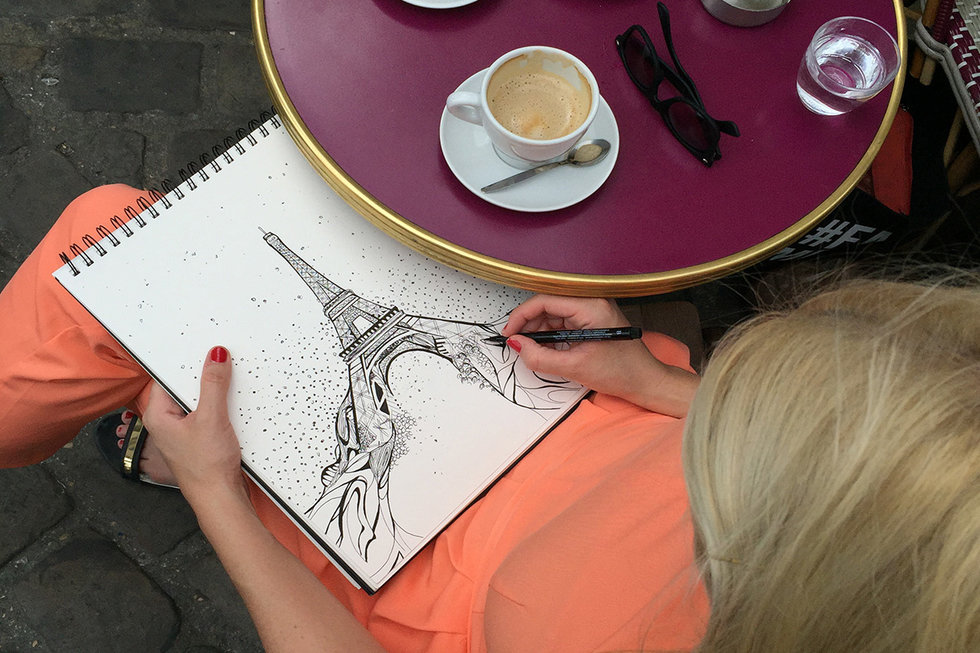 Kelsey sketches at a street cafe in Paris
I (Kelsey) fell so in love with London on that trip that I grew determined to study there. Fast forward to years later when I graduated from Richmond University in London. That trip changed the course of my life because I learned about and experienced street art during my studies in London. Courtney fell so in love with Paris that she learned French and graduated with a degree in comparative literature from the American University of Paris. That first trip changed the course of our lives forever and opened our eyes to how massive the world was. I don't think our Mom could have given us a better gift than that first trip abroad.
As adults who travel constantly we feel like a MileagePlus® membership is another important piece of the equation and something we've benefitted from tremendously over the years. The various United Club℠ locations are little refuges we escape to in busy and overwhelming airports. Being able to board early, getting upgraded and having nice flight attendants on long haul flights really can mean the difference between arriving well rested and having a good trip, or arriving tired and having a rough trip.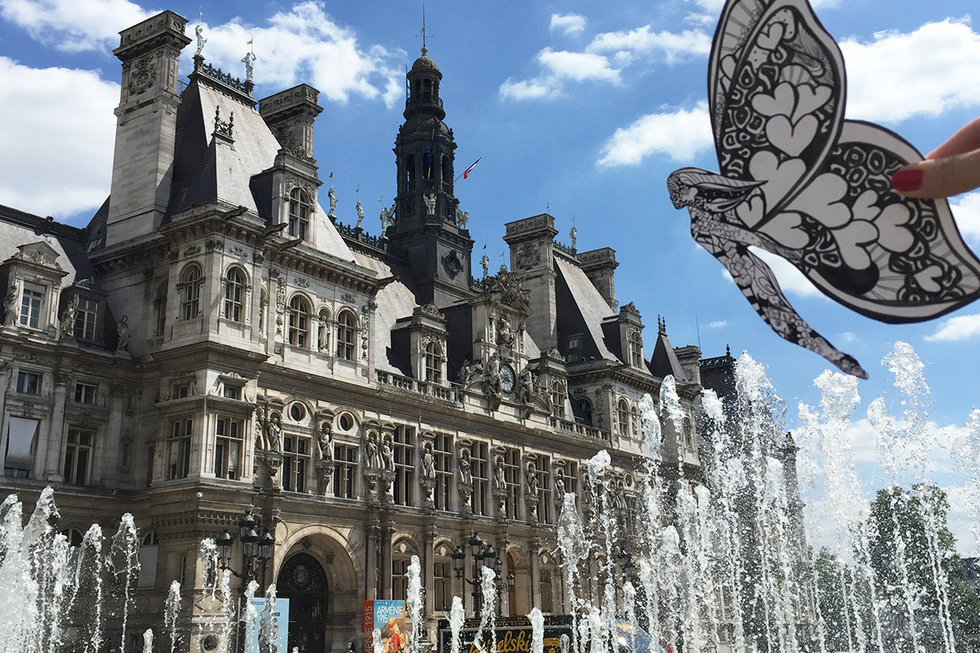 At the end of the day a company is all about the people in it and the kindness we have experienced on United flights has been wonderful. I remember once on a flight, one of our captains wrote a personal note thanking each passenger flying in United First® class for traveling on United. On another, a flight the attendant saw I was not feeling well and hunted down an Airborne (vitamin pack) for me. Still another flight attendant asked about my art (I was sketching on the plane) and when I explained what I do they committed to buying my coloring book. It's these connections that really make flying United so memorable for myself and my sister.
So if you're looking to give your child a gift, take them traveling. And if you're looking for a present for yourself, sign up to enjoy the benefits of a MileagePlus Membership. You won't regret either.
Join MileagePlus to start earning miles from the world's most rewarding loyalty program℠ and share your story with #UnitedJourney.
United and Special Olympics
Taking inclusion to new heights
Our shared purpose is to connect people and unite the world — and no organization better embodies that principle than Special Olympics.
Learn more
Welcome day brings employees and Special Olympics athletes together
As part of the weekend's festivities, our CEO, Oscar Munoz, joined a group of employees and retirees in greeting nearly 700 arriving athletes, coaches and volunteers at Seattle's Sea-Tac International Airport (SEA), as well as hundreds more at local light rail stations, all of which were decorated with our Special Olympics superhero campaign banners.
Oscar also had the honor of giving Special Olympics athlete Nikki Jones her first in person look at her superhero alter ego Lane Lightning, a moment that was captured on the video below.
Introducing a more personalized experience on united.com
Our united.com homepage is getting some big enhancements. Yesterday, we announced the launch of the new site, which will offer a more modern, user-friendly design, allowing users a more personalized digital experience.
Each one of our customers is unique and has different needs for his or her travel, and personalizing our digital offerings is just another step toward giving our customers the experience and the products that they ask for, said Digital Products and Analytics VP Praveen Sharma. "Our goal with this new homepage is to provide customers with a more seamless experience."
The new website will provide personalized content based on a customer's MileagePlus® status as well as upcoming, current or prior trips. It will also include a new display that will be fully responsive for optimal viewing on desktop and mobile devices. Later this year, the site will include a travel section that will provide customers with curated content from destinations United serves.
We began rolling out the new homepage in April and continued expanding it to more users while we added more functionality throughout the phased rollout. The site will be live to all customers in early August.
These efforts are part of our commitment to improve our customers' travel experience through every step of their journey. Earlier this year, we updated our mobile website, adding a more optimized display, additional flexibility to adjust flights throughout the site, Japanese language translations and more.
Our new homepage will also appear on our mobile website, creating a more seamless experience when customers are managing travel and bookings across multiple devices.
Transcending borders and languages in Tanzania
Story and photos by Davis Paul
I have been very fortunate to travel the world telling stories with a camera for the last decade. Being a United MileagePlus® member for many of those years has absolutely opened the world and eased my ability to get around. And, it enabled me to authentically document the way in which different people and cultures do life, which has now become an obsession. How can you make someone feel what you witnessed despite not being there?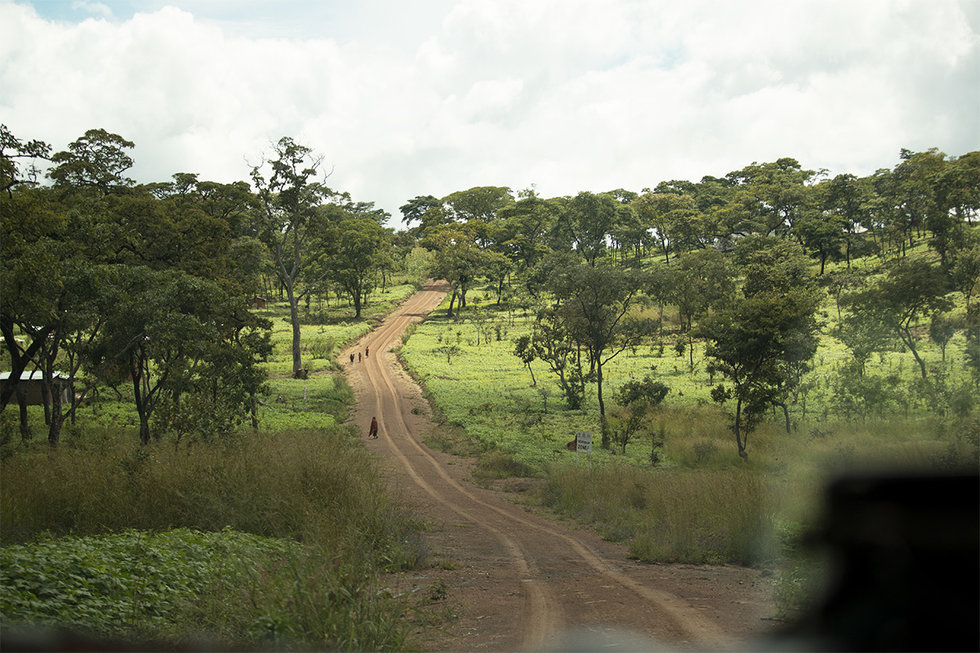 The world is full of amazing stories and incredible lessons that can transcend borders and languages. I believe every location is uniquely beautiful on it's own, we just need to see it for what it is and not in comparison to others. Bangladesh can be just as beautiful as Tahiti if we remove expectation and appreciate the uniqueness each location has to offer.

However, of all the trips I have ever taken, out of every project I have embarked on, from X Games to Real Madrid, there is one that hit me in a very different way. That was my trip to Tanzania to work on the border of Burundi out of two Refugee Camps. I was contracted to help train and build soccer programs within the camp as well as create content that would provide impactful insight into the circumstances taking place throughout the region as well as to connect the outside world with these amazing people fighting for their lives. I had zero preparation for the trip, having only booked my flight a week in advance. I had never traveled to Africa, let alone a refugee camp that couldn't be more difficult to get to. In fact, it was roughly 38 hours of travel by myself including having an 8 hour drive on something that barely resembled a road. Because it was so last minute, I actually wasn't able to secure a driver to take me to the town of Kibondo which meant once I landed, I had to find any local with a car who would be willing to take me the distance. Luckily, I found a man named Frankie who had a Toyota Corolla which consequently broke down within the first hour of our journey.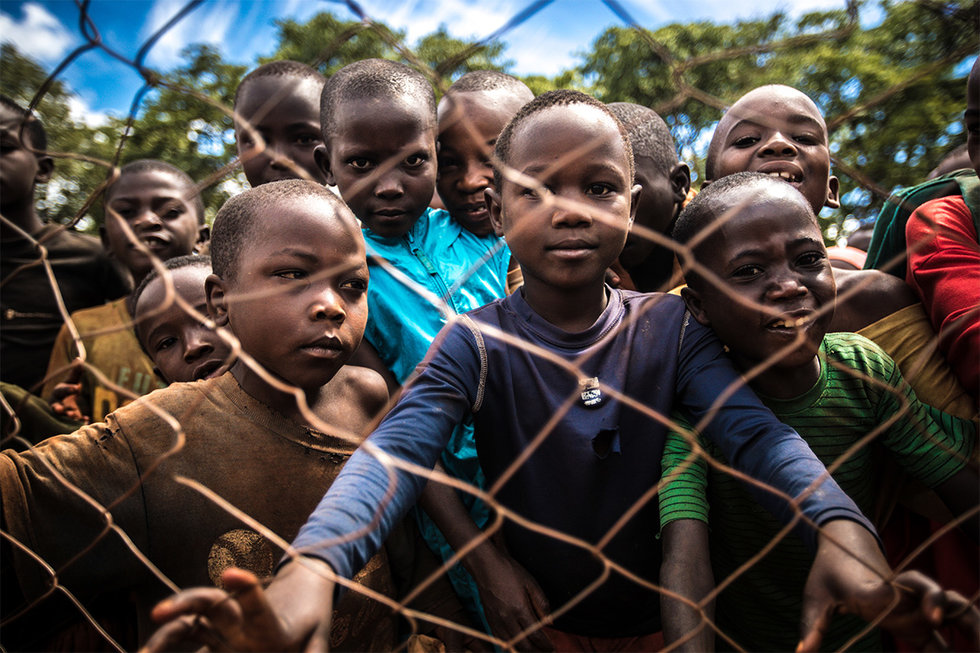 Once I arrived, I had never witnessed life in this manner. Hundreds of thousands of refugees all piled together within 2 square miles. Mud huts, tarps, tents, anything and everything to sustain life was being used. Almost everyone in this camp had lost a loved one to violence yet I had never seen so much hope and joy. It completely changed my perspective on life to live amongst these people for 3 weeks. I ate with them everyday in the camp, eating the local food with my hands. To hear their stories, to see how they live and to dream with them on the brighter future they all hope exists was truly humbling. I'll never forget the lessons I learned within this camp and from these people — their love and optimism despite having experienced unimaginable tragedy was uplifting. When I asked if there was one message I could bring back to the United States, they simply would say, "we just want people to know we exist". I hope that my time and efforts there at least provided that. Although I tried to make the biggest impact I could while there, it is safe to say I was the one impacted the most and I will be forever grateful for that. I just hope I can help in half of the way they helped me.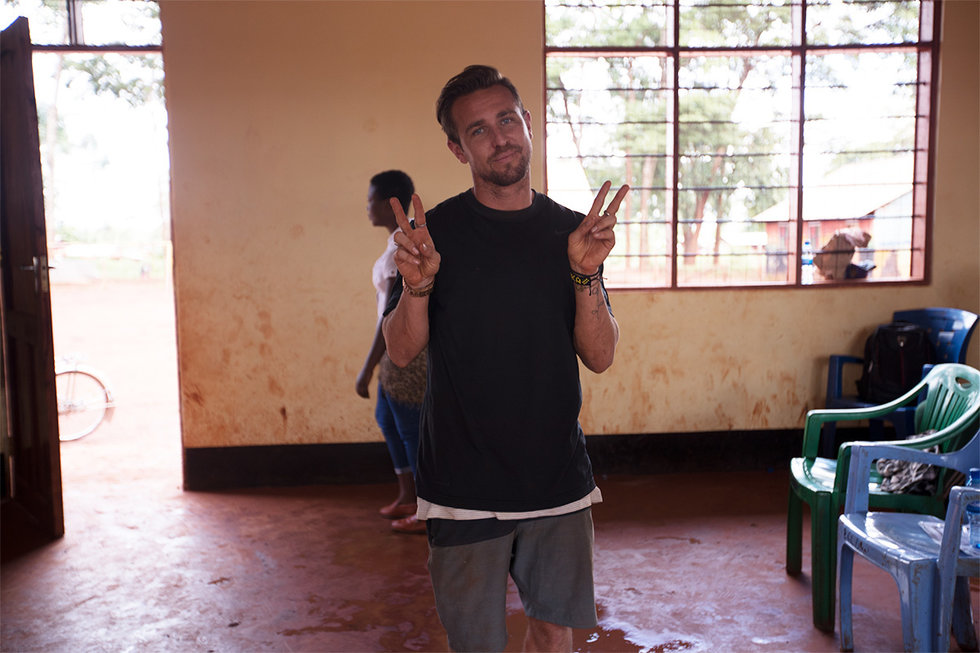 I'm never sure where the next story will exist, but I can guarantee you'll find me on the ground, always laughing with a camera in hand. Traveling is a gift that allows us insight into both our differences and similarities, and the more you travel, the more you realize we all share in the same struggles, same hopes and same dreams. I believe that despite bad things happening, the world is full of good — we just need to seek it in every situation.
Join MileagePlus to start earning miles from the world's most rewarding loyalty program℠ and share your story with #UnitedJourney.
How to experience the best of Prague in 3 days
Every bit as historic, as beautiful and as culturally enriching as the European heavyweights of Paris, London or Rome, Prague, the capital city of the Czech Republic has emerged over recent decades to be a jewel in the continent's crown.
The city escaped significant bomb damage during World War II and its historic center remains magnificently intact, with a maze of cobbled lanes, quiet courtyards, chic cafés and ancient chapels just waiting to be discovered. To see enough of the city, we suggest visiting for at least three days.
Getting into the city
Upon arrival, regular and reliable buses and trains will get you into the center of the city within 20 minutes. Unless you're heading outside of Prague, you shouldn't need to rent a car. The center of Prague is compact and easily to explore on foot, with excellent and cheap trams, buses and the subway if you don't want to walk.
Where to stay
Central Prague is broken down into 10 districts, with most visitors staying in Prague 1, the heart of the city. Here you have two good options: The Old Town or the Lesser Town – linked by Prague's most celebrated landmark, the Charles Bridge. The Old Town is at the heart of everything, full of historical sites, bars and restaurants but can be overpriced and often considered 'touristy' as a result. The Lesser Town is still close to the heart of everything but with a more tranquil atmosphere that's particularly good for families.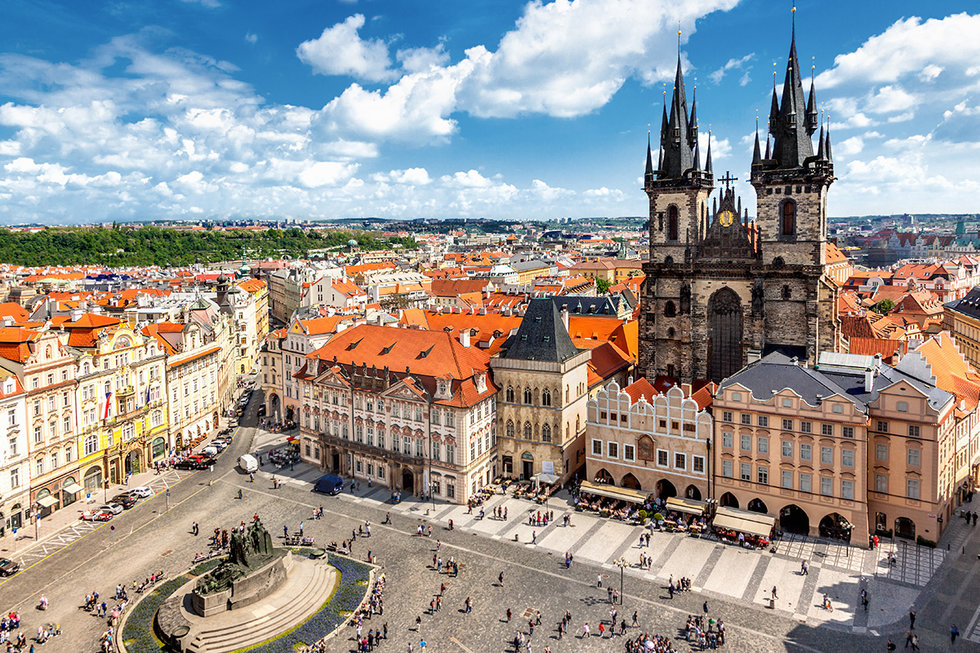 What to see
There's too much to see in a single visit, however, one of the absolute essentials has to be Prague Castle, which is literally unmissable. The largest castle complex in the world, it dates back to the 9th century and is also home to the presidential palace, the vast St. Vitus Cathedral and Golden Lane — an original 16th-century street of tiny cottages that was home to Franz Kafka. The lookout tower of St. Vitus Cathedral gives you a bird's eye view of the city, as does Petrin Lookout Tower at the top of Petrin Hill, which climbs 206 feet to look down on the city.
From there head to the Old Town Square, which is the medieval center of Prague, surrounded by cobbled streets awash with cafes and restaurants. It's home to the Old Town Hall and Astronomical Clock, the Rococo Kinsky Palace and the stunning Gothic Church of Our Lady before Týn. If you visit in December, it also hosts the city's largest Christmas market.
Also close by, Klementinum is a series of historic buildings worth visiting just to see what is arguably the most beautiful library in the world. If you're looking for a world-class collection of historical artifacts, minerals and zoological specimens, the National Museum ticks all of the boxes. It's located at the top of Wenceslas Square, which is not actually a square but a boulevard – and one of Prague's most popular shopping streets.
Kampa Island is a great alternative to the National Museum. Literally an island located beneath Charles Bridge, you'll find the museum of modern art, The John Lennon Wall and giant, slightly unnerving sculptures of crawling babies. Speaking of Charles Bridge, it is one of Prague's most popular and photographed sites for good reason. You'll no doubt use it to cross the Vltava River, but for the best photographs, visit at dawn, before the crowds arrive.
And if all this walking gets to be too much, see the city from a different perspective, floating gently down the Vltava on a river cruise.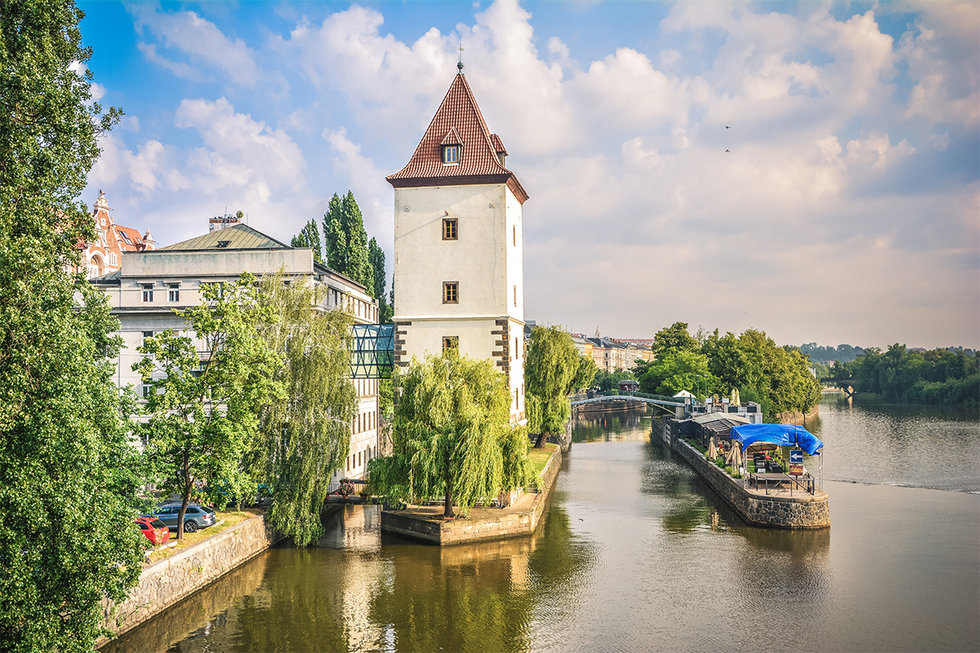 Where to eat
Restaurants to suit every taste and budget dot the center of Prague. Great breakfast options include Coffee Room, Mezi Srnky and the always-popular Café Savoy, which is also great for lunch or dinner.
In a city full of carnivores, the Real Meat Society's porchetta sandwich is a lunchtime highlight, Dish is a stylish little burger joint full of fashionable people, while Lokál Dlouhááá offers a beer hall feel and Czech classics of pork, sauerkraut and dumplings washed down with beer.
The city's only two Michelin-starred restaurants are Field and La Degustation Bohême Bourgeoise, the latter creating modern takes on old Czech recipes using the highest quality local produce. Both restaurants require a reservation. Highly recommended 'Bib Gourmand' restaurants within easy reach of Charles Bridge include Sansho, Divinis and Maso A Kobliha, where the salty caramel pie may elicit happy tears.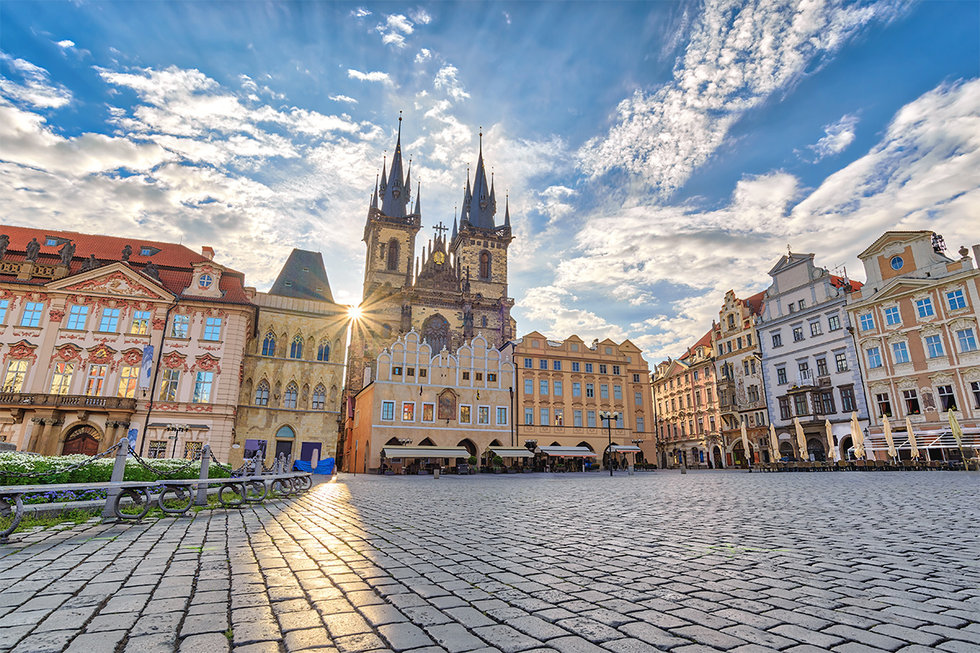 Where to drink
In the number one beer-drinking nation on the planet, the locals refer to it as 'Liquid bread.' Prague is home to many of the nation's finest bars and ale houses, many of which brew their own beers. Two of the most historic are U Zlateho Tygra, which President Clinton visited in 1994, and U Cerneho Vola, which stands in the shadow of the castle. Letná Beer Garden offers an outdoor setting where you can enjoy a beer and views of the Old Town below.
And keep an eye out for 'tankovna' – tank pubs – where the beer is not pasteurized, as most beers have to be to be transported around the globe. In tank pubs such as U Pinkasu, the beer is probably the freshest you'll ever taste. But if pilsner is not your preference, head to Hemingway Bar, one of the world's finest cocktail bars. You may have to wait in line as it is a popular with both locals and tourists alike, but it's well worth the wait.
When to go
Prague is the warmest and busiest during the summer months, from April until October and peak season starts in July through August. The longer nights of spring and summer will give you more time to explore, while the celebrated Beer Festival fills the city's Letná Park in May. Spring and autumn are generally quieter and can be less costly than the summer months. If you can cope with the colder temperatures and darker days, winter is a magical time to be in the city.
Getting there
United, together with many of its Star Alliance partner airlines, offers service from multiple cities in the U.S. to Prague. To explore all that Prague has to offer and to book your trip, visit united.com or use the United app.
The 10 best beach vacation destinations in Europe
These spots offer the perfect beach day with a side of art, history and nightlife.
Europe is home to some of the world's most-celebrated seas — the Mediterranean, the Adriatic, the Aegean — and its cultural mosaic makes it a top choice for beach lovers looking to mix sun, fun, art, history and nightlife. Windsurf in the morning, visit ancient ruins in the afternoon, shop for the season's hottest beachwear before enjoying sunset cocktails and then partying until dawn. Sound good? Read on to discover the 10 best beach vacation destinations in Europe.
Mykonos, Greece
Few places do charm and decadence better than Mykonos. This sunny Greek island's calling cards are almost-anything-goes beaches (expect plenty of skin), Instagram-worthy Cycladic architecture (whitewashed buildings with brightly hued shutters and cascading flower boxes), 16th-century windmills (a must-see at sunset) and legendary discos and dance clubs in Mykonos Town. As for the beaches, check out Ornos Bay for pretty views and excellent windsurfing, chic Psarou for celebrity spotting and Paradise and Super Paradise for hedonistic sun-worshipping and dancing until sunrise.
Mallorca, Spain
Mallorca, Spain | Shutterstock
This beautiful Mediterranean oasis, the largest of the Balearic Islands located off the east coast of Spain, is a hot spot for northern Europeans, who flock here in summer to enjoy long days of sunshine and fresh air. Once you get beyond the urban sprawl of the capital, Palma, mountainous, bay-fringed Mallorca delivers some of the region's most amazing azure water and soft-sand beaches — there are more than 250, from popular 3½-mile Playa de Muro to secluded Cala Mesquida. The view from the water is pretty incredible, too: centuries-old hilltop villages constructed of golden stone backed by peaceful olive groves and vineyards.
Hvar, Croatia
Hvar, Croatia | Shutterstock
In between swimming, sunning and windsurfing, visitors to this summer-resort island, located in the Adriatic off of Croatia's coast near Split, can tour a 13th-century fortress and cathedral, go wine tasting (if you haven't tried Croatian wine, you should) and in June and July, inhale the heavenly aroma of lavender, which grows in abundance here. Hvar's beaches are known for their intense scenic beauty — many are set in serene bays surrounded by cliffs and pine forests — and tempting options include Dubovica, Zavala and Ivan Dolac.

Saint-Malo, France
Saint-Malo, France | Shutterstock
If it's seaside drama you seek, consider Saint-Malo, a walled city in France's Brittany region where the cobblestone medieval streets of Old Town are surrounded by a series of sandy beaches, some of which are only walkable at low tide and offer access to rocky islands (timetables tell you when to visit). When the tide's high, tour the Cathedral of Saint-Vincent (constructed between the 12th and 17th centuries) and the city's landmark fortress with its four round towers. Or you can always kick back and relax on Plage du Sillon, a vast beach that stretches for almost 2 miles along the English Channel.
Ibiza, Spain
Ibiza, Spain | Shutterstock
It helps to be young to enjoy the 24/7 frenzy that is Ibiza — the wildest isle in the Med thanks to its world-famous clubs blasting dance music. Should you be awake when the sun's shining, top activities on Ibiza, which is also one of Spain's Balearic Islands, include music festivals, beach-going (Cala D'Hort has a view of the distinctive Es Vedra rock formation or hop over to neighboring island Formentera, known for its white sand) and scuba diving, since visibility here is superb.

Sicily, Italy
Sicily, Italy | Shutterstock
If you're a fan of old-school destinations — scenic, slow-paced and filled with tradition — you can't go wrong with Sicily. This Italian island, the largest in the Mediterranean, is home to stunning beaches, yummy treats such as ricotta-filled cannoli and meat-filled rice balls called arancini (both invented here) and ancient Greek and Roman ruins dating back several millennia. It also boasts Europe's most active volcano: Mt Etna. Book a beach resort for maximum access to sun and sand, or stay in charming hilltop Taormina and day trip to beaches such as Isola Bella or Giardini Naxos.

The Algarve, Portugal
The Algarve, Portugal | Shutterstock
The hot Iberian sun shines along the southern coast of Portugal 300 days a year — and in summer, the region receives very little rain — so it's no surprise that the Algarve ranks among the top beach destinations in Europe. It's also incredibly pretty and quite affordable, with a variety of hotels, rental apartments and homes located in cities and villages stretching from Sagres in the east to Villa Real in the west. In between are more than 150 beaches, with Praia da Falésia near Albufeira, Praia da Camilo near Lagos and Praia da Marinha near Lagoa featuring photogenic limestone cliffs.

Crete, Greece
Crete, Greece | Shutterstock
As Greek Isles beaches go, Crete has some of the best. But Greece's largest island is also its most geologically diverse — so beaches here range from sweeping and tranquil to compact and crowded. For the former, head to Balos Lagoon near Kissamos on the west coast or Elafonisi Beach, also in western Crete, with its pink sand. For the latter, there's Vai Beach near Sitia in the northeast, which is backed by Europe's largest natural palm grove, and Matala Beach on the south coast, where you can follow your swim with a seafood lunch at a local taverna.

Cornwall, England
Cornwall, England | Shutterstock
There are hundreds of beaches along this rugged peninsula on the Atlantic in southwest England, some ideal for surfing, others for beachcombing and others for seaside shopping and dining. It's all incredibly wild and moody, the kind of setting that's equally inspiring to artists and adventure-lovers. For pure visual delight, it's hard to beat the beaches around St. Ives, especially Porthmeor, while Kynance Cove seduces at first sight with its unblemished natural beauty. Add in fishing villages such as Mevagissey and Polperro and you'll discover how Cornwall charms visitors with a raw authenticity that's ever harder to find these days.
Sardinia, Italy
Sardinia, Italy | Shutterstock
On this vast Italian island, the second largest in the Mediterranean, it's possible to be a jetsetter or a backpacker, to step back in time while strolling tiny villages or channel the 21st-century while sunning on a modern mega-yacht, to visit ancient temples or enjoy the latest youth-enhancing spa treatment. Long celebrated for its talcum-soft beaches and clear aquamarine water, Sardinia's alluring Costa Smeralda has been a summer hot spot since the mid-1960s. Yet the island also has a harsh interior landscape that has shaped the local mindset and cuisine (fava beans, sheep's milk cheese and lamb with artichokes compete with seafood and pasta on many menus). But it's Sardinia's coastal beauty that has made it envied the world over.

This article was written by Donna Heiderstadt from Islands and was legally licensed through the NewsCred publisher network. Please direct all licensing questions to legal@newscred.com.
Rising tide of Special Olympics lifts employee's daughter
A dark green wave rises and crests, spilling over into a froth of white foam as it picks up steam and propels Alissa DiDomenico toward the shores of Fernandina Beach, north of Jacksonville, Florida. With her arms outstretched, Alissa kneels on her surfboard, eyes focused in concentration, and shifts her weight with the momentum, settling in for the ride as the water flattens over the hot sand.
Alissa's father, United's Jacksonville International Airport General Manager Paul DiDomenico, watches from nearby as she comes to a stop. Hopping to her feet, Alissa flashes a wide grin at her dad then turns, her board under one arm, and paddles back out to do it again.
It's late June, and Alissa, 18, is in the thick of competition season as she seeks to represent Nassau County at the Special Olympics Florida State Surfing Championship in Cocoa Beach this September. If she's successful, it will be her fourth consecutive state finals appearance, where she was a gold medalist in 2016 (the contest was cancelled in 2017 because of Hurricane Irma). Paul, a native Midwesterner more comfortable in the snow than in the sand, is nevertheless a fixture at all of Alissa's events and weekend practices, joined by his wife, Marta, in the cheering section.
The water is Alissa's sanctuary, the place where she feels most at home, like "a little mermaid," Paul says. Pool therapy helped her build her strength when she was young, and by the time she began riding waves in 2014 she was already an accomplished swimmer. When Nassau County Special Olympics introduced surfing, Paul encouraged her to give it a try and Alissa was immediately hooked, drawn to the speed and grace inherent to the sport.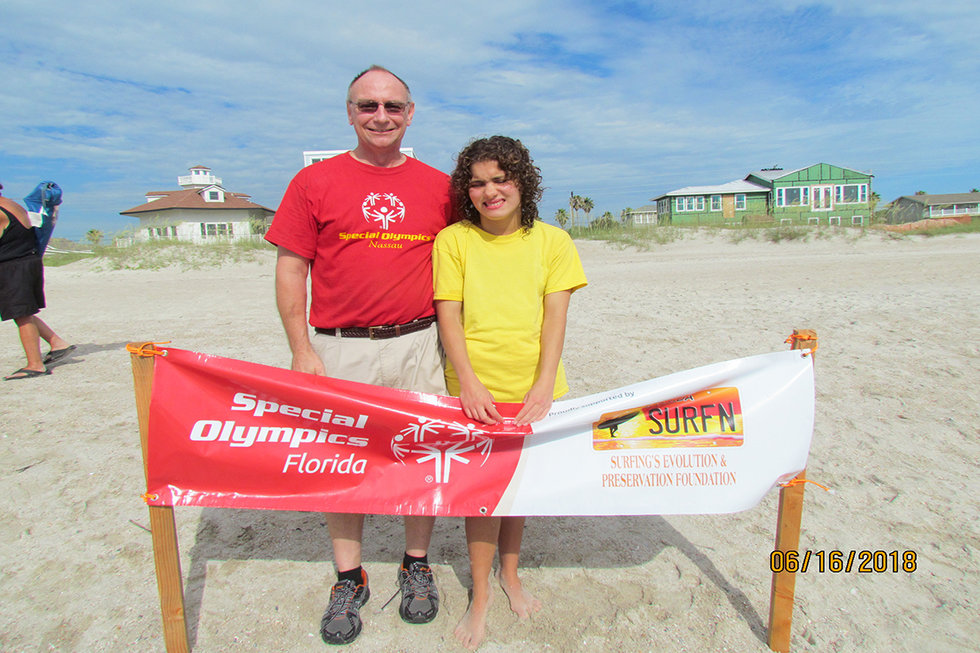 Apart from bringing her enjoyment, swimming and surfing have also had a transformative effect on Alissa as a person, helping to draw her out of her shell. She's on the autism spectrum and has difficulties speaking, but the look on her face when she's in the water says more than words ever could. Without Special Olympics, Alissa – and countless other children – wouldn't have these kinds of experiences, which is why Paul is so glad to see United expand its partnership with the organization, which includes flying nearly 700 athletes to the 2018 Special Olympics USA Games in Seattle and sponsoring the Special Olympics 50th Anniversary Celebration in Chicago.
I see it as an opportunity for her to step out and do something that's out of the ordinary, but also ordinary at the same time, because every kid plays sports, says Paul. "This is her opportunity to play and socialize."
As the morning session draws to an end, Alissa bobs in the water on her surfboard. A line of waves swell as they near the shoreline and she readies herself in a crouch. Before she can find her balance, though, her feet are swept out from under her, sending Alissa splashing into the Atlantic.
In an instant she's back on her board, waiting for the next set of waves to roll in, and with them, her next chance. Before long, she's gliding toward the beach once more, exhausted but happy, in a way that looks effortless. Competitions and medals are the farthest thing from Alissa's mind as Paul meets her with open arms, her smile matched only by his. In that moment, she's already won all there is to win.
Brazil's big three: Rio, São Paulo & Salvador
Brazil is nearly as large, populous and diverse as the United States. So where does a tourist begin? In the U.S., the answer might be to visit New York City, Chicago and L.A., each with its own personality. In Brazil, the best answer is Rio de Janeiro for its festive vitality, São Paulo for its cosmopolitan culture and Salvador for its history and beaches.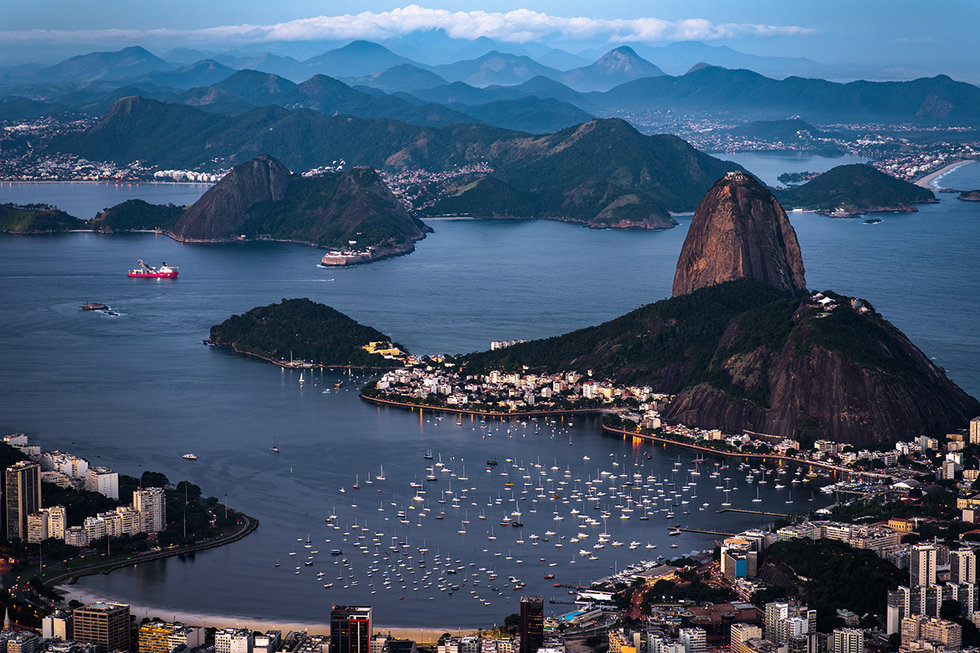 Rio de Janeiro

The world came to Rio for the 2016 Summer Olympics and left with a big grin. The energy of the city, the splendor of the beaches and the spirit of the people — including a passion for sports — made the games the global success story of the year.
From the Lapa district's samba clubs to the beaches, Rio de Janeiro is a colorful city where the party never ends. Copacabana Beach's two miles of sand are routinely packed with tourists and locals alike while adjacent Ipanema Beach is more sedate, located alongside the Ipanema and Leblon neighborhoods' upscale shopping streets and restaurants. Two steep, iconic mountains tower over the city, letting you see it all from high above. Take a gondola ride to climb to the top of Sugar Loaf Mountain, or a cog train to ascend up to Corcovado Mountain's 130-foot-tall Christ the Redeemer statue.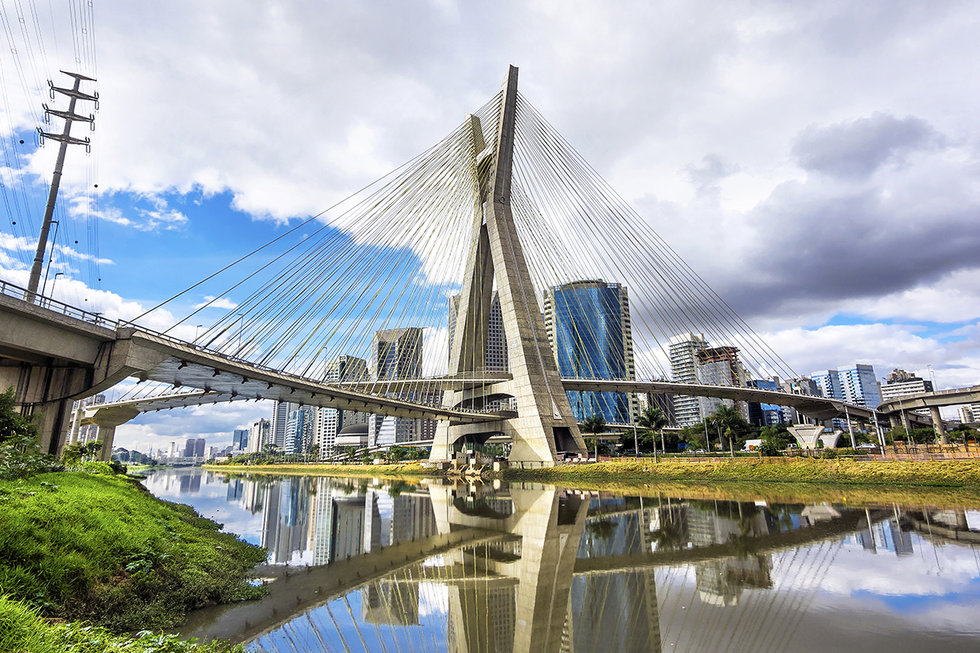 São Paulo
With 12 million people, São Paulo is the Western Hemisphere's most populous city, boasting more residents than New York City and even Mexico City. But that's not the only reason to visit. It's a must-see global city because of what the diverse, relatively affluent population has built — many of South America's finest museums, architecture, culture and more.
Several museums are found in the old city center. Walking distance apart are a neoclassical Brazilian art museum (The Pina), a neo-Byzantine cathedral and a Belle-Epoque covered marketplace. Elsewhere in the city are the São Paulo Museum of Art, boasting the largest collection of Western art in the Southern Hemisphere, and Museu Paulista, a colossal history museum surrounded by Versailles-inspired gardens at the University of Sao Paulo. Every Saturday, live samba music is played in many of the city's bars, but the place to experience this is at Bar Samba in Vila Madalena. And when you're hungry, it's good to know the restaurants are the best in Brazil, especially in the Jardins district. Among them are countless sushi spots and pizzerias, thanks to a vast population of Japanese and Italian immigrants and descendants.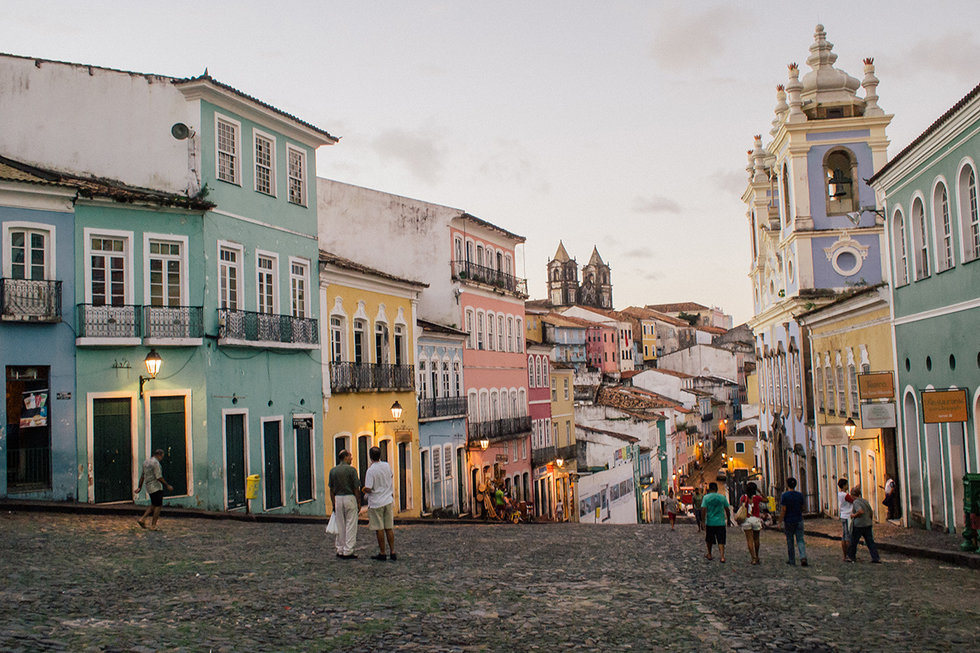 Salvador
Among the major cities on Brazil's northern coast, none offer as much to visitors as Salvador, the original capital city of Brazil. This city of three million has stunning beaches, superb restaurants and bars, plus an historic city center (Pelourinho — a UNESCO Cultural Heritage Site) that dates to the 16th-century dawn of the city.
Similar to Rio, almost everything worth experiencing in Salvador is on the water or close by, starting with beaches on the Bay of All Saints and Atlantic Ocean — ideal for swimming, surfing and sunbathing. Also found near the shore is the Elevador Lacerda (the world's first elevator—now a tourist attraction) and many museums devoted to South American, modern and decorative art. Also found in the Old City nearby are more museums, six cobblestone squares and a 17th-century cathedral. Many of Salvador's restaurants serve Afro-Brazilian food, a relic of the city's past.
Practicalities
All three of these Brazilian cities are closer to the equator than Miami, so expect balmy year-round temperatures that almost always hover in the seventies and eighties. The only months to avoid are the rainy season: December to February in Rio and Sao Paulo; April to June in Salvador. Transportation in all three cities is easy via Uber, buses and subways. Don't bother with pricey taxis or rental cars. And while in Brazil, be sure to try the national beverages — Brazilian coffee by day, caipirinhas by night.
If you go
United Airlines offers flights to Rio de Janeiro and São Paulo from numerous U.S. cities, including nonstop flights from Houston Intercontinental to Rio de Janeiro and nonstop flights from Chicago O'Hare, Houston Intercontinental, New York/Newark and Washington Dulles to São Paulo. Salvador is served by Star Alliance partner Avianca Brasil, with frequent flights from Rio de Janeiro and São Paulo. You can also get to any of these three cities via one of our partner airlines, Azul Brazilian Airlines. MileagePlus® Rewards can help pay for your hotel room. In addition, before you go make sure to submit the proper documentation to receive a tourist visa. Go to united.com or use the United app to plan your Brazilian adventure.
Scroll to top