Three Perfect Days: New Orleans
Story and Photography by Sam Polcer | Hemispheres, March 2017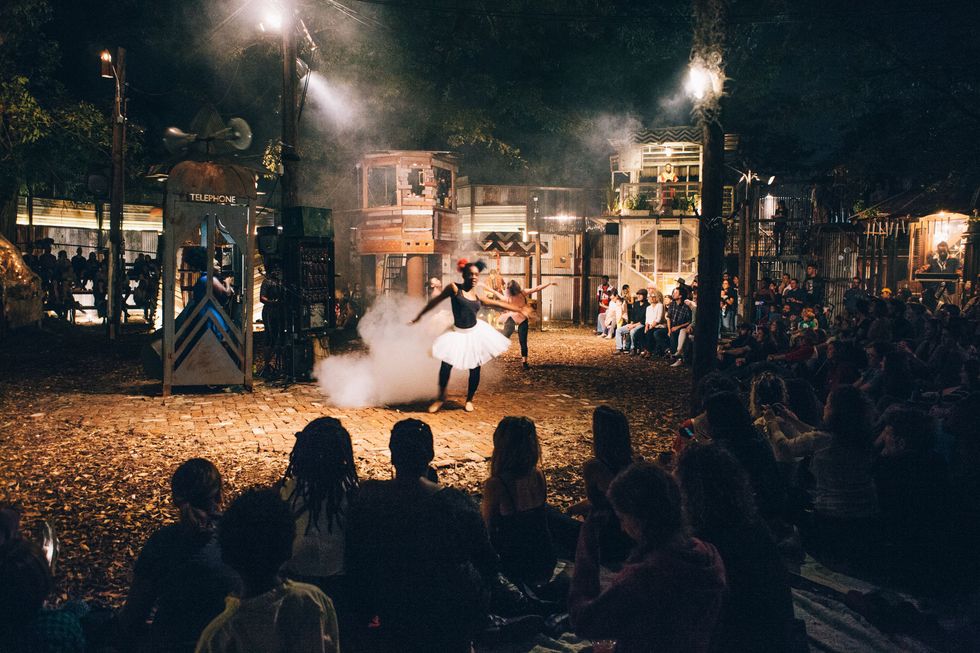 Few places know how to throw a party like the city that gave us jazz, the po'boy, the Sazerac, and the expression "Laissez les bons temps rouler." Indulgence, creativity, and celebration are cornerstones of the culture here. The most common dinner-table topic is tomorrow's lunch. People dance with strangers in the street because that's just what you do. And even as the city nears its 300th birthday next year, age has not slowed it down; reinvention and renewal are a part of life here. Musicians, chefs, artists, entrepreneurs—even the lushes staggering down Bourbon Street in the early hours—all are driven by the bright belief that tomorrow will bring something new. "Let the good times roll," indeed.

In which Sam ignores good advice, discovers two secret gardens, and applauds a bag of fish
My younger brother, Ben, a jazz musician, doesn't dispense advice often, but upon hearing I was going to New Orleans, he weighed in on Bourbon Street: "If you only have three days, you can probably skip it."
Having enjoyed a fortifying night's rest at the hip Seattle export Ace Hotel, I start the day by ignoring my brother's advice, making my way through a lobby of leather couches, eclectic art, and dark wood finishes and heading out into the sunshine in search of the most theatrically hedonistic spot in the U.S.
No more than 10 steps into the French Quarter, I find myself dancing around the sudsy rivulets left behind by the street cleaners. For a city that so famously honors the past, New Orleans sure seems in a hurry to put last night behind it—which is more than can be said for the pair of imbibers who emerge from a doorway, blinking, attempting to solve The Riddle of the Upside-Down Cellphone.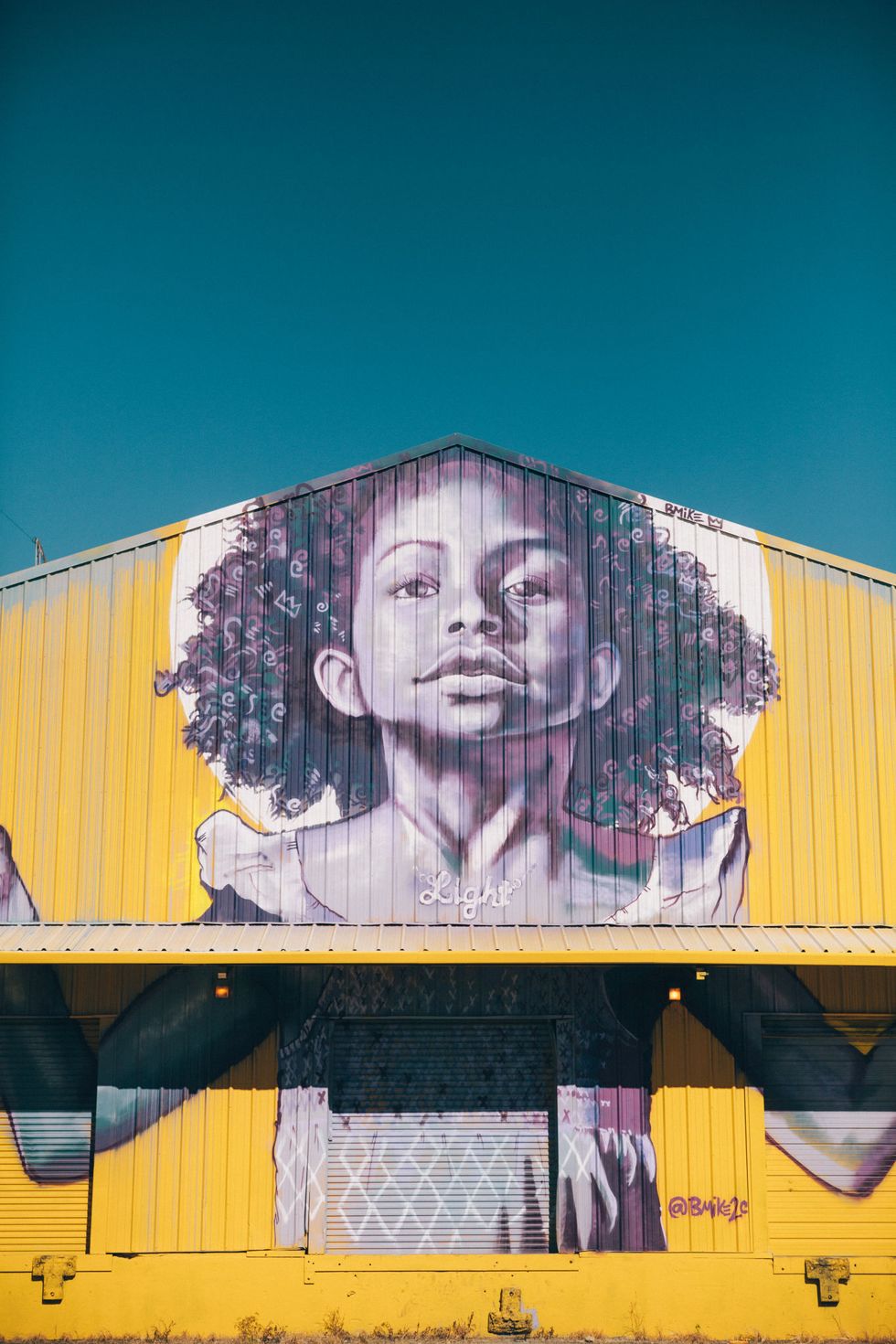 A Brandan Odums mural in the Bywater
Farther "downriver"—cardinal directions are scoffed at here, due to a grid that takes its cues from the winding Mississippi—Bourbon Street reveals its quieter side, the wrought-iron balconies and signs promoting daiquiri-and-pizza combos giving way to homes with painted shutters and manicured foliage.
A block after Bourbon turns into Pauger Street, I hang a right, and I'm at Horn's, a casual eatery on a quiet corner of the Marigny, a madly colorful neighborhood where the strains of practicing violinists drown out the traffic. Waiting for me at a covered sidewalk table is Catherine Todd, cofounder of Where Y'Art, a local gallery whose online branch allows users not only to view and purchase the works of local artists but to chat with them as well.
A native New Orleanian, Todd has offered to show me around the Bywater, a J-shaped neighborhood east of the Quarter that was once plantation land and is now a flourishing artist enclave. Despite its preponderance of hip restaurants and rising rents, the Bywater mercifully avoids Brooklyn comparisons—the Big Easy is the only place you'd find the sun-drenched Creole cottages, the bushes draped with Mardi Gras beads, and the swampy, edge-of-the-Earth stillness that surrounds you here.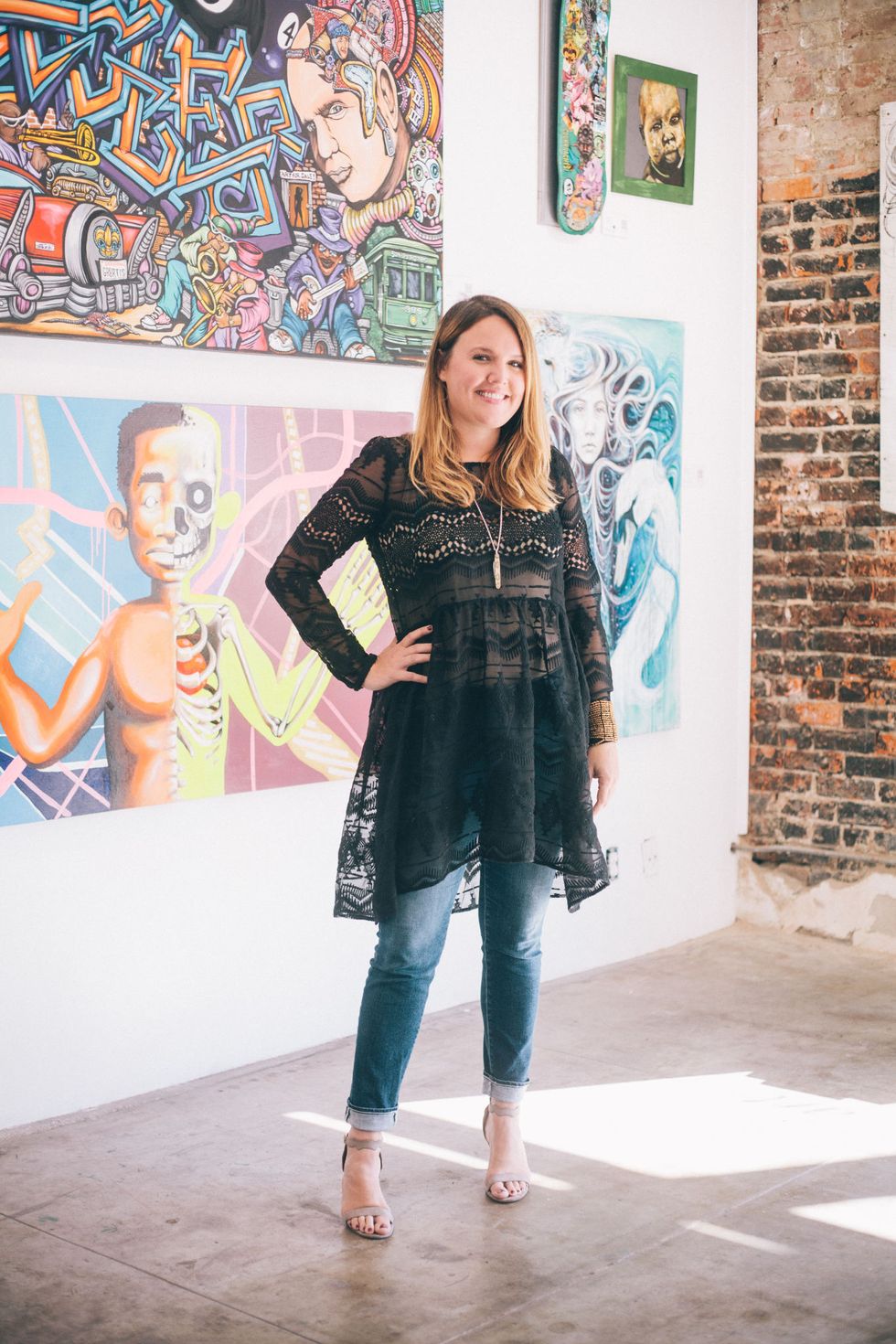 Catherine Todd, co-founder, Where Y'art
Todd is a part of an insurgence of businesspeople who are setting up shop in the city's converted warehouses and formerly shuttered storefronts. "The entrepreneurial community is huge," she says. "There's a compacted creative energy here that sparks true originality." Breakfast served, our waitress notices how eagerly I'm digging into my ample order of fried-oyster Benedict atop cornbread. "Waffle for the table?" she suggests, gently. "Sure," I mumble. "For the table."
From here, we walk two blocks to Todd's gallery, which has bright street artworks displayed on peeling plaster and brick walls. Then we hop over to the New Orleans Art Center, a warren of studios and exhibition spaces in the Ninth Ward. In the main space is an ambitious photography show featuring work by Louisiana artists, including a hauntingly beautiful image of a clarinet transformed (not destroyed) by Hurricane Katrina, its metallic components oxidized into striated patterns that seem to glow.
Next up is Good Children, which was one of the first galleries to plant its flag in the neighborhood, about a decade ago. It's in a white box space run by a 12-artist collective that includes Louisiana-born Brian Guidry, who is waiting for us when we arrive. Guidry's work runs the gamut from collages of found materials to paintings, some of which use flattened La Croix drink boxes as canvases. "Grapefruit works well," he says of the medium.
"The New Orleans dialect is a little-known slice of the English language known as Yat, which stems from our tendency to shorten any expression into something slurrier. Hence, 'Where you at?' becomes 'Where y'at?' becomes 'Yat?'" —Catherine Todd
Upon exiting the dim space, Todd shields her eyes. "I feel like I just walked out of a casino!" she says, and then: "Come on, let's close out this tour with a visit to a giant alligator." She is referring to Nnamdi the Gator, a vast purple mural by Devin DeWulf. We arrive to find the artist applying the finishing touches. He seems to be in a buoyant mood: "Hey, want to hear some fun facts about 'gators?"
Having learned that alligators are capable of eating 23 percent of their body weight in one meal, I head for lunch at the Joint, a Bywater mainstay where co-owner Pete Breen delivers a basket that's straining to hold smoky brisket, juicy pulled pork, and tender dry-rubbed ribs. This type of slow-cooked barbecue wasn't easy to find before Breen and his wife came to town. "New Orleans always had chicken, ribs, and soul food," he says, but before he can finish the thought, a guy at the next table initiates a barbecue-related discussion so complex you might mistake the two men for chemists.
"That's New Orleans for you," Breen says when the guy has left. "He could have called his wife, she would have come down, and we'd be sitting here for another two hours."
I head up Esplanade Avenue, past blocks of 19th-century mansions, then walk off my meat basket with a stroll through the Sydney and Walda Besthoff Sculpture Garden. It's a lovely spot, its 200-year-old live oaks draped with Spanish moss and interspersed with scores of artworks ranging from Renoir's bronze Venus Victorius to Leandro Erlich's gravity-defying protest piece Window and Ladder—Too Late for Help. Young musicians lazily strum guitars alongside a lagoon. The effect is mesmerizing.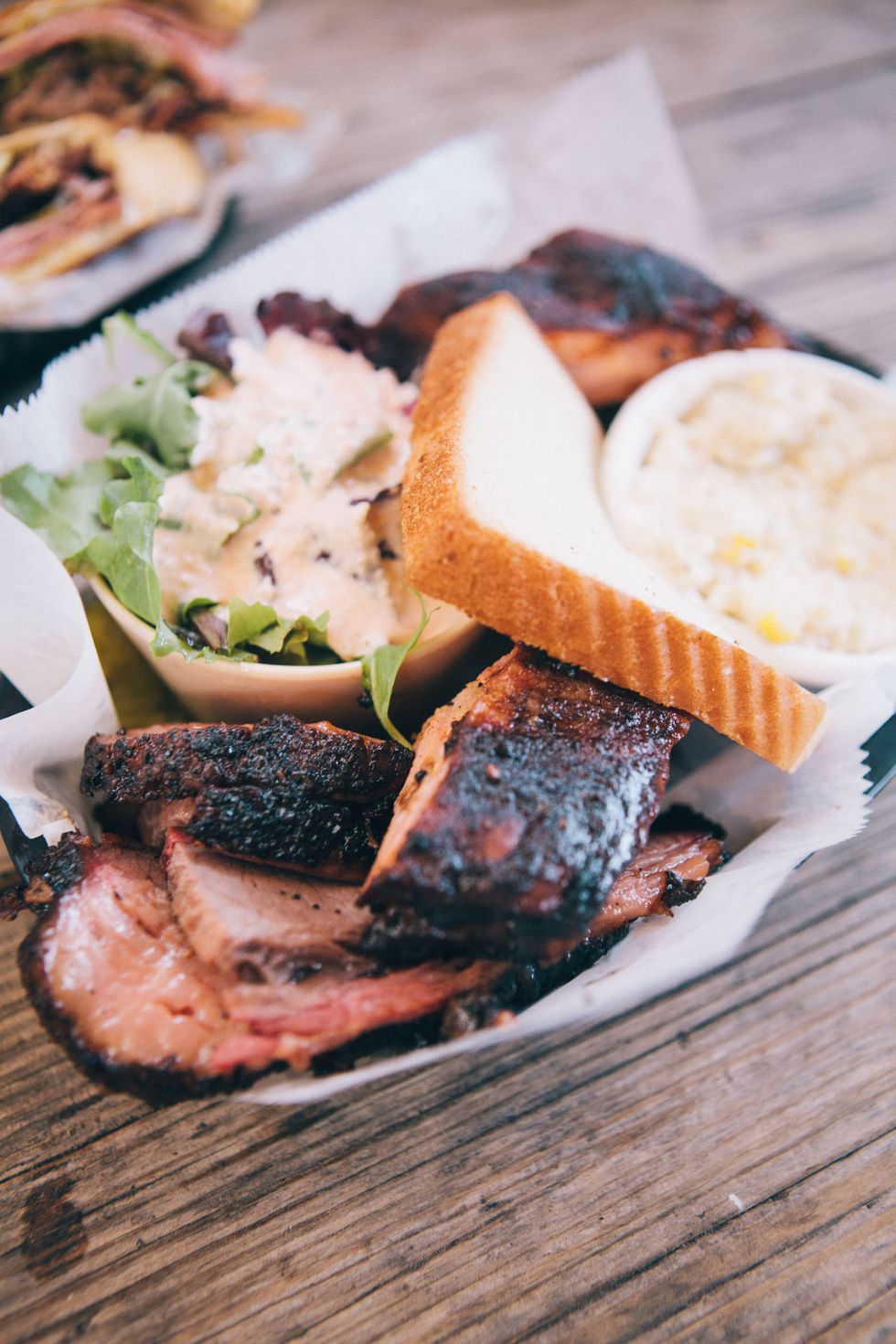 Ribs at the Joint
My next stop is another secret garden of sorts, this one hidden behind a two-story corrugated steel wall. Inside, the nonprofit outfit New Orleans Airlift recently created Music Box Village, a shantytown of treehouselike sound sculptures: Stairs are keyboards, window shutters are drums, pluckable piano wire is strung across walls. It's like a park-size music studio codesigned by Rube Goldberg and Dr. Seuss. The venue is hosting a performance tonight by local outfit Tank and the Bangas, but before the show Airlift founders Delaney Martin and Jay Pennington (aka DJ Rusty Lazer) allow me to rattle, bang, honk, and squawk my way through the structures, which causes the sound techs to wince.
Mercifully, the performers soon commandeer the houses for a musical adaptation of Alice in Wonderland. A rapt audience sits on picnic blankets as Tank, in a blue ball gown and golden tiara, joins a trio of ballerinas in a whimsical musical yarn. Things take a turn for the weird when the "Queen of Bounce," Big Freedia, starts rapping into the mouthpiece of a modified phone booth topped by a spinning loudspeaker. Only in New Orleans.
I go from looking glass to Collins glass across town at the recently reopened Pontchartrain Hotel's Caribbean Room. A smoky, tiki-esque rum cocktail is followed by a spicy, sweet appetizer of crispy oysters topped with bacon jam, blue cheese, and a spot of jalapeño. For the finale, a waiter slices into a piping hot paper bag to reveal delicate pompano, fingerling potatoes, saffron, and shrimp soaking in a crab butter sauce. It's so good, when the waiter asks me how it was, I clap.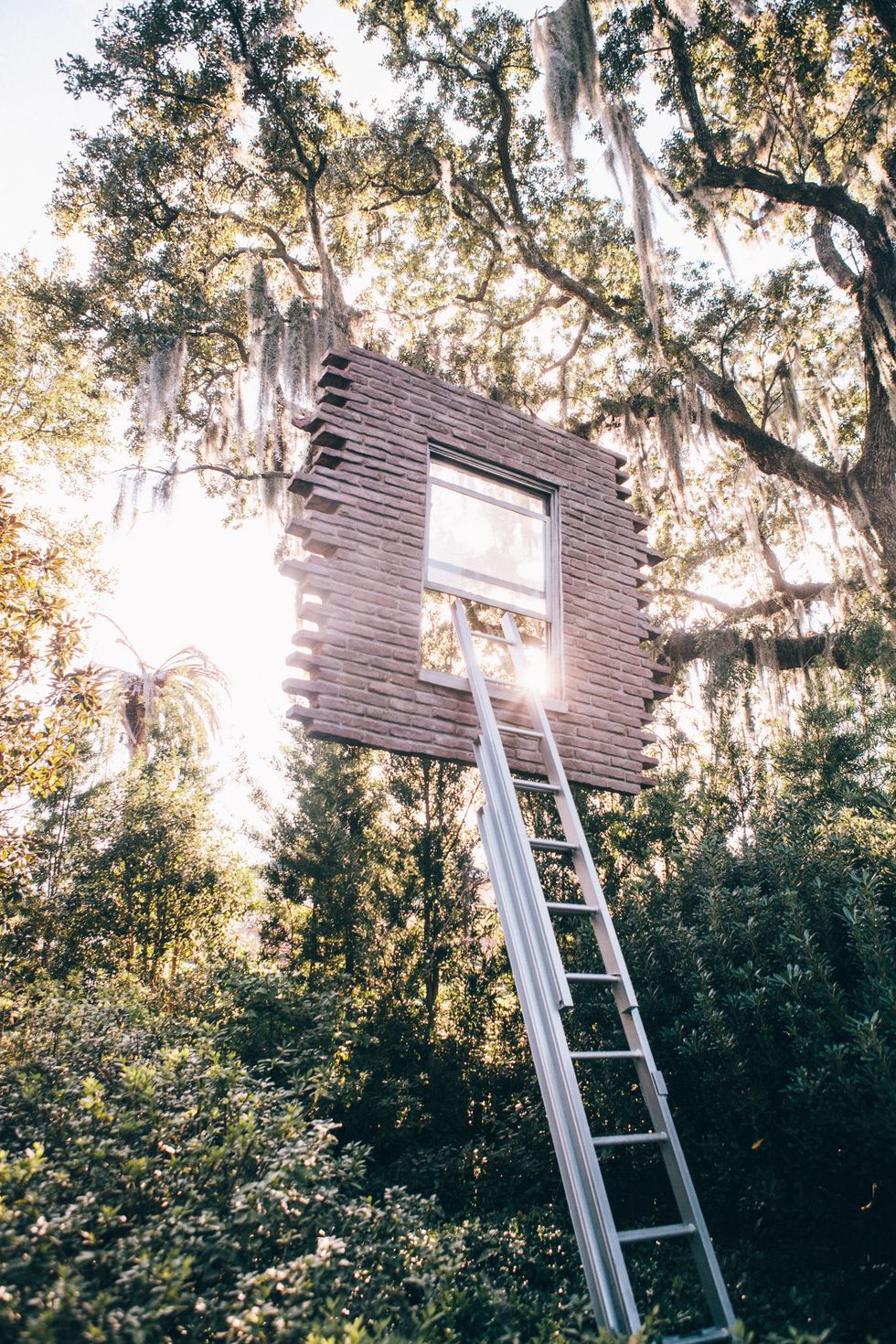 A piece in the Sydney and Walda Besthoff Sculpture Garden
As I leave, a hostess tells me the waiting area outside the dining room is one of the most Instagrammed spots in all of the Big Easy, thanks to a painting of New Orleans hip-hop star Lil Wayne with an order of the restaurant's signature Mile High Pie, his eyes closed and teeth bared in an expression that can only be described as rapturous. Maybe I should have had the pie.
There's time for a final cocktail at the Pontchartrain's fashionable rooftop bar, Hot Tin. I order a Menage Mule—the bar's floral, Frenchified take on the classic Moscow Mule—and then I order another. All around me, the city glimmers, its unsteady constellation of lights sending a kind of coded message: "Oh go on, one more."

In which Sam wakes up to Satchmo, finds a freak flag to fly, and tries a classic cocktail more than once
I'm roused from my sleep by the historic, tourist-stuffed St. Charles streetcar rolling down Carondelet Avenue, visible from underneath the single eyelid I've pried open in my corner room at the Ace.
The decor in the room is as thought out and impeccably disheveled as the staff's haircuts, with an assortment of Deco-inspired furniture, vintage accents, and approximately 50 shades of black. There's also a bedside Martin guitar, along with a turntable and a small vinyl collection by the window. Having bungled a few chords on the guitar, I thumb through the records, passing on The Art of the Japanese Bamboo Flute for Louis Armstrong's "What a Wonderful World." When he gets to the bit about "the bright, blessed day," I glance at the window. Maybe a little too bright.
I head out and make my way through Lafayette Square to Revelator Coffee Company, purveyor of "third wave" artisanal joe. I supplement the high-end caffeine with a croissant and a bottle of Big Easy Bucha kombucha, and board the historic sleep-disturbing streetcar feeling much revived. We roll along for a while on St. Charles Avenue, heading upriver, until it's time for me to jump out for some shopping on Magazine Street.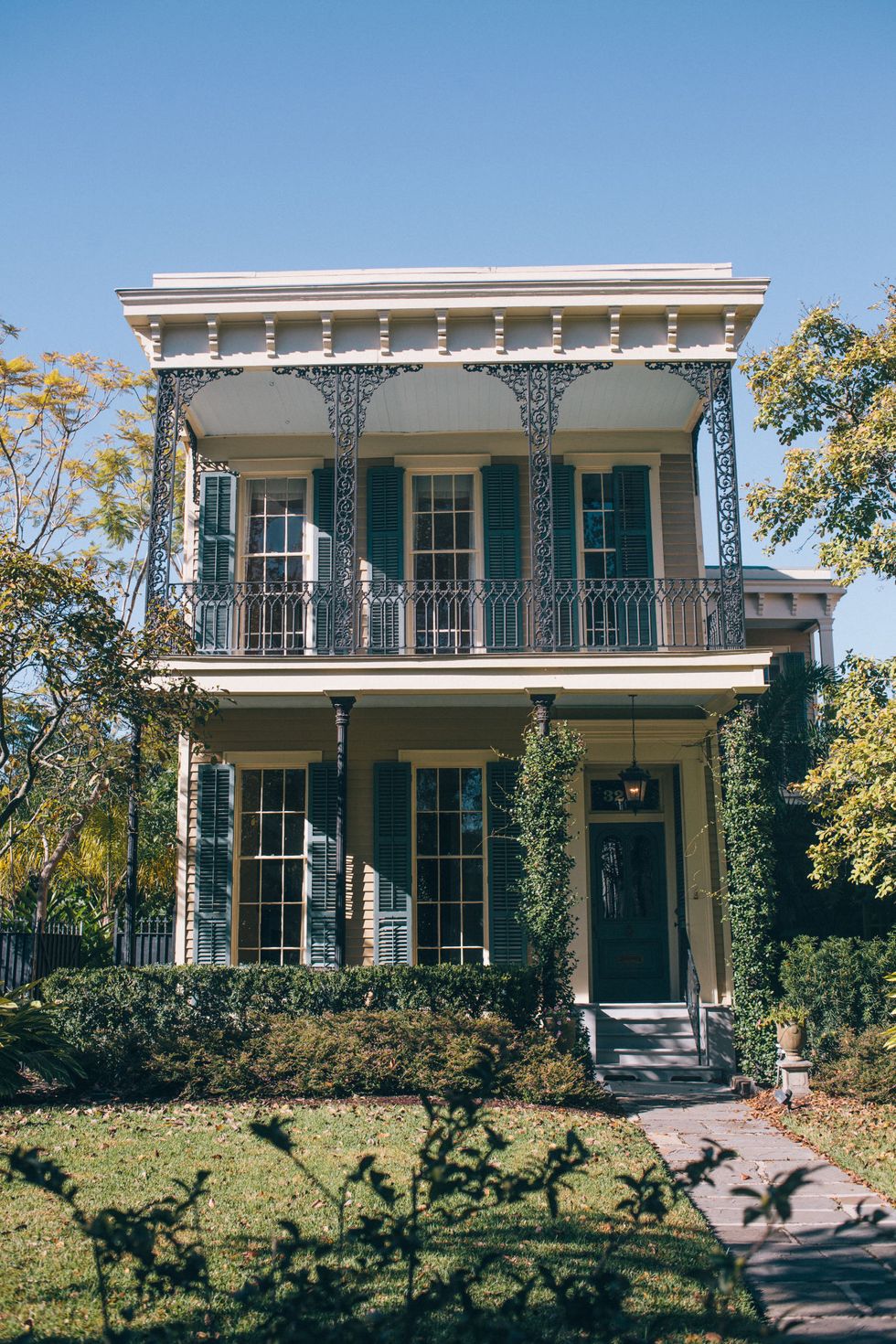 Garden District architecture
First, I swing by the candy-toned gallery of Ashley Longshore, who painted that portrait of Lil Wayne. The sought-after artist (Penélope Cruz, Ryan Reynolds, and Eli Manning are collectors) leads me past her oversize paintings, folksy avant-garde depictions of famous faces, and through to her studio. "Anyone can come back here," she says. "But they may have to do some bedazzling. It's like, 'If you're gonna gawk, you're gonna glue while you gawk!'"
I dodge bedazzling duty and instead get Longshore's take on the local arts scene. "We celebrate weirdness and wildness in a way that no other city does," she says. "You'll see a herd of people in Elvis or Wonder Woman costumes and think, 'Oh, just another Saturday in New Orleans.' It's a place where people can really let their freak flag fly."
If you're in the market for freak flags, Magazine Street is a good place to start. My first stop is the quirky vintage shop Funky Monkey, where you can buy anything from a Hawaiian shirt to an astronaut helmet. At Saint Claude Social Club, hand-painted scarves share space with sequined dresses and French candles. At Defend New Orleans, a pierced shopkeeper presides over a selection of ironic posters, small-press books, and other dorm-room essentials (not surprisingly, another location recently opened at the Ace). I end up buying a black banner bearing a skull emblazoned with a fleur-de-lis, the symbol of New Orleans.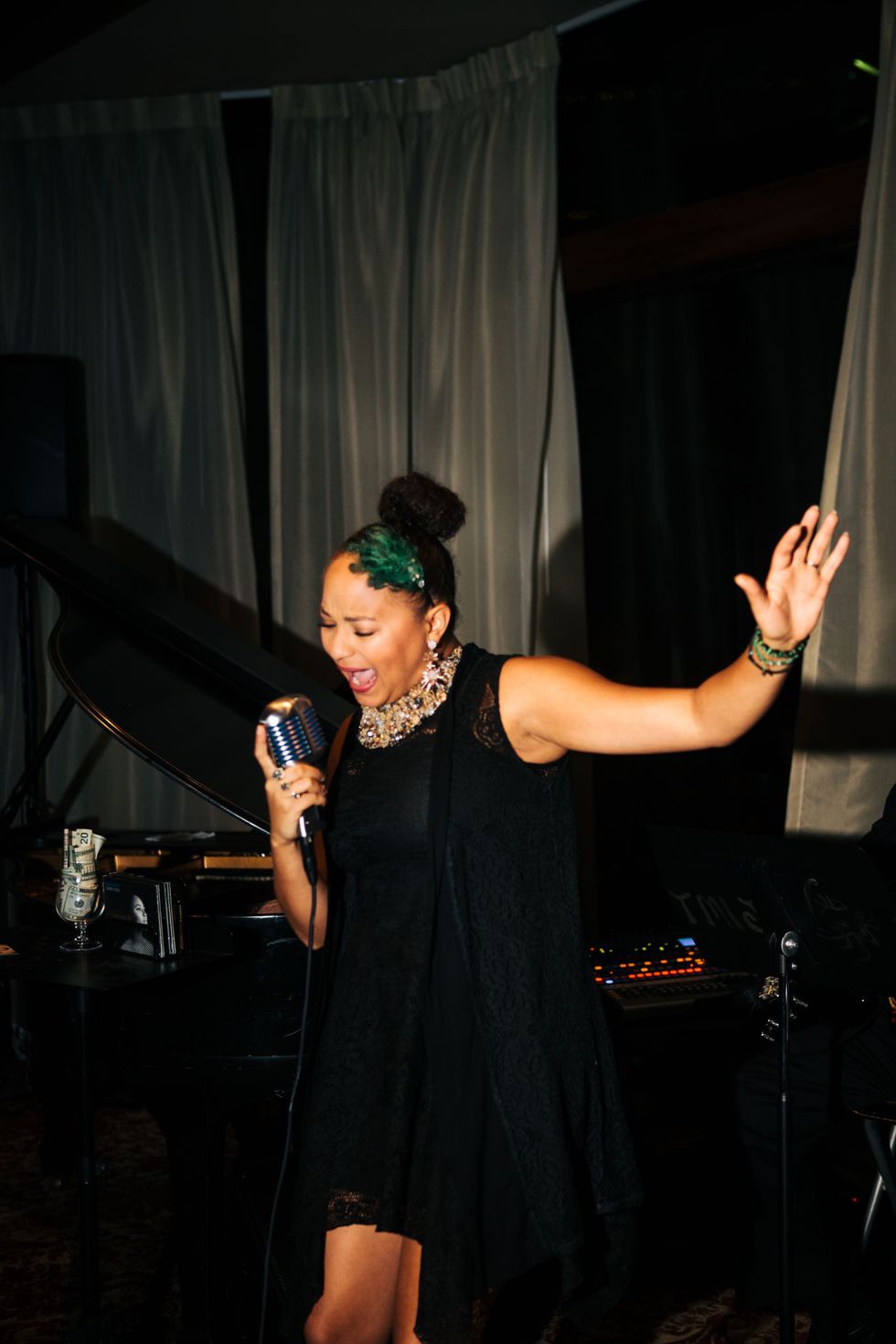 Robin Barnes, "The Songbird of New Orleans"
Mom's gift secured, I head for brunch at Cavan, a new "coastal American" restaurant set back from Magazine Street in a Victorian townhouse. I secure a table by the window and settle in with a Sazerac, a classic New Orleans whiskey-based drink that some believe to be America's oldest cocktail. Next comes a cast-iron skillet sizzling with buttery shrimp and grits, along with roasted tomato toast topped with goat cheese, bacon marmalade, and a fried egg. If ever there was a meal designed to make you smile, this is it.
After brunch, I go for a stroll through the tony Garden District and get lost among showy crepe myrtle trees and towering live oaks, peeping through rod-iron fences at block after block of Greek Revival and Italianate mansions. Initially a retreat for New Orleans' merchant class in the mid-19th century, the neighborhood now claims Sandra Bullock and John Goodman among its residents.
"People are sometimes shocked by how engaged I am with the audience. But that's New Orleans. They're always dancing and laughing and taking off their shoes by the end of the night." —Robin Barnes
I'm enjoying the walk; it's wonderfully serene, even with the three-cocktail-lunch crowds tottering out of celebrity chef factory Commander's Palace. Across the street is Lafayette Cemetery No. 1, one of the city's aboveground graveyards (when much of your city is below sea level, it doesn't make sense to put anything underground, even tombs) but pass on a tour, thinking the folks inside have the right idea. It's time to lie down.
Back downtown, I check in at the recently restored Windsor Court Hotel, where it's afternoon tea time, just off the lobby in Le Salon. It's an unabashedly refined welcome—in keeping with the decor and in stark contrast to the Ace—with polite laughter rising above a tinkling harp. As wonderful as it all is, I skip the tea, opting instead for a plump pillow, billowing curtains, and zzzzz. I awake just before dusk to catch a glimpse of the Mississippi from my balcony—the Windsor Court is one of the few big hotels in New Orleans to boast such a feature—and hit the town.
Dinner is nearby at Compère Lapin, housed in The Old No. 77 Hotel & Chandlery and helmed by Top Chef alum Nina Compton. Seated in a converted warehouse with industrial accents and faux–French farmhouse details, I gnaw on a starter of spiced pig ears dipped in smoked aioli. "New Orleans is such a beautiful city, and the people really appreciate food," Compton tells me between courses. It's easy to appreciate her Caribbean-meets-Creole seafood stew, and also the curried goat with sweet potato gnocchi and cashews.
A little later, at the Windsor Court's Polo Club Lounge, I let it slip to jazz singer Robin Barnes that I skipped dessert to catch the end of her first set. She flags down a waitress. "Two Bananas Foster, please!" The local girl has just learned that her latest album debuted on the Billboard Jazz chart, but her enthusiasm appears to be a constant. "I'll pick somebody outta the crowd and be like, 'Are you texting? What are you doing?'" she says of her local shows. "We're very much entertainers here in New Orleans. We'll get in your face and then make you sing and dance with us."
As Barnes takes the stage, joined by her father on bass, I sink back into a couch and sip another Sazerac. By the time she breaks into the blues classic "Can't Help Falling in Love," I've decided I'd happily spend the night sitting right here. But I can't call it a night without hitting the local music scene, so I heave myself to my feet and hail a cab to Frenchmen Street.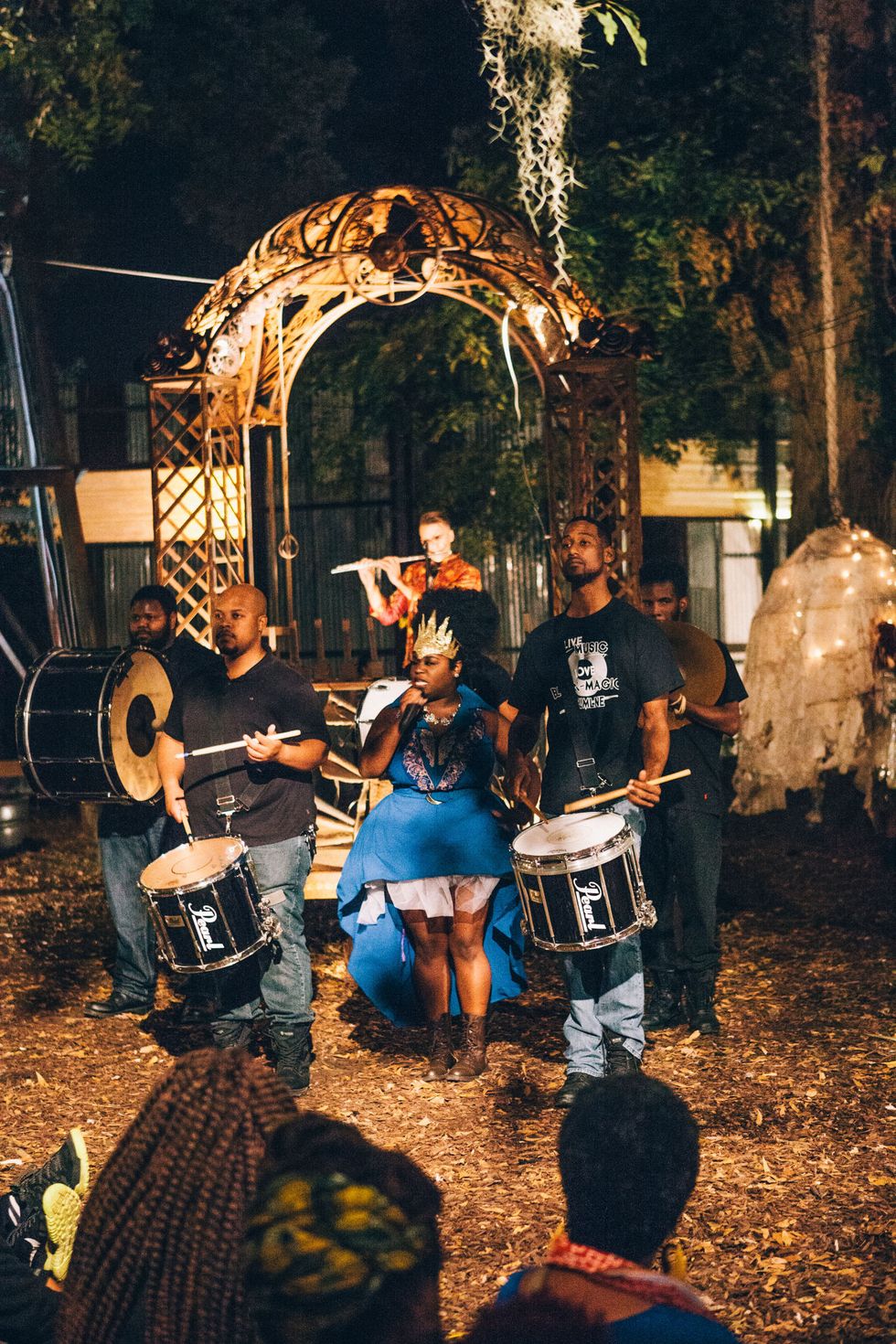 Tank and the Bangas play at Music Box Village
I have no idea which club I'm going to, but that's OK. There is so much music packed into a two-block stretch that it feels like a festival. The street is jammed with people ping-ponging from club to club; discovering what's happening inside each of them is half the fun. Due in part to a steady stream of Louisiana-brewed Abita beer, the sounds blend together: reggae into bluegrass into Dixieland. After a set by the energetic Jumbo Shrimp Jazz Band at The Spotted Cat Music Club, I take a breather at an outdoor night market tucked into an alley, where I pick up a pair of coyote paw–bone earrings for Mom (in case the black flag isn't a hit).
Before bed, I stop for a game of pool at R Bar, a local dive around the corner that offers both a shot-and-a-beer and a shot-and-a-haircut special. After a while, I realize that I'm as likely to get a buzzcut as I am a beer, so I head back to the hotel, passing through streets that, disconcertingly, have started to twitter.

In which Sam ponders the patients of a saint, dances in the street, and learns his future
As day breaks over the Mississippi, I'm feeling a bit like the guy in "The House of the Rising Sun," the cautionary song about the debilitating effects of New Orleans nightlife popularized by the Animals in 1964: "Oh mother tell your children/Not to do what I have done!"
A blurry half-hour later, I'm in a cab heading downriver to Press Street Station, a warehouselike eatery operated by the NOCCA Institute, a tuition-free arts school that counts among its alums Wynton Marsalis and Harry Connick Jr. The space feels appropriately youthful and arty: A drums-and-keys duo performs lounge music while neon-haired line cooks prepare comfort food. I have sourdough teetering with sausage, pimento cheese, and fried eggs, served with lyonnaise potatoes. That's better.
For a further pick-me-up, I pop into the St. Roch's Campo Santo, a cemetery in the nearby St. Roch neighborhood, to pay my respects to the patron saint of the sick. In a small neo-Gothic chapel, I find an anteroom cluttered with discarded medical items: crutches, braces, prosthetic limbs, plaster models of brains, dental plates, plus some handwritten prayers. I don't have anything to leave behind, so I give the statue of Saint Roch—a 14th-century French-Italian priest who miraculously survived a dose of the plague—a hopeful wink instead.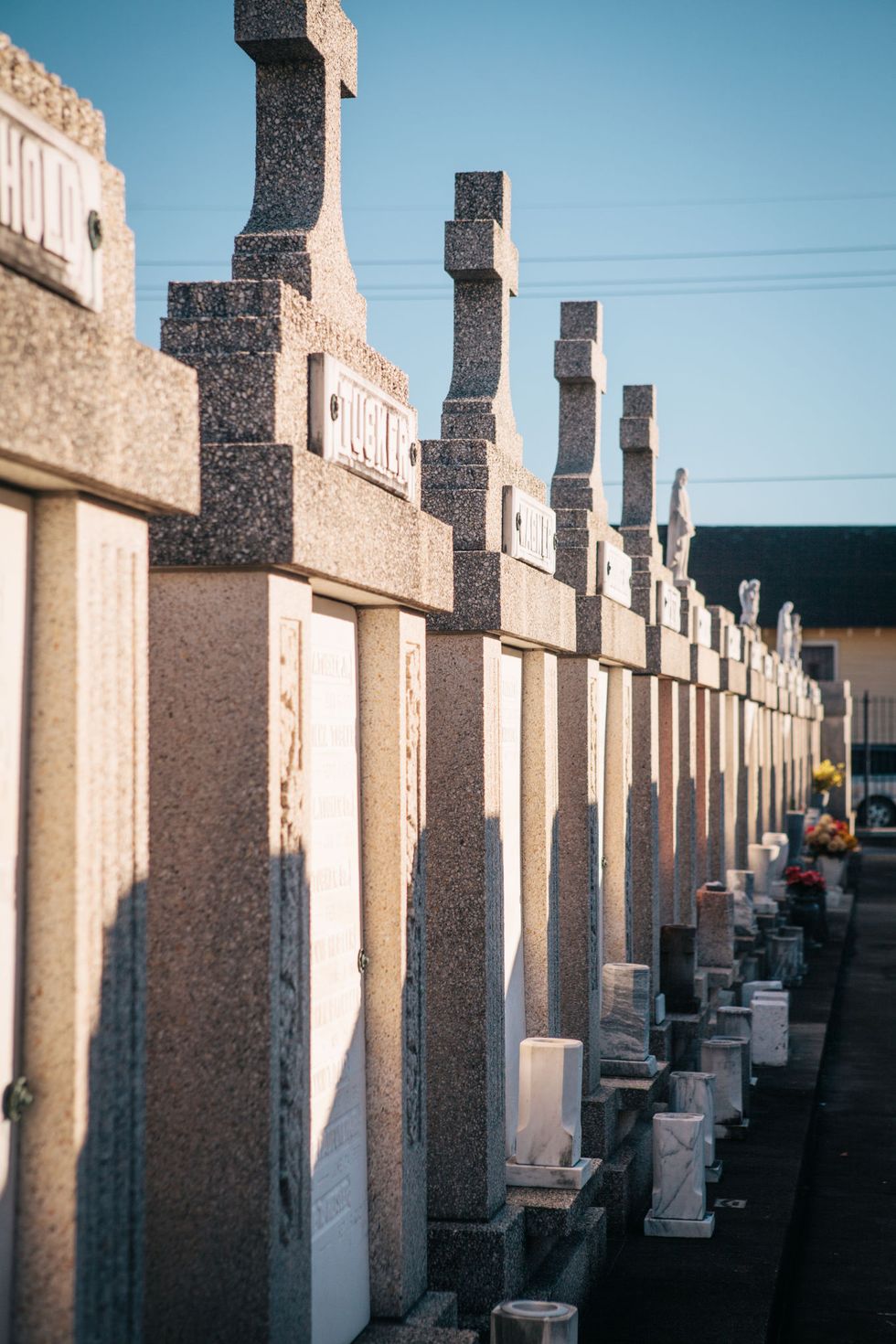 Tombs at St. Roch's Santo Campo
That wink is about to be put to the test. I'm watching floats, musicians, and dancers muster in a high school parking lot in the Desire neighborhood, in preparation for the Nine Times Social Aid & Pleasure Club Second Line Parade. DJs dry-run their rumbling sound systems; trombones and trumpets blast. An elderly woman dressed in her Sunday best stands nearby, peering through a fence. I ask if she's part of the club. "I just came from church to see my grandson, who's marching," she replies, adding, "My feet hurt."
The parade rolls down Higgins Boulevard, and what follows is the most fun a person can have while walking—well, dancing—down the street. Acrobatic kids leap and sway while twirling elaborate parasols. Costumed club members toss beads from the backs of floats. Men ride by on tricycles carting coolers stocked with cold beer while smoke pours from enormous grills along the "neutral ground" (the New Orleans term for a median). "This is my absolute favorite thing in all of New Orleans," a local woman says above the booming drums. She's in luck: Events like this happen somewhere in the city nearly every Sunday.
I'm still buzzing when I arrive at The Napoleon House, a bar and restaurant in a landmarked French Quarter building. I'm having lunch with Ben Jaffe, the wild-haired, tuba-playing leader of the famous Preservation Hall Jazz Band. I tell him about the parade, which gets us talking about the city's many social aid and pleasure clubs, whose lineages can be traced back to 19th-century "benevolent societies." More recently, these clubs played a vital role in the post-Katrina recovery, especially for African-American communities.
"New Orleans has its own unique ways of dealing with its complicated, painful, and beautiful past," Jaffe says. "I've heard this city described in so many ways, and so many of them are true. All I know is, we gave the world Jelly Roll Morton, Louis Armstrong, Sweet Emma Barrett, Fats Domino, Allen Toussaint, the Neville Brothers, Dr. John…"
New Orleans also gave the world the muffuletta, a sandwich comprising a seeded roll the size of a small Frisbee stacked with ham, salami, pastrami, Swiss and provolone cheese, and olive salad—antipasto in a bun, basically. I order mine with a side of red beans and rice and a fruity Pimm's Cup. The Napoleon House serves more of this low-alcohol cocktail than any other establishment in the world. I add to the lead by ordering another.
As I say goodbye to Jaffe, he invites me to swing by Preservation Hall later for a performance. Until then, I'm leaving the past behind. My next destination is the future.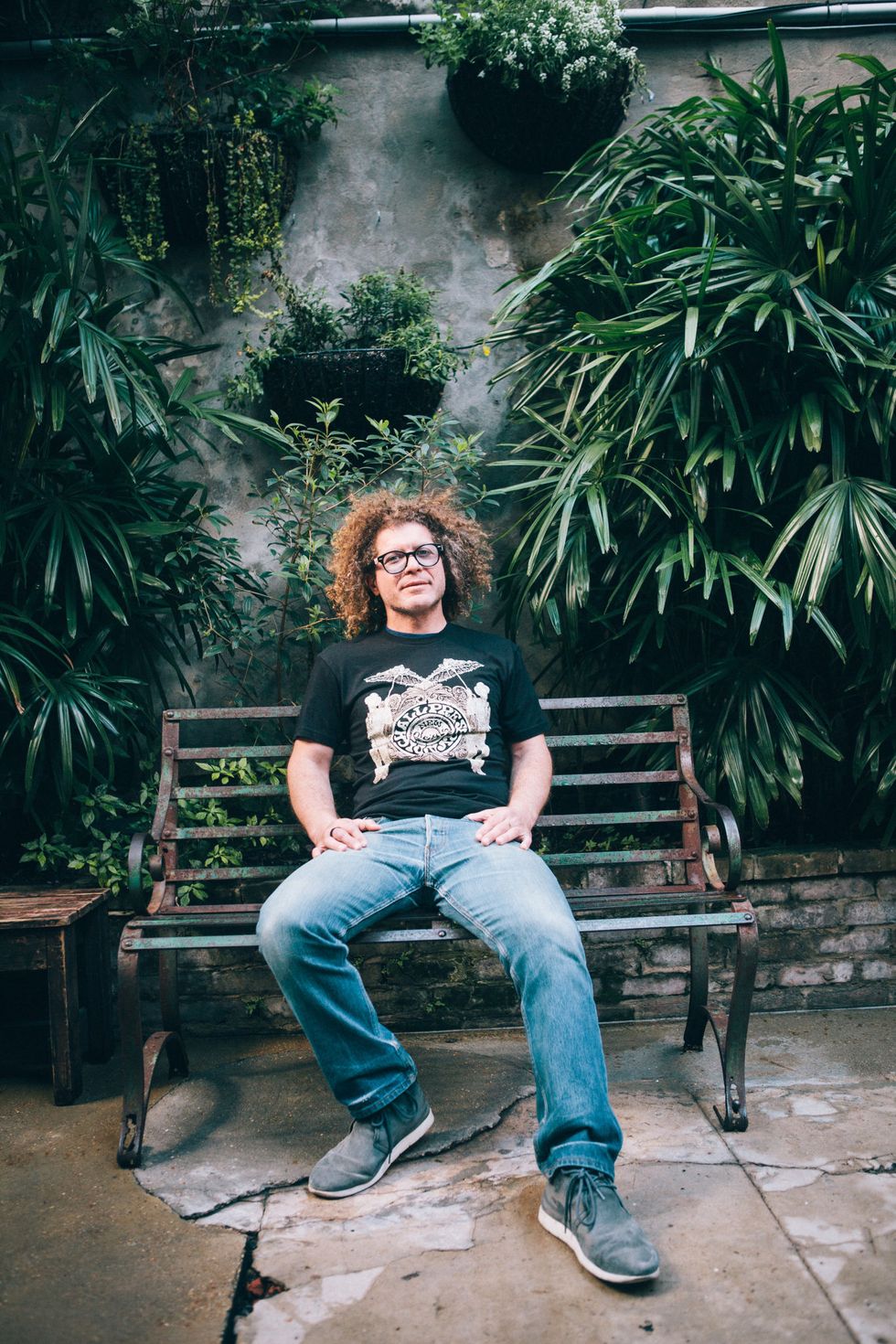 Ben Jaffe, bandleader, Preservation Hall Jazz Band
Brought to Louisiana by West African slaves in the 18th century, voodoo has deep roots in New Orleans. So when I go for a spiritual reading, I'm not expecting to be greeted by a 30-something Pacific Northwest transplant named Geoff. But there's Geoff, standing amid the candles and chicken feet at Island of Salvation Botanica, a shop set in a former city jail. Mysterious items fill the shelves: protection fetishes, voodoo dolls, crystal balls, an apothecary of oils, powders, herbs, and tinctures with names like "Banishment." Geoff locks the door, dims the lights, and leads me to a small table. He closes his eyes, opens them again, flips a few tarot cards, and gives me a quick rundown of my destiny. I learn that I should not, under any circumstances, quit my job to become a trombonist in a second line.
Eerily, a trombone happens to be in my immediate future. It's in the hands of Freddie Lonzo, who's leading a conga line around Preservation Hall, doing a rousing rendition of "St. Louis Blues." Founded in 1961 by Ben Jaffe's parents, "The Hall" hosts performances every night. The shows tend to be lively affairs, but there's a reverential feel to the austere room, which has wooden benches but no bar (patrons can bring their own booze). When clarinetist Orange Kellin wails the last solo on Fats Waller's "Honeysuckle Rose," I'm fully transported to another time.
"There are a lot of people who feel the pain of not living here. They come to New Orleans, and they experience the magic of this city, and when they leave, there's this piece of them that's missing." —Ben Jaffe
Back in the present, I summon a taxi and head to the Garden District. The car drops me at Shaya, the modern Israeli legend-in-the-making eatery that won the 2016 James Beard Award for Best New Restaurant. Even the basics here, like the pillows of steaming pita sliding out of the blue-tiled oven in the back, are extraordinary. I get an order and use it to scoop up harissa-spiced lamb and creamy hummus. Gumbo schmumbo, I think. Crawfish schmawfish. A battery of small plates follows, many with names I don't recognize but tastes that feel familiar, even ancient. A waiter comes by to clear the table, but I ward him off as if I'm hoarding precious stones. "More bread, then?" Yes. Bring the bread.
I'm starting to resemble a steaming pillow of pita myself, so I head back to the Quarter for a nightcap at the upscale rum house Cane and Table. When I arrive, two metalheads are comparing musical notes with a bartender who's wearing a bow tie over a Hawaiian shirt and doing something with a coconut. Co-owner Nick Detrich arrives to walk me through the drinks menu, part of which includes cocktails inspired by the favorite tipples of the founding fathers. I get a Price of Pearls, based on a punch that allegedly fueled the drafting of the Bill of Rights. "It tastes like a lemon tree smells," a waitress offers. It does. It also has me feeling patriotic, so I salute the helpful staff and march off into the night.
Mid-march, I get a text from my brother. One of the bands he plays with, King James and the Special Men, is performing at Saturn Bar, not too far away on St. Claude Avenue. I should come, he says, and this time I listen. When I arrive, I wonder if he texted half the people in New Orleans. The place is packed and sweating to a version of Little Richard's "Good Golly Miss Molly." I hit the dance floor and lose myself in old sounds made new, the traditional made wild and jubilant—which is the way they do things here.
Brooklyn-based writer and photographer Sam Polcer didn't get the reaction he was hoping for when he returned home and began dancing down the street swinging a parasol.
Grand prize winners live in Bradenton, FL; Cleveland, OH; Goodyear, AZ; Oakland, CA and San Francisco, CA
CHICAGO, July 29, 2021 /PRNewswire/ -- United Airlines today announced the five lucky grand prize winners of its "Your Shot to Fly" sweepstakes, who will each get to fly anywhere in the world United flies with a companion over the course of the next year. The winners of the "Your Shot to Fly" sweepstakes are:
Ashley Cronkhite from Bradenton, FL
Robert Simicak from Cleveland, OH
Sean Husmoe from Goodyear, AZ
Lauren Aldredge from Oakland CA
Lauren M. from San Francisco, CA
The sweepstakes was in support of the Biden administration's ongoing national effort to encourage more people to get their COVID-19 vaccination and encouraged United's MileagePlus® loyalty members to upload their vaccine records to United. In less than a month, more than one million MileagePlus members uploaded their vaccine cards to the United app and website for a shot to win one of the grand prizes. In June the airline awarded 30 first prize winners with a pair of roundtrip tickets anywhere United flies.
"We were proud to do our part to encourage more Americans to get their shot and were thrilled by the overwhelming response we received. This prize clearly struck an emotional chord with our customers, as the opportunity to travel and connect with people and places that matter most is something that clearly has been missed during the pandemic," said United's CEO, Scott Kirby. "I'd like to extend my personal gratitude to everyone who entered the sweepstakes and more importantly, made the decision to get vaccinated."
United is the only U.S. airline to offer its own one-stop-shop where customers can conveniently get "travel-ready" by uploading and storing their COVID-19 test results and vaccination records directly through the airline's website and award-winning mobile app with the Travel-Ready Center. The airline's easy-to-use travel tool enables customers to reduce stress and save valuable time at the airport right from the palm of their hand.
All of the grand prize winners are already starting to plan out the adventures they and their families will have in the upcoming year thanks to United. Ashley Cronkhite is an advertising professional who began working at a grocery store during the pandemic. She plans to travel to European destinations including Ireland and Italy with her best friend – her mom. Robert Simicak plans to travel to national parks around the U.S. with his wife, who is a frontline healthcare worker in Cleveland. Lauren Aldredge will experience her first time flying in a premium cabin and will be traveling to celebrate her 30th birthday with her partner. Sean Husmoe plans to travel with his wife and daughters to check off the final two continents that they have not yet visited, including South America and Antarctica. Lauren M. plans to travel with her family, including a trip to Tahiti with her husband.
The rest of United's customers will have no shortage of opportunities to plan long-awaited getaways of their own, as the airline has continued to grow its schedule in response to increased travel demand. Since May, the airline has launched new flights to Greece, Iceland, South Africa, Ghana and Croatia, and has resumed service as countries like Italy, Portugal, Spain and France re-opened to vaccinated travelers or travelers with a negative COVID test. For those planning to stay closer to home, United is adding nearly 150 flights to warm-weather destinations across the U.S, just in time for the winter holiday season.
Travel-Ready Center
Since its launch, United customers have been able to easily access testing or vaccine requirements needed for travel destinations, upload country specific required forms, completed testing results and vaccination records as well as have them verified, all within United's award-winning mobile app and website with the Travel-Ready Center. The Travel-Ready Center is an industry-leading digital platform that offers customers the ability to choose from thousands of COVID-19 testing providers across the country, book appointments and receive confirmation whether their test results meet their destination's requirements. Once requirements are validated, customers will see a status indicator informing them that they are "travel-ready" and receive their mobile boarding pass. United is the only airline that offers its customers these services as part of an integrated experience within its own app and website. The airline was also the first to set up an easy way for international travelers to bring a CDC-approved test with them, self-administer while abroad, and return home through an innovative collaboration with Abbott.
Mileage Plus: A 40-Year Legacy
United introduced its MileagePlus loyalty program in 1981 and over the past four decades, it has continued to be a leading airline loyalty program, with a number of industry-first innovations designed to enhance the travel experience for members. United added its Premier® program in 1983 and then its first loyalty credit card in 1987. More recently, in 2019, United announced that MileagePlus award miles never expire, and introduced PlusPoints for MileagePlus Premier members, giving customers more flexibility in how they choose to fly. United has also proudly worked together with MileagePlus members to contribute to the communities it serves, most notably donating 3.4 billion miles to charity organizations since 2003.
MileagePlus was named the 2020 Best Frequent Flyer Program by Global Traveler for the 17th consecutive year and was recently recognized as the Best Overall Frequent Flyer program by WalletHub.
About United
United's shared purpose is "Connecting People. Uniting the World." For more information, visit united.com, follow @United on Twitter and Instagram or connect on Facebook. The common stock of United's parent, United Airlines Holdings, Inc., is traded on the Nasdaq under the symbol "UAL".

SOURCE United Airlines
For further information: United Airlines Worldwide Media Relations, +1-872-825-8640, media.relations@united.com
New pre-order option builds on the airline's contactless payment technology and is another example of the customer experience transformation underway at United
CHICAGO, July 28, 2021 /PRNewswire/ -- Starting today on select flights, all United customers – no matter what cabin of service they're flying in – can use the airline's award-winning mobile app and website to pre-order meals, snacks and beverages up to five days before they're scheduled to travel. United is the first and only U.S. airline to offer economy customers the option to pre-order snacks and beverages, a reflection of the customer experience transformation underway at the airline.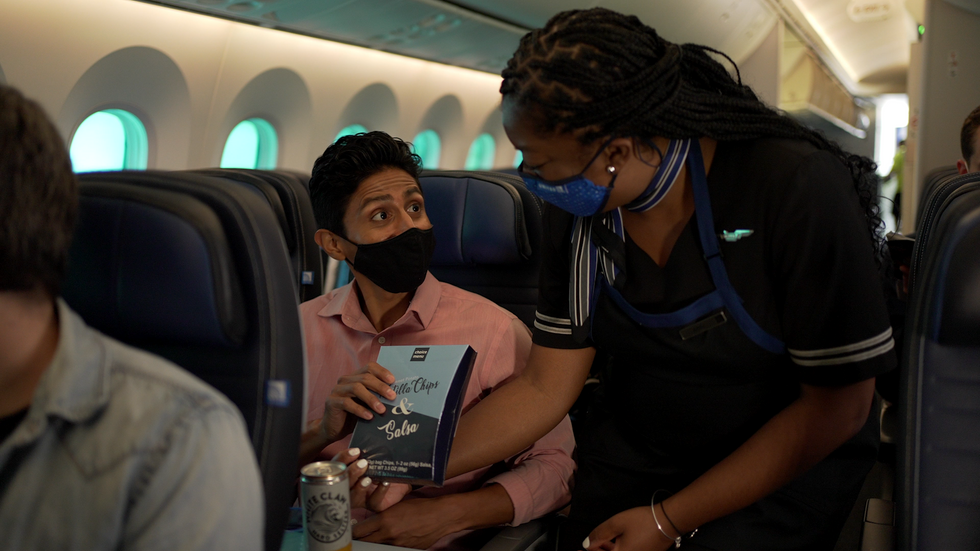 United's pre-order technology is an extension of the airline's contactless payment platform that allows customers to store payment information in a digital wallet. United's pre-order option is now available on select flights departing from Chicago to Orange County, CA Sacramento, CA and San Diego, and will expand to all flights over 1,500 miles by early fall.
"Our new pre-order option reflects the customer experience transformation taking place at United – customers in our economy cabins will have an easy, convenient way to choose their snack or drink, and our flight attendants can move through the cabin faster, delivering more personalized service," said Toby Enqvist, chief customer officer for United. "This new feature also builds on our existing contactless payment technology, which has enabled us to safely resume our inflight food and beverage program on select flights."
How It Works
Five days prior to departure, customers will see an option in the Reservation Details section of the United app or on United.com to pre-order food and beverage items available for their specific flight. Customers will also receive an email notifying them when pre-order is available.
In economy cabins, customers can pre-order snacks and beverages from United's buy-on-board menu. They will be asked to enter their credit card information but will not be charged until the items are served to them onboard.
In premium cabins, customers can select their meal option directly from the United app or website. Once they make their selection, they will get a receipt emailed to them.
About United's Contactless Payment Technology
For customers looking to purchase drinks and snack items while onboard, United's contactless payment platform allows them to store their payment information in a digital wallet on the United app and on United.com prior to departure.
Once in flight, customers can access a menu to view available items either on the United app or in Hemispheres® magazine.
Rather than handing the flight attendant a credit card, the flight attendant will ask for the customer's name and seat to confirm the card on file.
Once confirmed, customers will receive their products and the card on file will be charged.
About United's Newly Enhanced Buy-On-Board Menu
United recently unveiled its refreshed buy-on-board menu, which includes a wide variety of food and beverage offerings including:
Adult Beverage Options: Mango White Claw®; red, white and sparkling wine, and new beer options such as Breckenridge Brewery Juice Drop Hazy IPA and Michelob ULTRA®.
Three New Snack Boxes: A Tapas snack box with European-inspired offerings; a Takeoff snack box with high-protein options; a Recline snack box with movie theater themed treats.
A la Carte Snack Options: Including chips, dips, trail mix and chocolate-covered dried fruit.
New Domestic Premium Cabin Menu Items
United also introduced brand-new meal offerings to customers seated in domestic premium cabins on flights over 1,500 miles and hub-to-hub flights over 800 miles.
The enhanced meal service includes a choice of entrees – including fresher options like egg scramble with plant-based chorizo and grilled chicken breast with orzo and lemon basil pesto – sides and dessert.
United has also teamed with Eli's Cheesecake to create a uniquely United chocolate pie flavor called "Pie in the Sky."
The meals will be served on one tray, with items individually wrapped, to limit person-to-person contact and further the safety of our employees and customers.
United's pre-order technology is available beginning July 28 for flights departing on or after August 2. The technology will initially be available on flights from Chicago O'Hare International Airport to San Diego International Airport, Sacramento International Airport, Orange County's John Wayne Airport and Honolulu's Daniel K. Inouye International Airport.
For information on snacks available, United's contactless payment technology and FAQs, visit United.com/snacktime.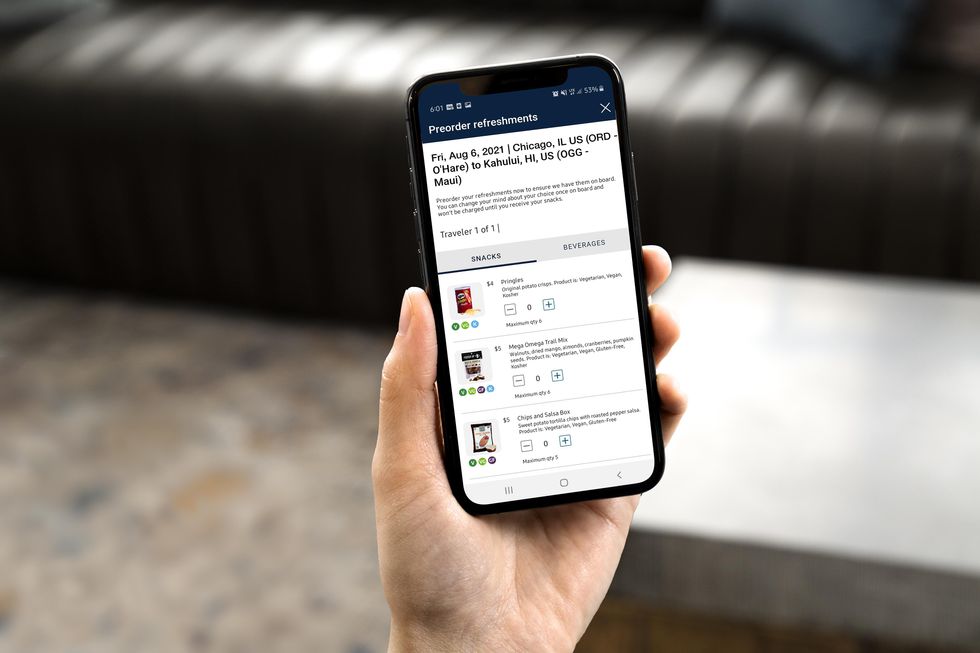 About United
United's shared purpose is "Connecting People. Uniting the World." For more information, visit united.com, follow @United on Twitter and Instagram or connect on Facebook. The common stock of UAL is traded on the Nasdaq under the symbol "UAL".

SOURCE United Airlines
For further information: United Airlines Worldwide Media Relations, +1-872-825-8640, media.relations@united.com
In August, United is adding a second daily flight from Washington, D.C. to London
CHICAGO, July 28, 2021 /PRNewswire/ -- With today's announcement of England reopening to fully vaccinated travelers from the U.S. beginning Aug 2, United Airlines is making it easier for business and leisure customers to jet across the pond with the addition of flights to London. In August, United will have six daily flights between the U.S. and London, including a second daily flight from Washington, D.C. and increasing service from Houston to daily. United looks forward to resuming additional London service in the coming months as well as launching new nonstop service between Boston and London. Customers traveling to England must be fully vaccinated in the U.S. with vaccines that have been approved by the FDA and must take a test before departure as well as a PCR test within the first two days of arrival. Passengers vaccinated in the U.S. will also need to complete a passenger locator form prior to traveling to England and provide proof of U.S. residency.
United is the only U.S. airline to offer its own one-stop-shop where customers can conveniently get "travel-ready" by uploading and storing their COVID-19 test results and vaccination records directly through the airline's website and award-winning mobile app with the Travel-Ready Center. The airline's easy-to-use travel tool enables customers to reduce stress and save valuable time at the airport right from the palm of their hand. United also announced a new collaboration with Abbott and became the first U.S. carrier to set up an easy way for international travelers to bring a CDC-approved test with them, self-administer while abroad, and return home.
"Today's announcement is yet another major milestone in recovering from the COVID-19 pandemic with the opening of one of the most important markets from the U.S." said Patrick Quayle, vice president of international network and alliances at United. "United has demonstrated that we can operate flights between the U.S. and England safely and we are eager to help rebuild these economies by facilitating business and leisure travel."
United in England
United has provided service to London Heathrow for nearly 30 years and over the course of the pandemic has maintained continuous service between the U.S. and London. In August, United is increasing its service from Houston to London from five times weekly to daily and adding a second daily flight from Washington, D.C. United will continue operating daily flights to London from Chicago, New York/Newark, San Francisco. The airline plans to continue offering these six daily flights in September.
United flies to more European destinations than any other U.S. carrier, and is welcoming back customers on more than 30 daily flights to 16 destinations in Europe this summer. The carrier has expanded its service to Europe including new routes to Dubrovnik, Croatia; Reykjavik, Iceland and Athens, Greece. All of these flights are available for purchase on united.com. To see the full list of reopened countries where United is flying visit united.com/reopen. Customers should review local country requirements before they travel.
Committed to Ensuring a Safe Journey
United is committed to putting health and safety at the forefront of every customer's journey, with the goal of delivering an industry-leading standard of cleanliness through its United CleanPlus SM program. United has teamed up with Clorox and Cleveland Clinic to redefine cleaning and health safety procedures from check-in to landing and has implemented more than a dozen new policies, protocols and innovations designed with the safety of customers and employees in mind. To manage entry requirements in different destinations, and find places to get tests, customer can visit Travel Ready Center on United's app and website.
About United
United's shared purpose is "Connecting People. Uniting the World." For more information, visit united.com, follow @United on Twitter and Instagram or connect on Facebook. The common stock of UAL is traded on the Nasdaq under the symbol "UAL".

SOURCE United Airlines
For further information: United Airlines Worldwide Media Relations, +1-872-825-8640, media.relations@united.com
Scroll to top