Three Perfect Days: Nicaragua
Story by Erin Brady | Photography by Andrew Rowat | Hemispheres, March 2015
A haven for backpackers, beachgoers, volcano explorers and history buffs, this Central American country has something for everyone
The view of Nicaragua from the window of an airplane is stunning. The slopes of cloud-frosted volcanoes run thick with rainforests. Strips of golden sand stretch along the coasts. Impossibly green islands dot mammoth lakes. At ground level, this Central American nation offers a more immediate sense of its natural riches: a dizzying variety of jumping, howling, swimming, slithering and buzzing life that includes kingfishers, kinkajous and Lake Nicaragua's famous freshwater bull sharks.
In recent decades, this ecological splendor has been overshadowed by a series of natural and political misfortunes. A 1972 earthquake left vast swathes of Managua in ruins. As if that weren't enough, later in the decade, after the Somoza dictatorship was ousted, a long and violent power struggle ensued. But Nicaragua's history runs much deeper than this: In 1874, workers discovered footprints that dated back more than two millennia in the volcanic mud alongside Lake Managua.
In terms of its hospitality industry, the country has recovered from its troubles in the '70s and is currently showcasing its natural history and beauty with a slew of new eco-resorts, in addition to luxury hotels and great restaurants. So when packing that suitcase, be sure to include a dinner jacket along with your hiking boots.

DAY ONE | The central courtyard at the Tribal Hotel, in the colonial city of Granada, is at its best in the morning, observed from a small balcony with a cup of strong coffee. Only partly awake, I stand for a while looking down on this stylized oasis, with its banana trees, Turkish rugs and black and white tile pool. A perfect place to have breakfast, I decide, so I snag a cushioned bench and tuck into a plate of fresh papaya, eggs and toast, along with a cup or three of rich Nicaraguan coffee, of course.
The Tribal is an intimate hotel of just seven rooms behind a whitewashed exterior on quiet Calle Cuiscoma, two blocks from Granada's center. So, feeling very caffeinated, I zip through the hotel's tiled lobby and head out into the street, which is crowded with horse-drawn carts and taxis blasting ranchera music.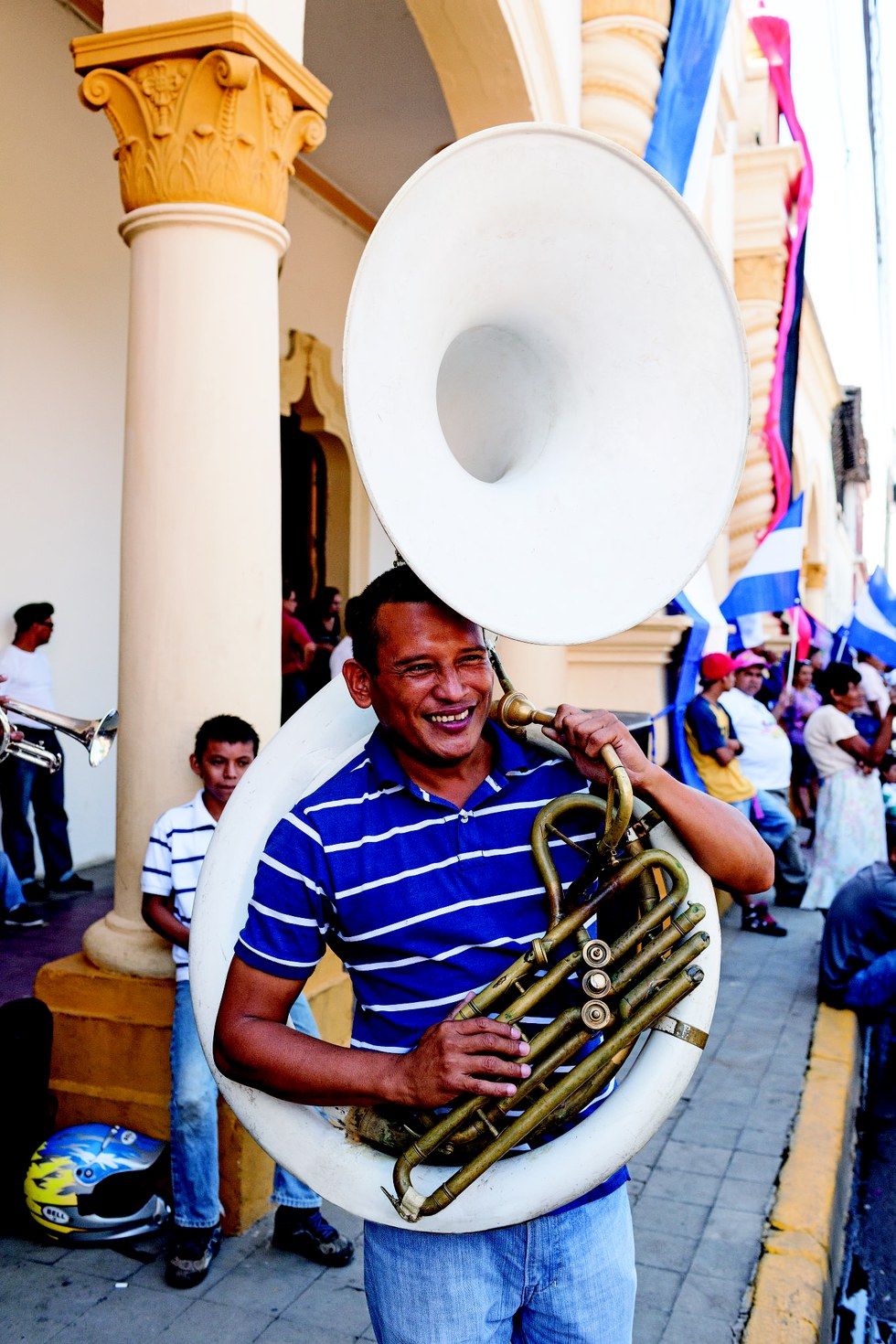 A tuba player at Granada's Parque Central
Located on the northwestern edge of Lake Nicaragua (or Cocibolca, meaning "Sweet Sea"), in the shadow of the dormant Volcán Mombacho, this nearly 500-year-old city in the western part of the country is a knot of cobblestone streets and candy-colored buildings. Two blocks from the hotel, beside the red-domed Cathedral of Granada, is the lovely Parque Central, a popular local meeting place that bustles with snack and souvenir stalls. I pick up a bag of plantain chips and hail one of the cabs.
A half-hour drive north, past chaotic jungle and the occasional forlornly grazing horse, and I'm at the Masaya Volcano National Park. Home to two cones, several craters (including the active Santiago) and a caldera, Masaya is Nicaragua's first and largest national park. Upon learning my destination, my driver, Roberto, takes it upon himself to be my unofficial tour guide.
Volcán Masaya, he says, has been feared for centuries—first by indigenous people, who used it for religious sacrifices and named it "Burning Mountain," and later by 16th-century Spaniards, who called it "The Mouth of Hell" and tried to draw liquid gold from its center.
While there haven't been any major eruptions in centuries, the complex does—as Roberto puts it—"burp" on occasion. Its last significant hiccup was in 2001, when the Santiago crater launched boulders as far away as the visitor's center, 10 minutes by car from the rim—which, incidentally, is the only rim in the Western Hemisphere reachable by road.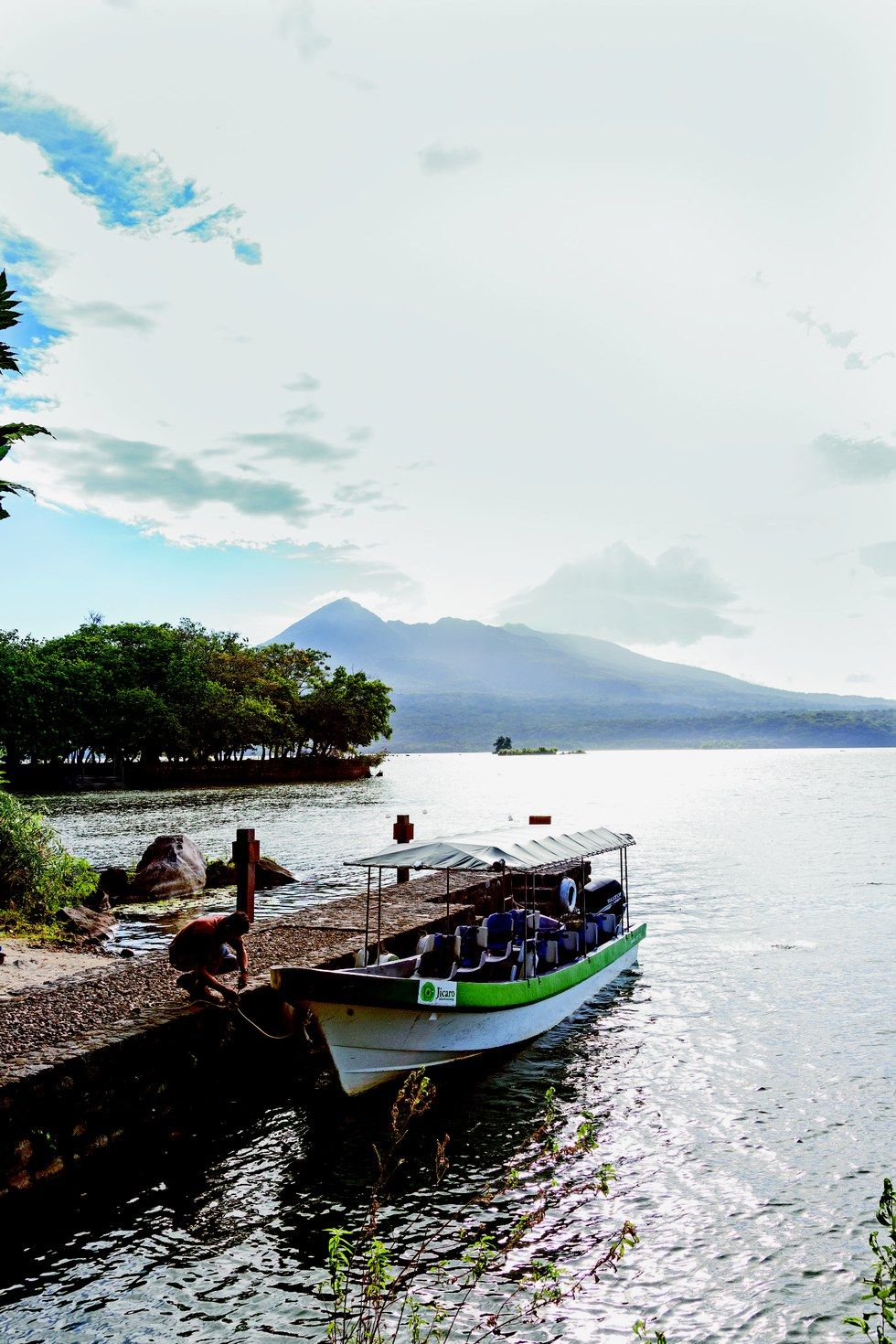 The dock at Jicaro Island Ecolodge;
The drive up is relatively gentle until about five minutes from the peak, when the road jerks upward at a precarious angle. Roberto chats breezily about human sacrifice and explosions as we grind our way up to a volcano-top parking lot. Clouds of steam waft lazily from the depths of the nearby crater, drifting toward the Cruz de Bobadilla, a large cross the Spaniards erected to keep the devil away.
From here, I hike five minutes to the dormant Nindirí cone. Dotted with trees, Nindirí has a view that encompasses Apoyo Lagoon, a crater lake that resulted from one of Masaya's most powerful eruptions, more than 20,000 years ago. There are no eruptions today, thankfully, although there are a few rumblings coming from the region of my stomach.
I head for an early lunch in Masaya, the volcano's namesake city to the east. The big attraction here is the open-air Mercado de Artesanias, located inside the black basalt walls of an old Spanish fort. The market is packed with bright shops selling traditional keepsakes, including some rather grisly baskets fashioned out of dead chickens. I settle on a small ceramic vase.
I make my way to the market's southeast corner and take a seat at Restaurante Che Gris, where I quickly blank on my rudimentary Spanish and panic, ordering by pointing at the plate of the person next to me. The dish, a waitress informs me, is indio viejo, a generous helping of tender beef strips, tomatoes, bell peppers and onions in a sour orange juice stock thickened with tortilla. It's a delicious meal, but not for the faint of appetite.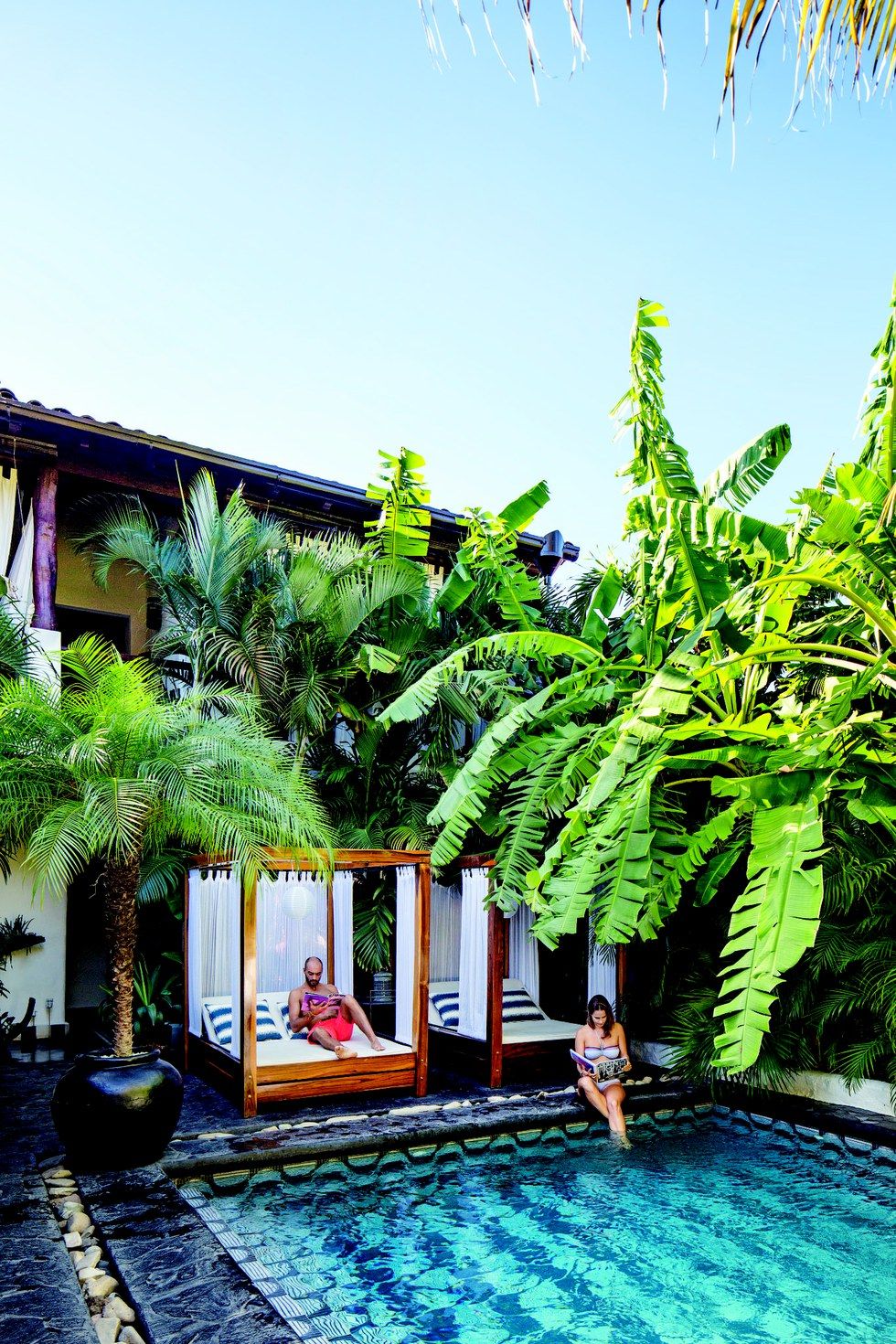 The pool at the Tribal Hotel
Having taken possession of a few more ceramic vases, I return to the Tribal, where I slip into the pool, then flop on a daybed, mojito in hand. I awake an hour or so later to lengthening shadows and a vague sense that I'm supposed to be doing something. Oh, yes, sightseeing. My next stop is the weathered Iglesia La Merced, whose bell tower provides stunning views of Granada's tiled rooftops and hidden courtyards, colored pink by the dipping sun.
Next, I head for Calle La Calzada, a bustling pedestrian boulevard, home to the low-key eatery Nectar. Still digesting lunch, I take it easy with a plate of tostones—a popular local snack of fried plantain cakes topped with salty cheese—and a frosty Tona beer. Nearby, a group of teenagers perform Michael Jackson's "Thriller." Charmingly, they get some of the lyrics mixed up ("Yet I can give you more than every girl could ever describe…"). Or maybe it's exhaustion playing tricks on me. Either way, I pay my tab and shuffle, appropriately zombie-like, in the direction of my bed.
DAY TWO | Breakfast today is at Granada's Mercado Municipal, a sprawl of stalls hawking everything from banana-leaf tamales to bargain-brand batteries. After winding deep into the crumbling late-19th-century building that houses the market, I enter a high-ceilinged hall filled with food stalls. As I'm debating which of the identical counters to sit at, an older man enjoying his breakfast waves me over.
"I thought you were American," he says, shaking my hand while informing me that he's originally from California. "I'm William." On his recommendation, I order a desayuno tipico, a traditional Nicaraguan breakfast of fried eggs, plantains, rice and beans and a slice of salty queso seco cheese.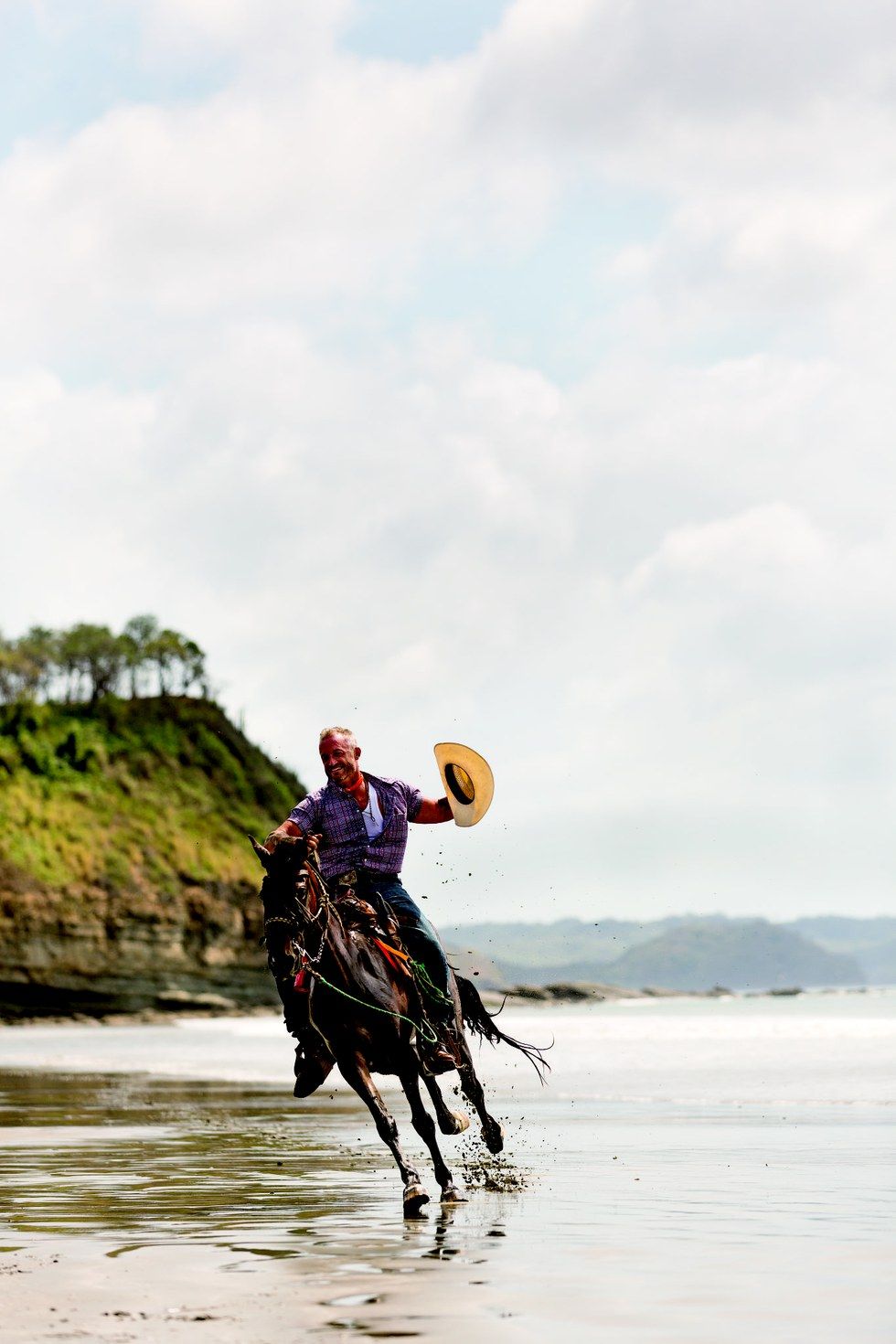 Nick Haven from Rancho Chilamate riding on Playa El Yankee
While I wait for my meal, William reveals that he has spent three decades living in various South and Central American countries. The last eight years he has spent here in Granada, not far from the market, where he eats breakfast every day. When I ask why he settled here, he tells a story about a doctor's visit when he first arrived. "I was really sick, and they paid for everything. I told the doctor I wasn't a citizen and he said, 'You're a person, aren't you?'"
After saying goodbye to William, I walk to Espressionista, a coffee shop and restaurant in a light gray colonial building with typical Baroque flourishes. I refuel and catch a cab to the Marina Cocibolca, 10 minutes south of the city,at the top of the Peninsula de Aseses.
A short boat ride later and I'm docking at the Jicaro Island Ecolodge, a resort on a private island near the end of the arching peninsula named for the Nicaraguan tree and its cannonball-like fruit. As I disembark, a staff member hands me a glass of iced tea and a cold face towel.
Jicaro strives to reconcile a taste for luxury living with a consciousness of the environment. The showers in each of the nine lakefront bungalows are heated by solar panels, and the rooms are cooled by cross ventilation rather than air conditioning. But guests aren't exactly roughing it. The one-acre island offers a spa, a saltwater infinity pool, a sunset-facing yoga deck and a fancy alfresco restaurant where the chef can customize a dinner menu from local ingredients.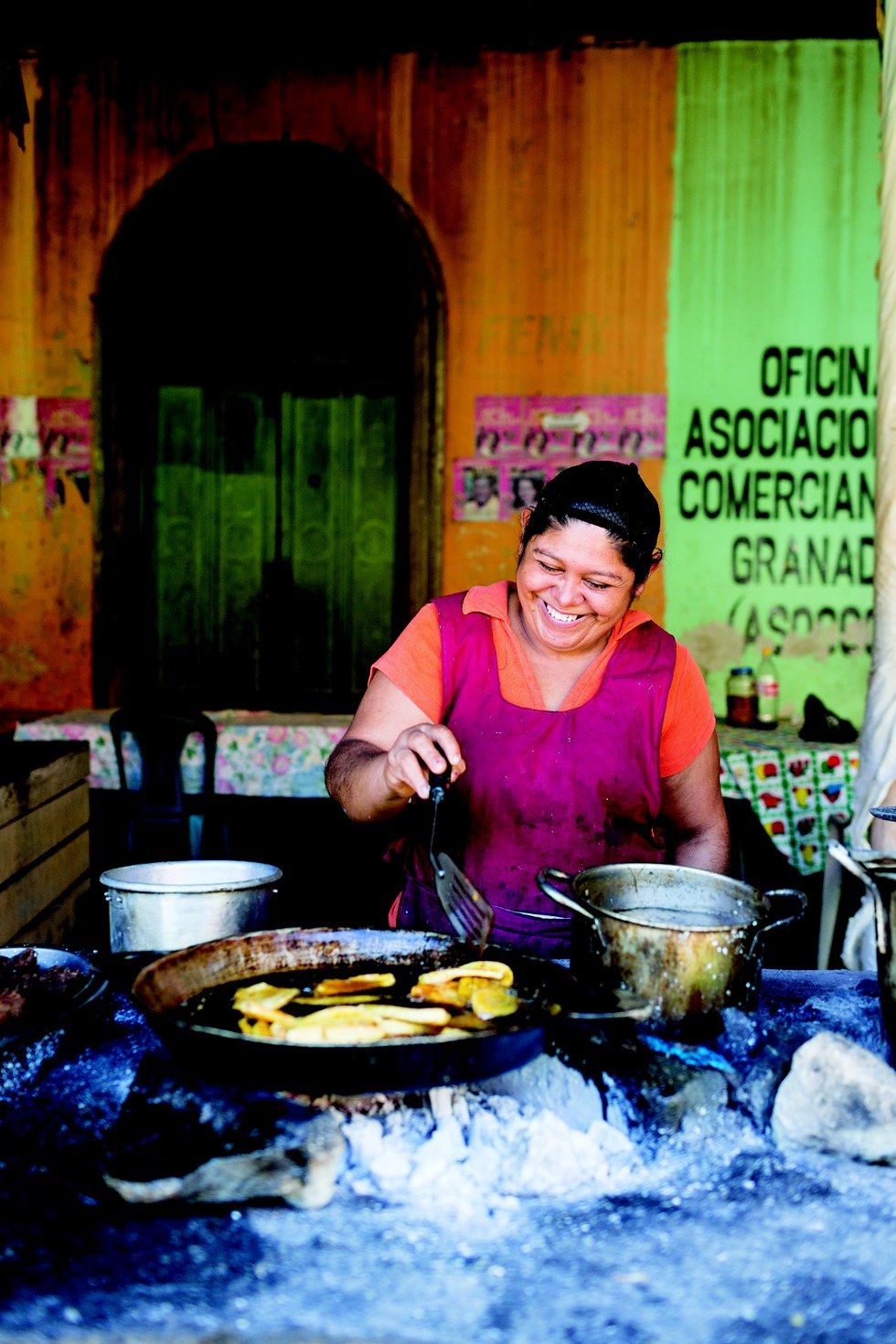 A woman fries plantains at Granada's Mercado Municipal
After lounging in a hammock on my casita's private porch, I slather on sunscreen and head down to the island's dock. There I meet a resort staffer named Jorge, who has agreed to give me a tour of some of the nearby isletas, of which there are nearly 400. Motoring onto the open water of Lake Nicaragua—which is as big as Puerto Rico—we pass isletas with mansions, isletas with tin-roofed shacks and isletas with nothing on them at all.
As we whiz along in the direction of the looming Volcán Mombacho, Jorge points out snowy egrets, herons and a slender dark cormorant that dives into the lake as we approach. Thousands of species live in these waters, but the lake's most famous inhabitants are the tarpons, sawfish and Caribbean bull sharks.
"Do those sharks mean it's dangerous to swim here?" I ask Jorge, who responds with a laugh. Apparently, sightings are exceedingly rare, though Jorge does admit that he saw one long ago when he was in the military. "It wasn't that big," he reassures me. I'm not convinced.
As the sun dips below the crags of Mombacho, I look out at the glinting waters busy with fishermen casting their circular nets. I ask Jorge about the $50 billion canal set to connect the Caribbean and the Pacific by widening the San Juan River and passing through Lake Nicaragua. "Politics," he says, and we leave it at that, choosing instead to listen to the call of birds, the hum of the motor and the whisper of fishing nets settling on the lake.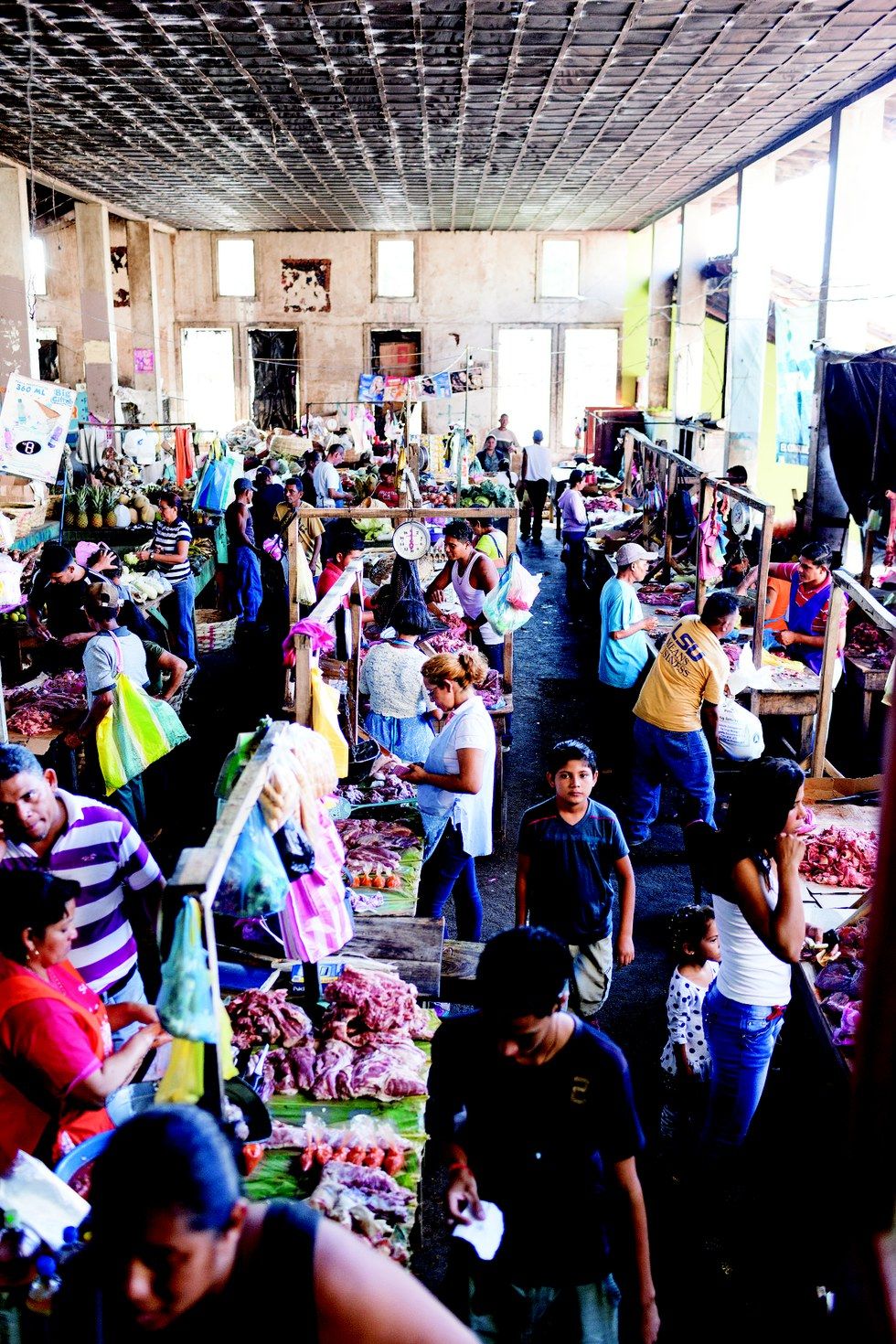 Busy market stalls
DAY THREE | I start the day with a light breakfast (a tortilla basket with warm banana bread has magically appeared on the porch) followed by a stroll to the center of the island, where I come across a viewing tower. I climb a ladder to a wooden crow's nest that looks out over a canopy of broad-leafed tropical trees, the conical bulk of Volcán Concepción in the distance. I could happily spend a lifetime up here, but it's time to head back to Granada, where I have a date with a bus that'll take me to the Pacific Coast.
Following an hour-and-a-half ride through grassy plains dotted with lazy-looking cows, my bus arrives in San Juan del Sur, a fishing village of colorful wooden buildings, rickety taco stands and a whole lot of dreadlocked surfers. As the bus squeezes itself onto one of the narrow streets, a skateboarder wearing headphones glides serenely (and dangerously) across its path.
I've scheduled a horseback ride at Rancho Chilamate, about 20 minutes south of town, but I have some time to kill before then. On Avenida Mercado, I grab a crispy fried fish burrito at Taco Stop and walk to the crescent-shaped beach Playa San Juan del Sur.
Though this is Nicaragua's Pacific Coast, there's a Caribbean feel here. Taking a cue from locals lounging on their porches, I lie back on the sand and let the afternoon pass me by. Joggers run in the surf. Kids play volleyball. Boats bob in the harbor. Christ of the Mercy, a hilltop statue 440 feet above sea level, watches over the bay impassively.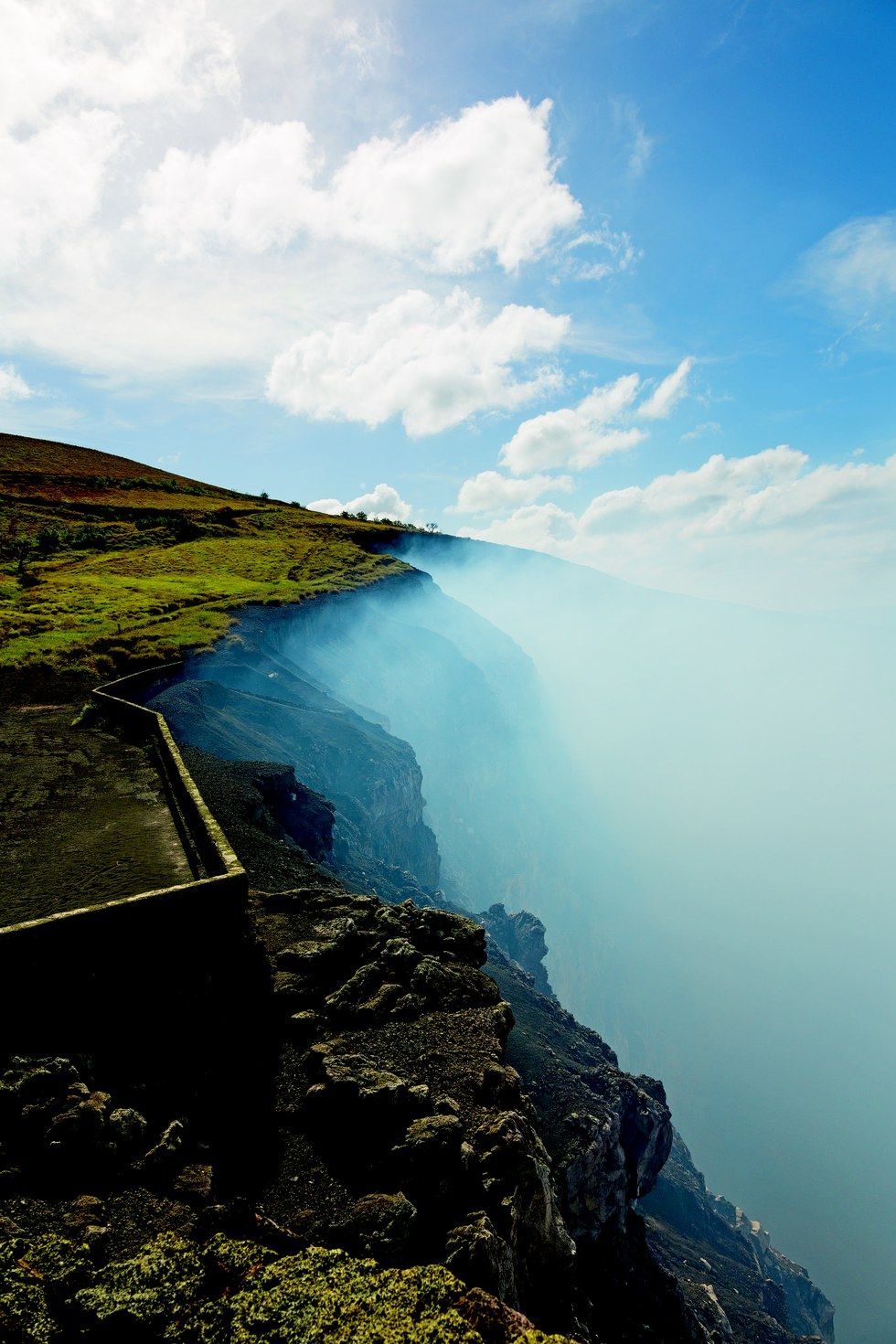 Volcán Masaya's Santiago crater
Back in town, I meet up with Rancho Chilamate owner Blue, a San Juan local by way of Canada whose outfit matches her nickname. We drive to the ranch, where I'm quickly put on the back of a speckled filly named Cappuccino, who initially refuses to leave the corral with the rest of our group. "Attagirl," I say, giving my horse an encouraging pat on the rump, though I suspect our relationship has already soured.
For an hour or so, we ride narrow paths flanked by towering trees in which I spot observant howler monkeys. After passing through a field of saddle-high weeds—each more enticing than the last for the peckish Cappuccino—we climb a hill and descend to the deserted Playa El Yankee, a golden beach bracketed by jungle-swathed cliffs.
Under a jicaro tree, we dismount and pass around cold beers. Blue offers a Tupperware container of sticky, dark brown logs. "I know how these look," she says. Once I get past the unappetizing appearance, I find that the chewy bars, made of tamarind and shredded coconut, are sweet and tangy and pack a nice burst of energy. "Now that you've had some liquid courage," Blue says while I lick the last of the tamarind off my fingers, "let's run these horses."
I walk Cappuccino out into the middle of the wide beach. Blue gives some basic tips on how to keep yourself in the saddle at high speed. We trot, canter, then break into a screaming gallop (the screaming is coming from me). My hat, having had enough, leaves my head and skitters down the beach. "Again!" I say when we finally come to a halt, surprising myself. Later, back at the ranch, we kick off our boots and throw back shots of Flor de Caña rum with a squeeze of lime.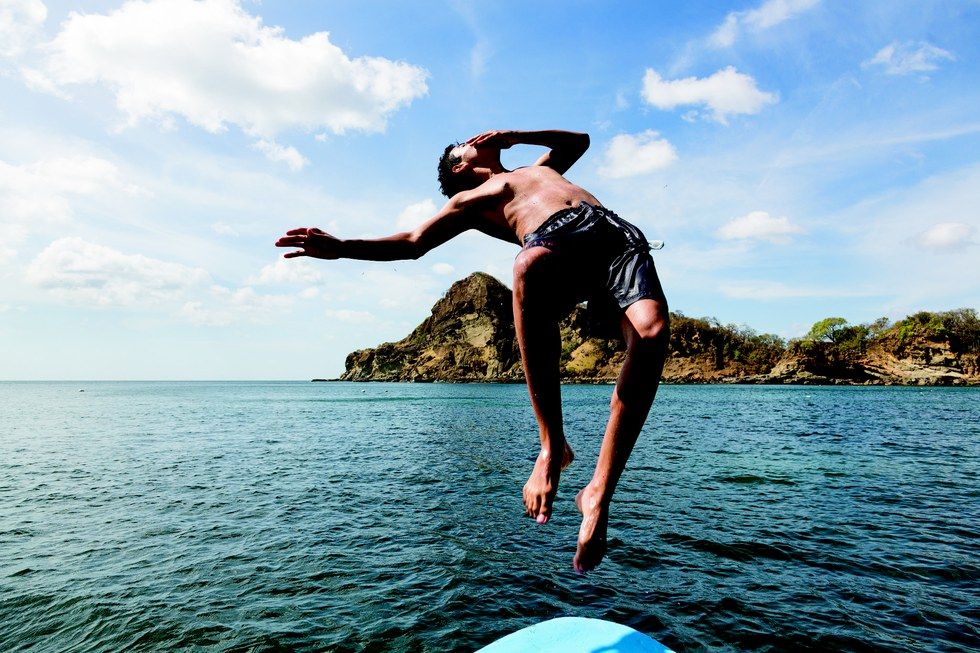 A swimmer backflips into the Bahia la Redonda
Reluctantly, I say my goodbyes (to Blue and Cappuccino) and make my way back to San Juan del Sur, where I meet my ride to Aqua Wellness Resort, a resort of treetop villas scattered through the hills around Playa la Redonda.
My suite, the Kinkajou, has what the concierge says is his favorite view. Stepping onto the room's wooden deck, the first thing I see (yay!) is a plunge pool, and beyond this a white beach, rocky cliffs and a stretch of blue Pacific Ocean. "Do you see that?" the concierge asks, pointing at an unusual rock formation. "It's called Pie de Gigante: the Giant's Foot."
Inside, the two-story villa is all burnished wood, sliding screen doors and neutral tone linens. After a quick rinse in my teak shower, I head down to the beach. From the sand, I watch the sun blaze before it dips into the sea. Do people get used to this?
When the dark finally settles, I walk back to the resort's open-air restaurant, where soft music mingles with the crashing waves. I order a plate of fried dorado (mahi mahi) with a side of sweet plantains and Nicaragua's famous gallo pinto (mixed black beans and rice). As I eat, I see a flurry of flashlights on the beach. Some diners are abandoning their meals to see what's going on. I put my fork down and follow.
Surreally, wonderfully, the beach is filled with hundreds of baby sea turtles windmilling their way into the surf. We stand and watch the spectacle in silence. Back at the restaurant our meals are growing cold, but that doesn't seem to matter. All of us have everything we need right here.
Hemispheres associate editor Erin Brady actually, almost, kind of cried at the sight of baby sea turtles hatching. Nature, man!
This article was written by Erin Brady from Rhapsody Magazine and was legally licensed through the NewsCred publisher network.

Canada's largest city spreads out along the northwestern shore of Lake Ontario, and it's a dynamic, multicultural and inclusive experience like almost no other place on earth. Not only is Toronto a thriving living city,it's also become one of the world's truly must-visit destinations. Regularly ranked as one of the greatest places to live, Toronto is the cultural center of the country and home to the biggest events, the most pro sports and the greatest concentration of theaters and restaurants.
Recent decades have seen regular multi-million-dollar upgrades to the city's public spaces, with a slew of great museums, iconic architecture and the redevelopment of the now glittering lakefront adding to the city's appeal.

Add in an ever-growing number of world-class hotels, upbeat nightlife that runs from dusk until dawn and a vibrant and diverse culinary scene influenced by the eclectic makeup of the city's people. Bright and bustling, cosmopolitan and cultured, unpredictable and energetic, Toronto has become one of the greatest cities on earth.
What you see and where you go will depend on the length of your stay. A week is good, longer is better. But even a long weekend will give you a taste of 'The Six' — one of the city's many nicknames, reworked recently as 'The 6ix' by one of its most famous sons, Drake.

However long you stay, you can't hope to see it all. So, consider what follows a starting point for your first visit…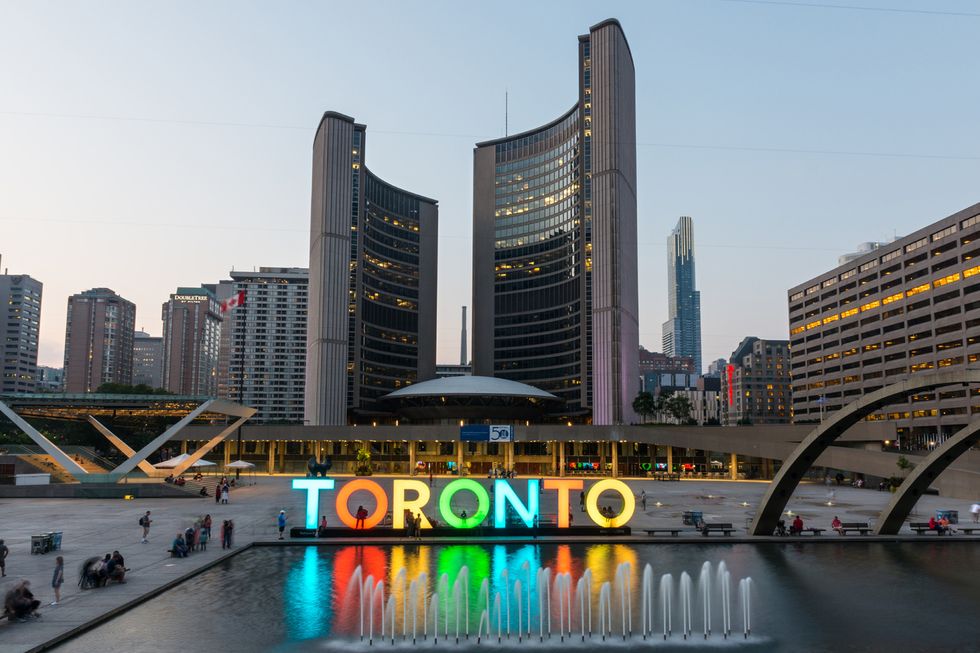 City Hall, Toronto
The checklist sites

No visit to The Six can be considered complete without ticking off several of Toronto's true heavyweight sights. All of the following are in or within easy reach of the city's compact, walk-able and very vibrant center.
The CN Tower is unmissable in every sense, a vast freestanding spire that looks down upon the city and takes its place as one of the 'Seven Wonders of the Modern World'. Head up for the city's best 360-degree views, or get your heart racing on the EdgeWalk — a journey around the circumference of the tower's main pod, 116 stories high and tethered by a harness.

Back on solid ground, Ripley's Aquarium is almost right next door to the CN Tower and is home to 16,000 aquatic animals and the Dangerous Lagoon. A moving sidewalk that whisks you through a long tunnel surrounded by sharks and stingrays is guaranteed to make your heart race all over again.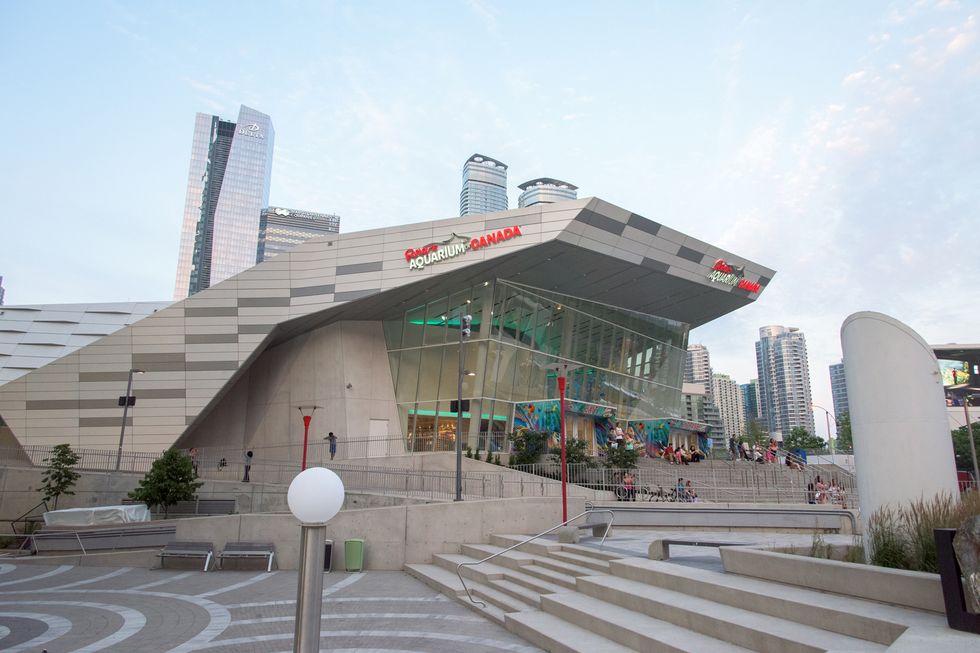 Ripleys Aquarium
Also close to the CN Tower is the Rogers Center, home to Canada's only baseball team, the Toronto Blue Jays. Visit on game day for the full experience, or take the stadium tour to go behind the scenes and through closed doors.

In a city of so many museums and galleries, the Royal Ontario Museum stands out. Not just because it's home to a world-class collection of 13 million artworks, cultural objects and natural history specimens, but as much because it hosts exciting Friday night events that include dance, drink and top DJs.

Two other must ticks include the Art Gallery of Ontario, which houses 95,000 works of art and is free for visitors under 25, and the Hockey Hall of Fame, which taps into Canada's national obsession in stunning depth.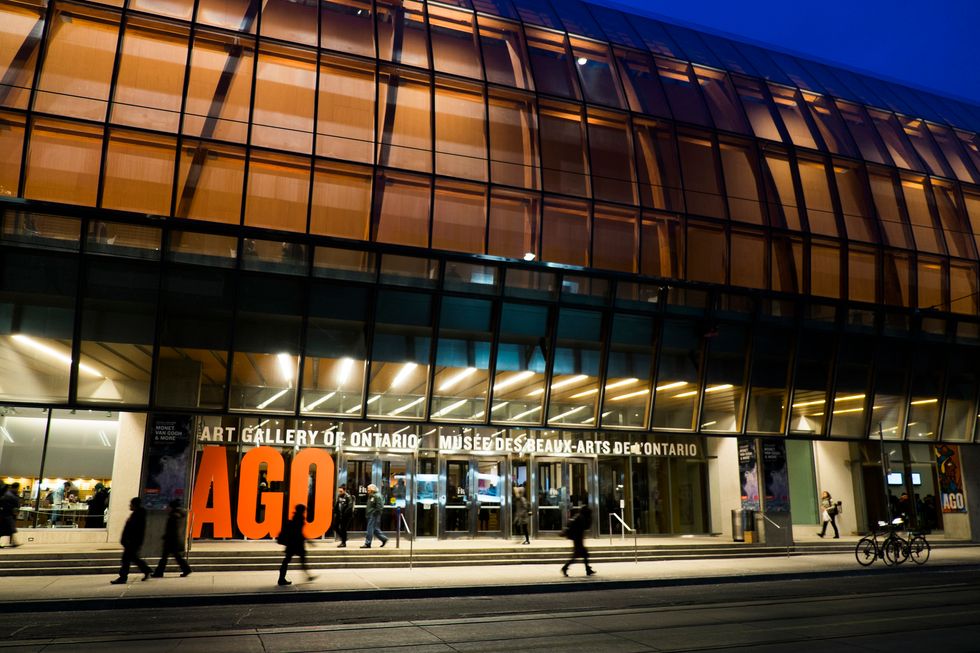 Art Gallery of Ontario
Casa Loma is a must-visit Gothic castle in the heart of the city. North America's only castle is filled with artworks and treasures from Canada and beyond, but its big pull is the network of hidden tunnels to explore as they stretch out beneath the city.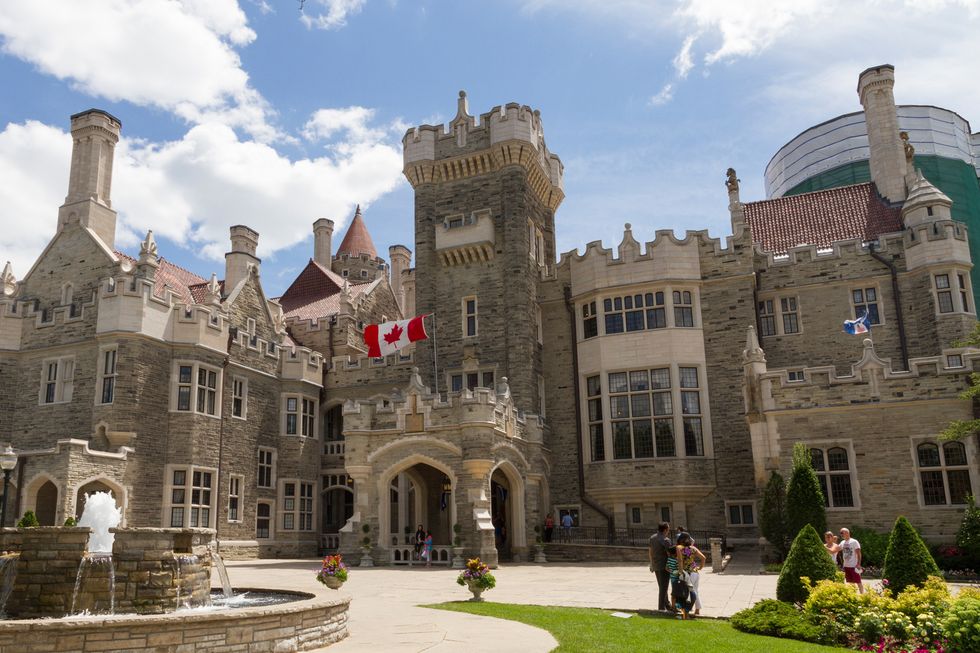 Casa Loma
Toronto's multi-cultural makeup is visible all across the city but reflected best in its remarkable culinary scene (see Where to eat and drink). The city's 'fresh and local' mantra is perfectly showcased at St. Lawrence Market, one of the world's greatest food experiences. Pay it a visit and grab a peameal bacon sandwich — a Canadian staple invented in Toronto and now considered the city's signature dish.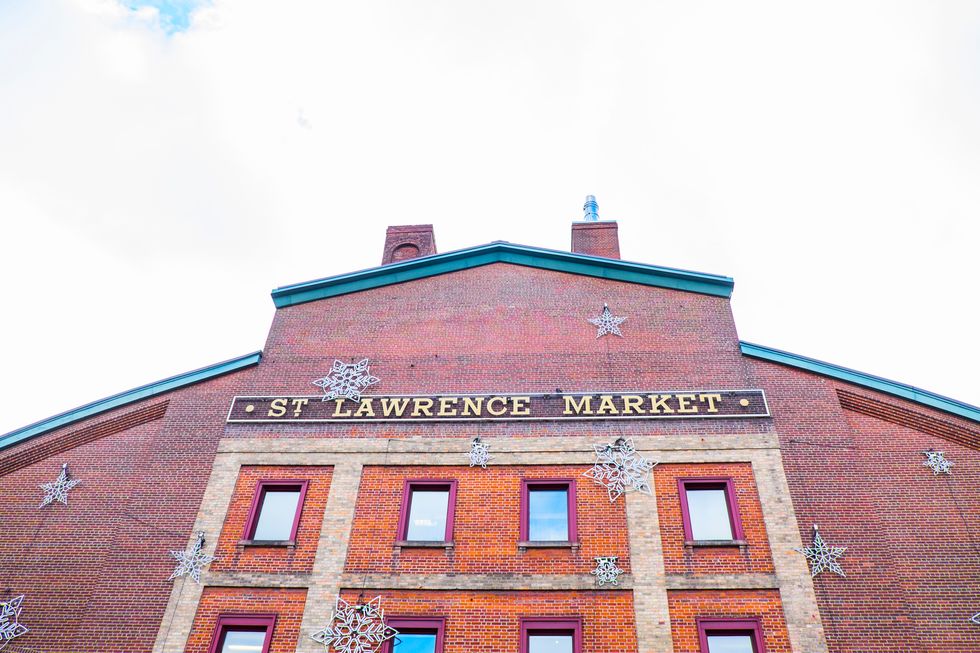 St. Lawrence Market
Afterwards, walk off the calories by wandering the historic cobblestone and car-free Distillery District. Once a vast whiskey distillery and an important spot during prohibition, historians mention that even Al Capone would visit the Distillery to load alcohol destined for the States[9] . This iconic landmark now distils creativity within the 19th century buildings now home to hip restaurants, bars, independent boutique stores, galleries and theaters. Visit in December for the Toronto Christmas Market.

Finally, don't even think about returning home without having had a picture taken with your head poking through an 'O' of the multicolored, 3D Toronto sign at City Hall — the most Insta-worthy location in a city of so many. You'll need to head there early in the morning to avoid the crowds.

If you stay long enough, take a ferry and hop across to Toronto Islands, a chain of 15 small islands in Lake Ontario just south of the mainland. They're home to beaches, a theme park and a breathtaking view of the city's skyline and will very happily fill a full day of your stay.
The bucket list
You absolutely cannot leave Toronto without having witnessed the power of the Niagara Falls and its hypnotic mist up close. Trying to visit the Falls from the States is a trip on its own, but it's almost non-optional when you're less than two hours away in Toronto. Take the trip, buy the T-shirt and tick off one of the world's must-see sights.
Explore like a local
Away from the sleek, gleaming towers of downtown lie many of Toronto's less obvious but no less essential attractions. West Queen West is Toronto's hippest neighborhood and artistic heart, a one-mile strip of very chic galleries, stores, restaurants and boutique hotels. Kensington Market is a fantastically chaotic neighborhood and perhaps the best example of the city's famous multiculturalism. It's not a market as the name implies, but a collection of independent shops, vintage boutiques, art spaces, cafés, bars and restaurants from every corner of the globe.
The Bata Shoe Museum is one of the city's quirkiest collections, an unexpectedly fascinating exhibit that retraces the 4,500-year history of footwear. And as you wander the city, you can't fail to notice that Toronto's walls are alive with graffiti. Take a free 90-minute walking tour through the back alleys of Queen Street West and down Graffiti Alley to gain a better understanding of the city's street art scene. If you visit during the sunnier months, escape the hustle by heading just east of the center to High Park, the green heart of the city where forests, walking trails, picnic spots and even a zoo await you. Ideal to unwind after a long day of urban adventures.
The essentials
When to go With the sun shining, May through October is a great time to visit, but the city is alive through all four seasons. The Spring and Autumn months are ideal as the humidity and visitor numbers are lighter, while Toronto comes alive through the colder months through a wide array of winter celebrations. One of the most spectacular is the Aurora Winter Festival, a six-week celebration that sees the Ontario Place, West Island transformed into four mystical worlds. Whichever season you choose, plan to stay for at least five nights to get a true flavor of the city.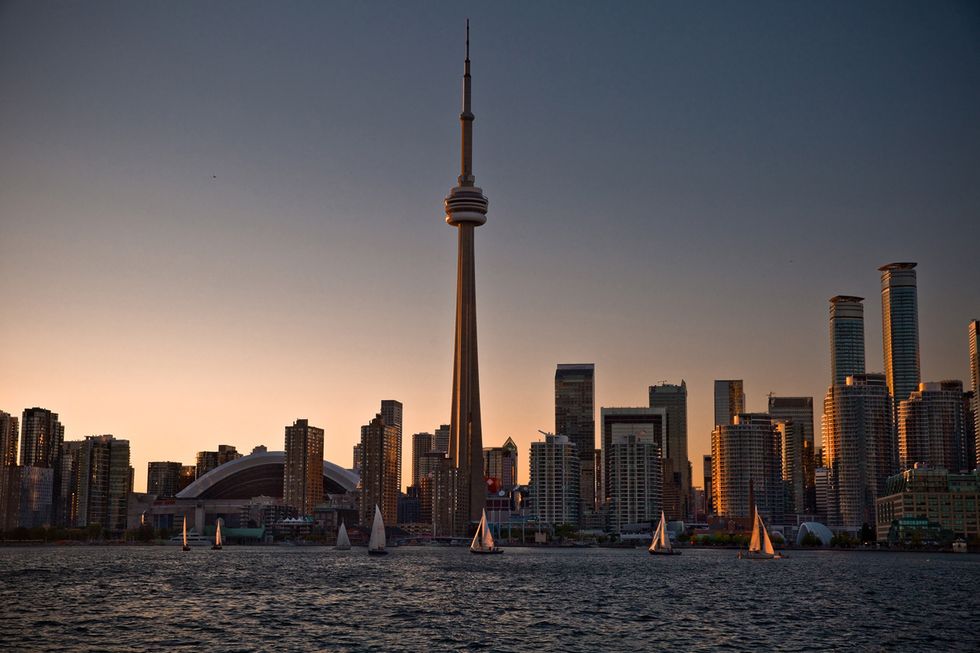 Toronto skyline view
Where to stay To be at the heart of most of the attractions you'll want to see, aim for downtown. One of the best options is the Marriott City Center, not only because it's located right next to the CN Tower but also because it's attached to the iconic Rogers Center where the Toronto Blue Jays play and countless concerts and popular events are held.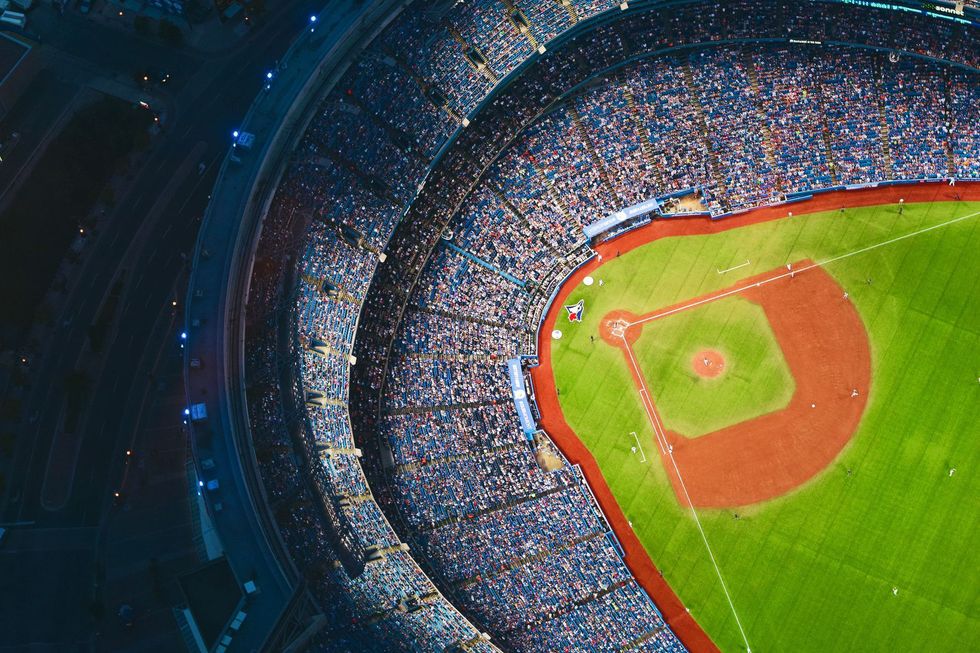 Toronto Blue Jay stadium
Opt for a Stadium room and you'll look out onto the field. If you want to experience Toronto's non-stop nightlife, the Entertainment District is the place to be. If you're looking for a luxury experience, discover Canada's first St. Regis hotel in the heart of downtown.

Where to eat and drink Nowhere is Toronto's incredible diversity more evident than in its food scene — taste Toronto and you're tasting the world. The city is brimming with restaurants and cafés serving everything from high-end fine dining to comfort food from an informal neighborhood joint — plus every option imaginable in between.

For fine dining, consider Alo, Canis and Edulis. Book a table at Canoe, Lavelle, The One Eighty or 360 at the CN Tower and you're guaranteeing a view as spectacular as the food. Or experience the city's remarkable fusion food at DaiLo (French-Cantonese), El Catrin (Mexican-French) and the unexpected mashup of Rasta Pasta (Jamaican-Italian).
The above suggestions don't even scratch the surface of a food scene to rival any city on earth, with options to suit every taste and any budget.
How to get around Toronto is perfect to explore on foot or via a growing network of cycle routes. For a quicker journey, buy a Presto card to use the TTC, Toronto's subway, streetcar and bus system.

How to get there Fly into Toronto Pearson International Airport (YYZ) with United and you're around 15 miles west of the city center. The most comfortable route in is via the Union Pearson Express, which runs every 15 minutes and gets you downtown in 25 minutes ($13).The TTC is a cheaper option at under $5, but it can take an hour and a half and involves a number of transfers, while a taxi will take around 30 minutes and cost $45.
United flies to Toronto from numerous U.S. cities including our Hub city locations. Book your trip via united.com or by downloading the United app.



Following the devastating wildfires in Australia and powerful earthquakes that shook Puerto Rico last week, we're taking action to make a global impact through our international partnerships as well as nonprofit organizations Afya Foundation and ADRA (Adventist Development and Relief Agency).
Helping Puerto Rico recover from earthquakes
Last week, Puerto Rico was hit with a 5.2 magnitude earthquake, following a 6.4 magnitude earthquake it experienced just days before. The island has been experiencing hundreds of smaller quakes during the past few weeks.
These earthquakes destroyed crucial infrastructure and left 4,000 people sleeping outside or in shelters after losing their homes. We've donated $50,000 to our partner charity organization Airlink and through them, we've helped transport disaster relief experts and medical supplies for residents, as well as tents and blankets for those who have lost their homes. Funding will go towards organizations within Airlink's partner network, which includes Habitat for Humanity, Mercy Corps and Americares, to help with relief efforts and long-term recovery.
Australian wildfire relief efforts

Our efforts to help Australia have inspired others to make their own positive impact. In addition to teaming up with Ellen DeGeneres to donate $250,000 and launching a fundraising campaign with GlobalGiving to benefit those impacted by the devastating wildfires in the country known for its open spaces and wildlife, our cargo team is helping to send more than 600 pounds of medical supplies to treat injured animals in the region.
Helping us send these supplies is the Afya Foundation, a New York-based nonprofit that seeks to improve global health by collecting surplus medical supplies and delivering them to parts of the world where they are most needed. Through Airlink, the Afya Foundation will send more than $18,000 worth of materials that will be used to treat animals injured in the Australian fires.
These medical supplies will fly to Melbourne (MEL) and delivered to The Rescue Collective. This Australian organization is currently focused on treating the massive population of wildlife, such as koalas, kangaroos, and birds, that have had their habitats destroyed by the recent wildfires. The supplies being sent include wound dressings, gloves, catheters, syringes and other items that are unused but would otherwise be disposed of.
By working together, we can continue to make a global impact and help those affected by natural disasters to rebuild and restore their lives
Australia needs our help as wildfires continue to devastate the continent that's beloved by locals and travelers alike. In times like these, the world gets a little smaller and we all have a responsibility to do what we can.
On Monday, The Ellen DeGeneres Show announced a campaign to raise $5 million to aid in relief efforts. When we heard about Ellen's effort, we immediately reached out to see how we could help.
Today, we're committing $250,000 toward Ellen's campaign so we can offer support now and help with rebuilding. For more on The Ellen DeGeneres Show efforts and to donate yourself, you can visit www.gofundme.com/f/ellenaustraliafund
We're also matching donations made to the Australian Wildfire Relief Fund, created by GlobalGiving's Disaster Recovery Network. This fund will support immediate relief efforts for people impacted by the fires in the form of emergency supplies like food, water and medicine. Funds will also go toward long-term recovery assistance, helping residents recover and rebuild. United will match up to $50,000 USD in donations, and MileagePlus® members who donate $50 or more will receive up to 1,000 award miles from United. Donate to GlobalGiving.
Please note: Donations made toward GlobalGiving's fund are only eligible for the MileagePlus miles match.
In addition to helping with fundraising, we're staying in touch with our employees and customers in Australia. Together, we'll help keep Australia a beautiful place to live and visit in the years to come.
Scroll to top