Three Perfect Days: Nicaragua
Story by Erin Brady | Photography by Andrew Rowat | Hemispheres, March 2015
A haven for backpackers, beachgoers, volcano explorers and history buffs, this Central American country has something for everyone
The view of Nicaragua from the window of an airplane is stunning. The slopes of cloud-frosted volcanoes run thick with rainforests. Strips of golden sand stretch along the coasts. Impossibly green islands dot mammoth lakes. At ground level, this Central American nation offers a more immediate sense of its natural riches: a dizzying variety of jumping, howling, swimming, slithering and buzzing life that includes kingfishers, kinkajous and Lake Nicaragua's famous freshwater bull sharks.
In recent decades, this ecological splendor has been overshadowed by a series of natural and political misfortunes. A 1972 earthquake left vast swathes of Managua in ruins. As if that weren't enough, later in the decade, after the Somoza dictatorship was ousted, a long and violent power struggle ensued. But Nicaragua's history runs much deeper than this: In 1874, workers discovered footprints that dated back more than two millennia in the volcanic mud alongside Lake Managua.
In terms of its hospitality industry, the country has recovered from its troubles in the '70s and is currently showcasing its natural history and beauty with a slew of new eco-resorts, in addition to luxury hotels and great restaurants. So when packing that suitcase, be sure to include a dinner jacket along with your hiking boots.

DAY ONE | The central courtyard at the Tribal Hotel, in the colonial city of Granada, is at its best in the morning, observed from a small balcony with a cup of strong coffee. Only partly awake, I stand for a while looking down on this stylized oasis, with its banana trees, Turkish rugs and black and white tile pool. A perfect place to have breakfast, I decide, so I snag a cushioned bench and tuck into a plate of fresh papaya, eggs and toast, along with a cup or three of rich Nicaraguan coffee, of course.
The Tribal is an intimate hotel of just seven rooms behind a whitewashed exterior on quiet Calle Cuiscoma, two blocks from Granada's center. So, feeling very caffeinated, I zip through the hotel's tiled lobby and head out into the street, which is crowded with horse-drawn carts and taxis blasting ranchera music.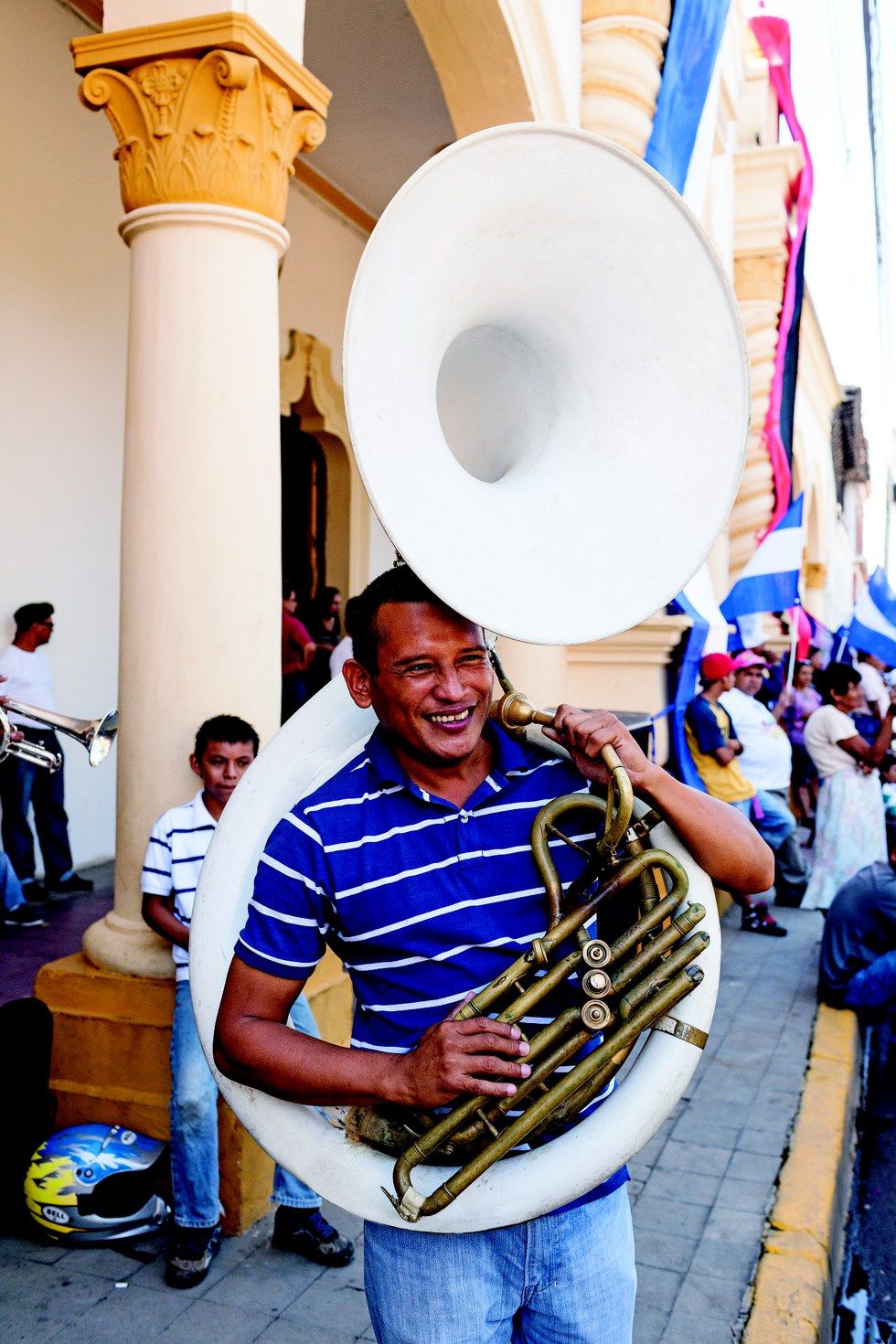 A tuba player at Granada's Parque Central
Located on the northwestern edge of Lake Nicaragua (or Cocibolca, meaning "Sweet Sea"), in the shadow of the dormant Volcán Mombacho, this nearly 500-year-old city in the western part of the country is a knot of cobblestone streets and candy-colored buildings. Two blocks from the hotel, beside the red-domed Cathedral of Granada, is the lovely Parque Central, a popular local meeting place that bustles with snack and souvenir stalls. I pick up a bag of plantain chips and hail one of the cabs.
A half-hour drive north, past chaotic jungle and the occasional forlornly grazing horse, and I'm at the Masaya Volcano National Park. Home to two cones, several craters (including the active Santiago) and a caldera, Masaya is Nicaragua's first and largest national park. Upon learning my destination, my driver, Roberto, takes it upon himself to be my unofficial tour guide.
Volcán Masaya, he says, has been feared for centuries—first by indigenous people, who used it for religious sacrifices and named it "Burning Mountain," and later by 16th-century Spaniards, who called it "The Mouth of Hell" and tried to draw liquid gold from its center.
While there haven't been any major eruptions in centuries, the complex does—as Roberto puts it—"burp" on occasion. Its last significant hiccup was in 2001, when the Santiago crater launched boulders as far away as the visitor's center, 10 minutes by car from the rim—which, incidentally, is the only rim in the Western Hemisphere reachable by road.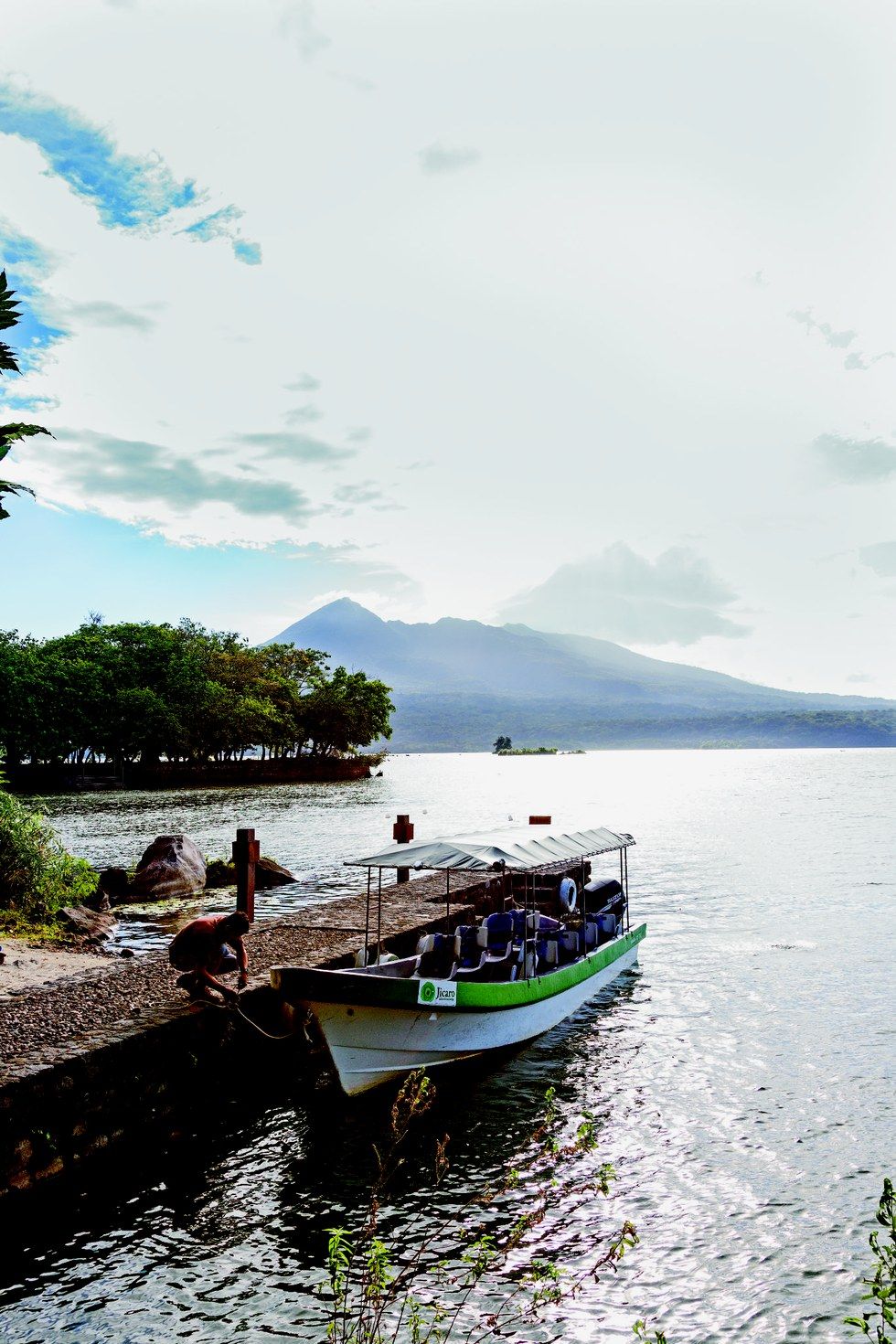 The dock at Jicaro Island Ecolodge;
The drive up is relatively gentle until about five minutes from the peak, when the road jerks upward at a precarious angle. Roberto chats breezily about human sacrifice and explosions as we grind our way up to a volcano-top parking lot. Clouds of steam waft lazily from the depths of the nearby crater, drifting toward the Cruz de Bobadilla, a large cross the Spaniards erected to keep the devil away.
From here, I hike five minutes to the dormant Nindirí cone. Dotted with trees, Nindirí has a view that encompasses Apoyo Lagoon, a crater lake that resulted from one of Masaya's most powerful eruptions, more than 20,000 years ago. There are no eruptions today, thankfully, although there are a few rumblings coming from the region of my stomach.
I head for an early lunch in Masaya, the volcano's namesake city to the east. The big attraction here is the open-air Mercado de Artesanias, located inside the black basalt walls of an old Spanish fort. The market is packed with bright shops selling traditional keepsakes, including some rather grisly baskets fashioned out of dead chickens. I settle on a small ceramic vase.
I make my way to the market's southeast corner and take a seat at Restaurante Che Gris, where I quickly blank on my rudimentary Spanish and panic, ordering by pointing at the plate of the person next to me. The dish, a waitress informs me, is indio viejo, a generous helping of tender beef strips, tomatoes, bell peppers and onions in a sour orange juice stock thickened with tortilla. It's a delicious meal, but not for the faint of appetite.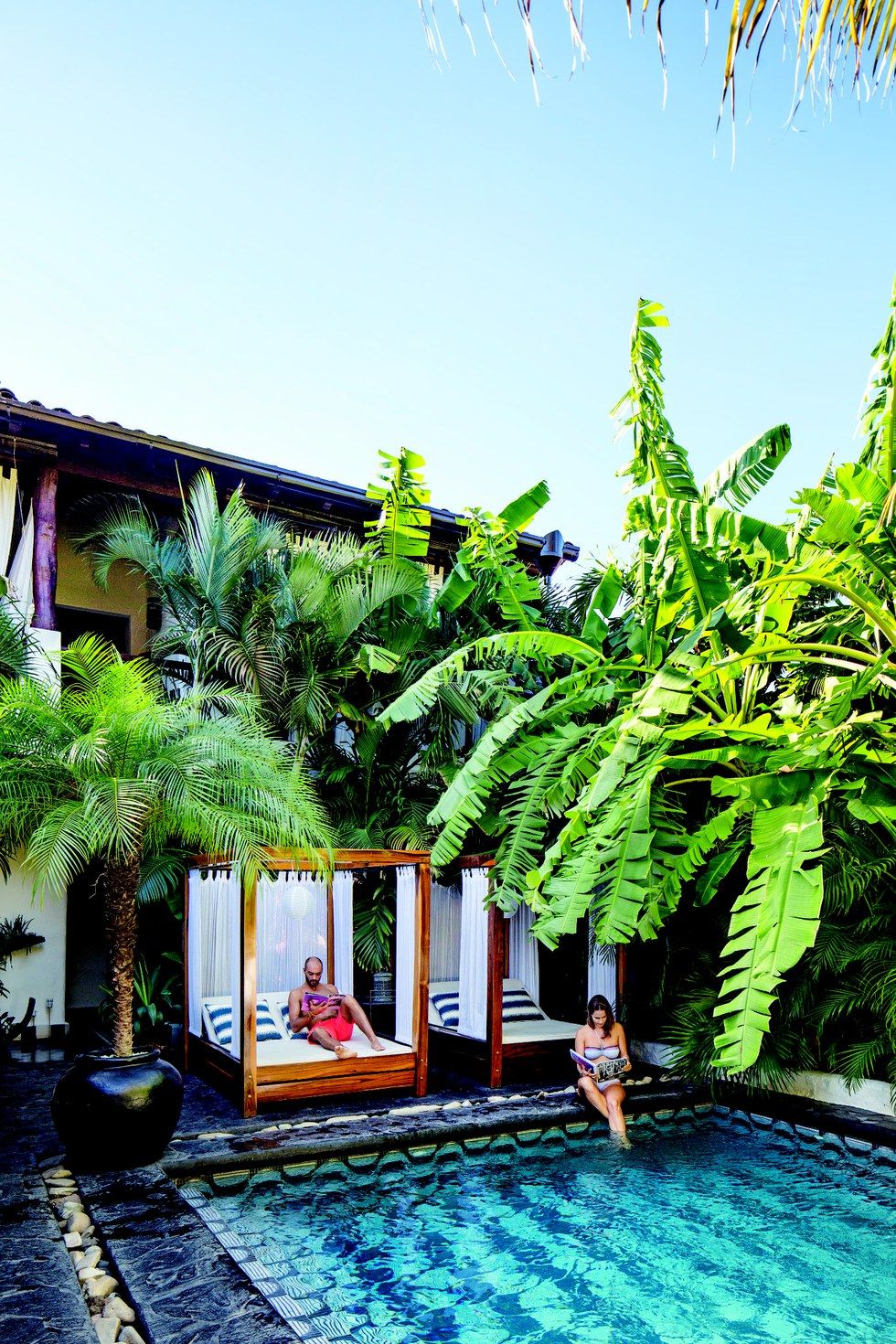 The pool at the Tribal Hotel
Having taken possession of a few more ceramic vases, I return to the Tribal, where I slip into the pool, then flop on a daybed, mojito in hand. I awake an hour or so later to lengthening shadows and a vague sense that I'm supposed to be doing something. Oh, yes, sightseeing. My next stop is the weathered Iglesia La Merced, whose bell tower provides stunning views of Granada's tiled rooftops and hidden courtyards, colored pink by the dipping sun.
Next, I head for Calle La Calzada, a bustling pedestrian boulevard, home to the low-key eatery Nectar. Still digesting lunch, I take it easy with a plate of tostones—a popular local snack of fried plantain cakes topped with salty cheese—and a frosty Tona beer. Nearby, a group of teenagers perform Michael Jackson's "Thriller." Charmingly, they get some of the lyrics mixed up ("Yet I can give you more than every girl could ever describe…"). Or maybe it's exhaustion playing tricks on me. Either way, I pay my tab and shuffle, appropriately zombie-like, in the direction of my bed.
DAY TWO | Breakfast today is at Granada's Mercado Municipal, a sprawl of stalls hawking everything from banana-leaf tamales to bargain-brand batteries. After winding deep into the crumbling late-19th-century building that houses the market, I enter a high-ceilinged hall filled with food stalls. As I'm debating which of the identical counters to sit at, an older man enjoying his breakfast waves me over.
"I thought you were American," he says, shaking my hand while informing me that he's originally from California. "I'm William." On his recommendation, I order a desayuno tipico, a traditional Nicaraguan breakfast of fried eggs, plantains, rice and beans and a slice of salty queso seco cheese.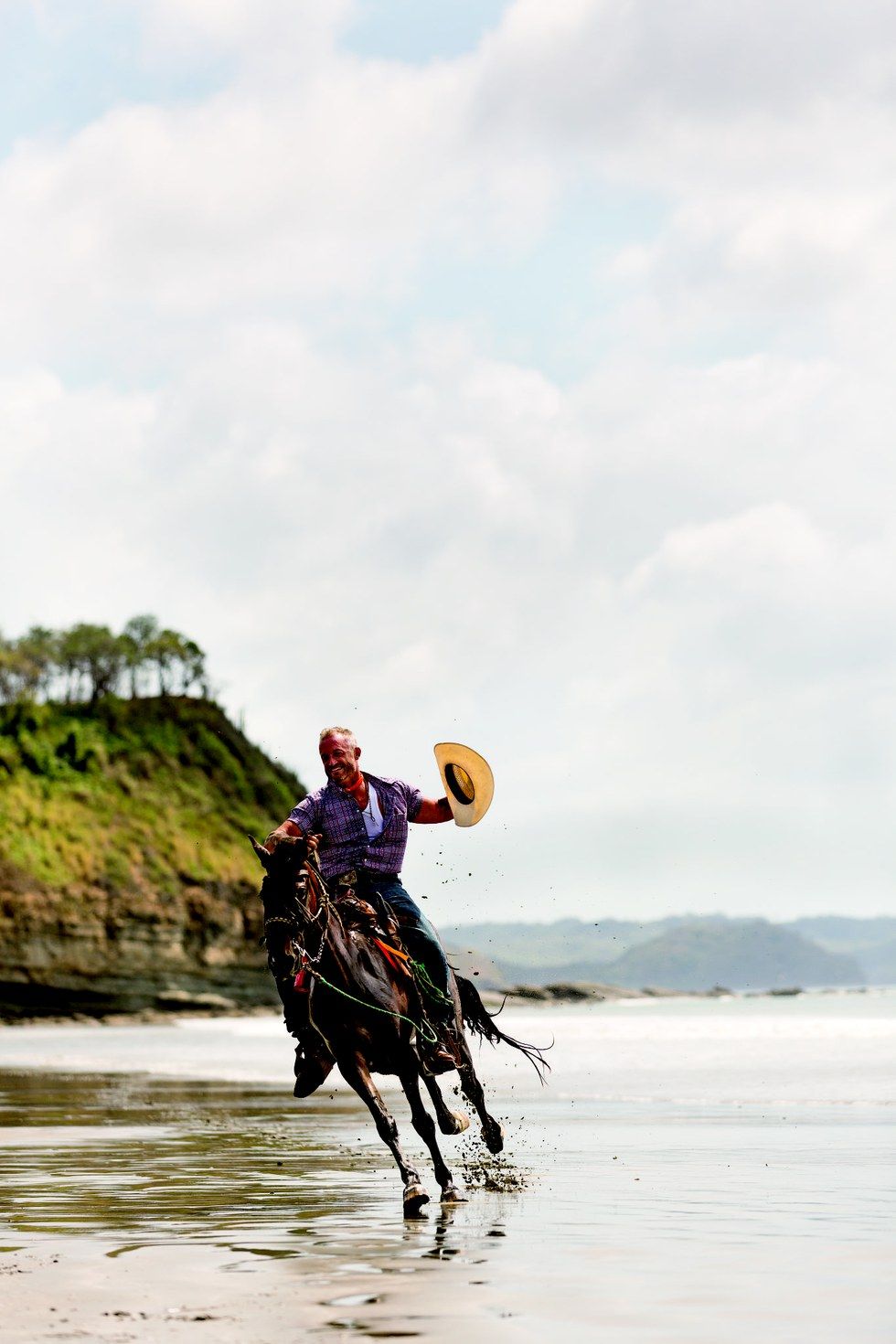 Nick Haven from Rancho Chilamate riding on Playa El Yankee
While I wait for my meal, William reveals that he has spent three decades living in various South and Central American countries. The last eight years he has spent here in Granada, not far from the market, where he eats breakfast every day. When I ask why he settled here, he tells a story about a doctor's visit when he first arrived. "I was really sick, and they paid for everything. I told the doctor I wasn't a citizen and he said, 'You're a person, aren't you?'"
After saying goodbye to William, I walk to Espressionista, a coffee shop and restaurant in a light gray colonial building with typical Baroque flourishes. I refuel and catch a cab to the Marina Cocibolca, 10 minutes south of the city,at the top of the Peninsula de Aseses.
A short boat ride later and I'm docking at the Jicaro Island Ecolodge, a resort on a private island near the end of the arching peninsula named for the Nicaraguan tree and its cannonball-like fruit. As I disembark, a staff member hands me a glass of iced tea and a cold face towel.
Jicaro strives to reconcile a taste for luxury living with a consciousness of the environment. The showers in each of the nine lakefront bungalows are heated by solar panels, and the rooms are cooled by cross ventilation rather than air conditioning. But guests aren't exactly roughing it. The one-acre island offers a spa, a saltwater infinity pool, a sunset-facing yoga deck and a fancy alfresco restaurant where the chef can customize a dinner menu from local ingredients.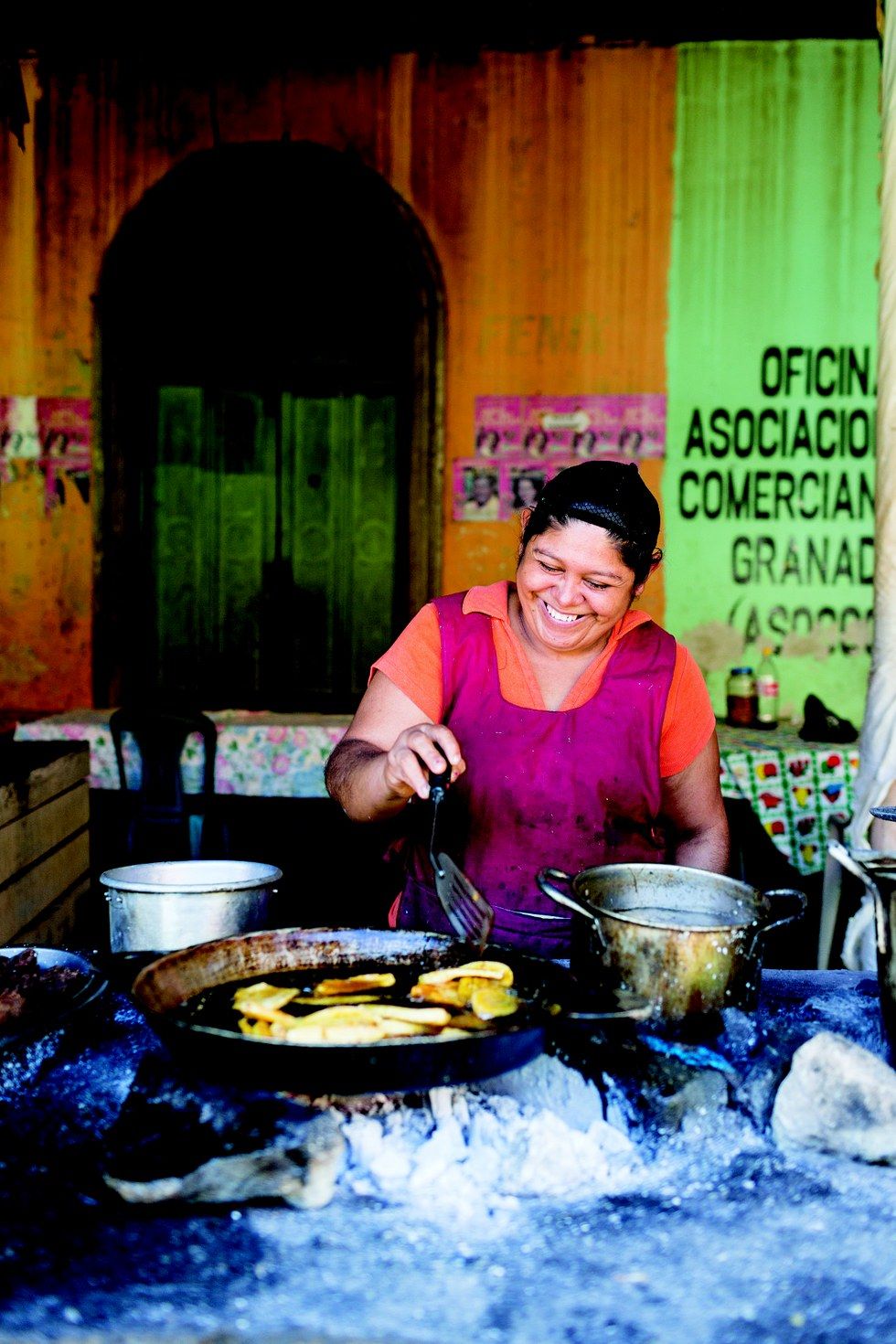 A woman fries plantains at Granada's Mercado Municipal
After lounging in a hammock on my casita's private porch, I slather on sunscreen and head down to the island's dock. There I meet a resort staffer named Jorge, who has agreed to give me a tour of some of the nearby isletas, of which there are nearly 400. Motoring onto the open water of Lake Nicaragua—which is as big as Puerto Rico—we pass isletas with mansions, isletas with tin-roofed shacks and isletas with nothing on them at all.
As we whiz along in the direction of the looming Volcán Mombacho, Jorge points out snowy egrets, herons and a slender dark cormorant that dives into the lake as we approach. Thousands of species live in these waters, but the lake's most famous inhabitants are the tarpons, sawfish and Caribbean bull sharks.
"Do those sharks mean it's dangerous to swim here?" I ask Jorge, who responds with a laugh. Apparently, sightings are exceedingly rare, though Jorge does admit that he saw one long ago when he was in the military. "It wasn't that big," he reassures me. I'm not convinced.
As the sun dips below the crags of Mombacho, I look out at the glinting waters busy with fishermen casting their circular nets. I ask Jorge about the $50 billion canal set to connect the Caribbean and the Pacific by widening the San Juan River and passing through Lake Nicaragua. "Politics," he says, and we leave it at that, choosing instead to listen to the call of birds, the hum of the motor and the whisper of fishing nets settling on the lake.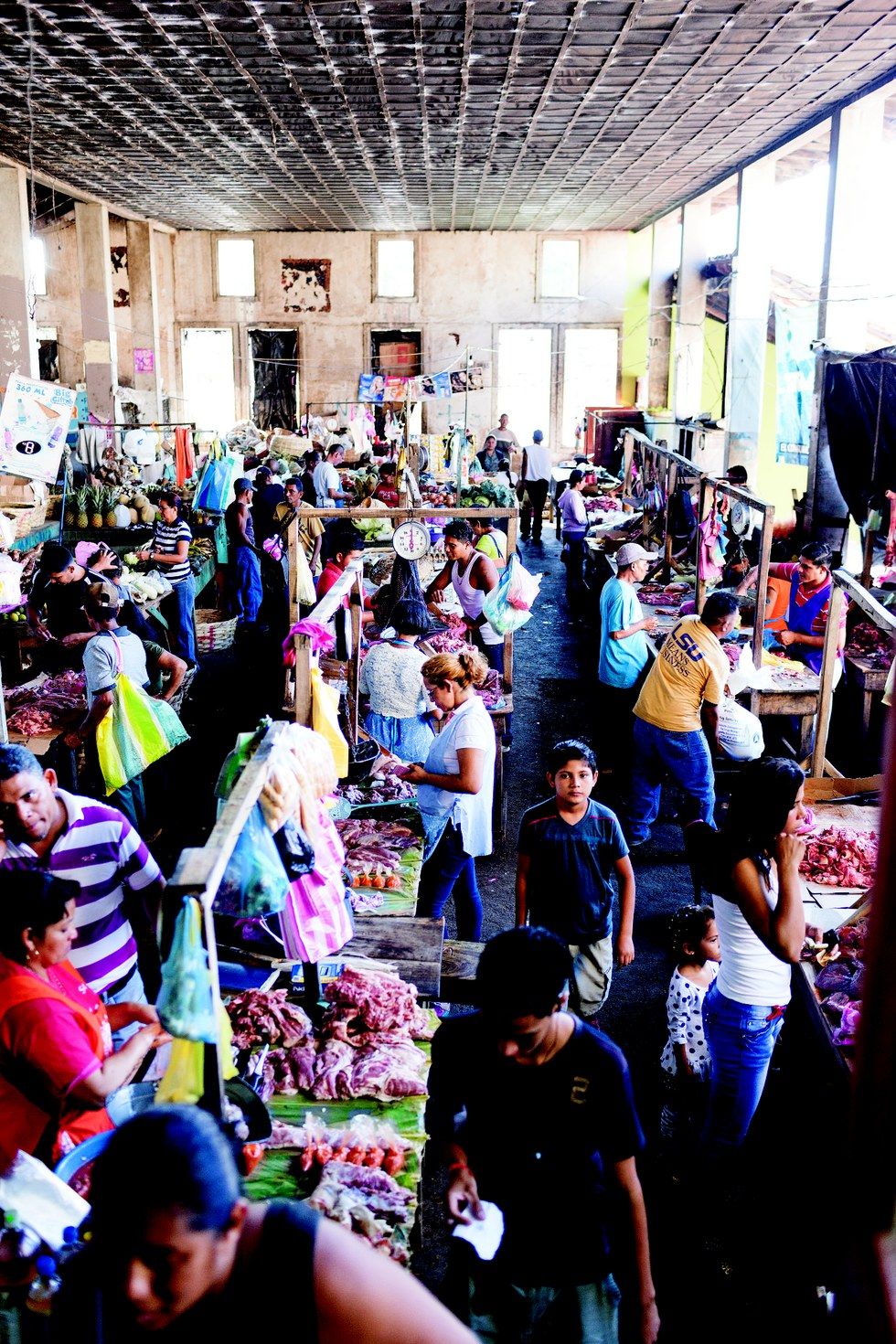 Busy market stalls
DAY THREE | I start the day with a light breakfast (a tortilla basket with warm banana bread has magically appeared on the porch) followed by a stroll to the center of the island, where I come across a viewing tower. I climb a ladder to a wooden crow's nest that looks out over a canopy of broad-leafed tropical trees, the conical bulk of Volcán Concepción in the distance. I could happily spend a lifetime up here, but it's time to head back to Granada, where I have a date with a bus that'll take me to the Pacific Coast.
Following an hour-and-a-half ride through grassy plains dotted with lazy-looking cows, my bus arrives in San Juan del Sur, a fishing village of colorful wooden buildings, rickety taco stands and a whole lot of dreadlocked surfers. As the bus squeezes itself onto one of the narrow streets, a skateboarder wearing headphones glides serenely (and dangerously) across its path.
I've scheduled a horseback ride at Rancho Chilamate, about 20 minutes south of town, but I have some time to kill before then. On Avenida Mercado, I grab a crispy fried fish burrito at Taco Stop and walk to the crescent-shaped beach Playa San Juan del Sur.
Though this is Nicaragua's Pacific Coast, there's a Caribbean feel here. Taking a cue from locals lounging on their porches, I lie back on the sand and let the afternoon pass me by. Joggers run in the surf. Kids play volleyball. Boats bob in the harbor. Christ of the Mercy, a hilltop statue 440 feet above sea level, watches over the bay impassively.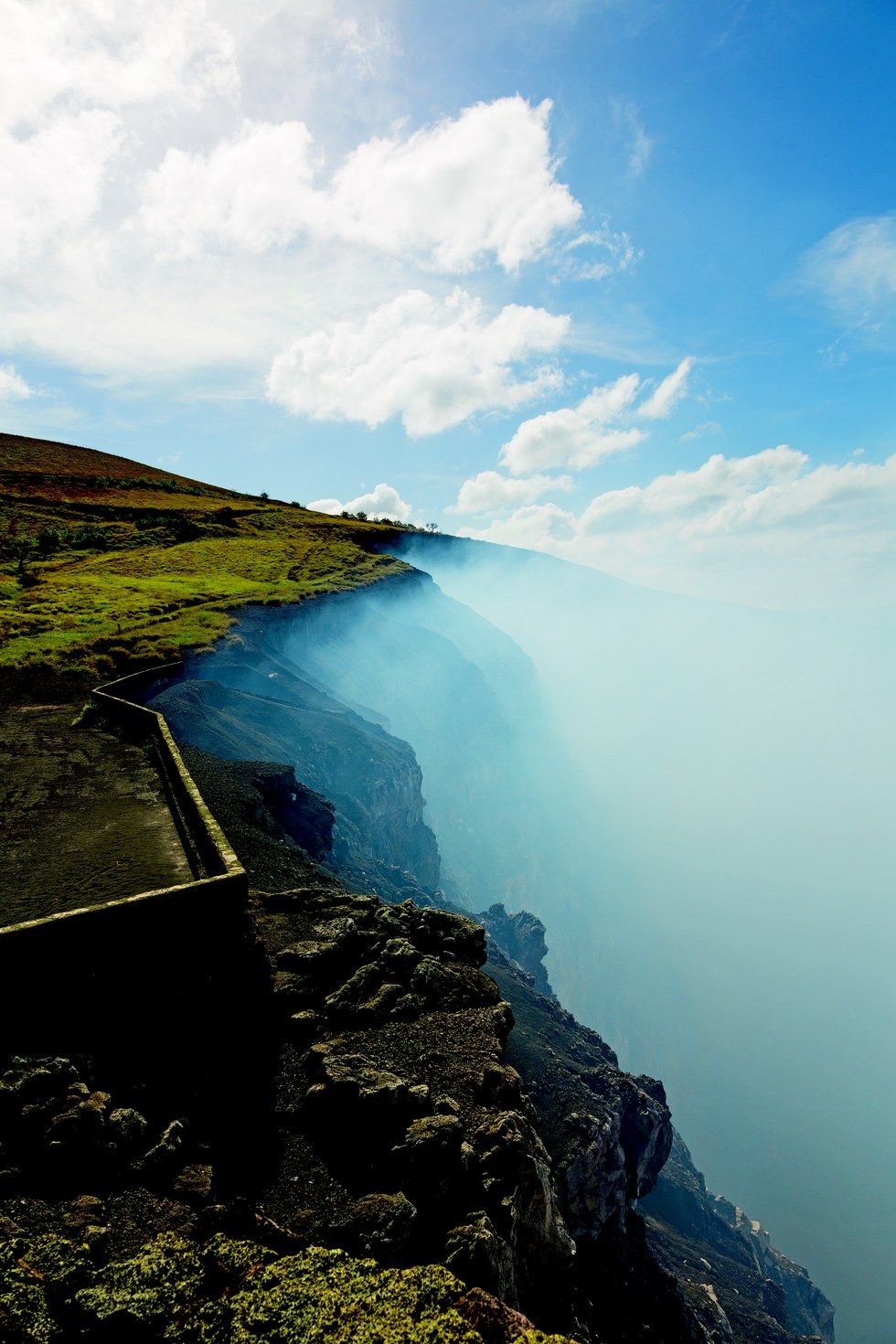 Volcán Masaya's Santiago crater
Back in town, I meet up with Rancho Chilamate owner Blue, a San Juan local by way of Canada whose outfit matches her nickname. We drive to the ranch, where I'm quickly put on the back of a speckled filly named Cappuccino, who initially refuses to leave the corral with the rest of our group. "Attagirl," I say, giving my horse an encouraging pat on the rump, though I suspect our relationship has already soured.
For an hour or so, we ride narrow paths flanked by towering trees in which I spot observant howler monkeys. After passing through a field of saddle-high weeds—each more enticing than the last for the peckish Cappuccino—we climb a hill and descend to the deserted Playa El Yankee, a golden beach bracketed by jungle-swathed cliffs.
Under a jicaro tree, we dismount and pass around cold beers. Blue offers a Tupperware container of sticky, dark brown logs. "I know how these look," she says. Once I get past the unappetizing appearance, I find that the chewy bars, made of tamarind and shredded coconut, are sweet and tangy and pack a nice burst of energy. "Now that you've had some liquid courage," Blue says while I lick the last of the tamarind off my fingers, "let's run these horses."
I walk Cappuccino out into the middle of the wide beach. Blue gives some basic tips on how to keep yourself in the saddle at high speed. We trot, canter, then break into a screaming gallop (the screaming is coming from me). My hat, having had enough, leaves my head and skitters down the beach. "Again!" I say when we finally come to a halt, surprising myself. Later, back at the ranch, we kick off our boots and throw back shots of Flor de Caña rum with a squeeze of lime.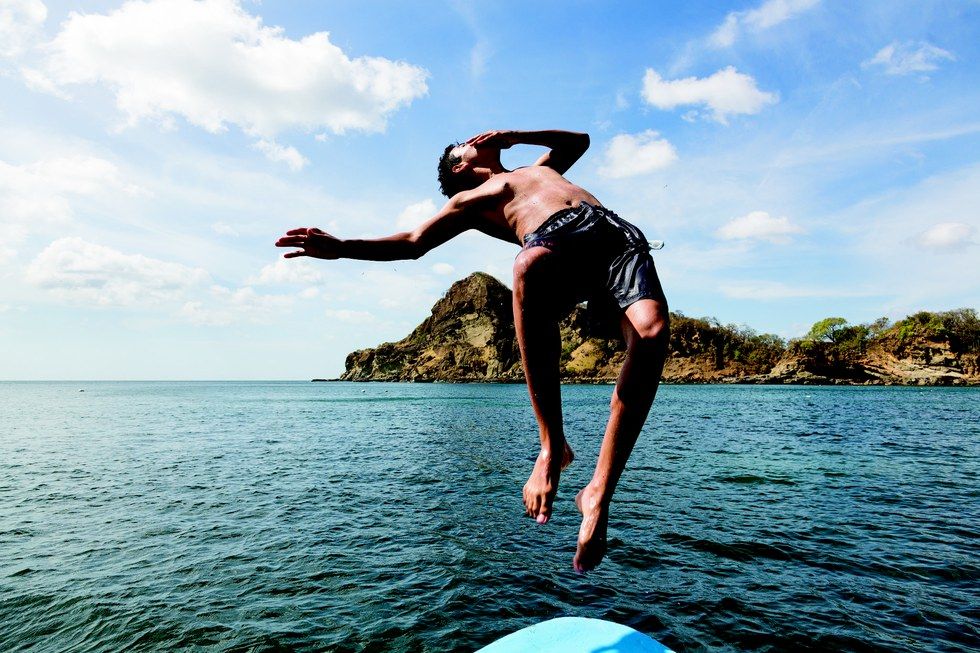 A swimmer backflips into the Bahia la Redonda
Reluctantly, I say my goodbyes (to Blue and Cappuccino) and make my way back to San Juan del Sur, where I meet my ride to Aqua Wellness Resort, a resort of treetop villas scattered through the hills around Playa la Redonda.
My suite, the Kinkajou, has what the concierge says is his favorite view. Stepping onto the room's wooden deck, the first thing I see (yay!) is a plunge pool, and beyond this a white beach, rocky cliffs and a stretch of blue Pacific Ocean. "Do you see that?" the concierge asks, pointing at an unusual rock formation. "It's called Pie de Gigante: the Giant's Foot."
Inside, the two-story villa is all burnished wood, sliding screen doors and neutral tone linens. After a quick rinse in my teak shower, I head down to the beach. From the sand, I watch the sun blaze before it dips into the sea. Do people get used to this?
When the dark finally settles, I walk back to the resort's open-air restaurant, where soft music mingles with the crashing waves. I order a plate of fried dorado (mahi mahi) with a side of sweet plantains and Nicaragua's famous gallo pinto (mixed black beans and rice). As I eat, I see a flurry of flashlights on the beach. Some diners are abandoning their meals to see what's going on. I put my fork down and follow.
Surreally, wonderfully, the beach is filled with hundreds of baby sea turtles windmilling their way into the surf. We stand and watch the spectacle in silence. Back at the restaurant our meals are growing cold, but that doesn't seem to matter. All of us have everything we need right here.
Hemispheres associate editor Erin Brady actually, almost, kind of cried at the sight of baby sea turtles hatching. Nature, man!
This article was written by Erin Brady from Rhapsody Magazine and was legally licensed through the NewsCred publisher network.

When the pandemic began, United Cargo knew it would be critical to utilize its fleet, network and industry-leading pharmaceutical handling processes to transport a COVID-19 vaccine when the time came.
Connecting vaccines to the world: United responds to mass distribution effort
December 22, 2020
On November 27, United Airlines became the first commercial airline to safely deliver the first batch of Pfizer and BioNTech's COVID-19 vaccine into the U.S. thanks to a coordinated effort between United's cargo, safety, technical operations, flight operations, regulatory and legal teams.
Now as the entire shipping and logistics industry bands together to widely distribute vaccines, United is leveraging all of its flights, including cargo-only and those carrying passengers, to transport millions of vaccines to destinations throughout our network, including Honolulu, Guam and Saipan – the first of any carrier to do so.
"United's cargo service has helped safely deliver many essential goods during this pandemic, but there is no shipment that gives me more personal pride than helping bring this life-saving vaccine to our communities," said Jan Krems, United Cargo President. "While we still face a long road ahead the promise of a widely distributed vaccine gives us hope that we are one step closer to putting this pandemic behind us and moving forward together toward a brighter future."
And United is shipping more than just vaccines to help during the pandemic in keeping the lines of commerce flowing and goods getting to where they need to be. Since mid-March, United has operated 9,000 cargo-only flights carrying more than 435 million pounds of cargo. By using a combination of cargo-only flights and passenger flights, United Cargo has also transported 80 million pounds of medical supplies this year.
In coordination with our shipping and logistics partners, United will continue to distribute COVID-19 treatments to destinations throughout its network. The real heroes are the scientists who created these life-saving vaccines and the frontline workers who are not only administering them, but also helping care for and tend to those suffering from this virus. United is proud to do its part in helping to get this precious cargo to the people and communities who need them, and looks forward to doing our part in the months ahead.
United Cargo responds to COVID-19 challenges, prepares for what's next

September 30, 2020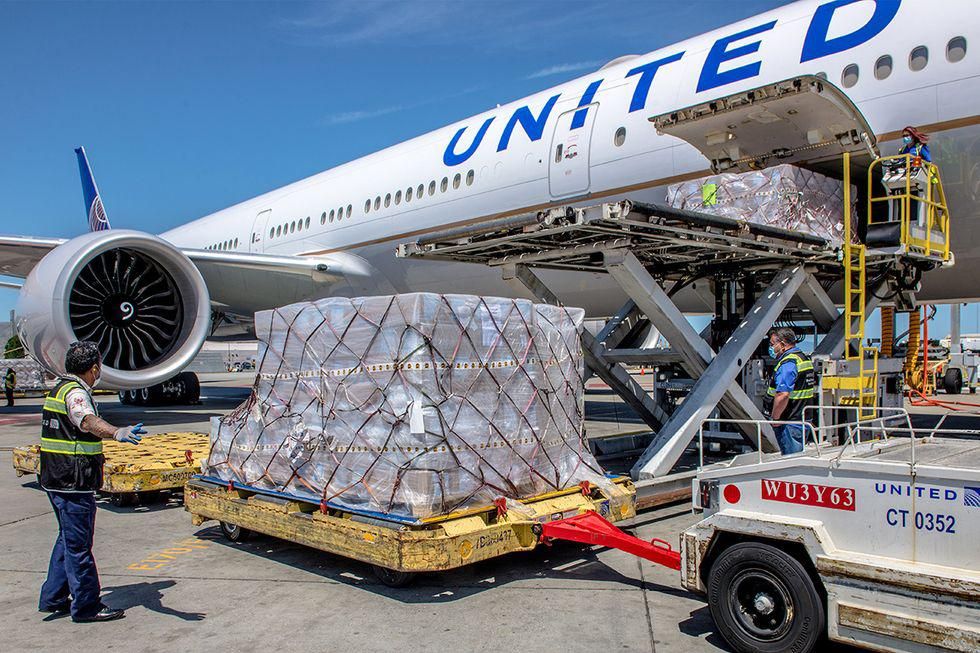 Even before the COVID-19 pandemic, United Cargo has supported a variety of customers within the healthcare industry for over 10 years. Three key solutions – TempControl, LifeGuard and QuickPak – protect the integrity of vital shipments such as precision medicine, pharmaceuticals, biologics, medical equipment and vaccines. By utilizing processes like temperature monitoring, thermodynamic management, and priority boarding and handling, United Cargo gives customers the peace of mind that their shipments will be protected throughout their journey.

With the global demand for tailored pharmaceutical solutions at an all-time high, we've made investments to help ensure we provide the most reliable air cargo options for cold chain shipping. In April this year, we became the first U.S. carrier to lease temperature-controlled shipping containers manufactured by DoKaSch Temperature Solutions. We continue to partner with state-of-the-art container providers to ensure we have options that meet our customers' ever-changing needs.
"Providing safe air cargo transport for essential shipments has been a top priority since the pandemic began. While the entire air cargo industry has had its challenges, I'm proud of how United Cargo has adapted and thrived despite a significant reduction in network capacity and supply," said United Cargo President Jan Krems. "We remain committed to helping our customers make it through the pandemic, as well as to doing everything we can to be prepared for the COVID-19 vaccine distribution when the time comes."
Our entire team continues to prioritize moving critical shipments as part of our commitment to supporting the global supply chain. We've assembled a COVID readiness task team to ensure we have the right people in place and are preparing our airports as we get ready for the industry-wide effort that comes next.
In cooperation with our partners all over the world, United Cargo has helped transport nearly 145 million pounds of medical supplies to aid in the fight against COVID-19, using a combination of cargo-only flights and passenger flig­hts. To date, United Cargo has operated more than 6,300 cargo-only flights and has transported more than 213 million pounds of cargo worldwide.
United Cargo responds to global needs, celebrates 5000th cargo-only flight

August 18, 2020
By Jan Krems, President, United Cargo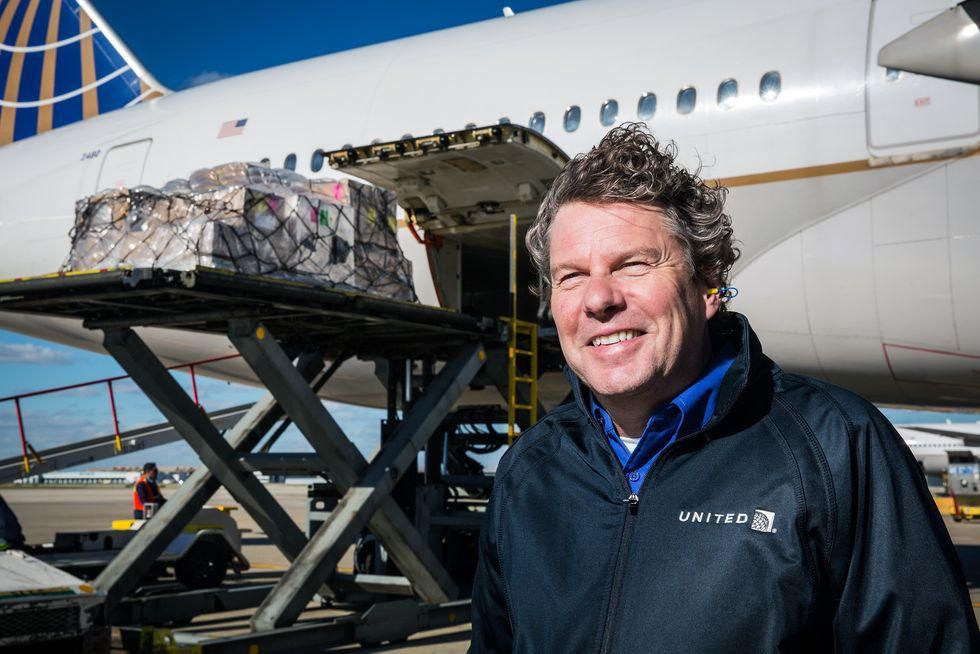 In mid-March, United took steps to manage the historic impact of COVID-19 and began flying a portion of our Boeing 777 and 787 fleets as dedicated cargo-only flights to transport air freight to and from U.S. hubs and key international business locations. More than ever, providing reliable cargo transportation was vitally important and I'm proud say our United Cargo team stepped up to support our customers.

Although we're facing the most challenging environment our industry has ever experienced, I'm very excited to celebrate a major milestone. Since March 19, United has operated over 5,000 cargo-only flights transporting nearly 170 million pounds of cargo on these flights alone. With an increased need to keep the global supply chain moving, and an even more urgent need for medical supplies, we knew we had to utilize our network capabilities and personnel to move vital shipments, such as medical kits, personal protective equipment (PPE), pharmaceuticals and medical equipment between U.S. hubs and key international destinations.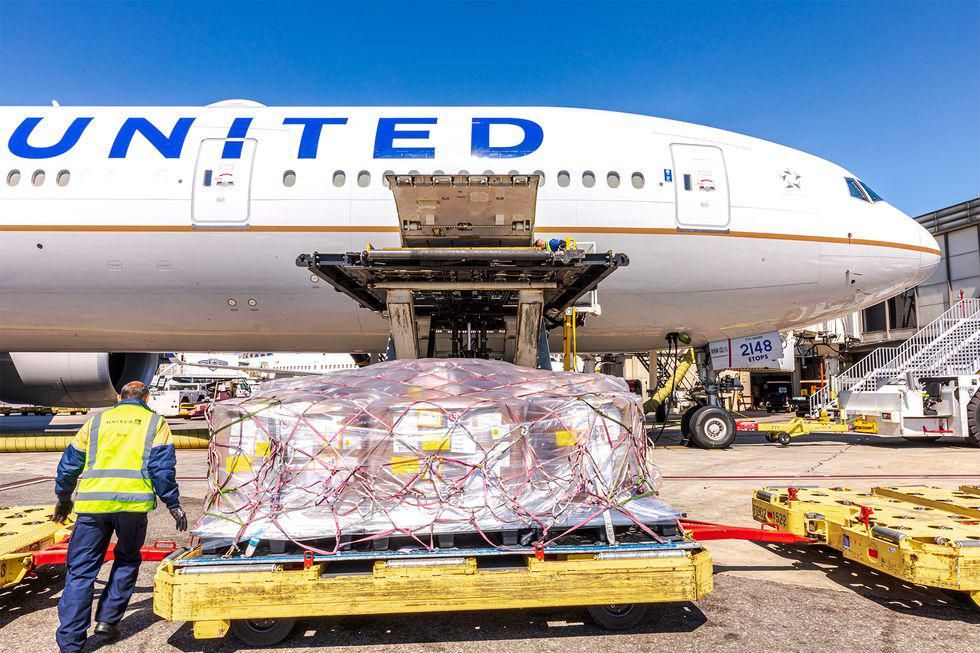 In cooperation with freight forwarders and partners all over the world, United Cargo helped transport more than 107 million pounds of medical supplies to aid in the fight against COVID-19 using a combination of cargo-only flights as well as passenger flights.

To keep military families connected, we increased the frequency of cargo-only flights between the U.S. and military bases in various parts of the world — including bases located in Guam, Kwajalein and several countries in Europe. We know how critically important it is for these families to stay connected, and I'm honored that we were able to utilize our network and our aircraft to fly nearly 3 million pounds of military supplies.
In collaboration with food-logistics company Commodity Forwarders Inc. (CFI), our cargo teams moved nearly 190,000 pounds of fresh produce to Guam for the U.S. Department of Agriculture's Coronavirus Farm Assistance Program. This new program was created to provide critical support to consumers impacted by the coronavirus pandemic.
United has played a critical role in keeping global supply chains stable during the pandemic as we deliver urgently needed goods around the world. These past few months have created challenges that I have never seen in my 30-plus years of experience working within the air cargo and freight forwarding industry. However, I'm proud of our teams for staying focused on our mission to provide high-quality service and to keep our customers connected with the goods they need most.
United Cargo and logistics partners keep critical medical shipments moving
July 02, 2020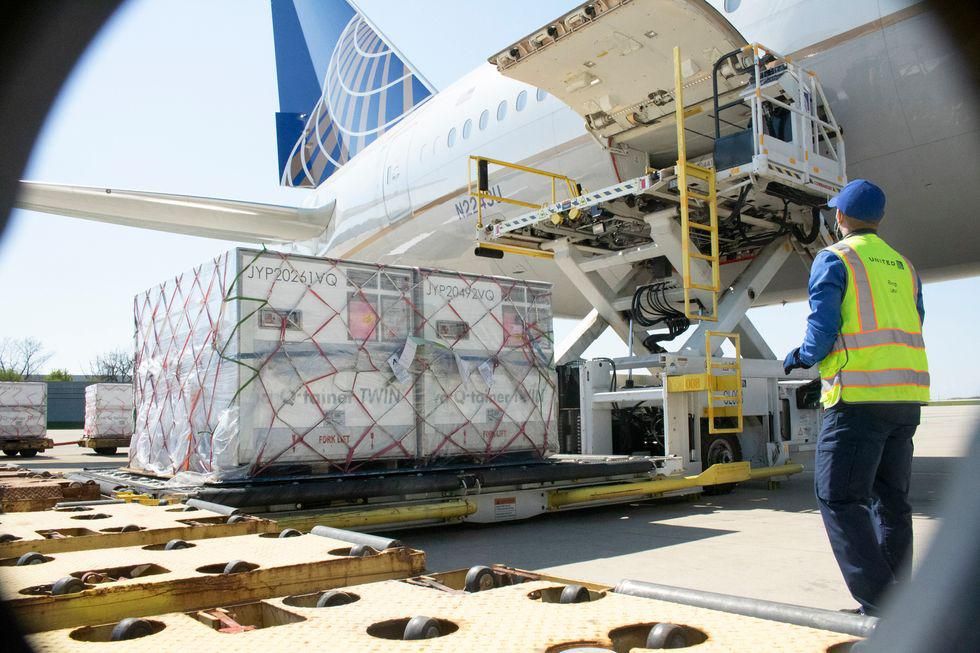 By working together and strengthening partnerships during these unprecedented times, our global community has overcome challenges and created solutions to keep the global supply chain moving. As COVID-19 continues to disrupt the shipping landscape, United and our industry partners have increasingly demonstrated our commitment to the mission of delivering critical medical supplies across the world.

United Cargo has partnered with DSV Air and Sea, a leading global logistics company, to transport important pharmaceutical materials to places all over the world. One of the items most critical during the current crisis is blood plasma.
Plasma is a fragile product that requires very careful handling. Frozen blood plasma must be kept at a very low, stable temperature of negative 20 degrees Celsius or less – no easy task considering it must be transported between trucks, warehouses and airplanes, all while moving through the climates of different countries. Fortunately, along with our well-developed operational procedures and oversight, temperature-controlled shipping containers from partners like va-Q-tec can help protect these sensitive blood plasma shipments from temperature changes.
A single TWINx shipping container from va-Q-tec can accommodate over 1,750 pounds of temperature-sensitive cargo. Every week, DSV delivers 20 TWINx containers, each one filled to capacity with human blood plasma, for loading onto a Boeing 787-9 for transport. The joint effort to move thousands of pounds of blood plasma demonstrates that despite the distance, challenges in moving temperature-sensitive cargo and COVID-19 obstacles, we continue to find creative solutions with the help of our strong partnerships.
United Cargo is proud to keep the commercial air bridges open between the U.S. and the rest of the world. Since March 19, we have operated over 3,200 cargo-only flights between six U.S. hubs and over 20 cities in Asia, Australia, Europe, South America, India, the Caribbean and the Middle East.
United further expands cargo-only operations to key international markets
June 9, 2020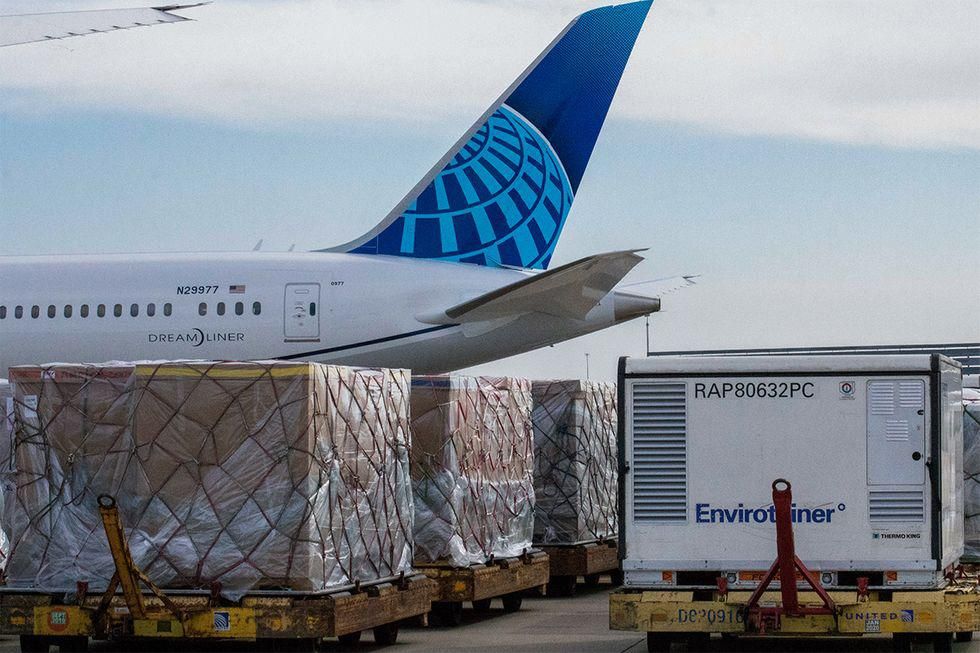 United has played a vital role in helping keep the global supply chains stable during the COVID-19 pandemic so urgently needed goods can get to the places that need them most.

In addition to current service from the U.S. to Asia, Australia, Europe, India, Latin America and the Middle East, we are proud to now offer cargo-only flights to key international markets including Dublin, Paris, Rome, Santiago and Zurich. These new routes will connect our freight customers and further extend our air cargo network throughout the world – for example connecting major pharmaceutical hubs in Europe and perishable markets in Latin America.
"Air cargo continues to be more important than ever," says United Cargo President Jan Krems. "This network expansion helps our customers continue to facilitate trade and contribute to global economic development and recovery. I'm proud of our team for mobilizing our cargo-only flights program that enables the shipment of critical goods that will support global economies."
Since we began our program March 19, we have completed more than 2,400 cargo-only flights, transporting over 77 million pounds of cargo. We have over 1,100 cargo-only flights scheduled for the month of June, operating between six U.S. hubs and over 20 cities all over the world.
United's first flight carrying cargo in-cabin takes off
May 13, 2020

United continues to keep supply chains moving and to meet the demand for critical shipments around the globe. Recently, United received approval from the Federal Aviation Administration (FAA) to carry cargo in approved storage areas in the passenger cabin.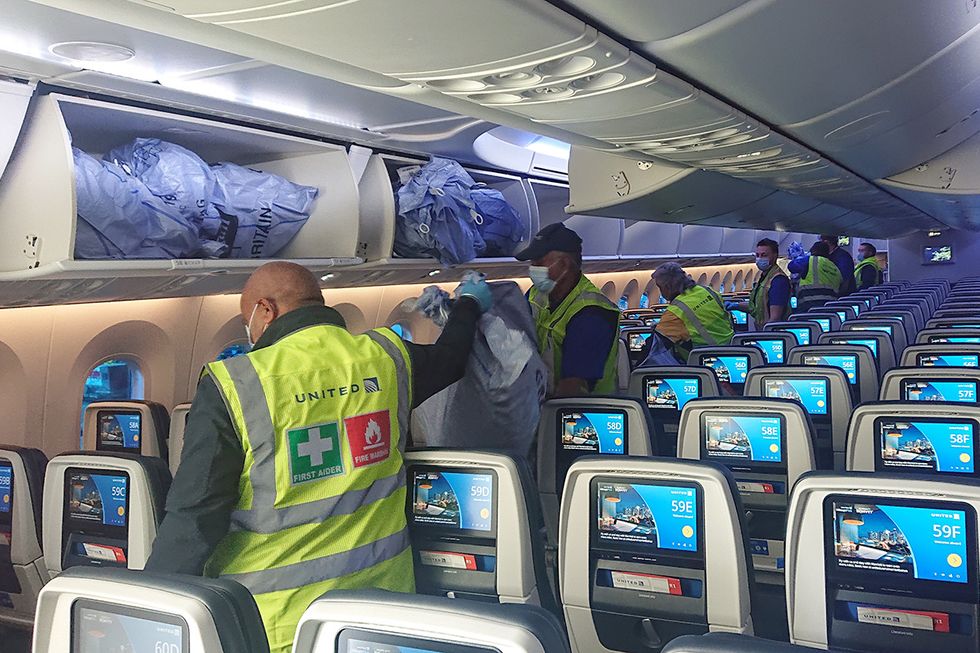 Our inaugural cargo-in-cabin flight flew from London (LHR) to Chicago (ORD) carrying over 4,200 pounds of mail in the passenger cabin, plus a full payload of freight in the belly of the aircraft. Initially, cargo-in-cabin shipments will be loaded on the 777 and 787 aircraft operating our cargo-only flights. We will continue to evaluate additional opportunities to use this space to meet the growing cargo demand.
"We send our sincere thanks to the FAA for working with our team to enable the transport of more critical goods on United's cargo-only flights," said Jan Krems, President of United Cargo. "By loading existing cabin storage areas with cargo and mail, we can move even more critical medical equipment, PPE, and other vital shipments the world needs to manage through the pandemic."

United's cargo-only network continues to expand in order to help bring vital shipments to the people that need it most. We're now offering service between six of our U.S. hubs and 18 airports worldwide: CTU, HKG, ICN, MEL, PEK, PVG, SIN, SYD and TPE in the Asia-Pacific; AMS, BOM, BRU, DUB, FRA, LHR, TLV and ZRH in EMEIA; and SJU in the Caribbean.
Since the start of its cargo-only flights program March 19, United has operated over 1,300 cargo-only flights transporting over 44 million pounds of cargo.
For more information, visit unitedcargo.com.
United expands cargo-only flights to additional global destinations
April 16, 2020
Getting vital goods, especially medical relief supplies, into the hands of the businesses and people who need them has never been more critically important. To meet the overwhelming demand, United began operating cargo-only flights on March 19. Since we began using Boeing 777 and 787 aircraft from United's passenger fleet for this purpose, we have operated over 400 flights carrying more than 6 million kilos of cargo.
"With the global community in need, we are doing everything we can to keep supply chains moving worldwide and support the battle against COVID-19," said United Cargo President Jan Krems. "We're proud to play an active role in connecting vital medical supplies like test kits and personal protective equipment with healthcare professionals around the world."
We are now operating more than 150 cargo-only flights per week between six of our U.S. hubs and 13 cities worldwide: CTU, HKG, PEK, PVG, SYD and TPE in the Asia Pacific; AMS, BRU, DUB, FRA and LHR in Europe; SJU in the Caribbean and TLV in the Middle East. We expect to add new cities soon and will continue to expand our cargo-only flights program.
Hub
Cargo-only flights operating through May
Chicago (ORD)
ORD - AMS (Amsterdam)
ORD - FRA (Frankfurt)
ORD - HKG (Hong Kong)
ORD - LHR (London)
ORD - NRT (Tokyo Narita) - PEK (Beijing)

Houston (IAH)
IAH - AMS (Amsterdam)
IAD - FRA (Frankfurt)
Los Angeles (LAX)
LAX - HKG (Hong Kong)
LAX - LHR (London Heathrow)
LAX - NRT (Tokyo Narita) - PVG (Shanghai)
LAX - SYD (Sydney)
New York/Newark (EWR)
EWR - AMS (Amsterdam)
EWR - FRA (Frankfurt)
EWR - LHR (London)
San Francisco (SFO)
SFO - AMS (Amsterdam)
SFO - NRT (Tokyo Narita) - PEK (Beijing)
SFO - NRT (Tokyo Narita) - PVG (Shanghai)
SFO - NRT (Tokyo Narita) - TPE (Taipei)
SFO - TLV (Tel Aviv)
SFO - SYD (Sydney)
Washington, D.C. (IAD)
IAD - BRU (Brussels)
IAD - DUB (Dublin)
IAD - FRA (Frankfurt)
IAD - NRT (Tokyo Narita) - PEK (Beijing)
IAD - SJU (San Juan)
Flight details are subject to change, for the most up-to-date schedules, please visit https://ual.unitedcargo.com/covid-updates.
Cargo-only flights support U.S. military and their families
March 30, 2020
We are helping to keep military families connected by increasing the frequency of cargo-only flights between the United States and military bases in various parts of the world — including Guam, Kwajalein, and several countries in Europe. Last week we began operating a minimum of 40 cargo-only flights weekly — using Boeing 777 and 787 aircraft to fly freight and mail to and from U.S. hubs and key international business and military locations.
We are going above and beyond to find creative ways to transport fresh food and produce, as well as basic essentials from the U.S. mainland to military and their families in Guam/Micronesia. On Saturday, March 28, we operated an exclusive cargo-only B777-300 charter to transport nearly 100,000 pounds of food essentials to Guam to support our troops.
In addition, we move mail year-round all over the world. In response to COVID-19, and in support of the military members and their families overseas, we implemented a charter network, transporting military mail to Frankfurt, which is then transported all over Europe and the Middle East. Since March 20, we have flown 30,000+ pounds of military mail every day between Chicago O'Hare (ORD) and Frankfurt (FRA). On the return flight from Frankfurt to Chicago, we have carried an average of 35,000 pounds of mail to help families stay connected.

"Keeping our military families connected with the goods they need, and keeping them connected with loved ones to feel a sense of home, is of critical importance. As a company that has long supported our military families and veterans, our teams are proud to mobilize to lend a hand." — United Cargo President Jan Krems.
Our cargo-only flights support customers, keep planes moving

March 22, 2020
We have begun flying a portion of our Boeing 777 and 787 fleet as dedicated cargo charter aircraft to transfer freight to and from U.S. hubs and key international business locations. The first of these freight-only flights departed on March 19 from Chicago O'Hare International Airport (ORD) to Frankfurt International Airport (FRA) with the cargo hold completely full, with more than 29,000 lbs. of goods.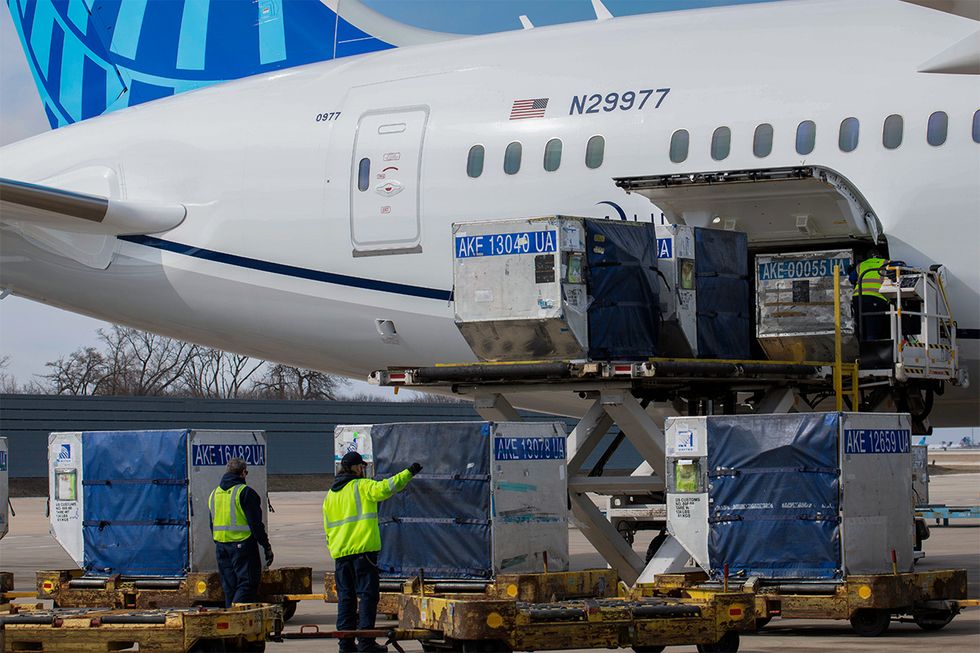 Getting critical goods into the hands of the businesses and people who need them most is extremely important right now. To support customers, employees and the global economy, we will initially operate a schedule of 40 cargo charters each week targeting international destinations and will continue to seek additional opportunities.

With coronavirus (COVID-19) creating an increased need to keep the global supply chain moving, we are utilizing our network capabilities and personnel to get vital shipments, such as medical supplies, to areas that need them most.
"Connecting products to people around the world is the United Cargo mission," said United Cargo President Jan Krems. "That role has never been more crucial than during the current crisis. Our team is working around the clock to provide innovative solutions for our customers and support the global community."
On average, we ship more than 1 billion pounds of cargo every year on behalf of domestic and international customers. For more information, visit unitedcargo.com.
Airline and its customers use crowdsourcing platform - Miles on a Mission - to donate more than 11 million miles for charities like the Thurgood Marshall College Fund, College to Congress and Compass to Care
CHICAGO, Dec. 1, 2020 /PRNewswire/ -- United is inviting MileagePlus members to give back on Giving Tuesday and throughout the holiday season by donating miles to nearly 40 non-profits through United Airlines' crowdsourcing platform, Miles on a Mission. Non-profits like Thurgood Marshall College Fund, College to Congress and Compass to Care are attempting to raise a total of more than 11 million miles to be used for travel for life-saving health care, continued education, humanitarian aid and more. United will match the first 125,000 miles raised for each of these organizations to help ensure they meet their goals.
"This year has posed unprecedented challenges for us all and has been especially devastating to some of the most vulnerable members within the communities we serve," said Suzi Cabo, managing director of global community engagement, United Airlines. "The need for charitable giving has not stopped during the pandemic, and neither has United. This Giving Tuesday marks an opportunity for us to all come together for the greater good and we are proud to provide a platform to support organizations with upcoming travel needs that will enable them to continue supporting the communities they serve."
The launch of these campaigns is part of United's ongoing Miles on a Mission program, which began in October 2019 and has raised more than 92 million miles to-date. Past campaigns have helped organizations travel children for life-saving medical treatment and unite parents with newly adopted children from foreign countries. Participating non-profits have 28-days to reach their mile raising goals through the platform.
The organizations that are raising miles in this campaign include:
College to Congress: The organization provides support including travel for disadvantaged college students who otherwise could not afford to intern in Washington, D.C.
Thurgood Marshall College Fund: This is the only national organization representing America's 47 publicly-supported Historically Black Colleges and Universities (HBCUs), and the nearly 300,000 students that attend them each year. The miles raised will cover the travel expenses to and from campus for students unable to afford them.
My Block, My Hood, My City: This organization provides underprivileged youth with an awareness of the world and opportunities beyond their neighborhood. Miles will be used to fund educational trips for Chicago youths to help them gain a greater understanding of the world outside of their comfort zones.
Compass to Care: The non-profit ensures all children, whose parents have a financial need, can access life-saving cancer treatment. Compass to Care is raising miles to fund travel to get children from their homes to hospitals for cancer treatment.
Luke's Wings: This organization is dedicated to the support of service members who have been wounded in battle. Raised miles will be used to purchase plane tickets for families to visit wounded soldiers recovering in Army medical centers.
Rainbow Railroad USA: The organization's mission is to help persecuted LGBTQI+ individuals around the world travel to safety as they seek a haven from persecution. Miles will support the organization's core Emergency Travel Support program.
This year, United's legal partner Kirkland & Ellis will also be donating $50,000 to My Block, My Hood, My City and the Thurgood Marshall College Fund. Other organizations launching campaigns on the platform include: Sisters of the Skies, Inc., Up2Us Sports, Airline Ambassadors International, Austin Smiles, AWS Foundation, Crazy Horse Memorial, FLYTE, Higher Orbits, Lily's Hope Foundation, Miles4Migrants, Support Utila Inc. and Watts of Love. MileagePlus members can also donate to United's 20 other existing partner charities including, Airlink, American Red Cross, Make-A-Wish, Shriners Hospitals; Clean the World, Special Olympics and more. To learn more or donate to these organizations, please visit donate.mileageplus.com.
Visit www.united.com/everyactioncounts to learn more about our pledge to put our people and planes to work for the greater good.
About United
United's shared purpose is "Connecting People. Uniting the World." For more information, visit united.com, follow @United on Twitter and Instagram or connect on Facebook. The common stock of United's parent, United Airlines Holdings, Inc., is traded on the Nasdaq under the symbol "UAL".

SOURCE United Airlines
For further information: United Airlines Worldwide Media Relations, +1-872-825-8640, media.relations@united.com

In October 2019, we launched a first-of-its-kind airline miles donation platform, Miles on a Mission. In the inaugural year, MileagePlus members donated over 70 million miles, with United matching over 20 million miles, to 51 organizations. These miles have allowed for these organizations to do important, life-changing, life-saving work in the communities we serve around the globe.
Whether it's visiting friends and relatives, traveling for work or simply exploring a new corner of the world, we all have a reason as to why we fly. No matter the reason you fly, the miles you earn and donate help our Miles on a Mission partners soar. Take a look at how some of our partner organizations have put our MileagePlus Members' donations to work.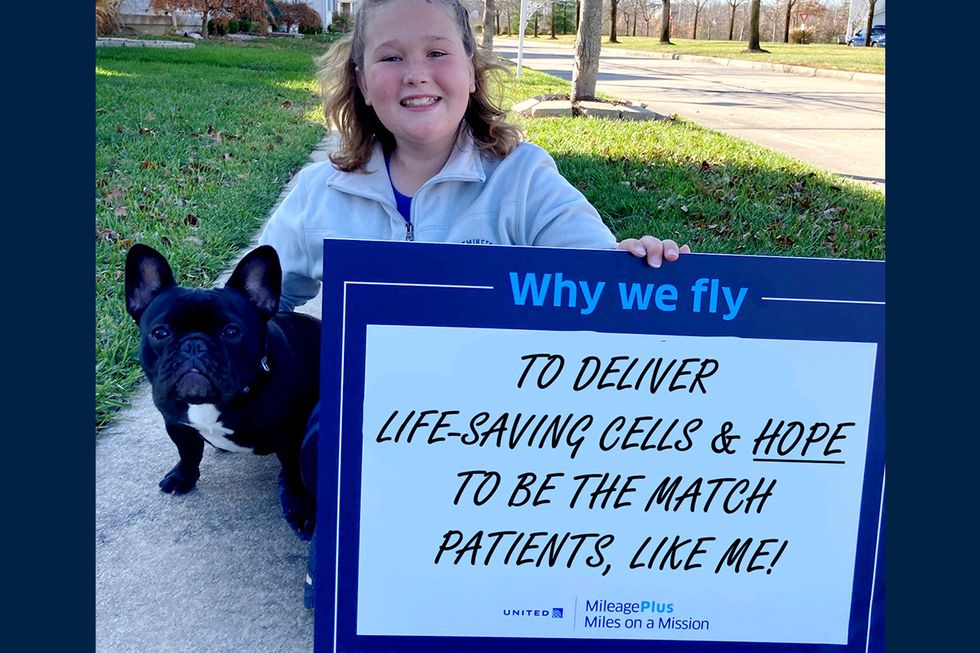 "To deliver life-saving cells and hope to Be the Match patients, like me!"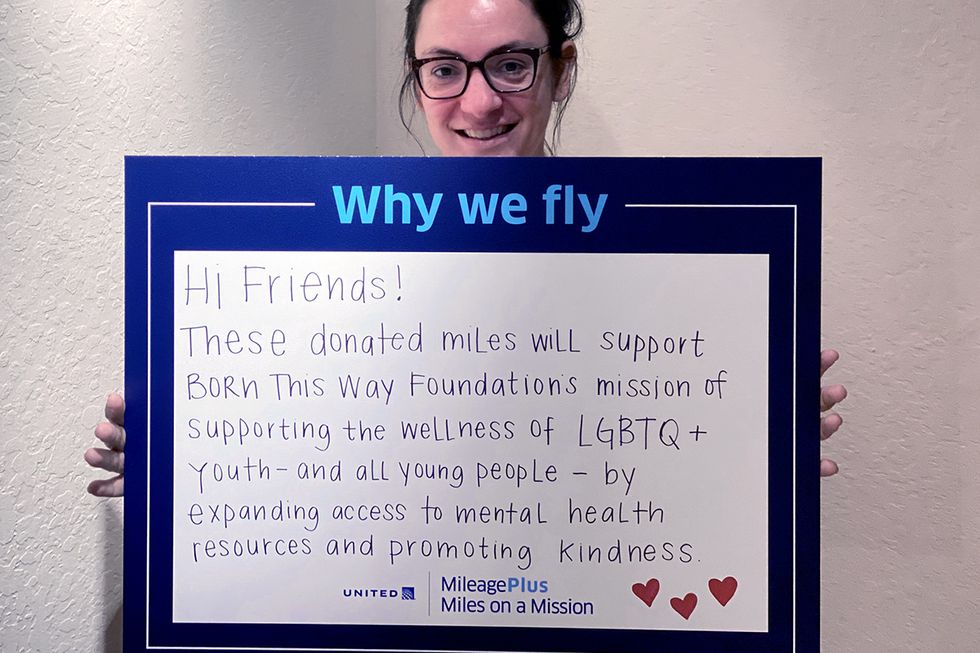 "These donated miles will support Born This Way Foundation's mission of supporting the wellness of LGBTQ+ youth — and all young people — by expanding access to mental health resources and promoting kindness."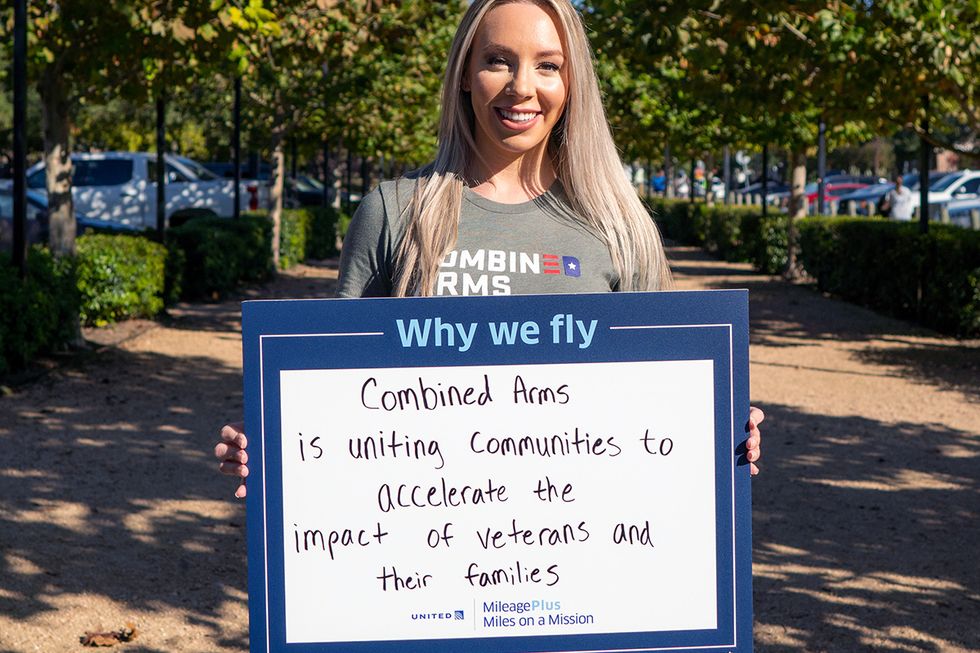 "Combined Arms is uniting communities to accelerate the impact of veterans and their families."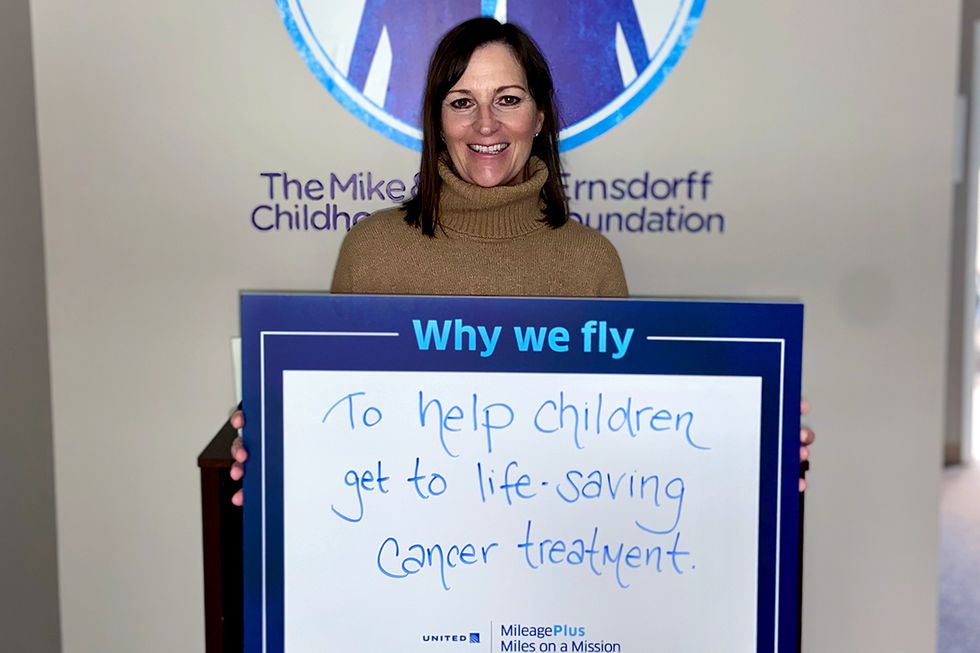 "To help children get to life-saving cancer treatment"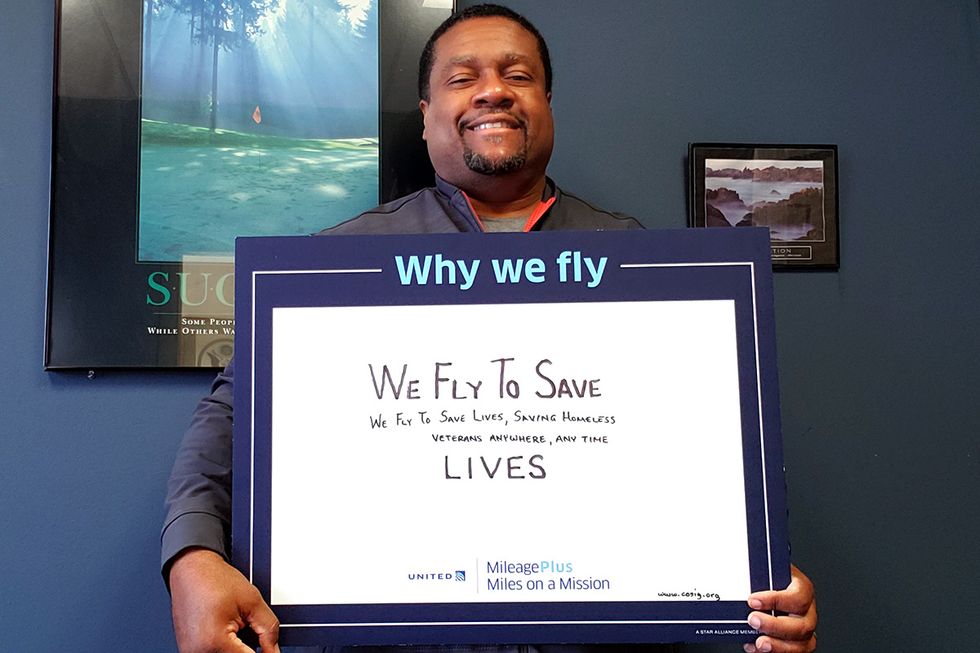 "We fly to save. We fly to save lives, saving homeless veterans anywhere, any time."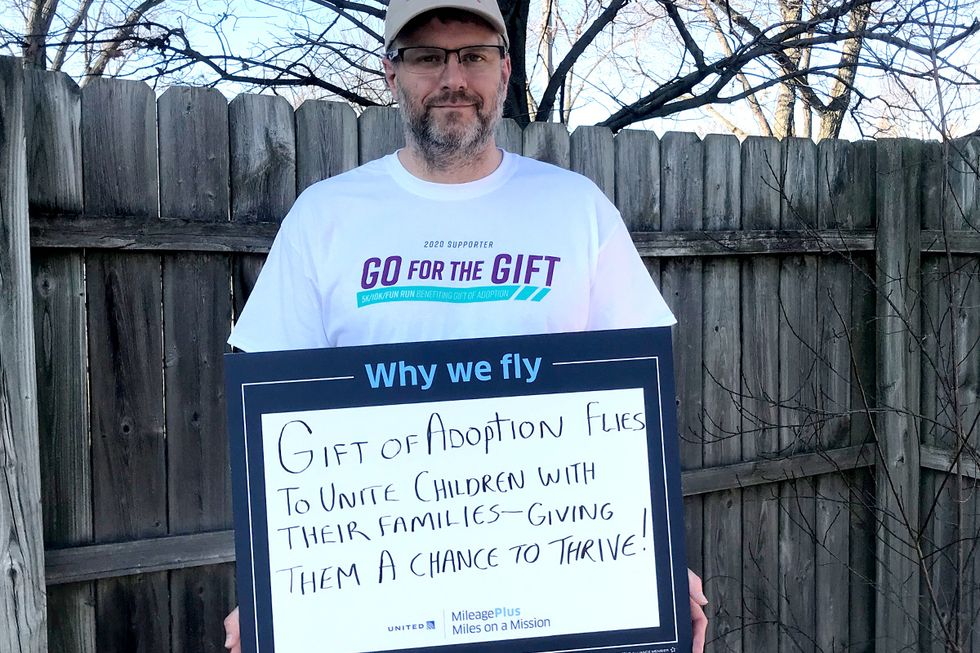 "Gift of Adoption flies to unite children with their families — giving them a chance to thrive!"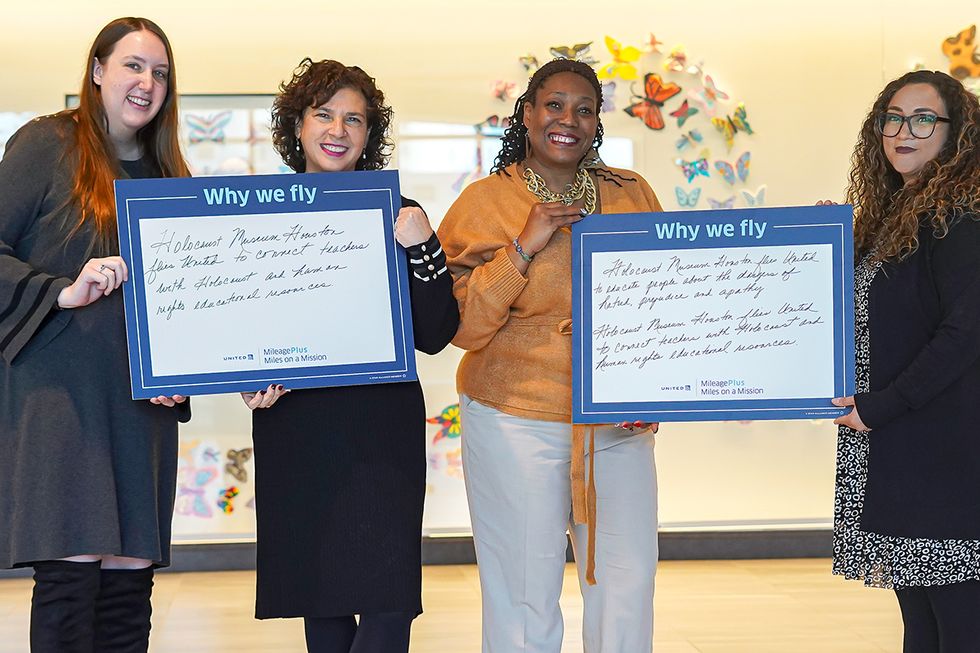 "Holocaust Museum Houston flies United to educate people about the dangers of hatred, prejudice and apathy. Holocaust Museum Houston flies United to connect teachers with Holocaust and human rights educational resources."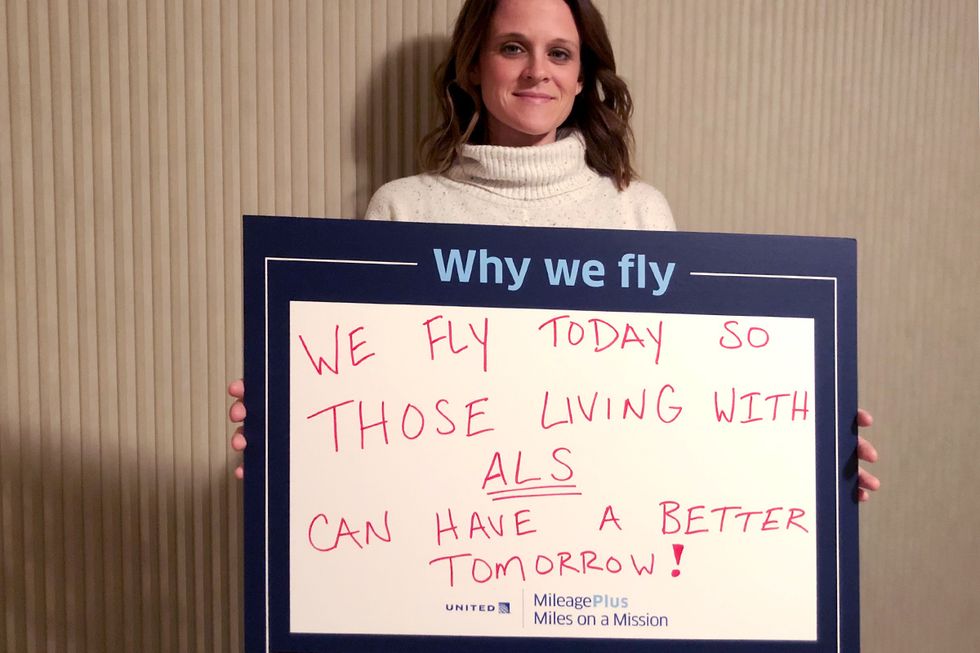 "We fly today so those living with ALS can have a better tomorrow."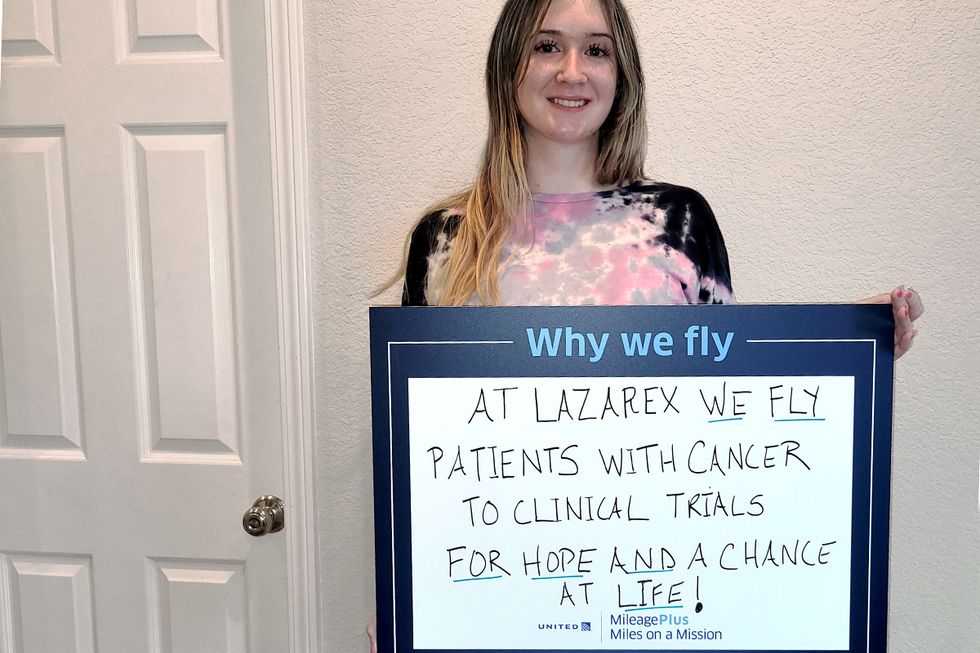 "At Lazarex we fly patients with cancer to clinical trials for hope and a chance at life!"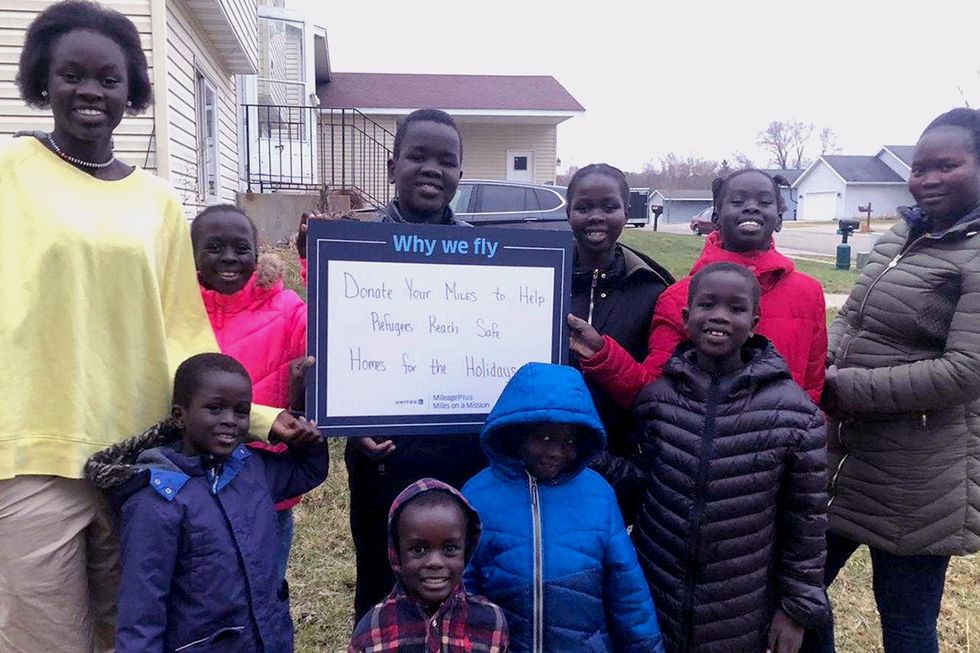 "Donate your miles to help refugees reach safe homes for the holidays."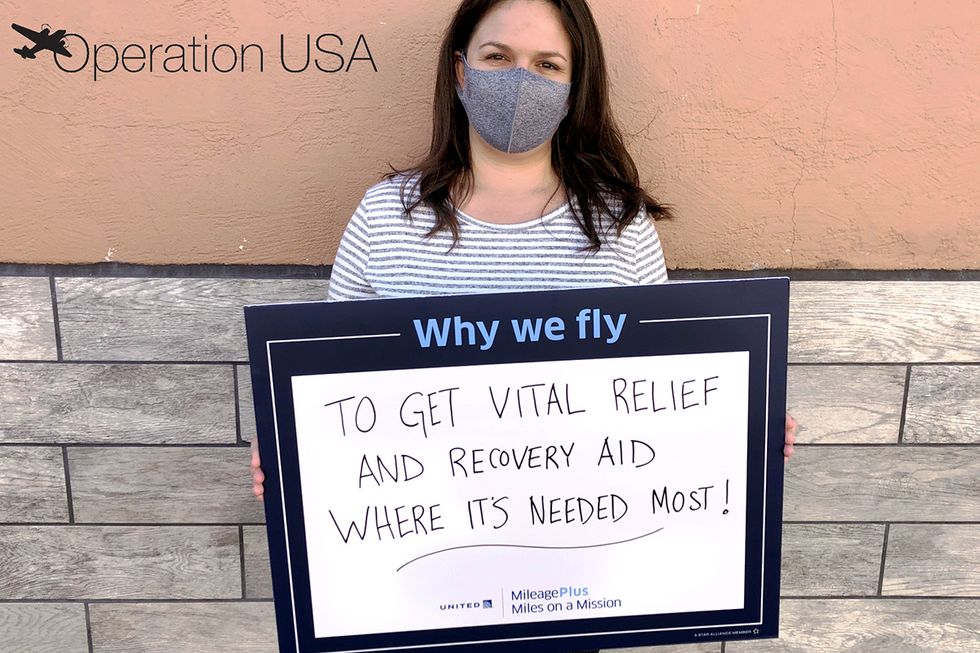 "To get vital relief and recovery aid where it's needed most!"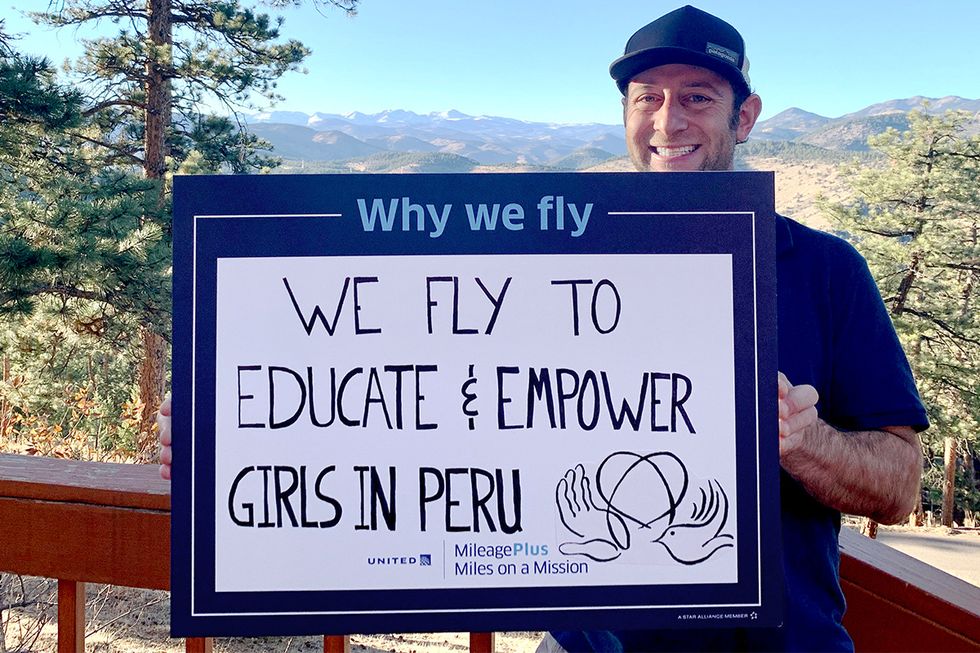 "We fly to educate and empower girls in Peru."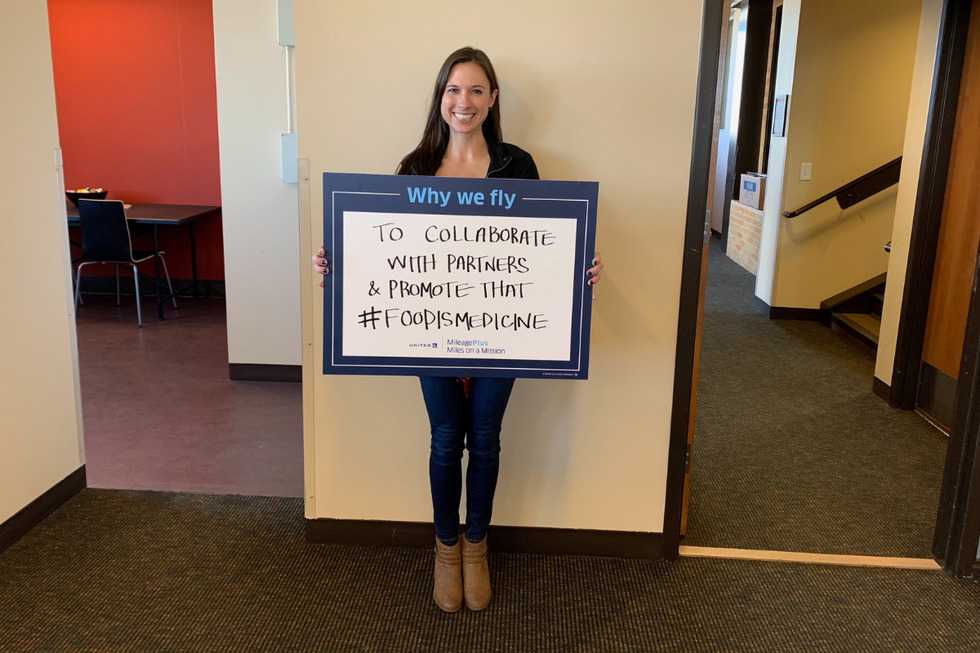 "To collaborate with partners & promote that #FoodIsMedicine"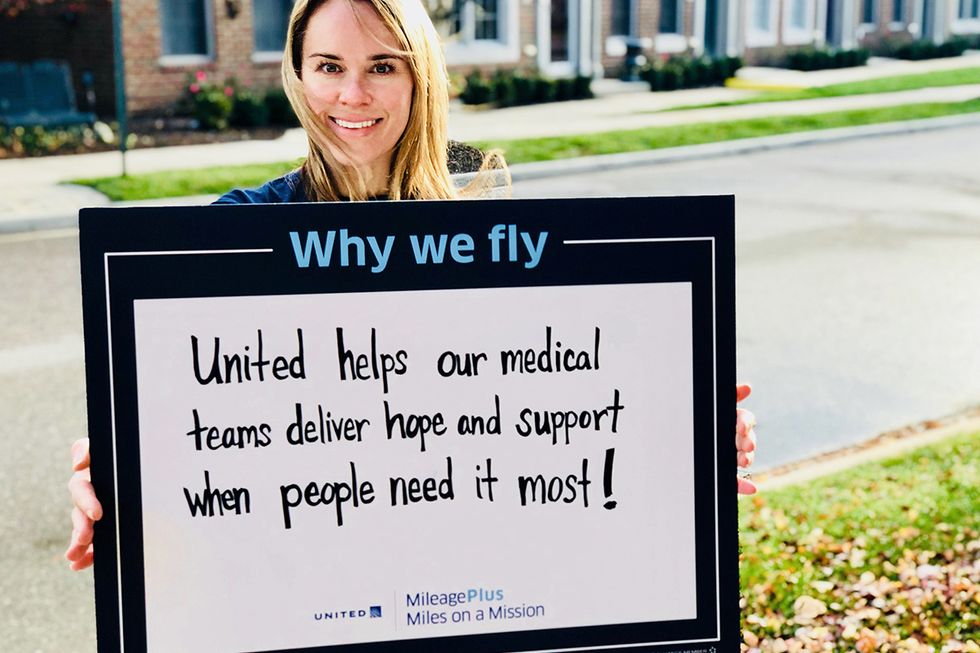 "United helps our medical teams deliver hope and support when people need it most!"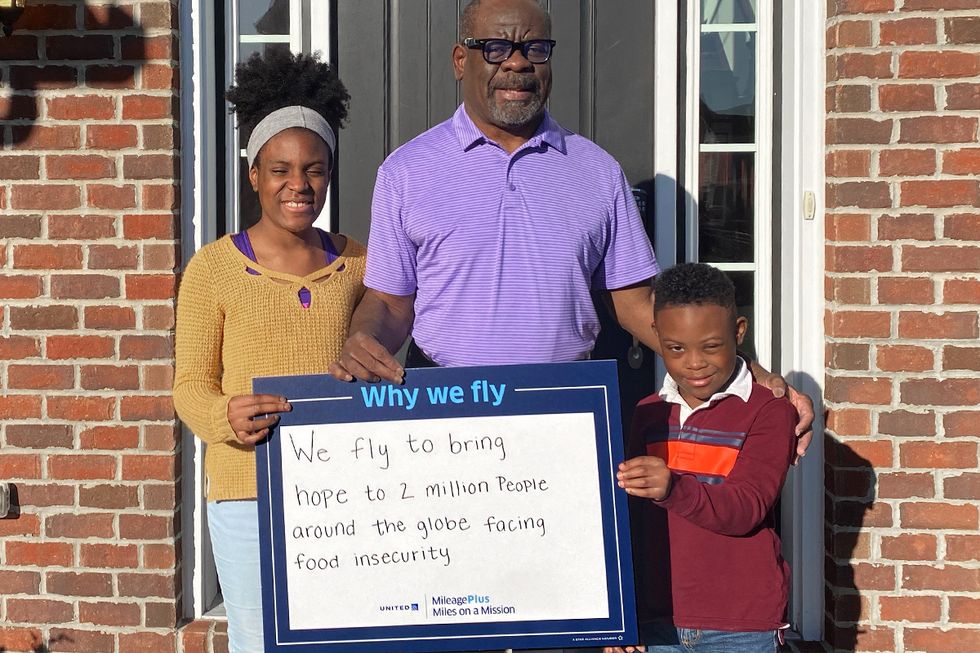 "We fly to bring hope to 2 million people around the globe facing food insecurity."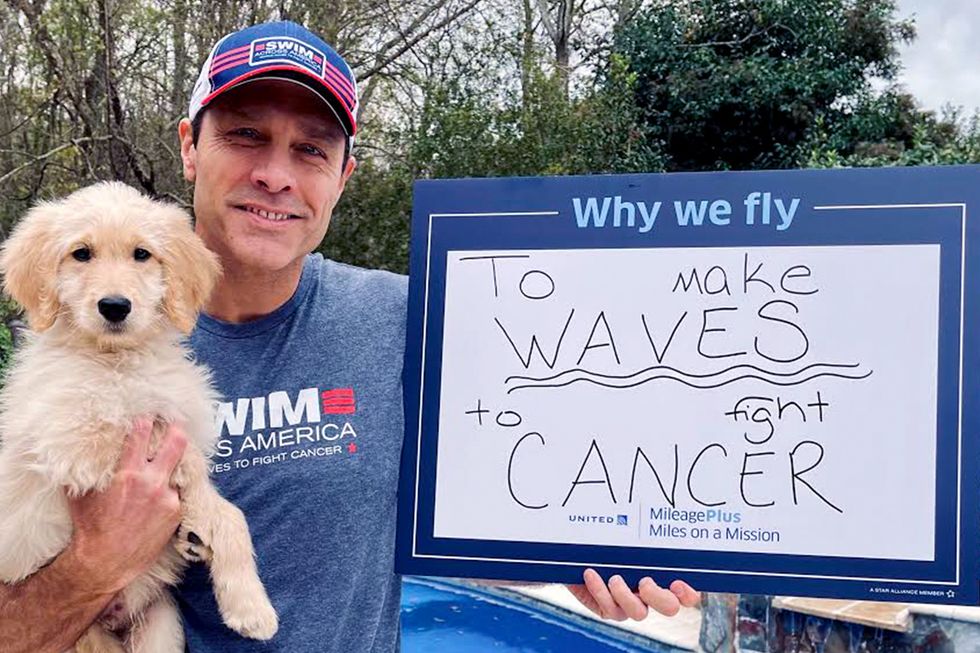 "To make waves to fight cancer."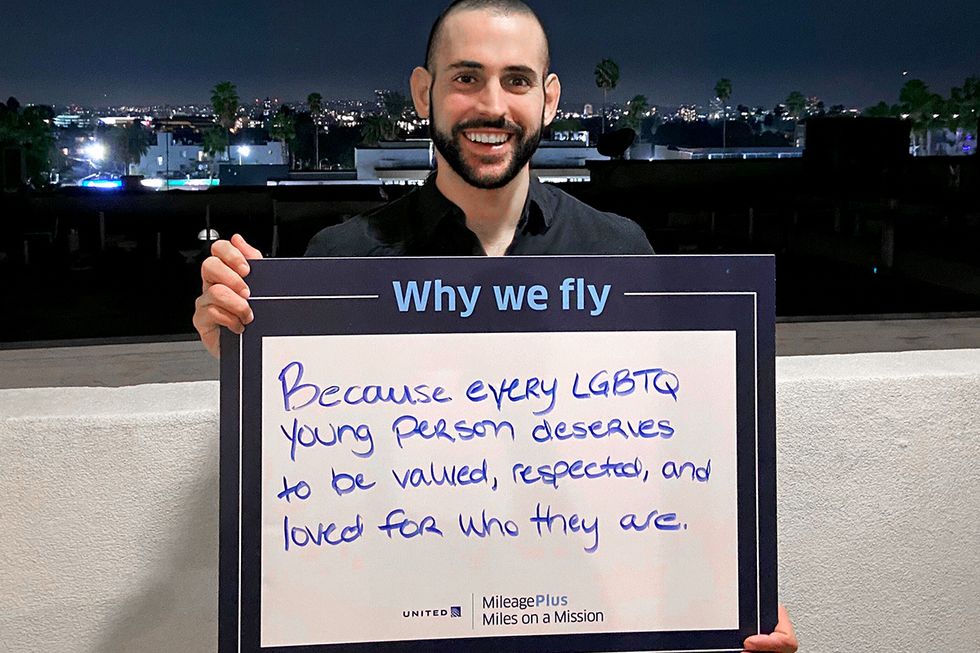 "Because every LGBTQ young person deserves to be valued, respected and loved for who they are."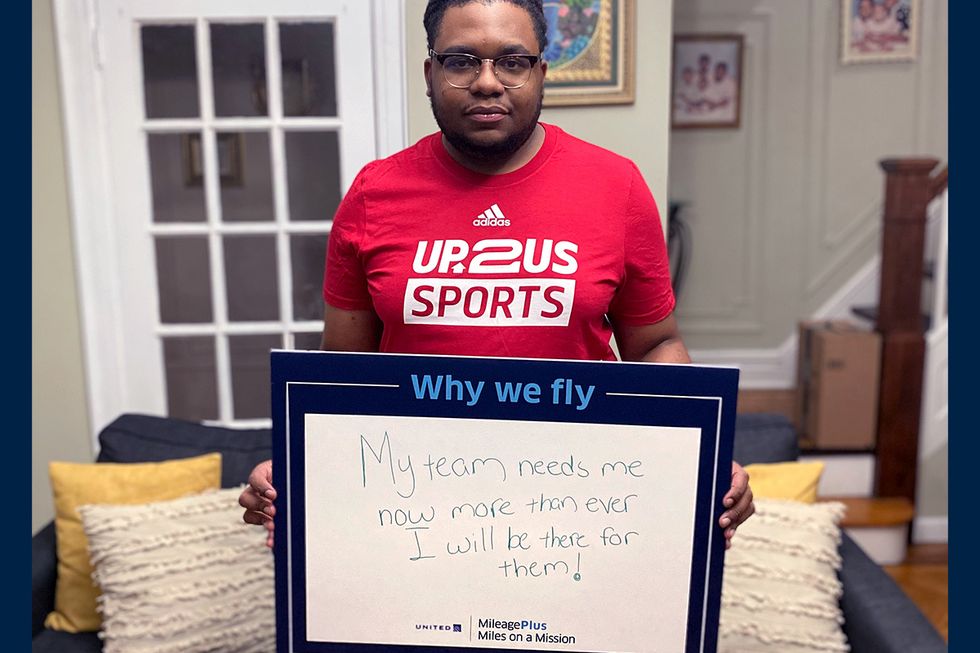 "My team needs me now more than ever. I will be there for them!"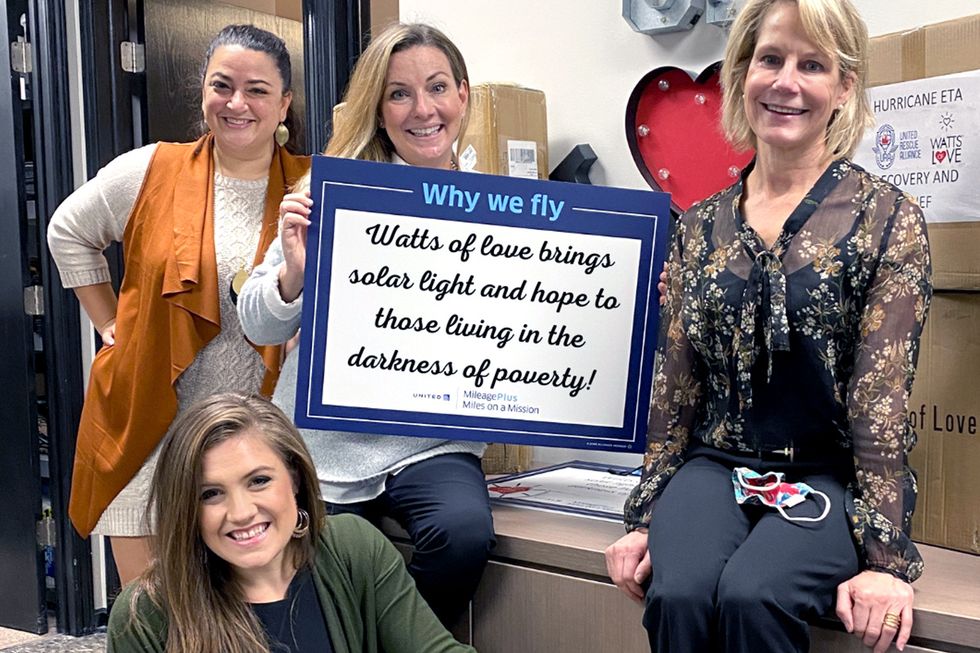 "Watts of Love brings solar light and hope to those living in the darkness of poverty!"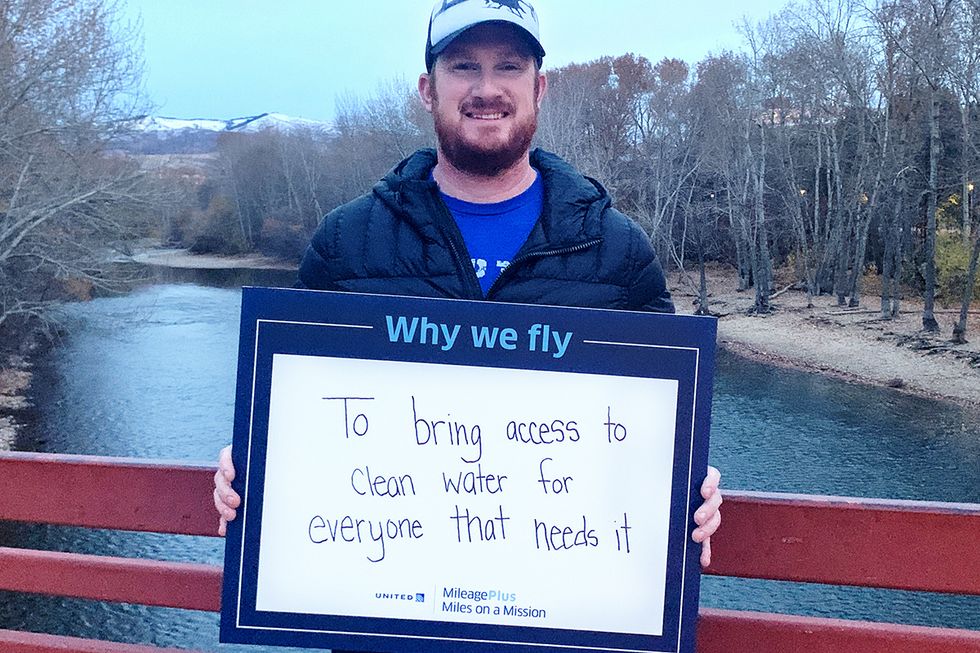 "To bring access to clean water for everyone that needs it."
Scroll to top