Three Perfect Days: Nicaragua
Story by Erin Brady | Photography by Andrew Rowat | Hemispheres, March 2015
A haven for backpackers, beachgoers, volcano explorers and history buffs, this Central American country has something for everyone
The view of Nicaragua from the window of an airplane is stunning. The slopes of cloud-frosted volcanoes run thick with rainforests. Strips of golden sand stretch along the coasts. Impossibly green islands dot mammoth lakes. At ground level, this Central American nation offers a more immediate sense of its natural riches: a dizzying variety of jumping, howling, swimming, slithering and buzzing life that includes kingfishers, kinkajous and Lake Nicaragua's famous freshwater bull sharks.
In recent decades, this ecological splendor has been overshadowed by a series of natural and political misfortunes. A 1972 earthquake left vast swathes of Managua in ruins. As if that weren't enough, later in the decade, after the Somoza dictatorship was ousted, a long and violent power struggle ensued. But Nicaragua's history runs much deeper than this: In 1874, workers discovered footprints that dated back more than two millennia in the volcanic mud alongside Lake Managua.
In terms of its hospitality industry, the country has recovered from its troubles in the '70s and is currently showcasing its natural history and beauty with a slew of new eco-resorts, in addition to luxury hotels and great restaurants. So when packing that suitcase, be sure to include a dinner jacket along with your hiking boots.
DAY ONE | The central courtyard at the Tribal Hotel, in the colonial city of Granada, is at its best in the morning, observed from a small balcony with a cup of strong coffee. Only partly awake, I stand for a while looking down on this stylized oasis, with its banana trees, Turkish rugs and black and white tile pool. A perfect place to have breakfast, I decide, so I snag a cushioned bench and tuck into a plate of fresh papaya, eggs and toast, along with a cup or three of rich Nicaraguan coffee, of course.
The Tribal is an intimate hotel of just seven rooms behind a whitewashed exterior on quiet Calle Cuiscoma, two blocks from Granada's center. So, feeling very caffeinated, I zip through the hotel's tiled lobby and head out into the street, which is crowded with horse-drawn carts and taxis blasting ranchera music.
A tuba player at Granada's Parque Central
Located on the northwestern edge of Lake Nicaragua (or Cocibolca, meaning "Sweet Sea"), in the shadow of the dormant Volcán Mombacho, this nearly 500-year-old city in the western part of the country is a knot of cobblestone streets and candy-colored buildings. Two blocks from the hotel, beside the red-domed Cathedral of Granada, is the lovely Parque Central, a popular local meeting place that bustles with snack and souvenir stalls. I pick up a bag of plantain chips and hail one of the cabs.
A half-hour drive north, past chaotic jungle and the occasional forlornly grazing horse, and I'm at the Masaya Volcano National Park. Home to two cones, several craters (including the active Santiago) and a caldera, Masaya is Nicaragua's first and largest national park. Upon learning my destination, my driver, Roberto, takes it upon himself to be my unofficial tour guide.
Volcán Masaya, he says, has been feared for centuries—first by indigenous people, who used it for religious sacrifices and named it "Burning Mountain," and later by 16th-century Spaniards, who called it "The Mouth of Hell" and tried to draw liquid gold from its center.
While there haven't been any major eruptions in centuries, the complex does—as Roberto puts it—"burp" on occasion. Its last significant hiccup was in 2001, when the Santiago crater launched boulders as far away as the visitor's center, 10 minutes by car from the rim—which, incidentally, is the only rim in the Western Hemisphere reachable by road.
The dock at Jicaro Island Ecolodge;
The drive up is relatively gentle until about five minutes from the peak, when the road jerks upward at a precarious angle. Roberto chats breezily about human sacrifice and explosions as we grind our way up to a volcano-top parking lot. Clouds of steam waft lazily from the depths of the nearby crater, drifting toward the Cruz de Bobadilla, a large cross the Spaniards erected to keep the devil away.
From here, I hike five minutes to the dormant Nindirí cone. Dotted with trees, Nindirí has a view that encompasses Apoyo Lagoon, a crater lake that resulted from one of Masaya's most powerful eruptions, more than 20,000 years ago. There are no eruptions today, thankfully, although there are a few rumblings coming from the region of my stomach.
I head for an early lunch in Masaya, the volcano's namesake city to the east. The big attraction here is the open-air Mercado de Artesanias, located inside the black basalt walls of an old Spanish fort. The market is packed with bright shops selling traditional keepsakes, including some rather grisly baskets fashioned out of dead chickens. I settle on a small ceramic vase.
I make my way to the market's southeast corner and take a seat at Restaurante Che Gris, where I quickly blank on my rudimentary Spanish and panic, ordering by pointing at the plate of the person next to me. The dish, a waitress informs me, is indio viejo, a generous helping of tender beef strips, tomatoes, bell peppers and onions in a sour orange juice stock thickened with tortilla. It's a delicious meal, but not for the faint of appetite.
The pool at the Tribal Hotel
Having taken possession of a few more ceramic vases, I return to the Tribal, where I slip into the pool, then flop on a daybed, mojito in hand. I awake an hour or so later to lengthening shadows and a vague sense that I'm supposed to be doing something. Oh, yes, sightseeing. My next stop is the weathered Iglesia La Merced, whose bell tower provides stunning views of Granada's tiled rooftops and hidden courtyards, colored pink by the dipping sun.
Next, I head for Calle La Calzada, a bustling pedestrian boulevard, home to the low-key eatery Nectar. Still digesting lunch, I take it easy with a plate of tostones—a popular local snack of fried plantain cakes topped with salty cheese—and a frosty Tona beer. Nearby, a group of teenagers perform Michael Jackson's "Thriller." Charmingly, they get some of the lyrics mixed up ("Yet I can give you more than every girl could ever describe…"). Or maybe it's exhaustion playing tricks on me. Either way, I pay my tab and shuffle, appropriately zombie-like, in the direction of my bed.
DAY TWO | Breakfast today is at Granada's Mercado Municipal, a sprawl of stalls hawking everything from banana-leaf tamales to bargain-brand batteries. After winding deep into the crumbling late-19th-century building that houses the market, I enter a high-ceilinged hall filled with food stalls. As I'm debating which of the identical counters to sit at, an older man enjoying his breakfast waves me over.
"I thought you were American," he says, shaking my hand while informing me that he's originally from California. "I'm William." On his recommendation, I order a desayuno tipico, a traditional Nicaraguan breakfast of fried eggs, plantains, rice and beans and a slice of salty queso seco cheese.
Nick Haven from Rancho Chilamate riding on Playa El Yankee
While I wait for my meal, William reveals that he has spent three decades living in various South and Central American countries. The last eight years he has spent here in Granada, not far from the market, where he eats breakfast every day. When I ask why he settled here, he tells a story about a doctor's visit when he first arrived. "I was really sick, and they paid for everything. I told the doctor I wasn't a citizen and he said, 'You're a person, aren't you?'"
After saying goodbye to William, I walk to Espressionista, a coffee shop and restaurant in a light gray colonial building with typical Baroque flourishes. I refuel and catch a cab to the Marina Cocibolca, 10 minutes south of the city,at the top of the Peninsula de Aseses.
A short boat ride later and I'm docking at the Jicaro Island Ecolodge, a resort on a private island near the end of the arching peninsula named for the Nicaraguan tree and its cannonball-like fruit. As I disembark, a staff member hands me a glass of iced tea and a cold face towel.
Jicaro strives to reconcile a taste for luxury living with a consciousness of the environment. The showers in each of the nine lakefront bungalows are heated by solar panels, and the rooms are cooled by cross ventilation rather than air conditioning. But guests aren't exactly roughing it. The one-acre island offers a spa, a saltwater infinity pool, a sunset-facing yoga deck and a fancy alfresco restaurant where the chef can customize a dinner menu from local ingredients.
A woman fries plantains at Granada's Mercado Municipal
After lounging in a hammock on my casita's private porch, I slather on sunscreen and head down to the island's dock. There I meet a resort staffer named Jorge, who has agreed to give me a tour of some of the nearby isletas, of which there are nearly 400. Motoring onto the open water of Lake Nicaragua—which is as big as Puerto Rico—we pass isletas with mansions, isletas with tin-roofed shacks and isletas with nothing on them at all.
As we whiz along in the direction of the looming Volcán Mombacho, Jorge points out snowy egrets, herons and a slender dark cormorant that dives into the lake as we approach. Thousands of species live in these waters, but the lake's most famous inhabitants are the tarpons, sawfish and Caribbean bull sharks.
"Do those sharks mean it's dangerous to swim here?" I ask Jorge, who responds with a laugh. Apparently, sightings are exceedingly rare, though Jorge does admit that he saw one long ago when he was in the military. "It wasn't that big," he reassures me. I'm not convinced.
As the sun dips below the crags of Mombacho, I look out at the glinting waters busy with fishermen casting their circular nets. I ask Jorge about the $50 billion canal set to connect the Caribbean and the Pacific by widening the San Juan River and passing through Lake Nicaragua. "Politics," he says, and we leave it at that, choosing instead to listen to the call of birds, the hum of the motor and the whisper of fishing nets settling on the lake.
Busy market stalls
DAY THREE | I start the day with a light breakfast (a tortilla basket with warm banana bread has magically appeared on the porch) followed by a stroll to the center of the island, where I come across a viewing tower. I climb a ladder to a wooden crow's nest that looks out over a canopy of broad-leafed tropical trees, the conical bulk of Volcán Concepción in the distance. I could happily spend a lifetime up here, but it's time to head back to Granada, where I have a date with a bus that'll take me to the Pacific Coast.
Following an hour-and-a-half ride through grassy plains dotted with lazy-looking cows, my bus arrives in San Juan del Sur, a fishing village of colorful wooden buildings, rickety taco stands and a whole lot of dreadlocked surfers. As the bus squeezes itself onto one of the narrow streets, a skateboarder wearing headphones glides serenely (and dangerously) across its path.
I've scheduled a horseback ride at Rancho Chilamate, about 20 minutes south of town, but I have some time to kill before then. On Avenida Mercado, I grab a crispy fried fish burrito at Taco Stop and walk to the crescent-shaped beach Playa San Juan del Sur.
Though this is Nicaragua's Pacific Coast, there's a Caribbean feel here. Taking a cue from locals lounging on their porches, I lie back on the sand and let the afternoon pass me by. Joggers run in the surf. Kids play volleyball. Boats bob in the harbor. Christ of the Mercy, a hilltop statue 440 feet above sea level, watches over the bay impassively.
Volcán Masaya's Santiago crater
Back in town, I meet up with Rancho Chilamate owner Blue, a San Juan local by way of Canada whose outfit matches her nickname. We drive to the ranch, where I'm quickly put on the back of a speckled filly named Cappuccino, who initially refuses to leave the corral with the rest of our group. "Attagirl," I say, giving my horse an encouraging pat on the rump, though I suspect our relationship has already soured.
For an hour or so, we ride narrow paths flanked by towering trees in which I spot observant howler monkeys. After passing through a field of saddle-high weeds—each more enticing than the last for the peckish Cappuccino—we climb a hill and descend to the deserted Playa El Yankee, a golden beach bracketed by jungle-swathed cliffs.
Under a jicaro tree, we dismount and pass around cold beers. Blue offers a Tupperware container of sticky, dark brown logs. "I know how these look," she says. Once I get past the unappetizing appearance, I find that the chewy bars, made of tamarind and shredded coconut, are sweet and tangy and pack a nice burst of energy. "Now that you've had some liquid courage," Blue says while I lick the last of the tamarind off my fingers, "let's run these horses."
I walk Cappuccino out into the middle of the wide beach. Blue gives some basic tips on how to keep yourself in the saddle at high speed. We trot, canter, then break into a screaming gallop (the screaming is coming from me). My hat, having had enough, leaves my head and skitters down the beach. "Again!" I say when we finally come to a halt, surprising myself. Later, back at the ranch, we kick off our boots and throw back shots of Flor de Caña rum with a squeeze of lime.
A swimmer backflips into the Bahia la Redonda
Reluctantly, I say my goodbyes (to Blue and Cappuccino) and make my way back to San Juan del Sur, where I meet my ride to Aqua Wellness Resort, a resort of treetop villas scattered through the hills around Playa la Redonda.
My suite, the Kinkajou, has what the concierge says is his favorite view. Stepping onto the room's wooden deck, the first thing I see (yay!) is a plunge pool, and beyond this a white beach, rocky cliffs and a stretch of blue Pacific Ocean. "Do you see that?" the concierge asks, pointing at an unusual rock formation. "It's called Pie de Gigante: the Giant's Foot."
Inside, the two-story villa is all burnished wood, sliding screen doors and neutral tone linens. After a quick rinse in my teak shower, I head down to the beach. From the sand, I watch the sun blaze before it dips into the sea. Do people get used to this?
When the dark finally settles, I walk back to the resort's open-air restaurant, where soft music mingles with the crashing waves. I order a plate of fried dorado (mahi mahi) with a side of sweet plantains and Nicaragua's famous gallo pinto (mixed black beans and rice). As I eat, I see a flurry of flashlights on the beach. Some diners are abandoning their meals to see what's going on. I put my fork down and follow.
Surreally, wonderfully, the beach is filled with hundreds of baby sea turtles windmilling their way into the surf. We stand and watch the spectacle in silence. Back at the restaurant our meals are growing cold, but that doesn't seem to matter. All of us have everything we need right here.
Hemispheres associate editor Erin Brady actually, almost, kind of cried at the sight of baby sea turtles hatching. Nature, man!
This article was written by Erin Brady from Rhapsody Magazine and was legally licensed through the NewsCred publisher network.

Porto: Portugal's surprising second city
"Second cities" or those that rank #2 in population often surprise world travelers. And second doesn't mean second-rate. Porto is Portugal's second city — so off-the-radar that many world travelers haven't even heard of it. Yet, Porto and nearby spots in northern Portugal can be delightful destinations even if you don't visit the more well-known city of Lisbon.
Old city by day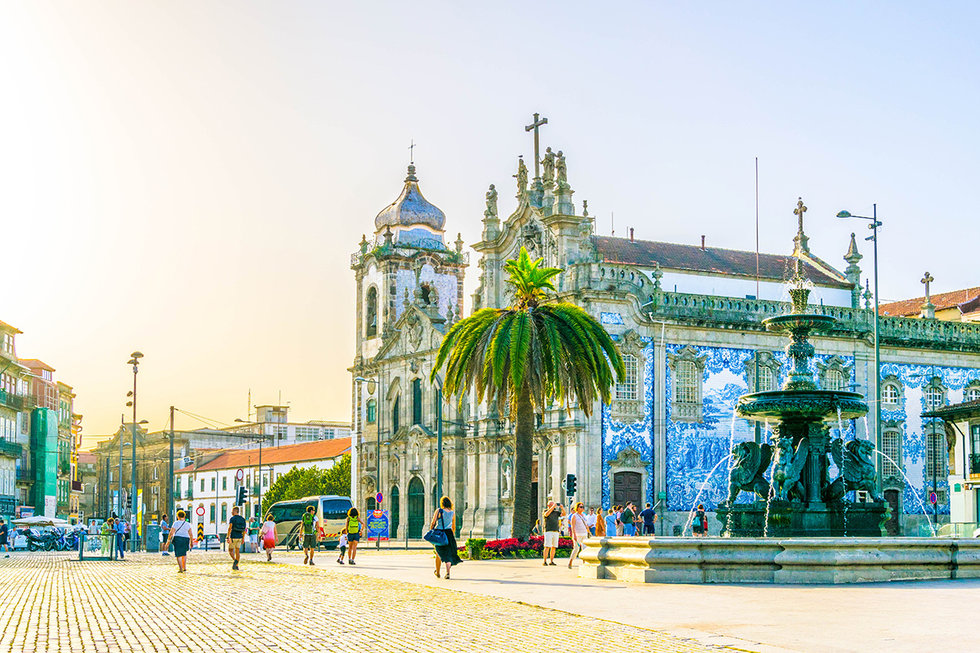 The best place to get oriented, as in most European cities, is in the old city center. Porto's Old City is so well-preserved that it's a UNESCO World Heritage Site. A 12th-century cathedral and the 15th-century Church of St. Francis, notable for interior wood carvings gilded by hundreds of pounds of gold, are mixed in with a rich collection of imposing granite, red-roofed Baroque buildings. Add 225 stairs and a stirring view to your walking tour by ascending the 250-foot-high Clérigos Church bell tower, built in 1754, which dominates the Porto skyline. Historic bridges over the Douro River and Soares dos Reis National Museum, an art museum housed in a palace, are also excellent sites to see.

Food and music by night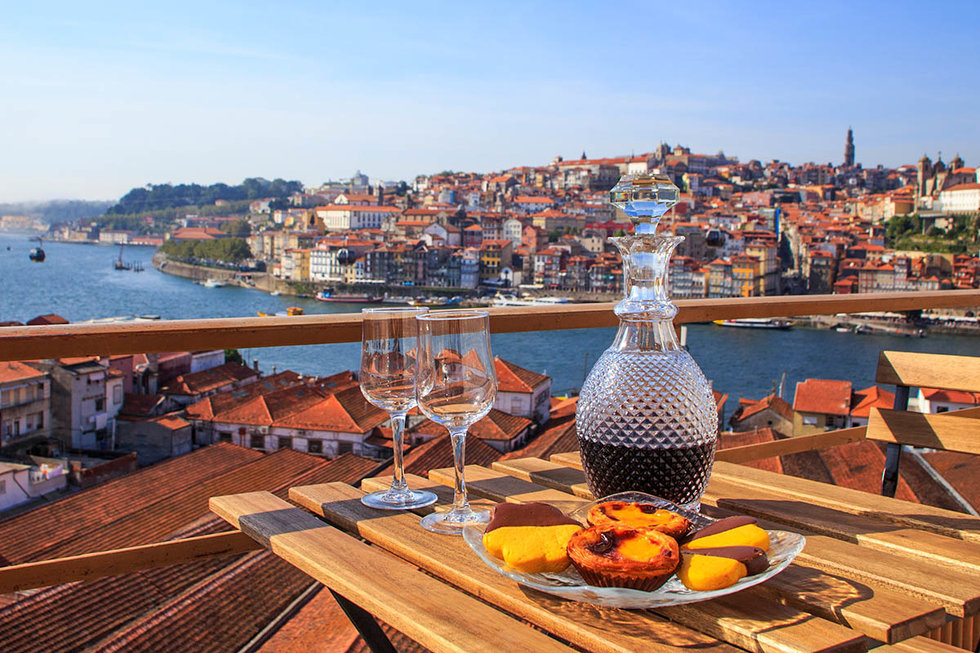 Porto's youthful population has turned it into a lively city after dark. You might start off the evening in the Old City at Abadia do Porto, a 1939 restaurant that serves traditional Portuguese dishes like roasted lamb and grilled octopus, or at Astoria, with its modern Portuguese fare served inside a former palace. Whether you choose a Portuguese, French or fusion restaurant, seafood is likely to be highlighted, drawing on Porto's proximity to the Atlantic and the Douro. Then, you can head to the large collection of bars and nightclubs in the nearby Galerias district, which includes Radio Bar, inside a former court building, and Gare, a disco in a tunnel that stays open until 6 a.m.
Head west to the beaches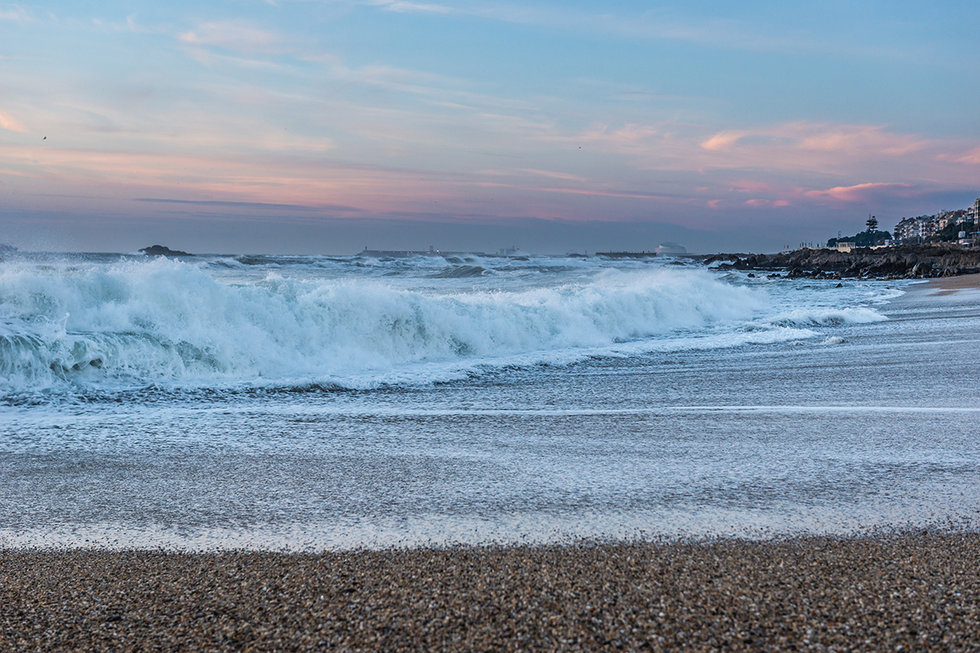 The closest Atlantic beaches to central Porto are at Foz do Douro (mouth of the Douro), just 20 minutes away by city bus. But why settle? In a rental car you can explore Atlantic beaches and beach towns that extend for hundreds of miles along Portugal's coastline. Two of the best are Foz do Minho, the nation's northernmost oceanic beach that's just across the Minho River from Spain, and Quiaios, a dune-fringed paradise of sand south of Porto. Many beaches in northern Portugal are cradled in coves protected by rocky promontories, similar to northern California and Oregon beaches.

Or east to the wine country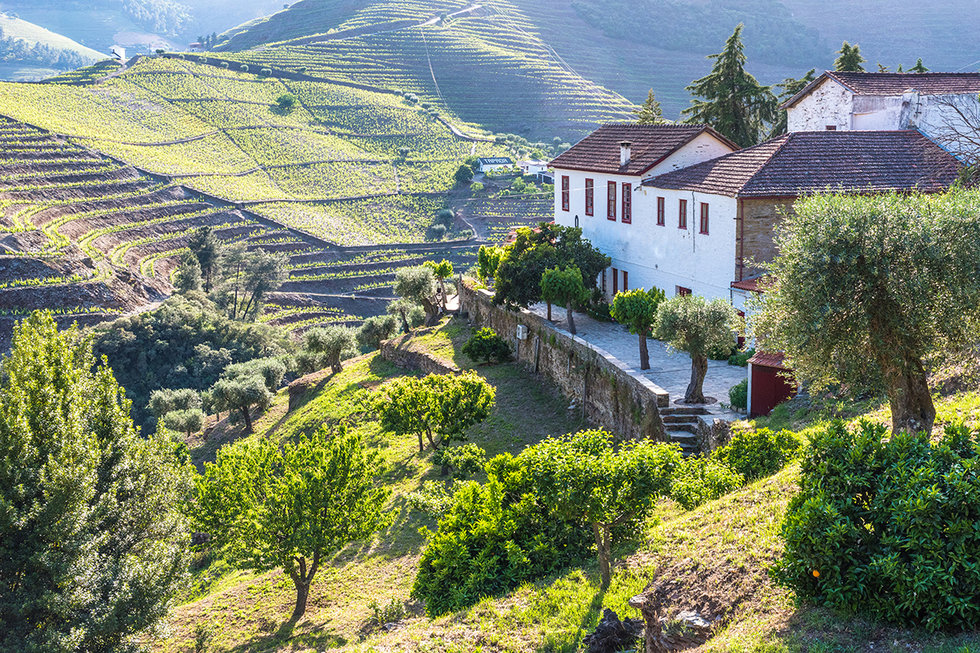 The Douro Valley wine region is another World Heritage Site and one of the world's best and most scenic wine regions. It's up the Douro River from Porto by boat or 90 minutes by road. Namesake port wines and other fortified wines are the region's signature beverages, which can be sampled at tasting rooms on the Douro along N-222, a wine road that's been called the world's most scenic drive. While you're in the area, check out the wine and anthropology museums in the wine towns and yet another World Heritage Site — Coa Valley Archaeological Park — known for its prehistoric rock carvings.
The basics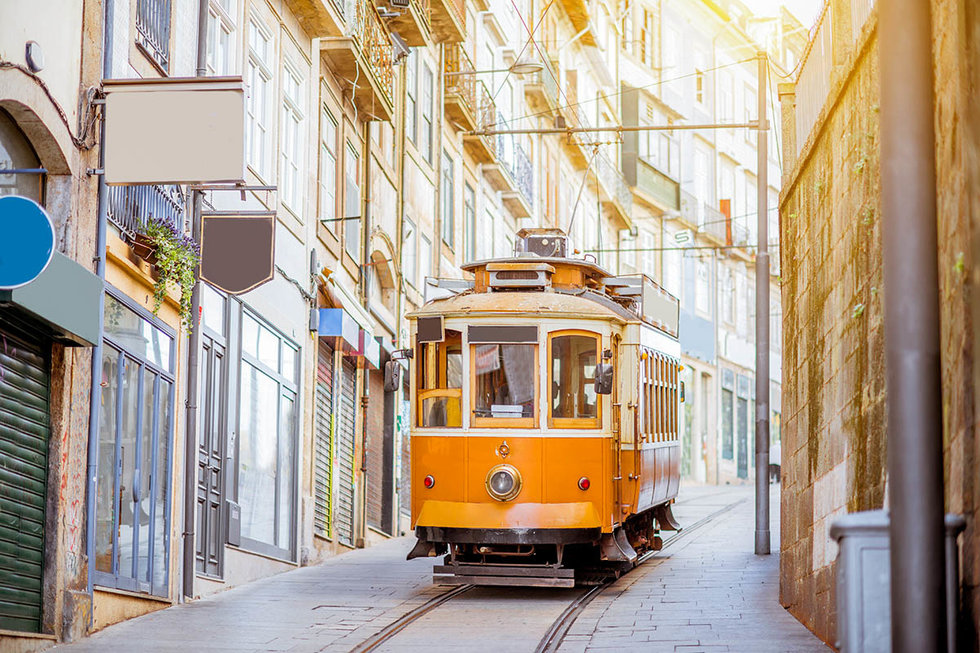 Portugal's Mediterranean climate and coastal breezes bless it with mild weather year round, as the average temperature ranges from 57 degrees (and rain) in January to 78 degrees (and a little rain) in August. Whenever you come, there's no need to learn Portuguese as English is spoken even more widely than elsewhere in Western Europe. Once you arrive, rent a car only if you don't mind ridiculous drivers. The trains are more relaxing — light-rail and subway trains crisscross the Porto area and funicular cable cars climb its steepest hills. There's even a scenic train that follows the Douro nearly to Spain, with a roundtrip fare of only about $30.
Getting there
Portugal requires that visitor passports don't expire until at least three months after the arrival date, so check that. Next, buy some Euros (for a great exchange rate) and reserve a flight. United Airlines flies nonstop from New York/Newark to Porto and MileagePlus® award miles can be redeemed to cover accommodations and Hertz rentals. Go to united.com or use the United app to plan your trip.

United 787-10 Dreamliner launch
Story was contributed by: Jennifer Lake | Photography: Alicia of Aesthetica
It was a typical Monday morning. I'm sitting at my desk at work, drinking coffee, reviewing my to-do list for the week. All around me, heels are clacking through the office and phones ring intermittently. However, this particular Monday morning was different. Ultimately, I would receive an offer from my favorite airline for a collaboration to participate in the United 787-10 Dreamliner launch from Los Angeles LAX to New York/Newark EWR. Read the full story here featured on Style Charade.
Fit for the runway: We begin testing new uniforms
Last year we announced new partnerships with Tracy Reese, Brooks Brothers and Carhartt — best-in-class fashion and apparel designers — to help reimagine uniforms for more than 70,000 of our employees. Focusing on high quality fabrics, improved breathability and overall enhanced fit, our goal is to design and develop a more cohesive collection that looks good, feels good and enables employees to perform at their best on behalf of our customers.
United employees can learn more on the uniform designs by visiting Flying Together.
An insider's guide to Boston
Boston is a pack-it-all-in kind of place. Founded in 1630, one of America's oldest cities does many things well. Boston's many claims to fame include many of America's oldest historic landmarks and one of its oldest ballparks. It's a destination for history buffs, culture vultures, foodies, sports fans, families and more. No matter who your travel companions are or what they're interested in, everyone will find something to pique their interest in Beantown.

Getting there & around town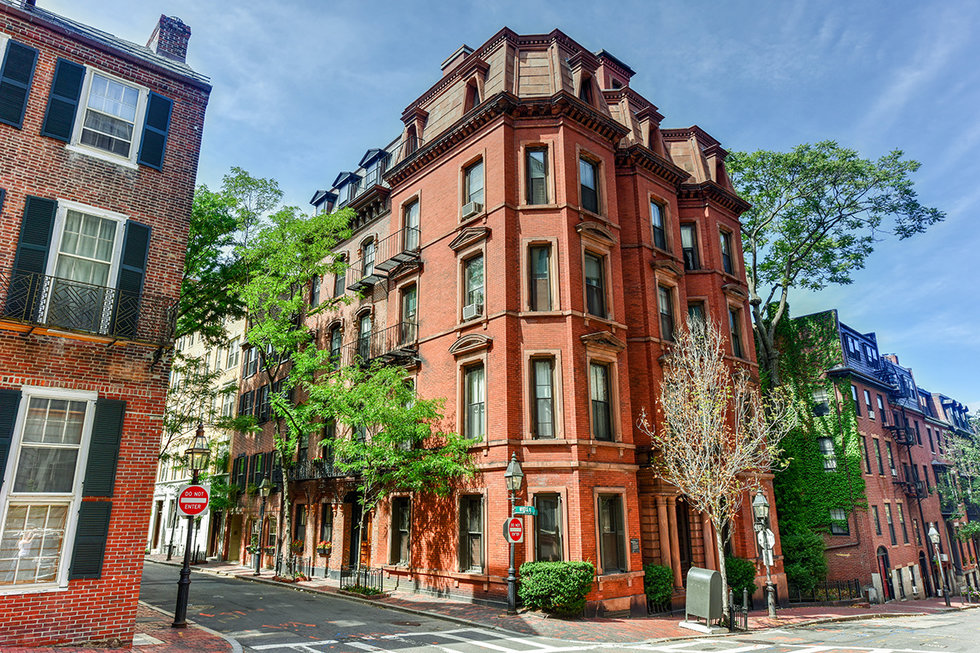 Fly direct to Boston's Logan International Airport (BOS) from many U.S. cities — visit united.com or use the United app to book your flight. Flights are 90 minutes from New York, two hours from Cleveland and five to six hours from California. From Logan International Airport, it's easy to hail a taxi, use ridesharing apps or take public transportation. If you want to take the scenic route, take a water taxi across Boston Harbor directly into downtown.
Downtown Boston is easy to navigate. It's walkable and taxis are plentiful. The MBTA, Boston's public transportation system, offers affordable access to Cambridge, many attractions and the suburbs. Keep in mind it's one of the oldest transportation systems in the country, so expect a few bumps. Because the city is dense, parking can be expensive or hard to find, so avoid driving if you can.
When to visit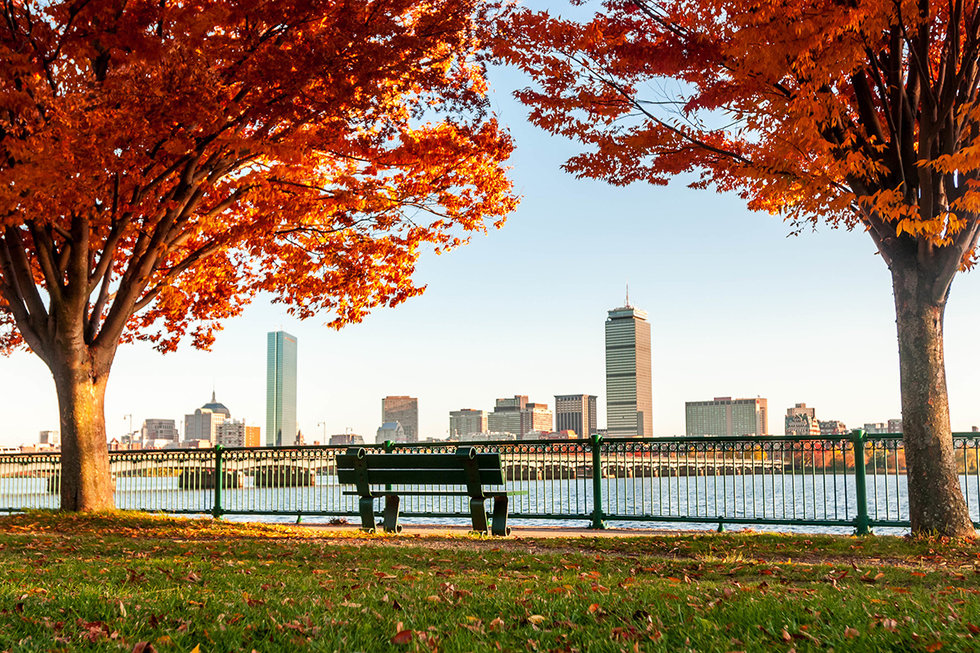 Summer and fall are the most popular seasons to visit. Summer is prime time to enjoy Boston's many parks, outdoor eateries, open-air concerts and baseball games at Fenway Park. Mild fall weather, beautiful autumn foliage and Halloween festivities in nearby Salem, Massachusetts make October one of Boston's busiest months. The city also sees an influx of visitors for the Boston Marathon in April. You'll find smaller crowds and more affordable prices in winter, but brace yourself for the cold.
What to do
There's so much to take in just by walking through Boston's cobblestoned streets. Downtown is quaint, compact and easy to explore by foot. The small city is packed with historic sites, New England's finest food, proud sports fans and friendly locals.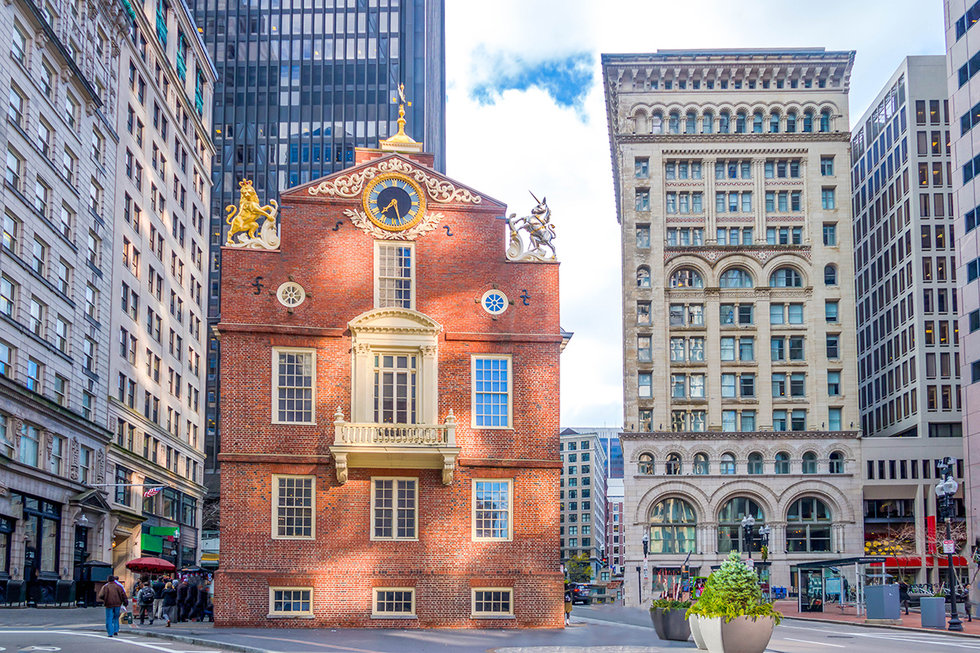 As the birthplace of the American Revolution, Boston's historic sites are an attraction in themselves. Walk the 2.5-mile Freedom Trail to visit 16 of them around the city, including Revolutionary-era museums, churches, buildings and an impressive warship. Faneuil Hall Marketplace is on the trail, too, and is one of Boston's top attractions, with plentiful shopping, dining and live music. Not much of a walker? Boston Duck Tours operate land-and-water historic tours on World War II-inspired vehicles, which transform from truck to boat mid-tour.
Many museums and sites are tucked along Boston Harbor. The waterfront is always bustling with activity year-round. The harborwalk is the perfect place to meander and explore without a strict agenda. Plan to visit a major attraction or two, but leave time to enjoy the scenery or to pop into a café for a coffee and sweet treat (award-winning Flour Bakery + Cafe is a local favorite).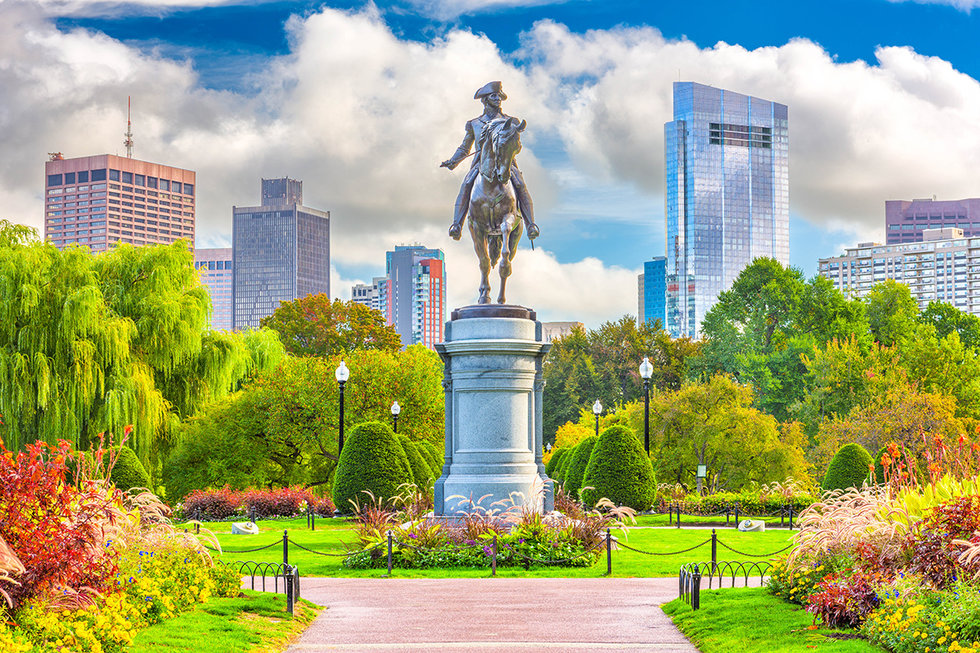 Deemed the "Athens of America," Boston boasts not only some of the country's oldest and most architecturally significant buildings, but also a thriving arts and culture scene. You could spend your entire trip touring its dozens of world-class museums. Take in classical music at the famous Boston Symphony Orchestra, or take a leisurely stroll through Boston Public Garden and Boston Common, the city's most well-known public parks. Riding the giant Swan Boats through the Public Garden lagoon is a kitschy, yet delightful experience, especially for kids.
What to eat
What must you absolutely eat in Boston? In short, everything. Long ago the city was nicknamed Beantown, allegedly after slow-cooked molasses baked beans served to sailors and traders. Today, Boston continues its reputation as a great eating city. From clam chowder to cannoli, the most popular dishes here are often hearty and decadent. Boston is also known for fresh lobster rolls, roast beef sandwiches and, of course, Boston cream pie.
Ask any Bostonian where to find "the best" of anything, and everyone will recommend a different spot. Cannoli from Mike's Pastry, Boston cream pie from Omni Parker House (where it was invented) and the roast beef 1000 sandwich from Cutty's frequently top the must-try lists. If you make it to a ball game at Fenway Park, Fenway Franks are a Boston staple.
Our role in 'Spider-Man™: Far From Home'
In Columbia Pictures upcoming release in association with Marvel Studios, "Spider-Man™: Far From Home," our web-slinging hero finds himself – yep, you guessed it – far from his home in New York City. And since flying is one of the few superpowers Spider-Man doesn't possess, we gave him a little help, meaning United is featured in the film.
The scenes of Peter Parker and his pals traveling to Europe take place on one of our Boeing 777s with the all-new United Polaris® business class, and several of our employees – including members of our Tech Ops, Inflight, Flight Operations and Airport Operations teams – served as actors and production support during shoots at New York/Newark (EWR) and London-Stansted (STN).
London-Heathrow (LHR) Customer Service Representative Manjit Heer and LHR Cargo Warehouse Operations Manager Richard Miller were background extras on board, and multiple flight attendants had a role, including San Francisco (SFO) Flight Attendant Tammy Harris.
"It was extremely surreal," said Tammy. "I was in my element because I was on the plane in uniform, but not really, because I'm not an actor."
Tammy said she hit her mark and delivered her line with gusto, and she's excited to see if she made the final cut when "Spider-Man™: Far From Home" hits worldwide theaters this summer.
"Hopefully, I'll have my two seconds of fame and all will be well," she joked.
Los Angeles (LAX) Aircraft Maintenance Supervisor Fernando Melendez is a veteran of several film shoots but said this one was his favorite. When the production went to London, he was one of five members of LAX Tech Ops who went over to look after our airplane and make adjustments to its interior based on the filmmaker's needs.
"When we parked the plane at Stanstead, there were lights and cameras surrounding us. It was like the plane was the star of the movie," he said. "Each day, we would work with the assistant director; he would go through and say, 'Okay, for this shoot we need these seats, or these panels removed,' so they could get the camera angles. Pretty much, the airplane was our responsibility; we opened it in the morning and closed it at night. We were the first ones there and the last ones to leave every day."
Fernando said the actors were all very gracious and engaging, and said the whole experience was fantastic from start to finish. It also earned him a little cooler cred with his 18-year-old son, who is a massive Marvel fan.
Leading up to the film's premiere this year, there will be plenty of ways for employees and customers to get into the Spidey spirit in anticipation of our cameo. Stay tuned for more details.
---
Peter Parker returns in "Spider-Man™: Far From Home," the next chapter of the Spider-Man™: Homecoming series! Our friendly neighborhood Super Hero decides to join his best friends Ned, MJ, and the rest of the gang on a European vacation. However, Peter's plan to leave super heroics behind for a few weeks are quickly scrapped when he begrudgingly agrees to help Nick Fury uncover the mystery of several elemental creature attacks, creating havoc across the continent!
Directed by Jon Watts, the film is written by Chris McKenna and Erik Sommers based on the Marvel Comic Book by Stan Lee and Steve Ditko. The film is produced by Kevin Feige and Amy Pascal. Louis D'Esposito, Victoria Alonso, Thomas M. Hammel, Eric Hauserman Carroll, Stan Lee, Avi Arad and Matt Tolmach serve as executive producers. The film stars Tom Holland, Samuel L. Jackson, Zendaya, Cobie Smulders, Jon Favreau, JB Smoove, Jacob Batalon, Martin Starr, with Marisa Tomei and Jake Gyllenhaal.
"Spider-Man™: Far From Home" makes its way to North American theaters on July 5, 2019.
What to expect from our improved app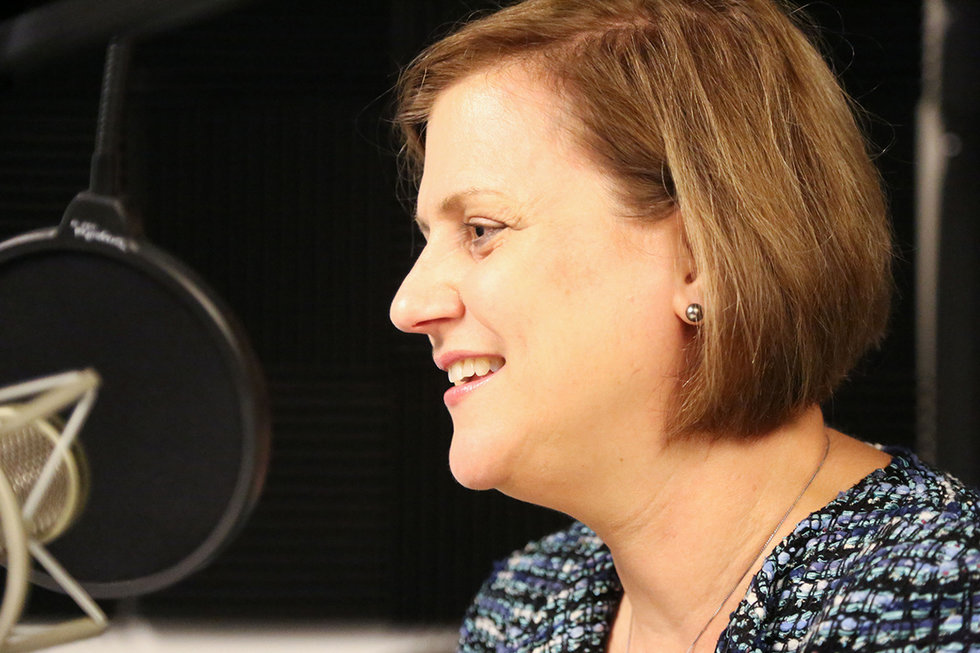 "Talking Points," host Brian Kelly, aka The Points Guy, is joined by Linda Jojo, Executive Vice President for Technology and Chief Digital Officer at United Airlines to discuss what passengers can expect from our improved app.
Read more about the improvements to the United app here.

20 million miles and counting...
On November 7, while flying from Newark Liberty International Airport to Los Angeles International Airport, United customer Tom Stuker made history when he reached 20 million miles flown on a single airline. We were fortunate enough to capture the milestone he reached with us.
To mark the special occasion, we hosted a celebration in Mr. Stuker's honor at the United Polaris lounge at O'Hare International Airport on Saturday. The celebration was delayed a couple of months, so Mr. Stuker could celebrate the event with his family.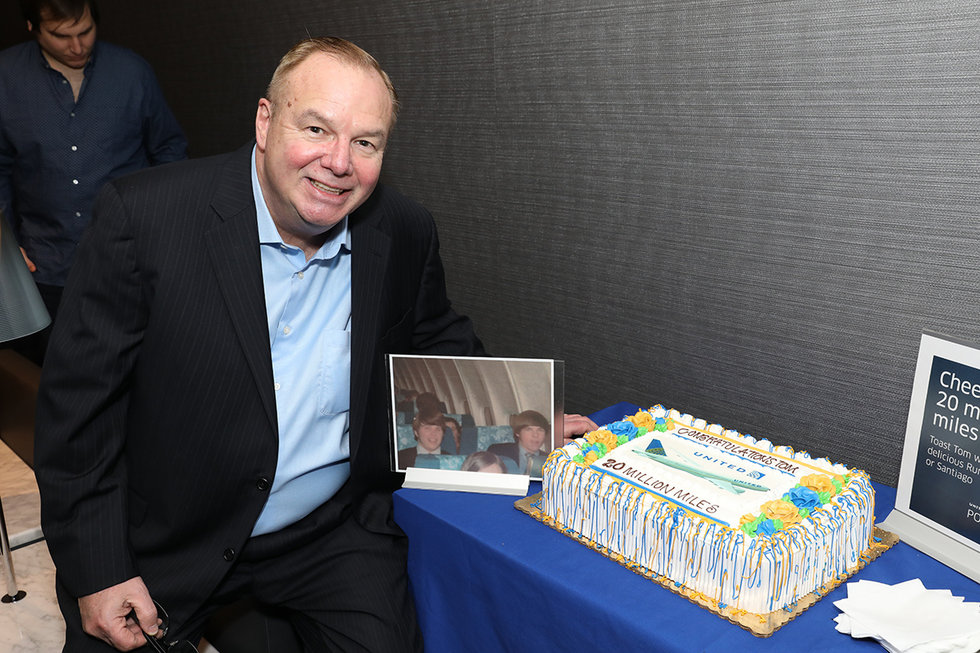 The party included a room full of employees, media members and Mr. Stuker's friends and family enjoying food, cocktails, stories and laughs. To thank him for his long-standing loyalty to United, we also presented Mr. Stuker with gifts made specially for him.
"United makes my dreams come true," Mr. Stuker said to the room full of people.
He also praised United's MileagePlus program, the United Polaris lounges across our system and Oscar's leadership of the airline but, most of all, he praised the service he receives from our employees.
"My favorite part of United is the people. United is such a big part of my life…you are a family to me," he said addressing the United employees. "It would take me days and days and days to say thank you in the right way to the right people. They all know me by now and know how much I care about them as people, how much I care about this airline and its success, and how much I care about the greatest leader this airline has ever had, Oscar."
Bora Bora: The most beautiful island in the world
Each week we will profile one of our employee's adventures across the globe, featuring a new location for every employee's story. Follow along every week to learn more about their travel experiences.
By Chicago-based United Club Customer Service Representative Amile Ribeiro.
They say beauty is in the eye of the beholder. I know it can be very subjective but, once you set your eyes on it, I'm sure you'll agree with me: Bora Bora is the most beautiful island in the world.
There are very few things that can get me out of bed early in the morning, and airplanes are one of those things. We were already in Tahiti and woke up at the crack of dawn to catch our quick flight to Bora Bora. After checking in at the airport and getting a quick breakfast, we headed over to the gate to line up for our flight. Air Tahiti has an open seating arrangement, and we wanted to make sure we got the best possible seats. We were able to secure two windows seats. Travel tip: Sit on the left side of the plane when landing in Bora Bora. We took off from Papeete and within minutes we were flying over Mo'orea. Then we flew around Ra'i ātea and Taha'a, and finally arrived in Bora Bora, the island that Polynesians call "First Born." Pora Pora is the actual local pronunciation, but the first explorers misunderstood it and 'Bora Bora' stuck. Though after setting foot on the island, I've come to call it "Paradise on Earth."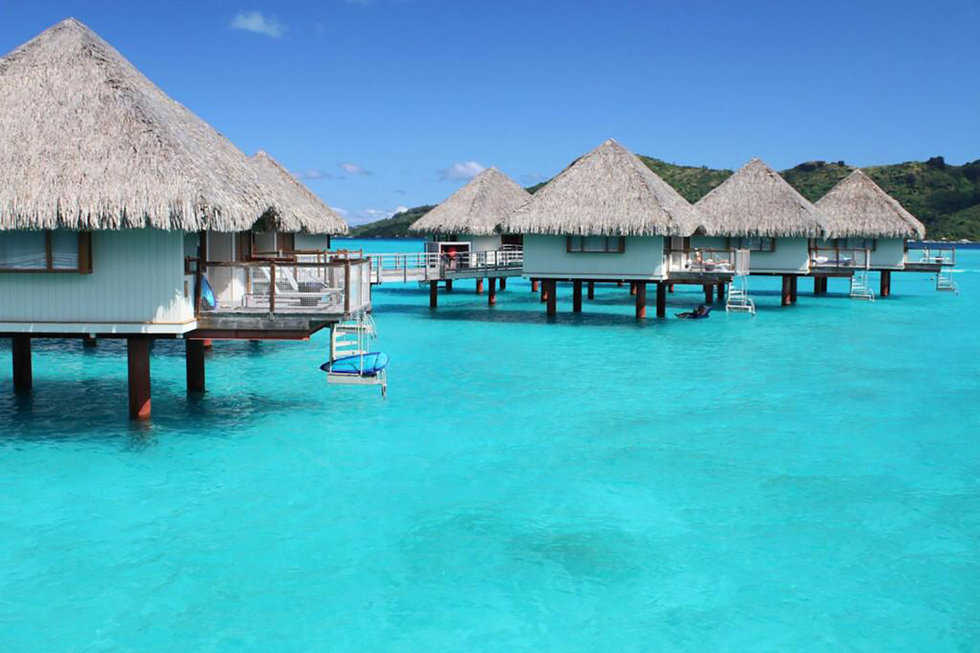 At the airport we were met by a representative of our resort, given flower leis and directed to our high-speed boat. I couldn't believe the color of the water; it was as if Paul Gauguin himself had painted it. After a thrilling ride, we reached our hotel's dock, where a local playing the ukulele welcomed us. We were then given a tour of the astonishing property and were taken by golf cart to our overwater bungalow. We have stayed in many beautiful properties around the world, but when we opened the door of our bungalow our jaws dropped. It is truly a one-of-a-kind experience that all should have at least once in their lifetimes. And worth every penny. The view of majestic Mount Otemanu is something right out of a fairy tale. After the sun set, the nighttime dance show was equally enchanting.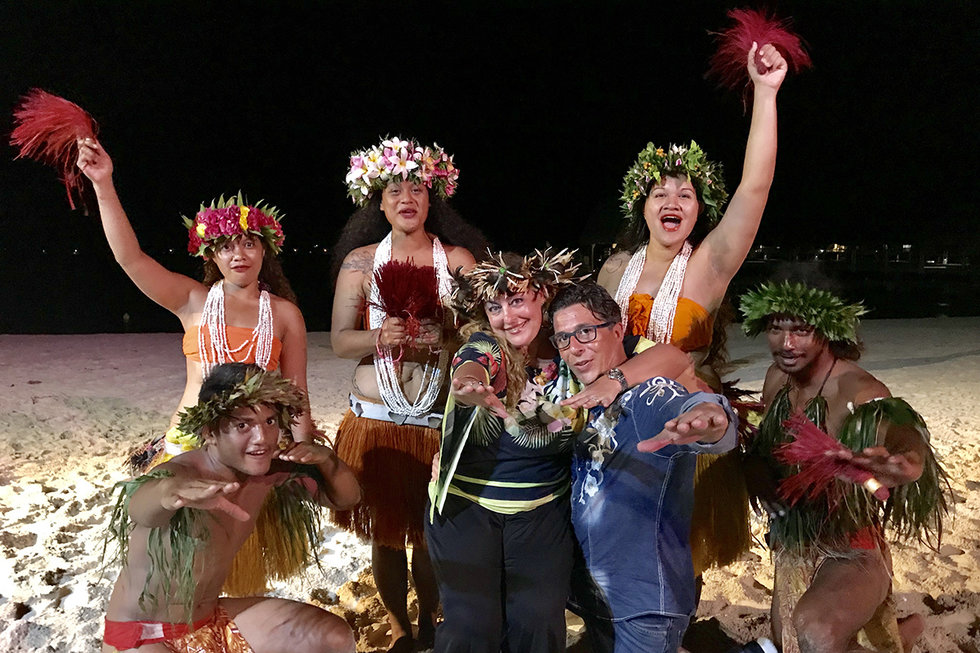 We had planned to be in Bora Bora during the final leg of the famous Hawaiki Nui Va'a canoe competition, which happens to be a major event in the cultural life of French Polynesia and has the reputation for being the toughest canoe race in the world. The center stage was at the island's most beautiful beach, Matira. We stood in awe as the winners reached the finish line after several hours (and days before that) of frantic paddling from island to island, showcasing the power of human strength and endurance. Besides being an incredible sporting challenge, it is also a colorful spectacle that filled the beach with flower-clad women and the air with the pulsating beat of drums. We were also able to celebrate and dance with them later that night at the local ball in Vaitape (Bora Bora's largest city). It was a marvelous way to get a deeper understanding of another culture!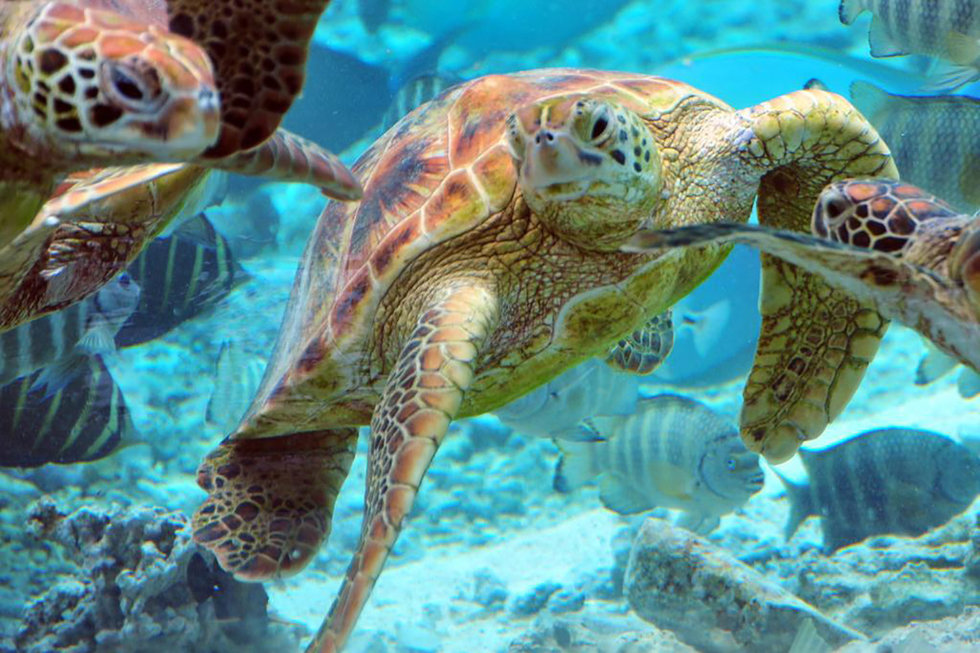 Besides having the time of our lives at the resort's infinity pools, inner lagoons and beach, we also went to the Turtle Center and had a chance to feed these amazing creatures while they're being rehabilitated to go back into open waters. From there, we took a boat tour of the main lagoon and went swimming with stingrays and sharks. Few things scare me in life, and sharks are on the very top of that short list, but I mustered the courage and what a thrill it was! To commemorate my bravery on the last day of our trip, I got my very first tattoo: a hammerhead shark. Polynesians believe that such sharks act as guardian angels to humans and protect us from the Great White. My husband got a Polynesian design that was custom made just for him, and it represents travel, freedom and courage. We also got a set of matching Polynesian wedding bands. Since the art of tattoo originated in Polynesia, this is the most enduring souvenir one can get from such an amazing culture, but I'm sure the memories of our trip will also stay with us forever!

Scroll to top