Three Perfect Days: Nova Scotia
Story by Nicholas DeRenzo | Photography by Chris Sorensen | Hemispheres, August 2015
Canada's second-smallest province tends to conjure images of picturesque lobstering villages, rocky beaches, lonely lighthouses and cold weather. It's true, the winters here can be harsh, but Nova Scotians generate their own kind of sunshine. In fact, the province's defining characteristic is a pervasive sweetness. You can see it everywhere: from the candy colors of its clapboard cottages to the cutesy nickname for non-locals ("come from aways") to the syrupy sauce atop the province's trademark late-night snack (a beef-and-pork gyro glazed with icing). It's a place that, even on the foggiest days (and there are many), could never be described as gloomy.
In which Nicholas goes museum-hopping and tackles the mythic donair
Morning in Halifax means passengers streaming off cruise ships at the bustling seaport, eager to stretch their legs. I'm feeling no such cabin fever, having just awoken in my large, luxurious bed in the nearby Prince George Hotel. Cup of coffee in hand, I stand at my window, looking out over the city's historic downtown.
Breakfast is nearby at Norbert's Good Food, a sunny eatery inside the Halifax Seaport Farmers' Market. Established in 1750, this is North America's oldest farmers market, and its current cavernous home accommodates more than 250 vendors on weekends. Norbert's is well named. Everything on my plate—eggs, bacon, potato rosti—is sourced from the owner's farm or one of his neighbors'. Outside, ships and sailboats drift by, continuing the maritime tradition that has been the backbone of this town for centuries.
Carrie-Ann Smith, Chief of Audience Engagement at the Canadian Museum of Immigration
Between 1928 and 1971, more than a million immigrants landed next door, at Pier 21, the Ellis Island of the Maritime Provinces (Nova Scotia, New Brunswick, Prince Edward Island). Today, the old redbrick terminal houses the Canadian Museum of Immigration, which was given a $30 million overhaul this summer. I'm here to meet Carrie-Ann Smith, the museum's chief of audience engagement and the brains behind its transformation.
"Listen, Ellis Island was built as a palace; Pier 21 is a shed," Smith says, standing in the expansive entry hall. "But it had this beat-up wooden sign that said 'Welcome Home to Canada,' which I think is just lovely." She's designed a museum that's heavy on interactivity: Visitors are invited to pack virtual suitcases, try on period clothes or set tables for dinner. "They wouldn't let me add a seasickness-inducing machine," she says. "I wish the whole building rocked."
Smith wants to show me her city, so we head outside. As we approach the curb, cars practically screech to a halt to let us cross. Overbearing courtesy, Smith says with a laugh, is one of the province's defining traits. "If you even think about crossing the street here, they stop. Sometimes I pace on the sidewalk, so they don't feel obligated." Fighting politeness with politeness: the Canadian way.
"Every postwar smart aleck came to Canada. I met a Polish man who, when he arrived here, saw a sign saying 'Drink Canada Dry.' he likes to say,'And I've been trying to ever since!'" —Carrie-Ann Smith
We stroll past Pizza Corner, an intersection named for its concentration of pizzerias. At night, with its mix of tourists and Haligonians spilling out of bars, the place has the feeling of Times Square writ incredibly small. Many of these revelers are on the hunt for Nova Scotia's most iconic after-hours snack: not pizza, but donair, a local riff on the gyro supposedly concocted in the 1970s by a Lebanese pizzeria owner (regular gyros were deemed too exotic for local tastes). The lamb was swapped out for beef and pork, and the garlicky yogurt sauce became a sweet white glaze made from evaporated milk and sugar, with a splash of white vinegar and garlic powder.
"That sauce is just candy," Smith says. "Maybe I've never been drunk enough to enjoy it." Despite her warning, I assure her I'll try one tonight.
Next, I head to the Maritime Museum of the Atlantic, which features exhibits on two catastrophes: the 1912 sinking of the Titanic (survivors went to New York; the dead came to Halifax) and the 1917 Halifax Explosion. Though less famous abroad, the latter is a city-defining tragedy; two ships, one filled with ammunition, collided and caused the largest man-made blast of the pre-nuclear age, flattening much of the city and killing almost 2,000. These century-old nautical incidents still loom large and in unexpected ways. The Five Fishermen restaurant, for example, was once a funeral home where Titanic victims were kept before burial. Across the street, the city's oldest building, the 1750 St. Paul's Church, has bits of wood and iron from the explosion embedded in it.
Lobster at the South Shore Fish Shack in Lunenburg
BOOM!
As I leave the museum, a huge blast rings out—bad timing, to say the least. A passing woman notices my expression and smiles in a don't-worry way. "We're not under attack," she says. "That's just the noon gun." Every day, it turns out, the city's hilltop fort fires off a cannon at midday (the ritual has its own Twitter account, @HalifaxNoonGun, with the same Tweet repeated every day at the same time: "#boom").
Feeling a bit #hangry, I head for lunch at 2 Doors Down,chef Craig Flinn's ode to elevated classics. Hearty menu items like smoked potato chowder, crispy haddock burgers and chicken dinner poutine—pulled chicken, cheese curds, peas, stuffing and gravy atop a pile of fries—are the kind of rib-sticking dishes you'd need to get through a Canadian winter.
Winter is also a theme at the nearby Art Gallery of Nova Scotia, where I find Inuit carvings and folk paintings depicting the kind of weather you wouldn't send a dog into. A highlight of the collection is the relocated one-room cottage of the province's most famous folk artist, Maud Lewis, who died in 1970 at the age of 67. Life was hard for Lewis, who stood under five feet tall due to juvenile arthritis, but you'd never know it from her home, in which every surface is painted with an ecstatic array of flowers and butterflies and birds.
Halifax is a hilly city, which works in my favor after my gravyful lunch. I make my way up a steepish slope, pausing in the city's old Grand Parade, bracketed by monumental City Hall, a late-19th-century sandstone pile dominated by a seven-story tower (its clock fixed at 9:04 to mark the Explosion), and the white Georgian facade of St. Paul's. From here, it's a few minutes up to the city's most recognizable landmark: the Halifax Citadel, aka Fort George, which was established here by the British in 1749 to keep the French at bay.
The Tangled Garden in Grand-Pré
The strategic value of the star-shaped fortification's hilltop position—225 feet above sea level—has given way to its sightseeing potential. From the ramparts, I look out over the city's bristling steeples, the forested harbor islands and the smattering of small-fry skyscrapers (the tallest tower here, Fenwick Place, is 322 feet). Closer by are the kilted reenactors of the 78th Highlanders troop, who march in formation in the dusty courtyard below. Oh, right: Nova Scotia. New Scotland.
In the fort gift shop, I'm grilled about my travel plans by the woman behind the counter. Tomorrow, I tell her, I'm heading to LaHave, a coastal town about 70 miles southwest of here, to meet an indie singer named Jennah Barry. "Oh," she says, "I went to high school with her!" Small world. Smaller province.
Heading back into town, I stroll past broad Halifax Common and the Crayola-colored clapboard houses of the North End, a trendy neighborhood that was once the city's industrial heart. I'm having dinner at Field Guide, a hip new eatery (chalkboard menus, yellow metal bistro chairs) run by chef Dan Vorstermans and his wife, Ceilidh Sutherland. Despite the modern flair, the food tastes deeply of the land. A salad of turnips, sorrel puree, cured egg yolk, pickled beets and watermelon radish comes topped with seasonal fiddlehead ferns. "We all went up to Ceilidh's parents' house in Tatamagouche to pick them," the waiter says.
Pan-fried gaspereau, a local river herring, is served with crunchy fried roe sacks and black garlic mayo. There's even a high-minded nod to the donair I've heard so much about, in the form of a steamed bun in which Vorstermans restores the original lamb and adds a bit of lamb liver for "an earthy, gamey, mineraly flavor," plus a sweet but nuanced sauce of house-made condensed milk, fresh garlic and apple cider vinegar.
After dinner, I head across town to Argyle Street, a strip of Anglo-Irish-Scottish pubs, many with live music (heavy on the fiddle) streaming out the windows. I'm here to have a drink with Andrew Al-Khouri, a former "Master Chef Canada" finalist who hails from Cape Breton, Nova Scotia's version of the Scottish Highlands. Fittingly, I meet Al-Khouri at the Loose Cannon, a wood-paneled pub with more than 70 Scotch varieties. After a shot of Glenora Glen Breton—North America's first single-malt whiskey, also from Cape Breton—I find myself once again discussing donair.
The Halifax Citadel Royal Artillery and the cannon that fires off the daily noon gun
"They asked us to submit an audition dish, and I did donair gnocchi as a joke," the chef says of his reality TV stint. "Most people made Wagyu beef—mine cost $1.50 to make." Al-Khouri has spent years drawing inspiration from the late-night snack. In college, he invented the donair omelette after passing out drunk on top of one and trying to figure out what to do with its mangled remains. Since then, he's come up with duck donair poutine and a frisée and beet salad served in an edible donair-meat cup.
Al-Khouri suggests we go get a couple of donairs for the road. A minute later, we're at Mezza Lebanese Kitchen. "He's from New York," Al-Khouri tells the guy behind the counter, "so make him the best donair ever!" It's messy, meaty and weirdly sweet. In other words, perfect.
In which Nicholas traces the Lighthouse Route and makes beachside s'mores
Halifax has long served as an entry point to Nova Scotia, but my plan for today is to see what lies beyond. I set out early and wind down the coast to the South Shore, which looks and feels like rural Maine. Fifteen minutes outside the capital, I'm surrounded by pine-studded islets, pristine lakes, rocky beaches and cottages with brightly colored Adirondack chairs pointing out toward the sea.
Like pretty much everyone who travels the Lighthouse Route, I pull into Peggy's Cove to get a look at the trail's namesake—a perfect white lighthouse on a wave-beaten promontory, shrouded in photogenic fog. Just behind me is an equally lovely lobster-fishing village. It's the kind of view that makes you entertain relocation fantasies, although the porcupine waddling across the street as I depart might be overdoing the cuteness a bit.
Andrew Al-Khouri, Cook and "Master Chef Canada" contestant (and yes, he's eating a donair)
After a quick stop for coffee and snacks at the cozy bookstore/bakery Biscuit Eater, farther down the coast in Mahone Bay, I'm on to Lunenburg. This colorful cod-fishing town is home to the continent's best-preserved planned British colonial settlement, dating to the 1700s—a distinction that has earned it the status of UNESCO World Heritage Site. It'd be easy to do a drive-by gawk, but I'd like to get a closer look, so I've set up a tour with seventh-generation Lunenburger Shelah Allen, who co-owns Lunenburg Walking Tours.
We meet at the town's turreted High Victorian showpiece, the Lunenburg Academy, where Allen went to elementary school. "This is gallows hill, surrounded on three sides by a graveyard—lots of fodder for children's imaginations," she says. "People always expect it to be scary or haunted, but I have to say, 'Sorry! Happy building!'"
"What's awesome about Nova Scotia is that it's the kind of place where you'll find yourself drinking in a kitchen with ten fiddle players." —Andrew Al-Khouri
As we stroll the surrounding streets, Allen points out a cod atop a church weathervane. "People always ask if the fish is a Christian symbol," she says. "And I say, 'Sort of—it's a symbol of what we're most thankful for.'" She also introduces me to a renowned architectural flourish that originated here, the Lunenburg Bump, a protruding window in which the lady of the house would sit and knit, to see and be seen. "I think of it as early Facebook," she says.
Allen is quick to note that Lunenburg isn't too precious about its heritage. "We don't wear costumes," she says. And while the pink and blue and red buildings may look fanciful, they house hardware stores and bars. This is a working town.
We head down toward the waterfront to grab lunch at the South Shore Fish Shack, where Allen insists I order the lobster. "The water's super-cold, the shells are harder, the meat's sweeter—we have the best lobsters in the world here," she says. "Though people from Prince Edward Island would say we're full of crap." I hate to take sides in a Maritime dispute, but the lobster is pretty amazing.
The colorful houses of Lunenburg
On my way out of town, I stop into Ironworks Distillery, which occupies an 1890s blacksmith shop. Along with dark rum (a nod to the province's rum-running days), the distillery makes liqueurs with flavorings like cranberry and a hearty local fruit called arctic kiwi. I grab a bottle of apple vodka, which still tastes faintly of the fruit grown in the province, and receive a perfectly Nova Scotian outburst when my credit card doesn't swipe. "Oh turtleneck!" says the cashier, and then, under her breath, "That was me swearing."
After a short ferry ride across the LaHave River, I stop at the LaHave Bakery. The place feels like an old general store, with wooden shelves loaded with fresh bread made from locally milled grains. It's the perfect spot to meet Jennah Barry, a rootsy redheaded spitfire singer-songwriter who recorded her indie folk-pop album, Young Men, just across the river, and who lives nearby "on top of this hill, in a little cabin I built."
Barry clearly has a kinship with the area, especially this bakery. "This is the hub," she says. "If you don't know where anyone is, you just come here. None of my friends have cell phones, which is great. When people say they'll be somewhere, they'll really be here. We're the least apathetic people in the world."
How does being from Nova Scotia play into the way people perceive her? "People see me as this sweet rural girl," she says. "I don't feel like an apron-wearing country girl … though I guess I am? I will say I am a very aggressive driver."
Peggy's Point Lighthouse
And if this whole singing thing doesn't work out? "I always have a job waiting for me in PEI," she says with a laugh, noting her resemblance to the neighboring province's most famous export, Anne of Green Gables.
Next, Barry takes me upstairs to meet her friend Jesse Watson, owner of Homegrown Skateboards. Here, in a raw attic space that houses a bowl for testing boards, Watson crafts decks out of Canadian hardrock maple and sells T-shirts with slogans like "Too much moxie breeds mayhem in the streets"(from a 1965 Life headline about skateboarders). Talk turns to this year's once-in-a-lifetime winter.
"It was arctic, full-on," Watson says. "No one could go out, but there was this weird romance of isolation."
"You get kind of squirrelly," adds Barry. "You get up to weirder stuff, because you have to." As for what counts as weird in these parts: "We're going to an Under the Sea costume party tonight, and everyone's congregating here to finish up their costumes," says Watson, who will be going as a shark head.
"And I'm gonna cut a hole in this blue tarp," says Barry, "and be water."
The Luckett Vineyards phone booth
I'm sure I could have whipped up a mean kelp get-up, but I have to head farther south before nightfall. I'll be staying at the White Point Beach Resort, a 1928 family retreat overlooking the Atlantic that calls to mind the Catskills lodge in Dirty Dancing. A sign by the entrance reads, "Children and bunnies are everywhere," and there's truth in advertising. The lawn around my swank-summer-camp beachfront cabin is hopping with domesticated rabbits that escaped and multiplied decades ago. The resort hands out paper baggies of rabbit food by the front desk, but I can't help but feel they'd do better handing out packets of rabbit birth control.
After a dinner of deliciously rich planked salmon chowder and homegrown mussels at the resort's Elliot's Dining Room, I head to the beachside bonfire for s'mores, served with a rotating slate of Nova Scotia–born products, including haskap jam, made from a dark blue Japanese berry that's fast becoming this region's superfood du jour. It shows up everywhere here.
I take a stroll on the beach until my sugar high wears off and then head to bed, where I'm warmed by a crackling fire. And yes, it took this city boy quite a few tries to get it going.
In which Nicholas pretends to know about wine on the shores of the Bay of Fundy
I start my day at Elliot's, watching surfers brave the chilly Atlantic, as I dig into pancakes and chorizo hash slathered in maple syrup (remember, it's all about nostalgic Canadiana here). Then I'm on the road, heading across the province to the up-and-coming Annapolis Valley wine region, on the Bay of Fundy. Separating Nova Scotia and New Brunswick, the bay boasts the world's highest tides. There can be a 50-foot difference between high and low tide here, as more than 100 billion tons of water drain out twice daily, stranding boats (and unlucky fish) on the dry seabed.
Within two hours, pine forests open up to rolling meadows, weathered barns and dairy cows, then the tell-tale geometry of wine country—rows, rows, rows. I end up in the college town of Wolfville, where I'll be staying at the Blomidon Inn, which occupies a stately 19th-century sea captain's mansion.
Jennah Barry, Singer-songwriter
First, a reenergizing cup in nearby Grand-Pré, at Just Us! Coffee, Canada's first fair-trade coffee roaster. It's the kind of café where your barista may discuss the subtle distinctions between Peruvian and Ethiopian beans, but it's also just a casual hangout (as evidenced by the farmer parking his John Deere out front). Next door, I duck into the Tangled Garden, which feels like the cottage of a friendly sorceress. Dried flowers, grown outside, hang from the rafters; jewel-tone bottles and jars line every shelf, filled with things like cherry anise hyssop jam and rose petal and lavender vinegar.
For lunch, I'm meeting Gillian Mainguy, director of the Atlantic Wine Institute. A native Ontarian—which makes her a CFA, or "come from away"—she has a back-slapping, shoulder-punching manner. We're not in Bordeaux anymore, Toto. This newly hip wine region is racking up the accolades (a local sparkling wine recently beat Champagne at a global competition), but it hasn't let success go to its head.
"We're getting a lot of hype among wine geeks," Mainguy says. "But we want to be approachable. We never want to be snobby." We meet at Luckett Vineyards, where her husband is winemaker. "Which," she promises, "isn't the only reason I took you here!" Owner Pete Luckett is a British entrepreneur behind the local Whole Foods–style market Pete's Frootique, and his heritage crops up in clever ways, including the red phone box in the middle of the vines (offering free calls within North America) and wine names like Black Cab, a red made from sun-dried grapes.
"I used to live in Toronto. I got super - overwhelmed, because there was so much noise stress. When I got back to Nova Scotia, the music just came pouring out of me—tons of musicians come out of here." —Jennah Barry
Over steak and mushroom pie on the patio, we talk about the terroir here. The cold climate makes it ideal for crisp whites, including the region's first appellation variety, Tidal Bay, a blend of Nova Scotia–grown grapes. Ten area wineries offer takes on the signature blend. I'm a wine novice, but I taste grapefruit and lychee. "There's definitely a pucker there," she says, "It pairs beautifully with Nova Scotia lobster." Like a bracing spritz of lemon.
Next, it's a 10-minute drive to Grand-Pré National Historic Site, a peaceful refuge of manicured gardens and songbird-filled woods dedicated to the 1755 expulsion of the French-speaking Acadians by the British. They'd go on to resettle as far south as Louisiana, where they became known as the Cajuns. While they were once dominant throughout Nova Scotia, the Acadian presence has been all but wiped out, save for a few Francophone towns founded when the Acadians were allowed to return home decades later.
A surfer at White Point Beach Resort
Inside the site's 1922 memorial church, I meet ranger François Gaudet, a descendant of the expelled who sees his own return to the area as an act of historic defiance. "I'm an artifact of the deportation," he says. "I should not be here. I should not speak French. I consider myself a miracle." He points out a statue of Evangeline, the heroine of an 1847 Henry Wadsworth Longfellow poem about the expulsion.
"If it weren't for Longfellow, we might not even know about the Acadians," he says. "The poem used to be required reading in schools, but the newer generation doesn't know about that story." With that, the park's resident cat strolls by, brushing against my leg. Her name? "Evangeline, of course."
The surrounding farmlands were reclaimed from the bay by an ingenious system of Acadian dikes that tamed the Fundy's fearsome tides back in the 1680s—a plan so inventive the area was named Nova Scotia's third UNESCO World Heritage Site in 2012, one of only 16 in all of Canada. I drive through the valleys, stopping at Fox Hill Cheese House, a dairy farm where swallows tumble in the breeze, and at Gaspereau Valley Fibres, a yarn store watched over by a small herd of alpacas.
A bunny at White Point Beach Resort
I finish my evening with a dinner of rabbit torchon and salad with brown butter vinaigrette at Le Caveau restaurant at the Domaine de Grand-Pré winery. Kenan Thompson from "Saturday Night Live" is also here at the winery, sipping Tidal Bay. This, I think, is the new Nova Scotia, a place where New York celebrities rub shoulders with dairy farmers, where winemakers out-French the French.
After dinner, I drive up to the Blomidon Lookoff. In the half light, the land below looks like a faded patchwork quilt. It's not the most dramatic scenery I've encountered here, but it's among the most significant, reclaimed from the sea by age-old ingenuity. Up here, I appreciate the connection Nova Scotians have with the land. You hear them tell of it when they recount stories both historical and personal. As Ironworks Distillery co-owner Pierre Guevremont told me earlier, while we sipped his flavored spirits, "The rhubarb liqueur is our most emotional product, because everyone has a link with their grandmother's backyard. We all have a rhubarb story."
Hemispheres senior editor Nicholas DeRenzo is looking into opening a donair food truck in Brooklyn.
Made with Atavist. Make your own.
This article was written by Nicholas DeRenzo from Rhapsody Magazine and was legally licensed through the NewsCred publisher network.
Porto: Portugal's surprising second city
"Second cities" or those that rank #2 in population often surprise world travelers. And second doesn't mean second-rate. Porto is Portugal's second city — so off-the-radar that many world travelers haven't even heard of it. Yet, Porto and nearby spots in northern Portugal can be delightful destinations even if you don't visit the more well-known city of Lisbon.
Old city by day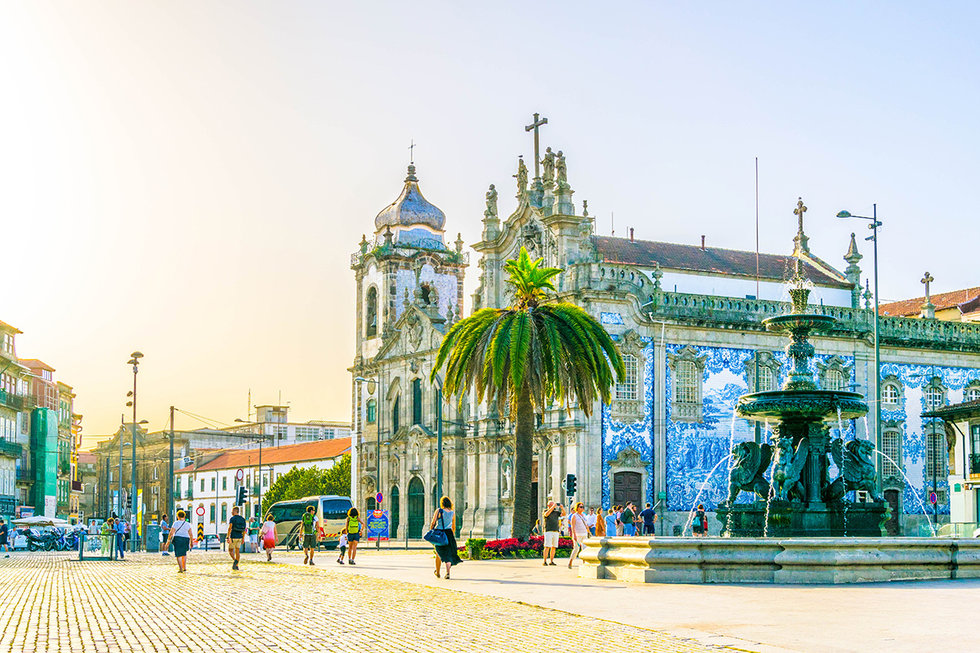 The best place to get oriented, as in most European cities, is in the old city center. Porto's Old City is so well-preserved that it's a UNESCO World Heritage Site. A 12th-century cathedral and the 15th-century Church of St. Francis, notable for interior wood carvings gilded by hundreds of pounds of gold, are mixed in with a rich collection of imposing granite, red-roofed Baroque buildings. Add 225 stairs and a stirring view to your walking tour by ascending the 250-foot-high Clérigos Church bell tower, built in 1754, which dominates the Porto skyline. Historic bridges over the Douro River and Soares dos Reis National Museum, an art museum housed in a palace, are also excellent sites to see.

Food and music by night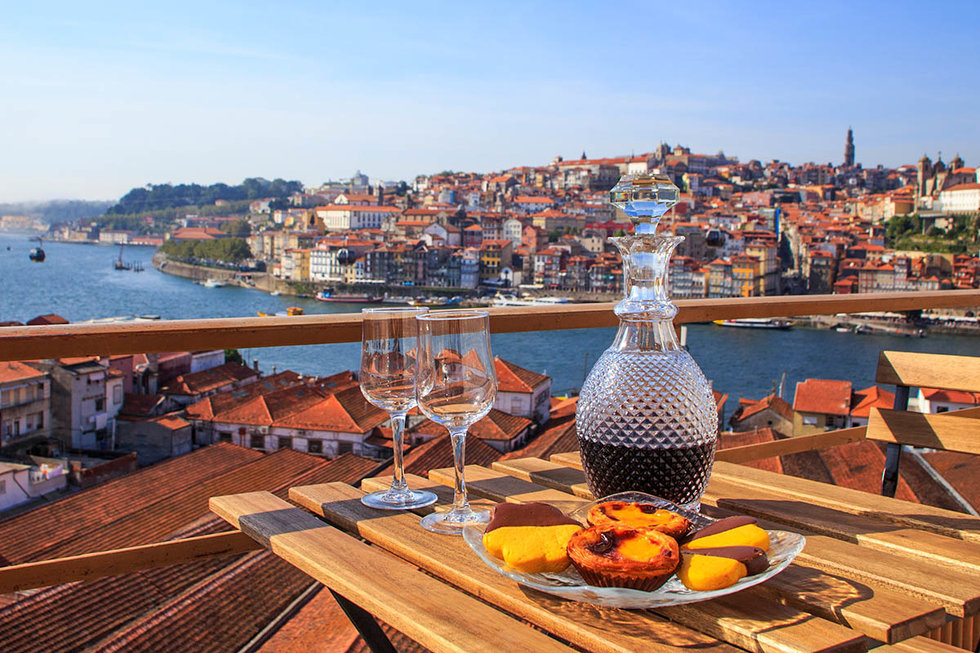 Porto's youthful population has turned it into a lively city after dark. You might start off the evening in the Old City at Abadia do Porto, a 1939 restaurant that serves traditional Portuguese dishes like roasted lamb and grilled octopus, or at Astoria, with its modern Portuguese fare served inside a former palace. Whether you choose a Portuguese, French or fusion restaurant, seafood is likely to be highlighted, drawing on Porto's proximity to the Atlantic and the Douro. Then, you can head to the large collection of bars and nightclubs in the nearby Galerias district, which includes Radio Bar, inside a former court building, and Gare, a disco in a tunnel that stays open until 6 a.m.
Head west to the beaches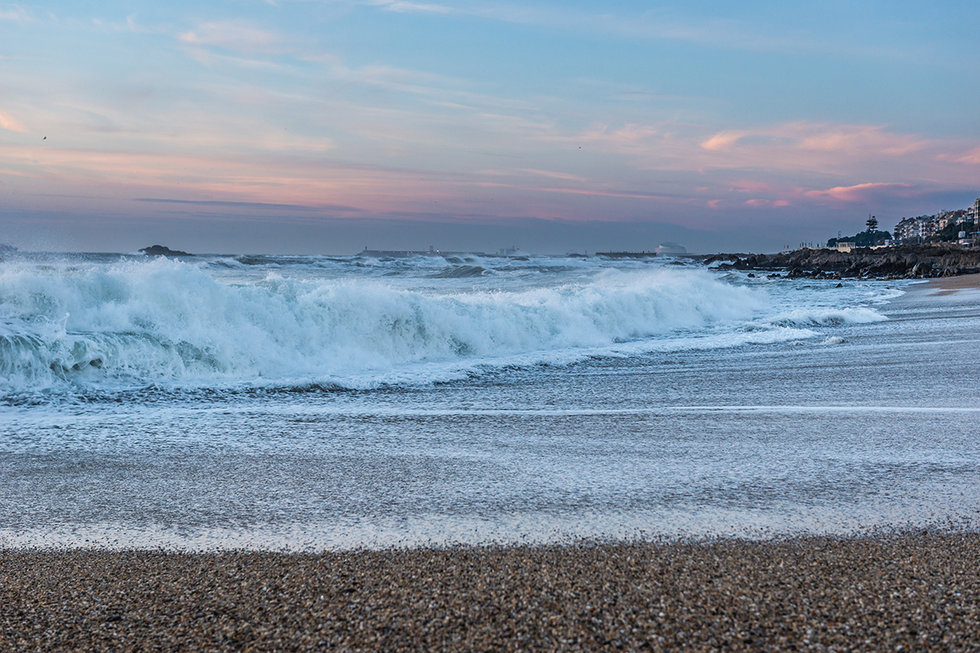 The closest Atlantic beaches to central Porto are at Foz do Douro (mouth of the Douro), just 20 minutes away by city bus. But why settle? In a rental car you can explore Atlantic beaches and beach towns that extend for hundreds of miles along Portugal's coastline. Two of the best are Foz do Minho, the nation's northernmost oceanic beach that's just across the Minho River from Spain, and Quiaios, a dune-fringed paradise of sand south of Porto. Many beaches in northern Portugal are cradled in coves protected by rocky promontories, similar to northern California and Oregon beaches.

Or east to the wine country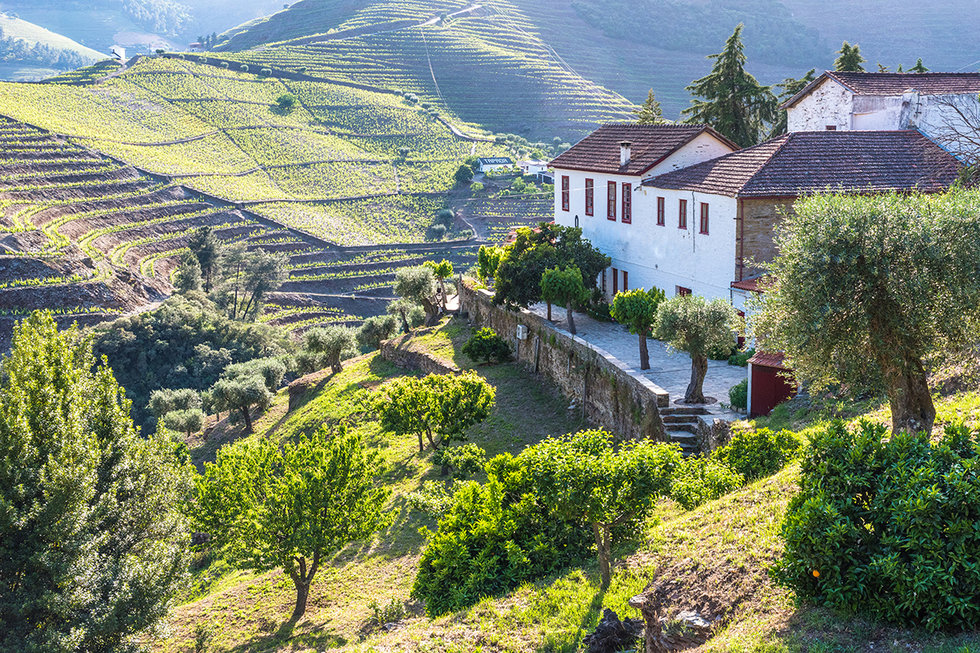 The Douro Valley wine region is another World Heritage Site and one of the world's best and most scenic wine regions. It's up the Douro River from Porto by boat or 90 minutes by road. Namesake port wines and other fortified wines are the region's signature beverages, which can be sampled at tasting rooms on the Douro along N-222, a wine road that's been called the world's most scenic drive. While you're in the area, check out the wine and anthropology museums in the wine towns and yet another World Heritage Site — Coa Valley Archaeological Park — known for its prehistoric rock carvings.
The basics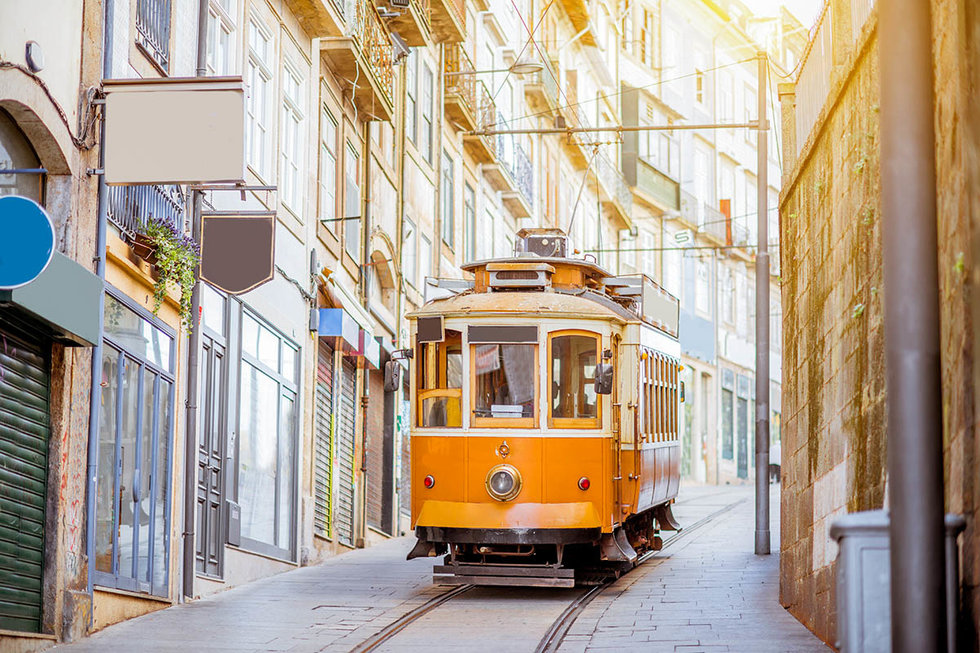 Portugal's Mediterranean climate and coastal breezes bless it with mild weather year round, as the average temperature ranges from 57 degrees (and rain) in January to 78 degrees (and a little rain) in August. Whenever you come, there's no need to learn Portuguese as English is spoken even more widely than elsewhere in Western Europe. Once you arrive, rent a car only if you don't mind ridiculous drivers. The trains are more relaxing — light-rail and subway trains crisscross the Porto area and funicular cable cars climb its steepest hills. There's even a scenic train that follows the Douro nearly to Spain, with a roundtrip fare of only about $30.
Getting there
Portugal requires that visitor passports don't expire until at least three months after the arrival date, so check that. Next, buy some Euros (for a great exchange rate) and reserve a flight. United Airlines flies nonstop from New York/Newark to Porto and MileagePlus® award miles can be redeemed to cover accommodations and Hertz rentals. Go to united.com or use the United app to plan your trip.

United 787-10 Dreamliner launch
Story was contributed by: Jennifer Lake | Photography: Alicia of Aesthetica
It was a typical Monday morning. I'm sitting at my desk at work, drinking coffee, reviewing my to-do list for the week. All around me, heels are clacking through the office and phones ring intermittently. However, this particular Monday morning was different. Ultimately, I would receive an offer from my favorite airline for a collaboration to participate in the United 787-10 Dreamliner launch from Los Angeles LAX to New York/Newark EWR. Read the full story here featured on Style Charade.
Fit for the runway: We begin testing new uniforms
Last year we announced new partnerships with Tracy Reese, Brooks Brothers and Carhartt — best-in-class fashion and apparel designers — to help reimagine uniforms for more than 70,000 of our employees. Focusing on high quality fabrics, improved breathability and overall enhanced fit, our goal is to design and develop a more cohesive collection that looks good, feels good and enables employees to perform at their best on behalf of our customers.
United employees can learn more on the uniform designs by visiting Flying Together.
An insider's guide to Boston
Boston is a pack-it-all-in kind of place. Founded in 1630, one of America's oldest cities does many things well. Boston's many claims to fame include many of America's oldest historic landmarks and one of its oldest ballparks. It's a destination for history buffs, culture vultures, foodies, sports fans, families and more. No matter who your travel companions are or what they're interested in, everyone will find something to pique their interest in Beantown.

Getting there & around town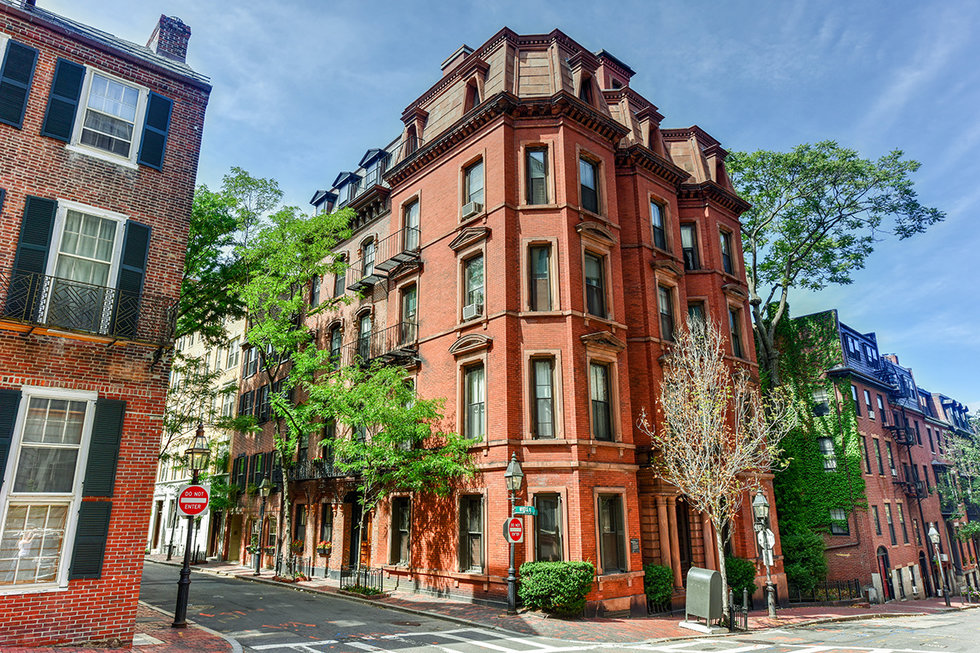 Fly direct to Boston's Logan International Airport (BOS) from many U.S. cities — visit united.com or use the United app to book your flight. Flights are 90 minutes from New York, two hours from Cleveland and five to six hours from California. From Logan International Airport, it's easy to hail a taxi, use ridesharing apps or take public transportation. If you want to take the scenic route, take a water taxi across Boston Harbor directly into downtown.
Downtown Boston is easy to navigate. It's walkable and taxis are plentiful. The MBTA, Boston's public transportation system, offers affordable access to Cambridge, many attractions and the suburbs. Keep in mind it's one of the oldest transportation systems in the country, so expect a few bumps. Because the city is dense, parking can be expensive or hard to find, so avoid driving if you can.
When to visit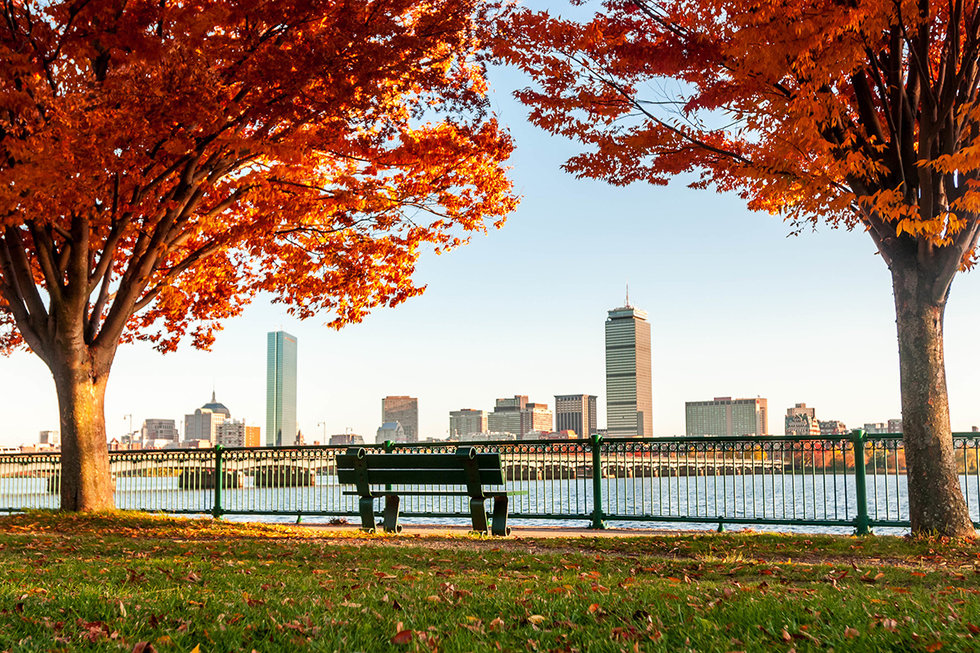 Summer and fall are the most popular seasons to visit. Summer is prime time to enjoy Boston's many parks, outdoor eateries, open-air concerts and baseball games at Fenway Park. Mild fall weather, beautiful autumn foliage and Halloween festivities in nearby Salem, Massachusetts make October one of Boston's busiest months. The city also sees an influx of visitors for the Boston Marathon in April. You'll find smaller crowds and more affordable prices in winter, but brace yourself for the cold.
What to do
There's so much to take in just by walking through Boston's cobblestoned streets. Downtown is quaint, compact and easy to explore by foot. The small city is packed with historic sites, New England's finest food, proud sports fans and friendly locals.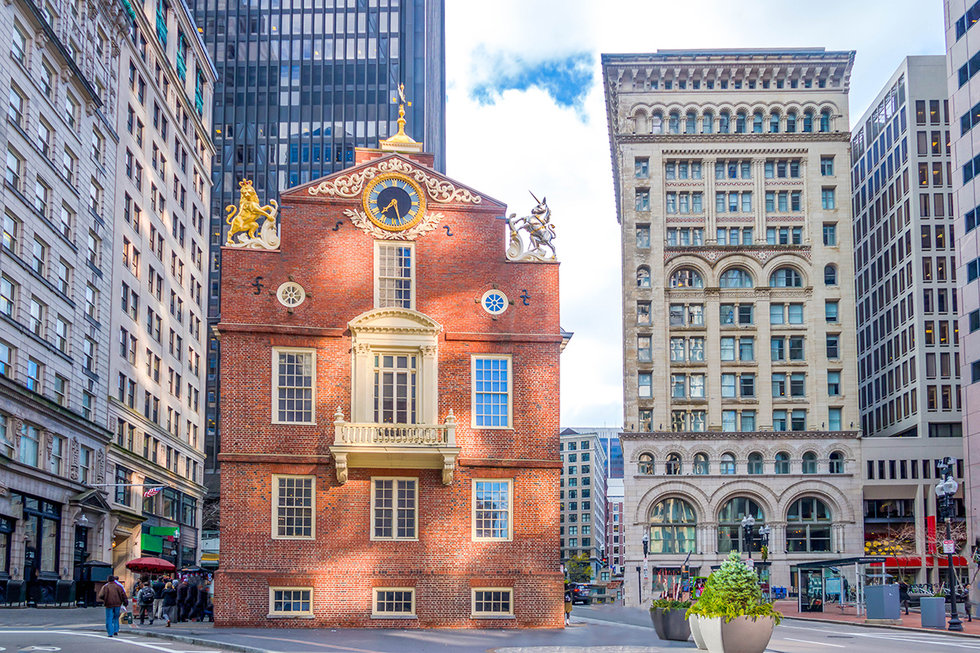 As the birthplace of the American Revolution, Boston's historic sites are an attraction in themselves. Walk the 2.5-mile Freedom Trail to visit 16 of them around the city, including Revolutionary-era museums, churches, buildings and an impressive warship. Faneuil Hall Marketplace is on the trail, too, and is one of Boston's top attractions, with plentiful shopping, dining and live music. Not much of a walker? Boston Duck Tours operate land-and-water historic tours on World War II-inspired vehicles, which transform from truck to boat mid-tour.
Many museums and sites are tucked along Boston Harbor. The waterfront is always bustling with activity year-round. The harborwalk is the perfect place to meander and explore without a strict agenda. Plan to visit a major attraction or two, but leave time to enjoy the scenery or to pop into a café for a coffee and sweet treat (award-winning Flour Bakery + Cafe is a local favorite).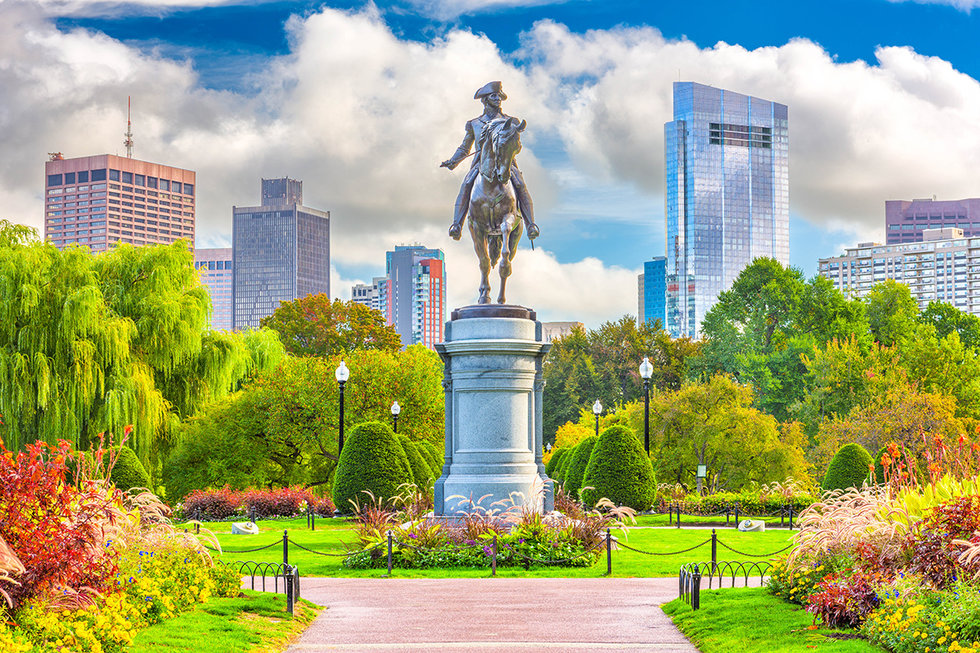 Deemed the "Athens of America," Boston boasts not only some of the country's oldest and most architecturally significant buildings, but also a thriving arts and culture scene. You could spend your entire trip touring its dozens of world-class museums. Take in classical music at the famous Boston Symphony Orchestra, or take a leisurely stroll through Boston Public Garden and Boston Common, the city's most well-known public parks. Riding the giant Swan Boats through the Public Garden lagoon is a kitschy, yet delightful experience, especially for kids.
What to eat
What must you absolutely eat in Boston? In short, everything. Long ago the city was nicknamed Beantown, allegedly after slow-cooked molasses baked beans served to sailors and traders. Today, Boston continues its reputation as a great eating city. From clam chowder to cannoli, the most popular dishes here are often hearty and decadent. Boston is also known for fresh lobster rolls, roast beef sandwiches and, of course, Boston cream pie.
Ask any Bostonian where to find "the best" of anything, and everyone will recommend a different spot. Cannoli from Mike's Pastry, Boston cream pie from Omni Parker House (where it was invented) and the roast beef 1000 sandwich from Cutty's frequently top the must-try lists. If you make it to a ball game at Fenway Park, Fenway Franks are a Boston staple.
Our role in 'Spider-Man™: Far From Home'
In Columbia Pictures upcoming release in association with Marvel Studios, "Spider-Man™: Far From Home," our web-slinging hero finds himself – yep, you guessed it – far from his home in New York City. And since flying is one of the few superpowers Spider-Man doesn't possess, we gave him a little help, meaning United is featured in the film.
The scenes of Peter Parker and his pals traveling to Europe take place on one of our Boeing 777s with the all-new United Polaris® business class, and several of our employees – including members of our Tech Ops, Inflight, Flight Operations and Airport Operations teams – served as actors and production support during shoots at New York/Newark (EWR) and London-Stansted (STN).
London-Heathrow (LHR) Customer Service Representative Manjit Heer and LHR Cargo Warehouse Operations Manager Richard Miller were background extras on board, and multiple flight attendants had a role, including San Francisco (SFO) Flight Attendant Tammy Harris.
"It was extremely surreal," said Tammy. "I was in my element because I was on the plane in uniform, but not really, because I'm not an actor."
Tammy said she hit her mark and delivered her line with gusto, and she's excited to see if she made the final cut when "Spider-Man™: Far From Home" hits worldwide theaters this summer.
"Hopefully, I'll have my two seconds of fame and all will be well," she joked.
Los Angeles (LAX) Aircraft Maintenance Supervisor Fernando Melendez is a veteran of several film shoots but said this one was his favorite. When the production went to London, he was one of five members of LAX Tech Ops who went over to look after our airplane and make adjustments to its interior based on the filmmaker's needs.
"When we parked the plane at Stanstead, there were lights and cameras surrounding us. It was like the plane was the star of the movie," he said. "Each day, we would work with the assistant director; he would go through and say, 'Okay, for this shoot we need these seats, or these panels removed,' so they could get the camera angles. Pretty much, the airplane was our responsibility; we opened it in the morning and closed it at night. We were the first ones there and the last ones to leave every day."
Fernando said the actors were all very gracious and engaging, and said the whole experience was fantastic from start to finish. It also earned him a little cooler cred with his 18-year-old son, who is a massive Marvel fan.
Leading up to the film's premiere this year, there will be plenty of ways for employees and customers to get into the Spidey spirit in anticipation of our cameo. Stay tuned for more details.
---
Peter Parker returns in "Spider-Man™: Far From Home," the next chapter of the Spider-Man™: Homecoming series! Our friendly neighborhood Super Hero decides to join his best friends Ned, MJ, and the rest of the gang on a European vacation. However, Peter's plan to leave super heroics behind for a few weeks are quickly scrapped when he begrudgingly agrees to help Nick Fury uncover the mystery of several elemental creature attacks, creating havoc across the continent!
Directed by Jon Watts, the film is written by Chris McKenna and Erik Sommers based on the Marvel Comic Book by Stan Lee and Steve Ditko. The film is produced by Kevin Feige and Amy Pascal. Louis D'Esposito, Victoria Alonso, Thomas M. Hammel, Eric Hauserman Carroll, Stan Lee, Avi Arad and Matt Tolmach serve as executive producers. The film stars Tom Holland, Samuel L. Jackson, Zendaya, Cobie Smulders, Jon Favreau, JB Smoove, Jacob Batalon, Martin Starr, with Marisa Tomei and Jake Gyllenhaal.
"Spider-Man™: Far From Home" makes its way to North American theaters on July 5, 2019.
What to expect from our improved app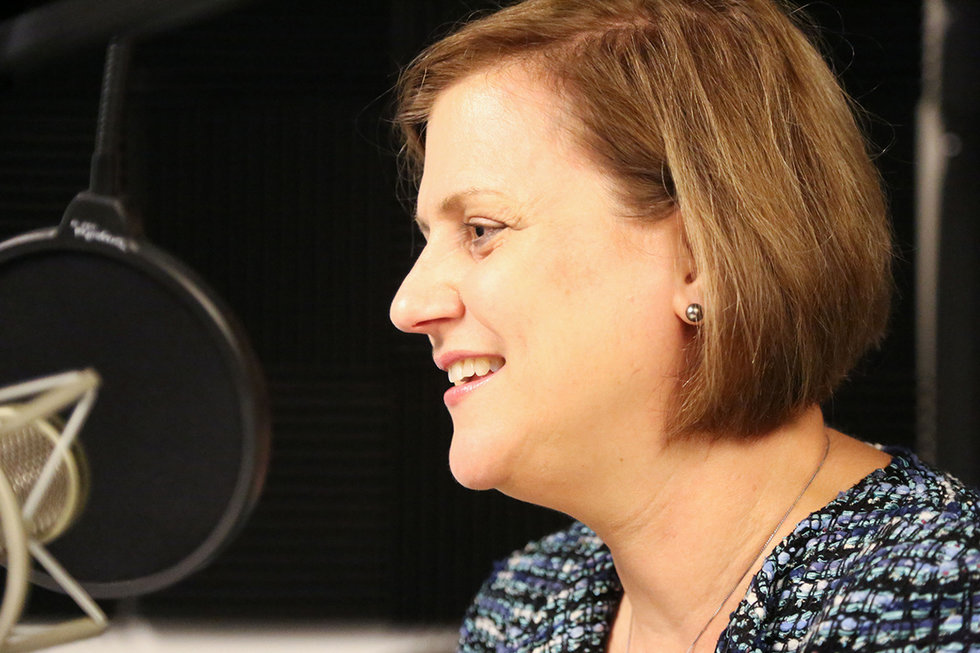 "Talking Points," host Brian Kelly, aka The Points Guy, is joined by Linda Jojo, Executive Vice President for Technology and Chief Digital Officer at United Airlines to discuss what passengers can expect from our improved app.
Read more about the improvements to the United app here.

20 million miles and counting...
On November 7, while flying from Newark Liberty International Airport to Los Angeles International Airport, United customer Tom Stuker made history when he reached 20 million miles flown on a single airline. We were fortunate enough to capture the milestone he reached with us.
To mark the special occasion, we hosted a celebration in Mr. Stuker's honor at the United Polaris lounge at O'Hare International Airport on Saturday. The celebration was delayed a couple of months, so Mr. Stuker could celebrate the event with his family.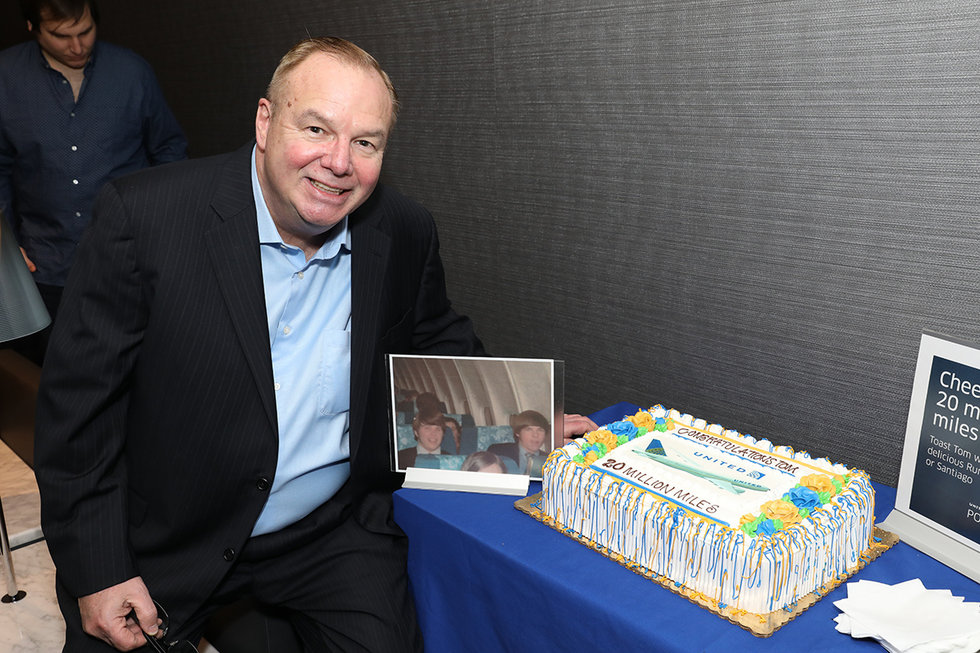 The party included a room full of employees, media members and Mr. Stuker's friends and family enjoying food, cocktails, stories and laughs. To thank him for his long-standing loyalty to United, we also presented Mr. Stuker with gifts made specially for him.
"United makes my dreams come true," Mr. Stuker said to the room full of people.
He also praised United's MileagePlus program, the United Polaris lounges across our system and Oscar's leadership of the airline but, most of all, he praised the service he receives from our employees.
"My favorite part of United is the people. United is such a big part of my life…you are a family to me," he said addressing the United employees. "It would take me days and days and days to say thank you in the right way to the right people. They all know me by now and know how much I care about them as people, how much I care about this airline and its success, and how much I care about the greatest leader this airline has ever had, Oscar."
Bora Bora: The most beautiful island in the world
Each week we will profile one of our employee's adventures across the globe, featuring a new location for every employee's story. Follow along every week to learn more about their travel experiences.
By Chicago-based United Club Customer Service Representative Amile Ribeiro.
They say beauty is in the eye of the beholder. I know it can be very subjective but, once you set your eyes on it, I'm sure you'll agree with me: Bora Bora is the most beautiful island in the world.
There are very few things that can get me out of bed early in the morning, and airplanes are one of those things. We were already in Tahiti and woke up at the crack of dawn to catch our quick flight to Bora Bora. After checking in at the airport and getting a quick breakfast, we headed over to the gate to line up for our flight. Air Tahiti has an open seating arrangement, and we wanted to make sure we got the best possible seats. We were able to secure two windows seats. Travel tip: Sit on the left side of the plane when landing in Bora Bora. We took off from Papeete and within minutes we were flying over Mo'orea. Then we flew around Ra'i ātea and Taha'a, and finally arrived in Bora Bora, the island that Polynesians call "First Born." Pora Pora is the actual local pronunciation, but the first explorers misunderstood it and 'Bora Bora' stuck. Though after setting foot on the island, I've come to call it "Paradise on Earth."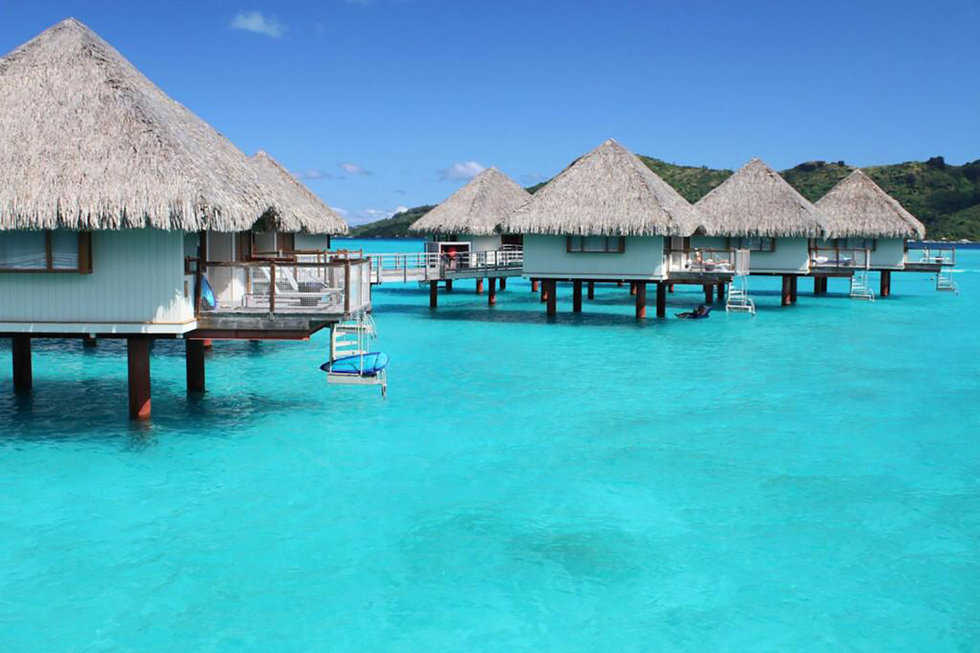 At the airport we were met by a representative of our resort, given flower leis and directed to our high-speed boat. I couldn't believe the color of the water; it was as if Paul Gauguin himself had painted it. After a thrilling ride, we reached our hotel's dock, where a local playing the ukulele welcomed us. We were then given a tour of the astonishing property and were taken by golf cart to our overwater bungalow. We have stayed in many beautiful properties around the world, but when we opened the door of our bungalow our jaws dropped. It is truly a one-of-a-kind experience that all should have at least once in their lifetimes. And worth every penny. The view of majestic Mount Otemanu is something right out of a fairy tale. After the sun set, the nighttime dance show was equally enchanting.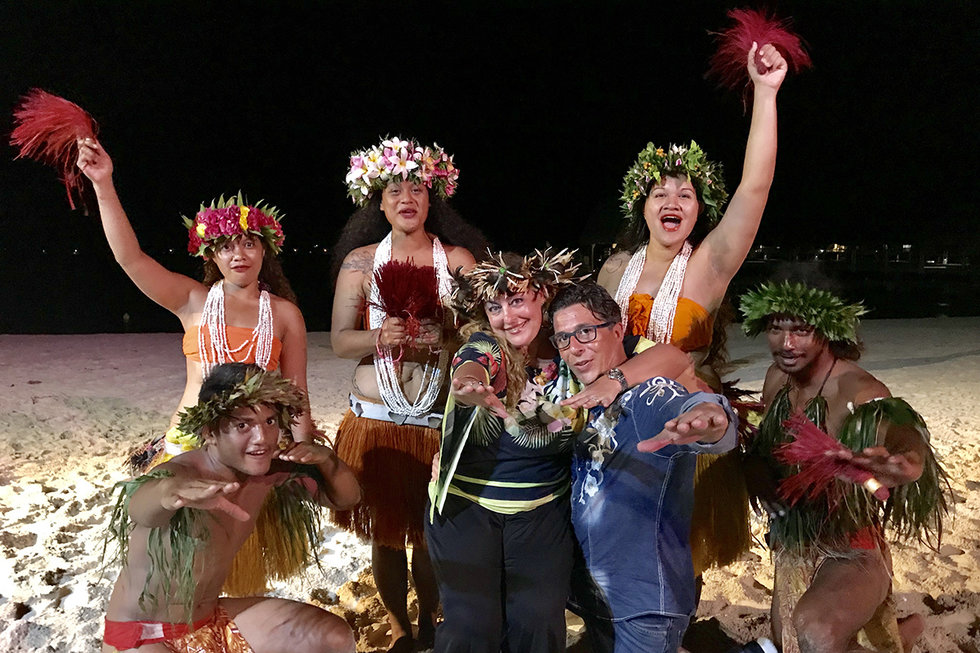 We had planned to be in Bora Bora during the final leg of the famous Hawaiki Nui Va'a canoe competition, which happens to be a major event in the cultural life of French Polynesia and has the reputation for being the toughest canoe race in the world. The center stage was at the island's most beautiful beach, Matira. We stood in awe as the winners reached the finish line after several hours (and days before that) of frantic paddling from island to island, showcasing the power of human strength and endurance. Besides being an incredible sporting challenge, it is also a colorful spectacle that filled the beach with flower-clad women and the air with the pulsating beat of drums. We were also able to celebrate and dance with them later that night at the local ball in Vaitape (Bora Bora's largest city). It was a marvelous way to get a deeper understanding of another culture!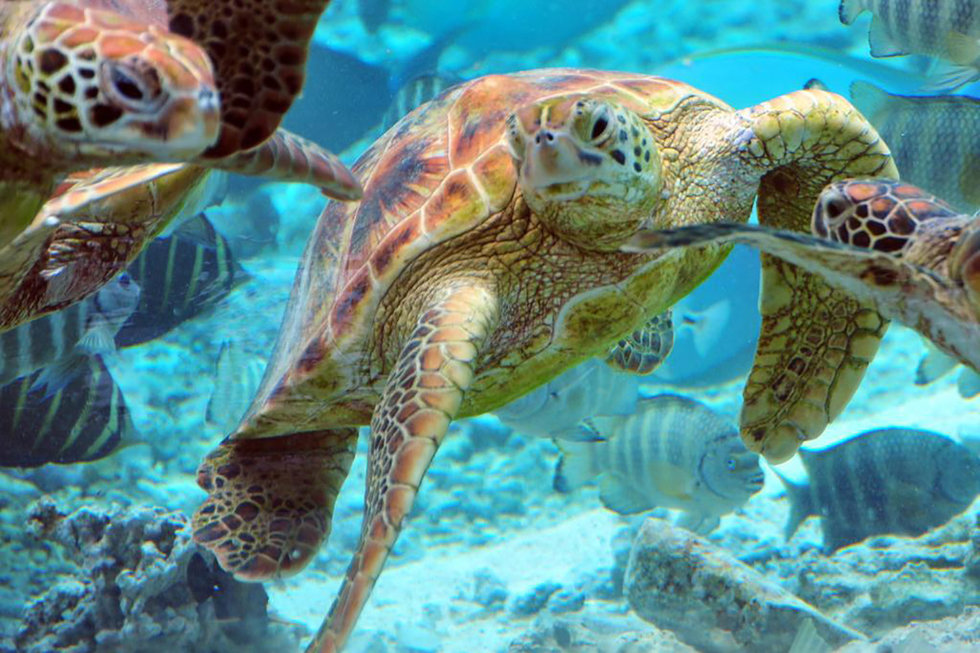 Besides having the time of our lives at the resort's infinity pools, inner lagoons and beach, we also went to the Turtle Center and had a chance to feed these amazing creatures while they're being rehabilitated to go back into open waters. From there, we took a boat tour of the main lagoon and went swimming with stingrays and sharks. Few things scare me in life, and sharks are on the very top of that short list, but I mustered the courage and what a thrill it was! To commemorate my bravery on the last day of our trip, I got my very first tattoo: a hammerhead shark. Polynesians believe that such sharks act as guardian angels to humans and protect us from the Great White. My husband got a Polynesian design that was custom made just for him, and it represents travel, freedom and courage. We also got a set of matching Polynesian wedding bands. Since the art of tattoo originated in Polynesia, this is the most enduring souvenir one can get from such an amazing culture, but I'm sure the memories of our trip will also stay with us forever!

Scroll to top