Three Perfect Days: Nova Scotia
Story by Nicholas DeRenzo | Photography by Chris Sorensen | Hemispheres, August 2015
Canada's second-smallest province tends to conjure images of picturesque lobstering villages, rocky beaches, lonely lighthouses and cold weather. It's true, the winters here can be harsh, but Nova Scotians generate their own kind of sunshine. In fact, the province's defining characteristic is a pervasive sweetness. You can see it everywhere: from the candy colors of its clapboard cottages to the cutesy nickname for non-locals ("come from aways") to the syrupy sauce atop the province's trademark late-night snack (a beef-and-pork gyro glazed with icing). It's a place that, even on the foggiest days (and there are many), could never be described as gloomy.

In which Nicholas goes museum-hopping and tackles the mythic donair
Morning in Halifax means passengers streaming off cruise ships at the bustling seaport, eager to stretch their legs. I'm feeling no such cabin fever, having just awoken in my large, luxurious bed in the nearby Prince George Hotel. Cup of coffee in hand, I stand at my window, looking out over the city's historic downtown.
Breakfast is nearby at Norbert's Good Food, a sunny eatery inside the Halifax Seaport Farmers' Market. Established in 1750, this is North America's oldest farmers market, and its current cavernous home accommodates more than 250 vendors on weekends. Norbert's is well named. Everything on my plate—eggs, bacon, potato rosti—is sourced from the owner's farm or one of his neighbors'. Outside, ships and sailboats drift by, continuing the maritime tradition that has been the backbone of this town for centuries.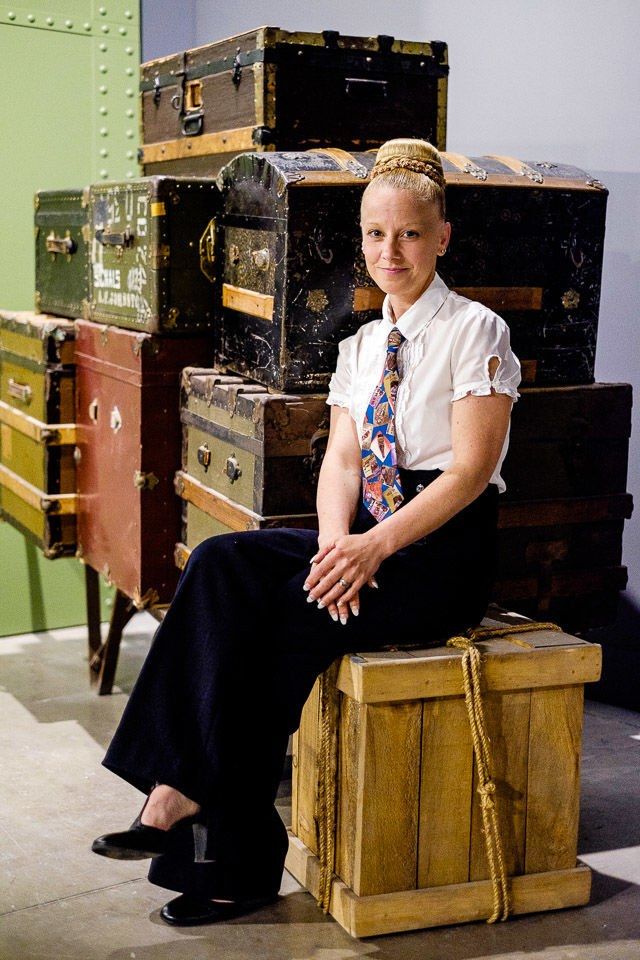 Carrie-Ann Smith, Chief of Audience Engagement at the Canadian Museum of Immigration
Between 1928 and 1971, more than a million immigrants landed next door, at Pier 21, the Ellis Island of the Maritime Provinces (Nova Scotia, New Brunswick, Prince Edward Island). Today, the old redbrick terminal houses the Canadian Museum of Immigration, which was given a $30 million overhaul this summer. I'm here to meet Carrie-Ann Smith, the museum's chief of audience engagement and the brains behind its transformation.
"Listen, Ellis Island was built as a palace; Pier 21 is a shed," Smith says, standing in the expansive entry hall. "But it had this beat-up wooden sign that said 'Welcome Home to Canada,' which I think is just lovely." She's designed a museum that's heavy on interactivity: Visitors are invited to pack virtual suitcases, try on period clothes or set tables for dinner. "They wouldn't let me add a seasickness-inducing machine," she says. "I wish the whole building rocked."
Smith wants to show me her city, so we head outside. As we approach the curb, cars practically screech to a halt to let us cross. Overbearing courtesy, Smith says with a laugh, is one of the province's defining traits. "If you even think about crossing the street here, they stop. Sometimes I pace on the sidewalk, so they don't feel obligated." Fighting politeness with politeness: the Canadian way.
"Every postwar smart aleck came to Canada. I met a Polish man who, when he arrived here, saw a sign saying 'Drink Canada Dry.' he likes to say,'And I've been trying to ever since!'" —Carrie-Ann Smith
We stroll past Pizza Corner, an intersection named for its concentration of pizzerias. At night, with its mix of tourists and Haligonians spilling out of bars, the place has the feeling of Times Square writ incredibly small. Many of these revelers are on the hunt for Nova Scotia's most iconic after-hours snack: not pizza, but donair, a local riff on the gyro supposedly concocted in the 1970s by a Lebanese pizzeria owner (regular gyros were deemed too exotic for local tastes). The lamb was swapped out for beef and pork, and the garlicky yogurt sauce became a sweet white glaze made from evaporated milk and sugar, with a splash of white vinegar and garlic powder.
"That sauce is just candy," Smith says. "Maybe I've never been drunk enough to enjoy it." Despite her warning, I assure her I'll try one tonight.
Next, I head to the Maritime Museum of the Atlantic, which features exhibits on two catastrophes: the 1912 sinking of the Titanic (survivors went to New York; the dead came to Halifax) and the 1917 Halifax Explosion. Though less famous abroad, the latter is a city-defining tragedy; two ships, one filled with ammunition, collided and caused the largest man-made blast of the pre-nuclear age, flattening much of the city and killing almost 2,000. These century-old nautical incidents still loom large and in unexpected ways. The Five Fishermen restaurant, for example, was once a funeral home where Titanic victims were kept before burial. Across the street, the city's oldest building, the 1750 St. Paul's Church, has bits of wood and iron from the explosion embedded in it.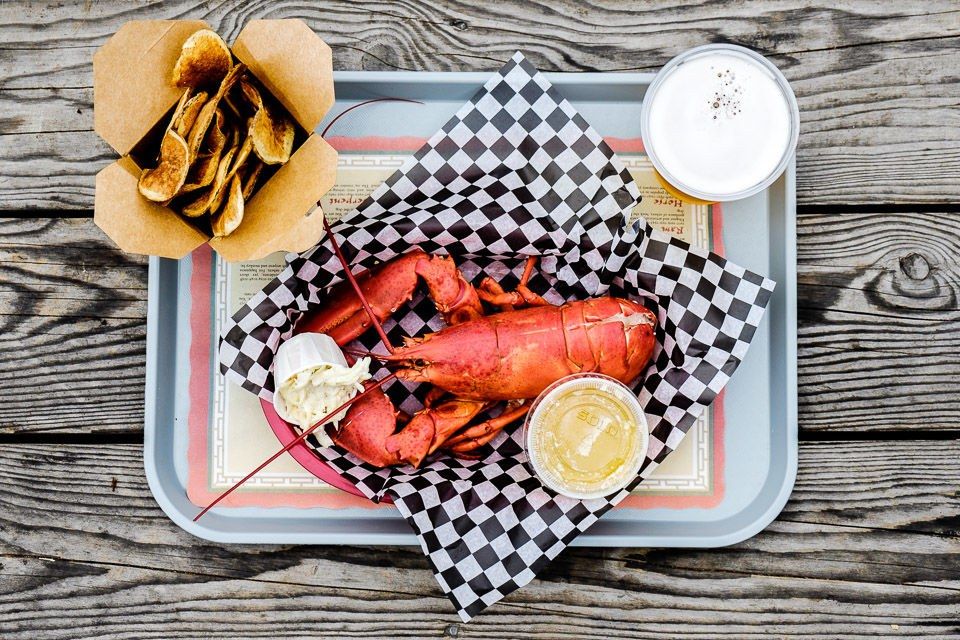 Lobster at the South Shore Fish Shack in Lunenburg
BOOM!
As I leave the museum, a huge blast rings out—bad timing, to say the least. A passing woman notices my expression and smiles in a don't-worry way. "We're not under attack," she says. "That's just the noon gun." Every day, it turns out, the city's hilltop fort fires off a cannon at midday (the ritual has its own Twitter account, @HalifaxNoonGun, with the same Tweet repeated every day at the same time: "#boom").
Feeling a bit #hangry, I head for lunch at 2 Doors Down,chef Craig Flinn's ode to elevated classics. Hearty menu items like smoked potato chowder, crispy haddock burgers and chicken dinner poutine—pulled chicken, cheese curds, peas, stuffing and gravy atop a pile of fries—are the kind of rib-sticking dishes you'd need to get through a Canadian winter.
Winter is also a theme at the nearby Art Gallery of Nova Scotia, where I find Inuit carvings and folk paintings depicting the kind of weather you wouldn't send a dog into. A highlight of the collection is the relocated one-room cottage of the province's most famous folk artist, Maud Lewis, who died in 1970 at the age of 67. Life was hard for Lewis, who stood under five feet tall due to juvenile arthritis, but you'd never know it from her home, in which every surface is painted with an ecstatic array of flowers and butterflies and birds.
Halifax is a hilly city, which works in my favor after my gravyful lunch. I make my way up a steepish slope, pausing in the city's old Grand Parade, bracketed by monumental City Hall, a late-19th-century sandstone pile dominated by a seven-story tower (its clock fixed at 9:04 to mark the Explosion), and the white Georgian facade of St. Paul's. From here, it's a few minutes up to the city's most recognizable landmark: the Halifax Citadel, aka Fort George, which was established here by the British in 1749 to keep the French at bay.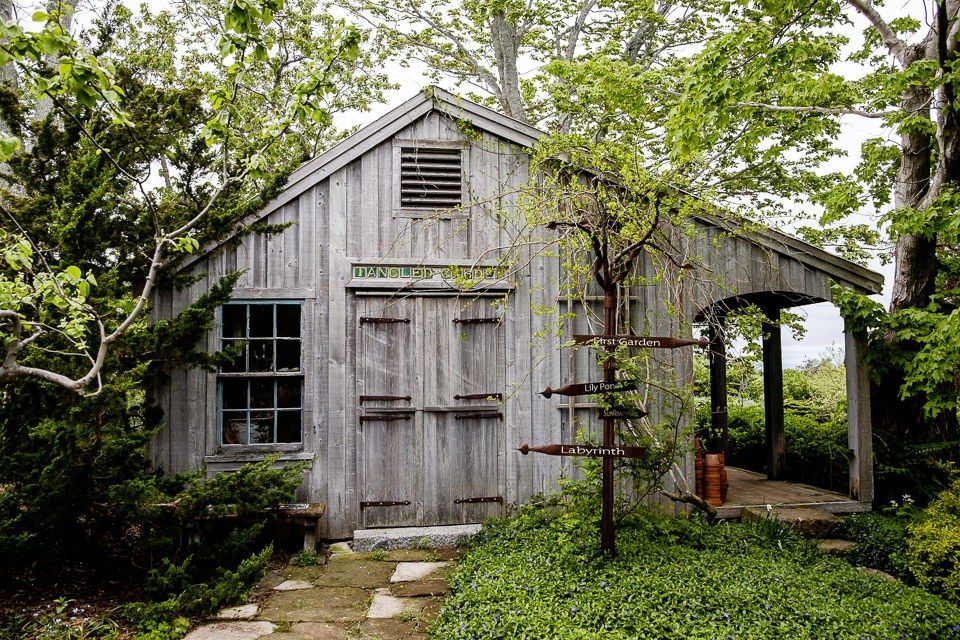 The Tangled Garden in Grand-Pré
The strategic value of the star-shaped fortification's hilltop position—225 feet above sea level—has given way to its sightseeing potential. From the ramparts, I look out over the city's bristling steeples, the forested harbor islands and the smattering of small-fry skyscrapers (the tallest tower here, Fenwick Place, is 322 feet). Closer by are the kilted reenactors of the 78th Highlanders troop, who march in formation in the dusty courtyard below. Oh, right: Nova Scotia. New Scotland.
In the fort gift shop, I'm grilled about my travel plans by the woman behind the counter. Tomorrow, I tell her, I'm heading to LaHave, a coastal town about 70 miles southwest of here, to meet an indie singer named Jennah Barry. "Oh," she says, "I went to high school with her!" Small world. Smaller province.
Heading back into town, I stroll past broad Halifax Common and the Crayola-colored clapboard houses of the North End, a trendy neighborhood that was once the city's industrial heart. I'm having dinner at Field Guide, a hip new eatery (chalkboard menus, yellow metal bistro chairs) run by chef Dan Vorstermans and his wife, Ceilidh Sutherland. Despite the modern flair, the food tastes deeply of the land. A salad of turnips, sorrel puree, cured egg yolk, pickled beets and watermelon radish comes topped with seasonal fiddlehead ferns. "We all went up to Ceilidh's parents' house in Tatamagouche to pick them," the waiter says.
Pan-fried gaspereau, a local river herring, is served with crunchy fried roe sacks and black garlic mayo. There's even a high-minded nod to the donair I've heard so much about, in the form of a steamed bun in which Vorstermans restores the original lamb and adds a bit of lamb liver for "an earthy, gamey, mineraly flavor," plus a sweet but nuanced sauce of house-made condensed milk, fresh garlic and apple cider vinegar.
After dinner, I head across town to Argyle Street, a strip of Anglo-Irish-Scottish pubs, many with live music (heavy on the fiddle) streaming out the windows. I'm here to have a drink with Andrew Al-Khouri, a former "Master Chef Canada" finalist who hails from Cape Breton, Nova Scotia's version of the Scottish Highlands. Fittingly, I meet Al-Khouri at the Loose Cannon, a wood-paneled pub with more than 70 Scotch varieties. After a shot of Glenora Glen Breton—North America's first single-malt whiskey, also from Cape Breton—I find myself once again discussing donair.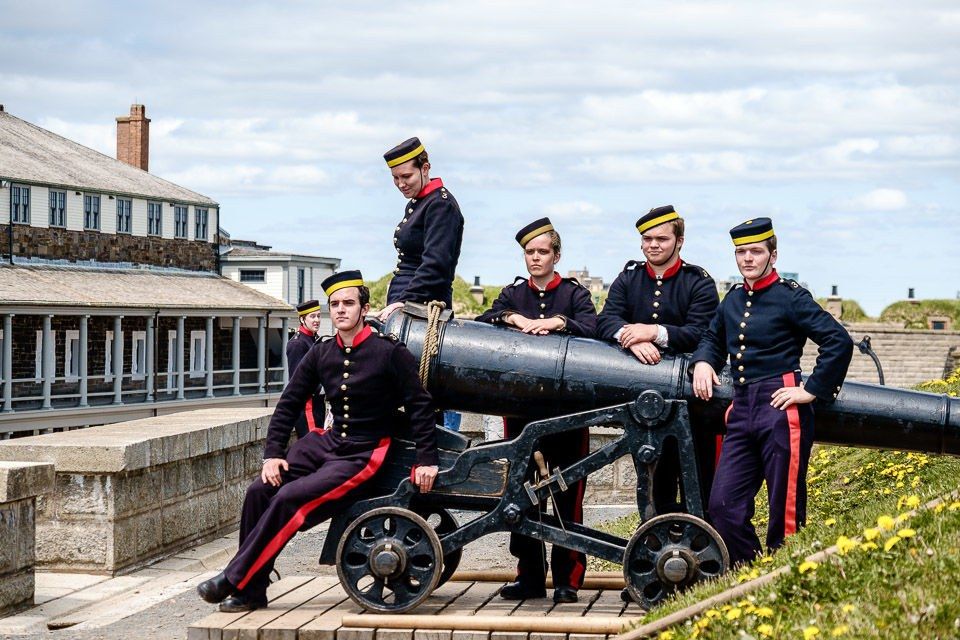 The Halifax Citadel Royal Artillery and the cannon that fires off the daily noon gun
"They asked us to submit an audition dish, and I did donair gnocchi as a joke," the chef says of his reality TV stint. "Most people made Wagyu beef—mine cost $1.50 to make." Al-Khouri has spent years drawing inspiration from the late-night snack. In college, he invented the donair omelette after passing out drunk on top of one and trying to figure out what to do with its mangled remains. Since then, he's come up with duck donair poutine and a frisée and beet salad served in an edible donair-meat cup.
Al-Khouri suggests we go get a couple of donairs for the road. A minute later, we're at Mezza Lebanese Kitchen. "He's from New York," Al-Khouri tells the guy behind the counter, "so make him the best donair ever!" It's messy, meaty and weirdly sweet. In other words, perfect.

In which Nicholas traces the Lighthouse Route and makes beachside s'mores
Halifax has long served as an entry point to Nova Scotia, but my plan for today is to see what lies beyond. I set out early and wind down the coast to the South Shore, which looks and feels like rural Maine. Fifteen minutes outside the capital, I'm surrounded by pine-studded islets, pristine lakes, rocky beaches and cottages with brightly colored Adirondack chairs pointing out toward the sea.
Like pretty much everyone who travels the Lighthouse Route, I pull into Peggy's Cove to get a look at the trail's namesake—a perfect white lighthouse on a wave-beaten promontory, shrouded in photogenic fog. Just behind me is an equally lovely lobster-fishing village. It's the kind of view that makes you entertain relocation fantasies, although the porcupine waddling across the street as I depart might be overdoing the cuteness a bit.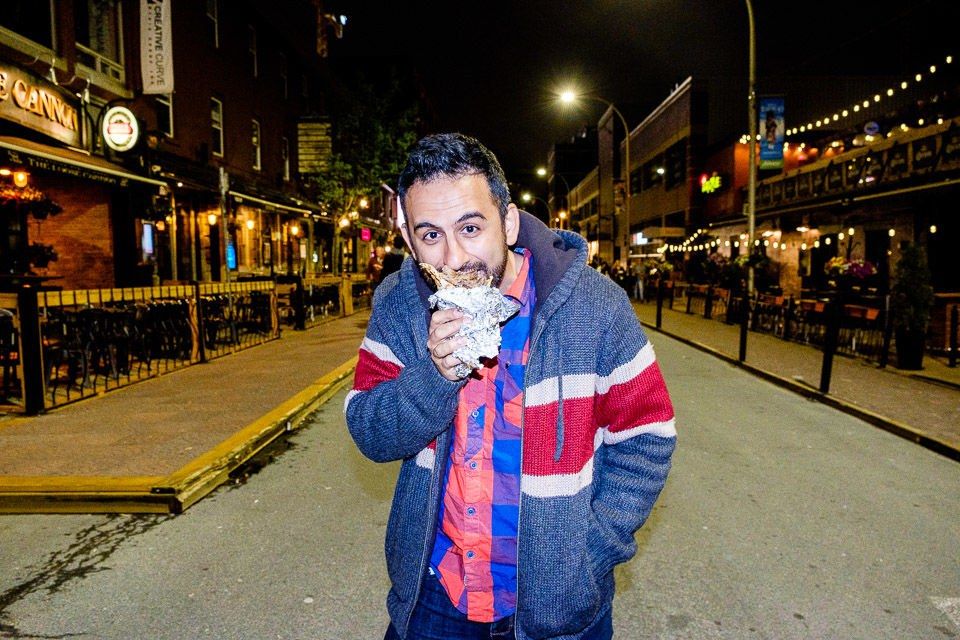 Andrew Al-Khouri, Cook and "Master Chef Canada" contestant (and yes, he's eating a donair)
After a quick stop for coffee and snacks at the cozy bookstore/bakery Biscuit Eater, farther down the coast in Mahone Bay, I'm on to Lunenburg. This colorful cod-fishing town is home to the continent's best-preserved planned British colonial settlement, dating to the 1700s—a distinction that has earned it the status of UNESCO World Heritage Site. It'd be easy to do a drive-by gawk, but I'd like to get a closer look, so I've set up a tour with seventh-generation Lunenburger Shelah Allen, who co-owns Lunenburg Walking Tours.
We meet at the town's turreted High Victorian showpiece, the Lunenburg Academy, where Allen went to elementary school. "This is gallows hill, surrounded on three sides by a graveyard—lots of fodder for children's imaginations," she says. "People always expect it to be scary or haunted, but I have to say, 'Sorry! Happy building!'"
"What's awesome about Nova Scotia is that it's the kind of place where you'll find yourself drinking in a kitchen with ten fiddle players." —Andrew Al-Khouri
As we stroll the surrounding streets, Allen points out a cod atop a church weathervane. "People always ask if the fish is a Christian symbol," she says. "And I say, 'Sort of—it's a symbol of what we're most thankful for.'" She also introduces me to a renowned architectural flourish that originated here, the Lunenburg Bump, a protruding window in which the lady of the house would sit and knit, to see and be seen. "I think of it as early Facebook," she says.
Allen is quick to note that Lunenburg isn't too precious about its heritage. "We don't wear costumes," she says. And while the pink and blue and red buildings may look fanciful, they house hardware stores and bars. This is a working town.
We head down toward the waterfront to grab lunch at the South Shore Fish Shack, where Allen insists I order the lobster. "The water's super-cold, the shells are harder, the meat's sweeter—we have the best lobsters in the world here," she says. "Though people from Prince Edward Island would say we're full of crap." I hate to take sides in a Maritime dispute, but the lobster is pretty amazing.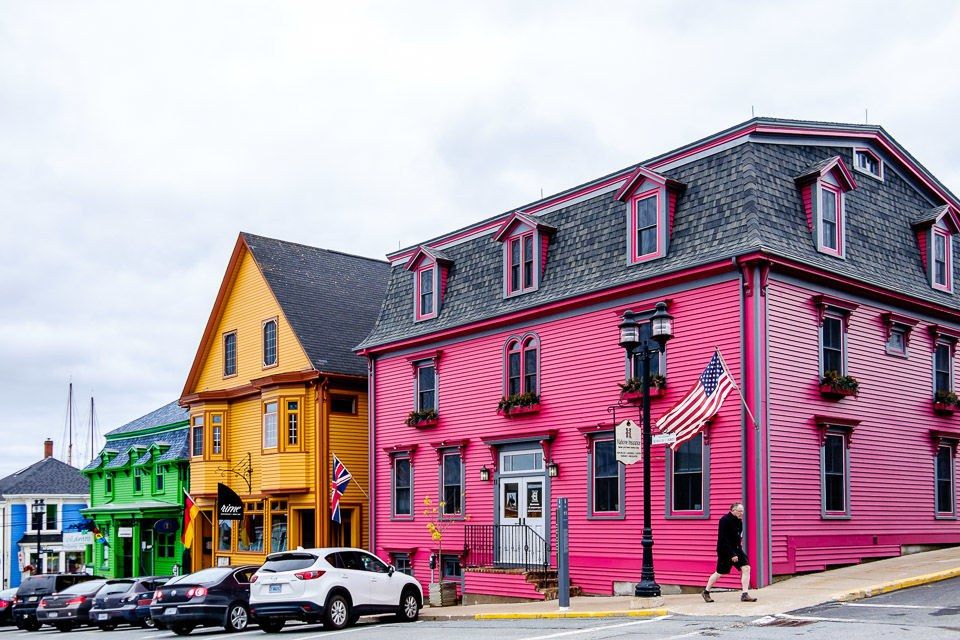 The colorful houses of Lunenburg
On my way out of town, I stop into Ironworks Distillery, which occupies an 1890s blacksmith shop. Along with dark rum (a nod to the province's rum-running days), the distillery makes liqueurs with flavorings like cranberry and a hearty local fruit called arctic kiwi. I grab a bottle of apple vodka, which still tastes faintly of the fruit grown in the province, and receive a perfectly Nova Scotian outburst when my credit card doesn't swipe. "Oh turtleneck!" says the cashier, and then, under her breath, "That was me swearing."
After a short ferry ride across the LaHave River, I stop at the LaHave Bakery. The place feels like an old general store, with wooden shelves loaded with fresh bread made from locally milled grains. It's the perfect spot to meet Jennah Barry, a rootsy redheaded spitfire singer-songwriter who recorded her indie folk-pop album, Young Men, just across the river, and who lives nearby "on top of this hill, in a little cabin I built."
Barry clearly has a kinship with the area, especially this bakery. "This is the hub," she says. "If you don't know where anyone is, you just come here. None of my friends have cell phones, which is great. When people say they'll be somewhere, they'll really be here. We're the least apathetic people in the world."
How does being from Nova Scotia play into the way people perceive her? "People see me as this sweet rural girl," she says. "I don't feel like an apron-wearing country girl … though I guess I am? I will say I am a very aggressive driver."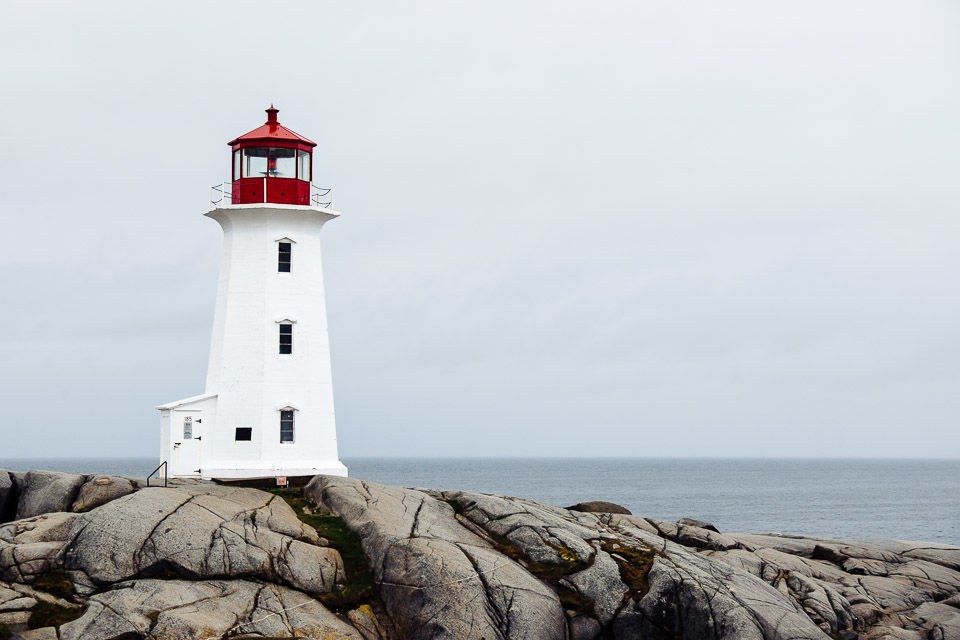 Peggy's Point Lighthouse
And if this whole singing thing doesn't work out? "I always have a job waiting for me in PEI," she says with a laugh, noting her resemblance to the neighboring province's most famous export, Anne of Green Gables.
Next, Barry takes me upstairs to meet her friend Jesse Watson, owner of Homegrown Skateboards. Here, in a raw attic space that houses a bowl for testing boards, Watson crafts decks out of Canadian hardrock maple and sells T-shirts with slogans like "Too much moxie breeds mayhem in the streets"(from a 1965 Life headline about skateboarders). Talk turns to this year's once-in-a-lifetime winter.
"It was arctic, full-on," Watson says. "No one could go out, but there was this weird romance of isolation."
"You get kind of squirrelly," adds Barry. "You get up to weirder stuff, because you have to." As for what counts as weird in these parts: "We're going to an Under the Sea costume party tonight, and everyone's congregating here to finish up their costumes," says Watson, who will be going as a shark head.
"And I'm gonna cut a hole in this blue tarp," says Barry, "and be water."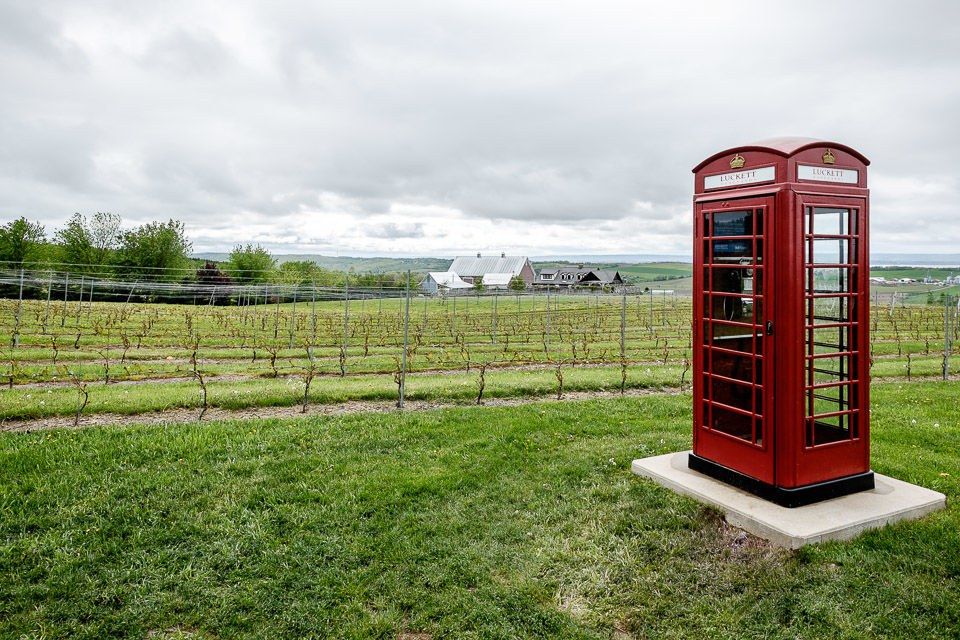 The Luckett Vineyards phone booth
I'm sure I could have whipped up a mean kelp get-up, but I have to head farther south before nightfall. I'll be staying at the White Point Beach Resort, a 1928 family retreat overlooking the Atlantic that calls to mind the Catskills lodge in Dirty Dancing. A sign by the entrance reads, "Children and bunnies are everywhere," and there's truth in advertising. The lawn around my swank-summer-camp beachfront cabin is hopping with domesticated rabbits that escaped and multiplied decades ago. The resort hands out paper baggies of rabbit food by the front desk, but I can't help but feel they'd do better handing out packets of rabbit birth control.
After a dinner of deliciously rich planked salmon chowder and homegrown mussels at the resort's Elliot's Dining Room, I head to the beachside bonfire for s'mores, served with a rotating slate of Nova Scotia–born products, including haskap jam, made from a dark blue Japanese berry that's fast becoming this region's superfood du jour. It shows up everywhere here.
I take a stroll on the beach until my sugar high wears off and then head to bed, where I'm warmed by a crackling fire. And yes, it took this city boy quite a few tries to get it going.

In which Nicholas pretends to know about wine on the shores of the Bay of Fundy
I start my day at Elliot's, watching surfers brave the chilly Atlantic, as I dig into pancakes and chorizo hash slathered in maple syrup (remember, it's all about nostalgic Canadiana here). Then I'm on the road, heading across the province to the up-and-coming Annapolis Valley wine region, on the Bay of Fundy. Separating Nova Scotia and New Brunswick, the bay boasts the world's highest tides. There can be a 50-foot difference between high and low tide here, as more than 100 billion tons of water drain out twice daily, stranding boats (and unlucky fish) on the dry seabed.
Within two hours, pine forests open up to rolling meadows, weathered barns and dairy cows, then the tell-tale geometry of wine country—rows, rows, rows. I end up in the college town of Wolfville, where I'll be staying at the Blomidon Inn, which occupies a stately 19th-century sea captain's mansion.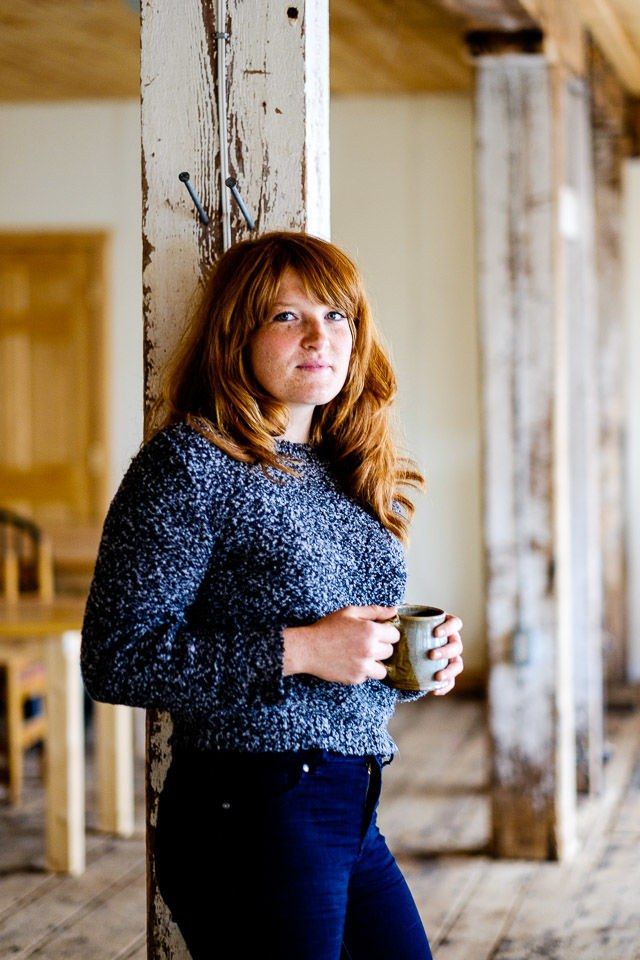 Jennah Barry, Singer-songwriter
First, a reenergizing cup in nearby Grand-Pré, at Just Us! Coffee, Canada's first fair-trade coffee roaster. It's the kind of café where your barista may discuss the subtle distinctions between Peruvian and Ethiopian beans, but it's also just a casual hangout (as evidenced by the farmer parking his John Deere out front). Next door, I duck into the Tangled Garden, which feels like the cottage of a friendly sorceress. Dried flowers, grown outside, hang from the rafters; jewel-tone bottles and jars line every shelf, filled with things like cherry anise hyssop jam and rose petal and lavender vinegar.
For lunch, I'm meeting Gillian Mainguy, director of the Atlantic Wine Institute. A native Ontarian—which makes her a CFA, or "come from away"—she has a back-slapping, shoulder-punching manner. We're not in Bordeaux anymore, Toto. This newly hip wine region is racking up the accolades (a local sparkling wine recently beat Champagne at a global competition), but it hasn't let success go to its head.
"We're getting a lot of hype among wine geeks," Mainguy says. "But we want to be approachable. We never want to be snobby." We meet at Luckett Vineyards, where her husband is winemaker. "Which," she promises, "isn't the only reason I took you here!" Owner Pete Luckett is a British entrepreneur behind the local Whole Foods–style market Pete's Frootique, and his heritage crops up in clever ways, including the red phone box in the middle of the vines (offering free calls within North America) and wine names like Black Cab, a red made from sun-dried grapes.
"I used to live in Toronto. I got super - overwhelmed, because there was so much noise stress. When I got back to Nova Scotia, the music just came pouring out of me—tons of musicians come out of here." —Jennah Barry
Over steak and mushroom pie on the patio, we talk about the terroir here. The cold climate makes it ideal for crisp whites, including the region's first appellation variety, Tidal Bay, a blend of Nova Scotia–grown grapes. Ten area wineries offer takes on the signature blend. I'm a wine novice, but I taste grapefruit and lychee. "There's definitely a pucker there," she says, "It pairs beautifully with Nova Scotia lobster." Like a bracing spritz of lemon.
Next, it's a 10-minute drive to Grand-Pré National Historic Site, a peaceful refuge of manicured gardens and songbird-filled woods dedicated to the 1755 expulsion of the French-speaking Acadians by the British. They'd go on to resettle as far south as Louisiana, where they became known as the Cajuns. While they were once dominant throughout Nova Scotia, the Acadian presence has been all but wiped out, save for a few Francophone towns founded when the Acadians were allowed to return home decades later.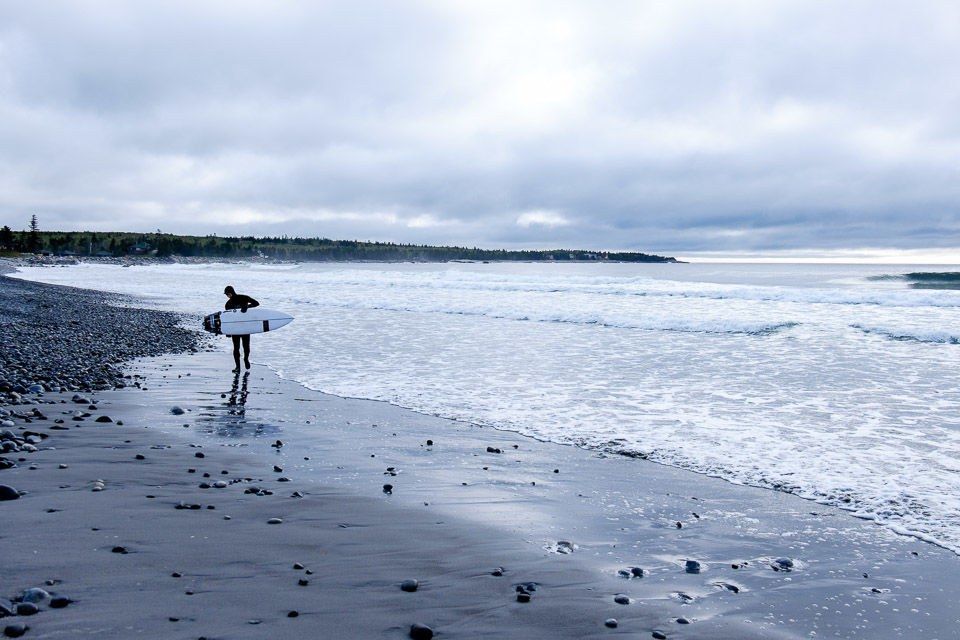 A surfer at White Point Beach Resort
Inside the site's 1922 memorial church, I meet ranger François Gaudet, a descendant of the expelled who sees his own return to the area as an act of historic defiance. "I'm an artifact of the deportation," he says. "I should not be here. I should not speak French. I consider myself a miracle." He points out a statue of Evangeline, the heroine of an 1847 Henry Wadsworth Longfellow poem about the expulsion.
"If it weren't for Longfellow, we might not even know about the Acadians," he says. "The poem used to be required reading in schools, but the newer generation doesn't know about that story." With that, the park's resident cat strolls by, brushing against my leg. Her name? "Evangeline, of course."
The surrounding farmlands were reclaimed from the bay by an ingenious system of Acadian dikes that tamed the Fundy's fearsome tides back in the 1680s—a plan so inventive the area was named Nova Scotia's third UNESCO World Heritage Site in 2012, one of only 16 in all of Canada. I drive through the valleys, stopping at Fox Hill Cheese House, a dairy farm where swallows tumble in the breeze, and at Gaspereau Valley Fibres, a yarn store watched over by a small herd of alpacas.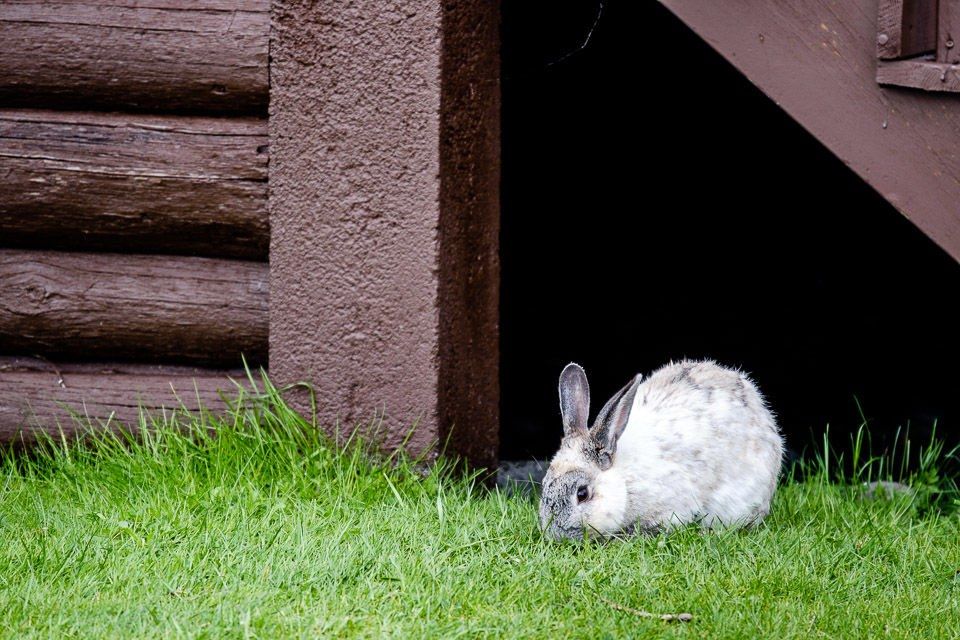 A bunny at White Point Beach Resort
I finish my evening with a dinner of rabbit torchon and salad with brown butter vinaigrette at Le Caveau restaurant at the Domaine de Grand-Pré winery. Kenan Thompson from "Saturday Night Live" is also here at the winery, sipping Tidal Bay. This, I think, is the new Nova Scotia, a place where New York celebrities rub shoulders with dairy farmers, where winemakers out-French the French.
After dinner, I drive up to the Blomidon Lookoff. In the half light, the land below looks like a faded patchwork quilt. It's not the most dramatic scenery I've encountered here, but it's among the most significant, reclaimed from the sea by age-old ingenuity. Up here, I appreciate the connection Nova Scotians have with the land. You hear them tell of it when they recount stories both historical and personal. As Ironworks Distillery co-owner Pierre Guevremont told me earlier, while we sipped his flavored spirits, "The rhubarb liqueur is our most emotional product, because everyone has a link with their grandmother's backyard. We all have a rhubarb story."
Hemispheres senior editor Nicholas DeRenzo is looking into opening a donair food truck in Brooklyn.
Made with Atavist. Make your own.
This article was written by Nicholas DeRenzo from Rhapsody Magazine and was legally licensed through the NewsCred publisher network.
As a member in the tourism, travel and transportation industries, United offers a unique perspective into the economic and operational effects rippling across the U.S. To advocate United's efforts, and in anticipation of a bright future, New York/New Jersey President Jill Kaplan and California President Janet Lamkin have both been named to their states' respective governor's COVID-19 response task force committees.
Appointed by New Jersey Governor Phil Murphy, Jill joins the New Jersey Restart and Recovery Advisory Council ­— a group of business and municipal leaders tasked with planning to restart the state's economy.
"Serving on Governor Murphy's Restart & Advisory Council uniquely positions us in the epicenter of helping to restart state's economy by providing innovative ideas, sharing best practices and creative thinking to help ensure the rebuilding of New Jersey's economic vitality alongside notable business leaders," said Jill. "I'm honored to represent United Airlines and the transportation industry as a core building block to expediting the state's recovery."
United is the sixth largest company in the state and one of the largest essential businesses continuing to operate through this crisis, and as or advocate, Jill will share some of our best practices and lessons we're learning with the nine different committees through the customer and employee lens.
On the opposite coast, California Governor Gavin Newsom last month appointed Janet to his Task Force on Business and Jobs Recovery. Joining Janet at the table are former California governors, legislative leaders and CEOs and executives from numerous businesses with large stakes in the state, such as Apple and Disney. In addition to Janet's position on the task force, Janet is also serving on the Long-Term Jobs Recovery sub-committee and will advocate for industries suffering long-term ramifications of COVID-19 such as tourism, travel and entertainment.
"Being appointed to Governor Newsom's Task Force on Business and Jobs Recovery ensures that United is part of the important conversation and part of the plan to help California pave the way toward a fast, safe recovery of jobs," said Janet. "It is an honor to represent the only transportation business on the task force, and I look forward to working alongside a group of very distinguished leaders and focusing on innovative ways to rebuild the economy for our 40 million residents. This work will build on our partnership with the Governor to provide free flights for medical volunteers and having our employees call to check in on isolated older adults as part of the Social Bridging Project."
Pre-COVID, we transported 38 million passengers to, from and within California each year, and directly and indirectly supported tens of thousands of jobs, so the health and well-being of the industry is vital to the prosperity of the state.
As the only airline represented among each of these groups, Jill and Janet are working hard to ensure that our voices, as a company and industry, are heard, valued and utilized as a new chapter dawns on the horizon.
Hello. I'm Scott Kirby, the new CEO of United Airlines. I'm a proud Air Force Academy graduate and have spent my entire career in and around aviation, including the last four years as President of United.
While I had planned for my first communication with you to be about the meaningful investments we were making to the travel experience and our continued growth across the U.S. and expansion to exciting new destinations around the world, today, the situation rendered to us by the COVID-19 pandemic leads me to a different type of message.
First, I graciously and humbly thank you for your business. Now, more than ever, our customers' loyalty is so deeply appreciated by every member of the United family.
As essential workers, the men and women of our airline have been hard at work over the past two months to transport vital medical supplies and critical goods to places that need them most, to provide free travel to healthcare professionals and to help thousands of individuals repatriate to their home countries.
Safety has always been our top priority, and right now in the midst of an unprecedented crisis, it's our singular customer focus. We recognize that COVID-19 has brought cleanliness and hygiene standards to the front of your mind when making travel decisions. We're not leaving a single stone unturned in our pursuit to protect our customers and employees.
We are installing plexiglass in lobby and gate areas, we're using the same equipment used to clean hospitals to disinfect the interiors of our aircraft, all crew and customers on board are required to wear face mask coverings and we're taking the temperature of our employees before they start work.
But at United, we're not stopping there. We're teaming up with experts from Clorox and the Cleveland Clinic to set a new standard for cleanliness and healthy flying that we are calling United CleanPlus℠.
Clorox is working closely with us to improve how we disinfect common surfaces and provide our customers with amenities that support a healthy and safe environment.
Physicians and scientists at the Cleveland Clinic, will advise us on new technologies and approaches, assist in training development and create a rigorous quality assurance program. And, as scientists learn more about how to fight COVID-19, Cleveland Clinic experts will help us use those discoveries to quickly implement new ways to keep our customers safe.
While we may not know when this pandemic will subside, what we do know is that travel is so deeply woven into the fabric of our global culture. We all desire to visit family, dance at a friend's wedding, hug parents…and see the wonders of this beautiful world. No matter how sharp the picture quality – or how strong the WiFi signal – there's simply no substitute for being there – in person – to collaborate, celebrate, explore. We are confident that travel will return. And when it does, United Airlines will be ready to serve you again in the friendly skies.
Thank you. Be well. And I look forward to seeing you on board.

We remain passionate about connecting the world safely
United CleanPlus SM is our commitment to putting health and safety at the forefront of your journey, with the goal of delivering an industry-leading standard of cleanliness. We're teaming up with Clorox to redefine our cleaning and disinfection procedures, and over the coming months, we'll roll out Clorox products across our U.S. airports, starting in select locations, to help support a healthy and safe environment throughout your travel experience.
At the airport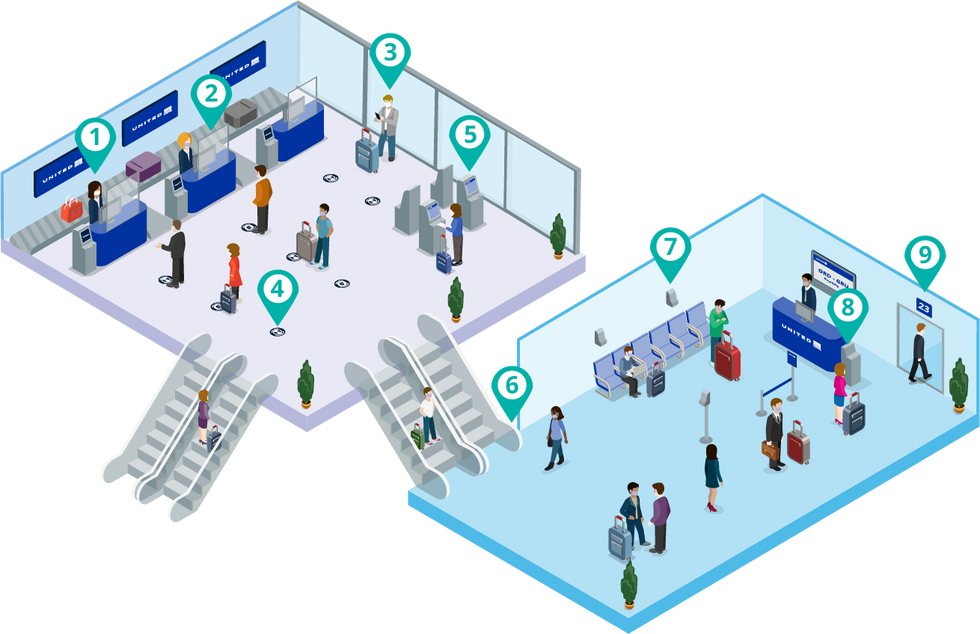 At check-in:

Implementing temperature checks for employees and flight attendants working at hub airports
Installing sneeze guards at check-in and

gate podiums

Encouraging use of the United app for contactless travel assistance and more
Promoting social distancing with floor decals to help customers stand 6 feet apart
Introducing touchless check-in for customers with bags

At the gate:
Disinfecting high-touch areas such as door handles, handrails, elevator buttons, telephones and computers
Providing hand sanitizer and
disinfectant wipes
Allowing customers to self-scan

boarding passes

Boarding fewer customers at a time and, after

pre-boarding

, boarding from the back of the plane to the front to promote social distancing
On our aircraft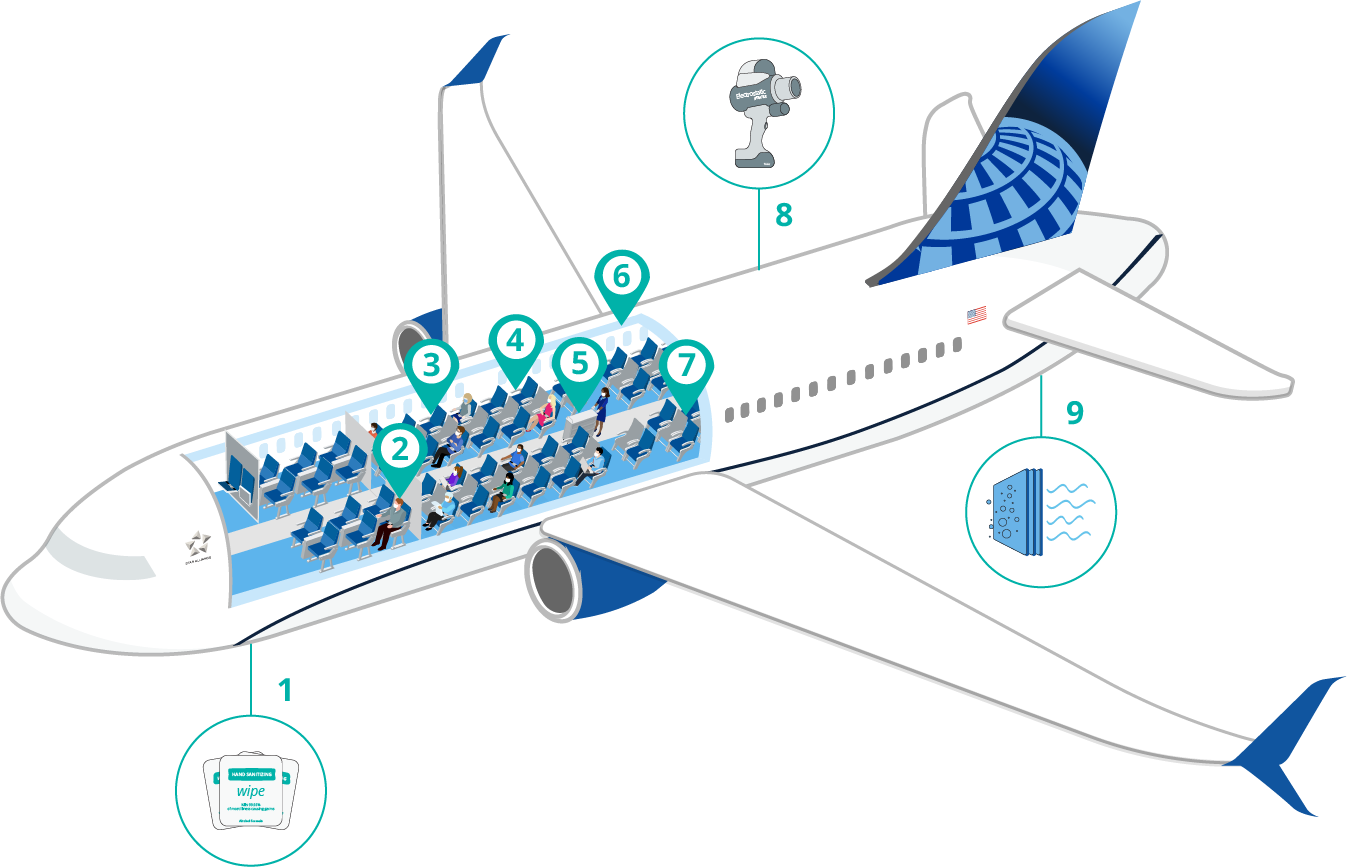 Providing individual hand sanitizer wipes

for customers

Requiring all customers and employees to wear a face covering and providing disposable face coverings for customers who need them
Temporarily removing onboard items like pillows, blankets and inflight magazines
Disinfecting high-touch areas, like tray tables and armrests, before boarding
Reducing contact between flight attendants and customers during snack and beverage service
Ensuring aircraft cleaning standards meet or exceed CDC guidelines
Applying social distancing to seating procedures when possible, including:

Limiting middle seat selection
Moving customers seated closely together
De-planing in groups of five rows at a time to reduce crowding

Using electrostatic spraying to disinfect aircraft, to be completed on all flights by mid-June
Using state-of-the-art, hospital-grade, high-efficiency (HEPA) filters to circulate air and remove up to 99.7% of airborne particles

We're working closely with the experts at Cleveland Clinic to advise us on enhancing our cleaning and disinfection protocols for the safety of our employees and customers. Visit Cleveland Clinic's website to learn more about COVID-19.
Together, we are facing an unprecedented challenge. United Together, we rise to meet that challenge.
Learn more
United Airlines
united
To allow for additional flexibility, flights booked now through June 30 can be changed for free over the next 12 months. All existing travel can be changed without fees as well. See waiver for details:
uafly.co/2M9vgLC
We Are United
weareunited
#AMTDay
is in honor of Charles Taylor, Wright Brothers' mechanic. The highest honor an aviation maintenance technician can receive is his namesake award. Congratulations, Garrick C. (HNL), Phil D., Bud G. and Benny G. (all SFO) who've received it in the past year.
#BeingUnited
We Are United
weareunited
United regional presidents Jill Kaplan and Janet Lamkin will join their states' respective governor's committees tasked with planning to restart the state's economy. Learn more about how they plan to help pave the way toward a fast, safe recovery of jobs.
uafly.co/2zjPrDI
We Are United
weareunited
Oscar, thank you for listening and learning as you traveled the system the past five years. We will carry the New Spirit of United with us as we respond and recover from this historic challenge --
#UnitedTogether
as we care for each other and serve our customers. 💙
#BeingUnited
Watch our most popular videos
Flying UCSF Medical Workers to New York
This is why we fly.
20 UCSF Health workers, who voluntarily set aside their own lives to help save lives, are on their way to New York City.
We are humbled by your selfless sacrifice.
Thank you.
#UnitedTogether #UCSFHeroes
A happy, Hollywood ending
This is the story of Jason and Shantel. You see, Jason and Shantel love each other very much. They also love traveling and they love the classic Adam Sandler film, The Wedding Singer.
It all began when Jason reached out to United's social media team, hoping for assistance with his upcoming plan to propose. Some phone calls and one borrowed guitar later, the stage was set for Jason. Put all that together, mix in some helpful United employees and, voila, you have a truly memorable marriage proposal. Congratulations to this fun-loving and happy couple, and here's to many more years of making beautiful music together.
A big thank you to Chicago-based flight attendants Donna W., Marie M., Karen J. and Mark K. for making this proposal come to life.
Copyright © 2020 United Airlines, Inc.
All rights reserved.
Indicates an external site that may or may not meet accessibility guidelines.
Scroll to top
Scroll to top