Three Perfect Days: Oslo
Story by Chris Wright | Photography by Ilja C. Hendel | Hemispheres, July 2015
When people talk about a city's golden age, they're generally referring to the past. Oslo, though, is hitting the heights right now. The Norwegian capital has always had its appeal—natural beauty, courteous citizens, cultural heritage—but it's never been considered a hotbed of excitement and innovation. Until now. Over the last few decades, Oslo has undergone a massively ambitious revitalization project, bankrolled by Norway's oil reserves and driven by a broad effort to forge a lasting national identity. The city today is bursting with groundbreaking architecture, art and cuisine, its citizens brimming with optimism and energy. People say this sort of thing all the time, but with Oslo it's true: There has never been a better time to be here.

In which Chris attempts two difficult tasks: paddleboarding and understanding the Norwegian government
So here I am, in Oslo.
Actually, that's not completely true. Strictly speaking, I'm a few feet offshore, up to my nostrils in fjord water. Nearby, a classical pianist named Aksel Kolstad is offering advice. "Grab the board!" he is hollering. He is also laughing, which doesn't seem right.
Kolstad, a keen paddleboarder, has taken me for a turn around Oslofjord, and I've gone in. "I'm going in," I'd announced earlier, a moment before I toppled into the clear, cold water. A small crowd has gathered to watch as I dig my fingernails into a boardwalk, unable to haul myself up, unwilling to let go.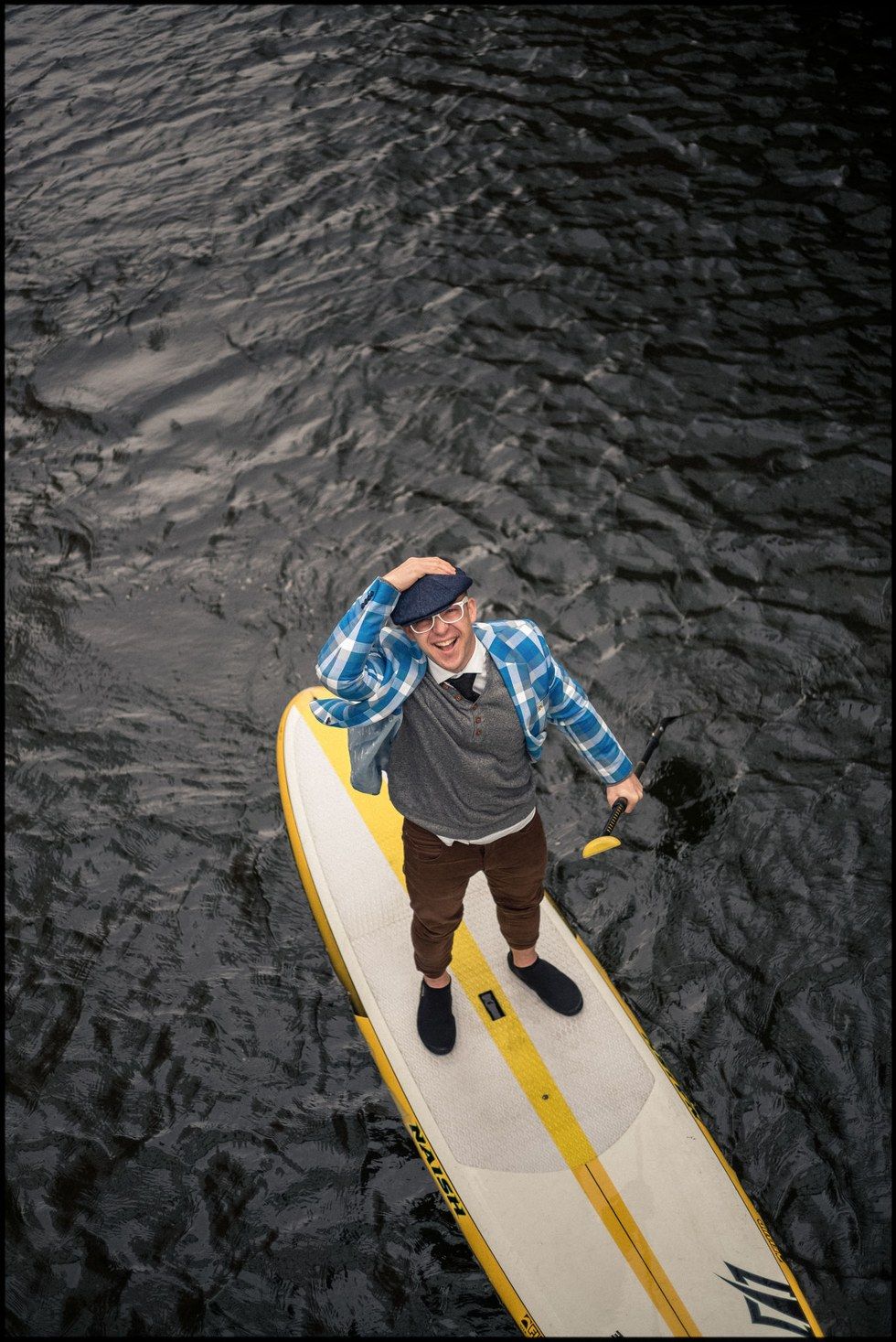 Aksel Kolstad, Classical pianist
How different it was a few hours ago. I woke up in a stylish hotel room nearby, amid puppy-soft pillows and dark wood finishes. Across from my bed was a sliding door and a balcony. After grappling for a while with the Minority Report coffee machine, I stood out there and gazed dreamily across the water that is now claiming both my body temperature and my dignity.
Historically, high-end hospitality in Oslo has tended toward the Baroque—giltwood mirrors and looming chandeliers. The Thief, with its retro-futuristic décor, is the city's first true boutique hotel, set in the city's first boutique neighborhood: Tjuvholmen (Thief Island), a tiny peninsula that was a shabby port a decade ago but now bristles with oil-money architecture, including Renzo Piano's sweeping wood-and-glass Astrup Fearnley Museum.
If the local infatuation with Oslofjord is tied to friluftsliv (the Norwegian love of nature), then the Tjuvholmen development is part of a more recent proclivity. "We have endured a cultural ice age, and now we are starting to blossom," Kolstad says, sitting at a grand piano in his performance space near the Thief. "Oslo is a glass globe—you shake it, and it snows art."
"There's a lot of great new architecture in Oslo, but I'm hoping we don't turn into Dubai. Sometimes I think, you know, 'Dude, how about planting a little bit of grass?'" —Aksel Kolstad
Kolstad is not your everyday classical musician. "I'll be playing Mozart, and I'll suddenly flex my chest like this," he says, making his pectoral muscles jiggle. But the element of slapstick in his concerts is also part of a local tradition. "Oslo is a city of eccentrics; it's filled with characters."
Still damp, I set out on an exploratory stroll. Earlier, I plotted my course on a map: my first stop, Akershus Fortress, looked to be about a half hour away on foot. But Oslo is smaller than the maps suggest. The fort stands across the fjord—you could throw a comedic classical pianist and hit it from here. If it weren't for all the stuff to gawp at along the way—the jostling artworks, the shipyard shops at Aker Brygge, the islands dotting the fjord—I could easily slosh there in 10 minutes or less.
I reach the mainland and City Hall, a redbrick, twin-towered monolith that could be a Bronx housing project but for the mytho-heroic reliefs dotting its facade (and the fact that Nobel Peace Prize ceremonies are held within). I stand for a bit on the bustling waterfront, watching an elderly woman in Romany dress bashing a tambourine, then head for Akershus.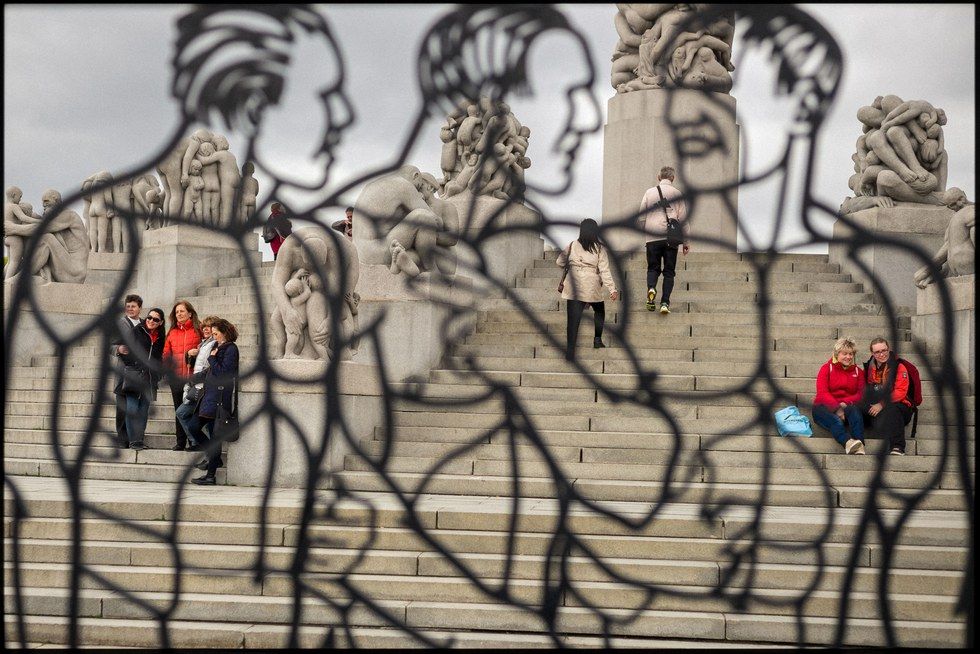 Vigeland Sculpture Park
Inside, the fort is a tangle of undulant paths, soaring curtain walls and crumbling archways. Two spires stand above it all, part of a 17th-century reconstruction after old Oslo, razed by fire, was abandoned and the land around the fort settled. Over 700 years, various parts have been demolished, rebuilt and embellished, resulting in a helter-skelter of styles—today, it stands as a symbol of Norway's efforts to forge its own identity after centuries of subjugation.
I have more history in store a couple of blocks away at Engebret Café, whose regulars have included Edvard Grieg, Henrik Ibsen and Edvard Munch. I order the cured herring, which, owner Kay Johnsen says, should really be washed down with an aquavit aperitif. "Herring and strong liquor. Very traditional."
I ask if I can try the grilled whale. I've always imagined that whale was what sailors ate before they started on their crewmates—a second-to-last resort—but this (minke, culled for scientific purposes, I am told) is fantastic: gamy and tender, not a hint of blubber. As I exit, Johnsen shows me a framed letter from Munch, written after he'd been kicked out of the café for drunkenness. An apology? "No," Johnsen says, laughing. "It's blaming everybody but himself."
Luckily, my next stop is close by. Built in the 1690s, Oslo Cathedral isn't the grandest religious structure in the world, but it is impressive, its blocky clock tower looming over a busy flower market. There's an organ recital inside, so I take a pew and examine Hugo Lous Mohr's trippy ceiling art, which includes an image of a man battering a sad-looking dragon with an inverted crucifix.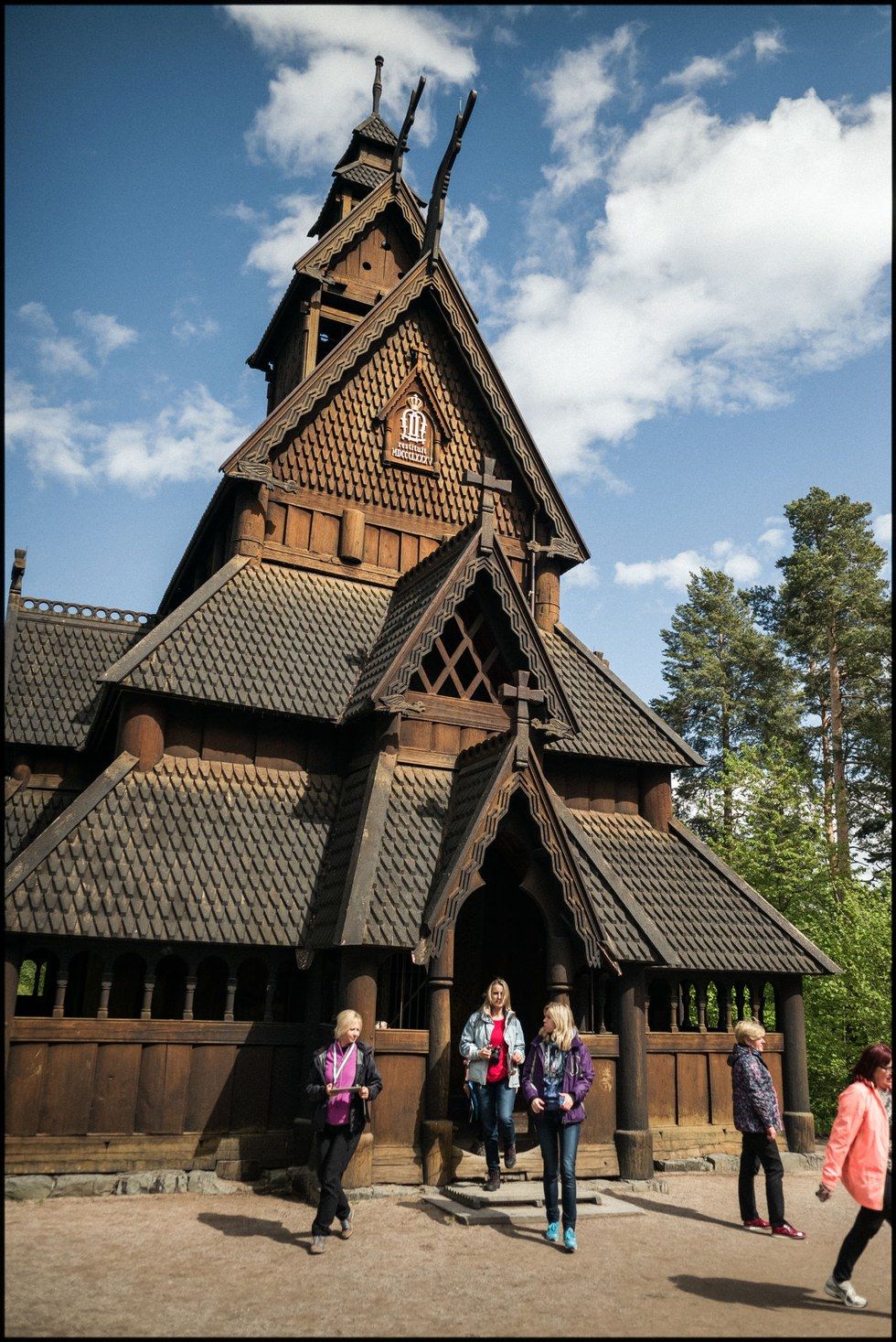 Built in 1200, the Norwegian Folk Museum's Gol Stave Church is littered with eerie carvings
Next, I waddle up pedestrianized Karl Johans Street, past H&M and Mango and out onto a broad promenade flanked by ornate 18th-century townhouses and a clutter of landmarks: the National Theater, the National Gallery, the Royal Palace. I stop to gaze at the stylistic mishmash of the Storting (parliament) building, then head inside to watch Norway's politicians debate the issues of the day. As I enter, a guard tells me that I need to empty my pockets into a tray.
Him: "The money we keep!"
Me: "No wonder Norway is so wealthy!"
Both: "Ha! Ha!"
Earlier, Kolstad told me there's a gloomy streak underlying a lot of Norwegian humor, but there's also what he described as "pillow comedy" (so called because "you want to put a pillow over your face"), an example of which would be a guy climbing a tree to retrieve his kid's kite and meeting the gaze of a woman, naked, sunbathing in the yard next door: "It's not what it seems!"
I don't understand what the politicians in the red-and-gold rotunda are saying, but their tone suggests it might be something pressing, like replacing the soap dispensers in the bathrooms. I sneak out and make my way back to Thief Island, heralded by City Hall's 49-bell carillon, which belts out a tune that drowns out the gulls and street performers.
After a quick nap, I sink into an armchair in the Thief's swish eatery Fru K, next to a Philippe Starck lamp shaped like an assault rifle, and receive a succession of dishes: salmon caviar with horseradish and lemon curd; turbot soup with Jerusalem artichoke; bleak roe with cabbage and popcorn crackling; steak tartare with oyster emulsion. It's a splendid meal, washed down with some splendid wine, all of which sets me up for my big night out: standing on my balcony, looking out at the Oslofjord, its surface burnished by the moon. Man, I think, taking a swig of beer, that water looks cold.

In which Chris sees Norway's finest artworks and eats its most artfully constructed food
Breakfast today is in the Grand Café, at the Grand Hotel. This may be the most famous room in Oslo, frequented by pretty much every notable person who ever set foot in the city (I pass Michael Moore on the way in). On one wall is a mural, circa 1928, depicting the café's former patrons, including Munch, who once made a scene here over an unpaid bill. I help myself to a healthy plate of salmon, salad and rustic bread, followed by a mountain of lardy bacon and sausage.
The Grand occupies the other end of the hipness scale from the Thief. Set in a stately building on Karl Johans Street, the hotel opened in 1874 and remains resolutely old school. I've checked into a suite that is a paragon of gentility, exemplified by the French windows overlooking the street. It's all I can do to resist waving regally at the rabble below.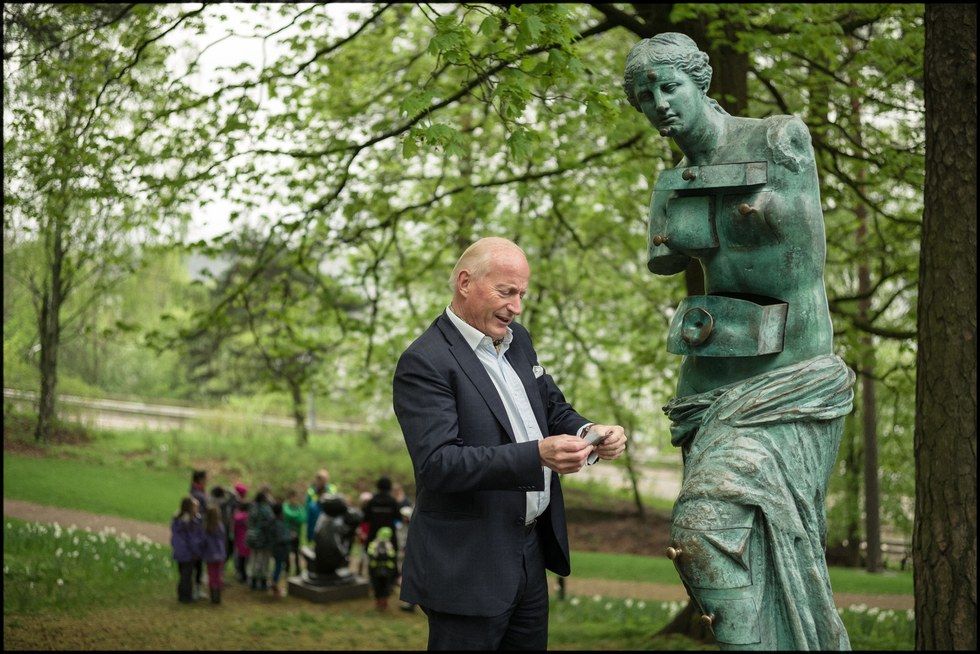 Christian Ringnes, Businessman and founder, Ekeberg Sculpture Park
My goal this morning is to get to the National Gallery early, in order to beat the crowds. It works: I spend 20 minutes entirely alone in a hall of Munch masterpieces, including "The Scream." Nearby are his reclining "Madonna" and the inexplicably creepy "Girls on the Pier." Magic.
From here, I stroll through the Royal Palace grounds to the city's tony West End, then cut left onto Hegdehaugsveien Street, home to upscale retailers like Tara, where you can pick up a pair of graffiti-covered jeans for $1,300. Soon, I enter Vigeland Sculpture Park, via a bridge bearing a procession of disconcertingly realistic bronze statues of naked people, wrestling, running or just standing arms akimbo. The most famous is a baby stamping his foot in petulant fury. Another depicts a man kicking a small child across the floor. Ah, um…
It took sculptor Gustav Vigeland 20 years to create the 200-plus works that make up this installation, which opened in the mid-1940s. The centerpiece is the 46-foot granite tower "Monolith," comprised of 121 squirming, heaped-up men, women and children, a work that is said to speak of divine inspiration but which to me seems fantastically sinister. Taxi!
"Oslo has always been a very safe city. You can leave a suitcase of money at the train station and come back an hour later and it will have been moved to the side, so nobody trips over it." —Christian Ringnes
My next stop is across town, at Ekeberg Sculpture Park, opened two years ago by billionaire Christian Ringnes. Set on a high hill (Munch got his inspiration for "The Scream" up here), the park is formed of 31 works scattered over 64 acres. I find Ringnes rummaging around in Salvador Dalí's "Venus de Milo with Drawers." "People put stuff in them," he says, pulling out a wooden crucifix: "A cross!"
Ekeberg has not been without its critics. It has been derided as a crass vanity project, a violation of the park's natural beauty; the overall theme is a celebration of women, which to some smacks of condescension. "We had a big fight to set this up," Ringnes says. "Now, people love it."
We set out on a tour of the sculptures, Ringnes striding effortlessly uphill as I wheeze pitifully behind. Even so, the place is a joy—there's something especially captivating about the union of natural splendor and artworks like "Peeing Woman," a bronze statue of a squatting figure, pants at half mast. "She should actually be peeing," says Ringnes, frowning. "We had a period where she was doing it too much. Right now, we're having a dry period."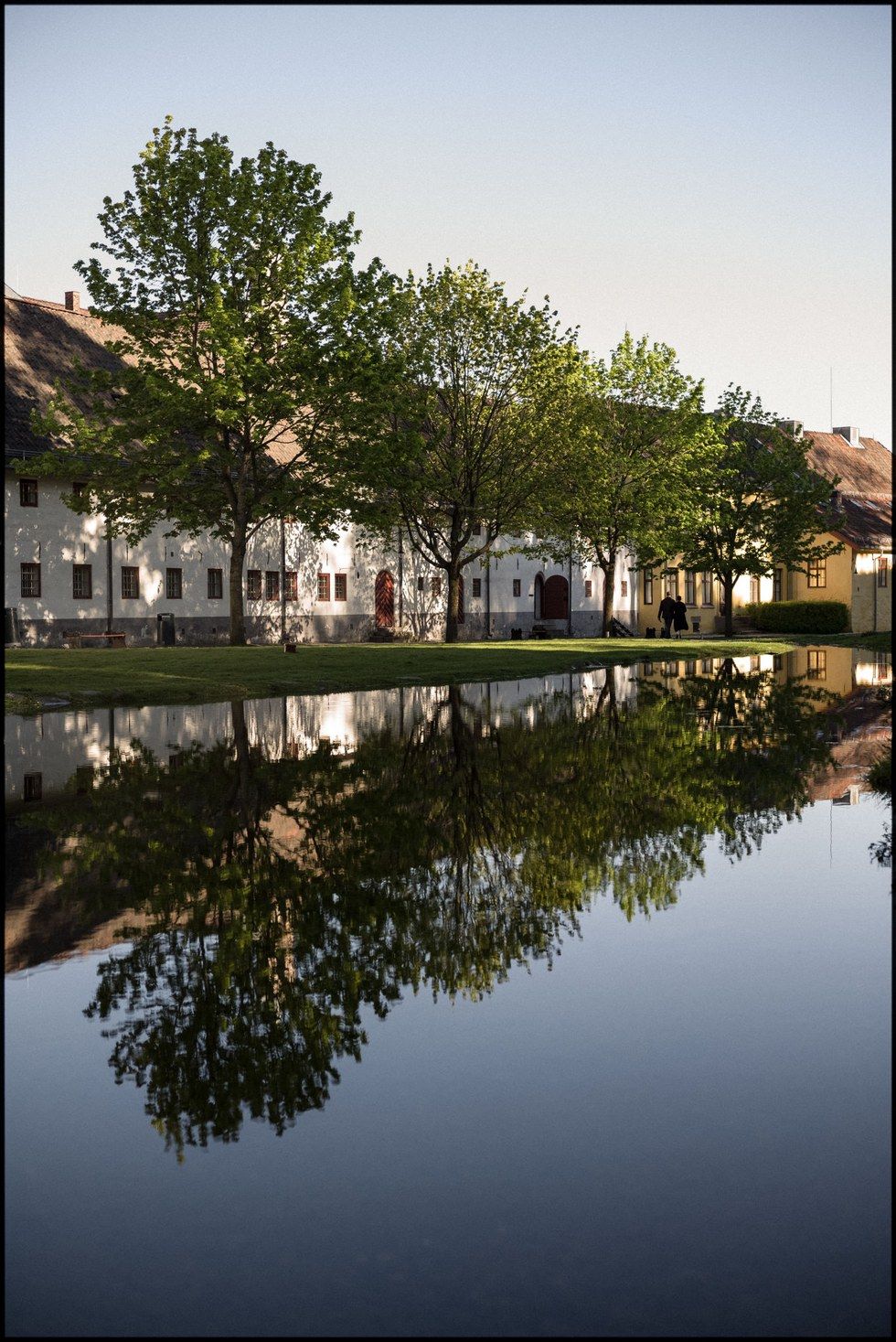 Akershus Fortress, a 700-year-old architectural hodgepodge
As we make our way downhill, an elderly woman stops Ringnes to tell him she is "very happy with the park."
"Not the artworks?" he replies.
"Not the pornographic one," she says, referring to a video installation that includes a nude woman waving a flag. "Maybe you shouldn't have spent your money on that."
Ringnes doesn't seem to mind the criticism. "This park is part of something new," he says. "If you'd have come to Oslo 20 years ago, it was kind of boring. The city was clean and safe, but there wasn't much happening. We are living through some kind of heightened time."
Another example of Oslo's revival is Maaemo, the first two-Michelin-starred Nordic restaurant, located a short tram ride from Ekeberg, overlooking the Barcode Project, a strip of hypermodern commercial buildings. But people don't come here for the view.
After I've been seated at one of the eatery's eight tables, a waitress lays out the ground rules, which include a ban on any ingredients that cannot be found in Norway: "No pepper, no lemon or lime…" Then we're off. I count 23 items on the set menu, starting with a single sprig of pickled salsify, served on a large bed of juniper branches. Just as I'm about to start nibbling one of the twigs, another course appears: a foil-thin sliver of wild duck, cured for seven months and served on a square of crumpled paper.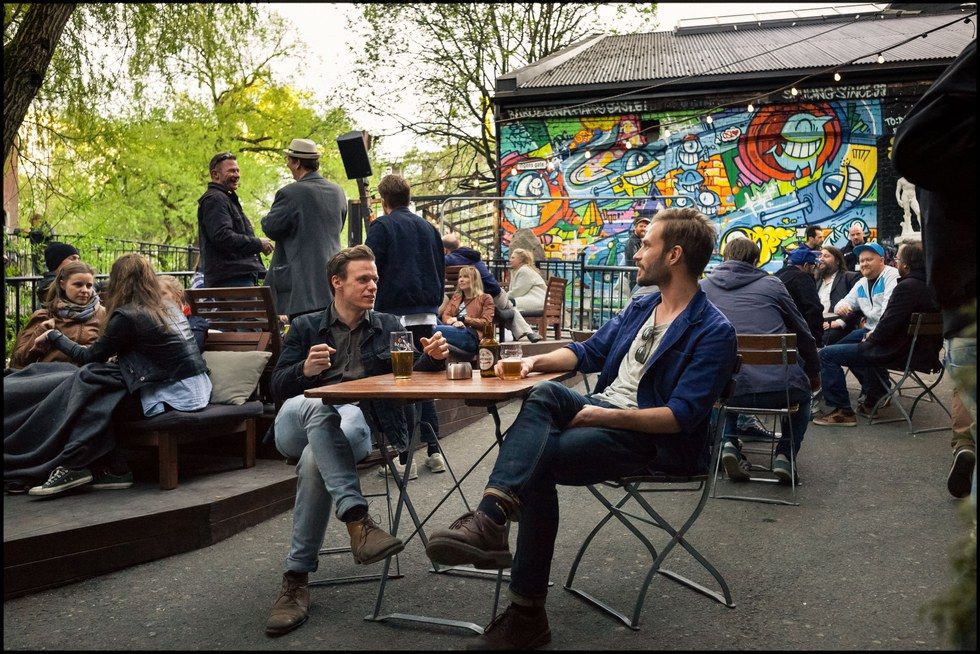 Enjoying a pint on the riverside terrace at Blå
So it goes, a procession of dishes that fall somewhere between molecular gastronomy and an episode of "Survivor": a smidgen of chicken liver and elderflower on a patch of lawn; nubs of frozen cheese and vendace roe on a rock; raw oyster emulsion atop a diorama of seashells. Of course, Michelin stars are not won on presentation alone—the tastes and textures here are inspired—but half the fun is anticipating what kind of madness will come next. The big showstopper is the langoustine, served on a pile of spruce above dry ice. The waiter introduces a pine infusion, and a pungent fog courses across the table, which is so delightful I yelp.
In terms of experiences, it'll be hard to top sour milk sprinkled with dried reindeer heart, so I decide to wind down on a cruise of the fjord. To get to the dock, in front of City Hall, I make my way west along the waterfront, pausing to stroll up the sloping roof of the Opera House, a huge white structure that looks like a Cubist ocean liner, then watch a free modern ballet performance in its bright lobby.
The cruise is a good reminder of why locals love their fjord. We meander among scores of islands, some dotted with tiny, colorful bathhouses, some with geese lazing among the trees, gray cliffs rising behind them. The sun is shining. Fishing boats sail by. This, I have decided, is the only way to experience these waters.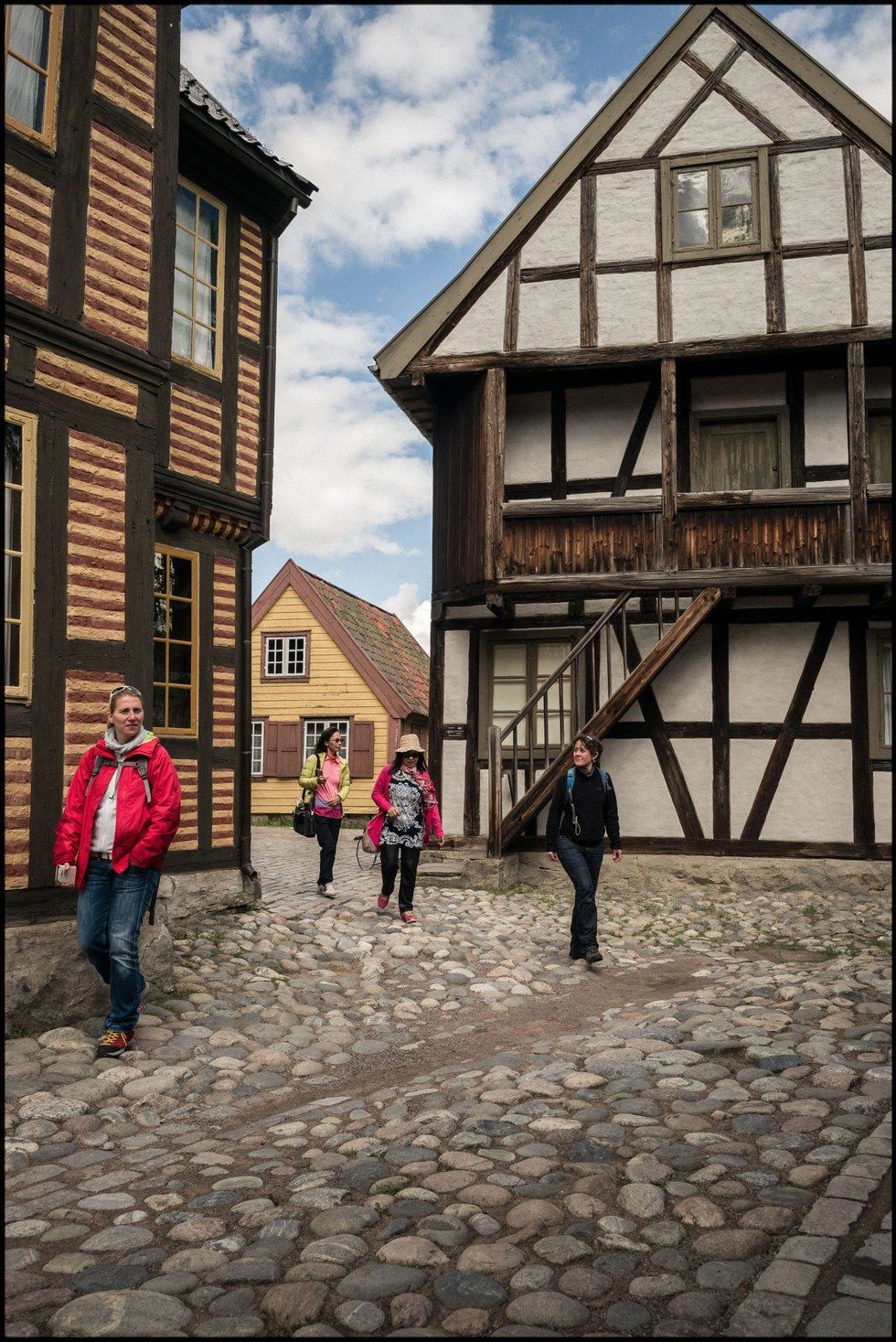 The odd relocated houses of Bygdøy
After a quick spritz at the Grand, I stroll into a nearby grid of streets, the hub of the city's 17th-century revival. There are some lovely old buildings here, not least the 1640 pile housing Statholderens Mat & Vinkjeller, set in a vaulted cellar below its Michelin-starred counterpart, Statholdergaarden. I have a tapas plate to start, which includes a rich oxtail empanada, quail eggs with noodles, and shrimp with guacamole and pomegranate seeds, followed by a main course of tender lamb with deliciously nutty couscous.
I round off the night with a cocktail at Fuglen, a hip coffee shop/bar with mismatched vintage furniture that's for sale. Co-owner Einar Holthe shares his thoughts on Oslo while insisting I try every drink on the menu. Having gained independence from Sweden in 1905, he says, Norway is finally reclaiming its identity. "There's a sense that we belong to our culture now," he adds. "The streets are coming alive."

In which Chris visits Oslo's hipster quarter and the city's famed cemetery
Istart the day with a nice long groan, followed by a few cups of strong coffee. I'm having brunch later at Mathallen, a food hall on the bank of the Akerselva River, so I roust myself from bed and head out into the glare.
On my way, I stop at Pentagon, an army surplus shop on Storgata, where I root around among the crossbows, knives and gladiator helmets for a bit before crossing the road to a ramshackle cluster of vintage shops, where I pick up a music poster from the 1950s, at 1970s prices.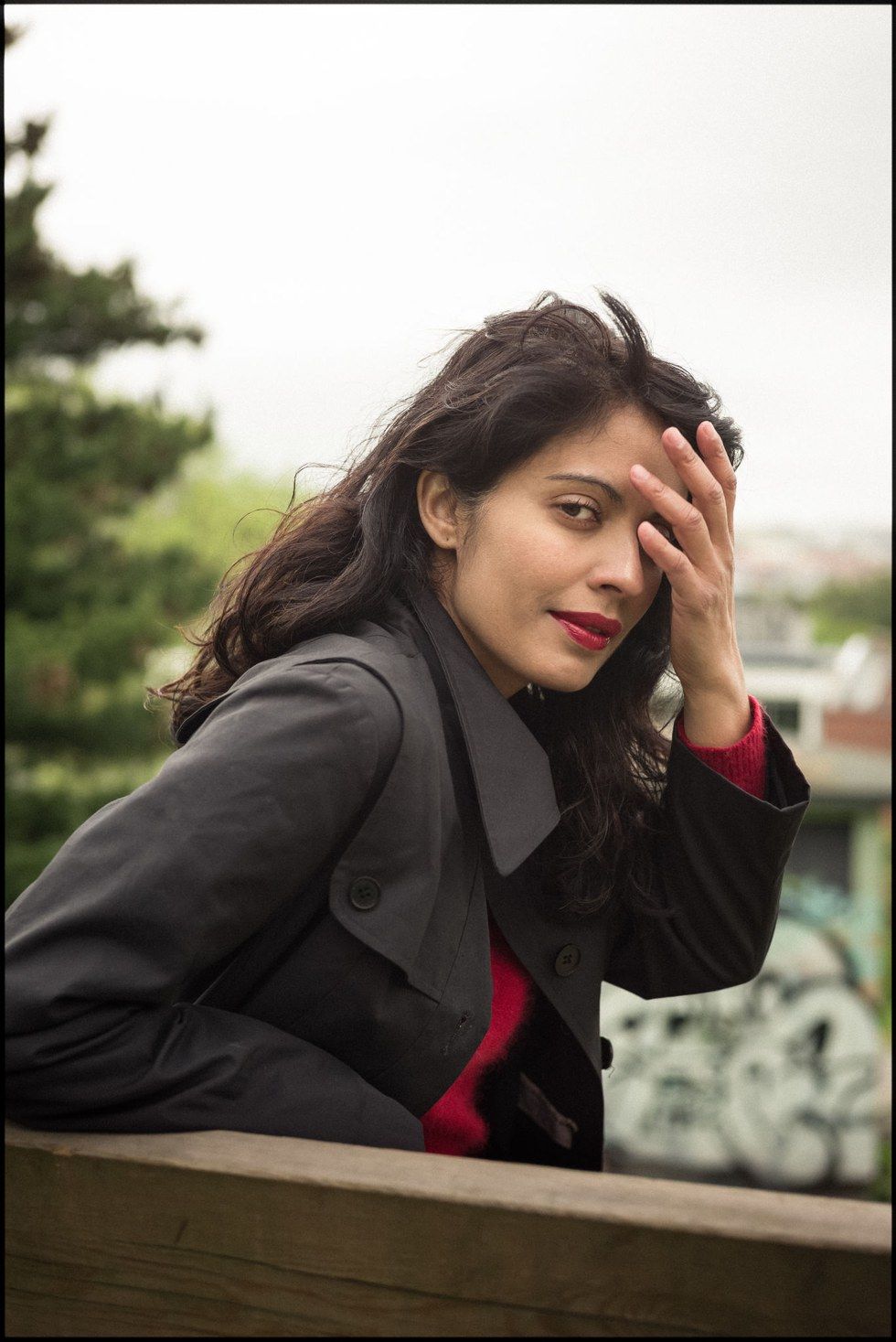 Iram Hhaq, Filmmaker
Soon, I'm heading north along the river, which feels very rural but is also dotted with old industrial buildings transformed into studios and galleries. Mathallen, set in a renovated railroad factory, offers everything from fresh seafood to stinky cheese. I have a beef and tomato pie from Hello Good Pie before heading out to explore Grünerløkka.
People call Grünerløkka Oslo's answer to Brooklyn, and you can see why—it is thick with boho bars, retro restaurants and indie fashion outlets. There is also a wonderful sense of anarchic energy. Heading back to the river for a drink at Blå, a trendy music venue, I pass a man carrying a large Styrofoam ear past a couple of punk-rock chicks standing below a junk-glass chandelier, ignoring the spectacle, a few feet away, of a ferret crossing the road.
I sit on Blå's grafittied riverside terrace for a while, nursing a Nøgne Ø pale ale and listening to the water rush by, then head back to Mathallen, where I'm having coffee with the filmmaker Iram Haq.
Described by Variety as "one of Europe's top emerging directors," Haq grew up in East Oslo's "Little Pakistan" neighborhood. Her shopkeeper parents were not enamored of her decision to pursue a career in the arts. "It was hard for them to accept," she says. "They didn't really understand what I was doing." It wasn't only the Pakistani community that would have frowned on her career choice. Before the discovery of oil in the late 1960s, Norway was relatively poor, and its people made a virtue of austerity. Eating out was rare, foreign holidays were pretty much unheard of, and young women of Pakistani heritage did not go into the film business.
"It's difficult to talk about the local character, because we are two different people: In the winter, we are hunched up; in the summer, we smile." —Iram Hhaq
Things are different now, says Haq, but a few traditions remain, such as the age-old emphasis on consensus: "Everyone agrees, even when they don't."
Later, Haq offers to show me the nearby Vår Frelsers cemetery, which contains the graves of notables such as Ibsen and Munch. To get there, we walk up Telthusbakken, a steep, narrow street lined with the brightly colored wooden cottages that used to be everywhere here. At the top of the street is the austere 12th-century Old Aker Church, but Haq's attention is elsewhere. "Hello!" she says, pointing her cameraphone at a flat-faced, sunbathing cat.
The Vår Frelsers monuments seem oddly modest, given who's lying beneath them. But Norwegian society prizes humility, even among its more illustrious members. Haq recalls passing then–Prime Minister Jens Stoltenberg in a park: "He said, 'I read about you in the paper!' so I said, 'I read about you, too!' We laughed. He was normal."
I say goodbye to Haq and head for Damstredet, another cobbled clutter of too-cute-to-be-true wooden houses. But I can't stand around annoying the residents for too long—Einar Holthe has offered to take me to a must-see attraction on Bygdøy peninsula.
We meet in Gamle, a blue-collar eastside neighborhood that's being colonized by creative types. Our first stop is at Haralds Vaffel (motto: "Everyone Loves Waffles"), a hole in the wall where Harald himself serves us bacon-and-blue-cheese waffles followed by a traditional jam. Fortified, we jump in Einar's car and drive west, to one of Oslo's weirdest exhibitions.
Bygdøy is sometimes called Museum Island, on account of it having a bunch of museums, including the Kon-Tiki Museum, the Viking Ship Museum and the Norwegian Folk Museum. This last one is actually a small town, made up of buildings that have been dismantled and rebuilt here. There are 160 in all, ranging from medieval peasant huts to 19th-century townhouses, the rooms of which have been furnished to reflect the lifestyle of, say, a Victorian-era family, or a swinging bachelor circa 1975.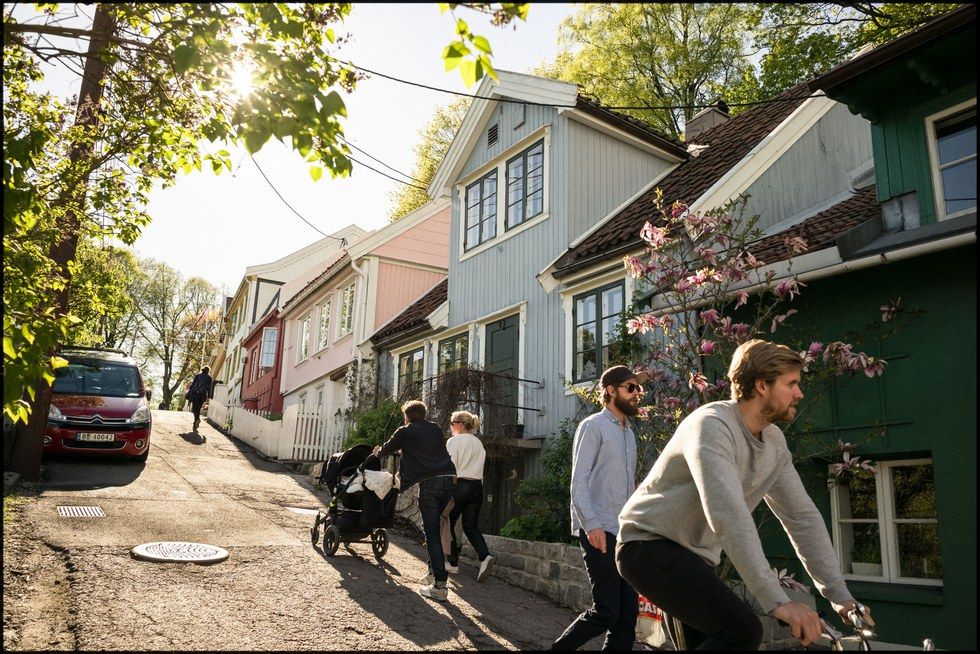 The ups and downs of Telthusbakken
Most impressive is the Gol Stave Church, a pagoda-like wooden edifice built in 1200. Inside it is gloomy, with faded murals in the apse and tortured faces in the rafters. Restorations have revealed strange carvings on its walls, scripts and symbols that, according to the elderly woman keeping watch, have yet to be deciphered. I ask her if she ever finds herself alone in here, and she says yes. "Spooky," I say, and she huffs. "I am not easily spooked."
Einar drops me off downtown, outside the Hotel Continental, where I'll be dining at Eik Annen Etage. The restaurant is low-lit, with classical columns and modern art. I sit next to a window overlooking the National Theater, and a friendly Swedish waitress brings me a golden menu. What the heck, I'll have the full-course: raw marinated halibut with grilled romaine lettuce and horseradish emulsion; smoked salmon with creamed morels; deep fried lamb sweetbreads with wild garlic; slow cooked pork. It's all good—but that lettuce. From now on, I'm grilling all my salads.
I end the night at Etoile, the Grand's rooftop bar, where you get a real sense of how lovely this city is. As I gaze at the flickering Freia sign next door, a seagull big as a dog lands on a neighboring rooftop and stares me down. For some reason, I'm reminded of a story someone told me earlier, about a local soccer pitch where children play, a field that once "ran with Swedish blood." There was no malice in the telling of this story, but there was a kind of appreciation. So, yes, Oslo is an unusually lovely city, but it's a little more complicated than that.
Hemispheres executive editor Chris Wright strongly recommends that people who fall into the Oslofjord change their damp trousers before going sightseeing, to avoid unpleasant chafage.
This article was written by Chris Wright from Rhapsody Magazine and was legally licensed through the NewsCred publisher network.

When the pandemic began, United Cargo knew it would be critical to utilize its fleet, network and industry-leading pharmaceutical handling processes to transport a COVID-19 vaccine when the time came.
Connecting vaccines to the world: United responds to mass distribution effort
December 22, 2020
On November 27, United Airlines became the first commercial airline to safely deliver the first batch of Pfizer and BioNTech's COVID-19 vaccine into the U.S. thanks to a coordinated effort between United's cargo, safety, technical operations, flight operations, regulatory and legal teams.
Now as the entire shipping and logistics industry bands together to widely distribute vaccines, United is leveraging all of its flights, including cargo-only and those carrying passengers, to transport millions of vaccines to destinations throughout our network, including Honolulu, Guam and Saipan – the first of any carrier to do so.
"United's cargo service has helped safely deliver many essential goods during this pandemic, but there is no shipment that gives me more personal pride than helping bring this life-saving vaccine to our communities," said Jan Krems, United Cargo President. "While we still face a long road ahead the promise of a widely distributed vaccine gives us hope that we are one step closer to putting this pandemic behind us and moving forward together toward a brighter future."
And United is shipping more than just vaccines to help during the pandemic in keeping the lines of commerce flowing and goods getting to where they need to be. Since mid-March, United has operated 9,000 cargo-only flights carrying more than 435 million pounds of cargo. By using a combination of cargo-only flights and passenger flights, United Cargo has also transported 80 million pounds of medical supplies this year.
In coordination with our shipping and logistics partners, United will continue to distribute COVID-19 treatments to destinations throughout its network. The real heroes are the scientists who created these life-saving vaccines and the frontline workers who are not only administering them, but also helping care for and tend to those suffering from this virus. United is proud to do its part in helping to get this precious cargo to the people and communities who need them, and looks forward to doing our part in the months ahead.
United Cargo responds to COVID-19 challenges, prepares for what's next

September 30, 2020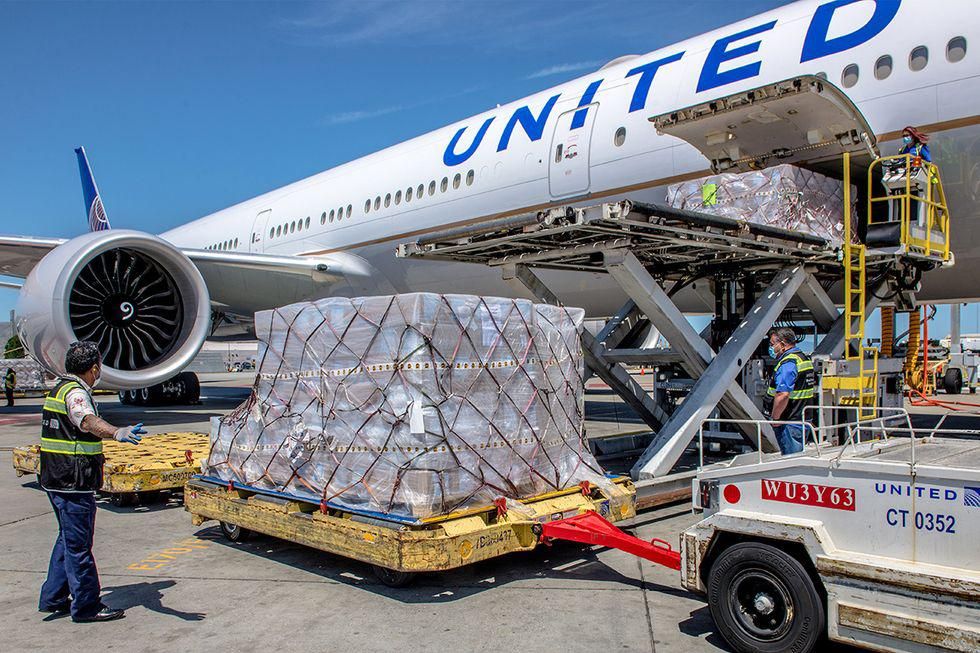 Even before the COVID-19 pandemic, United Cargo has supported a variety of customers within the healthcare industry for over 10 years. Three key solutions – TempControl, LifeGuard and QuickPak – protect the integrity of vital shipments such as precision medicine, pharmaceuticals, biologics, medical equipment and vaccines. By utilizing processes like temperature monitoring, thermodynamic management, and priority boarding and handling, United Cargo gives customers the peace of mind that their shipments will be protected throughout their journey.

With the global demand for tailored pharmaceutical solutions at an all-time high, we've made investments to help ensure we provide the most reliable air cargo options for cold chain shipping. In April this year, we became the first U.S. carrier to lease temperature-controlled shipping containers manufactured by DoKaSch Temperature Solutions. We continue to partner with state-of-the-art container providers to ensure we have options that meet our customers' ever-changing needs.
"Providing safe air cargo transport for essential shipments has been a top priority since the pandemic began. While the entire air cargo industry has had its challenges, I'm proud of how United Cargo has adapted and thrived despite a significant reduction in network capacity and supply," said United Cargo President Jan Krems. "We remain committed to helping our customers make it through the pandemic, as well as to doing everything we can to be prepared for the COVID-19 vaccine distribution when the time comes."
Our entire team continues to prioritize moving critical shipments as part of our commitment to supporting the global supply chain. We've assembled a COVID readiness task team to ensure we have the right people in place and are preparing our airports as we get ready for the industry-wide effort that comes next.
In cooperation with our partners all over the world, United Cargo has helped transport nearly 145 million pounds of medical supplies to aid in the fight against COVID-19, using a combination of cargo-only flights and passenger flig­hts. To date, United Cargo has operated more than 6,300 cargo-only flights and has transported more than 213 million pounds of cargo worldwide.
United Cargo responds to global needs, celebrates 5000th cargo-only flight

August 18, 2020
By Jan Krems, President, United Cargo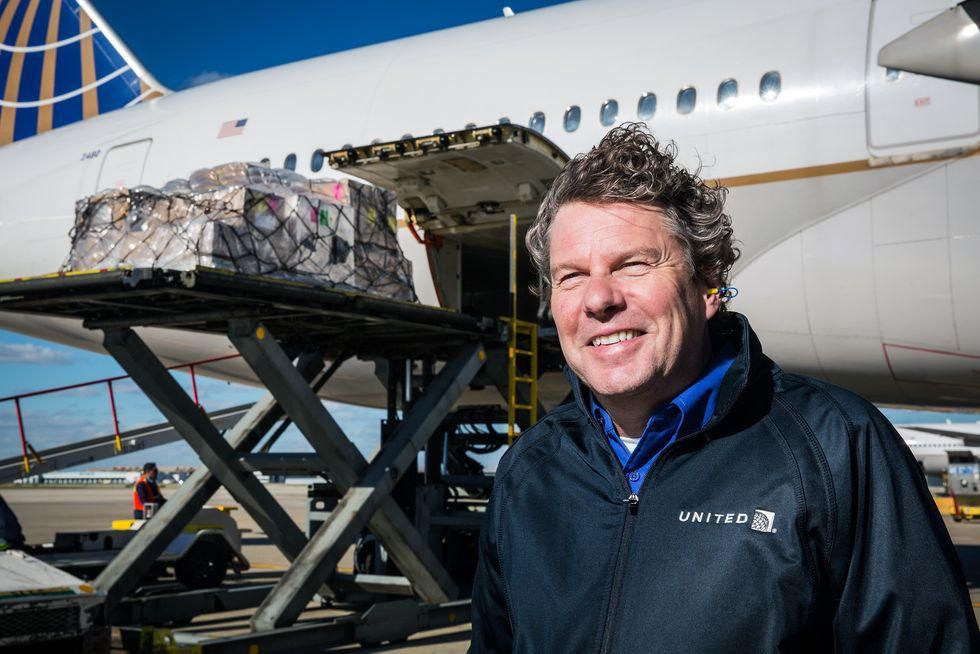 In mid-March, United took steps to manage the historic impact of COVID-19 and began flying a portion of our Boeing 777 and 787 fleets as dedicated cargo-only flights to transport air freight to and from U.S. hubs and key international business locations. More than ever, providing reliable cargo transportation was vitally important and I'm proud say our United Cargo team stepped up to support our customers.

Although we're facing the most challenging environment our industry has ever experienced, I'm very excited to celebrate a major milestone. Since March 19, United has operated over 5,000 cargo-only flights transporting nearly 170 million pounds of cargo on these flights alone. With an increased need to keep the global supply chain moving, and an even more urgent need for medical supplies, we knew we had to utilize our network capabilities and personnel to move vital shipments, such as medical kits, personal protective equipment (PPE), pharmaceuticals and medical equipment between U.S. hubs and key international destinations.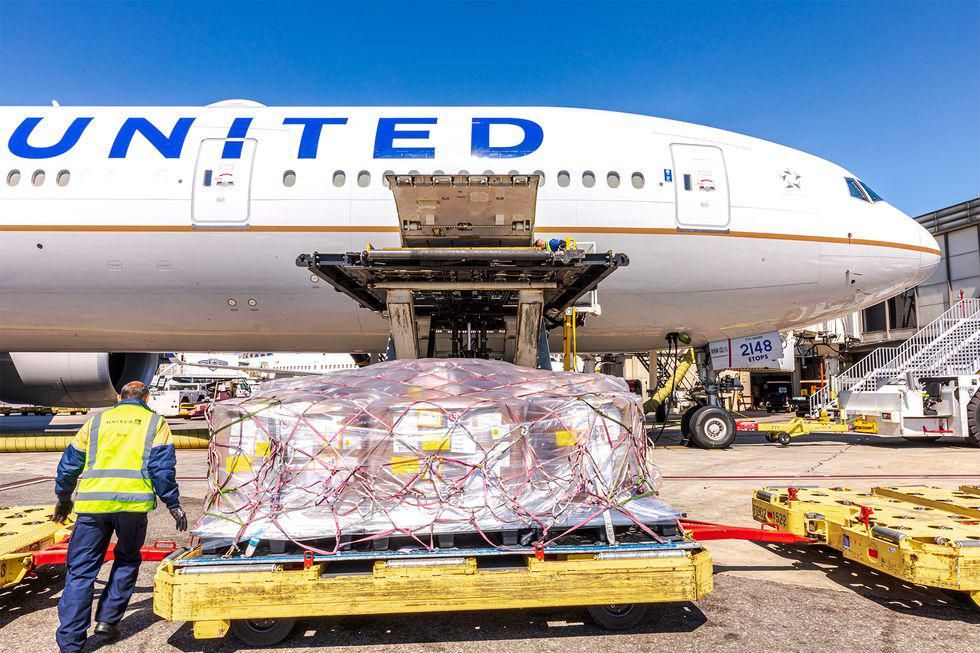 In cooperation with freight forwarders and partners all over the world, United Cargo helped transport more than 107 million pounds of medical supplies to aid in the fight against COVID-19 using a combination of cargo-only flights as well as passenger flights.

To keep military families connected, we increased the frequency of cargo-only flights between the U.S. and military bases in various parts of the world — including bases located in Guam, Kwajalein and several countries in Europe. We know how critically important it is for these families to stay connected, and I'm honored that we were able to utilize our network and our aircraft to fly nearly 3 million pounds of military supplies.
In collaboration with food-logistics company Commodity Forwarders Inc. (CFI), our cargo teams moved nearly 190,000 pounds of fresh produce to Guam for the U.S. Department of Agriculture's Coronavirus Farm Assistance Program. This new program was created to provide critical support to consumers impacted by the coronavirus pandemic.
United has played a critical role in keeping global supply chains stable during the pandemic as we deliver urgently needed goods around the world. These past few months have created challenges that I have never seen in my 30-plus years of experience working within the air cargo and freight forwarding industry. However, I'm proud of our teams for staying focused on our mission to provide high-quality service and to keep our customers connected with the goods they need most.
United Cargo and logistics partners keep critical medical shipments moving
July 02, 2020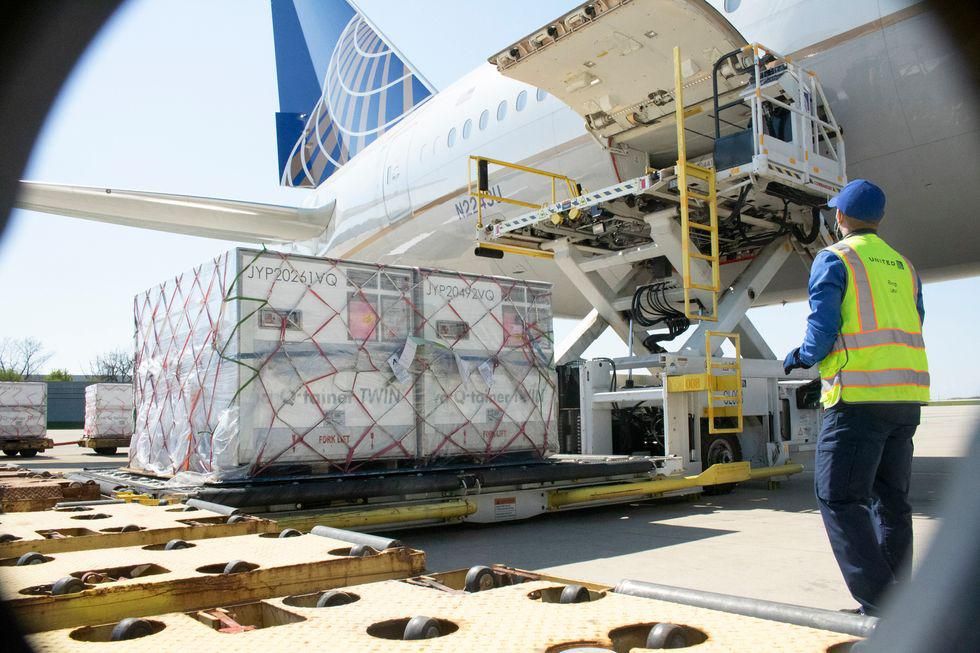 By working together and strengthening partnerships during these unprecedented times, our global community has overcome challenges and created solutions to keep the global supply chain moving. As COVID-19 continues to disrupt the shipping landscape, United and our industry partners have increasingly demonstrated our commitment to the mission of delivering critical medical supplies across the world.

United Cargo has partnered with DSV Air and Sea, a leading global logistics company, to transport important pharmaceutical materials to places all over the world. One of the items most critical during the current crisis is blood plasma.
Plasma is a fragile product that requires very careful handling. Frozen blood plasma must be kept at a very low, stable temperature of negative 20 degrees Celsius or less – no easy task considering it must be transported between trucks, warehouses and airplanes, all while moving through the climates of different countries. Fortunately, along with our well-developed operational procedures and oversight, temperature-controlled shipping containers from partners like va-Q-tec can help protect these sensitive blood plasma shipments from temperature changes.
A single TWINx shipping container from va-Q-tec can accommodate over 1,750 pounds of temperature-sensitive cargo. Every week, DSV delivers 20 TWINx containers, each one filled to capacity with human blood plasma, for loading onto a Boeing 787-9 for transport. The joint effort to move thousands of pounds of blood plasma demonstrates that despite the distance, challenges in moving temperature-sensitive cargo and COVID-19 obstacles, we continue to find creative solutions with the help of our strong partnerships.
United Cargo is proud to keep the commercial air bridges open between the U.S. and the rest of the world. Since March 19, we have operated over 3,200 cargo-only flights between six U.S. hubs and over 20 cities in Asia, Australia, Europe, South America, India, the Caribbean and the Middle East.
United further expands cargo-only operations to key international markets
June 9, 2020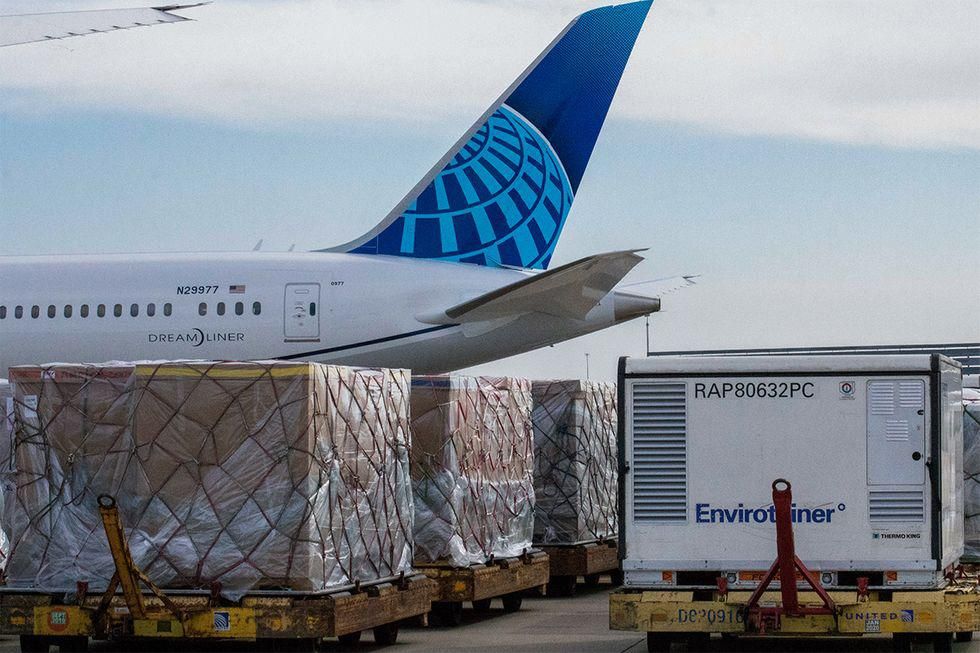 United has played a vital role in helping keep the global supply chains stable during the COVID-19 pandemic so urgently needed goods can get to the places that need them most.

In addition to current service from the U.S. to Asia, Australia, Europe, India, Latin America and the Middle East, we are proud to now offer cargo-only flights to key international markets including Dublin, Paris, Rome, Santiago and Zurich. These new routes will connect our freight customers and further extend our air cargo network throughout the world – for example connecting major pharmaceutical hubs in Europe and perishable markets in Latin America.
"Air cargo continues to be more important than ever," says United Cargo President Jan Krems. "This network expansion helps our customers continue to facilitate trade and contribute to global economic development and recovery. I'm proud of our team for mobilizing our cargo-only flights program that enables the shipment of critical goods that will support global economies."
Since we began our program March 19, we have completed more than 2,400 cargo-only flights, transporting over 77 million pounds of cargo. We have over 1,100 cargo-only flights scheduled for the month of June, operating between six U.S. hubs and over 20 cities all over the world.
United's first flight carrying cargo in-cabin takes off
May 13, 2020

United continues to keep supply chains moving and to meet the demand for critical shipments around the globe. Recently, United received approval from the Federal Aviation Administration (FAA) to carry cargo in approved storage areas in the passenger cabin.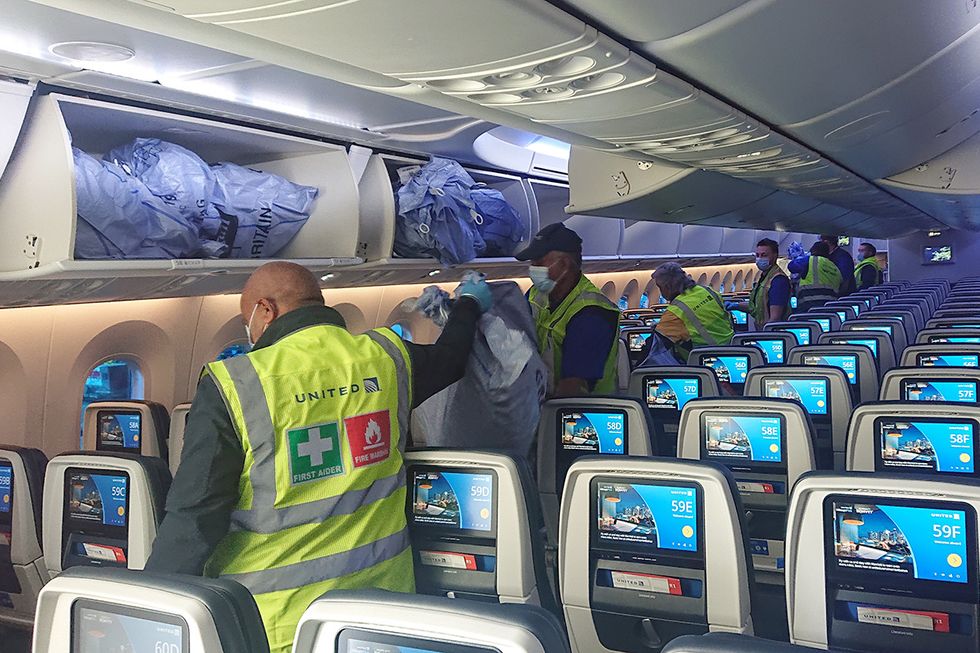 Our inaugural cargo-in-cabin flight flew from London (LHR) to Chicago (ORD) carrying over 4,200 pounds of mail in the passenger cabin, plus a full payload of freight in the belly of the aircraft. Initially, cargo-in-cabin shipments will be loaded on the 777 and 787 aircraft operating our cargo-only flights. We will continue to evaluate additional opportunities to use this space to meet the growing cargo demand.
"We send our sincere thanks to the FAA for working with our team to enable the transport of more critical goods on United's cargo-only flights," said Jan Krems, President of United Cargo. "By loading existing cabin storage areas with cargo and mail, we can move even more critical medical equipment, PPE, and other vital shipments the world needs to manage through the pandemic."

United's cargo-only network continues to expand in order to help bring vital shipments to the people that need it most. We're now offering service between six of our U.S. hubs and 18 airports worldwide: CTU, HKG, ICN, MEL, PEK, PVG, SIN, SYD and TPE in the Asia-Pacific; AMS, BOM, BRU, DUB, FRA, LHR, TLV and ZRH in EMEIA; and SJU in the Caribbean.
Since the start of its cargo-only flights program March 19, United has operated over 1,300 cargo-only flights transporting over 44 million pounds of cargo.
For more information, visit unitedcargo.com.
United expands cargo-only flights to additional global destinations
April 16, 2020
Getting vital goods, especially medical relief supplies, into the hands of the businesses and people who need them has never been more critically important. To meet the overwhelming demand, United began operating cargo-only flights on March 19. Since we began using Boeing 777 and 787 aircraft from United's passenger fleet for this purpose, we have operated over 400 flights carrying more than 6 million kilos of cargo.
"With the global community in need, we are doing everything we can to keep supply chains moving worldwide and support the battle against COVID-19," said United Cargo President Jan Krems. "We're proud to play an active role in connecting vital medical supplies like test kits and personal protective equipment with healthcare professionals around the world."
We are now operating more than 150 cargo-only flights per week between six of our U.S. hubs and 13 cities worldwide: CTU, HKG, PEK, PVG, SYD and TPE in the Asia Pacific; AMS, BRU, DUB, FRA and LHR in Europe; SJU in the Caribbean and TLV in the Middle East. We expect to add new cities soon and will continue to expand our cargo-only flights program.
Hub
Cargo-only flights operating through May
Chicago (ORD)
ORD - AMS (Amsterdam)
ORD - FRA (Frankfurt)
ORD - HKG (Hong Kong)
ORD - LHR (London)
ORD - NRT (Tokyo Narita) - PEK (Beijing)

Houston (IAH)
IAH - AMS (Amsterdam)
IAD - FRA (Frankfurt)
Los Angeles (LAX)
LAX - HKG (Hong Kong)
LAX - LHR (London Heathrow)
LAX - NRT (Tokyo Narita) - PVG (Shanghai)
LAX - SYD (Sydney)
New York/Newark (EWR)
EWR - AMS (Amsterdam)
EWR - FRA (Frankfurt)
EWR - LHR (London)
San Francisco (SFO)
SFO - AMS (Amsterdam)
SFO - NRT (Tokyo Narita) - PEK (Beijing)
SFO - NRT (Tokyo Narita) - PVG (Shanghai)
SFO - NRT (Tokyo Narita) - TPE (Taipei)
SFO - TLV (Tel Aviv)
SFO - SYD (Sydney)
Washington, D.C. (IAD)
IAD - BRU (Brussels)
IAD - DUB (Dublin)
IAD - FRA (Frankfurt)
IAD - NRT (Tokyo Narita) - PEK (Beijing)
IAD - SJU (San Juan)
Flight details are subject to change, for the most up-to-date schedules, please visit https://ual.unitedcargo.com/covid-updates.
Cargo-only flights support U.S. military and their families
March 30, 2020
We are helping to keep military families connected by increasing the frequency of cargo-only flights between the United States and military bases in various parts of the world — including Guam, Kwajalein, and several countries in Europe. Last week we began operating a minimum of 40 cargo-only flights weekly — using Boeing 777 and 787 aircraft to fly freight and mail to and from U.S. hubs and key international business and military locations.
We are going above and beyond to find creative ways to transport fresh food and produce, as well as basic essentials from the U.S. mainland to military and their families in Guam/Micronesia. On Saturday, March 28, we operated an exclusive cargo-only B777-300 charter to transport nearly 100,000 pounds of food essentials to Guam to support our troops.
In addition, we move mail year-round all over the world. In response to COVID-19, and in support of the military members and their families overseas, we implemented a charter network, transporting military mail to Frankfurt, which is then transported all over Europe and the Middle East. Since March 20, we have flown 30,000+ pounds of military mail every day between Chicago O'Hare (ORD) and Frankfurt (FRA). On the return flight from Frankfurt to Chicago, we have carried an average of 35,000 pounds of mail to help families stay connected.

"Keeping our military families connected with the goods they need, and keeping them connected with loved ones to feel a sense of home, is of critical importance. As a company that has long supported our military families and veterans, our teams are proud to mobilize to lend a hand." — United Cargo President Jan Krems.
Our cargo-only flights support customers, keep planes moving

March 22, 2020
We have begun flying a portion of our Boeing 777 and 787 fleet as dedicated cargo charter aircraft to transfer freight to and from U.S. hubs and key international business locations. The first of these freight-only flights departed on March 19 from Chicago O'Hare International Airport (ORD) to Frankfurt International Airport (FRA) with the cargo hold completely full, with more than 29,000 lbs. of goods.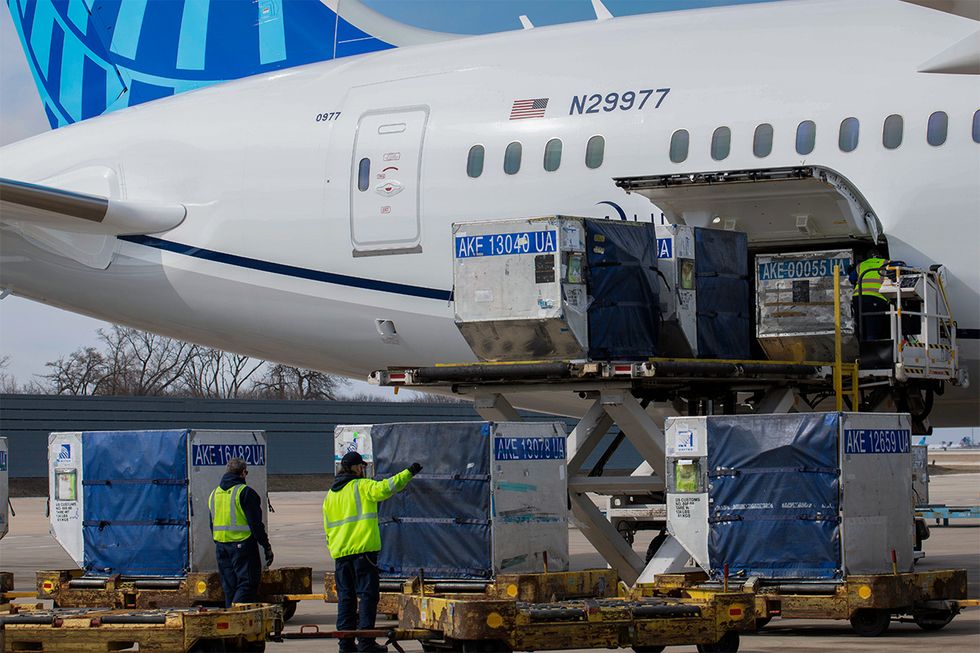 Getting critical goods into the hands of the businesses and people who need them most is extremely important right now. To support customers, employees and the global economy, we will initially operate a schedule of 40 cargo charters each week targeting international destinations and will continue to seek additional opportunities.

With coronavirus (COVID-19) creating an increased need to keep the global supply chain moving, we are utilizing our network capabilities and personnel to get vital shipments, such as medical supplies, to areas that need them most.
"Connecting products to people around the world is the United Cargo mission," said United Cargo President Jan Krems. "That role has never been more crucial than during the current crisis. Our team is working around the clock to provide innovative solutions for our customers and support the global community."
On average, we ship more than 1 billion pounds of cargo every year on behalf of domestic and international customers. For more information, visit unitedcargo.com.
Airline and its customers use crowdsourcing platform - Miles on a Mission - to donate more than 11 million miles for charities like the Thurgood Marshall College Fund, College to Congress and Compass to Care
CHICAGO, Dec. 1, 2020 /PRNewswire/ -- United is inviting MileagePlus members to give back on Giving Tuesday and throughout the holiday season by donating miles to nearly 40 non-profits through United Airlines' crowdsourcing platform, Miles on a Mission. Non-profits like Thurgood Marshall College Fund, College to Congress and Compass to Care are attempting to raise a total of more than 11 million miles to be used for travel for life-saving health care, continued education, humanitarian aid and more. United will match the first 125,000 miles raised for each of these organizations to help ensure they meet their goals.
"This year has posed unprecedented challenges for us all and has been especially devastating to some of the most vulnerable members within the communities we serve," said Suzi Cabo, managing director of global community engagement, United Airlines. "The need for charitable giving has not stopped during the pandemic, and neither has United. This Giving Tuesday marks an opportunity for us to all come together for the greater good and we are proud to provide a platform to support organizations with upcoming travel needs that will enable them to continue supporting the communities they serve."
The launch of these campaigns is part of United's ongoing Miles on a Mission program, which began in October 2019 and has raised more than 92 million miles to-date. Past campaigns have helped organizations travel children for life-saving medical treatment and unite parents with newly adopted children from foreign countries. Participating non-profits have 28-days to reach their mile raising goals through the platform.
The organizations that are raising miles in this campaign include:
College to Congress: The organization provides support including travel for disadvantaged college students who otherwise could not afford to intern in Washington, D.C.
Thurgood Marshall College Fund: This is the only national organization representing America's 47 publicly-supported Historically Black Colleges and Universities (HBCUs), and the nearly 300,000 students that attend them each year. The miles raised will cover the travel expenses to and from campus for students unable to afford them.
My Block, My Hood, My City: This organization provides underprivileged youth with an awareness of the world and opportunities beyond their neighborhood. Miles will be used to fund educational trips for Chicago youths to help them gain a greater understanding of the world outside of their comfort zones.
Compass to Care: The non-profit ensures all children, whose parents have a financial need, can access life-saving cancer treatment. Compass to Care is raising miles to fund travel to get children from their homes to hospitals for cancer treatment.
Luke's Wings: This organization is dedicated to the support of service members who have been wounded in battle. Raised miles will be used to purchase plane tickets for families to visit wounded soldiers recovering in Army medical centers.
Rainbow Railroad USA: The organization's mission is to help persecuted LGBTQI+ individuals around the world travel to safety as they seek a haven from persecution. Miles will support the organization's core Emergency Travel Support program.
This year, United's legal partner Kirkland & Ellis will also be donating $50,000 to My Block, My Hood, My City and the Thurgood Marshall College Fund. Other organizations launching campaigns on the platform include: Sisters of the Skies, Inc., Up2Us Sports, Airline Ambassadors International, Austin Smiles, AWS Foundation, Crazy Horse Memorial, FLYTE, Higher Orbits, Lily's Hope Foundation, Miles4Migrants, Support Utila Inc. and Watts of Love. MileagePlus members can also donate to United's 20 other existing partner charities including, Airlink, American Red Cross, Make-A-Wish, Shriners Hospitals; Clean the World, Special Olympics and more. To learn more or donate to these organizations, please visit donate.mileageplus.com.
Visit www.united.com/everyactioncounts to learn more about our pledge to put our people and planes to work for the greater good.
About United
United's shared purpose is "Connecting People. Uniting the World." For more information, visit united.com, follow @United on Twitter and Instagram or connect on Facebook. The common stock of United's parent, United Airlines Holdings, Inc., is traded on the Nasdaq under the symbol "UAL".

SOURCE United Airlines
For further information: United Airlines Worldwide Media Relations, +1-872-825-8640, media.relations@united.com

In October 2019, we launched a first-of-its-kind airline miles donation platform, Miles on a Mission. In the inaugural year, MileagePlus members donated over 70 million miles, with United matching over 20 million miles, to 51 organizations. These miles have allowed for these organizations to do important, life-changing, life-saving work in the communities we serve around the globe.
Whether it's visiting friends and relatives, traveling for work or simply exploring a new corner of the world, we all have a reason as to why we fly. No matter the reason you fly, the miles you earn and donate help our Miles on a Mission partners soar. Take a look at how some of our partner organizations have put our MileagePlus Members' donations to work.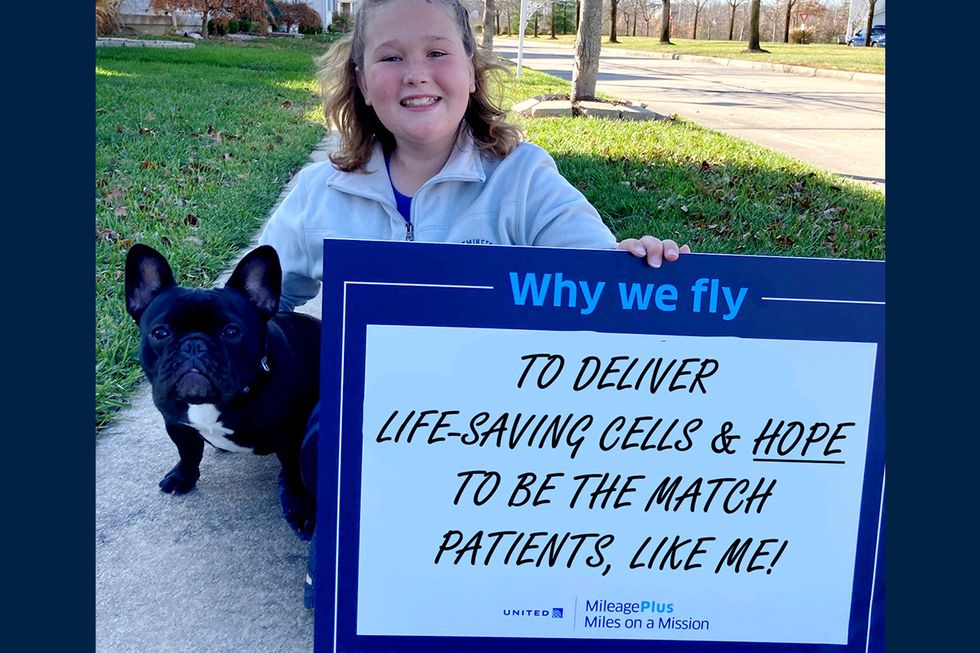 "To deliver life-saving cells and hope to Be the Match patients, like me!"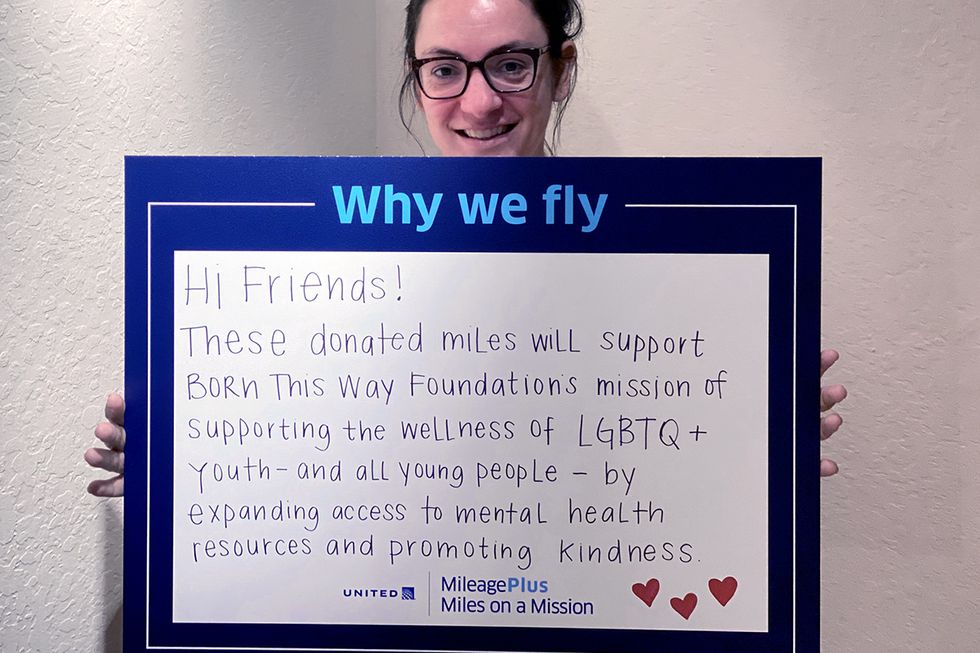 "These donated miles will support Born This Way Foundation's mission of supporting the wellness of LGBTQ+ youth — and all young people — by expanding access to mental health resources and promoting kindness."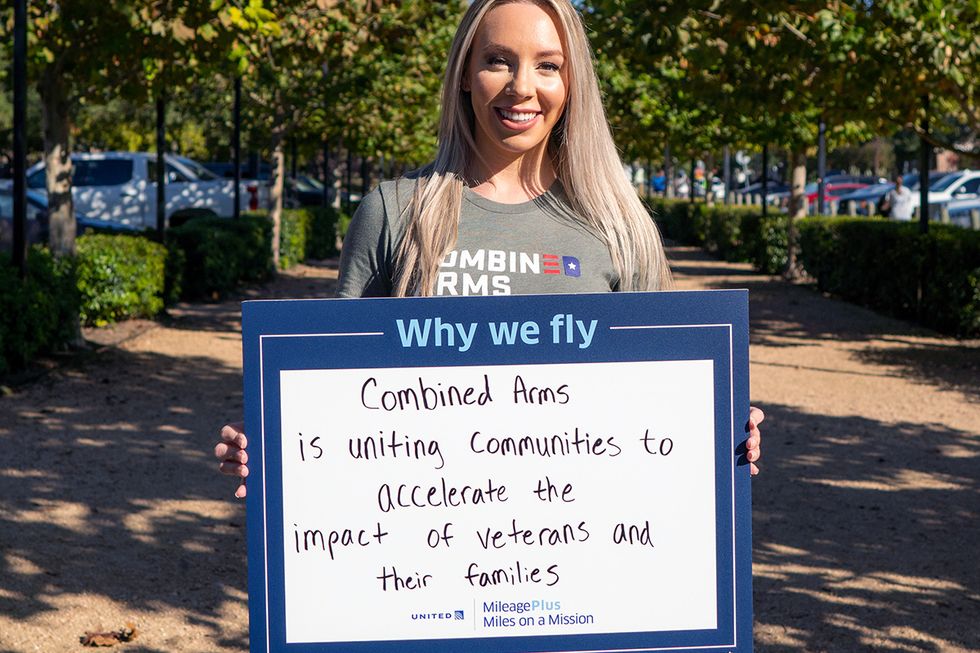 "Combined Arms is uniting communities to accelerate the impact of veterans and their families."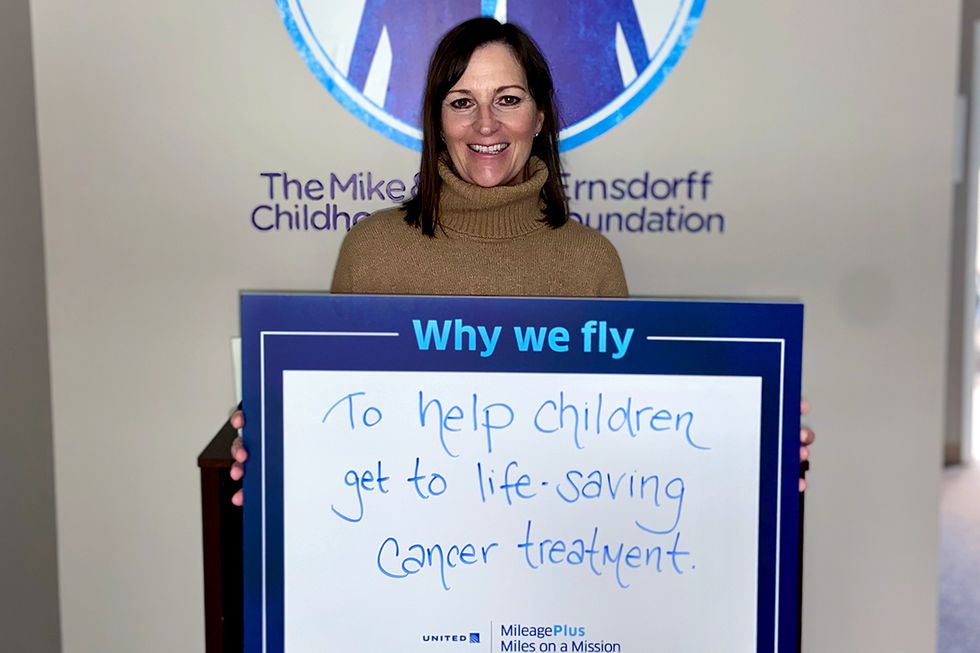 "To help children get to life-saving cancer treatment"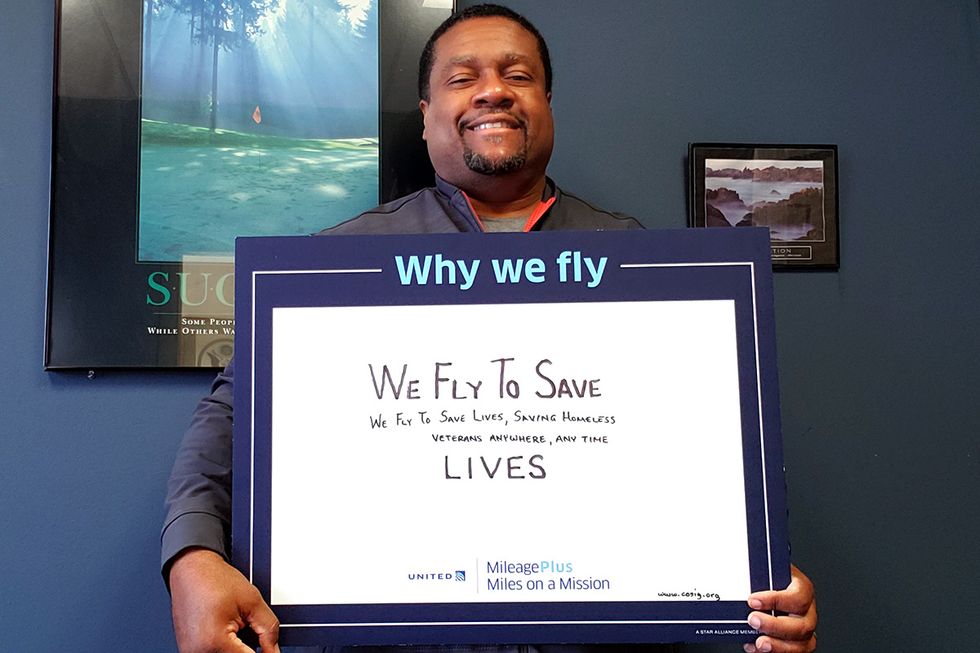 "We fly to save. We fly to save lives, saving homeless veterans anywhere, any time."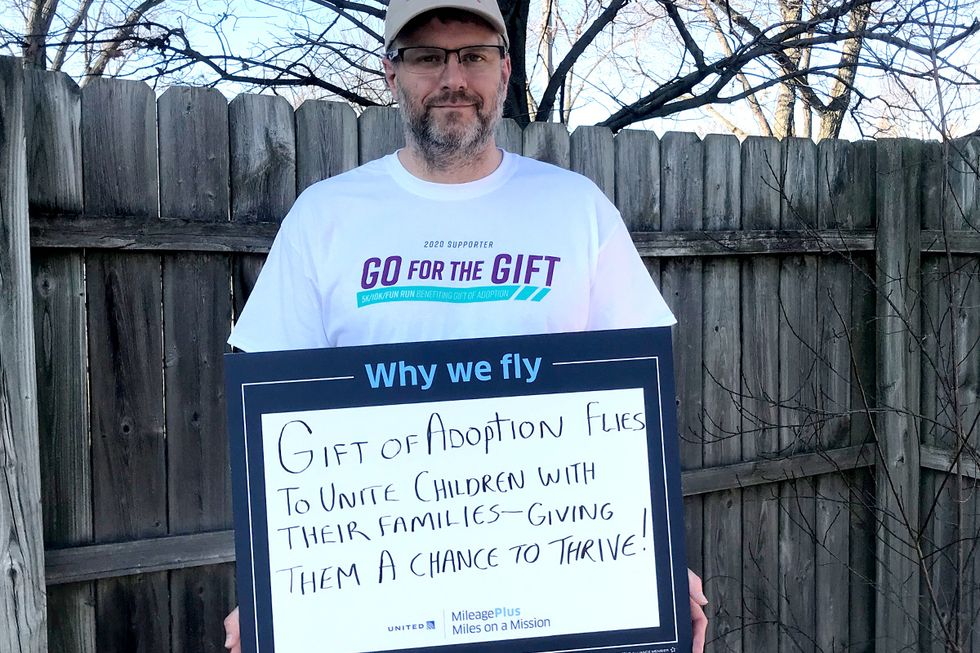 "Gift of Adoption flies to unite children with their families — giving them a chance to thrive!"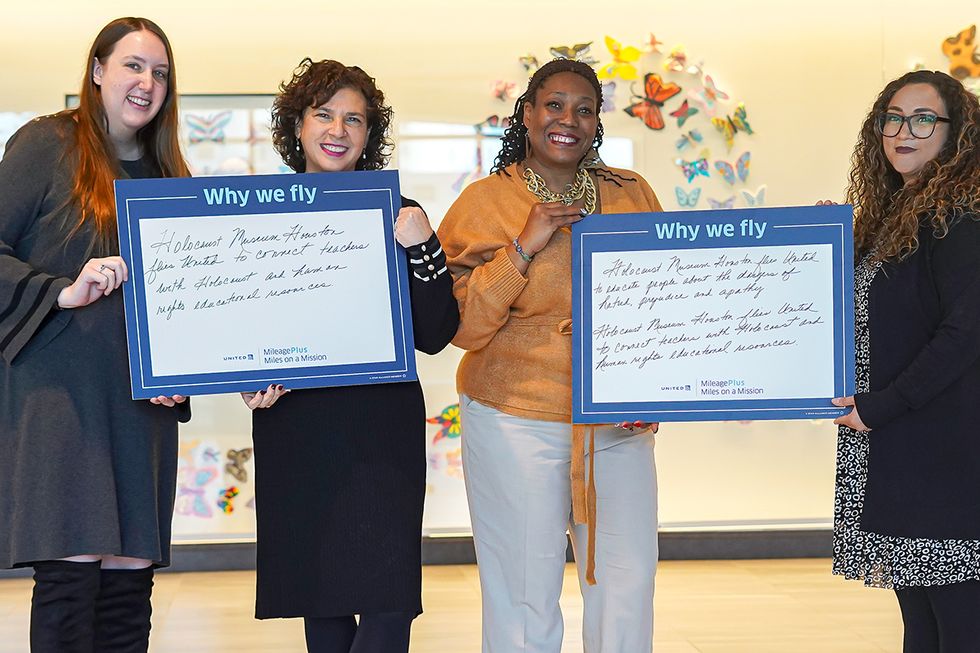 "Holocaust Museum Houston flies United to educate people about the dangers of hatred, prejudice and apathy. Holocaust Museum Houston flies United to connect teachers with Holocaust and human rights educational resources."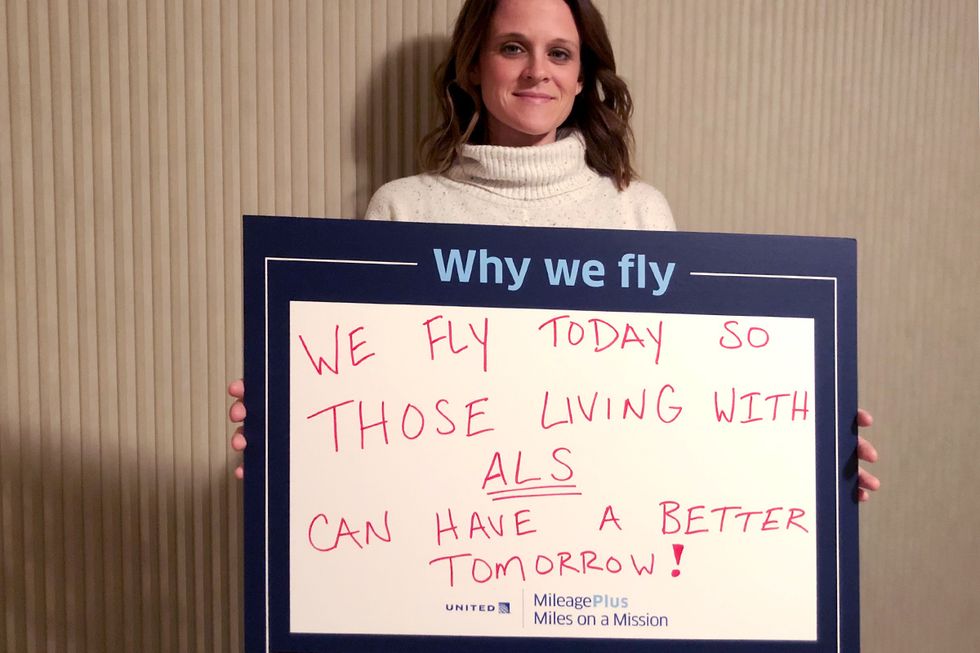 "We fly today so those living with ALS can have a better tomorrow."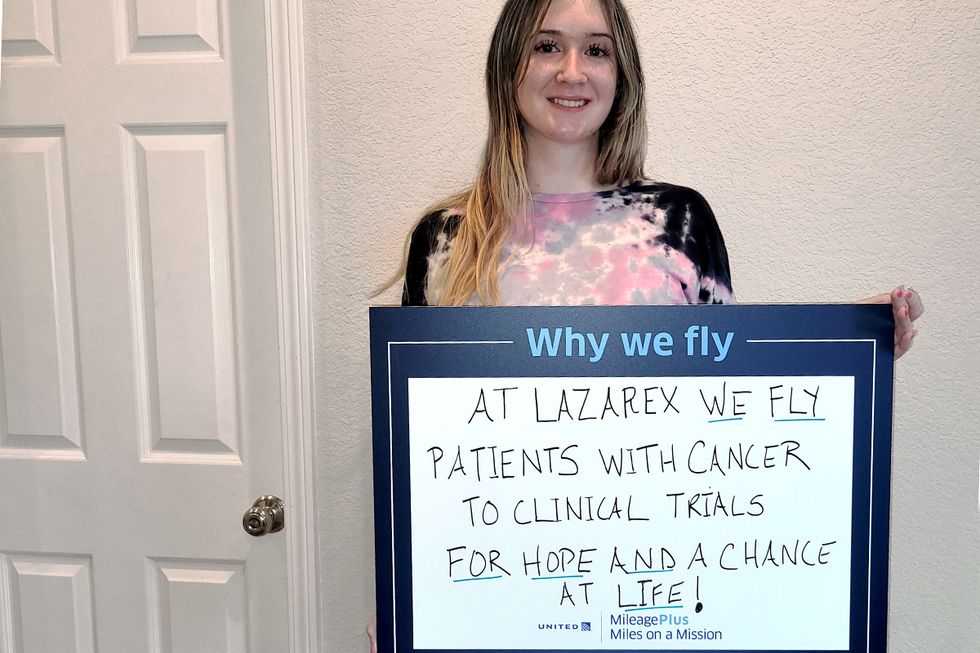 "At Lazarex we fly patients with cancer to clinical trials for hope and a chance at life!"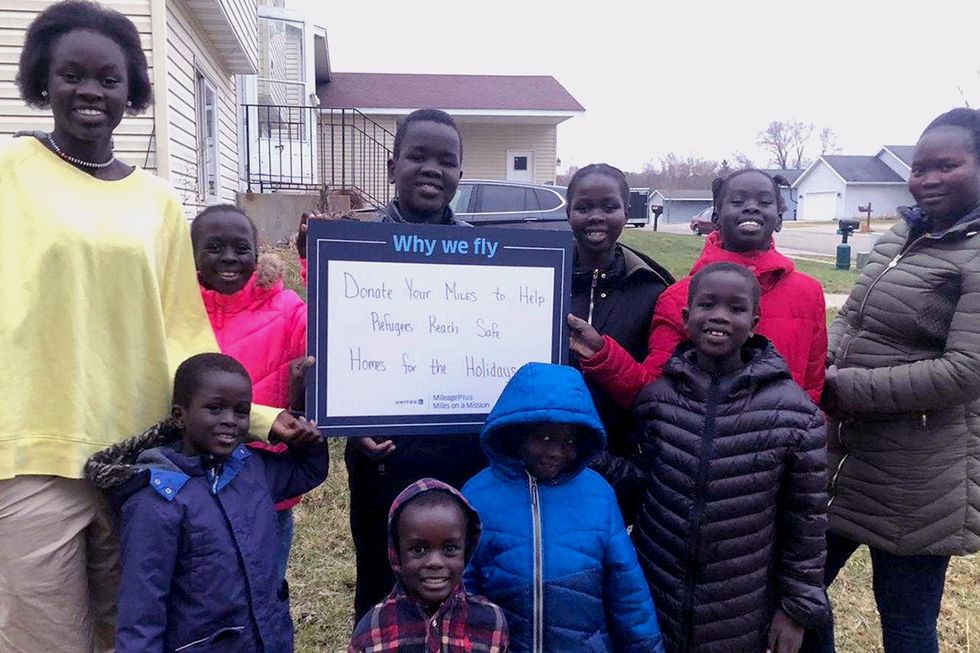 "Donate your miles to help refugees reach safe homes for the holidays."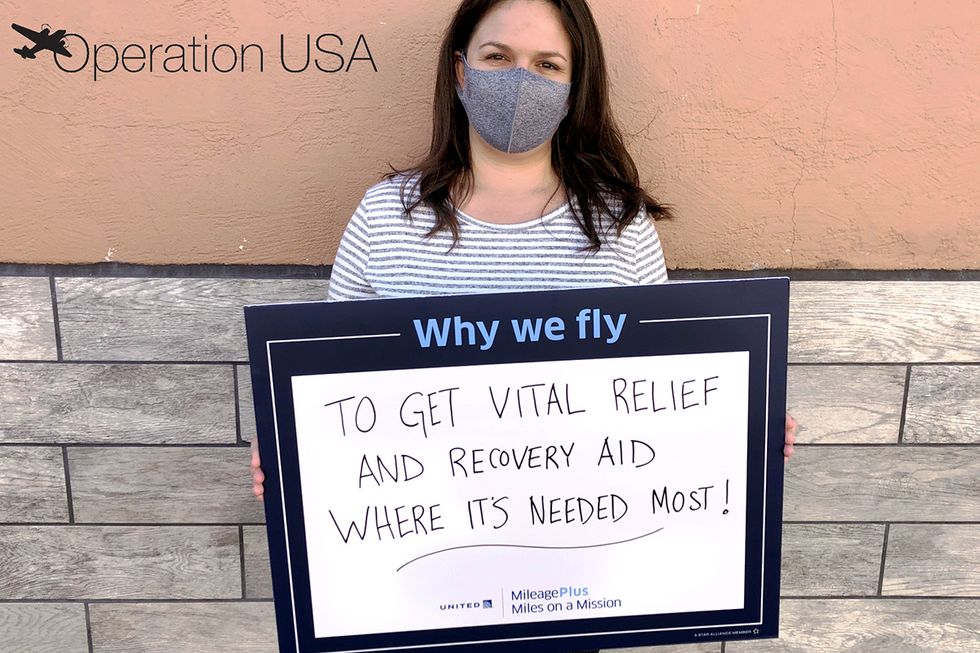 "To get vital relief and recovery aid where it's needed most!"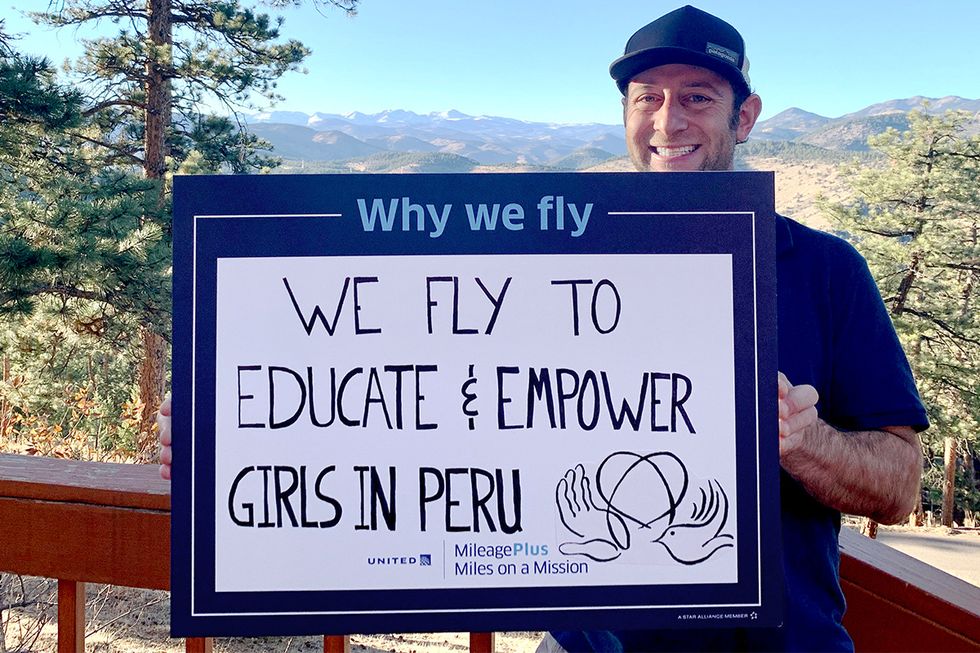 "We fly to educate and empower girls in Peru."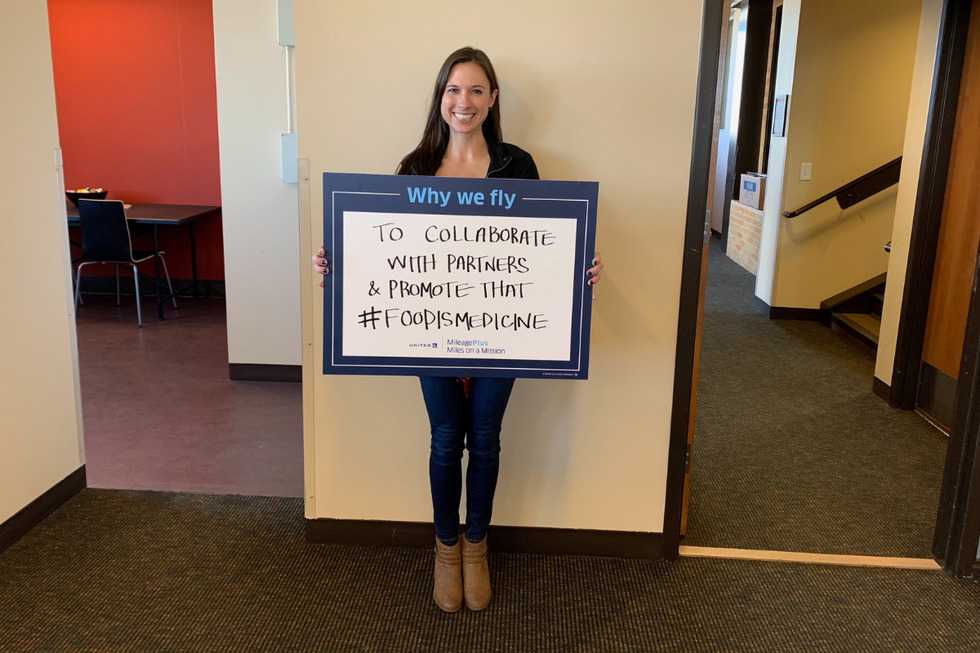 "To collaborate with partners & promote that #FoodIsMedicine"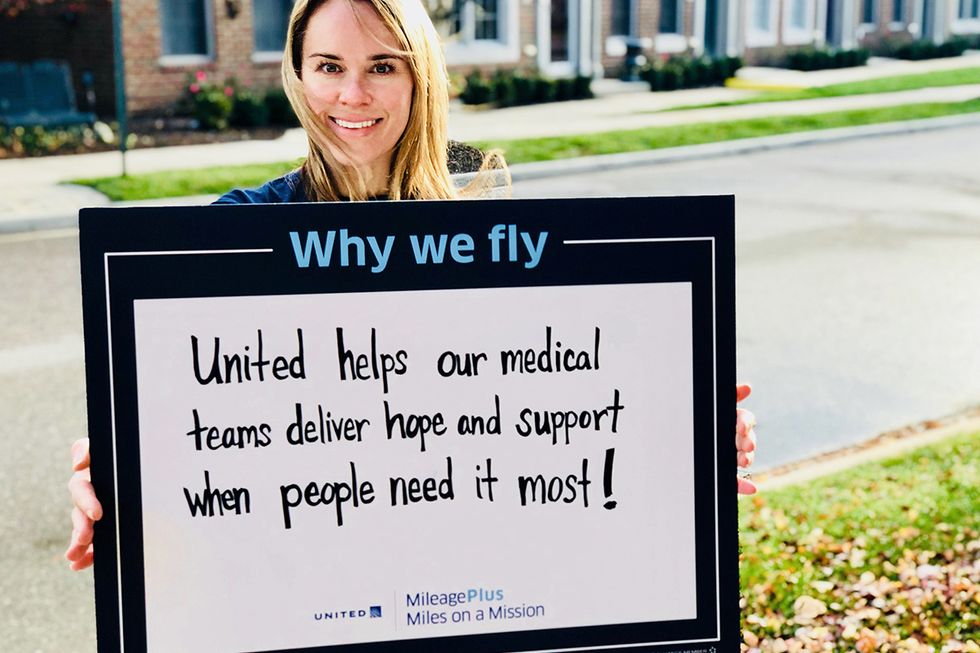 "United helps our medical teams deliver hope and support when people need it most!"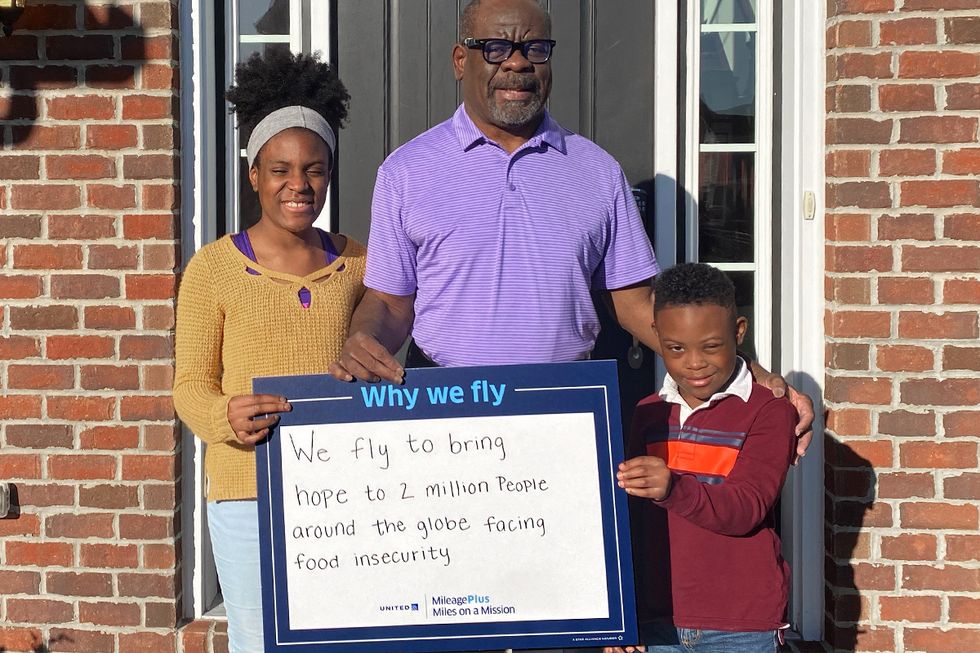 "We fly to bring hope to 2 million people around the globe facing food insecurity."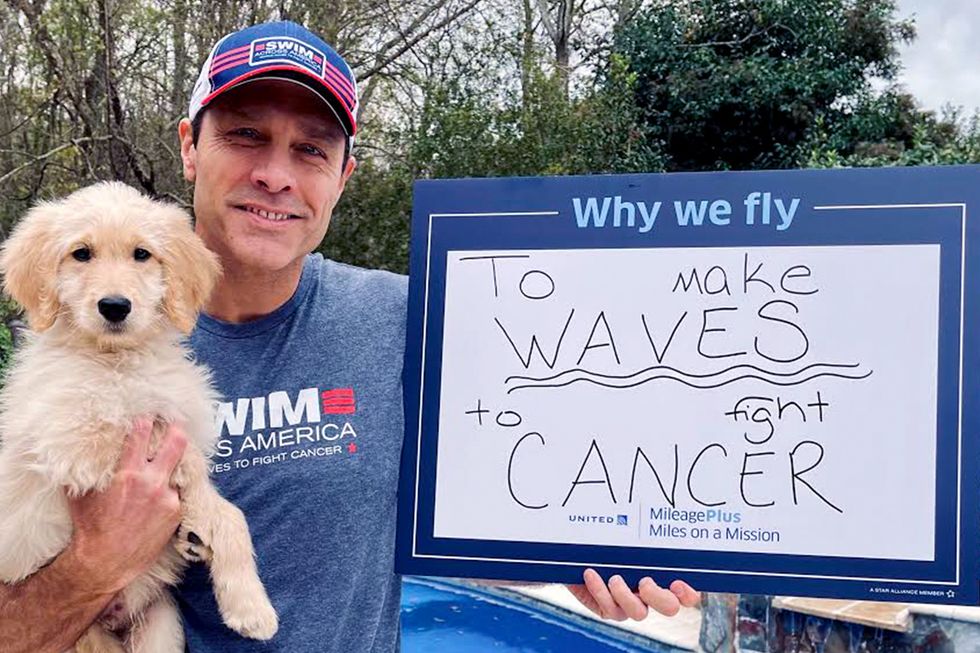 "To make waves to fight cancer."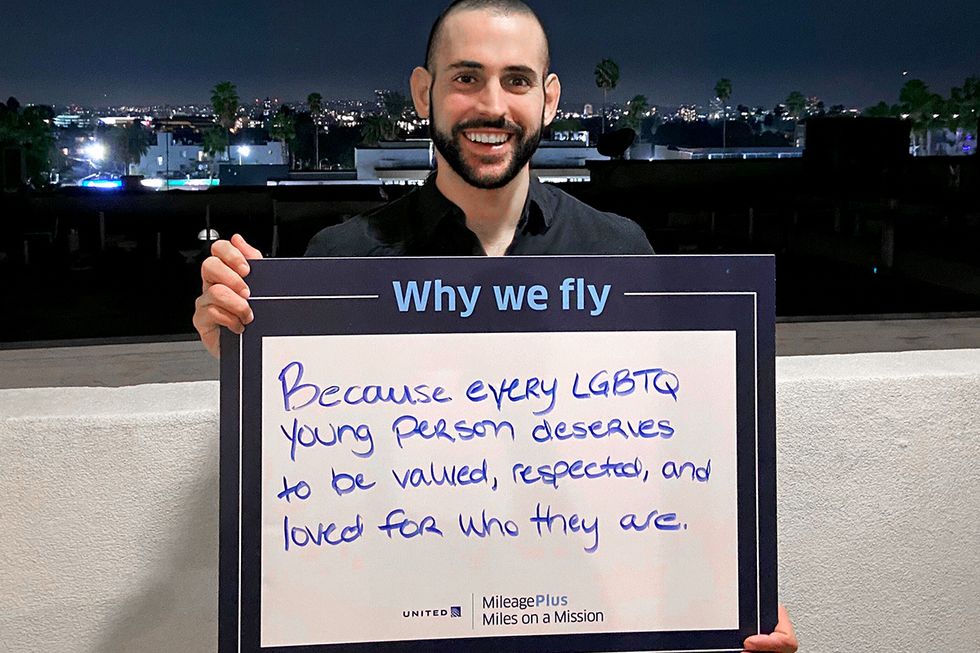 "Because every LGBTQ young person deserves to be valued, respected and loved for who they are."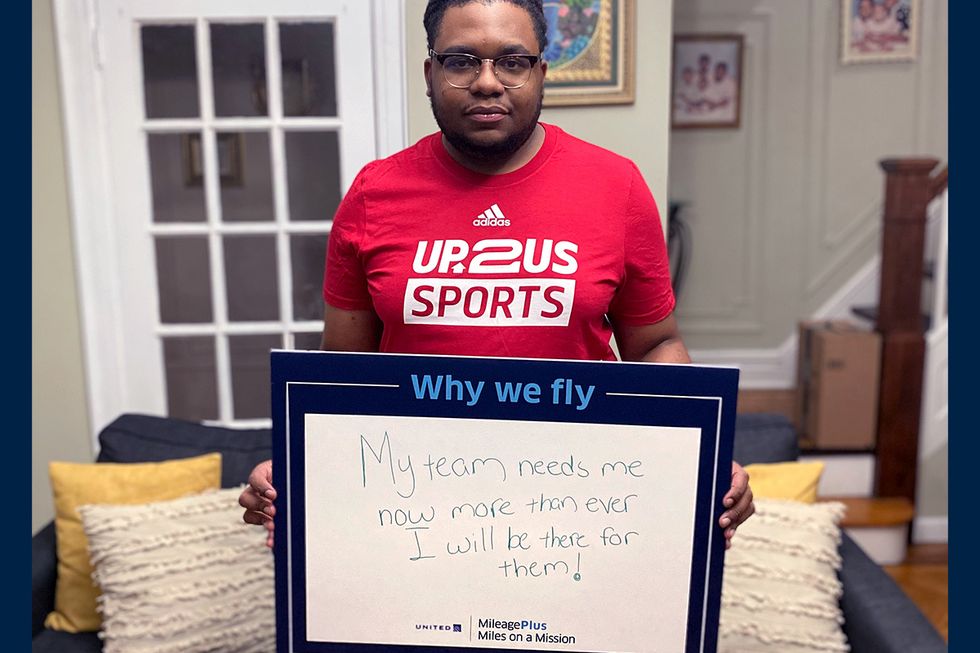 "My team needs me now more than ever. I will be there for them!"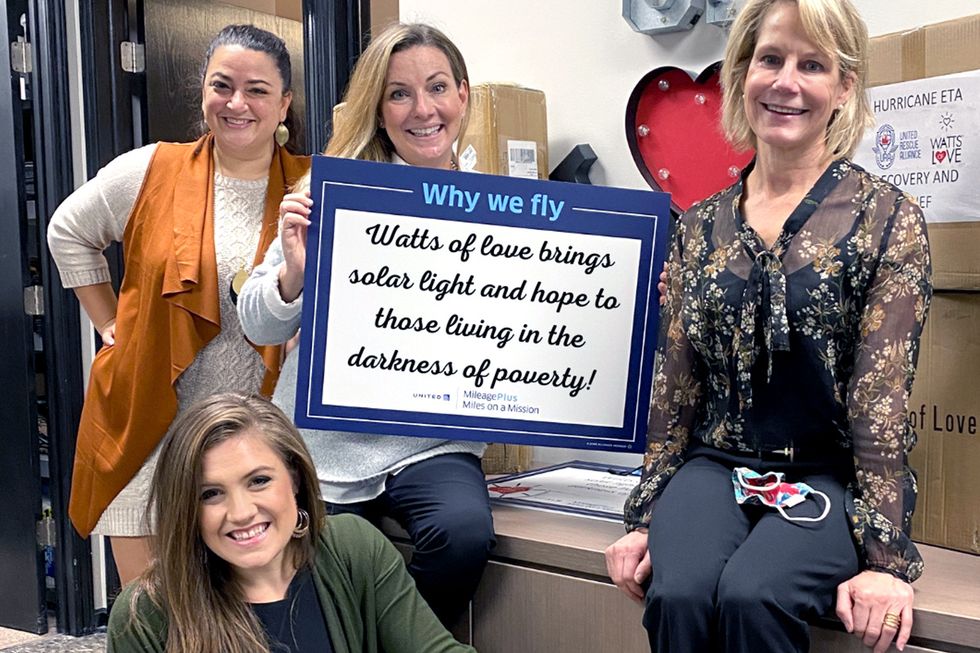 "Watts of Love brings solar light and hope to those living in the darkness of poverty!"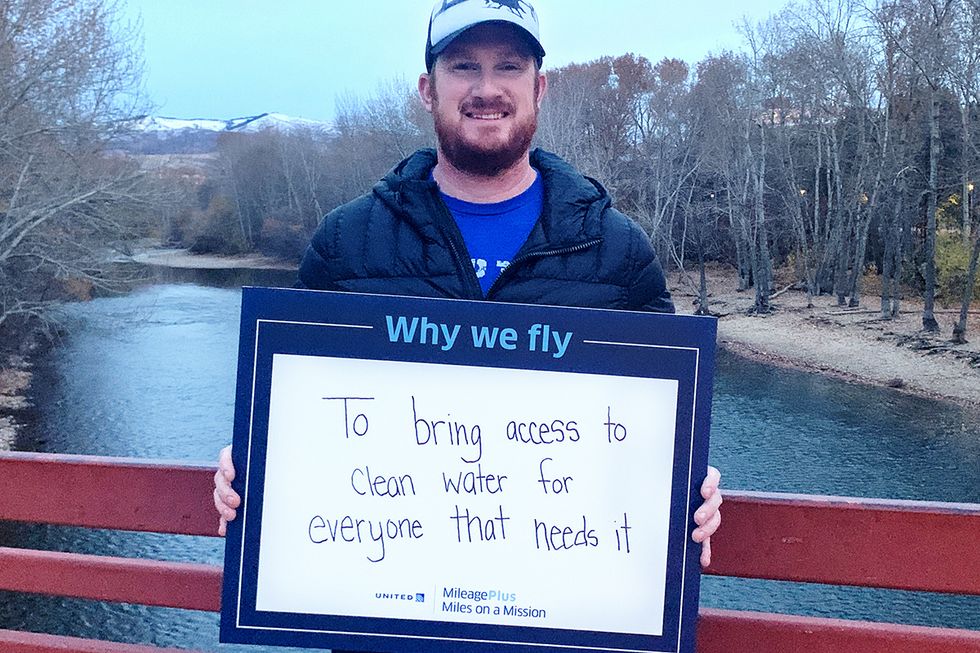 "To bring access to clean water for everyone that needs it."
Scroll to top