Three Perfect Days: Panama City
Story by Chris Sorensen | Photography by Joe Keohane | Hemispheres, January 2016
In the beginning, Panama was water. Then an isthmus formed, a strip of land born of immense tectonic forces that joined the American continents. It's been only a decade and a half since Panama has been entirely on its own, but the postcolonial era is off to a rollicking start: For two years running, Gallup-Healthways has named Panama the happiest place in the world, giving the country high marks in work satisfaction, physical well-being, and sense of community. If you've ever walked the streets of its capital, Panama City, and seen the smiling faces of its citizens, you don't need a statistician to tell you that this is a place defined by optimism and invention, possibility and pride.

In which Joe brunches with a pioneering chef and takes in the canal view from a forested hilltop and a rooftop bar
The first thing that strikes you when you approach Panama City is the skyline. The towers are so densely clustered and slender and bright they look like a geological feature, an effusion of quartz rising from the earth.
I wake up in one of them: the Waldorf Astoria, a sharp-edged block erected in a recent frenzy of construction that is only now starting to abate. My room—done in beige and gold, glass and chrome—has a kind of glow to it. I open the curtains and, beyond the palisade of high-rises, get my first glimpse of the tankers, dozens of them, sitting low in the sea, headed southwest toward the Panama Canal.
Panama City, I've been told, is a "three-shower-a-day kind of place," and I soon discover why. I exit the Waldorf and receive the full brunt of the city's equatorial heat. So, my first order of business is to get myself a straw hat. I stroll along nearby Cinta Costera—a manicured path that snakes along the edge of the bay—toward Victor's Panama Hats. This is not a terribly pedestrian-friendly city—sidewalks are scarce and the driving erratic—so Cinta Costera is a popular spot. Joggers jog, families relax, vendors vend, travel writers pour sweat.
I duck back into the Waldorf, exchange knowing looks with the doorman, change into shorts, and smuggle out a washcloth for brow-mopping duty, as I don't think the hat will be sufficient. I am about to meet a prominent Panamanian, after all, and I want to look at least halfway presentable.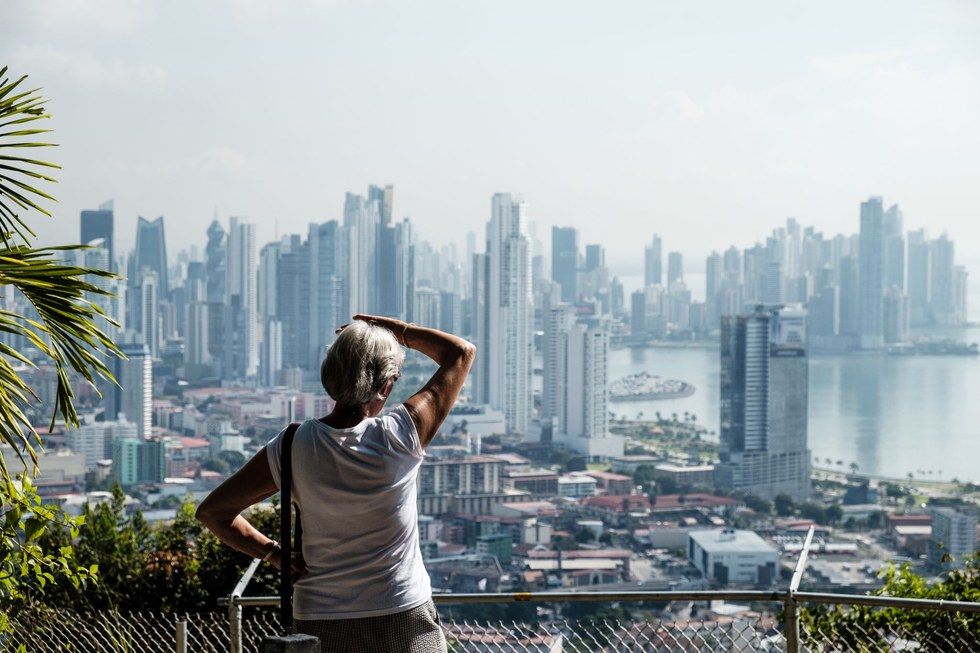 Panama City's towers seen from Cerro Ancón
Elena Hernández is the founder of the Panamá Gastronómica food festival. We meet at the Nina Concept Store, a trendy design shop, gallery, and café owned by her brother Manuel. While we try the brunch offerings—corn arepas with tuna and cilantro mayonnaise, eggs Benedict with salmon on brioche (baked by Hernández), pancakes, and local fruit—she tells me her story.

She was born in New York City and moved here when she was around 4 years old. After dropping out of law school, she attended Le Cordon Bleu in Paris. "When I came back, there were only maybe five chefs in Panama," she says. "I was, like, the second woman." Cooking was seen as a low profession in a place where parents wanted their kids to be doctors, lawyers, and engineers, and most favored European- and American-style food.
After working in several restaurants, Hernández opened Panama's first private cooking school. Then she created Panamá Gastronómica five years ago to promote the work of the country's new wave of chefs. "I think we helped make people proud of Panamanian cuisine," she says, taking a bite of bacon that came from a butcher down the street. "Nobody studied cooking before. Now everyone wants to."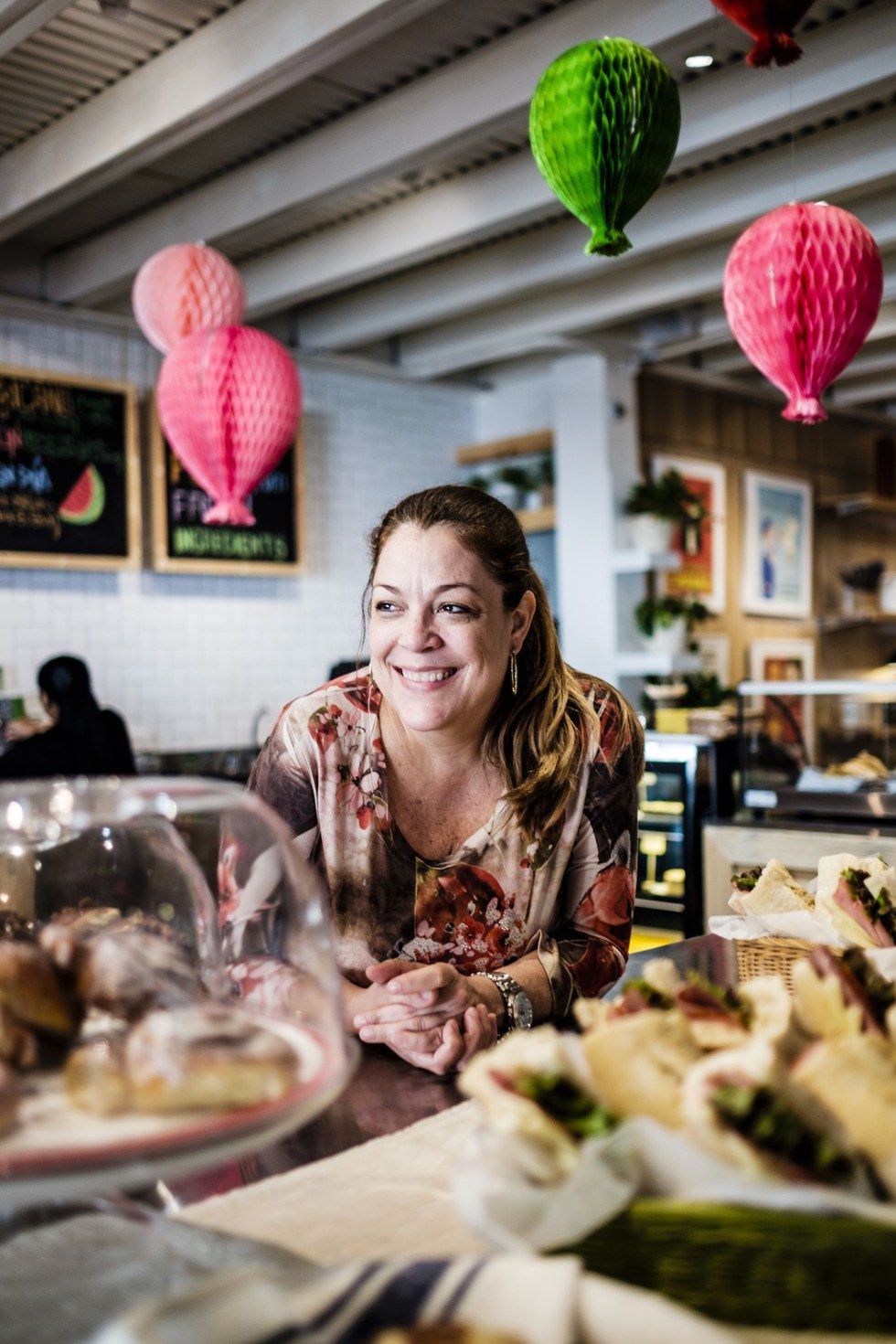 Elena Hernández, founder, Panamá Gastronómica
I leave with a list of Hernández's favorite eateries but decide to burn off a few calories before cramming myself with more. A short drive across town is Cerro Ancón, the famous wooded hill that rises 650 feet above the city and is topped with a giant Panamanian flag. As I trudge upward, damply greeting fellow hikers, the noise of the city recedes. Aguotis—small creatures that resemble miniature tapirs—bound across my path. Hawks wheel above. The walk takes about 20 minutes, and the views from the summit are astounding: the great canal on one side, the emphatic sprawl of the city on the other.

Later, having stopped by the Waldorf for, yes, a shower, I take a car northeast to the San Francisco district. Dinner is at Maito, run by trailblazing chef Mario Castrellón. In a room that resembles a Japanese teahouse filtered through a Latin American lens, a procession of wildly imaginative food commences: tuna tartare and spicy guacamole served on a crispy plantain chip; baby squid with achiote and pork rinds; lamb bacon tacos with tzatziki; mackerel tempura with sweet-and-sour sauce. Chef Mario comes out to say hello. He's funny, shaggy, and animated. I ask him what inspired him to devise this menu. "Panama," he replies. "It's what I think of when I think of Panama."
"In Panama, we're not famous for our traditional food. A lot of cultures have merged here: American, French, Jewish, Chinese, Arab, Spanish. We have always been the result of many cultures blending. Our food is the same." —Elena Hernández
It's late, but I have the driver stop at the Ocean Sun Casino, where I take the elevator up to Panaviera, with its thrumming outdoor rooftop bar on the 66th floor. I grab a stool by the railing, order a local 507 beer, and get down to the business of pondering the town. The way the city lights extend before yielding to the darkness of the interior. The way the still tankers twinkle in the black water, waiting for the opening of the canal. The way … oh, I just remembered: I have to get up at 6 a.m. tomorrow.
I call it a night.

In which Joe swings through a rainforest canopy and explores the streets of revitalized Casco Viejo
"How do you know about this? Panamanians don't even know about this!" I'm visiting Yarabi Vega, an employee at the Parque Natural Metropolitano, which is a jungle. Not the way New York's Central Park was a jungle in the 1970s, but an actual jungle, a former U.S. military base that returned to Panamanian control, was inaugurated as a park in 1988, and has since reverted to a lush state of nature.
The well-kept secret Vega is referring to is the canopy crane. If you work it out with the park in advance, you can go 150 feet up in a machine that ecologists use to study the rainforest canopy. Vega leads me down a dirt path, amid the urgent cries of hidden titi monkeys, past abandoned military installations, until we arrive at the crane and meet the operator, Edwin. I mention that I want to see a sloth. Edwin nods. It's a reasonable request. Then he says, "I have to go to my office!" and climbs a ladder to a cabin at the top of the crane. We on the ground strap on our harnesses, step into a metal cage, and lurch upward toward the canopy.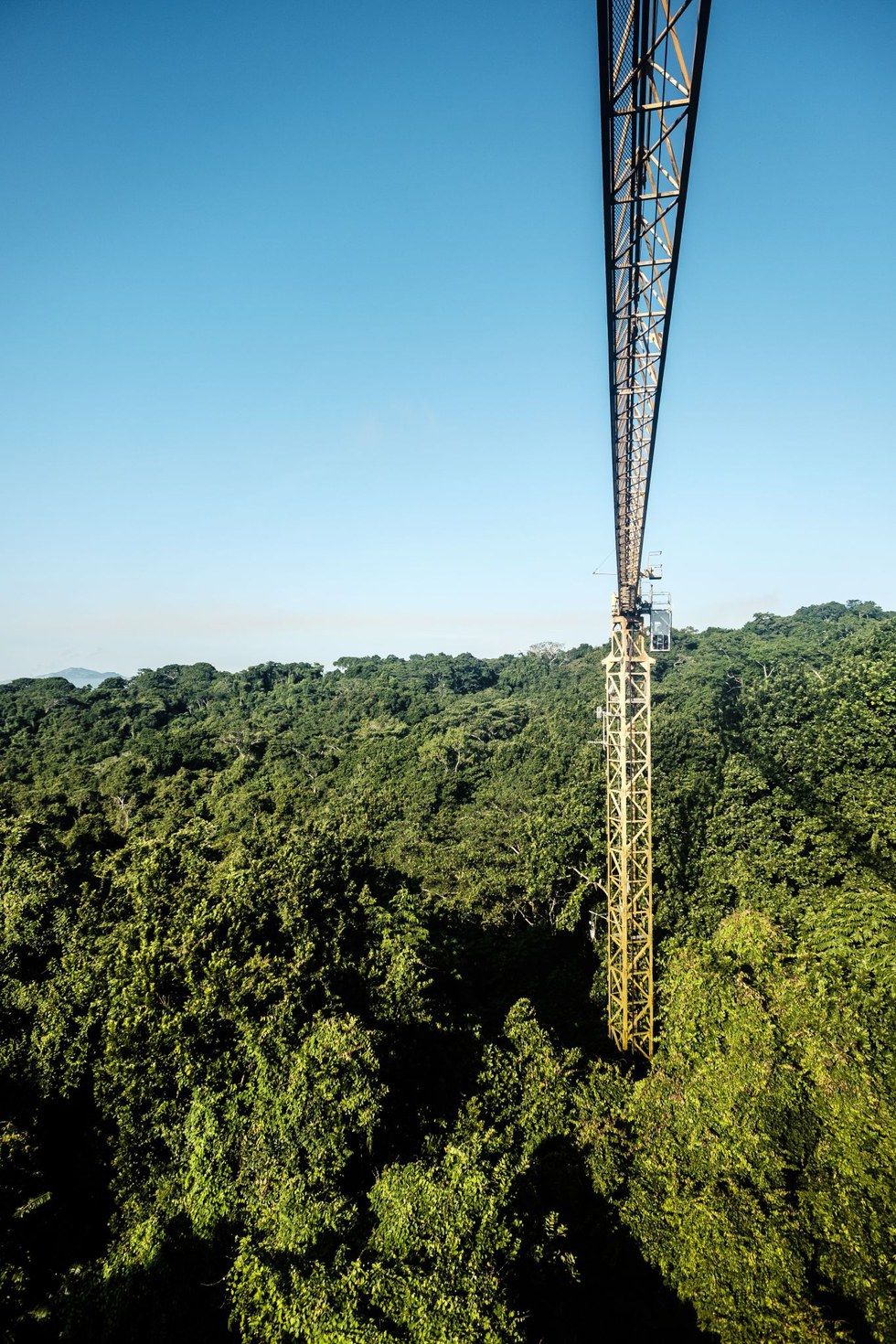 The canopy crane at the Parque
Soon we're dangling over the rainforest, taking in the view—the jungle, the city in its morning haze, the sea beyond. Suddenly, disconcertingly, we swing left, drop back down into the trees, and come to a halt. Two feet in front of us: a sleeping three-toed sloth.
"Can you wake him up?" I ask Vega.
"Maybe if you make the sound of an eagle."
Screaming at the thing seems mean, so I tap the cage and whistle. The sloth very slowly turns to face us. He blinks. He stares. Then he nods off again. It's thrilling.
I notice Vega is wearing a small carved sloth on her necklace.
"Are you a sloth fan?" I ask.
"Yes," she says. "I used to race them."
"You raced them?"
"Yes."
"Where?"
"In my apartment."
"You raced sloths in your apartment?"
"Yes," she says, as if it's the most normal thing in the world. She then explains that the park is also a rehab facility. They had found two baby sloths, and there was nowhere to put them, so Vega took them home to care for them.
"Oh! You raised them."
"Yes!"
We return to earth, and after parting with Vega, I head for Casco Viejo—the old town—to check into the American Trade Hotel. In the bad old days, this building was occupied by gangs, who nicknamed it "Castle Grayskull," à la He-Man. Today it's an impeccably tasteful colonial-style boutique, launched by the people behind the Ace Hotel chain. My room is a sunny top-floor junior suite with an excellent shower that has its own eye-level window, allowing me to look over the rooftops of Casco as I scrub. I notice a small towel with "makeup" embroidered on it and sequester it for brow-mopping duty.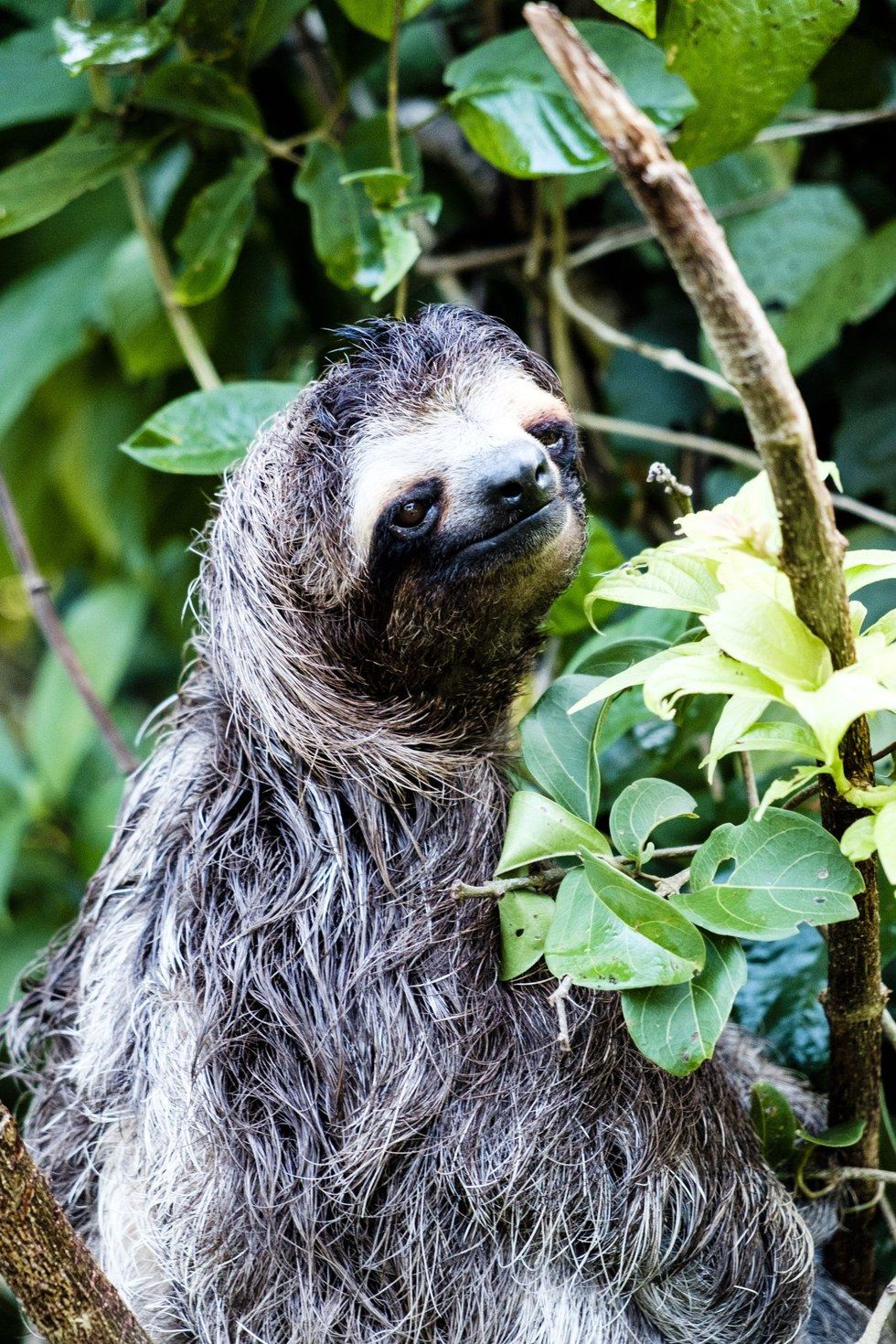 One of Parque Natural Metropolitano's slothful residents
Elena Hernández told me to check out Café Unido, a small local chain co-owned by Mario Castrellón that seeks to reintroduce Panamanians to the glory of their home-grown coffee. Luckily, there's one at the hotel. I get a chocolate croissant and a cup of Geisha coffee. Geisha is one of the most sought-after beans on the planet, and it grows in Panama. Costing $7 a cup, it's brewed one cup at a time using the pour-over method, and it is remarkable—deep and smooth, with a lemony hint that yields to smokiness. It's worthy of its reputation.
I take mine black and to-go and head out into the narrow streets of Casco Viejo. A UNESCO World Heritage Site, the area has had its ups and downs. Right now, it's on the up. Scores of old buildings are being renovated; restaurants and bars are appearing. I stroll through Plaza de la Catedral, with its 18th-century Spanish colonial Catedral Metropolitana, past the vendors selling hats and crafts. I'm heading for the Ramparts, the defenses that once protected the colonial city from seaborne invasion. The walkway along the top of the walls has been converted into a lovely shaded space under a canopy of flowers. I plop down on a bench and watch the ships.
Continuing my stroll, I stop at Papilo y Yo, a little shop owned by Zaira Lombardo. She and her staff specialize in creating stylish designs using traditional Panamanian techniques and materials: hats and bags, jewelry, housewares. For now, her buyers are mostly foreign. "It's difficult to sell to Panamanians," she says. "They're like people in Miami. They like brands. But little by little they're learning to appreciate things from here." I tell her I keep hearing that, and she nods. "There is a wave of people like me."
I'm off to meet another cultural pioneer: Pituka Ortega Heilbron, director of the four-year-old Panama International Film Festival. She's suggested we have lunch at Boulevard Balboa, a 1950s-era diner on the waterfront. It's full of people from all walks of life: politicians, businesspeople, musicians. "Look around, and you'll see the heart," she says. "This is Panama right here." Her father was a politician and later a newspaper columnist, and he used to come here to take in the gossip. "They sat all morning drinking coffee and just talking." According to Ortega Heilbron, the malted shakes here are the best in Panama, so I order a coffee malt, plus a tortilla sandwich with pepperoni and mozzarella. "Good choice," she says. "Really Panamanian. That will last you till tonight."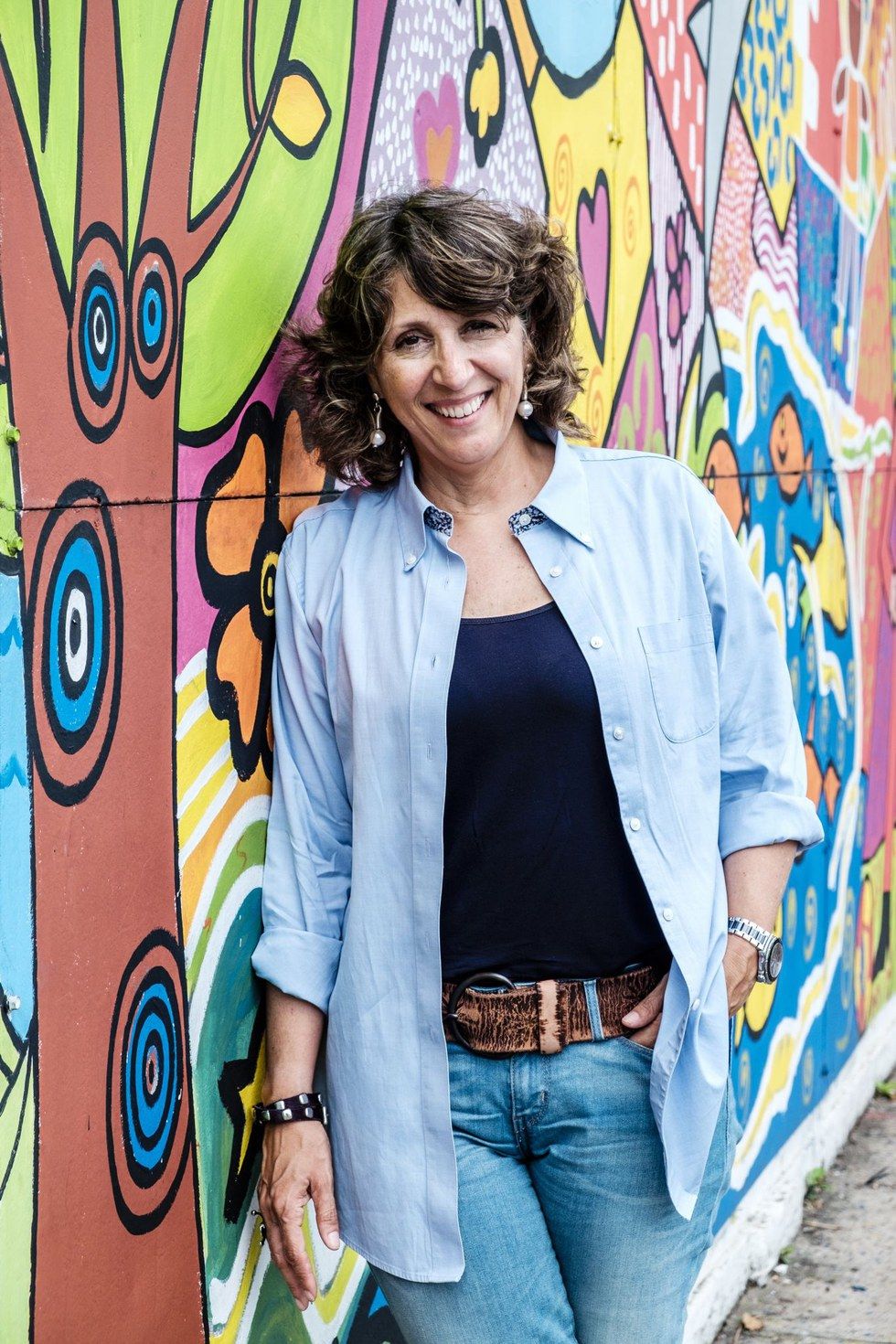 Pituka Ortega Heilbron, director, Panama International Film Festival
When she started in film, Panama didn't have much interest in the form, but now the scene is starting to bloom. That has a lot to do with the festival, which has grown into an internationally renowned event. "What was fascinating in the first year is that people saw these films in Spanish, and they couldn't believe the quality," she says. "They discovered something about themselves."
I spend the rest of the afternoon wandering around Casco Viejo, listening, looking, using the makeup towel. I stop to get a juice at one of the shaded tables on Plaza Bolívar. A little later, in need of more substantial refreshment, I duck into the American Trade's cool, bright lobby bar for a Canal Jumper—white rum, Bushmills, falernum, lime, and orange, served with a lit cinnamon stick, glowing red like a cigar. I enjoy it in a wicker rocking chair by the window, watching the light fade over the streetscape outside.
"One of the things that make me love Panama is that our national shield says 'Pro Mundi Beneficio,' which means, 'For the good of the world.' We don't always realize it, but that's what we are. I want the Panama International Film Festival to be a platform for this." —Pituka Ortega Heilbron
Dinner is across town at Intimo, a cozy new restaurant (if you can find it; there's no sign) that feels more Northern California than Panama, with a rustic-chic vibe, open kitchen, hirsute staff, and a formidable tasting menu that draws upon local ingredients, including some grown in the backyard. Chef Carlos Alba comes over to chat. He started out studying to be an industrial engineer, but, inspired by Mario Castrellón, switched to cooking. The decision horrified his parents, but it paid off. "Mario was one of the reasons it became OK to be a chef," he says. They worked together for several years, and then Carlos opened Intimo.
I have a coconut water martini to start things off. Then comes the deluge: food, cocktails, wine, beer, cider. Among the imaginative dishes I try are the tamarind-glazed beans, which taste like ribs; dumplings stuffed with root vegetables; rabbit over a sweet corn puree with crunchy corn; mushrooms with creamy sweet potato, fennel confit, and fried kale; shredded lamb neck with carrots and tiny white flowers; and, finally, a dessert of pineapple yogurt "buried under chocolate dirt," served in a teacup.
For a nightcap, I head to Tántalo, a boutique hotel and restaurant that's popular with the trendy Casco set. The rooftop bar here looks out over the neighborhood jumble. Bare bulbs are strung overhead. People are dancing. The air is cool. The music is classic hip-hop. Someone's getting a tattoo in a chair in the corner. Everyone's friendly, having a great time. And then it hits me: Oh God, I have to get up at 6 a.m. again tomorrow.
But then something else hits me: Eh, maybe just one more.

In which Joe sails through the canal, gets a crash course in biodiversity, and hits a jazzy nightclub
On a boat operated by Canal & Bay Tours, with another Geisha coffee in hand (and potential solvency issues if this habit keeps up), I move toward the country's most famous feature, along the way counting the tankers awaiting entry to the canal. More than 50 are levitating in the morning haze. Most wait a day or a day and a half to get in. On average, ships pay $85,000 to pass, with the highest fee being nearly a half million, usually for cruise ships. The lowest fee was for an American named Richard Halliburton, who swam the canal in 1928. He paid 36 cents.
We pass under the Bridge of the Americas—completed in 1962 to rejoin the continents severed by the manmade waterway—and our guide tells us the canal's history. How the French attempted to build one, and it ended in mass death and disgrace. How the Americans pulled it off, not by digging a trench the whole way but by flooding the land and then installing locks at points too elevated to flood. That way they had to dig only 10 miles, instead of 50.
We arrive at the Miraflores Locks, trailing a tanker from Delaware. The 700-ton gates (made in Pittsburgh) shut behind us, and we wait as workers secure the boat to the 50-foot-thick concrete wall. I feel the surge of 26 million gallons of water in my stomach. The lock takes eight minutes to fill. Then we're through. The big ship ahead of us is tethered to two silver locomotives, called mules, which keep it centered as it moves through the narrow locks. Some of the largest vessels—called Panamax—pass with less than a foot on either side.
We navigate the renowned Culebra Cut, the stretch of the canal that was actually excavated. The scenery is somber, craggy, lovely. A light rain falls. We pass a small, fenced-in white building on the canal edge: It's where former Panamanian strongman Manuel Noriega is being held awaiting trial, after stints in American and French jails, on an array of charges.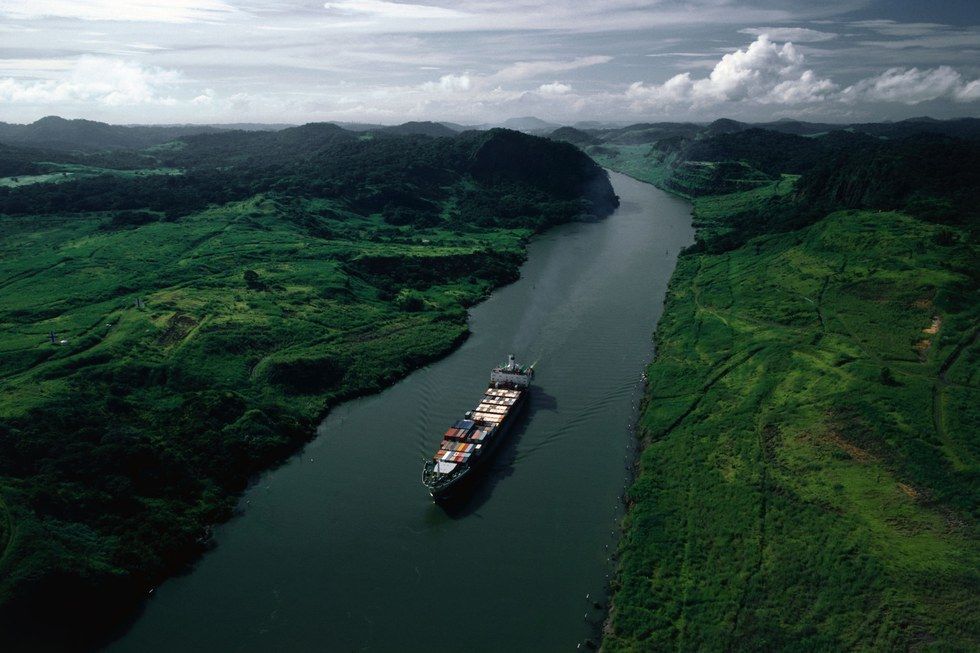 A cargo ship passes through the Panama Canal;
Our final stop is Gamboa, about three quarters of the way up the canal, where a bus takes us back to the city, dropping us off near the Amador Causeway, a pretty strip of land that serves as a breakwater and a recreation area. I stroll the length of it and arrive at the Biomuseo, the biodiversity museum that opened in 2014. A tumble of primary colors designed by Frank Gehry (his first work in Latin America), it looks like something Picasso might have made if asked to build an exotic bird out of kids' building blocks. It also contains a series of interesting exhibits that walk you through the formation of the isthmus, between 40 million and 80 million years ago, and the subsequent migration of creatures from north to south and south to north—including charming "tiny camels" and less charming "terror birds."
Back in Casco Viejo, I stop at the Diablo Rosso gallery, which architect and co-owner Johann Wolfschoon tells me was founded partly to address a scarcity of venues for local artists. It has sold pieces to the Tate Modern in London and the Guggenheim in New York. "We show things we believe in," Wolfschoon says. "Things that could be good for culture."
After a shower and an invigorating pale ale at La Rana Dorada, a pioneer in the burgeoning local craft beer scene, it's time for dinner a few blocks away. If I can find the restaurant. Again, there's no sign. A man sitting on a traffic barrier points me to the right place, but when I get there all the doors are shut. Having watched me walk around the building, twice, the man comes over and bangs on the door. It opens. He smiles. This must happen constantly.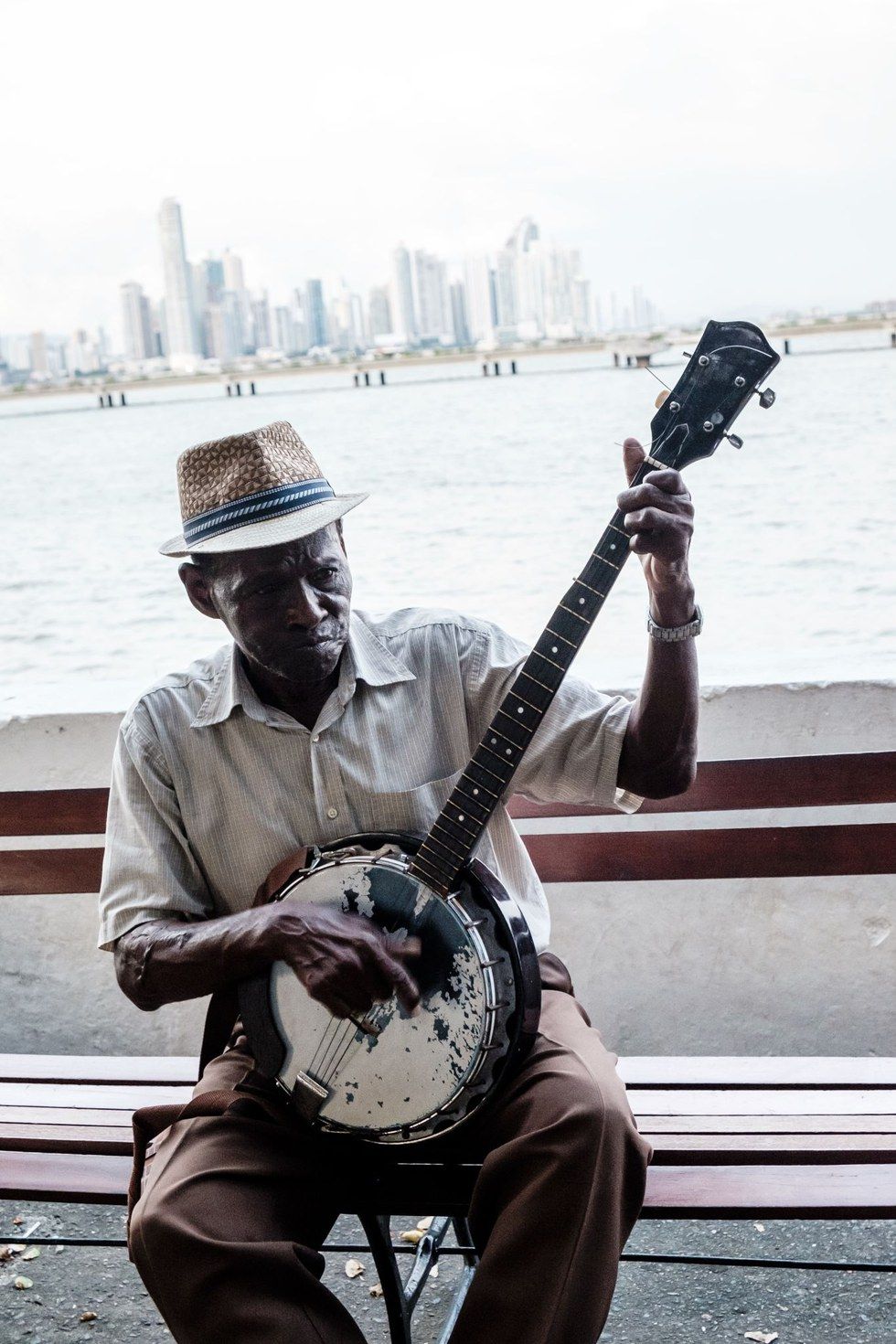 A banjo player on the ramparts of Casco Viejo
Now in its third year, Donde José is the work of celebrated chef José Carles, and like so many people I've met here, he wants to help carve out a new Panamanian identity. The place is tiny, like a well-appointed bunker—concrete, wood, metal, red velvet. I sit at the bar with a couple of recent transplants from Jamaica, and Carles comes out to walk us through his tasting menu. "We don't serve plates here," he says. "We tell stories." He's a physical man, and he expects that physicality to extend to his food. "You're going to use your hands a lot," he says. "Only fork and knife if it's necessary."
The meal is technically accomplished and deeply felt. Steamed dumplings stuffed with spicy corn tortilla; sea snails and cashews in a squash and clam broth; a salad with mango sorbet dressing and grated dried beef; a riff on chicken and rice in which fried chicken bits (breast, thigh, heart, and liver) are paired with rice cooked in chicken fat, making it obscenely rich. Finally, there's an apple pie, inspired by the ones served at McDonald's and made with the local root vegetable chayote (apples don't grow in Panama). "We're a young country," Carles says when I congratulate him on his culinary performance. "Who says we have to keep eating the same food forever?"
I ply the crowded streets and enter the hotel, tired and overfed, and hear music coming from Danilo's, the club opened here by legendary Panamanian jazz pianist Danilo Perez. I grab a table and order a beer. Leading a hard-driving quartet, singer Idania Dowman tears through jazz standards, soul classics, Latin fare. She struts, flirts, and tells blue jokes. After "Midnight Train to Georgia" and "Guantanamera," she does a colossal rendition of "My Way" that has the crowd howling along.
"I feel so diva!" she cries.
"You are!" someone shouts back.
"We are!" she replies, and it only gets louder, and happier, and later. And later still.
JoeKeohane, a New York–based writer and former editor of Hemispheres, is lobbying for sloth racing to become an Olympic sport.
This article was written by Joe Keohane from Rhapsody Magazine and was legally licensed through the NewsCred publisher network. Please direct all licensing questions to legal@newscred.com.
We're proud to launch a redesigned version of our United app to make it easier for customers with visual disabilities to manage all aspects of day-of travel, including check-in, viewing reservation details and flight status, bag tracking and more.
This latest version of our app is now available to both Android and iOS users, and it offers increased color contrast and more space between graphics. Furthermore, we have reorganized how information is displayed and announced to better integrate with screen reader technologies like VoiceOver and TalkBack, which are built into most handheld devices. By restructuring the way the information is organized on the app, screen readers are better able to convert text to audio in the proper, logical sequence, allowing customers to better understand and navigate the app.
"The parts of the travel experience that we all take for granted like checking luggage, getting your flight status and accessing a boarding pass can still be a challenge for someone with a visual disability," said EVP of Technology and Chief Digital Officer Linda Jojo. "These new accessibility enhancements are part of our continuing commitment to level the playing field, unlock all the customer benefits of our app and give people with disabilities more independence while traveling."
Senior Accessibility Analyst Ray Campbell is a member of United's digital team who's visually impaired and sits on the board of the American Council of the Blind. He played a key role in helping us redesign the app. He even put the app to the test as seen in this video.
"Optimizing mobile apps for tools such as VoiceOver and TalkBack has been a game changer, allowing people with visual disabilities to fully utilize smartphone technology in their daily lives," said Ray. "It's just as important for someone with a visual disability to easily access day-of-travel information and features as for any other customer. Improving the accessibility of the United app, helps us truly live out United's mission of caring for all customers."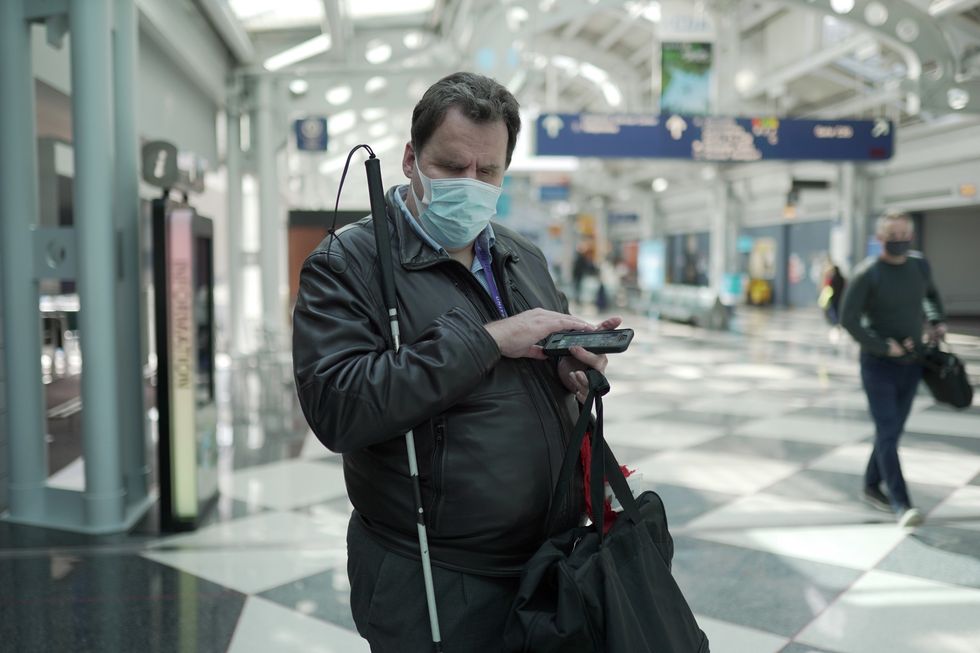 United's Senior Accessibility Analyst Ray Campbell using the mobile app at Chicago O'Hare International Airport.
Beyond the accessibility changes, our digital team enhanced the current offering while keeping the features that helped the app win a Webby People's Voice award in 2019.
For our MileagePlus® program members, the app now features a refreshed account experience for members to easily check balances, track Premier® progress, explore MileagePlus benefits, access past activity and more, all in one place.
The airline is also expanding a popular feature previously only accessible to MileagePlus members. Now, all 37 million customers who have the United app will see a contextualized home screen starting 48 hours before their flight which provides dynamic updates based on where a customer is in their travel journey. For example, customers can see the boarding status of their flight on their homescreen, access personal device entertainment onboard with one click, find a link to a map with gate-to-gate directions for connecting flights and click a quick access button to track any checked bags upon arrival.
We made slight tweaks to navigation based on customer feedback to make the app more intuitive, including making the bottom navigation persistent throughout the app. Another example is the "More" menu, which was reorganized and now contains the "Inbox" feature, which includes timely messages about boarding announcements, gate changes and other travel updates.
Customers will notice a new color palette that's consistent with the refreshed branding the airline debuted in 2019. United's digital team also made subtle design adjustments to make things more consistent and easier to find, like always using a purple bar to highlight the main call-to-action on a page and ensuring alerts and flight status icons appear the same way in every page on the app.
All of these changes are underpinned by a new back-end platform, which will ultimately make the app faster and more responsive.
The redesigned app is now available to download for iPhone®, iPad® and iPod touch® devices (as an iPhone app) and for Android devices.
Calling all AvGeeks and travelers! Take your next video call from a United Polaris® seat, the cockpit or cruising altitude with United-themed backgrounds for use on Zoom and Microsoft Teams.
Newly added to our collection is a background encouraging our employees and customers to vote. Our mission is to connect people and unite the world — and one of the most important ways to do that is to engage in the democratic process. No matter which party you support, we know our democracy will be stronger if you make your voice heard and vote.
So for your next meeting or catch up with friends and family, download the app to either your computer or mobile device to get started.
To use on Zoom:
Start here by downloading your favorite United image to your computer or mobile device. Just click "download" in the bottom left corner of the image.
Next go to your Zoom app (you'll need to download the app to access backgrounds) and click on the arrow to the right of your video camera icon in the bottom of the screen.
From here select, "choose virtual background" to upload your uniquely United photo.
To use on Microsoft Teams:
Start by downloading your favorite United image to your computer. Just click "download" in the bottom left corner of the image.

If you're using a PC, copy the image you want to use into this folder:

C:\[insert your device user name here]\AppData\Microsoft\Teams\Backgrounds\Uploads

If you're using a Mac copy the images to this folder on your computer:

/users/<username>/Library/Application Support/Microsoft/Teams/Backgrounds/Uploads

Once you start a Teams meeting, click the "…" in the menu bar and select "Show background effects" and your image should be there
Earlier this summer, we shone a light on our flagship partnership with Special Olympics and our commitment to the Inclusion Revolution. In that same story, we introduced you to our four Special Olympics Service Ambassadors, Daniel, Kyle, Lauren and Zinyra (Z), who, this month, celebrate one year working at Chicago O'Hare International Airport as part of the United family.
This groundbreaking, inclusive employment program took off as a part of our ongoing partnership with Special Olympics, a community relationship that employees across the company hold close to heart. The original 'UA4' (as they call themselves) have become an integral part of the United team serving customers at O'Hare Airport. Even from behind their masks, their wide smiles and effervescent spirit exude and bring life to the service culture of excellence we strive towards every day.
"The UA4 are more than just customer service ambassadors. They are shining examples of how inclusion, accessibility and equity can have monumental impacts on the culture and service of a business and community," said Customer Service Managing Director Jonna McGrath. "They have forever changed who we are as a company. While they often talk about how United and this opportunity has changed their lives, they have changed ours in more ways than we can count."
In the two years of partnership with Special Olympics, United employees have volunteered over 10,500 hours of service at events around the world and donated over $1.2 million worth of travel to the organization.
"This inclusive employment program is what community partnerships, like ours with Special Olympics, are all about: collaborating to identify areas where the needs of the community intersect with the cultural and business opportunity, then creating the infrastructure and programming to bring the two together," said Global Community Engagement Managing Director Suzi Cabo. "Through this program, our goal is to show other companies that when you put a committed effort and focus towards inclusion and breaking down barriers, you transform lives. I challenge other business around the world to follow our lead in joining the Inclusion Revolution."
Check out the video below to hear from our Special Olympics Service Ambassadors firsthand.
Scroll to top