Three Perfect Days: Panama City
Story by Chris Sorensen | Photography by Joe Keohane | Hemispheres, January 2016
In the beginning, Panama was water. Then an isthmus formed, a strip of land born of immense tectonic forces that joined the American continents. It's been only a decade and a half since Panama has been entirely on its own, but the postcolonial era is off to a rollicking start: For two years running, Gallup-Healthways has named Panama the happiest place in the world, giving the country high marks in work satisfaction, physical well-being, and sense of community. If you've ever walked the streets of its capital, Panama City, and seen the smiling faces of its citizens, you don't need a statistician to tell you that this is a place defined by optimism and invention, possibility and pride.
In which Joe brunches with a pioneering chef and takes in the canal view from a forested hilltop and a rooftop bar
The first thing that strikes you when you approach Panama City is the skyline. The towers are so densely clustered and slender and bright they look like a geological feature, an effusion of quartz rising from the earth.
I wake up in one of them: the Waldorf Astoria, a sharp-edged block erected in a recent frenzy of construction that is only now starting to abate. My room—done in beige and gold, glass and chrome—has a kind of glow to it. I open the curtains and, beyond the palisade of high-rises, get my first glimpse of the tankers, dozens of them, sitting low in the sea, headed southwest toward the Panama Canal.
Panama City, I've been told, is a "three-shower-a-day kind of place," and I soon discover why. I exit the Waldorf and receive the full brunt of the city's equatorial heat. So, my first order of business is to get myself a straw hat. I stroll along nearby Cinta Costera—a manicured path that snakes along the edge of the bay—toward Victor's Panama Hats. This is not a terribly pedestrian-friendly city—sidewalks are scarce and the driving erratic—so Cinta Costera is a popular spot. Joggers jog, families relax, vendors vend, travel writers pour sweat.
I duck back into the Waldorf, exchange knowing looks with the doorman, change into shorts, and smuggle out a washcloth for brow-mopping duty, as I don't think the hat will be sufficient. I am about to meet a prominent Panamanian, after all, and I want to look at least halfway presentable.
Panama City's towers seen from Cerro Ancón
Elena Hernández is the founder of the Panamá Gastronómica food festival. We meet at the Nina Concept Store, a trendy design shop, gallery, and café owned by her brother Manuel. While we try the brunch offerings—corn arepas with tuna and cilantro mayonnaise, eggs Benedict with salmon on brioche (baked by Hernández), pancakes, and local fruit—she tells me her story.

She was born in New York City and moved here when she was around 4 years old. After dropping out of law school, she attended Le Cordon Bleu in Paris. "When I came back, there were only maybe five chefs in Panama," she says. "I was, like, the second woman." Cooking was seen as a low profession in a place where parents wanted their kids to be doctors, lawyers, and engineers, and most favored European- and American-style food.
After working in several restaurants, Hernández opened Panama's first private cooking school. Then she created Panamá Gastronómica five years ago to promote the work of the country's new wave of chefs. "I think we helped make people proud of Panamanian cuisine," she says, taking a bite of bacon that came from a butcher down the street. "Nobody studied cooking before. Now everyone wants to."
Elena Hernández, founder, Panamá Gastronómica
I leave with a list of Hernández's favorite eateries but decide to burn off a few calories before cramming myself with more. A short drive across town is Cerro Ancón, the famous wooded hill that rises 650 feet above the city and is topped with a giant Panamanian flag. As I trudge upward, damply greeting fellow hikers, the noise of the city recedes. Aguotis—small creatures that resemble miniature tapirs—bound across my path. Hawks wheel above. The walk takes about 20 minutes, and the views from the summit are astounding: the great canal on one side, the emphatic sprawl of the city on the other.

Later, having stopped by the Waldorf for, yes, a shower, I take a car northeast to the San Francisco district. Dinner is at Maito, run by trailblazing chef Mario Castrellón. In a room that resembles a Japanese teahouse filtered through a Latin American lens, a procession of wildly imaginative food commences: tuna tartare and spicy guacamole served on a crispy plantain chip; baby squid with achiote and pork rinds; lamb bacon tacos with tzatziki; mackerel tempura with sweet-and-sour sauce. Chef Mario comes out to say hello. He's funny, shaggy, and animated. I ask him what inspired him to devise this menu. "Panama," he replies. "It's what I think of when I think of Panama."
"In Panama, we're not famous for our traditional food. A lot of cultures have merged here: American, French, Jewish, Chinese, Arab, Spanish. We have always been the result of many cultures blending. Our food is the same." —Elena Hernández
It's late, but I have the driver stop at the Ocean Sun Casino, where I take the elevator up to Panaviera, with its thrumming outdoor rooftop bar on the 66th floor. I grab a stool by the railing, order a local 507 beer, and get down to the business of pondering the town. The way the city lights extend before yielding to the darkness of the interior. The way the still tankers twinkle in the black water, waiting for the opening of the canal. The way … oh, I just remembered: I have to get up at 6 a.m. tomorrow.
I call it a night.
In which Joe swings through a rainforest canopy and explores the streets of revitalized Casco Viejo
"How do you know about this? Panamanians don't even know about this!" I'm visiting Yarabi Vega, an employee at the Parque Natural Metropolitano, which is a jungle. Not the way New York's Central Park was a jungle in the 1970s, but an actual jungle, a former U.S. military base that returned to Panamanian control, was inaugurated as a park in 1988, and has since reverted to a lush state of nature.
The well-kept secret Vega is referring to is the canopy crane. If you work it out with the park in advance, you can go 150 feet up in a machine that ecologists use to study the rainforest canopy. Vega leads me down a dirt path, amid the urgent cries of hidden titi monkeys, past abandoned military installations, until we arrive at the crane and meet the operator, Edwin. I mention that I want to see a sloth. Edwin nods. It's a reasonable request. Then he says, "I have to go to my office!" and climbs a ladder to a cabin at the top of the crane. We on the ground strap on our harnesses, step into a metal cage, and lurch upward toward the canopy.
The canopy crane at the Parque
Soon we're dangling over the rainforest, taking in the view—the jungle, the city in its morning haze, the sea beyond. Suddenly, disconcertingly, we swing left, drop back down into the trees, and come to a halt. Two feet in front of us: a sleeping three-toed sloth.
"Can you wake him up?" I ask Vega.
"Maybe if you make the sound of an eagle."
Screaming at the thing seems mean, so I tap the cage and whistle. The sloth very slowly turns to face us. He blinks. He stares. Then he nods off again. It's thrilling.
I notice Vega is wearing a small carved sloth on her necklace.
"Are you a sloth fan?" I ask.
"Yes," she says. "I used to race them."
"You raced them?"
"Yes."
"Where?"
"In my apartment."
"You raced sloths in your apartment?"
"Yes," she says, as if it's the most normal thing in the world. She then explains that the park is also a rehab facility. They had found two baby sloths, and there was nowhere to put them, so Vega took them home to care for them.
"Oh! You raised them."
"Yes!"
We return to earth, and after parting with Vega, I head for Casco Viejo—the old town—to check into the American Trade Hotel. In the bad old days, this building was occupied by gangs, who nicknamed it "Castle Grayskull," à la He-Man. Today it's an impeccably tasteful colonial-style boutique, launched by the people behind the Ace Hotel chain. My room is a sunny top-floor junior suite with an excellent shower that has its own eye-level window, allowing me to look over the rooftops of Casco as I scrub. I notice a small towel with "makeup" embroidered on it and sequester it for brow-mopping duty.
One of Parque Natural Metropolitano's slothful residents
Elena Hernández told me to check out Café Unido, a small local chain co-owned by Mario Castrellón that seeks to reintroduce Panamanians to the glory of their home-grown coffee. Luckily, there's one at the hotel. I get a chocolate croissant and a cup of Geisha coffee. Geisha is one of the most sought-after beans on the planet, and it grows in Panama. Costing $7 a cup, it's brewed one cup at a time using the pour-over method, and it is remarkable—deep and smooth, with a lemony hint that yields to smokiness. It's worthy of its reputation.
I take mine black and to-go and head out into the narrow streets of Casco Viejo. A UNESCO World Heritage Site, the area has had its ups and downs. Right now, it's on the up. Scores of old buildings are being renovated; restaurants and bars are appearing. I stroll through Plaza de la Catedral, with its 18th-century Spanish colonial Catedral Metropolitana, past the vendors selling hats and crafts. I'm heading for the Ramparts, the defenses that once protected the colonial city from seaborne invasion. The walkway along the top of the walls has been converted into a lovely shaded space under a canopy of flowers. I plop down on a bench and watch the ships.
Continuing my stroll, I stop at Papilo y Yo, a little shop owned by Zaira Lombardo. She and her staff specialize in creating stylish designs using traditional Panamanian techniques and materials: hats and bags, jewelry, housewares. For now, her buyers are mostly foreign. "It's difficult to sell to Panamanians," she says. "They're like people in Miami. They like brands. But little by little they're learning to appreciate things from here." I tell her I keep hearing that, and she nods. "There is a wave of people like me."
I'm off to meet another cultural pioneer: Pituka Ortega Heilbron, director of the four-year-old Panama International Film Festival. She's suggested we have lunch at Boulevard Balboa, a 1950s-era diner on the waterfront. It's full of people from all walks of life: politicians, businesspeople, musicians. "Look around, and you'll see the heart," she says. "This is Panama right here." Her father was a politician and later a newspaper columnist, and he used to come here to take in the gossip. "They sat all morning drinking coffee and just talking." According to Ortega Heilbron, the malted shakes here are the best in Panama, so I order a coffee malt, plus a tortilla sandwich with pepperoni and mozzarella. "Good choice," she says. "Really Panamanian. That will last you till tonight."
Pituka Ortega Heilbron, director, Panama International Film Festival
When she started in film, Panama didn't have much interest in the form, but now the scene is starting to bloom. That has a lot to do with the festival, which has grown into an internationally renowned event. "What was fascinating in the first year is that people saw these films in Spanish, and they couldn't believe the quality," she says. "They discovered something about themselves."
I spend the rest of the afternoon wandering around Casco Viejo, listening, looking, using the makeup towel. I stop to get a juice at one of the shaded tables on Plaza Bolívar. A little later, in need of more substantial refreshment, I duck into the American Trade's cool, bright lobby bar for a Canal Jumper—white rum, Bushmills, falernum, lime, and orange, served with a lit cinnamon stick, glowing red like a cigar. I enjoy it in a wicker rocking chair by the window, watching the light fade over the streetscape outside.
"One of the things that make me love Panama is that our national shield says 'Pro Mundi Beneficio,' which means, 'For the good of the world.' We don't always realize it, but that's what we are. I want the Panama International Film Festival to be a platform for this." —Pituka Ortega Heilbron
Dinner is across town at Intimo, a cozy new restaurant (if you can find it; there's no sign) that feels more Northern California than Panama, with a rustic-chic vibe, open kitchen, hirsute staff, and a formidable tasting menu that draws upon local ingredients, including some grown in the backyard. Chef Carlos Alba comes over to chat. He started out studying to be an industrial engineer, but, inspired by Mario Castrellón, switched to cooking. The decision horrified his parents, but it paid off. "Mario was one of the reasons it became OK to be a chef," he says. They worked together for several years, and then Carlos opened Intimo.
I have a coconut water martini to start things off. Then comes the deluge: food, cocktails, wine, beer, cider. Among the imaginative dishes I try are the tamarind-glazed beans, which taste like ribs; dumplings stuffed with root vegetables; rabbit over a sweet corn puree with crunchy corn; mushrooms with creamy sweet potato, fennel confit, and fried kale; shredded lamb neck with carrots and tiny white flowers; and, finally, a dessert of pineapple yogurt "buried under chocolate dirt," served in a teacup.
For a nightcap, I head to Tántalo, a boutique hotel and restaurant that's popular with the trendy Casco set. The rooftop bar here looks out over the neighborhood jumble. Bare bulbs are strung overhead. People are dancing. The air is cool. The music is classic hip-hop. Someone's getting a tattoo in a chair in the corner. Everyone's friendly, having a great time. And then it hits me: Oh God, I have to get up at 6 a.m. again tomorrow.
But then something else hits me: Eh, maybe just one more.
In which Joe sails through the canal, gets a crash course in biodiversity, and hits a jazzy nightclub
On a boat operated by Canal & Bay Tours, with another Geisha coffee in hand (and potential solvency issues if this habit keeps up), I move toward the country's most famous feature, along the way counting the tankers awaiting entry to the canal. More than 50 are levitating in the morning haze. Most wait a day or a day and a half to get in. On average, ships pay $85,000 to pass, with the highest fee being nearly a half million, usually for cruise ships. The lowest fee was for an American named Richard Halliburton, who swam the canal in 1928. He paid 36 cents.
We pass under the Bridge of the Americas—completed in 1962 to rejoin the continents severed by the manmade waterway—and our guide tells us the canal's history. How the French attempted to build one, and it ended in mass death and disgrace. How the Americans pulled it off, not by digging a trench the whole way but by flooding the land and then installing locks at points too elevated to flood. That way they had to dig only 10 miles, instead of 50.
We arrive at the Miraflores Locks, trailing a tanker from Delaware. The 700-ton gates (made in Pittsburgh) shut behind us, and we wait as workers secure the boat to the 50-foot-thick concrete wall. I feel the surge of 26 million gallons of water in my stomach. The lock takes eight minutes to fill. Then we're through. The big ship ahead of us is tethered to two silver locomotives, called mules, which keep it centered as it moves through the narrow locks. Some of the largest vessels—called Panamax—pass with less than a foot on either side.
We navigate the renowned Culebra Cut, the stretch of the canal that was actually excavated. The scenery is somber, craggy, lovely. A light rain falls. We pass a small, fenced-in white building on the canal edge: It's where former Panamanian strongman Manuel Noriega is being held awaiting trial, after stints in American and French jails, on an array of charges.
A cargo ship passes through the Panama Canal;
Our final stop is Gamboa, about three quarters of the way up the canal, where a bus takes us back to the city, dropping us off near the Amador Causeway, a pretty strip of land that serves as a breakwater and a recreation area. I stroll the length of it and arrive at the Biomuseo, the biodiversity museum that opened in 2014. A tumble of primary colors designed by Frank Gehry (his first work in Latin America), it looks like something Picasso might have made if asked to build an exotic bird out of kids' building blocks. It also contains a series of interesting exhibits that walk you through the formation of the isthmus, between 40 million and 80 million years ago, and the subsequent migration of creatures from north to south and south to north—including charming "tiny camels" and less charming "terror birds."
Back in Casco Viejo, I stop at the Diablo Rosso gallery, which architect and co-owner Johann Wolfschoon tells me was founded partly to address a scarcity of venues for local artists. It has sold pieces to the Tate Modern in London and the Guggenheim in New York. "We show things we believe in," Wolfschoon says. "Things that could be good for culture."
After a shower and an invigorating pale ale at La Rana Dorada, a pioneer in the burgeoning local craft beer scene, it's time for dinner a few blocks away. If I can find the restaurant. Again, there's no sign. A man sitting on a traffic barrier points me to the right place, but when I get there all the doors are shut. Having watched me walk around the building, twice, the man comes over and bangs on the door. It opens. He smiles. This must happen constantly.
A banjo player on the ramparts of Casco Viejo
Now in its third year, Donde José is the work of celebrated chef José Carles, and like so many people I've met here, he wants to help carve out a new Panamanian identity. The place is tiny, like a well-appointed bunker—concrete, wood, metal, red velvet. I sit at the bar with a couple of recent transplants from Jamaica, and Carles comes out to walk us through his tasting menu. "We don't serve plates here," he says. "We tell stories." He's a physical man, and he expects that physicality to extend to his food. "You're going to use your hands a lot," he says. "Only fork and knife if it's necessary."
The meal is technically accomplished and deeply felt. Steamed dumplings stuffed with spicy corn tortilla; sea snails and cashews in a squash and clam broth; a salad with mango sorbet dressing and grated dried beef; a riff on chicken and rice in which fried chicken bits (breast, thigh, heart, and liver) are paired with rice cooked in chicken fat, making it obscenely rich. Finally, there's an apple pie, inspired by the ones served at McDonald's and made with the local root vegetable chayote (apples don't grow in Panama). "We're a young country," Carles says when I congratulate him on his culinary performance. "Who says we have to keep eating the same food forever?"
I ply the crowded streets and enter the hotel, tired and overfed, and hear music coming from Danilo's, the club opened here by legendary Panamanian jazz pianist Danilo Perez. I grab a table and order a beer. Leading a hard-driving quartet, singer Idania Dowman tears through jazz standards, soul classics, Latin fare. She struts, flirts, and tells blue jokes. After "Midnight Train to Georgia" and "Guantanamera," she does a colossal rendition of "My Way" that has the crowd howling along.
"I feel so diva!" she cries.
"You are!" someone shouts back.
"We are!" she replies, and it only gets louder, and happier, and later. And later still.
JoeKeohane, a New York–based writer and former editor of Hemispheres, is lobbying for sloth racing to become an Olympic sport.
This article was written by Joe Keohane from Rhapsody Magazine and was legally licensed through the NewsCred publisher network. Please direct all licensing questions to legal@newscred.com.
Porto: Portugal's surprising second city
"Second cities" or those that rank #2 in population often surprise world travelers. And second doesn't mean second-rate. Porto is Portugal's second city — so off-the-radar that many world travelers haven't even heard of it. Yet, Porto and nearby spots in northern Portugal can be delightful destinations even if you don't visit the more well-known city of Lisbon.
Old city by day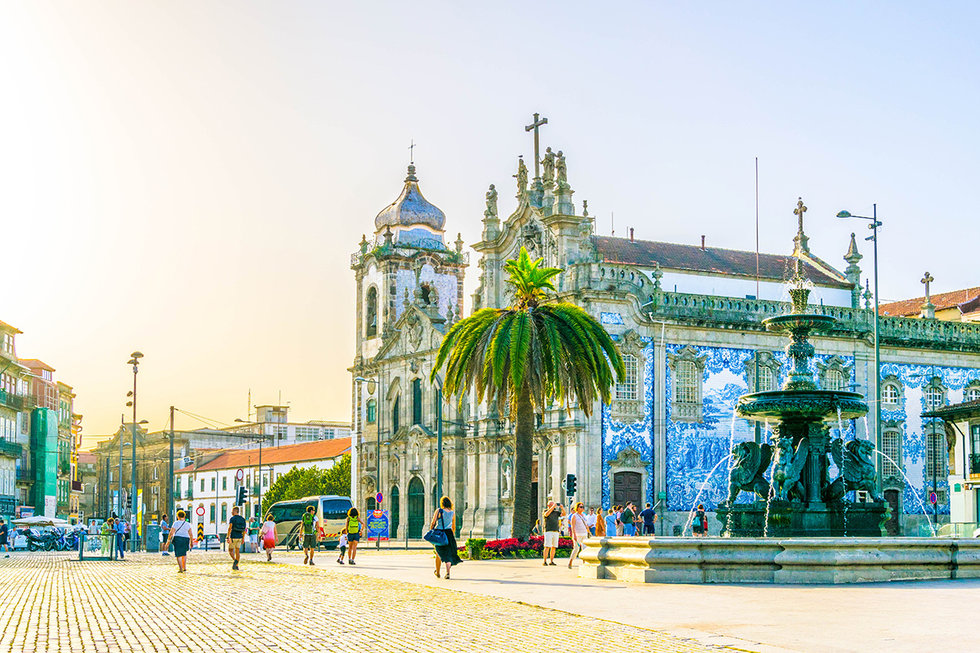 The best place to get oriented, as in most European cities, is in the old city center. Porto's Old City is so well-preserved that it's a UNESCO World Heritage Site. A 12th-century cathedral and the 15th-century Church of St. Francis, notable for interior wood carvings gilded by hundreds of pounds of gold, are mixed in with a rich collection of imposing granite, red-roofed Baroque buildings. Add 225 stairs and a stirring view to your walking tour by ascending the 250-foot-high Clérigos Church bell tower, built in 1754, which dominates the Porto skyline. Historic bridges over the Douro River and Soares dos Reis National Museum, an art museum housed in a palace, are also excellent sites to see.

Food and music by night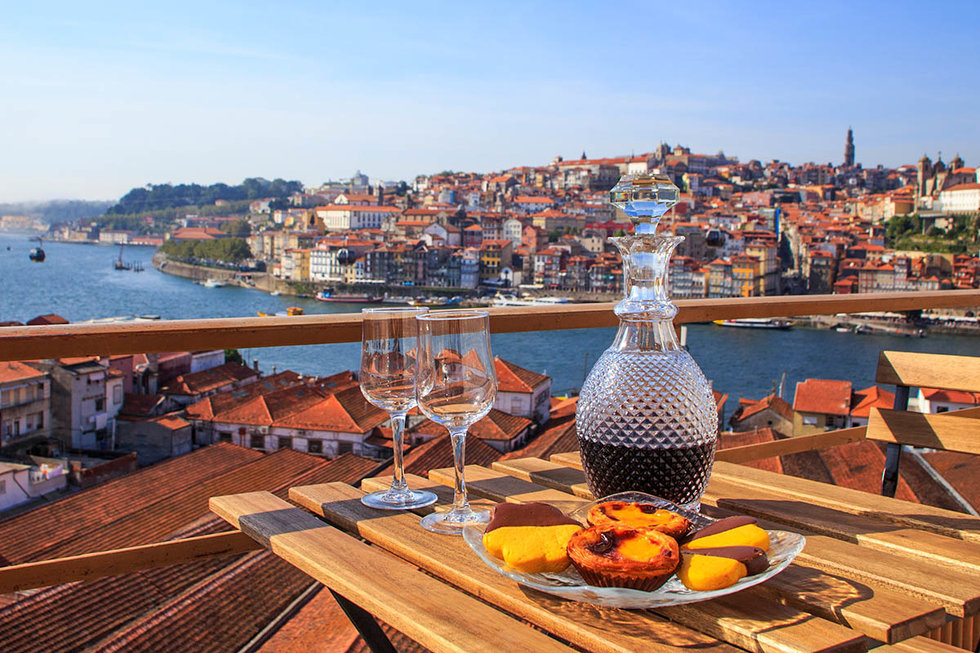 Porto's youthful population has turned it into a lively city after dark. You might start off the evening in the Old City at Abadia do Porto, a 1939 restaurant that serves traditional Portuguese dishes like roasted lamb and grilled octopus, or at Astoria, with its modern Portuguese fare served inside a former palace. Whether you choose a Portuguese, French or fusion restaurant, seafood is likely to be highlighted, drawing on Porto's proximity to the Atlantic and the Douro. Then, you can head to the large collection of bars and nightclubs in the nearby Galerias district, which includes Radio Bar, inside a former court building, and Gare, a disco in a tunnel that stays open until 6 a.m.
Head west to the beaches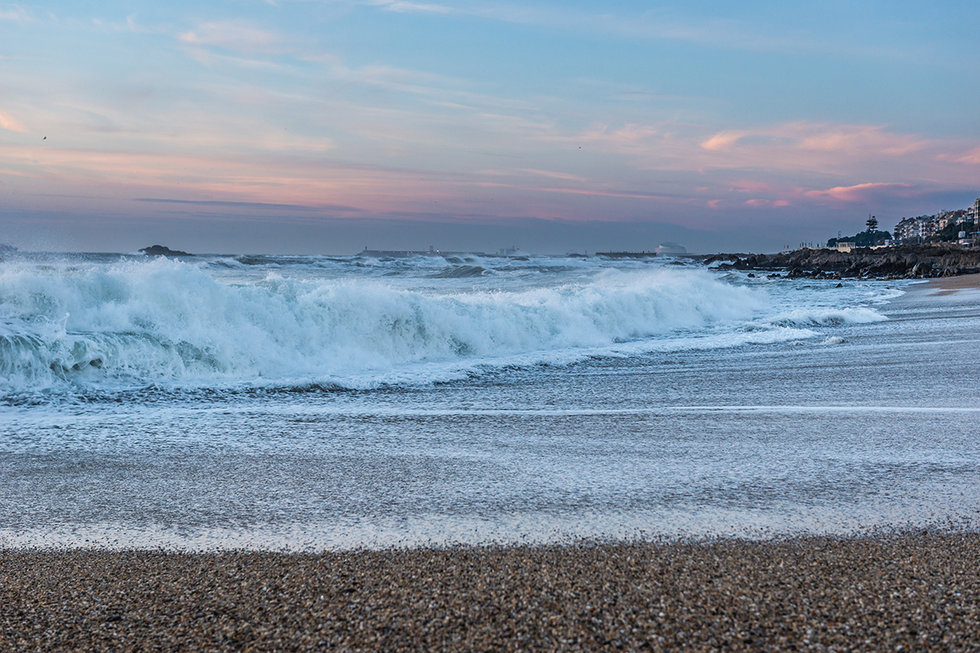 The closest Atlantic beaches to central Porto are at Foz do Douro (mouth of the Douro), just 20 minutes away by city bus. But why settle? In a rental car you can explore Atlantic beaches and beach towns that extend for hundreds of miles along Portugal's coastline. Two of the best are Foz do Minho, the nation's northernmost oceanic beach that's just across the Minho River from Spain, and Quiaios, a dune-fringed paradise of sand south of Porto. Many beaches in northern Portugal are cradled in coves protected by rocky promontories, similar to northern California and Oregon beaches.

Or east to the wine country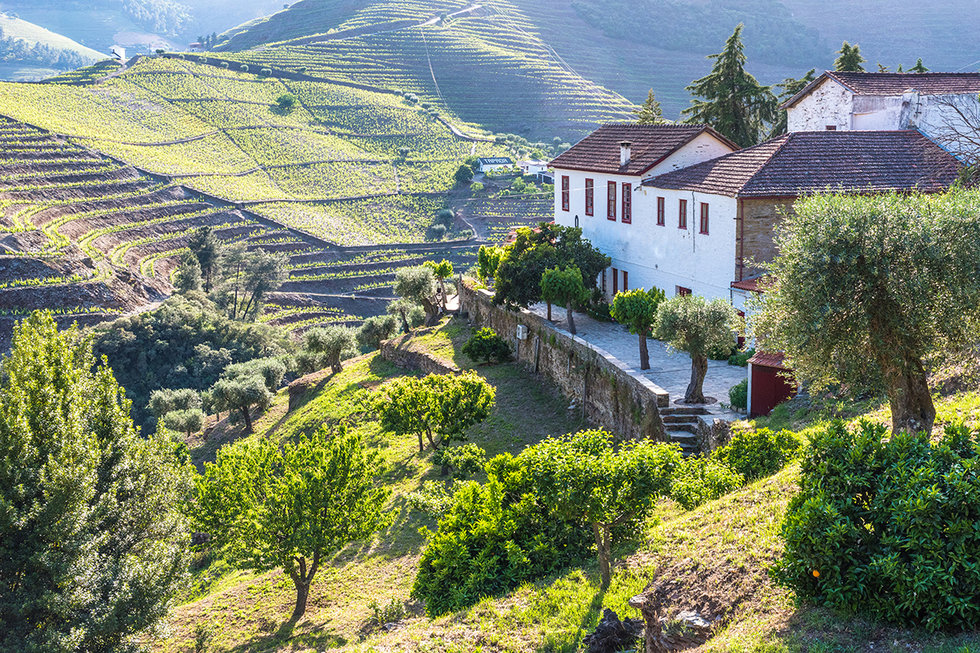 The Douro Valley wine region is another World Heritage Site and one of the world's best and most scenic wine regions. It's up the Douro River from Porto by boat or 90 minutes by road. Namesake port wines and other fortified wines are the region's signature beverages, which can be sampled at tasting rooms on the Douro along N-222, a wine road that's been called the world's most scenic drive. While you're in the area, check out the wine and anthropology museums in the wine towns and yet another World Heritage Site — Coa Valley Archaeological Park — known for its prehistoric rock carvings.
The basics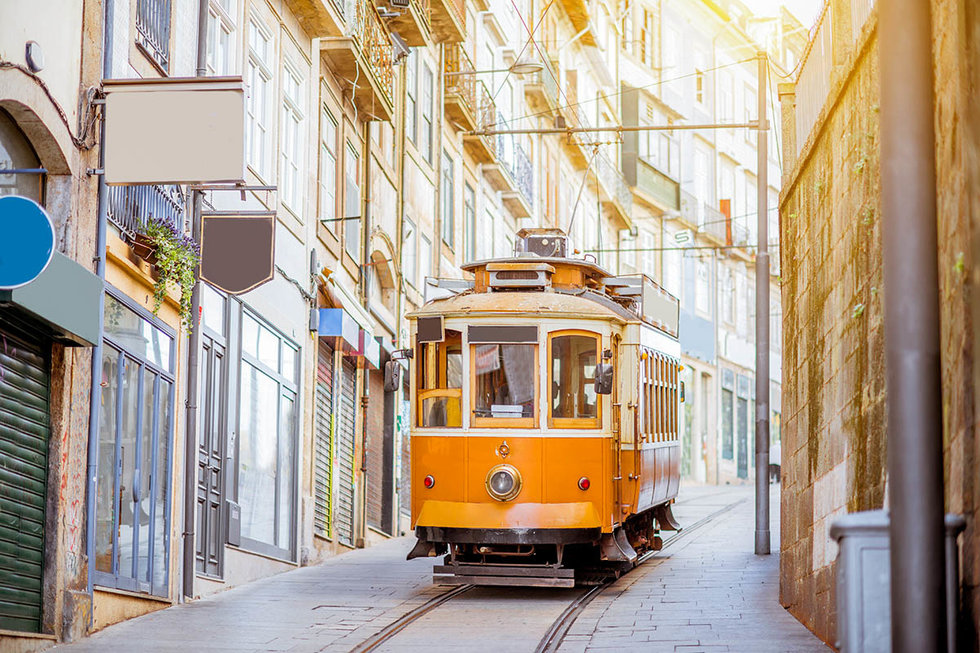 Portugal's Mediterranean climate and coastal breezes bless it with mild weather year round, as the average temperature ranges from 57 degrees (and rain) in January to 78 degrees (and a little rain) in August. Whenever you come, there's no need to learn Portuguese as English is spoken even more widely than elsewhere in Western Europe. Once you arrive, rent a car only if you don't mind ridiculous drivers. The trains are more relaxing — light-rail and subway trains crisscross the Porto area and funicular cable cars climb its steepest hills. There's even a scenic train that follows the Douro nearly to Spain, with a roundtrip fare of only about $30.
Getting there
Portugal requires that visitor passports don't expire until at least three months after the arrival date, so check that. Next, buy some Euros (for a great exchange rate) and reserve a flight. United Airlines flies nonstop from New York/Newark to Porto and MileagePlus® award miles can be redeemed to cover accommodations and Hertz rentals. Go to united.com or use the United app to plan your trip.

United 787-10 Dreamliner launch
Story was contributed by: Jennifer Lake | Photography: Alicia of Aesthetica
It was a typical Monday morning. I'm sitting at my desk at work, drinking coffee, reviewing my to-do list for the week. All around me, heels are clacking through the office and phones ring intermittently. However, this particular Monday morning was different. Ultimately, I would receive an offer from my favorite airline for a collaboration to participate in the United 787-10 Dreamliner launch from Los Angeles LAX to New York/Newark EWR. Read the full story here featured on Style Charade.
Fit for the runway: We begin testing new uniforms
Last year we announced new partnerships with Tracy Reese, Brooks Brothers and Carhartt — best-in-class fashion and apparel designers — to help reimagine uniforms for more than 70,000 of our employees. Focusing on high quality fabrics, improved breathability and overall enhanced fit, our goal is to design and develop a more cohesive collection that looks good, feels good and enables employees to perform at their best on behalf of our customers.
United employees can learn more on the uniform designs by visiting Flying Together.
An insider's guide to Boston
Boston is a pack-it-all-in kind of place. Founded in 1630, one of America's oldest cities does many things well. Boston's many claims to fame include many of America's oldest historic landmarks and one of its oldest ballparks. It's a destination for history buffs, culture vultures, foodies, sports fans, families and more. No matter who your travel companions are or what they're interested in, everyone will find something to pique their interest in Beantown.

Getting there & around town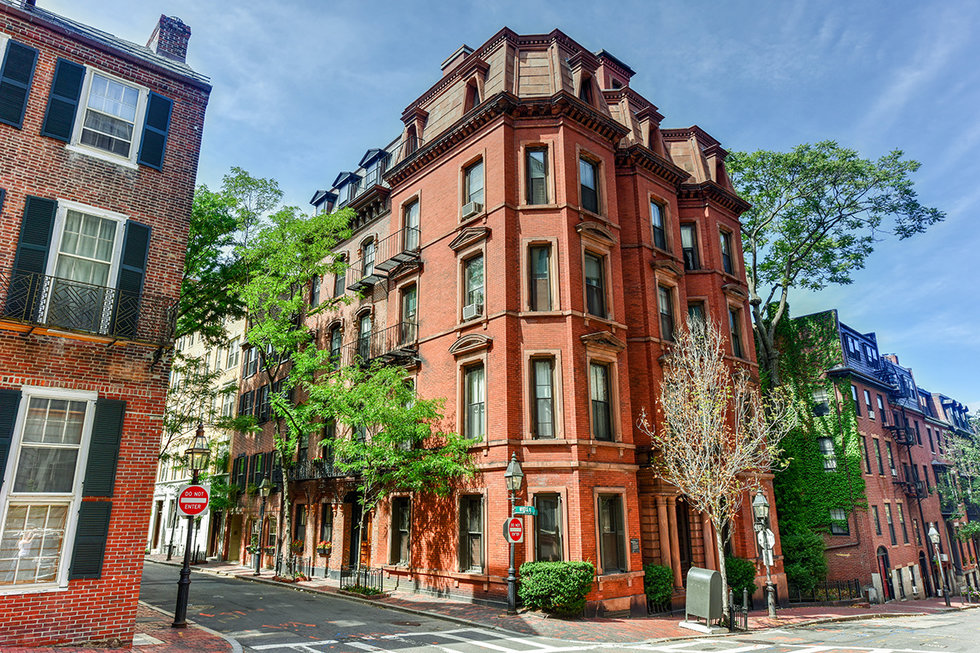 Fly direct to Boston's Logan International Airport (BOS) from many U.S. cities — visit united.com or use the United app to book your flight. Flights are 90 minutes from New York, two hours from Cleveland and five to six hours from California. From Logan International Airport, it's easy to hail a taxi, use ridesharing apps or take public transportation. If you want to take the scenic route, take a water taxi across Boston Harbor directly into downtown.
Downtown Boston is easy to navigate. It's walkable and taxis are plentiful. The MBTA, Boston's public transportation system, offers affordable access to Cambridge, many attractions and the suburbs. Keep in mind it's one of the oldest transportation systems in the country, so expect a few bumps. Because the city is dense, parking can be expensive or hard to find, so avoid driving if you can.
When to visit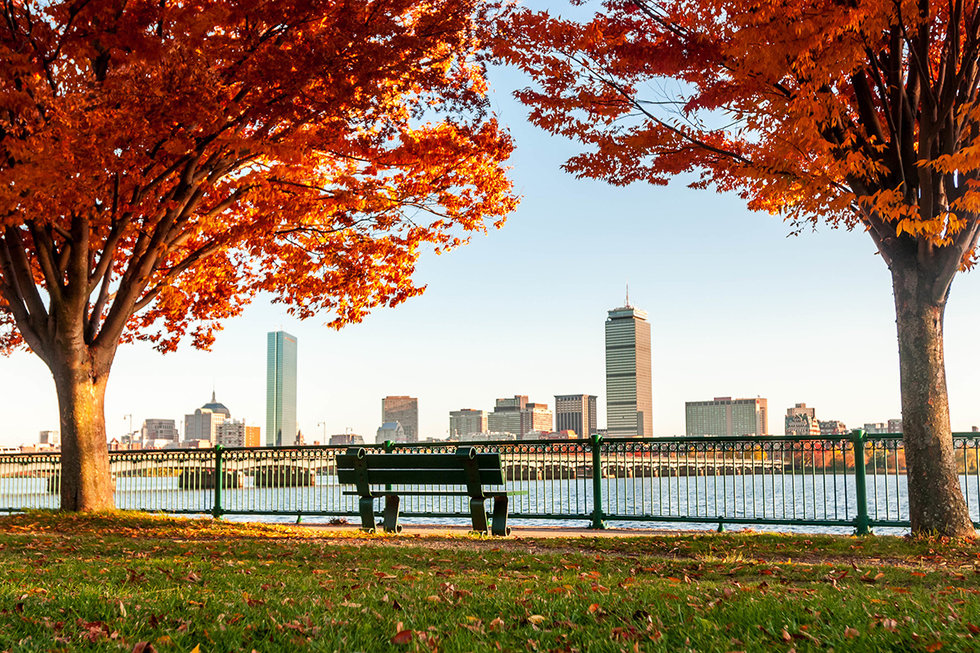 Summer and fall are the most popular seasons to visit. Summer is prime time to enjoy Boston's many parks, outdoor eateries, open-air concerts and baseball games at Fenway Park. Mild fall weather, beautiful autumn foliage and Halloween festivities in nearby Salem, Massachusetts make October one of Boston's busiest months. The city also sees an influx of visitors for the Boston Marathon in April. You'll find smaller crowds and more affordable prices in winter, but brace yourself for the cold.
What to do
There's so much to take in just by walking through Boston's cobblestoned streets. Downtown is quaint, compact and easy to explore by foot. The small city is packed with historic sites, New England's finest food, proud sports fans and friendly locals.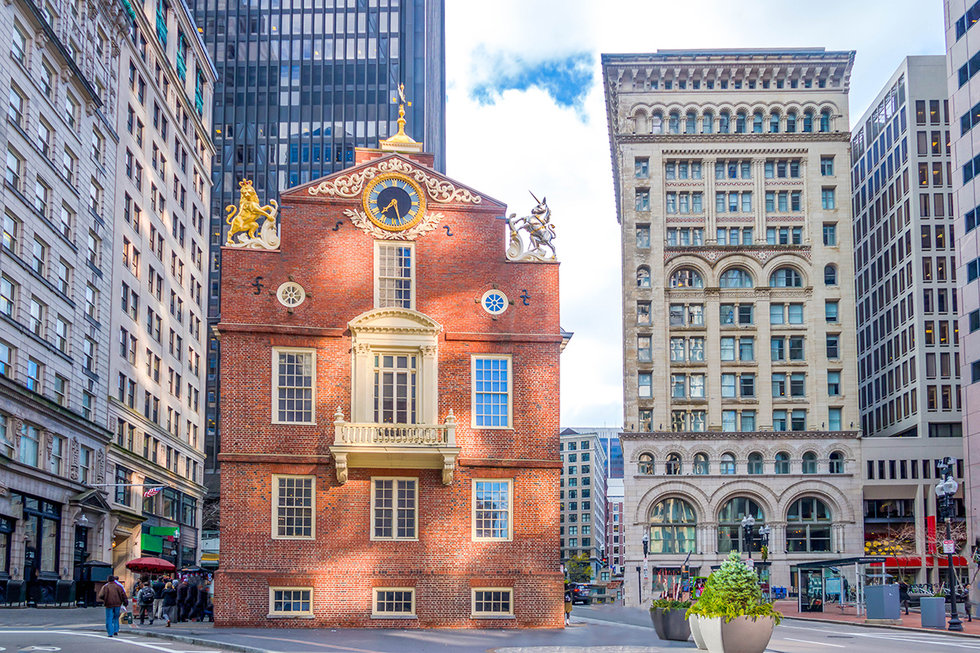 As the birthplace of the American Revolution, Boston's historic sites are an attraction in themselves. Walk the 2.5-mile Freedom Trail to visit 16 of them around the city, including Revolutionary-era museums, churches, buildings and an impressive warship. Faneuil Hall Marketplace is on the trail, too, and is one of Boston's top attractions, with plentiful shopping, dining and live music. Not much of a walker? Boston Duck Tours operate land-and-water historic tours on World War II-inspired vehicles, which transform from truck to boat mid-tour.
Many museums and sites are tucked along Boston Harbor. The waterfront is always bustling with activity year-round. The harborwalk is the perfect place to meander and explore without a strict agenda. Plan to visit a major attraction or two, but leave time to enjoy the scenery or to pop into a café for a coffee and sweet treat (award-winning Flour Bakery + Cafe is a local favorite).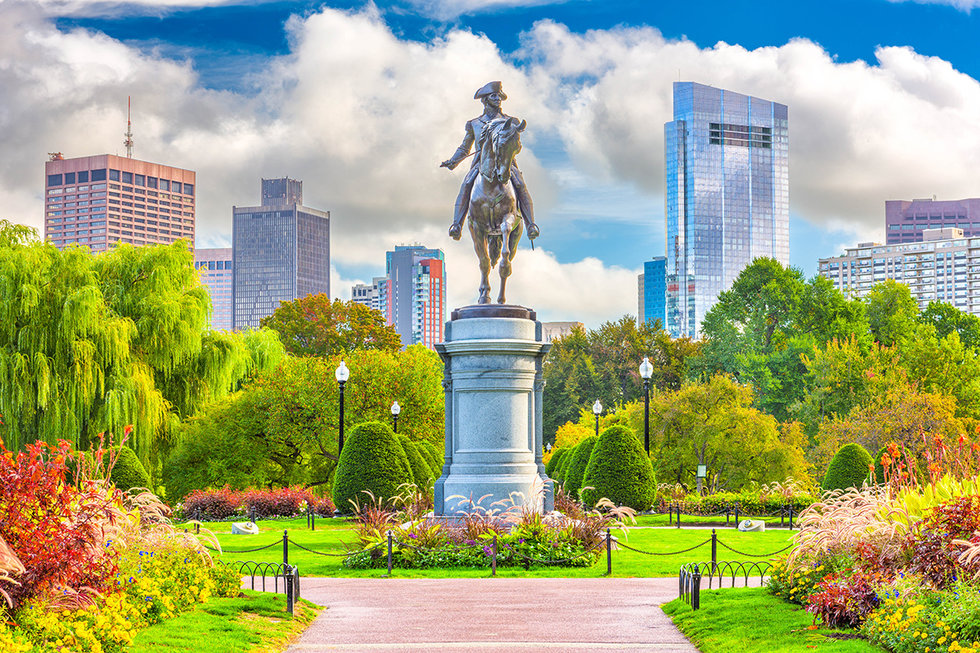 Deemed the "Athens of America," Boston boasts not only some of the country's oldest and most architecturally significant buildings, but also a thriving arts and culture scene. You could spend your entire trip touring its dozens of world-class museums. Take in classical music at the famous Boston Symphony Orchestra, or take a leisurely stroll through Boston Public Garden and Boston Common, the city's most well-known public parks. Riding the giant Swan Boats through the Public Garden lagoon is a kitschy, yet delightful experience, especially for kids.
What to eat
What must you absolutely eat in Boston? In short, everything. Long ago the city was nicknamed Beantown, allegedly after slow-cooked molasses baked beans served to sailors and traders. Today, Boston continues its reputation as a great eating city. From clam chowder to cannoli, the most popular dishes here are often hearty and decadent. Boston is also known for fresh lobster rolls, roast beef sandwiches and, of course, Boston cream pie.
Ask any Bostonian where to find "the best" of anything, and everyone will recommend a different spot. Cannoli from Mike's Pastry, Boston cream pie from Omni Parker House (where it was invented) and the roast beef 1000 sandwich from Cutty's frequently top the must-try lists. If you make it to a ball game at Fenway Park, Fenway Franks are a Boston staple.
Our role in 'Spider-Man™: Far From Home'
In Columbia Pictures upcoming release in association with Marvel Studios, "Spider-Man™: Far From Home," our web-slinging hero finds himself – yep, you guessed it – far from his home in New York City. And since flying is one of the few superpowers Spider-Man doesn't possess, we gave him a little help, meaning United is featured in the film.
The scenes of Peter Parker and his pals traveling to Europe take place on one of our Boeing 777s with the all-new United Polaris® business class, and several of our employees – including members of our Tech Ops, Inflight, Flight Operations and Airport Operations teams – served as actors and production support during shoots at New York/Newark (EWR) and London-Stansted (STN).
London-Heathrow (LHR) Customer Service Representative Manjit Heer and LHR Cargo Warehouse Operations Manager Richard Miller were background extras on board, and multiple flight attendants had a role, including San Francisco (SFO) Flight Attendant Tammy Harris.
"It was extremely surreal," said Tammy. "I was in my element because I was on the plane in uniform, but not really, because I'm not an actor."
Tammy said she hit her mark and delivered her line with gusto, and she's excited to see if she made the final cut when "Spider-Man™: Far From Home" hits worldwide theaters this summer.
"Hopefully, I'll have my two seconds of fame and all will be well," she joked.
Los Angeles (LAX) Aircraft Maintenance Supervisor Fernando Melendez is a veteran of several film shoots but said this one was his favorite. When the production went to London, he was one of five members of LAX Tech Ops who went over to look after our airplane and make adjustments to its interior based on the filmmaker's needs.
"When we parked the plane at Stanstead, there were lights and cameras surrounding us. It was like the plane was the star of the movie," he said. "Each day, we would work with the assistant director; he would go through and say, 'Okay, for this shoot we need these seats, or these panels removed,' so they could get the camera angles. Pretty much, the airplane was our responsibility; we opened it in the morning and closed it at night. We were the first ones there and the last ones to leave every day."
Fernando said the actors were all very gracious and engaging, and said the whole experience was fantastic from start to finish. It also earned him a little cooler cred with his 18-year-old son, who is a massive Marvel fan.
Leading up to the film's premiere this year, there will be plenty of ways for employees and customers to get into the Spidey spirit in anticipation of our cameo. Stay tuned for more details.
---
Peter Parker returns in "Spider-Man™: Far From Home," the next chapter of the Spider-Man™: Homecoming series! Our friendly neighborhood Super Hero decides to join his best friends Ned, MJ, and the rest of the gang on a European vacation. However, Peter's plan to leave super heroics behind for a few weeks are quickly scrapped when he begrudgingly agrees to help Nick Fury uncover the mystery of several elemental creature attacks, creating havoc across the continent!
Directed by Jon Watts, the film is written by Chris McKenna and Erik Sommers based on the Marvel Comic Book by Stan Lee and Steve Ditko. The film is produced by Kevin Feige and Amy Pascal. Louis D'Esposito, Victoria Alonso, Thomas M. Hammel, Eric Hauserman Carroll, Stan Lee, Avi Arad and Matt Tolmach serve as executive producers. The film stars Tom Holland, Samuel L. Jackson, Zendaya, Cobie Smulders, Jon Favreau, JB Smoove, Jacob Batalon, Martin Starr, with Marisa Tomei and Jake Gyllenhaal.
"Spider-Man™: Far From Home" makes its way to North American theaters on July 5, 2019.
What to expect from our improved app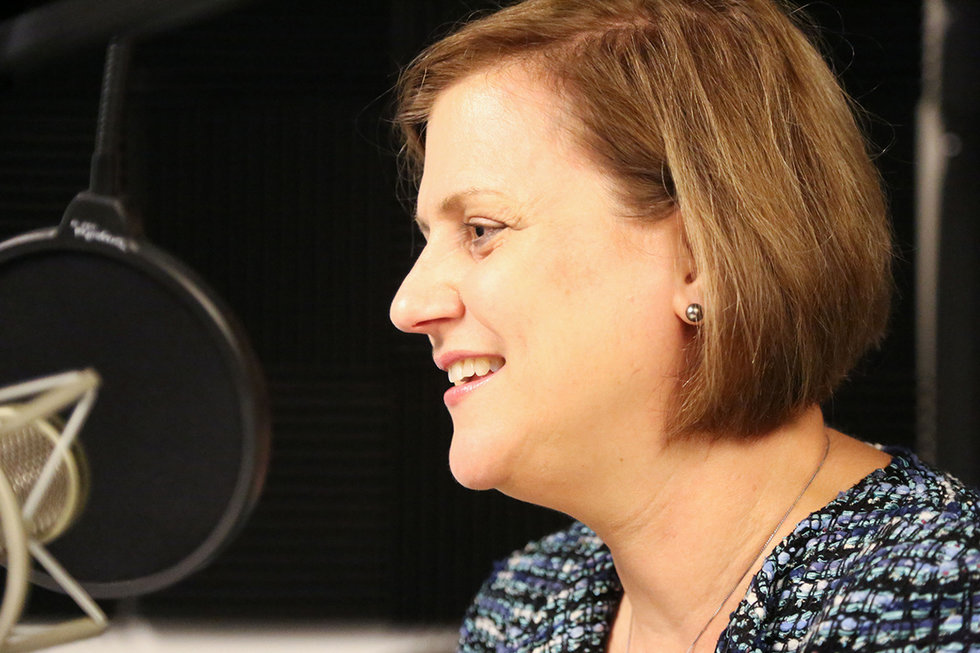 "Talking Points," host Brian Kelly, aka The Points Guy, is joined by Linda Jojo, Executive Vice President for Technology and Chief Digital Officer at United Airlines to discuss what passengers can expect from our improved app.
Read more about the improvements to the United app here.

20 million miles and counting...
On November 7, while flying from Newark Liberty International Airport to Los Angeles International Airport, United customer Tom Stuker made history when he reached 20 million miles flown on a single airline. We were fortunate enough to capture the milestone he reached with us.
To mark the special occasion, we hosted a celebration in Mr. Stuker's honor at the United Polaris lounge at O'Hare International Airport on Saturday. The celebration was delayed a couple of months, so Mr. Stuker could celebrate the event with his family.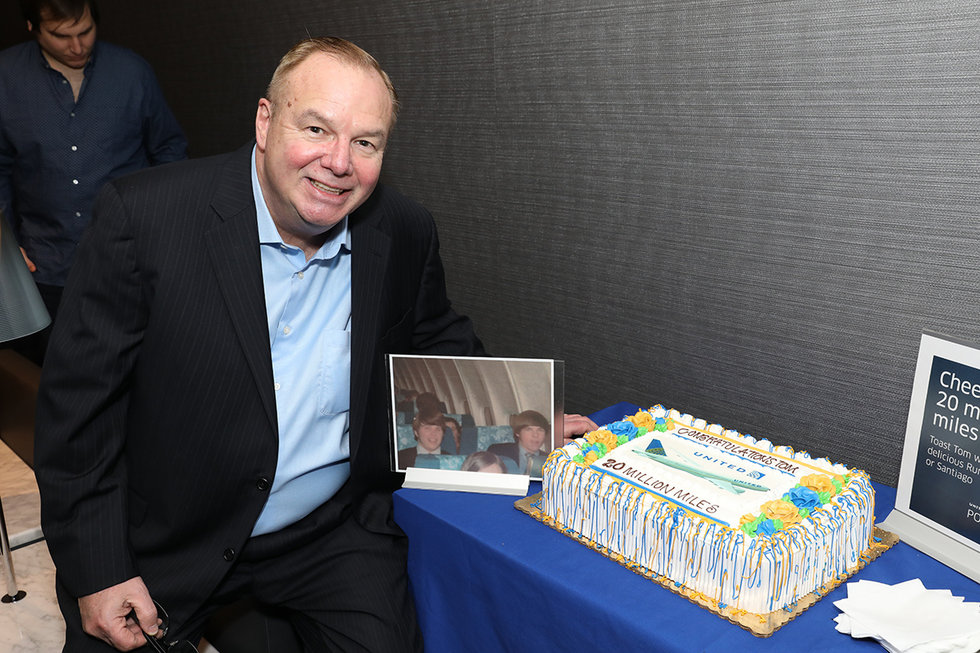 The party included a room full of employees, media members and Mr. Stuker's friends and family enjoying food, cocktails, stories and laughs. To thank him for his long-standing loyalty to United, we also presented Mr. Stuker with gifts made specially for him.
"United makes my dreams come true," Mr. Stuker said to the room full of people.
He also praised United's MileagePlus program, the United Polaris lounges across our system and Oscar's leadership of the airline but, most of all, he praised the service he receives from our employees.
"My favorite part of United is the people. United is such a big part of my life…you are a family to me," he said addressing the United employees. "It would take me days and days and days to say thank you in the right way to the right people. They all know me by now and know how much I care about them as people, how much I care about this airline and its success, and how much I care about the greatest leader this airline has ever had, Oscar."
Bora Bora: The most beautiful island in the world
Each week we will profile one of our employee's adventures across the globe, featuring a new location for every employee's story. Follow along every week to learn more about their travel experiences.
By Chicago-based United Club Customer Service Representative Amile Ribeiro.
They say beauty is in the eye of the beholder. I know it can be very subjective but, once you set your eyes on it, I'm sure you'll agree with me: Bora Bora is the most beautiful island in the world.
There are very few things that can get me out of bed early in the morning, and airplanes are one of those things. We were already in Tahiti and woke up at the crack of dawn to catch our quick flight to Bora Bora. After checking in at the airport and getting a quick breakfast, we headed over to the gate to line up for our flight. Air Tahiti has an open seating arrangement, and we wanted to make sure we got the best possible seats. We were able to secure two windows seats. Travel tip: Sit on the left side of the plane when landing in Bora Bora. We took off from Papeete and within minutes we were flying over Mo'orea. Then we flew around Ra'i ātea and Taha'a, and finally arrived in Bora Bora, the island that Polynesians call "First Born." Pora Pora is the actual local pronunciation, but the first explorers misunderstood it and 'Bora Bora' stuck. Though after setting foot on the island, I've come to call it "Paradise on Earth."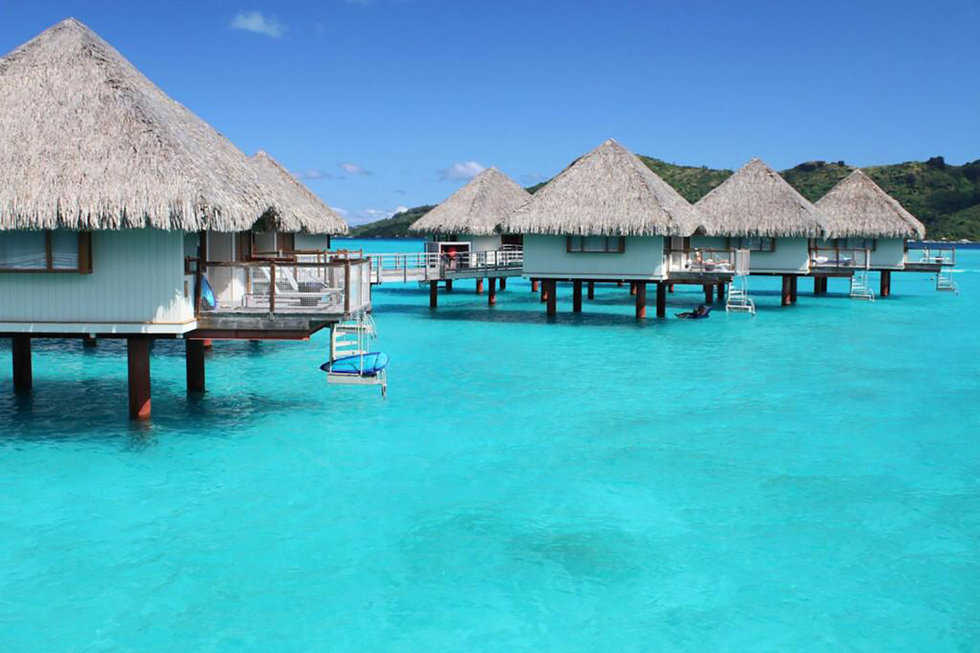 At the airport we were met by a representative of our resort, given flower leis and directed to our high-speed boat. I couldn't believe the color of the water; it was as if Paul Gauguin himself had painted it. After a thrilling ride, we reached our hotel's dock, where a local playing the ukulele welcomed us. We were then given a tour of the astonishing property and were taken by golf cart to our overwater bungalow. We have stayed in many beautiful properties around the world, but when we opened the door of our bungalow our jaws dropped. It is truly a one-of-a-kind experience that all should have at least once in their lifetimes. And worth every penny. The view of majestic Mount Otemanu is something right out of a fairy tale. After the sun set, the nighttime dance show was equally enchanting.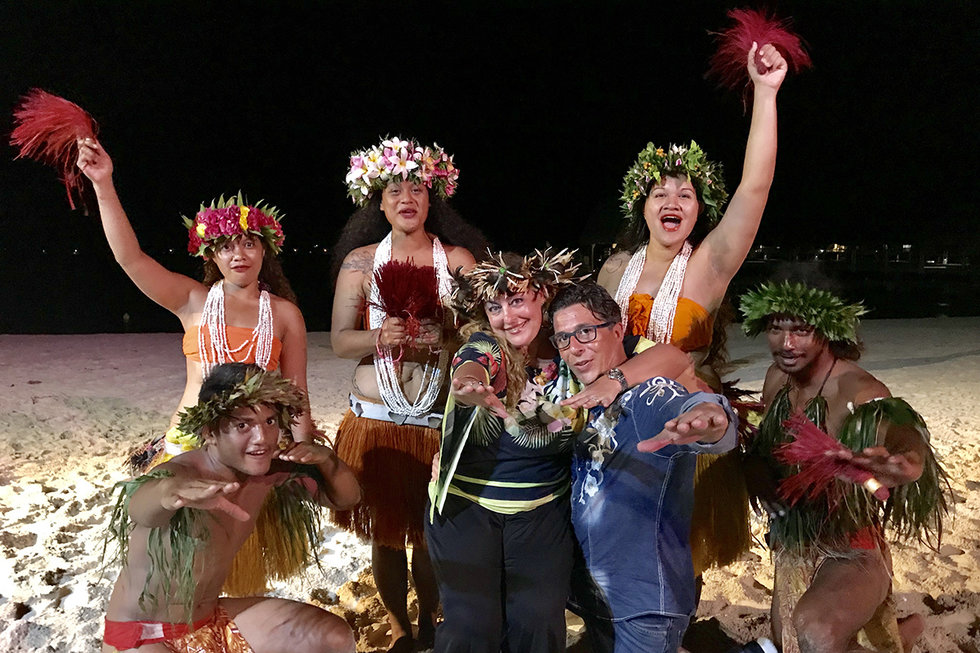 We had planned to be in Bora Bora during the final leg of the famous Hawaiki Nui Va'a canoe competition, which happens to be a major event in the cultural life of French Polynesia and has the reputation for being the toughest canoe race in the world. The center stage was at the island's most beautiful beach, Matira. We stood in awe as the winners reached the finish line after several hours (and days before that) of frantic paddling from island to island, showcasing the power of human strength and endurance. Besides being an incredible sporting challenge, it is also a colorful spectacle that filled the beach with flower-clad women and the air with the pulsating beat of drums. We were also able to celebrate and dance with them later that night at the local ball in Vaitape (Bora Bora's largest city). It was a marvelous way to get a deeper understanding of another culture!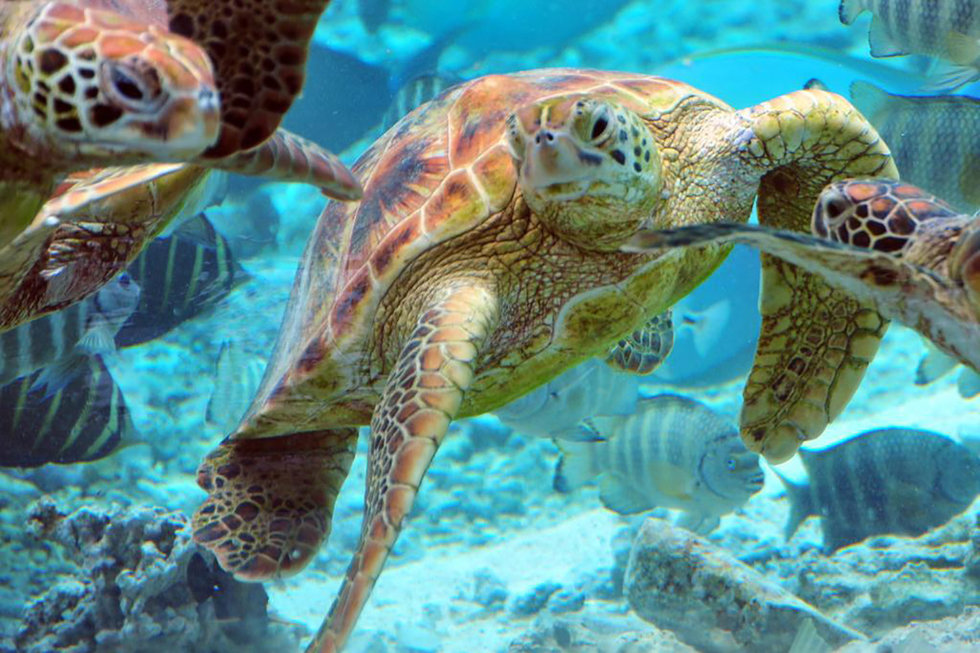 Besides having the time of our lives at the resort's infinity pools, inner lagoons and beach, we also went to the Turtle Center and had a chance to feed these amazing creatures while they're being rehabilitated to go back into open waters. From there, we took a boat tour of the main lagoon and went swimming with stingrays and sharks. Few things scare me in life, and sharks are on the very top of that short list, but I mustered the courage and what a thrill it was! To commemorate my bravery on the last day of our trip, I got my very first tattoo: a hammerhead shark. Polynesians believe that such sharks act as guardian angels to humans and protect us from the Great White. My husband got a Polynesian design that was custom made just for him, and it represents travel, freedom and courage. We also got a set of matching Polynesian wedding bands. Since the art of tattoo originated in Polynesia, this is the most enduring souvenir one can get from such an amazing culture, but I'm sure the memories of our trip will also stay with us forever!

Scroll to top