Three Perfect Days: Paris
Story by Boyd Farrow | Photography by Haleigh Chastain Walsworth | Hemispheres, July 2017
Paris is a cinematographer's dream. No city is more dazzling in the sunshine or sexier in the rain—or, better still, lit up at night. Which is why it is so achingly familiar to anyone who has ever bought a movie ticket. View Notre Dame from the Quai de Montebello, and you get An American in Paris; have a coffee at Café des Deux Moulins in Montmartre, and you're in Amélie. But Paris has always been as much about discovery as déjà vu. Whether it's the reinvented Pigalle, a rejuvenated République, or the rebooted Sentier district, there's always something new to besot the next generation of dreamers—and to keep the older ones returning.
In which Boyd wings his way through the Louvre, samples 18-month-ripened fruit, and meets a chanteuse after dark
One of the things Parisians like to say about their city is that it's endlessly walkable—the operative word here being "endlessly." While each of the city's 20 arrondissements is conquerable by foot, if you're planning to see them all in one go, you'd best pack a comfortable pair of shoes. Before I attempt (and fail) such a feat, I need to be dragged away from my breakfast in my hotel's resplendent surroundings. La Réserve, a grand mansion a block from the Palais de l'Élysée in the 8th arrondissement, was built for Napoléon III's half-brother. Now, it's a 40-room hotel and spa, all ruby-red and emerald-green silk and velvet and herringbone oak floors. I'm wedged in an armchair wiping globs of apricot jam from my cheeks when my butler appears, tactfully wondering if I'm ready for my swim.
With too much ground to cover, I instead begin the day with an earnest jaunt through the immediate neighborhood—the most central of Paris's arrondissements and the one most frequently used as a backdrop in perfume ads. Going out on Avenue Matignon, I reach Rue Saint-Honoré. Home to outposts of some of the world's most chichi fashion labels, this slender street still has its share of idiosyncratic shops, like Colette, which "curates" everything from rare sneakers to a hundred types of bottled water. Admirably, the sales assistant displays no hauteur when I ask her to remove a $5,000 rose gold iPhone from its cabinet, but she also doesn't register surprise when I hand it back. "Too heavy," I say with a wince.
Haylen Namvarazad, musician
Then it's off to the Louvre, where my ToursByLocals guide, Eugénie, marshals me through thickets of selfie sticks to the must-sees—Venus de Milo, the Mona Lisa—while delivering factoids about the masterpieces we hurtle past. "This was the inspiration for the first FIFA World Cup trophy," she hollers over the din of the horde, as we clatter past the second-century BC marble sculpture The Winged Victory of Samothrace.
There's no time to catch my breath in the Jardin des Tuileries outside. Eugénie steers me toward the park's southwest corner and the dinky Musée de l'Orangerie. Inside, in twin oval rooms, are Monet's large-format Nymphéas (Water Lilies) paintings, which seem disconcertingly out of focus in such an intimate space. Downstairs are 120 works from Renoir, Matisse, Picasso, and Cézanne. There are two portraits by Cézanne of his wife, who looks like a completely different person in each. Neither is particularly flattering. "They didn't get on," whispers Eugénie.
Lunch is at Les Chouettes, a buzzy eatery whose spacious, iron-clad interior is a blend of 1920s cocktail bar, SoHo loft, and the Eiffel Tower. In the ground-floor restaurant, far below the glass ceiling, the menu is also an artful mash-up: My dish of soft-boiled eggs baked with mushrooms and Brie de Meaux—the ultimate comfort food—is accessorized with a bang-on-trend, Instagram-ready charcoal wafer.
My next stop is Saint-Paul, a medieval neighborhood in the 4th that is often clumped in with the Marais—though it's far less self-conscious. I check out Saint-Paul-Saint-Louis, the city's best-known Jesuit church. The elaborate facade is gorgeous, but most of the 17th-century art was plundered during the Revolution. Inside, two rows of golden chandeliers hint at the glory days.
"I adore going to the places the tourists go to—but late at night, when they are totally empty. Montmartre is gorgeous, but the Square du Vert-Galant, on the western tip of the Île de la Cité, is even more atmospheric." —Haylen Namvarazad
I head west past Hôtel de Ville—a post-Revolution rebuild of the 16th-century city hall, its facade teeming with statues of notable Parisians, ranging from Cardinal Richelieu to Molière—then cross Pont d'Arcole to the Île de la Cité. On this slim river island stands the city's most celebrated cathedral. Not only is Notre Dame impressively old (construction started in 1163), it's impossibly gorgeous—a Gothic extravaganza of flying buttresses, sullen gargoyles, and bristling spire. If Paris really were a film set, this would be the Tim Burton quarter.
The line to enter moves surprisingly quickly. Several people troop in, take the obligatory selfie, then shuffle out. Others sit in the candlelight, contemplating the high-vaulted nave and the 42-foot purplish South Rose window featuring the New Testament's heavy hitters. Then I notice that many of them are fast asleep. Instead of joining, I cab it back to La Réserve for a rejuvenating dip in the pool.
A couple of hours later, in a crisp shirt and my loosest pants, I leave the hotel once more. I have scored a table at three-Michelin-starred chef Yannick Alléno's restaurant at the nearby Pavillon Ledoyen. My seven-course meal contains two of the best things I have ever eaten: a millefeuille of celeriac and 18-month-ripened avocado, with coconut extraction and chia seeds, and "Stroganoff-style" Wagyu beef. The avocado explodes in my mouth without any of the sweetness I was dreading—the waiter tells me a regular avocado mellows for just three months—but, to be honest, they had me at "Would sir like some bread?" There is even time for a chocolate nib and black olive soufflé before my taxi rolls up.
A view through the clock face at the Musée d'Orsay
Soon I'm in Pigalle, the storied red light district on the fringes of Montmartre. Much of this dirty old neighborhood has been cleaned up. The Moulin Rouge, immortalized by Toulouse-Lautrec, looks as if it belongs in Vegas, and the area's new boutiques and bars, with names such as Dirty Dick, are freighted with hipster irony.
I'm meeting the singer and Pigalle habitué Haylen Namvarazad. I spot her waiting for me on the still slightly sleazy Rue Pierre Fontaine, but the bar we're meant to be going to doesn't seem to exist. L'Orphée is hidden behind the frontage of a former massage parlor and reached only by pressing an unmarked buzzer, then passing through a strip-lit corridor and a second unmarked door. I can't help thinking about the last 10 minutes of Taxi Driver.
After years of busking in Metro stations, Namvarazad found fame on a TV talent show and has since starred in the hit rock opera Le Rouge et le Noir. Musicians come to L'Orphée to jam in its red glow after hours. Tonight, a bearded singer delivers a bluesy rendition of "Hit the Road Jack." A guy with a falsetto pays tribute to Ed Sheeran. Namvarazad channels Amy Winehouse with a tingling take on "Back to Black."
Parisians on Île Saint-Louis
"This is the real spirit of Paris," she says over a Desperados beer with a lime wedge. "It is creative, inclusive, optimistic. This city is very tribal, but in bars like this it doesn't matter where you're from or what stage your career is at. It's people doing what they love and helping each other out."
The loveliness of Paris has drawn artists for centuries, but you do wonder about living here, whether a person might start taking it for granted. "I was born here, and yet there is not a single day that I'm not aware of its beauty," Namvarazad says. "Or rather, there is not a single night. When there is no one around and the city is lit up, it is magical. How could anyone not be inspired?"
Later, as my cab bounces past sprays of flowers cascading from tiny balconies, I see what she means. I can barely keep my eye on the meter.
In which Boyd encounters a large cheese, a large religious work of art, and a very, very large fish
An early start. I drop my bags in my minimal room at the Amastan, a small design-focused hotel at the foot of the Champs-Élysées. On one wall hangs a rug that drapes the sofa before continuing to cover the floor. Talk about minimal. After scarfing down some baby croissants in the courtyard, I head east to Le Marché Popincourt in the 11th arrondissement, where I meet Pierre Sang Boyer, owner of two eponymous restaurants nearby.
Boyer, who was born in South Korea and adopted by a French family when he was 7, is one of the city's hottest chefs. He is also, by his own admission, a produce nerd. He squeals with pleasure at every stall, snapping stalks, fondling tubers, stroking fish, massaging poultry. "Look, this langoustine is still alive," he chirps, dangling a twitching crustacean in my face.
"Markets remind us that we are all part of the same chain," Boyer continues, hurrying on to another fascinating stall. "The farmer, the person preparing the food, the person eating it." He stops before a meat display and asks a vendor to cut me some salami. As I chew, I notice a sign: Boucher Cheval, or horse butcher. "Delicious," I whimper.
Pierre Sang Boyer, chef
This part of the 11th has a lively nightlife scene, but by day its narrow streets teem with grocers hosing down sidewalks, shoppers swinging baskets, and men hauling sacks of produce. In Le Jardin Fromager, matronly Madame Sananès vacuum-packs a whole Camembert de Normandie for me to take home. In Poissonnerie Lacroix, Charly Hanafi gives me herring that's been marinated for days in garlic and onions. I can smell the thing from six feet away, but at least it gets rid of the taste of Seabiscuit.
At Boyer's pared-back restaurants (a walk-in counter that straddles the corner of rues Gambey and Oberkampf and a more upmarket spot about 100 feet away), there are no menus. Diners get a bunch of small plates, their contents dictated by the freshest ingredients that day. I decide to try out both kitchens. At the small one, I sample the radishes and spring onions Boyer scored at the market, served with shrimp and chili flakes, followed by slow-cooked pork belly in ssamjang, a sauce made with chili and fermented soybean paste. At the ritzier joint, I'm served a slab of seared beef with the same zingy ssamjang. As fusion food goes, French-Korean is tough to beat. Also, I can light my candle just by breathing on it.
Another Metro ride takes me to the Musée d'Orsay, the former grand railway station on the Left Bank of the Seine that now houses some of the greatest European art of the 19th and early 20th centuries. At the security check, the guards eye my sealed camembert suspiciously. Inside, the museum still feels like a train station, its concourse filled with people in a hurry to get somewhere else—possibly the Impressionism section on the fifth floor. Here, people are queuing up with their selfie sticks to insert themselves among the revelers in Renoir's Bal du Moulin de la Galette or to photobomb Van Gogh's Self-Portrait. Two years ago, the Musée was forced to lift its photo ban after someone noticed that France's culture minister had posted photos she took there on Instagram. Selfie sticks remain forbidden, but no one seems to care.
"In many other cities, it is the artists who are responsible for rejuvenating areas. In Paris, it is restaurateurs. That says a lot about how important food culture is to Parisians." —Pierre Sang Boyer
Next, I cross the Léopold Sédar Senghor footbridge, recently purged of its burdensome lovers' padlocks, and pass back through the Jardin des Tuileries, to the hotel Le Meurice, on Rue de Rivoli, for afternoon tea. Only in Paris can a pastry chef be a superstar, and the pâtissier here, Cédric Grolet, is Ryan Gosling in a toque. Grolet is famous for his ambitious trompe l'oeil confections; I sample a tart that looks exactly like a real apple. It is good—and you have to admire the evil genius who disguises cake as fruit—but I prefer the gooey caramel-and-pistachio cookie.
A short stroll northwest takes me to La Madeleine, the Greek temple–like church built to celebrate the glory of Napoleon's army. Fifty-two Corinthian columns, each 65 feet tall, skirt the exterior. In the gilded interior, the dominant fresco resembles the Sgt. Pepper's album cover, with Napoleon surrounded by Mary Magdalene, the Apostles, Dante, Raphael, and Pope Pius VII, among others. Clearly, the Little Corporal was not short on self-esteem.
From here I'm off to Abbesses—which, at 118 feet down, is the Metro's deepest station—to explore hilly Montmartre. Having learned that the station elevator is broken, I wheeze up 90 spiraling steps before surfacing into what appears to be the set of Amélie. A cobbled square is framed by colored crêperies—all called Chez this or Le Petit that—while sketch artists sit at easels and vendors hawk roses. All that's missing is … no, wait, there is someone playing an accordion.
Parisians enjoying the grounds of La Basilique du Sacré-Coeur
I check out the Sacré-Cœur, the 272-foot basilica at the top of Montmartre's butte, the highest point in the city after the Eiffel Tower. Construction began in 1875 and was completed in 1914—as a penance or a pick-me-up after France lost its war with Prussia, it's hard to say. Inside, a half dozen Benedictine sisters are beginning their vespers. Even above the mumble of tourists, the Latin song is ethereal and lovely, amplified by the huge apse rendered with a mosaic of Christ, in white, arms extended. I sit down with my giant cheese and watch as people file in and light votives or stealthily angle their phones for the ultimate shot: a selfie with Jesus.
For dinner, I head to the 1st arrondissement to meet my friend Sara at the Fish Club, a seafood restaurant from the team behind London's Experimental Group. At 8:30, Sarah and I are the only ones here—but by the time we've drained a couple of drinks, the place is jammed, and I have to raise my voice to order the special: grilled sea bream, which our waitress says is big enough to share. No kidding. Other diners leave their own meals to Instagram our monster catch. Fileted tableside, it is so good we don't touch our greens.
I'm exhausted, but Sara tells me that the Experimental guys have a speakeasy next door. Beyond an unmarked (of course) entrance, we feel our way down a metal stairway and arrive in a barely lit bar with low velvet seating and a well-dressed—as far as I can tell—crowd. I down a Bourbon & French; Sara knocks back something citrusy. "Quick, let's make a run for it," she jokes. Or it may have been a delinquent on an adjoining banquette. Either way, we decide to stay for more cocktails.
By the time we leave, I'm so relaxed I hail a cab standing in the middle of the street. The driver looks terrified. Now, if I could only remember where I put my room key.
In which Boyd breakfasts like Ernest Hemingway, shops like Louis XV, and has a Hugh Grant–like effect on the ladies
I check into the grand Hôtel Plaza Athénée on Avenue Montaigne, the backdrop for Carrie Bradshaw's Paris adventures in the last two episodes of Sex and the City. The iconic red awnings match my eyes. After a refreshing shower, I head for the Left Bank.
The 5th and 6th arrondissements, along the Seine's southern bank, used to be a bohemian enclave, home to struggling artists like Picasso and Matisse. Today, you'd have to sell a Picasso just to buy a small studio here. Next to Les Deux Magots, the café where Jean-Paul Sartre and Simone de Beauvoir used to hang out, stands a Louis Vuitton store.
The café now offers a "Sartre" breakfast, which includes yogurt or fruit salad, and the more robust "Hemingway," which has bacon and fried eggs but, disappointingly, no whiskey. I settle for a croque monsieur.
Tanya Blumstein, movie dialect coach
Despite its embourgeoisement, the Rive Gauche (South Bank) hasn't lost its soul. The cobbled streets and tastefully worn courtyards, along with a bounty of medieval churches, give the area a timeless feel. I especially enjoy the sixth-century Église de Saint Germain-des-Prés, the oldest Romanesque church in Paris, its square tower the focal point of the 6th. Some of the shops seem almost as old. Cire Trudon's origins date to 1643, when it was founded as a candle shop. (Its wares lit Louis XV's court.) Now it supplies tourists with $100-plus wax busts of Marie-Antoinette and Napoléon.
I head east along Boulevard Saint-Germain to the 5th arrondissement, known as the Quartier Latin since the 13th century (when the Sorbonne was founded and Latin was the language of learning). I zip around the Panthéon, the glorious Neoclassical monument that Louis XV built as a thank-you to God after he survived what was probably a case of man flu. Now it houses the tombs of Voltaire, Rousseau, Zola, Victor Hugo, and Marie Curie.
Not feeling too lively myself, I loop back to the Jardin du Luxembourg, where I slump into a garden chair. With 60 acres of immaculate parkland around me, the only sound is the crunch of gravel as the occasional jogger goes by. These are Parisian joggers, so no one is wearing lime Lycra. One woman may actually be wearing heels. On my way out, I step into the sweet little Musée du Luxembourg to catch an exhibition of Pissarro's later pastoral scenes—a nice bonus.
"Parisians tend to enjoy life more—spending time with family, enjoying their surroundings. Of course, it does help when your surroundings are this beautiful." —Tanya Blumstein
After enjoying a fortifying salad of quinoa, goat cheese, and broccoli at the restaurant at Hôtel Bachaumont, which anchors the newly fashionable Rue Bachaumont in the 2nd arrondissement, I walk south to check out Paris's regeneration project du jour, the billion-euro revamp of the previously forlorn Les Halles shopping mall. Approaching Les Halles from the north takes me past one of the loveliest buildings in Paris—which is saying something. Église St-Eustache, built between 1532 and 1637, is primarily Gothic, though a Neoclassical facade was slapped on its western side in the 18th century. On a wall inside hangs a Rubens painting; outside stands a gigantic Henri de Miller sculpture of a head and hand. All this makes the new retail and leisure complex look even more weirdly modern. Les Halles's curvy yellow six-acre canopy makes it seem as if someone has dropped a giant omelette on the city.
A 15-minute stroll brings me to Rue des Rosiers, the higgledy-piggledy center of the Marais and the heart of the Jewish community. Poignantly, the sign outside the bustling kosher bakery Sacha Finkelsztajn announces the community's postwar comeback: "From Father to Son since 1946."
The view from the Hôtel Plaza Athénée
Dotting the medieval warren are many enchanting gardens. Place des Vosges is one of the oldest squares in Paris and regarded as one of the best, but I prefer the smaller Square Georges Cain, which is filled with treasures from the adjacent Musée Carnavalet. One of the most intriguing objects is a small electronic bird designed to sing like a nightingale when the wind blows. I don't hear any birdsong, but the gate screeches like an angry parrot.
Near the Carreau du Temple—an iconic industrial market that reopened in 2014 as a cultural and exhibition venue—I meet Massachusetts-born Tanya Blumstein, who was so smitten when she arrived in Paris more than 20 years ago that she never went back. "It just felt like home as soon as I got here," says Blumstein, a voice and dialect coach for theater and film who recently worked with Natalie Portman on Jackie. "Everywhere here has a real community feel. You tend to keep an eye on your neighbors' kids; you know your butcher, baker, and florist. In most big cities, people don't live like that anymore."
We mooch around some of the city's most gentrified rues Saintonge, Bretagne, Poitou. On the corner of Poitou is the Petit Moulin, a tiny hotel that's housed in a former boulangerie and whose interiors are a riot of Christian Lacroix. As we pass, the actor Pierre Niney, who played Yves Saint Laurent in a 2014 biopic, cycles past. Could this be any more French?
Notre Dame from across the Seine
It could. In Jacques Genin's showroom-size chocolate shop on lively Rue de Turenne, a loved-up couple agonizes over a chocolate display as if choosing an engagement ring. I'm agonizing too, over how many kirsch caramels I dare take from the sample jar.
The Marais has long been Paris's most BoBo (Bourgeois Bohemian) area, but things may have gotten out of hand. At Nanashi on Rue Charlot, vegetarian "Parisian Bento" boxes are served by staffers with lion-tamer mustaches. We pause to nibble retro shortbread at Bontemps, a patisserie opened by a former financier, and sip blueberry-lavender smoothies at Wild & The Moon.
Back at the decidedly un-BoBo Plaza Athénée, I soothe my limbs in a deep marble tub. The blisters on my feet are so big they may soon need their own arrondissement. I'm dining in the hotel restaurant tonight, and I wonder if the dress code extends to the fluffy white slippers that were left beside my bed.
That dinner, taken in a corner berth in the handsome Le Relais Plaza brasserie, is a gratifyingly no-nonsense affair: an entrée-size starter of crevette salad, tender beef served with mashed potatoes, and a trio of sorbets. I'm glad I went with regular shoes—I have to walk at least some of the bread basket off before I can even contemplate going to sleep.
I cross nearby Pont de l'Alma and walk along the Left Bank, admiring the way each building is subtly and artfully lit, like movie stars in a black-and-white film. I can hear the chatter of tourists pleasure-cruising the Seine and the muffled voices of a couple sharing a bottle of wine by the water's edge. People throng outside Faust, a nightclub beneath the exuberant Pont Alexandre III. As I thread my way through the crowd, a young Frenchwoman bumps into me, spilling wine down my shirt. Being English, I apologize. She smiles, kisses my cheek, and disappears. Okay, so it's not a Robert Doisneau moment, but it's not a bad way to say goodnight to the city—the Eiffel Tower to the west, its sparkling light show reminding us that the clock has just struck 12.
Berlin-based writer Boyd Farrow is not the first person to fall in love in Paris. Three weeks after he returned home, he is still blissfully happy with his camembert.

Watch the new Big Metal Bird: Charters
From players and personnel to thousands of pounds of equipment, it takes not only a game plan, but a team to get the San Francisco 49ers to their next game and back all within 24 hours. This process is a little thing in the airline business we call chartering. Learn more about how our Charter team gets professional sports teams to their away games and back on the newest episode of Big Metal Bird.
United and Special Olympics
Taking inclusion to new heights
Our shared purpose is to connect people and unite the world — and no organization better embodies that principle than Special Olympics.
Learn more
Spending a week in Singapore
Singapore brings to mind images of modernity and stunning architecture — the unmistakable profile of the towering Marina Bay Sands Hotel, the luminescent trunks of Supertree Grove, the dramatic roof of the Esplanade Concert Hall. But beneath that opulent exterior lies a city bustling with energy and a vibrant mix of cultures and traditions. During our recent trip with United Airlines, we traveled along the new route from San Francisco to Singapore and visited some of the Lion City's most popular attractions. If you have the opportunity to visit, check out some of our favorite spots in this metropolis.
Have a bite… or four
One thing's for sure… you'll never go hungry in Singapore. From hawker stalls and wet (food) markets to Michelin-starred fine dining establishments, the city offers food that caters to every visitor's mood. Those with a refined palate should head to Baba Chews in Katong Square or New Ubin Seafood in Hillview. The former offers an all-day selection of modern and traditional cuisine from the Straits of Malacca, while the latter specializes in sumptuous seafood and Singaporean cze char fare. If you prefer something a little more contemporary, head over to Mount Emily and make a reservation at Wild Rocket. There, head chef Willin Low has brought modern Singaporean cuisine to life by creating a fresh twist on the dishes he grew up eating. For a truly unbeatable dining experience, hop in the elevator at the Marina Bay Sands and ride it all the way to the rooftop, where you can enjoy a delicious take on Italian-American cooking at Lavo Kitchen while looking out over the spectacular city unfurled below.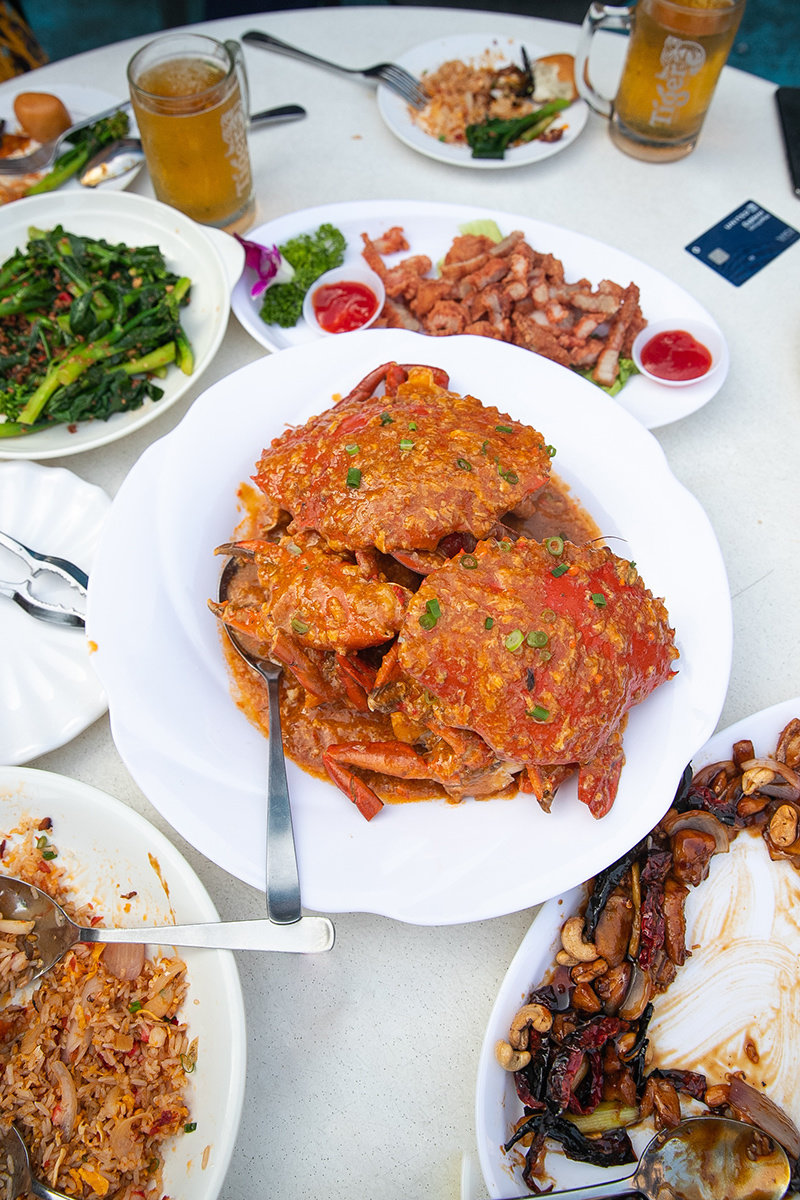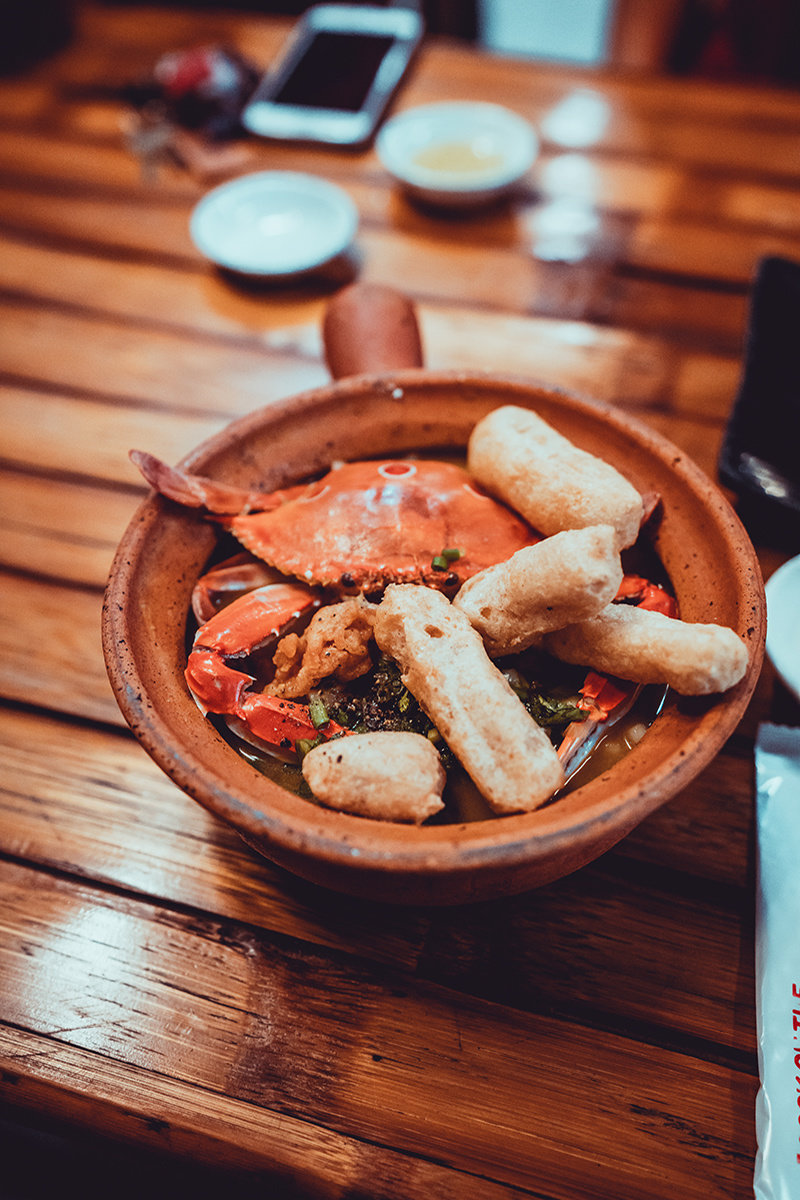 The most exciting dining experiences in the city, however, aren't enjoyed at a restaurant table. You've likely heard of the Maxwell Road Food Center, where you can try world-famous Tian Tian Hainanese Chicken Rice, but the meal doesn't stop there. Singapore offers a vast array of food markets and hawker stalls where curious diners can sample sizzling dishes cooked right in front of them. Also at Maxwell Road, you should indulge in a crispy snack at Fuzhou Oyster Cake or grab a bowl of hot-and-sour soup at Special Shanghai Tim-Sum, otherwise known as the "dumpling stall from Queenstown." And be sure to make your way over to the Chinatown Wet Market, which charms and enchants each and every traveler. There, the sights, sounds, and smells are just as delicious as the edible offerings, which include Chinese herbs and vegetables, live shellfish, and exotic meats such as eels, frogs, and turtles.
Relax and soak up the view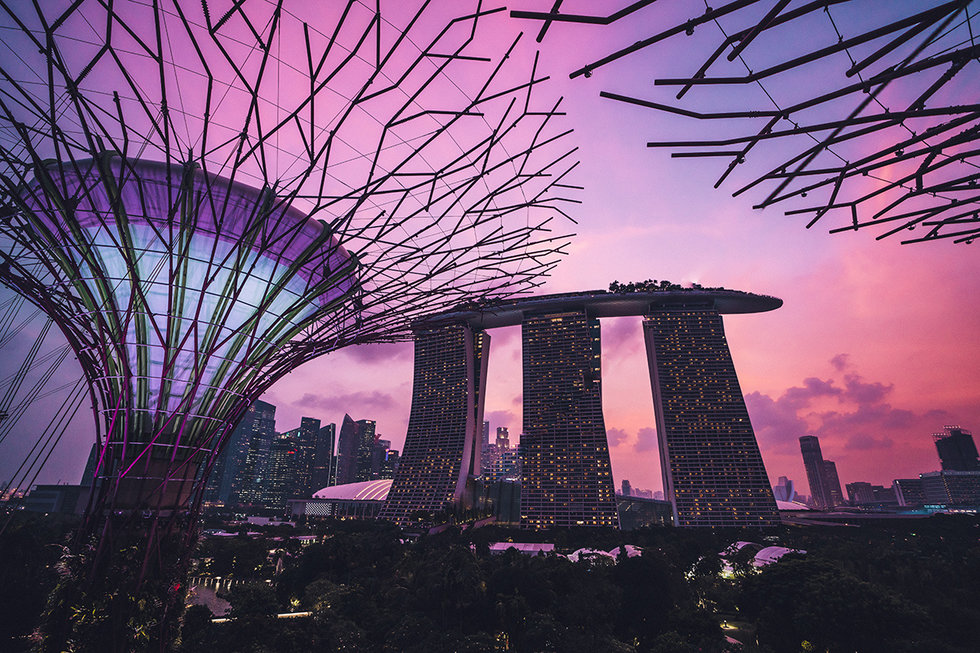 Few cities interweave modernity, architecture, and greenery quite like Singapore. Look, for example, at the stunning Gardens by the Bay, a 250-acre nature park featuring intricately designed, flora-infused structures such as the Cloud Mountain and the Flower Dome. When the giant trunks of the Supertree Grove light up come nightfall, you'll feel overwhelmed by the natural enchantment that pulses through this magical city.
Of course, the superb views don't stop there. Anywhere you go, you'll be treated to spectacular urban vistas that seem to blend into their ecological foundation. For early risers, consider a sunrise excursion and venture to the Marina Barrage, a dam covered in a lush-green lawn, where you can gaze across the water to the majestic figure of the Marina Bay Sands. Throughout the day, duck into Singapore Botanic Gardens. The only tropical botanic garden on the UNESCO World Heritage List, this tranquil paradise offers 180 acres of green space perfect for walking, picnicking, or simply relaxing — all in the heart of the city. Alternately, you can take a stroll along the Henderson Waves, an aptly-named pedestrian bridge that cascades through the forest between Mount Faber Park and Telok Blangah Hill Park.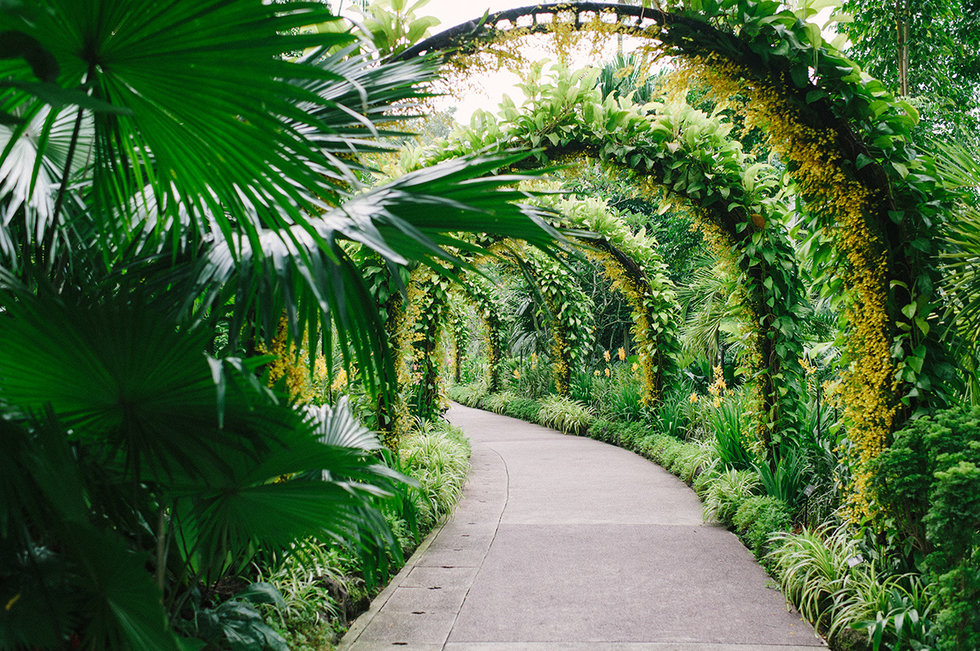 When night falls, be sure to make your way to the Event Plaza of the Marina Bay Sands for Spectra, a 15-minute dance of water fountains and laser-driven special effects all set to a gorgeous orchestral soundtrack. The performances start at 8 p.m. and 9 p.m., with an additional 10 p.m. showing on the weekends.
Spend an afternoon on the water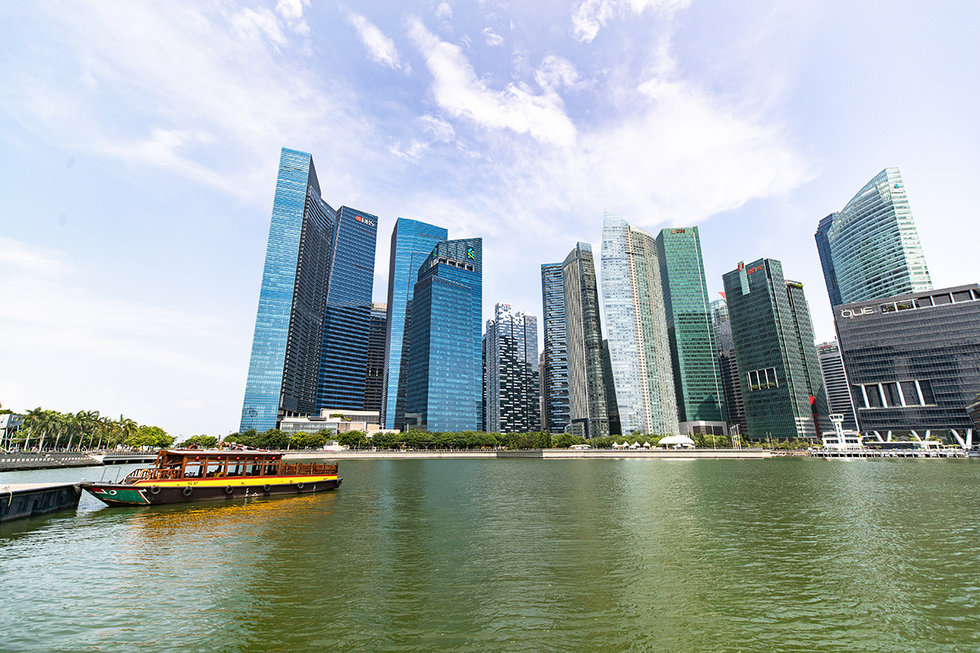 As Singapore is an island city, any exploration of it would be incomplete without spending some time on the river. Luckily, you can do just that on Singapore River Cruises. This line maintains a fleet of modern bumboats — electric, eco-friendly iterations of the rustic vessels once used to ferry supplies to ships anchored off-shore — that will guide you on a tour of the spectacular waterway that cuts through the Lion City. Along the way, you'll marvel at the buzzing markets and unique eateries that line the Boat, Clarke, and Robertson quays. You'll duck under architecturally aesthetic bridges like the Alkaff and the Helix, and you'll spot eye-catching landmarks like the Merlion and the Esplanade. It's an aquatic adventure that you shouldn't miss!
Be still in the city's temples
Though Singapore is a spectacularly modern city, it also houses a rich history. And one of the best ways to immerse yourself is to visit the island's various temples. One of our favorites is the city's oldest Hindu temple, Sri Mariamman. Built in the mid-19th century, the temple remains an ornate monument to the area's Indian influences. It features six colorful tiers decorated with gods, mythological beasts, and soldiers. Nearby, in the heart of Chinatown, you'll also find the Buddha Tooth Relic Temple, a four-story pagoda that includes a bell tower, a sacred stupa made of solid gold, a museum featuring over 300 Buddhist artifacts, and even a tea room on the second floor where you can enjoy a mid-day respite.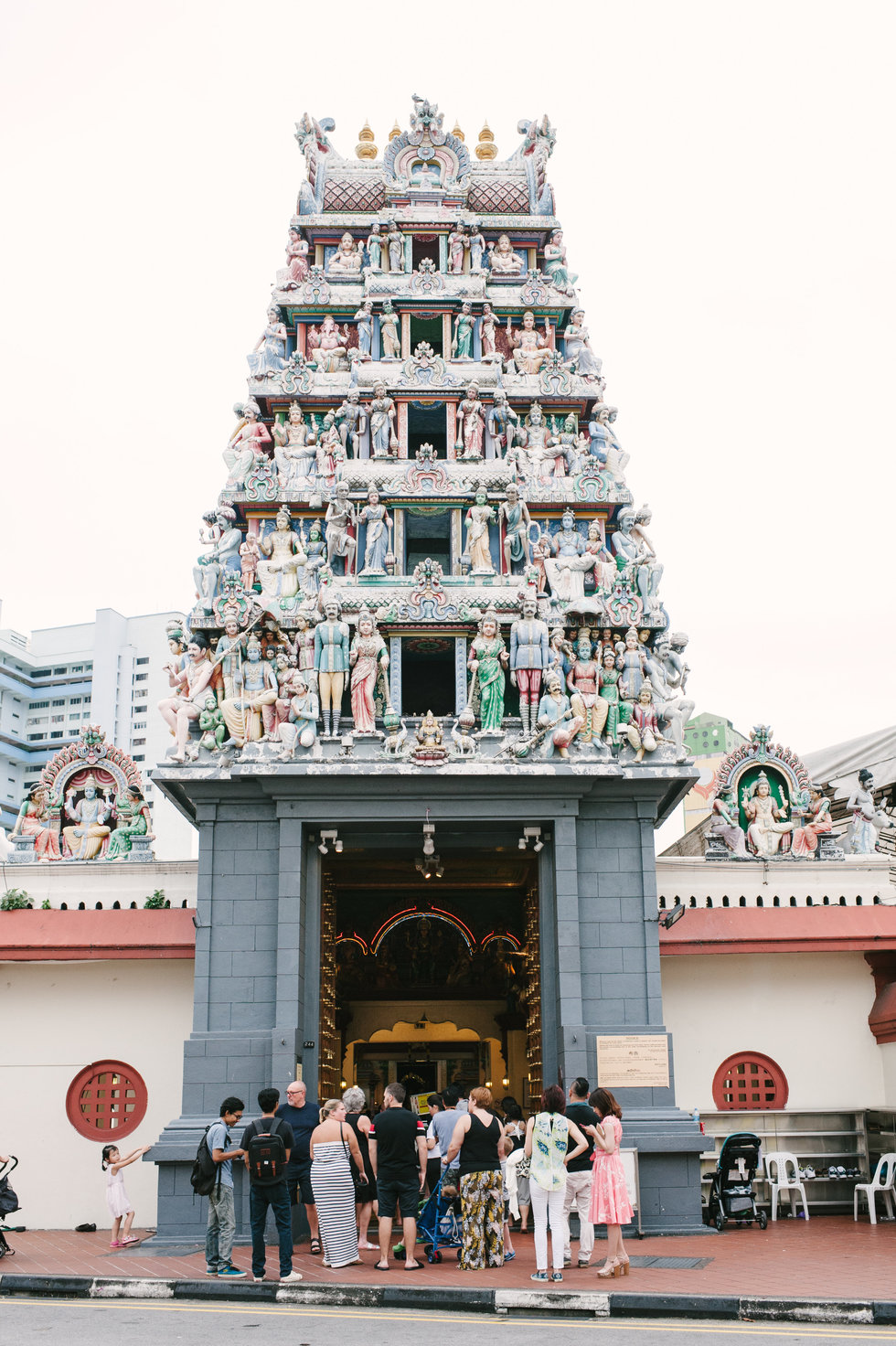 If you find yourself in need of someplace quiet to escape the bustle of the city, make your way toward the Thian Hock Keng Temple, Chinatown's oldest Hokkien Temple. Originally a landing point for Chinese soldiers in the 19th century, the grounds act as a haven of quietude in the center of a hectic metropolis. In addition, check out the outside rear wall, where a 145-foot (44-meter) mural traces the stories of the Hokkien immigrants who left China and landed in Singapore. The mural was painted by local artist Yip Yew Chong and covers the hardships, tragedies, and elation faced by those early immigrants.
Additionally, Singapore is a great launching pad to the rest of Southeast Asia — if you're interested in exploring Thailand, Vietnam, and beyond, you can check out United's Excursions Perk.
Discover Kansas City: The City of Fountains
To those unfamiliar with the Missouri metropolis, Kansas City might call to mind a few associations: Barbecue. Jazz. The fact that there's another, smaller Kansas City in Kansas (it's all part of the same metro area…yeah, we were confused, too). And while it absolutely has all those things, it also boasts wide boulevards, world-class art and really good tacos. Here's everything you need to add to your agenda on a visit to the vibrant Midwestern hot spot.
RELATED: The Best (and Most Wallet-Friendly) Places to Travel in October
Wallaceweeks/Getty Images
Make a wish at one of the many, many fountains
If you notice an abundance of water features around town, that's because K.C. has, oh, 200 of them. (Its official nickname is The City of Fountains.) Among the most notable are the equestrian-themed J.C. Nichols Memorial Fountain (built by a French sculptor in 1910) and the Henry Wollman Bloch Fountain in front of Union Station, whose 232 concentric water jets put on an ever-changing display.
Don Ipock/Courtesy of Visit KC
Get artsy
Spend an afternoon wandering the Nelson-Atkins Museum of Art, notable for, among other things, distinctive architecture, an extensive Asian art collection and a sculpture garden that includes four giant badminton shuttlecocks. The nearby Kemper Museum of Contemporary Art houses more than 700 works from artists like Jasper Johns, Helen Frankenthaler and Frank Stella. You'll find an extra dose of culture throughout the city through October 28, thanks to Open Spaces, the city's newly inaugurated biennial arts festival.
Courtesy of Boulevard Brewing
Drink like a local
Fun fact: Kansas City famously said "nah, we're good" to Prohibition, so drinking is effectively part of the city's cultural fabric. Take a tour at Boulevard Brewing; beer geeks should be sure to sample the complex, extra-boozy pours from the Smokestack Series. If spirits are your jam, head to J. Rieger & Co., a legendary pre-Prohibition distillery that was resurrected in 2010 (with help from a descendant of J. Rieger himself), for whiskey, gin, vodka and Caffe Amaro (a bittersweet coffee liqueur).
Brian Paulette/Courtesy of Visit KC
Soak up the city's jazz past (and present)
Thanks in part to its unique, nightclub-friendly status in the '20s and '30s (see above), and heavyweights like K.C. native Charlie Parker, the city boasts a rich musical history, much of it centered around the 18th and Vine neighborhood. Pay homage at the Charlie Parker memorial and the American Jazz Museum, then catch a live show at the Blue Room (inside the museum) or the Green Lady Lounge.
Courtesy of Visit KC
Check out City Market
There are farmers' markets, and then there's this massive institution, which has been operating as a hub for local vendors since 1857. Along with a bounty of produce and flowers from nearby farms, you'll find dozens of eateries ranging from Ethiopian to Brazilian. It also shares the space with a surprising tenant: the Arabia Steamboat Museum, which showcases 200 tons of artifacts salvaged from an 1856 shipwreck in the Missouri River.
DAVID D. MORRIS/COURTESY OF VISIT KC
Eat barbecue
Anthony Bourdain called Joe's Kansas City Bar-B-Que one of the 13 places you need to eat before you die. The legendary spot—located in a gas station—is famous for its burnt ends and Z-man sandwich (brisket, Provolone and onion rings). For a new-school take on smoked meat, check out Q39, where the chef taps both his classical culinary training and years on the barbecue competition circuit to perfect dishes like a burnt-end burger and house-made chipotle sausage.
Zach Bauman/Courtesy of Visit KC
…And not barbecue
Feast on globally influenced small plates (think gochujang-dressed cauliflower and duck confit with za'atar) at The Antler Room, opened by a husband-and-wife team who brought their far-flung restaurant training back to their hometown. If the weather's nice, grab a seat on the patio at Gram & Dun for creative cocktails and comfort food with a twist like Asian pig "wings" with sake-soy glaze or loaded baked potato gnocchi. Also of note? The town's serious Mexican food scene. Order a whole wood-fired chicken at El Pollo Rey or walk into any of the great taquerias clustered around Southwest Boulevard.
Courtesy of Visit KC
Take a stroll in Swope Park
At 1,805 acres, the city's largest green space is more than twice the size of NYC's Central Park, and houses the Kansas City Zoo, a gorgeous outdoor amphitheater that presents Broadway shows and concerts, a zip-line adventure course, soccer pitches (where both the men's and women's pro teams train), a wildlife rehabilitation center and miles of hiking trails and picnicking spots.
Courtesy of Visit KC
Explore the Crossroads Arts District
Creatives flock to this historic neighborhood, filled with galleries, design shops and buzzy restaurants. If you can, time your visit for the first Friday of the month, when you'll find pop-up parties at galleries and shops, live performers on every corner and food trucks galore. Also in the area is the gorgeous Kaufmann Center for the Performing Arts, should you wish to cap your evening off with some ballet, symphony or opera.
RELATED: 20 Cities Where Travelers Get the Best Value
This article was from PureWow and was legally licensed through the NewsCred publisher network. Please direct all licensing questions to legal@newscred.com.
Where to eat and drink in Salem
While Salem, Massachusetts will be forever famous for its 1692 witch trials—and the associated spooky attractions that always make the streets quite crowded this time of year—its culinary scene is starting to become an attraction unto itself. Here are the beverage spots, bakeries, and restaurants to check out next time you're in town.
The Roof at Hotel Salem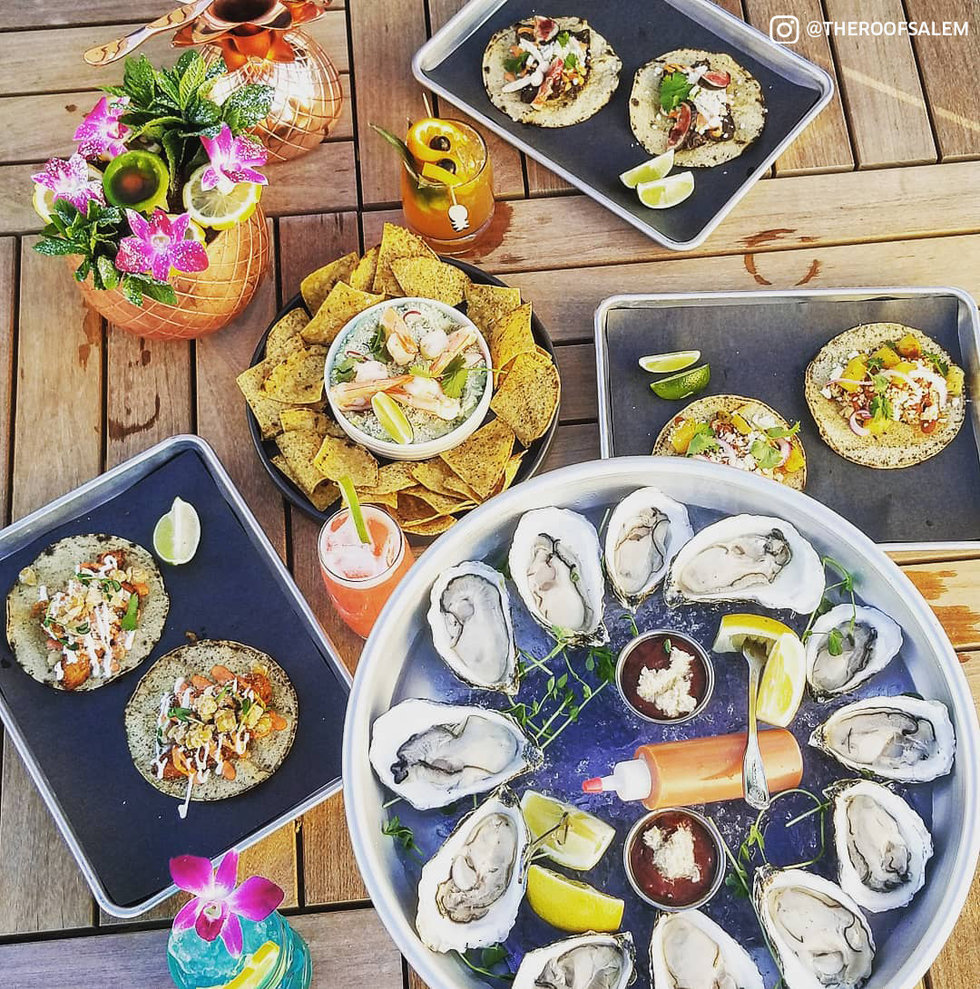 Today is the day. We will be open 2-11! #wayup \Roof Salem
When the mid-century modern Hotel Salem opened recently, it had a draw for locals, too: Salem's first-ever roof deck, with views of the harbor, church steeples, and historic rooftops for miles around. Open at least through the end of October (request a blanket from a host if you get chilly), the open-air lounge keeps the warm weather vibes going with a mostly Mexican-inspired food and drink menu, including margaritas and tacos. In colder months, retreat downstairs for a double burger from the open-concept lunch and dinner bar, Counter.
Kokeshi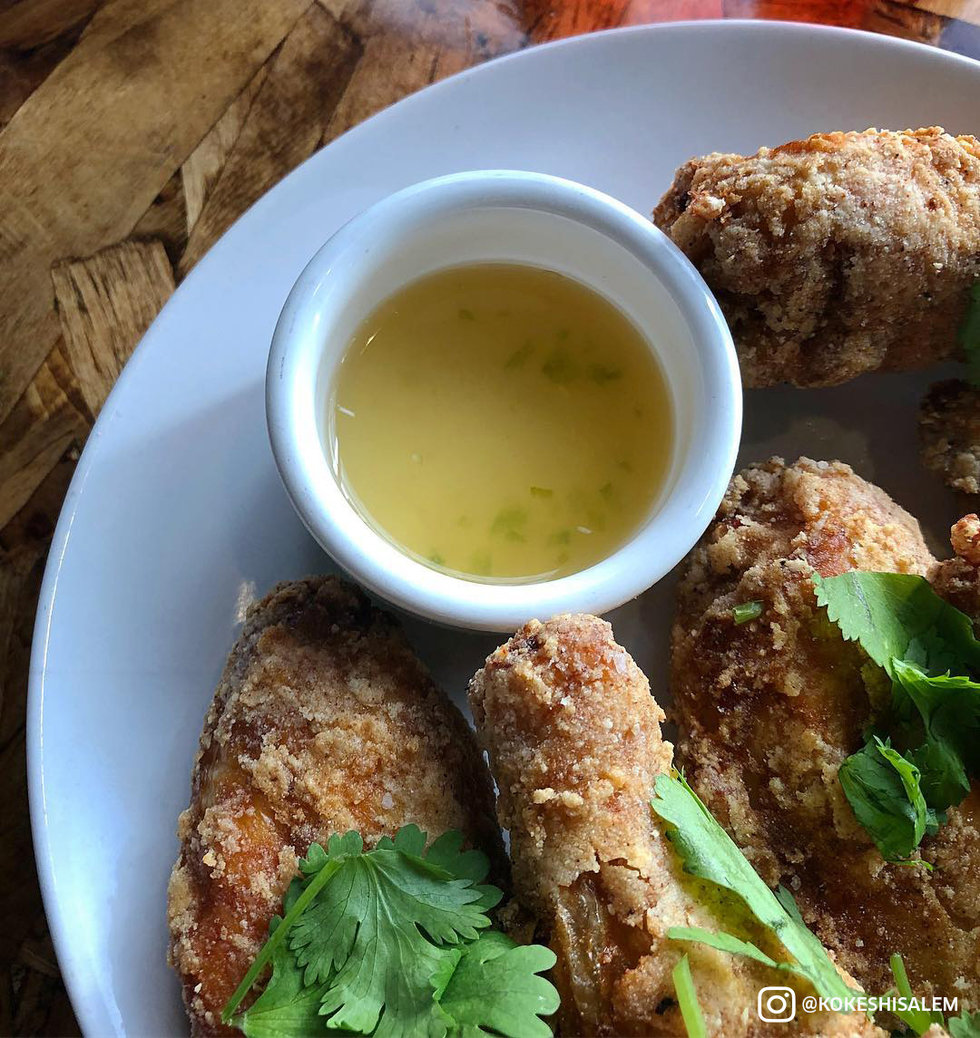 Fried chicken wings... one of four courses offered during the first ever Ramen Mile this Thursday. What's a Ramen Mile? Check the link in our profile for info and sign ups. 🍗 \Kokeshi
With its flashy atmosphere (graffiti-lined walls, more than a dozen colorful paper umbrellas hanging from the rafters) and bold Asian street food menu, Kokeshi is nothing if not vibrant. Head here for surprising starters like an octopus hot dog sprinkled with daikon slaw and comforting bowls of rice noodles and ramen, including the Colonel Sanders, topped with fried chicken. If you're more in the mood for pizza, take note that the owners also serve perfectly crispy-chewy Neapolitan pies at their other spot, Bambolina.
Ledger Restaurant & Bar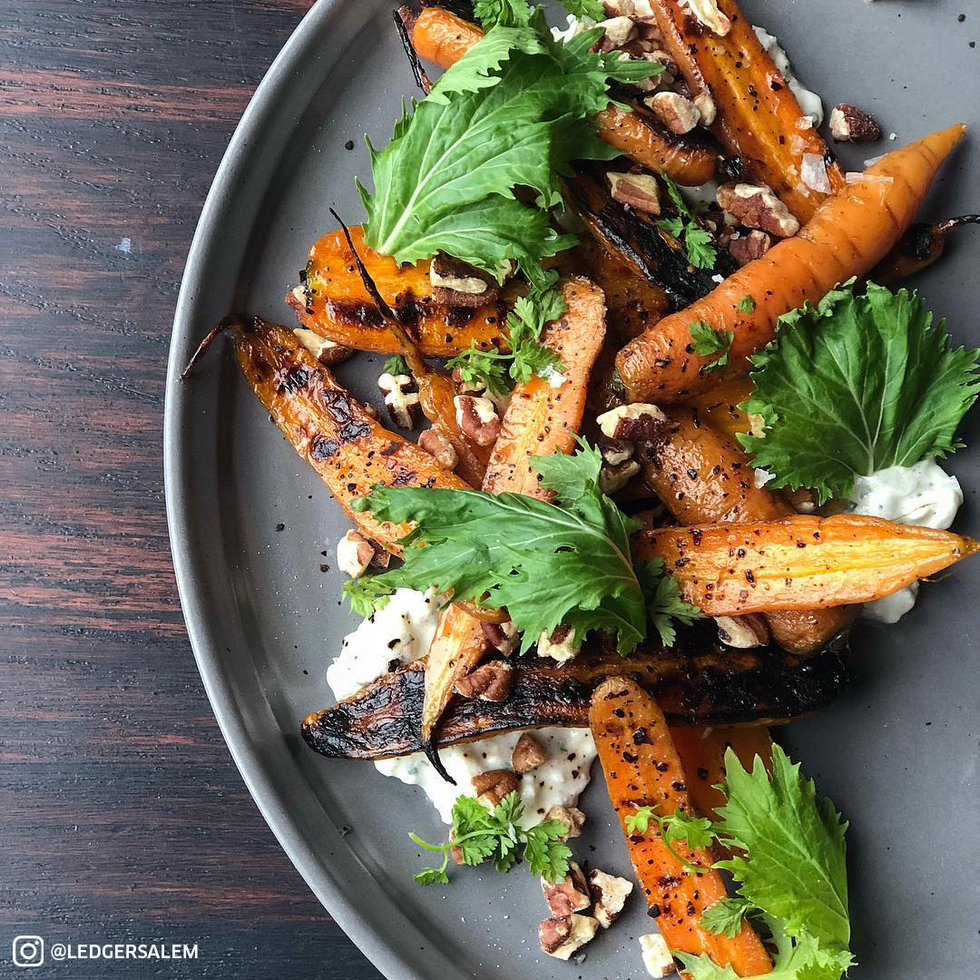 One of the favorites from last summer is back on the menu. Wood fire grilled carrots, house made herbed ricotta, maple, urfa, toasted pecans, chervil. \Ledger Restaurant
A circa-1818 former savings bank found new life recently when chef-owner Matt O'Neil oversaw its thoughtful renovation into a gleaming restaurant space. Rustic touches like exposed original brick, a wall of repurposed deposit boxes, and a long, wooden communal table sit alongside more polished elements, including a sweeping open kitchen with a custom wood-fire grill and a dramatic, oversized chandelier over the bar. The menu has a new-New England vibe, with seasonal, locally sourced sides like cornbread and succotash, and hearty mains like a Berkshire pork chop with marinated peaches.
Life Alive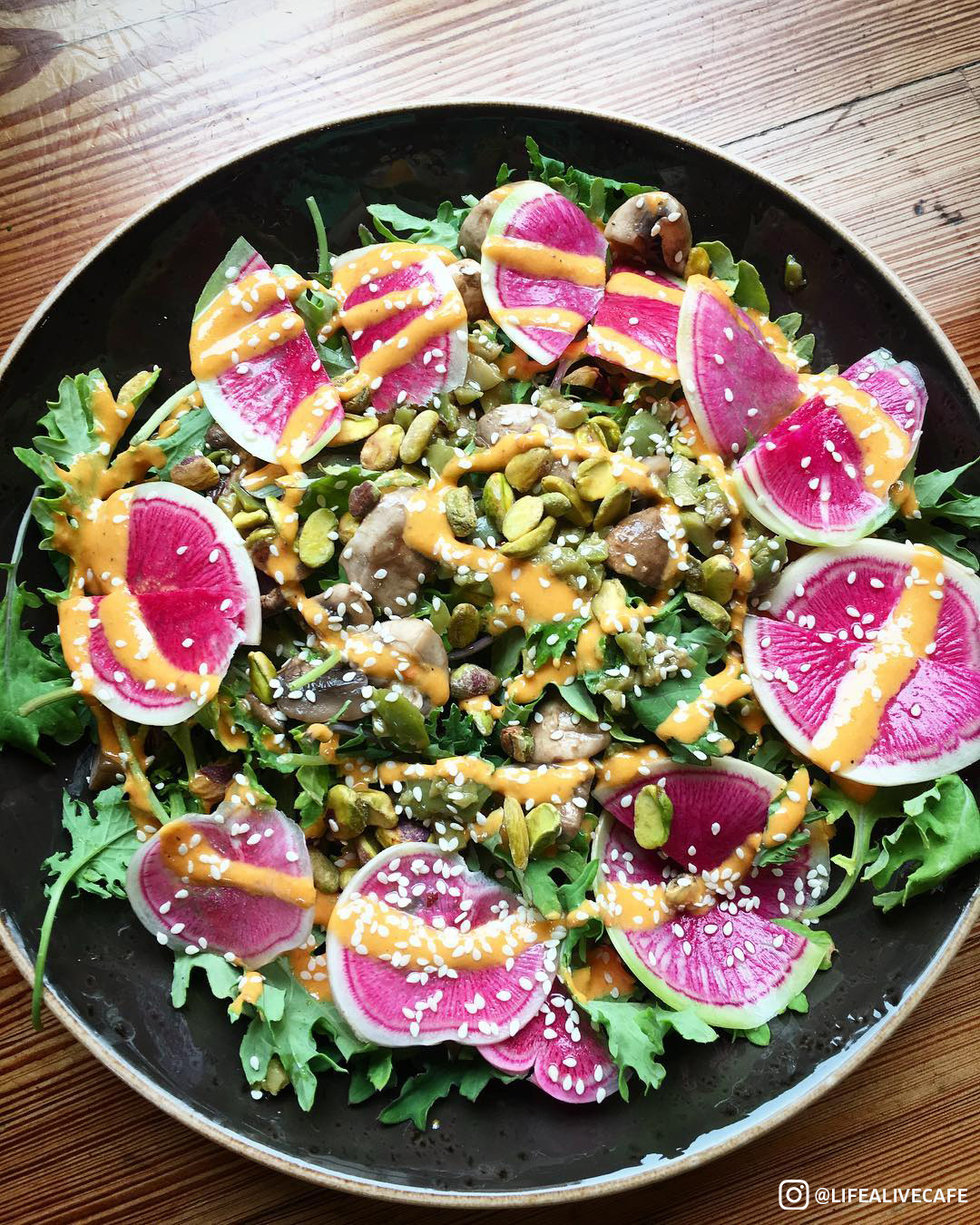 The Thinker salad mindfully composed exquisite red bell pepper tahini dressed baby kale with paper thin Winter Moon Root radishes pistachios green olives & marinated mushrooms.Life Alive Organic Cafe
Long before "plant-based" was a buzz-phrase and juice bars were popping up by the minute in downtowns everywhere, Life Alive was spreading its version of veggie love in the Boston area in the form of nutrient-packed smoothies, salads, and grain bowls (try the Goddess, with ginger shoyu sauce and sprouted legumes). Now four shops strong, including an outpost in Salem, this casual, organic cafe serves up the type of clean eats you'd expect to find at pricey yoga retreat.
Far from The Tree Hard Cider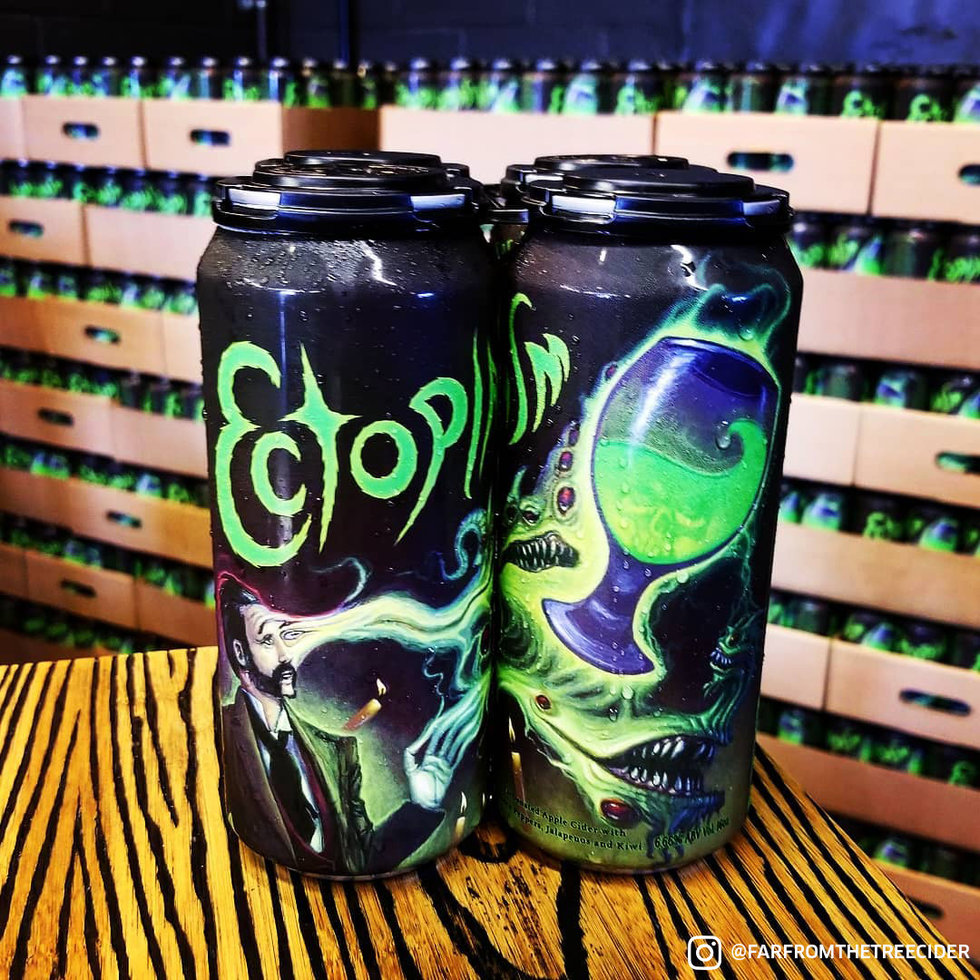 It's on! 1 case limit per person. \Far From The Tree Cider
When you need a break from the witch museums and haunted graveyard tours, retreat to Far from the Tree's decidedly more mellow taproom. Pull up a stool in the rustic indoor space or perch on a picnic table on the patio outside, and sample hard ciders that run the gamut from off-dry heritage blends and Citra-hopped versions to out-there creations such as the limited edition Ecotoplasm, a bright green sipper spiked with jalapeno and green pepper out just in time for Halloween.
Notch Brewing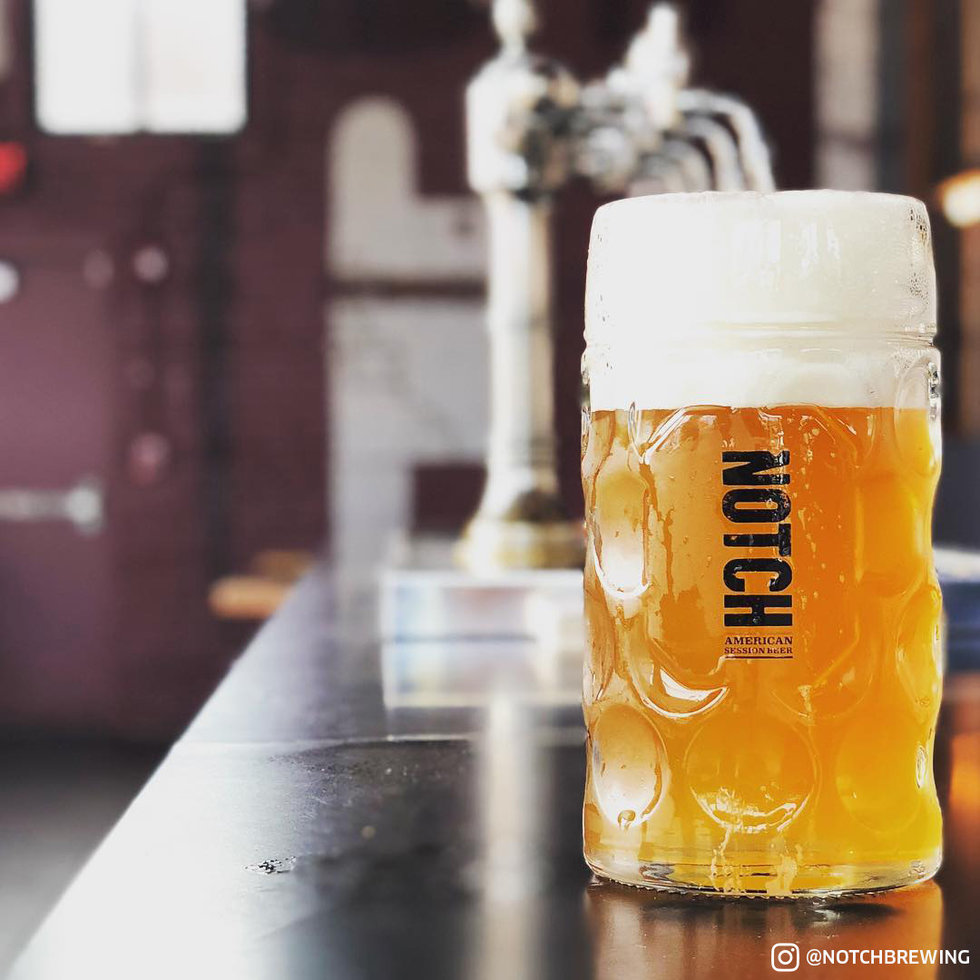 Voll Projekt Festbier on tap today for our annual Oktoberfest. \Notch Brewing
Not that we're recommending it, but if you insist on drinking by the bootfull, these are the kind of beers you want to reach for. This ahead-of-the-curve session brewer specializes in low-abv German and Czech-style lagers and ales, like the signature "session IPA" Left of the Dial and even more quaffable pale ale Zwickel. In between rounds of Skee-Ball in the taproom, also check out Notch's Voll Projekt, the a new foray into full-strength brews.
A&J King Artisan Bakers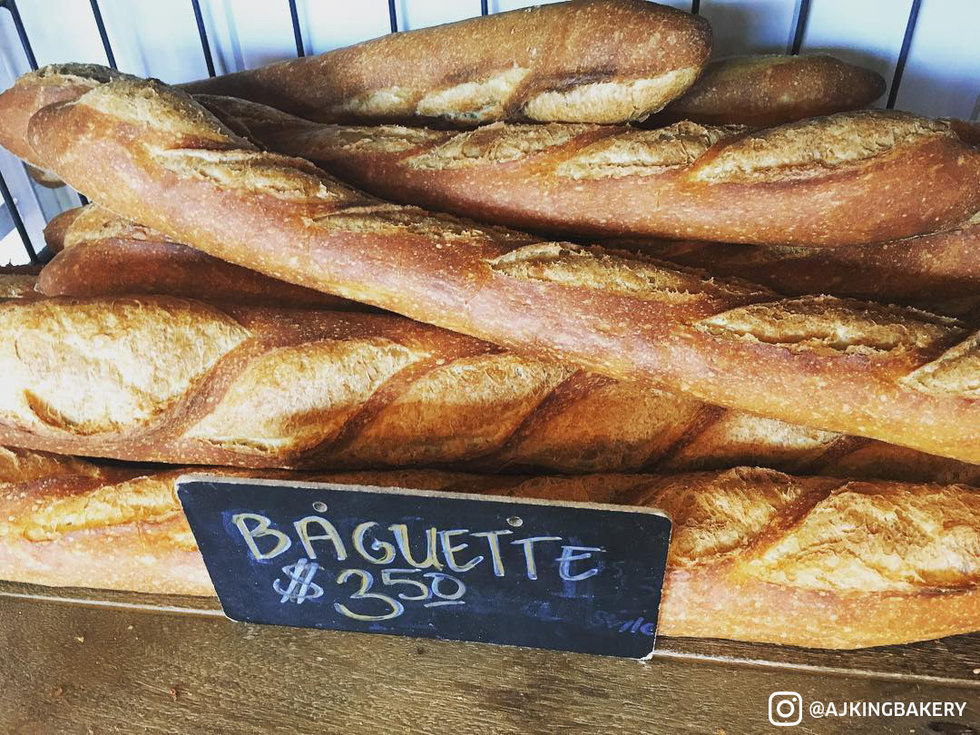 Baguettes! \A&J King Artisan Bakers
Master makers of all things crusty and buttery, artisan bakers Jackie and Andy King have earned themselves cult culinary status in this city—one croissant at a time. Stop by their original location or recently opened second bakery for a flaky apple tart or cinnamon bun, then fill your arms with as many rustic loaves of sourdough and baguettes as you can possibly tote home.
Caramel Patisserie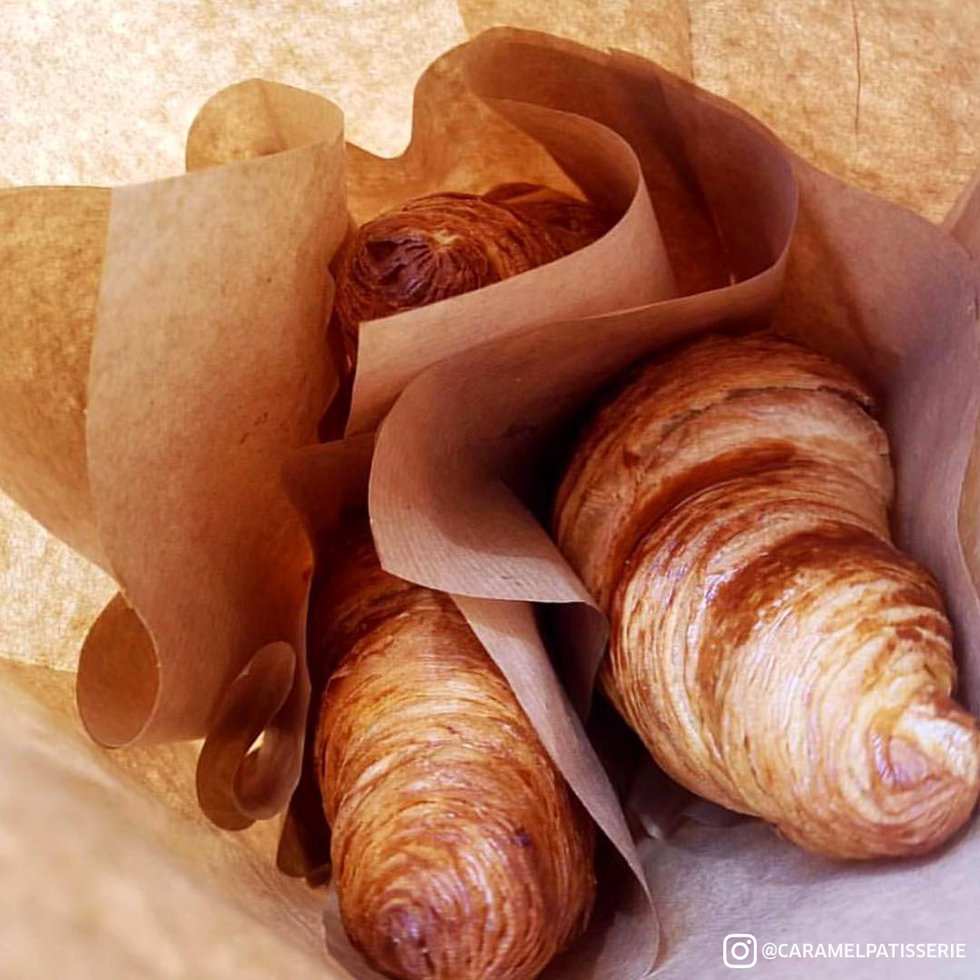 Morning 🥐🥐🥐 Patisserie & Macaron
French-born and clasically-trained pastry chef Dimitri Vallier makes some of the best treats in town—apparent by one glance at his picture-perfect pastry case. His elegant sweets, including Paris-brest eclairs and triangles of caramel mousse with poached pears are simply transportive. The only sign you're still in Salem? Alongside more traditional almond and rose macarons, you'll also find orange and black ones, too.
This article was written by Jenna Pelletier from Food & Wine and was legally licensed through the NewsCred publisher network. Please direct all licensing questions to legal@newscred.com.
Introducing travel experiences with PlacePass
Now that you've booked your flight, it's time to start planning out your trip itinerary. With so many options and endless websites to research, it can be a taxing task to take on. And if you're planning activities for everyone involved, it can be even more difficult to balance out the right amount of fun with the right number of touristy sites to visit.
With so many things to experience, research shows that travelers are seeking bespoke, local recommendations when it comes to planning their vacation itinerary. From activities like skip-the-line passes to museums, walking tours, water activities and more, our partnership with PlacePass provides top-rated recommendations when it comes to planning out your next trip. With over 100,000 travel experiences, you're sure to find something to do whether you're planning a family vacation, a trip with friends or tacking on a few extra days to your business trip.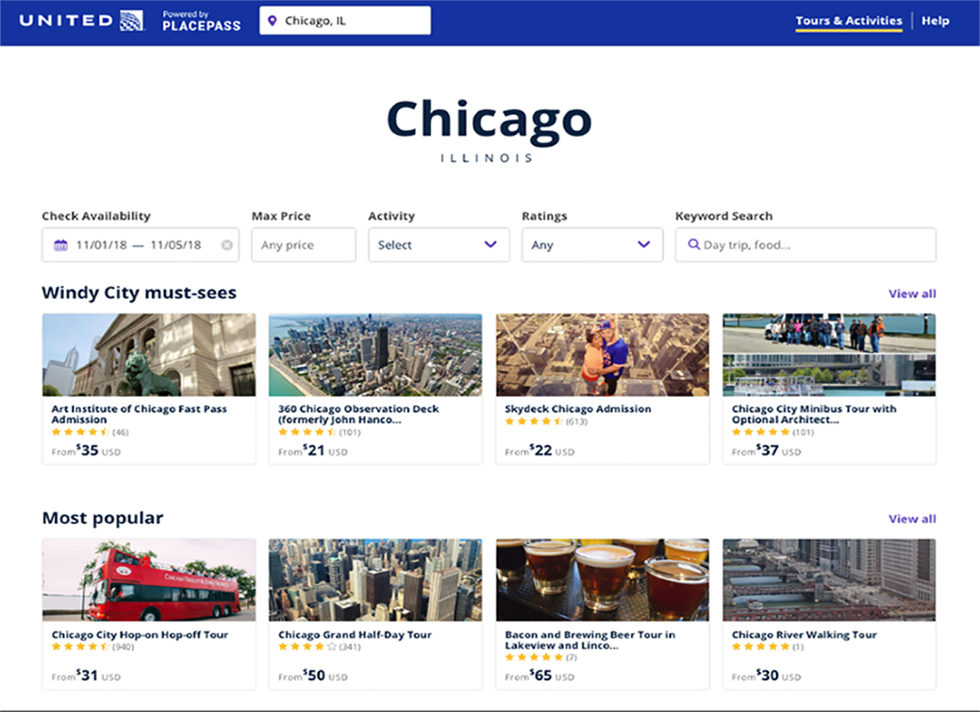 To start, enter in your destination to browse categories of activities specific to that location. Activities are categorized by "most popular," "food and drinks," "family fun," "wine country" and more for nearly every destination we fly to, making it easy to find what you're looking for or discover new things to do.
`q
Our partnership with PlacePass
is one of the ways we're bring more personalized experiences to our customers. As a leading technology solutions provider, PlacePass leads the way in bringing travelers in-destination experiences. Look out for more enhancements to our partnership early next year.
9 things to do in Maui for families
With 120 miles of shoreline and 80 beaches in hues ranging from eggshell to ebony, there would be plenty for families to love about Maui, even if you didn't factor in the fascinating volcanic crater at Haleakala National Park. Here are nine fun-filled ways for your family to say Aloha to Maui.

Gaze into a volcano
Shutterstock
Haleakala National Park is a literal high point of a visit to Maui: rising 10,000 feet above sea level, it's the world's largest dormant volcano. (If you plan to go before 7 a.m. to watch the sunrise, be sure to make a reservation ahead of time.) Once you've gazed into the crater and taken in the views over the entire island, there's plenty to explore in the otherworldly park filled with fascinating rock formations. Bring a jacket (it can be chilly up there) and stop at the ranger station as soon as you arrive for a free Junior Ranger Activity Booklet. Kids can complete the fun games based on sights around the park. Return to the ranger station when they're done and they'll be sworn in as Junior Rangers, complete with a plastic badge, the ultimate souvenir of a day up spent up in the clouds.
Take a flowery scavenger hunt
Shutterstock
While you're Up Country, amid the lush green slopes of Haleakala, visit the lovely and fragrant Alii Kula Lavender Farm. A free scavenger hunt will keep keikei (kids) busy wandering through the flowers and fruit trees — the reward for finishing is complimentary lavender cookies. Parents will love the gorgeous views and a relaxing stroll through the colorful grounds.
Pet a goat
Zach Stovall
Near the lavender garden is another Up Country family highlight: Surfing Goat Dairy. The goats don't actually surf unfortunately, but you can feed and pet them, and even sign up for a late afternoon milking tour to really get hands on.
Enjoy an authentic luau
Shutterstock
You'll want to arrive early for the popular Old Lahaina Luau, when traditional artisans demonstrate crafts such as palm weaving and wood carving, and your family can learn how to hula and play traditional instruments. The luau kicks off with the unveiling of the kalua pig that roasts all day in an underground pit, then the night unfolds as the sun sets, with live musicians and dozens of costumed dancers. Expect a massive, all-inclusive buffet where you can sample local tastes such as poi, pork, and poke, plus kid-palate friendly items including fried rice and barbecued "Moa" chicken.
Go on a whale watching tour
Shutterstock
Hit the seas with the marine biologists at Pacific Whale Foundation during humpback whale season, November through April, when nearly 10,000 of the mammoth mammals travel from Alaska to mate and give birth in the warm Hawaiian waters. Spotting a car-size tail shooting out of the water or witnessing an acrobatic out-of-water breach is the kind of spectacle your kids will remember for a long while, and PWF even offers a Jr. Naturalist Program for kids on their sailings.
See sharks at the aquarium
Shutterstock
Are your kids not ready for a boat adventure but still want to see amazing sea life? The Maui Ocean Center has a colorful Living Reef exhibit where you can spot unique swimmers like Hawaii's state fish, the humuhumu nukunuku apuaa. You can also see sea turtles, visit touch tanks, and walk through a 750,000 gallon tank filled with sharks.
Soak up the sun at Kaanapali Beach
Shutterstock
There's a beach for every mood on Maui, and of them Kaanapali is a top spot for families, especially the section just south of Black Rock — a landmark where a torch is lit and a diver plunges into the sea at sunset every night. Rent snorkel equipment and within seconds you'll spot tropical fish. Grab a bite to eat at the open-air Whaler's Village shopping center that has access right from the beach walkway. Plan to stay in the quieter area of North Kaanapali, north of Black Rock, where the Westin Nanea Ocean Villas offers multi-bedroom suites with full kitchens and washer dryers, a fabulous lagoon pool, cultural activities, a kids club, and communal grills where you can make an easy stay-in dinner for the family.
Explore the largest Banyan Tree
Shutterstock
The historic town of Lahaina is filled with original buildings from the 1800s when it was a bustling whaling town. The biggest attention grabber for kids is the massive, 60-foot high banyan tree (the largest in the United States), which has branches that extend across an entire block. There's always shade under the tree, making it the perfect spot to savor a tropical syrup-infused shave ice from one of the shops nearby.
Take a road trip
Shutterstock
The Road to Hana is legendary: 50 miles of hairpin turns and one lane bridges that test a driver's mettle, even without a car full of kids who might succumb to motion sickness. Instead of plunging down the entire drive, turn it into a road trip exploration that suits your family. Going just a third of the drive (less than an hour without stops), you can have lunch in the funky beach town of Paia (kids love the pizza at Flatbreads), watch the windsurfers at Hookipa Beach, feel the cooling spray at Twin Falls, take a mini hike at Waikamoi Ridge Trail, and stop to see the colorful painted eucalyptus and enjoy some fresh fruit at Garden of Eden. Then turn around and head back to the beach.
This article was written by Melissa Klurman from Islands and was legally licensed through the NewsCred publisher network. Please direct all licensing questions to legal@newscred.com.
Fun and spooky travel destinations for Halloween
For many people, Halloween travel typically involves a stroll around the neighborhood with the kids as they go trick-or-treating, or perhaps a drive across the city to a costume party. But for adventurous travelers who are searching for genuine thrills and chills on October 31st, a trip to one of these seven destinations is the perfect way to celebrate the spookiest day of the year.
Sleepy Hollow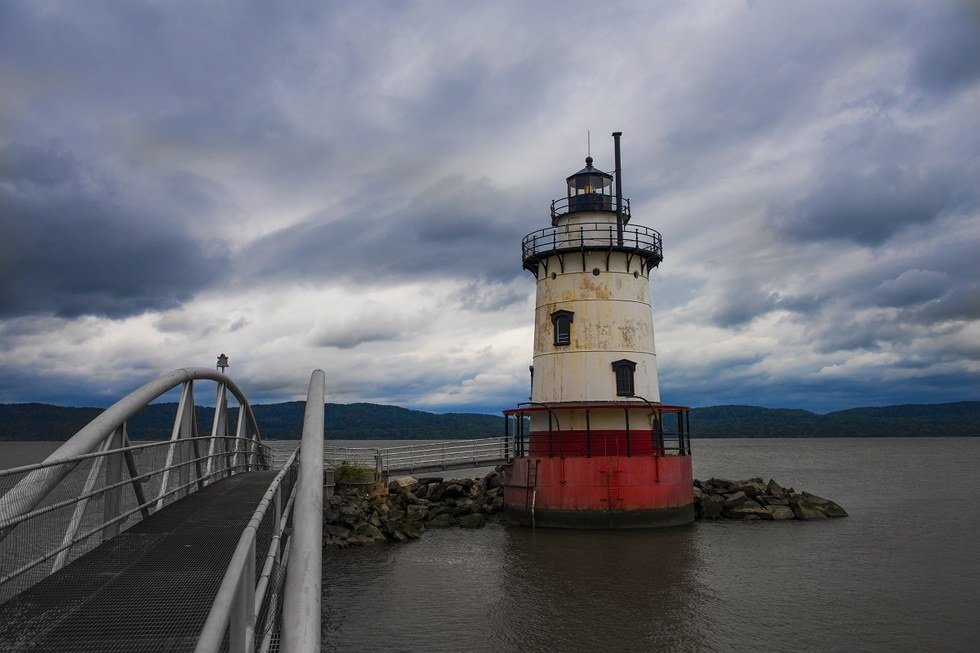 Washington Irving's classic story "The Legend of Sleepy Hollow" tells the eerie tale of an unlucky schoolteacher who encounters a pumpkin-headed phantom while walking through the woods at night. In actuality, the fictional town of Sleepy Hollow is based on the real-life village of Tarrytown, New York. Every October, the residents of Tarrytown pay tribute to Irving's fable with a series of family-friendly events that attract visitors from far and wide. This year's celebration includes a spooky cemetery tour, an elaborate haunted hayride, vintage horror movies at the historic Tarrytown Music Hall and a possible visit from the Headless Horseman himself.
New Orleans Haunted History Tour
New Orleans is widely considered the ghost capital of the United States, and for very good reason. Founded as a French colony in 1718, the city has a rich history of attracting immigrants from Spain, Africa and Haiti, each of whom brought with them a unique set of superstitions and religious practices. Today, voodoo rituals, vampire legends and zombie tales abound in The Big Easy, and the best way to experience them is by taking one of the popular Haunted History Tours. Choose between the classic ghost tour, the haunted pub crawl, the creepy cemetery stroll and the authentic voodoo tour.
The Stanley Hotel
Nestled amid the glorious Rocky Mountains of Colorado, the beautiful Stanley Hotel is the real-life inspiration for Stephen King's terrifying bestseller "The Shining." In 1974, King and his wife Tabitha spent a night at The Stanley and quickly discovered that they were the only guests in the entire hotel. This sparked the author's fiendish imagination, and he began outlining the novel's chilling plot that same evening. Though he changed its name to The Overlook Hotel for the book, The Stanley remains the true setting. Today, fans of "The Shining" can celebrate Halloween at the hotel with a series of horror-themed events, including a murder mystery dinner, a lavish masquerade party and an official Shining Ball.
The Paris Catacombs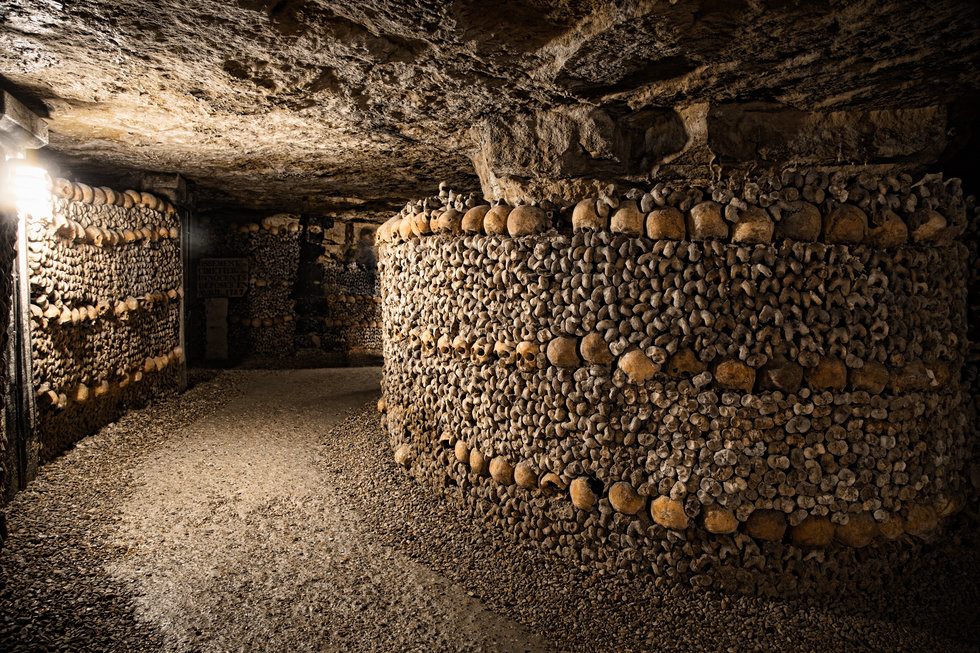 Throughout much of its history, Paris has been known as the City of Lights. Yet beneath its lovely streets, a more accurate description would be the City of Bones. That's because the skeletal remains of more than 6 million bodies are buried in the network of underground tunnels and narrow passages that wind their way below Paris. Since it was first opened to the public in 1874, this macabre labyrinth has become one of the most popular attractions in all of Europe. Catering to demand, a variety of catacomb tours are available for travelers who want to explore the hidden world of the dead.
Poenari Castle
Perched high on a cliff in the Arefu village of Romania, this atmospheric castle is considered by many to be the original home of Count Dracula himself. In reality, it was an imposing stone fortress belonging to the infamous warlord Vlad the Impaler, who was the inspiration for Bram Stoker's legendary vampire character. Built at the beginning of the 13th century, Poenari Castle is in a state of perpetual ruin, yet tours are still available to brave souls who are willing to climb the 1400 steps to reach its crumbling citadel.
Newgrange Tomb
The first people to celebrate Halloween (then known as the Festival of Samhain) were the ancient Druids of Ireland, so a trip to this 5,200-year old Druid tomb in Ireland's Boyne Valley is the perfect place to spend the holiday. Constructed during the Neolithic period by Stone Age farmers, Newgrange consists of a massive circular mound divided by a long stone passageway and filled with multiple burial chambers. According to Irish folklore, it was believed to be the dwelling of a god called Dagda, who wielded a massive club that was capable of raising the dead. Tours of the prehistoric monument are available to the public.
Loch Ness
If you've ever dreamed of coming face to face with a genuine monster, why not spend this Halloween searching for aquatic sea creatures in Scotland? The legendary beast, affectionately nicknamed Nessie, was first spotted in the freshwater Loch as far back as the 6th century AD. Since then, there have been countless sightings, but aside from a handful of grainy photos, no actual proof has been captured. So grab a camera and reserve a seat on the Jacobite Loch Ness Tour. You just might be the one to prove its existence, once and for all!
If you go
Halloween can be frightening, but planning your next trip doesn't have to be. Book your tickets by visiting united.com, or by using the convenient united app.
Celebrating Girls in Aviation Day
We are proud to work with Women in Aviation so that together we can help break down barriers and promote inclusion while also inspiring a future generation of aviation leaders that includes women.
We kicked off Girls in Aviation Day by bringing in young women from Girls Inc. to meet a group of our female pilots and to try the flight simulators at our new flight training center in Denver.
We are continuously working to build a workforce as diverse as the communities we serve, which is why we are excited to hold Girls in Aviation Day events in a record number of 12 locations around the world. Through this event in Denver and the other events held across the globe, we are working to engage girls as they begin to think about their own futures so we can ensure a strong future of women in the industry.
Join United in helping disaster relief efforts and earn miles
Donate now
We're listening
Check out our newest destinations
United Airlines
united
To the 🌕 and back... and then to London. Thrilled to fly Apollo 15 Command Module Pilot, Col. Al Worden and the flag that flew to the moon and back in 1971.
United Airlines
united
To the 🌕 and back... and then to London. Thrilled to fly Apollo 15 Command Module Pilot, Col. Al Worden and the flag that flew to the moon and back in 1971
We Are United
weareunited
Last week EQUAL celebrated the launch of their first international chapter! We're thrilled to see you grow and foster diversity & inclusion around the 🌍.
#BeingUnited
We Are United
weareunited
EWR & LHR teammates had a hand in history this week by flying Apollo 15 Command Module Pilot, Col. Al Worden & the flag that flew to the 🌕 and back in 1971.
Watch our most popular videos
Flying the flame, igniting inclusion
It was an unusual sight: a flame on a plane -- but that's exactly what passengers on a flight from Boston to Chicago witnessed as we transported the very special cargo on July 18. The flame was enclosed in a secure lantern and accompanied by a Special Olympic athlete and two Guardians of the Flame – members of a group of more than 100,000 law enforcement officers whose role is to protect and ensure the delivery of the Special Olympics Flame wherever it travels.
This wasn't just any flame, however; it was the Special Olympics' Flame of Hope, the flame which lit the Eternal Flame of Hope to kick off Special Olympics' 50th anniversary celebration Friday morning.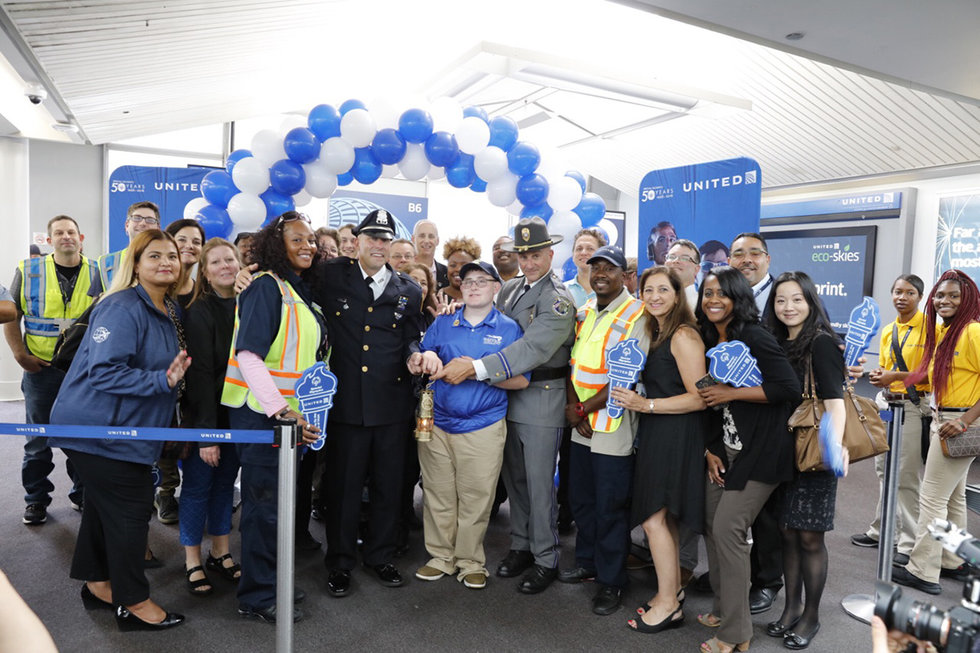 CEO Oscar Munoz, General Counsel and EVP Brett Hart; and Community Affairs VP Sharon Grant, along with many employees and customers, greeted the Flame upon arrival to O'Hare International Airport, where it was presented to local Guardians of the Flame.
We didn't just transport the Flame of Hope on board one of our flights, said Oscar. "That flight symbolized how we are taking the values of inclusion and respect, which that Flame represents, fully on board as a company."
From O'Hare, the Flame traveled to Soldier Field, the site of the very first International Special Olympics Summer Games 50 years ago, and where the Law Enforcement Torch Run® took place the morning of Friday, July 20. More than 100 employees participated in the event, a four-mile course along the lakefront in downtown Chicago, along with hundreds of law enforcement officers and Special Olympics athletes from throughout Illinois and the world.
I saw people from all over the world come together for a great cause, said Global Catering Operations Projects and Performance Manager Yana Strutz, who participated in the Torch Run, "It is wonderful to see my colleagues take time out of their busy schedules to ensure that Special Olympics athletes get the time and attention they deserve."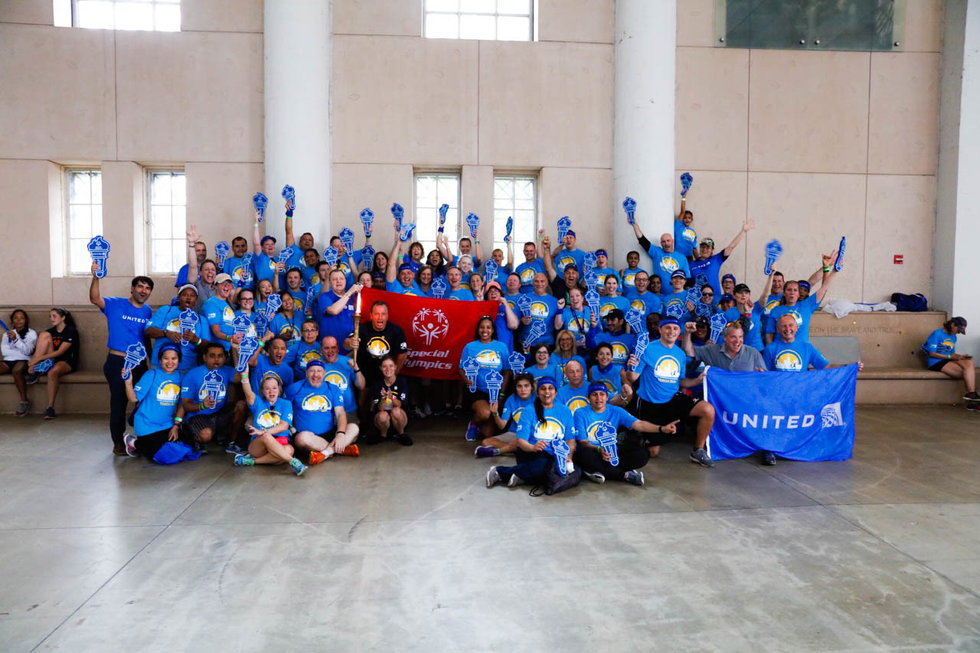 The run concluded with the lighting of the Eternal Flame of Hope monument, a flame that symbolizes the eternal hope that Special Olympics provides to athletes and their families. The flame will stay forever ignited inside the permanent, 30-foot monument outside of Soldier Field.
United will go beyond just flying the Flame of Hope on one flight, we will 'carry the torch' everywhere we fly and spread the light of this inclusion revolution. We intend to be ambassadors for this movement everywhere we operate, said Oscar.
Our partnership with Special Olympics represents our continuing effort to break down barriers and further build on Special Olympics' remarkable legacy of inclusion by engaging our employees around the world.
Image of United & Special Olympics: Taking inclusion to new heights
United & Special Olympics: Taking inclusion to new heights
Learn more
United & Special Olympics: Taking inclusion to new heights
On March 8, 2018, we announced a new global relationship with Special Olympics, an organization we've partnered with for many years focusing on supporting the spirit of inclusion with our employees through local communities and through our Charity Miles Program. United's increased sponsorship includes support for major Special Olympics events, including the Special Olympics 50th Anniversary celebrations in Chicago, site of the very first International Special Olympics Summer Games in 1968, and the 2018 Special Olympics USA Games in Seattle.
In addition, United will engage with local Programs in our key markets around the world. Special Olympics embodies our shared purpose to connect people and unite the world. With more than 5 million athletes and 1 million coaches and volunteers in 172 countries, our employees and customers will join forces with Special Olympics to achieve our shared vision of inclusion. Together, we hope to end discrimination against people with intellectual disabilities.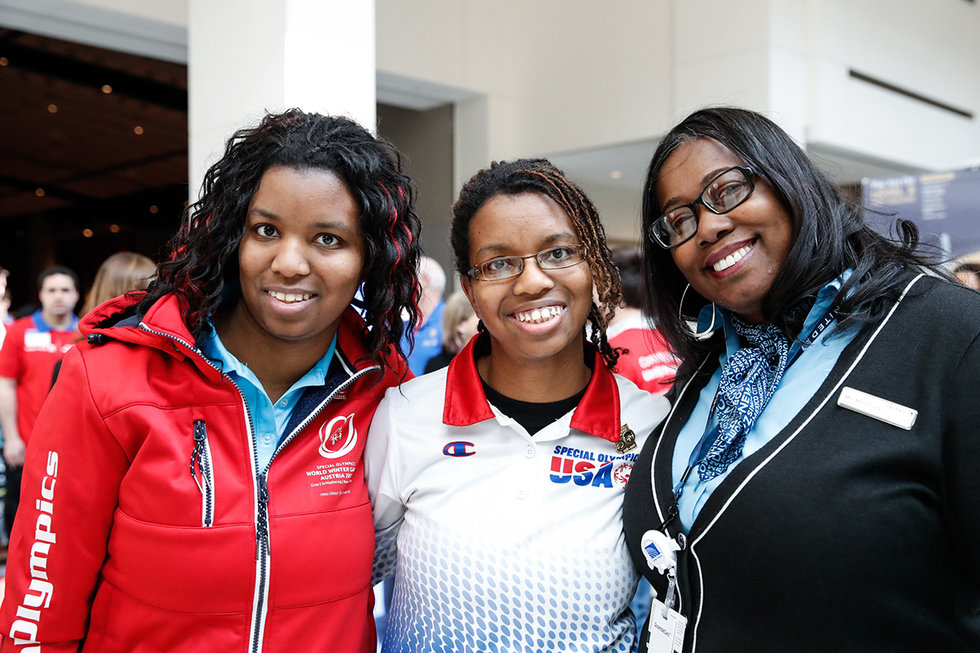 Our relationship with Special Olympics represents a continued effort to break down barriers and further build on the organization's remarkable legacy by engaging our customers and employees around the world. Working together, we created new training that specifically reflects insights from Special Olympics, including training scenarios with real-life situations that individuals with intellectual disabilities face when traveling. By the end of 2018, more than 60,000 United frontline employees will have participated in the new training modules that reflect Special Olympics insights as United takes steps to deliver a world full of inclusion.

Check back this summer for coverage from Special Olympics 50th Anniversary celebrations in Chicago and 2018 Special Olympics USA Games in Seattle.
Copyright © 2018 United Airlines, Inc.
All rights reserved.
Indicates an external site that may or may not meet accessibility guidelines.
Scroll to top
Scroll to top