Three Perfect Days: Paris
Story by Boyd Farrow | Photography by Haleigh Chastain Walsworth | Hemispheres, July 2017
Paris is a cinematographer's dream. No city is more dazzling in the sunshine or sexier in the rain—or, better still, lit up at night. Which is why it is so achingly familiar to anyone who has ever bought a movie ticket. View Notre Dame from the Quai de Montebello, and you get An American in Paris; have a coffee at Café des Deux Moulins in Montmartre, and you're in Amélie. But Paris has always been as much about discovery as déjà vu. Whether it's the reinvented Pigalle, a rejuvenated République, or the rebooted Sentier district, there's always something new to besot the next generation of dreamers—and to keep the older ones returning.

In which Boyd wings his way through the Louvre, samples 18-month-ripened fruit, and meets a chanteuse after dark
One of the things Parisians like to say about their city is that it's endlessly walkable—the operative word here being "endlessly." While each of the city's 20 arrondissements is conquerable by foot, if you're planning to see them all in one go, you'd best pack a comfortable pair of shoes. Before I attempt (and fail) such a feat, I need to be dragged away from my breakfast in my hotel's resplendent surroundings. La Réserve, a grand mansion a block from the Palais de l'Élysée in the 8th arrondissement, was built for Napoléon III's half-brother. Now, it's a 40-room hotel and spa, all ruby-red and emerald-green silk and velvet and herringbone oak floors. I'm wedged in an armchair wiping globs of apricot jam from my cheeks when my butler appears, tactfully wondering if I'm ready for my swim.
With too much ground to cover, I instead begin the day with an earnest jaunt through the immediate neighborhood—the most central of Paris's arrondissements and the one most frequently used as a backdrop in perfume ads. Going out on Avenue Matignon, I reach Rue Saint-Honoré. Home to outposts of some of the world's most chichi fashion labels, this slender street still has its share of idiosyncratic shops, like Colette, which "curates" everything from rare sneakers to a hundred types of bottled water. Admirably, the sales assistant displays no hauteur when I ask her to remove a $5,000 rose gold iPhone from its cabinet, but she also doesn't register surprise when I hand it back. "Too heavy," I say with a wince.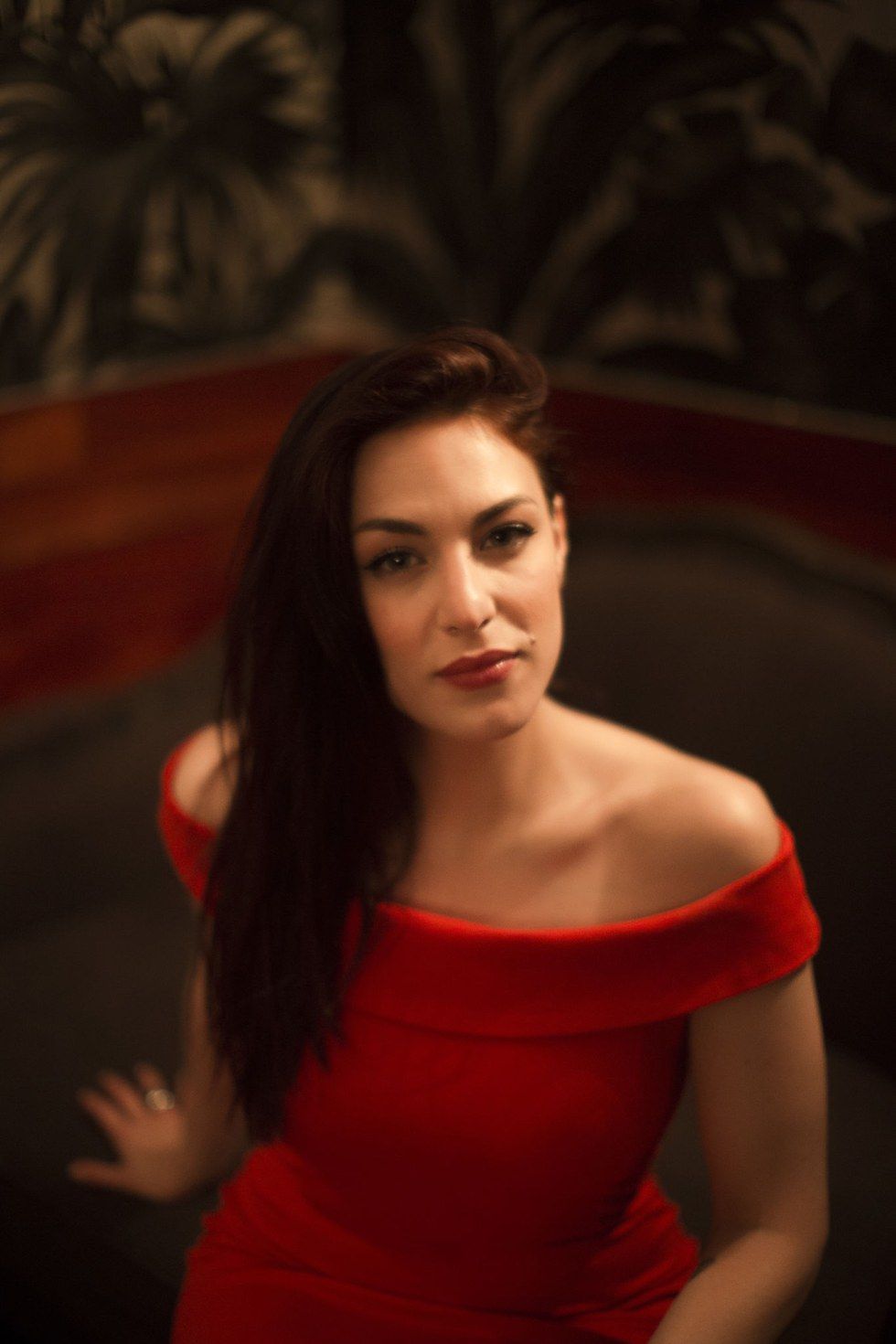 Haylen Namvarazad, musician
Then it's off to the Louvre, where my ToursByLocals guide, Eugénie, marshals me through thickets of selfie sticks to the must-sees—Venus de Milo, the Mona Lisa—while delivering factoids about the masterpieces we hurtle past. "This was the inspiration for the first FIFA World Cup trophy," she hollers over the din of the horde, as we clatter past the second-century BC marble sculpture The Winged Victory of Samothrace.
There's no time to catch my breath in the Jardin des Tuileries outside. Eugénie steers me toward the park's southwest corner and the dinky Musée de l'Orangerie. Inside, in twin oval rooms, are Monet's large-format Nymphéas (Water Lilies) paintings, which seem disconcertingly out of focus in such an intimate space. Downstairs are 120 works from Renoir, Matisse, Picasso, and Cézanne. There are two portraits by Cézanne of his wife, who looks like a completely different person in each. Neither is particularly flattering. "They didn't get on," whispers Eugénie.
Lunch is at Les Chouettes, a buzzy eatery whose spacious, iron-clad interior is a blend of 1920s cocktail bar, SoHo loft, and the Eiffel Tower. In the ground-floor restaurant, far below the glass ceiling, the menu is also an artful mash-up: My dish of soft-boiled eggs baked with mushrooms and Brie de Meaux—the ultimate comfort food—is accessorized with a bang-on-trend, Instagram-ready charcoal wafer.
My next stop is Saint-Paul, a medieval neighborhood in the 4th that is often clumped in with the Marais—though it's far less self-conscious. I check out Saint-Paul-Saint-Louis, the city's best-known Jesuit church. The elaborate facade is gorgeous, but most of the 17th-century art was plundered during the Revolution. Inside, two rows of golden chandeliers hint at the glory days.
"I adore going to the places the tourists go to—but late at night, when they are totally empty. Montmartre is gorgeous, but the Square du Vert-Galant, on the western tip of the Île de la Cité, is even more atmospheric." —Haylen Namvarazad
I head west past Hôtel de Ville—a post-Revolution rebuild of the 16th-century city hall, its facade teeming with statues of notable Parisians, ranging from Cardinal Richelieu to Molière—then cross Pont d'Arcole to the Île de la Cité. On this slim river island stands the city's most celebrated cathedral. Not only is Notre Dame impressively old (construction started in 1163), it's impossibly gorgeous—a Gothic extravaganza of flying buttresses, sullen gargoyles, and bristling spire. If Paris really were a film set, this would be the Tim Burton quarter.
The line to enter moves surprisingly quickly. Several people troop in, take the obligatory selfie, then shuffle out. Others sit in the candlelight, contemplating the high-vaulted nave and the 42-foot purplish South Rose window featuring the New Testament's heavy hitters. Then I notice that many of them are fast asleep. Instead of joining, I cab it back to La Réserve for a rejuvenating dip in the pool.
A couple of hours later, in a crisp shirt and my loosest pants, I leave the hotel once more. I have scored a table at three-Michelin-starred chef Yannick Alléno's restaurant at the nearby Pavillon Ledoyen. My seven-course meal contains two of the best things I have ever eaten: a millefeuille of celeriac and 18-month-ripened avocado, with coconut extraction and chia seeds, and "Stroganoff-style" Wagyu beef. The avocado explodes in my mouth without any of the sweetness I was dreading—the waiter tells me a regular avocado mellows for just three months—but, to be honest, they had me at "Would sir like some bread?" There is even time for a chocolate nib and black olive soufflé before my taxi rolls up.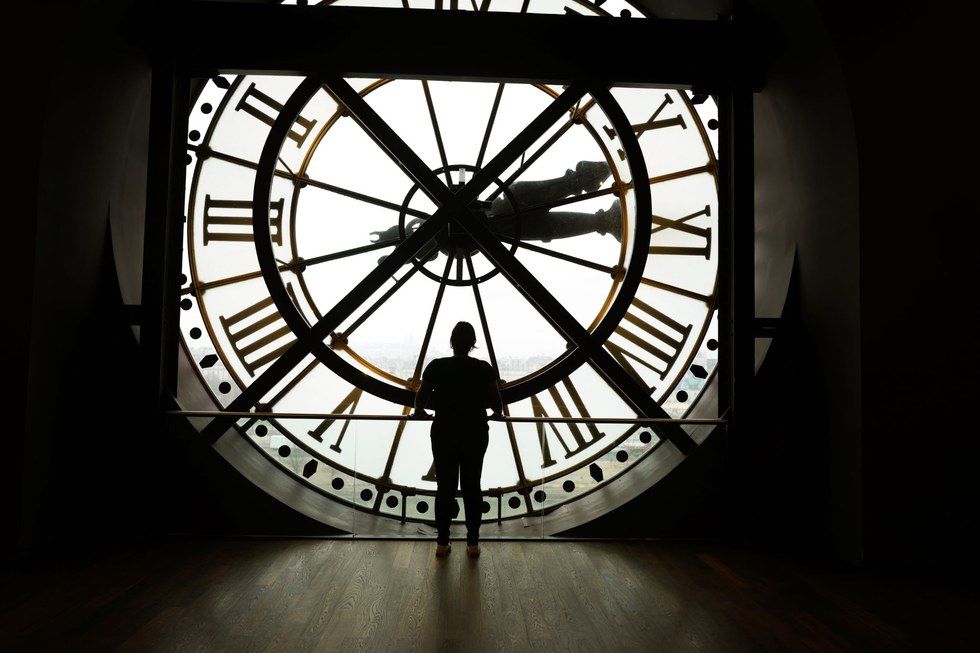 A view through the clock face at the Musée d'Orsay
Soon I'm in Pigalle, the storied red light district on the fringes of Montmartre. Much of this dirty old neighborhood has been cleaned up. The Moulin Rouge, immortalized by Toulouse-Lautrec, looks as if it belongs in Vegas, and the area's new boutiques and bars, with names such as Dirty Dick, are freighted with hipster irony.
I'm meeting the singer and Pigalle habitué Haylen Namvarazad. I spot her waiting for me on the still slightly sleazy Rue Pierre Fontaine, but the bar we're meant to be going to doesn't seem to exist. L'Orphée is hidden behind the frontage of a former massage parlor and reached only by pressing an unmarked buzzer, then passing through a strip-lit corridor and a second unmarked door. I can't help thinking about the last 10 minutes of Taxi Driver.
After years of busking in Metro stations, Namvarazad found fame on a TV talent show and has since starred in the hit rock opera Le Rouge et le Noir. Musicians come to L'Orphée to jam in its red glow after hours. Tonight, a bearded singer delivers a bluesy rendition of "Hit the Road Jack." A guy with a falsetto pays tribute to Ed Sheeran. Namvarazad channels Amy Winehouse with a tingling take on "Back to Black."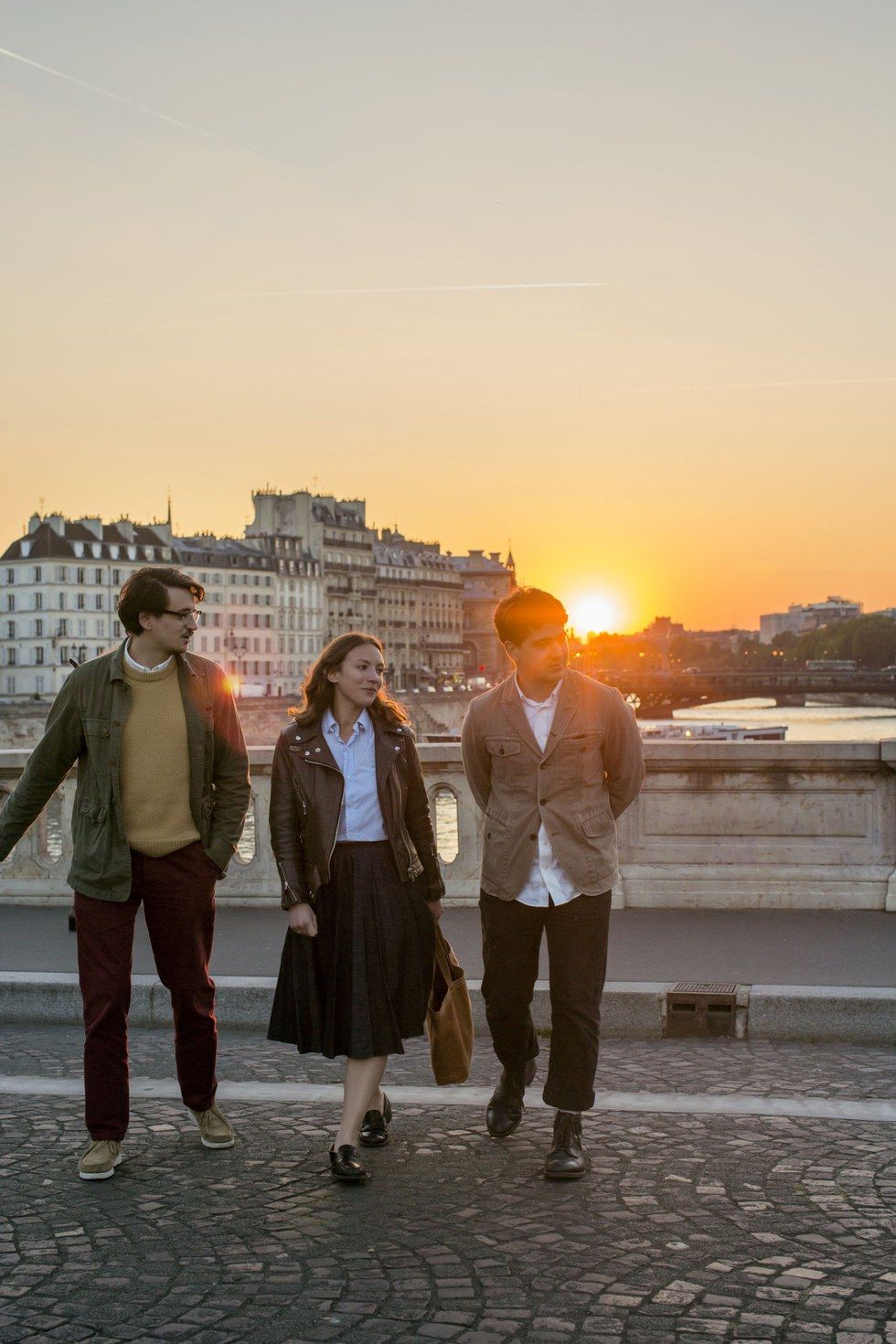 Parisians on Île Saint-Louis
"This is the real spirit of Paris," she says over a Desperados beer with a lime wedge. "It is creative, inclusive, optimistic. This city is very tribal, but in bars like this it doesn't matter where you're from or what stage your career is at. It's people doing what they love and helping each other out."
The loveliness of Paris has drawn artists for centuries, but you do wonder about living here, whether a person might start taking it for granted. "I was born here, and yet there is not a single day that I'm not aware of its beauty," Namvarazad says. "Or rather, there is not a single night. When there is no one around and the city is lit up, it is magical. How could anyone not be inspired?"
Later, as my cab bounces past sprays of flowers cascading from tiny balconies, I see what she means. I can barely keep my eye on the meter.

In which Boyd encounters a large cheese, a large religious work of art, and a very, very large fish
An early start. I drop my bags in my minimal room at the Amastan, a small design-focused hotel at the foot of the Champs-Élysées. On one wall hangs a rug that drapes the sofa before continuing to cover the floor. Talk about minimal. After scarfing down some baby croissants in the courtyard, I head east to Le Marché Popincourt in the 11th arrondissement, where I meet Pierre Sang Boyer, owner of two eponymous restaurants nearby.
Boyer, who was born in South Korea and adopted by a French family when he was 7, is one of the city's hottest chefs. He is also, by his own admission, a produce nerd. He squeals with pleasure at every stall, snapping stalks, fondling tubers, stroking fish, massaging poultry. "Look, this langoustine is still alive," he chirps, dangling a twitching crustacean in my face.
"Markets remind us that we are all part of the same chain," Boyer continues, hurrying on to another fascinating stall. "The farmer, the person preparing the food, the person eating it." He stops before a meat display and asks a vendor to cut me some salami. As I chew, I notice a sign: Boucher Cheval, or horse butcher. "Delicious," I whimper.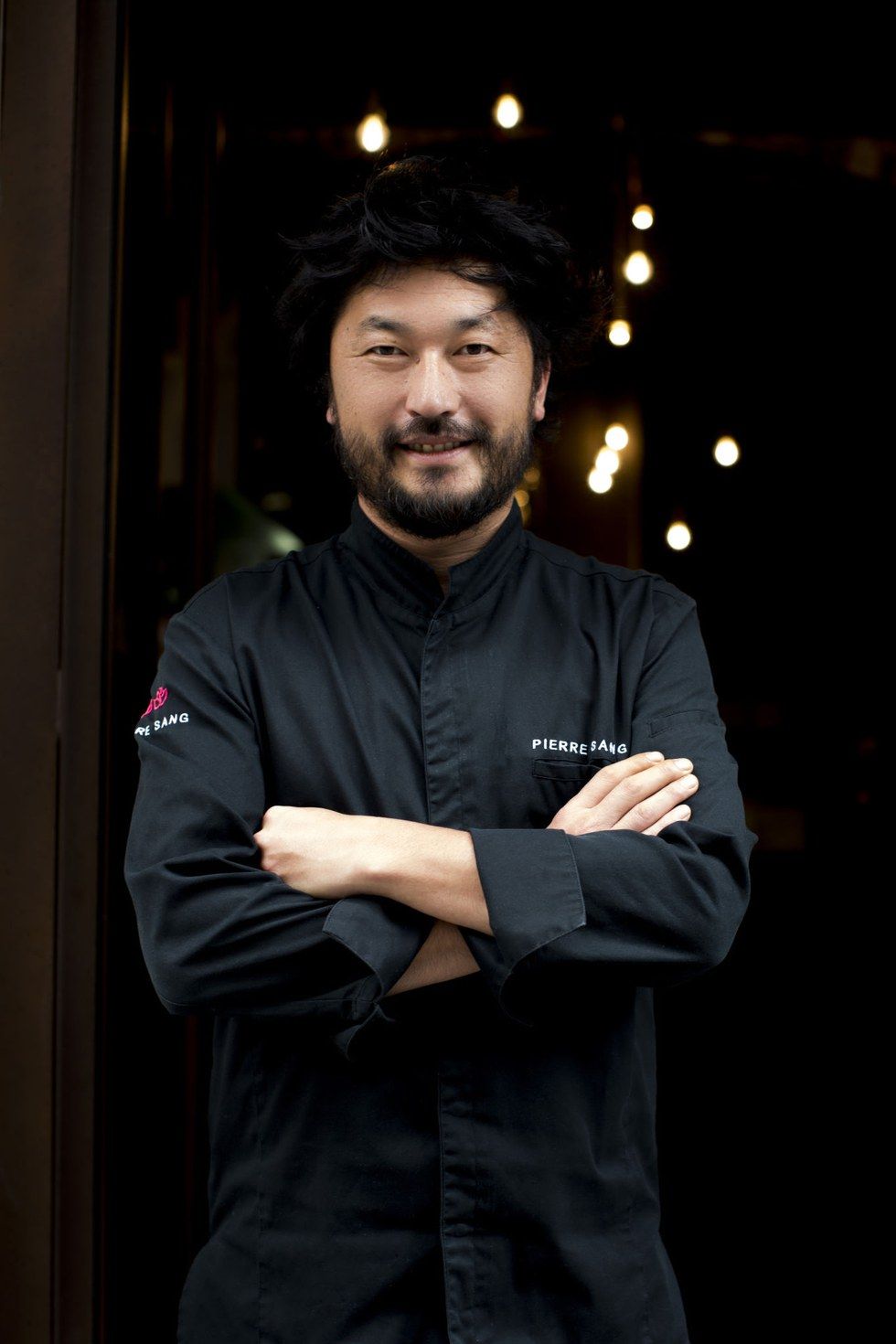 Pierre Sang Boyer, chef
This part of the 11th has a lively nightlife scene, but by day its narrow streets teem with grocers hosing down sidewalks, shoppers swinging baskets, and men hauling sacks of produce. In Le Jardin Fromager, matronly Madame Sananès vacuum-packs a whole Camembert de Normandie for me to take home. In Poissonnerie Lacroix, Charly Hanafi gives me herring that's been marinated for days in garlic and onions. I can smell the thing from six feet away, but at least it gets rid of the taste of Seabiscuit.
At Boyer's pared-back restaurants (a walk-in counter that straddles the corner of rues Gambey and Oberkampf and a more upmarket spot about 100 feet away), there are no menus. Diners get a bunch of small plates, their contents dictated by the freshest ingredients that day. I decide to try out both kitchens. At the small one, I sample the radishes and spring onions Boyer scored at the market, served with shrimp and chili flakes, followed by slow-cooked pork belly in ssamjang, a sauce made with chili and fermented soybean paste. At the ritzier joint, I'm served a slab of seared beef with the same zingy ssamjang. As fusion food goes, French-Korean is tough to beat. Also, I can light my candle just by breathing on it.
Another Metro ride takes me to the Musée d'Orsay, the former grand railway station on the Left Bank of the Seine that now houses some of the greatest European art of the 19th and early 20th centuries. At the security check, the guards eye my sealed camembert suspiciously. Inside, the museum still feels like a train station, its concourse filled with people in a hurry to get somewhere else—possibly the Impressionism section on the fifth floor. Here, people are queuing up with their selfie sticks to insert themselves among the revelers in Renoir's Bal du Moulin de la Galette or to photobomb Van Gogh's Self-Portrait. Two years ago, the Musée was forced to lift its photo ban after someone noticed that France's culture minister had posted photos she took there on Instagram. Selfie sticks remain forbidden, but no one seems to care.
"In many other cities, it is the artists who are responsible for rejuvenating areas. In Paris, it is restaurateurs. That says a lot about how important food culture is to Parisians." —Pierre Sang Boyer
Next, I cross the Léopold Sédar Senghor footbridge, recently purged of its burdensome lovers' padlocks, and pass back through the Jardin des Tuileries, to the hotel Le Meurice, on Rue de Rivoli, for afternoon tea. Only in Paris can a pastry chef be a superstar, and the pâtissier here, Cédric Grolet, is Ryan Gosling in a toque. Grolet is famous for his ambitious trompe l'oeil confections; I sample a tart that looks exactly like a real apple. It is good—and you have to admire the evil genius who disguises cake as fruit—but I prefer the gooey caramel-and-pistachio cookie.
A short stroll northwest takes me to La Madeleine, the Greek temple–like church built to celebrate the glory of Napoleon's army. Fifty-two Corinthian columns, each 65 feet tall, skirt the exterior. In the gilded interior, the dominant fresco resembles the Sgt. Pepper's album cover, with Napoleon surrounded by Mary Magdalene, the Apostles, Dante, Raphael, and Pope Pius VII, among others. Clearly, the Little Corporal was not short on self-esteem.
From here I'm off to Abbesses—which, at 118 feet down, is the Metro's deepest station—to explore hilly Montmartre. Having learned that the station elevator is broken, I wheeze up 90 spiraling steps before surfacing into what appears to be the set of Amélie. A cobbled square is framed by colored crêperies—all called Chez this or Le Petit that—while sketch artists sit at easels and vendors hawk roses. All that's missing is … no, wait, there is someone playing an accordion.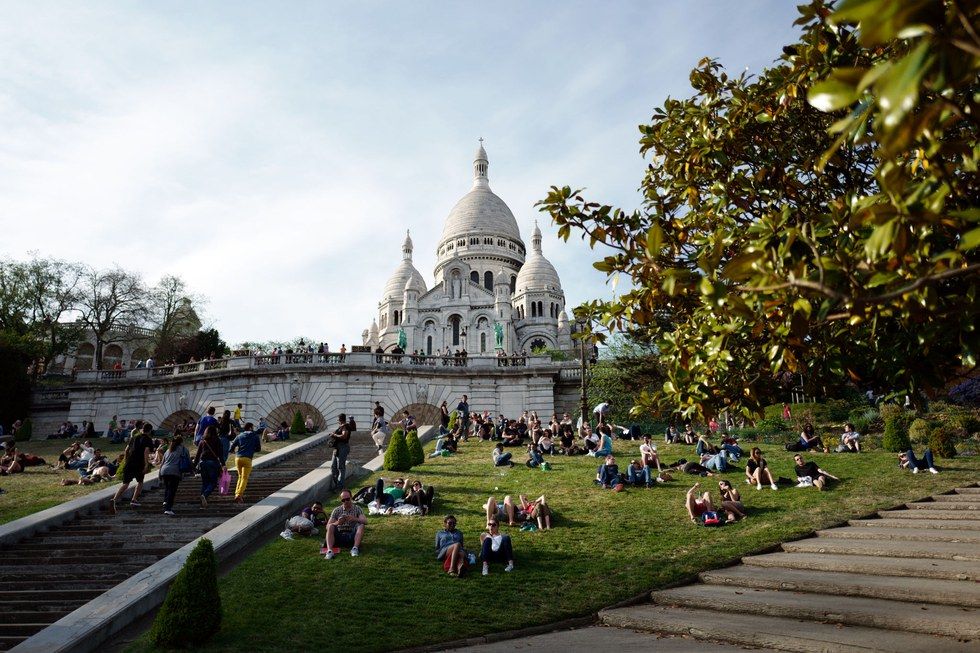 Parisians enjoying the grounds of La Basilique du Sacré-Coeur
I check out the Sacré-Cœur, the 272-foot basilica at the top of Montmartre's butte, the highest point in the city after the Eiffel Tower. Construction began in 1875 and was completed in 1914—as a penance or a pick-me-up after France lost its war with Prussia, it's hard to say. Inside, a half dozen Benedictine sisters are beginning their vespers. Even above the mumble of tourists, the Latin song is ethereal and lovely, amplified by the huge apse rendered with a mosaic of Christ, in white, arms extended. I sit down with my giant cheese and watch as people file in and light votives or stealthily angle their phones for the ultimate shot: a selfie with Jesus.
For dinner, I head to the 1st arrondissement to meet my friend Sara at the Fish Club, a seafood restaurant from the team behind London's Experimental Group. At 8:30, Sarah and I are the only ones here—but by the time we've drained a couple of drinks, the place is jammed, and I have to raise my voice to order the special: grilled sea bream, which our waitress says is big enough to share. No kidding. Other diners leave their own meals to Instagram our monster catch. Fileted tableside, it is so good we don't touch our greens.
I'm exhausted, but Sara tells me that the Experimental guys have a speakeasy next door. Beyond an unmarked (of course) entrance, we feel our way down a metal stairway and arrive in a barely lit bar with low velvet seating and a well-dressed—as far as I can tell—crowd. I down a Bourbon & French; Sara knocks back something citrusy. "Quick, let's make a run for it," she jokes. Or it may have been a delinquent on an adjoining banquette. Either way, we decide to stay for more cocktails.
By the time we leave, I'm so relaxed I hail a cab standing in the middle of the street. The driver looks terrified. Now, if I could only remember where I put my room key.

In which Boyd breakfasts like Ernest Hemingway, shops like Louis XV, and has a Hugh Grant–like effect on the ladies
I check into the grand Hôtel Plaza Athénée on Avenue Montaigne, the backdrop for Carrie Bradshaw's Paris adventures in the last two episodes of Sex and the City. The iconic red awnings match my eyes. After a refreshing shower, I head for the Left Bank.
The 5th and 6th arrondissements, along the Seine's southern bank, used to be a bohemian enclave, home to struggling artists like Picasso and Matisse. Today, you'd have to sell a Picasso just to buy a small studio here. Next to Les Deux Magots, the café where Jean-Paul Sartre and Simone de Beauvoir used to hang out, stands a Louis Vuitton store.
The café now offers a "Sartre" breakfast, which includes yogurt or fruit salad, and the more robust "Hemingway," which has bacon and fried eggs but, disappointingly, no whiskey. I settle for a croque monsieur.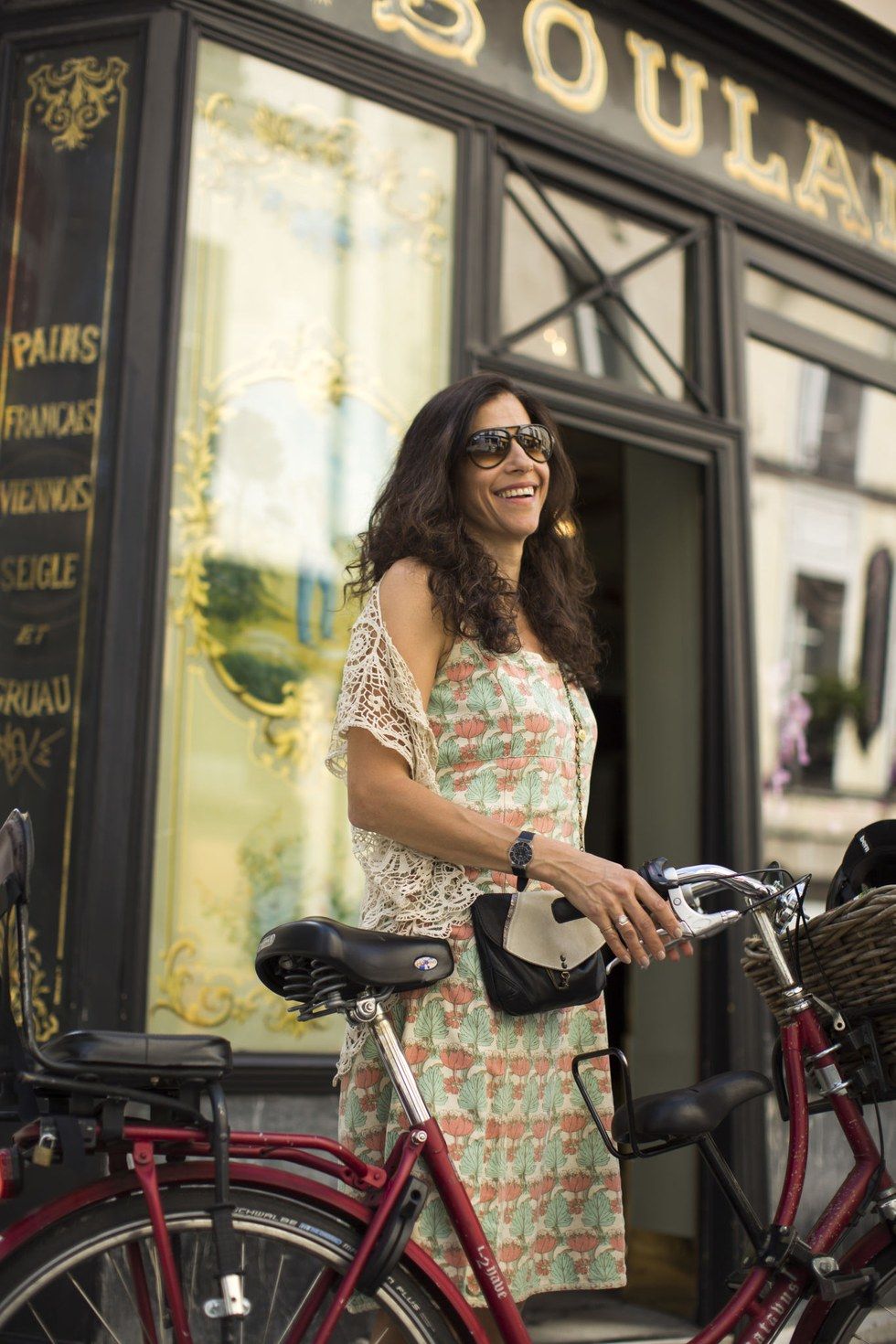 Tanya Blumstein, movie dialect coach
Despite its embourgeoisement, the Rive Gauche (South Bank) hasn't lost its soul. The cobbled streets and tastefully worn courtyards, along with a bounty of medieval churches, give the area a timeless feel. I especially enjoy the sixth-century Église de Saint Germain-des-Prés, the oldest Romanesque church in Paris, its square tower the focal point of the 6th. Some of the shops seem almost as old. Cire Trudon's origins date to 1643, when it was founded as a candle shop. (Its wares lit Louis XV's court.) Now it supplies tourists with $100-plus wax busts of Marie-Antoinette and Napoléon.
I head east along Boulevard Saint-Germain to the 5th arrondissement, known as the Quartier Latin since the 13th century (when the Sorbonne was founded and Latin was the language of learning). I zip around the Panthéon, the glorious Neoclassical monument that Louis XV built as a thank-you to God after he survived what was probably a case of man flu. Now it houses the tombs of Voltaire, Rousseau, Zola, Victor Hugo, and Marie Curie.
Not feeling too lively myself, I loop back to the Jardin du Luxembourg, where I slump into a garden chair. With 60 acres of immaculate parkland around me, the only sound is the crunch of gravel as the occasional jogger goes by. These are Parisian joggers, so no one is wearing lime Lycra. One woman may actually be wearing heels. On my way out, I step into the sweet little Musée du Luxembourg to catch an exhibition of Pissarro's later pastoral scenes—a nice bonus.
"Parisians tend to enjoy life more—spending time with family, enjoying their surroundings. Of course, it does help when your surroundings are this beautiful." —Tanya Blumstein
After enjoying a fortifying salad of quinoa, goat cheese, and broccoli at the restaurant at Hôtel Bachaumont, which anchors the newly fashionable Rue Bachaumont in the 2nd arrondissement, I walk south to check out Paris's regeneration project du jour, the billion-euro revamp of the previously forlorn Les Halles shopping mall. Approaching Les Halles from the north takes me past one of the loveliest buildings in Paris—which is saying something. Église St-Eustache, built between 1532 and 1637, is primarily Gothic, though a Neoclassical facade was slapped on its western side in the 18th century. On a wall inside hangs a Rubens painting; outside stands a gigantic Henri de Miller sculpture of a head and hand. All this makes the new retail and leisure complex look even more weirdly modern. Les Halles's curvy yellow six-acre canopy makes it seem as if someone has dropped a giant omelette on the city.
A 15-minute stroll brings me to Rue des Rosiers, the higgledy-piggledy center of the Marais and the heart of the Jewish community. Poignantly, the sign outside the bustling kosher bakery Sacha Finkelsztajn announces the community's postwar comeback: "From Father to Son since 1946."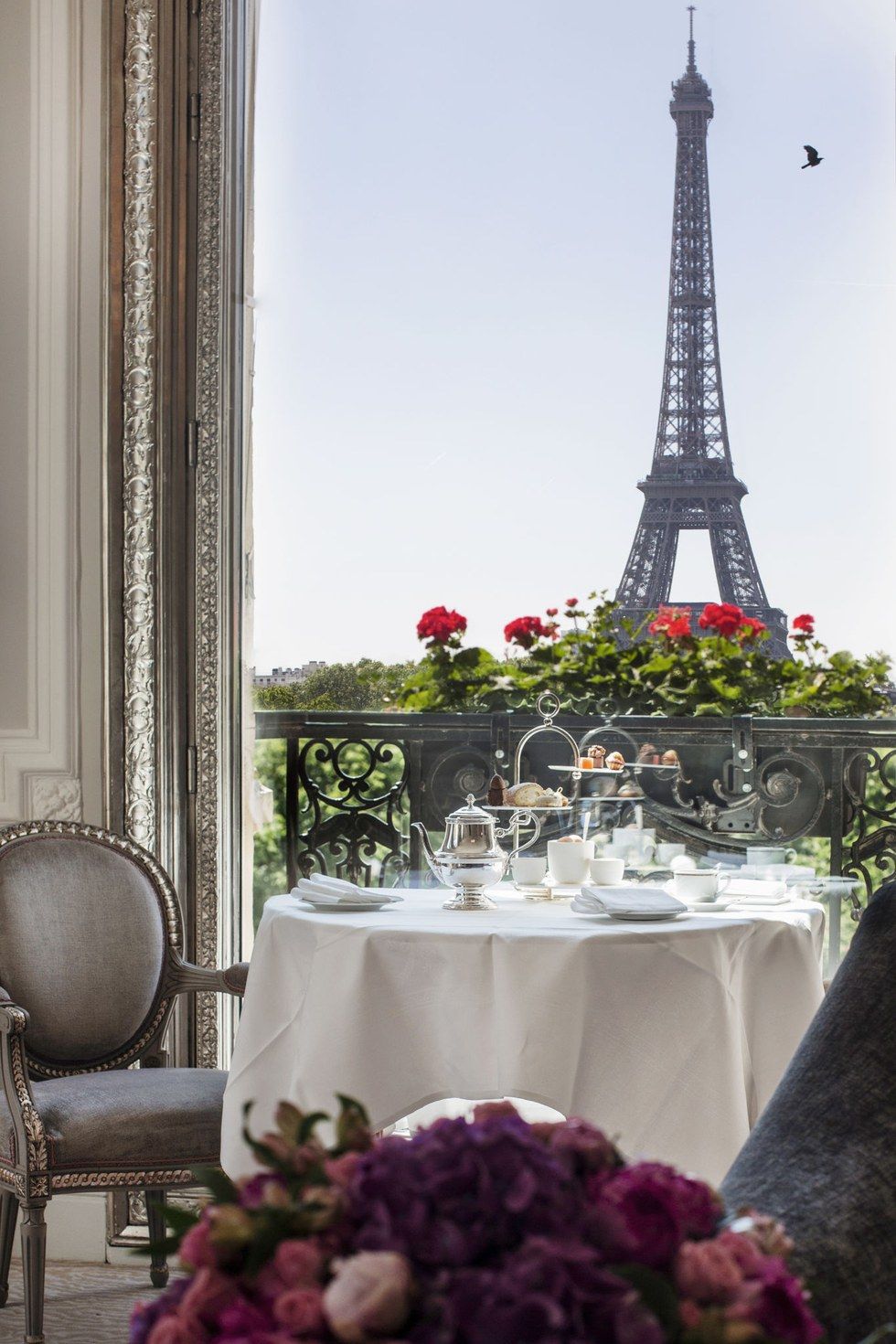 The view from the Hôtel Plaza Athénée
Dotting the medieval warren are many enchanting gardens. Place des Vosges is one of the oldest squares in Paris and regarded as one of the best, but I prefer the smaller Square Georges Cain, which is filled with treasures from the adjacent Musée Carnavalet. One of the most intriguing objects is a small electronic bird designed to sing like a nightingale when the wind blows. I don't hear any birdsong, but the gate screeches like an angry parrot.
Near the Carreau du Temple—an iconic industrial market that reopened in 2014 as a cultural and exhibition venue—I meet Massachusetts-born Tanya Blumstein, who was so smitten when she arrived in Paris more than 20 years ago that she never went back. "It just felt like home as soon as I got here," says Blumstein, a voice and dialect coach for theater and film who recently worked with Natalie Portman on Jackie. "Everywhere here has a real community feel. You tend to keep an eye on your neighbors' kids; you know your butcher, baker, and florist. In most big cities, people don't live like that anymore."
We mooch around some of the city's most gentrified rues Saintonge, Bretagne, Poitou. On the corner of Poitou is the Petit Moulin, a tiny hotel that's housed in a former boulangerie and whose interiors are a riot of Christian Lacroix. As we pass, the actor Pierre Niney, who played Yves Saint Laurent in a 2014 biopic, cycles past. Could this be any more French?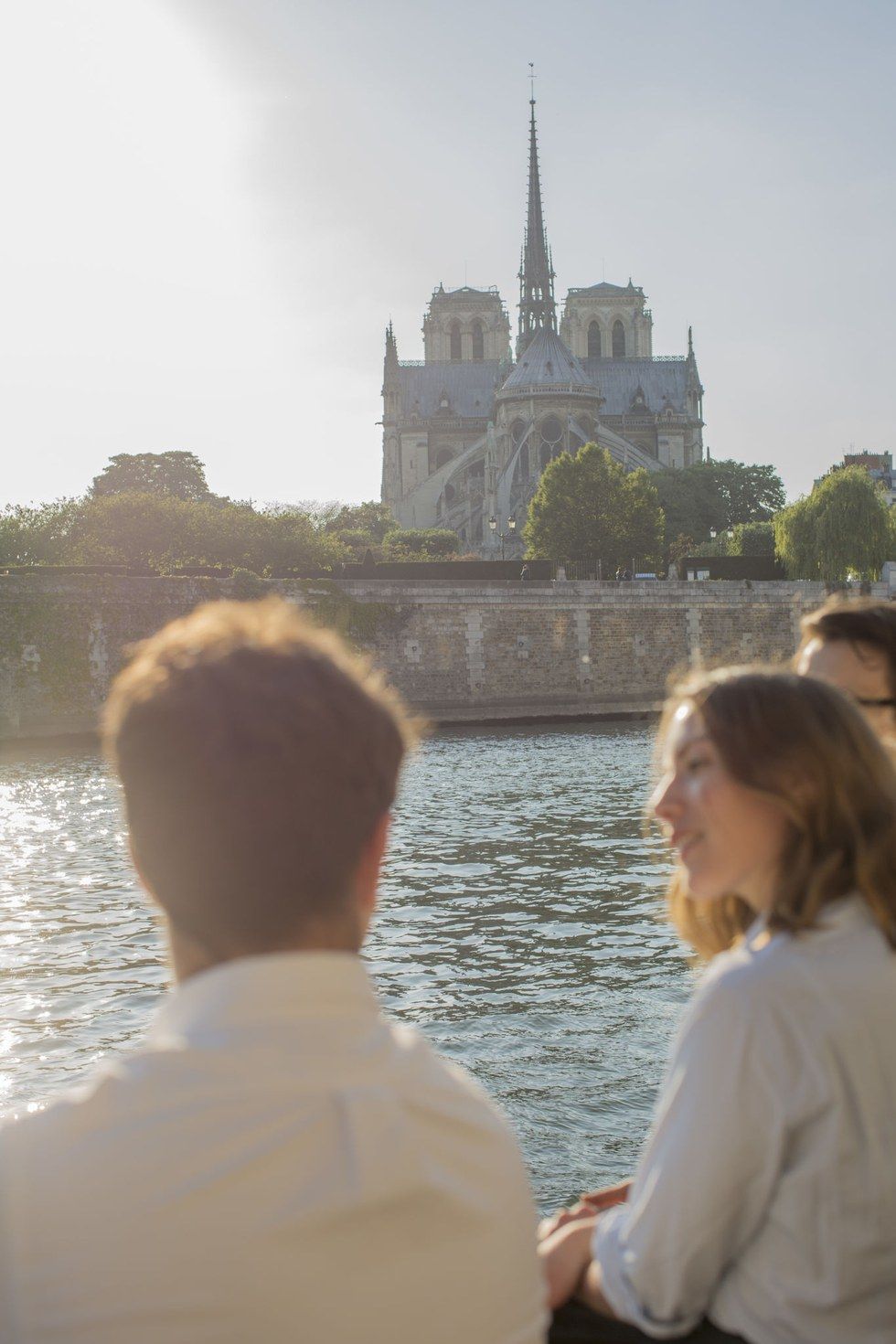 Notre Dame from across the Seine
It could. In Jacques Genin's showroom-size chocolate shop on lively Rue de Turenne, a loved-up couple agonizes over a chocolate display as if choosing an engagement ring. I'm agonizing too, over how many kirsch caramels I dare take from the sample jar.
The Marais has long been Paris's most BoBo (Bourgeois Bohemian) area, but things may have gotten out of hand. At Nanashi on Rue Charlot, vegetarian "Parisian Bento" boxes are served by staffers with lion-tamer mustaches. We pause to nibble retro shortbread at Bontemps, a patisserie opened by a former financier, and sip blueberry-lavender smoothies at Wild & The Moon.
Back at the decidedly un-BoBo Plaza Athénée, I soothe my limbs in a deep marble tub. The blisters on my feet are so big they may soon need their own arrondissement. I'm dining in the hotel restaurant tonight, and I wonder if the dress code extends to the fluffy white slippers that were left beside my bed.
That dinner, taken in a corner berth in the handsome Le Relais Plaza brasserie, is a gratifyingly no-nonsense affair: an entrée-size starter of crevette salad, tender beef served with mashed potatoes, and a trio of sorbets. I'm glad I went with regular shoes—I have to walk at least some of the bread basket off before I can even contemplate going to sleep.
I cross nearby Pont de l'Alma and walk along the Left Bank, admiring the way each building is subtly and artfully lit, like movie stars in a black-and-white film. I can hear the chatter of tourists pleasure-cruising the Seine and the muffled voices of a couple sharing a bottle of wine by the water's edge. People throng outside Faust, a nightclub beneath the exuberant Pont Alexandre III. As I thread my way through the crowd, a young Frenchwoman bumps into me, spilling wine down my shirt. Being English, I apologize. She smiles, kisses my cheek, and disappears. Okay, so it's not a Robert Doisneau moment, but it's not a bad way to say goodnight to the city—the Eiffel Tower to the west, its sparkling light show reminding us that the clock has just struck 12.
Berlin-based writer Boyd Farrow is not the first person to fall in love in Paris. Three weeks after he returned home, he is still blissfully happy with his camembert.

Following the devastating wildfires in Australia and powerful earthquakes that shook Puerto Rico last week, we're taking action to make a global impact through our international partnerships as well as nonprofit organizations Afya Foundation and ADRA (Adventist Development and Relief Agency).
Helping Puerto Rico recover from earthquakes
Last week, Puerto Rico was hit with a 5.2 magnitude earthquake, following a 6.4 magnitude earthquake it experienced just days before. The island has been experiencing hundreds of smaller quakes during the past few weeks.
These earthquakes destroyed crucial infrastructure and left 4,000 people sleeping outside or in shelters after losing their homes. We've donated $50,000 to our partner charity organization Airlink and through them, we've helped transport disaster relief experts and medical supplies for residents, as well as tents and blankets for those who have lost their homes. Funding will go towards organizations within Airlink's partner network, which includes Habitat for Humanity, Mercy Corps and Americares, to help with relief efforts and long-term recovery.
Australian wildfire relief efforts

Our efforts to help Australia have inspired others to make their own positive impact. In addition to teaming up with Ellen DeGeneres to donate $250,000 and launching a fundraising campaign with GlobalGiving to benefit those impacted by the devastating wildfires in the country known for its open spaces and wildlife, our cargo team is helping to send more than 600 pounds of medical supplies to treat injured animals in the region.
Helping us send these supplies is the Afya Foundation, a New York-based nonprofit that seeks to improve global health by collecting surplus medical supplies and delivering them to parts of the world where they are most needed. Through Airlink, the Afya Foundation will send more than $18,000 worth of materials that will be used to treat animals injured in the Australian fires.
These medical supplies will fly to MEL (Melbourne) and delivered to The Rescue Collective. This Australian organization is currently focused on treating the massive population of wildlife, such as koalas, kangaroos, and birds, that have had their habitats destroyed by the recent wildfires. The supplies being sent include wound dressings, gloves, catheters, syringes and other items that are unused but would otherwise be disposed of.
By working together, we can continue to make a global impact and help those affected by natural disasters to rebuild and restore their lives
Australia needs our help as wildfires continue to devastate the continent that's beloved by locals and travelers alike. In times like these, the world gets a little smaller and we all have a responsibility to do what we can.
On Monday, The Ellen DeGeneres Show announced a campaign to raise $5 million to aid in relief efforts. When we heard about Ellen's effort, we immediately reached out to see how we could help.
Today, we're committing $250,000 toward Ellen's campaign so we can offer support now and help with rebuilding. For more on The Ellen DeGeneres Show efforts and to donate yourself, you can visit www.gofundme.com/f/ellenaustraliafund
We're also matching donations made to the Australian Wildfire Relief Fund, created by GlobalGiving's Disaster Recovery Network. This fund will support immediate relief efforts for people impacted by the fires in the form of emergency supplies like food, water and medicine. Funds will also go toward long-term recovery assistance, helping residents recover and rebuild. United will match up to $50,000 USD in donations, and MileagePlus® members who donate $50 or more will receive up to 1,000 award miles from United. Donate to GlobalGiving.
Please note: Donations made toward GlobalGiving's fund are only eligible for the MileagePlus miles match.
In addition to helping with fundraising, we're staying in touch with our employees and customers in Australia. Together, we'll help keep Australia a beautiful place to live and visit in the years to come.
20. Spot Giant Pandas in China
In 2016, giant pandas were removed from the endangered species list, and China would like to keep it that way. This year, the country plans to consolidate the creatures' known habitats into one unified national park system spanning nearly 10,500 square miles across Sichuan, Gansu, and Shaanxi provinces—about the size, in total, of Massachusetts. —Nicholas DeRenzo
19. Follow in James Bond's Footsteps in Jamaica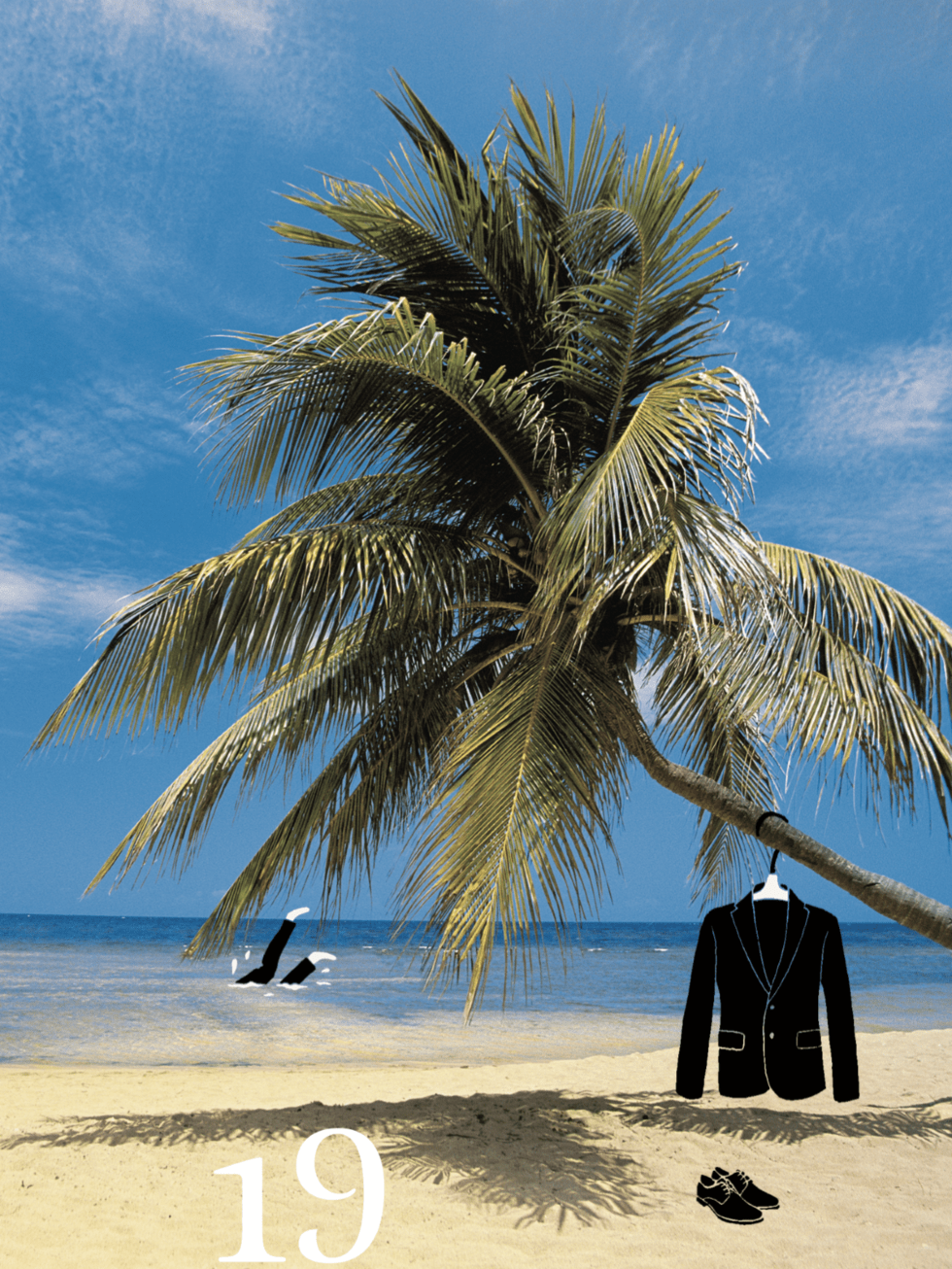 Photo: Design Pics/Carson Ganci/Getty Images
When No Time to Die hits theaters on April 8, it marks a number of returns for the James Bond franchise. The 25th chapter in the Bond saga is the first to come out since 2015's Spectre; it's Daniel Craig's fifth go-round as 007, after rumors the actor was set to move on; and it's the first time the series has filmed in Jamaica since 1973's Live and Let Die. The Caribbean island has always had a special place in Bond lore: It was the location of one of creator Ian Fleming's homes, GoldenEye (which is now a resort), and the setting for the first 007 movie, 1962's Dr. No. Looking to live like a super-spy? You don't need a license to kill—just a ride to Port Antonio, where you can check out filming locations such as San San Beach and colonial West Street. Remember to keep your tux pressed and your Aston Martin on the left side of the road. —Justin Goldman
18. See the Future of Architecture in Venice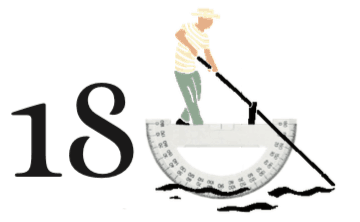 Every other year, Venice hosts the art world's best and brightest during its celebrated Biennale. But the party doesn't stop during off years, when the Architecture Biennale takes place. This year, curator Hashim Sarkis, the dean of MIT's School of Architecture and Planning, has tasked participants with finding design solutions for political divides and economic inequality; the result, on display from May to November, is the intriguing show How Will We Live Together? —Nicholas DeRenzo
17. Celebrate Beethoven's 250th Birthday in Bonn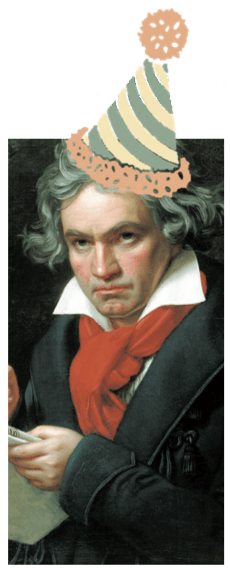 Photo: Universal History Archive/Getty Images
Catch a Beethoven concerto in Bonn, Germany, to celebrate the hometown hero's big 2-5-0.
16. Eat Your Way Through Slovenia
When Ana Roš of Hiša Franko was named the World's Best Female Chef in 2017, food lovers began to wonder: Do we need to pay attention to Slovenia? The answer, it turns out, is definitely yes. This March, the tiny Balkan nation about two hours east of Venice gets its own Michelin Guide. —Nicholas DeRenzo
15. Star- (and Sun-) Gaze in Patagonia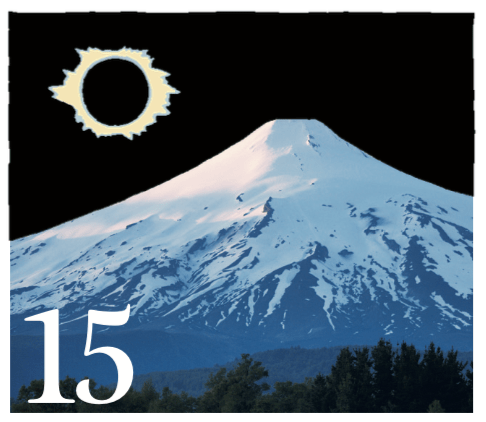 Photo: blickwinkel/Alamy
Come December 13 and 14, there will be no better spot for sky-watchers than northern Patagonia, which welcomes both the peak of the Geminid meteor shower and a total solar eclipse within 24 hours. —Nicholas DeRenzo

14. Explore Miami's Game-Changing New Park
About 70,000 commuters use Miami's Metrorail each day, and city planners aim to turn the unused space beneath its tracks into an exciting new public space, a 10-mile linear park aptly named The Underline. Luckily, the Magic City is in good hands: The project is being helmed by James Corner Field Operations, the geniuses behind New York's High Line. "Both projects share similarities in their overarching goals," says principal designer Isabel Castilla, "to convert a leftover infrastructural space into a public space that connects neighborhoods, generates community, and encourages urban regeneration." When finished, Miami's park will be about seven times as long as its Big Apple counterpart. The first half-mile leg, set to open this June, is the Brickell Backyard, which includes an outdoor gym, a butterfly garden, a dog park, and gaming tables that call to mind the dominoes matches you'll find nearby in Little Havana. "We envision the Underline dramatically changing the way people in Miami engage with public space," Castilla says. —Nicholas DeRenzo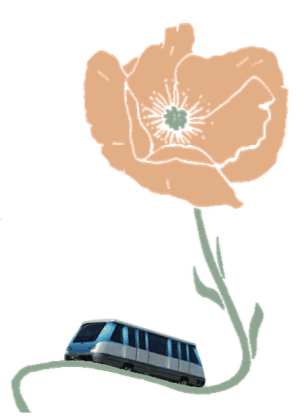 Photo: philipus/Alamy
13. Kick Off the NFL in Las Vegas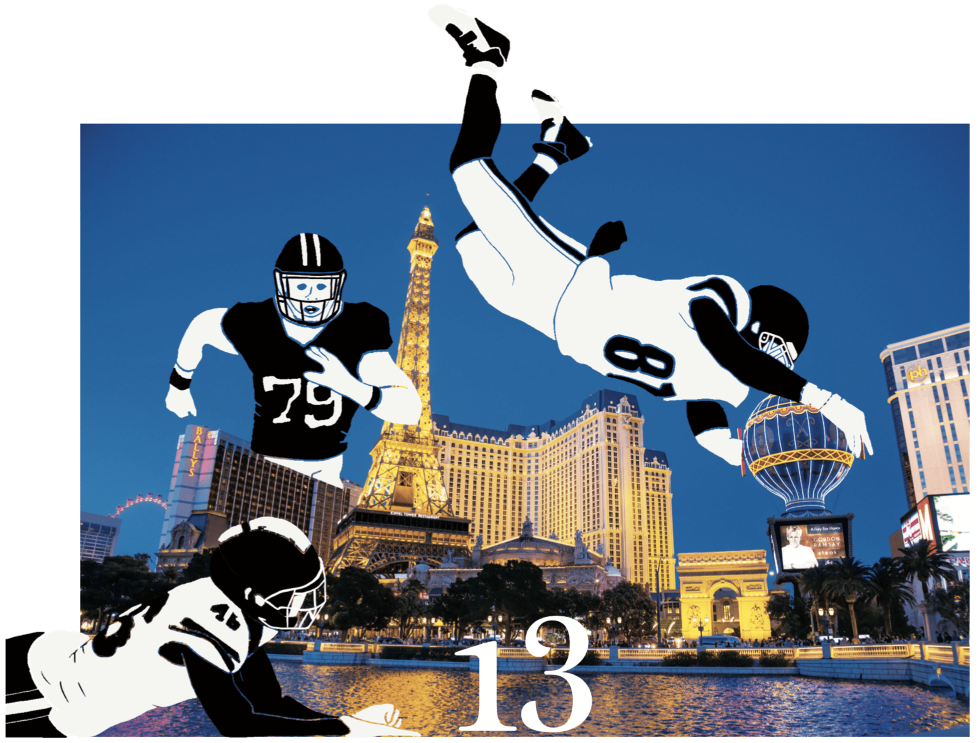 Photo: Littleny/Alamy
Former Raiders owner Al Davis was famous for saying, "Just win, baby." His son, Mark Davis, the team's current owner, is more likely to be shouting "Vegas, baby!" Swingers-style, as his team becomes Sin City's first NFL franchise, the Las Vegas Raiders. After years of threats and lawsuits, the Raiders have finally left Oakland, and this summer they're landing just across the highway from the Mandalay Bay Resort & Casino in a 65,000-seat, $1.8 billion domed stadium that will also host the UNLV football team, the next two Pac-12 championship games, and the Las Vegas Bowl. Construction is slated to be finished July 31, just in time for the NFL preseason—and just in time to lure football fans from the sportsbooks to the grandstand. —Justin Goldman
12. Celebrate the Suffragettes in Washington D.C.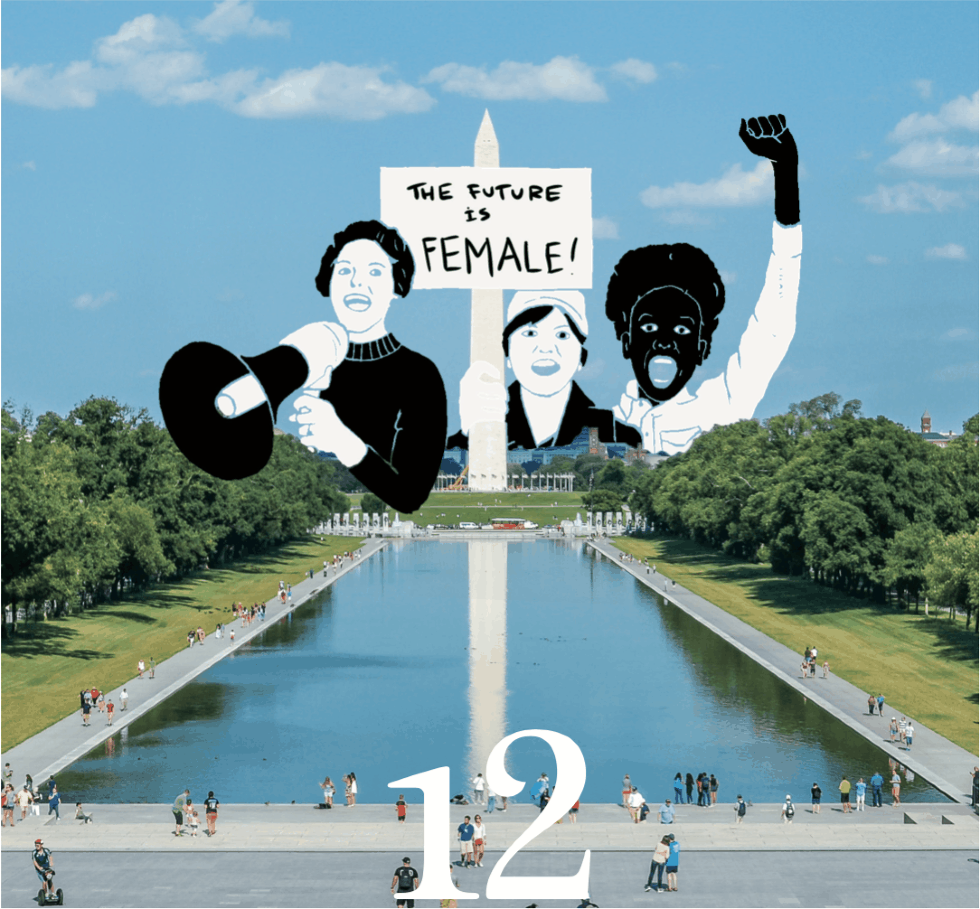 All eyes are on the ballot box this year, but the electorate would look quite different if not for the 19th Amendment, which was ratified 100 years ago this August. Many D.C. institutions, such as the National Archives Museum and the Library of Congress, are honoring the decades-long struggle for women's suffrage with exhibits. In particular, the National Museum of American History unveils Sarah J. Eddy's portrait of Susan B. Anthony this March, before putting on a 'zine-inspired show on girlhood and youth social movements this June. —Nicholas DeRenzo
11. Go for a Ride Through Mexico City
If you want to get somewhere quickly in Mexico City, try going by bicycle. During peak traffic, bikes average faster speeds than cars or public transportation—which might explain why ridership has gone up almost 50 percent since 2007. And riding on two wheels is getting safer and easier. In 2019, the city announced plans to invest $10 million (more than it had spent in the last six years combined) into the construction of about 50 miles of new paths and lanes. Now, you can cycle on a two-mile separated path along the Paseo de la Reforma, from Colonia Juárez and Roma to Chapultepec Park and Polanco. Future plans include a route along the National Canal between Coyoacán (where Frida Kahlo once lived) and Xochimilco (with its floating flower farms). "The goal is to finish the six-year [presidential] term with 600 kilometers of bike infrastructure," says Roberto Mendoza of the city's Secretariat of Mobility. Time to start pedaling. —Naomi Tomky
10. Consider the Mayflower's Legacy in Massachusetts and Abroad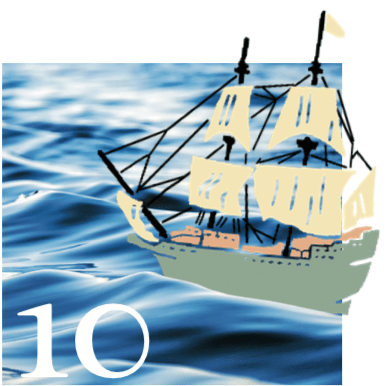 Photo: Thianchai Sitthikongsak
Before they came to America in 1620, the religious separatists now known as the Pilgrims lived in England and the Netherlands. This year, the 400th anniversary of the Mayflower landing will be commemorated not only by those nations but also by a fourth: The Wampanoag, the confederation of tribes that live in New England and whose role in this world-changing event has been at best left out and at worst distorted.
"We're challenging the myths and stereotypes," says Aquinnah Wampanoag author Linda Coombs, a board member of Plymouth 400, Inc., which is planning cultural events such
as an Ancestors Walk to honor the native villages pushed aside by settlers, as well as
an indigenous history conference and powwow (plus an $11 million restoration of the replica Mayflower II).
Kerri Helme, a member of the Mashpee Wampanoag nation and cultural programs manager at Plimoth Plantation, says that "people want to hear the whole story." She notes that it's a commonly held belief that the Pilgrims were welcomed by the natives, when in fact their first encounter was violent, since the English had been stealing the Wampanoags' food.
"The Wampanoag are key players in all of this," says Charles Hackett, CEO of Mayflower 400 in the U.K. "It's a whole other aspect of this history." In England, a Mayflower trail will connect Pilgrim sites in towns such as Southampton and Plymouth, and in Leiden, the Dutch town where the Pilgrims took refuge before embarking for the New World, the ethnology museum will run an exhibit about the natives.
"The most important thing for us, as the Wampanoag people," says Paula Peters, a former Wampanoag council member, "is to be acknowledged as a vital tribe comprised of people that, in spite of everything that's happened, are still here." —Jon Marcus
9. Discover Lille's Design Scene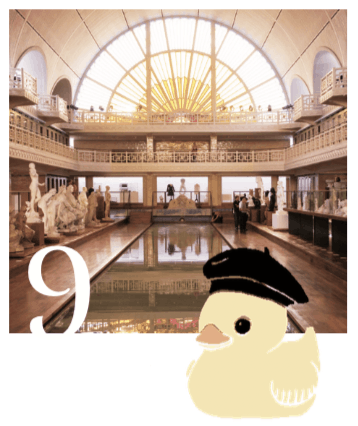 Photo: Mark Bassett/Alamy
Previous World Design Capitals have included major cultural hubs such as Helsinki and Seoul, so it came as a shock when Lille, France's 10th-largest city, beat Sydney for this year's title. Judges cited Lille's use of design to improve its citizens' lives; get a taste for yourself at spots like La Piscine Musée d'Art et d'Industrie, a gallery in a former Art Deco swim center. —Nicholas DeRenzo
8. See Stellar Space in Rio de Janeiro, the World Capital of Architecture
Rio de Janeiro is renowned for the beauty of its beaches and mountains, but the Cidade Maravilhosa's man-made structures are as eye-catching as its natural features. For that reason, UNESCO recently designated Rio its first World Capital of Architecture, honoring a city that boasts such landmarks as the stained glass–domed Royal Portuguese Cabinet of Reading, the fairy-tale Ilha Fiscal palace, and the uber-modern Niterói Contemporary Art Museum.
"Rio is an old city by New World standards, having been founded in the mid–16th century," says architectural photographer Andrew Prokos, who took this shot. "So the city has many layers of architectural styles, from Colonial and Rococo to Art Nouveau, Modernist, Brutalist, and contemporary." In the case of this museum, which was designed by perhaps Brazil's greatest architect, Pritzker Prize winner Oscar Niemeyer, Prokos was intrigued by how the 24-year-old building interacts with its surroundings. "The upward slope of the museum complements the slope of the Pão de Açúcar across the bay," he says, "so the two are speaking to each other from across the water." – Tom Smyth
7. Join the Avengers at Disneyland
This summer, Disney California Adventure unveils its Marvel-themed Avengers Campus, with a new Spider-Man attraction, followed later by an Ant-Man restaurant and a ride through Wakanda. If the hype surrounding last year's debut of Disney+ is any indication, Comic-Con types are going to lose their fanboy (and -girl) minds. —Nicholas DeRenzo
6. Listen to Jazz in Cape Town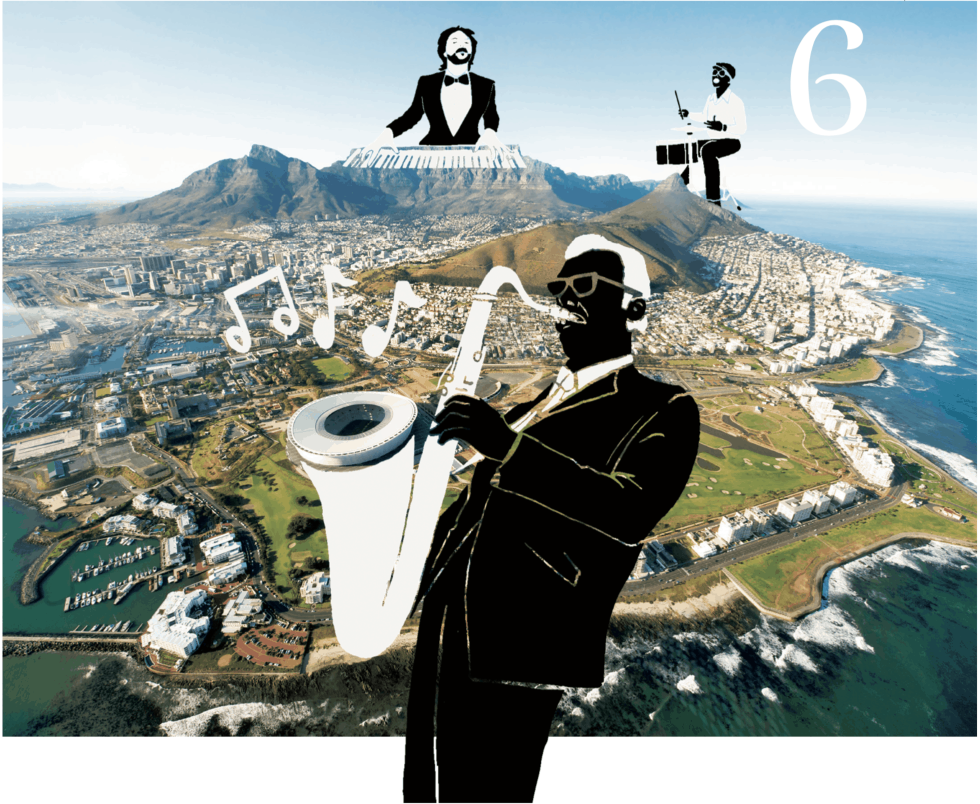 Photo: Eric Nathan/Alamy
Cape Town's natural wonders draw visitors from all over the world, but there's a hidden gem beyond the mountains, beaches, and seas: music. Much as jazz was born from America's diverse peoples, Cape jazz combines the traditions and practices of the city's multiethnic population, creating genres such as goema (named after a type of hand drum) and marabi (a keyboard style that arose in the townships). Cape Town has hosted an International Jazz Festival for
20 years (the 21st edition is this March 27–28), and now UNESCO is giving the Mother City its musical due by naming it the Global Host City of International Jazz Day 2020. The theme of the event—which takes place on April 30, features an All Star Global Concert, and is the climax of Jazz Appreciation Month—is "Tracing the Roots and Routes of African Jazz." During the dark days of slavery and apartheid, music became an outlet through which repressed people could express their struggle for freedom. What better way to mark a quarter century of democracy here than with a celebration of that most free style of music? —Struan Douglas
5. Take a Walk Around England
Many hikers love walking around England—but how many can say that they've truly walked around England? When it's completed, the England Coast Path will be the longest managed seaside trail in the world, completely circumnavigating the coastline, from the fishing villages of Cornwall and the beaches of Nothumberland to the limestone arches of the Jurassic Coast and the sandy dunes of Norfolk. Much of the trail is already waymarked (the 630-mile South West Coast Path is particularly challenging and beautiful), with new legs set to open throughout the year. If you want to cross the whole thing off your bucket list, be warned that it's no walk in the park: At around 2,795 miles, the completed route is 605 miles longer than the Appalachian Trail and about the same as the distance between New York and Los Angeles. —Nicholas DeRenzo
4. Get Refreshed in the Israeli Desert
Six Senses resorts are known for restorative retreats in places like Fiji, Bali, and the Maldives. For its latest location, the wellness-minded brand is heading to a more unexpected locale: the Arava Valley, in the far south of Israel. Opening this spring, the Six Senses Shaharut will offer overnight camel camping, off-roading in the surrounding desert, and restaurants serving food grown in the resort's gardens or sourced from nearby kibbutzim. While the valley is said to be near King Solomon's copper mines, the Six Senses is sure to strike gold. —Nicholas DeRenzo
3. Say konnichiwa on July 24 at the opening ceremonies of the Summer Olympic Games in Tokyo, which plays host for the first time since 1964.
The Japanese capital plays host for the first time since 1964. This year, softball and baseball will return after being absent since 2008, and four new sports—karate, sport climbing, surfing, and skateboarding—will be added to the competition for the first time. Say konnichiwa at the opening ceremonies on July 24, which will be held at renowned architect Kengo Kuma's New National Stadium. – Nicholas DeRenzo
2. Score Tickets to Euro 2020
Still feeling World Cup withdrawal? Get your "football" fix at the UEFA European Championship. From June 12 to July 12, 24 qualifying national teams will play games in stadiums from Bilbao to Baku, culminating in the semi-finals and final at London's hallowed Wembley Stadium. Will World Cup champion France bring home another trophy? Will Cristiano Ronaldo's Portugal repeat its 2016 Euro win? Will the tortured English national team finally get its first title? Or will an upstart—like Greece in 2004—shock the world? —Justin Goldman
1. Soak Up Some Culture in Galway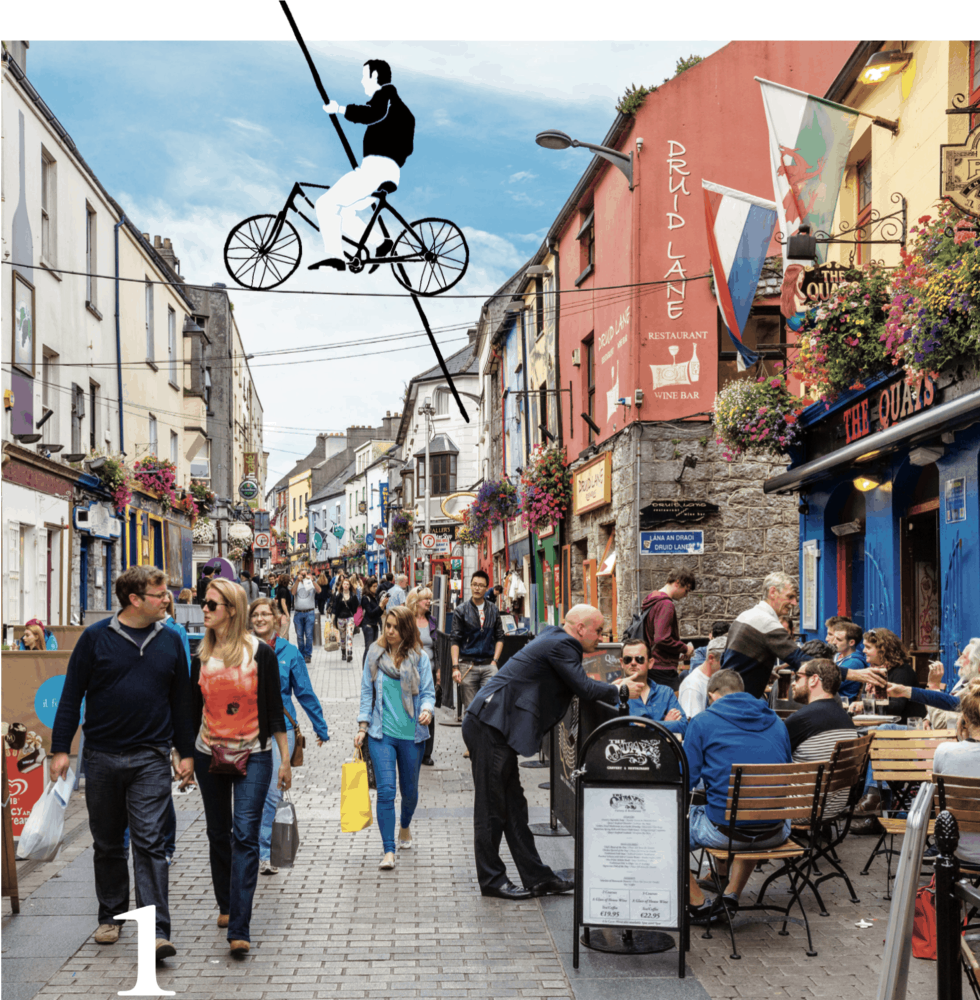 Photo: Ian Dagnall/Alamy
Galway has long been called "the cultural heart of Ireland," so it's no surprise that this bohemian city on the country's wild west coast was named a 2020 European Capital of Culture (along with Rijeka, Croatia). The title puts a spotlight on the city (population 80,000) and County Galway, where more than 1,900 events will take place throughout the year. Things kick off in February with a seven-night opening ceremony featuring a fiery (literally) choreographed celebration starring a cast of 2,020 singing-and-drumming locals in Eyre Square. "This is a once-in-a-generation chance for Galway," says Paul Fahy, a county native and the artistic director of the Galway International Arts Festival (July 13–26). "It's a huge pressure. There's a heightened sense of expectation from audiences, not just from here but from all over the world." Art lovers will no doubt enjoy Kari Kola's illuminating work Savage Beauty, which will wash the Connemara mountains in green light to coincide with St. Patrick's Day, or the Druid Theatre Company's countywide tour of some of the best 20th-century one-act Irish plays. Visitors would also be wise to explore the rugged beauty of Connemara on a day trip with the charismatic Mairtin Óg Lally of Lally Tours, and to eat their way across town with Galway Food Tours. But beware, says Fahy: "Galway has a reputation as a place people came to 20 years ago for a weekend and never left." —Ellen Carpenter
Scroll to top