Three Perfect Days: Paris
Story by Boyd Farrow | Photography by Haleigh Chastain Walsworth | Hemispheres, July 2017
Paris is a cinematographer's dream. No city is more dazzling in the sunshine or sexier in the rain—or, better still, lit up at night. Which is why it is so achingly familiar to anyone who has ever bought a movie ticket. View Notre Dame from the Quai de Montebello, and you get An American in Paris; have a coffee at Café des Deux Moulins in Montmartre, and you're in Amélie. But Paris has always been as much about discovery as déjà vu. Whether it's the reinvented Pigalle, a rejuvenated République, or the rebooted Sentier district, there's always something new to besot the next generation of dreamers—and to keep the older ones returning.

In which Boyd wings his way through the Louvre, samples 18-month-ripened fruit, and meets a chanteuse after dark
One of the things Parisians like to say about their city is that it's endlessly walkable—the operative word here being "endlessly." While each of the city's 20 arrondissements is conquerable by foot, if you're planning to see them all in one go, you'd best pack a comfortable pair of shoes. Before I attempt (and fail) such a feat, I need to be dragged away from my breakfast in my hotel's resplendent surroundings. La Réserve, a grand mansion a block from the Palais de l'Élysée in the 8th arrondissement, was built for Napoléon III's half-brother. Now, it's a 40-room hotel and spa, all ruby-red and emerald-green silk and velvet and herringbone oak floors. I'm wedged in an armchair wiping globs of apricot jam from my cheeks when my butler appears, tactfully wondering if I'm ready for my swim.
With too much ground to cover, I instead begin the day with an earnest jaunt through the immediate neighborhood—the most central of Paris's arrondissements and the one most frequently used as a backdrop in perfume ads. Going out on Avenue Matignon, I reach Rue Saint-Honoré. Home to outposts of some of the world's most chichi fashion labels, this slender street still has its share of idiosyncratic shops, like Colette, which "curates" everything from rare sneakers to a hundred types of bottled water. Admirably, the sales assistant displays no hauteur when I ask her to remove a $5,000 rose gold iPhone from its cabinet, but she also doesn't register surprise when I hand it back. "Too heavy," I say with a wince.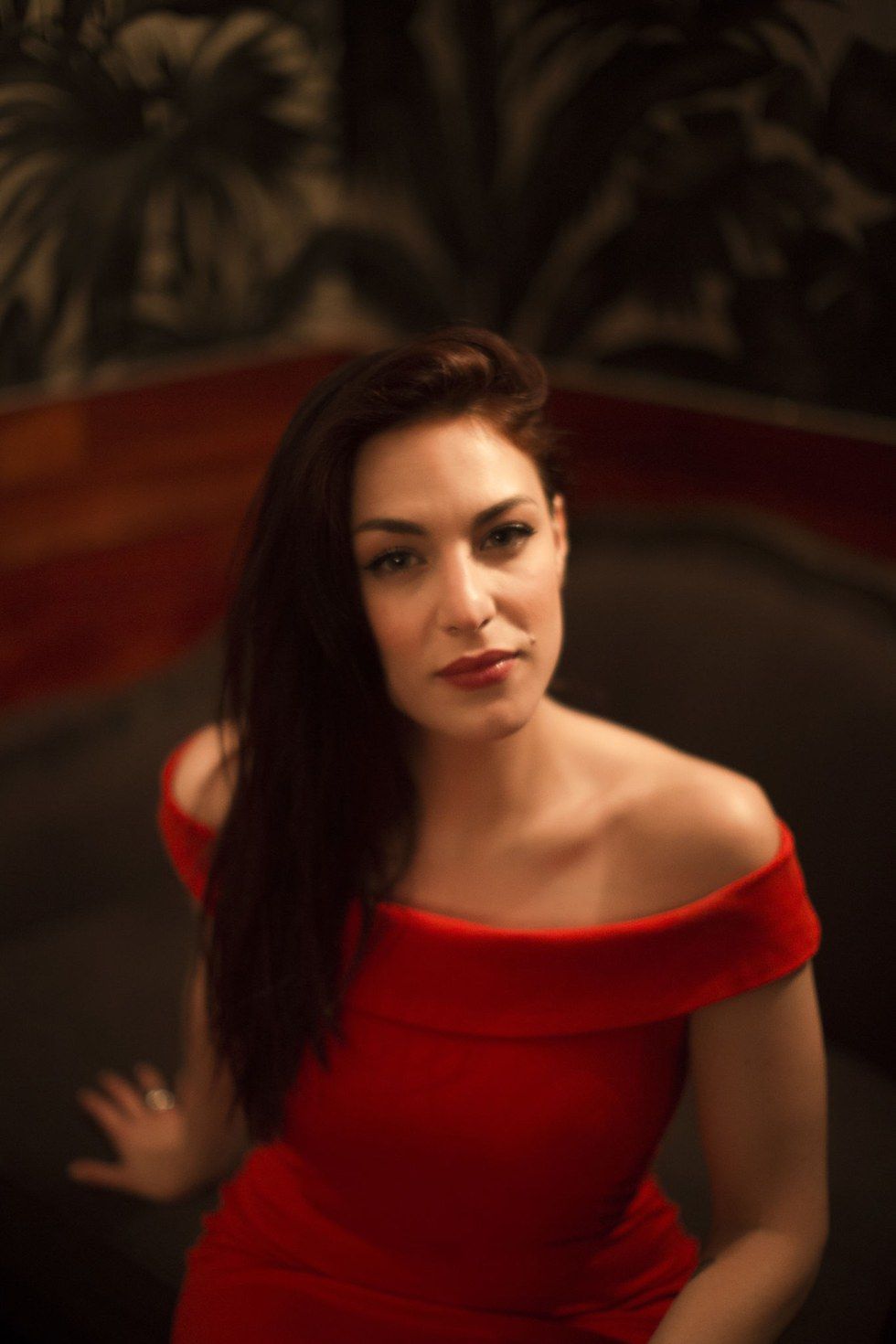 Haylen Namvarazad, musician
Then it's off to the Louvre, where my ToursByLocals guide, Eugénie, marshals me through thickets of selfie sticks to the must-sees—Venus de Milo, the Mona Lisa—while delivering factoids about the masterpieces we hurtle past. "This was the inspiration for the first FIFA World Cup trophy," she hollers over the din of the horde, as we clatter past the second-century BC marble sculpture The Winged Victory of Samothrace.
There's no time to catch my breath in the Jardin des Tuileries outside. Eugénie steers me toward the park's southwest corner and the dinky Musée de l'Orangerie. Inside, in twin oval rooms, are Monet's large-format Nymphéas (Water Lilies) paintings, which seem disconcertingly out of focus in such an intimate space. Downstairs are 120 works from Renoir, Matisse, Picasso, and Cézanne. There are two portraits by Cézanne of his wife, who looks like a completely different person in each. Neither is particularly flattering. "They didn't get on," whispers Eugénie.
Lunch is at Les Chouettes, a buzzy eatery whose spacious, iron-clad interior is a blend of 1920s cocktail bar, SoHo loft, and the Eiffel Tower. In the ground-floor restaurant, far below the glass ceiling, the menu is also an artful mash-up: My dish of soft-boiled eggs baked with mushrooms and Brie de Meaux—the ultimate comfort food—is accessorized with a bang-on-trend, Instagram-ready charcoal wafer.
My next stop is Saint-Paul, a medieval neighborhood in the 4th that is often clumped in with the Marais—though it's far less self-conscious. I check out Saint-Paul-Saint-Louis, the city's best-known Jesuit church. The elaborate facade is gorgeous, but most of the 17th-century art was plundered during the Revolution. Inside, two rows of golden chandeliers hint at the glory days.
"I adore going to the places the tourists go to—but late at night, when they are totally empty. Montmartre is gorgeous, but the Square du Vert-Galant, on the western tip of the Île de la Cité, is even more atmospheric." —Haylen Namvarazad
I head west past Hôtel de Ville—a post-Revolution rebuild of the 16th-century city hall, its facade teeming with statues of notable Parisians, ranging from Cardinal Richelieu to Molière—then cross Pont d'Arcole to the Île de la Cité. On this slim river island stands the city's most celebrated cathedral. Not only is Notre Dame impressively old (construction started in 1163), it's impossibly gorgeous—a Gothic extravaganza of flying buttresses, sullen gargoyles, and bristling spire. If Paris really were a film set, this would be the Tim Burton quarter.
The line to enter moves surprisingly quickly. Several people troop in, take the obligatory selfie, then shuffle out. Others sit in the candlelight, contemplating the high-vaulted nave and the 42-foot purplish South Rose window featuring the New Testament's heavy hitters. Then I notice that many of them are fast asleep. Instead of joining, I cab it back to La Réserve for a rejuvenating dip in the pool.
A couple of hours later, in a crisp shirt and my loosest pants, I leave the hotel once more. I have scored a table at three-Michelin-starred chef Yannick Alléno's restaurant at the nearby Pavillon Ledoyen. My seven-course meal contains two of the best things I have ever eaten: a millefeuille of celeriac and 18-month-ripened avocado, with coconut extraction and chia seeds, and "Stroganoff-style" Wagyu beef. The avocado explodes in my mouth without any of the sweetness I was dreading—the waiter tells me a regular avocado mellows for just three months—but, to be honest, they had me at "Would sir like some bread?" There is even time for a chocolate nib and black olive soufflé before my taxi rolls up.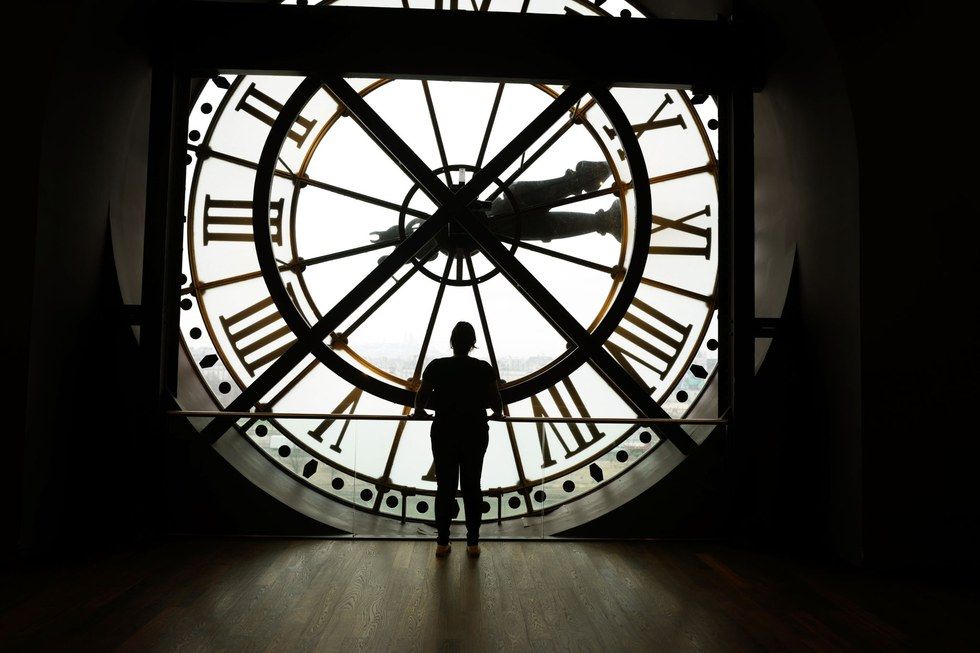 A view through the clock face at the Musée d'Orsay
Soon I'm in Pigalle, the storied red light district on the fringes of Montmartre. Much of this dirty old neighborhood has been cleaned up. The Moulin Rouge, immortalized by Toulouse-Lautrec, looks as if it belongs in Vegas, and the area's new boutiques and bars, with names such as Dirty Dick, are freighted with hipster irony.
I'm meeting the singer and Pigalle habitué Haylen Namvarazad. I spot her waiting for me on the still slightly sleazy Rue Pierre Fontaine, but the bar we're meant to be going to doesn't seem to exist. L'Orphée is hidden behind the frontage of a former massage parlor and reached only by pressing an unmarked buzzer, then passing through a strip-lit corridor and a second unmarked door. I can't help thinking about the last 10 minutes of Taxi Driver.
After years of busking in Metro stations, Namvarazad found fame on a TV talent show and has since starred in the hit rock opera Le Rouge et le Noir. Musicians come to L'Orphée to jam in its red glow after hours. Tonight, a bearded singer delivers a bluesy rendition of "Hit the Road Jack." A guy with a falsetto pays tribute to Ed Sheeran. Namvarazad channels Amy Winehouse with a tingling take on "Back to Black."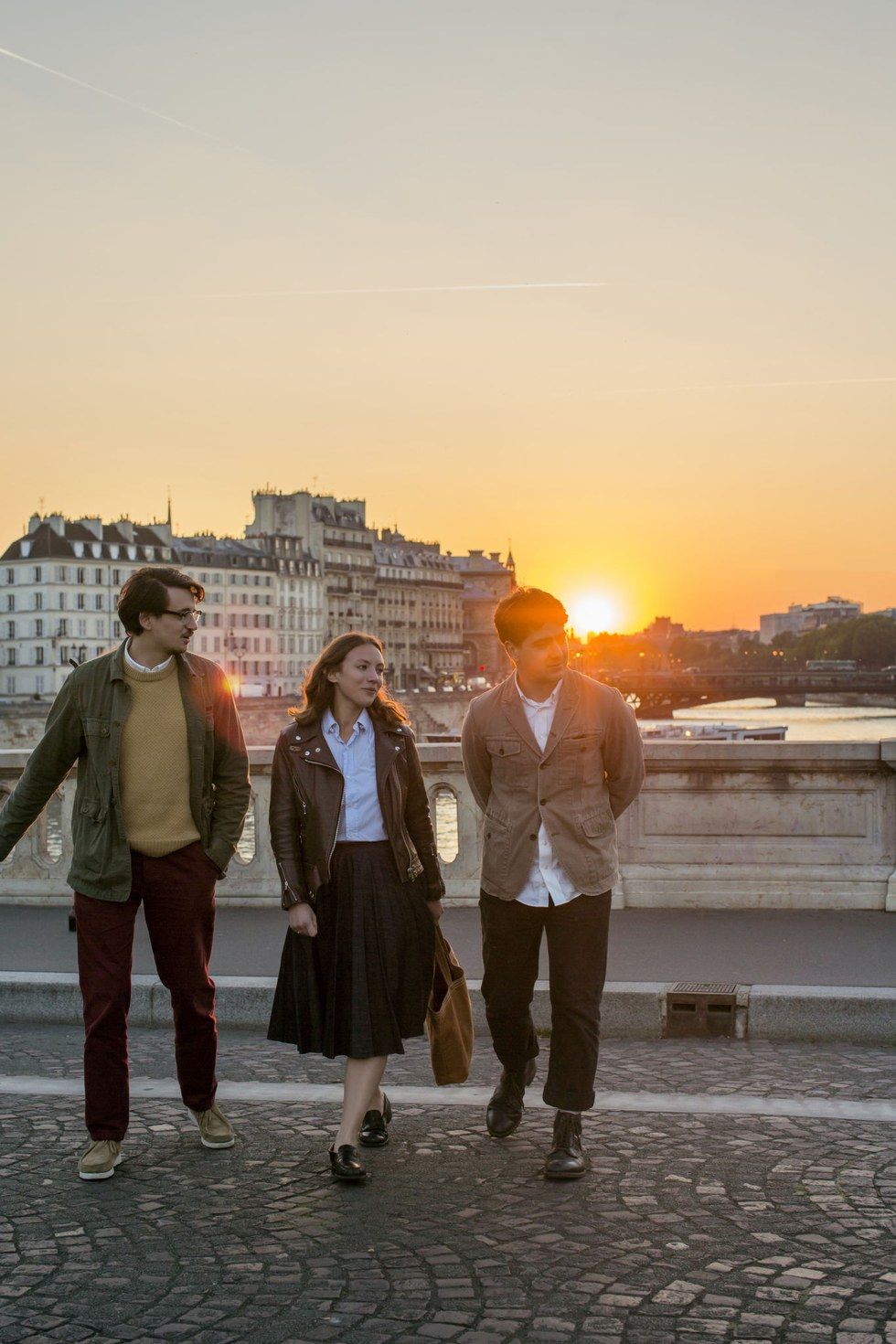 Parisians on Île Saint-Louis
"This is the real spirit of Paris," she says over a Desperados beer with a lime wedge. "It is creative, inclusive, optimistic. This city is very tribal, but in bars like this it doesn't matter where you're from or what stage your career is at. It's people doing what they love and helping each other out."
The loveliness of Paris has drawn artists for centuries, but you do wonder about living here, whether a person might start taking it for granted. "I was born here, and yet there is not a single day that I'm not aware of its beauty," Namvarazad says. "Or rather, there is not a single night. When there is no one around and the city is lit up, it is magical. How could anyone not be inspired?"
Later, as my cab bounces past sprays of flowers cascading from tiny balconies, I see what she means. I can barely keep my eye on the meter.

In which Boyd encounters a large cheese, a large religious work of art, and a very, very large fish
An early start. I drop my bags in my minimal room at the Amastan, a small design-focused hotel at the foot of the Champs-Élysées. On one wall hangs a rug that drapes the sofa before continuing to cover the floor. Talk about minimal. After scarfing down some baby croissants in the courtyard, I head east to Le Marché Popincourt in the 11th arrondissement, where I meet Pierre Sang Boyer, owner of two eponymous restaurants nearby.
Boyer, who was born in South Korea and adopted by a French family when he was 7, is one of the city's hottest chefs. He is also, by his own admission, a produce nerd. He squeals with pleasure at every stall, snapping stalks, fondling tubers, stroking fish, massaging poultry. "Look, this langoustine is still alive," he chirps, dangling a twitching crustacean in my face.
"Markets remind us that we are all part of the same chain," Boyer continues, hurrying on to another fascinating stall. "The farmer, the person preparing the food, the person eating it." He stops before a meat display and asks a vendor to cut me some salami. As I chew, I notice a sign: Boucher Cheval, or horse butcher. "Delicious," I whimper.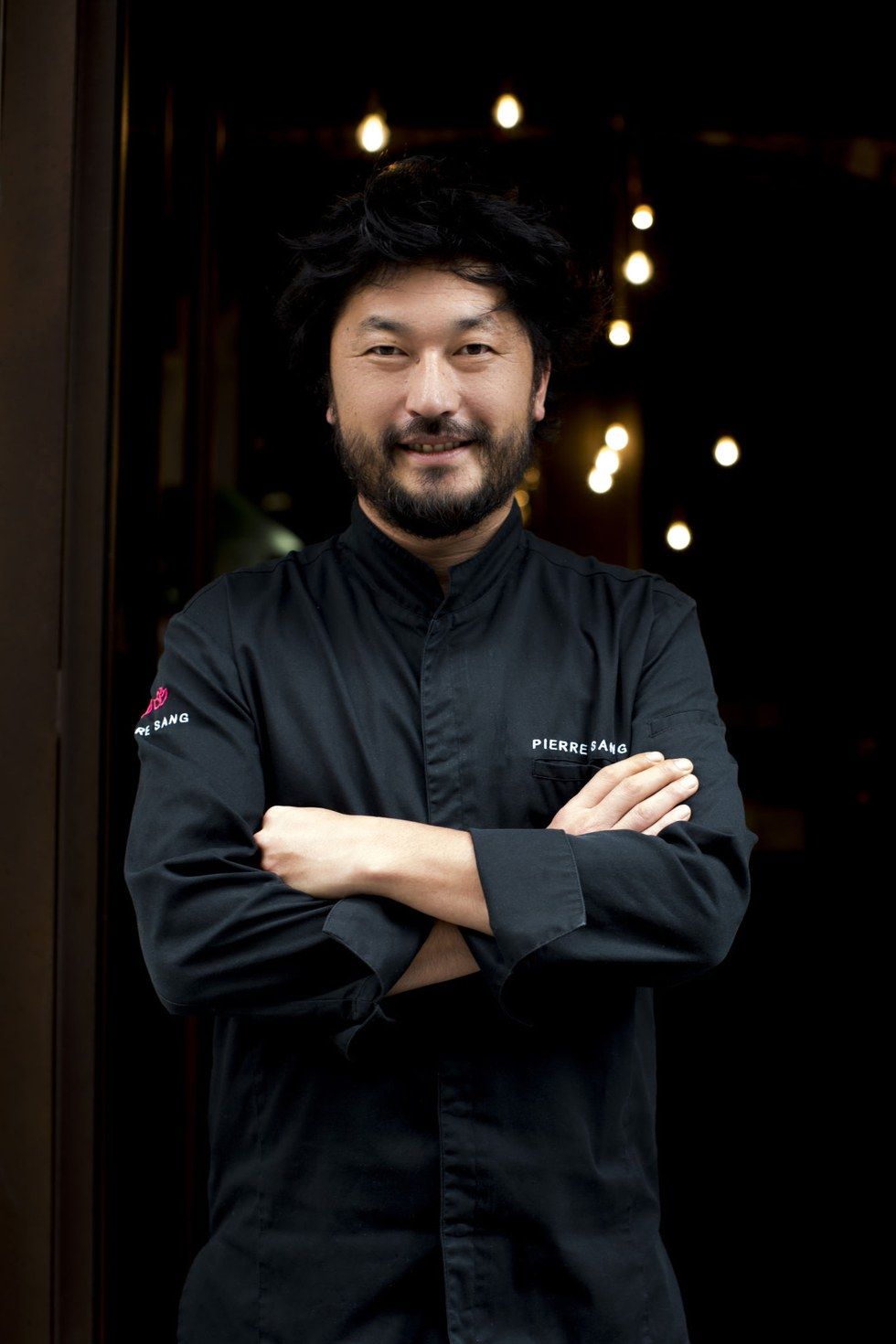 Pierre Sang Boyer, chef
This part of the 11th has a lively nightlife scene, but by day its narrow streets teem with grocers hosing down sidewalks, shoppers swinging baskets, and men hauling sacks of produce. In Le Jardin Fromager, matronly Madame Sananès vacuum-packs a whole Camembert de Normandie for me to take home. In Poissonnerie Lacroix, Charly Hanafi gives me herring that's been marinated for days in garlic and onions. I can smell the thing from six feet away, but at least it gets rid of the taste of Seabiscuit.
At Boyer's pared-back restaurants (a walk-in counter that straddles the corner of rues Gambey and Oberkampf and a more upmarket spot about 100 feet away), there are no menus. Diners get a bunch of small plates, their contents dictated by the freshest ingredients that day. I decide to try out both kitchens. At the small one, I sample the radishes and spring onions Boyer scored at the market, served with shrimp and chili flakes, followed by slow-cooked pork belly in ssamjang, a sauce made with chili and fermented soybean paste. At the ritzier joint, I'm served a slab of seared beef with the same zingy ssamjang. As fusion food goes, French-Korean is tough to beat. Also, I can light my candle just by breathing on it.
Another Metro ride takes me to the Musée d'Orsay, the former grand railway station on the Left Bank of the Seine that now houses some of the greatest European art of the 19th and early 20th centuries. At the security check, the guards eye my sealed camembert suspiciously. Inside, the museum still feels like a train station, its concourse filled with people in a hurry to get somewhere else—possibly the Impressionism section on the fifth floor. Here, people are queuing up with their selfie sticks to insert themselves among the revelers in Renoir's Bal du Moulin de la Galette or to photobomb Van Gogh's Self-Portrait. Two years ago, the Musée was forced to lift its photo ban after someone noticed that France's culture minister had posted photos she took there on Instagram. Selfie sticks remain forbidden, but no one seems to care.
"In many other cities, it is the artists who are responsible for rejuvenating areas. In Paris, it is restaurateurs. That says a lot about how important food culture is to Parisians." —Pierre Sang Boyer
Next, I cross the Léopold Sédar Senghor footbridge, recently purged of its burdensome lovers' padlocks, and pass back through the Jardin des Tuileries, to the hotel Le Meurice, on Rue de Rivoli, for afternoon tea. Only in Paris can a pastry chef be a superstar, and the pâtissier here, Cédric Grolet, is Ryan Gosling in a toque. Grolet is famous for his ambitious trompe l'oeil confections; I sample a tart that looks exactly like a real apple. It is good—and you have to admire the evil genius who disguises cake as fruit—but I prefer the gooey caramel-and-pistachio cookie.
A short stroll northwest takes me to La Madeleine, the Greek temple–like church built to celebrate the glory of Napoleon's army. Fifty-two Corinthian columns, each 65 feet tall, skirt the exterior. In the gilded interior, the dominant fresco resembles the Sgt. Pepper's album cover, with Napoleon surrounded by Mary Magdalene, the Apostles, Dante, Raphael, and Pope Pius VII, among others. Clearly, the Little Corporal was not short on self-esteem.
From here I'm off to Abbesses—which, at 118 feet down, is the Metro's deepest station—to explore hilly Montmartre. Having learned that the station elevator is broken, I wheeze up 90 spiraling steps before surfacing into what appears to be the set of Amélie. A cobbled square is framed by colored crêperies—all called Chez this or Le Petit that—while sketch artists sit at easels and vendors hawk roses. All that's missing is … no, wait, there is someone playing an accordion.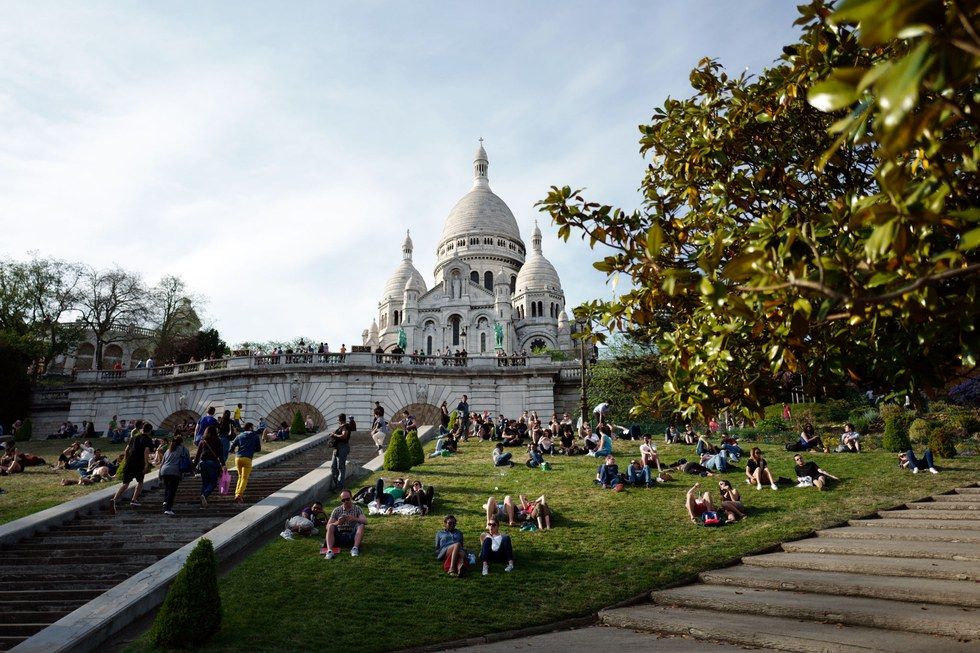 Parisians enjoying the grounds of La Basilique du Sacré-Coeur
I check out the Sacré-Cœur, the 272-foot basilica at the top of Montmartre's butte, the highest point in the city after the Eiffel Tower. Construction began in 1875 and was completed in 1914—as a penance or a pick-me-up after France lost its war with Prussia, it's hard to say. Inside, a half dozen Benedictine sisters are beginning their vespers. Even above the mumble of tourists, the Latin song is ethereal and lovely, amplified by the huge apse rendered with a mosaic of Christ, in white, arms extended. I sit down with my giant cheese and watch as people file in and light votives or stealthily angle their phones for the ultimate shot: a selfie with Jesus.
For dinner, I head to the 1st arrondissement to meet my friend Sara at the Fish Club, a seafood restaurant from the team behind London's Experimental Group. At 8:30, Sarah and I are the only ones here—but by the time we've drained a couple of drinks, the place is jammed, and I have to raise my voice to order the special: grilled sea bream, which our waitress says is big enough to share. No kidding. Other diners leave their own meals to Instagram our monster catch. Fileted tableside, it is so good we don't touch our greens.
I'm exhausted, but Sara tells me that the Experimental guys have a speakeasy next door. Beyond an unmarked (of course) entrance, we feel our way down a metal stairway and arrive in a barely lit bar with low velvet seating and a well-dressed—as far as I can tell—crowd. I down a Bourbon & French; Sara knocks back something citrusy. "Quick, let's make a run for it," she jokes. Or it may have been a delinquent on an adjoining banquette. Either way, we decide to stay for more cocktails.
By the time we leave, I'm so relaxed I hail a cab standing in the middle of the street. The driver looks terrified. Now, if I could only remember where I put my room key.
In which Boyd breakfasts like Ernest Hemingway, shops like Louis XV, and has a Hugh Grant–like effect on the ladies
I check into the grand Hôtel Plaza Athénée on Avenue Montaigne, the backdrop for Carrie Bradshaw's Paris adventures in the last two episodes of Sex and the City. The iconic red awnings match my eyes. After a refreshing shower, I head for the Left Bank.
The 5th and 6th arrondissements, along the Seine's southern bank, used to be a bohemian enclave, home to struggling artists like Picasso and Matisse. Today, you'd have to sell a Picasso just to buy a small studio here. Next to Les Deux Magots, the café where Jean-Paul Sartre and Simone de Beauvoir used to hang out, stands a Louis Vuitton store.
The café now offers a "Sartre" breakfast, which includes yogurt or fruit salad, and the more robust "Hemingway," which has bacon and fried eggs but, disappointingly, no whiskey. I settle for a croque monsieur.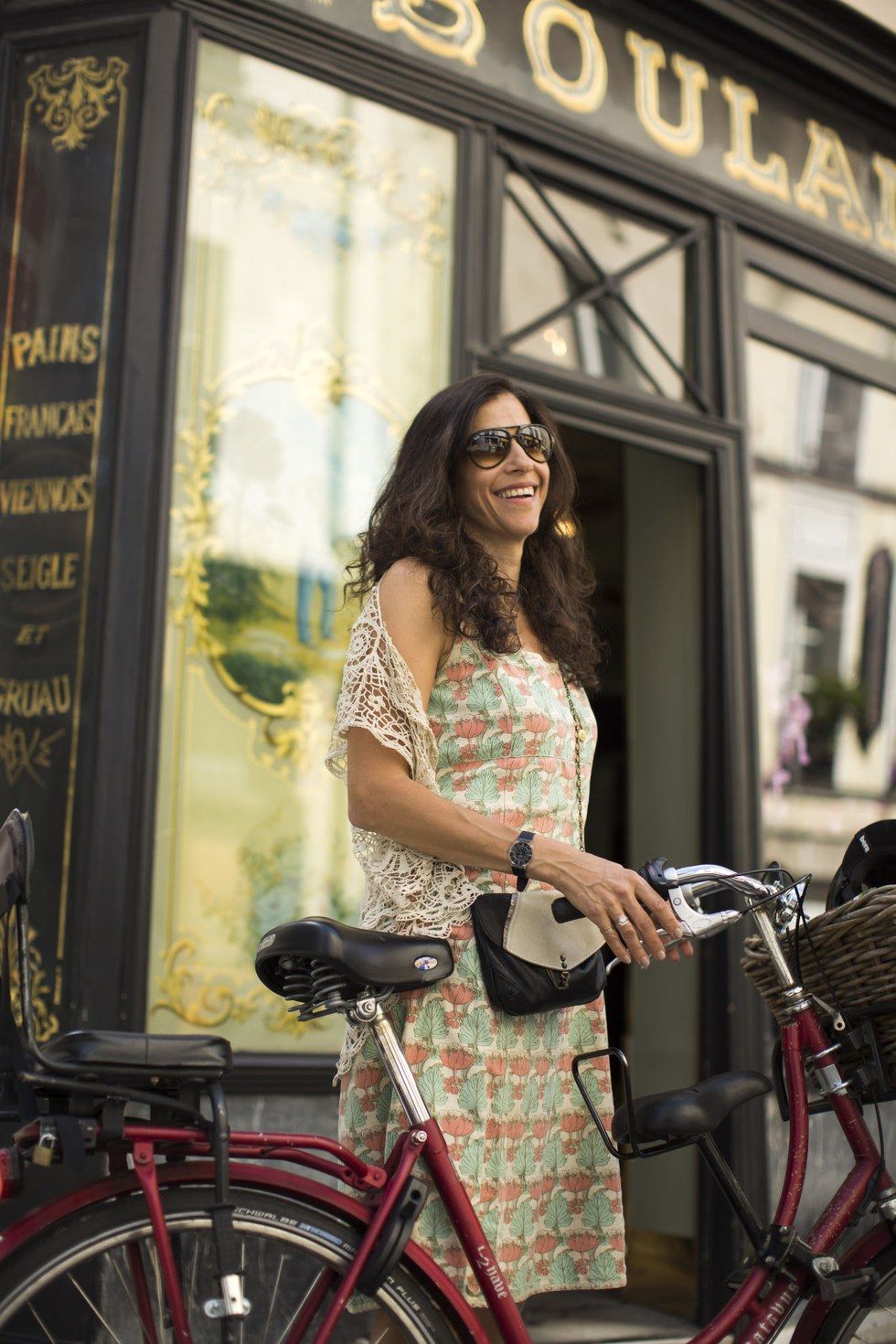 Tanya Blumstein, movie dialect coach
Despite its embourgeoisement, the Rive Gauche (South Bank) hasn't lost its soul. The cobbled streets and tastefully worn courtyards, along with a bounty of medieval churches, give the area a timeless feel. I especially enjoy the sixth-century Église de Saint Germain-des-Prés, the oldest Romanesque church in Paris, its square tower the focal point of the 6th. Some of the shops seem almost as old. Cire Trudon's origins date to 1643, when it was founded as a candle shop. (Its wares lit Louis XV's court.) Now it supplies tourists with $100-plus wax busts of Marie-Antoinette and Napoléon.
I head east along Boulevard Saint-Germain to the 5th arrondissement, known as the Quartier Latin since the 13th century (when the Sorbonne was founded and Latin was the language of learning). I zip around the Panthéon, the glorious Neoclassical monument that Louis XV built as a thank-you to God after he survived what was probably a case of man flu. Now it houses the tombs of Voltaire, Rousseau, Zola, Victor Hugo, and Marie Curie.
Not feeling too lively myself, I loop back to the Jardin du Luxembourg, where I slump into a garden chair. With 60 acres of immaculate parkland around me, the only sound is the crunch of gravel as the occasional jogger goes by. These are Parisian joggers, so no one is wearing lime Lycra. One woman may actually be wearing heels. On my way out, I step into the sweet little Musée du Luxembourg to catch an exhibition of Pissarro's later pastoral scenes—a nice bonus.
"Parisians tend to enjoy life more—spending time with family, enjoying their surroundings. Of course, it does help when your surroundings are this beautiful." —Tanya Blumstein
After enjoying a fortifying salad of quinoa, goat cheese, and broccoli at the restaurant at Hôtel Bachaumont, which anchors the newly fashionable Rue Bachaumont in the 2nd arrondissement, I walk south to check out Paris's regeneration project du jour, the billion-euro revamp of the previously forlorn Les Halles shopping mall. Approaching Les Halles from the north takes me past one of the loveliest buildings in Paris—which is saying something. Église St-Eustache, built between 1532 and 1637, is primarily Gothic, though a Neoclassical facade was slapped on its western side in the 18th century. On a wall inside hangs a Rubens painting; outside stands a gigantic Henri de Miller sculpture of a head and hand. All this makes the new retail and leisure complex look even more weirdly modern. Les Halles's curvy yellow six-acre canopy makes it seem as if someone has dropped a giant omelette on the city.
A 15-minute stroll brings me to Rue des Rosiers, the higgledy-piggledy center of the Marais and the heart of the Jewish community. Poignantly, the sign outside the bustling kosher bakery Sacha Finkelsztajn announces the community's postwar comeback: "From Father to Son since 1946."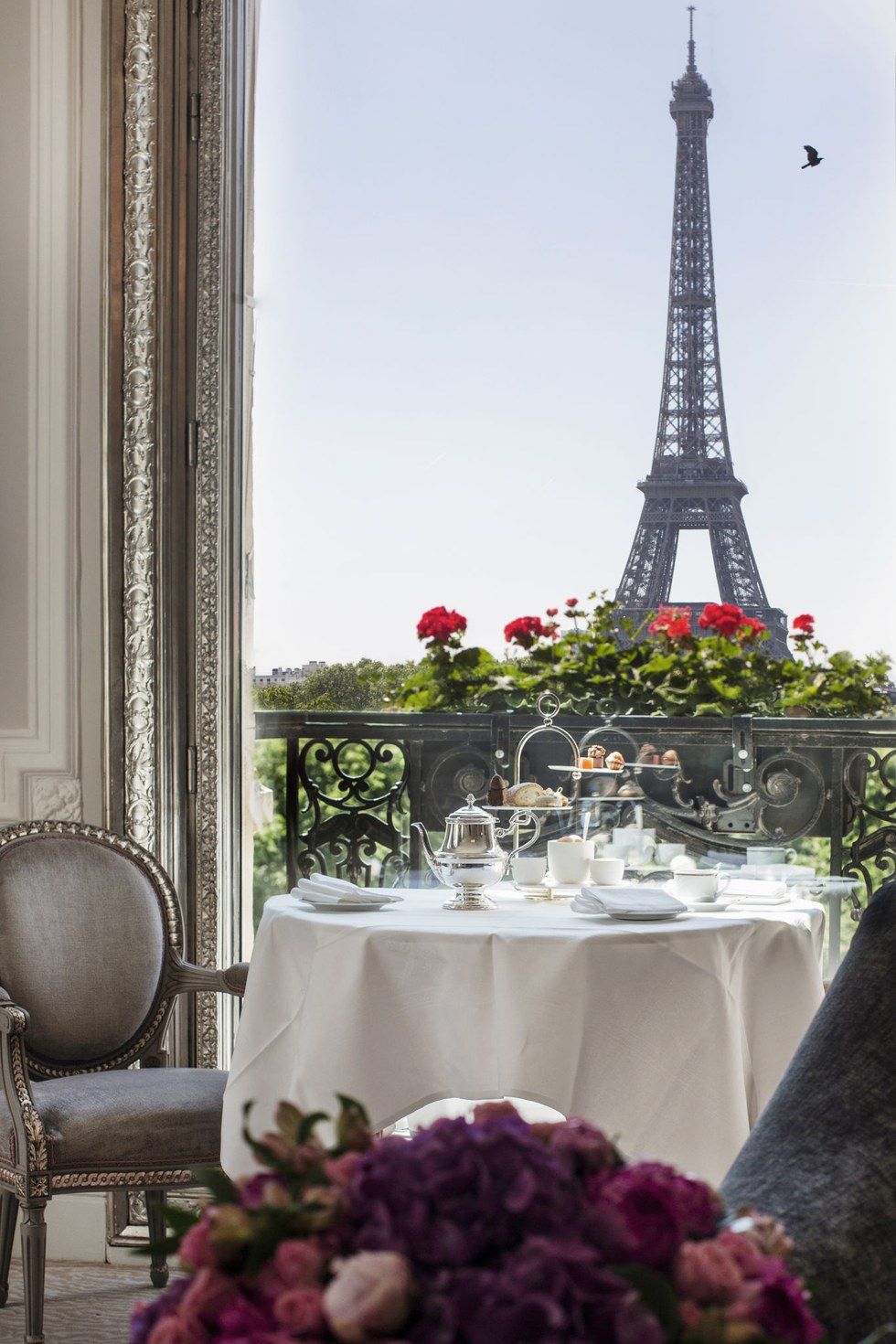 The view from the Hôtel Plaza Athénée
Dotting the medieval warren are many enchanting gardens. Place des Vosges is one of the oldest squares in Paris and regarded as one of the best, but I prefer the smaller Square Georges Cain, which is filled with treasures from the adjacent Musée Carnavalet. One of the most intriguing objects is a small electronic bird designed to sing like a nightingale when the wind blows. I don't hear any birdsong, but the gate screeches like an angry parrot.
Near the Carreau du Temple—an iconic industrial market that reopened in 2014 as a cultural and exhibition venue—I meet Massachusetts-born Tanya Blumstein, who was so smitten when she arrived in Paris more than 20 years ago that she never went back. "It just felt like home as soon as I got here," says Blumstein, a voice and dialect coach for theater and film who recently worked with Natalie Portman on Jackie. "Everywhere here has a real community feel. You tend to keep an eye on your neighbors' kids; you know your butcher, baker, and florist. In most big cities, people don't live like that anymore."
We mooch around some of the city's most gentrified rues Saintonge, Bretagne, Poitou. On the corner of Poitou is the Petit Moulin, a tiny hotel that's housed in a former boulangerie and whose interiors are a riot of Christian Lacroix. As we pass, the actor Pierre Niney, who played Yves Saint Laurent in a 2014 biopic, cycles past. Could this be any more French?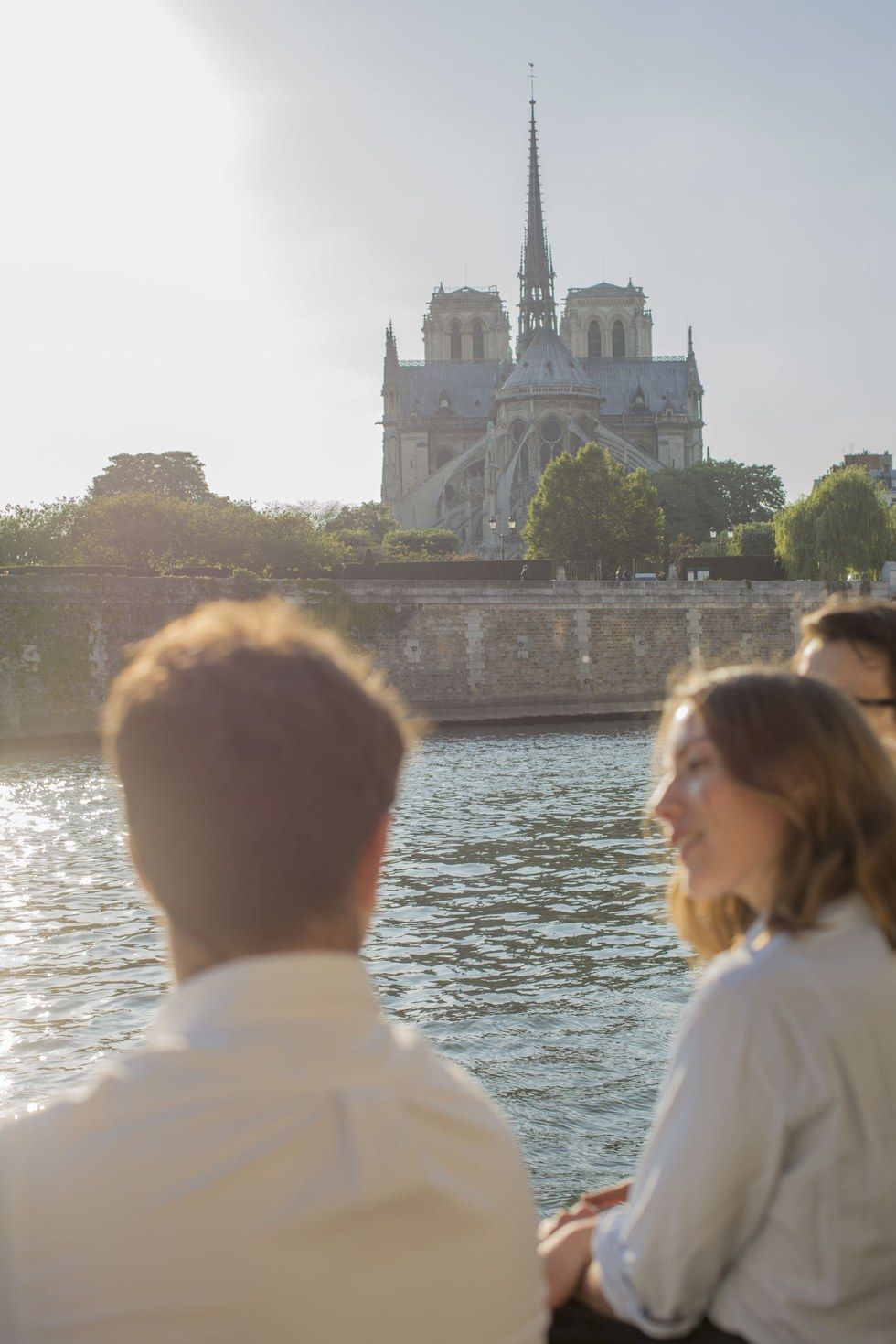 Notre Dame from across the Seine
It could. In Jacques Genin's showroom-size chocolate shop on lively Rue de Turenne, a loved-up couple agonizes over a chocolate display as if choosing an engagement ring. I'm agonizing too, over how many kirsch caramels I dare take from the sample jar.
The Marais has long been Paris's most BoBo (Bourgeois Bohemian) area, but things may have gotten out of hand. At Nanashi on Rue Charlot, vegetarian "Parisian Bento" boxes are served by staffers with lion-tamer mustaches. We pause to nibble retro shortbread at Bontemps, a patisserie opened by a former financier, and sip blueberry-lavender smoothies at Wild & The Moon.
Back at the decidedly un-BoBo Plaza Athénée, I soothe my limbs in a deep marble tub. The blisters on my feet are so big they may soon need their own arrondissement. I'm dining in the hotel restaurant tonight, and I wonder if the dress code extends to the fluffy white slippers that were left beside my bed.
That dinner, taken in a corner berth in the handsome Le Relais Plaza brasserie, is a gratifyingly no-nonsense affair: an entrée-size starter of crevette salad, tender beef served with mashed potatoes, and a trio of sorbets. I'm glad I went with regular shoes—I have to walk at least some of the bread basket off before I can even contemplate going to sleep.
I cross nearby Pont de l'Alma and walk along the Left Bank, admiring the way each building is subtly and artfully lit, like movie stars in a black-and-white film. I can hear the chatter of tourists pleasure-cruising the Seine and the muffled voices of a couple sharing a bottle of wine by the water's edge. People throng outside Faust, a nightclub beneath the exuberant Pont Alexandre III. As I thread my way through the crowd, a young Frenchwoman bumps into me, spilling wine down my shirt. Being English, I apologize. She smiles, kisses my cheek, and disappears. Okay, so it's not a Robert Doisneau moment, but it's not a bad way to say goodnight to the city—the Eiffel Tower to the west, its sparkling light show reminding us that the clock has just struck 12.
Berlin-based writer Boyd Farrow is not the first person to fall in love in Paris. Three weeks after he returned home, he is still blissfully happy with his camembert.

When the pandemic began, United Cargo knew it would be critical to utilize its fleet, network and industry-leading pharmaceutical handling processes to transport a COVID-19 vaccine when the time came.
Connecting vaccines to the world: United responds to mass distribution effort
December 22, 2020
On November 27, United Airlines became the first commercial airline to safely deliver the first batch of Pfizer and BioNTech's COVID-19 vaccine into the U.S. thanks to a coordinated effort between United's cargo, safety, technical operations, flight operations, regulatory and legal teams.
Now as the entire shipping and logistics industry bands together to widely distribute vaccines, United is leveraging all of its flights, including cargo-only and those carrying passengers, to transport millions of vaccines to destinations throughout our network, including Honolulu, Guam and Saipan – the first of any carrier to do so.
"United's cargo service has helped safely deliver many essential goods during this pandemic, but there is no shipment that gives me more personal pride than helping bring this life-saving vaccine to our communities," said Jan Krems, United Cargo President. "While we still face a long road ahead the promise of a widely distributed vaccine gives us hope that we are one step closer to putting this pandemic behind us and moving forward together toward a brighter future."
And United is shipping more than just vaccines to help during the pandemic in keeping the lines of commerce flowing and goods getting to where they need to be. Since mid-March, United has operated 9,000 cargo-only flights carrying more than 435 million pounds of cargo. By using a combination of cargo-only flights and passenger flights, United Cargo has also transported 80 million pounds of medical supplies this year.
In coordination with our shipping and logistics partners, United will continue to distribute COVID-19 treatments to destinations throughout its network. The real heroes are the scientists who created these life-saving vaccines and the frontline workers who are not only administering them, but also helping care for and tend to those suffering from this virus. United is proud to do its part in helping to get this precious cargo to the people and communities who need them, and looks forward to doing our part in the months ahead.
United Cargo responds to COVID-19 challenges, prepares for what's next

September 30, 2020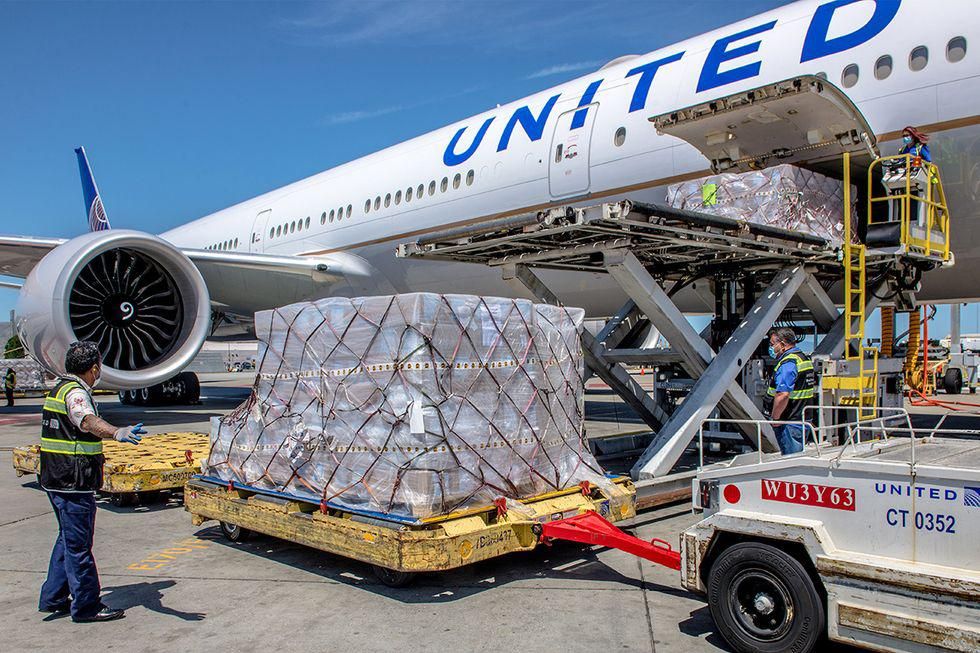 Even before the COVID-19 pandemic, United Cargo has supported a variety of customers within the healthcare industry for over 10 years. Three key solutions – TempControl, LifeGuard and QuickPak – protect the integrity of vital shipments such as precision medicine, pharmaceuticals, biologics, medical equipment and vaccines. By utilizing processes like temperature monitoring, thermodynamic management, and priority boarding and handling, United Cargo gives customers the peace of mind that their shipments will be protected throughout their journey.

With the global demand for tailored pharmaceutical solutions at an all-time high, we've made investments to help ensure we provide the most reliable air cargo options for cold chain shipping. In April this year, we became the first U.S. carrier to lease temperature-controlled shipping containers manufactured by DoKaSch Temperature Solutions. We continue to partner with state-of-the-art container providers to ensure we have options that meet our customers' ever-changing needs.
"Providing safe air cargo transport for essential shipments has been a top priority since the pandemic began. While the entire air cargo industry has had its challenges, I'm proud of how United Cargo has adapted and thrived despite a significant reduction in network capacity and supply," said United Cargo President Jan Krems. "We remain committed to helping our customers make it through the pandemic, as well as to doing everything we can to be prepared for the COVID-19 vaccine distribution when the time comes."
Our entire team continues to prioritize moving critical shipments as part of our commitment to supporting the global supply chain. We've assembled a COVID readiness task team to ensure we have the right people in place and are preparing our airports as we get ready for the industry-wide effort that comes next.
In cooperation with our partners all over the world, United Cargo has helped transport nearly 145 million pounds of medical supplies to aid in the fight against COVID-19, using a combination of cargo-only flights and passenger flig­hts. To date, United Cargo has operated more than 6,300 cargo-only flights and has transported more than 213 million pounds of cargo worldwide.
United Cargo responds to global needs, celebrates 5000th cargo-only flight

August 18, 2020
By Jan Krems, President, United Cargo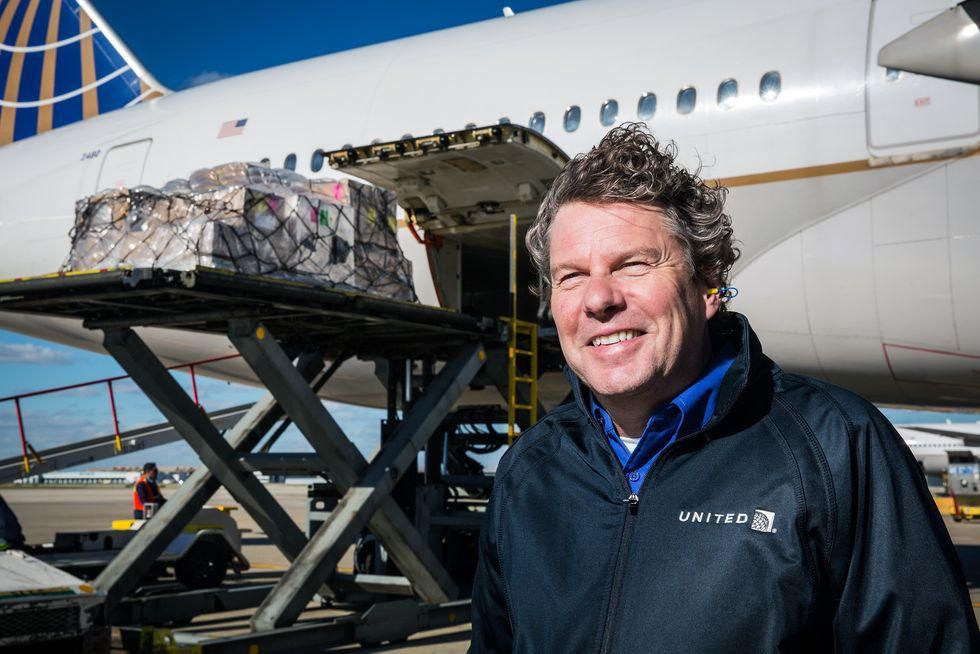 In mid-March, United took steps to manage the historic impact of COVID-19 and began flying a portion of our Boeing 777 and 787 fleets as dedicated cargo-only flights to transport air freight to and from U.S. hubs and key international business locations. More than ever, providing reliable cargo transportation was vitally important and I'm proud say our United Cargo team stepped up to support our customers.

Although we're facing the most challenging environment our industry has ever experienced, I'm very excited to celebrate a major milestone. Since March 19, United has operated over 5,000 cargo-only flights transporting nearly 170 million pounds of cargo on these flights alone. With an increased need to keep the global supply chain moving, and an even more urgent need for medical supplies, we knew we had to utilize our network capabilities and personnel to move vital shipments, such as medical kits, personal protective equipment (PPE), pharmaceuticals and medical equipment between U.S. hubs and key international destinations.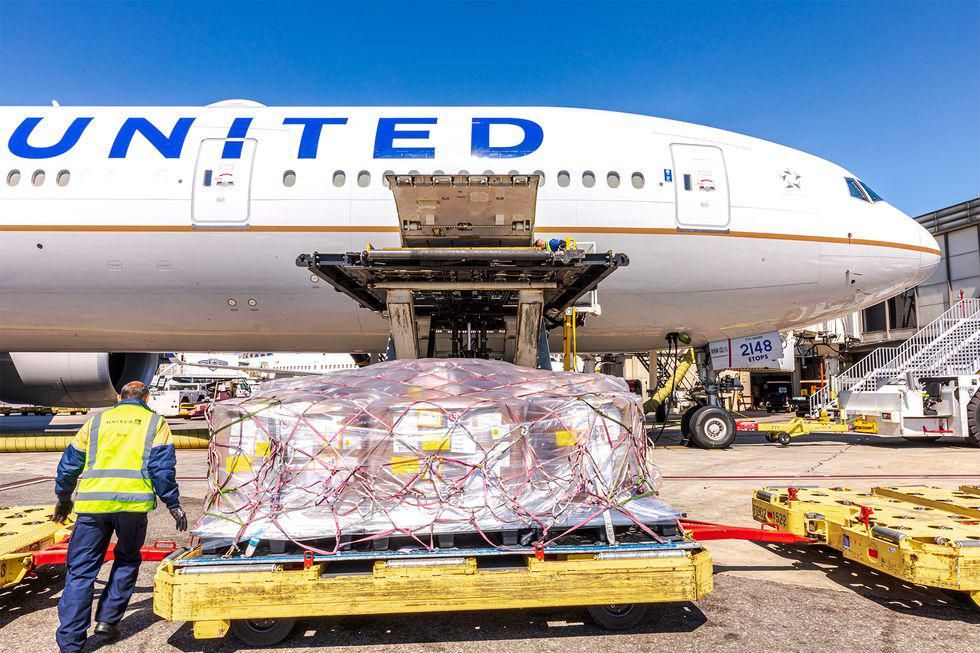 In cooperation with freight forwarders and partners all over the world, United Cargo helped transport more than 107 million pounds of medical supplies to aid in the fight against COVID-19 using a combination of cargo-only flights as well as passenger flights.

To keep military families connected, we increased the frequency of cargo-only flights between the U.S. and military bases in various parts of the world — including bases located in Guam, Kwajalein and several countries in Europe. We know how critically important it is for these families to stay connected, and I'm honored that we were able to utilize our network and our aircraft to fly nearly 3 million pounds of military supplies.
In collaboration with food-logistics company Commodity Forwarders Inc. (CFI), our cargo teams moved nearly 190,000 pounds of fresh produce to Guam for the U.S. Department of Agriculture's Coronavirus Farm Assistance Program. This new program was created to provide critical support to consumers impacted by the coronavirus pandemic.
United has played a critical role in keeping global supply chains stable during the pandemic as we deliver urgently needed goods around the world. These past few months have created challenges that I have never seen in my 30-plus years of experience working within the air cargo and freight forwarding industry. However, I'm proud of our teams for staying focused on our mission to provide high-quality service and to keep our customers connected with the goods they need most.
United Cargo and logistics partners keep critical medical shipments moving
July 02, 2020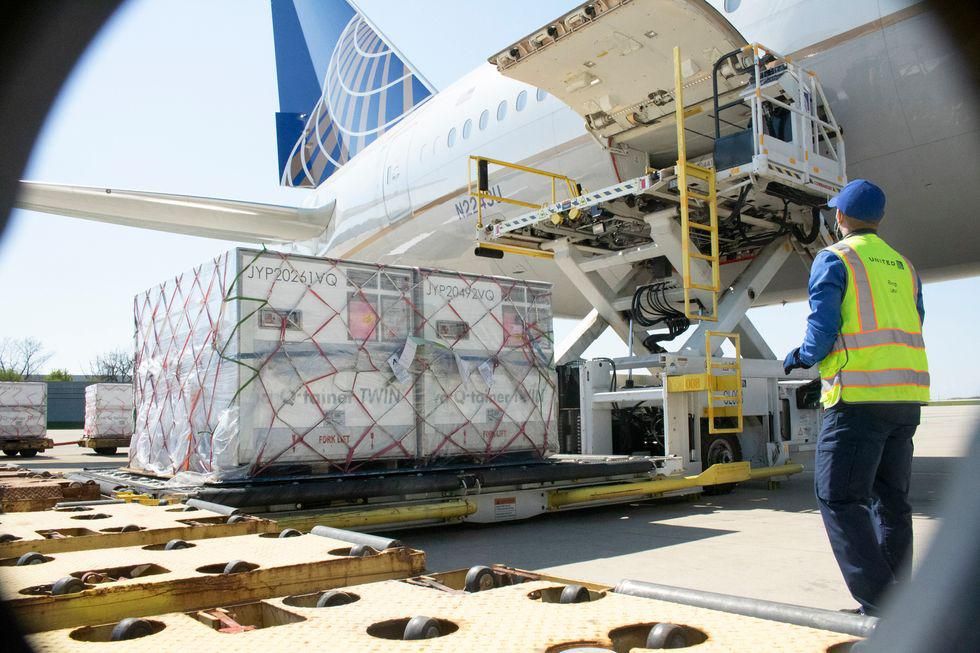 By working together and strengthening partnerships during these unprecedented times, our global community has overcome challenges and created solutions to keep the global supply chain moving. As COVID-19 continues to disrupt the shipping landscape, United and our industry partners have increasingly demonstrated our commitment to the mission of delivering critical medical supplies across the world.

United Cargo has partnered with DSV Air and Sea, a leading global logistics company, to transport important pharmaceutical materials to places all over the world. One of the items most critical during the current crisis is blood plasma.
Plasma is a fragile product that requires very careful handling. Frozen blood plasma must be kept at a very low, stable temperature of negative 20 degrees Celsius or less – no easy task considering it must be transported between trucks, warehouses and airplanes, all while moving through the climates of different countries. Fortunately, along with our well-developed operational procedures and oversight, temperature-controlled shipping containers from partners like va-Q-tec can help protect these sensitive blood plasma shipments from temperature changes.
A single TWINx shipping container from va-Q-tec can accommodate over 1,750 pounds of temperature-sensitive cargo. Every week, DSV delivers 20 TWINx containers, each one filled to capacity with human blood plasma, for loading onto a Boeing 787-9 for transport. The joint effort to move thousands of pounds of blood plasma demonstrates that despite the distance, challenges in moving temperature-sensitive cargo and COVID-19 obstacles, we continue to find creative solutions with the help of our strong partnerships.
United Cargo is proud to keep the commercial air bridges open between the U.S. and the rest of the world. Since March 19, we have operated over 3,200 cargo-only flights between six U.S. hubs and over 20 cities in Asia, Australia, Europe, South America, India, the Caribbean and the Middle East.
United further expands cargo-only operations to key international markets
June 9, 2020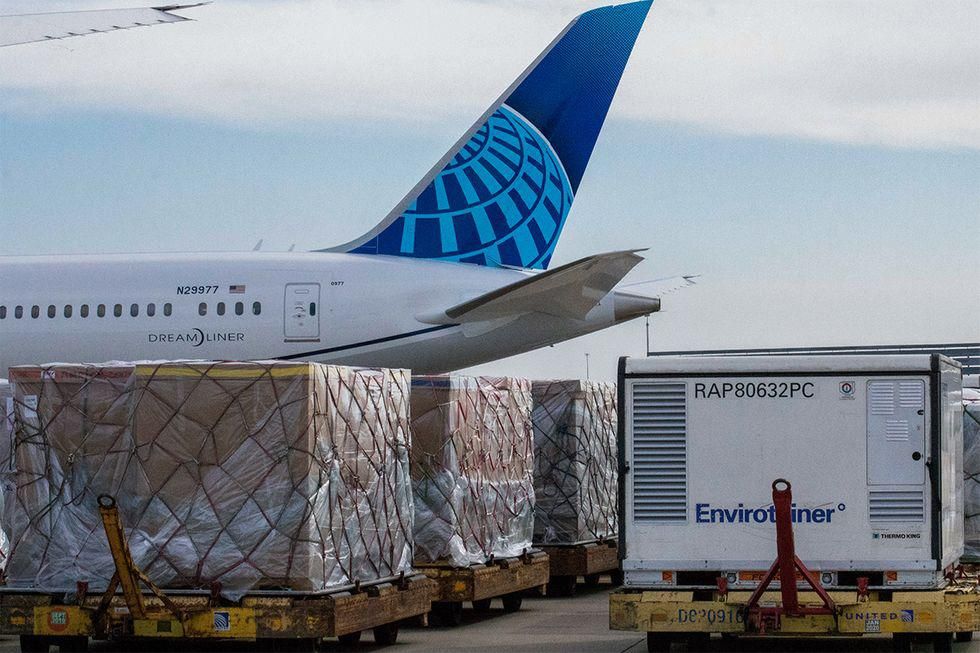 United has played a vital role in helping keep the global supply chains stable during the COVID-19 pandemic so urgently needed goods can get to the places that need them most.

In addition to current service from the U.S. to Asia, Australia, Europe, India, Latin America and the Middle East, we are proud to now offer cargo-only flights to key international markets including Dublin, Paris, Rome, Santiago and Zurich. These new routes will connect our freight customers and further extend our air cargo network throughout the world – for example connecting major pharmaceutical hubs in Europe and perishable markets in Latin America.
"Air cargo continues to be more important than ever," says United Cargo President Jan Krems. "This network expansion helps our customers continue to facilitate trade and contribute to global economic development and recovery. I'm proud of our team for mobilizing our cargo-only flights program that enables the shipment of critical goods that will support global economies."
Since we began our program March 19, we have completed more than 2,400 cargo-only flights, transporting over 77 million pounds of cargo. We have over 1,100 cargo-only flights scheduled for the month of June, operating between six U.S. hubs and over 20 cities all over the world.
United's first flight carrying cargo in-cabin takes off
May 13, 2020

United continues to keep supply chains moving and to meet the demand for critical shipments around the globe. Recently, United received approval from the Federal Aviation Administration (FAA) to carry cargo in approved storage areas in the passenger cabin.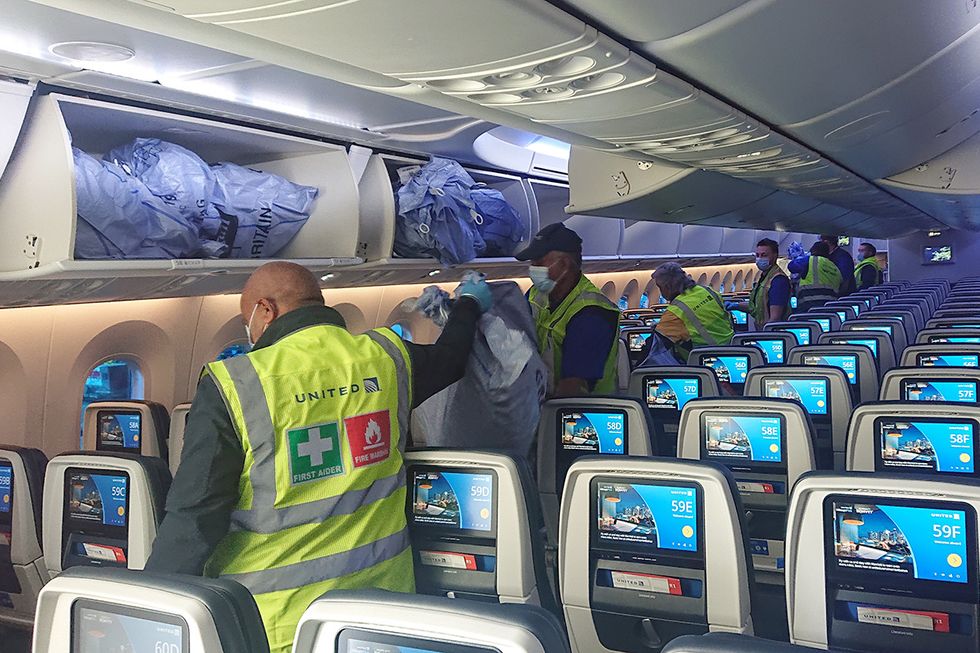 Our inaugural cargo-in-cabin flight flew from London (LHR) to Chicago (ORD) carrying over 4,200 pounds of mail in the passenger cabin, plus a full payload of freight in the belly of the aircraft. Initially, cargo-in-cabin shipments will be loaded on the 777 and 787 aircraft operating our cargo-only flights. We will continue to evaluate additional opportunities to use this space to meet the growing cargo demand.
"We send our sincere thanks to the FAA for working with our team to enable the transport of more critical goods on United's cargo-only flights," said Jan Krems, President of United Cargo. "By loading existing cabin storage areas with cargo and mail, we can move even more critical medical equipment, PPE, and other vital shipments the world needs to manage through the pandemic."

United's cargo-only network continues to expand in order to help bring vital shipments to the people that need it most. We're now offering service between six of our U.S. hubs and 18 airports worldwide: CTU, HKG, ICN, MEL, PEK, PVG, SIN, SYD and TPE in the Asia-Pacific; AMS, BOM, BRU, DUB, FRA, LHR, TLV and ZRH in EMEIA; and SJU in the Caribbean.
Since the start of its cargo-only flights program March 19, United has operated over 1,300 cargo-only flights transporting over 44 million pounds of cargo.
For more information, visit unitedcargo.com.
United expands cargo-only flights to additional global destinations
April 16, 2020
Getting vital goods, especially medical relief supplies, into the hands of the businesses and people who need them has never been more critically important. To meet the overwhelming demand, United began operating cargo-only flights on March 19. Since we began using Boeing 777 and 787 aircraft from United's passenger fleet for this purpose, we have operated over 400 flights carrying more than 6 million kilos of cargo.
"With the global community in need, we are doing everything we can to keep supply chains moving worldwide and support the battle against COVID-19," said United Cargo President Jan Krems. "We're proud to play an active role in connecting vital medical supplies like test kits and personal protective equipment with healthcare professionals around the world."
We are now operating more than 150 cargo-only flights per week between six of our U.S. hubs and 13 cities worldwide: CTU, HKG, PEK, PVG, SYD and TPE in the Asia Pacific; AMS, BRU, DUB, FRA and LHR in Europe; SJU in the Caribbean and TLV in the Middle East. We expect to add new cities soon and will continue to expand our cargo-only flights program.
Hub
Cargo-only flights operating through May
Chicago (ORD)
ORD - AMS (Amsterdam)
ORD - FRA (Frankfurt)
ORD - HKG (Hong Kong)
ORD - LHR (London)
ORD - NRT (Tokyo Narita) - PEK (Beijing)

Houston (IAH)
IAH - AMS (Amsterdam)
IAD - FRA (Frankfurt)
Los Angeles (LAX)
LAX - HKG (Hong Kong)
LAX - LHR (London Heathrow)
LAX - NRT (Tokyo Narita) - PVG (Shanghai)
LAX - SYD (Sydney)
New York/Newark (EWR)
EWR - AMS (Amsterdam)
EWR - FRA (Frankfurt)
EWR - LHR (London)
San Francisco (SFO)
SFO - AMS (Amsterdam)
SFO - NRT (Tokyo Narita) - PEK (Beijing)
SFO - NRT (Tokyo Narita) - PVG (Shanghai)
SFO - NRT (Tokyo Narita) - TPE (Taipei)
SFO - TLV (Tel Aviv)
SFO - SYD (Sydney)
Washington, D.C. (IAD)
IAD - BRU (Brussels)
IAD - DUB (Dublin)
IAD - FRA (Frankfurt)
IAD - NRT (Tokyo Narita) - PEK (Beijing)
IAD - SJU (San Juan)
Flight details are subject to change, for the most up-to-date schedules, please visit https://ual.unitedcargo.com/covid-updates.
Cargo-only flights support U.S. military and their families
March 30, 2020
We are helping to keep military families connected by increasing the frequency of cargo-only flights between the United States and military bases in various parts of the world — including Guam, Kwajalein, and several countries in Europe. Last week we began operating a minimum of 40 cargo-only flights weekly — using Boeing 777 and 787 aircraft to fly freight and mail to and from U.S. hubs and key international business and military locations.
We are going above and beyond to find creative ways to transport fresh food and produce, as well as basic essentials from the U.S. mainland to military and their families in Guam/Micronesia. On Saturday, March 28, we operated an exclusive cargo-only B777-300 charter to transport nearly 100,000 pounds of food essentials to Guam to support our troops.
In addition, we move mail year-round all over the world. In response to COVID-19, and in support of the military members and their families overseas, we implemented a charter network, transporting military mail to Frankfurt, which is then transported all over Europe and the Middle East. Since March 20, we have flown 30,000+ pounds of military mail every day between Chicago O'Hare (ORD) and Frankfurt (FRA). On the return flight from Frankfurt to Chicago, we have carried an average of 35,000 pounds of mail to help families stay connected.

"Keeping our military families connected with the goods they need, and keeping them connected with loved ones to feel a sense of home, is of critical importance. As a company that has long supported our military families and veterans, our teams are proud to mobilize to lend a hand." — United Cargo President Jan Krems.
Our cargo-only flights support customers, keep planes moving

March 22, 2020
We have begun flying a portion of our Boeing 777 and 787 fleet as dedicated cargo charter aircraft to transfer freight to and from U.S. hubs and key international business locations. The first of these freight-only flights departed on March 19 from Chicago O'Hare International Airport (ORD) to Frankfurt International Airport (FRA) with the cargo hold completely full, with more than 29,000 lbs. of goods.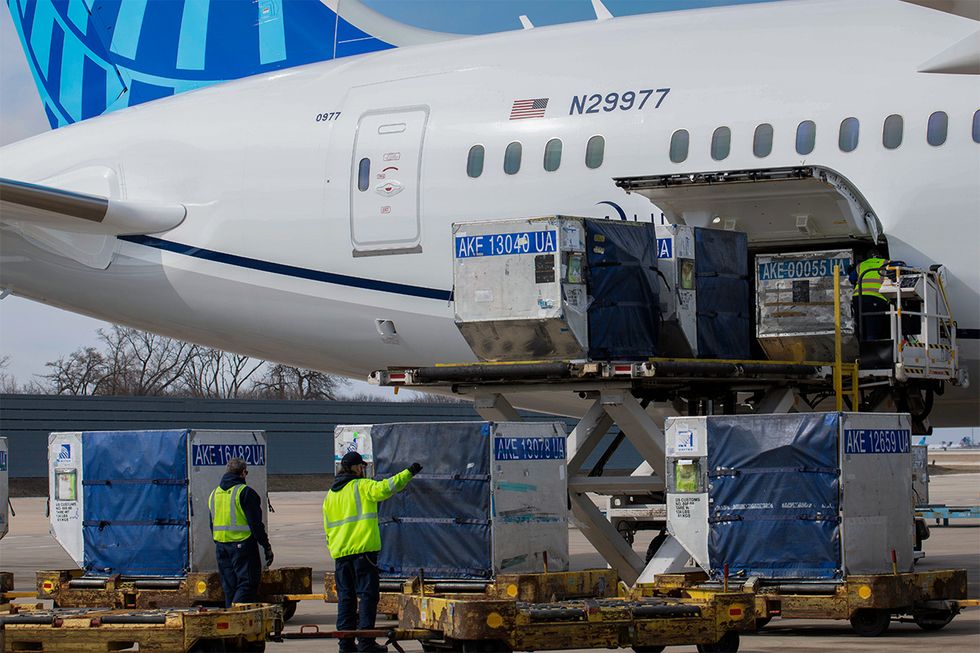 Getting critical goods into the hands of the businesses and people who need them most is extremely important right now. To support customers, employees and the global economy, we will initially operate a schedule of 40 cargo charters each week targeting international destinations and will continue to seek additional opportunities.

With coronavirus (COVID-19) creating an increased need to keep the global supply chain moving, we are utilizing our network capabilities and personnel to get vital shipments, such as medical supplies, to areas that need them most.
"Connecting products to people around the world is the United Cargo mission," said United Cargo President Jan Krems. "That role has never been more crucial than during the current crisis. Our team is working around the clock to provide innovative solutions for our customers and support the global community."
On average, we ship more than 1 billion pounds of cargo every year on behalf of domestic and international customers. For more information, visit unitedcargo.com.
Airline and its customers use crowdsourcing platform - Miles on a Mission - to donate more than 11 million miles for charities like the Thurgood Marshall College Fund, College to Congress and Compass to Care
CHICAGO, Dec. 1, 2020 /PRNewswire/ -- United is inviting MileagePlus members to give back on Giving Tuesday and throughout the holiday season by donating miles to nearly 40 non-profits through United Airlines' crowdsourcing platform, Miles on a Mission. Non-profits like Thurgood Marshall College Fund, College to Congress and Compass to Care are attempting to raise a total of more than 11 million miles to be used for travel for life-saving health care, continued education, humanitarian aid and more. United will match the first 125,000 miles raised for each of these organizations to help ensure they meet their goals.
"This year has posed unprecedented challenges for us all and has been especially devastating to some of the most vulnerable members within the communities we serve," said Suzi Cabo, managing director of global community engagement, United Airlines. "The need for charitable giving has not stopped during the pandemic, and neither has United. This Giving Tuesday marks an opportunity for us to all come together for the greater good and we are proud to provide a platform to support organizations with upcoming travel needs that will enable them to continue supporting the communities they serve."
The launch of these campaigns is part of United's ongoing Miles on a Mission program, which began in October 2019 and has raised more than 92 million miles to-date. Past campaigns have helped organizations travel children for life-saving medical treatment and unite parents with newly adopted children from foreign countries. Participating non-profits have 28-days to reach their mile raising goals through the platform.
The organizations that are raising miles in this campaign include:
College to Congress: The organization provides support including travel for disadvantaged college students who otherwise could not afford to intern in Washington, D.C.
Thurgood Marshall College Fund: This is the only national organization representing America's 47 publicly-supported Historically Black Colleges and Universities (HBCUs), and the nearly 300,000 students that attend them each year. The miles raised will cover the travel expenses to and from campus for students unable to afford them.
My Block, My Hood, My City: This organization provides underprivileged youth with an awareness of the world and opportunities beyond their neighborhood. Miles will be used to fund educational trips for Chicago youths to help them gain a greater understanding of the world outside of their comfort zones.
Compass to Care: The non-profit ensures all children, whose parents have a financial need, can access life-saving cancer treatment. Compass to Care is raising miles to fund travel to get children from their homes to hospitals for cancer treatment.
Luke's Wings: This organization is dedicated to the support of service members who have been wounded in battle. Raised miles will be used to purchase plane tickets for families to visit wounded soldiers recovering in Army medical centers.
Rainbow Railroad USA: The organization's mission is to help persecuted LGBTQI+ individuals around the world travel to safety as they seek a haven from persecution. Miles will support the organization's core Emergency Travel Support program.
This year, United's legal partner Kirkland & Ellis will also be donating $50,000 to My Block, My Hood, My City and the Thurgood Marshall College Fund. Other organizations launching campaigns on the platform include: Sisters of the Skies, Inc., Up2Us Sports, Airline Ambassadors International, Austin Smiles, AWS Foundation, Crazy Horse Memorial, FLYTE, Higher Orbits, Lily's Hope Foundation, Miles4Migrants, Support Utila Inc. and Watts of Love. MileagePlus members can also donate to United's 20 other existing partner charities including, Airlink, American Red Cross, Make-A-Wish, Shriners Hospitals; Clean the World, Special Olympics and more. To learn more or donate to these organizations, please visit donate.mileageplus.com.
Visit www.united.com/everyactioncounts to learn more about our pledge to put our people and planes to work for the greater good.
About United
United's shared purpose is "Connecting People. Uniting the World." For more information, visit united.com, follow @United on Twitter and Instagram or connect on Facebook. The common stock of United's parent, United Airlines Holdings, Inc., is traded on the Nasdaq under the symbol "UAL".

SOURCE United Airlines
For further information: United Airlines Worldwide Media Relations, +1-872-825-8640, media.relations@united.com

In October 2019, we launched a first-of-its-kind airline miles donation platform, Miles on a Mission. In the inaugural year, MileagePlus members donated over 70 million miles, with United matching over 20 million miles, to 51 organizations. These miles have allowed for these organizations to do important, life-changing, life-saving work in the communities we serve around the globe.
Whether it's visiting friends and relatives, traveling for work or simply exploring a new corner of the world, we all have a reason as to why we fly. No matter the reason you fly, the miles you earn and donate help our Miles on a Mission partners soar. Take a look at how some of our partner organizations have put our MileagePlus Members' donations to work.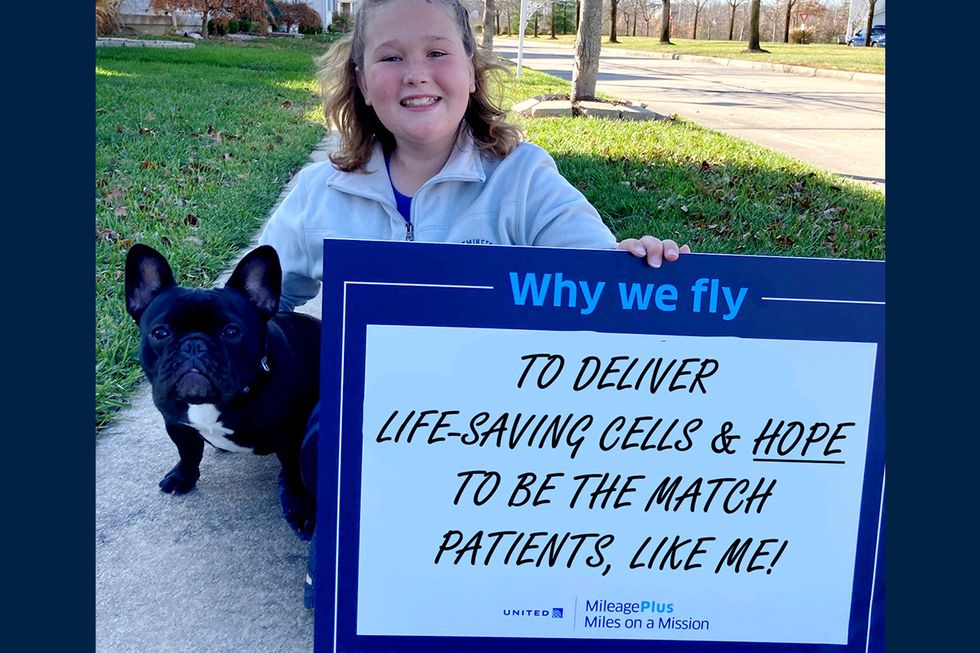 "To deliver life-saving cells and hope to Be the Match patients, like me!"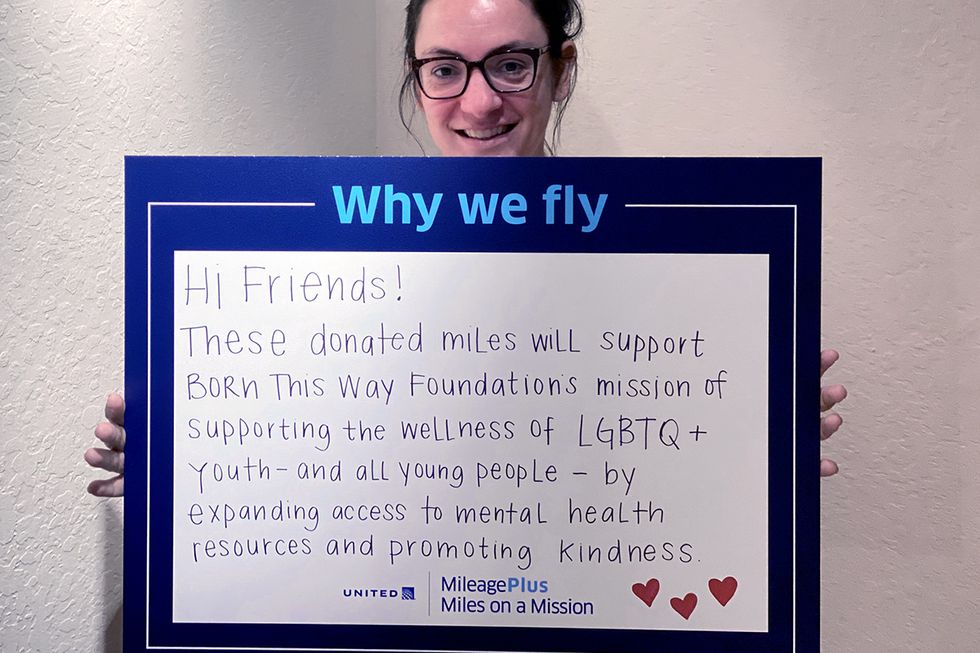 "These donated miles will support Born This Way Foundation's mission of supporting the wellness of LGBTQ+ youth — and all young people — by expanding access to mental health resources and promoting kindness."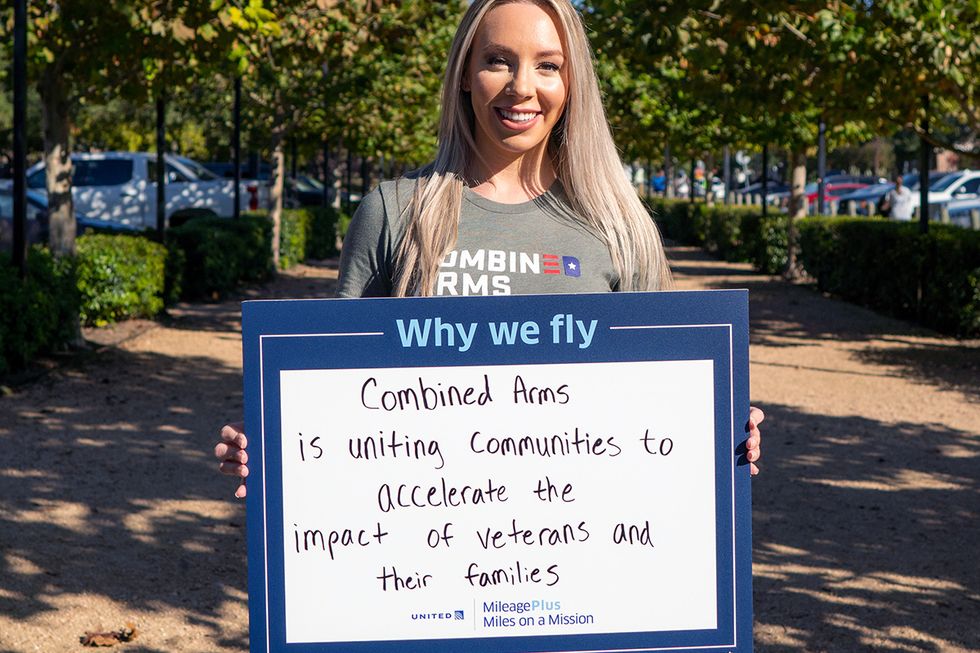 "Combined Arms is uniting communities to accelerate the impact of veterans and their families."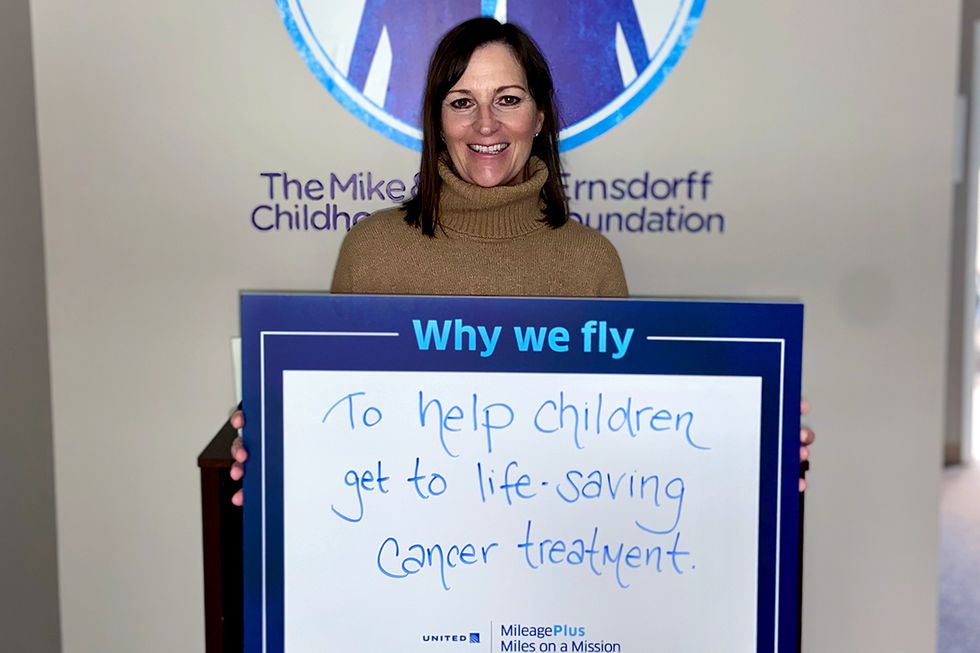 "To help children get to life-saving cancer treatment"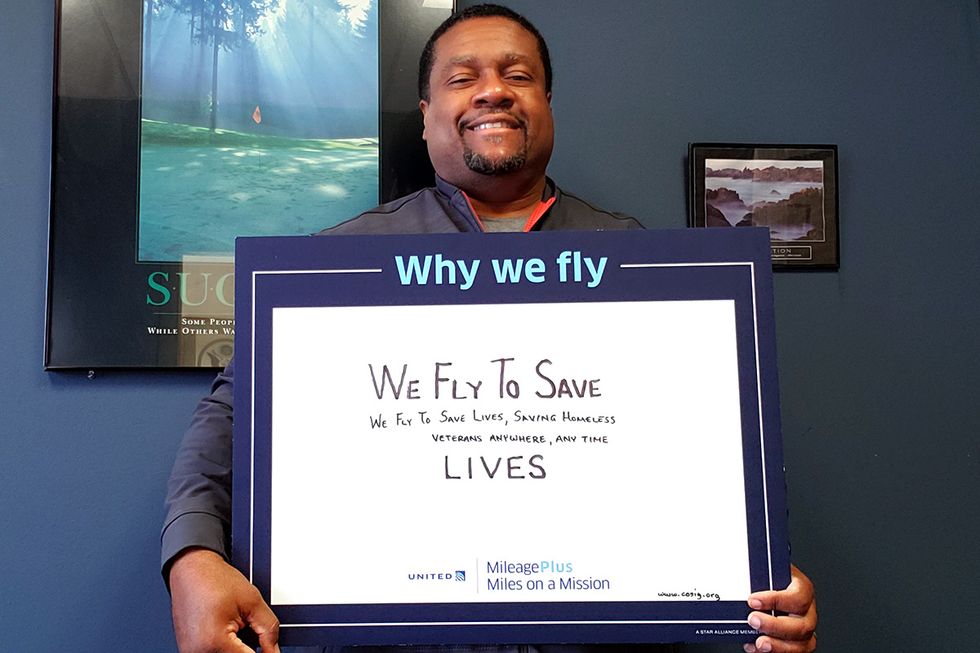 "We fly to save. We fly to save lives, saving homeless veterans anywhere, any time."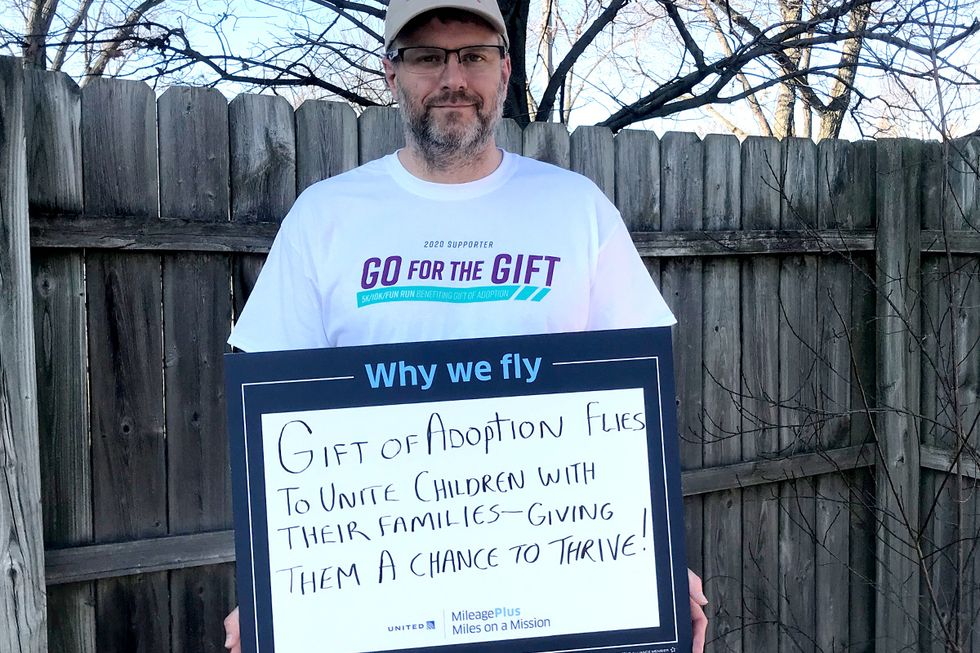 "Gift of Adoption flies to unite children with their families — giving them a chance to thrive!"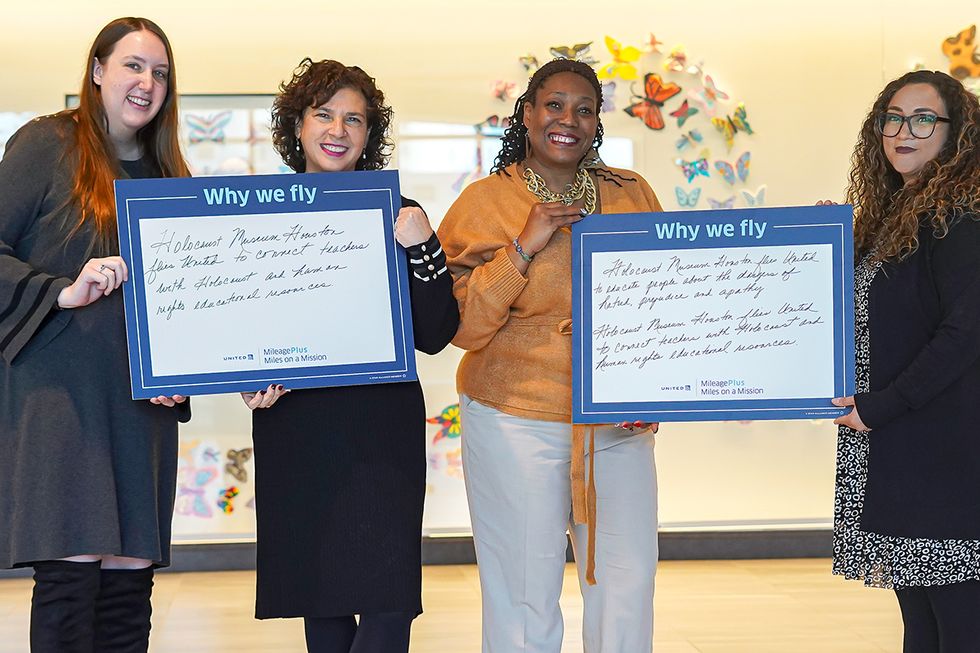 "Holocaust Museum Houston flies United to educate people about the dangers of hatred, prejudice and apathy. Holocaust Museum Houston flies United to connect teachers with Holocaust and human rights educational resources."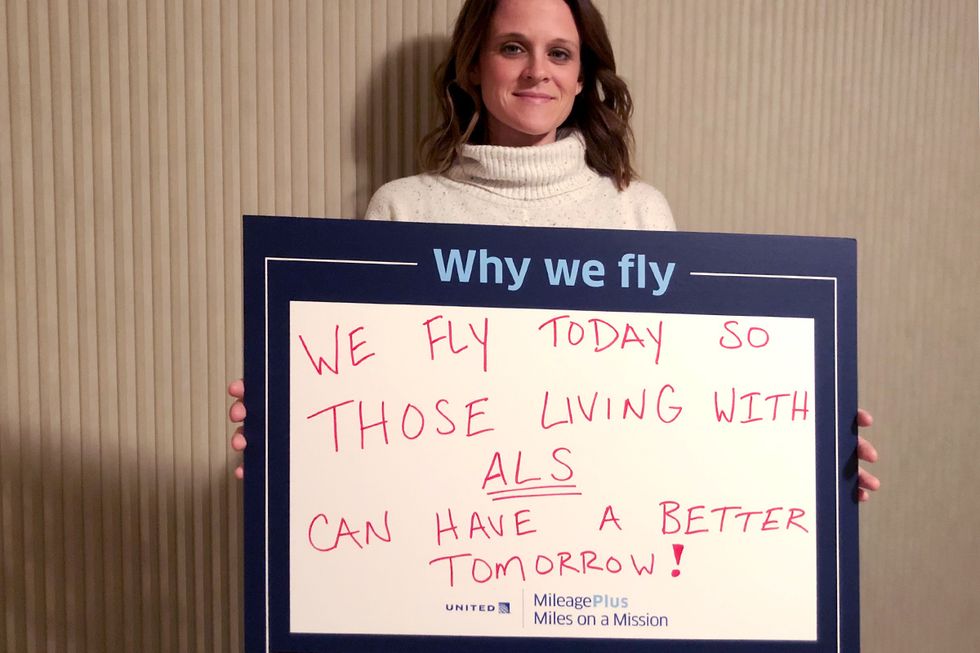 "We fly today so those living with ALS can have a better tomorrow."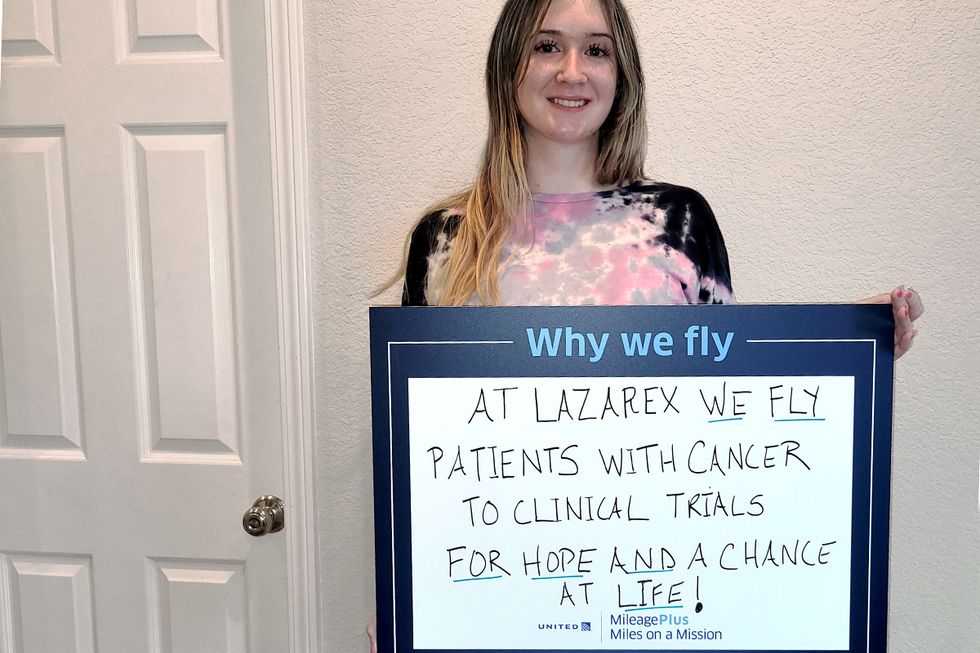 "At Lazarex we fly patients with cancer to clinical trials for hope and a chance at life!"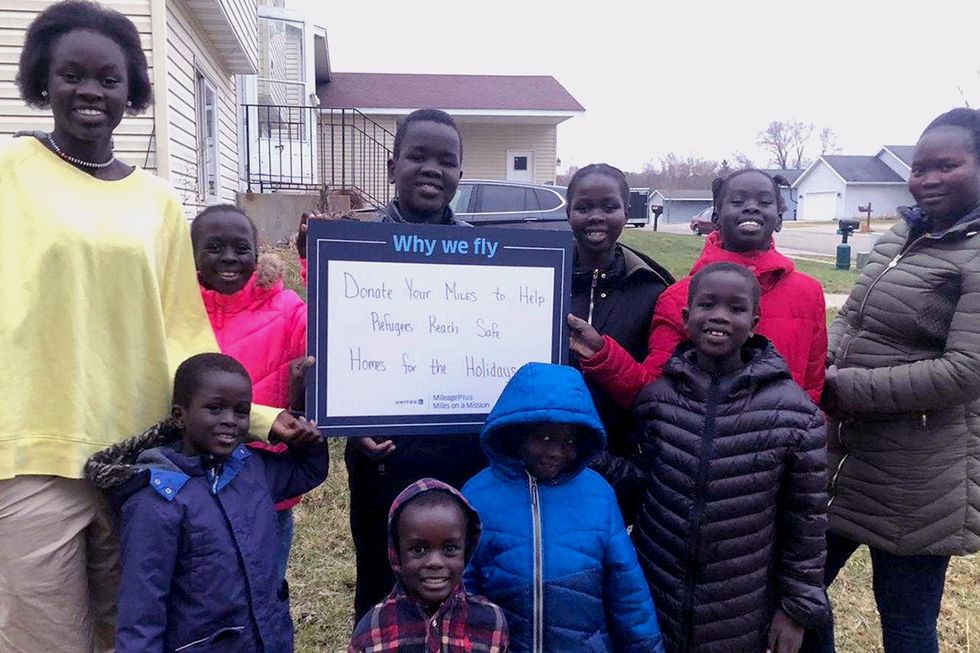 "Donate your miles to help refugees reach safe homes for the holidays."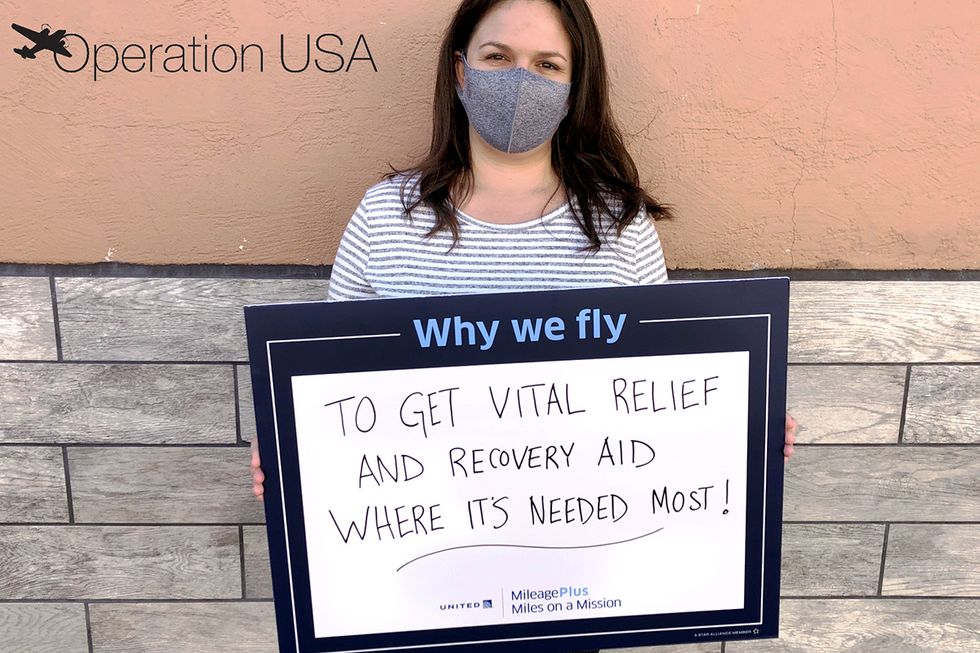 "To get vital relief and recovery aid where it's needed most!"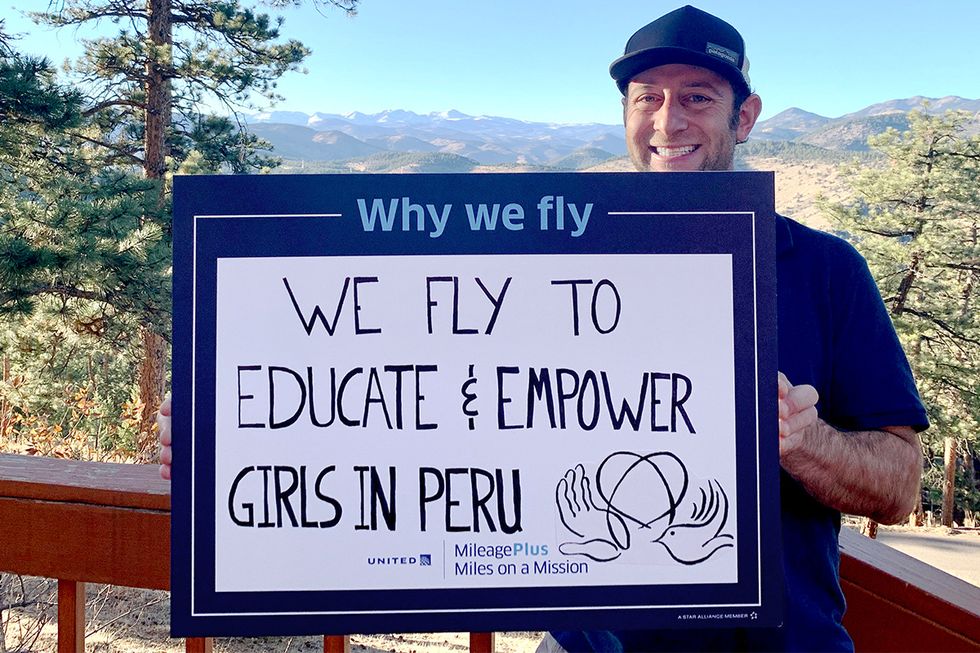 "We fly to educate and empower girls in Peru."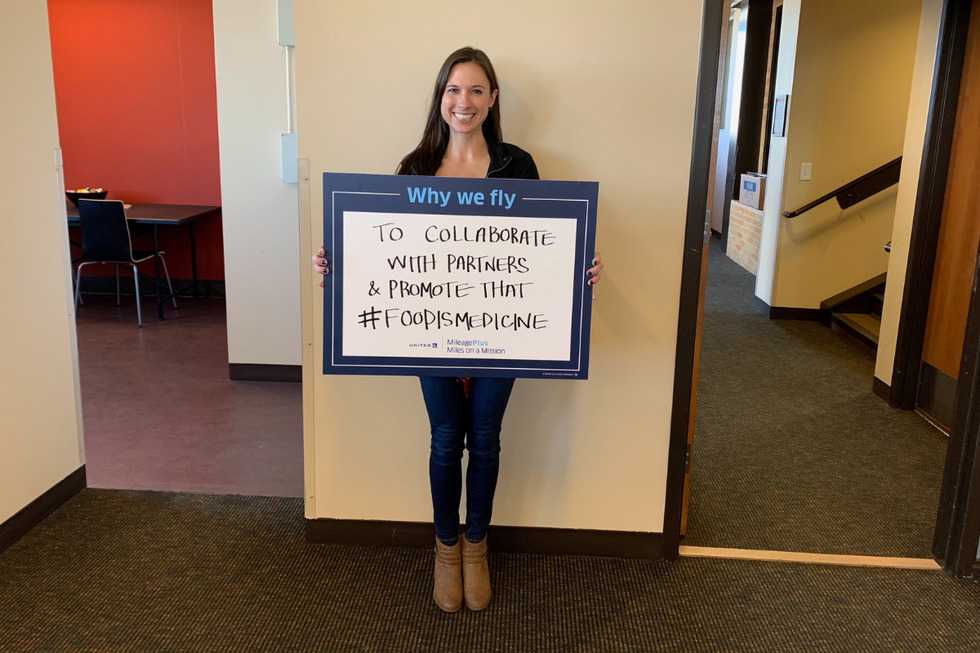 "To collaborate with partners & promote that #FoodIsMedicine"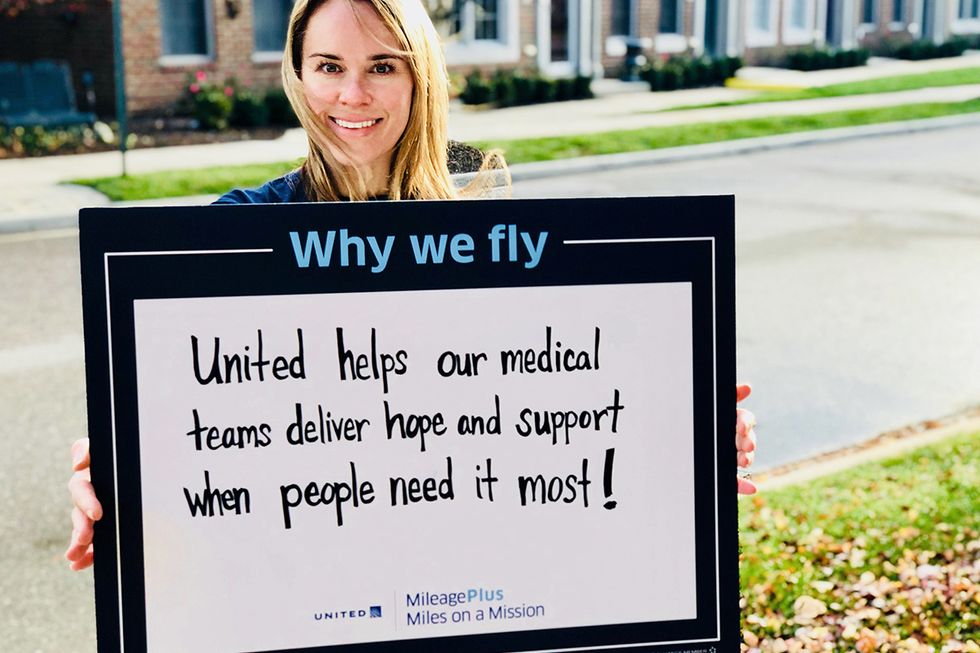 "United helps our medical teams deliver hope and support when people need it most!"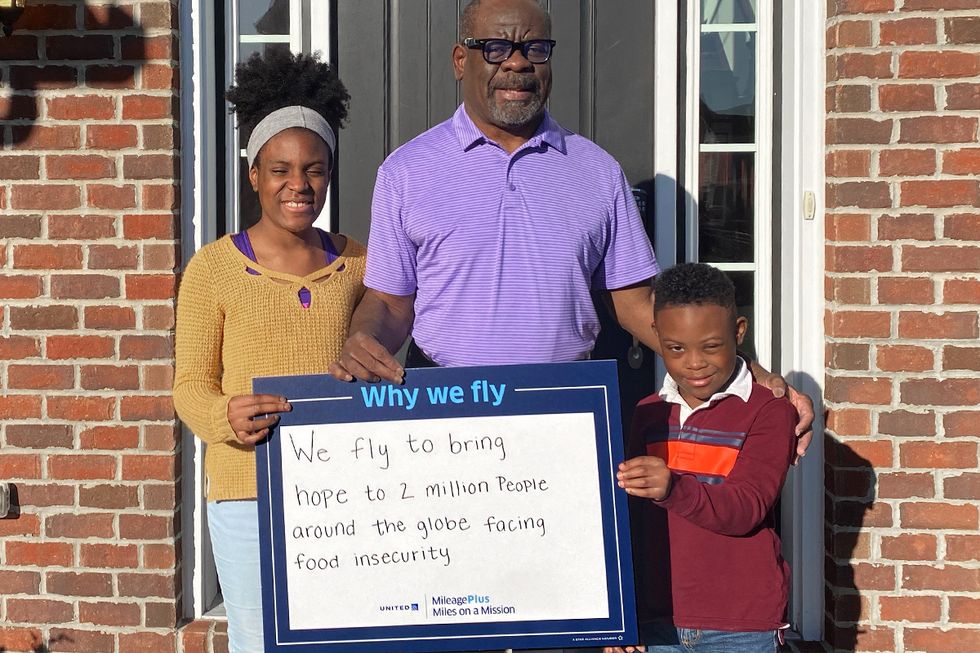 "We fly to bring hope to 2 million people around the globe facing food insecurity."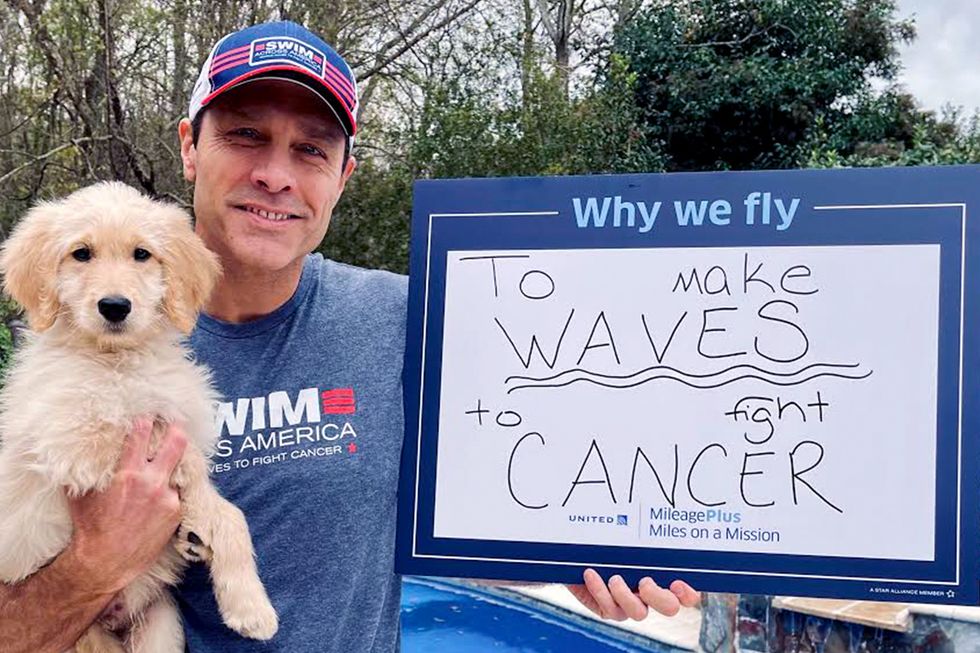 "To make waves to fight cancer."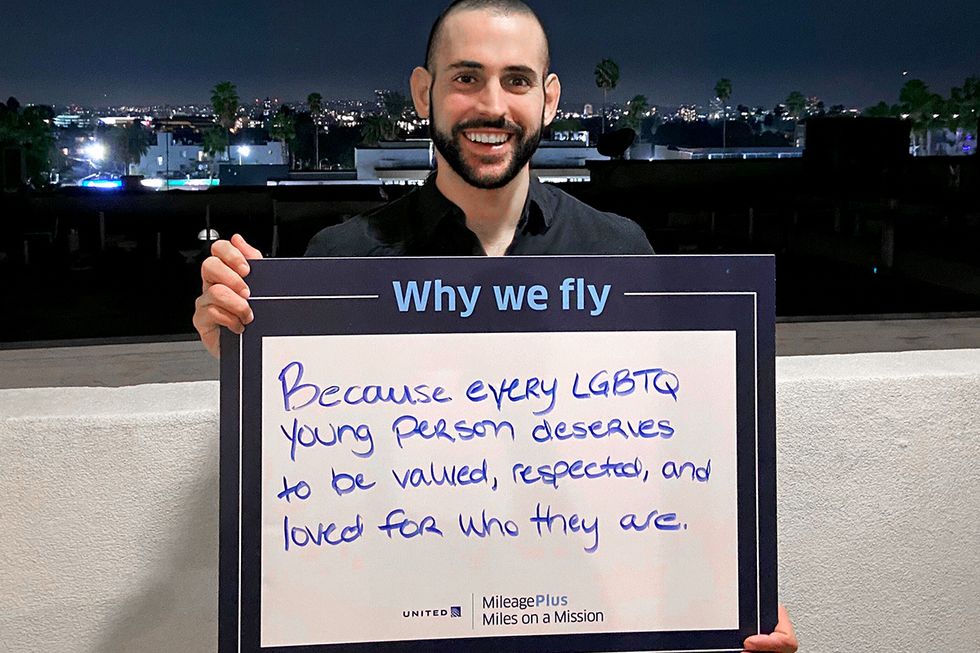 "Because every LGBTQ young person deserves to be valued, respected and loved for who they are."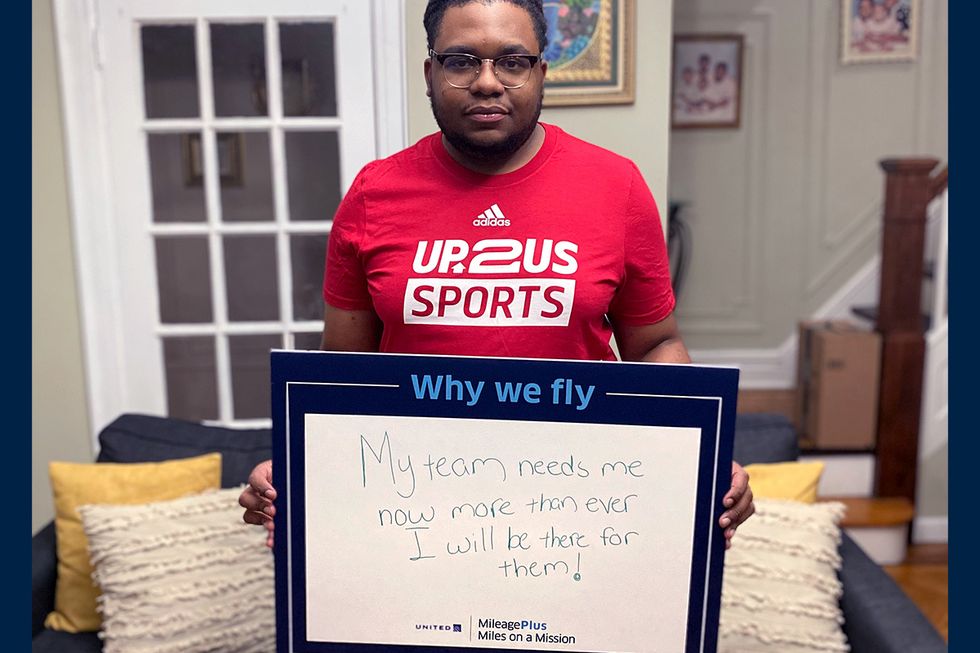 "My team needs me now more than ever. I will be there for them!"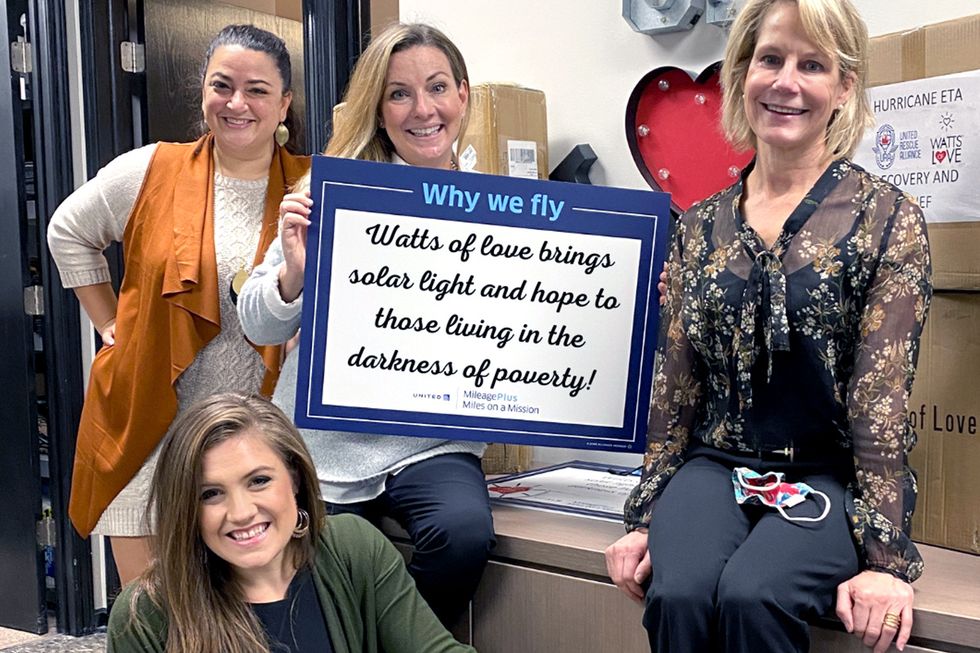 "Watts of Love brings solar light and hope to those living in the darkness of poverty!"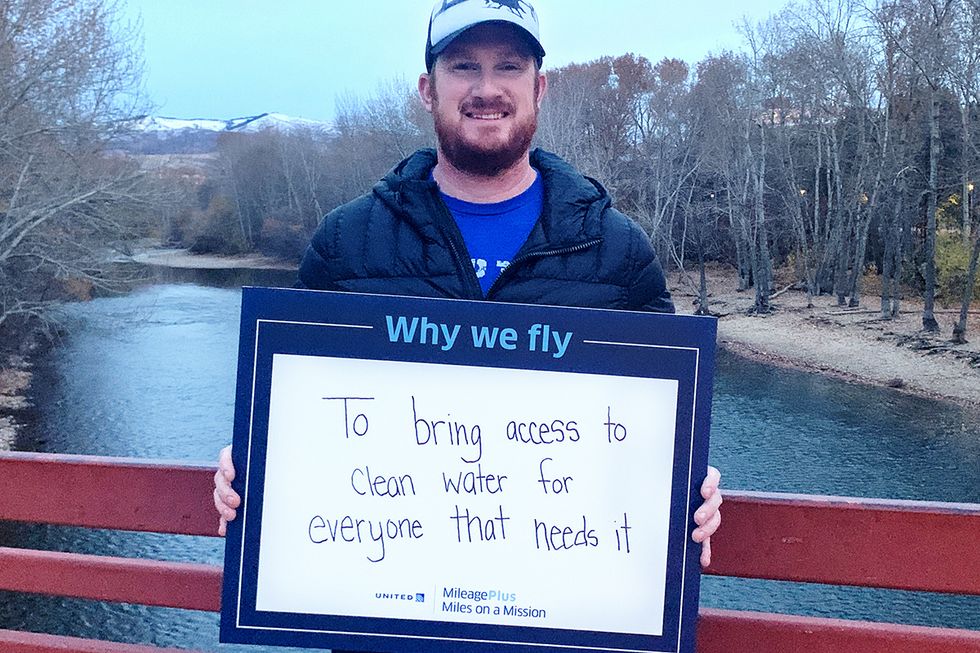 "To bring access to clean water for everyone that needs it."
Scroll to top