Three Perfect Days: Portland
Story by Justin Goldman | Photography by Laura Dart| Hemispheres, July 2014
Portland has MORE than its share of nicknames—Stumptown, Brewvana, Bridgetown, PDX, Rip City, the City of Roses—but odds are you haven't heard many of them. Despite being home to iconic indie artists like Gus Van Sant and Elliott Smith, not to mention some of the best microbreweries in the world, to most people Portland is just a small Pacific Northwest city that gets a lot of rain.
Recently, though—due in part to "Portlandia," the IFC comedy that lovingly lampoons hipster culture—Portland's public profile has been on the rise. The city (motto: "Keep Portland Weird") has become a magnet for creative types, drawn to its bookstores, record shops, music venues, public artworks and tattoo parlors. As Fred Armisen puts it on "Portlandia," it's "a city where young people go to retire."
But you don't have to be a clued-in 20-something to enjoy Portland. Thick with public parks and surrounded by pristine forests and mountains, it's a dream locale for outdoors enthusiasts. The damp climate and proximity to first-rate farms also provide the thriving restaurant, winery and brewery scene with an abundance of fresh ingredients. Those seeking traditional cultural outlets, meanwhile, can avail themselves of Portland's museums and art galleries, many of which have taken over industrial spaces across the city.
Today, the national media's appreciation for the city has become so ardent that locals refer to the blitz of coverage as "stalking." But Portlanders remain exceedingly friendly—you shouldn't be surprised if one offers you a ride into town from the airport and regales you with recommendations the whole way. People are especially cheery in the summer, when the clouds part, brewpub patios hum, and cycling becomes the only acceptable form of transportation, be it to an art fair or an organic grocery.
DAY ONE | You wake up at the Ace Hotel, a boutique property in Portland's revitalized West End neighborhood, and immediately rue your lack of skinny jeans. The Ace is quintessential Portland: Leonard Cohen lyrics painted on the walls, a photo booth in the lobby, a record player in your room. It sometimes feels a bit too cool for school—but you'd probably adopt this attitude too if Gus Van Sant had filmed Drugstore Cowboy in your house.
You're feeling coffee and doughnuts this morning, in part because Portland does those two things better than anywhere else. On your way out the door, you grab a latte from Stumptown Coffee Roasters, then take a short walk down Burnside, the street that separates Portland's north and south sides. Here you find Voodoo Doughnut, a legendary line-around-the-block fried-dough joint, where you pound down a bacon maple bar and the store's eponymous confection, a chocolate-covered voodoo doll with raspberry jelly innards and a pretzel stick protruding from its chest.
Raked sand and manicured plants at the Portland Japanese Garden
Somewhat overfed, you take a vigorous two-mile stroll over to Washington Park, in the West Hills, where you are instantly soothed by the sculpted flora of the Portland Japanese Garden. Transfixed, you half walk, half float past the koi pond and the stone garden and onto the back porch of the pavilion, where a resplendent view of Mount Fuji—er, Mount Hood—causes you to catch your breath.
From here, it's a few flights of stone stairs down to the International Rose Test Garden. Founded in 1924, this is the oldest continually operating public rose garden in America, and quite possibly the prettiest. You wander through a maze of multicolored hedgerows, admiring the apparently endless variety of Portland's signature flower—Betty Boops, Scarborough Fairs, Blueberry Hills. You'd stop to smell them, but with more than 10,000 roses in the garden, that would take all summer.
You've worked up an appetite by the time you get back downtown. Fortunately, the city center is Foodcartlandia, its corners overrun with vendors offering everything from schnitzel to paleo fare. You step up to Nong's Khao Man Gai and order the signature dish, a Thai street creation comprising rice and poached chicken topped with a hot sauce that torches your taste buds. They die happy.
After lunch, you make a pilgrimage to Powell's City of Books. The world's largest independent bookstore, Powell's takes up an entire city block and is so cavernous that the information desks provide maps. You head to the fourth-floor rare book room, where used book buyer Kirsten Berg shows you a copy of D-Day narrative The Longest Day that includes an inscription from the author to Eleanor Roosevelt. "I love the things people stick in books," she says. The volume's price tag ($2,000) is prohibitive, so you pick up a copy of local author Katherine Dunn's fantastically weird novel Geek Love and make for the cash register.
The Ace Hotel's breakfast room
Your mini shopping spree isn't over yet: You're going to need some vinyl to spin on that hotel turntable. As it happens, there are two excellent record shops within three blocks of you: Everyday Music, where you pick up a copy of the late, great Elliott Smith's self-titled album, and Jackpot Records, where you get the new record from local indie band Blind Pilot. Arturo Diaz, the store's relaxed clerk, explains why Portland is a mecca for record shops. "It's the pace of the town," he says. "People slow down."
"Brewvana," as Portland is sometimes called, is also regarded as the craft-brewing capital of America. Committed to exploring another important aspect of local culture, you head to the east side, home to Breakside, one of the best brewpubs in town. Your fedora-wearing bartender, Jack Johnson, recommends the Salted Caramel Stout and a Kumquat Wit tinged with fruit and a bite of coriander. "Trust me," Johnson says of the odd-sounding flavors. You do, and are duly rewarded.
From Breakside it's a short bus ride to your dinner spot, Lincoln Restaurant. The first eatery opened by "Top Chef Masters" alum Jenn Louis, Lincoln offers Pacific Northwest cuisine that emphasizes local ingredients. You start with one of the few exceptions to this rule—the slow-cooked, impossibly tender grilled octopus—followed by baked hen eggs and Forty-Seven Percent Chicken, wryly named, Louis explains, because, served minus the wing, "it's not a half chicken." Even a few percent shy, it's an exceptionally good bit of bird.
It's late, so you head back toward the Ace. On impulse, you decide on one more detour before bed: Pépé le Moko, a narrow subterranean bar that feels like the dining car of a train going through a tunnel. Your bartender, Talia Gordon, insists you try a Grasshopper. "It's like an adult milkshake," she says, passing you a glass of mint green froth. The booze snob in you is skeptical, but you slurp it down and decide that all desserts should taste like this. Later, back in your room, you drift off to Elliott Smith whispering from the turntable: "I'll show you around this alphabet town."
Cocktails at Pépé le Moko
DAY TWO | You shake yourself awake, relaxing for a few minutes in the boxing robe you find in the closet, before stumbling outside and around the corner, past a sculpture made of intertwined kids' bicycles, to Tasty n Alder. You take a seat at the impressively stocked bar and order a couple of proven restoratives: a Kentucky Peach—basically a bellini with a splash of bourbon—and a Hangtown Fry, an oyster and bacon frittata served with a huge buttermilk biscuit.
Substantially recovered, you stroll over to the Portland Saturday Market, a sprawl of artists' stalls, food carts and craft vendors stretching along the Willamette River waterfront and under the Burnside Bridge. You skirt a large crowd circled around a semi-competent juggler and snake through booths selling handmade jewelry, Oregon-themed clothing and images of Mount Hood rendered in every possible medium. It's a bit too crowded to really stretch your legs here, though, so you wander along the South Park Blocks, a stretch of greenery where you find lush oak and maple trees, roses (naturally), statues of Teddy Roosevelt and Abraham Lincoln, and a wedding party snapping photos.
You stop to stare up at the Portlandia statue, a trident-bearing woman that, at 36 feet tall, is the second largest hammered-copper statue in America (after some French lady in New York). You're surprised to find the sun starting to feel a little too hot, so you head a couple blocks west for respite at the Portland Art Museum, where you while away an hour or so among the killer whale masks and intricately beaded bags in the Native American art gallery. The feather-bedecked Raven to Sun Transformation Costume makes you want to go on a vision quest.
A farmers market in downtown Portland
After wolfing down a couple of carnitas tacos at another fine food cart, La Jarochita, it's check-in time at your second hotel, the Sentinel. The 100-year-old building—a National Historical Landmark and a setting for Van Sant's My Own Private Idaho—reopened this spring after a $6 million renovation, and its design offers a blend of past (the green leather armchairs and rugged wood tables in the lobby recall Oregon's legacy as a timber capital) and future (robot sculptures on the facade). A nice touch is the typewriter in the lobby, where guests can tap out comments. You start to type "IPDX," but there's no heart symbol on the machine, so you head upstairs and sack out on your enormous bed for an afternoon nap.
You wake feeling refreshed and hop a bus across the Morrison Bridge to sample the wares at Enso Urban Winery. You take a seat in the facility's airy, industrial tasting room and order a flight of red wines. The Pacific Northwest has established itself as one of the best wine-growing regions in America, and the bold reds at Enso help explain why. "Oregon's on the same parallel as Burgundy," says bartender Henry Jinings. "The growing conditions are ideal."
Whistle whetted, you take a cab to Southeast Division Street, Portland's flourishing restaurant row. Your destination is Pok Pok, one of America's most revered Thai restaurants. The hostess tells you there's an hour wait for a table, so you put your name on the list and cross the street to its sister bar, Whiskey Soda Lounge, where you sit in the tented patio and order chili-flecked Ike's Vietnamese Fish Sauce Wings (a highlight from the Pok Pok menu). Just as you finish washing them down with a tamarind whiskey sour, a waitress informs you that your table is ready.
Multnomah Falls
Pok Pok's James Beard Award–winning chef, Andy Ricker, derives his menu from the cuisine of northern Thailand (no Pad Thai here). You sample a spicy, sour, wonderfully fresh papaya Pok Pok salad; the hoi thawt, a light crepe stuffed with eggs and fresh mussels; and kaeng hang leh, an outrageously rich pork curry with Burmese spices. Nothing tastes like anything else on the table, or anything else you've eaten anywhere. Forget sampling—you plow through it all like it's the last meal you'll ever eat.
After dinner, the simple act of standing up poses a challenge, but you somehow manage to hail a cab and head to an eastside institution, the LaurelThirst Public House, one of the best places around to catch local folk and country acts. Tonight they're hosting a Grateful Dead cover band, who've attracted an audience that consists of flailing college kids and old hippies, among them a white-bearded man in a tie-dyed shirt bearing a large wooden walking stick who looks like a Haight-Ashbury version of Gandalf.
You're close to toast by the time you get back downtown, but you've got a reservation at the exclusive Multnomah Whiskey Library, where you sit in a leather-padded booth and take in the high-ceilinged brick barroom. On one side hang portraits of famed whiskey makers, including George Washington, and on the other is the extensive "library"—the bar has old-fashioned ladders to reach the upper shelves—of whiskeys. You consider one of the cocktails, which are mixed tableside, but opt instead for an Old Rip Van Winkle 10 Year bourbon, neat. Your server gives an approving nod, and you close your evening sipping one of the best spirits on the planet.
Ike's Vietnamese Fish Sauce Wings, Hoi Thawt and Kaeng Hung Leh at Pok Pok
DAY THREE | You'll be doing a bit of driving today. First you zip across the Fremont Bridge and up to Alberta Street, the main drag of the Alberta Arts District, which would be the Brooklyn of Portland if all of Portland weren't the Brooklyn of Portland. Your destination is Beast. Here, chef Naomi Pomeroy, a 2014 James Beard Award winner, runs a bright, homey one-room space with two large communal tables bracketing a prep station. Clearly, Beast's reputation has traveled: All but two of the eight people at your table are out-of-towners.
"It's always been this communal setup," server Lisa Perry says. "You get to meet people you wouldn't normally meet." So it is you share a convivial four-course brunch of a rhubarb clafoutis (custard with whipped cream and bacon); a light hash made with pork shoulder, fresh vegetables and a poached duck egg; a cheese plate; and a thick cube of chocolate cake. It is possibly the best brunch you've ever eaten.
Having fueled up, you're ready to split town. One of Portland's selling points is its proximity to a host of beautiful natural landmarks. Just a few minutes east of town you find the Historic Columbia River Highway, which winds up a hill to Vista House, a 97-year-old sandstone and marble rotunda perched on a cliff high above the massive Columbia River Gorge. You soak in the view, thinking that it hasn't changed much since Lewis and Clark rafted through on their way to the Pacific a couple of centuries ago.
From here you descend back into the canyon, the road winding through Douglas firs, over old stone bridges and past waterfalls until you reach 620-foot-high Multnomah Falls, the second-tallest year-round cascade in America. You pull over and walk along Multnomah Creek, looking for spawning salmon, then climb the trail to Benson Bridge. You pause here for a while, enjoying the mist from the powerful falls on your face.
The Multnomah Whiskey Library
An hour east of Portland you reach Hood River, where you stop for lunch at the Double Mountain Brewery. You order a dry-hopped Vaporizer pale ale and scarf down a brick-oven pizza topped with goat cheese, kalamata olives and peppadew peppers. From here, you wander around the corner to a microbrewing pioneer, the employee-owned Full Sail Brewing Co. You grab a seat on the deck, looking out over the river, and nurse a bourbon barrel–aged porter, watching windsurfers flit about on the water.
Upon returning to the city, you check in at the eighth-floor lobby of the Nines hotel, beneath a seven-story atrium that bathes the luxe (and LEED-certified) interior in sunlight. You drop your bags and munch on the cheese plate in your room, which has a view of Pioneer Courthouse Square, the lively red-brick plaza known as "Portland's Living Room," before heading up to the rooftop bar, Departures. The vibe is different up here; with the wall panels glowing pink and purple and the bling-flashing crowd on the sun-blanched rooftop, you feel as if you stepped off an elevator in Vegas.
Back on the ground, with the sun still shining, you stroll across the Burnside Bridge to dinner at Le Pigeon, where you sit before chef Gabriel Rucker's open kitchen and watch flames rise from the range as the tattooed cooks deftly prepare a succession of adventurous French dishes: suckling pig croquettes, sturgeon pastrami, beef-cheek bourguignon, shrimp-crusted halibut. Each course is delicious and complex and comes with a perfect drink pairing. You do not have room for dessert.
Buffy's Pizza at the Double Mountain Brewery
It's your last night in town and you're ready to rock out. You'll be doing this practically next door, at the Doug Fir Lounge. Once a seedy motel, the property was converted a few years ago into a boutique hotel and a bar that looks like a modernist hunting lodge that doubles as one of the city's best music venues. As Nashville-based indie songwriter Katie Herzig and her band take the stage, you look around the crowd—the studiously casual, comprehensively inked Portlanders who have helped make this the hippest town in America—and decide there may be an even better place to mark the end of your visit, a place that's conveniently located right up the street.
"People who grow up here or move here love it," says Gin Hicks, an artist at Fortune Tattoo. "There's an intense need to preserve it and nurture it and take care of it, and that rolls over into how people express themselves." With this, she clicks off her tattoo gun, pulling away to admire her work. You say goodnight and head back across the Burnside Bridge, the city lights twinkling on the river, a bright red rose tingling on your forearm.
Hemispheres managing editor JustinGoldman is still kinda bummed Carrie Brownstein wasn't waiting to greet him at the Portland airport.
This article was written by Justin Goldman from Rhapsody Magazine and was legally licensed through the NewsCred publisher network. Please direct all licensing questions to legal@newscred.com.
Around the web
Farm-to-table in Guanacaste, Costa Rica
Each week we will profile one of our employee's adventures across the globe, featuring a new location for every employee's story. Follow along every week to learn more about their travel experiences.
By Manager - Creative Project Management Robin Olsen
Fifteen years ago, I volunteered on an organic farm in the Galápagos Islands. The farm was in the beginning stages, so I helped with prepping the land and maintaining the few crops that were growing. Unfortunately, I wasn't able to see the farm fully cultivated by the time I left. When my husband and I decided to travel to Costa Rica this year, I came across La Senda organic farm, where you can arrange a tour and have a farm-to-table dinner experience, and I knew that I needed to add it into our itinerary. Finally, I was going to see a fully operating organic farm, and I was so excited.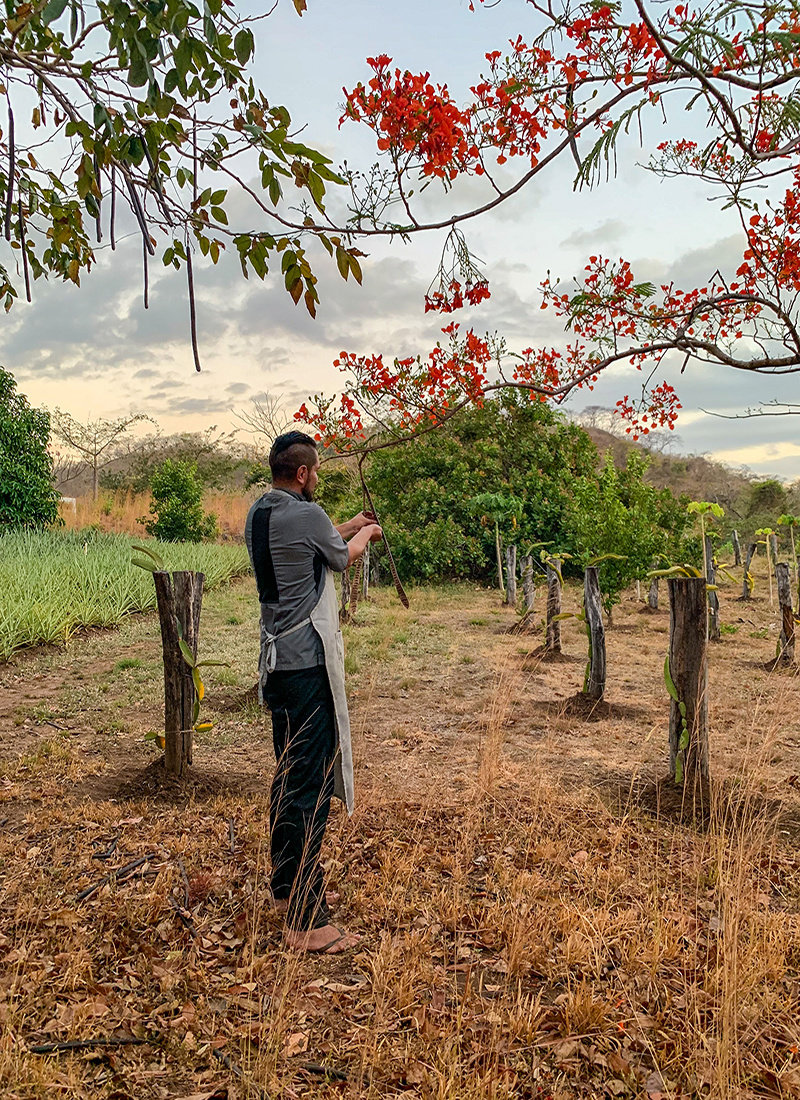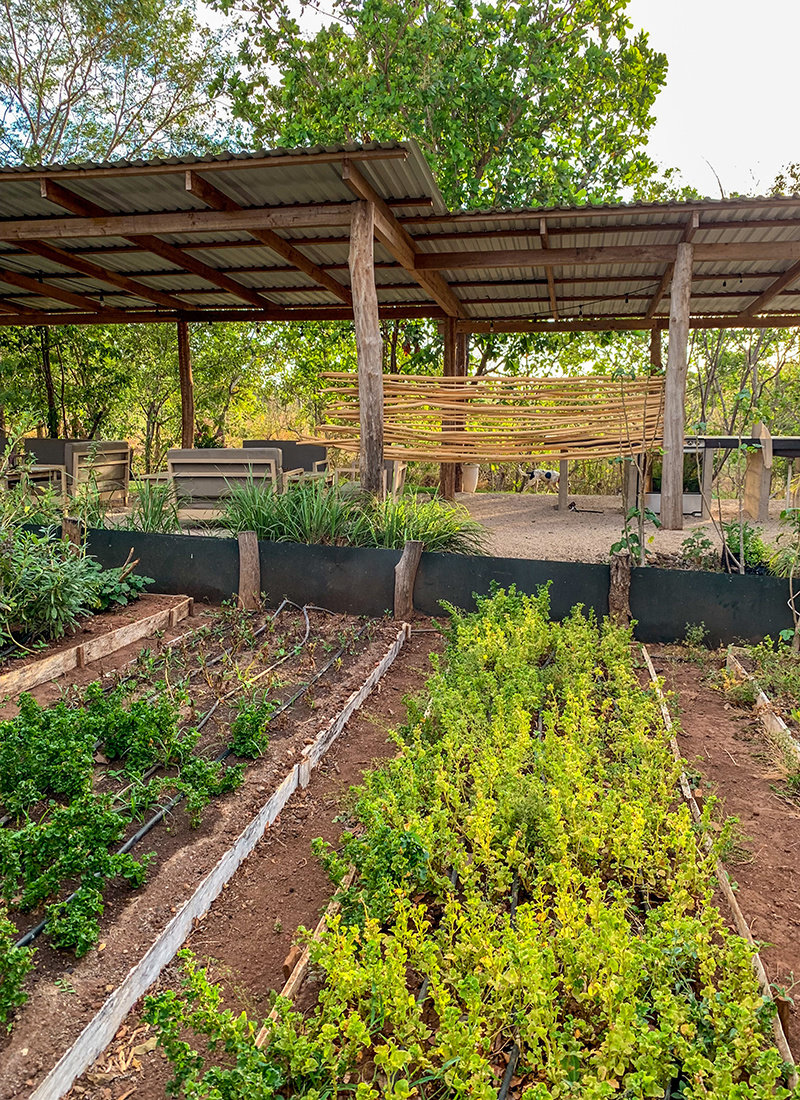 We were picked up at Cala Luna hotel in Playa Langosta and drove 30 minutes to Santa Cruz to La Senda farm. The owners of the hotel started the farm two years ago with the intent of building a sustainable, organic farm that would help employ local families. The tour started with walking around the property and having the chef and sous-chef explain what all the plants, trees, vegetables and fruits were, how long it took to grow them, how to maintain them, and he even showed us what we would be eating for dinner later that day. It's a sensory tour, where you are able to taste, smell and feel the various herbs, plants and fruits. We were shown papaya, pineapples, hibiscus flowers, cocoa beans, a variety of lettuce, vegetables and cashews. The chef wanted to cook the food as true to the taste as possible to bring out the natural flavors. The mission behind the farm is to feed people healthy food while also educating them on organic farming and sustainability. Everyone who works on the farm truly believes in this mission, including the chef giving us the tour, who said he took great pleasure in his role at the farm.
The tour was fantastic, and I was reminded of how much work goes into prepping land and maintaining crops. The farm has had two years of a trial-and-error period to determine which crops could thrive in the environment. The crops each require different nutrients in the soil and need to be rotated to reduce soil erosion, increase soil fertility and increase crop yield. Instead of using pesticides and chemicals, they use natural methods like growing plants that naturally fend off insects. After the tour, we were brought to an outdoor candlelit table, where we were served dinner overlooking the farm. We could taste how fresh and to-the-source the food is. Needless to say, the food was incredible, and we were very satisfied.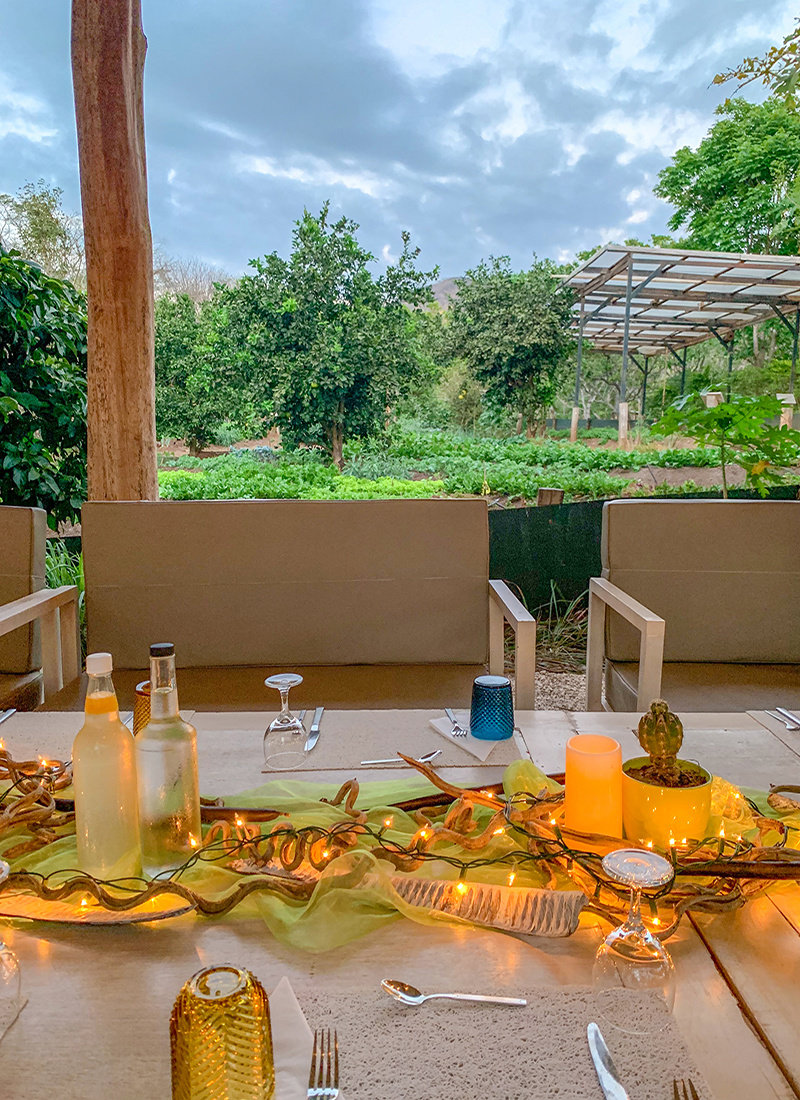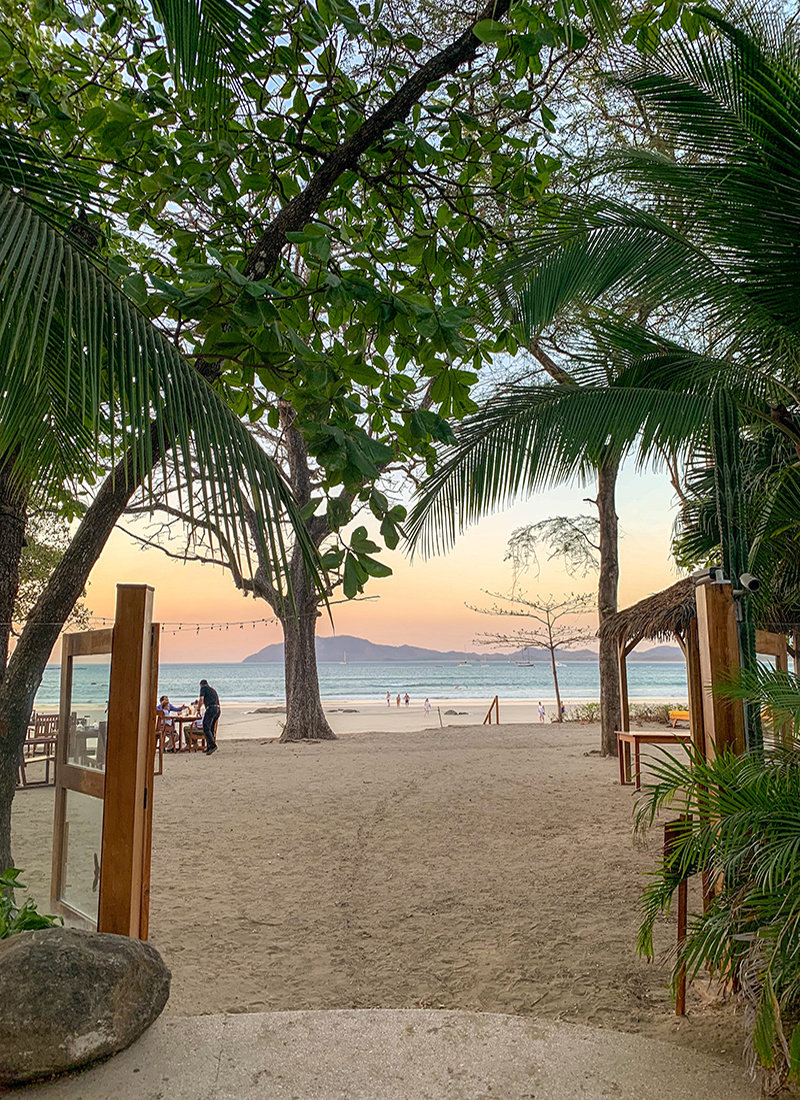 The next day we went to El Barco restaurant at the Capitan Suizo hotel in Playa Tamarindo. Like Cala Luna, this hotel also started an organic farm nearby. Although the restaurant is not yet fully 100 percent organic, the owners are very focused on achieving that goal. Currently, they use fresh and organic ingredients from their garden whenever possible. Like at Cala Luna, they also don't use any pesticides in maintaining the property. The property is also a sanctuary for wildlife, including iguanas and howler monkeys, which you can come face-to-face with while eating at the restaurant, as they are free to roam throughout the property. The view from our table looked out into the Pacific Ocean – perfect for watching a beautiful sunset.

The restaurant is only a five-minute walk to downtown Tamarindo. Guanacaste, the province where Tamarindo is located, has beautiful beaches, is known for great surfing and attracts surfers from all around the world.
The hotels in the area offer numerous outdoor activities, like horseback riding, surf lessons, yoga, fishing, scuba diving, snorkeling, sailing, golf, kayaking, zip lining and more. The hotels can also arrange day tours to volcanos, national parks, the rain and cloud forests and even to Nicaragua.
I highly recommend visiting this region of Costa Rica. Whether you're looking to experience an eco-adventure or just relax, the adventures are truly never ending.
From near paralyzation to 7-minute miles
Twelve years ago, Dylan Batz couldn't walk or talk. A seizure when he was in the eighth grade robbed him of those motor skills and hospitalized him for two months.
His mom, Denver-based United 737 Captain Suzanne Batz, didn't know if he'd ever walk again.
No one could've predicted what happened next.
Dylan got out of the hospital, eventually re-learning how to walk and talk. Through Special Olympics, he became an avid runner. He hasn't stopped since, having run three marathons and, this past weekend, completing the United Airlines NYC Half Marathon in 1:40. Watch his inspirational story above.
Discover Hilton Head Island
Voted America's favorite island for a reason, Hilton Head has everything you need for the ultimate escape from the real world. Enjoy easy days on one of the many beaches, at one of the world-class golf courses and tennis courts, learning about the rich history or simply adapting to the leisure-paced lifestyle of the locals. The Lowcountry region in South Carolina has something for everyone.
Welcome to Hilton Head.
The basics
The best time to visit and getting around the city
Thanks to its location, it's hard to choose a bad time to visit Hilton Head. Though if you visit in April-May or September-October, you'll notice fewer crowds and temperatures averaging in the mid-70s and 80s. In the spring, the water sport rentals will have just opened for the season, from parasailing to kayaking. If you visit in April, you may be able to catch the RBC Heritage PGA golf tournament. Hilton Head doesn't have your typical fall weather, making it a great time to visit. Summer weather lingers so you can still swim. Because the leaf colors don't change, you can enjoy instead an array of fall colors in the sunset each night.
The only drawback of visiting during the late summer and fall months is hurricane season. Hurricanes and tropical storms rarely hit the island, but they tend to be close enough that the island experiences some rain. If you're visiting around this time, be sure to pack a raincoat.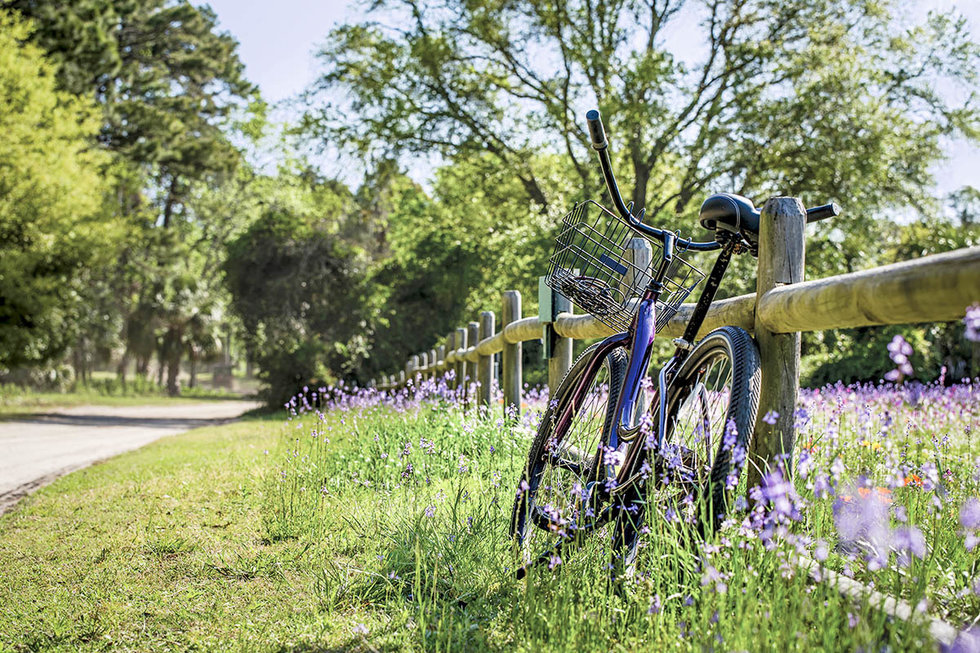 Getting around the city:
The island may be small, but it's still scattered enough that you'll want to bike or drive while exploring the town. There's little to no public transportation. Thanks to its renewed emphasis on environmental tourism, you're sure to notice plenty of bikers and the new bike paths that trace the island. You can rent a bike for around $30 a week. Another option is renting a car. Most attractions are spread out, so having your own car will offer you the most convenience.
Experiences
The town's main attractions are the pristine beaches, golf, with 24 world-class golf courses, and the vibrant history — with the environment at the center of everything.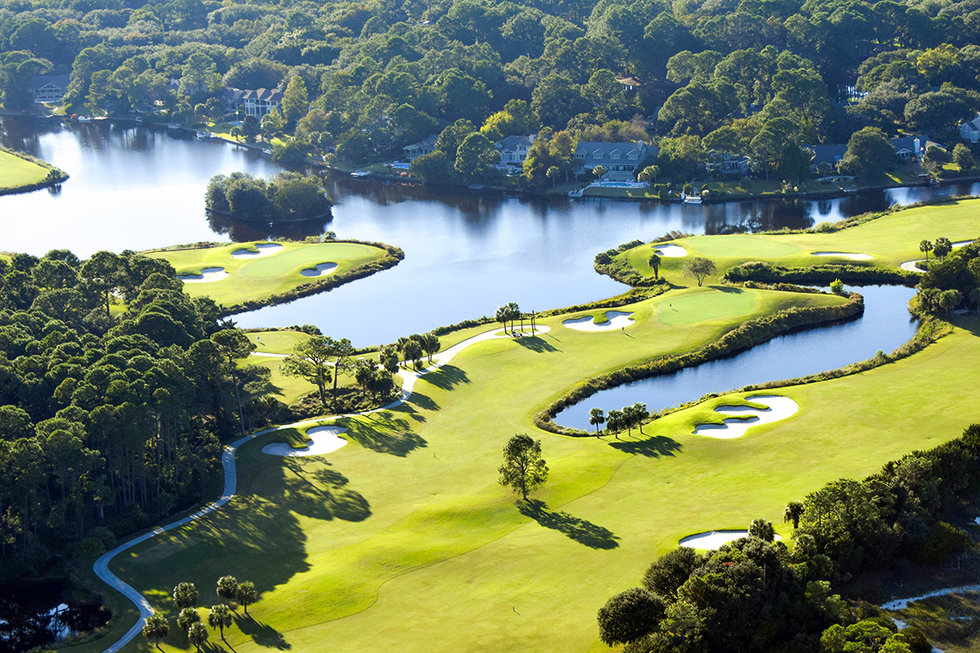 Twelve miles of beaches makes Hilton Head an ideal destination for anyone looking to relax in the sand. One of the most popular beaches is Coligny Beach Park, due to its location and the multiple beach bars that line the water. If you're looking for beaches that are a little less touristy and more secluded, make your way over to Adler Lane or Burkes Beach.
This island is a golfer's paradise, which is why many flock to here to tee off and test out their skills on one of the many championship courses. If golf isn't your sport, perfect your backhand at one of the 350 tennis courts on the island instead.
If you're looking to do a little more than relax on the beach or play a round of golf, spend the day in the charming Harbour Town. Visit the 90-foot red-and-white striped lighthouse that offers incredible views of the water and town from the top. And if you have the time, head over to the marina and embark on a dolphin viewing tour.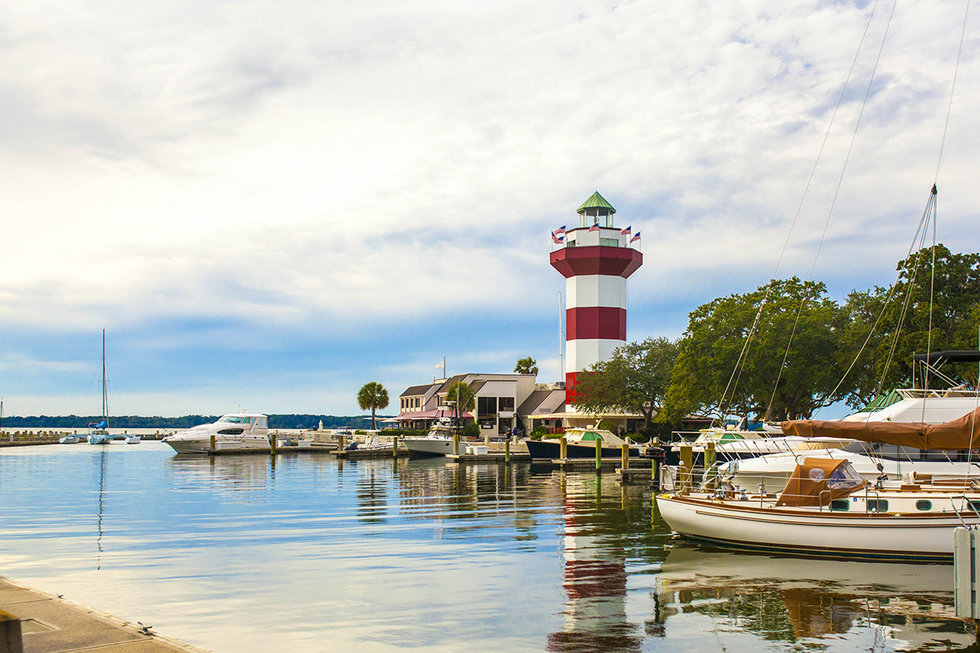 Learn more about the South Carolina's Lowcountry at the Coastal Discovery Museum. Here you'll gain an understanding of the region's history and interesting ecology. Wander through the butterfly enclosure, take a tour to learn about the marine life or visit the wild horses of the island left by Spaniards many centuries ago. Those who also love to explore and experience wildlife first hand should visit Pinckney Island National Wildlife Refuge, about a half mile from Hilton Head.
Food & drinks
Being on the water, it makes sense that seafood is a staple item for restaurants in this town. From high end dining to local favorites, you'll have plenty of restaurants to choose from. If you're looking to enjoy a nice dinner on the water at sunset, check out Old Oyster Factory, Hudson's Seafood House on the Docks and ELA's. With a contemporary feel, live music and a chic bar, this award-winning restaurant in Shelter Cove Harbour is perfect for a casual dinner or a romantic evening out. No table disappoints at Hudson's because they all offer incredible views of Port Royal Sound. By employing one of the only two remaining fishing fleets on Hilton Head, you're guaranteed fresh seafood truly brought from sea to table. Many of these restaurants on the water can book up quickly so be sure to make reservations in advance.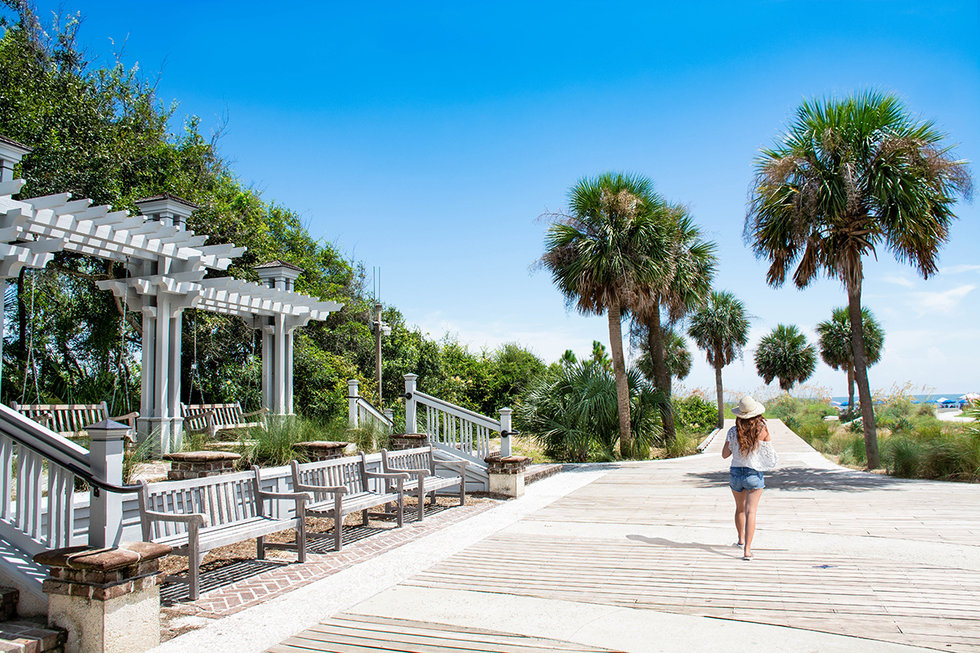 Don't forget to try some of the local favorite dining spots either. If you're looking for Lowcountry-inspired cuisine and incredible seafood, head over to Skull Creek Boathouse, an open air restaurant with an extensive wine and cocktail menu – perfect for a long, relaxing dinner. You'll enjoy an exquisite view and an even better dining experience. The Salty Dog Café is a must when it comes to the Hilton Head food scene. Here you'll have an authentic dining experience with fresh seafood and a family-friendly atmosphere.
Getting there
Book a flight from multiple U.S. cities to Hilton Head Island Airport (HHH), which is right on the island and only approximately 5 miles from all of the Island resorts. To book your trip visit united.com or download the United app.
The latest updates for New York/New Jersey
Hard to believe spring is around the corner, and if you're like me that means starting to think about our family travel plans. Highlighted below are a few ways we are working hard to help make your journeys faster, easier and better in the months ahead.
Improving your experience at our airports
We're excited to move into the new Terminal B at LaGuardia later this year. This is a world-class state-of-the-art facility with fabulous local dining and shopping options such as District Market, Kingside, Shake Shack and FAO Schwarz. Our United Club℠ location will also now be located after security to help you comfortably settle in before your flight.

At Newark Airport, United and our partner, the Port Authority, are working together to improve your experience by adding more pods for nursing mothers; new, larger restrooms; and this summer, an expanded TSA checkpoint that shows expected wait times.
Growing our network and fleet

This summer, we are introducing new seasonal nonstop flights to Naples and Prague and offering the return of great destinations such as Nantucket, Massachusetts, and Rapid City, South Dakota, for an easy trip to the Badlands and Mt. Rushmore.

Additionally, through April, we'll continue to fly nonstop from Newark to Palm Springs. And on March 30, we'll begin flying our brand-new Boeing 787-10 Dreamliner to Dublin, Frankfurt and Tel Aviv, with Barcelona, Brussels and Paris routes to follow this summer.
Investing in our community
United has been serving the New York/New Jersey area for almost 100 years and giving back to our community continues to be a steadfast commitment from the United family. We are proud to announce new partnerships including the Intrepid Sea, Air & Space Museum in Manhattan, the Trevor Project, and the Aviation High School in Queens. This year we'll also continue cheer on runners as the official sponsor of the New York Half Marathon on Sunday, March 17, and are proud to have representatives from Special Olympics running alongside of United employees.
Newark is also featured as the Three Perfect Days destination in the latest issue of Hemispheres, so you can learn about great restaurants and cultural institutions that don't even require a flight to visit.
Thank you for choosing United

In Greater New York, we know you have many choices of carriers to fly, so from our family to yours — thank you. We appreciate your loyalty and welcome your feedback. Hearing from you is important to us, so please continue to send your thoughts and ideas to me at JillKaplan@united.com.

Arizona's outdoors in the spring
This may be the best time of year to visit Arizona — and not just for relaxing by the pool. Smart travelers flock to the state in May, June and July for hotel rates that are often lower than the peak-season rates paid by winter "snowbirds" from northern states. But resort bargains and swimming-pool temperatures aren't the only reasons to visit Arizona at this time. There are also plenty of outdoor opportunities to enjoy, as long as you choose the right activities, locations and time of day to get out.
Desert Dawn peak climbs
Residents of Phoenix and Tucson who like to get outdoors in late spring and early summer know they can best enjoy short hikes by rising early. The busiest time on the trails is before 8 a.m. The most popular hiking paths in Phoenix and Scottsdale climb iconic mid-city peaks, which span from the desert floor up to panoramic views at the top. The hikes up Camelback, Piestewa and Pinnacle Peaks are all wonderful, well-marked and popular — each taking less than two hours roundtrip. In Tucson, the best short hikes are in Sabino Canyon and Saguaro National Park on the outer rim of the city.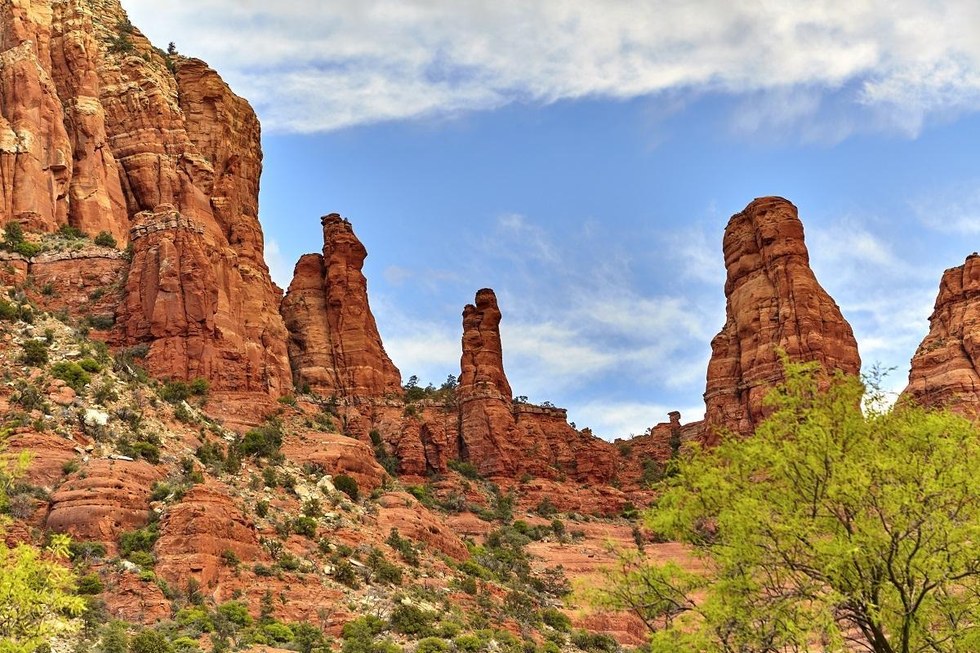 Hikes in the mountains

Phoenix and Tucson visitors who aren't early risers or who don't want to settle for short hikes can drive to spots where the temperatures and mountain vistas are similar to those in Colorado. Only a two-hour drive from Phoenix, you can head to Sedona, with an altitude of about 4,300 feet, or Flagstaff, with an altitude of about 6,900 feet, where the higher elevations mean much lower temperatures. Sedona has some of the world's most dramatic day hikes among its stunning red-rock formations, while Flagstaff offers mountain hikes that soar up to 12,600 feet, such as Humphries Peak Summit Trail. From Tucson, the usual triple-digit temps drop to the 60s during the twisting, 90-minute drive up 9,157-foot Mt. Lemmon. Trails through the sub-alpine forest await hikers at the summit.
Paddle the Verde River
Another good way to beat the Arizona heat is to get splashed by cool water — but not just in your resort pool. You can also take a dip in the Verde River in an inflatable kayak. Verde Adventures hosts guided trips down the river through the end of summer. You'll paddle through narrow limestone canyons and float past hardwood forests on the shallow river, which has plenty of tame rapids that are just adventurous enough to please both the thrill-seekers and the mild-adventurers. You can choose between a kid-friendly two-hour tubing trip or half-day inflatable kayak trip, or enjoy the Water to Wine Tour with an adult companion, which ends with a tasting at Alcantara Vineyards. You'll be driven the short distance to the river from Cottonwood or Clarkdale, both less than a two-hour drive from Phoenix.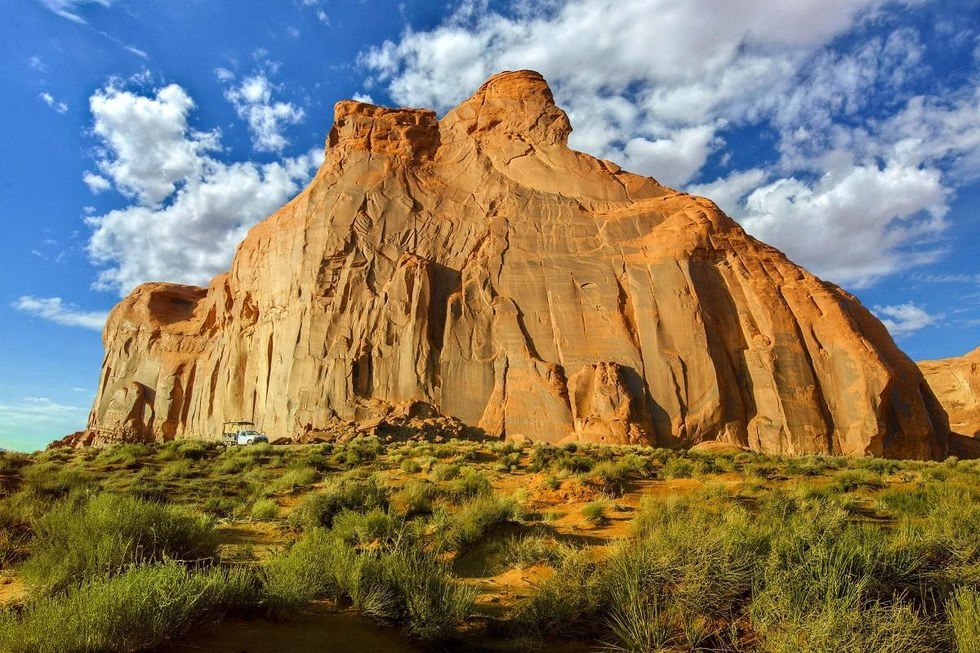 Jump in a Jeep

Following along the dusty dirt roads that rim the edges of Phoenix, Scottsdale, Tucson and Sedona, the Jeep tour is a classic option for visitors to Arizona. The 4x4 Jeep probably won't be air-conditioned, but the wind and Arizona's rich red earth will be in your hair. Less adventurous options include tours in enclosed Hummers or vans. After bumping along scenic back roads for miles, many Jeep tours offer a "cowboy cookout" at a pretty spot in the desert or mountains before you return to civilization. From Phoenix, Scottsdale or Tucson, most Jeep tours venture into the Sonoran Desert, while Sedona Jeep tours bring you up close to its renowned red-rock formations.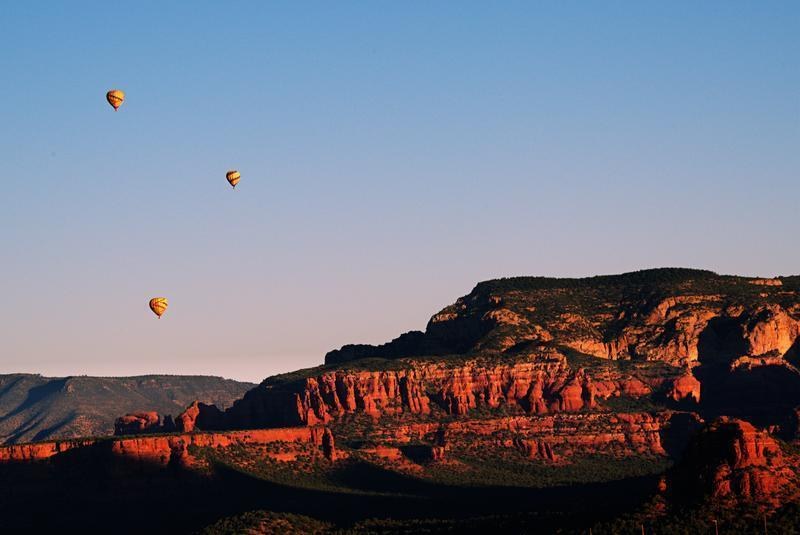 Up, up & away

Arizona's dry air makes it one of America's prime locations for hot air balloon rides. Colorful balloons lift off in the cool temperatures and low winds of sunrise from all over greater Phoenix, Scottsdale, Tucson and Sedona, often providing a champagne breakfast afterward. Some also offer sunset flights; one Phoenix company serves hors d'oeuvres from a gourmet restaurant after evening landings. Prevailing winds dictate whether you'll fly up to a mile high or close enough to the ground to spot desert wildlife, but regardless, it's a memorable bucket-list thrill.
If you go
United Airlines offers many daily flights to Phoenix and Tucson. Visit united.com or use the United app to plan your Arizona outdoor adventure getaway.
We follow the FAA's order to ground all Boeing 737 Max aircraft
Nothing is more important to us than the safety of our customers and employees. As we have said since Sunday, we have been in close contact with investigators as well as Boeing to share data and fully cooperate with regulatory authorities. We will comply with the FAA's order and will ground our 14 Boeing 737 MAX aircraft. We will remain in close contact with authorities as their investigation continues.
Since Sunday, we have been working diligently on contingency plans to prepare our fleet to minimize the impact to customers. Our Boeing 737 MAX aircraft account for roughly 40 flights a day and through a combination of spare aircraft and rebooking customers, we do not anticipate a significant operational impact as a result of this order. We will continue to work with our customers to help minimize any disruption to their travel plans.

We extend lease agreement at iconic Willis Tower in Chicago
Today, we announced that we will keep our current headquarters at the iconic Willis Tower in our hometown of Chicago while making investments to transform our current workspace and experience. Our new agreement extends our existing lease by five additional years to March 31, 2033.

Remaining at Willis Tower will allow us to completely reimagine the workspace from the bottom up. Over the coming months and years, we will redesign our workspace to allow employees to better collaborate, use the latest technology and interact with each other — all with the end goal of providing unmatched service to our front-line employees and customers. And today's announcement is part of our overall effort to improve workspaces and facilities across the system.As we begin the work to reimagine Willis Tower for our employees, a majority of the funding to transform the building is being made by the building's owner, The Blackstone Group. In addition, they are investing more than $500 million in the building for all tenants, which will transform it from the inside out that will deliver exciting new dining, fitness and retail options.
"As one of the city's largest private employers and its hometown airline, we are excited to deepen our roots here in Chicago while making the investments needed to reimagine the headquarters for our employees," said United Chief Executive Officer Oscar Munoz. "The investments we are making will help our employees provide unparalleled service to their front-line colleagues and to our customers as we continue to improve and realize our airline's full potential."
And as one of the most ideally situated buildings in the city, with easy access to all Chicago Transit Authority train lines and Union and Ogilvie Stations, as well as nearby bus stops, Willis Tower already provides distinct advantages and will remain attractive to future job seekers throughout the metropolitan region.
Weekend inspiration: Palm Springs
After a combined 60-plus years of living in cities with snowstorms and cold weather, this winter we decided it was time to pack away the parkas in exchange for a month of sun in Palm Springs.
And it was heaven. 70-degree days filled with morning swims, long walks without a jacket and joyful dogs running around the backyard. Working on murals throughout the valley in perfect drawing conditions was paradise for us, considering we were typically working in freezing weather with pale skin, chapped lips and cracking knuckles. We found our new January normal.
Our month in paradise consisted of many highlights, so if you're in town for a few days, here are some of our favorite spots.
Friday night
If you're looking to rent a place in Palm Springs, we recommend Relax Palm Spring on Airbnb. They have more than 60 rentals in the Coachella Valley area, and we loved the house we stayed in. Every single thing we needed was available on-site or just a phone call away with this professional vacation rental group.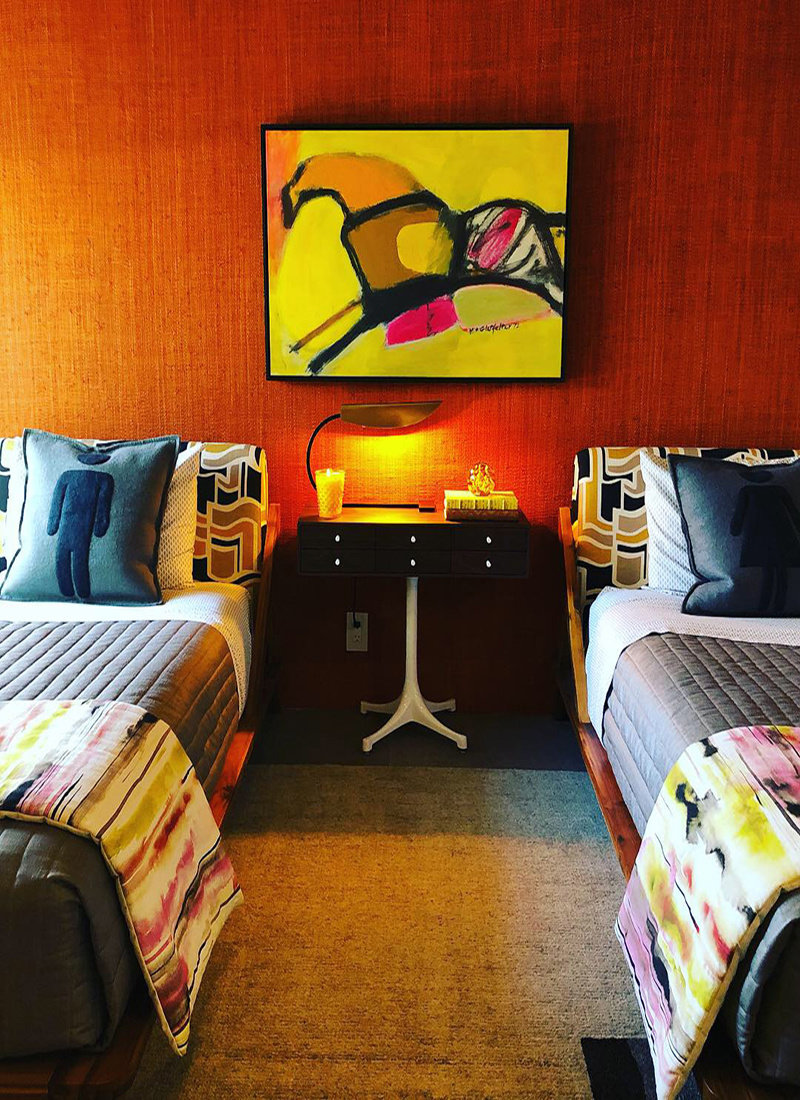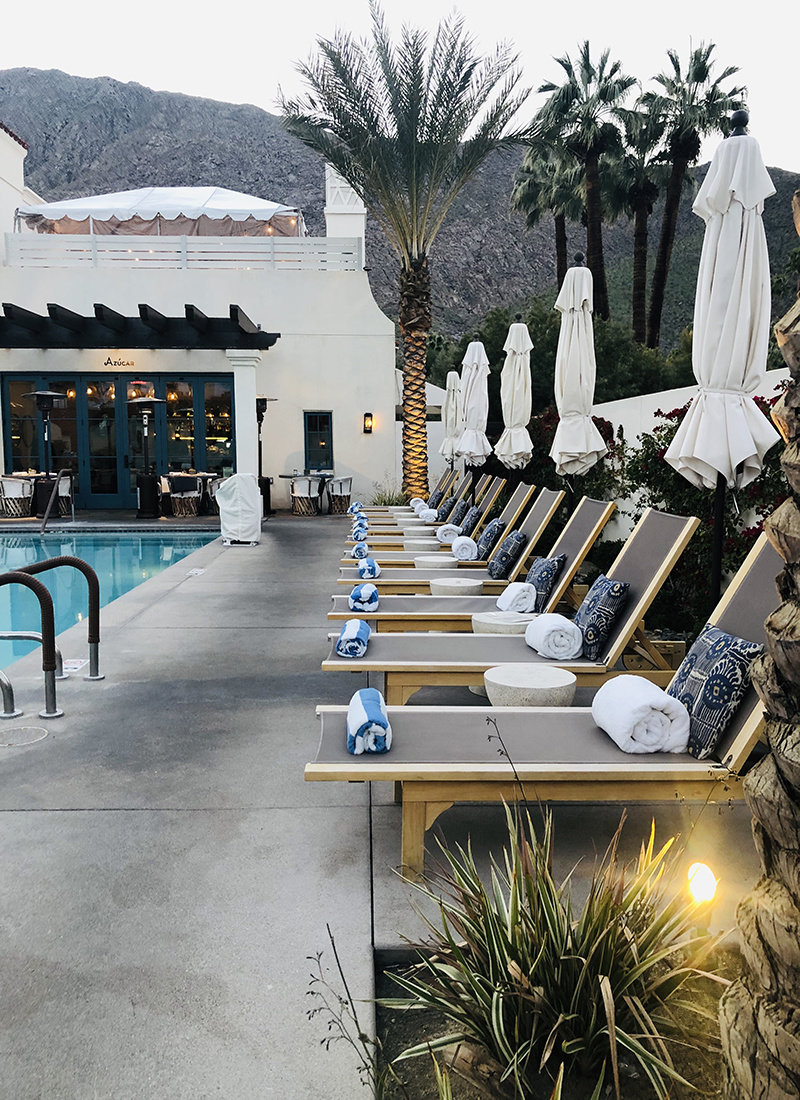 If you're looking to go the hotel route, we highly recommend The Colony Palms Hotel. This Spanish Colonial-style hotel features high-end casitas and a sweet hotel pool with stunning mountain views. La Serena Villas has a similar small-town feel with a wonderful restaurant attached. Further outside of the downtown area, Parker Palm Springs is a stylish and creatively fulfilling place to stay and play.
No matter where you stay, we recommend Azúcar for dinner (at La Serena Hotel). Make sure you get the watermelon appetizer, refreshing with bursts of sweet balsamic beads trickled over the top. You'll feel like a kid at the pool in summer all over again.
Saturday
Get up early and head to Palm Desert. Make your way over to Wilma & Frieda at The Gardens on El Paseo for one of the best breakfasts you'll find in the valley. The pastries are all excellent and homemade. The dishes are creative with items like "churro waffles" and "banana caramel French toast."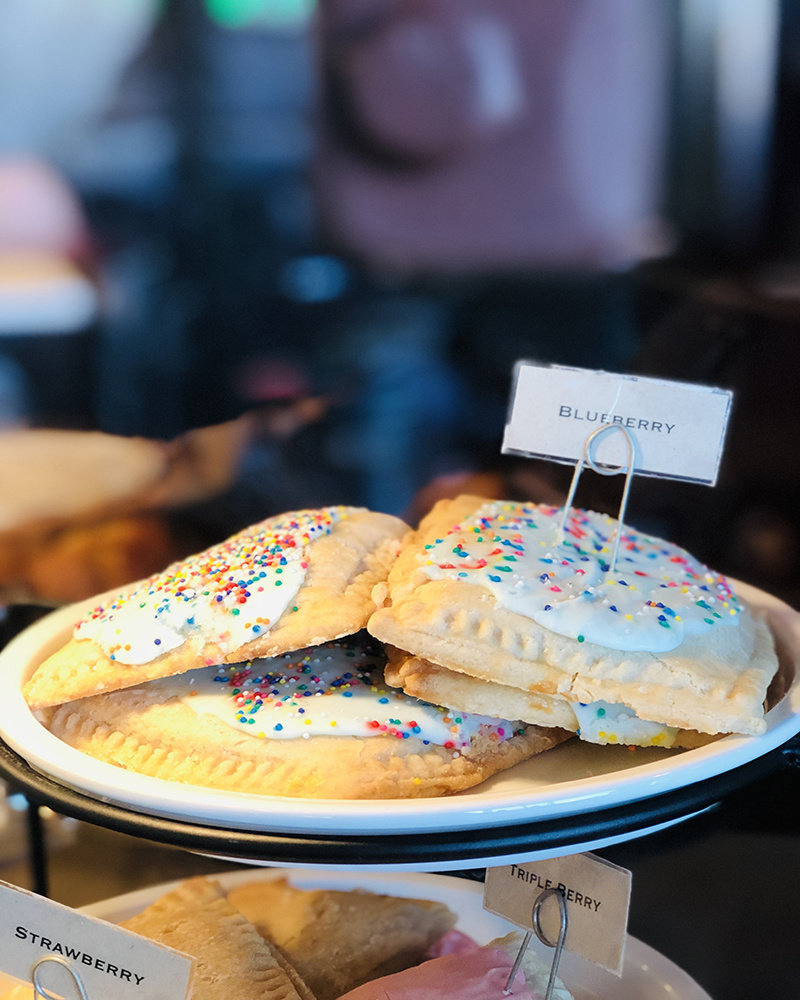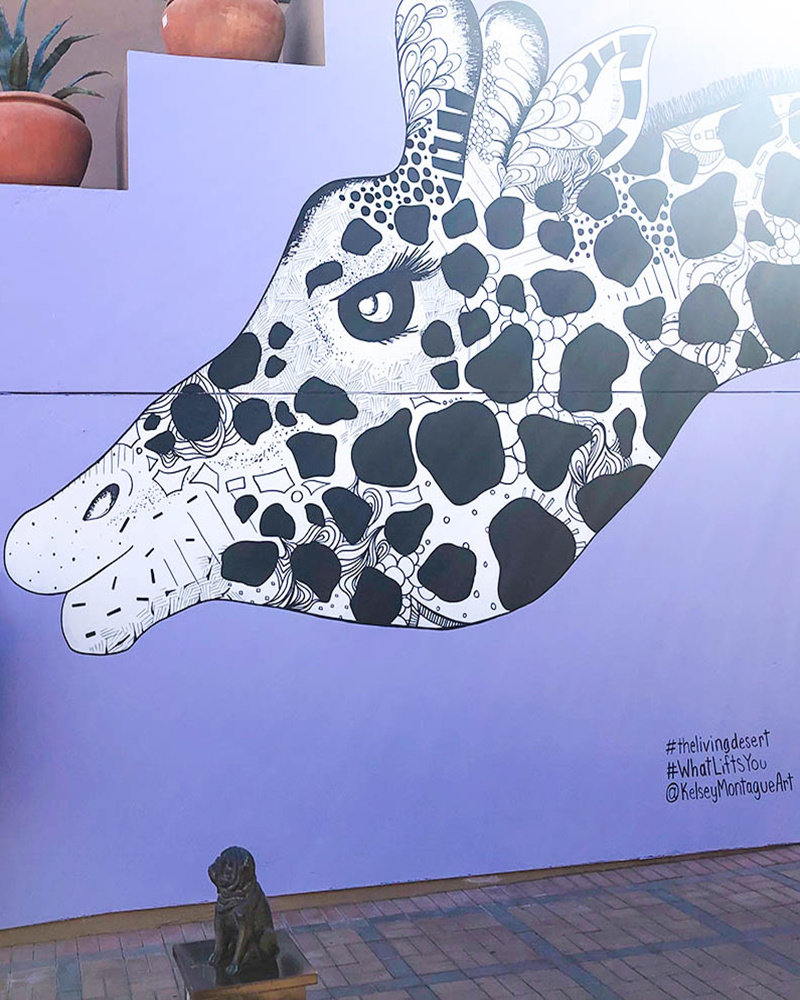 After breakfast, stop by Kelsey's giraffe mural at the Gardens on El Paseo (directions found here) to give her giraffe a kiss. Then drive up the highway to The Living Desert.
The Living Desert Zoo & Gardens is an incredibly well-designed zoo that takes advantage of the stunning desert scenery with every animal exhibit.
On your way back, stop for a sweet treat at the café at Shields Date Gardens for one of their legendary date shakes. Wander through the 1950's feeling diner and gift shop and into the 17-acre date garden. These shakes are a Palm Springs staple and worth every delicious calorie.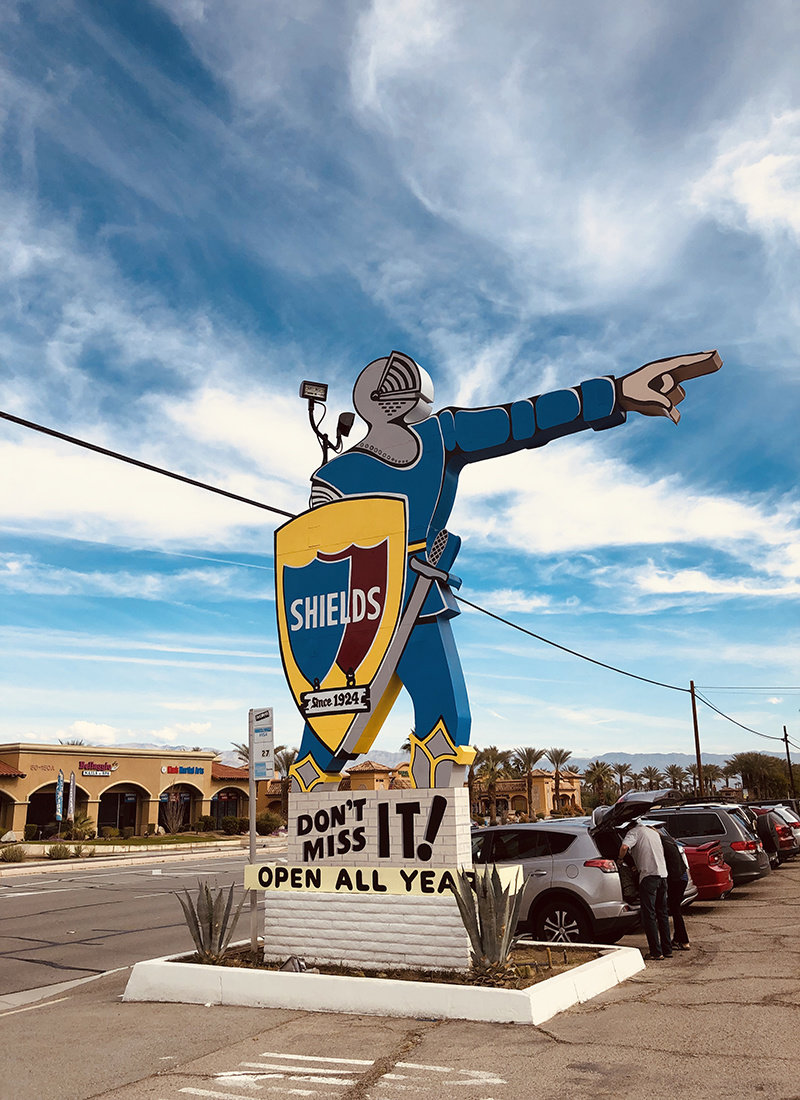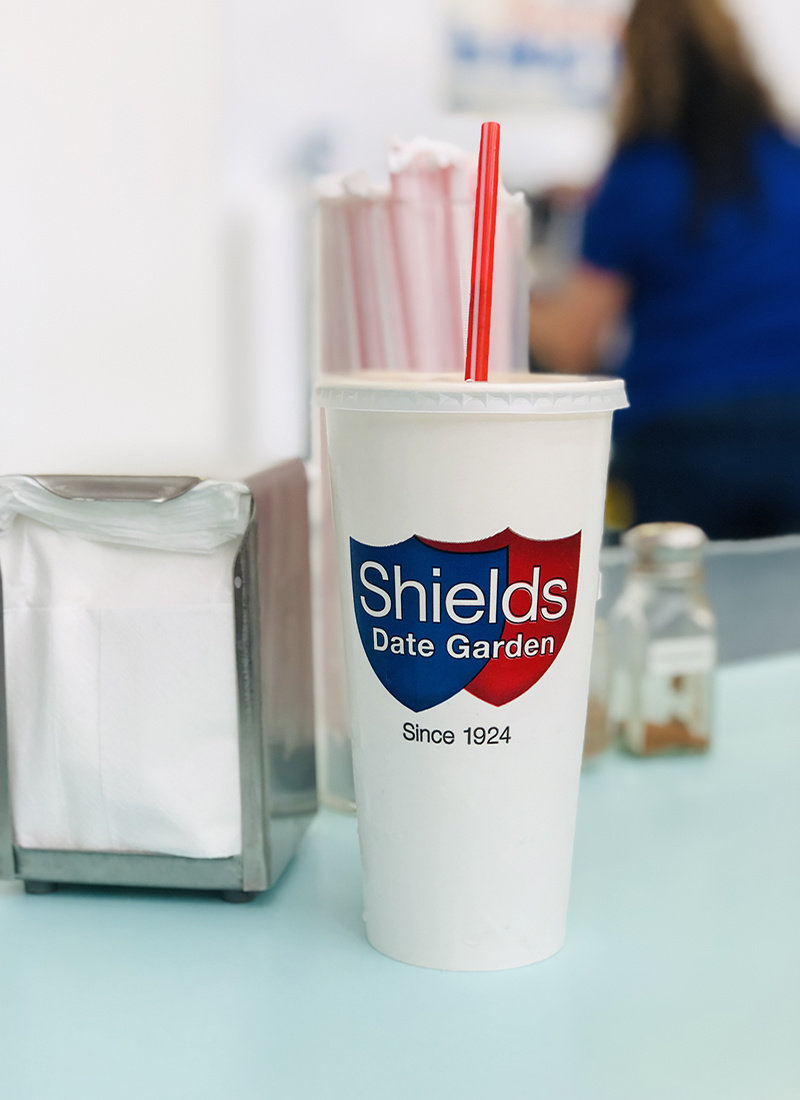 For lunch, wander around the hotel lobby at Parker Palm Springs to admire their excellent interior design decisions before heading into Norma's restaurant for an al fresco lunch.
If you have time, spend the afternoon at Joshua Tree National Park. The blend of Mojave and Colorado deserts results in a unique and stunning landscape. Begin your tour/hike at one of the visitor centers. From here, you can go on a relaxed half-day tour with a guide or head out on one of the 12 self-guiding nature trails.
Spend sunset here or head back downtown to enjoy the sunset at The Colony Palms Hotel's Restaurant, The Purple Palm, with a quality craft cocktail. After sunset, make your way to the popular Italian restaurant Birba for dinner. Birba boasts excellent pizzas with a wide variety of interesting toppings. Be sure to make reservations beforehand.
Sunday
Spend the day exploring Palm Springs. Go to Cheeky's for breakfast, but make sure to get there early, as a line forms before the doors even open. Their world-famous bacon flight is a must – it's unique and so tasty.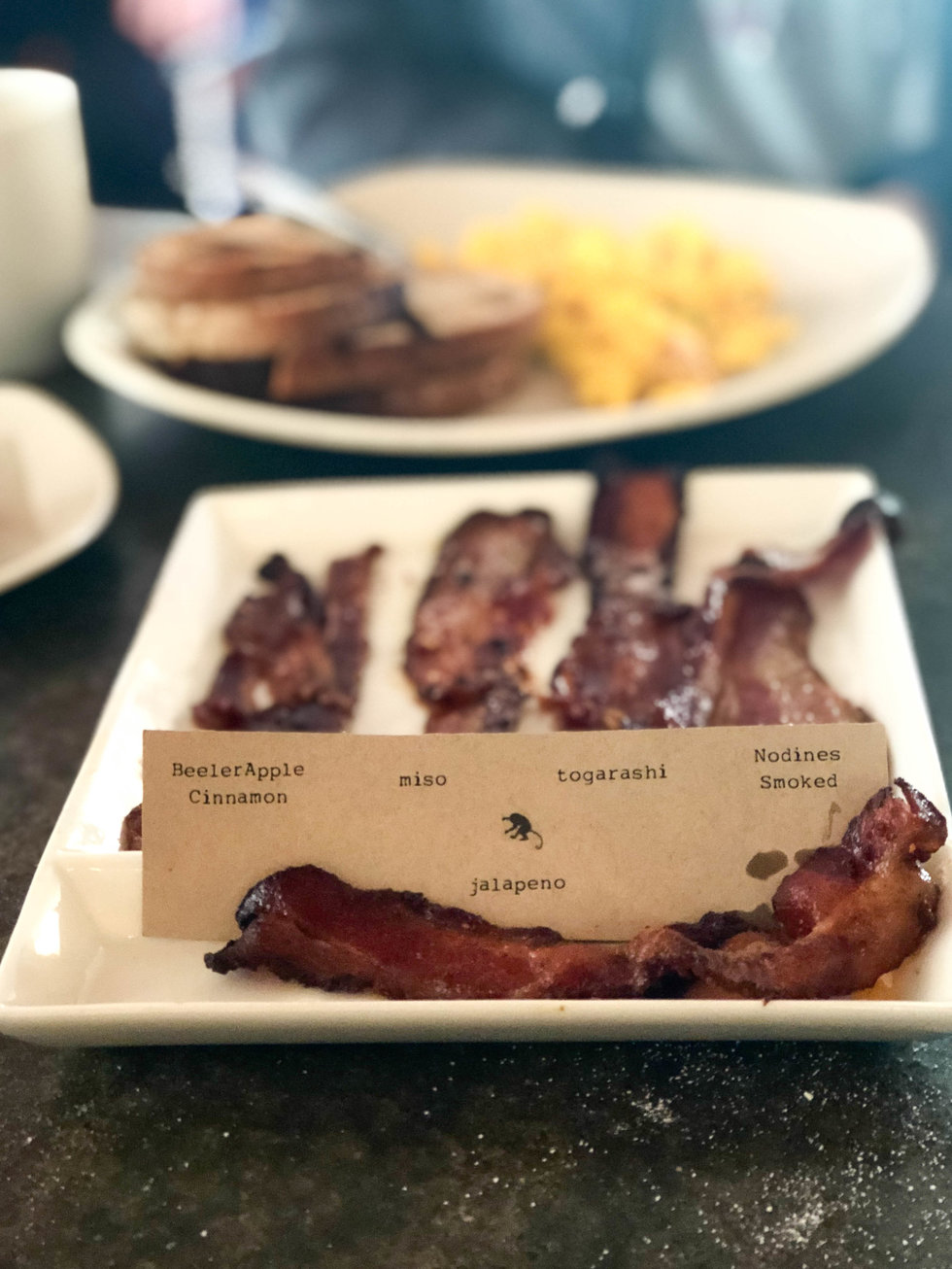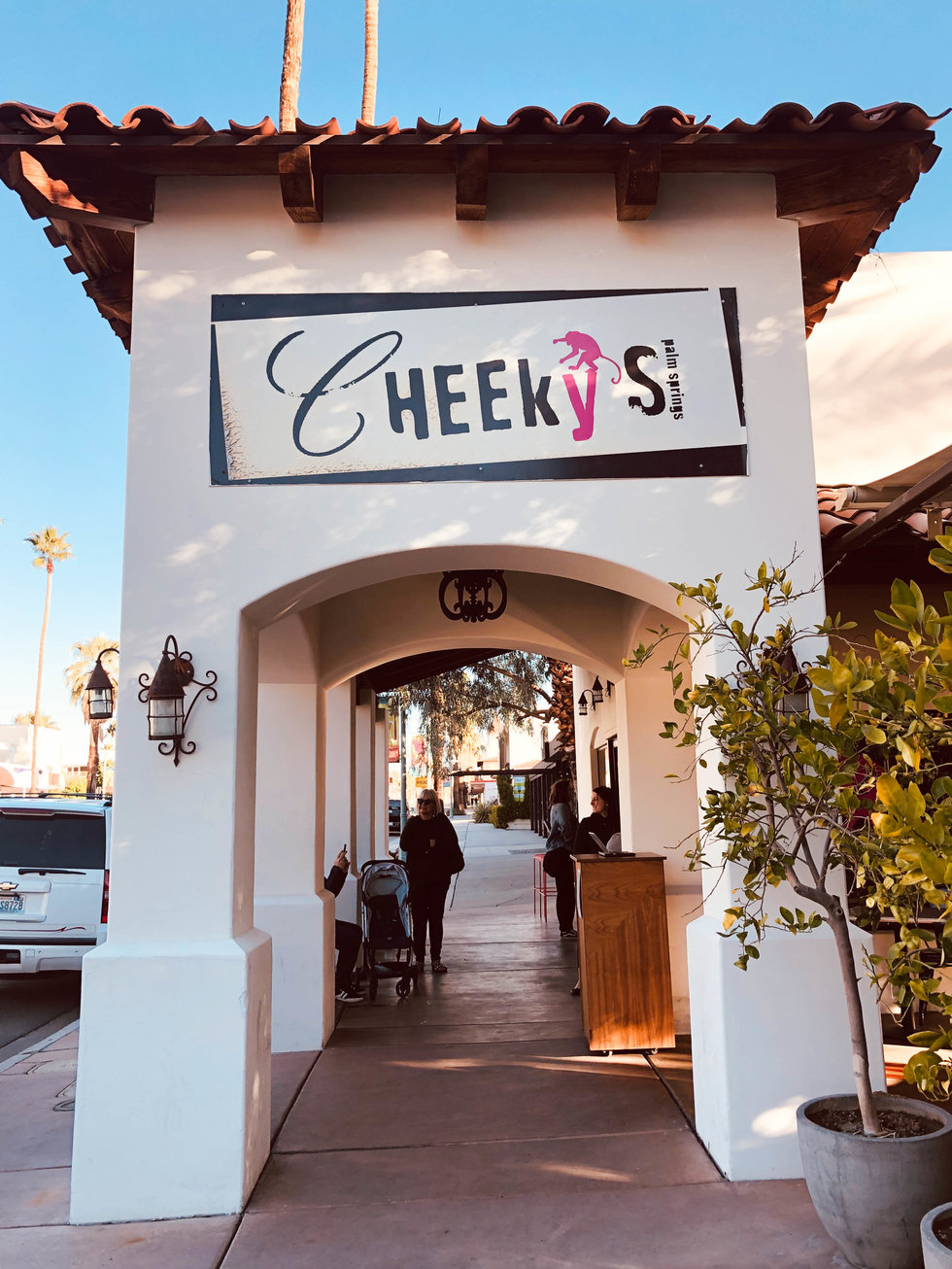 Palm Springs boasts an unbelievable amount of art experiences. Experiential art, art museums and mid-century Modern Design galore. If you can, try to visit Palm Springs during their Modernism week in February. Be sure to get tickets to their house events and tour some of the most breathtakingly beautifully designed houses. And if you're lucky, Desert X might be around during the same time and hunting for art installations throughout the valley, which would be quite the sight.
If a large art fair isn't happening while you're in Palm Springs, we highly recommend heading to the City of Coachella. Their downtown boasts some incredible murals and Kelsey was honored to join the ranks recently. Kelsey completed a pair of "What Lifts You" wings that are colorful and an ode to the Hispanic roots of the community on the side of City Hall.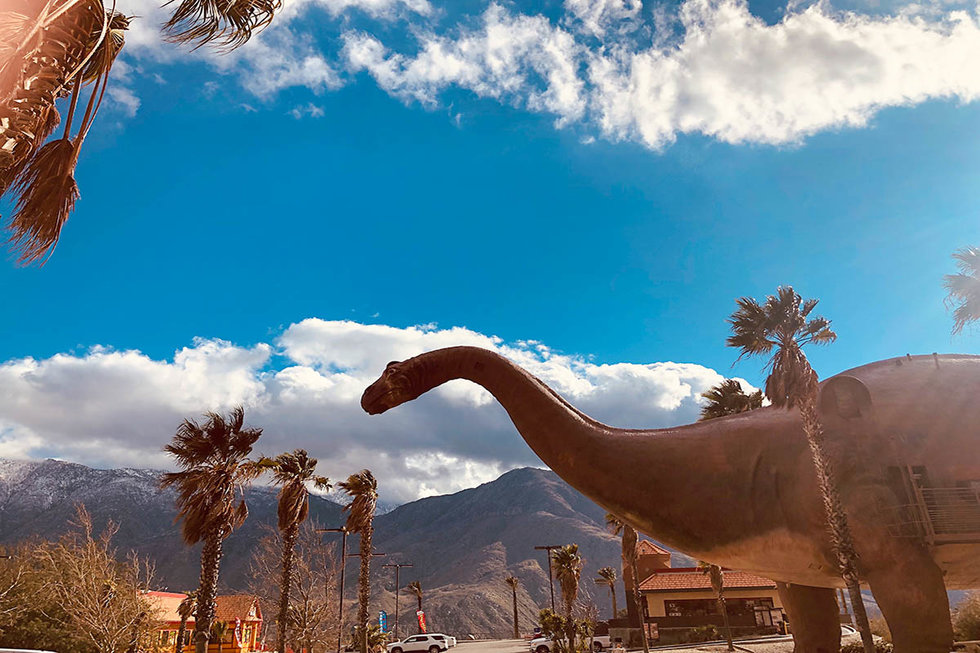 A trip to Palm Springs isn't complete without a picture with the Cabazon Dinosaurs. Made famous through their feature in movies like National Lampoon's Vacation and The Wizard – it's an Instagram-worthy stop.
For lunch, head back to downtown Palm Springs and enjoy a healthy meal at the charming restaurant Farm. Tucked into an interior courtyard, this restaurant feels like you've stepped into the French countryside. It's healthy, clean food even tastes like the South of France with their traditionally French dishes.
Walk off your lunch by exploring the boutiques in Downtown Palm Springs. These mid-century modern shops are not to be missed: A La Mod, Modernway, Vintage Oasis and The Frippery.
Complete your weekend with dinner at the chic Workshop Kitchen + Bar. Their wine cellar is massive and their waiters expertly trained. Trust them to find a new and different flavor for you – something you'll remember long after your weekend in Palm Springs.
Scroll to top