Three Perfect Days: Portland
Story by Justin Goldman | Photography by Laura Dart| Hemispheres, July 2014
Portland has MORE than its share of nicknames—Stumptown, Brewvana, Bridgetown, PDX, Rip City, the City of Roses—but odds are you haven't heard many of them. Despite being home to iconic indie artists like Gus Van Sant and Elliott Smith, not to mention some of the best microbreweries in the world, to most people Portland is just a small Pacific Northwest city that gets a lot of rain.
Recently, though—due in part to "Portlandia," the IFC comedy that lovingly lampoons hipster culture—Portland's public profile has been on the rise. The city (motto: "Keep Portland Weird") has become a magnet for creative types, drawn to its bookstores, record shops, music venues, public artworks and tattoo parlors. As Fred Armisen puts it on "Portlandia," it's "a city where young people go to retire."
But you don't have to be a clued-in 20-something to enjoy Portland. Thick with public parks and surrounded by pristine forests and mountains, it's a dream locale for outdoors enthusiasts. The damp climate and proximity to first-rate farms also provide the thriving restaurant, winery and brewery scene with an abundance of fresh ingredients. Those seeking traditional cultural outlets, meanwhile, can avail themselves of Portland's museums and art galleries, many of which have taken over industrial spaces across the city.
Today, the national media's appreciation for the city has become so ardent that locals refer to the blitz of coverage as "stalking." But Portlanders remain exceedingly friendly—you shouldn't be surprised if one offers you a ride into town from the airport and regales you with recommendations the whole way. People are especially cheery in the summer, when the clouds part, brewpub patios hum, and cycling becomes the only acceptable form of transportation, be it to an art fair or an organic grocery.

DAY ONE | You wake up at the Ace Hotel, a boutique property in Portland's revitalized West End neighborhood, and immediately rue your lack of skinny jeans. The Ace is quintessential Portland: Leonard Cohen lyrics painted on the walls, a photo booth in the lobby, a record player in your room. It sometimes feels a bit too cool for school—but you'd probably adopt this attitude too if Gus Van Sant had filmed Drugstore Cowboy in your house.
You're feeling coffee and doughnuts this morning, in part because Portland does those two things better than anywhere else. On your way out the door, you grab a latte from Stumptown Coffee Roasters, then take a short walk down Burnside, the street that separates Portland's north and south sides. Here you find Voodoo Doughnut, a legendary line-around-the-block fried-dough joint, where you pound down a bacon maple bar and the store's eponymous confection, a chocolate-covered voodoo doll with raspberry jelly innards and a pretzel stick protruding from its chest.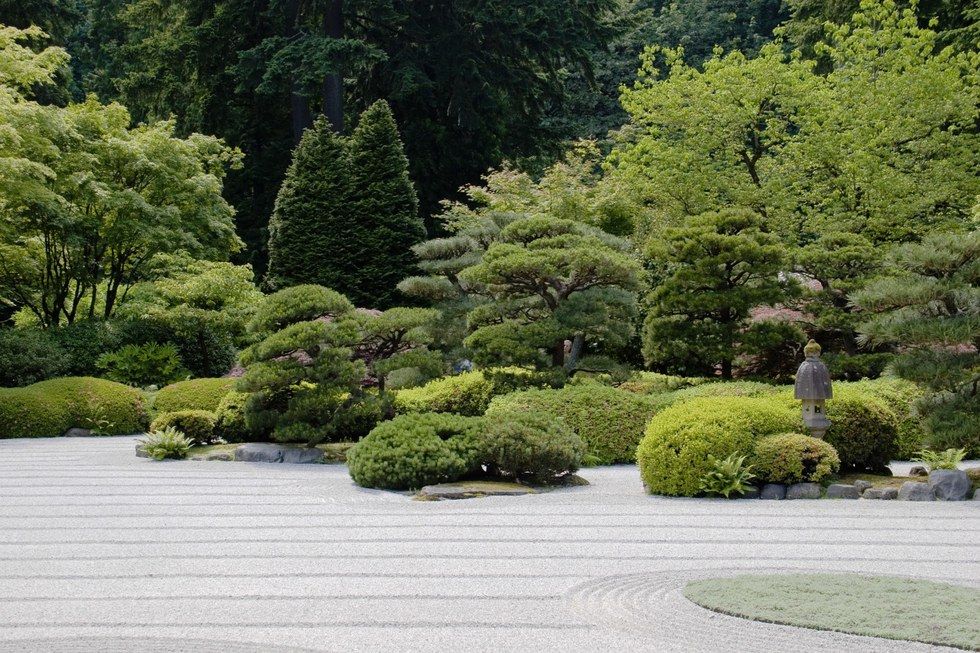 Raked sand and manicured plants at the Portland Japanese Garden
Somewhat overfed, you take a vigorous two-mile stroll over to Washington Park, in the West Hills, where you are instantly soothed by the sculpted flora of the Portland Japanese Garden. Transfixed, you half walk, half float past the koi pond and the stone garden and onto the back porch of the pavilion, where a resplendent view of Mount Fuji—er, Mount Hood—causes you to catch your breath.
From here, it's a few flights of stone stairs down to the International Rose Test Garden. Founded in 1924, this is the oldest continually operating public rose garden in America, and quite possibly the prettiest. You wander through a maze of multicolored hedgerows, admiring the apparently endless variety of Portland's signature flower—Betty Boops, Scarborough Fairs, Blueberry Hills. You'd stop to smell them, but with more than 10,000 roses in the garden, that would take all summer.
You've worked up an appetite by the time you get back downtown. Fortunately, the city center is Foodcartlandia, its corners overrun with vendors offering everything from schnitzel to paleo fare. You step up to Nong's Khao Man Gai and order the signature dish, a Thai street creation comprising rice and poached chicken topped with a hot sauce that torches your taste buds. They die happy.
After lunch, you make a pilgrimage to Powell's City of Books. The world's largest independent bookstore, Powell's takes up an entire city block and is so cavernous that the information desks provide maps. You head to the fourth-floor rare book room, where used book buyer Kirsten Berg shows you a copy of D-Day narrative The Longest Day that includes an inscription from the author to Eleanor Roosevelt. "I love the things people stick in books," she says. The volume's price tag ($2,000) is prohibitive, so you pick up a copy of local author Katherine Dunn's fantastically weird novel Geek Love and make for the cash register.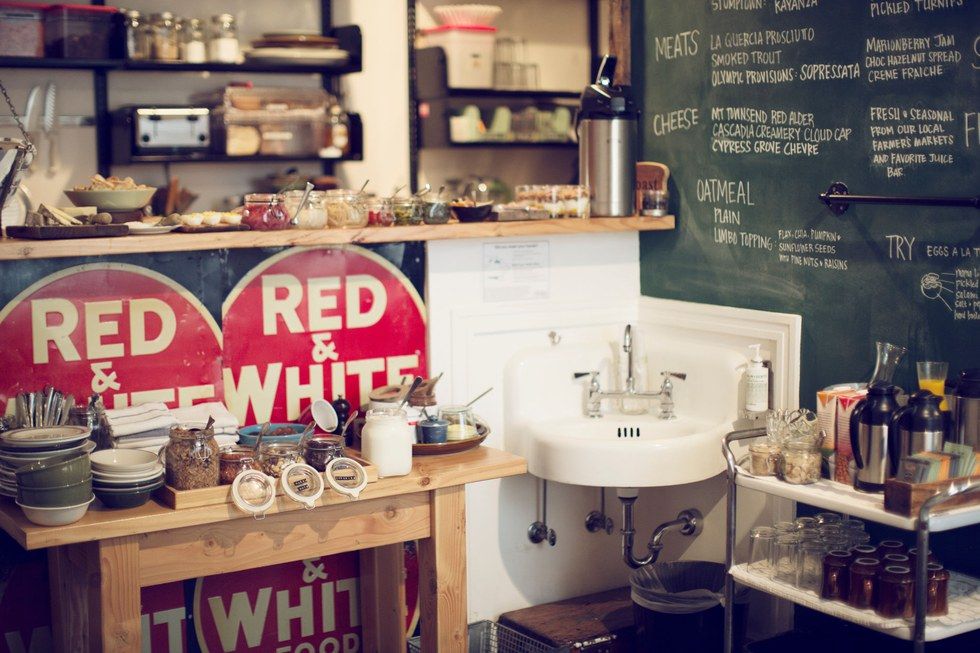 The Ace Hotel's breakfast room
Your mini shopping spree isn't over yet: You're going to need some vinyl to spin on that hotel turntable. As it happens, there are two excellent record shops within three blocks of you: Everyday Music, where you pick up a copy of the late, great Elliott Smith's self-titled album, and Jackpot Records, where you get the new record from local indie band Blind Pilot. Arturo Diaz, the store's relaxed clerk, explains why Portland is a mecca for record shops. "It's the pace of the town," he says. "People slow down."
"Brewvana," as Portland is sometimes called, is also regarded as the craft-brewing capital of America. Committed to exploring another important aspect of local culture, you head to the east side, home to Breakside, one of the best brewpubs in town. Your fedora-wearing bartender, Jack Johnson, recommends the Salted Caramel Stout and a Kumquat Wit tinged with fruit and a bite of coriander. "Trust me," Johnson says of the odd-sounding flavors. You do, and are duly rewarded.
From Breakside it's a short bus ride to your dinner spot, Lincoln Restaurant. The first eatery opened by "Top Chef Masters" alum Jenn Louis, Lincoln offers Pacific Northwest cuisine that emphasizes local ingredients. You start with one of the few exceptions to this rule—the slow-cooked, impossibly tender grilled octopus—followed by baked hen eggs and Forty-Seven Percent Chicken, wryly named, Louis explains, because, served minus the wing, "it's not a half chicken." Even a few percent shy, it's an exceptionally good bit of bird.
It's late, so you head back toward the Ace. On impulse, you decide on one more detour before bed: Pépé le Moko, a narrow subterranean bar that feels like the dining car of a train going through a tunnel. Your bartender, Talia Gordon, insists you try a Grasshopper. "It's like an adult milkshake," she says, passing you a glass of mint green froth. The booze snob in you is skeptical, but you slurp it down and decide that all desserts should taste like this. Later, back in your room, you drift off to Elliott Smith whispering from the turntable: "I'll show you around this alphabet town."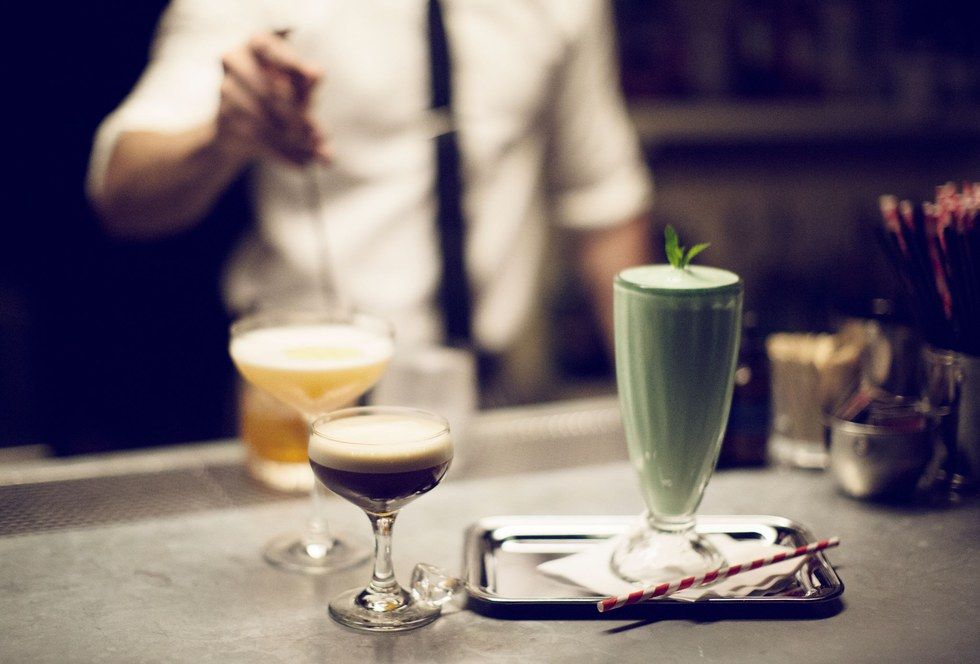 Cocktails at Pépé le Moko
DAY TWO | You shake yourself awake, relaxing for a few minutes in the boxing robe you find in the closet, before stumbling outside and around the corner, past a sculpture made of intertwined kids' bicycles, to Tasty n Alder. You take a seat at the impressively stocked bar and order a couple of proven restoratives: a Kentucky Peach—basically a bellini with a splash of bourbon—and a Hangtown Fry, an oyster and bacon frittata served with a huge buttermilk biscuit.
Substantially recovered, you stroll over to the Portland Saturday Market, a sprawl of artists' stalls, food carts and craft vendors stretching along the Willamette River waterfront and under the Burnside Bridge. You skirt a large crowd circled around a semi-competent juggler and snake through booths selling handmade jewelry, Oregon-themed clothing and images of Mount Hood rendered in every possible medium. It's a bit too crowded to really stretch your legs here, though, so you wander along the South Park Blocks, a stretch of greenery where you find lush oak and maple trees, roses (naturally), statues of Teddy Roosevelt and Abraham Lincoln, and a wedding party snapping photos.
You stop to stare up at the Portlandia statue, a trident-bearing woman that, at 36 feet tall, is the second largest hammered-copper statue in America (after some French lady in New York). You're surprised to find the sun starting to feel a little too hot, so you head a couple blocks west for respite at the Portland Art Museum, where you while away an hour or so among the killer whale masks and intricately beaded bags in the Native American art gallery. The feather-bedecked Raven to Sun Transformation Costume makes you want to go on a vision quest.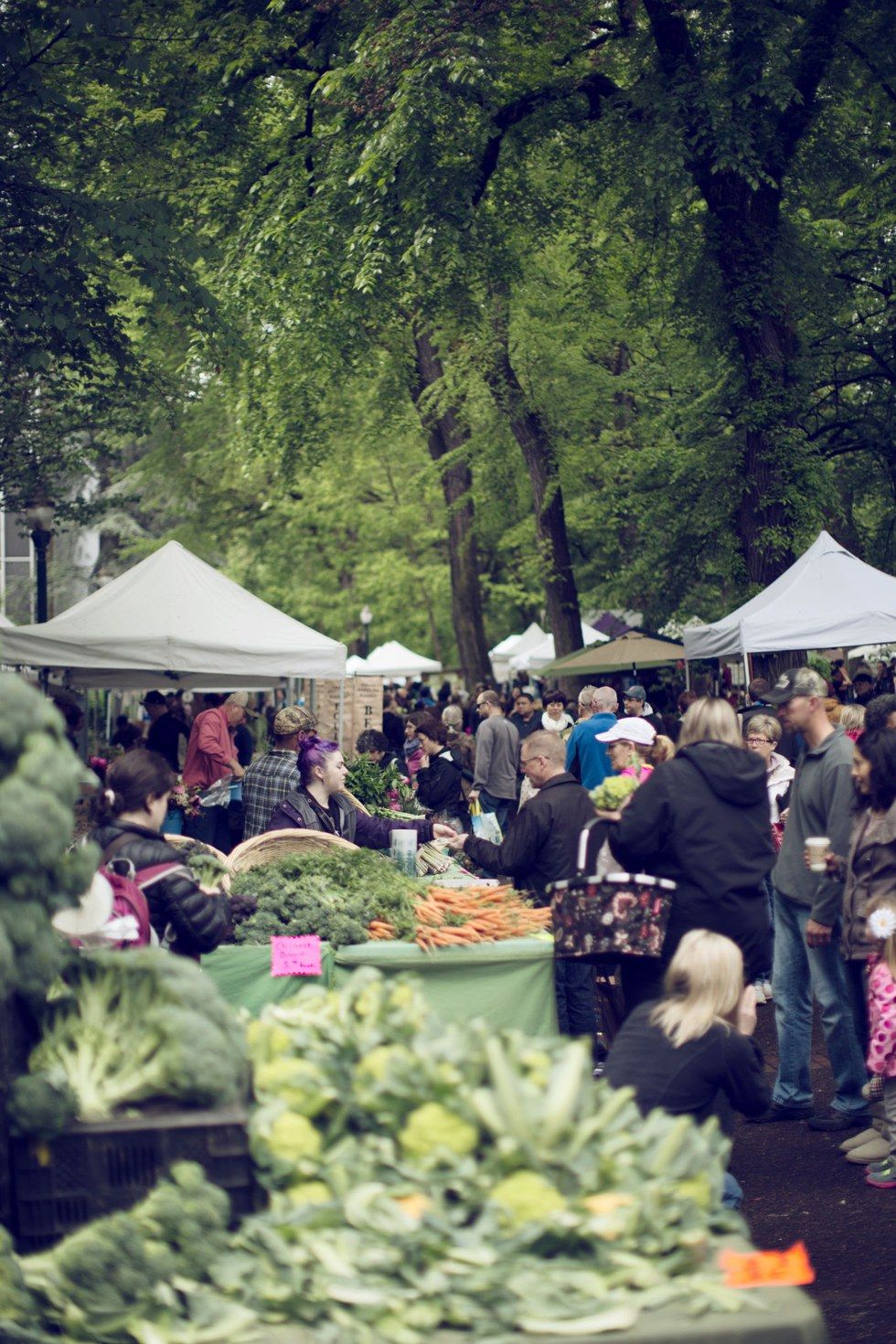 A farmers market in downtown Portland
After wolfing down a couple of carnitas tacos at another fine food cart, La Jarochita, it's check-in time at your second hotel, the Sentinel. The 100-year-old building—a National Historical Landmark and a setting for Van Sant's My Own Private Idaho—reopened this spring after a $6 million renovation, and its design offers a blend of past (the green leather armchairs and rugged wood tables in the lobby recall Oregon's legacy as a timber capital) and future (robot sculptures on the facade). A nice touch is the typewriter in the lobby, where guests can tap out comments. You start to type "IPDX," but there's no heart symbol on the machine, so you head upstairs and sack out on your enormous bed for an afternoon nap.
You wake feeling refreshed and hop a bus across the Morrison Bridge to sample the wares at Enso Urban Winery. You take a seat in the facility's airy, industrial tasting room and order a flight of red wines. The Pacific Northwest has established itself as one of the best wine-growing regions in America, and the bold reds at Enso help explain why. "Oregon's on the same parallel as Burgundy," says bartender Henry Jinings. "The growing conditions are ideal."
Whistle whetted, you take a cab to Southeast Division Street, Portland's flourishing restaurant row. Your destination is Pok Pok, one of America's most revered Thai restaurants. The hostess tells you there's an hour wait for a table, so you put your name on the list and cross the street to its sister bar, Whiskey Soda Lounge, where you sit in the tented patio and order chili-flecked Ike's Vietnamese Fish Sauce Wings (a highlight from the Pok Pok menu). Just as you finish washing them down with a tamarind whiskey sour, a waitress informs you that your table is ready.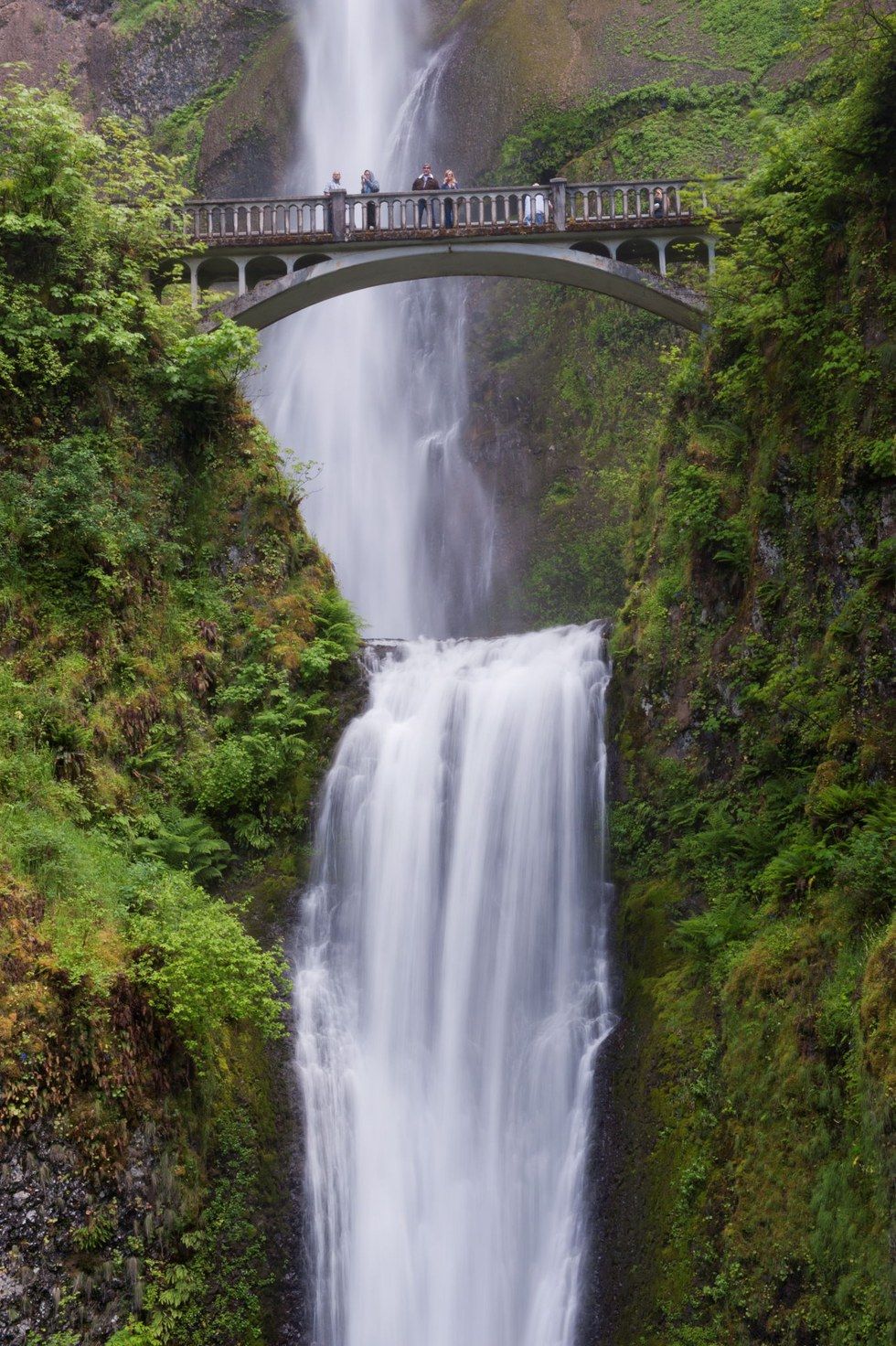 Multnomah Falls
Pok Pok's James Beard Award–winning chef, Andy Ricker, derives his menu from the cuisine of northern Thailand (no Pad Thai here). You sample a spicy, sour, wonderfully fresh papaya Pok Pok salad; the hoi thawt, a light crepe stuffed with eggs and fresh mussels; and kaeng hang leh, an outrageously rich pork curry with Burmese spices. Nothing tastes like anything else on the table, or anything else you've eaten anywhere. Forget sampling—you plow through it all like it's the last meal you'll ever eat.
After dinner, the simple act of standing up poses a challenge, but you somehow manage to hail a cab and head to an eastside institution, the LaurelThirst Public House, one of the best places around to catch local folk and country acts. Tonight they're hosting a Grateful Dead cover band, who've attracted an audience that consists of flailing college kids and old hippies, among them a white-bearded man in a tie-dyed shirt bearing a large wooden walking stick who looks like a Haight-Ashbury version of Gandalf.
You're close to toast by the time you get back downtown, but you've got a reservation at the exclusive Multnomah Whiskey Library, where you sit in a leather-padded booth and take in the high-ceilinged brick barroom. On one side hang portraits of famed whiskey makers, including George Washington, and on the other is the extensive "library"—the bar has old-fashioned ladders to reach the upper shelves—of whiskeys. You consider one of the cocktails, which are mixed tableside, but opt instead for an Old Rip Van Winkle 10 Year bourbon, neat. Your server gives an approving nod, and you close your evening sipping one of the best spirits on the planet.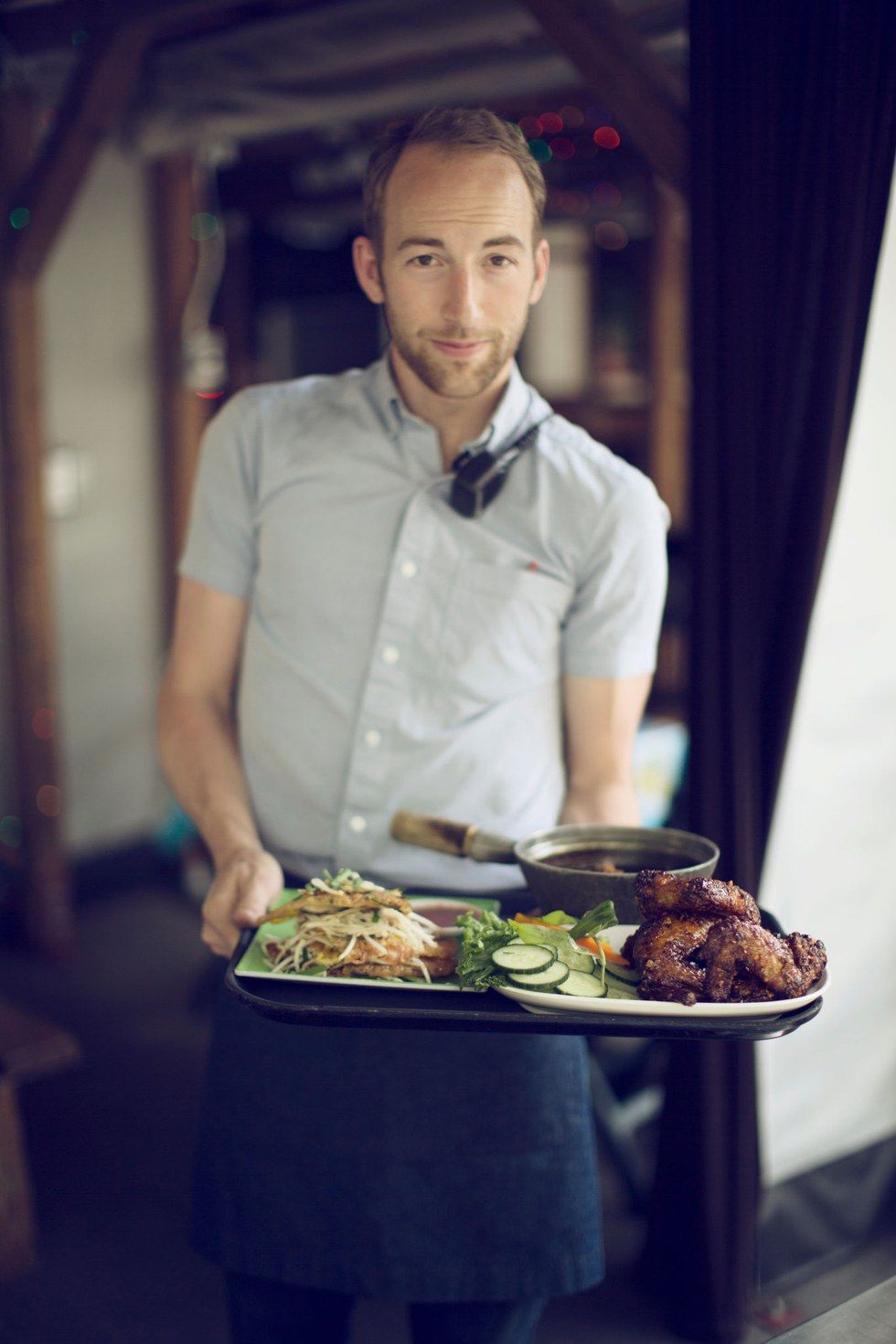 Ike's Vietnamese Fish Sauce Wings, Hoi Thawt and Kaeng Hung Leh at Pok Pok
DAY THREE | You'll be doing a bit of driving today. First you zip across the Fremont Bridge and up to Alberta Street, the main drag of the Alberta Arts District, which would be the Brooklyn of Portland if all of Portland weren't the Brooklyn of Portland. Your destination is Beast. Here, chef Naomi Pomeroy, a 2014 James Beard Award winner, runs a bright, homey one-room space with two large communal tables bracketing a prep station. Clearly, Beast's reputation has traveled: All but two of the eight people at your table are out-of-towners.
"It's always been this communal setup," server Lisa Perry says. "You get to meet people you wouldn't normally meet." So it is you share a convivial four-course brunch of a rhubarb clafoutis (custard with whipped cream and bacon); a light hash made with pork shoulder, fresh vegetables and a poached duck egg; a cheese plate; and a thick cube of chocolate cake. It is possibly the best brunch you've ever eaten.
Having fueled up, you're ready to split town. One of Portland's selling points is its proximity to a host of beautiful natural landmarks. Just a few minutes east of town you find the Historic Columbia River Highway, which winds up a hill to Vista House, a 97-year-old sandstone and marble rotunda perched on a cliff high above the massive Columbia River Gorge. You soak in the view, thinking that it hasn't changed much since Lewis and Clark rafted through on their way to the Pacific a couple of centuries ago.
From here you descend back into the canyon, the road winding through Douglas firs, over old stone bridges and past waterfalls until you reach 620-foot-high Multnomah Falls, the second-tallest year-round cascade in America. You pull over and walk along Multnomah Creek, looking for spawning salmon, then climb the trail to Benson Bridge. You pause here for a while, enjoying the mist from the powerful falls on your face.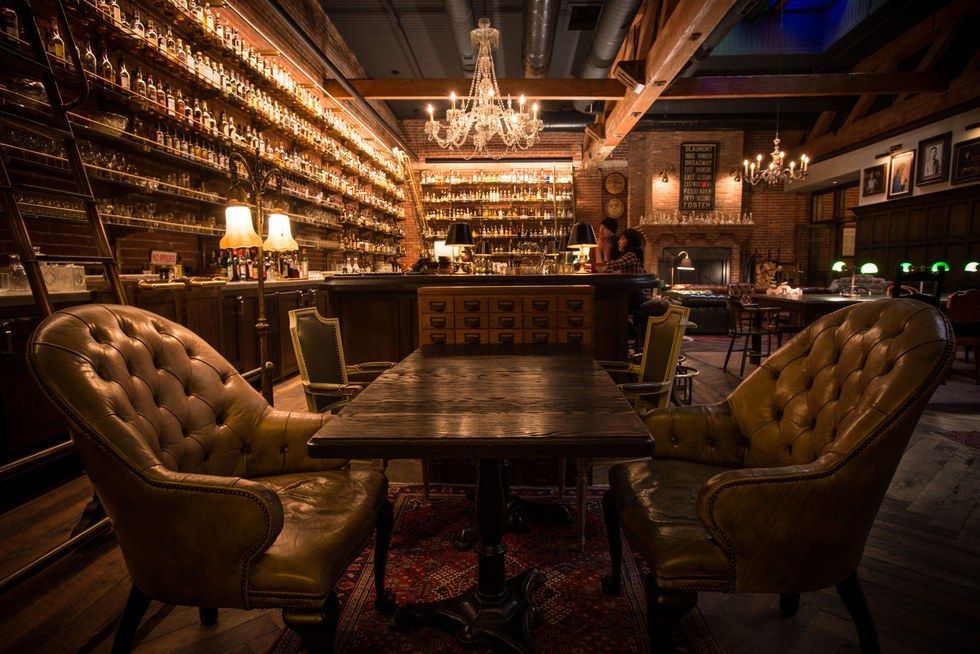 The Multnomah Whiskey Library
An hour east of Portland you reach Hood River, where you stop for lunch at the Double Mountain Brewery. You order a dry-hopped Vaporizer pale ale and scarf down a brick-oven pizza topped with goat cheese, kalamata olives and peppadew peppers. From here, you wander around the corner to a microbrewing pioneer, the employee-owned Full Sail Brewing Co. You grab a seat on the deck, looking out over the river, and nurse a bourbon barrel–aged porter, watching windsurfers flit about on the water.
Upon returning to the city, you check in at the eighth-floor lobby of the Nines hotel, beneath a seven-story atrium that bathes the luxe (and LEED-certified) interior in sunlight. You drop your bags and munch on the cheese plate in your room, which has a view of Pioneer Courthouse Square, the lively red-brick plaza known as "Portland's Living Room," before heading up to the rooftop bar, Departures. The vibe is different up here; with the wall panels glowing pink and purple and the bling-flashing crowd on the sun-blanched rooftop, you feel as if you stepped off an elevator in Vegas.
Back on the ground, with the sun still shining, you stroll across the Burnside Bridge to dinner at Le Pigeon, where you sit before chef Gabriel Rucker's open kitchen and watch flames rise from the range as the tattooed cooks deftly prepare a succession of adventurous French dishes: suckling pig croquettes, sturgeon pastrami, beef-cheek bourguignon, shrimp-crusted halibut. Each course is delicious and complex and comes with a perfect drink pairing. You do not have room for dessert.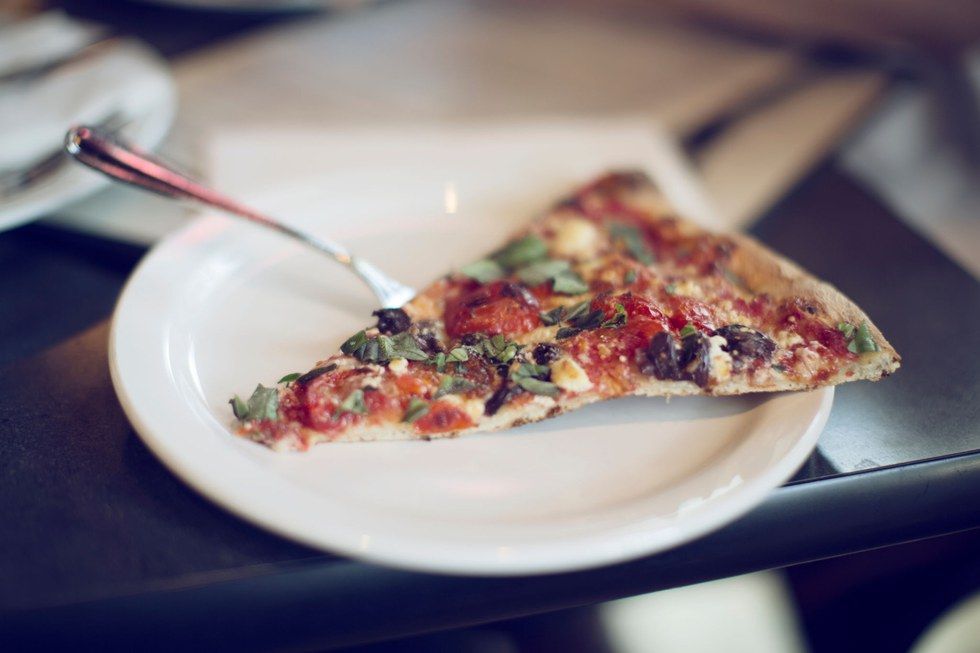 Buffy's Pizza at the Double Mountain Brewery
It's your last night in town and you're ready to rock out. You'll be doing this practically next door, at the Doug Fir Lounge. Once a seedy motel, the property was converted a few years ago into a boutique hotel and a bar that looks like a modernist hunting lodge that doubles as one of the city's best music venues. As Nashville-based indie songwriter Katie Herzig and her band take the stage, you look around the crowd—the studiously casual, comprehensively inked Portlanders who have helped make this the hippest town in America—and decide there may be an even better place to mark the end of your visit, a place that's conveniently located right up the street.
"People who grow up here or move here love it," says Gin Hicks, an artist at Fortune Tattoo. "There's an intense need to preserve it and nurture it and take care of it, and that rolls over into how people express themselves." With this, she clicks off her tattoo gun, pulling away to admire her work. You say goodnight and head back across the Burnside Bridge, the city lights twinkling on the river, a bright red rose tingling on your forearm.
Hemispheres managing editor JustinGoldman is still kinda bummed Carrie Brownstein wasn't waiting to greet him at the Portland airport.
This article was written by Justin Goldman from Rhapsody Magazine and was legally licensed through the NewsCred publisher network. Please direct all licensing questions to legal@newscred.com.
Around the web
When the pandemic began, United Cargo knew it would be critical to utilize its fleet, network and industry-leading pharmaceutical handling processes to transport a COVID-19 vaccine when the time came.
Connecting vaccines to the world: United responds to mass distribution effort
December 22, 2020
On November 27, United Airlines became the first commercial airline to safely deliver the first batch of Pfizer and BioNTech's COVID-19 vaccine into the U.S. thanks to a coordinated effort between United's cargo, safety, technical operations, flight operations, regulatory and legal teams.
Now as the entire shipping and logistics industry bands together to widely distribute vaccines, United is leveraging all of its flights, including cargo-only and those carrying passengers, to transport millions of vaccines to destinations throughout our network, including Honolulu, Guam and Saipan – the first of any carrier to do so.
"United's cargo service has helped safely deliver many essential goods during this pandemic, but there is no shipment that gives me more personal pride than helping bring this life-saving vaccine to our communities," said Jan Krems, United Cargo President. "While we still face a long road ahead the promise of a widely distributed vaccine gives us hope that we are one step closer to putting this pandemic behind us and moving forward together toward a brighter future."
And United is shipping more than just vaccines to help during the pandemic in keeping the lines of commerce flowing and goods getting to where they need to be. Since mid-March, United has operated 9,000 cargo-only flights carrying more than 435 million pounds of cargo. By using a combination of cargo-only flights and passenger flights, United Cargo has also transported 80 million pounds of medical supplies this year.
In coordination with our shipping and logistics partners, United will continue to distribute COVID-19 treatments to destinations throughout its network. The real heroes are the scientists who created these life-saving vaccines and the frontline workers who are not only administering them, but also helping care for and tend to those suffering from this virus. United is proud to do its part in helping to get this precious cargo to the people and communities who need them, and looks forward to doing our part in the months ahead.
United Cargo responds to COVID-19 challenges, prepares for what's next

September 30, 2020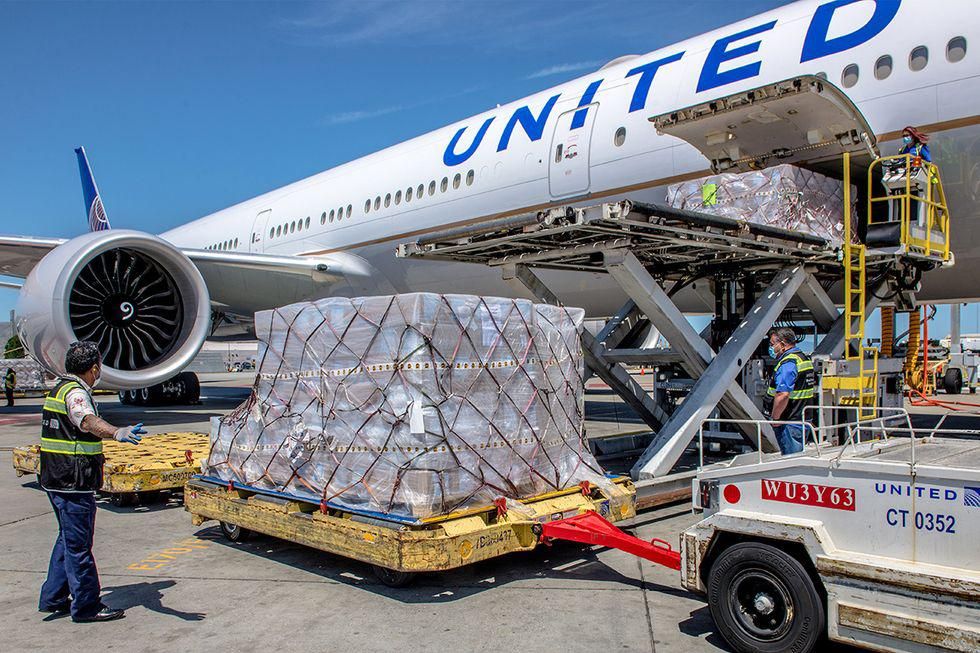 Even before the COVID-19 pandemic, United Cargo has supported a variety of customers within the healthcare industry for over 10 years. Three key solutions – TempControl, LifeGuard and QuickPak – protect the integrity of vital shipments such as precision medicine, pharmaceuticals, biologics, medical equipment and vaccines. By utilizing processes like temperature monitoring, thermodynamic management, and priority boarding and handling, United Cargo gives customers the peace of mind that their shipments will be protected throughout their journey.

With the global demand for tailored pharmaceutical solutions at an all-time high, we've made investments to help ensure we provide the most reliable air cargo options for cold chain shipping. In April this year, we became the first U.S. carrier to lease temperature-controlled shipping containers manufactured by DoKaSch Temperature Solutions. We continue to partner with state-of-the-art container providers to ensure we have options that meet our customers' ever-changing needs.
"Providing safe air cargo transport for essential shipments has been a top priority since the pandemic began. While the entire air cargo industry has had its challenges, I'm proud of how United Cargo has adapted and thrived despite a significant reduction in network capacity and supply," said United Cargo President Jan Krems. "We remain committed to helping our customers make it through the pandemic, as well as to doing everything we can to be prepared for the COVID-19 vaccine distribution when the time comes."
Our entire team continues to prioritize moving critical shipments as part of our commitment to supporting the global supply chain. We've assembled a COVID readiness task team to ensure we have the right people in place and are preparing our airports as we get ready for the industry-wide effort that comes next.
In cooperation with our partners all over the world, United Cargo has helped transport nearly 145 million pounds of medical supplies to aid in the fight against COVID-19, using a combination of cargo-only flights and passenger flig­hts. To date, United Cargo has operated more than 6,300 cargo-only flights and has transported more than 213 million pounds of cargo worldwide.
United Cargo responds to global needs, celebrates 5000th cargo-only flight

August 18, 2020
By Jan Krems, President, United Cargo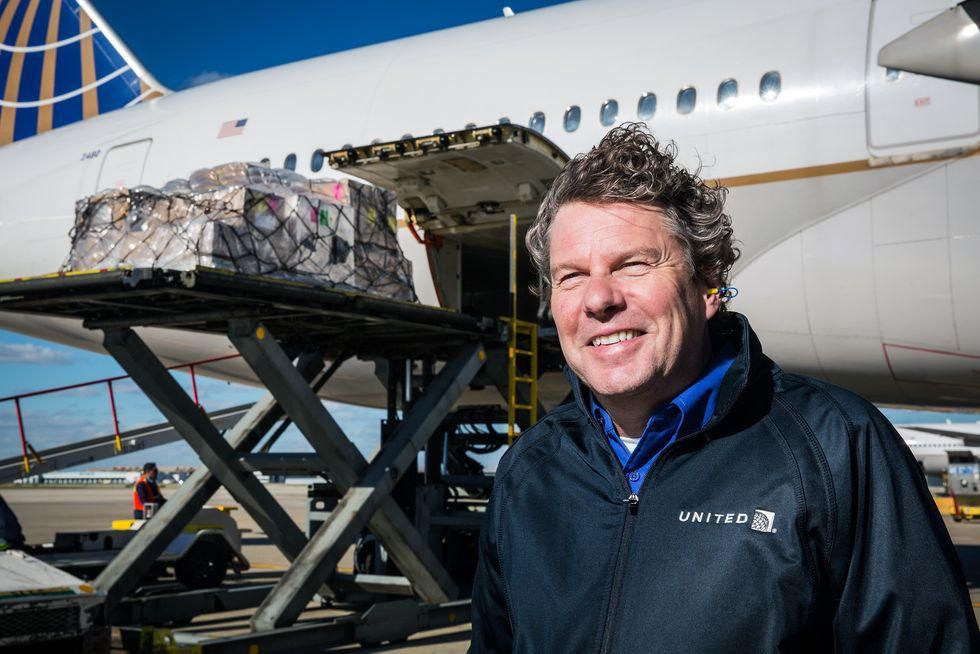 In mid-March, United took steps to manage the historic impact of COVID-19 and began flying a portion of our Boeing 777 and 787 fleets as dedicated cargo-only flights to transport air freight to and from U.S. hubs and key international business locations. More than ever, providing reliable cargo transportation was vitally important and I'm proud say our United Cargo team stepped up to support our customers.

Although we're facing the most challenging environment our industry has ever experienced, I'm very excited to celebrate a major milestone. Since March 19, United has operated over 5,000 cargo-only flights transporting nearly 170 million pounds of cargo on these flights alone. With an increased need to keep the global supply chain moving, and an even more urgent need for medical supplies, we knew we had to utilize our network capabilities and personnel to move vital shipments, such as medical kits, personal protective equipment (PPE), pharmaceuticals and medical equipment between U.S. hubs and key international destinations.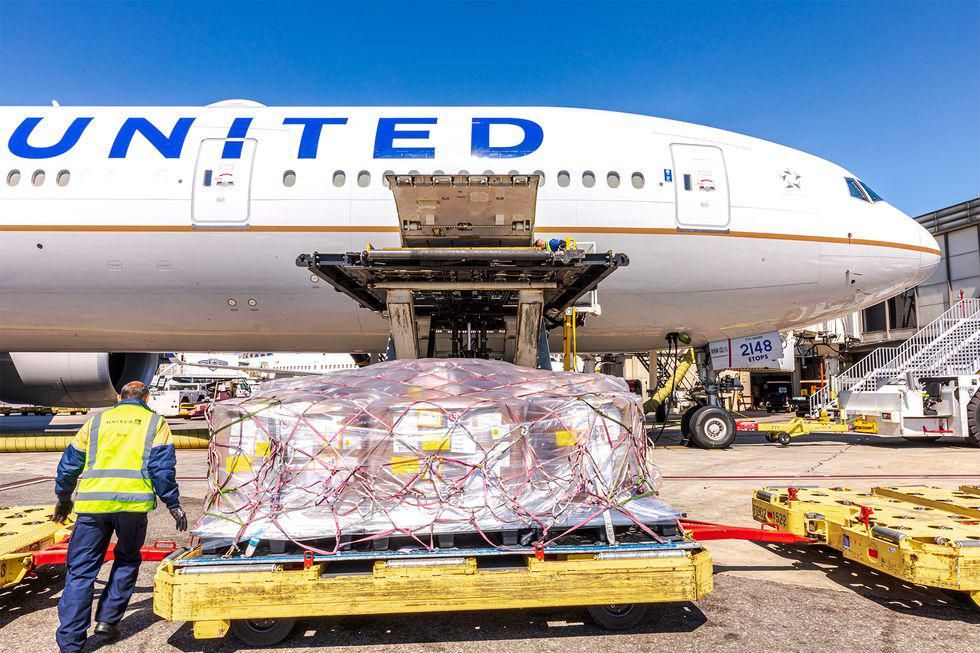 In cooperation with freight forwarders and partners all over the world, United Cargo helped transport more than 107 million pounds of medical supplies to aid in the fight against COVID-19 using a combination of cargo-only flights as well as passenger flights.

To keep military families connected, we increased the frequency of cargo-only flights between the U.S. and military bases in various parts of the world — including bases located in Guam, Kwajalein and several countries in Europe. We know how critically important it is for these families to stay connected, and I'm honored that we were able to utilize our network and our aircraft to fly nearly 3 million pounds of military supplies.
In collaboration with food-logistics company Commodity Forwarders Inc. (CFI), our cargo teams moved nearly 190,000 pounds of fresh produce to Guam for the U.S. Department of Agriculture's Coronavirus Farm Assistance Program. This new program was created to provide critical support to consumers impacted by the coronavirus pandemic.
United has played a critical role in keeping global supply chains stable during the pandemic as we deliver urgently needed goods around the world. These past few months have created challenges that I have never seen in my 30-plus years of experience working within the air cargo and freight forwarding industry. However, I'm proud of our teams for staying focused on our mission to provide high-quality service and to keep our customers connected with the goods they need most.
United Cargo and logistics partners keep critical medical shipments moving
July 02, 2020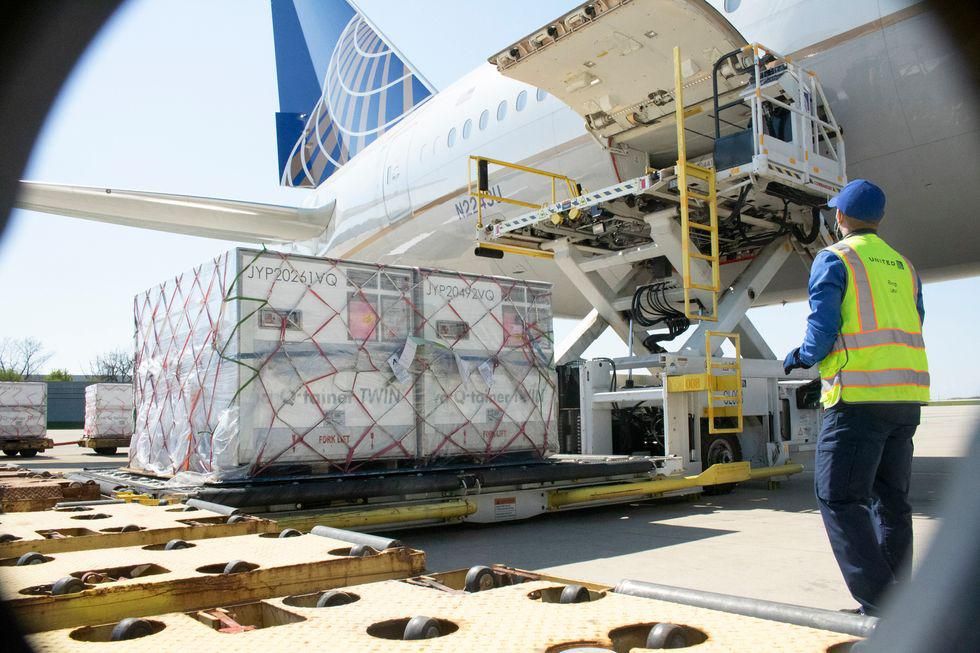 By working together and strengthening partnerships during these unprecedented times, our global community has overcome challenges and created solutions to keep the global supply chain moving. As COVID-19 continues to disrupt the shipping landscape, United and our industry partners have increasingly demonstrated our commitment to the mission of delivering critical medical supplies across the world.

United Cargo has partnered with DSV Air and Sea, a leading global logistics company, to transport important pharmaceutical materials to places all over the world. One of the items most critical during the current crisis is blood plasma.
Plasma is a fragile product that requires very careful handling. Frozen blood plasma must be kept at a very low, stable temperature of negative 20 degrees Celsius or less – no easy task considering it must be transported between trucks, warehouses and airplanes, all while moving through the climates of different countries. Fortunately, along with our well-developed operational procedures and oversight, temperature-controlled shipping containers from partners like va-Q-tec can help protect these sensitive blood plasma shipments from temperature changes.
A single TWINx shipping container from va-Q-tec can accommodate over 1,750 pounds of temperature-sensitive cargo. Every week, DSV delivers 20 TWINx containers, each one filled to capacity with human blood plasma, for loading onto a Boeing 787-9 for transport. The joint effort to move thousands of pounds of blood plasma demonstrates that despite the distance, challenges in moving temperature-sensitive cargo and COVID-19 obstacles, we continue to find creative solutions with the help of our strong partnerships.
United Cargo is proud to keep the commercial air bridges open between the U.S. and the rest of the world. Since March 19, we have operated over 3,200 cargo-only flights between six U.S. hubs and over 20 cities in Asia, Australia, Europe, South America, India, the Caribbean and the Middle East.
United further expands cargo-only operations to key international markets
June 9, 2020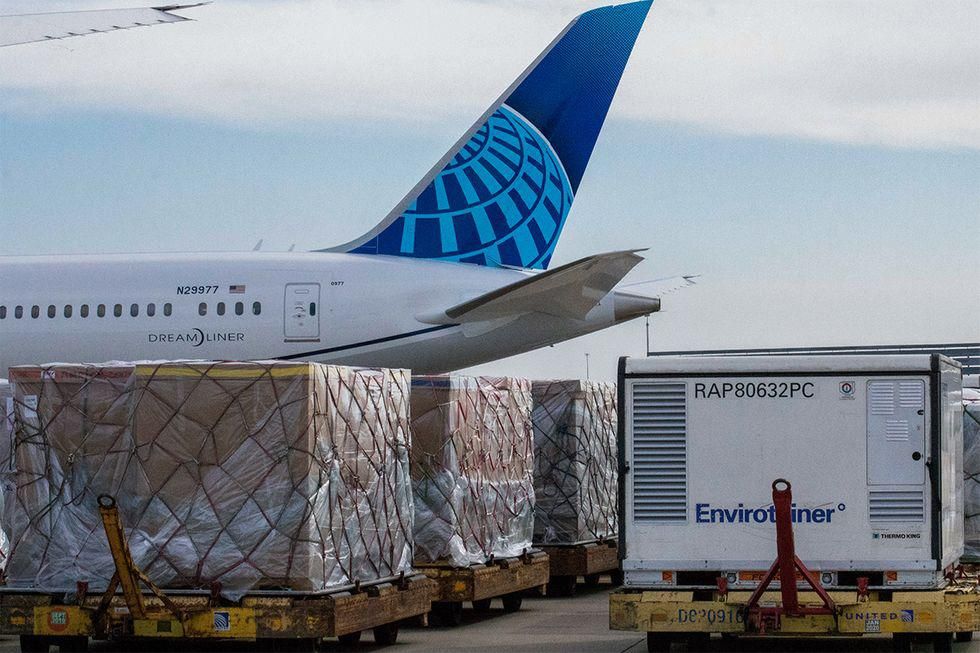 United has played a vital role in helping keep the global supply chains stable during the COVID-19 pandemic so urgently needed goods can get to the places that need them most.

In addition to current service from the U.S. to Asia, Australia, Europe, India, Latin America and the Middle East, we are proud to now offer cargo-only flights to key international markets including Dublin, Paris, Rome, Santiago and Zurich. These new routes will connect our freight customers and further extend our air cargo network throughout the world – for example connecting major pharmaceutical hubs in Europe and perishable markets in Latin America.
"Air cargo continues to be more important than ever," says United Cargo President Jan Krems. "This network expansion helps our customers continue to facilitate trade and contribute to global economic development and recovery. I'm proud of our team for mobilizing our cargo-only flights program that enables the shipment of critical goods that will support global economies."
Since we began our program March 19, we have completed more than 2,400 cargo-only flights, transporting over 77 million pounds of cargo. We have over 1,100 cargo-only flights scheduled for the month of June, operating between six U.S. hubs and over 20 cities all over the world.
United's first flight carrying cargo in-cabin takes off
May 13, 2020

United continues to keep supply chains moving and to meet the demand for critical shipments around the globe. Recently, United received approval from the Federal Aviation Administration (FAA) to carry cargo in approved storage areas in the passenger cabin.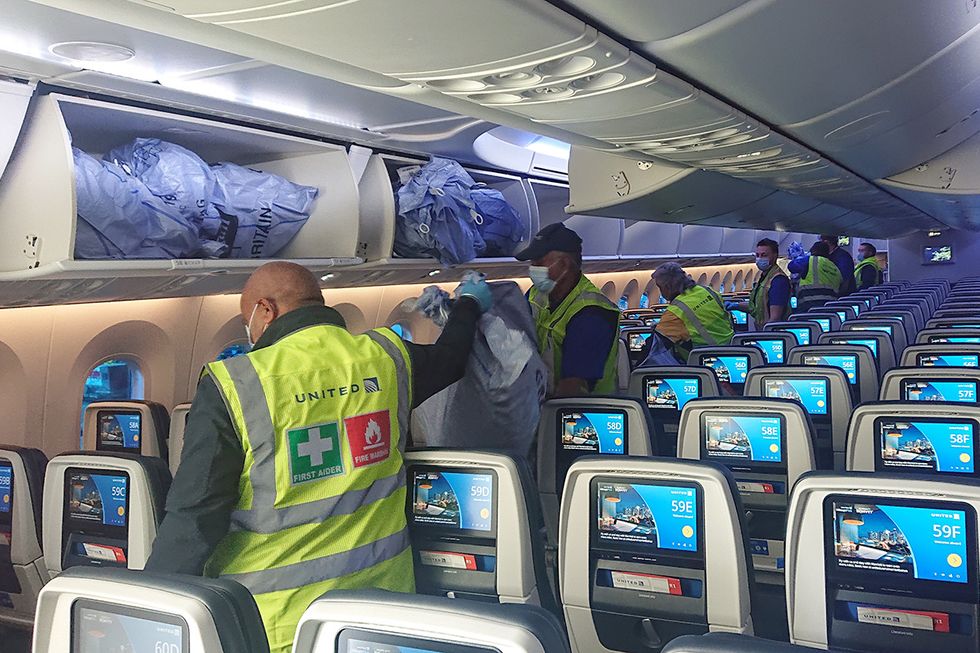 Our inaugural cargo-in-cabin flight flew from London (LHR) to Chicago (ORD) carrying over 4,200 pounds of mail in the passenger cabin, plus a full payload of freight in the belly of the aircraft. Initially, cargo-in-cabin shipments will be loaded on the 777 and 787 aircraft operating our cargo-only flights. We will continue to evaluate additional opportunities to use this space to meet the growing cargo demand.
"We send our sincere thanks to the FAA for working with our team to enable the transport of more critical goods on United's cargo-only flights," said Jan Krems, President of United Cargo. "By loading existing cabin storage areas with cargo and mail, we can move even more critical medical equipment, PPE, and other vital shipments the world needs to manage through the pandemic."

United's cargo-only network continues to expand in order to help bring vital shipments to the people that need it most. We're now offering service between six of our U.S. hubs and 18 airports worldwide: CTU, HKG, ICN, MEL, PEK, PVG, SIN, SYD and TPE in the Asia-Pacific; AMS, BOM, BRU, DUB, FRA, LHR, TLV and ZRH in EMEIA; and SJU in the Caribbean.
Since the start of its cargo-only flights program March 19, United has operated over 1,300 cargo-only flights transporting over 44 million pounds of cargo.
For more information, visit unitedcargo.com.
United expands cargo-only flights to additional global destinations
April 16, 2020
Getting vital goods, especially medical relief supplies, into the hands of the businesses and people who need them has never been more critically important. To meet the overwhelming demand, United began operating cargo-only flights on March 19. Since we began using Boeing 777 and 787 aircraft from United's passenger fleet for this purpose, we have operated over 400 flights carrying more than 6 million kilos of cargo.
"With the global community in need, we are doing everything we can to keep supply chains moving worldwide and support the battle against COVID-19," said United Cargo President Jan Krems. "We're proud to play an active role in connecting vital medical supplies like test kits and personal protective equipment with healthcare professionals around the world."
We are now operating more than 150 cargo-only flights per week between six of our U.S. hubs and 13 cities worldwide: CTU, HKG, PEK, PVG, SYD and TPE in the Asia Pacific; AMS, BRU, DUB, FRA and LHR in Europe; SJU in the Caribbean and TLV in the Middle East. We expect to add new cities soon and will continue to expand our cargo-only flights program.
Hub
Cargo-only flights operating through May
Chicago (ORD)
ORD - AMS (Amsterdam)
ORD - FRA (Frankfurt)
ORD - HKG (Hong Kong)
ORD - LHR (London)
ORD - NRT (Tokyo Narita) - PEK (Beijing)

Houston (IAH)
IAH - AMS (Amsterdam)
IAD - FRA (Frankfurt)
Los Angeles (LAX)
LAX - HKG (Hong Kong)
LAX - LHR (London Heathrow)
LAX - NRT (Tokyo Narita) - PVG (Shanghai)
LAX - SYD (Sydney)
New York/Newark (EWR)
EWR - AMS (Amsterdam)
EWR - FRA (Frankfurt)
EWR - LHR (London)
San Francisco (SFO)
SFO - AMS (Amsterdam)
SFO - NRT (Tokyo Narita) - PEK (Beijing)
SFO - NRT (Tokyo Narita) - PVG (Shanghai)
SFO - NRT (Tokyo Narita) - TPE (Taipei)
SFO - TLV (Tel Aviv)
SFO - SYD (Sydney)
Washington, D.C. (IAD)
IAD - BRU (Brussels)
IAD - DUB (Dublin)
IAD - FRA (Frankfurt)
IAD - NRT (Tokyo Narita) - PEK (Beijing)
IAD - SJU (San Juan)
Flight details are subject to change, for the most up-to-date schedules, please visit https://ual.unitedcargo.com/covid-updates.
Cargo-only flights support U.S. military and their families
March 30, 2020
We are helping to keep military families connected by increasing the frequency of cargo-only flights between the United States and military bases in various parts of the world — including Guam, Kwajalein, and several countries in Europe. Last week we began operating a minimum of 40 cargo-only flights weekly — using Boeing 777 and 787 aircraft to fly freight and mail to and from U.S. hubs and key international business and military locations.
We are going above and beyond to find creative ways to transport fresh food and produce, as well as basic essentials from the U.S. mainland to military and their families in Guam/Micronesia. On Saturday, March 28, we operated an exclusive cargo-only B777-300 charter to transport nearly 100,000 pounds of food essentials to Guam to support our troops.
In addition, we move mail year-round all over the world. In response to COVID-19, and in support of the military members and their families overseas, we implemented a charter network, transporting military mail to Frankfurt, which is then transported all over Europe and the Middle East. Since March 20, we have flown 30,000+ pounds of military mail every day between Chicago O'Hare (ORD) and Frankfurt (FRA). On the return flight from Frankfurt to Chicago, we have carried an average of 35,000 pounds of mail to help families stay connected.

"Keeping our military families connected with the goods they need, and keeping them connected with loved ones to feel a sense of home, is of critical importance. As a company that has long supported our military families and veterans, our teams are proud to mobilize to lend a hand." — United Cargo President Jan Krems.
Our cargo-only flights support customers, keep planes moving

March 22, 2020
We have begun flying a portion of our Boeing 777 and 787 fleet as dedicated cargo charter aircraft to transfer freight to and from U.S. hubs and key international business locations. The first of these freight-only flights departed on March 19 from Chicago O'Hare International Airport (ORD) to Frankfurt International Airport (FRA) with the cargo hold completely full, with more than 29,000 lbs. of goods.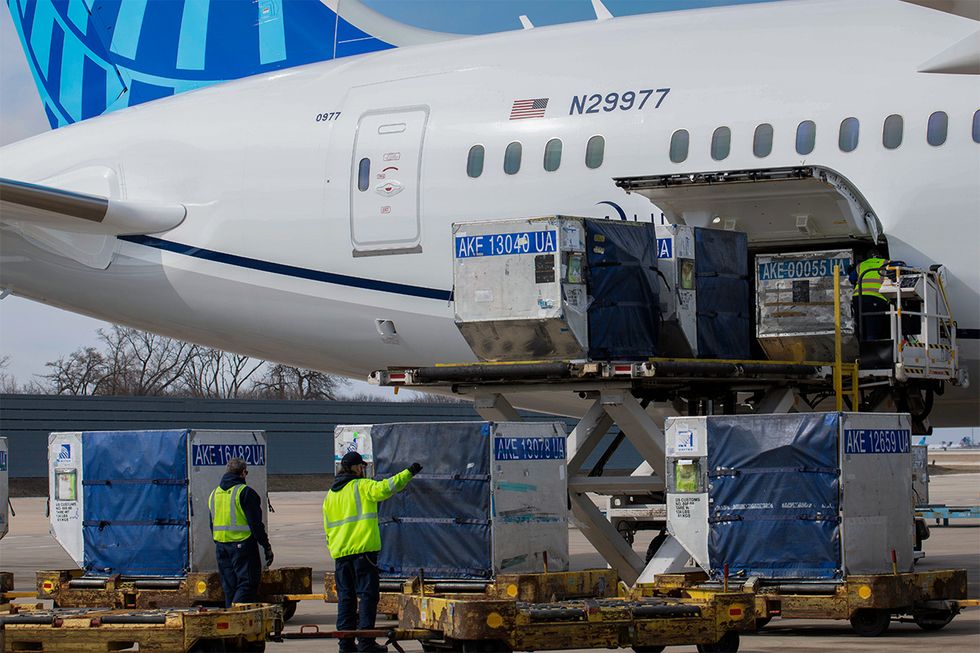 Getting critical goods into the hands of the businesses and people who need them most is extremely important right now. To support customers, employees and the global economy, we will initially operate a schedule of 40 cargo charters each week targeting international destinations and will continue to seek additional opportunities.

With coronavirus (COVID-19) creating an increased need to keep the global supply chain moving, we are utilizing our network capabilities and personnel to get vital shipments, such as medical supplies, to areas that need them most.
"Connecting products to people around the world is the United Cargo mission," said United Cargo President Jan Krems. "That role has never been more crucial than during the current crisis. Our team is working around the clock to provide innovative solutions for our customers and support the global community."
On average, we ship more than 1 billion pounds of cargo every year on behalf of domestic and international customers. For more information, visit unitedcargo.com.
Airline and its customers use crowdsourcing platform - Miles on a Mission - to donate more than 11 million miles for charities like the Thurgood Marshall College Fund, College to Congress and Compass to Care
CHICAGO, Dec. 1, 2020 /PRNewswire/ -- United is inviting MileagePlus members to give back on Giving Tuesday and throughout the holiday season by donating miles to nearly 40 non-profits through United Airlines' crowdsourcing platform, Miles on a Mission. Non-profits like Thurgood Marshall College Fund, College to Congress and Compass to Care are attempting to raise a total of more than 11 million miles to be used for travel for life-saving health care, continued education, humanitarian aid and more. United will match the first 125,000 miles raised for each of these organizations to help ensure they meet their goals.
"This year has posed unprecedented challenges for us all and has been especially devastating to some of the most vulnerable members within the communities we serve," said Suzi Cabo, managing director of global community engagement, United Airlines. "The need for charitable giving has not stopped during the pandemic, and neither has United. This Giving Tuesday marks an opportunity for us to all come together for the greater good and we are proud to provide a platform to support organizations with upcoming travel needs that will enable them to continue supporting the communities they serve."
The launch of these campaigns is part of United's ongoing Miles on a Mission program, which began in October 2019 and has raised more than 92 million miles to-date. Past campaigns have helped organizations travel children for life-saving medical treatment and unite parents with newly adopted children from foreign countries. Participating non-profits have 28-days to reach their mile raising goals through the platform.
The organizations that are raising miles in this campaign include:
College to Congress: The organization provides support including travel for disadvantaged college students who otherwise could not afford to intern in Washington, D.C.
Thurgood Marshall College Fund: This is the only national organization representing America's 47 publicly-supported Historically Black Colleges and Universities (HBCUs), and the nearly 300,000 students that attend them each year. The miles raised will cover the travel expenses to and from campus for students unable to afford them.
My Block, My Hood, My City: This organization provides underprivileged youth with an awareness of the world and opportunities beyond their neighborhood. Miles will be used to fund educational trips for Chicago youths to help them gain a greater understanding of the world outside of their comfort zones.
Compass to Care: The non-profit ensures all children, whose parents have a financial need, can access life-saving cancer treatment. Compass to Care is raising miles to fund travel to get children from their homes to hospitals for cancer treatment.
Luke's Wings: This organization is dedicated to the support of service members who have been wounded in battle. Raised miles will be used to purchase plane tickets for families to visit wounded soldiers recovering in Army medical centers.
Rainbow Railroad USA: The organization's mission is to help persecuted LGBTQI+ individuals around the world travel to safety as they seek a haven from persecution. Miles will support the organization's core Emergency Travel Support program.
This year, United's legal partner Kirkland & Ellis will also be donating $50,000 to My Block, My Hood, My City and the Thurgood Marshall College Fund. Other organizations launching campaigns on the platform include: Sisters of the Skies, Inc., Up2Us Sports, Airline Ambassadors International, Austin Smiles, AWS Foundation, Crazy Horse Memorial, FLYTE, Higher Orbits, Lily's Hope Foundation, Miles4Migrants, Support Utila Inc. and Watts of Love. MileagePlus members can also donate to United's 20 other existing partner charities including, Airlink, American Red Cross, Make-A-Wish, Shriners Hospitals; Clean the World, Special Olympics and more. To learn more or donate to these organizations, please visit donate.mileageplus.com.
Visit www.united.com/everyactioncounts to learn more about our pledge to put our people and planes to work for the greater good.
About United
United's shared purpose is "Connecting People. Uniting the World." For more information, visit united.com, follow @United on Twitter and Instagram or connect on Facebook. The common stock of United's parent, United Airlines Holdings, Inc., is traded on the Nasdaq under the symbol "UAL".

SOURCE United Airlines
For further information: United Airlines Worldwide Media Relations, +1-872-825-8640, media.relations@united.com

In October 2019, we launched a first-of-its-kind airline miles donation platform, Miles on a Mission. In the inaugural year, MileagePlus members donated over 70 million miles, with United matching over 20 million miles, to 51 organizations. These miles have allowed for these organizations to do important, life-changing, life-saving work in the communities we serve around the globe.
Whether it's visiting friends and relatives, traveling for work or simply exploring a new corner of the world, we all have a reason as to why we fly. No matter the reason you fly, the miles you earn and donate help our Miles on a Mission partners soar. Take a look at how some of our partner organizations have put our MileagePlus Members' donations to work.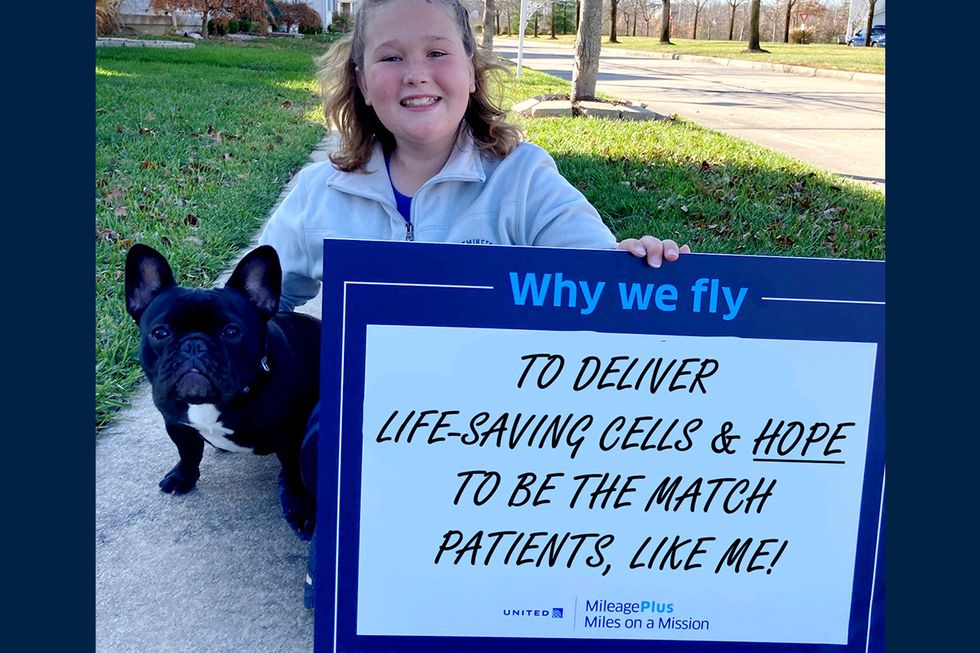 "To deliver life-saving cells and hope to Be the Match patients, like me!"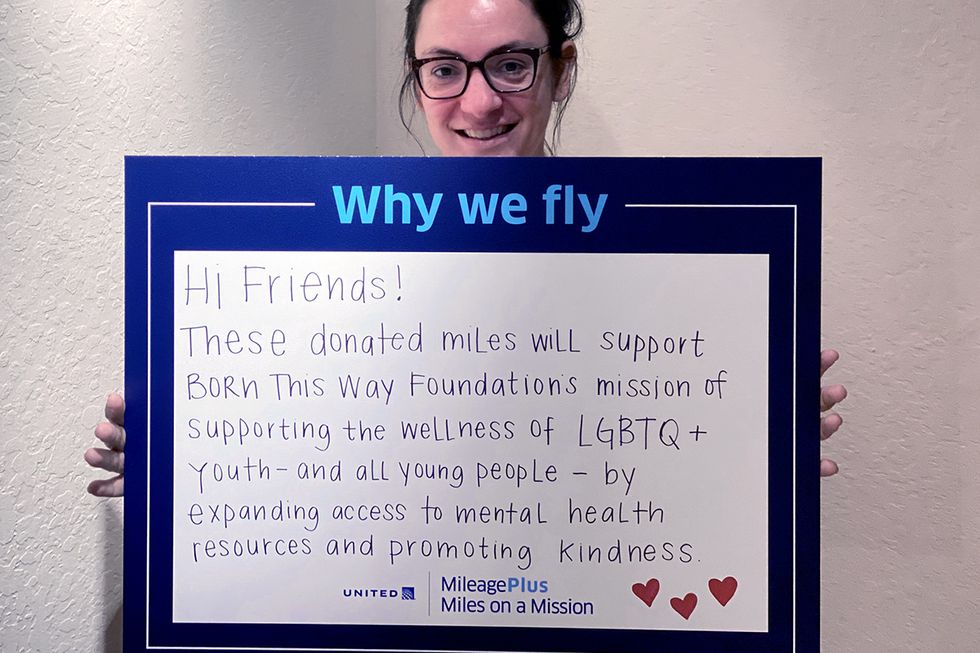 "These donated miles will support Born This Way Foundation's mission of supporting the wellness of LGBTQ+ youth — and all young people — by expanding access to mental health resources and promoting kindness."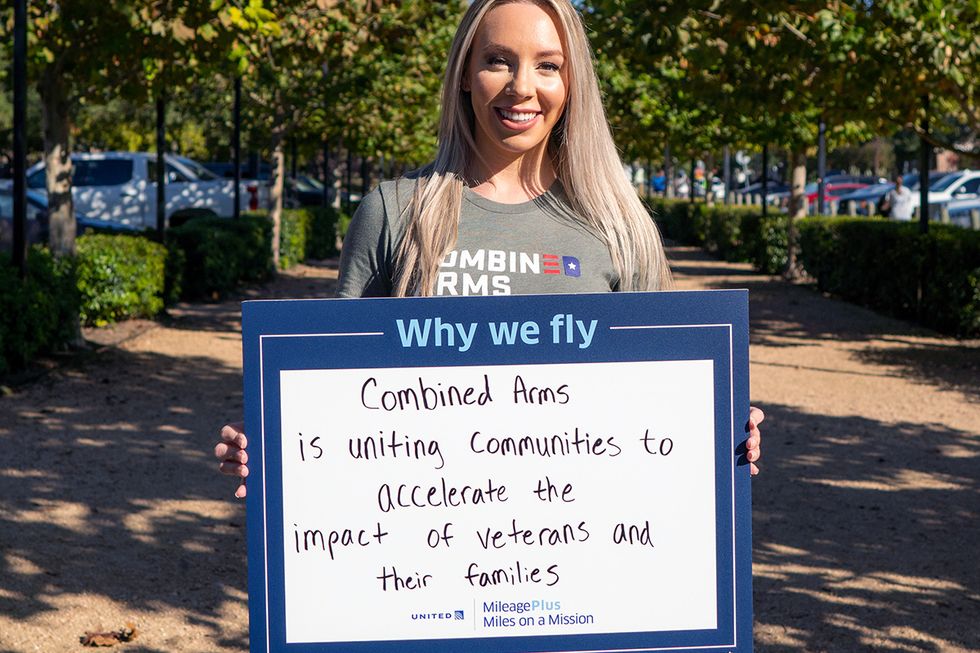 "Combined Arms is uniting communities to accelerate the impact of veterans and their families."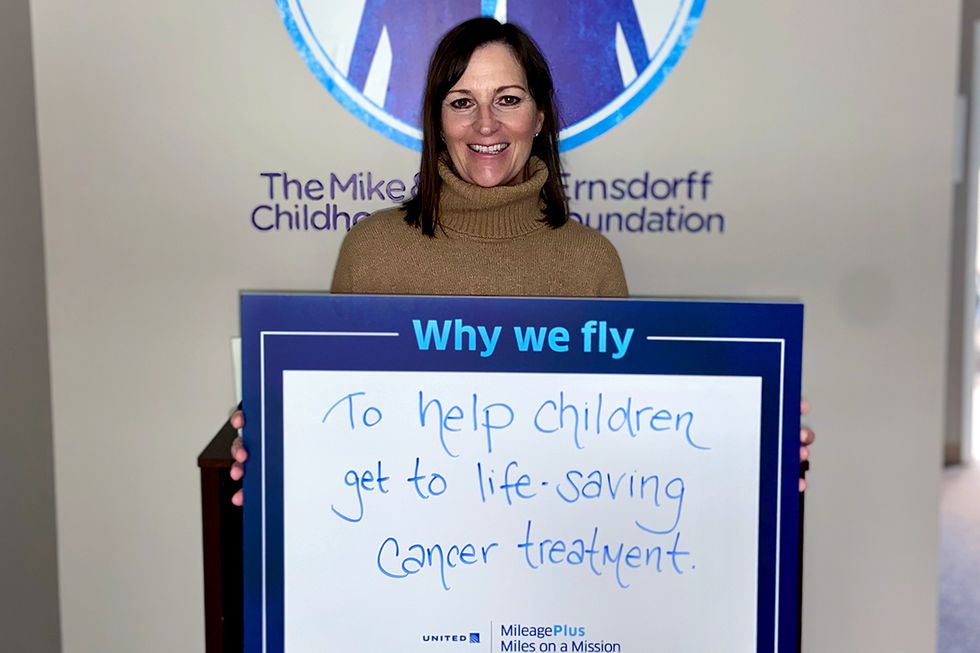 "To help children get to life-saving cancer treatment"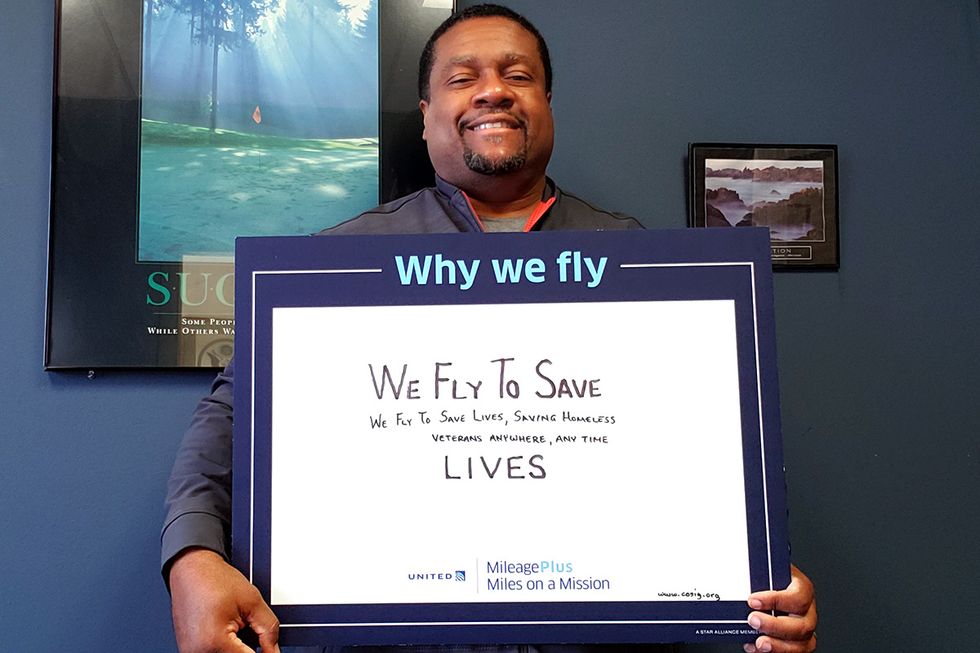 "We fly to save. We fly to save lives, saving homeless veterans anywhere, any time."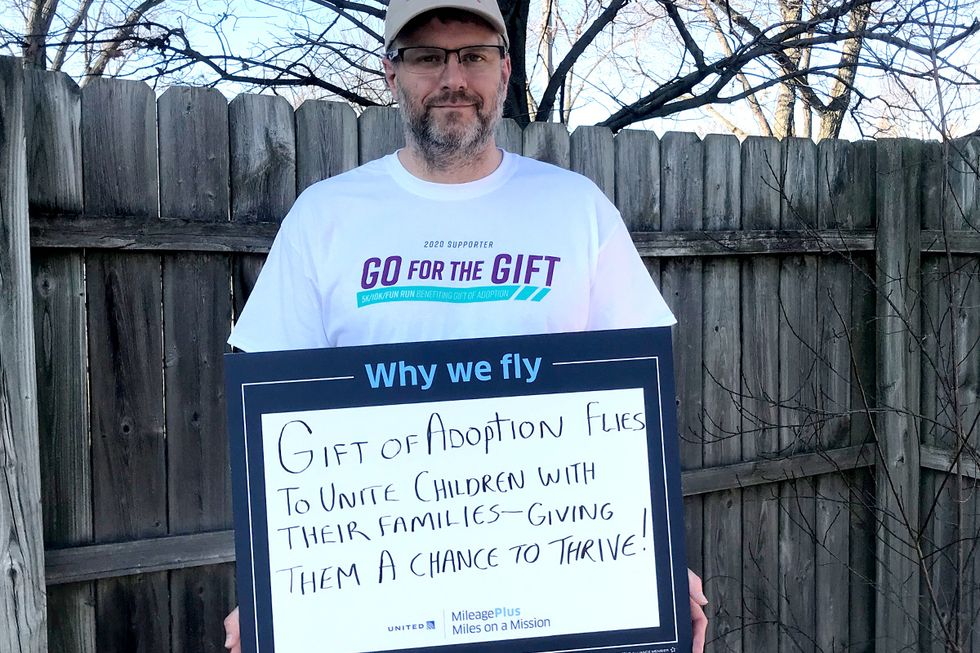 "Gift of Adoption flies to unite children with their families — giving them a chance to thrive!"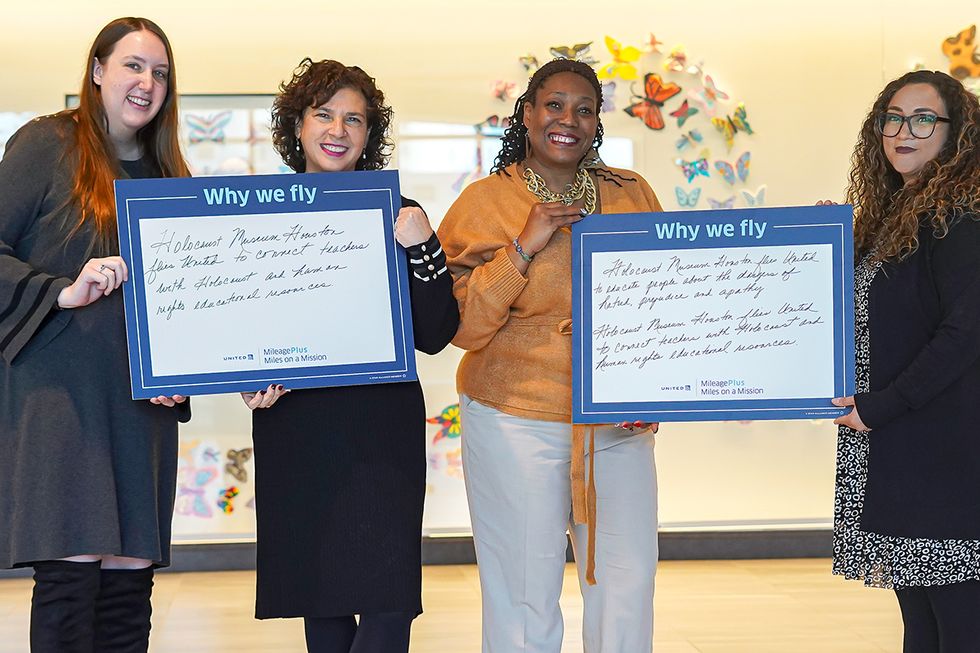 "Holocaust Museum Houston flies United to educate people about the dangers of hatred, prejudice and apathy. Holocaust Museum Houston flies United to connect teachers with Holocaust and human rights educational resources."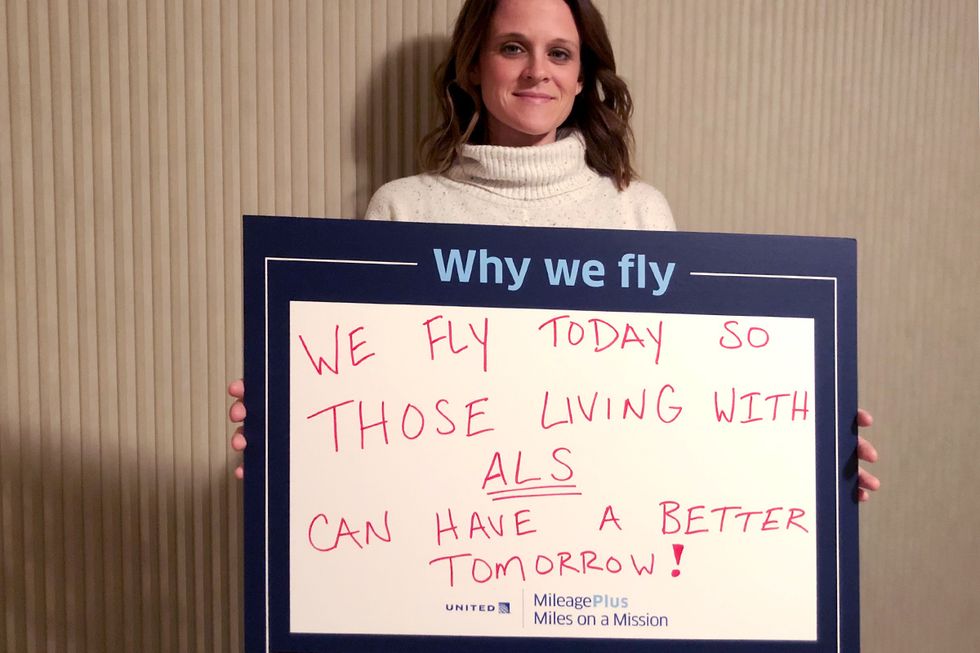 "We fly today so those living with ALS can have a better tomorrow."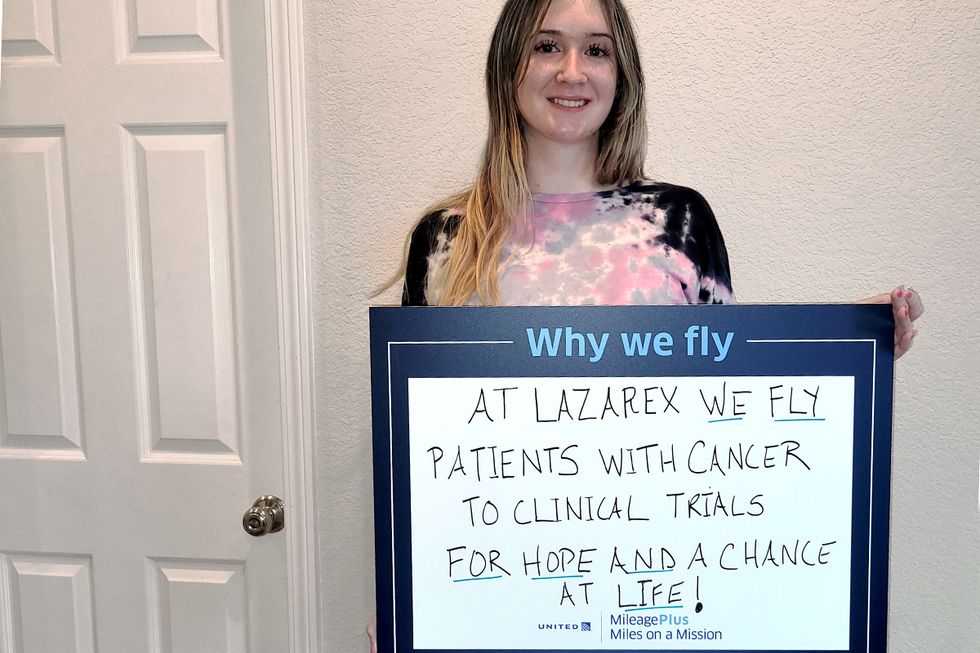 "At Lazarex we fly patients with cancer to clinical trials for hope and a chance at life!"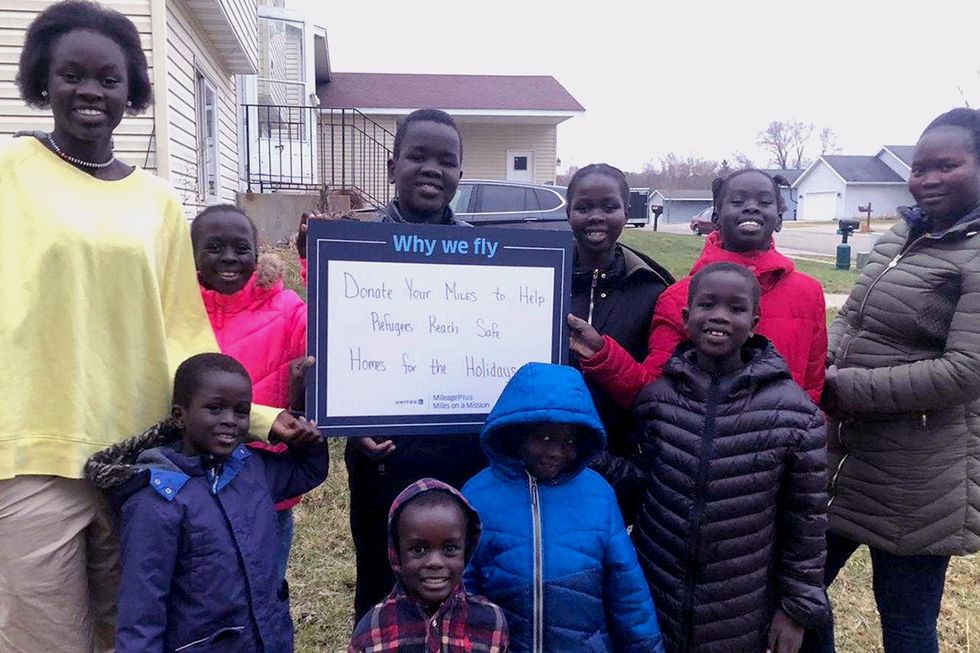 "Donate your miles to help refugees reach safe homes for the holidays."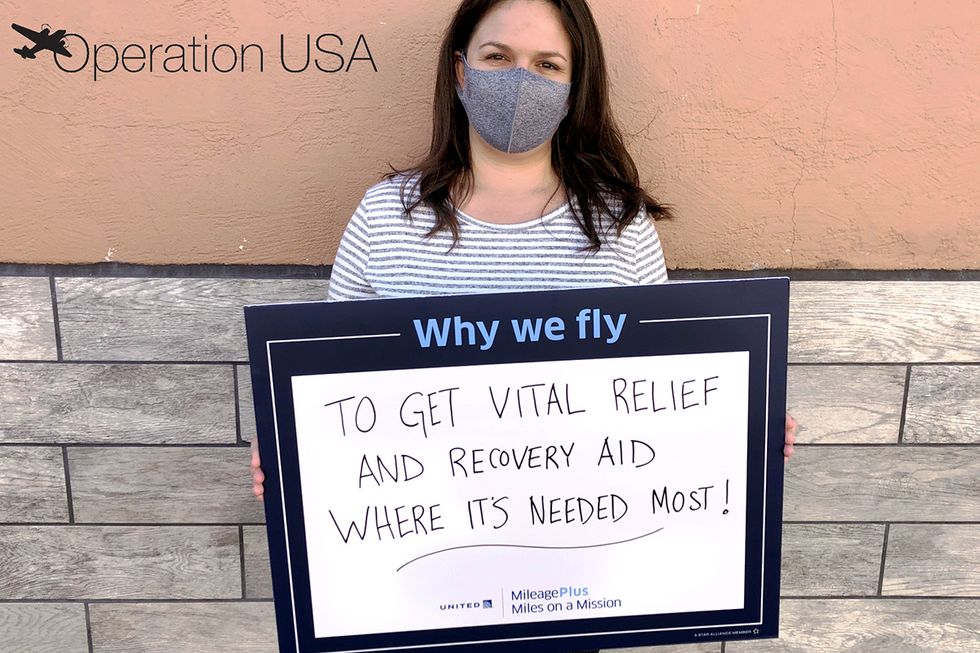 "To get vital relief and recovery aid where it's needed most!"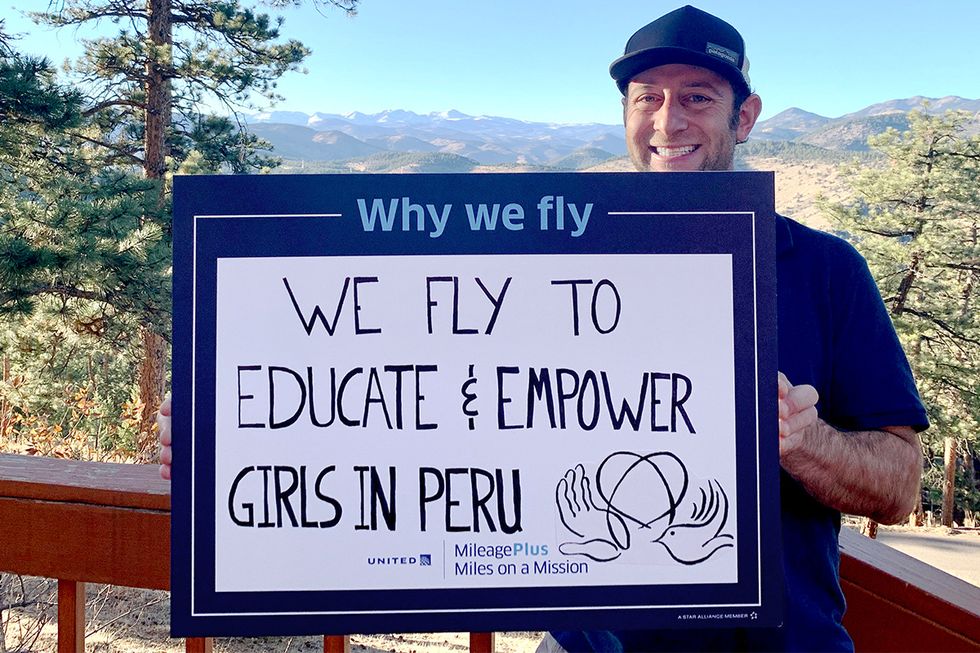 "We fly to educate and empower girls in Peru."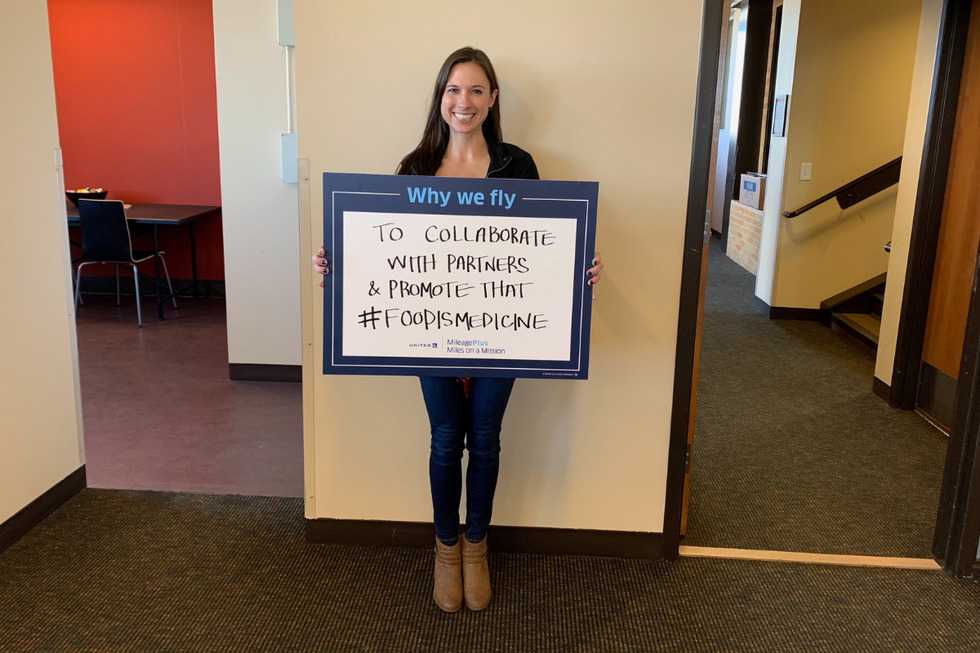 "To collaborate with partners & promote that #FoodIsMedicine"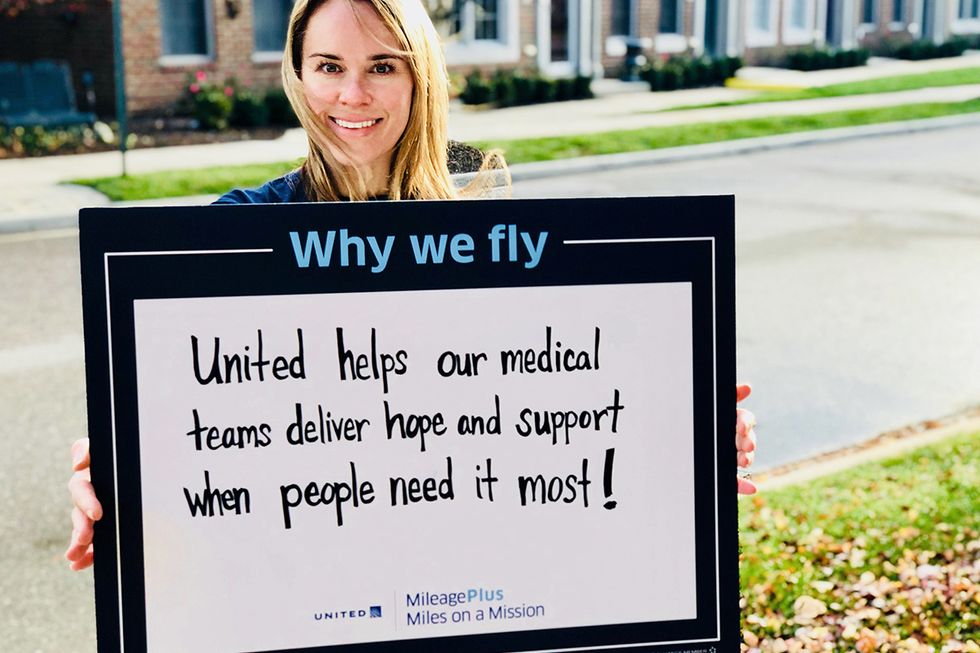 "United helps our medical teams deliver hope and support when people need it most!"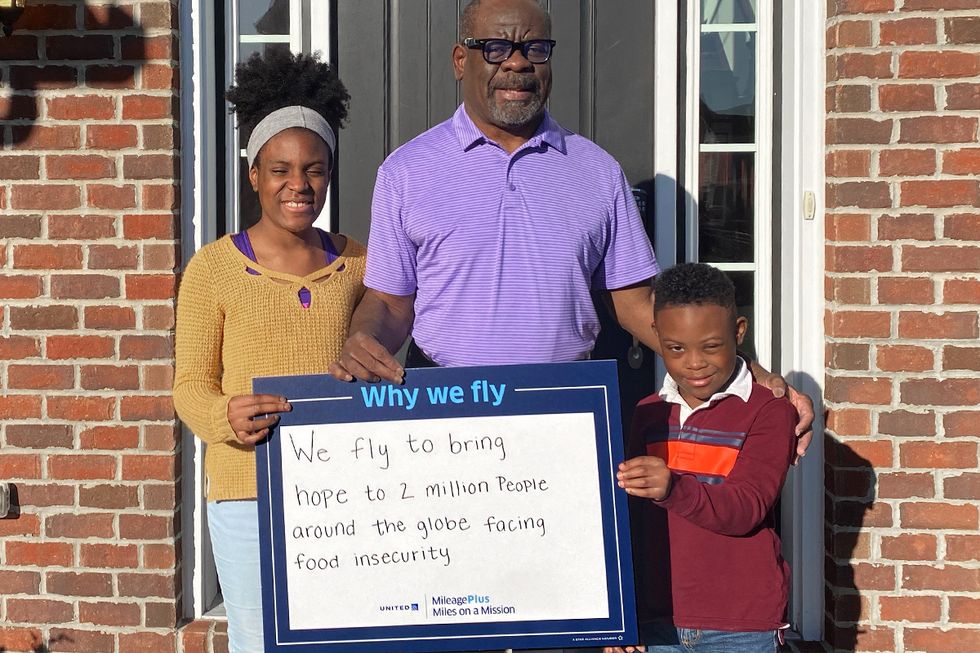 "We fly to bring hope to 2 million people around the globe facing food insecurity."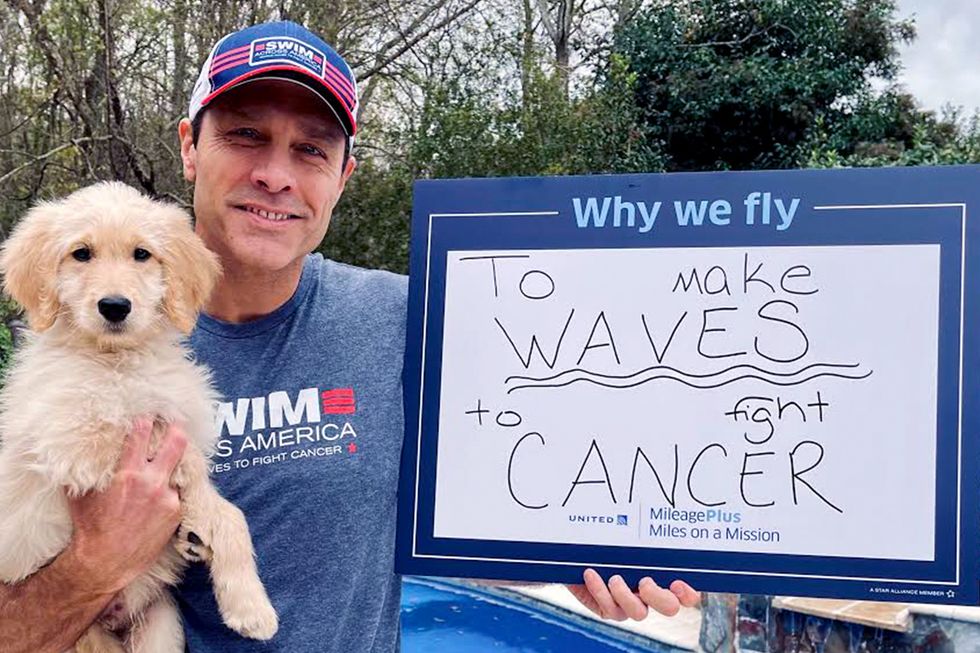 "To make waves to fight cancer."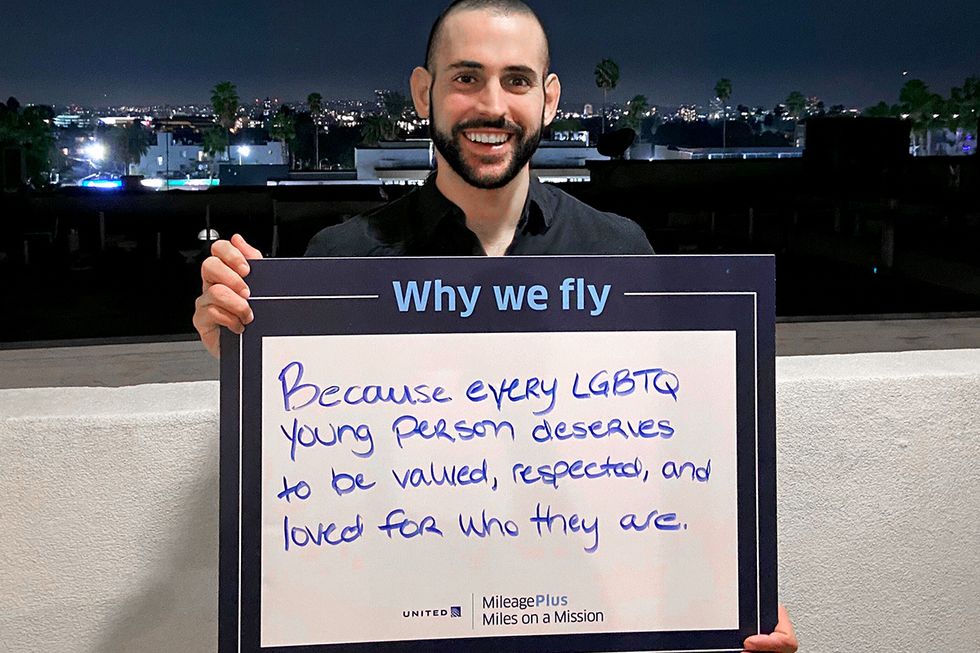 "Because every LGBTQ young person deserves to be valued, respected and loved for who they are."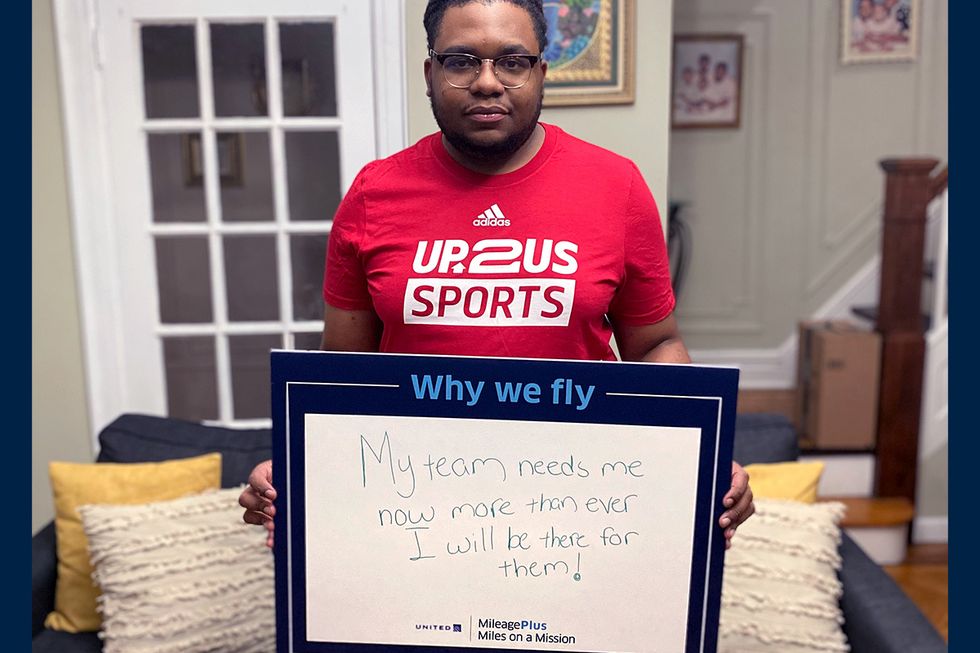 "My team needs me now more than ever. I will be there for them!"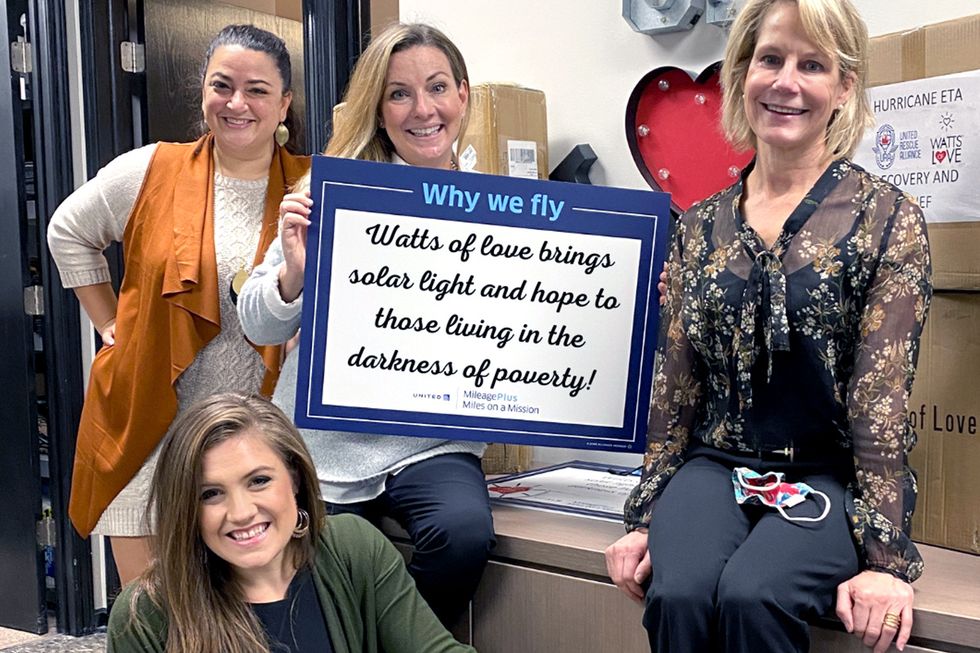 "Watts of Love brings solar light and hope to those living in the darkness of poverty!"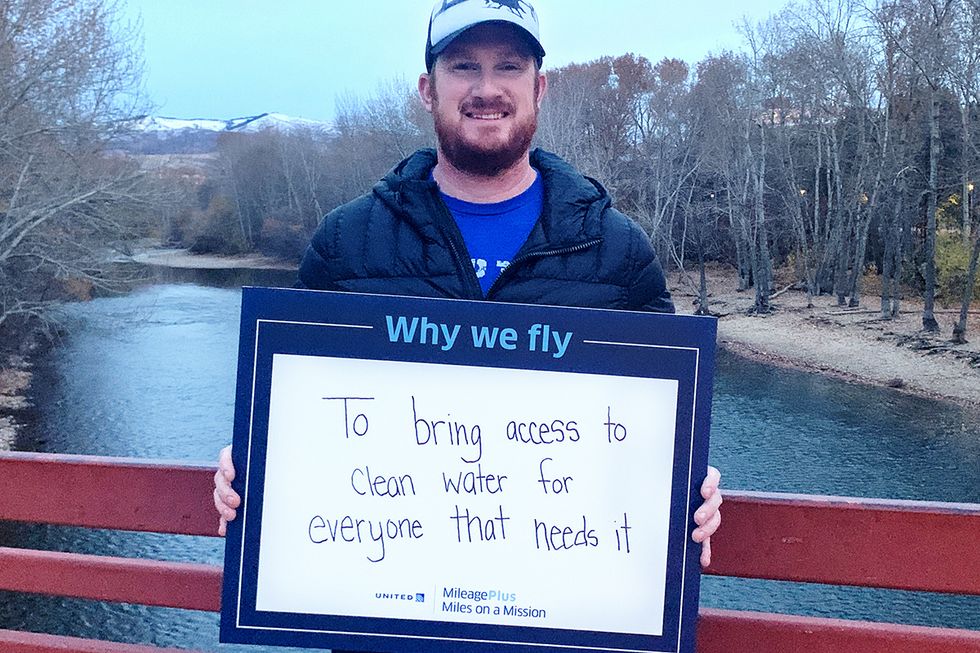 "To bring access to clean water for everyone that needs it."
Scroll to top