Three Perfect Days: Portland
Story by Justin Goldman | Photography by Laura Dart| Hemispheres, July 2014
Portland has MORE than its share of nicknames—Stumptown, Brewvana, Bridgetown, PDX, Rip City, the City of Roses—but odds are you haven't heard many of them. Despite being home to iconic indie artists like Gus Van Sant and Elliott Smith, not to mention some of the best microbreweries in the world, to most people Portland is just a small Pacific Northwest city that gets a lot of rain.
Recently, though—due in part to "Portlandia," the IFC comedy that lovingly lampoons hipster culture—Portland's public profile has been on the rise. The city (motto: "Keep Portland Weird") has become a magnet for creative types, drawn to its bookstores, record shops, music venues, public artworks and tattoo parlors. As Fred Armisen puts it on "Portlandia," it's "a city where young people go to retire."
But you don't have to be a clued-in 20-something to enjoy Portland. Thick with public parks and surrounded by pristine forests and mountains, it's a dream locale for outdoors enthusiasts. The damp climate and proximity to first-rate farms also provide the thriving restaurant, winery and brewery scene with an abundance of fresh ingredients. Those seeking traditional cultural outlets, meanwhile, can avail themselves of Portland's museums and art galleries, many of which have taken over industrial spaces across the city.
Today, the national media's appreciation for the city has become so ardent that locals refer to the blitz of coverage as "stalking." But Portlanders remain exceedingly friendly—you shouldn't be surprised if one offers you a ride into town from the airport and regales you with recommendations the whole way. People are especially cheery in the summer, when the clouds part, brewpub patios hum, and cycling becomes the only acceptable form of transportation, be it to an art fair or an organic grocery.

DAY ONE | You wake up at the Ace Hotel, a boutique property in Portland's revitalized West End neighborhood, and immediately rue your lack of skinny jeans. The Ace is quintessential Portland: Leonard Cohen lyrics painted on the walls, a photo booth in the lobby, a record player in your room. It sometimes feels a bit too cool for school—but you'd probably adopt this attitude too if Gus Van Sant had filmed Drugstore Cowboy in your house.
You're feeling coffee and doughnuts this morning, in part because Portland does those two things better than anywhere else. On your way out the door, you grab a latte from Stumptown Coffee Roasters, then take a short walk down Burnside, the street that separates Portland's north and south sides. Here you find Voodoo Doughnut, a legendary line-around-the-block fried-dough joint, where you pound down a bacon maple bar and the store's eponymous confection, a chocolate-covered voodoo doll with raspberry jelly innards and a pretzel stick protruding from its chest.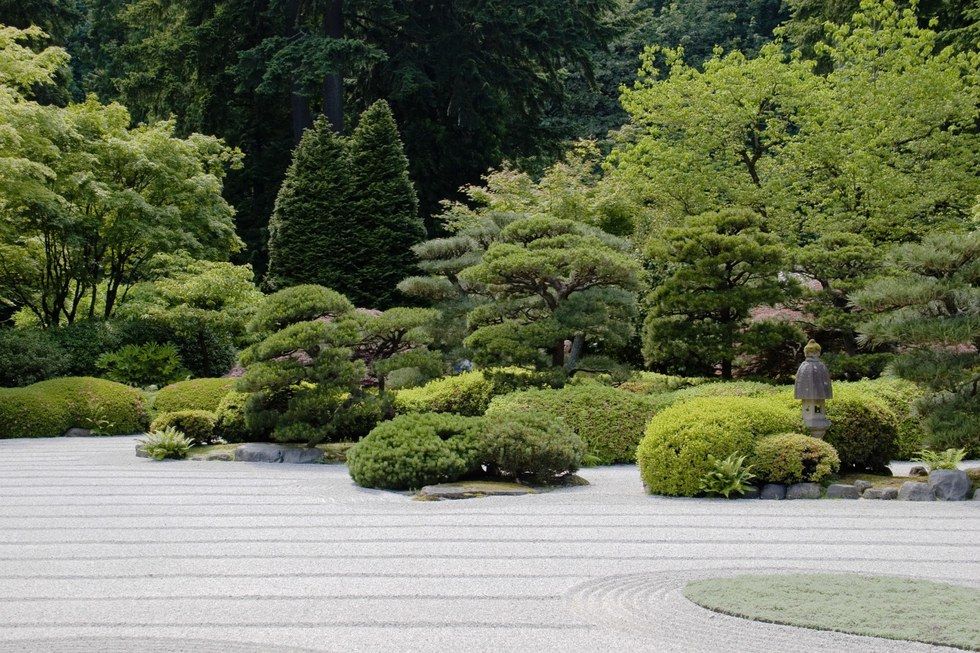 Raked sand and manicured plants at the Portland Japanese Garden
Somewhat overfed, you take a vigorous two-mile stroll over to Washington Park, in the West Hills, where you are instantly soothed by the sculpted flora of the Portland Japanese Garden. Transfixed, you half walk, half float past the koi pond and the stone garden and onto the back porch of the pavilion, where a resplendent view of Mount Fuji—er, Mount Hood—causes you to catch your breath.
From here, it's a few flights of stone stairs down to the International Rose Test Garden. Founded in 1924, this is the oldest continually operating public rose garden in America, and quite possibly the prettiest. You wander through a maze of multicolored hedgerows, admiring the apparently endless variety of Portland's signature flower—Betty Boops, Scarborough Fairs, Blueberry Hills. You'd stop to smell them, but with more than 10,000 roses in the garden, that would take all summer.
You've worked up an appetite by the time you get back downtown. Fortunately, the city center is Foodcartlandia, its corners overrun with vendors offering everything from schnitzel to paleo fare. You step up to Nong's Khao Man Gai and order the signature dish, a Thai street creation comprising rice and poached chicken topped with a hot sauce that torches your taste buds. They die happy.
After lunch, you make a pilgrimage to Powell's City of Books. The world's largest independent bookstore, Powell's takes up an entire city block and is so cavernous that the information desks provide maps. You head to the fourth-floor rare book room, where used book buyer Kirsten Berg shows you a copy of D-Day narrative The Longest Day that includes an inscription from the author to Eleanor Roosevelt. "I love the things people stick in books," she says. The volume's price tag ($2,000) is prohibitive, so you pick up a copy of local author Katherine Dunn's fantastically weird novel Geek Love and make for the cash register.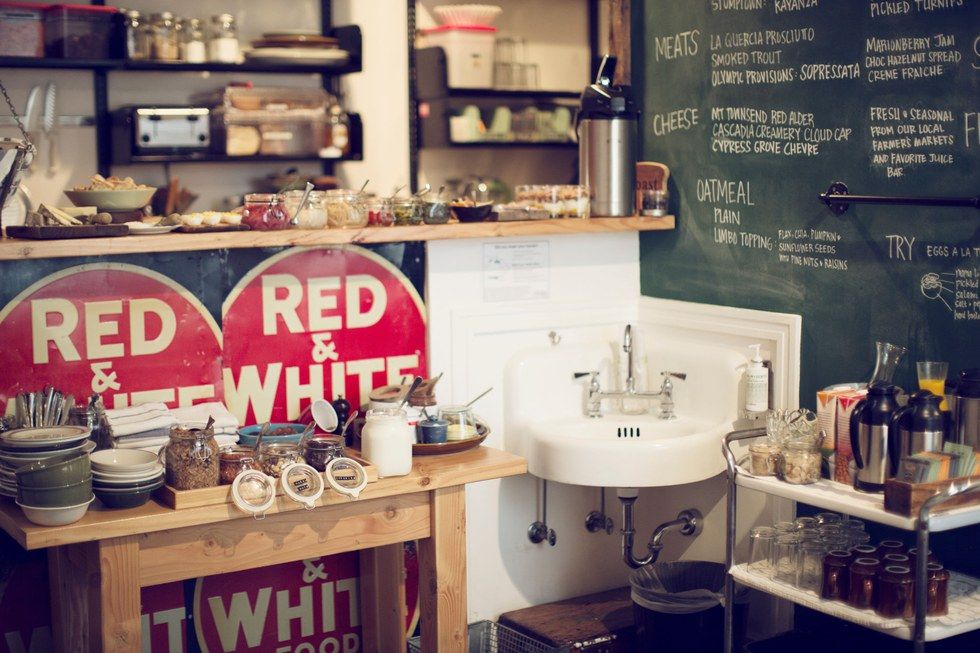 The Ace Hotel's breakfast room
Your mini shopping spree isn't over yet: You're going to need some vinyl to spin on that hotel turntable. As it happens, there are two excellent record shops within three blocks of you: Everyday Music, where you pick up a copy of the late, great Elliott Smith's self-titled album, and Jackpot Records, where you get the new record from local indie band Blind Pilot. Arturo Diaz, the store's relaxed clerk, explains why Portland is a mecca for record shops. "It's the pace of the town," he says. "People slow down."
"Brewvana," as Portland is sometimes called, is also regarded as the craft-brewing capital of America. Committed to exploring another important aspect of local culture, you head to the east side, home to Breakside, one of the best brewpubs in town. Your fedora-wearing bartender, Jack Johnson, recommends the Salted Caramel Stout and a Kumquat Wit tinged with fruit and a bite of coriander. "Trust me," Johnson says of the odd-sounding flavors. You do, and are duly rewarded.
From Breakside it's a short bus ride to your dinner spot, Lincoln Restaurant. The first eatery opened by "Top Chef Masters" alum Jenn Louis, Lincoln offers Pacific Northwest cuisine that emphasizes local ingredients. You start with one of the few exceptions to this rule—the slow-cooked, impossibly tender grilled octopus—followed by baked hen eggs and Forty-Seven Percent Chicken, wryly named, Louis explains, because, served minus the wing, "it's not a half chicken." Even a few percent shy, it's an exceptionally good bit of bird.
It's late, so you head back toward the Ace. On impulse, you decide on one more detour before bed: Pépé le Moko, a narrow subterranean bar that feels like the dining car of a train going through a tunnel. Your bartender, Talia Gordon, insists you try a Grasshopper. "It's like an adult milkshake," she says, passing you a glass of mint green froth. The booze snob in you is skeptical, but you slurp it down and decide that all desserts should taste like this. Later, back in your room, you drift off to Elliott Smith whispering from the turntable: "I'll show you around this alphabet town."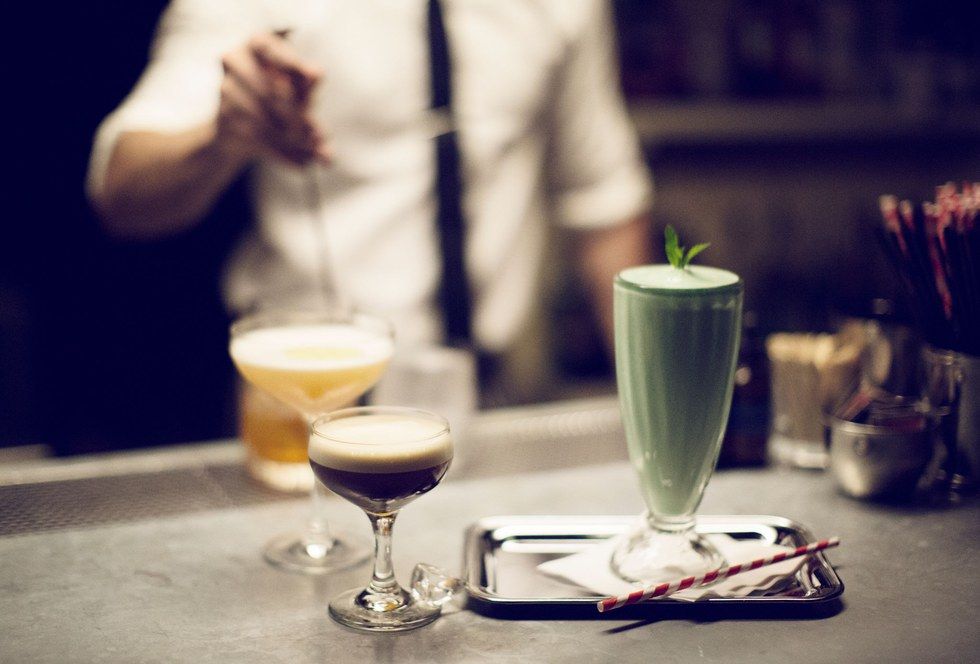 Cocktails at Pépé le Moko
DAY TWO | You shake yourself awake, relaxing for a few minutes in the boxing robe you find in the closet, before stumbling outside and around the corner, past a sculpture made of intertwined kids' bicycles, to Tasty n Alder. You take a seat at the impressively stocked bar and order a couple of proven restoratives: a Kentucky Peach—basically a bellini with a splash of bourbon—and a Hangtown Fry, an oyster and bacon frittata served with a huge buttermilk biscuit.
Substantially recovered, you stroll over to the Portland Saturday Market, a sprawl of artists' stalls, food carts and craft vendors stretching along the Willamette River waterfront and under the Burnside Bridge. You skirt a large crowd circled around a semi-competent juggler and snake through booths selling handmade jewelry, Oregon-themed clothing and images of Mount Hood rendered in every possible medium. It's a bit too crowded to really stretch your legs here, though, so you wander along the South Park Blocks, a stretch of greenery where you find lush oak and maple trees, roses (naturally), statues of Teddy Roosevelt and Abraham Lincoln, and a wedding party snapping photos.
You stop to stare up at the Portlandia statue, a trident-bearing woman that, at 36 feet tall, is the second largest hammered-copper statue in America (after some French lady in New York). You're surprised to find the sun starting to feel a little too hot, so you head a couple blocks west for respite at the Portland Art Museum, where you while away an hour or so among the killer whale masks and intricately beaded bags in the Native American art gallery. The feather-bedecked Raven to Sun Transformation Costume makes you want to go on a vision quest.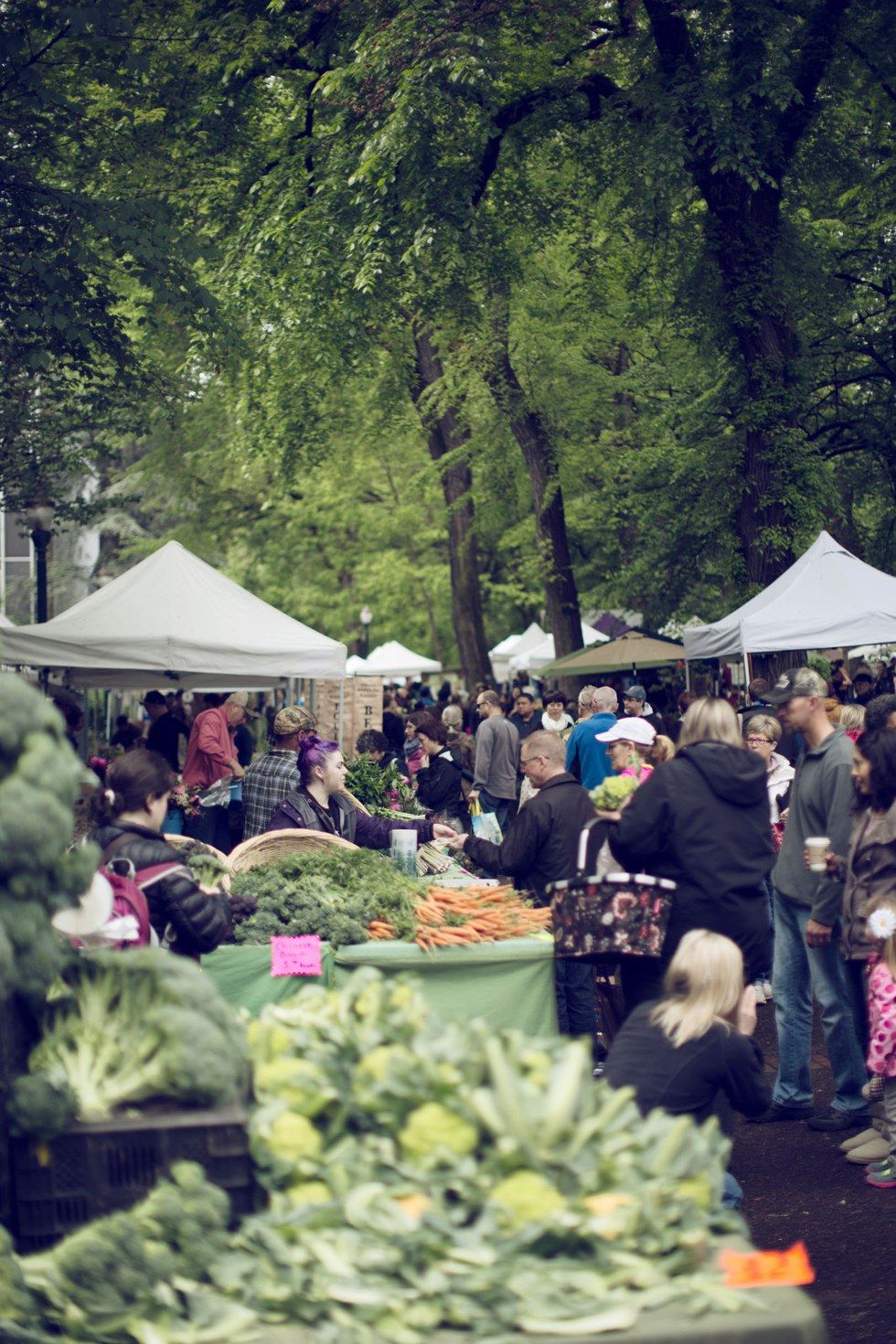 A farmers market in downtown Portland
After wolfing down a couple of carnitas tacos at another fine food cart, La Jarochita, it's check-in time at your second hotel, the Sentinel. The 100-year-old building—a National Historical Landmark and a setting for Van Sant's My Own Private Idaho—reopened this spring after a $6 million renovation, and its design offers a blend of past (the green leather armchairs and rugged wood tables in the lobby recall Oregon's legacy as a timber capital) and future (robot sculptures on the facade). A nice touch is the typewriter in the lobby, where guests can tap out comments. You start to type "IPDX," but there's no heart symbol on the machine, so you head upstairs and sack out on your enormous bed for an afternoon nap.
You wake feeling refreshed and hop a bus across the Morrison Bridge to sample the wares at Enso Urban Winery. You take a seat in the facility's airy, industrial tasting room and order a flight of red wines. The Pacific Northwest has established itself as one of the best wine-growing regions in America, and the bold reds at Enso help explain why. "Oregon's on the same parallel as Burgundy," says bartender Henry Jinings. "The growing conditions are ideal."
Whistle whetted, you take a cab to Southeast Division Street, Portland's flourishing restaurant row. Your destination is Pok Pok, one of America's most revered Thai restaurants. The hostess tells you there's an hour wait for a table, so you put your name on the list and cross the street to its sister bar, Whiskey Soda Lounge, where you sit in the tented patio and order chili-flecked Ike's Vietnamese Fish Sauce Wings (a highlight from the Pok Pok menu). Just as you finish washing them down with a tamarind whiskey sour, a waitress informs you that your table is ready.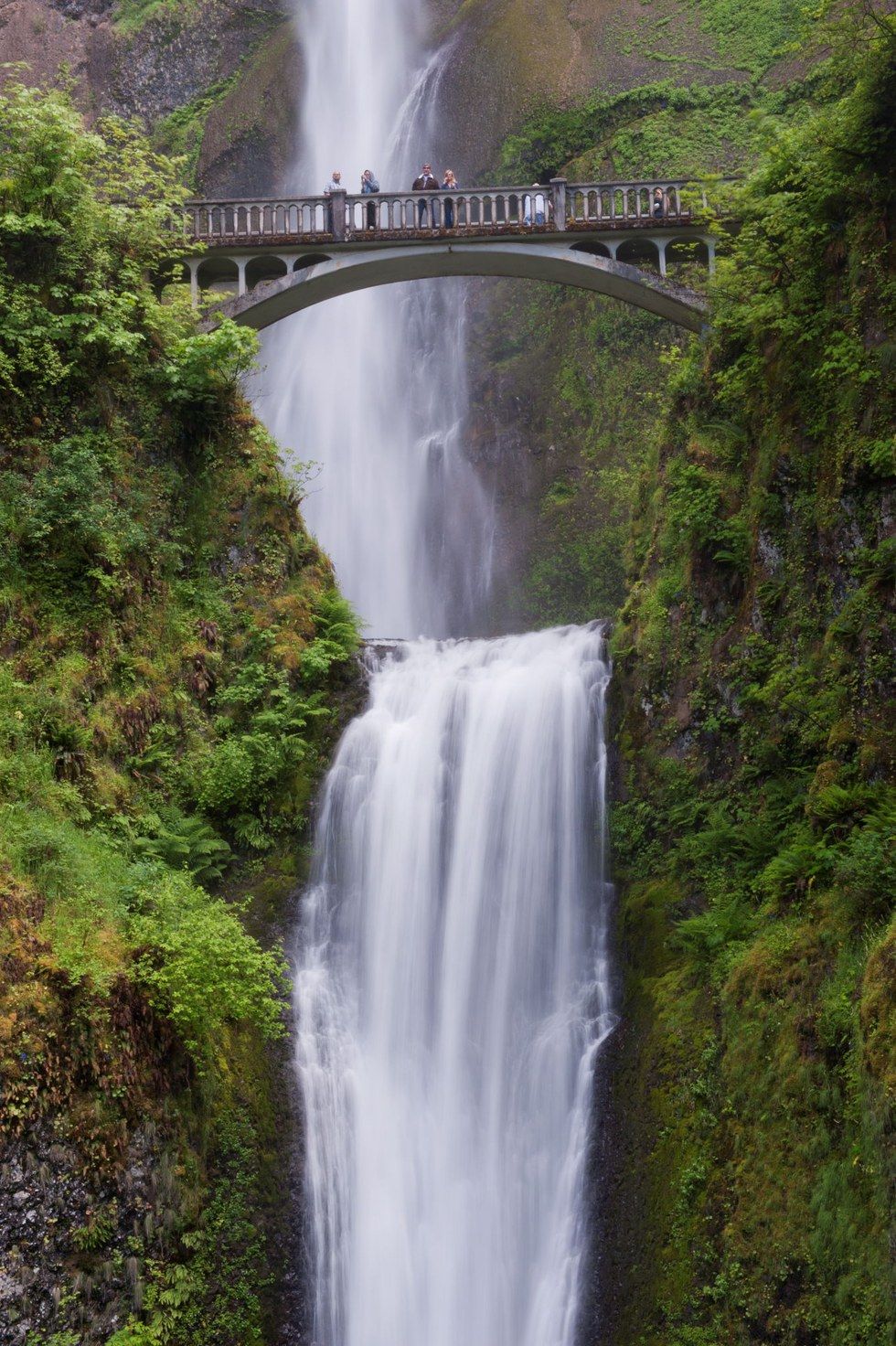 Multnomah Falls
Pok Pok's James Beard Award–winning chef, Andy Ricker, derives his menu from the cuisine of northern Thailand (no Pad Thai here). You sample a spicy, sour, wonderfully fresh papaya Pok Pok salad; the hoi thawt, a light crepe stuffed with eggs and fresh mussels; and kaeng hang leh, an outrageously rich pork curry with Burmese spices. Nothing tastes like anything else on the table, or anything else you've eaten anywhere. Forget sampling—you plow through it all like it's the last meal you'll ever eat.
After dinner, the simple act of standing up poses a challenge, but you somehow manage to hail a cab and head to an eastside institution, the LaurelThirst Public House, one of the best places around to catch local folk and country acts. Tonight they're hosting a Grateful Dead cover band, who've attracted an audience that consists of flailing college kids and old hippies, among them a white-bearded man in a tie-dyed shirt bearing a large wooden walking stick who looks like a Haight-Ashbury version of Gandalf.
You're close to toast by the time you get back downtown, but you've got a reservation at the exclusive Multnomah Whiskey Library, where you sit in a leather-padded booth and take in the high-ceilinged brick barroom. On one side hang portraits of famed whiskey makers, including George Washington, and on the other is the extensive "library"—the bar has old-fashioned ladders to reach the upper shelves—of whiskeys. You consider one of the cocktails, which are mixed tableside, but opt instead for an Old Rip Van Winkle 10 Year bourbon, neat. Your server gives an approving nod, and you close your evening sipping one of the best spirits on the planet.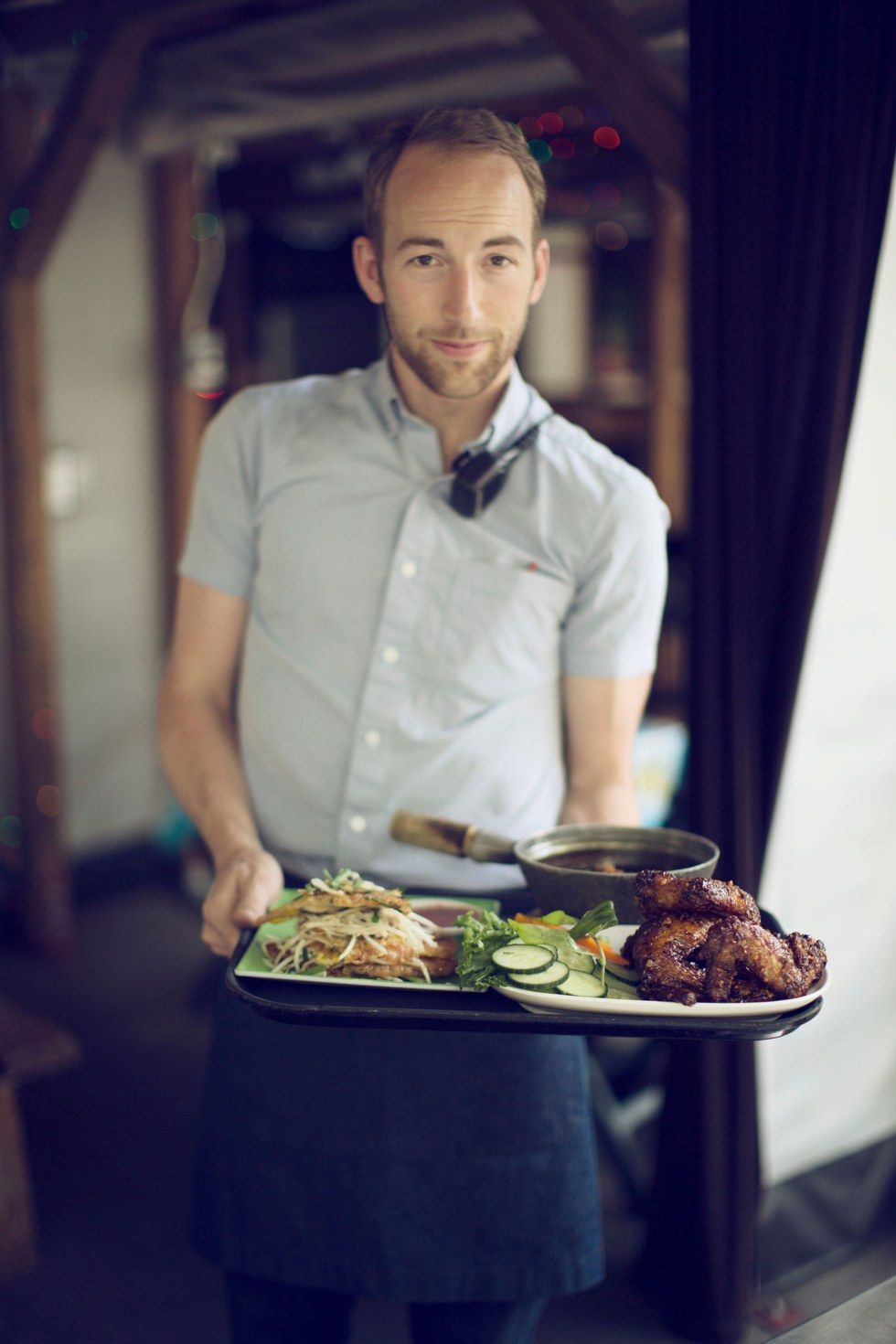 Ike's Vietnamese Fish Sauce Wings, Hoi Thawt and Kaeng Hung Leh at Pok Pok
DAY THREE | You'll be doing a bit of driving today. First you zip across the Fremont Bridge and up to Alberta Street, the main drag of the Alberta Arts District, which would be the Brooklyn of Portland if all of Portland weren't the Brooklyn of Portland. Your destination is Beast. Here, chef Naomi Pomeroy, a 2014 James Beard Award winner, runs a bright, homey one-room space with two large communal tables bracketing a prep station. Clearly, Beast's reputation has traveled: All but two of the eight people at your table are out-of-towners.
"It's always been this communal setup," server Lisa Perry says. "You get to meet people you wouldn't normally meet." So it is you share a convivial four-course brunch of a rhubarb clafoutis (custard with whipped cream and bacon); a light hash made with pork shoulder, fresh vegetables and a poached duck egg; a cheese plate; and a thick cube of chocolate cake. It is possibly the best brunch you've ever eaten.
Having fueled up, you're ready to split town. One of Portland's selling points is its proximity to a host of beautiful natural landmarks. Just a few minutes east of town you find the Historic Columbia River Highway, which winds up a hill to Vista House, a 97-year-old sandstone and marble rotunda perched on a cliff high above the massive Columbia River Gorge. You soak in the view, thinking that it hasn't changed much since Lewis and Clark rafted through on their way to the Pacific a couple of centuries ago.
From here you descend back into the canyon, the road winding through Douglas firs, over old stone bridges and past waterfalls until you reach 620-foot-high Multnomah Falls, the second-tallest year-round cascade in America. You pull over and walk along Multnomah Creek, looking for spawning salmon, then climb the trail to Benson Bridge. You pause here for a while, enjoying the mist from the powerful falls on your face.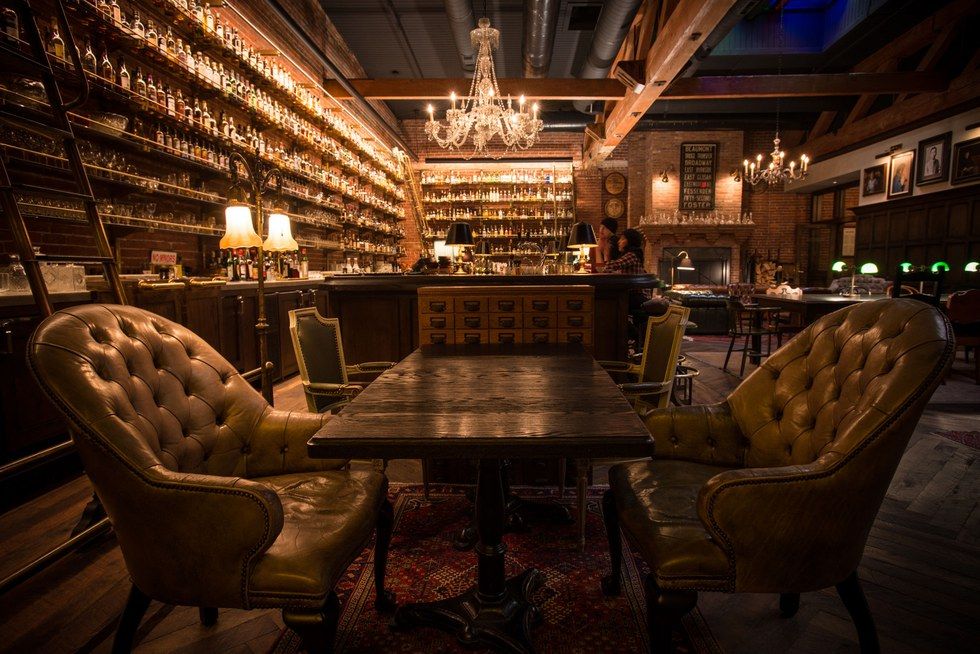 The Multnomah Whiskey Library
An hour east of Portland you reach Hood River, where you stop for lunch at the Double Mountain Brewery. You order a dry-hopped Vaporizer pale ale and scarf down a brick-oven pizza topped with goat cheese, kalamata olives and peppadew peppers. From here, you wander around the corner to a microbrewing pioneer, the employee-owned Full Sail Brewing Co. You grab a seat on the deck, looking out over the river, and nurse a bourbon barrel–aged porter, watching windsurfers flit about on the water.
Upon returning to the city, you check in at the eighth-floor lobby of the Nines hotel, beneath a seven-story atrium that bathes the luxe (and LEED-certified) interior in sunlight. You drop your bags and munch on the cheese plate in your room, which has a view of Pioneer Courthouse Square, the lively red-brick plaza known as "Portland's Living Room," before heading up to the rooftop bar, Departures. The vibe is different up here; with the wall panels glowing pink and purple and the bling-flashing crowd on the sun-blanched rooftop, you feel as if you stepped off an elevator in Vegas.
Back on the ground, with the sun still shining, you stroll across the Burnside Bridge to dinner at Le Pigeon, where you sit before chef Gabriel Rucker's open kitchen and watch flames rise from the range as the tattooed cooks deftly prepare a succession of adventurous French dishes: suckling pig croquettes, sturgeon pastrami, beef-cheek bourguignon, shrimp-crusted halibut. Each course is delicious and complex and comes with a perfect drink pairing. You do not have room for dessert.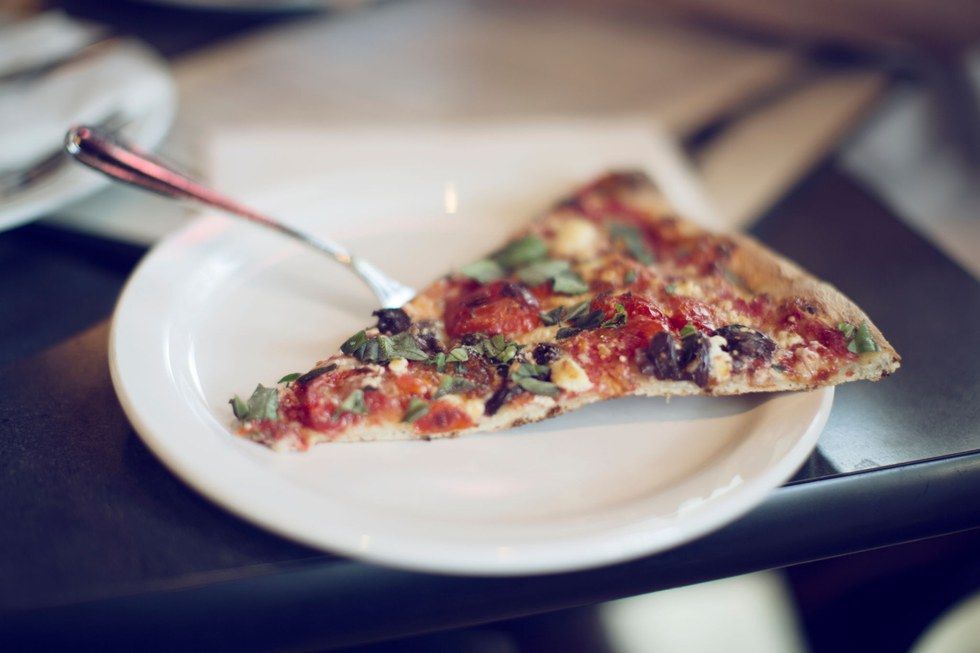 Buffy's Pizza at the Double Mountain Brewery
It's your last night in town and you're ready to rock out. You'll be doing this practically next door, at the Doug Fir Lounge. Once a seedy motel, the property was converted a few years ago into a boutique hotel and a bar that looks like a modernist hunting lodge that doubles as one of the city's best music venues. As Nashville-based indie songwriter Katie Herzig and her band take the stage, you look around the crowd—the studiously casual, comprehensively inked Portlanders who have helped make this the hippest town in America—and decide there may be an even better place to mark the end of your visit, a place that's conveniently located right up the street.
"People who grow up here or move here love it," says Gin Hicks, an artist at Fortune Tattoo. "There's an intense need to preserve it and nurture it and take care of it, and that rolls over into how people express themselves." With this, she clicks off her tattoo gun, pulling away to admire her work. You say goodnight and head back across the Burnside Bridge, the city lights twinkling on the river, a bright red rose tingling on your forearm.
Hemispheres managing editor JustinGoldman is still kinda bummed Carrie Brownstein wasn't waiting to greet him at the Portland airport.
This article was written by Justin Goldman from Rhapsody Magazine and was legally licensed through the NewsCred publisher network. Please direct all licensing questions to legal@newscred.com.
Around the web
Following the devastating wildfires in Australia and powerful earthquakes that shook Puerto Rico last week, we're taking action to make a global impact through our international partnerships as well as nonprofit organizations Afya Foundation and ADRA (Adventist Development and Relief Agency).
Helping Puerto Rico recover from earthquakes
Last week, Puerto Rico was hit with a 5.2 magnitude earthquake, following a 6.4 magnitude earthquake it experienced just days before. The island has been experiencing hundreds of smaller quakes during the past few weeks.
These earthquakes destroyed crucial infrastructure and left 4,000 people sleeping outside or in shelters after losing their homes. We've donated $50,000 to our partner charity organization Airlink and through them, we've helped transport disaster relief experts and medical supplies for residents, as well as tents and blankets for those who have lost their homes. Funding will go towards organizations within Airlink's partner network, which includes Habitat for Humanity, Mercy Corps and Americares, to help with relief efforts and long-term recovery.
Australian wildfire relief efforts

Our efforts to help Australia have inspired others to make their own positive impact. In addition to teaming up with Ellen DeGeneres to donate $250,000 and launching a fundraising campaign with GlobalGiving to benefit those impacted by the devastating wildfires in the country known for its open spaces and wildlife, our cargo team is helping to send more than 600 pounds of medical supplies to treat injured animals in the region.
Helping us send these supplies is the Afya Foundation, a New York-based nonprofit that seeks to improve global health by collecting surplus medical supplies and delivering them to parts of the world where they are most needed. Through Airlink, the Afya Foundation will send more than $18,000 worth of materials that will be used to treat animals injured in the Australian fires.
These medical supplies will fly to MEL (Melbourne) and delivered to The Rescue Collective. This Australian organization is currently focused on treating the massive population of wildlife, such as koalas, kangaroos, and birds, that have had their habitats destroyed by the recent wildfires. The supplies being sent include wound dressings, gloves, catheters, syringes and other items that are unused but would otherwise be disposed of.
By working together, we can continue to make a global impact and help those affected by natural disasters to rebuild and restore their lives
Australia needs our help as wildfires continue to devastate the continent that's beloved by locals and travelers alike. In times like these, the world gets a little smaller and we all have a responsibility to do what we can.
On Monday, The Ellen DeGeneres Show announced a campaign to raise $5 million to aid in relief efforts. When we heard about Ellen's effort, we immediately reached out to see how we could help.
Today, we're committing $250,000 toward Ellen's campaign so we can offer support now and help with rebuilding. For more on The Ellen DeGeneres Show efforts and to donate yourself, you can visit www.gofundme.com/f/ellenaustraliafund
We're also matching donations made to the Australian Wildfire Relief Fund, created by GlobalGiving's Disaster Recovery Network. This fund will support immediate relief efforts for people impacted by the fires in the form of emergency supplies like food, water and medicine. Funds will also go toward long-term recovery assistance, helping residents recover and rebuild. United will match up to $50,000 USD in donations, and MileagePlus® members who donate $50 or more will receive up to 1,000 award miles from United. Donate to GlobalGiving.
Please note: Donations made toward GlobalGiving's fund are only eligible for the MileagePlus miles match.
In addition to helping with fundraising, we're staying in touch with our employees and customers in Australia. Together, we'll help keep Australia a beautiful place to live and visit in the years to come.
20. Spot Giant Pandas in China
In 2016, giant pandas were removed from the endangered species list, and China would like to keep it that way. This year, the country plans to consolidate the creatures' known habitats into one unified national park system spanning nearly 10,500 square miles across Sichuan, Gansu, and Shaanxi provinces—about the size, in total, of Massachusetts. —Nicholas DeRenzo
19. Follow in James Bond's Footsteps in Jamaica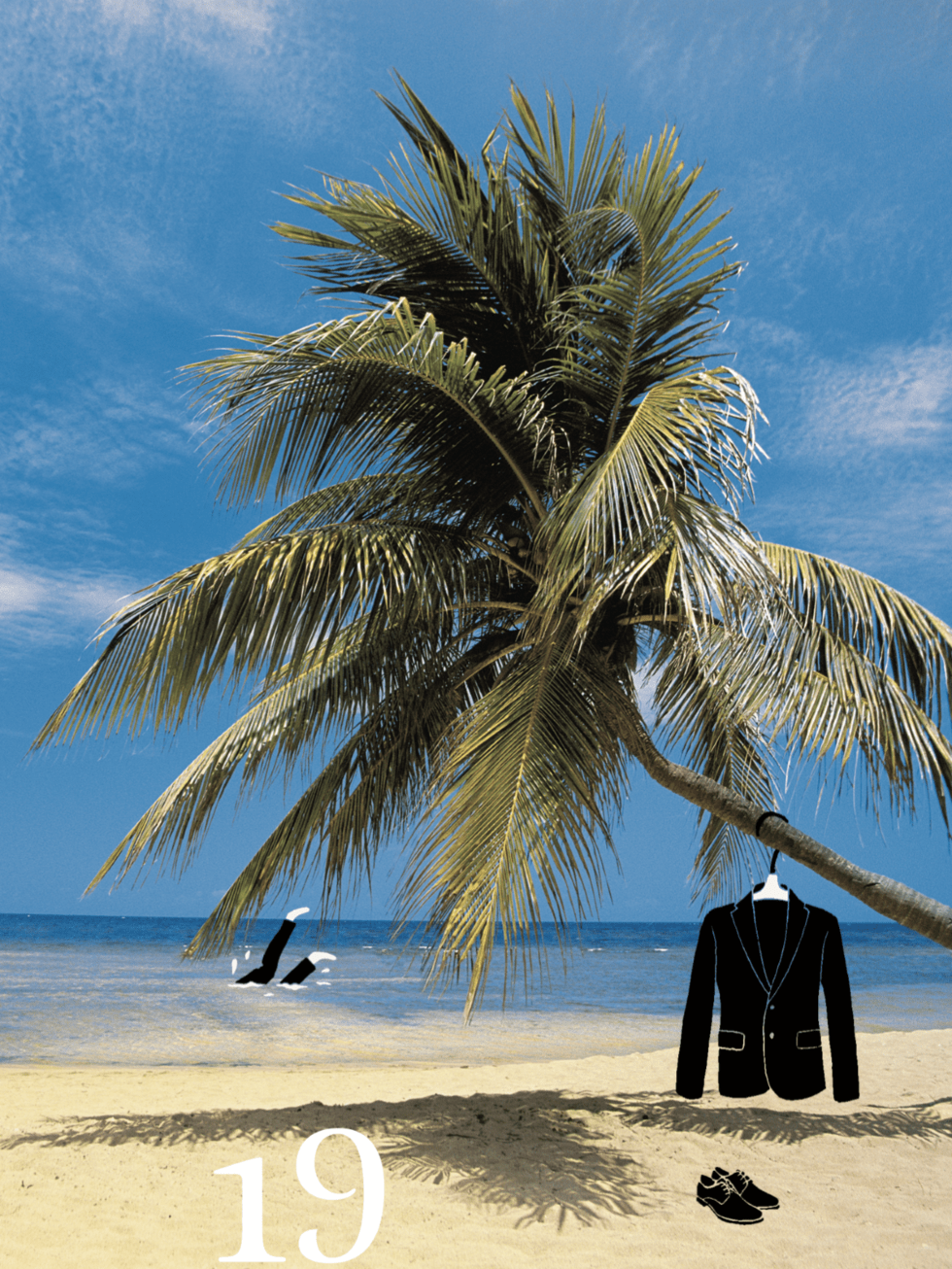 Photo: Design Pics/Carson Ganci/Getty Images
When No Time to Die hits theaters on April 8, it marks a number of returns for the James Bond franchise. The 25th chapter in the Bond saga is the first to come out since 2015's Spectre; it's Daniel Craig's fifth go-round as 007, after rumors the actor was set to move on; and it's the first time the series has filmed in Jamaica since 1973's Live and Let Die. The Caribbean island has always had a special place in Bond lore: It was the location of one of creator Ian Fleming's homes, GoldenEye (which is now a resort), and the setting for the first 007 movie, 1962's Dr. No. Looking to live like a super-spy? You don't need a license to kill—just a ride to Port Antonio, where you can check out filming locations such as San San Beach and colonial West Street. Remember to keep your tux pressed and your Aston Martin on the left side of the road. —Justin Goldman
18. See the Future of Architecture in Venice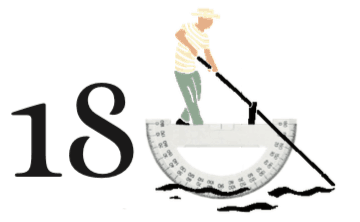 Every other year, Venice hosts the art world's best and brightest during its celebrated Biennale. But the party doesn't stop during off years, when the Architecture Biennale takes place. This year, curator Hashim Sarkis, the dean of MIT's School of Architecture and Planning, has tasked participants with finding design solutions for political divides and economic inequality; the result, on display from May to November, is the intriguing show How Will We Live Together? —Nicholas DeRenzo
17. Celebrate Beethoven's 250th Birthday in Bonn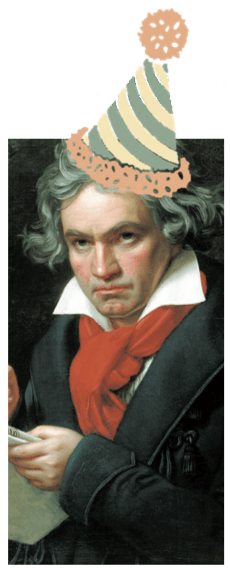 Photo: Universal History Archive/Getty Images
Catch a Beethoven concerto in Bonn, Germany, to celebrate the hometown hero's big 2-5-0.
16. Eat Your Way Through Slovenia
When Ana Roš of Hiša Franko was named the World's Best Female Chef in 2017, food lovers began to wonder: Do we need to pay attention to Slovenia? The answer, it turns out, is definitely yes. This March, the tiny Balkan nation about two hours east of Venice gets its own Michelin Guide. —Nicholas DeRenzo
15. Star- (and Sun-) Gaze in Patagonia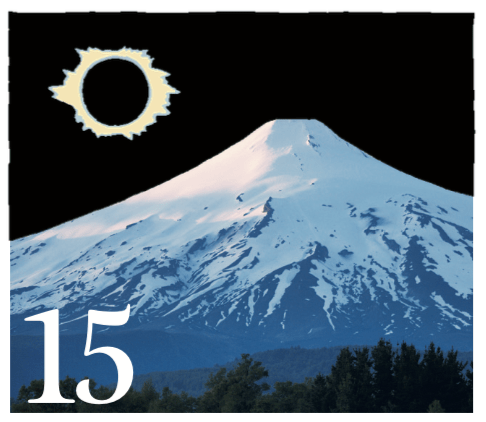 Photo: blickwinkel/Alamy
Come December 13 and 14, there will be no better spot for sky-watchers than northern Patagonia, which welcomes both the peak of the Geminid meteor shower and a total solar eclipse within 24 hours. —Nicholas DeRenzo

14. Explore Miami's Game-Changing New Park
About 70,000 commuters use Miami's Metrorail each day, and city planners aim to turn the unused space beneath its tracks into an exciting new public space, a 10-mile linear park aptly named The Underline. Luckily, the Magic City is in good hands: The project is being helmed by James Corner Field Operations, the geniuses behind New York's High Line. "Both projects share similarities in their overarching goals," says principal designer Isabel Castilla, "to convert a leftover infrastructural space into a public space that connects neighborhoods, generates community, and encourages urban regeneration." When finished, Miami's park will be about seven times as long as its Big Apple counterpart. The first half-mile leg, set to open this June, is the Brickell Backyard, which includes an outdoor gym, a butterfly garden, a dog park, and gaming tables that call to mind the dominoes matches you'll find nearby in Little Havana. "We envision the Underline dramatically changing the way people in Miami engage with public space," Castilla says. —Nicholas DeRenzo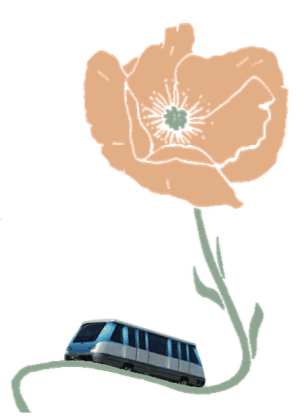 Photo: philipus/Alamy
13. Kick Off the NFL in Las Vegas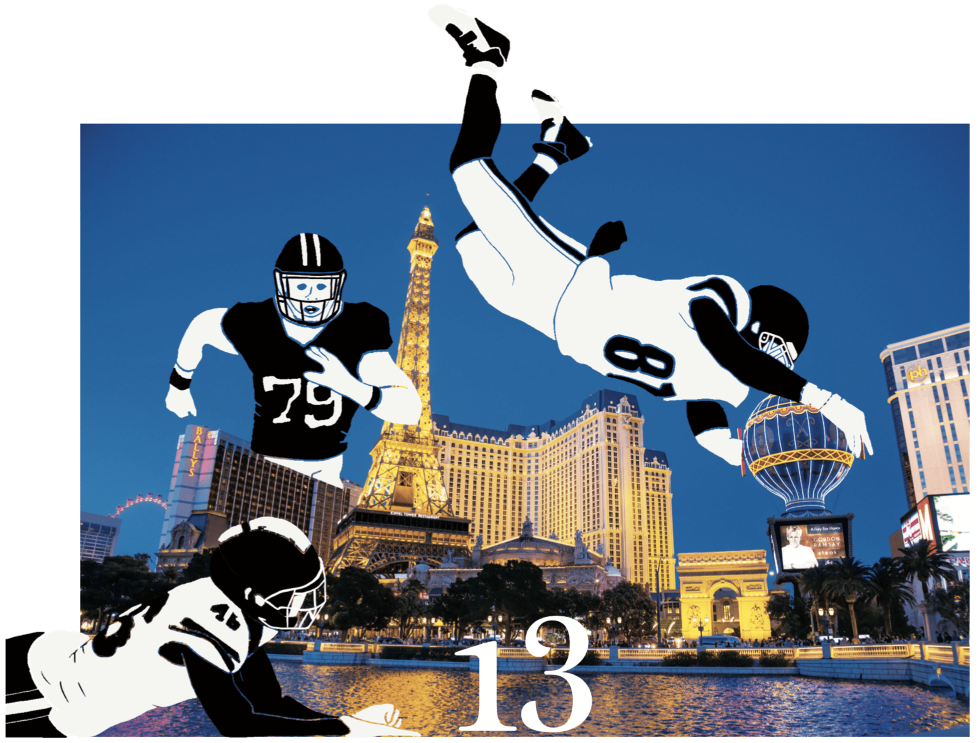 Photo: Littleny/Alamy
Former Raiders owner Al Davis was famous for saying, "Just win, baby." His son, Mark Davis, the team's current owner, is more likely to be shouting "Vegas, baby!" Swingers-style, as his team becomes Sin City's first NFL franchise, the Las Vegas Raiders. After years of threats and lawsuits, the Raiders have finally left Oakland, and this summer they're landing just across the highway from the Mandalay Bay Resort & Casino in a 65,000-seat, $1.8 billion domed stadium that will also host the UNLV football team, the next two Pac-12 championship games, and the Las Vegas Bowl. Construction is slated to be finished July 31, just in time for the NFL preseason—and just in time to lure football fans from the sportsbooks to the grandstand. —Justin Goldman
12. Celebrate the Suffragettes in Washington D.C.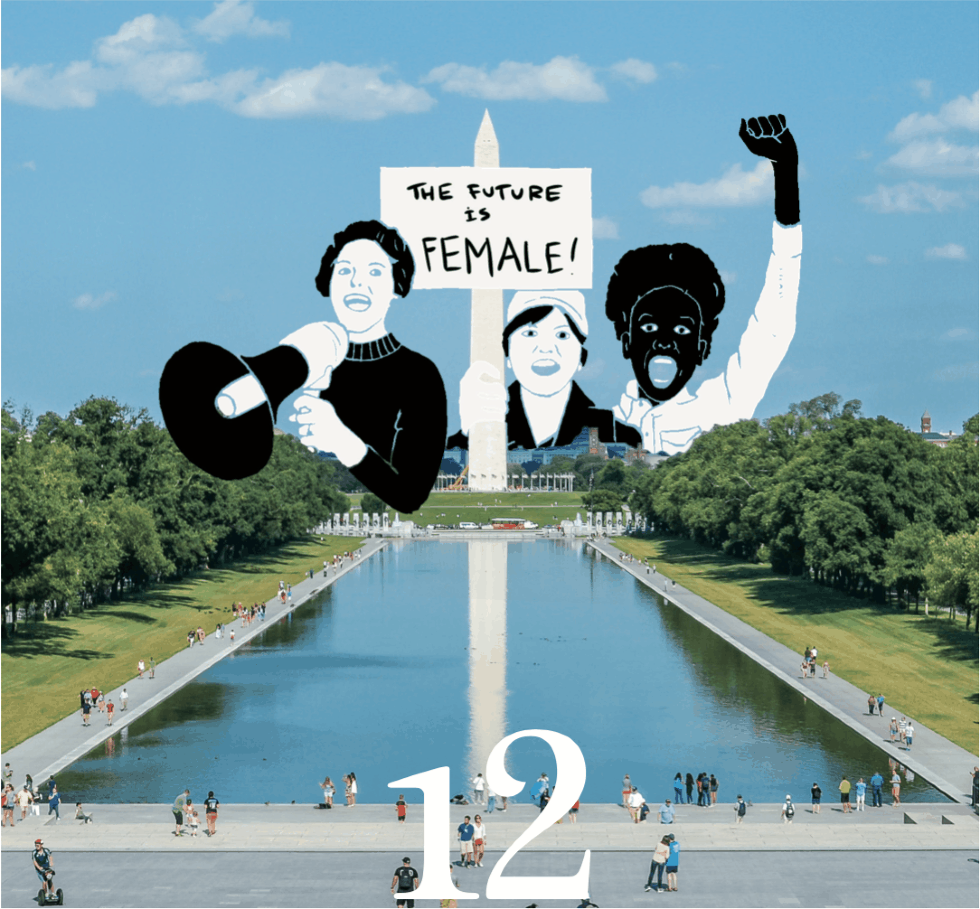 All eyes are on the ballot box this year, but the electorate would look quite different if not for the 19th Amendment, which was ratified 100 years ago this August. Many D.C. institutions, such as the National Archives Museum and the Library of Congress, are honoring the decades-long struggle for women's suffrage with exhibits. In particular, the National Museum of American History unveils Sarah J. Eddy's portrait of Susan B. Anthony this March, before putting on a 'zine-inspired show on girlhood and youth social movements this June. —Nicholas DeRenzo
11. Go for a Ride Through Mexico City
If you want to get somewhere quickly in Mexico City, try going by bicycle. During peak traffic, bikes average faster speeds than cars or public transportation—which might explain why ridership has gone up almost 50 percent since 2007. And riding on two wheels is getting safer and easier. In 2019, the city announced plans to invest $10 million (more than it had spent in the last six years combined) into the construction of about 50 miles of new paths and lanes. Now, you can cycle on a two-mile separated path along the Paseo de la Reforma, from Colonia Juárez and Roma to Chapultepec Park and Polanco. Future plans include a route along the National Canal between Coyoacán (where Frida Kahlo once lived) and Xochimilco (with its floating flower farms). "The goal is to finish the six-year [presidential] term with 600 kilometers of bike infrastructure," says Roberto Mendoza of the city's Secretariat of Mobility. Time to start pedaling. —Naomi Tomky
10. Consider the Mayflower's Legacy in Massachusetts and Abroad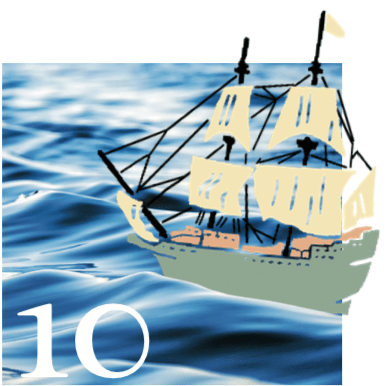 Photo: Thianchai Sitthikongsak
Before they came to America in 1620, the religious separatists now known as the Pilgrims lived in England and the Netherlands. This year, the 400th anniversary of the Mayflower landing will be commemorated not only by those nations but also by a fourth: The Wampanoag, the confederation of tribes that live in New England and whose role in this world-changing event has been at best left out and at worst distorted.
"We're challenging the myths and stereotypes," says Aquinnah Wampanoag author Linda Coombs, a board member of Plymouth 400, Inc., which is planning cultural events such
as an Ancestors Walk to honor the native villages pushed aside by settlers, as well as
an indigenous history conference and powwow (plus an $11 million restoration of the replica Mayflower II).
Kerri Helme, a member of the Mashpee Wampanoag nation and cultural programs manager at Plimoth Plantation, says that "people want to hear the whole story." She notes that it's a commonly held belief that the Pilgrims were welcomed by the natives, when in fact their first encounter was violent, since the English had been stealing the Wampanoags' food.
"The Wampanoag are key players in all of this," says Charles Hackett, CEO of Mayflower 400 in the U.K. "It's a whole other aspect of this history." In England, a Mayflower trail will connect Pilgrim sites in towns such as Southampton and Plymouth, and in Leiden, the Dutch town where the Pilgrims took refuge before embarking for the New World, the ethnology museum will run an exhibit about the natives.
"The most important thing for us, as the Wampanoag people," says Paula Peters, a former Wampanoag council member, "is to be acknowledged as a vital tribe comprised of people that, in spite of everything that's happened, are still here." —Jon Marcus
9. Discover Lille's Design Scene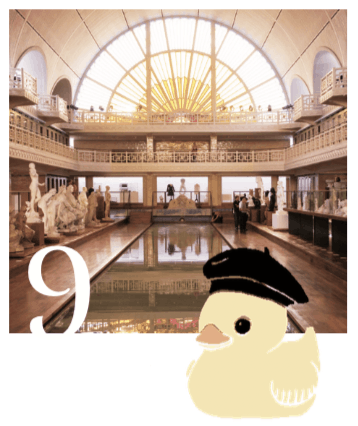 Photo: Mark Bassett/Alamy
Previous World Design Capitals have included major cultural hubs such as Helsinki and Seoul, so it came as a shock when Lille, France's 10th-largest city, beat Sydney for this year's title. Judges cited Lille's use of design to improve its citizens' lives; get a taste for yourself at spots like La Piscine Musée d'Art et d'Industrie, a gallery in a former Art Deco swim center. —Nicholas DeRenzo
8. See Stellar Space in Rio de Janeiro, the World Capital of Architecture
Rio de Janeiro is renowned for the beauty of its beaches and mountains, but the Cidade Maravilhosa's man-made structures are as eye-catching as its natural features. For that reason, UNESCO recently designated Rio its first World Capital of Architecture, honoring a city that boasts such landmarks as the stained glass–domed Royal Portuguese Cabinet of Reading, the fairy-tale Ilha Fiscal palace, and the uber-modern Niterói Contemporary Art Museum.
"Rio is an old city by New World standards, having been founded in the mid–16th century," says architectural photographer Andrew Prokos, who took this shot. "So the city has many layers of architectural styles, from Colonial and Rococo to Art Nouveau, Modernist, Brutalist, and contemporary." In the case of this museum, which was designed by perhaps Brazil's greatest architect, Pritzker Prize winner Oscar Niemeyer, Prokos was intrigued by how the 24-year-old building interacts with its surroundings. "The upward slope of the museum complements the slope of the Pão de Açúcar across the bay," he says, "so the two are speaking to each other from across the water." – Tom Smyth
7. Join the Avengers at Disneyland
This summer, Disney California Adventure unveils its Marvel-themed Avengers Campus, with a new Spider-Man attraction, followed later by an Ant-Man restaurant and a ride through Wakanda. If the hype surrounding last year's debut of Disney+ is any indication, Comic-Con types are going to lose their fanboy (and -girl) minds. —Nicholas DeRenzo
6. Listen to Jazz in Cape Town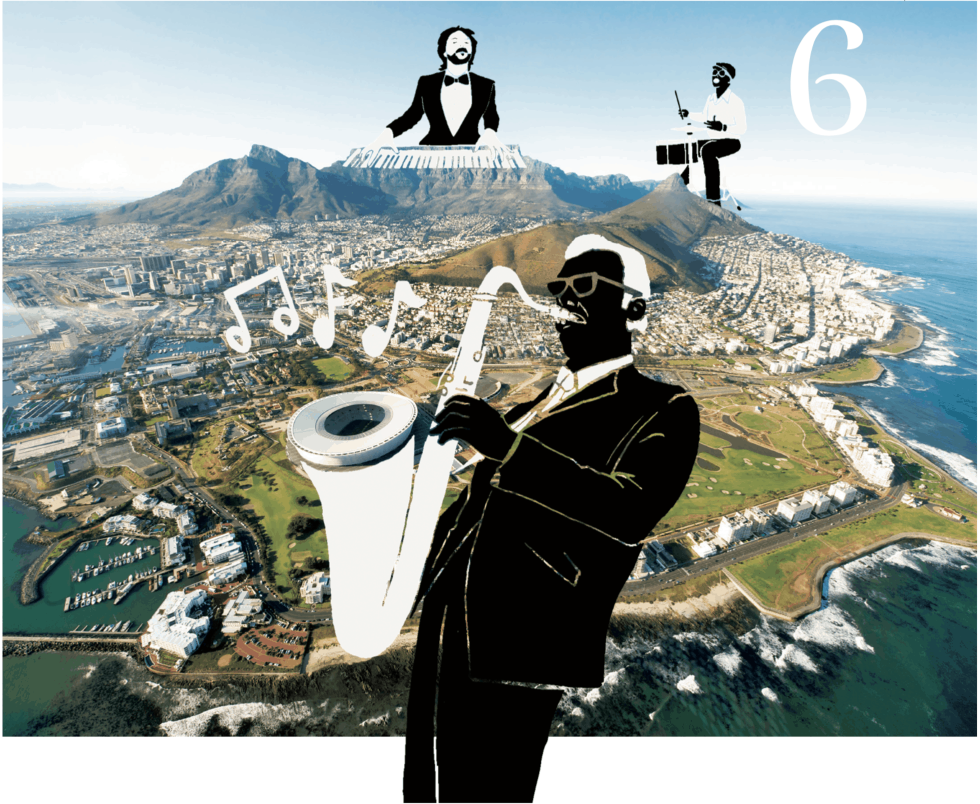 Photo: Eric Nathan/Alamy
Cape Town's natural wonders draw visitors from all over the world, but there's a hidden gem beyond the mountains, beaches, and seas: music. Much as jazz was born from America's diverse peoples, Cape jazz combines the traditions and practices of the city's multiethnic population, creating genres such as goema (named after a type of hand drum) and marabi (a keyboard style that arose in the townships). Cape Town has hosted an International Jazz Festival for
20 years (the 21st edition is this March 27–28), and now UNESCO is giving the Mother City its musical due by naming it the Global Host City of International Jazz Day 2020. The theme of the event—which takes place on April 30, features an All Star Global Concert, and is the climax of Jazz Appreciation Month—is "Tracing the Roots and Routes of African Jazz." During the dark days of slavery and apartheid, music became an outlet through which repressed people could express their struggle for freedom. What better way to mark a quarter century of democracy here than with a celebration of that most free style of music? —Struan Douglas
5. Take a Walk Around England
Many hikers love walking around England—but how many can say that they've truly walked around England? When it's completed, the England Coast Path will be the longest managed seaside trail in the world, completely circumnavigating the coastline, from the fishing villages of Cornwall and the beaches of Nothumberland to the limestone arches of the Jurassic Coast and the sandy dunes of Norfolk. Much of the trail is already waymarked (the 630-mile South West Coast Path is particularly challenging and beautiful), with new legs set to open throughout the year. If you want to cross the whole thing off your bucket list, be warned that it's no walk in the park: At around 2,795 miles, the completed route is 605 miles longer than the Appalachian Trail and about the same as the distance between New York and Los Angeles. —Nicholas DeRenzo
4. Get Refreshed in the Israeli Desert
Six Senses resorts are known for restorative retreats in places like Fiji, Bali, and the Maldives. For its latest location, the wellness-minded brand is heading to a more unexpected locale: the Arava Valley, in the far south of Israel. Opening this spring, the Six Senses Shaharut will offer overnight camel camping, off-roading in the surrounding desert, and restaurants serving food grown in the resort's gardens or sourced from nearby kibbutzim. While the valley is said to be near King Solomon's copper mines, the Six Senses is sure to strike gold. —Nicholas DeRenzo
3. Say konnichiwa on July 24 at the opening ceremonies of the Summer Olympic Games in Tokyo, which plays host for the first time since 1964.
The Japanese capital plays host for the first time since 1964. This year, softball and baseball will return after being absent since 2008, and four new sports—karate, sport climbing, surfing, and skateboarding—will be added to the competition for the first time. Say konnichiwa at the opening ceremonies on July 24, which will be held at renowned architect Kengo Kuma's New National Stadium. – Nicholas DeRenzo
2. Score Tickets to Euro 2020
Still feeling World Cup withdrawal? Get your "football" fix at the UEFA European Championship. From June 12 to July 12, 24 qualifying national teams will play games in stadiums from Bilbao to Baku, culminating in the semi-finals and final at London's hallowed Wembley Stadium. Will World Cup champion France bring home another trophy? Will Cristiano Ronaldo's Portugal repeat its 2016 Euro win? Will the tortured English national team finally get its first title? Or will an upstart—like Greece in 2004—shock the world? —Justin Goldman
1. Soak Up Some Culture in Galway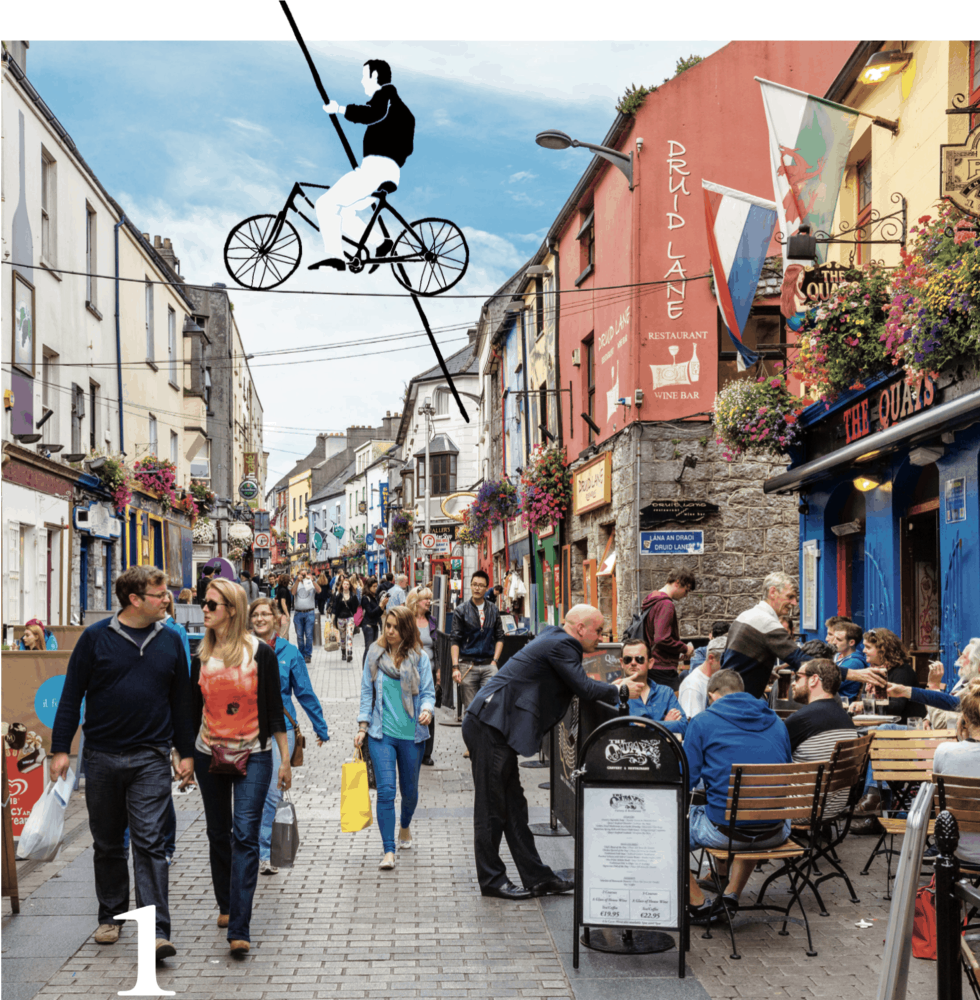 Photo: Ian Dagnall/Alamy
Galway has long been called "the cultural heart of Ireland," so it's no surprise that this bohemian city on the country's wild west coast was named a 2020 European Capital of Culture (along with Rijeka, Croatia). The title puts a spotlight on the city (population 80,000) and County Galway, where more than 1,900 events will take place throughout the year. Things kick off in February with a seven-night opening ceremony featuring a fiery (literally) choreographed celebration starring a cast of 2,020 singing-and-drumming locals in Eyre Square. "This is a once-in-a-generation chance for Galway," says Paul Fahy, a county native and the artistic director of the Galway International Arts Festival (July 13–26). "It's a huge pressure. There's a heightened sense of expectation from audiences, not just from here but from all over the world." Art lovers will no doubt enjoy Kari Kola's illuminating work Savage Beauty, which will wash the Connemara mountains in green light to coincide with St. Patrick's Day, or the Druid Theatre Company's countywide tour of some of the best 20th-century one-act Irish plays. Visitors would also be wise to explore the rugged beauty of Connemara on a day trip with the charismatic Mairtin Óg Lally of Lally Tours, and to eat their way across town with Galway Food Tours. But beware, says Fahy: "Galway has a reputation as a place people came to 20 years ago for a weekend and never left." —Ellen Carpenter
Scroll to top