Three Perfect Days: San Juan
Story by Nicholas Derenzo | Photography by Gabriela Herman | Hemispheres, December 2105
The Puerto Rican capital offers beautiful ocean views, pristine jungle, art and culture galoreâ and all the rum you can drink

San Juan is just five years short of its 500th birthday, but the old city shows no sign of slowing down. In fact, the rainbow-hued, salsa-fueled energy that hums through the Puerto Rican capital is spilling over into rough-edged areas like Santurce, which is emerging as an incubator for artistic and culinary talent. Beyond the city limits, meanwhile, in tropical forests teeming with birds and flowers, you'll see that the city's spellbinding energy and color have an even older precedent. It's an essence that infuses every aspect of life here, and visitors are often surprised to find that, within hours of their arrival, it's in them, too.

In which Nicholas takes a poetic tour of Old San Juan and explores art (both visual and culinary) at the museum
If you've ever wanted to feel like a well-to-do conquistador, you could do worse than booking into the Hotel El Convento. The property is set in a mid-17th-century Carmelite nunnery, its rooms decked out in Colonial style, its courtyard shaded by a 300-year-old Spanish nispero tree, its windows opening onto the waterfront and the multicolored jumble of Old San Juan. Just beyond the bay is the Art Deco Bacardi distillery. I can't help but feel that this trifecta—history, sea, rum—may come to define my trip.
It doesn't seem prudent to start on the rum so early, so I begin my day by exploring history instead. To help me unpack the secrets of Old San Juan—set on a jam-packed, three-square-mile island—I've recruited Lady Lee Andrews, a 43-year-old local poet with cascading braids and curls. "I'm a born and raised sanjuanera," she says, as we hug hello on the steps of the hotel. "I'm like a tree. I'm rooted here."
Before we even begin our stroll, we encounter local legend Saúl Dávila, who famously wanders the streets selling armfuls of azucenas (white lilies). "This man here walks miles every day selling flowers, and he's been walking since I was a little girl," Andrews says as she buys a bunch. "We'll give these away as we go."
We cross the street and head into the Cathedral of San Juan Bautista, the second-oldest church in the Americas (after the basilica in Santo Domingo, Dominican Republic). The original structure was built in the 16th century, though Andrews is quick to point out that, due to centuries of being pummeled by hurricanes, only the front steps are original.
These vicious storms, Andrews continues, have left a mark on the city's people as well. "With hurricanes, there's a sense of kinship," she says, laying a flower at the feet of Our Lady of Divine Providence, Puerto Rico's principal patroness. "When I was a little girl, I longed for September hurricane season, because all the neighbors would come out and help each other. It breaks that pattern of everyone being in their own worlds."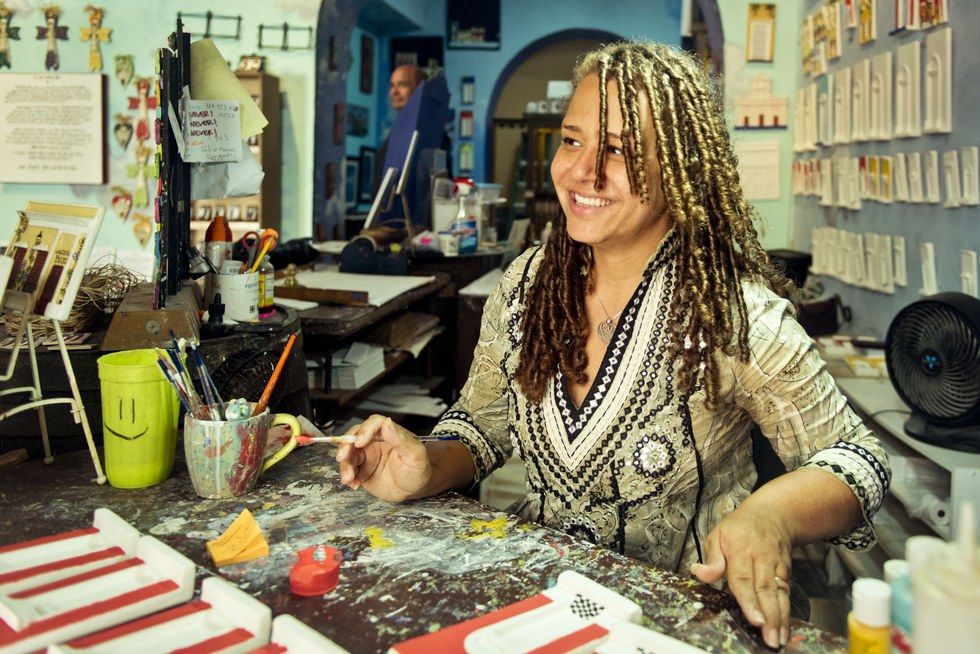 Lady Lee Andrews, poet, artist, and owner of the Poet's Passage
Outside, the narrow colonial streets of the casco, or Old Quarter, are a riot of color, down to the bluish cobblestones, made with iron furnace slag and once used as ballast on Spanish ships. Lining the roads are stucco houses, many with wrought-iron balconies, painted lime green and banana yellow, guava pink, and papaya orange (think New Orleans' French Quarter with the volume turned up). Interestingly, these bright hues are a relatively new addition to San Juan; the city government used to dictate permissible paint colors, and the palette was surprisingly muted.
We pass a mural of the azucena man and his trademark bouquet of lilies and duck into Restaurant Siglo XX, a small traditional diner that's been around since the mid-1950s. At this time of day, the obvious choice is a mallorca, a sweet bread roll stuffed with ham and cheese and crowned with enough powdered sugar to make a beignet blush.
"San Juan is a village. We're called the Island of Enchantment, and you won't leave without getting bitten." —Lady Lee Andrews
I've noticed that Andrews can barely walk a block without stopping to hug someone, though she insists that this says more about the neighborhood's character than her own. "The first time I went to France to visit my husband's family," she tells me as she stirs brown sugar into her café con leche, "I was shocked that he had lived in the same house his whole life and didn't know his neighbors. So, being the Puerto Rican that I am, I went over, banged on the door, and said hi. And now, 18 years later, they're best friends."
Our casco walk takes us past chattering wild parrots fighting over a pizza crust near the port and the baby-blue facade of La Fortaleza, a 16th-century fortification that serves as the governor's residence. At the end of the cliffside Calle del Cristo sits a tiny, age-mottled chapel, which has a story: This street once hosted dangerous horse races, in which the rider who got closest to the edge would win. One man plunged over and miraculously survived the fall, and local residents went on to build the Capilla del Santo Cristo to thank God.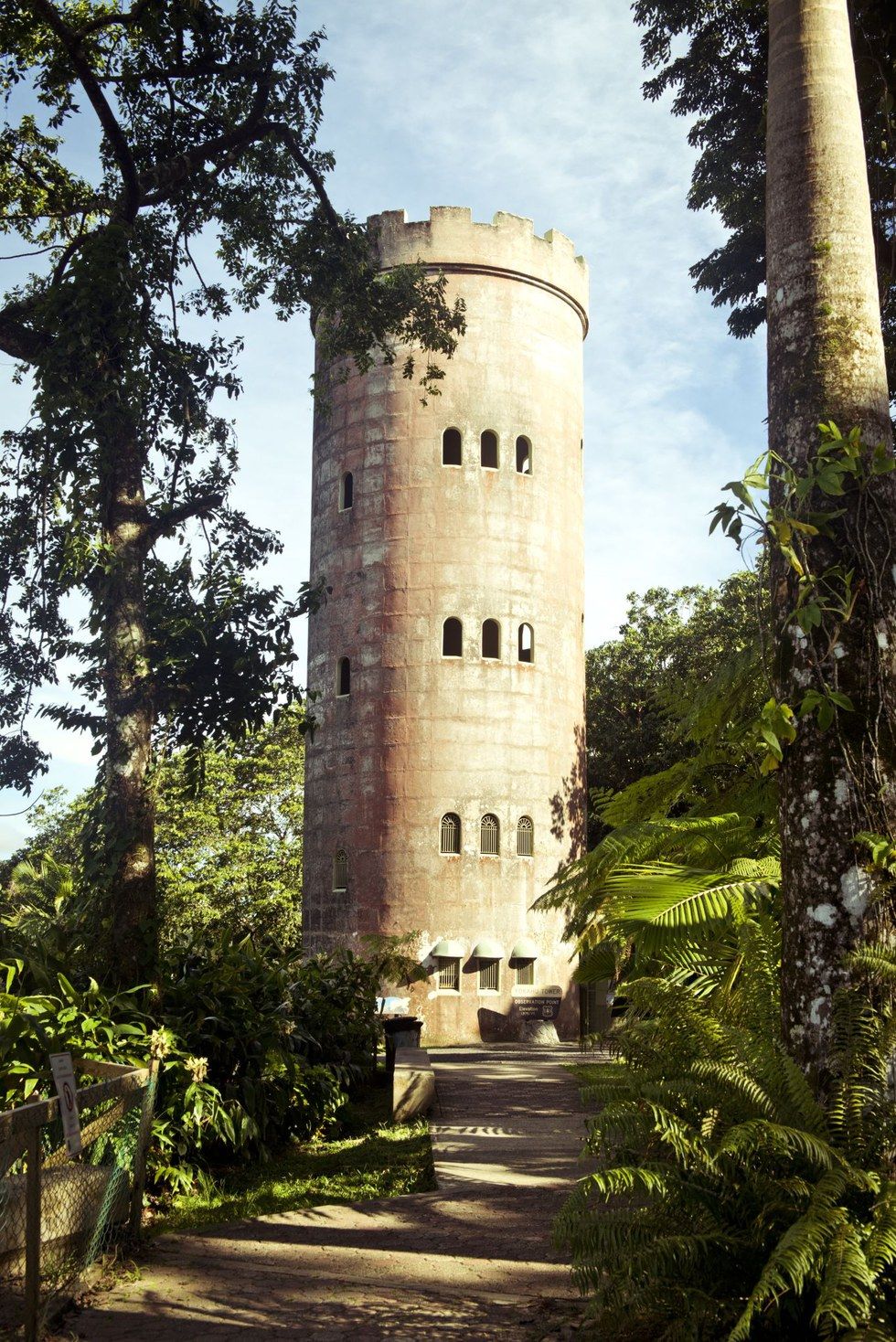 El Yunque National Forest's Mount Britton observation tower
We continue down Calle Fortaleza, past Barrachina, the restaurant where the piña colada was invented in 1963, and duck into Andrews' shop, Mi Pequeño San Juan, where she and her painter husband, Nicolas, create plaster replicas of local landmarks. Around the corner from here is her café, the Poet's Passage, its counter modeled after a roll-top desk, with slips of paper and pens on each table in case the spirit moves you. There's also a chihuahua named Federico García Lorca, a green parrot named Pablo Neruda, and a lovebird named Robert Frost. Another bird, Maya Angelou, died a couple of years ago—coincidentally, at around the same time as Maya Angelou the poet.
I say goodbye to Andrews and head to the Museo de Arte de Puerto Rico, which is housed in a 1909 neo-classical hospital with a contemporary annex. While outside the limits of Old San Juan, it's an institution steeped in history. Like the building, the museum's Laurel Kitchen/Art Bar plays with the theme of old-meets-new. Here, Next Iron Chef contestant Mario Pagán lovingly remixes the flavors of his homeland.
"We're all about the pork," he says, dishing up pig-ear crackling with tamarind sauce and plantain mofongo. So begins a cascade of courses that include brie croquettes with papaya skin preserves; lamb alcapurrias (fritters) with mint pique aioli; pegao (crispy rice that sticks to the bottom of the pot) with blood sausage, caramelized fennel, avocado, and egg white; black Chilean sea bass with truffled yuca puree and a port wine and foie gras sauce; and, for a finale, a slab of guava goat cheesecake. "I hope you're going to take a long nap after this," Pagán says with a grin.
But no rest for the gastronomically weary. I'm meeting the museum's Venezuelan-born curator, Juan Carlos López Quintero, for a tour. The museum is organized according to themes rather than chronology—"You have 18th-century paintings next to photographs next to video installations"—which makes for a lively experience. It seems fitting that the first gallery we enter, after such a gluttonous lunch, is "Plátano Pride"—a collection of artworks celebrating the island's staple starch, including a portrait of a boy wearing a life-size gold plantain on a chain around his neck.
"The plantain has been an icon of Puerto Rican art since José Campeche," López Quintero says, leading me to the master's 1797 portrait of the governor's two young daughters. "For the first time, you have elements that belong to this country—the maracas, the pineapple." I'm particularly taken with a massive triptych nearby called The Garden of Intolerance by Arnaldo Roche Rabell, a local neo-Expressionist painter whose swirls of thickly applied paint call to mind a tropical van Gogh. It also seems a perfect representation of the island's noise and humidity and color—the "muchness" of Puerto Rico.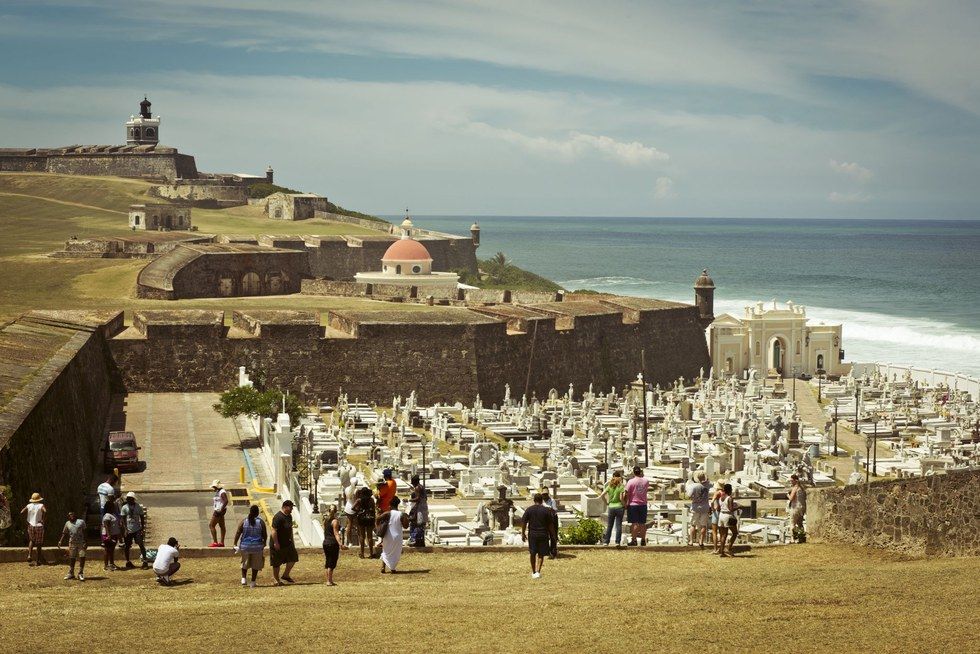 Santa María Magdalena de Pazzis Cemetery
I find my appetite inexplicably whetted, so I drive a few minutes to Jose Enrique, an unassuming eatery set in a bungalow on the lively square La Placita. Enrique trained at the Culinary Institute of America, and was the first Puerto Rican chef nominated for a James Beard Award. He personifies a new wave of chefs here, but his hearty rustic fare—rice and red beans, tripletail fish fritters, deep-fried skirt steak topped with fried eggs, coconut pudding—would satisfy the most ardently traditionalist abuelita.
Before bed, I stop for a drink at La Factoría, whose pocked walls and dim lighting call to mind the kind of place where (heavily tattooed) revolutionaries might have gathered to talk shop. The feeling of intrigue is heightened by the nesting-doll layout, with different bars extending beyond a succession of unmarked doors. I sit beside a wall inscribed with "Hijos de Borinquen" (Borinquen being the island's pre-Columbian Taíno name) and sip a De Lo Mejor, a cocktail of housemade horchata, tequila, Cointreau, lime, and a smoky local rum, Ron del Barrilito.
This hip speakeasy vibe is spreading. Just next door is La Cubanita, a new bodega-inspired cocktail bar (its shelves ironically stocked with saint candles and bottles of Clorox) where you can order spirits mixed with fresh juices. My Guayabera (Barrilito, guava, lime, and sugar) is a great drink but a terrible nightcap, in that it makes me want to go dance the merengue rather than settle down. But it's been a long day. Maybe tomorrow.

In which Nicholas explores newly hip Santurce and enjoys an ocean-view dinner by a Michelin-starred chef in Condado
I've been in Puerto Rico only a day, but I'm already singing salsa tunes in the shower. I don't know any lyrics, so it's just coming out awkwardly like boom t-ting-ting, boom boom t-ting-ting. It's almost scary how contagious the energy is here.
Having explored the city's past, today I'm turning my attention to its future. Just over the bridge from Old San Juan is Santurce, a scrappy urban area that has become an enclave of street artists, chefs, activists, and gallerists. The word "Brooklyn" gets thrown around a lot, but a more apt comparison might be contemporary Berlin or '90s Soho.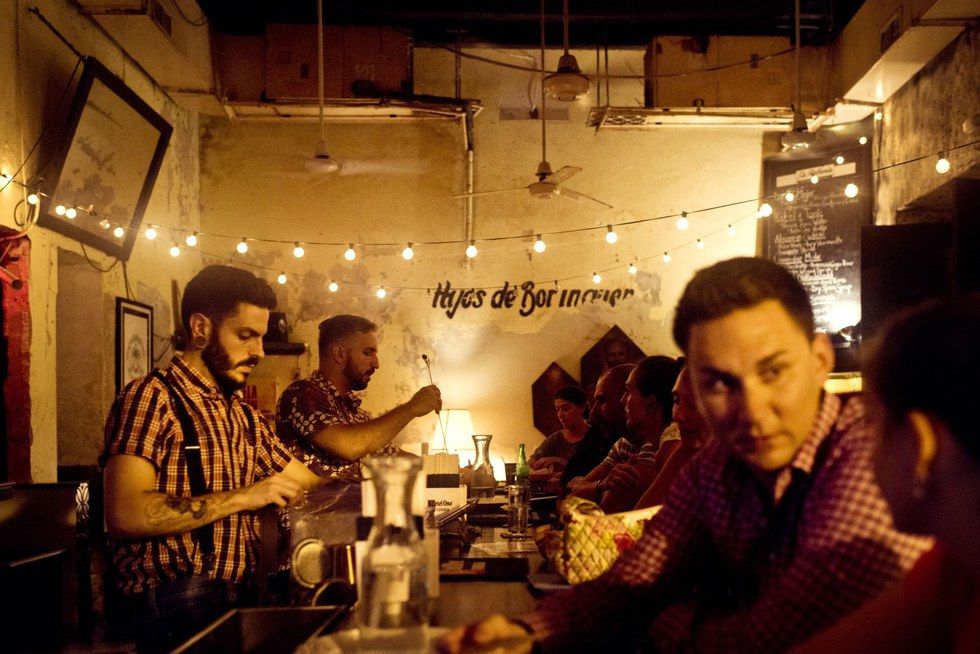 La Factoría cocktail bar in Old San Juan
I fortify myself with croquettes and fresh-baked bread at Panificadora Jerezana, the favorite bakery of local artist Martín Albarrán López. After breakfast, he drives me to La Productora, his industrial gallery on thrumming Cerra Street. The gallery got its name from the recording studios that once lined the block, churning out tropical music from the 1950s on. "This was the mecca, where salsa began," Albarrán López says. "But with iPods, the Internet, it all went down."
A few years ago, artists began to fill the void. "I don't know if you understand the word 'cojones,'" he says, "but we had the cojones to make it happen." A block from La Productora, Jaime Rodriguez Crespo crafts whimsical plastic replicas of island wildlife, such as blowfish and the ubiquitous chango (grackle), a gregarious cousin of the crow, which he depicts stealing onion rings and dog food—an ironic urban take on the pink flamingo lawn ornament.
Albarrán López shares his gallery with two other artists:Jotham Malavé, a realist painter currently exploring the theme of voyeurism through nighttime images of the suburbs, and Gil Ramos, a former lawyer with no formal training who makes wild collages with found objects, like bikinis and scraps of paper. "I try to make conversations with these humble, discarded materials," he says. "I get a kick out of watching these materials elevate themselves. I'm trying to escape the value society gives them." It's an apt metaphor for the way artists are transforming this once-maligned area.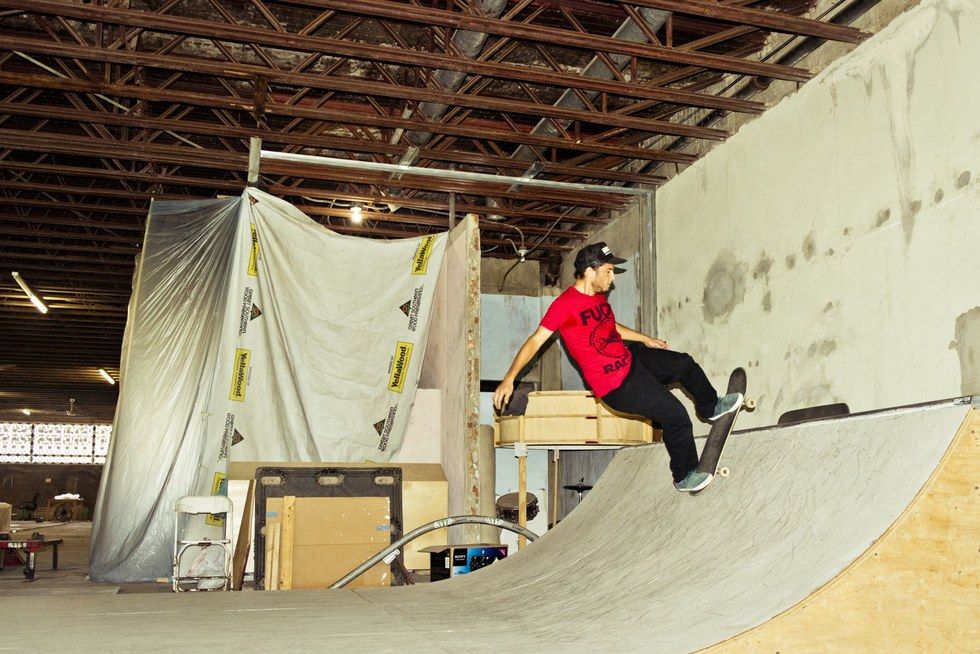 Artist Chemi Rosado-Seijo takes on the half-pipe
The district's streets burst with art too. Much of the graffiti is produced during the annual Santurce Es Ley festival, in which street artists from around the world are invited to use buildings as canvases. Works range from Pop Art to Banksy-like stencils to Alexis Diaz's surreal zoological murals, including a crow-octopus-human hybrid on a wall outside the Museo de Arte Contemporáneo de Puerto Rico.
Next, Albarrán López, Malavé, and Ramos take me to lunch at Soda Estudio de Cocina. Named for Argentine rockers Soda Stereo (on the stereo when we arrive), it's a funky spot with wall-size shrines to the band's late lead singer, Gustavo Cerati, and pinup queen Bettie Page. And if the decor seems ambitious, you should meet chef Hector Rosa. "We call it the New Puerto Rican Kitchen," he says, "the food of the future."
Rosa lets the market-fresh ingredients do the talking, often with a subtle twist: chorizo with guava, papaya, tomato, and avocado; fettuccine with chicharrones de pollo, satay sauce, and an alfredo-inspired celery root puree; and, for dessert, a bread pudding made from Krispy Kreme donuts that winks at the role of American mass culture on the island.
"Santurce is a zone that's been stigmatized, because the slaves and workers used to live here," Rosa tells me. "As raw as it is now, you don't always have a neighborhood where you know it's going to be amazing."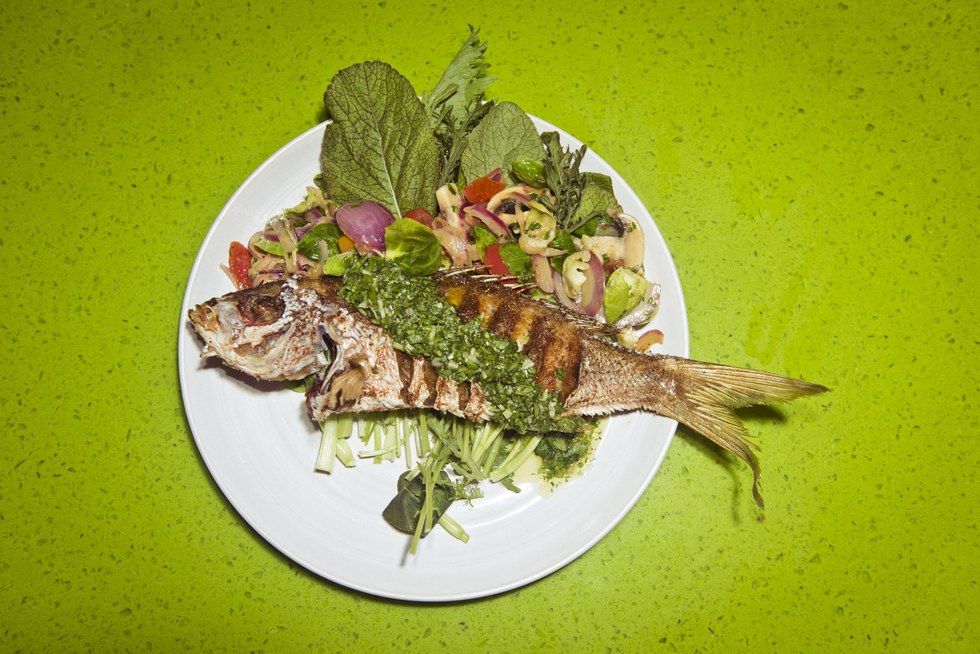 Fried red snapper at Soda Estudio de Cocina
Not far from here is LAB: Laboratorio de Artes Binarios, a stark space bookended by modernist cement windows latticed with geometric concrete gratings. The vast space works well for Chemi Rosado-Seijo, whose latest project involves skateboarding on custom ramps around the world, spreading the dirt from his wheels in abstract swirls and loops. "The shape of the ramp, the person skating, the dirt from that country affect the colors," he explains. "It's abstraction and performance art and modernism together." Across the hall, Ricardo Morales Hernández paints massive monochromatic works that expand on his daughters' doodles.
It's only a five-minute drive from Santurce to my next stop, but the two places couldn't be less alike. Condado is a South Beach–esque stretch of condos and resorts, including the Condado Vanderbilt, a Spanish Revival property built in 1919 (by the firm behind Grand Central Terminal) and restored to full glory late last year. I'm having dinner at the hotel's 1919 Restaurant, a place of sleek leather chairs and mother-of-pearl chandeliers. The Michelin-starred chef here, Juan José Cuevas, combines influences from Spain and his native Puerto Rico. I grab a seat overlooking the sea and tuck into a plate of cochinillo (suckling pig) ravioli with burrata, caramelized eggplant, and Iberico ham, and a paella-inspired dish of rabbit, bomba rice, maitake, conch, and octopus.
I'm spending the night across the street at the Mediterranean-themed O:Live Boutique Hotel. This is where the Real Housewives of Atlanta stayed while in town, but don't expect paparazzi—or catfights. Inspired by the owners' wedding in Sorrento, the hotel feels like a sanctuary you'd find in Campania or Provence, with furnishings crafted from century-old reclaimed wood. It's a little shot of the Old World in a city that's become a vibrant symbol of what it means to be "new."

In which Nicholas scales a jungle peak (sort of) and goes birdwatching at the St. Regis Bahia Beach
Having immersed myself in urban San Juan, today I'm turning my attention to the nearby countryside—specifically El Yunque, the only tropical rainforest in the U.S. National Forest System, a 40-minute drive from the city. My tiny rental chugs up the side of a mountain, which gets denser and greener as I go. Pretty soon, I'm surrounded by waterfalls, prehistoric-looking ferns, soaring palms, and exotic parrots.
At the forest headquarters, I meet archaeologist Raymond Feliciano, who has offered to drive me around the park in his SUV. The selfie-stick crowd tends to keep to the main route, but Feliciano wants to show me another side of the forest: the top. Because my idea of mountain climbing is getting up the subway steps in one piece, we make the ascent by car rather than foot.
As we navigate a series of treacherous switchbacks, I mention how untouched the forest feels. "I wanted to get in a couple of dinosaurs," Feliciano says dryly, "which wasn't well received. But you do get the whole Jurassic Park experience." In fact, this land-that-time-apparently-forgot is mostly second-growth forest, planted by the New Deal–era Civilian Conservation Corps following the ravages of erosion and misuse. Feliciano describes it as "created nature."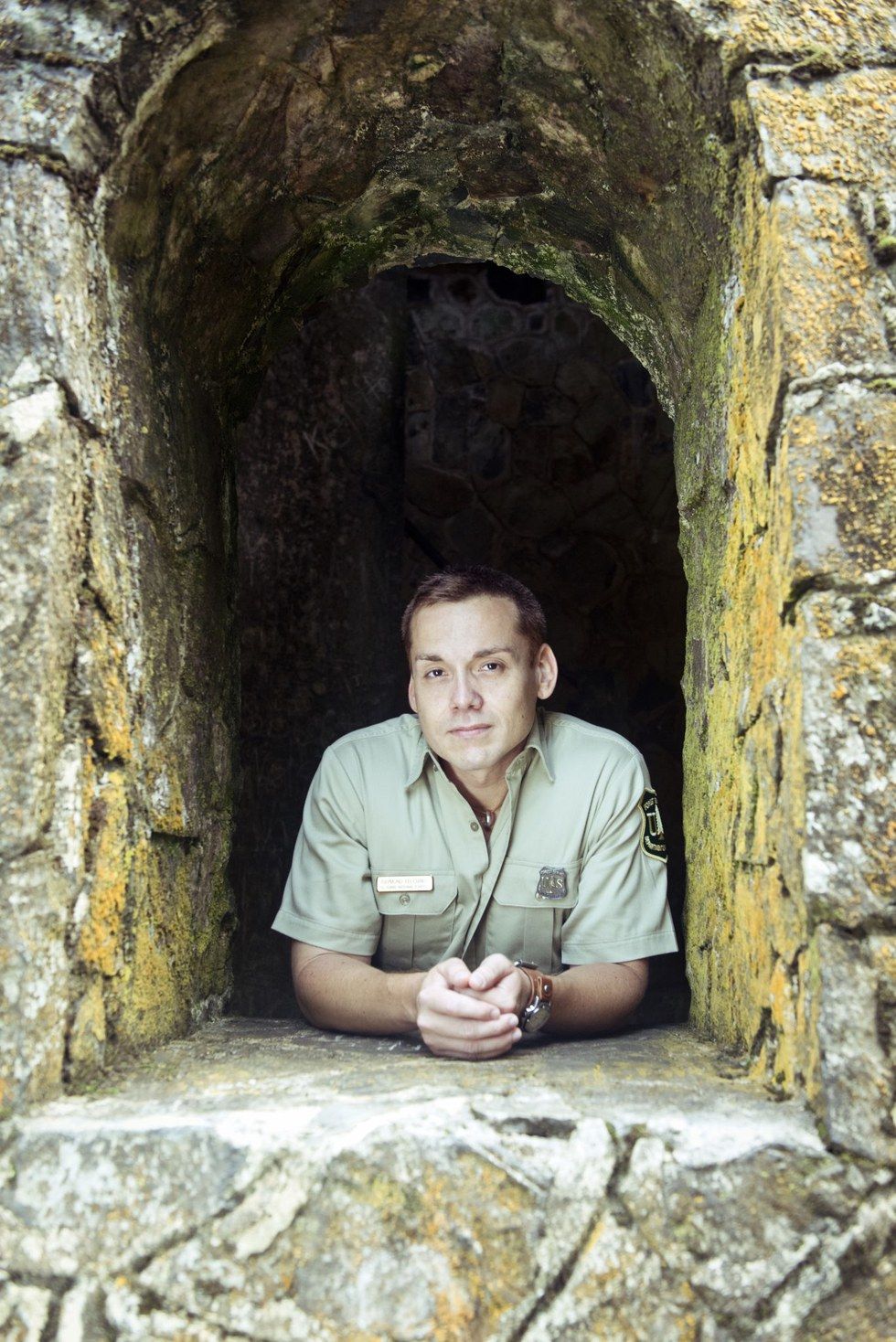 Raymond Feliciano, archaeologist, El Yunque National Forest
Our destination is the 1930s Mount Britton observation tower, which looks like a giant rook from a chess set. We climb the spiral staircase and emerge onto a castellated roof overlooking a staggeringly epic expanse. From this height, you can see San Juan, as well as the islands of Vieques and Culebra. "On a clear day, you can see all the way to the Virgin Islands," Feliciano says.
Closer at hand is El Yunque Peak, the second-tallest mountain in the forest. "When the Spanish came to extract gold, the mountain was covered by a cloud," Feliciano tells me. "The Taíno natives called it yu-ke, the resting place of their god of creation. The Spanish heard yunque, which means 'anvil.' So now people come expecting to see an anvil." Anvil or no, it's easy to be swept up in the grandeur of it all.
"People see El Yunque as a spiritual, mystical landmark. It used to be called the Sacred Mountain. When the Forest Service tried to do timber in the '80s, they were up in arms. So we shifted from timber to recreation, and now it feels like a pristine area—what God created." —Raymond Feliciano
For lunch, I head to the nearby Luquillo Beach kioskos. These ramshackle eateries are a staple along Puerto Rican beaches, each serving its take on classics like alcapurrias de jueyes (crab fritters) and bacalaítos (fried salt cod pancakes). I stop at kiosk 20, Terruño, take a seat overlooking the palm-lined beach, and order a Medalla Light (a local light beer that's less than $2 a pop), a crispy rabbit turnover, and a snow-white dish of grouper cooked in rice and coconut milk.
From here, it's a 20-minute drive to the decidedly more elegant confines of the St. Regis Bahia Beach. Occupying 400-plus acres on a former coconut plantation bounded by two rivers, the resort is centered on the Plantation House, where I check in. I wander past a minimalist koi pond and into what feels like a grand private estate, where I'm immediately greeted with a rum punch.
Luxury, though, is only part of the story here. The St. Regis Bahia Beach is the first property in the Caribbean to be named a Gold-Certified Signature Sanctuary by Audubon International. "We function like a tiny national park," says resident ecologist Ashley Perez, who's waiting for me at the hotel's boathouse, ready to coax me into a two-person kayak.
Within minutes of paddling away from the dock, we're surrounded by a diverse array of wildlife, including a green heron, which responds to our presence with dramatic squawking. "He's cursing at us," she says with a laugh. "'You ruined my lunch!' They're very clever. They use tools—they throw sticks in the water as bait." We see egrets and chickenlike gallinules walking among mangrove roots on comically oversize feet. "I love the little sandpipers," Perez says, "because they always look like they're dancing."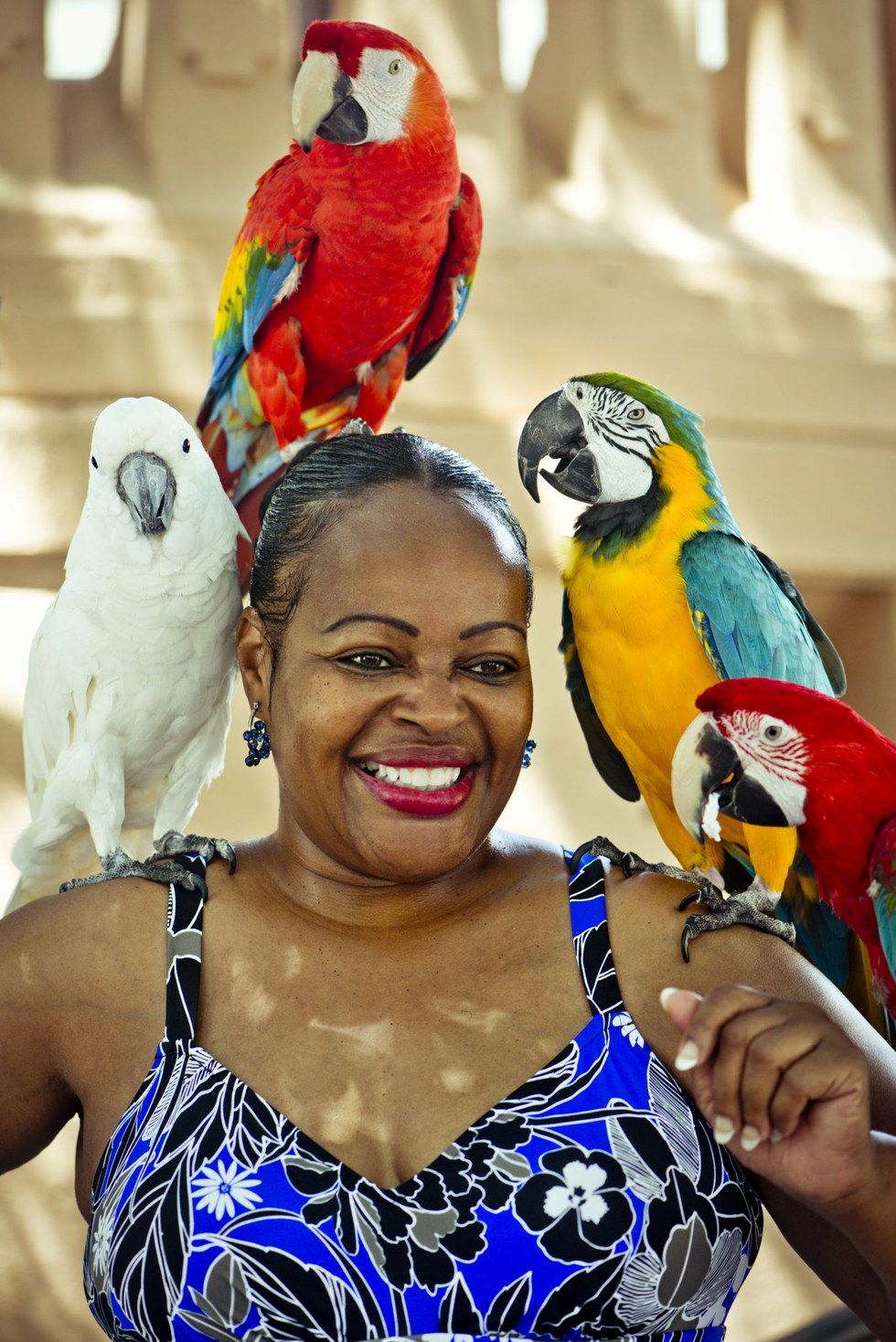 A bird-loving Old San Juan local
Then there's the feisty chango—the same bird that so inspired Santurce artist Jaime Rodriguez Crespo. These birds, Perez tells me, have a habit of whining and begging their parents for food even after they're old enough to feed themselves. "When Puerto Rican kids get really annoying," she says with a laugh, "their parents always say, 'Ay chango!'"
We dock the kayak and set out in a golf cart to explore the nonwatery part of the preserve, passing trees swollen with cementlike termite nests. Soon, a mongoose skitters across our path. "They're rare to see!" Perez exclaims. "Mongoose were brought to the island to kill rats. And now … Puerto Rico just has rats and mongooses."
The sun has started to set, so I freshen up in my suite's room-size rainforest shower, then head to dinner at the Plantation House. To get there, I navigate the boardwalks that crisscross the resort (better to leave the slithering blue ground lizards and lumbering iguanas below undisturbed), serenaded by a chorus of coqui frogs croaking the two-syllable refrain that gives them their onomatopoeic name. It's a sound that nearly every Puerto Rican I've met has said they'd miss if they ever left the island.
Spilling out onto a seafront veranda, Jean-Georges Vongerichten's Fern is an exceptionally refined affair. After a refreshing watermelon julep and a dinner of roasted lobster with creamy corn and chili vinaigrette, I pop down to the lobby bar. Every St. Regis boasts a signature Bloody Mary (the drink was invented at the Manhattan flagship in 1934), and here it's the spicy Encanto Mary, infused with ají picante chilies, rimmed with crushed plantain chips, and garnished with plantain-stuffed olives.
The bartender catches me staring at the painting behind the bar, a monumental neo-Expressionist work depicting a Taíno native cutting through a plant-filled marsh in a boat. "It's an Arnaldo Roche Rabell," she says, and I'm reminded of something an art museum employee told me: "Puerto Rican art is colorful and loud and spicy and full of flavor—and so is our food, and so is our music, and so is all of our culture." Even in a place like this genteel bar, you can't escape the true essence of Puerto Rico.
Hemispheres senior editor NicholasDeRenzo never considered himself a rum guy until the whiskeylike Ron del Barrillito came salsa-ing into his life
This article was from Rhapsody Magazine and was legally licensed through the NewsCred publisher network.
On March 19, 2020, United operated its first flight carrying cargo without passengers on board. While the passenger cabin was empty, its cargo hold was completely full, carrying more than 29,000 pounds of commodities from Chicago O'Hare International Airport (ORD) to Frankfurt Airport (FRA).
A year later, United Cargo has operated more than 11,000 cargo-only flights carrying more than 570 million pounds of freight. To support the COVID-19 pandemic recovery efforts, United Cargo has also transported more than 113 million pounds of medical and pharmaceutical products on both cargo-only and passenger flights as well as approximately 10 million COVID-19 vaccines, providing global communities access to the items they have needed most.
"At the beginning of the pandemic, we knew we were uniquely positioned to utilize our widebody aircraft and our network to keep commodities moving, so we quickly mobilized various departments throughout the airline to launch a cargo-only network of flights that would keep commodities moving," said United Cargo President Jan Krems. "Thanks to those efforts, United Cargo has delivered millions of items to countries all around the world. We would not have been successful without the steadfast support of our employees, industry partners and our customers."
Since last March, United Cargo has transported almost 850 million pounds of freight on cargo-only and passenger flights. The airline will continue to monitor market trends adjust its cargo-only flight schedules to help ensure we are meeting our customer's evolving shipping needs.
Whether you haven't flown with us for a while or just need a quick refresher before your spring trip, read this list of tips to know before your flight and arrive at the airport travel-ready:
1. Download the United app for contactless bag check, travel assistance and more
Before your flight, download the United app to view your flight status, check in, sign up for flight notifications, locate departure gates, access our free personal device entertainment when available and more. We've also updated our app with new features that can make your trip a little safer, including contactless bag check.
Don't forget to use Agent on Demand for help with any and all questions you may have before your flight. This new capability is available at all our U.S. hub airports and allows you to use your own mobile device to contact a customer service agent via phone, video or chat to help with day-of-travel questions while you're at the airport. Learn more about Agent on Demand here.
2. Check out the Travel-Ready Center
Our Travel-Ready Center makes it easy to get a personalized overview of everything you need to do in preparation for your flight. Just enter your confirmation number or MileagePlus® number and you'll find detailed information on all the documents, tests and more that you'll need for your trip.
3. Read and sign the Ready-to-Fly checklist
Before completing check-in, all United travelers will need to read our Ready-to-Fly checklist and confirm that they understand and agree to our policies. These include:
Acknowledging that you haven't had any symptoms of COVID-19 in the last 14 days
Agreeing that you will not fly if you have tested positive for COVID-19 within the last 21 days
Confirming that you will follow all policies regarding face masks, social distancing and other health and safety measures we've adopted
4. Arrive early; avoid the stress
Airports can be busy, especially during peak travel periods like spring break season. The TSA advises arriving at the airport two hours before your flight for domestic travel and three hours for international travel in anticipation of long security lines. This can help ease the stress when navigating busy check-in areas, security lines and crowded boarding gates.
5. Get familiar with CleanPlus
United CleanPlus℠ is our commitment to delivering industry-leading cleanliness as we put health and safety at the forefront of your experience. We've teamed up with Clorox to redefine our cleaning and disinfection procedures and Cleveland Clinic to advise us on enhancing our cleaning and disinfection protocols, like:
Disinfecting high-touch areas on board and in the terminal
Using electrostatic spraying, Ultraviolet C lighting wands and more advanced measures to clean aircraft cabins before boarding
Redesigning our mobile app to allow for touchless check-in and contactless payment, along with enhanced travel assistance features
Implementing high-efficiency (HEPA) filters on our aircraft that completely recirculate cabin air every 2-3 minutes and remove 99.97% of airborne particles, including viruses and bacteria
Studies show COVID-19 exposure risk is minimal when air filtration systems and masks are in use, so you can rest assured that the steps we've taken to keep you safe truly make a difference.
6. Wear your mask
Federal law requires all travelers to wear a face mask in the airport, including customer service counters, airport lounges, gates and baggage claim, and on board during their entire flight. Make sure you review the requirements for face masks, including what an acceptable face mask looks like.
7. Get ready for a safer boarding process
To make boarding even safer, we now have travelers board their aircraft from back to front. At the gate, just listen for your row number to be called – we'll ask a few rows at a time to board, starting with the last row of the plane. This helps everyone maintain a safe distance from each other during boarding without slowing things down. As you step onto the plane, flight attendants will hand each passenger a sanitizing towelette, which you can use to wipe down your seat to ensure it's extra clean.
8. Pack smart
Before packing your bags, check to see what exactly you can carry on and what you should plan to check. You can also copy your confirmation number into our Baggage Calculator tool to learn about the bag allowance included with your reservation, as well as the cost of checking any additional bags.
9. Check your flight status, important notices and weather
Check the United app regularly for the latest updates on weather conditions, flight status, gate numbers and seat assignments. You can also visit our Important Notices page to find essential information and updates about travel waivers, international travel, TSA and security, airports and United Club locations.
10. Relax and enjoy your flight
Once you're on board, it's time to sit back and enjoy your flight. Our flight attendants will be happy to help you with anything else you need.
This week, we were honored to become the first U.S. airline to join the UNICEF Humanitarian Airfreight Initiative to combat the COVID-19 pandemic by transporting the vaccine and other critically needed supplies to underserved areas of the globe.
"We are committed to helping the global community in any way we can, and we all must work together to do our part to bring this health and humanitarian crisis to an end," said Director of Cargo Specialty Products Manu Jacobs.
We will leverage our expertise to transport these critical pharmaceutical and healthcare shipments around the world safely, efficiently and expediently. We are proud to partner with the United Nations to support this global effort and provide equitable access to COVID-19 vaccines.
Scroll to top