Three Perfect Days: San Juan
Story by Nicholas Derenzo | Photography by Gabriela Herman | Hemispheres, December 2105
The Puerto Rican capital offers beautiful ocean views, pristine jungle, art and culture galoreâ and all the rum you can drink

San Juan is just five years short of its 500th birthday, but the old city shows no sign of slowing down. In fact, the rainbow-hued, salsa-fueled energy that hums through the Puerto Rican capital is spilling over into rough-edged areas like Santurce, which is emerging as an incubator for artistic and culinary talent. Beyond the city limits, meanwhile, in tropical forests teeming with birds and flowers, you'll see that the city's spellbinding energy and color have an even older precedent. It's an essence that infuses every aspect of life here, and visitors are often surprised to find that, within hours of their arrival, it's in them, too.

In which Nicholas takes a poetic tour of Old San Juan and explores art (both visual and culinary) at the museum
If you've ever wanted to feel like a well-to-do conquistador, you could do worse than booking into the Hotel El Convento. The property is set in a mid-17th-century Carmelite nunnery, its rooms decked out in Colonial style, its courtyard shaded by a 300-year-old Spanish nispero tree, its windows opening onto the waterfront and the multicolored jumble of Old San Juan. Just beyond the bay is the Art Deco Bacardi distillery. I can't help but feel that this trifecta—history, sea, rum—may come to define my trip.
It doesn't seem prudent to start on the rum so early, so I begin my day by exploring history instead. To help me unpack the secrets of Old San Juan—set on a jam-packed, three-square-mile island—I've recruited Lady Lee Andrews, a 43-year-old local poet with cascading braids and curls. "I'm a born and raised sanjuanera," she says, as we hug hello on the steps of the hotel. "I'm like a tree. I'm rooted here."
Before we even begin our stroll, we encounter local legend Saúl Dávila, who famously wanders the streets selling armfuls of azucenas (white lilies). "This man here walks miles every day selling flowers, and he's been walking since I was a little girl," Andrews says as she buys a bunch. "We'll give these away as we go."
We cross the street and head into the Cathedral of San Juan Bautista, the second-oldest church in the Americas (after the basilica in Santo Domingo, Dominican Republic). The original structure was built in the 16th century, though Andrews is quick to point out that, due to centuries of being pummeled by hurricanes, only the front steps are original.
These vicious storms, Andrews continues, have left a mark on the city's people as well. "With hurricanes, there's a sense of kinship," she says, laying a flower at the feet of Our Lady of Divine Providence, Puerto Rico's principal patroness. "When I was a little girl, I longed for September hurricane season, because all the neighbors would come out and help each other. It breaks that pattern of everyone being in their own worlds."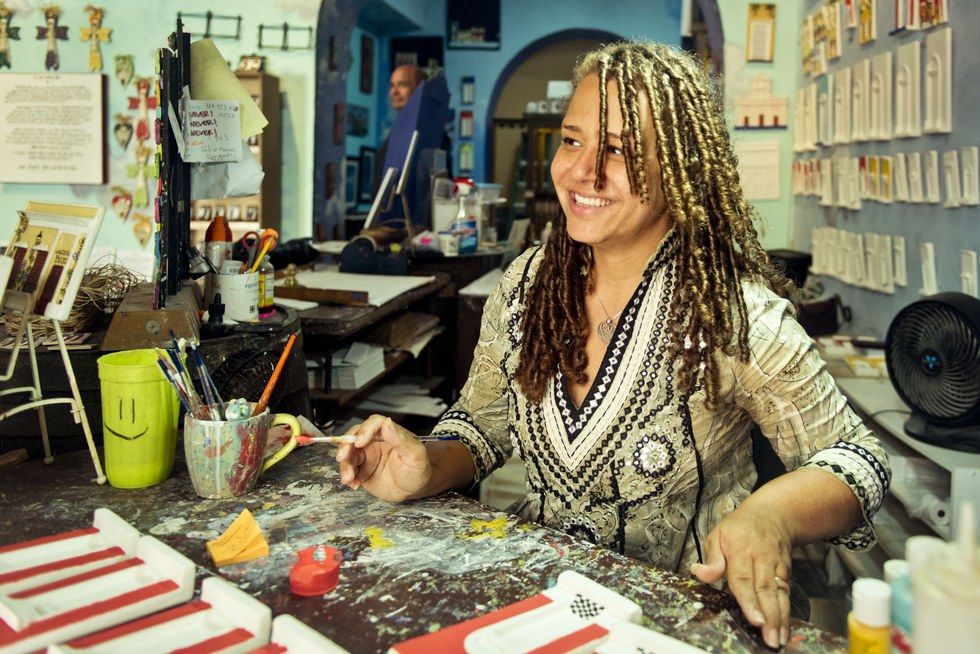 Lady Lee Andrews, poet, artist, and owner of the Poet's Passage
Outside, the narrow colonial streets of the casco, or Old Quarter, are a riot of color, down to the bluish cobblestones, made with iron furnace slag and once used as ballast on Spanish ships. Lining the roads are stucco houses, many with wrought-iron balconies, painted lime green and banana yellow, guava pink, and papaya orange (think New Orleans' French Quarter with the volume turned up). Interestingly, these bright hues are a relatively new addition to San Juan; the city government used to dictate permissible paint colors, and the palette was surprisingly muted.
We pass a mural of the azucena man and his trademark bouquet of lilies and duck into Restaurant Siglo XX, a small traditional diner that's been around since the mid-1950s. At this time of day, the obvious choice is a mallorca, a sweet bread roll stuffed with ham and cheese and crowned with enough powdered sugar to make a beignet blush.
"San Juan is a village. We're called the Island of Enchantment, and you won't leave without getting bitten." —Lady Lee Andrews
I've noticed that Andrews can barely walk a block without stopping to hug someone, though she insists that this says more about the neighborhood's character than her own. "The first time I went to France to visit my husband's family," she tells me as she stirs brown sugar into her café con leche, "I was shocked that he had lived in the same house his whole life and didn't know his neighbors. So, being the Puerto Rican that I am, I went over, banged on the door, and said hi. And now, 18 years later, they're best friends."
Our casco walk takes us past chattering wild parrots fighting over a pizza crust near the port and the baby-blue facade of La Fortaleza, a 16th-century fortification that serves as the governor's residence. At the end of the cliffside Calle del Cristo sits a tiny, age-mottled chapel, which has a story: This street once hosted dangerous horse races, in which the rider who got closest to the edge would win. One man plunged over and miraculously survived the fall, and local residents went on to build the Capilla del Santo Cristo to thank God.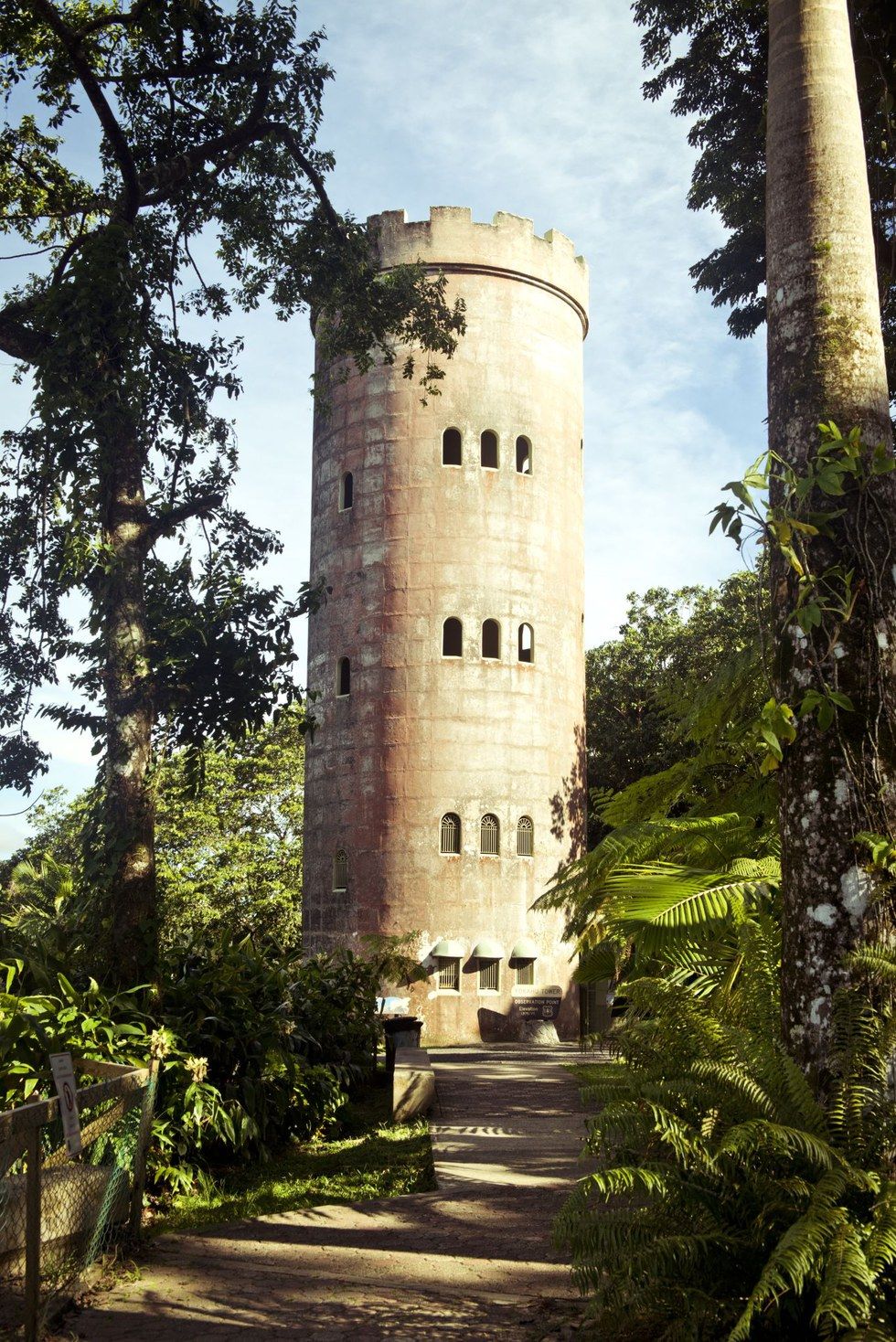 El Yunque National Forest's Mount Britton observation tower
We continue down Calle Fortaleza, past Barrachina, the restaurant where the piña colada was invented in 1963, and duck into Andrews' shop, Mi Pequeño San Juan, where she and her painter husband, Nicolas, create plaster replicas of local landmarks. Around the corner from here is her café, the Poet's Passage, its counter modeled after a roll-top desk, with slips of paper and pens on each table in case the spirit moves you. There's also a chihuahua named Federico García Lorca, a green parrot named Pablo Neruda, and a lovebird named Robert Frost. Another bird, Maya Angelou, died a couple of years ago—coincidentally, at around the same time as Maya Angelou the poet.
I say goodbye to Andrews and head to the Museo de Arte de Puerto Rico, which is housed in a 1909 neo-classical hospital with a contemporary annex. While outside the limits of Old San Juan, it's an institution steeped in history. Like the building, the museum's Laurel Kitchen/Art Bar plays with the theme of old-meets-new. Here, Next Iron Chef contestant Mario Pagán lovingly remixes the flavors of his homeland.
"We're all about the pork," he says, dishing up pig-ear crackling with tamarind sauce and plantain mofongo. So begins a cascade of courses that include brie croquettes with papaya skin preserves; lamb alcapurrias (fritters) with mint pique aioli; pegao (crispy rice that sticks to the bottom of the pot) with blood sausage, caramelized fennel, avocado, and egg white; black Chilean sea bass with truffled yuca puree and a port wine and foie gras sauce; and, for a finale, a slab of guava goat cheesecake. "I hope you're going to take a long nap after this," Pagán says with a grin.
But no rest for the gastronomically weary. I'm meeting the museum's Venezuelan-born curator, Juan Carlos López Quintero, for a tour. The museum is organized according to themes rather than chronology—"You have 18th-century paintings next to photographs next to video installations"—which makes for a lively experience. It seems fitting that the first gallery we enter, after such a gluttonous lunch, is "Plátano Pride"—a collection of artworks celebrating the island's staple starch, including a portrait of a boy wearing a life-size gold plantain on a chain around his neck.
"The plantain has been an icon of Puerto Rican art since José Campeche," López Quintero says, leading me to the master's 1797 portrait of the governor's two young daughters. "For the first time, you have elements that belong to this country—the maracas, the pineapple." I'm particularly taken with a massive triptych nearby called The Garden of Intolerance by Arnaldo Roche Rabell, a local neo-Expressionist painter whose swirls of thickly applied paint call to mind a tropical van Gogh. It also seems a perfect representation of the island's noise and humidity and color—the "muchness" of Puerto Rico.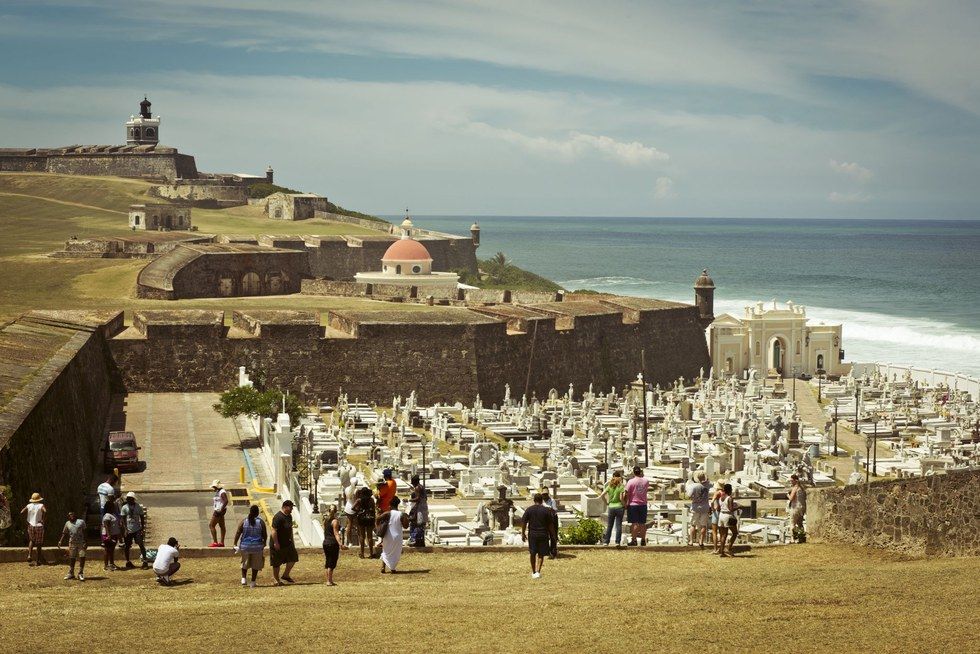 Santa María Magdalena de Pazzis Cemetery
I find my appetite inexplicably whetted, so I drive a few minutes to Jose Enrique, an unassuming eatery set in a bungalow on the lively square La Placita. Enrique trained at the Culinary Institute of America, and was the first Puerto Rican chef nominated for a James Beard Award. He personifies a new wave of chefs here, but his hearty rustic fare—rice and red beans, tripletail fish fritters, deep-fried skirt steak topped with fried eggs, coconut pudding—would satisfy the most ardently traditionalist abuelita.
Before bed, I stop for a drink at La Factoría, whose pocked walls and dim lighting call to mind the kind of place where (heavily tattooed) revolutionaries might have gathered to talk shop. The feeling of intrigue is heightened by the nesting-doll layout, with different bars extending beyond a succession of unmarked doors. I sit beside a wall inscribed with "Hijos de Borinquen" (Borinquen being the island's pre-Columbian Taíno name) and sip a De Lo Mejor, a cocktail of housemade horchata, tequila, Cointreau, lime, and a smoky local rum, Ron del Barrilito.
This hip speakeasy vibe is spreading. Just next door is La Cubanita, a new bodega-inspired cocktail bar (its shelves ironically stocked with saint candles and bottles of Clorox) where you can order spirits mixed with fresh juices. My Guayabera (Barrilito, guava, lime, and sugar) is a great drink but a terrible nightcap, in that it makes me want to go dance the merengue rather than settle down. But it's been a long day. Maybe tomorrow.

In which Nicholas explores newly hip Santurce and enjoys an ocean-view dinner by a Michelin-starred chef in Condado
I've been in Puerto Rico only a day, but I'm already singing salsa tunes in the shower. I don't know any lyrics, so it's just coming out awkwardly like boom t-ting-ting, boom boom t-ting-ting. It's almost scary how contagious the energy is here.
Having explored the city's past, today I'm turning my attention to its future. Just over the bridge from Old San Juan is Santurce, a scrappy urban area that has become an enclave of street artists, chefs, activists, and gallerists. The word "Brooklyn" gets thrown around a lot, but a more apt comparison might be contemporary Berlin or '90s Soho.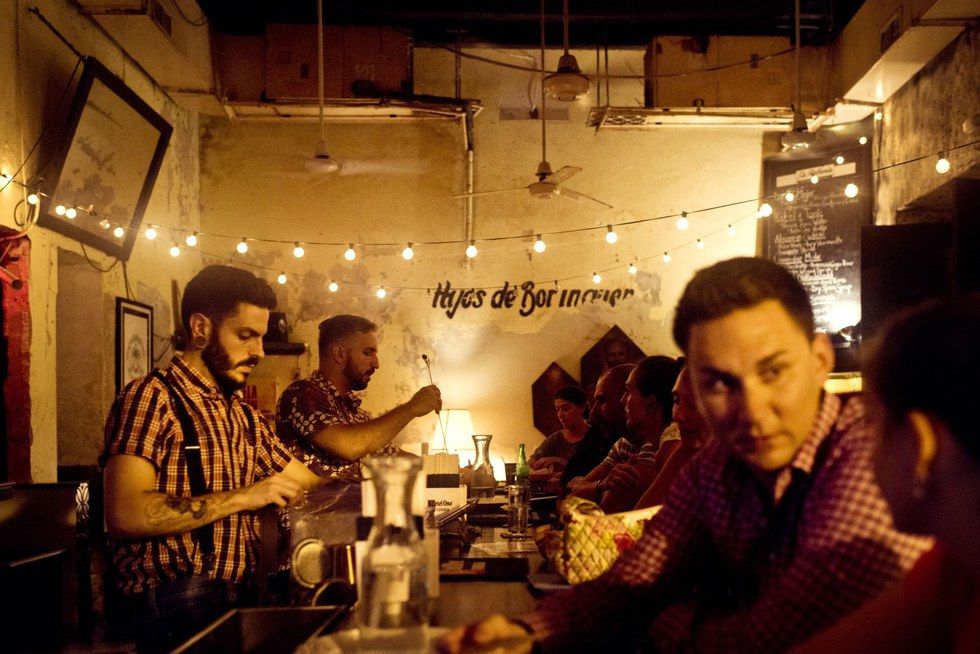 La Factoría cocktail bar in Old San Juan
I fortify myself with croquettes and fresh-baked bread at Panificadora Jerezana, the favorite bakery of local artist Martín Albarrán López. After breakfast, he drives me to La Productora, his industrial gallery on thrumming Cerra Street. The gallery got its name from the recording studios that once lined the block, churning out tropical music from the 1950s on. "This was the mecca, where salsa began," Albarrán López says. "But with iPods, the Internet, it all went down."
A few years ago, artists began to fill the void. "I don't know if you understand the word 'cojones,'" he says, "but we had the cojones to make it happen." A block from La Productora, Jaime Rodriguez Crespo crafts whimsical plastic replicas of island wildlife, such as blowfish and the ubiquitous chango (grackle), a gregarious cousin of the crow, which he depicts stealing onion rings and dog food—an ironic urban take on the pink flamingo lawn ornament.
Albarrán López shares his gallery with two other artists:Jotham Malavé, a realist painter currently exploring the theme of voyeurism through nighttime images of the suburbs, and Gil Ramos, a former lawyer with no formal training who makes wild collages with found objects, like bikinis and scraps of paper. "I try to make conversations with these humble, discarded materials," he says. "I get a kick out of watching these materials elevate themselves. I'm trying to escape the value society gives them." It's an apt metaphor for the way artists are transforming this once-maligned area.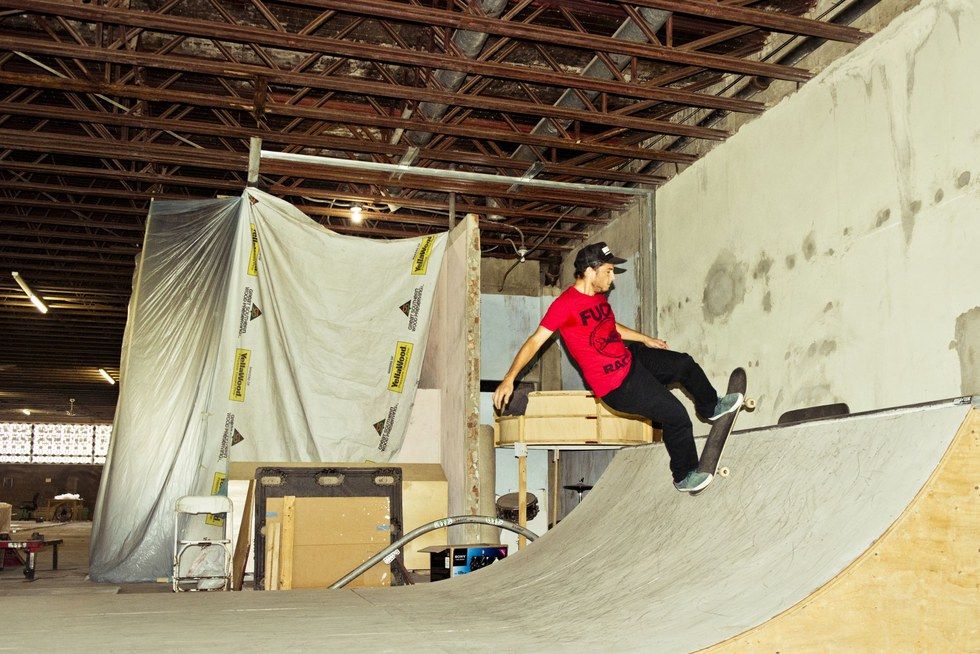 Artist Chemi Rosado-Seijo takes on the half-pipe
The district's streets burst with art too. Much of the graffiti is produced during the annual Santurce Es Ley festival, in which street artists from around the world are invited to use buildings as canvases. Works range from Pop Art to Banksy-like stencils to Alexis Diaz's surreal zoological murals, including a crow-octopus-human hybrid on a wall outside the Museo de Arte Contemporáneo de Puerto Rico.
Next, Albarrán López, Malavé, and Ramos take me to lunch at Soda Estudio de Cocina. Named for Argentine rockers Soda Stereo (on the stereo when we arrive), it's a funky spot with wall-size shrines to the band's late lead singer, Gustavo Cerati, and pinup queen Bettie Page. And if the decor seems ambitious, you should meet chef Hector Rosa. "We call it the New Puerto Rican Kitchen," he says, "the food of the future."
Rosa lets the market-fresh ingredients do the talking, often with a subtle twist: chorizo with guava, papaya, tomato, and avocado; fettuccine with chicharrones de pollo, satay sauce, and an alfredo-inspired celery root puree; and, for dessert, a bread pudding made from Krispy Kreme donuts that winks at the role of American mass culture on the island.
"Santurce is a zone that's been stigmatized, because the slaves and workers used to live here," Rosa tells me. "As raw as it is now, you don't always have a neighborhood where you know it's going to be amazing."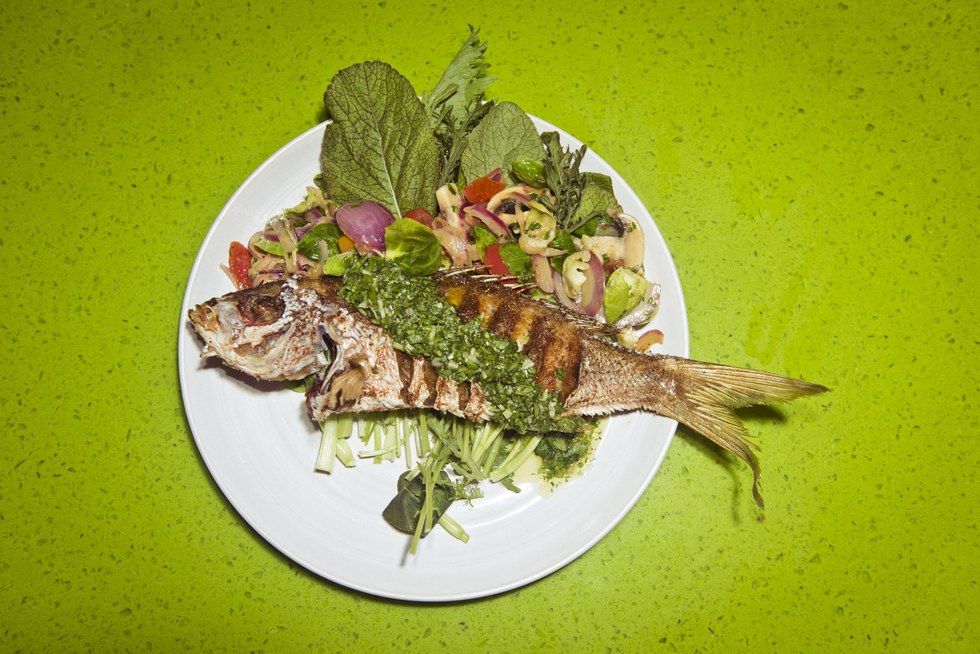 Fried red snapper at Soda Estudio de Cocina
Not far from here is LAB: Laboratorio de Artes Binarios, a stark space bookended by modernist cement windows latticed with geometric concrete gratings. The vast space works well for Chemi Rosado-Seijo, whose latest project involves skateboarding on custom ramps around the world, spreading the dirt from his wheels in abstract swirls and loops. "The shape of the ramp, the person skating, the dirt from that country affect the colors," he explains. "It's abstraction and performance art and modernism together." Across the hall, Ricardo Morales Hernández paints massive monochromatic works that expand on his daughters' doodles.
It's only a five-minute drive from Santurce to my next stop, but the two places couldn't be less alike. Condado is a South Beach–esque stretch of condos and resorts, including the Condado Vanderbilt, a Spanish Revival property built in 1919 (by the firm behind Grand Central Terminal) and restored to full glory late last year. I'm having dinner at the hotel's 1919 Restaurant, a place of sleek leather chairs and mother-of-pearl chandeliers. The Michelin-starred chef here, Juan José Cuevas, combines influences from Spain and his native Puerto Rico. I grab a seat overlooking the sea and tuck into a plate of cochinillo (suckling pig) ravioli with burrata, caramelized eggplant, and Iberico ham, and a paella-inspired dish of rabbit, bomba rice, maitake, conch, and octopus.
I'm spending the night across the street at the Mediterranean-themed O:Live Boutique Hotel. This is where the Real Housewives of Atlanta stayed while in town, but don't expect paparazzi—or catfights. Inspired by the owners' wedding in Sorrento, the hotel feels like a sanctuary you'd find in Campania or Provence, with furnishings crafted from century-old reclaimed wood. It's a little shot of the Old World in a city that's become a vibrant symbol of what it means to be "new."

In which Nicholas scales a jungle peak (sort of) and goes birdwatching at the St. Regis Bahia Beach
Having immersed myself in urban San Juan, today I'm turning my attention to the nearby countryside—specifically El Yunque, the only tropical rainforest in the U.S. National Forest System, a 40-minute drive from the city. My tiny rental chugs up the side of a mountain, which gets denser and greener as I go. Pretty soon, I'm surrounded by waterfalls, prehistoric-looking ferns, soaring palms, and exotic parrots.
At the forest headquarters, I meet archaeologist Raymond Feliciano, who has offered to drive me around the park in his SUV. The selfie-stick crowd tends to keep to the main route, but Feliciano wants to show me another side of the forest: the top. Because my idea of mountain climbing is getting up the subway steps in one piece, we make the ascent by car rather than foot.
As we navigate a series of treacherous switchbacks, I mention how untouched the forest feels. "I wanted to get in a couple of dinosaurs," Feliciano says dryly, "which wasn't well received. But you do get the whole Jurassic Park experience." In fact, this land-that-time-apparently-forgot is mostly second-growth forest, planted by the New Deal–era Civilian Conservation Corps following the ravages of erosion and misuse. Feliciano describes it as "created nature."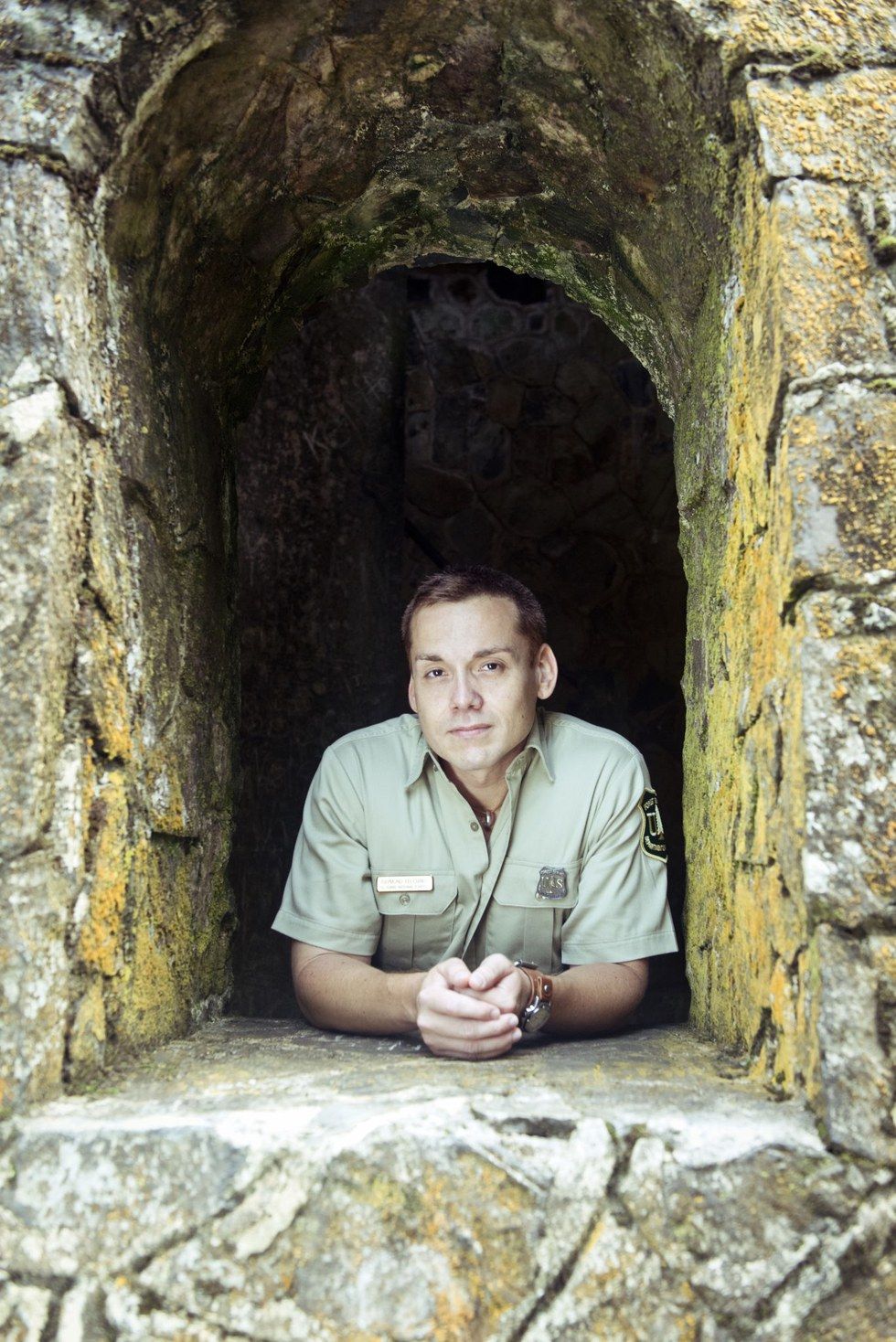 Raymond Feliciano, archaeologist, El Yunque National Forest
Our destination is the 1930s Mount Britton observation tower, which looks like a giant rook from a chess set. We climb the spiral staircase and emerge onto a castellated roof overlooking a staggeringly epic expanse. From this height, you can see San Juan, as well as the islands of Vieques and Culebra. "On a clear day, you can see all the way to the Virgin Islands," Feliciano says.
Closer at hand is El Yunque Peak, the second-tallest mountain in the forest. "When the Spanish came to extract gold, the mountain was covered by a cloud," Feliciano tells me. "The Taíno natives called it yu-ke, the resting place of their god of creation. The Spanish heard yunque, which means 'anvil.' So now people come expecting to see an anvil." Anvil or no, it's easy to be swept up in the grandeur of it all.
"People see El Yunque as a spiritual, mystical landmark. It used to be called the Sacred Mountain. When the Forest Service tried to do timber in the '80s, they were up in arms. So we shifted from timber to recreation, and now it feels like a pristine area—what God created." —Raymond Feliciano
For lunch, I head to the nearby Luquillo Beach kioskos. These ramshackle eateries are a staple along Puerto Rican beaches, each serving its take on classics like alcapurrias de jueyes (crab fritters) and bacalaítos (fried salt cod pancakes). I stop at kiosk 20, Terruño, take a seat overlooking the palm-lined beach, and order a Medalla Light (a local light beer that's less than $2 a pop), a crispy rabbit turnover, and a snow-white dish of grouper cooked in rice and coconut milk.
From here, it's a 20-minute drive to the decidedly more elegant confines of the St. Regis Bahia Beach. Occupying 400-plus acres on a former coconut plantation bounded by two rivers, the resort is centered on the Plantation House, where I check in. I wander past a minimalist koi pond and into what feels like a grand private estate, where I'm immediately greeted with a rum punch.
Luxury, though, is only part of the story here. The St. Regis Bahia Beach is the first property in the Caribbean to be named a Gold-Certified Signature Sanctuary by Audubon International. "We function like a tiny national park," says resident ecologist Ashley Perez, who's waiting for me at the hotel's boathouse, ready to coax me into a two-person kayak.
Within minutes of paddling away from the dock, we're surrounded by a diverse array of wildlife, including a green heron, which responds to our presence with dramatic squawking. "He's cursing at us," she says with a laugh. "'You ruined my lunch!' They're very clever. They use tools—they throw sticks in the water as bait." We see egrets and chickenlike gallinules walking among mangrove roots on comically oversize feet. "I love the little sandpipers," Perez says, "because they always look like they're dancing."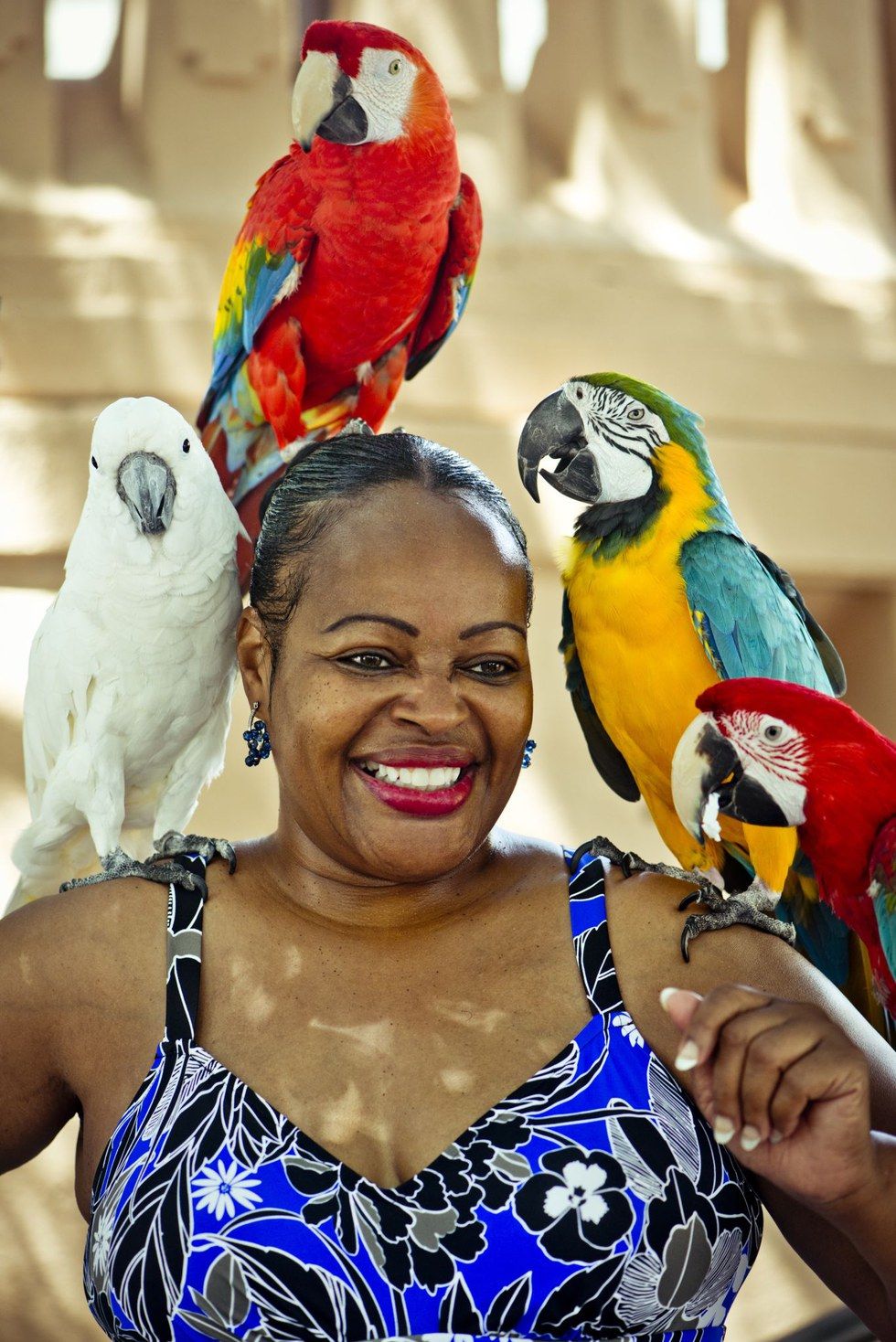 A bird-loving Old San Juan local
Then there's the feisty chango—the same bird that so inspired Santurce artist Jaime Rodriguez Crespo. These birds, Perez tells me, have a habit of whining and begging their parents for food even after they're old enough to feed themselves. "When Puerto Rican kids get really annoying," she says with a laugh, "their parents always say, 'Ay chango!'"
We dock the kayak and set out in a golf cart to explore the nonwatery part of the preserve, passing trees swollen with cementlike termite nests. Soon, a mongoose skitters across our path. "They're rare to see!" Perez exclaims. "Mongoose were brought to the island to kill rats. And now … Puerto Rico just has rats and mongooses."
The sun has started to set, so I freshen up in my suite's room-size rainforest shower, then head to dinner at the Plantation House. To get there, I navigate the boardwalks that crisscross the resort (better to leave the slithering blue ground lizards and lumbering iguanas below undisturbed), serenaded by a chorus of coqui frogs croaking the two-syllable refrain that gives them their onomatopoeic name. It's a sound that nearly every Puerto Rican I've met has said they'd miss if they ever left the island.
Spilling out onto a seafront veranda, Jean-Georges Vongerichten's Fern is an exceptionally refined affair. After a refreshing watermelon julep and a dinner of roasted lobster with creamy corn and chili vinaigrette, I pop down to the lobby bar. Every St. Regis boasts a signature Bloody Mary (the drink was invented at the Manhattan flagship in 1934), and here it's the spicy Encanto Mary, infused with ají picante chilies, rimmed with crushed plantain chips, and garnished with plantain-stuffed olives.
The bartender catches me staring at the painting behind the bar, a monumental neo-Expressionist work depicting a Taíno native cutting through a plant-filled marsh in a boat. "It's an Arnaldo Roche Rabell," she says, and I'm reminded of something an art museum employee told me: "Puerto Rican art is colorful and loud and spicy and full of flavor—and so is our food, and so is our music, and so is all of our culture." Even in a place like this genteel bar, you can't escape the true essence of Puerto Rico.
Hemispheres senior editor NicholasDeRenzo never considered himself a rum guy until the whiskeylike Ron del Barrillito came salsa-ing into his life
This article was from Rhapsody Magazine and was legally licensed through the NewsCred publisher network.
When the pandemic began, United Cargo knew it would be critical to utilize its fleet, network and industry-leading pharmaceutical handling processes to transport a COVID-19 vaccine when the time came.
Connecting vaccines to the world: United responds to mass distribution effort
December 22, 2020
On November 27, United Airlines became the first commercial airline to safely deliver the first batch of Pfizer and BioNTech's COVID-19 vaccine into the U.S. thanks to a coordinated effort between United's cargo, safety, technical operations, flight operations, regulatory and legal teams.
Now as the entire shipping and logistics industry bands together to widely distribute vaccines, United is leveraging all of its flights, including cargo-only and those carrying passengers, to transport millions of vaccines to destinations throughout our network, including Honolulu, Guam and Saipan – the first of any carrier to do so.
"United's cargo service has helped safely deliver many essential goods during this pandemic, but there is no shipment that gives me more personal pride than helping bring this life-saving vaccine to our communities," said Jan Krems, United Cargo President. "While we still face a long road ahead the promise of a widely distributed vaccine gives us hope that we are one step closer to putting this pandemic behind us and moving forward together toward a brighter future."
And United is shipping more than just vaccines to help during the pandemic in keeping the lines of commerce flowing and goods getting to where they need to be. Since mid-March, United has operated 9,000 cargo-only flights carrying more than 435 million pounds of cargo. By using a combination of cargo-only flights and passenger flights, United Cargo has also transported 80 million pounds of medical supplies this year.
In coordination with our shipping and logistics partners, United will continue to distribute COVID-19 treatments to destinations throughout its network. The real heroes are the scientists who created these life-saving vaccines and the frontline workers who are not only administering them, but also helping care for and tend to those suffering from this virus. United is proud to do its part in helping to get this precious cargo to the people and communities who need them, and looks forward to doing our part in the months ahead.
United Cargo responds to COVID-19 challenges, prepares for what's next

September 30, 2020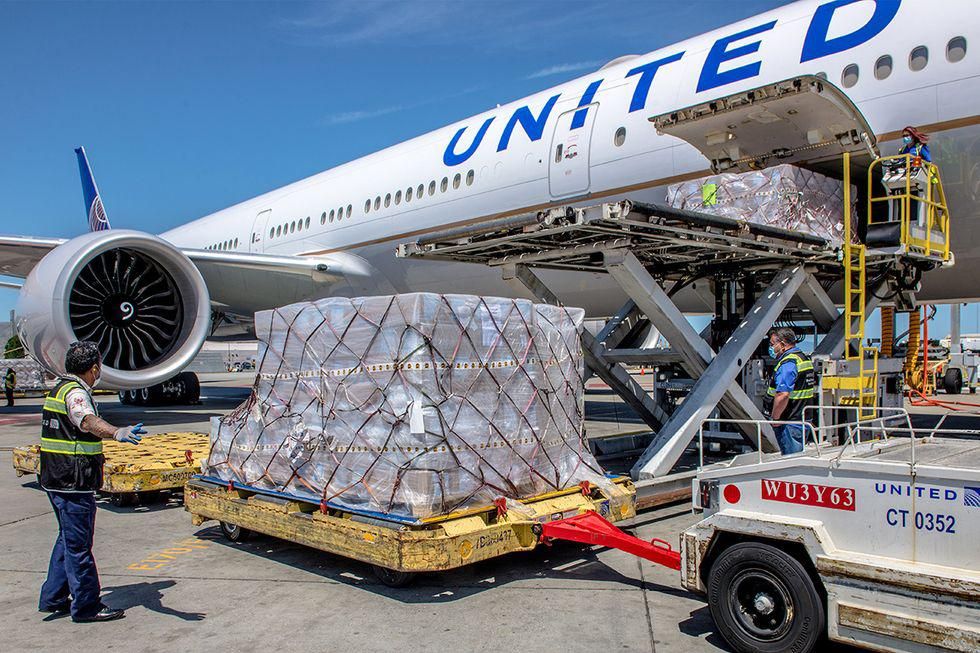 Even before the COVID-19 pandemic, United Cargo has supported a variety of customers within the healthcare industry for over 10 years. Three key solutions – TempControl, LifeGuard and QuickPak – protect the integrity of vital shipments such as precision medicine, pharmaceuticals, biologics, medical equipment and vaccines. By utilizing processes like temperature monitoring, thermodynamic management, and priority boarding and handling, United Cargo gives customers the peace of mind that their shipments will be protected throughout their journey.

With the global demand for tailored pharmaceutical solutions at an all-time high, we've made investments to help ensure we provide the most reliable air cargo options for cold chain shipping. In April this year, we became the first U.S. carrier to lease temperature-controlled shipping containers manufactured by DoKaSch Temperature Solutions. We continue to partner with state-of-the-art container providers to ensure we have options that meet our customers' ever-changing needs.
"Providing safe air cargo transport for essential shipments has been a top priority since the pandemic began. While the entire air cargo industry has had its challenges, I'm proud of how United Cargo has adapted and thrived despite a significant reduction in network capacity and supply," said United Cargo President Jan Krems. "We remain committed to helping our customers make it through the pandemic, as well as to doing everything we can to be prepared for the COVID-19 vaccine distribution when the time comes."
Our entire team continues to prioritize moving critical shipments as part of our commitment to supporting the global supply chain. We've assembled a COVID readiness task team to ensure we have the right people in place and are preparing our airports as we get ready for the industry-wide effort that comes next.
In cooperation with our partners all over the world, United Cargo has helped transport nearly 145 million pounds of medical supplies to aid in the fight against COVID-19, using a combination of cargo-only flights and passenger flig­hts. To date, United Cargo has operated more than 6,300 cargo-only flights and has transported more than 213 million pounds of cargo worldwide.
United Cargo responds to global needs, celebrates 5000th cargo-only flight

August 18, 2020
By Jan Krems, President, United Cargo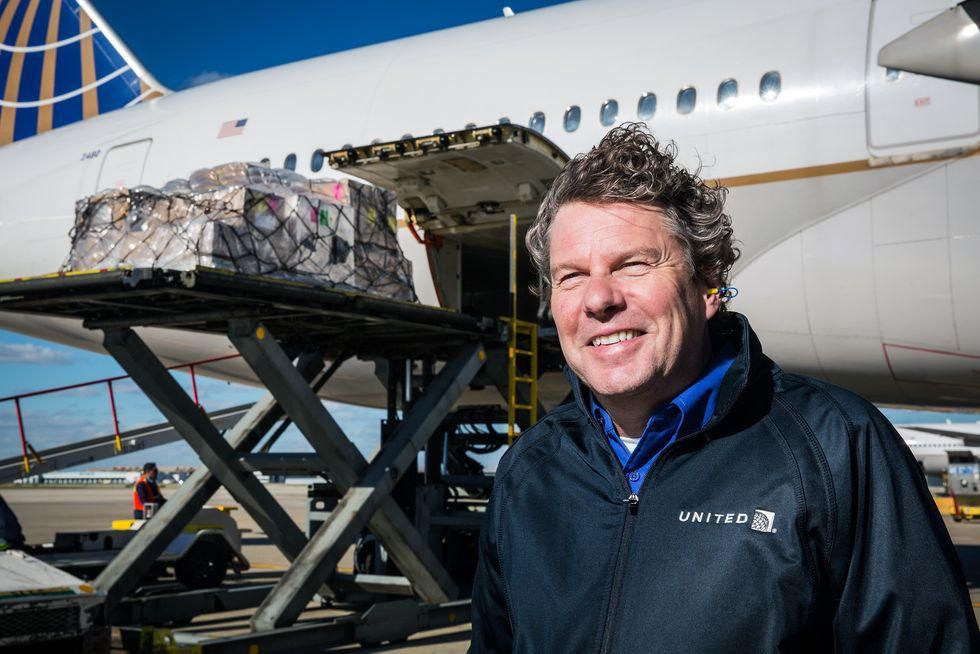 In mid-March, United took steps to manage the historic impact of COVID-19 and began flying a portion of our Boeing 777 and 787 fleets as dedicated cargo-only flights to transport air freight to and from U.S. hubs and key international business locations. More than ever, providing reliable cargo transportation was vitally important and I'm proud say our United Cargo team stepped up to support our customers.

Although we're facing the most challenging environment our industry has ever experienced, I'm very excited to celebrate a major milestone. Since March 19, United has operated over 5,000 cargo-only flights transporting nearly 170 million pounds of cargo on these flights alone. With an increased need to keep the global supply chain moving, and an even more urgent need for medical supplies, we knew we had to utilize our network capabilities and personnel to move vital shipments, such as medical kits, personal protective equipment (PPE), pharmaceuticals and medical equipment between U.S. hubs and key international destinations.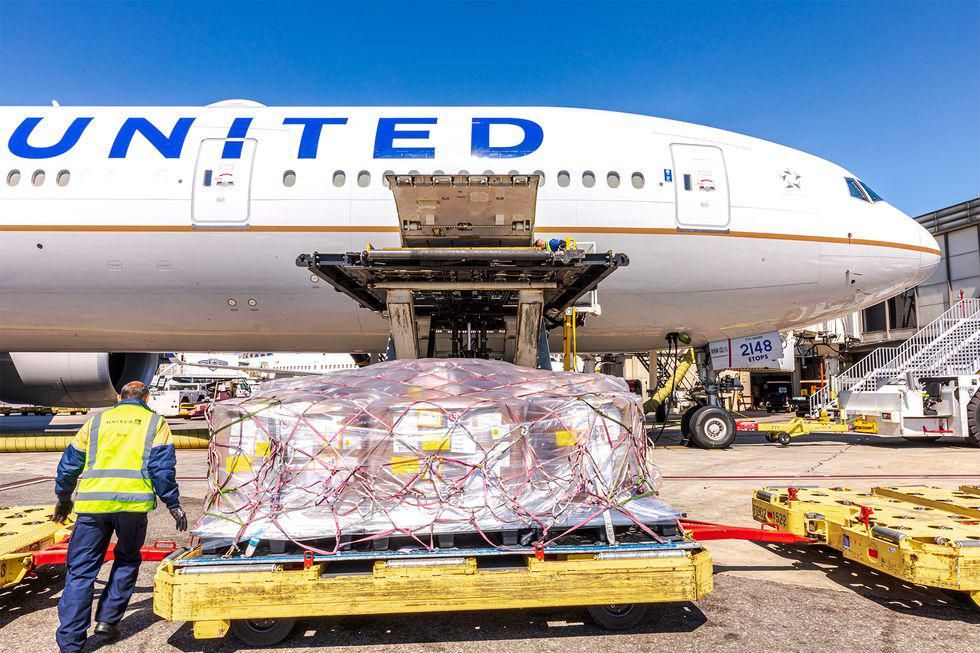 In cooperation with freight forwarders and partners all over the world, United Cargo helped transport more than 107 million pounds of medical supplies to aid in the fight against COVID-19 using a combination of cargo-only flights as well as passenger flights.

To keep military families connected, we increased the frequency of cargo-only flights between the U.S. and military bases in various parts of the world — including bases located in Guam, Kwajalein and several countries in Europe. We know how critically important it is for these families to stay connected, and I'm honored that we were able to utilize our network and our aircraft to fly nearly 3 million pounds of military supplies.
In collaboration with food-logistics company Commodity Forwarders Inc. (CFI), our cargo teams moved nearly 190,000 pounds of fresh produce to Guam for the U.S. Department of Agriculture's Coronavirus Farm Assistance Program. This new program was created to provide critical support to consumers impacted by the coronavirus pandemic.
United has played a critical role in keeping global supply chains stable during the pandemic as we deliver urgently needed goods around the world. These past few months have created challenges that I have never seen in my 30-plus years of experience working within the air cargo and freight forwarding industry. However, I'm proud of our teams for staying focused on our mission to provide high-quality service and to keep our customers connected with the goods they need most.
United Cargo and logistics partners keep critical medical shipments moving
July 02, 2020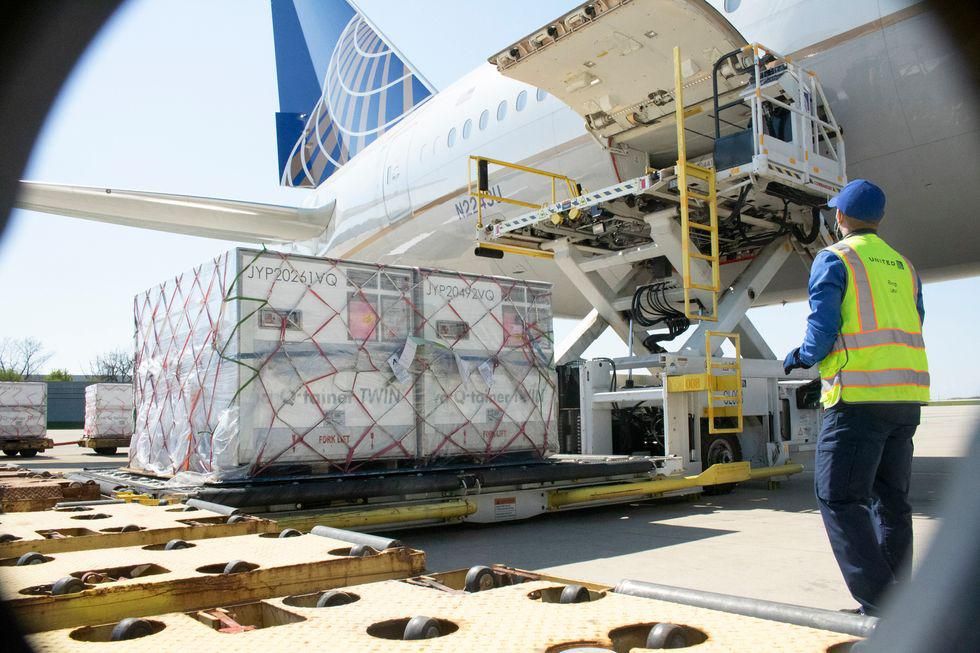 By working together and strengthening partnerships during these unprecedented times, our global community has overcome challenges and created solutions to keep the global supply chain moving. As COVID-19 continues to disrupt the shipping landscape, United and our industry partners have increasingly demonstrated our commitment to the mission of delivering critical medical supplies across the world.

United Cargo has partnered with DSV Air and Sea, a leading global logistics company, to transport important pharmaceutical materials to places all over the world. One of the items most critical during the current crisis is blood plasma.
Plasma is a fragile product that requires very careful handling. Frozen blood plasma must be kept at a very low, stable temperature of negative 20 degrees Celsius or less – no easy task considering it must be transported between trucks, warehouses and airplanes, all while moving through the climates of different countries. Fortunately, along with our well-developed operational procedures and oversight, temperature-controlled shipping containers from partners like va-Q-tec can help protect these sensitive blood plasma shipments from temperature changes.
A single TWINx shipping container from va-Q-tec can accommodate over 1,750 pounds of temperature-sensitive cargo. Every week, DSV delivers 20 TWINx containers, each one filled to capacity with human blood plasma, for loading onto a Boeing 787-9 for transport. The joint effort to move thousands of pounds of blood plasma demonstrates that despite the distance, challenges in moving temperature-sensitive cargo and COVID-19 obstacles, we continue to find creative solutions with the help of our strong partnerships.
United Cargo is proud to keep the commercial air bridges open between the U.S. and the rest of the world. Since March 19, we have operated over 3,200 cargo-only flights between six U.S. hubs and over 20 cities in Asia, Australia, Europe, South America, India, the Caribbean and the Middle East.
United further expands cargo-only operations to key international markets
June 9, 2020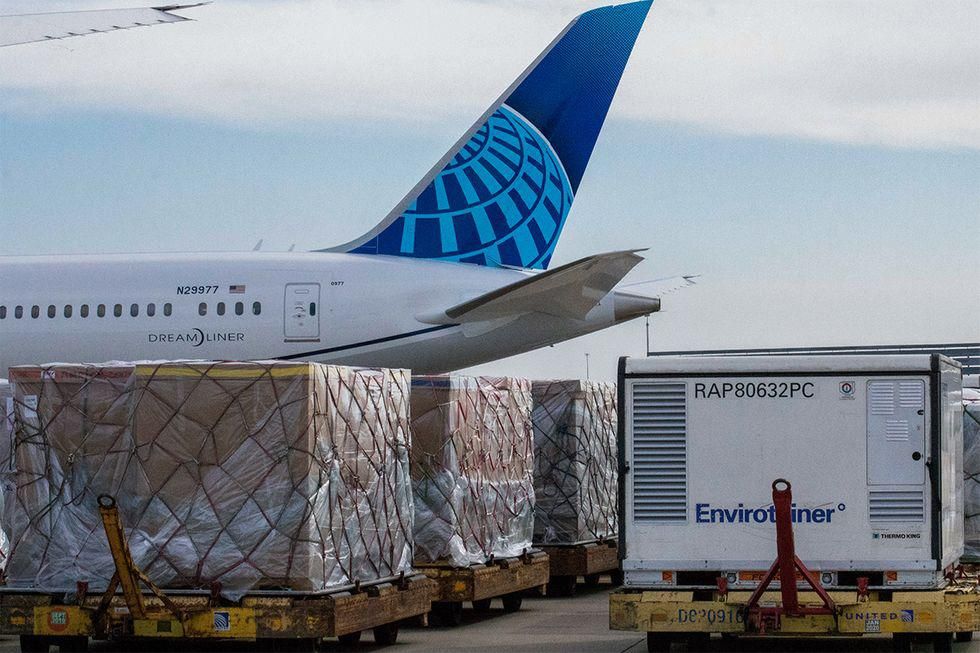 United has played a vital role in helping keep the global supply chains stable during the COVID-19 pandemic so urgently needed goods can get to the places that need them most.

In addition to current service from the U.S. to Asia, Australia, Europe, India, Latin America and the Middle East, we are proud to now offer cargo-only flights to key international markets including Dublin, Paris, Rome, Santiago and Zurich. These new routes will connect our freight customers and further extend our air cargo network throughout the world – for example connecting major pharmaceutical hubs in Europe and perishable markets in Latin America.
"Air cargo continues to be more important than ever," says United Cargo President Jan Krems. "This network expansion helps our customers continue to facilitate trade and contribute to global economic development and recovery. I'm proud of our team for mobilizing our cargo-only flights program that enables the shipment of critical goods that will support global economies."
Since we began our program March 19, we have completed more than 2,400 cargo-only flights, transporting over 77 million pounds of cargo. We have over 1,100 cargo-only flights scheduled for the month of June, operating between six U.S. hubs and over 20 cities all over the world.
United's first flight carrying cargo in-cabin takes off
May 13, 2020

United continues to keep supply chains moving and to meet the demand for critical shipments around the globe. Recently, United received approval from the Federal Aviation Administration (FAA) to carry cargo in approved storage areas in the passenger cabin.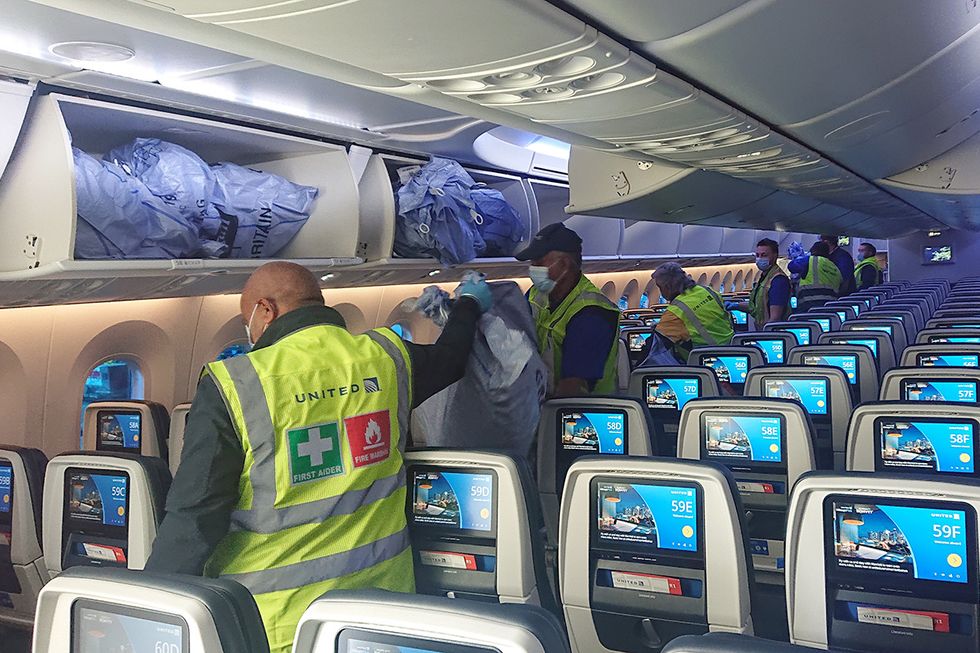 Our inaugural cargo-in-cabin flight flew from London (LHR) to Chicago (ORD) carrying over 4,200 pounds of mail in the passenger cabin, plus a full payload of freight in the belly of the aircraft. Initially, cargo-in-cabin shipments will be loaded on the 777 and 787 aircraft operating our cargo-only flights. We will continue to evaluate additional opportunities to use this space to meet the growing cargo demand.
"We send our sincere thanks to the FAA for working with our team to enable the transport of more critical goods on United's cargo-only flights," said Jan Krems, President of United Cargo. "By loading existing cabin storage areas with cargo and mail, we can move even more critical medical equipment, PPE, and other vital shipments the world needs to manage through the pandemic."

United's cargo-only network continues to expand in order to help bring vital shipments to the people that need it most. We're now offering service between six of our U.S. hubs and 18 airports worldwide: CTU, HKG, ICN, MEL, PEK, PVG, SIN, SYD and TPE in the Asia-Pacific; AMS, BOM, BRU, DUB, FRA, LHR, TLV and ZRH in EMEIA; and SJU in the Caribbean.
Since the start of its cargo-only flights program March 19, United has operated over 1,300 cargo-only flights transporting over 44 million pounds of cargo.
For more information, visit unitedcargo.com.
United expands cargo-only flights to additional global destinations
April 16, 2020
Getting vital goods, especially medical relief supplies, into the hands of the businesses and people who need them has never been more critically important. To meet the overwhelming demand, United began operating cargo-only flights on March 19. Since we began using Boeing 777 and 787 aircraft from United's passenger fleet for this purpose, we have operated over 400 flights carrying more than 6 million kilos of cargo.
"With the global community in need, we are doing everything we can to keep supply chains moving worldwide and support the battle against COVID-19," said United Cargo President Jan Krems. "We're proud to play an active role in connecting vital medical supplies like test kits and personal protective equipment with healthcare professionals around the world."
We are now operating more than 150 cargo-only flights per week between six of our U.S. hubs and 13 cities worldwide: CTU, HKG, PEK, PVG, SYD and TPE in the Asia Pacific; AMS, BRU, DUB, FRA and LHR in Europe; SJU in the Caribbean and TLV in the Middle East. We expect to add new cities soon and will continue to expand our cargo-only flights program.
Hub
Cargo-only flights operating through May
Chicago (ORD)
ORD - AMS (Amsterdam)
ORD - FRA (Frankfurt)
ORD - HKG (Hong Kong)
ORD - LHR (London)
ORD - NRT (Tokyo Narita) - PEK (Beijing)

Houston (IAH)
IAH - AMS (Amsterdam)
IAD - FRA (Frankfurt)
Los Angeles (LAX)
LAX - HKG (Hong Kong)
LAX - LHR (London Heathrow)
LAX - NRT (Tokyo Narita) - PVG (Shanghai)
LAX - SYD (Sydney)
New York/Newark (EWR)
EWR - AMS (Amsterdam)
EWR - FRA (Frankfurt)
EWR - LHR (London)
San Francisco (SFO)
SFO - AMS (Amsterdam)
SFO - NRT (Tokyo Narita) - PEK (Beijing)
SFO - NRT (Tokyo Narita) - PVG (Shanghai)
SFO - NRT (Tokyo Narita) - TPE (Taipei)
SFO - TLV (Tel Aviv)
SFO - SYD (Sydney)
Washington, D.C. (IAD)
IAD - BRU (Brussels)
IAD - DUB (Dublin)
IAD - FRA (Frankfurt)
IAD - NRT (Tokyo Narita) - PEK (Beijing)
IAD - SJU (San Juan)
Flight details are subject to change, for the most up-to-date schedules, please visit https://ual.unitedcargo.com/covid-updates.
Cargo-only flights support U.S. military and their families
March 30, 2020
We are helping to keep military families connected by increasing the frequency of cargo-only flights between the United States and military bases in various parts of the world — including Guam, Kwajalein, and several countries in Europe. Last week we began operating a minimum of 40 cargo-only flights weekly — using Boeing 777 and 787 aircraft to fly freight and mail to and from U.S. hubs and key international business and military locations.
We are going above and beyond to find creative ways to transport fresh food and produce, as well as basic essentials from the U.S. mainland to military and their families in Guam/Micronesia. On Saturday, March 28, we operated an exclusive cargo-only B777-300 charter to transport nearly 100,000 pounds of food essentials to Guam to support our troops.
In addition, we move mail year-round all over the world. In response to COVID-19, and in support of the military members and their families overseas, we implemented a charter network, transporting military mail to Frankfurt, which is then transported all over Europe and the Middle East. Since March 20, we have flown 30,000+ pounds of military mail every day between Chicago O'Hare (ORD) and Frankfurt (FRA). On the return flight from Frankfurt to Chicago, we have carried an average of 35,000 pounds of mail to help families stay connected.

"Keeping our military families connected with the goods they need, and keeping them connected with loved ones to feel a sense of home, is of critical importance. As a company that has long supported our military families and veterans, our teams are proud to mobilize to lend a hand." — United Cargo President Jan Krems.
Our cargo-only flights support customers, keep planes moving

March 22, 2020
We have begun flying a portion of our Boeing 777 and 787 fleet as dedicated cargo charter aircraft to transfer freight to and from U.S. hubs and key international business locations. The first of these freight-only flights departed on March 19 from Chicago O'Hare International Airport (ORD) to Frankfurt International Airport (FRA) with the cargo hold completely full, with more than 29,000 lbs. of goods.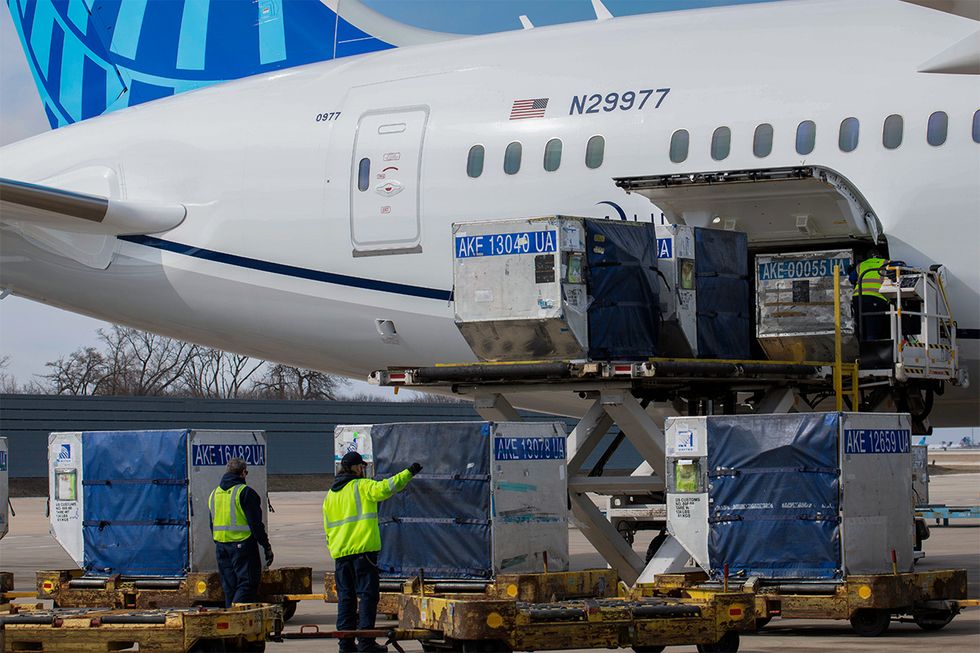 Getting critical goods into the hands of the businesses and people who need them most is extremely important right now. To support customers, employees and the global economy, we will initially operate a schedule of 40 cargo charters each week targeting international destinations and will continue to seek additional opportunities.

With coronavirus (COVID-19) creating an increased need to keep the global supply chain moving, we are utilizing our network capabilities and personnel to get vital shipments, such as medical supplies, to areas that need them most.
"Connecting products to people around the world is the United Cargo mission," said United Cargo President Jan Krems. "That role has never been more crucial than during the current crisis. Our team is working around the clock to provide innovative solutions for our customers and support the global community."
On average, we ship more than 1 billion pounds of cargo every year on behalf of domestic and international customers. For more information, visit unitedcargo.com.
Airline and its customers use crowdsourcing platform - Miles on a Mission - to donate more than 11 million miles for charities like the Thurgood Marshall College Fund, College to Congress and Compass to Care
CHICAGO, Dec. 1, 2020 /PRNewswire/ -- United is inviting MileagePlus members to give back on Giving Tuesday and throughout the holiday season by donating miles to nearly 40 non-profits through United Airlines' crowdsourcing platform, Miles on a Mission. Non-profits like Thurgood Marshall College Fund, College to Congress and Compass to Care are attempting to raise a total of more than 11 million miles to be used for travel for life-saving health care, continued education, humanitarian aid and more. United will match the first 125,000 miles raised for each of these organizations to help ensure they meet their goals.
"This year has posed unprecedented challenges for us all and has been especially devastating to some of the most vulnerable members within the communities we serve," said Suzi Cabo, managing director of global community engagement, United Airlines. "The need for charitable giving has not stopped during the pandemic, and neither has United. This Giving Tuesday marks an opportunity for us to all come together for the greater good and we are proud to provide a platform to support organizations with upcoming travel needs that will enable them to continue supporting the communities they serve."
The launch of these campaigns is part of United's ongoing Miles on a Mission program, which began in October 2019 and has raised more than 92 million miles to-date. Past campaigns have helped organizations travel children for life-saving medical treatment and unite parents with newly adopted children from foreign countries. Participating non-profits have 28-days to reach their mile raising goals through the platform.
The organizations that are raising miles in this campaign include:
College to Congress: The organization provides support including travel for disadvantaged college students who otherwise could not afford to intern in Washington, D.C.
Thurgood Marshall College Fund: This is the only national organization representing America's 47 publicly-supported Historically Black Colleges and Universities (HBCUs), and the nearly 300,000 students that attend them each year. The miles raised will cover the travel expenses to and from campus for students unable to afford them.
My Block, My Hood, My City: This organization provides underprivileged youth with an awareness of the world and opportunities beyond their neighborhood. Miles will be used to fund educational trips for Chicago youths to help them gain a greater understanding of the world outside of their comfort zones.
Compass to Care: The non-profit ensures all children, whose parents have a financial need, can access life-saving cancer treatment. Compass to Care is raising miles to fund travel to get children from their homes to hospitals for cancer treatment.
Luke's Wings: This organization is dedicated to the support of service members who have been wounded in battle. Raised miles will be used to purchase plane tickets for families to visit wounded soldiers recovering in Army medical centers.
Rainbow Railroad USA: The organization's mission is to help persecuted LGBTQI+ individuals around the world travel to safety as they seek a haven from persecution. Miles will support the organization's core Emergency Travel Support program.
This year, United's legal partner Kirkland & Ellis will also be donating $50,000 to My Block, My Hood, My City and the Thurgood Marshall College Fund. Other organizations launching campaigns on the platform include: Sisters of the Skies, Inc., Up2Us Sports, Airline Ambassadors International, Austin Smiles, AWS Foundation, Crazy Horse Memorial, FLYTE, Higher Orbits, Lily's Hope Foundation, Miles4Migrants, Support Utila Inc. and Watts of Love. MileagePlus members can also donate to United's 20 other existing partner charities including, Airlink, American Red Cross, Make-A-Wish, Shriners Hospitals; Clean the World, Special Olympics and more. To learn more or donate to these organizations, please visit donate.mileageplus.com.
Visit www.united.com/everyactioncounts to learn more about our pledge to put our people and planes to work for the greater good.
About United
United's shared purpose is "Connecting People. Uniting the World." For more information, visit united.com, follow @United on Twitter and Instagram or connect on Facebook. The common stock of United's parent, United Airlines Holdings, Inc., is traded on the Nasdaq under the symbol "UAL".

SOURCE United Airlines
For further information: United Airlines Worldwide Media Relations, +1-872-825-8640, media.relations@united.com

In October 2019, we launched a first-of-its-kind airline miles donation platform, Miles on a Mission. In the inaugural year, MileagePlus members donated over 70 million miles, with United matching over 20 million miles, to 51 organizations. These miles have allowed for these organizations to do important, life-changing, life-saving work in the communities we serve around the globe.
Whether it's visiting friends and relatives, traveling for work or simply exploring a new corner of the world, we all have a reason as to why we fly. No matter the reason you fly, the miles you earn and donate help our Miles on a Mission partners soar. Take a look at how some of our partner organizations have put our MileagePlus Members' donations to work.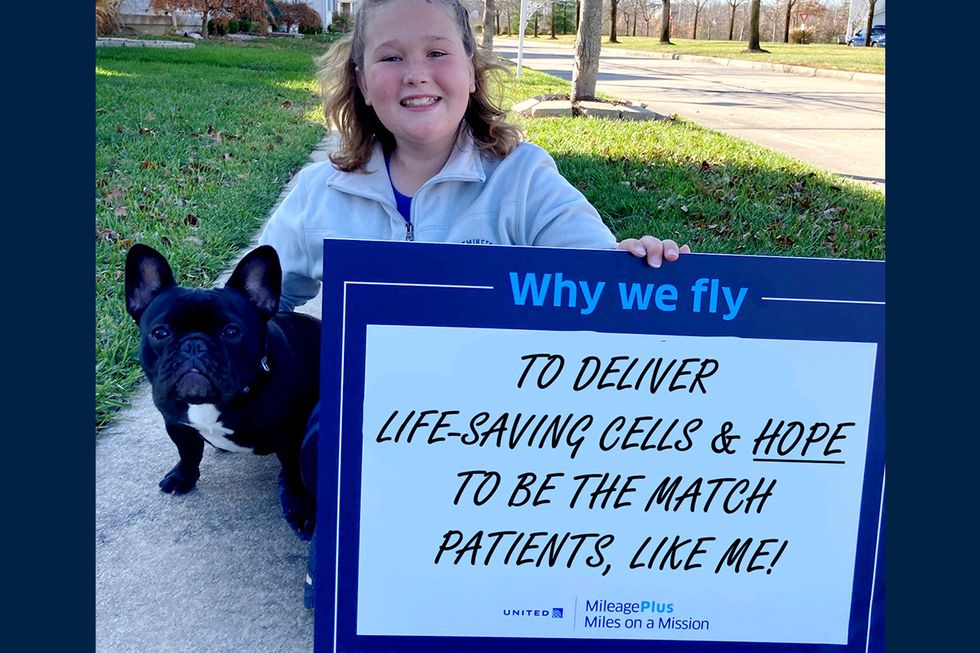 "To deliver life-saving cells and hope to Be the Match patients, like me!"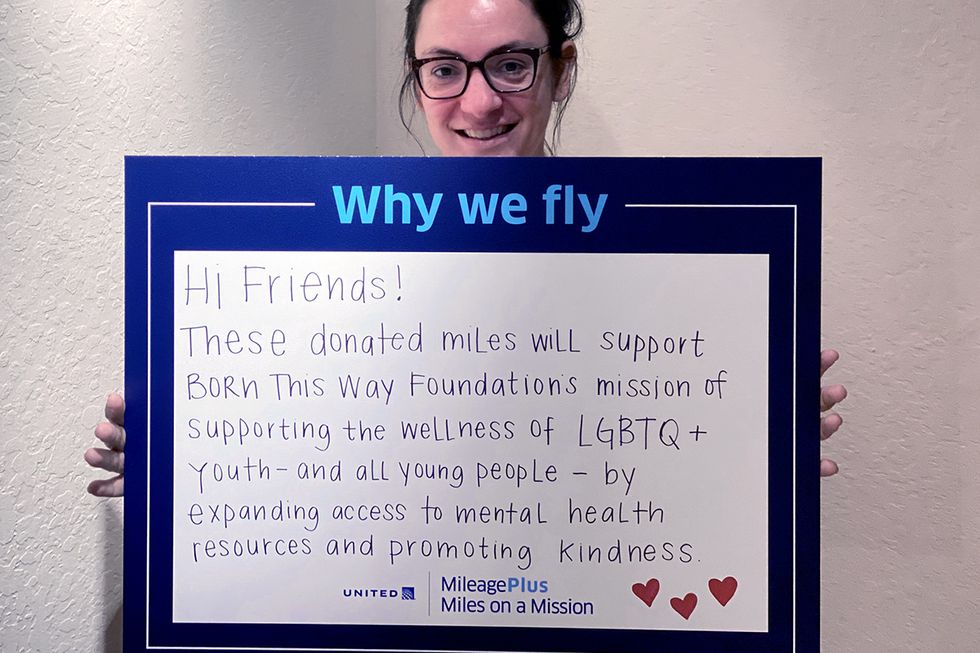 "These donated miles will support Born This Way Foundation's mission of supporting the wellness of LGBTQ+ youth — and all young people — by expanding access to mental health resources and promoting kindness."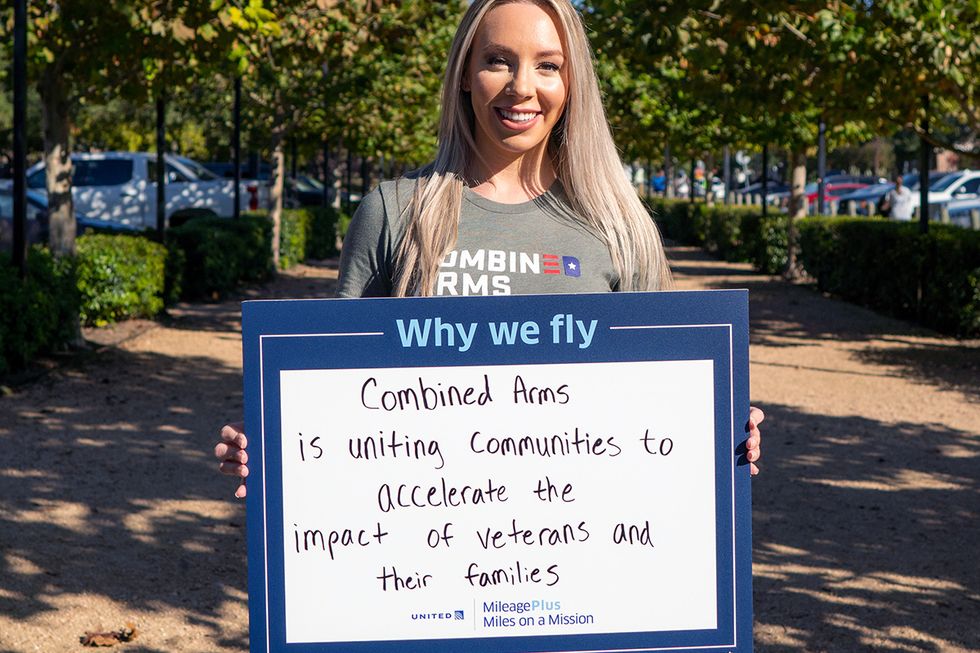 "Combined Arms is uniting communities to accelerate the impact of veterans and their families."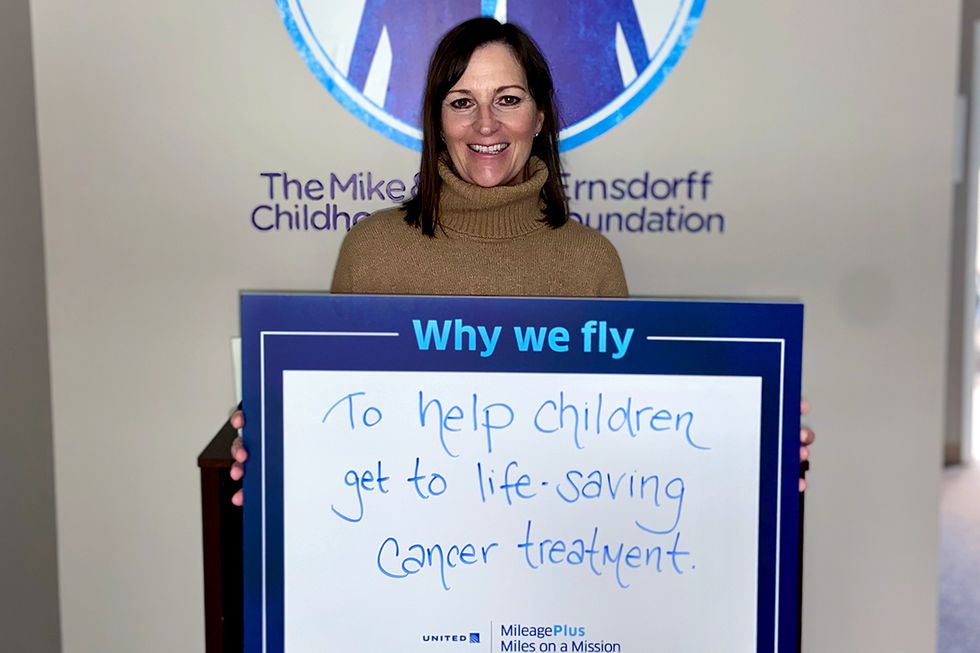 "To help children get to life-saving cancer treatment"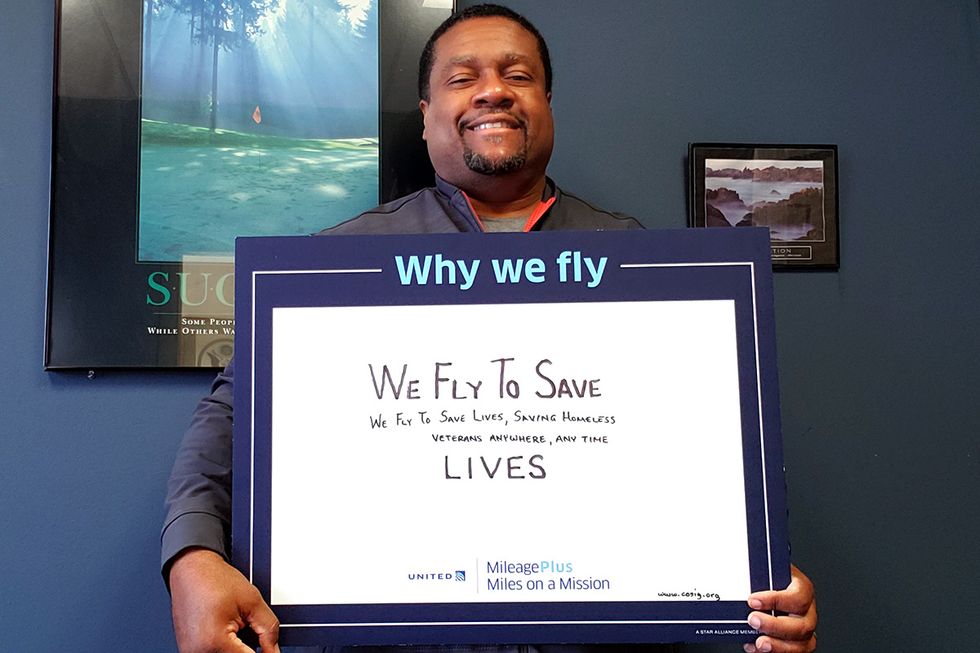 "We fly to save. We fly to save lives, saving homeless veterans anywhere, any time."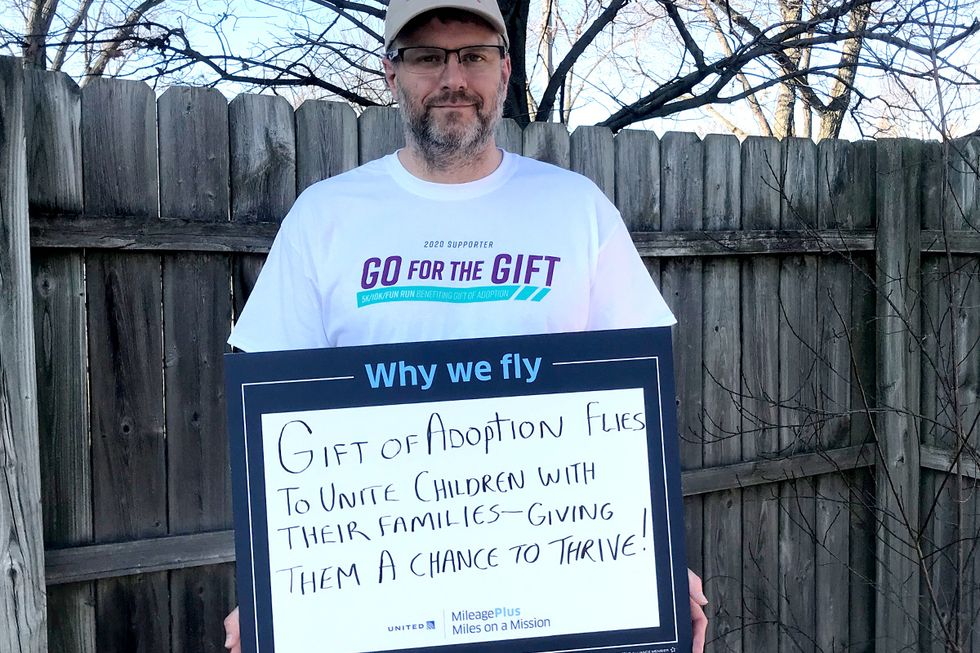 "Gift of Adoption flies to unite children with their families — giving them a chance to thrive!"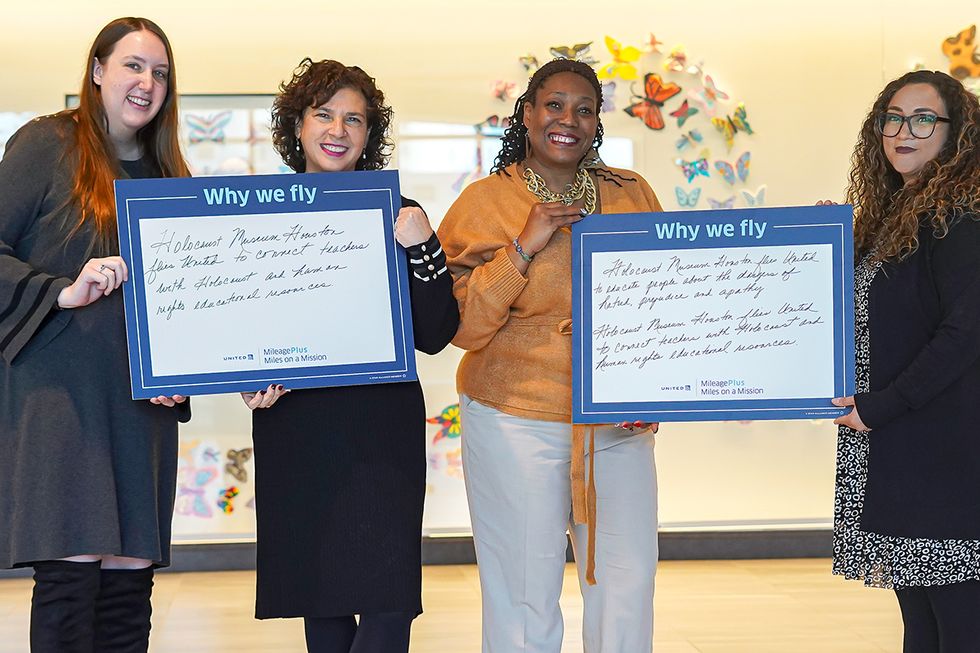 "Holocaust Museum Houston flies United to educate people about the dangers of hatred, prejudice and apathy. Holocaust Museum Houston flies United to connect teachers with Holocaust and human rights educational resources."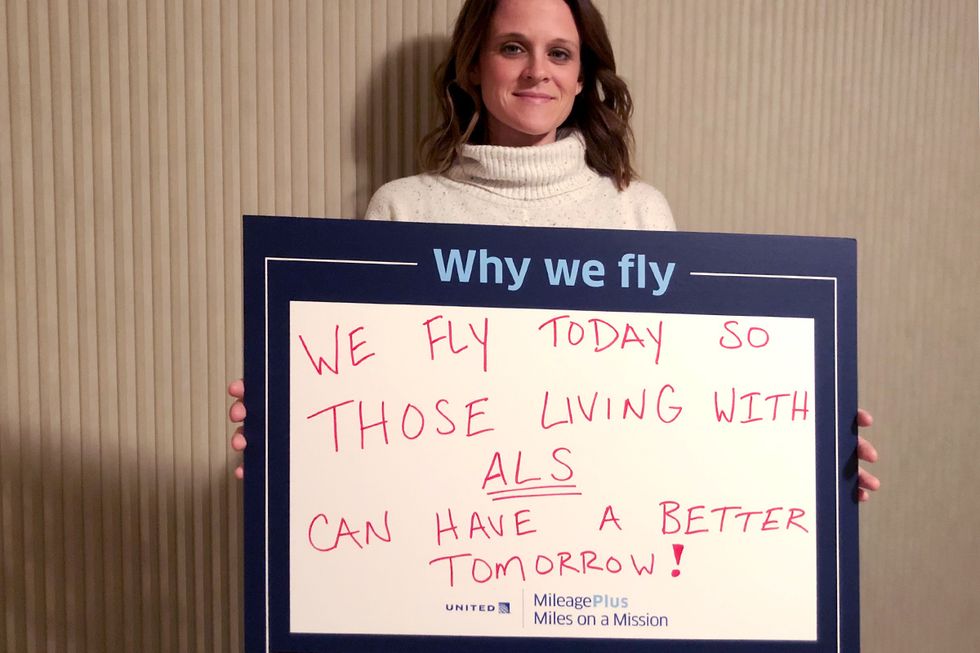 "We fly today so those living with ALS can have a better tomorrow."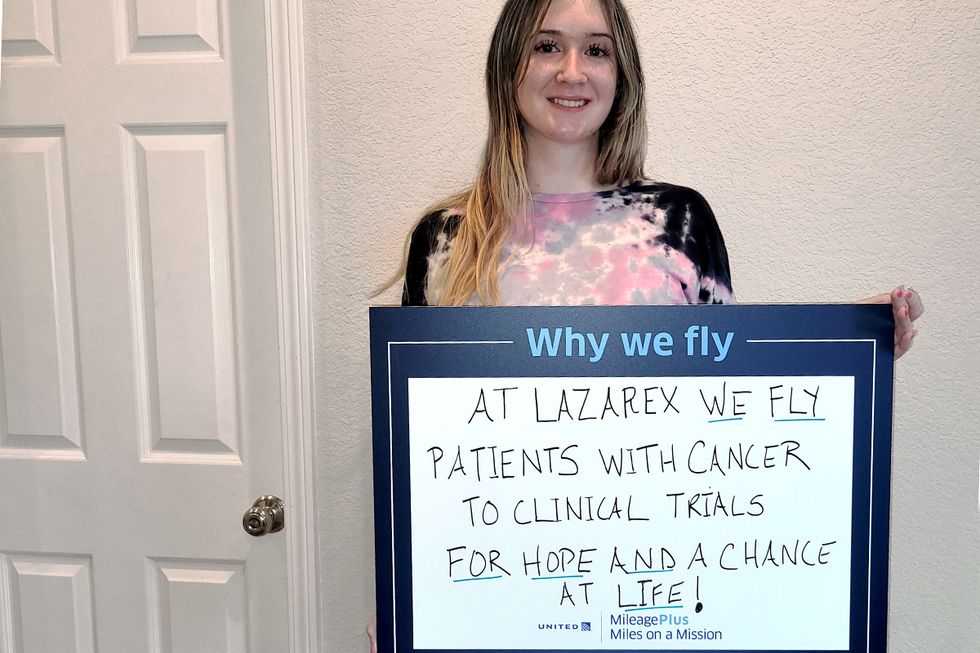 "At Lazarex we fly patients with cancer to clinical trials for hope and a chance at life!"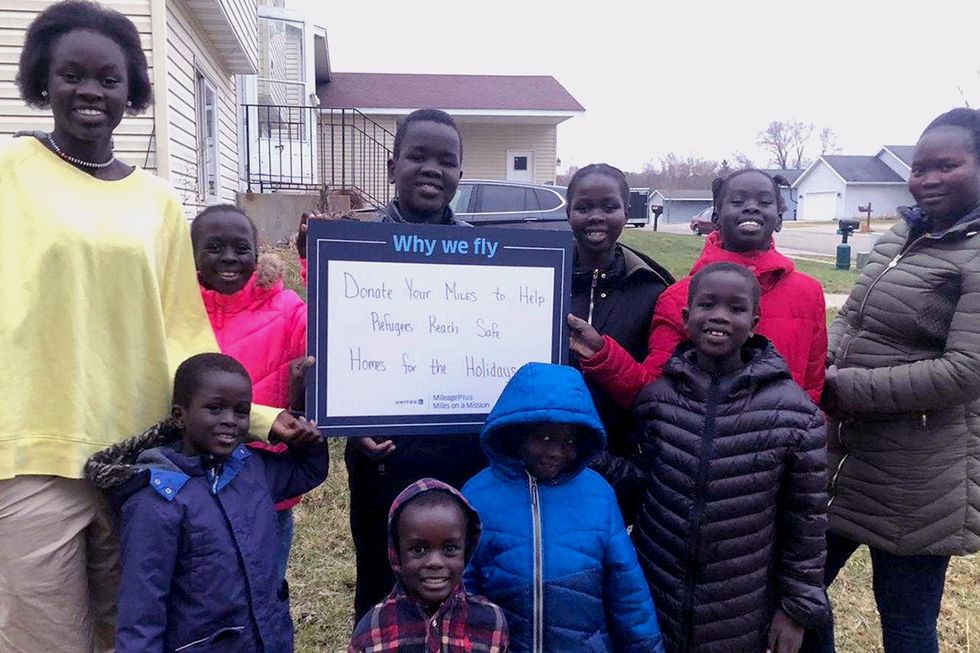 "Donate your miles to help refugees reach safe homes for the holidays."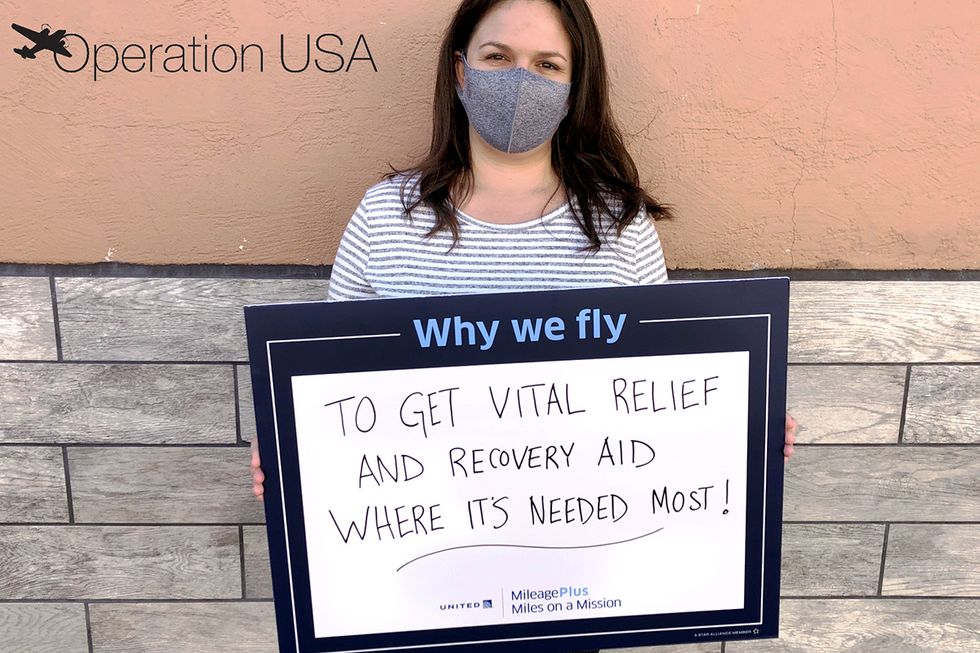 "To get vital relief and recovery aid where it's needed most!"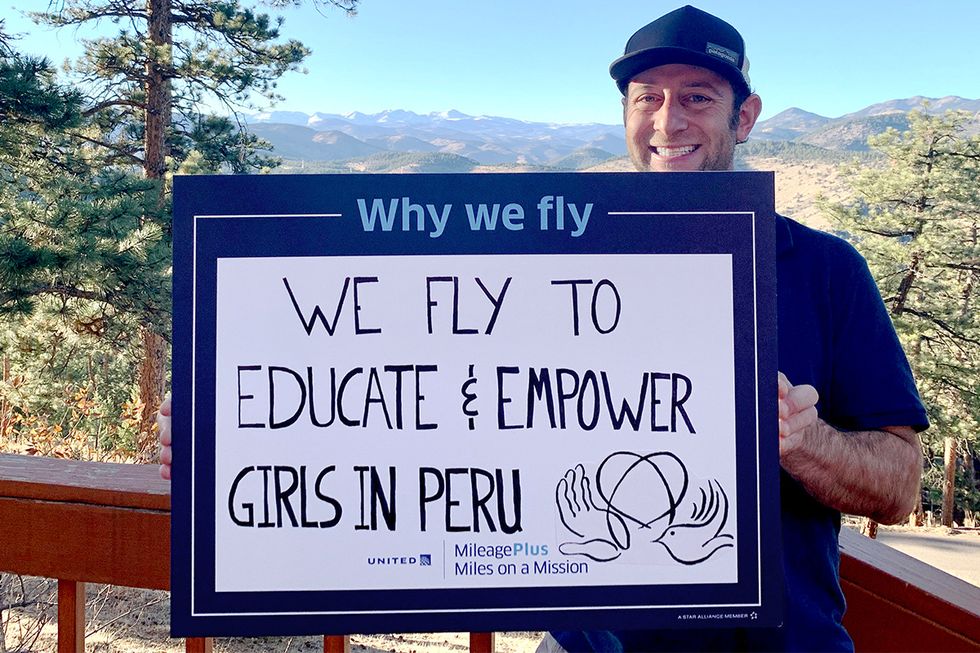 "We fly to educate and empower girls in Peru."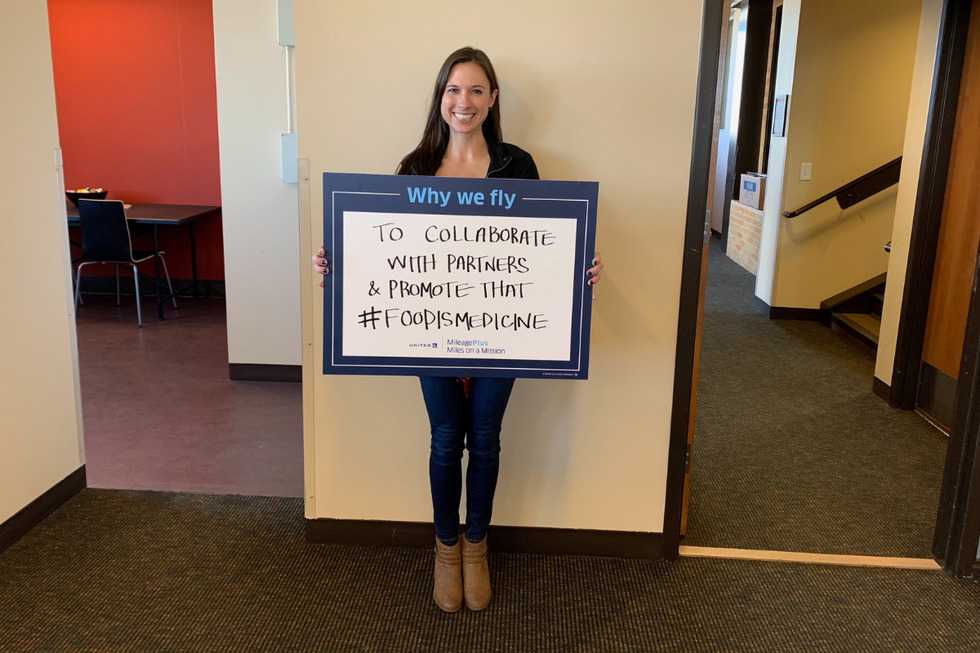 "To collaborate with partners & promote that #FoodIsMedicine"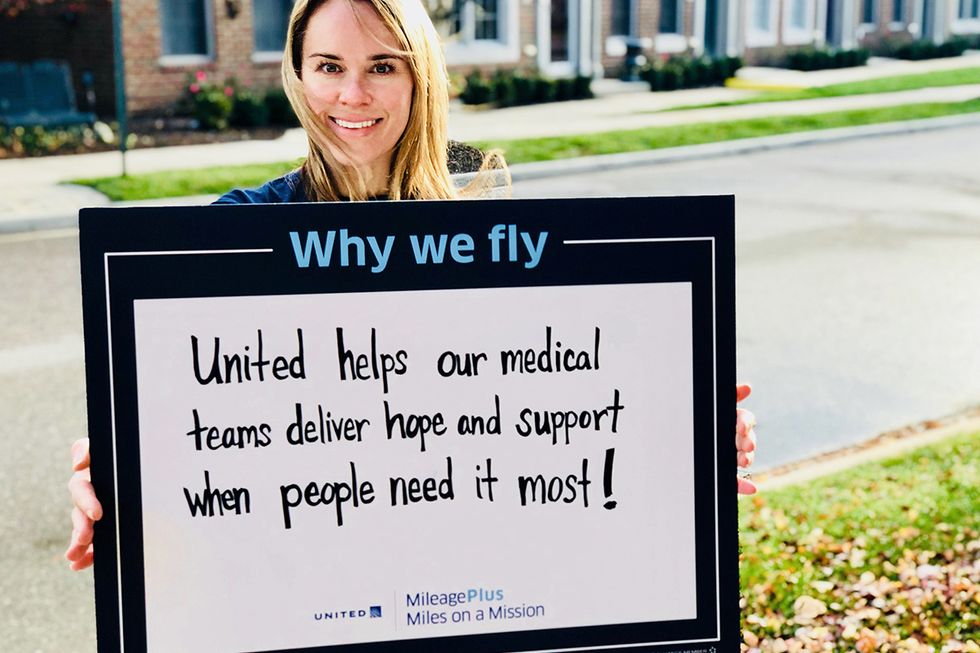 "United helps our medical teams deliver hope and support when people need it most!"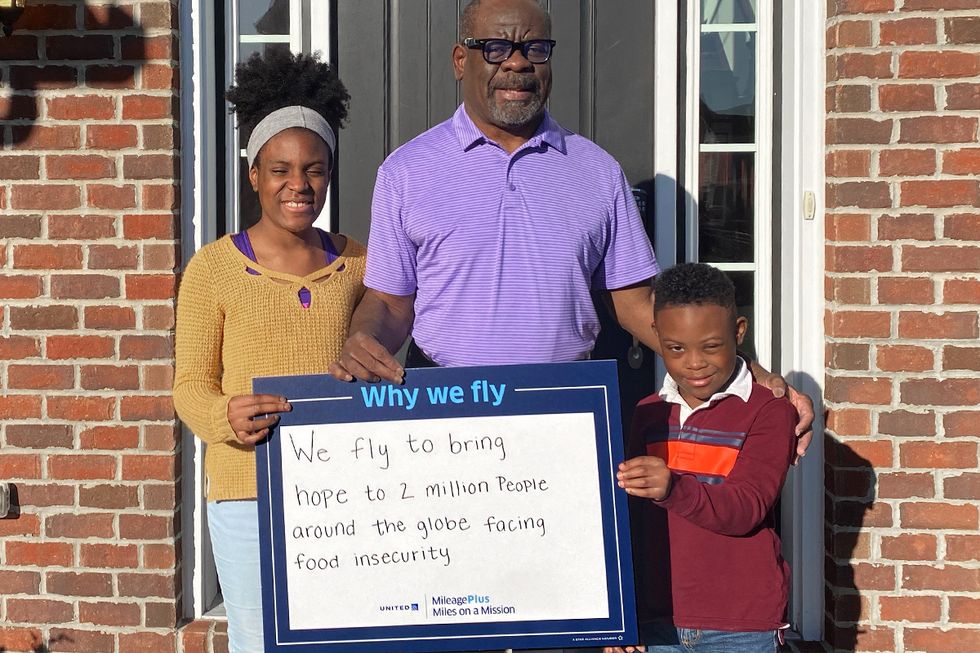 "We fly to bring hope to 2 million people around the globe facing food insecurity."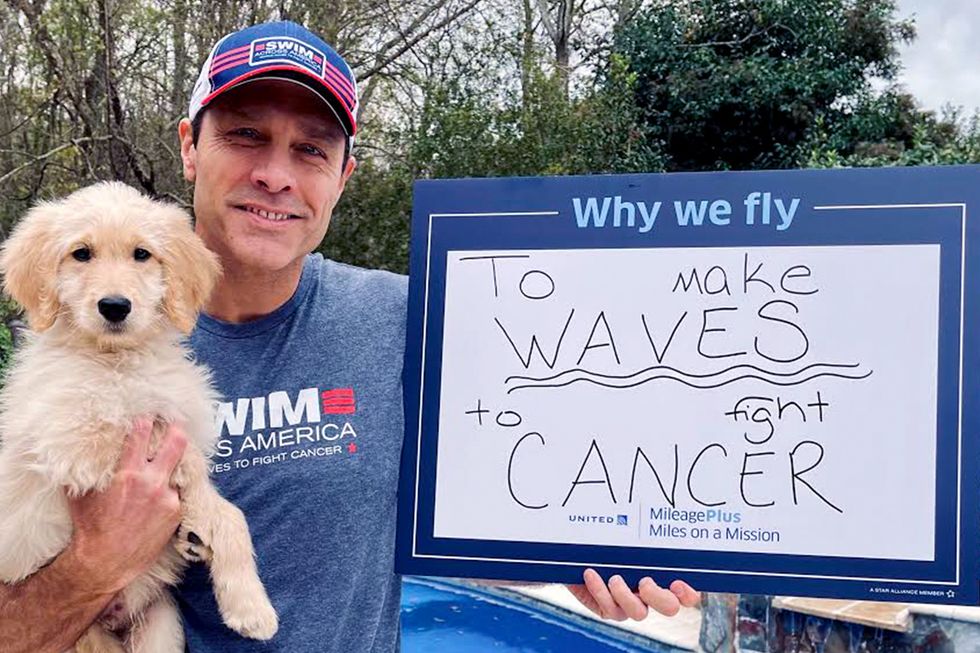 "To make waves to fight cancer."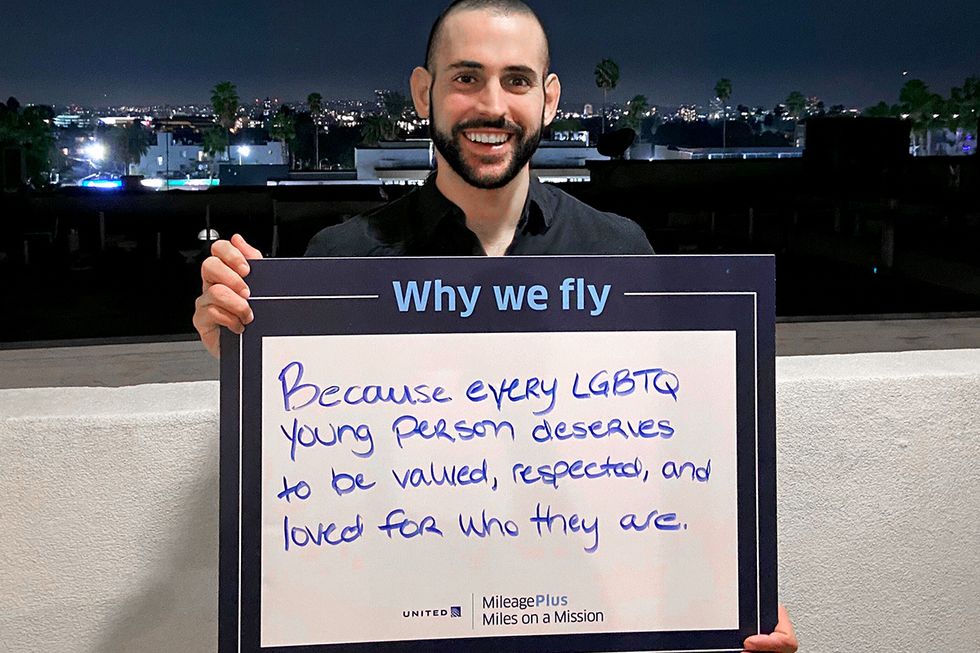 "Because every LGBTQ young person deserves to be valued, respected and loved for who they are."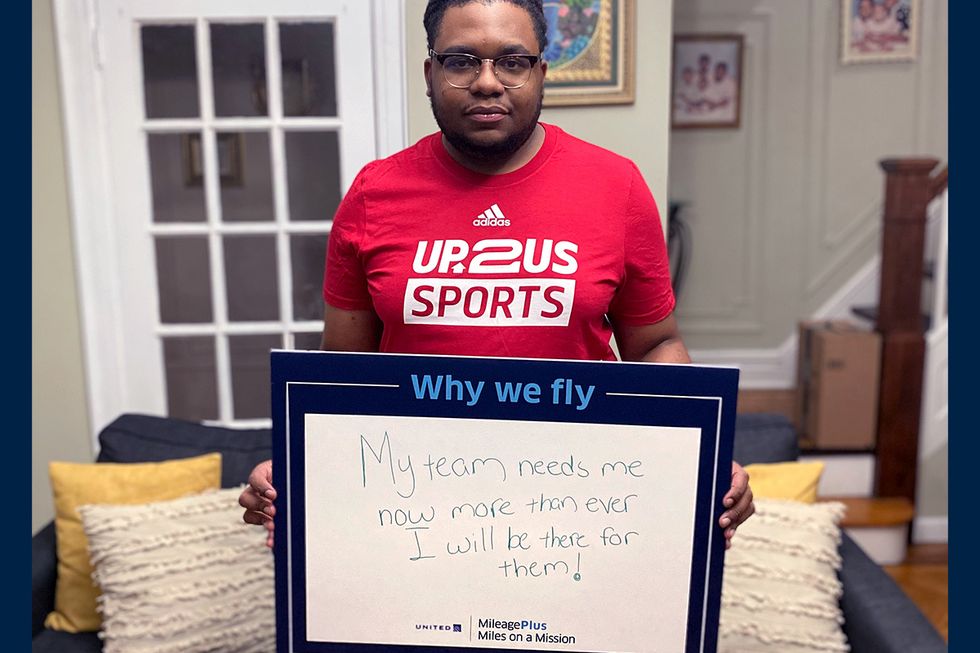 "My team needs me now more than ever. I will be there for them!"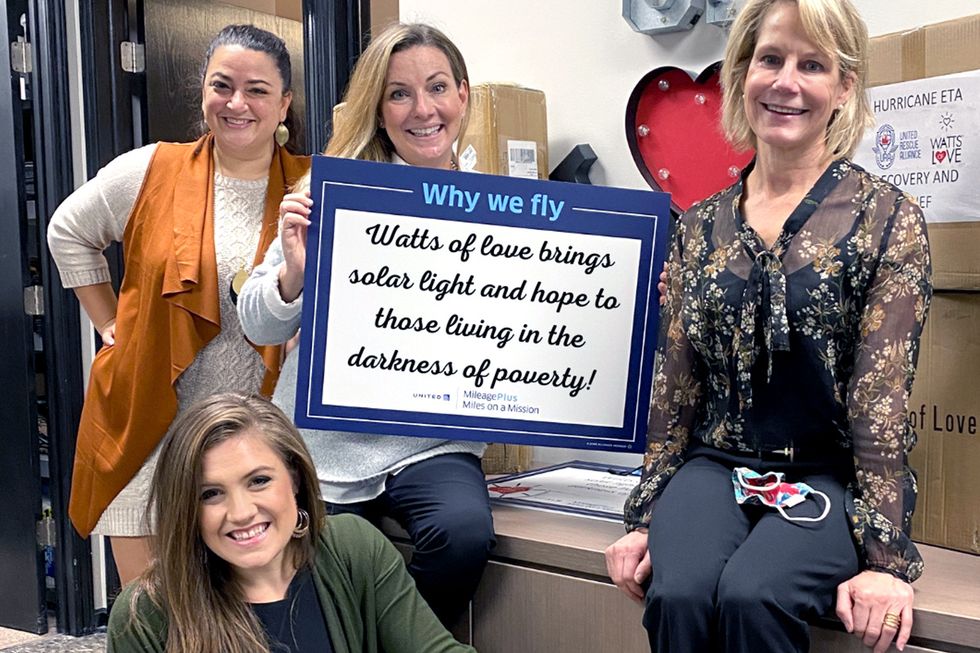 "Watts of Love brings solar light and hope to those living in the darkness of poverty!"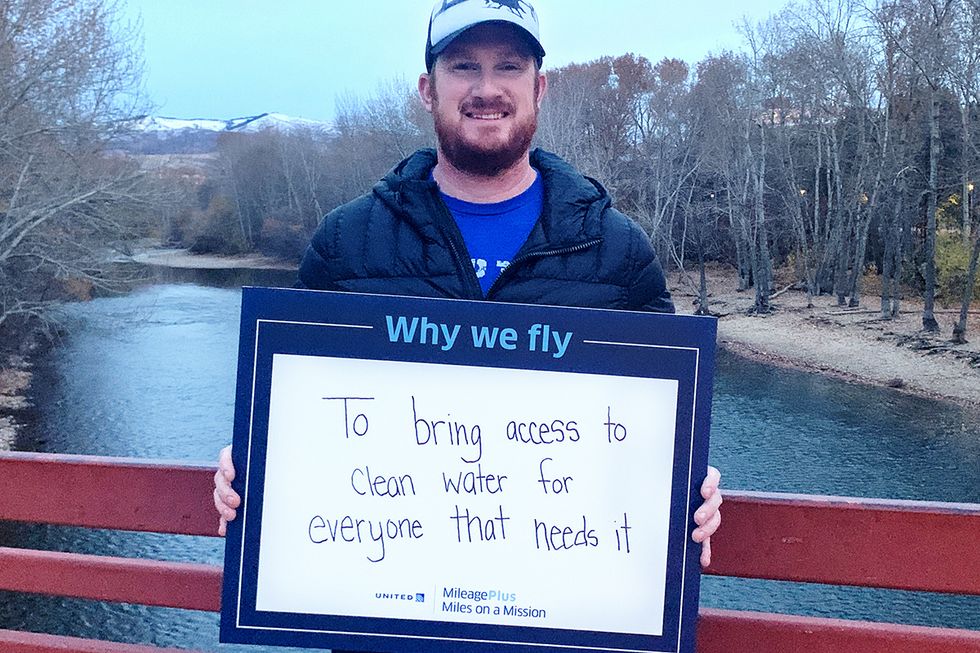 "To bring access to clean water for everyone that needs it."
Scroll to top