Three Perfect Days: Santiago
Story by Justin Goldman | Photography by Yadid Levy | Hemispheres, December 2014
Chile hasalways felt a little cut off. It's boxed in on all sides, by the rugged Andes to the east, more than 2,500 miles of Pacific coast to the west, the turbulent Drake Passage to the south and the searing Atacama Desert to the north. The dictatorship of Augusto Pinochet, meanwhile, formed a political barrier through the 1970s and '80s.
Even in the 25 years since democracy returned to Chile, its capital city has remained isolated by history and geography. Most travelers have tended to view Santiago as a stopover on the way to the stunning landscapes of Patagonia or the Atacama, the wine valleys to the north and south, the Andean ski slopes or the charmingly disheveled coastal city of Valparaíso. But this city of more than 6 million people has lately claimed its place among the cosmopolitan capitals of South America. It's home to a growing number of wildly inventive chefs, museums and cultural centers that bristle with creative talent, and a bouncing nightlife scene, with bars and clubs that stay open until sunrise.
The city is also one of the safest and most hospitable in South America. The parks are filled with lovers, the sidewalks swell with students, buskers dash into intersections to entertain at red lights. Even the stray dogs seem friendly. Santiago has turned the page on history, and now it's writing a chapter in which it becomes one of the shining metropolises of the New World.

DAY ONE | "La Cordillera," your taxi driver says, and your eyes follow the line from his finger, over the sprawl of Santiago to the snowcapped Andes, looming impossibly huge and close. You're definitely not in Kansas anymore. A few minutes later, he drops you off in front of a Spanish colonial building nestled amid palm trees and bougainvillea. The Aubrey, a 15-room hotel that opened in 2010, comprises two 1920s-era mansions combining traditional and contemporary touches—a Mission-style terrace leads into a bright piano bar decorated with illustrations of the Beatles. You head up to your fourth-floor room, which has an oddly slanted ceiling and a fine view of Santiago's biggest park, Parque Metropolitano.You're pumped up to go exploring, but that was a loooong flight, and before you know it you've face-planted on the bed.
You wake from your nap with an appetite, so you head down Constitución, one of the two main strips of Santiago's bohemian Bellavista neighborhood, in search of a bite. The storefronts here are slightly run down, but vibrant and colorful. You're drawn by the nautical decor—a ship's bow, a figurehead—of Azul Profundo. You slide in and order caldillo de congrio, the hearty eel soup that's such a Chilean staple that Pablo Neruda wrote an ode to it. The poem is conveniently printed on your placemat, and you read it as you eat: "In the storm-tossed Chilean sea"—slurp—"lives the rosy conger"—slurp—"giant eel of snowy flesh."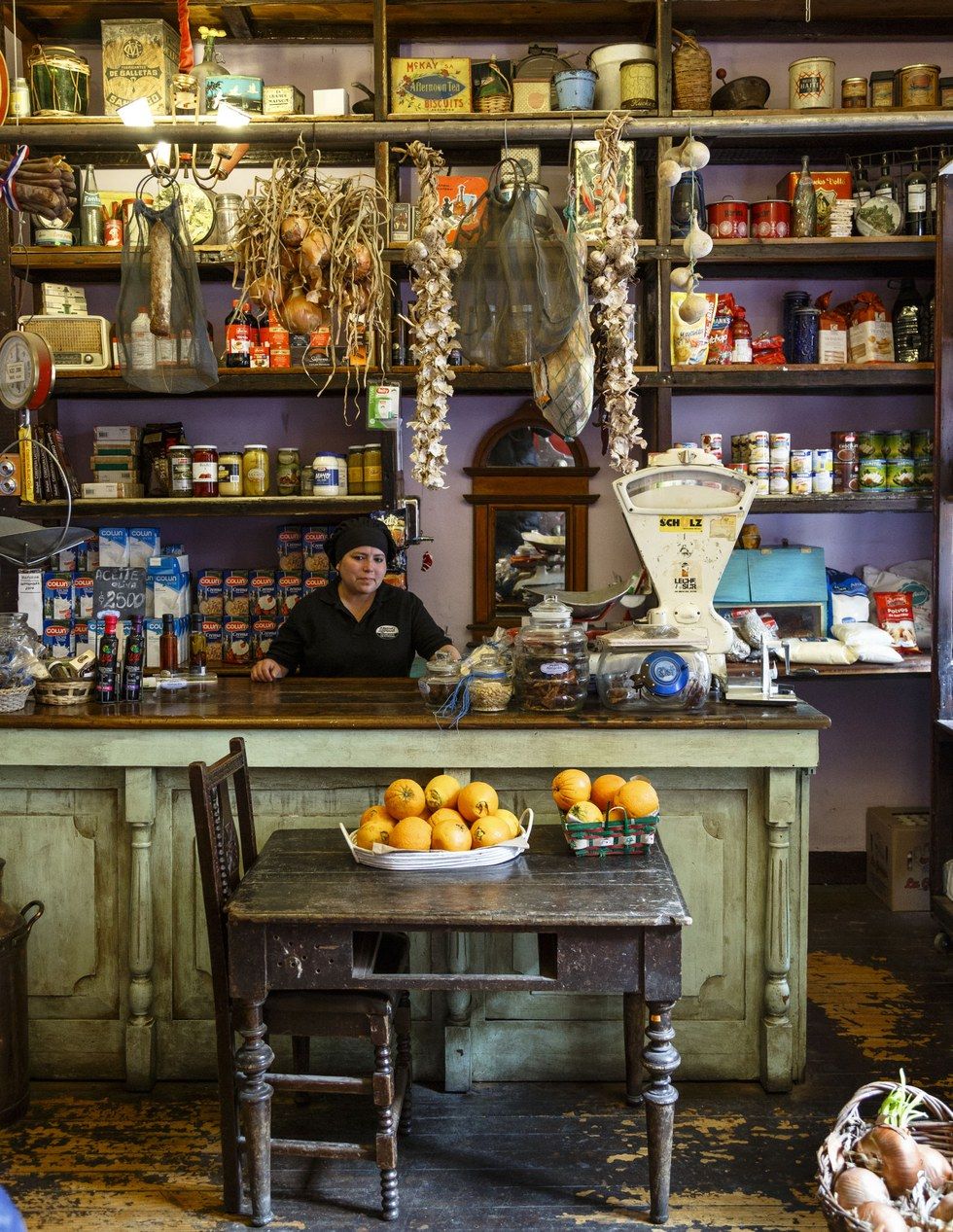 A charming market counter inside the French restaurant Boulevard Lavaud
Inspired by lunch, you duck down a graffitied alleyway just off Constitución to find La Chascona, the house Neruda lived in with his third wife, Matilde Urrutia. (The poet named the house using a Quechua word meaning disheveled, in honor of Urrutia's curly hair.) You climb through the gardens, listening to a young guitarist on the street below, and enter to find a surreal portrait by Diego Rivera depicting Urrutia with two heads. You browse Neruda's maps, books and nautical knickknacks, finally coming across his Nobel Prize medal on the top floor. You don't see one of those every day.
From here, it's a couple of blocks to Parque Metropolitano, better known as Cerro San Cristóbal for the 2,830-foot peak at its center. There's a funicular that goes to the top, but you're feeling spry, so you hike the mile or so up the dirt trail. As you reach the first switchback, you suspect you've made a mistake; at the second, you know you have. Then you spot the 45-foot statue of the Virgin Mary at the peak, so you soldier on. At the top, you stand beside the statue, listening to a man drone Hail Marys in a perfect monotone, and take in the view of the Gran Torre Santiago, the tallest building in South America, which is dwarfed by the mountain range beyond. You won't be climbing those anytime soon.
You wobble back down the hillside and hop a cab to the tony suburban neighborhood of Vitacura, home to the Museo de la Moda. Founded by the scion of a wealthy family in 1999, the museum houses a collection of fashion relics that include Madonna's cone bra and the jacket that Michael J. Fox wore as Marty McFly and Marty McFly Jr. in Back to the Future II. There's also a giant Rubik's Cube and cars embedded nose first in the grass outside. It feels a little odd to travel thousands of miles to immerse yourself in various bits of Americana, but it's no less satisfying.
Dinner is at nearby Boragó, a simple dining room that belies the culinary complexities of its menu. "People never really travel to Chile to eat," says chef Rodolfo Guzmán, running you through some of the 700 dishes he prepares. "We're trying to build that from scratch." A wild-haired mad scientist of a chef (and alum of famed Spanish eatery Mugaritz), Guzmán uses seasonal ingredients proffered in mind-boggling presentations: quail eggs nestled in the branches of a bonsai tree; piure, a gelatinous urchin-like creature, served atop rocks from the seashore; bread sticks dotted with edible flowers; a dessert of menthol and lemon crystals that crackle on the plate like fireworks. At one point you find yourself sipping wine out of a cow horn, wondering if one of your drink pairings was ayahuasca.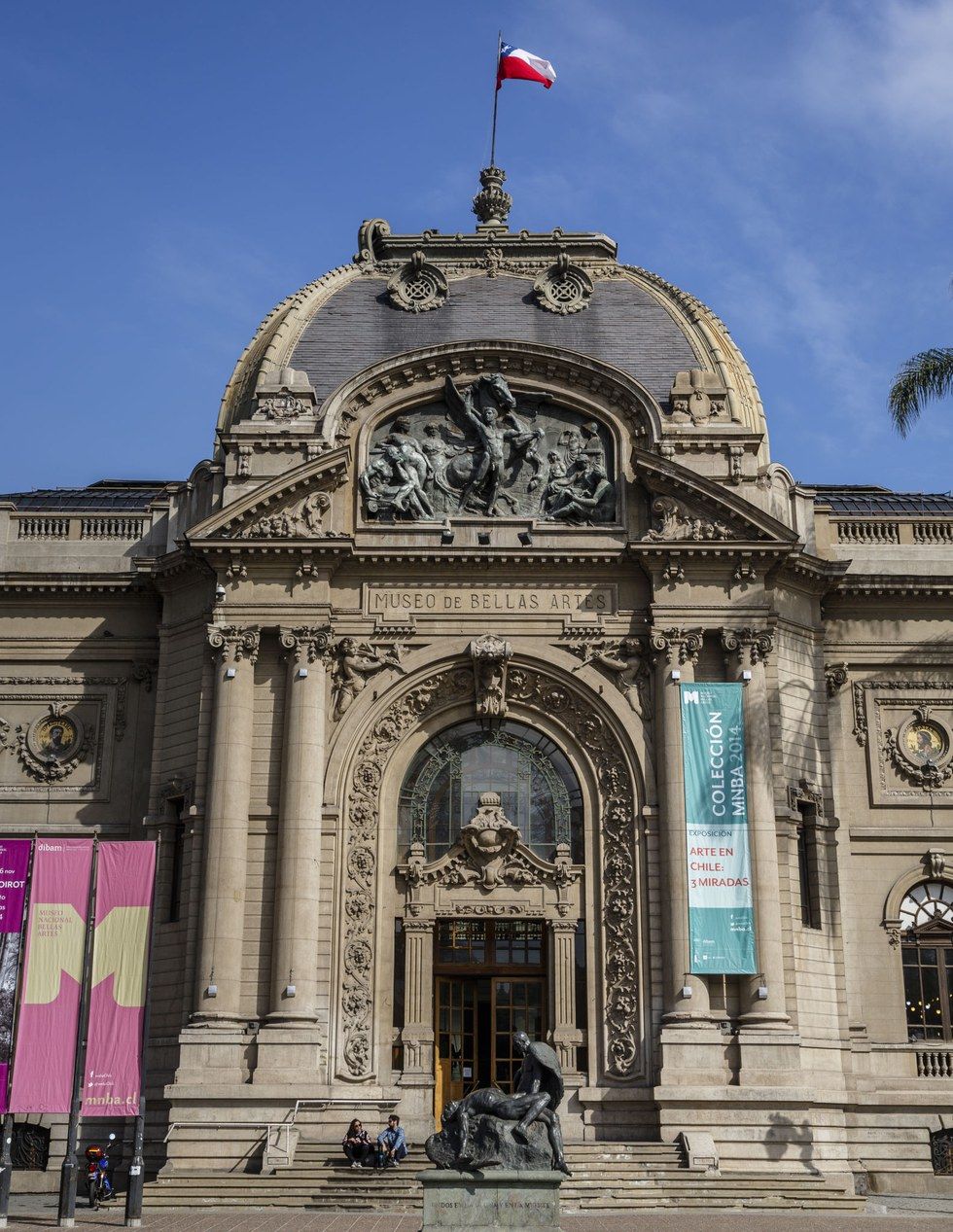 The Beaux-Arts Palacio de Bellas Artes, home to the Museo Nacional de Bellas Artes and the Museo de Arte Contemporáneo
Not sure if you've just had dinner or witnessed a piece of performance art, you cab it back toward the Aubrey, stopping off for a nightcap at Bar The Clinic. The official watering hole of The Clinic, a satirical Santiago newspaper, the bar's walls and menu are adorned with lefty political slogans. You order Chile's signature wine, Carménère, which your bartender climbs a ladder to fetch from the tall case of bottles behind the bar. A TV on the wall runs a loop of the paper's cartoons, including one skewering the Chilean navy, with sketches of U.S. and Russian nuclear submarines beside a half-submerged Santiago city bus. Such national self-deprecation would have been unthinkable during Pinochet's reign. The people around you are all smiles. Even now, after all these years, this is a city enjoying a fresh start.
DAY TWO | Having pried yourself from your kingsize bed, you head for the Aubrey's breakfast buffet table, which is dominated by a towering calla lily centerpiece. The waitress, a Somali immigrant named Rachel, frowns at your humble bowl of yogurt. "You must have some eggs," she says,"with bacon!" You assent to the eggs, which come laced with ham and cheese, accompanied by thick-sliced bacon. You top it off with a trip back to the buffet for a fluffy berry tart. Rachel is pleased the next time she glances at your table.
Fueled up, you head out, negotiating a sidewalk packed with food carts and vendors hawking jewelry. Crossing the Mapocho River, you find an intersection jammed with young people carrying placards. It appears you've wandered into a student protest. You stand and watch, intrigued but slightly unnerved, given Chile's history of being, um, less than tolerant of civil disobedience. But the police calmly usher the marchers through and get traffic moving again, and you continue toward leafy Parque Forestal.
At the far end of the park, you encounter the Beaux-Arts masterpiece Palacio de Bellas Artes, which houses both the Museo Nacional de Bellas Artes and the Museo de Arte Contemporáneo. You opt for the former and are rewarded with an exhibit of ethereal black-and-white portraits by Chilean photographer Luis Poirot, their subject a woman in a variety of strange poses and levels of dress (and undress).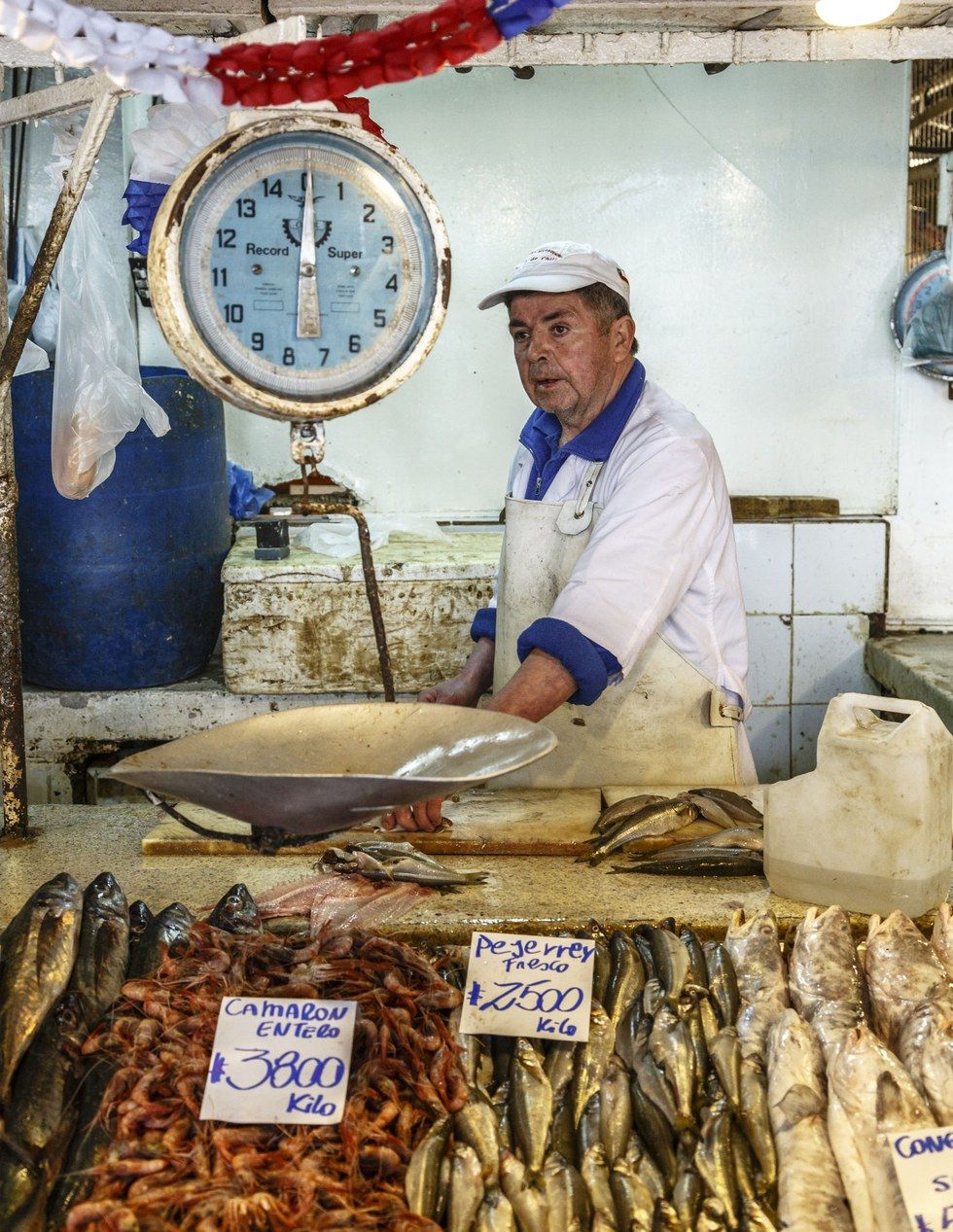 The Mercado Central boasts the city's finest bounty of fresh seafood, caught just off Chile's 2,500-mile Pacific coast
From here, you wander through Barrio Bellas Artes to hilly Cerro Santa Lucía, one of the city's nicest parks. On the other side, you cross Avenida Libertador Bernardo O'Higgins—the city's main thoroughfare—to Fuente Alemana, Chile's most famous sandwich shop. You shoulder your way to a seat at the counter and order a lomito completo con palta, with roast pork, tomato sauce, sauerkraut and heaps of mayonnaise and avocado—palta—which Chileans adore. The sandwich is a behemoth. You stare at it, trying to figure out how to pick it up, but are spared embarrassment when you notice that everyone else is eating with a knife and fork. Even properly armed, you're not sure how you'll get the whole thing down. Somehow, you manage.
With 800,000 calories to burn off, you head back to the park and ascend Cerro Santa Lucía, which was used as a lookout by conquistadors as far back as the 16th century. At the top, you find a 19th-century fort, which has cannons on the battlement and a narrow, slippery staircase leading to a watchtower. You scan the skyline for invading armies, but the only legions you spot are the young Chilean couples lying arm in arm on the grassy hillside below.
Back at street level, you stroll through Barrio Lastarria, a pleasant neighborhood of upscale shops and restaurants. After a little browsing, you take a table outside wine bar Bocanáriz (literally, "mouth-nose") and scan the list of 362 wines, nearly all Chilean, before ordering a flight of reds from various regions. As you sip the vino tinto, a delivery driver pulls up to the curb. "Where's the white?" he says, gesturing at your table. "Try a chardonnay from the Casablanca Valley." Everyone's a sommelier.
On the way back to Bellavista, you come across Emporio La Rosa, which has a sign in its window proclaiming it one of the 25 best ice cream shops in the world. You grab a cup of dulce de leche and continue back through Parque Forestal, across the Mapocho and through Patio Bellavista, a posh courtyard of shops, restaurants and bars. You bypass them for Peumayen, a new restaurant that's dedicated to exploring the roots of Chilean cuisine.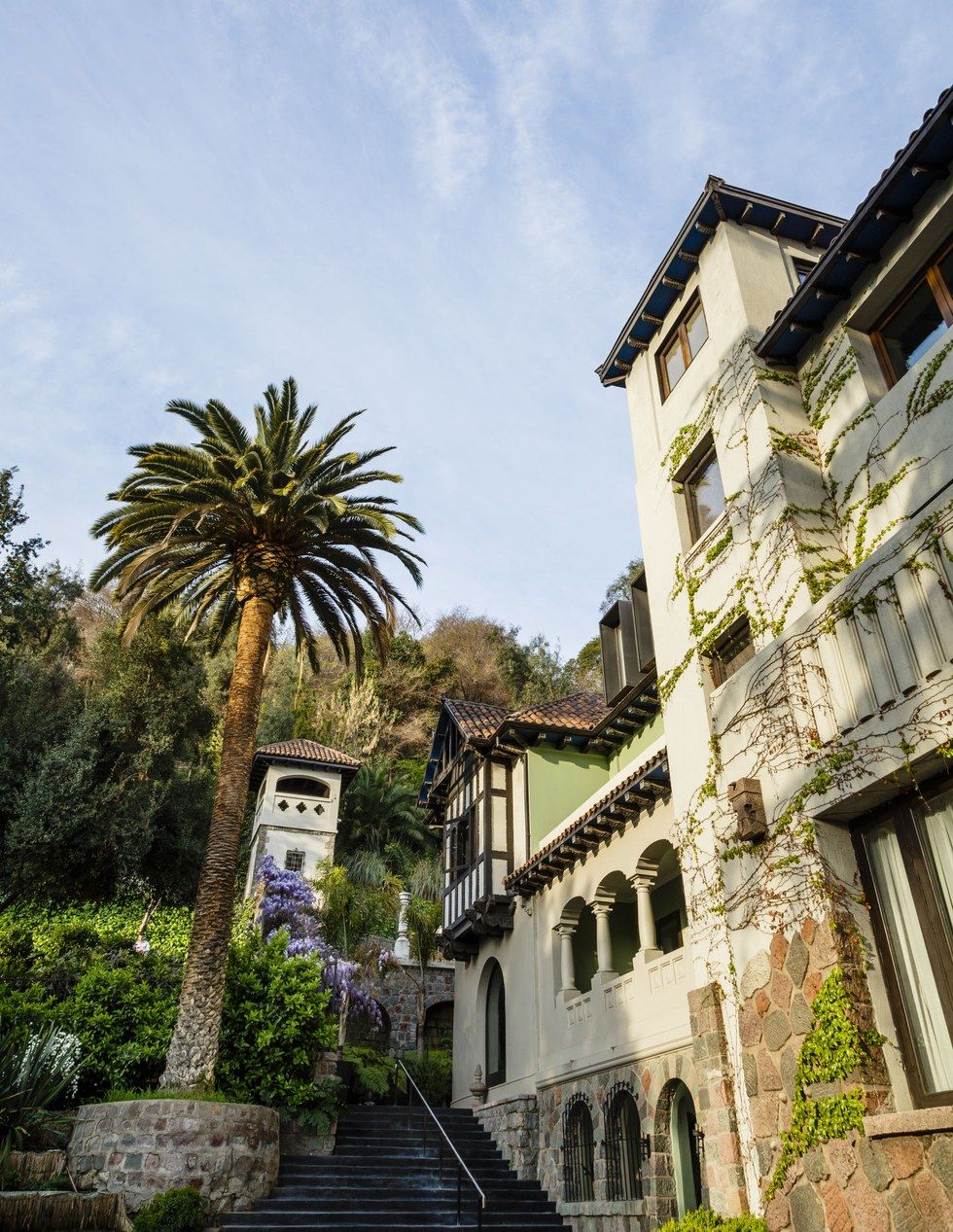 The Aubrey hotel, at the base of Cerro San Cristóbal and Parque Metropolitano
The menu here is a bit of a mystery. Your waiter, Sandy, recommends you get an appetizer sampler and an entrée called pulmay. The starters come on long stone plates, first a diverse bread course and then seven meats, including hake with seaweed, horsemeat tartare and lamb tongue with green chile. The pulmay is a stew from the Chiloé Archipelago that is traditionally wrapped in banana leaves and buried with hot coals. You dig through layers of shellfish, chicken and sausage to find a baby-back rib hiding in the depths of the salty broth. Those ancients knew how to eat.
Bellavista, with its rows of bars, is also home to some of the best nightlife in Santiago. You opt for one called Bar Constitución, a long, fashionably dark, warehouse-like space packed with stylish people nodding their heads to a pounding bass line. You order a golden ale from Chilean microbrewery Guayacán and, incongruously, watch an episode of MTV's "Daria" on a wall-mounted TV. By the time you leave, the streets are filled with late-night crowds, young people laughing and chattering their way toward sunrise.
DAY THREE | An early-morning ride on Santiago's impeccable metro takes you to the glass towers of Las Condes, the neighborhood locals refer to as "Sanhattan." Here, you check into the W Santiago, which rises up from behind a Mercedes dealership and an impressive wine store. The high-ceilinged, heavily marbled lobby is modish and modular, a five-star rendition of Elysium. You leave your bags, briefly getting lost among the columns on your way to the elevator.
Chileans aren't big on breakfast, but a couple of blocks from the hotel you find the bright and breezy Cafe Melba. You order the "famous" Panqueques Melba, fluffy blueberry pancakes powdered liberally with sugar and topped with a huge dollop of whipped cream, and chase it all down with a tall glass of mango juice. You need a sweetener, you feel, before your next destination.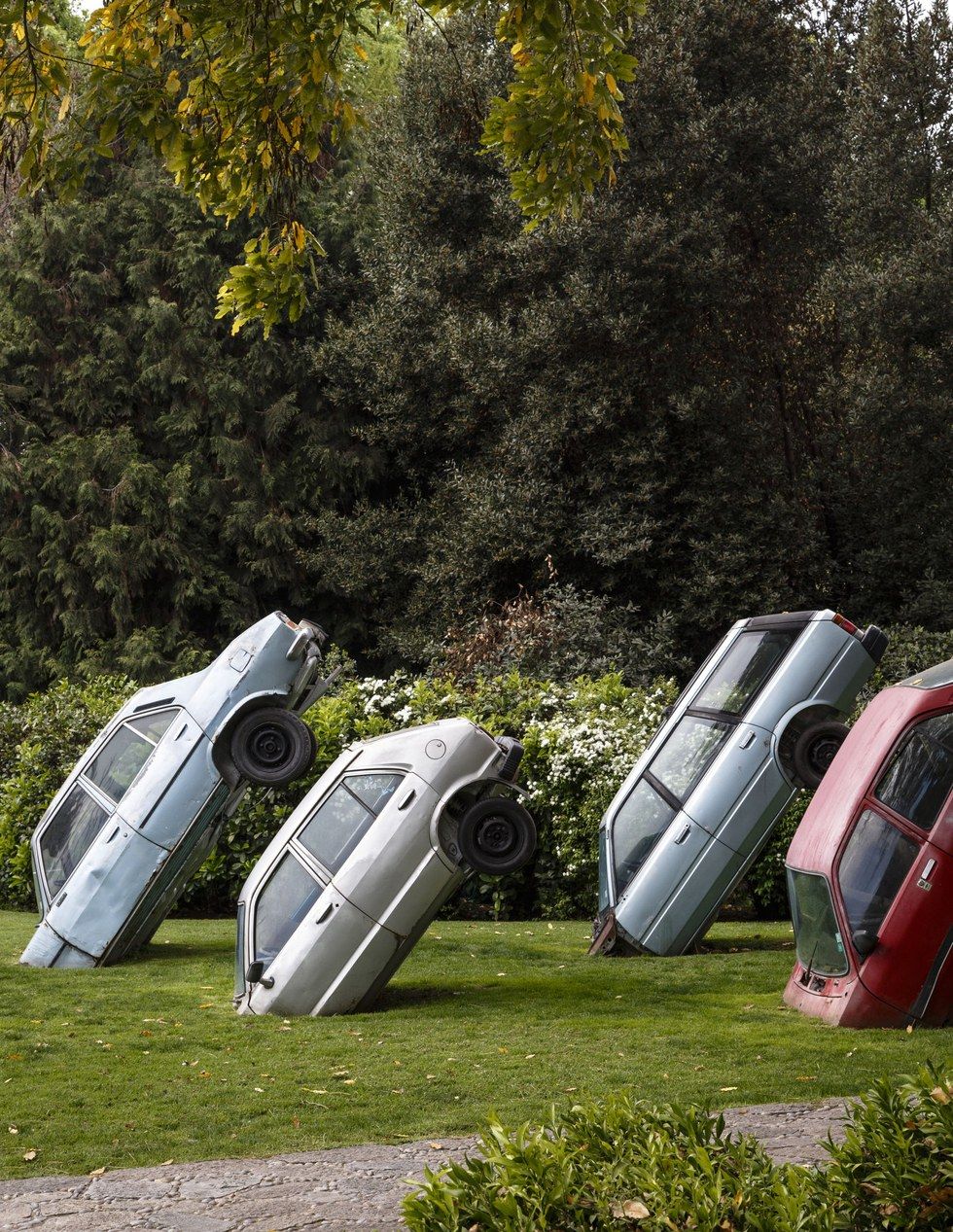 An inventive artwork in front of the Museo de la Moda, on the grounds of a wealthy family's property in tony Vitacura
Another metro ride brings you to the Quinta Normal park, home to a number of museums, including the Museo de la Memoria y Derechos Humanos. The museum, a toppled tower of sea-green glass resting on two stone pillars, memorializes the 1973 coup in which General Pinochet ushered in two decades of national misery. You watch footage of the attack on the presidential palace and read accounts of the secret prisons, but the most unsettling moment comes when you look out the window, the tinted glass and cross-hatched pillars making you feel disconnected—as if you had been disappeared.
Afterward, you wander the more uplifting streets of nearby Barrio Yungay. This isn't a touristy area, but the modest rowhouses and grocery stores are painted with vibrant graffiti murals. Soon you find yourself at one of Santiago's beloved culinary landmarks, Boulevard Lavaud, which has been open since 1868 and is better known as Peluqueria Francesa for the French-style barbershop that fronts the restaurant. You step inside, thinking you could use a drink, and along with a Carménère you order a lunch of pato a naranja—duck à l'orange. It's exquisite.
Restored, you press on with a tour of the city center. You pass by the Palacio de La Moneda—rebuilt since it was bombed by jets during the coup and now home to a vibrant cultural center; the Plaza de Armas, the central square of the city, which spreads out before the 200-year-old Catedral Metropolitana; the Mercado Central, teeming with fish from the nearby Pacific; and the recently reopened Museo Precolombino, where you explore an impressive collection of ancient pottery, as well as Mapuche wooden burial sculptures that remind you of the eerie moai of Easter Island.
You're not quite ready to call it a day, so on the way back to the hotel you stop in Providencia, at the Santiago institution Bar Liguria, a German-style café where you sit at one of the sidewalk tables and relax, sipping an Austral beer as you watch pedestrians pass on the leafy street.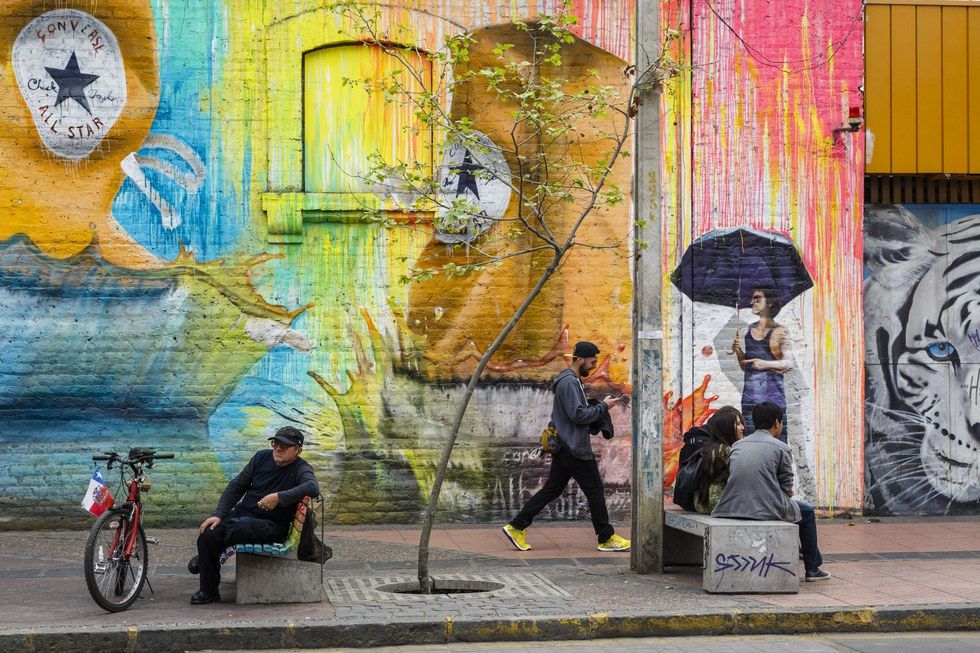 Santiaguinos relax in front of a street mural in trendy, heavily grafittied Barrio Bellavista
Back at the W, you find a plate of serrano ham and manchego cheese and a bottle of Chilean Malbec waiting in your room. You step out onto the balcony with your afternoon snack and tilt your head back to take in the shining blue 984-foot Gran Torre Santiago. There's an even better view from the rooftop pool, where you work up an appetite for your forthcoming dinner at the hotel's chic restaurant Osaka.
The restaurant specializes in Nikkei cuisine, the blend of Japanese and Peruvian cooking that has taken the world by storm. Chef Ciro Watanabe, a Peruvian whose grandfather was Japanese, works the line with his chefs, slinging plate after plate of transcendent food your way: Chilean sea bass with mustard leaves, citrus fruit and a mint emulsion; salmon belly with orange zest and truffle oil; dumplings stuffed with duck confit and Japanese mushroom; beef seared with a torch before your eyes; and scallops Parmesan, which appear with your plate aflame. You're sure that you've been seated at the Great Sushi Bar in the Sky.
Finally the waves of food slow down, and you begin to gather yourself. Earlier, you saw some beautiful people in line for Whiskey Blue, the club next door, and you've decided to give it a try. As you stand to leave, Watanabe stops you to shake your hand. "Come see us on your next visit," he says. "This is your home now."
Hemispheres managing editor Justin Goldman would like to ask the people of Chile to speak just a little bit slower, please.
Made with Atavist. Make your own.
This article was written by Justin Goldman from Rhapsody Magazine and was legally licensed through the NewsCred publisher network. Please direct all licensing questions to legal@newscred.com.
Around the web
Right now, around the world, brave members of America's armed forces are on duty, defending our freedom and upholding our values.
When not laser-focused on the mission at hand, they're looking forward to the day when their service to our nation is fulfilled and they can reunite with their families.
They are also imagining how they can use their hard-earned skills to build an exciting, rewarding and important career when they return home.
I want them to look no further than United Airlines.
That's why we are focused on recruiting, developing and championing veterans across our company, demonstrating to our returning women and men in uniform that United is the best possible place for them to put their training, knowledge, discipline and character to the noblest use.
They've developed their knowledge and skills in some of the worst of times. We hope they will use those skills to keep United performing at our best, all of the time.
That's why we are accelerating our efforts to onboard the best and the brightest, and substantially increasing our overall recruitment numbers each year.
We recently launched a new sponsorship program to support onboarding veterans into United and a new care package program to support deployed employees. It's one more reason why United continues to rank high - and rise higher - as a top workplace for veterans. In fact, we jumped 21 spots this year on Indeed.com's list of the top U.S workplaces for veterans. This is a testament to our increased recruiting efforts, as well as our efforts to create a culture where veterans feel valued and supported.
We use the special reach and resources of our global operations to partner with outstanding organizations. This is our way of stepping up and going the extra mile for all those who've stepped forward to answer our nation's call.
We do this year-round, and the month of November is no exception; however, it is exceptional, especially as we mark Veterans Day.
As we pay tribute to all Americans who have served in uniform and carried our flag into battle throughout our history, let's also keep our thoughts with the women and men who are serving around the world, now. They belong to a generation of post-9/11 veterans who've taken part in the longest sustained period of conflict in our history.

Never has so much been asked by so many of so few.... for so long. These heroes represent every color and creed. They are drawn from across the country and many immigrated to our shores.

They then freely choose to serve in the most distant and dangerous regions of the world, to protect democracy in its moments of maximum danger.
Wherever they serve - however they serve - whether they put on a uniform each day, or serve in ways which may never be fully known, these Americans wake up each morning willing to offer the "last full measure of devotion" on our behalf.
Every time they do so, they provide a stunning rebuke to the kinds of voices around the world who doubt freedom and democracy's ability to defend itself.
Unfortunately, we know there are those who seem to not understand – or say they do not - what it is that inspires a free people to step forward, willing to lay down their lives so that their country and fellow citizens might live.
But, we – who are both the wards and stewards of the democracy which has been preserved and handed down to us by veterans throughout our history – do understand.
We know that inciting fear and hatred of others is a source of weakness, not strength. And such divisive rhetoric can never inspire solidarity or sacrifice like love for others and love of country can.
It is this quality of devotion that we most honor in our veterans - those who have served, do serve and will serve.
On behalf of a grateful family of 96,000, thank you for your service.
Humbly,
Oscar
Each year around Veterans Day, Indeed, one of the world's largest job search engines, rates companies based on actual employee reviews to identify which ones offer the best opportunities and benefits for current and former U.S. military members. Our dramatic improvement in the rankings this year reflects a stronger commitment than ever before to actively recruiting, developing and nurturing veteran talent.
"We've spent a lot of time over the past 12 months looking for ways to better connect with our employees who served and attract new employees from the military ranks," said Global Catering Operations and Logistics Managing Director Ryan Melby, a U.S. Army veteran and the president of our United for Veterans business resource group.
"Our group is launching a mentorship program, for instance, where we'll assign existing employee-veterans to work with new hires who come to us from the armed forces. Having a friend and an ally like that, someone who can help you translate the skills you picked up in the military to what we do as a civilian company, is invaluable. That initiative is still in its infancy, but I'm really optimistic about what it can do for United and for our veteran population here."
Impressively, we were the only one of our industry peers to move up on the list, further evidence that we're on a good track as a company.
The question of where David Ferrari was had haunted retired U.S. Army Sergeant Major Vincent Salceto for the better part of 66 years.
Rarely did a week go by that Salceto didn't think about his old friend. Often, he relived their last moments together in a recurring nightmare. In it, it's once again 1953 and Salceto and Ferrari are patrolling a valley in what is now North Korea. Suddenly, explosions shatter the silence and flares light up the night sky.
Crouching under a barrage of bullets, Salceto, the squad's leader, drags two of his men to safety, then he sees Ferrari lying face down on the ground. He runs out to help him, but he's too late. And that's when he always wakes up.
Italian Americans from opposite coasts – Salceto from Philadelphia, Ferrari from San Francisco – the two became close, almost like brothers, after being assigned to the same unit during the Korean War. When Ferrari died, it hit Salceto hard.
"After that, I never let anyone get close to me like I did with Dave," he says. "I couldn't; I didn't want to go through that again."
When the war ended, Salceto wanted to tell Ferrari's family how brave their son and brother had been in battle. Most of all, he wanted to salute his friend at his gravesite and give him a proper farewell.
For decades, though, Salceto had no luck finding his final resting place or locating any of his relatives. Then, in June of this year, he uncovered a clue that led him to the Italian Cemetary in Colma, California, where Ferrari is buried.
Within days, Salceto, who lives in Franklinville, New Jersey, was packed and sitting aboard United Flight 731 from Philadelphia to San Francisco with his wife, Amy, and daughter, Donna Decker, on his way to Colma. For such a meaningful trip, he even wore his Army dress uniform.
That's how San Francisco-based flight attendant Noreen Baldwin spotted him as he walked down the jet bridge to get on the plane.
"I saw him and said to the other crew members, 'Oh my goodness, look at this guy,'" she says. "I knew there had to be a story."
The two struck up a conversation and Salceto told Baldwin why he was traveling. She got emotional listening to him talk and made a point of fussing over him, making sure he and his family had everything they needed.
About halfway through the flight, Baldwin had an idea. She and her fellow crew members would write messages of encouragement to Salceto and invite his fellow passengers to do the same.
"We did it discreetly," says Baldwin. "I asked the customers if they saw the man in uniform, which most had, and asked them if they wanted to write a few words for him on a cocktail napkin. A lot of people did; families did it together, parents got their kids to write something. After the first few rows, I was so choked up that I could barely talk."
When Baldwin surprised Salceto with dozens of hand-written notes, he, too, was speechless. He laid the stack on his lap and read each one. At the same time, the pilots made an announcement about the veteran over the loud speaker, after which the customers on board burst into applause.
"It seems contrived, and I hate using the word organic, but that's what it was; it just happened," Baldwin says. "Mr. Salceto was so loveable and humble, and what he was doing was so incredible, it felt like the right thing to do. And you could tell he was touched."
On June 27, Salceto finally stood before Ferrari's grave and said that long-awaited goodbye. As a trumpeter played "Taps," he unpinned a medal from his jacket and laid it reverently on the headstone.
"I had gotten a Bronze Star for my actions [the night Ferrari died] with a 'V' for valor, and that was the medal I put on Dave's grave," says Salceto, pausing to fight back tears. "I thought he was more deserving of it than I was."
For the first time in years, Salceto felt at peace. His mission was accomplished.
Scroll to top