Three Perfect Days: São Paulo
Story by Nicholas Derenzo | Photography by Lianne Milton | Hemispheres, September 2017
Some cities are like puppies—friendly and eager to please. Others carry themselves more like cats: cool, with an air of cultured mystery. Rio de Janeiro might fall into the former category, but São Paulo is decidedly feline. With a population of 12 million, the Western Hemisphere's largest metropolis seems impenetrable at first glance, a sea of skyscrapers and commuters in helicopters. But down at street level you'll encounter the real Sampa (as locals call it), a town built by and for immigrants, with a surprising amount of warmth behind those designer duds and business suits. Brimming with internationally ranked restaurants and striking Modernist buildings, São Paulo is buzzing with energy and barreling into the future. What else would you expect from a city that rose from the coffee trade?
In which Nicholas awakes in an architectural landmark, strolls through a modernist park, and sips cachaça at a sumo bar
It's my first morning in São Paulo, and I've woken up inside the seed of a watermelon. Sort of. I'm at Hotel Unique, which is shaped like a giant slice of the fruit, clad in oxidized copper and peppered with porthole windows. The building is the work of architect Ruy Ohtake, whose mother was the great sculptor Tomie Ohtake. The wall of my suite is curved like a half-pipe. Maybe I should have packed a skateboard—and learned how to skate.
It's a short stroll from here to Parque Ibirapuera, opened in 1954 to mark the city's 400th anniversary. Brazil's most famous architect, Oscar Niemeyer, envisioned it as a Modernist take on Central Park, dotted with his stark but sinuous concrete museums and pavilions. Pathways zip with more in-line skaters than I've ever seen in one place, many of them slurping water out of drilled coconuts, as if they'd received a memo to look more Brazilian. I buy one too.
Fernanda Yamamoto, fashion designer
Niemeyer, who died in 2012 at the age of 104, is 20th-century Brazil. I duck into the lobby of his wedge-shaped Auditório Ibirapuera, which contains a red Tomie Ohtake sculpture that tornadoes around the room. Outside, another piece by Niemeyer bursts out the front door like a big red tongue blowing a raspberry at the neighboring Oca pavilion, also by Niemeyer, which is shaped like a partly buried Wiffle Ball, with organically curvilinear ramps and stairways cutting through its cavernous interiors. There's something vaguely alien about the landscape here, a feeling that is heightened by the sound of little kids flinging pebbles at a metal wall in the Museu de Arte Moderna de São Paulo sculpture garden—a pew pew pew straight out of Star Wars.
São Paulo is home to the biggest Japanese community outside Japan—about 665,000 people at last count. Their forebears streamed in at the start of the 20th century to fill coffee plantation jobs left empty after the abolition of slavery. To learn more about Japanese-Brazilian culture, I'm off to meet fashion designer Fernanda Yamamoto at the sushi bar Kinoshita in quiet Vila Nova Conceição.
Yamamoto runs her tiny namesake atelier in hip Vila Madalena, selling only items she and her staff make onsite. "The Brazilian stereotype is very sexy with lots of prints, but I don't think Brazilian identity has to be like that," she says. "São Paulo is a city created by immigrants, so I think our fashion should reflect that." She draws on folk elements—such as Renaissance lace from the northeastern state of Paraíba—and blends them with the minimalism of her favorite Japanese designers. Her upcoming collection is inspired by Yuba, a self-sustaining utopia near São Paulo founded by a Japanese socialist in 1935, where residents split time between farming and learning an artform, such as ballet or classical music.
"São Paulo is a world metropolis; it's not an easy city. You have to understand how it works—all these different ways of doing things—and then it's great." —Fernanda Yamamoto
Our lavish omakase tasting menu starts to arrive. "Japanese cuisine is very delicate, but that's not the taste of Brazilians," Yamamoto says, "so everything gets spicier, bolder, more flavorful." Courses here include octopus in a vibrant shiso pesto, salmon sashimi with truffles, and seared Wagyu with spicy Japanese mustard.
We cab across town to Japan House, a cultural center opened this spring. Renowned Japanese architect Kengo Kuma's airy pavilion combines hinoki (cypress) slats with hollow cobogó bricks, a hallmark of Brazilian Modernism. Niemeyer—one of the designers of the United Nations headquarters in Manhattan—would have appreciated the cross-cultural inventiveness here. Appropriately, his image looks on from the side of a neighboring high-rise, in the form of a stories-tall portrait by São Paulo street artist Eduardo Kobra.
Oscar Niemeyer's Oca pavilion in Parque Ibirapuera
From here, we're off to Liberdade, the city's historic Japanese heart, its tight alleys lined withnoodle houses and parks with koi ponds. Yamamoto points out Casa Bueno, a traditional market where her grandparents pick up hard-to-find ingredients, and Livraria Sol, a Japanese bookshop opened in 1949. "Some things got stuck in time; some things didn't survive," she says as we stroll under the lantern-like street lamps. "There is a lot that is still authentic, but it may not be here in a few years."
I say goodbye to Yamamoto and duck into Bar Kintaro, an unfussy izakaya (Japanese pub) run by two sumo wrestlers, for an ice-cold Weber Haus cachaça. It's a spirit that often gets hidden behind other flavors in drinks like caipirinhas, but here I can taste the crisp sweetness of the sugarcane. I offer my credit card to pay, and the sumo clan matriarch behind the counter points silently, with a smirk, to a handwritten sign behind the bar that lists various house rules in Portuguese: "We don't take cards" … "We don't have sushi" … "We don't have wi-fi" … "Don't cry!" Cash it is.
Dinner is across town in the posh Jardim Paulistano district. I'm eating at Maní, where the kitchen is helmed by Helena Rizzo, a former model who was named the 2014 Veuve Clicquot World's Best Female Chef. As I sit, a waitress brings out a comically enormous sack of bread, which includes hubcap-size biscoitos de polvilho (tapioca-starch biscuits), and a glass of Cave Geisse sparkling wine from southern Brazil. I go for the tasting menu: ceviche made with caju, the fruit of the cashew nut tree; crayfish with cacao nibs; mullet wrapped in a taioba (elephant ear) leaf with jackfruit, yogurt, and shaved Brazil nuts; and charcoal-grilled banana with manioc flour and edamame in a fish and tomato stock. Rizzo comes out of the kitchen, and I ask her what she calls this type of cooking—Modern Brazilian? "Things that I like," she says with a smile. "No—things that I love."
In which Nicholas picks through the central market, hunts for the city's famed street art, and eats some of the world's best beef
In this progress-obsessed city, it's rewarding to find a few spots where you can still commune with the past. Though it only opened in 2003, the Hotel Fasano—which occupies a brick tower in the fashionable Jardins district—calls to mind a 1930s gentleman's club, complete with rich mahogany details and low-slung, warm brown leather chairs. A flame crackles in the lobby fireplace, and its scent permeates the property. That retro sophistication isn't entirely coincidental: The Fasano family of restaurateurs has dominated the city's hospitality scene for four generations, since patriarch Vittorio immigrated here from Milan in 1902 and opened his first brasserie.
For breakfast, I'm heading somewhere with a similarly long backstory. I take a taxi into the city's historic heart, Centro, to the 1933 Mercado Municipal de São Paulo, or Mercadão ("Big Market"), which is filled with stacks of bacalhau (dried cod) and heaps of tropical fruit. The vaulted hall is bookended by stained-glass windows depicting idyllic agricultural scenes; the artist also did the windows at the nearby neo-Gothic cathedral. The market's star attraction is a jaw-unhinging mortadella sandwich—as much a symbol of São Paulo as the cheesesteak is of Philadelphia—which I order with an açaí smoothie and a coxinha de frango, or drumstick-shaped chicken croquette.
Thiago, ritual street artist
From the moment I arrive, it's clear that São Paulo is one of the world's great street art capitals, with murals covering surfaces in districts rich and poor. To learn about the scene, I've arranged to meet street artist and gallerist Thiago Ritual, who offers walking tours through his company, Streets of São Paulo.
"There are three generations of art on this one corner, but a lot of people don't see it that way," he says, standing on the steps of Centro's Theatro Municipal. In addition to a mid-century mural by Italian-born painter Bramante Buffoni and a minimalist contemporary work by São Paulo artist Herbert Baglione, there's a building covered with words in a chicken-scratchy font. To be honest, I tell him, I probably would have ignored these seemingly dashed-off runes.
"These are pixos," Ritual says, referring to a Brazilian tagging style that emerged in the late '70s, "and our graffiti is born from them. Before there was graffiti, there were political pixos. People took this pointy typography from the covers of Dead Kennedys and other punk and heavy metal albums. Similar to the buildings here, the letters go high." Nowadays, teenagers risk their lives using ropes and pulleys to tag entire buildings.
As we walk, Ritual points out works by international artists and local legends like Os Gêmeos, twin brothers whose monumental cartoon figures can now be seen around the globe. But these works, and others like them, are under threat. As part of an urban beautification drive, Mayor João Doria—the former host of the Brazilian version of The Apprentice—is covering murals with gray paint. "People call São Paulo 'the gray city' or 'the concrete jungle,'" says Ritual, "but murals have always broken up the gray. Now they have actually started painting the city gray."
"I like how chaotic São Paulo is. It can be stressful, happy, slow, creative. When I'm abroad, I miss the disorganization." —Thiago
We head north on the (impeccably clean) subway to the Carandiru stop, the site of an old jail that was shuttered after a 1992 riot and demolished a decade later. Today, the elevated train tracks here run above an open-air street art museum containing works from some of the city's biggest names. I'm drawn to a piece by the artist Cranio: Amazonian tribesmen with red face paint operating a spacecraft and talking on smartphones. "My brother went to the Amazon," says Ritual, "and said, 'Yes, they're painted, but they're also driving Land Rovers!'"
He asks me where I'm planning to eat while in town, and I rattle off a few fine-dining spots. Ritual frowns, then leads me back into Centro, to the 24-hour Estadão Bar e Lanches, which opened in 1968 and took its name from the newspaper that used to have its offices next door. He orders me a frothy pineapple-mint juice and a roast pork sandwich on crusty bread. "You see the richest people and the poorest people all eating together at this bar," he says. "It's democratic."
An obelisk in Parque Ibirapuera
From here, I head down thrumming Avenida Paulista, which was once lined with the grand mansions of coffee barons. These days, most have been razed, replaced by sleek Modernist high-rises. My destination is the Museu de Arte de São Paulo (MASP), Italian architect Lina Bo Bardi's 1968 masterwork—instantly recognizable for the crimson beams that prop it up like a boxy armadillo on squat legs. The museum recently reintroduced Bo Bardi's radical original curatorial concept: Instead of hanging on walls, paintings are placed on glass easels anchored by concrete blocks, which stand at attention in a meandering chronological path. Works by Brazilian artists include one of Antonio Henrique Amaral's subversive "banana" paintings, which depict the fruit bruised and entangled in ropes to symbolize life under a military dictatorship.
Next I walk through downtown, gawking up at Modernist landmarks like Niemeyer's undulating Edifício Copan. I stop at Galeria Metrópole, an open-air 1960 mall that has reemerged as something of a creative hub thanks to tenants like the club Mandíbula and the Tapera Taperá bookshop. The new kid on the block is the Metropol bar, where co-owner Pedro Mozart offers me a local Tito Bier Marx IPA. "It's a red beer," he deadpans. Bars like this one are part of an ongoing revitalization project. "People didn't used to come downtown, because they thought it was dangerous," he says. "But a lot is happening here. Downtown is the pulsing heart of the city."
If you know anything about Brazilian cuisine, you know that beef is king, served in criminally massive portions at churrascarias. Tonight, I'm skipping the classic spots in favor of Açougue Central, a steakhouse opened last year by Alex Atala, whose nearby D.O.M. has reached as high as No. 4 on the World's 50 Best Restaurants list.
Açougue Central's sete de paleta steak
In a way, this place is an anti-churrascaria, with Argentine chef Alejandro Peyrou downplaying the "noble" cuts in favor of humbler ones, such as brisket and sete de paleta, named for its 7-shaped bone. Each week, the restaurant orders a half-carcass, and Peyrou works his magic: frying croquettes in rendered fat, grinding meat into garlicky linguiça, and halving bones for marrow-slicked tartare.
"This is the best meat in the world," Peyrou says of his beef (which he gets from Beef Passion, the country's most sustainable cattle farm), "and I'm from Argentina." I have to agree, but surprisingly, some of the real standout dishes are vegetarian, including roasted pupunha (a type of heart of palm) and a mushroom carpaccio.
Happy and full, I make my way back toward my bed at the Hotel Fasano. Before heading upstairs, I stop in for a nightcap caipirinha at the hotel's cozy Baretto lounge, lulled closer to sleep by the bar band's lilting bossa nova.
In which Nicholas meets some monkeys by a hotel pool, hikes through the jungle, and digs into an epic tasting-menu dinner inspired by the city
Morning begins early, with an up-close look at one of the city's most famous features: rush-hour traffic. Unlike many of the city's wealthier residents, I don't have a helicopter to whisk me over the ruckus.
I'm dropping my bags off at the Oetker Collection's new Palácio Tangará, which opened this spring in the ritzy Morumbi district, tucked among the trees of Parque Burle Marx. Inside, the designers have turned the "gray city" idea on its head with a chic charcoal palette accentuated with moody black-and-white photographs. As it happens, the tufted sagui monkeys that hang out by the pool fit the color scheme. Before heading out, I visit the breakfast buffet for sweet guava paste and highly addictive pão de queijo, the country's beloved cheesy bread puffs—plus, of course, a cup of the famously strong Brazilian coffee.
Ivan Ralston, chef
If you drive beyond the reaches of São Paulo's urban sprawl in any direction, you'll eventually hit the Atlantic rainforest ecosystem. Accordingly, I've planned a hike with Tours by Locals guide Denis Gonçalves. He picks me up at the hotel and drives us about an hour north to Parque Estadual da Cantareira, the world's biggest metropolitan forest at 20,000 acres, home to jaguars and howler monkeys and toucans—all within the city limits.
As we get out of the car, I notice how surprisingly crisp it feels in the shade of the trees. I had expected a sauna. "It's always fresher out here," Gonçalves says. "It's the lungs of the city." We wander past bromeliads and tiny orchids, anaconda-thick vines clinging to trunks, and varieties of fern that have been around since the dinosaur days. "This is a little bit different from Avenida Paulista," he jokes, "but it's still São Paulo."
"I can't tell you another city that has this many cultures mixing. In New York, you go to a different neighborhood and it still feels like the same place. In São Paulo, you go to a different neighborhood and it's a different city."—Ivan Ralston
Further in, Gonçalves points out guavas and bananas, açai berries and fat avocados, coffee trees and white ginger root. This is the guy, I think, you'd want with you on a desert island. Easier to spot are the area's many waterfalls. "Brazilians love to shower in these," says Gonçalves. "They think they wash away bad energy. And I think it's true. You feel different." We skitter across some slippery rocks and dunk our faces in a cascade. I don't know about bad energy, but it certainly feels refreshing.
"Now," my guide says, "back to the concrete jungle."
Hungry from the hike, I ask Gonçalves to drop me off at the Mercado Municipal de Pinheiros food hall, in the revitalized Pinheiros neighborhood. I grab lunch at Café Mocotó, the downtown outpost of a no-frills restaurant on the outskirts of the city. The original spot earned a cult following for its dadinhos de tapioca—fried cubes of tapioca flour and cheese, served with sweet chili sauce—which I order alongside a completo platter brimming with rice, black-eyed peas, linguiça, air-dried beef, and cheese curds. It's simple but exceptionally tasty.
Gonçalves in the Parque Estadual da Cantareira
What sets this food hall apart is that D.O.M. chef Alex Atala has opened a market within a market, with kiosks dedicated to five
Brazilian biomes, including the Cerrado (tropical savanna) and Pampas (fertile grasslands). His team has personally stocked the Amazonian section, where I pick up jelly made from jambu, a leaf that leaves your mouth buzzing as if it's been electrically charged. At the Caatinga (a semiarid scrub forest in northeast Brazil) stand, I munch on licuri, tiny coconutlike palm kernels that crunch in your mouth like roasted hazelnuts.
Inspired by these obscure ingredients, I'm off to Vila Madalena, a hilly landscape of artisanal shops and vibrant street art, to meet one of the city's most inventive chefs, Ivan Ralston. A graduate of the Berklee College of Music in Boston, where he studied electric bass, the Vila Madalena native (who looks as though he could be a member of the Strokes) opened Tuju three years ago and quickly earned a Michelin star.
Ralston has agreed to show me around his neighborhood, which still has a village feel despite its trendy reputation. We pass a few of his suppliers: A Queijaria, the shop where he buys pungent Brazilian raw milk cheeses; Kimi Nii, a Japanese ceramics studio that provides Tuju with its colorful flatware; and Coffee Lab, which stocks beans from Brazilian micro-lot planters. Next, we stroll along Beco do Batman, a narrow alley with perhaps the city's highest concentration of street art—all of which started with a sketch of the Caped Crusader in the 1980s.
"When I was a kid, it was just houses here," Ralston says. "But São Paulo needed a Brooklyn. And now, like Brooklyn, it's getting expensive. It's a little bit my fault, because I brought in high gastronomy!"
With that, we head to his restaurant for a meal that's as bold and freewheeling as the surroundings. The 12-course tasting menu is a lesson in obscure Brazilian ingredients. Honey from the native, non-stinging Plebeia emerina bee tops a turnip salad. Vinegar made from jabuticaba fruit adds zip to a wild porcini mushroom soup. One course is built around Montau pork—from a variety of free-range pig with red meat—served with cowpea hummus and horseradish.
Over the course of the meal, the Van Dyke–sporting sommelier, Adiu Bastos, walks me through the drink list: the Rabo de Galo, a cocktail made with cachaça and artichoke-infused vermouth; sour beer brewed with cupuaçu fruit; a pinot noir grown in Brazil's deep south at Vinhedo Serena, one of the continent's first biodynamic wineries. The meal ends with a selection of addiction-themed truffles, featuring tobacco, cachaça, coca leaves, and poppy seeds.
After dinner, I stroll through Vila Madalena's streets, a jumble of new and old, classic and hypermodern—a perfect representation of the city at large. I think back to something Ralston said earlier, as we stood at a high point in the neighborhood overlooking the city's hodgepodge skyline: "It's kind of a mess, but I like the mess. I like the lack of style. It's free, like jazz. Somehow the architecture here reminds me of Miles Davis's late recordings. When you try to define them, it's hard, and São Paulo is like that. It doesn't have any particular style—just this philosophy of freedom."
Hemispheres executive editor Nicholas DeRenzo is actively spreading the gospel of Brazilian wine back home.
This article was written by Nicholas Derenzo from Rhapsody Magazine and was legally licensed through the NewsCred publisher network. Please direct all licensing questions to legal@newscred.com.
Around the web
Weekend inspiration: Sydney
Sydney continues to be one of our favorite cities in the world – vibrant, stunning, with an amazing foodie scene and genuinely nice people. Each year we try to schedule a few street art jobs in Australia so we can spend the Northern Hemisphere's winter in the summer sun of Australia. If you're in town for a few days, here are some of our favorite spots.
Friday evening
If you're looking for places to stay, we recommend anywhere near or on Sydney Harbour. If you can swing it financially, our two favorites are The Pier on Sydney Harbour and the Park Hyatt. Both are majestic hotels set out on the water with equally magnificent views of the Sydney Harbour Bridge and the Opera House.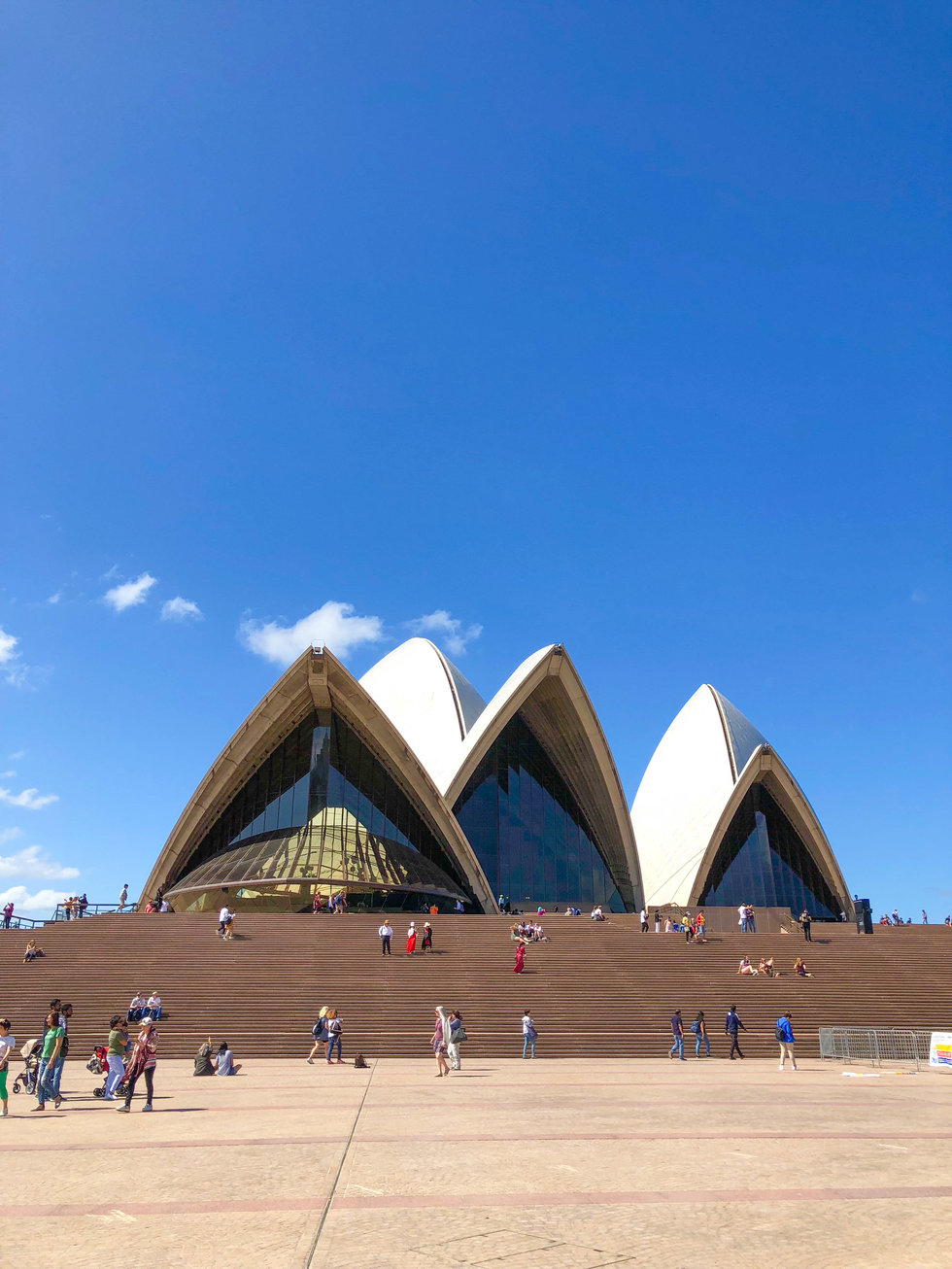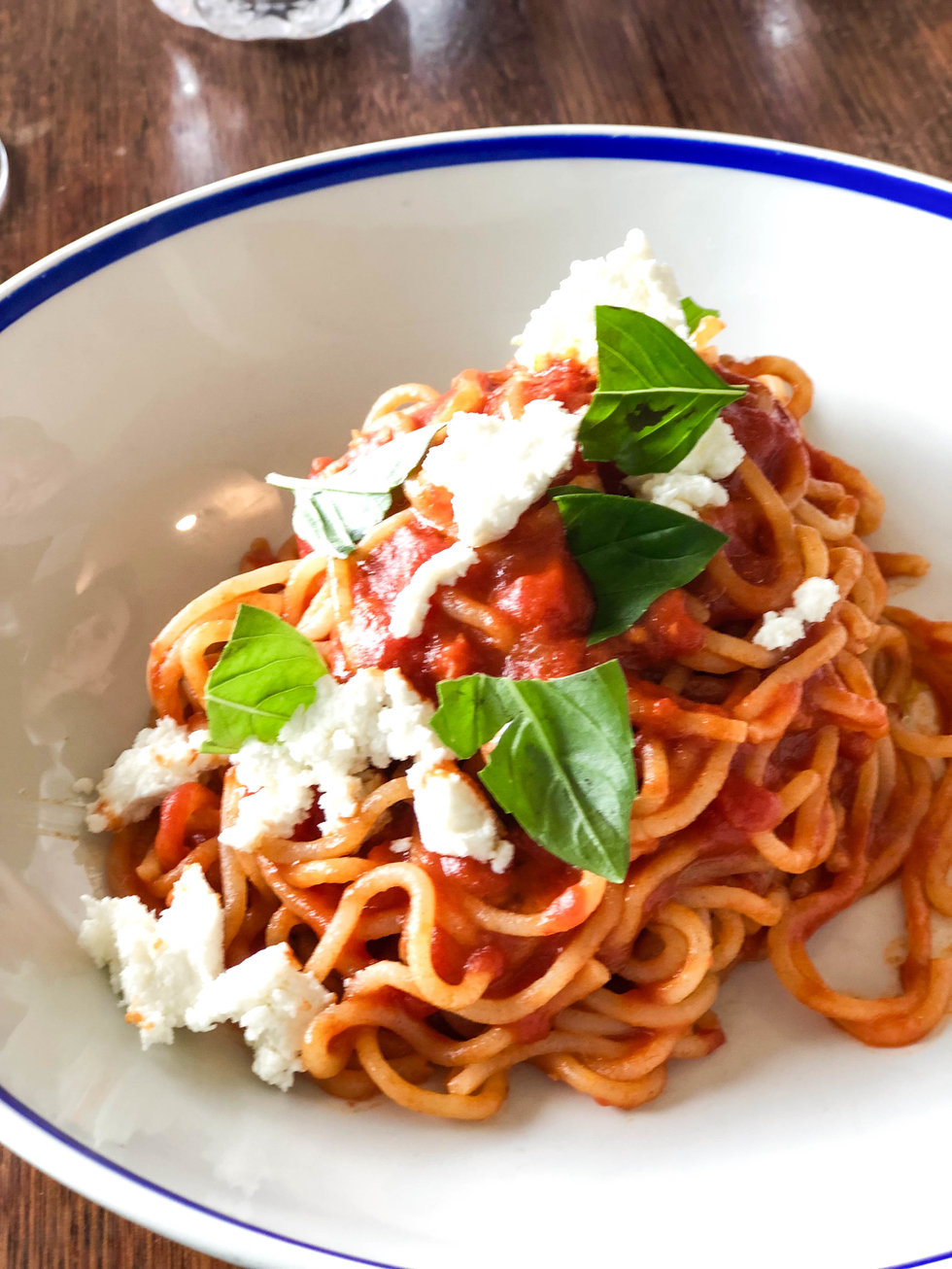 We find that we crave comfort food after a long flight, and there's no better place to enjoy it than Kindred. It's a warm cozy space with pasta and bread made in-house. The lasagna and the burnt butter triangoli can't be beat, and be sure to order a loaf of homemade sourdough with dinner.
Saturday
Wake up early for a full day of exploring the city. Take a short cab or Uber ride to Lorraine's Patisserie – their croissants are warm and buttery and their coffee is strong.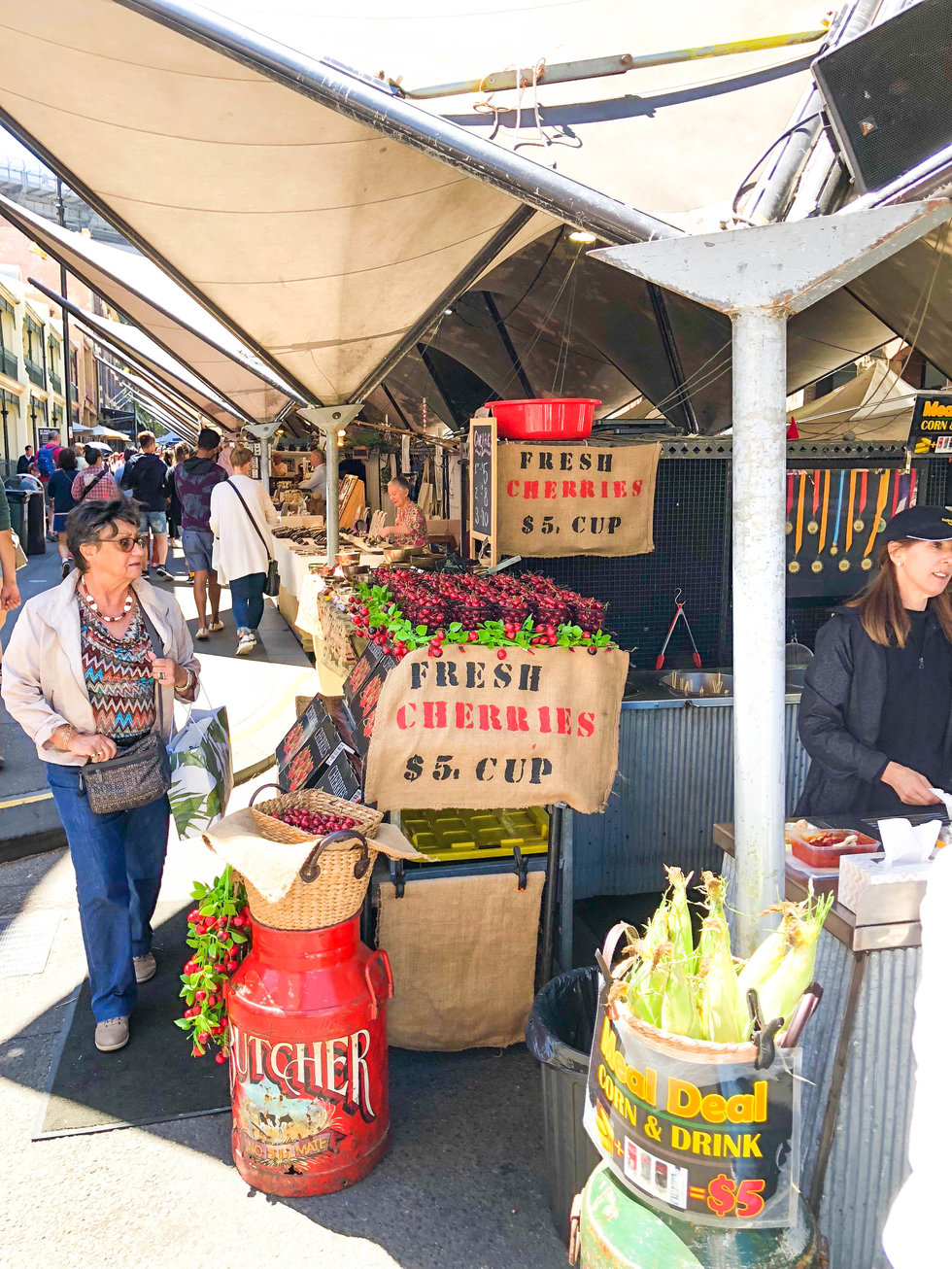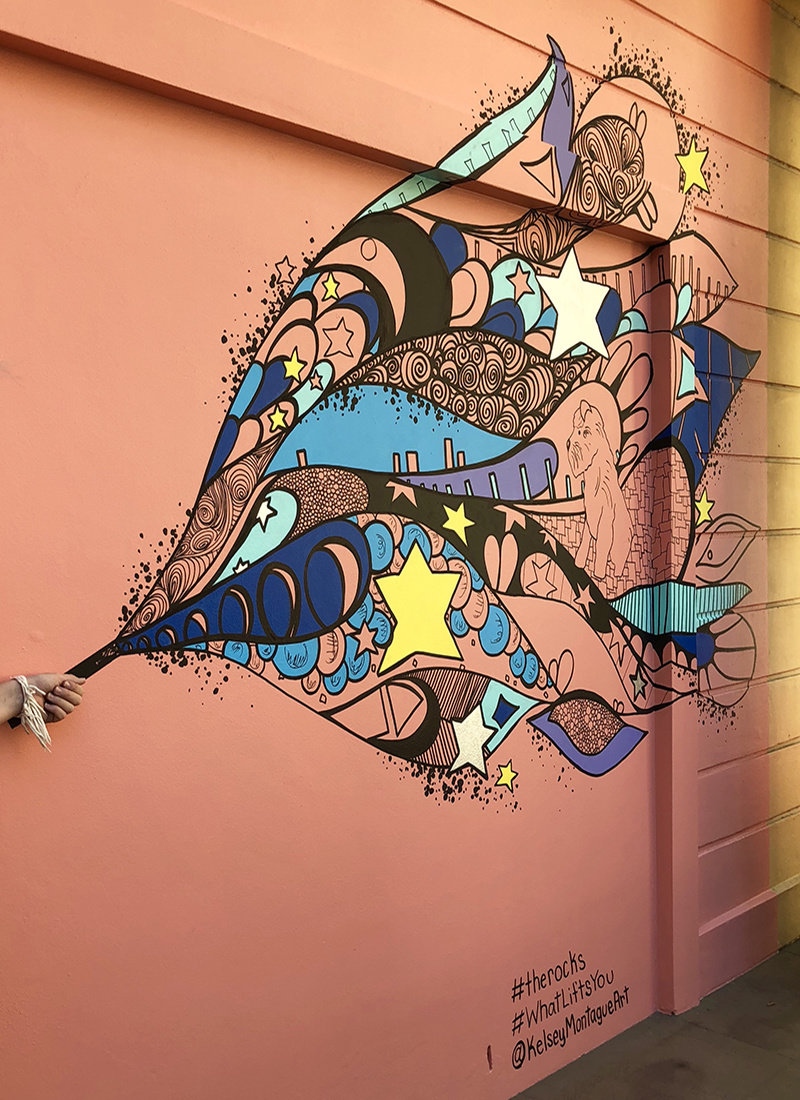 After breakfast, head over to The Rocks Market where they have a stunning array of locally crafted art, jewelry, house ware and beauty products. The homey, cozy cobblestone lanes lead you to some of the best local artisans that Sydney has to offer. Be sure to also take a moment to pose with our Magic Wand street art piece on Atherdan Street.
We recommend The Glenmore Hotel's pub for lunch. This pub, built in 1921, has incredible views of the harbour from their rooftop. Grab one of their Australian Brewery Session IPA's, play a game of pool and end up on the roof with a Glenmore Burger in hand.
Following lunch, grab your swimsuit and take a 30-minute Uber to Bondi Beach – Sydney's most iconic beach. There's more to Bondi than just a beach, beyond is a village full of cafes, restaurants and shops worth exploring.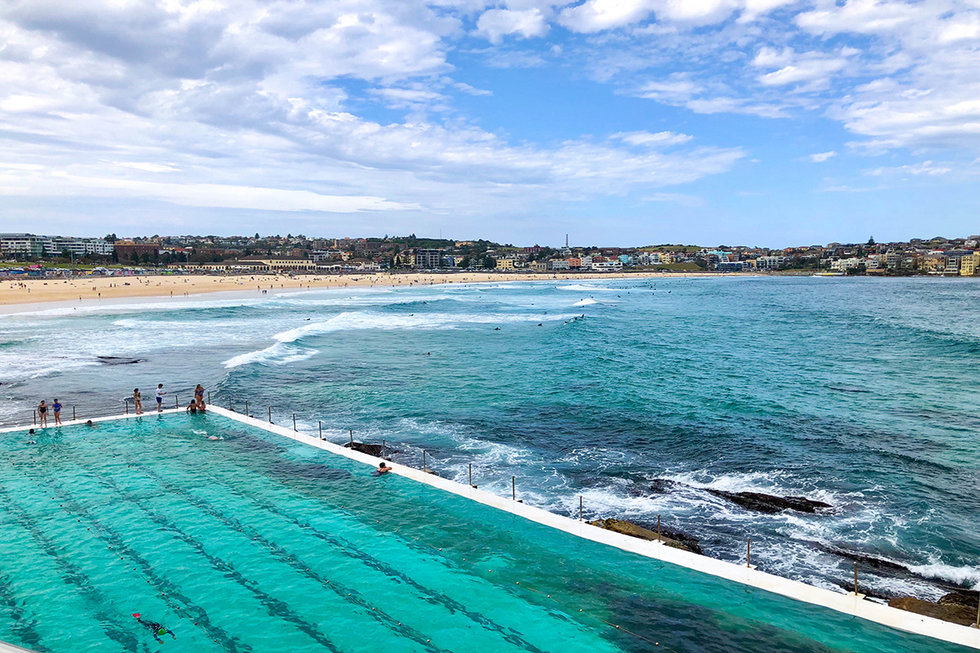 Bring a towel and start off with a cold swim at the Instagram-worthy Icebergs Club swimming pool. When in need of some warmth, lay in the sun on the white sand beach while watching the surfers – you can even take surfing lessons if you'd like.
If you have time, there's a wonderful walk between Bondi and Coogee Beach. This walk takes you along the rocky coast to hidden beaches and swimming holes. It's a beautiful walk that will get your heart pumping.
For dinner walk up the hill to the trendy Bondi Trattoria for great local eats. If you're still awake when you get back to Sydney and looking for a drink, we highly recommend stopping by the Sydney Opera House Bar.
Sunday
Head over to Paramount Coffee Project to grab some caffeine and breakfast. Take a moment to check out the workout schedule for the recreation club on the roof to see if there is a class that interests you.
If you're looking to pet a wallaby or hold a quokka (quite possibly the cutest creature you have ever seen) we highly recommend signing up for the Featherdale Wildlife Park Mammal Encounter. It's about an hour drive from Sydney, but it's definitely worth it.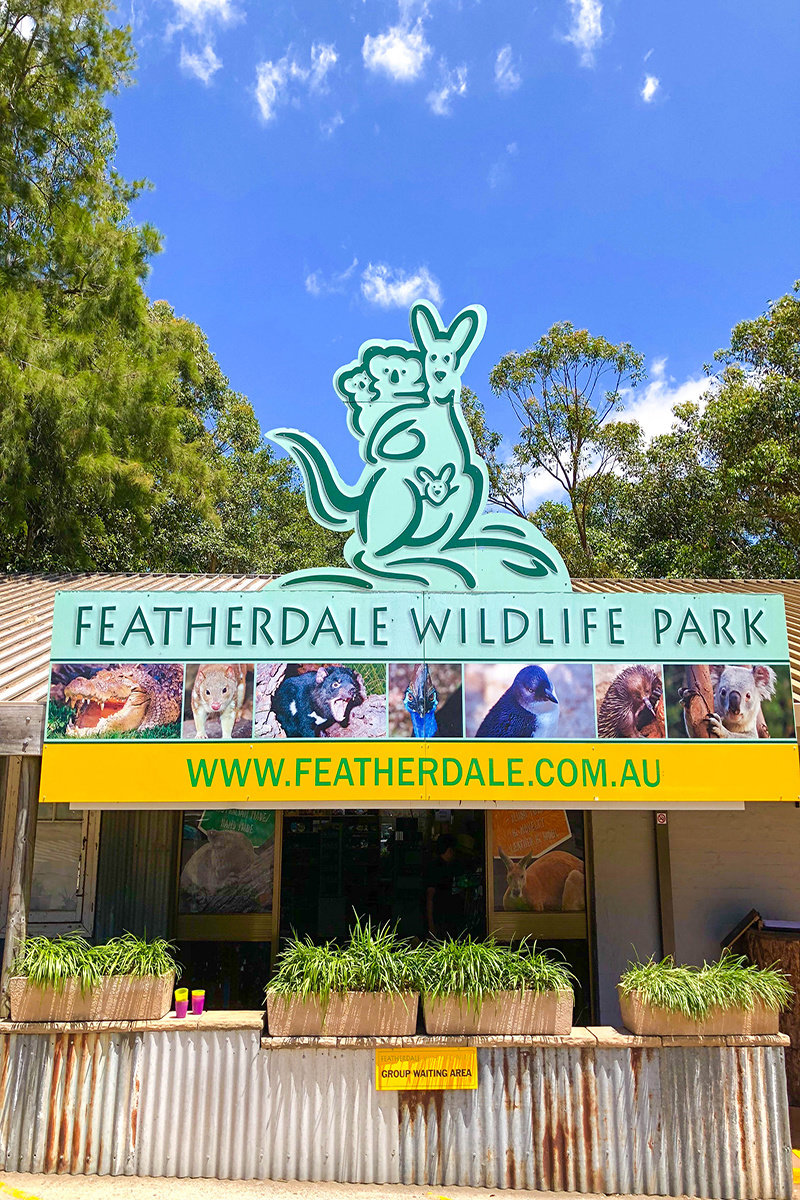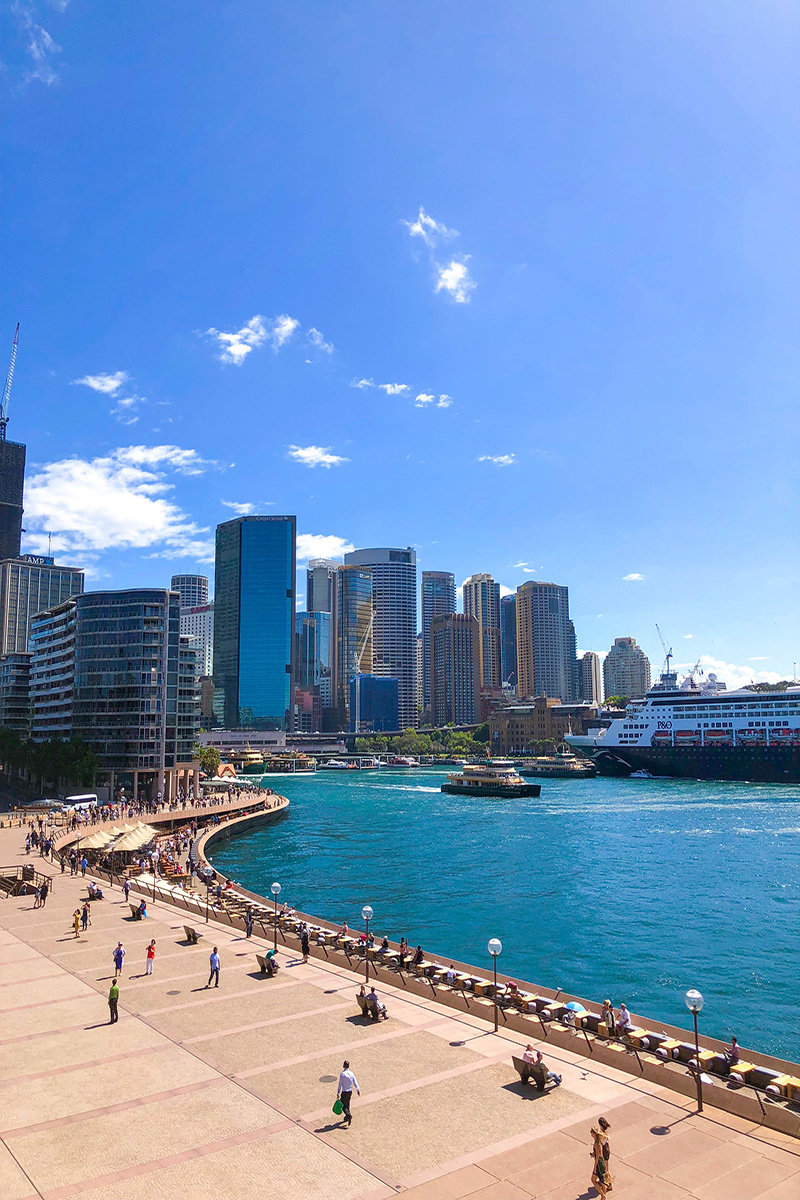 When you get back to Sydney check out Ribs & Burgers on The Rocks for a hearty lunch. In the afternoon, check off two essential experiences by booking an Opera House Tour and, if you're not afraid of heights, the Sydney Harbour Bridge climb. Both offer stunning views and completely unique experiences.

After a somewhat exhausting day we love when we can come back to a hotel and dine there. Park Hyatt offers wonderful dining options, including The Dining Room, which is their signature restaurant. Finish your weekend with stunning harbour views and elegant food.
The reimagined United app: What you need to know
Starting on January 24, customers will be able to access the updated United app. With useful enhancements that provide intuitive assistance every step of the way, the United app still includes the features you know and love. And now, thanks to dynamic messaging, the updated app provides useful information throughout your journey whether at the airport or on the go.
How to install the updated app
If you've enabled automatic updates, the United app will automatically update. Otherwise, you'll need to manually update the app to see the updated version. Once you've updated the app, you'll no longer be able to use the previous version. If your phone is set to auto-update, the app will automatically appear on your device and stay. Otherwise, you'll have the previous mobile experience until you manually update.
Dynamic messaging
The United app will now display the most useful and relevant information throughout your journey. For example, 24 hours before departure, the home screen on the United app will prompt you to check-in. Once checked in, an option to get your boarding pass will populate right on the home screen so you'll no longer need to access it via the boarding pass tab on the current version of the app.
Locating your boarding pass
If you're signed in to your MileagePlus® account, access to your boarding pass will appear on the app's home screen along with other details about the flight. If you're not signed in to a MileagePlus account, you'll need to go to "My Trips" on the bottom navigation bar. (Please note that mobile boarding passes are available for flights departing from all U.S. airports and select international airports.)
Accessing your profile and United Club℠ card
All this information will now be accessible from a "My Profile" section, so you can see everything in one place. You can find the "My Profile" section by selecting the icon of a person in the top right corner.
New options on the navigation bar

The new bottom navigation bar provides quick access to the most popular and helpful features. Find information about upcoming flights under the "My Trips" section that houses important information like your boarding passes and flight details. You'll also find an inbox icon section that stores important and useful information including gate changes, flight status updates and boarding alerts. You can also easily toggle back to your home screen from the bottom navigation bar.
Personal device entertainment
If personal device entertainment is offered on your flight, you'll see a tile titled Inflight Entertainment within the "Just for you" section on the home screen. The "Just for you" section will also give you access to other features such as how you can locate a United Club or how to earn award miles. You can also select "Wi-Fi & entertainment" from the More menu, located at the upper left hand of the app's home screen.
Finding the seat map
You can access the seat map for your flight via Flight Status on the bottom navigation bar or within Trip Details — when you have an upcoming flight there will be an option to view the seat map.
How to add or remove flights from your Flights Status list
Any upcoming flights will be displayed in the Flight Status section of the app. There is no option to remove a flight as the Flight Status section will be automatically update itself two days after your travel is completed.
Changing the image on the home screen
There is no way to change the image on your home screen manually. Instead, the image will update once a day based on the destinations most commonly searched for by our customers.
Porto: Portugal's surprising second city
"Second cities" or those that rank #2 in population often surprise world travelers. And second doesn't mean second-rate. Porto is Portugal's second city — so off-the-radar that many world travelers haven't even heard of it. Yet, Porto and nearby spots in northern Portugal can be delightful destinations even if you don't visit the more well-known city of Lisbon.
Old city by day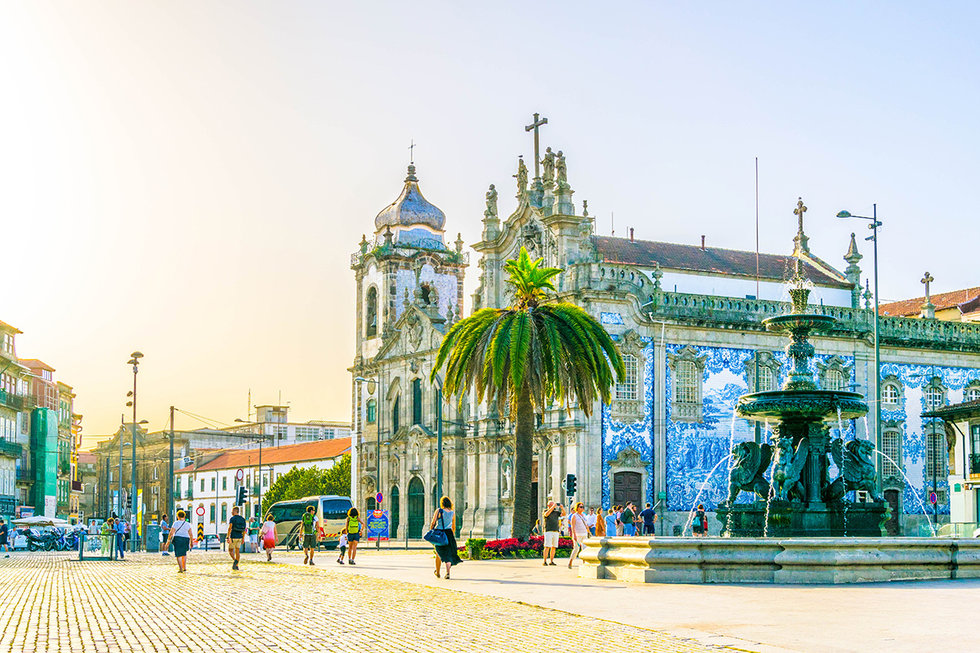 The best place to get oriented, as in most European cities, is in the old city center. Porto's Old City is so well-preserved that it's a UNESCO World Heritage Site. A 12th-century cathedral and the 15th-century Church of St. Francis, notable for interior wood carvings gilded by hundreds of pounds of gold, are mixed in with a rich collection of imposing granite, red-roofed Baroque buildings. Add 225 stairs and a stirring view to your walking tour by ascending the 250-foot-high Clérigos Church bell tower, built in 1754, which dominates the Porto skyline. Historic bridges over the Douro River and Soares dos Reis National Museum, an art museum housed in a palace, are also excellent sites to see.

Food and music by night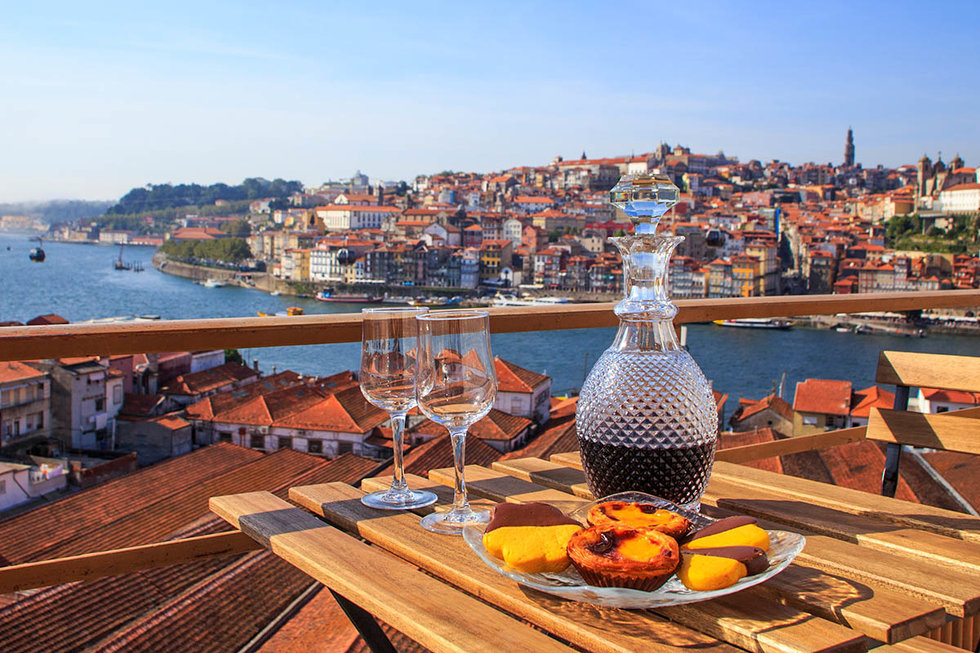 Porto's youthful population has turned it into a lively city after dark. You might start off the evening in the Old City at Abadia do Porto, a 1939 restaurant that serves traditional Portuguese dishes like roasted lamb and grilled octopus, or at Astoria, with its modern Portuguese fare served inside a former palace. Whether you choose a Portuguese, French or fusion restaurant, seafood is likely to be highlighted, drawing on Porto's proximity to the Atlantic and the Douro. Then, you can head to the large collection of bars and nightclubs in the nearby Galerias district, which includes Radio Bar, inside a former court building, and Gare, a disco in a tunnel that stays open until 6 a.m.
Head west to the beaches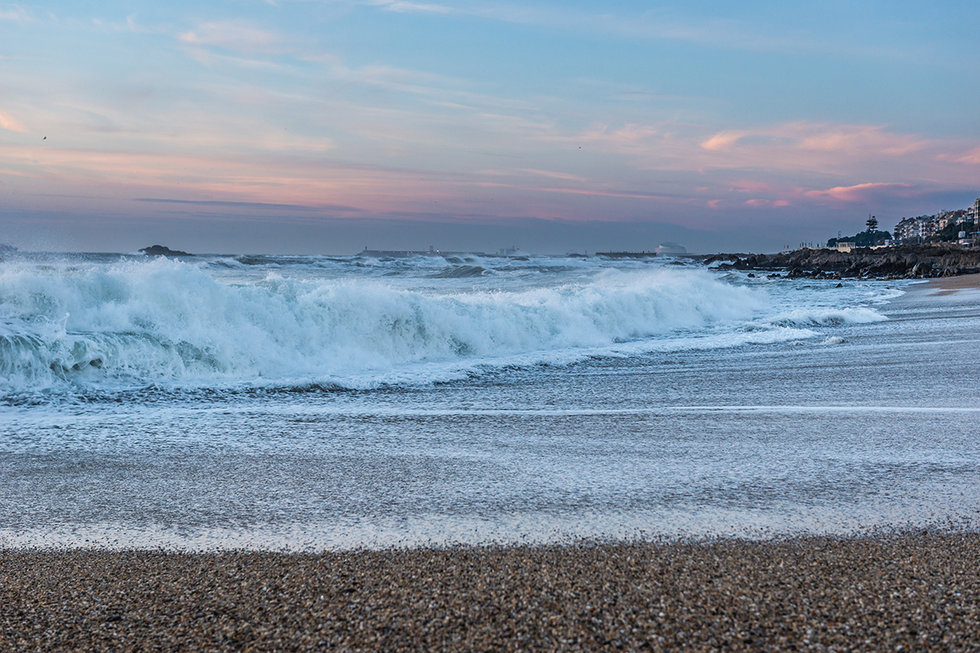 The closest Atlantic beaches to central Porto are at Foz do Douro (mouth of the Douro), just 20 minutes away by city bus. But why settle? In a rental car you can explore Atlantic beaches and beach towns that extend for hundreds of miles along Portugal's coastline. Two of the best are Foz do Minho, the nation's northernmost oceanic beach that's just across the Minho River from Spain, and Quiaios, a dune-fringed paradise of sand south of Porto. Many beaches in northern Portugal are cradled in coves protected by rocky promontories, similar to northern California and Oregon beaches.

Or east to the wine country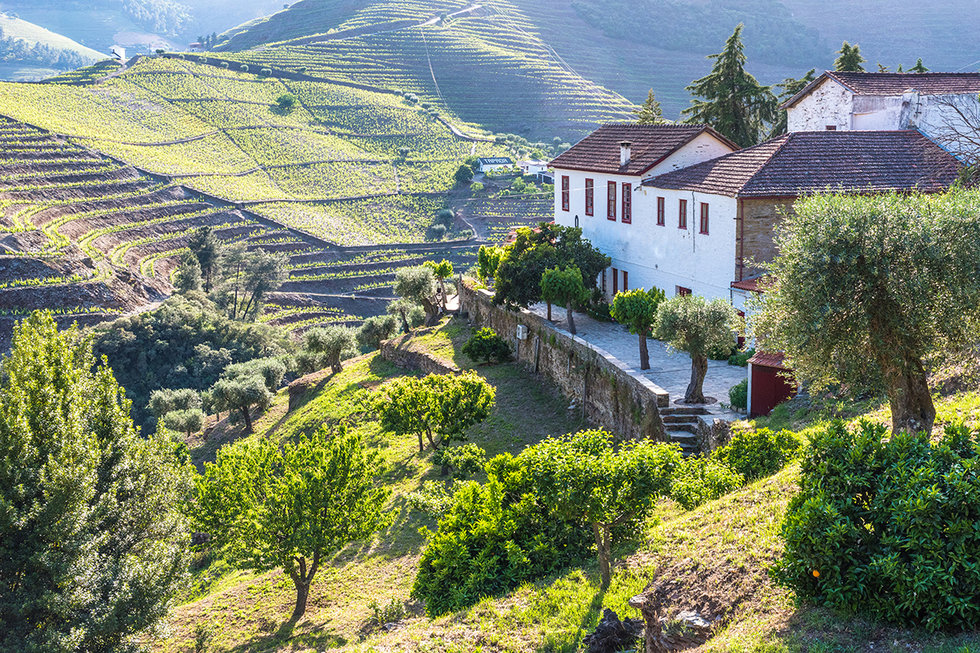 The Douro Valley wine region is another World Heritage Site and one of the world's best and most scenic wine regions. It's up the Douro River from Porto by boat or 90 minutes by road. Namesake port wines and other fortified wines are the region's signature beverages, which can be sampled at tasting rooms on the Douro along N-222, a wine road that's been called the world's most scenic drive. While you're in the area, check out the wine and anthropology museums in the wine towns and yet another World Heritage Site — Coa Valley Archaeological Park — known for its prehistoric rock carvings.
The basics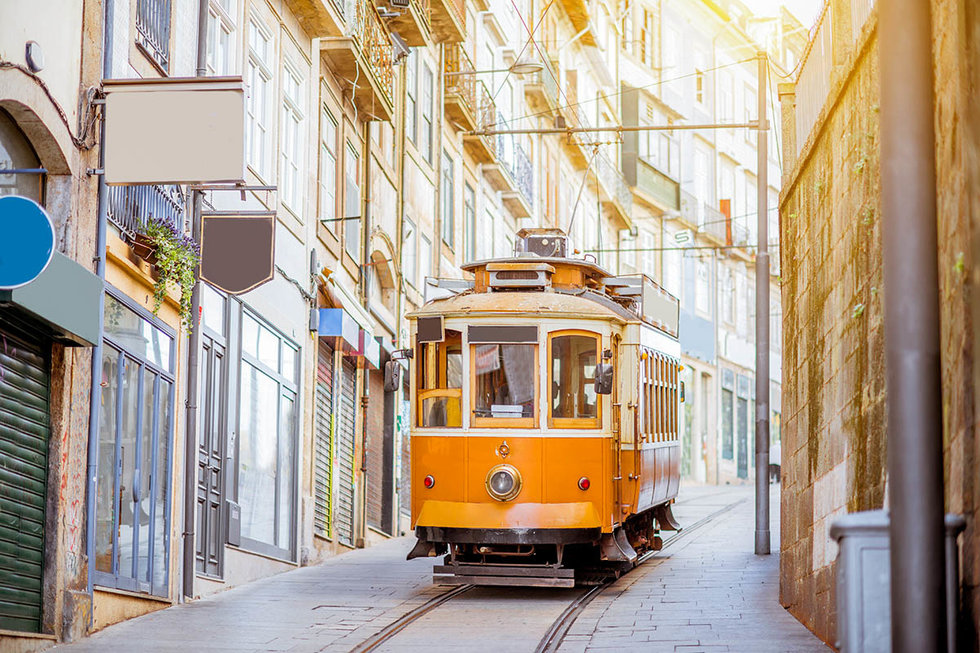 Portugal's Mediterranean climate and coastal breezes bless it with mild weather year round, as the average temperature ranges from 57 degrees (and rain) in January to 78 degrees (and a little rain) in August. Whenever you come, there's no need to learn Portuguese as English is spoken even more widely than elsewhere in Western Europe. Once you arrive, rent a car only if you don't mind ridiculous drivers. The trains are more relaxing — light-rail and subway trains crisscross the Porto area and funicular cable cars climb its steepest hills. There's even a scenic train that follows the Douro nearly to Spain, with a roundtrip fare of only about $30.
Getting there
Portugal requires that visitor passports don't expire until at least three months after the arrival date, so check that. Next, buy some Euros (for a great exchange rate) and reserve a flight. United Airlines flies nonstop from New York/Newark to Porto and MileagePlus® award miles can be redeemed to cover accommodations and Hertz rentals. Go to united.com or use the United app to plan your trip.

United 787-10 Dreamliner launch
Story was contributed by: Jennifer Lake | Photography: Alicia of Aesthetica
It was a typical Monday morning. I'm sitting at my desk at work, drinking coffee, reviewing my to-do list for the week. All around me, heels are clacking through the office and phones ring intermittently. However, this particular Monday morning was different. Ultimately, I would receive an offer from my favorite airline for a collaboration to participate in the United 787-10 Dreamliner launch from Los Angeles LAX to New York/Newark EWR. Read the full story here featured on Style Charade.
Fit for the runway: We begin testing new uniforms
Last year we announced new partnerships with Tracy Reese, Brooks Brothers and Carhartt — best-in-class fashion and apparel designers — to help reimagine uniforms for more than 70,000 of our employees. Focusing on high quality fabrics, improved breathability and overall enhanced fit, our goal is to design and develop a more cohesive collection that looks good, feels good and enables employees to perform at their best on behalf of our customers.
United employees can learn more on the uniform designs by visiting Flying Together.
An insider's guide to Boston
Boston is a pack-it-all-in kind of place. Founded in 1630, one of America's oldest cities does many things well. Boston's many claims to fame include many of America's oldest historic landmarks and one of its oldest ballparks. It's a destination for history buffs, culture vultures, foodies, sports fans, families and more. No matter who your travel companions are or what they're interested in, everyone will find something to pique their interest in Beantown.

Getting there & around town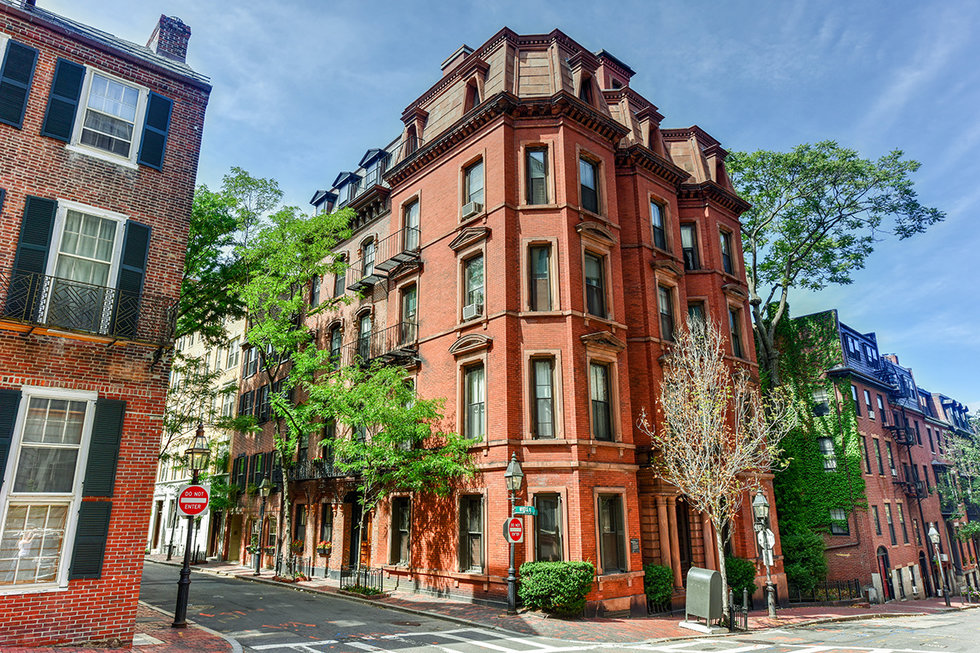 Fly direct to Boston's Logan International Airport (BOS) from many U.S. cities — visit united.com or use the United app to book your flight. Flights are 90 minutes from New York, two hours from Cleveland and five to six hours from California. From Logan International Airport, it's easy to hail a taxi, use ridesharing apps or take public transportation. If you want to take the scenic route, take a water taxi across Boston Harbor directly into downtown.
Downtown Boston is easy to navigate. It's walkable and taxis are plentiful. The MBTA, Boston's public transportation system, offers affordable access to Cambridge, many attractions and the suburbs. Keep in mind it's one of the oldest transportation systems in the country, so expect a few bumps. Because the city is dense, parking can be expensive or hard to find, so avoid driving if you can.
When to visit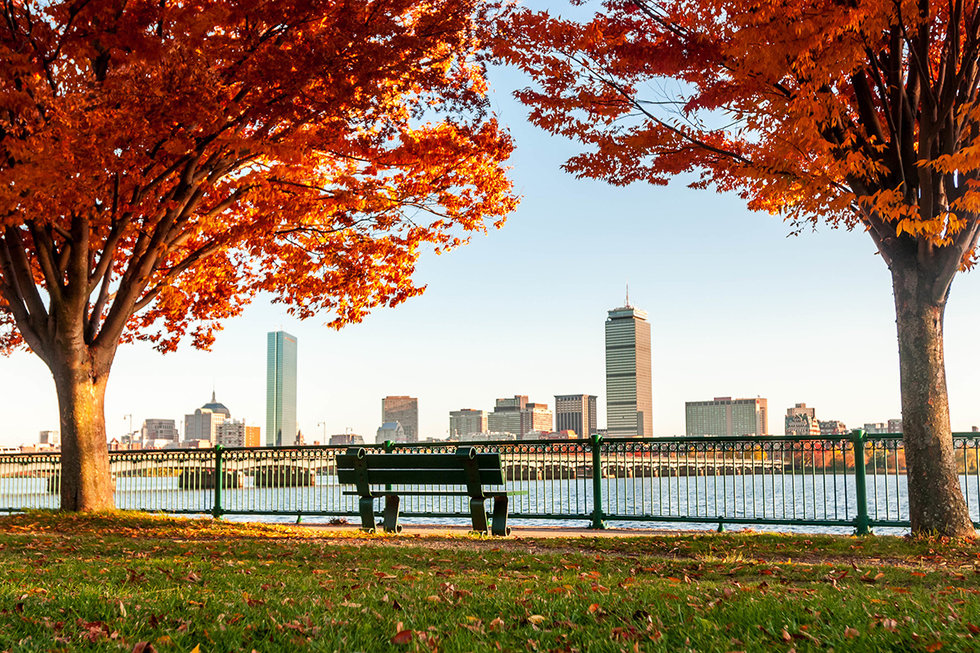 Summer and fall are the most popular seasons to visit. Summer is prime time to enjoy Boston's many parks, outdoor eateries, open-air concerts and baseball games at Fenway Park. Mild fall weather, beautiful autumn foliage and Halloween festivities in nearby Salem, Massachusetts make October one of Boston's busiest months. The city also sees an influx of visitors for the Boston Marathon in April. You'll find smaller crowds and more affordable prices in winter, but brace yourself for the cold.
What to do
There's so much to take in just by walking through Boston's cobblestoned streets. Downtown is quaint, compact and easy to explore by foot. The small city is packed with historic sites, New England's finest food, proud sports fans and friendly locals.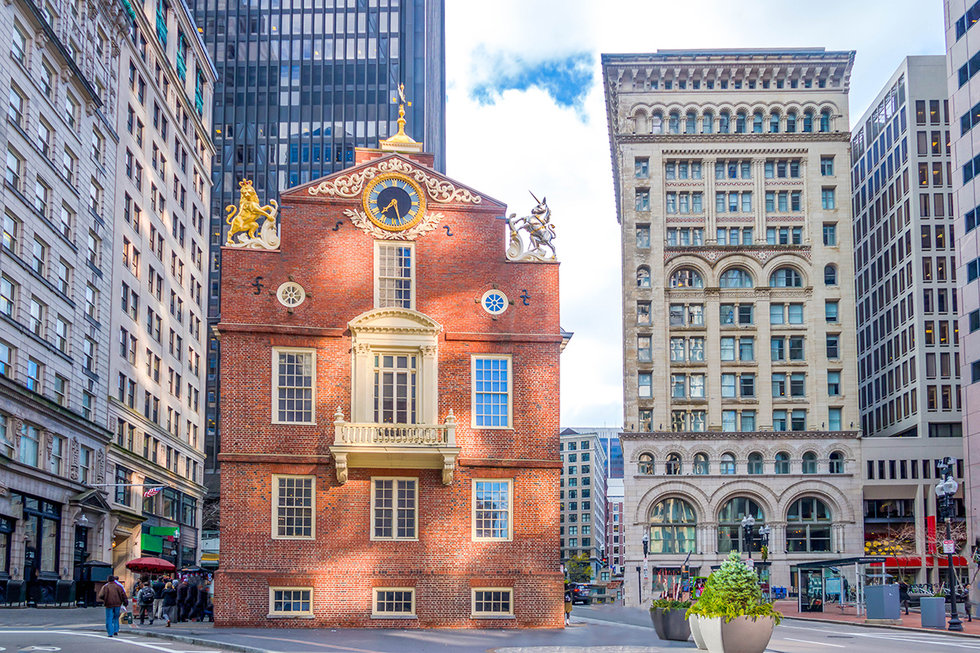 As the birthplace of the American Revolution, Boston's historic sites are an attraction in themselves. Walk the 2.5-mile Freedom Trail to visit 16 of them around the city, including Revolutionary-era museums, churches, buildings and an impressive warship. Faneuil Hall Marketplace is on the trail, too, and is one of Boston's top attractions, with plentiful shopping, dining and live music. Not much of a walker? Boston Duck Tours operate land-and-water historic tours on World War II-inspired vehicles, which transform from truck to boat mid-tour.
Many museums and sites are tucked along Boston Harbor. The waterfront is always bustling with activity year-round. The harborwalk is the perfect place to meander and explore without a strict agenda. Plan to visit a major attraction or two, but leave time to enjoy the scenery or to pop into a café for a coffee and sweet treat (award-winning Flour Bakery + Cafe is a local favorite).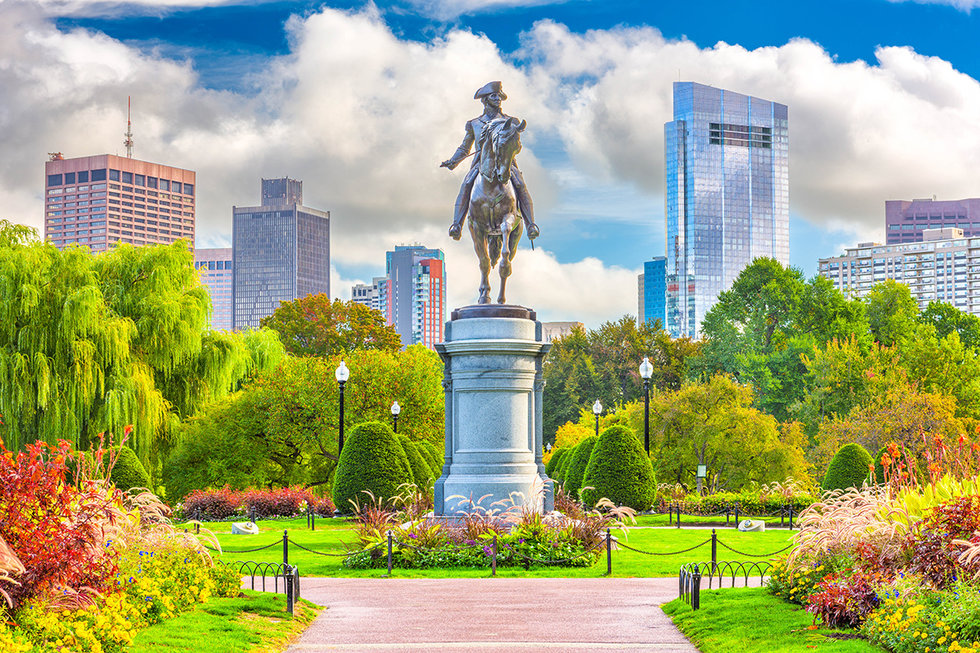 Deemed the "Athens of America," Boston boasts not only some of the country's oldest and most architecturally significant buildings, but also a thriving arts and culture scene. You could spend your entire trip touring its dozens of world-class museums. Take in classical music at the famous Boston Symphony Orchestra, or take a leisurely stroll through Boston Public Garden and Boston Common, the city's most well-known public parks. Riding the giant Swan Boats through the Public Garden lagoon is a kitschy, yet delightful experience, especially for kids.
What to eat
What must you absolutely eat in Boston? In short, everything. Long ago the city was nicknamed Beantown, allegedly after slow-cooked molasses baked beans served to sailors and traders. Today, Boston continues its reputation as a great eating city. From clam chowder to cannoli, the most popular dishes here are often hearty and decadent. Boston is also known for fresh lobster rolls, roast beef sandwiches and, of course, Boston cream pie.
Ask any Bostonian where to find "the best" of anything, and everyone will recommend a different spot. Cannoli from Mike's Pastry, Boston cream pie from Omni Parker House (where it was invented) and the roast beef 1000 sandwich from Cutty's frequently top the must-try lists. If you make it to a ball game at Fenway Park, Fenway Franks are a Boston staple.
Our role in 'Spider-Man™: Far From Home'
In Columbia Pictures upcoming release in association with Marvel Studios, "Spider-Man™: Far From Home," our web-slinging hero finds himself – yep, you guessed it – far from his home in New York City. And since flying is one of the few superpowers Spider-Man doesn't possess, we gave him a little help, meaning United is featured in the film.
The scenes of Peter Parker and his pals traveling to Europe take place on one of our Boeing 777s with the all-new United Polaris® business class, and several of our employees – including members of our Tech Ops, Inflight, Flight Operations and Airport Operations teams – served as actors and production support during shoots at New York/Newark (EWR) and London-Stansted (STN).
London-Heathrow (LHR) Customer Service Representative Manjit Heer and LHR Cargo Warehouse Operations Manager Richard Miller were background extras on board, and multiple flight attendants had a role, including San Francisco (SFO) Flight Attendant Tammy Harris.
"It was extremely surreal," said Tammy. "I was in my element because I was on the plane in uniform, but not really, because I'm not an actor."
Tammy said she hit her mark and delivered her line with gusto, and she's excited to see if she made the final cut when "Spider-Man™: Far From Home" hits worldwide theaters this summer.
"Hopefully, I'll have my two seconds of fame and all will be well," she joked.
Los Angeles (LAX) Aircraft Maintenance Supervisor Fernando Melendez is a veteran of several film shoots but said this one was his favorite. When the production went to London, he was one of five members of LAX Tech Ops who went over to look after our airplane and make adjustments to its interior based on the filmmaker's needs.
"When we parked the plane at Stanstead, there were lights and cameras surrounding us. It was like the plane was the star of the movie," he said. "Each day, we would work with the assistant director; he would go through and say, 'Okay, for this shoot we need these seats, or these panels removed,' so they could get the camera angles. Pretty much, the airplane was our responsibility; we opened it in the morning and closed it at night. We were the first ones there and the last ones to leave every day."
Fernando said the actors were all very gracious and engaging, and said the whole experience was fantastic from start to finish. It also earned him a little cooler cred with his 18-year-old son, who is a massive Marvel fan.
Leading up to the film's premiere this year, there will be plenty of ways for employees and customers to get into the Spidey spirit in anticipation of our cameo. Stay tuned for more details.
---
Peter Parker returns in "Spider-Man™: Far From Home," the next chapter of the Spider-Man™: Homecoming series! Our friendly neighborhood Super Hero decides to join his best friends Ned, MJ, and the rest of the gang on a European vacation. However, Peter's plan to leave super heroics behind for a few weeks are quickly scrapped when he begrudgingly agrees to help Nick Fury uncover the mystery of several elemental creature attacks, creating havoc across the continent!
Directed by Jon Watts, the film is written by Chris McKenna and Erik Sommers based on the Marvel Comic Book by Stan Lee and Steve Ditko. The film is produced by Kevin Feige and Amy Pascal. Louis D'Esposito, Victoria Alonso, Thomas M. Hammel, Eric Hauserman Carroll, Stan Lee, Avi Arad and Matt Tolmach serve as executive producers. The film stars Tom Holland, Samuel L. Jackson, Zendaya, Cobie Smulders, Jon Favreau, JB Smoove, Jacob Batalon, Martin Starr, with Marisa Tomei and Jake Gyllenhaal.
"Spider-Man™: Far From Home" makes its way to North American theaters on July 5, 2019.
What to expect from our improved app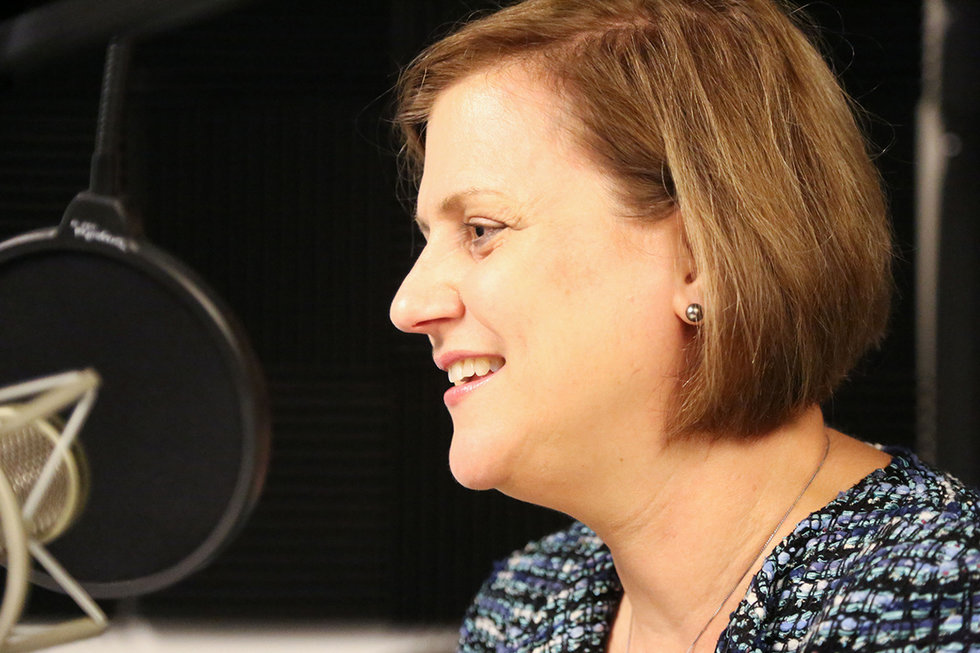 "Talking Points," host Brian Kelly, aka The Points Guy, is joined by Linda Jojo, Executive Vice President for Technology and Chief Digital Officer at United Airlines to discuss what passengers can expect from our improved app.
Read more about the improvements to the United app here.

Scroll to top