Three Perfect Days: São Paulo
Story by Nicholas Derenzo | Photography by Lianne Milton | Hemispheres, September 2017
Some cities are like puppies—friendly and eager to please. Others carry themselves more like cats: cool, with an air of cultured mystery. Rio de Janeiro might fall into the former category, but São Paulo is decidedly feline. With a population of 12 million, the Western Hemisphere's largest metropolis seems impenetrable at first glance, a sea of skyscrapers and commuters in helicopters. But down at street level you'll encounter the real Sampa (as locals call it), a town built by and for immigrants, with a surprising amount of warmth behind those designer duds and business suits. Brimming with internationally ranked restaurants and striking Modernist buildings, São Paulo is buzzing with energy and barreling into the future. What else would you expect from a city that rose from the coffee trade?

In which Nicholas awakes in an architectural landmark, strolls through a modernist park, and sips cachaça at a sumo bar
It's my first morning in São Paulo, and I've woken up inside the seed of a watermelon. Sort of. I'm at Hotel Unique, which is shaped like a giant slice of the fruit, clad in oxidized copper and peppered with porthole windows. The building is the work of architect Ruy Ohtake, whose mother was the great sculptor Tomie Ohtake. The wall of my suite is curved like a half-pipe. Maybe I should have packed a skateboard—and learned how to skate.
It's a short stroll from here to Parque Ibirapuera, opened in 1954 to mark the city's 400th anniversary. Brazil's most famous architect, Oscar Niemeyer, envisioned it as a Modernist take on Central Park, dotted with his stark but sinuous concrete museums and pavilions. Pathways zip with more in-line skaters than I've ever seen in one place, many of them slurping water out of drilled coconuts, as if they'd received a memo to look more Brazilian. I buy one too.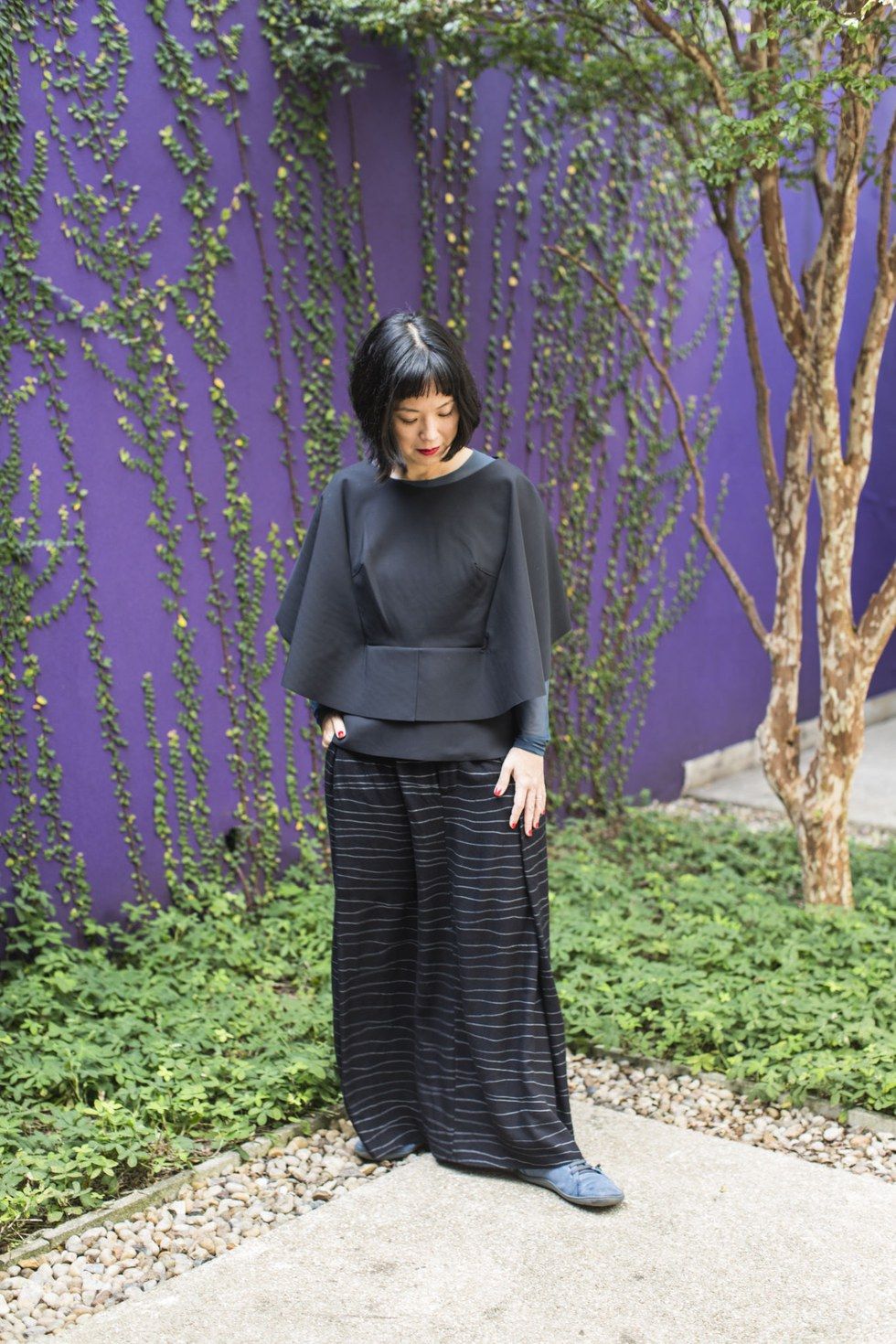 Fernanda Yamamoto, fashion designer
Niemeyer, who died in 2012 at the age of 104, is 20th-century Brazil. I duck into the lobby of his wedge-shaped Auditório Ibirapuera, which contains a red Tomie Ohtake sculpture that tornadoes around the room. Outside, another piece by Niemeyer bursts out the front door like a big red tongue blowing a raspberry at the neighboring Oca pavilion, also by Niemeyer, which is shaped like a partly buried Wiffle Ball, with organically curvilinear ramps and stairways cutting through its cavernous interiors. There's something vaguely alien about the landscape here, a feeling that is heightened by the sound of little kids flinging pebbles at a metal wall in the Museu de Arte Moderna de São Paulo sculpture garden—a pew pew pew straight out of Star Wars.
São Paulo is home to the biggest Japanese community outside Japan—about 665,000 people at last count. Their forebears streamed in at the start of the 20th century to fill coffee plantation jobs left empty after the abolition of slavery. To learn more about Japanese-Brazilian culture, I'm off to meet fashion designer Fernanda Yamamoto at the sushi bar Kinoshita in quiet Vila Nova Conceição.
Yamamoto runs her tiny namesake atelier in hip Vila Madalena, selling only items she and her staff make onsite. "The Brazilian stereotype is very sexy with lots of prints, but I don't think Brazilian identity has to be like that," she says. "São Paulo is a city created by immigrants, so I think our fashion should reflect that." She draws on folk elements—such as Renaissance lace from the northeastern state of Paraíba—and blends them with the minimalism of her favorite Japanese designers. Her upcoming collection is inspired by Yuba, a self-sustaining utopia near São Paulo founded by a Japanese socialist in 1935, where residents split time between farming and learning an artform, such as ballet or classical music.
"São Paulo is a world metropolis; it's not an easy city. You have to understand how it works—all these different ways of doing things—and then it's great." —Fernanda Yamamoto
Our lavish omakase tasting menu starts to arrive. "Japanese cuisine is very delicate, but that's not the taste of Brazilians," Yamamoto says, "so everything gets spicier, bolder, more flavorful." Courses here include octopus in a vibrant shiso pesto, salmon sashimi with truffles, and seared Wagyu with spicy Japanese mustard.
We cab across town to Japan House, a cultural center opened this spring. Renowned Japanese architect Kengo Kuma's airy pavilion combines hinoki (cypress) slats with hollow cobogó bricks, a hallmark of Brazilian Modernism. Niemeyer—one of the designers of the United Nations headquarters in Manhattan—would have appreciated the cross-cultural inventiveness here. Appropriately, his image looks on from the side of a neighboring high-rise, in the form of a stories-tall portrait by São Paulo street artist Eduardo Kobra.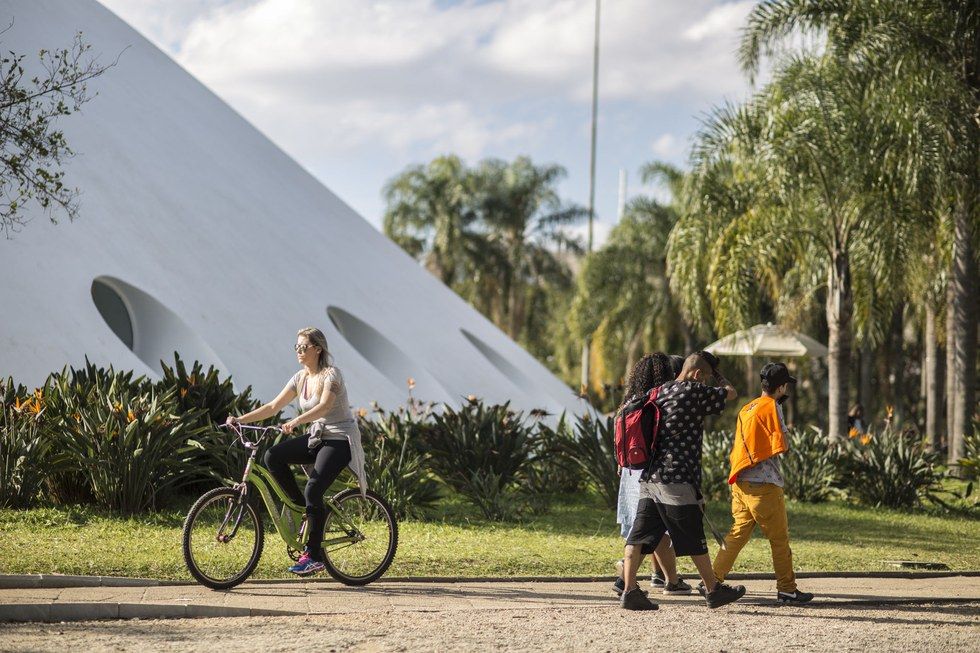 Oscar Niemeyer's Oca pavilion in Parque Ibirapuera
From here, we're off to Liberdade, the city's historic Japanese heart, its tight alleys lined withnoodle houses and parks with koi ponds. Yamamoto points out Casa Bueno, a traditional market where her grandparents pick up hard-to-find ingredients, and Livraria Sol, a Japanese bookshop opened in 1949. "Some things got stuck in time; some things didn't survive," she says as we stroll under the lantern-like street lamps. "There is a lot that is still authentic, but it may not be here in a few years."
I say goodbye to Yamamoto and duck into Bar Kintaro, an unfussy izakaya (Japanese pub) run by two sumo wrestlers, for an ice-cold Weber Haus cachaça. It's a spirit that often gets hidden behind other flavors in drinks like caipirinhas, but here I can taste the crisp sweetness of the sugarcane. I offer my credit card to pay, and the sumo clan matriarch behind the counter points silently, with a smirk, to a handwritten sign behind the bar that lists various house rules in Portuguese: "We don't take cards" … "We don't have sushi" … "We don't have wi-fi" … "Don't cry!" Cash it is.
Dinner is across town in the posh Jardim Paulistano district. I'm eating at Maní, where the kitchen is helmed by Helena Rizzo, a former model who was named the 2014 Veuve Clicquot World's Best Female Chef. As I sit, a waitress brings out a comically enormous sack of bread, which includes hubcap-size biscoitos de polvilho (tapioca-starch biscuits), and a glass of Cave Geisse sparkling wine from southern Brazil. I go for the tasting menu: ceviche made with caju, the fruit of the cashew nut tree; crayfish with cacao nibs; mullet wrapped in a taioba (elephant ear) leaf with jackfruit, yogurt, and shaved Brazil nuts; and charcoal-grilled banana with manioc flour and edamame in a fish and tomato stock. Rizzo comes out of the kitchen, and I ask her what she calls this type of cooking—Modern Brazilian? "Things that I like," she says with a smile. "No—things that I love."

In which Nicholas picks through the central market, hunts for the city's famed street art, and eats some of the world's best beef
In this progress-obsessed city, it's rewarding to find a few spots where you can still commune with the past. Though it only opened in 2003, the Hotel Fasano—which occupies a brick tower in the fashionable Jardins district—calls to mind a 1930s gentleman's club, complete with rich mahogany details and low-slung, warm brown leather chairs. A flame crackles in the lobby fireplace, and its scent permeates the property. That retro sophistication isn't entirely coincidental: The Fasano family of restaurateurs has dominated the city's hospitality scene for four generations, since patriarch Vittorio immigrated here from Milan in 1902 and opened his first brasserie.
For breakfast, I'm heading somewhere with a similarly long backstory. I take a taxi into the city's historic heart, Centro, to the 1933 Mercado Municipal de São Paulo, or Mercadão ("Big Market"), which is filled with stacks of bacalhau (dried cod) and heaps of tropical fruit. The vaulted hall is bookended by stained-glass windows depicting idyllic agricultural scenes; the artist also did the windows at the nearby neo-Gothic cathedral. The market's star attraction is a jaw-unhinging mortadella sandwich—as much a symbol of São Paulo as the cheesesteak is of Philadelphia—which I order with an açaí smoothie and a coxinha de frango, or drumstick-shaped chicken croquette.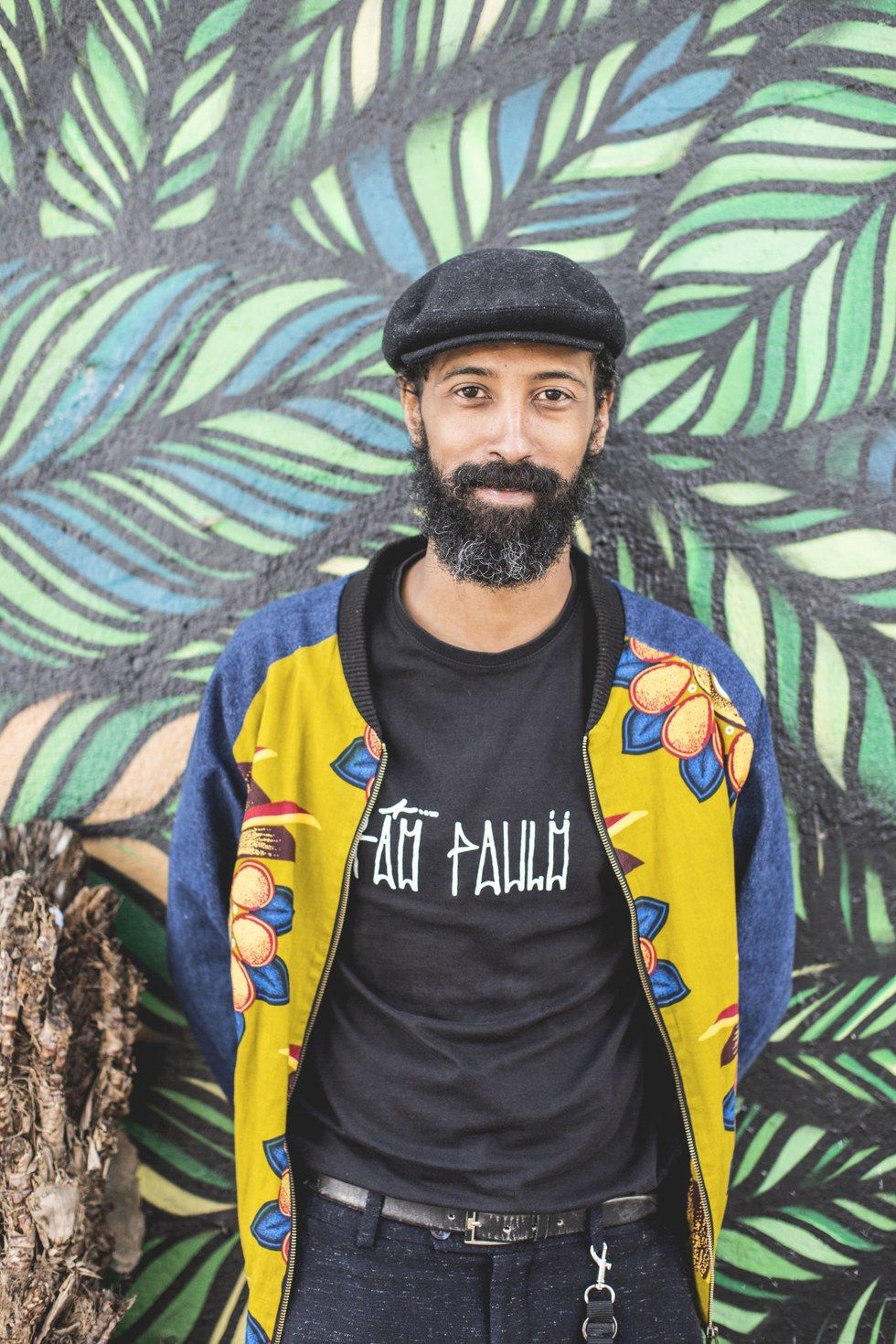 Thiago, ritual street artist
From the moment I arrive, it's clear that São Paulo is one of the world's great street art capitals, with murals covering surfaces in districts rich and poor. To learn about the scene, I've arranged to meet street artist and gallerist Thiago Ritual, who offers walking tours through his company, Streets of São Paulo.
"There are three generations of art on this one corner, but a lot of people don't see it that way," he says, standing on the steps of Centro's Theatro Municipal. In addition to a mid-century mural by Italian-born painter Bramante Buffoni and a minimalist contemporary work by São Paulo artist Herbert Baglione, there's a building covered with words in a chicken-scratchy font. To be honest, I tell him, I probably would have ignored these seemingly dashed-off runes.
"These are pixos," Ritual says, referring to a Brazilian tagging style that emerged in the late '70s, "and our graffiti is born from them. Before there was graffiti, there were political pixos. People took this pointy typography from the covers of Dead Kennedys and other punk and heavy metal albums. Similar to the buildings here, the letters go high." Nowadays, teenagers risk their lives using ropes and pulleys to tag entire buildings.
As we walk, Ritual points out works by international artists and local legends like Os Gêmeos, twin brothers whose monumental cartoon figures can now be seen around the globe. But these works, and others like them, are under threat. As part of an urban beautification drive, Mayor João Doria—the former host of the Brazilian version of The Apprentice—is covering murals with gray paint. "People call São Paulo 'the gray city' or 'the concrete jungle,'" says Ritual, "but murals have always broken up the gray. Now they have actually started painting the city gray."
"I like how chaotic São Paulo is. It can be stressful, happy, slow, creative. When I'm abroad, I miss the disorganization." —Thiago
We head north on the (impeccably clean) subway to the Carandiru stop, the site of an old jail that was shuttered after a 1992 riot and demolished a decade later. Today, the elevated train tracks here run above an open-air street art museum containing works from some of the city's biggest names. I'm drawn to a piece by the artist Cranio: Amazonian tribesmen with red face paint operating a spacecraft and talking on smartphones. "My brother went to the Amazon," says Ritual, "and said, 'Yes, they're painted, but they're also driving Land Rovers!'"
He asks me where I'm planning to eat while in town, and I rattle off a few fine-dining spots. Ritual frowns, then leads me back into Centro, to the 24-hour Estadão Bar e Lanches, which opened in 1968 and took its name from the newspaper that used to have its offices next door. He orders me a frothy pineapple-mint juice and a roast pork sandwich on crusty bread. "You see the richest people and the poorest people all eating together at this bar," he says. "It's democratic."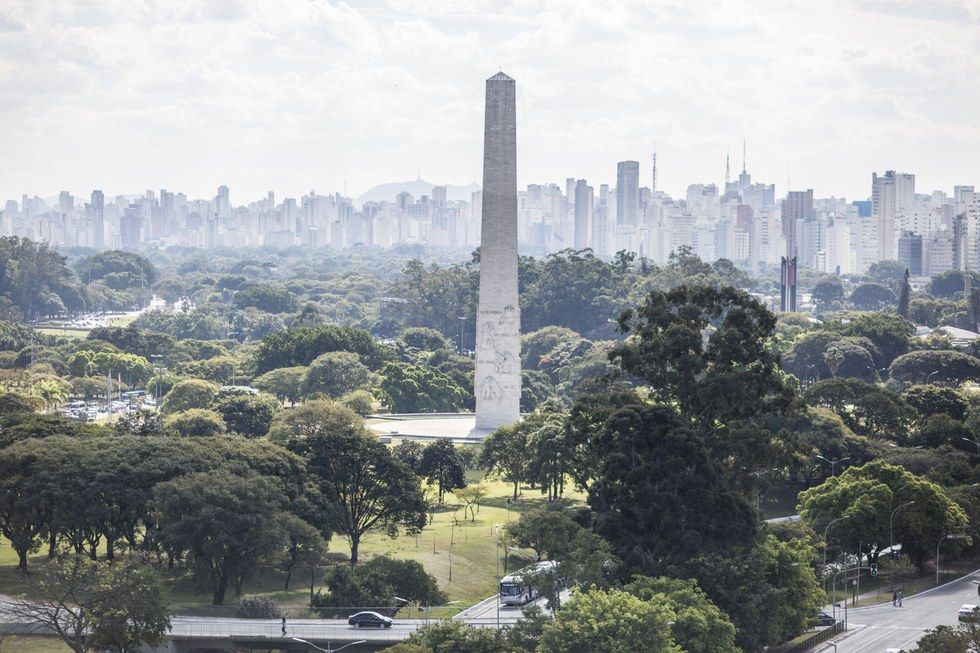 An obelisk in Parque Ibirapuera
From here, I head down thrumming Avenida Paulista, which was once lined with the grand mansions of coffee barons. These days, most have been razed, replaced by sleek Modernist high-rises. My destination is the Museu de Arte de São Paulo (MASP), Italian architect Lina Bo Bardi's 1968 masterwork—instantly recognizable for the crimson beams that prop it up like a boxy armadillo on squat legs. The museum recently reintroduced Bo Bardi's radical original curatorial concept: Instead of hanging on walls, paintings are placed on glass easels anchored by concrete blocks, which stand at attention in a meandering chronological path. Works by Brazilian artists include one of Antonio Henrique Amaral's subversive "banana" paintings, which depict the fruit bruised and entangled in ropes to symbolize life under a military dictatorship.
Next I walk through downtown, gawking up at Modernist landmarks like Niemeyer's undulating Edifício Copan. I stop at Galeria Metrópole, an open-air 1960 mall that has reemerged as something of a creative hub thanks to tenants like the club Mandíbula and the Tapera Taperá bookshop. The new kid on the block is the Metropol bar, where co-owner Pedro Mozart offers me a local Tito Bier Marx IPA. "It's a red beer," he deadpans. Bars like this one are part of an ongoing revitalization project. "People didn't used to come downtown, because they thought it was dangerous," he says. "But a lot is happening here. Downtown is the pulsing heart of the city."
If you know anything about Brazilian cuisine, you know that beef is king, served in criminally massive portions at churrascarias. Tonight, I'm skipping the classic spots in favor of Açougue Central, a steakhouse opened last year by Alex Atala, whose nearby D.O.M. has reached as high as No. 4 on the World's 50 Best Restaurants list.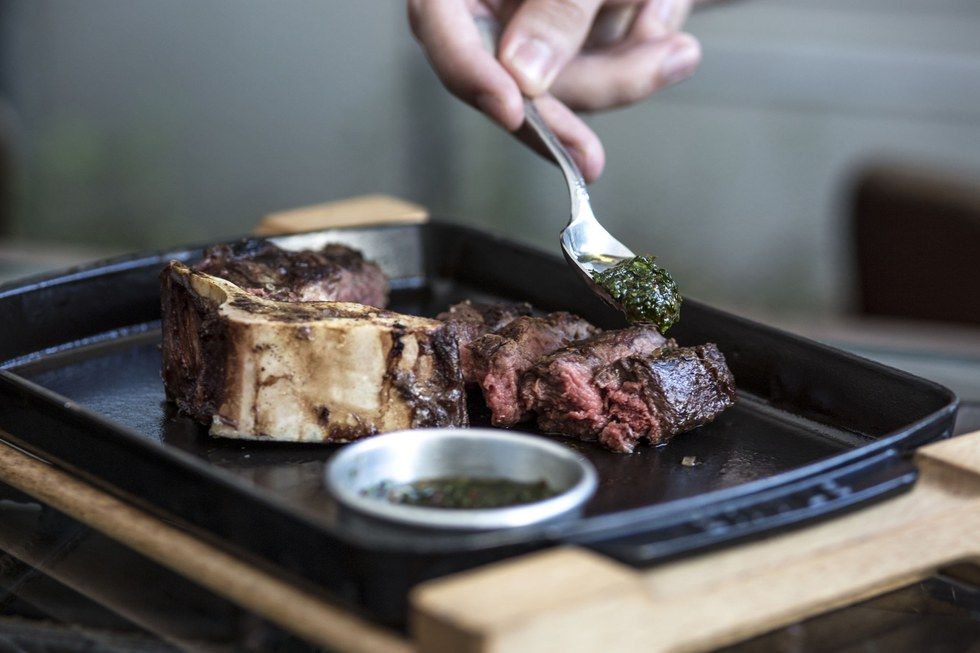 Açougue Central's sete de paleta steak
In a way, this place is an anti-churrascaria, with Argentine chef Alejandro Peyrou downplaying the "noble" cuts in favor of humbler ones, such as brisket and sete de paleta, named for its 7-shaped bone. Each week, the restaurant orders a half-carcass, and Peyrou works his magic: frying croquettes in rendered fat, grinding meat into garlicky linguiça, and halving bones for marrow-slicked tartare.
"This is the best meat in the world," Peyrou says of his beef (which he gets from Beef Passion, the country's most sustainable cattle farm), "and I'm from Argentina." I have to agree, but surprisingly, some of the real standout dishes are vegetarian, including roasted pupunha (a type of heart of palm) and a mushroom carpaccio.
Happy and full, I make my way back toward my bed at the Hotel Fasano. Before heading upstairs, I stop in for a nightcap caipirinha at the hotel's cozy Baretto lounge, lulled closer to sleep by the bar band's lilting bossa nova.

In which Nicholas meets some monkeys by a hotel pool, hikes through the jungle, and digs into an epic tasting-menu dinner inspired by the city
Morning begins early, with an up-close look at one of the city's most famous features: rush-hour traffic. Unlike many of the city's wealthier residents, I don't have a helicopter to whisk me over the ruckus.
I'm dropping my bags off at the Oetker Collection's new Palácio Tangará, which opened this spring in the ritzy Morumbi district, tucked among the trees of Parque Burle Marx. Inside, the designers have turned the "gray city" idea on its head with a chic charcoal palette accentuated with moody black-and-white photographs. As it happens, the tufted sagui monkeys that hang out by the pool fit the color scheme. Before heading out, I visit the breakfast buffet for sweet guava paste and highly addictive pão de queijo, the country's beloved cheesy bread puffs—plus, of course, a cup of the famously strong Brazilian coffee.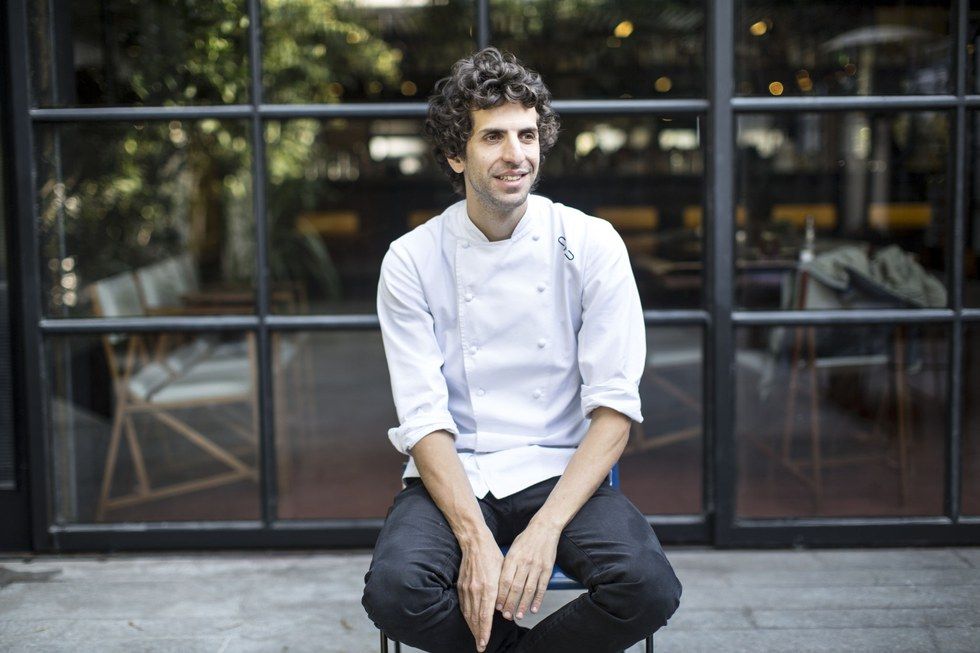 Ivan Ralston, chef
If you drive beyond the reaches of São Paulo's urban sprawl in any direction, you'll eventually hit the Atlantic rainforest ecosystem. Accordingly, I've planned a hike with Tours by Locals guide Denis Gonçalves. He picks me up at the hotel and drives us about an hour north to Parque Estadual da Cantareira, the world's biggest metropolitan forest at 20,000 acres, home to jaguars and howler monkeys and toucans—all within the city limits.
As we get out of the car, I notice how surprisingly crisp it feels in the shade of the trees. I had expected a sauna. "It's always fresher out here," Gonçalves says. "It's the lungs of the city." We wander past bromeliads and tiny orchids, anaconda-thick vines clinging to trunks, and varieties of fern that have been around since the dinosaur days. "This is a little bit different from Avenida Paulista," he jokes, "but it's still São Paulo."
"I can't tell you another city that has this many cultures mixing. In New York, you go to a different neighborhood and it still feels like the same place. In São Paulo, you go to a different neighborhood and it's a different city."—Ivan Ralston
Further in, Gonçalves points out guavas and bananas, açai berries and fat avocados, coffee trees and white ginger root. This is the guy, I think, you'd want with you on a desert island. Easier to spot are the area's many waterfalls. "Brazilians love to shower in these," says Gonçalves. "They think they wash away bad energy. And I think it's true. You feel different." We skitter across some slippery rocks and dunk our faces in a cascade. I don't know about bad energy, but it certainly feels refreshing.
"Now," my guide says, "back to the concrete jungle."
Hungry from the hike, I ask Gonçalves to drop me off at the Mercado Municipal de Pinheiros food hall, in the revitalized Pinheiros neighborhood. I grab lunch at Café Mocotó, the downtown outpost of a no-frills restaurant on the outskirts of the city. The original spot earned a cult following for its dadinhos de tapioca—fried cubes of tapioca flour and cheese, served with sweet chili sauce—which I order alongside a completo platter brimming with rice, black-eyed peas, linguiça, air-dried beef, and cheese curds. It's simple but exceptionally tasty.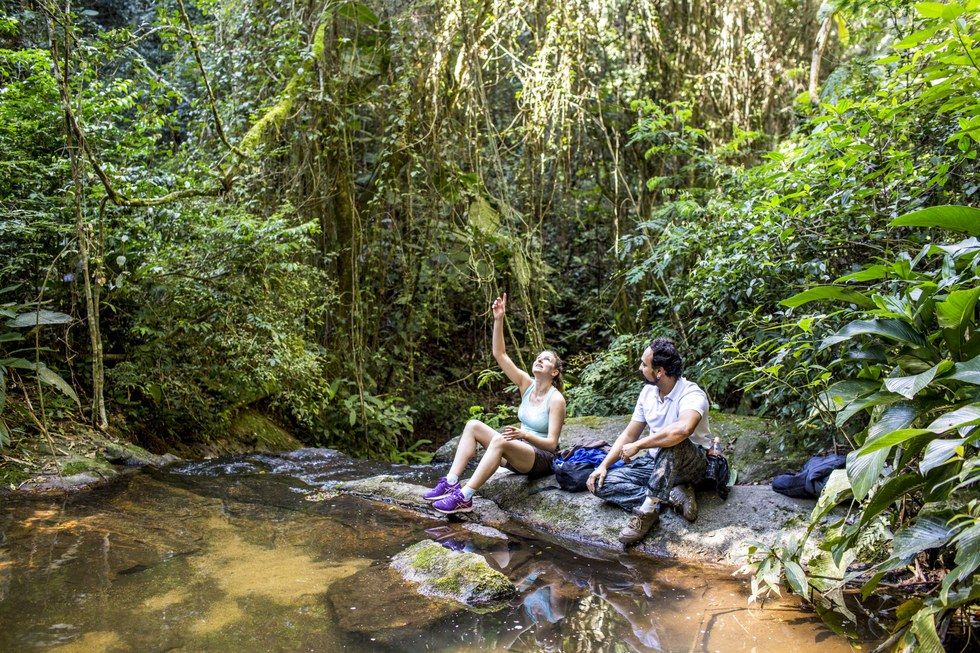 Gonçalves in the Parque Estadual da Cantareira
What sets this food hall apart is that D.O.M. chef Alex Atala has opened a market within a market, with kiosks dedicated to five
Brazilian biomes, including the Cerrado (tropical savanna) and Pampas (fertile grasslands). His team has personally stocked the Amazonian section, where I pick up jelly made from jambu, a leaf that leaves your mouth buzzing as if it's been electrically charged. At the Caatinga (a semiarid scrub forest in northeast Brazil) stand, I munch on licuri, tiny coconutlike palm kernels that crunch in your mouth like roasted hazelnuts.
Inspired by these obscure ingredients, I'm off to Vila Madalena, a hilly landscape of artisanal shops and vibrant street art, to meet one of the city's most inventive chefs, Ivan Ralston. A graduate of the Berklee College of Music in Boston, where he studied electric bass, the Vila Madalena native (who looks as though he could be a member of the Strokes) opened Tuju three years ago and quickly earned a Michelin star.
Ralston has agreed to show me around his neighborhood, which still has a village feel despite its trendy reputation. We pass a few of his suppliers: A Queijaria, the shop where he buys pungent Brazilian raw milk cheeses; Kimi Nii, a Japanese ceramics studio that provides Tuju with its colorful flatware; and Coffee Lab, which stocks beans from Brazilian micro-lot planters. Next, we stroll along Beco do Batman, a narrow alley with perhaps the city's highest concentration of street art—all of which started with a sketch of the Caped Crusader in the 1980s.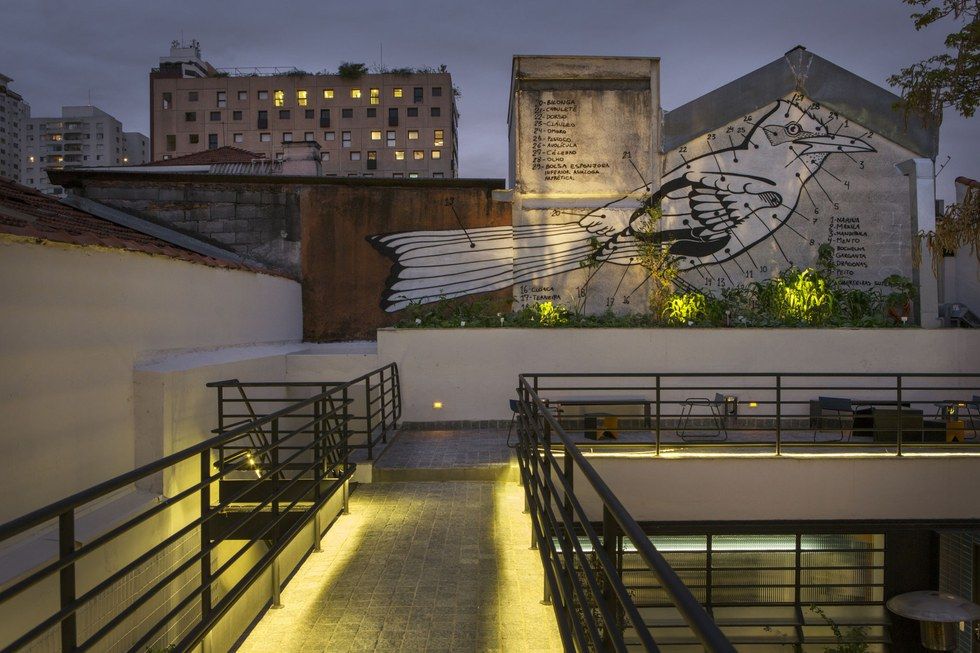 "When I was a kid, it was just houses here," Ralston says. "But São Paulo needed a Brooklyn. And now, like Brooklyn, it's getting expensive. It's a little bit my fault, because I brought in high gastronomy!"
With that, we head to his restaurant for a meal that's as bold and freewheeling as the surroundings. The 12-course tasting menu is a lesson in obscure Brazilian ingredients. Honey from the native, non-stinging Plebeia emerina bee tops a turnip salad. Vinegar made from jabuticaba fruit adds zip to a wild porcini mushroom soup. One course is built around Montau pork—from a variety of free-range pig with red meat—served with cowpea hummus and horseradish.
Over the course of the meal, the Van Dyke–sporting sommelier, Adiu Bastos, walks me through the drink list: the Rabo de Galo, a cocktail made with cachaça and artichoke-infused vermouth; sour beer brewed with cupuaçu fruit; a pinot noir grown in Brazil's deep south at Vinhedo Serena, one of the continent's first biodynamic wineries. The meal ends with a selection of addiction-themed truffles, featuring tobacco, cachaça, coca leaves, and poppy seeds.
After dinner, I stroll through Vila Madalena's streets, a jumble of new and old, classic and hypermodern—a perfect representation of the city at large. I think back to something Ralston said earlier, as we stood at a high point in the neighborhood overlooking the city's hodgepodge skyline: "It's kind of a mess, but I like the mess. I like the lack of style. It's free, like jazz. Somehow the architecture here reminds me of Miles Davis's late recordings. When you try to define them, it's hard, and São Paulo is like that. It doesn't have any particular style—just this philosophy of freedom."
Hemispheres executive editor Nicholas DeRenzo is actively spreading the gospel of Brazilian wine back home.
This article was written by Nicholas Derenzo from Rhapsody Magazine and was legally licensed through the NewsCred publisher network. Please direct all licensing questions to legal@newscred.com.
Around the web
Jessica Kimbrough, currently Labor Relations and Legal Strategy Managing Director, will take on the new role of Chief Diversity, Equity and Inclusion Officer Managing Director.
Jessica assumes this new and expanded position to focus on global inclusion and equity as part of our enhanced commitment to ensure best practices across the business to strengthen our culture.
In this role, Jessica will be responsible for helping United redefine our efforts on diversity, equity and inclusion – ensuring that our programs and approach are strategic, integrated and outcome-oriented, while we continue to build a culture that reflects our core values. She will report to Human Resources and Labor Relations EVP Kate Gebo.
"Jessica's appointment to this role is another critical step our executive team is taking to ensure diversity, equity and inclusion remains a top priority at United," said CEO Scott Kirby. "Given her drive, experience and commitment to champion collaboration and allyship among our employee business resource groups, she is uniquely qualified to take on this position and I look forward to working closely with her."
As Labor Relations and Legal Strategy Managing Director, Jessica worked closely with senior management to create and maintain positive labor relations among our unionized workforce, providing counsel on labor litigation, negotiations, contract administration, organizing issues and managing attorneys who represent United in labor relations. Previously, she served as Labor and Employment Counsel in our legal department.
Jessica has a passion for creating a pipeline of diverse lawyers and leaders, and was honored as one of Chicago Defender's "Women of Excellence" for excellence in her career and civic engagement in 2017. She currently serves as President of uIMPACT, our women's employee business resource group.
Jessica's new role is effective immediately.

By working together and strengthening partnerships during these unprecedented times, our global community has overcome challenges and created solutions to keep the global supply chain moving. As COVID-19 continues to disrupt the shipping landscape, United and our industry partners have increasingly demonstrated our commitment to the mission of delivering critical medical supplies across the world.
United Cargo has partnered with DSV Air and Sea, a leading global logistics company, to transport important pharmaceutical materials to places all over the world. One of the items most critical during the current crisis is blood plasma.
Plasma is a fragile product that requires very careful handling. Frozen blood plasma must be kept at a very low, stable temperature of negative 20 degrees Celsius or less – no easy task considering it must be transported between trucks, warehouses and airplanes, all while moving through the climates of different countries. Fortunately, along with our well-developed operational procedures and oversight, temperature-controlled shipping containers from partners like va-Q-tec can help protect these sensitive blood plasma shipments from temperature changes.
A single TWINx shipping container from va-Q-tec can accommodate over 1,750 pounds of temperature-sensitive cargo. Every week, DSV delivers 20 TWINx containers, each one filled to capacity with human blood plasma, for loading onto a Boeing 787-9 for transport. The joint effort to move thousands of pounds of blood plasma demonstrates that despite the distance, challenges in moving temperature-sensitive cargo and COVID-19 obstacles, we continue to find creative solutions with the help of our strong partnerships.
United Cargo is proud to keep the commercial air bridges open between the U.S. and the rest of the world. Since March 19, we have operated over 3,200 cargo-only flights between six U.S. hubs and over 20 cities in Asia, Australia, Europe, South America, India, the Caribbean and the Middle East.
A message from UNITE, United Airlines Multicultural Business Resource Group
Fellow United team members –
Hello from the UNITE leadership team. While we communicate frequently with our 3,500 UNITE members, our platform doesn't typically extend to the entire United family, and we are grateful for the opportunity to share some of our thoughts with all of you.
Tomorrow is June 19. On this day in 1865, shortened long ago to "Juneteenth," Union soldiers arrived in Galveston, Texas, to announce that the Civil War had ended and all enslaved individuals were free. For many in the African-American community, particularly in the South, it is recognized as the official date slavery ended in the United States.
Still, despite the end of slavery, the Constitutional promise that "All men are created equal" would overlook the nation's Black citizens for decades to come. It wasn't until nearly a century later that the Civil Rights Act (1964) ended legal segregation and the Voting Rights Act (1965) protected voting rights for Black Americans. But while the nation has made progress, the killings of Ahmaud Arbery, Breonna Taylor and George Floyd have made it undeniably clear that we still have a lot of work to do to achieve racial parity and inclusion.
Two weeks ago, Scott and Brett hosted a virtual town hall and set an important example by taking a minute, as Brett said, "to lower my guard, take off my armor, and just talk to you. And talk to you straight from the heart."
Difficult conversations about race and equity are easy to avoid. But everyone needs to have these conversations – speaking honestly, listening patiently and understanding that others' experiences may be different from your own while still a valid reflection of some part of the American experience.
To support you as you consider these conversations, we wanted to share some resources from one of United's partners, The National Museum of African American History and Culture. The museum will host an all-day Virtual Juneteenth Celebration to recognize Juneteenth through presentations, stories, photographs and recipes. The museum also has a portal that United employees can access called Talking About Race, which provides tools and guidance for everyone to navigate conversations about race.
Our mission at UNITE is to foster an inclusive working environment for all of our employees. While we are hopeful and even encouraged by the widespread and diverse show of support for African Americans around the country – and at United - we encourage everyone to spend some time on Juneteenth reflecting on racial disparities that remain in our society and dedicating ourselves to the work that still must be done to fight systemic racism. By honoring how far we've come and honestly acknowledging how far we still must go, we believe United – and the incredible people who are the heart and soul of this airline - can play an important role in building a more fair and just world.
Thank you,
UNITE (United Airlines Multicultural Business Resource Group)
Leadership Team
Together, we are facing an unprecedented challenge. United Together, we rise to meet that challenge.
Learn more
United Airlines
united
New route: Chicago - Tel Aviv Increased service: New York/Newark - Tel Aviv Welcome back: Washington Dulles - Tel Aviv We operate more nonstop service between 🇺🇸 and 🇮🇱 than any other U.S. airline. Learn more about our expanded September schedule:
uafly.co/2BDSXdq
United Airlines
united
Our NRT United Club team recently showed what
#BeingUnited
is all about when they donated food to the greater Narita Health Welfare Center. Take a look at the results of the collective efforts across our system here:
uafly.co/2YUtDbL
United Airlines
united
Flights booked now through July 31 can be changed for free over the next 12 months to allow for additional flexibility. All existing travel can be changed without fees as well. See waiver for details:
uafly.co/2M9vgLC
United Airlines
united
We fly proud year-round and we bring our true selves to work every day. Hear from LGBTQ individuals in our workforce, who've fought for a more inclusive world: Agents Analysts Flight Attendants Pilots Technicians Leaders They are who we are and we support them.
#UnitedPride
We Are United
weareunited
Our inaugural flight to Chicago from Toyko Haneda coincided with the annual Japanese celebration known as "Tanabata" or "Star Festival." The
#BeingUnited
team at HND placed their wishes on bamboo trees before the flight departed for ORD.
We Are United
weareunited
After years of planning, the new
#BeingUnited
catering kitchen at EWR is open. With over 190,000 square feet, it's 40% percent larger than the previous kitchen, sized to meet future demand through 2040.
Watch our most popular videos
Flying UCSF Medical Workers to New York
This is why we fly.
20 UCSF Health workers, who voluntarily set aside their own lives to help save lives, are on their way to New York City.
We are humbled by your selfless sacrifice.
Thank you.
#UnitedTogether #UCSFHeroes
A happy, Hollywood ending
This is the story of Jason and Shantel. You see, Jason and Shantel love each other very much. They also love traveling and they love the classic Adam Sandler film, The Wedding Singer.
It all began when Jason reached out to United's social media team, hoping for assistance with his upcoming plan to propose. Some phone calls and one borrowed guitar later, the stage was set for Jason. Put all that together, mix in some helpful United employees and, voila, you have a truly memorable marriage proposal. Congratulations to this fun-loving and happy couple, and here's to many more years of making beautiful music together.
A big thank you to Chicago-based flight attendants Donna W., Marie M., Karen J. and Mark K. for making this proposal come to life.
Copyright © 2020 United Airlines, Inc.
All rights reserved.
Indicates an external site that may or may not meet accessibility guidelines.
Scroll to top
Scroll to top