Three Perfect Days: Singapore
Story by Nicholas DeRenzo | Photography by Lauryn Ishak | Hemispheres, April 2017
As countries go, Singapore is still in its infancy. Unceremoniously expelled from Malaysia in 1965 and forced to fend for itself as a new sovereign nation, the island city-state has worked its way up to being a global powerhouse in just five short decades—which is even more remarkable given its size: 277.6 square miles, about the area of Lexington, Kentucky. Having previously been ruled by both the British and the Japanese, the Lion City spent its early years under the paternalistic gaze of its popular founding father, Lee Kuan Yew (tough on crime, tougher on chewing gum). Now, after a period of literal nation-building—land reclamation has increased the country's footprint by 22 percent—Singaporeans seem to be taking a collective deep breath. There has been a renewed interest in history and folk culture among the people here, even as a hypermodern, multicultural metropolis rises around them. The next 50 years should be interesting.

In which Nicholas pays his respects to a celebrity tooth, witnesses the architectural potential of soy sauce bottles, and sniffs out a great cocktail bar
With a diverse populace (and four official languages: English, Mandarin, Malay, Tamil), Singapore stands as Asia's melting pot. I'll be spending the morning exploring the city's ethnic enclaves with guide Anita Sharma. We meet in bustling Chinatown, which, like all of these historic districts, is dominated by rows of shophouses, a Southeast Asian vernacular marked by a five-foot-wide covered walkway (mandated by Governor General Sir Thomas Stamford Raffles' Town Plan of 1822) and a narrow, deep footprint. From those basic building blocks, the variations are endless: ornamental tiled facades, decorative columns, colorful shutters, even Art Deco motifs.
The area used to be known for its opium dens and secret societies. More recently, a Times Square–style cleanup has rendered it tourist-friendly. "Some people say they've cleaned it up too much," says Sharma. In the distance, a group of older Chinese men and women seem to be doing tai chi on fast-forward. A closer inspection reveals they're actually line dancing to Brooks & Dunn's "Only in America." Maybe she's right.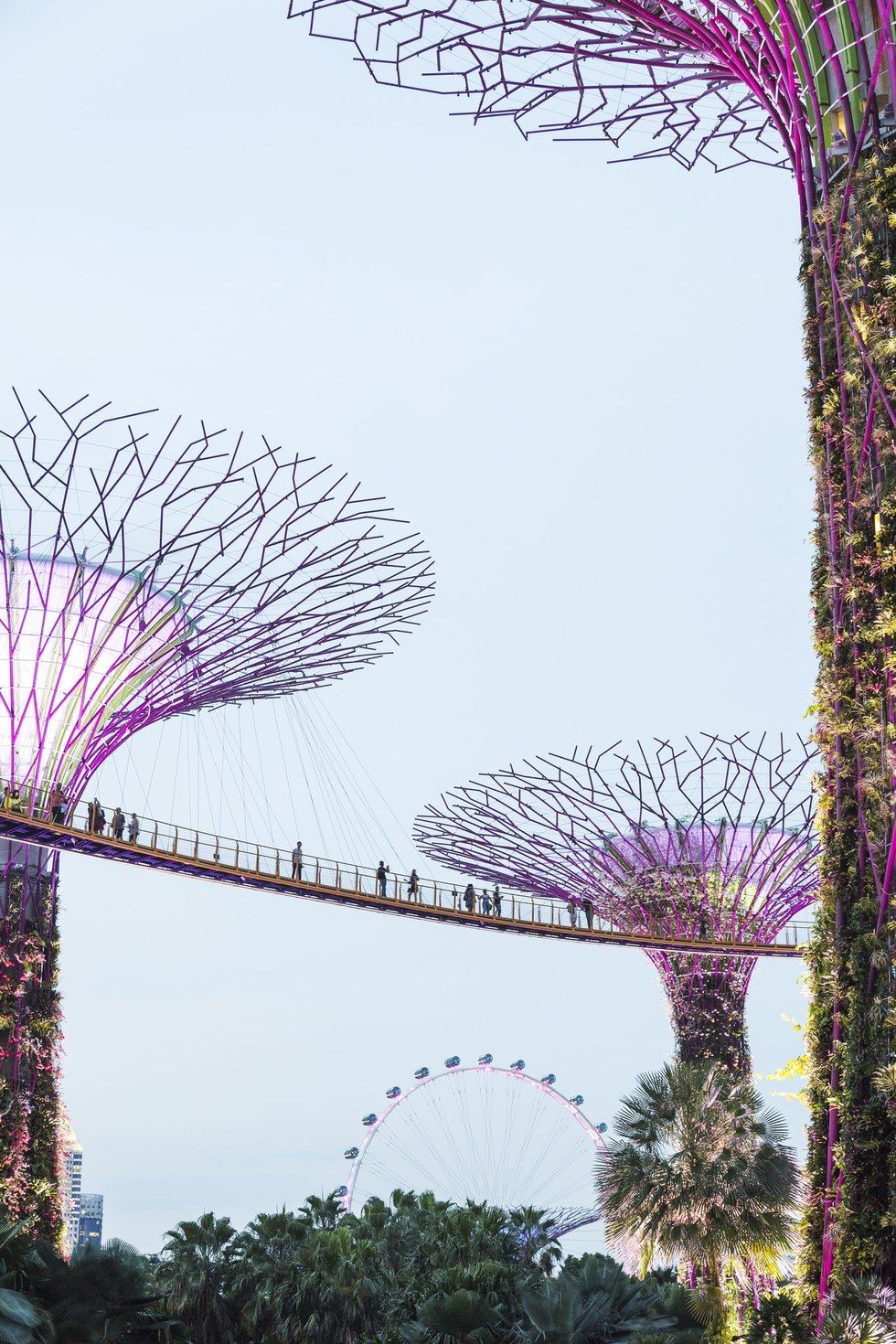 The Supertree Grove and OCBC Skyway at Gardens by the Bay
Singapore's food scene revolves around its no-frills hawker centers, with some stands even earning a star in last summer's inaugural Singapore Michelin guide. Sharma takes me for breakfast at Chinatown Food Street, where we skip Chinese in favor of roti prata flatbread with fiery chicken curry and peanut-topped rojak, a fruit, vegetable, and fried tofu salad with shrimp paste dressing.
"Welcome to durian land!" says Sharma, pointing to the spiked fruits that are so notoriously smelly they're banned from some hotel lobbies and public transit. "Some have described it as eating custard in the toilet, though I don't know how anyone would know how that tastes."
We walk a block to the Buddha Tooth Relic Temple, an imposing red-and-gold structure that opened in 2007 and is said to contain the Buddha's left canine. Down the street, we remove our shoes under the Sri Mariamman Temple's tiered gopuram tower and step inside Singapore's oldest Hindu temple, founded in 1827 and decorated with a deliriously Technicolor pantheon of stone deities. With its clouds of incense smoke and the pulsating rhythm of the thavil drums and oboe-like nadaswaram, it's easy to fall under the temple's spell. "Women have to cover up," says Sharma with a laugh. "Of course, the priests are seminaked."
We head across town via the outlandishly clean MRT (Mass Rapid Transit)—Sharma points out "no durians" signs—to Little India, a thrumming district of curry houses, henna painters, and stalls selling coconuts, jasmine, and grass to be offered up at Hindu temples (elephant-headed Ganesha gets the grass).
"People think it's too crowded here, but I like that it's disorganized," Sharma says. "Little India is as real as it gets; it's for all five senses." Let's start with taste. We stop at Komala Vilas, which opened in 1947, for pillowy idly rice cakes, which we dip into coconut chutney and tangy sambar lentil stew. Down the street at Azmi, we order chapati flatbread with minced mutton keema. The digs are bare-bones; the flavors are revelatory.
We pick up squares of carrot burfi (sweet milk fudge) at Moghul Sweet Shop and stroll past stalls selling Bollywood DVDs, Sri Lankan elephant dung stationery, and lots of gold. "Chinese, Indians, and Malays love gold," says Sharma. "It's the one thing we all have in common." We stop in front of Sajeev Digital Studio, where the owner takes portraits of locals and sends them back to India or Sri Lanka for arranged marriages. "I should have come to him years ago," Sharma deadpans.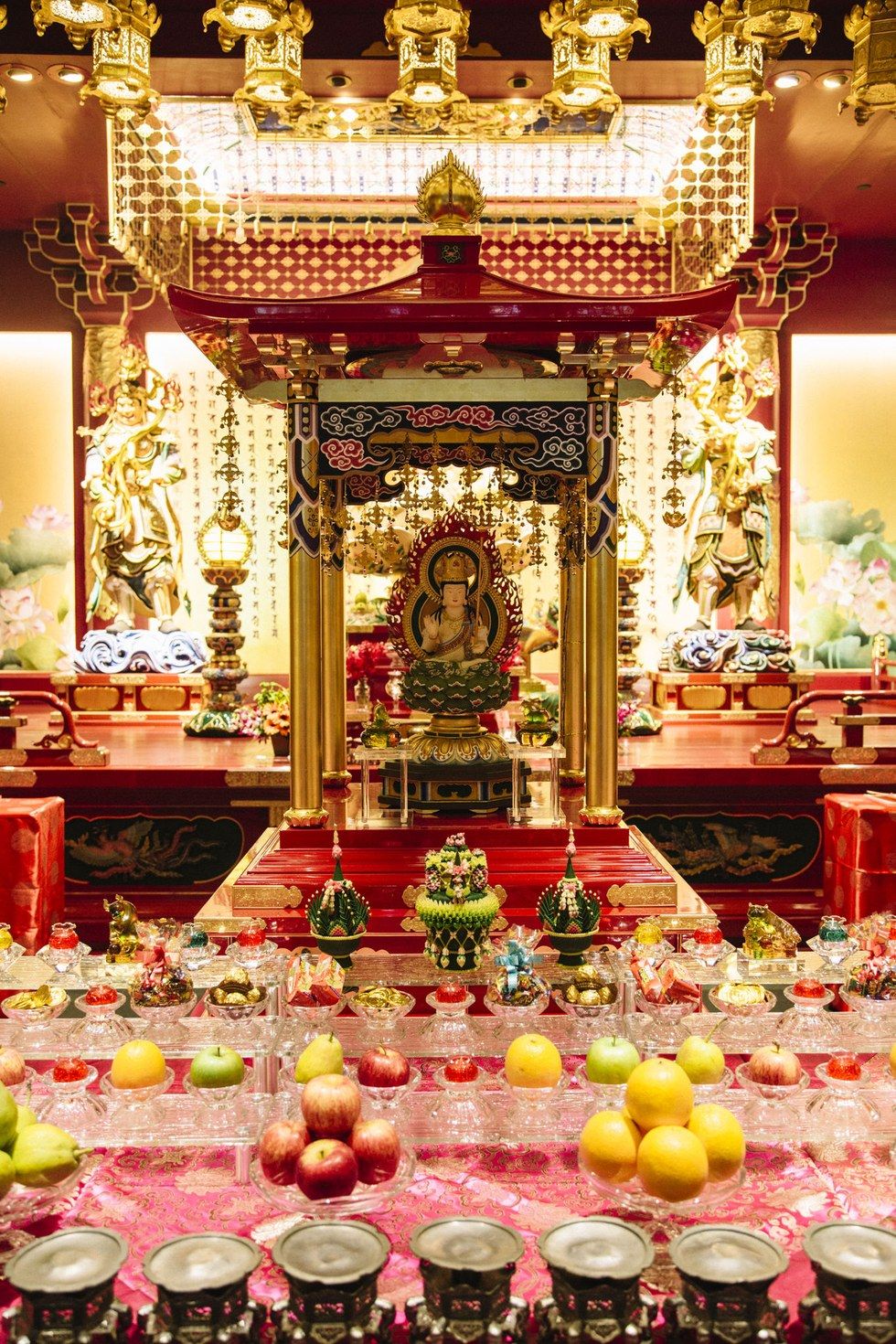 Inside the Buddha Tooth Relic Temple
From here, we hop into a taxi, and Sharma teaches me to address elders (like our driver) as "uncle" or "aunty," and then we're off to Kampong Glam, the historically Muslim Malay district, which is dominated by the gold onion dome of the Sultan Mosque. Sharma points up at a thin black strip under the dome that is made from the glass bottoms of bottles—an oddly scrappy addition to an ornate temple. "The poor donated bottles of soya sauce," my guide says, "so that it didn't look like it was only built by and for the rich."
Palm-lined Arab Street and the surrounding alleyways offer a delightful blend of the traditional (textile merchants, boutiques where you can design your own alcohol-free perfume) and the eccentrically trendy (halal Swedish cafés, coffee shops that print your selfie onto latte foam).
I say goodbye to Sharma and pop into the nearby design shop Supermama, which sells a dizzying array of souvenirs and household items, each with a story to tell about local culture, including miniature versions of the ubiquitous red chairs you'll find at hawker stands, doorstops modeled after rainbow-hued kueh lapis rice cakes, and stuffed cartoon curry puff keychains. There's also a Lucasfilm-approved series of Star Wars plates, each bearing a hidden Singaporean folk motif.
"When friends came from overseas, they'd either buy food or merlion keychains," says owner Edwin Low, referring to the mythical half-lion, half-fish national symbol, which has been honored with a 28-foot, water-spewing bayfront statue. ("To merlion," by the way, is now Singlish for being violently ill.) "But are we more than the merlion? This is a city of borrowed cultures. Because of this shared history, shouldn't there be a new archetype, a new language of products?"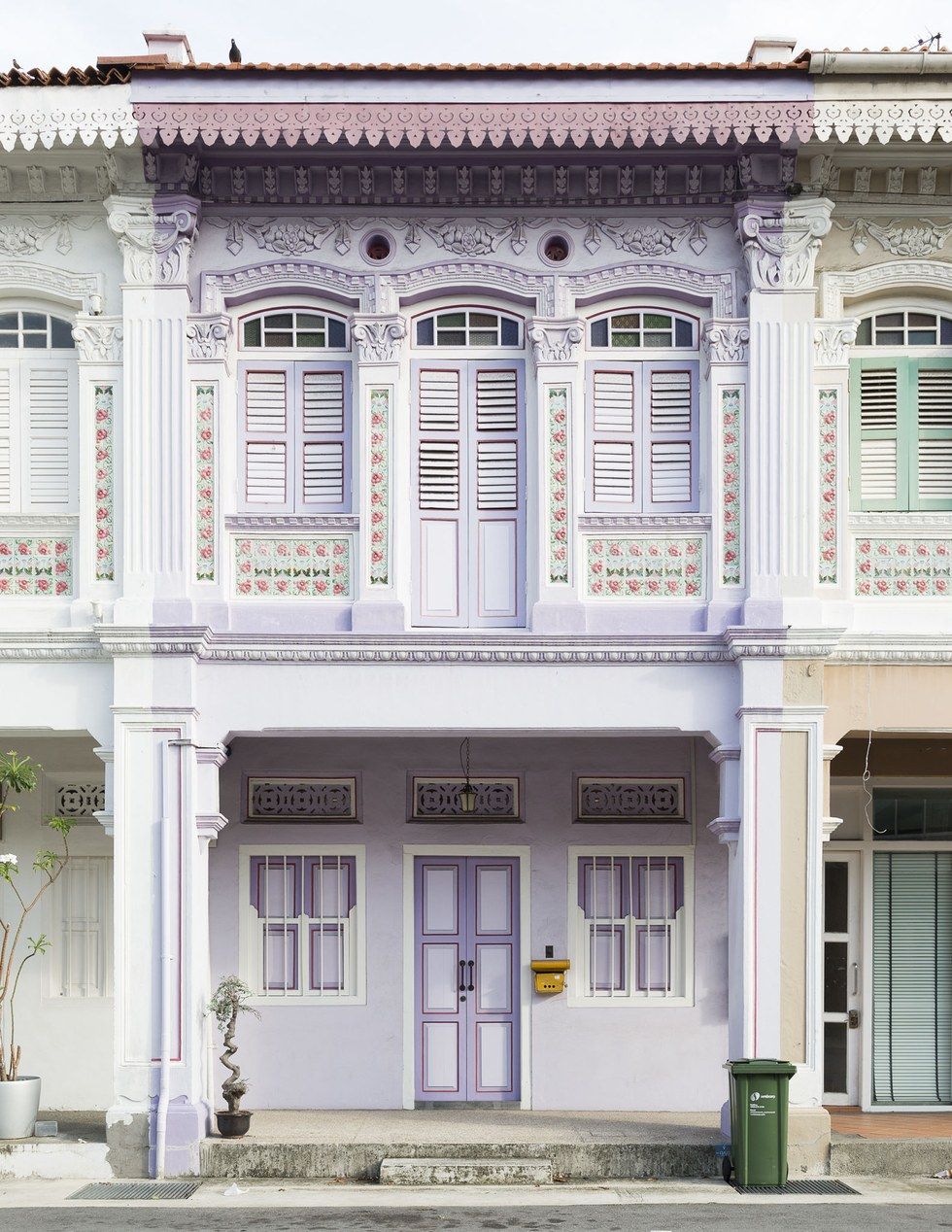 One of the shophouses of Singapore
In this spirit, another series of plates in Low's shop is decorated with images of HDB (Housing & Development Board) public housing apartments, the high-rise blocks that house more than 80 percent of Singaporeans. "One of the best comments I've ever heard," he says, "was from a man who told me, 'For the first time, I feel proud to live in an HDB.'"
We get to talking about the role of design in a country with a reputation for strictness (see: the country's famous ban on chewing gum). "There's actually a lot of freedom of expression," says Low. "When we started, we were a nanny state. We didn't have a choice—it was for survival. Sometimes I wonder if we've grown too fast, if we robbed our country of its childhood." Judging by this shop, at least, Singapore doesn't seem to be lacking for childlike whimsy.
With my sackful of souvenirs, I head back to Chinatown for dinner at British chef Ryan Clift's ultra-progressive and comfortably chic Tippling Club. "Ten years ago, Singapore had a very different market," says Clift, who made a name for himself in Melbourne's fine-dining world. "It was either high-end or hawker. We were the first to introduce modern gastronomy and quote-unquote mixology, but people here are very quick to accept something new—that's the beauty of Singapore."
Clift doesn't like the word "molecular," but whatever you call it, his tasting menu is a lot of fun—with flavor and technique to back it up. For every perfectly saltwater-poached piece of lamb, there's strawberry cheesecake in the form of a pill. For every expertly seared diver scallop with purple Brittany garlic soup, there's a passion fruit–flavored smiley-face tab to dissolve on your tongue like … well, you know.
After dinner, I head for the attached bar, where the young Mancunian bartender Joe Schofield has devised the wickedly clever Sensorium menu. I'm presented with 12 blotter strips, each spritzed with a custom-made fragrance (Forest, Earl Grey, Leather). The idea: Allow the nostalgic power of scent to guide your order. I'm drawn to the vodka-and-citrus Rain, served with an edible cloud made from dehydrated yogurt sponge and charcoal powder. And then to the dill-and-anise Grass. And then to the marshmallow-topped Campfire…
Before memory-triggering cocktails turn to memory-erasing ones, I retreat a few blocks to my hotel, The Club, a 20-room boutique property occupying a row of early 20th-century Chinatown shophouses. The spacious interior is decorated with midcentury-inflected furnishings and whimsical touches like oversize bird portraits. In my room there's a nightstand reading stack that ranges from Gustave Flaubert to Danielle Steel. But at this hour, after a day of cloying humidity, the only amenity I'm interested in is the air conditioner.

In which Nicholas meets the toast of the town, learns singlish, and gets in the "sling" of things
This morning, I'm set to meet a friend of a friend, Amy Long, who lived in New York, Seoul, and Hong Kong before returning to her native Singapore, where she now works in the oil industry. She's going to show me around the districts of Katong and Joo Chiat. This residential area, east of downtown, is the epicenter of a regional subculture known as Peranakan. The name, which comes from the Malay for "local born," is used for the descendants of local Malay women and Chinese (or other foreign) traders along the Strait of Malacca. Today, the area is known for madly colorful folk costumes and architecture.
We meet at Chin Mee Chin Confectionery, an unfussy kopitiam (a ubiquitous Singaporean take on the coffee shop), and order the country's most famous morning meal: soft-boiled eggs with kaya jam toast (here it's a bun instead of the standard sliced bread) topped with butter and a bright green curd made from coconut milk, eggs, sugar, and pandan leaves. The stuff is so addictive I end up bringing home five jars.
"There are different schools of thought about how you eat this," says Long, cracking the eggs into individual bowls and dressing them with soy sauce and white pepper. "You either eat it with a spoon or pick it up and slurp it, which is the old grandpa way." We go with the spoons.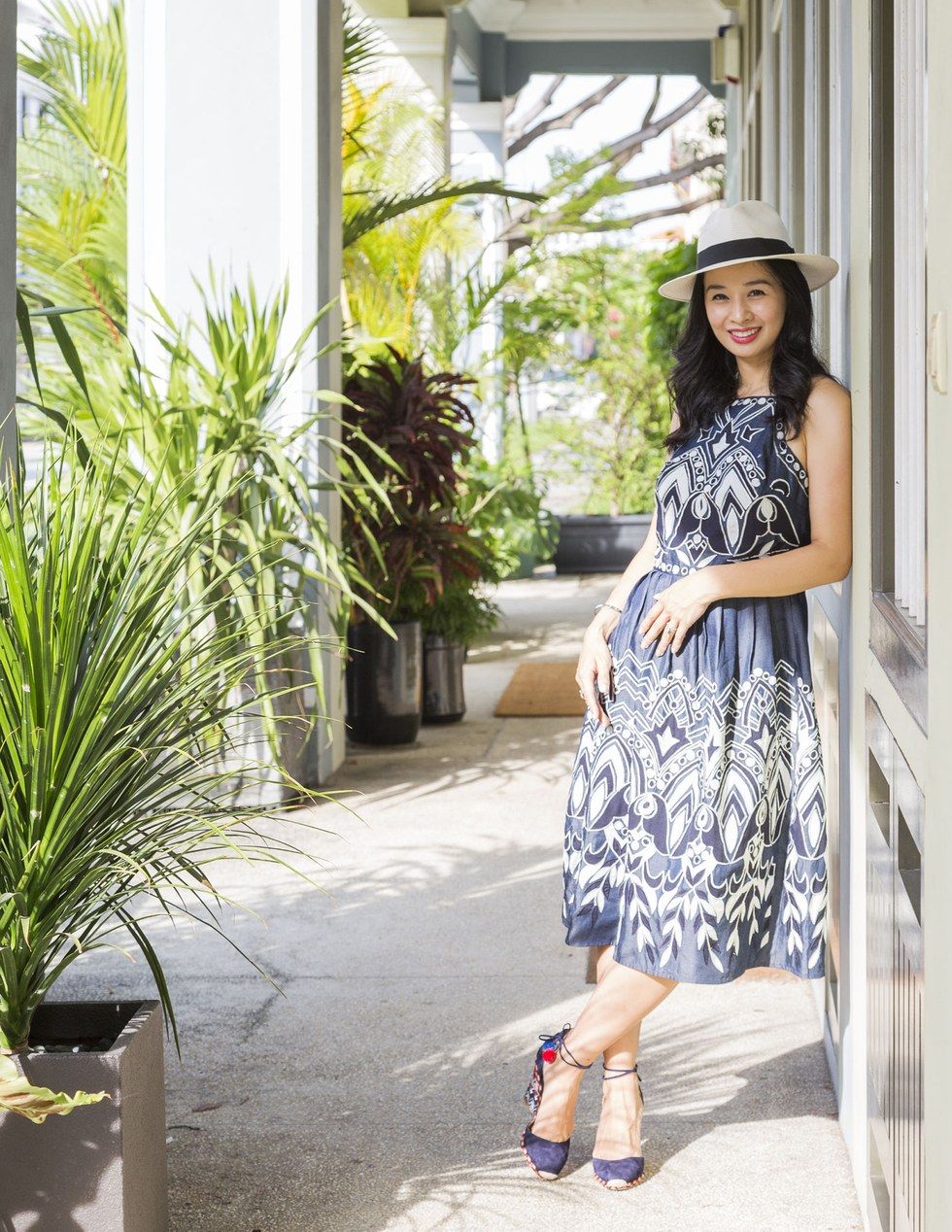 Amy Long, businesswoman
Long is impeccably stylish. (Her converted shophouse even appeared in the New York Times real estate section.) I, on the other hand, am a puddle of sweat, a victim of the oppressive humidity, a condition exacerbated by the dearth of napkins at kopitiams.
"Lee Kuan Yew was asked what the greatest invention of the 20th century was," she says of the first prime minister, as we duck into a convenience store, just as the locals do, to buy packs of tissues and cooling scented alcohol wipes, "and he said the air conditioner. We call ourselves 'the air-conditioned nation.' It's a metaphor. We created this environment; we're in this bubble."
To aid in the cooling off, we stop into Island Creamery, which makes locally inspired ice creams and sorbets with flavors such as Tiger beer and pulut hitam (black sticky rice with coconut milk). I order a scoop of chendol—based on a regional dessert made with shaved ice, coconut milk, pandan-leaf jellies, and gula melaka palm sugar caramel—and we continue our walk, past bike repair shops and a Malay wedding procession.
As we stroll, we chat about Singlish, the name for the local patois. "It's a hodgepodge—nominally English with Chinese grammatical structure and Malay words," says Long. "Ten or 15 years ago, people were ashamed of Singlish. It's a very low language, but I love it. It's like a secret code you're tapping into. Everyone has this dual, triple identity, and you slip into and out of it all day." She might use it to order at a hawker stand. In the boardroom? Probably not.
"When I came back to Singapore, it felt like a totally new city. The pace of things has really started to pick up. There's a lot more recognition that we have to loosen the strings so people want to live here." —Amy Long
We say our goodbyes, and I finish up in the neighborhood by walking down Koon Seng Road, which has a lovely row of sherbet-tinted yellow and pink and green and blue Peranakan shophouses that call to mind San Francisco's Painted Ladies.
I head back downtown, where I check into Raffles Hotel, a crisp-white ode to British colonialism that is celebrating its 130th birthday this year with a top-to-bottom renovation. I walk past the famed Sikh doormen—white-turbaned, military-garbed—and into a lobby straight out of Rudyard Kipling (who stayed here), though it's another former guest, Joseph Conrad, who's the namesake of my grand suite for the night.
Before I venture back out to explore, I pay my respects to the hotel's—if not the country's—greatest contribution to global culture: the Singapore Sling. Bartender Ngiam Tong Boon created the dangerously drinkable concoction—gin, cherry brandy, Dom Bénédictine, Cointreau, pineapple juice, lime juice, grenadine, Angostura bitters—in 1915 to look like fruit punch, allowing British women to tipple without attracting disapproving attention. It's unclear, though, how they disguised the fact that this potent drink made them quite merry quite quickly.
For lunch, I'm having a Peranakan high tea at the National Kitchen by Violet Oon, an elegant dining room helmed by "the Julia Child of Singapore" and tucked away on the second floor of the new National Gallery of Singapore. Opened in 2015, the museum occupies two former hubs of British rule, the domed Supreme Court and the colonnaded City Hall, which sit on the sprawling Padang Cricket Ground. After polishing off a three-tiered tray of delicacies—including a beef sambal pao steamed bun, a hae bee hiam spicy dried shrimp floss finger sandwich, and doilylike roti jala pancakes—I head into the galleries. Many of the halls contain nods to colonialist mythmaking, such as an 1860s woodcut of an incident (probably apocryphal) in which road surveyors were attacked by a tiger.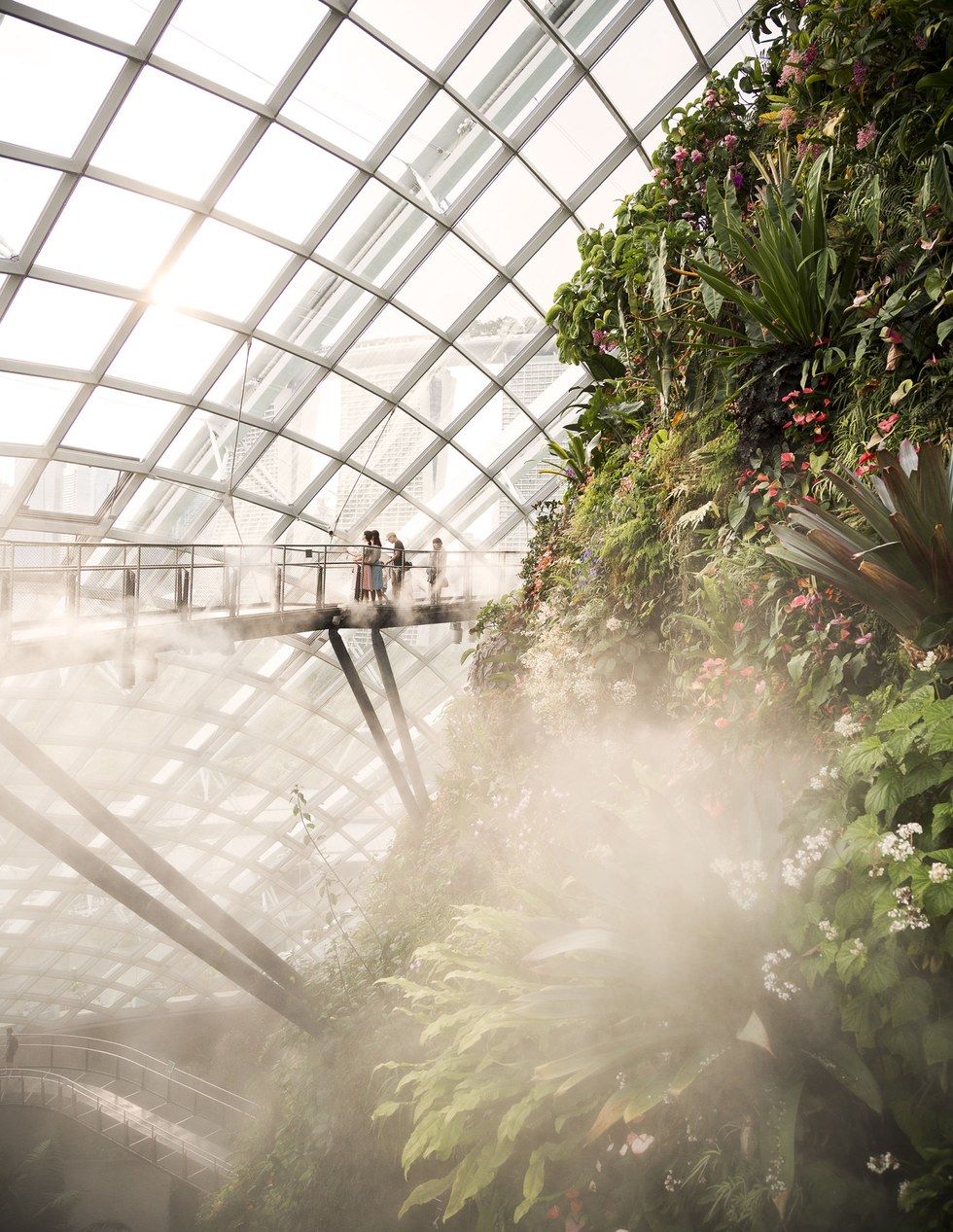 The Cloud Forest at Gardens by the Bay
One of my favorite pieces is Malaysian artist Wong Hoy Cheong's playful yet searing 2002 installation Re: Looking, which reimagines history through a specific lens: What would have happened if Malaysia had colonized Austria? Guests step inside mock judge's quarters, built from architectural elements salvaged from the original court, where they can examine maps of the fictional Malaysian Empire or watch an imagined documentary on disenfranchised Austrian migrant workers forced to take manual labor jobs in Malaysian cities. It's a head trip.
"Singlish is like a secret code you're tapping into."
Next, I walk 10 minutes to the bite-size Peranakan Museum, which occupies a former primary school in the shadow of hilltop Fort Canning Park. The building brims with colorful artifacts: carved household altars, floral porcelain dinnerware, kingfisher-feather wedding headdresses, and a tablecloth made with one million tiny glass beads.
Dinner tonight is at the world's first Michelin-starred Peranakan restaurant, Candlenut, up on Dempsey Hill near the Singapore Botanic Gardens, where I sample homey plates like wing bean and prawn salad; braised Duroc pork cheek pongteh stew with preserved soy bean gravy; and buah keluak chicken, cooked with tarry Indonesian black nuts (which contain cyanide if not prepared correctly). For dessert, I opt for that much-maligned fruit, the durian, which appears here as a soup, an ice cream, and a puree. The flavor is sweet, funky, a little oniony—but it's hardly as offensive as I've been led to believe.
After a swift breath test, I catch a cab back to Chinatown for a nightcap at Crackerjack, a new bar by San Francisco transplant Joe Alessandroni, whose nearby speakeasy, 28 Hongkong Street, ranked 14th on last year's World's 50 Best Bars list. "The ethos of craft cocktails is to pay attention to local flavors," says Alessandroni, handing me a highball of pineapple, rum, lime, and Angostura bitters. While the menu offers a slew of tropical flavors—tamarind, coconut—I find myself drawn to the Ballgame, made with Johnny Drum bourbon, caramel corn syrup, and bitters, with a "baby beer" chaser. This "multicultural crossroads," as Alessandroni calls Singapore, really does have a way of making you feel at home.

In which Nicholas falls in love with an onion, goes garden-hopping, and marvels at a merlion
In need of a caffeine boost after last night's activities, I've planned to explore the city's newest obsession: single-origin, third-wave coffee shops, like the ones you find in Brooklyn or Portland. I'm set to meet Bernice Lee, a member of the contemporary Javanese-inspired company Maya Dance Theatre. We meet at Chye Seng Huat Hardware, a coffee roastery in the new hipster enclave of Jalan Besar, just north of downtown.
Over velvety nitro cold brew coffee and green pandan pancakes—served with kaya jam, vanilla ice cream, and gula melaka palm sugar syrup—we discuss the country's multiculturalism. "Our identity has always come first from our national point of view," says Lee, noting that while someone in the U.S. might call herself, say, Italian-American, here the Singaporean part always comes first. The government, meanwhile, is so committed to the melting-pot model that HDB housing is designed specifically to mix different ethnicities and prevent groups from sticking to their own kind. "We're all tribal in some ways," Lee says, "so it makes sense to acknowledge that and work against it."
But, as I saw yesterday with the revival of Peranakan folk culture or with Edwin Low's reverence for folk motifs, there is also an increasing emphasis on tradition—"an effort to reclaim our narratives," as Lee puts it—especially among the youth. A whimsical expression of this impulse sits just across the street, at the Thekchen Choling Tibetan-style Buddhist temple, which contains a beatific cardboard cutout of the Dalai Lama standing behind a spangly Buddha-ful altar (I count dozens).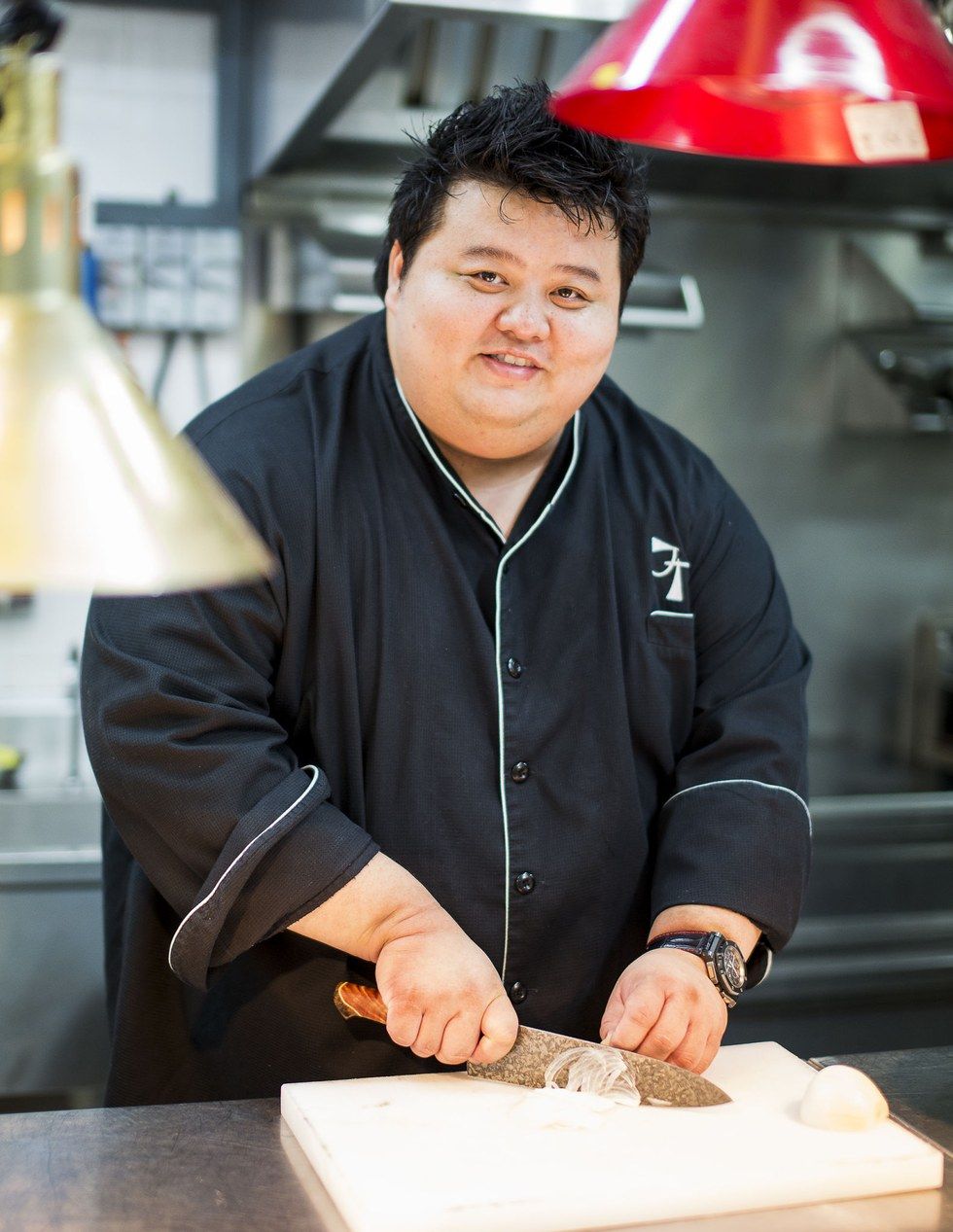 Jason Tan, chef, Corner House
My next stop involves a tradition that never went away. In 1963, Lee Kuan Yew publicly planted a tree to initiate a plan to make Singapore a "Garden City," but the local love of plants is much older. A case in point is the Singapore Botanic Gardens, a 10-minute drive from downtown, which was named the country's first UNESCO World Heritage Site in 2015. Founded in 1859, the gardens are spread over 183 wooded acres. Hidden among them is the National Orchid Garden, and within this is the VIP Orchid Garden, a collection of hybrid flowers named for dignitaries: the white Dendrobium Memoria Princess Diana, the stylishly speckled Papilionanda Vanda William Catherine (named for the Duke and Duchess of Cambridge), and the Dendrobium Margaret Thatcher, which has petals shaped (appropriately?) like screws.
It's a quick uphill ramble to lunch at the Corner House, which occupies a black-and-white 1910 bungalow tucked among the lush vegetation. I grab a seat on the veranda and dig into chef Jason Tan's French-inspired tasting menu, which earned him a Michelin star last year. While the succession of dishes is filled with luxe ingredients—Japanese A4 Toriyama beef, foie gras, Kristal de Chine caviar—it's the humblest of ingredients that get starring roles. A salad of more than 40 herbs, vines, flowers, roots, and tubers is served on a pea-green leaf-shaped plate, while Tan's signature dish is a celebration of the unappreciated onion.
"When I first started, there weren't enough great restaurants. We all have to improve together to keep up. For me, the Michelin guide doesn't change anything." —Jason Tan
A former veg-o-phobe, Tan tried the super-sweet Cévennes onion, from the hills of Southern France, and liked it so much he changed his entire approach to cooking. Four and a half pounds of the onions are required per diner for his signature four-part "The Onion Revealed": a whole baked onion filled with onion puree and confit, a sous-vide egg, sea salt, chives, and black truffles; a tart; a dehydrated chip; and an Earl Grey–infused onion tea. The dish is such a knockout that I look out the window and make can-you-believe-this eye contact with a bright green pigeon plucking berries off a tree.
"Every cuisine uses onions," Tan says, "but they're always just a garnish, a condiment, or in a stock—never a true hero. Singaporeans still look at menus and want luxury premium ingredients, so a lot of people were like, 'Are you sure? Onions?' But if you do it right, anything can shine." He claims to have converted all but one onion-hater (who found the dish too sweet). His next project? Carrots.
I'm off now to Gardens by the Bay, a futuristic representation of the Garden City idea that opened in 2012 on 250 acres of reclaimed land. I wander through two undulating glass conservatories, the Flower Dome and the Cloud Forest, which encompasses a 115-foot artificial mountain swathed in orchids and bromeliads (as well as the world's tallest indoor waterfall). James Cameron would love it here.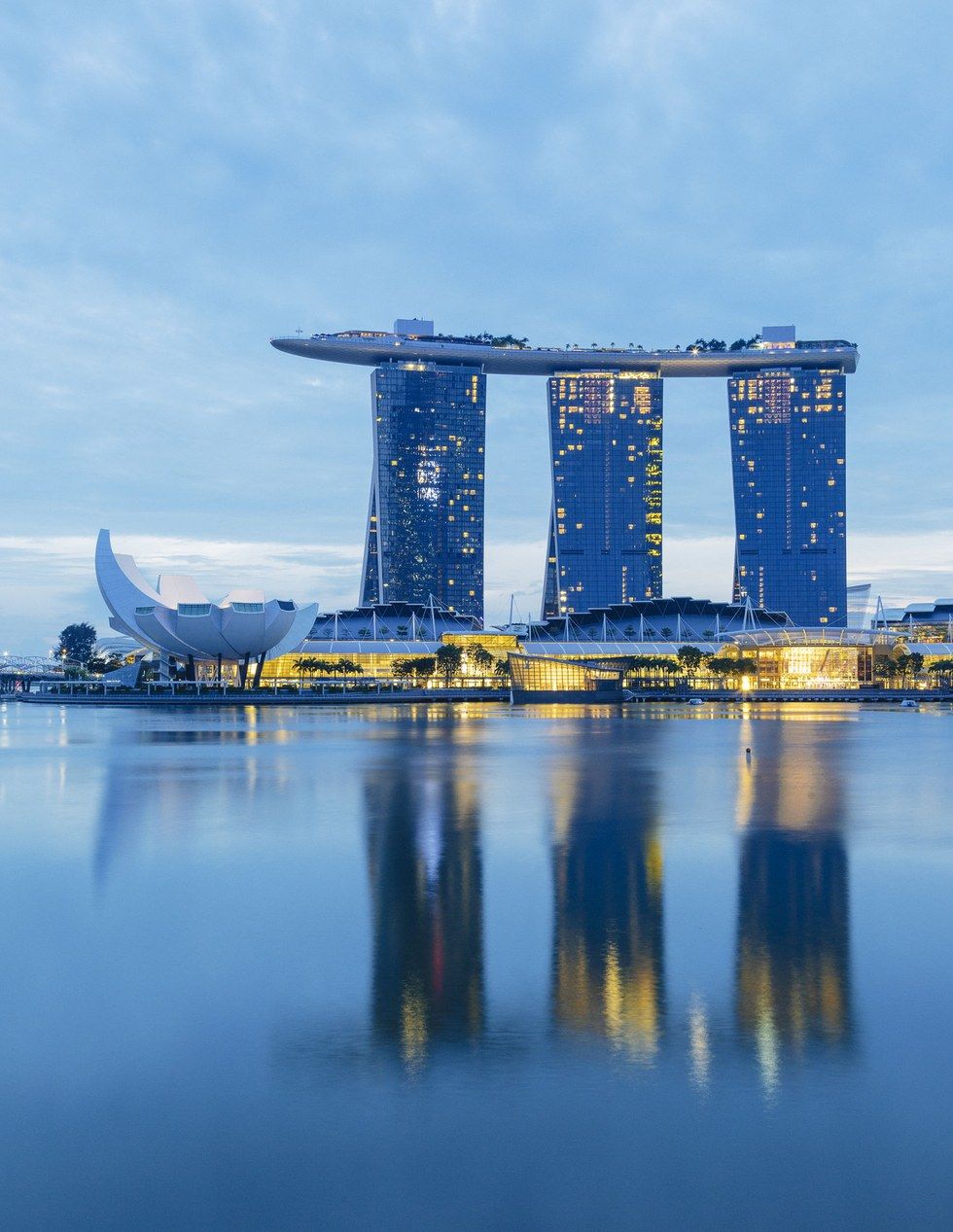 The skyline-dominating Marina Bay Sands resort and casino
I challenge my fear of heights by climbing the 72-foot-high, see-through OCBC Skyway, which weaves through some of the gardens' showstopping Supertree Grove. These 18 vertical gardens look like alien steel baobabs, standing up to 164 feet tall and covered in 162,900 plants, such as ferns and flowering climbers. Aside from being an Instagrammer's dream, these structures serve many other purposes: They collect rainwater to irrigate the park, harvest sunlight to convert into solar energy, and regulate heat in the domes. They look a bit sci-fi, but that's the point. The future, after all, is green.
As I stroll out of the gardens and along the sidewalk that skirts Marina Bay, I have a front-row view of the city's changing face: the 541-foot Singapore Flyer Ferris wheel, which opened in 2008; the lotus-shaped ArtScience Museum, which followed in 2011; and the skyline-dominating Marina Bay Sands resort and casino. When it opened in 2010, the 656-foot behemoth was the most expensive resort ever built, at $5.7 billion. It looks like an immense surfboard balanced atop three towers, or an alien rendition of Stonehenge.
To continue the forward-thinking theme, I take a cab to Wild Rocket, chef Willin Low's "Mod Sin" spot, which ranked No. 38 on this year's S. Pellegrino and Acqua Panna Asia's 50 Best Restaurants List. The vibe here is pure Japanese—the space is modeled after a traditional chashitsu teahouse—but the flavors are all Singaporean.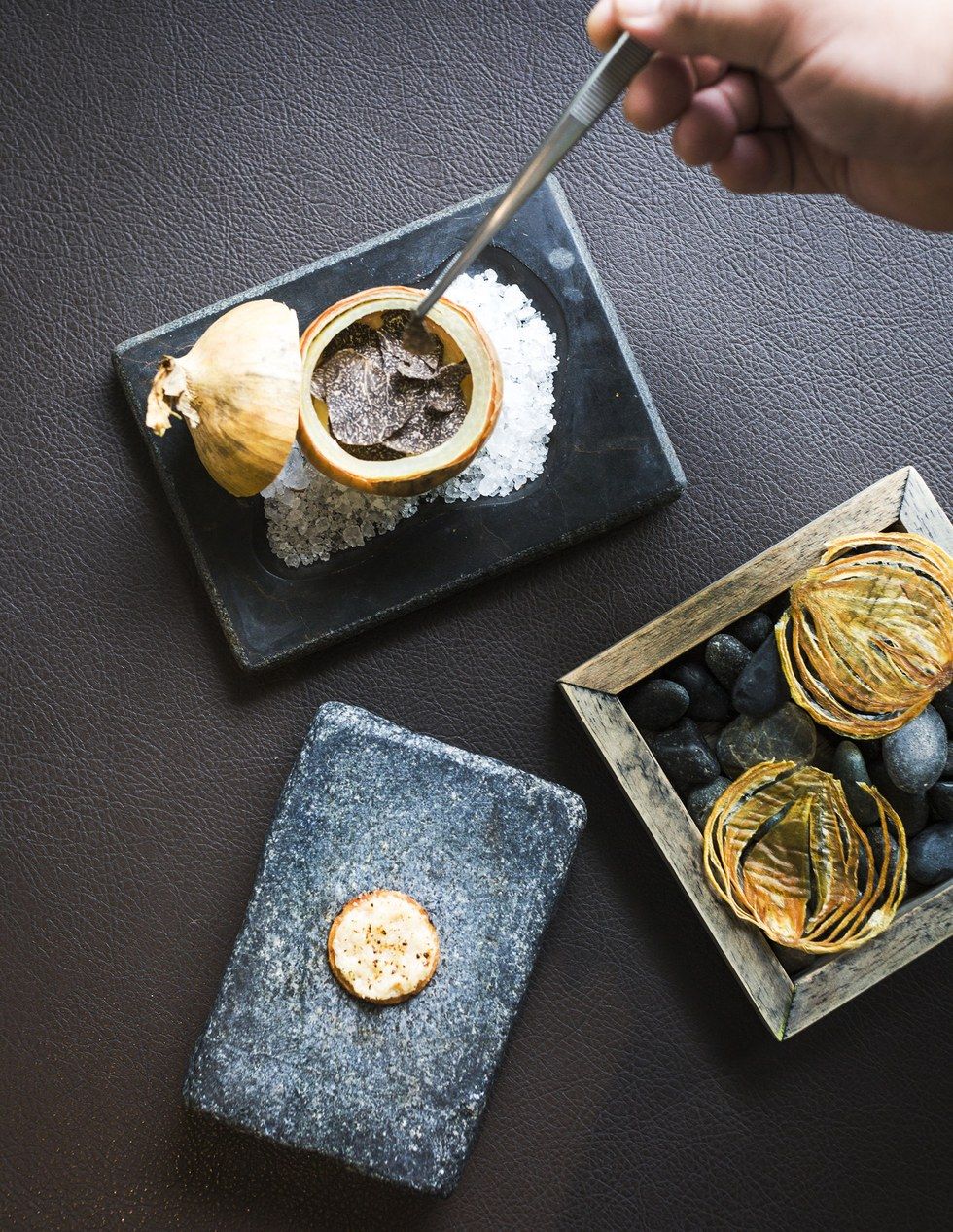 Onion four ways at the Corner House
I sit at the counter for an omakase tasting menu with sake pairing, and each dish is a playful deconstruction of a local staple. Low's bak chor mee (minced meat noodles) trades out pork for lightly torched chopped tuna belly atop glass noodles cooked in pork fat. A pomelo and prawn salad is dressed with a scoop of savory ice cream made with coconut milk, fish sauce, and chilies. Black truffles liven up a posh take on the hawker classic, Hainanese chicken rice.
"While chef was studying in the U.K., he would see 'Singapore fried noodles' on Chinese takeaway menus," says my server, Yane Goh, as she sets down a plate. "But there's no such thing in Singapore! So he took ownership of the name." His version is a spin on Hokkien mee noodles cooked with ebi miso (made with fat from prawn heads), sea kelp kombu, lobster oil, and prawn stock, and topped with a massive king prawn and a tiny calamansi lime. Throughout the meal, chatty servers keep bringing over a laptop to show me images of the original dishes, so I'll fully understand the scope of Low's inventiveness. A pre-dessert snack tops pineapple sorbet with mint sugar, chili flakes, and soy sauce salt, the crystals that form along the edge of the vat when soy sauce is brewed the traditional way.
As I begin to notice the first signs of a food (or, more accurately, sake) coma, I head toward my bed for the night at the grand Fullerton Hotel, a fortresslike former post office building that was erected in 1928 near the spot where city founder Sir Stamford Raffles first set foot on land. Before turning in, I take the hotel's underground walkway out toward the bayside Merlion Park, which is centered on that famous water-spouting statue.
Inspired by the city's fishing-village past and the tale of a mythical Malay prince who encountered a lion, the Merlion statue serves the same role in Singaporean culture as Copenhagen's Little Mermaid—part point of pride, part tourist trap. With the glitzy bayfront skyline before me and the hulking remnants of British colonialism behind, I can't help but feel this hybrid creature is a perfectly apt metaphor for the country itself: an invention, sprung fully formed from the heads of 20th-century nation-builders, cobbled together from diverse parts, powerful, and utterly fantastical.
Hemispheres executive editor Nicholas DeRenzo is seeking seed money for his new artisanal kaya jam company, The Toast with the Most.
When the pandemic began, United Cargo knew it would be critical to utilize its fleet, network and industry-leading pharmaceutical handling processes to transport a COVID-19 vaccine when the time came.
Connecting vaccines to the world: United responds to mass distribution effort
December 22, 2020
On November 27, United Airlines became the first commercial airline to safely deliver the first batch of Pfizer and BioNTech's COVID-19 vaccine into the U.S. thanks to a coordinated effort between United's cargo, safety, technical operations, flight operations, regulatory and legal teams.
Now as the entire shipping and logistics industry bands together to widely distribute vaccines, United is leveraging all of its flights, including cargo-only and those carrying passengers, to transport millions of vaccines to destinations throughout our network, including Honolulu, Guam and Saipan – the first of any carrier to do so.
"United's cargo service has helped safely deliver many essential goods during this pandemic, but there is no shipment that gives me more personal pride than helping bring this life-saving vaccine to our communities," said Jan Krems, United Cargo President. "While we still face a long road ahead the promise of a widely distributed vaccine gives us hope that we are one step closer to putting this pandemic behind us and moving forward together toward a brighter future."
And United is shipping more than just vaccines to help during the pandemic in keeping the lines of commerce flowing and goods getting to where they need to be. Since mid-March, United has operated 9,000 cargo-only flights carrying more than 435 million pounds of cargo. By using a combination of cargo-only flights and passenger flights, United Cargo has also transported 80 million pounds of medical supplies this year.
In coordination with our shipping and logistics partners, United will continue to distribute COVID-19 treatments to destinations throughout its network. The real heroes are the scientists who created these life-saving vaccines and the frontline workers who are not only administering them, but also helping care for and tend to those suffering from this virus. United is proud to do its part in helping to get this precious cargo to the people and communities who need them, and looks forward to doing our part in the months ahead.
United Cargo responds to COVID-19 challenges, prepares for what's next

September 30, 2020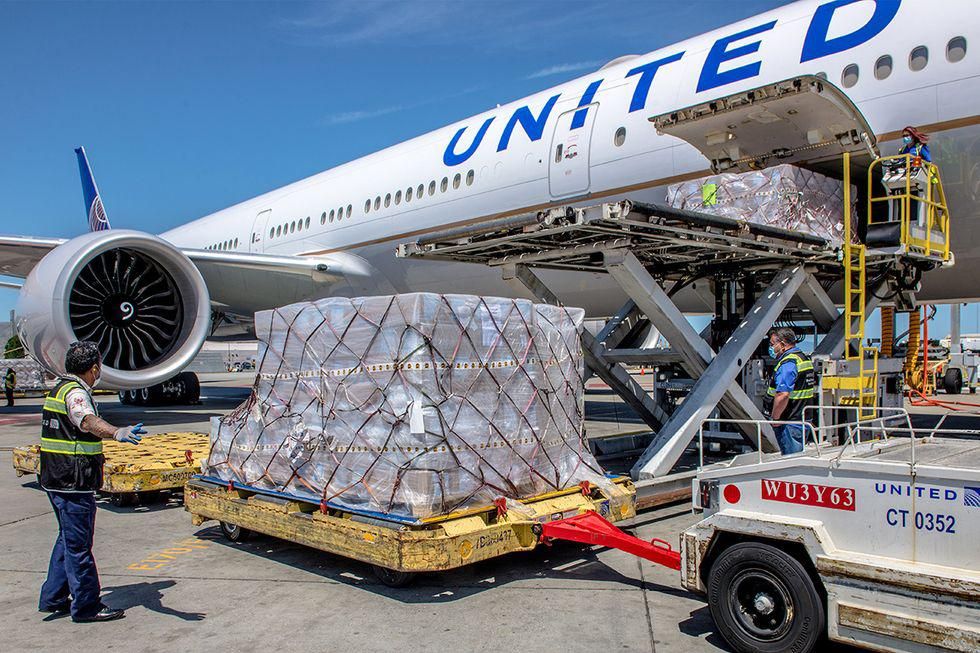 Even before the COVID-19 pandemic, United Cargo has supported a variety of customers within the healthcare industry for over 10 years. Three key solutions – TempControl, LifeGuard and QuickPak – protect the integrity of vital shipments such as precision medicine, pharmaceuticals, biologics, medical equipment and vaccines. By utilizing processes like temperature monitoring, thermodynamic management, and priority boarding and handling, United Cargo gives customers the peace of mind that their shipments will be protected throughout their journey.

With the global demand for tailored pharmaceutical solutions at an all-time high, we've made investments to help ensure we provide the most reliable air cargo options for cold chain shipping. In April this year, we became the first U.S. carrier to lease temperature-controlled shipping containers manufactured by DoKaSch Temperature Solutions. We continue to partner with state-of-the-art container providers to ensure we have options that meet our customers' ever-changing needs.
"Providing safe air cargo transport for essential shipments has been a top priority since the pandemic began. While the entire air cargo industry has had its challenges, I'm proud of how United Cargo has adapted and thrived despite a significant reduction in network capacity and supply," said United Cargo President Jan Krems. "We remain committed to helping our customers make it through the pandemic, as well as to doing everything we can to be prepared for the COVID-19 vaccine distribution when the time comes."
Our entire team continues to prioritize moving critical shipments as part of our commitment to supporting the global supply chain. We've assembled a COVID readiness task team to ensure we have the right people in place and are preparing our airports as we get ready for the industry-wide effort that comes next.
In cooperation with our partners all over the world, United Cargo has helped transport nearly 145 million pounds of medical supplies to aid in the fight against COVID-19, using a combination of cargo-only flights and passenger flig­hts. To date, United Cargo has operated more than 6,300 cargo-only flights and has transported more than 213 million pounds of cargo worldwide.
United Cargo responds to global needs, celebrates 5000th cargo-only flight

August 18, 2020
By Jan Krems, President, United Cargo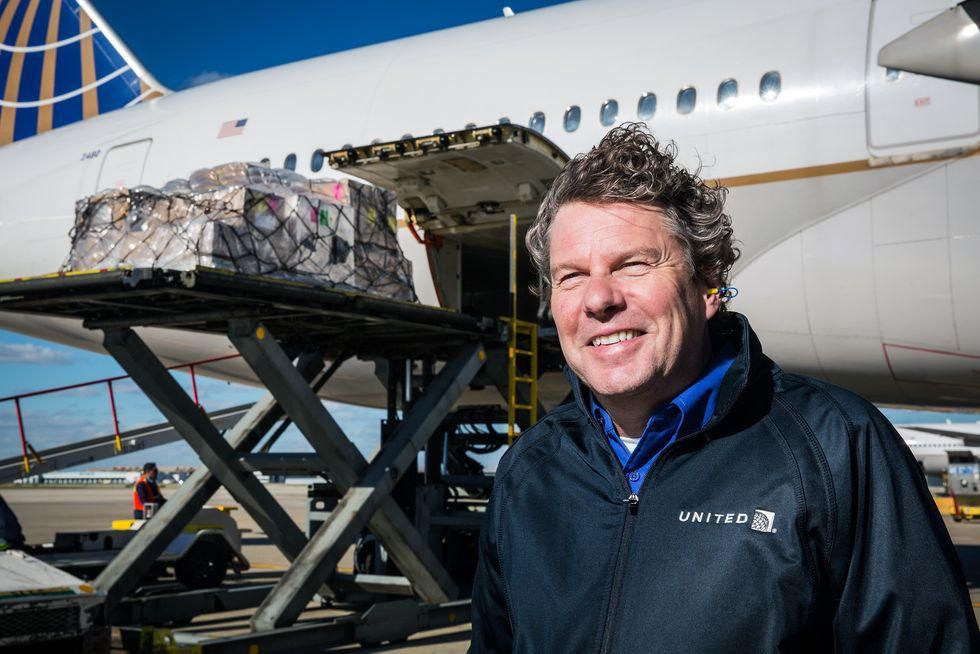 In mid-March, United took steps to manage the historic impact of COVID-19 and began flying a portion of our Boeing 777 and 787 fleets as dedicated cargo-only flights to transport air freight to and from U.S. hubs and key international business locations. More than ever, providing reliable cargo transportation was vitally important and I'm proud say our United Cargo team stepped up to support our customers.

Although we're facing the most challenging environment our industry has ever experienced, I'm very excited to celebrate a major milestone. Since March 19, United has operated over 5,000 cargo-only flights transporting nearly 170 million pounds of cargo on these flights alone. With an increased need to keep the global supply chain moving, and an even more urgent need for medical supplies, we knew we had to utilize our network capabilities and personnel to move vital shipments, such as medical kits, personal protective equipment (PPE), pharmaceuticals and medical equipment between U.S. hubs and key international destinations.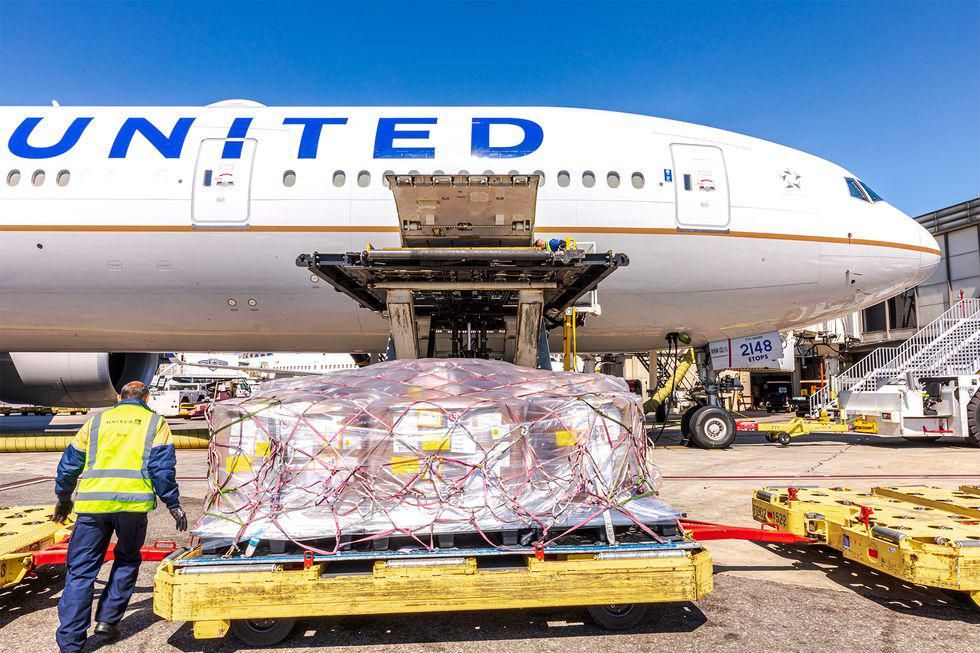 In cooperation with freight forwarders and partners all over the world, United Cargo helped transport more than 107 million pounds of medical supplies to aid in the fight against COVID-19 using a combination of cargo-only flights as well as passenger flights.

To keep military families connected, we increased the frequency of cargo-only flights between the U.S. and military bases in various parts of the world — including bases located in Guam, Kwajalein and several countries in Europe. We know how critically important it is for these families to stay connected, and I'm honored that we were able to utilize our network and our aircraft to fly nearly 3 million pounds of military supplies.
In collaboration with food-logistics company Commodity Forwarders Inc. (CFI), our cargo teams moved nearly 190,000 pounds of fresh produce to Guam for the U.S. Department of Agriculture's Coronavirus Farm Assistance Program. This new program was created to provide critical support to consumers impacted by the coronavirus pandemic.
United has played a critical role in keeping global supply chains stable during the pandemic as we deliver urgently needed goods around the world. These past few months have created challenges that I have never seen in my 30-plus years of experience working within the air cargo and freight forwarding industry. However, I'm proud of our teams for staying focused on our mission to provide high-quality service and to keep our customers connected with the goods they need most.
United Cargo and logistics partners keep critical medical shipments moving
July 02, 2020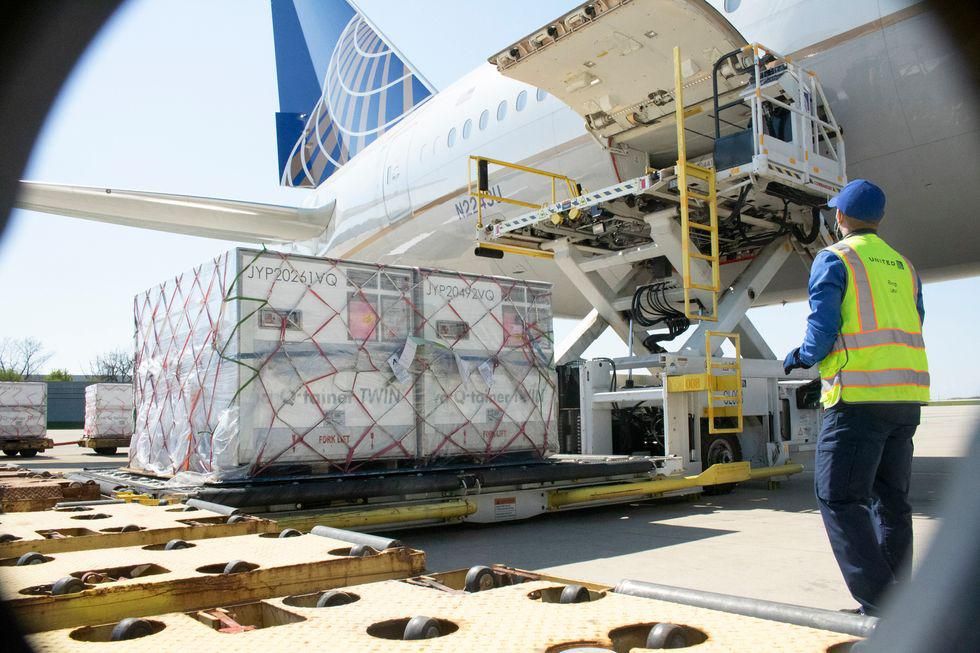 By working together and strengthening partnerships during these unprecedented times, our global community has overcome challenges and created solutions to keep the global supply chain moving. As COVID-19 continues to disrupt the shipping landscape, United and our industry partners have increasingly demonstrated our commitment to the mission of delivering critical medical supplies across the world.

United Cargo has partnered with DSV Air and Sea, a leading global logistics company, to transport important pharmaceutical materials to places all over the world. One of the items most critical during the current crisis is blood plasma.
Plasma is a fragile product that requires very careful handling. Frozen blood plasma must be kept at a very low, stable temperature of negative 20 degrees Celsius or less – no easy task considering it must be transported between trucks, warehouses and airplanes, all while moving through the climates of different countries. Fortunately, along with our well-developed operational procedures and oversight, temperature-controlled shipping containers from partners like va-Q-tec can help protect these sensitive blood plasma shipments from temperature changes.
A single TWINx shipping container from va-Q-tec can accommodate over 1,750 pounds of temperature-sensitive cargo. Every week, DSV delivers 20 TWINx containers, each one filled to capacity with human blood plasma, for loading onto a Boeing 787-9 for transport. The joint effort to move thousands of pounds of blood plasma demonstrates that despite the distance, challenges in moving temperature-sensitive cargo and COVID-19 obstacles, we continue to find creative solutions with the help of our strong partnerships.
United Cargo is proud to keep the commercial air bridges open between the U.S. and the rest of the world. Since March 19, we have operated over 3,200 cargo-only flights between six U.S. hubs and over 20 cities in Asia, Australia, Europe, South America, India, the Caribbean and the Middle East.
United further expands cargo-only operations to key international markets
June 9, 2020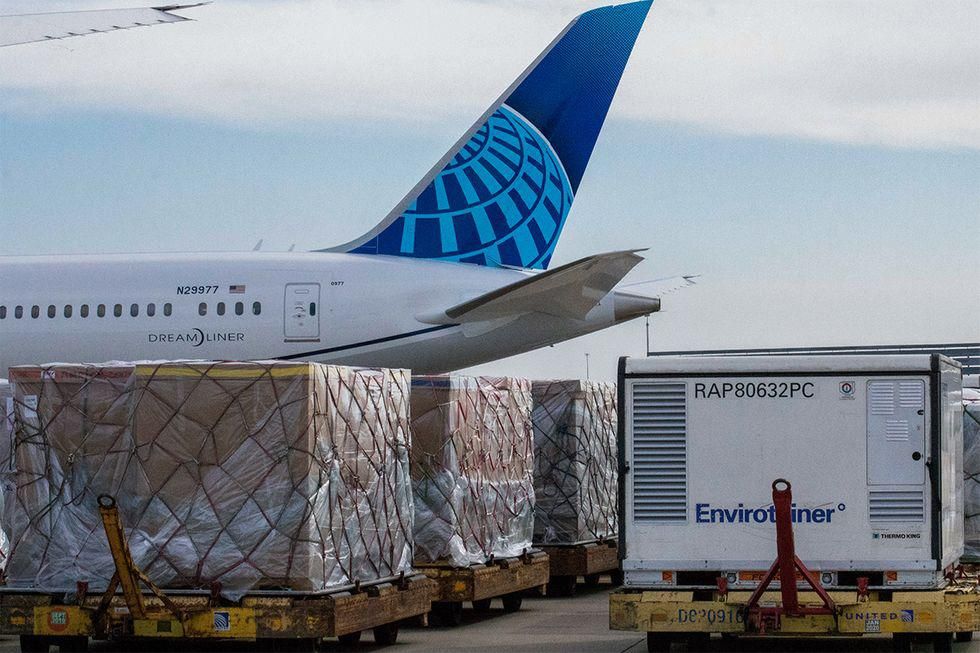 United has played a vital role in helping keep the global supply chains stable during the COVID-19 pandemic so urgently needed goods can get to the places that need them most.

In addition to current service from the U.S. to Asia, Australia, Europe, India, Latin America and the Middle East, we are proud to now offer cargo-only flights to key international markets including Dublin, Paris, Rome, Santiago and Zurich. These new routes will connect our freight customers and further extend our air cargo network throughout the world – for example connecting major pharmaceutical hubs in Europe and perishable markets in Latin America.
"Air cargo continues to be more important than ever," says United Cargo President Jan Krems. "This network expansion helps our customers continue to facilitate trade and contribute to global economic development and recovery. I'm proud of our team for mobilizing our cargo-only flights program that enables the shipment of critical goods that will support global economies."
Since we began our program March 19, we have completed more than 2,400 cargo-only flights, transporting over 77 million pounds of cargo. We have over 1,100 cargo-only flights scheduled for the month of June, operating between six U.S. hubs and over 20 cities all over the world.
United's first flight carrying cargo in-cabin takes off
May 13, 2020

United continues to keep supply chains moving and to meet the demand for critical shipments around the globe. Recently, United received approval from the Federal Aviation Administration (FAA) to carry cargo in approved storage areas in the passenger cabin.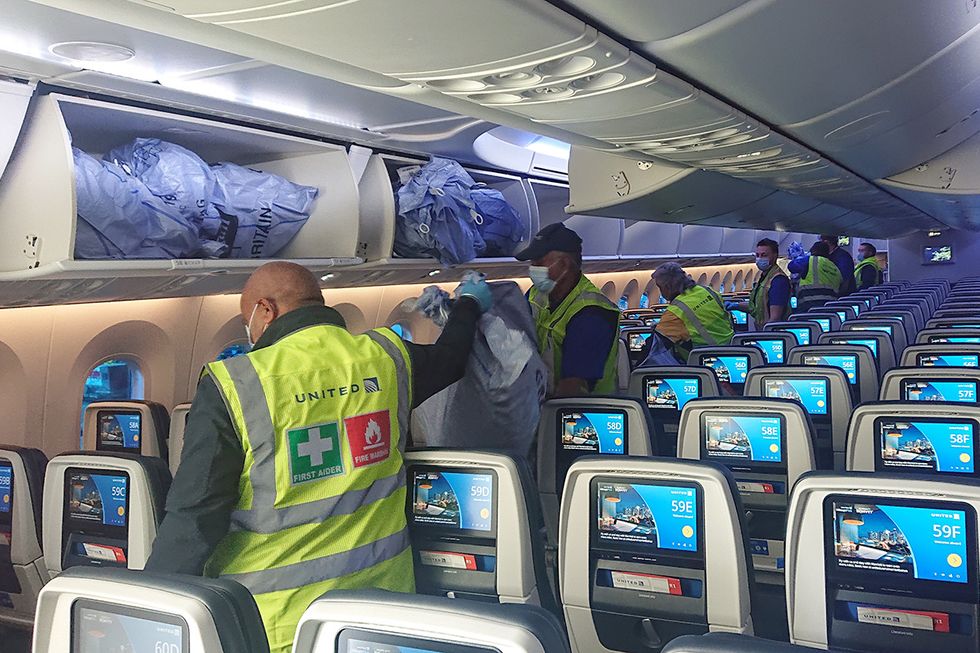 Our inaugural cargo-in-cabin flight flew from London (LHR) to Chicago (ORD) carrying over 4,200 pounds of mail in the passenger cabin, plus a full payload of freight in the belly of the aircraft. Initially, cargo-in-cabin shipments will be loaded on the 777 and 787 aircraft operating our cargo-only flights. We will continue to evaluate additional opportunities to use this space to meet the growing cargo demand.
"We send our sincere thanks to the FAA for working with our team to enable the transport of more critical goods on United's cargo-only flights," said Jan Krems, President of United Cargo. "By loading existing cabin storage areas with cargo and mail, we can move even more critical medical equipment, PPE, and other vital shipments the world needs to manage through the pandemic."

United's cargo-only network continues to expand in order to help bring vital shipments to the people that need it most. We're now offering service between six of our U.S. hubs and 18 airports worldwide: CTU, HKG, ICN, MEL, PEK, PVG, SIN, SYD and TPE in the Asia-Pacific; AMS, BOM, BRU, DUB, FRA, LHR, TLV and ZRH in EMEIA; and SJU in the Caribbean.
Since the start of its cargo-only flights program March 19, United has operated over 1,300 cargo-only flights transporting over 44 million pounds of cargo.
For more information, visit unitedcargo.com.
United expands cargo-only flights to additional global destinations
April 16, 2020
Getting vital goods, especially medical relief supplies, into the hands of the businesses and people who need them has never been more critically important. To meet the overwhelming demand, United began operating cargo-only flights on March 19. Since we began using Boeing 777 and 787 aircraft from United's passenger fleet for this purpose, we have operated over 400 flights carrying more than 6 million kilos of cargo.
"With the global community in need, we are doing everything we can to keep supply chains moving worldwide and support the battle against COVID-19," said United Cargo President Jan Krems. "We're proud to play an active role in connecting vital medical supplies like test kits and personal protective equipment with healthcare professionals around the world."
We are now operating more than 150 cargo-only flights per week between six of our U.S. hubs and 13 cities worldwide: CTU, HKG, PEK, PVG, SYD and TPE in the Asia Pacific; AMS, BRU, DUB, FRA and LHR in Europe; SJU in the Caribbean and TLV in the Middle East. We expect to add new cities soon and will continue to expand our cargo-only flights program.
Hub
Cargo-only flights operating through May
Chicago (ORD)
ORD - AMS (Amsterdam)
ORD - FRA (Frankfurt)
ORD - HKG (Hong Kong)
ORD - LHR (London)
ORD - NRT (Tokyo Narita) - PEK (Beijing)

Houston (IAH)
IAH - AMS (Amsterdam)
IAD - FRA (Frankfurt)
Los Angeles (LAX)
LAX - HKG (Hong Kong)
LAX - LHR (London Heathrow)
LAX - NRT (Tokyo Narita) - PVG (Shanghai)
LAX - SYD (Sydney)
New York/Newark (EWR)
EWR - AMS (Amsterdam)
EWR - FRA (Frankfurt)
EWR - LHR (London)
San Francisco (SFO)
SFO - AMS (Amsterdam)
SFO - NRT (Tokyo Narita) - PEK (Beijing)
SFO - NRT (Tokyo Narita) - PVG (Shanghai)
SFO - NRT (Tokyo Narita) - TPE (Taipei)
SFO - TLV (Tel Aviv)
SFO - SYD (Sydney)
Washington, D.C. (IAD)
IAD - BRU (Brussels)
IAD - DUB (Dublin)
IAD - FRA (Frankfurt)
IAD - NRT (Tokyo Narita) - PEK (Beijing)
IAD - SJU (San Juan)
Flight details are subject to change, for the most up-to-date schedules, please visit https://ual.unitedcargo.com/covid-updates.
Cargo-only flights support U.S. military and their families
March 30, 2020
We are helping to keep military families connected by increasing the frequency of cargo-only flights between the United States and military bases in various parts of the world — including Guam, Kwajalein, and several countries in Europe. Last week we began operating a minimum of 40 cargo-only flights weekly — using Boeing 777 and 787 aircraft to fly freight and mail to and from U.S. hubs and key international business and military locations.
We are going above and beyond to find creative ways to transport fresh food and produce, as well as basic essentials from the U.S. mainland to military and their families in Guam/Micronesia. On Saturday, March 28, we operated an exclusive cargo-only B777-300 charter to transport nearly 100,000 pounds of food essentials to Guam to support our troops.
In addition, we move mail year-round all over the world. In response to COVID-19, and in support of the military members and their families overseas, we implemented a charter network, transporting military mail to Frankfurt, which is then transported all over Europe and the Middle East. Since March 20, we have flown 30,000+ pounds of military mail every day between Chicago O'Hare (ORD) and Frankfurt (FRA). On the return flight from Frankfurt to Chicago, we have carried an average of 35,000 pounds of mail to help families stay connected.

"Keeping our military families connected with the goods they need, and keeping them connected with loved ones to feel a sense of home, is of critical importance. As a company that has long supported our military families and veterans, our teams are proud to mobilize to lend a hand." — United Cargo President Jan Krems.
Our cargo-only flights support customers, keep planes moving

March 22, 2020
We have begun flying a portion of our Boeing 777 and 787 fleet as dedicated cargo charter aircraft to transfer freight to and from U.S. hubs and key international business locations. The first of these freight-only flights departed on March 19 from Chicago O'Hare International Airport (ORD) to Frankfurt International Airport (FRA) with the cargo hold completely full, with more than 29,000 lbs. of goods.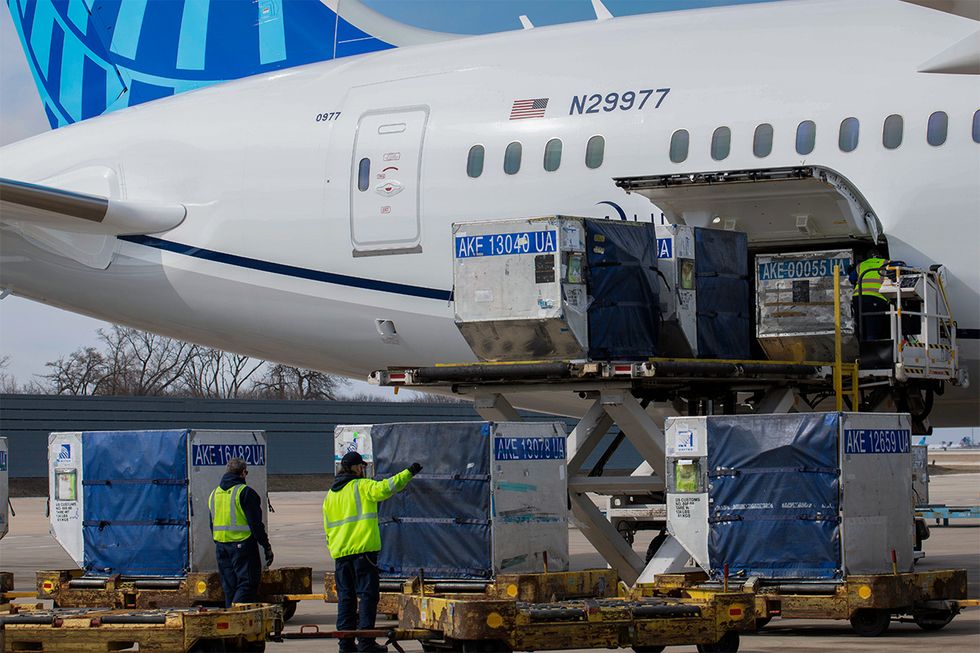 Getting critical goods into the hands of the businesses and people who need them most is extremely important right now. To support customers, employees and the global economy, we will initially operate a schedule of 40 cargo charters each week targeting international destinations and will continue to seek additional opportunities.

With coronavirus (COVID-19) creating an increased need to keep the global supply chain moving, we are utilizing our network capabilities and personnel to get vital shipments, such as medical supplies, to areas that need them most.
"Connecting products to people around the world is the United Cargo mission," said United Cargo President Jan Krems. "That role has never been more crucial than during the current crisis. Our team is working around the clock to provide innovative solutions for our customers and support the global community."
On average, we ship more than 1 billion pounds of cargo every year on behalf of domestic and international customers. For more information, visit unitedcargo.com.
Airline and its customers use crowdsourcing platform - Miles on a Mission - to donate more than 11 million miles for charities like the Thurgood Marshall College Fund, College to Congress and Compass to Care
CHICAGO, Dec. 1, 2020 /PRNewswire/ -- United is inviting MileagePlus members to give back on Giving Tuesday and throughout the holiday season by donating miles to nearly 40 non-profits through United Airlines' crowdsourcing platform, Miles on a Mission. Non-profits like Thurgood Marshall College Fund, College to Congress and Compass to Care are attempting to raise a total of more than 11 million miles to be used for travel for life-saving health care, continued education, humanitarian aid and more. United will match the first 125,000 miles raised for each of these organizations to help ensure they meet their goals.
"This year has posed unprecedented challenges for us all and has been especially devastating to some of the most vulnerable members within the communities we serve," said Suzi Cabo, managing director of global community engagement, United Airlines. "The need for charitable giving has not stopped during the pandemic, and neither has United. This Giving Tuesday marks an opportunity for us to all come together for the greater good and we are proud to provide a platform to support organizations with upcoming travel needs that will enable them to continue supporting the communities they serve."
The launch of these campaigns is part of United's ongoing Miles on a Mission program, which began in October 2019 and has raised more than 92 million miles to-date. Past campaigns have helped organizations travel children for life-saving medical treatment and unite parents with newly adopted children from foreign countries. Participating non-profits have 28-days to reach their mile raising goals through the platform.
The organizations that are raising miles in this campaign include:
College to Congress: The organization provides support including travel for disadvantaged college students who otherwise could not afford to intern in Washington, D.C.
Thurgood Marshall College Fund: This is the only national organization representing America's 47 publicly-supported Historically Black Colleges and Universities (HBCUs), and the nearly 300,000 students that attend them each year. The miles raised will cover the travel expenses to and from campus for students unable to afford them.
My Block, My Hood, My City: This organization provides underprivileged youth with an awareness of the world and opportunities beyond their neighborhood. Miles will be used to fund educational trips for Chicago youths to help them gain a greater understanding of the world outside of their comfort zones.
Compass to Care: The non-profit ensures all children, whose parents have a financial need, can access life-saving cancer treatment. Compass to Care is raising miles to fund travel to get children from their homes to hospitals for cancer treatment.
Luke's Wings: This organization is dedicated to the support of service members who have been wounded in battle. Raised miles will be used to purchase plane tickets for families to visit wounded soldiers recovering in Army medical centers.
Rainbow Railroad USA: The organization's mission is to help persecuted LGBTQI+ individuals around the world travel to safety as they seek a haven from persecution. Miles will support the organization's core Emergency Travel Support program.
This year, United's legal partner Kirkland & Ellis will also be donating $50,000 to My Block, My Hood, My City and the Thurgood Marshall College Fund. Other organizations launching campaigns on the platform include: Sisters of the Skies, Inc., Up2Us Sports, Airline Ambassadors International, Austin Smiles, AWS Foundation, Crazy Horse Memorial, FLYTE, Higher Orbits, Lily's Hope Foundation, Miles4Migrants, Support Utila Inc. and Watts of Love. MileagePlus members can also donate to United's 20 other existing partner charities including, Airlink, American Red Cross, Make-A-Wish, Shriners Hospitals; Clean the World, Special Olympics and more. To learn more or donate to these organizations, please visit donate.mileageplus.com.
Visit www.united.com/everyactioncounts to learn more about our pledge to put our people and planes to work for the greater good.
About United
United's shared purpose is "Connecting People. Uniting the World." For more information, visit united.com, follow @United on Twitter and Instagram or connect on Facebook. The common stock of United's parent, United Airlines Holdings, Inc., is traded on the Nasdaq under the symbol "UAL".

SOURCE United Airlines
For further information: United Airlines Worldwide Media Relations, +1-872-825-8640, media.relations@united.com

In October 2019, we launched a first-of-its-kind airline miles donation platform, Miles on a Mission. In the inaugural year, MileagePlus members donated over 70 million miles, with United matching over 20 million miles, to 51 organizations. These miles have allowed for these organizations to do important, life-changing, life-saving work in the communities we serve around the globe.
Whether it's visiting friends and relatives, traveling for work or simply exploring a new corner of the world, we all have a reason as to why we fly. No matter the reason you fly, the miles you earn and donate help our Miles on a Mission partners soar. Take a look at how some of our partner organizations have put our MileagePlus Members' donations to work.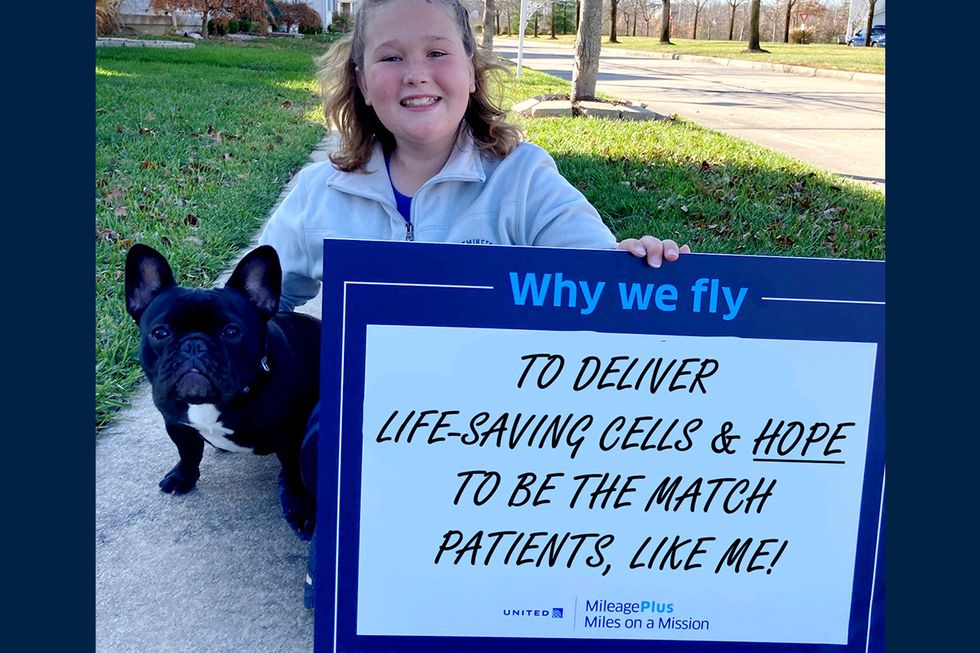 "To deliver life-saving cells and hope to Be the Match patients, like me!"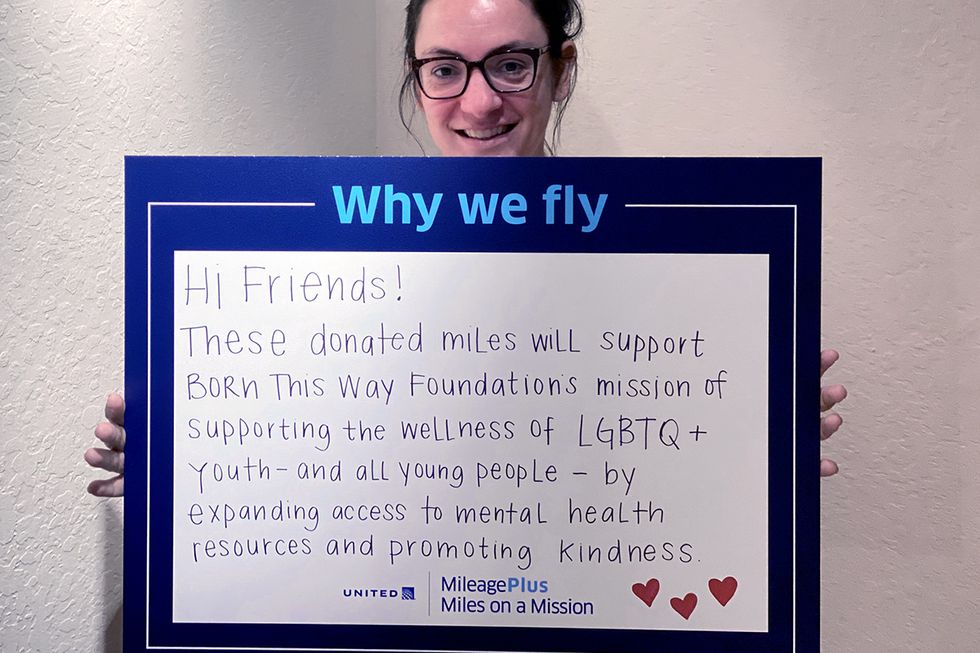 "These donated miles will support Born This Way Foundation's mission of supporting the wellness of LGBTQ+ youth — and all young people — by expanding access to mental health resources and promoting kindness."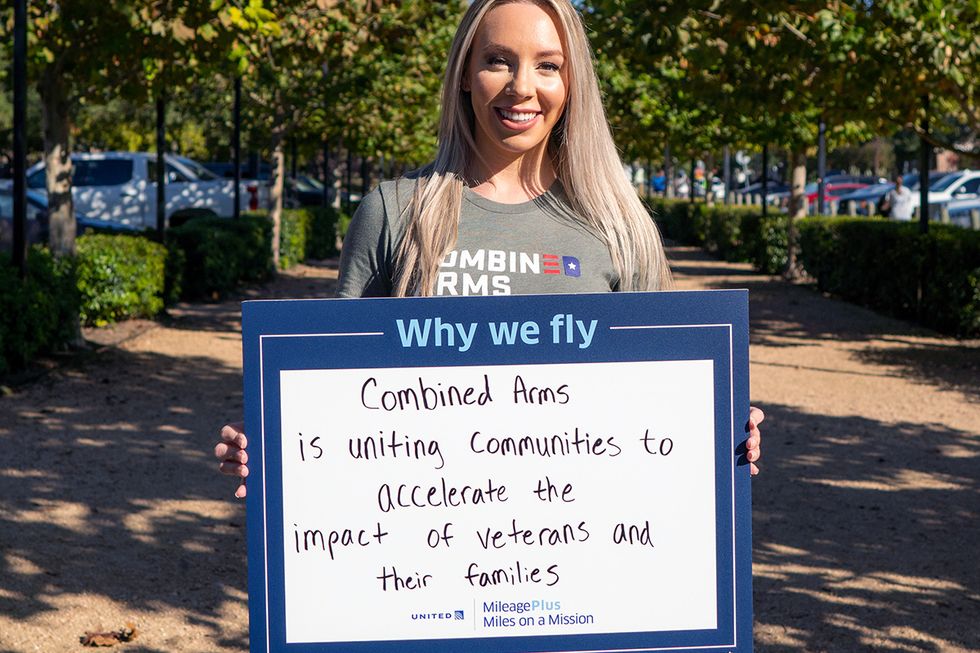 "Combined Arms is uniting communities to accelerate the impact of veterans and their families."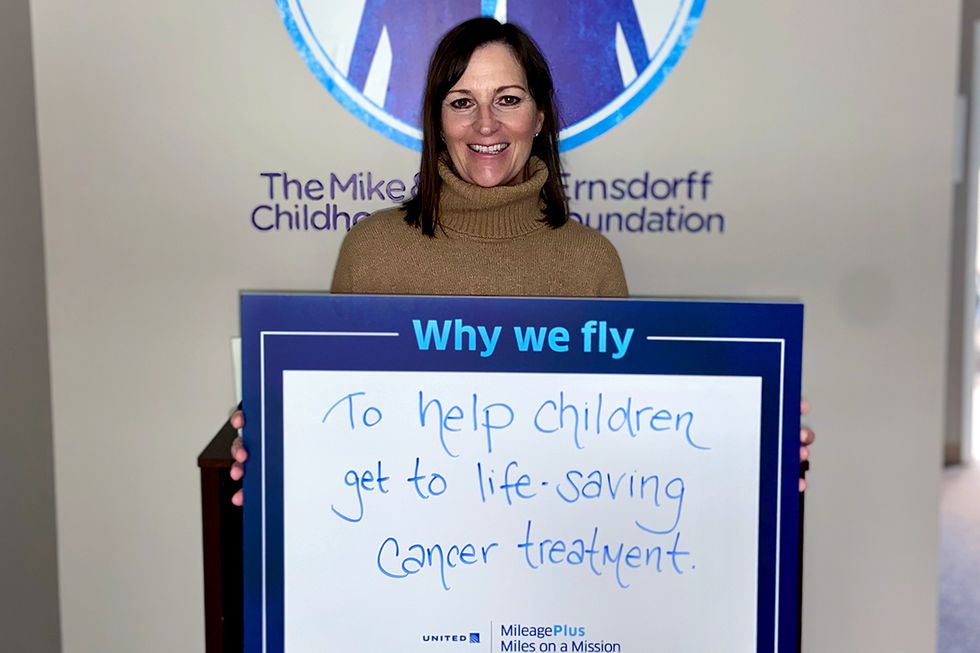 "To help children get to life-saving cancer treatment"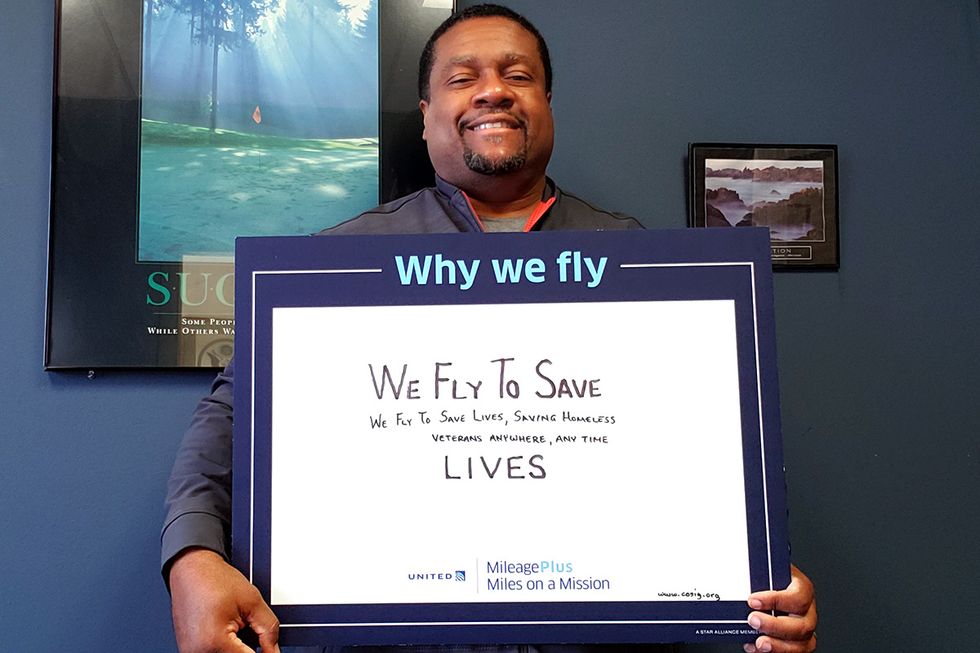 "We fly to save. We fly to save lives, saving homeless veterans anywhere, any time."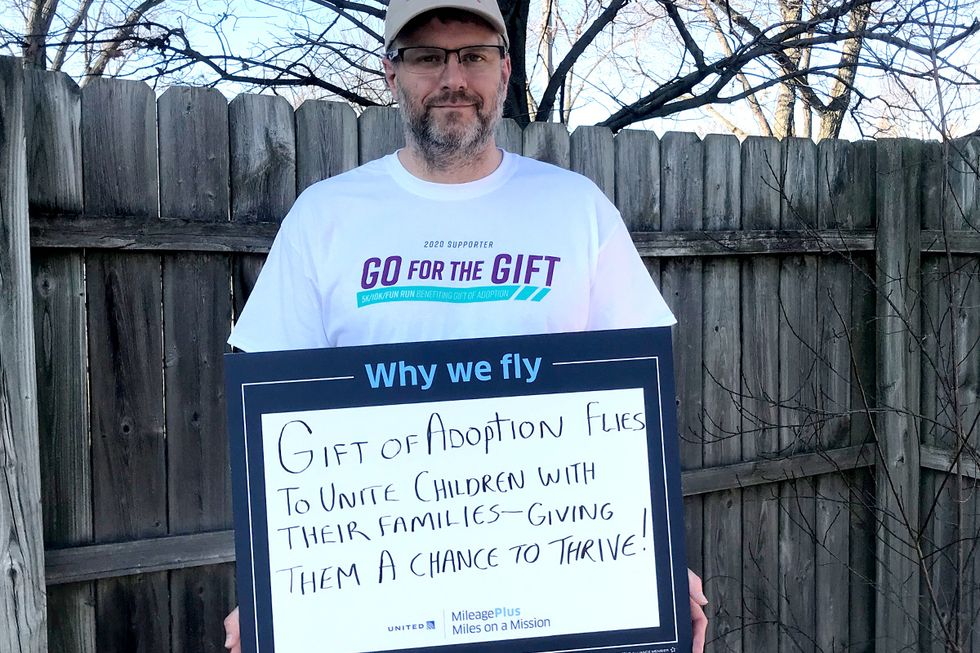 "Gift of Adoption flies to unite children with their families — giving them a chance to thrive!"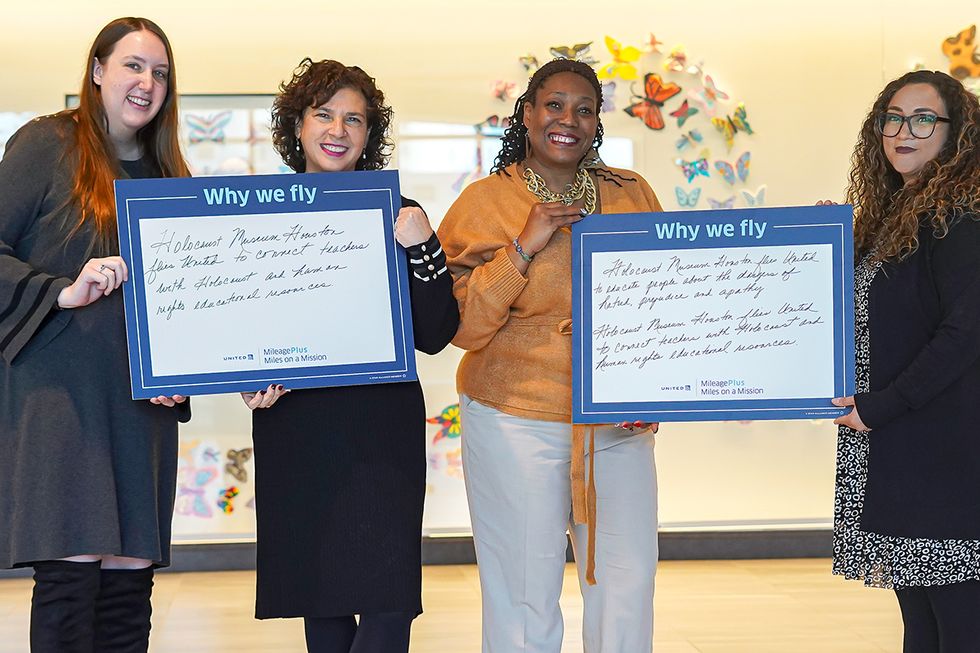 "Holocaust Museum Houston flies United to educate people about the dangers of hatred, prejudice and apathy. Holocaust Museum Houston flies United to connect teachers with Holocaust and human rights educational resources."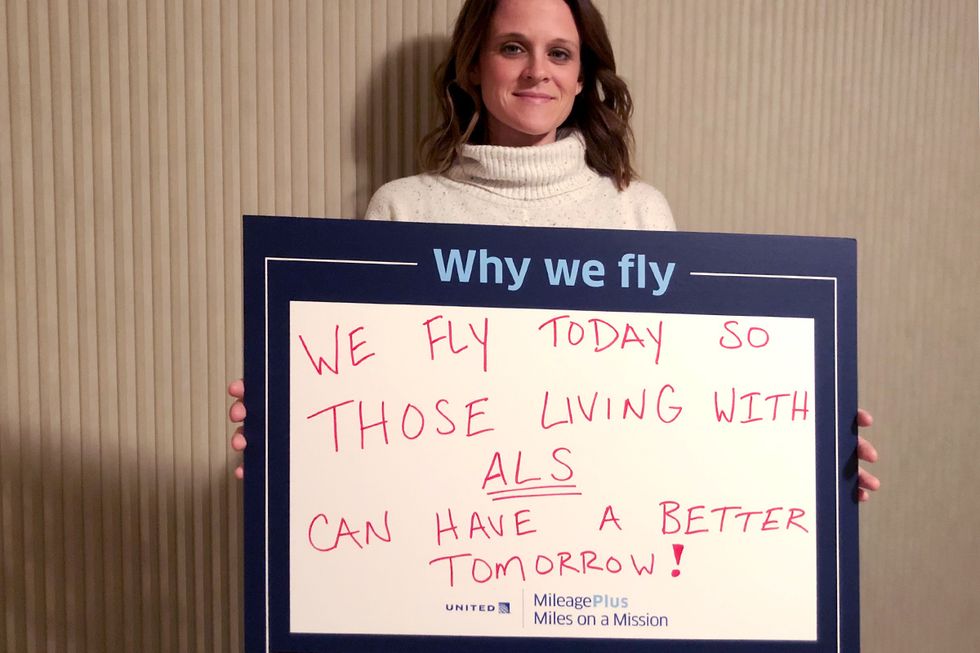 "We fly today so those living with ALS can have a better tomorrow."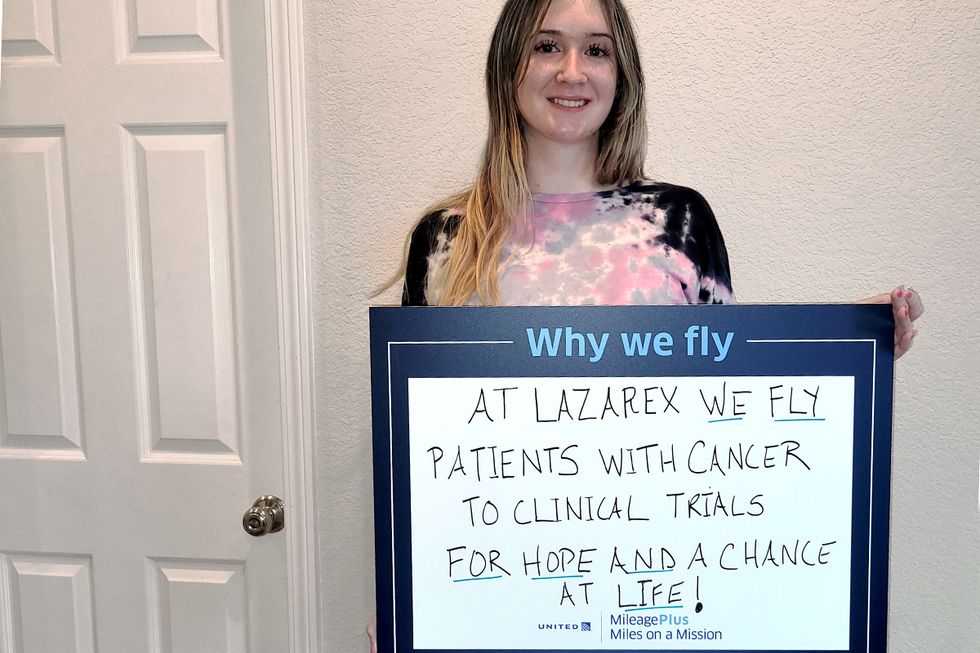 "At Lazarex we fly patients with cancer to clinical trials for hope and a chance at life!"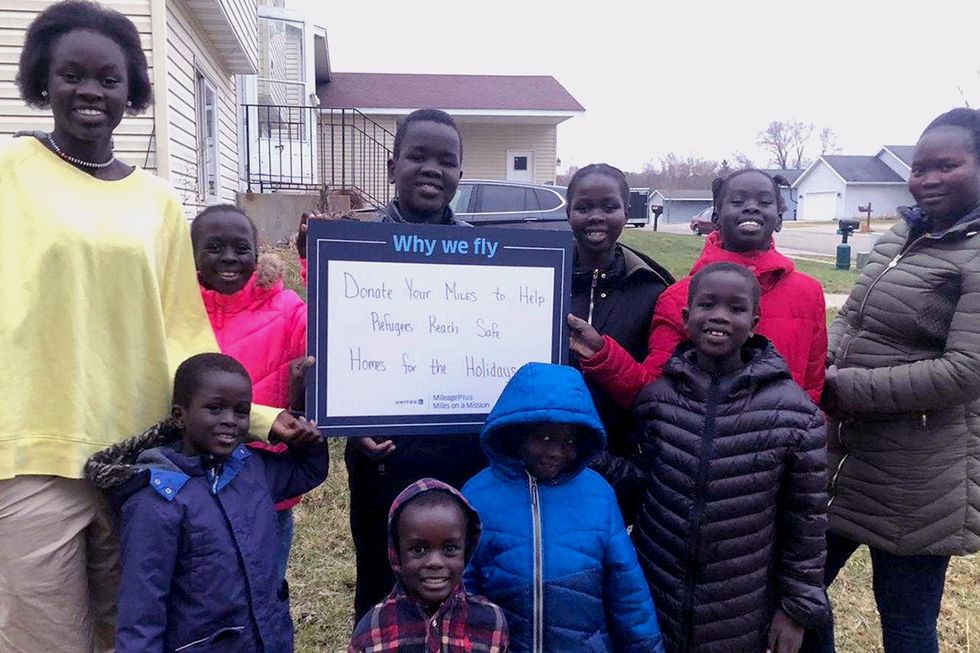 "Donate your miles to help refugees reach safe homes for the holidays."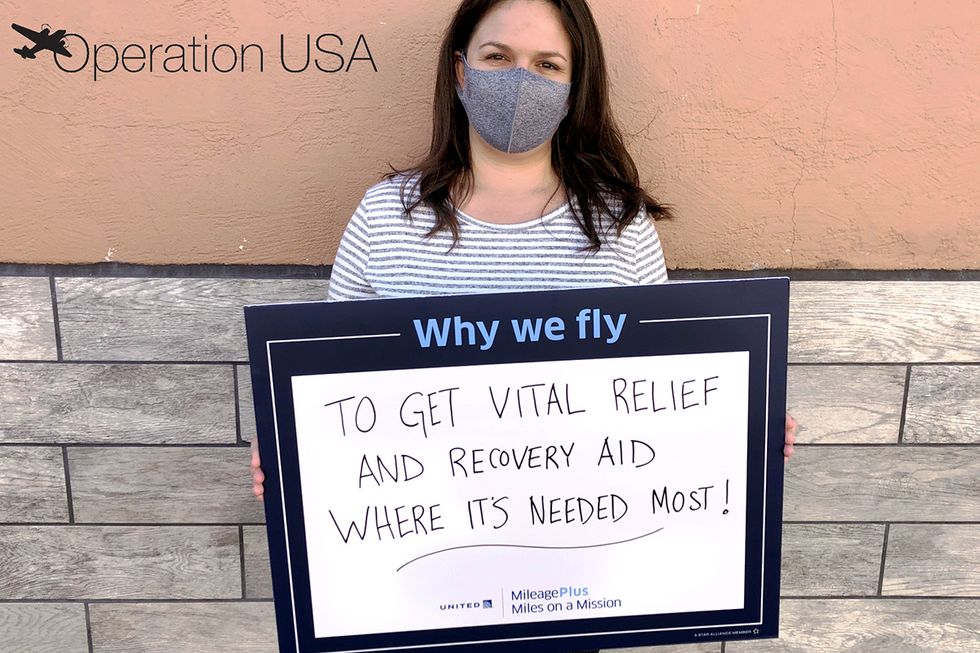 "To get vital relief and recovery aid where it's needed most!"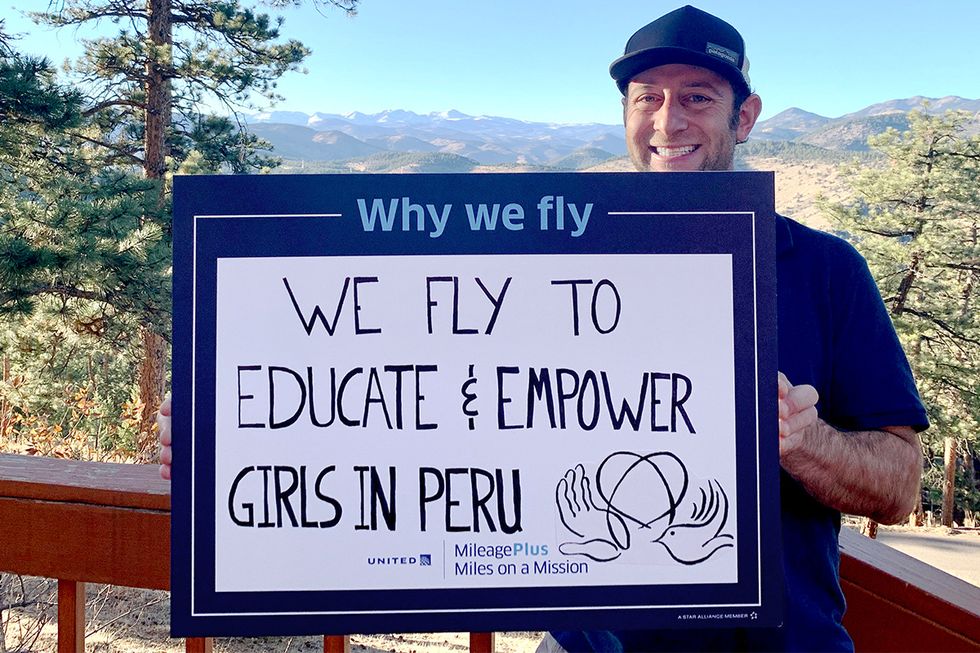 "We fly to educate and empower girls in Peru."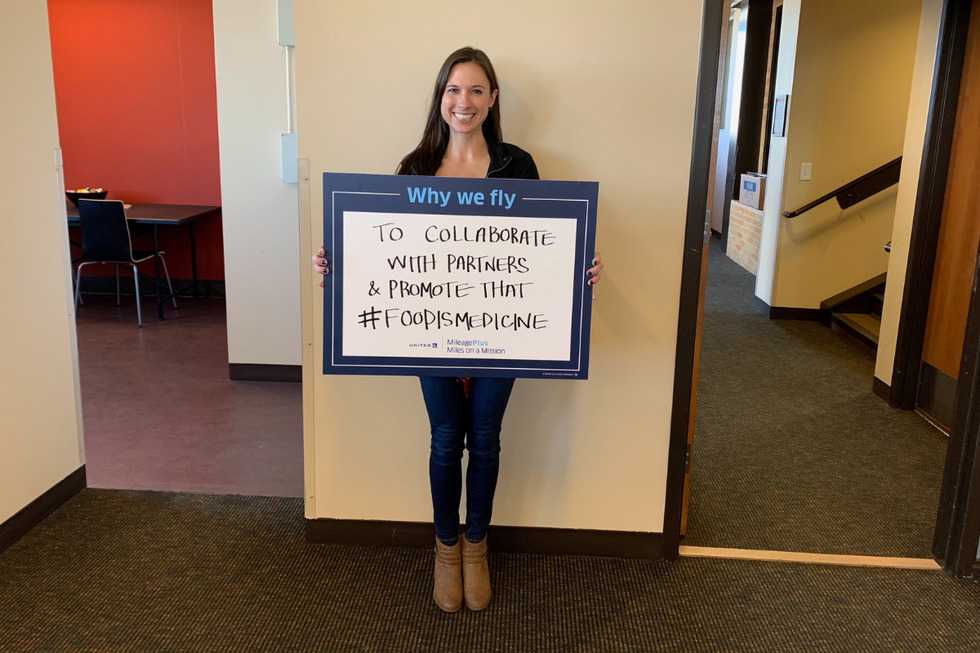 "To collaborate with partners & promote that #FoodIsMedicine"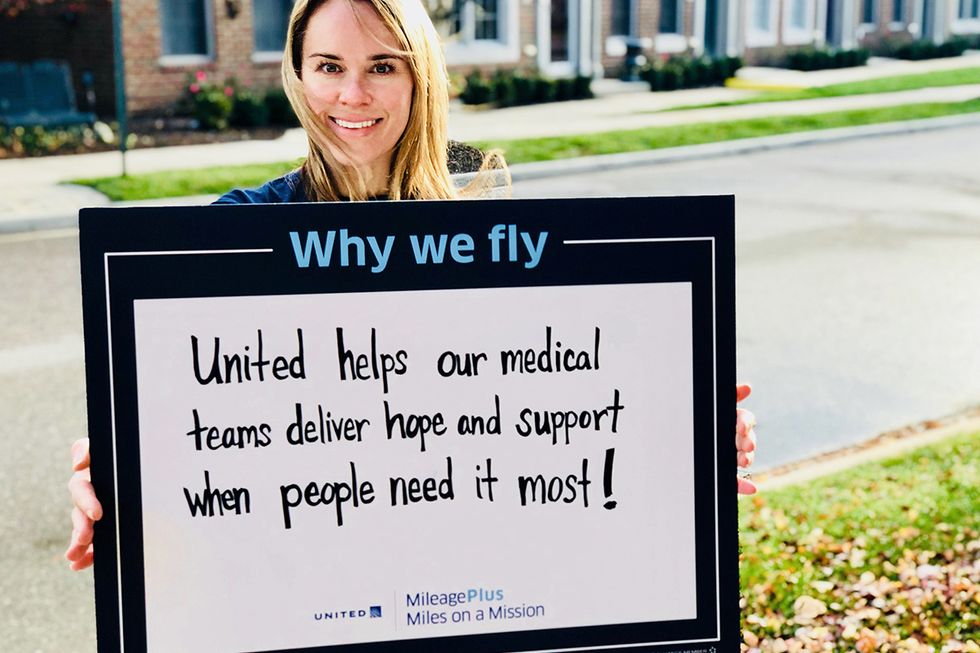 "United helps our medical teams deliver hope and support when people need it most!"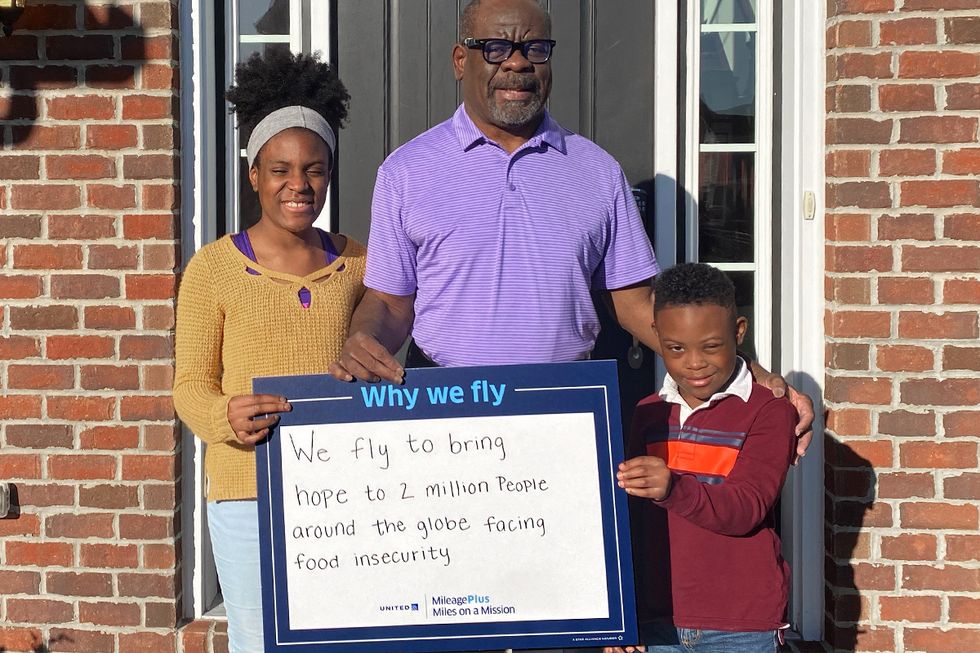 "We fly to bring hope to 2 million people around the globe facing food insecurity."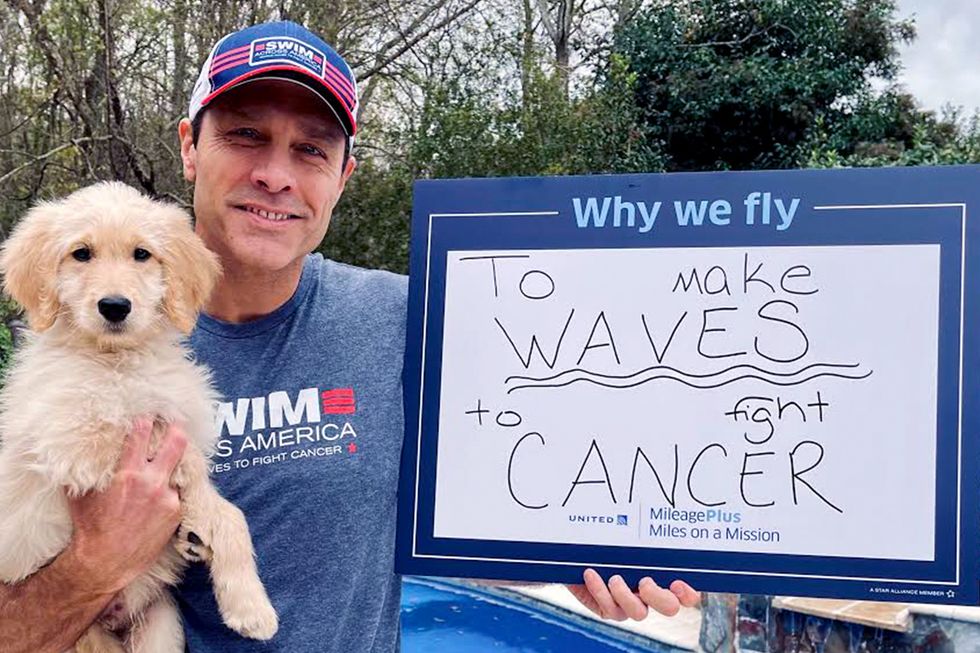 "To make waves to fight cancer."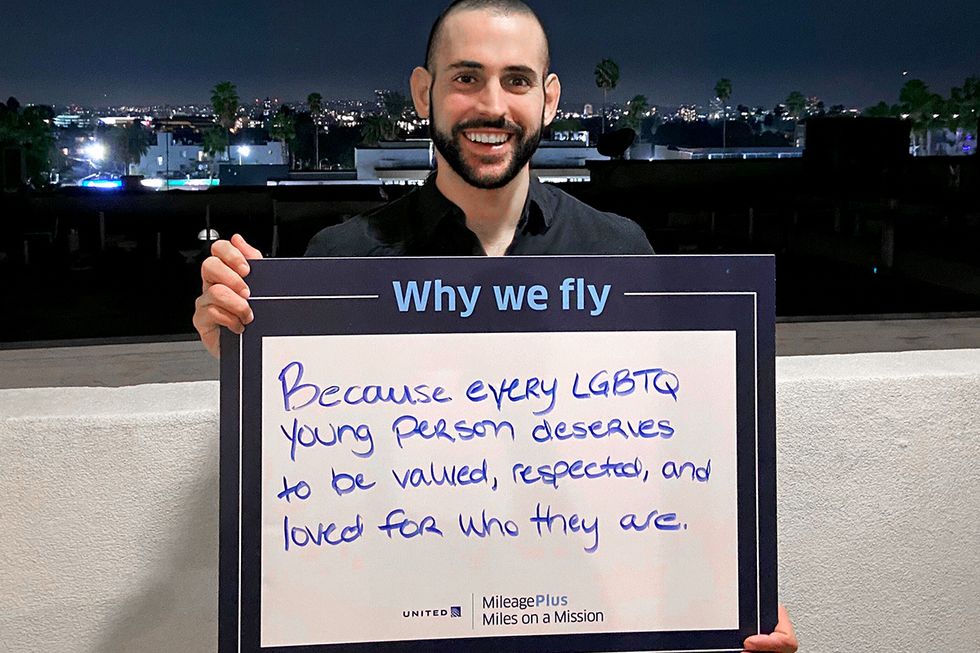 "Because every LGBTQ young person deserves to be valued, respected and loved for who they are."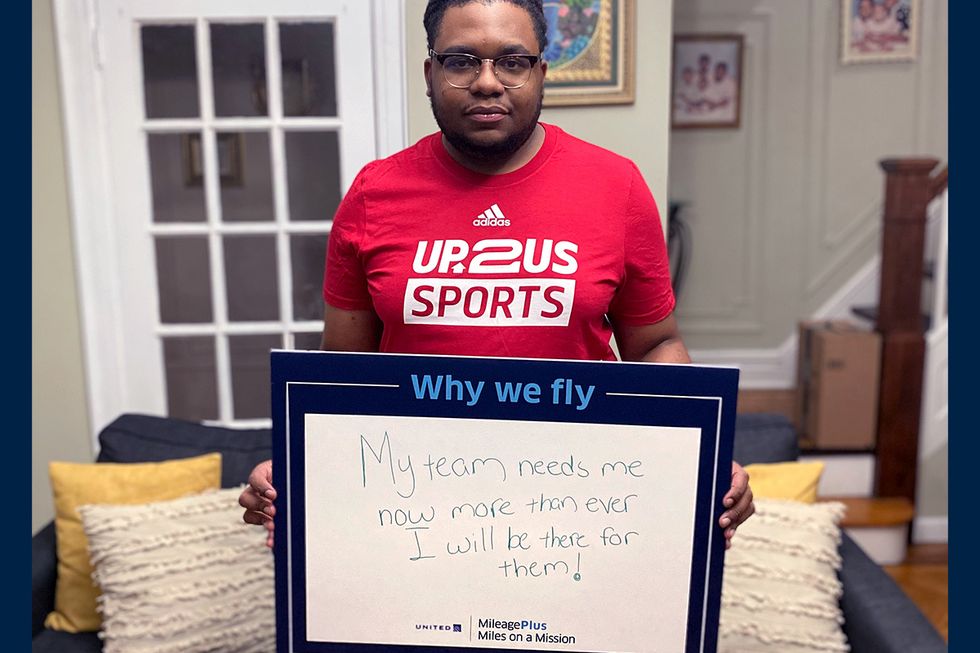 "My team needs me now more than ever. I will be there for them!"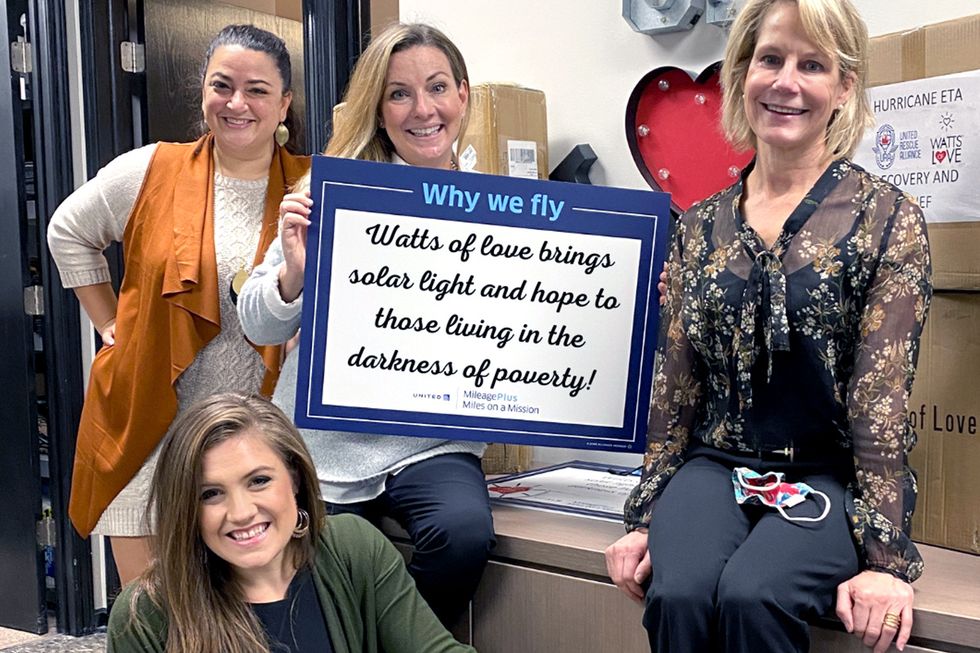 "Watts of Love brings solar light and hope to those living in the darkness of poverty!"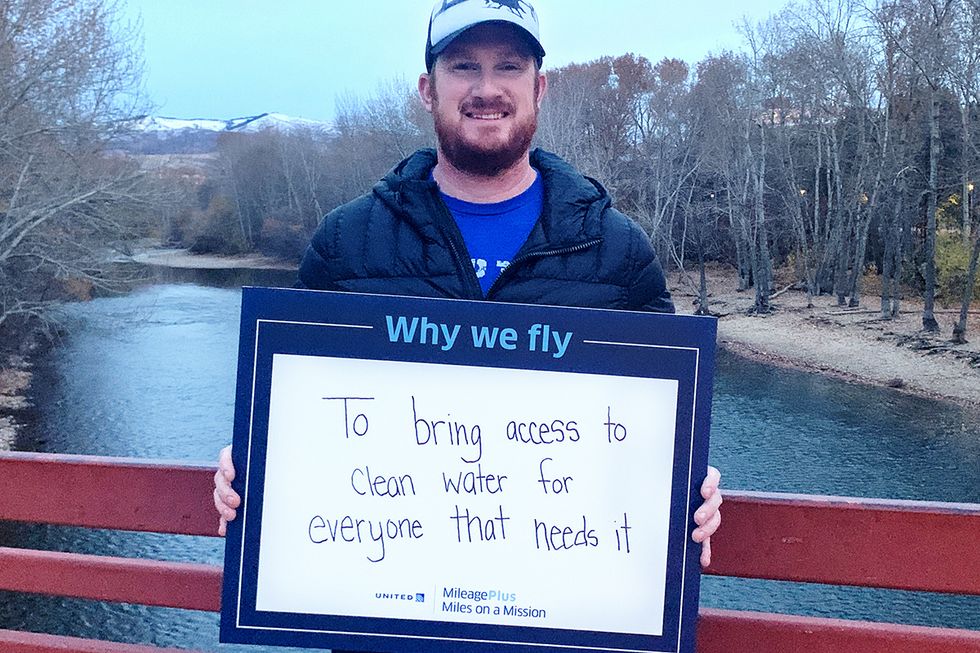 "To bring access to clean water for everyone that needs it."
Scroll to top