Three Perfect Days: Taipei
Story by Orion Ray-Jones | Photography by Shane McCauley | Hemispheres, March 2014
On an overcast day, clouds cling to the upper floors of Taipei 101, cloaking the soaring tower in the same watercolor fog that swirls around the nearby mountaintops. It's a fitting metaphor for a place that, despite being situated at the nexus of Chinese and Japanese civilizations, has historically been obscured behind a kind of veil.
Even now, despite its status as one of Asia's more robust economic "tigers," the capital city of Taiwan (or Ilha Formosa, "beautiful island," as it was dubbed by 16th-century Portuguese explorers) is not as frequently visited as other East Asian boomtowns. Indeed, it's common to wander through Taipei's most appealing districts and never hear a word of English, French or German.
This is not to say that Taipei is short of attractions. Exquisite Buddhist, Taoist and Confucian temples, along with Japanese colonial buildings, dot the modern cityscape. Nature lovers can retreat to nearby mountain trails, while history buffs will be dazzled by the wealth of Asian art and crafts in Taipei's many museums and antique shops. And, as the home of global food trends from pearl tea to soup dumplings, the city is a gourmand's delight.
The term "hidden gem" is overused, but in the case of Taipei it's entirely appropriate. A visit here is a process of continual, exhilarating discovery.

DAY ONE | It's no accident that until a few years ago Taipei was home to the world's tallest skyscraper. This is a place obsessed with its own skyline, and locals can spend hours gazing at the towers from the nearby mountains, or at the mountains from the city's towers. Appropriately, then, you awake to a picture window in a 30th-floor suite at the neon-emblazoned W Taipei, the city's effort to provide the last word on design hotels.
You take your time, watching the sun arc from the hip and expensive eastern district toward the old city in the west. After a breakfast of granola, fruit and espresso in the hotel's summery Kitchen Table restaurant, you head down to the lobby, pausing to puzzle over an interactive sculpture that mirrors your movement on a grid of hundreds of LEDs. From here, you take the short walk eastward to Elephant Mountain, where you intend to get the lay of the land.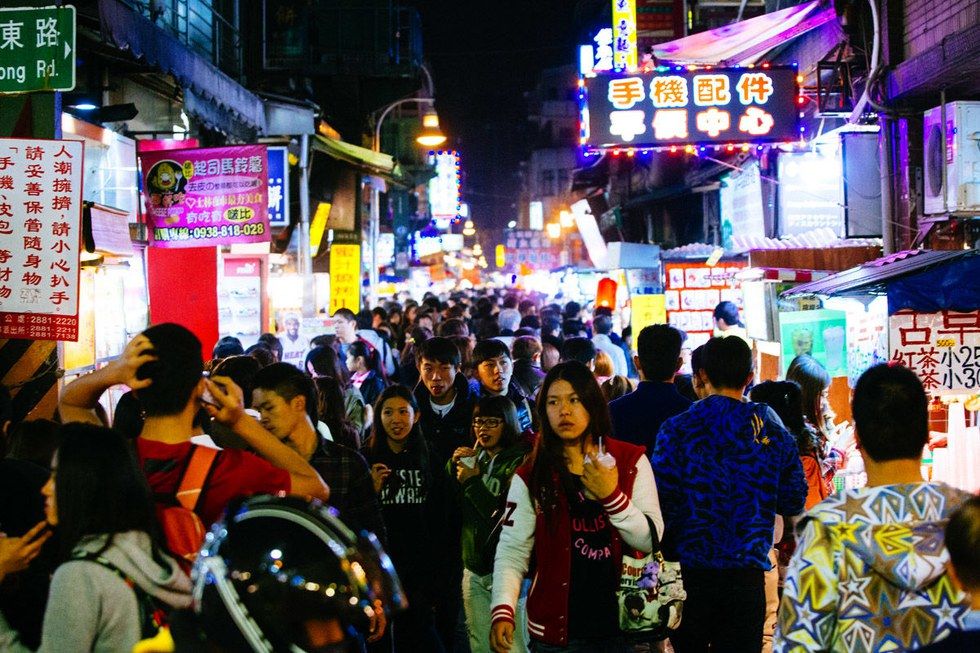 Milling around in Shilin Night Market
It's a little after eight, but the red-walled Lingyun Temple at the mountain's base is already teeming with local hikers. Knowing an out-of-towner when they see one, they stop to ask where you're from, or whisk by with a breezy zao an! Many are much older than you but seem better equipped to tackle the stone stairs that climb toward the summit. You wheeze your way up, rejoining the beaming geriatrics beside a large moss-covered rock, which you scale to pose for a selfie, the pagoda-like Taipei 101 jutting up behind you.
The elevator at Taipei 101, you've been told, is the world's fastest, and you're in no mood to argue as you zoom upward to a soundtrack of spaced-out music and your own popping ears. Alighting from the disco-lift on the 89th floor, 37 disorienting seconds later, you cannot help but notice that it's gotten a little cloudy, mostly because the clouds are at eye level. Through the wisps, you can see Taipei in all its glory—the spinning Ferris wheel, the golden roofs, the lesser towers prickling their way towards the mountains. The effect is made more dramatic by the fact that this building isn't just the city's tallest; it's the tallest by a long shot.
It takes seconds to descend the skyscraper, but the wait for a lunch table at Din Tai Fung, in the basement mall, promises to be considerably longer. This spacious eatery is almost as famous for its lines as for its xiaolongbao, the soup dumplings that have earned the Taiwanese chain a Michelin star in Hong Kong and a "top-notch table" designation from The New York Times. The dumplings are a sublime combination of chewy and soupy, but it's the spicy wontons that steal the show. When Tom Cruise ate here, your waitress tells you, he was so taken with them he asked for a lesson from the chefs.
A five-minute cab ride takes you to Songshan Cultural and Creative Park, a neo-industrial complex on the grounds of an abandoned tobacco factory. Recently declared the 2016 World Design Capital, Taipei is a hotbed of bleeding-edge art and design, and the warehouses of Songshan are the place to see it. Particularly compelling is the Red Dot Design Museum, where all sorts of objects, from elephant-inspired fire extinguishers to twisted steel table lamps, are displayed in chrome-walled halls.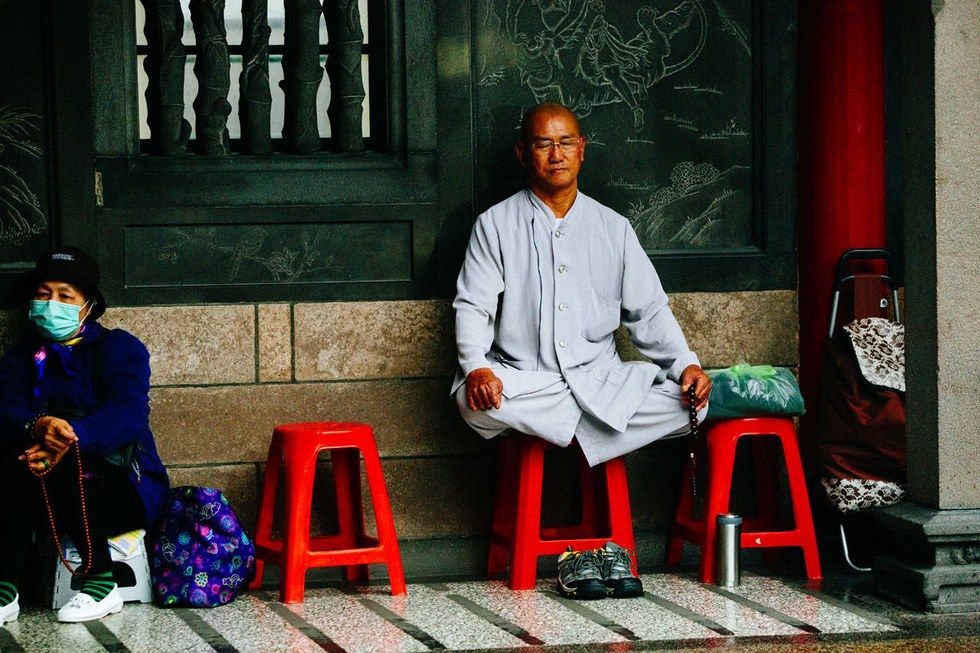 Visitors at Longshan Temple
Unlike some Asian capitals, where sidewalks are treated as an extra lane for scooter and bicycle traffic, Taipei is a pedestrian-friendly city. So you work up another appetite strolling along retail-heavy Zhongxiao Road, watching as the sky turns a dusky crimson and the ubiquitous neon bursts to life. As you near Zhongxiao Dunhua Station, you come across Ice Monster, the legendary shaved-ice eatery. Heck, you think, nothing wrong with a little light dessert before dinner, and head inside for an icy mango refreshment.
Taipei's shaved ice has been exported all over the world, but the city is an importer of tastes, too. The intimate eatery Flavors, where the chef and the cuisine are Swedish, is a worthy case in point. As you graze on "snapas"—an assortment of smoked and cured fish paired with flavored spirits—chef-owner Ola Ekdahl pops in and out of the oaken dining room to extol the virtues of his adopted city. "Taipei is a place you just fall in love with," he says, "and the people of Taiwan are the nicest in the world." You can't help feeling that you've stumbled into a family meal, and you leave full of aquavit and cheer, ready to tackle Taipei's spirited nightlife.
First, you'll have to find it. On a nearby street, you squint at a small neon bull's-eye, partly obscured by a hedge. You approach the sign hesitantly, opening the door to what you hope is MOD Public Bar and not someone's living room. Inside, a rowdy, good-looking crowd sips selections from a menu of more than 75 scotches and classic cocktails, mixed by an equally good-looking bar staff who, according to your newfound drinking buddy, are among the best in town. "They steal bartenders from all the fancy bars," he shouts above the din of indie rock, clinking glasses and raucous laughter.
An indeterminate amount of time later, you return to the W, only to encounter the lobby's Woobar, which is packed with grooving socialites. You're exhausted, but… hey, you're on vacation.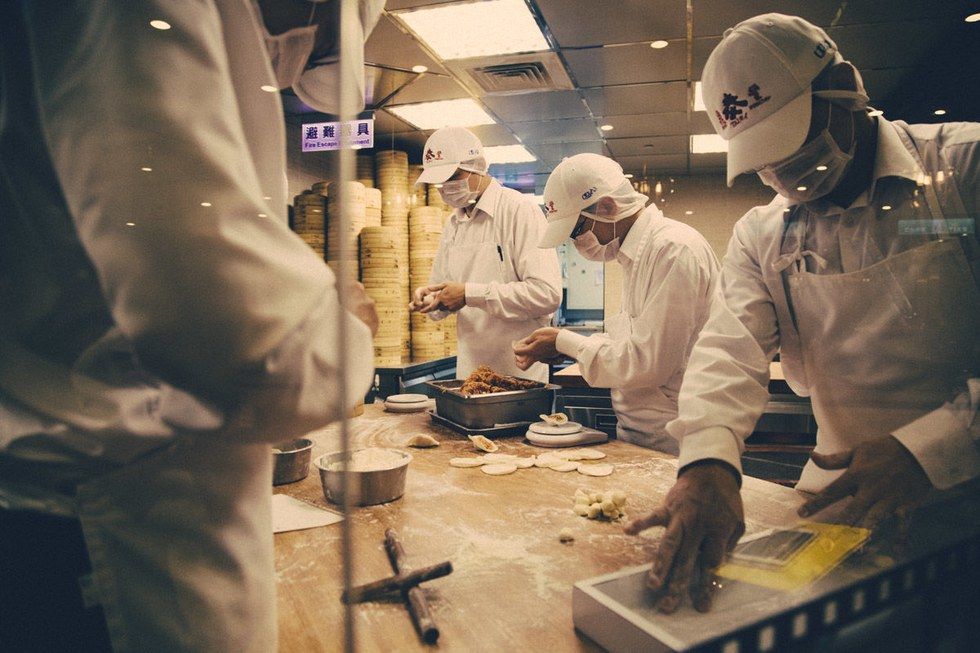 In the kitchen at Din Tai Fung
DAY TWO | You awake to a shard of sunlight and the after-effects of last night's fun, so it's with some effort that you pry yourself from your unfathomably comfortable bed and head out to sample a locally popular curative. "Fu Hang Dou Jiang!" your taxi driver shouts, accelerating westward, when you ask if he knows a good Taiwanese donut spot.
Located on the second floor of the other-wise unremarkable Huashan Market, the canteen your driver has recommended is known to attract lines that snake all the way around the block, filled with people eager to try the shao bing (stuffed roasted flatbread) and crullers before the gates shutter at 10 a.m. The wait is a small price to pay for a foot-long savory cruller, a spring onion omelet and hearty sesame bread, washed down with sweet, warm soy milk, all of which combine to help tame your still-boogieing belly.
On the west side of Taipei, the glitzy gives way to the holy. At the edge of Mengjia Park, near a group of monks collecting alms of rice, you stop to admire the most famous of the city's temples, the dragon-bedecked 18th-century masterpiece Longshan. You enter the courtyard, its air thick with the smoke of incense-filled cauldrons. Worshipers place offerings of fruit and flowers on long tables and whisper prayers to Bodhisattva Guanyin, or toss wooden blocks to the floor to aid in communication with the Buddha.
From here, it's a quick cab ride to the Chiang Kai-shek Memorial Hall, where a hushed crowd watches the hourly changing of the guard, with its synchronized spinning of bayonet-tipped rifles, overseen by a massive bronze sculpture of Chiang, the 20th-century Chinese exile who ruled Taiwan for two and a half decades. Surrounded by a gorgeous park, which is also home to the National Theater and National Concert Hall, the blue-tiled roof atop the white marble memorial rises to 250 feet, and you can't help feeling dwarfed as you descend the 89 steps, one for each year of Chiang's life.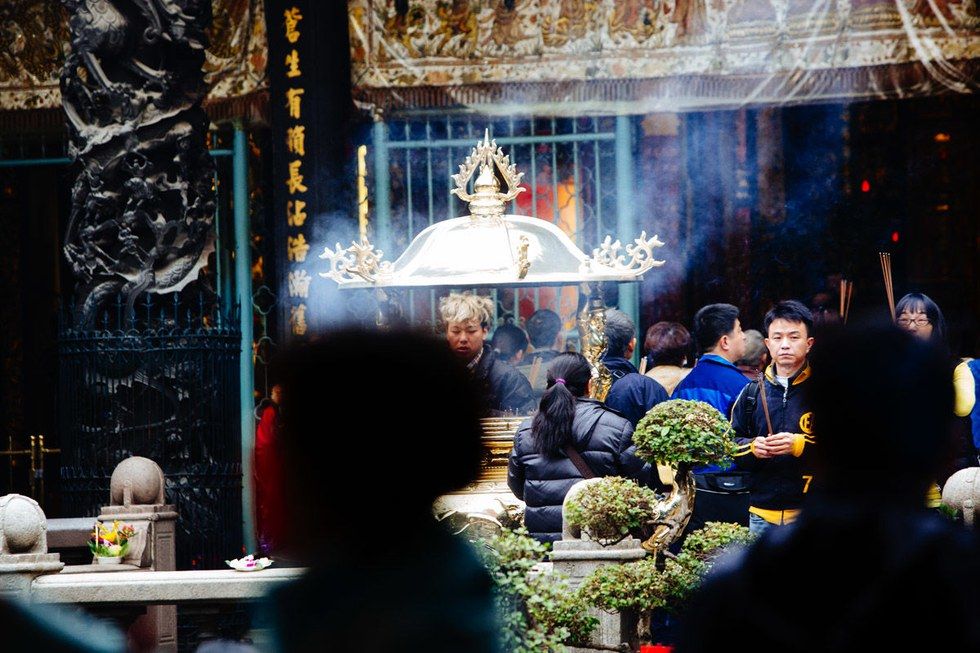 A ceremony at Longshan Temple
Moving from culture to commerce, you walk eight blocks east to Yongkang Street. As you jostle through lines of folks waiting for deep-fried squid, beef noodles and cupcakes, you indulge in a spot of shopping. Soon, you're toting armfuls of gifts: hand-stitched slippers from the Pinmo Pure Store, a jigsaw puzzle from Pintoo, body products made from organic ginger (planted by ex-convicts recovering from drug addiction) at Ginger 800.
Succumbing to the inescapable smell of food, you stop at the southern end of Yongkang for a Taiwanese specialty served in a French brasserie. Bistro Le Pont's Gallic name and décor are belied by its table settings of wooden chopsticks and a menu dominated by goose. You order smoked goose and goose glass noodles with peanut powder and spring onion. The springy noodles have a chili kick and are topped with a smoked hard-boiled egg, possibly laid by a goose. Appetite sated, you're waved off by a Taiwanese waitress wishing you "bon voyage."
Not far away is the Flower and Jade Market, which stretches out within long buildings beneath a highway overpass. With bulging shopping bags, you stop to look at the rows of jewelry, carved animals and uncut gemstones, but are determined not to buy. You buy. Most expensively, you buy a pair of sea-green earrings—made from "real Burma jade." You drop this, and the rest of your plunder, off at the second hotel of your stay—the Shangri-La Far Eastern Plaza, whose simple sophistication serves as a nice counterpoint to the excess of the W.
For dinner, it's back to Taipei 101 Mall, where you'll be sampling modern French cooking at S.T.A.Y. This Asian outpost of three-Michelin-starred Parisian chef Yannick Alléno combines Euro sensibilities with regional flavors in dishes like foie gras with seaweed terrine and yuzu marmalade, and mushroom gnocchi fricassee in Shaoxing wine emulsion with white Alba truffle. But the grand finale is wholly French: an assortment of modern pastries paired with homemade sorbets.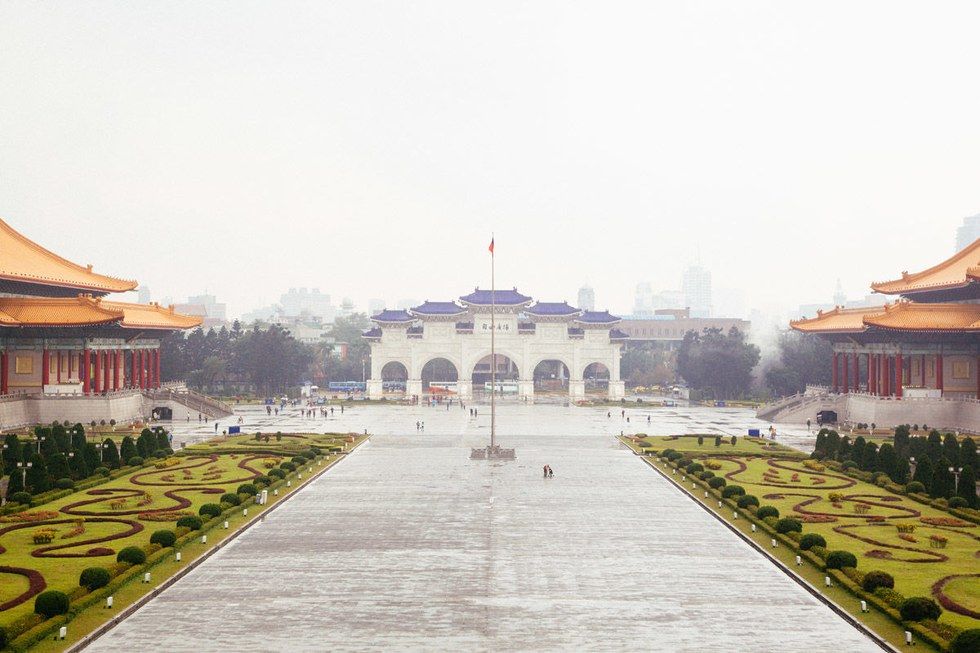 The park at Chiang Kai-shek Memorial Hall
The fusion of East and West takes on a different hue at China Pa, a red-and-black jazz lounge filled with smoke and a hint of salaciousness. You snag one of the plush couches near the stage and watch the couples whispering in the discreet balcony while a wispy chanteuse cycles through standards in English, French and Chinese. The spell is broken only by the attentions of the drippingly friendly staff, eager to ensure that your tray of snacks is never empty.
Your 1920s Shanghai fantasy at an end—not to mention your reserves of energy—you grab a handful of sesame-encrusted chilies and point a cab in the direction of the Shangri-La, where you promptly fall into a deep, contented coma.
DAY THREE | Though it is an island unto itself, Taiwan takes pride in its dual Chinese and Japanese heritages. You can see this demonstrated in the sleek, understated design of the Shangri-La Far Eastern Plaza, which employs elements of both cultures—a red lantern here, a delicate screen there—and in its renowned Chinese and Japanese restaurants.
After watching the sunrise from the rooftop hot tub, you head up to the Shilin District in Taipei's northern quarter to explore one of the world's great collections of Chinese arts and crafts. With nearly 700,000 pieces spanning 8,000 years, it's tough to do the National Palace Museum in one visit—you could spend a week in the main hall alone. Along with the Neolithic ceramics, jade sculptures and traditional calligraphy, there's an area devoted to new media, which includes a huge "animated painting"—a screen that brings a classical landscape to life via the magic of digital technology.
Fifty years of Japanese rule left Taiwan with a taste for raw seafood, so for lunch, you go for sushi at Addiction Aquatic Development. At the entrance of this popular eatery is a fish market with a score of large, open-top aquariums full of the creatures about to be served in the complex's five eating areas. You grab a seat on the third floor, then start grinding your own wasabi from a large root, which gives a kick to the beautifully fresh sashimi, raw oysters and nigiri piled before you. The restaurant boasts an enviable collection of French wines and sakes, but you opt for a ginseng–goji berry tea, which your waiter suggests for its healing powers.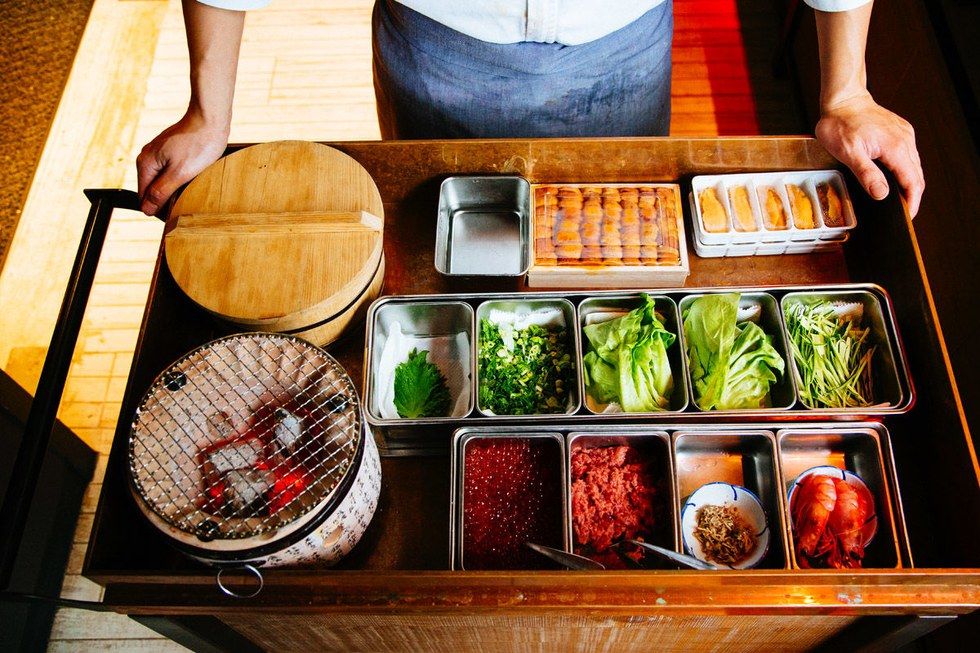 Sushi prep at Addiction Aquatic Development
A short subway ride takes you to the Beitou District, a resort area notable for the kinds of bathhouses favored by the Japanese. You stop at Villa 32, known for having some of the swankiest hot springs in town, and complete a circuit of the eight indoor and outdoor baths, each a different temperature. On the way out, you pause to lay hands on a chunk of hokutolite, a white radioactive rock that an employee says is the world's second largest and can heal any number of ailments. When he produces a Geiger counter to demonstrate the rock's potency, it's time to leave.
Aglow (as it were), you head higher up Beitou's mountains to the Grand View Resort, a brand new five-star hotel designed by Taipei 101 architect C.Y. Lee. The angular property takes inspiration from the surrounding greenery, its walls and floors a mixture of cedar, bamboo and pine, along with earthy marble and Guanyin rock. After a meditative moment on your private balcony, you head down for an oolong tea on the deck, which seemingly hovers above Danfeng Mountain and the buildings in the valley below.
Time is getting on, so you take the subway a few stops to Shilin Night Market and your final gastronomic adventure. The market's many forking alleys are chock-a-block with carnival games and clothing shops blasting K-pop, but that's not what people come for. Taipei's night markets are where most of the city's big culinary trends start, and Shilin is the biggest and trendiest of the lot.
Everywhere you look, exotic foods are being fried, barbecued, skewered or scooped into plastic bags. Many stalls sell potato snacks—roasted spuds, fried spirals covered in curry, wedges boiled in syrup. You get spicy sweet-potato balls, followed by a platter of the notorious stinky tofu. By the time the fermented cubes of soybean paste are deep-fried, smeared in hot sauce, soy sauce and scallions and topped with pickled cabbage, only a hint of stink remains, and you happily gobble the street treat. Courage stoked, you head to a stand selling "frog eggs" and are quietly relieved to discover the lime drink you're given is filled with gooey rice tapioca rather than actual spawn.
On the way back to the Grand View, you resist the temptation to hit the noisy, neon-lit bars, heading instead to your rooftop deck, where a spring-fed hot tub awaits. You lean back with a glass of warm plum wine and gaze up at the sparkling sky, the mountain air swirling around you, the rustling leaves combining with the hum of distant traffic. If you crane your neck, you can see down to the flickering lights of Taipei—a once-hidden city that, happily, seems to have found itself.
Orion Ray-Jones is a writer who lives in hotels around the globe. He took a hiatus from his vegetarian diet to report this story, and has since decided that geese are a vegetable.
Made with Atavist. Make your own.
This article was written by Orion Ray from Rhapsody Magazine and was legally licensed through the NewsCred publisher network. Please direct all licensing questions to legal@newscred.com.
Around the web
We're proud to launch a redesigned version of our United app to make it easier for customers with visual disabilities to manage all aspects of day-of travel, including check-in, viewing reservation details and flight status, bag tracking and more.
This latest version of our app is now available to both Android and iOS users, and it offers increased color contrast and more space between graphics. Furthermore, we have reorganized how information is displayed and announced to better integrate with screen reader technologies like VoiceOver and TalkBack, which are built into most handheld devices. By restructuring the way the information is organized on the app, screen readers are better able to convert text to audio in the proper, logical sequence, allowing customers to better understand and navigate the app.
"The parts of the travel experience that we all take for granted like checking luggage, getting your flight status and accessing a boarding pass can still be a challenge for someone with a visual disability," said EVP of Technology and Chief Digital Officer Linda Jojo. "These new accessibility enhancements are part of our continuing commitment to level the playing field, unlock all the customer benefits of our app and give people with disabilities more independence while traveling."
Senior Accessibility Analyst Ray Campbell is a member of United's digital team who's visually impaired and sits on the board of the American Council of the Blind. He played a key role in helping us redesign the app. He even put the app to the test as seen in this video.
"Optimizing mobile apps for tools such as VoiceOver and TalkBack has been a game changer, allowing people with visual disabilities to fully utilize smartphone technology in their daily lives," said Ray. "It's just as important for someone with a visual disability to easily access day-of-travel information and features as for any other customer. Improving the accessibility of the United app, helps us truly live out United's mission of caring for all customers."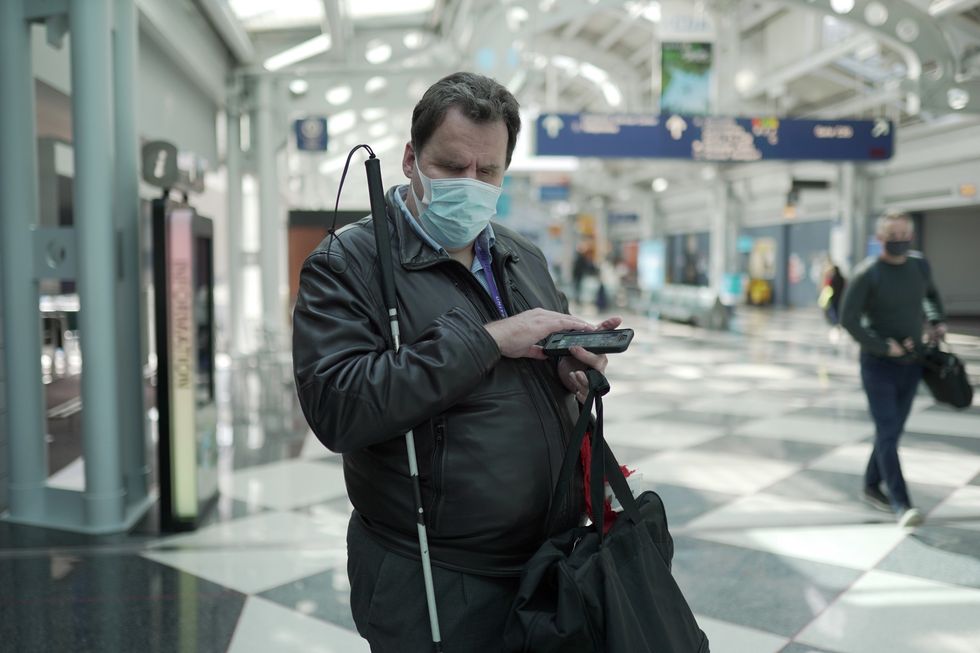 United's Senior Accessibility Analyst Ray Campbell using the mobile app at Chicago O'Hare International Airport.
Beyond the accessibility changes, our digital team enhanced the current offering while keeping the features that helped the app win a Webby People's Voice award in 2019.
For our MileagePlus® program members, the app now features a refreshed account experience for members to easily check balances, track Premier® progress, explore MileagePlus benefits, access past activity and more, all in one place.
The airline is also expanding a popular feature previously only accessible to MileagePlus members. Now, all 37 million customers who have the United app will see a contextualized home screen starting 48 hours before their flight which provides dynamic updates based on where a customer is in their travel journey. For example, customers can see the boarding status of their flight on their homescreen, access personal device entertainment onboard with one click, find a link to a map with gate-to-gate directions for connecting flights and click a quick access button to track any checked bags upon arrival.
We made slight tweaks to navigation based on customer feedback to make the app more intuitive, including making the bottom navigation persistent throughout the app. Another example is the "More" menu, which was reorganized and now contains the "Inbox" feature, which includes timely messages about boarding announcements, gate changes and other travel updates.
Customers will notice a new color palette that's consistent with the refreshed branding the airline debuted in 2019. United's digital team also made subtle design adjustments to make things more consistent and easier to find, like always using a purple bar to highlight the main call-to-action on a page and ensuring alerts and flight status icons appear the same way in every page on the app.
All of these changes are underpinned by a new back-end platform, which will ultimately make the app faster and more responsive.
The redesigned app is now available to download for iPhone®, iPad® and iPod touch® devices (as an iPhone app) and for Android devices.
Calling all AvGeeks and travelers! Take your next video call from a United Polaris® seat, the cockpit or cruising altitude with United-themed backgrounds for use on Zoom and Microsoft Teams.
Newly added to our collection is a background encouraging our employees and customers to vote. Our mission is to connect people and unite the world — and one of the most important ways to do that is to engage in the democratic process. No matter which party you support, we know our democracy will be stronger if you make your voice heard and vote.
So for your next meeting or catch up with friends and family, download the app to either your computer or mobile device to get started.
To use on Zoom:
Start here by downloading your favorite United image to your computer or mobile device. Just click "download" in the bottom left corner of the image.
Next go to your Zoom app (you'll need to download the app to access backgrounds) and click on the arrow to the right of your video camera icon in the bottom of the screen.
From here select, "choose virtual background" to upload your uniquely United photo.
To use on Microsoft Teams:
Start by downloading your favorite United image to your computer. Just click "download" in the bottom left corner of the image.

If you're using a PC, copy the image you want to use into this folder:

C:\[insert your device user name here]\AppData\Microsoft\Teams\Backgrounds\Uploads

If you're using a Mac copy the images to this folder on your computer:

/users/<username>/Library/Application Support/Microsoft/Teams/Backgrounds/Uploads

Once you start a Teams meeting, click the "…" in the menu bar and select "Show background effects" and your image should be there
Earlier this summer, we shone a light on our flagship partnership with Special Olympics and our commitment to the Inclusion Revolution. In that same story, we introduced you to our four Special Olympics Service Ambassadors, Daniel, Kyle, Lauren and Zinyra (Z), who, this month, celebrate one year working at Chicago O'Hare International Airport as part of the United family.
This groundbreaking, inclusive employment program took off as a part of our ongoing partnership with Special Olympics, a community relationship that employees across the company hold close to heart. The original 'UA4' (as they call themselves) have become an integral part of the United team serving customers at O'Hare Airport. Even from behind their masks, their wide smiles and effervescent spirit exude and bring life to the service culture of excellence we strive towards every day.
"The UA4 are more than just customer service ambassadors. They are shining examples of how inclusion, accessibility and equity can have monumental impacts on the culture and service of a business and community," said Customer Service Managing Director Jonna McGrath. "They have forever changed who we are as a company. While they often talk about how United and this opportunity has changed their lives, they have changed ours in more ways than we can count."
In the two years of partnership with Special Olympics, United employees have volunteered over 10,500 hours of service at events around the world and donated over $1.2 million worth of travel to the organization.
"This inclusive employment program is what community partnerships, like ours with Special Olympics, are all about: collaborating to identify areas where the needs of the community intersect with the cultural and business opportunity, then creating the infrastructure and programming to bring the two together," said Global Community Engagement Managing Director Suzi Cabo. "Through this program, our goal is to show other companies that when you put a committed effort and focus towards inclusion and breaking down barriers, you transform lives. I challenge other business around the world to follow our lead in joining the Inclusion Revolution."
Check out the video below to hear from our Special Olympics Service Ambassadors firsthand.
Scroll to top