Three Perfect Days: Vancouver
Story by Jacqueline Detwiler | Photography by Grant Harder | Hemispheres, November 2014
There are many reasons to love Vancouver: cleansing salt breezes, landscapes that could sell a high-definition TV, the fact that everyone stands at crosswalks and waits for the little green man to appear before moving. Then there's the city's signature seafood, which is everywhere: smoked and salted and candied and glistening pinkly next to oysters on appetizer trays.
Here's a thing about salmon: They're anadromous, meaning they swim from ocean to river to spawn—they're equally comfortable in open swaths of the Pacific and frigid mountain streams. In this sense, salmon are like the people here. Spend five minutes in Vancouver and you'll pass dozens of folks perfectly at home in anything the environment can throw at them. They're on skis, on bikes, on boats. They're running, swimming, hiking, camping.
While the pioneering spirit endures here, there is plenty to keep the more cerebral (or sedentary) visitor occupied. You can, for instance, get an absorbing primer on the city's history at the Museum of Vancouver, or beef up on its seedier side at the Vancouver Police Museum. You can watch movies under the stars in Stanley Park or hear live music at the Railway Club. Or you can simply munch elk sausage while sipping a local craft beer at a top-notch eatery, secure in the knowledge that somebody went to great lengths to bring these things to you.
DAYONE | The first few seconds after you awake in the Rosewood Hotel Georgia are a little disorienting. You're lying in a kingsize bed the color of Champagne. There are white flowers everywhere. Everything seems to be made of marble or burnished wood. Did you wake up a 19th-century railroad baron? You catch your reflection in the mirror above your stand-alone soaker tub. Nope. Still you.
Outside your window, a few pink-cheeked locals are huffing along the sidewalk in long-sleeved shirts and running shorts. You look disapprovingly at your gut and pull out a pair of sneakers. A half hour later, you're jogging along the Seawall, a path that circumscribes the peninsula of 1,001-acre Stanley Park. To your right are clutches of red-and-white sailboats bobbing in the choppy bay. Mossy rocks lie about like lazy dogs. Vancouver Island makes occasional appearances from the fog beyond. You think: Gosh, this is pretty. And: Hey, is that a lighthouse? It is a lighthouse.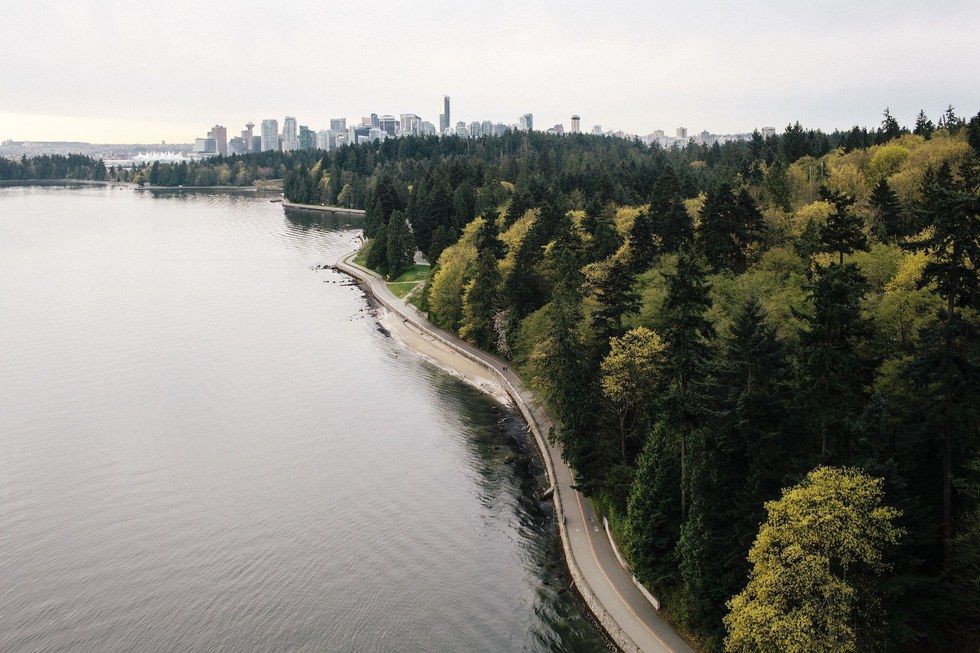 The Vancouver skyline seen from the Lions Gate Bridge
After a few miles, you reach Girl in a Wetsuit, a statue of, um, a girl in a wetsuit sitting on a rock in the harbor (a wry update on Copenhagen's Little Mermaid). She looks kind of forlorn, out there on her own. You snap a picture with the intention of Photoshopping a few friends in for her later. Speaking of being alone, you can barely see downtown Vancouver in the distance. It's time to head back.
After a quick shower at the hotel, you're off on a short walk to Wildebeest. All brickwork and communal tables, this carnivore-friendly eatery has light fixtures made out of theater pulleys and a slushy machine that's been repurposed to make frozen cocktails. Your run has earned you an indulgent brunch, you feel, so you order the Pig Face Eggs Benedict with tangy tarragon mayo on a steaming biscuit and the thickest bacon you've ever had (pictured below), followed by sugar-dusted mini donuts with gooey caramel centers. You attack this spread as if you've been deprived of food for several days.
When you finish, you emerge into the city's oldest neighborhood, Gastown, which grew up around a single saloon in the 1860s and '70s before being incorporated as Vancouver in 1886. Gastown is now a bustling shopping and entertainment district dominated (fittingly) by bars. You wander into the trendy boutique LYNNsteven, intrigued by the cylindrical dressing room made out of stacked books, and leave with a plaid smoking jacket. Down the street, you find a selection of improbably small bonsai cactuses at Parliament Interiors, a quirky home goods store. They're cute, but not easily packed, so you opt instead for a Ryan Gosling–themed journal covered in tiny hearts. Your teenage niece will love it.
You continue this way for hours, poking around the shops and taking breaks to admire the moody bay behind them. Eventually, realizing that you haven't eaten anything since your pig-out brunch, you head for Pidgin. While the decor here is simple—like a café in a Japanese modern art museum—the menu is not. Your first course is a fresh oyster in a zingy foam of apple and horseradish. There are delicate raw scallops topped with apple and daikon and curry oil. Potatoes come matchstick-thin with spicy cod roe and earthy seaweed butter. For dessert, you order a Midnight Grogg: a glass of rum, lime cordial and verjus stuffed to the brim with frozen grapes. What a great idea.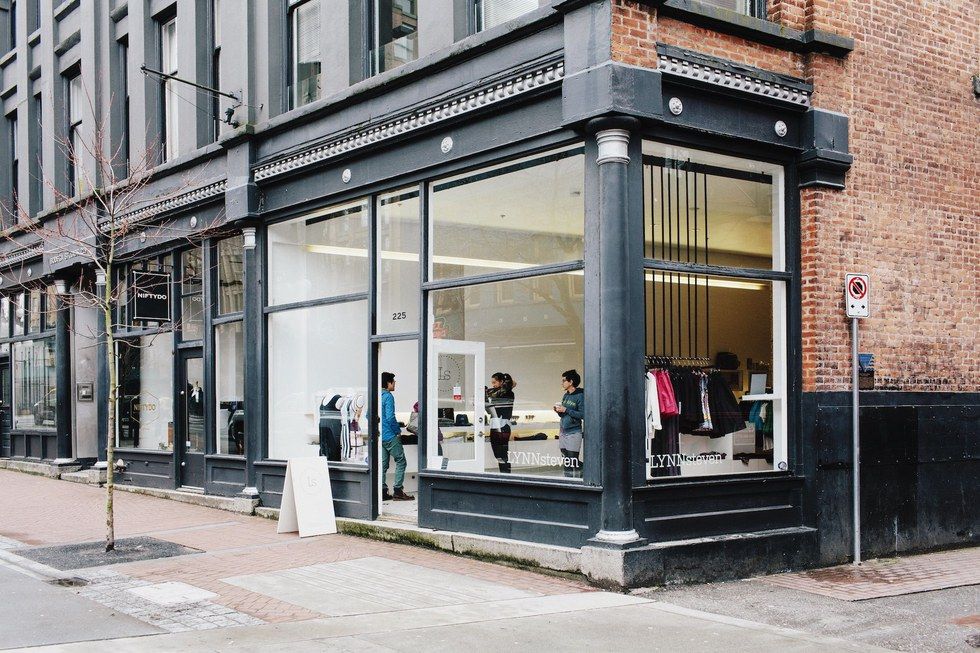 The chic LYNNsteven boutique in historic Gastown
It's still early—plenty of time for a nightcap. You walk down the street to a cozy spot called Notturno. Behind the bar stands a charismatic local celebrity with a tongue ring and a lot of opinions. Known only as "H" ("The nickname's a holdover from private school," he says), he won Vancouver magazine's bartender of the year award last year. H has been aging a few of his cocktails in barrels lately; he insists that you try the Boulevardier. A bourbon version of a negroni with a little extra wood flavor, it tastes like an evening in front of a log fire.
After a few more of H's homespun cocktails, the idea of cozying up for the night is increasingly appealing. You weave your way back to the hotel through iridescent streets, peering up at lights that look like neon through vaseline, then step into the Rosewood's mahogany lobby, where you find a fire roaring in a century-old hearth. The railroad tycoon is home at last.
DAY TWO | You wake to a rare sight: It is snowing in Vancouver. Down here, where Pacific currents temper the weather, snowfall is generally confined to a few flurries, so it's safe to say that, up in the mountains two hours north of town, the powder must be gangbusters. You've got to get up there. And you will. But first: supplies.
You take a cab to the edge of False Creek, the inlet that separates downtown from the foodie shopping destination of Granville Island, and climb into a rainbow-colored Aquabus ferry, which looks like a large bath toy. Still, you figure it can handle the five-minute trip to Granville. Heck, you can see it from here. This tiny peninsula is known for its covetable produce, and a quick snoop around the Public Market and the food stores that surround it reveals why. You stuff your bag with flawless fruit, reindeer sausage, tangy smoked salmon candy (basically sweet salmon jerky) and salted caramel peanut butter. You also make a concession to your immediate hunger and buy a creamy clam chowder pot pie to eat on the spot. It's fantastic.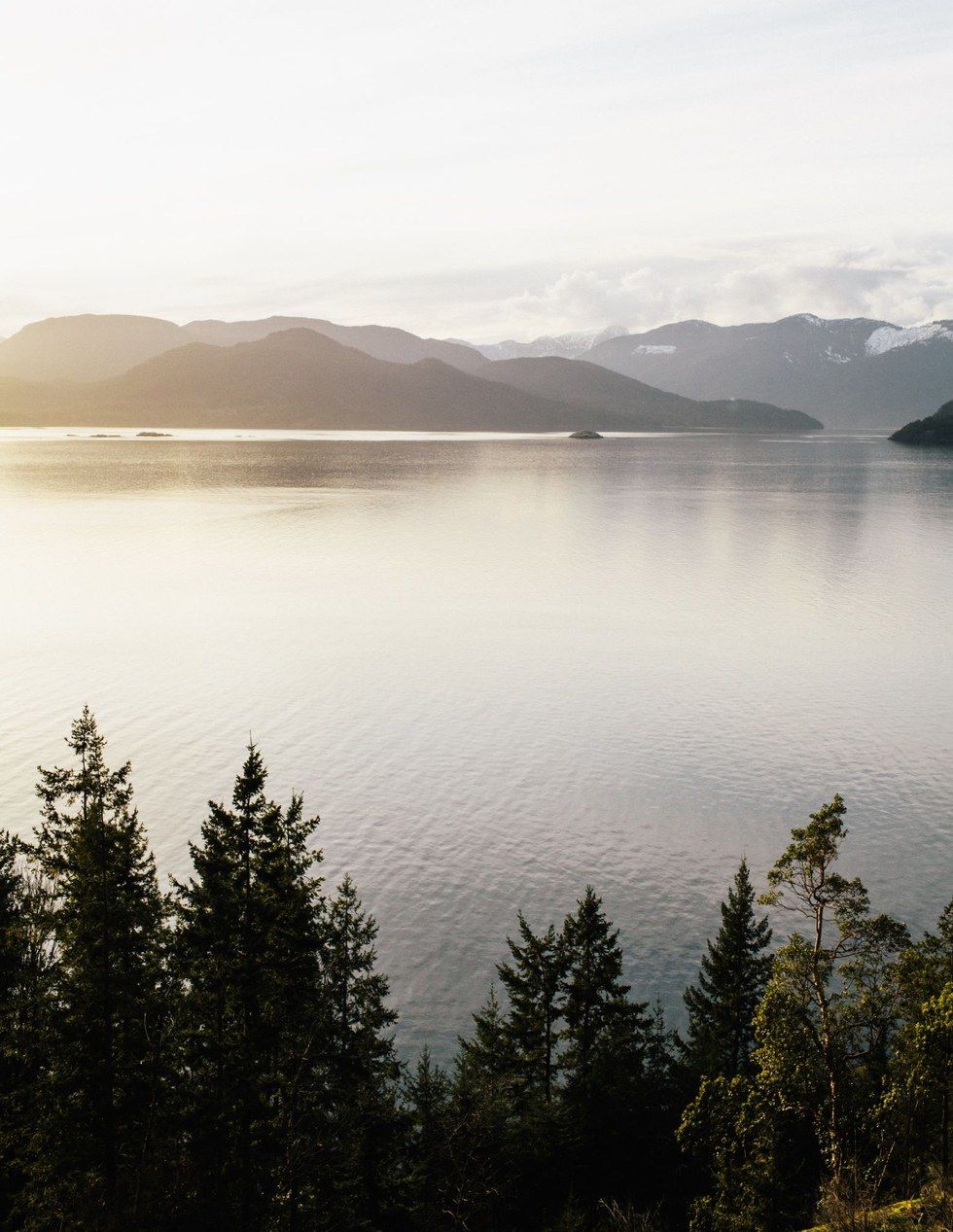 A view of Howe Sound from the Sea-to-Sky Highway
Larder stocked, you're on your way north to the mountains—specifically, to Whistler. The drive takes you on one of the most scenic roads in the Pacific Northwest. Maybe one of the most scenic roads anywhere. You navigate northward on the Sea-to-Sky Highway, a ribbon of road that marks the extreme western edge of North America. To your left is the water, as thick and clear as vodka straight from the freezer. To your right are soft smudges of pine. Eagles hang in the sky. Even the mist is cinematic. You could be hurtling through a still from a nature documentary.
Eventually, the water gives way to snowy mountains. Nearly every car on the road is a four-wheel-drive stacked with equipment. The skiers are coming. Before joining them on the slopes, you make a turn for Whistler Olympic Park, where you'll be trying your hand at biathlon: cross-country skiing followed by shooting at targets followed by more cross-country skiing. In the Olympics, the event doesn't look particularly hard; in real life, it's impossible. After a half hour of trying to find your snow legs in a set of parallel tracks, you move to a shooting range, where you race around a track, occasionally flopping down to shoot an air rifle at a target the size of a plum. With your heart rattling around like a shoe in a dryer, you hit exactly none of them.
Sweaty and spent, you finish the drive to the Four Seasons Whistler and stroll into a hunting lodge of a reception layered with Native American rugs. You're ready for a pre-dinner nap, but your body is in knots. The concierge has a solution. A short drive from your hotel is an outdoor thermal bath called Scandinave Spa, where visitors perform repeated cycles of hot, cold and rest. Do this three or four times, he says, and you'll be as relaxed as if you'd been on vacation for a month. You're in.
You find the spa in a glittering pine glade that could be home to a wood nymph in a Disney movie. The most obvious place to start is the hot tub, so you hop in. Then it's a cold plunge pool and 15 minutes in a hammock. That was pleasant, but you think you can beat it. By your final round, you have found the perfect cycle: 20 minutes in a Finnish wood-burning sauna followed by a quick Nordic shower and a solid half hour curled up in a ball next to an outdoor fireplace. Someone with a nightstick might have to force you to leave this place.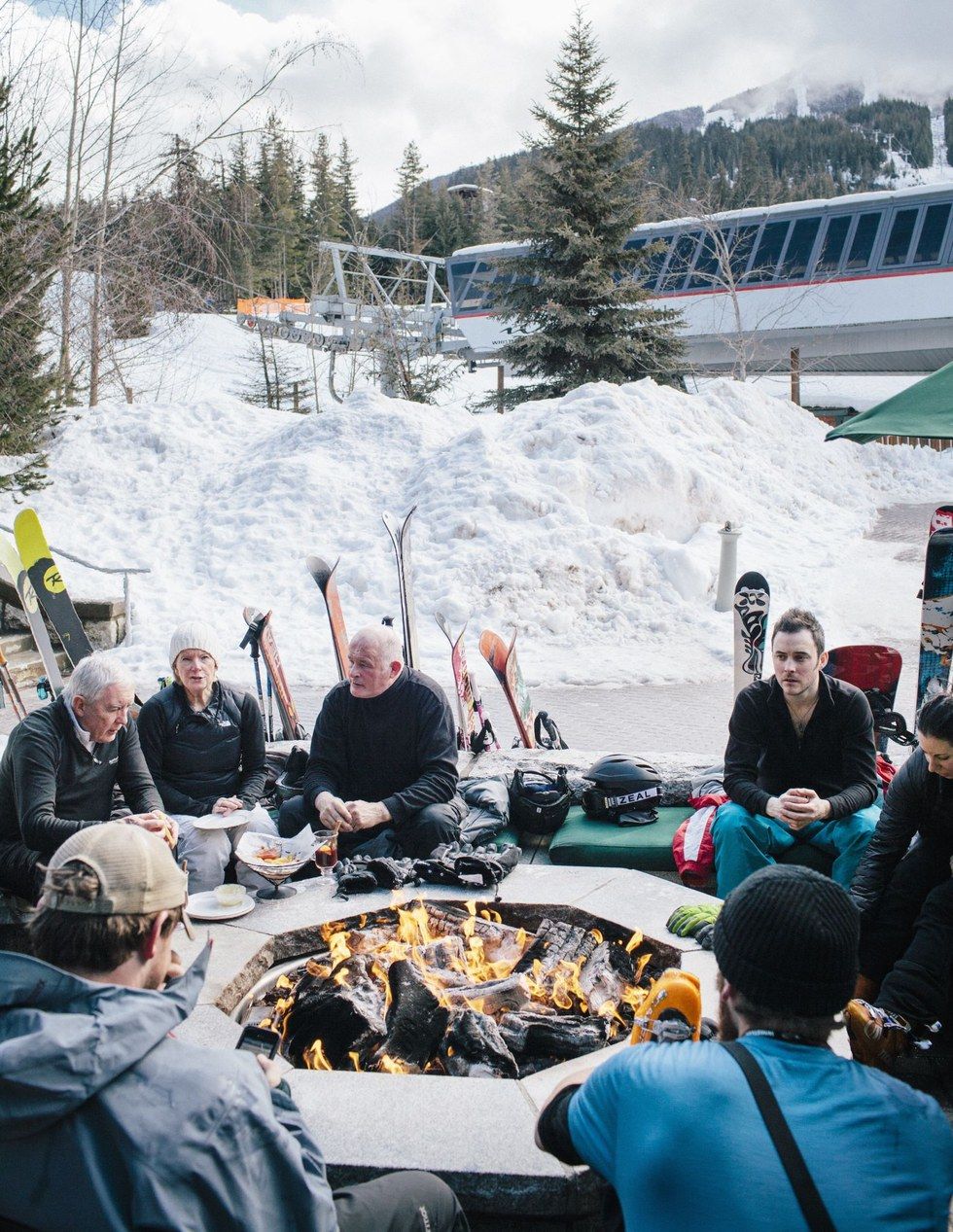 Outdoor après-ski at Dubh Linn Gate Irish Pub in Whistler
It's then that you remember the meat. You've got a reservation at Sidecut, the Four Seasons' sleek steakhouse. With a pang of regret (mitigated by a pang of hunger), you leave the spa and make your way to the restaurant, where you order a sushi roll made out of rare steak, avocado and dried tomato (the restaurant logo is etched into the wasabi); a 12-ounce ribeye served with house-made steak sauce; and roasted mushrooms and mashed potatoes. Sated, and with your eyes at half mast, you retire to your room to find another fireplace. Your porch overlooks a teal puddle of swimming pool. The lights illuminate a row of icicles thick as your forearm. You flop face down on your bed. Now, if this were an Olympic event…
DAY THREE | There's a knock on your door at 7a.m. Blearily, you open it to find a beaming room service attendant, who wheels in a tray of Bircher muesli and a creamy avocado, apple, spinach and strawberry smoothie. Healthy is as healthy does, and you've got miles of mountain to scream down over the course of the day.
You flick on the fire and lay out your gear to warm while you ponder your dilemma: Blackcomb or Whistler? Whistler or Blackcomb? At 8,171 acres, the Whistler Blackcomb complex is larger than Vail, Aspen, Big White or Mammoth. Your pass will allow you to ski either of the mountains, which are connected at the base and by the Peak 2 Peak Gondola. But with only a single day to ski, it's too big to take on all at once. You flip a loonie. Blackcomb it is.
You can handle almost any blue run with grace, but black runs leave you looking like a drunk in a log-rolling competition. With this in mind, you sign up for Max4 Group Ski Lessons at the Whistler Blackcomb Snow School, where you meet your instructor, Aniello Campagnuolo. After a quick diagnostic ski-off, he selects you and three similarly abled skiers, and leads you up the Wizard lift. On the next, the Solar Coaster, he points down at a few teenagers swooping in and out of trees on a black diamond below. "You ladies will be doing that later," he says. You and your new friends make doubtful faces.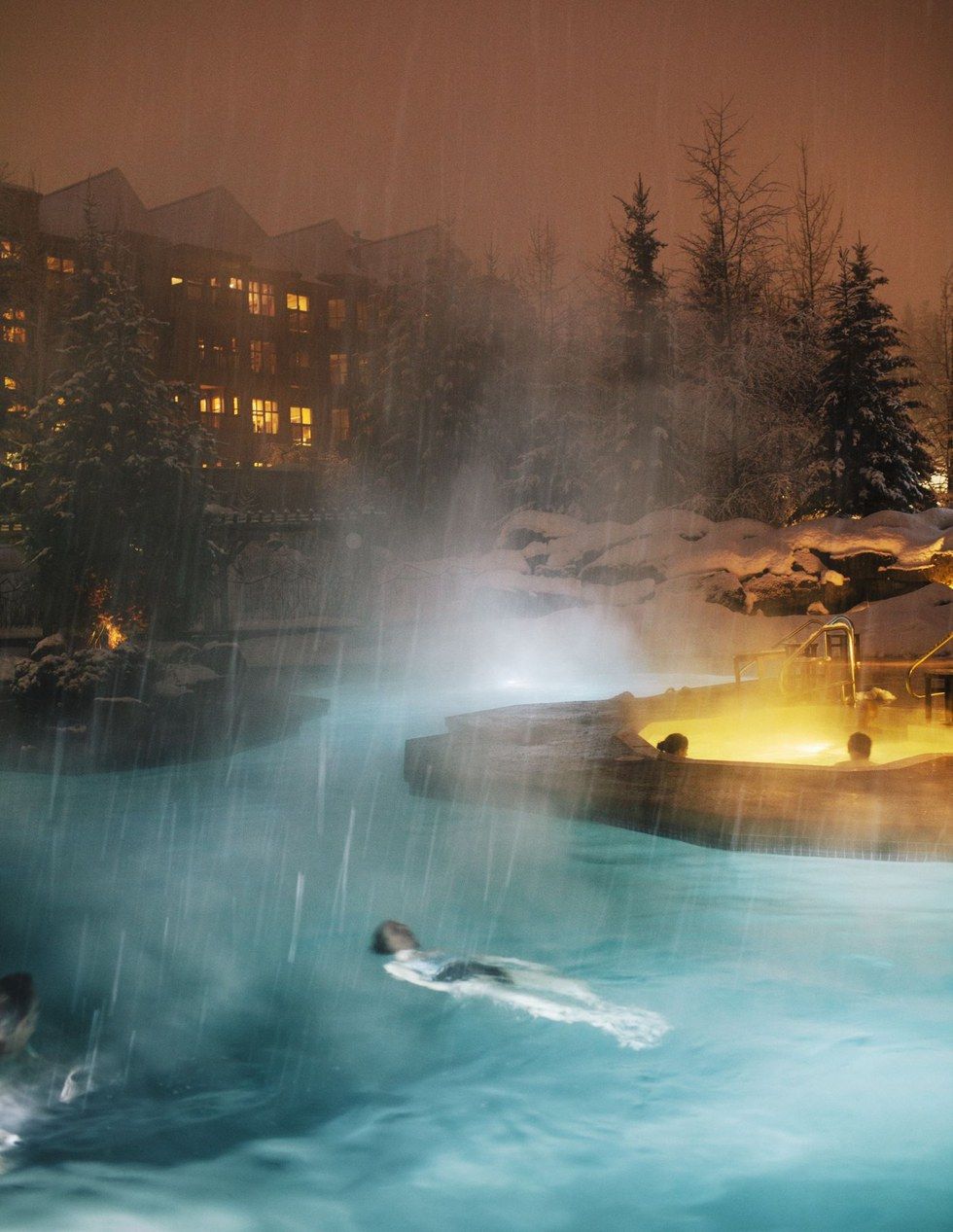 Enjoying the spa at Four Seasons Whistler
As the day goes on, the powder starts looking a little carved up—time to hit the moguls. But first, lunch. This is no time for gourmet aspirations: You grab a bowl of chili and a hot chocolate at Roundhouse Lodge on the mountain. Then you're back on your skis, crisscrossing Blackcomb's face, hitting progressively steeper pistes until, finally, you huck off a small hill onto a black diamond and make it down without a single anxiety attack. Campagnuolo points at a lift above your head, the one you were on earlier, back when you were afraid.
This calls for a drink. You stow your skis and meander over to the Whistler basecamp, where you can see a crowd already gathering outside the Garibaldi Lift Co. Inside, it's a virtual nightclub—a roiling warehouse crammed with rosy-cheeked ski bums in ear warmers and fashion baselayers. You locate a spot at the bar and eavesdrop on two dudes in beanies who are swapping snowboarding war stories. Most of them end with a phrase like "...and that's how I broke my other leg." When the bartender comes by, you order the après specialty, the Great Canadian Caesar, a Canadian Bloody Mary with Clamato. Yours comes with a pickle, green olive, spicy green bean and a strip of bacon.
You find yourself focusing a little too intently on the garnishes, so after the drink you take a quick shower and head for dinner in Whistler Village, which is the size of a small town and looks like a hobbyist's railroad set. Every corner you turn you find another Swiss-looking square and more young, smiling folks in sweatpants lounging on balconies. You pause on a little covered bridge over a bit of half-frozen stream. You wouldn't be too surprised to hear jingling bells and a "Ho! Ho! Ho!"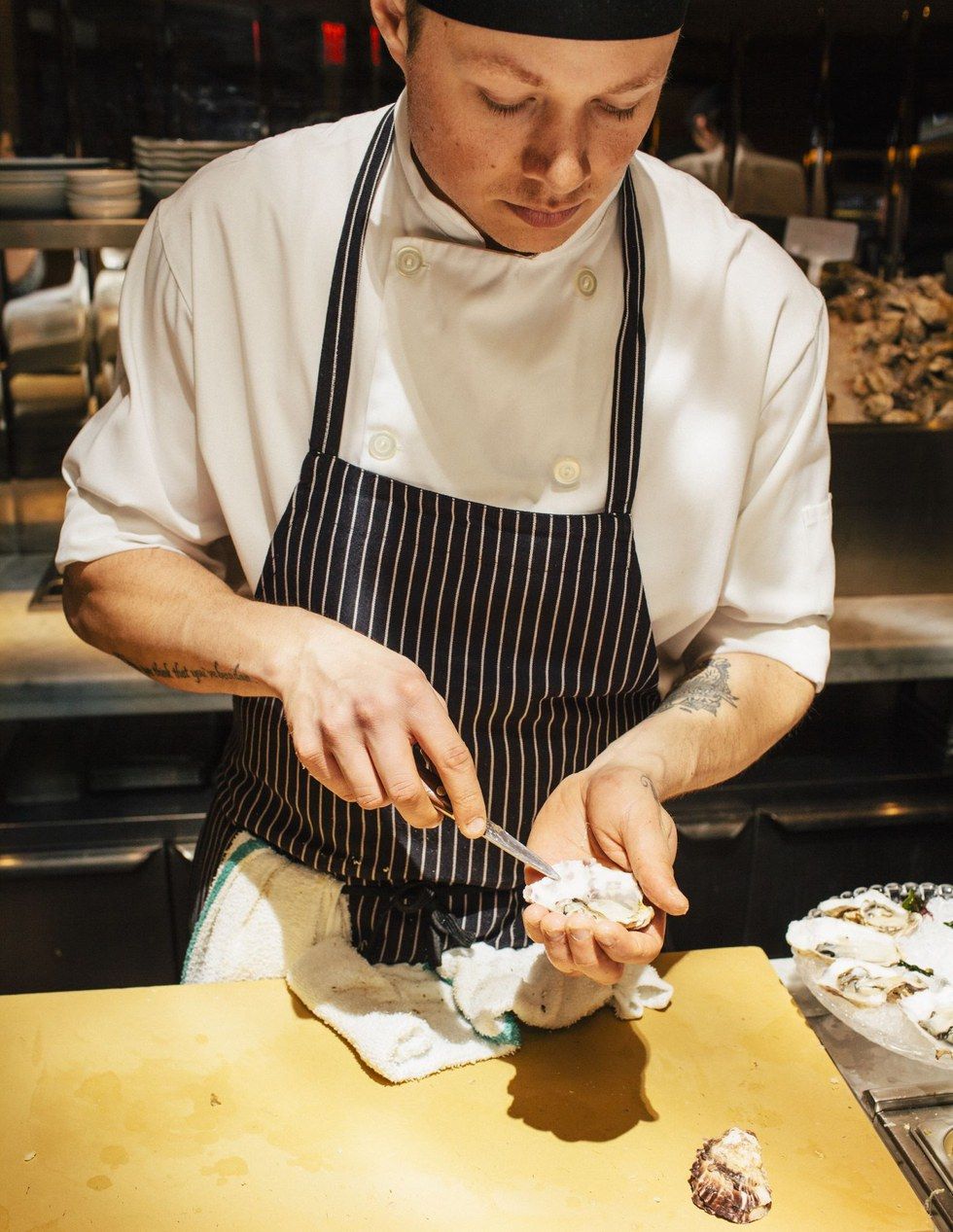 Oyster shucking at Araxi
Finally, you arrive at Araxi, an oyster bar and high-end seafood restaurant that glows like a seaside pub in a storm. You have a seat at a corner table and submit to a succession of plates each more beautiful and local and healthy than the last. There are deep-cup Kusshi oysters and sockeye salmon sashimi and several glasses of excellent British Columbia pinot noir, but the star is a plate of rare venison loin with ruby-colored baby beets and a cheese ravioli. It's as tasty as it is artfully composed.
Fully recovered from your exploits on the slopes, you slink out into the clear night, boots crunching on the snow. It's chilly, but you are warmed by the amber glow of the windows, and the occasional burst of laughter echoing through the streets. Outside the Dubh Linn Gate Irish Pub you see a circle of people sitting around a low stone fireplace. Will they let you join them? Of course they will. This is Canada. You buy a round of stouts and sit mesmerized by the licking flames, the way people have since this place was wild. Conversation drifts upward like the sparks from the hearth, but you catch only snippets: "...magic double black diamond..." "...smells like cedar..." "...isn't this nice?"
Popular Mechanics senior editor Jacqueline Detwiler also dances like a drunk in a log-rolling competition.
This article was written by Jacqueline Detwiler from Rhapsody Magazine and was legally licensed through the NewsCred publisher network. Please direct all licensing questions to legal@newscred.com.
Around the web
United to operate the first ever nonstop flight between Washington, D.C. and Lagos and offer more flights between D.C. and Africa than any other carrier
CHICAGO, Sept. 17, 2021 /PRNewswire/ -- United Airlines announced today that new service between Washington, D.C. and Lagos, Nigeria will begin November 29 (subject to government approval). The airline will operate three weekly flights connecting the U.S. capital to Nigeria's largest city, which is also the top Western African destination for U.S-based travelers. Tickets will be available for sale on united.com and the United app this weekend.
"This new flight to Lagos has been highly anticipated by our customers and offers the first ever nonstop service between Washington, D.C. and Nigeria, as well as convenient, one-stop connections to over 80 destinations throughout the Americas including Houston and Chicago," said Patrick Quayle, United's vice president of international network and alliances. "On behalf of all of United we'd like to offer our sincere thanks to the Nigerian Civil Aviation Authority and U.S. Department of Transportation for supporting our plans to provide this service."
"We are honored to work with our partners at United Airlines to welcome their second nonstop connection from Dulles International to the African continent," said Carl Schultz, acting vice president of airline business development at the Metropolitan Washington Airports Authority. "Lagos joins nearly 50 other nonstop international destinations currently served by the National Capital Region's gateway to the world."
United will operate this route with a Boeing 787 Dreamliner featuring 28 United Polaris® business class lie-flat seats, 21 United Premium Plus® premium economy seats, 36 Economy Plus® seats and 158 standard economy seats. This flight is the only service between the U.S. and Nigeria to offer premium economy product. Flights will depart Washington, D.C. on Monday, Thursday and Saturday and return from Lagos on Tuesday, Friday and Sunday.
This new flight builds on United's expansion into Africa and solidifies United's leadership position to Africa from the D.C. metro area, with more flights to the continent than any other airline. Just this year, United launched new service between New York/Newark and Johannesburg, South Africa and between Washington, D.C. and Accra, Ghana. And this December and January, United will increase its service to Accra from three weekly flights to daily* as customers travel home for the winter holidays. United is also returning its popular service between New York/Newark and Cape Town, South Africa on December 1.
United's new flights comply with each country's COVID-19 protocols and customers should check destination requirements before traveling.
Making International Travel Easier
United is the only U.S. airline to offer its own one-stop-shop where customers can conveniently get "travel-ready" by finding a location to schedule a COVID-19 test as well as upload and store their test results and vaccination records directly through the airline's website and award-winning mobile app with the Travel-Ready Center. The airline's easy-to-use travel tool available on United's mobile app enables customers to reduce stress and save valuable time at the airport right from the palm of their hand. United also announced a collaboration with Abbott and became the first U.S. carrier to set up an easy way for international travelers to bring a CDC-approved test with them, self-administer while abroad, and return home.
United Next
United is more focused than ever on its commitment to customers and employees. In addition to today's announcement, United has recently:
Launched an ambitious plan to transform the United customer experience by adding and upgrading hundreds of aircraft as well as investing in features like larger overhead bins, seatback entertainment in every seat and the industry's fastest available Wi-Fi.
Announced a goal to create 25,000 unionized jobs by 2026 that includes careers as pilots, flight attendants, agents, technicians, and dispatchers.
Announced that United will train at least 5,000 pilots by 2030 through the United Aviate Academy, with the plan of at least half being women and people of color.
Required all U.S. employees to receive a COVID-19 vaccination.
Became the first airline to offer customers the ability to check their destination's travel requirements, schedule COVID-19 tests and more on its mobile app and website. 
Invested in emerging technologies that are designed to decarbonize air travel, like an agreement to work with urban air mobility company Archer, an investment in aircraft startup Heart Aerospace and a purchase agreement with Boom Supersonic.
Committed to going 100% green by 2050 by reducing 100% of our greenhouse gas emissions without relying on traditional carbon offsets, including a recent agreement to  purchase one and a half times the amount of all of the rest of the world's airlines' publicly announced Sustainable Aviation Fuel commitments combined.
Eliminated change fees for all economy and premium cabin tickets for travel within the U.S.
About United
United's shared purpose is "Connecting People. Uniting the World." In 2019, United and United Express® carriers operated more than 1.7 million flights carrying more than 162 million customers. United has the most comprehensive route network among North American carriers, including U.S. mainland hubs in Chicago, Denver, Houston, Los Angeles, New York/Newark, San Francisco and Washington, D.C.  For more about how to join the United team, please visit united.com/careers and more information about the company is at united.com. United Airlines Holdings, Inc. is traded on the Nasdaq under the symbol "UAL".
*daily flights to Accra this winter are subject to government approval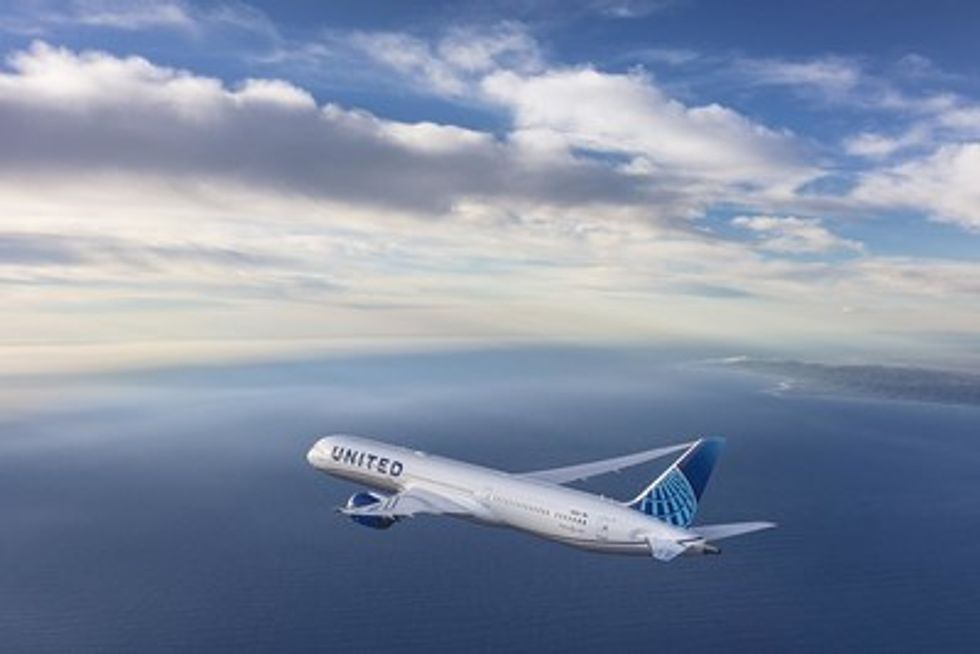 SOURCE United Airlines
For further information: United Airlines Worldwide Media Relations, +1-872-825-8640, media.relations@united.com
United agrees to purchase 1.5 billion gallons of sustainable aviation fuel (SAF) over 20 years - which is one and a half times the size of the rest of the world's airlines' publicly announced SAF commitments combined
CHICAGO and DES PLAINES, Ill., Sept. 9, 2021 /PRNewswire/ -- United and Honeywell today announced a joint multimillion-dollar investment in Alder Fuels – a cleantech company that is pioneering first-of-its-kind technologies for producing sustainable aviation fuel (SAF) at scale by converting abundant biomass, such as forest and crop waste, into sustainable low-carbon, drop-in replacement crude oil that can be used to produce aviation fuel. When used together across the fuel lifecycle, the Alder technologies, coupled with Honeywell's Ecofining™ process, could have the ability to produce a carbon-negative fuel at spec with today's jet fuel. The goal of the technologies is to produce fuel that is a 100% drop-in replacement for petroleum jet fuel.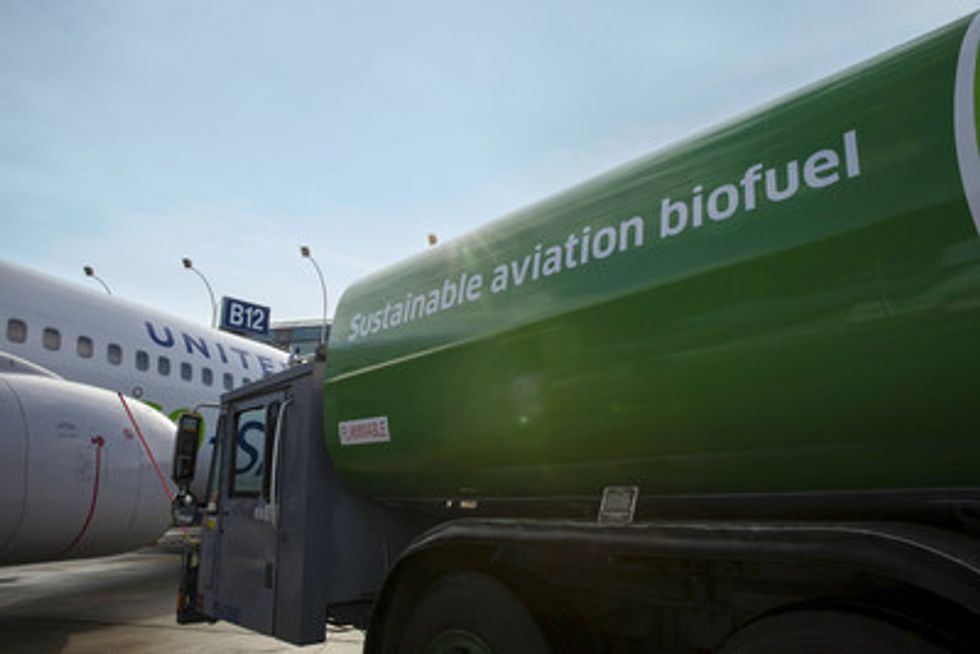 As part of the agreement, United is committing to purchase 1.5 billion gallons of SAF from Alder when produced to United's requirements. United's purchase agreement, which is one and a half times the size of the known purchase commitments of all global airlines combined, makes this easily the largest publicly announced SAF agreement in aviation history. United's purchase agreement with Alder also surpasses the previous record set by the airline in 2015 through its investment in Fulcrum BioEnergy with its option to purchase up to 900 million gallons of SAF.
"Since announcing our 100% green commitment in 2020, United has stayed focused on decarbonizing without relying on the use of traditional carbon offsets. Part of that commitment means increasing SAF usage and availability since it's the fastest way to reduce emissions across our fleet. However, to scale SAF as quickly as necessary, we need to look beyond existing solutions and invest in research and development for new pathways like the one Alder is developing," said United CEO Scott Kirby. "United has come further than any other airline making sustainable travel a reality by using SAF to power flights. Our leadership gives customers confidence that they are flying with an airline that recognizes the responsibility we have to help solve climate change."
"As a pioneer of the SAF market with UOP Ecofining™ technology, our work with United and Alder on this new technology will help transform the industry and support the growth of a zero-carbon economy," said Darius Adamczyk, Honeywell chairman and chief executive officer. "This solution will not only advance United's SAF commitment but can help the aviation industry meet its commitments to decouple increases in carbon emissions from growth in passengers."
According to the U.S. Department of Energy (DOE), U.S. forestry residues and agricultural residues alone could provide enough biomass energy to generate more than 17 billion gallons of jet fuel and displace 75% of U.S. aviation fuel consumption. If the U.S. were to broadly adopt regenerative agricultural practices, which capture more carbon in healthier soil compared to traditional methods, the U.S. could generate an additional seven billion gallons of SAF, which would completely replace the U.S.'s current fossil jet fuel consumption.
Alder's technology and demand for its fuel from the aviation industry create a large new market for biomass from regenerative practices. Use of this biomass further enables Alder's production process to be carbon negative over the fuel's lifecycle.
"Aviation poses one of the greatest technology challenges for addressing climate change and SAF has demonstrated the greatest potential. However, there is insufficient raw material to meet demand," said Bryan Sherbacow, CEO of Alder Fuels and senior advisor to World Energy, the company that owns and operates the world's first SAF refinery. "Alder's technology revolutionizes SAF production by enabling use of widely available, low-cost and low-carbon feedstock. The industry is now a major step closer to using 100% SAF with our drop-in fuel that accelerates the global transition to a zero-carbon economy."
Prior to founding Alder, Sherbacow built the world's first SAF refinery utilizing Honeywell's technology and subsequently contracted with United, enabling the airline to become the first globally to use SAF in regular operations on a continuous basis. Since then, United has purchased more SAF than any other airline and, with this agreement now, has more than 70% of the airline industry's publicly announced SAF commitments. Alder's research is supported by the U.S. Defense Logistics Agency, the DOE and a partnership with DOE's National Renewable Energy Laboratory (NREL), focused on developing technology to process organic waste and sustainable, non-food plant material into carbon-negative transportation fuels.
Honeywell innovation established the SAF market with its UOP Ecofining process, which is the first technology used to maximize SAF production for commercial aviation. Building on Honeywell's focus to create sustainable technology, Honeywell will utilize its expertise and proven process of developing sustainable fuels alongside Alder, applying proprietary hydroprocessing design to the process to jointly commercialize the technology. Commercialization is expected by 2025. This announcement is a clear example of how Honeywell's Sustainable Technology Solutions business can partner with early-stage companies and help them scale faster, access customers and advance research and development to help drive sustainability at the global level.
United's joint investment in Alder is the latest by United Airlines Ventures, a venture fund launched earlier this year that focuses on startups, upcoming technologies, and sustainability concepts that will complement United's goal of net zero emissions by 2050 -- without relying on traditional carbon offsets. In 2020, United became the first airline to announce a commitment to invest in carbon capture and sequestration and has since followed with investments in electric vertical takeoff and landing aircraft and 19-seat electric aircraft that have the potential to fly customers up to 250 miles before the decade's end.
About United
United's shared purpose is "Connecting People. Uniting the World." For more information, visit united.com, follow @United on Twitter and Instagram or connect on Facebook. The common stock of UAL is traded on the Nasdaq under the symbol "UAL".
About United Airlines Ventures
United's corporate venture capital fund, United Airlines Ventures, allows the airline to continue investing in emerging companies that have the potential to influence the future of travel. The new fund will concentrate on sustainability concepts that will complement United's goal of net zero emissions by 2050 -- without relying on traditional carbon offsets -- as well as revolutionary aerospace developments and innovative technologies that are expected to create value for customers and United's operation. For more information about United Airlines Ventures, please visit https://www.united.com/ventures.
About Honeywell
Honeywell (www.honeywell.com) is a Fortune 100 technology company that delivers industry-specific solutions that include aerospace products and services; control technologies for buildings and industry; and performance materials globally. Our technologies help aircraft, buildings, manufacturing plants, supply chains, and workers become more connected to make our world smarter, safer, and more sustainable. For more news and information on Honeywell, please visit www.honeywell.com/newsroom.
About Alder Fuels
Alder Fuels, founded by biofuel and aviation industry entrepreneur Bryan Sherbacow, is a process technology and project development company in the low-carbon energy industry. Alder is commercializing a process to produce crude oil that is carbon negative, scalable and cost-competitive with the petroleum it replaces. Critical to rapid, world-scale deployment, the process will be compatible with the existing petroleum refining and logistics infrastructure. The company's collaboration with United Airlines and Honeywell UOP is expected to propel use of new forms of biomass to power commercial aircraft, reduce fossil fuel consumption and commercialize technologies benefiting the flying public. It builds upon a decade-old relationship among the stakeholders in pioneering commercialization of industry-leading SAF technology. For more information about Alder Fuels, visit http://www.alderfuel.com/.
Forward Looking Statement
Safe Harbor Statement under the Private Securities Litigation Reform Act of 1995: Certain statements in this press release are forward-looking and thus reflect our current expectations and beliefs with respect to certain current and future events and anticipated financial and operating performance. Such forward-looking statements are and will be subject to many risks and uncertainties relating to United's and Honeywell's operations and business environment that may cause actual results to differ materially from any future results expressed or implied in such forward-looking statements. Words such as "expects," "will," "plans," "intends," "anticipates," "indicates," "remains," "believes," "estimates," "forecast," "guidance," "outlook," "goals," "targets" and similar expressions are intended to identify forward-looking statements. Additionally, forward-looking statements include statements that do not relate solely to historical facts, such as statements which identify uncertainties or trends, discuss the possible future effects of current known trends or uncertainties, or which indicate that the future effects of known trends or uncertainties cannot be predicted, guaranteed or assured. All forward-looking statements in this press release are based upon information available to us on the date of this press release. Neither United nor Honeywell undertakes any obligation to publicly update or revise any forward-looking statement, whether as a result of new information, future events, changed circumstances or otherwise, except as required by applicable law. United's and Honeywell's actual results could differ materially from these forward-looking statements due to numerous factors including, without limitation, the risks and uncertainties set forth under Part II, Item 1A., "Risk Factors," of United Airlines Holdings, Inc.'s Quarterly Report on Form 10-Q for the quarter ended June 30, 2021 and Honeywell's Annual Report on Form 10-K for the year ended December 31, 2020, as well as other risks and uncertainties set forth from time to time in the reports United Airlines Holdings, Inc. and Honeywell file with the U.S. Securities and Exchange Commission.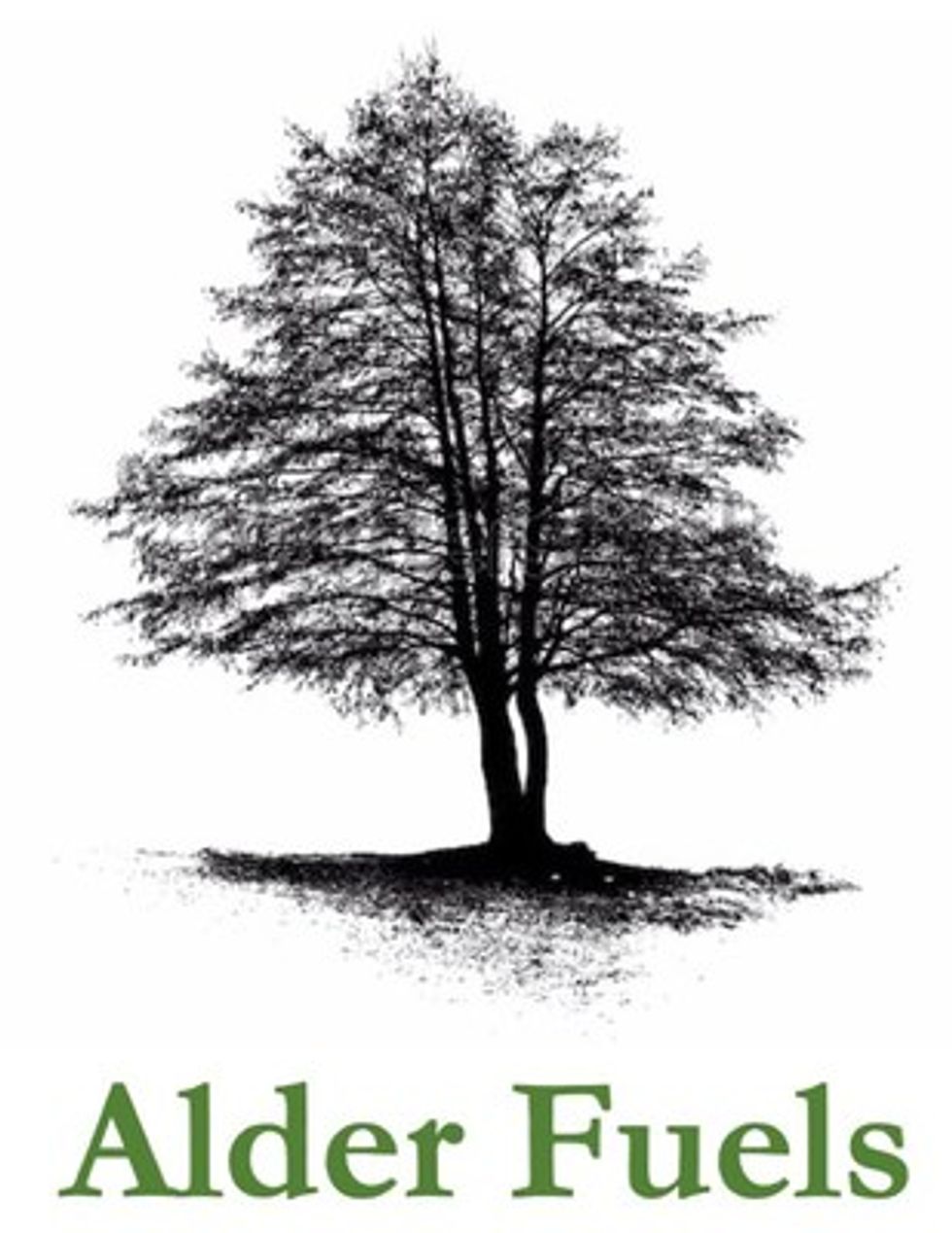 SOURCE United Airlines
For further information: United Airlines Worldwide Media Relations, +1-872-825-8640, media.relations@united.com; Honeywell, Mike Hockey, Mike.hockey@honeywell.com, 832 285 4933; Alder Fuels, Alex Gibson, 803-361-3016, agibson@apcoworldwide.com
CHICAGO, Sept. 1, 2021 /PRNewswire/ -- United (NASDAQ:UAL) will present at the 14th Annual Cowen Global Transportation & Sustainable Mobility Conference on Thursday, September 9. The presentation will begin at 10:30 a.m. CT / 11:30 a.m. ET.
The live webcast will be available on the investor relations section of United's website at ir.united.com. The company will archive the audio webcast on the website within 24 hours of the presentation, and the webcast will be available for a limited time.

SOURCE United Airlines
For further information: United Airlines Worldwide Media Relations, +1-872-825-8640, media.relations@united.com
Scroll to top