Three Perfect Days: Vancouver
Story by Jacqueline Detwiler | Photography by Grant Harder | Hemispheres, November 2014
There are many reasons to love Vancouver: cleansing salt breezes, landscapes that could sell a high-definition TV, the fact that everyone stands at crosswalks and waits for the little green man to appear before moving. Then there's the city's signature seafood, which is everywhere: smoked and salted and candied and glistening pinkly next to oysters on appetizer trays.
Here's a thing about salmon: They're anadromous, meaning they swim from ocean to river to spawn—they're equally comfortable in open swaths of the Pacific and frigid mountain streams. In this sense, salmon are like the people here. Spend five minutes in Vancouver and you'll pass dozens of folks perfectly at home in anything the environment can throw at them. They're on skis, on bikes, on boats. They're running, swimming, hiking, camping.
While the pioneering spirit endures here, there is plenty to keep the more cerebral (or sedentary) visitor occupied. You can, for instance, get an absorbing primer on the city's history at the Museum of Vancouver, or beef up on its seedier side at the Vancouver Police Museum. You can watch movies under the stars in Stanley Park or hear live music at the Railway Club. Or you can simply munch elk sausage while sipping a local craft beer at a top-notch eatery, secure in the knowledge that somebody went to great lengths to bring these things to you.
DAYONE | The first few seconds after you awake in the Rosewood Hotel Georgia are a little disorienting. You're lying in a kingsize bed the color of Champagne. There are white flowers everywhere. Everything seems to be made of marble or burnished wood. Did you wake up a 19th-century railroad baron? You catch your reflection in the mirror above your stand-alone soaker tub. Nope. Still you.
Outside your window, a few pink-cheeked locals are huffing along the sidewalk in long-sleeved shirts and running shorts. You look disapprovingly at your gut and pull out a pair of sneakers. A half hour later, you're jogging along the Seawall, a path that circumscribes the peninsula of 1,001-acre Stanley Park. To your right are clutches of red-and-white sailboats bobbing in the choppy bay. Mossy rocks lie about like lazy dogs. Vancouver Island makes occasional appearances from the fog beyond. You think: Gosh, this is pretty. And: Hey, is that a lighthouse? It is a lighthouse.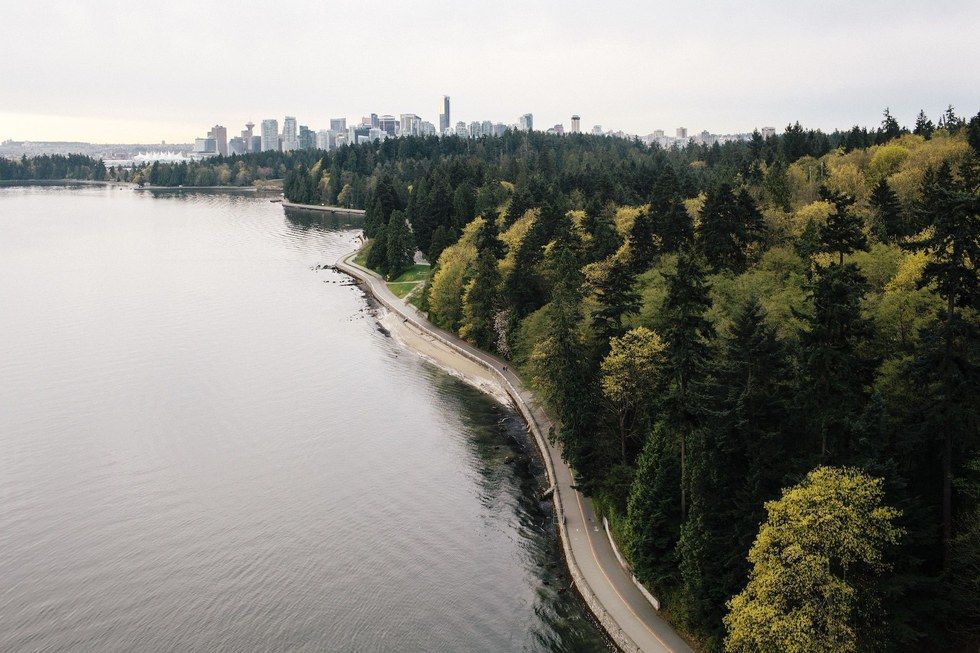 The Vancouver skyline seen from the Lions Gate Bridge
After a few miles, you reach Girl in a Wetsuit, a statue of, um, a girl in a wetsuit sitting on a rock in the harbor (a wry update on Copenhagen's Little Mermaid). She looks kind of forlorn, out there on her own. You snap a picture with the intention of Photoshopping a few friends in for her later. Speaking of being alone, you can barely see downtown Vancouver in the distance. It's time to head back.
After a quick shower at the hotel, you're off on a short walk to Wildebeest. All brickwork and communal tables, this carnivore-friendly eatery has light fixtures made out of theater pulleys and a slushy machine that's been repurposed to make frozen cocktails. Your run has earned you an indulgent brunch, you feel, so you order the Pig Face Eggs Benedict with tangy tarragon mayo on a steaming biscuit and the thickest bacon you've ever had (pictured below), followed by sugar-dusted mini donuts with gooey caramel centers. You attack this spread as if you've been deprived of food for several days.
When you finish, you emerge into the city's oldest neighborhood, Gastown, which grew up around a single saloon in the 1860s and '70s before being incorporated as Vancouver in 1886. Gastown is now a bustling shopping and entertainment district dominated (fittingly) by bars. You wander into the trendy boutique LYNNsteven, intrigued by the cylindrical dressing room made out of stacked books, and leave with a plaid smoking jacket. Down the street, you find a selection of improbably small bonsai cactuses at Parliament Interiors, a quirky home goods store. They're cute, but not easily packed, so you opt instead for a Ryan Gosling–themed journal covered in tiny hearts. Your teenage niece will love it.
You continue this way for hours, poking around the shops and taking breaks to admire the moody bay behind them. Eventually, realizing that you haven't eaten anything since your pig-out brunch, you head for Pidgin. While the decor here is simple—like a café in a Japanese modern art museum—the menu is not. Your first course is a fresh oyster in a zingy foam of apple and horseradish. There are delicate raw scallops topped with apple and daikon and curry oil. Potatoes come matchstick-thin with spicy cod roe and earthy seaweed butter. For dessert, you order a Midnight Grogg: a glass of rum, lime cordial and verjus stuffed to the brim with frozen grapes. What a great idea.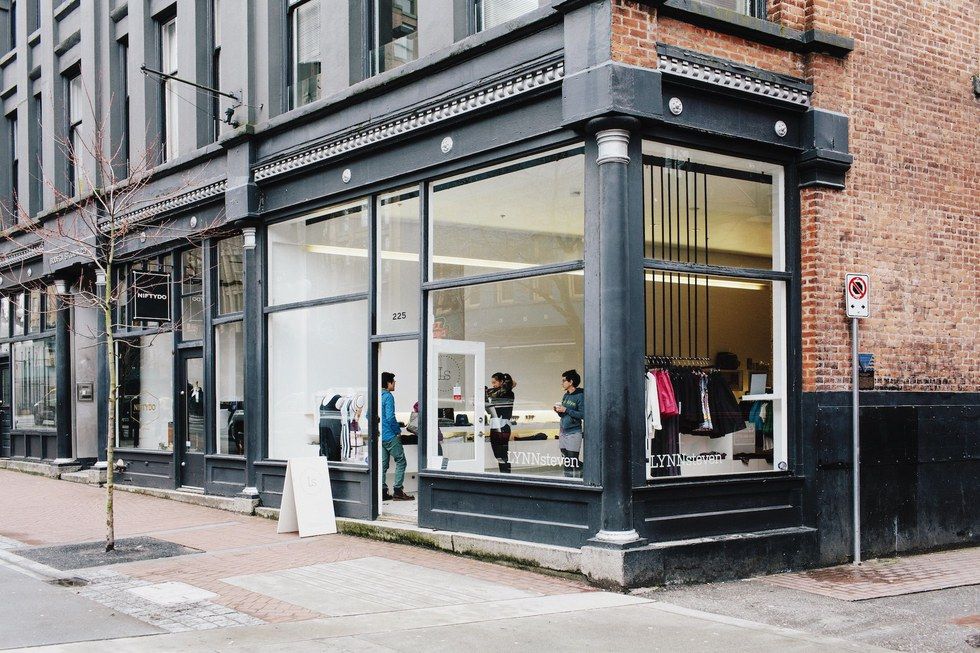 The chic LYNNsteven boutique in historic Gastown
It's still early—plenty of time for a nightcap. You walk down the street to a cozy spot called Notturno. Behind the bar stands a charismatic local celebrity with a tongue ring and a lot of opinions. Known only as "H" ("The nickname's a holdover from private school," he says), he won Vancouver magazine's bartender of the year award last year. H has been aging a few of his cocktails in barrels lately; he insists that you try the Boulevardier. A bourbon version of a negroni with a little extra wood flavor, it tastes like an evening in front of a log fire.
After a few more of H's homespun cocktails, the idea of cozying up for the night is increasingly appealing. You weave your way back to the hotel through iridescent streets, peering up at lights that look like neon through vaseline, then step into the Rosewood's mahogany lobby, where you find a fire roaring in a century-old hearth. The railroad tycoon is home at last.
DAY TWO | You wake to a rare sight: It is snowing in Vancouver. Down here, where Pacific currents temper the weather, snowfall is generally confined to a few flurries, so it's safe to say that, up in the mountains two hours north of town, the powder must be gangbusters. You've got to get up there. And you will. But first: supplies.
You take a cab to the edge of False Creek, the inlet that separates downtown from the foodie shopping destination of Granville Island, and climb into a rainbow-colored Aquabus ferry, which looks like a large bath toy. Still, you figure it can handle the five-minute trip to Granville. Heck, you can see it from here. This tiny peninsula is known for its covetable produce, and a quick snoop around the Public Market and the food stores that surround it reveals why. You stuff your bag with flawless fruit, reindeer sausage, tangy smoked salmon candy (basically sweet salmon jerky) and salted caramel peanut butter. You also make a concession to your immediate hunger and buy a creamy clam chowder pot pie to eat on the spot. It's fantastic.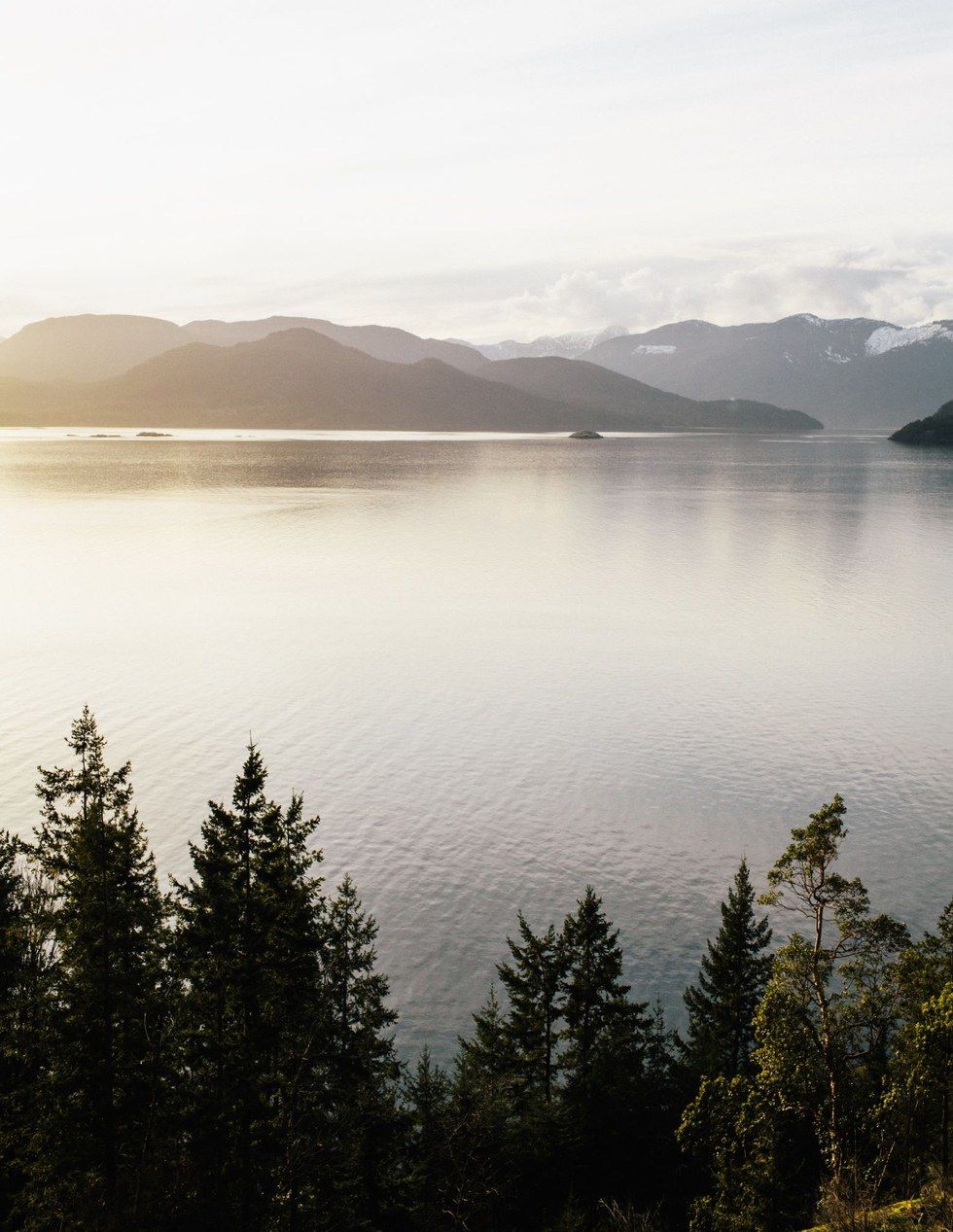 A view of Howe Sound from the Sea-to-Sky Highway
Larder stocked, you're on your way north to the mountains—specifically, to Whistler. The drive takes you on one of the most scenic roads in the Pacific Northwest. Maybe one of the most scenic roads anywhere. You navigate northward on the Sea-to-Sky Highway, a ribbon of road that marks the extreme western edge of North America. To your left is the water, as thick and clear as vodka straight from the freezer. To your right are soft smudges of pine. Eagles hang in the sky. Even the mist is cinematic. You could be hurtling through a still from a nature documentary.
Eventually, the water gives way to snowy mountains. Nearly every car on the road is a four-wheel-drive stacked with equipment. The skiers are coming. Before joining them on the slopes, you make a turn for Whistler Olympic Park, where you'll be trying your hand at biathlon: cross-country skiing followed by shooting at targets followed by more cross-country skiing. In the Olympics, the event doesn't look particularly hard; in real life, it's impossible. After a half hour of trying to find your snow legs in a set of parallel tracks, you move to a shooting range, where you race around a track, occasionally flopping down to shoot an air rifle at a target the size of a plum. With your heart rattling around like a shoe in a dryer, you hit exactly none of them.
Sweaty and spent, you finish the drive to the Four Seasons Whistler and stroll into a hunting lodge of a reception layered with Native American rugs. You're ready for a pre-dinner nap, but your body is in knots. The concierge has a solution. A short drive from your hotel is an outdoor thermal bath called Scandinave Spa, where visitors perform repeated cycles of hot, cold and rest. Do this three or four times, he says, and you'll be as relaxed as if you'd been on vacation for a month. You're in.
You find the spa in a glittering pine glade that could be home to a wood nymph in a Disney movie. The most obvious place to start is the hot tub, so you hop in. Then it's a cold plunge pool and 15 minutes in a hammock. That was pleasant, but you think you can beat it. By your final round, you have found the perfect cycle: 20 minutes in a Finnish wood-burning sauna followed by a quick Nordic shower and a solid half hour curled up in a ball next to an outdoor fireplace. Someone with a nightstick might have to force you to leave this place.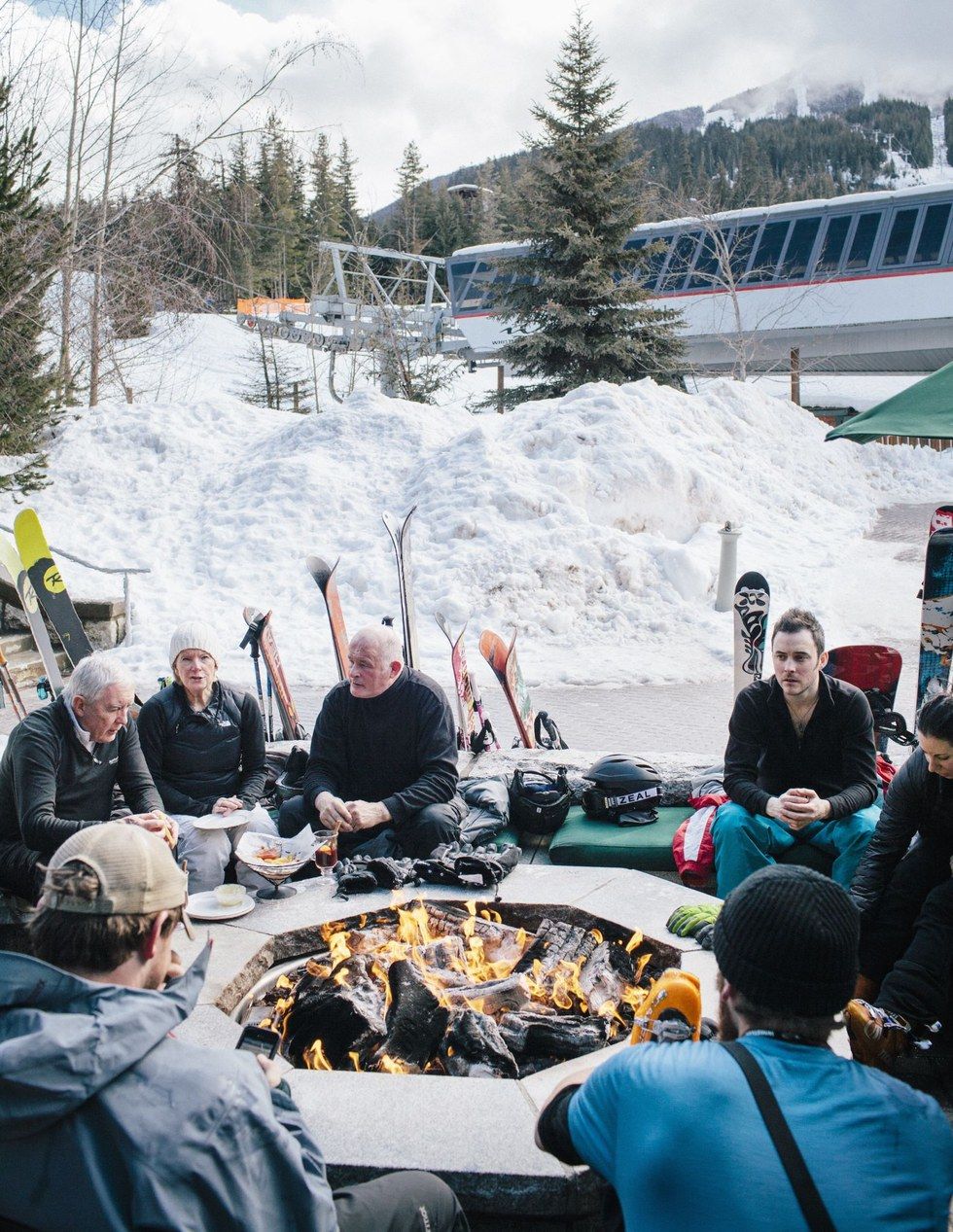 Outdoor après-ski at Dubh Linn Gate Irish Pub in Whistler
It's then that you remember the meat. You've got a reservation at Sidecut, the Four Seasons' sleek steakhouse. With a pang of regret (mitigated by a pang of hunger), you leave the spa and make your way to the restaurant, where you order a sushi roll made out of rare steak, avocado and dried tomato (the restaurant logo is etched into the wasabi); a 12-ounce ribeye served with house-made steak sauce; and roasted mushrooms and mashed potatoes. Sated, and with your eyes at half mast, you retire to your room to find another fireplace. Your porch overlooks a teal puddle of swimming pool. The lights illuminate a row of icicles thick as your forearm. You flop face down on your bed. Now, if this were an Olympic event…
DAY THREE | There's a knock on your door at 7a.m. Blearily, you open it to find a beaming room service attendant, who wheels in a tray of Bircher muesli and a creamy avocado, apple, spinach and strawberry smoothie. Healthy is as healthy does, and you've got miles of mountain to scream down over the course of the day.
You flick on the fire and lay out your gear to warm while you ponder your dilemma: Blackcomb or Whistler? Whistler or Blackcomb? At 8,171 acres, the Whistler Blackcomb complex is larger than Vail, Aspen, Big White or Mammoth. Your pass will allow you to ski either of the mountains, which are connected at the base and by the Peak 2 Peak Gondola. But with only a single day to ski, it's too big to take on all at once. You flip a loonie. Blackcomb it is.
You can handle almost any blue run with grace, but black runs leave you looking like a drunk in a log-rolling competition. With this in mind, you sign up for Max4 Group Ski Lessons at the Whistler Blackcomb Snow School, where you meet your instructor, Aniello Campagnuolo. After a quick diagnostic ski-off, he selects you and three similarly abled skiers, and leads you up the Wizard lift. On the next, the Solar Coaster, he points down at a few teenagers swooping in and out of trees on a black diamond below. "You ladies will be doing that later," he says. You and your new friends make doubtful faces.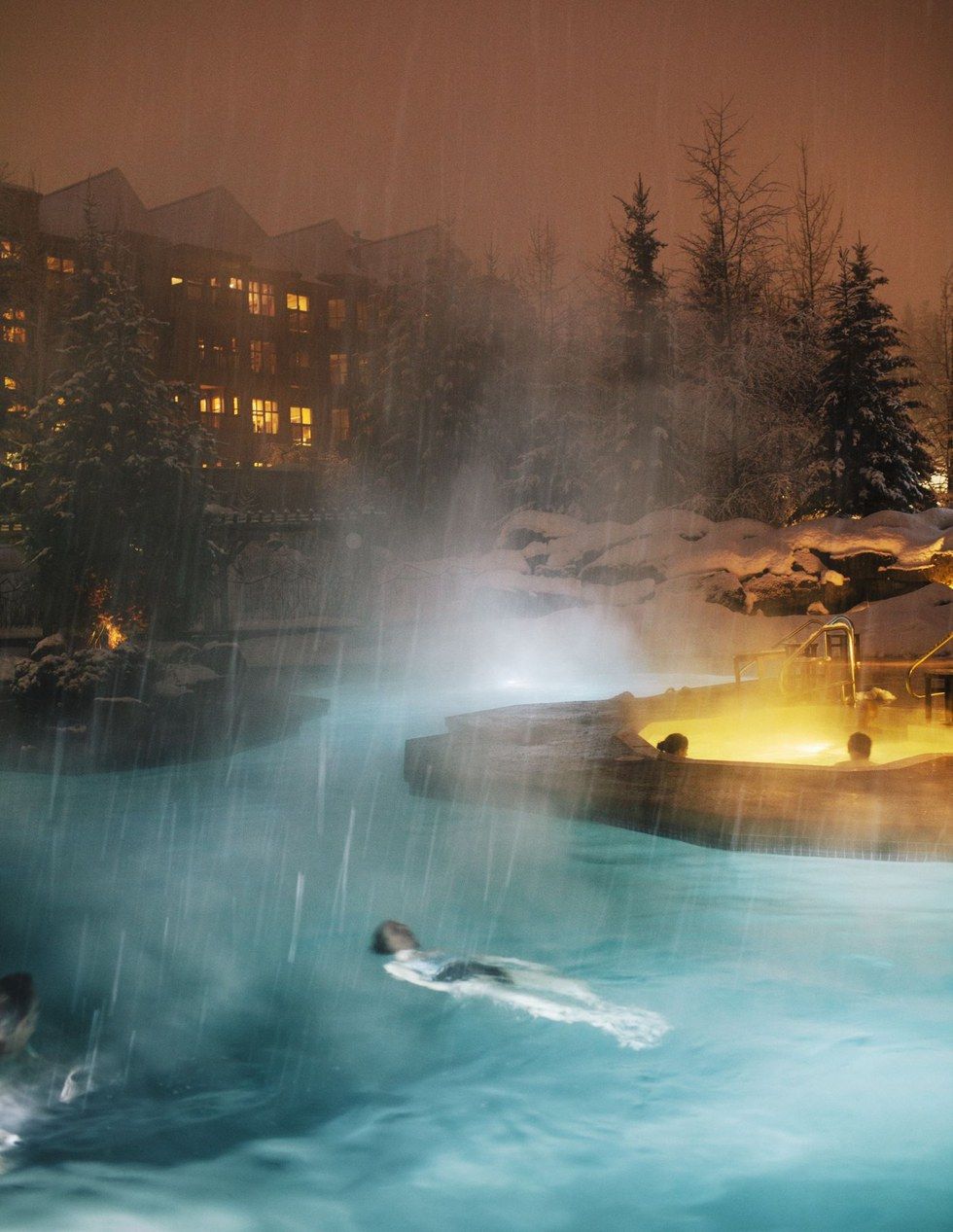 Enjoying the spa at Four Seasons Whistler
As the day goes on, the powder starts looking a little carved up—time to hit the moguls. But first, lunch. This is no time for gourmet aspirations: You grab a bowl of chili and a hot chocolate at Roundhouse Lodge on the mountain. Then you're back on your skis, crisscrossing Blackcomb's face, hitting progressively steeper pistes until, finally, you huck off a small hill onto a black diamond and make it down without a single anxiety attack. Campagnuolo points at a lift above your head, the one you were on earlier, back when you were afraid.
This calls for a drink. You stow your skis and meander over to the Whistler basecamp, where you can see a crowd already gathering outside the Garibaldi Lift Co. Inside, it's a virtual nightclub—a roiling warehouse crammed with rosy-cheeked ski bums in ear warmers and fashion baselayers. You locate a spot at the bar and eavesdrop on two dudes in beanies who are swapping snowboarding war stories. Most of them end with a phrase like "...and that's how I broke my other leg." When the bartender comes by, you order the après specialty, the Great Canadian Caesar, a Canadian Bloody Mary with Clamato. Yours comes with a pickle, green olive, spicy green bean and a strip of bacon.
You find yourself focusing a little too intently on the garnishes, so after the drink you take a quick shower and head for dinner in Whistler Village, which is the size of a small town and looks like a hobbyist's railroad set. Every corner you turn you find another Swiss-looking square and more young, smiling folks in sweatpants lounging on balconies. You pause on a little covered bridge over a bit of half-frozen stream. You wouldn't be too surprised to hear jingling bells and a "Ho! Ho! Ho!"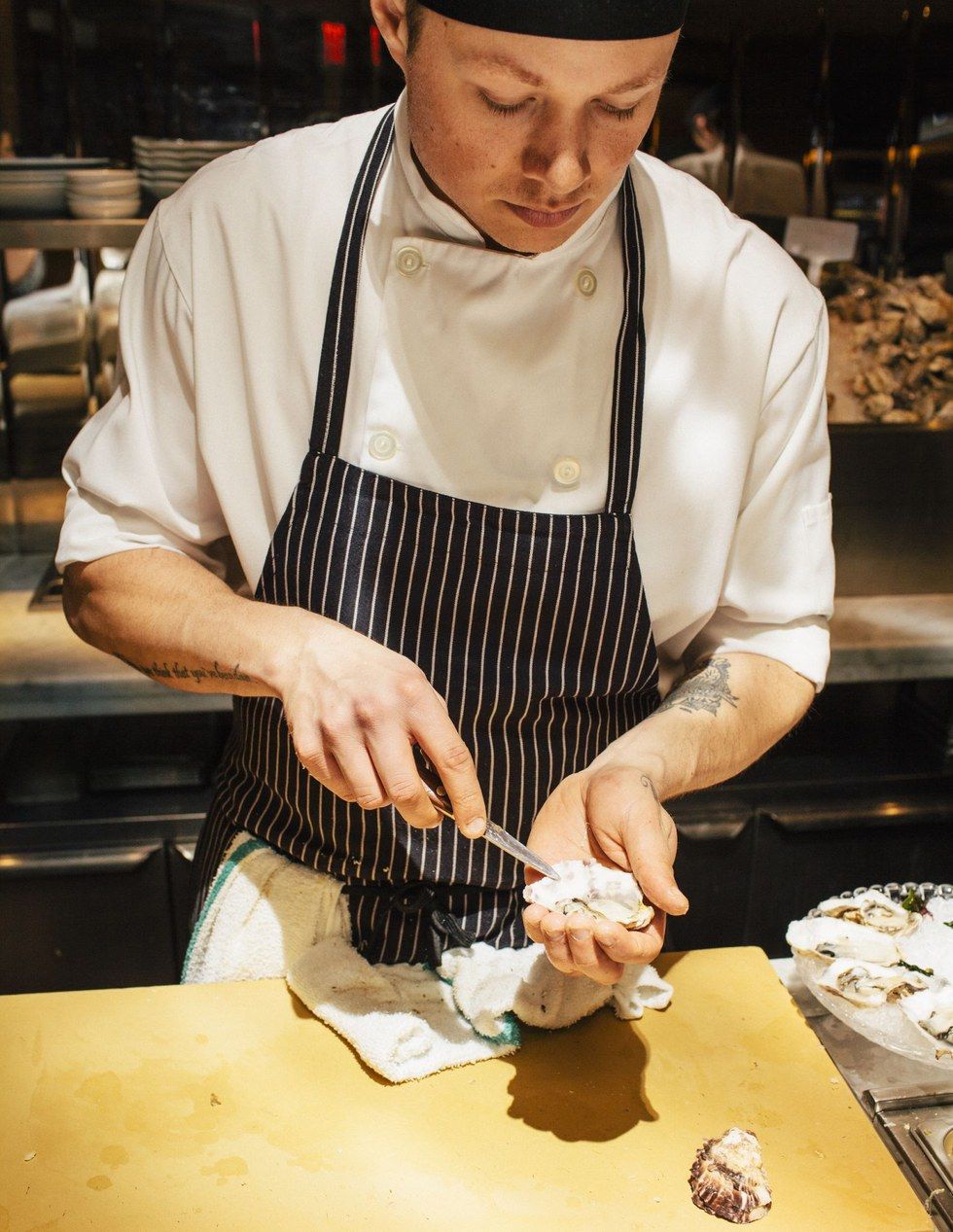 Oyster shucking at Araxi
Finally, you arrive at Araxi, an oyster bar and high-end seafood restaurant that glows like a seaside pub in a storm. You have a seat at a corner table and submit to a succession of plates each more beautiful and local and healthy than the last. There are deep-cup Kusshi oysters and sockeye salmon sashimi and several glasses of excellent British Columbia pinot noir, but the star is a plate of rare venison loin with ruby-colored baby beets and a cheese ravioli. It's as tasty as it is artfully composed.
Fully recovered from your exploits on the slopes, you slink out into the clear night, boots crunching on the snow. It's chilly, but you are warmed by the amber glow of the windows, and the occasional burst of laughter echoing through the streets. Outside the Dubh Linn Gate Irish Pub you see a circle of people sitting around a low stone fireplace. Will they let you join them? Of course they will. This is Canada. You buy a round of stouts and sit mesmerized by the licking flames, the way people have since this place was wild. Conversation drifts upward like the sparks from the hearth, but you catch only snippets: "...magic double black diamond..." "...smells like cedar..." "...isn't this nice?"
Popular Mechanics senior editor Jacqueline Detwiler also dances like a drunk in a log-rolling competition.
This article was written by Jacqueline Detwiler from Rhapsody Magazine and was legally licensed through the NewsCred publisher network. Please direct all licensing questions to legal@newscred.com.
Around the web
When the pandemic began, United Cargo knew it would be critical to utilize its fleet, network and industry-leading pharmaceutical handling processes to transport a COVID-19 vaccine when the time came.
Connecting vaccines to the world: United responds to mass distribution effort
December 22, 2020
On November 27, United Airlines became the first commercial airline to safely deliver the first batch of Pfizer and BioNTech's COVID-19 vaccine into the U.S. thanks to a coordinated effort between United's cargo, safety, technical operations, flight operations, regulatory and legal teams.
Now as the entire shipping and logistics industry bands together to widely distribute vaccines, United is leveraging all of its flights, including cargo-only and those carrying passengers, to transport millions of vaccines to destinations throughout our network, including Honolulu, Guam and Saipan – the first of any carrier to do so.
"United's cargo service has helped safely deliver many essential goods during this pandemic, but there is no shipment that gives me more personal pride than helping bring this life-saving vaccine to our communities," said Jan Krems, United Cargo President. "While we still face a long road ahead the promise of a widely distributed vaccine gives us hope that we are one step closer to putting this pandemic behind us and moving forward together toward a brighter future."
And United is shipping more than just vaccines to help during the pandemic in keeping the lines of commerce flowing and goods getting to where they need to be. Since mid-March, United has operated 9,000 cargo-only flights carrying more than 435 million pounds of cargo. By using a combination of cargo-only flights and passenger flights, United Cargo has also transported 80 million pounds of medical supplies this year.
In coordination with our shipping and logistics partners, United will continue to distribute COVID-19 treatments to destinations throughout its network. The real heroes are the scientists who created these life-saving vaccines and the frontline workers who are not only administering them, but also helping care for and tend to those suffering from this virus. United is proud to do its part in helping to get this precious cargo to the people and communities who need them, and looks forward to doing our part in the months ahead.
United Cargo responds to COVID-19 challenges, prepares for what's next

September 30, 2020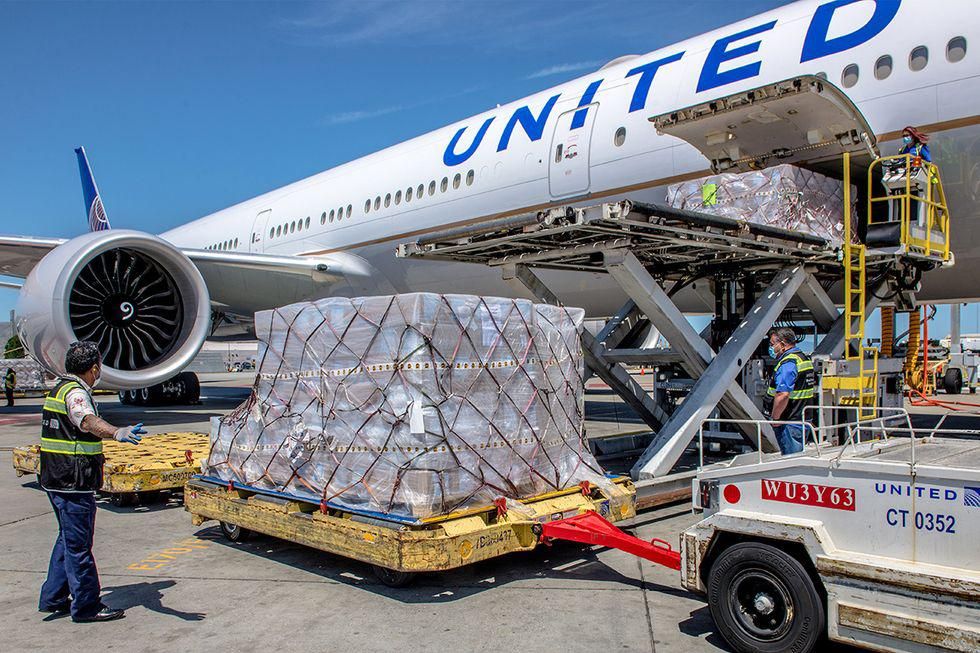 Even before the COVID-19 pandemic, United Cargo has supported a variety of customers within the healthcare industry for over 10 years. Three key solutions – TempControl, LifeGuard and QuickPak – protect the integrity of vital shipments such as precision medicine, pharmaceuticals, biologics, medical equipment and vaccines. By utilizing processes like temperature monitoring, thermodynamic management, and priority boarding and handling, United Cargo gives customers the peace of mind that their shipments will be protected throughout their journey.

With the global demand for tailored pharmaceutical solutions at an all-time high, we've made investments to help ensure we provide the most reliable air cargo options for cold chain shipping. In April this year, we became the first U.S. carrier to lease temperature-controlled shipping containers manufactured by DoKaSch Temperature Solutions. We continue to partner with state-of-the-art container providers to ensure we have options that meet our customers' ever-changing needs.
"Providing safe air cargo transport for essential shipments has been a top priority since the pandemic began. While the entire air cargo industry has had its challenges, I'm proud of how United Cargo has adapted and thrived despite a significant reduction in network capacity and supply," said United Cargo President Jan Krems. "We remain committed to helping our customers make it through the pandemic, as well as to doing everything we can to be prepared for the COVID-19 vaccine distribution when the time comes."
Our entire team continues to prioritize moving critical shipments as part of our commitment to supporting the global supply chain. We've assembled a COVID readiness task team to ensure we have the right people in place and are preparing our airports as we get ready for the industry-wide effort that comes next.
In cooperation with our partners all over the world, United Cargo has helped transport nearly 145 million pounds of medical supplies to aid in the fight against COVID-19, using a combination of cargo-only flights and passenger flig­hts. To date, United Cargo has operated more than 6,300 cargo-only flights and has transported more than 213 million pounds of cargo worldwide.
United Cargo responds to global needs, celebrates 5000th cargo-only flight

August 18, 2020
By Jan Krems, President, United Cargo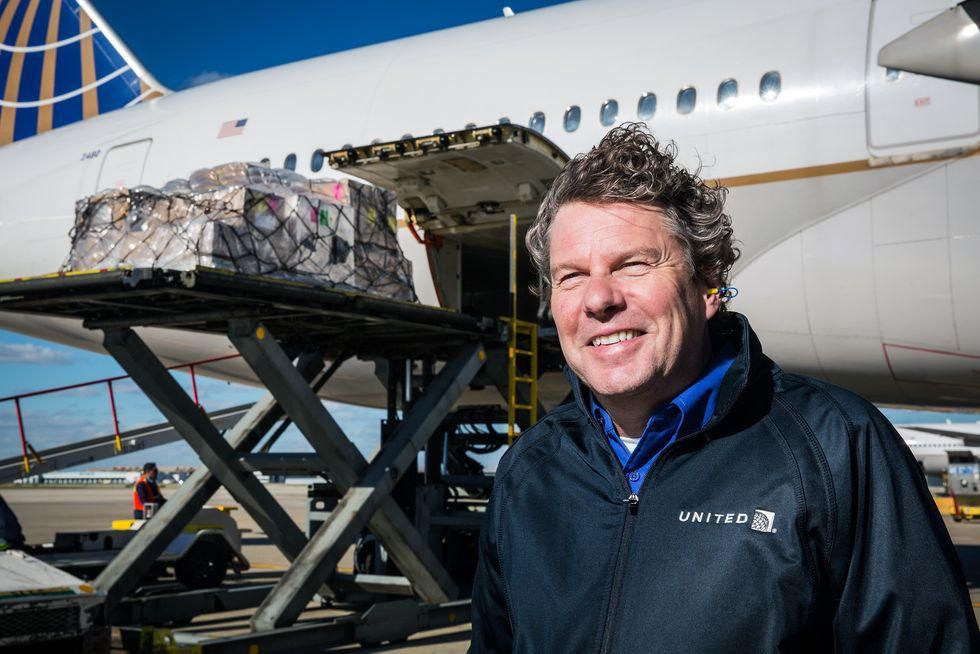 In mid-March, United took steps to manage the historic impact of COVID-19 and began flying a portion of our Boeing 777 and 787 fleets as dedicated cargo-only flights to transport air freight to and from U.S. hubs and key international business locations. More than ever, providing reliable cargo transportation was vitally important and I'm proud say our United Cargo team stepped up to support our customers.

Although we're facing the most challenging environment our industry has ever experienced, I'm very excited to celebrate a major milestone. Since March 19, United has operated over 5,000 cargo-only flights transporting nearly 170 million pounds of cargo on these flights alone. With an increased need to keep the global supply chain moving, and an even more urgent need for medical supplies, we knew we had to utilize our network capabilities and personnel to move vital shipments, such as medical kits, personal protective equipment (PPE), pharmaceuticals and medical equipment between U.S. hubs and key international destinations.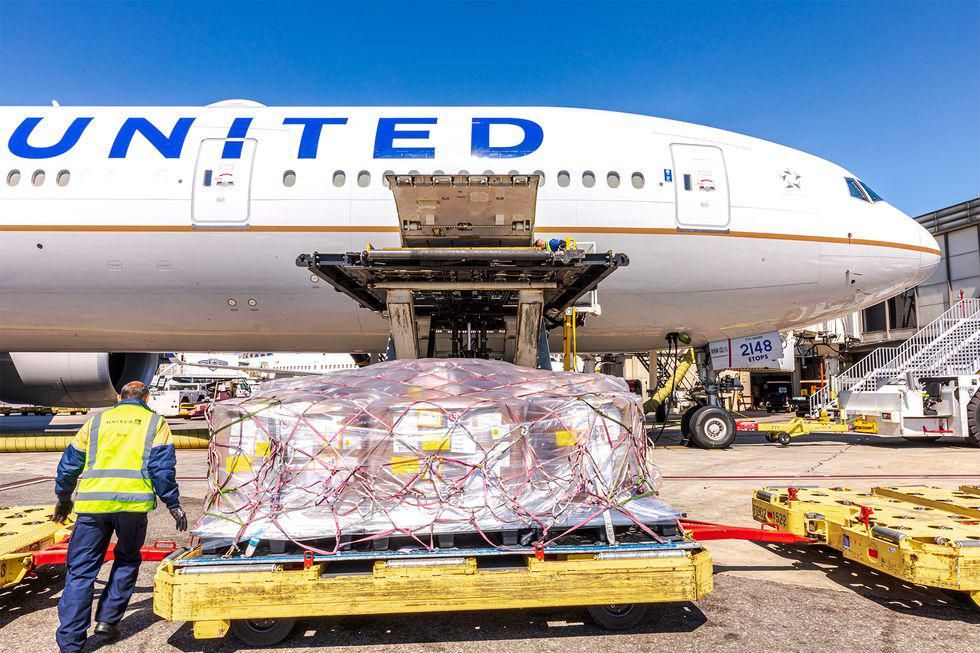 In cooperation with freight forwarders and partners all over the world, United Cargo helped transport more than 107 million pounds of medical supplies to aid in the fight against COVID-19 using a combination of cargo-only flights as well as passenger flights.

To keep military families connected, we increased the frequency of cargo-only flights between the U.S. and military bases in various parts of the world — including bases located in Guam, Kwajalein and several countries in Europe. We know how critically important it is for these families to stay connected, and I'm honored that we were able to utilize our network and our aircraft to fly nearly 3 million pounds of military supplies.
In collaboration with food-logistics company Commodity Forwarders Inc. (CFI), our cargo teams moved nearly 190,000 pounds of fresh produce to Guam for the U.S. Department of Agriculture's Coronavirus Farm Assistance Program. This new program was created to provide critical support to consumers impacted by the coronavirus pandemic.
United has played a critical role in keeping global supply chains stable during the pandemic as we deliver urgently needed goods around the world. These past few months have created challenges that I have never seen in my 30-plus years of experience working within the air cargo and freight forwarding industry. However, I'm proud of our teams for staying focused on our mission to provide high-quality service and to keep our customers connected with the goods they need most.
United Cargo and logistics partners keep critical medical shipments moving
July 02, 2020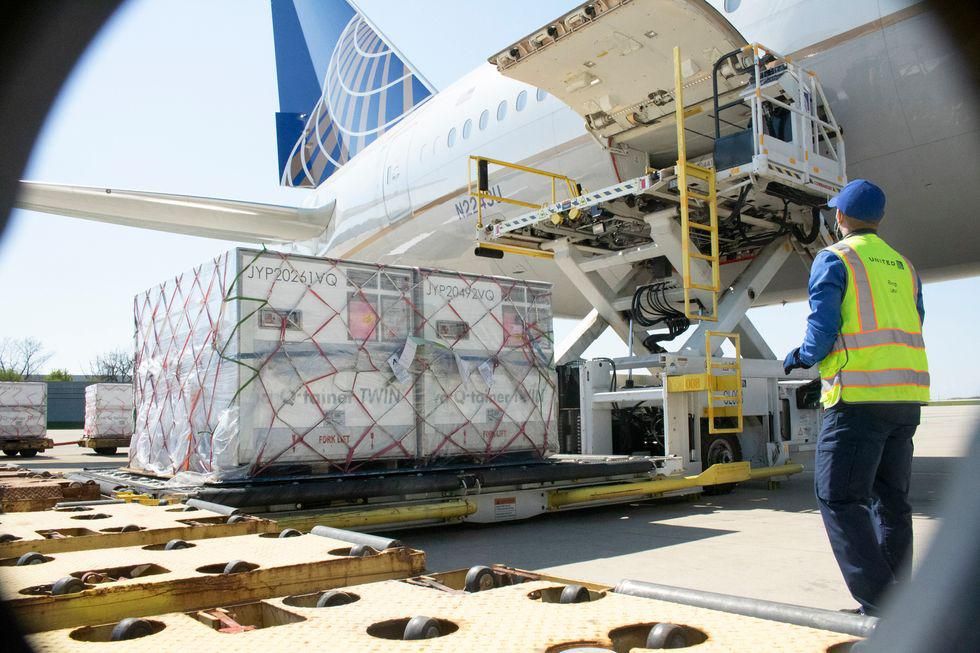 By working together and strengthening partnerships during these unprecedented times, our global community has overcome challenges and created solutions to keep the global supply chain moving. As COVID-19 continues to disrupt the shipping landscape, United and our industry partners have increasingly demonstrated our commitment to the mission of delivering critical medical supplies across the world.

United Cargo has partnered with DSV Air and Sea, a leading global logistics company, to transport important pharmaceutical materials to places all over the world. One of the items most critical during the current crisis is blood plasma.
Plasma is a fragile product that requires very careful handling. Frozen blood plasma must be kept at a very low, stable temperature of negative 20 degrees Celsius or less – no easy task considering it must be transported between trucks, warehouses and airplanes, all while moving through the climates of different countries. Fortunately, along with our well-developed operational procedures and oversight, temperature-controlled shipping containers from partners like va-Q-tec can help protect these sensitive blood plasma shipments from temperature changes.
A single TWINx shipping container from va-Q-tec can accommodate over 1,750 pounds of temperature-sensitive cargo. Every week, DSV delivers 20 TWINx containers, each one filled to capacity with human blood plasma, for loading onto a Boeing 787-9 for transport. The joint effort to move thousands of pounds of blood plasma demonstrates that despite the distance, challenges in moving temperature-sensitive cargo and COVID-19 obstacles, we continue to find creative solutions with the help of our strong partnerships.
United Cargo is proud to keep the commercial air bridges open between the U.S. and the rest of the world. Since March 19, we have operated over 3,200 cargo-only flights between six U.S. hubs and over 20 cities in Asia, Australia, Europe, South America, India, the Caribbean and the Middle East.
United further expands cargo-only operations to key international markets
June 9, 2020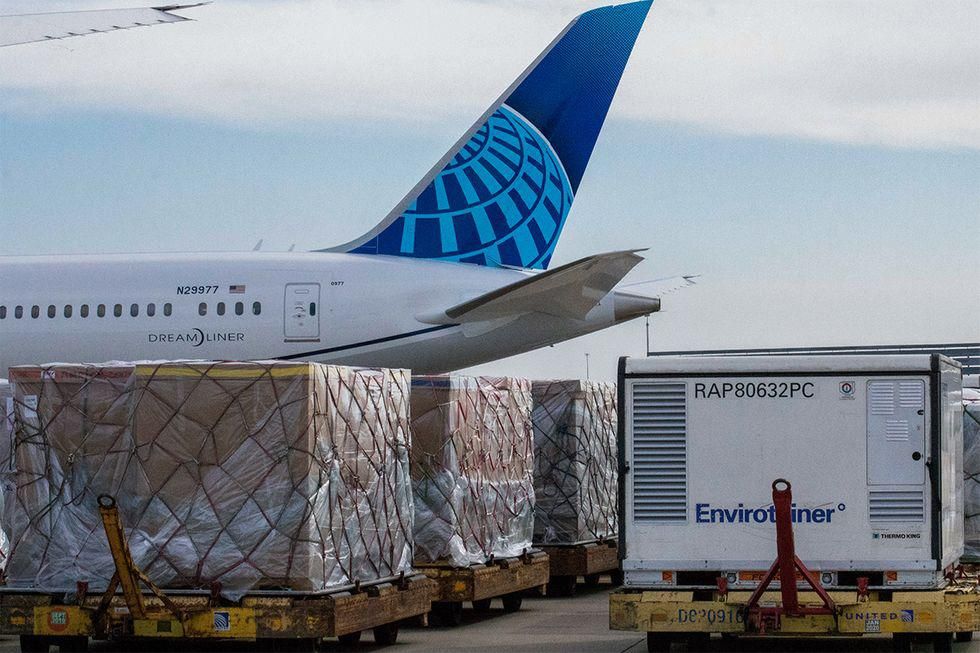 United has played a vital role in helping keep the global supply chains stable during the COVID-19 pandemic so urgently needed goods can get to the places that need them most.

In addition to current service from the U.S. to Asia, Australia, Europe, India, Latin America and the Middle East, we are proud to now offer cargo-only flights to key international markets including Dublin, Paris, Rome, Santiago and Zurich. These new routes will connect our freight customers and further extend our air cargo network throughout the world – for example connecting major pharmaceutical hubs in Europe and perishable markets in Latin America.
"Air cargo continues to be more important than ever," says United Cargo President Jan Krems. "This network expansion helps our customers continue to facilitate trade and contribute to global economic development and recovery. I'm proud of our team for mobilizing our cargo-only flights program that enables the shipment of critical goods that will support global economies."
Since we began our program March 19, we have completed more than 2,400 cargo-only flights, transporting over 77 million pounds of cargo. We have over 1,100 cargo-only flights scheduled for the month of June, operating between six U.S. hubs and over 20 cities all over the world.
United's first flight carrying cargo in-cabin takes off
May 13, 2020

United continues to keep supply chains moving and to meet the demand for critical shipments around the globe. Recently, United received approval from the Federal Aviation Administration (FAA) to carry cargo in approved storage areas in the passenger cabin.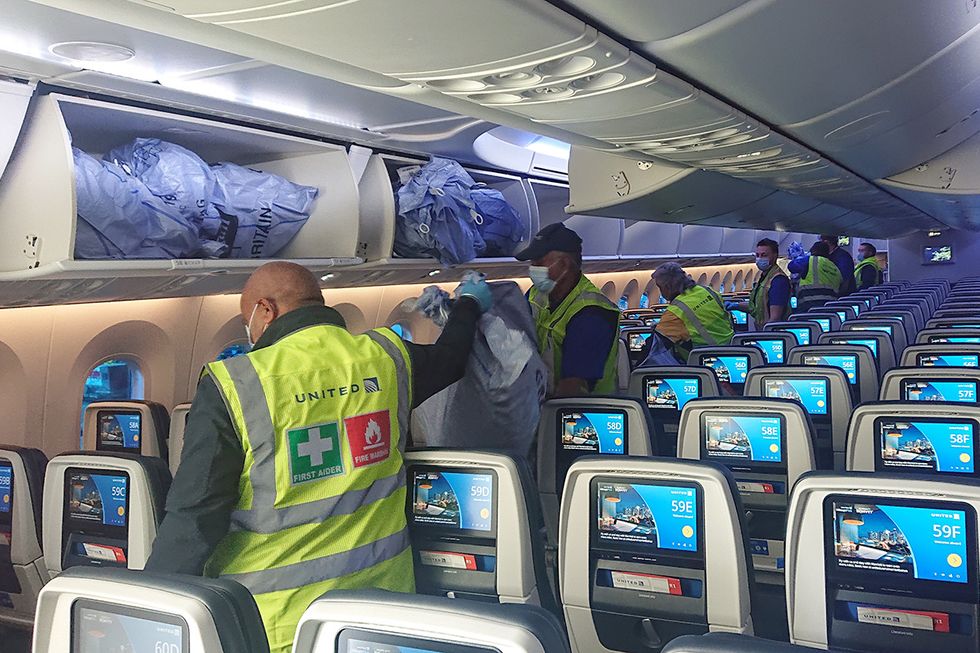 Our inaugural cargo-in-cabin flight flew from London (LHR) to Chicago (ORD) carrying over 4,200 pounds of mail in the passenger cabin, plus a full payload of freight in the belly of the aircraft. Initially, cargo-in-cabin shipments will be loaded on the 777 and 787 aircraft operating our cargo-only flights. We will continue to evaluate additional opportunities to use this space to meet the growing cargo demand.
"We send our sincere thanks to the FAA for working with our team to enable the transport of more critical goods on United's cargo-only flights," said Jan Krems, President of United Cargo. "By loading existing cabin storage areas with cargo and mail, we can move even more critical medical equipment, PPE, and other vital shipments the world needs to manage through the pandemic."

United's cargo-only network continues to expand in order to help bring vital shipments to the people that need it most. We're now offering service between six of our U.S. hubs and 18 airports worldwide: CTU, HKG, ICN, MEL, PEK, PVG, SIN, SYD and TPE in the Asia-Pacific; AMS, BOM, BRU, DUB, FRA, LHR, TLV and ZRH in EMEIA; and SJU in the Caribbean.
Since the start of its cargo-only flights program March 19, United has operated over 1,300 cargo-only flights transporting over 44 million pounds of cargo.
For more information, visit unitedcargo.com.
United expands cargo-only flights to additional global destinations
April 16, 2020
Getting vital goods, especially medical relief supplies, into the hands of the businesses and people who need them has never been more critically important. To meet the overwhelming demand, United began operating cargo-only flights on March 19. Since we began using Boeing 777 and 787 aircraft from United's passenger fleet for this purpose, we have operated over 400 flights carrying more than 6 million kilos of cargo.
"With the global community in need, we are doing everything we can to keep supply chains moving worldwide and support the battle against COVID-19," said United Cargo President Jan Krems. "We're proud to play an active role in connecting vital medical supplies like test kits and personal protective equipment with healthcare professionals around the world."
We are now operating more than 150 cargo-only flights per week between six of our U.S. hubs and 13 cities worldwide: CTU, HKG, PEK, PVG, SYD and TPE in the Asia Pacific; AMS, BRU, DUB, FRA and LHR in Europe; SJU in the Caribbean and TLV in the Middle East. We expect to add new cities soon and will continue to expand our cargo-only flights program.
Hub
Cargo-only flights operating through May
Chicago (ORD)
ORD - AMS (Amsterdam)
ORD - FRA (Frankfurt)
ORD - HKG (Hong Kong)
ORD - LHR (London)
ORD - NRT (Tokyo Narita) - PEK (Beijing)

Houston (IAH)
IAH - AMS (Amsterdam)
IAD - FRA (Frankfurt)
Los Angeles (LAX)
LAX - HKG (Hong Kong)
LAX - LHR (London Heathrow)
LAX - NRT (Tokyo Narita) - PVG (Shanghai)
LAX - SYD (Sydney)
New York/Newark (EWR)
EWR - AMS (Amsterdam)
EWR - FRA (Frankfurt)
EWR - LHR (London)
San Francisco (SFO)
SFO - AMS (Amsterdam)
SFO - NRT (Tokyo Narita) - PEK (Beijing)
SFO - NRT (Tokyo Narita) - PVG (Shanghai)
SFO - NRT (Tokyo Narita) - TPE (Taipei)
SFO - TLV (Tel Aviv)
SFO - SYD (Sydney)
Washington, D.C. (IAD)
IAD - BRU (Brussels)
IAD - DUB (Dublin)
IAD - FRA (Frankfurt)
IAD - NRT (Tokyo Narita) - PEK (Beijing)
IAD - SJU (San Juan)
Flight details are subject to change, for the most up-to-date schedules, please visit https://ual.unitedcargo.com/covid-updates.
Cargo-only flights support U.S. military and their families
March 30, 2020
We are helping to keep military families connected by increasing the frequency of cargo-only flights between the United States and military bases in various parts of the world — including Guam, Kwajalein, and several countries in Europe. Last week we began operating a minimum of 40 cargo-only flights weekly — using Boeing 777 and 787 aircraft to fly freight and mail to and from U.S. hubs and key international business and military locations.
We are going above and beyond to find creative ways to transport fresh food and produce, as well as basic essentials from the U.S. mainland to military and their families in Guam/Micronesia. On Saturday, March 28, we operated an exclusive cargo-only B777-300 charter to transport nearly 100,000 pounds of food essentials to Guam to support our troops.
In addition, we move mail year-round all over the world. In response to COVID-19, and in support of the military members and their families overseas, we implemented a charter network, transporting military mail to Frankfurt, which is then transported all over Europe and the Middle East. Since March 20, we have flown 30,000+ pounds of military mail every day between Chicago O'Hare (ORD) and Frankfurt (FRA). On the return flight from Frankfurt to Chicago, we have carried an average of 35,000 pounds of mail to help families stay connected.

"Keeping our military families connected with the goods they need, and keeping them connected with loved ones to feel a sense of home, is of critical importance. As a company that has long supported our military families and veterans, our teams are proud to mobilize to lend a hand." — United Cargo President Jan Krems.
Our cargo-only flights support customers, keep planes moving

March 22, 2020
We have begun flying a portion of our Boeing 777 and 787 fleet as dedicated cargo charter aircraft to transfer freight to and from U.S. hubs and key international business locations. The first of these freight-only flights departed on March 19 from Chicago O'Hare International Airport (ORD) to Frankfurt International Airport (FRA) with the cargo hold completely full, with more than 29,000 lbs. of goods.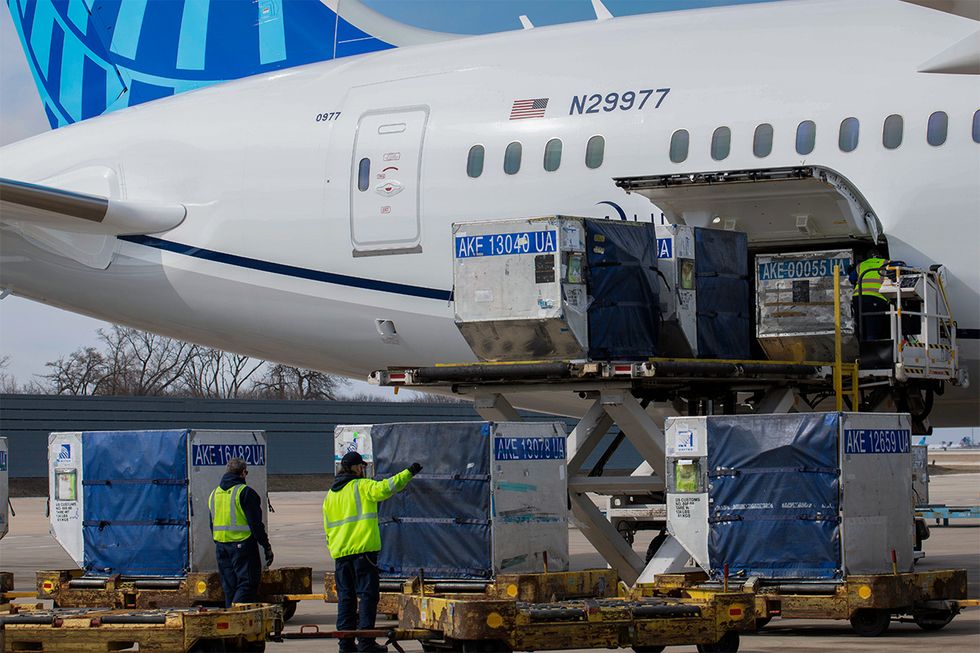 Getting critical goods into the hands of the businesses and people who need them most is extremely important right now. To support customers, employees and the global economy, we will initially operate a schedule of 40 cargo charters each week targeting international destinations and will continue to seek additional opportunities.

With coronavirus (COVID-19) creating an increased need to keep the global supply chain moving, we are utilizing our network capabilities and personnel to get vital shipments, such as medical supplies, to areas that need them most.
"Connecting products to people around the world is the United Cargo mission," said United Cargo President Jan Krems. "That role has never been more crucial than during the current crisis. Our team is working around the clock to provide innovative solutions for our customers and support the global community."
On average, we ship more than 1 billion pounds of cargo every year on behalf of domestic and international customers. For more information, visit unitedcargo.com.
Airline and its customers use crowdsourcing platform - Miles on a Mission - to donate more than 11 million miles for charities like the Thurgood Marshall College Fund, College to Congress and Compass to Care
CHICAGO, Dec. 1, 2020 /PRNewswire/ -- United is inviting MileagePlus members to give back on Giving Tuesday and throughout the holiday season by donating miles to nearly 40 non-profits through United Airlines' crowdsourcing platform, Miles on a Mission. Non-profits like Thurgood Marshall College Fund, College to Congress and Compass to Care are attempting to raise a total of more than 11 million miles to be used for travel for life-saving health care, continued education, humanitarian aid and more. United will match the first 125,000 miles raised for each of these organizations to help ensure they meet their goals.
"This year has posed unprecedented challenges for us all and has been especially devastating to some of the most vulnerable members within the communities we serve," said Suzi Cabo, managing director of global community engagement, United Airlines. "The need for charitable giving has not stopped during the pandemic, and neither has United. This Giving Tuesday marks an opportunity for us to all come together for the greater good and we are proud to provide a platform to support organizations with upcoming travel needs that will enable them to continue supporting the communities they serve."
The launch of these campaigns is part of United's ongoing Miles on a Mission program, which began in October 2019 and has raised more than 92 million miles to-date. Past campaigns have helped organizations travel children for life-saving medical treatment and unite parents with newly adopted children from foreign countries. Participating non-profits have 28-days to reach their mile raising goals through the platform.
The organizations that are raising miles in this campaign include:
College to Congress: The organization provides support including travel for disadvantaged college students who otherwise could not afford to intern in Washington, D.C.
Thurgood Marshall College Fund: This is the only national organization representing America's 47 publicly-supported Historically Black Colleges and Universities (HBCUs), and the nearly 300,000 students that attend them each year. The miles raised will cover the travel expenses to and from campus for students unable to afford them.
My Block, My Hood, My City: This organization provides underprivileged youth with an awareness of the world and opportunities beyond their neighborhood. Miles will be used to fund educational trips for Chicago youths to help them gain a greater understanding of the world outside of their comfort zones.
Compass to Care: The non-profit ensures all children, whose parents have a financial need, can access life-saving cancer treatment. Compass to Care is raising miles to fund travel to get children from their homes to hospitals for cancer treatment.
Luke's Wings: This organization is dedicated to the support of service members who have been wounded in battle. Raised miles will be used to purchase plane tickets for families to visit wounded soldiers recovering in Army medical centers.
Rainbow Railroad USA: The organization's mission is to help persecuted LGBTQI+ individuals around the world travel to safety as they seek a haven from persecution. Miles will support the organization's core Emergency Travel Support program.
This year, United's legal partner Kirkland & Ellis will also be donating $50,000 to My Block, My Hood, My City and the Thurgood Marshall College Fund. Other organizations launching campaigns on the platform include: Sisters of the Skies, Inc., Up2Us Sports, Airline Ambassadors International, Austin Smiles, AWS Foundation, Crazy Horse Memorial, FLYTE, Higher Orbits, Lily's Hope Foundation, Miles4Migrants, Support Utila Inc. and Watts of Love. MileagePlus members can also donate to United's 20 other existing partner charities including, Airlink, American Red Cross, Make-A-Wish, Shriners Hospitals; Clean the World, Special Olympics and more. To learn more or donate to these organizations, please visit donate.mileageplus.com.
Visit www.united.com/everyactioncounts to learn more about our pledge to put our people and planes to work for the greater good.
About United
United's shared purpose is "Connecting People. Uniting the World." For more information, visit united.com, follow @United on Twitter and Instagram or connect on Facebook. The common stock of United's parent, United Airlines Holdings, Inc., is traded on the Nasdaq under the symbol "UAL".

SOURCE United Airlines
For further information: United Airlines Worldwide Media Relations, +1-872-825-8640, media.relations@united.com

In October 2019, we launched a first-of-its-kind airline miles donation platform, Miles on a Mission. In the inaugural year, MileagePlus members donated over 70 million miles, with United matching over 20 million miles, to 51 organizations. These miles have allowed for these organizations to do important, life-changing, life-saving work in the communities we serve around the globe.
Whether it's visiting friends and relatives, traveling for work or simply exploring a new corner of the world, we all have a reason as to why we fly. No matter the reason you fly, the miles you earn and donate help our Miles on a Mission partners soar. Take a look at how some of our partner organizations have put our MileagePlus Members' donations to work.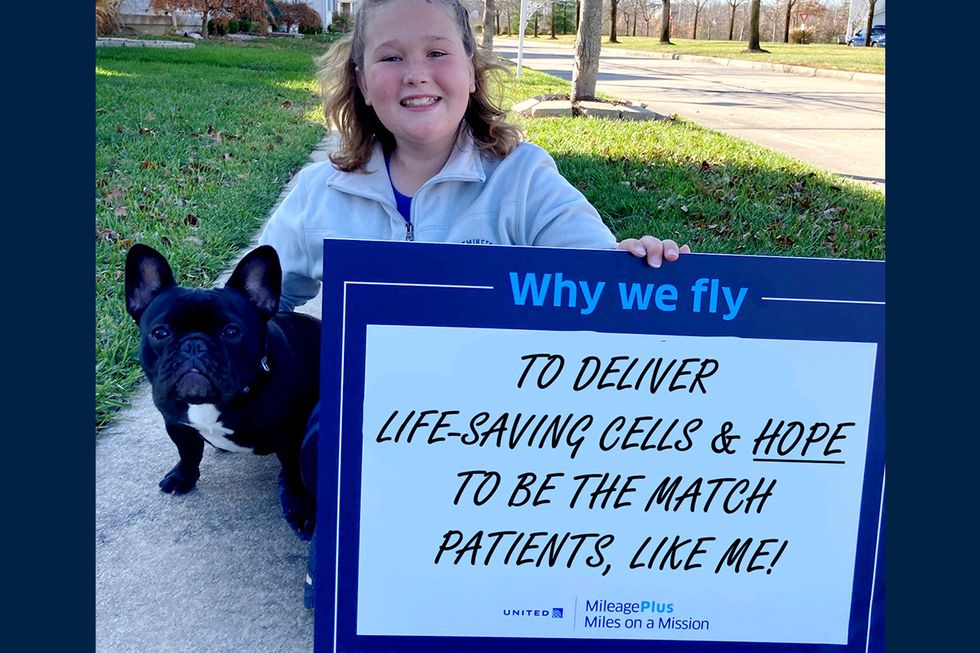 "To deliver life-saving cells and hope to Be the Match patients, like me!"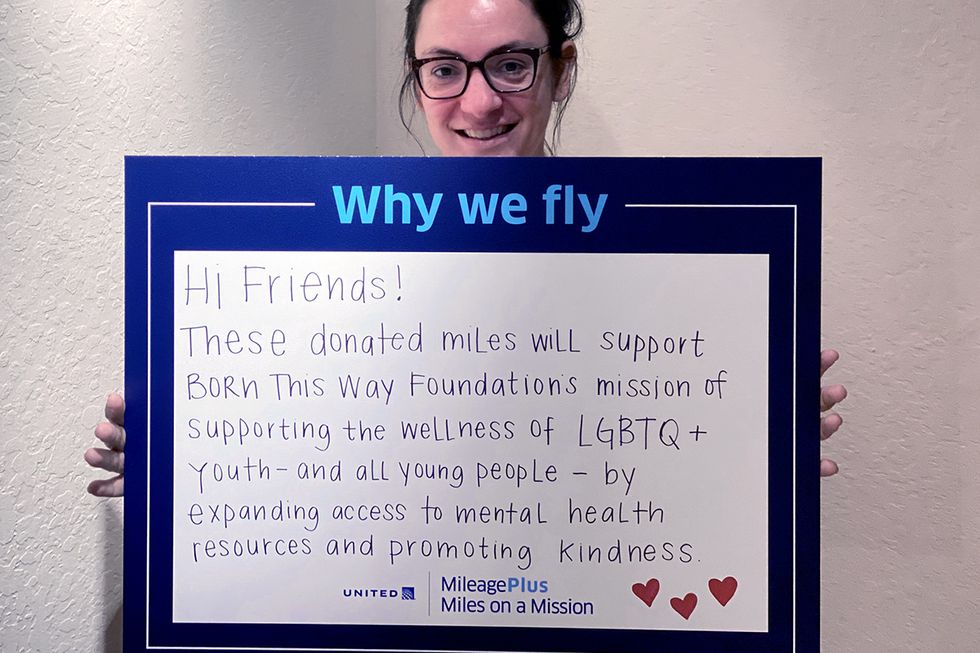 "These donated miles will support Born This Way Foundation's mission of supporting the wellness of LGBTQ+ youth — and all young people — by expanding access to mental health resources and promoting kindness."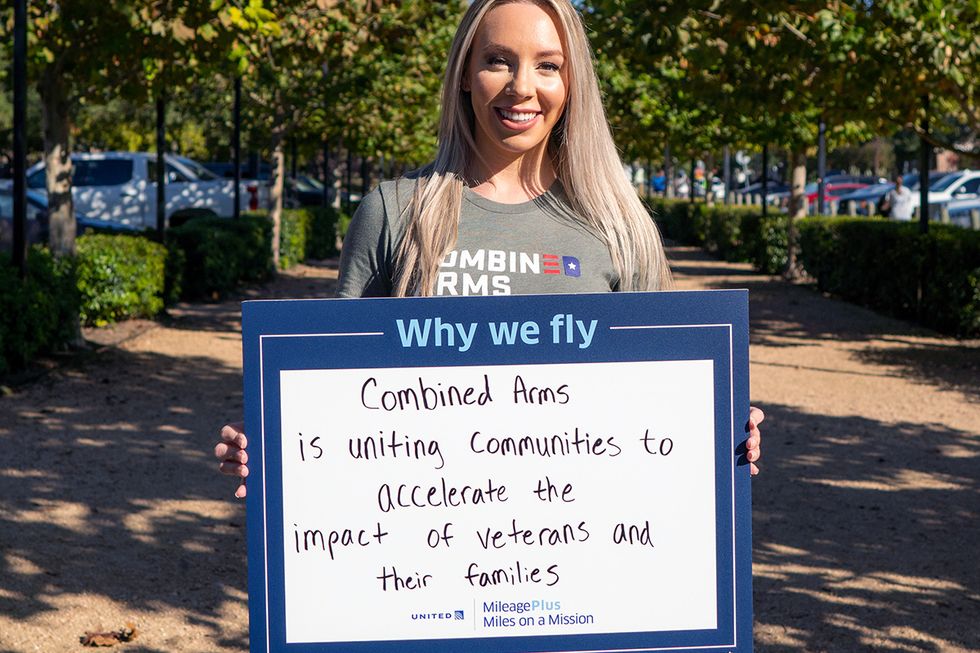 "Combined Arms is uniting communities to accelerate the impact of veterans and their families."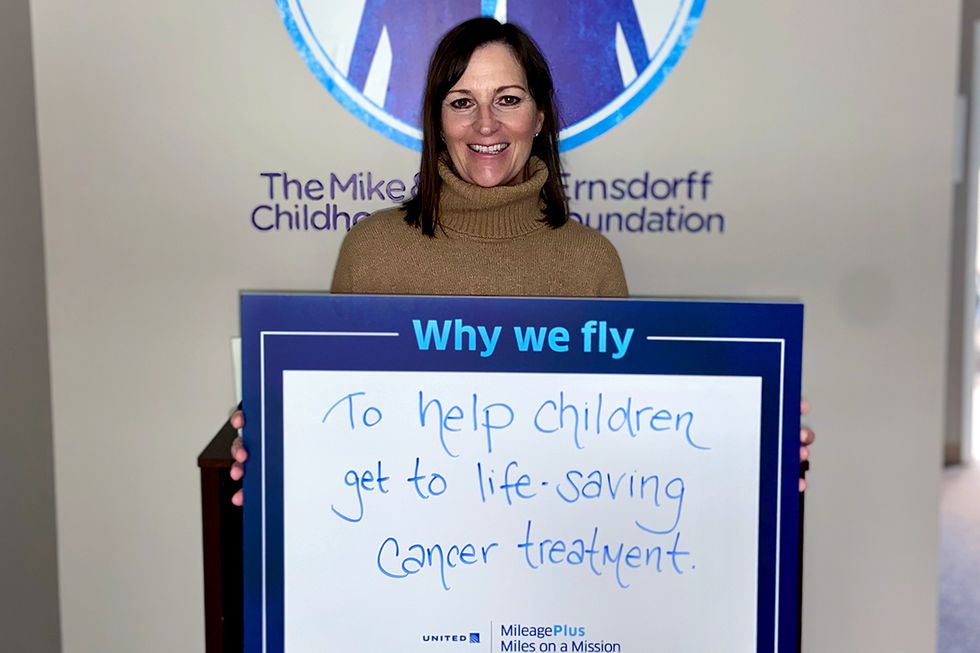 "To help children get to life-saving cancer treatment"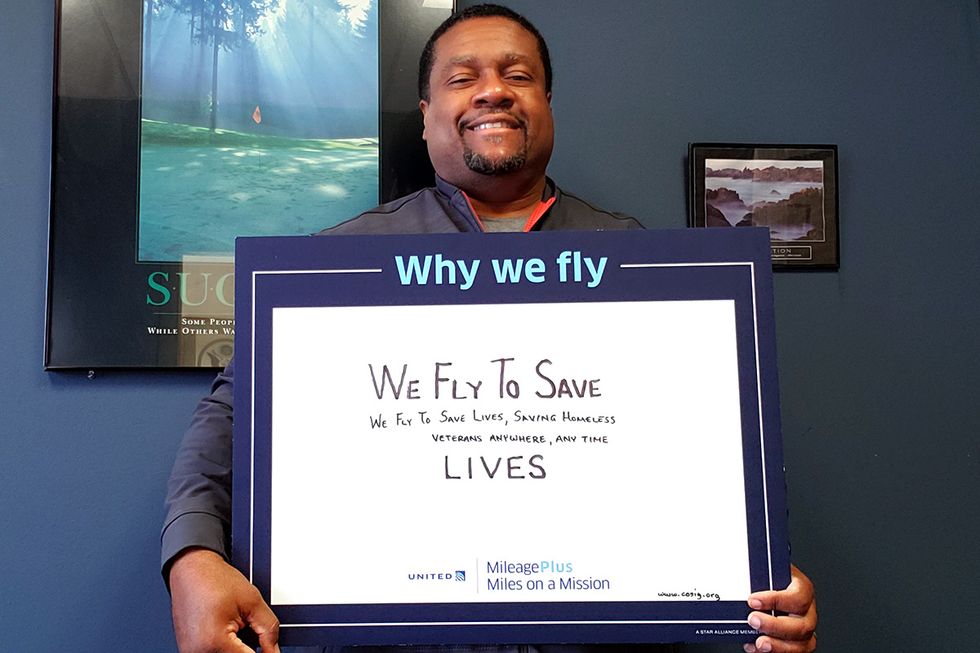 "We fly to save. We fly to save lives, saving homeless veterans anywhere, any time."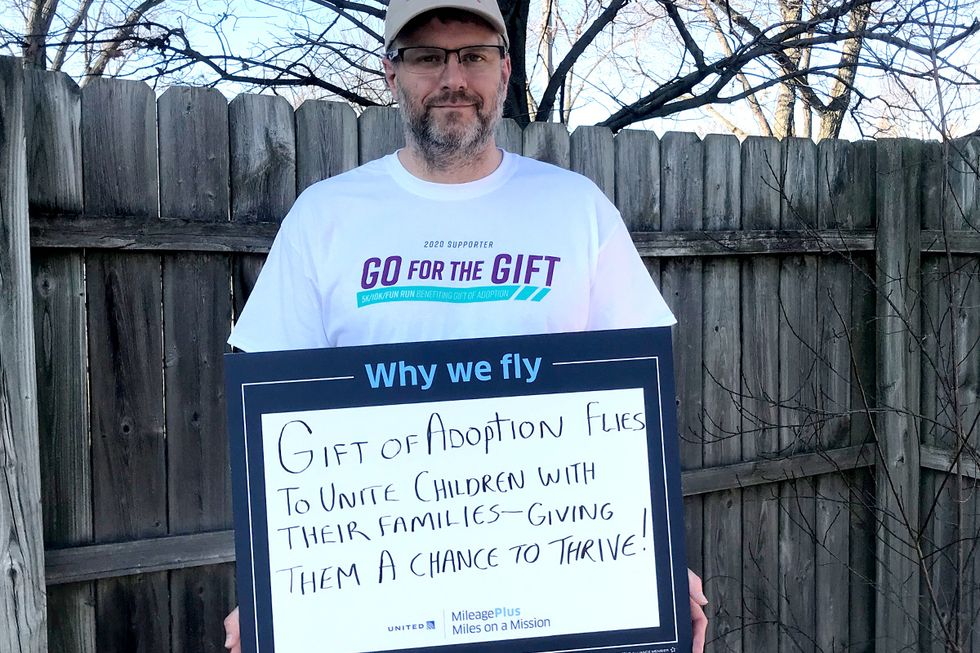 "Gift of Adoption flies to unite children with their families — giving them a chance to thrive!"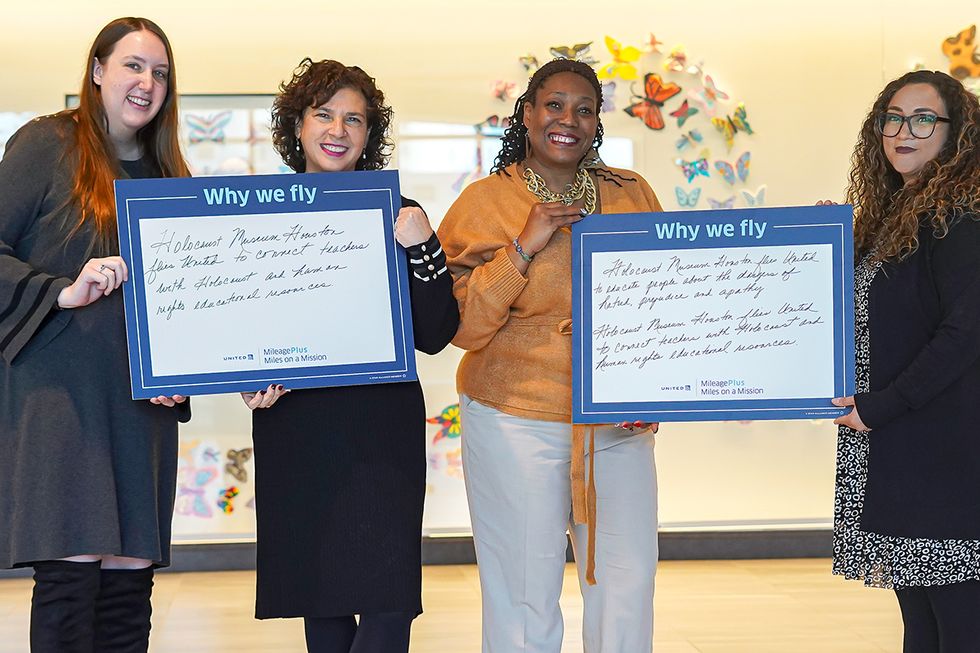 "Holocaust Museum Houston flies United to educate people about the dangers of hatred, prejudice and apathy. Holocaust Museum Houston flies United to connect teachers with Holocaust and human rights educational resources."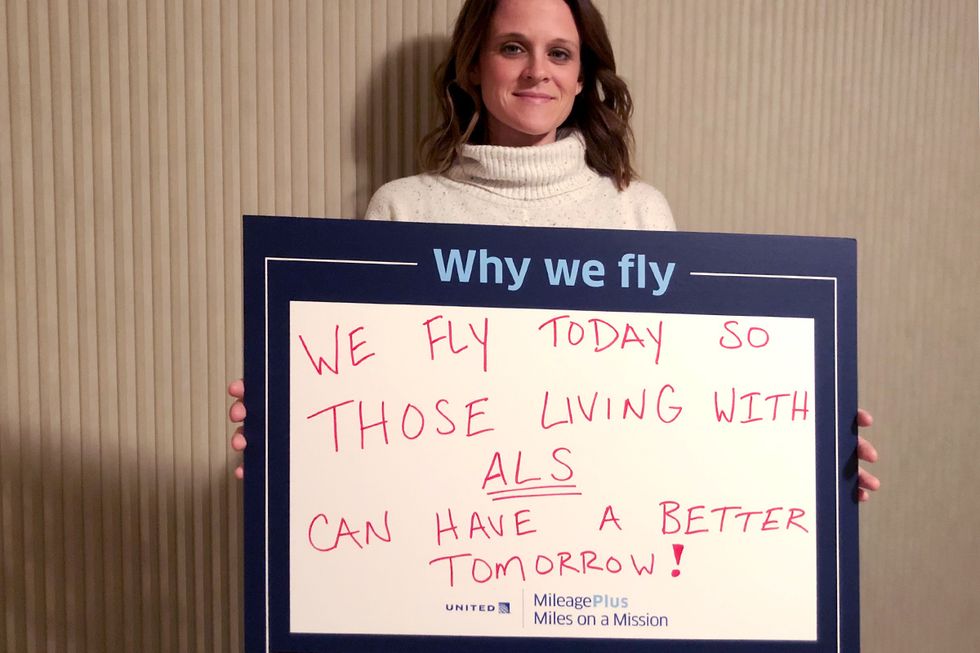 "We fly today so those living with ALS can have a better tomorrow."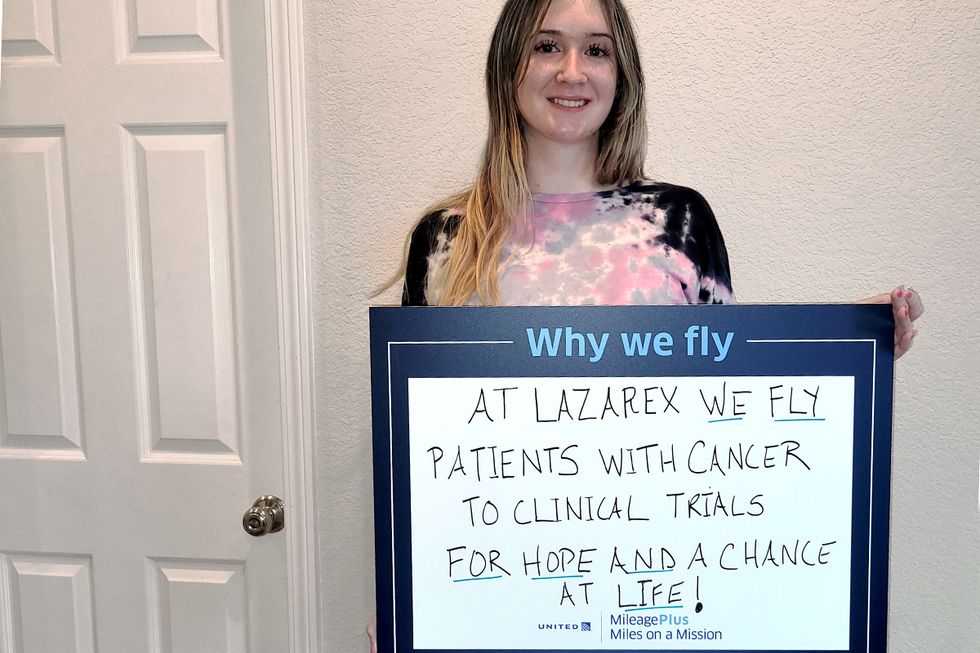 "At Lazarex we fly patients with cancer to clinical trials for hope and a chance at life!"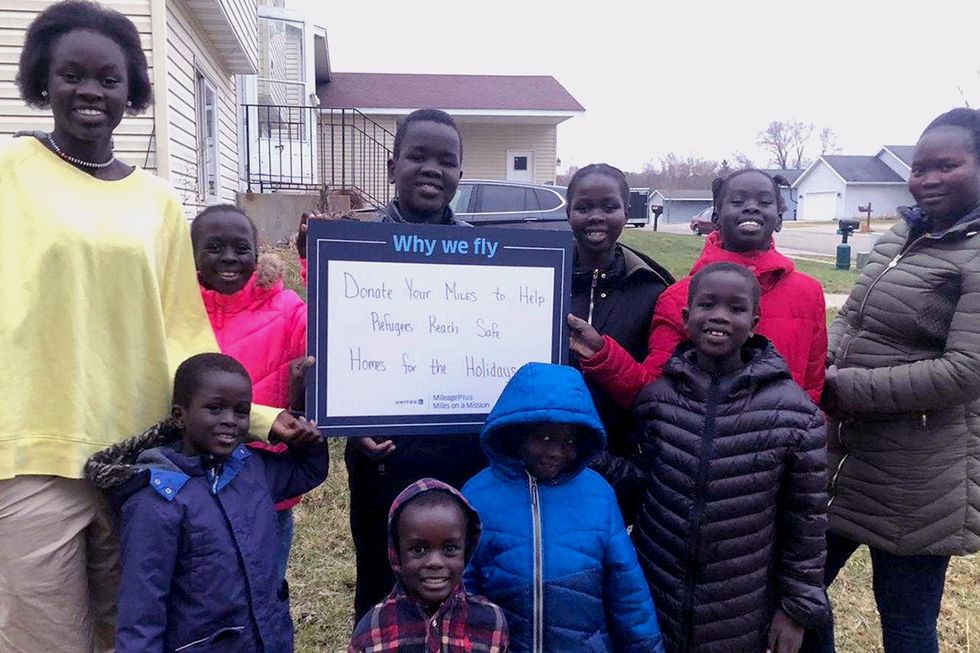 "Donate your miles to help refugees reach safe homes for the holidays."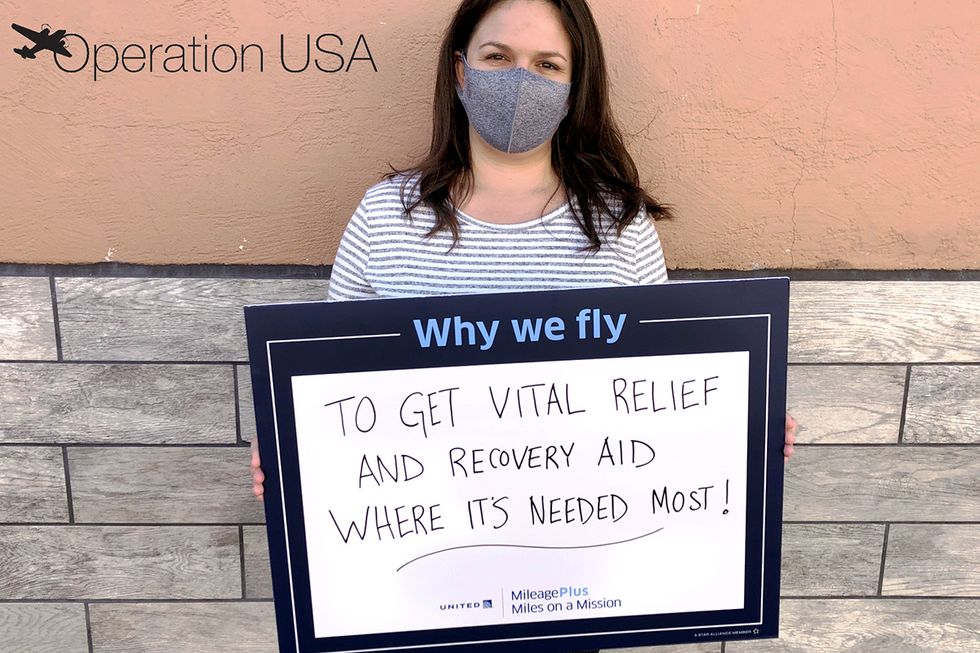 "To get vital relief and recovery aid where it's needed most!"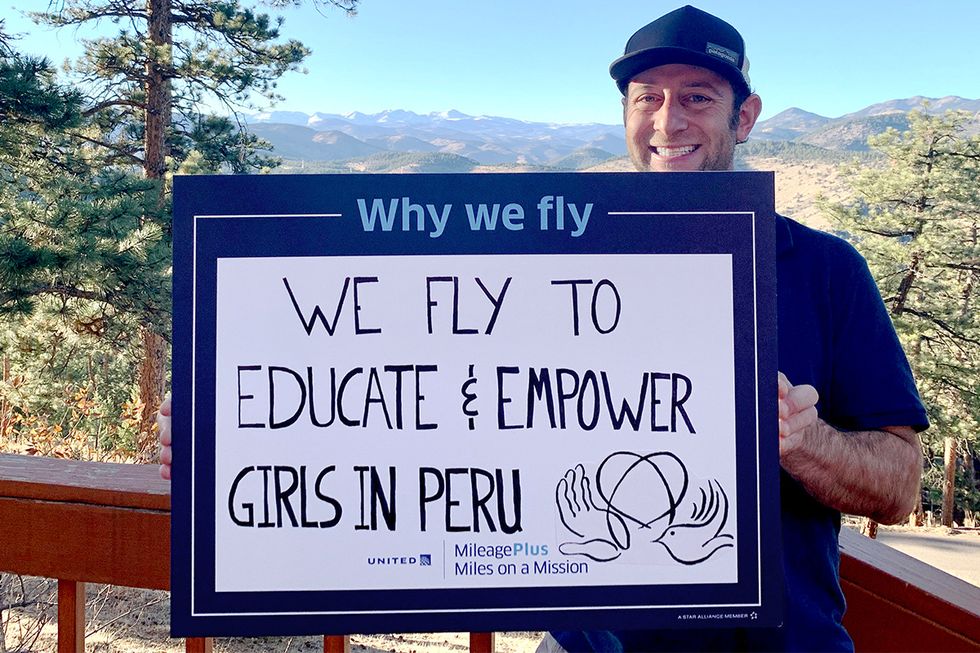 "We fly to educate and empower girls in Peru."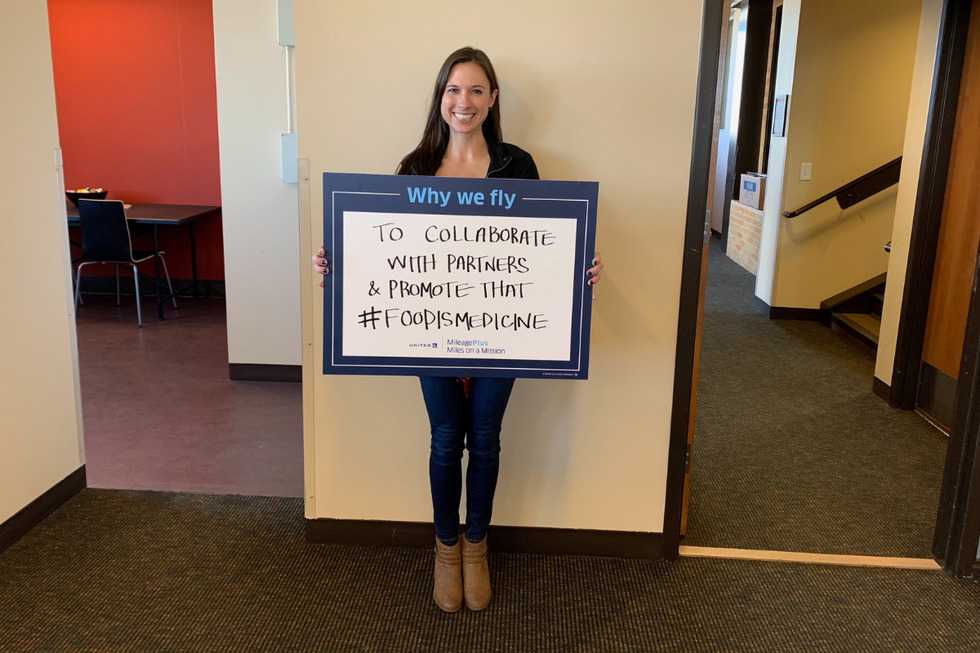 "To collaborate with partners & promote that #FoodIsMedicine"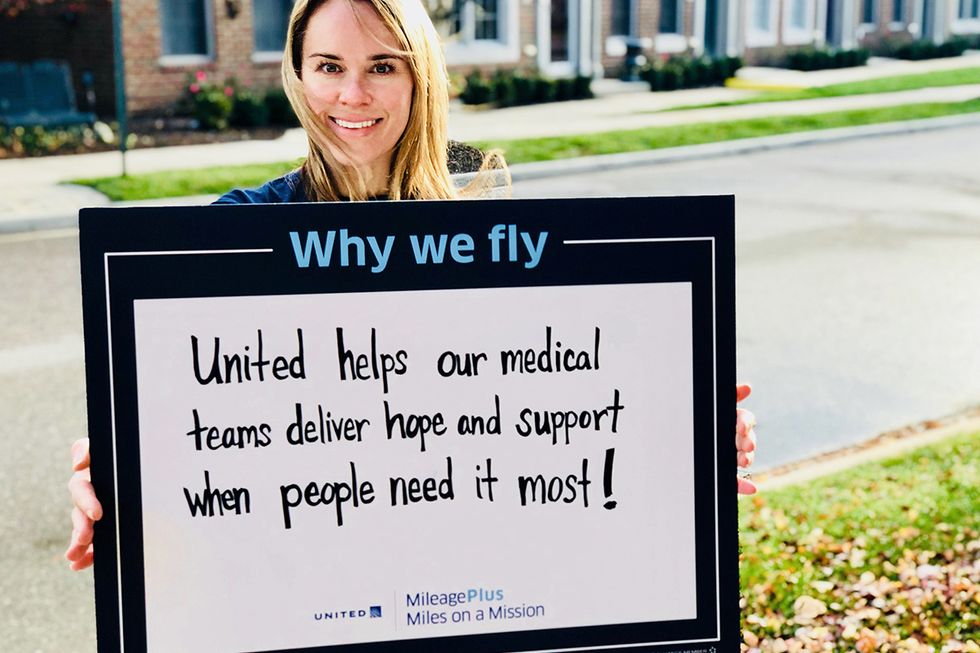 "United helps our medical teams deliver hope and support when people need it most!"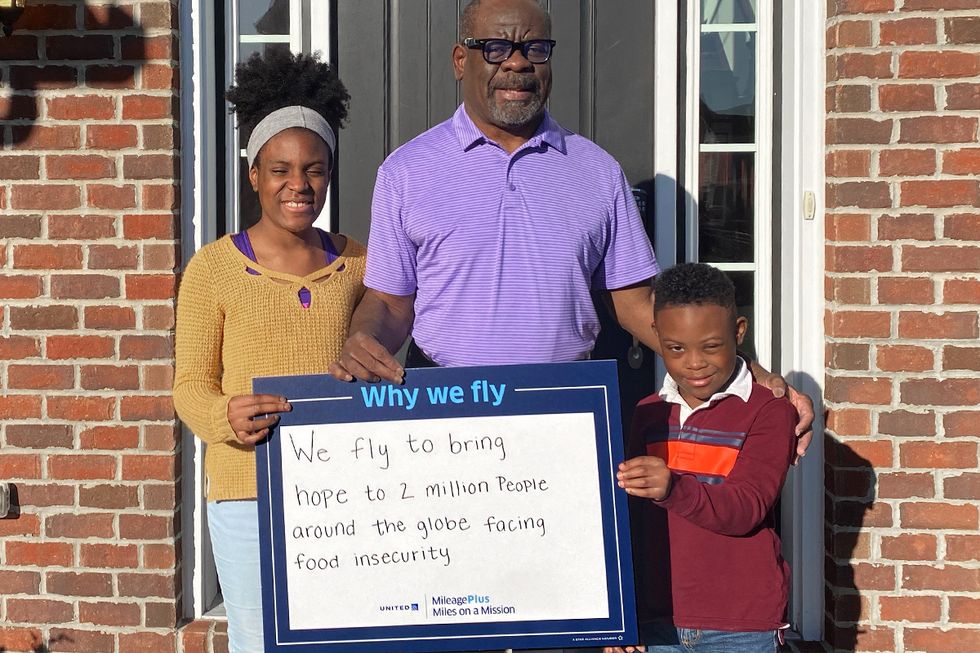 "We fly to bring hope to 2 million people around the globe facing food insecurity."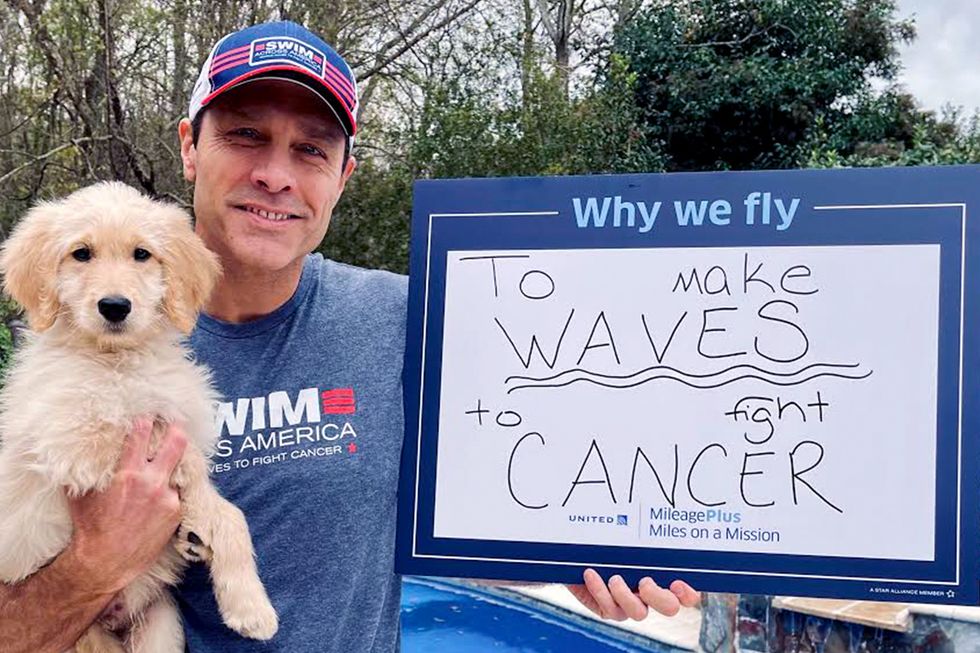 "To make waves to fight cancer."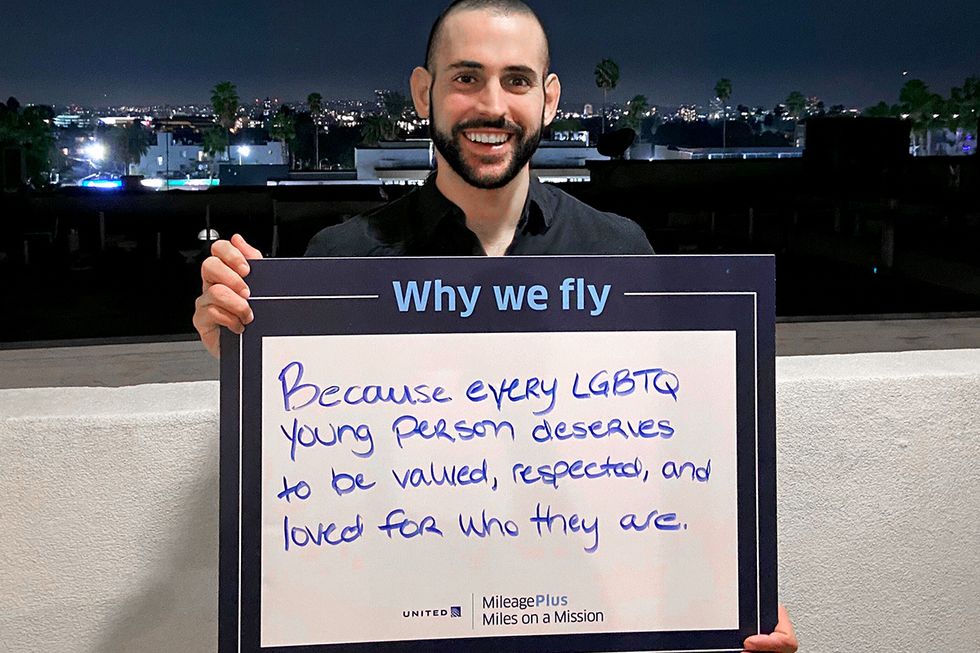 "Because every LGBTQ young person deserves to be valued, respected and loved for who they are."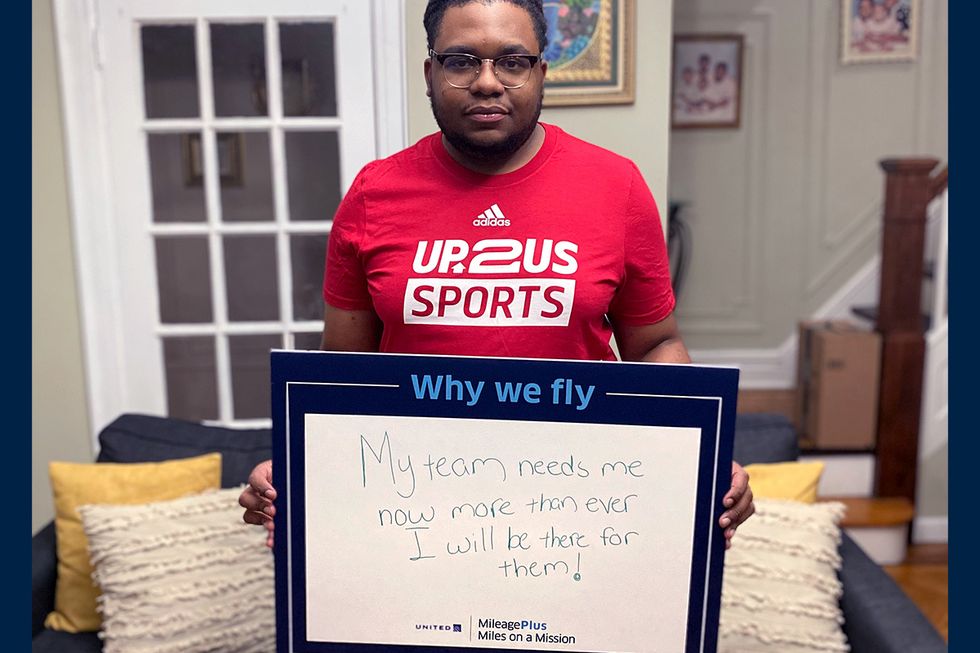 "My team needs me now more than ever. I will be there for them!"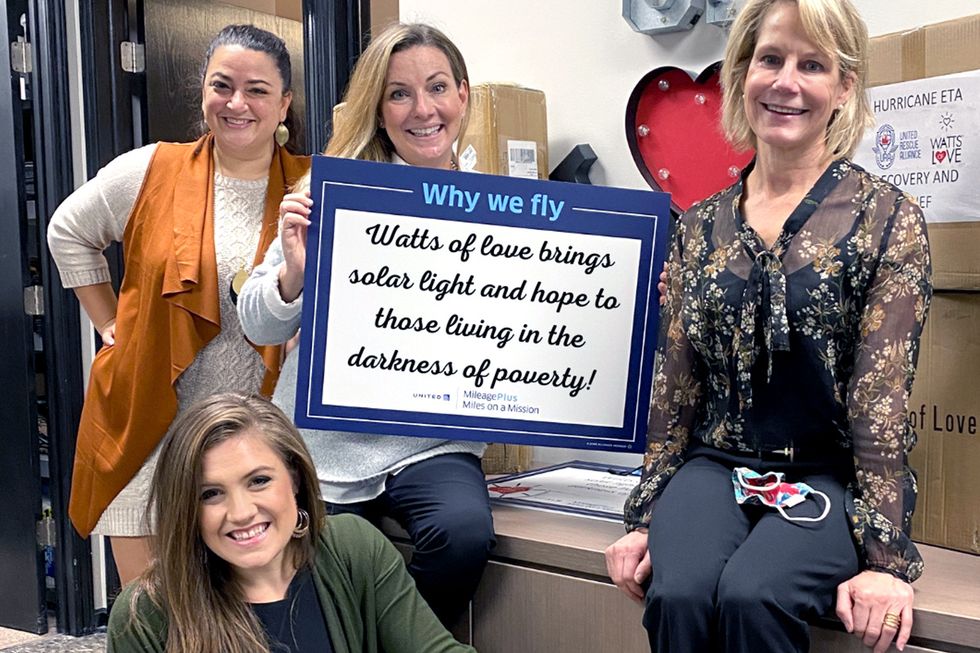 "Watts of Love brings solar light and hope to those living in the darkness of poverty!"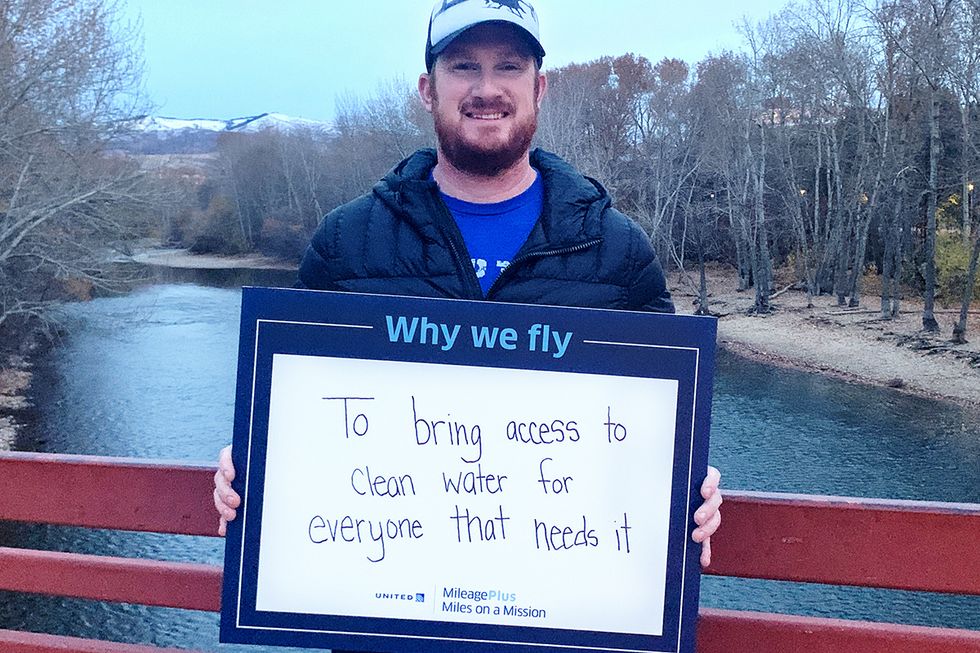 "To bring access to clean water for everyone that needs it."
Scroll to top