Three Perfect Days: Venice
Story by Chris Wright | Photography by River Thompson | Hemispheres, May 2016
"Venice," said Truman Capote, "is like eating an entire box of chocolate liqueurs in one go." The first time you set eyes on the city, you get what he meant. Everywhere you look there's a sublimely distressed architectural relic crawling with Gothic, Byzantine, Rococo, and Neo-Classical flourishes. It's almost too much, and that's before you get to the canals.
Nestled in a crook in northern Italy, on the edge of the Adriatic Sea, Venice is laced with 170-odd waterways, which are spanned by 400-odd bridges. While the Grand Canal boasts the city's big architectural pageant, there's a special joy in chancing across a quiet residential strip of water, the gondolas replaced by workaday motorboats. In the city's six sestieri (or neighborhoods), you will not see a single car, or even a bike.
Venice trades on its looks, of course, catering to 20 million annual visitors with swish hotels, shops, and restaurants. Stand on Ponte dell'Accademia at sunrise, however, and you'll also understand why poets and artists have been drawn here for a thousand years—the very same thing that will make you mourn the moment you have to leave.

In which Chris gets lost, gets lost again, eats the head mush of a baby octopus, visits a church, and gets lost one more time.
I'm eating a spicy Thai omelet, which is a slightly unusual thing to have for breakfast—more so when you consider that I'm having it in the glow of a gilded ballroom, mobbed by marble cherubs, sitting before a window overlooking Venice's Grand Canal. This is actually not the most ornate dining room at the Aman Canal Grande. The one next door looks as if it was egged by the Fabergé kids.
The water outside is the minty blue of mouthwash, its surface mirroring the inflected arches and carved columns of the palazzi across the way, which are also visible from my room. Omelet dispatched, I head upstairs for a soak in a deep tub next to a window, then make my way outside, pausing to inspect the Old Master frescoes, the looming chandeliers.
I have prepared a detailed itinerary, which may be the most futile thing I've ever done. This is Venice, after all, a city whose topography seems to have been drawn by a myopic madman with a twitch. "Getting lost is the only place worth going to," Venetian novelist Tiziano Scarpa once said, as if we have any choice.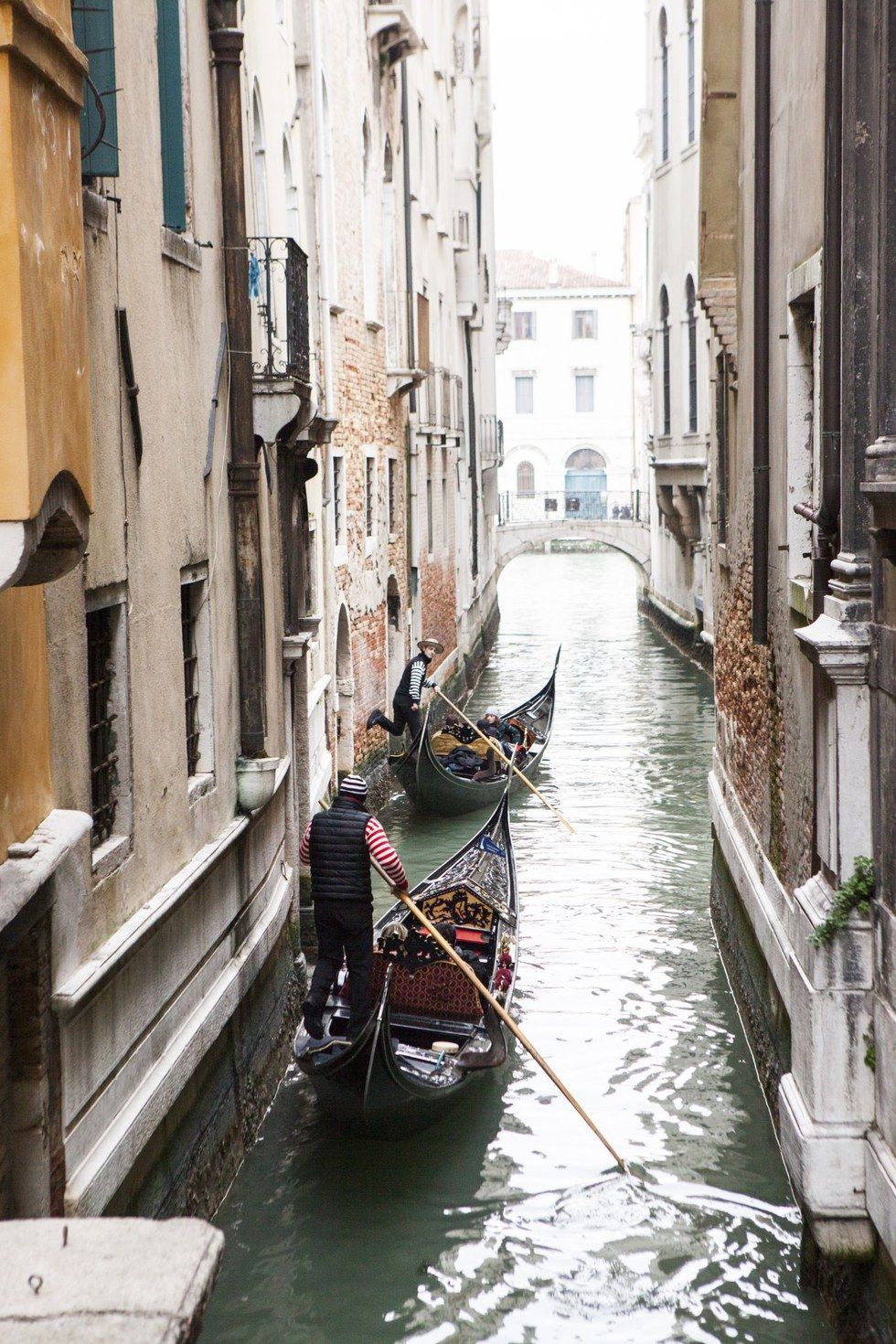 Taking the back route
Having abandoned my map, which is clearly faulty, I pick up another and head for Caffè del Doge, a coffee snob's paradise near the Rialto Bridge. I've arranged to meet author, cooking-school doyenne, and Venetian Contessa Enrica Rocca. I was expecting a genteel, maybe slightly doddery person. What I get is closer to Joan Rivers. "I'll eat anything," she says at one point. "If you tell me a horse has been fed the finest herbs, and its [manure] tastes good deep fried, I'll give it a try." With this, she lights a cigarette and strides off in the direction of the Rialto fish market.
The medieval market is open-sided, propped up by ranks of columns. The stalls squirm with spider crab, skate, prawn, octopus, scallop, monkfish, and squid, and the air is misted with brine. Enrica fondles the bulging belly of a scorpion fish. "It must have eaten something. Buy one, get one free!" Nearby is a horse butcher, and she goes into cooking-school mode: "You have to think of the history. When horses fell on the battlefield, the soldiers didn't think, 'Poor horsey!' They chopped the animal up and put it in a stew."
Enrica wants to take me to lunch at nearby All'Arco, one of the bacari that serve wine and cicchetti finger food. We pass a thin alley, its sides spanned by what she calls "a game of arches"—high brick buttresses to stop the buildings bumping into each other. Next, we poke around a spice shop, Drogheria Mascari, then go through an unmarked door into a produce warehouse. "This onion is incredible!" she says, holding up an onion.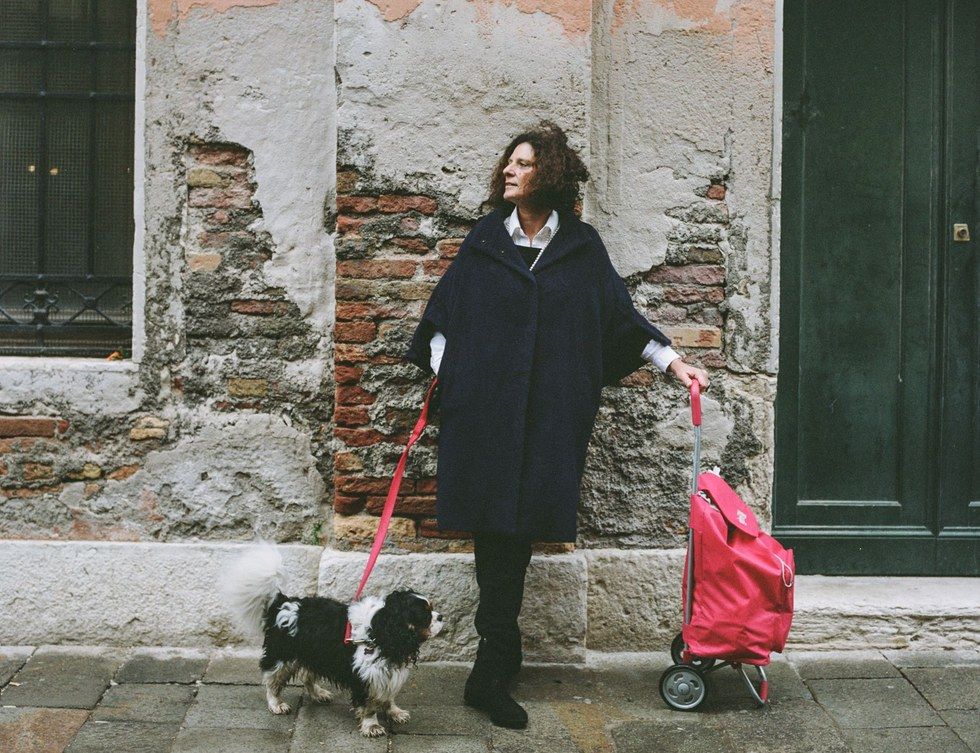 Enrica Rocca, founder, Enrica Rocca Cooking School
All'Arco is a closet-size, family-run eatery crammed with locals and lapdogs. I take a windowsill and a spritz (Aperol and prosecco), followed by a succession of open-face sandwiches: baby octopus (served with head mush), mantis shrimp, baccalà Veneziana (cod paste), lard-stuffed salami. Venetians are preoccupied with the idea that they will lose their city—to rising water, to a failing sense of collective identity—and Enrica is no exception. "This is the real Venice," she says. "It is not easy to find these days."
Speaking of which: I spend the rest of the day blundering into doglegs and watery dead ends, crisscrossing the same square 37 times without ever finding the 12th-century church that, according to my map, is right here. People call Venice a small city, and it is in terms of square mileage, but unravel its snarl of alleys and you'd have Tokyo.
"The thing about Venice is there are no flat surfaces. You have to think about where you put the bed, so you don't end up sleeping head down. It's not a place where you can go out and pick up a cabinet from Ikea." —Enrica Rocca
But Scarpa was right. My aimless hours in San Polo and San Marco reveal innumerable wonders: tilted bell towers, side canals strung with laundry, tumbledown palaces, crumbling courtyards, and quirky curio shops, often set to a soundtrack of bells and the flippant baritone of gondoliers. In Campo Santo Stefano, I wander into a wonderfully gloomy church, then cut across to a shop with a neon cross in the window and a sign on the door: "We open sometime."
This is Fiorella Gallery, an avant-garde clothing shop opened in the mid-1980s by a local character named Fiorella Mancini. As I browse among hand-printed coats and beaded G-strings bearing slogans like "Love My President," Mancini flings T-shirts around trying to find one that will suit me. "Here, this one is crazy," she says, holding up one with a big red skull on it. "Every expression is reality," she tells me as I make for the door, and then she gives me the T-shirt for free.
There are limits to the joy of getting lost, however. I'm only a few hundred feet from the Metropole Hotel—where I'll be dining at the Michelin-starred Met Restaurant—but it takes me an age to get there. This time, the jiggery-pokery doesn't seem so benign. After one particularly arduous loop, I throw my new map away and buy another. Also, possibly due to a combination of fatigue, hunger, and overstimulation, I've started to have unusual thoughts. Have you ever noticed that when lion heads get worn, they look like monkeys?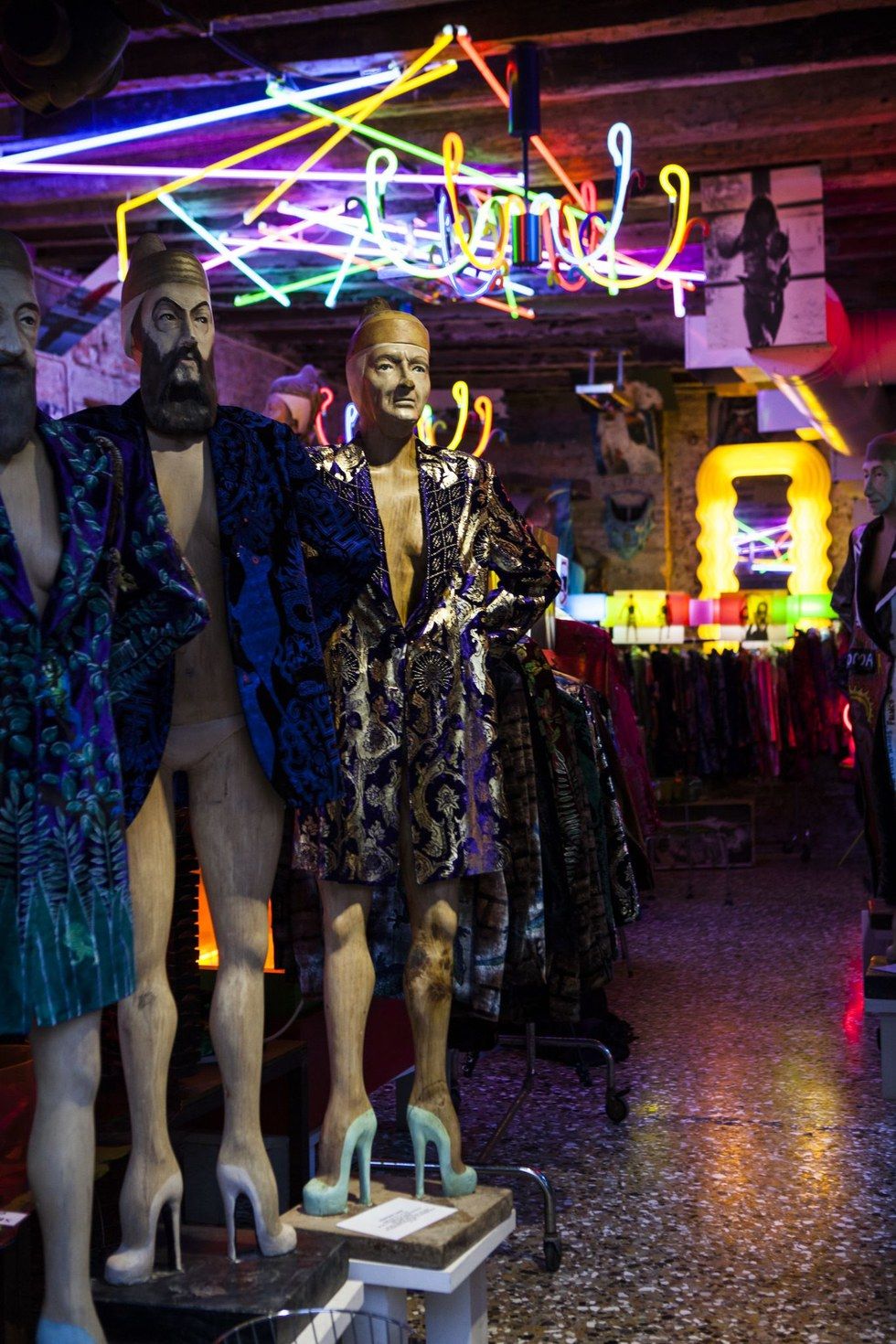 Fiorella Gallery
There is so much here that seems on the brink of falling apart or melting away. While many of the old palaces have been restored, many more are peeling and crumbling, bulging and lurching. But this too is part of the appeal. Certainly, you wouldn't want Venice to be subjected to municipal plastic surgery. The city dates back to the fifth century, and it emerged as a major world power in the 10th century. It looks its age.
I'm not feeling too sprightly myself when I arrive at the Met, but I perk up when presented with the menu, overseen by rising star Luca Veritti. "Enjoy this beautiful tree!" says the waiter, referring to a wooden block studded with wires, each pronging an amuse-bouche. For a starter, I get pan-fried scallops coated with black bread crumbs—crunchy and succulent, they may be the best I've ever had. Another highlight is the roe deer, which is liver-rich and tender, served with bacon popcorn and grapes. Dessert is a ricotta, chocolate, and pear tart, which is lovely but not entirely necessary.
I end the night at the 1930s-era Harry's Bar, fabled home of the Bellini, which tonight is crammed with Bellini-drinking out-of-towners. I order one and sit next to a young man drinking a beer. "Why not a Bellini?" I ask over the din. "Sorry," he replies, "I do not speak Italian." We're near the stop for the San Marco vaporetto, one of the water buses that ordinary people use to get around. I head out and climb aboard, then glide past the huddled palazzi and the bristling bell towers, the gondolas bobbing in our wake. There are worse commutes.

In which Chris falls in love with a view, plays Cary Grant in a water taxi, whimpers his way through a rowing lesson, and loses his ruffled shirt at the casino.
I wake up at the Gritti Palace, and I do not say this lightly.
The Gritti is one of Venice's star attractions, and has been for 120-plus years. I'm in a third-floor canal suite inspired by swinging American designer Angelo Donghia. The Venetian Gothic palazzo was once occupied by 15th-century aristocrats, and much of the decor reflects this. The Donghia, though, is pure mod. My bedroom is battleship gray, with a silvery chandelier and a curved plastic table. Beyond this is a huge lounge area dominated by two Pop paintings of the Chrysler Building (by Bobo Ivancich) and an L-shaped couch (seats 20).
Then there's the little balcony, where I stand for as long as I can afford to, gazing across at the dome of Santa Maria della Salute, built in the 1600s to celebrate the end of the city's last great plague (fingers crossed). The rising sun has tinged its Palladian facade and teeming angels a faint pink. The mouth of the canal widens here, opening out into the Lagoon and the Adriatic Sea. How do you walk away from that?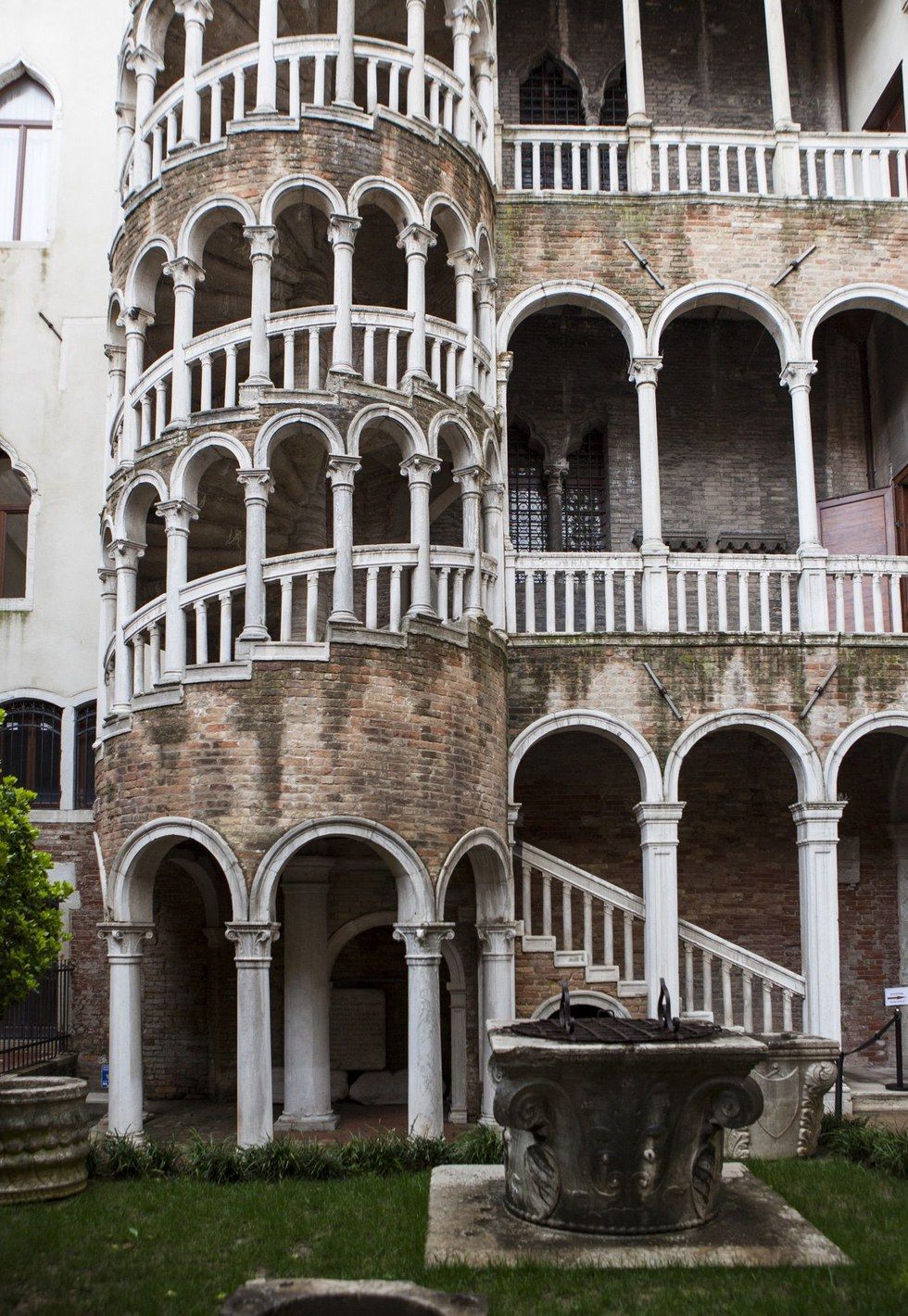 Palazzo Bovolo's external staircase
I'm having breakfast at the Bauer Palazzo, a few hundred yards to the east. The rooftop deck here has a fair view of its own, taking in the spiked campanile of San Giorgio Maggiore, the endless muddle of red roofs. As I munch on crispy bacon and plump sausages, a seagull brazenly eyeballs the plate of an adjacent diner. "Is that Gina or Gloria?" one waitress asks another, going on to explain that the restaurant has two resident gulls.
I'm waiting for Alessandro Possati, scion of the family that owns this hotel (among others) and a rising patron of the arts. After a brief hello, he whisks me over the sunny bay in a water taxi, which makes me feel like Cary Grant. Our destination is the island of Giudecca, and the old convent housing his Zuecca Project Space, a gallery for emerging artists. He has a smaller space in San Marco, and he has plans to open more, which he sees as a civic responsibility.
"While many of the old palaces here have been restored, many more are peeling and crumbling, bulging and lurching. And this is part of the appeal."
"There has been a mass exodus from Venice," he says. "Often the houses don't find new life. So what we do has deeper implications than just the art itself. It's a way of bringing dignity back, breathing life into empty space." With this, he shows me around his cavernous gallery, pointing to a high window at the end. "That was to keep the girls from looking out at the local butcher and baker boys."
Giudecca used to be a run-down area, home to prisoners and exiles (Michelangelo spent a few years here in the 1520s), but it is becoming like Brooklyn or Shoreditch, a community of artists and musicians (Elton John has a place here). Still, there is a sense of melancholy about the place. "It's the island of the judged," says Alessandro. "You had to sit here and look across the water to Venice, without being there."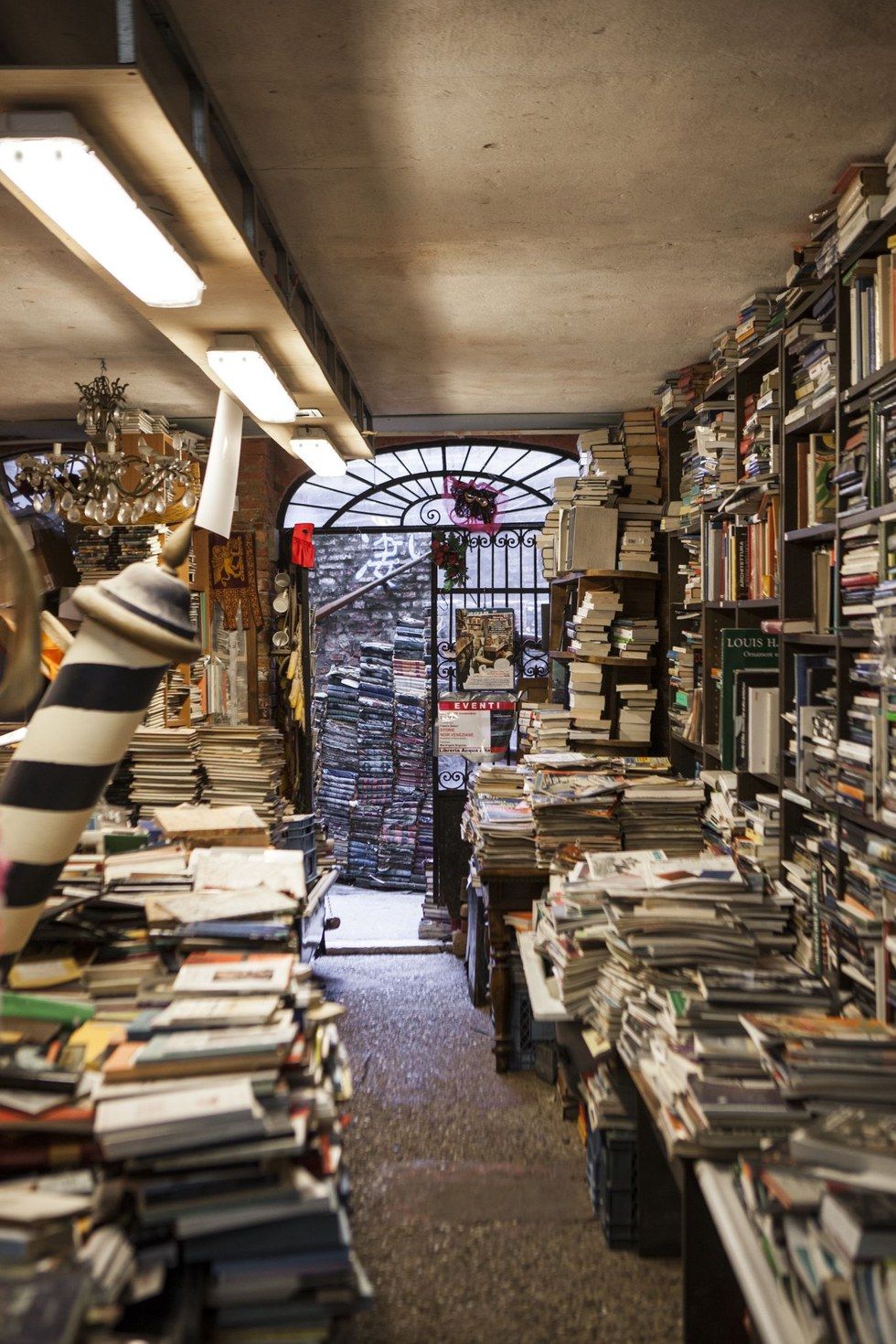 The inspired clutter at Libreria Acqua Alta
Next, Alessandro drops me off at the nearby San Giorgio island, which has a lovely Benedictine church and that campanile, said to offer the best views in Venice. It is indeed a fine view, giving me my first proper look at the sprawling splendor of Piazza San Marco, but I have a date with a gondolier, so I head down and catch a boat to Sacca Misericordia, in shabby-chic Cannaregio. I've decided it's not enough to ride these things; I want to learn how to operate one.
My tutor, Jane, is a no-nonsense Australian expat, part of the almost all-female outfit Row Venice. Upon her arrival at the dock, she shows me the shrimp-tail boat I'll be rowing and tells me not to fall in, and we're ready to go. As I wobble aboard, two nuns walk by wheeling shopping carts, and one of them gestures.
Waving? Warning? Maybe I should have gone with the romantic serenade for one.
Standing at the bow isn't that bad. My problems begin when I have to climb onto the slick arc at the back, which looks to me like the setting for a hilarious YouTube video. "Use your leg muscles!" Jane tells me. "Lunge back and forth!" I try to use my legs, I try to lunge, but the best I can muster is a bit of dithery splashing and a falsetto catalogue of concerns. Jane rolls her eyes, takes the oar and rows me safely back to shore.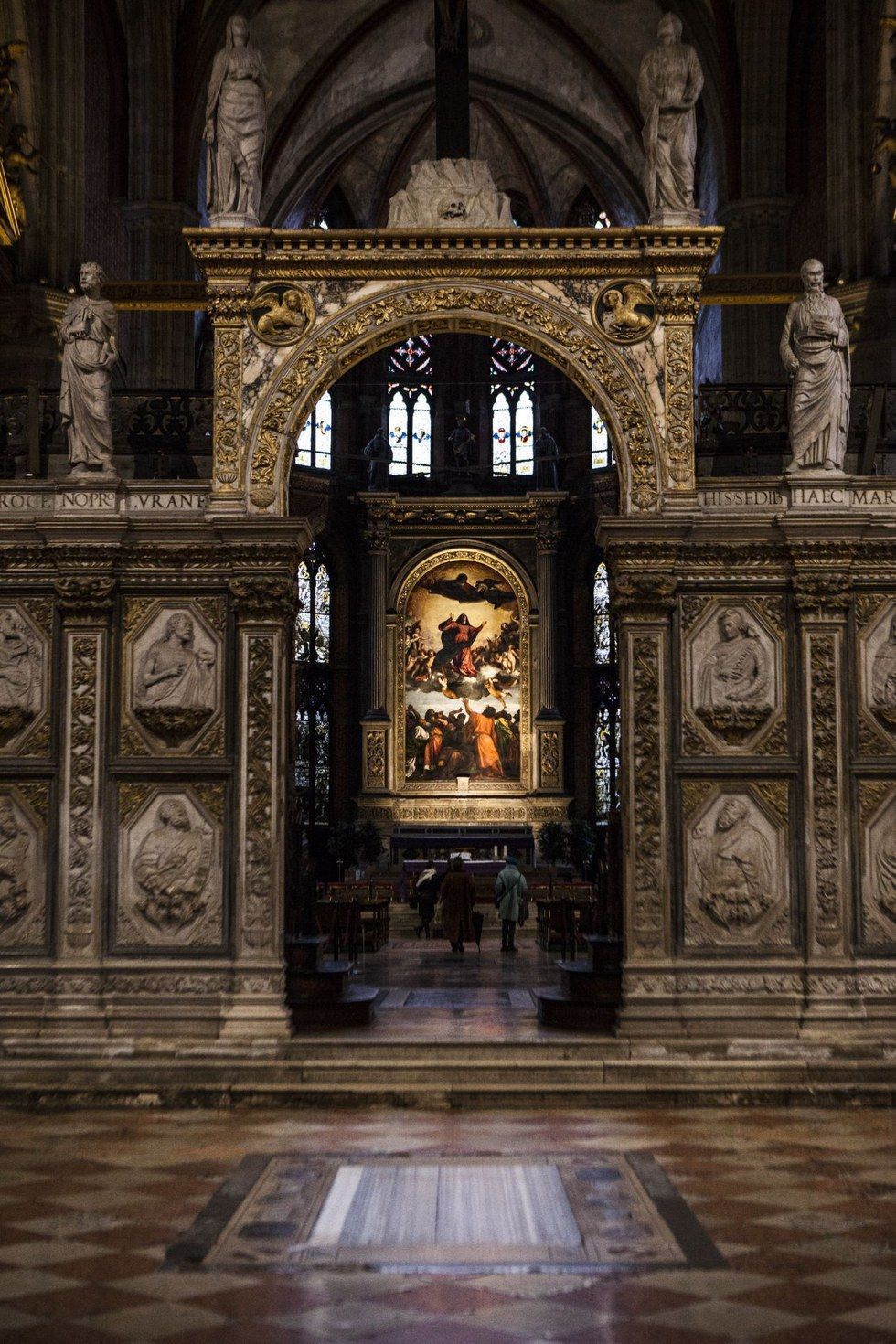 Titian's radiant Frari altarpiece
I'm in a hurry again, so from here it's into the 14th-century Madonna dell'Orto for a look at Tintoretto's massively murky Last Judgment (Jesus at the top, do-badders below), followed by a whirlwind tour of the nearby Jewish Ghetto, and a stride-by survey of the canalside shops and bars. I do make time to try a dark La Birra di Meni, one of the 300 beers on offer at Birre da Tutto il Mondo, and (thank goodness) to pop into Libreria Acqua Alta, located 15 minutes southeast, in Castello.
The sign outside says that this is "the most beautiful bookshop in the world," which it isn't. Inside is a musty muddle of books, maps, cards, and magazines, many of them heaped in a large gondola. Gianni, the guy behind the counter, adopts a tone of mock outrage when I suggest the arrangement is haphazard. "There is a lot of system," he says, cigarette in mouth. "In this room, it's 50 percent new and 50 percent used." In the yard out back, there's a staircase and platform, maybe six feet high, built out of rotting encyclopedias. Gianni calls the structure "a way to be elevated by culture."
Lunch is at the nearby Osteria di Santa Marina, a local eatery serving traditional cuisine with a creative twist. It's a low-key place, but I find it easily enough (ta-da!) and take a seat in a small back room. Oddly, the music is a classical rendition of a song from Toy Story 2, but the food is faultless: tuna tartare with shaved truffle; tagliatelle with cuttlefish and pistachio pesto; veal cheek topped with crispy leeks; plenty of wine.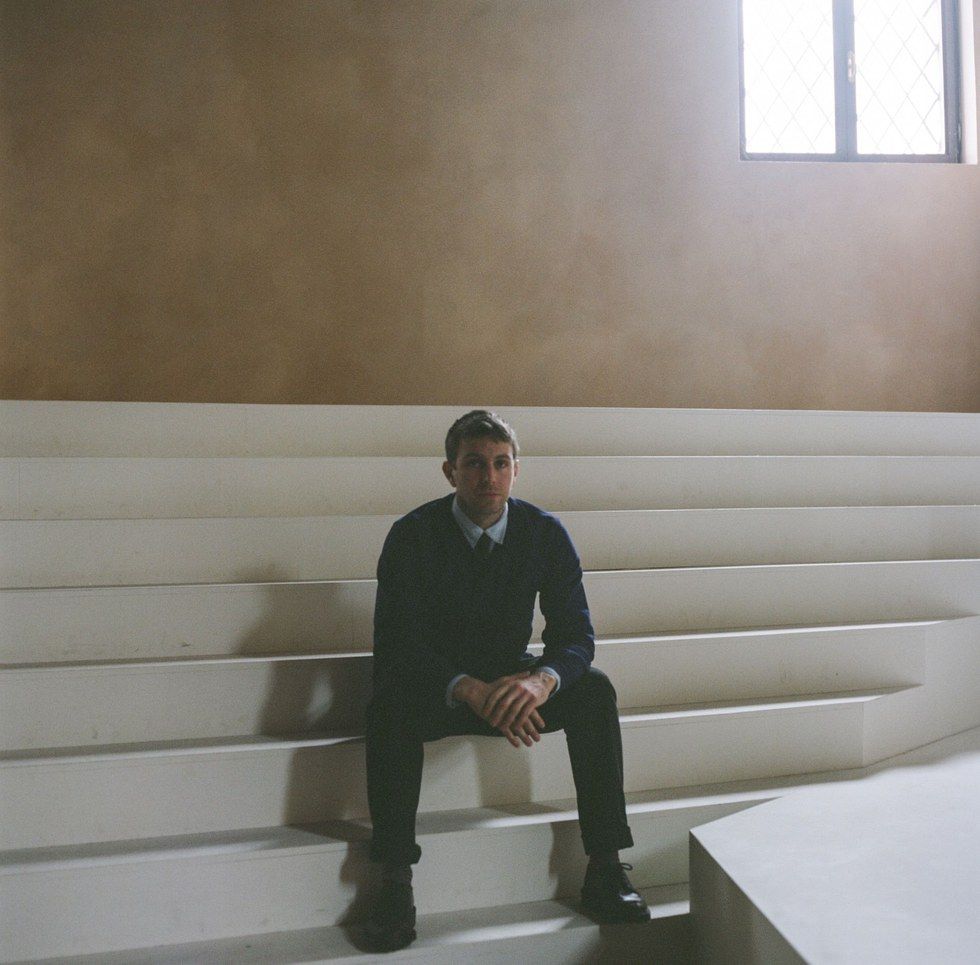 Alessandro Possati, founder, Zuecca Project Space Gallery
From here, I make my way to the Rialto Bridge, which was built in the 16th century and now stands amid the city's densest concentration of gift shops. I cross the bridge and find what I'm looking for: a tiny brick building with a dinky belfry and an oversize clock. This is San Giacomo di Rialto, which is said to date back to 421. That's a heck of a thing to think about, even with 150,000 novelty-mask retailers within earshot.
A stroll west takes me to Scuola Grande di San Rocco, one of the city's grandest confraternities. I enter an enormous and ferociously decorated room, then climb a broad stairway to the aptly named Great Hall, which is cluttered with dismal Biblical scenes by Tintoretto (Agony in the Garden, etc.). My attention turns to a row of grotesque allegorical figures carved into a wooden wall—contorted, grimacing men whose bodily parts end in stumps. Fun.
"Venice is beautiful, but it is also challenging. We live on an island, with all of the physical complications this implies. There are times when you can feel isolated, disconnected from the outside world." —Alessandro Possati
A survey of local churches ends at the 14th-century Gothic behemoth Santa Maria Gloriosa dei Frari, whose brick bell tower is one of the few here that hasn't, at some point, toppled over. The Frari is one of the dominant features of the Venetian skyline, and it contains some of the city's finest religious art, including Titian's gleaming altarpiece, Assumption of the Virgin. The artist was entombed here in the 1570s after succumbing to the plague.
Right, let's eat!
A vaporetto takes me to Ca' d'Oro, close to Trattoria da Bepi Già 54. This is not a flashy place, but the food is spectacular. I have a warm salad with scampi and artichoke, followed by sweet and tender grilled eel served with polenta. The charismatic owner, Loris, took over the restaurant from his father in 1978. "This was my first baby," he says. "Since then I've had five more."
I end the night nearby at the Casinò di Venezia, which has been inviting people to throw their money away in elegant surroundings since the 1600s (Richard Wagner had a fatal heart attack here in 1883). Today, there's an odd juxtaposition of slot machines and Renaissance art, but the basic idea is the same as at casinos everywhere: You walk in with some money, you walk out with less. Time for bed.

In which Chris gets personal with Picasso, endures sensory overload at Piazza San Marco, and survives an endless Venetian anecdote.
I start the day on a vaporetto to Dorsoduro. My first stop is the sweet Art Deco interior of the hotel Ca' Pisani for a delicious breakfast of eggs, two kinds of Italian sausage, and homemade orange tart. My big job today is to hit Piazza San Marco, but first I want to explore Dorsoduro, an increasingly fashionable area whose alleys aren't quite as touristy as those across the canal. The area is also home to the city's best art museum: the Peggy Guggenheim Collection.
A warren of sculpture gardens and small rooms, the museum amounts to a who's-who of modern art (Miró and Rothko, Picasso and Pollock), but the real joy is the presentation—this used to be a private home, and it still feels like one. There's an intimacy and informality that brings the work to life. It's wonderful, especially after a couple of days of supersize religious parables.
I leave the museum and head west, pausing for a spritz at the Ai Artisti trattoria. Now, at last, I'm ready to tackle the epicenter of Venetian history, majesty, and over-the-top design: Piazza San Marco. To help me ease into the experience, I've recruited Sabrina Scaglianti, the engaging and knowledgeable proprietor of A Guide in Venice.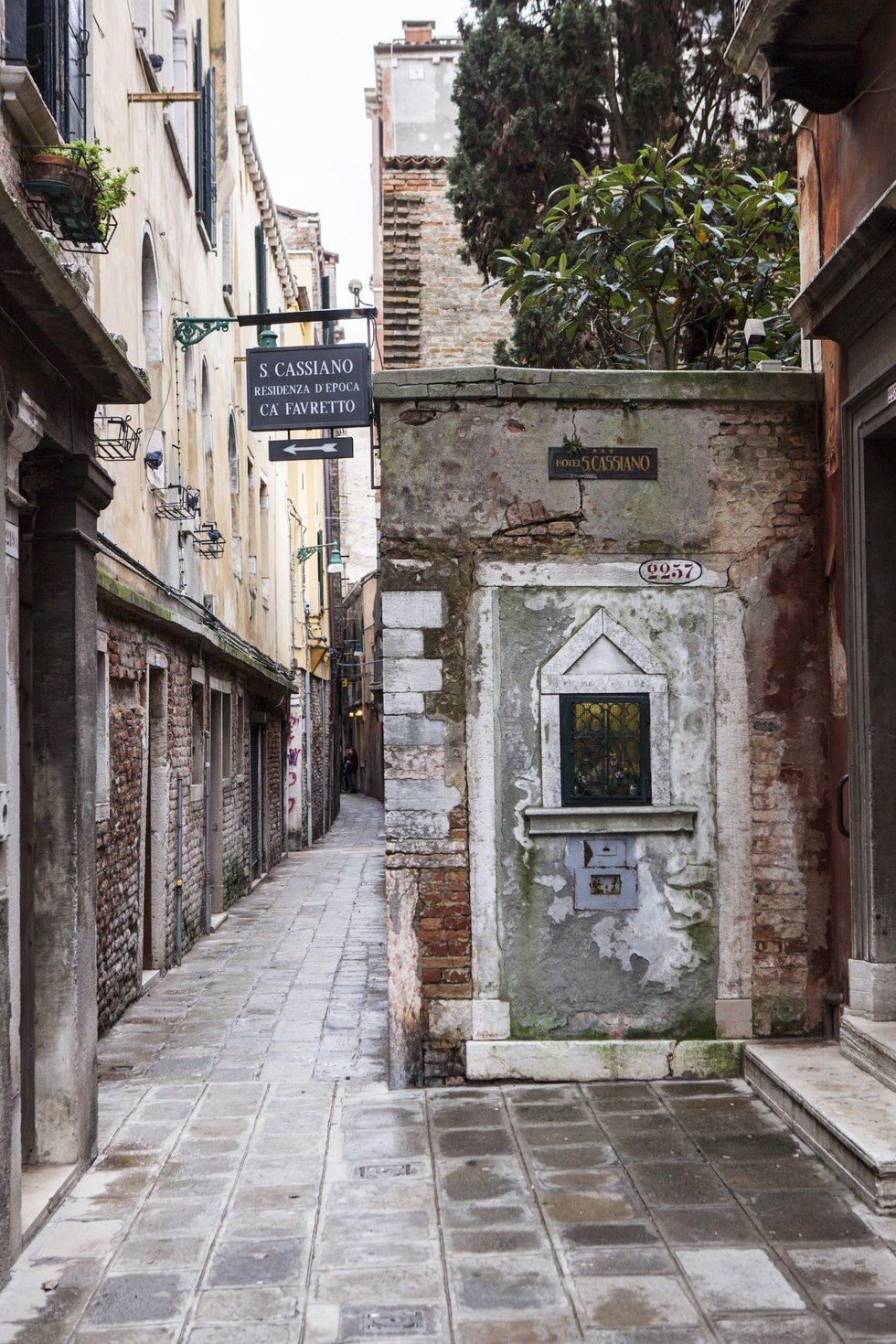 A quiet backstreet in Dorsoduro
Entering the square, which is flanked by grand municipal buildings, with the triumvirate of tower, church, and palace at the end, I'm reminded of the old gripes about Canaletto, whose doggedly faithful Venetian cityscapes are derided as a kind of visual accountancy. In fairness to him, it's hard to see how you could improve on this. If you were painting a van Gogh, would you stylize it, try to one-up him?
The Piazza, Sabrina tells me, was where Venice announced itself to the world. Ships would moor near the south side's looming twin columns, one of which bears a statue of St. Theodore, the city's dragon-slaying patron saint before St. Mark, and the other a winged lion, the symbol of the city and its thousand-year rebuttal of autocratic rule. Prisoners were executed between these columns, facing the 15th-century astronomical clock tower across the square so they could pinpoint the time and day of their demise.
St. Mark's Basilica is impossibly grand, a cluster of onion domes and Gothic spires, allegorical statues and solid gold mosaics. This was an expression of power rather than faith, possibly more so than the arched and crenellated Doge's Palace next door, or the skyscraping campanile. As I try to take it all in, Sabrina provides historical context, along with a little light relief. At one point, we come to a spot that used to be popular with assassins. "That's Venice," she says, lunging at me with an invisible knife. "People in masks stabbing each other and running away."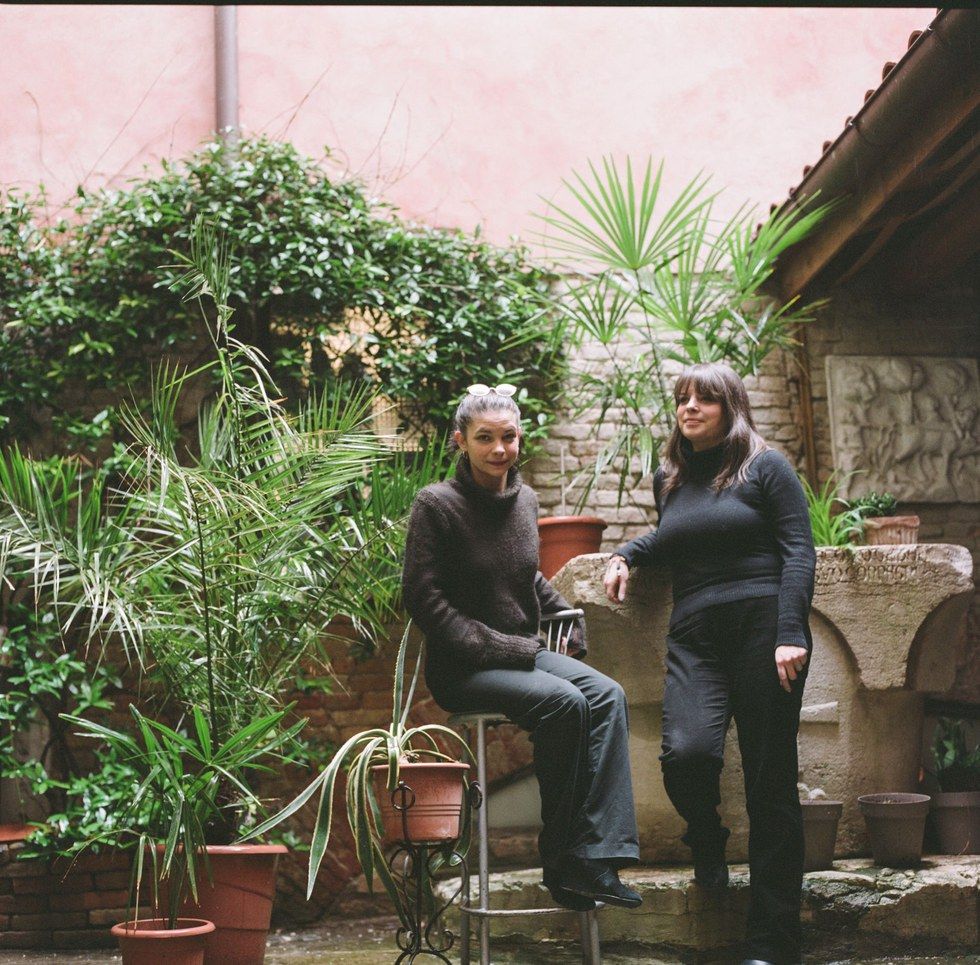 Patrizia Fiorenza (right) co-owner, Godi Fiorenza boutique
I say goodbye to Sabrina and set about exploring the palace, which was built in the ninth century and, over the years, has vanished beneath a series of mix-and-match updates—a bit of ancient Rome here, a dab of Islam there, a medieval cherry on top. The rooms in its befuddling interior range from dingy torture chambers to the Higher Council Hall, which is the size of Madison Square Garden and looks like Catherine the Great's jewelry box.
Next, I look around the glowing interior of the 11th-century basilica, which is such a dense concentration of architectural elaboration and historical consequence it makes my head hurt. For respite, I head into the nearby Caffè Florian for a cup of hot chocolate.
Good grief. Opened in 1720, this multi-chambered café is, if anything, even more ornate than the church and has hosted everyone from Lord Byron to Andy Warhol. I sit, surrounded by angels and voluptuous women, in the gilded Senate Room. David Bowie was in this very room not long ago, I am told. He had the blinds drawn and the doors closed and sat in here on his own for a few hours.
"Venice has a lot of history, but we don't want to be stuck in the past. There's a sense that artisans will take the city forward, making Venice a center of excellence again." —Patrizia Fiorenza
I'm having lunch in San Polo, home to Antiche Carampane, a no-fuss trattoria adored by locals and frequented by visiting celebrities. There's a sign on the door saying "No pizza, no lasagne, no menu turistico," which is fine with me. I get tender, tasty platters of mantis shrimp and cuttlefish, scampi with orange sauce, tagliolini with baby octopus, and tiny soft-shell crabs, deep-fried and served whole. Perfetto.
I have a date now with the fashion designer Patrizia Fiorenza, who owns the San Marco boutique Godi Fiorenza with her jeweler sister, Samanta. We meet at the shop, which is very chic and very small, with a 14th-century well in the back yard, and then head out to stroll among artisanal bootmakers and indie galleries. "Venice can't get any bigger or any taller," Patrizia says, ducking into a particularly narrow alley. "People just fit themselves into the available space."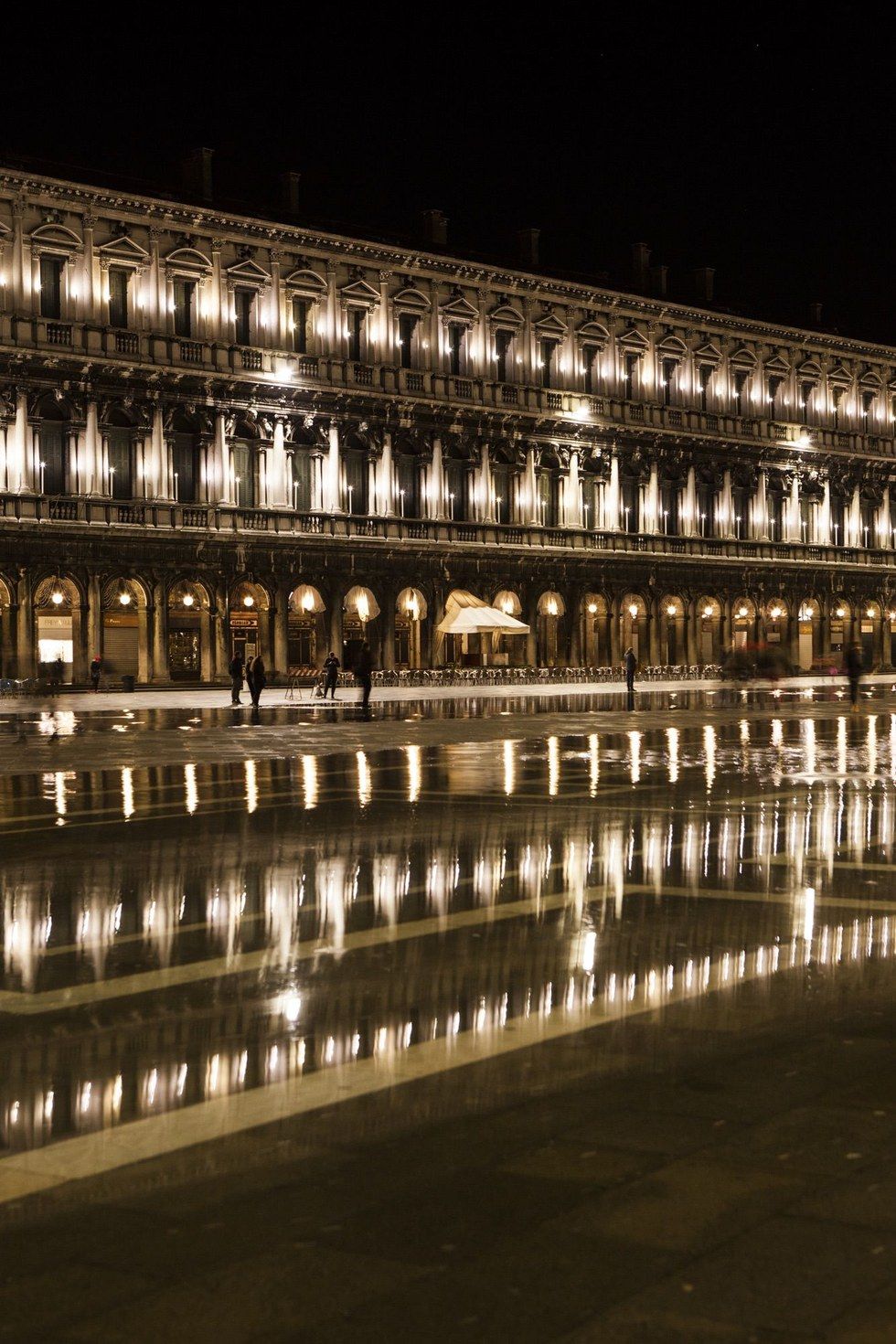 A flooded Piazza San Marco at night
As we take in the sights—including the arched external spiral staircase at Palazzo Contarini del Bovolo—I ask Patrizia to identify a local personality trait. "We have a strong sense of humor," she says. "The endless anecdote is classically Venetian. Walk along any street and there will be someone listening to a story saying, 'I have to go!'" Also, she adds, Venetians are not easily impressed by celebrity. "You can be as famous as you like here, and people will famously ignore you."
I leave Patrizia and head back to Piazza San Marco for dinner. Quadri, one of the city's most highly regarded restaurants, is strangely situated, nestled as it is among snow globes and selfie sticks. It has a relatively informal café downstairs, but the red damask walls and gilt cornices above tell a different story. The views alone are worth the price of admission—if, that is, you occupy a certain income bracket.
I have a seven-course meal that includes a rich, raw langoustine, seared sea scallops ("from our lagoon") with razor clams and black truffle, stewed cuttlefish and red shrimp with veggies and balsamic vinegar, and rib-eye steak with beet puree and smoked leek cream. It's not so much a meal as a fantastic journey, each course paired with an equally fantastic wine, and by the time the caramel millefeuille arrives I am begging for mercy.
My last stop is across the square and over the Bridge of Sighs, at the Hotel Danieli's Bar Dandolo. The bar, set beside a splendid Gothic atrium, is overseen by Roberto, who has worked here for 32 years. He makes me an Americano cocktail and I take a seat beside U.S. expat Marie Micheaux, who tells me she's the author of The Other Side of the Wall, a "paranormal memoir/psychological thriller" set in Venice. As Roberto reminisces about the celebrities who have drunk here, I'm reminded of Patrizia's earlier comment, about the Venetian propensity for yarn-spinning.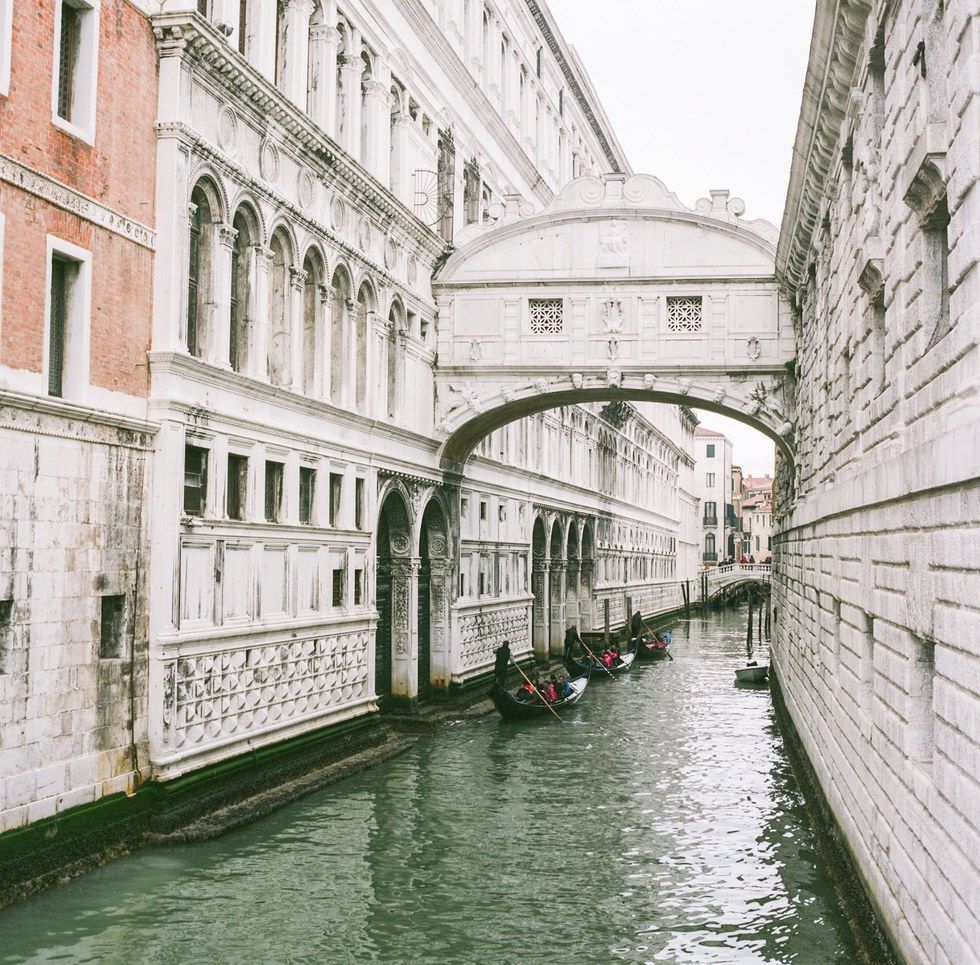 Morning at the Bridge of Sighs
"Paul Newman came here and said, 'I need a table, please, and I don't want anyone to disturb me.' So I gave him a table in the back. He stayed there for an hour and nobody recognized him." He also has a story about Bruce Willis. "He used to drink cold latte in this glass." He holds up a cognac glass. "What, that very glass?" I ask, and Roberto gives me a pitying look. "No, this kind of glass." The famously prickly Sean Connery drank here too, during the filming of Indiana Jones and the Last Crusade. "What was he like?" I ask, and Roberto shrugs. "I don't remember."
It's getting late, so I take a vaporetto to Palazzina G, the last hotel of my stay. Unlike the majority of Venice hotels, this one has forsaken the doge-for-a-day look in favor of a boutiquey feel. It's located in another canalside palace, but the interior was designed by none other than Philippe Starck, whose efforts to meld tradition and modernity are visible in his stylized take on local conventions, typified by the serpentine glass light fixtures in the restaurant and the enormous decorative mirror in my very white room.
I wake early and begin the ritual of making sure I haven't left anything under the bed. I have a little while before the water taxi arrives, so I pop down to the dock for a last look. The canal is quiet, cobalt blue. As if on cue, a flock of slow-motion cormorants goes skimming by, heading out toward the lagoon. I watch the birds round the bend, and continue watching long after they've gone.
Ink Global U.S. editor Chris Wright is finding it very hard to eat breakfast these days without any classical statues looking over his shoulder.
This article was from Rhapsody Magazine and was legally licensed through the NewsCred publisher network.
Around the web
We're proud to launch a redesigned version of our United app to make it easier for customers with visual disabilities to manage all aspects of day-of travel, including check-in, viewing reservation details and flight status, bag tracking and more.
This latest version of our app is now available to both Android and iOS users, and it offers increased color contrast and more space between graphics. Furthermore, we have reorganized how information is displayed and announced to better integrate with screen reader technologies like VoiceOver and TalkBack, which are built into most handheld devices. By restructuring the way the information is organized on the app, screen readers are better able to convert text to audio in the proper, logical sequence, allowing customers to better understand and navigate the app.
"The parts of the travel experience that we all take for granted like checking luggage, getting your flight status and accessing a boarding pass can still be a challenge for someone with a visual disability," said EVP of Technology and Chief Digital Officer Linda Jojo. "These new accessibility enhancements are part of our continuing commitment to level the playing field, unlock all the customer benefits of our app and give people with disabilities more independence while traveling."
Senior Accessibility Analyst Ray Campbell is a member of United's digital team who's visually impaired and sits on the board of the American Council of the Blind. He played a key role in helping us redesign the app. He even put the app to the test as seen in this video.
"Optimizing mobile apps for tools such as VoiceOver and TalkBack has been a game changer, allowing people with visual disabilities to fully utilize smartphone technology in their daily lives," said Ray. "It's just as important for someone with a visual disability to easily access day-of-travel information and features as for any other customer. Improving the accessibility of the United app, helps us truly live out United's mission of caring for all customers."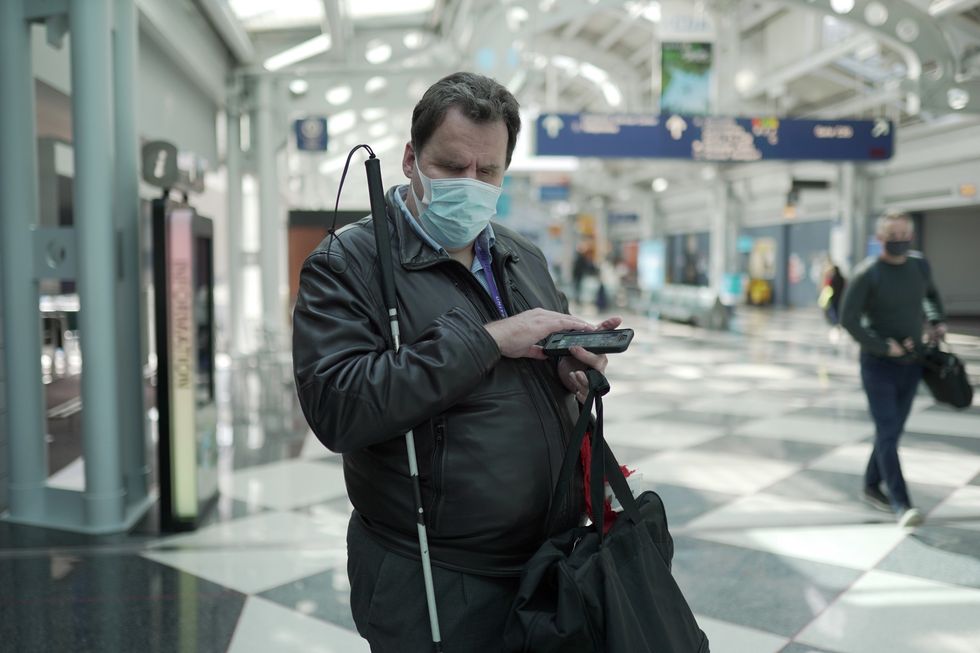 United's Senior Accessibility Analyst Ray Campbell using the mobile app at Chicago O'Hare International Airport.
Beyond the accessibility changes, our digital team enhanced the current offering while keeping the features that helped the app win a Webby People's Voice award in 2019.
For our MileagePlus® program members, the app now features a refreshed account experience for members to easily check balances, track Premier® progress, explore MileagePlus benefits, access past activity and more, all in one place.
The airline is also expanding a popular feature previously only accessible to MileagePlus members. Now, all 37 million customers who have the United app will see a contextualized home screen starting 48 hours before their flight which provides dynamic updates based on where a customer is in their travel journey. For example, customers can see the boarding status of their flight on their homescreen, access personal device entertainment onboard with one click, find a link to a map with gate-to-gate directions for connecting flights and click a quick access button to track any checked bags upon arrival.
We made slight tweaks to navigation based on customer feedback to make the app more intuitive, including making the bottom navigation persistent throughout the app. Another example is the "More" menu, which was reorganized and now contains the "Inbox" feature, which includes timely messages about boarding announcements, gate changes and other travel updates.
Customers will notice a new color palette that's consistent with the refreshed branding the airline debuted in 2019. United's digital team also made subtle design adjustments to make things more consistent and easier to find, like always using a purple bar to highlight the main call-to-action on a page and ensuring alerts and flight status icons appear the same way in every page on the app.
All of these changes are underpinned by a new back-end platform, which will ultimately make the app faster and more responsive.
The redesigned app is now available to download for iPhone®, iPad® and iPod touch® devices (as an iPhone app) and for Android devices.
Calling all AvGeeks and travelers! Take your next video call from a United Polaris® seat, the cockpit or cruising altitude with United-themed backgrounds for use on Zoom and Microsoft Teams.
Newly added to our collection is a background encouraging our employees and customers to vote. Our mission is to connect people and unite the world — and one of the most important ways to do that is to engage in the democratic process. No matter which party you support, we know our democracy will be stronger if you make your voice heard and vote.
So for your next meeting or catch up with friends and family, download the app to either your computer or mobile device to get started.
To use on Zoom:
Start here by downloading your favorite United image to your computer or mobile device. Just click "download" in the bottom left corner of the image.
Next go to your Zoom app (you'll need to download the app to access backgrounds) and click on the arrow to the right of your video camera icon in the bottom of the screen.
From here select, "choose virtual background" to upload your uniquely United photo.
To use on Microsoft Teams:
Start by downloading your favorite United image to your computer. Just click "download" in the bottom left corner of the image.

If you're using a PC, copy the image you want to use into this folder:

C:\[insert your device user name here]\AppData\Microsoft\Teams\Backgrounds\Uploads

If you're using a Mac copy the images to this folder on your computer:

/users/<username>/Library/Application Support/Microsoft/Teams/Backgrounds/Uploads

Once you start a Teams meeting, click the "…" in the menu bar and select "Show background effects" and your image should be there
Earlier this summer, we shone a light on our flagship partnership with Special Olympics and our commitment to the Inclusion Revolution. In that same story, we introduced you to our four Special Olympics Service Ambassadors, Daniel, Kyle, Lauren and Zinyra (Z), who, this month, celebrate one year working at Chicago O'Hare International Airport as part of the United family.
This groundbreaking, inclusive employment program took off as a part of our ongoing partnership with Special Olympics, a community relationship that employees across the company hold close to heart. The original 'UA4' (as they call themselves) have become an integral part of the United team serving customers at O'Hare Airport. Even from behind their masks, their wide smiles and effervescent spirit exude and bring life to the service culture of excellence we strive towards every day.
"The UA4 are more than just customer service ambassadors. They are shining examples of how inclusion, accessibility and equity can have monumental impacts on the culture and service of a business and community," said Customer Service Managing Director Jonna McGrath. "They have forever changed who we are as a company. While they often talk about how United and this opportunity has changed their lives, they have changed ours in more ways than we can count."
In the two years of partnership with Special Olympics, United employees have volunteered over 10,500 hours of service at events around the world and donated over $1.2 million worth of travel to the organization.
"This inclusive employment program is what community partnerships, like ours with Special Olympics, are all about: collaborating to identify areas where the needs of the community intersect with the cultural and business opportunity, then creating the infrastructure and programming to bring the two together," said Global Community Engagement Managing Director Suzi Cabo. "Through this program, our goal is to show other companies that when you put a committed effort and focus towards inclusion and breaking down barriers, you transform lives. I challenge other business around the world to follow our lead in joining the Inclusion Revolution."
Check out the video below to hear from our Special Olympics Service Ambassadors firsthand.
Scroll to top