Three Perfect Days: Venice
Story by Chris Wright | Photography by River Thompson | Hemispheres, May 2016
"Venice," said Truman Capote, "is like eating an entire box of chocolate liqueurs in one go." The first time you set eyes on the city, you get what he meant. Everywhere you look there's a sublimely distressed architectural relic crawling with Gothic, Byzantine, Rococo, and Neo-Classical flourishes. It's almost too much, and that's before you get to the canals.
Nestled in a crook in northern Italy, on the edge of the Adriatic Sea, Venice is laced with 170-odd waterways, which are spanned by 400-odd bridges. While the Grand Canal boasts the city's big architectural pageant, there's a special joy in chancing across a quiet residential strip of water, the gondolas replaced by workaday motorboats. In the city's six sestieri (or neighborhoods), you will not see a single car, or even a bike.
Venice trades on its looks, of course, catering to 20 million annual visitors with swish hotels, shops, and restaurants. Stand on Ponte dell'Accademia at sunrise, however, and you'll also understand why poets and artists have been drawn here for a thousand years—the very same thing that will make you mourn the moment you have to leave.
In which Chris gets lost, gets lost again, eats the head mush of a baby octopus, visits a church, and gets lost one more time.
I'm eating a spicy Thai omelet, which is a slightly unusual thing to have for breakfast—more so when you consider that I'm having it in the glow of a gilded ballroom, mobbed by marble cherubs, sitting before a window overlooking Venice's Grand Canal. This is actually not the most ornate dining room at the Aman Canal Grande. The one next door looks as if it was egged by the Fabergé kids.
The water outside is the minty blue of mouthwash, its surface mirroring the inflected arches and carved columns of the palazzi across the way, which are also visible from my room. Omelet dispatched, I head upstairs for a soak in a deep tub next to a window, then make my way outside, pausing to inspect the Old Master frescoes, the looming chandeliers.
I have prepared a detailed itinerary, which may be the most futile thing I've ever done. This is Venice, after all, a city whose topography seems to have been drawn by a myopic madman with a twitch. "Getting lost is the only place worth going to," Venetian novelist Tiziano Scarpa once said, as if we have any choice.
Taking the back route
Having abandoned my map, which is clearly faulty, I pick up another and head for Caffè del Doge, a coffee snob's paradise near the Rialto Bridge. I've arranged to meet author, cooking-school doyenne, and Venetian Contessa Enrica Rocca. I was expecting a genteel, maybe slightly doddery person. What I get is closer to Joan Rivers. "I'll eat anything," she says at one point. "If you tell me a horse has been fed the finest herbs, and its [manure] tastes good deep fried, I'll give it a try." With this, she lights a cigarette and strides off in the direction of the Rialto fish market.
The medieval market is open-sided, propped up by ranks of columns. The stalls squirm with spider crab, skate, prawn, octopus, scallop, monkfish, and squid, and the air is misted with brine. Enrica fondles the bulging belly of a scorpion fish. "It must have eaten something. Buy one, get one free!" Nearby is a horse butcher, and she goes into cooking-school mode: "You have to think of the history. When horses fell on the battlefield, the soldiers didn't think, 'Poor horsey!' They chopped the animal up and put it in a stew."
Enrica wants to take me to lunch at nearby All'Arco, one of the bacari that serve wine and cicchetti finger food. We pass a thin alley, its sides spanned by what she calls "a game of arches"—high brick buttresses to stop the buildings bumping into each other. Next, we poke around a spice shop, Drogheria Mascari, then go through an unmarked door into a produce warehouse. "This onion is incredible!" she says, holding up an onion.
Enrica Rocca, founder, Enrica Rocca Cooking School
All'Arco is a closet-size, family-run eatery crammed with locals and lapdogs. I take a windowsill and a spritz (Aperol and prosecco), followed by a succession of open-face sandwiches: baby octopus (served with head mush), mantis shrimp, baccalà Veneziana (cod paste), lard-stuffed salami. Venetians are preoccupied with the idea that they will lose their city—to rising water, to a failing sense of collective identity—and Enrica is no exception. "This is the real Venice," she says. "It is not easy to find these days."
Speaking of which: I spend the rest of the day blundering into doglegs and watery dead ends, crisscrossing the same square 37 times without ever finding the 12th-century church that, according to my map, is right here. People call Venice a small city, and it is in terms of square mileage, but unravel its snarl of alleys and you'd have Tokyo.
"The thing about Venice is there are no flat surfaces. You have to think about where you put the bed, so you don't end up sleeping head down. It's not a place where you can go out and pick up a cabinet from Ikea." —Enrica Rocca
But Scarpa was right. My aimless hours in San Polo and San Marco reveal innumerable wonders: tilted bell towers, side canals strung with laundry, tumbledown palaces, crumbling courtyards, and quirky curio shops, often set to a soundtrack of bells and the flippant baritone of gondoliers. In Campo Santo Stefano, I wander into a wonderfully gloomy church, then cut across to a shop with a neon cross in the window and a sign on the door: "We open sometime."
This is Fiorella Gallery, an avant-garde clothing shop opened in the mid-1980s by a local character named Fiorella Mancini. As I browse among hand-printed coats and beaded G-strings bearing slogans like "Love My President," Mancini flings T-shirts around trying to find one that will suit me. "Here, this one is crazy," she says, holding up one with a big red skull on it. "Every expression is reality," she tells me as I make for the door, and then she gives me the T-shirt for free.
There are limits to the joy of getting lost, however. I'm only a few hundred feet from the Metropole Hotel—where I'll be dining at the Michelin-starred Met Restaurant—but it takes me an age to get there. This time, the jiggery-pokery doesn't seem so benign. After one particularly arduous loop, I throw my new map away and buy another. Also, possibly due to a combination of fatigue, hunger, and overstimulation, I've started to have unusual thoughts. Have you ever noticed that when lion heads get worn, they look like monkeys?
Fiorella Gallery
There is so much here that seems on the brink of falling apart or melting away. While many of the old palaces have been restored, many more are peeling and crumbling, bulging and lurching. But this too is part of the appeal. Certainly, you wouldn't want Venice to be subjected to municipal plastic surgery. The city dates back to the fifth century, and it emerged as a major world power in the 10th century. It looks its age.
I'm not feeling too sprightly myself when I arrive at the Met, but I perk up when presented with the menu, overseen by rising star Luca Veritti. "Enjoy this beautiful tree!" says the waiter, referring to a wooden block studded with wires, each pronging an amuse-bouche. For a starter, I get pan-fried scallops coated with black bread crumbs—crunchy and succulent, they may be the best I've ever had. Another highlight is the roe deer, which is liver-rich and tender, served with bacon popcorn and grapes. Dessert is a ricotta, chocolate, and pear tart, which is lovely but not entirely necessary.
I end the night at the 1930s-era Harry's Bar, fabled home of the Bellini, which tonight is crammed with Bellini-drinking out-of-towners. I order one and sit next to a young man drinking a beer. "Why not a Bellini?" I ask over the din. "Sorry," he replies, "I do not speak Italian." We're near the stop for the San Marco vaporetto, one of the water buses that ordinary people use to get around. I head out and climb aboard, then glide past the huddled palazzi and the bristling bell towers, the gondolas bobbing in our wake. There are worse commutes.
In which Chris falls in love with a view, plays Cary Grant in a water taxi, whimpers his way through a rowing lesson, and loses his ruffled shirt at the casino.
I wake up at the Gritti Palace, and I do not say this lightly.
The Gritti is one of Venice's star attractions, and has been for 120-plus years. I'm in a third-floor canal suite inspired by swinging American designer Angelo Donghia. The Venetian Gothic palazzo was once occupied by 15th-century aristocrats, and much of the decor reflects this. The Donghia, though, is pure mod. My bedroom is battleship gray, with a silvery chandelier and a curved plastic table. Beyond this is a huge lounge area dominated by two Pop paintings of the Chrysler Building (by Bobo Ivancich) and an L-shaped couch (seats 20).
Then there's the little balcony, where I stand for as long as I can afford to, gazing across at the dome of Santa Maria della Salute, built in the 1600s to celebrate the end of the city's last great plague (fingers crossed). The rising sun has tinged its Palladian facade and teeming angels a faint pink. The mouth of the canal widens here, opening out into the Lagoon and the Adriatic Sea. How do you walk away from that?
Palazzo Bovolo's external staircase
I'm having breakfast at the Bauer Palazzo, a few hundred yards to the east. The rooftop deck here has a fair view of its own, taking in the spiked campanile of San Giorgio Maggiore, the endless muddle of red roofs. As I munch on crispy bacon and plump sausages, a seagull brazenly eyeballs the plate of an adjacent diner. "Is that Gina or Gloria?" one waitress asks another, going on to explain that the restaurant has two resident gulls.
I'm waiting for Alessandro Possati, scion of the family that owns this hotel (among others) and a rising patron of the arts. After a brief hello, he whisks me over the sunny bay in a water taxi, which makes me feel like Cary Grant. Our destination is the island of Giudecca, and the old convent housing his Zuecca Project Space, a gallery for emerging artists. He has a smaller space in San Marco, and he has plans to open more, which he sees as a civic responsibility.
"While many of the old palaces here have been restored, many more are peeling and crumbling, bulging and lurching. And this is part of the appeal."
"There has been a mass exodus from Venice," he says. "Often the houses don't find new life. So what we do has deeper implications than just the art itself. It's a way of bringing dignity back, breathing life into empty space." With this, he shows me around his cavernous gallery, pointing to a high window at the end. "That was to keep the girls from looking out at the local butcher and baker boys."
Giudecca used to be a run-down area, home to prisoners and exiles (Michelangelo spent a few years here in the 1520s), but it is becoming like Brooklyn or Shoreditch, a community of artists and musicians (Elton John has a place here). Still, there is a sense of melancholy about the place. "It's the island of the judged," says Alessandro. "You had to sit here and look across the water to Venice, without being there."
The inspired clutter at Libreria Acqua Alta
Next, Alessandro drops me off at the nearby San Giorgio island, which has a lovely Benedictine church and that campanile, said to offer the best views in Venice. It is indeed a fine view, giving me my first proper look at the sprawling splendor of Piazza San Marco, but I have a date with a gondolier, so I head down and catch a boat to Sacca Misericordia, in shabby-chic Cannaregio. I've decided it's not enough to ride these things; I want to learn how to operate one.
My tutor, Jane, is a no-nonsense Australian expat, part of the almost all-female outfit Row Venice. Upon her arrival at the dock, she shows me the shrimp-tail boat I'll be rowing and tells me not to fall in, and we're ready to go. As I wobble aboard, two nuns walk by wheeling shopping carts, and one of them gestures.
Waving? Warning? Maybe I should have gone with the romantic serenade for one.
Standing at the bow isn't that bad. My problems begin when I have to climb onto the slick arc at the back, which looks to me like the setting for a hilarious YouTube video. "Use your leg muscles!" Jane tells me. "Lunge back and forth!" I try to use my legs, I try to lunge, but the best I can muster is a bit of dithery splashing and a falsetto catalogue of concerns. Jane rolls her eyes, takes the oar and rows me safely back to shore.
Titian's radiant Frari altarpiece
I'm in a hurry again, so from here it's into the 14th-century Madonna dell'Orto for a look at Tintoretto's massively murky Last Judgment (Jesus at the top, do-badders below), followed by a whirlwind tour of the nearby Jewish Ghetto, and a stride-by survey of the canalside shops and bars. I do make time to try a dark La Birra di Meni, one of the 300 beers on offer at Birre da Tutto il Mondo, and (thank goodness) to pop into Libreria Acqua Alta, located 15 minutes southeast, in Castello.
The sign outside says that this is "the most beautiful bookshop in the world," which it isn't. Inside is a musty muddle of books, maps, cards, and magazines, many of them heaped in a large gondola. Gianni, the guy behind the counter, adopts a tone of mock outrage when I suggest the arrangement is haphazard. "There is a lot of system," he says, cigarette in mouth. "In this room, it's 50 percent new and 50 percent used." In the yard out back, there's a staircase and platform, maybe six feet high, built out of rotting encyclopedias. Gianni calls the structure "a way to be elevated by culture."
Lunch is at the nearby Osteria di Santa Marina, a local eatery serving traditional cuisine with a creative twist. It's a low-key place, but I find it easily enough (ta-da!) and take a seat in a small back room. Oddly, the music is a classical rendition of a song from Toy Story 2, but the food is faultless: tuna tartare with shaved truffle; tagliatelle with cuttlefish and pistachio pesto; veal cheek topped with crispy leeks; plenty of wine.
Alessandro Possati, founder, Zuecca Project Space Gallery
From here, I make my way to the Rialto Bridge, which was built in the 16th century and now stands amid the city's densest concentration of gift shops. I cross the bridge and find what I'm looking for: a tiny brick building with a dinky belfry and an oversize clock. This is San Giacomo di Rialto, which is said to date back to 421. That's a heck of a thing to think about, even with 150,000 novelty-mask retailers within earshot.
A stroll west takes me to Scuola Grande di San Rocco, one of the city's grandest confraternities. I enter an enormous and ferociously decorated room, then climb a broad stairway to the aptly named Great Hall, which is cluttered with dismal Biblical scenes by Tintoretto (Agony in the Garden, etc.). My attention turns to a row of grotesque allegorical figures carved into a wooden wall—contorted, grimacing men whose bodily parts end in stumps. Fun.
"Venice is beautiful, but it is also challenging. We live on an island, with all of the physical complications this implies. There are times when you can feel isolated, disconnected from the outside world." —Alessandro Possati
A survey of local churches ends at the 14th-century Gothic behemoth Santa Maria Gloriosa dei Frari, whose brick bell tower is one of the few here that hasn't, at some point, toppled over. The Frari is one of the dominant features of the Venetian skyline, and it contains some of the city's finest religious art, including Titian's gleaming altarpiece, Assumption of the Virgin. The artist was entombed here in the 1570s after succumbing to the plague.
Right, let's eat!
A vaporetto takes me to Ca' d'Oro, close to Trattoria da Bepi Già 54. This is not a flashy place, but the food is spectacular. I have a warm salad with scampi and artichoke, followed by sweet and tender grilled eel served with polenta. The charismatic owner, Loris, took over the restaurant from his father in 1978. "This was my first baby," he says. "Since then I've had five more."
I end the night nearby at the Casinò di Venezia, which has been inviting people to throw their money away in elegant surroundings since the 1600s (Richard Wagner had a fatal heart attack here in 1883). Today, there's an odd juxtaposition of slot machines and Renaissance art, but the basic idea is the same as at casinos everywhere: You walk in with some money, you walk out with less. Time for bed.
In which Chris gets personal with Picasso, endures sensory overload at Piazza San Marco, and survives an endless Venetian anecdote.
I start the day on a vaporetto to Dorsoduro. My first stop is the sweet Art Deco interior of the hotel Ca' Pisani for a delicious breakfast of eggs, two kinds of Italian sausage, and homemade orange tart. My big job today is to hit Piazza San Marco, but first I want to explore Dorsoduro, an increasingly fashionable area whose alleys aren't quite as touristy as those across the canal. The area is also home to the city's best art museum: the Peggy Guggenheim Collection.
A warren of sculpture gardens and small rooms, the museum amounts to a who's-who of modern art (Miró and Rothko, Picasso and Pollock), but the real joy is the presentation—this used to be a private home, and it still feels like one. There's an intimacy and informality that brings the work to life. It's wonderful, especially after a couple of days of supersize religious parables.
I leave the museum and head west, pausing for a spritz at the Ai Artisti trattoria. Now, at last, I'm ready to tackle the epicenter of Venetian history, majesty, and over-the-top design: Piazza San Marco. To help me ease into the experience, I've recruited Sabrina Scaglianti, the engaging and knowledgeable proprietor of A Guide in Venice.
A quiet backstreet in Dorsoduro
Entering the square, which is flanked by grand municipal buildings, with the triumvirate of tower, church, and palace at the end, I'm reminded of the old gripes about Canaletto, whose doggedly faithful Venetian cityscapes are derided as a kind of visual accountancy. In fairness to him, it's hard to see how you could improve on this. If you were painting a van Gogh, would you stylize it, try to one-up him?
The Piazza, Sabrina tells me, was where Venice announced itself to the world. Ships would moor near the south side's looming twin columns, one of which bears a statue of St. Theodore, the city's dragon-slaying patron saint before St. Mark, and the other a winged lion, the symbol of the city and its thousand-year rebuttal of autocratic rule. Prisoners were executed between these columns, facing the 15th-century astronomical clock tower across the square so they could pinpoint the time and day of their demise.
St. Mark's Basilica is impossibly grand, a cluster of onion domes and Gothic spires, allegorical statues and solid gold mosaics. This was an expression of power rather than faith, possibly more so than the arched and crenellated Doge's Palace next door, or the skyscraping campanile. As I try to take it all in, Sabrina provides historical context, along with a little light relief. At one point, we come to a spot that used to be popular with assassins. "That's Venice," she says, lunging at me with an invisible knife. "People in masks stabbing each other and running away."
Patrizia Fiorenza (right) co-owner, Godi Fiorenza boutique
I say goodbye to Sabrina and set about exploring the palace, which was built in the ninth century and, over the years, has vanished beneath a series of mix-and-match updates—a bit of ancient Rome here, a dab of Islam there, a medieval cherry on top. The rooms in its befuddling interior range from dingy torture chambers to the Higher Council Hall, which is the size of Madison Square Garden and looks like Catherine the Great's jewelry box.
Next, I look around the glowing interior of the 11th-century basilica, which is such a dense concentration of architectural elaboration and historical consequence it makes my head hurt. For respite, I head into the nearby Caffè Florian for a cup of hot chocolate.
Good grief. Opened in 1720, this multi-chambered café is, if anything, even more ornate than the church and has hosted everyone from Lord Byron to Andy Warhol. I sit, surrounded by angels and voluptuous women, in the gilded Senate Room. David Bowie was in this very room not long ago, I am told. He had the blinds drawn and the doors closed and sat in here on his own for a few hours.
"Venice has a lot of history, but we don't want to be stuck in the past. There's a sense that artisans will take the city forward, making Venice a center of excellence again." —Patrizia Fiorenza
I'm having lunch in San Polo, home to Antiche Carampane, a no-fuss trattoria adored by locals and frequented by visiting celebrities. There's a sign on the door saying "No pizza, no lasagne, no menu turistico," which is fine with me. I get tender, tasty platters of mantis shrimp and cuttlefish, scampi with orange sauce, tagliolini with baby octopus, and tiny soft-shell crabs, deep-fried and served whole. Perfetto.
I have a date now with the fashion designer Patrizia Fiorenza, who owns the San Marco boutique Godi Fiorenza with her jeweler sister, Samanta. We meet at the shop, which is very chic and very small, with a 14th-century well in the back yard, and then head out to stroll among artisanal bootmakers and indie galleries. "Venice can't get any bigger or any taller," Patrizia says, ducking into a particularly narrow alley. "People just fit themselves into the available space."
A flooded Piazza San Marco at night
As we take in the sights—including the arched external spiral staircase at Palazzo Contarini del Bovolo—I ask Patrizia to identify a local personality trait. "We have a strong sense of humor," she says. "The endless anecdote is classically Venetian. Walk along any street and there will be someone listening to a story saying, 'I have to go!'" Also, she adds, Venetians are not easily impressed by celebrity. "You can be as famous as you like here, and people will famously ignore you."
I leave Patrizia and head back to Piazza San Marco for dinner. Quadri, one of the city's most highly regarded restaurants, is strangely situated, nestled as it is among snow globes and selfie sticks. It has a relatively informal café downstairs, but the red damask walls and gilt cornices above tell a different story. The views alone are worth the price of admission—if, that is, you occupy a certain income bracket.
I have a seven-course meal that includes a rich, raw langoustine, seared sea scallops ("from our lagoon") with razor clams and black truffle, stewed cuttlefish and red shrimp with veggies and balsamic vinegar, and rib-eye steak with beet puree and smoked leek cream. It's not so much a meal as a fantastic journey, each course paired with an equally fantastic wine, and by the time the caramel millefeuille arrives I am begging for mercy.
My last stop is across the square and over the Bridge of Sighs, at the Hotel Danieli's Bar Dandolo. The bar, set beside a splendid Gothic atrium, is overseen by Roberto, who has worked here for 32 years. He makes me an Americano cocktail and I take a seat beside U.S. expat Marie Micheaux, who tells me she's the author of The Other Side of the Wall, a "paranormal memoir/psychological thriller" set in Venice. As Roberto reminisces about the celebrities who have drunk here, I'm reminded of Patrizia's earlier comment, about the Venetian propensity for yarn-spinning.
Morning at the Bridge of Sighs
"Paul Newman came here and said, 'I need a table, please, and I don't want anyone to disturb me.' So I gave him a table in the back. He stayed there for an hour and nobody recognized him." He also has a story about Bruce Willis. "He used to drink cold latte in this glass." He holds up a cognac glass. "What, that very glass?" I ask, and Roberto gives me a pitying look. "No, this kind of glass." The famously prickly Sean Connery drank here too, during the filming of Indiana Jones and the Last Crusade. "What was he like?" I ask, and Roberto shrugs. "I don't remember."
It's getting late, so I take a vaporetto to Palazzina G, the last hotel of my stay. Unlike the majority of Venice hotels, this one has forsaken the doge-for-a-day look in favor of a boutiquey feel. It's located in another canalside palace, but the interior was designed by none other than Philippe Starck, whose efforts to meld tradition and modernity are visible in his stylized take on local conventions, typified by the serpentine glass light fixtures in the restaurant and the enormous decorative mirror in my very white room.
I wake early and begin the ritual of making sure I haven't left anything under the bed. I have a little while before the water taxi arrives, so I pop down to the dock for a last look. The canal is quiet, cobalt blue. As if on cue, a flock of slow-motion cormorants goes skimming by, heading out toward the lagoon. I watch the birds round the bend, and continue watching long after they've gone.
Ink Global U.S. editor Chris Wright is finding it very hard to eat breakfast these days without any classical statues looking over his shoulder.
This article was from Rhapsody Magazine and was legally licensed through the NewsCred publisher network.
Around the web
Weekend inspiration: Savannah
The key to visiting Savannah in the summer? Planning outdoor and indoor activities, so you can enjoy all of the treasures this charming Southern city has to offer. If you only have a few days to spend here, it is even more important to plan your time and itinerary carefully. Luckily, we've gathered the best of the best to visit in historic Savannah with carefully planned air-conditioned stops along the way. Put on your walking shoes, grab some sunscreen and get ready to explore.
Day 1
Before your trip, make sure to make reservations for dinner at The Olde Pink House restaurant in advance. Adjacent to the Planters Inn, this popular spot has been serving Southern food at it's finest at one of Savannah's oldest mansions. While there, make sure you order the fried chicken — voted one of the best in Savannah and it does not disappoint. The braised pork shank is also a must-try. From there walk over to Leopold's Ice Cream. Choose a fancy pre-made ice cream or create your own treat. A Savannah tradition, this shop has been serving the best ice cream in Savannah since 1919.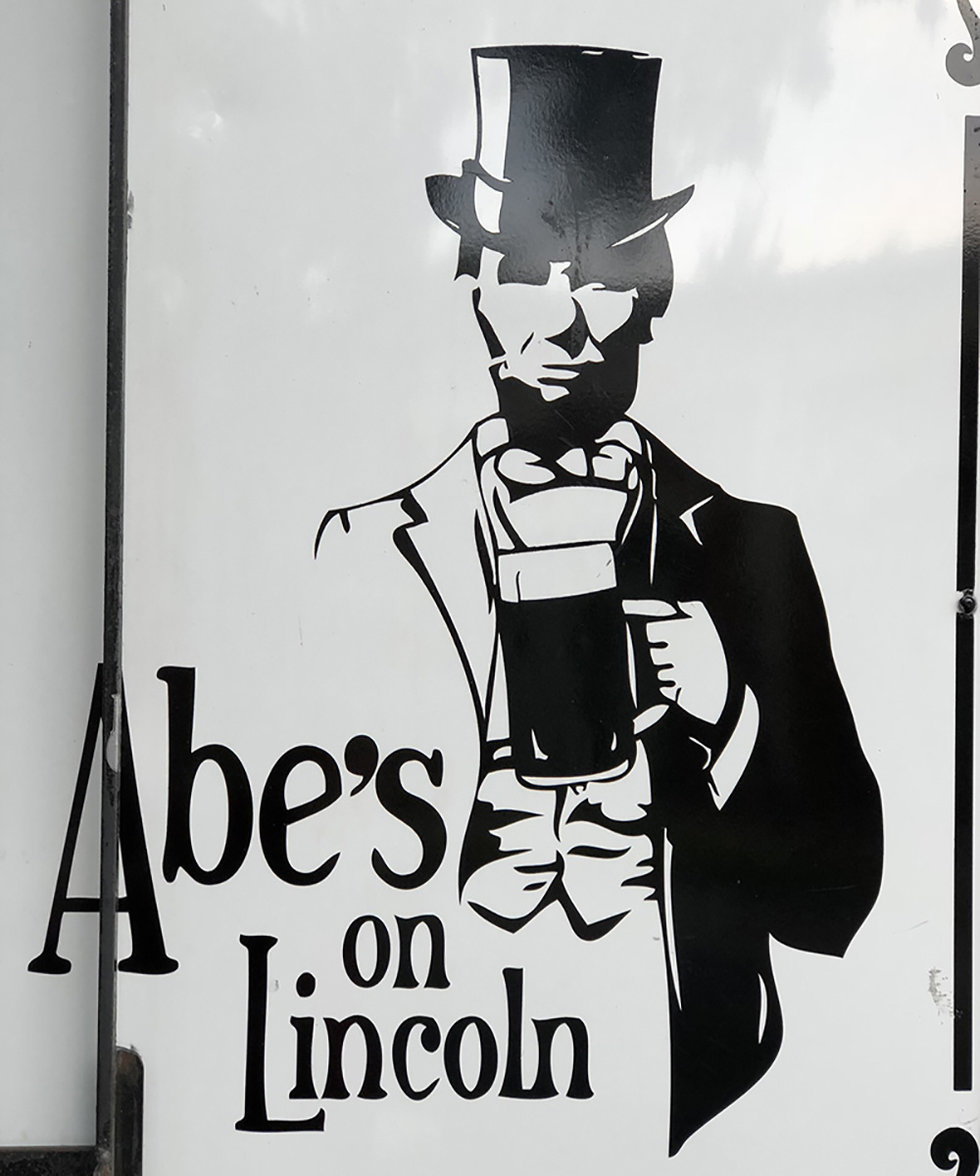 Abe's on Lincoln | Photo credit: Kelsey + Courtney Montague
If you're looking for a dive bar instead of ice cream, drop in to Abe's on Lincoln. Create your own artistic rendition of Abraham Lincoln on your napkin, and your creation might end up on the ceiling where other patrons' artwork is displayed.
Day 2
The next morning get started before the crowds and visit the Waving Girl Statue. This statue commemorates Florence Martus who (from 1887-1931) became the unofficial 'greeter' of Savannah and waved at every ship that came into port. From there head down River Street to Huey's on the river for beignets and their potato casserole. Don't worry about the calories, you will walk them off.
Hueys on the river
River Street
After Huey's, stop by the Savannah Bee Company and sign up for a mead tasting. For just a few dollars you will get to taste all sorts of variations and flavors from all over the country. Interestingly mead, created from fermenting honey, is one of the oldest alcohols in human history. Evidence of mead in clay pots dates back to 7000 BC. After you've had a few sips of mead and tasted the honeycomb, head out for a bit of shopping. We recommend Broughton Street, especially 24e and the Paris Market.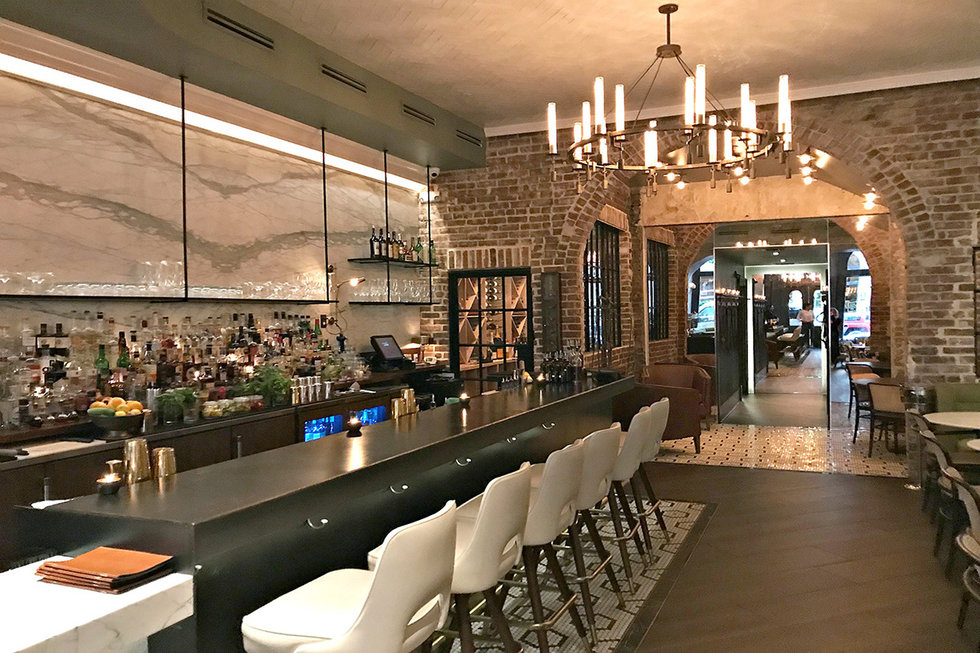 The Artillery restaurant | Photo credit: Kelsey + Courtney Montague
Stop by Juliet Gordon Lowe's birthplace (Girl Scout's founder) to see when the next tour is and make a reservation. Go to Husk for lunch while you wait. Husk, founded by James Beard award-winning chef Sean Brock, uses local ingredients in his ever-changing, scrumptious menu. After your tour of Ms. Lowe's home, put on your finest and head over to Artillery for a fancy cocktail and then on to The Collins Quarter Restaurant.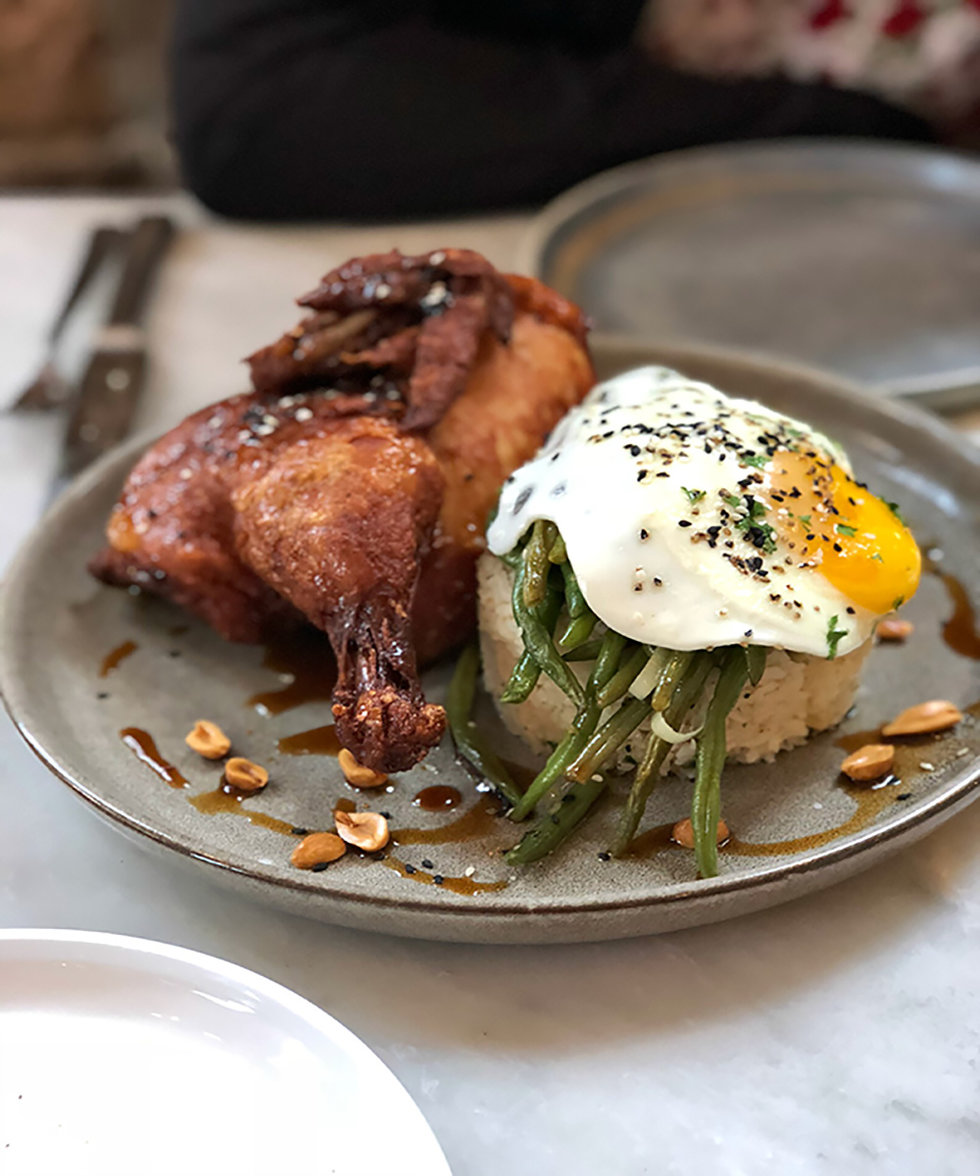 Collins Quarter restaurant | Photo credit: Kelsey + Courtney Montague
The Collins Quarter restaurant is an Australian take on Southern food and is exquisite. Get the hot chicken — it's delicious. Wander over to Chippewa Square after dinner where the movie Forrest Gump was filmed. The exact bench he sat on for the movie is no longer there, but everything else in the park is the same. Nearby on Bull street is another boutique, Red Clover, you should stop at if you're in the market for a gorgeous new frock. End the evening with dessert at Chocolate by Adam Turoni. Adam's shop feels like you stepped into wonderland, complete with a grass floor and bookshelves full of delicious treats.
All that's left is to head home full of southern food and southern hospitality.
P.S. If you have a few extra hours rent a car and go see the Wormsloe Plantation. The entrance will take your breath away. Also check out the Bonaventure Cemetery where poets, revolutionaries and the founders of Savannah have ornate gravestones in a picturesque, photo-worthy setting.
United and Special Olympics
Taking inclusion to new heights
Our shared purpose is to connect people and unite the world — and no organization better embodies that principle than Special Olympics.
Learn more
How to prepare for your child's first flight
Traveling can be stressful at times, even when you're flying solo. But imagine what a child must feel, especially as they prepare to take their first flight. The key to any successful first flight is to take a cue from the Girl Scouts motto: be prepared. I'm a mother who started traveling the world with her child since she was 10 days old. So if you're planning your child's first flight soon, read on for my helpful tips to make your child's first flight a success.
Before the flight
Make sure to choose your seats as soon as you book your flight. Since restrooms are usually located at the back of the plane — and also near the front of the cabin, depending on the aircraft — you may want to choose seats near those areas so you won't have to go far if you and your child need the restroom or you need to change your baby's diaper. Additionally, children oftentimes enjoy looking out the window during a flight, so you may want to opt for a window seat so they can see other planes, a busy tarmac or clouds once you're up in the air.
Most airlines, including United, allow a child under the age of two to sit on a parent's lap. But if it fits within your budget, you could consider buying them their own seat and, depending on the child's age, bringing a government-approved child seat for them to use in the purchased seat. This allows you and your child to travel more safely and comfortably, and can help create a better sense of security for your child if they're used to the child seat you bring along.
Make sure to prepare your kids prior to the flight. Although airplanes can be exciting, they can also be scary for kids at first. Take time to explain what to expect during your journey, from the time they arrive at the airport until the plane lands at your destination. You can tell them about the kinds of people they will meet, such as gate agents, flight attendants and pilots, and the different events that occur, like boarding, the flight attendants' safety message and the sound of the aircraft engine during takeoff. This way they can enjoy identifying the people and events that make up their first flight.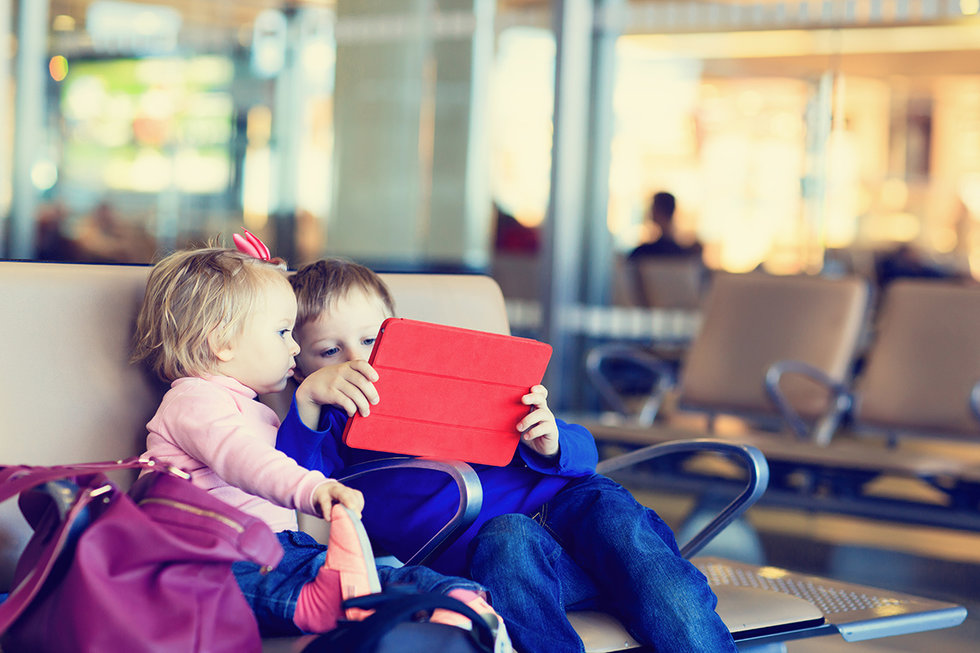 At the airport
To avoid any unnecessary stress, print your boarding passes or download them to your mobile device before arriving at the airport. Also plan to check your baggage as soon as you get to the airport so you don't have to worry about carrying along extra gear.
You can check with the Transportation Security Administration (TSA) if you're unsure about what's allowed past security checkpoints, but baby formula, breast milk, food and medications aren't subject to the 3.4 ounce liquid restriction, so you're able to bring larger amounts of those items with you. Just make sure to let TSA officers know right away that you're carrying those items so you're not slowed down during the screening process.
After you've made it through security and are waiting at the gate, make sure your children have entertainment to keep them occupied while you wait. While most flights offer entertainment, there may be times when the inflight entertainment is not available, so bring toys, games, a tablet, coloring books or whatever it takes to keep them occupied and happy during a flight. If you're traveling with babies or toddlers, be sure to double check your diaper bag and make sure it has clothing, baby wipes, lotion, toys and extra bottles. Also, pack a favorite blanket and pillow for inflight naps.
You'll also want to carry various snacks, such as sandwiches, fruit, nuts, crackers or popcorn, and account for possible delays because food options may be limited. It's also a good idea to pack empty sippy cups or water bottles to fill up with inflight beverages.
On board the flight
When it's time to board your flight, you can take advantage of United's policy that allows families with children two and younger to pre-board. This will give you that much-needed time to stow your items and get you and your children in your seats so you're comfortable and ready for your flight.
By request, strollers can be checked at the gate at no additional cost. Before boarding starts, simply ask the gate agent to put a baggage tag on the stroller and you can leave it at the bottom of the jet bridge as you board the plane. When you get to your destination, your stroller will be waiting for you on the jet bridge after you exit the plane.
Once you're on board and settled, it helps to have a bottle on hand during takeoff and landing because it can help alleviate ear pressure for babies and toddlers. For older children, tell them what's about to happen and encourage them to look out the window to see what's going on before take-off. While in the air, create easy access to all the things you need to keep your children entertained and happy, and before you know it, you'll be on the ground again in no time. With just a little preparation, flying for the first time can be an exciting experience for both you and your child.
United heroes: Saving the life of a newborn
Pediatrician Elizabeth Triche was so touched by how our employees went above and beyond to transport her critical ill newborn patient from Saipan to Guam then Honolulu to San Francisco and from there to their final destination of San Diego, that on July 27, she wrote the heartfelt note below to CEO Oscar Munoz and President Scott Kirby.
"Mr. Munoz and Mr. Kirby,
I am writing to give you my greatest gratitude for running a company that just did everything possible, every step of the way, to allow us to get our critically ill newborn with a fatal heart defect to life-saving emergency specialty care in San Diego.
Geoff Larson [Customer Service De-escalation Senior Manager] had given me his cellphone number one month ago and said to call if we ever needed any help getting patients to critical care. When I did call 3 days ago, he burst into action. We exchanged at least 10 emails and phone calls over the next 36 hours as he opened seats on fully booked flights, got us cleared to use oxygen (a process that usually delays our exit by 48-72 hours), and called on colleagues to make sure that all of our "special handling needs" in the airports were met. He emailed me as our first (of 4) flights arrived, letting me know that he was available to help with any glitches.
In Honolulu they held everyone on the plane so that we could get TSA and customs clearance first, gate side, avoiding our having to carry a sick baby in a car seat through an entire airport to customs. Helpers met us at each destination as gate agents from our departing cities warned the gate agents at our next arrival destination that we would need a wheelchair and help with bags.
Finally, as we were 30 minutes from our final destination, the pilot of United Flight 284 on 7/26/2018 from SFO to SAN called me up to the front of the plane to chat, as [there was] fog in San Diego. He wanted to know if the baby would be adversely affected if he [diverted] the flight to LA to refuel. We truly appreciated his taking our patient into account.
Ultimately, we arrived in San Diego without any major mishaps, and our newborn is currently undergoing definitive treatment for his condition.
Mr. Larson and his colleagues at United helped to save a life yesterday, as this baby may not have survived to make the flights had we had to wait for an open seat. Now that he has gotten to care, he will likely have a great chance at a normal life.
I just wanted everyone know that there are truly compassionate, dedicated people working for your organization."
Thank you to all of the employees for being a living proof of our United spirit and exemplifying our core4 standards.
We fly Australian firefighters to wildfires
As parts of Oregon and California continue to battle blazing wildfires that have already consumed thousands of acres of land, we stepped up to help and flew a group of Australian firefighters to Boise, Idaho, over the weekend.
We created an extra section to fly a group of firefighters from all over Australia to Los Angeles International Airport, where they departed on a flight to Boise, Idaho on August 4.
Australia/New Zealand Contingent Field Liaison Officer Barry James explained that firefighters were selected to come help based on their qualifications, and they're all proud to support their fellow firefighters in the United States.
"We're flying to Boise for a couple of days of training and then we'll be splitting up. Some of us are going to Northern California and the rest are going to Oregon for a six-week deployment," explained Officer James, who flew United for the first time, but said it won't be his last. "It was an awesome, awesome experience; it was really hospitable," he added.
Our Los Angeles based employees and crews made sure the firefighters felt their appreciation by giving them a special welcoming message in the gate area, where they thanked them for their hard work.
"It was such an incredible honor for us at LAX to meet and fly these men and women, who are sacrificing their time and putting their lives on the line to help us battle the wildfire devastation in this part of the country," said LAX Station Operations Control Manager Maggie Ronan. "The crew in general was just outstanding. They were all so honored to fly this group and felt it was amazing that United built the extra section for their journey. There was a very special energy felt on the flight as we closed up to send them off to BOI."


We're teaming up with leading disaster relief organizations to provide aid to those impacted by the California wildfires. We will match up to $50,000 in total donations made to our charitable partners, Airlink, American Red Cross, Americares, North Coast Opportunities and Shasta Regional Community Foundation. For more information and to make a donation California Wildfire relief efforts, visit our CrowdRise fundraising campaign.

Lots of sweat, lots of on-time departures: Summer on the ramp
It's 10:30 in the morning and the temperature gauge already reads 89 degrees. The Texan summer sun beams down from above. Heat waves emanate from the ground. Sweat glistens atop Ron Davis's shiny, bald head.

This isn't bad at all, Davis says. "I played high school football. Two-a-day practices? Those were hot. Some of the really hot days out here? Those feel more like three-a-day practices. We got it easy today."
A few gates down, employees revel in the "relief" that this weather feels like compared to the prior week.
"This is nothing," quips Tom Saavedra.
"A few clouds up there and a bit of a breeze – it's our lucky day," Leroy Taylor chimes in, a wide smile on his face.
Air temperature nearing 90 degrees. Tarmac temperature eclipsing 100 degrees most everywhere you step. 10:30 in the morning. And this is "easy". Welcome to life as a United ramp service employee at Houston's George Bush International Airport (IAH) in the summer.
United isoperating more than 500 flights out of Houston each day this summer, and thanks in part to the hard work of our ramp service employees, more flights have left Houston on time this summer than any prior summer.
How? Hydration and nutrition have played huge roles.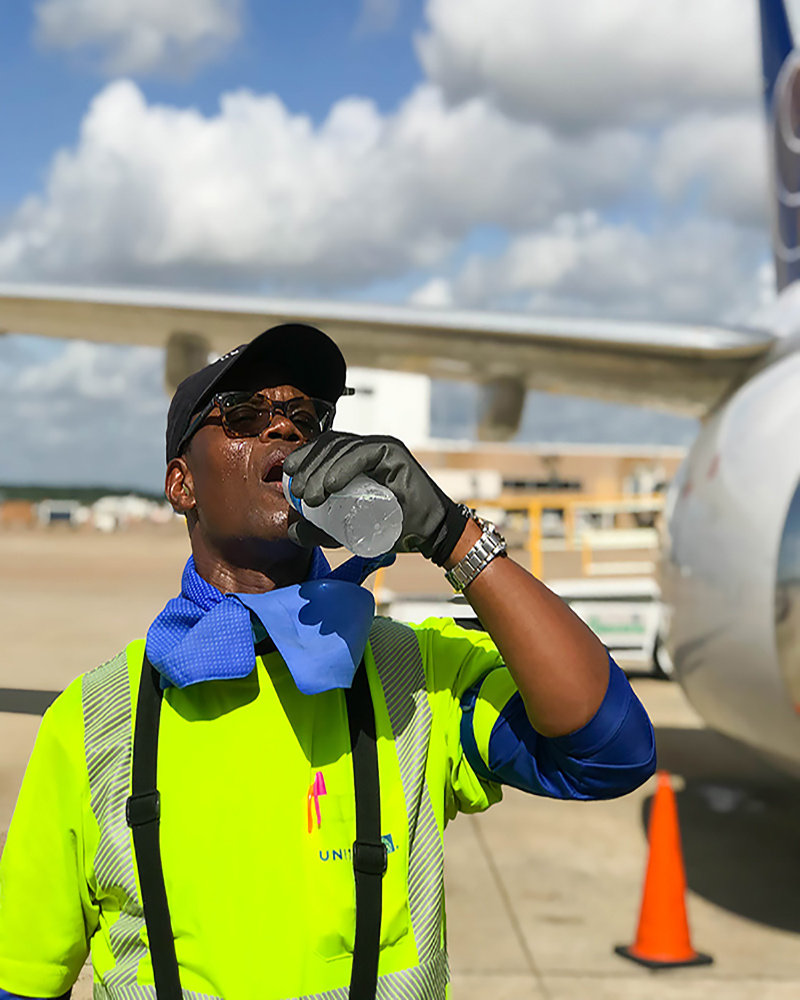 Posters with hydration reminders adorn the walls of ramp break rooms and hallways. It's the first topic of every meeting. Regular reminders are sent out over the group's radio system.
Employees have a flight schedule to keep, but as leaders, we have to provide them with the tools to do their job, says Gary Snead, a United supervisor based at IAH. "That includes keeping them fit to work in the summer heat."
And provide they do. Here are the resources deployed in an average summer month on the ramp in Houston:
Over 10,000 bags of ice, totaling more than 100,000 pounds of ice.
313, 5-gallon water coolers refilled at least four times per day.
An athletic trainer on site.
One day a month, the IAH ramp holds a fruit & hydration day, where supervisors distribute over 1,000 pieces of fruit to our sun-soaked employees.
1,000+ cooling towels distributed.
10 misting tents
The increased focus on hydration has helped increase productivity, and it's also resulted in a record-low number of heat-related illnesses among employees.
You take care of the employees, Snead says, "and the employees will take care of your operation."
That's proved true around the world, as we have flown more customers this summer than ever before, all while topping our competition in on-time departures in recent months. Our 13,000+ ramp service employees have played a huge role in that.
Summer heat? It's been beat.
Top 7 things to experience when visiting Las Vegas
When picturing Las Vegas, you probably see shimmering lights, felt-covered poker tables and the ecstatic sound of slot machines. But the truth is that the city offers visitors far more to experience than just gambling and excess. Located on the edge of the vast Mojave Desert, this uniquely American destination is constantly reinventing itself with every passing day, which makes it an ideal vacation spot for virtually every type of traveler. To help you get the most from your next trip to Vegas, here are seven attractions in and around the city that you won't want to miss.
The Neon Museum
Since 1996, this magical outdoor art gallery has collected hundreds of old and discarded neon signs from the Las Vegas strip and displayed them for visitors on a 2-acre plot of land. With so much colorful history available to see, it's no wonder that the Neon Museum is one of the city's top Instagram spots. Though new signs are constantly being acquired and refurbished, many date back to the glory days of the 1950s, when Vegas icons like Frank Sinatra, Dean Martin and Sammy Davis Jr. were the entertainment headlines at the casinos.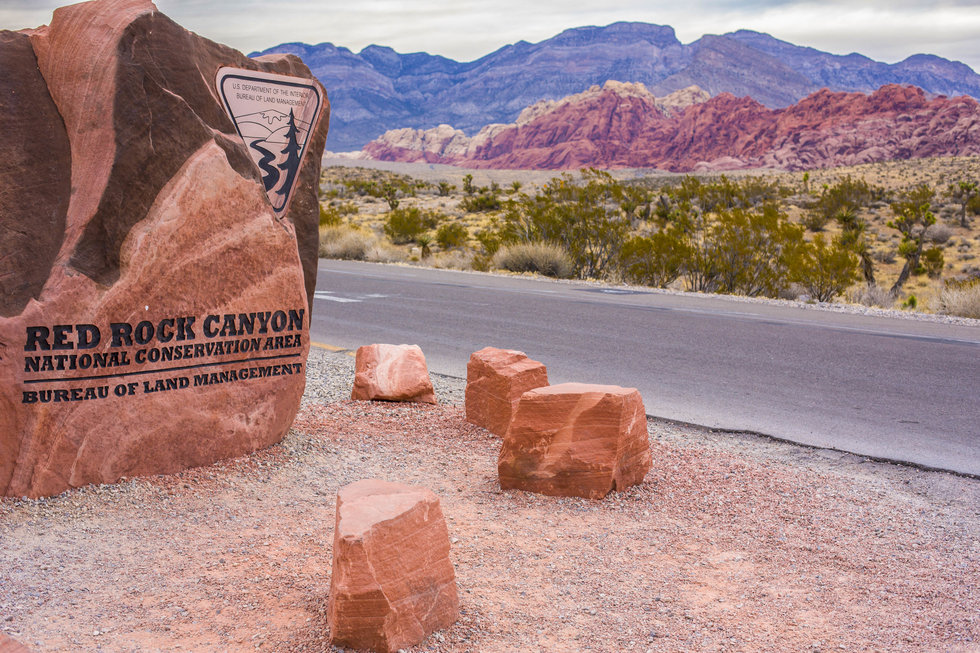 Red Rock Canyon
This stunning nature preserve is just a 15-mile drive west of Las Vegas, and is the perfect place to experience all the scenic beauty that Nevada has to offer. Red Rock Canyon features 26 clearly marked hiking trails, indoor and outdoor conservation exhibits and a plethora of majestic wildlife and desert flora to view. There's even a picturesque waterfall, so bring your camera along with your sunscreen and bottled water. A variety of educational programs are held each month, including a popular "Bats in Our Belfry" presentation in which rangers take visitors on a bat sightseeing tour of the canyon.
The Mob Museum
Because the birth of Las Vegas is intricately connected with organized crime, this fascinating museum is a must-visit for anyone who wants to understand how a dry Nevada desert became a worldwide symbol of glitz and glamour. Filled with amazing artifacts, vintage photos and life-size recreations of some of the city's most infamous residents, the Mob Museum focuses on both the gangsters who built Las Vegas and the law enforcement heroes who pursued them. A rotating collection of exhibits brings the town's colorful history to life in a way that no movie or book could ever hope to duplicate.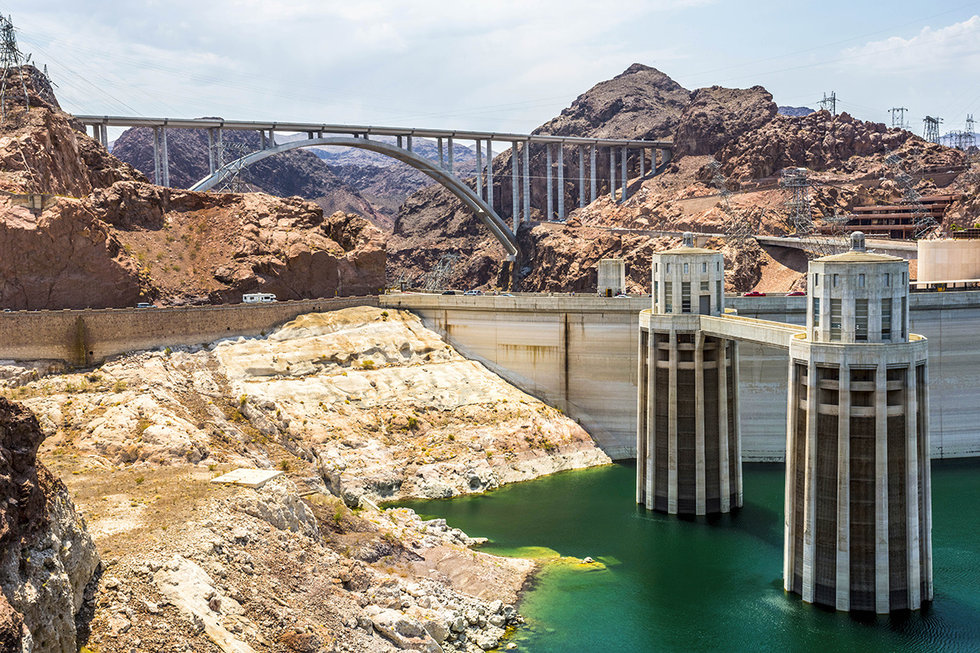 The Hoover Dam
A monument to man's industrial spirit and a marvel of American engineering, the spectacular Hoover Dam is located less than an hour's drive from Las Vegas — and it's truly an unforgettable sight to behold. Tours of the 726-foot-tall dam are highly encouraged and will fascinate young and old alike. While you're in the area, why not spend some time cruising the beautiful waters of nearby Lake Mead, which was created by the dam itself. Boat tours are available all week long from several locations around the lake, so advanced reservations are not needed.
Dig This Last Vegas
Are you visiting Las Vegas with children? If so, then this one-of-a-kind experience should definitely be on your travel itinerary. Dig This Last Vegas lets you and your kids drive and safely operate heavy duty construction equipment like bulldozers and excavators on a massive outdoor playground in the heart of the city. Anyone who grew up with toy tractors and plastic earth-moving machines can now climb behind the wheel and try them for real. With the help of trained instructors, kids as young as 8 years old can make their dreams of operating a genuine Caterpillar D5 bulldozer come true at this hands-on attraction site.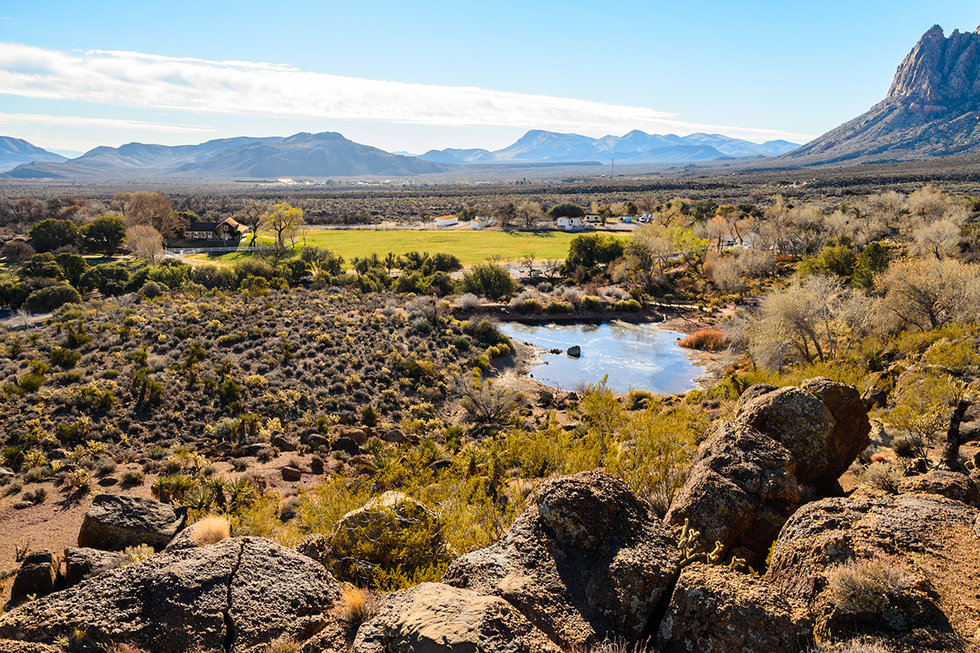 Spring Mountain Ranch
This Nevada state park is a relatively short drive from downtown Las Vegas and will instantly transport you back to the region's historic past. The perfectly preserved old west-style ranch is an excellent place for an afternoon picnic when you need a break from the hustle and bustle of the casinos. Thanks to the lush green surroundings and man-made lake, the temperature at Spring Mountain is noticeably cooler than you might expect of the hot Nevada climate. Explore further as gentle hiking trails allow you to stretch your legs in comfort while you navigate some of the loveliest scenery in the entire state.
Lotus of Siam
Widely considered to be one of the best Thai restaurants in the United States, Lotus of Siam earned its prestigious James Beard Award the hard way; by serving incredibly delicious Northern Thai dishes every day for the past 19 years. Owner and head chef Saipin Chutima recently opened a second location in Las Vegas, which means you'll have no trouble making reservations while you're in town. Considering that top foodie magazines like Gourmet, Saveur and Bon Appétit have praised this restaurant's incredible dishes for almost two decades, you'd be wise to book a table in advance. Try their crispy rice salad with house-made pork sausage for a flavor that will make your taste buds sing.
Getting there
When you're ready to experience the fun and excitement of Las Vegas, book your flight at united.com or by using the convenient United app, and share your story on social media with the #UnitedJourney hashtag.

The 8 most underrated American road trips
You've gotten your kicks on Route 66. You've wound through Highway 1. So how do you take another quintessential American summer vacation without repeating yourself? Good thing this country is not lacking in incredible vistas and varied landscapes—trust us: there is so much more than purple mountains majesty and amber waves of grain (although, those aren't so bad themselves). From badlands to waterfalls, here are eight American road trips to consider.
RELATED: 10 Waterparks Worth Traveling for
RondaKimbrow/Getty Images
Top of the Rockies Scenic Byway, Colorado
This western road trip through and around the Rocky Mountains has three separate routes that converge in Leadville, Colorado (the highest incorporated town in the country at 10,152 feet above sea level). There's no rule against traversing all three, especially since each is pretty short (82 miles total). First, take in the five enormous mountains surrounding Leadville, two of which are the tallest in the state. Head up through Tennessee Pass and cross the Continental Divide to reach the majestic town of Minturn for incredible fields of wildflowers. The route through Independence Pass toward Aspen has unbelievable views of the Rockies and Twin Lakes. Driving along the Arkansas River through Fremont Pass to Copper Mountain is ideal for spotting ranches, old mines and—fingers crossed—some Colorado wildlife.
FilippoBacci/Getty Images
Overseas Highway, Florida
You do not need a boat to enjoy the Florida Keys, and we can prove it. The Overseas Highway is one of the most unique roads in the country, as it basically island hops along Florida's hottest vacay spots like Islamorada (home of the Florida Brewing Company) and Marathon (home of Long Key State Park). The Seven-Mile Bridge is a highlight nestled into the 113-mile trip, so make sure to cross during the day for sprawling views of turquoise water and boaters galore. Other fun pit stops: Swim with dolphins at the Dolphin Research Center in Grassy Key, snorkel with sea critters at John Pennekamp Coral Reef State Park and pose for a selfie at Southernmost Point Buoy, the farthest south you can get on the continental U.S.
Jason W Lacey/Getty Images
Columbia River Highway, Oregon
This stretch of highway was the first of its kind to be officially declared a National Historic Landmark, and it's easy to see why. Set out from Troutdale, Oregon, and immediately you'll see the gorgeous Columbia River Gorge. Get ready for a roller-coaster decent as you roll into Crown Point—the 600-foot drop toward the Columbia River is designed specifically for road trippers as it curves and winds through lush green forests. There are at least six notable waterfalls you'll pass along the way; step out at Multnomah Falls for a pic of its stunning bridge. Once you hit the town of Mosier, consider trekking through a tunnel of lava rock on the Mark O. Hatfield Trailhead. The road officially ends after roughly 70 miles at The Dalles, conveniently close to the Sunshine Mill Winery. Treat yourself to a glass of the wildly popular Nirvana, a white blend with touches of honey and melon.
Bobbushphoto /Getty Images
Hana Coast Highway, Hawaii
While Hawaii's island of Maui is a hot destination for tropical romance, the Hana Coast Highway is not for the faint of heart. The road is affectionately called the "Divorce Highway" in honor of its precarious turns and proximity to the edges of tall cliffs. That said, the frequent waterfalls, black sand beaches and eucalyptus trees along the country's lengthiest rainforest highway make the trip totally worth the adrenaline rush. Though it's only 52 miles, the 25-miles-per-hour speed limit (with blind spots and one-lane bridges galore; this is a very good thing) makes it a two- to three-hour trip. But we have a feeling you'll happily take your time—the views from Kahului to Hana are beyond breathtaking.
Scott_Walton/Getty Images
Trail of the Ancients Scenic Byway, New Mexico
If you're in the mood for dry heat and history up close, the Trail of the Ancients Scenic Byway is calling. West of Albuquerque is Chaco Canyon, an important ceremonial site for the Pueblo peoples between 850 and 1250 A.D. After taking in the incredible expanse of the canyon, drive south through the towns of Crownpoint and Grants toward the El Morro National Monument. Ogle the 2,000 or so signatures weary travelers have carved into the sandstone over centuries. Continue east through the Zuni Reservation to Zuni Pueblo, an arts community still practicing ancestral traditions and ways of life. Cap off this winding 360-mile desert tour in Farmington, where you can see Aztec Ruins National Monument and Salmon Ruins, both of which date back to the 1050s.
AndrewKrav/Getty Images
The Black Hills and Badlands, South Dakota
Together, the Black Hills and Badlands National Park in South Dakota offer 5 million acres of grassland, forest and rock formations. Might we recommend not hitting it all in one day? Instead, start out on the Badlands Loop State Scenic Byway near the town of Interior. Check out the millions-year-old (literally) jagged geographic deposits before heading north to Spearfish Canyon, home of sky-high pink limestone and gorgeous waterfalls. Meander down through Black Hills National Forest to check out Crazy Horse Memorial, Custer State Park and (drumroll, please) Mount Rushmore. Set aside a few days for the entire 232-mile journey because you'll probably find yourself either driving slowly to take it all in or stopping the car every few miles to hike or swim.
NickJKelly/Getty Images
North Shore Scenic Drive, Minnesota
For a truly otherworldly experience, drive along the coast of the biggest freshwater lake in the world: Lake Superior. The northern Minnesota gem means ample opportunity to really get away from civilization. (Heading off the beaten path into the Boundary Waters just north of the coastline leaves you with no cell service, almost complete solitude and a chance to catch the northern lights!) Start your drive in Duluth and head north, scoping out the many lighthouses dotting the rocky coastline on your right and the distant Sawtooth Mountains on your left. Everywhere else is covered in pine and birch trees—and crawling with wildlife. Beaches pop up along the 142-mile ride, although Lake Superior is notoriously chilly, reaching 65 degrees Fahrenheit max during the hottest months of the year. But, in the height of summer, this might be exactly the cool-down you need.
Holcy/Getty Images
Rangeley Lakes National Scenic Byway, Maine
For the ultimate, rugged New England road trip, you must drive the Rangeley Lakes National Scenic Byway. On the western side of the state, near New Hampshire, the lake is flanked by Rangeley Lake State Park and rolling hills of trees, flowers and wildlife. Start at Smalls Falls, and let the Appalachian Mountain ridgeline be your guide on this 36-mile tour. The route is straightforward but provides sights of everything from lakes and rivers to valleys and farmland. Swift River and Mooselookmeguntic Lake (who named this lake?) are outstanding photo ops. Summer is always a good time to visit when it comes to temps, but come autumn, the bright colors pop along this route, and might just be worth a second trip.
RELATED: The Most Serene Spot in Every Single State
This article was from PureWow and was legally licensed through the NewsCred publisher network. Please direct all licensing questions to legal@newscred.com.
10 U.S. islands that feel exotic
Want to escape to somewhere truly memorable? Here are the best island getaways without leaving the country.
As much as we all wish to see every corner of the globe, it can be a challenge to do it all with limited funds and vacation time. Luckily, the United States is diverse enough to offer an array of exotic locales — from golden beaches to volcanic islands — all on our own home turf. Here are our picks for the ten most exotic destinations that don't require a passport.
Dry Tortugas, Florida
Turquoise water, tons of green sea turtles and white-sand beaches with visibility seeming to stretch to forever. Sounds like the Caribbean, right? Wrong. The Dry Tortugas, 67 miles off Key West into the heart of the Gulf of Mexico, pack epic snorkeling alongside Southern stingrays, parrotfish and schools of Creole wrasse — all just a ferry or seaplane ride from the Conch Republic.
San Juan Islands, Washington
San Juan Islands, Washington/Shutterstock
With conifer forests thick along its coasts and a marine climate with cool summers and mild winters, the San Juan Islands of Washington state feel a lot like Norway. Both destinations are renowned for sea kayaking as well as whale-watching tours, and yet the San Juans are a three-hour drive — and a ferry hop — north of Seattle. Plus, with alpaca ranches and lavender farms covering the hillsides, the experience also includes a touch of Peru-meets-Provence.
Assateague Island, Maryland
Assateague Island, Maryland /Shutterstock
Like Portugal's Soajo Mountain, Maryland's Assateague Island is home to wild horses — more than 150 in total. These feral ponies have free range of the beaches, marshes and forests. For the best viewing, try the Chincoteague National Wildlife Refuge's Wildlife Loop Road, a three-hour walk. For a more unique spectacle, time your visit with the annual pony swim, held every July, wherein a group who call themselves the saltwater cowboys wrangle up the horses, leading them on a swim across the Assateague Channel.
Sapelo Island, Georgia
The Spanish moss hanging from live oak branches gives Sapelo Island, Georgia, an only-in-the-Southeast feel, but its golden-sand beaches feel a bit like the islands off Queensland, Australia. Reach it only via boat: either the DNR ferry or private vessel. Once ashore, walk the hiking trails through dunes and maritime forests to encounter hundreds of bird species, including the Chachalaca bird — which otherwise requires birders to travel to either Mexico or Central America to cross off lists. Stay the night and you might even spot a bobcat.
Culebra, Puerto Rico
Culebra, Puerto Rico /Shutterstock
Culebra, a satellite island of Puerto Rico, is often referred to as one of the Spanish Virgin Islands, and for good reason. Its sugar sand beaches are mostly undeveloped, lending it the feel of Jost Van Dyke in the British Virgin Islands. Like the BVI, Culebra lacks any of the large, major hotel chains. Instead, it has a sleepy charm, appealing to those content to kayak, snorkel and beachcomb.
Kauai, Hawaii
Kauai, Hawaii /Shutterstock
One of the wettest places on the planet, Kauai packs its mountains with unending greenery, punctuated by a dozen epic waterfalls. This makes it every bit as lush and exotic as Tahiti, but at a fraction of the flight time. Worth the splurge, a helicopter tour of the Na Pali Coast — where Jurassic Park was filmed — shows visitors more highlights than they could see in a week of hiking.
Elizabeth Islands, Massachusetts
Just south of Cape Cod lie the Elizabeth Islands of Massachusetts, including Penikese and Cuttyhunk, two of the only inhabited islands in the bunch not owned by the Forbes family. Cuttyhunk in particular still exudes British flavor, carried over from 1602, when it was the first British settlement on the new coast. Experience it at Avalon Inn, one of the few choices when overnighting. To see more of the neighboring isles, book a day cruise to explore beaches and see wild harbor, harp and gray seals.
Daufuskie Island, South Carolina
Daufuskie Island, South Carolina /Shutterstock
Daufuskie Island, South Carolina, is perhaps best known as the home of the Gullah people, a community of African Americans in the lowcountry who speak their own creole language called Geechee. To get a feel for the people and their culture, stop by the Historical Foundation to hear local stories and legends, as well as chat up the local guide, who's been on island for decades.

Cedar Key, Florida
Cedar Key, Florida /Shutterstock
Over-water bars, weathered and leaning on stilts, give the fishing village of Cedar Key off Florida's Gulf Coast a back-in-time vibe, like that of Bocas del Toro, Panama. But, unlike Bocas, Cedar Key averages in the low and mid 80s, making for more pleasant conditions for sea kayaking, for which the area is renowned. The Suwannee River empties into the Gulf roughly 10 miles north of Cedar Key, and the sound separating the two is lined with uninhabited islands, perfect for any boaters to enjoy day picnics and exploring.
Aleutian Islands, Alaska
Aleutian Islands, Alaska /Shutterstock
Alaska's Aleutian Islands, a chain of 14 volcanic outposts that string out west of the state, remain one of the most remote places on the planet. Sea kayakers treasure the destination, willing to brave the inclement weather for chances to see grey, minke, orca, sperm and humpback whales, as well as walrus, seals and sea lions. From these islands, it's possible to view the Northern Lights year-round. For those who aren't into roughing it, know that there is lodging at places like the Grand Aleutian Hotel on Unalaska Island.
This article was written by Brooke Morton from Islands and was legally licensed through the NewsCred publisher network. Please direct all licensing questions to legal@newscred.com.
Scroll to top